New Age Islam News Bureau
27 Jan 2018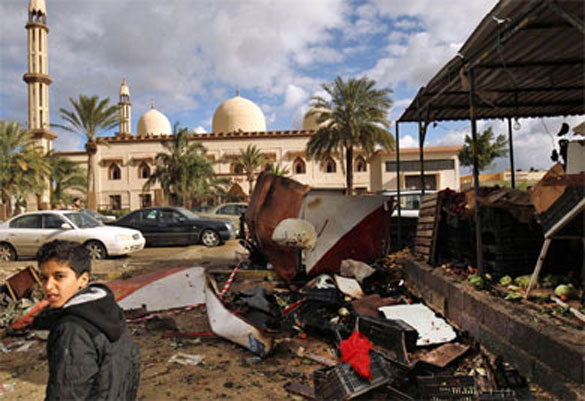 Libyans check the aftermath of an explosion in the eastern city of Benghazi on January 24, 2018. The death toll following a double car bomb attack in the Libyan city of Benghazi night has risen to at least 34, a hospital spokeswoman said.
----
• Deoband School Of Thought Declared Monthly Stipend Paid By KP Govt. To Prayer Leaders Haram
• With More Islamic Schooling, Turkey Aims For 'New Civilisation'
• Trump Ready to Apologize For Retweeting Anti-Muslim Videos from Far-Right British Group
• Not As Bad To Be Muslim than To Be Dalit: Eminent French Political Scientist
• Shocking Video Shows Mass Execution of Prisoners in Libya's Benghazi
Pakistan
• Deoband School Of Thought Declared Monthly Stipend Paid By KP Govt. To Prayer Leaders Haram
• Online Blasphemy Case: IHC Asks Govt to Ban Movies against Islam, Pakistani Culture
• Pakistan Police Killing Of a Pashtun Youth Fuels Anger Over "Encounters"
• Kashmir Issue among Causes of a Fractured World: Pakistan
• Pakistan, Indonesia agree to work jointly for Afghan peace
• SC to 'soon decide' future of disqualified politicians
• Four terrorists held with donation money
--------
Mideast
• With More Islamic Schooling, Turkey Aims For 'New Civilisation'
• Trump Threatens To Pull Aid To Palestinians If They Don't Pursue Peace
• Erdogan threatens to expand Syria offensive despite criticism
• Yemeni army advances towards ending Taiz siege
• Israeli occupation core of all conflicts in Middle East: Iran
• Zarif slams Saudi 'vision of light spin', US 'credit-grabbing' for Daesh defeat
• Yemeni army attacks Saudi-backed militants, inflicts heavy casualties
• At least 30 African refugees drown after boat capsizes off Yemen: UN
• Turkish presidential aide lauds Muslims' role in Europe
--------
North America
• Trump Ready to Apologize For Retweeting Anti-Muslim Videos from Far-Right British Group
• Trump Says Almost 100% of Territory Regained From Islamic State
• Will ensure Afghanistan never becomes terrorists' safe haven again: Trump
• Fight against radical Islamism is about saving our civilization
• US government aiding child sexual abuses in Afghanistan: Analyst
• Pentagon says not in crisis with Turkey amid Afrin op.
--------
India
• Not As Bad To Be Muslim than To Be Dalit: Eminent French Political Scientist
• Indonesia, Malaysia Share Counter-Terrorism Experiences with India
• In A First, Delhi Declaration Mentions Cross-Border Terrorists
• Won't tolerate sniping of soldiers: India to Pakistan at flag meet
• Indian Police Stop Hindu, Muslim Rioting That Killed 1
--------
Africa
• Shocking Video Shows Mass Execution of Prisoners in Libya's Benghazi
• 28 Killed In 2 Separate Attacks in Mali
• Algerian Military Kills 8 Islamic Extremists
• Daesh suspected as landmine kills 24 in central Mali
• Muslim leaders behind herdsmen killings – CAN fires back at JNI
• Kenya: Film about Kenya Terror Attack Up for an Oscar
--------
South Asia
• US Slaps Sanctions on 6 Militants of Afghan Taliban, Haqqani Network
• Isis Killings In Afghanistan Leave Aid Agencies 'Hanging On By Fingernails'
• Michelle Yeoh joins Malaysian delegation to Rohingya camp in Bangladesh
• Suicide attack in Kandahar city leaves 14 dead or wounded
• Explosion targeting police vehicle kills 4 in Kandahar
--------
Southeast Asia
• Duterte Mocks Islamic State: 'I Prefer Virgins Here, Not Heaven'
• Pundits: PPBM Recruiting Religious Scholar as 'Damage Control', To Protect Muslim Interests
• Indonesia Proposes 3-Nation Panel of Islamic Scholars to Promote Afghan Peace
• Indonesian Muslim Youths Slam Saudi Arabia for Politicising Haj Pilgrimage
• Meet the Indonesian Mayor Who Refuses To Bow to Hard-Line Islamist Clerics
• Duterte Tells Suu Kyi Rights Activists Are 'Just a Noisy Bunch'
--------
Arab World
• Act Now On Iran and Jerusalem Dispute to Save Peace Hopes, Saudi Arabia Tells UN
• ISIL Kills Scores of US-Backed Militants in Eastern Deir Ezzur
• Peace proposal by US, Saudi Arabia 'not even worth the ink': Syria
• Syrian opposition says will boycott Russia-brokered peace talks in Sochi
• Syria: Infighting Intensifies among Rival Terrorist Groups in Southern Damascus
• Terrorists, Israeli Army Commanders Meet to Discuss Occupation of Southern Syria
• Kurdish Fighters Claim Capturing Several Turkish Soldiers in Northern Syria
• Turkish Forces' Operation in Afrin Paves Way for New Round of War in Syria
• Syria opposition says will not attend Sochi talks
• US helicopter gunship kills 7 Iraqi civilians
• Syrian army finds Israeli-made mines, chemicals in eastern Dayr al-Zawr
--------
Europe
• German Politician Not Alone Who Changed His Views of Islam after Spending Time with Muslims
• Former bouncy castle salesman dubbed new 'Jihadi John,' added to State Department terrorism list
• Morocco's Integration into Africa: Implications for the United States
• Chechen leader Kadyrov praises Putin's support for Islam
Compiled by New Age Islam News Bureau
URL: https://www.newageislam.com/islamic-world-news/deoband-school-thought-declared-monthly/d/114076
--------
Deoband School Of Thought Declared Monthly Stipend Paid By KP Govt. To Prayer Leaders Haram
January 27, 2018
MANSEHRA: Around 300 clerics from Deoband school of thought on Friday declared the Rs10, 000 monthly stipend paid by the provincial government to prayer leaders Haram (forbidden).
The declaration was made during a function organised by the Jamiat Ulema-i-Islam-Fazl here.
Acting provincial emir of the JUI-F Mufti Kifayatullah told participants that the joint decree had barred prayer leaders from receiving the government stipend by declaring it Haram.
He said the payment was planned under an 'international conspiracy' against clerics.
The JUI-F leader said the PTI government had secured money from international nongovernmental organisations to 'buy' loyalties of clerics and therefore, his party and religious scholars would raise voice against the move.
Another speaker, Maulana Saeed Abdullah, said the Imam Conference would be organised here on Feb 5 to persuade prayer leaders from all schools of thought to reject monthly stipend.
Meanwhile, the ruling Pakistan Tehreek-i-Insaf rejected the decree declaring it unjustified and unwarranted.
PTI Youth Wing president Mohammad Nisar told reporters that the government had been paying monthly stipend to prayer leaders to help them manage their household affairs well.
He said the JUI-F should stop spreading false propaganda against the stipend's payment.
RESIGNATIONS THREATENED: The members of an 11-strong committee formed by the chief minister to oversee the affairs of New Balakot City housing project have warned they will step down if plots are not allotted to over 400 earthquake-affected families within a week.
"The Earthquake Reconstruction and Rehabilitation Authority has long been delaying the issuance of plot allotment letters to the 2005 earthquake survivors.
If the allotment doesn't begin within a week, we will step down," committee member Mohammad Safdar Awan told reporters in Balakot on Friday.
Mr Awan said both the provincial and federal governments should fulfil their respective commitments made to the earthquake survivors from time to time on plot allotments.
RECORD BURNT: A fire partially burnt the record of land in Garhi Habibullah and adjacent union councils on Thursday night.
The incident took place at the local patwar khanna (revenue offices).
The people put out the fire by using water and soil.
Garhi Habibullah police station SHO Gul Nawaz told reporters that an investigation had been launched to ascertain the cause of fire.
He said the preliminary investigation revealed that the fire broke out after an unidentified person threw a lit cigarette at seat cushions.
https://www.dawn.com/news/1385510/kp-governments-stipend-for-prayer-leaders-declared-un-islamic
--------
With more Islamic schooling, Turkey aims for 'new civilisation'
Daren Butler
JANUARY 27 2018
Istanbul: On a hill overlooking Istanbul is a religious school where, 50 years ago, a boy from a working class district attended classes in Islam. The boy was Tayyip Erdogan, Turkey's future president. The school was one of the first Imam Hatip schools, founded by the state to educate young men to be imams and preachers.
At the start of the 2017-2018 academic year in September, Erdogan returned to his old school, now renamed the Recep Tayyip Erdogan Anatolian Imam Hatip upper school after an $US11 million ($13.6 million) redevelopment. He recalled the "tough days" of his childhood and the spirit in the school that drove its students to success.
"The joint goal of all education and our teaching system is to bring up good people with respect for their history, culture and values," Erdogan told flag-waving children at a ceremony to mark the reopening of the school.
Erdogan has said one of his goals is to forge a "pious generation" in predominantly Muslim Turkey "that will work for the construction of a new civilisation." His recent speeches have emphasised Turkey's Ottoman history and domestic achievements over Western ideas and influences. Reviving Imam Hatip, or Imam and Preacher, schools is part of his drive to put religion at the heart of national life after decades of secular dominance, and his old school is just one beneficiary of a government programme to pump billions of dollars into religious education.
The education ministry didn't respond to questions about the expansion of Imam Hatip schools. Education Minister Ismet Yilmaz has said previously that the government is responding to popular demand by opening new Imam Hatip schools. "We are doing whatever our citizens say," he said at a ground-breaking ceremony for a school mosque in December.
An official in the president's office referred Reuters to Erdogan's public remarks on Imam Hatip schools and declined to comment further. A government adviser said, "Islam is not being forced on people. It is not a matter of saying everyone should go to Imam Hatips. We are just providing an opportunity to those families who want to send their children to Imam Hatips."
The expansion of religious education is unsettling some Turks. Interviews with two dozen parents, teachers and education officials point to deep divisions over the role of Islam in education. Some secularist parents say the Islamist school movement is robbing their children of resources and opportunity. Those differences are part of a wider disagreement between liberal and secular sections of society and Erdogan's support base of conservative, pious Turks.
It was that support base that swept Erdogan's Islamist-rooted Justice and Development Party, the AK Party, to power in 2002. Since then, critics have accused Erdogan of rolling back the secular state founded by Mustafa Kemal Ataturk in 1923 and weakening its pillars - the army, judiciary and media. Relations between NATO-member Turkey and its U.S. and European partners have become strained. Ankara's bid to join the European Union has stalled and Western countries have criticised Turkey over mass arrests that followed a failed military coup in July 2016.
Praise and protest
The new complex of Erdogan's alma mater, its Islamic-style architecture rising in a historic district on the European side of Istanbul, is a source of pride for the parents of the 800 children who fill its classrooms and playground.
"God willing, all our schools will reach this standard and quality," said Kamber Cal, 45, a chemist. His 16-year-old son is delighted to attend the school, he said. "My daughter is now dreaming about going to Imam Hatip, the time when she will cover up and she will learn about the Koran and the Prophet's life."
In a mosque on the roof, boys listened to a preacher before Friday prayers when a Reuters reporter visited the school in October, while in the playground below, other boys played football. Some students perused books on shelves in the corridors. The school's website vaunts its success in pursuits including karate, biology, chemistry, Arabic, music and Koran recitation. Religious education lessons account for around a quarter to a third of the curriculum in these schools.
Cal and other advocates of Imam Hatip schools say parents want a strong moral education for their children. "If there is demand, it must be met. How high will this go? To 20, 25, 40 per cent" of pupils? "Demand and society will decide," Cal said.
Such a prospect is anathema to secularists, people on the political left and members of the minority Alevi faith, which draws upon Shiite, Sufi and Anatolian folk traditions and rituals that differ sharply from those of the country's Sunni majority. Feray Aytekin Aydogan, chairwoman of the Egitim-Sen teachers' trade union and a critic of the expansion of Imam Hatip schools, said: "There is no need to give people religious education in order for them to get a profession."
Erdogan's redeveloped school stands as a paragon among religious schools. On the Asian side of the city, the crowded 60th Year Sarigazi middle school, established six decades after the founding of Turkey's secular republic, illustrates some challenges that the spread of Imam Hatip schools has presented. Sarigazi is a non-religious school, in an area with a strong Alevi and secular community, but a large part of the premises has been converted into an Imam Hatip school.
A group of parents has petitioned education authorities to stop the conversion, collecting hundreds of signatures. Those parents say the change began several years ago with a few Imam Hatip "guest" classes but has since expanded to 1300 pupils, encroaching on the building where some 3000 students study in a regular middle school. The mother of a 10-year-old girl at the regular school said she and other parents would continue their fight against the school's conversion. She said it was wrong to force Islam on people. Like several other secularist parents interviewed, the woman declined to give her name.
A group of parents at another school - the Mahmut Kemal Inal middle school on the Asian side of Istanbul - failed in a campaign to prevent it being converted into an Imam Hatip. They picketed at the gates and organised protests and a petition signed by hundreds. It was to no avail.
"Schools for Morality"
Successive AK Party governments have given a high priority to education, ramping up the education ministry's spending to some 12.3 per cent of the entire budget this year from 6.9 per cent in 2003, the AK Party's first full year in power.
Despite all the money allocated to the schools, figures on 2017 university placements show graduates of religious schools lag their peers in regular schools. Only 18 per cent of applicants from religious schools earned places on full degree courses at university last year, compared with 35 per cent from regular state upper schools and 45 per cent from private upper schools.
A survey of academic performance published in December 2016 for the Organisation for Economic Cooperation and Development showed the success of Imam Hatip upper school students was below the national average.
More broadly, Turkey slipped an average of eight places in the survey's rankings for science, mathematics and reading, compared with the previous study three years earlier, to 50th among 72 countries. That marked a reversal of the progress Turkey made in the previous two terms of AK Party government. It was also a setback for Erdogan, who hopes that driving up education standards will help achieve his target of making Turkey one of the world's 10 largest economies by 2023, the centenary of the founding of Ataturk's secular republic. Turkey is currently a member of the Group of 20 top global economies.
It's unclear if socioeconomic factors were contributing to the performance gap between Imam Hatip and regular schools because there is no data available on pupils' family backgrounds, their income and education. However, religious schools are found in towns and cities across Turkey, in poor and affluent districts.
Advocates of Imam Hatip schools say the current expansion should be seen in the context of the previous suppression of these schools. They point to a crackdown in 1997 when Turkey's then powerful military pressured the first Islamist-led government out of power and forced the closure of most Imam Hatip establishments.
Muslims went out into the squares to defend their rights in protests. Businessman Hanefi Gundogan, 49, said he was unable to send his eldest son to an Imam Hatip school because of the crackdown, but now his youngest attends such a school.
"Muslims have now reached a point where they can breathe more easily in their own country," he said. "In the last 15 years this government has shown respect to Muslims."
Halit Bekiroglu, chairman of an association of Imam Hatip members and graduates, said secularist fears about the schools were exaggerated. Their revival, he said, reflected the conservative religious character of most of Turkish society and a desire for a change in an education system that previously imported Western ideas.
"Modernisation and Westernisation were not implemented healthily. They were implemented in a superficial, formalistic, harsh, copy-paste way. This was not in harmony with this country's sociology," he said.
Parents who send their children to Imam Hatip schools speak of their desire for them to have a strong moral education. It's a theme Erdogan stressed during his visit to his old school. "The school brought up children with such morality that they would not even pick fruit which hung from the apple tree hanging over the school walls," he said.
http://www.smh.com.au/world/with-more-islamic-schooling-turkey-aims-for-new-civilisation-20180126-h0oojo.html
--------
Trump Ready To Apologize For Retweeting Anti-Muslim Videos From Far-Right British Group
By William Booth and Paul Schemm
January 26, 2018
LONDON — President Trump said Friday that he was ready to apologize for retweeting anti-Muslim videos from an ultra­nationalist British group, and he reiterated his assertions that he is not a racist.
In an interview with the "Good Morning Britain" television program, Trump was pressed by Piers Morgan, the presenter, about his November retweet of three videos circulated by a far-right fringe party called Britain First. The retweets caused outrage in Britain and brought a rebuke from Prime Minister Theresa May, who described the president's posts as "wrong."
Trump said repeatedly Friday that he knew "nothing" about the group's politics. He said the tweets showed his concern about the threat of radical Islamic terrorism.
"If you are telling me they're horrible people, horrible, racist people, I would certainly apologize if you'd like me to do that," the president told the ITV broadcaster.
Reaction in Britain was mixed to Trump's rare offer to admit a mistake. Many Britons noted that it wasn't really an apology; others said it was close enough.
At the World Economic Forum in Davos, Switzerland, the president appeared to be working to reset frayed relations with May and Britain, traditionally America's closest ally but now a country where Trump is so unpopular that governments on both sides of the Atlantic fear the mass demonstrations that would likely greet him on a visit to London.
Sitting beside May on Thursday, Trump dismissed the idea of division between the two as a "false rumor."
"We're on the same wavelength, I think, in every respect," Trump said. "And the prime minister and myself have had a really great relationship, although some people don't necessarily believe that, but I can tell you it's true."
Trump said he thought "the feeling is mutual from the standpoint of liking each other a lot." He and May are "very much joined at the hip" on security challenges, he added.
May was more circumspect. "We, too, have that really special relationship between the U.K. and the United States," May said. "It's at each other's shoulders. We face the same challenges across the world, and . . . we're willing to go and to defeat those challenges and meet them."
When May first met Trump at the White House in January 2017, she was photographed holding his hand — an image that brought ridicule and discomfort back home.
The optic was particularly problematic because many in Britain believe that in 2003, then-Prime Minister Tony Blair was led under false pretenses into a ruinous war in Iraq because of his overly chummy relations with President George W. Bush.
At that White House meeting last year, May invited Trump for a state visit to Britain, which traditionally would include pomp, parades and an audience with Queen Elizabeth II. The prime minister's office has said the visit is likely to come in the latter half of 2018.
But British politicians, including London Mayor Sadiq Khan and Labour Party leader Jeremy Corbyn, have said that Trump is not welcome.
Activists have predicted that Trump's appearance would spark the largest demonstrations in London since protests against the Iraq War in 2003.
In the television interview Friday from Davos, Morgan asked Trump what he thought about opposition to his visit by the likes of Khan and Corbyn.
"I don't care. I don't care. It's just one of those things. I don't say anything. You know why? I don't care," Trump said, adding: "The real me is somebody that loves Britain, loves the U.K. I love Scotland."
Trump listened as the interviewer described Britain First, which presents itself as a political party but is widely seen as an extremist group targeting Muslims, as "racist."
The president denied having any knowledge of the group when he shared three videos from Jayda Fransen, its deputy leader.
"Of course I didn't know that. I know nothing about them, and I know nothing about them today other than I read a little bit," Trump said. "I don't know who they are. I know nothing about them, so I wouldn't be doing that."
He added, "I am often the least racist person that anybody is going to meet."
After Trump retweeted the videos, Fransen expressed joy, tweeting "God Bless You Trump!" and noting that the president has 44 million Twitter followers.
Fransen was convicted of religiously aggravated harassment in November 2016 after abusing a woman wearing a hijab and was arrested a year later for a speech in Belfast that allegedly used "threatening, abusive, insulting words."
The videos showed alleged violent acts carried out by Muslims, including one of a teenage boy on crutches being beaten by a young man purported to be a "Muslim migrant." Dutch authorities said the assailant was actually born and raised in the Netherlands and was punished under Dutch law.
A statement from the British prime minister's office later said it was "wrong" to share such materials that promote "hateful narratives."
Trump, in turn, responded on Twitter. In a tweet that initially was directed at the wrong person, he wrote: "Theresa @theresamay, don't focus on me, focus on the destructive Radical Islamic Terrorism that is taking place within the United Kingdom. We are doing just fine!"
Many in Britain felt that Trump was almost gloating over terrorist attacks in London and Manchester.
They also pointed out that during the same period, there were repeated mass shootings and attacks in the United States by domestic assailants.
https://www.washingtonpost.com/world/trump-apologizes-for-retweeting-anti-muslim-videos-from-far-right-british-group/2018/01/26/7d334e0c-0268-11e8-9d31-d72cf78dbeee_story.html?
--------
Not As Bad To Be Muslim than To Be Dalit: Eminent French Political Scientist
January 26, 2018
Manish Sain
Jaipur, Jan 26 (PTI) Eminent French political scientist Christophe Jaffrelot today said that in the absence of reservation, Dalits would not have reached anywhere, and it was "not as bad to be a Muslim than to be a Dalit".
The author of Dr Ambedkar and Untouchability said that the BJP and RSS were now focusing on Dalits because they have realized that the community couldnt be ignored anymore as a "vote bank".
"When there is no reservation... where will be the Dalits? So if you remove reservation, where are they? They will be no Dalits anywhere. Because the stigma is still there. It is not as bad as to be a Muslim than to be a Dalit," he said, citing the example of media.
Speaking at a session titled "Dr Ambedkar and His Legacy" at the 11th Jaipur Literature Festival here, Jaffrelot also spoke about the RSS and BJP focusing on Ambedkar.
"They have started paying attention to them not because of goodwill, but because Dalits couldnt be ignored anymore.
"In 1989, when JD (Janata Dal) did better than BJP in Uttar Pradesh elections, they had to realise, and look at these emerging vote banks, and use divide and rule kind of policies," he said.
Despite having the "best laws" in the world, India, according to Jaffrelot, needed to implement them better to see that it becomes the country of Ambedkars dreams.
"At a time when the issues we are fighting for, freedom of expression, equal rights, where are the NGOs, the universities, the media who do not self censor themselves.
"This is an India he would not recognise, and he would say this Constitution would not do. India has the best laws in the world, right to education, right to information, (but) what about the implementation?" the scholar said.
The session was also attended by economist Sukhdeo Thorat, author Chintan Chandrachud and Bengali author Manoranjan Byapari who argued the need for reservation and spoke at length about Ambedkars legacy and the road the Constitution of India has taken since it was adopted. PTI MAH RT
https://www.indiatoday.in/pti-feed/story/not-as-bad-to-be-muslim-than-to-be-dalit-christophe-jaffrelot-1154830-2018-01-26
--------
Shocking Video Shows Mass Execution of Prisoners in Libya's Benghazi
25 January 2018
The UN Special Mission in Libya expressed its alarm on Wednesday after reports of summary executions in Benghazi, in which at least nine people being shot dead at the site of a twin car bombing.
Referring to the killings as "brutal and outrageous," the mission said the UN "demands the handing over of Mahmoud al-Werfalli immediately to the International Criminal Court."
Werfalli is a special forces commander wanted by the ICC allegedly carrying out a number of similar killings.
In a tweet from its official account, the mission added that "it documented at least 5 similar cases, in 2017 alone, carried out or ordered by alWerfalli."
The photos, which were posted on social media and in local media, appear to show executions in front of Benghazi's Bayaat al-Radwan mosque, where a twin car bombing on Tuesday left at least 35 people dead.
One of the pictures shows a gunman dressed in military camouflage, pointing a weapon at the head of the first of a row of blindfolded men kneeling in blue jumpsuits in front of damaged mosque gates.
Another photo shows all but three of the people slumped forward on the road as the gunman makes his way along the line. It was unclear who the men were.
https://english.alarabiya.net/en/News/north-africa/2018/01/25/Shocking-video-pictures-show-mass-execution-of-prisoners-in-Libya.html
--------
Pakistan
Online blasphemy case: IHC asks govt to ban movies against Islam, Pakistani culture
By Rizwan Shehzad
January 27, 2018
ISLAMABAD: The Islamabad High Court (IHC) has ordered authorities to ban all foreign movies violating Islamic teachings and the laws, moral values and culture of Pakistan.
In the remarks made on Friday during hearing of the online blasphemy case, the IHC judge Shaukat Aziz Siddiqui said all the movies and video games responsible for promoting pornography and violence must be banned.
"Movies coming from foreign countries – if they violate any law of Pakistan, moral values, Islamic teachings and Pakistani culture – must be banned regardless of the origin of the movies and take measures in accordance with law," Justice Siddique said.
IHC moved to ban Black Friday for being 'un-Islamic'
He also ordered forming a high-level committee which will examine the issue of pornography, its availability on the internet, TV channels and other means and devices, with suggestions of immediate, short term and long term measures to stop 'this menace against society'.
"The committee will be headed by the secretary cabinet division and comprised of secretaries of the ministries of Interior, religious affairs, information technology and broadcasting with the special participation of chairmen of Perma [Pakistan Electronic Media Regulatory Authority] and PTA [Pakistan Telecommunication Authority]," he added.
The court said the very purpose of insertion of pornography in the Prevention of Electronic Crimes Act, 2016 (Peca) was to take preventive measures against the onslaught through internet, TV channels and other means.
He said the values of Pakistani nation and its young generation were being attacked and it was expected from the executive functionaries to take some remedial steps. "But unfortunately this alarming and chronic issue failed to attract the attention of persons at the helm of affairs."
With regard to insertion of provisions for punishment in case of false accusation of blasphemy, the Additional Attorney General Afnan Karim Kundi told the court that all the stakeholders had been involved and it was expected that the matter would soon be placed before the cabinet for its approval.
"At least 30 days' time is required for that purpose," he added.
The PTA official Nisar Ahmed told the court that pornography is controllable and bids have been invited for expression of interest in order to deploy suitable technical solution for controlling unlawful content.
However, Kundi revealed during the hearing that definition of the clause of 'pornography' requires clarification and he sought at least a fortnight's time for this purpose. He said the slots for both the PTA chairman and member finance were lying vacant.
The IHC directed the government to appoint the PTA chairman and member finance within a fortnight, noting that an important authority had become dysfunctional for all intents and purposes.
In response to an earlier order, the Ministry of Interior special secretary submitted an interim report showing progress and steps taken pursuant to the court order.
The steps include final approval of amendment in the Federal Investigation Agency (FIA) schedule; preparation of proposed draft for insertion of definition of blasphemy and pornography in Peca, and stance of the PTA that being an independent authority is fully empowered to enhance its capacity for carrying out its mandate.
The progress report said public service messages by the Ministry of Information were sent to Pemra for allocation of 10% air time. In response to Pemra's instruction, 38 TV channels had started allocating time, but still some leading news channels were not ready to allocate the time.
The court order issued after the hearing revealed that there were serious complaints that different channels through morning shows are involved in activities which are against the decency, morality, values of Islam and cultural heritage of Pakistan. "[It] is a matter of great concern for all the families," it said.
As some items of different channels clearly fall within the definition of obscenity, pornography, Justice Siddiqui directed Pemra to submit a report in this regard and take immediate steps to prevent telecast of such content. "If any channel fails to follow the instructions, penal action may be taken against the channel," he said.
Justice Siddiqui directed Pemra chairman to take action against the TV channels, which are not allocating time for public service messages. He also sought a report in this regard before the court on next hearing on February 16
https://tribune.com.pk/story/1619252/1-online-blasphemy-case-ihc-asks-govt-ban-movies-islam-pakistani-culture/
--------
Pakistan police killing of a Pashtun youth fuels anger over "encounters"
27 January 2018
KARACHI: Nationwide protests at the police killing of a young ethnic Pashtun man in Pakistan's largest city have shone a spotlight on allegations of persecution by the authorities against refugees from the country's conflict-ridden northwest.
The country's Supreme Court launched an inquiry on Jan. 19 into the death of 27-year-old aspiring fashion model Naqibullah Mehsud. He was one of four men killed six days earlier in what police initially said was a shoot-out with suspected Islamist militants. The Supreme Court plans to begin hearings on the case on Saturday.
The police team that killed Mehsud was under the command of senior superintendent Anwar Ahmed Khan, who has been suspended since Jan. 20 on the recommendation of a police inquiry committee. The committee was set up after Mehsud's father, Muhammad Khan Mehsud, who denies his son had any militant links, filed a kidnapping and killing complaint against him.
Anwar told Reuters he had done nothing wrong and said the investigation into his officers' actions could allow the Taliban to regain a foothold in ethnic Pashtun parts of the city.
"I had no knowledge of Naqibullah Mehsud. My staff told me that he is a militant with a criminal history," he said.
Police data from 2011 reviewed by Reuters shows that in the seven years Anwar has been in charge of Karachi's Malir district, which has a large Pashtun population, at least 450 people have been killed in 200 clashes with police that involved weapons. The data does not give details of the circumstances of the shootings.
A senior police official, who asked not to be identified, said that the majority of those killed were ethnic Pashtuns. Pakistan's ethnic Pashtun borderlands have been a hotbed of Islamist militancy in recent decades.
Militant policy
Pakistani police refer to any armed clash with suspects as an "encounter." Some human rights activists and families of victims have for years alleged that such incidents are often staged to cover up extrajudicial killings.
Anwar told Reuters that armed operations to kill suspects were official police policy in Sindh Province, of which Karachi is the capital, to combat the threat from militants.
"There was an on-going official policy ... for carrying out encounters to take out criminals and I have broken no law," he said.
The provincial police chief denied there was such a policy.
"I don't need to respond to irresponsible allegations," Inspector General of Sindh police Allah Dino Khawaja said in a brief text message in reply to Reuters' questions. "He has to appear before the investigation to defend and prove his claims."
Sindh police said in a statement on Jan. 20 it had launched an inquiry "to ascertain the facts regarding the police encounter in which Naqibullah Mehsud was killed."
Some campaigners among the sprawling city's Pashtun community say the story is not unusual. But it is the first to receive nationwide attention — in part because Mehsud, known as Naqib, does not fit the image of the militant from Pakistan's lawless northern heartlands.
"He had a passion for wearing good clothes ... even in the picture of his body circulating on social media, he is seen wearing good clothes," his cousin Noor Rehman told Reuters, while holding back tears.
Another senior police officer said no evidence linking Naqib to militancy had been found.
"His particulars were checked in all the criminal databases of police and nothing came up," the official told Reuters on condition of anonymity.
Pakistan's chief justice on Tuesday summoned Anwar to appear for questioning at its first hearing this weekend. Earlier that day, he was not allowed to board a flight leaving Pakistan for Dubai, Pakistan's Federal Investigation Agency said.
Anwar told Reuters he does not plan to appear before the court. He said his children are studying in Dubai and he frequently visits.
Target group
Pashtuns are Pakistan's second largest ethnic group, and many have moved to the country's big cities to escape violence along the Afghan border.
But since the emergence of the Pakistani Taliban, whose leadership also comes from the Mehsud tribe in South Waziristan, Pashtuns who spoke to Reuters in Karachi say they are all now seen as potential militants.
"This is not just about the fact that police are killing people, it is about racial profiling," Jibran Nasir, a human rights lawyer who said he was filing a petition with the Senate's human rights committee, told Reuters.
"Naqib had a very public profile. Looking at pictures of Naqib modelling ... no one is willing to believe he had anything to do with Taliban. The problem here is not every Pashtun killed and profiled here is a model."
Figures posted by the Human Rights Commission of Pakistan (HRCP) on its website show 1,226 people were killed in 784 police encounters nationwide in the past two years.
In the days after Mehsud was killed, thousands of activists and Pashtun students staged protests in Karachi, Lahore, Peshawar, Islamabad and Quetta.
In Sohrab Goth, the majority Pashtun suburb of Karachi where Naqib's family live, three families told Reuters they had lost relatives in such incidents.
Reuters was shown death certificates and newspaper clippings, but was not able to independently confirm the circumstances of their deaths.
Sohail Anwer Sial, home minister in the Sindh provincial government whose department is responsible for the police, said the authorities were taking action over the Mehsud case, but that one or two incidents did not mean the entire police force was corrupt.
Full report at:
http://www.arabnews.com/node/1233976/world
--------
Kashmir issue among causes of a fractured world: Pakistan
Jan 26, 2018
DAVOS: Pakistan has said Kashmir and Rohingya issues are among the "causes of a fractured world" being witnessed today and they also need to be discussed at the international level.
Addressing a press conference along with his several cabinet colleagues who are here for the World Economic Forum (WEF), Pakistan Prime Minister Shahid Khaqan Abbasi said his country expects relationships to remain strong with China as well as the US.
He, however, acknowledged that the relationship with China has improved in recent past due to projects like Belt and Road Initiative (BRI) and the China Pakistan Economic Corridor (CPEC).
In reply to a question, Foreign Minister Khawaja Muhammad Asif said, "Kashmir and Rohingya are also among the causes of fractured world and they also need (to be) addressed at international level".
His comments were in reference to the theme of this year's WEF annual meeting -- 'Creating a shared future in a fractured world'.
Asked whether Pakistan was feeling the warmth of friendship from the East or the West, Abbasi said, "For our country warmth has been blowing from both East and from the West and we hope it continues to blow from both sides. We have excellent relationships with China and with the US also."
He said the relationship with China has further strengthened with BRI and CPEC.
Asif said these relationships have been there since the birth of the country.
The Chinese initiatives in a region that is politically and otherwise fractured is something that shows and manifests China's commitment to strive for a shared future, the foreign minister said.
He also noted that Pakistan has praised China's BRI and President Xi Jinping's vision at every platform in Davos.
"We would like our friends to view their relationship with Pakistan as an independent relationship and not through the prism of a third country. I am referring to our relationship with the US and they have (been) in the last few years viewing the relationship through the prism of Afghanistan," Asif said.
The prime minister and his cabinet colleagues also listed out various steps being taken to attract investments and how the government was trying to improve the country's global image.
Abbasi said Pakistan is an open market and ready to do business as he invited global businesses to come and invest in the country.
The decision to attend the WEF annual meeting was mainly driven by its theme, shared future in a fractured world, he said.
"In Pakistan, we are carving out a shared future for everyone without leaving any one and we are doing this despite facing fractures internally and externally," he noted.
Pakistan is at the cusp of making history by making a peaceful transition by completing a decade of continued democracy, he said.
According to him, the country is playing a key role in connecting people of the region also by participating in the CPEC which is part of the BRI project of China.
"Here at the WEF, we have engaged with leaders of various sectors and the platform has allowed us to present our potential," Abbasi said.
Full report at:
https://timesofindia.indiatimes.com/india/kashmir-issue-among-causes-of-a-fractured-world-pakistan/articleshow/62663384.cms
--------
Pakistan, Indonesia agree to work jointly for Afghan peace
January 27, 2018
ISLAMABAD: Pakistan and Indonesia on Friday agreed to work together for peace in Afghanistan, saying Afghan peace was necessary for the development and progress of the region.
This was agreed in a meeting between President Mamnoon Hussain and President of Indonesia Joko Widodo at the Aiwan-e-Sadr as the two leaders had one on one meeting followed by the delegation level meeting.
During the meeting, President Widodo said Indonesia thought that it could play a positive role in the peace process of Afghanistan. He commended Pakistan's significant role in the peace process of Afghanistan and also proposed the establishment of a committee of Indonesian, Afghan and Pakistani Ulemas for this purpose. President Mamnoon Hussain also agreed to his proposal.
During the meeting, the two leaders also agreed to enhance bilateral cooperation to further strengthen the defence and trade relations. Both leaders stressed that expanded trade, investment and economic cooperation should be a vital element in their relationship.
President Mamnoon expressed satisfaction over the progress of defence relations between the two countries.
He expressed pleasure that activities under the bilateral defence agreement had been started. He hoped that the Joint Committee envisaged under the agreement would soon be formed and start implementing the provisions of the agreement.
The president said new initiatives of army to army and navy to navy talks and joint exercises would further boost the bilateral cooperation. Both the countries could utilize expertise of each other in defence production, he added.
Full report at:
https://www.pakistantoday.com.pk/2018/01/27/pakistan-indonesia-agree-to-work-jointly-for-afghan-peace/
--------
SC to 'soon decide' future of disqualified politicians
January 27, 2018
ISLAMABAD - Chief Justice of Pakistan Mian Saqib Nisar on Friday said soon they will determine whether disqualification under Article 62(1)(f) of Constitution is for life or for one, three or five years.
The appeals against the disqualification under this article have been pending before the larger bench of the Supreme Court for the past one year.
However, the interpretation of Article 62(1)(f) has attained a new significance since the ouster of former Prime Minister Nawaz Sharif, who was disqualified as member of the parliament under the same article on July 28 last year.
The CJP was heading a three-member bench, which heard an appeal of Multan Cantonment Board Chairman Hamayun Akhtar against the Election Tribunal's decision of disqualifying him.
The counsel for the petitioner contended before the court that the election tribunal had declared him ineligible from contesting elections as he had failed to declare a bank account in his nomination papers. He further submitted that his client has been barred for life from contesting elections due to the tribunal's decision.
At this, the chief justice observed that his client failed to declare Rs3.7 million present in his bank account. He recalled that in the Nawaz Sharif case the court had ruled that concealing assets in election nomination papers is dishonesty.
The court then dismissed the petition of Hamayun Akhtar, upholding the Election Tribunal's decision of disqualifying him.
The Supreme Court is all set to take up on Tuesday (Jan 30) a number of appeals involving, among other constitutional questions, the interpretation of Article 62(1)(f) of the Constitution.
A larger bench, headed by Chief Justice Mian Saqib Nisar and comprising Justice Sheikh Azmat Saeed, Justice Umer Ata Bandyal, Justice Ijazul Ahsen and Justice Sajjad Ali Shah, will hear about 16 appeals filed by the parliamentarians who were disqualified under this article for having fake educational degrees.
Justice Azmat and Justice Ijazul Ahsen were also part of the five-member larger bench that disqualified Nawaz Sharif in Panama leaks case.
Former chief justice Iftikhar Muhammad Chaudhry had held in the 2013 Abdul Ghafoor Lehri case that certain disqualifications under Article 63 were of temporary nature and a person disqualified under the provisions of this article could become qualified after the lapse of a certain period.
Full report at:
https://nation.com.pk/27-Jan-2018/sc-to-soon-decide-future-of-disqualified-politicians
--------
Four terrorists held with donation money
January 27, 2018
DI KHAN - The Counter Terrorism Department (CTD) arrested four member of a banned outfit while collecting donations and recovered banners from their custody here on Friday. The CTD sources said that on an intelligence tip-off, operation was conducted in Qureshi Chowk of Dera Ismail Khan. During operation, four members of defunct organization engaged in collecting extortion money for the banned outfit were arrested with donation money and banners. The nabbed banned outfit members were shifted to an undisclosed location for further investigation.
https://nation.com.pk/27-Jan-2018/four-terrorists-held-with-donation-money
--------
Mideast
Trump threatens to pull aid to Palestinians if they don't pursue peace
25 January 2018
US President Donald Trump threatened to withhold aid to the Palestinians if they did not pursue peace with Israel, saying the Palestinians had snubbed the United States by not meeting Vice President Mike Pence during a recent visit.
Trump, speaking after a meeting with Israeli Prime Minister Benjamin Netanyahu at the World Economic Forum in Davos, said he aimed for peace in the Middle East.
He said he hoped sound minds would prevail among Palestinians to pursue peace.
But then he warned: "When they disrespected us a week ago by not allowing our great Vice President to see them, and we give them hundreds of millions of dollars in aid and support, tremendous numbers, numbers that nobody understands that money is on the table and that money is not going to them unless they sit down and negotiate peace."
https://english.alarabiya.net/en/News/middle-east/2018/01/25/Trump-threatens-to-pull-aid-to-Palestinians-if-they-don-t-pursue-peace.html
--------
Erdogan threatens to expand Syria offensive despite criticism
January 27, 2018
ANKARA - President Recep Tayyip Erdogan on Friday threatened to expand Turkey's offensive in Syria against a Kurdish militia despite calls for restraint from its Western allies. On the seventh day of the operation against the Syrian Kurdish People's Protection Units (YPG) militia, Erdogan vowed to "clean up" the Syrian city of Manbij. The United States has raised concerns over the deadly offensive, and analysts say a military confrontation between the two NATO powers is possible since the US has a military presence in Manbij.
Turkey launched operation "Olive Branch" against the YPG on Saturday, supporting Syrian rebels with ground troops, air strikes and artillery fire. While the YPG is still working closely with Washington against the Islamic State (IS) extremist group in Syria, Ankara views the YPG as a terror organisation allied to the outlawed Kurdistan Workers' Party (PKK) inside Turkey. The PKK is blacklisted by Ankara and its Western allies as a terror outfit.
Erdogan vowed in a speech in Ankara that Turkey would "continue our fight until there is no terrorist on our border", but did not elaborate.
He said the operation would last until "we reach our goals," adding: "Afterwards we will, as promised, clean up Manbij of terrorists."
Tensions between Ankara and Washington are already high but the offensive added further strain to their relationship. The two sides disagreed about the content of telephone talks between Erdogan and US President Donald Trump on Wednesday. Washington said Trump had urged Turkey to "limit its military actions" but a Turkish official said the US statement did "not accurately reflect the content" of the call. Erdogan criticised Turkey's allies, including the United States, which he said called for the operation to be "short" and "limited" in scope, referring to previous interventions. "How long has Afghanistan lasted? Nearly 20 years. How long has it lasted in Iraq? Nearly 18 years!" he thundered. Washington has more than 2,000 special forces and support troops inside Syria, mainly east of the Euphrates in an area also controlled by the YPG but separate from Afrin, which is west of the river.
According to Anthony Skinner, director of MENA at global risk consultancy Verisk Maplecroft, "direct military conflict" between Turkish and US forces is possible because of Erdogan 's threats to expand the campaign to Manbij.
"Turkish-US relations are teetering on the brink of a precipice," Skinner added.
"The current bilateral crisis could, in the worst case, fully eclipse that of the 1970s," he warned, when Washington imposed an arms embargo on Turkey in 1975 after the Turkish army invaded and occupied the northern third of Cyprus the year before.
The European Union has also expressed concern over the Turkish intervention in Syria, which is further complicating the war that has claimed more than 340,000 lives since 2011.
Turkey continued shelling YPG positions in Afrin on Friday, state-run news agency Anadolu reported.
Erdogan said "343 terrorists have been neutralised" during the operation so far. It was not possible to independently verify the toll.
Three Turkish soldiers have been killed since the start of the offensive, while the Syrian Observatory for Human Rights has said 58 Ankara-backed Syrian rebels and 53 US-backed Syrian Democratic Forces and YPG fighters had been killed.
The SDF is an umbrella grouping composed mainly of YPG fighters.
The Observatory has said 38 civilians have been killed mainly as a result of Turkish shelling but Ankara strongly rejects such claims, saying it is doing everything possible to avoid civilian casualties.
Othman Al-Sheikh Issa, co-chair of Afrin's executive council, on Thursday called on Syria to "say that it will not allow Turkish planes to fly in Syrian airspace".
Syrian Kurdish groups, long marginalised in Syria, took advantage of the withdrawal of regime forces from the north at the beginning of the conflict to assert their autonomy from 2012.
Kurdish fighters and government troops have largely stayed away from each other since then, albeit short-lived clashes in the cities of Hasakeh and Qamishli.
Full report at:
https://nation.com.pk/27-Jan-2018/erdogan-threatens-to-expand-syria-offensive-despite-criticism
--------
Yemeni army advances towards ending Taiz siege
26 January 2018
Yemen's legitimate forces continue to advance towards ending the siege of Taiz and cutting supply routes to the Houthi militia.
The Arab coalition forces launched 15 air raids targeting Houthi locations and hitting a weapon depot near Taiz, reported Al Arabiya.
Colonel Abdelbaset al-Bahr, the spokesperson of the Taiz axis military command, said Yemeni army brigades taking part in the military operations launched on Thursday to liberate Taiz were aided by the Saudi-led coalition air force.
According to Bahr, operations were launched on the west, north and east fronts and have targeted militias' posts and tanks.
He added that the army advanced in the area of al-Dabab, west and northwest of the city, and towards the Al-Hawban suburb in the northern and eastern fronts. Army forces also seized large part of Al-Waash Mountain in the northern party of the city where Houthi gunmen were stationed.
Houthis flee
Houthi members fled the area as the army advanced under the cover of the Saudi-led coalition's air cover, Bahr said, adding that the army also seized control of several areas in al-Znouj and Al-Arbaeen street following battles that killed 14 Houthis and injured dozens others.
Full report at:
https://english.alarabiya.net/en/News/gulf/2018/01/26/Yemeni-army-advances-towards-ending-Taiz-siege-.html
--------
Israeli occupation core of all conflicts in Middle East: Iran
Jan 26, 2018
The Israel regime's occupation of the Palestinian land is at the "core" of all conflicts in the Middle East, Iran's ambassador and deputy permanent representative to the United Nations says.
"The injustice has been continuing for more than seven decades, exacerbated through Israeli expansionist, aggressive and apartheid policies towards Palestinians and the region," Es'haq Al-e Habib said in an address to the UN Security Council Open Debate on "Situation in the Middle East, including the Palestinian Question" on Thursday.
He added that the Tel Aviv regime is currently making all efforts to dismiss all the rights of Palestinian statehood and entrench the occupation.
"The fast growing illegal settlements in the Palestinian territory constitutes not only a grave breach of the Fourth Geneva Convention but also a war crime that is another clear indication that the Israeli regime has never had any interest in peace," the Iranian diplomat said.
Earlier this month, Israeli officials approved plans for the construction of more than 2,200 new settler units in the occupied West Bank irrespective of the international outcry against the Tel Aviv regime's land expropriation and settlement expansion policies in Palestinian lands.
Israel's minister of military affairs, Avigdor Lieberman, has agreed to settlement expansion activities in Palestinian territories, and Israeli authorities are going to issue permits for the construction of 900 housing units at Ariel settlement in the central West Bank, Israel's Hebrew-language Channel 10 television network reported.
About 600,000 Israelis live in over 230 illegal settlements built since the 1967 Israeli occupation of the Palestinian territories of the West Bank and East Jerusalem al-Quds.
Elsewhere in his remarks, the Iranian envoy condemned the "provocative, illegal and politically wrong" decision by the US to recognize al-Quds as the capital of the Israeli regime.
"The destructive role of the US in international conflicts, particularly in the Middle East, is incontestable. The United States has never been an honest partner for peace and justice in this conflict, and it will never be," Al-e Habib added.
On December 6, US President Donald Trump announced his decision to recognize Jerusalem al-Quds as Israel's capital and relocate the US embassy in Israel from Tel Aviv to Jerusalem al-Quds.
The United Nations General Assembly on December 21 overwhelmingly voted in favor of a resolution that calls on the US to withdraw its controversial recognition of Jerusalem al-Quds as the Israeli "capital."
Al-e Habib further pointed to other contributors to the instability of the Middle East and said, "Any foreign intervention, occupation and ensuing instabilities and attempts to engineer societies in the Middle East, proved to provide breeding grounds for terrorist and extremist groups to grow."
He expressed regret over attempts by the US and Israeli regime to promote Iranophobia and said, "This has become a kind of ongoing obsession and hysteria for them."
"This hysteria is being actively perpetuated by those willing to sell or spend their dollars on American beautiful weapons."
The ambassador emphasized that at a time that Iran was helping the Iraqi and Syrian people fight and defeat Daesh terrorist group, Washington and some of its allies were busy arming it.
He once again expressed the Islamic Republic's support for the Palestinian people who are facing mounting Israeli aggression.
"Iran reaffirms its longstanding solidarity with the Palestinian people, recognizing their decades of resilience despite so much suffering and injustice," Al-e Habib said.
Full report at:
http://www.presstv.com/Detail/2018/01/26/550255/Eshaq-Ale-Habib-Security-Council-Palestine
--------
Zarif slams Saudi 'vision of light spin', US 'credit-grabbing' for Daesh defeat
Jan 25, 2018
Iran's Foreign Minister Mohammad Javad Zarif says the US and Saudi Arabia cannot alter the facts on the ground about their sponsorship of Daesh and Iran's role in defeating the Takfiri terrorist group.
In a post on his Twitter account on Thursday, Zarif reacted to latest remarks by Saudi Foreign Minister Adel al-Jubeir, who accused Iran of backing sectarianism.
Speaking at a panel in the World Economic Forum in the Swiss town of Davos on Wednesday, Jubeir claimed that Iran was promoting a "vision of darkness" in the region while the Saudi Arabia had a "vision of light."
"In the Middle East, we have two competing visions. Vision of light ... and we have a vision of darkness, and the vision of darkness is sectarianism, it's trying to restore an empire that was destroyed thousands of years ago, it's using sectarianism and terrorism in order to interfere in the affairs of other countries," he said.
In response, Zarif said that no "alternative facts" provided by Riyadh and Washington could diminish Iran's successful contribution to the Daesh defeat.
Saudi Arabia is widely viewed as the homeland of radical Wahhabism, the same ideology influencing Takfiri outfits such as Daesh, which have been wreaking havoc in the Middle East and beyond for years. The US has also been supporting different terrorist groups in the region.
Full report at:
http://www.presstv.com/Detail/2018/01/25/550170/Iran-Javad-Zarif-Saudi-Arabia-Daesh
--------
Yemeni army attacks Saudi-backed militants, inflicts heavy casualties
Jan 27, 2018
The Yemeni army has inflicted heavy human and material losses on Saudi Arabian-backed militants during attacks in northwestern Yemen.
On Saturday, the Yemeni army struck the positions of a group of militants backing Yemen's former Riyadh-allied regime the al-Mahashamah and al-Yatmah districts of al-Jawf Province, Yemen's al-Masirah television reported.
The attacks killed and injured a large number of the militants and destroyed much of their military hardware, it reported. A number of the militants also reportedly surrendered themselves to the army.
The militants have been receiving logistical and arms support from Riyadh to further its goal of restoring the government of former Yemeni president Abd Rabbuh Mansur Hadi to power. Hadi had resigned back in 2015 but later sought to reclaim power.
The Yemeni army and Houthi fighters, who are helping the army fight off a Saudi Arabian-led war of aggression, also caused an unspecified number of casualties in similar attacks against Saudi mercenaries in the southwestern Yemeni province of Ta'izz on Friday. The operations also destroyed 20 military and armored vehicles, while three vehicles belonging to pro-Hadi forces were destroyed in the nearby Sana'a Province's Nihm District.
Saudi attacks
Also on Saturday, Saudi Arabian-led warplanes carried out several attacks against Ta'izz, and the western provinces of Ma'rib, al-Hudaydah, and Sa'adah.
The latter two provinces, which border Saudi Arabia, were also subjected to rocket and mortar attacks by Saudi border guards.
Saudi Arabia started leading a number of its vassal states in attacking Yemen in March 2015, shortly after Hadi resigned.
The offensive has failed to achieve any of its objectives.
Around 13,600 people have, meanwhile, been killed in the Saudi Arabian-led war, which has also damaged Yemen's health infrastructure, fueling deadly cholera and diphtheria outbreaks.
A blockade imposed by the Saudi-led coalition on Yemen has also caused widespread famine in the already-impoverished country.
Full report at:
http://www.presstv.com/Detail/2018/01/27/550313/Yemen-Army-Saudi-Hadi-Houthi-Ansarullah
--------
At least 30 African refugees drown after boat capsizes off Yemen: UN
Jan 26, 2018
The United Nations says at least 30 African refugees have drowned when their boat capsized off the coast of Yemen this week with reports that their smugglers opened fire on those on board.
The UN refugee and migration agencies said in a joint statement on Friday that there were at least 152 Somalis and Ethiopians on board the overcrowded boat which departed from Aden in southern Yemen on 23 January.
"The vessel is believed to have been operated by unscrupulous smugglers who were attempting to take refugees and migrants to Djibouti, while also trying to extort more money from these refugees and migrants," the statement added.
The vessel "capsized amid reports of gunfire being used against the passengers", the UN agencies said, adding that it was working with the Yemeni coast guard to try to find out what happened.
"At least 30 people have died in this tragic incident" which occurred near the coast, the statement said.
At least 13,600 people have been killed since Saudi Arabia launched a military campaign against Yemen in an attempt to reinstall Abd Rabbuh Mansur Hadi, Yemen's former president and a staunch ally of Riyadh, and to crush the Houthi Ansarullah movement. The Saudi campaign, however, has failed to achieve its goals.
The UN Refugee Agency said it was "outraged" by the latest casualties.
"Prolonged conflict and insecurity in Yemen continues to expose vulnerable refugees and migrants to heightened risks of human rights violations including arbitrary arrest, detention, trafficking and deportation," the agency tweeted.
Last August, scores of African refugees died after they were forced from two boats into rough seas off Yemen by smugglers.
Yemen's lawless southern regions, which are mostly controlled by militants loyal to Saudi Arabia and Yemen's resigned president Abd Rabbuh Mansur Hadi, have become a fertile ground for smugglers who vow to transfer refugees from the region to wealthier Arab states in the Persian Gulf.
Full report at:
http://www.presstv.com/Detail/2018/01/26/550254/UN-African-refugees-Yemen
--------
Turkish presidential aide lauds Muslims' role in Europe
25.01.2018
The Turkish Presidential spokesman Ibrahim Kalin on Thursday asserted that "Muslims are shown as 'the greatest threat' every day."
Kalin's remarks came during a visit to Bosnia and Herzegovina's capital Sarajevo, where he gave a lecture entitled "Islam-West Relations in the 21st Century" at the Faculty of Political Sciences at the University of Sarajevo.
Kalin addressed what he saw as the general patterns of perception about Islam and Muslims.
"When a Muslim person produces something beautiful, it must have been taken from another place, and according to their view, Muslims do not have their own intelligence, capacity, and this work has been taken from Christian art, Jewish art, African art or Indian art.
"This is a wrong perception and pattern of thinking. The Muslim countries are not the richest countries in the world. These countries do not have the biggest armies in the world. They do not produce weapons of mass destruction. The Muslim countries do not have the most advanced military technology but somehow, Muslims are represented every day as the greatest threat," said Kalin.
Kalin said Western nations were mostly responsible for this characterization.
"They have the largest armies in the world, they control the world economy, there are weapons of mass destruction, atomic bombs and chemical weapons, that is the difference between perspective and reality," said Kalin.
'Prevent unnecessary wars'
Kalin said that there is an extraordinary diversity that Allah has created from color to race, ethnicity to cultures, ideas and perspectives.
"We can prevent unnecessary wars if we can maintain the balance between unity and diversity," said Kalin.
Kalin said Islam and Western societies did not have to be in conflict with each other and could learn from each other.
He added that Sarajevo could serve as a model in this sense.
"This is what I feel at least when I come to Sarajevo, I hope it will be more real than a dream," said Kalin.
Kalin also attended a panel on "The Future of Islam and Muslims in Europe on the Axis of Andalusia and Bosnia-Herzegovina" organized by the International University of Sarajevo.
Speaking at the panel, Kalin addressed the genocidal attack in Srebrenica perpetrated by Bosnian Serb forces, in which more than 8,000 Muslims were murdered.
"If Bosnian Muslims can still honorably remain as part of Europe 20 years after the Srebrenica genocide, it means there is still a hope. We need to help them as Europeans, Turks or others to establish a new Andalus in Bosnia and Herzegovina," said Kalin.
Andalusia on the Iberian Peninsula was under the influence of the Arabs between 711-1492. It is also known as Muslim Spain. Al-Andalus was a medieval Muslim territory considered tolerant where also lived Jews and Christians as well as a large Slavic population.
The Bosniak member of the Presidency of Bosnia and Herzegovina Bakir Izetbegovic underlined that Islamic thought has initiated a humanitarian revival of Europe, and neither Islam nor Muslims are foreign to the spirit of Europe.
"Muslims, along with other societies, built Europe and they are the natives of European culture and civilization," said Izetbegovic.
Later in the day, the Turkish Presidential spokesman met with journalists in the capital Sarajevo.
Kalin talked about Turkey's Operation Olive Branch in Afrin, Syria, which began last Saturday.
He said that Turkey launched the operation to protect its borders as well as Syria's territorial integrity.
The Turkish presidential aide said that the operation would continue until the whole region was cleared from terrorist elements and it did not target Kurdish people.
According to the military, the operation aims to establish security and stability along Turkish borders and the region as well as protect Syrians from terrorist oppression and cruelty.
The operation is being carried out under the framework of Turkey's rights based on international law, UN Security Council resolutions, its self-defense rights under the UN charter, and respect for Syria's territorial integrity, it said.
The military also said it is putting the "utmost importance" on not harming any civilians.
Full report at:
http://aa.com.tr/en/europe/turkish-presidential-aide-lauds-muslims-role-in-europe/1042751
--------
North America
Trump says almost 100% of territory regained from Islamic State
26 Jan 2018
DAVOS, Switzerland: US President Donald Trump said Friday (Jan 26) that US-backed coalition forces had won back almost 100 per cent of territory occupied by the Islamic State group in Iraq and Syria.
"The coalition to defeat the Islamic State of Iraq and Syria (ISIS) has retaken almost 100 per cent of the territory once held by these killers in Iraq and Syria," Trump said in a speech at the World Economic Forum in Davos, Switzerland.
"There is still more fighting and work to be done and to consolidate our gains."
IS has been dealt a string of defeats across Iraq and Syria in recent months.
The US-led coalition said on Tuesday it had killed as many as 150 Islamic State fighters in an operation in the middle Euphrates River Valley in Syria, where some remained entrenched.
It said the Syrian Democratic Forces, a US-backed Arab-Kurdish alliance fighting Islamic State, had assisted in target observation prior to the strike.
Kurdish ground forces have played a critical role in defeating IS.
On Wednesday Islamic State claimed responsibility for a deadly attack on Save the Children's office in east Afghanistan that left at least two people dead and 14 others wounded.
"We are committed to ensuring that Afghanistan never again becomes a safe haven for terrorists who want to commit mass murder to our civilian populations," Trump added in his speech.
https://www.channelnewsasia.com/news/world/trump-says-almost-100-of-territory-regained-from-islamic-state-9900854
--------
Will ensure Afghanistan never becomes terrorists' safe haven again: Trump
Jan 26, 2018
US President Donald Trump asserted on Friday that America is committed to ensuring that Afghanistan never again becomes a safe haven for terrorists and urged other nations to invest in their own defences to make the world safer from rogue regimes.
Addressing the World Economic Forum (WEF) gathering in Davos, Trump said the US is working with allies and partners to destroy jihadist terrorist organisations such as IS.
"We are committed to ensuring that Afghanistan never again becomes a safe haven for terrorists who want to commit mass murder of our citizens.
"I want to thank those nations represented here today that have joined in these crucial efforts. You are not just securing your own citizens, but saving lives and restoring hope for millions," the American president said.
When it comes to terrorism, Trump said the US would do what is necessary to defend its citizens and borders. Efforts are on for securing the country's immigration system as a matter of both national and economic security, he added.
"To make the world safer from rogue regimes, terrorism, and revisionist powers, we are asking our friends and allies to invest in their own defences and to meet their financial obligations," he said, adding that "our common security requires everyone to contribute their fair share".
Trump said the US is leading a broad coalition to deny terrorists control of their territory and populations, to cut off their funding, and to discredit their wicked ideology.
Full report at:
https://www.hindustantimes.com/world-news/will-ensure-afghanistan-never-becomes-terrorists-safe-haven-again-trump/story-1UZq4vsyuWgGUizkisQl5I.html
--------
Fight against radical Islamism is about saving our civilization
January 26, 2018
The West is facing an existential crisis: an insurgency of enemy citizens intent on bringing down our civilization. This threat is exasperated by a governing class that denies every aspect of this crisis, including our ability to criticize the theocratic ideology driving it.
In order to solve a problem, we must first define it. And to define what we're up against, our society must be able to engage in a free and open discussion about the threat of Islamist extremism.
Instead, those who dare lead discussions on this threat are dismissed by Leftist elites and smeared as racists, bigots and "Islamophobic."
Hollywood star Ben Affleck infamously called neuroscientist and atheist philosopher Sam Harris's view on Islam "gross" and "racist" on Bill Maher's show in 2014. Harris was carefully criticizing the doctrine of beliefs held by Islamists – those who want their version of Islam to govern all of society. He pointed out that 78% of British Muslims think that insulting the Islamic prophet Mohammad should be a crime.
Rather than engage in honest debate, Affleck had a meltdown and resorted to name-calling – an all-to-familiar tactic to shut down debate.
The assault on free speech and open debate comes both through social justice mobs like the one led by Affleck against Harris, and through the encroachment of aspects of Sharia Law in our legal system.
Liberal MP Iqra Khalid's dubious M-103, which seeks to make the undefined phenomenon of "Islamophobia" a hate-crime in the Canadian legal code, reeks of modern day anti-blasphemy law. It's designed to scare Canadians into keeping quiet when it comes to criticisms of Islam.
The Left doesn't want anyone to discuss Islamist extremism, in fact, they refuse to even utter these words.
"Let's be clear: Islam is not our adversary. Muslims are peaceful and tolerant people and have nothing whatsoever to do with terrorism," said Hillary Clinton on Twitter in November 2015.
Increasingly, we're fed obviously false statements from those who refuse to speak honestly about the Islamist ideology. This has created what British liberal author Maajid Nawaz calls the Voldemort Effect. In the Harry Potter novels, the book's antagonist is considered so terrifying that he's only referred to as "he-who-must-not-be-named."
When people are too afraid to name something, or acknowledge it exists, it prevents any legitimate efforts to combat it. When politicians refuse to name Islamist extremism as a problem, they allow it to operate unchecked.
The more the Left doubles down on this mantra "Islam has nothing to do with terrorism," the more they alienate those who can see through the made-up narrative that terrorists who kill in the name of Islam aren't really killing in the name of Islam.
Without an open discussion about Islam and terrorism, many citizens of Western countries have embraced far-right political parties and revitalized nationalist movements. Wouldn't it be more productive to have an open and honest conversation about Islamists?
Progressives seem to prefer ostracizing critics over having an honest debate – a debate which may undermine their doctrine of forced diversity and official state multiculturalism.
These progressives pave the way for figures like Donald Trump, people who are bold enough to name the threat and craft a plan to combat it. If Leftist elites continue to suppress discussion and forbid debate about Islam, Trump will be just the beginning of the backlash.
Full report at:
http://torontosun.com/opinion/columnists/malcolm-fight-against-radical-islamism-is-about-saving-our-civilization
--------
US government aiding child sexual abuses in Afghanistan: Analyst
Jan 26, 2018
The US military has indirectly encouraged child sexual abuse by Afghan forces for years, similar to the US government's support of terrorist groups throughout the world, a former US Senate candidate says.
"Sadly, this is not the first time that something like this has happened; you can go all the way back to the end of World War ll," said Mark Dankof, who is also a broadcaster and pastor in San Antonio, Texas.
"This American government that has been aiding and abetting these child sexual abuses in Afghanistan is the same American government … that is supporting all of these Israeli atrocities in Palestine and Gaza, this is the same American government that has been working with ISIS (ISIL or Daesh) and al-Qaeda-affiliated organizations to attempt to overthrow the legitimate government of Syria," Dankof told Press TV on Thursday.
"And this is the same American government that has been making overt threats to attack Iran because this is what [Israeli Prime Minister] Benjamin Netanyahu and the Zionist 'state' of Israel want the American government to do," he added.
A new US government report has found that US military troops stationed in Afghanistan have turned a blind eye on thousands of "gross human rights abuses" by the Afghan military forces over the past few years, including many instances of child sexual abuse.
The heavily-redacted report released this week by the Special Inspector General for Afghan Reconstruction, known as Sigar, was commissioned by the administration of former President Barack Obama and was supposed to remain classified until June 2042.
According to the report, the US military has given a free pass to the Afghan accusers on no less than 5,735 cases between 2010 and 2016, breaching the Leahy Law which bars the US military from providing funds, training or other aid to foreign military units that are involved in serious human rights abuses.
The report does not specify how many times did the US soldiers ignored reports about the practice of bacha bazi, or "boy play," where some Afghan commanders keep underage boys as their sex slaves.
The report sheds more light on the dark sides of the 2001 US invasion of Afghanistan, which has been followed by an ongoing occupation.
Full report at:
http://www.presstv.com/Detail/2018/01/26/550238/us-military-Afghan-forces-sex-abuse-Mark-Dankof
--------
Pentagon says not in crisis with Turkey amid Afrin op.
26 January 2018
The Pentagon said on Thursday that there was no crisis between Turkey and the U.S. amid the Turkish Operation Olive Branch in Afrin, Syria.
"We're not in a crisis, we're -- Turkey is an ally, and we're going to work with them," the Pentagon's chief spokesperson Dana White told reporters.
"But this current -- this current issue, […], is a distraction. And we have to focus as allies and -- on the mission at hand, and that's defeating ISIS," said White using a different acronym for terrorist group ISIL.
On the question about possible safe zones along the Syrian border, White said that Turkey has "legitimate security concerns".
"We're going to continue to engage with them," she added.
Joint Staff Director Lt. Gen. Kenneth McKenzie, who was also with White during the briefing, said: "Clearly we continue to talk to Turks about the possibility of a secure zone, whatever you want to call it. We've looked at that for a couple of years in various different iterations, and -- and no final decision on it yet."
McKenzie added that the Turkish operation in Afrin would make it "hard to focus on why we are in Syria, which is the defeat of ISIS."
He echoed White's comments saying, "Turkey has a legitimate national security interest and they are very close to the problem."
He added: "We haven't trained or provided equipment for any of the Kurds that are in the Afrin pocket. You know we tend to -- we're focused on the Euphrates River Valley, operations to the south and to the east."
The U.S. has supported the PYD/PKK -- considered by Ankara as the Syrian offshoot of the PKK terror organization that has waged a more than 30-year war against the Turkish state. The terror campaign has resulted in tens of thousands of deaths.
American support for the terror group has long vexed Ankara as Washington views the PYD/PKK-led umbrella group SDF as a "reliable partner" in its fight against ISIL and continues to provide it with arms and equipment in the face of strong objections by Turkey.
On Saturday, Turkey launched Operation Olive Branch to clear PYD/PKK and ISIL terrorists from Afrin, northwestern Syria.
According to the military, the operation aims to establish security and stability along Turkish borders and the region as well as protect Syrians from terrorist oppression and cruelty.
The operation is being carried out under the framework of Turkey's rights based on international law, UN Security Council resolutions, its self-defense rights under the UN charter, and respect for Syria's territorial integrity, it said.
The military has also said it is putting "utmost importance" on not harming any civilians.
Full report at:
http://www.worldbulletin.net/america-canada/198206/trump-ready-to-apologize-over-britain-first-retweets
--------
India
Indonesia, Malaysia Share Counter-Terrorism Experiences With India
January 26, 2018
Indonesian President Joko Widodo and Malaysian Prime Minister Najib Razak shared their respective countries' experience of countering terrorism during the course of their visit to India to attend the Commemorative Summit to mark 25 years of the India-Asean Dialogue Partnership, a senior official said in Delhi on Friday.
At a media briefing, Preeti Saran, Secretary (East) in the External Affairs Ministry, said that during the bilateral meetings, Prime Minister Narendra Modi had with Mr Widodo and Mr Razak, both visiting leaders "shared their own experiences and the legislations they have introduced in their own countries".
"The soft and hardware aspects of countering terrorism," Mr Saran explained. "The hardware aspects of strict actions to be taken through enabling laws and the software actions in terms of how to ensure that the youth do not go the path of extremism or radicalisation."
Indonesia is the country with the largest Muslim population, as over 61 per cent of the population in Malaysia follows Islam.
A Delhi Declaration issued following Thursday's Summit said both India and the 10-nation Association of Southeast Asian Nations (Asean) agreed to "deepen cooperation in combating terrorism in all its forms and manifestations, violent extremism and radicalisation through information sharing, law enforcement cooperation and capacity building under the existing Asean-led mechanisms".
The statement reiterated both sides' commitment to promote a "comprehensive approach to combat terrorism through close cooperation by disrupting and countering terrorists, terrorist groups and networks, including by countering cross border movement of terrorists and foreign terrorist fighters and misuse of Internet including social media by terror entities; strengthen cooperation to stop terrorism financing efforts, and prevent recruitment of members of terrorist groups; support efforts in targeting terrorist groups and sanctuaries; and take further urgent measures to counter and prevent the spread of terrorism, while stressing that there can be no justification for acts of terror on any grounds whatsoever".
While PM Modi held a bilateral meeting with Mr Widodo late on Thursday evening, he met Razak on Friday afternoon.
Mr Widodo and Mr Razak were among the 10 heads of government or state from the Asean member states who attended Friday's Republic Day celebrations as guests of honour, an unprecedented first.
The Asean comprises Brunei, Cambodia, Indonesia, Laos, Malaysia, Myanmar, the Philippines, Singapore, Thailand and Vietnam.
Giving an overview of the Commemorative Summit, Ms Saran said: "All of the 10 Asean countries have appreciated India's role and the bilateral relationship we enjoy with each one of them and the fact that India has played such a positive role in the Indo-Pacific region".
"The message we got from the 10 leaders was that they feel India is a very important component for peace, stability and prosperity of the Indo-Pacific region," she said.
According to Ms Saran, all the 10 leaders greatly appreciated India's growth story.
"All of them repeatedly acknowledged the growth rates India is clocking at the moment, being one of the fastest growing economies." she said.
She said the reforms introduced to fight corruption in India was of interest to Philippines President Rodrigo Duterte, who particularly showed interest in the Aadhaar system, digital economy and cashless transactions.
"It was another issue of interest for Singapore who would like to go more and more into cashless financial transaction," Ms Saran said.
https://www.ndtv.com/india-news/indonesia-malaysia-share-counter-terrorism-experiences-with-india-1805116
--------
In a first, Delhi Declaration mentions cross-border terrorists
by Shubhajit Roy
January 26, 2018
In a significant development, India and 10 ASEAN countries on Thursday for the first time mentioned "cross-border movement of terrorists" and made a commitment to counter the challenge through "close cooperation". They not only agreed on a comprehensive approach to counter "foreign terrorist fighters", but also supported efforts to target terrorist groups and sanctuaries.
This assumes significance as India has always accused Pakistan of "cross-border terrorism", and many ASEAN countries have, in the past few years, been victims of terrorist attacks in Indonesia and Thailand among others. The language formulation in the Delhi declaration is a marked change from the 2012 Vision statement, where there was no explicit mention of terrorism and only had a commitment to foster greater security cooperation.
The Delhi declaration issued on Thursday said the leaders reiterated their commitment to "promote comprehensive approach to combat terrorism through close cooperation by disrupting and countering terrorists, terrorist groups and networks, including by countering cross- border movement of terrorists and foreign terrorist fighters and misuse of Internet, including social media, by terror entities; strengthen cooperation to stop terrorism financing efforts, and prevent recruitment of members of terrorist groups; support efforts in targeting terrorist groups and sanctuaries; and take further urgent measures to counter and prevent the spread of terrorism, while stressing that there can be no justification for acts of terror on any grounds whatsoever."
"Combating terror financing jointly is yet another important area where we could work collectively," Prime Minister Narendra Modi told the visiting ASEAN leaders at the plenary session on Thursday. According to the Delhi declaration, they also decided to work together with the international community to ensure "compliance with the relevant United Nations Security Council resolutions regarding counter-terrorism", and to note efforts on the negotiations of the Comprehensive Convention on International Terrorism (CCIT) at the United Nations.
For India, this paragraph emboldens Delhi's efforts to list Jaish-e-Mohammad chief Maulana Masood Azhar as a global terrorist, and pressure Pakistan to take action against Mumbai terror attack mastermind and Jamaat-ud-Dawa founder Hafiz Saeed. The Delhi declaration also said that they would "deepen cooperation in combating terrorism in all its forms and manifestations, violent extremism and radicalisation through information sharing, law enforcement cooperation and capacity building under the existing ASEAN-led mechanisms".
In addition, the statement said they would strengthen cooperation to combat other transnational crimes, including people smuggling, trafficking in persons, illicit drug trafficking, cybercrime, and piracy and armed robbery against ships.
Full report at:
http://indianexpress.com/article/india/in-a-first-delhi-declaration-mentions-cross-border-terrorists-asean-narendra-modi-5039676/
--------
Won't tolerate sniping of soldiers: India to Pakistan at flag meet
by Arun Sharma
January 26, 2018
India Thursday told Pakistan that it will not tolerate sniping of its soldiers and subsequent firing and shelling on its civilians along the border. The message was conveyed at a flag meeting between personnel of BSF and Pakistan Rangers on the international border In R S Pura's Suchetgarh area. A request for the meeting had come from Pakistani Rangers.
"During the meeting, BSF strongly objected to the dastardly acts of sniping of its soldiers on January 3 and 17 from Pakistan side and then its further resorting to unprovoked firing and shelling targeting number of Indian villages, innocent civilians and their properties,'' a BSF official said. "BSF conveyed strong protest with message that such provocating acts are unacceptable and will not be tolerated,'' he added.
At the sector commander-level flag meeting, the BSF delegation comprised five officers led by DIG, Jammu Sector, P S Dhiman, while the Pakistani delegation had ten officers, including wing commanders, led by Sector Commander of Chenab Ranges, Sialkot Punjab, Brigadier Amjad Hussain.
Full report at:
http://indianexpress.com/article/india/wont-tolerate-sniping-of-soldiers-india-to-pakistan-at-flag-meet-5039664/
--------
Indian Police Stop Hindu, Muslim Rioting That Killed 1
January 27, 2018
LUCKNOW, India — Indian police say they rushed security forces to a northern town where a clash between Hindu and Muslim groups left one person dead and three others injured during India's National Day celebrations.
Uttar Pradesh state police spokesman Rahul Srivastava says the two groups shot guns and attacked each other with rocks on Friday in Kasganj, a small town in the state.
Srivastava said police defused the situation and no fresh violence was reported on Saturday.
Full report at:
https://www.washingtonpost.com/world/asia_pacific/indian-police-stop-hindu-muslim-rioting-that-killed-1/2018/01/27/4cf5e6b6-0342-11e8-86b9-8908743c79dd_story.html?utm_term=.6bfffdad0bfc
--------
Africa
28 killed in 2 separate attacks in Mali
26 January 2018
At least 28 people, including two Malian soldiers, were killed and several others injured in two separate attacks in Central Mali on Thursday, according to Malian media Friday.
In the first incident, 26 people, including women and children were killed when a vehicle stepped over a landmine in the central part of the country.
The vehicle had left Burkina Faso and struck a landmine about 10 kilometers (6.2 miles) from Boni city in Mali.
No group claimed responsibility for the attack.
Separately, in Youwarou, also in Central Mali's Mopti region, Malian armed forces killed seven terrorists, according to a statement from the military.
Two Malian soldiers were also killed in the operation, the statement added.
In 2012, a Tuareg rebellion opened the door for al-Qaeda-linked militants to take over the northern half of the country. They were mostly expelled by a French-led operation launched a year later but swathes of the country remain subject to regular attacks that have spread southwards.
In 2015, a peace deal was signed between the government and some insurgent groups.
Political and community disputes continue to fuel tensions in Mali, thus undermining the implementation of the peace agreement.
Faced with this security challenges the G5-Sahel force backed by France and the United States launched its anti-terror operation in 2017.
The G5 Sahel comprises of Burkina Faso, Mali, Mauritania, Niger, and Chad.
http://www.worldbulletin.net/africa/198216/28-killed-in-2-separate-attacks-in-mali
--------
Algerian Military Kills 8 Islamic Extremists
Jan. 26, 2018
ALGIERS, Algeria (AP) — Algeria's Defense Ministry say military forces have killed eight Islamic militants in the east of the country.
The ministry said in a statement that the extremists were shot Friday during a military counterterrorism operation in Chechar, 520 kilometers (325 miles) east of the capital, Algiers.
The ministry said that the militants were considered "dangerous terrorists." Several weapons were found, including two machine guns.
It was the first major military operation of the year in Algeria. Extremist groups are still active in the country. There were several attacks against police forces last year.
Full report at:
https://www.usnews.com/news/world/articles/2018-01-26/algerian-military-kills-8-islamic-extremists
--------
Daesh suspected as landmine kills 24 in central Mali
Jan 25, 2018
Twenty-four people were killed on Thursday when their vehicle was blown up by a landmine near the town of Boni in central Mali, local residents said.
"The final toll is 24, including four babies with their mothers. There are no survivors," said Boni resident Abdoulaye Cheick, who described himself as a relative of one of the dead.
Earlier, local officials had given a provisional toll of 13 dead, comprising civilians from Mali and Burkina Faso.
The vehicle from Burkina Faso to Mali was crossing the border area, where militants loyal to Daesh are known to operate, when it ran into the mine, said Malian army spokesman Colonel Diarran Kone.
In the past three years, Takfiri forces, which had long been destabilizing the thinly populated desert north of Mali, have swept south into its wetter, more populated central regions, exploiting local conflicts.
That has shifted the battlefield closer to the more prosperous south and capital Bamako, raising concerns for the security of a presidential election expected between July and November.
Mali and its western neighbor Senegal plan to deploy 1,000 troops soon in an operation to pacify central Mali and contain Takfiri militants who had previously been confined to the north. But analysts doubt they will be able to do so purely via military means alone.
The Takfiri militant forces exploit the grievances of Fulani cattle herders, and their disputes with local farmers over access to grazing lands.
Full report at:
http://www.presstv.com/Detail/2018/01/25/550175/Africa-Mali-Burkina-Faso-Landmine
--------
Muslim leaders behind herdsmen killings – CAN fires back at JNI
January 26, 2018
By Wale Odunsi
Rev. Dr. Musa Asake, General Secretary, Christian Association of Nigeria, CAN, on Friday stated that leaders of the Jama'atu Nasril Islam, JNI, were behind herdsmen killings across the country.
Asake said this in reaction to JNI's allegation that Christian leaders promote violence in Nigeria.
The JNI, a coalition of Islamic organisations, is headed by the Sultan of Sokoto, Saad Abubakar.
A statement by its secretary, Khalid Aliyu, had accused Asake of trying to smear Islam and Muslims.
JNI also lambasted Christian leaders such as David Oyedepo, Ayo Oritsejafor and Apostle Suleman, accusing them them of fanning the embers of discord among Nigerians.
But Asake berate Aliyu for ignoring CAN position on the ongoing genocide in some states of the Federation.
He noted that, "Instead of facing the reality and admit its ungodly complicity with the Fulani terrorists, the JNI leadership at its press conference held in Kaduna on Sunday January 21, 2018, embarked upon character assassination, acrimony, vulgar abuse in their futile attempt to justify their ungodly, unpatriotic and wicked support for the murderous Fulani herdsmen who are also enjoying the complicity of the security agencies whose headships are occupied by the JNI's cronies at the expense of the unity and progress of our dear country Nigeria.
"It is an open secret that the criminal activities of their boys have gone to the extreme because of the tacit encouragement they are getting from the leadership of the JNI, the way and manner they did for the Boko Haram terrorists when they began thinking they were spreading Islam in the country. There was never a time the JNI has come out publicly to condemn the criminal activities of the Fulani herdsmen since they have begun killing and maiming the innocent all because most of their activities were targeted at Christians in the Northcentral, Enugu, Ondo, Ekiti and a host of others.
"If otherwise, how come that it was the Press Conference addressed by CAN that forced the JNI to break its ungodly silence over the evil in the land, that is being perpetrated by the people they not only know too well but they have been protecting, for religious and tribal sentiments, which literally tied the hands of the security chiefs who also share same sentiments.
"May we suggest to his Eminence, the President of Supreme Council of Islamic Affairs, to reach into the community of educated Muslims and find serious minded individuals that could engage in serious national issues to speak for JNI. The Fulani herdsmen are Muslims. For the herdsmen, it would be considered demeaning if anyone should ascribe any other religion apart from Islam to them. Therefore, for anyone to suggest that the Fulani herdsmen are "franchise" of CAN is the most unimaginative and ridiculous statement of the century.
"We noted the poor attempt of JNI to distract people's attention, without addressing the issues, in the waves of Islamist religious insurgency in Nigeria. The murderous attacks of the Fulani herdsmen are insufferable and we must speak out in condemnation of both the Fulani herdsmen and their murderous activities. Not only will the Christian Association of Nigeria speak out, CAN shall also encourage other Christian and humanitarian bodies to speak out. Speaking in condemnation of cold-blooded murder cannot be termed "hate speech".
"The truth can neither be referred to as hate speech, nor can it be overshadowed by sentiment. The attacks of Fulani herdsmen have to be highlighted particularly after the attacks of genocidal proportions in Benue State. Christians were the victims of the unprovoked criminal attacks on their homestead. In the circumstance, no one can accuse CAN of overheating the polity. Those who are overheating the polity are the sponsors and protectors of the Fulani herdsmen. And in due course, justice and judgment shall catch up with them.
"It is rather unfortunate that the State structure set up to protect all citizens has become discriminatory in the discharge of its functions. While some citizens are protected, some are exposed to danger while the instrument of the state is being used to protect the assailant criminals. Christians in Nigeria realize that even the existing political parties no longer protect Christians. As nature abhors vacuum, CAN is compelled by the circumstances to speak for Christians in Nigeria. Boko Haram and Fulani herdsmen are Moslem organizations and both have confirmed that they are waging jihad in Nigeria. Christians do not have similar organizations anywhere in the world that goes about killing innocent people to enlarge Christianity.
"Bishop Oyedepo, Bishop Kukah, Apostle Suleiman, Prophet El Buba, and many other Christian leaders in the vanguard of defending Christians and Christian communities are filling the void which Christian politicians and politically correct Christians are meant to fill. These men of God cannot remain silent while Christians are being slaughtered like rams. The often touted claim that more Muslims are killed than Christians is nothing but "Taqiyya" because Muslims killed in error by the Jihadists have earned 70 virgins in paradise. From the pattern of attacks over the years, it is clear that the target of Boko Haram and Fulani herdsmen are Christians while Muslims that are victims are referred to as "collateral damage".
"In order, not to prolong debate on this issue, I will like to refer JNI, all Muslim leaders, and Islamic organizations in Nigeria to the following questions for it is my hope that JNI would seek answers to these credible questions and in the process, correct its kindergarten assumptions.
"First, Abubakar Shekau, the leader of Boko Haram, in one of his video releases, said in 2012, "… This war is not political. It is religious. It is between Muslims and unbelievers (arna). It will stop when Islamic religion is the determinant in governance in Nigeria or, in the alternative, when all fighters are annihilated and no one is left to continue the fight. I warn all Muslims at this juncture that any Muslim who assists an unbeliever in this war should consider himself an unbeliever and should consider himself dead." If this statement is not a declaration of Jihad, could Muslim leaders explain what this means?
"Second, In a 154-page Research Report conducted by Arne Mulder in 2015, the researcher affirmed that over 13,000 Christian places of worship (Churches) have been destroyed in Northern Nigeria as at December 2014. Under what condition do Muslim insurgents destroy Churches if not Jihad?
"Third, On the 4th of February, 2017, the United States Congress affirmed that the most dangerous nation on earth for anyone to be a Christian is Nigeria. The implication is that Nigerian Christians have become endangered species in a country in which they constitute over 50% of the population.
"Fourth, According to the Global Index on Terror, the 1st and the 4th most terrible Islamic Terrorist organizations in the world operate in Nigeria. Boko Haram is 1st while the Fulani Herdsmen is 4th. If these terror organizations are not fighting Jihad, what then are they doing in Nigeria?
"Fifth, Under the present administration, every key and sensitive position in National Security is held by Muslims from the North, in outright violation of Section 14 (3) of the 1999 Constitution. Also early in the life of this administration, we recall that more than 95% of senior army officers retired from the Military were Christians. In NNPC, only recently, more than 95% of the new appointments into senior management positions are Northern Muslims. Taking these developments in conjunction with the lopsided appointments in National Security, is one not confronted with the inevitable conclusion that there is a deliberate attempt to emasculate Christians, Southerners and other non-Muslim population of Nigeria verifiably by intimidation and force which are stealth Jihad?
"Sixth, Despite unconstitutionally appropriating all security positions to the Muslim North, the Fulani Herdsmen operate with impunity in mostly Christian areas, killing, maiming, raping, and destroying without any arrest, without any prosecution. If this is not complicity of the Muslim dominated Security services, are we then to conclude that the Nigerian security units are so incompetent that they cannot successfully engage insurgents after the Nigerian Army successfully prosecuted a Civil War?
"Seventh, Added to the above are the big questions begging for answers. Who is funding and equipping the Islamic insurgents? And more importantly, who is shielding them from prosecution?
Full report at:
http://dailypost.ng/2018/01/26/muslim-leaders-behind-herdsmen-killings-can-fires-back-jni/
--------
Kenya: Film About Kenya Terror Attack Up for an Oscar
24 JANUARY 2018
A movie produced by a German film student about the 2015 Mandera bus attack in Kenya has just been nominated for an Oscar. The short film, Watu Wote, or Swahili for "All of Us," tells the story of how average Kenyans resisted Al Shabab. The film premiered in Nairobi Tuesday night and is based on the real-life events of December 21, 2015.
On that day, Al-Shabab militants attacked a bus headed from Nairobi to Mandera, a town at Kenya's border with Somalia. The terrorists tried to coerce the Muslim passengers to identify the Christians. The passengers refused.
The film depicts the harrowing encounter.
German film student Katja Benrath directed the short film as her graduation project at the Hamburg Media School.
"We felt very good being nominated because this is a huge achievement being nominated, for us, for Gernany and for Kenya," said Benrath. "It's just great."
Kenya, in particular the country's border region, has been struck repeatedly by Al Shabab attacks in recent years. Watu Wote explores the tensions that have arisen in Kenya over that violence.
The film's fictional protagonist is a woman named Jua. She is taking the bus to visit her sick mother. We see Jua get angry at a Muslim boy selling water. A Muslim passenger named Salah Farah later asks her why and Jua says her husband and child had been murdered by terrorists.
Later, during the attack, Salah defends the non-Muslim passengers. He challenges the terrorists on the virtues of what true Islam is all about. Finally they shoot him.
The real-life Salah Farah died from his injuries less than a month after the attack.
In the film, we see Jua sitting in the row behind Salah, her hand placed reassuringly on the injured man's shoulder as the bus escapes.
Actress Adelyne Wairimu played the role of Jua.
"I started seeing life in a different way because it's not every day you are attacked by terrorists and people have the courage to stand in and tell them you are not going to do this and that. It's unbelievable," said Wairium.
28-year-old Abdulahi Ahmed played the role of the Al-Shabab second in command.
"It was hard acting as a terrorist, but the thing is I really wanted to spread the message that Muslims are not allowed to kill Christians and our religion doesn't teach us to kill Christians," said Ahmed. "In our Koran, we are told that our religion does not allow us to kill even an innocent ant without a reason."
The short film has already swept up awards at film festivals in the United States and is now up for a prestigious Oscar award in the "Live Action Short Film" category.
The director, Katja Benrath hopes the message of the film will spread.
Full report at:
http://allafrica.com/stories/201801250201.html
--------
South Asia
US slaps sanctions on 6 militants of Afghan Taliban, Haqqani Network
January 26, 2018
The United States imposed sanctions on six men linked to the Afghan Taliban and the related Haqqani network on Thursday, less than a month after President Donald Trump ordered big cuts in security aid to Pakistan over its failure to crack down on militants .
The counter terrorism designations announced by the U.S. Treasury Department bars the two Pakistanis and four Afghans living in Pakistan from accessing the U.S. financial system.
While unlikely to cause many problems for its targets, the move further underlines Washington's frustration with Islamabad for providing sanctuary and other aid to the insurgent groups.
In a surprise tweet on New Year's Day, Trump said the United States had "foolishly" given Pakistan more than $33 billion in aid and "they have given us nothing but lies and deceit, thinking our leaders as fools. They give safe haven to the terrorists we hunt in Afghanistan, with little help. No more!"
The announcement sent U.S. officials scrambling to suspend security assistance, later estimated at up to about $2 billion, to the nuclear-armed ally.
Pakistani officials were infuriated by the action. Its National Security Committee of senior civilian and military chiefs denounced it as "completely incomprehensible." U.S. Ambassador David Hale was summoned to the foreign ministry for an explanation.
Pakistan is a crucial gateway for U.S. military supplies destined for U.S. and other troops fighting a 16-year-old war in neighboring, landlocked Afghanistan.
A senior Trump administration official, who spoke on condition of anonymity, said on Jan. 5 that Washington hoped that the aid suspension would be enough to communicate its concern to Islamabad.
But the official cautioned that the freeze was also not the only tool that America had to pressure the country - suggesting it might resort to other measures, if needed.
"We are considering many different things, not just the (financial) assistance issue," the official said.
The United States has long blamed the militant safehavens in Pakistan for prolonging the war in Afghanistan, giving insurgents, including from the Haqqani network, a place to plot attacks and rebuild its forces.
"We believe we owe it to the Americans in harm's way in Afghanistan. We simply can't ignore the sanctuaries if we are going to make progress in Afghanistan," the official said.
https://nation.com.pk/26-Jan-2018/us-slaps-sanctions-on-6-militants-of-afghan-taliban-haqqani-network
--------
Isis killings in Afghanistan leave aid agencies 'hanging on by fingernails'
26 Jan 2018
Foreign aid agencies operating out of Afghanistan say they are "hanging on by our fingernails" after a deadly attack on the Save the Children office in Jalalabad in which six people were killed.
Humanitarian organisations were on Thursday reassessing their presence in the increasingly volatile region following the latest in a string of attacks targeting foreign charities.
Save the Children confirmed four of its staff were killed along with a member of the security forces and a passerby after a suicide car bomb was detonated outside the office in Nangarhar province, and gunmen stormed the building leading to a 10-hour siege.
The charity's chief executive, Kevin Watkins, said: "We are trying to get a clearer picture of what happened and why it happened. Until we do that it is difficult to make a long-term assessment."
He said that in countries such as Afghanistan the security environment was very localised and staff were still assessing whether they were specifically targeted.
The attack, claimed by Islamic State, led to Save the Children temporarily suspending programmes across Afghanistan, with offices shut across the country.
Watkins vowed the organisation would continue its programmes there despite the growing threat to aid workers.
He said: "There are two things we are absolutely committed to. We are asking people to operate in a very dangerous environment and we have to look after our staff. Yet people in Afghanistan are driven by this mission so we are committed to continuing our programme."
The charity runs education initiatives for women and girls as well as sanitation and water projects and help for refugees returning to Pakistan.
Watkins said it was time to "draw a line in the sand" and for the international community to take stock and reflect on the principles set out by the Geneva conventions.
The last few years have been marred by an escalation in the number of assaults on humanitarian and development workers. Five Save the Children workers died in Afghanistan in 2015 and others were injured or abducted.
"This is part of a generalised failure to adhere to humanitarian principles and law and to abide by the Geneva conventions. You don't bomb schools, you don't bomb hospitals, you don't target aid workers," said Watkins.
The Norwegian Refugee Council, which has 13 field offices and 1,400 staff in Afghanistan, said it would reassess its position following the Jalalabad attack.
The organisation's secretary general, Jan Egeland, said the growing violence had left humanitarian organisations "hanging on by our fingernails".
He said: "We will be among those who will have to reassess the situation. We will sit down and reflect – can we continue and how can we continue?"
Afghanistan presents one of the most dangerous working environments for humanitarians, but despite the challenging conditions 150 humanitarian partners assisted more than 3.4 million people in the first nine months of 2017.
In the same year, 17 aid workers were killed and 32 injured, according to figures from the UN Office for the Coordination of Humanitarian Affairs.
The International Committee of the Red Cross (ICRC) was recently forced to scale back its operations in Afghanistan following 30 years of continuous presence in the country after a series of targeted attacks on its staff.
In October, it released a statement saying it had no choice but to drastically reduce its presence, particularly in the north where it closed two offices in Maimana and Kunduz.
The ICRC spokeswoman, Andrea Catta Preta, said the charity had no plans to further reduce its operations.
"We have already reviewed our operations in Afghanistan after losing seven colleagues last year. We laid off 143 resident colleagues and 33 of our foreign staff.
"We had to find a different way of operating in the country. To avoid the exposure of our staff we limited our physical presence to the urban centres. We no longer go to remote areas. What we are doing is pulling our beneficiaries towards our offices and they are coming to us to receive the services."
The organisation, which continues to employ 1,800 resident staff and 100 from overseas, supports the Afghan Red Crescent clinics across the country. It also runs seven physical rehabilitation centres, which treated 139,000 patients in 2017 and operates a network of taxis that provide first aid and transport to clinics for those wounded in conflict.
Catta Preta said: "What has happened in Jalalabad is extremely shocking and we are trying to analyse the current situation. We are seeing the humanitarian space is being more and more reduced but what we cannot do is build walls around us to protect ourselves, because then you lose the access the beneficiaries are meant to have to us and us to them."
She added: "We can't close ourselves off in bunkers, otherwise what is the point of being here? We need to be able to provide this assistance.Humanitarian aid workers should not be a target. We are here to help people and we should be allowed to provide assistance in safety."
Full report at:
https://www.theguardian.com/global-development/2018/jan/26/killings-isis-afghanistan-aid-groups-hanging-fingernails-save-the-children
--------
Michelle Yeoh joins Malaysian delegation to Rohingya camp in Bangladesh
BY JONATHAN EDWARD
January 27, 2018
SUBANG JAYA, Jan 27 — Hollywood star Tan Sri Michelle Yeoh is joining the delegation to resupply the Malaysian Field Hospital at Cox's Bazar, Bangladesh as part of the government's humanitarian aid to the displaced Rohingya community escaping conflict in Myanmar.
The delegation, led by Armed Forces chief Tan Sri Raja Mohamed Affandi Mohammed Noor, was flagged off by Prime Minister Datuk Seri Najib Razak at the Air Force Base here this morning.
"I had informed the prime minister of my intention to visit the field hospital and deliver aid to the Rohingya refugees.
"He has been supportive and accommodating in granting my request," the Ipoh-born star, most recently seen in sci-fi TV series Star Trek: Discovery, told reporters before boarding the Airbus 400M transport aircraft earmarked for the delegation.
Yeoh is also United Nations Development Programme ambassador and urged the international community to show solidarity with the Rohingya who are mostly Muslim and have been fleeing from their homelands in Myanmar's Rakhine state in the hundreds of thousands to neighbouring countries with accounts of brutal persecution.
"The time to act is now and I appeal to all countries to lend their support and provide aid to these suffering men, women and children whose survival depend on your generosity," she said.
Najib, who has been campaigning for international support to seek a peaceful resolution to the crisis, said part of the delegation's task would be to decide if the field hospital in Cox's Bazar should be extended. Its mandate expires next month.
"We will continue our efforts to seek a peaceful end to this crisis.
"We will also continue to support the refugees in the camps...to help them with humanitarian assistance," he said.
Bangladesh High Commissioner to Malaysia Md Shahidul Islam who was also present, expressed appreciation for Malaysia's aid as the refugee crisis had put a strain on his country.
"Our country is keen on getting the Rohingya back and the support by Malaysia and other countries lent to us in coping with the influx of refugees has been crucial.
"We thank the people of Malaysia for their generosity and support and we share the ultimate goal of having the Rohingya return home with their dignity and health intact," he said.
Also present were Defence Minister Datuk Seri Hishamuddin Hussein, Deputy Health Minister Datuk Seri Dr Hilmi Yahaya, Health Director-General Datuk Dr Noor Hisham Abdullah and representatives from Saudi Arabia and the United Arab Emirates.
The delegation will be airlifting 10 tonnes of medical aid, food and other supplies.
The field hospital has rendered medical aid to 3,768 patients since starting operations last November 31.
It has 100 beds with another 50 expected to be added and has been operated at a cost of RM3.5 million over three months with Malaysia contributing RM18 million worth of equipment.
Full report at:
http://www.themalaymailonline.com/malaysia/article/michelle-yeoh-joins-malaysian-delegation-to-rohingya-camp-in-bangladesh#jOYDUrVQz7RFLPTs.97
--------
Suicide attack in Kandahar city leaves 14 dead or wounded
Jan 26 2018
A suicide attack rocked Kandahar city earlier this evening leaving at least fourteen people dead or wounded.
The provincial police chief General Abdul Raziq confirmed an explosion has taken place in the vicinity of the 11th police district of the city.
He said the target of the explosion was the police vehicle and the blast has taken place in Aino Mina township.
According to Gen. Raziq, at one person was killed and four others including a civilian were wounded.
However, the provincial hospital officials are saying that the dead bodies of four people have been shifted to the hospital along with ten others with the injuries.
No individual or group has so far claimed responsibility behind the incident.
Full report at:
https://www.khaama.com/suicide-attack-in-kandahar-city-leaves-14-dead-or-wounded-04355
--------
Explosion targeting police vehicle kills 4 in Kandahar
Jan 26, 2018
Four people have died and ten others have been wounded in a bombing targeting a police vehicle in Afghanistan's southern province of Kandahar.
Alternative reports said three people were killed and five were wounded in the blast in the provincial capital city, Kandahar.
Kandahar Police Chief Gen. Abdul Raziq confirmed that both police officers and civilians were among the casualties of the attack on Friday evening.
He said no group had yet claimed responsibility for the blast, which happened in Aino Mina Township in PD11 of Kandahar City.
In a separate attack on Friday, as many as six children died in fighting near the central Afghan city of Ghazni.
Conflicting reports blamed Taliban militants and others said an airstrike by Afghan forces killed the kids.
"Children were playing in the yard of a house when the Taliban fired mortars. One hit the ground and killed six children and wounded two," Ghazni police chief Mohammad Zaman told reporters.
Mohammad Radmanish, a spokesman for the defense ministry, also blamed Taliban for the attack: "We can say clearly that it was a rocket by the enemy forces." he said.
However, local people said the children died in an air strike by Afghan security forces.
Just days ago, the Taliban attacked the Hotel Intercontinental in the capital, Kabul, killing at least 22 people.
Washington, which had pledged to eradicate the Taliban and other terror groups in Afghanistan, has been in the country since 2001.
Full report at:
http://www.presstv.com/Detail/2018/01/26/550275/Afghanistan-Kandahar-Bomb-Blast
--------
Southeast Asia
Duterte mocks Islamic State: 'I prefer virgins here, not heaven'
January 27, 2018
NEW DELHI – Seventy-two virgins as reward in the afterlife may be enticing to Islamic State (IS) militants, but not to President Duterte, who joked about wanting to have them in this life – and possibly even as a come-on to investors.
The joke – apparently intended to mock the militants' "corrupt ideology" – was delivered before a gathering here of businessmen and potential Philippine investors yesterday.
"The come-on is that if you die a martyr, you go to heaven with 42 virgins waiting for you," Duterte said.
"Well, if I could just make it a come-on also for those who would like to go to my country," he added. Duterte's punch line drew laughter from some in the audience.
"I'd like to have the virgins here, not in heaven. God may not allow it," he added. It was not the first time Duterte made controversial comments about women.
Before assuming the presidency, Duterte drew flak for his comment about the rape and murder of an Australian missionary in Davao City in 1989. Duterte was mayor of the southern city for more than two decades.
In a speech delivered before his supporters, Duterte remarked that the slain missionary looked like an actress and as mayor "he should have been first." He later claimed that he was just expressing his anger over the crime.
Last year, Duterte stirred controversy for saying that if a soldier rapes three women, he would answer for it.
The remark, intended apparently to boost morale of soldiers enforcing his martial law declaration in Mindanao, was criticized for supposedly trivializing sexual abuse.
Duterte later on said he was just emphasizing the fact that he was responsible for the deeds of soldiers as commander-in-chief of the armed forces.
Also last year, Duterte said he would congratulate anyone who rapes a Miss Universe titlist for "having the balls" in the face of a potentially deadly retribution.
Palace officials dismissed the remark as a "sarcastic statement" that conveys a serious message to criminals.
Despite cracking what others would regard as a sexist joke, Duterte said he wants to make sure that everyone – especially women – would be safe from criminals.
"Ask your wife and daughter, your beautiful daughter to take a walk all over the city tonight. And if she comes home and your wife unmolested, undisturbed, no disturbance at all, then that is the standard I want for every woman and child in a city," Duterte said.
"Those who violate that, I'm sorry. And also, in the movie houses, allow your daughter and wife to use it for anything. And if they go out of that washroom satisfied with the hygiene and the sanitation, that is the standard I want to impose upon you," he added.
Duterte's mocking IS followed the release of a report by Indian news website ThePrint that the militants were targeting President Duterte here.
The President was unfazed by the supposed threat to his life, according to Malacañang.
ThePrint reported that Duterte's attendance in the Republic Day celebration was "giving security agencies sleepless nights."
The Philippine leader was supposedly "on the radar" of IS because of his vicious response to terror attacks in Mindanao specifically the siege of the Islamic city of Marawi by militants belonging mostly to the Maute group and the Abu Sayyaf.
The five-month battle to retake Marawi led to killing of key militants including Isnilon Hapilon, said to be the anointed emir of an envisioned caliphate in Southeast Asia.
Citing unnamed security sources, ThePrint, said IS had mobilized sleeper cells based in Indonesia and were "planning a strike."
Indonesian President Joko Widodo was also a possible target, the news website added.
Presidential spokesman Harry Roque said Duterte was not disturbed by the supposed threat and remains determined to defeat terrorism.
"(President Duterte) will not cower to threats from ISIS nor any other terrorist groups," Roque said.
"He has pledged to serve the Filipino people and has left the issue of his mortality to the creator. He is unmoved by this latest threat and will be unrelenting in his fight against violent extremism," he added.
Roque said the Presidential Security Group and Indian authorities have implemented precautionary measures to ensure the safety of the President.
"We will all be there for and with him," the spokesman said.
Nine other Southeast Asian leaders witnessed the Republic Day grand parade.
After the parade, the President went to the Oberoi Hotel to witness the presentation of business agreements signed during his visit.
During his bilateral meeting with Indian Prime Minister Narendra Modi last Wednesday here, Duterte cited the need for members of the Association of Southeast Asian Nations to enhance their cooperation against terrorism.
He said terrorists funded by illegal drug rings and pirates pose threat to Southeast Asia and the Indo-Pacific region.
http://www.philstar.com/headlines/2018/01/27/1781812/duterte-mocks-islamic-state-i-prefer-virgins-here-not-heaven
--------
Pundits: PPBM recruiting religious scholar as 'damage control', to protect Muslim interests
BY IDA NADIRAH IBRAHIM
January 27, 2018
KUALA LUMPUR, Jan 27 — Parti Pribumi Bersatu Malaysia's (PPBM) decision to recruit popular religious scholar Abu Hafiz Salleh Hudin is a bid to align itself with Islamic values and protect Muslim interests.
Political analysts have suggested the move is a way for the party to court voters from the faith.
But National Professors Council's Political, Security and International Affairs Cluster secretary Datuk Abdul Halim Sidek suggested that the move may even be a damage control measure for the party to counter controversial statements by their senior leaders on Islam.
"The move by PPBM was to counter the damage Dr Mahathir made to the party. They did so to convince their supporters that the party does champion Islam and is not too Western or 'liberal'.
"As the general elections is closing in, the parties are making efforts to convince voters that they can be trusted to gain their votes," he told Malay Mail.
He gave the example of PPBM chairman Tun Dr Mahathir Mohamad, who last Tuesday wrote a blog post on things that are "halal" or permissible in Islam, and questioned if pork will be forbidden to Muslims if the pig was slaughtered in the name of God.
In the post, Dr Mahathir said many people told him not to comment on Islamic matters as he did not study theology nor speak Arabic.
Geopolitical expert Azmi Hassan said the recruitment of Abu Hafiz would benefit the party by helping it gain supporters since it seemed to lack religious credentials.
"All political parties, including DAP, need religious scholars in their bandwagon to ensure their principle is aligned with religious values.
"For example, Umno is synonymous with Asyraf Wajdi, and DAP maybe with Wan Ji, so it is not surprising that PPBM follows this strategy," said Azmi in reference to Umno supreme council member Datuk Asyraf Wajdi Dusuki and Muslim preacher Wan Ji Wan Hussin. Asyraf Wajdi is also a deputy minister in the Prime Minister's Department handling Islamic affairs while Wan Ji is information officer to the Penang chief minister tasked with explaining the state's Islamic policies.
"Compared to other Malay-majority parties, it is obvious that PPBM lacks religious credentials," Azmi added.
Hesaid since Parti Amanah Negara, a splinter of Islamist party PAS, already has many scholars among its members, it would be an uphill task for PPBM to upstage its fellow Pakatan Harapan component in appearing more religious.
According to Abdul Halim, the move was targeted towards the Malay-Muslim voters, as a way to distinguish the party among choices for the demographic which also include Umno, Amanah, and PKR.
"PPBM is seen to be more nationalistic and a splinter of Umno. Now they need to rectify the damage and exploit the whole situation to their advantage to gain the support," he said.
Political analyst Datuk Samsu Adabi Mamat said it is a norm for Malay or Muslim-based parties to prioritise values that are in line with Islamic principles, such as dignity, ethics, and integrity.
"These principles would be in line with PPBM's tagline and would be an important asset for the survival of the party in the long run.
"This would also garner the interest of supporters inclined towards championing the Malay-Muslims rights and would help the party to entice the voters," said the Universiti Kebangsaan Malaysia lecturer.
PPBM had recently recruited 29-year-old religious scholar Abu Hafiz as deputy chair of the party's Strategy and Policy Bureau.
Full report at:
http://www.themalaymailonline.com/malaysia/article/pundits-ppbm-recruiting-religious-scholar-as-damage-control-to-protect-musl#lOCAFYrdresaKRLw.97
--------
Indonesia Proposes 3-Nation Panel of Islamic Scholars to Promote Afghan Peace
January 26, 2018
Indonesian President Joko Widodo proposed Friday the establishment of a committee of Islamic scholars from his nation together with others from Afghanistan and Pakistan to promote a peaceful settlement of the Afghan conflict.
Widodo made the proposal as he opened a two-day official visit to Islamabad along with a large delegation of ministers and business leaders from Indonesia.
Widodo told Pakistani President Momnoon Hussain that Indonesia could play "a positive role" in the Afghan peace process, according to an official announcement after the meeting between the two leaders.
"He [Widodo] also proposed the establishment of a committee of Indonesian, Afghan and Pakistani Ulemas [Muslim scholars] for this purpose," the statement read.
Hussain agreed to the proposal and both the countries vowed to work together in this regard, saying peace in Afghanistan was necessary for regional development and progress, according to the statement.
Earlier, Widodo addressed a specially convened joint session of the Pakistani parliament and underscored the importance of political stability and security for regional economic progress.
"Conflicts and wars will benefit no one," said the Indonesian president. "The people, mainly women and children, always become the most impacted ones in conflict and wars."
He was addressing lawmakers of a country accused of secretly supporting the Taliban insurgency in Afghanistan and allowing insurgents to use Pakistani soil for plotting cross-border attacks.
Islamabad denies the charges and insists peace in Afghanistan is essential for stability in Pakistan.
Widodo emphasized the need for resolving conflicts through dialogue. He recalled that his own country underwent conflict for a long time.
"Conflict in Aceh in Indonesia, for example, took place for more than 30 years. A military approach alone did not resolve the conflict in Aceh," he said.
About 87 percent of Indonesia's estimated population of 260 million people are Muslims, making it the largest Muslim-majority country in the world.
There was no immediate reaction from Kabul authorities to Widodo's proposed three-nation committee of Muslim scholars.
However, a high-powered delegation of Afghanistan's High Peace Council (HPC), a panel appointed by the Afghan president for promoting peace and reconciliation with Taliban-led insurgent groups, visited Jakarta late last year with a mission to involve the country in efforts aimed at ending the Afghan war.
The HPC sought the support of Indonesian Islamic scholars to rally arguments against the Taliban's religious justification of their war as being against the "foreign infidels and their hirelings." That's the language typically used in insurgent statements, according to the Kabul-based independent Afghanistan Analysts Network (AAN).
Full report at:
https://www.voanews.com/a/indonesia-proposes-three-nation-panel-islamisc-scholars-promote-afghan-peace/4226952.html
--------
Indonesian Muslim youths slam Saudi Arabia for politicising haj pilgrimage
January 27, 2018
PETALING JAYA: Indonesian Muslim youth groups have accused the Saudi Arabian government of politicising access to the Haj, Al Jazeera reported.
Addressng a Muslim youth conference yesterday, Ziyad Abdul Malik, who is chairman of the Muslim Students Association's (HMI) South Jakarta branch, said the Saudis were using the pilgrimage to Mecca as a leverage to impose its policies on its Middle-Eastern neighbours as well as Muslim-majority countries, such as Malaysia and Indonesia.
The conference with the theme, "Islamic Holy Places for All of the Ummah", was organised by HMI, which is the largest student group in Indonesia. It was held at the Indonesia University in Depok.
Malik also alleged that the conference was forced to move from its original venue of the State Islamic University in Jakarta due to pressure from the Saudis.
"We are students, and students usually discuss many things. Why is this a problem for Saudi Arabia?" he was quoted as saying by the Qatar-based news organisation.
Another youth organisation, Garda Suci Merah Putih (GSMP), criticised the Saudis, saying it had violated the conditions of its role as custodian of the Islamic faith's holiest sites in Mecca and Medina.
They argued that Saudi Arabia had let political rows with several countries – Qatar, Syria, Iran and Yemen, among others – influence its Haj regulations.
"Only God has the right to forbid anyone to go on Haj, not Saudi Arabia," Mujtahid Hasheem, secretary-general of GSMP, told Al Jazeera.
According to Al Jazeera, Muslim pilgrims in Syria are vetted by a committee that is controlled by Saudi-backed opposition groups before being allowed to obtain visas for the religious journey.
This was because Saudi Arabia severed diplomatic ties with Syria in 2012 owing to the ongoing civil war.
Mujtahid cited the restrictions on citizens of Qatar – which has been blockaded by Saudi Arabia, the United Arab Emirates and others since the summer of 2017 – as further evidence of the kingdom's wrongdoing.
The Muslim youth groups called for Indonesian officials to urge Saudi Arabia to abandon restrictions on the right to worship, being the nation with the largest Muslim population in the world.
"In 2017, an estimated 221,000 Indonesians performed Haj," he was quoted as saying by Al Jazeera.
Meanwhile, the leader of a Muslim youth group from India, who also attended the conference, accused Saudi Arabia of destroying famous religious sites, such as the birthplace of the Islamic prophet, Muhammad.
Shujaat Ali, general secretary of the Muslim Student Organisation of India, cited statistics from the Washington, DC-based Gulf Institute, which estimates that 95% of Mecca's famous buildings have been destroyed in the past two decades.
"What are there now? American companies like McDonald's, Starbucks, and so on," he was quoted as saying.
Full report at:
http://www.freemalaysiatoday.com/category/world/2018/01/27/indonesian-muslim-youths-slam-saudi-arabia-for-politicising-haj-pilgrimage/
--------
Meet the Indonesian mayor who refuses to bow to hard-line Islamist clerics
January 27, 2018
As Indonesia prepares for provincial elections, a moderate Muslim mayor is refusing to bow to hard-line Islamist clerics who insist he has taken his town down a sinful path.
Dedi Mulyadi has built dozens of traditional Sundanese statues throughout Purwakarta, about 90 kilometres from Jakarta, in what his critics say is in "opposition to Islam".
It is a district that is 99 per cent Muslim, according to a 2013 poll, and many constituents see the statues as a form of iconography.
But Mr Dedi, or Kang Dedi as he is known in the local dialect, is confident he can prevail in the upcoming gubernatorial elections.
"The biggest challenge I face in being elected [as Deputy Governor] is people who exploit religious issues," he said.
"[My opponents] can't find any weakness to attack me, other than religion."
In the hunt for votes and good press, Mr Dedi drives a golf buggy around town, waving to constituents and pressing the flesh.
He meets a bamboo-seller, who complains about his sick wife and the lack of basic government health cover.
Mr Dedi responds with cash, handing the man five times what the entire stash of bamboo is worth and then leaves it behind to be sold to another buyer.
"[Generosity] comes naturally to me," he laughs.
'Muslims shouldn't elect an infidel'
There is a bigger problem brewing at a nearby mosque, where cleric Asep Jumaludin is giving his Friday sermon.
"If you wrongly choose a leader you have committed sin," he tells the congregation.
"God has said that Muslims should not elect an infidel to be leader."
Outside, he makes it clear he was talking about Mr Dedi.
"Purwakarta was an Islamic region before, but now it's become the city of statues, in opposition to Islam," he says.
Observers expect a dirty campaign
Jakarta's former Governer Basuki "Ahok" Purnama was jailed last year for blasphemy after mass protests by Islamists brought the capital to a standstill.
Some fear that tactic is now being replicated in provincial elections, as a test run for the presidential runoff next year.
"Many leaders use these primordial sentiments to make sure they've got support," Philips Vermonte from the Jakarta based Centre for International Studies said.
"For them this is a very important election. They have to win."
Full report at:
http://www.abc.net.au/news/2018-01-27/the-indonesian-mayor-who-refuses-to-bow-to-islamist-clerics/9365886
--------
Duterte Tells Suu Kyi Rights Activists Are 'Just a Noisy Bunch'
January 27, 2018
New Delhi. Philippine President Rodrigo Duterte told Myanmar leader Aung San Suu Kyi, heavily criticized abroad for failing to stand up for largely stateless Rohingya Muslims, that she shouldn't bother about rights activists as they are "just a noisy bunch."
Duterte said he made the remarks in a speech at the Philippines-India Business Forum in New Delhi where Duterte and Suu Kyi are attending a summit of Southeast Asian countries.
"We were talking about our country, the interest of our country... and I said 'do not mind the human rights [activists],' they are just a noisy bunch actually," Duterte said.
Suu Kyi is facing international criticism for failing to address the plight of the Rohingya, more than 655,500 of whom have fled to Bangladesh to escape a crackdown by the Myanmar military.
Many people in Buddhist-majority Myanmar regard the Rohingya as illegal immigrants from Bangladesh. The United Nations described Myanmar's crackdown as ethnic cleansing, which Myanmar denies.
"I pity her because she seems to be caught in the middle of being a Nobel Prize winner for peace and this is now the ruckus, she is heavily criticized," Duterte said in his speech.
Human rights groups have also strongly criticized Duterte's anti-narcotics campaign during which more than 3,900 suspected drug users and peddlers have been killed in what the police called self-defense after armed suspects resisted arrest.
Full report at:
http://jakartaglobe.id/international/duterte-tells-suu-kyi-rights-activists-just-noisy-bunch/
--------
Arab World
Act now on Iran and Jerusalem dispute to save peace hopes, Saudi Arabia tells UN
27 January 2018
JEDDAH: Saudi Arabia has told the UN Security Council that any recognition of Jerusalem as the capital of Israel will only increase tension in the Middle East, weakening hopes of reaching a comprehensive and lasting two-state solution.
In the Kingdom's speech on Thursday during an open debate on "the situation in the Middle East, including the Palestinian question," Riyadh's ambassador to the UN, Abdallah Al-Mouallimi, also urged the UN to take a firm stance on Iran and show that the international community would not tolerate the terrorist practices destabilizing international and regional peace.
"It is also time to deal seriously with Hezbollah and detect its terrorist operations in Syria, Lebanon and other parts of the world," he said.
Al-Mouallimi said that Jerusalem, "the flower of cities... should be an oasis of peace, coexistence and love. Jerusalem is the eternal historical capital for Palestine. It has been at the heart of deliberations of the Security Council over the past 50 years. We have recognized that all international conventions since the Oslo agreement in 1993 till present time affirmed that Jerusalem is one of the issues of the final comprehensive solution to the Israeli-Palestinian conflict."
Previous resolutions of the UN had confirmed that all Israeli measures toward Jerusalem, including the eviction of Palestinian citizens, the building of settlements on its territory, and the declaration of the city as the capital of Israel, were "a violation of law, norms and morality," he said.
"The Kingdom of Saudi Arabia affirms that any measure taken by the Israeli occupation in Jerusalem is void and ineffectual. Such actions fuel tension in the region and Middle East, undermine the peace process and weaken the opportunities of reaching a comprehensive, lasting and just solution based on the two-state solution and establishment of the Palestinian independent state based on borders of June 1967 with Jerusalem as its capital," Al-Mouallimi said.
He warned that Iran continued to blatantly interfere in the internal affairs of Arab countries, including Iraq, Syria, Lebanon and Yemen, spreading and supporting terrorism. Iran was the main supporter of the terrorist Hezbollah group and supported the Houthi rebels in Yemen, smuggling missiles that were targeted against Saudi Arabia. About 90 missiles had been launched against Saudi cities.
"All missiles launched on my country were proved in UN independent reports to be manufactured by Iran. These acts are clear and explicit violations of the Security Council resolutions," Al-Mouallimi said.
Referring to the Syrian crisis, the ambassador said the situation was in a delicate phase and could be resolved only through a Syrian consensus that met the aspirations of the people.
He said Saudi Arabia has sought to unite the Syrian opposition and encourage it to speak with one voice. The Kingdom hosted the Second Riyadh Conference in November 2017, which succeeded in uniting opposition factions and providing unified leadership.
Al-Mouallimi said the suffering in Syria would continue while the country's ruling regime, backed by Iran's military and Hezbollah terrorist forces, worked to destroy the Syrian people.
He ended his speech with a call for immediate humanitarian aid to people throughout Syria, regardless of their ethnic, religious, sectarian or political affiliations, and repeated the Kingdom's calls for the quick release of detainees and abductees, as well as the return of displaced people and refugees to their homes.
http://www.arabnews.com/node/1233831/saudi-arabia
--------
ISIL Kills Scores of US-Backed Militants in Eastern Deir Ezzur
Jan 26, 2018
The sources said that the ISIL launched several raids around the towns of Bahra and Gharanej on Thursday, killing and wounding scores of the SDF fighters before they withdrew from the area.
According to the terrorist group's official media wing, their forces killed more than 20 SDF fighters and captured six more alive near the towns of Bahra and Gharanej.
The ISIL attack came just hours after they conceded the important town of Gharanej to the SDF.
Local sources reported earlier this month, the SDF released over 400 ISIL members and commanders in Deir Ezzur province, adding that tens of ISIL terrorists joined the SDF.
Local sources in Deir Ezzur confirmed that the SDF released 400 ISIL members, among them tens of senior terrorist commanders in Deir Ezzur as well as their security, economic, military and religious leaders.
Meantime, over 120 ISIL terrorists joined the SDF in Deir Ezzur.
Full report at:
http://en.farsnews.com/newstext.aspx?nn=13961106000449
--------
Peace proposal by US, Saudi Arabia 'not even worth the ink': Syria
Jan 27, 2018
The Syrian ambassador to the United Nations and head of the government delegation to intra-Syrian peace talks has strongly rejected a proposal offered by some countries, including the US and Saudi Arabia, for the resolution of the Syrian crisis, saying the so-called peace plan is "not even worth the ink."
Bashar al-Ja'afari made the remarks at a press conference held at the end of UN-brokered indirect peace negotiations between the Syrian government and opposition groups in the Austrian capital city of Vienna on Friday, referring to what he described as an informal paper about reviving the political process in Geneva proposed by the US, Britain, France, Saudi Arabia and Jordan.
"Every word and sentence of this unofficial paper is rejected. And it is not worth the ink that it is printed on because the people will not and do not accept solutions which come down on parachutes or on the backs of tanks," Ja'afari said.
Furthermore, he blasted the five countries and told reporters that the proposal was "tantamount to a black comedy."
"All of them have participated in the bloodshed of the Syrian people," he said of the five nations, denouncing Washington as the creator, financial supporter and protector of the Daesh Takfiri terrorist group.
How can the US, which "has Syrian blood on its hands… and attacks Syria directly,... speak of a political solution and the future of Syria? How can countries like Britain and France, which follow the American policy..., be the makers of any political solution… in Syria?" Ja'afari added.
The senior Syrian negotiator also blasted Jordan for opening "its territories for foreign terrorists" and becoming "a haven for training camps" for them. He also questioned Amman's eligibility as a determiner of Syria's "politics, sovereignty and... future."
Ja'afari went on to lambast Saudi Arabia for co-authoring such a proposal, describing Riyadh sarcastically as anything but a "beacon of freedom in the east."
Speaking about the Vienna two-day meeting, he said the Syrian delegation had constructive discussions with UN Special Envoy on Syria Staffan de Mistura. "We used the meeting to answer many questions, especially with regard to Sochi's congress," Ja'afari said.
Ja'afari's comments came just three days before a separate round of intra-Syrian national dialogue between Damascus and the opposition would commence in the Russian Black Sea resort of Sochi. On Thursday, Russia said some 1,600 people had been invited to the Congress of National Dialogue aimed at resolving the years-long crisis in the Arab country.
Last December, Russia, Iran and Turkey agreed to hold the congress in Sochi on January 29-30. While the Syrian government at the time immediately announced that it would attend the event, 40 Syrian "opposition" groups rejected the Russian initiative, which is also aimed at agreeing on a post-war constitution in the Arab country.
According to Russian Foreign Ministry spokesperson Maria Zakharova, international observers, including those from the UN, will participate in the congress along with Syrian parties. Russia's Foreign Minister Sergei Lavrov will also attend.
Earlier this week, Syria's main opposition group, the Saudi-affiliated Syrian High Negotiations Commission (HNC), announced that it would need further details before it could make a final decision on whether to take part in the congress, which dozens of opposition armed groups have already rejected.
Eight rounds of Syria peace talks, which took place in the Swiss city of Geneva, failed to achieve tangible results, mainly due to the opposition's insistence that the Syrian government cede power.
A parallel peace process between Syria's warring parties in the Kazakh capital Astana has resulted in significant achievements instead, leading to ceasefires and the establishment of de-escalation zones across the conflict-ridden country. The Astana talks have been brokered by Iran, Russia and Turkey.
Syrian opposition faction 'won't attend Sochi Congress'
Meanwhile, a spokesman for a faction of the Syrian opposition says the outfit will not attend the Sochi talks.
Yahya al-Aridi said his faction had not seen "commitment" on the part of the Syrian government in the round of talks in Vienna and that the Sochi Congress was meant to "sideline" the Geneva process.
Syrian opposition groups, particularly those instructed by Saudi Arabia, have been dismayed by the progress made in the Astana process, and have often threatened not to participate in talks arranged by the three guarantor states of the Astana process, only to show up at the eleventh hour most of the times.
Full report at:
http://www.presstv.com/Detail/2018/01/27/550290/Syria-peace-proposal-US-Saudi-Arabia-UN-Sochi-Russia-Daesh
--------
Syrian opposition says will boycott Russia-brokered peace talks in Sochi
January 27, 2018
The Syrian opposition will not attend a peace conference Russia is hosting next week, a spokesman said on Saturday, dismissing the meeting as an attempt by the Syrian government's close ally to "sideline" the current United Nations peace process.
He was speaking at the end of two days of U.N.-brokered talks between the Syrian government and opposition, after which the host said the United Nations had not decided whether to attend the conference in the Black Sea resort of Sochi .
Western powers and some Arab states believe Sochi is an attempt to create a separate peace process that would undermine the United Nations' efforts while laying the groundwork for a solution more suitable to Assad and his allies Russia and Iran.
"This whole round in Vienna was supposed to be a crucial one, a test for commitment. And we didn't see this commitment. And the U.N. didn't see this commitment," said Yahya al-Aridi, a spokesman for the opposition delegation at the Vienna talks.
Nine rounds of U.N. peace talks between the warring sides have made little progress toward ending the civil war in which hundreds of thousands have been killed and 11 million - a majority of the Syrian population - driven from their homes.
Previous rounds of talks have been held sporadically in Geneva, with a mandate to discuss new elections, reformed governance, a new constitution and the fight against terrorism.
Having regained the upper hand on the battlefield after nearly seven years of conflict, Assad appears unwilling to negotiate with his enemies at all, let alone step down as part of any peaceful solution as rebels and opposition groups have demanded.
"It's quite clear that somebody there is obstructing the whole process and wanting to sideline the importance of Geneva, the political process as a whole," al-Aridi said.
As the talks dragged into Friday evening, another spokesman for the opposition said it had received a pledge from Russia that it would press the Syrian army to enforce a ceasefire in the besieged rebel enclave of eastern Ghouta, near Damascus.
Syrian army and Russian jets have for the last two months been escalating their bombardment of the area, killing dozens of civilians and injuring hundreds, rebels and aid workers say.
With Aridi later announcing that the opposition would not attend the talks, it was unclear where that left the ceasefire plan.
'TOTALLY UNACCEPTABLE'
Syrian government forces are pursuing offensives against two remaining rebel pockets, Idlib in the northwest and eastern Ghouta near Damascus. Turkey has poured troops into the north to fight Kurdish militias that have established regional autonomy and are seen by Ankara as a menace to its security.
A document drawn up by the United States, Jordan, Britain, France and Saudi Arabia made recommendations to the Vienna talks' host, U.N. Special Envoy for Syria Staffan de Mistura, for what they called a "practical approach" to what would be a "slow" U.N. political process.
The document's recommendations included "a specific and immediate focus on discussion of a reformed constitution and organization of free and fair elections", language that was echoed by the opposition delegation in Vienna.
But the Syrian government's envoy to the talks, Bashar al-Ja'afari, dismissed the document as "totally unacceptable".
"Our people have not and will never accept a solution that is parachuted onto them or that is carried on tanks," he said in a statement to reporters.
"The goal of the conference in Sochi is to engage in a national intra-Syrian dialogue without foreign interference. The conference will be attended by about 1,600 participants who will reflect the various components of Syrian society," he added.
Al-Aridi, however, said Sochi was aimed at giving the appearance of reconciliation among Syrians and many of those participants had been chosen by Damascus.
The opposition scheduled a news conference for 0900 GMT on Saturday.
De Mistura said U.N. Secretary General Antonio Guterres would decide how the United Nations would respond to the invitation to attend Sochi . He added that Russia said Sochi was aimed at supporting the U.N. process.
Full report at:
https://nation.com.pk/27-Jan-2018/syrian-opposition-says-will-boycott-russia-brokered-peace-talks-in-sochi
--------
Syria: Infighting Intensifies among Rival Terrorist Groups in Southern Damascus
Jan 26, 2018
The sources said that the ISIL militants launched another wave of attacks on rival groups in the Southern suburbs of Damascus city, targeting the positions of Jeish al-Islam, Al-Nusra Front (Tahrir al-Sham Hay'at or the Levant Liberation Board) and the Free Syrian Army throughout the district of Tadamun.
The sources added that ISIL managed to capture new points within the district and kill five rebel fighters of the Free Syrian Army.
Clashes are still underway, the sources went on to say.
Thursday's attack follows a week of protracted firefights during which ISIL has also managed to drive rival militants out of most of the al-Zein street between the Yalda and Babila districts, giving them considerable fire control over most of the former area where many civilians are known to live.
Sources said last week that the ISIL engaged in fierce clashes with Jeish al-Islam in al-Zein in Hajar al-Aswad region in the Southern countryside of Damascus city, imposing control over a set of buildings, including strategic White Building that overlooks the settlement of Yalda in Southern Damascus.
They added that a number of both warring sides were killed or wounded in the clashes.
Full report at:
http://en.farsnews.com/newstext.aspx?nn=13961106000563
--------
Terrorists, Israeli Army Commanders Meet to Discuss Occupation of Southern Syria
Jan 26, 2018
The news websites reported that terrorist groups' commanders held a meeting with the Israeli agents on January 23 over the expansion of Tel Aviv's military role and creation of safe zone from the Golan Heights into the depth of the two Syrian provinces of Quneitra and Dara'a.
The websites added that several meetings have been held also between the Free Syrian Army (FSA) and Israeli representatives in early December over attacks on Hawz Yarmouk region in Western Dara'a that is under the control of ISIL-affiliated Jeish Khalid Bin Walid.
The websites further said that Israel intends to drive a wedge in areas as deep as 40 km out of the occupied Golan plain to be guarded off by border forces, trained by Israeli military.
Israel has launched the second phase of a safe zone plan for its affailiated militants in Southern Syria via training a sum of 500 terrorists known as border forces.
Dissident-affiliated websites reported on Tuesday that Israeli military was planning to cross into Syria amid intensified tensions between ISIL and other rival terrorist groups in the Southern part of the country.
The websites disclosed that ISIL gathered its gunmen and military equipment in Hawz al-Yarmouk region to launch attack on a region that drives a wedge between the terrorist groups in Syria's Golan and those on the strategic al-Jabiyeh hill.
The websites further said that the buffer region consists of a large number of settlements and villages, including Jabiliyeh Bakar, al-Naseriyeh, Seida, al-Hanout, al-Rafid and al-Mo'alaqa that are under fire control by Israeli forces.
The websites added that ISIL will be capable of cutting off Dara'a-Quneitra road and separate the terrorist-held regions in Southern Syria from each other if it manages to capture the buffer zone.
Analysts believe that terrorist group's territorial claims in Southern Syria are in line with Israel's objectives to kick off a military invasion of Syria.
Full report at:
http://en.farsnews.com/newstext.aspx?nn=13961106000166
--------
Kurdish Fighters Claim Capturing Several Turkish Soldiers in Northern Syria
Jan 26, 2018
The Kurdish fighters said that they have captured 16 Turkish soldiers in clashes in Afrin, where Ankara and allied Free Syrian Army militants have been conducting an operation codenamed Olive Branch since January 20.
"The militiamen lost four people," the spokesman for the Kurdish Self-Defense Forces YPG added.
He also noted the reduction in the number of Turkish airstrikes in the area.
On Wednesday, Turkish and Kurdish representatives shared conflicting reports on casualties on the fifth day of the Afrin operation.
While the Turkish military said that a total of 287 militant had been killed in the campaign, a YPG militia representative speaking to Sputnik challenged the Turkish military's claims, saying that no more than 15-20 Kurdish militiamen had been killed.
The same day, Reuters cited a senior member of the Kurdish-led Syrian Democratic Forces as saying that the group had killed tens of Turkish forces and allied FSA rebels since the start of the Olive Branch Operation, however, failing to provide an exact figure.
After the Turkish General Staff announced on Saturday the launch of the operation in Afrin against the PKK and the YPG, the SDF expressed readiness to defend.
The campaign, which started with airstrikes to support the Free Syrian Army rebels, has been followed by a ground operation by the Turkish military on Sunday.
Ankara has been mulling an operation in Afrin since the US announced plans to build a 30,000-strong Kurdish-led Syrian Democratic Forces (SDF) security force on Syria's border with Turkey, which President Recep Tayyip Erdogan called a "terrorist army."
Turkish sources disclosed on Wednesday that the Turkish Army temporarily halted the Olive Branch Operation to fortify newly-captured positions and later kick off fresh attacks on Kurds to go directly towards the Central part of Afrin region,
The Turkish-language Yeni Safak daily quoted the sources as saying that military operations along the borderline with Hatay, Hasa, Kakhan Sakisli and Kilis has been halted to resume a fresh ground operation towards the town of Afrin after recent advances of the Ankara forces and allied militants against Kurds within the framework of the Olive Branch Operation in Northwestern Aleppo.
The daily further said that the Turkish troops have captured seven regions in clashes with the Kurds in Afrin, adding that the army forces are about to fortify their position in the seven newly-captured regions and later push towards the town of Afrin.
Full report at:
http://en.farsnews.com/newstext.aspx?nn=13961106000411
--------
Turkish Forces' Operation in Afrin Paves Way for New Round of War in Syria
Jan 26, 2018
The Turkish Olive Branch Operation in the Syrian Northwestern town of Afrin opens the door to a new phase of war in the country, Heifi Mustafa, the head of the executive council of the district, told Sputnik Arabic.
"The humanitarian situation in our region is steadily deteriorating," Mustafa said. "People are attacked from the ground and from the air. Civilians, including children from orphanages, are subjected to attacks."
He noted that thousands of refugees from other Syrian regions, who had previously found shelter in Afrin, fell under the heavy bombardment of the Turks.
According to Mustafa, "the purpose of the Afrin operation is to allow new mercenaries to enter Syria and begin the new round of war."
"A lot of forces are interested in this," the Syrian official believes. "It is the US who is especially interested in the bombing of Syria's Afrin."
Full report at:
http://en.farsnews.com/newstext.aspx?nn=13961106000212
--------
Syria opposition says will not attend Sochi talks
27 January 2018
Syria's opposition said early Saturday that it will boycott a peace congress in Russia next week, according to its official Twitter account.
"The HNC announces the boycott of the Sochi conference that Russia had invited it to," the tweet in Arabic on the High Negotiations Committee (HNC)'s account said after UN-brokered talks in Vienna.
"Tomorrow (Saturday) there is going to be a press conference by the head of the SNC and he will give you the decision about Sochi, if there is going to be participation or not," said Syrian Negotiations Commission (SNC) spokesman Yahya al-Aridi.
The comments came at the end of two days of what Aridi called "tough talks" hosted by the United Nations in Vienna.
Like in eight previous rounds in Geneva, the SNC and Syrian government representatives held separate talks with UN envoy Staffan de Mistura but the two delegations did not meet face to face.
Russia, which has helped turn the Syrian war in favor of its ally President Bashar al-Assad, has invited 1,600 people to the Black Sea resort of Sochi to begin hammering out a new constitution for post-war Syria.
The meeting is also backed by Iran and Turkey, two key players in the complex and devastating seven-year-old conflict, but viewed with skepticism by the opposition and Western countries.
They fear it will sideline the UN track and carve out a settlement in favor of Assad.
The United Nations is still considering whether to attend the Sochi conference and will make a decision based on the outcome of the Vienna meetings, spokesman Farhan Haq said Friday.
"We are evaluating the situation as of the end of the talks," Haq told reporters at UN headquarters in New York.
"Once they have happened, Mister De Mistura will evaluate what the situation is and we can then evaluate from there what our presence in Sochi may or may not be."
Full report at:
https://english.alarabiya.net/en/News/middle-east/2018/01/27/Syria-opposition-says-will-not-attend-Sochi-talks.html
--------
US helicopter gunship kills 7 Iraqi civilians
Jan 27, 2018
A US military helicopter has targeted several vehicles in Iraq's al-Anbar Province, killing seven civilians and wounding 11 others, including a local official.
The attack occurred in the west of Ramadi, the provincial capital of Anbar, local Iraqi media reported on Saturday morning.
Iraqi Alsumaria television cited an unnamed security official as saying that the US helicopter gunship had targeted several civilian vehicles in the al-Baghdadi neighborhood of Ramadi.
Alsumaria said the head of the al-Baghdadi township and its police chief were among the wounded and were in serious condition.
It was not clear why the attack occurred. There was no immediate comment from the US military.
The US has been leading a coalition of its allies in a military campaign against purported Daesh targets in Iraq. While the Iraqi leadership officially announced the end of operations against Daesh in December last year, pockets of the terrorist group reportedly remain operative in rural areas in the country.
Full report at:
http://www.presstv.com/Detail/2018/01/27/550308/Iraq-Ramadi-US-helicopter-gunship-Ramadi-Anbar
--------
Syrian army finds Israeli-made mines, chemicals in eastern Dayr al-Zawr
Jan 26, 2018
Syrian government forces have discovered a considerable amount of Israeli-made landmines, toxic materials and munitions left behind by members of Daesh Takfiri terrorist group in the eastern sector of the country's eastern province of Dayr al-Zawr.
Syria's official news agency SANA reported that army troopers made the discovery in the villages of al-Sayyal and Hassrat in addition to the town of al-Jalaa as they were combing the areas of hidden ordnance and unexploded devices.
This is not the first time that Syrian government forces have made such findings from terrorists' hideouts across the war-ravaged Arab country.
On December 10, 2017, Syrian troops discovered large amounts of weapons, various types of ammunition, explosive devices, landmines, communication devices, armored vehicles, car bombs, and tanks left behind by Daesh terrorists.
A Syrian army commander, speaking on condition of anonymity, told SANA that the scale of the discovery is proof of the direct and systematic support provided to Daesh by a number of regional and trans-regional states.
Syrian military forces also discovered a large cache of Israeli-made weapons in the strategic town of Mayadin, located about 44 kilometers southeast of Dayr al-Zawr, on October 19.
The weapons included several types of heavy, medium and light firearms that beside Israel, came from some European countries as well as members of the NATO military alliance.
An unnamed Syrian military source said government troops had also found mortars, artillery equipment, large quantities of anti-armor munitions and a NATO- made 155mm cannon with a range of up to 40km (about 25 miles).
Full report at:
http://www.presstv.com/Detail/2018/01/26/550249/Syrian-army-finds-Israelimade-mines-chemicals-in-eastern-Dayr-alZawr
--------
Europe
German politician not alone who changed his views of Islam after spending time with Muslims
January 26, 2018
Berlin: Arthur Wagner, a member of the far-right Alternative for Germany (AfD) party, who surprised observers by converting to Islam after working with Muslim immigrants, has once again brought the beauty of Islam to fore.
However, Arthur Wagner is not alone in this privileged club. There are many others who after realizing the true nature of Islam embraced it, and became its ambassador and staunch supporter.
There are instances in the life of Prophet Muhammad (peace be upon him) when people will come to him and embrace Islam saying, "Up till now there was no person other than you and no religion other than Islam that we hated the most. But from now on, Islam alone is what we cherish the most and you are the one who is the most loved one in our life".
The story of second Caliph Omar in itself is very interesting. Omar was on his way to kill Prophet Muhammad (peace be upon him) when he learnt that his own sister and her husband had embraced Islam.
Shocked and furious, he changed his way and knocked at his sister's home. They became fearful but soon gathered courage and succeeded in bringing Omar to conversation.
Half convinced Omar then asked them to read something from the Holy Quran. The transformation followed and Omar went straightaway to Prophet Muhammad (peace be upon him) and embraced Islam.
Likewise, in the wake of the 9/11 terror attacks, the United States experienced a spike in the number of Muslims in the country. While some of that was undoubtedly due to immigration, a significant portion came from Americans converting to Islam.
According to Asma Afsaruddin, a professor of Near Eastern languages and cultures at Indiana University Bloomington, many of those conversions were a direct result of Americans' heightened interest in Islam in the wake of the terror attacks.
"Despite Islamophobia, thoughtful Americans who are curious about the real nature of Islam might go out of their way to discover the teachings of the religion from reliable sources," Asfaruddin told PRI's The World back in 2016, according to Vox Media.
"Once people do so, they often quickly realize that the violent, bloody interpretation of Islam promoted by groups like al-Qaeda (and later ISIS) — and portrayed in much of the media — is vastly different from what the texts and traditions of Islam actually teach, and represents the views of a tiny fraction of the world's 1.8 billion Muslims.
"As I've written and discussed elsewhere, this is also what happened to me. As a college student at the height of George W. Bush's "war on terror," I set out to learn more about the beliefs of terrorist groups like al-Qaeda. And in the process, I came to a much deeper, more nuanced understanding of the religion and practice of Islam than what I had heard from terrorist propaganda and from the media. Eventually, I ended up converting", she said.
Arthur Wagner's case also reminded the interesting case of another German Arnoud van Doorn, a member of the Freedom party of the Dutch far-right politician Geert Wilders, who was asked to leave the party in 2013 when it emerged he had converted to Islam and travelled to Saudi Arabia to perform Hajj - the pilgrimage to Makkah that all Muslims are expected to perform at least once in their lives.
Until his conversion, Arnoud van Doorn was a member of the city council in The Hague, and a leading figure in Geert Wilders' anti-Islamic Party for Freedom, responsible, among other things, for producing the film Fitna, which argued that Islam, and Muslims generally, are violent, intolerant and bent on world-domination., according to The Guardian.
"According to some people I am a traitor," he told al-Jazeera after his conversion to Islam, "but according to most others I have actually made a very good decision."
About his conversion to Islam Arnoud van Doorn who was once regarded a "professional Islamophobe" said, "Very gradually. I started by reading the Qur'an and was then persuaded to visit a mosque, where I was surprised to find myself made welcome and ended up staying all day."
"I had a warm feeling, and I was really a bit confused," he said.
http://www.ummid.com/news/2018/January/26.01.2018/arthur-wagner-not-alone-who-changed-his-views-of-islam.html
--------
Former bouncy castle salesman dubbed new 'Jihadi John,' added to State Department terrorism list
January 27, 2018
A former British bouncy castle salesman dubbed the new "Jihadi John" has earned himself a place on the U.S. State Department's terrorism list.
Siddhartha Dhar, who goes by Abu Rumaysah, fled his East London home for Syria in 2014 to join ISIS, Yahoo News reported. Dhar fled the UK with his family while free on bail for his alleged involvement in Al-Muhajiroun, a former terror group that's now defunct.
Dhar tweeted pics of him posing with an AK-47 and his infant son. The Telegraph reported Dhar was Hindu but converted to Islam in order to marry his wife. Neighbors told the news outlet he may have been radicalized by his wife.
Dhar was believed to be the man who was in a Jan. 2016 ISIS video showing the execution of ISIS prisoners, Yahoo News reported.
A State Department spokesperson told Yahoo News anyone on the list "poses a significant risk of committing acts of terrorism that threaten the security of U.S. nationals or the national security, foreign policy, or economy of the United States."
The spokesperson told the news outlet Dhar was "considered to have replaced ISIS executioner Mohammed Emwazi, also known as 'Jihadi John.'"
Emwazi, the original "Jihadi John" was confirmed dead by an ISIS propaganda magazine in Jan. 2016.
Full report at:
http://www.foxnews.com/us/2018/01/26/former-bouncy-castle-salesman-dubbed-new-jihadi-john-added-to-state-department-terrorism-list.html
--------
Morocco's Integration into Africa: Implications for the United States
By Irina Tsukerman
January 26, 2018
Rabat – Morocco's shift from the association with the Middle East towards embracing its African identity is evidenced in yet another step: the third annual gathering in Fez, which included the celebration of the "Afrique Central" Music. The theme of the gathering is "Africa for Africans", and it explores Morocco's role as a bridge between countries, continents, politics and culture.
The four-day event is organized by local Moroccans in partnership with other organizations, such as the Cervantes Institute, and explores an assortment of artistic expressions ranging from photography and music to Sufism, contemporary African art, and linguistic exchange. The shift, however, is also reflected in geopolitical moves.
Rejoining the African Union after 33 years of absence, Morocco seeks to integrate itself within the other African countries, and to prevent the domination of Algeria on the Western Sahara issue. Algeria had used Morocco's absence to promote its own position, in support of Polisario, which threatened Morocco's national sovereignty. However, this development means more than a diplomatic maneuver in response to an old adversary. It also represents a move away from Europe's stagnating markets towards the growing economies in Africa's southern countries.
Morocco is taking the initiative to be seen as an indigenous and involved part of the region, rather than merely an Arab state that happened to be physically located in Africa. Indeed, Morocco's policies, starting with its Constitution, emphasize its diverse and multicultural identity. In pursuit of the new policy, King Mohammed VI went on a tour of African countries through December, January and February of 2017. He engaged more closely with other African leaders, including the President of Nigeria, launching strategic partnerships on a variety of business fronts.
Morocco remains a staunch Western ally; her closer union to Africa is an important opportunity for the United States to build bridges to the continent that for decades have been closely associated with development aid, diseases, wars, and corruption than with entrepreneurship, trade, and culture Renaissance. Indeed, the overwhelming focus on the Western Sahara issue in the US media's coverage of Morocco's return to the African Union illustrates just how much of the bigger picture the Western media is missing in its failure to ask basic questions and its engagement in shallow, predictable copy-cat analysis. And the bigger picture is this: Morocco is looking to become a leader in Africa. It already plays that role with developing the world's largest solar power plant.
Likewise, in his effort to modernize the country, the king has taken on corruption in a transparent constitutional move, that leaves no lingering questions. He first launched an audit in a probe of unfulfilled promises related to the development the Northern Moroccan city of Al Hoceima, in response to seven-month-long-protest movements. As a result of the probe, several senior officials were sacked and banned from holding public office. That is an important signal to send to the country, and likewise follows a concerted movement to disassociate the country from the corrupt image of the Middle East, and towards the growth-oriented hub of African countries.
The move towards the embrace of its African identity for Morocco is as symbolic as it is pragmatic. Hoping to project its role as a bridge between continents and cultures does not mean completely giving up the remnants of its Arab identity; rather, for Morocco, it means embracing pluralism, while taking on a more complex and subtle role. Taking on an economic lead, exercising soft power, such as retraining imams from all over Africa, in a quintessentially African (Maaliki) tradition of Islam, but through the lens of Moroccan tolerance, providing development aid to other African countries Meanwhile, Morocco is also engaging in joint ventures and projects that will benefit the populations of these countries and not merely their leadership. These are all signs that Morocco is taking on an assertive forward-looking policy that will bring into the league of influencers with a lot to share with the world, and away from the European Union's bureaucratic nattering.
Indeed, this movement provides the United States with much greater opportunities for engagement with Morocco, and through Morocco, with other African countries – on trade, culture, and business opportunities, than ever before. As European Union becomes increasingly less relevant, Morocco, nevertheless, seeks to grow, modernize, and engage in innovative business ventures. The US is much better suited for that role, with its orientation towards more liberal markets, and pursuit of trade policies that will give increased opportunity to American workers. Strengthening and engaging in additional bilateral treaties with Morocco, engaging in joint ventures on assorted private business projects, and finding a friendly bridge towards investing into entrepreneurial ventures in other African countries is the sort of visionary foreign policy that would bring the United States to a position of international greatness in a positive and welcome manner, in more than just rhetoric.
Politically, too, Morocco has more to offer in its growing role as an African, rather than Middle Eastern countries. This new dimension to its identity allows Morocco to maintain a staunchly independent political position. By remaining outside the fray of assorted Middle Eastern conflicts and disputes, Morocco can play a positive role in two ways:
First, by exercising a subtle moderating influence against the proxy conflicts in Africa. Most recently, these conflicts have played out through religion: Iran and Saudi Arabia have tried to use soft power through mosques and religious organizations to recruit adherents; Iran has been winning the influence game. However, Morocco's rise to prominence in Africa, can provide a more moderate alternative to Wahhabism and Iran's support for violent Shi'a groups throughout Western Africa. The second issue is the Gulf Crisis, which now has made its way into Africa, threatening regional stability even up to the point of the potential war between Egypt and Sudan. Morocco's neutrality in the standoff between Qatar and Saudi Arabia and UAE has proved prescient – and much easier to maintain as an African, rather than a Middle Eastern country, which would have been forced to choose loyalties. Indeed, Morocco has the legitimacy and solid relations with all involved states to play a credible moderator in this crisis, while maintaining distance from its immediate effects.
Having this neutral, regionally accepted, moderator as an ally is a very positive development for the United States, which has been caught between the rock and the hard place while off-guard. Morocco's own geopolitical interests come into play. Egypt, Saudi Arabia, and UAE have all been supportive of Algeria over the Western Sahara issue; Al Jazeera has been critical of Sisi, which is likewise beneficial to Morocco while the tensions remain in place. At the same time, maintaining relations with Qatar may help Morocco talk the Emir out of the position of brinksmanship, which he has adopted in response to the Saudi-UAE blockade and ultimatum. The US has not been significantly involved in the Western Sahara issue under Trump; economic relations with Morocco are far more important to the administration than diplomatic entanglements in other countries' long-standing conflicts.
Staying out of that conflict and developing closer business, security, and cultural relations with Morocco is the best thing the administration can do. Morocco's potential role in deescalating the Gulf Crisis can only help in the growth of these relations. The United States houses an important naval base with Qatar; it has engaged in extensive joined training. US has also concluded important arms deals with both Qatar and Saudi Arabia. Some have postulated that at least in part, the escalation of the Gulf Crisis has been over historic regional rivalries, and the wish to see the US move its base to UAE from Qatar. Whether that disingenuous position is truly behind the somewhat deceptive presentation of the conflict to President Trump at the outset is hard to tell; what is true, however, is that Qatar has not yet agreed to any of the demands made by its Gulf neighbors, but some of those demands are of direct interests to the United States.
Whether or not Qatar and the Saudis will ever come to an agreement over Al Jazeera is impossible to predict at the current juncture; Morocco can also play a positive role in helping to reach an understanding over the other demands made by the Gulf States, and which could ultimately serve the region well by strengthening the relationships inside the GCC against the common regional threats, such as sectarian violence and terrorist infiltration. King Mohammed VI has been at the forefront of the battle against extremist inside Morocco; the Muslim Brotherhood, on the other hand, has been an ideological threat, solidly behind the revolutionary Islamist influences which Morocco seeks to eradicate from Africa through more moderate education of imams. That is precisely the issue that can bring Morocco and Egypt together; Sisi views Muslim Brotherhood as an existential threat and has designated it a terrorist organization, as did some of the other states. They have also encouraged the US to designate it as such. However, under the US law, Muslim Brotherhood, though indeed an ideological threat, would not be considered a terrorist organization because it has not been directly linked to any violence or terrorist attacks. Rather, it has been a funder/sponsor of various extremist regional groups, and many terrorists have been influenced by the Brotherhood's education. Playing whack-a-mole with terrorist designations may bring the US closer to African countries and Middle Eastern state, but will not ultimately solve the problem. Rather, countering its ideological influence with positive alternatives, and cutting off funding that goes towards its proxies should be top priorities for all involved.
The United States is in a sensitive position; Muslim Brotherhood-influenced groups are a potential threat to its troops in Qatar; furthermore, terrorist groups financed by the Muslim Brotherhood are a threat all over the Middle East, as well as in Africa. The US does not wish to limit its trade and relations with countries in the region; relocating its base would be a significant inconvenience. Nor does the US wish to be seen as having been played by the Saudis and UAE. Avoiding the deterioration of relations with Qatar is important to US geopolitical interests; no less, so, however, is maintaining solid relations with the Saudis/UAE block in the face of common threats, as well as business and trade opportunities. For that reason, having the Gulf Crisis go on indefinitely or escalate to the point where the US has to make painful choices is quite undesirable.
Full report at:
https://www.moroccoworldnews.com/2018/01/239285/moroccos-integration-into-africa-implications-for-the-united-states/
--------
Chechen leader Kadyrov praises Putin's support for Islam
26 Jan, 2018
Ramzan Kadyrov has said that President Vladimir Putin stayed true to his pledge to support Muslims in Russia and around the world, adding that Western policies have only brought war and destruction to Islamic nations.
In a new message posted on the Telegram social network, Kadyrov thanked Putin for his support to Chechen Muslims. He wrote that Putin was fulfilling his promise to protect religious freedom and equality for all major confessions in Russia. In addition, Kadyrov said that such policies were further proof that the Russian Federation is a reliable partner for all Muslim nations.
"These are not just words, Vladimir Putin has constantly proven that he is fulfilling his promises. While the United States and their allies are bringing wars and destruction to the Muslim world, Russia is consistently defending the interests of the Islamic nations and peoples," the Chechen leader wrote.
The promise mentioned by Kadyrov was made by Putin in 2005, when he delivered a speech before the Chechen parliament. Back then, Putin promised support for traditional Muslims in Russia and across the world, saying that Russia would remain a reliable partner for Muslim countries.
In his message, Kadyrov also drew attention to a more recent statement by the Russian president. Last Wednesday, Putin met with representatives of Muslim clergy in the city of Kazan, and said that Russian authorities would support Islamic education through major state universities and other means.
Putin also emphasized that studies in traditional Islam were an important part of countering harmful extremist ideas and radical groups. "These ideas, even destructive ones, can only be tackled in one way – through other ideas. Those, which are being promoted and taught to the people in the Theological Academy, which was created here [in Kazan] and in other academies and educational institutions… in Moscow, Ufa and the Caucasus," he said.
Full report at:
https://www.rt.com/politics/417049-chechen-leader-kadyrov-praises-putins/
--------
URL: https://www.newageislam.com/islamic-world-news/deoband-school-thought-declared-monthly/d/114076
New Age Islam, Islam Online, Islamic Website, African Muslim News, Arab World News, South Asia News, Indian Muslim News, World Muslim News, Women in Islam, Islamic Feminism, Arab Women, Women In Arab, Islamophobia in America, Muslim Women in West, Islam Women and Feminism