New Age Islam News Bureau
11 Jun 2014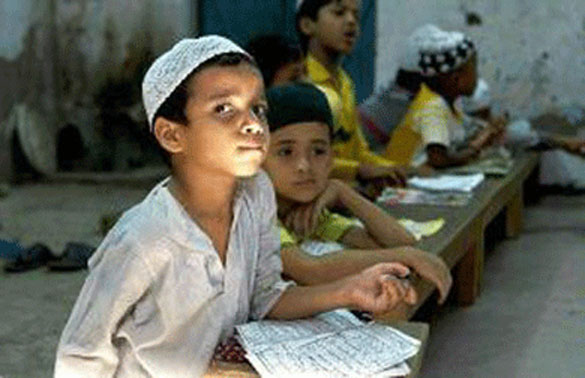 A similar bid by the UPA-II government had failed to take off due to non-cooperation from madrassas affiliated to or ideologically close to Deoband
----------
India
• Deoband May Block Centre's 'Madrasa Modernisation'
Arab World
• Maliki asks for state of emergency as ISIL overruns north Iraq
• Syrian army kills many Takfiri militants in Aleppo
• El-Sisi visits Tahrir sexual assault victim, apologises to Egypt's women
• Syria rebels urge Arab support against ISIL jihadists
• Syria says ready to help Iraq fight jihadist 'terror'
• Powerful Shia cleric Sadr calls for new force to defend Iraq religious sites
• Ayatollah Sistani Voices Support to Iraqi Army against ISIL
• Half a million flee Iraq's Mosul as jihadists tighten grip
Pakistan
• Taliban threatens Art of Living volunteers in Pakistan
• Info minister dubs Taliban, Imran, Qadri 'strategic partners'
• KP Has Highest Number of Drug Users, Women Also Using Hashish: Report
• Three, including a peace committee member, killed in Swat firing
• Army resolves to intensify air strikes against militants
• State will curb terrorists: Pervaiz Rasheed
• Operation against terrorists has become a must: Rehman Malik
• IMU takes responsibility for Karachi airport terror attack
• 'Imran should announce army fighting Pakistan's war'
South Asia
• Nine Taliban militants killed in Afghan operations
• Militants kill 8 de-miners in Logar province
• Madrasa blast: Hifazat-e Islam leader Mufti Izhar, son charged
• Gunmen kidnap 25 lecturers of Kandahar University
• Japan University hosts Islamic exhibition
• Perceived atheists and homosexuals targetted in Maldives
North America
• US Condemns Mosul Attack, Calls Iraq Situation 'Extremely Serious'
• Muslim driver fights US city's taxi wardrobe rules
• Hillary Clinton visited Delhi to convince India on Iran
• US, UK partner with Bangladesh to expand healthcare services to urban poor
• Obama affirms support for strategic ties with Cairo in call to El-Sisi: White House
Mideast
• Basij Commander: Takfiris' Crimes Supported by West, Petro Dollars
• Turkish Imam Given Go Ahead To Make Rock 'N' Roll with Mystical Sufi Music
• Turkish PM Erdoğan: All responsible for removal of flag will pay
• Iran wants full restoration of diplomatic ties with Egypt: Diplomat
• No. 2 in Hamas says he'll move from Egypt to Gaza
• Spokeswoman: New Wave of Terrorism in Iraq Vindicates Iran's Earlier Warnings
Europe
• Muslim schoolchildren are still leading parallel lives to the mainstream
• Icelanders joining Muslim group to protest far-right
• Syrian President Bashar al-Assad tops list of Syria war crimes suspects handed to ICC
• Poll: Palestinians prefer suing Israel at the ICC rather than starting third intifada
Southeast Asia
• Malaysia aims to take lead in Islamic financial sector
• Shariah Court to decide tomorrow on alleged Muslim's religion
• Putrajaya defends action of religious agencies in 2 controversial cases
Africa
• S. Sudan rivals agree to end war, form interim govt
• Fighting erupts between Rwandan and DR Congo soldiers
• Libyan renegade general agrees to election ceasefire
Compiled by New Age Islam News Bureau
URL: https://www.newageislam.com/islamic-world-news/new-age-islam-news-bureau/deoband-may-block-centre-s--madrasa-modernisation-/d/87473
------------
India
Deoband May Block Centre's 'Madrasa Modernisation'
Mohammed Wajihuddin, TNN | Jun 11, 2014
MUMBAI: Leading Islamic seminary Darul Uloom Deoband may stonewall the Narendra Modi-led NDA government's proposed plan to revamp Madrasa education.
Deoband, which has been at the forefront of the countrywide campaign against Madrasa modernization, has sought clarification on the Centre's 'National Madrasa Modernisation Programme', which was referred to in President Pranab Mukherjee's speech to Parliament on Monday.
"It is not clear what the government wants to do... It should come out with detailed policy and tell which madrasas will be brought under its ambit," said Darul Uloom Deoband rector Mufti Abdul Qasim Noumani.
There are two kinds of madrasas in India: those run on government grants and those based purely on community charity. "Madrasas which don't accept any grant from the government will not accept any modernisation programme initiated by the government," Noumani said.
A similar bid by the UPA-II government had failed to take off due to non-cooperation from madrasas affiliated to or ideologically close to Deoband.
A section of Muslim intelligentsia welcomed the 'modernization' move, but with a rider. "The government should make the entire process transparent and voluntary," said Javed Anand of Muslims for Secular Democracy, a think tank. "Madrasas have the legitimate concern that in the name of modernization, the government might interfere in their affairs and control them."
Muslims constitute around 14% of India's 1.2 billion populations. The Sachar Committee had said only 4% of school going Muslims attend madrasas. This minuscule section is, however, critical since it churns out Islamic preachers, clerics and Imams. Most Madrasa-educated youth are not employed in the mainstream job market. More importantly, they remain unemployable.
http://timesofindia.indiatimes.com/india/Deoband-may-block-Centres-Madrasa-modernization/articleshow/36367420.cms
------------
Arab World
Maliki asks for state of emergency as ISIL overruns north Iraq
June 11, 2014
Iraq's prime minister has asked parliament to declare a state of emergency after Islamist militants effectively took control of Mosul, the country's second-largest city, and much of its province of Nineveh June 9, in another blow to the authorities, who appear incapable of stopping rebel advances.
Nouri Maliki said "vital areas" of the city had been seized; some 150,000 people are believed to have fled. A police chief who spoke to AFP told The Islamic State of Iraq and the Levant (ISIL) partly took control of the Salahaddin province and some areas in the city of Kirkuk.
Overnight, hundreds of gunmen launched an assault on Mosul, 350 kilometres north of Baghdad, engaging in combat with troops and police, they said.
The ISIL has also reportedly taken 28 Turkish truck drivers hostage. The drivers had been travelling from the southern Turkish city of İskenderun to the Geyara Thermal Power Plant in Mosul, Doğan News Agency reported.
A senior Turkish official told Reuters that Turkey is investigating media reports. "These truck drivers were taking fuel to an energy storage and distribution hub. When they arrived, ISIL (militants) were already there," the official told Reuters, adding that Foreign Minister Ahmet Davutoglu was in contact with Iraqi, Kurdish and U.S. officials to try to ensure their safe release. "They were detained (by the militants), they haven't been hijacked ... They're unharmed as far as we're aware. When they've finished transferring the fuel we're hoping that they will be freed," another Turkish official said.
Foreign Ministry officials told the Daily News that contact had been lost with 28 drivers in Iraq. They said they could not yet ascertain whether the drivers had been abducted by ISIL militants or were simply stuck somewhere in the region, and were still working to find more details.
The phone lines of the Turkish Consulate in Mosul have been cut, though Ankara can still communicate with Consul Öztürk Yılmaz through his cellphone, Hürriyet's Uğur Ergan has reported. Yılmaz recently survived a bomb attack while traveling to the northern city of Arbil.
Entire region threatened, US says
The US has said the ISIL threatens not just Iraq, but the entire region. State Department spokeswoman Jen Psaki said the situation in Mosul was "extremely serious" and that the US supported "a strong, co-ordinated response to push back against this aggression".
Before the entire city fell, militants took control of the governor's headquarters, prisons and television stations. "The city of Mosul is outside the control of the state and at the mercy of the militants," an interior ministry official told AFP, making it the second city to fall to anti-government forces this year.
An AFP journalist, himself fleeing the city, said shops were closed, security forces had abandoned vehicles and a police station had been set ablaze.
Kurdistan Regional Government (KRG) Prime Minister Nechirvan Barzani has called on the people of the Kurdish region to help the displaced people of Mosul, while accusing the central government of not cooperating with the KRG against militants.
Kurdish leaders offers help
"Over the last two days, we tried extremely hard to establish cooperation with the Iraqi Security Forces in order to protect the city of Mosul. Tragically, Baghdad adopted a position which has prevented the establishment of this cooperation," Barzani said in a written statement
"In order to assist and support the displaced people of the city of Mosul, including all of the city's different ethnic groups, I ask the people of the Kurdistan region to help the displaced people of Mosul in whatever way they can within the framework of legal and security guidelines. I also urge the United Nations High Commission for Refugees [UNHCR] to provide relief and support for the displaced people fleeing the violence in Mosul," he added.
"In the meantime, we reassure the people living in the areas of Kurdistan outside of KRG administration that the Kurdish Security Forces are ready, as always, to handle the security situation in these areas."
Mosul is the capital of Nineveh province. In recent days, militants have launched major operations in Nineveh and four other provinces, killing scores of people and highlighting both their long reach and the weakness of Iraq's security forces.
Mosul is the second city to fall to militants this year, after the government lost control of Fallujah, just a short drive from Baghdad, in early January.
http://www.hurriyetdailynews.com/maliki-asks-for-state-of-emergency-as-isil-overruns-north-iraq.aspx?pageID=238&nID=67606&NewsCatID=352
------------
Syrian army kills many Takfiri militants in Aleppo
June 11, 2014
The Syrian army has stepped up its operations against the foreign-backed Takfiri militants operating inside Syria, killing many of them and destroying their weapons.
On Tuesday, the Syrian troops continued their clean-up operations against the militants in al-Halak and al-Sheikh Lutfi in Aleppo, Syria's official news agency SANA reported.
Syrian forces also stormed the militants' hideouts in many areas, including Khan Touman, Erbid, Qadi Askar, and al-Mansoura, in the countryside of Aleppo, killing a large number of them and injuring many others.
Syrian soldiers also clashed with the militants in the town of Jisereen in the countryside of Damascus, killing scores of them. Also, in the Ghouta region, east of the capital, Syrian soldiers targeted the militants' hideouts, killing a number of them.
Elsewhere, in the town of Saraqeb in Idleb Province, Syrian army units clashed with the foreign-backed Takfiri militants, destroying their hideouts and killing all of them.
A number of militants were also killed by Syrian troops in the city of al-Rastan in the countryside of Homs. Syrian soldiers also foiled an infiltration attempt by the militants in the village of Maksar al-Hisan in the eastern countryside of Homs.
The army units also carried out large-scale operations against the foreign-sponsored militants in other parts of the country, inflicting heavy losses on them.
Syria has been gripped by deadly violence since March 2011. According to reports, the Western powers and their regional allies - especially Qatar, Saudi Arabia and Turkey - are supporting the militants operating inside Syria.
http://en.alalam.ir/news/1601777#sthash.tdrzZvNe.dpuf
----------
El-Sisi visits Tahrir sexual assault victim, apologises to Egypt's women
June 11, 2014
President Abdel-Fattah El-Sisi paid a visit early on Wednesday to one of the Tahrir Square victims of mass sexual assault, reported Egyptian national television.
The newly inaugurated president, along with Minister of Defence Sedky Sobhy and the chief of staff, General Mahmoud Hegazy, visited the victim at Al-Helmiya Military Hospital.
During celebrations held by supporters of El-Sisi over the past week for his victory in the presidential elections and up until his inauguration on Sunday, Tahrir Square witnessed a series of mass sexual harassment and assault incidents against ladies.
In a video report aired Wednesday morning on national TV, El-Sisi was shown apologising to the victim, as well as to all Egyptian women subjected to sexual abuse, and promising her a spiritual voyage to Mecca at the state's expense to help her convalesce.
He also vowed to implement tougher measures against the crime.
Shortly afterwards, a statement from Egypt's presidency declared the intended formation of a committee comprised of government officials as well as Muslim and Christian spiritual leaders to devise a strategy to combat the growing phenomenon of sexual harassment.
On Tuesday El-Sisi issued a statement denouncing the mass sexual assault incidents that took place in Tahrir Square during his inaugural celebrations and awarded the officer who rescued one of the victims.
Describing sexual harassment as an alien behaviour to Egyptian culture, El-Sisi called on the Egyptian people to restore "the moral spirit" of society.
The prosecutor-general is currently investigating the sexual assault cases. Security forces also arrested a number of suspects from Tahrir Square on Sunday for their possible involvement in one of the mass assault incidents.
Women's rights organisations report that no less than eight women were sexually harassed and assaulted the past few days in Tahrir Square and were transferred to hospitals in critical conditions.
Sexual harassment has also been a growing problem outside of Tahrir Square and in protests in the last decade.
More than 99 percent of women surveyed across 27 governorates said they'd experienced some form of harassment, from minor incidents to rape, according to a 2013 report by the United Nations and Egypt's Demographic Centre and the National Planning Institute.
Last week, former interim president Adly Mansour issued a sexual harassment law that activists praised for stipulating tougher penalties and jail terms for offenders.
http://english.ahram.org.eg/NewsContent/1/64/103444/Egypt/Politics-/ElSisi-visits-Tahrir-sexual-assault-victim,-apolog.aspx
------------
Syria rebels urge Arab support against ISIL jihadists
June 11, 2014
Syrian rebels backed by the international community called Wednesday for help to fight the jihadist Islamic State of Iraq and the Levant in the east of the war-ravaged country.
The Free Syrian Army's appeal came a day after ISIL spearheaded a jihadist Sunni offensive in neighbouring Iraq that claimed the country's second-biggest city Mosul and a swathe of other northern territory.
"The Supreme Military Council calls on all friendly and brotherly Arab nations, particularly Saudi Arabia, Turkey, Qatar, the UAE and Jordan, to give aid to the brigades on the ground in Deir Ezzor province so they can confront the terrorist ISIL organisation," the FSA said in a statement.
ISIL, which emerged in the Syrian conflict in 2013, grew from Al-Qaeda's Iraq affiliate, though it has since split with the global terror network and faced criticism from its head Ayman al-Zawahiri.
Full report at:
http://english.ahram.org.eg/NewsContent/2/8/103442/World/Region/Syria-rebels-urge-Arab-support-against-ISIL-jihadi.aspx
------------
Syria says ready to help Iraq fight jihadist 'terror'
June 11, 2014
The regime of Syrian President Bashar al-Assad said Wednesday it is willing to help Baghdad in the fight against "terrorism", a day after jihadists overran Iraq's second city Mosul.
"The foreign-backed terrorism that our brothers in Iraq are facing is the same that is targeting Syria," said the foreign ministry.
Damascus is "ready to cooperate with Iraq to face terrorism, our common enemy", it said in a statement.
The Islamic State of Iraq and the Levant is a radical jihadist group operating in Iraq and Syria. It aims to establish an Islamic emirate stretching across the two countries' borders.
ISIL militants spearheaded a jihadist offensive on Tuesday that claimed the province of Nineveh and its capital Mosul, as well as other parts of northern Iraq.
Full report at:
http://english.ahram.org.eg/NewsContent/2/8/103441/World/Region/Syria-says-ready-to-help-Iraq-fight-jihadist-terro.aspx
------------
Powerful Shia cleric Sadr calls for new force to defend Iraq religious sites
June 11, 2014
Powerful Shia cleric Moqtada al-Sadr, who led the once-feared Mahdi Army militia, on Wednesday called for the formation of units to defend religious sites in Iraq.
Sadr said in a written statement that he was ready "to form peace units to defend the holy places" of both Muslims and Christians, in cooperation with the government.
His call came after Prime Minister Nuri al-Maliki said the government would arm citizens who volunteer to fight militants, following the fall of Iraq's second city Mosul and a swathe of other territory to jihadist Sunnis on Tuesday.
Full report at:
http://english.ahram.org.eg/NewsContent/2/8/103438/World/Region/Sadr-calls-for-new-force-to-defend-Iraq-religious-.aspx
------------
Ayatollah Sistani Voices Support to Iraqi Army against ISIL
June 11, 2014
Iraq's Muslim religious reference, Grand Ayatollah Sayyed Ali al-Sistani, asserted his support to the Iraqi army and called on its soldiers to be patient and steadfast in the face of ISIL terrorists.
In a statement, Sayyed al-Sistani expressed deep concern about the latest developments in Nineveh province and called on the government to take the necessary measures to encounter the terrorists and to protect the civilians.
http://www.almanar.com.lb/english/adetails.php?eid=155791&cid=23&fromval=1&frid=23&seccatid=24&s1=1
------------
Half a million flee Iraq's Mosul as jihadists tighten grip
June 11, 2014
BASHIQA, Iraq: Half a million people were estimated Wednesday to have fled Iraq's second city of Mosul, as Islamist militants tightened their grip after overrunning it and a swathe of other territory.
In a spectacular blow to the Shiite-led government, the jihadists spearheaded by the Islamic State of Iraq and the Levant (ISIL) on Tuesday seized Mosul, its surrounding region of Nineveh and areas of Kirkuk and Salaheddin province.
On Wednesday they tried to take Baiji in Salaheddin province but withdrew when the army and police reinforcements arrived, officials said.
Their surprise advance poses significant challenges to Baghdad, with analysts saying they would be bolstered by cash from Mosul's banks, hardware from military bases and hundreds of men they freed from prison.
It also sparked a massive exodus, with families seen piling into cars that crammed security checkpoints outside the northern city, which is normally home to a population of two million people.
Full report at:
http://www.arabnews.com/news/585051
------------
Pakistan
Taliban threatens Art of Living volunteers in Pakistan
11 June 2014
The Art of Living today said its faculty members and volunteers in Pakistan have been receiving threat letters and calls from the Taliban for over two months, accusing them of "conspiring against Islam".
Authorities in Pakistan had been informed about the threats, the Bangalore-based AOL founded by Sri Sri Ravi Shankar said. The calls first began after March 8 when 15 gunmen vandalised and set on fire the AOL centre in Bani-Gala on the outskirts of Islamabad, it said in a statement here.
It said, for the last 13 years, stress management techniques, breathing and yoga exercises were being taught as part of the programmmes, "purely secular in nature", by AOL, which has 10,000 members in Pakistan. The Art of Living has been "extremely sensitive" of religious sentiments in Pakistan and other Islamic countries while taking these programmes and majority of Muslims have no objection to this, it said.
Full report at:
http://www.dnaindia.com/world/report-taliban-threatens-art-of-living-volunteers-in-pakistan-1994777
------------
Info minister dubs Taliban, Imran, Qadri 'strategic partners'
June 11, 2014
ISLAMABAD: Federal Information Minister Pervez Rasheed on Wednesday lashed out against Pakistan Tehreek-i-Insaf (PTI) chief Imran Khan, Pakistan Awami Tehreek (PAT) head Tahirul Qadri and Taliban, calling them 'strategic partners'.
Talking to the media in the capital, he said that while the Taliban attacks defence institutions, Imran Khan attacks democracy and Tahirul Qadri targets the constitution.
He said earlier that Imran was only an ideological ally of the Taliban but now both he and Qadri have become strategic partners of the Taliban. He vowed that the government will combat all three.
Full report at:
http://www.dawn.com/news/1112039/info-minister-dubs-taliban-imran-qadri-strategic-partners
------------
KP Has Highest Number of Drug Users, Women Also Using Hashish: Report
June 11, 2014
PESHAWAR: Khyber Pakhtunkhwa has the highest number of drug users in the country as 10.9 per cent of its residents have used an illicit substance during the past year, according to a report.
The report titled 'Drug use in Pakistan-2013' was prepared by United Nations Office on Drug and Crimes (UNODC) and Ministry of Interior and Narcotics Control.
Launched at a ceremony here on Tuesday, the report said that approximately six per cent population of the country or 6.7 million people used any controlled substance including misuse of prescription drugs in the last year.
Sharing the key findings of the report, Mohammad Shahid said that age of the majority of the drug users was between 25 and 39 years. He said that 860,000 people in the country used heroin regularly and 320,000 were opium users while 1.06 million people, aged between 15 to 64 years, were using opiates.
Full report at:
http://www.dawn.com/news/1111934/kp-has-highest-number-of-drug-users-report
------------
Three, including a peace committee member, killed in Swat firing
June 11, 2014
PESHAWAR: At least three people were killed and two others were injured on Wednesday when unidentified gunmen opened fire on them in the Bara Bandi area of the Swat district.
The deceased who belonged to the peace committee was named as Hussain.
The two other people wounded in the attack included a peace committee member as well.
The injured were shifted to the Saidu Sharif Hospital by rescue teams who had reached the site of the incident immediately after the attack.
http://www.dawn.com/news/1112019/three-including-a-peace-committee-member-killed-in-swat-firing
------------
Army resolves to intensify air strikes against militants
June 11, 2014
RAWALPINDI: The Pakistan Army on Wednesday decided to intensify air strikes on militant hideouts in the wake of recent attacks across the country.
The decision was taken by the Chief of Army Staff General Raheel Sharif during a meeting of the Formation Commanders at the General Headquarters in Rawalpindi.
In the meeting it was also decided to track down terrorists and monitor their movements across the country. To dismantle terror networks, the army resolved to coordinate closely with intelligence and law enforcement agencies.
The half-yearly meeting was attended by all Corps Commanders and Formation Commanders, where comprehensive briefings on the security situation of the country as well as professional matters relating to the military came under discussion.
It also reviewed the goals achieved in North Waziristan and Tirah Valley.
The army chief said the sacrifices rendered by those in the war against terrorism would not be in vain. The participants were briefed on targets of recent air strikes. It was also decided that the Airport Security Force (ASF) would be trained by the military in order to counter future attacks.
http://www.dawn.com/news/1112021/army-resolves-to-intensify-air-strikes-against-militants
------------
State will curb terrorists: Pervaiz Rasheed
June 11, 2014
Islamabad- Minister for Information & Broadcasting, Pervaiz Rasheed said the state will aggressively respond to the terrorists to ensure protection of the people, security institutions and national installations.
Talking to journalists in Islamabad today, he said the government will take all possible measures to curb terrorism. He added the government will talk to those who will surrender but will use force against the terrorists and will eventually wipe them out.
Pervaiz Rasheed criticized PTI Chief Imran Khan for his alleged links with the Talban and called the two parties strategic partners trying to harm national interests. He further said that Khan was performing his duty to destabilize democracy.
http://www.nation.com.pk/national/11-Jun-2014/state-will-curb-terrorists-pervaiz-rasheed
------------
Operation against terrorists has become a must: Rehman Malik
June 11, 2014
KARACHI- Former interior minister Senator Rehman Malik has said today that the Pakistan People's Party will support the government's any step against terrorism.
Talking to journalists, Rehman Malik said "the farce of the dialogue with the Taliban has now come to an end." He said "operation against terrorists has become a necessity now."
He also said that all airports across the country were declared federal territory; therefore, putting all the blame on the Sindh government for the Karachi tragedy wasn't fair.
The former interior minister said "the federal government was responsible to ensure security at all airports in the country and as such Karachi airport attack was a failure of the federal government."
Full report at:
http://www.nation.com.pk/national/10-Jun-2014/operation-against-terrorists-has-become-must-rehman-malik
----------
IMU takes responsibility for Karachi airport terror attack
June 11, 2014
Islamabad: The recent terror attack on the Karachi airport has taken another turn when the Islamic Movement of Uzbekistan (IMU) has accepted responsibility and his Amir has released photos of attackers. The photos of these young men look more like some smiling teenagers on a fun filled hunting mission instead of terrorists part of the largest attack ever recorded on a civil international airport.
IMU released photos of attackers and released the following statement published first on the Uzbek Jihadi website Furqon from Usman Ghazii, The Ameer of Islamic Movement of Uzbekistan:
"On midnight of Monday ten brave martyrdom seeking mujaahids of Islamic Movement of Uzbekistan wearing their explosive-filled vests attacked very special section of Karachi International Airport of Pakistan which is not visible to the common folk visiting the Airport.
Full report at:
http://www.nation.com.pk/national/11-Jun-2014/islamic-movement-of-uzbekistan-takes-responsibility-for-karachi-airport-terror-attack
------------
'Imran should announce army fighting Pakistan's war'
June 11, 2014
ISLAMABAD: Federal Minister for Information, Broadcasting and National Heritage Pervaiz Rashid on Tuesday said PTI Chairman Imran Khan should clearly announce that armed forces were fighting war of Pakistan and its people, and not fighting for the United States.
Speaking in a television programme, he said, "It amounts to insult of the martyrs and hurts feelings of their families when it is said that Pakistan is fighting war for America."
Pervaiz Rashid said whatever steps were taken by the armed forces were in the best interest of the country.
Imran Khan had been saying at PTI's public meetings that Pakistan was fighting the war of America, he noted.
He said the attackers at airport wanted to paralyse Pakistan and they could have destroyed and hijacked aeroplanes and destroyed infrastructure as well.
Full report at:
http://www.dailytimes.com.pk/national/11-Jun-2014/imran-should-announce-army-fighting-pakistan-s-war
------------
South Asia
Nine Taliban militants killed in Afghan operations
June 11, 2014
At least nine Taliban militants were killed following joint military operations conducted by Afghan national security forces in the past 24 hours.
The interior ministry of Afghanistan following a statement said the militants were killed in Zabul, Helmand and Nimroz provinces.
The statement further added that the operations were conducted by Afghan national police, Afghan national army and Afghan intelligence – National Directorate of Security (NDS) operatives.
At least one militant was also injured and another militant was arrested during the operations, the statement added.
Interior ministry also said Afghan national security forces confiscated various types of heavy and light weapons along with ammunition and explosives during the operations.
At least two improvised explosive devices (IEDs) were also discovered and seized during operations in Kapisa in province.
The anti-government armed militant groups have not commented regarding the report so far.
http://www.khaama.com/nine-taliban-militants-killed-in-afghan-operations-8250
------------
Militants kill 8 de-miners in Logar province
June 11, 2014
According to local officials in eastern Logar province of Afghanistan, at least eight deminers were shot dead by gunmen on Tuesday morning.
The incident took place around 11:00 am local time in Mohammad Agha district, a local security official said.
The official further added that the de-miners belonged to Mine detection Centre (MDS) and were killed in Mes Ainak area.
He said the vehicle of the de-miners came under Taliban militants fire in Tubgi area.
No group including the Taliban militants has so far claimed responsibility behind the incident.
Logar is among the volatile provinces in eastern Afghanistan where anti-government armed militant groups are actively operating and frequently carry out insurgency attacks.
http://www.khaama.com/militants-kill-8-de-miners-in-logar-province-8251
------------
Madrasa blast: Hifazat-e Islam leader Mufti Izhar, son charged
June 11, 2014
Police have submitted a charge sheet against Hifazat-e Islam leader Mufti Izhar, his son Mufti Harun Bin Izhar and three others in a murder case filed over grenade blasts at his Lalkhan Bazar Madrasa where three students were killed in October, 2013.
Investigation Officer and Khulshi police SI Shah Alam has submitted the charge sheet at the prosecution section of a Chittagong court on Wednesday.
Additional Deputy Commissioner of Chittagong Metropolitan Police Md Rezaul Masud has told the Dhaka Tribune.
The three others charged with the murder are Junaid, Habibur Rahman and Ishak.
Several locally-made grenades were set off at Jamiatul Ulum Al Islamia Madrasa, a Qawmi madrasa headed by Mufti Izhar, on October 7 last year leaving five students injured critically. Later three of them succumbed to their injuries.
On October 10, the police filed three cases in connection with the blast, killing and recovery of picric acid.
http://www.dhakatribune.com/charge/2014/jun/11/madrasa-blast-mufti-izhar-son-charged#sthash.ruwI6DFN.dpuf
------------
Gunmen kidnap 25 lecturers of Kandahar university
June 11, 2014
Unknown gunmen kidnapped at least 25 lecturers of Kandahar university in eastern Ghazni province of Afghanistan.
Provincial governor spokesman, Dawa Khan Meenapal said at least ten university students were also abducted by gunmen.
Meenapal further added that the university students and lecturers were on their way to capital Kabul when unknown gunmen abducted them.
He said the incident took place in Qarabagh district of eastern Ghazni province and at least one university lecturer was also injured.
Head of the Kandahar University, Hazrat Mir Totakhel said the lecturers were travelling in a bus when Taliban militants abducted them.
The anti-government armed militants group including the Taliban militants have not commented regarding the report so far.
http://www.khaama.com/gunmen-kidnap-25-university-lecturers-of-kandahar-university-8249
------------
Japan university hosts Islamic exhibition
World Bulletin / News Desk
June 11, 2014
Doshisha University in Japan's Kyoto has hosted exhibition about Islam organized by the Omani Foundations and Religious Affairs Ministry called the "Message of Islam from Oman".
The aim of the exhibition, which also offered a tour into life in Oman, was to familiarize the Japanese public with the teachings of tolerance and peace in Isam, Centre for Monotheistic Studies director Professor Katashiro Kohara told the Oman Observer.
"The Japanese public is open to learn new things. The Japanese are interested in learning about Islam," he said.
"The Exhibition gives the Japanese another chance to learn about the basic principles of Islam and the great contributions of Oman in spreading the message of tolerance," he added.
With a collection of twenty-five paintings demonstrating manifestations of coexistence, mutual understanding and harmony between people, brought on the praise of a number of esteemed visitors.
Full report at:
http://www.worldbulletin.net/muslim-world/138655/japan-university-hosts-islamic-exhibition
-----------
Perceived atheists and homosexuals targetted in Maldives
June 11, 2014
Government employee, Adam Ghafoor*, was attacked in a Malé cafe by a group of eight men accusing him and his friends of homosexuality and atheism.
'You homosexual atheists are destroying our country – we will not stand back and watch you do it,' Adam reported the group as saying.
After being accused of being atheists, Adam asked the men to leave, prompting his interrogators to launch an attack – raining blows on him as onlookers watched without offering assistance.
Details of this attack follow further reports received by Minivan News today of abductions made by a vigilante mob attempting to identify online activists advocating secularism or professing atheism.
Full report at:
http://minivannews.com/politics/perceived-atheists-and-homosexuals-targetted-as-campaign-of-attacks-continues-86753
------------
North America
US condemns Mosul attack, calls Iraq situation 'extremely serious'
June 11, 2014
The United States yesterday condemned the seizure of the Iraqi city of Mosul by Sunni Islamist insurgents, calling the situation "extremely serious" and urging fractious political groups to fight Iraq's enemies together.
State Department spokeswoman Jen Psaki said the takeover of Iraq's second biggest city in the last 48 hours by forces from the Islamic State of Iraq and the Levant showed the deterioration of security in the country.
Washington has supplied large amounts of weaponry to Iraq since pulling its forces out in 2011, but Baghdad has failed to heal festering sectarian and political divisions and to curb instability spilling over from the Syrian civil war.
"There's no question that unity – and all sides and officials in Iraq working together – is the only way that they can be successful here," Psaki told reporters.
ISIL originated as an Iraq-based affiliate of al-Qaeda. Recently the group, fighting to set up an Islamic state in parts of Iraq and Syria, has been denounced by al-Qaeda's central leadership for apostasy and excessive violence.
Psaki said US officials were tracking events closely in coordination with Prime Minister Nuri al-Maliki's government and other officials, including Kurds in their semi-autonomous northern region.
Full report at:
http://www.themalaysianinsider.com/world/article/us-condemns-mosul-attack-calls-iraq-situation-extremely-serious#sthash.PdaX8fPe.dpuf
------------
Muslim driver fights US city's taxi wardrobe rules
June 11, 2014
ST LOUIS: An Islamic cab driver in St. Louis is challenging the regional taxi commission's wardrobe rules in court after receiving dozens of tickets for wearing traditional religious clothing.
Raja Naeem, 50, is a Pakistani who immigrated to the United States two decades ago and now lives in the St Louis suburb of Manchester.
He says his religious beliefs require him to wear a traditional head covering known as a kufi, a billowy shirt called a kurta and loose-fitting pants rather than the Metropolitan Taxicab Commission's mandated uniform of black slacks and a white, button-down shirt.He sued the taxi commission in St Louis Circuit Court, alleging harassment and retaliation based on his religious views — including an arrest at Lambert-St Louis International Airport.
On Monday, the two sides squared off in a case Circuit Judge Robert Dierker Jr took under advisement without issuing a ruling. "I want to practice my religion as well as provide for my family," Naeem, a father of four daughters, said in an interview after the hearing.
http://www.dawn.com/news/1111969/muslim-driver-fights-us-citys-taxi-wardrobe-rules
------------
Hillary Clinton visited Delhi to convince India on Iran
June 11, 2014
WASHINGTON: When Hillary Clinton, the then US Secretary of States, suddenly made a short visit to India in May 2012, it was thought as her farewell trip to New Delhi as the top American diplomat.
But in her book 'Hard Choices' that hit the stores today, Clinton discloses that her visit to India was with the sole purpose of convincing New Delhi to reduce its dependence on Iranian oil, which was successful by the end of her trip.
Clinton writes that she decided to visit India to personally convince the Indian leadership on this issue as it was the only major country which was not willing to follow the American line.
India, she writes, initially publicly refused Western entreaties to reduce its reliance on Iranian oil.
"In our private conversations Indian leaders agreed that peace in the Middle East was important and were acutely aware that six million Indians lived and worked in the Gulf and could be vulnerable to political or economic instability," the 66-year-old leader writes.
"At the same time, though, India's fast-growing economy depended on a steady supply of energy, and they worried that their energy needs were so great that there was no viable way to meet them without Iranian oil," she says.
Full report at:
http://timesofindia.indiatimes.com/india/Hillary-Clinton-visited-Delhi-to-convince-India-on-Iran/articleshow/36361856.cms
----------
US, UK partner with Bangladesh to expand healthcare services to urban poor
June 11, 2014
The United States Agency for International Development (USAID) and the UK's Department for International Development (DFID) announced partnerships with Bangladesh in order to make quality healthcare widely available for the impoverished families via the Smiling Sun network of health clinics.
The announcement came at a launching event held in the capital's Ruposhi Bangla Hotel at 11am yesterday.
A part of DFID's broader urban health programme, the partnership aims to increase access to quality primary, maternal and neonatal healthcare and nutrition services for the urban poor. It hopes to reach several million people with basic health services that focus on improving the health of women and children in the urban areas.
The partnership also includes Marie Stopes Clinic Society Bangladesh and will collaborate with Brac urban health services.
Full report at:
http://www.dhakatribune.com/development/2014/jun/11/us-uk-partner-bangladesh-expand-healthcare-services-urban-poor#sthash.KHnVYftJ.dpuf
------------
Obama affirms support for strategic ties with Cairo in call to El-Sisi: White House
June 11, 2014
US President Barack Obama called on Tuesday Egypt's President Abdel-Fattah El-Sisi and asserted his commitment to US-Egypt strategic ties, the White House has said.
El-Sisi was sworn in as president on Sunday after his emphatic victory in last month's election, almost a year after he led the ouster of his predecessor, Islamist Mohamed Morsi, following massive street protests against the latter.
Obama spoke by telephone to El-Sisi to congratulate him on his inauguration and "to convey his commitment to working together to advance the shared interests of both countries," the White House said in a statement.
US-Egypt relations have been strained since Morsi's ouster last summer and an ensuing state crackdown on his Muslim Brotherhood movement.
Full report at:
http://english.ahram.org.eg/NewsContent/1/64/103415/Egypt/Politics-/Obama-affirms-support-for-strategic-ties-with-Cair.aspx
------------
Mideast
Basij Commander: Takfiris' Crimes Supported by West, Petro Dollars
June 11, 2014
Commander of Iran's Basij (volunteer) Force Brigadier General Mohammad Reza Naqdi condemned the crimes committed by the terrorist Takfiri and Salafi groups in the region, and said these crimes are supported by the western states and certain oil-rich Arab countries.
"These (Takfiri) streams that introduce Shiites as infidels, issue decree for their killing, commit crimes and massacre innocent people under the pretext of (obeying) Islam and differences (between Shiite and Sunni Islam) in their Fatwas (religious decrees) say nothing but lies," Naqdi said in the South-eastern province of Sistan and Balochistan on Wednesday.
He said that the Takfiri groups commit crimes in line with the ominous goals of the arrogant powers and obey the western and Israeli think tanks as they are supported by certain regional Arab countries' petrodollars.
In relevant remarks in June, a senior Iranian foreign ministry official said Saudi Arabia has turned into a collaborator of Takfiri groups in their crimes against the regional people, specially the Syrians.
Full report at:
http://english.farsnews.com/newstext.aspx?nn=13930321000770
----------
Turkish Imam Given Go Ahead To Make Rock 'N' Roll with Mystical Sufi Music
June 11, 2014
A Turkish Imam has been allowed to rock on after the country's powerful religious authorities gave him the green light to continue playing in his band after a nine-month investigation.
Ahmet Muhsin Tuzer, a Muslim religious leader from a tiny hamlet on Turkey's Mediterranean coast was investigated by the Diyanet, the state body in charge of the country's mosques.
They had to decide whether his brand of music was compatible with Islam or his playing created a conflict with his role as an Imam, which is a government-funded post.
In the end, they decided to let him continue as a member of Firock, which blends rock with mystical Sufi music, and only reprimanded him for his negative remarks about the investigation.
Full report at:
http://english.ahram.org.eg/NewsContent/5/33/103402/Arts--Culture/Music/-Turkish-Imam-given-go-ahead-to-make-rock-n-roll.aspx
------------
Turkish PM Erdoğan: All responsible for removal of flag will pay
June 11, 2014
Those responsible for the removal of a Turkish flag from a mast inside an Air Force base in the southeastern province of Diyarbakır will pay for it, Prime Minister Recep Tayyip Erdoğan has said, accusing both the perpetrators and local military officials. Five people involved in the incident were detained on June 10 as part of the investigation launched by the local police forces.
"A terrorist jumps over the barbed wire and enters the military post, and realizes this cowardly act," said Erdoğan during his weekly address to his party's parliamentary group in Ankara.
"The necessary inspection and probe into the issue will be made, and those who acted in negligence will be called to account for it. Two of them have already been removed and sent to other places. Some have been detained. Administrative inquiries will be launched into public officials," he said.
Full report at:
http://www.hurriyetdailynews.com/turkish-pm-erdogan-all-responsible-for-removal-of-flag-will-pay.aspx?pageID=238&nID=67609&NewsCatID=338
------------
Iran wants full restoration of diplomatic ties with Egypt: Diplomat
June 11, 2014
Iranian diplomat Hossein Amir Abdollahian has said the strength and security of his country and the region is directly linked to that of Egypt, Tehran-based Alalam news website reported on Tuesday.
During a press conference at the Iranian embassy in Cairo, the deputy foreign minister for Arab and African affairs said the recent presidential election in Egypt was a "step forward," and that Egypt would not "go backward."
He added that his country was hoping for an inclusive national reconciliation between all political factions, saying it would lead to a "strong united Egypt."
"We consider a strong Egypt a strong Iran, and that Egypt's security is Iran's security," he said, adding that "all of this would increase security and stability in the whole region."
Abdollahian also said his country was prepared to hold joint projects with Egypt.
Full report at:
http://english.ahram.org.eg/NewsContent/1/64/103437/Egypt/Politics-/Iran-wants-full-restoration-of-diplomatic-ties-wit.aspx
------------
No. 2 in Hamas says he'll move from Egypt to Gaza
June 11, 2014
The No. 2 in Hamas said in an interview Tuesday that he hopes to move from his base in Egypt to his native Gaza Strip following the formation of a Palestinian unity government.
Moussa Abu Marzouk also told The Associated Press that reconciliation efforts between his movement and Palestinian President Mahmoud Abbas would continue despite a new flare-up of tensions between the long-time rivals.
"There are problems, (but) it's not a crisis," said Abu Marzouk, 63. "The reconciliation is ahead of us and the split is behind us. We are heading this way because reconciliation is the choice of our people. We have taken real steps and will continue."
Abu Marzouk was born in Gaza's Rafah refugee camp, but left the territory in 1968 and spent most of his life in exile. In the 1990s, he served as the top Hamas leader, but was then replaced by the current No. 1, Khaled Mashaal.
Full report at:
http://english.ahram.org.eg/NewsContent/2/8/103381/World/Region/No--in-Hamas-says-hell-move-from-Egypt-to-Gaza.aspx
------------
Spokeswoman: New Wave of Terrorism in Iraq Vindicates Iran's Earlier Warnings
June 11, 2014
Iranian Foreign Ministry Spokeswoman Marziyeh Afkham expressed concern over the volatile situation in Iraq, and said the spread of terrorism in the Arab country vindicates Tehran's previous warnings.
"The Islamic Republic of Iran had earlier warned that the danger of terrorism won't be limited to one region and will spread beyond countries and unfortunately today we are witnessing this issue," Afkham said in her weekly press conference in Tehran on Wednesday.
She urged immediate stop in support for the terrorist groups by certain states, and called on all countries to adopt collective measures to fight terrorism.
Expressing concern about the recent terrorist activities of the Islamic State of Iraq and Levant (ISIL) and the Iraqi army's efforts to confront them, Afkham said, "The Iraqi army and police have been able to confront the Takfiri and terrorist forces, and strengthening Iraq's national unity will further help them."
Full report at:
http://english.farsnews.com/newstext.aspx?nn=13930321001102
------------
Europe
Muslim schoolchildren are still leading parallel lives to the mainstream
June 11, 2014
Education provides our best hope of breaking down patterns of cultural segregation
Thirteen years ago I coined the phrase "parallel lives" to describe the segregation of Asian and white communities in the riot-torn towns of northern England. People from different communities did not live in the same areas, work in the same places, or share social and cultural activities. More importantly, they did not go to school together. My worry is that, as the criticism of schools in the Muslim communities of Birmingham has demonstrated, nothing has changed since my report in 2001.
Often schools are the only way to break this pattern of segregation. They should be safe places, in which pupils learn about different faiths and backgrounds, share experiences and develop common bonds. In mixed schools, this may happen naturally as children grow up alongside each other, visiting each other's houses and taking part in shared activities. But it is far more difficult in segregated schools. Young people will be entirely dependent on imaginative learning experiences provided by open-minded teaching staff and a respectful and tolerant ethos within the school. Without this, the students will emerge into a diverse world ill-equipped "to live and work in a multicultural, multi-faith and democratic Britain" – to use a phrase from the recent "Trojan Horse" Ofsted Reports.
Full report at:
http://www.telegraph.co.uk/education/10889897/Muslim-schoolchildren-are-still-leading-parallel-lives-to-the-mainstream.html
-------------
Icelanders joining Muslim group to protest far-right
World Bulletin / News Desk
June 11, 2014
Non-Muslims in Iceland are calling to ask for membership to one of the country's leading Muslim community organizations in protest against anti-Islamic hate campaigns set up by certain far-right groups seeking to prevent the building of Iceland's first mosque.
The Muslim Association of Iceland had been promised by the authorities a free lot to build a mosque in Reykjavik. However, two weeks ago, Sveinbjörg Birna Sveinbjörnsdóttir, the Progressive party's leader in Reykjavík, demanded the promise be retracted.
"I have received emails from people asking how they can register to the Association," Salman Tamimi, the leader of the Muslim Association of Iceland, was quoted by Iceland's Review on Tuesday. "I was a bit surprised but very pleased by these enquiries," he added.
Former editor Gunnar Smári Egilsson was among those seeking to register out of protest, revealing that one does not need to actually become a Muslim in order to register with the Muslim Association of Iceland on a Facebook post.
"It is not necessary to be a Muslim to be a member and everyone is naturally welcome," Salman Tamimi confirmed, according to OnIslam, adding that the rules of the Muslim Association of Iceland allow membership for any member on agreement with its goals.
http://www.worldbulletin.net/todays-news/138726/icelanders-joining-muslim-group-to-protest-far-right
-----------
Syrian President Bashar al-Assad tops list of Syria war crimes suspects handed to ICC
11 June 2014
Syrian President Bashar al-Assad tops a list of 20 sample war crimes indictments of government officials and rebels drafted by experts for prosecution someday, a former international war crimes prosecutor said on Tuesday. The list has been handed to the International Criminal Court (ICC), citing for each incident a specific violation of the Rome statute under which a suspect could be charged, according to David Crane, an ex-chief prosecutor of the Special Court for Sierra Leone and now head of the Syria Accountability Project.
A separate team of U.N. investigators has drawn up four confidential lists of war crimes suspects on all sides in Syria, but declined to reveal any names. Crane said the list compiled by his expert group included members of Syria's military and political elite plus Islamist rebel groups ISIS and al-Nusra Front, although he gave no names beyond Assad. "We have about 20 indictments of those who bear the greatest responsibility. This is a neutral effort. We're not just going after Assad and his henchman, we are actually documenting all incidents on both sides," Crane told Reuters.
Full report at:
http://www.dnaindia.com/world/report-syrian-president-bashar-al-assad-tops-list-of-syria-war-crimes-suspects-handed-to-icc-1994802
------------
Poll: Palestinians prefer suing Israel at the ICC rather than starting third intifada
June 11, 2014
Palestinians want to bring Israel before the International Criminal Court more than they want to fight them in the streets in an armed third intifada, according to a poll conducted by Khalil Shikaki of the Palestinian Center for Policy and Survey Research.
Palestinians continue to support a two-state solution and do not believe that the newly unified Fatah-Hamas government is an obstacle to renewed negotiations, according to Shikaki's data, which he presented at the 2014 Herzliya Conference on Tuesday.
Israelis also believe it is possible to negotiate with the new Palestinian government, according to pollster Mina Tzemach, who spoke on the same panel as Shikaki.
In the absence of talks, Israelis prefer annexing portions of the West Bank over unilaterally withdrawing from territory there, she said.
Full report at:
http://www.jpost.com/Middle-East/Poll-Palestinians-prefer-suing-Israel-at-the-ICC-rather-than-starting-third-intifada-355893
------------
Southeast Asia
Malaysia aims to take lead in Islamic financial sector
World Bulletin / News Desk
June 11, 2014
Malaysia's deputy finance minister said Wednesday that the country aims to take the lead in the evergreen Islamic financial sector, by being the first economy worldwide to pioneer Islamic wealth management products.
Ahmad Maslan said that the new innovation within the Islamic financial framework would further prosper the global Islamic financial industry, which is expected to grow to US$2 trillion this year.
As of the end of last year, the total worth of the industry was US$1.3 trillion.
Malaysia is known as one of the global leaders of Islamic finance, with the country currently the world's largest sukuk issuer, the second largest Islamic insurance – Takaful - market and the third largest Islamic banking market.
Sukuk is the Arabic word for financial certificates, but can also refers to the Islamic equivalent of bonds.
Ahmad said Islamic wealth management is a growth-promising sub-sector within the Malaysian financial ecosystem, adding that he foresees the Islamic wealth management as a natural next-stage development of the local Islamic finance industry.
"We understand the concept of wealth management from the Sharia perspectives that covers both the physical as well as spiritual facets of wealth. This principle stands in contrast to the conventional wealth management that focuses on only the physical or material wealth," he said in Kuala Lumpur Wednesday.
Full report at:
http://www.worldbulletin.net/todays-news/138724/malaysia-aims-to-take-lead-in-islamic-financial-sector
------------
Shariah Court to decide tomorrow on alleged Muslim's religion
June 11, 2014
The Penang Shariah High Court will decide tomorrow on the religious status of alleged Muslim convert Teoh Cheng Cheng, 38.
Counsel Wan Faridulhadi Mohd Yusoff, representing Teoh's daughter Medelyn, said the Penang Islamic Council (Maipp) had submitted an application under Section 61(3)(10) of the Penang Islamic Administration Enactment seeking a declaration whether Teoh was a Muslim or not at the time of her death.
He said at the hearing today, Maipp presented as witnesses a representative of the Mualaf (new converts) registrar and the person involved in handling the forms.
Teoh's family, he said, presented as witnesses Teoh's daughter and a family friend.
"Both sides gave their testimonies and presented documents as evidence related to the registration of Teoh as a Muslim convert and whether the registration was completed.
"The witnesses (from the family) also spoke about how Teoh led her life since 1997, the year she was said to have embraced Islam, until the day she died. They spoke about her religious practices," he told reporters after court adjourned.
Full report at:
http://www.themalaysianinsider.com/malaysia/article/shariah-court-to-decide-tomorrow-on-alleged-muslims-religion#sthash.O0uEbzEh.dpuf
------------
Putrajaya defends action of religious agencies in 2 controversial cases
June 11, 2014
Datuk Seri Jamil Khir Baharom defended the action of Islamic enforcement agencies which disrupted a wedding in Selangor and a funeral in Penang, which allegedly involved Muslim converts, saying that the agencies were duty-bound to carry out their responsibilities.
The minister in the Prime Minister's Department said any action taken by Selangor Islamic Religious Department (Jais) or any other Islamic authority has been done according to procedure.
"That is why I have said it is good to spell out their roles and responsibilities.
"Let them do their job according to the SOP," he said at an event in Universiti Teknologi Mara today.
Full report at:
http://www.themalaysianinsider.com/malaysia/article/putrajaya-defends-action-of-religious-agencies-in-2-controversial-cases#sthash.BM8jkKLL.dpuf
------------
Africa
S. Sudan rivals agree to end war, form interim govt
World Bulletin / News Desk
June 11, 2014
South Sudan's warring rivals on Tuesday agreed a 60-day timeline to form a transitional government, in a new step to solve the conflict in the world's newest state.
Speaking at an extraordinary summit of the Intergovernmental Authority on Development (IGAD), a trading bloc of East African nations, Ethiopian Prime Minister Hailemariam Desalegn said the two rivals agreed on the timeline to prepare conditions that would lead to the formation of a transitional government.
He thanked both President Salva Kiir and his main rival Riek Machar for showing willingness to solve their differences.
The agreement came during an IGAD extraordinary summit in Addis Ababa to discuss developments in South Sudan.
Speaking on behalf of the Troika – the U.S, U.K and Norway – former U.S. ambassador to Ethiopia Donald Booth said that "This summit offers the last best chance".
Full report at:
http://www.worldbulletin.net/headlines/138695/ssudan-rivals-agree-to-end-war-form-interim-govt
----------
Fighting erupts between Rwandan and DR Congo soldiers
Press Trust of India | Kinshasa | June 11, 2014
A gunbattle erupted on Wednesday between soldiers from the Democratic Republic of Congo and rival Rwandan forces on their volatile border, local Congolese officials said.
The fighting began before dawn in Kanyesheza, about 20 kilometres northeast of the provincial capital Goma, and lasted over four hours, the officials said.
It was not immediately known if there were any casualties.
According to one local government official, DR Congo forces opened fire after one of their soldiers was abducted by Rwandan forces in the border zone.
Rwanda is accused by the United Nations of backing rebels in the strife-torn Democratic Republic of Congo.
"I heard shooting, people panicked," said one local resident who did not want to be named.
But the governor of the province of North Kivu, Julien Paluku, sought to play down the fighting.
"There was shooting between elements from the Rwandan army and the FARDC (the Congolese army) in Kanyesheza," he told AFP.
"They were minor incidents, not fighting between two armies," he said, accusing the Rwandan army of sparking the fighting.
http://indianexpress.com/article/world/world-others/fighting-erupts-between-rwandan-and-dr-congo-soldiers/
----------
Libyan renegade general agrees to election ceasefire
World Bulletin/News Desk
June 11, 2014
A Libyan renegade general has agreed to observe a ceasefire in his declared war on militants during national elections on June 25, his spokesman said on Tuesday.
Libya's elections commission called the vote after parliament agreed to dissolve itself under popular pressure. Many Libyans blame lawmakers for the widespread lawlessness that has marked the country's transition towards democracy since the uprising that ousted autocrat Muammar Gaddafi in 2011.
Retired general Khalifa Haftar month-old campaign against militants, among the many armed factions defying state authority, in the eastern city of Benghazi triggered heavy clashes that have killed more than 100 people. His forces have used jets and helicopters to attack suspected militant camps.
Full report at:
http://www.worldbulletin.net/headlines/138670/libyan-renegade-general-agrees-to-election-ceasefire
-----------
URL: https://www.newageislam.com/islamic-world-news/new-age-islam-news-bureau/deoband-may-block-centre-s--madrasa-modernisation-/d/87473