New Age Islam News Bureau
23 Dec 2018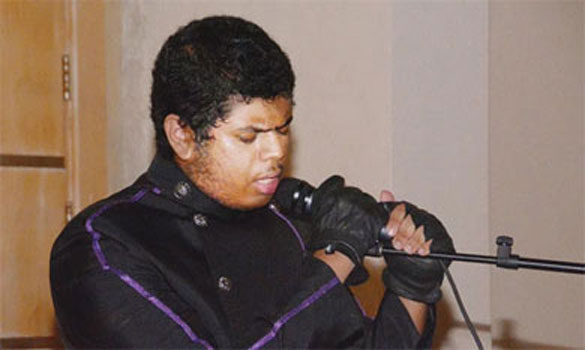 Abdulmalik Zubailah. (Photo/Supplied): "I never thought this would be happening here in my hometown," said Zubailah
------
• Denmark Passes Muslim-Focused Law Requiring Handshakes with Members of the Opposite Sex
• Bangladesh Opposition Website Shut Down Ahead Of Polls
• Mahathir to Overhaul Malaysia's Schools, Saying Too Much Focus On Islamic Studies Now
• Islamic State Fears Resurface as NIA Probes J&K Outfit's Afghanistan Links
• US Saudi Mission Deletes Tweet Promoting Pro-Democracy Protests
• Art Or Music? Jeddah Duo Finds Freedom In Both
• Palestinian President to Dissolve Parliament, Hamas Irate
Europe
• Denmark Passes Muslim-Focused Law Requiring Handshakes with Members of the Opposite Sex
• Extremist-linked Muslim Group 'Exerted Decisive Influence' on Govt 'Islamophobia' Report
• Pro-Polygamy Muslim Leader Calls for Islamic Representation in Italy
• Strasbourg attacker Cherif Chekatt pledged allegiance to ISIS
• UK grants funds to Pakistan in return for death sentences: Report
--------
South Asia
• Bangladesh Opposition Website Shut Down Ahead Of Polls
• 54 Militants Killed During The Joint Operations In Past 24 Hours: Mod
• Myanmar policeman shot dead in northern Rakhine state
• Drone strike target militants in Farah province
• MoI arrest police officer affiliated with Taliban in Farah province
--------
Southeast Asia
• Mahathir to Overhaul Malaysia's Schools, Saying Too Much Focus On Islamic Studies Now
• Indonesian Muslims stage rally in support of Uighurs
• Why Muslim Nations Remain Silent As China Sends Ethnic Minorities To Re-Education Camps
• How I Was Chased Out Of Ningxia By Chinese Men In Black For Reporting On Muslim Cleansing
• Negeri ruler disappointed with high number of Muslims involved in crime
• In Perak, Malay groups demand Dr M resigns as well over Adib's death
• Over 40 people killed, nearly 600 injured in Indonesia tsunami
--------
India
• Islamic State Fears Resurface as NIA Probes J&K Outfit's Afghanistan Links
• As Pakistan Wades Into Row, Naseeruddin Shah Says Take Care Of Own Country
• One more cross-border 'love story' ends as Pakistan's Imran Warsi will be deported
• Pakistan denies gas supply to India's residential complex in Islamabad
• Six terrorists linked to al-Qaida killed
• India waits for Donald Trump's clarification on US cut-back in Afghanistan
• Jingoism Has Reached Scary Proportions: Naseeruddin Shah
--------
North America
• US Saudi Mission Deletes Tweet Promoting Pro-Democracy Protests
• US envoy to anti-IS coalition resigns after Trump's Syria decision
• US spy chief accuses Russia, Iran, China of attempted midterm poll meddling
--------
Arab World
• Art Or Music? Jeddah Duo Finds Freedom In Both
• Militant weapons cache with US munitions uncovered in Syria's Dara'a
• US Army Sets up Military Airport in Iraq's Kurdistan Region
• Kurdish Militia Likely to Hand over Manbij to Syrian Army
• Turkey bolsters troops in Kurdish areas of northern Syria
• US envoy to anti-ISIS coalition quits over Trump's Syria move
• Turkey says almost 300,000 Syrians have gone home
• France vows support for Syria militants amid US pullout
• US jets kill dozens in Syria after Trump announces pullout
--------
Mideast
• Palestinian President to Dissolve Parliament, Hamas Irate
• Netanyahu: Erdogan, occupier of northern Cyprus, should not preach to Israel
• Coalition: Houthis violated Hodeidah ceasefire 14 times in the past 24 hours
• Ankara investigates over terrorism ex-Gul advisor, author of book on AKP
• Iran: US troops 'wrong from start, source of tension'
--------
Pakistan
• Pakistan Army Backs Peace Efforts, "Fight Against Hunger, Disease And Illiteracy, Then To Fight Against Each Other"
• Despite Being Freed Of Blasphemy Charges, Asia Bibi To Spend Christmas In Custody
• Detention Camps: Why Pakistan Is Silent About Plight of Fellow Muslims in China
• Will 'show Modi govt how to treat minorities', says Pakistan PM Imran Khan
• Afghan war helped Pakistan keep nuclear option: US papers
• Govt committed to reducing CAD, poverty alleviation: Imran
• US withdrawal from Afghanistan will help further peace process, says Qureshi
• Pakistan boosts security for Christmas celebrations
--------
Africa
• Over A Dozen Killed In Al-Shabab Attacks In Somalia
• Somalia Blast Kills At Least 16 Near Presidential Palace
• Nearly 300 migrants rescued off Libya: Aid group
• Nigerian daily rates Erdogan muslim personality of 2018
• Sudan national security head says citizens have right to protest, without violence
Compiled by New Age Islam News Bureau
URL: https://www.newageislam.com/islamic-world-news/denmark-passes-muslim-focused-law/d/117239
--------
Denmark Passes Muslim-Focused Law Requiring Handshakes with Members of the Opposite Sex
By Kashmira Gander
12/22/18
Denmark has passed a law stating individuals who take citizenship tests must shake hands during ceremonies, in a move seen as deliberately targeting religiously conservative Muslims.
The law, approved on Thursday by the country's right-wing coalition, states that from January 1, would-be citizens undergoing Denmark's naturalization process must perform the contact gesture with the presiding dignitary, such as the local mayor. Those who refuse would be denied citizenship.
The measure has been met with anger, with campaigners arguing it discriminates against conservative Muslims who do not shake hands with members of the opposite sex for religious reasons. Instead, such Muslims may prefer to place their hand on their chest. Some conservative Jewish people also follow a similar rule.
Gloves, which some Muslim women wear to conceal their skin, are also prohibited at citizenship ceremonies by the new law.
Martin Henriksen, the spokesman on immigration for the nationalist Danish People's Party who is an outspoken critic of Islam told The New York Times he hoped the law would create a domino-effect, leading to a ban on women wearing veils at citizenship ceremonies.
"If you arrive in Denmark, where it's custom to shake hands when you greet, if you don't do it it's disrespectful," he told the newspaper.
"If one can't do something that simple and straightforward, there's no reason to become a Danish citizen."
The law was met with opposition since it was put forward in June. One opinion poll published in September showed 52 percent disagreed with the rule, The Guardian reported. And a number of mayors said they were refuse to enforce it.
Mayor Kasper Ejsing Olesen of the Danish town of Kerteminde told The Guardian in September: "It's absurd that the immigration minister thinks this is an important thing to spend time on.
"Shaking hands does not show if you are integrated or not. I think I will probably find an excuse and the deputy mayor will come to work that day."
The decision is the latest to target Muslim populations in Denmark, as lawmakers ramp up anti-immigration rhetoric in a number of European nations.
In August, Denmark adopted a law similar to those in Belgium, Germany, Austria and France banning garments which cover the face in public. Shortly after, a 28-year-old woman subsequently became the first in the country to be fined for wearing a veil. Opponents have regarded such laws as an attack on the rights of Muslim women.
"If the intention of this law was to protect women's rights, it fails abjectly," Fotis Filippou, Amnesty International's deputy director for Europe, told Reuters when the law was introduced.
"Instead, the law criminalizes women for their choice of clothing, making a mockery of the freedoms Denmark purports to uphold."
https://www.newsweek.com/denmark-passes-muslim-law-requiring-handshakes-citizenship-ceremonies-1269393
--------
Bangladesh opposition website shut down ahead of polls
December 23, 2018
DHAKA: Bangladesh's main opposition website has been shut down, the party said on Saturday, amid accusation the government is muzzling dissent ahead of next week's general election.
The Bangladesh Nation­alist Party (BNP) said authorities had closed the site since last week when they shut 54 news portals and websites for what they claimed were security reasons.
"We've written to the Election Commission to open the website. But it has not been opened yet," BNP spokesman Nazrul Islam Khan said.
The shutdown has hit the party's election campaign just days before the December 30 polls. "We cannot communicate with our supporters," he said.
The BNP is part of the opposition National Unity Front alliance, which is contesting the polls after boycotting the 2014 election. It has emerged as the main challenger to Prime Minister Sheikh Hasina's bid for record fourth term in office.
Hasina's government has been accused by civil society and rights groups of drifting towards authoritarianism, silencing dissent and the press by using an onerous digital-security law.
At least six people have been killed in election campaign clashes between supporters of Hasina's ruling Awami League and the BNP, whose incarcerated veteran leader Khaleda Zia was last month handed another stiff jail term.
The Bangladesh Telecommunications Regulatory Commission could not confirm whether the BNP website was among the 54 sites it blocked last week.
But commission chairman Jahurul Haque accused the website of bad taste. "It is obscene and indecent," he said.
In an email to the Election Commission, the BTRC, however, said the website was closed following orders from two intelligence agencies for containing "outlawed" materials, according to a report by the online edition of the mass circulation Bengali daily Jugantor.
BNP spokesman Khan rejected allegations that the website contained obscene materials.
https://www.dawn.com/news/1453092
--------
Mahathir To Overhaul Malaysia's Schools, Saying Too Much Focus On Islamic Studies Now
DEC 22, 2018,
KUALA LUMPUR - Prime Minister Mahathir Mohamad said Malaysia's national school curriculum will be overhauled, as Islamic subjects are given heavy emphasis now rather than getting students to master subjects, such as the English language, that could land them good jobs later.
"They are all learning about the religion of Islam and not learning anything else," he said late on Friday (Dec 21) at a dinner event.
"As a result, those who pass in schools are not very conversant with subjects that are useful for them to get jobs, but they are very good ulama (Muslim clerics)."
"And when you have too many ulama, they always differ from each other, and they mislead their followers and they quarrel with each other," he added, according to MalayMail.com news site.
His plan could prove controversial in a country that has seen a sharp rise in the number of conservative Malay Muslims , with the previous government running a popular Islamic TV channel featuring conservative clerics.
And with Tun Dr Mahathir's Pakatan Harapan (PH) government only winning about 30 per cent of Malay votes at the May general election, his plan could be a hard sell to Malaysia's majority ethnic group.
Dr Mahathir detailed what he plans to do to better equip students for working life, in a speech at the Friday dinner of his alma mater Sultan Abdul Hamid College, located in his home state of Kedah.
Malaysia's primary school system is divided into national schools attended by mostly Malay Muslims, while most ethnic Chinese and Indians attend Chinese and Tamil language schools.
There are also hundreds of Islamic schools called tahfiz and madrasah that attract young Malays.
Dr Mahathir said he wants to reduce the teaching of subjects linked to Islam in the national schools.
"We are going to change the timetable and curriculum in the schools, we will still study religion, but not all periods in one day, maybe one or two periods in a week," he said.
He added: "If we want to progress, Malaysians must be well-educated, not only in reciting Quran, but also in other languages. If we don't, we are going to be very backward."
Dr Mahathir's keen attention on education can be seen when, in appointing his Cabinet soon after the May polls, he made himself Education Minister.
"I took the post because there are so many people who are uneducated," Dr Mahathir quipped when asked about the move. "The system that we have now is outdated," he added.
But he dropped the idea a day later after being told the PH election manifesto pledged that the prime minister will not take a second portfolio to prevent concentrating too much power on the leader.
In his speech, Dr Mahathir, a 93-year old former medical doctor, said: "I would like to remind everybody, English is not only for the people of England, it is a universal language. A language of knowledge. To acquire knowledge, you must know English."
He added, as quoted by The Sun newspaper: "To learn science and medicine, we need to have a good grasp of English."
Dr Mahathir had already directed all senior civil servants to converse in English, especially when briefing him, according to media reports.
In August, Malaysia's police chief Mohamad Fuzi Harun said the force would be using English in their daily briefings, and that he had started conducting security briefings in the language to Dr Mahathir.
The men in blue saw their first 30 officers taking an English-proficiency writing test in August.
https://www.straitstimes.com/asia/se-asia/pm-mahathir-to-overhaul-malaysias-schools-saying-too-much-focus-on-islam-studies-now
--------
Islamic State fears resurface as NIA probes J&K outfit's Afghanistan links
by Deeptiman Tiwary
December 23, 2018
The National Investigation Agency (NIA) has reportedly found evidence indicating that members of the Islamic State in Jammu and Kashmir (ISJK) may have links with operatives of the outfit in Afghanistan and some of them may even be getting directions from there. ISJK operatives were until now considered self-appointed with no links to the parent organisation.
During its probe into alleged IS recruits from Hyderabad and suspected ISJK members from Delhi, the NIA has reportedly found that they were being handled by a man from Afghanistan.
Until now, the Home Ministry has brushed aside fears of the IS presence in Kashmir, especially its Afghanistan chapter. In June this year, after four militants were gunned down in Khiram Srigufara in South Kashmir and identified by then J&K DG SP Vaid as ISJK militants, the Home Ministry had said these were self-appointed operatives and that the organisation had no footprints in the Valley.
In August this year, the NIA had raided seven locations in Hyderabad and arrested two youths — one of them identified as Abdullah Basith — for allegedly being part of the IS. A month later, the Delhi Police had arrested two Kashmiri youths, Parvez Lone and Jamshed Paul, with weapons and said they were planning to carry out ISJK activities in Delhi. Officials claim to have now found that the two groups were connected and among the common links was an online entity giving directions to both.
"This entity we suspect is an IS recruiter based in Afghanistan. He was in touch with Jamshed as well as Basith. Basith had been phsishing online for contacts to join the IS, and came in touch with this handler. The handler told Basith to get in touch with Jamshed who would help him join the ISJK. Jamshed was also in touch with the handler," an NIA investigator said.
The NIA probe has reportedly also found that Jamshed had helped Basith get a place to stay in Delhi in 2014 when he was trying to join the IS.
The agency reportedly also has evidence that the two groups were in "preparation mode" and awaiting instructions to carry out some IS activity. Electronic chatter with regard to procurement of weapons and explosives has reportedly been recovered regarding the suspects.
The agency would now investigate Basith further to get more details on the alleged conspiracy and the handler.
An IS propaganda channel specially focused on Kashmir is already in operation in the Valley for some time now. Called Al Qarrar, the channel has been spreading Kashmir-centric motivational literature and claiming hand in attacks. A few months back it had claimed that two militants killed in an encounter, Fidoos and Sameer, were IS martyrs.
In its various posts on Telegram channels, through articles and videos, Al Qarrar has not only declared allegiance to the IS but also called Hurriyat leaders "kafirs" for supporting democracy and calling Shias Muslims. It has asked Kashmiris to fight both Indian and Pakistan armies, and called upon Zakir Musa's Ansar Ghazwat-ul-Hind to join hands with the IS.
Al Qarrar is opposed to both the Lashkar-e-Toiba and Hizbul Mujahideen, and has severely criticised the Pakistan army for supporting the Afghan Taliban, which makes security agencies suspect it to be an offshoot of the IS in Afghanistan, which is part of the IS Khorasan.
Kashmir had figured in the IS crosshairs way back in 2014 when a Khorasan map by the outfit had shown Kashmir and Gujarat as part of Islamic State dominion. Among the first few people to join the IS in Syria was a Kashmiri — a youth from Jawahar Nagar in Srinagar studying in Australia, who had joined the outfit in 2013. In February 2016, IS Khorasan had announced expansion into Kashmir "to fight the cow-worshipping Hindus and the apostates from factions allied to the idol-worshippers of Pakistan, such as the Lashkar-e-Taiba".
However, IS flags waived by locals in protest rallies in 2015-16 were brushed aside by security agencies as merely a way of rankling security forces and not a sign of youth getting attracted to IS ideology.
According to the NIA, Basith was part of a group of four men from Hyderabad who tried to leave for Syria via Bangladesh in 2014 but were apprehended in Malda. He made a second attempt to leave in December 2015, along with his cousin Syed Hussaini and an associate. The group was apprehended at Nagpur airport while trying to leave for Srinagar, from where they planned to go to Pakistan Occupied Kashmir and onto Afghanistan. They were arrested by the Hyderabad police.
Sources said Basith had been in touch with key IS recruiter Adnan Hassan Damudi, who had been deported from Dubai in 2016. According to sources, Damudi had sent Rs 54,000 to Basith to help him and his associates leave India for Syria.
https://indianexpress.com/article/india/islamic-state-fears-resurface-as-nia-probes-jk-outfits-afghanistan-links-5505688/
--------
US Saudi mission deletes tweet promoting pro-democracy protests
Dec 22, 2018
The US embassy in Saudi Arabia has deleted a video posted on its Twitter account promoting peaceful pro-democracy demonstrations against oppressive regimes.
Footage, which had been produced by the US State Department, was shared on Twitter by the American mission in Riyadh earlier this week.
Featuring archival photos of famous protest movements with Arabic subtitles, the video promoted peaceful demonstrations for "positive social and political changes," and nonviolent civil disobedience as a means "to guarantee a truly civil society."
"Even in oppressive, authoritarian conditions, protesters can tailor their campaigns to succeed," said a voiceover on the video.
"When large, nonviolent groups of people organize concentrated methods like protests, along with dispersed methods like boycotts or strikes, even the most brutal regimes have trouble stifling the movements indefinitely."
On Friday, the Middle East Eye (MEE) news portal asked Washington whether the embassy in Riyadh was encouraging the Saudis to hold anti-regime protests.
However, the post was deleted, with a State Department official saying that the video portrayed historical events as part of the "ShareAmerica" series.
"The post was not an incitement or call to protest," the official added.
Sarah Leah Whitson, executive director of Human Rights Watch's Middle East and North African division, said that the tweet had apparently "slipped through the Saudi account."
"Protest rights for Saudis, Egyptians, Palestinians, and Bahrainis? Not so much. This deleted tweet debacle is a perfect illustration of America's absurd hypocrisy. It just doesn't work to selectively promote human rights," she said.
Bruce Riedel, an ex-CIA officer and scholar at the Brookings Institution, told MEE, "It's very odd. The kingdom is more repressive under Crown Prince Mohammed Bin Salman than ever before: no dissent or protest is tolerated. It's baffling what the State Department was thinking."
Saudi journalist Hani al-Abndi described the deleted tweet as a "political joke that the US embassy have said," noting, "They encourage Saudi citizens to protest peacefully. But Saudi citizens are scared to protest because they fear of being arrested and killed."
Saudi Crown Prince Mohammed bin Salman, known as MbS, has been involved in an aggressive push to purge royals and businessmen critical of his policies under the banner of an "anti-corruption campaign."
Bin Salman's crackdown on critics came to light following the brutal murder of journalist Jamal Khashoggi inside Riyadh's Istanbul consulate.
A CIA assessment concluded that it was probably bin Salman who had ordered Khashoggi's assassination. Additionally, the US Senate unanimously adopted a resolution that assigned responsibility to the heir to the Saudi throne for the killing.
US President Donald Trump, however, avoided rebuking Saudi Arabia over Khashoggi's murder and vowed to stand with its ally, citing lucrative arms deals among the reasons for his support.
Back in August, the Canadian embassy in Riyadh expressed grave concerns over a spike in the arrests of human rights campaigners in Saudi Arabia and called for their immediate freedom.
The criticism infuriated Saudi authorities and led to the expulsion of Canadian Ambassador Dennis Horak.
Commenting on the recent tweet by the US mission, Horak told MEE that he was surprised by the video promoting protests in Saudi Arabia.
"You had the Senate resolution last week, holding MbS accountable for the murder, and then the Saudis reacted quite negatively to that, but said that they value the relationship," he said on Friday. "It's a complete contrast to the massive overreaction they had with us this summer, but they are the United States and we're not."
https://www.presstv.com/Detail/2018/12/22/583620/Saudi-Arabia-protest-democracy
--------
Art Or Music? Jeddah Duo Finds Freedom In Both
December 23, 2018
JEDDAH: Jeddah-based music duo Statues of Sinking Men are known for their stirring live performances — an irony since the band makes every effort to stay out of the spotlight.
"The idea is for the audience to notice us as little as possible," said Abdullah Babrouk, who produces art and visuals to accompany Abdulmalik Zubailah's beats and vocals. "The focus is meant to be on the music."
Statues of Sinking Men celebrated the release of their debut album on Friday night with a rooftop launch party. The self-titled album is the first offering from the band since their formation in 2017, and has been in development since October that year.
Zubailah's music is only part of the duo's show, with Babrouk's mesmerizing visuals the main focal point.
Using little more than a synthesizer and a microphone, Zubailah manages to create music that is both complex and catchy, with soulful lyrics that express a variety of emotions.
"Statues of Sinking Men is an outlet for me to express everything I could never say with words alone," said Zubailah. "The good, the bad and everything in between, with full freedom."
Babrouk uses a computer program to create visual effects live and in time with the music — a demanding process that requires intense concentration. The combined effect of music and art is ethereal, as much live art performance as musical performance.
Winter breeze
The launch party was hosted by Mnassa and held on the roof of their office in Al-Zahraa. Admission was free, and a sizeable crowd showed up to support the musicians on a cool December night, accompanied by a full moon and a winter breeze.
Up-and-coming musician GHADA opened the show with her haunting, powerful vocals.
Later, she told Arab News that she was delighted to have been asked to perform at the event. "I never thought that I would actually be doing this. I'm still processing everything that's happening. But I'm glad it is happening."
Statues of Sinking Men performed their latest album, with visual accompaniments projected on to a wall behind the stage.
Zubailah stepped on stage in a custom-made sea captain's jacket, styling himself "The Deceased Captain Bartholomew Bellik." With Babrouk as his seafaring companion "Xabris Black," the performers told the story of a failed sea voyage, an untimely death and, ultimately, a rebirth.
"I was on the sea with them when I listened to the music," one concertgoer said after the show. "I heard the waves in it. I felt the salt spray. It was bizarre, but it was interesting. I loved it. I can't wait to attend another performance."
The band also had a few surprises for the crowd. While performing "Criminal," audience members were invited to "be criminals with them" as Babrouk handed over a PlayStation controller, which audience members could use to deliver the PlayStation classic "Hotline Miami" in accompaniment to the song.
After the show, Babrouk and Zubailah said they were exhausted, but immensely happy at the success of the event.
"I never thought this would be happening here in my hometown," said Zubailah. "It's so liberating."
Asked if he had anything else to add, Zubailah replied with a grin: "Come to one of our shows and embrace the stage of sentimental night."
Statues of Sinking Men can be found on Twitter and Instagram, and their music is available on all major music streaming and purchasing providers.
http://www.arabnews.com/node/1424561/saudi-arabia
--------
Palestinian president to dissolve parliament, Hamas irate
22 December 2018
Palestinian President Mahmoud Abbas pledged on Saturday to implement a court ruling and dissolve the parliament controlled by his rival Hamas movement, triggering warnings of chaos from the Islamic militant group.
Abbas' announcement is the latest in a series of bitter splits and rivalries between his Fatah party and Hamas, which began in 2007 when Hamas routed his forces and took over Gaza, keeping his rule limited to parts of the Israeli-occupied West Bank.
Since then, the Palestinian Legislative Council, where Hamas holds a majority after a 2006 landslide victory against Fatah, has been largely disabled. If done, breaking up the legislature would remain symbolic, maintaining the already entrenched political divide between Gaza and the West Bank."We resorted to the Constitutional Court and the court decided to dissolve the PLC and called for parliamentary elections in six months and we have to execute this (decision) immediately," Abbas told a Palestinian Liberation Organization meeting in Ramallah.
He accused Hamas of blocking Egyptian efforts to restore Palestinian unity, a charge Hamas vehemently denies. Abbas says the dissolution of the parliament aims to pressure Hamas into accepting proposals for national reconciliation.
Egypt has brokered numerous deals to end the Palestinian split, but none has been fully implemented, with Hamas and Fatah trading blame over their failure.
In Gaza, Hamas lawmakers meet at the PLC, but most of independent members and other parliamentary blocs like Fatah and the Popular Front for the Liberation of Palestine boycott the sessions to protest the disunity. The laws issued by Hamas legislators are limited to Gaza.
Yehiha Moussa, a Hamas lawmaker, warned that ending the PLC "destroys the political system and opens the door to chaos in the Palestinian arena."
"This is a ready-made recipe for chaos," he told The Associated Press by phone.
Hamas is likely to ignore the court order, insisting that the PLC expires automatically when a new one is formed following general elections.
https://english.alarabiya.net/en/News/middle-east/2018/12/22/Palestinian-president-to-dissolve-parliament-Hamas-irate.html
--------
Europe
Extremist-linked Muslim Group 'Exerted Decisive Influence' on Govt 'Islamophobia' Report
22 Dec 2018
Controversial Muslim lobby group MEND, which has been accused of promoting extremism, has "exerted decisive intellectual influence" in Britain's first Islamophobia report, according to a think tank research note.
Sir John Jenkins, the former British Ambassador to Saudi Arabia, made the conclusions in a research paper for Policy Exchange after analysing the All-Party Parliamentary Group's (APPG) report Islamophobia Defined: The Inquiry into a Working Definition of Islamophobia, which calls for the Government to establish a working definition of Islamophobia as "rooted in racism" and "a type of racism that targets expressions of Muslimness or perceived Muslimness."
Sir John found that "despite being mentioned only once in the main body of the report… It is clear that MEND [Muslim Engagement and Development], an organisation with a tarnished reputation in Government circles, has exerted an important intellectual influence on the APPG."
Sir John, who co-authored the British Government's 2015 review of the Muslim Brotherhood which found that the Egypt-founded Islamic supremacist group had links to the influential Muslim Council of Britain (MCB), goes on to outline that "MEND has long been surrounded by controversy.
"Earlier this year, a senior MEND representative asserted that Muslims in the UK face a situation analogous to that of Jews in Nazi Germany before the Holocaust.
"Its former director of engagement, Azad Ali, is reported to have said in March 2017 that that month's attack on Parliament, which killed five people, was 'not terrorism'."
Last year a report by The Henry Jackson Society, an anti-extremism think tank which promotes liberal democracy, stated that the Muslim advocacy group, which has worked with police and politicians, promoted extremism, sharia law, and Muslim grievance narratives.
Noting that MEND has been working for the same expansion of the definition of Islamophobia as the APPG, Sir John continued: "The connection between the APPG report and the MEND agenda is not simply intellectual," and outlined the deep connections between the group and those who prepared the report.
Notably, Dr Antonio Perra, an academic based at King's College London, "was a senior policy analyst at MEND (until July 2018)."
"The report states that his 'considerable support to the secretariat in the preparation of this report has been immensely valuable… [his] personal LinkedIn profile goes further and says he 'co-edited' the report."
"Dr Perra was, until recently, also a member of MEND but no mention is made of this affiliation," the research note adds.
"In a similar vein, the APPG makes reference to evidence it took from the 'Islamophobia Response Unit' (IRU). But it fails to mention that the IRU was created in April 2017 by MEND."
The research paper also exposed the use of written evidence submitted by Professor David Miller of University of Bristol.
"He is a conspiracy theorist recorded as having defended the comments which led to Ken Livingstone quitting the Labour Party (about Hitler supporting a Jewish homeland).
"He also called the concept of Israel a 'racist endeavour'," Sir John wrote.
The former diplomat criticised the APPG's report for failing to mention Islamism and the manner in which Islamists use the term Islamophobia "to shield themselves from criticism."
He also warned of the effect this definition could have on freedom of the press and that those who seek to "weaponise this definition" could use it to undermine the Government's anti-extremism strategy Prevent.
https://www.breitbart.com/europe/2018/12/22/controversial-muslim-lobby-group-mend-influence-uk-first-islamophobia-report/
--------
Pro-Polygamy Muslim Leader Calls for Islamic Representation in Italy
22 Dec 2018
One of Italy's most prominent Muslim leaders has challenged interior minister Matteo Salvini to find a way to give Muslims "democratic representation" in government.
Hamza Piccardo, who famously argued that "polygamy is our civil right," wrote this week to Mr Salvini asking him to "establish an electoral process leading to the election of a democratic representation of Italian Muslims."
As the founder of the Union of Italian Islamic communities (UCOII), Piccardo urged Italians in 2016 not to "undervalue polygamy's demographic effect," which would help "rebalance" Italy's low birthrate and the consequent need for foreign manpower.
He also argued that although a minority position, polygamy had as much historical claim to being a civil right as gay marriage.
Now Mr Piccardo is calling on the Italian government to bring Islam into dialogue with Italy's political establishment.
"Let the government organize a consultation that can bring order to Italian Islam, we are fed up with this anarchy," said Piccardo, who has translated the Qu'ran into Italian.
"Even though the competent party for relations with religious communities is at Palazzo Chigi," Piccardo wrote, referring to the headquarters of Italy's Prime Minister, "I want to address the Minister of the Interior [Matteo Salvini], because ever since 2005 this is where communication, albeit sterile, has taken place between the government and the Muslims of Italy."
The problem, Piccardo noted, is that "none of the organizations present in the territory significantly represents the soon to be three million Muslims in Italy, one million of whom are Italian citizens."
Full report at:
https://www.breitbart.com/faith/2018/12/22/pro-polygamy-muslim-leader-calls-for-islamic-representation-in-italy/
--------
Strasbourg attacker Cherif Chekatt pledged allegiance to ISIS
22 December 2018
A man who shot dead five people and wounded 11 others at a famed Christmas market in the eastern French city of Strasbourg had pledged allegiance to ISIS in a video, a judicial source said Saturday.
The video was found in a USB key belonging to Cherif Chekatt, 29, who was shot and killed by police after a two-day manhunt in the city following the December 11 attack.
ISIS claimed Chekatt was one of their "fighters", but this was dismissed by French Interior Minister Christophe Castaner.
Chekatt's father, Abdelkrim, had said his son believed the Islamic State "fought for a good cause".
"I always told him they were criminals," his father added.
Four of the five people killed in the attack were foreigners or born abroad. They included a Thai tourist, a Franco-Afghan garage owner, an Italian journalist and a former Pole who had lived in Strasbourg for the past 20 years.
Full report at:
https://english.alarabiya.net/en/News/world/2018/12/22/Strasbourg-attacker-Cherif-Chekatt-pledged-allegiance-to-ISIS.html
--------
UK grants funds to Pakistan in return for death sentences: Report
Dec 22, 2018
British taxpayers are paying for a boom in capital punishment in Pakistan, a new report has shown, amid claims that London is forcing Islamabad to increase its executions of alleged terrorism suspects without international standards being carefully observed.
The Observer said in a report published on Saturday that Britain's Foreign Office has been granting financial support to civilian courts in Pakistan in return for their increased use of capital punishment against suspected terrorists.
The report said more than 10 million pounds have been spent on a program called Capri, which stands for Counter Terrorism Associated Prosecutorial Reforms Initiative, and focuses on Pakistan's legal ability to deal with terrorism. Most of the funds have been allocated to Pakistani civilian courts that prosecute terrorist suspects, said the report.
According to a parliamentary report issued last week, the aim of the project, which began in 2016, has been "to increase Pakistan's civilian capacity to investigate, detain, prosecute and try terrorists in line with international standards and human rights norms".
However, rights campaigners are concerned that courts in Pakistan have failed to observe the international standards in their UK-sponsored trails against terrorism suspects. They say many of the courts, in fact, have imposed death sentences on offences that do not deserve execution. That raises suspicions that the courts merely aim to receive the financial support from the UK.
Campaigners working for Reprieve, a UK legal charity, said courts in Pakistan have issued death sentences for kidnappers despite bans in the international law which stipulate that only murder should be compensated with execution.
Others have criticized the courts in Pakistan for ignoring due-process safeguards for issuing death sentences that are required by international law.
The United Nations Human Rights Committee has also slammed Pakistan's "broad definition of terrorism" which imposes death penalty on any crime or threat designed to create a "sense of fear or insecurity in society".
Full report at:
https://www.presstv.com/Detail/2018/12/22/583668/UK-funding-Pakistan-death-penalty-terrorism
--------
South Asia
54 militants killed during the joint operations in past 24 hours: MoD
Dec 22 2018
The Ministry of Defense of Afghanistan (MoD) has claimed that 54 militants have been killed during separate operations conducted jointly by the Afghan National Defense and Security Forces (ANDSF) in the past 24 hours.
According to a statement released by MoD, the operations were conducted with the help of the close air support of the coalition forces based in Afghanistan.
The statement further added that the operations were conducted in Nangarhar, Paktika, Ghazni, Daikudni, Zabul, Farah, Balkh, Faryab, and Helmand provinces.
At least 29 of the militants were killed in Qarabagh district of Ghazni province and 9 others were wounded, MoD said, adding that 19 militants were killed and 7 others were wounded during the operations while 2 motorcycles were destroyed in Pashtun Kot and Sherin Tagab districts of Faryab province.
The Afghan forces also killed 6 militants in Posht Rod district of Farah province and two others were wounded in Shajoi district of Zabul and Washir district of Helmand province, MoD added in its statement.
The anti-government armed militant groups including Taliban have not commented regarding the operational update of the Ministry of Defense so far.
https://www.khaama.com/54-militants-killed-during-the-joint-operations-in-past-24-hours-mod-02978/
--------
Myanmar policeman shot dead in northern Rakhine state
23 Dec 2018
The bullet-riddled body of a Myanmar policeman has been found in northern Rakhine state, government media said, as tensions rise in the hotspot where the Rohingya crisis erupted last year.
The western territory is a tinderbox of ethnic and religious divisions and security forces have clashed with both Rohingya insurgents and much better armed Rakhine fighters from the mostly Buddhist Arakan Army.
Private Aung Kyaw Thet went missing in action after an ambush last week by unknown assailants in Maungdaw township near the border with Bangladesh.
His body was found two days ago with "gunshot wounds in his face, arm and leg near a hill inside the other country," according to government-backed Global New Light of Myanmar newspaper on Sunday.
The ambush happened on the day two ethnic Rakhine Buddhist men disappeared while fishing in the same township and were later found with their throats slit, prompting the army to launch local "clearance operations" and raising fears of renewed large-scale violence.
Sunday's report in Global New Light did not identify the alleged perpetrators of the shooting but said authorities found foxholes near the scene, bullet casings and biscuits manufactured in Bangladesh.
More than 720,000 Rohingya fled northern Rakhine to Bangladesh after Myanmar launched a crackdown on the Muslim minority in August 2017.
UN investigators want senior Myanmar generals to be prosecuted for genocide but the army says it was responding to attacks on border guard posts by Rohingya insurgents that killed around a dozen security forces.
The army this week called a rare ceasefire against ethnic armed groups in the northeast of the country but Rakhine state was not included.
Full report at:
https://www.theguardian.com/world/2018/dec/23/myanmar-policeman-shot-dead-in-northern-rakhine-state
--------
Drone strike target militants in Farah province
Dec 23 2018
At least four militants were killed in a drone strike in western Farah province of Afghanistan, the Afghan Military in the West said late on Saturday.
According to a statement released y 207th Zafar Corps of the Afghan Military in the West, the drone strike was carried out in the vicinity of Bakwa district.
The statement further added that four militants were killed in the airstrike and vehicle, a PKM machine gun, a sniper rifle, and 3 Ak-47 rifles were destroyed.
The 207th Zafar Corps also added that three militants were killed during a separate operation in Nawbahar Village of Posht-e-Rod district.
The anti-government armed militant groups including Taliban have not commented regarding the killing of the militants so far.
Full report at:
https://www.khaama.com/drone-strike-target-militants-in-farah-province-02981/
--------
MoI arrest police officer affiliated with Taliban in Farah province
Dec 22 2018
The Ministry of Interior of Afghanistan (MoI) on Saturday informed regarding the arrest of a police officer affiliated with the Taliban militants in western Farah province of Afghanistan.
According to a statement released by MoI, a police officer who was serving in police ranks in Farah police commandment was arrested by the Criminal Investigation Department operatives of the ministry.
The statement further added that the police officer was involved in facilitating an attack on police forces on 11th November which resulted into the martyrdom of 22 policemen and officers in Farah province.
The detained police officer has confessed to the charges against him, MoI said, adding that the suspect has been handed over to the National Directorate of Security for further investigations.
The anti-government armed militant groups including Taliban have not commented regarding the affiliation of the detained police officer with the group so far.
Full report at:
https://www.khaama.com/moi-arrest-police-officer-affiliated-with-taliban-in-farah-province-02979/
--------
Southeast Asia
Indonesian Muslims stage rally in support of Uighurs
December 22, 2018
Hundreds of people from several Islamic organizations held a #SaveMuslimUighur rally in front of the Chinese Consulate in Medan, North Sumatra, on Friday, condemning the alleged mistreatment of Uighur Muslims in Xinjiang.
"Our brothers [Uighur Muslims] are a minority," Acong, a protester who is of Chinese descent, said in his speech during the rally.
The protesters carried several critical banners calling on the Chinese government to immediately stop violence against Uighur Muslims.
"We urge the [Chinese] government take action against the violence on Uighur Muslims," the leader of the National Movement to Safeguard the Indonesian Ulema Councils Fatwa in North Sumatra, Heriansyah, said.
The protestors also tried to blockade the consulate because there was no Chinese Consulate representative willing to meet them. However, the police stopped them from blockading the office.
"We also demand the Chinese consulate general be expelled from Indonesia," he said.
In South Jakarta, a group calling themselves the 212 Rally Alumni also held a rally in front of the Chinese Embassy in Mega Kuningan.
"We need to stop the Chinese government from abusing our brothers, the Uighur Muslims," a protestor, Dedi Suwardadi, said as quoted by tribunnews.com.
Protests have emerged in Indonesia following reports on the detention of Uighur Muslims in Xinjiang and allegations that they had been put to forced labor.
Previously, the Indonesian Ulema Council had condemned China over reports of the crackdown, saying it was not in line with the International Covenant on Civil and Political Rights that guarantees religious freedom for every human around the world. China signed the covenant in 1998 but has yet to ratify it.
Vice President Jusuf Kalla reiterated that Indonesia would not interfere in China's handling of Uighur Muslims amid pressure for the government to step in.
"Of course we reject or [want to] prevent any human rights violations. However, we don't want to intervene in the domestic affairs of another country," Kalla said.
However, the Foreign Ministry had summoned Chinese Ambassador to Indonesia Xiao Qian on Monday to convey the concerns of Indonesian Muslims about Uighur Muslims.
A Chinese Embassy spokesman said in a statement on Thursday that the Chinese government was facing the threat of religious extremism in Xinjiang, which is home to about 14 million Muslims.
Some Xinjiang residents, it said, had struggled to find jobs because of their poor command of the nation's official language and lack of skills.
"This has made them vulnerable to the instigation and coercion of terrorism and extremism," it said.
"In light of the situation, Xinjiang has established professional vocational training institutions as the platform, providing courses on China's common language, legal knowledge, vocational skills, along with deradicalization education for citizens influenced by extremist ideas." (ggq)
https://www.thejakartapost.com/news/2018/12/22/indonesian-muslims-stage-rally-in-support-of-uighurs.html
--------
Why Muslim nations remain silent as China sends ethnic minorities to re-education camps
By Tasha Wibawa
Dec 23, 2018
Beijing's crackdown on its ethnic Muslim-minority Uyghurs has been met with international condemnation, however some very significant voices have remained silent — those of Muslim nations.
The United Nations estimates that up to 1 million Uyghurs, Kazakhs and other minorities have allegedly been detained in China's far-western Xinjiang province since 2017.
Experts say Muslim nations cannot be lumped into one category, however, there are a number of key similarities behind much of their silence — political, economic and foreign policy considerations.
China policy expert Michael Clarke, from the Australian National University, told the ABC that China's economic power and the fear of retaliation was a big factor in Muslim politics.
"It's ultimately a very unfortunate situation the Uyghur people find themselves in."
In contrast, countries including Australia and the United States have publicly denounced Beijing's actions in the region.
The Turkic-speaking ethnic minorities have been detained in 're-education' camps and subjected to political indoctrination, including being forced to learn a different language and give up their faith.
Recent research reveals that the 28 detention facilities have expanded by more than 2 million square metres since the beginning of last year and detainees have been forced to sew clothes for export to a US sportswear company.
Governments of Muslim-majority nations including Malaysia, Pakistan, Saudi Arabia and Indonesia have avoided raising the matter publicly.
Pakistan has gone even further by defending China, saying the reporting on the Uyghurs' situation has been "sensationalised" by Western media.
The Indonesian Government has remained quiet on the topic until last week when the issue was brought up in parliament.
"However, we don't want to intervene in the domestic affairs of another country," he said.
The statement is in stark contrast to the stance of Indonesia on other Muslim issues such as the Israel-Palestine conflict and the plight of the ethnic minority Rohingya in Myanmar.
However, the Foreign Ministry has now conveyed its concerns to China's ambassador to Indonesia, amid growing pressure by domestic Islamic groups.
Saudi Arabia, Jordan, Iran, Malaysia and others have also repeatedly condemned the persecution of Rohingya Muslims and Israel's treatment of Palestinians.
Dr Clarke said China's economy is 180 times bigger than that of a country such as Myanmar, making the latter a far safer target for criticism.
"In Myanmar, you're dealing with a much weaker regional state which is much more open to pressure and international criticism," he said.
Chinese investments and contracts in the Middle East and North Africa from 2005 until this year amount to $144.8 billion.
In Malaysia and Indonesia, it is $121.6 billion over the same period, according to think tank American Enterprise Institute.
Beijing has heavily invested in state-owned oil and gas industries in Saudi Arabia and Iraq, and promises continued investments across Asia, Africa and the Middle East with its Belt and Road initiative.
Beijing's treatment of Uyghurs and other Muslim groups has not deterred Muslim tourists from travelling to China.
Muslim travellers spent more than $US8 billion ($11.3 billion) in China this year, a figure that is expected to increase by $US1 billion ($1.4 billion) annually, according to a recent report from market research company Salam Standard.
Beijing's policy of "non-intervention", whereby it avoids becoming involved in the domestic affairs of other nations, has long been a key part of its foreign policy agenda.
But analysts say it is now paying off with Muslim countries reciprocating the favour.
China has gone as so far as to repeatedly abstain from votes or use its veto power in UN security council meetings on many international interventions, such as proposed sanctions in Syria and in Myanmar.
"Many [Muslim nations] have their own internal issues whether its religious or ethnic minorities … so they are very loathe to criticise Beijing for its handling of its own problems given they have their own problems to deal with," Dr Clarke said.
This case can be made for Turkey, which has spoken out against China on Xinjiang — a move Beijing has not forgotten.
Turkish President Recep Tayyip Erdogan described the events in the restive province as "a kind of genocide" while Turkey also provided asylum for Uyghurs fleeing the region.
Full report at:
https://www.abc.net.au/news/2018-12-23/muslim-governments-stayed-silent-on-chinese-minority-uyghur/10630822
--------
How I was chased out of Ningxia by Chinese men in black for reporting on Muslim cleansing
22 DECEMBER 2018
Sophia Yan
To begin with it was subtle. A security official who had stopped by at my hotel for a "chat" appeared to be the only thing coming between me and the mosques I wanted to see dotted around the dusty plains of Ningxia province.
But by the time my trip to investigate China's latest government crackdown on Muslims was drawing to a close, attempts by the state to block me off at every turn were verging on the ridiculous.
The swelling gang of nameless men in black had stopped trying to hide the fact they were tailing me, driving bumper-to-bumper down winding rural roads and pulling over on deserted highways whenever I stopped.
The rise of a police state in neighbouring Xinjiang, another Chinese province,...
https://www.telegraph.co.uk/news/2018/12/22/chased-ningxia-chinese-men-black-reporting-muslim-cleansing/
--------
Negeri ruler disappointed with high number of Muslims involved in crime
December 22, 2018
KUALA PILAH: The Yang di-Pertuan Besar of Negeri Sembilan Tuanku Muhriz Tuanku Munawir today expressed his disappointment with the high number of Muslims involved in social problems and crime in the state.
He said based on statistics, more than 90% of arrests for drug-related offences involved Muslims, especially in the Felda area in Jempol.
He said as for rape cases, 64 of the 83 suspects arrested were Muslims. For incest cases, he said, nine out of 10 cases reported this year involved Muslims
"Muslim teenagers in Malaysia are also known for illegal motorcycle racing and they are known as Mat Rempit.
"The Daesh (Islamic State) militant movement recruits Muslims who misinterpret the values in Islam to fight in the name of the religion," he said at the accreditation of members of the Negeri Sembilan Administrative and Legal Institution here today.
The ceremony was also attended by Tunku Besar Seri Menanti Tunku Ali Redhauddin Tuanku Muhriz and Undang Luak Johol Muhammed Abdullah.
Tuanku Muhriz expressed his confidence in the capabilities of the police and other enforcement agencies in addressing the problem.
"We have to plan now even if the implementation of the programme will only be effective 10 years from now.
"If nothing is done, the bad characters in society will not change forever," he added.
He also called on the relevant departments to look into other needs that could improve the administration and management of Islam, including construction of new buildings and increasing the number of judges and officers for shariah courts in the state.
Full report at:
https://www.freemalaysiatoday.com/category/nation/2018/12/22/negeri-ruler-disappointed-with-high-number-of-muslims-involved-in-crime/
--------
In Perak, Malay groups demand Dr M resign as well over Adib's death
22 December 2018
IPOH, Dec 22 — After calls for minister P. Waytha Moorthy to resign over the death of firefighter Muhammad Adib Mohd Kassim, several Malay groups here have now demanded for even Prime Minister Tun Dr Mahathir Mohamad to step down.
Tens of members from a number of Malay groups, including the incendiary Jaringan Melayu Malaysia (JMM) and Gagasan 3, held a gathering at the Padang Ipoh here wearing mostly black.
In his speech, frequent critic of Dr Mahathir, JMM president Datuk Azwanddin Hamzah said the prime minister should resign if he cannot fulfill the request of some Malays demanding to sack the minister in charge of national unity and social wellbeing.
"I don't want to mention the name, but the 'pariah' minister should resign immediately. If he doesn't want to resign, then Mahathir should sack him," he said, in a veiled reference to Waytha.
"If Mahathir can't do that, then he should step down as the prime minister. We will continue to gather until our demands are fulfilled."
Azwanddin also urged action against developer One City Development Sdn Bhd and their lawyers. The firm has since denied its involvement in the riots.
"Why no action has been taken on them until today? They are also responsible for the death of Adib," he claimed.
He also repeated the calls for Putrajaya to form a Royal Commission of Inquiry to probe the case.
Yesterday, a coalition of Perak Malay-Muslim groups called Jalinan Bersatu Sahabat Perak (Jabat) had also made the same call.
Last month, Azwanddin and Gagasan 3's chairman Ragvinder Singh Jess and deputy chairman Amran Ahmad Nor were among those investigated by the police following reports of allegedly incendiary speeches made by them.
Full report at:
https://www.malaymail.com/s/1705534/in-perak-malay-groups-demand-dr-m-to-resign-as-well-over-adibs-death
--------
Over 40 people killed, nearly 600 injured in Indonesia tsunami
Dec 23, 2018
At least 43 people have been killed and nearly 600 injured in a tsunami triggered by the eruption of an island volcano in Indonesia, officials said.
"In the Sunda Strait 40 people have died, 584 people were injured and two people are missing," Indonesia's National Disaster Mitigation Agency spokesman Sutopo Purwo Nugroho said in a statement. Another three people were killed in nearby Serang, he added. Nugroho tweeted on his verified account that 430 houses and nine hotels were heavily damaged, indicating the tsunami hit residential and tourist areas.
Scientists from Indonesia's Meteorology and Geophysics agency said it could have been caused by undersea landslides from the eruption of Anak Krakatau, a volcanic island formed over years from the nearby Krakatau volcano. They also cited tidal waves caused by the full moon.
The Sunda Strait between the islands of Java and Sumatra connects the Java Sea to the Indian Ocean.
The deaths were reported in the Pandeglang, South Lampung and Serang regions.
The worst affected area was the Pandeglang region of Banten province in Java, which encompasses the Ujung Kulon National Park and popular beaches, the disaster agency said. Of the deaths, 33 were in Pandeglang.
In the city of Bandar Lampung on southern Sumatra, hundreds of residents took refuge at the governor's office.
The disaster management agency warned that the death toll is likely to rise further, adding that high seas as a result of the full moon may also have contributed to the strength of the waves.
Indonesia has been hit by a series of natural disasters in recent weeks, including a powerful earthquake that hit the island of Sulawesi on September 28. In the towns of Baleroa and Petobo, rivers of soil swept away entire neighborhoods in the aftermath of the magnitude-7.5 earthquake and ensuing tsunami.
The death toll from the quake is nearly 2,000.
Full report at:
https://www.presstv.com/Detail/2018/12/23/583690/-Indonesia-tsunami-people-killed
--------
India
As Pakistan Wades Into Row, Naseeruddin Shah Says Take Care Of Own Country
by Seema Chishti
December 23, 2018
As Pakistan Prime Minister Imran Khan waded into the controversy over Naseeruddin Shah's remarks, comparing them to what Mohammad Ali Jinnah had once said, the acclaimed actor told him to stay away from "issues that don't concern him".
Speaking at a public function in Lahore, Khan drew a parallel between Shah's remarks about feeling scared for his children because of the impunity of lawless mobs in India and what Jinnah had said about not wanting to live in an India where Muslims would not be equal citizens.
In a sharp retort to him, Shah told The Sunday Express, "I think Mr Khan should be walking the talk in his own country instead of commenting on issues that don't concern him. We have been a democracy for 70 years and we know how to look after ourselves."
Referring to the Bulandshahr violence where a policeman had lost his life to mob fury over alleged cow slaughter earlier this month, the 68-year-old actor had expressed concern over how "the death of a cow has more significance than that of a police officer" and how he doesn't see "the situation improving anytime soon". The actor added, "I feel anxious for my children because tomorrow if a mob surrounds them and asks 'Are you a Hindu or a Muslim?', they will have no answer."
Khan said the "lesson" Pakistan needed to draw from this was to ensure that "all people get equal rights, irrespective of their faith". He cited "the famous speech by Qaid e Azam in 1948 where he said all Pakistanis would have equal rights" as also "the Constitution of Medina" where Prophet Mohammed promised Christians protection and safety. He added, "We have to prove in Pakistan that all minorities are equal citizens… Narendra Modi's India must be shown how we treat minorities."
Shah's remarks have been met with protests, with some groups agitating outside the venue where he was supposed to deliver the keynote address at the fifth edition of a three-day literature festival in Ajmer. Raas Bihari Gaur, the coordinator of the festival, said, "Shah was scheduled to inaugurate the festival but he did not come because of protests by some locals."
He was also scheduled to launch his book at the opening session, but this too was cancelled.
With several people pointing out that this had happened under a Congress government, Rajasthan Chief Minister Ashok Gehlot tweeted on Saturday evening that what had happened was "unfortunate".
"It is very unfortunate that organiser of Ajmer Literature Fest asks Mr #NaseeruddinShah to avoid his inaugural appearance amidst some news of protest. Administration was fully prepared to hold festival peacefully. Our govt respects all rights & liberties of each & every citizen."
Reacting to Shah's remarks, Union minister Mukhtar Abbas Naqvi said on Saturday that the veteran actor's children need not feel scared as "tolerance was in the DNA of the country". "I think his emotions may have been right, but his words were probably misconstrued and a mountain was made out of a molehill. India is a tolerant country. Tolerance and harmony are in the DNA of the country, and despite the circumstances, nobody has succeeded in destroying that strong legacy," Naqvi told PTI in Mumbai.
https://indianexpress.com/article/india/as-pakistan-wades-into-row-naseeruddin-shah-says-take-care-of-own-country-5505719/
--------
One more cross-border 'love story' ends as Pakistan's Imran Warsi will be deported
Dec 23, 2018
Karachi's Md Imran Warsi, arrested in Bhopal in 2008 on suspicion of being an ISI agent, will be deported home to Pakistan on Wednesday. Warsi says his account is no different from what is known of the cross-border love story of Hamid Nehal Ansari who was repatriated to India earlier this week after six years in a Pakistan jail. Similar to Ansari's stealing into Pakistan, Warsi says he travelled from Karachi to Kolkata in 2004 to marry the girl he loved, a distant relative.
But unlike Ansari, Warsi married and lived in Kolkata for four years before being arrested in Bhopal."My fellow prisoners contributed Rs 8,000 for my release. I was overwhelmed, no words to express my gratitude," Warsi said.
https://timesofindia.indiatimes.com/india/one-more-cross-border-love-story-ends-as-pakistans-imran-warsi-will-be-deported/articleshow/67212785.cms
--------
Pakistan denies gas supply to India's residential complex in Islamabad
Dec 23, 2018
NEW DELHI: India and Pakistan are yet again faced with diplomatic harassment that marred ties between the two countries earlier this year.
While Pakistan has denied gas to the newly constructed Indian residential complex in Islamabad, the Indian government earlier this month denied permission to Pakistan high commissioner Sohail Mahmood to visit Kolkata.
Both sides were quiet on why Mahmood was prevented from visiting but, as official sources said, Pakistan had been late in seeking approval for the visit. Both Indian and Pakistan high commissioners are required to seek approval from local authorities for any visit outside the capital.
This development came around the time Indian officials were raising with Pakistan the issue of delay in supply of gas to India's newly constructed residential complex in Islamabad. Sources said that the issue had been repeatedly raised for over a month both here with the Pakistan high commission and with MoFA in Islamabad.
"Several note verbale have been issued but to no avail,'' said an official source. The complex was at the centre of the dispute between India and Pakistan over harassment of diplomats in both capitals. A group of men was said to have raided the complex under construction then and disconnected water and electricity supply triggering diplomatic hostility which lasted for over a month.
The complex is now home to several Indian diplomats and other staff. According to sources here, the supply of gas has not started, despite pipelines having been laid, because the same is yet to be approved by Pakistan government authorities including MoFA. The cold weather has made it worse for residents of the complex as gas is required for activating the heating system.
The government has also raised with Pakistan the issue of abrupt blackouts in the homes of Indian diplomats. While these have not lasted very long, the power disruption has apparently taken place in the middle of formal receptions. In one instance recently, which was brought to Pakistan's attention, an unidentified man tried to break open into the home of an Indian diplomat when he was not at home.
Full report at:
https://timesofindia.indiatimes.com/india/pakistan-denies-gas-supply-to-indias-residential-complex-in-islamabad/articleshow/67212632.cms
--------
Six terrorists linked to al-Qaida killed
Dec 22, 2018
SRINAGAR: Six terrorists of the Zakir Musa-led Ansar Ghazwat-ul-Hind outfit, including its deputy chief, were killed in a brief encounter in Tral area of Awantipora in south Kashmir's Pulwama district on Saturday morning. Ansar Ghazwat-ul-Hind is the Kashmir wing of al-Qaida.
The encounter began after a joint team of 42 Rashtriya Rifles, Special Operations Group and CRPF launched a cordon-and-search operation after receiving intelligence inputs about the presence of terrorists at Arampora hamlet, said S P Pani, IG-Kashmir range. The security forces fired a few warning shots, to which the terrorists retaliated, triggering a gunfight.
Security forces recovered the bodies and a huge cache of arms and ammunition from the site.
"The deputy chief was identified as Soliha Mohammad Akhoon, alias Rehaan Khan, while the others as Rasiq Mir, Umer Ramzan, Nadeem Sofi, Faisal Javid Khanday and Rouf Mir," the IG said, adding that they were linked to Zakir Musa, a former Hizbul Mujahideen leader who founded the Kashmir chapter of al-Qaida. All of them were active in Pulwama and wanted in several terror cases, including attacks on security personnel and civilians.
Two of the six terrorists killed were wanted for triggering hand-grenade blasts at the Maqsudan police station in Jalandhar on September 14, Punjab police said.
Jalandhar police commissioner Gurpreet Bhullar said the case was solved with the arrest of two college students, identified as Shahid Qayoom (22) and Fazil Bashir (23), both associated with Ansar Ghazwat-ul-Hind. Besides these two, Rouf Mir and Umer Ramzan, killed in Saturday's encounter, were also involved in the blast, he added. Bhullar said Umer and Rouf had flown from Srinagar to Chandigarh on September 13 with the sole purpose of carrying out the attacks. Thereafter, they had been on the run.
Soon after the killing of the terrorists, clashes between security forces and civilians broke out in Armpora Tral area of Pulwama.
Full report at:
https://timesofindia.indiatimes.com/india/six-terrorists-linked-to-al-qaida-killed/articleshow/67211465.cms
--------
India waits for Donald Trump's clarification on US cut-back in Afghanistan
Dec 23, 2018
India has been prepared for a long time now for an "eventual" pullout of American troops from Afghanistan but surprised by the Trump administration's sudden decision, as the rest of the world, it wants to know more about the nature and the time-frame of the cut-back to assess implications for its involvement.
Indians are concerned about the security of four consulates — Jalalabad (in the east), Herat (west), Mazar-e-Sharif (north) and Kandahar (in the south) — and the embassy in Kabul, personnel manning them and the projects India is running there as part of the reconstruction effort, as a top partner.
There has been no communication from the United States to India yet about the impending pullout, and it's been noted in New Delhi. But,people in the know said, assuming the Trump administration had indeed taken a call — "there has been no tweet or announcement as about the Syrian pullout" — they want to see which troops are being pulled out, those involved in counter-terrorism or those advising Afghanistan combat troops, or both.
India also wants to know about the time-frame of the cut back and whether American troops, marked for pullout, leave before the upcoming Afghan elections or after. "Leaving before could determine the nature of the elections — whether they will be free and fair — which, in turn, could determine their legitimacy and the outcome," said a person familiar with the deliberations.
These two factors are critical to assessing the repercussion for India — "whether the troop-cut would be hugely consequential or one that can be managed".
Afghan presidential elections are due next April, and Indian officials dealing with South Asia fear most a US drawdown in the first quarter of 2019, which they have considered more as a possibility.
US President Trump has been keen to pullout of Afghanistan, as was his predecessor Barack Obama, but has sought to base it on conditions and an arbitrarily drawn timeline as preferred by his predecessor. But the move to cut the troops presence has not been explained that whether it's linked to improvement in condition or tied to peace talks.
Even allies such as Germany and the United Kingdom who have large troops presence in Afghanistan were not consulted.
The presence of American and NATO forces has been critical for the security situation, and Afghanistan and New Delhi would be following developments arising out of the Trump administration's decision closely. "Not only do we have four consulates and an embassy there in Afghanistan, but also a large number of ongoing development projects," said a person familiar with India's thinking on the matter.
India has invested heavily in the reconstruction of Afghanistan and from much before, the Trump administration sought to accord India a larger role there.
India helped the central bank of Afghanistan find its feet, starting just days after the Taliban were chased out of the country in late 2001 — with the help of government bankers from Indian staying four to a room in a Kabul property —- rebuild schools (former president Hamid Karzai's school, to begin with), get the transportation system running — with the help of the Tata company — and resurrect Kabul's main hospital, quietly and without fanfare.
Full report at:
https://www.hindustantimes.com/india-news/india-waits-for-donald-trump-s-clarification-on-us-cut-back-in-afghanistan/story-8Uq4pJ6uQBktY8WWWK1WDM.html
--------
Jingoism has reached scary proportions: Naseeruddin Shah
DECEMBER 22, 2018
The army of trolls and their abuse and threats on the web may not have affected veteran actor Naseeruddin Shah but he stated in an exclusive e-mail interview to The Hindu that it was definitely not comforting to hear chants of "Shoot the traitor!" directed at him. "The vicious jingoism masquerading as love for the country has reached truly scary proportions and so has the constant whataboutery in response to almost everything. 'The earlier rulers did this, what's wrong if we do it too?' 'The Aussies dish out abuse, what's wrong if we do it too?'" he stated.
Mr. Shah has been at the receiving end of extreme outrage and hatred over an interview in which he had expressed anxiety over mob violence and lynching and concern for the future and well being of his children. "The poison has already spread. It will be very difficult to capture this djinn back in the bottle. There is complete impunity for those who take law into their own hands. In many areas we are witnessing that the death of a cow has more significance than that of a police officer. I feel anxious thinking about my children. Because they don't have a religion… tomorrow if a mob surrounds them and asks 'are you a Hindu or a Muslim?' they will have no answer. It worries me because I don't see the situation improving anytime soon. These matters don't scare me, they make me angry…" he had said.
On Friday he was prevented from inaugurating the Ajmer Literature Festival (ALF) following protests by BJP Yuva Morcha members. A session with him titled "Naseer Ki Nazar" was also cancelled.
Mr. Shah stated that he can only speculate at whose bidding all this would have happened but whoever was exhorting those goons did not realise that they actually ended up endorsing what he had said in the Karwaan-e-Mohabbat interview.
He told The Hindu that he was not surprised at the reactions to what he said and he does not feel defeated at the turn of events. He confessed being a bit saddened but more angered. "It does seem that for the moderate Indian staying silent is not a choice any more," he said.
According to him no one in his family experienced discrimination at any point in their lives: "My Dad served in the PCS, two uncles in the police force, a cousin and a brother in the army and all of them not only did well but never felt that being a Muslim was a disqualification for us. We never really discussed or feared it."
He said that in case what he has said now is misconstrued as the "insecurity of a Muslim living in India" he wanted to make it clear that though he gave the example of his children, he was not speaking only of himself and his family. "The Dalits or the farmers or the Christian community or students or anti-traditionalists or citizens from India's North-East are no less insecure in their own country and that fact, instead of being a matter of shame for us all, invites accusations of sedition if solidarity with any of them is shown," he said.
On the matter of religion he stated that religion has nothing to do with goodness and neither he nor anyone else in his family participate in religious rituals of any kind. "In fact the amount of harm that a rabid sense of faith has done to the world through the centuries is unequalled by anything else. What we have faith in and what we believe in is entirely our own business," he stated.
Asked about the recent instances of artists being targeted for speaking out their minds, he said that power hungry leaders have through history been circumspect, if not downright suspicious, of artists because artists speak the truth in ways they (leaders) consider insidious. "The influence of art is not hammer and tongs but works by entering your veins and altering your system; besides artists talk about peace and love all the time and that does not always suit the powers that be--their agendas are different," he said.
Mr. Shah clarified that if he "didn't speak up when the Sikhs were massacred, when the Kashmiri Pandits had to flee?" it was because he had no voice, no standing, no face value then. "Who'd listen to an unemployed actor mouthing off?" he asked.
He said that the accusation that he was paid by the Congress to defame the country and, by association the ruling party, was so dumb that he won't even bother to set the record straight. "By that reasoning I was probably paid by the Aussies to diss Virat Kohli!" he stated, adding, "It testifies to the dictum that you see everything in your own image; you see your own tendencies reflected in everyone--the cheating husband suspecting his wife of infidelities kind of thing."
Full report at:
https://www.thehindu.com/news/national/jingoism-has-reached-scary-proportions-naseeruddin-shah/article25809012.ece
--------
North America
US envoy to anti-IS coalition resigns after Trump's Syria decision
Dec 23, 2018
WASHINGTON: Brett McGurk, the US special envoy to the anti-Islamic State group coalition, has resigned, a State Department official said Saturday, capping a chaotic week that saw the departure of Defense Secretary Jim Mattis and Donald Trump's stunning decision to pull troops from Syria.
McGurk's resignation, effective December 31, comes on the heels of Mattis's decision to quit the Trump administration over key disagreements with the US president, notably the Syria withdrawal.
Just last week McGurk, a Barack Obama appointee whom Trump kept on, said "nobody is declaring a mission accomplished" in the battle against IS — just days before the president blindsided politicians and allies with his announcement of victory against the jihadist movement.
Trump on Saturday said that the jihadist group "is largely defeated."
"When I became President, ISIS was going wild," the president tweeted. "Now ISIS is largely defeated and other local countries, including Turkey, should be able to easily take care of whatever remains. We're coming home!"
Trump later took aim at McGurk on Twitter, referring to him as a "grandstander" who was quitting just before his time was up.
McGurk, 45, was set to leave his position in February, but reportedly felt he could no longer continue in the job after Trump's declaration and on Friday evening informed Secretary of State Mike Pompeo of his intention to wrap up at year's end.
His conclusion mirrored that of Mattis, who was seen as a voice of moderation in the mercurial Trump White House and quit after telling the president he could not go along with the Syria decision.
McGurk has served as the US envoy to the Global Coalition to Defeat ISIS, an acronym for the jihadist group, since 2015.
He also served as the deputy assistant secretary of state for Iraq and Iran, and worked under Republican George W. Bush as a senior official on Iraq and Afghanistan.
Discussing the US role in Syria this month, he had told journalists that "it would be reckless if we were just to say, 'Well, the physical caliphate is defeated, so we can just leave now.'"
"I think anyone who's looked at a conflict like this would agree with that."
McGurk called Trump's move to leave Syria "a shock" and "a complete reversal of policy that was articulated to us," in an email announcing his decision to colleagues that was obtained by The New York Times.
"It left our coalition partners confused and our fighting partners bewildered," he said, according to the newspaper.
"I worked this week to help manage some of the fallout but — as many of you heard in my meetings and phone calls — I ultimately concluded that I could not carry out these new instructions and maintain my integrity."
Just after announcing his Syria decision, Trump again confounded international partners with plans to slash troop numbers in Afghanistan.
The momentous reversal of years of US foreign policy will leave the war-torn regions at risk of continued and potentially heightened bloodshed.
In typical fashion, Trump said Saturday that the media was treating him unfairly over the Syria withdrawal decision.
"If anybody but your favorite President, Donald J Trump, announced that, after decimating ISIS in Syria, we were going to bring our troops back home (happy & healthy), that person would be the most popular hero in America," he tweeted.
"With me, hit hard instead by the Fake News Media. Crazy!"
The troop pullout will leave thousands of Kurdish fighters — which the Pentagon spent years training and arming against IS — vulnerable to Turkish attack.
On Saturday, a senior Kurdish official called on the United States to prevent a potential Turkish offensive against areas in northern Syria inhabited by Kurds, calling it America's "duty to prevent any attack and to put an end to Turkish threats."
The US has for years supported the Kurdish-led Syrian Democratic Forces (SDF) in the fight against IS in Syria.
Aldar Khalil, a key player in establishing Syria's semi-autonomous Kurdish region in 2013, said the US and its partners "must honor their commitments."
Heavyweight adviser Mattis — a decorated Marine general who was often referred to as "the last adult in the room" — made clear in his resignation letter that pulling out of Syria crossed the line.
The departures of Mattis and now McGurk follow those of national security advisor H.R. McMaster and White House chief of staff John Kelly — leaving Trump, who has no political, diplomatic or military experience, increasingly alone.
https://timesofindia.indiatimes.com/world/us/us-envoy-to-anti-is-coalition-resigns-after-trumps-syria-decision/articleshow/67213559.cms
--------
US spy chief accuses Russia, Iran, China of attempted midterm poll meddling
Dec 23, 2018
The top US intelligence official has accused Russia, China and Iran of running election meddling campaign during American mid-term polls last November in an official report to the White House but insisted that no election systems were compromised.
"Russia and other foreign countries, including China and Iran, conducted influence activities and messaging campaigns targeted at the United States to promote their strategic interests" during the 2018 midterm elections, Director of National Intelligence (DNI) Dan Coats wrote in a report to the White House unveiled late Friday.
US President Donald Trump had ordered Coats's office – under executive order 13848 -- to conduct a review within 45 days of the November 6, 2018 election amid political pressures calling on him to respond more forcefully to alleged Russian meddling in the 2016 US presidential campaign.
Trump declared in September that such interference constituted a national emergency, and said there would be sanctions imposed against individuals and governments found to have meddled in the midterm polls. Coats's letter, however, contained no recommendation for such sanctions.
According to the report by the spy chief, the US intelligence community did not find evidence that the election infrastructure had been breached in a way "that would have prevented voting, changed vote counts or disrupted the ability to tally votes."
Additionally, the US Justice and Homeland Security departments have 45 days under the executive order to review the findings by DNI and respond with recommendations.
This is while mainstream media reports in the US portrayed Coats's letter as confirmation of Russian election meddling, even though US intelligence agencies did not assess any impact of what they claimed as influence activities and messaging campaigns of foreign nations targeting US midterm elections, in which the ruling Republican Party lost its control of the Senate.
Full report at:
https://www.presstv.com/Detail/2018/12/23/583687/US-Director-of-National-Intelligence-Dan-Coats-election-meddling-Russia-Iran-China-midterm-polls
--------
Arab World
Militant weapons cache with US munitions uncovered in Syria's Dara'a
Dec 22, 2018
Syrian government forces have discovered US-made weapons as well as a considerable amount of Israeli-made medicine and medical supplies from a position of foreign-sponsored Takfiri militants in the country's southwestern province of Dara'a.
An informed source, speaking on condition of anonymity, told Syria's official news agency SANA that security forces had carried out a clean-up operation on Saturday, and found a big weapons depot left behind by members of the Daesh and Jabhat Fateh al-Sham, formerly known as al-Nusra Front, Takfiri terrorist groups.
The source added that the ammunition included American BGM-71 TOW anti-tank missiles, assault rifles, mortars, satellite communications devices besides medical equipment.
The discovery came less than a week after Syrian army troopers discovered a remote-controlled unmanned aerial vehicle (UAV) along with a considerable amount of munitions at a former militant stronghold in the Dara'a al-Balad area of Dara'a province.
SANA reported that the weapons included PK general-purpose machine guns, assault rifles, rocket launchers, many shells, rocket-propelled grenades, thermal night vision cameras and satellite communication devices.
On December 11, Syrian government forces discovered considerable amounts of munitions, as well as US-built anti-tank missiles at weapons depots of Takfiri terrorist groups near Nasib village, which lies about 12 kilometers southeast of Dara'a.
The munitions included 14.5mm heavy machine guns, mortars, tank shells, American BGM-71 TOW anti-tank missiles, rocket-propelled grenades, improvised explosive devices, detonators, automatic assault rifles as well as infantry combat vehicles.
Syrian army forces inflict losses on Takfiri militants in Hama
Separately, the Syrian army launched a salvo of artillery rounds and surface-to-surface missiles at the positions of the so-called Jaysh al-Izza (Army of Glory) militant group in Hasraya town of the west-central province of Hama, killing and wound a large number of the Takfiris in the process.
Syria has been gripped by foreign-backed militancy since March 2011. The Syrian government says the Israeli regime and its Western and regional allies are aiding Takfiri terrorist groups wreaking havoc in the country.
https://www.presstv.com/Detail/2018/12/22/583673/Militant-weapons-cache-with-US-munitions-uncovered-in-Syrias-Daraa
--------
US Army Sets up Military Airport in Iraq's Kurdistan Region
Dec 22, 2018
The Arabic-language al-Ma'aloumah news website quoted a well-informed source as disclosing that the US army has built a military airport in Arbat region in Sulaymaniyah province in Iraq's Kurdistan Region.
It went on to say that the US spent almost $8mln to build the base that will solely work on monitoring movement and traffic of the US forces.
It further said that the airport has a very large runway which is suitable for the landing and take off of military and non-military planes, adding that the US army has claimed that the airport has been built for agricultural purposes.
It takes almost 35 minutes of flying from the new airport to Sulaymaniyah airport.
Local sources reported last week that the US military was trying hard to transfer Kurdish Pishmarga fighters from Iraq to deploy them at Syria's Northern border with Turkey amid Ankara prepares to launch a major offensive on the Kurds on the Eastern bank of the Euphrates River.
The sources in Qamishli in Northern Hasaka reported that a 50-member military delegation, including Kurdish Pishmarga commanders accompanied by US army officers, arrived in Northeastern Hasaka from Iraq on Sunday via Simalka border crossing.
The sources further said that the delegation arrived in Romeilan region in Hasaka, adding that the move is aimed at holding a meeting with the Kurdish militia under the supervision of the US forces over the deployment of Pishmarga gunmen at Syria's border with Turkey.
In the meantime, the London-based Syrian Observatory for Human Rights (SOHR) reported that the US-led coalition is attempting hard to justify the Syrian Democratic Forces (SDF) to agree with the deployment of Iraq's Pishmarga fighters at Syria's border with Turkey.
Meanwhile, Bas News Website, affiliated to Kurdish militia, reported that the US' attempts to deploy Pishmarga fighters at Syria's border with Turkey came after the SDF threatened to withdraw gunmen from contact lines with the ISIL in Southeastern Deir Ezzur.
The SDF rejected reports on the deployment of Barzani's Pishmarga in Northern Syria.
Full report at:
http://en.farsnews.com/newstext.aspx?nn=13971001000715
--------
Kurdish Militia Likely to Hand over Manbij to Syrian Army
Dec 22, 2018
The sources said that the Syrian Army dispatched hundreds of forces along with tens of military vehicles to the village of Tal Aswad Southern of Manbij in Northeastern Aleppo.
The sources further pointed to several meetings between the SDF and the Syrian Army commanders, and said that the Damascus forces will likely enter the SDF-held town and region according to the coordination made between the two sides.
The sources went on to say that the US army has dispatched a new convoy, including 18 military and armored vehicles to the South of Manbij after revelations about the Damascus forces' deployment in the region.
In the meantime, Jeihan Ahmad, a Spokesman for the SDF, claimed that the SDF forces do not oppose hoisting Syrian Army's flag on government centers and buildings in Manbij.
On Thursday night, the Syrian Army soldiers entered 2 small but key towns in Northern Aleppo after the SDF) pulled gunmen out of the towns.
The army men entered the towns of Harbal and Um Vohoush in Northern Aleppo after the SDF withdrew from the towns.
The towns are located South of the town of Mare'a, which is controlled by Ankara-backed militants, including the Free Army.
Meanwhile, al-Arabi al-Jadid news website reported that the SDF militia held several rounds of meetings with the Syrian Army commanders and concluded an agreement to hand over some of the SDF-held regions to the Damascus forces.
Full report at:
http://en.farsnews.com/newstext.aspx?nn=13971001000454
--------
Turkey bolsters troops in Kurdish areas of northern Syria
23 December 2018
Turkey on Saturday sent military reinforcements to northern Syria near an area controlled by Kurdish forces as Ankara threatens to carry out a fresh offensive to wipe them out, a war monitor said.
The move comes after US President Donald Trump's surprise announcement on Wednesday of the withdrawal of American troops stationed in northeastern Syria alongside Kurdish fighters, a long-time enemy of Turkey.
Washington has for years supported the Kurdish-led Syrian Democratic Forces (SDF) in the fight against ISIS in Syria, as part of an international anti-extremist coalition dominated by the People's Protection Units (YPG).
But on Wednesday Trump said he was ordering a withdrawal of the estimated 2,000 US troops in Syria because ISIS had been defeated, an assessment rubbished by many.
"Around 35 tanks and other heavy weapons, carried aboard tank carriers, crossed the Jarablos border crossing in the early evening," Rami Abdel Rahman, the head of the Britain-based Syrian Observatory for Human Rights, told AFP.
"They headed for an area near the Sajour River, between Jarablos and Manbij, not far from the front lines where Kurdish fighters of the Minbaj Military Council are stationed," he added.
Turkey accuses the YPG of being a "terrorist offshoot" of the outlawed Kurdistan Workers' Party (PKK) which has been waging an insurgency against the Turkish state since 1984.
Turkish President Recep Tayyip Erdogan on Friday vowed to drive both the YPG and ISIS from Syria.
Ankara fears a Kurdish state could be established on its borders, which it believes could reinforce separatist ambitions of the Kurdish minority in Turkey.
The Kurdish community accounts for 15 percent of Syria's population and controls around 30 percent of the country, as a federal region declared in 2016.
In the past two years Turkey has conducted two offensives into northern Syria. In 2016 it launched an operation against ISIS, which also aimed to block the YPG from joining up the territory it held in northern Syria.
Full report at:
https://english.alarabiya.net/en/News/middle-east/2018/12/23/Turkey-bolsters-troops-in-Kurdish-areas-of-northern-Syria.html
--------
US envoy to anti-ISIS coalition quits over Trump's Syria move
22 December 2018
Brett McGurk, the US envoy to the global coalition fighting ISIS, has resigned in protest to President Donald Trump's abrupt decision to withdraw US troops from Syria.
McGurk joins Defense Secretary Jim Mattis in an exodus of experienced national security officials.
Only 11 days ago, McGurk had said it'd be "reckless" to consider IS defeated and therefore would be unwise to bring American forces home. He decided to speed up his plan to leave in mid-February.
His resignation letter, submitted Friday to Secretary of State Mike Pompeo, was described to The Associated Press on Saturday by an official familiar with its contents. The official was not authorized to publicly discuss the matter before the letter was released and spoke on condition of anonymity.
https://english.alarabiya.net/en/News/middle-east/2018/12/22/US-envoy-to-anti-ISIS-coalition-quits-over-Trump-s-Syria-move.html
--------
Turkey says almost 300,000 Syrians have gone home
22 December 2018
Nearly 300,000 Syrian refugees have returned home since two Turkish military operations in the war-ravaged nation, the Turkish interior minister said Saturday after Ankara warned yet another offensive was being planned.
"The number of our Syrian brothers and sisters who have returned to their country is 291,790" since the first two operations took place, Suleyman Soylu said during a speech in the northwestern province of Edirne.
In August 2016, Ankara supported Syrian opposition fighters who regained territory in northern Syria from ISIS in an operation dubbed "Euphrates Shield".
Between January and March 2017, rebels backed by Turkish forces seized the northwestern enclave of Afrin from a US-backed Kurdish militia viewed by Ankara as "terrorists" linked to Kurdish insurgents inside Turkey.
Last week Turkish President Recep Tayyip Erdogan threatened a new operation against Kurdish People's Protection Units (YPG) militia in northern Syria within a "few days".
However, after US counterpart Donald Trump decided this week to withdraw 2,000 US troops from Syria, Erdogan said that action against the YPG and IS would take place "in the coming months".
Turkey hosts the largest number of refugees in the world, including 3.5 million Syrians who fled there since the civil war broke out in 2011, and up to 300,000 Iraqis.
Turkey has also faced a higher number of Afghans coming into the country illegally this year. Soylu said that to date, 96,000 Afghans had arrived in Turkey, of which 30,000 were sent back.
Full report at:
https://english.alarabiya.net/en/News/middle-east/2018/12/22/Turkey-says-almost-300-000-Syrians-have-gone-home.html
--------
France vows support for Syria militants amid US pullout
Dec 22, 2018
A French official says his country has pledged backing for the so-called Syrian Democratic Forces (SDF), a US-backed anti-Damascus alliance of mainly Kurdish militants, amid the planned withdrawal of American troops from the Arab country.
The Elysee Palace official said that advisers to French President Emmanuel Macron had assured SDF of their support in a meeting with the group's figures, including co-chairs Ilham Ahmed and Riad Darrar, in Paris on Friday.
"The advisers passed on a message of support and solidarity and explained to them the talks France had with US authorities to continue the fight against Daesh," the official added.
The remarks came two days after President Donald Trump unexpectedly announced that the US would be pulling all its 2,000 forces out of Syria. He also claimed victory over the Daesh Takfiri terror outfit in the war-torn state.
However, France, a leading member of the US-led coalition, purportedly fighting Daesh in Syria, said that it would keep troops in Syria.
"For now of course we remain in Syria," France's European Affairs Minister Nathalie Loiseau said on CNews television, noting "the fight against terrorism is not over."
Separately, the French Foreign Ministry said in a statement that Paris had started talks with Washington on the timeframe and conditions for the US's Syria withdrawal.
Meanwhile, Turkey, which has opposed American support for the SDF because it believes they are the same group as the outlawed Kurdistan Workers' Party (PKK), stressed that it would take over the fight against Daesh in Syria.
In a speech in Istanbul, Turkish President Recep Tayyip Erdogan said Turkey would mobilize to fight the remaining Daesh elements and temporarily delay plans to attack Kurdish militants in Syria's northeast.
American and Turkish officials told The Associated Press that Trump had made the decision for the Syria pullout during the December 14 telephone conversation with Erdogan.
On Thursday, Turkish Defense Minister General Hulusi Akar warned that Kurdish militants operating east of the Euphrates River would be "buried in the ditches" they dig.
"Now we have Manbij and the east of the Euphrates in front of us. We are working intensively on this subject," he was quoted as saying by Anadolu news agency.
"Right now it is being said that some ditches, tunnels were dug in Manbij and to the east of the Euphrates. They can dig tunnels or ditches if they want, they can go underground if they want, when the time and place comes, they will buried in the ditches they dug. No one should doubt this."
US soothes Iraq concerns
In another development on Saturday, US Secretary of State Mike Pompeo told Iraqi Prime Minister Adil Abdul-Mahdi that Washington would continue operations in the Arab country despite the Syria exit.
Full report at:
https://www.presstv.com/Detail/2018/12/22/583634/France-Syria-SDF
--------
US jets kill dozens in Syria after Trump announces pullout
Dec 22, 2018
The US and its allies have conducted air raids on Syria's eastern Dayr al-Zawr province, killing more than two dozen people, including eight children.
The so-called Syrian Observatory for Human Rights (SOHR) said the deadly strikes hit the village of al-Sha'afa, situated on the eastern bank of the Euphrates River, on Friday.
"At least 27 people were killed this morning in al-Sha'afa," SOHR head Rami Abdel Rahman said, adding that several people were seriously injured in the US-led coalition attacks.
He further noted that eight children were among the civilian victims of the airstrikes.
Al-Shaafa and Hajin are the two main villages in the last pocket of territory still occupied by the Daesh Takfiri terrorist group in Dayr al-Zawr near the Iraqi border.
The Syrian army managed to liberate Dayr Al-Zawr city from the grip of Daesh in November 2017.
The US and its allies have been bombarding what they call Daesh positions inside Syria since September 2014 without any authorization from the Damascus government or a UN mandate.
The aerial assaults have failed to fulfill their declared aim of countering terrorism, but destroyed much of Syria's infrastructure and left many civilian casualties.
The fresh US air raids came two days after President Donald Trump announced an abrupt decision to pull out American troops from Syria after claiming victory over Daesh there.
The Pentagon also confirmed that it had started the process of withdrawing all 2,000 American troops from Syria
Trump's announcement, however, raised concerns among Washington's European and regional allies, which have long been supporting a myriad of anti-Damascus militants.
Full report at:
https://www.presstv.com/Detail/2018/12/22/583600/Syria-Dayr-Zawr-strike
--------
Mideast
Netanyahu: Erdogan, occupier of northern Cyprus, should not preach to Israel
22 December 2018
Israeli Prime Minister Benjamin Netanyahu had some harsh words for Turkey's president on Saturday, saying Recep Tayyip "Erdogan – the occupier of northern Cyprus, whose army massacres women and children in Kurdish villages, inside and outside Turkey – should not preach to Israel".
https://english.alarabiya.net/en/News/middle-east/2018/12/22/Netanyahu-Erdogan-occupier-of-northern-Cyprus-should-not-preach-to-Israel.html
--------
Coalition: Houthis violated Hodeidah ceasefire 14 times in the past 24 hours
22 December 2018
The Arab Coalition supporting legitimacy in Yemen has said that the Houthi militias have violated the ongoing ceasefire in Hodeidah at least 14 times during the past 24 hours.
"Houthi violations included shooting with all types of weapons such as ballistic missiles, mortar, RPG and Katyusha rockets," a statement read.
"The Houthi terrorist militia continues to violate the ceasefire in Hodeidah. Those violations took place on the areas of Hodeidah as well as the districts of Ad Durayhimi, At Tuhayta, Hays," it added.
Such Houthi violations have continued and are concurrent with the arrival of the head of a UN mission monitoring a ceasefire in Yemen's Hodeidah in Aden airport on Saturday.
https://english.alarabiya.net/en/News/gulf/2018/12/22/Coalition-Houthis-violate-Hodediah-ceasefire-14-times-in-the-past-24-hours.html
--------
Ankara investigates over terrorism ex-Gul advisor, author of book on AKP
22 December 2018
A Turkish prosecutor in Istanbul started an investigation against an advisor to former Turkish President Abdullah Gul over charges of being a member of a terrorist organization, T24 news site reported on Friday.
The prosecutor did not give more information against the former advisor, Ahmet Sever, T24 said.
The outlet added that, three weeks ago, prosecutors have also filed four separate lawsuits against Sever for his book about tensions inside the ruling Justice and Development Party (AKP) titled "My testimony."
Ahvalnews said that Sever previously published another book titled "12 Years with Abdullah Gul," in which he covered the conflict between Gul and Turkish President Recep Tayyip Erdogan.
Full report at:
https://english.alarabiya.net/en/News/world/2018/12/22/Ankara-investigates-over-terrorism-ex-senior-official-who-wrote-a-book-on-AKP-.html
--------
Iran: US troops 'wrong from start, source of tension'
Dec 22, 2018
Iran says the US military presence in the region has been "wrong and a source of tension" after President Donald Trump announced plans to withdraw troops from Syria and Afghanistan.
"From the start, the entry and presence of American forces in the region has been a mistake, illogical and a source of tension and inflammation, and a main cause of instability and insecurity," Foreign Ministry spokesman Bahram Qassemi said Saturday.
In a reversal from previously stated US policy, President Trump on Wednesday ordered a "full" and "rapid" withdrawal of US troops from Syria as he vowed the United States would no longer be the "policeman of the Middle East".
On Friday, the US president was reported to have ordered the start of withdrawing some 7,000 troops from Afghanistan, about half of the total number of American boots on the ground in the war-torn country.
The United States currently has around 2,000 forces deployed in Syria in two areas along the Turkish and Iraqi borders.
In Afghanistan, the US currently has a contingent of roughly 14,000 troops, besides 16,000 NATO and allied forces.
"A detailed study of the history of the region's developments over the past decades also shows that the presence of an external element under various excuses in this sensitive and important area has had no result except tension, insecurity, and escalation of differences," Qassemi said.
The US has repeatedly come under criticism from the regional governments for targeting civilians and destroying their infrastructure.
US troops have been deployed to Syria without the country's consent and a UN mandate.
Afghanistan came under the US invasion in 2011 with the purported aim of toppling the Taliban but the militant group is now stronger than even and engaged in peace talks with the Americans.
Full report at:
https://www.presstv.com/Detail/2018/12/22/583639/Iran-Syria-Afghanistan-US-troops-Middle-East
--------
Pakistan
Pakistan Army Backs Peace Efforts, "Fight Against Hunger, Disease And Illiteracy, Then To Fight Against Each Other"
Imran Ayub
December 23, 2018
KARACHI: In its take on Pakistan's peace overtures to India, the army on Saturday showed its support to resolve all issues with the neighbouring country on the table, seeing new government's utmost sincerity in taking the initiative that it said should not be taken as its weakness.
The resolve came from the top military command as Chief of the Army Staff (COAS) General Qamar Javed Bajwa during his address to a passing-out parade also called for "fight against hunger, disease and illiteracy, then to fight against each other".
While addressing the passing-out parade of 110th Midshipmen and 19th Short Service Course at Naval Academy, the COAS touched upon key issues related to the country's defence and modern technology transforming the nature of warfare and warned that the "unannounced war against us" was yet to be over.
"Pakistan is a peace-loving country and believes in peace within and peace without," the army chief said.
"Wars bring death, destruction and misery for the people. Ultimately, all issues are resolved on the table through negotiations that is why we are trying very hard to help bring a lasting peace in Afghanistan by supporting Afghan-led and Afghan-owned peace plan. Similarly, our new government has extended a hand of peace and friendship towards India with utmost sincerity but it should not be taken as our weakness. Peace benefits everybody. It is time to fight against hunger, disease and illiteracy, then to fight against each other."
Before sharing his thoughts about relations with the neighbouring countries, Gen Bajwa narrated the armed forces' sacrifices to restore peace to the country and warned the young naval personnel about the challenges ahead. "Please remember, we are yet to get out from terrorism or sabotage phase of an unannounced war against us that the subversion phase has also started," he said.
"Like the terrorists before, the protagonists of the new threats are, at times, our own people. Mostly misguided by ambitions, blinded by hate, ethnicity or religion or simply overawed by social media onslaught, some of our own boys and girls readily fall victim to such dangerous or hostile narratives."
The response to such onslaughts or threats could not always be kinetic in nature, he said, suggesting the armed forces to deal with them in cognitive domain by producing or propagating a superior narrative. "But this can only happen if you have developed the ability to handle unwarranted criticism with patience and possess better intellectual skills to respond to such threats with logic and reasoning. You will be required to lead your troops, who rank amongst the finest in the world, into the battlefield with full zeal and confidence," he said.
The COAS highlighted the need for adopting technologies amid growing advancement in science and technology, fast-changing faces of war threats and long-lasting impact of modernisation. "Modern technology has transformed the nature of warfare and has tilted the balance squarely, in favour of those nations that have embraced the change readily," he said.
Gen Bajwa told the young navy men to keep themselves "abreast with the latest developments in the field of science, technology and warfare. But frankly speaking, even that will not be sufficient as the ever-increasing threat of hybrid war, to which we are subjected to, will need a totally new approach and change of traditional mindset.
"Therefore, you have to prepare and enable yourself to read the environment, gauge the enemies' latest moves and be ready to respond, even when a surgical strike exists only in cognitive domain or media or even when the attack comes, not in the battlefield but in cyber space, or against country's ideological frontiers."
https://www.dawn.com/news/1453068/army-backs-peace-efforts-asks-india-to-fight-hunger-first
--------
Despite being freed of blasphemy charges, Asia Bibi to spend Christmas in custody
Dec 23, 2018
Pakistani Christian Asia Bibi will celebrate Christmas under guard, despite being cleared of the blasphemy charges that kept her in jail since 2010.
Bibi -- a former labourer who was on death row for eight years -- remains a prime target in conservative Muslim-majority Pakistan, with extremists calling for her blood and the government refusing to reveal her location out of fear for her safety.
"It's too dangerous... People want to kill her," said Yousaf Hadayat, a resident from one of Islamabad's impoverished Christian ghettos, littered this week by a smattering of Santa hats and Christmas trees.
Security this Christmas, like many before it, will be tight with the government set to deploy armed forces to the Christian colonies.
Residents say they feel more uneasy than ever during the religious holiday while Bibi's fate continues to loom large.
"We're afraid," said Pastor Munawar Inayat at Holy of Holies Church in Islamabad. "We can't speak against anyone."
The Supreme Court overturned Bibi's death sentence for blasphemy in October, and she has legally been a free woman ever since.
But the ruling ignited days of violent demonstrations that paralysed large swathes of the country, with enraged Islamists calling for her beheading, mutiny within the powerful military and the assassination of the country's top judges.
The government has since launched a crackdown on the Tehreek-e-Labaik Pakistan (TLP) party -- the Islamist group driving the violent protests -- charging its leaders with sedition and terrorism.
But authorities also struck a deal with the protesters to end the violence, forming an agreement which included allowing a final review of the Supreme Court's judgement.
Bibi, who is seeking asylum abroad, is believed to be in protective custody inside Pakistan as the review continues.
But there is no clear timeline for when it will be completed.
A government spokesman refused to comment on its status, saying only that the matter is with the court.
Analyst Fasi Zaka warned that the longer Bibi remains in limbo, the greater the danger. "For some elements if they don't have access to Asia Bibi they'll find stand-ins for their vengeance," he told AFP.
- 'Lightning rod' -
Blasphemy continues to be a massively inflammatory issue in Muslim-majority Pakistan, where even unproven accusations of insulting Islam can spark lynchings.
Many cases see Muslims accusing Muslims. But rights activists have warned that minorities -- particularly Christians -- are often caught in the crossfire, with blasphemy charges used to settle personal scores.
"This is a lighting rod issue that affects a whole community," said Zaka.
The allegations against Bibi date back to 2009, when a fight erupted between her and fellow Muslim labourers, who later accused Bibi of blasphemy. She was convicted under Pakistan's controversial anti-blasphemy laws and in 2010 sentenced to death.
Since her acquittal speculation has been rife that an asylum deal with a European or North American country may be in the works.
Many residents of the 100 Quarters Colony in Islamabad cautioned against Bibi's release, saying her safety would only be guaranteed once she was granted asylum in a foreign country.
"No, no. She cannot stay," said resident Hadayat.
Polio campaign worker Shahnaz Arif argued against Bibi's ongoing custody. "We should get the same freedom that others enjoy," she said.
Even so she admitted she was afraid, citing Pakistan's long history of political assassinations, including some over blasphemy.
"There is not enough security for our leaders -- we are just poor citizens," she explained.
- Blacklisted -
Christians -- who make up around two percent of the population -- occupy one of the lowest rungs in class-obsessed Pakistani society, largely living in slums and working menial jobs as street sweepers, cleaners and cooks.
The tension comes as Washington added Pakistan this month to a blacklist of countries that it says wantonly violate religious freedom, citing the country's high number of blasphemy convictions and failure to hold perpetrators targeting religious minorities to account.
Islamabad later dismissed the US move as politically motivated.
Back in the 100 Quarters Colony, residents said their thoughts were with a mother who has already spent many Christmases in solitary confinement.
"Christmas is celebrated with near and dear ones, and not in custody," said Christmas decoration seller Amjab Burgkat.
Full report at:
https://www.hindustantimes.com/world-news/despite-being-freed-of-blasphemy-charges-asia-bibi-to-spend-christmas-in-custody/story-iLNLBCOGTVzHTFgARQGhmM.html
--------
Detention camps: Why Pakistan is silent about plight of fellow Muslims in China
Dec 22, 2018
ISLAMABAD/JAKARTA: Hundreds of Muslims held a rally outside the Chinese embassy in the Indonesian capital, Jakarta, on Friday to protest against the treatment of members of the mostly Muslim ethnic Uighur minority in China's far western Xinjiang region.
Up to 1 million ethnic Muslims in China's Xinjiang region are estimated to be detained in camps where they are subjected to political indoctrination and pressured to give up their religion.
The United Nations called for the immediate release of those detained on the "pretext of countering terrorism".
China says Xinjiang faces a threat from Islamist militants and separatists. It rejects all accusations of mistreatment and denies mass internment, although Chinese officials have said some citizens guilty of minor offences were being sent to vocational centres to work.
China worries that Uighurs, who speak a Turkic language, have gone to places like Afghanistan, Pakistan, Syria and Iraq to fight for militants.
China describes the sites as vocational centers and says the trainees work voluntarily.
Why Pakistan defends China over detention camps A day before Indonesian protests, Pakistan defended China against a growing outcry over Muslims who are being detained by Chinese authorities, saying the issue was being "sensationalised" by foreign media.
"Some faction of foreign media are trying to sensationalise the matter by spreading false information," Mohammad Faisal, spokesman for Pakistans ministry of foreign affairs, told reporters at a weekly press briefing in Islamabad on Thursday.
Pakistanis often rally loudly in defense of Islam and Muslims whenever they are perceived offended around the world — most recently over cartoons depicting the Prophet Muhammad. In 1989, protests spread from Pakistan elsewhere, leading to the fatwa by Iran's Ayatollah Ruholla Khomeini against author Salman Rushdie for his depiction of Islam in his book Satanic Verses.
But political and economic factors, including concerns about losing out on vast Chinese investments, have kept Pakistan and other Muslim countries silent about the plight in China of fellow Muslims, the Uighurs.
"Cold, hard interests will always carry the day" in international relations, said Michael Kugelman, deputy director of the Asia Program at the Washington-based Wilson Center.
"The Muslim world's deafening silence about China's treatment of Muslims can be attributed to its strong interest in maintaining close relations with the world's next superpower," he added.
China is financing major development projects in cash-strapped Pakistan. Islamabad says the $75 billion development project known as the China-Pakistan Economic Corridor — part of an effort to reconstruct the historic Silk Road linking China to all corners of Asia — will bring new prosperity to Pakistan, where the average citizen lives on just $125 a month.
Mushahid Hussain, chairman of Pakistan's Senate Foreign Affairs Committee, said the cardinal principle of Pakistan-China relations is to refrain from commenting on anything to do with the other's domestic issues.
Full report at:
https://timesofindia.indiatimes.com/world/pakistan/detention-camps-why-pakistan-is-silent-about-plight-of-fellow-muslims-in-china/articleshow/67209053.cms
--------
Will 'show Modi govt how to treat minorities', says Pakistan PM Imran Khan
Dec 22, 2018
LAHORE: Pakistan Prime Minister Imran Khan on Saturday said he will "show" the Narendra Modi government "how to treat minorities", amidst a controversy over Bollywood actor Naseeruddin Shah's remarks on mob violence in India.
Shah finds himself at the centre of a major controversy over his remarks on the spate of mob lynching cases in India following the killing of a policeman in Uttar Pradesh's Bulandshahr district earlier this month.
Addressing an event to highlight the 100-day achievements of the Punjab government in Lahore, Khan asserted that his government is taking steps to ensure that religious minorities in Pakistan get their due rights, which was also a vision of the country's founder Muhammad Ali Jinnah.
Khan said his government will make it sure that the minorities feel safe, protected and have equal rights in 'New Pakistan'.
"We will show the Modi government how to treat minorities...Even in India, people are saying that minorities are not being treated as equal citizens," he said referring to Shah's statement.
In a video interview with Karwan-e-Mohabbat India, the veteran actor said the death of a cow was being given importance over killing of a policeman in India.
He said the "poison has already spread" and it will be now difficult to contain it.
"It will be very difficult to capture this djinn back into the bottle again. There is complete impunity for those who take law into their own hands...I feel anxious for my children because tomorrow if a mob surrounds them and asks, 'Are you a Hindu or a Muslim?' they will have no answer. It worries me that I don't see the situation improving anytime soon," Shah added.
The Pakistani premier said if justice is not given to the weak then it will only lead to uprising.
Giving an example, he said, "The people of East Pakistan were not given their rights which was the main reason behind the creation of Bangladesh."
Full report at:
https://timesofindia.indiatimes.com/world/pakistan/will-show-modi-govt-how-to-treat-minorities-says-pakistan-pm-imran-khan/articleshow/67209813.cms
--------
Afghan war helped Pakistan keep nuclear option: US papers
Anwar Iqbal
December 23, 2018
WASHINGTON: Torn between preventing Pakistan from going nuclear and fighting the Soviets in Afghanistan, the United States appears to have decided that pushing the Russians out of Kabul was more important, shows a set of documents released by the US State Department.
Official US memos and letter — released under an arrangement to make public official documents after 30 years — show that Chinese leader Deng Xiaoping (in office from 1978 to 1989) also played a key role in convincing Washington to continue to support Islamabad despite its nuclear programme.
Timeline: History of US-Pakistan relations
A confidential State Department report, dated Aug 20, 1984, shows that by 1984 Washington knew Islamabad had acquired the capability to build nuclear weapons.
"Despite public and private assurances by President Zia (ul Haq) that Pakistan has neither the intention, means, nor capability to acquire nuclear explosives, we have extensive and convincing intelligence that the Pakistanis are pressing forward to perfect the design of a nuclear weapon, fabricate nuclear weapon components, and acquire the necessary nuclear material for such a device," the report says.
Going nuclear: 1990-1993/1997-1999
"Recent progress in Pakistan's uranium enrichment programme may … soon create a situation in which we could not rule out the possibility that Pakistan was taking all of the steps required to assemble a nuclear device, or even to stockpile nuclear weapons."
The document notes that the development forced Washington to make "a stark choice" between: (1) Acquiescing in Pakistan's nuclear activities and thus incurring almost certain Congressional action against US security assistance to Pakistan, the possibility of an Indian pre-emptive strike against the Pakistani nuclear facilities, and seriously undermining the credibility of US global non-proliferation policy. (2) Terminating the US-Pakistan security relationship, thereby imperilling the Afghan resistance to Soviet occupation, doing grave and long-term harm to US political and security interests in Southwest Asia and with China, and convincing Pakistan it had nothing further to lose by building nuclear weapons or even conducting a nuclear test.
"Either outcome would constitute a serious foreign policy defeat," the report warns.
It notes that Washington concluded a $3.2 billion, six-year security and development assistance package with Pakistan to obtain its restraint in the nuclear area. Washington also hoped that a security relationship with the US would "eventually convince Pakistan, that it could forego a nuclear weapons option".
Other documents show that Deng Xiaoping not only convinced Washington to tolerate Pakistan's nuclear programme but also persuaded it to start giving more military and financial aid to Islamabad.
Deng worked closely with Zia to convince the then Jimmy Carter administration that India under Prime Minister Indira Gandhi would be pro-Soviet.
"There are limits on our ability to aid Pakistan because of their nuclear explosive programme. Although we still object to their doing so, we will now set that aside for the time being, to facilitate strengthening Pakistan against potential Soviet action," the then US Defence Secretary Harold Brown said in a Jan 8, 1980 meeting with Deng.
The documents show that the Chinese leader called this "a very good approach", telling Washington that "Pakistan has its own reasons for developing a nuclear programme".
Deng points out that India started the nuclear race in South Asia, causing Pakistan to start its own programme.
"Pakistan has its own arguments, i.e., India has exploded a nuclear device but the world has not seemed to complain about this," Deng told Brown.
"So, now you have decided to put this aside and solve the question of military and economic aid to Pakistan. We applaud this decision," said Deng.
He also convinced the US not to equate India and Pakistan when it comes to giving aid.
"You may recall that I raised the question of aid to Pakistan with President Carter. He said the US will give aid in proportion to the population of the two countries. I said this was not feasible."
Deng explained to Brown why he thought it was a bad idea.
Afraid of each other
"The Pakistanis and Indians are afraid of each other. If the population ratio formula should be used, Pakistan will be in an increasingly inferior position. We hope that since the United States decided to give aid to Pakistan, it will really satisfy Pakistan's requirements. We hope your aid to Pakistan will not be affected too much by India's reaction," he said.
"With regard to question of South Asia, there is no other way except giving aid to Pakistan. It has always been our view that the US policy giving more attention to India than Pakistan is not an appropriate policy."
Deng argues that India was not a stabilising factor. Perhaps you already know the general election results," he said. The elections brought Indira Gandhi to power.
"Perhaps after Pakistan has been strengthened, India will become a more stabilising factor. What one should try to achieve is to make Pakistan a genuine stabilising factor in South Asia," he argued.
Urging the United States to "give earnest and sincere thought" to this question," Deng says, "If one does not keep this clear in one's mind, then one's attitude toward India will make one vacillate in one's position toward Pakistan."
Deng notes that in the past the US had refrained from, perhaps under Indian influence. "Since you now have decided to aid Pakistan, I am sure India will send you one note after another, strongly objecting," he added.
Another memo of a Jan 14, 1980, meeting between Zia and the then US ambassador to Pakistan, shows the general urging Washington to ignore its nuclear programme because Pakistan was playing a key role in the Afghan war.
President Carter's statement of Jan 4 "gives impression that nuclear issue need not be an obstacle, and Pakistan needs to know precisely what America proposes to do to help Pakistan," Zia was quoted as saying in a readout of the meeting.
https://www.dawn.com/news/1453065/afghan-war-helped-pakistan-keep-nuclear-option-us-papers
--------
Govt committed to reducing CAD, poverty alleviation: Imran
December 23, 2018
LAHORE: The government is committed to providing the industry an enabling environment for wealth creation to progress, reduce the current account deficit (CAD), alleviate poverty and add to respect of the country in comity of nations, Prime Minister Imran Khan said on Saturday.
Addressing the members of business community at the office of Pakistan Textile Mills Association (Aptma), the prime minister said his commitment to improving industry in Pakistan is two pronged: it can generate wealth and reduce CAD which is hurting the economy.
"Pakistan, somehow, developed a mindset in the 70s that all wealth creation is a bad thing and it still persists in the bureaucratic and political circles, hindering growth. We tend to confuse profit making and profiteering. The former is legitimate and later is bad. Two big leaders – Mahatir Muhammad of Malaysia and Sheikh Muhammad of the UAE – told me the same thing: let people make money and the country would grow. The Chinese, who had taken 700 million people out of poverty in three decades, also praised virtues of wealth creation in their numerous presentations to us. That is what the PTI government now wants," he told his audience.
"For this, the government would ensure that the industry stays competitive in the world. If industry in other countries gets subsidised gas and electricity, so would the industry in Pakistan. If it is facing rebates and refunds issues, that would be solved. The government is currently facing some fiscal crunch and may not be able to solve all these issues in one go. However, it stays committed to solve all these problems for the industry," PM Khan assured the Aptma leadership.
"The world sees Pakistan and its potential differently. They see 220 million people as wealth and also know that once Pakistan is able to improve its governance system, it has immense potential. For that potential, friends are ready to help us, and they doing as well. But such financial help should, and can, only be a one-time activity because it fringes upon our sovereignty. Luckily, there are no strings attached to the money received by Pakistan because it came from friends: it rather helped Pakistan improve its image by being cast into a role of a peacemaker. Recently, we helped the USA by arranging a historic meeting with Taliban. It has helped in Saudi-Yemen crisis and now plans to concentrate on Saudi-Iranian troubled relations. It was only because of friends, otherwise seeking such financial aid is a bad omen for a country. That is where PTI government needs help of the industry," he said.
Full report at:
https://www.dawn.com/news/1453083/govt-committed-to-reducing-cad-poverty-alleviation-imran
--------
US withdrawal from Afghanistan will help further peace process, says Qureshi
Dec 23, 2018
MULTAN: Foreign Minister Shah Mahmood Qureshi on Saturday welcomed US President Donald Trump's decision regarding the withdrawal of troops from Afghanistan and reiterated Pakistan's desire for peace in the region.
Talking to journalists, the foreign minister said the decision [of US troops withdrawal] will help further the ongoing peace talks being held in UAE between the Afghan Taliban and the US.
The US has about 14,000 troops in Afghanistan working either with a NATO mission to support Afghan forces or in separate counter-terrorism operations.
The Wall Street Journal reported that more than 7,000 troops would be returning from Afghanistan.
Qureshi said Pakistan has also released some [Afghan Taliban] prisoners so that "an enabling environment" conducive to the talks can be created.
He asserted that Pakistan will continue to play whatever role it can play to support the Afghan peace process.
Regarding the worsening of the situation in occupied Kashmir, the foreign minister said Pakistan had raised the issue with the United Nations about the use of excessive force by Indian troops and the violation of human rights in the occupied region.
"Two days ago, Prime Minister Imran Khan spoke to the UN secretary general and urged him to play his role and investigate the matter," said Qureshi.
There was a growing sense of alienation among the people [of Kashmir] and things were not getting any easier, he added.
"If achieving success was possible with the use of force, it would have been attained by now. But the use of force [by India] is only worsening the situation in occupied Kashmir," he maintained.
The foreign minister dismissed the idea that talks were underway to secure the release of Dr Shakeel Afridi in exchange for Dr Aafia Siddiqui.
When asked to express his views regarding the fact that Nawaz Sharif might celebrate his birthday in jail, following the Supreme Court verdict due on Monday, Qureshi said: "I am of the view that there is a legal process through which they [the Sharifs] have presented their stance. They were given complete chance [to defend themselves] in the Supreme Court, before the JIT, and then the accountability court. Furthermore, their lawyers appeared before the court, submitted all documentation, and arguments were presented."
Full report at:
https://www.pakistantoday.com.pk/2018/12/22/us-withdrawal-from-afghanistan-will-help-further-peace-process-says-qureshi/
--------
Pakistan boosts security for Christmas celebrations
December 21, 2018
Police in Pakistan are increasing security measures to protect Christians attending Christmas celebrations.
Christians in the Punjab city of Lahore — where churches have been targeted by suicide bombers in the past — have been assured by police they will be provided extra security during Christmas.
Police Captain retd. Mustansir Feroz told church officials at a meeting in Lahore last week that police are focusing on sensitive areas.
"Along with patrols and search operations, we will do mock exercises at churches declared sensitive and at entertainment parks," Feroz said.
He said CCTV cameras were being installed at specific entrance points to monitor any suspicious activity.
"Vehicle parking areas for people going to church will be at least 100 meters away from the church itself," he said in describing other security precautions.
In 2015, fifteen people were killed and more than 70 injured when two Taliban suicide bombers attacked churches during Sunday services in Lahore. Islamic terrorists targeted Christians at a Lahore park during Easter, 2017. At least 72 people were killed in the bomb attack.
Islamabad-Rawalpindi
More than 1,500 police will be deployed in the twin cities of Islamabad-Rawalpindi also in northern Punjab to provide extra security for Christians during the Christmas period.
Father Qaisar Feroz, executive secretary of the Pakistan Catholic Bishops' Conference, told ucanews.com that local Catholics appreciate police efforts during this busy period.
"Christmas and New Year Prayer meetings attracts three times as many people than usual," Father Feroz said. "My parish is preparing to host more than 1,000 people for Christmas Midnight Mass," he said.
Anthony Naveed, a Catholic and a member of the Sindh provincial assembly, is working with government and police officials in the southeastern province to ensure proper security arrangements are in place for Christmas.
"Hearing the concerns of church leaders the police have organized training for young men to serve as security officials during the Christmas prayer services," Naveed told ucanews.com.
Full report at:
https://www.ucanews.com/news/pakistan-boosts-security-for-christmas-celebrations/84182
--------
Africa
Over a dozen killed in al-Shabab attacks in Somalia
Dec 22, 2018
Al-Qaeda-linked al-Shabab militants have claimed two deadly attacks close to the presidential palace in the Somali capital Mogadishu.
Somali police officials said the first explosion took place at a checkpoint outside Mogadishu's national theater, some 500 meters from the president's heavily fortified residence, sending a plume of smoke into air.
The second blast, more powerful and described as "very big" by witnesses, came minutes later at a nearby crossroads. At least 13 people were killed in the attacks.
"The first suicide car bomb at the checkpoint killed five people mostly security soldiers. Four others were injured. Death toll may rise. It is too early to have details of second blast," Major Mohamed Hussein told Reuters.
Police said a lawmaker, a deputy mayor of Mogadishu, and a colonel are among those killed.
A witness at the scene of the second blast said he saw at least two dead bodies, with al-Shabab Takfiri terrorist group announcing that the attack was aimed at targeting those who had responded to the first.
"We have confirmed seven people died in the two blasts and more than ten others wounded," local police spokesman Ibrahim Mohamed said. "The security forces have cordoned off the area and an investigation is ongoing."
Somalia's London-based Universal TV said three of its staff were among the fatalities in the Saturday twin blasts.
The al-Qaeda-linked militant outfit, which has long sought to topple Somalia's Western-backed government, was forced out of Mogadishu by African Union forces in 2011.
Al-Shabab militants have stepped up their attacks in the past months, launching attacks on civilian and government targets and killing and injuring many people.
The terrorist group has fought successive Somali governments as well as neighboring governments in Kenya and Uganda.
African Union forces have helped Somali government forces push the Takfiri terrorists out of the capital, Mogadishu, and large parts of the south and central Somalia. However, al-Shabab continues deadly attacks across the country.
https://www.presstv.com/Detail/2018/12/22/583633/Somalia-Mogadishu-car-bomb-attacks-Shabab
--------
Somalia blast kills at least 16 near presidential palace
22 December 2018
An explosives-packed vehicle detonated at a military checkpoint near Somalia's presidential palace, killing at least 16 people and wounding more than 20 others, police said. The al-Qaeda-linked al-Shabaab extremist group, which often targets Mogadishu, claimed responsibility for the attack.
Those killed include three staffers from the London-based Universal TV station, including prominent journalist Awil Dahir Salad, said police Capt. Mohamed Hussein, who gave the toll of dead and wounded.
The bomber targeted the checkpoint near the rear entrance of the heavily fortified palace, Hussein said. A lawmaker and a deputy mayor of Mogadishu were among those wounded, he said.
Soldiers also were among the dead, Col. Ahmed Mohamud said.
The blast and a second, smaller one nearby appeared to target those heading to work on what was a business day in the Horn of Africa nation.
A plume of smoke rose over the capital as ambulances rushed to the scene.
"At first I saw a vehicle driving to and fro, then we tried to stop people walking here and there, and then in the blink of an eye the vehicle exploded, causing havoc," traffic police officer Mohamed Harun told The Associated Press.
Al-Shabaab, the most active Islamic extremist group in sub-Saharan Africa, was pushed out of Mogadishu years ago but continues to control large parts of rural southern and central Somalia.
Full report at:
https://english.alarabiya.net/en/News/world/2018/12/22/Somalia-blast-kills-at-least-16-near-presidential-palace.html
--------
Nearly 300 migrants rescued off Libya: Aid group
December 21, 2018
MADRID: A migrant group said Friday it had rescued nearly 300 migrants off the coast of Libya over the previous 24 hours.
"More than 300 people safe on board the #OpenArms," the Proactiva Open Arms organization tweeted.
The organization added that it had rescued people on board three vessels in difficulty in a single day.
The vessel started patrolling the Mediterranean with two other boats run by migrant aid groups off the Libyan coast in late November.
This area of the Mediterranean has been the most deadly for migrants attempting the crossing to Europe.
More than 1,300 migrants have perished trying to reach Italy or Malta since the beginning of the year, according to the International Organization for Migration.
Aid groups have been sending rescue vessels into these waters despite vocal opposition from Italy's far-right Interior Minister Matteo Salvini.
Accusing the groups of acting as a "taxi service" for migrants, he has denied them access to the country's ports. Malta too, has been increasingly unwilling to host rescue vessels.
Another aid group meanwhile, Sea-Eye from Germany, announced Friday that one of its vessels was setting off from the southern Spanish port of Algeciras.
The 18-strong crew includes former volunteers who were on board the Aquarius, a rescue boat run by Doctors Without Borders (MSF) and SOS Mediterranee.
Full report at:
http://www.arabnews.com/node/1424381/middle-east
--------
Nigerian daily rates Erdogan muslim personality of 2018
Dec 23, 2018
A Nigerian Islamic newspaper rated Turkey's President Tayyip Erdogan 'Global Muslim Personality of 2018', praising the leader for standing up for the rights of Muslims worldwide
Rasheed Abubakar, the publisher of the Muslim News Nigeria, said the choice of Erdogan as the winner of the Global Muslim Personality award was "undisputable" going by the influence and power he wields - both within the Muslim world and in the international community.
Erdogan also has a large number of supporters among Nigerian Muslims, Abubakar added.
"Erdogan is famously referred to as the Amir-ul-Mu'mineen (the Leader of the Believers) for his consistent advocacy for the voiceless and defenseless Muslims all over the world, despite the campaign of calumny by distractors in the global media," Abubakar said.
He said Erdogan took the initiative and accused Israel of "willful murder" of Palestinians despite the entire Muslim world kept silent.
"This same man has on several occasions called on the Muslim world to protect the Rohingya and Uighur Muslims against the government of their countries in Myanmar and China.
"He didn't just talk or shout to cover-up, he walked the talk by providing humanitarian assistance for millions of oppressed Muslims," he added.
Abubakar said the criteria for picking the winners include their overall positive campaign on the rights of Muslims worldwide.
Full report at:
https://www.aa.com.tr/en/africa/nigerian-daily-rates-erdogan-muslim-personality-of-2018/1346206
--------
Sudan national security head says citizens have right to protest, without violence
22 December 2018
Demonstrations on Saturday spread to the western Sudanese city of Al-Rahad. Protesters set fire to the headquarters of the ruling party while Sudanese authorities warned protesters against resorting to violence and sabotage.
This comes as the head of the Sudanese national security and intelligence service, Salah Qosh, admitted the existence of harsh living circumstances suffered by citizens, stressing the right of citizens to refuse, and express it, stating at the same time that violence and vandalism will not be tolerated.
Qosh told reporters that the police used live ammunition agaionst the demonstrators after they tried to enter the police headquarters. He also stressed that the government will not lift subsidies on flour and fuel, while covering up the crises that resulted from problems in management and distribution.
At least one protester was killed in the northern Sudanese city of Atbara on Friday, the security chief said, as people took to the streets across the country for a third day against price rises and corruption.
Full report at:
https://english.alarabiya.net/en/News/middle-east/2018/12/22/Sudan-national-security-head-says-citizens-have-right-to-protest-without-violence.html
--------
URL: https://www.newageislam.com/islamic-world-news/denmark-passes-muslim-focused-law/d/117239
New Age Islam, Islam Online, Islamic Website, African Muslim News, Arab World News, South Asia News, Indian Muslim News, World Muslim News, Women in Islam, Islamic Feminism, Arab Women, Women In Arab, Islamophobia in America, Muslim Women in West, Islam Women and Feminism