New Age Islam News Bureau
6 Jul 2018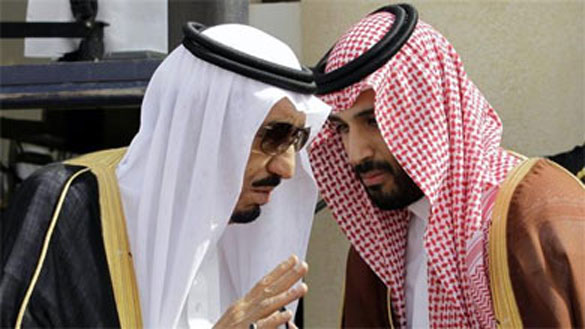 Saudi King Salman (L) and Crown Prince Mohammed bin Salman, Saudi Arabia is keeping dozens of people, including one prince, who were arrested in a so-called anti-corruption purge last November
-----
• Denied Visa for Seminar: Scholars Protest Exclusion of Speakers from Pakistan
• Saudi Still Detaining Dozens, Including One Prince, From 'Corruption' Purge
• We Can Talk but Doesn't Mean I Agree, Malaysia's Religious Minister Tells LGBT, Shias, and Ahmadis
• Israeli Top Court Suspends Bedouin Village Demolition Plan
India
• Denied Visa for Seminar: Scholars Protest Exclusion of Speakers from Pakistan
• Hurriyat leader Shahid-ul-Islam's Daughters Invoke PM Modi's 'Beti Bachao, Beti Padhao' Slogan to Seek Father's Release
• Ayodhya temple-mosque land dispute case: Hearing to resume in Supreme Court today
• India says it has made a formal request for extradition of Islamic preacher Zakir Naik
• Prakash Javadekar justifies queries to Aligarh Muslim University on quotas
--------
Arab World
• Saudi Still Detaining Dozens, Including One Prince, From 'Corruption' Purge
• Several Tons of West-Made Arms, Equipment Seized from Militants in Dara'a
• Arab Parliament lauds KSRelief efforts to rehabilitate Yemeni child soldiers
• UN refugee agency urges Jordan to allow in Syrians fleeing air strikes
• US Dispatches More Military Aid to SDF in Hasaka
• Syrian Army Regains Control over Several Key Regions in Dara'a
• Several US, SDF Forces Killed in Deir Ezzur
--------
Southeast Asia
• We Can Talk but Doesn't Mean I Agree, Malaysia's Religious Minister Tells LGBT, Shias, and Ahmadis
• Follow Law or Face Action: Malaysia to Naik
• Johor to Ease First-Time Wedding Woes for Muslim Couples
• Minister Seeks 'Apolitical' Malay Rulers' Backing for Islamic Policies
• Why Aceh Governor Won't Be Charged Under Sharia for His Alleged Crime
--------
Mideast
• Israeli Top Court Suspends Bedouin Village Demolition Plan
• Houthis Reject UN Proposal to Withdraw from Yemen's Hodeidah City and Port
• Sunni-Muslim Scholar Shot Dead In South-eastern Iran
• Israel extends detention of Palestinian MP
• One Killed, 19 More Wounded in Bomb Blast at Anti-Turkey Protest in Manbij
• Arab Coalition shoots down a Houthi drone in Yemen's Aden
• Israel blocks EU diplomats from visiting Bedouin village
• Scores of Saudi mercenaries' slain, injured in Yemeni drone strike
--------
Pakistan
• Pakistan Foreign Office Hopes Afghan Taliban Will Accept Kabul Talks Offer
• Pakistan Not Solely Responsible For Bringing Taliban to Table
• The world needs to unite against terrorism: Syed Ali Zafar
• Islamabad on high alert as court decides on Sharifs' plea seeking delay in Avenfield verdict
• Adiala jail is waiting for Nawaz Sharif: Imran
• Benazir dedicated her life to the cause of democracy, fought two dictators: Bilawal
• Quetta ATC acquits 15 accused in multiple bombings case
• Suspected terrorist held red handed
--------
South Asia
• ISIS Shadow Judge, Commander among 25 Killed In Nangarhar Operations
• Rohingya Still Fleeing Violence, Persecution In Myanmar: UN Rights Boss
• Jalalabad Blast: Afghan President Visits Gurudwara, Promises Action against Culprits
• Irresponsible armed individuals not to be tolerated, says President Ghani
• Direct talks with Taliban likely to kick off in coming weeks, says AHPC
--------
Africa
• ICC Issues Arrest Warrant for Libyan Commander Over Execution of Takfiris
• Hezbollah Training Nigerian Shiites – Report
• Nigeria: Buhari to Christian Leaders - Let's Shame People Stoking Violence in Nigeria
• Al Shabaab says Ethiopia armed clan militias, causing fight that left 17 dead
--------
North America
• Canada's Biggest Islamic Convention Welcomes People from All over the World
• Qatar's splurge of millions for support in Washington going in vain
• US to send next generation nukes to Turkey
• Fewer refugees resettled in the the US, and even fewer Muslims
--------
Europe
• Hassan Bal 'A Lone Wolf' Among Waterford's Muslims, Garda Says
• Belgium: Muslims, Jews Condemn Islamophobic Attack
• Rouhani tells Macron, Merkel Europe's package does not meet Iranian demands
• Russia says will leave no stone unturned to keep Iran nuclear deal alive
Compiled by New Age Islam News Bureau
URL: https://www.newageislam.com/islamic-world-news/denied-visa-seminar-scholars-protest/d/115752
--------
Denied Visa for Seminar: Scholars Protest Exclusion of Speakers from Pakistan
July 6, 2018
by Sowmiya Ashok
After four Pakistan scholars were denied visa for the Association of Asian Studies (AAS) – in Asia conference in Delhi, scholars from universities like Yale, Harvard and Princeton registered their protest. In a rented room, where some of the absent scholars joined in digitally, a resolution was mooted to not hold such conferences in countries that exclude anyone based on nationality.
Nearly 80 scholars participating in the conference, including professor James C Scott from Yale University and Harvard historian and TMC MP Sugata Bose, attended a crowd-funded protest meet that raised enough funds to rent a hall at the venue so scholars from Pakistan could digitally join in.
While Dr Sameen Mohsin from Lahore University of Management Sciences spoke through a recorded message, statements were read of the others including Salman Hussain from The Graduate Centre, CUNY. "As a scholar of Pakistani origin working on Pakistan, I received the AAS' reply to the Indian government's restrictions on Pakistani scholars (including those who are dual nationals but originally from Pakistan) with deep concern and disappointment. I am dismayed with the AAS' tepid response to the blanket ban — based on the Association's presumption that this reaction was expected of the Indian government given the tense relations between the two countries," he noted.
Four resolutions were mooted at the meeting, including one that demanded that all future AAS conferences be held in countries that "do not have official or unofficial policies" excluding anyone based on nationality. Another resolution strongly urged the Government of India to reconsider its position on a blanket ban on scholars from Pakistan keen to participate in an international conference.
However, independent researcher Sinjini Mukherjee, an organiser of the protest meeting, said responses were gathered from participants but a decision on the resolutions was yet to be made. Mukherjee and Mira Mohsini from University of Akron started the crowd-funding campaign for the protest venue rental. The duo raised $2,730 (target was $2,500).
The Association for Asian Studies (AAS), an academic body of scholars and subject specialists related to Asia, has been holding the conference in Asia since 2014 for scholars who cannot attend the annual event in North America. This year, Ashoka University was the co-organiser for AAS-In-Asia.
The Ministry of External Affairs had told Ashoka University that it does not "recommend" participants from Pakistan for the conference. The country's name was also struck off from the list of participating countries.
MEA spokesperson Raveesh Kumar had said, "Several factors go into taking a decision. Besides inputs from agencies, a major consideration is state of relationship. Participation of Pakistan or any other country is a reflection of state of relationship with that country."
https://indianexpress.com/article/india/denied-visa-for-seminar-scholars-protest-exclusion-of-speakers-from-pakistan-5247803/
--------
Saudi Still Detaining Dozens, Including One Prince, From 'Corruption' Purge
Jul 6, 2018
Saudi Arabia is keeping dozens of people, including one prince, who were arrested in a so-called anti-corruption purge last November, The Wall Street Journal reports.
The prince was named as Turki bin Abdullah, son of late King Abdullah and a former governor of Riyadh, the paper reported on Wednesday. The rest are other former officials and businessmen.
The authorities have even made new arrests recently.
They have subjected some of the detainees to physical and psychological abuse.
"Some of the detainees have been beaten and deprived of sleep while being questioned," the WSJ said, citing officials and people close to them.
"In some cases, these people said, those in custody haven't been charged with crimes and have been permitted little or no contact with relatives or lawyers," it added.
Shortly after the arrest spree, the Middle East Eye news portal said a number of the high-profile figures had sustained serious injuries under beatings and torture.
According to the report, several of those subjected to physical abuse were taken to hospital with torture injuries. There were, however, no wounds to their faces so they would look normal when they appeared next in public, it had added.
'Death penalty'
The daily cited people with ties to several of the detainees as saying that the authorities had raised the prospect of treason or terror charges, which could lead to prison or the death penalty "as a tactic aimed at pressing for untrue confessions or financial settlements."
Hundreds of princes, ministers, and former ministers were detained on November 9, 2017 on the orders of Saudi Arabia's so-called Anti-Corruption Committee headed by Crown Prince Mohammed bin Salman.
The detained individuals faced allegations of money laundering, bribery, extorting officials, and misappropriation of public funds for personal benefit.
A total of $100 billion was exacted from many of the detainees before they could be released.
Some of those released are banned from leaving the kingdom and some have had to wear ankle monitors.
Bin Salman, who was surprisingly made the power behind the throne last June after replacing former crown prince Mohammed bin Nayef, is accused of using the crackdown to consolidate his power.
He also faces claims of trying to push aside his opponents prior to his expected rise to ultimate power in the kingdom.
https://www.presstv.com/Detail/2018/07/06/567204/Saudi-Arabia-purge-detentions-Bin-Salman
--------
We Can Talk but Doesn't Mean I Agree, Malaysia's Religious Minister Tells LGBT, Shias, and Ahmadis
06 July 2018
PUTRAJAYA, July 6 — Malaysia's religious affairs minister has pledged to hear out the grouses of the country's sexual and Muslim minorities, amid longstanding claims of persecution by religious authorities.
However, Datuk Mujahid Yusof Rawa said that this should not be construed as an overt form of support for the lesbian, gay, bisexual and transgender (LGBT), Shiah and Ahmadiyya communities, or their beliefs and ways of life.
"All people are free to come here to discuss with me, dialogue opens the door for understanding but this does not mean I submit to their theories or support their ideas," the minister in the Prime Minister's Department told Malay Mail in an exclusive interview yesterday.
The minister argued that while the Federal Constitution protects the rights of these communities, there are aspects of their beliefs and practices that may not be acceptable to Muslims and, by extension, Malaysians.
"There is a perception that there are groups among Muslims who see the LGBT as a menace to society, who have encroached into the normal lives of Muslims and the sensitivities of other faiths.
"[Their] rights have been protected. But whatever they believe in, when it translates or encroaches into the public sphere then it becomes an issue," Mujahid said.
The LGBT community in Malaysia, especially transgender Muslims, often alleges persecution by religious authorities over Shariah offences such as cross-dressing.
Earlier this year, Malaysian Islamic Development Department (Jakim) that now falls under Mujahid's purview, subjected celebrity entrepreneur Nur Sajat Kamaruzzaman to a lengthy process in order for authorities to officially verify her gender.
Separately, the Shiahs and Ahmadis are barred from practising their faiths here and are also pursued for Shariah offences, even though the latter are not recognised as Muslims.
States such as Selangor and Sabah have lumped Shiahs and Ahmadis together with "liberalism" and "pluralism" as deviant teachings and extremists.
Mujahid explained that Malaysians were free to practise whatever they believed in private, but added that these practices become a "problem" when propagated publicly.
"A sin is still a sin, when you encroach your ideas into the public sphere.
"Drinking alcohol [among Muslims] is prohibited, but we can't control what people do privately.
"But when you drink in public and you challenge this and you challenge the system. If it is against my religion, then there is an issue," Mujahid added.
https://www.malaymail.com/s/1649387/we-can-talk-but-doesnt-mean-i-agree-religious-minister-tells-lgbt-shiites-a
--------
Israeli top court suspends Bedouin village demolition plan
Jul 6, 2018
Israel's Supreme Court has suspended planned demolition of a Bedouin village in the West Bank amid global condemnation of the Tel Aviv regime's occupying decision.
According to the lawyer of the residents of the Bedouin village of Khan al-Ahmar, the top court issued an injunction on Thursday, giving Israeli officials until July 11 to respond to the Palestinian villagers' contention that they had been unfairly denied building permits.
The Supreme Court spokesman was not available for a comment.
Israeli Public Security Minister Gilad Erdan had earlier signaled that demolition of Khan al-Ahmar might not be imminent, noting that the decision will probably be implemented in the coming weeks.
Khan al-Ahmar is located near several major Israeli settlements and close to a highway leading to the Dead Sea. Activists say continued Israeli settlement construction in the area could effectively divide the West Bank in two.
It is not known when the demolition will take place, but on Thursday bulldozers could be seen widening the access road to the village. Activists expect the demolition to happen within the next few days.
Nearly 180 residents live in tin and wood shacks in Khan al-Ahmar, raising sheep and goats. Israel plans to relocate the residents to an area about 12 kilometers away adjacent to a landfill.
Israel has long sought to clear Bedouins from the area between a major Israeli settlement, Maale Adumim near Jerusalem al-Quds, and a smaller one to the northeast, Kfar Adumim. The Israeli Supreme Court had authorized the demolition of the entire village in May.
On Tuesday evening, Israeli authorities hung notices around the village, warning the residents of their impending expulsion. They also issued orders authorizing the seizure of access roads to the village.
Israeli forces also barred European diplomats from paying a solidarity visit to a school in Khan al-Ahmar, telling them that the area had been declared a closed military zone.
Residents and activists climbed onto bulldozers and waved Palestinian flags in a bid to halt the demolition. Dozens of journalists and activists also stood at the edge of the village.
According to the Palestinian Red Crescent, 11 people were arrested. Dozens of Palestinian were also wounded, four of whom taken to hospital.
The EU and UN have called on the Israeli regime to halt its plan to raze the village, saying such actions are contrary to international law and undermine peace efforts.
Israeli authorities have been carrying out forced evacuations against Bedouins since 1949.
The demolition of Bedouin homes is part of the Israeli regime's massive land grab policy, which will forcefully displace thousands of people.
Tel Aviv has so far refused to recognize the rights of Palestinian Bedouins and denies them access to basic services.
https://www.presstv.com/Detail/2018/07/06/567176/israel-demolition-Bedouin
--------
India
Hurriyat leader Shahid-ul-Islam's daughters invoke PM Modi's 'Beti Bachao, Beti Padhao' slogan to seek father's release
05th July 2018
SRINAGAR: Daughters of a jailed Hurriyat leader have written to Prime Minister Narendra Modi and invoked his "Beti Bachao, Beti Padhao" slogan to seek the release of their "pro-dialogue" and "peace-loving" father from Delhis Tihar Jail.
The highly emotional letter from Suzanne and Sundas Shah talks about their meeting with their ailing father in Tihar and how it reminded them about the plight of the mother and wife of Kulbhushan Jadhav, an alleged Indian spy jailed in Pakistan.
Suzanne and Sundas, who study in a prominent Srinagar missionary school, are the daughters of Shahid-ul-Islam, the spokesperson of the Mirwaiz-led Hurriyat Conference, jailed since July last year in a terror funding case probed by the National Investigation Agency (NIA).
"In the country where Prime Minister's 'Beti Bachao, Beti Padhao' slogan has rekindled hope among the hopeless disadvantaged girl child, we are unable to attend to our studies."For us our home is like a prison, while Daddy has been jailed for months and none of the allegations leveled against him having been proved," reads the letter that first appeared in a Srinagar-based daily.
"We look forward to an immediate personal intervention by your good self."
The two girls said the last 11 months of their lives were "like that of orphans" because they were not able to see "our beloved father" before they finally met with him in Tihar recently.
"We were shocked to see him in a very bad shape and worn out as he stood on the other side of a thick glass wall in between. Leave alone touching him, the glass wall was too thick to let our words reach him. One intercom in the poorly-ventilated room was the only means to converse with him.
"We could barely recognise him. A diabetic with hypertension, arthritis, the frail and pale looking Dad has already lost 15 kg because of denial of medicare."
They said they don't know much about the India, Pakistan and Kashmir politics but their "visit to Tihar Jail reminded us of the union of Kulbhushan Jadhav with his aged mother and wife in a prison in Pakistan".
They said their father was confined within an 8x6-feet cell with criminals and drug addicts, exposing him to a threat to his life.
"(The) meeting with Daddy couldn't end without horror. When we were yet to finish our conversation with him, the phone line snapped and the lights went off. Someone shouted the time is over. Thus we were denied even a chance to say goodbye to our Dad. We pray that no daughter has to visit Tihar again."
They said that Shahid-ul-Islam, a close aide of Mirwaiz Umar Farooq, "is known for his pro-dialogue stance aimed at peaceful settlement of Kashmir" for which he was attacked by unknown gunmen twice.
"We never expected that (the) peace-loving and moderate voices like him would be treated so shabbily in the world's largest democracy."
http://www.newindianexpress.com/nation/2018/jul/05/hurriyat-leader-shahid-ul-islams-daughters-invoke-pm-modis-beti-bachao-beti-padhao-slogan-to-se-1838696.html
--------
Ayodhya temple-mosque land dispute case: Hearing to resume in Supreme Court today
July 06, 2018
Hearing in the long-pending Babri Masjid-Ram Temple land dispute case is scheduled to resume in the Supreme Court from Friday. A special bench of Chief Justice Dipak Misra and Justices Ashok Bhushan and S A Nazeer on May 17 had heard submissions on behalf of Hindu groups that had opposed the plea of their Muslim counterparts that the 1994 verdict holding that a mosque was not integral to the prayers offered by the followers of Islam be referred to a larger bench.
M Siddiq, one of the original litigants of the Ayodhya case who has died and is being represented through his legal heir, had assailed certain findings of the 1994 verdict in the case of M Ismail Faruqui holding that a mosque was not integral to the prayers offered by the followers of Islam.
He had told the bench that the observations made in the land acquisition matter pertaining to the Ayodhya site had a bearing on the outcome of the title case.
However, the Hindu groups had said the issue relating to the observations that the mosque was not integral to Islam has already been settled and cannot be reopened.
The special bench of the apex court is seized of a total of 14 appeals filed against the high court judgment delivered in four civil suits.
Full report at:
https://www.indiatvnews.com/news/india-ayodhya-temple-mosque-land-dispute-case-latest-updates-hearing-in-supreme-court-451250
--------
India says it has made a formal request for extradition of Islamic preacher Zakir Naik
July 5, 2018
After controversial Islamic preacher, Zakir Naik denied reports of him returning to India, a spokesperson for the Ministry of External Affairs said on Thursday said they had made a formal request for the extradition of, reported news agency ANI.
"We had made a formal request for the extradition of Zakir Naik, who is an Indian National living in Malaysia, as per the extradition treaty we have with Malaysian side. At this stage, our request is under the active consideration of Malaysian side," he said.
Founder of the Islamic Research Foundation, Naik in a statement had said, "The news of my coming to India is totally baseless and false. I have no plans to come to India till I don't feel safe from unfair prosecution. Insha Allah when I feel that the government will be just and fair, I will surely return to my homeland."
News channel NDTV had reported the Malaysian government said Naik could be deported.
Fifty-one-year-old Naik, fled India on July 1, 2016, after terrorists in neighbouring Bangladesh claimed that they were inspired by his speeches. He is currently living in Malaysia.
Full report at:
https://indianexpress.com/article/india/india-says-it-has-made-a-formal-request-for-extradition-of-islamic-preacher-zakir-naik/
--------
Prakash Javadekar justifies queries to Aligarh Muslim University on quotas
JULY 05, 2018
Days after the Uttar Pradesh SC/ST Commission served a notice on the Aligarh Muslim University for not implementing SC/ST quotas in admission and faculty recruitment – and National Commission for Scheduled Castes chairman Ramshankar Katheria asked the university to clarify its stand or risk losing Central funding – Union Minister for Human Resource Development Prakash Javadekar said these were "valid questions".
Asked about his view on the notice by the state SC/ST Commission, Mr. Javadekar said, "The Scheduled Caste/Scheduled Tribe Commission is a legal, statutory body and they have raised questions and very valid questions. So, let the university answer."
The UP SC/ST Commission had, in a six-page notice, disapproved of AMU's stand of not providing SC/ST quotas and gave it time till August 8 to clear the air on why this has not been done.
Mr. Katheria, on his part, told reporters in Aligarh that AMU did not offer quotas to SC/STs even before 1981, the year when the MHRD had given it a letter stating that it was a minority institution. He said that if the university did not take steps to implement quotas in a month, he would write to the MHRD to reconsider giving it grants.
The turn of events is politically potent. It is being seen as an attempt on the part of the government to reach out to SCs, STs and OBCs and also potentially project a divergence of Muslim and Dalit/OBC interests at a time when there has been talk of a potential political alliance of sections of these groups in UP.
Full report at:
https://www.thehindu.com/news/national/other-states/prakash-javadekar-justifies-queries-to-aligarh-muslim-university-on-quotas/article24342991.ece
--------
Arab World
Several Tons of West-Made Arms, Equipment Seized from Militants in Dara'a
Jul 05, 2018
The Arabic-language website of Sputnik news agency quoted Syrian Army General Nazar Ismail as saying on Thursday that hundreds of weapons and several tons of ammunition have been left by the terrorists who were forced to flee Dara'a during the army operations.
He added that the militants have likely smuggled the weapons via the border with Jordan.
Ismail said that 3 T62 tanks, 100 tanks from other types, a large number of military vehicles, different military equipment, 2 air defense systems, 40 anti-tank missiles, a large number of machine-guns and light weapons, over 1,000 land mines and 1,300 boxes of ammunition were seized in the town of Azra'a.
He added that samples of French and Canadian arms, a large amount of US-made foodstuff and first aid and Australian, German and Italian mine-finders were among the weapons.
In a relevant development on Wednesday, a large number of Israeli and American missiles were handed over to the Syrian army troops by the militant groups under a reconciliation agreement in the Southern province of Dara'a.
The militant groups that laid down arms and joined a peace plan in Southern Dara'a surrendered their US-made anti-tank missiles to the Syrian soldiers.
In the meantime, the Arabic-language al-Mayadeen News Channel quoted a field commander as reporting that several Israel-made missiles were also among the arms and ammunition that the militants handed over to the Syrian army in Eastern Dara'a.
The Russian Reconciliation Center for Syria announced earlier that a sum of 27 villages, townships and towns have joined the reconciliation plan in Dara'a province so far.
http://en.farsnews.com/newstext.aspx?nn=13970414000428
--------
Arab Parliament lauds KSRelief efforts to rehabilitate Yemeni child soldiers
July 06, 2018
JEDDAH: The Arab Parliament lauded the King Salman Humanitarian Aid and Relief Center (KSRelief) for its role in rehabilitating children recruited by the Houthi militia in Yemen.
The Parliament, created by the Arab League, also expressed support for the actions of the Saudi-led coalition backing Yemen's internationally recognized government.
The Parliament stressed that the use of international humanitarian aid by the Houthi militias to trade to poor families in exchange for the recruitment or deprivation of their children (fighting for food) represents a clear and explicit breach of international humanitarian law and a flagrant challenge to the international community and the UN resolutions.
The Parliament urged the international community to assume its responsibilities and take urgent and practical measures to prevent the use of children as fighters in Yemen, and to rehabilitate those who are recruited.
It urged the UN secretary-general to continue supporting the efforts of the Yemeni National Committee to investigate the recruitment of children, and to call on the UN Security Council to refer Houthi crimes to the International Criminal Court (ICC) and prosecute the leaders of the Houthi militia and their Iranian-regime supporters.
The Parliament decided to address the president of the Inter-Parliamentary Union and the regional parliaments to condemn the crimes of the Houthi militia against Yemeni children, forcing them onto the battlefields.
The Parliament also urged the UN to use all measures to stop the Houthis from using government institutions, schools and hospitals to store weapons, and from looting humanitarian aid meant for the Yemeni people. It stressed the need for international supervision of such aid.
Recently, Yemeni Minister of Human Rights Mohammed Askar confirmed that the Houthi militia committed violations of international law against children such as killing, torture, recruitment, deprivation of health care and denial of humanitarian aid.
He said that the Houthi militia has killed more than 1,372 children since the coup, including 204 children killed by mines planted by the terrorist militia, and arrested 489 children at checkpoints, most of them in Dhamar, Sanaa, Ibb, Hodeidah and Amran, to recruit and send them to combat.
In addition, the Houthi militia used 1,962 schools as military centers and weapons stores, especially in Taiz and Aden before it was liberated, which deprived children of the right to education. They also recruited children from shelters in Taiz.
Full report at:
http://www.arabnews.com/node/1334061/saudi-arabia
--------
UN refugee agency urges Jordan to allow in Syrians fleeing air strikes
July 05, 2018
The United Nations refugee agency implored Jordan on Thursday to open its borders and give temporary shelter to tens of thousands of Syrians fleeing air strikes and fighting in the southwest.
More than 320,000 civilians are now displaced in southwest Syria, living in dire and insecure conditions, including 60,000 at the border crossing with Jordan, UN High Commissioner for Refugees Filippo Grandi said. Jordan already hosts some 640,000 registered Syrian refugees .
"The hostilities in the border area are life threatening and leave many no choice but to seek safety in neighboring Jordan," Grandi said in a statement. "Given the immediate dangers, I am advocating for granting temporary refuge in Jordan to those in need of safety."
https://nation.com.pk/05-Jul-2018/un-refugee-agency-urges-jordan-to-allow-in-syrians-fleeing-air-strikes
--------
US Dispatches More Military Aid to SDF in Hasaka
Jul 05, 2018
The Arabic-language Smart News website affiliated to the militants in Syria reported on Thursday that a new US military convoy was sent to the SDF in Northeastern Hasaka through Simalka passageway at the Iraqi borders with Syria.
It added that the convoy consisted of 100 trucks which carried military and armored vehicles and concrete blocks as well as oil tankers with kerosene cargos.
The US army had also dispatched military equipment to the Kurdish militias in Hasaka late last month, a media outlet reported as Washington continued all-out support for the group in Northeastern Syria.
The Arabic-language al-Watan daily quoted local sources as saying that the US-led coalition forwarded several personnel carriers and armored vehicles from Iraq to the Kurdish units stationed in Northeastern Hasaka via the Simalka border-crossing.
Full report at:
http://en.farsnews.com/newstext.aspx?nn=13970414000536
--------
Syrian Army Regains Control over Several Key Regions in Dara'a
Jul 05, 2018
The army forces, backed by artillery and missile units, engaged in clashes with the terrorists in Eastern Dara'a, seizing control of a region in which the air defense brigade was stationed in the Southern parts of the town of Saida.
They liberated the town after clashes, advancing towards the town of al-Tayebah.
Meantime, the army soldiers clashed with the militants in al-Tafas region in Western Dara'a, killing a number of terrorists.
Also, the Syrian army's artillery and missile units pounded the terrorists' positions in Tafs and the town of al-Ya'adoudeh in Western Dara'a.
The Syrian army is now moving towards al-Nasib border crossing.
The Syrian army troops continued to advance in Western Dara'a towards the borders with Jordan after new peace talks between a Syrian-Russian delegation and militant commanders failed again.
Commanders of the terrorist groups left the new round of reconciliation talks with the Russian-Syrian delegation and kept gunmen on alert.
In the meantime, the army men, backed up by artillery units, stormed terrorists' positions in the town of Tafas in Western Dara'a and captured several strategic regions.
Also, other artillery and missile units opened heavy fire at terrorists' movements and positions near the Old Customs area and the town of al-Na'eimeh and its nearby regions, inflicting major losses on the terrorists.
The army is tightening siege on the terrorists from the direction of al-Tabelin road East of Tafas, and from Tal al-Saman in the North.
Full report at:
http://en.farsnews.com/newstext.aspx?nn=13970414000452
--------
Several US, SDF Forces Killed in Deir Ezzur
Jul 05, 2018
The Arabic-language al-Manar news channel reported on Thursday that several US soldiers and SDF forces were killed and wounded after a number of roadside bombs were detonated by the ISIL in regions near the village of al-Namliyeh South of the town of al-Sour in Northeastern Deir Ezzur.
Meantime, other media sources quoted locals in Northern Deir Ezzur as saying that the Kurdish forces had launched massive arrests against people who support the Syrian government in the village of al-Jaye'eh.
Also, unknown assailants in the village of Abu Khashab in Northern Deir Ezzur fired at a vehicle carrying the SDF forces, wounding a number of them.
In a relevant development on Tuesday, a notorious commander of a militant group affiliated to the US-backed SDF was killed by unknown assailants near a village in the Eastern province of Deir Ezzur.
Khalaf Turki al-Khabil, one of the key field commanders of the SDF-affiliated Deir Ezzur Military Council, was killed after unidentified gunmen opened fire at his vehicle near the village of al-Takihi in al-Atal region.
Tensions also rose between civilians and the SDF in Northern Syria after a number of offensive moves by the US-backed militias.
Full report at:
http://en.farsnews.com/newstext.aspx?nn=13970414000495
--------
Southeast Asia
Follow law or face action: Malaysia to Naik
By Dipanjan Roy Chaudhury
Jul 06, 2018
Malaysian government has issued a strict warning to Islamic preacher Zakir Naik to follow the law of the land or face action days after PM Narendra Modi visited Kuala Lumpur and following protests by local groups against extremist views.
The directive from the Malaysian government to Naik was issued after Modi met PM Mahathir Mohammad on May 31 in Kuala Lumpur days after re-election of nonagenarian leader, ET has learnt.
Various groups in Malaysia have been protesting against Naik's speeches, saying it offends the sensibilities of those who do not profess Islam, according to persons familiar with the developments. Muslim Professionals Forum (MLF) in Malaysia also stated recently that it did not agree with Naik's approach in spreading Islam, according to one of the persons quoted above.
It may be recalled that Naik's entry has been banned by some Western countries, including Canada & UK as well as th ..
Dhaka continues to hold him responsible for inspiring worst terror attack on its soil in recent years when the upscale Holey Artisan Bakery was targeted in 2016 and is seeking action against Naik. Even before 2016 attack in Dhaka had been denied visa to visit Dhaka for his preachings which allegedly incite extremism. There were suspicions that Naik maintains links with pro-Pak Jamaat-e-Islami whose leaders have been executed for genocide during the liberation movement in 1971.
Naik, however, managed to find refuge in Malaysia notwithstanding growing counter-terror cooperation between Delhi and SE Asian country under the Najib Razak government.
https://economictimes.indiatimes.com/news/politics-and-nation/follow-law-or-face-action-malaysia-to-naik/articleshow/64878040.cms
--------
Johor to ease first-time wedding woes for Muslim couples
05 July 2018
BATU PAHAT, July 5 — The Johor government is looking at ways to help Muslim couples who are tying the knot for the first time, state executive councillor Aminolhuda Hassan said today.
The Islamic Affairs and Education Committee chairman said among the suggestions so far was to waive pre-wedding course charges for the first-timers.
"The state government will also look at providing facilities such as mass or group weddings that have a reasonable charge to couples who want to set up their household for the first time," he said at a Pakatan Harapan (PH) Hari Raya Aidilfitri gathering in Sri Gading here.
Aminolhuda, who is also Parit Yaani assemblyman, said the marriage initiative was among the ideas to fulfil the state PH's electoral promise to Johor youths.
"This initiative is also in line with the wholesome Islamic concept of Rahmatan Lil Alamin that is applied in our administration," he said, using the Arabic term that roughly translates to the principle of universal mercy.
Full report at:
https://www.malaymail.com/s/1649203/johor-to-ease-first-time-wedding-woes-for-muslim-couples
--------
Minister seeks 'apolitical' Malay Rulers' backing for Islamic policies
06 July 2018
PUTRAJAYA, July 6 — The Conference of Malay Rulers should have a say on Malaysia's Islamic policies as their feedback or support will help with the push for reforms, according to Datuk Mujahid Yusof Rawa.
The minister in the Prime Minister's Department in charge of religion said this will also ensure that nothing is "politicised", and that efforts by the current government will not be attacked without any concrete basis.
"The Conference of Malay Rulers is apolitical, this is a platform which is independent. Who else better than to support reforms?" he told Malay Mail in an exclusive interview.
Mujahid said if the rulers supported certain policies, it would be seen as an endorsement from a group not politically-aligned to anyone.
"As protectors of Islam, rulers should play a role in support and deciding policies," he added.
The Amanah vice-president was clarifying his remarks made in May, where he had said that the Conference of Malay Rulers should decide Malaysia's Islamic policies while federal agencies should be limited to enforcing them.
Back then, Mujahid said this would prevent the state rulers from being sidelined as well as the alleged misuse of Islamic affairs agencies like the Department of Islamic Development Malaysia (Jakim) for political reasons.
Full report at:
https://www.malaymail.com/s/1649328/minister-seeks-apolitical-malay-rulers-backing-for-islamic-policies
--------
Why Aceh governor won't be charged under sharia for his alleged crime
July 5, 2018
Following the arrest of Aceh Governor Irwandi Yusuf on Tuesday evening, social media was abuzz with netizens asking whether the former "freedom fighter" would be charged under sharia – in particular, whether his hands would be chopped off for corruption.
Under the 1999 law on Aceh's special region status, coupled with the 2001 Special Autonomy Law for Aceh and Papua, Aceh is the only region in the country permitted to apply sharia.
What is punishment of stealing in islamic sharia law?
— Joe Tanjung🌈 (@JoeSuisTanjung) July 4, 2018
Under Islamic law, stealing or theft is punishable by amputating a hand. So, you might ask, genuinely or sarcastically, does that mean Irwandi's hand will be cut off?
No, it won't. Aceh does not apply full sharia.
Aceh's sharia does not cover all crimes, only those related to Islamic morality such as zina (adultery and premarital sex), liwath (male homosexuality), musahaqah (female homosexuality) and qadzaf (false accusations of adultery).
The province still recognizes the Criminal Code (KUHP) as the law of the land. Non-Muslims can choose if they want to be charged under sharia or the KUHP for crimes that are regulated under both laws.
Non-Muslims found guilty of gambling, for instance, can choose to either be punished under the KUHP or under Aceh's sharia.
While there appears to be a general tendency among the public to equate corruption with theft, they are separate crimes in the eyes of the law. Having said that, neither corruption or theft are regulated under sharia in Aceh, and hence fall under the jurisdiction of the KUHP or the 2001 Corruption Law.
The Corruption Eradication Commission (KPK) has also confirmed that Irwandi will not be charged under sharia, but under the anti-corruption law.
At a conference press on Wednesday evening, KPK deputy chairwoman Basaria Panjaitan stated that legal proceedings against Irwandi would take place in Jakarta – meaning that he would be charged under the applicable laws of Jakarta.
A number of Muslim clerics in Aceh have long called for the hands of graft convicts to be cut off for their crime, on the grounds that corruption was rampant in the province and that there had been a long-standing perception that Aceh's sharia was harsh only against the ordinary people while the elite were exempted from it.
This sentiment was echoed in a recent tweet from human rights activist Tunggal Pawestri:
Saya tahu banyak teman-teman yang jengkel, mengetahui bahwa hukum Syariah lebih sering 'menyasar' rakyat kecil ketimbang pejabat. Hal ini seeolah membenarkan adagium 'pisau tumpul ke atas dan tajam ke bawah'. Banyak orang jadi senewen. Tak pelak seruan potong tangan menjadi ramai
— Tunggal Pawestri (@tunggalp) July 5, 2018
"I know a lot of friends are upset, knowing that sharia often 'targets' the common folk instead of the rulers. This justifies the saying, 'a knife is dull against those above and sharp against those below'. Many people are nervous. No wonder that the call for chopping hands is loud," she posted.
In 2015, then-Aceh governor Zaini Abdullah ordered the province's Sharia Agency to conduct a study on the possibility of caning graft convicts as punishment.
Agency head Syahrizal Abbas, an Islamic law professor, said that corruption, unlike adultery or theft, was not mentioned in either the Qur'an or the hadiths and therefore there was no clear punishment for it. However, he said that corruption was still a crime and that corruptors could be publicly flogged 100 times.
Full report at:
http://www.thejakartapost.com/news/2018/07/05/why-aceh-governor-wont-be-charged-under-sharia-for-his-alleged-crime.html
--------
Mideast
Houthis reject UN proposal to withdraw from Yemen's Hodeidah city and port
6 July 2018
The Houthis refused a UN proposal to withdraw from the city of Hodeidah and its port and to hand over management to the UN, Al Arabiya English's correspondent in New York reported.
The Houthis have instead proposed that Hodeidah and its port be under joint management with the UN.
These developments were conveyed to the UN Security Council during a closed-door briefing by UN Special Envoy for Yemen Martin Griffiths who informed the council of the results of his talks in Sanaa and Aden.
Meanwhile the Security Council gave strong backing to efforts by Griffiths to start new talks between Yemen's warring parties and reaffirmed that "a political solution remains the only way to end the conflict."
Council members said they "encouraged all parties to engage constructively with his efforts to take forward a political solution."
The Security Council reiterated its call for Hodeidah and the port of Saleef "to be kept open and operating safely given the continuing risk to the grave humanitarian situation."
Previous peace efforts have failed but Griffiths, who was appointed to the post in February, expressed optimism in a statement Wednesday after meeting top Houthi leaders in Sanaa.
Griffiths said without elaborating that the rebels and their allies have expressed a "strong desire for peace" and discussed "concrete ideas for achieving peace." But a Houthi negotiator said there was no breakthrough in negotiations.
Griffiths had in the past three days held "fruitful" talks in Sanaa, as he described them, where he was trying to convince Houthi leaders, including Abdulmalik al-Houthi, to hand over Hodeidah and its port and to prepare the atmosphere for resuming consultations towards reaching a political solution according to a plan he will present in the next weeks.
Well-informed sources in Sanaa said so-called Supreme Political Council Mahdi al-Mashat asked the UN envoy for some time to respond to his plan that aims to avoid further escalation in Hodeidah.
The sources, however, added that Houthi leaders are only trying to buy time as they continue to send more reinforcements towards Hodeidah.
https://english.alarabiya.net/en/News/gulf/2018/07/06/Houthis-reject-UN-proposal-to-withdraw-from-Hodeidah-city-and-port.html
--------
Sunni-Muslim Scholar Shot Dead In South-eastern Iran
05.07.2018
A Sunni-Muslim scholar was shot dead by unidentified attackers in Iran's southeastern Sistan and Baluchestan province Thursday, according to local media reports.
Iran's state-run IRNA news agency reported that Molavi Abdushakour Kord Tarshabi, a well-known scholar and Muslim activist, had been killed by an "armed gang".
According to Mohamed Ahmed Bolag, deputy governor of the province's Khash district, the local authorities have launched an investigation with a view to finding the perpetrators.
An estimated 90 percent of Iran's 80-million-strong population is Shia Muslim. The remaining 10 percent -- including Turkmen, Kurds and Balochis -- is comprised mainly of Sunni Muslims.
https://www.aa.com.tr/en/middle-east/sunni-muslim-scholar-shot-dead-in-southeastern-iran/1195838
--------
Israel extends detention of Palestinian MP
July 06, 2018
Jerusalem - Israeli authorities have extended the detention without trial of a Palestinian politician by four months, ensuring she will remain behind bars for more than a year, the army said Thursday.
Khalida Jarrar, 55, was arrested on July 2, 2017 for being a senior member in the Popular Front for the Liberation of Palestine (PFLP), a movement considered a terrorist organisation by Israel, the United States and the European Union. The extension was decided on Monday by a military court but was made public Thursday.
Details of the accusations against her are secret, as is customary with Israeli administrative detention orders, which allow detention without trial for renewable six-month periods. A legislator in the largely defunct Palestinian parliament, she was given a six-month administrative detention order in July 2017. The detention was extended in December by another six months "after security personnel found she still poses a substantial threat," the Israeli army said then.
Many PFLP leaders are in custody and Jarrar has been jailed multiple times.
She had only been released in June 2016 after 14 months in an Israeli jail for allegedly encouraging attacks against Israelis.
Israel says administrative detention is intended to allow authorities to hold suspects while continuing to gather evidence, with the aim of preventing attacks in the meantime.
Full report at:
https://nation.com.pk/06-Jul-2018/israel-extends-detention-of-palestinian-mp
--------
One Killed, 19 More Wounded in Bomb Blast at Anti-Turkey Protest in Manbij
Jul 05, 2018
The Kurdish-language Hawar news reported on Thursday that residents of al-Haya region in Manbij held protest rallies against the Turkish and US military forces' deployment.
It added that at least 1 civilian was killed and 22 others were wounded in the explosion.
The US and Turkish forces started the 9th stage of their patrolling mission in the region on Wednesday based on a roadmap on Manbij.
Last month, the US and Turkish forces started joint patrolling missions in the outskirts of Manbij in Eastern Aleppo.
Turkey's Daily Sabah newspaper reported that a convoy of Turkish forces, supported by the US helicopters, has entered Manbij in Northern Syria.
Meantime, Sky News also confirmed the start of joint patrolling operations.
Also, field sources said that the American forces have been missioned with patrolling the Southern parts of al-Sajour region which is under the control of the Manbij military council and close to the areas controlled by the Ankara-backed militants, adding that the Turkish forces have started patrolling mission in Northern Sajour which has been occupied by Operation Euphrates Shield militants.
Turkish Foreign Minister Mevlüt Çavuşoğlu had said in June that implementation of a roadmap for the withdrawal of the Syrian Kurdish People's Protection Units (YPG) from the Northern Syrian city of Manbij is expected to begin after his meeting with his recent meeting with US counterpart Mike Pompeo.
Turkey considers the YPG as the Syrian branch of the outlawed Kurdistan Workers' Party (PKK).
Full report at:
http://en.farsnews.com/newstext.aspx?nn=13970414000554
--------
Arab Coalition shoots down a Houthi drone in Yemen's Aden
5 July 2018
Security sources in Yemen's Aden confirmed that Arab Coalition air defenses have shot down on Thursday a Houthi drone after it tried to target its headquarters in al-Braiqa north-west of the city.
The sources said no casualties resulted from shooting down the drone.
Last Friday, the legitimate Yemeni forces shot down the third Iran-made Houthi drone carrying explosives in the Durahemi district in Hodeidah.
The army forces tracked down and targeted the plane, before it crashed in an empty area in the district and exploded.
The sources added that Houthi planes are equipped with inadequate technology, and are often used to spy on the Yemeni legitimate government and carry explosives.
Houthi militias, whose attacks have been continuously foiled, resorted to using aircraft to carry out intelligence or suicide operations. The most recent attack on Hodeidah airport, which was later restored, was blocked by the Yemeni army and the Arab Coalition.
Last April, the Coalition spokesman, Turki al-Malki, said two Houthi aircraft that share specifications with Iranian aircraft models, were shot down in Saudi Arabia.
Full report at:
https://english.alarabiya.net/en/News/gulf/2018/07/05/Arab-Coalition-shoots-down-a-Houthi-drone-in-Yemen-s-Aden.html
--------
Israel blocks EU diplomats from visiting Bedouin village
Jul 5, 2018
European diplomats have been barred from paying a solidarity visit to a school in a Palestinian Bedouin village in the West Bank under threat of demolition by Israeli authorities.
Diplomats from Belgium, Finland, France, Ireland, Italy, Spain and Switzerland on Thursday sought to visit the school in the village of Khan al-Ahmar, which is located east of Jerusalem al-Quds in the -occupied West Bank.
But they were turned back by Israeli forces at the village entrance. Police at the scene said the area had been declared a closed military zone.
"We were briefed by local leaders but refused access by security forces to the school," the Irish representative office to the West Bank wrote on its official Twitter feed.
The consul general of France in Jerusalem al-Quds, Pierre Cochard, also told journalists at the scene that demolishing the village of 173 residents would be a violation of the Geneva Convention laying out the obligations of an occupier toward those under its control.
"We wanted to show our solidarity with this village which is threatened with destruction, for humanitarian reasons and because it is a major issue of international law," he added.
The Israeli Supreme Court authorized the demolition of the entire village in May.
Israeli authorities hung notices around the village on Tuesday evening, warning the residents of their impending expulsion. They also issued orders authorizing the seizure of access roads to the village. Heavy equipment has since been seen there, feeding speculation a road was being prepared to facilitate its evacuation and demolition.
It is not known when the demolition will take place, but on Thursday bulldozers could be seen widening the access road to the village. Activists expect the demolition to happen within the next few days.
Residents and activists climbed onto bulldozers and waved Palestinian flags in a bid to halt the demolition.
According to the Palestinian Red Crescent, 11 people were arrested. Dozens of Palestinian were also wounded, four of whom taken to hospital.
Dozens of journalists and activists stood at the edge of the village on Thursday.
Palestinian lawyer Munji Abdallah said, "What the Israeli authorities are doing is a population transfer contrary to the Rome and Geneva conventions."
Khan al-Ahmar is located near several major Israeli settlements and close to a highway leading to the Dead Sea. Activists say continued Israeli settlement construction in the area could effectively divide the West Bank in two.
The expulsion of several dozen Bedouin families from Khan al-Ahmar is seen as a precursor to future expansion of the Israeli settlement of Kfar Adumim.
The European Union and the United Nations have called on the Israeli regime to halt its plan to raze the village, saying such actions are contrary to international law and undermine peace efforts.
Israeli authorities have been carrying out forced evacuations against Bedouins since 1949.
The demolition of Bedouin homes is part of the Israeli regime's massive land grab policy, which will forcefully displace thousands of people.
Full report at:
https://www.presstv.com/Detail/2018/07/05/567131/EU-Israel-Bedouin--Palestine-Khan-alAhmar
--------
Scores of Saudi mercenaries' slain, injured in Yemeni drone strike
Jul 5, 2018
Scores of Saudi-sponsored militiamen loyal to Yemen's former president Abd Rabbuh Mansur Hadi have lost their lives when Yemeni army soldiers and fighters from allied Popular Committees launched a drone strike against their positions in Yemen's southern port city of Aden.
An unnamed Yemeni military source told the Arabic service of Russia's Sputnik news agency that Yemeni troops and their allies launched the aerial attack in the al- Burayqah district of the city on Thursday, leaving many Saudi mercenaries dead and injured. The source added that a number of Boeing AH-64 Apache attack helicopters were hovering overhead after the assault.
An official of the Houthi Ansarullah movement also said the unmanned aerial vehicle had targeted the headquarters of the Saudi-led coalition in Burayqah camp.
Later in the day, pro-Saudi militiamen claimed to have destroyed the drone successfully, and aborted the attack.
Gunman opens fire on wedding party in southwestern Yemen, kills eight
Separately, eight people were killed and 13 others injured on Wednesday night in a shooting attack in Yemen's southwestern province of Ibb.
A local official, speaking on condition of anonymity, said a masked gunman had opened fire on a wedding party in the town of Mudhaykhirah.
"Armed with a machine-gun, the attacker opened fire on wedding guests, including children, until he ran out of ammunition," the official said.
The official added that the unidentified assailant managed to flee the scene in the midst of the mayhem, noting that the motive for the attack remains unknown.
The Yemeni Ministry of Human Rights announced in a statement on March 25 that the Saudi-led war had left 600,000 civilians dead and injured since March 2015.
The United Nations says a record 22.2 million Yemenis are in need of food aid, including 8.4 million threatened by severe hunger.
A high-ranking UN aid official has warned against the "catastrophic" living conditions in Yemen, stating that there was a growing risk of famine and cholera there.
Full report at:
https://www.presstv.com/Detail/2018/07/05/567124/Scores-of-Saudi-mercenaries-slain-injured-in-Yemeni-drone-strike
--------
Pakistan
Pakistan Foreign Office Hopes Afghan Taliban Will Accept Kabul Talks Offer
July 06, 2018
ISLAMABAD: The Foreign Office expressed the hope on Thursday that the Afghan Taliban would avail themselves of Kabul's unconditional offer of talks to find a politically-negotiated solution of the protracted conflict.
Speaking at the weekly media briefing, FO Spokesman Dr Muhammad Faisal said: "We hope that Taliban would grab the opportunity for the unconditional peace talks."
The United States has once again ramped up pressure on Pakistan to either convince the militant group to join peace talks or expel their leaders and other cadres that it believed to be based here.
The US sees Pakistan-based Taliban as the main obstacle to initiation of peace process in Afghanistan.
Senior State Department official Alice Wells earlier this week visited Islamabad and met senior political and military leaders and some of the foreign ambassadors. Ahead of her visit, she, according to Reuters, said that US had so far not seen "sustained and decisive action on the part of Islamabad".
Army Chief Gen Qamar Bajwa and Afghan Ambassador Dr Omar Zakhilwal met on Wednesday to follow up on their discussions with Amb Wells. The US officials had met both of them separately during her visit.
Dr Faisal said that Pakistan was ready to play its part, but bringing Taliban to the negotiating table was the shared responsibility of all stakeholders.
This year's unprecedented Eid ceasefire had raised hopes of peace in Afghanistan, but those hopes were dashed after Taliban resumed attacks immediately after Eid.
President Ashraf Ghani ordered continuation of counterterrorism operations last week after Taliban did not reciprocate his gesture.
Kashmir
The FO spokesman again called on the United Nations High Commissioner for Human Rights to establish an independent international commission of inquiry for India-Occupied Kashmir (IOK).
UN High Commissioner for Human Rights Zeid Ra'ad Al Hussein had last month recommended setting up of a 'Commission of Inquiry', the UN's highest-level probe, to investigate human rights violations in Kashmir.
"It is essential for the UNSG and the UNHRC to visit IOK to ensure the credibility of the international multilateral system and to prevent the human rights charter from being reduced to verbal rhetoric," Dr Faisal said.
In reply to a question about a claim attributed to former president Asif Ali Zardari, the FO spokesman denied having any knowledge about former prime minister Nawaz Sharif seeking asylum in the United Kingdom.
"It is not obligatory on the country wherein the political asylum is taken to inform the country of origin," he said.
https://www.dawn.com/news/1418271/fo-hopes-afghan-taliban-will-accept-kabul-talks-offer
--------
Pakistan not solely responsible for bringing Taliban to table
JULY 6, 2018
ISLAMABAD: Foreign Office Spokesperson Dr Faisal Thursday said Pakistan is committed to peace and security in Afghanistan and fully supports Afghan president's peace initiatives in this regard.
"There is no military solution to decades long conflict in Afghanistan," he told a weekly press briefing here. He said Pakistan fully supports the efforts of Afghan President Ashraf Ghani for talks with the Taliban, adding that Pakistan hopes that Taliban will grab the opportunity of unconditional peace talks with the Afghan government.
The spokesman reiterated Pakistan's desire for peace in Afghanistan and said the country was playing its due role in this regard. The international community also has to play its part in bringing peace to the war-torn country, he said, adding it was not Pakistan's sole responsibility to bring the Taliban to the negotiating table.
The spokesman said Pakistan strongly condemns terrorist attack in Jalalabad city. "We are distressed and grieved over the loss of precious human lives. Pakistan reiterates its condemnation of terrorism in all its forms and manifestations."
Dr Faisal maintained that United States Principal Deputy Assistant Secretary Ambassador Alice G Wells had a useful visit to Pakistan during which detailed discussions and meetings were held. During a meeting at the Foreign Office, the two sides discussed bilateral relations as well as regional situation especially, in Afghanistan, he said.
About brutalities in Indian Held Kashmir, the spokesperson said Pakistan has always voiced serious concerns over the relentless killing, maiming, unlawful arrests and torture by India of the innocent civilians in the occupied valley. He pointed out that in June alone, 33 people have been killed by the Indian army.
The spokesman reiterated the demand for immediate establishment of commission of inquiry to assess the human rights situation in the region. He said the recommendations of the Office of the United Nations High Commissioner for Human Rights (OHCHR) need to be implemented without delay. "We urge the international community to call India to account for its grave human rights violations in held Kashmir," he said.
Faisal said the recently released UN report categorically focused on the Indian atrocities in the occupied valley and explicitly underscored India's obligation to fulfill its commitment to international human rights law.
In response to a question, he said he has no information on former prime minister Nawaz Sharif taking political refuge in London.
The spokesman also congratulated Archbishop Joseph Coutts of the Catholic Church of Karachi who was elevated to the rank of Cardinal by Pope Francis last week.
Archbishop Coutts was the second Pakistani accorded this honour after Cardinal Joseph Cordeiro, who was appointed in 1973. In the hierarchy of the Catholic Church, Cardinals come immediately after the Pope. One of the primary responsibilities of the Cardinals is to elect a new Pope when the position becomes vacant.
Full report at:
https://dailytimes.com.pk/263215/pakistan-not-solely-responsible-for-bringing-taliban-to-table/
--------
The world needs to unite against terrorism: Syed Ali Zafar
JULY 6, 2018
ISLAMABAD: Minister for Information, Broadcasting, National History and Literary Heritage Barrister Syed Ali Zafar on Thursday said the world should unite against intolerance and injustice and promote values of harmony and love for ensuring sustainable peace.
Speaking at an international conference titled Pakistan's Pluralistic Cultural Values of Peace, Tolerance and Love, he said any kind of intolerance was injustice to humanity, adding that intolerance was increasing in the world and one of the reasons for the growing tendency of intolerance was lack of education and opportunities, absence of discussion and increasing disparity between the rich and poor.
He said the country's Constitution guaranteed basic rights of the people including the freedom of speech and expression. The Constitution also gave basic rights to the minorities and Pakistani state was protecting them from any kind of oppression, he observed.
He said Sufis through their teachings, imparted the values of love and harmony and promoted a peaceful co-existence.
"We have to go back to basic teachings and learn values spread by Sufis," Barrister Syed Ali Zafar said.
"Sufis focused on God and their doors were opened for people of every religion. The basics of our religion included fundamental rights of people that were also enshrined and preserved in our constitution," he added.
The minister said Pakistani citizens were facing problems due to lack of facilities of education, health and jobs, but they were hard working and had strong traditions and culture that bound them together.
He said Pakistan faced a difficult time because of the confrontation between the United States and Soviet Union which divided the world between the east and west blocs.
Pakistan fought a war, then the US left the region and abandoned the country, he said adding that Armed Forces and people of Pakistan fought with resilience against terrorism and repelled the views which terrorist organisations were imposing.
Ali Zafar said despite all the turmoil, the people of Pakistan desired peace and harmony and women played a critical role in ensuring peace and progress in Pakistan.
"We gave unparalleled sacrifices in the war against terrorism and won the war with our unity and solidarity. Those who commit atrocities against minorities are not Pakistanis," he said.
Full report at:
https://dailytimes.com.pk/263200/the-world-needs-to-unite-against-terrorism-syed-ali-zafar/
--------
Islamabad on high alert as court decides on Sharifs' plea seeking delay in Avenfield verdict
Malik Asad
July 06, 2018
The accountability court has reserved its decision for an hour regarding a delay in the announcement of the verdict in the Avenfield corruption reference against the Sharif family.
Accountability Judge Mohammad Bashir will decide whether to proceed with announcing the judgement today as scheduled or after seven days as requested by Nawaz Sharif and Maryam Nawaz.
The atmosphere outside the court in Islamabad — where the fate of the Sharif family members in the corruption reference regarding their upscale London flats hangs in a balance — is thick with tension and buzzing with security personnel.
Although the verdict was initially slated to be read out by judge Bashir today (Friday), the ousted premier and his daughter filed an application with a duty judge yesterday seeking a seven-day delay in the verdict announcement in light of Begum Kulsoom Nawaz's health.
The Sharif matriarch has been in London since last year, when she was diagnosed with cancer. She was recently placed on a ventilator and her condition remains more or less unchanged.
Four members of the Sharif family ─ Nawaz, Maryam, Hassan and Hussain ─ are in London, while Captain Safdar is in Pakistan.
Receiving Nawaz and Maryam's application yesterday, duty judge Mohammad Arshad issued notices to the prosecution wing of the National Accountability Bureau (NAB), and left it up to Judge Bashir to decide on the application.
Read: Want to hear judgement while standing in courtroom, amidst my people: Nawaz
After Judge Bashir reached the accountability court today, Additional Deputy Prosecutor General NAB Sardar Muzaffar Abbasi opposed Nawaz and Maryam's application, saying: "At a stage when the court concludes the trial and fixes a date for the final announcement, the accused cannot file application for any relief."
He pointed out that "when the court concludes the arguments, the accused is put on notice and under the law he should be brought to court, or the court orders the accused to ensure attendance. "
In a rebuttal, the defence counsel, Advocate Amjad Pervez, argued that "There is a legal requirement that the accused person should be summoned at the time of announcement of judgement, and in this case Mr Sharif and his daughter Maryam Nawaz both are ready to attend proceedings, but because of Kulsoom Nawaz's illness, they requested that the judgement may be postponed for a few days."
When the lawyer asked when decision on the application would be announced, Judge Bashir replied, "Give me an hour at least."
Subsequently, the court reserved its decision on the application for an hour.
The Avenfield reference
The Avenfield reference ─ which pertains to the purchase of four flats in Avenfield House, Park Lane, London ─ was among those filed by the National Accountability Bureau (NAB) against the former premier and his children on the Supreme Court's orders in its landmark July 28 Panamagate verdict which disqualified Sharif.
Explore: Full text of Supreme Court order in Panama Papers case
Besides Nawaz, Maryam and her husband Captain Safdar, NAB had also nominated Hussain Nawaz and Hassan Nawaz — Sharif's sons — as accused in all three SC-ordered corruption references.
The NAB prosecutor had stated before the accountability court that Nawaz Sharif had acquired the four flats.
Sharif family insists that they had purchased the apartments through 'legitimate' financial resources.
They, however, remained unable to disclose those resources before the accountability court or the Supreme Court.
The apex court had directed the accountability court to conclude proceedings within six months and appointed Justice Ijazul Ahsan — who was a member of the bench that heard Panama Papers case — as a "supervisory judge" for the trial.
Read more: Iqama — the missing link with Panama?
The proceeding in the Avenfield reference commenced in September and the accountability court indicted Nawaz, Maryam and Safdar on October 19.
According to the JIT report submitted in the Panamagate case, the Sharifs have given contradictory statements about their London flats and found that the flats actually belonged to them since 1993.
The report said Hassan Nawaz had contradicted the statement of his brother Hussain Nawaz about the Avenfield apartments, who had earlier stated that only apartment No 17 was in his possession in 1994.
Contrarily, Hassan confirmed that three Avenfield apartments (No 16, 16A and 17) were already in possession of Hussain when he had arrived in London in 1994, while they got the possession of the fourth apartment (17A) in the next six months.
Analysis: What next for Nawaz Sharif?
The JIT observed that either one or both brothers had lied to hide some facts and hence they could not be given the benefit of doubt.
It said Nawaz Sharif had distanced himself from the apartments and could not explain the time frame and procedure adopted for obtaining the possession of Avenfield apartments by his sons, and was even uncertain about which son claimed the ownership of the flats now.
But Nawaz told the JIT that he usually stayed in apartment No 16 (Avenfield) whenever he visited London.
The prosecution produced 21 witnesses in the Avenfield reference, including star witness Wajid Zia, the head of the joint investigation team (JIT) which probed the Panamgate case, Director General NAB Zahir Shah, British forensic expert Robert William Radley and solicitor Akhtar Riaz Raja, who is Zia's cousin, among others.
In May this year, Nawaz, his daughter and son-in-law recorded their statements under Section 342 of the Criminal Procedure Code (CrPC) after which the court invited final arguments from the prosecution and the defence counsel.
The lead defence counsel Khawaja Haris initially withdrew from Sharif's defence over the court beginning the final arguments since he was of the view that the accountability court instead of calling for final arguments should first conclude testimony of prosecution witnesses in other two references – Al Azizia Steel Mills and Flagship Investment.
However, he rejoined the legal team after Nawaz left for the United Kingdom in mid-June where his spouse Kulsoom Nawaz is undergoing medical treatment.
Haris took seven days to conclude the final arguments after which the counsel of Maryam and Safdar started his final arguments.
During the course of arguments, the defence counsel cited a number of judgements of the superior courts to prove that the case against the former prime minister and his family was devoid of evidence.
Nawaz and Maryam have appeared before the court around 100 times, according to media reports.
Last hearing
In the last hearing of the case, Advocate Amjad Pervez, counsel for Maryam and Safdar had said that Wajid Zia hired his cousin, a UK-based solicitor, in the Panama case which is a classic example of nepotism.
Presenting final arguments in the reference, Pervez said the Supreme Court in its May 5 order had empowered the JIT to engage experts but the JIT hired Raja, who was a solicitor.
Pervez said that Raja took legal privilege when asked to disclose his fee but in his own communication on behalf of the JIT, he asked a fellow solicitor in UK, the amount charged by him from Hussain Nawaz.
According to Pervez, Raja did only three things for JIT – sent an email to a solicitor Jeremy Freeman, engaged forensic expert Robert Radley and authored a commentary for the JIT.
He argued that there is nothing on record as to why a solicitor's services were required to send an email and there is no plausible explanation why Radley couldn't be engaged directly or through foreign office.
He pointed out that Raja doesn't have any personal knowledge of the events and his commentary is mere opinion. In addition, he said, it is an admitted fact that Raja "congratulated" Zia following his appointment as JIT head.
The counsel pointed out that Raja's CV is not on record to show what kind of expert he is and if he was previously engaged in any high-profile or important case before being hired in Panamagate case.
Concluding his case, Pervez said that the JIT deliberately ignored the witnesses such as management of Minerva Services, which was the registered director of Nielson and Nescol off-shore companies that owned the Avenfield apartments.
He claimed that the government of British Virgin Island (BVI) had rejected the request for Mutual Legal Assistance (MLA) sent by the JIT seeking information regarding the London apartments but the investigation team concealed this information in the JIT report.
He argued that the evidence which has been brought on the court's record was "third-hand" evidence since these were old documents and were already available even before the existence of the JIT.
He further argued that the prosecution had miserably failed to bring "an iota of evidence to substantiate whether Maryam Nawaz or retired Capt Safdar were beneficial owner of the London apartments."
When he concluded the arguments and thanked the accountability court, Judge Mohammad Bashir without wasting even a second, announced the date for issuing the verdict in the Avenfield reference.
The court directed the accused persons to ensure their presence on July 6, when the judgement in the Avenfield reference was set to be announced.
Nawaz, Maryam seek delay in verdict
The counsel for the family had submitted an application to the accountability court on Thursday, seeking a seven-day postponement in announcement of the verdict in the Avenfield corruption reference, scheduled to be pronounced today.
The application said a postponement in the announcement of the judgement had been sought in view of the fast deteriorating health of Kulsoom Nawaz.
While speaking to journalists in London on Wednesday, Nawaz had already said he wanted to return home as early as possible but had to stay on in the British capital because of the poor health of his ailing wife.
A report about the condition of Begum Kulsoom was attached to the application submitted on behalf of both the former premier and his daughter, Maryam.
The report signed by David Lawrence, a consultant cardiothoracic surgeon, says: "Her [Kulsoom's] current issue is that she remains ventilator-dependent. Whilst last week it did look as if she might be able to [be] weaned, her respiratory indices deteriorated and she has required pressure control ventilation."
It goes on to say: "Her CT scan performed on Wednesday, 20th of June 2018, confirmed the diagnosis of small pulmonary emoli and remains anticoagulated with Clexane now. She is single organ failure only. She requires no cardiac support. Having optimised her lung function, I have performed a tracheostomy on her today the July 3, 2018."
The report adds: "We plan to reduce her sedation tomorrow and wake her over 48 hours. The continued presence and support of her family are imperative."
The application submitted to the court by the Sharifs stated: "When the applicant received the information that titled reference was fixed for announcement of order/judgement on July 6, 2018, his/her immediate concern was to return to Pakistan to be present before this learned court at the time of pronouncement of judgement. However, considering all contingencies associated with the pronouncement of judgement in the case they approached the team of doctors and sought advice on her mother's condition and especially the likelihood of her gaining consciousness and coming off ventilator's support...."
It said the country had a history of verdicts being "unnecessarily" reserved for months, hence delaying the judgement for a few days "considering an extremely sensitive matter" would not violate any requisite of justice or law.
"I want to hear this judgement while standing in the courtroom, amidst my people [and] holding them as witnesses," Nawaz said in the application.
Full report at:
https://www.dawn.com/news/1418326/islamabad-on-high-alert-as-court-decides-on-sharifs-plea-seeking-delay-in-avenfield-verdict
--------
Adiala jail is waiting for Nawaz Sharif: Imran
July 06, 2018
ISLAMABAD: Pakistan Tehreek-i-Insaf (PTI) Chairman Imran Khan on Thursday said Adiala jail was waiting for former prime minister Nawaz Sharif.
Mr Khan was speaking at the residence of former PML-N leader Zafar Ali Shah, who has joined the PTI.
Commenting on the application filed by Mr Sharif and his daughter asking for the date of the announcement of the verdict in the Avenfield reference to be moved ahead because they were unable to come to Pakistan due to Kulsoom Nawaz' illness, Mr Khan said they would read the verdict in the newspapers.
He also accused Mr Sharif of using his wife's illness as "emotional blackmail".
Mr Khan said everyone had sympathy for Kulsoom Nawaz, adding that his own mother had died of cancer and had to be taken out of the country to receive treatment.
He then accused Mr Sharif of emotionally blackmailing the nation, saying: "Mr Sharif did not remember his wife while she was under treatment in London and he was holding public meetings across the country."
Full report at:
https://www.dawn.com/news/1418196/adiala-jail-is-waiting-for-nawaz-sharif-imran
--------
Benazir dedicated her life to the cause of democracy, fought two dictators: Bilawal
July 06, 2018
SUKKUR: Pakistan Peoples Party (PPP) chairman Bilawal Bhutto-Zardari on Thursday paid tribute to his mother Benazir Bhutto for not bowing to the military dictator who had toppled a democratically elected government to impose martial law in 1977.
Speaking to the media and party workers at the residence of PPP Sukkur division president and former MPA Haji Anwar Mahar in the Tamachani area in Sukkur, he said on this day in 1977 the government of his maternal grandfather Zulfikar Ali Bhutto was toppled to wind up a popularly elected dispensation.
Also read: Bilawal says he 'didn't choose this life', it chose him
Democratic forces across the country and abroad observe July 5 as 'black day' in the history of Pakistan, according to Bhutto-Zardari.
He said his mother and charismatic politician Benazir Bhutto struggled for the restoration of democracy in the country and fought against the dictatorship of General Ziaul Haq and then that of General Pervez Musharraf. She dedicated her entire life for the restoration of democracy and finally laid down her life for the cause, he said.
He expressed his pleasure over completion of the full five-year terms by successive elected governments in the country, and hoped that democracy would continue to flourish in this part of the world.
Bilawal Bhutto-Zardari, however, noted that the situation of human rights in the country was not encouraging. "Weaknesses in this respect must be addressed," he said.
He said a debate should he held on human rights in the elected houses after the general elections. "Democracy means human rights and human rights means democracy," he remarked.
He also referred to the ugly scenes witnessed during his rally in Lyari a few days ago, and said that his party leaders and activists were facing threats and harassment at the hands of undemocratic forces. He said such things were continuing although it was not the PPP that had lodged the FIR against around 400 'miscreants' suspected to be involved in the Lyari episode.
Regarding the Grand Democratic Alliance (GDA) formed against PPP, he said elements within the alliance were talking about saving and protecting Sindh and at the same time siding with those who wanted a division of the province. "This shows they are working for vested interests," he said.
He said he was pleased to be warmly welcomed by a huge crowd in Pir Jo Goth during his ongoing election campaign.
Alluding to the village (Pir Jo Goth) of GDA chief Pir Pagara, who also heads the Pakistan Muslim League-Functional (PML-F) and his Hur Jamaat, the PPP chairman remarked: "Increasing popularity of PPP within Pir Jo Goth has turned it [into] Teer Jo Goth [stronghold of PPP which has the election symbol of arrow].
In reply to a question, Bhutto-Zardari said that a democratic dispensation alone could efficiently address all internal and external issues. "Such issues will be resolved when an elected government is in place," he added.
Commenting on ousted prime minister Nawaz Sharif 's plea for deferring the judgement of accountability court in the Avenfield case for some days, the PPP chairman said that Mr Sharif was an accused in the case and no accused could dictate to a court about when to pronounce its judgement.
He said it was wrong to portray Mr Sharif as a victim [of injustice], nor should the judiciary create a bad impression for itself.
Full report at:
https://www.dawn.com/news/1418164/benazir-dedicated-her-life-to-the-cause-of-democracy-fought-two-dictators-bilawal
--------
Quetta ATC acquits 15 accused in multiple bombings case
July 06, 2018
An anti-terrorism court (ATC) in Quetta on Thursday acquitted 15 accused arrested in 2013 over allegations of carrying out bomb explosions over lack of sufficient evidence, a private media outlet reported.
ATC-1 Judge Muhammad Dawood Nasar acquitted the accused as police could not provide sufficient evidence before the court. Human rights activist Jalila Haider and Advocate Mukesh Kohli were counsels for the accused.
"The children are likely to be released by tomorrow after completion of the legal procedure," said Jalila Haider.
Quetta police had arrested 15 children in March 2013 claiming they were involved in carrying out over 20 bomb explosions in the provincial capital. The news had made headlines in national media and was also picked up by international outlets.
The children — as young as 11 years old then — remained in captivity of police since their arrest.
Police had claimed that the children arrested in various raids were associated with the banned United Baloch Army (UBA) and were involved in a series of bomb explosions in the city. The children remained under trail at ATC Quetta for over five years since their arrest.
Full report at:
https://www.pakistantoday.com.pk/2018/07/05/quetta-atc-acquits-15-in-bombings-case-after-5-years-due-to-lack-of-evidence/
--------
Suspected terrorist held red handed
July 06, 2018
SIALKOT - The Counter Terrorism Department (CTD) has arrested a suspected terrorist near local Sabzi Mandi in Daska city. According to the senior CTD officials, on a tip-off, a CTD team from Gujranwala raided there in Daska city and caught red handed a suspect terrorist, who was planning terrorism act in Daska city.
The officials added that the suspect terrorist was identified as Yousaf, a resident of tehsil Kamalia (Toba Tek Singh district), who belonged to banned international militant organization ISIS. CTD arrested him with explosive material and safety fuse from his custody.
It has sent the accused behind bars after registering a case against him. Further investigations were underway, in this regard.
It was the second suspect terrorist arrested by CTD from Sialkot district during the last week.
Full report at:
https://nation.com.pk/06-Jul-2018/suspected-terrorist-held-red-handed
--------
South Asia
ISIS shadow judge, commander among 25 killed in Nangarhar operations
Jul 05 2018
At least twenty five ISIS Khurasan militants including the shadow judge and a commander of the group were killed during the ongoing operations in eastern Nangarhar province.
The governor's office in Nangarhar said the militants were killed during the separate operations conducted in Achin and Haska Mina districts.
The source further added that 23 ISIS Khurasan militants including one of their shadow judges and a local commander of the group were killed during the air and ground operations in Achin district.
The operations were conducted late on Wednesday night in the vicinity of Bandar area, the governor's office added.
In the meantime, the US forces conducted airstrikes on ISIS Khurasan hideouts in Haska Mina district leaving at least two dead, the provincial government office said, adding that the airstrikes were carried out in Angoor Kala area.
The Nangarhar governor's office also added that some heavy and light weapons belonging to the terror group were also destroyed.
Nangarhar has been among the relatively calm provinces since the fall of the Taliban regime in 2001 but the anti-government armed militants have been attempting to expand their foothold in this province during the recent years.
https://www.khaama.com/isis-shadow-judge-commander-among-25-killed-in-nangarhar-operations-05516/
--------
Rohingya still fleeing violence, persecution in Myanmar: UN rights boss
July 06, 2018
GENEVA - Muslim Rohingya continue to flee Myanmar's Rakhine state, many testifying about violence, persecution, killings and burning of their homes by soldiers and Buddhists, the United Nations human rights chief said on Wednesday.
Zeid Ra'ad al Hussein, in his final remarks to the Human Rights Council before stepping down on Aug 31, questioned a top Myanmar official's assertion that the government was committed to defending the rights of all, not those of any one community.
"In my four years as High Commissioner I have heard many preposterous claims. That claim is almost in its own category of absurdity," Zeid said. "Have you no shame, sir, have you no shame? We are not fools."
The Myanmar official, Kyaw Moe Tun, director-general of its foreign ministry, did not reply to Zeid's comments which closed the two-hour debate. After the session he could not be reached for comment.
Earlier, Kyaw said during the debate that Zeid's report contained information that was "distorted or exaggerated". He blamed the violence on militants who attacked Myanmar government forces.
"The root cause of the tragedy was terrorism and terrorism cannot be condoned under any circumstance," Kyaw said.
So far this year, 11,432 Rohingya have reached Bangladesh, where more than 700,000 have fled since an August military crackdown in Myanmar's northern Rakhine state, Zeid said.
"No amount of rhetoric can whitewash these facts. People are still fleeing persecution in Rakhine—and are even willing to risk dying at sea to escape," he said.
Many Rohingya refugees also report being pressured by Myanmar authorities to accept a national verification card that says they need to apply for citizenship, he added.
The citizenship issue is at the core of discussions on their status, Zeid said, adding that the cards "mark the Rohingya as non-citizens, in keeping with the government's characterisation of them as foreigners in their own homeland".
Authorities in mainly Buddhist Myanmar deny carrying out large scale human rights abuses, which the United Nations has described as ethnic cleansing.
Authorities say a crackdown in Rakhine is a necessary response to violence by the Arakan Rohingya Salvation Army (ARSA) militant group, which attacked Myanmar security posts.
Kyaw said a top priority for his government was to find a "sustainable solution" in Rakhine.
Full report at:
https://nation.com.pk/06-Jul-2018/rohingya-still-fleeing-violence-persecution-in-myanmar-un-rights-boss
--------
Jalalabad blast: Afghan President visits gurudwara, promises action against culprits
Jul 05, 2018
Afghan President Ashraf Ghani on Thursday said the deadly attack targeting Sikhs and Hindus in the eastern city of Jalalabad will be thoroughly investigated and the perpetrators will face trial as he visited a gurudwara in Kabul and offered condolences to the minority community.
President Ghani visited the gurdwara in Kart-e-Parwan area of Kabul city and offered condolences to the Sikh community members, the office of the President, ARG Palace, said.
An Islamic State (IS) suicide bomber targeted a convoy of Sikhs and Hindus on their way to meet the Afghan president in Jalalabad on Sunday. At least 20 people, including 17 Sikhs, were killed in the attack. Avtar Singh Khalsa, a long-time leader of the Sikh community who had planned to run in the parliamentary elections set for October, was also killed in the blast.
"President Ghani called the attack a catastrophe and promised that the incident would be thoroughly investigated and the perpetrators would face trial for the crime," the ARG said in a statement.
Calling the Sikh and Hindus communities the pride of the nation, Ghani said the government remains committed to support the Afghan Sikhs and Hindus.
At the Gurdwara, Surpal Singh thanked Ghani on behalf of the Afghan Sikh community for offering condolences.
On the occasion, Narendra Singh was appointed as new representative of the Hindus and Sikh minority in Afghanistan, Pajhwok reported.
Former Afghan president Hamid Karzai also visited the gurudwara to offer condolences for Sikhs who lost their lives in the terrorist attack.
"Visited our Sikh gurdwara to offer condolences for our Sikh brothers who lost their lives in a terrorist attack in Jalalabad. Remembered their lasting community services and love for our country. Prayed for their eternal rest," Karzai tweeted along with the pictures of his visit.
Meanwhile, residents in Kabul staged a protest against the killing of Sikhs in Jalalabad.
Full report at:
https://www.hindustantimes.com/world-news/jalalabad-blast-afghan-president-visits-gurdwara-promises-action-against-culprits/story-bP9QY7WpKCY6x2VlTdDRVP.html
--------
Irresponsible armed individuals not to be tolerated, says President Ghani
Jul 05 2018
President Mohammad Ashraf Ghani says the activities of the irresponsible armed individuals will not be tolerated any more as the Afghan Special Forces arrested one of the prominent commanders of Junbish Milli in northern Faryab province of Afghanistan.
Speaking with the officers of the 201st Silab Corps in the East, President Ghani said the government arrested a number of irresponsible armed individuals this week and were transferred to Kabul.
He was responding to a question a demand of the Afghan national army officer who asked President Ghani to act against the irresponsible armed individuals in the country.
President Ghani further added that the government has decided and is firm to its decision not to tolerate the irresponsible armed individuals anymore.
The local government and military officials confirmed that Commander Nizamuddin Qaisari was arrested following a scuffle in a military compound on Monday evening.
A provincial council member of Faryab Tahir Rahmani confirmed that Commander Qaisari has been arrested by the Special Forces of the Afghan Military.
He said Commander Qaisari started verbal clash with the participants of a security meeting in Maimana city which resulted into a armed clash.
Full report at:
https://www.khaama.com/irresponsible-armed-individuals-not-to-be-tolerated-says-president-ghani-05514/
--------
Direct talks with Taliban likely to kick off in coming weeks, says AHPC
Jul 05 2018
The Afghanistan High Peace Council (AHPC) says direct talks with the Taliban group will likely kick off in coming weeks amid ongoing efforts to revive peace talks with the group.
The High Peace Council Secretariat Chief Mohammad Akram Khpalwak informed regarding the possible launch of direct talks as he was briefing the lawmakers in the Lower House of the Parliament on Wednesday.
Khpalwak further added that they hope to see a positive outcome regarding the ceasefire and direct talks taking into consideration the national consensus, regional and international support for the reconciliation process.
According to Khpalwak, the recent uprisings for reconciliation, specifically the recent stance announced by Saudi Imams, have created a best opportunity for the peace talks.
He also added that the High Peace Council and government are fully prepared for the peace talks and consider the situation as viable for the peace process.
Khpalwak said the High Peace Council hopes that the Taliban group would respect the demands of the people and Saudi Imams and introduced their authorized representatives for the talks regarding ceasefire and peace process.
Full report at:
https://www.khaama.com/direct-talks-with-taliban-likely-to-kick-off-in-coming-weeks-says-ahpc-05512/
--------
Africa
ICC issues arrest warrant for Libyan commander over execution of Takfiris
Jul 5, 2018
The International Criminal Court revealed Thursday it has issued a second arrest warrant for a Libyan military commander accused of shooting dead 10 Takfiri prisoners after a Benghazi mosque attack.
The new warrant for Mahmoud Mustafa Busayf al-Werfalli, issued Wednesday, cites "his alleged responsibility for murder as a war crime" in the Libyan conflict, the ICC said in a statement.
Despite an earlier warrant issued in August, Werfalli, a commander of the Benghazi-based al-Saiqa Brigade loyal to Libyan strongman Khalifa Haftar, has remained at large.
Now ICC judges have found "reasonable grounds to believe" that Werfalli "allegedly shot dead 10 persons in front of the Bi'at al-Radwan Mosque in Benghazi" on January 24.
Almost 40 people were killed and scores injured in twin car bombings outside the mosque after evening prayers frequented by Takfiri opponents in Libya's second city.
The first warrant accused Werfalli of the cold-blooded executions of at least 33 civilians or injured fighters in seven incidents in 2016 and 2017.
The ICC judges referred to video footage allegedly showing Werfalli personally shooting hooded and bound prisoners, or ordering a firing squad to open fire on them.
In February, Werfalli said in an unconfirmed Facebook video post that he had handed himself in to Haftar, insisting on his innocence, and justifying any executions as "sentences" against Takfiri killers.
Libya fell into chaos after the ouster of strongman Muammar Gaddafi in October 2011, with competing authorities in Tripoli and the east vying for power.
Haftar supports an administration based in the east, while the UN-backed unity government based in the capital Tripoli has struggled to assert its authority outside of the west of the country.
ICC chief prosecutor Fatou Bensouda has repeatedly called for help in arresting Werfalli, as well as Gaddafi's son, Saif al-Islam, who is also wanted on charges of war crimes.
A warrant has also been issued for the arrest of former security chief Al-Tuhamy Mohamed Khaled, accused of war crimes committed in 2011.
https://www.presstv.com/Detail/2018/07/05/567090/International-Criminal-Court-Mahmoud-Mustafa-Busayf-alWerfalli
--------
Hezbollah training Nigerian Shiites – Report
July 5, 2018
By Wale Odunsi
Middle East Institute on Thursday said sources close to Hezbollah have confirmed that the Labanese organization is currently providing ideological and military training to Nigerian Shiites inside Lebanon.
"Tall men, in long, traditional African garb specific to northern Nigeria are sometimes spotted in Dahieh, a predominantly Shiite suburb south of Beirut where Hezbollah runs a cultural center," MEI quoted a source as saying.
"The training is limited to a few number of people but it is growing steadily.
"The Shiite Nigerians initially receive a religious training before a military one that is provided in two camps in the Lebanese Bekaa.
"Iran has told Hezbollah that it needed to recruit and train Nigerians to establish a stronghold there so that it could serve as an operational base for the rest of Africa, mainly to thwart Israeli and western ambitions in the region".
The source added that the current training program in Lebanon for Nigerian Shiites is limited in scope, at least for now.
"The training that is taking place now in Lebanon is mostly focusing on higher-ranking officers in commanding positions, who can in turn train new recruits in Nigeria, which is why the number of trainees remains limited.
"These trainees also generally return to Lebanon every three to six months to receive further training on more sophisticated weapons"
The detained leader of outlawed Islamic Movement in Nigeria (IMN) in Nigeria, Sheikh Ibrahim Zakzaky, a Sunni demagogue hailing from the town of Zaria, was initially inspired by Muslim Brotherhood's chief ideologue Sayyed Qutb.
But he later converted to Shiite Islam and became a flag-bearer for Iran's revolution in his native country.
Full report at:
http://dailypost.ng/2018/07/05/hezbollah-training-nigerian-shiites-report/
--------
Nigeria: Buhari to Christian Leaders - Let's Shame People Stoking Violence in Nigeria
5 JULY 2018
President Muhammadu Buhari Thursday rallied Christian leaders in the country to remain united and shame those stoking the fires of ethnic and religious conflicts in the country for their short-term political gains.
Receiving members of the Christian Association of Nigeria (CAN) from the 19 Northern states and Abuja led by Yakubu Pam, at the Presidential Villa, the president reaffirmed his administration's commitment to bring violent conflicts in Plateau, Benue, Nasarawa, Taraba, Zamfara and other flash-points to a decisive end.
He urged the Christian community to complement government efforts by working firmly for a united and strong Nigeria.
"Government can achieve lasting peace only with the sincere and active cooperation of communities, religious leaders, youths and other stakeholders.
"These include the media in whose hands lies the power to frame, shape the perspectives and narratives which influence the thinking of millions of people within and outside Nigeria.
"Let us collectively shame those who are stoking the fires of ethnic and religious conflicts for their short-term political gains.
"This country belongs equally to Christians and Muslims and even those who claim ignorance of God," the President told the Christian leaders.
Condemning the recent killings in Benue, Zamfara and lately Plateau, which he described as "wicked, condemnable and completely unacceptable acts", the president stressed that Nigerians are religious people and no religion or culture accepts the killing of people for any reason whatsoever.
"This is why we must all rise as one to condemn these vile and wicked acts to ensure that all the culprits are brought to justice
"We owe it to the memory of those who lost their lives in the violence in Plateau, Benue, Nasarawa, Taraba, Zamfara and elsewhere since 1999 to bring the conflicts to a decisive end. I assure you that we will do this.
"Let me make it clear that even a single life lost in any part of the country is one too many. I came to office vowing to ensure the protection of lives and property, and I remain committed to this despite the challenges we have experienced," Mr Buhari said.
He also used the occasion of the visit by CAN Northern leaders to enumerate some steps taken by his administration to check the recurring violence in some parts of the country.
"In recent weeks, we have beefed up Operation Safe Haven in Plateau State, with the deployment of extra Special Forces from the Defence Headquarters.
"Besides, we currently have no fewer than three special military intervention forces in the troubled zones.
"Operation Safe Haven to secure Plateau State, Operation Whirl Stroke 1 (OPWS) to secure Benue, Taraba and Nasarawa and OPWS 2 to secure Zamfara and Kaduna States.
"These forces are supported with investigative and intelligence gathering capabilities from the Nigeria Police Force, Department of State Services and other agencies," he said.
Acknowledging that it is the full responsibility of government to deploy law enforcement agencies in troubled spots, the president noted that creating the platform and mechanisms for dialogue remained a collective effort for all citizens.
He told the Christian leaders that the military and police have arrested hundreds of suspects across the various flash-points in the region and several prosecutions are going on, noting that there have been a number of convictions.
"Nigerians are right when they say they want to see more convictions and I would like to appeal to the judiciary to help us fast track these cases," he said.
President Buhari also condemned insinuations that his government has done nothing about the recent killings.
"When some, for clearly political purposes, attempt to suggest that this government is doing nothing about the killings and that I, being Fulani, must be encouraging these satanic acts, it seems to me that there is no limit to the evil in the minds of men.
"Otherwise, how can anyone in their right minds suggest that I, as an elected president even with substantial votes in the affected areas, will for any reason do harm by an act of omission to those same people?
"Secondly, the problems in all these areas, as you all know, are historical. There is no administration that has not had to contend with killings in these same areas over the years.
"Indeed, in 2001, you may recall that after thousands were killed in Plateau State, a State of Emergency was declared and a governor was replaced by an administrator," he said.
Earlier in his remarks, the leader of the delegation, Mr Pam had enumerated some demands from the Christian community in Northern Nigeria, including an urgent review of the nation's security architecture; rebuilding of communities ravaged by the attacks and provision of adequate security for farmers in the region.
Full report at:
http://allafrica.com/stories/201807060010.html
--------
Al Shabaab says Ethiopia armed clan militias, causing fight that left 17 dead
Jul 06, 2018
At least 17 people have been killed in fighting between militants from Somalia's al Shabaab group and clan militias in the country's central semi-autonomous region of Galmudug, residents and the group told Reuters on Thursday.
Somali state-run Radio Muqdisho reported on its website on Thursday that the fighting in the Haradheere area, which started on Wednesday, had been triggered by alleged al Shabaab conscription of teenagers into their ranks.
Residents revolt in al Shabaab controlled town
Al Shabaab has controlled the port district for years but has repeatedly clashed with local clan militias over a range of disputes.
"Al Shabaab asked for teenagers to be recruited," the radio reported. A tax called zakat being imposed by al Shabaab had also stoked anger among the residents and militias, it added.
Residents in the area told Reuters a total of nine militia members and al Shabaab fighters had been killed in the fighting.
"We attacked al Shabaab and … then, al Shabaab got many militants as reinforcement from various regions. We fought and fought till we ran out of bullets," a local elder, Farah Ahmed, told Reuters by phone from the Haradheere area on Thursday.
Somalia has been convulsed by lawlessness and violence since 1991 when dictator Mohamed Siad Barre was toppled.
Al Shabaab is fighting to dislodge the western-backed central government and African Union-mandated peace-keeping force AMISOM which, defends it, and install its own government based on its strict interpretation of Islamic sharia law.
Al Shabaab blames Ethiopia
Abdiasis Abu Musab, al Shabaab's military operations spokesman told Reuters they had fought the militias because they were armed by neighbouring Ethiopia. They had killed 15 members of the militias, he said.
"Ethiopia wants Hobyo port and so it is using clan militias to capture the road to Hobyo port town," he said.
Full report at:
http://www.africanews.com/2018/07/05/al-shabaab-says-ethiopia-armed-clan-militias-causing-fight-that-left-17-dead/
--------
North America
Canada's biggest Islamic convention welcomes people from all over the world
Jul 05, 2018
Huma Mir is just one of thousands of Muslims from all over the world who are coming to Canada's largest and longest-running Islamic convention.
Mir came all the way from the U.K. to visit her cousins. She says she's seen the convention on television and is curious to see it for herself.
"I thought, 'Why not come here and witness this historical moment?'" she told CBC Toronto.
The Jalsa Salana convention, which will open Friday and wrap up Sunday at the International Centre in Mississauga, has been held in the Toronto area for 42 years.
It grew from having 1,000 attendees in 1976 to over 20,000 last year, according to Khan Malik, national president of the Ahmadiyya Muslim Jama'at of Canada.
The Jalsa Salana was first created in 1891 and was held in Qadian, India — founded by the Ahmadiyya Muslim community. Only 75 people attended the first event and now, over a century later, its conventions are held in Germany, the U.K., the U.S. and Australia, as well as Canada, with tens of thousands of attendees.
It includes speeches, lectures and opportunities for members of the Islamic community to discuss contemporary issues and Canada holds one of the largest conventions.
Prime Minister Justin Trudeau and former prime minister Stephen Harper both attended the convention in previous years.
People are opening up their homes to accommodate guests
Members of the Vaughan Muslim community are opening up their homes to visitors, guests and family members.
Blawal Aleem, who handles media relations for the event, says he's expecting 11 people, which includes four members of his own family. He says in past years, he's let people he's never met stay at his house.
"By the end of the week, they're pretty much family," he said.
For those who can't find a place to stay, the Baitul Islam Mosque in Vaughan plans to open up guest houses.
Imtiaz Ahmed, the imam of the Baitul Mosque, says hospitality is a big part of the Muslim religion.
'This is all for the love'
Cooks have already begun preparing food for over 20,000 guests.
For that many people, each meal — which takes three to four hours to cook — requires 2,200 kilograms of meat, 907 kilograms of potatoes, 6,800 kilograms of rice and approximately two truckloads of pita bread, according to cook Dawood Ajamal.
There will be 200 cooks on staff, and on July 6 they'll start at around 3 a.m. Once the meal is prepared, it will be transported from the Baitul Mosque in Vaughan to the International Centre in Mississauga.
No one is paid — all of it is volunteer work.
"This is all for the love," said Ajamal. "To serve our guests."
During the convention, the kitchen will run for 24 hours.
Fareha Hamid, comes every year from Virginia to Toronto. She says in comparison to the U.S., the convention in Canada is bigger and more exciting. She says she loves seeing her family every time she comes.
"Not only is it a religious, spiritual event — it's also a social experience," she said.
https://www.cbc.ca/news/canada/toronto/jalsa-salana-convention-1.4734147
--------
Qatar's splurge of millions for support in Washington going in vain
5 July 2018
There was much bonhomie as a few dozen people, including members of Congress and US administration officials, gathered last week for dinner in a posh Washington neighborhood in honor of Qatar's foreign minister, according to a report by Reuters.
The scene was a continuation of the same situation more than year ago as Doha is still, in vain, spending colossal amount of money, and organizing events, in order to push the White House to press on the Middle East powers to revert their decision to cut ties with Qatar over its policies.
President Donald Trump followed the boycott with tweets suggesting Qatar funded terrorism. Reuters has quoted Joey Allaham, who used be paid from Qatar to advocate for it, as saying when the decision (cutting ties with Doha) was taken "they (Qatar) had no presence on the Hill."
Reuters added that Allaham was paid $1.45 million, including costs, for his advocacy work. However, a year later, the boycott remains in force, and Qatar is still trying, without no results, to persuade certain lawmakers and American personalities to help in getting it out of the crisis.
In the Reuters report, several Qatari lobbyists said the strategy has cost Qatar tens of millions of dollars. The country has also hired some people seen as close to Trump, pledged billions of dollars in US investments or business and sponsored Doha visits, according to its advisers and public filings the report said.
Millions lavished
Qatar has lavished at least $24 million on lobbying in Washington I the last 18 months and has hired people close to Trump.
Former New York City Mayor Rudy Giuliani, for example, said he worked for the Qataris on an investigation and visited Doha just weeks before becoming Trump's personal lawyer in April.
Giuliani told Reuters that he has not spoken to Trump about his Qatar work. In contrast, Ed Royce, chairman of the powerful House Foreign Affairs Committee, disclosed plans for a bill naming Qatar a sponsor of terrorism. Royce introduced the bill.
Qatar "swarmed the Hill" to oppose the bill, including appealing to House Speaker Paul Ryan's office, two lobbyists said. But debates about the bill are still ongoing.
"Understandably, the Qataris called in all their lobbyists and favors to try to derail the bill, though the final chapter on these issues has yet to be written," said the Republican fundraiser Elliott Broidy, who has sued Qatar for hacking his emails.
In addition, Qatar has also reached out to unlikely allies. In January, Qatar's lobbyists flew Morton Klein, head of the Zionist Organization of America, first class on Qatar Airways and put him up at the five-star Sheraton Grand Doha Resort for meetings with the country's leaders, according to the report.
That included a two-hour, one-on-one palace meeting with Emir Sheikh Tamim bin Hamad al-Thani. However, Klein continues to be critical of Doha.
The report said that the United States, closely allied to countries on both sides, has found itself in the middle and tried unsuccessfully to mediate. Trump wants "the dispute eased and eventually resolved, as it only benefits Iran," a US State Department spokeswoman said.
MORE: $90 million? The price Qatar would pay to get cosy with Trump-friendly media
Iran ties
Meanwhile, Qatar was the only GCC state that, since the beginning of the crisis, enhanced its ties with Iran. Reuters quoted an Iranian official, who previously served as ambassador to the UAE as saying that Qatar has the right to choose its allies. (MORE).
"Rather than hoping for Washington to enforce a solution to the crisis, Qatar should establish a dialogue directly with the UAE and its neighbors," Yousef Al Otaiba, UAE ambassador to the US has said.
Full report at:
https://english.alarabiya.net/en/News/world/2018/07/05/Qatar-s-splurge-millions-for-support-in-Washington-going-in-vain.html
--------
US to send next generation nukes to Turkey
Jul 5, 2018
The United States is preparing to send an unknown number of its next generation nuclear weapons to military bases across Turkey and other NATO countries in Europe, according to a new report.
The report by Russian media comes weeks after the US Department of Energy's National Nuclear Security Administration (DOE/NNSA) and the US. Air Force carried out non-nuclear system qualification flight tests of the B61-12 gravity bomb at Tonopah Test Range in Nevada.
The tests on June 9, which were reported to be the first of their kind, sought to extend the decades-old B61 bomb's service life by making it compatible with next generation aircraft, including B-2A Spirit bomber as well as the F-35 stealth jet.
"The B61-12 LEP will consolidate and replace the existing B61 bomb variants in the [US] nuclear stockpile. The first production unit is on schedule for completion in fiscal year 2020," read a statement by DOE/NNSA in late June..
Citing experts, Russia's state-run RIA news agency said Germany, Italy and Turkey were going to receive an unspecified number of the new bombs.
"The United States continues to invest in weapons of mass destruction. The NATO bases in Turkey, Germany and Italy will receive the new bombs in 2020," Russian nuclear expert Alexandr Jilin told RIA.
The US currently has around 150 nuclear weapons in five NATO member countries, including Turkey, according to a 2017 report by the Turkish Parliament report on worldwide nuclear arms.
B61 type bombs are among the nuclear weapons the US has stored in the İncirlik air base, which is located in the southern Turkish province of Adana.
Data from the Federation of American Scientists (FAS) suggests that at least the 50 B61s are being kept in Turkey.
US officials have neither confirmed nor denied reports about the US nuclear weapons in Turkey.
US President Donald Trump has called for the US to "greatly strengthen and expand its nuclear capability."
Full report at:
https://www.presstv.com/Detail/2018/07/05/567086/US-B61-nuclear-bombs-Turkey-NATO
--------
Fewer refugees resettled in the the US, and even fewer Muslims
July 5, 2018
For the first time since the 1980 US Refugee Act, the number of refugees resettled in the US dropped to be less than all other countries combined in 2017, according to new data compiled by the United Nations High Commissioner for Refugees and published by Pew Research Center.
While many of the top nations that resettle refugees have seen a drop-off (Canada, second to the US, saw 20,000 fewer refugees resettled in 2016 compared to 2017), the US had 64,000 fewer refugees in 2017 than it did in 2016 when the US accepted about 97,000 refugees, according to UN High Commissioner for Refugees data.
The number of refugees admitted to the US in 2017, about 33,000, is on par with the years following the 9/11 terror attacks when there was a temporary decline, but the US still took in more refugees than the rest of the world.
Pew notes that the resettled refugees are different than asylum seekers and refugees who migrate without prior approval from the government, such as those attempting to cross the American southern border.
Because President Trump capped admissions at 45,000 this year, the number of refugees in the US is expected to decrease.
Additionally, there has been a large decline Muslim refugees in the 2018 fiscal year, with the amount of Muslim refugees dropping more than any other religious group.
While the fiscal year has not yet completed, the published numbers are far behind the 39,100 refugee admissions at this point in fiscal 2017, according to the data.
Full report at:
https://edition.cnn.com/2018/07/05/politics/refugee-numbers-us/index.html
--------
Europe
Hassan Bal 'a lone wolf' among Waterford's Muslims, garda says
Jul 06, 2018
Gardaí who investigated Hassan Bal for fundraising for Islamic State (Isis) have said he was very much "a lone wolf" and his activities did not reflect the views of the Muslim community in Waterford, where he was based.
Speaking after Bal had was jailed for 2½ years, Supt Chris Delaney said gardaí received significant support from members of the Muslim community in the city during their investigation.
"An Garda Síochána works very closely with the local Muslim community - we have ethnic liaison officers who work very closely with the community - they attend prayer meetings at the mosques in full uniform and they are allowed to talk to members of the Muslim community," he said.
"We are very happy with the level of engagement between the local Muslim community and the gardaí. They have contributed significantly to the development of the city over recent years and are a highly valued group here in Waterford city."
Judge Eugene O'Kelly, who sentenced Bal, had earlier said the seriousness of the terrorist offences committed by the accused were very much at odds with the view of Muslims in Ireland generally.
Radical ideologies
He said an overwhelming majority of Muslims in Ireland do not support such radical ideologies and warned that the rise of Islamophobia on foot of the activities of radical Islamisists elsewhere should have "no place in our society".
Islamophobia in any society simply serves to generate support amongst the young, the vulnerable and the marginalised for such radical groups, said Judge O'Kelly as he paid tribute to Supt Anthony Pettit and his colleagues for their successful investigation of Bal's offences.
Judge O'Kelly also paid tribute to Daily Mail journalist, Omar Wahid for his investigative work which saw him go undercover and pose as an ISIS supporter willing to donate money to the ISIS cause because without him, Bal's fund-raising activities may never have come to light.
Speaking afterwards, Supt Delaney paid tribute to Supt Pettit for leading a team of up to 50 investigators while he also thanked colleagues in the South East as well as the Special Detective Unit, the Garda National Cyber Crime Bureau and Security and Intelligence for their support.
Supt Delaney pointed out that there was a significant international aspect to the case and he acknowledged the close assistance that gardai received in the UK and Europe particularly from the Counter Terrorism Unit in the London Metropolitcan Police and from Interpol.
https://www.irishtimes.com/news/crime-and-law/hassan-bal-a-lone-wolf-among-waterford-s-muslims-garda-says-1.3555569
--------
Belgium: Muslims, Jews condemn Islamophobic attack
05.07.2018
Muslim and Jewish groups on Thursday strongly condemned an attack on a young Muslim girl in the Belgian city of Charleroi.
In a statement, the Coordinating Committee of Belgian Jewish Organizations (CCOJB) said that it condemns in the strongest terms "the horrible attack suffered by a young Muslim woman".
The group described the attack as a "despicable act" in which the girl's headscarf was pulled off and she was insulted.
Meanwhile, the Belgium Federation of Islam also condemned the attack and called for taking necessary steps to prosecute attackers.
In a statement, the federation condemned the "separatist rhetoric" used by Belgian politicians.
"As long as headscarves and Muslim women are shown as threats, […] violence will be inevitable," the statement added.
The federation said such incidents instill fear in Muslim women, urging the government to ensure the protection of headscarfed women.
On Monday night, two assailants attacked a 19-year-old Muslim teen in Anderlues municipality, reportedly tearing off her clothes, leaving her with deep marks inflicted by a sharp object across her bare chest, legs, and stomach.
On Wednesday, the Inter-federal Centre for Equal Opportunities (UNIA) spokesman Bram Sebrechts told Anadolu Agency the attack was motivated by Islamophobia in his opinion.
However, the Charleroi Prosecutor's Office will make a ruling on the nature of the attack, Sebrechts said.
Turkish-origin Belgian parliamentarian Mahinur Ozdemir said the young woman was out at night searching for her cat when she came under attack.
Ozdemir said the victim could have been murdered.
"If measures are not taken it will be unfortunately impossible to prevent such attacks," he said.
Full report at:
https://www.aa.com.tr/en/europe/belgium-muslims-jews-condemn-islamophobic-attack-/1195821
--------
Rouhani tells Macron, Merkel Europe's package does not meet Iranian demands
5 July 2018
Europe's package of economic measures to offset the US pullout from the nuclear deal does not go far enough, President Hassan Rouhani told French President Emmanuel Macron by telephone on Thursday, Iranian state news agency IRNA reported.
"The package proposed by Europe ... does not meet all our demands," Rouhani was quoted as saying.
Similar message to Merkel
He gave a similar message in a call to German Chancellor Angela Merkel, the president's website reported. The proposed package "only included some general promises like previous EU statements," Rouhani said.
Supreme leader Ayatollah Ali Khamenei set out conditions in May for European powers if they want Tehran to stay in the accord, including steps by European banks to safeguard trade with Tehran and guarantees for Iranian oil sales.
Rouhani warned on Wednesday that Iran could reduce its co-operation with the UN nuclear watchdog if the deal collapses.
He gave a similar message in a call to German Chancellor Angela Merkel, the president's website reported. The proposed package "only included some general promises like previous EU statements," Rouhani said.
Supreme leader Ayatollah Ali Khamenei set out conditions in May for European powers if they want Tehran to stay in the accord, including steps by European banks to safeguard trade with Tehran and guarantees for Iranian oil sales.
Rouhani said Tehran was hopeful that the issue could be addressed when foreign ministers from the five remaining signatories of the nuclear deal meet Iranian officials in Vienna on Friday.
Full report at:
https://english.alarabiya.net/en/News/middle-east/2018/07/05/Rouhani-tells-Macron-Europe-s-package-does-not-meet-Iranian-demands-.html
--------
Russia says will leave no stone unturned to keep Iran nuclear deal alive
Jul 5, 2018
Russia says it will do everything possible to keep the 2015 Iran nuclear deal alive after the US chose to unilaterally abandon the international agreement, vowing continued trade cooperation with Tehran despite the return of American sanctions.
The Russian Foreign Ministry made the comments in a statement quoted by the Interfax news agency on Thursday without further details.
In early May, the administration of US President Donald Trump pulled the country out of the nuclear agreement, dealing a blow to the outcome of years of international diplomacy and teamwork.
The White House also said it would impose the "highest level of" economic sanctions against Iran.
The other parties to the deal -- along with the entire world community -- harshly censured Trump's decision, expressing their determination to keep honoring the deal and make efforts, at the same time, to save the historic agreement without the US.
Tehran has said it will not leave the deal, officially named the Joint Comprehensive Plan of Action (JCPOA), for now, but conditioned its stay in the pact on a set of practical EU measures aimed at protecting Iran's share of dividends from the accord when Washington's sanctions snap back into place.
Since then, Iran and other parties to the deal -- Russia, China, France, Britain plus Germany -- have been engaged in a flurry of diplomatic contacts to find ways to save the JCPOA.
The European parties to the deal are currently working to finalize a package of proposals meant to blunt the impact of returning US sanctions on their businesses in Iran and safeguard their commercial ties with Tehran.
Russia has, in turn, said it will develop even closer ties with Iran in the wake of Washington's pullout from the deal.
Vladimir Yermakov, Director General of the Department for Non-Proliferation and Arms Control at Russia's Foreign Ministry, had said in early May that with the US exit "it might even be easier for us on the economic front, because we won't have any limits on economic cooperation with Iran. We would develop bilateral relations in all areas – energy, transport, high tech, medicine."
Not only did the US fail to honor its side of the bargain with Iran, but it has also been seeking to throw a wrench in efforts by the remaining parties to the deal to fulfill their obligations under the JCPOA, which has been endorsed by UN Security Council 2231.
Washington has threatened the European firms with hefty penalties should they refuse to leave Iran with the return of American sanctions.
Russia's Envoy to International Organizations in Vienna Mikhail Ulyanov said on Wednesday the US "discredited itself by proving to be an unreliable partner."
He also praised Iran for its "wise and balanced" approach in dealing with Washington and its attempt to keep its side of the agreement.
Full report at:
https://www.presstv.com/Detail/2018/07/05/567106/Russian-Iran-Nuclear-Deal
--------
URL: https://www.newageislam.com/islamic-world-news/denied-visa-seminar-scholars-protest/d/115752
New Age Islam, Islam Online, Islamic Website, African Muslim News, Arab World News, South Asia News, Indian Muslim News, World Muslim News, Women in Islam, Islamic Feminism, Arab Women, Women In Arab, Islamophobia in America, Muslim Women in West, Islam Women and Feminism