New Age Islam News Bureau
16 June 2022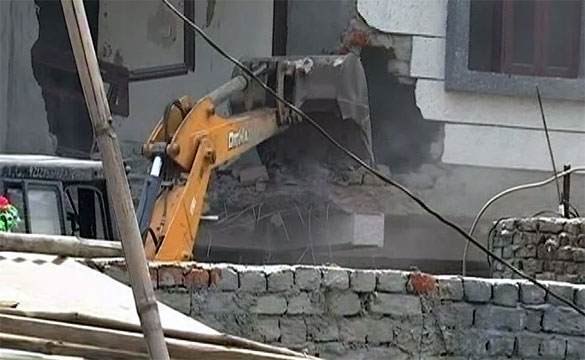 Photo: NDTV
---
• After Al-Qaeda, Islamic State's Video on Nupur Sharma, Taliban Threatens Attack on Hindus to Avenge the Insult of the Prophet
• Ulema and Mashaikh of Pakistan Urge OIC, UN and World Organisations to Take Note of Atrocities against Minorities in India
• Muslim Rights Concern Tells Nigerian Government to Act against India over 'Blasphemy, Harsh Treatment of Muslims'
• In Afghanistan, Taliban White Flags Must In Shops, Health Clinics
India
• Prophet Remarks Row: Bengal Imam Body Forms Legal Team To Help Detained Protesters
• Pakistan hands high-precision Turkish pistols to J&K terrorists for targeted attacks
• Kerala SHO who warned masjid committee of action for hate speech shunted out
• Telangana: Inordinate delay in releasing honorariums of Imams, Muazzins
--------
Pakistan
• Stable Pakistan Guarantees Indian Muslims Safety: Ashrafi
• FM Bilawal Bhutto-Zardari highlights importance of promoting 'true spirit of Islamic teachings'
• Cash-strapped Pakistan urges citizens to drink less tea
• Pakistan military says ailing Musharraf should be 'allowed home'
• Pakistan's top diplomat lauds Iran's 'unwavering support' for Kashmir
• Army has no objection to judicial probe into 'foreign conspiracy' claim: DG ISPR
--------
Africa
• No Reason for Muslims to Attack Churches – Islamic Leaders Tell CAN
• Terrible people around Buhari planning to wipe out Igbos – Amaechi
• Death toll in Burkina jihadist massacre rises to 86
• Daesh/ISIS terrorists kill at least 22 people in northeastern Mali
• Libyan court passes Abu Slim jail massacre case to military tribunals
• France announces capture of senior ISIS member in Mali
--------
South Asia
• The Taliban Arrests Three People on Charges of Involvement in the Recent Bombings
• UNAMA Works to Revitalize the Private Sector in Afghanistan
• Putin's Spokesman Denies the Allegations That Russia Might Recognize the Taliban
• Afghan Working Children in Iran Increase by 20 Times as the Taliban Takes Control of Afghanistan
--------
Arab World
• Street In Front Of Saudi Embassy In Washington Named After Khashoggi
• Senior Islamic State Terror Leader Captured In Syria Raid, Says US-Led Coalition
• EU provides $104 million to Egypt to cope with rising food prices
• Two dead, seven injured in Turkish airstrikes hitting YBS site in Iraq
• Civilian killed in terror attack in Syria's al-Bab
• Russia summons Israel ambassador over airstrikes on Damascus airport
• Astana Talks: Iranian diplomat says Tehran, Moscow on the same page on Syria
--------
Mideast
• Islamic Movement Official: Religious War Will End With Expulsion of Jews from Palestine
• In Yemen, child soldiering continues despite Houthi promise
• Russia raps Israel over Jerusalem church land ruling
• Turkey wants 'written response' from Finland, Sweden over NATO bid concerns
• UN experts alarmed by Iran 'violent crackdown' on protests
• Official says Yemeni journalist killed in explosion in Aden
--------
North America
• US Admits 'Regular, Indirect Contact' With Iran on N-Issue
• US 'still optimistic' Türkiye-Nordic row will be resolved
• UN says it is 'in close cooperation' with Türkiye on Ukraine grain exports
--------
Europe
• Sweden, Finland Ready to Work with Türkiye on 'Legitimate' Concerns on Terrorism: NATO Chief
• Afghanistan: UK embassy staff allege Taliban beatings and torture
• Turkish president, NATO chief discuss alliance bids of Sweden, Finland in phone call
--------
Southeast Asia
• Court Rejects Perlis Islamic Council's Bid to Vary Loh's Child Custody Order
• It's problematic that youth idolise politicians over ideals, says Suaram
• Will you leave Malaysia if everything is good here?
• Indonesia president reshuffles cabinet, names new trade minister
Compiled by New Age Islam News Bureau
URL: https://newageislam.com/islamic-world-news/demolition-retaliatory-supreme-court-up/d/127259
--------
"Demolitions Can't Happen As Retaliatory Measure": Supreme Court to UP On a Petition Filed By Jamiat Ulama-e-Hind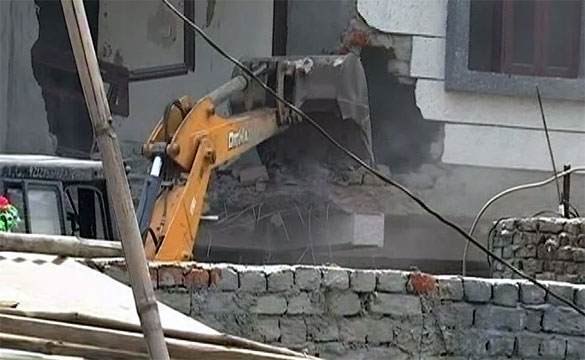 Photo: NDTV
---
By NE NOW NEWS
June 16, 2022
New Delhi: Stating that "demolitions have to be in accordance with the law, they cannot be retaliatory", the Supreme Court on Thursday issued a notice to the Uttar Pradesh government on the demolition of houses of those accused in recent violence in the state.
The Supreme Court hearing a petition filed by Jamiat Ulama-i-Hind asked for replies from the state government as well as the civic authorities of Prayagraj and Kanpur.
The next hearing will take place next Tuesday and the replies are to be filed before that.
The judges said, "Everything should look fair…we expect the authorities to act only in accordance with law. Ensure safety so that nothing untoward happens."
However, the court has not put the demolitions on hold and the judges said, "We can't stay demolitions. We can say go in accordance with law."
The Supreme Court was hearing a petition filed by the Muslim body Jamiat Ulama-i-Hind over the ongoing demolition of properties in Uttar Pradesh by the state government.
The Jamiat Ulama-i-Hind had filed the petitions at the SC seeking directions to the Uttar Pradesh government to stay any further demolition of properties of people who are accused of participating in protests against remarks by Bharatiya Janata Party (BJP) leaders on Prophet Mohammed.
The petition is being heard by a bench of justices A S Bopanna and Vikram Nath.
Earlier former judges and senior advocates wrote to Chief Justice of India N V Ramana and urged him to take suo motu cognizance of the allegations of illegal detention, bulldozing of residences, and police action on the protestors.
It may be mentioned that at least four properties were demolished in Uttar Pradesh following a violent protest that took place against suspended BJP spokesperson Nupur Sharma.
Several people including police personnel were injured in the protests while as many as 350 people were arrested so far.
With these going on, the UP government had demolished the properties allegedly without any prior notice.
The Jamiat said that the actions by the authorities were in complete disregard of principles of natural justice and in violation of municipal laws which provide for advance notices and opportunity of hearing to persons whose properties are sought to be demolished.
Source: NE NOW NEWS
Please click the following URL to read the text of the original story:
https://nenow.in/national/demolitions-have-to-be-in-accordance-with-the-law-supreme-court-on-up.html
--------
After Al-Qaeda, Islamic State's Video on Nupur Sharma, Taliban Threatens Attack on Hindus to Avenge the Insult of the Prophet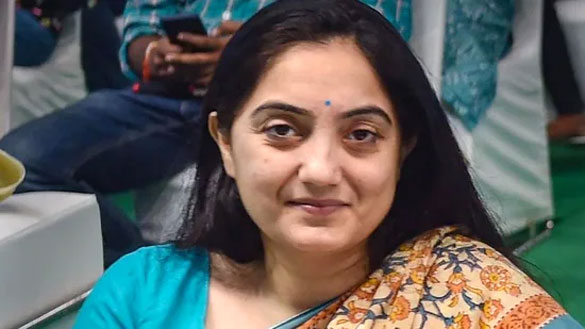 Former BJP spokesperson Nupur Sharma. (PTI File Photo)
----
Jun 16, 2022
The Islamic State has latched on to the controversy surrounding the derogatory remarks by now-suspended BJP spokesperson Nupur Sharma against Prophet Mohammed, a religious leader and founder of Islam. Islamic State Khorasan Province, an affiliate of the terror outfit Islamic State, or Daesh, released an over 10-minute video focusing on India and alleged blasphemy issues involving Nupur Sharma.
The video titled 'The polytheists are the brothers of the polytheists' features Sharma, and the demolition drive in Delhi's Jahangirpuri in which a part of a mosque was also razed. In the news bulletin by ISKP's mouthpiece AlAzaim foundation, the terror outfit threatens to target Hindus to avenge the insult of the Prophet.
"The video features@NupurSharmaBJP, the national spokesperson of the @BJP4India and houses of Muslims bulldozed. It then features previous statements of ISKP suicide bombers who were Indian. Threatening to conduct attacks against India wherever possible," independent news handle Khorasan Diary posted on Twitter.
The Islamic State goes on to criticise the Taliban, particularly defence minister Mullah Yaqoob for his interview with an Indian news television channel and finance minister Amir Muttaqi over his meeting with the Indian charge d' affairs in Afghanistan for trying to establish diplomatic relations with India.
The video highlights last year's attack on Kabul airport and the attack on Gurudwara in March 2020, threatening to carry out more such attacks. The video says that the Taliban would fail to protect Hindus from them, as they failed to protect Shias.
Earlier this month, Al-Qaeda in the Subcontinent (AQIS) threatened suicide attacks in Gujarat, Uttar Pradesh, Mumbai and Delhi to "fight for the dignity of our Prophet". In a threat letter dated June 6, AQIS warned that "saffron terrorists should now await their end in Delhi and Bombay and in UP and Gujarat."
The derogatory remarks by Sharma and another BJP member, Naveen Jindal, snowballed into a global controversy after West Asian nations raised the matter with Indian missions. The issue also triggered a widespread protest in India, demanding arrest of Nupur Sharma.
Source: Hindustan Times
Please click the following URL to read the text of the original story:
https://www.hindustantimes.com/india-news/islamic-state-s-video-on-nupur-sharma-taliban-threatens-attack-on-hindus-101655353764244.html
--------
Ulema and Mashaikh of Pakistan Urge OIC, UN and World Organisations to Take Note of Atrocities against Minorities in India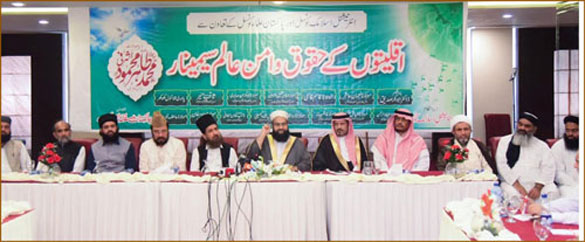 Photo: Pak Observer
----
June 16, 2022
Islamabad: Ulema and Mashaikh from different religious schools of thought of Pakistan, ambassadors of Muslim countries and representatives of international organisations have strongly condemned blasphemous comments and atrocities on Muslims and minorities in India, and also demanded the arrest of the perpetrators, says a press release.
Joint declaration issued here on Wednesday following a seminar held in association with International Islamic Council and Pakistan Ulema Council, demanded of Organisation of Islamic Cooperation (OIC) and the United Nations and world organisations to take immediate practical steps against the atrocities of India and Israel and to ensure legislation through UN for sanctity of religions and holy prophets.
Hafiz Muhammad Tahir Mehmood Ashrafi, Chairman Pakistan Ulema Council presided over the seminar titled: 'Minorities Rights and World Peace' organised in association with International Islamic Council and Pakistan Ulema Council.
The seminar was attended by ambassadors of different Islamic countries, Maulana Ziaullah Shah Bukhari, PPP leader Faisal Kareem Kundi, Pir Naqeebur Rehman, Sahibzada Hassan Habibur Rehman, Maulana Abubakar Siddique, Maulana Hafizur Rehman, Maulana Saadullah Ludhyanvi, director general of Muslim World League Dr. Saadul Harsi and representatives of different religions.
The joint declaration noted that the ulema and mashaikh in Friday congregations on 17 June, 2022, will deliver sermons on the topic of 'Hurmat-e-Rasool' (peace be upon him) against the blasphemous comments and atrocities on Muslims and minorities in India.
The declaration of the seminar said that internal and domestic peace and stability of Pakistan strengthens the Muslim Ummah.
The declaration of the seminar appeals to all political and religious leaders of Pakistan to resolve issues through dialogue and negotiations.
It was also noted that India's defence budget is seven per cent higher than the defence budget of Pakistan adding that even Pakistan's defence budget is less than that of many Islamic countries which is a matter of concern for the entire nation.
The enemies of Pakistan are engaged in conspiracies to play with the security and stability of Pakistan. In these circumstances Pakistan's internal and domestic stability is very important and Pakistan's internal stability will also strengthen the Muslims of India.
The declaration issued at seminar also stated that India and Israel were involved in spreading chaos in Pakistan and accomplice in campaigning against Pakistan's security agencies through social media.
Pakistan's political and religious leaders and the young generation of Pakistan must respond to the anti-Pakistan campaigning on social media.
The declaration also termed stance of the Prime Minister of Pakistan Mian Shahbaz Sharif on blasphemy as a representation of the Muslim Ummah and the stance of the Muslim Ummah adding that just as the former government of Pakistan had adopted a joint resolution on Islamophobia in the Organisation of Islamic Cooperation and the very resolution later approved from General Assembly.
Similarly, a meeting of the OIC Council of Foreign Ministers should be convened immediately on blasphemy issue with objectives to take the practical steps against blasphemous comments in India against 'Hurmat-e-Rasool' (peace be upon him).
The declaration also said that protection of the rights of non-Muslims living in Pakistan is the responsibility of Muslims.
No individual, group or organisation in Pakistan will be allowed to usurp the rights of non-Muslims of Pakistan.
The misuse of blasphemy law has come to an end in Pakistan and we will continue to play our role to make Pakistan stronger through mutual unity.
Chairman Pakistan Ulema Council and Special Representative of the Prime Minister of Pakistan for Interfaith Harmony and Middle East Hafiz Muhammad Tahir Mehmood Ashrafi also announced that at the end of the June, a virtual conference will be held with key leaders of Islamic world, in which decisions will be made on 'Toheen-e-Namoose-e-Risalat' (SAW), Islamophobia and prevailing issues of Muslim Ummah.
Talking to media following the seminar, Hafiz Muhammad Tahir Mehmood Ashrafi said that the 'International Message of Islam' conference will be held on August 8-9 in Islamabad.
It will be attended by the Imam-e-Kaaba, Qazi al-Quza Palestine and important leaders of the Islamic world.
Source: The News Pakistan
Please click the following URL to read the text of the original story:
https://www.thenews.com.pk/print/966608-blasphemous-remarks-by-india-s-ruling-party-leaders-condemned-oic-un-urged-to-take-note-of-atrocities-against-minorities-in-india
--------
Muslim Rights Concern Tells Nigerian Government to Act against India over 'Blasphemy, Harsh Treatment of Muslims'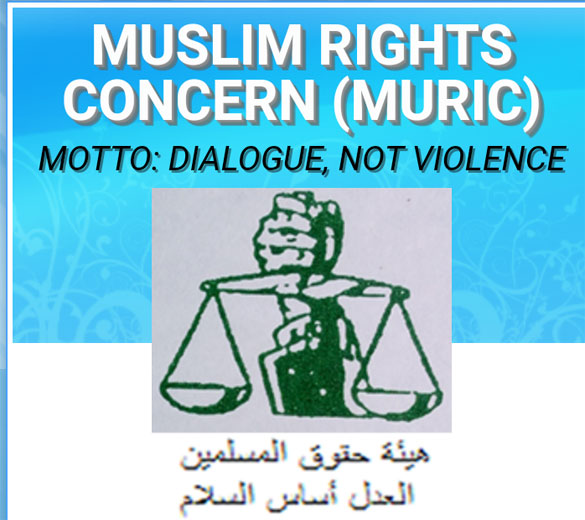 People shout slogans as they hold placards during a protest demanding the arrest of Bharatiya Janata Party (BJP) member Nupur Sharma for her blasphemous comments on Prophet Mohammed, in Kolkata, India, June 7, 2022. Photo: Reuters.
-----
June 16, 2022
By John Owen Nwachukwu
The Muslim Rights Concern (MURIC), has called on the Nigerian Government to condemn what it described as the harsh treatment of Indian Muslims by the Indian government.
MURIC wants the Federal Government to summon the Indian ambassador and lodge an official complaint against India and to warn the latter against further escalation.
The group said this in a statement signed by its Director, Professor Ishaq Akintola and made available to reporters on Thursday morning.
MURIC accused the Indian authorities of undisguised repression of Muslims in the Asian country.
The Nigerian Islamic rights group said that female Muslim students are denied their Allah-given fundamental human right to wear hijab in India, while Muslims are killed indiscriminately, and their homes demolished for no just cause.
"Evidence abounds of the maltreatment of Muslims in India," the group said.
"The failure of India's ruling party, the Bharatiya Janata Party (BJP,) to sack its spokesperson, Nupur Sharma, who blasphemed against Prophet Muhammad (peace be upon him) confirms the complicity of the Indian government.
"We demand that Nupur Sharma should be sacked. Her mere suspension is sheer window dressing and the height of hypocrisy.
"We call on the Federal Government of Nigeria to set the machinery in motion for holding India accountable. We demand that the Indian ambassador to Nigeria be summoned for a tough reprimand.
"India must be made to realise that its cruelty to Muslims within its borders is impacting negatively on Nigerian Muslims. Above all, it is generating internal tension," the group said.
Source: Daily Post Nigeria
Please click the following URL to read the text of the original story:
https://dailypost.ng/2022/06/16/islamic-group-tells-fg-to-act-against-india-over-blasphemy-harsh-treatment-of-muslims/
--------
In Afghanistan, Taliban White Flags Must In Shops, Health Clinics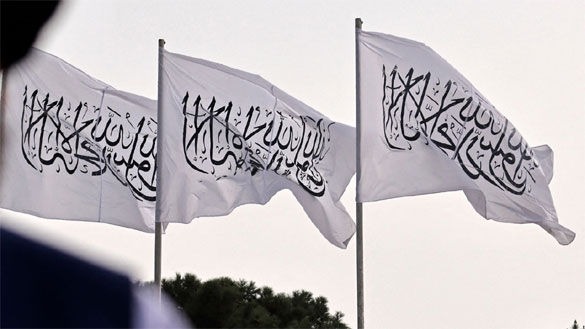 The flag-raising marked the official start of the work of the new government, Mullah Akhund said. Credit: AFP File Photo
----
June 16, 2022
Kabul: Taliban forces in Afghanistan's Kandahar city have compelled the shopkeepers to install their group's white flag in their shops and buildings. Health clinics and public baths have too been asked to follow the order.
Taking to Twitter, Reporterly, a local media outlet in Afghanistan, said, "#Taliban in #Kandahar forced the installation of the group's white flag on shops and public places, local sources reported."
The order has been issued by the Taliban officials in PD9 of Kandahar Municipality in a letter to shopkeepers and businessmen, according to Reporterly.
Meanwhile, the Taliban forces in Herat province warned the shopkeepers not to allow women in their shops without a male guardian.
Taking to Twitter, local media said, " The #Taliban in #Herat province have warned shopkeepers not to allow women into their shops without Muharram (male guardian), and the group has expelled women who were shopping alone, sources said. The Taliban have called for this action to prevent "sin and immoral cases."
This is not the first time when Taliban forces tried to attack women's rights. Taliban imposed a number of restrictions on women and girls after taking power last year in Afghanistan. Earlier, in May, the Taliban-led government issued a decree making the hijab compulsory for women when being in public.
Women working in government agencies who break this rule will be dismissed, and the same measure will be applied to men if their wives or daughters do not follow the dress code.
In another clampdown on Afghan women, the Taliban have ordered girl students at the Herat University not to wear make-up and short clothes.
The group has also restricted the women from recording the voices of male professors who are "non-mahrams", that is, the person who is not in your relationship, reported Afghanistan-based media outlet, Payk Media.
The Taliban didn't stop there. In the month of March, the Taliban issued a decree banning female students above grade six from participating in their classes.
The humanitarian situation in Afghanistan has deteriorated drastically since the Taliban took control of Kabul.
Source: ND TV
Please click the following URL to read the text of the original story:
https://www.ndtv.com/world-news/taliban-force-shopkeepers-to-install-white-flag-in-shop-3070162
--------
India
Prophet remarks row: Bengal Imam body forms legal team to help detained protesters
Anupam Mishra
Kolkata
June 15, 2022
The Bengal Imam Association has announced legal aid to youths who were detained by police for taking part in violent protests over Nupur Sharma's remarks on Prophet Muhammad.
The Imam body has formed a legal team to help the youths. However, the association has said that only innocent youths in custody will be offered help.
Bengal Imam Association President Mohammad Yahia said many innocent youths have been arrested by the police in incidents of violence during protests against Nupur Sharma's remarks in Howrah, Murshidabad, and Nadia of West Bengal.
Yahia said the legal aid was not meant for people and miscreants involved in incidents of violence.
The legal aid is only for those who have been detained or arrested by the police by mistake, Yahia clarified.
According to Yahia, the Bengal Imam Association has formed a legal team for this. The team includes lawyers from Kolkata High Court, Berhampur High Court, Nadia, and the Supreme Court.
Source: India Today
Please click the following URL to read the full text of the original story:
https://www.indiatoday.in/india/story/prophet-remarks-row-bengal-imam-body-forms-legal-team-to-help-detained-protesters-1962830-2022-06-15
--------
Pakistan hands high-precision Turkish pistols to J&K terrorists for targeted attacks
Jun 16, 2022
SRINAGAR: Pakistan is supplying lightweight and high-precision Turkey-made Canik TP9 pistols to terrorist outfits in J&K for "increased accuracy" in attacks on civilians and off-duty security personnel, IGP (Kashmir range) Vijay Kumar said on Wednesday.
The proliferation of these guns, part of combat equipment used by highly modernised armies, was confirmed after security forces seized 15 pistols, 30 magazines, 300 rounds of ammunition and a silencer during a crackdown on overground workers of terrorist outfits following a series of targeted killings in May.
Lashkar-e-Taiba and its affiliate TRF have been behind most of the targeted attacks on Kashmiri Pandits, migrant workers and off-duty security personnel since last year, the IGP said.
"The use of Canik pistols by terrorists suggests Pakistan is arranging supply of sophisticated weapons from Turkey and smuggling them into the Valley. These are easy to carry and convenient to hide while trawling even crowded markets for targets."
Even untrained overground workers are able to use the lightweight pistols with accuracy when targeting someone, Kumar said. In 2021, a total of 42 people, including security personnel, were killed in targeted attacks. This year, there have been 16 such killings so far.
Besides being part of armaments of the Turkish military, including that of the country's special forces, Canik pistols are imported to the US by Century Arms. Turkey has lately become a safe haven for Kashmiri separatists, especially after the nullification of Article 370 in August 2019 took away J&K's special status.
Source: Times Of India
Please click the following URL to read the full text of the original story:
https://timesofindia.indiatimes.com/india/pakistan-hands-high-precision-turkish-pistols-to-jk-terrorists-for-targeted-attacks/articleshow/92239207.cms
--------
Kerala SHO who warned masjid committee of action for hate speech shunted out
Jun 15, 2022
The government on Wednesday shifted a north Kerala station house officer (SHO) who issued notice to a local masjid committee warning that there should not be any hate speeches during Friday prayers in the backdrop of the controversy over the objectionable comments on Prophet Mohammed by two former BJP spokespersons.
Mayyil police station SHO Biju Prakash last week sent a notice to the masjid committee to ensure that no controversial speech was made in the mosque after Friday prayers. He also threatened to take strict action against those who vitiate communal harmony in the region. Later, many Muslim outfits including Samsatha Jamayuthul Ulema criticised the circular issued by the police officer in north Kerala's Kannur district, saying it was an insult.
"The SHO issued the notice without understanding the government policy. Hence the director general of police removed him from the post with immediate effect," said an official statement from the Kerala government.
The police officer is reported to have told senior officials that "he acted in haste to avert possible tension." But some police station officers said he acted after intelligence reports of possible tension and he was made a scapegoat.
Source: Hindustan Times
Please click the following URL to read the full text of the original story:
https://www.hindustantimes.com/india-news/kerala-sho-who-warned-masjid-committee-of-action-for-hate-speech-shunted-out-101655310558853.html
--------
Telangana: Inordinate delay in releasing honorariums of Imams, Muazzins
Mohammed Hussain Ahmed
16th June 2022
Hyderabad: In spite of the Telangana government's tall claim to promote and preserve the "Ganga Jamuni culture" in the state the facts on the grounds are absolutely contradictory to this claim.
The state government is continuously neglecting to release the honorarium of imams and muezzins on one hand and on the other hand the salaries of temple priests are released month by month through Green channel by the state treasury. Why does the self-professed "secular government of TRS" show this partiality?
There are about 10,000 Imams and Muezzins across Telangana who are paid a paltry sum of Rs 5000 as monthly honorarium. Even though the sum is meagre and not a burden on the Government treasury, still the Imams and Muezzins have to wait for 6 to 8 months to receive it.
The state knows well that Imam and Muezzin's salaries are low and they have to meet both ends with great difficulties . It is the duty of the state government to consider their economic plight sympathetically but unfortunately the government is neglecting to pay any attention in this regard.
Since the formation of separate Telangana, the chief minister K Chandrasekhar Rao has kept the minority ministry under his charge. It was expected that the Chief Minister will fulfill the promises he made to the Muslim community but regretfully the chief minister has not even held five meetings to address the minorities issues during the first five years.
The TRS government got second term in 2018 but instead of making a Muslim incharge for Minister of minority affairs, this Ministry was entrusted to K Ishwar.
Source: Siasat Daily
Please click the following URL to read the full text of the original story:
https://www.siasat.com/telangana-inordinate-delay-in-releasing-honorariums-of-imams-muazzins-2349779/
--------
Pakistan
Stable Pakistan Guarantees Indian Muslims Safety: Ashrafi
JUNE 16, 2022
Prime Minister's Special Representative for Interfaith Harmony and Middle East Hafiz Tahir Mehmood Ashrafi on Wednesday said a stable and strong Pakistan guaranteed of the Indian Muslims safety.
Addressing a seminar on the 'Rights of Minorities and Global Peace' organized by International Islamic Council and Pakistan Ulema Council in the federal capital, he expressed his fear that if there would be instability in the country, it would be harmful for the Muslims on the other side of the aisle as well.
Criticizing the most lethal form of Islamophobia in India, Tahir Ashrafi said it was the responsibility of religious and political leaderships to be united to meet the internal and external challenges being faced by the country with concerted efforts.
He urged the political leaderships to come on the table talk and remove their differences for the stability, security and sovereignty of Pakistan.
Eulogizing the offer of grand dialogue by Prime Minister Muhammad Shehbaz Sharif, he said it should not only be confined to the religious and political leaderships, it should be comprised of all segments of the society including minority and business communities.
He was of the view that we should devise a comprehensive strategy for the next 25 years to build a stable Pakistan for the coming generations.
He lamented that Pakistan's defense budget was seven times lower than India and also some other important Islamic countries despite the fact that enemy countries from Israel to India were in the search of an opportunity to damage the Pakistan's sovereignty.
Condemning blasphemous comments by the spokespersons of Indian ruling party, Tahir Ashrafi paid tributes to Middle East countries for making no compromise on the sanctity of the Holy Prophet Muhammad (Peace Be Upon Him).
Source: Daily Times Pakistan
Please click the following URL to read the full text of the original story:
https://dailytimes.com.pk/952628/stable-pakistan-guarantees-indian-muslims-safety-ashrafi/
--------
FM Bilawal Bhutto-Zardari highlights importance of promoting 'true spirit of Islamic teachings'
Jun 15 2022
During a visit to the holy city of Mashaad in Iran, Foreign Minister Bilawal Bhutto-Zardari highlighted the importance of promoting the "true spirit of Islamic teachings centred on peaceful coexistence, respect for all religions and mercy to humankind".
In a statement issued by the Foreign Office (FO), the foreign minister visited the Shrine of Hazrat Imam Raza (RA) during his visit to Mashhad. He was received by the Governor-General of Khorasan Razavi province Yaghob Ali Nazari upon his arrival at the airport.
During the visit to the shrine, the foreign minister paid respects at the Shrine, signed the guest book, and met the Custodian and Trustee of Astana-e-Quds Razavi Hujjatullah Val Muslemein Ahmad Marvi.
"The Foreign Minister highlighted the importance of the promotion of the true spirit of Islamic teachings centred on peaceful coexistence, respect for all religions and mercy to humankind," said the FO.
Source: Geo TV
Please click the following URL to read the full text of the original story:
https://www.geo.tv/latest/422615-fm-bilawal-bhutto-zardari-highlights-importance-of-promoting-true-spirit-of-islamic-teachings
--------
Cash-strapped Pakistan urges citizens to drink less tea
Jun 16, 2022
ISLAMABAD: Cash-strapped Pakistan has urged its countrymen to cut down the consumption of tea to help reduce the import bill eating into the country's depleting foreign exchange reserves.
The appeal from federal minister for planning Ahsan Iqbal came after it emerged that Pakistan consumed tea worth Rs 83.8 billion ($400m) in the fiscal year 2021-22, News International paper reported. He said that Pakistan, one of the biggest importers of tea in the world, has to borrow money to import it.
"I appeal to the nation to cut down the consumption of tea by 1-2 cups because we import tea on loan," Iqbal said while speaking to reporters on Tuesday. The federal budget document for the outgoing fiscal year showed that Pakistan imported Rs 13 billion ($60m) worth of more tea than the last fiscal year. In the fiscal year 2020-21, Rs 70.82 billion ($340m) was spent on the import of tea, News Network International news agency reported.Iqbal's appeal to cut down the consumption of tea by one to two cups did not go down well with people as many they started criticised him on Twitter. "Did Ahsan Iqbal really ask the nation to cut down on chai? Did he honestly really ask us for that? Do they really think we're that stupid," a Twitter user said.
Source: Times Of India
Please click the following URL to read the full text of the original story:
https://timesofindia.indiatimes.com/world/pakistan/cash-strapped-pakistan-urges-citizens-to-drink-less-tea/articleshow/92241157.cms
--------
Pakistan military says ailing Musharraf should be 'allowed home'
Jun 15, 2022
ISLAMABAD: Pakistan's powerful military said Wednesday that ailing former army chief Pervez Musharraf, who seized power in a bloodless coup 23 years ago and ruled for nine years, should be allowed to return from self-imposed exile in Dubai.
Musharraf's family said last week the 78-year-old was unlikely to recover from multiple organ failure in Dubai, where he has been since 2016 after being allowed to leave Pakistan for medical treatment.
At the time, the former four-star general was facing multiple court cases related to his period of rule, and was sentenced in absentia to death for treason, a ruling that was later annulled.
"It was the opinion of the institution and its leadership that Pervez Musharraf may return to the country in view of his poor health if the family so desires," Major General Babar Iftikhar, head of the military's Inter Services Public Relations (ISPR) publicity wing, was quoted as saying by local media.
ISPR confirmed his remark to AFP on Wednesday.
Musharraf still faces numerous court cases should he return to the country.
The military has ruled Pakistan for decades at various times since the country gained independence in 1947, and Musharraf was army chief of staff when he seized power after then-prime minister Nawaz Sharif tried to sack him in 1999.
His legacy is a controversial one, with some crediting him with rescuing Pakistan from economic crisis and others blaming him for fanning extremism by allying the country with the United States in its war against armed groups in the wake of the 9/11 attacks.
While in office, he oversaw a stint of economic growth while surviving at least three assassination attempts.
But he is also accused of overseeing a period marked by human rights abuses and the disappearance of hundreds of activists.
Leading human rights activist Tahira Abdullah said Musharraf should be tried if he does return.
"As a citizen of Pakistan, everyone has the right of return," she said.
"However... he must be arrested immediately after setting foot on Pakistani soil and must be sent to jail- or to hospital if he is ill", she added.
Musharraf's easygoing charm failed to mask the blurring of the division between the government and army, and his popularity plummeted after trying to sack the Supreme Court chief justice and declaring a state of emergency in late 2007.
After the assassination of opposition leader Benazir Bhutto, the national mood soured even more and crushing losses suffered by his allies in the 2008 elections left him isolated.
Musharraf's plan to return to power in the 2013 general election was dashed when he was disqualified from running in a poll won by Sharif- the man he deposed in 1999.
On Tuesday, Sharif- whose brother Shehbaz is now prime minister- said he supported allowing Musharraf to return.
"I have no personal enmity with Pervez Musharraf and do not want others to undergo an agony that I experienced about my loved ones," he tweeted from London, where he lives in self-imposed exile after being convicted on corruption charges in 2018.
"I pray to Allah the almighty for his health. The government should facilitate him if he wants to come back", Sharif added.
Retired general Talat Masood, now a defence and political analyst, said Musharraf should be allowed to die in peace at home.
"After all, he is a Pakistani... and now wants to spend his last days in the country and he should be allowed", he said.
Liaqat Baloch, a senior leader of the Jamaat-e-Islami party, also said Musharraf should be allowed to return.
Source: Times Of India
Please click the following URL to read the full text of the original story:
https://timesofindia.indiatimes.com/world/pakistan/pakistan-military-says-ailing-musharraf-should-be-allowed-home/articleshow/92236629.cms
--------
Pakistan's top diplomat lauds Iran's 'unwavering support' for Kashmir
15 June 2022
Pakistan's new foreign minister Bilawal Bhutto Zardari has lauded Iran for supporting the Kashmiri cause, conveying a message of "goodwill" and "cordiality" from Islamabad to Tehran as the two nations seek closer relations.
Zardari, on his maiden official visit to Iran, on Tuesday held wide-ranging talks with top Iranian officials, including Iranian President Ebrahim Raeisi and Foreign Minister Hossein Amir-Abdollahian, on bilateral and regional issues.
In his meeting with Amir-Abdollahian, the top Pakistani diplomat expressed Islamabad's gratitude to the Iranian leadership for its "steadfast support for the just cause of Kashmiri people."
An official release by Pakistan's foreign ministry said Zardari briefed the Iranian side on a "serious human rights situation" in Indian-controlled Kashmir - a predominantly Muslim-majority region claimed by both India and Pakistan.
Addressing a joint conference after their meeting in Tehran, the Pakistani foreign minister said the focus of their talks in the context of the regional security situation was on the question of Kashmir.
The erstwhile Himalayan region of Kashmir has been split between India and Pakistan since the partition of British India in 1947. Both countries claim all of the region and have fought three wars over the contested territory.
In recent years, Islamabad has in particular been critical of New Delhi's decision to scrap the semi-autonomous status of Kashmir in August 2019.
Since the controversial move almost three years ago, Indian prime minister Narendra Modi's BJP government has brought new laws and policies that local Muslims say are aimed at changing the Muslim-majority demography of the region.
The Kashmir valley is the largest militarized zone in the world, with estimates saying more than half a million Indian soldiers are stationed in the valley.
In similar remarks last month on the sidelines of the World Economic Forum in Davos, Zardari appreciated Iran's support for the Kashmir cause, especially that of the Leader of the Islamic Revolution Ayatollah Seyyed Ali Khamenei.
Ayatollah Khamenei has often emphasized the "just struggle" of Kashmiris in his sermons and speeches.
After the events of August 2019, the Leader called on the Indian government to "adopt a just policy towards the noble people of Kashmir and prevent the oppression and bullying of Muslims in this region."
Over the years, Ayatollah Khamenei has appealed to the Muslim community to support the "struggle" in Kashmir and put Kashmir in the same category as Afghanistan and Palestine.
Iran has been consistent on the Kashmir issue since the Islamic Revolution of 1979, whose leader, Imam Khomeini, once made it categorically clear to a visiting Indian delegation that the ties between the two countries would not improve until the bloodletting in Kashmir continued.
Pakistani FM calls for global fight against Islamophobia
In the joint presser on Tuesday, the Pakistani foreign minister said the two officials also discussed the rising tide of Islamophobia and recent derogatory remarks by India's ruling party officials that had "deeply offended" Muslims throughout the world.
In remarks on a TV news debate last month, BJP's then-spokesperson Nupur Sharma made inflammatory comments against the Prophet of Islam, which led to widespread condemnation in the country and throughout the Muslim world.
The reactions prompted the BJP to suspend Sharma from the party while distancing itself from her offensive remarks.
The party also expelled Naveen Kumar Jindal, who heads its Delhi media, from the party, after he posted a tweet about the Prophet but later deleted it. The BJP said Jindal's views on social media undermine communal harmony and are in violation of the party's fundamental beliefs.
"It's time for the international community to show a common resolve against xenophobia, Islamophobia, intolerance, and incitement to violence on basis of religion or belief," Zardari said.
During his visit to New Delhi last week, Amir-Abdollahian had asked the Indian government to respect the "sensitivities" of Muslims.
"We expected to hear Indian leaders speak out about peaceful coexistence of all religions and sects, as we have seen throughout the country's history. We hope Indian authorities will reiterate this stance in the talks," he said.
Iran and Pakistan were among the first countries that condemned derogatory remarks. They also separately summoned the Indian ambassadors in protest.
'Pakistan eyes closer relations with Iran'
Elsewhere in his remarks, Zardari reiterated Pakistan's commitment to strengthen its relations with Iran, saying building closer relations with the neighboring country remains a high priority for Islamabad.
"On behalf of the government of Pakistan, I convey a message of goodwill and cordiality to Iranian brothers and sisters," he said.
"Iran is a very important neighbor of Pakistan with whom we share immutable historic and fraternal bonds. For the prime minister, and for me, building close relations with Iran remains a high priority. I can say with great satisfaction that we continue to build upon the exceedingly positive and constructive relations enjoyed by our two countries," he added.
He also expressed support for Tehran in the Vienna talks on reviving the 2015 Iran deal and said he looked forward to the day when a conclusion could be reached that was the "right of the people of Iran."
As per an official release put out by Tehran after President Raeisi's meeting with Zardari, the Iranian chief executive said there are "no restrictions" on developing comprehensive ties between the two countries, as he underlined that Tehran could help Islamabad meet its demand for oil, gas, and electricity.
Source: Press TV
Please click the following URL to read the full text of the original story:
https://www.presstv.ir/Detail/2022/06/15/683964/Pakistani-FM-commends-Iran-support-Kashmir
--------
Army has no objection to judicial probe into 'foreign conspiracy' claim: DG ISPR
June 15, 2022
ISLAMABAD: Director-General of the Inter-Services Public Relations Maj-Gen Babar Iftikhar on Wednesday said that the military has no objection whatsoever if a judicial commission is set up to probe into the PTI's claims that Imran Khan had been ousted from power through a foreign conspiracy.
"Whatever commission the government forms, the military will extend full cooperation," said the DG-ISPR in a TV interview – the day the PTI's chorus for a judicial probe rose to a crescendo.
"The incumbent government has this option. The previous government also had this option," the military spokesperson said.
President Dr Arif Alvi has already written a letter to the Chief Justice of Pakistan calling for a judicial inquiry to settle this crucial matter that involves national security.
The comment made by the DG-ISPR were perhaps in response to a statement by PTI leader and former senior minister Asad Umar who Wednesday said that the statement made by the DG-ISPR's opinion should be considered the final word as the matter was of national security.
But Maj Gen Babar chose to again respond to the PTI's counter-narrative, saying that it wasn't an opinion – rather whatever he said was based on the reports of the intelligence agencies. He added that he is the spokesperson for the armed forces of Pakistan and that he had spoken on behalf of the three services chiefs who attended the NSC meeting.
Source: Pakistan Today
Please click the following URL to read the full text of the original story:
https://www.pakistantoday.com.pk/2022/06/15/army-has-no-objection-to-judicial-probe-into-foreign-conspiracy-claim-dg-ispr
--------
Africa
No reason for Muslims to attack churches – Islamic leaders tell CAN
June 15, 2022
By Ishola Oludare
The League of Imams and Alfas in Ogun State has said there was not any reason for a Muslim to attack any church under any guise.
The Islamic group maintained that those who killed many worshippers at the St Francis Catholic Church, Owo, Ondo State were not Muslims, neither were they members of any religion.
Speaking on Wednesday at a meeting with the leadership of Christian Association of Nigeria (CAN) in Ogun, the Islamic leaders promised to coexist peacefully with Christians in the state.
The two religious bodies signed a pact to continue living in harmony when a delegation of the Imams and Alfas presented a condolence letter to the Ogun CAN Chairman, Bishop Tunde Akin-Akinsanya, over the Ondo Church attack.
Presenting the condolence letter at the Abeokuta office of the CAN Chairman, the Secretary-General of the League of Imams and Alfas, Sheikh Tajudeen Adewunmi, said the Owo massacre which claimed over 40 lives, was unfortunate.
Adewunmi, who was accompanied by Imam of Makun, Sagamu, Dr. Tajudeen Ashaye and other religious leaders across the state, stated that muslims in Ogun were saddened by the unprovoked killing of worshippers in the church.
"We decided to pay a condolence visit to you on behalf of all Muslims in the state over the Owo incident.
"We are here to show our displeasure over the killings and to also assure you that Muslims are not killers and will not attack christians in the state.
"We have seen ourselves as a family and we will continue to relate as such. We have christians and Muslims in our families. We have no reason to attack ourselves.
"On behalf of the entire Muslims in Ogun State, the league felt concerned, that is why we were asked to come down and show our condolence.
"We, the muslims have come to register our condolences. And we are here to assure you that the Muslims in Ogun State are very peaceful, we are very friendly with christians. We pray that such a thing will never happen again."
In his response, the CAN Chairman appreciated the league for the gesture, saying Christians do not mistake Muslims for the attackers of Owo church, describing them as arch enemies.
Akin-Akinsaya maintained that it was difficult to believe that a dastardly act of such magnitude could happen in the South West, considering the mutual relationship between the two religions adherents.
He said "It is not very easy for us here to fight. Those who did it are neither Muslims nor Christians. They are satanic. They are our enemies. They are not Muslims. Such things that are happening in the north cannot happen here because we are a family. You hardly see any family without the two religions, but it is unfortunate that such a thing happened. The attack came from our arch enemies.
"I am so happy. Let say that this is the first time this kind of thing will happen and I want to commend the leadership of the Islamic religion in Ogun State for this.
Source: Daily Post Nigeria
Please click the following URL to read the full text of the original story:
https://dailypost.ng/2022/06/15/no-reason-for-muslims-to-attack-churches-islamic-leaders-tell-can/
--------
Terrible people around Buhari planning to wipe out Igbos – Amaechi
June 15, 2022
By Seun Opejobi
A former Aviation Minister, Mbazulike Amaechi, has said there are a lot of terrible people around President Muhammadu Buhari.
Amaechi said these terrible people are misleading Buhari regarding the situation of insecurity in the Southeast.
Addressing journalists on the occasion of his 94th birthday, Amaechi said these terrible people are plotting to 'wipe away the Igbo race in Nigeria'.
He, however, described the president as a good man.
According to Amaechi: "President Muhammadu Buhari, by my association with him is a good man and prepared to respect me.
Source: Daily Post Nigeria
Please click the following URL to read the full text of the original story:
https://dailypost.ng/2022/06/15/terrible-people-around-buhari-planning-to-wipe-out-igbos-amaechi/
--------
Death toll in Burkina jihadist massacre rises to 86
Jun 16, 2022
Ouagadougou: The death toll from a weekend attack in northern Burkina Faso rose by seven, taking the number killed to 86, authorities said on Wednesday.
The massacre at the village of Seytenga is the second worst in the history of Burkina's insurgency, which started in 2015 when jihadists launched cross-border raids from Mali.
Attacks mainly by groups affiliated with Al-Qaeda and the Islamic State group have since claimed thousands of lives, while nearly two million have fled their homes.
The previous toll in the Seytenga attack stood at 79.
Source: Times Of India
Please click the following URL to read the full text of the original story:
https://timesofindia.indiatimes.com/world/rest-of-world/death-toll-in-burkina-jihadist-massacre-rises-to-86/articleshow/92244465.cms
--------
Daesh/ISIS terrorists kill at least 22 people in northeastern Mali
Aurore Bonny
15.06.2022
DOUALA, Cameroon
More than 20 people, including displaced people, were killed on Sunday near Menaka in northeastern Mali, a pro-government armed group said Wednesday.
"Armed men broke into a camp not far from the locality of Izingaz, commune of Ihinita, circle of Tidermene, Menaka region, on June 12, 2022, and proceeded to the summary execution of 22 people, including displaced persons who had come to seek refuge in this area," the Platform of the June 14 Movements of Algiers group said in a statement.
Serious violations of human rights and life were perpetrated by terrorists affiliated with the Daesh/ISIS terror group operating on motorcycles, it said.
The group demanded an investigation by the competent authorities, human rights organizations and the UN mission in Mali.
It pledged to "do everything possible to ensure that these crimes do not go unpunished."
Mali is one of the Sahel countries under the yoke of terrorism. Armed attacks are recurrent and operated by terror groups affiliated with Daesh/ISIS.
Source: Anadolu Agency
Please click the following URL to read the full text of the original story:
https://www.aa.com.tr/en/africa/daesh-isis-terrorists-kill-at-least-22-people-in-northeastern-mali/2614807
--------
Libyan court passes Abu Slim jail massacre case to military tribunals
15 June, 2022
A Libyan court said Wednesday it could not rule on the case of a notorious prison massacre under slain Libyan leader Muammar Gaddafi, arguing it should be heard by a military tribunal.
In 1996, 1,269 inmates were killed following an uprising at the Abu Slim jail in Tripoli.
Fifteen years later, rare protests by family members demanding to know the truth about the killings helped spark the uprising that toppled Gaddafi.
But despite his departure and killing in the 2011 revolt, they have yet to receive answers.
A Tripoli appeals court has been examining the case since May 2021, and had been set to deliver a verdict on the case on Wednesday.
But instead, the judge "ruled that the entire case had a military character, as many of those implicated belonged to the military," a prosecution source told AFP.
"He decided to transfer the entire case to a competent military court."
The source said the case was now "entirely outside the civilian court system" and in the hands of the military courts.
In 2019, a Libyan court had declared the case inadmissible, but the Supreme Court overturned that ruling and later handed the file to a new court.
Wednesday's ruling is another stage in the Abu Slim families' long wait for justice.
It was only in 2001 that they were informed that their loved ones had died. Many were buried in mass graves inside the prison, later exhumed after Gaddafi's fall.
The main suspects are the dictator's former intelligence chief Abdallah al-Senussi and Mansour Daou, head of Gaddafi's personal guard.
Source: Al Arabiya
Please click the following URL to read the full text of the original story:
https://english.alarabiya.net/News/north-africa/2022/06/15/Libyan-court-passes-Abu-Slim-jail-massacre-case-to-military-tribunals
--------
France announces capture of senior ISIS member in Mali
15 June, 2022
France announced on Wednesday that soldiers from its operation battling extremists in the Sahel region of West Africa had captured Oumeya Ould Albakaye, a senior ISIS member in Mali.
The French Armed Forces ministry said Albakaye was captured by Operation Barkhane forces between the night of June 11 and the early hours of June 12 close to the border between Mali and Niger.
Souring relations between France and the military junta in its former colony of Mali have led France to withdraw troops that were deployed in 2013 to push back militants linked to al-Qaeda, and later to ISIS.
Mali has been hit by violence since 2012 when terrorists took over the north.
France beat them back, but by 2015 they had regrouped and unleashed a wave of attacks in the center.
Source: Al Arabiya
Please click the following URL to read the full text of the original story:
https://english.alarabiya.net/News/north-africa/2022/06/15/France-announces-capture-of-senior-ISIS-member-in-Mali
--------
South Asia
The Taliban Arrests Three People on Charges of Involvement in the Recent Bombings
By Saqalain Eqbal
15 Jun 2022
Taliban spokesman Zabihullah Mujahid recently announced that three people had been arrested on charges of being involved in recent attacks and explosions in Kabul.
He described the prisoners as "disruptors" who "disrupted the security of the city in exchange for money" on his tweet of 14th June, last night.
These men, according to Mujahid, were apprehended in Kabul's fourth police district.
The Taliban official has used the term "disruptor" to characterize anti-Taliban figures in the past, as well as opposition forces more recently.
He claimed that the detainees had confessed to their crimes and had done so in exchange for money.
Source: Khaama Press
Please click the following URL to read the full text of the original story:
https://www.khaama.com/the-taliban-arrests-three-people-on-charges-of-involvement-in-the-recent-bombings-78659/
--------
UNAMA Works to Revitalize the Private Sector in Afghanistan
By Saqalain Eqbal
15 Jun 2022
The UN Assistance Mission in Afghanistan (UNAMA) has stated that the private sector's role in promoting society and economic stability is critical, and that it is striving to revitalize it in Afghanistan.
Deborah Lyons, UN Secretary-General's Special Representative for Afghanistan and head of UNAMA News, met with Afghan businessmen in Dubai on Wednesday June 15th to explore revitalizing the private sector's role, according to UNAMA.
According to UNAMA, creating jobs for Afghan men and women has been one of the meeting's main objectives.
Deborah Lyons emphasized the importance of women in public services and their contribution to society's capacity building, and raised concerns over Taliban restrictions on women and girls.
However, since the Taliban took power, the Afghan private sector and economy have been impacted by the group's policies, and women have been housed on the Taliban's edicts.
Source: Khaama Press
Please click the following URL to read the full text of the original story:
https://www.khaama.com/unama-works-to-revitalize-the-private-sector-in-afghanistan-88694/
--------
Putin's Spokesman Denies the Allegations That Russia Might Recognize the Taliban
By Saqalain Eqbal
15 Jun 2022
Dmitry Sergeyevich Peskov, the Russian presidential spokesperson, said at a press conference on Wednesday, June 15, that Moscow had not discussed recognizing the Taliban interim government.
When questioned about the prospect recognizing of Afghanistan's new government, Peskov stated, "It is not on the current agenda. We have said this many times. It is useless to make any forecasts,".
Spokesperson Dimitry told reporters that there were still doubts about recognizing the Taliban, and that he believed humanitarian concerns had compelled many countries to contact the Taliban.
Russia's special ambassador to Afghanistan, Zamir Kabulov, said on Tuesday that Moscow might recognize the Taliban interim government but would not follow other countries' lead.
Of Russia's prospective recognition of the Taliban rule, Kabulov remarked, "There is such a possibility." "The Russian president and foreign minister determined the terms."
He stated emphatically that Russia will not follow the US and other countries in recognizing the Taliban government.
Source: Khaama Press
Please click the following URL to read the full text of the original story:
https://www.khaama.com/putins-spokesman-denies-the-allegations-that-russia-might-recognize-the-taliban-78455/
--------
Afghan Working Children in Iran Increase by 20 Times as the Taliban Takes Control of Afghanistan
By Saqalain Eqbal
15 Jun 2022
According to the Iranian media, the number of Afghan child laborers in Iran has increased 20-fold since the Taliban assumed power, citing officials from human rights organizations.
Consistent with the Iranian media, Fatah Ahmadi, Iran's deputy minister of justice for human rights and international affairs, alerted that the Taliban presence in Afghanistan was producing instability for families and elevating child labor in Iran, during the World Day against child labor.
The deputy minister of justice for human rights and international affairs was quoted by the Islamic Republic of Iran's official news agency, IRNA, as claiming that the Taliban's dominance in Afghanistan had forced a wave of families to flee to Iran with their young children, and that the children had been employed to start a new life.
He justified the rise in working children in Iran by saying, "We could not stop them but to shelter them for humanitarian grounds."
Despite the fact that the number of working children in Afghanistan has increased since the Taliban took power, the group has not responded to the upsurge of Afghan working children in Iran yet.
Source: Khaama Press
Please click the following URL to read the full text of the original story:
https://www.khaama.com/afghan-working-children-in-iran-increases-by-20-times-as-the-taliban-took-control-of-afghanistan-12347/
--------
Arab World
Street in front of Saudi embassy in Washington named after Khashoggi
15 June 2022
The street in front of the Saudi Arabian embassy in Washington has been named after Jamal Khashoggi, the Saudi dissident journalist who was murdered in Istanbul in 2018.
On Wednesday, the US capital's local government changed signs on one block in front of the embassy to read "Jamal Khashoggi Way".
A team of Saudi operatives murdered Khashoggi, a Washington Post journalist, who was critical of Saudi Crown Prince Mohammed bin Salman, at the Saudi consulate in Istanbul on October 2, 2018.
The street will serve as "a constant reminder, a memorial to Jamal Khashoggi's memory that cannot be covered up," said Phil Mendelson, president of the District of Columbia Council, which voted unanimously to rename the stretch of New Hampshire Avenue.
During the presidential election campaign, US President Joe Biden emerged as an outspoken critic of bin Salman, who according to US intelligence authorized the killing.
Biden said during a Democratic debate back then that he would make Saudi Arabia "the pariah they are" if he were elected.
On Tuesday, however, the White House announced that Biden would travel next month to Saudi Arabia and meet with the royal.
Tawakkol Karman, a Yemeni activist and writer who won the Nobel Peace Prize, said at the ceremony held for changing the street's name that the upcoming visit "means that Biden has abandoned his commitment to support human rights around the world."
Sarah Leah Whitson, executive director of Democracy for the Arab World Now, a rights group founded by Khashoggi, denounced Biden's "shameless capitulation."
Source: Press TV
Please click the following URL to read the full text of the original story:
https://www.presstv.ir/Detail/2022/06/15/683976/Saudi-embassy-Washington-Jamal-Khashoggi
--------
Senior Islamic State terror leader captured in Syria raid, says US-led coalition
June 15, 2022
BAGHDAD, Iraq — A senior terror leader from the Islamic State terror group was captured in a raid in Syria on Thursday, the US-led coalition fighting the terrorists said.
The leader — who was not named — is an "experienced bomb maker and facilitator" and one of IS's top leaders in Syria, the coalition said.
"The mission was meticulously planned to minimize the risk of collateral damage, particularly any potential harm to civilians," it said in a statement. "There were no civilians harmed during the operation nor any damage to coalition aircraft or assets."
After losing their last territory following a military onslaught backed by the US-led coalition in March 2019, the remnants of IS in Syria mostly retreated into desert hideouts.
They have since used such hideouts to ambush Kurdish-led forces and Syrian government troops while continuing to mount attacks in Iraq.
The terror group's former leader, Abu Ibrahim al-Qurashi, was killed in early February when he detonated a bomb to avoid capture during a US raid in northwest Syria, the White House and US defense officials said.
The group has vowed to avenge the killing, with a spokesman recently calling on supporters to resume attacks in Europe, taking advantage of the "available opportunity" of "the crusaders fighting each other" — referring to Russia's invasion of Ukraine.
His demise was the biggest setback to IS since his predecessor, the better-known Abu Bakr al-Baghdadi, was killed about 15 kilometers (nine miles) away during a US commando raid in 2019.
Source: Times Of Israel
Please click the following URL to read the full text of the original story:
https://www.timesofisrael.com/senior-islamic-state-terror-leader-captured-in-syria-raid-says-us-led-coalition/
--------
EU provides $104 million to Egypt to cope with rising food prices
15 June ,2022
The EU will provide 100 million euros ($104 million) to Egypt to help it cope with rising food prices, EU Commission President Ursula von der Leyen announced on Wednesday.
Speaking at a joint press conference alongside Egypt's President Abdel Fattah al-Sisi in Cairo, von der Leyen said the immediate relief of 100 million euros to Egypt aims to help the country face "the immediate situation of food security" which has resulted from the Russia-Ukraine war.
"This will hopefully help to increase the grain storage capacity and will provide finance for rural businesses and farmers," she said.
Von der Leyen noted that the EU will devote 3 billion euros to agriculture, nutrition, water, and sanitation programs over the next few years in the region for the purpose of supporting food systems in the region and elsewhere.
Sisi thanked von der Leyen for her visit to Egypt, noting that his country is keen on improving cooperation with the EU particularly amid the "difficult economic and political circumstances" which the world currently faces.
Commenting on current economic global challenges, Sisi said that he and von der Leyen agreed on the importance of coordinated international efforts with all partners to mitigate the consequences of the food crisis particularly in countries that are most affected by it.
He also said that his talks with the EU official focused on improving cooperation between Egypt and the EU in the energy sector.
"We agreed on laying the foundation of a strategic partnership in this sector which is vital for the future of development," the president said, adding that talks also discussed investments to develop infrastructure to produce green hydrogen as a source for clean energy.
Earlier on Wednesday, Israel, Egypt, and the EU signed a memorandum of understanding (MoU) to boost natural gas exports to Europe.
The conflict in Ukraine has fueled a global food crisis, with surging prices for grains, cooking oils, fuel, and fertilizer.
Source: Al Arabiya
Please click the following URL to read the full text of the original story:
https://english.alarabiya.net/News/middle-east/2022/06/15/EU-provides-104-million-to-Egypt-to-cope-with-rising-food-prices
--------
Two dead, seven injured in Turkish airstrikes hitting YBS site in Iraq
15 June, 2022
At least two people were killed and seven injured in Turkish airstrikes targeting the Sinjar Resistance Units (YBS), a militia affiliated with the Kurdistan Workers Party (PKK), in Iraq's northern province of Sinjar, security sources said on Wednesday.
They said one strike targeted an intelligence headquarters and another hit a council building, causing damage to nearby shops.
Videos on social media showed plumes of thick smoke and fires ablaze while people ran away in the street, though Reuters could not immediately verify the videos.
Turkey regularly carries out airstrikes into northern Iraq and has sent commandos to support its offensives.
In April, the Turkish foreign ministry summoned the Iraqi charge d'affaires after Baghdad accused Ankara of violating its sovereignty and called on it to withdraw all of its forces from Iraqi territory.
Source: Al Arabiya
Please click the following URL to read the full text of the original story:
https://english.alarabiya.net/News/middle-east/2022/06/15/At-least-one-killed-in-Turkish-airstrikes-on-Iraq-s-Sinjar-
--------
Civilian killed in terror attack in Syria's al-Bab
Omer Koparan
15.06.2022
Al-BAB, Syria
A Syrian civilian was killed in a terrorist attack in the northwestern al-Bab city on Wednesday, according to local sources.
The victim was seriously injured and lost his life when a car laden with explosives went off near the city center, the sources said.
The explosion caused material damage in the surrounding area.
Local security forces have launched an investigation into the blast, which is suspected to have been carried out by the YPG/PKK terrorist group.
Source: Anadolu Agency
Please click the following URL to read the full text of the original story:
https://www.aa.com.tr/en/middle-east/civilian-killed-in-terror-attack-in-syrias-al-bab/2614068
--------
Russia summons Israel ambassador over airstrikes on Damascus airport
16 June 2022
Russia has summoned the Israeli ambassador to the country, expressing "serious concern" over recent airstrikes against Damascus International Airport.
The Russian foreign ministry announced the summoning in a statement on Wednesday after Deputy Foreign Minister Mikhail Bogdanov met with Alexander Ben Zvi.
"Serious concern was again expressed over the June 10 Israeli air force attack on the civilian airport of Damascus," the ministry said.
The statement said the attack had damaged the runway, navigation equipment, and buildings, and disrupted international civilian air traffic.
"The ambassador was told that the justification received from the Israeli side regarding the strike ... was unconvincing and that Moscow expected additional clarification," the ministry added.
Reporting the airstrikes, the official Syrian Arab News Agency (SANA) cited a military source as saying that Israeli warplanes had fired several missiles from the direction of Syria's Tel Aviv-occupied Golan Heights at some targets south of Damascus.
The report specified the timing of the aggression as around 4:20 a.m. local time (0120 GMT) Friday, adding that Syrian air defenses had brought down most of the incoming projectiles.
Syria and the Israeli regime are technically at war due to the latter's 1967-present occupation of the Golan.
The regime maintains a significant military presence in the occupied territory, which it uses as one of the launchpads for attacks on Syrian soil.
Israeli attacks on Syria started to grow significantly in scale and frequency after 2011 when Syria found itself in the grip of foreign-backed terrorism.
Source: Press TV
Please click the following URL to read the full text of the original story:
https://www.presstv.ir/Detail/2022/06/16/683981/Russia-Israel-Syria-airstrikes-Damascus-airport
--------
Astana Talks: Iranian diplomat says Tehran, Moscow on the same page on Syria
15 June 2022
On day one of the 18th round of Astana talks on Syria that kicked off in the Kazakh capital Nur-Sultan on Wednesday, Iran's representative stressed uniformity of views on Syria between Moscow and Tehran.
Ali Asghar Khaji, a senior aide to Iran's foreign minister, told Russia's Sputnik News that the Iranian and Russian delegations discussed all the important issues concerning Syria in a "very good" meeting.
"Our view is close to the Russian side, and there are common views that will be reflected in the final statement," the senior diplomat noted.
The new round of peace talks on Syria in the Astana Format, which commenced on Wednesday, is attended by high-level delegations from Iran, Russian, and Turkey – the three guarantor countries.
A United Nations delegation led by Robert Dunn, political affairs officer of the special envoy for Syria, a Jordanian delegation, representatives of the UN High Commissioner for Refugees, and the International Committee of the Red Cross is also attending as observers.
Khaji is heading the Iranian delegation in the talks that seek to find a lasting solution to issues related to the war-ravaged Arab country.
The participants are expected to discuss issues such as the conditions for the safe return of Syrian refugees, the humanitarian and socio-economic situation in Syria, the work of the Constitutional Committee in Geneva, confidence-building measures, the release of hostages, and the search for missing persons.
Iran and Russia, as the allies of the Syrian government, as well as Turkey, which sides with the opposition, set up the Astana peace process in January 2017 intending to put an end to the Syrian conflict through the involvement of the Syrian government and the opposition.
The 17th round of the talks was held in December last year.
Turkey's possible attack on Syria 'unwise': Russia
Russian president's special envoy for Syria, Alexandr Lavrentyev, speaking on the sidelines of the meeting on Wednesday said Moscow considers Ankara's possible military operation in Syria "unwise" as it could escalate and destabilize the situation.
"We believe that it (a Turkish military operation) would be an unwise move that may destabilize the situation, escalate tensions and cause a new round of hostilities in the country," Lavrentyev said, cited by Russian news agency TASS.
He said Russia has urged Turkey to refrain from military actions in Syria and to resolve the issue peacefully, adding that Russia will continue to help Syria.
In a separate statement, the Kremlin said that a possible Turkish military operation in Syria would not bring stability.
"We do not believe that this special operation will contribute to the stability and security of the Syrian Arab Republic," Kremlin spokesperson Dmitry Peskov told reporters on Wednesday.
Turkish President Recep Tayyip Erdogan recently declared a plan to launch a new military operation into northern Syria to create a "safe zone" along the border.
Iran and Russia have rejected Turkey's plan, saying they oppose the use of military action against regional countries.
"The Islamic Republic of Iran opposes any military action and the use of force on the territory of other countries with the aim of resolving disputes between them," Iranian Foreign Ministry spokesman Saeed Khatibzadeh said late last month.
Turkey has for long violated Syria's territorial integrity by deploying its military forces there with the professed aim of fighting militants from the People's Protection Units (YPG) away from border areas. Ankara's incursions in Syria have drawn strong condemnations from the Damascus government.
Turkey views the YPG as a terrorist organization linked to the homegrown Kurdistan Workers' Party (PKK), which has been seeking an autonomous Kurdish region in Turkey since 1984.
Turkish airstrike kills 4, including 12-year-old boy in northern Iraq
The fresh round of Astana talks coincided with a Turkish airstrike in northern Iraq, which killed at least four people, including a 12-year-old boy.
Several others were also wounded in the attack that took place around noon in Sinuni area outside Sinjar, an Iraqi security official was cited in news reports.
The Turkish military has occupied areas in northern Iraq, where it regularly conducts attacks against what it claims are PKK positions without the Arab country's consent.
Baghdad has repeatedly condemned Ankara's ongoing military operations in northern Iraq, warning that Turkey intends to seize control of the strategic northwestern city of Mosul and annex it to its own territory.
Iraqi resistance groups have also time and again warned Turkey of the consequences of its incursions into their country.
Syria calls on UN to act against Turkey's aggressive policies
Meanwhile, the Syrian delegation to the Astana talks, headed by Deputy Foreign Minister Ayman Sousan, met with the UN delegation headed by Robert Dann, the chief of political affairs in the office of the UN special envoy for Syria and head of the UN delegation to the Astana process, on the sideline of the talks.
During the meeting, Sousan underlined the need for the UN to assume its responsibilities to curb Turkey's aggressive policies.
It is unacceptable to remain silent about these policies that pose a serious threat to security and stability in the region, she said.
Source: Press TV
Please click the following URL to read the full text of the original story:
https://www.presstv.ir/Detail/2022/06/15/683947/Iran-Russia-similar-views-Syria-Diplomat
--------
Mideast
Islamic Movement official: Religious war will end with expulsion of Jews from Palestine
Dalit Halevi
15.06.22
Former MK Ibrahim Sarsur, a former leader of the Islamic Movement's Southern Branch and a member of the Shura Council, has slammed Deputy Religious Affairs Minister Matan Kahana's (Yamina) recent statement regarding Israeli Arabs.
"Matan Kahana's pitiful words, in addition to being fascist and disgusting, prove two important things: One, there is still a very high percentage of Zionists who believe that ethnic cleansing is the solution to the Jewish problem. Two, his recognition of the fact that the Palestinian nation is a fact, and that it will continue to exist in its homeland forever," Sarsur said.
Sarsur also supports "redeeming" Jerusalem and creating a "Palestinian" state in preparation for the creation of an Islamic caliphate in all of "Palestine" and beyond it.
Sheikh Ryad Badir, who heads the Institute for Legal Rulings and Islamic Research of the Islamic Movement, to which the United Arab List is subject, explained that Arab Israelis initiated a "religious war" in May 2021, and that this war is just a prelude to a larger religious war in the future.
Source: Israel National News
Please click the following URL to read the full text of the original story:
https://www.israelnationalnews.com/news/354935
--------
In Yemen, child soldiering continues despite Houthi promise
16 June, 2022
Two officials have said the Iran-backed Houthi militia has recruited several hundred children including as young as 10 over the past two months.
In a video, a man stands in front of a blackboard in a full classroom, teaching the parts of an AK-47 rifle. He then hands it over to a boy, showing him how to cock it.
Other children crowd around, many who appear to be no older than 10, asking for their turn. The video, leaked online this month, provides a rare window into child soldier indoctrination by Yemen's Iran-backed Houthi militia. Local residents confirmed to The Associated Press that it was filmed in recent weeks in Yemen's Houthi-held province of Amran, northwest of the capital, Sanaa.
Despite an agreement with the UN in April to halt the practice, the Houthis continue to recruit children into the military ranks to fight in the country's grinding civil war, Houthi officials, aid workers and residents told the AP.
Two Houthi officials said the group recruited several hundred children including as young as 10 over the past two months. Those children have been deployed to front lines, as part of a buildup of forces taking place during a UN-brokered truce, which has held for more than two months, one official said.
The officials, both hardliners within the Houthi movement, said they see nothing wrong with the practice, arguing that boys from 10 or 12 are considered men.
"Those are not children. They are true men, who should defend their nation against the Saudi, American aggression, and defend the Islamic nation," one of them said. The two spoke on condition of anonymity to avoid frictions with others among the Houthis.
The Houthis have used what they call "summer camps" to disseminate their religious ideology and to recruit boys to fight. Such camps take place in schools and mosques around the Houthi-held part of Yemen, which encompasses the north and center of the country and Sanaa.
Yemen's conflict erupted in 2014 when the Houthis descended from their northern enclave and took over Sanaa, forcing the internationally recognized government to flee to the south. An Arab Coalition entered the war in early 2015 to try to restore the government to power, waging a destructive air campaign and arming anti-Houthi forces.
The war has killed more than 150,000 people, including more than 14,500 civilians and has plunged the country into near famine, creating one of the world's worst humanitarian crises.
Child soldiers have been involved for years. Nearly 2,000 Houthi-recruited children were killed on the battlefield between January 2020 and May 2021, according to UN experts. Pro-government forces have also used child fighters but to a much lesser degree and have taken greater measures to halt the practice, according to UN and aid officials.
Overall, the UN says over 10,200 children have been killed or maimed in the war, though it is unclear how many may have been combatants.
In April, the Houthis signed what the UN children's agency described as an "action plan" to end and prevent the practice. UN spokesperson Stephane Dujarric said the Houthis committed to identifying children in their ranks and releasing them within six months.
UNICEF and the Houthis did not respond to requests for comment on the continued recruitment since.
Four aid workers with three international organizations operating in Houthi-held areas said they observed intensified Houthi efforts to recruit children in recent weeks. The Houthis' ranks have been thinned because of battlefield losses, especially during a nearly two-year battle for the crucial city of Marib.
The aid workers spoke on condition of anonymity for fear of their safety and that their groups could be barred from working in Houthi-held territory.
They said the Houthis have pressured families to send their children to camps where they learn how to handle weapons and plant mines, in return for services including food rations from international organizations.
One aid worker who operates in remote northern areas described watching children as young as 10 manning checkpoints along the road, with AK-47s hanging on their shoulders. Others are sent to the front line. He said children have returned wounded from fighting at Marib.
Thousands of fighters were killed in the battle for government-held Marib. The Houthis' long attempt to capture it was finally stopped in late 2021 when government forces were bolstered by better-equipped fighters backed by the United Arab Emirates.
Abdel-Bari Taher, a Yemeni commentator and former head of the country's Journalists' Union, said that the Houthis are exploiting local customs to the children's and society's detriment. Having or carrying a weapon is a tradition deeply rooted in Yemen, especially in rural and mountainous communities, he said.
"It is a source of pride and kind of manhood for the boys," he said.
The Houthis also condition crucial food aid on children attending the training camps, some say.
Two residents in Amran province said Houthi representatives came to their homes in May and told them to prepare their children for camps at the end of the school year. The residents, who are farmers, spoke on condition of anonymity for fear of reprisals.
They said their five children, aged between 11 and 16, were taken in late May to the school where the video was taken. One father said he was told that if he didn't send his children, his family would no longer receive food rations.
The UN panel of experts said earlier this year that the Houthis, a Zaidi-Shia religious movement turned-militia with ties with Iran, have a system to indoctrinate child soldiers, including using humanitarian aid to pressure families.
Children are taken first to centers for a month or more of religious courses. There, they are told they are joining a holy war against Jews and Christians and Arab countries that have succumbed to Western influence. Seven-year-olds are taught weapons cleaning and how to dodge rockets, the experts found.
Source: Al Arabiya
Please click the following URL to read the full text of the original story:
https://english.alarabiya.net/News/gulf/2022/06/16/In-Yemen-child-soldiering-continues-despite-Houthi-promise
--------
Russia raps Israel over Jerusalem church land ruling
15 June, 2022
Russia said Wednesday it was "deeply concerned" after Israel's top court ruled that a Jewish settler group legally purchased an east Jerusalem property from the Greek Orthodox Church.
The Ateret Cohanim organization, which seeks to "Judaize" Israeli-annexed east Jerusalem, bought three buildings from the church in a controversial deal struck in secret in 2004.
The church brought charges against Ateret Cohanim, claiming the properties were acquired illegally and without its permission.
"We are deeply concerned about the situation regarding the Christian presence in Jerusalem," Russian foreign ministry spokeswoman Maria Zakharova said in a statement, a week after Israel's Supreme Court dismissed the church's appeal.
"Such a decision is predictably detrimental to interfaith peace and raises legitimate concerns about the position of the Christian community in the Holy Land," she added.
Tensions between Russia and Israel have heightened since the start of Moscow's military intervention in Ukraine, with Moscow accusing Israel of supporting the "neo-Nazi regime" in Kyiv.
In April, Russia asked Israel to hand over ownership of the contested Alexander Nevsky Church in Jerusalem after the transfer – approved by the previous Israeli government – was halted.
The Greek Orthodox Church is the largest and wealthiest church in Jerusalem with extensive land holdings there dating back centuries.
It has faced repeated accusations of corruption and facilitating Israeli settlement expansion on its properties.
Source: Al Arabiya
Please click the following URL to read the full text of the original story:
https://english.alarabiya.net/News/middle-east/2022/06/15/Russia-raps-Israel-over-Jerusalem-church-land-ruling
--------
Turkey wants 'written response' from Finland, Sweden over NATO bid concerns
15 June, 2022
Turkey said on Wednesday that it was waiting for a "written response" from Sweden and Finland to Ankara's objections to their NATO bids.
"We have transmitted our questions in writing to these two countries," Turkey Foreign Minister Mevlut Cavusoglu told reporters.
"Now we're waiting for their written responses," he said.
The two Nordic countries reversed decades of military non-alignment by applying for NATO memberships in May, following Russia's invasion of Ukraine.
Any NATO membership deal must, however, be unanimously approved by all 30 members of the alliance, and Turkey has thrown a spanner in the works and blocked their bids.
Ankara is accusing the Nordic neighbors of providing a safe haven for the outlawed Kurdistan Workers' Party (PKK), listed as a "terrorist" group by Turkey and its Western allies.
Turkey President Recep Tayyip Erdogan told members of his party on Wednesday that "as long as Sweden and Finland don't adopt concrete measures on the fight against terrorism, our position will not change."
NATO Secretary General Jens Stoltenberg said Monday, during a visit to Sweden, that NATO was working "hard and actively" to resolve Turkey's concerns "as soon as possible."
Source: Al Arabiya
Please click the following URL to read the full text of the original story:
https://english.alarabiya.net/News/middle-east/2022/06/15/Turkey-wants-written-response-from-Finland-Sweden-over-NATO-bid-concerns
--------
UN experts alarmed by Iran 'violent crackdown' on protests
15 June, 2022
A group of independent UN rights experts expressed alarm Wednesday over a "violent crackdown" on teachers and wider civil society in Iran, demanding that those responsible be held to account.
The experts, who are appointed by the United Nations but do not speak on its behalf, alleged that more than 80 teachers had been arrested or summoned by the authorities in the Islamic Republic.
The reported arrests come amid repeated protests by teachers against working conditions and low wages, including one held on May 1 - International Workers' Day - when they took to the streets of several cities, joined by transport workers.
"We are alarmed at the recent escalation of arbitrary arrests of teachers, labor rights defenders and union leaders, lawyers, human rights defenders and other civil society actors," the experts said in a UN statement.
"The space for civil society and independent associations to carry out their legitimate work and activities is becoming impossibly narrow," they added.
The experts also alleged that five people had been killed in wider protests since the start of May, due to "excessive use of force by security forces."
They blamed a government decision to cut food subsidies for fueling the protests, along with anger over corruption.
The statement called for "those responsible for using excessive force to be held to account through comprehensive and independent investigations."
Iran has been mired in economic crisis since the US reimposed sweeping sanctions after then president Donald Trump in 2018 unilaterally pulled out of a nuclear deal between Tehran and world powers.
The country has in recent weeks also been hit by protests sparked by the May 23 partial collapse of a building in the southwestern city of Abadan.
Authorities say they have arrested 13 officials, including a mayor and two former mayors, in connection with the disaster, one of Iran's deadliest in years.
Source: Al Arabiya
Please click the following URL to read the full text of the original story:
https://english.alarabiya.net/News/middle-east/2022/06/15/UN-experts-alarmed-by-Iran-violent-crackdown-on-protests
--------
Official says Yemeni journalist killed in explosion in Aden
16 June, 2022
A Yemeni journalist was killed when his car exploded while he was driving in the southern port city of Aden, an official said Thursday, the latest such attack in the seat of Yemen's internationally recognized government.
Information Minister Moammar al-Iryani said an improvised explosive device had been planted in the car of Saber al-Haidari, an employee with the ministry who also worked for Japan's NHK television network. It exploded late Wednesday, killing him.
He said in a series of posts on Twitter that al-Haidari had fled the capital, Sanaa, in 2017 due to increasing restrictions by the Iran-backed Houthi militia who hold the city. No group claimed responsibility immediately for the attack.
The coastal city of Aden has been rocked by several explosions in recent years that were blamed on local affiliates of the al-Qaida and ISIS militant groups. The Houthis have also attacked the city, including with ballistic missiles and explosives-laden drones.
In November, a Yemeni journalist and her child were killed in an explosion that targeted her family's vehicle in Aden.
The city has been the seat of the internationally recognized government since the Houthis took over Sanaa in 2014, triggering Yemen's civil war.
An Arab coalition entered the war in March 2015, backed by the United States, to try restore the government to power.
Source: Al Arabiya
Please click the following URL to read the full text of the original story:
https://english.alarabiya.net/News/gulf/2022/06/16/Official-says-Yemeni-journalist-killed-in-explosion-in-Aden
--------
North America
US admits 'regular, indirect contact' with Iran on N-issue
Anwar Iqbal
June 16, 2022
WASHINGTON: The Biden administration has maintained "regular indirect contact" with Iran, says the US State Department, indicating that Washington might have received a new proposal from Tehran to resolve the long-running nuclear dispute.
Iranian Foreign Minister Hossein Amir-Abdoll­ahian said on Wednesday that Tehran has presented a new proposal to the US to revive the 2015 nuclear deal.
Iran's state TV reported that Iran was also seeking guarantees from Washington that a change of administration in the US will not undo the deal, as it happened with the Joint Comprehensive Plan of Action (JCPOA), which was signed in 2015 but scrapped by the Trump administration in 2018.
When asked at a Tuesday afternoon news briefing, State Department Spokesperson Ned Rice said that Washington had maintained contact with Tehran, but did not share details.
Tehran seeking guarantees no Washington govt will undo deal in future
"We have been in regular indirect contact via the European Union, so we're not going to speak to the specific dynamics of this diplomacy other than to say that (EU's) Enrique Mora has served as an important go-between," he said.
"We await a constructive response from the Iranians, a response that leaves behind issues that are extraneous to the JCPOA." This was a reference to some new demands from Tehran, including the removal of sanctions on its Islamic Revolutionary Guards Corps.
Asked if the Iranians were demanding assurance that a future US administration would not nullify the second deal as well, Mr. Price said: "On that, we have made very clear to the Iranians … that our intention was and is to effect a mutual return to compliance with the JCPOA."
The United States, he said, would remain in the deal "so long as Iran would live up to its end" of the bargain as "it would serve us no purpose to achieve a mutual return to compliance only to scrap it down the line".
Mr Biden, who was then the vice president, played a key role in finalising the JCPOA. The five permanent members of the United Nations Security Council -- China, France, Russia, United Kingdom, United States-plus Germany) together with the European Union had jointly signed the deal.
Source: Dawn
Please click the following URL to read the full text of the original story:
https://www.dawn.com/news/1695043/us-admits-regular-indirect-contact-with-iran-on-n-issue
--------
US 'still optimistic' Türkiye-Nordic row will be resolved
Michael Hernandez
15.06.2022
WASHINGTON
The US continued to voice optimism Wednesday that an ongoing row between Türkiye and Finland and Sweden regarding the Nordic nations' NATO membership bids will be resolved.
"We're still optimistic that these issues will be able to be worked out and that Finland and Sweden will be able to join NATO," National Security Council spokesman John Kirby told reporters at the White House.
"We know that both countries are working directly with Türkiye to try to address those concerns. And I think we think at this point, it's better left to them as sovereign nations to do that," he added.
The comments come after Turkish Foreign Minister Mevlut Cavusoglu said documents sent by Finland and Sweden regarding their NATO bids do not meet Ankara's expectations, adding that Turkish officials have briefed Stockholm and Helsinki, as well as NATO, about the shortcomings.
The nations formally applied to join NATO on May 18, a decision spurred by Russia's war on Ukraine.
But Türkiye, a longstanding member of the alliance, has voiced objections to the bids, criticizing the countries for tolerating and even supporting terror groups such as the PKK and the Fetullah Terrorist Organization (FETO). Their accession requires the unanimous approval of all 30 NATO member countries.
Source: Anadolu Agency
Please click the following URL to read the full text of the original story:
https://www.aa.com.tr/en/americas/us-still-optimistic-turkiye-nordic-row-will-be-resolved/2614845
--------
UN says it is 'in close cooperation' with Türkiye on Ukraine grain exports
Servet Gunerigok
15.06.2022
WASHINGTON
The UN is "working in close cooperation" with Türkiye to facilitate grain exports from Ukraine, spokesman Stephane Dujarric said Wednesday.
Dujarric said at a news conference the comments made by Turkish Foreign Minister Mevlut Cavusoglu to get grain out of Ukraine without demining "were extremely positive."
When asked Anadolu Agency if the UN established safe corridors without demining the water around Ukraine's ports in the Black Sea, Dujarric said: "I can tell you on that that we have been in very close contact, are working in close cooperation with the Turkish authorities on this issue.".
"Secretary-General (Antonio Guterres) is extremely grateful for the cooperation we've had from President (Recep Tayyip) Erdogan, Foreign Minister Cavusoglu and the Turkish military who've been working so constructively in order to solve this problem," said Dujarric.
Russia said earlier Wednesday it could provide safe passage for grain exports from Ukraine but is not responsible for corridors.
"We're not responsible for establishing safe corridors. We said that we could provide safe passage if these corridors are established," Russia's UN Ambassador Vassily Nebenzia told reporters at UN headquarters.
For Russia to establish the corridors, "it's obvious it's either to demine the territory which was mined by the Ukrainians or to ensure that the passage goes around those mines," he said.
Western and Russian officials are warning of a global food crisis because of the war in Ukraine and sanctions on Russia.
Russia and Ukraine, major global grain exporters, last year had a share of approximately 30% of world wheat exports.
Source: Anadolu Agency
Please click the following URL to read the full text of the original story:
https://www.aa.com.tr/en/americas/un-says-it-is-in-close-cooperation-with-turkiye-on-ukraine-grain-exports/2614743
--------
Europe
Sweden, Finland ready to work with Türkiye on 'legitimate' concerns on terrorism: NATO chief
Agnes Szucs
15.06.2022
BRUSSELS
Sweden and Finland are ready to work with Türkiye on the country's legitimate security concerns on terrorism, the NATO chief said on Wednesday.
Speaking at a news conference ahead of the meeting of NATO defense ministers, Jens Stoltenberg explained that NATO is "now working actively on the next steps in the accession process" of Sweden and Finland.
He stressed that Türkiye is "an important ally" that "has expressed some concerns about some specific issues, especially related to the fight against terrorism."
He also underlined that Türkiye has "legitimate concerns related to their fight against the PKK group and other (terrorist) organizations," adding that PKK is considered a terrorist organization by NATO, the EU, as well as Finland, and Sweden.
Stoltenberg also welcomed the messages from Finland and Sweden about being "ready to actually take actions and to work also more closely with Türkiye to address their security concerns related to terrorism."
He said he was confident that even if it might take more time than originally planned, allies will find a solution for Sweden's and Finland's memberships, especially as Türkiye is also in favor of NATO's open-door policy.
In its more than 35-year terror campaign against Türkiye, the PKK – listed as a terrorist organization by Türkiye, the US, and the EU – has been responsible for the deaths of over 40,000 people, including women, children, and infants.
Asked about NATO's efforts in helping Ukraine's food export, Stoltenberg said he hopes that Türkiye's efforts in enabling the shipment of Ukrainian grain from Black Sea ports will lead to a solution.
Source: Anadolu Agency
Please click the following URL to read the full text of the original story:
https://www.aa.com.tr/en/europe/sweden-finland-ready-to-work-with-turkiye-on-legitimate-concerns-on-terrorism-nato-chief/2614279
--------
Afghanistan: UK embassy staff allege Taliban beatings and torture
By Sima Kotecha
15.06.2022
More than 100 men who worked at the British embassy in Afghanistan remain in the country, with some telling the BBC they have been beaten and tortured.
The men worked for the global security company, GardaWorld, and many had been in post for more than a decade.
Several shared photos of injuries they say were caused by the Taliban.
The UK government says it has evacuated more than 15,000 people since last year and is working to bring more to the UK.
A spreadsheet listing the names of more than 150 men who worked at the embassy and still live in the country has been seen and verified by BBC Two's Newsnight.
One man, who cannot be named to protect his identity, said he was recently beaten by the Taliban because of his previous job as a guard at the embassy.
"I was sitting outside when gunmen approached me, one of [them] attacked me," he said.
"They said you were working for the British embassy. They started beating me and they threw me on the ground. They attacked me again and again."
Another former guard said a militant hit him over the head with the butt of a rifle. He says he was only released after the Taliban was convinced he no longer worked for the British.
This week, the UK government said the men would be able to apply to come to the UK from 20 June as part of its Afghan citizens resettlement scheme (ACRS), which is primarily targeted at those who assisted the UK efforts in Afghanistan.
It was officially launched in January but application requests can only be submitted from next week. Critics say that is too little, too late.
A separate government scheme, the Afghan Relocations and Assistance Policy (ARAP), aimed to relocate those who were employed directly by the British government, including interpreters who helped British forces.
One Afghan who came to the UK earlier this year under ARAP said many of his former colleagues from the embassy were being threatened on a daily basis. He is not being named to protect his family who remain in Afghanistan.
"I feel like the British have been disloyal," he said. "They made a promise - these men worked hard for them and now their lives are at risk.
"I can't sleep or eat without thinking of what they're going through. They message me constantly asking for help.".
This week armed forces minister James Heappey told the Commons 9,500 Afghans have already been successfully relocated to the UK under the ARAP scheme.
But he said thousands more still remained in Afghanistan. "We think we've got about the same to go in terms of the number of people who are eligible," he said.
The human rights charity, Azadi, works to support and evacuate targeted Afghans. Sarah Magill, the charity's director, said there had been no explanation why it had taken so long to begin the next process.
"Through their inaction the government has caused incalculable trauma," she said. "It is a deeply inhumane way to treat a body of staff entrusted to keep British ministers and civil servants safe."
The government has faced fierce criticism of its handling of the evacuation in Afghanistan last summer, with one group of MPs saying there had been a "total absence of a plan for evacuating Afghans who supported the UK mission".
At the height of the Taliban takeover the government issued a statement, saying: "We will help all those Afghan security guards contracted through GardaWorld to protect the embassy.
"They will be granted the right to enter the UK and we are now working through the challenging logistics of getting them out of Kabul."
A UK government spokesperson said: "Our staff worked tirelessly to evacuate over 15,000 people to safety from Afghanistan within a fortnight in the biggest and fastest emergency in recent history. We are still working hard to assist the people of Afghanistan, having already helped over 4,600 individuals to leave the country since the end of the military evacuation.
"We have opened the Afghanistan Citizen Resettlement Scheme, one of the most ambitious resettlement programmes in the world and the first bespoke scheme in Europe to begin resettling evacuees and individuals."
Source: BBC
Please click the following URL to read the full text of the original story:
https://www.bbc.com/news/uk-61813259
--------
Turkish president, NATO chief discuss alliance bids of Sweden, Finland in phone call
Iclal Turan
15.06.2022
The Turkish president Wednesday spoke with the NATO chief over the phone and reiterated the steps required to address Ankara's "legitimate" concerns over the NATO bids of Finland and Sweden.
According to a statement by Türkiye's Communications Directorate, Recep Tayyip Erdogan told Jens Stoltenberg that no progress can be achieved without seeing "concrete steps" by both Finland and Sweden that would meet Türkiye's "rightful expectations."
The steps might include written commitments to a paradigm shift in fighting terrorism and defense industry cooperation, it said.
Meanwhile, Stoltenberg said on Twitter that he held a "constructive conversation" with Erdogan ahead of the NATO summit in Madrid that will be held on June 29-30.
"We discussed the importance of addressing Türkiye's legitimate security concerns on the fight against terrorism and making progress in the NATO accession process for Finland and Sweden," he added.
Sweden and Finland formally applied to join NATO on May 18, a decision spurred by Russia's war on Ukraine, which began on Feb. 24.
But Türkiye, a longstanding member of the alliance, has voiced objections to their membership bids, criticizing the countries for tolerating and even supporting terror groups such as the PKK and the Fetullah Terrorist Organization (FETO). Their accession requires the unanimous approval of all 30 NATO member countries.
Source: Anadolu Agency
Please click the following URL to read the full text of the original story:
https://www.aa.com.tr/en/europe/turkish-president-nato-chief-discuss-alliance-bids-of-sweden-finland-in-phone-call/2614502
--------
Southeast Asia
Court rejects Perlis Islamic council's bid to vary Loh's child custody order
06- 15- 2022
KUALA LUMPUR: The High Court today dismissed the Perlis Islamic Religious and Malay Customs Council's (MAIPs) application to intervene in a divorce petition between a single mother, Loh Siew Hong and her ex-husband Muhammad Nagahswaran Muniandy, who converted to Islam with their three children.
Judge Evrol Mariette Peters made the decision after finding that MAIPs had failed to show that it was an interested party in relation to the children and ordered MAIPs to pay costs of RM8,000 to Loh.
"The children are not orphans. They do not belong to the community of Perlis. They reside in Selangor and went to Perlis for the conversion only," she said.
The judge said the state religious body had also failed to seek the views of the former husband in relation to the bid to vary Loh's full custody order.
On March 7, MAIPs filed the intervention application so that it would have locus standi to apply for a variation on the terms of the sole custody order granted to Loh.
In the divorce petition, Loh, 34, was granted sole custody, care and control over the three children, 14-year-old twin girls and a 10-year-old boy.
Peters in her judgment, said MAIPs would still not be allowed to intervene as it only has jurisdiction over Muslims in Perlis, even in the event that the children's conversion was done properly.
The judge further said that MAIPs had failed to prove that the single mother did not ensure her children still continued to receive religious education.
She said the family's role to safeguard the interest of the children could be seen in the analogy of inviting guests into the family home.
"The application to seek leave to intervene in Loh's divorce proceedings is equivalent to asking the court with MAIPs as the dinner host to enter the home and eventually sit at dinner with the family.
"The host here is the family court which has to be cautious of the guests invited to dinner as there are children in the house that need to be protected. If the host is cautious of the guests, it is better not to allow them to enter as that would not only waste their time but also the host's.
"My decision is that even if the children are in fact Muslims, this intervener application by MAIPs must fail as it failed to show it is an interested party," said the judge.
Loh was also present in court today.
After the judge delivered the decision, Nagahswaran's counsel, Malcom Fernandez said his client who is currently serving a jail term in Machang, Kelantan had filed an application to obtain access to communicate with his children via video conference each week.
However, Loh's counsel A. Srimurugan said he needed to seek instruction from his client on the matter.
Fernandez then proposed to the court to interview the children on the matter to which the judge disagreed.
Source: The Sun Daily
Please click the following URL to read the full text of the original story:
https://www.thesundaily.my/local/court-rejects-perlis-islamic-council-s-bid-to-vary-loh-s-child-custody-order-LD9335397
--------
It's problematic that youth idolise politicians over ideals, says Suaram
Danial Azhar
June 16, 2022
PETALING JAYA: A rights group has expressed concerns over Malaysian youth idolising political figures over ideas and values.
Azura Nasron of Suara Rakyat Malaysia (Suaram) said it was problematic that youth put too much faith in political figures because it meant they were more inclined to believe the words of individual politicians, disregarding human rights values and ideals in the process.
"There is too much belief in political figures when their points of views or opinions change over time.
"For instance, a young person may support PAS and the Islamic party may have supported refugees three years ago, but it has now become xenophobic.
"If youth follow their political leader, they'll follow negative ideas rather than uphold human rights," she said at the launch of Sisters in Islam (SIS) and Merdeka Center's survey on Malaysian Muslim youth.
Azura said idolising individual politicians was further evident in the strong social media support given to former prime minister Najib Razak, who is currently on trial for criminal breach of trust, abuse of power and money laundering.
She added that the country must address this issue to ensure youth prioritise constructive and democratic ideals and values.
Azura was commenting on the findings of SIS and Merdeka Center's Malaysian Muslim youth survey, which found that youth were more focused on individual leaders rather than parties or local issues.
Source: Free Malaysia Today
Please click the following URL to read the full text of the original story:
https://www.freemalaysiatoday.com/category/nation/2022/06/16/its-problematic-that-youth-idolise-politicians-over-ideals-says-suaram/
--------
Will you leave Malaysia if everything is good here?
Shankar R. Santhiram
June 16, 2022
This week, I met with a young man who wanted my opinion as to whether he should take up a job offer in Europe. He is a 38-year-old erudite Malaysian. I've known him for a long time, and I know he's very capable professionally.
Of course, he must be good if he was head-hunted for a bigger role overseas.
Aside from his work competence, I also know him to be a fiercely patriotic Malaysian. He is in the prime of his life, and is a magnificent asset to our nation.
I'd rather he stays in Malaysia, but what would be the right advice for someone who will definitely be more respected professionally elsewhere, who will enjoy a better quality of life, and be less subjected to parochial attitudes, and most all, will see his own growth fuelled by merit, only?
It is reported that more than one million Malaysians work in Singapore.
Malaysians overall, constitute the largest foreign community in that country. The latest statistics indicate that we form 44% of Singapore's foreign-born population. And to add to this, an estimated 350,000 Malaysians make the trek across the causeway daily for work and school.
While it is hard to resist the allure of the Singapore dollar, what does it say about our country?
If there was an abundance of opportunities in Malaysia that pay well; if our ringgit is strong and formidable; if our education system is comparable to the best in the world; if we live in an inclusive society where minorities do not get treated like junior-partner citizens; if privileges are offered to those in need, rather than simply because you were born into one community, why would Malaysians even think about going to work, study, and live in Singapore or anywhere else?
So, do you reckon Malaysia needs proper and inspired leadership to right all the current wrongs?
Or, do we continue to be led by career politicians who can hardly string two coherent sentences together, and spend their entire time lining their own pockets and their cronies', while playing up the differences between communities, and simply commenting on every trivial matter?
Our neighbours, Indonesia and Singapore, seem to have sterling leadership. They are making amazing strides offering vision and foresight to their people, while we are lumbering along with our politicians playing musical chairs, and putting on a charade.
There is simply no shortage of information or access for learning how to become a skilled leader.
But in our country, our choices are so limited to a motley crew of self-serving career politicians. We just see our leaders making numerous nonsensical statements and not doing much to ensure prosperity and inclusiveness for all.
For example, yesterday, it was announced that Malaysia has slipped seven notches to 32nd place in the 2022 International Institute for Management Development (IMD) World Competitiveness Ranking.
So, as things get worse for normal folks, our politicians ask us to make sacrifices for the well-being of the nation, but they continue to lead the high-life.
We need leaders who will navigate us out of the labyrinth of the complex issues Malaysia faces.
When you have your back against the wall and your family is struggling to make ends meet or when your business is teetering on the brink of collapse and your job is on the line, you need beacons of hope. Great leaders are like lighthouses who help us circumnavigate through treacherous waters.
But in Malaysia, the lack of integrity in our leaders is dumbfounding.
Yet, we seem to fall for the same players with the same narrative, and ultimately, we become prey to the same insecurities.
Over the decades, Malaysians have been fed a steady diet of corrosive views by charismatic leaders, and made to fear specific or imagined consequences. Systematically over time, we have been indoctrinated to take on the warped views of some politicians, as central to our own belief structure.
A few days ago, the Sultan of Perak, Sultan Nazrin had to remind everyone that Malaysia must continue to champion multiculturalism. He said Malaysia must aim to maintain the values that have brought post-independence prosperity to all its communities despite the challenges it faces.
But the recent brouhaha and debate over celebrating the Bon Odori festival is an example of some Malaysians falling for the destructive brainwashing of narrow minded politicians.
Here's another instance.
Our transportation situation needs immediate attention. Malaysians can see the worsening traffic woes. If it normally took 20-minutes to get to work, now it takes an hour because of the congestion.
And in Kuala Lumpur, our supposed 'gleaming and shining' LRT system is shambolic, at best. All you have to do is follow the social media posts of regular commuters. Our transport minister is 'public enemy no. 1' for LRT users. Their rants about him are quite hilarious.
Actually, it is not only his fault. We have a collective government in Malaysia.
But when a discussion started about whether we should have more highways or focus on public transport, the transport minister said that the planning of highways is not within his ambit. Of course, it is the job of the works ministry.
But don't these fellas talk to each other and figure out a plan together for the benefit of the citizens?
Most Malaysians don't know whether to laugh or cry as things continue to slide.
So once again, the question is, what kind of leaders do we want? Opportunistic self-servers, or those who work for the betterment of everyone?
If we think about the people we truly admire, you will see that they will have traits like integrity, trustworthiness, fairness, honesty, positivity, a winning attitude, and are able to cope with setbacks.
A management expert once wrote that leadership has less to do with position than it does with disposition. Politicians' actions speak louder than their words.
For Malaysia, we need leadership that combines strategy and strength of character. Our leaders cannot demand reverence or allegiance. They have to earn it through a proven track record.
Source: Free Malaysia Today
Please click the following URL to read the full text of the original story:
https://www.freemalaysiatoday.com/category/opinion/2022/06/16/will-you-leave-malaysia-if-everything-is-good-here/
--------
Indonesia president reshuffles cabinet, names new trade minister
15 June 2022
Indonesian President Joko Widodo announced a cabinet reshuffle on Wednesday, appointing a new trade minister following controversy over a series of policy flip-flops on palm oil exports.
In an official ceremony at the state palace the president inaugurated Zukifli Hasan, chairman of the National Mandate Party (PAN) and a former forestry minister as the country's next trade minister, among other changes.
The reshuffle comes after former trade minister Muhammad Lutfi faced political pressure over policy efforts to contain a surge in domestic cooking oil prices, which included a shock ban on palm oil shipments from the world's biggest exporter.
Minister Lutfi had blamed a "palm oil mafia" for undermining efforts to contain cooking oil prices after bringing in a surprise ban on palm oil exports in April.
The three-week export ban, lifted on May 23, sent shockwaves through global markets and led to a series of arrests for alleged corruption after the attorney general launched an investigation.
Political observers say the president may also have been looking to appoint a member of PAN to his cabinet after the party, which is connected to well-known opposition figure Amien Rais, joined the ruling coalition last year.
President Jokowi, as he is popularly known, is currently serving out his second term. He also announced changes to the agrarian and spatial planning ministry, appointing former armed forced chief, Hadi Tjahjanto.
Source: Press TV
Please click the following URL to read the full text of the original story:
https://www.presstv.ir/Detail/2022/06/15/683933/Indonesia-trade-minister-palm-oil-export-Joko-Widodo-
--------
URL: https://newageislam.com/islamic-world-news/demolition-retaliatory-supreme-court-up/d/127259
New Age Islam Islam Online, Islamic Website, African Muslim News, Arab World News, South Asia News, Indian Muslim News, World Muslim News, Women in Islam, Islamic Feminism, Arab Women, Women In Arab, Islamophobia in America, Muslim Women in West, Islam Women and Feminism