New Age Islam News Bureau
31 March 2020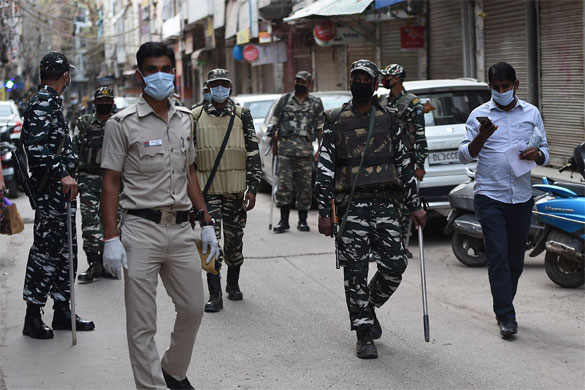 Central reserve police force (CRPF) patrol in a residential area during the nationwide lockdown as a preventative measure against the COVID-19 novel coronavirus in the New Delhi. (Photo: AFP)
----
• Delhi's Nizamuddin Emerges As COVID-19 Hotspot After 7 Die, 24 Test Positive, 860 Quarantined; Mosque Sealed
• Pakistan Ulema Council Issues Fatwa Against Hoarding of Basic Food Items, Profiteering
• Islamic Finance to Expand In 2020 As Demand for Shariah-Compliant Products Grows
• Egyptians Feel Demoralized By Empty Churches, Mosques
• Three Muslim Doctors Become First Physicians in UK To Die of Coronavirus
• Gazans Attend Anti-Occupation Land Day Rally Despite Pandemic
• Sultan of Sokoto Knocks Islamic Clerics For Misleading Muslim Followers Over The Outbreak Of The Deadly Coronavirus
• COVID-19: Indonesia's Muhammadiyah Advises Muslims To Not Perform 'Tarawih', Idul Fitri Prayers
--------
India
• Delhi's Nizamuddin Emerges As COVID-19 Hotspot After 7 Die, 24 Test Positive, 860 Quarantined; Mosque Sealed
• Aligarh Muslim University To Donate 1 Day Salary To PM CARES Fund
• India's internet curbs in held Kashmir hamper coronavirus fight
• Coronavirus India: 24 More Test Positive For Coronavirus After Delhi Mosque Event, 7 Deaths
• India Cracks Down On Muslim Missionary Group Linked To Coronavirus Cases
• Coronavirus Delhi: AAP MLA's "Google Maps" Barb at Delhi Police for Mosque Coronavirus Worry
----
Pakistan
• Pakistan Ulema Council Issues Fatwa Against Hoarding of Basic Food Items, Profiteering
• Punjab Govt Approves Malaria Drug For Critically-Ill Covid-19 Patients
• Pakistanis Among Gulf Migrant Workers Fearing Virus Limbo
• Murad orders withdrawal of FIRs filed against imams for violating code
• Corona Cases Spiral As Mullahs Defy Army, Imran
• Govt using Covid-19 relief fund for political agenda, alleges PML-N
----
Arab world
• Islamic Finance to Expand In 2020 As Demand for Shariah-Compliant Products Grows
• Egyptians Feel Demoralized By Empty Churches, Mosques
• Mecca Closes ALL of Its Stores for A Month as The Coronavirus Pandemic Wreaks Havoc on Australia's Most Popular Retailers
• Abu Dhabi Islamic Bank shareholder approves lifting foreign ownership cap
• Mohamed bin Zayed, Grand Imam of Al Azhar review global fight against corona
• Coronavirus: Sheikh Mohamed tells Grand Imam of Al Azhar the UAE is ready to help
• Medical circles and Al-Azhar Grand Imam mourned the death of Egyptian doctor who died from coronavirus
• Custodian of the Two Holy Mosques orders free treatment from Coronavirus for all citizens, • residents, and violators of residency regulation in all health facilities
----
Europe
• Three Muslim Doctors Become First Physicians in UK To Die of Coronavirus
• UK's Largest Muslim Youth Organisation Launches Coronavirus Relief Effort
• A Leading Activist In Britain's Muslim Community Has Died Of The Coronavirus
• Police statement on worshippers gathering at Small Heath mosque 'during lockdown'
• Masjid Al Jannah mosque makes pizza donations to Wexham Park Hospital
• This man tried to report a mosque to the police for being open during lockdown but it went very wrong
-----
Mideast
• Gazans Attend Anti-Occupation Land Day Rally Despite Pandemic
• Islamic State Militants Escape During Riot at Prison in Syria
• Kurdish-led security forces put down Islamic State riot at Syrian jail
• Coronavirus: quarantine extended for 3,000 post-Mecca Turks
• Yemeni official slams UN envoy remarks after missile fired at Riyadh
-----
Africa
• Sultan of Sokoto Knocks Islamic Clerics For Misleading Muslim Followers Over The Outbreak Of The Deadly Coronavirus
• Curfew violation: Kaduna Imams arraigned, granted bail
• 10 Inspo Muslim Reads to Make It Through Quarantine
• Al-Shabaab bomb attack kills governor in Somalia
-----
South Asia
• China To UN: Unilateral Syria Sanctions Must Be Lifted Amid Pandemic
• Dozens of Afghan forces killed in two Taliban attacks: Kabul
• Despair and pride in China's Wuhan as coronavirus lockdown eases
• Afghan forces stop heavy rockets barrage on Kunar province
-----
Southeast
• COVID-19: Indonesia's Muhammadiyah Advises Muslims To Not Perform 'Tarawih', Idul Fitri Prayers
• Coronavirus closes mosques, churches and temples across Asia
• Ramadan bazaars will be held with better management - Annuar Musa
-----
North America
• As Passover, Easter And Ramadan Services Are Cancelled Amid COVID-19, Preachers Wonder: Where Is God in All This?
• Closure Of Michigan Roller Hockey Mecca Leaves Players, Employees Heartbroken
• CAIR Action Alert: U.S. Muslims Encouraged to Fill Out Census Forms Online
-----
New Zealand
• Some Kiwi Muslims Go Vegetarian As Lockdown Rules See Halal Butchers Close
Compiled by New Age Islam News Bureau
URL: https://www.newageislam.com/islamic-world-news/delhis-nizamuddin-emerges-covid-19/d/121449
------
Delhi's Nizamuddin Emerges As COVID-19 Hotspot After 7 Die, 24 Test Positive, 860 Quarantined; Mosque Sealed
March 31, 2020
Nizamuddin in Delhi has been identified as a hotspot now by the Delhi government after several people in the area showed symptoms of being infected with the novel Coronavirus following a religious prayer meeting in the locality earlier this month.
Twenty-four people from the area tested positive and nearly 200 others showed symptoms of the disease on Monday when officials began evacuating the six-storey building of some 1,400 people who are believed to have been exposed to the virus.
With the help of the Health Department around 860 people have been shifted from Markaz building, in Nizamuddin to hospitals. Around 300 more people are yet to be evacuated, Delhi Police sources told ANI on Tuesday.
Over 2,000 delegates, including from Indonesia and Malaysia, attended the Tabligh-e-Jamaat congregation in Nizamuddin West from March 13-15, officials said as the south Delhi neighbourhood was virtually sealed following fears that some people may have contracted COVID-19.
Six people from Telangana and one person from Srinagar who attended the religious congregation have died due to the novel Coronavirus, forcing the government to take people in the area to different hospitals for checkup.
The gathering held in Markaz had reportedly violated lockdown conditions and the police has said that the religious congregation was organised without permission from authorities.
The Delhi Police on Monday night cordoned off the area as several people showed symptoms of being infected with the virus.
Around 300-400 people had attended a religious gathering at Markaz and 163 people from Nizamuddin, have been admitted to Lok Nayak Hospital Delhi for tests.
Delhi Chief Minister Arvind Kejriwal has reportedly ordered the registration of an FIR against a 'maulana' for leading the congregation in West Nizamuddin.
Meanwhile, 18 districts in Uttar Pradesh have been put on high alert after reports that people from these districts attended the Tablighi Jamaat.
India on Monday witnessed one of the sharpest spike in the number of novel Coronavirus as 227 people tested positive in 24 hours, taking the country's total to 1,251 with 32 deaths. Delhi has recorded 87 confirmed cases of COVID-19.
https://www.thestatesman.com/india/delhis-nizamuddin-emerges-covid-19-hotspot-7-die-24-test-positive-860-quarantined-mosque-sealed-1502871962.html
-----
Pakistan Ulema Council issues fatwa against hoarding of basic food items, profiteering
March 31, 2020
ISLAMABAD: The Pakistan Ulema Council (PUC) on Monday issued a fatwa against hoarding of basic food items and profiteering, urging the government to take strict action against those found guilty of the offence as several cities in the country undergo a lock down due to the coronavirus scare.
The council said that profiteering and hoarding basic food items are haram (impermissible) in Islam. The PUC said that under the current circumstances, hoarding basic good items made life difficult for the people and was prohibited according to the Shariah.
The PUC called on traders to ensure basic food items were available for people and urged the government to take strict action against hoarders and profiteers.
In a statement, the PUC called on the government to seize hoarded food items and provide them to the people. The council said that at a time when society was in need of God's mercy, such acts would invite His wrath only.
The PUC asked the government to crack down on the perpetrators of the malpractices and hand them exemplary punishments.
The fatwa came at a time when the coronavirus has caused lockdowns in almost all cities of the country and sparked fears that the supply of basic food items will be disrupted.
PM Imran, in his address to the nation on Monday, warned hoarders and profiteers that the state will hand them exemplary punishments if they did not desist from the offences.
https://www.thenews.com.pk/latest/636939-pakistan-ulema-council-issues-fatwa-against-hoarding-of-basic-food-items-profiteering
-----
Islamic finance to expand in 2020 as demand for Shariah-compliant products grows
Fareed Rahman
March 31, 2020
Islamic finance is poised to expand in 2020 and beyond, helped by growing use of Shariah-compliant products in the GCC region and Malaysia, according to a new report from Moody's Investors Service.
"We expect sukuk issuance to remain stable at around $180 billion (Dh661bn) this year, and the takaful insurance market will see steady growth as insurance premiums pick up in newly-penetrated markets," said Nitish Bhojnagarwala, a vice president and senior credit officer at Moody's.
"However, downside risks are rising because of the coronavirus outbreak, as prolonged market disruption could dissuade issuers from coming to market," he added.
"There will be continued focus on the sukuk industry and increased issuance by the governments of the core Islamic finance markets. The deficit financing needs of some GCC sovereigns, amid weaker oil prices and higher sukuk refinancing ,will also provide support," Moody's said.
Mergers between Islamic and conventional banks in the GCC will drive one-off increases in assets, as they did in 2019, it added.
In Kuwait, the merger between Kuwait Finance House and Bahrain-based Ahli United Bank once completed, is likely to create the world's largest Islamic bank, surpassing Saudi Arabia-based Al Rajhi Bank.
Saudi Arabia will remain the world's largest Islamic banking market, while the sector will continue to expand rapidly in Malaysia, according to the report. Islamic Financing assets in the kingdom rose to $309bn as of September 2019 from $296bn in December 2018, according to the report.
"We expect Islamic finance penetration in Saudi Arabia to increase to 80 per cent of system-wide loans (including both conventional and Islamic financing assets) over the next 12-18 months, from 77 per cent in 2018, driven by increased demand from both corporate and retail clients."
Islamic banking penetration in the core Islamic financial markets of the Gulf Cooperation Council, Malaysia, Indonesia and Turkey, increased to 31.2 per cent in September 2019, from 25.5 per cent in 2013, while annual global sukuk issuance increased to $179bn from $131bn, it said.
In the GCC, Oman remains the fastest-growing Islamic banking market at a rate of 10 per cent in the first nine months of 2019.
Oman has two standalone Islamic banks and six Islamic windows at conventional banks offering Islamic services and the sector's market share has risen from zero to around 15 per cent of banking system financing assets as of September 2019, with potential for further growth, it said.
In Turkey and Indonesia, the penetration of Islamic banking remains relatively low at 5 per cent and 10 per cent, respectively.
The report also said demand for Islamic asset management is rising due to large Muslim populations, supportive legislation and growing investor demand for Shariah-compliant products.
"We expect Islamic assets to grow by a moderate 3 per cent to 4 per cent per annum in the short to medium term, constrained by weak economic growth prospects and geopolitical tensions in the Middle East, the largest Islamic region in the world."
https://www.thenational.ae/business/islamic-finance-to-expand-in-2020-as-demand-for-shariah-compliant-products-grows-1.999324
-----
Egyptians feel demoralized by empty churches, mosques
Maryam Raafat
March 30, 2020
For 55-year-old Coptic housewife Magda Mounir, knowing she can no longer pray at her local church is worse than all the precautions she has had to endure to prevent the spread of the novel coronavirus in Egypt.
"The church is our haven; it is where we go to find moral support," Mounir told Al-Monitor a few days after Egypt closed all places of worship, including mosques and churches.
The Ministry of Religious Endowments, more often referred to as the Awqaf Ministry, and Egypt's Orthodox Christian Church both released statements March 21 announcing they would temporarily halt communal prayers.
Egypt's Coptic Orthodox Church, to which the majority of Egypt's Christians belong, said it would lock down churches and suspend masses for at least two weeks.
In multicultural and multifaith Egypt, Christians make up roughly 10% of the country's 100 million-plus population, with the vast majority of Christians in Egypt belonging to the Coptic Orthodox Church.
"The holy week is coming, and we used to spend these days in the church. It seems this year we will not be able to do so for the first time in our lives," Mounir said tearfully, referring to the Easter holiday on April 19.
Sandy Emad, a 27-year-old engineer, supports the ministry's decision. "I support the decision [to close places of worship], and I can't understand the anger of some people," she told Al-Monitor. "We can't kill ourselves and our families and say God will rescue us. God gave us brains to use and protect ourselves from any harm. This is what he ordered us to do," Emad said.
"This decision is considered the most difficult decision the church has made in decades," admitted Bishop Boules Boutros of St. Michael Church in the district of Heliopolis in Cairo. "However, it is necessary for slowing down the rapid spread of the coronavirus. God does not only exist in churches; we all have him in our hearts and can pray to him to heal the whole world," Boutros said.
Boutros said he was not sure just how long the churches would remain closed, but it was unlikely they would be opened in time for Easter mass.
Egypt's Awqaf Ministry decided to suspend congressional Friday prayers in all mosques nationwide until further notice. The suspension came after controversy erupted over Muslim worshippers insisting on flocking to mosques for Friday's noon prayers despite a religious edict allowing people to pray at home due to the coronavirus pandemic.
"If it was necessary to shut mosques because of the crowd, why not close down the underground, which carries thousands every day?" Mohamed Abdel Monem, a 45-year-old Arabic teacher, said to Al-Monitor. "Now is the time most people need to resort to God and pray. Praying to God is our only way out of this ordeal," he added.
But not everyone shares his views. Hassan Khaled, a 28-year-old graphic designer, agreed with the decision to shutter holy places. "Given that people insisted on going to the mosques despite the call to stay home, it is a wise decision to close down mosques," he said. "If only one person is carrying the virus, thousands will be infected, and then they go home to infect their families," Khaled added.
Khaled said while it is difficult to be deprived of places of worship during times like these, he also understands it is necessary for public health. "I imagine people will resort to praying in open areas if [prayers in mosques] continue to be banned," he said.
Religion plays a major role in Egyptian society, so statements by religious authorities carry major weight on keeping people at home. Dar al-Ifta, Egypt's body responsible for issuing religious edicts, issued March 24 a brief statement warning that "any call for people to gather in the streets in any pretext or under a slogan" would be sinful as it would jeopardize public health.
The statement stressed it is a "duty" under Sharia law to comply with official decisions to "protect people from epidemics and diseases."
The Awqaf Ministry also modified the adhan — the Muslim call to prayer — to include warnings to stay at home and take precautions on preventing the spread of the coronavirus. The new adhan, broadcast on radio and television a day after religious sites were closed, urges believers to take "the utmost caution in adhering to preventive and precautionary" measures.
Islamic scholars say the special adhan was previously used during natural disasters and pandemics as well as in earlier times in Islam's history when people were instructed to perform prayers at home.
Meanwhile, Minister of Endowments Muhammad Mukhtar Juma suspended on March 22 an imam and a preacher in Beni Suef governorate, south of Cairo, for violating the ministry's order to close mosques. The two men were banned from giving sermons from the pulpit for a period of three months.
"Preserving life is a main aspect of Islam, and the faithful should comply with preventive measures taken by the government," Sheikh Mohammed Mehana of Al-Azhar University told Al-Monitor.
"The images of empty mosques would break any Muslim's heart, but the priority now is to save people's lives. This is what Allah asked us to do, and the rest is his will," said Mehana, adding he hoped the crisis would end before the Islamic holy month of Ramadan, which starts on April 24 and goes until May 23, and that everybody would reunite for Taraweeh, the additional prayers carried out at night during Ramadan.
A 7 p.m. to 6 a.m. curfew has been imposed countrywide as part of strict measures to limit the spread of the coronavirus, Prime Minister Mustafa Madbouly said March 23.
https://www.al-monitor.com/pulse/originals/2020/03/egyptians-further-depressed-by-closed-churches-mosques.html
-----
Three Muslim doctors become first physicians in UK to die of coronavirus
30 March, 2020
Three Muslim doctors in the UK have died of the novel coronavirus in the space of a week, amid reports that National Health Service staff are being denied basic protective equipment to carry out their duties.
Sudanese-born ear, nose and throat specialist Dr Amged El Hawrani died in Leicester in central England, after he had tested positive for the Covid-19 illness.
The 55-year-old had been on life support for nearly two weeks.
Dr El Tayar, 63, previously worked in Sudan and Saudi Arabia, before returning to help the NHS cope with the coronavirus pandemic.
"That was typical of my cousin Adil, always willing to help, always with a willing smile. It had taken just 12 days for Adil to go from a seemingly fit and capable doctor working in a busy hospital to lying in a hospital morgue."
Tributes were paid for the three doctors, with many pointing out that their efforts run contrary to the often negative portrayals of Muslims and immigrants in the British media.
"The next time any of you think about or say 'bloody foreigners' or 'bloody Muslims' remember this. RIP. The names of the first three Doctors who died protecting British people from the Covid-19 Amged el-Hawrani Adel el-Tayar Habib Zaidi," wrote one Twitter user.
"Three NHS doctors have passed away due to Covid: Adil El-Tayar, Amged El-Hawrani and Habib Zaidi. Don't want to hear Muslims being lectured on 'British values' again," wrote another.
Hospital bosses and doctors on Thursday warned of being swamped by a "tsunami" of Covid-19 patients in London, as the UK braces for a peak in cases and the government faced calls to urgently provide specialist kit and tests for frontline health workers.
Scientists, though, have warned that thousands of new ventilators may arrive in the UK too late, while the government said it failed to join a European scheme to boost capacity due to a communications "mix up".
Indeed we belong to Allah & to Him we will (all) return (Qur'an 2:156)https://www.birminghammail.co.uk/news/midlands-news/consultant-amged-el-hawrani-dies-18003364?utm_source=whatsapp&utm_medium=social&utm_campaign=sharebar …
The UK initially adopted a light-touch approach to the outbreak, but has since imposed tougher measures, including a three-week lockdown, as confirmed cases and deaths climbed.
The chief executive of NHS Providers, which represents the heads of hospital trusts in the state-run healthcare providers, said there had been an "explosion of demand" in the capital.
Chris Hopson told BBC radio that hospital bosses said there had been "wave after wave after wave" of admissions of seriously ill patients, with a surge in numbers predicted in the coming weeks.
Official statistics are thought to represent just a fraction of the real number of infections across the UK, as only those taken to hospital with severe symptoms of Covid-19 are tested.
In a show of appreciation for health staff, the country took part in a collective round of applause at 8pm, with social media videos capturing cheers echoing across the nation's cities, towns and villages.
Frontline healthcare workers say a lack of personal protective equipment (PPE) as well as insufficient testing of staff for Covid-19 is putting them and patients at risk.
"If hospitals are to survive this, we urgently need adequate protective clothing. Otherwise we are lambs to the slaughter," one doctor wrote in The Daily Mail newspaper.
The government says it has shipped 7.5 million pieces of PPE in the last 24 hours but Hopson said "unprecedented" staff absences of up to 50 percent were exacerbating the crisis in London.
The NHS has access to some 8,000 ventilators and the government has ordered 8,000 more. Prime Minister Boris Johnson's spokesman said they were expected to arrive in the coming weeks and months.
But Imperial College epidemiology Professor Neil Ferguson, a government scientific advisor, has said most would be needed "in approximately two to three weeks" time as demand peaked.
https://english.alaraby.co.uk/english/news/2020/3/30/british-muslim-doctors-become-first-to-die-of-coronavirus
-----
Gazans attend anti-occupation Land Day rally despite pandemic
31 March 2020
The Monday rally was held in the besieged enclave on the anniversary of the Palestinian Land Day, which is marked on March 30 every year.
From March 30, 2018 onward, Palestinians in Gaza have held weekly "Great March of Return" protest rallies against the Israeli occupation of their lands, demanding the return of those driven out of their homeland by Israeli aggression during the past decades.
According to the Palestinian Information center, Israeli forces have killed some 350 protesters during the weekly demonstrations. Nearly 31,000 others have been injured in the rallies.
This year, Palestinian groups first called for holding mass rallies along the border with the Israeli regime to mark the second anniversary of the "Great March of Return", but on Saturday they announced that the planned rallies were cancelled over the pandemic.
UN Humanitarian Coordinator for the Palestinian Territories Jamie McGoldrick has warned that the densely populated and impoverished enclave's healthcare system does "not have the capacity to deal with the large number of cases in case of an epidemic.
The absence of enough ventilators is particularly worrisome. There are only 60 ventilators in the Gaza Strip for all medical emergencies for the population of two million, McGoldrick said. That means some already are in use for reasons not related to the coronavirus. There is also a lack of testing kits, protective gear and intensive-care equipment for patients on ventilators.
Thirteen-years of Israeli siege and occupation "has taken its toll on the economy and public services including health," McGoldrick told Jerusalem Post.
There were nine coronavirus cases in Gaza and 97 in the West Bank at last count. But testing has been limited primarily to those with symptoms who had been outside the two regions.
presstv.com/Detail/2020/03/31/621972/Gazans-stage-anti-occupation-rally-despite-pandemic
-----
Sultan of Sokoto Knocks Islamic Clerics For Misleading Muslim Followers Over The Outbreak Of The Deadly Coronavirus
March 31, 2020
Godwin Isenyo, Kaduna
The Sultan of Sokoto and President General, Jama'atu Nasril Islam, Alhaji Sa'ad Abubakar lll, expressed anger over the attitude of some Muslim clerics for misleading their followers over the outbreak of the deadly coronavirus in the country.
The sultan, who is also the spiritual leader of Muslims in Nigeria, was particularly sad that some Muslim clerics were going against measures put in place to curtail the spread of the COVID-19 across the land.
He condemned the attitudes of the clerics, warning that the coronavirus was real and that adequate precautionary measures must be adhered to.
The leader of Izalatu Islamic sect in Plateau State, Sheikh Sani Yahaya Jingir, had in a preaching told his followers that there was nothing like the deadly coronavirus ravaging the world.
Jingir had said it was a western conspiracy to stop Muslims from performing their religious rites, noting that the virus was a lie.
Apart from that, two Islamic clerics were caught while conducting the Friday congregational prayers in Malali and Ungwan Kanawa areas, all in the Kaduna North Local Government of the state.
He noted that it was sheer ignorance for any Islamic cleric to claim there was nothing like coronavirus currently ravaging the entire world.
The Sultan, who spoke through the JNI Secretary General, Dr Abubakar Khalid-Aliyu, in a statement, also warned that the Muslim ummah (community) must never allow a repeat of what happened in Italy in Nigeria.
The statement read in part, "Jama'atu Nasril Islam under the leadership of His Eminence, Alhaji Muhammad Sa'ad Abubakar, the Sultan of Sokoto and President-General, JNI, is once again saddened with the recent unfortunate developments of misleading the Muslim Ummah (Community) by some sections of 'Ulama (preachers) over the coronavirus prevalence.
"We must as an Ummah avoid a repeat of the current trend in Italy, which was partly due to non-adherence to expert advice over the pandemic. Allah, the most wise says "…So ask those who know if you know not" Q16:43. Therefore, we should all bear in mind that knowledge is an amanah (trust) and must be safeguarded and delivered as such, thus the need for this statement.
"One may not be wrong to conclude that the action of some of the 'Ulama clearly depicts sheer whims and caprices of their myopic worldview, stark ignorance of reality based on genuine knowledge and medical scholarship.
"It is, however, regrettable that as the negative actions of such preachers incite innocent Muslims, who are unaware of the serious health implications of adhering to such empty dispositions that invariably endanger humanity. Nonetheless, it should be noted that the issue of plague and/or pandemic is not new throughout human history, either at various times or places, the Muslim world inclusive.
"It is thus sheer monumental ignorance to falsely claim that the pandemic of the coronavirus does not exist and that it is a lie and a shadow of a ghost. Such lamentable utterances leave much to be desired by any scholar that is worth being called a scholar. Moreover, the matter is a documented fact whose medical precedents have been set in curbing its tide in human history.
"Therefore, the current position of government is not a new standpoint to curtail the spread of the infection. Rather, new methods of mitigating it and nipping it in the bud emerged in this contemporary world we live in, as a result of scholarly findings."
All rights reserved. This material, and other digital content on this website, may not be reproduced, published, broadcast, rewritten or redistributed in whole or in part without prior express written permission from PUNCH.
https://punchng.com/sultan-knocks-islamic-clerics-for-misleading-muslim-followers/
------
China to UN: Unilateral Syria sanctions must be lifted amid pandemic
31 March 2020
China has called for the complete and immediate lifting of unilateral sanctions against Syria, saying the "coercive measures" will hamper the war-ravaged country's efforts to fight the coronavirus pandemic.
Addressing a video-teleconferencing meeting of the UN Security Council on the situation in Syria on Monday, Zhang Jun, China's new ambassador to the UN, voiced grave concerns "about the negative impact of unilateral sanctions on countries' capacity to respond to the pandemic, especially for vulnerable countries like Syria."
"We call for complete and immediate lifting of unilateral coercive measures," said Zhang, adding that "civilians and innocent people are suffering severely from those sanctions."
Syria blasts "inhuman sanctions" imposed by the United States against a number of countries, raising the alarm that the restrictive measures were hampering global efforts to contain the coronavirus pandemic.
He expressed Beijing's support for a call by UN Secretary-General Antonio Guterres for the removal of sanctions that are hindering the global fight against the new coronavirus.
"Our position is explained in detail in the recent joint letter to the secretary-general, together with Russia, among others. We hope the Office for the Coordination of Humanitarian Affairs joins the voice of the secretary-general and high commissioner for human rights in this regard," said Zhang.
Syria's Health Ministry on Sunday confirmed the country's first death resulting from the COVID-19 pandemic as the country's fragile health system reels from nine years of foreign-backed war and sanctions.
The country is scrambling to counter the spread of the coronavirus outbreak by adopting numerous measures such as postponing parliamentary elections and suspending the work of certain public institutions and services.
More than 786,000 people worldwide have so far been infected with the novel coronavirus, COVID-19, and some 37,832 have died, according to a running count by worldometers.info.
Since the onset of the Syria crisis in 2011, the US, the European Union and some Arab states — which have been supporting militant groups in their fight against the Syrian government — have imposed draconian sanctions against the Arab country over what they claim to be sponsoring terror and attacking civilians.
Elsewhere in his remarks, the Chinese envoy hailed a recent ceasefire agreement between Russia and Turkey to halt an escalation in northern Syria, saying the deal had significantly improved the security situation in the region.
On March 5, Russia and Turkey, which support opposite sides in the Syrian conflict, came to an agreement on a ceasefire regime in Idlib, where Turkish aggression against the Syrian government had risked starting a war.
Turkey says its military personnel will keep presence in Idlib Province despite a ceasefire deal with Russia, claiming that any withdrawal from the embattled Syrian region is "out of the question."
The ceasefire came a few months after the Syrian army launched an anti-terror operation against foreign-sponsored militants after they failed to honor a de-escalation agreement between Ankara and Moscow.
The Chinese diplomat further reiterated his country's support for a "political solution to the conflict in Syria," saying "the future of the country must be decided by the Syrian people, without foreign interference."
He praised "the painstaking efforts" of Geir Pedersen, UN Special Envoy for Syria "encourage him to continue facilitating dialogue between the Syrian parties, toward an inclusive Syrian-led and Syrian-owned political process" in line with UN resolutions.
https://www.presstv.com/Detail/2020/03/31/621986/China-Syria-Sanctions-Coronavirus-
-----
COVID-19: Indonesia's Muhammadiyah Advises Muslims To Not Perform 'Tarawih', Idul Fitri Prayers
Ivany Atina Arbi
March 31, 2020
Indonesia's second largest Muslim organization, Muhammadiyah, has issued a circular advising Muslims to perform tarawih (a night prayer during the fasting month of Ramadan) at home should the COVID-19 pandemic show no sign of improving in the coming month.
The organization had also suggested that the Idul Fitri prayers, usually performed in congregations at mosques or in open fields to mark the end of Ramadan, should not be held during the health crisis.
Muhammadiyah highlighted in the letter that such prayers were not obligatory, but rather sunnah (a voluntary act of worship).
"If the COVID-19 situation remains [until the end of Ramadan], the string of events marking the Idul Fitri festivity shall not be organized, including the mudik [exodus]," according to the circular signed by members of the Muhammadiyah central executive board's lawmaking and reform councils on March 21.
The suggestion came a week after President Joko "Jokowi" Widodo called on all Indonesians to engage in social distancing, also known as physical distancing, by working, studying and worshipping at home to curb the spread of COVID-19.
The Islamic organization reiterated that daily prayers should be done by Muslims at home rather than at mosques. "The Friday prayer can also be replaced with dzuhur [midday prayer] at home."
Nahdlatul Ulama (NU), the largest Muslim organization in Indonesia, had also suggested Muslims living in COVID-19 red zones to temporarily stop engaging in mass prayers at mosques to flatten the infection curve.
The government has marked most areas across Java Island as COVID-19 red zones after than 50 positive cases were recorded. Jakarta is the hardest-hit region with 747 cases recorded as of Tuesday.
https://www.thejakartapost.com/news/2020/03/31/covid-19-muhammadiyah-advises-muslims-to-not-perform-tarawih-idul-fitri-prayers.html
-----
India
Aligarh Muslim University To Donate 1 Day Salary To PM CARES Fund
March 31, 2020
New Delhi: The teaching and the non-teaching staff of Aligarh Muslim University (AMU) will donate one-day salary to the Prime Minister's COVID-19 Relief fund, PM CARES Fund, as a humble contribution to the unprecedented crisis that country faces, said an official statement.
The decision came after a consultative meeting of the AMU Teachers Association representatives, elected members of the Executive Council and representatives of the non-teaching staff under the chairmanship of the Vice Chancellor, Professor Tariq Mansoor, said Omar Peerzada, Public Relations Officer, AMU.
"We hope that the nation will soon overcome this crisis and there will be a new dawn of full activity, progress and development," said the representatives at the meeting.
The PM Cares Fund or the Prime Minister's Citizen Assistance and Relief in Emergency Situations Fund was announced by Prime Minister Narendra Modi on Saturday to combat the coronavirus crisis and similar situations arising in the future.
https://www.ndtv.com/education/pm-cares-fund-aligarh-muslim-university-to-donate-1-day-salary-to-pm-cares-fund-2203600
----
India's internet curbs in held Kashmir hamper coronavirus fight
March 31, 2020
SRINAGAR: India's health ministry on Monday invited doctors in occupied Kashmir to an online training session on managing ventilators, critical equipment for patients with Covid-19, the disease caused by the coronavirus.
Most, however, were unable to attend because of long-running curbs on the internet that have prevented those living in Kashmir from accessing information about the coronavirus, which has infected more than a thousand people in India, killing 29.
Authorities detained thousands and introduced one of the world's longest-running internet shutdowns, only restoring limited 2G mobile internet service in January.
Despite pleas from several rights groups to completely ease restrictions, the government has refused. Most people in the region lack broadband connections.
Dr Suhail Naik, president of the main doctors' association in India-occupied Kashmir, said education drives seen elsewhere in India about the symptoms of the virus are impossible to run in the region.
"We want to educate people through videos, which is not possible at 2G speed. We are handicapped in the absence of high-speed internet," he said.
In a letter to officials, human rights group the Internet Freedom Foundation said internet speeds in Kashmir were "woefully insufficient" to spread the message around combating the coronavirus threat.
G.N. Var, president of the All Private Schools Association in held Kashmir, said the organisation had prepared online classes for the 650,000 children studying in their schools but had been unable to introduce them.
"We are unable to connect with the students due to internet connectivity. It is 2G and they are unable to download study material," he said. "I fail to understand why they aren't restoring high-speed internet. Earlier, they had an excuse of law and order problems, but now there is curfew and fear of coronavirus and no one would dare to come out."
Vasudha Gupta, a spokeswoman for India's federal interior ministry, which is responsible for policy in Kashmir, declined to comment.
"If anyone wants tips on surviving quarantine or a lockdown, I have months of experience at my disposal," former chief minister Omar Abdullah said in a tweet, after being released from eight months of detention without trial on March 24.
https://www.dawn.com/news/1545148/indias-internet-curbs-in-held-kashmir-hamper-coronavirus-fight
-----
Coronavirus India: 24 More Test Positive For Coronavirus After Delhi Mosque Event, 7 Deaths
March 31, 2020
New Delhi: A religious gathering at a mosque in Delhi has been linked to seven coronavirus deaths and more than 300 people with symptoms linked to COVID-19 are being tested. Early this morning, the Markaz Nizamuddin - the Delhi headquarters of the Tablighi Jamaat -- was sealed and 800 people moved out in buses are quarantined in different parts of the city.
"So far 24 people staying there have been found to be coronavirus positive," said Delhi Health Minister Satyendra Jain.
Delhi Chief Minister Arvind Kejriwal yesterday ordered a police case against the mosque administration over negligence that has endangered hundreds of lives.
Ignoring all social distancing rules to avoid the deadly coronavirus, hundreds had been staying in the 100-year-old mosque complex, which has a six-floor dormitory, since a two-day gathering of the Tablighi Jamaat from March 13 to 15. Tablighi Jamaat is an Islamic missionary movement set up in 1926, with members across the world.
The gathering, which featured sermons, was attended by Tablighi members from Malaysia, Indonesia, Thailand, Nepal, Myanmar, Kyrgyzstan and Saudi Arabia. Members had also come from Afghanistan, Algeria, Djibouti, Sri Lanka, Bangladesh, England, Fiji, France and Kuwait.
Many of those who attended then travelled to other parts of the country. The Indonesians, for instance, went to southern states like Telangana.
The Srinagar preacher who died last week had visited the Deoband seminary in Uttar Pradesh and on his return to Kashmir, held multiple gatherings.
Contact tracing from the mosque gathering, which has been identified as a virus hotspot, has been given high priority by the home ministry, according to sources.
"We have been doing contact tracing of everyone who visited this masjid but it's a humungous task," a senior functionary of the government discloses.
Tablighi members reportedly told the police about the congregation on March 24. At the time, there were around 1,200 people inside the mosque complex. A day later, they were taken to the airport by the police.
But on March 26, two days into the national lockdown ordered by Prime Minister Narendra Modi, people started gathering again. There were close 2,000 by the time the police found out. They were asked to stay put and not go anywhere as all transport had been cancelled.
In a statement, Markaz Nizamuddin defended itself saying the event was cancelled when PM Modi announced the "Janata Curfew" for March 22. "However, due to sudden cancelation of rail services across the country on March 21, a large group of visitors who had to depart by way of railways got stuck in the Markaz premises," the statement claimed. After that, it said, lockdowns ordered first by the Delhi government and then by the PM made it "impossible" for the stranded visitors to stay anywhere but in the Markaz.
However, officials point out that long before the lockdowns, the Delhi government had called for suspending all gatherings, religious, cultural or social.
https://www.ndtv.com/india-news/coronavirus-india-delhi-markaz-nizamuddin-mosque-sealed-after-7-covid-19-deaths-850-moved-out-for-qu-2203336
------
India cracks down on Muslim missionary group linked to coronavirus cases
7 MIN AGO
NEW DELHI (REUTERS) - Indian authorities sealed off the headquarters of a Muslim missionary group on Tuesday (March 31) and ordered an investigation into accusations that it held religious meetings that officials fear may have infected dozens of people with the coronavirus.
India has registered 1,251 cases of the coronavirus, of whom 32 have died, the health ministry said. The numbers are small compared with the United States, Italy and China but health officials say India faces a huge surge that could overwhelm its weak public health system.
One of the coronavirus hot spots that the government of the capital New Delhi has flagged is a Muslim quarter where the 100-year-old Tablighi Jamaat group is based, after dozens of people tested positive for the virus and at least seven died.
Authorities said people kept visiting the Tablighi centre, in a five-storey building in a neighbourhood of narrow, winding lanes, from other parts of the country, and it held prayer meetings, despite government orders on social distancing.
Hundreds of people were crammed into the group's building until the weekend when authorities began taking them out for testing.
"It looks like social distancing and quarantine protocols were not practised here," the city administration said in a statement.
"The administrators violated these conditions and several cases of corona positive patients have been found ... By this gross act of negligence many lives have been endangered ... this is nothing but a criminal act."
But Musharraf Ali, one of the administrators of the Tablighi centre in Delhi, said the group had been seeking help from police and the city administration to deal with people streaming in. But the lockdown had made things more difficult.
"Under such compelling circumstances there was no option ... but to accommodate the stranded visitors with prescribed medical precautions until such time that the situation becomes conducive for their movement or arrangements are made by the authorities,"the Tablighi said in a statement.
The Tablighi, one of the world's largest missionary movements, hosted a gathering last month at a mosque complex on the outskirts of Malaysia's capital Kuala Lumpur that has emerged as a source of hundreds of coronavirus infections across South-east Asia.
In Pakistan, the group called off a congregation on the outskirts of the city of Lahore last month, but there were still 1,100 people staying on a group premises. At least 27 have tested positive for the virus, the health minister of Pakistan's Punjab province, Yasmin Rashid, told Geo TV this week.
straitstimes.com/asia/south-asia/india-cracks-down-on-muslim-missionary-group-linked-to-coronavirus-cases
-----
Pakistan
Punjab govt approves malaria drug for critically-ill Covid-19 patients
March 31, 2020
Asif Chaudhry
LAHORE: The Punjab government has allowed treatment of critically ill patients of Covid-19 with chloroquine and hydroxychloroquine besides expanding the capacity of beds across the province.
Mayo Hospital had earlier started using the drug on critical patients of Covid-19. China had also treated its critical patients suffering from the virus and the US has also allowed its use.
The decision was taken by the government after the Food and Drug Authority (FDA) of the US granted approval to using hydroxychloroquine, which is originally used to treat malaria.
"Our physicians have started medication of the seriously ill patients of coronavirus at the Mayo Hospital and initial reports suggest that the drug is yielding positive results," unveiled Mayo Hospital Lahore Chief Executive Prof Dr Asad Aslam Khan.
Talking to Dawn, he said the Mayo physicians were suggesting treatment of Covid-19 patients through chloroquine and hydroxychloroquine, which had been provided in sufficient quantity by the Punjab government.
Meanwhile, the government planned to rent two three-star hotels in the city to use their rooms to isolate suspected patients of coronavirus.
It has also given permission to start outdoor services for suspected patients of coronavirus at the Mayo Hospital and the field hospital at Expo Centre. The decision was taken following a surge in the number of Covid-19 cases across the province.
The 1,000-bed Expo Centre Hospital has also been completed for patient management and will start functioning soon after the recruitment of 1,900 doctors, nurses and paramedics.
On Monday, Dr Khan said, Health Minister Dr Yasmin Rashid reviewed final arrangements at the Expo Centre and addressed the staff, including doctors, to motivate them for this daunting task. Dr Khan has also been appointed as administrator of the Expo Centre Hospital.
Two portions will be used to isolate mild and severe patients of the disease separately. The third potion will be used for seriously ill patients, he said, adding that a 50-bed high dependency unit had also been made fully functional with ventilators.
"We have deputed highly trained medics and other staff for triage site at the Expo Centre, while Rescue 1122 has been hired to shift patients to this facility from all over the province," he added.
He further said that Fatima Jinnah Medical University Vice Chancellor Prof Dr Aamir Zeman Khan was conducting interviews to recruit 1,900 doctors, nurses and paramedics for the Expo Centre Hospital.
"For the first time, we are going to start OPD service for suspected coronavirus patients only [at Mayo and Expo Centre hospitals]," said Dr Khan.
He also said the Mayo Hospital OPD has become the largest set-up for coronavirus in Punjab with 500 more beds added to the isolation and quarantine wards here. The patients testing positive at the OPD here would be shifted to the Expo Centre Hospital, he added.
https://www.dawn.com/news/1545099/punjab-govt-approves-malaria-drug-for-critically-ill-covid-19-patients
------
Pakistanis among Gulf migrant workers fearing virus limbo
March 31, 2020
DOHA: Millions of migrant workers across the Gulf face uncertainty as host countries announce lockdowns, employers withhold wages or mull redundancies, and strict coronavirus containment measures lead to deportations and confinement.
"We've been in lockdown for the last eight to 10 days, we don't know when it will end," said a 27-year-old Pakistani engineer in Qatar beginning a second week under mandatory quarantine.
"The basic issue we are facing now is groceries. The government is providing us with food but only after some days — and little things only." He is among tens of thousands of workers strictly confined to Doha's Industrial Area after dozens in the blue-collar district tested positive for Covid-19.
Advocacy groups, including Human Rights Watch (HRW) and Amnesty, warn that cramped accommodation and inadequate sanitation endanger migrant workers across the Gulf, who may not have access to healthcare.
They also face salaries going unpaid and arbitrary dismissal or deportation — an outcome that could spell disaster for families at home dependent on their income.
"Migrant workers in the Gulf are already disadvantaged (under) a labour governance system that gives employers excessive powers over migrant workers and drives their abuse and exploitation," HRW's Gulf researcher Hiba Zayadin told AFP.
"Gulf countries should go above and beyond in introducing measures to prevent the spread of the virus in migrant accommodations and migrant detention centres." With the region so far reporting 3,200 cases of the disease, Amnesty said that workers "trapped in camps" are particularly vulnerable, enduring conditions that make social distancing impossible.
Foreign workers in the oil-rich Gulf region, predominantly from Bangladesh, India, Nepal and Pakistan, account for around 10 per cent of all migrants worldwide.
Some labourers in Saudi Arabia, home to 10 million expat workers, complained that they were required by bosses to work while Saudis were permitted paid quarantine leave.
"Many workers in the private sector are suffering due to the closure of most sectors, as many owners force the workers to sit in their homes without a salary," an Arab diplomat based in Riyadh told AFP.
"And despite the kingdom's compensation to the private sector, the owners use it to cover their losses due to the closure without caring for the workers." After Saudi Arabia, the UAE hosts the Gulf's second largest migrant labour force with 8.7 million, followed by Kuwait with 2.8 million.
In Kuwait, Um Sabrine, an Egyptian beauty salon manager, said she would not be paid because of the government's closure of non-essential businesses.
While she plans to sue her employer, many in the region are reluctant to speak out for fear of reprisals. Others believe the health situation is worse in their home countries.
Gas-rich Qatar's record on migrant labour has been under the spotlight since it won the right to host the 2022 World Cup, with seven new football stadiums as well as towering skyscrapers to be built by an army of foreign workers.
Ninety per cent of Qatar's 2.75 million people are expats. Many are from developing countries and working on projects linked to the tournament — stadium construction has continued even as other businesses have shuttered.
Rights groups have previously criticised labour practices in Qatar, which has responded with initiatives to enhance worker welfare. But the lockdown of the densely populated Industrial Area has drawn scrutiny.
"Would they have done it if it had been somewhere in the Pearl? I don't know," she added, referring to an artificial island popular with wealthy expatriates.
Qatari officials insisted last week's sealing of the area, now ringed by police, was essential to save lives. They also say they have flooded the area with medical resources and pledged to pay missed salaries.
The International Labour Organisation's Doha office said several employers had transferred staff to more spacious lodgings over fears cramped conditions could incubate the virus, while others have improved hygiene.
A Sri Lankan supermarket worker, 23, said his communal villa was sanitised and cleaned in response to Covid-19, but anxiety persisted.
At least 20 Nepalese migrant labourers were deported by Qatar for ignoring containment rules, Nepalese officials told AFP, even though Kathmandu has sought to block returnees.
The ILO questioned how long companies could continue paying workers as the crisis continues, chilling Gulf economies which have been blindsided by the plunge in oil prices.
Mass redundancies, avoided so far, would do huge economic damage to countries sending labour to the region, said the head of the ILO's Qatar office, Houtan Homayounpour.
dawn.com/news/1545164/pakistanis-among-gulf-migrant-workers-fearing-virus-limbo
-----
Murad orders withdrawal of FIRs filed against imams for violating code
March 31, 2020
KARACHI-Sindh Chief Minister (CM) Syed Murad Ali Shah has directed police to withdraw all the FIRs registered against the imams of mosques and others for violating the code of conduct devised for the Friday prayers.
"We, after consultations with leading doctors and ulemas of different schools of thought, had decided that due to the threat of coronavirus, only the prayer leader, the moazen, Khadim and two others would offer the Friday prayer. But unfortunately, some people violated this code of con¬duct; as a result, the law took its course." Murad said that since the ulemas had raised the issue of registration of cases against them, therefore right now, "I am directing the inspector general of police (IGP) to withdraw the FIRs registered against imams and other people all over Sindh with the request [to ulemas] to keep their Friday congregation limited to five people as had been agreed earlier."
This he said while presiding over a meeting of religious schol¬ars of different schools of thought here at the CM House on Monday.
The meeting was attended by provincial ministers Syed Nasir Hussain Shah, Murtaza Wahab, Chief Secretary Mumtaz Shah, Sind IGP Mushtaq Maher, ACS Home Usman Chachar, Profes¬sor Dr Abdul Bari and religious scholars, including Mufti Taqi Us¬mani, Mufti Imran Usmani, Mufti Zubair Usmani, Dr Adil, Maulana Imdadullah, Dr Saeed Sikan¬dar, Mufti Muneeb-ur-Rehman, Mufti Rehman Amjad, Mufti Abid Mubarak, Mufti Rafi-ur-Rehman, Allama Shahensha Hussain Rizvi, Mufti Yousuf Kashmiri, Maulana Abdul Waheed and Mufti Abdur Rehman.
At the outset of the meeting, the chief minister said that the first case of Covid-19 was detected in Sindh on February 26, and on the same day he held an emergency meeting and decided to order clo¬sure of the schools. "The situation kept aggravating, and we kept an eye on it as was later reflected in our decisions," he said, and added that he had sent government ser¬vants on a 15-day leave, ordered the closure of restaurants, then shopping centers and finally de¬cided to declare complete lock¬down because the number of coronavirus cases were increas¬ing. "Today, we have 508 cases in the province, including 171 cases of local transmission. This is why I am requesting each and every one to maintain social distancing and avoid gatherings and congre-gations," he appealed.
The chief minister said that the decision to limit the number of people offering prayers together was taken after thorough debate and discussions with all the stake¬holders. "The objective is to save our people from this disease and with the cooperation and support of religious scholars, this has be¬come possible," the CM said.
"Alhamdulillah, our mosques are open, azan is given there five times a day and a limited number of people also offer prayers to¬gether– this is what is required," Murad said, and assured, "Let the threat is over, everything would become normal."
The chief minister once again appealed to the religious scholars to keep urging the faithful to pre¬fer offering prayers at home.
https://nation.com.pk/31-Mar-2020/murad-orders-withdrawal-of-firs-filed-against-imams-for-violating-code
------
Corona Cases Spiral As Mullahs Defy Army, Imran
March 31, 2020
Prayers are as usual at Mosques across Pakistan. All the Arab countries including Saudi Arabia closed mosques to avoid the spread of Corona. Mullahs defy powerful Army and the puppet Imran Khan government to go ahead with their daily, weekly prayers and religious congregations….. writes Dr Sakariya Kareem
Pakistan is heading for a major crisis since its creation as the civilian government in Islamabad and its masters at Rawalpindi are struggling to impose measures to tackle the Corona outbreak. The powerful Mullahas in the country are defying all the orders to conduct their religious congregations and leading prayers. They are not even paying attention to the religious decrees issued by Al Azhar and Saudi Arabia.
So far 24 people were dead in Pakistan because of Corona. The cases spiralled to 1870 on March 31. The state has not taken any major initiative to control the outbreak. Prime Minister Imran Khan is trying to save the economy and rejected calls from health care workers to enforce a total lockdown.
"Unlike other countries like Kuwait, Saudi Arabia, and Egypt, Pakistan has not banned congregational prayers that pose a clear threat to public health," said TRT World, the government controlled media in Turkey.
President Arif Naqvi wrote to Egypt's Al-Azhar to issue a Fatwa (edict) permitting suspension of Friday prayers to control the spread of deadly coronavirus in the country. Al Azha granted one in favour of the President. But Mullahs rejected that. Prominent members of the civil society and the government are trying to convince the Ulema of Pakistan to agree on temporarily halting congregational prayers but they are not willing to oblige.
The Army is saying that they are helpless. They are seem to be in support of clerics like Mufti Taqi Usmani who says this is the time to seek Allah's blessings.
The Pakistani Army which is actually controlling the government is trying to put the blame on Imran Khan for the coronavirus crisis. They deployed units at key points but they are unwilling to close the mosques across the country fearing backlash from the fundamentalist clerics. The fact remains that the fundamentalist clerics are crucial for Pakistan's proxy wars in Afghanistan and India, especially Jammu and Kashmir.
The Imran Khan-led government is unable to take any step as fundamentalist clerics have the support of the Pakistan Army. The current scenario gives rise to a major concern as the mosques nationwide remain open for Friday Namaz as well as daily prayers. So it's a vicious circle in Pakistan.
Senior Journalist Nasim Jehra tweeted, "There is NO NO NO reason why Pakistan government should not suspend congregational prayers in Pakistan given that Saudi Arabia, Iraq, Turkey, UAE, Jordan etc. have already stopped congregational prayers."
Last week, Gaza reported two confirmed cases of coronavirus. When Palestinian authorities investigated the matter, it was found that both men had recently returned from Pakistan where they attended a mass religious gathering that ended on March 12. They were among the 250,000 people that gathered in the outskirts of Lahore to participate in the 'Tableeghi Ijtema' an Islamic event organized by the Tablighi Jamaat.
Many people who have been found to be coronavirus positive had attended the Tablighi Jamaat programme in Lahore. Four people living in Sindh have been admitted to a hospital in Pakistan, who attended the programme. Similarly, five Maulana of Kyrgyzstan country has also been found to be coronavirus positive who had participated in the programme and have been admitted to a hospital in Islamabad.
https://asianlite.com/news/asia-diaspora-news/corona-cases-spiral-as-mullahs-defy-army-imran/
-----
Govt using Covid-19 relief fund for political agenda, alleges PML-N
March 31, 2020
LAHORE: The PML-N has alleged that the Pakistan Tehreek-i-Insaf government is using the Corona Relief Fund for its political agenda, therefore a parliamentary monitoring committee must be formed to ensure oversight and transparency.
Presiding over a meeting of senior party leaders and lawmakers through a video link here on Monday, Opposition Leader in National Assembly Shahbaz Sharif said not only has Imran Khan Niazi failed as a prime minister but also as the federal health minister. "Imran Khan has established himself as the minister of coronavirus spread and personal enrichment. Therefore, it is demanded that a parliamentary monitoring committee should also be responsible to know the details of the import process of all items being procured from abroad."
The meeting said the government was [allegedly] using foreign aid for coronavirus for its political activities. It stressed that the National Assembly speaker should summon a meeting of the standing committee with immediate effect.
Shahbaz Sharif said the rapidly-increasing number of coronavirus patients in Punjab was an alarming situation. "A serious notice of this must be taken immediately," he said and warned that hiding [actual] data and deaths was a criminal act which should be avoided at all costs. He said the government was refraining from conducting the required testing and screening especially in Punjab that might cause an unimaginable disaster.
The PML-N president lauded the decision of the court to revive the Pakistan Medical and Dental Council (PMDC) as his party had been demanding this for a long time.
The meeting said Imran Niazi had completely failed as the federal health minister and had proven to be the minister for 'spread of coronavirus' and his task force was destroying the healthcare system. It condemned the act of not allowing the PMDC registrar from entering the building.
The meeting also pointed out that the new notice from the health ministry regarding revival of PMDC was a 'cunning' act and instead of the so-called Tiger Force, local governments needed to be reinstated.
It stressed the need for providing preventive gear to the doctors as ensuring their well-being was the key to ensuring the well-being of the nation. The meeting took notice of the numerous complaints of terrible state of affairs at hospitals, while the government was busy doing politics in the name of relief funds. It criticised the [alleged] distribution of money to favourites through PTI MPAs and MNAs.
"The mankind has not known a bigger sacrifice than to save lives imperiling your own. Stand with pride, because you are the best amongst us. Our heartfelt gratitude & homage to our heroes in white armour, our doctors, nurses, paramedics the healers & humanitarian leaders of our times," she said in a tweet.
https://www.dawn.com/news/1545095/govt-using-covid-19-relief-fund-for-political-agenda-alleges-pml-n
-----
Arab world
Mecca closes ALL of its stores for a month as the coronavirus pandemic wreaks havoc on Australia's most popular retailers
31 March 2020
Beauty store Mecca has closed its doors for at least four weeks as coronavirus restrictions wreak havoc on the Australian economy.
The makeup brand said the challenges in adhering to the increasingly stringent social distancing measures made it difficult to stay open.
As a precautionary measure, the retailer announced it has shut all of its 92 stores across the country from now until the end of April.
'These are difficult and disorienting times we find ourselves in. We've tried to keep our doors open, operating with rigorous health and safety measures to protect our customers and our team,' Mecca said in a statement.
'We anticipate being closed for four weeks, but we will keep you up to date with changes. We want to thank our amazing teams for all their incredible efforts to support our customers and each other during these challenging times.'
Despite its store closure, the online store will remain open with free shipping, daily beauty updates, 24/7 broadcasting program and live chat available for shoppers.
The makeup brand said the challenges in adhering to the increasingly stringent social distancing measures made it difficult to keep its doors open +4
One of our "font of all knowledge" in-store hosts will call you on FaceTime and will talk you through and demonstrate everything you would typically see in store. It's free. It's fun. We think it's pretty fabulous and we'd love you to be a part of it.'
To ensure all of its customers are safe in the midst of the outbreak, the brand will take extra measures with home deliveries.
'Health and safety is the order of the day, and we are taking extra measures to protect you at this time. Deliveries can be dropped at your door, requiring no signatory and a no-touch drop off,' it said.
Mecca added: 'Stay tuned, stay healthy and let's all look after each other and do what we can to help stop the spread of COVID-19.'
https://www.dailymail.co.uk/femail/article-8169523/Mecca-closes-stores-month-coronavirus-pandemic-deepen.html
-----
Abu Dhabi Islamic Bank shareholder approves lifting foreign ownership cap
Mary Sophia
March 30, 2020
Abu Dhabi Islamic Bank secured shareholders' approval to raise its foreign ownership limit to 40 per cent, up from the current 25 per cent, as the lender looks to expand its investor base.
Shareholders also approved a dividend of 27.38 fils per share for 2019 at its annual general meeting, the bank said in a statement on Sunday.
"2019 marked another successful year for ADIB with a healthy increase of profit and revenues across key businesses," Mazin Manna, ADIB group chief executive, said.
"This has been complemented by our discipline in managing costs across the bank by implementing a number of optimisation initiatives, resulting in a flat expense base. In addition, our investment into digital transformation has proven successful, enabling us to maintain a seamless service to customers at a time when we are all trying to limit our movement."
Net profit for the 12-month period ending December 31 reached Dh2.6 billion. Operating profit increased 4.4 per cent to Dh3.26bn, boosted by a 30.7 per cent increase in investment income. A 23.6 per cent rise in foreign exchange income also contributed to a rise in annual operating profit.
ADIB's move to increase its foreign ownership limit is in line with other financial institutions that are raising ownership caps on their stocks to attract more global investors, after the UAE eased restrictions last year.
https://www.thenational.ae/business/banking/abu-dhabi-islamic-bank-shareholder-approves-lifting-foreign-ownership-cap-1.999395
-----
Mohamed bin Zayed, Grand Imam of Al Azhar review global fight against corona
30-03-2020
ABU DHABI, 30th March, 2020 (WAM) -- His Highness Sheikh Mohamed bin Zayed Al Nahyan, Crown Prince of Abu Dhabi and Deputy Supreme Commander of the UAE Armed Forces, discussed with the Grand Imam of Al Azhar Dr Ahmed Al Tayeb the prospects of promoting the values of tolerance and moderation amid the menacing threat posed by the COVID-19 pandemic.
This came over a phone call wherein Sheikh Mohamed underlined the significant role played by men of religions and influential religious institutions all over the world, primarily Al Azhar in fighting extremism and dogmatism.
The conversation covered the importance of translating the values inherent in the Human Fraternity Document into action under this critical period the humanity at large is going through. Sheikh Mohamed addressed the same topic in an earlier conversation with Pope Francis, Head of the Catholic Church.
Sheikh Mohamed said the UAE is cooperating with Egypt in addressing the coronavirus crisis and containing its impact, underlining the solid relations between the two sisterly countries.
The Grand Imam of Al Azhar commended the support provided by the UAE for all world countries and communities in face of the pandemic, saying this approach reflects the civilizational and humanitarian approach adopted by the UAE at the regional and international levels
http://wam.ae/en/details/1395302833956
-----
Coronavirus: Sheikh Mohamed tells Grand Imam of Al Azhar the UAE is ready to help
March 30, 2020
Sheikh Mohamed bin Zayed told the Grand Imam of Al Azhar, on Monday, that the UAE is ready to help anyone affected by coronavirus.
The Crown Prince of Abu Dhabi and Deputy Supreme Commander of the Armed Forces said Dr Ahmed Al Tayeb's words of solidarity during the global outbreak were comforting.
"The message of the Grand Imam of Al Azhar about efforts to control Covid-19 and his call for solidarity and co-operation is comforting. I assured him during a phone call that the UAE is ready to help and work with everyone to tackle the virus and reduce its harm," Sheikh Mohamed tweeted.
On Sunday, Sheikh Mohamed discussed the importance of international solidarity during the outbreak, with Pope Francis, head of the Catholic Church.
Sheikh Mohamed said international unity was more important now than ever as the world fights coronavirus
https://www.thenational.ae/uae/government/coronavirus-sheikh-mohamed-tells-grand-imam-of-al-azhar-the-uae-is-ready-to-help-1.999429
-----
Medical circles and Al-Azhar Grand Imam mourned the death of Egyptian doctor who died from coronavirus
30 Mar 2020
Egypt's Health Ministry, Grand Imam of Al-Azhar Ahmed El-Tayyeb, and the Doctors' Syndicate mourned the death of Ahmed El-Lawah who hailed from Port Said, northeast of Cairo.
El-Lawah, 57, a laboratory physician at Al-Azhar University, died on Monday. He was hospitalised for two days after he had tested positive for coronavirus.
The provincial General Health Care Authority in Port Said said on Monday that El-Lawah was admitted to the local Tadamon hospital in a "very critical condition" before he was sent to an isolation hospital in the port city of Ismailia.
The patient entered an "emergency room equipped with a mechanical ventilator and a CPAP mask as a medical team consisting of the hospital director, the intensive care physician, the emergency doctor, and a nursing staff trained on dealing with coronavirus cases were waiting for him," health ministry spokesman Khaled Megahed stated.
His condition noticeably improved on Sunday before a "sudden deterioration" led to his death in the early hours of Monday, the statement added.
El-Lawah's death sparked grief online as social media users shared a post he wrote last week in which he urged people to "stay home" to protect themselves from the virus.
According to a tracking investigation carried out by a local health department in Port Said, the doctor was one of the direct contacts with a coronavirus case, and he was self-isolating at his home before he entered the hospital, according to the General Health Care Authority in Port Said.
http://english.ahram.org.eg/NewsContent/1/64/366273/Egypt/Politics-/Medical-circles-and-AlAzhar-Grand-Imam-mourned-the.aspx
-----
Custodian of the Two Holy Mosques orders free treatment from Coronavirus for all citizens, residents, and violators of residency regulation in all health facilities
2020/03/30
Riyadh, March 30,2020, SPA -- The Minister of Health, Dr. Tawfiq bin Fawzan AlRabiah, has announced the issuance of the order of the Custodian of the Two Holy Mosques King Salman bin Abdulaziz Al Saud to provide free treatment to all citizens, residents, and violators of the residency regulation in all government and private health facilities relating to all matters for treatment of the Coronavirus.
The Minister affirmed that this royal order emanates from the keenness of the Custodian of the Two Holy Mosques who put the health of citizens and residents as a top priority to ensure the safety of all.
This came in a press conference held by the Minister of Health at the headquarters of Saudi Food and Drug Authority in Riyadh today.
https://www.spa.gov.sa/viewfullstory.php?lang=en&newsid=2053038
----
Europe
UK's largest Muslim youth organisation launches coronavirus relief effort
CHARLIE DUFFIELD
59 minutes ago
As the coronavirus pandemic continues, with the UK expecting a significant period under lockdown, the Muslim community is among those determined to see no one left behind.
The UK's largest and oldest Muslim youth organisation AMYA, which has a membership exceeding 8,000, has introduced new initiatives to support people in need during the pandemic.
Noor Hadi, from London, is one of Britain's youngest Imams and said the organisation's aim is to contribute to society "at all levels".
He told the Standard: "Our key objective is to serve and contribute to society at all levels through active integration and engagement."
"Under AMYA's motto 'Love for All Hatred for None', our purpose is to engender the spirit of discipline, love and service to the wider community irrespective of people's beliefs, race or gender.
"We also believe a nation cannot be reformed without reformation of its youth - so we have introduced structured activities for young people to keep them engaged."
Volunteers aged between 16 and 40 are working in 24 regions across the UK to serve local community members in need.
Many of those who have signed up are offering daily videos featuring life hacks, mental health tips, spiritual development reminders, and ideas for ways to occupy yourself at home.
Mr Hadi added: "Some of our more sporty members and Imams have dedicated their time to create daily online content to help people at home stay fit during this period - with six workout sessions a week, and three targeted at those aged under 15.
"They're live videos, so people can interact with one another, it's a pretty fun way to get fit, all in the safety of your home. We also have challenges and kahoot quizes to take part in and leaderboards which you can climb."
AMYA are also offering a hotline service for people in need of help. Before the lockdown, in line with social distancing advice, members assisted with running errands such as buying groceries, collecting prescriptions and medication, donating to food banks or providing meals to people in their homes.
Mr Hadi said: "So far we have helped dozens of people this way, and the response has been very good. The numbers are increasing every day."
According to Mr Hadi, AMYA members have long been giving back to the community by participating in activities such as blood donations, visiting senior citizens and planting more than 50,000 trees to date across the UK.
"Our sole purpose and reason for why we are doing this is to act upon the teachings of Islam, which state that to help and alleviate the hardship and suffering of others is a great virtue, an act of faith and a means of seeking nearness to God.
https://www.standard.co.uk/news/uk/uks-largest-muslim-youth-organisation-support-those-in-need-as-coronavirus-crisis-heightens-a4401981.html
-----
A Leading Activist In Britain's Muslim Community Has Died Of The Coronavirus
Rosie Gray
March 30, 2020
Fuad Nahdi, a prominent British Muslim journalist and activist who published an influential Muslim-focused magazine and was a key voice in Britain's Muslim community, died on March 21 after being infected by what his family later learned was the novel coronavirus, his son said.
Nahdi, 62, who had other health issues stemming from diabetes and cancer, fell ill and "spiraled really fast," his son, Nadir Nahdi, told BuzzFeed News.
His family called an ambulance, and Nahdi was taken from his home in Wembley, an area of northwest London. He remained in the hospital for about a day and a half before he died; his coronavirus test came back positive two days after his death, his son said.
Friends and family remembered Nahdi's charismatic personality, his talent for networking and mentoring, and his important role in shaping contemporary British Muslim identity.
"Fuad Nahdi was a powerful force to be reckoned with, inside the Muslim community, but more generally in British civil society, as well as more broadly in international Muslim circles," Dr. H.A. Hellyer, a friend of Nahdi's and senior associate fellow at the Royal United Services Institute in London and the Carnegie Endowment for International Peace in Washington, DC, said in an email. "He was fiercely independent, and deeply committed to the normative tradition of Sunni Islam that informed his sense of justice and spirituality."
Born in Tanzania in 1957, Nahdi grew up in Mombasa, Kenya, and went to the University of Nairobi. He moved to the United Kingdom in 1983 after winning a scholarship to attend SOAS University of London. In the UK, he met Humera Khan, and the couple married in 1989. They had two children together: Nadir, 30, founder of online platform Beni, and Ilyeh, 25, a speech and language therapist. Khan, 60, is also an activist in her own right as the cofounder of An-Nisa Society, a group focused on Muslim women.
"Fuad as a person and Q-News as a publication could be summed up in four ways: as progressive, cosmopolitan, attentive to context, and respectful but never deferential let alone obsequious towards religious and political authority," Yahya Birt, a University of Leeds professor and another friend of Nahdi's, wrote in a Medium post remembering him. Through Q-News, Nahdi mentored a generation of young Muslim activists and journalists.
"I think every single person that wrote there, Fuad had something to do with their careers," said Dr. Nabila Munawar, project manager of the Inclusive Curriculum program at the London School of Economics and longtime friend of Nahdi's, who wrote for and served as an editor at Q-News.
Munawar described how Nahdi was an attentive but sometimes challenging mentor. She recalled how, after she was getting ready to submit her master's thesis about responses to 9/11 in the Muslim community, she asked Nahdi to look it over.
"He called me back and said it was bullshit," Munawar recalled with a laugh. "You could always just trust him to [say], 'You're not gonna like this, but this is what I think about this.' ... He wanted it to be good." Munawar said Nahdi was influential in shaping her thinking in her academic work on Muslim identity; "He really brought out that idea that you don't impose identity on people, but it should come from them."
"Dad was all about providing an alternative narrative that was positive and uplifting," Nadir Nahdi said. "That alternative channel was so formative for an emerging young British Muslim identity to take shape because it wasn't rooted in the kind of heaviness, the tropes of what the politicized environment was trying to bottle us in."
Nahdi made inroads into the British establishment and encouraged interfaith cooperation, becoming the first Muslim to address the General Synod, the Church of England's legislative body. And during a fraught era in which discourse around Islam and Muslims in the West was often imbued with anti-Muslim prejudice and focused on extremism and the war on terror, Nahdi worked to influence policymakers and in 2005 launched an organization, Radical Middle Way, that was focused on promoting a more positive vision of Islam.
"The Radical Middle Way is based on the premise that most of the discussion about Islam is held in a context of extremism on both sides," Nahdi said in an interview in 2007. "So actually to be moderate, to be in the middle, is radical because it's different from the perceived notion around us."
Munawar recalled once tagging along during one of Nahdi's visits to Parliament; as they sat in the café having tea, Nahdi spotted former prime minister Margaret Thatcher nearby and cheekily dared Munawar to go speak with her.
His impish sense of humor endeared him to many. "There was laughter everywhere that he went," his son, Nadir, said. "Dad was literally the soul of a party."
Under normal circumstances, the family home would have been inundated with visitors in the wake of his death, Nadir said. But because of the coronavirus lockdown in Britain, the family have been grieving alone and were only permitted to have 20 people attend Nahdi's funeral last week.
But there was "a sense of obligation that it wasn't only us grieving, but it was the whole Muslim world almost because Dad was quite a prominent figure in Muslim relations and conversations over a long period of time," Nadir said.
So the family decided to livestream his funeral so Nahdi's friends and associates around the world could be there at least virtually. A virtual memorial service was also held for Nahdi over Zoom and Facebook on Thursday night.
https://www.buzzfeednews.com/article/rosiegray/coronavirus-victim-fuad-nahdi-uk-muslim-activist
-----
Police statement on worshippers gathering at Small Heath mosque 'during lockdown'
30 MAR 2020
Police have said that videos being circulated of people allegedly attending a mosque during the lockdown were taken before the measures were introduced.
West Midlands Police launched an investigation after a video began circulating on Facebook showing the alleged breach of the coronavirus social distancing rules.
But on Monday (March 30), police said they had investigated the video and claims made by onlookers and had concluded no rules had been broken.
A spokesman for West Midlands Police said: "We're aware of a video circulating that appears to show a group of people leaving a mosque in Small Heath during the lockdown.
"Although we can confirm the footage was filmed in Small Heath, our officers have conducted enquiries and are satisfied that the mosque is currently closed.
"The neighbourhood team have spoken to many residents living on the street, who all confirmed that the mosque has not been open since the restrictions were announced last Monday (23 March)."
The video shows a residential street in Small Heath where large numbers of men are seen leaving a terraced house. All are in Muslim dress and get into separate cars and drive away.
There is no date on the footage, but the people circulating it claim the gathering took place after the social distancing rules were introduced. This bans groups of more than two people taking place.
Under the lockdown announced by the Government over a week ago, people are banned from meeting in groups of more than two people.
They are also restricted to only leaving their houses for essential shopping, such as food and medicine; caring responsibilities and one hour's exercise a day.
https://www.birminghammail.co.uk/news/midlands-news/police-statement-worshippers-gathering-small-18009022
------
Masjid Al Jannah mosque makes pizza donations to Wexham Park Hospital
David Lee
31 March 2020
Representatives from the Masjid Al Jannah mosque delivered stacks of pizzas to frontline NHS staff at Wexham Park Hospital.
Newly-elected president Hamjath Aneef, vice-president Nazeer Marzook and treasurer Akram Azeez dropped their donations off on Thursday (March 26).
Faleel Marikkar, volunteer at the Stoke Road mosque, said: "This humanitarian act is to show the solidarity that the Sri Lankan Muslim community in Slough have for the hard-working NHS staff who are working tirelessly putting their own lives at risk and working 24/7.
https://www.sloughexpress.co.uk/gallery/slough/157696/masjid-al-jannah-mosque-makes-pizza-donations-to-wexham-park-hospital.html
----
This man tried to report a mosque to the police for being open during lockdown but it went very wrong
3 hours ago
Even in a pandemic, some people will stop at nothing to try a spread bigotry and shame others only to have it come back and slap them in the face.
With lockdown measures currently in place across the country, everything that is not classified as 'essential' has been forced to temporarily close until the spread of the virus subsides.
This includes all places of worship, from faiths across the entire religious spectrum. Nothing should be open but that isn't what one man from Shrewsbury thought.
On 26 March, a Twitter user claimed to have spoken to his mosque in Shrewsbury who told him that they were still open, despite the lockdown rues. He then tagged Shropshire police and demanded that the mosque be closed as they could become "super spreaders."
In their reply, Shropshire police told him that there is only a Muslim prayer centre in the town and they have been abiding by the lockdown rules since they were imposed earlier this month.
Indeed the Shrewsbury Muslim Centre confirmed on the website on March 19 that they would cease holding Friday prayers until further notice.
The Shropshire police's response to the false accusation soon became something of a viral hit and people applauded them for such a pointed response.
The UK government has imposed lockdown measures for at least two weeks to try and stop the spread of Covid-19 but could be extended upon review.
https://www.indy100.com/article/coronavirus-uk-lockdown-mosque-shropshire-police-9437521
------
Mideast
Islamic State militants escape during riot at prison in Syria
March 30, 2020
Military aircraft were assisting Syrian forces putting down "uprising" at a detention facility holding Islamic State group fighters, during which some of the prisoners escaped, officials said late Sunday.
U.S.-backed Syrian Democratic Forces sent anti-terrorist forces and other troops to the prison in Hassakeh, in northeastern Syria, said Mustafa Bali, a spokesman for the Kurdish-led Syrian Democratic Forces.
"ISIS terrorists managed to take over the first floor in Hasakah prison removing internal walls & doors," Bali said on Twitter. "Some of them managed to escape and our forces are searching to capture them."
The U.S.-led Operation Inherent Resolve was assisting with aerial surveillance at the facility, said Army Col. Myles B. Caggins III, the anti-ISIS coalition's military spokesman, also on Twitter.
The prison break started when inmates broke security cameras, minutes after holding up blankets with messages scrawled on them to the U.S.-led coalition and human rights organizations, the independent media organization said on Twitter, citing an official statement.
"A state of emergency will continue until tomorrow until we have determined where they have gone," the information center said, quoting a statement.
The prisoners were still in control of the facility's first floor and planning further escapes, balaclava-wearing SDF officials said at a press conference later outside the prison, the media organization said in a post that included video of the camouflage-clad officials.
The fact that the rioters wrote messages to human rights organizations suggested the unrest may have been linked to concerns over prison conditions and fears of the coronavirus pandemic, the center said. The prison is located in an area of northern Syria where Turkish-backed militias are accused of cutting off the water supply to more than 450,000 people for more than a week.
The coalition does not staff the detention facilities, which have struggled to detain the ISIS-linked captives. Observers have warned of the Kurdish forces' limitations in holding the about 10,000 prisoners, who they don't have the capacity to investigate and put through trials. Media reports have described cells crammed with men.
But many European countries have been reluctant to take back their citizens who joined ISIS and fought for the hardline group's territorial ambitions. About 2,000 of the prisoners are foreign fighters, U.S. officials have estimated.
"The longer ISIS prisoners are held in SDF prisons, the greater the potential for them to organize breakouts," the Lead Inspector General for Operation Inherent Resolve said in a January report, citing Pentagon officials.
In addition to the prisoners, camps in northern Syria also hold tens of thousands of women and children who lived under the terrorist group's "caliphate," which lost its final territorial stronghold a little more than a year ago in the town of Baghouz.
As Turkey invaded northern Syria last fall, the Kurds warned that they would not have the capacity to both defend themselves and secure the prisons.
In October, more than 100 prisoners with alleged links to ISIS broke out of the prisons during the Turkish incursion, U.S. officials told the Washington Post.
The group's ranks have been filled by fighters freed in prison breaks stretching back more than a half-decade, the Post reported.
The prison break on Sunday came as the U.S. pulled out of a third Iraqi base this month, citing successes in battling the terrorist group as allowing the withdrawal.
https://warisboring.com/islamic-state-militants-escape-during-riot-at-prison-in-syria/
-----
Coronavirus: quarantine extended for 3,000 post-Mecca Turks
30 MARCH,2020
ISTANBUL, MARCH 30 - Quarantine has been extended for an additional week for the 3,135 Turkish nationals that returned to the country after taking part in the Muslim holy Umrah pilgrimage to Mecca in Saudi Arabia. The group had re-entered Turkey on March 15 and was placed in isolation in dorms in Ankara. Some that later tested positive for the novel coronavirus, or COVID-19, were transferred to hospital. The Turkish scientific committee for the fight against COVID-19 has thus decided to extend the quarantine for those still in the dorms, which was to have ended on Sunday.
http://www.ansamed.info/ansamed/en/news/sections/generalnews/2020/03/30/coronavirus-quarantine-extended-for-3000-post-mecca-turks_e3f7575d-5198-4c7e-bce5-c213ec3ecb42.html
-----
Yemeni official slams UN envoy remarks after missile fired at Riyadh
30 March 2020
"As before, the UN envoy is in the habit of adopting double standards by condemning the victim and exonerating the executioner and inverting reality," Ibrahim Mohammad al-Dailami tweeted.
Griffiths on Sunday released a statement, saying he was "gravely dismayed and disappointed" after the Yemeni army staged drone and missile attacks over Riyadh and another Saudi city in retaliation.
Saudi state media reported that at least one ballistic missile and a rocket had been intercepted over Riyadh and the southwestern city of Jazan. However, a spokesperson for Saudi Arabia's Civil Defense said two people were wounded in the strikes. The contradictory accounts were not explained by Saudi authorities.
Yemeni Armed Forces say they targeted strategic and sensitive sites in Saudi Arabia's capital Riyadh and elsewhere in the kingdom by a squadron of domestically-manufactured combat drones and ballistic missiles.
The latest missile retaliation was the first against the kingdom since September when the Yemeni army hit Saudi oil installations with ballistic missiles.
Griffiths called the retaliatory strikes unlawful, but Dailami turned the tables on the UN envoy, saying he was "ignoring all axioms of international law".
The ambassador pointed to a proposal last Monday by UN chief Antonio Guterres who called for "an immediate global ceasefire in all corners of the world" and welcomed by the Houthis.
Yemen's Ansarullah movement welcomes a request by the UN chief for a global ceasefire to help the world better focus on the fight against the coronavirus pandemic.
Dailami said if Griffiths really insists on implementing the proposal, he should ask the UN Security Council to issue a "clear resolution" ordering the cessation of the conflict in Yemen and the removal of a Saudi blockade on the impoverished nation.
The Yemeni army and its allies in the Houthi Ansarullah movement have been putting up a strong resistance against Saudi-led invaders and their mercenaries.
https://www.presstv.com/Detail/2020/03/30/621913/Yemen-United-Nations-envoy-Martin-Griffiths-Saudi-Arabia-Iran-ambassador-Ibrahim-al-Dailami
-----
Africa
Curfew violation: Kaduna Imams arraigned, granted bail
March 31, 2020
Godwin Isenyo, Kaduna
A Kaduna Chief Magistrate Court has granted bail to two Islamic clerics and 10 of their followers for violating the curfew order put in place to curtail the spread of coronavirus in the state.
The two Muslim clerics were arrested while conducting the Friday congregational prayers in Malali and Ungwan Kanawa in Kaduna North Local Government of Kaduna State.
The state Commissioner for Internal Security and Home Affairs, Mr Samuel Aruwan, had earlier at a press conference on Saturday given the names of the clerics as Mallam Aminu Usman and Mallam Umar Shangel, from Malali and Unguwan Kanawa, respectively.
On Monday, the two clerics and 10 of their followers were arraigned separately before the Magistrate Court at Ungwan Kanawa and Court 16 before being granted bail to the sum of N1m.
Besides, the defendants were to produce sureties who must be senior government officials with proof of landed property in Kaduna State, failure of which they would be remanded at the Kaduna Correctional Centre.
The Kaduna State Director of Public Prosecution, Dari Bayero, had said the defendants' alleged violation of the law had the potency of spreading the coronavirus in the state.
All rights reserved. This material, and other digital content on this website, may not be reproduced, published, broadcast, rewritten or redistributed in whole or in part without prior express written permission from PUNCH.
https://punchng.com/curfew-violation-kaduna-imams-arraigned-granted-bail/
-----
10 Inspo Muslim Reads to Make It Through Quarantine
MARCH 30, 2020
Self-distancing, quarantine, lockdown, whatever anyone calls it, days couped up in the house can be draining. Limited socializing, lack of access to faith spaces and concern about the well being of family, friends and community takes a spiritual toll.
Fortunately, there are plenty of inspirational (inspo) books by Muslim authors sharing their experiences through an array of memoirs and biographies, which offer authors a chance to share their lives and motivate readers drawn to their stories.
We asked our followers to list books written by Muslims they found moving and motivating. Check out a list of memoirs recommended by NbA Muslim readers, who attested to their potential to lift the spirits, which is sorely needed during these times of uncertainty.
Blurb: Growing up in New Jersey as the only African American Muslim at school, Ibtihaj Muhammad always had to find her own way. When she discovered fencing, a sport traditionally reserved for the wealthy, she had to defy expectations and make a place for herself in a sport she grew to love.
From winning state championships to three-time All-America selections at Duke University, Ibtihaj was poised for success, but the fencing community wasn't ready to welcome her with open arms just yet. As the only woman of color and the only religious minority on Team USA's saber fencing squad, Ibtihaj had to chart her own path to success and Olympic glory.
Blurb: This enthralling story of the making of an American is a timely meditation on being Muslim in America today. Threading My Prayer Rug is a richly textured reflection. It is also the luminous story of many journeys: from Pakistan to the United States in an arranged marriage that becomes a love match lasting forty-five years; from secular Muslim in an Islamic society to devout Muslim in a society ignorant of Islam, and from liberal to conservative to American Muslim; from bride to mother; and from an immigrant intending to stay two years to an American citizen, business executive, grandmother, and tireless advocate for interfaith understanding.
Beginning with a sweetly funny, moving account of her arranged marriage, the author undercuts stereotypes and offers the refreshing view of an American life through Muslim eyes. Sabeeha was doing interfaith work for Imam Feisal A. Rauf, the driving force behind the Muslim community center near Ground Zero, when the backlash began. She recounts what that experience revealed about American society and in a new preface discusses Islam in America in the time of Trump.
Blurb: They said they could backbite her in public because she was "misbehaving in public." They said her mental illness was a "Western invention." They said all her problems were because she's an American convert who couldn't get her life together.
In this groundbreaking book about living with mental illness as an American Muslim, internationally acclaimed author Umm Zakiyyah shares the true story of Sakinah "The Muslim Hippie" who thought she'd found a faith family and loving community after converting to Islam. However, as she lived for years with undiagnosed bipolar disorder, her manic-depressive states led her to be ostracized, confused, and ultimately rejected and alone.
Spoken in the voice of Sakinah herself, this story gives a glimpse into the life of one Muslim woman as she finds her way from the darkness of uncertainty to become a passionate mental health advocate, whose blogs regularly appear on patheos.com and whose insightful perspective has been shared in The Mighty and Teen Vogue.
Blurb: "Go back to your country! You do not belong here in the United States because you're a terrorist!" Harsh statements like these have been echoed towards Julde (Jul-DAY), a former United States Army brat, but these statements transpired after Julde began wearing the hijab in 2014. Just like many other American families, Julde's family suffered the aftermath of the 9/11 attack, especially because her dad joined a continual war for six-months out of every year.
Many people do not view Muslims as equally threatened by the 9/11 attacks provided that the "War on Terror" is illustrated as a war against the entire Muslim faith; however, this is not true because during the late 1990s Julde joined other Muslim military families on the base to pray, eat Iftar dinner, and attend Jummah services. The women in Julde's family openly wore their hijab, but, soon, they slowly detach from wearing their hijab, to later become untraditional Muslim women. And it appeared at that moment, being Muslim at heart was good enough. Julde acquired some of her basic knowledge of Islam through military spouses who taught her to read in Arabic, explained various narratives of the Quran, and offered her valuable words of advice.
Fitting in as a child was difficult being that Julde evidently did not celebrate Christmas, Kwanza, Easter, nor other prevalent holidays at school. After classmates questioned Julde's participation in holiday celebrations, they grasp an unexpected discovery that she is Muslim. This often led Julde to feel lonely as a U.S. Army Brat; as if Military brats do not have enough obstacles to face like continually changing their neighborhood, public schools and friends every few years. Now as an adult, Julde Ball wears her hijab to complete her Islamic faith and she undergoes a difference in how people treat her. Despite being cursed out, pushed, kicked, or ignored, Julde maintains wearing her hijab. The United States is Julde's country and as well as many other American Muslims who look like her. Julde wishes that her story can bring about future change for American Muslims.
Blurb: Michael Muhammad Knight embarks on a quest for an indigenous American Islam in a series of interstate odysseys. Traveling 20,000 miles by Greyhound in sixty days, he squats in run-down mosques, pursues Muslim romance, is detained at the U.S.-Canadian border with a trunkload of Shia literature, crashes Islamic Society of North America conventions, stink-palms Cat Stevens, and limps across Chicago to find the grave of Noble Drew Ali, filling dozens of notebooks along the way. The result is this semi-autobiographical book, with multiple histories of Fard and the landscape of American Islam woven into Knight's own story.
In the course of his adventures, Knight sorts out his own relationship to Islam as he journeys from punk provocateur to a recognized voice in the community, and watches first-hand the collapse of a liberal Islamic dream. The book's extensive cast of characters includes anarchist Sufi heretics, vegan kungfu punks, tattoo-sleeved converts in hard-core bands, spiritual drug dealers, Islamic feminists, slick media entrepreneurs, sages of the street, the grandsons of Elijah Muhammad and Malcolm X, and a group called Muslims for Bush.
Blurb: Born to Persian parents at the height of the Islamic Revolution and raised amid a vibrant, loving, and gossipy Iranian diaspora in the American heartland, Melody Moezzi was bound for a bipolar life. At 18, she began battling a severe physical illness, and her community stepped up, filling her hospital rooms with roses, lilies and hyacinths.
But when she attempted suicide and was diagnosed with bipolar disorder, there were no flowers. Despite several stays in psychiatric hospitals, bombarded with tranquilizers, mood-stabilizers, and antipsychotics, she was encouraged to keep her illness a secret—by both her family and an increasingly callous and indifferent medical establishment. Refusing to be ashamed or silenced, Moezzi became an outspoken advocate, determined to fight the stigma surrounding mental illness and reclaim her life along the way.
Both an irreverent memoir and a rousing call to action, Haldol and Hyacinths is the moving story of a woman who refused to become a victim. Moezzi reports from the frontlines of an invisible world, as seen through a unique and fascinating cultural lens. A powerful, funny, and moving narrative, Haldol and Hyacinths is a tribute to the healing power of hope and humor.
Blurb: Drenched in pain, I had limped so far on the Road of Loss that I had lost my way back home. With bleak hope left on my trail, I finally approached the point of no return, awaiting to be consumed by my lingering darkness. However, upon setting my last step on the fall's edge, I was thundered by yet another torment–my biggest trial to date, of losing my mother, the center of my universe. Finding myself trapped in the most turbulent flight for the next twenty-four hours, I was taxed by a tremendous choice, not between action and non-action, or belief and unbelief, but rather between choice and none at all. Would I resist or submit to my tribulation?
To replace loss, God birthed gain. The expedition from loss to gain is the journey of every human, a chosen one, to be free. The path that exists in between needs to be traversed, not by choice but by surrendering choice to it. Can trauma change to bliss? Can trial turn into triumph? There is only one way to find out.
In this book I, Huma Zuellah Ahmed, retrace my own path attempting to traverse the road from the wilderness of loss back to the safe haven of home. Alternatively put, this is a personal transformation book about a girl's journey of losing her mother to cancer and how to not just cope but gain from loss. My story–a tribute–will resonate with every human being reaching for that Universal Shade that is waiting to wrap them in its transformational truth and turn their tragedy into treasure.
Blurb: The plight of immigrant refugees fleeing atrocities committed by despotic regimes such as the Khmer Rouge has been well-chronicled in books and movies, such as the Academy Award-winning film, The Killing Fields. In Resilience: Killing Fields to Boardroom, Dr. Emad Rahim shares candidly from his life, but not with the intent to evoke pity. Rather, he recounts his story as a backdrop for exploring the indomitable magnificence of the human spirit; present in its humblest beginnings, and often, merely awaiting the right moment to emerge. Dr. Rahim, a genocide survivor and refugee of the Khmer Rouge Killing Fields of Cambodia, developed the S.A.L.T. model of Surviving, Adapting, Loving and Transforming as a means of helping him overcome the struggles of his youth, including prejudice, abuse, childhood violence, and dyslexia.
Rahim uses his life story as a framework for an approach to developing a mindset for business success, which he names the S.A.L.T. (Surviving, Adapting, Loving and Transforming) Effect. Rahim describes the pitfalls and triumphs in his life and how they served as catalysts for a self-reflective process culminating into an outline for internal growth and external achievement.
In 2009, Kaighla—a young, single mother from the Midwest, and a fresh convert to Islam—married the Egyptian sheikh of a mosque in Brooklyn. Unbeknownst to her, he hadn't divorced his wife back home and was about to be deported. Two years later, she moved with him, her son, and their baby girl to his hometown in rural Egypt, where she was abused and neglected—along with his first wife—for the next four years.
A story about what happens when Muslim women are broken by Muslim men and find the courage to heal themselves through the real Islam, Things That Shatter aims to shed light on abuse and healing within the Muslim community and to help vulnerable women protect themselves from men like him.
More than anything, this story is a Muslim convert's re-declaration of faith that there is no God but God, and it serves as a reminder that women have an intrinsic worth in God's eyes, beyond and outside of their relationships to the men in their lives.
Blurb: A candid, heartfelt love story set in contemporary California that challenges the idea of what it means to be American, liberated, and in loveWhen Huda meets Hadi, the boy she will ultimately marry, she is six years old. Both are the American-born children of Iraqi immigrants, who grew up on opposite ends of California. Hadi considers Huda his childhood sweetheart, the first and only girl he's ever loved, but Huda needs proof that she is more than just the girl Hadi's mother has chosen for her son. She wants what many other American girls have–the entertainment culture's almost singular tale of chance meetings, defying the odds, and falling in love. She wants stolen kisses, romantic dates, and a surprise proposal.
As long as she has a grand love story, Huda believes no one will question if her marriage has been arranged. But when Huda and Hadi's conservative Muslim families forbid them to go out alone before their wedding, Huda must navigate her way through the despair of unmet expectations and dashed happily-ever-after ideals. Eventually, she comes to understand the toll of straddling two cultures in a marriage and the importance of reconciling what you dreamed of with the life you eventually live. Tender, honest and irresistibly compelling, First Comes Marriage is the first Muslim-American memoir dedicated to the themes of love and sexuality. Huda and Hadi's story brilliantly circles around a series of firsts, chronicling two virgins moving through their first everything: first hand-holding, first kiss, and first sexual encounter. First Comes Marriage is an almost unbearably humanizing tale that tucks into our hearts and lingers in our imagination, while also challenging long-standing taboos within the Muslim community and the romantic stereotypes we unknowingly carry within us that sabotage some of our best chances for finding true love.
https://www.patheos.com/blogs/nbamuslims/2020/03/30/10-inspo-quarantine-reads/
-----
Al-Shabaab bomb attack kills governor in Somalia
March 30, 2020
A governor in Somalia's Puntland has been killed in a bomb attack by militants from the Takfiri al-Shabab group.
Governor Abdisalan Hassan Hersi of the Nugaal region died of the wounds he sustained in the bombing on Sunday shortly after arriving at a hospital, police and hospital sources said on Monday.
"He was in a critical condition when he was admitted to hospital," a medic anonymously told AFP. "He was badly wounded in the blast and he had little chance of surviving such serious injuries."
Al-Qaeda-affiliated al-Shabab militants were driven out of the capital city, Mogadishu, with the help of international African Union forces in 2011.
The militant group has since lost power in most of its former strongholds; however, it still wields significant influence in vast swathes of the countryside, from where it recruits, coordinates, and launches attacks against government, military, and civilian targets in Somalia and neighboring countries.
Earlier this year, the terrorist group launched an attack against a military base used by US and Kenyan forces in neighboring Kenya.
https://en.abna24.com/news//al-shabaab-bomb-attack-kills-governor-in-somalia_1021864.html
-----
South Asia
Dozens of Afghan forces killed in two Taliban attacks: Kabul
March 31, 2020
KABUL: The Taliban have killed about two dozen Afghan police and pro-government fighters, officials said Monday, in two attacks that come as the foes are supposed to be preparing for peace talks.
In one of the incidents late Sunday, the insurgents killed at least six soldiers and 13 police and pro-government militiamen at several outposts near a police headquarters building in northeastern Takhar province, provincial police spokesman Khalil Assir told AFP.
Mohammad Azam Afzali, a member of Takhar's provincial council, gave a slightly lower toll, saying 17 police and pro-government militiamen were killed in the fighting that lasted at least seven hours.
Meanwhile, a Taliban attack on an army outpost in southern Zabul province on Sunday night left at least six soldiers dead, the defence ministry said in a statement.
Four people were also wounded when a sticky bomb attached to a small truck went off in Kabul city on Monday morning, the interior ministry said.
The insurgents had agreed to speak to the government under a deal with the United States signed in Doha last month, but the dialogue has been derailed by a dispute over a prisoner exchange and the Taliban are also grumbling about the composition of Kabul's negotiating team.
Afghanistan's political turmoil and the rivalry between Ghani and Abdullah have impeded each step toward talks with the Taliban negotiations that were supposed to come next under a peace deal that Washington signed with the insurgents last month.
The deal calls for the eventual withdrawal of all 13,000 US soldiers from Afghanistan in exchange for guarantees from the Taliban that they would fight other militant groups, including the militant Islamic State group.
The insurgents had agreed to speak to the government under a deal with the United States signed in Doha last month, but the dialogue has been derailed by a dispute over a prisoner exchange and the Taliban are also grumbling about the composition of Kabul's negotiating team.
Moreover, Ghani and Abdullah, who also declared himself president in a parallel inauguration ceremony earlier this month, have been locked in a power struggle that has prompted Washington to say it would cut $1 billion in assistance to Afghanistan if the two couldn't get their act together.
The Taliban are to send 10 representatives to the US-led coalition base in Bagram, north of Kabul, to oversee the release of their prisoners
https://www.dawn.com/news/1545151/dozens-of-afghan-forces-killed-in-two-taliban-attacks-kabul
-----
Afghan forces stop heavy rockets barrage on Kunar province
31 Mar 2020
The Afghan forces stopped rocket barrage on eastern Kunar province by confiscating a BM-12 rocket launcher during a special military operation.
The 201st Silab Corps in a statement said the Special Forces of the National Directorate of Security, the Afghan Intelligence, seized the rocket launcher during a special raid in Sarkano district.
The statement further added the enemies were looking to carry out missile attacks on certain parts of Kunar using the BM-12 rocket launcher.
The anti-government armed militants including Taliban have not commented in this regard so far.
Kunar is among the relatively volatile provinces in East of Afghanistan where the anti-government armed militants including Taliban, Al-Qaeda affiliates and ISIS Khurasan terrorists have active presence in some of its restive districts.
https://www.khaama.com/afghan-forces-stop-heavy-rockets-barrage-on-kunar-province-04587/
-----
Southeast
Coronavirus closes mosques, churches and temples across Asia
MARCH 31, 2020
JAKARTA -- Every Friday, Adrian Putra would go early to worship at the crowded Istiqlal Mosque in central Jakarta to get himself a place inside and avoid praying in the baking noontime heat.
But he hasn't been for two weeks because the expansive white domed sanctuary, Southeast Asia's largest mosque, has canceled Friday prayers that are mandatory for Muslim men. This is to prevent close contact between people as the new coronavirus rips through the world's fourth-most populous nation.
Still, the 33-year old says it's for the best: "People shouldn't be stupid by insisting on praying and getting the disease afterward... [Religious leaders] have assured us it is OK [to miss Friday prayers], and this is all happening under God's will."
Regulars worshippers at Istiqlal are among millions of people in Southeast Asia, including Christians, Buddhists, Hindus and those of other faiths who have seen the outbreak wreak havoc on their spiritual lives.
As of Sunday, the 10 members of the Association of Southeast Asian Nations had recorded 7,150 cases and 208 deaths, according to the World Health Organization. Many countries in the sprawling region with a population of some 650 million people lack adequate health infrastructure, including hospital beds, making social distancing a priority over attending prayers and services.
While devout religious beliefs often clash with scientific advice, they are unable to ignore the severity of the outbreak, with many now resigned to religious gatherings being curbed.
In normal times, the Istiqlal Mosque blasts out a call to prayer just before noon on Friday, the Islamic holy day, drawing worshippers to its massive, rectangular prayer hall.
But after President Joko Widodo called on Indonesians to "work from home, study from home and pray from home," it has been empty the past two Fridays. On March 20, the only worshippers were construction workers renovating the mosque.
While there is no nationwide lockdown in Indonesia, the country's top Islamic body, has issued a fatwa -- nonbinding legal opinions on points of Islamic law -- saying that if a Muslim person was in an area with high potential for COVID-19 transmission, mandatory Friday prayers at mosques could be replaced by praying at home.
The need for social distancing among the pious became an urgent priority after a gathering of 16,000 Muslims at a sprawling mosque complex on the outskirts of Kuala Lumpur, Malaysia, late last month. Much like in South Korea, where a major outbreak stemmed from a gathering of a Christian-based religious sect, hundreds of people became infected, leading to a spike in cases in Malaysia. It is now Southeast Asia's most infected nation.
Malaysia, where the official religion is Islam, has been under lockdown since March 18, restricting movements of citizens in the country and closing its borders. It has also banned Muslims from going to mosques to pray.
In a public address on March 16, Prime Minister Muhyiddin Yassin told Muslims nationwide to stay home and perform prayers at sermons streamed from mosques. Hindu temples have also been instructed to postpone annual prayers and stop group worship.
Organizers of the gathering that triggered the mass outbreak in Malaysia, which also saw infections among participants from other countries including Cambodia and Vietnam, had planned a similar event in Indonesia's South Sulawesi province. But they called it off under pressure from authorities.
Berry Juliandi, a professor of biology at Bogor Agricultural University in Indonesia, said that religions can be quite flexible during difficult times, often by drawing on their own deep well of tradition, scholarship and experience.
"Some groups of believers tend to believe religion as it is, without questioning what the purpose is or under what, circumstances it can be bent, but so many references in religion are actually tolerant toward special circumstances," said Juliandi, a member of the Young Scientist Forum, which has issued recommendations to the government on tackling the outbreak.
"For example, in Islam, cleansing the body with water before praying could be substituted with dust if there is no water available," he said.
"Friday Prayers are indeed mandatory, but the Prophet has also given leeway if there is a disaster and an outbreak, [when prayer] cannot be done," he said, referring to Muhammad, Islam's founder. "We are forbidden to plunge into destruction. Men who do not pray on Friday can multiply other worship and pray. God is all-knowing and all-knowing of our condition."
Churchgoers separated by tape attend Mass at a Catholic church in Eastern Samar Province, Philippines on March 15. © AFP/Jiji
In the Philippines, where 80% of the population are Catholic, President Rodrigo Duterte placed the whole of Luzon island, home to Manila and 57 million people, on lockdown in mid-March. The order forced churches to cancel masses, and many archdioceses decided to broadcast services on Facebook.
The "enhanced community quarantine" bans people from leaving their homes, except for buying food or medicine, and will last until Easter Sunday on April 12.
Charles Caluza, a 22-year-old training officer at a logistics company, had never missed a Sunday mass since he became an altar boy at the age of eight. This changed on March 15 when Metro Manila was locked down.
"Personally, [coronavirus] strengthens my faith. Some people who were not used to attending Sunday masses are tuning in to the livestreaming now," he said. "With food supplies depleting because of the lockdown, we're just holding on to our faith."
But Bishop Manny Carlos of Victory, a major evangelical church in Manila, said the worship experience "is not the same" with online services.
In Thailand, Prime Minister Prayuth Chan-ocha enacted a state of emergency on Thursday, which included bans covering concerts, exhibitions, and sports events, as well as religious gatherings.
Pratin Pringraska, a 60-year-old Thai Buddhist, used to think the risk of getting the virus was trivial compared to shows of devoutness. "If I have to die, I can die from anything, not only this virus," she said.
"Now I am more alert. I try to avoid going to crowded places," Pringraksa said. "I am praying more at home, making a wish to everyone in the world to be safe."
In Singapore, one COVID-19 cluster has been linked to the Grace Assembly of God Church, with another tied to the Life Church and Missions Singapore. Places of worship in the city-state may remain open only for private prayers and essential rites, provided that groups of more than 10 people do not gather.
Crowds fill the Istiqlal mosque in Jakarta on March 13 for the last Friday prayers before a temporary ban on public worship was imposed in Indonesia. © AP
Before the outbreak spread outside China, one famous Muslim cleric in Indonesia called the virus "an army" sent by Allah to the Chinese to protect Uighur Muslims, who human rights groups and foreign governments say have been forced along with members of other Muslim minority groups in China into massive detention camps. China denies any persecution.
But comments by figures such as the cleric are being discerned by some as nothing more than seeking to take advantage of the spread of the virus to advance their own politicized religious views.
"It is sad because people would think Islam isn't sensitive to the medical field," Wulandari said. "It's not right to relate this pandemic with religion when you should see it from the medical or scientific point of view."
https://asia.nikkei.com/Spotlight/Asia-Insight/Coronavirus-closes-mosques-churches-and-temples-across-Asia
-----
Ramadan bazaars will be held with better management - Annuar Musa
31/03/2020
PUTRAJAYA, March 31 -- The management of Ramadan bazaars in the Federal territories will be modified from this year to prevent congestion at the stalls, said Federal Territories Minister Tan Sri Annuar Musa.
"Just because Singapore or other parties have announced that there will be no bazaars this year does not mean we will say the same thing," he told the media before viewing the disinfection works carried out at shops in Presint 15 here today.
He said the Ramadan bazaars will not be cancelled but will be adjusted as they were needed by the people, especially those living in the cities.
"I want this matter to be looked at as previous Ramadhan bazaars were usually big and spread out, and we probably cannot do the same (this year)," he said.
He added that the Ramadan bazaars this year could be held with up to 50 stalls in any one place, maybe even only 10 stalls which are spaced out and opened in many places.
"Whether the Movement Control Order (MCO) is continued or not, we will not carry on with the old way which could cause health problems,".
"We have to improve our lifestyle, not just exercise self-discipline during the MCO, there are many things we can learn and continue to practise post-MCO," he said.
https://www.bernama.com/en/general/news.php?id=1826976
----
North America
As Passover, Easter and Ramadan services are cancelled amid COVID-19, preachers wonder: Where is God in all this?
MARCH 30, 2020
The spreading novel coronavirus has forced us to dispatch with one ritual after another: school, the National Hockey League season, changing from our sweatpants.
Next month, three of the world's biggest religions will cancel services celebrating Passover, Easter and Ramadan, all of it unprecedented in modern times. Even Jerusalem's Church of the Holy Sepulchre, regarded as the site of Jesus's tomb, has closed doors this week for the first time since the Black Plague in 1349.
"It is not a Jewish thing to go off by yourself or to find God on a mountain top all alone," Rabbi Daniel Moskovitz says. "Religion feels a lot better when you are not doing it in isolation. It makes you feel like you are part of something bigger than yourself."
There is nothing natural about "preaching into a cellphone," Rev. Anna Greenwood-Lee says with a heavy sigh. The Calgary priest feels as lost in front of the camera as she did 20 years ago, when she was first learning to deliver sermons. "I was terrible at it."
At St. Laurence Anglican Church, Ms. Greenwood-Lee often sees people when the rug gets pulled out from under them – when they've lost a job, or a loved one. Right now, she says, the rug has been pulled out from under all of us, all at once, and we are all feeling off-balance. "It feels like being on a dark country road. We can't see where we're going."
In the most recent video, she urges people to shut off the news and try cooking a new dish, painting, writing, creating. "It's a chance to wrestle our confusion, our anger, our anxiety into something beautiful."
Even the most digitally savvy preachers are feeling unmoored. "I'm a hugger," says Mr. Moskovitz, who has been posting his sermons to YouTube for seven years, since moving to Vancouver from Los Angeles. "I want to hug people right now."
The day the pandemic forced the closing of his synagogue, he broke down in his car and wept. Like so many of us, the Vancouver rabbi wakes to "thoughts only of exponential numbers, of my family sleeping peacefully, an unseen threat looming like the angel of death on surfaces. Did I touch my eyes, my nose, my mouth, did I wash my hands enough? Did they?"
Temple Shalom is running morning minyans, shabbat services and addictions recovery programs on Zoom, a conferencing app. But it's not the same, Mr. Moskovitz says.
The experience hasn't been all bad, the warm, funny San Francisco native adds. He thinks that more Jews observed shabbat last Friday than in any other time in modern history. "It was like the Messiah did come," he says with a laugh.
For Catholics and Anglicans, the communion, during which bread and wine are received, is a central part of their faith. That is now clearly impossible. "Our sacrament is now in the eucharistic fast rather than the eucharistic feast," Ms. Greenwood-Lee says.
In Vancouver's Downtown Eastside, Rev. Barry Morris is not able to shutter his church: Too many rely on the Longhouse Council of Native Ministry for its washroom and phone. The neighbourhood is now grappling with two deadly epidemics: the virus and opioids.
For the time being, he is allowing recovering addicts to meet at lunchtime in the church. The park where they used to gather for meetings is closed. They have nowhere else to go. He worries the coronavirus will hit the vulnerable, the poor and the marginalized the hardest. He will stay open for them.
All three preachers told The Globe and Mail they have been grappling with questions that have dogged saints and theologians for millennia: Where is God in all of this? How can a benevolent God inflict such suffering? And as the death toll rises from the resulting COVID-19 disease, and doctors are forced to leave some to die, why?
The virus is a "natural evil," like earthquakes, hurricanes and tornadoes, Mr. Moskovitz says. Human evils "we know what to do with; we can explain them as the corruption of free will. Hitler came from us, not God. Gun violence is our fault, not God's. But what is the meaning of a virus?"
To Ms. Greenwood-Lee, part of the answer can be found in Psalm 23. ("Yea, though I walk through the valley of the shadow of death, I will fear no evil: for thou art with me.")
A "God who pulls all the strings is not the God I believe in," she says. "God never promised to shield us from the shadow of death. God's promise is that when we do find ourselves in that valley, he will be there with us."
Crises also present opportunities, says Mr. Morris – to reconsider who we are, to become more self-aware, to be more loving, more compassionate. To him, the meaning of all this is that we must learn to pull together.
"People ask: Where was God in Auschwitz? God was in the acts of kindness, of compassion that in spite of everything and all attempts to destroy our humanity still remained."
"The virus is a test – not of God but of us," Mr. Moskovitz says. "Can we pull together to fight this and subdue it, or will we tear each other apart?"
https://www.theglobeandmail.com/canada/british-columbia/article-as-passover-easter-and-ramadan-services-are-cancelled-amid-covid-1/
------
Closure of Michigan roller hockey mecca leaves players, employees heartbroken
March 30, 2020
Nolan Bianchi
None of that mattered to most anybody who stepped inside the landmark of North American roller hockey, though, and after 25 years, the sudden shutting of its doors leaves many yearning for that blended stench of hot air, sweaty hockey pads and fresh popcorn just one more time.
"It was a heartbreaking feeling," said Grand Rapids Griffins forward and Clinton Township native Tyler Spezia, who played roller hockey at the Shelby Township sports and entertainment facility for 14 years.
"Joe Dumars is where I learned to play hockey. It's where I took my first strides as a hockey player. It's where I scored my first goal."
The fieldhouse is another victim in the nationwide effort to slow the spread of the COVID-19 pandemic. After Michigan Gov. Whitmer's mandated shutdown of all entertainment facilities, bars and restaurants went into effect last week, rumors began to spread on social media that the fieldhouse might be closing its doors for good.
This was posted on the fieldhouse's Facebook page last week: "Because it is hard for us to say whether we will be able to open again after this mandated and extended closure, we wanted to take this opportunity to say thank you to each and every one of you for your continuous support over all of these years."
That was a delicate way of stating the inevitable, a harsh reality of a financial situation that was never great to begin with, even before complications caused by the novel coronavirus arose.
"Nobody was getting rich there, as people are starting to understand," said Matt Koleski, who runs the fieldhouse's Little Caesars Roller Hockey League.
Meanwhile, the Detroit location of the Joe Dumars fieldhouse has been converted to a drive-thru testing site for people possibly infected with coronavirus.
In addition to two inline hockey rinks, the Shelby Township fieldhouse was home to 13 basketball courts, six indoor volleyball courts and three outdoor volleyball sand courts. There was a full bar and restaurant, a mini bowling alley and a bayou-themed arcade center complete with whirlyball, high-ropes courses, arcade games, putt-putt, fowling and a rock-climbing wall. In other words, it was a lot to lose.
But when the stay-home order is lifted, people will still have places to play basketball. There are other arcades to visit. A volleyball game can be started up pretty much anywhere. And eventually, folks will be able to eat at restaurants again.
The hockey, though? There will be no replacing what Joe Dumars Fieldhouse meant to that community. At its peak, it was somewhat of a mecca of roller hockey, fielding an estimated 13,000 teams through its doors between leagues and the tournaments during its lifespan.
Detroit Red Wings forwards Dylan Larkin and Sam Gagner were just a couple of the future NHL players to play on the sport-court tiles of Rinks A and B.
"A few people have said to me, roller hockey will never be the same in Detroit without the fieldhouse," Koleski said. "You lost a leader in the industry, you know? After Detroit, I would say California is probably the only place that's thriving with roller hockey right now."
And yet, the number of games played, or the tournaments that will need a new venue, seem minimal in counting the overall impact of its closing. The fieldhouse was like a second home to countless families over the years.
"I grew up there … I was a 'rink rat,' as you call it. I knew everybody, I watched a lot of games, I knew all the refs, I knew all the people in the arcade," Spezia said. "It was like a kid's playground in there for me."
There are hundreds that could relay a sentiment identical to Spezia's. Not all of them went on to play pro hockey, but this place, while fielding some very competitive roller hockey contests, was always more about the lighter sides of the game.
"People meet lifelong best friends through that place. Every person that's going to stand up in my wedding some day, I've met at the fieldhouse," said Tyler True, another Dumars staple who spent "seven days a week" playing and officiating games for much of his teens and early 20s.
"The coaches, the mentors, the trainers, the pro athletes, I think that looking up to them is a huge thing," True said. "It was a huge thing for me. My dad passed away at a young age, and Matt Koleski filled that spot in my life."
On any given Saturday, you'd be hard pressed to come through the front door and walk 30 feet to Rink A without having to dodge a stinky 9-year-old in roller skates. There's not a table in the restaurant that wasn't bumped into during a game of high-speed tag on wheels.
"Those will be my best memories, watching kids just tool around the lobby, 100 miles per hour, running into parents and stuff like that," Koleski said. "It's fun to see those friendships, those relationships. … That's what I'm going to miss the most, is just seeing the friendly faces."
After returning to the area and joining the fieldhouse as a referee in 2000, Koleski, along with manager Joe Hawkins, founders of the roller hockey operation, Kevin and Ken Houle, and countless others, helped the fieldhouse grow into a juggernaut within the industry.
They were intent on letting the kids be kids. Koleski often opened up the rinks for free when there weren't games being played, and did whatever he could to make sure that there was always a team for someone to play on, no matter the circumstances.
"I think that's what I'm proud of, is that we were able to, no matter how many teams there were, how successful things were at that given time, that everyone was comfortable that walked through those doors," Koleski said.
https://www.detroitnews.com/story/sports/2020/03/30/closure-michigan-roller-hockey-mecca-leaves-players-employees-heartbroken/2930210001/
-----
CAIR ACTION ALERT: U.S. Muslims Encouraged to Fill Out Census Forms Online
March 30, 2020
(WASHINGTON, DC., 3/30/20) – The Council on American-Islamic Relations (CAIR), the nation's largest Muslim civil rights and advocacy organization, is encouraging American Muslims to participate in the 2020 U.S. Census – which is happening now. Muslims can fill out the census form online using their computer, phone, or tablet. Community members may also respond by phone or by mail.
Full participation in the census ensures that American Muslims will be better represented in Congress and that their communities receive an equal share in state and federal programs.
CAIR and its national network of chapters are working with local Islamic centers to ensure a community-wide awareness about the 2020 Census and more accurate counts of the diverse racial, ethnic and ancestry characteristics that make up the American Muslim community.
The 2020 Census, conducted by the Census Bureau, counts every person living inside the United States and five U.S. territories once every 10 years. Information from Census Bureau data affects congressional representation and school district assignments.
Census data also helps determine how more than $675 billion in federal funding is distributed to states and communities in the form of public assistance like the Supplemental Nutrition Assistance Program (SNAP), health, education, transportation, disaster recovery, and much more. Faith-based organizations and institutions can also use census data to apply for grants.
CAIR notes that the Census Bureau will never ask for your: Social Security number, bank account or credit card numbers, or money or donations.
Last year, CAIR welcomed the Trump administration's decision to print 2020 census forms without a citizenship question following the U.S. Supreme Court's decision to block the question.
While Article 1, Section 2, the U.S. Constitution mandates a decennial census, Title 13 of the U.S. Code protects Americans against any dissemination of personal information gathered through the census. The Census Bureau does however publish anonymized census statistics about specific demographic groups and their distribution.
CAIR is America's largest Muslim civil liberties and advocacy organization. Its mission is to enhance understanding of Islam, protect civil rights, promote justice, and empower American Muslims.
https://www.cair.com/press_releases/cair-action-alert-u-s-muslims-encouraged-to-fill-out-census-forms-online/
-----
New Zealand
Some Kiwi Muslims go vegetarian as lockdown rules see halal butchers close
59 MIN AGO
It comes as Race Relations Commissioner Meng Foon called on the Government to allow halal butchers and other small food businesses to open, saying rules need to be culturally sensitive.
But many Kiwi Muslims say they can't get halal meat at supermarkets, and the lockdown is forcing them to eat mostly vegetables until the lockdown ends.
On Friday, the Government announced butcheries and bakeries had to close and it also discouraged home deliveries, but there could be changes ahead. Source: 1 NEWS
Wellington women Farah and Farzana told 1 NEWS they are buying vegetables for their families because they can't trust that meat from the supermarket is 100 per cent halal.
Farah said she didn't mind going veggie for four weeks, but that she really hopes the lockdown doesn't extend until April 23, when the holy month of Ramadan begins and Muslims can't eat or drink anything during daylight hours.
Wellington butcher Maher Abboud says he's the only halal butcher still open in the capital and that he's spoken with the Ministry for Primary Industries. He says the Ministry advised him to stay open, and that officials said they would visit to check he was maintaining good safety and hygiene practices.
"A woman was annoyed that I'm open and selling halal meat for customers, she came up to my door and was hitting it. I closed my door 'cause I've seen that she's very angry, she was about to break everything," he said.
In a statement MPI told 1 NEWS "if you are not an essential service or support service, or if we have advised you not to operate, you should already be closed".
Mr Foon says he wants ministers to urgently respond to the calls from communities for essential services that fit with religious and cultural rules.
"The availability of halal meat and other foods for religious or cultural reasons is supported by various United Nations declarations and covenants that New Zealand has signed up to," he said.
"My message to people discriminating is to ask them to be kind and learn a bit other people's culture by education, by looking at the internet, you understand why their cultural differences are very special to them."
The commissioner says he also thinks butchers and grocers should be allowed to open in poorer regional areas where people don't have access to public transport, like in his hometown of Gisborne.
"The taxi ride is $20 and $20 every few days is a lot of money for people with fixed incomes. To go to supermarket is a huge burden to those people and unfair for poorer communities."
Prime Minister Jacinda Ardern told media today that a final decision on halal products would come "very shortly".
"My understanding is there are some who choose because of various practises not to shop at supermarkets that perhaps is the barrier rather than halal products."
Muslim Kiwis 1 NEWS spoke to say there is a very limited range of halal products in New Zealand supermarkets. Countdown says it doesn't sell halal-certified products.
Muslim community advocate Guled Mire says where halal products are available, there is often uncertainty about how those products are stored and transported and whether they've come into contact with pork and other non-halal products.
"A lot of Muslims are reluctant to buy halal meat from the supermarket because a) they can't certify the meat is halal and also they're worried about cross contamination," Mr Mire said.
"We're happy to go to the supermarket, we just need assurances it's not going to be cross-contaminated with other meat and also that accurate packaging is provided."
He says the Muslim community really wants to do its bit to battle Covid-19, which is why so many have chosen to forgo meat entirely, but that it's not a reasonable expectation for all Muslim Kiwis.
"No one's asking the rest of New Zealand to go vegetarian and I'm pretty sure there'd be a big uproar if that was the case. We're not asking for all halal butchers to be open. We're just asking that adequate access to be provided."
https://www.tvnz.co.nz/one-news/new-zealand/some-kiwi-muslims-go-vegetarian-lockdown-rules-see-halal-butchers-close
-----
URL: https://www.newageislam.com/islamic-world-news/delhis-nizamuddin-emerges-covid-19/d/121449
New Age Islam, Islam Online, Islamic Website, African Muslim News, Arab World News, South Asia News, Indian Muslim News, World Muslim News, Women in Islam, Islamic Feminism, Arab Women, Women In Arab, Islamophobia in America, Muslim Women in West, Islam Women and Feminism