New Age Islam News Bureau
30 March 2020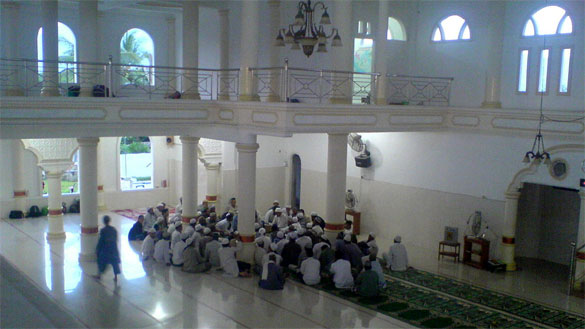 A Tablighi Jamaat center in Indonesia | Representational image | Photo: Commons
----
• Delhi Coronavirus: 175 Tested, 2,000 Quarantined After Mosque Event At Delhi's Nizamuddin
• Muslims Take Out Funeral Procession of Hindu In Uttar Pradesh, Amid Chants Of "Ram Naam Satya Hai"
• Saudi Leader of Muslim World League: Interfaith Partnerships During Pandemic 'Religious, Moral Duty'
• Iran Still Accepts Shia Pilgrims Arriving to Qom Despite Coronavirus Pandemic
• Jakarta Moves Over 200 Tabligh Gathering Worshippers from Mosque to Quarantine Site
• COVID-19 Is Science, Not Spiritual Pandemic – Moghalu Warns Christians, Muslims
• Sealed Sukkur Mosque Turned into Temporary Quarantine Centre
• Sanitizing of Streets, Hospitals, Mosques, Parks Ongoing In Bishkek
• Volunteers from Mosques And Temples Turn Out In Their Hundreds To Assist Neighbours in Lancashire
• US Ban On Iran 'A Moral Abomination', World Leaders Should Unite
--------
India
• Delhi Coronavirus: 175 Tested, 2,000 Quarantined After Mosque Event At Delhi's Nizamuddin
• Muslims Take Out Funeral Procession of Hindu In Uttar Pradesh, Amid Chants Of "Ram Naam Satya Hai"
• Karnataka Waqf Board Directs Mosques Play Audio Messages Through Loudspeakers On Covid19 Awareness
• COVID-19 impact: Rising financial crunch hampers Haj plan for many Chhattisgarh Muslim families
• 'You had all the powers': Centre's sharp message to Kejriwal on migrant exodus
• Coronavirus cases jump to 1071 in India, nearly 100 patients recover: A statewise tally
-----
Arab world
• Saudi Leader of Muslim World League: Interfaith Partnerships During Pandemic 'Religious, Moral Duty'
• Al-Azhar Grand Imam Urges Egyptians To Stick to Virus Preventative Measures
• With a Curfew and Unreliable Coronavirus Toll, Egyptians Face a Cruel Ramadan
-----
Mideast
• Iran Still Accepts Shia Pilgrims Arriving to Qom Despite Coronavirus Pandemic
• Can the Dark Ages of The Mullahs in Iran Survive Coronavirus?
• Iran-backed Shia militias use new guerrilla warfare tactics to drive US out of Iraq
• Some Islamic State militants escape during riot at prison in northeastern Syria
• Don't Let Maduro and the Mullahs Escape Blame from Coronavirus
• Quarantine extended for thousands returning to Turkey from Mecca
-----
Southeast Asia
• Jakarta Moves Over 200 Tabligh Gathering Worshippers from Mosque to Quarantine Site
• Jakarta Pastor Baptizes Muslims As Church Expands
• RAM Ratings maintains stable outlook on M'sian Islamic banking sector
• Terengganu announces Ramadan Bazaar cancellation
• Bank Islam contributes RM1 mln to Musa'adah COVID-19 Fund
-----
Africa
• COVID-19 Is Science, Not Spiritual Pandemic – Moghalu Warns Christians, Muslims
• COVID-19: Nigerian Muslims will be barred from Hajj – Sanusi warns clerics holding prayers
• FCTA Shuts 23 Mosques, Prayer Grounds over COVID-19 Order Violation
------
Pakistan
• Sealed Sukkur Mosque Turned into Temporary Quarantine Centre
• 210 quarantined in Hyderabad mosque
• Sindh govt readies to provide food to daily wagers with support from welfare organisations
• Sindh govt urged to investigate, notify cases of virus-affected healthcare workers
• Sindh govt should have 'full plan' if lockdown prolongs: Bilawal
• Govt claims 27pc cases due to local transmission
-----
South Asia
• Sanitizing of Streets, Hospitals, Mosques, Parks Ongoing In Bishkek
• Afghan government to host Taliban delegation in Bagram, prisoners release postponed
• 6 Afghan soldiers 'Martyred' in Taliban attack in Zabul: MoD
• Truck laden with 4,000 kgs of explosives seized in West of Afghanistan
• Taliban attack repulsed in Kandahar; 6 militants killed
------
Europe
• Volunteers from Mosques And Temples Turn Out In Their Hundreds To Assist Neighbours in Lancashire
• Over 800 attacks on Muslims in Germany in 2019: media
• Thanking the medical teams at Wexham Park with hot pizza
• Russia moves toward nationwide lockdown as coronavirus spreads
-----
North America
• US Ban On Iran 'A Moral Abomination', World Leaders Should Unite
• Shia LeBeouf and ex-wife Mia Goth reconcile two years after separating
• Trump: US coronavirus death toll could be 100,000 or more
Compiled by New Age Islam News Bureau
URL: https://www.newageislam.com/islamic-world-news/delhi-coronavirus-175-tested-2000/d/121440
------

Delhi Coronavirus: 175 Tested, 2,000 Quarantined After Mosque Event At Delhi's Nizamuddin
March 30, 2020
New Delhi: A group of 175 people from Delhi's Nizamuddin area are being tested for coronavirus in different hospitals amid worries that they may have been exposed to the infection at a gathering in a mosque that featured visitors from Malaysia, Indonesia, Saudi Arabia and Kyrgyzstan. One man has died and two others have tested positive after attending the event earlier this month.
This is the largest single group being tested at the same time over suspicion of the highly contagious COVID-19, which is transmitted easily from person to person.
Though it has not been established that the man who died - he was from Tamil Nadu - had coronavirus, the area has been sealed off and the police are patrolling to ensure no one violates quarantine. Drones are being used to monitor the movement of people. Around 2,000 people are in quarantine in the thickly-populated locality in south Delhi. Some of them are being shifted to other parts of Delhi.
Worries of a large group getting infected revolve around the gathering of Tableeghi Jamaat preachers at the Banglawali Masjid in mid-March.
Visitors to the event include a religious preacher who died last week in Srinagar of coronavirus. He had visited the Deoband seminary in Uttar Pradesh before returning to Kashmir. Other visitors are an Indonesian and six Saudi citizens, who were sent back. Some 1,200 people are still inside the mosque. A medical camp has been set up aside to check on anyone who may have symptoms.
Officials say contact-tracing is on to identify virus-exposed persons in Delhi, Srinagar and Deoband. Worryingly, many of the visitors travelled all over India after the event. After the gathering, they dispersed in 20-30 buses.
In the worst-case scenario, this could lead to a huge jump in coronavirus cases in India. There are close to 1,100 cases in the country, including 29 deaths.
https://www.ndtv.com/delhi-news/coronavirus-india-at-delhis-nizamuddin-75-tested-2-000-quarantined-after-mosque-event-2202935
-----
Muslims Take Out Funeral Procession of Hindu In Uttar Pradesh, Amid Chants Of "Ram Naam Satya Hai"
Mar 30, 2020
MEERUT: A crowd of mourners, most of them wearing white and brown skull caps, baffled onlookers as they carried a body to the cremation ground in UP's Bulandshahr amid chants of "Ram naam satya hai".
Ravi Shankar, in his late 40s, had died on Saturday afternoon after a prolonged battle with cancer at his home in Bulandshahr's Anand Vihar area, leaving behind his wife and four children. With relatives stuck due to the lockdown, Shankar's distraught wife didn't know whom to turn to.
Soon, amid Hindu chants, scores of Muslims of the area lifted the cot on which the body was lying and took it to the ghat for the last rites.
Videos of the funeral soon went viral on social media platforms, drawing accolades from hundreds of users. The cremation took place according to Hindu rituals and practices. "People from the entire locality came forward to support the family. Both communities have always stood with each other in times of need," said Mohammed Zubaid, a local resident. "Given the prevailing condition, people are reluctant to come out of their homes. And in cases of deaths, people are more cautious, unwilling to take part in big gatherings. But here people came out in large numbers though they took care to maintain social distance," another resident said.
https://timesofindia.indiatimes.com/city/meerut/muslims-take-out-funeral-procession-of-hindu-in-uttar-pradesh/articleshowprint/74880832.cms
-----
Saudi leader of Muslim World League: Interfaith partnerships during pandemic 'religious, moral duty'
Al-Monitor Staff
March 29, 2020
Mohammad bin Abdulkarim Al-Issa, secretary-general of the Muslim World League, considers interfaith partnerships a "religious and moral duty," a commitment that has only deepened as a result of the novel coronavirus pandemic.
"The need for interfaith partnership will continue beyond this crisis," Issa wrote in an exclusive email interview with Al-Monitor. "And that is why we continue to work hard to build more bridges of understanding and cooperation, and to remove the artificial fences created by detachment from each other, and exacerbated by the lack of substantive dialogue in the past."
Issa, who is Saudi and based in Mecca, has been a leader and champion of interfaith dialogue. In January, he headed the most senior Islamic delegation to visit Auschwitz to participate in the 75th anniversary of the death camp's liberation. In 2017, he met with Pope Francis and forged the first cooperative agreement between the Muslim World League and the Vatican.
"Throughout this global health crisis, we in the Muslim World League have provided significant humanitarian assistance to Muslim and non-Muslim countries," Issa said. "So we try to lead by example, and show that we are all in this together, and we should be extending the bridges of support and assistance to all in need."
Issa, who also heads the Intellectual Warfare Center, which is affiliated with the Saudi Defense Ministry to combat extremism and terrorism, has been praised by the State Department and world leaders for his message of moderate Islam.
During the COVID-19 pandemic, Issa and the Muslim World League have kept the focus on "spreading awareness of moderate Islam," as well as the importance of "following health guidelines designed to maintain public safety."
He said that "suspending umrah [pilgrimage to Mecca] was a difficult decision" but that "Muslims in Saudi Arabia and elsewhere have understood this decision and overwhelmingly backed it," adding that Muslim community leaders and worshippers worldwide understand the "imperative to protect human life."
Asked about how Iran has managed the pandemic, Issa responded, "It pains my heart to see Muslims or non-Muslims anywhere suffer because of the irresponsible behavior of their government."
He added, "I think Iranian authorities approached this issue too lightly in the beginning. I think Iranian authorities erred in believing that somehow the sanctity of a place would protect people from disease. The consequences have been disastrous."
Returning to his interfaith engagement during the pandemic, Issa said, "Some of our collective plans are still in development. But what I can say is I am working every day with my fellow religious leaders on how to unite our efforts for the common good of all. This action represents our religious and moral duty, and none of us are resting at this time of so much need."
A lightly edited transcript of the email interview, conducted by Andrew Parasiliti, follows. The answers were translated from the Arabic.
Al-Monitor: The Kingdom of Saudi Arabia has suspended the umrah, the Muslim pilgrimage to Mecca, as a result of the coronavirus outbreak. The kingdom is custodian of the most holy places in Islam, and the pilgrimage means a great deal to many Muslims around the world. Was this a difficult decision, and has there been any resistance to doing so, in the kingdom or elsewhere?
Issa: Yes, suspending umrah was a difficult decision. But it would have been more difficult not to issue this "interim" suspension. Saudi Arabia, like the rest of the world, has been dealing with a critical situation and a painful emergency. And its primary focus was on saving lives, both in Saudi Arabia and overseas, because hundreds of thousands of pilgrims would risk infection and then return home to their countries and communities. As a result, there really was no choice but to issue the suspension. However, it is important to note this "temporary" decision is fully supported by the provisions of Islamic Sharia. In Islam, human life comes first. And in this sense, Muslims in Saudi Arabia and elsewhere have understood this decision and overwhelmingly backed it. The Muslim World League has received hundreds of messages of support from muftis, senior Islamic scholars and governments with significant Muslim minorities. They realize the necessity of the decision and the imperative to protect human life. In fact, some of these messages expressed it exactly the same way as we see it — as a religious duty to protect lives.
Al-Monitor: We read this week that authorities have closed the secondary doors of the Grand Mosque, but are keeping the main doors open. Could you explain what will be the impact of this decision? Are individuals or small groups still allowed to pray?
Issa: The Kingdom of Saudi Arabia is keen to preserve the places of worship, especially the Sacred Mosque in Mecca and the Prophet's Mosque in Medina, free of this virus. These two holy mosques constitute the largest congregation point for Muslims in the world. They are held in the hearts of Muslims with the highest sanctity. Hajj and umrah pilgrims visit both sites as part of their spiritual journeys, and this creates a "natural" close contact among millions of people. We view the temporary closures as a necessary and sensible precautionary measure. But at the same time, the Sacred Mosque in Mecca and the Prophet's Mosque in Medina still perform prayers in front of a reduced number of worshippers. These prayers occur with extensive health controls to prevent any unsafe congregation or convergence among people. As always, human life comes first.
Al-Monitor: We understand it is early, but what lessons can be learned so far about how to mitigate public health concerns during umrah in the future? The kingdom hosts up to 8 million pilgrims each year for hajj; this itself is a massive security, infrastructure and public health challenge — even without coronavirus. Have there been similar experiences during past umrahs that have informed your thinking?
Issa: The Kingdom of Saudi Arabia has developed high-level competence for dealing with crowds, and especially as it pertains to protecting them from epidemic diseases. Saudi Arabia has extensive health capabilities, and no one should be worried about this at all. Saudi Arabia will keep close tabs on changing conditions, and make adjustments in its regulations at the appropriate time. One thing is certain. I am not concerned, and no Muslim should be concerned, about the issue of health safety at the Sacred Mosque in Mecca and the Prophet's Mosque in Medina. Everyone will be safe.
Al-Monitor: What is your contact and engagement with the authorities at Muslim religious institutions worldwide, including Al-Aqsa [Mosque in Jerusalem]? What is the nature of those discussions and counsel during this crisis?
Issa: My consultation and engagement with them focuses on coordinating efforts to spread awareness of moderate Islam. And in this environment, that encompasses the need for the public to understand how important it is that we follow health guidelines designed to maintain public safety. This is after all a duty dictated by religion to everyone. My consultations and engagements also encompass the duty to help others to the best of our abilities and as much as is allowed by the national authorities of each country. We want Muslims and all other citizens to be aiding one another in this time of common challenge, without discrimination for religion or race, or gender or ethnicity. Throughout this global health crisis, we in the Muslim World League have provided significant humanitarian assistance to Muslim and non-Muslim countries. So we try to lead by example, and show that we are all in this together, and we should be extending the bridges of support and assistance to all in need.
Al-Monitor: How do you consider Iran's handling of the coronavirus crisis, and what does it say about the government's claim to moral or religious authorities among Shiite Muslims?
Issa: Firstly, it pains my heart to see Muslims or non-Muslims anywhere suffer because of the irresponsible behavior of their government. I think Iranian authorities approached this issue too lightly in the beginning. Religious gatherings occurred in different places in Iran, contributing to the spread of the virus, and that is not the best way to deal with such a serious pandemic. I think Iranian authorities erred in believing that somehow the sanctity of a place would protect people from disease. The consequences have been disastrous. But this does not represent the way all Shiites around the world are looking at coronavirus. Most are approaching this crisis with a great deal of awareness and do not believe in such ideas. And, of course, there is always a minority that maintains misconceptions about the virus, and do some Sunnis. When myth takes hold of everyone, everyone is in danger. No cure is available except through a proper awareness of the truth of religion, the enlightened religion. And this religious truth reaffirms sound decision-making to protect public health.
Al-Monitor: You are internationally recognized as a leader in interfaith dialogue — meeting with Pope Francis, being the most senior Islamic leader to visit Auschwitz, and your extensive engagement with Jewish communities worldwide. Do you see an opportunity for interfaith dialogue in the COVID-19 crisis? What more can religious leaders of all faiths be doing?
Issa: Even in this crisis, the Muslim World League continues its extensive dialogue with people of different faiths and nations. Although we have to communicate remotely, I am in constant contact with religious leaders around the world and discussing many important issues with them. The need for interfaith partnership will continue beyond this crisis, and that is why we continue to work hard to build more bridges of understanding and cooperation, and to remove the artificial fences created by detachment from each other, and exacerbated by the lack of substantive dialogue in the past. So in some ways, during this period of social distancing, reaffirming our intellectual and spiritual proximity is more important than ever before. We stress the importance of dialogue overcoming its traditional approach so that it yields more effective and tangible results. We do not need more words; we need more action. And so our interfaith discussions are focused on producing real partnerships with real and tangible benefits for humanity. As for the coronavirus pandemic, some of our collective plans are still in development. But what I can say is I am working every day with my fellow religious leaders on how to unite our efforts for the common good of all. This action represents our religious and moral duty, and none of us are resting at this time of so much need.
Al-Monitor: And further to that, do you see an opportunity for any progress or breakthrough in the Israeli-Palestinian issue? Can interfaith dialogue play a role?
Issa: There is no doubt that religious leaders must contribute and have a central role to support a just and comprehensive solution to the Palestinian-Israeli issue. Frankly, this religious dimension has been missing from previous peace efforts. I am not the only one who recognizes this fact. Mr. Dennis Ross, the longtime Middle East peace negotiator from the United States, also speaks about how important this element is because religion has played such a significant role among all parties to the conflict. It is therefore very important that religious leaders be at the front line to support a just and comprehensive solution to this issue. It should not be an auxiliary dialogue. Religious leaders should be right alongside the political leaders in pushing for this peace, and in ensuring it is just and comprehensive.
Read more: https://www.al-monitor.com/pulse/originals/2020/03/saudi-leader-muslim-world-league-coronavirus-interfaith.html#ixzz6I9QQgwsG
https://www.al-monitor.com/pulse/originals/2020/03/saudi-leader-muslim-world-league-coronavirus-interfaith.html
------
Iran still accepts Shia pilgrims arriving to Qom despite coronavirus pandemic
29 March 2020
Yaghoub Fazeli
Qom has been the epicenter of the coronavirus outbreak in Iran, which has killed 2,640 and infected 38,309 people in the country as of Sunday.
"It is unclear where these travellers have come from. They are wearing masks and they are all foreigners," a man is heard saying.
The travellers are likely Shia pilgrims from Pakistan and India coming to visit the Fatima Masumeh shrine in Qom, according to the video.
Iran closed the Fatima Masumeh shrine as part of the country's efforts to combat the spread of the coronavirus almost a month after acknowledging the outbreak in Qom. The closure of the shrine prompted angry protests in the city.
https://english.alarabiya.net/en/News/middle-east/2020/03/29/Watch-Iran-still-accepts-Shia-pilgrims-arriving-to-Qom-despite-coronavirus-pandemic.html
-----
Jakarta Moves Over 200 Tabligh Gathering Worshippers from Mosque to Quarantine Site
9 HOURS AGO
Indonesian armed forces were progressively moving more than 200 Muslim worshippers - half of them foreigners - from a mosque in West Jakarta to the country's largest quarantine centre, Wisma Atlet in North Jakarta, in a pre-emptive move to curb the spread of the coronavirus.
The Muslim worshippers had been in close contact during Friday prayers at Jami mosque on March 20 with three fellow Muslims who later tested positive for the coronavirus.
The authorities began moving the group of more than 200 Muslims last Saturday night. The group had been in isolation at the West Jakarta mosque since last Thursday.
As of 4pm Jakarta time (5pm Singapore time) yesterday, there were still Muslim worshippers at the mosque awaiting evacuation, Jakarta-based Elshinta Radio reported.
Comprising 106 Indonesian nationals and 102 foreigners, they were part of a group that had travelled to attend a large Muslim Tabligh gathering, state news agency Antara reported, citing the chief of the Jakarta military command, Brigadier-General M. Saleh, last Saturday.
Tabligh is formally known as Tablighi Jama'at, a global movement of evangelical Muslims that promotes proselytising, known as dakwah.
On March 18, more than 8,000 Tabligh members arrived in Gowa in the Indonesian province of South Sulawesi to attend the gathering, which had been slated to take place the following day.
More than 400 of them were from the region and countries as far away as Saudi Arabia, and among the largest groups of foreign Muslims were those from Thailand, Malaysia and Pakistan. None of them was from Singapore, according to the authorities.
The gathering was cancelled at the last minute following appeals from the authorities amid fears over the spread of the coronavirus. The pilgrims then made their way home via the airport and seaports in Makassar on March 19, through Jakarta.
Three of the Muslims - one from North Sumatra and two from Aceh province - who joined the Friday prayers at Jami mosque in West Jakarta on March 20 tested positive for the virus and were rushed to the Wisma Atlet quarantine centre earlier, Antara reported without giving a date.
On March 19, Jakarta Governor Anies Baswedan appealed to Muslims to cancel Friday prayers for two weeks but many mosques disregarded the appeal.
The world's fourth-most populous country announced its first two cases of coronavirus infections on March 2, and the number has risen to 1,285 as of yesterday, an increase of 130 from Saturday. Its Covid-19 fatalities also rose by 12 to 114, the highest in South-east Asia. Sixty-four patients have recovered.
At a regular briefing yesterday, the official spokesman on the Covid-19 pandemic, Mr Achmad Yurianto, said: "The continued increase in the number of confirmed cases signals there are those who are infected who have not self-isolated."
But he acknowledged that there has been improved compliance among Indonesians in practising social distancing, expressing his appreciation.
Meanwhile, Jakarta continued to deploy drones and trucks to spray disinfectant across parts of the capital yesterday. The spraying teams were covering 11 points across Jakarta, working from 7am to 3pm local time.
------
COVID-19 is science, not spiritual pandemic – Moghalu warns Christians, Muslims
March 29, 2020
By Fikayo Olowolagba
As cases of Coronavirus continue to increase in Nigeria, former presidential candidate of the Young Progressives Party, YPP, Kingsley Moghalu has issued warning to Muslims and Christians, urging them to adhere to experts' advice.
The National Centre for Disease and Control, NCDC on Saturday announced more cases as number of patients with COVID-19 increases to 97.
Moghalu warned Christians and Muslims to avoid religious gathering until further notice and obey precautionary advice from authorities.
"I call on all Nigerians, Christian, Muslim, to be responsible in this Covid-19 crisis and observe social distancing and all guidelines issued by the authorities. Gatherings in churches and mosques should be avoided for now. It's about science. God is the Master Scientist."
The former presidential candidate on a post on his Twitter page also called on President Muhammadu Buhari-led government to lockdown Nigeria for a month in order to curb the spread of Coronavirus and ensure effective contact tracing.
"This means congested masses of crowds of urban poor in Lagos, Kano, Onitsha, Aba etc. in their daily struggle for subsistence. @NigeriaGov must shutdown Nigeria for a period of one month.
"This will reduce community spread and give time for more contact tracing and to deal with medical emergency of treatments while it can still be handled.
"The army should enforce this across the country. The budgets of the federal and state governments must now be completely reprogrammed to focus on Covid-19 in 2020. Pretty much little else except security should matter now," Moghalu added.
https://dailypost.ng/2020/03/29/covid-19-is-science-not-spiritual-pandemic-moghalu-warns-christians-muslims/
-----
Sealed Sukkur mosque turned into temporary quarantine centre
March 30, 2020
HYDERABAD: A mosque and seminary in Sukkur, which were sealed to enable the screening of suspected coronavirus carriers, have been turned into a temporary quarantine centre.
On Sunday, a day after locking dozens of people inside the mosque due to fears of a coronavirus outbreak after it surfaced that over a number of foreigners were staying there, authorities shifted around 200 more people belonging to Tableeghi groups to the Yousuf Mosque. The total number of people inside has reached over 340.
Meanwhile, Sukkur SSP Irfan Samo said that another 44 members of different preaching groups from various districts in Sukkur and Larkana were also shifted to the mosque. At least 68 of those quarantined at the mosque are foreign nationals, hailing from Indonesia, Tunisia, Nigeria, Afghanistan and other countries.
According to police and health officials, those quarantined at the mosque would remain there for 14 days. "The samples of persons suspected of having coronavirus are being collected for testing," a health official told The Express Tribune.
In Hyderabad, where over 200 people were similarly isolated at Noor Mosque in Wahdat Colony, Qasimabad, a team of doctors arriving to screen those inside faced resistance.
The mosque was sealed on Friday afternoon after a 19-year-old Chinese man, part of a Tableeghi Jamaat delegation staying there, tested positive for the virus.
Haji Muhammad Anees, a member of the mosque Shura, told The Express Tribune that the mosque's volunteers resisted when the local administration tried to bring around a dozen people from other Tableeghi groups inside. "Some of them appeared symptomatic, so we asked the health team to conduct their tests outside," he said, insisting that the baton-wielding men performed as guards at the mosque and had not gathered to attack the health officials.
Anees said they pointed out to the authorities that they had been told nobody could leave or enter the mosque. "They were violating their own orders," he claimed.
Later, the police and Rangers were called in, after which the doctors took nasal swabs from over 200 people confined to the premises, who lined up for the procedure through the day.
https://tribune.com.pk/story/2187029/1-sealed-sukkur-mosque-turned-temporary-quarantine-centre/
------
Sanitizing of streets, hospitals, mosques, parks ongoing in Bishkek
MARCH 30, 2020
AKIPRESS.COM - The Tazalyk municipal cleaning company continues disinfection of streets, pavements, hospitals and mosques in Bishkek.
Around 20 streets in Pervomaiskiy district of Bishkek, same amount of streets in Sverdlovskiy district, near 25 streets in Leninskiy districts and 7 central streets in Oktyabrskiy districts of Bishkek were sanitized, the mayor's press office said.
Underground walkways, overpasses, waste containers and platforms, bus stops, hotels, markets, buildings of government and municipal agencies are sanitized as well.
Around 104 workers, 26 sprinkler tank trucks and 5 minitractors are involved into disinfection of the quarantine zone in the central parts of Bishkek.
Daily area of disinfection makes around a million sq m of roads and pavements.
Calcium hypochlorite solution is used for sanitizing of pavements and parks.
Sanitizing is carried out according to the plan every day.
https://akipress.com/news:638353:Sanitizing_of_streets,_hospitals,_mosques,_parks_ongoing_in_Bishkek/
-----
Volunteers from mosques and temples turn out in their hundreds to assist neighbours
29th March,2020
Mosques and temples are helping to assist the elderly and the vulnerable in their towns and cities.
As the countrywide lockdown takes hold within the first week many religious and community organisations have been helping ALL members of their community.
The army of volunteers have been collecting food and essentials to ensure those people that need the most help at this time of crisis are being cared for.
The Bolton Hindu Forum said they are leading 'a joint Coordinated Community Help Program to look after elders living alone and who have no immediate family and those who have family but they are out of town and not able to help as they would in normal circumstances'.
A spokesperson said, "Masjide Noorul Islam and our sponsors are funding the project and we hope to help as many people that need our support. We will be posting the leaflets to all households in the ward for people that are not on Social Media.
"We would like to thank the Masjid committee, the sub group that help arrange the support group, our sponsors and the volunteers."
Members of Ghausia Mosque Burnley were at the foodbank this week helping to get it ready to support vulnerable people during the crisis.
https://www.lancashiretelegraph.co.uk/news/18343132.volunteers-mosques-temples-turn-hundreds-assist-neighbours/
-------
US ban on Iran 'a moral abomination', world leaders should unite
29 March 2020
The US move to impose further sanctions against Iran at a time when the country is battling the new coronavirus pandemic is a "moral abomination," an American political analyst says, adding that the world leaders should ignore US sanctions and form a "new economic cooperative" to counter the restrictive measures.
Rodney Martin, a former congressional staffer based in Arizona, made the remarks during a phone interview with Press TV on Saturday while commenting on Russia's call for the urgent removal of US sanctions against Iran as the bans have led to the flare-up of the deadly virus outbreak in the country.
Russian Foreign Ministry spokesperson Maria Zakharova said on Friday that the "unprecedented political and economic pressure" on Iran allowed the outbreak to take hold in the country as Tehran is unable to buy medicine and medical equipment due to Washington's campaign of "maximum pressure" on the Islamic Republic.
Russia calls for urgent removal of US sanctions against Iran, arguing that the bans have led to the flare-up of the COVID-19 outbreak in the country.
"Russia is correct to seek an end to US sanctions on Iran," Martin told Press TV."Quite frankly, there should be no sanctions to any country, be it Iran, Venezuela or for that matter Russia during this worldwide pandemic, particularly with regard to Iran who has been just absolutely hit very hard… and [is] now suffering both from economic terrorism by the West and this horrific pandemic."
"The sanctions must end and there should be quick condemnation throughout the world to the fact that Iran continues to suffer both economic sanctions wherein they cannot purchase medical supplies and medical equipment," he added.
"This is a moral abomination on the part of the United States and should be condemned, and if the United States refuses to heed the moral calls to remove economic sanctions as it is caving in to the wishes of its neocon and Zionist masters, then the world is going to have to come together — both European leaders, leaders in Moscow, leaders in India, leaders in China, and they are going to collectively ignore the US sanctions and come together as a new economic cooperative," the American political analyst underlined.
The coronavirus outbreak has prompted various international leaders, figures and groups to call for Washington to suspend its sanctions against Iran as well as several other countries.
Earlier this week, eight countries sent a letter to UN Secretary-General Antonio Guterres, warning about the negative impact of unilateral sanctions on the international anti-coronavirus efforts.
Eight countries call on the United Nations chief to ask for the lifting of unilateral sanctions on various countries that are hindering the global fight against the new coronavirus.
The United States has declined to remove sanctions on such countries as Iran and Venezuela amid the coronavirus outbreak despite global calls on Washington to do so.
US President Donald Trump reinstated Washington's sanctions on Iran in May 2018 after he unilaterally left the 2015 nuclear deal, known as the Joint Comprehensive Plan of Action (JCPOA), signed between Iran and major world powers.
The International Court of Justice (ICJ) — known as the World Court — has ordered the White House to lift the sanctions it has illegally re-imposed on humanitarian supplies to Iran.
The US claims the bans do not get in the way of food and medicine exports to Iran, but the Islamic Republic says Washington has been working to hamper a Swiss humanitarian channel launched to enable the transfer of commodities to Iran.
Zarif criticizes the US for "vengefully" refusing to lift its "unlawful and collective punishment" against Iran amid the coronavirus pandemic.
Iran's Health Ministry spokesman Kianoush Jahanpour on Sunday reported another 123 deaths due to the coronavirus pandemic, raising Iran's overall death toll to 2,640.
The spokesman said the total number of confirmed cases now stands at 38,309, out of whom 12,391 have recovered and been discharged from hospital.
The novel coronavirus, a respiratory disuse known as the COVID-19, emerged in the central Chinese city of Wuhan in December last year, incrementally infecting some 200 countries across the world.
More than 684,000 people worldwide have so far been infected with the virus and over 32,000 have died, according to a running count by worldometers.info.
https://www.presstv.com/Detail/2020/03/29/621876/US-sanctions-moral-abomination-coronavirus-pandemic-Rodney-Martin
-----
India
Karnataka Waqf Board directs mosques play audio messages through loudspeakers on Covid19 awareness
March 30, 2020
By Simran Kashyap
Bengaluru, Mar 30: The Karnataka State Wakf Board has directed all mosques in the state to play its audio messages through its loudspeakers four times a day to spread awareness about coronavirus. In an official notification on Sunday, the chief executive officer of the State Wakf Board said the mosques will have to play the audio message in three languages sent by it. These messages must be played at 10 am, 4 pm, 6 pm and 8 pm. #Stayathome and send us your selfie The notification has been marked to all the police commissioners, deputy commissioners at the district and the superintendents of police. Already mass prayers at mosques have been stopped. Chief Minister B S Yediyurappa thanked the Muslim community for cooperating with the state government and agreeing to perform their daily prayers at home instead of mosques.
Read more at: https://www.oneindia.com/india/karnataka-waqf-board-directs-mosques-play-audio-messages-through-loudspeakers-on-covid19-awareness-3061337.html
https://www.oneindia.com/india/karnataka-waqf-board-directs-mosques-play-audio-messages-through-loudspeakers-on-covid19-awareness-3061337.html
-----
COVID-19 impact: Rising financial crunch hampers Haj plan for many Chhattisgarh Muslim families
29th March 2020
By Ejaz Kaiser
RAIPUR: First it was the economic downturn and now the lockdown, several Muslim families in Chhattisgarh, jubilant finding their names in the selected list through the draw of lots (known as Haj Qurrah) in January this year, are apparently disillusioned struggling with financial crunch.
With the ongoing recession having impacted the sources of earning and the expenses of many, over 40 out of 469 Muslims selected through transparent online process are not responding to the Chhattisgarh State Haj Committee's repeated reminders to pay their instalments.
"Such situation never arose before. Surprisingly there is already low response for Haj compared to previous three years, with only 908 applications received. 469 finally selected through Qurrah in January this year. But so far 40 not deposited their first instalment and the passports with the Haj Committee. We fear the number of persons opting for cancellation of their Haj pilgrimage might be the highest ever by June when the departure for Makkah and Madina begins", said Sajid Memon, chief executive officer of Chhattisgarh state Haj Committee.
Those who couldn't pay their instalments to the Haj committee, when contacted by The New Indian Express, admitted the poor decisions on their financial planning is now forcing them to prioritise saving of their income for the coming months as they are badly hit both by economic slowdown and coronavirus concerns.
"My family was excited and we celebrated after our name figured in Qurrah of the Haj Committee. But owing to the prevailing conditions we couldn't sufficiently save for Haj. It's a helpless situation for us", said one of the applicants, on condition of anonymity.
Usually those going through Haj Committee have to pay the amount between Rs 2.5 to 2.80 lakh per person under two categories — Non Cooking Non Transport Zone (NCNTZ) and Azizia.
newindianexpress.com/nation/2020/mar/29/covid-19-impact-rising-financial-crunch-hampers-haj-plan-for-many-chhattisgarh-muslim-families-2123060.html
------
'You had all the powers': Centre's sharp message to Kejriwal on migrant exodus
Mar 30, 2020
Shishir Gupta
Lieutenant Governor Anil Baijal has written a strongly-worded letter to Chief Minister Arvind Kejriwal on the exodus of tens of thousands of migrant workers from the national capital Delhi over the weekend that forced the Centre to ask bordering states to seal their borders and look after the migrants. The missive was sent after Prime Minister Narendra Modi and Home Minister Amit Shah expressed grave concern over exposing the migrants to health hazard during lockdown to Delhi Chief Minister Arvind Kejriwal.
A home ministry official said the letter was sent on Sunday evening after Home Minister Amit Shah chaired a high-level meeting and called up Uttar Pradesh Chief Minister Yogi Adityanath and Haryana Chief Minister Manohar Lal to deliver explicit instructions that no migrant movement should be allowed. The exodus, Shah told them, defeated the very purpose of the national lockdown.
Upset at the Delhi Government allowing the use of DTC buses to cart migrants to the UP border, Home Secretary Ajay Bhalla also told the Delhi chief secretary to place two senior IAS officers under suspension for lapses in enforcing the lockdown.
The exodus of migrants had forced the Centre to order states to quarantine all the migrants who had exited Delhi in state-run facilities for 14 days before they are allowed to go home.
"It is going to be a massive exercise… was completely avoidable," a second home ministry official said, adding that there was concern within the government that the country may have to pay dearly for the lockdown violation.
The official said Anil Baijal's missive to Arvind Kejriwal, which echoes this sentiment, conveys the Centre's displeasure at the Delhi government's inability to provide basic facilities and reassurance to the migrant workers that their needs would be taken care of.
"It also makes the point that the Delhi government had a free hand to implement the lockdown and had all the powers that it needed," the official said. The pointed reference to the Kejriwal government's powers is seen to allude to a long-standing tug-of-war between the central and Delhi government over the distribution of powers to run the affairs in the national capital.
For the future, the second home ministry official said, Lt Governor Anil Baijal had asked the Delhi government to persuade migrant workers in a humane manner to stay put or move to government-run shelter homes where the state would make all basic facilities available.
Baijal is also learnt to have reiterated the Centre's instructions that require states and union territories to ensure that employers pay the workers their dues without any deductions on account of the lockdown and the consequent loss of workdays.
Delhi Chief Secretary Vijay Dev has already ordered the Delhi Transport Corporation, which runs a skeletal bus service, to make sure that it only ferries government employees on essential duty and other people carrying valid passes or identification cards.
https://www.hindustantimes.com/india-news/you-had-all-the-powers-centre-s-sharp-message-to-kejriwal-on-migrant-exodus/story-vu4bjpsbSR2gd17JFJhz8K.html
-----
Coronavirus cases jump to 1071 in India, nearly 100 patients recover: A statewise tally
Mar 30, 2020
The number of coronavirus cases in the country is on a rapid rise. The Ministry of Health on Monday updated the national tally to 1,071. The figure includes 942 active cases, 99 cases of recoveries and 29 deaths.
Maharashtra and Kerala continue to sit at the top of the Covid-19 tally with the highest number of cases in the country.
Here's a statewise breakup of coronavirus active cases, deaths and recoveries across the country.
Maharashtra
With 193 Covid-19 cases, Maharashtra is the worst-hit state by coronavirus infection. The state has registered 8 coronavirus deaths so far while 25 patients have been recovered and released.
Kerala
The southern state has 194 positive cases of coronavirus as per the latest data by the Ministry of Health. The state has witnessed one Covid-19 death. 19 people have successfully recovered.
Karnataka
The state has recorded 80 Covid-19 cases and 3 deaths. 5 people have been cured and discharged.
Uttar Pradesh
75 people have been infected from Covid-19 in the state. While 11 people have recovered from Covid-19 in Uttar Pradesh, no one has died from the infection here.
Telangana
69 positive cases of coronavirus have been reported here so far. One person has made a recovery from the virus while one has died from Covid-19.
Delhi
As many as 53 people have been tested positive of coronavirus in the national capital. Two people have died from the infection while 6 people have made a recovery, as per the health ministry's data.
Delhi Chief Minister Arvind Kejriwal has urged citizens not to step out of their homes and has assured that no one will go to sleep on an empty stomach. He also assured a smooth supply of all essential commodities across the National Capital Territory and said that the administration is prepared to handle 100 Covid-19 cases in a day.
Gujarat
Prime Minister Narendra Modi's home state has registered 58 coronavirus cases and one recovery so far. As many as 5 people have died from the infection in the state.
Rajasthan
The state has 57 positive cases of coronavirus with no reported cases of fatalities. Three patients have recovered from the infection.
Tamil Nadu
The southern state has registered 50 Covid-19 cases and seen four recoveries. Tamil Nadu has seen one patient die from Covid-19.
Haryana and Punjab
The neighbouring states have 33 and 38 Covid-19 cases respectively. While one person has died in Punjab, Haryana has seen no deaths. 17 people have been recovered from coronavirus in Haryana, one in Punjab.
Madhya Pradesh
The state has reported 33 positive cases of coronavirus. Two people have died from Covid-19 here.
Besides this, Jammu and Kashmir has 31 positive cases of coronavirus. Two people have died from the infection while one was cured. Andhra Pradesh has 19 positive Covid-19 patients and one case of recovery. West Bengal has 19 people who tested positive for the infection with one death.
In Chandigarh, 8 people were found infected from Covid-19. Chhattisgarh has recorded 7 cases of coronavirus. In Bihar, 11 people have tested positive for coronavirus, one has died.
Uttarakhand has 7 coronavirus patients, two patients have recovered from the virus. Goa has reported 5 cases of Covid-19 infection. Himachal Pradesh has 3 cases, one patient has died. Odisha also has three Covid-19 positive patients. Andaman has recorded 9 coronavirus cases.
States and Union territories with just one positive Covid-19 case include Manipur, Mizoram and Pondicherry.
On Monday, India entered the sixth day of the 21-day long nationwide coronavirus lockdown announced by PM Modi to break the chain of Covid-19 infection in the country.
https://www.hindustantimes.com/india-news/coronavirus-cases-jump-to-1071-in-india-nearly-100-patients-recover-a-statewise-tally/story-dPh3IhCNghzjCprE7eOqgJ.html
-----
Arab world
Al-Azhar Grand Imam urges Egyptians to stick to virus preventative measures
29 Mar 2020
Mohamed Soliman
Egypt's Azhar Grand Imam, sheikh Ahmed Tayyeb has underlined the importance of abiding by all medical and regulatory instructions set by official bodies to confront the coronavirus pandemic, including avoiding gatherings and taking care of personal hygiene.
He added that spreading rumours on the coronavirus to intimidate people and undermine their confidence in the state's measures to cope with this crisis is religiously prohibited.
"My advice to tackle this affliction is to make use of all available medical, preventive and scientific means... in addition to maximizing philanthropic acts," he added.
The virus has claimed thousands of lives around the world in several months since it first surfaced in the chinese city of Wuhan.
http://english.ahram.org.eg/NewsContent/1/64/366226/Egypt/Politics-/AlAzhar-Grand-Imam-urges-Egyptians-to-stick-to-vir.aspx
-----
With a Curfew and Unreliable Coronavirus Toll, Egyptians Face a Cruel Ramadan
Mar 29, 2020
"They've drunk us dry, they've eaten us up, what will I survive on? How will I bring food for my children?" cried a young Egyptian woman in a clip she posted to her Twitter account. Even in ordinary times this young woman's life is not easy, but after the Egyptian government announced a general two-week curfew last week, life became intolerable. This is a strange curfew; it begins at 7 P.M. and ends at 6 A.M. "What's the logic? Does the virus only infect people at night?" many people asked on social media.
For millions of Egyptians, who work two shifts and a few jobs to make ends meet, the curfew is a "death sentence that will execute us all and then there will be no more infected people," one person tweeted. The curfew applies to all forms of public transportation, including the subway, which has millions of passengers every day in Cairo, and to all shops except for pharmacies and supermarkets. The vibrant city, which doesn't rest for a moment, day or night, has become, like many cities in Israel and Europe, a ghost town. Large police contingents patrol the major markets, some of which have already closed down completely, as well as alleyways and main roads, and send the people home to isolate themselves.
Curfew breakers could be fined 4,000 Egyptian pounds (about $255), a huge sum even for the middle class. At the same time, Egyptians are having a hard time finding out how hard the pandemic has hit their country. According to official figures, so far about 40 people have died and some 540 people have tested positive for the coronavirus. No one believes these numbers, but anyone who challenges them and shows other data can expect to be penalized.
That's what happened to the British journalist Ruth Michaelson, who has covered Egypt for the Guardian since 2014. Last week she was expelled after publishing a scientific study written by an infectious disease expert stating that as many as 19,000 people in Egypt were infected with the virus, when the authorities had reported that only three people had tested positive. The research, which was accepted for publication in the prestigious medical journal The Lancet, resulted in Michaelson being interrogated for three and a half hours, with Egyptian intelligence chief Diaa Rashwan among those present. She was subsequently summoned for another session to discuss her visa status.
However, Michaelson, who also holds German citizenship, was warned by the German Embassy not to appear for questioning because she might be arrested and imprisoned. She ultimately managed to board one of the last flights out of Egypt. Egyptian journalists, though, have nowhere to flee. Moreover, no Egyptian media outlet would publish figures that contradict government statements after warnings and threats to stick to the official version that Egyptian editors have received.
On social media, in contrast, frightening stories and numbers are coming out, although not all of them meet the burden of proof. One of these claimed that Egyptian President Abdel Fattah el-Sisi and his family had contracted the virus and that was why he had not appeared in public for two weeks. This story led the president to make two appearances in a row last week, the first to report on the country's efforts to curb the spread of the virus, and the second to confirm that two generals, Shafia Abdel Halim and Khaled Shaltout, had died "during their struggle against the coronavirus." This news sent a shockwave through Egypt, as it made people realize that the army, which has the best means for testing and treatment in the country, is not immune to the disease.
The largest problem now facing Egypt is maintaining public services, as well as economic assistance to companies and other businesses whose operations have been frozen or sharply restricted. Egypt's Central Bank announced an economic plan that includes a three-percent slash in interest rates on loans, bringing the rate to 9.25 percent, and provides loans and grants totalling $1.25 billion to businesses to stimulate investments, commerce and manufacturing. It is not clear who will qualify to benefit from this government assistance, as the criteria are vague, but what is certain is that at a time like this, it's hard to picture foreign or local investors hurrying to invest in the country even if they were to receive greater incentives.
After the Egyptian stock exchange lost more than 40 percent in one month, the government was able to announce a drop in inflation to 5.3 percent, stemming from a dramatic plunge in consumption, and savings in its expenditures on oil purchases. In ordinary times such developments would attest to impressive success in the country's economic reforms, which began in 2016. But at the same time, tourism has virtually ceased. This is the third most important source of revenue for the country (about $12 billion a year) after income from Egyptians living abroad (an estimated $24 billion) and non-petroleum exports, accounting for more than $17 billion in revenue. It is also an industry that employs millions of Egyptians, directly and indirectly, who have now been left jobless. Another threat is that hundreds of thousands of Egyptians who work in the Gulf states will have to return to Egypt after losing their jobs because of reduced activities by oil companies in the Gulf and the looming recession in the Gulf states.
Egyptians might even lose the comfort they look forward to during the month of Ramadan in the form of the television series that appear each year. Some of the producers of series that were to have been aired next month, when Ramadan begins, have announced they are ceasing activities because of the coronavirus. It seems that this will be the cruelest Ramadan that Egypt has known for decades.
https://www.haaretz.com/middle-east-news/egypt/.premium-with-a-curfew-and-unreliable-coronavirus-toll-egyptians-face-a-cruel-ramadan-1.8721670
-----
Mideast
Can The Dark Ages Of The Mullahs In Iran Survive Coronavirus?
March 30, 2020
The Covid-19 virus has created a frightening atmosphere for people the world over because it is an unknown. News of the outbreak breeds terror as it makes no distinction between continents, social classes, cities, villages, the poor and the rich. But it also threatens the fate of political rulers.
Compared to the plague of the 14th century, which to various extents led to the overthrow of empires and played a role in ending the Dark Ages, this virus has subjected the governments of today to equally severe existential tests. Now Iran is in the eye of the storm. If social history has become divided into two periods, before and after Coronavirus, some countries' rulers will no longer exist after the period.
The New York Times reports that Iran is becoming "a global threat" that is spreading the Coronavirus "to many neighboring countries."
In a 23 March speech, Khamenei said, "They may introduce a drug that persists the virus in Iran or send people to ensure the effectiveness of the virus in Iran." He even warned of human and Elf world cooperation against Iran.
Throughout history, pandemic outbreaks in the world have always been associated with rumors and conspiracy theories; these rumors have most often been fueled by rulers seeking to disguise their inefficiency and save their shaky government from overthrow. In Europe in the late Middle Ages, during the plague outbreak, racist violent policies were enacted against religious minorities and Jews, accusing them of poisoning wells, spreading the plague.
Reza Malekzadeh, the Deputy Minister of Health, said on 14 March 2020: "We had extensive communication with China and there was a lot of commuting." Continuing, he said, "also in response to the question of whether we stopped the air traffic with China in a timely manner? No, it was not done because of considerations. That is to say that it was not taken very seriously." These 'considerations' were the same sham elections and rally for the anniversary of the revolution that Khamenei, for strategic reasons, wanted to execute no matter the cost.
Now, because of pressure from security agencies of the Revolutionary Guards, the Doctors Without Borders team that came to Iran to provide a helping hand in Isfahan in dealing with the Coronavirus outbreak went under the shadow of the same "conspiracy theory". While three officials from the regime's Ministry of Health had invited the team to come to Iran, the regime expelled them as spies as soon as they set up a 50-bed temporary hospital.
But the regime is not stopping at raising conspiracy theories and accusing others but intends to free itself from sanction using the Coronavirus crisis as an excuse.
In recent weeks, Tehran officials have repeatedly claimed that the US sanctions have resulted in a shortage of medicines and medical supplies.
On 14 March 2020, Zarif, in a "very urgent" letter to the UN Secretary-General Antonio Guterres, cried about; "the consequences of the most severe and widespread economic terrorism that has been perpetrated by the US government illegally and comprehensively since May". This while everyone knows that buying drugs and medical supplies is exempt from sanctions, that the regime is spending people's capital on meddling in Iraq, Lebanon and Syria, and Khamenei are unwilling to spend from the $100 billion reserves in the imam's executive headquarters.
But the regime is aware of the consequences of such a policy and, sending the Revolutionary Guards and police to the streets under the pretext of "biological warfare", is to confront uprisings and maintain control in critical and forthcoming situations.
The main question now is whether the Iranian regime will survive the Coronavirus crisis. Jean-Pierre Filiu, a French expert on the Middle East and Arab affairs, wrote in a blog post published by Le Monde: "the Coronavirus crisis in Iran is part of a crisis of mistrust and an unprecedented rift between the Iranian regime and its people, and the Islamic regime of Iran seeks to intensify its crisis with the United States and attribute the source of all domestic problems to Washington's sanctions so that it can partly relieve itself from sharp criticism by its unhappy people.
Jean-Pierre Filiu considers this strategy insufficient and ineffective, saying that the shock of the Coronavirus crisis for the Islamic Republic of Iran will appear only after the end of this calamity, and on that day the "moment of truth for the Islamic Republic of Iran will be terrible. "
*Iran News Wire is home to real news on Iran. We are dedicated to honest and reliable reporting. We aim to be the voice of the Iranian people and their protests for freedom and democracy at a time when the Iranian government wants to silence dissent and suppress their voices for democracy
https://www.eurasiareview.com/30032020-can-the-dark-ages-of-the-mullahs-in-iran-survive-coronavirus-oped/
-----
Iran-backed Shia militias use new guerrilla warfare tactics to drive US out of Iraq
March 30, 2020
by Araz Barwari
US military forces have recently announced that they are pulling out of some bases in iraq. However, It's still unclear whether the US plan is to gradually and completely move its forces out of Iraq or to only pull out from certain military bases that are more vulnerable and reachable to attacks of Katyusha rockets and mortar shells of Iranian proxy Shia militias in Iraq.
Regardless of their intentions and future plans, US military and other coalition forces seem to be facing security problems in Iraq. Because their military bases have come under Katyusha rockets fire by Iranian proxy militias causing casualties, property and equipment damages.
Basically, there are few problems that are preventing the US military and all collation soldiers from having total sense of security and peace in Iraq.The first problem is Iranian proxy Shia militias in Iraq want to kick US military out of Iraq by force. They are firing few rockets here and few rockets there at coalition military bases with the aim to harass them, deny them peace and security and possibly kill them.
Sometimes, they surprisingly and unexpectedly firie dozens of Katyusha rockets together at their (US military) separate and joint military bases with Iraqi military forces. And these rockets apparently are scoring death numbers among the coalition forces. And apparently, neither Iraqi security forces nor coalition forces can not stop the perpetrators from firing these rockets because they continue hitting and causing casualties and damages at the coalition forces bases up until recent days.
In the meantime, it's still unknown whether US military has not yet deployed Counter Rocket, Artillery, and Mortar (C-RAM) system to defend its military forces and encounter the Katyusha rockets. Or the CRAM system could have already been deployed n the their military bases, but might have not been able to intercept and blow up all the incoming Katyusha rockets in the air before they cause death and other damages. However, I assume US military has CRAM air defense system in Iraq because they showed a picture of a test-fire of a C-RAM in 2010, in Balad, military base in Iraq.
The second problem is, US military forces can not detect and strike the real perpetrators and attackers of their military personal in Iraq. They don't have direct evidence, videos and photos of the attackers to present a legal case against those Iranian proxy Shia militia in Iraq. US is only suspicious about Hezbollah groups carrying out these attacks against coalition forces in Iraq.It seems hard for US military to eliminate the threats of these bad guys and put an end to this dangerous situation in Iraq Partly because US is facing a guerrilla warfare battle with these Shia militias.
Iranian proxy Shia militias are secretive groups. They have gone through military training by Iranian Quds forces.These militias operate in different countries. They serve the interests of Iran in the region. When they go out to fire rockets at US military bases, they use guerrilla tactics that are hard to beat easily because you need to use advanced military weapons, constant air and ground reconnaissance, and intelligence gathering. You will also need to spend a lot of time, hard work, and human and financial resources to be able to totally stop their attacks and beat them for once and all.
These Shia militias usually gather in small groups secretly. They plan to launch attacks against US, Israel and Saudi Arabia interests secretly. They have storages of different Iranian made weapons. They cover their rocket launchers in secret houses and business buildings. They wear civilian clothes. They live in secretive places among civilians to avoid being seen and hit by US drones and jet fighters. They get weapons from Iran as many pieces as they need.They use civilian cars for carrying and moving their weapons such as Katyusha rocket launchers, mortars and other ammunition. And after they fire rockets, they either hide or leave their heavy weapons and vehicles behind and run away with civilian cars to civilian areas. And they quickly blend with civilians before the Iraqi security forces rush to the scene and catch them and even before US military jet fighters and drones fly to the sky, pinpoint and strike them.
Furthermore, Shia militias are fighting in their homeland and they have the support of the Shia local population. They also enjoy secretive support from Iraq government institutions and Iran.They can get intelligence, money, logistics, and as many rocket launchers as they need from Iran because they fight for Iran.
In addition to that, members of these secretive Shia militias who call themselves with different revolutionary names, even serve in the ranks of Iraqi national army. And who knows, they might even play double deal games with US military forces in Iraq. In fact, They can act as friends to US soldiers during daylight in the same military base they do training together, , but can turn to a real enemy to US forces in the dark night. As we have learned in the past that secret loyal Taliban fighters who joined the national army of Afghanistan, used this double dealing games and tactic against coalition forces in Afghanistan.They deceived and spied on American soldiers, their locations, movements, plans and equipments. And they planned accordingly and killed many collation soldiers in this way.
The third problem is, US military forces are striking Iraqi military bases in retaliation of these rocket attacks. And they usually and randomly pick an Iraqi military base of popular mobilization forces and strike them from the air and kill some humans that are not necessarily the same bad guys who have fired rockets at US military forces. And this usually happens because US military forces can not catch and strike the real perpetrators and attackers in time of assault So they choose to strike at their alleged weapons facilities, friends and other Iraqi Shia military members, something that has made Iraqi government angry at US military forces.
Meanwhile,there is no reports saying US military have used CRAM air defense system against Shia militias Katyusha rockets and mortars when their military bases came under rocket fire. But either ways CRAM system doesn't guarantee the safety of the military bases 100% as it can not intercept all incoming rockets. Even if it was used to intercept the Shia militias Katyusha rockets, there's still a very high chance that out of hundreds of rockets, few would go through the air defense network unintercepted and end up killing people.and military personnel.
As a matter of fact, Israel has a very advanced CRAM air defense system called Iron Dome which is reportedly considered to be the top CRAM air defense system of the world. But according to Israeli military officials the system doesn't guarantee 100 % that it can intercept all enemy incoming Katyusha rockets especially if they are fired in big numbers at once.
Iron Dome was put in test by Israeli military against Hamas rockets.The test came when IDF troops attacked Hamas positions in the Gaza strip in July 2014. Gaza militants launched around 4,600 rockets and mortar shells in response, around one-quarter of which landed near areas populated by Israeli civilians. The six Iron Dome batteries were activated hastily reinforced with three more. Together, they shot-down 735 rockets and mortar shells and failed to intercept around seventy, consistent with an 85 percent to 90 percent success rate claimed by the IDF. Again, this shows that all number of Katyusha rockets and mortar shells can not be totally intercepted and exploded in the air by CRAM air defense systems, especially if they are fired simultaneously, massively and in huge numbers.
Ironically, Katyusha is an old Russian made weapon that is cheaply manufactured is still challenging modern advanced weapons like CRAM system.Katyusha It has short range rockets. They are, imprecise and can not be guided by raders or GPS satellites. But it's easy to move it around and use it in guerrilla warfare.
Altogether, despite the invention of modern anti Katyusha rockets and mortars systems like CRAM, Katyusha remains an effective weapon in the battle. It can cause both mental and physical damages to a powerful military forces especially when used in guerrilla warfare.
For US and coalition forces to keep their military and civilian personal lives and military bases safe from Shia militias Katyusha rockets in Iraq, they need to first invest on both ground and air intelligent gathering about the hidden headquarters, weapon and training facilities of these Shi'a militias. US also need to monitor their movements and activities through spying drones and orbiting satellite to carry preemptive strikes and kill the real perpetrators who fired rockets at US military bases and killed American and coalition soldiers. And second, US needs to guard it's military bases 24 hours with drones and possibly. with helicopters. Thirdly, CRAM system should be active and in alert in large numbers for 24 hours. This will very much reduce the chances of Katyusha rockets hitting their military bases and causing casualties and other damages. CRAM system need to be deployed in large numbers this will empower the CRAM rocket intercept network.
If coalition forces choose to stay in Iraq, they will have a tough and costly task to do in order to be able to protect it's solders from being hurt by Iranian proxy Shia militias in Iraq. In fact, the harassment of Shi'a militias rockets towards coalition forces can gradually lead to the development of psychologically problems for coalition forces in Iraq if not stopped and intercepted.. Living in such a worrisome and stressful situations can definitely hurt mental health of US soldiers in those stationery military bases as they would need to be extra careful and constantly, watch for 24 hours or be in alert and prepared to take cover in bunkers or in buildings for their safety. In fact, the air defense unites of CRAM system must have their eyes locked on radars screens and their fingers on computer mouse and buttons for 24 hours, in case a Katyusha rocket or a mortar shell is flying towards their military base.it would be a very stressful and fearful environment for the US soldiers to live in.Eventually, the situation can cause depression, paranoia and hallucinations to American soldiers in the long run.
Despite US military having such an advanced military technology and capability such as spying satellites, drones, helicopters, and patriot and CRAMPS air defense system, it failed to protect it's bases and military personnel from Katyusha rockets as the casualties and damage the rockets have caused in the past are evidence to that. US will either choose to stay in Iraq at whatever costs it may bear, and protect it's solders from being killed in Iraq by using it's advanced military technology or it may eventually need to launch a full scale war against Iran or may choose to negotiate a deal with Iran temporarily in-order to ease off this tense situation and save lives and all other costs of their military personal.
https://ekurd.net/iran-backed-shia-militias-use-2020-03-30
-----
Some Islamic State militants escape during riot at prison in northeastern Syria
By CHAD GARLAND
March 29, 2020
Military aircraft were assisting Syrian forces putting down "uprising" at a detention facility holding Islamic State group fighters, during which some of the prisoners escaped, officials said late Sunday.
U.S.-backed Syrian Democratic Forces sent anti-terrorist forces and other troops to the prison in Hassakeh, in northeastern Syria, said Mustafa Bali, a spokesman for the Kurdish-led Syrian Democratic Forces.
"ISIS terrorists managed to take over the first floor in Hasakah prison removing internal walls & doors," Bali said on Twitter. "Some of them managed to escape and our forces are searching to capture them."
The U.S.-led Operation Inherent Resolve was assisting with aerial surveillance at the facility, said Army Col. Myles B. Caggins III, the anti-ISIS coalition's military spokesman, also on Twitter.
The prison break started when inmates broke security cameras, minutes after holding up blankets with messages scrawled on them to the U.S.-led coalition and human rights organizations, the independent media organization said on Twitter, citing an official statement.
"A state of emergency will continue until tomorrow until we have determined where they have gone," the information center said, quoting a statement.
The prisoners were still in control of the facility's first floor and planning further escapes, balaclava-wearing SDF officials said at a press conference later outside the prison, the media organization said in a post that included video of the camouflage-clad officials.
The fact that the rioters wrote messages to human rights organizations suggested the unrest may have been linked to concerns over prison conditions and fears of the coronavirus pandemic, the center said. The prison is located in an area of northern Syria where Turkish-backed militias are accused of cutting off the water supply to more than 450,000 people for more than a week.
The coalition does not staff the detention facilities, which have struggled to detain the ISIS-linked captives. Observers have warned of the Kurdish forces' limitations in holding the about 10,000 prisoners, who they don't have the capacity to investigate and put through trials. Media reports have described cells crammed with men.
But many European countries have been reluctant to take back their citizens who joined ISIS and fought for the hardline group's territorial ambitions. About 2,000 of the prisoners are foreign fighters, U.S. officials have estimated.
"The longer ISIS prisoners are held in SDF prisons, the greater the potential for them to organize breakouts," the Lead Inspector General for Operation Inherent Resolve said in a January report, citing Pentagon officials.
In addition to the prisoners, camps in northern Syria also hold tens of thousands of women and children who lived under the terrorist group's "caliphate," which lost its final territorial stronghold a little more than a year ago in the town of Baghouz.
As Turkey invaded northern Syria last fall, the Kurds warned that they would not have the capacity to both defend themselves and secure the prisons.
In October, more than 100 prisoners with alleged links to ISIS broke out of the prisons during the Turkish incursion, U.S. officials told the Washington Post.
The group's ranks have been filled by fighters freed in prison breaks stretching back more than a half-decade, the Post reported.
Despite losing its territorial control in both Iraq and Syria, the group continues to fight an insurgency in both countries.
The prison break on Sunday came as the U.S. pulled out of a third Iraqi base this month, citing successes in battling the terrorist group as allowing the withdrawal.
https://www.stripes.com/news/middle-east/some-islamic-state-militants-escape-during-riot-at-prison-in-northeastern-syria-1.624158
------
Don't Let Maduro and the Mullahs Escape Blame From Coronavirus
March 29, 2020
by Jorge González
The midst of a global pandemic is a ripe time for sanctioned regimes to play victim—and a delicate one for the United States to hold up "maximum pressure" campaigns. In Iran and Venezuela, tyrants are seizing on COVID-19's local ravages to cover up their own role in leaving their people and economies vulnerable. Their pleas for sanctions relief would more easily be exposed as the blame-shifting demagoguery they are if they weren't backed up by… you guessed it: the European Union.
Tracing back the virus' spread helps set the stage. COVID-19 is thought to have been brought into Iran by a merchant flying back from Wuhan to his hometown of Qom, south of Tehran, with the first two casualties reported on February 19. What soon became the world's second largest outbreak—since surpassed by European hotspots and the United States—seemed casually sparked at first. It soon turned inevitable by Iran's stubborn refusal to cancel flights from China, just as every major airline called off theirs.
The Revolutionary Guard denied it but the airline it operates was found to keep four flights from China running as of February 25. Iran soon recorded eight out of every ten cases in the wider Middle East, a rampant spread flatly denied by officials to boost turnout to a series of public gatherings—the Islamic Revolution's anniversary, parliamentary elections and the Persian New Year—even as they scapegoated U.S. sanctions for it. This is despite the United States and a range of NGOs reminding global business that only oil sales and credit are targeted by sanctions, leaving shipments of medical supplies and other necessities unaffected.
What's more, the U.S. State Department came out with an unspecified offer of aid on February 28, an overture left unheeded for a month until Ayatollah Khamenei wrapped his rejection in a shocking heap of conspiracies, claiming the US had built COVID-19 targeting Iranians' specific genome. "Your medication and help will bring more disease," he said. In an otherwise fact-based wire by the Associated Press, Joshua Goodman has assessed Iran's management of the crisis rather bluntly: "scapegoating and pride, not U.S. policies, are causing immense harm."
In the meantime, Iran asked for $5 billion from the IMF's "Rapid Financial Instrument"—a fund of ten times that amount for distressed countries' central banks—a mere two days after the money had been set aside, in what would have become the Fund's first transaction with the Islamic Republic. Never mind that the United States holds an effective veto over any IMF disbursement, a voting power proportional to its contribution of nearly 18 percent to the fund's so-called Special Drawing Rights (SDRs).
Rejection of the aid request was a foregone conclusion until—a full month after it was made but only a day after Khamenei turned down U.S. help—the EU came out in support of it through its foreign policy chief, Josep Borrell. To compound the synced timing, Borrell pledged an additional $20 million for Iran and Venezuela—Germany, France and the UK had already chipped in $5 million in early March—and even joined Russia and China in asking the United States to drop sanctions on both. EU member states vote autonomously at the IMF but their combined SDRs could well surpass the United States' and approve Iran's ask.
Venezuela's example is perhaps even more revealing. Maduro was quicker to decree a quarantine—and slower to turn to the IMF for help—but the country's healthcare system may be one of the world's least prepared to deal with what has become the fastest-spreading outbreak in the Western Hemisphere. Julio Borges, foreign policy lead in Juan Guaidó's legitimate government, put it best: "Maduro blames U.S. sanctions, but he is the only one to blame for destroying our healthcare system."
Yet Caracas has also predictably blamed Washington, blithely peddling the same conspiracy theories about the virus being American-made. This hasn't prevented it either from panhandling at the IMF for $5 billion—an institution that Maduro was blasting as a "tool of U.S. imperialists" only a month ago. The Fund rejected the ask, bound by its founding charter that forbids it from dealing with governments not recognized by other Fund members, and referred Venezuela to that same first rejection letter when a lower bid for $1 billion was placed. A range of NGOs and multilaterals have taken to calling for aid to flow through Juan Guaidó.
Since being left to deal with Iran's breaches of the JCPOA on their own after President Donald Trump pulled the United States out of the deal in May 2018, EU countries have markedly softened their posture vis-à-vis Tehran, bending over backwards to avoid UN sanctions from snapping back into place by triggering a dispute resolution mechanism built into the treaty instead of referring the breaches to the UN Security Council. Backing Iran's plea for IMF help is revealing of this equivocal stance.
"We are going to support this request because these two countries are in a very difficult situation mainly due to U.S. sanctions that prevent them from generating revenue by selling oil," said Borrell. He seemingly ignores that what's put Iranians at risk is their reckless government, who continues to peddle lunatic conspiracies to the day he pledged $20 million in aid. Most importantly, he didn't seem the least concerned to oversee that the money be actually spent on tackling COVID-19 and not end up in the pockets of corrupt politicians and terrorist groups, as a growing share of Iranian spending does these days.
Venezuela's response has arguably been more prudent, but the EU's offer of help is concerning all the same—if only because it will be cashed in by a government accused by the EU itself of having usurped power. When all is said and done, the money will certainly undermine ongoing efforts to weaken Maduro, who will cling on to the smallest windfall to perpetuate his rule.
This crisis comes at a time when, helped by freefalling oil prices—Iran and Venezuela supply a combined 30 percent of the world's oil—sanctions are having their desired effect of choking off revenue sources into Iran and Venezuela, which puts the United States in a very tight spot when faced with the all-too-real devastation in these countries under COVID-19. But these regime's shifting of the blame to the United States covers their own responsibility in bringing about the crisis, by recklessly refusing to protect their people and running their healthcare system to the ground with socialistic policies.
It is one thing to seek to help Iranians and Venezuelans suffering under their government's mismanagement of COVID-19—an effort limited only by the regimes' own door-slam on U.S. aid. It is a whole other thing to blame US sanctions as the culprit while calling for unconditional blank cheques from majority U.S.-funded multilaterals, with no guarantee that terrorism and corruption won't take precedent over innocent people. The EU is free to think that sanctions unintendedly harm civilians, but if it really wanted to help them, it would at least tie the aid to a full stop of conspiracy propaganda and to actual COVID-19 mitigation.
https://nationalinterest.org/blog/buzz/dont-let-maduro-and-mullahs-escape-blame-coronavirus-138767
-----
Quarantine extended for thousands returning to Turkey from Mecca
Mar 30 2020
Turkish authorities extended the quarantine period for people returning from pilgrimage to Mecca, state-run Anadolu news agency said.
Thousands of Turkish pilgrims have been under a two-week quarantine in university dormitories in the central provinces of Ankara and Konya since March 15 to contain the spread of the deadly virus.
"It was decided to postpone the release of those who were placed under quarantine after returning from Umrah due to the continuing health screening," Anadolu said on Sunday.
The government was criticised for not placing the first batch of returning pilgrims under quarantine after photographs circulated on social media purportedly showing dozens of members of the ruling Justice and Development Party (AKP) sharing photos of themselves arriving back and meeting groups of people, despite instructions for returnees to self-isolate.
https://ahvalnews.com/turkey-coronavirus/quarantine-extended-thousands-returning-turkey-mecca
-----
Southeast Asia
JAKARTA PASTOR BAPTIZES MUSLIMS AS CHURCH EXPANDS
29th March 2020
JAKARTA, INDONESIA (BosNewsLife)– Peter Tumbelaka wasn't in a hurry to become the pastor of Jakarta's largest Pentecostal churches where many Muslims convert to Christianity. "I thought I could remain an architect and an engineer. But God had different plans," the 52-year-old preacher told BosNewsLife in Indonesia's bustling capital.
Tumbelaka's 300-strong GPdI Sudirman Church in South Jakarta is part of the Pentecostal Church in Indonesia or 'Gereja Pantekosta di Indonesia' (GPdI) denomination. Amid growing demand, the architect-turned-pastor also runs a smaller congregation, the 'GPdI Bojong Indah Church' in West Jakarta. He called it "a miracle" that he received permits from local authorities to lead these two Pentecostal congregations.
Tumbelaka suggested that the two church buildings he helped design for these congregations barely accommodate the growing number of Muslims and others turning to the Christian faith. "My entire multimedia team are former Muslims. Some of them I baptized," he revealed. "I first gave them counseling because they have to make a personal decision for Christ. I never pushed them."
Leaving Islam in what is the world's largest Muslim nation of nearly 270 million people is a tough decision, the pastor confirmed. "It's not easy. As a Christian convert, you can have a lot of problems with especially family members and other relatives."However, when speaking to Muslims seeking faith in Christ, he isn't shying away from Biblical truth, he says.
"Because I worked in the secular industry of architecture, I usually go straight to the point. My style is straightforward. So when people come to me with problems, I tell them: 'You can overcome your problems when you follow the instructions of the Word of God."
During a recent crowded church service streamed on social media channel YouTube, a man carefully said the closing prayer. "He was a Muslim too," explained Pastor Tumbelaka. "Dozens of worshippers here are former Muslims. They followed God's ways. I think God drew them. They came and wanted to be baptized."
Yet being a pastor wasn't always high on his wish-list, he admitted. "I never intended to be a pastor. I was a successful engineer and architectural consultant in the government. But God thought differently about this," he said.
It began when several years ago, his elderly wheelchair-stricken mother was no longer able to carry the torch. "My father, who was also a pastor, already passed away. He started this church as early as in 1958. But when my mother finally asked me to take over, I realized that God prepared me for this task as pastor. Because I designed and help build this church when I was an architect," recalled Tumbelaka.
When BosNewsLife visited the spectacular GPdI Sudirman Church in South Jakarta, he made it a point to celebrate her 76 birthday with church members. The "Happy Birthday" tune and Christian songs were backed by the congregation's neatly-dressed band members and seemingly professional singers.
The church hasn't always been in a celebratory mood. Local authorities even ordered the removal of a church in the 1980s. But "Ever since that day God has blessed us and provided another plot of land for this church and the other congregation. We even received permission from the Jakarta governor," he recalled.
"Sometimes I wonder that my calling was as if God wanted to use me as the Biblical King Solomon who oversaw the construction of the Temple,"
"I already had designed this church as a younger man as an architect. But now God wanted me to be an architect for Him for the people. I think the Church has to be the Light among the people. We have different vocations. But wherever we are, we have to reflect the image of God."
https://www.bosnewslife.com/2020/03/29/jakarta-pastor-baptizes-muslims-as-church-expands/
------
RAM Ratings maintains stable outlook on M'sian Islamic banking sector
30 Mar 2020
KUALA LUMPUR, March 30 — RAM Rating Services Bhd (RAM Ratings) has maintained a stable outlook on the Malaysian Islamic banking sector on account of the industry's sturdy fundamentals.
However, the credit rating agency cautioned that Islamic banks would face heightened uncertainties and challenges in the still-evolving economic landscape with the rapid spread of the Covid-19 pandemic and its far-reaching effects on the domestic and global economy, it said in a statement here.
"Taking into account our expectation of a steep moderation of economic growth, the financing growth of Islamic banks is expected to decline to below 5 per cent in fiscal 2020, from 8.3 per cent in 2019," explained RAM Ratings Co-Head of Financial Institution Ratings, Sophia Lee.
Islamic banks' asset quality remains healthy although it's gross impaired financing (GIF) ratio edged up to 1.4 per cent as at end-December 2019 (end-December 2018: 1.3 per cent) due to a couple of lumpy corporate accounts.
"The reported asset quality indicators of Islamic banks should stay manageable in 2020, chiefly supported by the recent financial relief measures initiated by Bank Negara Malaysia (BNM) in response to the outbreak," said RAM Ratings.
Meanwhile, liquidity of Islamic banks is still comfortable, with the industry's liquidity coverage ratio (LCR) clocking in at 151 per cent as at end-January 2020.
As part of the regulatory relief measures, banks are allowed to operate below the minimum LCR threshold of 100 per cent given the reduction in cash flow during the moratorium period.
"We foresee headwinds to earnings, given further margin pressure subsequent to the twin OPR cuts in early 2020 and higher credit costs expected going forward. Islamic banks continued to boast healthy financing-loss buffers, as reflected in the system's strong common equity tier-1 capital ratio of 13.6 per cent as at end-January 2020," it added.
In addition, the GIF coverage ratio (including regulatory reserves) of the sector was a sturdy 116 per cent as at end-September 2019.
https://www.malaymail.com/news/money/2020/03/30/ram-ratings-maintains-stable-outlook-on-msian-islamic-banking-sector/1851649
-----
Terengganu announces Ramadan Bazaar cancellation
30/03/2020
KUALA TERENGGANU, March 30 -- All Ramadan bazaars will not be organised in Terengganu this year, state Local Government, Housing, Health and Environment Committee chairman Dr Alias Razak said.
He said the matter was decided in the Terengganu special security committee meeting to address the COVID-19 situation, which was chaired by Menteri Besar Datuk Seri Dr Ahmad Samsuri Mokhtar yesterday.
"As the Movement Control Order (MCO) has been extended until April 14 which is 10 days before Ramadan and considering the current uncertainty, it is only appropriate for the state government to cancel all Ramadan bazaars this year.
"The risk of close contacts is extremely high and will likely cause further spread of COVID-19, thus impeding the government's control efforts.
"As such in eradicating the virus, the state government has called on local authorities in Terengganu to cancel all Ramadan bazaars this year," he said in a statement today.
Dr Alias said with the move, Ramadan bazaar traders have been urged to make the necessary preparation and consider other options to generate income.
"Traders are encouraged to turn to online business or home delivery services for all types of products including food, using platforms such as Grab Food, Food Panda and so forth.
"The state government has made an in-depth study on this issue and the bazaar cancellation was decided after taking into account the health and well-being of all quarters. May we all be given the strength and perseverance to undergo this test," he said.
Prior to this, Negeri Sembilan government had also decided to cancel all Ramadan bazaars in the state, as announced by Menteri Besar Aminuddin Harun on March 26.
https://www.bernama.com/en/general/news.php?id=1826624
------
Bank Islam contributes RM1 mln to Musa'adah COVID-19 Fund
30/03/2020
PUTRAJAYA, March 30 -- The Department of Islamic Development Malaysia (Jakim)'s Musa'adah COVID-19 Fund today received RM1 million from Bank Islam Malaysia Bhd, bringing the total collection to RM1.5 million since its launch on March 24.
Speaking at the event here, Minister in the Prime Minister's Department (Religious Affairs) Senator Datuk Dr Zulkifli Mohamad Al-Bakri said monies from the fund would be distributed to those with earnings less than RM2,500 a month and COVID-19 frontliners.
At the event, the minister presented part of the fund collection to the frontliners from the Ministry of Health, Muslims funeral preparations teams and those from B40 group who are affected by the pandemic.
Zulkifli also said that Jakim was planning to distribute the fund collection to Orang Asli in Cameron Highlands tomorrow.
Those who wish to donate may do so via the Bank Islam Malaysia Berhad account number 16027010001528 opened for "Tabung Saadah Jakim Covid-19".
https://www.bernama.com/en/general/news.php?id=1826689
-----
Africa
COVID-19: Nigerian Muslims will be barred from Hajj – Sanusi warns clerics holding prayers
March 30, 2020
By Fikayo Olowolagba
Dethroned emir of Kano, Sanusi Lamido Sanusi, has issued a warning to Muslim clerics still organising religious gatherings and prayers despite the ban imposed by the Federal Government.
Sanusi in a statement made available by his son, Ashraf warned that disobedience of Muslim clerics to the instructions from the government could cause more harm to Nigerians in future.
The former CBN governor warned that lackadaisical attitude towards COVID-19 will only worsen things as the virus is real and can only be stopped when all precautionary measures by medical authorities are duly observed.
Sanusi wrote: "My father would like us to remember that this disease is normally a very mild one about 80 percent do not need to go to hospitals and recover at home by adhering to instructions
"Social distancing and compliance with the health authorities is the only way to ensure it does not continue spreading in our country
"Muslim scholars who continue to defy this guideline may wish to consider the implications of Nigeria being the country that has not put an end to this pandemic
https://dailypost.ng/2020/03/30/covid-19-nigerian-muslims-will-be-barred-from-hajj-sanusi-warns-clerics-holding-prayers/
-----
FCTA Shuts 23 Mosques, Prayer Grounds over COVID-19 Order Violation
March 30, 2020
By Olawale Ajimotokan in Abuja
The Federal Capital Territory Administration (FCTA) Compliance Enforcement team has shut over 23 neighbourhood mosques and prayer grounds in Maitama, Wuse, Garki and Asokoro districts of the FCT. They were shut for violating the ban that all places of worship in the FCT should not open for religious activities to the public as a measure to mitigate the spread of coronavirus pandemic.
It was gathered that the affected mosques were closed on Sunday night, which incidentally was the same day the compliance team closed 15 churches and arrested Pastor U.U. Uden, the General Overseer of the Jesus Reign Family Church, Apo for conducting a full church service in breach of the directive.
The enforcement team that was splintered into six different groups went into different districts in Abuja to monitor compliance order during the evening Maghrib prayer.
However, to the shock of the team, it discovered many congregants steadily steaming into mosques without recourse to the social distancing directive banning large number of people from gathering for any activity to prevent them from contracting COVID-19.
Some of the worshippers were stopped from praying in the mosques and instead asked to return to their homes and pray since they had already performed ablution.
In other areas the team arrived later in the night and saw Muslim prayer sessions being carried out, it warned the worshipers to henceforth pray at their homes as congregating in mosques and prayer grounds was in contravention of the government order.
It will be recalled that as a coronavirus safety measure, the Nigerian Supreme Council for Islamic Affairs (NSCIA) had also ordered the closure of all mosques in the FCT, including the National Mosque and had sought cooperation of all Imams to ensure compliance with the directive.
https://www.thisdaylive.com/index.php/2020/03/30/fcta-shuts-23-mosques-prayer-grounds-over-covid-19-order-violation/
-----
Pakistan
210 quarantined in Hyderabad mosque
March 30, 2020
210 people belonging to Tablighi Jamaat have been quarantined at Noor Masjid Qasimabad, while out of these two Chinese had been sent to Civil Hospital Hyderabad in which one reportedly is Corona virus infected.
The 208 people of Tablighi Jamat had been isolated in the Masjid where their tests were being conducted. Besides this eight Corona suspected people had been sent to quarantine center established at Government Hospital Kohsar, Latifabad through ambulances. The Medical Superintendent of the hospital informed that these 8 people were residents of Hyderabad.
https://www.brecorder.com/2020/03/30/584718/two-10-quarantined-in-hyderabad-mosque/
-----
Sindh govt readies to provide food to daily wagers with support from welfare organisations
March 29, 2020
Imtiaz Ali
The Sindh government has launched an online portal and an application named Sindh Relief Initiative Application, through which welfare organisations can register themselves and work with official authorities to provide food and necessary items to daily wage workers who are unable to find work during the lockdown.
Chief Minister Murad Ali Shah, while chairing a meeting attended by heads of welfare organisations, provincial ministers, advisers and the provincial police chief amongst others, said that there were around 10 million people — or 1.4 million families — in the province who work on daily wages, according to the census conducted in 2017.
Around 25 per cent of those workers, Shah said, are associated with the construction industry while 35pc are affiliated with textile or ancillary industries. All of them are registered with the Employees Old-Age Benefits Institution (EOBI). The remaining 40pc, who worked in the transport and cottage industries or in the small and medium-sized enterprises (SME) sectors, are not registered with EOBI or Sindh Employees Social Security Institution, Shah noted, saying that his government aimed to provide ration bags to every family depending on daily income.
The beneficiaries of the project, the daily wage workers, will have to register themselves on the application. The registration will require the person's National Identity Card number to avoid duplication.
Similarly, welfare organisations, donors and volunteers will also need to register on the application so that working groups can be created and coordination and uniformity in the disbursement of ration bags can be maintained.
The government, along with the non-profit organisations, would deliver food and necessary items to people at their homes.
"Standard Operation Procedure (SOP) for disbursement [is] to be signed by all stakeholders," Chief Minister Shah said, adding that the government was "making use of technology for disbursement data management and record-keeping".
The chief minister said that Minister for Energy Imtiaz Shaikh, Minister for Local Government Nasir Shah and Adviser Murtaza Wahab would be coordinating with the organisations.
Shah revealed that the government, with support from welfare organisations like Saylani, Chhipa, Alamgir, Zindagi Trust and others, has started the distribution of ration bags and around 200,000 families have so far been provided with supplies which would last around 15 days.
The Sindh government had imposed a 15-day lockdown in the province on March 23 in order to curb the spread of the novel coronavirus, which has so far infected 502 people in the province. While many patients had a recent travel history, the number of locally transmitted cases is on the rise.
https://www.dawn.com/news/1544757/sindh-govt-readies-to-provide-food-to-daily-wagers-with-support-from-welfare-organisations
------
Sindh govt urged to investigate, notify cases of virus-affected healthcare workers
March 30, 2020
Faiza Ilyas
KARACHI: The government must investigate and separately notify cases of health workers testing positive for the coronavirus to discourage misinformation and to effectively address lapses in the system.
This was shared by health experts who spoke with Dawn in the backdrop of media reports suggesting that a number of health workers, including doctors, had contracted the coronavirus in the country.
So far, according to media reports, such cases have been reported in Karachi (at least five), Sukkur (one case), Larkana (one suspected case), Khairpur (one case) Multan (five suspected cases), Rawalpindi (one case) and D.G. Khan (one case).
Last week, young physician Dr Usama Riaz became the first Pakistani doctor who died of Covid-19. He was involved in screening suspected coronavirus patients arriving in Gilgit-Baltistan from abroad.
According to health professionals, this trend indicates that many health workers are still working without sufficient supplies of personal protective equipment and that they might also be negligent in handling asymptomatic coronavirus patients — a potential source of the virus transmission.
In the case of Sindh, however, only one case was officially confirmed by the health department when asked to comment on the subject.
"So far, we have information about only a doctor who has contracted the virus at a Khaipur hospital," said health department spokesperson Atif Vighio, admitting shortages in providing personal protective equipment (PPE) to the staff at the taluka level.
"Right now, the silent carriers of coronavirus (Covid-19 patients without symptoms) have become a real challenge for us (which are causing infection in hospital settings). To address this, all healthcare staff needs to have PPE," he said, adding that the staff at government-designated quarantines and isolation wards were fully equipped with PPE.
In Karachi, sources said, several cases of coronavirus infection have been reported among healthcare workers at the Aga Khan University Hospital (AKUH) and the Liaquat National Hospital (LNH).
In a statement, the LNH clarified that "there is no case of hospital acquired infection. One of the doctors who recently attended the Raiwand religious congregation was tested positive for coronavirus.
The AKUH, however, neither denied nor confirmed the information. "Similar to the experience across the globe, in a pandemic of this magnitude, it is probable for healthcare professionals to become exposed and some may even contract the infection, despite following the strictest of infection control practices, in line with the international guidelines "At AKUH, any healthcare staff who may be exposed are immediately tested and provided appropriate care," reads a statement of the hospital.
Commenting on the subject, Dr Abdul Ghafoor Shoro, a senior family physician and the general secretary of the Pakistan Medical Association-Karachi, said it's literally impossible to hide information in this day and age. Hence, it's better to state facts.
"Second, concealing information means that you are not just damaging public trust but also putting lives of patients and healthcare workers at risk."
He further said the health department must take charge, investigate and separately release data on health workers testing positive for the coronavirus.
https://www.dawn.com/news/1544811/sindh-govt-urged-to-investigate-notify-cases-of-virus-affected-healthcare-workers
-----
Sindh govt should have 'full plan' if lockdown prolongs: Bilawal
March 30, 2020
KARACHI: Pakistan Peoples Party (PPP) chairman Bilawal Bhutto-Zardari has asked the Sindh government to come up with "a full plan in case the lockdown is prolonged" and warned he will not tolerate any shortfall in provision of assistance to those who are facing consequences of the coronavirus pandemic.
It was government's foremost responsibility to ensure that not a single citizen remains hungry, said the PPP chairman at a meeting on preparation of mechanism for providing assistance to daily-wagers held at Bilawal House on Sunday, according to a statement.
The meeting attended by Sindh Chief Minister Syed Murad Ali Shah, ministers Syed Nasir Hussain Shah, Imtiaz Sheikh, Murtaza Wahab, Saeed Ghani and Harris Gazdar on video link held detailed consultation on how to identify deserving persons and how to access them with targeted relief, said the statement.
"The chief minister informed Bilawal about the government's performance so far in this regard and the PPP chairman directed him to reach house of every deserving person and provide him with ration," it said.
Bilawal stressed the need for creating a system that helped the government, welfare organisations and philanthropists to work in unison to maximise relief efforts.
In this regard, he directed the Sindh government to immediately consult with donors and officials of welfare agencies and reach out to philanthropists to form a joint action plan.
He said in a message to philanthropists and welfare agencies that the Sindh government had prepared a plan of action and their help was needed to make it a success. "The charity and welfare organisations can be more effective if they work with the Sindh government," the statement quoted the PPP chairman as saying.
"I call upon everyone to 'help his neighbour'. This is a time of global crisis and it requires us to unite in our humanity. We are stronger together and must lift everyone else with us," he said.
He said that all people had to be united to overcome and defeat this crisis. "The Sindh government should have a full plan in case the lockdown prolongs," he added.
He appealed to general public to fully comply with the lockdown order because only with strict implementation of the preventive measures "can we cope with the coronavirus pandemic".
Bilawal said that the most important thing for him was to safeguard people's lives, and directed the Sindh government to screen a maximum number of suspected coronavirus patients in Sindh so that "we can save more lives".
He showered praise on doctors and other medical staff at coronavirus emergency centres and hospitals who were risking their lives to keep others safe. "They deserve all the credit in the world," he said.
https://www.dawn.com/news/1544802/sindh-govt-should-have-full-plan-if-lockdown-prolongs-bilawal
-----
Govt claims 27pc cases due to local transmission
Ikram Junaidi
March 30, 2020
ISLAMABAD: Only a day after the government claim about low mortality rate of coronavirus in Pakistan and the decision to extend borders closure for another fortnight, the death toll jumped to 16 with two women in Punjab, a man in Khyber Pakhtunkhwa and a medical professional in Gilgit-Baltistan (GB) among the latest victims.
A female patient of Covid-19 in Rawalpindi and another woman, who had been under treatment in Rahim Yar Khan since her recent return from Saudi Arabia, died on Sunday while Abbottabad witnessed the death of an elderly man and a radiologist lost his life while serving in GB's Nagar district.
Punjab Chief Minister Sardar Usman Buzdar in the late evening hours tweeted, "Sadly we have lost another soul to Covid-19 today. A 68-year-old lady who came from KSA and was under treatment in RYK. So far we have lost 6 lives while 593 patients are under treatment."
In Khyber Pakhtunkhwa, provincial information minister Ajmal Wazir confirmed to the media that a 78-year-old patient in Abbottabad died due to which number of casualties in the KP province rose to five.
In Gilgit-Baltistan, another medical staffer, Malik Ashdar, died from coronavirus. The radiologist was serving at a government health unit in Sumair village of Nagar. He was shifted to Minapin quarantine centre in Nagar district before his death. The deceased had no foreign travel history, officials said.
Special Assistant to Prime Minister on Health Dr Zafar Mirza earlier told a presser in Islamabad that 420 cases, which was over 27 per cent of the 1,526 confirmed case, were the result of local transmission of virus.
The PM's aide said: "Over 120 cases have been reported during the last 24 hours. But a good thing is that as many as 28 victims have been fully recovered. We have reduced the pace of cases due to effective steps of social distancing but all those successes can be ruined if people ignore social distancing.
"As many as 857 cases were reported in the persons who had travelled to Iran and 191 persons, found positive for Covid-19 tests, had travelled to different countries other than Iran," Dr Mirza said.
The Balochistan home minister told the media in Quetta that the provincial government had fulfilled its obligation to keep the pilgrims, who had returned from Iran, in quarantine and handed over their complete record to the provincial governments.
While talking about the supplies of personal protective equipment (PPE), the PM's aide said that supplies, sufficient for one month, had been provided to the administrations of Islamabad, Gilgit-Baltistan and Azad Jammu and Kashmir.
Earlier in the twin cities of Islamabad and Rawalpindi, two doctors of Polyclinic hospital and another doctor of Benazir Bhutto hospital tested positive. Twenty eight doctors and two paramedics were shifted to quarantine afterwards.
Meanwhile, a team of Chinese health experts, led by Ambassador of China to Pakistan Mr Luo Zhaohui, visited the National Institute of Health (NIH) for sharing their expertise in the fight against Covid-19.
NIH Executive Director Maj Gen Aamer Ikram briefed the Chinese team comprising epidemiologist, ICU specialist, IPC specialist, medical specialist and outbreak control specialist about the situation of Covid-19 in Pakistan and major response activities. The Chinese ambassador said Pakistan was the first priority for China as both countries were all-weather friends. China would continue to support Pakistan, he added.
While sharing the global situation, the PM's aide on health told the media that over 650,000 people had contracted the disease and over 31,000 had died across the world.
In Sindh, officials and sources said, 33 patients tested positive for the virus despite the lockdown being enforced by law-enforcement agencies and the appeal to the masses for social distancing.
Sharing the latest number with the media, the spokesperson for the health ministry confirmed that all the new 33 cases were caused by local transmission of the deadly virus. The number of patients in Karachi grew to 222 out of total 502 cases across the province. Among them, 171 patients were those who suffered the infection as secondary contacts with no history of international travelling.
In Balochistan, however, seven out of total 141 cases were caused by local transmission amid the lockdown being enforced in all 33 districts for a sixth consecutive day.
While talking to reporters Balochistan Home Minister Mir Ziaullah Langove appealed to the people once again to show patience and to remain confined to their homes. "The Balochistan government will not leave people alone in difficult conditions," he said.
While responding to a question, he said the provincial government had contacted the federal government as soon as the epidemic came to light. "It was advised that Iranian government be contacted that Pakistani pilgrims shall not be sent back to Pakistan without screening. According to him, the provincial government had also informed the Iranian authorities of this concern and they had no option but to allow thousands of pilgrims to return to the country.
Meanwhile, a Pakistan Air Force (PAF) IL- 78 aircraft carrying 14 tonnes of cargo comprising ventilators, N95 masks and protective gear landed at PAF Base Nur Khan.
https://www.dawn.com/news/1544898/govt-claims-27pc-cases-due-to-local-transmission
------
South Asia
Afghan government to host Taliban delegation in Bagram, prisoners release postponed
30 Mar 2020
The Office of the National Security Council confirmed that the Afghan government will host the Taliban delegation in Bagram prison to discuss the release of prisoners.
According to a statement released by Office of National Security Council, the Taliban group, being supported by Red Cross, is due to send its delegation to Kabul.
The statement further added that the Afghan government will host the Taliban delegation in Bagram prison during which further negotiations would take place regarding the release of prisoners.
Meanwhile, Javid Faisal, a spokesperson for the Office of the National Security Council said the release of prisoners has been briefly postponed.
"There is no prisoner release happening tomorrow. Taliban agreed in the video conference yesterday to send a team to Kabul to hold further technical discussions with the government of the Islamic Republic of Afghanistan," Faisal said in a Twitter post.
This comes as efforts are underway to release at least 5,000 Taliban prisoners from the Afghan jails following the signing of peace deal between the United States and Taliban.
The release of the prisoners is expected to pave the way for the launch of intra-Afghan peace negotiations aimed at finding a negotiated political settlement to resolve the conflict in Afghanistan.
https://www.khaama.com/afghan-government-to-host-taliban-delegation-in-bagram-prisoners-release-postponed-04585/
-----
6 Afghan soldiers 'Martyred' in Taliban attack in Zabul: MoD
30 Mar 2020
The Ministry of Defense (MoD) confirmed that six Afghan soldiers lost their lives in a Taliban attack in southern Zabul province of Afghanistan.
According to a statement released by MoD, the Taliban militants attacked the security posts in Arghandab district of Zabul province on Sunday night.
The statement further added that the security forces responded to the attack, inflicting heavy casualties on Taliban militants.
However, the defense ministry said six soldiers of the Afghan National Army embraced martyrdom during the clash with the Taliban militants.
The Taliban group has not commented regarding the clash so far.
https://www.khaama.com/6-afghan-soldiers-martyred-in-taliban-attack-in-zabul-mod-04584/
-----
Truck laden with 4,000 kgs of explosives seized in West of Afghanistan
30 Mar 2020
The Afghan force seized a truck laden with 4,000 kilograms of explosives in western Herat province, the Ministry of Interior (MoI) said.
According to a statement released by interior ministry, the security forces seized the truck in Kang Village of Ghorian district of Herat.
The interior ministry also added that the terrorist groups, specifically the Taliban group use the Ammonium Nitrate substance to carry out explosives and manufacture improvised explosive devices.
https://www.khaama.com/truck-laden-with-4000-kgs-of-explosives-seized-in-west-of-afghanistan-04583/
----
Taliban attack repulsed in Kandahar, 6 militants killed
30 Mar 2020
he Afghan forces repulsed an attack by Taliban in southern Kandahar province of Afghanistan, killing at least six militants during the clash.
The Special Operations Corps in a statement said the Taliban militants launched an attack against the security forces in Maruf district of Kandahar on Sunday.
The Afghan artillery units also carried out strikes against the enemy positions in the outskirts of Uruzgan city of Uruzgan province and killed 4 militants, teh statement added.
The Special Operations Corps also added that the security forces also destroyed two hideouts and some weapons and munitions of the militants during the operation.
The anti-government armed militants including Taliban have not commented in this regard so far.
https://www.khaama.com/taliban-attack-repulsed-in-kandahar-6-militants-killed-04582/
-----
Europe
Over 800 attacks on Muslims in Germany in 2019: media
28.03.2020
The latest German government figures give an indication of the scale of violent Islamophobia in the country. While the numbers have remained steady, one Bundestag MP called the situation "a ticking time bomb."
German regional daily Neue Osnabrücker Zeitung reported the information, citing the government's response to an inquiry submitted by a member of the opposition socialist Left party.
Ulla Jelpke, the Left's spokesperson on domestic affairs, said that based on experience she expected up to another 90 cases to be added to the list.
She added that it was too early to give the all-clear, despite police stepping up action against extreme right-wing groups in the aftermath of recent attacks.
In February, a gunman motivated by right-wing and racist ideology killed nine people in two hookah bars the city of Hanau, in western Germany. All of the victims had foreign heritage, including Turkish and Bosnian.
Such attacks have led some to speak out about the daily fear of violence that Muslims in Germany must grapple with, while officials have come in for criticism for underestimating right-wing terror for too long.
dw.com/en/over-800-attacks-on-muslims-in-germany-in-2019-media/a-52947761
------
Thanking the medical teams at Wexham Park with hot pizza
29th March,2020
Members of the Masjid Al Jannah mosque in Stoke Road delivered hot pizzas to front line staff at Wexham Park Hospital in Slough on Thursday last week.
Newly elected president of the mosque Hamjath Aneef, accompanied by vice-president Nazeer Marzook and treasurer Akram Azeez were among those who came along to show their appreciation to the hospital heroes.
A spokesman for the mosque said: "Masjid Al Jannah are always in the forefront in any emergencies whether it is local, national or international.
"This humanitarian act is to show the solidarity that Sri Lankan Muslim Community in Slough have for the hard working NHS staff who are working tirelessly, putting their own lives at risk 24/7 to the betterment of their fellow human beings."
https://www.windsorobserver.co.uk/news/18339717.thanking-medical-teams-wexham-park-hot-pizza/
-----
Russia moves toward nationwide lockdown as coronavirus spreads
Mar 30, 2020
Russia moved toward a lockdown across the world's largest country by area on Monday to try and halt the spread of coronavirus, following Moscow Mayor Sergei Sobyanin's order for residents to stay in their homes.
Heads of all Russia's regions should adopt similar restrictions as those announced in the capital and surrounding areas, Prime Minister Mikhail Mishustin said at a televised meeting with deputy premiers.
Moscow's 12.7 million people were ordered to stay home starting Monday, with limited exceptions for emergencies, in the strictest measures yet imposed in a major Russian city. Confirmed infections in Moscow jumped overnight to 1,014 on Sunday and make up two-thirds of the country's total.
Sobyanin warned in a website statement that the expansion of the virus in Europe's largest capital city "has entered a new phase." He said that the authorities will shortly introduce passes to permit movements outside the home in the coming days, with a "smart system" of remote monitoring to ensure compliance.
Other than for emergency medical reasons or work obligations, residents will be allowed to walk outside their homes only to visit their nearest food store or pharmacy, to take out trash, or to take pet animals within 100 meters of their buildings. While outside, people will be required to maintain a distance of at least 1.5 meters from others.
The lock-down comes after Sobyanin ordered last week non-essential businesses to close to slow the spread of the illness. He has been among Russia's most vocal proponents of tough restrictions to counter coronavirus in a crisis that has undermined the Kremlin's ability to get its message out clearly.
"Movement in the city is down by two-thirds and that's very good," Sobyanin said in the statement. "But it's obvious that far from everyone has heard our message."
The World Health Organization's representative in Russia complained at the weekend that Muscovites were flouting the authorities' advice to stay home and keep "social distancing." The capital was packed with people out on the streets in warm spring weather on Saturday and other regions saw a sudden influx of Moscow residents taking advantage of a week-long paid time off decreed by Putin.
Nikolai Malyshev, a leading infectious diseases specialist in the Health Ministry, warned on state TV last week that Russia is readying itself for an "explosive development like a nuclear reaction" with the coronavirus epidemic. In the near future, "large numbers of people will fall ill and need medical treatment," he said.
Sobyanin said people will still be able to leave or enter Moscow but the new rules are aimed at restricting "moving around the city without any reason."
Putin announced in a March 25 national address that this week will be a non-working one. But he didn't commit to any drastic measures limiting movement, instead promising benefits to get companies and individuals through the crisis. After signs that many Russians had interpreted the measure as an opportunity to take vacation, Kremlin spokesman Dmitry Peskov told reporters Friday that the president's statement was really an order to work from home.
Putin's top public health official, Anna Popova, as recently as last Monday ruled out locking down the capital, while Sobyanin pushed a harder line the following day, warning the president that the number of reported cases of the coronavirus understated the problem.
While its total number of declared cases is still low by comparison with many other countries, Russia has been adopting progressively stricter measures against coronavirus in the past week. The government halted all international flights as of Friday and Mishustin called on regions to close most businesses, while stopping short of ordering them to do so. The government closed all of Russia's land borders effective Monday.
Russia is also mobilizing the army to help battle the epidemic, and the Defense Ministry announced plans to build 16 hospitals to treat coronavirus patients around the country by mid-May.
https://www.hindustantimes.com/world-news/russia-moves-toward-nationwide-lockdown-as-coronavirus-spreads/story-GPgh3iLcoKRzgzPmu1PvlK.html
-----
North America
Shia LeBeouf and ex-wife Mia Goth reconcile two years after separating
March 30, 2020
By Amanda
Shia LeBeouf and Mia Goth are giving their marriage a second chance, almost two years after they filed for divorce.
Shia Lebeouf and Mia Goth were spotted packing on the PDA in Los Angeles, with their wedding bands gleaming on their ring fingers, reports Mail Online.
In pictures obtained by the outlet on Friday, LeBeouf and Goth were seen dressed in athletic wear sitting on a park bench in the actor's LA neighborhood of Pasadena, California, with a bike parked on each side. The couple looked cozy and stole sweet kisses from each other, while the "Emma" actress kept her hand on her husband's inner thigh.
The couple was again seen together in a park on Sunday, having fun on a bike ride, and later indulging in a full-blown PDA. The "Honey Boy" actor arrived in a blue sweater, black activewear tights and a pair of shades, but later spent much of his time shirtless flaunting his numerous body tattoos, with his white t-shirt tucked in the tights.
Meanwhile, Goth looked her casual self as she tied her white-sweatshirt on her waist, looking workout ready in a white camisole over marron athleisure trousers. The couple was clicked sitting on a park bench, Goth busy on her phone while her husband enjoyed a smoke.
Speculations of the couple rekindling their romance first started when the 33-year-old actor was spotted with his wedding band while attending the Academy Awards last month. The couple, who first got together while shooting for "Nymphomaniac" in 2012, has had several controversies in their relationship even before their wedding.
In a clip obtained by Entertainment Tonight in July 2015, three years into their relationship, LeBeouf was heard telling locals in Germany after an argument with girlfriend Goth that he "would have killed" her. However, the American actor married the 26-year-old in October next year in a secret Las Vegas ceremony
https://www.ibtimes.co.uk/shia-lebeouf-ex-wife-mia-goth-reconcile-two-years-after-separating-1677069
------
Trump: US coronavirus death toll could be 100,000 or more
30 March 2020
US President Donald Trump says his country would be doing "a very good job" if it can hold the number of coronavirus deaths at or below 100,000.
Speaking an evening news conference at the White House on Sunday, Trump conceded the deaths in the United States from coronavirus could reach 100,000 or more.
Trump said he received the "most accurate" or "most comprehensive" study today about the potential death toll from the COVID-19 which has already killed more than 34,000 and infected 722,000 across the world.
"When I heard the number today. First time I heard that number, because I have been asking the same question to some people. I felt even better about what we did last week with the $2.2 trillion dollars," Trump said referring to the stimulus package passed by Congress last week.
"Because you are talking about a potential of up to 2.2 million and some people said it could even be higher than that. You are talking about 2.2 million deaths. 2.2 million people from this," Trump said.
Earlier, the director of US National Institute of Allergy and Infectious Diseases warned that the country could experience up to 200,000 deaths and millions of infections.
"Looking at what we're seeing now, I would say between 100,000 and 200,000 deaths. We're going to have millions of cases," Dr. Anthony Fauci said, noting that projections were subject to change, given that COVID-19 outbreak was "such a moving target."
Over the past weeks, Trump had downplayed the escalating national crisis multiple times, but now the US has become the hotbed of the pandemic.
Meanwhile, Trump accused hospitals on Sunday of hoarding ventilators that are in shortage in the country, urging hospitals to release them.
"We have some healthcare workers, some hospitals ... hoarding equipment including ventilators," Trump said at the White House after holding a meeting with corporate executives.
The spread of the coronavirus has accelerated in prisons in the United States. The coronavirus outbreak has swept through New York's Rikers Island jail system.
Prisoners have no access to gloves or proper masks and have only cold water to wash their hands, an inmate told the Reuters news agency.
"We are pleading with officers" for better defenses, he said. "They just shrug. In the end, we are just inmates, second-class citizens. We are like livestock."
US crude oil prices fell to 20 dollars a barrel, close to their lowest level in 18 years, following the collapse in demand because of the coronavirus pandemic.
US West Texas Intermediate (WTI) crude futures dipped below $20 per barrel to $19.90 on Sunday, losing more than 6 percent.
Key Asian markets started the week on Monday with fresh losses as investors cashed in amid uncertainties over a prolonged global shutdown for the coronavirus outbreak.
https://www.presstv.com/Detail/2020/03/30/621917/Trump:-Coronavirus-could-kill-100,000-Americans
-----
URL: https://www.newageislam.com/islamic-world-news/delhi-coronavirus-175-tested-2000/d/121440
New Age Islam, Islam Online, Islamic Website, African Muslim News, Arab World News, South Asia News, Indian Muslim News, World Muslim News, Women in Islam, Islamic Feminism, Arab Women, Women In Arab, Islamophobia in America, Muslim Women in West, Islam Women and Feminism