New Age Islam News Bureau
13 Sept 2018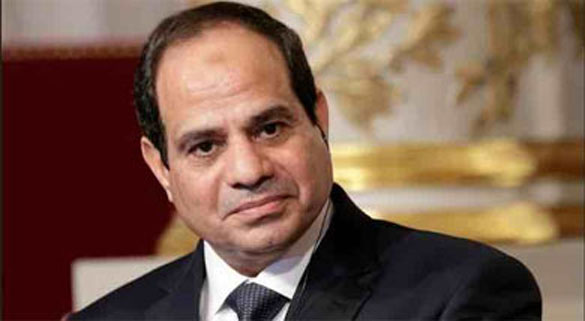 In Egypt, the president appoints the governors of the country's provinces. This practice began with President Nasser after the kings' era.
-----
• Defying Islamic Sharia, Al-Sisi Appointed Two Christian Governors to Two Principally Christian Provinces
• 14 Ulema from Various Schools Of Thought, Banned From Entering Islamabad for Two Months
• 'You Are Not Alone,' OIC Delegation Tells Rohingya after Visiting Their Camps
• Not All Shariah Punishments Should Be Public, Says Amanah Rep
• LGBT-Friendly Berlin Mosque Deradicalises Muslim Youth
• Muslim Sanskrit Scholar of Four Vedas Offers Free Tuitions
Arab World
• Defying Islamic Sharia, Al-Sisi Appointed Two Christian Governors to Two Principally Christian Provinces
• HRW Calls On Saudi to 'Immediately' Release Cleric
• US-Backed Militia Targeted by Bomb Blasts in Raqqa
• US Setting up More Military Bases in Hasaka in Northeastern Syria
• White Helmets Organization Planning to Transfer Chemicals to New Locations in Syria's Hama
• US Republicans seek sanctions on Iraqi militias with Iran ties
• Car bomb attack kills 7, injures 30 in Iraq's Salahuddin province
--------
Pakistan
• 14 Ulema from Various Schools Of Thought, Banned From Entering Islamabad for Two Months
• Top Court Refuses To Void LHC Order Letting Banned JuD Continue Operations
• PM Visits ISI Headquarters, Given Eight-Hour Briefing
• Moot Emphasises Inter-Sect Harmony during Muharram
• Sharif's Home Declared Jail While On Parole to Mourn His Wife's Death
• Press freedom in Pakistan under pressure by military: Report
• Iran, in shadow proxy war with Saudis, expands its Pakistan influence
• ECP rejects plea for cancellation of PML-N registration
• Yet to see evidence linking Nawaz to London flats: IHC
• Three 'IS militants' arrested in Karachi
• PM hails ISI's role in war against terror
--------
South Asia
• 'You Are Not Alone,' OIC Delegation Tells Rohingya after Visiting Their Camps
• Myanmar Finally Grants UN First Access to Rakhine before Rohingya Returns
• Bangladesh Says It Won't Assimilate Rohingya Muslims
• Suu Kyi says handling of Rohingya could have been better
• U.S. Airstrikes Leave At Least 30 Taliban Dead In Ghazni Province
• Pakistani Militants among 35 Killed In Paktia Operations: Officials
• U.S. military release HIMARS strike video on weapons, explosives cache in Helmand
• ICC shrugs off US threats over Afghan war crimes probe
--------
Southeast Asia
• Not All Shariah Punishments Should Be Public, Says Amanah Rep
• Okay For Non-Muslims to Question Caning, Says Preacher
• Anwar 'Appalled' By Suu Kyi over Rohingya Issue, Criticises China's Muslim Camps
• Concerns are growing that Malaysia is going backward in terms of religious freedom
• There are attempts to de-Islamise Malaysia, PAS supremo warns members
--------
Europe
• LGBT-Friendly Berlin Mosque Deradicalises Muslim Youth
• Saudi Arabia, UAE 'Lead Way in Fighting Terror Ideology': Tony Blair
• French Islam Reform Report Claims Radical Salafism Dominates Islamic Intellectual Circles
• Germany can't look away if Syria uses chemical weapons
--------
India
• Muslim Sanskrit Scholar of Four Vedas Offers Free Tuitions
• Coins Found at Delhi's Khirki Mosque May Be from Sher Shah's Era
• Gurgaon Mosque with 'Loud' Loudspeakers Sealed, Civic Body Says It's too close To IAF Ammunition Depot
• TMC Muslim Leaders Ask Muslims to Refrain From Brandishing Swords on Muharram
• Optimistic about new Pakistan govt bringing Taliban to negotiating table: Abdullah
• Delhi: Court sends two suspected ISJK terrorists to judicial custody
• India committed to Bangladesh's development: Indian High Commissioner
• One injured in terror attack near Jammu; police detain two
--------
Mideast
• Terrorists Warn Erdogan to Occupy Turkish Territories
• Israeli Military Sends Reinforcements To Palestinian Village To Begin Its Demolition
• Palestinian officials considering retaliatory measures against US penalties
• Saudi-led airstrikes kill 15 civilians in Yemen's Hudaydah
• Turkish forces arrest Austrian journalist, activist on terrorism-related charges
• Czech leaders endorse 'first step' in embassy move to Jerusalem
• Yemeni information minister talks Arab Coalition, Houthis and peace prospects
• Yemeni army cuts off supply road between Hodeidah and Sanaa
--------
Africa
• South Sudan President, Rebel Leader Sign Peace Deal
• Top Al-Shabaab Operative 'Killed' In Ambush
• Conditions for elections not yet ripe in Libya, says Prime Minister Seraj
• Liberia: Muslims Resolved to Promote Peace, Fight Extremism
--------
North America
• Pompeo Certifies Saudi Arabia, UAE Protecting Civilians
• Lawmakers, Citing Muslim Camps, Ask Commerce Dept. to Limit Technology Sales to China
• Republican congressional candidate called Obama a secret terrorist-supporting Muslim
• Why 1,000 bodies of 9/11 victims were never found
• Czech leaders endorse 'first step' in embassy move to Jerusalem
Compiled by New Age Islam News Bureau
URL: https://www.newageislam.com/islamic-world-news/defying-islamic-sharia-al-sisi/d/116367
--------
Defying Islamic Sharia, Al-Sisi Appointed Two Christian Governors to Two Principally Christian Provinces
September 12, 2018
In Egypt, the president appoints the governors of the country's provinces. This practice began with President Nasser after the kings' era. Last month, President Al-Sisi appointed two Christian governors to two principally Christian provinces—the highest concentration of Christians in all of rural Egypt—located in Upper Egypt and West Egypt. This is monumental in a country where Islamic sectarianism dictates politics.
When Al-Sisi took office in 2013 for a four-year term, he immediately appointed new governors, all Muslim, for each of the 27 provinces as did his predecessors – Mubarak, Sadat, and Nasser. Now in the beginning of his second term, Al-Sisi replaced two of his original governors at the end of their six-year terms with two Christians – the first time in modern history that some all-Christian towns would have a Christian administration. However, there was one earlier unsuccessful attempt at this by Egypt's military interim government (SCAF) in 2012 after Mubarak was ousted.
This has inspired an outpouring of positive enthusiasm from Egypt's Coptic community bringing hope and optimism where disappointment and anger was mounting against the Al-Sisi government by many. It remains to be seen as of yet if any opposition will come from the Muslim community and if their terror elements will respond with violence.
Egyptian Copts in the diaspora are also pleased with the president's appointments. Social media commentary and op-eds indicate the feeling that Al-Sisi is taking Egypt in the right direction. There is talk about equal rights, equal opportunity and progress toward liberal democracy and leaving Sharia principles in the dust. Al-Sisi's appointments are in striking contrast to the status quo of the erosion of rights and common decency toward the lives of Copts in Egypt in recent decades.
Before Nasser's time, such appointments or elections were not extraordinary news but a regular matter. Prior to the coup of 1952, Copts were involved in Egyptian political life after Mohammed Ali detached the country from Turkey (at the fall of the Ottoman Empire). The Decree of Equality between citizens allowed Copts to be governors of provinces, and it was commonplace for Copts to serve as provincial governors. Under King Fouad I, Wissa Wasef, a Copt, became the president of the Egyptian Parliament twice (03/1928-07/1928 & 01/1930-10/1930).
With Al-Sisi's recent appointments, it looks as if the president has high regard for the pre-Nasser era. However, when all of the current governmental actions or inactions are taken into account an accurate and truer picture comes to light. Does this picture show improvement for human rights and liberty inclusive of the Coptic minority community or are things getting worse?
Some Egyptians say there is now a new democratic president who is enforcing the law and standing against religious discrimination. They will emphasize the president visiting the Coptic Orthodox Church on Christmas and building a Coptic Cathedral in the new administrative city of Cairo! He pressured the parliament to issue a fairer law regulating church construction. Meanwhile, has it occurred to any of the enamored why church construction is singled out for draconian enforcement while most of the country is allowed to navigate illegally?
The act of appointing two Christian governors has a basis in Article 9 and Article 14 of Egypt's current (2014) constitution. However, Copts are astonished when credence is given to the anti-discrimination constitutional precepts. Article 9 states that "The state is committed to achieving equality of opportunity among all citizens, without discrimination." Article 14 says that "Public functions are the right of citizens on the basis of competence, without favoritism or mediation, and its assignment is to serve the people …" In essence; Al-Sisi is being thanked today by his constituency for his surprising regard for the liberal articles of the constitution in spite of Article 2 (Sharia).
It was certainly extraordinary for the president to appoint two Christian Coptic governors to these particular regions when you consider his record: a long span of unchecked violence against Copts, Coptic-victim persecution through archaic "arbitration" courts, forced evacuation from homes and villages of Coptic victims of brutality, and Christian murders uninvestigated and unprosecuted.
Under Al-Sisi's watchful silence the prejudicial permit requirements remain in place against church construction, oppressive use of permits target Christians who pray inside their own homes, unenforced laws regarding regulated and permitted city and town services while selectively exacting on trivial matters within the Christian community, Orthodox churches destroyed by terror elements inside the state without government aid to rebuild, local police cooperation with sectarian terrorists inside villages against Coptic residents, and many churches forced to shut down and remain uninhabitable.
Considering all of this, let's explore the potentially darker motives for the latest Christian appointments—those that suit the Al-Sisi government through exploitation of an eager and naive Christian minority certain to favor Al-Sisi for it and gush over his "advancements." Al-Sisi favors himself by turning Copts away from their focus upon the urgencies boiling in Al Minya (stated above) and tempering the potential for growing anger toward the president. If Muslim violence should ensue over the loss of two Muslim governors and the newly-installed Christian governors, Al-Sisi may end up withdrawing his appointments to please the Islamist deep state in a win-win situation for his administration.
Nominating Coptic Christians along with planned Islamist protests would offer Al-Sisi the chance to dismiss the Coptic governors he just appointed for the sake of "peace". Actually, he could either withdraw the appointees or stand firm with them to prove his power over terror elements, mainly to the West. Of course, if no Islamist protests are pre-planned by the government but a spontaneous one erupts—after all, Islamic law mandates that a non-Muslim will not have authority over a Muslim – the outcome either way benefits Al-Sisi's image. His government is then separated from the terror elements that are continually permitted to get away with murder.
This is nothing new. In 2012 after the ouster of Mubarak, the military interim government (SCAF) chose, Imad Shehata, a Copt, for governor of Qena Province. Egyptian Salafists and Muslim Brotherhood held noisy demonstrations against Shehata, cutting off the train line that runs through the province and threatening to kill the designated governor if he accepted the nomination. The SCAF surrendered to Islamist demands.
Why did SCAF choose to appoint a Christian governor at that moment? While aligning with the Muslim Brotherhood (a terror group), SCAF proved it would stop at nothing including cold-blooded murder of peaceful Mespero (Christian) protesters. SCAF then demonstrated by the Shehata appointment that it favored Copts after all and separated itself from the terror groups targeting Copts.
Bringing these facts to light and reflecting on the deeper issues is the only way to begin to understand the true nature of the difficulties in Egypt. It is especially apparent that no solutions are emerging from the political elite who accomplish very little while manipulating the people to maintain the status quo or incite a worse situation.
https://canadafreepress.com/article/egypt-president-appoints-two-christian-governors-defying-islamic-sharia
--------
14 Ulema from Various Schools Of Thought, Banned From Entering Islamabad for Two Months
Munawer Azeem
September 13, 2018
ISLAMABAD: The capital administration on Wednesday banned the entry of 14 Ulema from various schools of thought in order to avoid a law and order situation and the loss of public life and property.
A ban was also imposed on the activities of 12 other ulema who are residing in the capital.
According to the order, these ulema will not enter, reside or remain in the capital for the next two months. According to the reports, these religious scholars were known for making inflammatory speeches.
The order was issued by District Magistrate Islamabad Mohammad Hamza Shafqat based on reports received from the Special Branch and the Islamabad police.
Five Ulema each from the Deobandi and Shia schools of thought and four from the Barelvi sect have been banned from entering the capital.
Those from the Deobandi school of thought are Hafiz Mohammad Saddique from Wah Cantt, Allama Tahir Ashraf who is president of the banned Ahl-i-Sunnat Wal Jammat (ASWJ) Lahore, Maulana Aurangzeb Farooqui who is president ASWJ Sindh, Maulana Mohammad Ilyas Ghumman from ASWJ Sargodha and Maulana Abdul Khaliq Rehmani, Kabirwala in Punjab.
Those from the Shia school of thought are Allama Zakir Syed Maqbool Hassan from Chakwal, Hafiz Tassaduq Hussain from Lahore, Allama Mohammad Iqbal from Chichawatni, Allama Ghazanfar Taunsvi from Bahawalpur and Allama Jaffar Jatoi from Lahore.
The ulema from the Barelvi school of thought are Maulana Mohammad Yousaf Rizvi from Tokey Wali Sarkar Sargodha, Maulana Khadim Hussein Rizvi, emir of Tehreek Labbaik Pakistan, Pir Irfan Al-Mashadi from Lahore and Dr Asif Ashraf Jalali from Lahore.
The capital administration and police are also contacting their counterparts in the districts where these ulema are residing, requesting them to keep an eye on them and avoid their entry into the capital.
Officials said police teams are conducting patrols and have been deployed at entry points.
They have been directed to intercept and arrest these ulema if they are spotted in the capital.
Vigilance has been mounted around the 12 ulema who reside in capital.
They have been informed by the magistrate and the police and have been directed to reduce their activities.
They were asked to submit affidavits and are required to inform the police before any activity and to get prior permission from the capital administration.
The 12 local ulema whose activities were banned include four from the Deobandi school of thought, four Shia, three Barelvi and one Ahl-i-Hadith.
The ulema from the Deobandi school of thought include Maulana Abdul Aziz from Madressah Jamia Hafsa G-7/2, Maulana Abdul Razzaq Haideri who is khateeb of Masjid Abdullah bin Masood in G-9, Abdul Rahman Muaviah who is khateeb of Masjid Rahmani in Aabpara and Qari Ahsanullah, the khateeb of Masjid Qasmia in F-8/3.
The banned Shia Ulema include Allama Sheikh Mohsin Ali Najfi, the principal of Jamia Ahl-i-Bait in F-7/4, Agha Shifa Najfi, who is the khateeb of Imambargah Imamul Sadiq in G-9/2, Allama Ameen Shaheedi, the leader of the Majlis-i-Wahdat-i-Muslimeen (MWM) and Allama Raja Nasir Abbas, MWM general secretary.
The banned Barelvi Ulema include Maulana Prof Zaffar Iqbal Jalali, who is the khateeb of Noor-i-Madina in I-8/4, Allama Liaquat Ali Rizvi, president of Sunni Tehreek Masjid and the khateeb at the Masjid Bilal in Barma Town and Maulana Mohammad Imtiaz Hussain Kazmi who is the khateeb of Masjid Hanifa Ghousia, Bari Imam.
Allama Mohammad Younis Qureshi, the khateeb of Masjidul Furqan in G-9/4 was also banned from conducting activities in the capital.
https://www.dawn.com/news/1432506/14-ulema-banned-from-entering-islamabad-for-two-months
--------
'You are not alone,' OIC delegation tells Rohingya after visiting their camps
September 13, 2018
DHAKA, Bangladesh: A 20-member delegation of the OIC (Organization of Islamic Cooperation) expressed solidarity with the Rohingya refugees when it visited them in Cox's Bazar, Bangladesh, on Wednesday, telling them that they are not alone.
Nine members of the Parliamentary Union of the OIC Member States (PUIC) also joined the delegation.
"We express our solidarity with you, also show our determination that you are not alone," M. Jouhamed Khouraichi Niass, the OIC Parliamentary Union (PUIC) secretary-general, told the Rohingya after visiting their camps.
The delegation started the day-long visit by speaking to several refugee men and women at Ghumdhum for an hour. Later, they visited a UNHCR-run transit center in Kutupalang camp, in the Ukhia sub-district.
The delegation also witnessed a women-friendly center and a child-friendly center in Kutupalang camp, run by the UN Population Fund and the UN children's fund UNICEF respectively. In all the places, the Rohigya shared the horrible experiences and atrocities they had faced at the hands of the army in their homeland Myanmar which forced them to take refuge in Bangladesh.
The PUIC delegation expressed their firm determination to help in the repatriation process of the Rohingya.
"We will discuss using whole channels, diplomatic channels and bilateral channels to help our brothers go back to their native Myanmar. This is what which brought us here today," said Khouraichi Niass, the chief of the delegation.
"All the countries sent us here studying your issue. We will use all means, legal means, to get your rights. This is why we are here today with a big delegation from the PUIC."
Niass expressed his strong hope that "Allah will help to succeed with a peaceful solution" for the Rohingya refugee crisis.
Refugee Relief and Repatriation Commissioner of Bangladesh, Abul Kalam, told Arab News that in this visit the PUIC delegation had received a clear picture about what is going on and what the refugees have experienced back in Myanmar. "Now the PUIC will strengthen its bilateral efforts to solve the refugee crisis since Myanmar has very good relations with some of the OIC members and the delegation has assured us in this regard."
After this visit, OIC will be able to play a "more effective role" in various diplomatic channels, said Kalam, who was part of the visiting delegation.
http://www.arabnews.com/node/1371271/world
--------
Not all shariah punishments should be public, says Amanah rep
Mohamad Fadli
September 13, 2018
KUALA LUMPUR: An Amanah leader has sought to discourage the use of "tazir" punishments, or those meted out at the discretion of shariah judges, to necessarily punish and humiliate offenders in the wake of the controversial public caning of two women convicted of attempting same-sex relations in Terengganu.
Dr Siti Mariah Mahmud, who leads Amanah's women's wing, said tazir punishments should also suit the times.
The Seri Serdang assemblyman said such punishments should be openly discussed by religious scholars to determine what was acceptable in this day and age, adding that Pakatan Harapan wanted to emphasise compassion in the "new Malaysia".
"Not everyone needs to be punished and humiliated in front of the masses. We can improvise," she said at a forum on public caning last night titled "Sebatan Di Khalayak Ramai: Sejauh Mana Islamiknya".
She proposed replacing caning with community service, adding that shariah court judges could also offer advice to offenders.
"Punishments don't have to be painful," she said, citing disciplinary methods which were once considered acceptable by some but are now seen as a form of abuse, such as tying a child to a tree.
This showed that there was a need to keep up with the times and discourse on the matter, she said.
Activist Fadiah Nadwa Fikri, who was a panellist at the forum, meanwhile urged the public against passing judgment on the two women who were caned.
She questioned whether those critical of the women had sought to understand or consider the impact of the punishment on them.
"We have never talked to them. Did we think that they might not have wanted to be treated like animals?" she said.
The two women, who pleaded guilty to attempting to have same-sex relations in a car in Terengganu, were caned six times each at the state's Shariah High Court earlier this month.
The sentence, the first for such an offence in the country, was witnessed by more than 100 people including family members, lawyers and members of the media.
Prime Minister Dr Mahathir Mohamad had criticised the punishment, saying it cast Islam in a bad light as a religion that was ruthless and focused on humiliation.
The Joint Action Group for Gender Equality meanwhile urged the government to enforce a moratorium on corporal punishment.
https://www.freemalaysiatoday.com/category/nation/2018/09/13/not-all-shariah-punishments-should-be-public-says-amanah-rep/
--------
LGBT-Friendly Berlin Mosque Deradicalises Muslim Youth
SEPTEMBER 13, 2018
LONDON (Thomson Reuters Foundation) - Tugay Sarac was just 15 when he first talked about traveling from Germany to Syria to fight for Islamic State.
But unlike his friends at the time, Sarac had turned to radical Islam as a way of avoiding coming to terms with his sexuality.
"I had friends who, like me, were really radical extremists and even considered going to Syria or to Palestine to fight," he told the Thomson Reuters Foundation in a quiet corner of the prayer room of Berlin's Ibn Rushd-Goethe mosque.
Now 20, Sarac, who was born in Berlin to a Turkish family, learned from an early age that homosexuality was wrong - and un-Islamic.
"I thought being gay is bad and that through Islam, by praying to God, I could cure myself and become normal. I started praying five times a day: I just felt bad, like I was dirty or inferior somehow ... I was really ashamed of my gay thoughts."
More than 5,000 Europeans - most from Britain, France, Germany and Belgium - have joined fighters in Syria and Iraq, according to Europe's police organization, Europol, with more than 200 continental attacks and foiled plots last year.
Studies suggest a range of motivations, from supporting fellow Muslims to feelings of alienation at home. Yet Sarac was not looking for a greater sense of Muslim solidarity – he was running away from the fact he was gay.
"I knew I liked boys from maybe the first class of primary school," he said. "(But) in Islam for me it was very clear that homosexuality was bad."
It was only when Sarac came across the Ibn Rushd-Goethe mosque - one of only a handful of gay-friendly mosques around the world - that he found a middle ground that allowed him to accept both his sexuality and his faith.
As Sarac found himself drawn into the life of the mosque, its liberal, inclusive form of Islam drew him away from his more fundamentalist views and helped him come to terms with who he was.
"This mosque helped me to deradicalize completely," he said.
"Coming here, I started being comfortable with myself and that's when I told my mother and my aunt (that I was gay)."
SLAPPED
LGBT Muslims are frequently required to make a stark choice between their sexuality and their religion, even in liberal countries such as Germany where same-sex marriage is legal.
Xenophobia and tensions are on the rise in Germany, which is home to about 4 million Muslims - about 5 percent of the population - since it opened its doors to more than a million migrants in 2015, many from Syria, Iraq and Afghanistan.
Following a spate of attacks on mosques, Interior Minister Horst Seehofer said in March that Islam does not belong in Germany, clashing with Chancellor Angela Merkel's multi-ethnic vision for Europe's biggest economy.
Sarac's father, who moved to Germany at the age of six, boasted of beating up gay people when he himself was younger and made his views of homosexuality very clear to the young Sarac.
"My father was rather traditional, not in an Islamic way, but in a Turkish way," Sarac said.
"When my little sister was born, I just wanted to hold her buggy and walk with her. But my father slapped my hand and said, 'Stop doing that, it's gay'."
His father died when he was just 13 – leaving Sarac even more vulnerable to radical views, while also battling to suppress his sexuality at school "because as a teenager – as teenagers normally do – I just fell in love with other guys".
Which is why when his friends started talking about becoming jihadis, Sarac readily joined the conversation – to deflect any questions on his own sexuality.
"I was struggling between being a normal 14 or 15-year-old guy in Germany and being really religious.
"My friends were very religious, very radical, and when they told me that they were considering going to Syria, I started thinking about it too."
But there were other tensions at work.
One turning point was hearing a presenter on The Young Turks, a U.S.-based liberal news show, ask LGBT Muslims: "Why would you believe in a religion or a God if this God hates you, if this God will throw you to hell and let you burn forever?"
HAPPY
When Sarac started worshipping at the Ibn Rushd-Goethe mosque late last year, his radical friends disowned him, but the mosque offered other opportunities to explore a more liberal form of Islam.
Founded in June 2017 by Seyran Ates, a feminist lawyer who was born in Turkey, the mosque allows men and women to pray together.
"We consider ourselves an inclusive mosque," Imam Susie Dawi told the Thomson Reuters Foundation in Berlin.
"We have no homophobic attitudes in any form here."
Yet even among liberal Muslims, there is much work still to be done, she said.
"I have taken lesbian friends, for example, to Muslim friends and they've got along wonderfully and I thought that this would change attitudes. But it didn't somehow ... Maybe it needs time."
The mosque has recently begun a deradicalization workshop for students to take into German schools.
"The point is to open up people's minds towards a more liberal understanding of Islam, for example by showing them women in different roles," Dawi explained, rather than the traditional Islamic image of the subservient woman.
"There is a female pilot, for example."
For Sarac, the mosque offers a chance for other LGBT Muslims not to repeat his mistakes.
"I'm 100 percent sure there are many gay Muslims who hide themselves like I did," he said, either becoming atheists or fighters with militant groups like the Taliban or al Qaeda.
"If you are conflicted, it doesn't make any sense to listen to one group who tell you are going to hell," he said.
"If we want gay Muslims to be happy, we should just open ourselves up and let them be gay (and become) a happy, working part of the Muslim community."
https://www.reuters.com/article/germany-lgbt-islam/lgbt-friendly-berlin-mosque-deradicalizes-muslim-youth-idUSL2N1VY20K
--------
Muslim Sanskrit Scholar of Four Vedas Offers Free Tuitions
Sep 13, 2018
Lucknow: Hayatullah, 75, offers 'Namaaz' five times a day and is a devout Muslim. What sets him apart from the crowd is the fact that he is also proficient in Sanskrit and in the four Vedas which has earned him the epithet 'Chaturvedi'.
Hayatullah 'Chaturvedi' is a resident of Chhita Harraipur village in Kaushambhi district. Before retiring in 2003, he was a teacher in Hindi and Sanskrit in M.R. Sherwani Inter College in Allahabad. After retirement, he continues to offer free tuitions in the language to students.
"A language cannot be linked to a religion, Sanskrit has always fascinated me. Contrary to what people think, Sanskrit is easy to learn and understand. I have written several books that make learning Sanskrit easy but the government should also promote the language," 75-year-old Hayatullah said.
Interestingly, Hayatullah 'Chaturvedi' is equally proficient in English, Urdu and Hindi as he is in Sanskrit.
"I am a Muslim and I have read the Quran. Some people in our community are wrongly interpreting the mean of 'Jihad' which actually means a 'Dharam Yuddha' like 'Mahabharata' for protection of humanity."
"Basically, there is no difference between what the Quran teaches and what the four Vedas say," Hayatullah a resident of Chhita Harraipur Kaush-ambhi district stated.
Asked about the secret of his health, Hayatullah 'Chaturvedi' who offers 'namaaz' five times a day and is a devout Muslim said that he had turned vegetarian decades ago and this has helped him keep fit.
http://www.asianage.com/india/all-india/130918/muslim-sanskrit-scholar-offers-free-tuitions.html
--------
Arab World
HRW calls on Saudi to 'immediately' release cleric
Sep 12, 2018
Human Rights Watch (HRW) has expressed concern over Saudi Arabia's continued detention of a top cleric because of his political views, urging the Riyadh regime to "immediately" release him.
Saudi authorities detained top Sunni preacher Salman al-Awda on September 7 last year, and have held him in solitary confinement without trial ever since.
HRW said Wednesday that, according to family members, the 61-year-old cleric had finally been allowed to contact a lawyer for his first ever hearing on September 3.
At the hearing, prosecutors brought 37 charges against Awda, mostly connected to his alleged ties with the Muslim Brotherhood and the Qatari government, and his public support for imprisoned dissidents, according to HRW. They also requested the death penalty.
Saudi Arabia blacklisted the Muslim Brotherhood as a terrorist organization in March 2014.
HRW condemned the charges as "vague" and said the ongoing crackdown by Crown Prince Mohammad bin Salman against dissidents and anti-regime activists will only hurt Riyadh's ambitious economic plans.
"At a time when Saudi Arabia's ambitious economic plans such as the Aramco IPO are stalling out, the crown prince's prosecutors are investing in threatening clerics and women's rights activists with execution," said Sarah Leah Whitson, Middle East director at Human Rights Watch.
"Unless Saudi Arabia has evidence that al-Awda committed a recognizable crime the authorities should release him immediately."
Awda was among the first of scores of people detained by government forces in mid-September 2017, months after MBS rose to power.
The cleric was a prominent member of the Sahwa Movement in the early 1990s, which opposed the decision by Riyadh to let the US military into Saudi Arabia in order to prevent a potential attack by Iraq.
He has been an advocate of greater democracy and social tolerance since 2011.
In January, the Office of the UN High Commissioner for Human Rights called for Awda's release, describing him as "an influential religious figure."
Court documents viewed by HRW stated that the cleric was accused of expressing "public solidarity with imprisoned dissidents, opposing the Saudi-led isolation of Qatar in mid-2017, and alleged ties to the Qatari government."
He is also charged with publicly opposing the Saudi regime's hosting of former Tunisian president Zain al-Abedin Bin Ali, "mocking governmental achievements," and "offending patriotism and loyalty to the government and the country."
https://www.presstv.com/Detail/2018/09/12/573940/Saudi-HRW-Awda-detention-political-crackdown
--------
US-Backed Militia Targeted by Bomb Blasts in Raqqa
Sep 12, 2018
A bomb went off at SDF's base in al-Nour Street in the Northwestern part of Raqqa city, injuring a number of SDF members.
In the meantime, fierce clashes were also reported between the SDF and the attackers after the bomb explosion.
Also, a bomb went off near Ibn Khaldoun school in Raqqa city, killing two SDF militias.
The SDF has arrested over fifty young men in the villages and towns in Northern Raqqa under a forced recruiting plan.
On Tuesday, the SDF stormed the villages of al-Ansar, Ajaj, al-Royan, al-Rashid, al-Andalos, al-Hayef, Khat al-Naniyeh, al-Rabi'eh, al-Salbiyeh and al-Sweidiyeh Saqireh, arresting over 270 villagers under different accusations, including cooperating with the Syrian Army or with the ISIL.
In the meantime, the SDF has extended curfew in the region.
Other units of the SDF arrested a number of young people in the town of Ein Issa and its countryside in Northern Raqqa under a forced recruitment plan.
Full report at:
http://en.farsnews.com/newstext.aspx?nn=13970621000852
--------
US Setting up More Military Bases in Hasaka in Northeastern Syria
Sep 12, 2018
The Arabic-language al-Manar news website reported that the US-led coalition has resumed building two more military bases in the village of Jam'aya East of the town of Qamishli as well as areas West of the town.
It further said that the US military has set up a base at the Eastern entrance of the town Qamishli and also established a permanent base in the small town of Himo at the Western entrance of the town.
The website reminded that a sum of 13 Syrian soldiers were killed in an ambush operation by the Kurdish militias in Qamishli recently.
On Tuesday, the Arabic-language al-Watan newspaper quoted former media advisor of the Kurdish-led People's Protection Units (YPG) in Afrin Rizan Haddou as saying that the US troops were behind the Kurdish security forces' ambush on the Syrian army forces in Qamishli which killed 13.
He added that the incident was a plotted ambush operation, saying that the presence of the US forces in Qamishli and Hasaka does not benefit the Kurds.
Haddou described the US deployment in Syria as illegal, and said when the Americans were not stationed in the region, the Syrian army forces and Kurdish fighters were present in Afrin and Northern and Eastern Aleppo with no clashes.
The Kurdish militants attacked the vehicles of the Syrian army troops in Qamishli on Saturday, killing 13 forces.
The US has been rapidly sending weapons and military equipment to the Kurds in the past few weeks.
Over 150 trucks carrying weapons and military equipment were dispatched by the US army to the Syrian Democratic Forces (SDF) in Hasaka province earlier this month.
Field sources in Northeastern Syria reported that a US military convoy of more than 150 trucks was sent to the SDF and its local military councils in Eastern Syria.
Full report at:
http://en.farsnews.com/newstext.aspx?nn=13970621000525
--------
White Helmets Organization Planning to Transfer Chemicals to New Locations in Syria's Hama
Sep 12, 2018
The Arabic-language al-Mayadeen TV channel quoted a well-informed source in Jisr al-Shughour as disclosing that the White Helmets are planning to transfer a large volume of poisonous materials to Qala al-Maziq and Kafr Naboudeh in Northern Hama as requested by their foreign backers.
It went on to say that the terrorists and the White Helmets are planning to make a ten-minute video of a fake chemical attack to send two copeis of the video to the United Nations, adding that a meeting which was to be held over the release of the video of the fake chemical attack has been postponed.
On Tuesday, the Russian Defense Ministry reported on the terrorists' plan to film a false-flag chemical attack in Idlib province to raise allegation on the Damascus forces.
As the Russian Center for Syrian Reconciliation reported on Tuesday, all the fake footage of "chemical attacks", designed to facilitate the implication of Syrian government forces, was expected to be sent to different TV channels.
"According to the information received from inhabitants of Idlib province, militants are now filming a staged provocation in the city of Jisr al-Shughour, where "chemical weapons" are depicted as being used by the Syrian army against civilians. The film crews of several Middle Eastern TV channels arrived in Jisr al-Shughour in the morning, as well as the regional affiliate of one of the main American television news networks", the Reconciliation Center said, Sputnik reported.
The Russian military added that the militants had brought two containers with chlorine-based toxic substance to Jisr al-Shughour to make provocation seem "natural".
"The plot envisages staged scenes showing 'activists' of the Civil Defense ("White Helmets") 'helping' the residents of Jisr al-Shughour after the Syrian army allegedly used the so-called barrel bombs with poisonous substances," the center noted.
According to the center, all videos of provocations shot in Jisr al-Shughour will be handed to broadcasters by the end of the day after being released in social media.
The information followed the Sunday's report by the Wall Street Journal, saying that the US Defense Department might be mulling the idea of striking Russian or Iranian military forces aiding the Syrian government if they were to launch an assault on Idlib. The report added that the United States would specifically decide whether to strike Russian air defense installations.
Meanwhile, the Syrian government has pledged to drive the remaining terrorists out of Idlib and has begun taking steps toward full-scale military operations in the territory.
The Russian Ministry of Defense warned about the forthcoming false flag provocation, which will involve a staged chlorine gas attack, in late August. Later, the defense ministry said that the results of this provocation could be used by the Western coalition forces as an excuse to launch another missile strike against the Syrian government. The United States, the Russian Defense Ministry noted, has been deploying the relevant forces to Syria. In late August, the American destroyer USS The Sullivans arrived in the Persian Gulf carrying 56 cruise missiles, and a US Air Force B-1B strategic bomber, equipped with 24 air-to-surface JASSM cruise missiles, was redeployed to El-Udeid Airbase in Qatar.
Full report at:
http://en.farsnews.com/newstext.aspx?nn=13970621000272
--------
US Republicans seek sanctions on Iraqi militias with Iran ties
13 September 2018
Republican US senators plan to introduce legislation on Wednesday seeking to counteract what they see as Iran's increasing influence in Iraq, amid concern about attacks in Iraq by groups US officials consider Iranian proxies, a Senate aide said on Wednesday.
Among other things, the bill, whose text was seen by Reuters, would impose terrorism-related sanctions on Iranian-controlled militias and require the US Secretary of State to publish and maintain a list of armed groups receiving assistance from the Iranian Revolutionary Guard Corps, or IRGC.
Sponsors of the "Iranian Proxies Terrorist Sanctions Act" include Senators David Perdue, Ted Cruz and Marco Rubio. A similar bill, backed by Republican Representative Ted Poe, has been introduced in the House of Representatives.
There was no immediate word on when the legislation might be considered by congressional committees, normally the first steps toward becoming law.
Green Zone shelled
Three mortar shells landed inside Baghdad's heavily fortified Green Zone just after midnight local time on Friday, the first such attack in several years in the area, which houses parliament, government buildings and many foreign embassies.
On Tuesday, the United States warned Iran that it would "respond swiftly and decisively" to any attacks by its allies in Iraq that resulted in injury to Americans or damage to US facilities.
Reuters reported last month that Iran had given ballistic missiles to Shi'ite Muslim proxy groups in Iraq and was developing the capacity to build more there, a development likely to exacerbate tensions between Tehran and Washington, already heightened by President Donald Trump.
Full report at:
https://english.alarabiya.net/en/News/middle-east/2018/09/13/US-Republicans-seek-sanctions-on-Iraqi-militias-with-Iran-ties.html
--------
Car bomb attack kills 7, injures 30 in Iraq's Salahuddin province
Sep 12, 2018
At least seven people have lost their lives and 30 others sustained injuries when a powerful car bomb explosion struck a main road in Iraq's north-central province of Salahuddin.
Provincial police source Mohammed al-Bazi said the blast took place at around noon on Wednesday, when a booby-trapped car parked in front of a restaurant frequently visited by passengers while travelling on the main road north of the provincial capital city of Tikrit, located 140 kilometers (87 miles) northwest of Baghdad, went off.
Bazi added the massive explosion set seven nearby civilian cars ablaze and badly damaged several others. It destroyed large part of the restaurant as well.
No group has so far claimed responsibility for the attack, but the Daesh Takfiri militant group has been responsible for such attacks in most cases, targeting markets, cafes and mosques across Iraq.
Iraqi Prime Minister Haider al-Abadi, who is also the commander-in-chief of Iraqi forces, pledged on June 30 to hunt down Daesh terrorists across Iraq after a series of attacks and abductions carried out by the terrorist group.
"We will chase the remaining cells of terrorism in their hideouts and we will kill them, we will chase them everywhere, in the mountains and the desert," Abadi said.
Abadi declared the end of military operations against Daesh in the Arab country on December 9, 2017.
On July 10 that year, the Iraqi prime minister had formally declared victory over Daesh in Mosul, which served as the terrorists' main urban stronghold in the conflict-ridden Arab country.
In the run-up to Mosul's liberation, Iraqi army soldiers and volunteer Hashd al-Sha'abi fighters had made sweeping gains against Daesh.
Iraqi forces took control of eastern Mosul in January 2017 after 100 days of fighting, and launched the battle in the west on February 19 last year.
Full report at:
https://www.presstv.com/Detail/2018/09/12/573957/Car-bomb-attack-kills-7-injures-30-in-Iraqs-Salauddin-province
--------
Pakistan
Top court refuses to void LHC order letting banned JuD continue operations
SEPTEMBER 13, 2018
The Supreme Court of Pakistan has rejected the federal government's application against a Lahore High Court (LHC) interim order allowing Jamaatud Dawa (JuD) and its affiliate Falah-e-Insaniat Foundation (FIF) to continue their 'welfare activities'.
The apex court's two-judge bench, comprising Justice Manzoor Ahmad Malik and Justice Sardar Tariq Masood, took up the interior ministry's plea on Wednesday. In it, the ministry sought the cancellation of the order passed by the LHC, allowing the JuD to proceed with its 'welfare activities' until a decision was reached in its petition challenging a federal government ban against the organisation. The Interior ministry had contended that the interim order was creating a hindrance for Pakistan in complying with international and local legal requirements concerning terror financing.
The SC bench observed that the LHC was still hearing the case, and dismissed the government's plea to set aside the interim order.
In February, the president had promulgated an ordinance amending the Anti-Terrorism Act of 1997. It paved the way for proscription of personnel and organisations found involved in terrorist activities, including those listed as such by the United Nations Security Council (UNSC).
The ordinance amended Sections 11-B and 11-EE of the ATA 1997: Section 11-B sets parameters for the proscription of groups, whereas 11-EE describes the grounds for the listing of individuals.
A Sub-Section 'AA' was added, according to which organisations and individuals 'listed under the United Nations (Security Council) Act, 1948 (XIV of 1948)' will be included in the First Schedule (for organisations) and Fourth Schedule (for individuals), respectively, on an ex-parte basis.
The move was aimed at declaring JuD and the FIF as proscribed groups ahead of the Financial Action Task Force's (FATF) meeting in Paris, which eventually decided to put Pakistan on the greylist of countries with lax legal mechanisms against terror financing in June this year.
After the promulgation of the ordinance, all properties of JuD and the FIF were confiscated in Azad Jammu and Kashmir and Gilgit-Baltistan. Some 148 properties and assets of the outfits were also seized in Punjab.
In their petition against the presidential ordinance, the JuD chief contended that the ordinance was serving to curtail Pakistani state's sovereignty. Extending the argument further, the petition insisted that the promulgation of the ordinance wasn't just a challenge to the country's sovereignty but it was also contradictory to the fundamental rights enshrined in the Constitution of Pakistan. It said that any law in violation of constitutional provisions was liable to be struck down, under Article 199 of the Constitution.
It requested the court that the vires of the ordinance and consequent amendment in section 11 B and 11-EE of ATA may be declared illegal.
https://dailytimes.com.pk/297119/top-court-refuses-to-void-lhc-order-letting-banned-jud-continue-operations/
--------
PM visits ISI headquarters, given eight-hour briefing
September 13, 2018
ISLAMABAD: Prime Minister Imran Khan on Wednesday visited the headquarters of the Inter-Services Intelligence (ISI), the country's premier spy agency, and received a detailed briefing on "various strategic, intelligence and national security matters".
According to an official handout issued by the Inter-Services Public Relations (ISPR), the prime minister was received at the ISI headquarters by Chief of the Army Staff Gen Qamar Javed Bajwa and ISI Director General Lt Gen Naveed Mukhtar.
The prime minister laid a wreath at the Yadgar-i-Shuhada and offered Fateha.
The handout said the prime minister lauded contributions of the ISI towards national security, especially in the ongoing counterterrorism effort, saying that "ISI is our first line of defence and stands out as best intelligence agency of the world".
Prime Minister Khan said the government and people of Pakistan firmly stood behind their armed forces and intelligence agencies and greatly acknowledged the unprecedented achievements of these institutions.
Later, the government through federal Minister for Information Fawad Chaudhry also issued a statement about the visit, stating the army chief and the ISI head had given an eight-hour-long briefing to the prime minister and the cabinet members who accompanied him.
Mr Chaudhry said Mr Khan presided over the meeting in which he and his cabinet colleagues were briefed about the "internal and external challenges" being faced by the country.
The prime minister was accompanied by Foreign Minister Shah Mehmood Qureshi, Defence Minister Pervez Khattak, Information Minister Fawad Chaudhry and Minister of State for Interior Shehryar Afridi, almost the same team which had visited the army's General Headquarters (GHQ) in Rawalpindi with the prime minister on Aug 30.
During the visit to the GHQ, Army Chief Gen Bajwa had thanked Prime Minister Khan for "reposing confidence" in the army.
The visit had been announced by the ISPR through a tweet, saying: "Prime Minister Imran Khan arrived to visit GHQ. Received on arrival by COAS. PM being briefed on defence, internal security and other professional matters."
Full report at:
https://www.dawn.com/news/1432622/pm-visits-isi-headquarters-given-eight-hour-briefing
--------
Moot emphasises inter-sect harmony during Muharram
SEPTEMBER 13, 2018
Ulema belonging to different schools of thought on Wednesday stressed the need to promote inter-sect harmony and religious tolerance in the society in order to ensure peace and tranquility, especially during the holy month of Muharram.
Religious personalities from Egypt, Saudi Arabia, India and Pakistan participated in the Paigham-e-Pakistan seminar titled "Right to Live in Peace and Inter-Sect Harmony" organized in connection with the International Peace Day at the Dargaah Abu Al-Bayan Gujranwala.
Addressing the event, the speakers emphasized the need to follow a code of conduct to eradicate extremism from the society and promote peace, tolerance, unity and brotherhood, which, according to them, will in turn help thwart the nefarious designs of the enemies who are hell bent on dividing the Muslim Ummah on religious, sectarian and ethnic lines in order to make it weaker.
They said that negative elements wanted to magnify sectarian differences in the Muslim societies and that the issue must be dealt with through unity and brotherhood. They called upon religious scholars to play their role in creating unity among Muslims by taking practical steps to nullify the propaganda against Islam, adding that Islam always advocated patience and respect to the opinion of others. "We need to work together to spread resemblances prevailing in different sects instead of differences," they underscored.
The speakers underlined the need for promoting social justice and forbearance in the society to achieve the objectives of inter-sect harmony, adding that division of the society, hatred and arrogant behaviours of individuals coupled with prioritising sects over the religion were some major issues that needed immediate attention.
They said that Muslims all over the globe were facing political, social and sectarian hurdles, which can only be addressed if they fully imbibe the teachings of Holy Prophet Muhammad (PBUH) based on tolerance, love, patience and respect for fellow human beings. Ulema must use their influence to promote inter-sect and inter-faith harmony by shaping the public opinion, they added.
The participants also threw light on the Paigham-e-Pakistan initiative of the government of Pakistan launched earlier this year to address the challenges posed by extremism and sectarianism through a national narrative which portrayed a soft and positive image of Pakistan and highlighted Islam as a religion of peace, brotherhood, tolerance and harmony.
Full report at:
https://dailytimes.com.pk/296987/moot-emphasises-inter-sect-harmony-during-muharram/
--------
Sharif's home declared jail while on parole to mourn his wife's death
Sep 12, 2018
ISLAMABAD: The Imran Khan government on Wednesday declared the residence of former PM Nawaz Sharif in Lahore as a sub-jail after releasing him, his daughter Maryam and son-in-law Muhammad Safdar on parole to mourn the death of Sharif's ailing wife.
Kulsoom Nawaz passed away at a hospital in London on Tuesday. She will be laid to rest at the Jati Umra, Lahore residence of the Sharif family.
The parole, initially granted for one day, was later extended by three days. The trio was escorted by police to the Nur Khan airbase from where they were flown to Lahore.
The Pakistan Muslim League-Nawaz (PML-N) president and Nawaz's younger brother, Shahbaz Sharif, departed on Wednesday morning for London to attend funeral prayers at the Regent's Park mosque on Thursday before bringing her body to Lahore.
According to the Sharif family, Kulsoom's sons would not accompany her body to Lahore though her daughter, Asma, and grandson, Zikriya Sharif, would come with the casket to Pakistan.
"A PIA flight carrying the body will arrive here on Friday morning and she is likely to be laid to rest the same day beside the grave of her father-in-law Mian Sharif at Jati Umra," the PML-N sources said.
Full report at:
https://timesofindia.indiatimes.com/world/pakistan/sharifs-home-declared-jail-while-on-parole-to-mourn-his-wifes-death/articleshow/65789049.cms
--------
Press freedom in Pakistan under pressure by military: Report
Sep 12, 2018
ISLAMABAD: Press freedom is under pressure in Pakistan, where journalists face intimidation by the powerful army accompanied by violence which often pushes them to self-censure, says a report by the Committee to Protect Journalists released on Wednesday.
The army, Pakistan's most powerful institution, has "quietly, but effectively, set restrictions on reporting", from barring access to encouraging selfcensorship "through direct and indirect methods of intimidation", the report states.
"Privately, senior editors and journalists say the conditions for the free press are as bad as when the country was under military dictatorship, and journalists were flogged and newspapers forced to close," it adds.
It notes that the deterioration comes as killings of journalists have declined, but links the military, intelligence, or military-linked groups to half of the 22 journalist murders in the past decade.
And it says the increasing intimidation and decrease in killings are linked.
A "more cautious approach to covering sensitive topics -- essentially self-censorship -- accounts for much of the reduction in violence", it cites an advocacy group as saying.
The report gives voice to several journalists who say they have been subjected to intimidation tactics, a rarity as selfcensorship grows.
One was beaten in a brazen attack in the capital Islamabad, another by what he claims were members of the security forces in civilian clothing in the southern megacity of Karachi.
"The mindset (of the military) now is to control the total narrative and reduce the diversity of opinion, so anything that is going against their narrative, they see as a threat," agreed a director at a news broadcaster which says it has faced disruption by authorities.
"We used to feel, 'write whatever you want'. Of course, get the facts right. Now, people are scared," he added.
Some noted that the definition of "anti-state activity" was not restricted to reporting critical of the army, with one journalist saying he had been threatened after writing about labour issues.
Others noted how blasphemy, an inflammatory charge that can lead to deadly mob violence in conservative Muslim Pakistan, has become another source of intimidation, with journalists censoring their reporting on religious matters.
Some 88 percent of the 159 reporters interviewed by the NGO Media Matters for Democracy claim to censor what they write or report, with seven in 10 saying that doing so made them feel safer.
The CPJ said the military had not responded to requests for comment. The army has long denied such accusations.
The CPJ report comes out a few months after a general election described as the "dirtiest" in Pakistan's history, tainted by widespread allegations the military had fixed the playing field in favour of the eventual winner, former cricket hero Imran Khan.
Full report at:
https://timesofindia.indiatimes.com/world/pakistan/press-freedom-in-pakistan-under-pressure-by-military-report/articleshow/65787153.cms
--------
Iran, in shadow proxy war with Saudis, expands its Pakistan influence
Sep 13 2018
Iran is stepping up its involvement with political and militant Shiite groups in Pakistan, in what foreign affairs experts see as an escalating shadow proxy war with Saudi Arabia in a country with the world's second-largest Muslim population.
"Iran is continuing to work to help rebel groups to form in the minority tribal region. There are Sindhi and Baluch separatist groups that Iran will help fund and support," said retired Lt. Col Anthony Shaffer, an intelligence specialist who currently serves as senior fellow at the Center for Advanced Defense Studies at the London Center.
Shaffer and others believe Iranians have long funded an array of insurgent outfits in Pakistan, in part as a means to destabilize U.S. efforts in the region.
One of those groups, the Tahrik-e-Jafaria Pakistan (TJP), freely acknowledges its ties to Iran, but denies accusations it engages in violence.
"We are alleged to be a militant group, but I refute this statement," Deedar Ali, vice president of the TJP, in the country's Gilgit Baltistan (GB) region, told Fox News. "We haven't participated yet in militant activities, though we Shiites have the dominance in GB."
TJP is officially considered a Shiite political party, founded around the same time as the Iranian revolution of 1979. It has twice been banned by the Pakistani government as a terrorist organization.
The U.S.-based Terrorism Research and Analysis Consortium (TRAC) defines the TJP as a group focused on creating a society based on "pure Islam," and both a protector and a propaganda distributor of Shiite ideas.
So just how devoted to the Iranian brand of Islamism is TJP?
"We have close links to Iran and a mutual aim under a shared ideology to stand united under the current longtime supreme leader of Iran, Ali Khamenei, who is the ultimate power for us," Ali said. "His words stand no less than a decree for us."
TJP leaders also frequently visit Tehran, but claim they receive no direct funds from the Iranians.
"We operate under the direct guidance and control of Iran's supreme leader, which binds us to travel to Iran," Ali said. "I won't deny the fact that we receive a state guest honor upon our arrival in Iran because we support their ideology as we work together to formulate new strategies to gather mass support. But the members of this group present a monthly amount to run our campaigns; we don't get funding from Iran."
The State Department's most recent Country Reports on Terrorism, released last July, names Iran the world's "foremost" state sponsor of terrorism, a distinction it has held for decades.
Most notably, the U.S. accuses Tehran of using the Quds Force, an elite unit of the Iranian Revolutionary Guard Corps (IRGC) as a cover for intelligence operations and destabilization across the region.
According to several U.S. intelligence and diplomatic officials, the Trump administration is more concerned about Iranian influence in war-torn, neighboring Afghanistan than it is about the activities of other insurgent groups in Pakistan.
The extremist Sunni creed adopted by the likes of the Taliban in Afghanistan against Iran and the Shiites is one part of the burgeoning proxy conflict. But while Shiites are vastly outnumbered in Pakistan, making up an estimated 20 percent of a Sunni-majority population of almost 200 million, Iran's quiet support for Shiites could be significant.
"Iran seeks to exert influence by backing militant Shi'a groups inside Pakistan, but there are obvious limits to how far such an effort can go, as Pakistan's Shi'a are far outnumbered," explained Jonah Blank, a senior political scientist at the RAND Corporation.
Gilgit-Baltistan (GB), situated in the northernmost part of Pakistan, shares its borders with China to the north, India to the east and Afghanistan and Central Asian states to the west. Previously called the "Northern Areas," it has exercised semi-autonomy from Islamabad – but has for years chugged on as a precarious, disenfranchised region without the independence of a recognized state.
Iran's shadowy presence in the area has come under scrutiny in more ways than one,
Thousands of Shiites from Pakistan and Afghanistan have been recruited by Iran – specifically from the Gilgit and Baltistan areas – to fight alongside President Bashar al-Assad's forces in embattled Syria, offered monthly salaries and postwar employment opportunities in Iran. Recruiters are often Shiite clerics who have studied in or have direct ties to Tehran -- the fighters are to augment its regional clout.
"We want to work closely with Pakistan's government, but our priority to get a constitutional status for GB in Pakistan can never be stamped down," Ali asserted. "Why are we yet to get a status? But if this were to happen, I can foresee GB will turn into a battlefield of the Taliban."
Analysts worry Pakistan will spiral into an even more violent and complicated intermediary war between the region's archenemies, Saudi Arabia and Iran.
"Iran backs Shi'a groups and Saudi Arabia backs ones that adhere to its own strain of Sunni doctrine," Blank said. "Iran sees this as a largely defensive operation – protecting co-religionists against a violent onslaught that the Pakistan state is unwilling or unable to stave off."
Some efforts are being made to quell sectarian unrest. In May, Pakistan's security forces carried out a raid near Quetta, the capital of Baluchistan Province, killing leaders of the outlawed, Taliban-aligned group known as Lashkar-e-Jhangvi (LeJ), responsible for the deaths of more than 100 minority Shiites.
LeJ started as an anti-Shiite, contrary movement to the Iranian Islamic Revolution almost four decades ago – in which Tehran was quietly exporting its revolution to Shia communities abroad – and later aligned itself with the extremist Taliban and Al Qaeda insurgencies.
Sipah-e-Sahaba Pakistan (SSP) emerged from LeJ in the 1980s, and has been accused by many of ushering in sectarian violence across Pakistan.
Those names were formally prohibited by the Pakistan government in its post 9/11 crackdown. So the group's leading member, Mulana Khalil Saqib, founded a "new" group with the operational name of Muttahida Deeni Mahaz (MDM) in 2013.
"Although it's illegal to have unlicensed arms in Pakistan, in GB each and every man carries and has a heavy stockpile of illegal arms for a counterfight in the case of any terrorist activity," he boasted. "As far as financing is concerned, we don't have backing."
Saqib later declined to deny he received "hefty funds" from Saudi individuals, stressing that the group has a "firm conviction that Pakistan and Saudi Arabia are brother countries with shared values."
The group's objective is clear: Push back the Shiites, and the TJP, in GB.
"This Iranian group has been involved in militant activities and innocent killings of Sunni Muslims. We do have demands to wipe off this Iranian group from GB because they have created unrest," Saqib said. "Their unending sectarian violence has caused us to fight back for our rights. We want the Pakistan government to plan stern action against them."
Saqib also asserted they have "more than 50 camps operating across Pakistan to train militants" destined for Afghanistan, and he expressed thanks for the "blessing" of the long-running war that opened the door to "opportunity."
U.S. intelligence and military officials have long accused Pakistan of harboring and aiding such terrorist groups, despite being issued hundreds of millions of dollars in aid as a primary U.S. partner in the post-2001 war on terrorism.
Pakistan consistently and vehemently denies such charges.
In January, President Trump sent a New Years' Day tweet accusing Pakistan of failing to act against terrorist sanctuaries, which have waged war over the border in Afghanistan, and cut $2 billion in military aid to the country. Last week, the United States suspended a further $300 million.
But several officials in Islamabad vowed to Fox News that they now have full control of a country once teeming with terror, and that all such safe havens have been mopped up and eliminated.
And while Pakistan's new prime minister, Imran Khan, has vowed to be something of a middleman to help improve the increasingly hostile relationship between Saudi Arabia and Iran, playing two sides inserts Islamabad into something of a quagmire.
Pakistan and Iran are thought to be getting closer, with the two countries having recently resumed discussions over continuing a $7.5 billion Iran-Pakistan pipeline project that started five years ago but has largely remained stalled. Yet government officials are said to assessing how Trump's pullout of the JCPOA, better known as the Iran nuclear deal, and the subsequent reimposition of economic sanctions may hinder the project.
On the flipside, Islamabad and Riyadh have long been potent allies with a history of close military cooperation. However, Pakistan refused to contribute troops to the Saudi-led war against the Shia-minority Houthi rebels in Yemen, souring bilateral relations.
Pakistan's Ministry of Foreign Affairs in Islamabad and the Washington Embassy did not respond to requests for comment.
Full report at:
http://www.foxnews.com/world/2018/09/12/iran-in-shadow-proxy-war-with-saudis-expands-its-pakistan-influence.html
--------
ECP rejects plea for cancellation of PML-N registration
Iftikhar A. Khan
September 13, 2018
ISLAMABAD: The Elec­tion Commission of Pakis­tan (ECP) on Wednesday rejec­ted identical petitions seeking cancellation of registration of the Pakistan Muslim League-Nawaz (PML-N).
The petitions filed by Khurram Nawaz Gandapur, Niaz Inqilabi, Abrar Hussain, Raza Raees and Abdul Waheed had argued that a party with the name of a person who had been convicted by the Supreme Court and was ineligible to hold any party office or be elected as a lawmaker could not be registered. The petitioners asked the ECP to either cancel registration of the party or remove the word "Nawaz" from its name.
A two-member ECP bench headed by Chief Election Commissioner retired Jus­tice Sardar Muhammad Raza had reserved its judgement on the petitions after hearing arguments from both sides on Monday.
Besides, with an elected government in place, the ECP has once again asked the cabinet division to form an inquiry commission to probe the Results Transmis­sion System (RTS) fiasco.
The previous orders given by the ECP in the first week of August for an inquiry into the RTS failure during the recently held general elections could not be followed as the then caretaker government apparently avoided a decision on the controversial issue.
Using the old bureaucratic tactic meant to delay things, the cabinet division had sent the letter written to it to the Ministry of Law which observed that the RTS was only a tiny aspect of the Results Management System (RMS) and without authority to look into actions preceding and succeeding result transmission, it might not be possible for any inquiry commission to give concrete and comprehensive findings on the proposed terms of reference (ToR).
"If counting, tabulation and compilation were delayed or the presiding officers and returning officers could not perform any duty on time, the proposed commission of inquiry may not be able to connect the dots under ToR proposed by ECP," the law ministry noted in its response.
The ministry was of the opinion that it was the federal government and not the cabinet division which could constitute an inquiry commission under the Commis­sion of Inquiry Act 2017. "Hence, once the revised ToRs are received from the Election Commission of Pakistan, the matter should be placed before the cabinet," it said.
A senior ECP official told Dawn on Wednesday that in the fresh letter, the cabinet division had been told that the directives had been issued to it under Articles 218 (3) and 220 of the Constitution. According to him, under Article 218 (3), the ECP can take all steps required to ensure conduct of polls in a free and fair manner, while Article 220 binds all executive authorities to assist the ECP in discharge of its functions.
The official disagreed with the objection that the terms of reference were vague and said these would analyse the concept of RTS in terms of its practicability, the project as envisaged by the ECP, its preparation and finalisation by the National Database and Registration Authority, quality and extent of training imparted to various users, trail of events that took place on the night of July 25 and thereafter, fixing of responsibility and recommendations for future course of action.
He said the ToR covered all aspects following election day activities and would remain the same, adding that the cabinet division had been directed to constitute an inquiry commission consisting of technical experts from the National Telecommunication and Information Technology Security Board and the Pakistan Telecommunication Authority to probe the RTS episode during the conduct of polls on July 25 and afterwards.
Full report at:
https://www.dawn.com/news/1432623/ecp-rejects-plea-for-cancellation-of-pml-n-registration
--------
Yet to see evidence linking Nawaz to London flats: IHC
Malik Asad
September 13, 2018
ISLAMABAD: Justice Athar Minallah of the Islamabad High Court remarked on Wednesday that the court had not come across any evidence that showed Nawaz Sharif was the owner of Avenfield properties as Khawaja Haris, representing the former prime minister, concluded his arguments.
National Accountability Bureau's (NAB) special prosecutor Mohammad Akram Qureshi, however, informed the court that the defence counsel had presented one side of the story and he would present the complete picture.
The IHC division bench comprising Justice Minallah and Justice Miangul Hassan Aurangzeb resumed hearing of the petitions seeking suspension of sentence awarded to Mr Sharif, his daughter Maryam and son-in-law retired Capt Mohammad Safdar in the Avenfield properties reference.
Accountability judge Mohammad Bashir had convicted the Sharif family of owning the London flats which, according to his judgement, were beyond their known sources of income.
During the course of arguments, counsel for the Sharifs Khawaja Haris pointed out that the superior judiciary had set certain benchmarks in living beyond means cases and according to which the onus of proof could only be shifted to the accused after the prosecution established its case beyond reasonable doubt on the basis of four aspects related to the quantification and evaluation of the property and income as well as misuse of official authority while holding public office.
Khawaja Haris said the entire set of documents produced before the trial court pertaining to the ownership of the London flats didn't mention the price of the flats. In addition, he said, the documents obtained from the Financial Investigation Agency (FIA) of the British Virgin Islands (BVI) did not say anything about purchase price.
He claimed that the accountability judge referred to this principle in his judgement issued on July 6, 2018, but declared Mr Sharif as owner of the flats on the basis of his own assumptions. Throughout the entire case, none of the witnesses, except the investigation officer of the Avenfield reference, testified during the trial that Mr Sharif was actual owner of these flats, Mr Haris added.
Justice Minallah asked if a criminal conviction could be based on presumption and if such a conviction could sustain as well.
The questions the court asked NAB's special prosecutor Akram Qureshi to argue over purchase price of the London flats included who made the analysis of income and assets chart which purports to show income, assets, tax and wealth of the jailed former prime minister, how Mr Sharif was connected with the properties and how Section 9(a)(5) [assets beyond means] of the NAB Ordinance applied to Maryam Nawaz.
Justice Aurangzeb recalled that head of the Panamagate Joint Investigation Team (JIT) Wajid Zia had once said the price was mentioned somewhere but, apparently, that document(s) is/are not on record. He then asked what consequences it would have.
Khawaja Haris said: "How can it be proved that assets are disproportionate to income without the price." He added that price and quantification were not there and this was not the case where there was some dispute on calculations. Also, he said, the case was not made out if the properties purchased were not disproportionate to the known sources of income.
Moreover, he argued, the court would have to see if there was any document as mentioned by Wajid Zia and whether it was produced before the trial court or not. At the moment, he said, documents of ownership and statements of witnesses did not reveal the price of the flats.
When Justice Minallah asked if there was any document that showed any connection of Mr Sharif with the properties, Khawaja Haris said "no connection at all", adding that only one witness — investigation officer — said that Mr Sharif was the owner, but during the cross-examination, he admitted that no witness told him so.
"So far we didn't come across any evidence that shows Nawaz Sharif was the owner of Avenfield properties," remarked Justice Minallah.
NAB prosecutor Qureshi said the court had heard a one-sided story so far and he would explain the other side on his turn.
The defence counsel replied in the negative when the court asked if any dependent had earlier been punished in other cases. He also informed the court that charge was different from the conviction.
Justice Aurangzeb remarked that the way accountability judge Mohammad Bashir discussed the Qatari letters when Mr Sharif, Ms Maryam and Capt Safdar had not produced them in their defence before the trial court.
The NAB prosecutor said these were produced before the Supreme Court.
The judge remarked that the trial had to be independent and not influenced by the Supreme Court's proceedings.
Amjad Pervaiz, the counsel for Maryam Nawaz, argued that his client had been convicted on the basis of trust deeds only and there was not an iota of evidence against her under section 9(a)(5). He said the court had treated Ms Maryam as dependent, but she was not asked any question in this regard under Section 342 of the Criminal Procedure Code, adding that no document was on record how Ms Maryam helped in accumulation of assets.
He concluded his arguments by asking how a document of the year 2006 could be placed with the London flats' purchasing documents pertaining to the years 1993, 1995 and 1996. "There is a single sentence about Capt Safdar and that too about his sentence in the entire judgement, nothing else," Mr Pervaiz said.
Full report at:
https://www.dawn.com/news/1432620/yet-to-see-evidence-linking-nawaz-to-london-flats-ihc
--------
Three 'IS militants' arrested in Karachi
September 13, 2018
KARACHI: In a rare admission about presence of global Islamic State (IS) group, one of the top police officers on Wednesday claimed to have arrested three suspected militants linked with the IS network in Pakistan, who were allegedly involved in kidnappings and targeted killings in Karachi and recovered over Rs10 million and weapons from their possession.
Two important commanders of this IS network had already been killed and four others were at large, revealed CIA DIG Dr Amin Yousufzai.
Speaking at a press conference at his office, the CIA chief recalled that on Feb 6, a man, Muhammad Raheel, was kidnapped in Block 6 of Gulistan-i-Jauhar by three kidnappers.
Later on, Nabeel, the brother of the kidnap victim received a call from Afghanistan-based SIM, demanding Rs100 million in ransom for his release.
The case was transferred to the Anti-Violent Crime Cell. The family with consultation of the AVCC team made a deal with the kidnappers and paid Rs10 million for his release.
Subsequently, DIG You­sufzai said the police started working on the case and with the help of the CPLC conducted raids on the outskirts of the city and in Balochistan and managed to arrest three suspects — Roohullah, Mukhtiar and Naeem — and recovered arms and ransom money from them.
https://www.dawn.com/news/1432557/three-is-militants-arrested-in-karachi
--------
PM hails ISI's role in war against terror
SEPTEMBER 13, 2018
Prime Minister Imran Khan Wednesday lauded the contribution of the Inter-Services Intelligence(ISI) towards national security, especially in the ongoing war against terrorism.
"ISI is our first line of defence, and stands out as the best intelligence agency in the world," he said during a visit to the ISI Headquarters. Chief of Army Staff General Qamar Javed Bajwa and DG ISI Lt Gen Naveed Mukhtar received Imran Khan on arrival at the headquarters.
The prime minister said that government and people of Pakistan firmly stand behind their armed forces and the intelligence agencies and greatly acknowledge the unprecedented achievements of these institutions. The prime minister was briefed in detail on various strategic intelligence and national security matters. Later, he laid a floral wreath at the Yadgare Shuhada and offered fateha. Lead cabinet ministers also accompanied the prime minister during the visit.
https://dailytimes.com.pk/297116/pm-hails-isis-role-in-war-against-terror/
--------
South Asia
Myanmar finally grants UN first access to Rakhine before Rohingya returns
Sep 12, 2018
The United Nations has begun assessment of conditions in Myanmar's Rakhine state after it was finally given permission to operate there for the first time since violence escalated last year and forced more than 700,000 Rohingya Muslims to flee to neighboring Bangladesh.
Myanmar granted specialists from the UN Refugee Agency (UNHCR) and the United Nations Development Program (UNDP) the permission to enter northern Rakhine on Friday before work began on Wednesday.
"The team is on the ground and commenced with the first assessments today," UNHCR spokeswoman Aoife McDonnell said Wednesday.
The access came two months after the UN signed an agreement with Myanmar that would give its agencies access to the epicenter of the Rohingya crisis as members of the persecuted minority fear returning to their home country. The deal aimed to pave the way for voluntary repatriation of Rohingya refugees.
More than 700,000 members of the Muslim minority group have fled the state-sponsored violence to southeast Bangladesh since the military launched a crackdown on the Rohingya in August 2017. The UN has described the campaign as a textbook example of "ethnic cleansing," saying it possibly amounts to "genocide" as well.
Bangladesh and Myanmar reached an agreement in December for the repatriation of the Rohingya to begin in January. However, many refugees still refuse to return to Myanmar out of fears that they might be subject to renewed crackdown by the military and Buddhist mobs.
The UN teams are expected to visit 23 villages and three additional clusters of hamlets. This first step of the UN's "confidence-building measures" is estimated to take two weeks.
The expectation is this "very initial and small step in terms of access will be expanded rapidly to all areas covered" by the deal, McDonnell added.
On Monday, the United Nations' new human rights chief called for the establishment of "an independent international mechanism" to prepare criminal indictments against Myanmar's military for atrocities committed against the Rohingya Muslim community.
Her remarks preceded a ruling by the International Criminal Court that it has jurisdiction to probe the forced deportations of Rohingya Muslims from Myanmar to neighboring Bangladesh as a possible crime against humanity.
The Rohingya, who have lived in Myanmar for generations, are denied citizenship and are branded illegal immigrants from Bangladesh, which likewise denies them citizenship.
https://www.presstv.com/Detail/2018/09/12/573932/UN-access-Myanmar-Rakhine
--------
Bangladesh says it won't assimilate Rohingya Muslims
12 Sep 2018 08
HANOI: Bangladesh has no plans to take in hundreds of thousands of Rohingya Muslim refugees permanently, its foreign secretary said on Wednesday, adding that they "belong" to Myanmar from where they fled.
Some 700,000 Rohingya refugees crossed from the west of mostly Buddhist Myanmar into Bangladesh from August last year, according to U.N. agencies, when Rohingya insurgent attacks on Myanmar security forces triggered a sweeping military response.
Bangladesh and Myanmar reached a deal in November to begin repatriation within two months, but it has not started, with stateless Rohingya still crossing the border.
"We are not thinking of assimilating them in Bangladesh. They belong to Myanmar," Foreign Secretary Shahidul Haque told Reuters on the sidelines of the World Economic Forum on ASEAN in Hanoi.
He also called on developed countries to take in more Rohingya on a humanitarian basis.
The Rohingya would stay in refugee camps until they return to Myanmar or are resettled in other countries, Haque said.
U.N. investigators last month said Myanmar's military carried out mass killings and gang rapes of Rohingya with "genocidal intent", and that the commander-in-chief and five generals should be prosecuted for the gravest crimes under international law.
Myanmar has denied allegations of atrocities, saying its military carried out justifiable actions against militants.
It has built transit centres for refugees to return, but U.N. aid agencies say it is not yet safe for them to do so.
The Rohingya in Bangladesh are housed in camps in Cox's Bazar. With a delay in the repatriation plan, Bangladesh has been preparing new homes on a remote island called Bhasan Char, which rights groups have said could be subject to flooding.
Haque told Reuters the island could be ready within months for the Rohingya to move in, adding that the plan to house the Rohingya there was only temporary.
Full report at:
https://www.channelnewsasia.com/news/asia/bangladesh-says-it-won-t-assimilate-rohingya-muslims-10709728
--------
Suu Kyi says handling of Rohingya could have been better
September 13, 2018
Myanmar's handling of its Rohingya Muslims, 700,000 of whom have fled to Bangladesh amid a brutal military campaign, could have been better, Nobel Peace Prize laureate and leader Aung San Suu Kyi said Thursday.
Myanmar's army is accused of mass rape, killings and setting fire to thousands of homes in the aftermath of an August 2017 attack by Rohingya militants on security outposts. A report issued two weeks ago by a specially appointed UN human rights team recommended prosecuting senior Myanmar commanders for genocide and other crimes.
"There are of course ways in which with hindsight I think the situation could have been handled better," Suu Kyi said, responding to questions during a one-on-one discussion at the World Economic Forum's regional meeting in Hanoi.
She still defended Myanmar security forces, saying that all groups in western Rakhine state had to be protected.
"We have to be fair to all sides," Suu Kyi said. "The rule of law must apply to everyone. We cannot choose and pick."
Suu Kyi said the situation was complicated by the myriad ethnic minorities in the area, some of which are at risk of disappearing entirely and which include not just the Muslims and Rakhine Buddhists.
Although the violence in Rakhine state has eased, Myanmar has to deal with its aftermath, especially the repatriation of the Muslim Rohingya who fled and the underlying causes of tension that makes them targets of discrimination and repression in overwhelmingly Buddhist Myanmar.
Suu Kyi said that Myanmar is prepared to take those who fled back, but their return has been complicated by the fact that two governments are involved.
Full report at:
https://www.thedailystar.net/rohingya-crisis/news/suu-kyi-says-handling-rohingya-could-have-been-better-1633261
--------
U.S. airstrikes leave at least 30 Taliban dead in Ghazni province
Sep 13 2018
The coalition forces in Afghanistan have released a new video of airstrikes on Taliban militants in southeastern Ghazni province of Afghanistan.
According to a short statement released by the coalition forces, the airstrikes were carried out on 10th September in the vicinity of Nawa district, leaving at least 30 militants dead.
"U.S. Forces in Afghanistan conducted two kinetic strikes against Taliban leaders and fighters assembled at adjacent compounds in Nawah district, Ghazni province, Afghanistan, September 10, 2018. The double-structure strike resulted in 30 Taliban killed," the statement said.
Ghazni is among the relatively volatile provinces in southeastern parts of the country where the Taliban militants are actively operating in some of its districts.
The group launched a coordinated attack on the provincial capital of Ghazni province earlier last month that lasted for several days.
Full report at:
https://www.khaama.com/video-u-s-airstrikes-leave-at-least-30-taliban-dead-in-ghazni-province-5949/
--------
Pakistani militants among 35 killed in Paktia operations: Officials
Sep 12 2018
The local authorities in southeastern Paktia province are saying at least 35 militants including a number of Pakistani militants have been killed during the operations in this province.
The operations are being conducted as part of Thunder-2 operations and the casualties on the militants were inflicted in Zurmat and in the outskirts of Gardez city.
The Commander of Thunder Corps Rohullah Khalil Oghli said at least 35 militants have been killed and at least 50 others have sustained injuries during the operations.
He said the operations are being conducted with the support of airpower and artillery strikes.
Oghli further added that the Afghan forces have the capabilities to eliminate the Afghan and foreign militants and the latest casualties inflicted on the militants is an example of the growing capabilities of the armed forces.
In the meantime, the provincial government in a statement said scores of militants have been killed or wounded during the operations in the past two months.
Full report at:
https://www.khaama.com/pakistani-militants-among-35-killed-in-paktia-operations-officials-05947/
--------
U.S. military release HIMARS strike video on weapons, explosives cache in Helmand
Sep 12 2018
The coalition forces in Afghanistan have released a new video of artillery strike involving HIMARS system targeting a cache of weapons and explosives of the Taliban in southern Helmand province of Afghanistan.
According to a short statement released by the coalition forces, the strike was carried out in support of the Afghan National Defense and Security Forces (ANDSF) as they were conducting operations in Nad 'Ali District and discovered a compound containing a large weapons and explosives cache.
"In support of ANDSF maneuver, Task Force Southwest conducted a strike on the compound with HIMARS to safely and completely eliminate the hazardous material from the battlespace, degrading the Taliban's ability to conduct combat operations in central Helmand," the statement said.
Helmand is among the relatively volatile provinces in southern Afghanistan where the Taliban militants are actively operating in some of its districts and often carry out insurgency activities against the security forces and the government.
Full report at:
https://www.khaama.com/u-s-military-release-himars-strike-video-on-weapons-explosives-cache-in-helmand-05944/
--------
ICC shrugs off US threats over Afghan war crimes probe
Sep 12, 2018
The International Criminal Court (ICC) has firmly dismissed a threat of sanctions against it by US National Security Adviser John Bolton in case it probes possible US war crimes in Afghanistan, declaring that it will continue its work "undeterred."
"The ICC, as a court of law, will continue to do its work undeterred, in accordance with those principles and the overarching idea of the rule of law," the ICC announced in a Tuesday statement, a day after Bolton used bullying rhetoric against the UN-backed tribunal in The Hague.
Bolton brazenly threatened on Monday that if the ICC proceeded with a possible probe into possible war crimes committed by the US military and intelligence operatives during its war in Afghanistan or pursued any investigation into war crimes by the Israeli regime or other American allies, Washington would impose sanctions against the court and seek to prosecute its officials where possible.
Reacting to the unprecedented threat by the senior US official, the international court further insisted that it was an independent and impartial institution with the backing of 123 nations, and that it would not be intimidated or dissuaded from its global task.
ICC Prosecutor Fatou Bensouda announced last year that there was a "reasonable basis to believe" war crimes and crimes against humanity had been committed in Afghanistan and that all sides in the 17-year-old conflict would be inspected, including members of the US military and its Central Intelligence Agency (CIA) spying network.
In its Tuesday statement, the ICC did not say clearly whether it will launch a probe of possible war crimes by the US in Afghanistan.
Bolton threatened that if such an investigation went forward, Washington would ban ICC judges and prosecutors from entering the US, sanction the funds they have there, and even prosecute them in American courts.
'Straight out of an authoritarian playbook'
Washington has refused to ratify the Rome Treaty that established the ICC. The US has adopted the so-called American Services-Members' Protection Act — nicknamed The Hague Invasion Act — which authorizes the use of any means necessary to free any American personnel held by the court.
Bolton's remarks, meanwhile, have alarmed many legal experts, including the executive director of the London-based International Bar Association, Mark Ellis, who blasted what he referred to as "the [US President Donald] Trump administration's repugnant policy of exceptionalism."
"The extraordinary attack launched by… Bolton against the ICC is not only in direct contradiction to the principle of accountability for war crimes, but reinforces the Trump administration's repugnant policy of exceptionalism, where it demands adherence to international law by all countries, except itself," Ellis said, as quoted in a report by British daily The Guardian.
The paper also quoted the director of the American Civil Liberties Union's human rights program, Jamil Dakwar, as saying, "The Trump administration's threat to criminally prosecute and sanction international criminal court judges and prosecutors is straight out of an authoritarian playbook."
'Justice not a luxury'
Bolton's remarks were also censured by Head of Afghanistan's Human Rights Commission Sima Samar, who said, "It's very unfortunate because delivering justice to victims will help to facilitate the peace process in Afghanistan," she said. "Justice is not a luxury. It is a basic human right."
Full report at:
https://www.presstv.com/Detail/2018/09/12/573894/ICC-US-Bolton-threat-war-crimes
--------
Southeast Asia
Okay for non-Muslims to question caning, says preacher
Robin Augustin
September 13, 2018
KUALA LUMPUR: A prominent Muslim preacher says there is nothing wrong with non-Muslims questioning the public caning of two women convicted of attempting same-sex relations in Terengganu.
At the sidelines of a forum here yesterday, Wan Ji Wan Hussin said the Quran did not prohibit any of God's creations from asking questions, although insults should be avoided.
Wan Ji Wan Hussin.
This applied to everyone, regardless of whether they were Muslims or not, he added.
"Questioning is not wrong. For those who don't allow questioning, the problem is with them, not Islam," he said after the forum on public caning titled "Sebatan Di Khalayak Ramai: Sejauh Mana Islamiknya".
"This is the problem with some of our religious intellectuals who aren't prepared to answer tough questions," he added.
He said the caning of the two women could be questioned as the punishment was not found in the Quran or hadith, but was based on the views of a shariah court judge.
He added that the punishment had been adapted from the punishment for zina (unlawful sexual intercourse) which was different from same-sex relations.
"So in this context, it's not wrong to discuss or even criticise, and it's not wrong for non-Muslims to dispute it."
In addressing the lesbian, gay, bisexual and transgender issue, he added, what wasn't contained in the Quran shouldn't be claimed as such.
"We have to celebrate the views of the majority, but at the same time we mustn't deny the existence of minority views."
The end goal, he said, was to develop a better society without animosity, discrimination or denial of rights.
Activist Fadiah Nadwa Fikri meanwhile told FMT that the people needed to question those in authority over the caning saga.
"We must start questioning how those in power use this issue to remain in power or get power.
"It's about standing up for the marginalised and the oppressed, and building a society that upholds compassion and justice."
Fadiah, who was a panellist at the forum, said politicians on both sides of the divide would continue to exploit the issue which was why the people had to make discussions on the issue public.
"Everyone has a duty to talk about it, not just Muslims but everyone who believes in upholding the principles of justice and compassion."
The two women who pleaded guilty to attempting same-sex relations in a car in Terengganu were caned six times each at the state's Shariah High Court earlier this month.
The sentence, the first for such an offence in the country, was witnessed by more than 100 people including family members, lawyers and members of the media.
https://www.freemalaysiatoday.com/category/nation/2018/09/13/okay-for-non-muslims-to-question-caning-says-preacher/
--------
Anwar 'appalled' by Suu Kyi over Rohingya issue, criticises China's Muslim camps
SEP 12, 2018
HONG KONG (BLOOMBERG) - Anwar Ibrahim, who's in line to become Malaysia's next premier, blasted Myanmar leader Aung San Suu Kyi's treatment of the Rohingya and called for formal talks on China's crackdown against its Muslim minority.
"I was appalled by the attitude of Suu Kyi these days," Anwar said in an interview with Bloomberg Television's Sophie Kamaruddin in Hong Kong.
"Buddhists, Muslims, Christians all supported her. Why must she continue to be seen to be condoning crimes against the minority?"
The United Nations has said the treatment of Rohingya in Buddhist-majority Myanmar may amount to genocide, a report that Suu Kyi's government has rejected. The crisis, which has seen more than 700,000 minority Muslims in Myanmar flee to Bangladesh, didn't even make it onto the agenda of an Asian leaders meeting in Nepal last month.
Anwar, who has an agreement to take over from Malaysian Prime Minister Mahathir Mohamad in a year or two, also spoke out about China's treatment of Turkic-speaking Uighurs.
Multiple accounts have emerged of secretive "re-education camps" that have detained tens of thousands to "upwards of 1 million" Uighurs, according to a UN committee's assessment.
While Malaysia's government raised the Uighur issue with China, officials in Beijing view it as an "internal issue," Anwar said.
"This has gone out into the mainstream media as an issue, and I believe we should use a proper forum to start highlighting these issues and seek this understanding from the Chinese authorities."
Anwar's comments amount to some of the strongest yet from a senior political leader in Asia condemning abuses of Muslim minorities. Regarding China in particular, governments in Muslim-majority countries from Saudi Arabia to Indonesia have been silent even as calls grow in the US and Europe for China to stop the alleged human-rights abuses.
China officially denies problems in Xinjiang, a vast region the size of Alaska bordering Pakistan and Afghanistan that's home to some 10 million Uighurs. During a visit to Kuala Lumpur, Chinese Foreign Minister Wang Yi reiterated support for Malaysia's new government while adding that China won't interfere in other countries' internal affairs.
That echoes its warning against US lawmakers who urged sanctions against senior Chinese officials.
'SCARED'
Asked why Muslim governments have largely been quiet on the Uighurs, Anwar said: "They're scared. Nobody wants to say anything."
China is the largest trading partner of Malaysia and many other countries around the world. Mahathir has taken an assertive stance towards Beijing, warning against "a new version of colonialism" while cancelling billion-dollar projects backed by Chinese state companies.
Suu Kyi has faced widespread criticism for failing to protect press freedom or doing more to protect hundreds of thousands of minority Muslims. Her government has rejected the UN report calling for a genocide investigation, saying it undermined official efforts to bring peace and national reconciliation.
The UN report "will only serve to create further divisions and mistrust in Rakhine State and the entire country," Myanmar's foreign ministry said in a statement.
Anwar's criticism of Suu Kyi is more personal. Both were among Asia's most famous political prisoners, locked up repeatedly by oppressive regimes. Anwar was only released from jail in May after his coalition ended the six-decade rule of Barisan Nasional led by former Prime Minister Najib Razak.
'DISGUST'
In 2012, Anwar's wife and current Deputy Prime Minister Wan Azizah Wan Ismail sent Suu Kyi a personal letter congratulating her for an election win and asking her to use her power to help the Rohingya.
"Your voice carries much weight and I beseech you to use that voice to care for the oppressed," Wan Azizah wrote, adding: "I look forward to your rise in Myanmar, so that the fate of all your citizens including the Rohingya improve."
On Wednesday in Hong Kong, Anwar said "disgust" might be a more appropriate for how he feels about Suu Kyi. He said she wasn't even prepared to say "stop the killings."
"Aung San Suu Kyi is a real, real disappointment," he said.
Full report at:
https://www.straitstimes.com/asia/se-asia/anwar-appalled-by-suu-kyi-over-rohingya-issue-criticises-chinas-muslim-camps
--------
Concerns are growing that Malaysia is going backward in terms of religious freedom
09/12/2018
Kuala Lumpur (AsiaNews) – The deterioration of religious freedom in Malaysia worries not only the country's Christians and other minorities, but also Muslims who make up about 62 per cent of the its population, this according to a study published by Églises d'Asie.
According to the press agency of the Society for Foreign Missions of Paris (MEP), the new government's political inertia is feeding the uncertainty.
In Malaysia, the national identity card of everyone above 12 years of age includes references to race and religion. The notions of Malay supremacy and Muslim supremacy (Ketuanan Melayu and Ketuanan Islam) are closely linked since ethnic Malays are legally required to be Muslim.
However, this means that Muslims' religious choices and practices are severely restricted. They cannot practise religion as they see fit. They can be prosecuted for not fasting or for refusing to pray, whilst women are under increasing pressure to wear the Islamic veil.
Shia Islam and other non-Sunni sects are banned. Those who offer alternative interpretations to Sunni Islam can prosecuted. Other religions are not allowed to proselytise.
Muslims cannot convert to other religions and anyone who marries a Muslim must embrace Islam. Mixed couples have three choices: convert, leave the country or live together outside marriage.
Agencies such as the Department for Islamic Advancement of Malaysia (JAKIM) monitor the country's religious life.
Since Mahathir Mohamad became prime minister with Anwar Ibrahim as Education Minister, things have gotten worse.
The 92-year-old Mahathir is expected to yield the leadership of the ruling coalition to Anwar Ibrahim in the near future; thus, all hope for major reforms in favour of religious freedom is bound to fade.
The appointment of Mujahid Yusof Rawa as minister for Religious Affairs in the Prime Minister's Department had raised some hope.
Rawa was once in charge of inter-faith relations for the Malaysian Islamic Party (PAS) and is now a member of the more moderate AMANAH party; however, he recently supported the introduction of new legislation that would punish insulting religion or race with up to seven years in jail or a fine of 100,000 ringgits (almost US$ 25,000). These bills, and the one on religious and racial hatred, will soon go before Parliament.
According to official statistics, 9 per cent of the Malaysian population is Christian. About half of all Christians are Catholic, but the government does not differentiate between Churches.
In theory, the Constitution guarantees religious groups the right to manage their own affairs. However, this right has often been breached; for example, over the use of the word "Allah" by non-Muslims. In 2014, the High Court rejected a Christian request for the right to use the term, which means "God" in the Malay edition of the Bible.
Similarly, the rights of non-Muslims are often subordinated to Islamic law (Sharia), which is enforced by courts in cases involving both Muslims and non-Muslims.
Almost 75 per cent of Malaysian Christians live in eastern Malaysia (Borneo) and 65 per cent of them are Orang Asli (indigenous). Christians are the most organised non-Muslim group. For this reason, they are monitored by the state and subject to its pressures.
Full report at:
http://www.asianews.it/news-en/Concerns-are-growing-that-Malaysia-is-going-backward-in-terms-of-religious-freedom-44915.html
--------
There are attempts to de-Islamise Malaysia, PAS supremo warns members
September 13, 2018
KUALA TERENGGANU: The top PAS leader today warned members of attempts to de-Islamise Malaysia, saying the aftermath of Pakatan Harapan's victory in the general election last May has seen calls to lessen the role of Islam in the public sphere.
Addressing delegates of the PAS Ulama wing ahead of the party's muktamar or annual assembly in Kuala Terengganu, Hashim Jasin said there were now "deviant voices" calling to banish Islam from governance as well as the dismantling of Islamic institutions.
Hashim accused DAP leaders of being behind a "Christianisation" movement to take control of the country's politics and economy, adding that the party was now spearheading efforts to block Islamisation.
He also blamed those subscribing to the "liberal" and "secular" agenda in the name of democracy and human rights.
"They have resorted to questioning all Islamic law being practised in the country.
"These are the people who have called for religious education institutions to be abolished, and they want secularism to remain and do not want any religious elements in governance," he said.
Hashim said since the May general election, anti-Islam movements have grown through legal channels.
He gave as examples the "growing" Shia teachings as well as groups such as Sisters in Islam and G25 becoming more vocal.
"The present (ruling) coalition, including those who represent Malay Muslims, have failed to play their role in defending the dignity of Islam, and are unable to bring it to its rightful place," he added.
'Umno members not our enemies'
Hashim also urged PAS members to exploit a weakened Umno today by reaching out to their members and supporters and "bring them back to Islam".
"Yes, we know the terrible things Umno has done in the past 60 years as the government, but with an open heart, we must work towards correcting Umno members' Islamic understanding by getting close to them," he said.
"We cannot be harsh with our political foes who are also Muslims, just because of their record of ignorance, secular influence in their thinking and also records of their corrupt practices."
Hashim welcomed the close cooperation shown by Umno and PAS in the Sungai Kandis and Seri Setia by-elections, where each party made way for the other to ensure opposition unity.
He said the current political reality demands Malays to unite under the Malay-Islamic agenda.
Hashim said a weaker Umno would allow the party to realise its past wrongs.
"Umno has to be weakened, but for what? So that we can rule? No. It is so that they will realise what they have done wrong.
"They are now weak and have come to see us, so let us use this situation well to bring them back to the right path of Islam, not for political purposes," he said.
He said history showed that both parties could still unite despite the tension between them.
He said following the 1969 racial riots, PAS had agreed to join the then Umno-led Alliance in the interest of Malay-Muslim unity.
"The scholars then debated for a very long time on the law governing the PAS-Alliance cooperation, and finally decided to make it happen, with very strict conditions," he said.
He said the cooperation still happened despite PAS leaders being detained under the Internal Security Act (ISA).
Full report at:
https://www.freemalaysiatoday.com/category/nation/2018/09/13/there-are-attempts-to-de-islamise-malaysia-pas-supremo-warns-members/
--------
Europe
Saudi Arabia, UAE 'Lead Way In Fighting Terror Ideology': Tony Blair
September 13, 2018
DUBAI: Governments around the world need a coherent, global strategy to uproot the ideology of violent extremism, former British Prime Minister Tony Blair says. In Saudi Arabia and the UAE, they already knew that — and have been acting on it for years.
Organizations such as the Saudi-based Ideological Warfare Centre and Muslim World League, and Hedayah and the Sawab Centre in the UAE, are classic examples of the "prevention is better than cure" methods that Blair calls for on Thursday in a report by his Institute for Global Change.
"Extremism is a global challenge prevalent now in both developing and developed states, so the discourse has to be beyond fragile states only," said Hassan Abbas, professor of international security studies at the National Defense University in Washington. "Enabling civil society workers to promote coexistence is a much-needed agenda item as it will lead to local capacity-building as well as acknowledgement of good work already being done — rather than misguided attempts to reinvent the wheel."
The Ideological Warfare Center, founded by the Saudi Ministry of Defense, "has been concentrating on educating people and raising awareness about extremism and fundamentalism through cutting-edge visual tools," said Dr Majid Rafizadeh, Iranian-American pol- itical scientist, president of the International American Council and board member of the Harvard International Review. "The UAE and Saudi Arabia have been leading states in using soft power, security, setting up public and private institutions that raise awareness about extremist ideologies, initiating dialogues between different societies, as well as taking regional and global initiatives to uproot terrorism and extremist ideologies."
Such a complex approach is challenging because of the difficulty of coordination between various inter-governmental and intra-governmental organizations, he said. "Nevertheless, in the long term, this is the most effective strategy to uproot extremist ideology and terrorism."
Dr. Anne Speckhard, director of the International Center for the Study of Violent Extremism, said such efforts are crucial to prevent violent extremism. "Saudi Arabia has for years been counter-messaging and working on ways to disengage and deradicalize imprisoned violent extremists," said Dr Speckhard, who has more than 20 years' experience interviewing 600 terrorists, their family members, hostages and close associates. "When countries work together on these points, we can all win. If governments fail, terrorists win."
However, criticism of the Blair approach came from Dr. Abdulkhaleq Abdulla, chairman of the Arab Council for Social Sciences. "It puts the blame on Arab Muslim countries for extremist ideologies in our region," he said. "What it neglects is the important historical facts that Al-Qaeda was born from the reaction to the Soviet invasion of Afghanistan and Daesh is a result of a US invasion of Iraq."
Terrorism was rooted in foreign invasions of Muslim countries, he said. "The reasons are political, not ideological or religious. The argument from the West is apologetic on one hand, but also shifting the blame where it shouldn't be."
He said the Gulf had already done more than Blair recommended. "Saudi Arabia and the UAE are strict when it comes to financing, and regulation is tight. There is zero tolerance for extremism, we have done the most we can do."
For Dr. Richard Burchill, director of research and engagement at Trends Research and Advisory in Abu Dhabi, overcoming extremist ideologies requires a focus on education at all levels of individual development, to build and support critical thinking skills, tolerance and empathy. "As acts of violent extremism decline, we should not assume the situation is improving," he said. "It is imperative to address the ideologies that support extremist positions, both violent and non-violent. Extremist ideologies damage societies by creating differences and discrimination, fostering feelings of distrust and grievance. Security policies are important for addressing extremism, but also important is addressing the ideas behind the extremists."
Critics say that the Blair approach contains little new thinking. "Since 9/11, scholars and policy wonks have been thinking along the lines of prevention before cure," said Dr Albadr Al-Shateri, politics professor at the National Defence College in Abu Dhabi.
"There is a greater chance with the Arab Gulf states, who have a genuine interest in combating extremism and terrorism. The UAE spearheads the region in this field as it plays host to organizations such as Hedayah and the Sawab Center. It is also the sponsor of the Muslim Council of Elders and the Forum for Promoting peace in Muslim Society."
Encouraging civic society movements that are intent on promoting co-existence would be key, and a new strategy could lend support to such organizations and reinvigorate them to prevent counter-extremism fatigue, he said.
"How to generate financial and political resources in hard economic times will remain a challenge. The lack of political progress on the Palestinian problem will be another challenge, especially since Western powers are inept at restraining Israeli excesses."
http://www.arabnews.com/node/1371241/saudi-arabia
--------
French Islam Reform Report Claims Radical Salafism Dominates Islamic Intellectual Circles
12 Sep 2018
A new report advising French President Emmanuel Macron on his proposal to reform Islam in France has claimed that radical Salafism has gained a monopoly on French Islamic intellectual thought.
The new report, authored by French-Tunisian Islam expert Hakim el Karoui of the Montaigne Institute, claims that radical Islamist ideas permeate France's Islamic intellectual circles, saying that bookshops have become dominated by radical versions of the religion, French radio broadcaster RTL reports.
Even more troubling, the report claims that those who answer questions posted online about Islam in France are often linked to radical Salafist preachers, as well.
El Karaoui also looked into the influence of foreign actors in the French Islamic scene and found that two countries, Turkey and Saudi Arabia, had used their funding of imams and mosques to disseminate more radical intellectual strains of Islam and the political ideology of Islamism to great effect among France's Muslims.
In addition, the report mentions the progression of Islam in France, noting the successes of bloggers wearing the hijab as well as "halal" versions of ridesharing apps like Blablacar saying, "if you are a boy, the car will be driven by a man, if you are a woman, she will be driven by a woman," and even a halal version of Airbnb.
In order to stop the fracturing of French society, El Karaoui concluded that France must set up a neutral national Muslim organisation that could take over training of imams and dispense with the need for overseas funding for mosques and other projects from countries like Turkey and Saudi Arabia.
President Macron announced he would be looking at reforming Islam in France earlier this year but expressed a need for change as early as last November when he said: "Radicalisation has taken hold because the French Republic has resigned."
Full report at:
https://www.breitbart.com/london/2018/09/12/french-islam-reform-report-claims-radical-salafism-dominates-islamic-intellectual-circles/
--------
Germany can't look away if Syria uses chemical weapons
September 12, 2018
BERLIN: Chancellor Angela Merkel said on Wednesday Germany could not simply look away if chemical attacks took place in Syria, two days after her government said it was in talks with its allies about a possible military deployment in the war-torn country. The conservative leader said it could not be Germany's answer to reject military intervention, a direct rebuke of her Social Democratic coalition partners, who have rejected participation in military action against Syria.
"It cannot be the German position to simply say 'no', no matter what happens in the world," she told the Bundestag lower house of parliament.
Germany, the world's fourth largest economy, is under pressure from the United States to boost military spending and shoulder more responsibility within NATO. It did not participate in military strikes carried out by US, French and British forces on Syria in April after a chemical weapons attack.
But Merkel and her conservatives must win over the more pacifist Social Democrats (SPD), junior partners in the ruling coalition, and overcome massive public opposition to Germany's participation in military combat missions.
Full report at:
http://www.arabnews.com/node/1370941/middle-east
--------
India
Coins found at Delhi's Khirki mosque may be from Sher Shah's era
Sep 13, 2018
Parvez Sultan
The discovery of 254 copper coins, buried just 20 centimetres below the ground at Khirki mosque in south Delhi, has left conservators wondering how they remained undetected for so long. The coinage has now been handed over to the Archaeological Survey of India (ASI's) 'science branch' at Red Fort for further investigation.
A senior ASI official said, "The unearthing of the coins was not surprising but how did the hoard stay unnoticed? Not too long ago, the site was a den of drug addicts ruffians."
While cleaning the Khirki mosque compound as part of the ongoing conservation work at the 14th century building, a team of ASI's Delhi circle had found the coins buried near the causeway along the southern wall Monday.
NK Pathak, superintending archaeologist, ASI (Delhi circle) said efforts to trace the archaeological value the coins has begun, with the circle deciding to handover the coinage to its 'science branch' at Red Fort. Preliminary study, he said, shows the hoard of metal currency belongs from the era of Sher Shah Suri (1538-1545) or Islam Shah (1545-1554).
"A few of the coins — which have Persians text on them — were cleaned by the science branch experts. It is believed that some of the coins belong from the days of Sher Shah Suri and his successors. After all the coins are cleaning, the process to decipher the same will start," Pathak said.
Meanwhile, the ASI also started scientific clearing of the area under the technical supervision of archaeologists.
While removing earth at the site, conservators have also found a white stone mortar-and-pestle, generally used to grind spices.
But another ASI official said, "The mortar-and-pestle must have been put at the site later. We will investigate how this stone implement and the coins landed here. The coins can be the mosque's property or maybe someone hid their personal wealth at the site. All of it is under investigation."
https://www.hindustantimes.com/delhi-news/coins-found-at-delhi-s-khirki-mosque-may-be-from-sher-shah-s-era/story-pVPlHrUz8dduH0gXwmcGqN.html
--------
Gurgaon mosque with 'loud' loudspeakers sealed, civic body says it's too close to IAF ammunition depot
September 12, 2018
A week after Gurgaon's Sheetla Mata Colony experienced tension over the use of loudspeakers at a mosque in the area, the Municipal Corporation of Gurgaon on Wednesday sealed the mosque, with MCG commissioner saying it is too close to the Indian Air Force (IAF) ammunition depot. The sealing comes after some people belonging to Hindu outfits objected to the use of loudspeakers in the area, claiming that azaan or the call to prayer was disturbing them.
"The mosque has been sealed in accordance with the order of the Punjab and Haryana High Court, which prohibits any new construction within 300 metres of the IAF ammunition depot. The structure lies within this radius," said Yashpal Yadav, MCG Commissioner.
On September 6, representatives of the Muslim community had met the deputy commissioner (DC) to discuss the matter. In a letter to him, the Muslim Ekta Manch had alleged, "Two-three days ago, some anti-social elements came to the area and submitted a letter against us to the Commissioner of Police. The SHO of Sector 5 police station called both sides on September 5 and asked us to keep the volume of the loudspeaker low."
The community had claimed that the volume of the loudspeaker was lowered but some people belonging to Hindu outfits from outside the village were not "satisfied". "They said they did not like the presence of a mosque in the locality and that they would not allow us to pray there. They also indulged in sloganeering and threatened to kill us and burn our houses," Haji Shehzad Khan, chairman of the Muslim Ekta Manch, told The Indian Express last week.
The representatives of Hindu outfits had said they could not meet the DC on Thursday (September 6) as "he was busy with other meetings". "Outfits had protested on Wednesday over the use of loudspeakers for prayers at a three-storey house. A letter was also given to the SHO, calling for a ban on the use of mic and loudspeakers and on reading namaz at the house," Rajiv Mittal, national general secretary of the Akhil Bharatiya Hindu Kranti Dal had said.
Full report at:
https://indianexpress.com/article/india/gurgaon-municipal-corporation-seals-mosque-too-close-air-force-ammunition-depot-muslims-hindu-outfits-5352748/
--------
TMC Muslim Leaders Ask Muslims to Refrain From Brandishing Swords on Muharram
September 12, 2018
Ahead of Muharram this year, the Trinamool Congress has instructed Muslims to refrain from brandishing swords and Lathis during Tazia processions on the occasion.
Party MPs Idris Ali and AH Imran on Wednesday met leaders of the minority community in Kolkata and made an appeal to mark the occasion in a manner that does not "hurt" sentiments of any other community.
"We appeal to our Muslim brothers that they should celebrate Muharram like every other year but they should also remember it is a sombre event and not an occasion to brandish swords and Lathis. Islam does not permit this," party Lok Sabha MP Idris Ali said during a press meet called by the All Indian Minority Forum.
"People should adhere to Shariat while observing Muharram. One political party is trying to create riots. Why should we give them the opportunity?" he added.
Also read | Why do Muslims mourn on Muharram? 9 things to know
Calling Chief Minister Mamata Banerjee as the symbol of communal harmony, Ali reminded how last year she had made an appeal to the Hindu community to halt Durga puja visarjan for sometime as it had overlapped with Muharram and this year the Muslim community should reciprocate positively in order to maintain peace.
Echoing Ali, Birbhum TMC leader Anubrata Mondal has said, "Muharram shall be held in a way that people can enjoy it, just like they enjoy Durga puja visarjan. We have appealed for a peaceful Muharram and we should all take part in it."
"There is no use of sword or lathis in their religion. It is a very pure religion, one that sends a good message to the world. Not a single Maulavi here spoke of the use of lathis (during Muharrum)," Mondal said, after conducting a meeting called by the TMC minority cell in Bolpur which was also attended by clerics and leaders from the local minority community.
"Islam is a tough religion, I feel it is much tougher than Hindu religion. I really like whatever I have heard from them (Imams) today," Mondal added.
Terming any show of aggression during Muharram as anti-Islam, Imam of Kolkata's Nakhoda mosque Maulana Shafique Qasmi said, "It has got nothing to to do with Islam. Shariat is strictly opposes such practice. People should rather keep Roza, read the Quran and spread the message of sacrifice."
Earlier this year, Chief Minister Mamata Banerjee had given strict instruction to the police to crack down illegal armed processions during Ram Navami celebrations which took place in March.
Full report at:
https://www.indiatoday.in/india/story/tmc-leaders-ask-muslims-to-refrain-from-brandishing-swords-on-muharram-1338535-2018-09-12
--------
Optimistic about new Pakistan govt bringing Taliban to negotiating table: Abdullah
by Srinath Rao
September 13, 2018
THE Chief Executive of Afghanistan, Abdullah Abdullah, has said that he was hoping that sanctions imposed on Iran by the US do not affect the progress of the Chabahar port in the backdrop of the tripartite meeting this week between India, Afghanistan and Iran to discuss the key infrastructure project.
"We cannot influence the broader context of relationships between different countries. But at the same time, as far as we are concerned, we are in a situation where we need co-operation from all neighbouring countries, especially all the countries of the region. We hope the context of relations between different countries will not affect our relations adversely," Abdullah told The Indian Express on Wednesday.
Abdullah, who was in Mumbai for the India Afghanistan International Trade and Investment Show, also expressed optimism in Pakistan being able to bring the Taliban to the negotiating table with the US. Referring to new Pakistan Prime Minister Imran Khan's public commitment for peace in the South Asian region, Abdullah said Pakistan can exert pressure on the Taliban.
Full report at:
https://indianexpress.com/article/india/optimistic-about-new-pak-govt-bringing-taliban-to-negotiating-table-abdullah-5353451/
--------
Delhi: Court sends two suspected ISJK terrorists to judicial custody
September 12, 2018
A Delhi court sent two suspected members of the Islamic State in Jammu and Kashmir (IS-JK), arrested last week from near the Red Fort, to a two-week judicial custody on Wednesday.
Chief Metropolitan Magistrate Deepak Sherawat sent Parvaiz Rashid Lone (24) and Jamsheed Zahoor Paul (19) to judicial custody after they were produced before him on the expiry of their five-day police custody.
The two were arrested from the Jama Masjid bus stop, near the Red Fort, as they were about to board a bus to return to Jammu and Kashmir, the police had said.
The accused were using Delhi as a transit point, they had said.
Lone was the elder brother of Firdous Rashid Lone, who, along with one Sameer Ahmed Lone, was killed by the security forces in an encounter in Jammu and Kashmir on January 24, the police had said.
Lone was pursuing M.Tech from Gajrola in Uttar Pradesh after completing B.Tech from Amroha and had joined the IS-JK after his brother was killed by the security forces, the police had added.
Paul is a final-year electrical engineering diploma student in Jammu and Kashmir.
Full report at:
https://indianexpress.com/article/india/delhi-court-sends-two-suspected-isjk-terrorists-to-judicial-custody-5353120/
--------
India committed to Bangladesh's development: Indian High Commissioner
Sahidul Hasan Khokon
September 12, 2018
Indian High Commissioner to Bangladesh Harsh Vardhan Shringla said, "India is the committed development partner of Bangladesh. For the last few years, the cooperation between the two countries has been unprecedentedly expanded."
On Wednesday, he was delivering a speech at the international exhibitions of Textile and Textile Industry sector, International Convention City Bashundhara in Dhaka.
Jatiya Sangsad Speaker Shirin Sharmin Chowdhury, State Minister for Jute and Textiles, Mirza Azam MP, FBCCI President Shafiul Islam Mohiuddin, President of Indian Chamber of Commerce Rudra Chatterjee also spoke on the occasion.
Shringla said, "The garment industry is making a great contribution in the economy of Bangladesh. 84 per cent of Bangladesh's export earnings come from this industry. This sector is contributing 15 per cent to the GDP of Bangladesh."
The exporters of Bangladeshi garment industries had increased in the market of India due to the duty-free quotas in 2011, the High Commissioner said.
The export growth increases 115 per cent more in the fiscal year 2017-18 than 2016-17, the High Commissioner added. India is now one of the emerging markets of Bangladesh's export market.
India is one of the largest suppliers of raw materials in Bangladesh's ready-made garment industry. About one-fourth of the demand for cotton and yarn in this country comes from India. 25 per cent of India's cotton, yarn and fabric exports come from Bangladesh.
Textile engineering industry of India is one of the most important sources of garment machinery in Bangladesh.
Highlighting India as the committed development partner of Bangladesh, High Commissioner Shringla said that the Indian third credit line was upgraded to $5 billion during the visit of Prime Minister Sheikh Hasina to India in April 2017.
The total credit of the Indian credit line has increased to 8 billion in Bangladesh.
This is the largest Indian credit line than any country. He said that the cooperation between the two countries improved. He also mentioned the jointly inauguration of three development projects by the Prime Minister of Bangladesh Sheikh Hasina, Indian Prime Minister Narendra Modi, Chief Minister of West Bengal Mamata Banerjee and Chief Minister of Tripura Biplob Kumar Dev.
Full report at:
https://www.indiatoday.in/world/story/india-committed-to-bangladesh-s-development-indian-high-commissioner-1338543-2018-09-12
--------
One injured in terror attack near Jammu; police detain two
Sep 12, 2018
JAMMU: A group of five suspected terrorists travelling in a truck opened fire at Jammu-Srinagar National Highway, 35 km from the winter capital, injuring a civilian on Wednesday. Police have detained the truck driver and his helper, while the others managed to flee.
According to sources, the terrorists were travelling from Jammu to Srinagar and were intercepted near a dhaba in Jhajjar Kotli, where they had stopped for a meal. Barely a few metres from the dhaba, cops signalled the truck to stop after receiving reports of cattle smuggling. The driver, however, sped past the checkpost, and a chase ensued.
When cops caught up with the truck, the terrorists fired at the police party. Cops managed to detain the driver and his helper but three suspect fled the site and took cover in a forest nearby. An AK rifle and 3 magazines were recovered from the truck.
The police, Army and CRPF have launched search operations in the area. Army choppers have also been pressed into service. Security forces have sounded a high alert in the area.
"They (terrorists) are in age group of 18-22 years. Two of them have AK Rifles and third has a pistol," said a police spokesman, adding that a reward has been announced for any information of the terrorists.
Jammu SSP Vivek Gupta said, "Police posted at a checkpost on the highway signalled the truck to stop, but it sped up to avoid the naka checking. The truck was intercepted by a police team after a chase and one of the suspected terrorists fired on the cops from the vehicle before fleeing," he said.
Full report at:
https://timesofindia.indiatimes.com/india/one-injured-in-terror-attack-near-jammu-police-detain-two/articleshow/65788858.cms
--------
Mideast
Terrorists Warn Erdogan to Occupy Turkish Territories
Sep 12, 2018
The Arabic-language al-Mayadeen news channel reported on Wednesday that a notorious terrorist commander in Northern Idlib, bordering Turkey, has warned Erdogan that they will gain control of the town of Reihaniyeh in Turkey within 2 hours if he "sells Idlib" and desists from supporting them.
The terrorists who had been transferred from Eastern Ghouta of Damascus to Idlib are now warning that the militants will pass the cement walls built at the borders and enter Reihaniyeh region by digging tunnels.
The news came after a media outlet reported on Tuesday that Tahrir al-Sham Hay'at (the Levant Liberation Board or the Al-Nusra Front) terrorists were paying $10,000 each to Turkish border guards to be able to leave Idlib for Turkish soil as the Syrian Army is standing order to launch a major operation in Northwestern Syria.
The Arabic-language al-Watan daily quoted local sources in border regions of Darkoush, Salqin and Khirbet al-Joz in Idlib province as reporting that the Turkish border guards exchanged fire with terrorists that tried to escape Idlib towards Turkish territories.
The daily further said that the fighting erupted as the terrorists of Tahrir al-Sham were bargaining to lower the amount of money the Turkish guards had asked for to let the militants escape Idlib for Turkey.
It further pointed to intensified clashes between the Turkish border guards and terrorists in the last two days, adding that Tahrir al-Sham commanders have not thus far agreed to pay the demanded sums to the border guards to enter Turkey.
Full report at:
http://en.farsnews.com/newstext.aspx?nn=13970621000616
--------
Israeli military sends reinforcements to Palestinian village to begin its demolition
Sep 13, 2018
The Israeli military has reportedly sent reinforcements to Khan al-Ahmar as the regime prepares to demolish the Palestinian Bedouin village in the occupied West Bank in defiance of international warnings and criticisms.
The Palestinian Information Center reported on Thursday that Israeli forces had completely besieged Khan al-Ahmar, situated east of Jerusalem al-Quds, and deployed bulldozers to the village.
Last week, Israel's Supreme Court rejected appeals against the demolition of Khan al-Ahmar and said a temporary injunction that had put the move on hold would expire within seven days.
The Tel Aviv regime says the village is built illegally, but Palestinians say the demolition plan is part of the regime's forcible displacement policy to make room for its settlement construction activities on occupied land.
The United Nations urged Israel not to demolish the village, home to 180 Palestinians, adding that the planned move violates international law.
Saeb Erekat, Secretary General of the Palestine Liberation Organization (PLO), said on Tuesday that he had filed a complaint against Israel with The Hague-based International Criminal Court (ICC).
The dossier submitted "included a focus on the war crimes facing Khan al-Ahmar, specifically the crimes of forcible displacement, ethnic cleansing and the destruction of civilian property," Erekat said.
However, US National Security Adviser John Bolton attacked the ICC, threatening to sanction judges and other officials should the court conduct any probe into Israel or other US allies.
The Palestinian Authority (PA) condemned the Israeli court's "illegal" decision, saying it was meant to isolate Israeli-occupied Jerusalem al-Quds.
It also stressed that the demolition plan is part of the regime's attempts "to try to legalize the crimes of the Israeli occupation and its policies which are based on the forcible settlement and ethnic cleansing of Palestinian residents of their land and property."
The PA further called on Palestinians to come to the streets of Khan al-Ahmar to protest any attempt to demolish the village.
Responding to that call, dozens of protesters marched in the village carrying Palestinian flags.
Esam Abu Baker, coordinator of the Palestinian National and Islamic Forces in Ramallah, who took part in the protest, expressed confidence that the demonstrators "are staying on the land of our ancestors and we will not leave this place."
Khan al-Ahmar is located eight kilometers from Jerusalem al-Quds between the Israeli settlements of Ma'ale Adumim and Kfar Adumim, which Tel Aviv wants to expand.
About 600,000 Israelis live in over 230 settlements built illegally since the 1967 occupation of the Palestinian lands.
Emboldened by US President Donald Trump's all-out support, Israel has in recent months stepped up its settlement construction activities in the occupied territories in defiance of United Nations Security Council Resolution 2334.
Full report at:
https://www.presstv.com/Detail/2018/09/13/573983/Israel-Palestine-Khan-Ahmar
--------
Palestinian officials considering retaliatory measures against US penalties
Sep 13, 2018
A senior member of the Palestine Liberation Organization (PLO) says the body is weighing retaliatory measures against US penalties, including halting security cooperation.
"It's among possible steps we are thinking about," Hanan Ashrawi, a member of the PLO's executive committee, said during a press conference in Ramallah on Wednesday.
"We are thinking of many things that can be done," she added.
In the recent months, the administration of US President Donald Trump has executed a series of punitive measures against Palestinians in a bid to push them to the negotiating table in pursuit of the so-called peace plan that he calls as the "ultimate deal."
Late last month, Washington decided to cancel all US funding to the United Nations Relief and Works Agency for Palestine Refugees (UNRWA) as the first step.
Later, the US State Department announced that Washington had canceled over $200 million in funds for the Palestinian Authority, leading Palestinian officials to denounce the move as "blackmail."
The US administration also closed the Palestinian diplomatic mission in Washington on Monday, after it accused the Palestinian officials of not supporting peace talks with Israel.
Palestinian leaders maintain that all these decisions are blatantly biased in favor of Israel and are designed to force them into accepting Trump's terms.
"This American administration has adopted wholesale all the positions of the most extreme, right-wing, hard-line, racist Israeli government in the history of Israel," Ashrawi added.
She reiterated that the Palestinian leadership would discuss possible responses after Palestinian President Mahmoud Abbas attends the UN General Assembly meeting in New York later this month.
Meanwhile, Israeli Prime Minister Benjamin Netanyahu praised the US decision to shut the Palestinian mission in Washington.
"The (Palestinians') refusal to enter into negotiations with Israel and the unbridled attacks against Israel will not only not advance peace but will certainly not make things better for the Palestinians," he told members of his cabinet on Wednesday.
Ties between the US and Palestine have sharply deteriorated since Trump sparked international outrage on December 6, 2017 by declaring that Washington was recognizing Jerusalem al-Quds as the "capital" of Israel and that he had instructed his administration to begin the process of moving the American embassy from Tel Aviv to the ancient city.
The announcement prompted harsh international warnings that it would bring more chaos to the Middle East region.
Full report at:
https://www.presstv.com/Detail/2018/09/13/573975/Palestine-US-Donald-Trump-UNRWA-diplomatic-mission-PLO-Hanan-Ashrawi
--------
Saudi-led airstrikes kill 15 civilians in Yemen's Hudaydah
Sep 12, 2018
At least 15 civilians, including one child, have been killed as the Saudi-led coalition resumed its airstrikes on the outskirts of Yemen's port city of Hudaydah despite widespread international criticism over the war's impact on civilians.
According to reports by Yemen's Arabic-language al-Masirah television, about 20 civilians were also injured during Wednesday's bombings that were launched after a brief truce since July.
The Saudi-backed forces also captured a number of towns as well as two main supply routes linking Hudaydah to the capital Sana'a and Ta'izz province, the report added.
The bombings resumed after UN-brokered peace efforts failed in Geneva last week. The talks were aborted after the UN failed to meet conditions set by Yemen's Ansarullah movement, including transfer of wounded people to hospital for proper treatment and guarantees on the safety of the Yemeni delegation. Ansarullah also accused Saudi Arabia of planning to strand the delegation in Djibouti, where their plane was to make a stop en route to Geneva.
Delegates from Yemen's former government and representatives of the Houthi movement held their last UN-sponsored negotiations in Kuwait in 2016 in a bid to hammer out a "power-sharing" deal, but they fell apart after the Saudi-backed side left the venue.
Saudi Arabia and a number of its regional allies launched a devastating military campaign against Yemen in March 2015, with the aim of bringing the government of former president, Abd Rabbuh Mansur Hadi, back to power and crushing Ansarullah.
Some 15,000 Yemenis have been killed and thousands more injured since the onset of the Saudi-led aggression.
Full report at:
https://www.presstv.com/Detail/2018/09/12/573968/Yemen-Hudaydah-Saudi-Arabia-airstrikes-Houthis
--------
Turkish forces arrest Austrian journalist, activist on terrorism-related charges
Sep 12, 2018
Turkish security forces have arrested an Austrian journalist and activist, who writes for a far-left website, on suspicion of membership in a terrorist organization.
Online publication Re:volt reported that Max Zirngast, a political science student in his late 20s, was arrested at his apartment in the Turkish capital Ankara on Tuesday morning, and has been held ever since.
Austria called on Turkey on Wednesday to immediately explain why its national had been arrested.
"We expect Turkey to immediately explain what the journalist is accused of, and if that is not possible then to immediately release him," Austrian Chancellor Sebastian Kurz told reporters before a weekly cabinet meeting.
Re:volt has said it believes the allegation of a terrorism-related offence and any such charge against Zirngast would be false.
Kurz's government, a coalition of his conservatives and the anti-immigration Freedom Party, is opposed to Turkey joining the European Union and has called for accession talks to be dropped.
Austria is also fiercely critical of Turkey's heavy-handed crackdown on suspected followers of a movement led by US-based opposition cleric Fethullah Gulen, whom the Ankara government accuses of having masterminded the July 2016 coup attempt against President Recep Tayyip Erdogan.
During the 2016 botched putsch, a faction of the Turkish military declared that it had seized control of the country and the government of Erdogan was no more in charge. The attempt was, however, suppressed a few hours later.
Ankara has since accused Gulen of having orchestrated the coup. The opposition figure is also accused of being behind a long-running campaign to topple the government via infiltrating the country's institutions, particularly the army, police and the judiciary.
Gulen has denounced the "despicable putsch" and reiterated that he had no role in it.
Turkish officials have frequently called on their US counterparts to extradite Gulen, but their demands have not been taken heed of.
Turkey has been engaged in suppressing the media and opposition groups suspected to have played a role in the failed coup.
Tens of thousands of people have been arrested in Turkey on suspicion of having links to Gulen and the failed coup. More than 110,000 others, including military staff, civil servants and journalists, have been sacked or suspended from work over the same accusations.
Full report at:
https://www.presstv.com/Detail/2018/09/12/573936/Turkish-forces-arrest-Austrian-journalist-activist-on-terrorismrelated-charges
--------
Czech leaders endorse 'first step' in embassy move to Jerusalem
September 12, 2018
PRAGUE: Czech leaders on Wednesday endorsed a "first step" toward moving the country's embassy in Israel from Tel Aviv to Jerusalem, following a similar move by the US administration earlier this year.
In a joint statement, the Czech president, prime minister, parliament speaker, and foreign and defense ministers said the opening of a "Czech House" in Jerusalem in November would be "the first step in the plan to move the Czech embassy to Jerusalem."
Jiri Ovcacek, spokesman for pro-Israeli President Milos Zeman, told AFP that the Czech House would host government institutions including the foreign ministry's Czech Center, the trade agency CzechTrade and tourism agency CzechTourism.
"The Czech House in Jerusalem will be ceremonially opened by Mr.president during his visit to Israel in November," he said.
Zeman, a 73-year-old veteran leftwinger with anti-Muslim views, pushed for the embassy move even before US President Donald Trump moved the US embassy to Jerusalem on May 14.
Trump's decision infuriated Palestinians and intensified protests on the Gaza border, where several dozen people were killed in clashes with Israeli forces that day.
Trump's move also ruptured decades of international consensus that Jerusalem's status should be settled as part of a two-state peace deal between Israel and the Palestinians.
In May, the Czech Republic reopened an honorary consulate in Jerusalem following its closure in 2016 owing to the death of the honorary consul.
Full report at:
http://www.arabnews.com/node/1371216/world
--------
Yemeni information minister talks Arab Coalition, Houthis and peace prospects
12 September 2018
Yemeni information minister Muammar al-Iryani has published via Twitter the flight permit showing the Houthi delegation's plane had permission to take off from Sanaa airport bound for Geneva.
The permit, issued by the aviation authority as per a memorandum from the UN-backed government's foreign ministry, dismisses Houthi claims of obstructing their travel procedures to participate in the talks.
Iryani's post said the details in the permit are clear, showing the date, place, route and purpose of the trip, as well as the aircraft's model and owner, adding that this information had been released in coordination with the United Nations and the Arab Coalition.
In an interview with Al Arabiya English, Iryani said he would like to ensure everyone that military operations on the ground, under President Abd Rabbo Mansour Hadi, "have entered the decisive stage on more than one level."
He said "great victories" have been achieved in the port city of Hodaidah, one of the strategic cities under Houthi control, given that the maritime port had been used in smuggling Iranian weapons and reaping billions in revenue for their supply.
In Saada, Iryani said the military has also achieved huge victories and "has become close to the rebel stronghold in the Maran Mountains." As well as other military advances in areas on the two fronts of al-Nahda, Hifan and al-Qadha in the Taiz province.
This is in addition to the "huge collapses" of the Houthis on the fronts of Hiran, Mustaba, and Abs in the province of Hajjah and the cutting ties to the militia in the preface for the decisive battle in the capital Sanaa.
"What I would like to emphasize that Houthi militias have started using its reserve forces after people became reluctant and are refusing to fight along its lines, and this has military implications and indicates that an imminent end to the battle."
He also thanked on the behalf of the Yemeni army the Arab Coalition for their "brotherly support" to achieve these military victories to restore legitimacy in Yemen, praising Saudi Arabia's efforts under the leadership of King Salman bin Abdel Aziz and the Saudi Crown Prince Mohammad bin Salman.
Murder of innocent Yemeni boy
The Yemeni information minister also spoke about the murder of Abdul Rahman Akram Atran, a 10-year-old boy who was shot by a Houthi gunman while playing football.
He said the crime has shocked the Yemeni and Arab public opinion, and has revealed the criminality level the Houthi militias have reached, and the extent of their negligence Yemeni lives."
Stance of Yemeni media
The minister said that journalism in Yemeni had been facing "acts of repression, terrorism and abuse" since the Houthi coup.
He mentioned that journalists and media personnel have been killed, kidnapped, tortured and forcibly hidden in their efforts to do their job.
"This [topic] is painful and shocking to us in the legitimate government, and to me personally, it is a priority to us and we spare no effort, using our limited possibilities, we have worked on more than one level, went to the Human Rights Council in Geneva, met with leaders of the International Federation of Journalists in Geneva, and participated in many lectures and conferences around the world, to reveal the crimes and violations practiced by the Houthis against journalists and media professionals."
Houthis and peace
When asked why Houthis are leading peace talks to fail, despite their on-ground losses, Iryani said it is because the decision is not in their hands, and that "they are only a tool managed by remote control of regional parties, specifically Hezbollah and Iran."
He added that these parties take use Houthis to threaten the security of regional countries and international shipping routes and threatening to close the Strait of Bab al-Mandab in order to blackmail the world.
"What the whole world should understand is that the Houthi coup leaders have looted the state treasury, its cash reserve and continued to plunder public revenues for nearly four years. They see the continuation of this conflict as a gateway to wealth, accumulating funds, building financial and commercial empires through manipulation of the prices of oil derivatives, currencies, and looting of humanitarian aid and relief. Therefore, they view the end of this war and the restoration of peace as a loss of their privileges and interests."
Full report at:
https://english.alarabiya.net/en/News/gulf/2018/09/12/Yemeni-information-minister-talks-Arab-Coalition-Houthis-and-peace-prospects.html
--------
Yemeni army cuts off supply road between Hodeidah and Sanaa
12 September 2018
The Yemeni national army announced on Wednesday that it had taken control of the Hodeidah Sanaa strategic road and made new field progresses after reaching northern areas of the "Kilo 16" area in central Hodeidah after heavy fighting against the Houthi militias.
The army forces advanced toward the border of the directorate of Bagel north of the port city of Hodeidah, while other units advanced in the south of the city toward the university and the corniche area.
The military spokesman said that the army arrived at the Bagel junction connected with Hodeidah, the farms area, the al-Matahen round about and Nana Dairy Factory, making a presence in the northern outskirts of "Kilo 16", the most heavily fortified area of the pro-Iranian militia.
Full report at:
https://english.alarabiya.net/en/News/gulf/2018/09/12/Yemeni-Army-cuts-off-supply-road-between-Hodeidah-and-Sanaa.html
--------
Africa
South Sudan president, rebel leader sign peace deal
Sep 13, 2018
South Sudan's President Salva Kiir signed a peace agreement with rebel factions in the Ethiopian capital on Wednesday to end a civil war that has killed at least 50,000 people, displaced two million and held up the country's progress since it gained independence seven years ago.
South Sudan plunged into warfare two years after independence from Sudan in 2011 when a political dispute between Kiir and then vice-president Riek Machar erupted into armed confrontation. A previous peace deal signed in 2015 fell apart a year later after clashes broke out between government forces and rebels.
Machar, leader of the main rebel group, Sudan People's Liberation Movement-in-Opposition, and other insurgent factions signed the new agreement with the Juba government after assurances that a power-sharing accord would be honored. The deal, mediated by Sudan, reinstates Machar to his former role as vice-president.
https://www.presstv.com/Detail/2018/09/13/573977/South-Sudan-Salva-Kiir-Riek-Machar
--------
Top Al-Shabaab operative 'killed' in ambush
SEPTEMBER 12 2018
By The EastAfrican
A senior jihadist operative has been killed in Mogadishu, official said.
The spokesman for the Somali Police Force, Col Kassim Ahmed Roble, said Abukar Hassan Adde, better known as Sayyid Abukar, was killed in a confrontation early Tuesday.
He said that his forces wanted to capture Abukar alive so that he could face the law.
To capture
"The Somali police aimed at seizing Abukar Hassan Adde. Unfortunately, he resisted capture, mounting armed confrontation," said Col Roble.
"He died during an exchange of fire, but we managed to capture three of his Al-Shabaab companions who sustained injuries," the police officer added.
Abukar was reportedly in charge of Amniyaat, the Al-Shabaab security apparatus in eastern Mogadishu, especially Yakshid and Heliwa districts.
The killing
"The Al-Shabaab operative has been in our wanted list since 2015. He escaped police operations several times, but he has finally fallen today, Tuesday," remarked Col Roble.
Full report at:
http://www.monitor.co.ug/News/National/Top-Al-Shabaab-operative-killed-ambush/688334-4756012-fmbmt6z/index.html
--------
Conditions for elections not yet ripe in Libya, says Prime Minister Seraj
Sep 12, 2018
Libyan Prime Minister Fayez Seraj, who leads the UN-brokered transitional government based in Tripoli, says conditions in the conflict-ridden country are too unstable to hold elections in coming months.
"You cannot vote with instability in the streets ... it is necessary that everyone accepts the result of the ballot. We need shared rules," Seraj said in an interview with Italian daily Corriere della Sera.
The premier also cast doubts on a French-led push for a vote in December, which purportedly aims to end years of turmoil across the country. "We had talked about elections in Paris, but the constitutional document, which is ready but not approved, must first be voted on," the premier added.
In May, French President Emmanuel Macron hosted a conference where rival Libyan factions agreed to work with the United Nations for a national election by December 10.
Elsewhere in his remarks, Seraj said factions would need to agree on a constitution before any vote is held.
"Unfortunately, the parliament of Tobruk has not yet examined it. Without the constitution, how can one go to a national vote?"
Seraj's Government of National Accord (GNA) has sought to unify powerful factions, but despite support from the UN, it has struggled to assert its authority since it began work in Tripoli in March 2016.
A rival administration based in Libya's remote east, with which military commander Khalifa Haftar is allied, refuses to recognize Seraj's government.
Seraj has close relations with Italy. His main rival, military commander Khalifa Haftar, is aligned with a government based in the east and is seen as closer to France.
Libya slid into chaos after a NATO-backed uprising that toppled and killed longtime dictator Muammar Gaddafi in 2011. France was at the forefront of airstrikes carried out along with the United States and others in the NATO operation.
Armed groups have vowed to resume hostilities if talks to be hosted by UN Special Envoy Ghassan Salame do not result in a lasting settlement.
Full report at:
https://www.presstv.com/Detail/2018/09/12/573945/Libya-Fayez-Seraj-Haftar-Corriere-della-Sera-Italy-Paris
--------
Liberia: Muslims Resolved to Promote Peace, Fight Extremism
12 SEPTEMBER 2018
By Hannah N. Geterminah
Guest lecturers, members of the Foundation-Liberia branch and leaders of various Muslim organizations posed shortly after the symposium ended.
A two-day symposium, held at the Monrovia City Hall under the theme, "the Values of Tolerance in Islam, Moderation of Islam, and its Impact on Global Peace," ended yesterday, September 11, in Monrovia, with participants resolving to fight extremism as well as promote peace, tolerance and unity among fellow Muslims and peoples of different beliefs.
The Islamic symposium, which assembled over 150 Islamic scholars from across Liberia, including government officials and guest lecturers from the Kingdom of Morocco, presented various topics, among them methods of cooperation and core values of tolerance and moderation in Islam; respecting the rights of both Muslims and non-Muslims and peoples of other faiths across the globe; preaching the principles of Islam and the Holy Quran and the good messages of Prophet Muhammad (PBUH); learning to be generous at all times to the humankind irrespective of religion, status, creed, race or tribe; avoiding the use of profanity against fellow human beings and doing away with extremism.
Several Islamic scholars from Liberia and the Kingdom of Morocco made a presentation on these topics, and participants were filled with the knowledge, the full understanding as well as the impact and objective of the training. Participants also discussed the role of Muslims in spreading the accurate picture of Islam by following the teachings of the Holy Quran and the tradition of Prophet Muhammad.
They were exposed to the principles of tolerance and the concept of moderation as taught by Islam from September 10-11, 2018. They then extended thanks and appreciation to Ameer Almunineen Muhammad VI in his efforts to consolidate peace and security around the globe and particularly in the Muslim world.
Guest lecturers, members of the King Mohammed VI Foundation-Liberia branch and leaders of various Muslim organizations in Liberia, posed shortly after the symposium ended.
Sheikh Omaru Kamara, President of the King Mohammed VI Foundation- Liberia Branch, said the purpose of all the revealing scriptures sent down by the Almighty Allah is about respecting humankind.
"The scriptures call for respect for all mankind regardless of their tribe, creed, status in society, or religious affiliation," he said, adding: "Allah created human beings in the best form from the day of creation by commanding the angels that He made. Allah has honored the human family on earth. Allah honors us by subjecting his creation to human beings, etc."
Sheikh Kamara also lauded King Mohammed VI of Morocco and his foundation for its continued support to the country's Muslim community, extending a similar gratitude to President George Weah. He also extended appreciation to the management of Monrovia City Corporation for providing its facility for the successful conduct of the symposium.
"Moderation and justice are characteristics of Islam. It's therefore an obligation of all Muslims to follow these principles, including supporting tolerance and moderation," Professor Atiqua Bouhouria of the King Mohammed VI Foundation and a member of the Moroccan delegation to the Monrovia symposium, urged.
The Mohammed VI Foundation is based in the Kingdom of Morocco.
Full report at:
https://allafrica.com/stories/201809120322.html
--------
North America
Pompeo certifies Saudi Arabia, UAE protecting civilians
12 September 2018
United States Secretary of State Mike Pompeo says he has told Congress the governments of Saudi Arabia and the United Arab Emirates are doing enough to protect civilians amid their military operations to end the conflict in Yemen.
Pompeo said in a statement Wednesday he certified to Congress that the Saudi and Emirati governments "are undertaking demonstrable actions to reduce the risk of harm to civilians and civilian infrastructure."
He says ending the conflict has been "a national security priority" for President Donald Trump.
Defense Secretary Jim Mattis said last month the US intended to continue backing the Saudi-led coalition fighting Houthi militias in Yemen despite civilian casualties.
He said Wednesday he agrees the Saudi and Emirati governments are making "every effort to reduce the risk of civilian casualties."
https://english.alarabiya.net/en/News/gulf/2018/09/12/Pompeo-certifies-Saudi-Arabia-UAE-protecting-civilians.html
--------
Lawmakers, Citing Muslim Camps, Ask Commerce Dept. to Limit Technology Sales to China
By Edward Wong
Sept. 12, 2018
WASHINGTON — Members of Congress sent a letter on Wednesday to Commerce Secretary Wilbur Ross pressing him to impose limits on the sale of certain technologies by American companies to Chinese companies or agencies. The lawmakers argued that Chinese security forces might use the technologies for overbearing surveillance and other human rights abuses.
The two signers of the letter, Senator Marco Rubio, Republican of Florida, and Representative Christopher H. Smith, Republican of New Jersey, wrote that their concerns were "particularly acute" in relation to technologies used by security forces that are maintaining surveillance and mass internment camp systems on Muslim minorities in the northwest region of Xinjiang.
The Chinese government and the Communist Party have been building large internment camps in the vast borderland region to control the population of ethnic Uighurs, Turkic speakers who mostly practice Sunni Islam, and other Muslim groups, including Kazakhs. Western experts who have analyzed the camps say they hold up to one million people. Human rights advocates and legal scholars say that what Chinese officials are doing amounts to the worst human rights abuse in China in decades.
In recent months, China has come under growing international criticism for the system, and prominent news organizations have done investigative reports on the camps, including The New York Times.
The letter, which represents the views of the Congressional-Executive Commission on China, was issued as discussions intensify within the United States government about how to punish China for the camps, and is the second one the commission has sent to Mr. Ross this year on this issue.
Officials at the White House and in the State and Treasury Departments have been discussing whether to impose economic sanctions on senior Chinese officials who oversee the system of repression in Xinjiang. Those discussions were given new urgency after the congressional commission sent a letter last month to Secretary of State Mike Pompeo and Treasury Secretary Steven Mnuchin asking them to use the Global Magnitsky Act to impose sanctions on Chinese officials.
The commission named seven officials, but singled out Chen Quanguo, the party chief of Xinjiang. The Magnitsky Act, enacted by executive order in December, allows the United States to impose economic sanctions and travel restrictions on individual foreign officials deemed responsible for human rights abuses.
The letter on Wednesday to the Commerce Department said there should be a "presumption of denial" for sale of technology or equipment that would make a "direct and significant contribution to the police surveillance and detection system." That should include dual-use technology sold or resold to any parts of the Ministry of Public Security, the agency overseeing the police, the letter said.
The letter asked the department to explicitly add Chinese government groups and security agencies in Xinjiang to a list of entities barred from receiving technology exports. It said the department should also add to the list any Chinese groups or companies that are benefiting from the detention and surveillance system in Xinjiang.
"We have received the letter from Senator Rubio and Representative Smith and thank them for their leadership on this important issue," Mr. Ross said in a statement. "We will work with them and our partners across the government to ensure our export controls continue to protect American interests the world over."
Security officials under Mr. Chen began putting the system into place last year. In the camps, which mostly hold Uighurs, detainees are forced to attend political ideology classes, where they are told to denounce aspects of Islam and pledge loyalty to the Communist Party. For years, Chinese officials have said they are fighting the forces of terrorism, separatism and religious extremism in the region. There have been bursts of ethnic violence in Xinjiang, including mass rioting and killing by Uighurs in 2009 after protests over injustices.
A handful of Uighurs and Kazakhs released from the camps have spoken of torture and various hardships.
"Every Uighur person knows one or two people who have disappeared into these camps," said James Millward, a historian of China and Central Asia at Georgetown University. "This is really on a completely different scale than anything we've seen before. It's a different sort of approach."
Full report at:
https://www.nytimes.com/2018/09/12/world/asia/commerce-sanctions-china-uighurs.html
--------
Republican congressional candidate called Obama a secret terrorist-supporting Muslim
September 12, 2018
Republican congressional candidate Tim Donnelly of California called then-President Barack Obama a secret Muslim and terrorist sympathizer on his old radio program, a CNN KFile review has found.
Donnelly also said that Loretta Lynch was nominated by Obama for attorney general either because of her "skin color" or her "anti-American" attitude and endorsed a conspiracy theory the death of Freddie Gray was a false flag by the Obama administration and their allies to impose martial law.
Donnelly, a former state assemblyman, is challenging incumbent Republican Rep. Paul Cook in California's 8th District, which runs along the eastern border of the state and includes large parts of San Bernardino County and the Mojave Desert. Donnelly came in second to Cook in the June primary, earning the right to face Cook again in November under California's rules in which the top two candidates in the primary advance to the general regardless of party affiliation. Cook's 40% share of the primary vote nearly doubled the 23% won by Donnelly, who edged out a Democratic candidate by a single point for the number two spot.
Donnelly previously ran for the seat in 2016 but came in third by a percentage point in the primary. Before that, he finished a close third in the primary for California's governorship in 2014. Donnelly has several well-known supporters. He is backed by Kentucky Sen. Rand Paul, Iowa Rep. Steve King, former Colorado Rep. Tom Tancredo, former Arizona Sheriff Joe Arpaio and conservative activist Charlie Kirk.
Last week, Trump endorsed Cook. Donnelly told Politico of the endorsement, "President Trump just endorsed the swamp."
In a comment emailed to CNN's KFile, Donnelly said, "I have spent my professional life fighting for the families of people slain by illegal aliens and islamic jihadists. I went to build the wall a decade before it was a talking point for politicians like Paul Cook."
He added, "On the anniversary of 9/11, you want to hit me for being too harsh on the assholes who killed my neighbor and the worthless politicians like Paul Cook, who colluded with Obama and the #FakeNewsMedia to let them into our country."
Donnelly's comments come from episodes of the "The Tim Donnelly Show,"a radio program he hosted in 2015 and 2016 on local radio in California. Islam, which Donnelly label a cult, and the president were frequent targets of his ire."
Here's what Donnelly said:
In a December 2015 episode, broadcast the day after the terrorist attack in San Bernardino, Donnelly said that he believed Obama did not call the perpetrators "Islam jihadists" because the then-president was "secretly following" the Islamic faith and wanted to see America punished.
"Barack Obama is the president of the United States and he couldn't say, 'Hey, these are Islamic jihadists. I just got informed of this by the FBI.' Instead he lies," Donnelly said. "He comes out and lies because we all know this information was out there, but he didn't want to insult the faith that I believe he is secretly following, a follower, or he is simply sympathetic because they're doing the dirty work. Because he ultimately wants to see this country punished and taken down for what he considers to be crimes against the rest of the world."
Later that month, he returned to the same theme, calling the then-president "Ayatollah Obama." Arguing that Obama would never cut off immigration, trade, or diplomatic relations with "terrorist sponsoring countries," Donnelly endorsed the conspiracy theory that Obama had members of the Muslim Brotherhood in his administration.
"Think about that, but we will never hear that from Ayatollah Obama because that's what he really is," Donnelly said. "He is, in whatever way, I don't know what his connection to the Muslim Brotherhood is, but he's got them in all kinds of positions of power, other smarter people than me have have laid out the case and shown who these people are. I'm just seeing the result. You're seeing the results. You've been asking yourself, 'Why is it that he won't actually call Islamic jihadism, Islamic jihadism? Why is it that he's so passionate about taking away your guns, taking away your First Amendment, your right to speak the truth about this great evil?' But that's because it works. That's because it's part of a plan. That's because the left has always been more organized. They've had playbooks because they have people that get paid in the ivory towers to concoct these plans."
Donnelly had previously said in November 2015 that he was believed "more and more" Obama was part of the Muslim Brotherhood and doing their bidding.
Another subject Donnelly addressed on the show was his belief that the Obama administration was quick to label Dylann Roof, who has since been convicted of hate crimes in connection with his shooting of nine black parishioners at a church in Charleston in June 2015, a white supremacist, while refusing to call Muslim terrorists "Islamic jihadists."
Roof himself admitted to holding white supremacist views.
On his program the day after the San Bernardino shooting, Donnelly attributed this to the terrorists being "Obama's people, the Islamic people."
"I want to play you a little clip of the dictator-in-chief, the gun-controller-in-chief, I don't know what to call him today, who--this is his reaction and it's completely devoid of the same passion that he would have had if this individual had been Dylann Roof who killed nine black people in a church and could easily be demonized as a white supremacist, whereas these are Obama's people, the Islamic people," Donnelly said.
He returned to this theme days later, playing the audio from a video he had put out in which he addressed Lynch, saying that Obama had not asked "citizens to reserve judgment" about Roof, but had instead "encouraged more hate" with his rhetoric. Donnelly went on to say that if Lynch loved America, she would threaten to turn mosques "upside down" if they did not turn over terrorists and said that he himself would take up arms to "go after the jihadis next door," as well as those who appeared in his backyard.
"If you were an American who loved this country, you'd put the mosques on notice," Donnelly said in the comments directed at the then-attorney general. "You'd tell them, 'If you don't turn over the extremists and the jihadists within your midst then we'll set the FBI on you. We'll turn your mosques upside down. We'll make your lives a living hell until you rat out those who have declared war on America.' But instead you threaten the family and friends of the victims of your failure to identify and prosecute those who've sworn to kill anyone who doesn't pledge allegiance to their insane jihad."
He continued, "Well, I'm putting you on notice. If you don't go after the Islamic jihadis next door, we will. The only good jihadi is a dead jihadi. And the next jihadi to rear his or her ugly head in my backyard and point a weapon at me and my friends will get a 45 hollow point between the eyes. So if by refusing to be the next victim in the war the Islamic jihadis have declared on us somehow makes me an advocate of violence then bring it on. Come and arrest me. I'm not hard to find. And then you could explain to the American people why we are the target of your wrath, not the murderous bastards who slaughtered the innocent even at a Christmas party all in the name of the religion of peace."
In the same video broadcast on that show, Donnelly said that Lynch had been appointed to her job either because she was black or because of her "anti-American ideology."
"I'm not sure if you're an idiot or you're deliberately undermining the security of the United States," he said. "Whichever it is, you've violated your oath. I don't know how you got this job, whether it was your anti-American ideology or your skin color or both, but I'm going to tell you one thing: we, the people, of these United States refuse to be intimidated by you. You work for us."
Donnelly also promoted other conspiracy theories on his show.
In May 2015, he interviewed the author of an World Net Daily article, a website that traffics in conspiracy theories, which baselessly speculated that the unrest in Baltimore following the death of Freddie Gray, a black man, after he was in police custody was part of a conspiracy by the Obama administration and other authorities to impose martial law and suspend the 2016 election. Donnelly encouraged his listeners to read the article, which he called "excellent." He later approvingly said that his producer had told him that the article made "great points."
"On the break, my producer, who is not hyper-political made the comment that you make -- great points in this article -- and you were starting to talk about, is there something deeper or someone or organization or a collection of organizations behind what clearly seems to be an orchestrated attempt to undermine the rule of law and create anarchy in this country?" Donnelly said.
Full report at:
https://edition.cnn.com/2018/09/11/politics/kfile-donnelly/index.html
--------
Why 1,000 bodies of 9/11 victims were never found
Sep 12, 2018
The dead bodies of about 1,000 people were not found in the rubble of World Trade Center towers because massive explosives were used to demolish the skyscrapers on September 11, 2001, says Dr. Kevin Barrett, an American academic who has been studying the events of 9/11 since late 2003.
Dr. Barrett, a founding member of the Scientific Panel for the Investigation of 9/11, made the remarks in a phone interview with Press TV on Wednesday while commenting on a report which says the remains of about 1,000 of the victims of the 9/11 attacks could still not be found for DNA testing.
Seventeen years after the 9/11 terrorist attack in New York City, advancement in DNA testing techniques has led to the identification of more victims of the atrocity, according to reports.
The death toll following the collapse of the Twin Towers of the World Trade Center on September 11, 2001 was 2,753, but about 1,000 of the victims are yet to be positively identified.
"We have a major problem here in the United States and throughout the world because people are not putting two and two together. These supposed building collapses, we are told, happened due to fire and weakening of the structural steel. But more than a thousand people—who were supposedly killed when the buildings simply collapsed due to gravity on top of them—never were identified in terms of their remains. That is, not a single bone fragment or a single fingernail was ever found," Dr. Barrett said.
"There have been many building collapses throughout history. Earthquakes typically cause all sorts of building collapses, and people are dug out from under the remains of the buildings. In many cases people's bodies are found in the rubble of the collapsed buildings. And in every single case the body is still there, crushed, but still there," he stated.
"However, anyone who looks at these films of the explosive demolitions of these World Trade Center skyscrapers on September 11, 2001 can see that these buildings are not collapsing. They are exploding. Massive explosive powers (were) used to blast the entire buildings into talcum powder, that is sub-100 micron dust," he noted.
"So that's what happened to the people inside. They were blasted into powder by the enormous explosive power. We don't know the precise details of what types of explosives were used to do this, but we know that it happened. There were rivers of molten steal flowing in what would left of the Trade Towers after September 11. Dozens and dozens of witnesses have reported that. Likewise more than 100 witnesses in the fire department and the police department are on record discussing the massive explosives that rocked the Twin Towers. Many of the victims who were actually killed by explosions in the lobby and the lower floors before the planes hit," the analyst said.
The 9/11 attacks were a series of strikes in the US which not only killed thousands of people but also caused about $10 billion worth of property and infrastructure damage.
US officials assert that the attacks were carried out by 19 al-Qaeda terrorists – 15 of them were Saudi citizens -- but many experts have raised questions about the official account.
They believe that rogue elements within the US government, such as former Vice President Dick Cheney, orchestrated or at least encouraged the 9/11 attacks in order to accelerate the US war machine and advance the Zionist agenda.
According to American academic James Fetzer, the high number of medical cases related to the September 11 terror attack in New York show that the Twin Towers collapsed because of nukes.
Full report at:
https://www.presstv.com/Detail/2018/09/12/573937/Why-1000-dead-bodies-of-911-victims-were-never-found
--------
Czech leaders endorse 'first step' in embassy move to Jerusalem
13 September 2018
Czech leaders on Wednesday endorsed a "first step" towards moving the country's embassy in Israel from Tel Aviv to Jerusalem, following a similar move by the US administration earlier this year.
In a joint statement, the Czech president, prime minister, parliament speaker, and foreign and defense ministers said the opening of a "Czech House" in Jerusalem in November would be "the first step in the plan to move the Czech embassy to Jerusalem."
Jiri Ovcacek, spokesman for pro-Israeli President Milos Zeman, told AFP that the Czech House would host government institutions including the foreign ministry's Czech Centre, the trade agency CzechTrade and tourism agency CzechTourism.
"The Czech House in Jerusalem will be ceremonially opened by Mr president during his visit to Israel in November," he said.
Zeman, a 73-year-old veteran left-winger with anti-Muslim views, pushed for the embassy move even before US President Donald Trump moved the US embassy to Jerusalem on May 14.
Trump's decision infuriated Palestinians and intensified protests on the Gaza border, where several dozen people were killed in clashes with Israeli forces that day.
Trump's move also ruptured decades of international consensus that Jerusalem's status should be settled as part of a two-state peace deal between Israel and the Palestinians.
In May, the Czech Republic reopened an honorary consulate in Jerusalem following its closure in 2016 owing to the death of the honorary consul.
Full report at:
https://english.alarabiya.net/en/News/middle-east/2018/09/13/Czech-leaders-endorse-first-step-in-embassy-move-to-Jerusalem.html
--------
URL: https://www.newageislam.com/islamic-world-news/defying-islamic-sharia-al-sisi/d/116367
New Age Islam, Islam Online, Islamic Website, African Muslim News, Arab World News, South Asia News, Indian Muslim News, World Muslim News, Women in Islam, Islamic Feminism, Arab Women, Women In Arab, Islamophobia in America, Muslim Women in West, Islam Women and Feminism