New Age Islam News Bureau
29 Jan 2018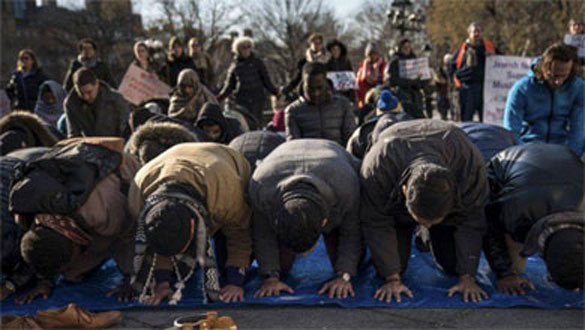 Muslims pray following a protest to the mark the one year anniversary of the Trump administration's executive order banning travel into the United States from several Muslim majority countries, in Washington Square Park. PHOTO: ONLINE
-----
• Defiant US Protestors Form Human Chain around Muslim Group Knelt In Prayer
• Lack of Islamic Diversity Makes Malaysia an Intellectual Backwater
• Pakistan: Hollywood 'Biggest Hub of Pornography and Terrorism'
• Baba Fariduddin Ganjshakar's Serai in Jerusalem Looked after by Indian Family: Report
• 'Islamic State' Sleeper Cells Spread Fear in Iraq's Hawija
• Shock Gives Way to Despair In Kabul after Ambulance Bomb
North America
• Defiant US Protestors Form Human Chain around Muslim Group Knelt In Prayer
• Washington Tells Islamabad: Drone Attacks To Continue Until Pakistan 'Satisfies' US
• Trump's Travel Ban Attacks the Very Idea of America, But Muslims Are Fighting Back
• Trump Urges 'All Nations' To Fight Taliban
• On first anniversary, protesters decry Trump's Muslim ban outside White House
• US gathers UN envoys to build missile case against Iran
• Tillerson insists Russia to blame for Syria chemical attacks
--------
Southeast Asia
• Lack of Islamic Diversity Makes Malaysia an Intellectual Backwater
• Absence of Rational Mind Complicates Islamic Understanding, Forum Told
• Prosecution of Shia Muslims due to apathy, says Syed Farid
• Analyst: Anti-terror centre's dual role may be hard to fulfill
• Indonesian immigrant says attacks, ICE arrests 'not the America I know'
--------
Pakistan
• Pakistan: Hollywood 'Biggest Hub of Pornography and Terrorism'
• Clerics to Govt: Declassify Zafarul Haq Report By Feb 20 Or Face Protests
• Pakistan Army 'Has Greatly Increased Its Clout' Under New Chief
• PAT drops protest policy, now seeks 'legal, political' solution
• Swabi Qaumi Mahaz chief likely to join PML-N
--------
Mideast
• Baba Fariduddin Ganjshakar's Serai in Jerusalem Looked after by Indian Family: Report
• Yemen Govt Warns Of Coup As Separatists Take Over Headquarters
• NGO urges all Muslims, Islamic countries to terminate ties with Israel
• Several killed in clashes in Yemen's southern city Aden
• Yemen president orders his forces to cease fire, as Aden clashes claim 15 lives
• Syria resolute in continuing anti-terror fight with help of Iran, Russia: Assad
• Bogus Israeli regime at its weakest: Iranian official
--------
Arab World
• 'Islamic State' Sleeper Cells Spread Fear in Iraq's Hawija
• Turkey's Syria Operation Damages Ancient Temple In Afrin
• Al-Qaeda Joins Ranks with Turkey-Backed Forces Battling Kurds in Afrin
• 2,340 Regions Join Peace Agreement with Syrian Army
• Kurdish Forces Pull Down US Flag in Northern Raqqa
• Islamist party throws support behind Sisi in Egypt vote
• Report: 86 Civilians Killed, 198 Others Injured in Turkish Army Attacks on Aleppo's Afrin
• Isis, Other Jihadists Increase Bitcoin Use after fall of Caliphate
• Obese pensioner to fight charges of funding Islamic State
--------
South Asia
• Shock Gives Way to Despair In Kabul after Ambulance Bomb
• Indonesian Leader Meets Rohingya Refugees in Bangladesh
• At least 2 soldiers killed in ongoing attack near Kabul military academy
• Heavy clashes underway between armed of Afghan MPs in Mazar city
• Gunmen attack army post in Kabul, clash with Afghan soldiers
• Islamic State group claims attack on Kabul military compound
• 9 arrested in connection to two deadly attacks in Kabul city: Stanikzai
--------
India
• Prepare For New Forms of Terrorism, Insurgency: MoS Home
• Ayodhya Case, Triple Talaq to Be Discussed At AIMPLB'S Meet
• Mixed Response over Regulation of Muslim Marriages Meeting
• NIA takes Kashmir terror financing case from Delhi Police
--------
Europe
• Pope Francis Condemns Taliban Attack: 'How Long Must Afghan People Bear Such Inhuman Violence?'
• Senior AfD Member Vows to Ban Islam across Europe, Starting from Istanbul's Bosporus
• France to 'intervene' if nationals sentenced in Iraq and Syria for joining ISIL
--------
Africa
• Fresh Attack Kills 4 Soldiers in Mali's Troubled North
• Unidentified gunmen kill 14 soldiers in central Mali
• 86 undocumented migrants held off Libyan coast
• Boko Haram, farmer-herder violence in Nigeria leaves 6 dead
Compiled by New Age Islam News Bureau
URL: https://www.newageislam.com/islamic-world-news/defiant-protestors-form-human-chain/d/114093
--------
Defiant US protestors form human chain around Muslim group knelt in prayer
January 28, 2018
Faith groups protested on Friday against ongoing efforts by the Trump administration to institute a ban on travel by residents of a number of Muslim-majority countries.
The demonstration in New York's Washington Square Park took place a year after Donald Trump's first executive order setting out the ban, which has been blocked by the courts.
The US Supreme Court has agreed to decide the legality of the latest version of Trump's ban, which affects residents from six countries instead of the original seven.
Show of support: Human chain formed at Kohala bridge
It pits an administration that considers the restrictions necessary for Americans' security against challengers who claim it is illegally aimed at Muslims and stems from Trump's campaign call for a "complete shutdown of Muslims" entering the US.
The policy blocks entry into the US of most people from Chad, Iran, Libya, Somalia, Syria and Yemen.
The justices plan to hear arguments in April and issue a final ruling by late June on a Trump policy that has been repeatedly blocked and struck down in the lower courts.
On Friday protesters linked arms around a group of Muslim demonstrators who knelt to pray in Washington Square Park.
Rev Dr Chloe Breyer, from the Interfaith Centre of New York, told Huffington Post: "It's practically important and symbolically important to stand with people of different faith traditions. It's what we should do as Americans."
Human chain formed to protect Christians during Lahore mass
Trump's first travel ban was issued almost a year ago, almost immediately after he took office, and was aimed at seven countries.
It triggered chaos and protests across the US as travellers were stopped from boarding international flights and detained at airports for hours. Mr Trump tweaked the order after the US Court of Appeals for the 9th Circuit refused to reinstate the ban.
The next version, unveiled in March, dropped Iraq from the list of covered countries and made it clear the 90-day ban covering Iran, Libya, Somalia, Sudan, Syria and Yemen did not apply to those travellers who already had valid visas. It also dropped language that would give priority to religious minorities. Critics said the changes did not erase the legal problems with the ban.
The same appeals courts that are evaluating the current policy agreed with the challengers. The 4th US Circuit Court of Appeals in Richmond said the ban "drips with religious intolerance, animus and discrimination." The San Francisco-based 9th US Circuit Court of Appeals ruled that Trump violated immigration law.
Human chain formed to protect Islamabad church
The Supreme Court allowed the ban to take partial effect, but said those with a claim of a "bona fide" relationship with someone in the US could not be kept out of the country. Grandparents, cousins and other relatives were among those who could not be excluded.
But the high court said lower courts were wrong to apply the same limits to the new policy, at least while it is being appealed. The justices did not explain their brief order.
The third version is permanent, unlike the other two, and the administration said it is the product of a thorough review by several agencies of how other countries' screen their own citizens and share information with the US.
Solicitor General Noel Francisco said in court papers that the policy is well within the President's "broad authority to suspend or restrict the entry of aliens outside the United States when he deems it in the Nation's interest."
In response, the challengers said the policy violates the Constitution because it is biased against Muslims and also violates immigration law. The new version continues "the same unlawful policy" that was struck down by lower courts last year, lawyer Neal Katyal said in his brief on behalf of the challengers.
https://tribune.com.pk/story/1620428/9-defiant-us-protestors-form-human-chain-around-muslim-group-knelt-prayer/
--------
Lack of Islamic diversity makes Malaysia an intellectual backwater
Nurul Azwa Aris
January 29, 2018
KUALA LUMPUR: There is a lack of Islamic diversity in Malaysia, says a sociologist, and this has contributed to stagnancy in local intellectual culture.
Speaking at forum yesterday on contemporary problems faced by Islam, Syed Farid Alatas of the National University of Singapore said intellectually, the Malay peninsula is considered a backwater compared to Indonesia.
"In Indonesia, there is a spectrum of diversity. There are Shias, Sunnis and Salafis. We don't have that in Malaysia," said Farid.
He said as a result, Malaysian scholars have not contributed any major work on theology.
"That is why there is no major work in theology from here, whether about Islam, Buddhism or Hinduism," he told the forum "What is wrong with Islam now?" organised by the Islamic Renaissance Front (IRF).
Farid added that the intellectual stagnancy had led to an authoritarian version of Islam which he said was a by-product of colonialism.
"When the British studied Malay culture, they were selective and chose facts and practices which were feudalistic," he said, adding that Malay culture also had an egalitarian tradition.
Farid said the Malay elite had chosen to maintain the feudalistic tradition as it was in their interest to do so.
"It was internalised by the Malay elite because they want Malays to vote them into power forever.
"This authoritarianism also seeped into our understanding of Islam."
Malaysian Islamic authorities have often spoken out against Islamic teachings which are outside the Shafi'i school of thought, one of the four brances in Sunni Islam.
http://www.freemalaysiatoday.com/category/nation/2018/01/29/lack-of-islamic-diversity-makes-malaysia-an-intellectual-backwater/
--------
Pakistan: Hollywood 'Biggest Hub of Pornography and Terrorism'
28 Jan 2018
Pakistan once again denied accusations that it harbors jihadists, this time shifting the blame towards Hollywood, saying America's movie maker is "the biggest hub of pornography and terrorism," reports Dawn.
Islamabad's strict High Court (IHC) declared, "The biggest hub of pornography and terrorism is Hollywood and Los Angeles. Hollywood plays a central role in inciting of crimes, and then our madrassas (seminaries) are blamed."
IHC Justice Siddiqui indicated that "a bulk of the blame for the global proliferation of pornographic content and terrorism lies with Hollywood—the metonymic moniker of American cinema," notes Dawn.
The Pentagon has long accused Pakistan of serving as a sanctuary for terrorists who are killing and injuring American troops in neighboring Afghanistan, a charge that Islamabad denies.
Nevertheless, U.S. President Donald Trump has ramped up pressure on Pakistan to stop supporting terrorists, suspending up to $1.9 billion in aid until Islamabad takes decisive action against the groups.
In response, Islamabad has threatened to cut ties with the United States and has pledged to push the Afghan Taliban and Haqqani Network from their safe havens in Pakistan back into Afghanistan where they can engage in the political process.
"All video games for children are based on crimes. How planes are hijacked and how to commit murders—everything is taught comprehensively," said the IHC judge, alluding to the questionable notion that video game violence allegedly induces promote aggression and crimes in real life.
The accusations against Hollywood came after the IHC, which holds disdain towards American movies and videos as venues to promote violence and pornography, mandated Islamabad to submit an assessment of action the country can take to stop the spread of pornography within its borders.
The Pakistan Telecommunication Authority has reportedly censured more than 200 websites and 22,210 web pages.
Besides just targeting the dissemination of pornography in Pakistan, Dawn notes:
The Ministry of Information Technology also submitted in the court a draft of its proposed changes to the Prevention of Electronic Crimes Act (Peca), 2016, aimed at bringing blasphemy and pornography within the ambit of cybercrime laws.
In recent months, Pakistan has been trying to use its controversial anti-blasphemy law, which is used mainly to punish religious minority groups like Christians, to target those who allegedly insult to God, Islam or religious leaders online, particularly on social media.
Pakistan's penal code recommends either life imprisonment or death for any convicted blasphemer.
http://www.breitbart.com/national-security/2018/01/28/pakistan-hollywood-biggest-hub-pornography-terrorism/
--------
Baba Fariduddin Ganjshakar's Serai in Jerusalem Looked after by Indian Family: Report
January 29, 2018
KARACHI: Jerusalem boasts many buildings that are of interest to Muslims in general. But there's at least one place in the city that holds special significance for Muslims of Pakistan and India. It's the place where Baba Fariduddin Ganjshakar (1173-1265), a Sufi saint from Punjab, stayed some 800 years ago, according to the Urdu website of BBC.
A feature on the website says the place is being looked after by a family hailing from the Indian city of Saharanpur, Uttar Pradesh state.
The feature points out that Sultan Salahuddin Ayubi, after wresting control of Jerusalem from its Christian rulers in 1187, invited religious figures and Sufis from across the world to live in the holy city. Baba Farid was among those who answered Ayubi's call.
He lived at the serai for a number of days, but it's unclear when he returned to what was then India.
For several subsequent centuries pilgrims from the Sub-continent, en route to Makkah for Haj, used to stay at the inn as a mark of respect to Baba Farid. This continued until the First World War.
In the early 1900s, the buildings in Jerusalem that held significance for Muslims, like the Dome of the Rock, were in bad shape because the Muslim community didn't have much money. In 1923, the Mufti of the holy city sent some people to India to seek financial assistance from the Nawabs and chieftains there.
The Mufti also wanted some people from the Sub-continent to go to Jerusalem to look after the serai of Baba Farid. This was why a young man, Nazeer Hussain Ansari, was sent from Saharanpur to Jerusalem.
Later, Ansari married a Palestinian girl and made Jerusalem his home. He died in 1951.
Today two granddaughters of Ansari, their husbands and their children live at the inn. Ansari's son, who is now 80, is the head of the extended family.
The place boasts an old mosque, a room full of pictures of dignitaries and other personalities visiting it, and a small room where Baba Farid stayed.
The saint used to spend most of his time in the small room, which had a basement. It is said that whenever he wanted to meditate for days together, Baba Farid used to go to the basement.
The room in which the saint spent most of his time doesn't have a single object that came under his use. But the serai and the areas surrounding it still resonate with memories and stories associated with Baba Farid, says the BBC report.
Jerusalem has seen a number of wars and it was devastated and ravaged a number of times. But the serai where the saint stayed has remained unaffected.
https://www.pakistantoday.com.pk/2018/01/29/baba-farids-serai-in-jerusalem-looked-after-by-indian-family-report/
--------
'Islamic State' sleeper cells spread fear in Iraq's Hawija
28.01.2018
Last October, after weeks of bitter combat, some 1,400 "Islamic State" (IS) fighters turned themselves in, expediting Hawija's liberation. In a series of operations, the Iraqi army swept through the region to clear any remaining pockets of IS fighters. However, in its effort to speed up the process, it hasn't been as efficient as was hoped. The eastern part of Hawija remains unsafe and has attracted sleeper cells who are still active there, emerging at night to take food from civilians.
In response, the Iraqi army recently staged a nine-day operation in an effort to smoke them out. "We found tunnels, a bomb factory and an IS-run clinic," says Mukaddam Ali, an Iraqi colonel stationed at a base outside nearby Kirkuk. "There was even a functional operation center," he told DW.
Hawija still dealing with IS legacy
A ghost town to which no one is as yet allowed to return, much of Hawija has been seriously damaged as a result of air attacks and an explosion at an IS bomb factory. On the roads, the wrecks of cars every couple of hundred meters, which IS fighters used to slow the progress of the military last October, serve as reminders of the battle. Holes in the roads mark the booby-traps the army discovered in time, while in some more remote villages buckets and water containers are used to mark spots where they have not yet been cleared.
In the eastern part of the region, IS fighters have reportedly formed the so-called White Flag group. The new group is named after its white flag with a lion on it, but details are hard to come by. Captain Moath Obeidi, a security coordinator with the Iraqi government, says it consists of a mixed bag of Kurdish, Turkmen, Arab and Iranian fighters, many of whom were even on different sides of the conflict in the past — some fighting alongside IS, others joining forces with the Kurdish PKK, which fought IS in the area until the Iraqi army took over in October. "The only thing they have in common is their enemy: the Iraqi army. This is a textbook case of 'the enemy of my enemy is my friend,'" Obeidi told DW.
Still, in some local villages, civilians have returned and started to work their land and repair their homes. They have reopened their schools, too, including the girls' school in Hodh Sitta village, with over 300 children aged six to 13. The girls wear colorful dresses – a far cry from the black clothing and veils all girls and women had to wear under IS rule.
For the children's sake, it is important to raise awareness "that the ideology of Daesh [Arabic name for IS] is a criminal one," says head teacher Abdellah Najm.
The villagers, many of whose people work for the Iraqi army, police or government, suffered terribly under IS rule. Eighteen people were killed, most were displaced, and those who stayed lived in fear and poverty. Even though only six villagers joined IS, the whole village is seen as affiliated to the group. "We suffered as a result even during our displacement," Najm told DW. "We were treated as if we were Daesh, too, not real Iraqis. In everyone's minds, and that included the government and the media, it's simple: Hawija is Daesh."
Villages still suffer through affiliation
Now anyone with ties to those groups is no longer welcome in Hodh Sitta. Their houses have been destroyed and their families are not allowed back.
For Ahmed Dekhalf, the school's assistant head master, it's simple. "All the Daeshi should be sent to prison and their families to the camps." IS families are kept in camps set up by the Iraqi government. "We don't want them back. We need to get the message across that we reject their ideology, and that not all of Hawija is Daesh."
But in the next village, a young sheikh of the Jibouri tribe disagrees. Ahmed al-Muheiri, who lost his father and two uncles to IS, fears that people will feel like outcasts in the camps. "The children that come out of there will be worse than their families are now. That way, we will have another crisis on our hands 10 years from now."
Over strong coffee, the sheikh explains that he would prefer to bring the women and children back into the community, where they can be monitored closely, rather than leave them in camps, where they will be vulnerable to indoctrination. But he is fighting a losing battle: "We are a difficult society, and people do not see this as an alternative."
In the Hawija area, around 7,000 died during the conflict and another 5,000 are still missing. The sheikh, who took over his father's tribal position as a conflict mediator in 22 of Hawija's villages, says the loss has at least made the community aware of the need for tighter security. Previously, people were unwilling to report those who spoke out or acted against the government. Many even welcomed IS as a Sunni revolution against the much-hated Shiite government. That has now changed completely.
"The Sunni revolution is dead in Hawija," says the young sheikh. "And when we find someone who still supports it, we report them to the security services. We do not let them walk around freely. We do not accept any group, religious or otherwise, that is against the government."
http://www.dw.com/en/islamic-state-sleeper-cells-spread-fear-in-iraqs-hawija/a-42313767
--------
Shock gives way to despair in Kabul after ambulance bomb
January 28, 2018
Kabul was in despair on Sunday, a day after a Taliban suicide bomber killed more than 100 people and wounded at least 235 in the worst attack in the Afghan capital in months. A week ago, the Taliban killed more than 20 people in a siege of the city's Intercontinental Hotel. Another six people were killed in an assault claimed by Islamic State on the office of aid group Save the Children in the eastern city of Jalalabad.
Despite pressure on President Ashraf Ghani's Western-backed government to improve security, the attacks show no sign of abating, giving rise to helpless anger among residents. "How are we to live? Where should we go?" asked shopkeeper Mohammad Hanif, who was in his shop near the site of the explosion when it went off.
Interior Minister Wais Barmak said the casualty toll had risen to at least 103 dead and 235 wounded. He said at least two vehicles painted as ambulances were involved in the attack, one of which blew up at when it was stopped at a police checkpoint.
Security officials have warned of possible further attacks. The Taliban said their attack was intended as a message to US President Donald Trump who last year sent more American troops to Afghanistan and ordered an increase in air strikes and other assistance to Afghan forces. "The Islamic Emirate has a clear message for Trump and his hand kissers that if you go ahead with a policy of aggression and speak from the barrel of a gun, don't expect Afghans to grow flowers in response," Taliban spokesman Zabihullah Mujahid said in a statement, using the term the use to describe themselves.
The attack in one of the most heavily protected parts of the city, close to foreign embassies and government buildings, was the worst seen in the Afghan capital since a truck bomb near the German embassy killed 150 people in May. "People were running everywhere to escape, there were wounded people lying on the ground, people with wounds to their arms, legs, heads," Hanif said.
Despite a major tightening in checks following the May 31 attack, the ambulance was able to get through the checkpoints, apparently without difficulty. "People don't have work. There's no life for people in Afghanistan. People have to look for a life somewhere else, there's nowhere," said shopkeeper Sameem.
With Ghani embroiled in confrontation with provincial powerbrokers defying central rule, pressure is mounting on the government to set aside political divisions and focus on security. "The situation is absolutely unacceptable to the people," said a former government minister, Abdul Hadi Arghandiwal. "The government spends a lot of time and energy in political rivalry and infighting at a time when it has to pay more attention to security."
'TERRORIST WAR'
Former US ambassador to Afghanistan Zalmay Khalilzad called for Ghani's government and its main political rival, powerful northern leader Atta Mohammad Noor, to "come together and resolve their differences". "Fighting terrorism and protecting the people is job one. I hope they rise to the occasion," Khalilzad said on Twitter.
Saturday's attack, described as "an atrocity" by the head of the UN mission in Afghanistan, drew universal condemnation from neighbouring countries and allies who had expressed confidence that the new US strategy was producing results.
Following a recent visit to Kabul, the U.S. ambassador to the United Nations, Nikki Haley, said the strategy was working and pushing the insurgents closer to peace talks. However, the Taliban have dismissed any suggestion that they have been weakened by the U.S. approach and say they will only agree to talks when international forces leave Afghanistan.
The United States, which has accused Pakistan of helping the Taliban and has cut off some aid, urged all countries to take "decisive action" to stop the violence. Afghan officials also say the insurgency is being directed from outside their country. "This is not a civil war, this is a terrorist war imposed on the Afghan people," said Masoom Stanekzai, head of Afghanistan's main intelligence agency. "This is a war in which the Afghan people are being used as tools and burned like firewood every day."
Pakistan, which denies accusations it fosters the Afghan war to undermine old rival India's growing influence there, condemned the attack and called for "concerted efforts and effective cooperation … to eradicate the scourge of terrorism".
Afghanistan declared Sunday a day of mourning and said Monday would be a day off to allow care of the victims' families. Joko Widodo, president of Indonesia, which has the world's biggest Muslim population, was due to visit Kabul on Monday, Ghani's office said. Widodo has proposed that Indonesian Islamic scholars could help promote Afghan peace, media reported recently
http://indianexpress.com/article/world/shock-gives-way-to-despair-in-kabul-after-ambulance-bomb-5042586/
--------
North America
Washington tells Islamabad: Drone attacks to continue until Pakistan 'satisfies' US
January 29, 2018
ISLAMABAD - The United States has made it clear to Pakistan that drone attacks inside the Pakistani territory will continue until Islamabad "satisfies" Washington of indiscriminate action against all the militant groups, The Nation has learnt.
Senior officials at the foreign ministry said that the US rejected Pakistan's protests against the drone strikes, saying Pakistan would have to "earn" an end to such attacks – by taking action against all the militant outfits.
Citing recent contacts with Washington, an official said: "They [the US] believe we are sheltering some militant groups and are playing a double game. They want us to satisfy them for an end to the drone attacks . It doesn't seem easy to satisfy them."
He added: "We have told them [the US] about the resentment against the drone attacks in Pakistan . People want military reaction against the drone strikes, which could worsen the Pak-US tension. They [the US] have not given any positive response so far."
Last week, Pakistan had warned that the drone attacks by the US inside the Pakistani territory could prove detrimental to the Pak-US partnership.
This came after a US drone strike in the Kurram Agency killed two people.
Reports said two missiles hit a house in Spin Tal area.
The foreign office reacted sharply to the strike warning "such unilateral actions, as that of today (January 24), are detrimental to the spirit of cooperation between the two countries in the fight against terrorism."
Pakistan and the US made conflicting claims on the drone attack in the Kurram Agency by the US forces based in Afghanistan.
Foreign Office spokesperson Dr Mohammed Faisal said Pakistan sticks to its stance that the US drone strike targeted an Afghan refugee camp near Kurram Agency.
However, US embassy spokesperson Richard Snelsire denied Pakistan 's assertion.
"The claim in an MFA [Ministry of Foreign Affairs] statement that [the] US forces struck an Afghan refugee camp in Kurram Agency yesterday [January 24] is false," he maintained.
Since 2004, the US government has attacked numerous targets in northwest Pakistan using unmanned aerial vehicles or drones controlled by the Central Intelligence Agency's Special Activities Division.
Most of these attacks are on targets in the Federally-Administered Tribal Areas along the Afghan border.
These strikes began during the administration of the United States President, George W Bush, and increased substantially under his successor Barack Obama.
Pakistan and the US have been struggling to reconcile after President Donald Trump's controversial tweet, in which he announced to suspend aid to Pakistan for allegedly deceiving the US in the war on terror.
Pakistan rejected the US allegations and questioned Trump's claim of giving $33 billion to Pakistan as security assistance.
Islamabad said it had fought the anti-terror war largely from its own resources for the sake of the country's and global peace.
The uneasy allies returned to the talks' table this month when Principal Deputy Assistant Secretary of State Ambassador Alice Wells visited Islamabad and held talks with Foreign Secretary Tehmina Janjua.
Later, US Chairman Joint Chiefs of Staff General Joseph Dunford said military-to-military dialogue between the two countries was the right approach to improve the Pak-US relationship.
The top US general said he was not "giving up" on improving ties with Pakistan .
Another official at the foreign ministry said Pakistan had asked the US to share intelligence instead of directly targeting the militants in the tribal belt.
"There is visibly a trust deficit [between Pakistan and the US]. They [the US] avoid sharing [intelligence] details with us suspecting we will help the militants instead. We are trying to defuse this misunderstanding," he said.
The official said the US had once again asked Pakistan to act against the Haqqani network and "prove" that Pakistan was "sincere" in the war against terror.
"We have counted our sacrifices to convince them," he mentioned.
Defence analyst and former Lt General Naeem Khalid Lodhi said the US drone attacks were against the international laws.
He said Pakistan reserved the right to respond to such strikes.
General Lodhi said such attacks challenged Pakistan's sovereignty.
"The US has made it a habit to strike at will. This is unacceptable and should not be tolerated," he added.
https://nation.com.pk/29-Jan-2018/washington-tells-islamabad-drone-attacks-to-continue-until-pakistan-satisfies-us
--------
Trump's Travel Ban Attacks The Very Idea Of America, But Muslims Are Fighting Back
By Wa'el Alzayat
01/28/2018
As a newly arrived immigrant from Syria in the late '80s, I took English as a Second Language classes in middle school. One of our teachers, Mrs. Wolf, would often tell us that America is a melting pot of people, where everyone has the same right to live in peace and pursue prosperity and happiness.
In graduate school, where I studied U.S. foreign policy, a professor stressed that what made the United States more powerful than a rising China was not military or economic might, but its character as a nation. It was, he lectured, the shared commitment to values and ideals that led to our clout.
Then I became a U.S. diplomat, a job in which reverence for and defense of these values were a necessary part of my day-to-day work. In negotiations with foreign counterparts, often representatives of authoritarian regimes, it was clear to all that I was representing not only the American people, but the principles of democracy and liberties that we cherish.
From awestruck child arriving in this great country to adult who had the privilege of representing it abroad, it was drilled into me, in both words and deeds: America is as much an idea as it is a place.
On the one-year anniversary of President Donald Trump's travel ban ― and the tumultuous, racist, xenophobic leadership we've seen since ― it's clear that this idea, a pluralistic society driven by equality, is under considerable threat.
As an immigrant, former public servant, and now as CEO of Emgage Foundation, a Muslim-American civic education and advocacy organization, I am renewing my commitment to oppose and ultimately reverse the ban, as well as all discriminatory policies that tear at the idea of America. I call on all my fellow Americans to do the same.
When I talk about the idea of America, I am referring to the principle of equal treatment under the law, blind to the color of your skin or religion. Of course, this principle was not universally shared upon our country's founding, and was then applicable only to land-owning white men. Over the course of our history and because of the struggle and sacrifice of the generations that came before us, it has come to be shared by most of us. This is what binds us together ― a shared belief in these ideals.
On Jan. 27, 2017, Trump issued the first iteration of his travel ban, which barred immigrants and visitors from predominantly Muslim and non-white countries. After three iterations and multiple court battles, it is now the law of the land until further review by the Supreme Court.
This means that thousands of siblings, spouses and other close relatives are prevented from reuniting with brothers and sisters, husbands and wives, and grandchildren. Just last month, the State Department sent denial letters to hundreds of close relatives of U.S. citizens from Yemen. The same is happening to anyone from war-torn Syria, Afghanistan or Somalia, even if they have been languishing in United Nations-administered camps for years and have been thoroughly vetted and found to pose no security threat to us.
A year ago, as advocates rushed to airports and set up pro-bono legal services for those travelers stuck in limbo, some of the president's supporters, including Republican lawmakers, argued that perhaps this was a one-time aberration, a slip-up on behalf of the president and his misguided and politically inexperienced advisers.
Sadly, it was not. It was a harbinger of a year of hateful, racist, and xenophobic rhetoric and actions.
The most recent example is the president's obscene description of Haiti and African countries, which has been rightly and widely condemned. But we shouldn't be surprised by the president's remarks. As a candidate, he said Americans who practice Islam are followers of a religion that inherently "hates us." And he has denigrated African-American football players who kneel in quiet protest against police brutality, calling them "sons of bitches." And, of course, there were his supportive comments to white supremacists and neo-Nazis in the wake of last year's deadly protests in Charlottesville, Virginia.
On their own, his words are vile and antithetical to our purported values. But they become far more destructive when these warped words about race and religion get codified into policies. There's the move to curb legal immigration and slash it by half. There's ending temporary protected status for Salvadorians, Haitians and possibly Syrians. And of course, there's his callous inconsistency on the fate of up to 800,000 of our youth who have known no home other than America by ending the Deferred Action for Childhood Arrivals program even though 77 percent of voters, including 66 percent of Republicans, support a path to citizenship for DACA recipients. And, of course, his ugly words became an uglier reality in the Muslim travel ban.
This anniversary, however, is not entirely solemn for me. Despite the grim conditions facing the community, or perhaps because of them, we are seeing an increase in Muslim-American political participation. As Trump turned the 2016 presidential elections into a smear campaign against Muslims, Hispanics and the disabled, our organization tracked a 12 percent increase in registered voter turnout among Muslim Americans when compared with 2012. Since the elections, we have also seen many Muslims, including first-time candidates, run for public office as part of a national wave of minority and women candidates stepping up to keep our country tolerant and inclusive. People like Abdul El-Sayed and Fayrouz Saad in Michigan, Dilara Sayeed in Illinois, and Deedra Abboud in Arizona show how Muslim Americans are responding to the rhetoric and policies of hate and divisiveness.
It's encouraging to see the outpouring of activism. I'm hopeful that the ultimate result of this period will be to inspire a new generation of civic leaders who can push back against actions tearing at the fabric of who we are. At Emgage Foundation, we are focused on increasing the civic participation of Muslim Americans and building and empowering those leaders.
The travel ban was the Trump administration's first major attack on the idea of America. It was not the last, and there will likely be further attempts to limit the admittance of non-Europeans into our country, and to strip minority communities, especially Muslims, of their right to freely practice their religion as enshrined in the Constitution.
We need more people who are willing to stand up and defend the basic idea of America. It's that idea that drew my parents from Syria and millions of others from around the world. It's that idea that enabled me to rise up in the ranks and hold senior positions in government, not based on my religion or background, but because of my abilities.
Full report at:
https://www.huffingtonpost.com/entry/opinion-alzayat-muslim-ban_us_5a6b432ee4b06e253266e7c8
--------
Trump urges 'all nations' to fight Taliban
January 29, 2018
WASHINGTON: US President Donald Trump has urged all nations to crack down on the Taliban group that orchestrated Saturday's terrorist attack in Kabul, killing 95 people.
In a similar message, also released on Saturday afternoon, US Secretary of State Rex Tillerson warned that those who support terrorists or offer sanctuaries to them will no longer be tolerated.
As he often does, President Trump used a social media outlet, Twitter, to give his initial reaction, declaring: "We will not allow the Taliban to win!"
Later, the White House issued another statement from him, condemning Saturday's deadly car bomb in Kabul, Afghanistan and calling for all nations to crack down on the Taliban terrorist group behind the attack.
"This murderous attack renews our resolve and that of our Afghan partners. The Taliban's cruelty will not prevail," he said.
"The United States is committed to a secure Afghanistan that is free from terrorists who would target Americans, our allies, and anyone who does not share their wicked ideology," President Trump said. "Now, all countries should take decisive action against the Taliban and the terrorist infrastructure that supports them."
The Trump administration has already increased air raids on Taliban targets inside Afghanistan and in the bordering tribal areas of Pakistan.
Washington also plans to increase the total number of US troops in the country from 8,500 to 14,000.
President Trump's comments followed a statement from Secretary Tillerson, calling the terrorists' use of a bomb-laden ambulance a "violation of the most basic international norms."
Secretary Tillerson also assured the Afghan government that the United States will continue to support Kabul's efforts to defeat terrorists.
"There can be no tolerance for those who support or offer sanctuary to terrorist groups," said the top US diplomat.
"The United States stands with the people of Afghanistan, and we remain firmly committed to supporting the Afghan people's efforts to achieve peace, security, and prosperity for their country," he said.
Mr Tillerson said that all countries who support peace in Afghanistan have an obligation to take decisive action to stop the Taliban's campaign of violence.
"The United States strongly condemns today's horrific attack in Kabul. Our thoughts are with the families of the victims who were injured and killed, and we mourn all those who lost their lives in this senseless attack," he said.
He said that the Taliban's use of an ambulance as a weapon to target civilians "represents inhumane disregard for the people of Afghanistan and all those working to bring peace to the country, and is a violation of the most basic international norms."
The tendency to blame Pakistan after every terrorist attack in Kabul does not help, said Aizaz Ahmad Chaudhary, Islamabad's envoy in Washington.
Full report at:
https://www.dawn.com/news/1385915/trump-urges-all-nations-to-fight-taliban
--------
On first anniversary, protesters decry Trump's Muslim ban outside White House
Jan 28, 2018
On the one-year anniversary of President Donald Trump's executive order on travel ban, protesters have rallied in front of the White House under the banner of "No Muslim Ban EVER."
A week after taking office, Trump signed an order on January 27, 2017, banning citizens of seven Muslim-majority nations from entering the United States.
The ban, which the administration said was for national security reasons, sparked mass protests in airports across the country and triggered swift moves by courts to block the order.
That nationwide backlash joined the ranks of the historic Women's March in Washington, which rocked Trump's inauguration and became a defining moment in organized opposition against the new administration.
Protesters on Saturday decried the ban, holding signs that read, "No Muslim Ban" and "Refugees welcome."
"We strongly condemn, like you, the racist and white supremacist beliefs reflected in President Trump's remarks, actions and programs by this Muslim ban, the cancelling of DACA, the labeling of Black Lives Matter as identity extremists — a false designation," Robert McCaw of the Council on American-Islamic Relations (CAIR) said at the protest.
"We will fight the white supremacy of this administration," he added.
Trump has said the travel restrictions are needed to tighten security and prevent terrorist attacks. Opponents say the ban violates the US Constitution because it discriminates against Muslims and certain nationalities.
Full report at:
http://www.presstv.com/Detail/2018/01/28/550439/No-Muslim-Ban-EVER-rally-White-House
--------
US gathers UN envoys to build missile case against Iran
Jan 28, 2018
United Nations Security Council (UNSC) envoys are set to visit Washington to see debris purportedly from a Yemeni missile that reached deep inside Saudi territory last year, with the US claiming that it was supplied by Iran.
The envoys will visit a military hangar in Washington on Monday, where US Ambassador to the UN Nikki Haley presented the remnants of an alleged Iranian-made ballistic missile fired from Yemen on November 4 at the King Khalid International Airport near the Saudi capital, Riyadh.
According to the US's UN mission, Haley and her 14 council colleagues will also lunch with US President Donald Trump.
On December 14, Haley presented what she claimed to be "undeniable" evidence, including the allegedly recovered pieces of the Yemeni missile, saying it proved that Iran was violating international law by giving missiles to the Houthi Ansarullah movement.The Houthis have been fighting back a Saudi-led aggression with allied Yemeni army troops and tribal fighters.
A few days later, she said that the UNSC could strengthen the provisions in Resolution 2231, which was approved in July 2015 to endorse the multilateral nuclear deal with Iran, or adopt a new resolution banning Tehran from all activities related to ballistic missiles.
Iran's UN mission categorically dismissed Haley's allegations against the Islamic Republic as "unfounded," stressing that "this purported evidence ... is as much fabricated as the one presented on some other occasions earlier."
"These accusations seek also to cover up for the Saudi war crimes in Yemen, with the US complicity, and divert international and regional attention from the stalemate war of aggression against the Yemenis," the mission said in a statement .
It further accused the US government of being "constantly at work to deceive the public into believing the cases they put together" to advance its agenda in the region.
Moreover, a panel appointed by the Security Council said that it had seen no evidence to support the claims that missiles had been transferred to Houthi fighters by external sources.
US steps up anti-Iran lobbying campaign
In addition to the US lobbying efforts against Iran's peaceful missile activities, the Trump administration has for months been threatening to quit the nuclear accord, officially called the Joint Comprehensive Plan of Action (JCPOA), if its "disastrous flaws" are not fixed.
Speaking at the end of a week-long European trip in Warsaw on Saturday, US Secretary of State Rex Tillerson said that working groups on fixing the "flaws" in the deal had already begun to meet.
Tillerson claimed that he had secured support from Britain, France and Germany, the European signatories to the JCPOA, to work on the agreement.
"The working groups have already begun to meet on efforts to agree principles, what is the scope of what we attempt to address and also how much we engage Iran on discussions to address these issues," he said.
Full report at:
http://www.presstv.com/Detail/2018/01/28/550429/UN-Iran-Nikki-Haley-Yemen-Saudi-Arabia
--------
Tillerson insists Russia to blame for Syria chemical attacks
28 January 2018
US Secretary of State Rex Tillerson on Saturday said he stands by his claim that Russia bears responsibility for recent chemical attacks in Syria, despite strong denials from Moscow.
"These are just unacceptable deployments of chemicals in ways that violate all conventions which Russia itself has signed up for. It violates agreements that Russia undertook to be responsible for identifying and eliminating the chemical weapons inside of Syria," Tillerson said during a visit to Warsaw.
"The chemical weapons are clearly there, they're being used against civilian populations -- and the most vulnerable are children -- inside of Syria," Tillerson told reporters, in a joint press conference with Polish Foreign Minister Jacek Czaputowicz.
"So we are holding Russia responsible for addressing this. They are (Syrian President Bashar al-) Assad's ally. They are members of those conventions and they made commitments. They need to deliver on those commitments."
Russia and China have blocked Western-backed efforts at the UN to impose sanctions on Damascus over their use.
On Wednesday, Russia lashed out at Tillerson for having "hastily accused the Syrian -- as they call it -- 'regime' for the attack in Eastern Ghouta," adding "now they are trying to drag Russia into this as well."
Damascus has been repeatedly accused of using chemical weapons, with the United Nations among those blaming government forces for an April 2017 sarin gas attack on the opposition-held village of Khan Sheikhun that left scores dead.
There have been at least 130 separate chemical weapons attacks in Syria since 2012, according to French estimates, with the Islamic State group also accused of using mustard gas in Syria and Iraq.
Full report at:
http://www.worldbulletin.net/america-canada/198250/tillerson-insists-russia-to-blame-for-syria-chemical-attacks
--------
Southeast Asia
Absence of rational mind complicates Islamic understanding, forum told
Sheith Khidhir Bin Abu Bakar
January 28, 2018
KUALA LUMPUR: Vocal activist Dr Ahmad Farouk Musa today said rational thinking should play a role in interpreting Islamic teachings, even if it means questioning hadiths that are considered authentic.
But he said it is something many Muslims are not prepared to embrace.
"To them, if the chain is authentic then the hadith should not be refuted even if it's illogical," Farouk told a forum titled "What is wrong with Islam now?" organised by his outfit Islamic Renaissance Front today.
He said the majority of Muslims do not think rationally when it comes to religious matters.
Part of this attitude is due to the fear of going against the hadith (sayings and teachings of Prophet Muhammad), one of the major sources of Islamic knowledge besides the Quran.
Farouk gave an example of a hadith in which Prophet Muhammad was quoted as saying that if there is a fly in a drink, one should dip the fly as one of its wings contained the poison while the other contained the cure.
"Even in the remote possibility that this is true, then what about the legs of the fly?
"Typhoid is transmitted though the fly's legs," said Farouk, who is a medical lecturer.
Farouk said the Mu'tazila, a group in the early period of Islam which promoted rationalism, was soon replaced by those who rejected reason, also called the Ash'arites.
He said the Asharites, whose scholars include 12-century jurist Imam al-Ghazali, believed in "occasionalism", which believes that everything happens through the direct influence of God.
"Al-Ghazali said that if you put cotton next to fire, then it burns not because of the fire but because Allah wanted it to burn," Farouk said.
Farouk's view was challenged by another speaker at today's forum, Islamic and Strategic Studies Institute (ISSI) chief executive Amran Muhammad, who said it was unfair to label Ash'arites as irrational.
He said Muslim scientists who emerged in the years after Al-Ghazali, such as Fakhr al-Din al-Razi and Ibn Rushd (Averroes), were also very analytical people.
Meanwhile, sociologist Syed Farid Alatas said the core concepts regarding "occasionalism" was similar to some of the concepts in quantum physics and therefore was not irrational or going against science.
But he welcomed such a discourse, saying it was something lacking in the country.
"These are discussions that are happening all around the world and the type of discussions that we need to have more of in Malaysia."
http://www.freemalaysiatoday.com/category/nation/2018/01/28/absence-of-rational-mind-complicates-islamic-understanding-forum-told/
--------
Prosecution of Shia Muslims due to apathy, says Syed Farid
Sheith Khidhir Bin Abu Bakar
January 27, 2018
SHAH ALAM: Sociologist Syed Farid Alatas has blamed the silent majority of Muslims in the country for the existence of sectarianism and the oppression and harassment of Shia Muslims in the country.
Speaking at an open discussion on the "Moderation and Administration of Islam in Malaysia" at the Ideal Convention Centre (IDCC) here today, Farid said when it came to the prosecution of Shia Muslims in Malaysia, there was no outrage from Muslims in the country except for a handful.
This, he said, was despite the fact that these same silent Muslims were vocal in their disapproval of other areas of life whether it concerned the Muslims or not.
"We deserve the kind of government that we have and we deserve the kind of Islam that is being administered to us.
"The political elite has administratively supported sectarianism and the apathetic population fails to put pressure on the elite," he said.
He said it was extremely irresponsible for this silent Muslim majority to allow the years of continued prosecution against Shia Muslims in the country.
"It is also a matter of life and death. Two people were arrested in Singapore for wanting to join the Islamic State (IS) and they said one of their goals was to kill Shia Muslims.
"There are many things we can blame the government for but when it comes to sectarianism, it is the people's fault because our government will change its tune if it knows that the majority will not condone it."
Farid, who is a professor at the National University of Singapore, said Malaysia was one of the only countries which legally condoned the prosecution of Shia Muslims.
"In Iraq or Pakistan there are incidences of physical conflict when it comes to the matter of sectarianism, but there is no official position by their government condoning it. Malaysia has distinguished itself.
"The thinking in Malaysia is that if you have groups that are different from each other then there will be conflict and in order to avoid conflict then you have to do away with those groups.
"This is a problem because if this is the type of thinking then there will always be more groups you have to get rid of. In Malaysia, there is already some disdain towards Sufis who are mostly among the Sunni Muslims."
Farid emphasised that he was not speaking about sectarianism from the point of view of liberalism or modern values but from the point of view of classical Sunni Islamic thought.
"It is not part of the Sunni tradition to have sects and there is no precedence in Islamic tradition for banning the existence of groups outside the mainstream even when those groups are found guilty of dissenting against a fatwa.
"Even in such cases, jurists have agreed that there is no legal process or procedure for such people."
Full report at:
http://www.freemalaysiatoday.com/category/nation/2018/01/27/prosecution-of-shia-muslims-due-to-apathy-says-syed-farid/
--------
Analyst: Anti-terror centre's dual role may be hard to fulfill
Zam Yusa
January 28, 2018
PETALING JAYA: A counter-messaging centre (CMC) to fight violent extremism in Malaysia seems to have a dual role that could be hard to fulfill successfully, an analyst has said.
Deputy Prime Minister Ahmad Zahid Hamidi reportedly announced earlier this week that the CMC, managed by the police, had started operations a month ago.
He was quoted as saying the fight against terrorism is expected to yield better results now that the CMC is fully operational.
"The CMC was created to monitor social media for any suspicious activities and information related to the Islamic State (IS), whether it is perpetrated by Malaysians, foreign terrorist fighters or extremist organisations in the country," Zahid was quoted as saying by Singapore's Straits Times.
Patrick Blannin, a counter-terrorism and intelligence analyst at Australia's Bond University, said the report had explained the CMC's strategic role as also being a source of information to assist in the creation of intelligence.
"Time will tell whether its counter-messaging label is justified," Blannin told FMT.
"Will it disseminate counter-narratives to offset online propaganda, and if so, will it be effective?
"The CMC will need to be viewed as a legitimate source of information for this counter-messaging strategy to work.
"Legitimacy is hard to establish if the CMC is, at least operationally, an information gathering mechanism."
On whether the CMC should not be used for intelligence gathering , Blannin said the centre could be both but not overtly.
"Moreover, the metrics for 'success' need to incorporate its dual role," he explained.
"The CMC may succeed as an information gathering mechanism but fail as a counter-messaging tool, and/or vice-versa. We must examine the government's strategic objectives for the CMC."
Blannin added that the definition of a successful counter-terrorism measure is one that achieves its intended objectives without negatively affecting any other measure deployed at the same time.
On the question of whether other countries separate these two roles or put them together in one entity, Blannin said it is not that they "are" separate, but they should be "seen" to be separate.
"Moreover, counter-messaging generally is a strategy-oriented diplomatic tool and thus is directed by the foreign ministry, whereas intelligence is a tactical-oriented law enforcement/military tool which is directed by the relevant departments," he said.
"Additionally, counter-messaging should be viewed as a proactive anti-terror measure rather than a reactive counter-terrorism measure.
"The question is not should they be combined, rather, can they be combined to achieve the policy objective, and, does the government have a legacy of effective inter-agency cooperation."
Zahid, who is also the home minister, said the centre was needed to prevent recruitment, planning or even incidents of violent extremism.
"The series of successful arrests of militants by the police previously came before the centre began its operations. We can expect better results now," he said.
He said it is easier for the authorities to share intelligence with domestic and international agencies such as Aseanapol and Interpol thanks to their increased preparedness.
The CMC will collaborate with the Malaysian foreign ministry and the King Salman Centre For International Peace to "ensure all eyes are on such activities," said the report.
Full report at:
http://www.freemalaysiatoday.com/category/nation/2018/01/28/analyst-anti-terror-centres-dual-role-may-be-hard-to-fulfill/
--------
Indonesian immigrant says attacks, ICE arrests 'not the America I know'
Jan. 28, 2018
HIGHLAND PARK, N.J. — Harry Pangemanan picked up a guitar and played with the band as members of the Reformed Church of Highland Park sang "we have been blessed."
The voices of dozens of church goers Sunday morning rang across the sanctuary, where Pangemanan and three others are taking refuge.
It was the first Sunday service since Roby Sanger and Gunawan Liem, Indonesian Christians without legal status, were arrested by Immigration and Customs Enforcement agents, since Pangemanan entered sanctuary to escape the same fate.
It was barely a day since Pangemanan and two others in sanctuary, Arthur Jemmy and Silfia Tobing, learned their homes had been ransacked.
"It's not the America that I know. It's not the America that my children are so proud of," Pangemanan, who has two U.S.-born daughters, said Saturday. "It's not the America that all my community here believes."
"Whoever did this one," he added, "God bless you."
Homes of immigrants in NJ sanctuary ransacked
Immigrant who volunteered to rebuild N.J. homes after Superstorm Sandy seeks sanctuary from deportation
Deportations: The ugly reality
Pangemanan, who entered the country in 1993 on a tourist visa, has worked since 2012 with the church to rebuild houses damaged by superstorm Sandy along the Jersey Shore. He was recently honored for leading a team that has rebuilt 209 homes in that area.
Many blamed ICE for the break-ins, including the Rev. Seth Kaper-Dale. ICE spokeswoman Jennifer Elzea said the incidents, if true, were unfortunate, but denied any involvement from the agency.
"ICE law enforcement officers carry out their sworn duties daily with the utmost professionalism, in accordance with their training," Elzea wrote. "To suggest that they would cause intentional harm to property is irresponsible and spreads undue fear in the community which this individual claims to support."
Those in sanctuary are among dozens of ethnic Christians immigrants in central New Jersey who overstayed their visas in the 1990s and 2000s to escape religious persecution in Indonesia, a Muslim-majority nation that has experienced strife even before the fall of the Suharto regime in 1998. Due to restrictions on asylum application deadlines, local Indonesian Christians have not gained legal status and are now targeted by ICE for deportation.
"Our community could flee in this time of trouble ... but instead we are together," Seth Kaper-Dale said from the podium at the church service Sunday morning.
Churchgoers sang and prayed for the Indonesian Christian families targeted for deportation. Some wiped away tears from their eyes.
At least two dozen supporters from Highland Park Minyan, the borough and other groups stood guard outside. Some formed a human chain in front of the church steps. Others walked around, holding signs denouncing hate.
"How could we not be here?," said Judy Richman, a member of the board of the Jewish Minyan, which holds services inside the church building. "Our religion commands is to protect the immigrants."
Richman's grandparents immigrated from Russia. She recalls her grandfather saying he once hid in an oven when he was a teenager to escape the pogram, anti-Jewish rioting that occurred in Russia in the 19th and 20th centuries.
How they got here
Several Indonesian Christians say for years they wanted to become legal residents, maybe even citizens, but their asylum applications have not been approved. A 1996 law changed the rules on asylum requiring people to apply for that status within a year of arriving in the United States. Locals interviewed by the Asbury Park Press say they were not aware of the deadline until years later.
They signed up for the National Security Entry-Exit Registration System, launched by then-President George W. Bush after the 9-11 attacks to track immigrants from Muslim-majority countries. That gave the government their personal information, including their addresses.
In the years that followed, immigration authorities descended upon communities of of Indonesian Christians in New Hampshire and New Jersey. Dozens from Central New Jersey were deported in 2009. Pangemanan was nearly deported before churchgoers and supporters intervened.
Pangemanan, as well as Yohanes Tasik, Jemmy and Tobing, were among nine who entered sanctuary in 2012 to escape deportation. They spent 11 months there before ICE relented.
Those in sanctuary received work permits and permission to stay from ICE, known as "stays of removal." Still, they lacked legal status.
Then-President Obama introduced priorities for deportation, calling on the agency to target immigrants without status who have alleged gang ties, felony convictions and other serious crimes. President Donald Trump's Jan. 25, 2017, executive order undid the prioritization.
In the year since, seven local Indonesian Christians have been deported. Four self-deported for fear of being detained by ICE.
Then, Trump's executive order undid Obama's prioritization, directing agents to detain all unauthorized immigrants.
In the year since, seven Indonesian Christians without legal status have been deported. Four more self-deported for fear of being detained by ICE, Kaper-Dale said. As of Thursday, Sanger, Liem and another Indonesian Christian remain detained by ICE.
Yohanes, Jemmy, Tobing and Pangemanan are back where they were four years ago.
After Thursday's arrests, ICE wrote in a statement that targeted enforcement has been part of the agency's protocol for years. The agency wrote it was "necessary to identify, arrest, detain, and remove those who present a danger to our national security or public safety, or whose continued presence in the United States otherwise undermines the integrity of our immigration system."
Associate Pastor Amos Caley, who saw the damages at Pangemanan's House, spoke of demons living among humans in his sermon Sunday morning. He recalled the biblical story of a man who questioned Jesus, and how Jesus made a distinction between the man and the "unclean spirit" that took host in him.
Caley said ICE agents and supporters of Trump's immigration policies are the present-day examples of such evil.
"Let's be a people who together exorcise demons. Let's block the path of those carelessly, mindlessly parroting and propagating racist ideology," Caley said.
He closed his sermon with hopes that ICE agents would question their role in immigration enforcement.
"Let's hope they see the live streams or read the testimonies or try to answer their kids' questions about what they do for a living," he said. "I hope and pray that these confrontations will bring ICE field officers to a point of revulsion, wailing, sadness and regret as the unclean spirit leaves their bodies, at which point we will help them up and embrace them back into the healing community of a restored humanity."
Pangemanan took that message to heart.
Full report at:
https://www.usatoday.com/story/news/nation-now/2018/01/28/indonesian-christians-sanctuary-service/1073332001/
--------
Pakistan
Clerics to govt: Declassify Zafarul Haq report by Feb 20 or face protests
January 29, 2018
LAHORE: A joint declaration formulated by the participants of 'Tahafuz-e-Khatam-e-Nabowat and Pakistan Stability Conference' warned the government to declassify Raja Zafarul Haq report by February 20 or else face countrywide protests and sit-ins.
The participants of the conference warned the government of nationwide protests if it failed to make the Raja Zafarul Haq report public before the deadline. The conference also announced to observe 'Finality of Prophethood Day' on February 7 all over the country.
More than 1,000 religious scholars from all over Punjab attended the conference held here on Sunday at Al-Hamra Hall under the aegis of the Pakistan Ulema Council. Pakistan Ulema Council Chairman Tahir Mehmood Ashrafi presided over the conference.
The participants of the conference, while condemning the tirade of the United States (US) President Donald Trump against Pakistan, also rejected the US declaration for putting Pakistan on the 'watchlist' of those countries that were notorious for clamping down on religious freedom. The conference also denounced a recent US drone strike inside Pakistani territory and demanded the government to maintain diplomatic relations with US on the basis of equality.
The participants also observed that external and internal elements were trying to make changes to the finality of prophethood clause in the constitution to attack the Muslim faith. They demanded from the government to expose the elements who were involved in the entire incident.
They also demanded a complete ban on literature related to the Ahmedi faith while condemning the incumbent government's move to remove the column related to religious identification from the computerised national identity card (CNIC).
Further, they announced that Pakistan Ulema Council would take part in the 2018 general elections and for this purpose the council would form an electoral alliance with religious and political organisations sharing a common ideology with the Pakistan Ulema Council.
The participants also demanded from the federal interior ministry and provincial governments to lift the ban on the registration of seminaries and mosques and remove the names of innocent religious and political leaders from the Fourth Schedule.
Moreover, the participants of the conference appealed to the political and religious leadership of the country to refrain from using critical language about state institutions. Issues related to the judiciary should be settled within the bounds of judiciary instead of being discussed all over the media, the participants concluded.
https://www.pakistantoday.com.pk/2018/01/29/clerics-to-govt-declassify-zafarul-haq-report-by-feb-20-or-face-protests/
--------
Pakistan Army 'Has Greatly Increased Its Clout' Under New Chief
By SALMAN MASOOD
JAN. 28, 2018
ISLAMABAD, Pakistan — The new chief of Pakistan's army had a tough act to follow when he took the baton of command in November 2016. His predecessor had been a widely popular figure, credited with dramatically curbing both attacks by militants against civilians and political corruption and extortion. There was apprehension that the army's next leader could never match these successes and might struggle to exert control.
But since assuming what is considered the most powerful position in the country, Gen. Qamar Javed Bajwa has left no doubt about who is in charge. A little more than a year after he took command, there is already talk in the country of the "Bajwa Doctrine," with Pakistan's approach to foreign and domestic policies reflecting the army chief's vision.
General Bajwa has served during a time of great political upheaval, even by the tumultuous standards of Pakistan. He was chosen as army chief by the prime minister at the time, Nawaz Sharif, with a critical factor in his selection being the general's strong support for friendlier ties between the military and civilians.
But Mr. Sharif was ousted by the Supreme Court over corruption charges, in a controversial decision in July.
Then earlier this month, the Trump administration announced it would suspend nearly all security aid to Pakistan, an across-the-board freeze that is the most tangible sign yet of Washington's frustration with what it sees as the country's refusal to crack down on terrorist networks operating there.
The decision, which could affect as much as $1.3 billion in annual aid, came three days after President Trump complained on Twitter that Pakistan had "given us nothing but lies & deceit" and accused it of providing "safe haven to the terrorists we hunt in Afghanistan."
Statements from the Pakistan army's media wing have described General Bajwa as being outspoken in conversations with American generals and government officials. In a call this month with Gen. Joseph L. Votel, the head of the United States Central Command, for example, General Bajwa talked of a "sense of betrayal" within the country over Mr. Trump's tweet, the army said.
The relationship between Pakistan and the United States has been one of "allies with an up and down history," said Maj. Gen. Asif Ghafoor, the spokesman of the Pakistani military.
Since the announcement from the Trump administration, General Bajwa has stressed that Pakistan will not seek the resumption of American security aid and that the country is not dependent on it. Since last year, he has been reaching out to countries like China, Iran, Qatar, Russia and Saudi Arabia — building contacts that could help him cement his grip on power and reduce Pakistan's reliance on the United States.
In the view of the Pakistan military, both General Bajwa and his predecessor, Gen. Raheel Sharif, can point to victories against militants who have attacked the country's civilian population, which has increased the army's popularity.
General Sharif during his tenure "cleared leftover strongholds of terrorists in northwestern Pakistan," General Ghafoor, the military spokesman, said. "General Bajwa is taking it forward to enduring peace and stability not only in Pakistan, but the region as well."
General Bajwa is also pursuing fencing along the 1,685-mile length of the Pakistan-Afghanistan border to help curb cross-border movements by militants. And he has pushed for the repatriation of Afghan refugees to keep militants from hiding in the country by mingling with refugees in settlement camps.
And Pakistan, General Ghafoor said, "remains committed to continue contributing all efforts to bring peace in Afghanistan and understands U.S. concerns."
On the domestic front, critics say that General Bajwa is essentially following the same institutional policies that have made the military an overarching influence in the country.
"For the last one and a half years, civilian-military ties have hit their lowest ebb," said Zahid Hussain, a widely read political columnist and analyst. "The army is now much more assertive. It has greatly increased its clout."
Since being removed from the prime minister's office, Mr. Sharif has gone on a political offensive. He has drawn enormous crowds at public rallies and, in sometimes veiled and sometimes not-so-veiled references, has accused the judiciary and the military of hatching a conspiracy to remove him from office.
The military has denied accusations that it is behind Mr. Sharif's removal, but allegations of the military's intelligence agencies meddling in politics continue to surface.
Recently, Shahid Khaqan Abbasi, a Sharif loyalist who succeeded him as prime minister, hinted at the role of intelligence agencies in forcing the resignation of an ally of Mr. Sharif from the post of chief minister of Baluchistan Province in the country's southwest.
There is speculation within the governing party, the Pakistan Muslim League-Nawaz, that the military will not allow a level playing field in the next general elections, which are five months away. There are also worries that the vote may be delayed.
General Ghafoor, the military spokesman, played down the fears of a disruption of the coming vote. "Democracy is the way forward," he said. "Elections should take place on time."
Mr. Hussain, the political columnist, echoed that sentiment, saying fears of a coup or delay in elections were exaggerated. "I don't see any derailment of the democratic process," he said.
One of the country's leading opposition politicians, and a bitter foe of Mr. Sharif, raved about the job the new army chief has done.
"I have more praise for General Bajwa than General Raheel Sharif," the opposition politician, Imran Khan, said at his political office in the suburbs of Islamabad. "Never has an army chief so openly supported democracy."
Mr. Khan, a contender to be Pakistan's next prime minister, said General Bajwa had doubled down on his predecessor's efforts to curtail militant violence and political corruption.
As an example, Mr. Khan pointed out that there had been suspicion among the business community of Karachi, the country's commercial hub, that actions started by the former army chief against criminal political gangs and extortionists in the city might come to a halt. "But there has been no letup," Mr. Khan said.
The relationship between Mr. Sharif and General Bajwa fractured this past spring over leaks to the news media of a meeting at which Pakistan's civilian leaders confronted the military over its alleged reluctance to fight Islamist groups in the country.
And with Mr. Sharif continuing to speak out since leaving office, the military appears in no mood to repair the rift with the still highly influential politician. "Nawaz Sharif still has a lot of say," said Mr. Hussain, the columnist. "And the anger against him within the army is greater than before."
The army chief is said to have a better working relationship with Mr. Abbasi, Mr. Sharif's successor.
"There has been much more institutional contact between Prime Minister Abbasi and General Bajwa," said Mr. Hussain. "Unlike under Nawaz, when there was a complete breakdown in institutional decision-making."
Full report at:
https://www.nytimes.com/2018/01/28/world/asia/pakistan-army-qamar-javed-bajwa.html?mtrref=www.google.co.in&gwh=0DB52A06A0C284263EA903CCC4C2D66C&gwt=pay
--------
PAT drops protest policy, now seeks 'legal, political' solution
January 29, 2018
Pakistan Awami Tehreek (PAT) chief Tahirul Qadri announced Sunday that his party has dropped its protest policy regarding the Model Town incident and will now look for a "legal and political" solution to address the issue.
The Model Town massacre of June 17, 2014, claimed the lives of 14 people and injured 100 others when Punjab police personnel opened fire on unarmed PAT supporters outside the residence of Qadri in Model Town, Lahore.
A judicial inquiry conducted in connection with the incident had indicated towards the involvement Punjab Law Minister Rana Sanauallah and Punjab police for giving the firing orders to the police on that fateful day. The report was compiled by Justice Baqar Najafi and was made public late last year on the orders of the Lahore High Court.
Ever since the report was made public, Qadri had called for nationwide agitation against the ruling Pakistan Muslim League-Nawaz (PML-N) government, especially the Punjab government, in a bid to topple the government. The movement culminated in the multi-parties protest gathering at Lahore's Mall Road on January 17. The PAT-led protest was also attended by leaders of the Pakistan Tehreek-e-Insaf (PTI) and Pakistan People's Party (PPP).
During Sunday's press conference, Qadri hinted towards dropping the strategy of street agitation in favour of a more mainstream approach. "From today onwards, PAT would work on a legal and political strategy to get justice for the families of the Model Town massacre victims." Nevertheless, he said that this strategy would be adopted for the time being and was not a permanent strategy.
He declared that they would name 14 culprits in their petition and would ensure that they were called to the court. While praising the Chief Justice of Pakistan (CJP) Saqib Nisar for his excellent work, Qadri urged him to ensure that justice was given to "the widows and orphans" of the Model Town incident. "The powerful have deprived the poor of their rights, who are now looking up to you and the honourable courts to get justice," he added.
He also praised the CJP for forming a joint investigation team (JIT) against Malir Senior Superintendent of Police (SSP) Rao Anwar in the Naqeebullah murder case and urged him and the government to take a similar action against the "Rao Anwars of Lahore", in a clear reference to Punjab Chief Minister Shehbaz Sharif and Rana Sanaullah.
"Under the constitution, the Supreme Court is bound to take notice of the Rao Anwars of Lahore because the judiciary has to play its role when the administrative machinery of the state fails to do its job," he said.
Replying to a question, Qadri said, "The state cannot be given the permission to kill the citizens with impunity." He questioned whether the victims of the Model Town incident were not citizens of this country.
Qadri further said that dozens of officials like Rao Anwar were operating fearlessly in Punjab to oppress law abiding citizens. He also criticised the PML-N President Nawaz Sharif for his policies and called him the country's worst enemy. "Nawaz now fears that he would also lose his moral legitimacy after receiving a major political blow," he added. He also predicted the downfall of the N-league in the near future.
Full report at:
https://www.pakistantoday.com.pk/2018/01/28/pat-drops-protest-policy-now-seeks-legal-political-solution/
--------
Swabi Qaumi Mahaz chief likely to join PML-N
January 29, 2018
SWABI: Swabi Qaumi Mahaz (SQM) chairman MPA Babar Salim is expected to announce joining Pakistan Muslim League-Nawaz during the scheduled public meeting of the party in Peshawar on Feb 4, sources in the two parties told Dawn here on Sunday.
Mr Babar is son of late Dr Mohammad Salim, founder of SQM which was established soon after he along with former forest minister Awwal Sher Khan, MPAs Abdul Majid Khan and Asmatullah and various other heavyweights quit Awami National Party over a ticket award row before the 1997 general elections.
When Babar was deserted by majority of SQM stalwarts he displayed political maturity and joined the then Awami Jamhoori Ittehad Pakistan (AJIP), a political party of provincial health minister Shahram Khan Tarakai, and contested election on AJIP ticket in 2013 general elections, joining hands with influential Tarakai family.
However, he later broke up with AJIP over award of a ministerial slot.
Sources said Babar's negotiations with the PML-N leaders had been continuing for last few months as he had met PML-N provincial president Amir Muqam in Peshawar three times.
It is learnt that MNA Capt retired Mohammad Safdar had also met him in Islamabad, persuading him to join the PML-N.
The sources said Mr Babar's possible joining of the League was also discussed with the party's district president and MPA Shiraz Khan, general secretary Dildar Khan and others by Mr Muqam.
The sources said Mr Babar would discuss the matter with the SQM leaders and workers before joining the PML-N.
"We are with Babar Salim whether he joins PML-N or any other party," Tehsil Swabi Nazim Wahid Shah said.
When contacted, Mr Babar said: "All the options have been discussed with the PML-N leaders."
A PML-N leader said Babar was expected to announce his joining of the party at the Peshawar meeting in the presence of PML-N president Nawaz Sharif.
ROOF COLLAPSE KILLS TWO: Two women of an Afghan family were killed when the veranda of a mud-house collapsed in the Gandaf refugee camp in Topi tehsil, police said on Sunday.
Wali Rehman, head of the ill-fated family, told mediapersons that the incident occurred at night. He said his wife and sister were taking eatables to the sleeping room when the veranda collapsed burying them alive.
Full report at:
https://www.dawn.com/news/1385944/swabi-qaumi-mahaz-chief-likely-to-join-pml-n
--------
Mideast
Yemen govt warns of coup as separatists take over headquarters
January 29, 2018
ADEN - Yemen 's government accused southern separatists of an attempted coup on Sunday after they took over its headquarters amid fierce clashes in the city of Aden.
The fighting, which killed at least 15 people, threw war-torn Yemen into further chaos and threatened to undermine President Abedrabbo Mansour Hadi, who ordered his forces to stand down.
Security sources and residents said clashes appeared to have spread to most of the city. The government urged the Saudi-led military coalition, which has been supporting Hadi against Iran-backed Huthi rebels who control much of the north, to intervene.
The southern separatists - who want the return of an independent state that ended with Yemen 's unification in 1990 - backed Hadi's government against the Huthis but tensions between them had been rising. "A coup is ongoing here in Aden against legitimacy and the country's unity," Prime Minister Ahmed bin Dagher said in a statement.
Shortly afterwards, it was reported loyalist commanders had received orders from Hadi to disengage. "After talks with the Arab coalition... you must order all military units to cease fire immediately," a government statement said.
On Sunday afternoon, coalition planes flew over the city.
Security sources told AFP that pro-separatist units trained and backed by the United Arab Emirates had taken over the government headquarters in Aden after clashes. The 15 dead included three civilians, hospital sources said. Dozens were wounded.
Doctors Without Borders (MSF) tweeted that one of its facilities in Aden had received 50 wounded and four dead. Saudi and Emirati troops present in Aden did not intervene, security sources said.
Separatist fighters and supporters danced at an intersection as truckloads of armed men drove through the streets.
In the late afternoon, security sources said separatists approached the presidential palace where several members of the government were staying, but no clashes were reported.
The fighting erupted after separatist protesters were prevented from entering the city for a rally to demand the government's ouster from Aden, which became its interim capital after the Huthis seized Sanaa in 2014.
The coalition, which launched its intervention against the rebels in March 2015, had urged restraint ahead of the planned protest.
It called on all sides to "adhere to the language of calm dialogue", the Saudi state news agency SPA said late Saturday.
Universities, schools and Aden's only international airport had all been closed, witnesses said.
The UN children's agency UNICEF said on Twitter it was "very concerned about the situation in Aden".
Dagher said events there were headed towards "total military confrontation" and urged coalition members, in particular the UAE, to act.
He also warned that separating south Yemen from the rest of the country would benefit the rebels and Iran, which was "trying to consolidate its presence in Yemen through the Huthis".
Sunday's rally was called by the Southern Transitional Council, an autonomous body aimed at overseeing self-governance among southern provinces.
The 26-member council, which is not recognised by Hadi's government, includes the governors of five southern provinces and two cabinet ministers.
Former Aden governor Aidarous al-Zoubeidi formed the council in May after Hadi fired him.
The council had asked Hadi to make changes in the government and gave him one week to do so - a deadline that expired on Sunday.
It had warned that if Hadi did not accept the demand, its supporters would begin a protest campaign to oust Dagher's government.
The separatists have long campaigned for the secession of southern Yemen .
South Yemen was independent - with former British colony Aden as its capital - from its formation in 1967 until 1990, when it was unified with North Yemen under northern leader Ali Abdullah Saleh.
Four years later, it launched a separatist rebellion that culminated in its occupation by northern forces.
The Huthis, a northern Shiite minority, seized Sanaa in September 2014 with the help of Saleh and army units loyal to him.
In March 2015, the rebels advanced on Aden, where Hadi took refuge after escaping from Sanaa.
But the Saudi-led coalition helped pro-Hadi forces oust the rebels from Aden and four other provinces in July that year.
Hadi loyalists have been boosted by the Popular Resistance alliance of southern separatists and tribesmen after the rebels advanced on their regions.
Years of UN-backed peace efforts have failed to resolve Yemen 's conflict, which has killed more than 9,200 people and devastated a country already among the region's poorest.
The Huthis have increasingly consolidated their grip on Sanaa and the north, especially since rebels killed Saleh in December after their alliance collapsed.
https://nation.com.pk/29-Jan-2018/yemen-govt-warns-of-coup-as-separatists-take-over-headquarters
--------
NGO urges all Muslims, Islamic countries to terminate ties with Israel
By FAIRUZ MOHD SHAHAR
January 28, 2018
PUTRAJAYA: Ulama and Islamic scholars around the world have urged all Muslims and Islamic countries to terminate all ties with Israel in a bid to save Palestine.
MyAqsa Round Table Conference coordinator Datuk Dr Mohd Khairuddin Aman Razali said it could be an effective way to pressure Israel to free Palestine.
"All governments in Islamic countries should end all forms of relationships with Israel, be it political, educational or economic.
"If this is only implemented by one Islamic country, for instance Malaysia, it would not be impactful.
"Some Arabic countries have started to establish ties with Israel by accepting its ambassadors. This will not help the Muslims in Palestine who have been fighting for their lives and land. Hence, they must cut ties with Israel, which is one of 14 resolutions that we have agreed upon today," he told reporters after the World Islamic Scholars Round Table Conference on Jerusalem.
The conference was held to discuss on actions that can be taken by the communities across the world and Muslim countries following US President Donald Trump's declaration of Jerusalem as the capital of Israel.
More than 100 Islamic scholars from 30 Islamic countries gather at the conference, which was held in conjunction with MyAqsa Festival.
Also present were Federal Territories Mufti Datuk Dr Zulkifli Mohamad al-Bakri, Lebanon Islamic Ulama Union chief Sheikh Ahmad Al Omari, Mauritania Ulama Establishment Centre chairman Syeikh Muhammad Hasan Walid ad-Dedew, and Islamic Council of Syria chairman Syeikh Usamah Al-Rifa'i.
Khairuddin said the resolutions would be submitted to Prime Minister Datuk Seri Najib Razak for the next course of actions.
"We will also send these resolutions to all Islamic leaders worldwide.
"We will emphasise on the implementation of the resolution. The members of parliament should also play their roles by urging the government (to cut all ties)," he said.
"Another important resolution is for the education sector in all countries to make the Palestine issue a part of the syllabus to raise awareness on Al-Quds issues.
"Education is a crucial platform for the world community to know how Palestinians have been tortured by the Zionists and their lands taken over by Israel.
"This syllabus should be included in the primary, secondary and tertiary levels," added Khairuddin.
Another highlight in the resolution is the call for all Muslims around the world to be united and condemn Trump's decision.
Full report at:
https://www.nst.com.my/news/nation/2018/01/329743/ngo-urges-all-muslims-islamic-countries-terminate-ties-israel
--------
Several killed in clashes in Yemen's southern city Aden
January 28, 2018
Several people were killed and injured as armed groups fought each other in the southern Yemeni city of Aden on Sunday, medical staff at hospitals in the city said.
Gunmen were deployed throughout most districts of the city and there was heavy gunfire, according to reports from residents.
There have been rising tensions between southern separatists, who are allied with the United Arab Emirates (UAE), and the Saudi-backed government of President Abd-Rabbu Mansour Hadi over control of the southern half of the country.
https://nation.com.pk/28-Jan-2018/several-killed-in-clashes-in-yemen-s-southern-city-aden
--------
Yemen president orders his forces to cease fire, as Aden clashes claim 15 lives
28 January 2018
Yemen President Abedrabbo Mansour Hadi on Sunday ordered his forces to cease fire immediately in interim capital Aden after fierce clashes with southern separatists.
The call came in a communique issued by Prime Minister Ahmed bin Dagher to the commanders of government forces in the southern port city.
"Based on instructions from President Hadi, supreme commander of the Yemeni armed forces, and after talks with the Arab coalition... you must order all military units to cease fire immediately," said the communique seen by AFP.
It ordered government forces "to return to base", and said all positions taken on Sunday should be vacated by all sides unconditionally.
Coup attempt, accuses PM Dagher
Earlier on Sunday, Prime Minister Dagher had accused southern separatists of attempting a coup in the interim capital of Aden after they took over the government headquarters.
The premier called on the Saudi-led coalition fighting Iran-backed Houthi rebels to intervene, hours after fierce clashes erupted between military units loyal to the government of President Abedrabbo Mansour Hadi and separatist security forces.
At least 15 people were killed in fierce fighting on Sunday in Yemen's interim capital of Aden, hospital sources said, as separatists took over the government headquarters.
Three civilians were among those killed, medical sources in four hospitals in Aden said.
Apart from those killed, dozens were wounded in the clashes that spread to most of Aden, security sources said.
"A coup is ongoing here in Aden against legitimacy and the country's unity," Dagher said in the statement.
Security sources told AFP that pro-separatist units had taken over the government headquarters in Aden after clashes.
The clashes erupted after separatist protestors were prevented from entering Aden where supporters of secessionists were gathering for a rally to demand the ouster of Dagher's government.
Campaign for Southern secession
The separatists have long campaigned for the secession of southern Yemen, which was an independent country before 1990.
Sunday's clashes broke out between government troops and security forces loyal to the secessionist movement after protesters tried to enter the southern port city, security sources said.
Medical sources said the fighting wounded seven members of the security forces loyal to the separatists and four civilian supporters of the secessionist movement.
Military units loyal to the government of President Abedrabbo Mansour Hadi were deployed in most areas of Aden amid heightened tensions, the security sources said.
Aden serves as a temporary base for Hadi's Saudi-backed government as Iran-backed militias took over the capital Sanaa more than three years ago.
A Saudi-led military coalition intervened in 2015 to back Hadi's government in its war against the Houthi militia.
Ahead of the planned protest, the coalition called for calm and restraint from "all Yemeni political and social components".
It urged all parties to "adhere to the language of calm dialogue", according to a statement cited late Saturday by Saudi state news agency SPA.
Sunday's rally was called for by the South Transition Council, an autonomous body aimed at overseeing self-governance among southern provinces.
The 26-member council, which is not recognized by Hadi's government, includes the governors of five southern provinces and two cabinet ministers.
Full report at:
https://english.alarabiya.net/en/News/gulf/2018/01/28/Several-killed-in-clashes-in-Yemen-s-southern-city-Aden.html
--------
Syria resolute in continuing anti-terror fight with help of Iran, Russia: Assad
Jan 27, 2018
President Bashar al-Assad has reiterated Syria's resolve to continue battling terrorism with the help of Iran and Russia, amid efforts for the peaceful settlement of the crisis in the Arab country.
Assad made the remarks in a meeting with Iranian Deputy Foreign Minister for Arab and African Affairs Hossein Jaberi Ansari in the Syrian capital Damascus on Saturday, according to Syria's official news agency, SANA.
Syrian Deputy Foreign Minister Faisal al-Mekdad and senior presidential adviser Bouthaina Shaaban were also present at the meeting.
Iran and Russia have been offering military advisory support to the Syrian government in its battle against extremist militants.
Russian jets have also been conducting air raids against the Daesh Takfiri terrorist group and other terror outfits inside Syria at the Damascus government's request since September 2015.
The airstrikes have helped Syrian forces advance against anti-Damascus militants, who have been wreaking havoc in the Arab country since 2011.
Assad and Jaberi Ansari also discussed ways to enhance the strategic Syrian-Iranian ties in various areas, especially in fighting terrorism and mutual efforts for the success of the forthcoming Syrian National Dialogue Congress in the Russian resort city of Sochi.
The next round of intra-Syrian national dialogue between the Syrian government and the opposition would commence in Sochi on Monday.
On Thursday, Russia said some 1,600 people had been invited to the talks aimed at resolving the years-long crisis in the Arab country.
Last December, Russia, Iran and Turkey agreed to hold the congress in Sochi on January 29-30. While the Syrian government at the time immediately announced that it would attend the event, 40 Syrian "opposition" groups rejected the Russian initiative, which is also aimed at agreeing on a post-war constitution in the Arab country.
Assad and Jaberi Ansari also exchanged views on Turkey's military assault in Syria's northwestern region of Afrin, saying the military campaign was aimed at grabbing Syrian territories, backing terrorist organizations operating inside the conflict-plagued Arab country, and torpedoing peace efforts on Syria.
Last week, Turkey launched a new air and ground operation, called "Operation Olive Branch," around the area of Afrin to oust the Kurdish People's Protection Units (YPG), which Ankara views as a terror organization and the Syrian branch of the outlawed Kurdistan Workers' Party (PKK).
The offensive began days after the US said it will work with Kurdish militants to set up a 30,000-strong force inside Syria near the Turkish border.
Ankara first deployed troops to northern Syria in August 2016 after Kurdish militants refused to withdraw from the Syrian territory they had seized from Daesh.
During the Saturday meeting, Jaberi Ansari further stressed Iran's unwavering support for Syria in its fight against terrorism and in the county's reconstruction process.
In a separate meeting earlier in the day, the Iranian official and Syria's Foreign Minister Walid al-Muallem discussed the latest developments in Syria and the region.
They emphasized the significance of the Sochi peace talks, expressing hope that the National Dialogue Congress would push for a peaceful settlement of the Syrian crisis.
According to Russian Foreign Ministry spokesperson Maria Zakharova, international observers, including those from the UN, will participate in the congress along with Syrian parties. Russia's Foreign Minister Sergei Lavrov will also attend.
Meanwhile, Syria's foreign-backed main opposition group has refused to attend the Russia-brokered peace talks in Sochi.
The Saudi-affiliated Syrian High Negotiations Commission (HNC) announced last week it would need further details before it could make a final decision on whether to take part in the event, which dozens of opposition armed groups have already rejected.
Eight rounds of Syria peace talks, which took place in the Swiss city of Geneva, failed to achieve tangible results, mainly due to the opposition's insistence that the Syrian government cede power.
Full report at:
http://www.presstv.com/Detail/2018/01/27/550388/Iran-Syria-Assad-Jeberi-Ansari-terrorism-Russia-Sochi-talks-Turkey
--------
Bogus Israeli regime at its weakest: Iranian official
Jan 27, 2018
A senior Iranian official says the "bogus and illegitimate" regime of Israel is currently at its "weakest" position, stressing that Tel Aviv will not be allowed to trifle with the security of Iran and the Middle East.
"Despite Daesh's major assistance to Zionists in weakening and destroying a part of Muslim countries, undoubtedly, Tel Aviv is today at its weakest," Hossein Amir-Abdollahian, the Iranian parliament speaker's special adviser on international affairs, said on Saturday.
He added that due to its fear of the resistance front, the Israeli regime seeks ensure its survival by constructing a high concrete wall around itself.
He emphasized that neither Saudi Arabia nor the United States could save the Israeli regime and said the resistance front would have the final say on the restoration of the rights of the oppressed Palestinian people.
Amir-Abdollahian also said remarks and bids by US President Donald Trump to recognize al-Quds as the capital of the Israeli regime resembled a "chaotic dream" more than anything else.
On December 6, the US president announced his decision to recognize Jerusalem al-Quds as Israel's capital and relocate the US embassy in Israel from Tel Aviv to Jerusalem al-Quds.
The United Nations General Assembly on December 21 overwhelmingly voted in favor of a resolution that calls on the US to withdraw its controversial recognition of Jerusalem al-Quds as the Israeli capital.
Amir-Abdollahian's remarks came after Iran's ambassador and deputy permanent representative to the UN, Es'haq Al-e Habib, said on Thursday that the Israel regime's occupation of the Palestinian land was at the "core" of all conflicts in the Middle East.
Full report at:
http://www.presstv.com/Detail/2018/01/27/550384/Iran-AmirAbdollahian-Israel-Trump-alQuds
--------
Arab World
Turkey's Syria operation damages ancient temple in Afrin
Jan 28, 2018
An ancient temple has seriously been damaged in Syria's northwestern city of Afrin, where Turkey is leading an operation against US-backed Kurdish militants.
The so-called Syrian Observatory for Human Rights said the Iron Age Ain Dara Temple was exposed to Turkish shelling.
The shelling had caused significant damage but no casualties, the UK-based monitoring group added. Pictures circulating online also showed damage to the site.
Meanwhile, the General Directorate for Antiquities and Museums at the Ministry of Culture condemned "the Turkish aggression on archaeological sites in Afrin."
In a statement carried by Syria's official SANA news agnecy, the directorate further called for international pressure on Turkey "to prevent the targeting of archaeological and cultural sites in Afrin area, which is one of the richest areas in antiquities and cultural heritage in Syria."
The statement said the attack "reflects the extent of hatred, malevolence and the barbarism of the Turkish regime against the Syrian identity and against the past of the Syrian people and their present and future."
Turkey launched the so-called Operation Olive Branch in Afrin last week in a bid to eliminate the Kurdish People's Protection Units (YPG), which Ankara views as a terror organization and the Syrian branch of the outlawed Kurdish Workers Party (PKK).
Turkey has warned that its operation in Afrin could expand to the nearby Syrian city of Manbij.
The US military, however, has called on Turkey to halt its military action against Kurdish militants and focus on combating Daesh terrorists.
Speaking on Saturday, Turkish Foreign Minister Mevlut Cavusoglu said US military forces need to immediately withdraw from Manbij. He alos noted that Ankara wanted to see concrete steps by Washington to end its support for the Syrian Kurdish force.
http://www.presstv.com/Detail/2018/01/28/550458/Syria-Turkey-Afrin
--------
Al-Qaeda Joins Ranks with Turkey-Backed Forces Battling Kurds in Afrin
Jan 28, 2018
The Turkish army, its Free Syrian Army (FSA) allies and now the al-Qaeda have all joined ranks to attack The Kurdish fighters in Afrin, according to reports by pro-militants and pro-government sources.
All reports – including those released by Ha'yat Tahrir al-Sham itself – suggest that the al-Qaeda affiliate is operating in the mountainous countryside near the town of Dar al-Izza against the Southernmost flank of the Kurdish forces.
Indeed, Ha'yat Tahrir al-Sham's media wing released a report saying that the militants on January 23 occupied two points near the town of Qala'at Sama'an (North of Dar al-Izza) which was earlier under the control of the Kurdish forces
This means that even within a defensive capacity, the militant group (designated as a terrorist organization by even the US) is operating on the territory under the direct command of the Turkish army.
Kurdish sources reported earlier today that former ISIL members are also cooperating with the Turkish army in Operation Olive Branch against the Kurdish militias in Afrin.
The Kurdish-language Hawar News reported that former ISIL terrorists who had earlier joined the Turkey-affiliated militants in Euphrates Shield operations and sustained frequent defeats in Northern Syria are now fighting against the Kurdish militias in Afrin beside the Turkish army.
The website revealed the names of 30 former ISIL members who have joined the Turkish army, adding that Ismail Faras al-Abar, a military commander of the ISIL in the village of Sabikhan near Deir Ezzur city, who had fled to Turkey, is now the commander of a battalion of militants fighting for Turkey in Operation Olive Branch.
Full report at:
http://en.farsnews.com/newstext.aspx?nn=13961108001625
--------
2,340 Regions Join Peace Agreement with Syrian Army
Jan 28, 2018
The ministry said that representatives of militants in the town of al-Dibeh in Homs province endorsed the nationwide reconciliation plan and ended battle against the army.
It added that the total number villages, towns and regions that have thus far joined the peace agreement with the army stands at 2,340.
Local officials reported earlier this month that sum of 350 militants that had laid down arms and accepted the terms of the government for amnesty were pardoned in Southwestern Damascus.
The sources said that the army has granted amnesty to 350 gunmen that had handed over their weapons to the army men and joined peace in Beit Jinn region in Southwestern Damascus.
Full report at:
http://en.farsnews.com/newstext.aspx?nn=13961108001315
--------
Kurdish Forces Pull Down US Flag in Northern Raqqa
Jan 28, 2018
Local sources in the city of Tal Abyaz in Northern Raqqa and along the borders with Turkey reported that the Kurdish forces have pulled down the US flag from the Customs Administration building in the surrounding areas of al-Bavabeh border passage which is one of the most important bastions of the Kurds.
The sources also noted that the Kurdish forces have already pulled down the US flages from other bases and regions under their control, saying that the Kurdish forces' move came in protest to Washington's lack of support for these forces.
In a relevant development on Saturday, the YPG command reported that the Kurdish People's Protection Units repelled another heavy attack of the pro-Turkish militants in Afrin region in Northwestern Aleppo and managed to kill dozens of invaders.
"Pro-Turkish militants attacked the villages of Ain Daqna and Belule where YPG and YPJ (female division) were lying in wait. Eighty-three militants were killed in a heavy fight," the command said.
The Kurdish forces have published videos that allegedly showed the bodies of the dead Ankara-backed militants. The militia did not disclose their casualties.
The Turkish army and allied rebels from the Free Syrian Army launched an operation codenamed the Olive Branch on Saturday, to crush YPG forces which Ankara accuses of ties to the banned Kurdistan Workers Party (PKK), a pro-independence group in Turkey.
Since the beginning of the military operation, the Turkish military and Kurdish representatives have been sharing conflicting reports concerning the situation in the region.
The YPG said earlier that no more than 15-20 Kurdish militiamen had been killed, while the Turkish military reported that hundreds of militants had been killed in the campaign.
Reports said on Friday that the Kurdish officials in Afrin has started urging Damascus to send troops to protect the Kurds from the Turkish occupier.
Ankara insists it will return the enclave to its "original owner", the Damascus government, after its "liberation" from terrorists.
The self-administrated, Kurdish-held enclave in Northern Syria issued a plea for help to the Syrian government on Thursday, reiterating its commitment to the integrity of the country.
"We reaffirm that the Afrin region is an integral part of Syria and that our forces are the people's protection units," it wrote in a statement, arguing that the Turkish military operation in Afrin "threatens the territorial integrity of Syria and the security and lives of the civilians."
Full report at:
http://en.farsnews.com/newstext.aspx?nn=13961108001069
--------
Islamist party throws support behind Sisi in Egypt vote
01/28/2018
Egypt's ultra-conservative Islamist Al-Nour party has decided to support President Abdel Fattah al-Sisi in his bid to be re-elected in March, the party said on Sunday.Sisi, who has been in power since 2014, appears set to run unopposed after all other presidential hopefuls announced they would not take part in the election on March 26-28.Nominations for candidates remain open until Monday.Al-Nour chief Yunes Makhion spoke at a news conference of his party's policies on the economy, corruption, human rights and fighting terrorism, among others."The current president, Abdel Fattah al-Sisi, is the most capable to carry out these heavy responsibilities, and to bring cooperation between all the state's institutions of the armed forces, police, and parliament," said Makhion.This unity "would achieve stability, and steer the country away from many dangers," he said.Sisi was elected president a year after heading the 2013 military ouster of Islamist president Mohamed Morsi, who hailed from the Muslim Brotherhood, amid mass protests against his one-year rule.
Full report at:
https://www.i24news.tv/en/news/international/middle-east/166267-180128-islamist-party-throws-support-behind-sisi-in-egypt-vote
--------
Report: 86 Civilians Killed, 198 Others Injured in Turkish Army Attacks on Aleppo's Afrin
Jan 28, 2018
At least 86 civilians have been killed and 198 others, including women, children and elderlies injured in the Turkish army attacks on Afrin region in Aleppo province, the Arabic-language SANA news agency reported.
The local sources, meantime, disclosed that the Turkish army in its eighth day of attacks on Afrin has targeted people's houses and public utilities in the villages of Haji Eskandari, Hamam, Jandaris and Toubal as well as Abidan, Qourneh, Ali Jarou, and surrounding areas of Ghor mountain.
In a relevant development on Friday, the United Nations warned it has received alarming reports of at least eleven children killed and many more injured during Turkish attacks on Afrin in Syria.
"The grim tally of children killed in Syria in the past two weeks has increased daily as violence escalates in several areas across the country," Fran Equiza said in an impassioned statement, UN News Center reported.
"Nearly seven years into the conflict, children continue to be the hardest hit by unprecedented destruction, displacement and death. They have lost lives, homes and childhoods. Enough is enough," he added.
UNICEF reported that families are fleeing the Afrin canton to other areas where camps are already crowded with more than 125,000 previously displaced people.
Families are confined to the basement of their buildings as fighting is reported to be so intense, the statement read.
"The majority of shops are closed and UNICEF-supported child protection services, including a child-friendly space and psychosocial support activities, had to be suspended," it stressed, noting that "Wars have laws and these laws are being broken every single day in Syria. Once again, UNICEF reminds all parties to the conflict of their obligations to protect children at all times."
The UNICEF called on all the parties to provide safe passage to the people who want to leave areas under attack due to fears for their own safety and security.
According to the UN, more than 13 million people are in need of humanitarian assistance. More than half the country's basic infrastructure has been damaged or destroyed.
Turkey's Operation 'Olive Branch' kicked off last Saturday from air and ground around the area of Afrin in Syria's Aleppo to oust the Kurdish People's Protection Units (YPG), which Ankara views as a terror organization and the Syrian branch of the outlawed Kurdish Workers' Party (PKK).
Syrian President Bashar al-Assad has stressed that Turkish offensive in Afrin is part of Ankara's strategy based on supporting terrorists.
The Syrian government has condemned the "brutal Turkish aggression" against the Kurdish-controlled enclave of Afrin, rejecting Ankara's claim about having informed Damascus of the operation.
Full report at:
http://en.farsnews.com/newstext.aspx?nn=13961108000913
--------
Isis, Other Jihadists Increase Bitcoin Use After Fall Of Caliphate
JANUARY 28, 2018
BY YONAH JEREMY BOB
ISIS and other jihadists' use of the digital currency Bitcoin is a trend that "has been growing and taking shape" in recent months, "and now holds a prominent presence online."
This is the conclusion of a report obtained exclusively by The Jerusalem Post. The report was issued by the IDC Herzliya International Institute for Counter-Terrorism's (ICT) cyber desk, with input from ICT deputy director Dr. Eitan Azani and cyber-desk coordinator Nadine Liv.
Some of the ongoing ISIS and jihadist use of Bitcoin discussed in the report include fund-raising websites' efforts to stay afloat after the fall of Raqqa in October 2017; terrorist fund-raising in Gaza; a recently busted money-laundering operation in the US; and examples where Bitcoin was used to fund infamous terrorist attacks.
The report starts by recounting that in the summer of 2014, an important article titled "Bitcoin wa Sadaqat al-Jihad" was published in an online blog. The article set forth the various strategic reasons for jihadists to use Bitcoin.
The article "promotes the use of Bitcoin virtual currency as a means of limiting economic support for infidels and circumventing the Western banking system, which limits donations for jihad through restrictions on the financial system."
It recommends using Bitcoin, "for ideological-religious reasons as well as for its technological characteristics, and insists on the advantages of the system that enables the issuing of this currency."
It further says the cryptocurrency's advantages include: "prevention of counterfeiting; it is anonymous and untraceable; it is not subject to legislation; and it has global distribution."
Jihadists like Bitcoin because through its use they can avoid paying taxes to Western and other non-jihadist governments and avoid legal exposure.
The ICT report notes that Bitcoin is transferred from one user to another "without systemic intercession, such as eBay or PayPal, while relying on a decentralized system; it does not have security weaknesses and cannot be hacked."
Jumping forward, the report discusses the Akhbar al-Muslimin website, which publishes news from Islamic State. Analysts were asking if ISIS would survive the October 2017 fall of Raqqa; by November 2017, the ISIS propaganda site had launched an online fund-raising campaign.
The site's operators "attached a link to each published news report encouraging donations using Bitcoin virtual currency for the purpose of operating the site."
In December, the Meir Amit Intelligence and Terrorism Information Center found that clicking on the link led to a dedicated donations page on a Bitcoin trading site called CoinGate. When ICT independently examined the issue on January 16, it found that the link no longer directs to CoinGate, showing how quickly ISIS's online arms adapt to avoid being tracked.
ISIS-affiliated groups in Gaza have also increased their online Bitcoin fund-raising efforts, led by the Ibn Taymiyya Media Center which serves as the media wing of the Mujahideen Shura Council in the Environs of Jerusalem.
In mid-January 2018, a new Bitcoin address was identified in a Telegram instant-messaging group affiliated with the ISIS-Gaza group.
The report said that an examination of the address on Blockchain, a digital ledger in which Bitcoin transactions are recorded publicly, revealed a series of 15 transactions from July 1, 2016, to January 12, 2018.
The average Bitcoin transfer through this platform is estimated to be about $16,700, but some account totals reached close to $300,000 in transfers.
One ISIS agent, Zoobia Shahnaz of Long Island, New York, used Bitcoin in 2017 to defraud several financial entities and to launder money for ISIS, the report noted.
In mid-December, Shahnaz was indicted in the Federal District Court of Central Islip, New York, for stealing and laundering more than $85,000 of illegal returns using Bitcoin and other digital currencies.
THE report said the funds were transferred out of the US to shell corporations in Pakistan, China and Turkey on their way to the coffers of ISIS.
Shahnaz was arrested at JFK Airport in New York as he tried to flee the US for Syria.
Work has begun in the US on legislation to grant more resources to Department of Homeland Security to follow terrorist uses of Bitcoin.
Full report at:
http://www.jpost.com/Middle-East/ISIS-Threat/ISIS-other-jihadists-increase-Bitcoin-use-after-fall-of-Caliphate-540079
--------
Obese pensioner to fight charges of funding Islamic State
JANUARY 29 2018
Lawyers for a Melbourne man accused of funding Islamic State fighters in Syria want to cross-examine police about the records they seized from his email and social media accounts.
Hampton Park man Isa Kocoglu appeared before Melbourne Magistrates Court on Monday charged with providing support to a person engaged in hostile activity in Syria.
Lawyers for a Melbourne man accused of funding Islamic State fighters in Syria want to cross-examine police about the records they seized from his email and social media accounts.
Hampton Park man Isa Kocoglu appeared before Melbourne Magistrates Court on Monday charged with providing support to a person engaged in hostile activity in Syria.
The 43-year-old married father spent almost one month in custody after he was arrested during an early morning raid in October, but had been under investigation for more than a year.
At the time of his arrest, Mr Kocoglu was on a disability support pension due to his obesity and mental health.
A magistrate initially refused him bail but he was released on a $50,000 surety in November after taking his fight to the Victorian Supreme Court.
As part of his bail conditions, Mr Kocoglu must report daily to police, obey a 10pm to 6am curfew, and not leave Victoria.
Full report at:
http://www.theage.com.au/victoria/obese-pensioner-to-fight-charges-of-funding-islamic-state-20180129-h0ptsx.html
--------
South Asia
Indonesian leader meets Rohingya refugees in Bangladesh
28.01.2018
Indonesian President Joko Widodo visited Rohingya refugee camps in Cox's Bazar, southwestern district of Bangladesh, as part of his official visit to Bangladesh on Sunday.
During his visit, Widodo said that his country will continue to support Rohingya Muslims fleeing state persecution in Myanmar.
Earlier in the day, Widodo met Bangladeshi Prime Minister Sheikh Hasina in capital Dhaka to discuss bilateral relations and Rohingya issue.
During his meeting with Hasina, the leader of the largest Muslim populated country said Jakarta would continue its support to resolve the Rohingya crisis.
Indonesia's attitude towards the solution of the Rohingya crisis in the United Nations and the UN Commission on Human Rights will continue in the international arena in the same manner, Widodo asserted.
He stressed on peaceful and swift solution of the issue on the basis of bilateral ties between Bangladeshi and Myanmar government.
During his visit, both countries signed five agreements in different sectors, including fishing, trade, diplomacy and energy.
Another agreement was signed between Bangladeshi oil company PetroBanla and Indonesian oil and gas company Pertamina, envisaging import of liquefied natural gas (LNG) from Indonesia.
More than 650,000 refugees, mostly children and women, have fled Myanmar since Aug. 25, 2017 when Myanmar forces launched a bloody crackdown.
The Rohingya, described by the UN as the world's most persecuted people, have faced heightened fears of attack since dozens were killed in communal violence in 2012.
At least 9,000 Rohingya were killed in Rakhine state from Aug. 25 to Sept. 24, according to Doctors Without Borders.
In a report published on Dec. 12, 2017, the global humanitarian organization said the deaths of 71.7 percent or 6,700 Rohingya were caused by violence. They include 730 children below the age of 5.
The UN has documented mass gang rapes, killings -- including of infants and young children -- brutal beatings and disappearances committed by security personnel. In a report, UN investigators said such violations may have constituted crimes against humanity.
http://aa.com.tr/en/asia-pacific/indonesian-leader-meets-rohingya-refugees-in-bangladesh/1045075
--------
At least 2 soldiers killed in ongoing attack near Kabul military academy
January 29, 2018
Gunmen launched a pre-dawn raid on a military compound in Kabul on Monday, officials said, in an ongoing assault that has caused multiple casualties and is the third major attack in the city in recent days.
At least two soldiers have been killed and 10 wounded in a fierce gun battle with several attackers near the Marshal Fahim military academy, defence ministry spokesman Dawlat Waziri told AFP.
"An Afghan army battalion has come under attack this morning. The attackers wanted to breach the battalion," Waziri said.
"One bomber detonated himself and another bomber was detained by our forces. Three others were killed and one other is resisting our forces," he added.
Officials said the attack was on an army battalion near the academy where high-ranking officers are trained and which was initially identified as the target.
An Afghan security source said the gunmen had not managed to enter the heavily fortified compound, which is on the western outskirts of the city.
Witnesses told AFP they heard several explosions and gunfire at around 5am.
An AFP reporter at the scene said he could "hear explosions". Security forces have swarmed the area and blocked the road leading to the area where fighting is still ongoing.
An officer inside the training academy said he heard an explosion followed by an exchange of gunfire. Kabul police spokesman Basir Mujahid confirmed to AFP there had been rocket and gunfire.
The militant Islamic State (IS) group claimed responsibility for the attack.
"Islamic State fighters targeted the military academy in the city of Kabul in a suicide attack," IS said via its propaganda arm Amaq.
The attack comes days after a Taliban suicide attacker driving an explosives-packed ambulance blew up in a crowded area of the city, killing and wounding hundreds.
At least 103 people were killed and 235 wounded in Saturday's lunchtime attack ─ one of the worst bombings in the city in recent years ─ which was followed by a national day of mourning in the war-weary country.
The government has blamed the Taliban-affiliated Haqqani Network, which Afghan and Western officials suspect of involvement in at least some of the recent attacks in the capital.
Monday's raid came as both the insurgents and the IS have escalated their attacks on Kabul, turning it into one of the deadliest places in Afghanistan for civilians.
On January 20, Taliban insurgents stormed Kabul's landmark Intercontinental hotel and killed at least 25 people, the majority foreigners.
But there is still confusion over the true toll from that attack with conflicting figures given by officials and Afghan media reporting higher numbers Kabul is on high alert as the city braces for further attacks.
Full report at:
https://www.dawn.com/news/1385978/at-least-2-soldiers-killed-in-ongoing-attack-near-kabul-military-academy
--------
Heavy clashes underway between armed of Afghan MPs in Mazar city
Jan 28 2018
A heavy clash is in underway between the armed men of the Afghan lawmakers in Mazar-e-Sharif city, the provincial capital of Balkh province.
According to reports, the clash has erupted between the armed men of Abas Ibrahimzada, a member of the Lower House of the Parliament, and Abbas Akhlaqi, a memeber of the Lower House of the parliament.
A security official said the clashes are still underway and both sides have called in heavily armed individuals.
There are no reports regarding the main reason behind the incident and it is yet not clear if anyone has been killed or wounded during the clashes.
Full report at:
https://www.khaama.com/heavy-clashes-underway-between-armed-of-afghan-mps-in-mazar-city-04371
--------
Gunmen attack army post in Kabul, clash with Afghan soldiers
Jan 29, 2018
Gunmen have launched a pre-dawn attack on an army outpost guarding a military academy in the Afghan capital, Kabul, engaging in heavy clashes with security forces there.
The assault began at around 4 a.m. local time on Monday when a bomber detonated his explosives outside the army post to pave the way for other attacker to reach the Marshal Fahim military academy.
A gunfight broke out when security forces tried to respond to the attack.
Afghan Defense Ministry officials said at least five soldiers were killed and 10 others wounded in the clashes.
According to the officials, two attackers were killed and a third was detained. A search is under way for another possible assailant.
The Daesh terror group, which has a foothold in Afghanistan's east and north, claimed responsibility.
The latest instance of violence comes as Kabul is still reeling from a car bomb attack, which hit near foreign embassies and government buildings on Saturday and left over 100 dead.
That attack was claimed by the local Taliban militant group.
Both Daesh and Taliban have stepped up their assaults against Afghan civilians and security personnel in recent months.
Many parts of Afghanistan remain plagued by militancy despite the presence of thousands of foreign troops.
The United States -- under Republican George W. Bush's presidency -- and its allies invaded Afghanistan on October 7, 2001 as part of Washington's so-called war on terror.
Full report at:
http://www.presstv.com/Detail/2018/01/29/550531/afghanistan-kabul-explosions-academy
--------
Islamic State group claims attack on Kabul military compound
January 29, 2018
KABUL : The Islamic State group claimed a pre-dawn attack on a military compound in Kabul on Monday that officials said has killed at least two soldiers and wounded 10 others.
"Islamic State fighters targeted the military academy in the city of Kabul in a suicide attack ," IS said via its propaganda arm Amaq.
Earlier, Gunmen launched a pre-dawn raid on a military compound in Kabul on Monday, officials said, in an ongoing assault that has caused multiple casualties and is the third major attack in the city in recent days.
At least two soldiers have been killed and 10 wounded in a fierce gun battle with several attackers near the Marshal Fahim military academy , defence ministry spokesman Dawlat Waziri told AFP.
"An Afghan army battalion has come under attack this morning. The attackers wanted to breach the battalion," Waziri said.
"One bomber detonated himself and another bomber was detained by our forces. Three others were killed and one other is resisting our forces," he added.
Officials said the attack was on an army battalion near the academy where high-ranking officers are trained and which was initially identified as the target.
An Afghan security source said the gunmen had not managed to enter the heavily fortified compound, which is on the western outskirts of the city.
Witnesses told AFP they heard several explosions and gunfire at around 5:00 am (0030 GMT).
An AFP reporter at the scene said he could "hear explosions". Security forces have swarmed the area and blocked the road leading to the area where fighting is still ongoing.
An officer inside the training academy said he heard an explosion followed by an exchange of gunfire.
Kabul police spokesman Basir Mujahid confirmed to AFP there had been rocket and gunfire.
In October a Taliban suicide bomber killed 15 Afghan army trainees as they travelled home from the Marshal Fahim academy .
There was no immediate claim of responsibility for the latest raid, which comes days after a Taliban suicide attacker driving an explosives-packed ambulance blew up in a crowded area of the city, killing and wounding hundreds.
At least 103 people were killed and 235 wounded in Saturday's lunchtime attack -- one of the worst bombings in the city in recent years -- which was followed by a national day of mourning in the war-weary country.
The government has blamed the Taliban-affiliated Haqqani Network, which Afghan and Western officials suspect of involvement in at least some of the recent attacks in the capital.
Monday's ambush came as both the insurgents and the Islamic State group have escalated their attacks on Kabul , turning it into one of the deadliest places in Afghanistan for civilians.
On January 20, Taliban insurgents stormed Kabul 's landmark Intercontinental hotel and killed at least 25 people, the majority foreigners, in an ordeal lasting more than 12 hours.
But there is still confusion over the true toll from that attack with conflicting figures given by officials and Afghan media reporting higher numbers
Kabul remains on high alert as the city braces for further attacks. Security warnings sent to foreigners in recent days said IS militants were planning to attack supermarkets, hotels and shops frequented by foreigners.
Several foreign organisations, including humanitarian groups, are reassessing their operations after a particularly deadly week in the country.
Full report at:
https://nation.com.pk/29-Jan-2018/islamic-state-group-claims-attack-on-kabul-military-compound
--------
9 arrested in connection to two deadly attacks in Kabul city: Stanikzai
Jan 28 2018
The Afghan intelligence chief Masoom Stanikzai says at least nine people have been arrested in connection to two recent deadly attacks in Kabul city.
Stanikzai informed regarding the arrest of the suspects as he was briefing the media regarding the recent attacks in the city, specifically yesterday's deadly car bombing.
He said five people have been arrested in connection to the Intercontinental Hotel attack while four others have been held over yesterday's car bombing.
According to Stanikzai, one of the suspects involved in the attack in Intercontinental has managed to flee the country.
The Afghan minister of interior Wais Ahmad Barmak says the death toll from yesterday's suicide attack has climbed to at least 103 people.
Barmak disclosed the latest death toll as he was speaking during a press conference in Kabul today.
He said at least 235 others have also sustained injures and the Afghan police forces have sustained heavy casualties in the attack.
The minister of interior did not disclose exact information regarding the number of the police personnel who have lost their lives in the attack.
Full report at:
https://www.khaama.com/9-arrested-in-connection-to-two-deadly-attacks-in-kabul-city-stanikzai-04372
--------
India
Prepare For New Forms Of Terrorism, Insurgency: MoS Home
Jan 28, 2018
CHENNAI: Union minister Kiren Rijiju today urged CISF woman cadets to prepare for emerging challenges posed by new forms of terrorism and insurgency.
The minister of state for Home Affairs stated this after reviewing the passing out parade of 789 CISF woman cadets at their Regional Training Centre at Arakkonam, about 70 km from here.
Congratulating the cadets for their high standard of parade, he urged them to prepare for emerging challenges posed by new forms of terrorism and insurgency.
Rijiju highlighted the growing reputation of CISF as a highly professional force measuring upto the expectations of the people and on the growing role of the force in the changing security scenario.
The minister said effective utilisation of technology by CISF at airports and Delhi Metro had not only improved security, but also provided satisfaction to passengers.
Rijiju later presented the trophies to the best cadets, an official release said.
The cadets acquired skills on various subjects, including security in industries, buildings, aviation, fire prevention and fire fighting, among others.
They were also imparted strenuous training on handling sophisticated weapons and drill movements, apart from physical training.
CISF Additional Director General, A K Pateria said 2017 was observed as "Year of Training" and more than 18,000 cadets passed out of training centres across the country.
Rijiju, who arrived here last night to take part in the parade, shared some pictures he took with the trainees in micro-blogging site Twitter.
"Proud moment for India as largest ever brave & smart girls contingent of CISF 40th batch passed out after long & strenuous training at Arakkonam RTC. In the service of nation", he tweeted.
During his brief visit, Rijiju also took part in a firing exercise at the CISF firing range centre.
"Early morning firing exercise with CISF team at Arakkonam RTC Firing range, Tamil Nadu. Today is all Girls Passing Out Parade", he said in another tweet.
https://timesofindia.indiatimes.com/india/prepare-for-new-forms-of-terrorism-insurgency-rijiju/articleshow/62683664.cms
--------
Ayodhya Case, Triple Talaq to Be Discussed At AIMPLB'S Meet
Jan 28, 2018
Developments in the Ram Janmabhumi-Babri Masjid case, triple talaq and other social issues will be deliberated upon by the office bearers of the All India Muslim Personal Law Board (AIMPLB) at its two-day annual general meeting beginning February 10 in Hyderabad.
The board is also likely to finalise its roadmap for the coming year in the meeting.
AIMPLB spokesperson Maulana Khalilurrehman Sajjad Nomani today said that the annual general meeting of the board will be held in Hyderabad on February 10 and 11.
"In this meeting, the campaign being run against social evils such as triple talaq and dowry will be reviewed. The AIMPLB feels that without social awareness, no system in the country can run. The board is running a big campaign in the country. The messengers of the board will reach every madrassa and mosque and tell people to stay away from social evils like dowry and triple talaq," he said.
Nomani added that a progress report will also be sought about the work done and based on this a plan for the next year will be prepared.
"Since, the cases of triple talaq happen generally among the less educated, hence the board will work hard in the rural areas. Students and teachers of madrassas will be included as messengers. Their main job will be to spread the message about evils of dowry and triple talaq. If the need for divorce arises, then one should first contact and consult a cleric, and stay away from triple talaq," Nomani said.
The spokesperson said this campaign had gained momentum in the past one year.
Nomani said the board was also using various social media tools in this regard.
"The AIMPLB is strictly against triple-talaq, but in some circumstances, triple-talaq has been recognised. In many cases, the women themselves seek triple talaq. People, who are not involved with the (Muslim) society perceive that all the cases of triple-talaq are committed by men. This is completely wrong," Nomani said.
Full report at:
http://www.moneycontrol.com/news/india/ayodhya-case-triple-talaq-to-be-discussed-at-muslim-boards-meet-2492935.html
--------
Mixed response over regulation of Muslim marriages meeting
JANUARY 27, 2018
Some felt Waqf Board should focus on protecting endowed properties
The recent deliberations between the Telangana State Waqf Board chairman Mohammed Saleem with senior police officials and faith leaders on regulating marriages drew a mixed response from a cross section of the Muslim community. While some welcomed the move, others opined that the board should focus on its mandate to protect endowed properties .
One of the topics touched upon at the meeting was the rise in expenditure for weddings. Mohammed Waseem, who works in the retail sector, said that several people were getting into debt after borrowing money to spend on expensive weddings. "Those from the weaker sections of society are forced to pay crushing interest rates," he stated. While welcoming the move, Syed Ismail, a businessman and resident of Banjara Hills, wondered whether it was appropriate for the board to involve cops. "No person from any community should cause disturbance or nuisance to the society. From that perspective, the meeting was good. But when it comes to regulation of nikah timings, I wonder why the police was roped in," he said.
Khateeb of the Jama Masjid, Koti Ilyas Shamsi, sought to know under what sections of the Waqf Act the meeting was convened.
"There are pressing matters at hand like protection of thousands of acres of waqf lands. I wonder how many properties the board has managed to get back from encroachers. The board should focus on its job. Marriages are a different matter," he said. Meanwhile, activists like S.Q. Masood said that community reform should come from within. The board, which is a government agency, should not enforce change. "No reform can come if it is forced or if there are threats. It is up to the individuals of each community and its leaders and clergy to bring about reforms," he said.
Full report at:
http://www.thehindu.com/news/cities/Hyderabad/mixed-response-over-regulation-of-muslim-marriages-meeting/article22537880.ece
--------
NIA takes Kashmir terror financing case from Delhi Police
January 28, 2018
The National Investigation Agency (NIA) has taken over from Delhi Police the case of absconding Hizbul Mujahideen terrorist Nasir Safi Mir, who is accused of funding Hurriyat leaders and is believed to have fled the country after jumping bail, officials said here. The officials said the case was re-registered by the NIA recently and it has initiated investigations into it.
The NIA probe is likely to ascertain how Mir, alias "Babul", managed to secure a passport from a southern state which he allegedly used in Nepal in October 2008 to leave for Europe. Mir, a resident of North Kashmir who allegedly used carpet trade and later a money exchange business in Dubai for sending hawala money to separatist leaders in Kashmir, was arrested from Lajpat Nagar by the elite Special Cell of Delhi Police on February 3, 2006. The police seized Rs 55 lakh in cash and explosives from him.
During his trial, Mir managed to secure bail on the plea that his mother was ill. The 48-year-old Mir, who the investigators believe was based in Dubai and owns a carpet showroom and money exchange firms in the Gulf, regularly reported to the nearest police station while on bail till early October, 2008.
But after that, he failed to turn up at police stations or in the court for hearings. According to intelligence inputs, Mir reached Dubai in 2011, making a detour through countries in Europe and Libya. However, he is believed to have now left Dubai.
Mir, against whom a non-bailable warrant was issued in 2009, travelled to Nepal from India, and then used the forged passport to fly out, the officials said. A resident of Lal Bazar on the outskirts of Srinagar city, Mir dropped out of school in 1983 to get into the carpet business. He continued with the trade till 1990 after which he shifted to the national capital and started living in the Lajpat Nagar area of South Delhi.
In the late 1990s, he went to Dubai after his father was arrested for alleged links with terrorists. Mir had also told investigators that in Delhi he first opened a firm, Kashmir Master Computers, after which he set up a company, Failala, but closed it in 1998.
In 1999, he started a firm called Idekas and then opened an information technology company, he had said. Police found that in 2002, Mir had opened two money exchange companies, Reems Exchange and Cash Express, in Dubai, which were allegedly used as a stopover for money being pushed in from Pakistan for terrorist funding in Jammu and Kashmir.
The Enforcement Directorate had in 2014 attached the Rs 55 lakh that had been seized from Mir. Mir was subjected to extensive interrogation by central security agencies during which he allegedly spoke about his links with separatists groups and banned terror outfit Hizbul Mujahideen.
According to the ED attachment order, the cash which was in the custody of the Special Cell was "proceeds of crime of terrorist funding and money laundering and hence stands attached." This is the first major action against terror funding in the country under the stringent provisions of money laundering laws where the onus is on the accused to prove that he or she is "not guilty".
Full report at:
http://indianexpress.com/article/india/nia-takes-kashmir-terror-financing-case-from-delhi-police-5042234/
--------
Europe
Pope Francis Condemns Taliban Attack: 'How Long Must Afghan People Bear Such Inhuman Violence?'
28 Jan 2018
On Sunday, Pope Francis denounced the "terrible terrorist massacre" carried out by Islamic militants of the Taliban in the Afghan capital of Kabul Saturday.
After his usual midday prayer of the Angelus in the Vatican Sunday, the Pope turned to the news of Saturday's slaughter, addressing the thousands of pilgrims gathered in Saint Peter's Square.
"Yesterday painful news arrived from Afghanistan telling of the terrible terrorist massacre carried out in the capital city of Kabul leaving nearly one hundred dead and numerous injured," he said.
"A few days ago, another serious attack also on Kabul had sown terror and death in a large hotel," he continued. "How long must the Afghan people bear this inhuman violence?"
Just after noon on Saturday a Taliban jihadist driving an ambulance packed with explosives set off his car bomb in the Afghan capital of Kabul, killing 95 people and injuring 191 more, according to Afghan officials. Shortly afterward, Taliban spokesman Zabiullah Mojahid claimed responsibility for the attack.
A week ago, Taliban fighters stormed Kabul's Intercontinental Hotel, in an attack that killed 22 people, including four Americans.
The Pope ended his appeal Sunday by imploring prayers for the victims and their families, as well as for all those who work for peace in that country.
The Taliban is a hardline Sunni Islamic terrorist group that came to prominence in Afghanistan in the autumn of 1994 and is currently active in Afghanistan and Pakistan. The Taliban have promised to bring peace and security to the area by establishing Sharia, or Islamic law in the region.
Pope Francis caused a media stir in early 2017 when he denied the existence of Islamic terrorism.
"Christian terrorism does not exist, Jewish terrorism does not exist, and Muslim terrorism does not exist. They do not exist," Francis said in a speech to a world meeting of populist movements in the Vatican last February.
Francis downplayed the religious component of modern terrorist movements, suggesting that terrorism is principally the result of economic inequalities rather than radicalized religious beliefs.
"The poor and the poorer peoples are accused of violence yet, without equal opportunities, the different forms of aggression and conflict will find a fertile terrain for growth and will eventually explode," he said.
Francis also reiterated his belief that all religions promote peace and are equally susceptible to violent radicalization.
"There are fundamentalist and violent individuals in all peoples and religions—and with intolerant generalizations they become stronger because they feed on hate and xenophobia," he said.
The pope's earlier statements suggesting economic roots to terror provoked a strong public reaction from the Islamic State terror group, which insisted that their sole motivation is religious and sanctioned by Allah in the Qur'an.
Pope Francis "has struggled against reality" in his efforts to portray Islam as a religion of peace, declared an article in the ISIS propaganda magazine Dabiq, before going on to urge all Muslims to take up the sword of jihad, the "greatest obligation" of a true Muslim.
Some months before, the Pope Francis appeared to suggest that all religions are equally prone to violence and that Islam and Christianity are fundamentally the same in this regard.
"If I speak of Islamic violence, I must speak of Catholic violence," Francis said. "And no, not all Muslims are violent, not all Catholics are violent. It is like a fruit salad; there's everything."
http://www.breitbart.com/national-security/2018/01/28/pope-francis-condemns-taliban-attack-kabul/
--------
Senior AfD member vows to ban Islam across Europe, starting from Istanbul's Bosporus
January 29, 2018
Senior member of the anti-Islam, right-wing Alternative for Germany (AfD) vowed that once the party comes in power, they will ban Islam starting from the Bosporus in Istanbul—the exact point where the European continent begins.
Speaking to his AfD supporters Saturday in Germany's Eisleben, Bjoern Hoecke said: "Once we come into power, we will enforce what is necessary for us to live our lives freely. We will issue the directive that after crossing the Bosporus, the three great M's: Mohammed, Muezzin and minaret, are over, dear friends!"
Hoecke also said Muslims were lovers of war because their prophet Mohammed was a general.
"That's why we have to take Islam seriously as a threat," he said.
He further claimed, in his one-hour speech cheered by a passionate crowd, that he was not an enemy of Islam and he was "actually tolerant;" however, Islam did not belong to Europe.
Hoecke did not elaborate on how the AfD would legally ban the religion in Germany and other European countries as leaders in German politics.
In January 2017, Hoecke scandalized the European country when he attacked the monument commemorating the mass murder of Jews and said Germans should be more "positive" about their Nazi past.
"Germans are the only people in the world who plant a monument of shame in the heart of their capital," he told supporters in Dresden at the time.
In a country that has long struggled to deal with its collective guilt over the Nazi era and the Holocaust, the taboo-breaking new extremists have reawakened deep fears about rising xenophobia and race hate.
Berlin daily Tagesspiegel said "the worst thing is that, the more AfD officials say such things, the more quickly they become normal. The outrage wears off, and at some point there will no longer be an outcry."
Full report at:
https://www.dailysabah.com/europe/2018/01/28/senior-afd-member-vows-to-ban-islam-across-europe-starting-from-istanbuls-bosporus
--------
France to 'intervene' if nationals sentenced in Iraq and Syria for joining ISIL
January 29, 2018
France said on Sunday it "will intervene" in cases of its nationals sentenced to death in Iraq and Syria for belonging to jihadist organisations.
"Of course if there was a question of the death penalty, the French state will intervene," justice minister Nicole Belloubet told a host of French media outlets.
Pressed on what this meant, Ms Belloubet said France would "negotiate with the state in question... on a case by case basis".
An Iraqi court sparked controversy last week after condemning to death by hanging a German woman of Moroccan origin after finding her guilty of belonging to ISIL.
The group has carried out scores of atrocities in Iraq and Syria since proclaiming a "caliphate" there in 2014 and has also been behind a string of attacks in Europe, including the 2015 Paris carnage that left 130 people dead.
Several dozen French nationals are believed to currently be held in detention in Iraq and Syria after an international military coalition rolled back the militants' advances.
Full report at:
https://www.thenational.ae/world/mena/france-to-intervene-if-nationals-sentenced-in-iraq-and-syria-for-joining-isil-1.699656
--------
Africa
Fresh attack kills 4 soldiers in Mali's troubled north
Jan 28, 2018
Militants have launched a fresh attack on military personnel in Mali's lawless northern desert region, killing four soldiers.
A statement by the armed forces posted on social media on Sunday said the attack that took place earlier in the day in Menaka targeted soldiers and national guard members.
It said the attacker was "destroyed" as he was trying to detonate his explosives near the army and guard post.
"Unfortunately during this operation, four armed forces personnel lost their lives," the statement added.
Other military sources denied reports that more than one person were behind the attack, adding that the armed forces were now "in control of the situation".
Military helicopters operated by France, the most dominant foreign force in Mali, were hovering above the area, the sources said.
The attack was the second to rock Mali's troubled north in the weekend. On Saturday, militants blitzed the Soumpi military camp, took control of it and killed 14 soldiers. Another 18 were wounded in the attack which came near Timbuktu, about 800 kilometers (500 miles) east of Menaka.
France, the former colonizing power in Mali, led a massive military operation in early 2013 to push back militants linked to al-Qaeda from the desert region. However, attacks have continued unabated on domestic and foreign forces since then while civilians living in central Mali have also been affected. A total of 26 people, including women and infants, were killed Thursday after their vehicle drove over a landmine in Boni, located outside of the desert region.
President Ibrahim Boubacar Keita deplored the attack which left a high civilian death toll.
"All of Mali was in mourning, all of Mali is appalled," said Keita while visiting the region instead of attending a planned regional summit.
http://www.presstv.com/Detail/2018/01/28/550493/Mali-militant-attack-France
--------
Unidentified gunmen kill 14 soldiers in central Mali
Jan 27, 2018
At least 14 soldiers have been killed and 17 others sustained injuries in the central Malian city of Timbuktu after unknown gunmen attacked their camp, according to military sources.
Unidentified armed men attacked the camp in the town of Soumpi at around 6 a.m. (0600 GMT) on Saturday.
"The provisional toll is 14 dead, 17 wounded and two enemies killed. The search is still on for those missing," said one of the military sources, who spoke on condition of anonymity.
Another military source confirmed the attack, putting the death toll at "around 15."
"The soldiers abandoned their position. The enemy carried away material," the unnamed source said.
The attack came two days after 26 civilians were killed and several others injured when their vehicle was blown up by a mine in central Mali.
According to Malian army spokesman Colonel Diarran Kone, the vehicle had crossed the volatile border with neighboring Burkina Faso, where militants loyal to the Daesh Takfiri terrorist group are known to operate, when it ran over the mine.
In a separate incident, the Malian military said its forces had come under attack in the town of Youwarou near Mopti, once a popular tourist spot, but that they had repelled it.
"They neutralized seven terrorists and recovered equipment abandoned by the assailants," it said.
In the past three years, Takfiri forces, which had long been destabilizing the thinly populated desert north of Mali, have swept south into its wetter, more populated central regions, exploiting local conflicts to spread militancy.
Mali plunged into turmoil after President Amadou Toumani Toure was overthrown in a military coup on March 22, 2012.
The coup leaders said they staged the putsch in response to the government's inability to contain the rebellion in the country's north.
In January 2013, French soldiers were deployed to Mali under the pretext of putting an end to the crisis in the West African country, a former colony of France.
Full report at:
http://www.presstv.com/Detail/2018/01/27/550369/Mali-gunmen-kill-soldiers-Timbuktu
--------
86 undocumented migrants held off Libyan coast
28 January 2018
More than 80 undocumented migrants were held in the outskirts of northwestern Tripoli, according to a spokesman for the Libyan Navy.
Ayoub Qassim said in a statement that a plastic boat with 86 undocumented migrants was found during an operation at the outskirts of Abu Kammash borough.
Qassim said that the undocumented migrants, amongst them nine children and 15 women were transferred to an Asylum Center in Tripoli's Tajura district.
According to the Libyan Navy 16,000 undocumented migrants were rescued in 2017.
Ever since the collapse of the central authority in Libya in 2011, the country's northwestern coast has become a hub for illegal migration to Italy and other countries in Europe.
Full report at:
http://www.worldbulletin.net/africa/198264/africa-most-affected-by-food-insecurity-says-un-chief
--------
Boko Haram, farmer-herder violence in Nigeria leaves 6 dead
2018-01-28
Lagos - Separate outbreaks of violence attributed to a Boko Haram attack and clashes between Muslim herders and Christian farmers left at least six people dead in Nigeria, police and local authorities said on Saturday.
At least three people were killed late on Friday when Boko Haram attacked the Hyambula village in northeast Adamawa state, police and a community leader told AFP after the latest in a spate of jihadist raids targeting civilians.
"There was an attack at Hyambula last night. Three people were killed and three others kidnapped," Adamawa state police spokesperson Othman Abubakar said, blaming Boko Haram for the attack.
The suspected jihadists had shot dead one man, before a suicide bomber blew himself up among residents gathered at the scene, killing two and leaving five injured."They shot a resident who was resting under a tree outside his house," Community leader Maina Ularamu said.
"When residents had gathered around him a suicide bomber hiding in the tree jumped off and detonated his explosives among the crowd."
Adamawa was said to have been cleared of Boko Haram in late 2015.
But attacks have continued in the north of the state, particularly around Madagali, which borders Borno state and the militants' Sambisa Forest stronghold.
In separate clashes, at least three people were killed in central Plateau state when Fulani herders attacked Jebu-Bassa, a farming village of Irigwe tribesmen.
"Three persons were killed and eight injured in renewed hostilities in Jebu-Bassa," Plateau state police spokesperson Tyopev Terna said, saying herdsmen were suspected of the killings on Thursday night.
A youth leader of the Muslim ethnic Hausa Rafin Bauna community said the attack may have been in reprisal for recent attacks on Fulani and Hausa communities by Irigwe militia which left one dead and several homes burnt.
Inter-community violence has left an estimated 100 people dead in central Nigeria since the turn of the year, leaving the government of President Muhammadu Buhari under fire for not dealing with the spiralling unrest.
A September report by the International Crisis Group estimated the death toll since 2016 at some 2 500.
Full report at:
https://www.news24.com/Africa/News/boko-haram-farmer-herder-violence-in-nigeria-leaves-6-dead-20180128
--------
URL: https://www.newageislam.com/islamic-world-news/defiant-protestors-form-human-chain/d/114093
New Age Islam, Islam Online, Islamic Website, African Muslim News, Arab World News, South Asia News, Indian Muslim News, World Muslim News, Women in Islam, Islamic Feminism, Arab Women, Women In Arab, Islamophobia in America, Muslim Women in West, Islam Women and Feminism