New Age Islam News Bureau
13 November 2020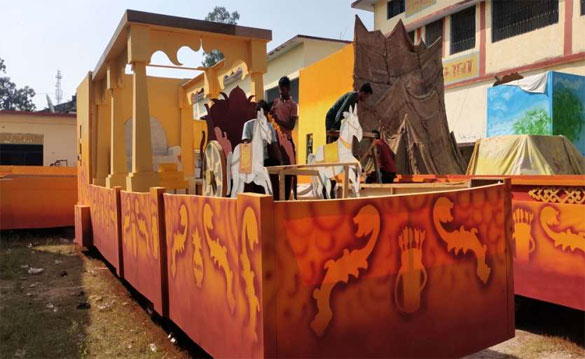 Abdul and Shahzade decorating Ram's court in Deepotsav
-----
• Asaduddin Owaisi Another Jinnah, Divides Muslims: Urdu Poet Munawwar Rana
• Guarantee Fundamental Rights To All Citizens: UK PM To Pakistan
• State Bank Of Pakistan Bans Online Payments For Indian Content
• Bangladesh's Government Caught in the Crossfire as Its Public Assails France
• Saudi Prince Vows 'Iron Fist' Against Extremists After Diplomats Ambushed
• Algerian Party Slams Saudi Over Muslim Brotherhood
India
• Deepotsav In Ayodhya: Muslim Artisans Adorn Court Of Lord Ram
• Asaduddin Owaisi Another Jinnah, Divides Muslims: Urdu Poet Munawwar Rana
• Netaji's Great Grandniece, National President Of Hindu Mahasabha, Files Plea To Become Party In Land Suit For The Removal Of A 17th Century Mosque From Near The Krishna Janmasthan Temple In Mathura
• Congress leaders in Maharashtra slam Asaduddin Owaisi for cutting Muslim votes of MGB in Bihar
• Pakistan not sincere about bringing 26/11 terror accused to justice, says India
• India joins UK in raising concern over killing of Ahmadi man in Pakistan
--------
Europe
• Guarantee Fundamental Rights To All Citizens: UK PM To Pakistan
• French Opposition Leader Slams Hatred Against Muslims
• Austria government approves range of anti-terrorism measures
• Russia plans to build a naval base in Sudan to resupply its fleet
• Delegation from Russia to visit Turkey for talks on Armenia-Azerbaijan ceasefire deal
--------
Pakistan
• State Bank Of Pakistan Bans Online Payments For Indian Content
• Inquiry ordered into students' harassment at Islamia College University
• MQM challenges in court 'ethnic-based, illegal' creation of Keamari district
--------
South Asia
• Bangladesh's Government Caught in the Crossfire as Its Public Assails France
• Protests in Bangladesh over persecution of Uyghurs in China
• Abdullah 'Exchanges View' on Afghan Peace with Herat Officials, Civil Society Activists
• Australia moves to forestall trial by ICC, appoints Afghan war crimes prosecutor
• Bomb Blast Jolts ANA Output in Paghman, Kills 2
--------
Arab world
• Saudi Prince Vows 'Iron Fist' Against Extremists After Diplomats Ambushed
• Man sets himself on fire in Cairo's Tahrir Square, Egypt security sources say
• Abu Dhabi, Tel Aviv Collaborating to Return Terrorists to Southern Syria
• ISIS claims attack on Jeddah's non-Muslim cemetery in Saudi Arabia
• Helicopter crash kills 6 Americans, 2 others in Egypt's Sinai
• Displaced Iraqis desperate as camps close
• UN human right expert demands lifting of Saudi-led sanctions against Qatar
--------
Africa
• Algerian Party Slams Saudi Over Muslim Brotherhood
• French Forces Kill Senior Al-Qaeda Leader Moussa In Mali: Minister
• UN votes to crack down on al-Shabaab extremists in Somalia
• Russia set to open naval base for nuclear warships in Sudan
• Nigerian military kills Boko Haram militants in air op
--------
North America
• Pressure Campaign Of Sanctions On Iran Will Go On Under Biden: US Official
• US-UAE weapons deal is detrimental to peace
• 6 Americans among dead in helicopter crash in Egypt
--------
Mideast
• Israeli Forces Kidnap Director Of Al-Aqsa's Manuscripts Centre, Arrest More Palestinians
• Israel speeds up settlement construction amid fears about Biden's possible freeze plans
• 'Yemenis aren't going hungry, they're starving:' UN issues solemn warning
• Intelligence Ministry Confirms Capturing Terrorist Ringleader behind 2018 Attack in Southwestern Iran
• Iran Asks IAEA to Verify S. Arabia, Israel's Activities
• Jerusalem renews settlement moves that angered Biden during his visit in 2010
• Turkey will use S-400 system just like NATO members employ S-300: Defense minister
--------
Southeast Asia
• Guan Eng: Motion will be tabled to challenge Speaker's ruling favouring Bintulu MP after 'insult' against Dr Noor Hisham
• RCEP: Malaysia respects India's decision, hopes it will join in the future, says PM Muhyiddin
Compiled by New Age Islam News Bureau
URL: https://www.newageislam.com/islamic-world-news/deepotsav-ayodhya-muslim-artisans-adorn/d/123464
--------
Deepotsav In Ayodhya: Muslim Artisans Adorn Court Of Lord Ram
Nov 13, 2020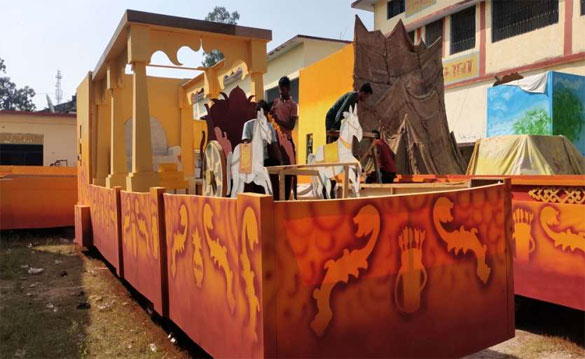 Abdul and Shahzade decorating Ram's court in Deepotsav
-----
Ayodhya: Deepotsav in Ayodhya will just not be about sublime splendour, but will reinforce the temple town's secular ethos with two Muslim artisans, Nawaz Sharif and Shahzade Waris anointing the magnificent Ram Durbar, the main draw of the Lord's coronation procession to Saryu banks. Apart from the duo, at least 10 other Muslims are busy giving final touches to 11 tableaux, which will be on display at the Deepotsav venue.
Religious barriers blur as Abdul Rashid, Shahid Warsi, Shahanshah, Mohammad Hasan Ali, Harun Warsi, Rehan Warsi, Mohammad Ali, Mohammad and Shareef quietly chisel away intricate patterns in the tableaux amidst round-the-clock chant of Ram hymns in the run-up to the grand Diwali festivities. "Communal harmony is the hallmark of Ayodhya," said Shahid Warsi.
Talking about participation of Muslims in a government-sponsored religious ceremony, Salig Ram Tiwari, a member of the team, said, "Muslim artisans are skilled and they know the art of decorating Ram Darbaar with grace. Hindus and Muslims work together and eat together in Ayodhya. There are no walls here."
Nawaz Sharif, the key artisan decorating the court of Lord Rama, said, "There was no discrimination against Muslims during hiring of artisans for decorating the Ram Durbar. This work is just not fulfilling, but is crucial for our livelihood in times of Covid-triggered recession. We are very happy about bagging this job and what's most important our creations will be viewed by crores of people worldwide during live telecast."
Most Muslim artisans involved in preparation of the Ram tableaux are residents of neighbouring Barabanki's Dewa Sharif locality, which houses the mausoleum of the 18th century Sufi saint Haji Waris Ali Shah. The dargah also draws crores of devotees, many from the Hindu community.
Eleven tableaux prepared by Muslims include the Ram Darbar, Putreshthi Yagya, Gurukul Shiksha, Ram Sita Vivah, Ahilya Uddhaar, Panchvati Rameshwaram Setu, Pushpak Vimaan, Kewat Prasang, Shabri Ram Milaap and Lanka Dahan.
https://timesofindia.indiatimes.com/city/lucknow/muslim-artisans-adorn-court-of-lord-ram/articleshow/79200917.cms
--------
Asaduddin Owaisi another Jinnah, divides Muslims: Urdu poet Munawwar Rana
Nov 13, 2020
Asaduddin Owaisi
----
LUCKNOW: Urdu poet Munawwar Rana on Thursday equated AIMIM chief Asaduddin Owaisi with Pakistan founder Muhammad Ali Jinnah and said such leaders have divided and destroyed Muslims, reports Arvind Chauhan. He said the community will not allow another Jinnah to flourish in India.
Rana's reaction came in the wake of Owaisi's party winning five seats in Bihar election and supposedly cutting into the opposition grand alliance's votes on many seats. Calling Owaisi a stooge of the BJP, the 67-year-old poet said the AIMIM chief always divides Muslim votes which eventually benefits the saffron party.
https://timesofindia.indiatimes.com/city/lucknow/owaisi-another-jinnah-divides-muslims/articleshow/79202226.cms
--------
Guarantee Fundamental Rights To All Citizens: UK PM To Pakistan
Written By: Siddhant Sibbal
Nov 12, 2020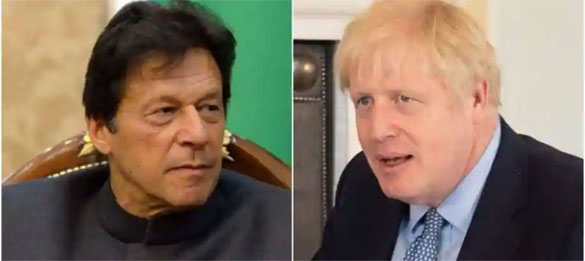 File photo: Imran Khan and Boris Johnson Photograph:( Twitter )
-----
New Delhi: British Prime Minister Boris Johnson has asked Imran Khan-led government in Pakistan to "guarantee fundamental rights" to all citizens of south Asian countries.
The matter was raised in the British Parliament by Minister for South Asia and the Commonwealth Lord Ahmad of Wimbledon with Pakistani's Human Rights Minister Shireen Mazari.
The issue cropped up after recent reports of the killing of Mehmood Khan, an Ahmadi in northern city of Peshawar. He is the fourth Ahmadi to be shot dead in the city. Ahmadi are minorities in Pakistan and their views are considered heretical in mainstream Islam.
While raising the matter of killing, a British MP said, "We should not ignore humanitarian injustices and plight of persecuted minorities."
"Hatred preached in Pakistan, ends up on the streets of Britain and it is in the interest of our own security that the British Government makes it clear to Pakistan, that state supported persecution must end," he said.
India has highlighted the deteriorating situation of minorities in the Pakistan multiple times in the past, especially the forceful conversion of minority Hindu, Sikhs and Christians.
Last week, India had summoned top Pakistani diplomat in Delhi after the management of the Holy Kartarpur Sahib Gurudwara was given over to a panel with no Sikh representation.
https://zeenews.india.com/world/guarantee-fundamental-rights-to-all-citizens-uk-pm-to-pakistan-2324308.html
--------
State Bank Of Pakistan Bans Online Payments For Indian Content
Shahid Iqbal
13 Nov 2020
KARACHI: The State Bank of Pakistan has asked banks to stop online payments for electronic media content from India with immediate effect.
"We are in receipt of a letter from the cabinet division, Government of Pakistan, whereby they have instructed to stop different modes of payments, including credit cards, for subscribing (to) Indian Content in Pakistan, including Zee5 video-on-demand service," said the circular issued on Nov 9.
"In this regard, it is advised to ensure meticulous compliance of aforementioned instructions of Government of Pakistan and submit compliance status to SBP (by) Nov 13, 2020," the circular added.
When contacted, former chairman of the Pakistan Electronic Media Regulatory Authority (Pemra) Absar Alam said that Indian content has already been banned in Pakistan, so the new circular could hit online payments for Direct to Home (DTH) service.
Circular issued after instructions from cabinet division
He said those who have DTH facility are mostly using Indian content and they make online payments.
"Now the subscriber cannot pay directly from Pakistan, but the Indian provider can get payments from other countries like the United Arab Emirates," said Mr Alam.
In India, DTH broadcasting service refers to the distribution of multichannel TV programmes by using a satellite system and providing TV signals directly to subscribers' premises. No data is available about how many Pakistanis are using this option to subscribe to Indian content.
Bankers said they only have to ensure that no payment is made from Pakistan for Indian content.
In response to a question, an official of one of the biggest local channels said the organisation subscribes to only some content from India and all the payments are made through Dubai, so no online payment from Pakistan is required.
Sources in the entertainment circles said they were sure that the ban was imposed against the background of a drama serial that is broadcast by Indian channel Zee5.
The BBC reported on Nov 2 a Pakistani web series called "Churails" had caused a furore in the country for its bold subject matter and edgy portrayal of its female leads.
The 10-episode serial features a group of women from diverse backgrounds who get together to start a secret detective agency called "Churails" — the Urdu word for "witches".
According to BBC, the electronic media regulator asked Indian video-on-demand platform Zee5, which streamed the show, to take the serial down for Pakistani audiences. The platform initially complied with the instructions only to later restore it.
The show ran into controversy when Pemra banned it in Pakistan after a backlash over a clip that went viral on social media.
https://www.dawn.com/news/1590107/sbp-bans-online-payments-for-indian-content
--------
Bangladesh's Government Caught in the Crossfire as Its Public Assails France
By Austin Bodetti
November 12, 2020
Bangladesh finds itself at a crossroads because of events half a world away. On October 16, a Chechen refugee beheaded a French schoolteacher who had presented derogatory caricatures of the Muslim prophet Muhammad in class. Just two weeks later, a Tunisian immigrant stabbed three residents of Nice to death in what French President Emmanuel Macron termed an "Islamist terrorist attack." French authorities responded with a crackdown on Islamists that Muslims across the world, including in Bangladesh, have criticized as Islamophobic.
On November 2, at least 50,000 demonstrators gathered in the Bangladeshi capital Dhaka to protest Macron's strident rhetoric against religious fanaticism, which has veered into criticism of Islam itself. While Macron described France as "under attack," French security forces closed a mosque linked to "the Islamist movement," dissolved religious associations, and raided over 120 homes. Critics accuse France of conflating Islam with violent extremism.
Macron presaged his administration's contentious offensive with a controversial speech in early October, asserting that France needed to develop "an Islam of Enlightenment." Though popular with a domestic, non-Muslim audience that supports France's aggressive interpretation of secularism, Macron's policies have provoked condemnation throughout the Muslim world. Kuwait and Qatar are boycotting French products, and France recalled its ambassador to Turkey after President Recep Tayyip Erdogan questioned Macron's mental health.
Bangladeshi protesters found vivid ways to display their own anger at France. One Dhaka mosque pasted a picture of Macron with a superimposed boot print in its entryway, inviting worshippers to step over his face. The same image appeared on the floor at a shopping mall in Gulshan Thana, the wealthy Dhaka neighborhood that houses the French embassy. On social media, demonstrators have even posted videos of themselves lining up to hit printouts of Macron's face.
Despite protesters calling on Bangladesh to enact measures similar to the Kuwaiti and Qatari embargoes, the South Asian country has less room to maneuver than its counterparts in the Persian Gulf. The relationship between Bangladesh and France — little discussed in the news media — has yielded important economic, military, and political benefits for leaders in Dhaka. A Bangladeshi-led boycott of French goods could jeopardize these burgeoning ties.
Enjoying this article? Click here to subscribe for full access. Just $5 a month.
"It's our long-standing policy having respect for each other," Bangladeshi Foreign Minister A.K. Abdul Momen said in the wake of the protests. Momen warned Bangladeshis against letting the religious dispute undermine Bangladesh's promising economic relationship with France.
In 2015, Bangladesh exported $1.76 billion in clothing, fish, plastics, and other products to France, compared to just under $1.3 billion in 2012. The Bangladeshi embassy in Paris has also celebrated other examples of French investment, namely a $253 million cement factory in the town of Chhatak as well as "challenging investments" undertaken by the French companies Adhipress, Degrémont, Sanofi, and Total SE. As early as 2006, Danone launched a joint venture with Grameen Bank, a Bangladeshi financial institution.
Given the damage that the coronavirus has dealt to Bangladesh's economy, the South Asian country needs its partnership with France more than ever. Analysts predict that the pandemic, which has killed over 6,100 in Bangladesh, could double the number of Bangladeshis below the poverty threshold to 40.9 percent. During the early months of the pandemic, global brands canceled as much as $3 billion in orders of Bangladeshi-made garments.
As Bangladesh seeks to rehabilitate an economy dependent on international trade, the South Asian country will likely take steps to avoid antagonizing its business partners. When protesters converged on the French embassy in Dhaka in early November, Bangladesh's police laid barbed wire across roads to prevent the demonstrators from reaching the compound.
Bangladesh's security forces may have their own incentive to stay on good terms with France. Citing "diplomatic sources in Paris," the Bangladeshi newspaper New Age reported during French Defense Minister Florence Parly's visit to Dhaka in March that France was considering selling Bangladesh the Dassault Rafale fighter aircraft and unspecified combat drones. Though unconfirmed, the report suggests that the Bangladesh Armed Forces want to continue a relationship begun in 2012, when Bangladesh purchased two military helicopters from Airbus.
Bangladesh and France's ties across a range of sectors will deter Bangladeshi leaders from taking too hard a line against Macron. Between 2012 and 2018, the French Development Agency gave Bangladesh 367 million euros for "urban development infrastructures, green energy and improving safety standards and environmental and social performance in the textiles industry." In the wake of the pandemic, Bangladesh will need humanitarian aid that much more.
Back in March, Bangladeshi Prime Minister Sheikh Hasina expressed her country's interest in collaborating with the United Kingdom to combat the coronavirus. With France working to develop a vaccine, Bangladeshi officials may seek to coordinate with their French counterparts as well. Bangladesh has already permitted China to test one of its own vaccines in the South Asian country, and Bangladeshi leaders are also seeking priority access to a vaccine made in India. Bangladeshi sentiment may stand in the way of similar cooperation with France, however.
Junaid Babunagaori, a top official in the Islamist advocacy group Hefazat-e-Islam Bangladesh, has urged Hasina to condemn Macron and even requested that the United Nations "take stern action against France." The group's secretary general, Junayed Babunagari, went a step further, pressuring the country's leadership to cut diplomatic ties with France.
If Bangladesh makes any near-term moves seen as benefiting France — whether courting French investment, importing French warplanes, or purchasing a French vaccine — officials in Dhaka risk provoking the wrath of Bangladeshi demonstrators, Islamists, and voters alike.
Macron may be offering Bangladesh a way out. In a late October interview with Al-Jazeera, the French president said, in response to Muslims' criticism of his words and actions, "I understand the sentiments being expressed and I respect them" — a small but significant peace offering. While Macron's remarks did little to quiet Bangladeshi protesters, his interview with a Qatari publication implies a willingness to walk back his most incendiary rhetoric. Bangladesh, in turn, can refrain from criticizing Macron if he attempts to make further amends for his comments.
Enjoying this article? Click here to subscribe for full access. Just $5 a month.
At the same time, Bangladesh may feel less pressure to act when other countries in the region are leading a rebuke of Macron and France as a whole. Indonesian President Joko Widodo lambasted the French leader for having "insulted Islam," and Pakistani Prime Minister Imran Khan, who has wrestled with violent extremism at home, tweeted, "This is a time when President Macron could have put a healing touch and denied space to extremists rather than creating further polarization and marginalization that inevitably leads to radicalization."
The most likely path forward for Bangladesh will capture the fewest headlines: waiting until protests subside before pushing ahead with any major French-linked initiatives. This approach will all but guarantee that Bangladesh and France continue to cooperate on economic and military matters, as the two countries did before Macron's latest controversy. In the end, though, the strategy's success will depend on how Bangladeshis themselves react.
Journalist Shakil Bin Mushtaq contributed reporting from Dhaka, Bangladesh.
https://thediplomat.com/2020/11/bangladeshs-government-caught-in-the-crossfire-as-its-public-assails-france/
--------
Saudi prince vows 'iron fist' against extremists after diplomats ambushed
November 13, 2020
RIYADH: Saudi Crown Prince Mohammed bin Salman pledged Thursday to strike extremists with an "iron fist" after a bombing against a gathering of Western diplomats was claimed by the Islamic State group.
The bomb blast struck a World War I commemoration at a non-Muslim cemetery in Jeddah on Wednesday, just two weeks after a guard at the French consulate in the Red Sea city was wounded by a knife-wielding Saudi citizen.
The attacks, which underscore Muslim fury over French satirical cartoons of the Prophet Mohammed, come as Saudi Arabia prepares for the G20 leaders' summit later this month – the first to be hosted by an Arab nation.
"We will continue to confront any extremist… behaviour and ideas," Prince Mohammed said in an address to the Shura Council, the top government advisory body.
"We will continue to strike with an iron fist against all those who want to harm our security and stability," he said, according to the transcript of his speech published by the official Saudi Press Agency.
Prince Mohammed, the kingdom's de facto ruler, warned those seeking to carry out jihadist acts of a "painful and severe punishment".
Wednesday's attack in Jeddah left at least two people wounded, including a Greek policeman and a Saudi official.
A British citizen was also believed to have been wounded.
Diplomats from France, Greece, Italy, Britain and the US attended the Armistice Day commemoration ceremony in Jeddah, their embassies said.
The IS on Thursday claimed responsibility for the bombing, saying it was to protest the cartoons printed by the satirical French magazine Charlie Hebdo.
A statement by IS's propaganda arm Amaq said the attack "primarily targeted the French consul".
The group offered no evidence of its involvement.
In a separate incident on Thursday, Dutch police arrested a man after multiple shots were fired at the Saudi embassy in The Hague, causing damage but no injuries.
It was not clear whether the incident, which the Saudi government condemned as "cowardly", was linked to the attacks in the kingdom.
Extreme vigilance
The French embassy in Riyadh, meanwhile, has urged its nationals in Saudi Arabia to exercise "extreme vigilance".
The warning followed an attack at the Jeddah consulate on Oct 29, the same day a knife-wielding man killed three people at a church in Nice in southern France.
French President Emmanuel Macron has vigorously defended the right to publish cartoons, but he has also tried to assuage Muslim fury over his remarks.
Macron's stance has prompted protests in several countries at which portraits of France's president were burnt, and a campaign to boycott French products.
Saudi Arabia – home to Islam's holiest sites – has criticised the cartoons, saying it rejected "any attempt to link Islam and terrorism".
In his speech, Prince Mohammed said he hopes "the world will stop attacking religious symbols under the slogan of freedom of expression" as that creates a "fertile environment for extremism and terrorism".
Saudi Arabia, long accused of exporting its ultra-conservative Wahhabist Sunni doctrine around the world, is itself a victim of domestic terror attacks.
Prince Mohammed, who pledged in 2017 to return Saudi Arabia to an "open, moderate Islam", has sought to roll back the influence of the ultra-conservative religious establishment.
"Extremism is no longer tolerated in the kingdom of Saudi Arabia," Prince Mohammed said in his speech.
The heir to the Saudi throne has curbed the influence of the once-powerful religious police, as he permits mixed-gender music concerts, cinemas and other entertainment options that appeal to a majority young population.
But simultaneously, the prince has launched a sweeping crackdown on dissent and free speech, arresting women activists, clerics and journalists as well as royal family members.
Saudi Arabia is also grappling with a sharp coronavirus-led economic downturn, which has triggered unpopular austerity measures, including the tripling of its value-added tax and the suspension of a monthly allowance to state employees.
While acknowledging the "great pain" caused by the austerity drive, Prince Mohammed spoke of government efforts to tackle high unemployment and fight rampant corruption.
https://www.freemalaysiatoday.com/category/world/2020/11/13/saudi-prince-vows-iron-fist-against-extremists-after-diplomats-ambushed/
--------
Algerian party slams Saudi over Muslim Brotherhood
Aburrazzak Abdullah
12.11.2020
The Movement of Society for Peace, Algeria's largest Islamic party, said on Thursday that the statement by Saudi Arabia's highest religious body about the Muslim Brotherhood has spread discord among Muslims.
"The statement of the Saudi Council of Senior Scholars about the Muslim Brotherhood is political and has nothing to do with Sharia [Islamic law] as it spreads discord among Muslims," the party said in a statement.
It added that the position of the Saudi scholars "is inconsistent with the reality".
The Saudi council in a statement had called the Muslim Brotherhood a violent terrorist group which does not represent Islam.
On Tuesday, Egypt's Muslim Brotherhood said it has always been a victim of violence and dictatorial regimes.
The group was blacklisted by Egyptian authorities in 2013 following the ouster of Mohamed Morsi, Egypt's first freely elected president, in a military coup. He died during trial in 2019.
This May, Saudi Arabia officially blacklisted the Muslim Brotherhood as a terrorist organization.
https://www.aa.com.tr/en/africa/algerian-party-slams-saudi-over-muslim-brotherhood/2041744
--------
India
Netaji's Great Grandniece, National President Of Hindu Mahasabha, Files Plea To Become Party In Land Suit For The Removal Of A 17th Century Mosque From Near The Krishna Janmasthan Temple In Mathura
Nov 13, 2020
Agra: Netaji Subhash Chandra Bose's great grandniece and national president of Hindu Mahasabha Rajyashree Chaudhuri has also filed a petition to become a party to the case filed earlier for the removal of a 17th century mosque from near the Krishna Janmasthan temple in Mathura.
Talking to media persons in Mathura on Thursday, Chaudhuri said her organisation will back the petitioner in favour of the Hindu community. "Not only Krishna Janmasthan, Kashi Vishwanath, Tejo Mahal (sic) are also on our agenda," she said, claiming that the Eidgah adjacent to "Krishna's birthplace is illegal".
Rajyashree, whose great-grandmother was one of Netaji's six sisters, took over as the national head of Hindu Mahasabha in 2018 -- only second Bengali to lead the right-wing organisation after Jana Sangh founder Syama Prasad Mookerjee, who was its president between 1943 and 1946.
In October, a Mathura court admitted the plea seeking removal of the mosque situated adjacent to a Krishna temple.
The suit, filed by Lucknow resident Ranjana Agnihotri and five others, including a Delhi resident, claims that the mosque is exactly where Krishna was born and they have sought the ownership of the entire 13.37-acre land. It also sought cancellation of a compromise decree between the governing body of the temple complex and the management trust of the mosque in 1968.
In the petition filed by Supreme Court lawyer Vishnu Shankar Jain, it has been stated that Shree Krishna Janmasthan Seva Sansthan is a registered society that has overpowered the trust, which was "non-functional since 1958 and had fraudulently entered into a compromise with the Committee of Management Trust Masjid Eidgah on October 12,1968".
https://timesofindia.indiatimes.com/city/agra/netajis-great-grandniece-files-plea-to-become-party-in-mathura-mosque-land-suit/articleshow/79196732.cms
--------
Congress leaders in Maharashtra slam Asaduddin Owaisi for cutting Muslim votes of MGB in Bihar
Nov 12, 2020
MUMBAI: Muslim Congress leaders and Urdu commentators have slammed AIMIM of Hyderabad-based MP Asaduddin Owaisi for playing spoilers for the secular Mahagathbandhan, the grand alliance of RJD-Congress-Left parties in the Bihar elections.
Out of the 20 seats that it contested, MIM won five but dented into the votes of six Mahagathbandhan candidates. Also, though MIM won five seats, the total number of Muslim MLAs has reduced from 24 in 2015 to 18 in 2020.
Congress MLA Amin Patel questioned Owaisi's failure to increase his footprint in Hyderabad and Telengana. "His party has been confined to winning just seven seats in Hyderabad. Instead of improving its tally in Telengana, MIM goes out to other states to cut secular votes. Before damaging secular candidates in Bihar, Owaisi did the same thing in UP and Maharashtra. It is for the Muslim masses to decide if he is serving the cause of secularism or helping the BJP," said Patel.
"It was proved in Maharashtra elections last year that MIM works for the BJP. Like in Maharashtra, Owaisi chose the Muslim-concentrated area of Seemanchal and swayed a chunk of Muslim youths with his emotional speeches. He has harmed the cause of secularism," said Mumbai Congress's Vice-president Zakir Ahmed.
Responding to the allegations of being a spoiler and B-team of the BJP, Owaisi told a section of the media:"Do they want Muslims to remain hostage to and bondage labourers of the so-called secular parties? I am a citizen of this country and the Constitution allows me to field candidates from anywhere in the country. They are blaming us out of frustration." "Instead of blaming us, the Congress should do introspection,"said former Byculla MLA Waris Pathan.
City Congress general secretary M Asif Farooqui said that Seemanchal has been traditionally voting for the Congress for decades."I accept Congress may not have addressed all the issues facing the community but Owaisi plays the identity politics and many people get misled that he is a messiah. If he is not part of the government, how can he help bring any change in people's life?, " asked Farooqui.
Senior Urdu commentator Hasan Kamal questioned Owaisi's claims that he sympathises with Muslims. "I must reiterate that MIM is a B-team of the BJP and works to help the BJP win elections. He did it in UP, Maharashtra and now Bihar," said Kamal.
https://timesofindia.indiatimes.com/city/mumbai/congress-leaders-in-maharashtra-slam-asaduddin-owaisi-for-cutting-muslim-votes-of-mgb-in-bihar/articleshow/79189065.cms
--------
Pakistan not sincere about bringing 26/11 terror accused to justice, says India
Nov 13, 2020
NEW DELHI: India again slammed Islamabad on Thursday for not including the names of key Mumbai attacks conspirators in Pakistan Federal Investigative Agency's (FIA) updated list on most wanted terrorists, saying Pakistan was yet to show any sincerity in bringing the accused to justice.
While the list includes a select few members of Pakistan based UN designation terror group LeT, including the crew members of the boats used to execute 26/11, it glaringly omits the mastermind and key conspirators of the terror attack, said the government in a statement. "It's a matter of serious concern that, despite its own acknowledgement as well as the availability of all necessary evidence, Pakistan is yet to deliver justice to the families of 166 victims, even as we near the 12th anniversary of the attacks," said MEA spokesperson Anurag Srivastava.
There has been no progress in the Mumbai trial in Pakistan despite India offering to host a judicial commission from Pakistan to examine witnesses in Mumbai. As first reported by TOI last month, India has also asked Pakistan to book Pakistan-American Mumbai plotter David Headley for his role. JuD chief Hafiz Saeed has also not faced any action for his role in the attacks. "It's a fact that the 26/11 terror attack was planned, executed and launched from Pakistan's territory. The list makes it clear that Pakistan possesses all the necessary information and evidence on the conspirators and facilitators of the Mumbai terror attack based in Pakistan," added the official. The spokesperson recalled that India has repeatedly asked Pakistan to give up its "obfuscation and dilatory tactics" in discharging its international obligations in the Mumbai terror attacks trial.
"Several other countries have also called upon Pakistan to expeditiously bring the perpetrators of the dastardly terror attacks to justice," he said.
On reports of minorities being killed in Pakistan, the government said it was unfortunately a sad reflection of the state of minorities in the country. "Over a period of time, we have seen the space for people from the minority community to practise their religion shrink continuously. Besides, their condition remains deplorable. We have been consistently raising the issue of the safety, security and well-being of minority communities with the Government of Pakistan," said the spokesperson.
An 82-year-old Ahmadi man was believed to have been shot and killed by some gunmen, apparently because of his faith, in Peshawar. The remark was in response to a question on the killing.
https://timesofindia.indiatimes.com/india/pakistan-not-sincere-about-bringing-26/11-terror-accused-to-justice-says-india/articleshow/79202141.cms
--------
India joins UK in raising concern over killing of Ahmadi man in Pakistan
Nov 12, 2020
India has expressed concern over the killing of 82-year-old Ahmadi man, Mehmood Khan in the northern city of Pakistan's Peshawar. This is the fourth such killing of an Ahmadi, who are considered minorities in Pakistan, and their views heretical in mainstream Islam.
Ministry of external affairs spokesperson Anurag Shrivastava in response to a question said, "This is, unfortunately, a sad reflection of the state of minorities in Pakistan. Over a period of time, we have seen the space for people from the minority community to practice their religion shrink continuously. Besides, their condition remains deplorable."
Pointing out, he elaborated, "We have been consistently raising the issue of the safety, security and well-being of minority communities with the Government of Pakistan."
https://www.dnaindia.com/world/report-india-joins-uk-in-raising-concern-over-killing-of-ahmadi-man-in-pakistan-2856199
--------
Europe
French opposition leader slams hatred against Muslims
Yusuf Ozcan
13.11.2020
A French opposition leader said Thursday there is hatred against Muslims in France disguised as secularism.
"There is hatred towards Muslims under the guise of secularism in this country. Secularism does not mean to hate a religion," Jean-Luc Melenchon, leader of the France Unbowed movement and an MP from a Mediterranean region with a large Muslim population, told the BFM-TV channel.
Melenchon said Muslims should be respected and constant suspicion towards them should also end.
He said he would continue repeating these statements even though some people would not like it.
He also stressed that he stands against hatred towards Muslims.
Noting that he has received the signatures of 150,000 citizens in support of his candidacy in the 2022 presidential election, Melenchon said the method of fighting against terrorism should change.
His remarks come after recent anti-Islamic statements by French President Emmanuel Macron and other politicians.
Last month, Macron described Islam as "a religion in crisis" and announced plans for tougher laws to tackle "Islamist separatism" in France.
Tensions further escalated after middle school teacher Samuel Paty was murdered and beheaded on Oct. 16 in a Paris suburb in retaliation for showing his students blasphemous cartoons of the Muslim Prophet Muhammad during a class on freedom of expression.
Insulting cartoons by the French weekly magazine Charlie Hebdo were also projected on buildings in some French cities.
Macron defended the cartoons, saying France would "not give up our cartoons," sparking outrage across the Muslim world.
https://www.aa.com.tr/en/europe/french-opposition-leader-slams-hatred-against-muslims/2042174
--------
Austria government approves range of anti-terrorism measures
12 November 2020
Austria's government has approved a wide range of anti-terrorism measures, days after a sympathizer of the Takfiri Daesh terrorist group went on a shooting rampage in the heart of the capital, Vienna, killing four people and wounding nearly two dozen others.
The terrorist attack occurred on November 2, when 20-year-old Kujtim Fejzulai, a dual citizen of Austria and North Macedonia, moved through Vienna's inner city and began shooting at passers-by for nine minutes until he was shot dead by police.
The assailant, who had been sentenced to 22 months in jail in April 2019 for attempting to travel to Syria to join Daesh but been released in December last year, killed four people and wounded 22 others during the shooting spree.
On Wednesday, the Austrian government approved anti-terrorism measures, including the ability to give life sentences to individuals convicted of terror offenses, placing people convicted of terror-related offenses under electronic surveillance upon release, and criminalizing extremist acts.
According to Austrian Chancellor Sebastian Kurz, the government also intends to facilitate the process of closing associations believed to be playing a role in the "radicalization" of individuals and to enable the public to report potential violent activities on an online platform.
The measures, which will be brought before the Austrian parliament for a vote next month, also include the preventive detention of individuals convicted of terror offenses.
Kurz said that even if those individuals had served their sentences for their crimes but were not yet considered as being completely de-radicalized, "we will make it possible to lock those people up in order to protect the public."
The measures, if approved by the parliament, will also enable the government to strip dual citizens convicted of terrorism offenses of their Austrian citizenship.
On Monday, some 1,000 Austrian police and intelligence service officers reportedly raided houses, businesses, and associations purportedly linked to the Muslim Brotherhood movement and the Palestinian resistance movement of Hamas.
Austrian prosecutors stressed that those raids were not connected to the shooting spree last week.
https://www.presstv.com/Detail/2020/11/12/638435/Austria-government-approves-range-of-anti-terrorism-measures
--------
Russia plans to build a naval base in Sudan to resupply its fleet
13 November 2020
Russia plans to build a naval base on Sudan's Red Sea coast to resupply its fleet, according to a draft agreement with Khartoum signed off by Prime Minister Mikhail Mishustin.
The planned deal, published on the Russian government's website Wednesday, outlines a "logistical support centre" to be set up in Sudan where "repairs and resupply operations and rest for crew members" can take place.
For all the latest headlines follow our Google News channel online or via the app.
Its capacity will be capped at 300 military and civilian personnel and four ships, including nuclear-powered vessels, the text added.
The base will stand on the northern outskirts of Port Sudan, according to coordinates named in the detailed document.
Russia will also gain the right to transport via Sudan's ports and airports "weapons, ammunition and equipment" needed for the base to function.
The deal is slated to stand for 25 years -- as long as neither party objects to its renewal.
So far Russian authorities have not named a date for the accord to be signed with Khartoum.
Moscow has in recent years turned its eyes to Africa as it renews its geopolitical clout.
It has wooed Sudan with military and civilian nuclear cooperation, signing a deal between the countries' armed forces in May 2019 set to last seven years.
In January last year Russia acknowledged, as a political crisis reached its peak in Sudan, that its military advisors had already been on the ground "for some time" alongside forces loyal to the government.
Former Sudanese president Omar al-Bashir asked President Vladimir Putin to "protect" his country from the US when he visited Russia in 2017.
He said military cooperation should be stepped up to "re-equip" Sudan's armed forces.
https://english.alarabiya.net/en/News/middle-east/2020/11/13/Russia-plans-to-build-a-naval-base-in-Sudan-to-resupply-its-fleet
--------
Delegation from Russia to visit Turkey for talks on Armenia-Azerbaijan ceasefire deal
12 November 2020
A Russian delegation will visit Turkey on Friday to discuss the creation of a joint centre for monitoring a truce deal between Azerbaijan and Armenia over Nagorno-Karabakh, the Turkish foreign minister said.
A Turkish role in implementing the truce was not explicitly mentioned in a nine-point agreement the leaders of Azerbaijan and Armenia signed with Russian President Vladimir Putin this week.
For all the latest headlines follow our Google News channel online or via the app.
The deal put an end to more than six weeks of fighting that left more than 1,400 dead and saw Azerbaijani forces recover large swathes of territory they lost to ethnic Armenian separatist in a 1988-1994 war.
But both Turkish and Azerbaijani officials this week insisted that Ankara -- which diplomatically backed Baku in the conflict -- will play a role in monitoring the deal.
Russia is sending 1,960 military personnel and armoured personnel carriers as part of an independent peacekeeping mission.
Turkish Foreign Minister Mevlut Cavusoglu said the details about the joint Russian-Turkish centre's functions and operations will be discussed on Friday "with a delegation coming from Russia".
The centre "will completely control whatever happens on the field, whether or not there are any violations, with the help of drones and other elements," he told a press conference in Baku carried by Turkish broadcasters.
Azerbaijan purchased military drones from Turkey that proved effective in the conflict, destroying the separatist forces' tanks and other military equipment.
Cavusoglu added that if Armenia breached the deal, "it will pay a price".
https://english.alarabiya.net/en/News/world/2020/11/12/Delegation-from-Russia-to-visit-Turkey-for-talks-on-Armenia-Azerbaijan-ceasefire-deal
--------
Pakistan
Inquiry ordered into students' harassment at Islamia College University
13 Nov 2020
PESHAWAR: The Khyber Pakhtunkhwa governor, Shah Farman, who is also chancellor of the public sector universities in the province, has directed the Governor Inspection Team to conduct inquiry into alleged harassment of girl students by teachers of Islamia College University and submit its report within two days.
An official statement issued here on Thursday said that the governor took notice of the protest march against harassment of girl students by some faculty members. Islamia Law Fraternity, a student body of the university, had organised awareness walk against harassment on the campus on Wednesday.
"The chairman of the inspection team has been directed through a notification to conduct transparent inquiry into the protest march and submit its report within two days," the statement said. It added that harassment in educational institutions could not be tolerated and there would be no compromise on the honour of students.
The statement said that government would provide complete protection to the students in all educational institutions including Islamia College University.
Maimoona Khan, who is vice president of the Islamia Law Fraternity, told Dawn that cases of harassment of girls by teachers and boy students were growing in the university. She said that the walk was organised in the backdrop of the growing cases of harassment of girls and subsequent failure of the university's administration to take action against the culprits.
Governor directs inspection team to submit report within two days
She said that the university's anti-harassment committee had become dysfunctional. She said that despite registration of four to five complaints, the administration did not take any action. "Teachers apply different tactics and put inappropriate demands to the girls to blackmail them," she said, adding that boy students also attempted to harass the girl students.
Sources said that a student had lodged complaints against chairperson of a department. They said that the issue was brought into the notice of the registrar.
The university registrar, Dr Ibrar, when contacted, confirmed that parents of a girl student had come to his office and lodged complaint against chairperson of a department on Monday last. He said that the university's anti-harassment committee would start proceedings in the case on Friday.
Initially, he said, the parents of the affected student visited his office last week and lodged verbal compliant against a senior professor. He said that on his advice written complaint was lodged to fulfil legal formalities.
"The administration will take the case to its logical end," said Dr Ibrar, adding that the administration would also investigate the motives behind the awareness walk which was organised without taking permission from the administration.
"This is the first case of harassment registered in the history of the university, which I have received," he said, adding that some people might have ulterior motives behind the walk to malign senior faculty members.
MPA Khaleequr Rehman, who had served as adviser to the chief minister on higher education, admitted that the menace of harassment in educational institutions was common and such complaints were frequently reported from different institutions.
"Harassment of girl students in our educational institutions is a harsh reality and cases are being reported," he said, adding that provisions related to harassment would also be incorporated in the proposed university Act.
https://www.dawn.com/news/1590072/inquiry-ordered-into-students-harassment-at-islamia-college-university
--------
MQM challenges in court 'ethnic-based, illegal' creation of Keamari district
Ishaq Tanoli
13 Nov 2020
KARACHI: The Muttahida Qaumi Movement-Pakistan leaders on Thursday slammed the Sindh government for carving out the seventh district out of Karachi and approached the Sindh High Court against the creation of Keamari district.
They contended that it was not an administrative decision, but an attempt to divide the city on ethnic lines and strengthen the political position of the Pakistan Peoples Party.
The MQM leaders, Khawaja Izharul Hasan and Salman Mujahid, were talking to journalists on the premises of the SHC after filing an application along with a party supporter from Keamari to become an intervener in the petition already pending before the SHC challenging the notification issued in September to notify Keamari district.
They were of the view that it was a politically-motivated decision made without consulting the stakeholders and the people of the area, adding that the decision was made to achieve political goals by the ruling party in Sindh as the final result of the population census 2017 has not yet been announced while the delimitation of local government jurisdictions in the province has also not yet been carried out.
The MQM leaders further said that provincial government had so far submitted nothing in court to justify the move apart from a notification of the new district.
It was contended in the application that despite pendency of the petition in question, the provincial authorities had also notified the district municipal corporation of Keamari.
Opposition Leader Naqvi gets bail in NAB inquiry
It further argued that under the relevant laws, it was mandatory to hold a public hearing before creating a new district and contended that the move was unconstitutional and illegal and pleaded to set aside the notification of the new district.
Initially, Pakistan Tehreek-i-Insaf MNA from Karachi Aamir Liaquat Hussain had petitioned the SHC against the Sindh government for carving out a new district out of Karachi and contended that it was done in violation of law and proper procedure had also not been followed.
The provincial government had created the new district of Keamari through a notification issued on Sept 4.
Additional secretary summoned in price hike case
A divisional bench of the SHC on Thursday directed the additional secretary of the services, general administration and coordination department (SGA&CD) to appear on Dec 8 in court, in a petition filed against the menace of profiteering, black marketing and hoarding of essential commodities in the province.
When the two-judge bench headed by Justice Mohammad Ali Mazhar took up the petition for hearing, the secretary of agriculture, supply and price department of Sindh contended that he was holding the ex-officio charge of director general of bureau of supply and prices since the regular post of DG was not mentioned in the budget book issued by the SGA&CD.
The bench said that in order to seek clarification, the additional secretary was directed to turn up on the next hearing.
Responding to a question of the bench regarding compliance with regard to certain duties and responsibilities of their department, the secretary of agriculture and deputy director of bureau of supply and prices contended that various functions were already being performed by them and requested for some time to submit details in writing. Subsequently, the hearing was adjourned till Dec 8.
The petitioner, advocate Tariq Mansoor, sought enforcement of laws pertaining to control of hoarding and black marketing of essential commodities in the province.
He contended that under the Hoarding and Black Market Act, 1948 the federal government should appoint special judges to hold trial of the offences under this act, but despite the fact that the law was in the field since 1948 such appointments were not made yet.
The petitioner further maintained that the provincial authorities had also failed to implement the Sindh Essential Commodities Price Control and Prevention of Profiteering and Hoarding Act, 2005 and Sindh Registration of Godowns Act, 2005 in letter and spirit while the commissioner was authorised to take cognizance under the Karachi Essential Articles (Price Control and Anti-Hoarding) Act 1953, but it was also not being put into practice.
Opposition Leader Naqvi gets bail
Another divisional bench of the SHC on Thursday granted interim pre-arrest bail to Leader of the Opposition in the Sindh Assembly Firdous Shamim Naqvi in an inquiry being conducted by the National Accountability Bureau.
The opposition leader through his lawyer moved the SHC and after the preliminary hearing, the two-judge bench headed by Justice Mohammad Iqbal Kalhoro granted interim bail against a surety bond of Rs1 million till Nov 27. The bench also issued notices to NAB for next hearing.
The lawyer for the petitioner contended that the anti-corruption watchdog was probing an allotment of land in the favour of Habib Group of Companies and the petitioner was one of the directors of the group in 2006.
He submitted that NAB had summoned Mr Naqvi again in this regard and sought pre-arrest bail.
https://www.dawn.com/news/1590050/mqm-challenges-in-court-ethnic-based-illegal-creation-of-keamari-district
--------
South Asia
Protests in Bangladesh over persecution of Uyghurs in China
Nov 13, 2020
Protesters rallied on Thursday at Dhaka National Press Club under the banner of 'Uyghur Muslim Rights Council' (Uyghur Musalmaner Odhikar Parishad) to demand political and religious rights for the persecuted people in Xinjaing Uyghur Autonomous Region of China.
The event was observed as a token of support to Uyghur Muslims to mark the occasion of Independence Day of 'the Islamic Republic of East Turkistan' which is observed worldwide on November 12.
The Uyghur Muslims are reportedly persecuted by the Chinese government and are not allowed to practise their Islamic faith by the Communist government of China.
During the protest march, Islamic scholars and Ulemas displayed placards depicting atrocities perpetrated by the Chinese, demolition of ancient Mosques to construct public toilets, weeping Uyghur women being paraded to detention centres, and enforced birth control measures to control Muslim population.
The demonstrators also demanded a UN fact finding team be allowed to visit various detention camps, and stop harassment of Uyghur Muslims.
Protests against the treatment meted to Uyghurs in China was also held in Rajshahi region of the country.
https://www.wionews.com/south-asia/protests-in-bangladesh-over-persecution-of-uyghurs-in-china-342841
--------
Abdullah 'Exchanges View' on Afghan Peace with Herat Officials, Civil Society Activists
By Mohammad Arif Sheva
13 Nov 2020
HERAT, Afghanistan – Chairman of the High Council for National Reconciliation (HCNR) Abdullah Abdullah praised "Herat for continued support for peace and hospitality", as he exchanged view with local officials and civil society representatives in Herat Friday.
On Friday morning, Abdullah headed to Herat province in a bid to discuss ongoing peace process with local authorities and civil society activists.
"Exchange views with official, representatives, civil society & people of Heart on the #AfghanPeaceProcess, peace talks in Doha, regional diplomacy for peace & high level of violence during the talks," he said in a tweet.
Abdullah did not provide further details on his trip, but said he "thank the people of Herat for their continued support for peace & hospitality."
"Arrived in #Herat Prov. to attend the Herat Security Dialogue 9 on #AfghanPeaceProcess organized by @AISS_Afg, & exchange views with the officials, representatives, civil society, Ulema & women of western region on peace efforts, talks in Doha & regional peace diplomacy," the tweet added.
This came after the HCNR Chairman wrapped several international trips to Pakistan, India, Iran, and recently to Uzbekistan on Afghan peace process, amid struggle on peace talks between the Afghan and Taliban negotiating teams in Qatari capital Doha.
https://www.khaama.com/abdullah-exchanges-view-on-afghan-peace-with-herat-officials-civil-society-activists-345345/
--------
Australia moves to forestall trial by ICC, appoints Afghan war crimes prosecutor
13 Nov 2020
SYDNEY: Australia on Thursday moved to prosecute alleged war crimes by its special forces deployed in Afghanistan, years after harrowing reports emerged of civilians and prisoners being killed.
Prime Minister Scott Morrison — citing allegations of "serious and possibly criminal misconduct" — appointed a special investigator, a move to forestall any prosecution at the International Criminal Court.
After the September 11, 2001 terror attacks more than 26,000 Australian uniformed personnel were sent to Afghanistan to fight alongside US and allied forces against the Taliban, Al Qaeda and other Islamist groups.
Australian combat troops left the country in 2013, but since then a series of often-brutal accounts have emerged about the conduct of Australia's elite special forces units.
They range from reports of troops killing a six-year-old child in a house raid, to a dead foe's hand being severed, to a prisoner being shot dead to save space in a helicopter.
For years the government had tried to suppress whistleblower reports of the alleged wrongdoing, with police even moving to investigate reporters involved in bringing those accounts to the public.
Meanwhile, the Australian Defence Force's Inspector-General conducted one of several closed-door probes into what it called "rumours and allegations" of "possible breaches of the Law of Armed Conflict".
The Inspector-General identified more than 50 incidents, most relating to the unlawful killings of "persons who were non-combatants or were no longer combatants" as well as "cruel treatment".
Morrison said a redacted version of the Inspector-General's report would be released within days, "this will be difficult and hard news for Australians".
The appointment of a prosecutor represents a significant escalation in the legal process and could lead to criminal charges against military personnel.
The military is revered in Australia and its campaigns – from Gallipoli to Kokoda – have played a crucial role in fostering the country's identity, as independent of colonial power Britain.
"Serving men and women and our defence forces, both past and present, share the expectations and aspirations of the Australian people for our defence forces, and how they engage in their conduct," said Morrison.
"This is going to be very difficult for Australians" he added. "This requires us to deal with honest and brutal truths, where expectations and standards may not have been met." There had been speculation that Australia's failure to fully investigate the reports could lead to the International Criminal Court stepping in.
Asked if the appointment of a prosecutor would mitigate that risk, Morrison said: "We believe so, yes. That is the important advice we have taken on this. We need to deal with this as Australians according to our own laws, through our own justice processes."
https://www.dawn.com/news/1590121/australia-moves-to-forestall-trial-by-icc-appoints-afghan-war-crimes-prosecutor
--------
Bomb Blast Jolts ANA Output in Paghman, Kills 2
By Mohammad Arif Sheva
13 Nov 2020
KABUL, Afghanistan – At least two people were killed and further four wounded in an explosion near an Afghan National Army's outpost in Paghman district, west capital city Kabul, Friday morning, local police said.
The explosion occurred in Arghandi area of Paghman district, with photos circulating on social media show the explosion had damaged the army outpost.
Officials did not provide further details on the victims, whether the blast inflicted to people or security forces at the location.
No group or individual has immediately claimed responsibility for the attack.
The attack comes amid widespread concern over goring violence throughout Afghanistan, despite efforts to resume peace negotiations in Doha.
https://www.khaama.com/bomb-blast-jolts-ana-output-in-paghman-kills-2-34534/
--------
Arab world
Man sets himself on fire in Cairo's Tahrir Square, Egypt security sources say
13 November 2020
A man set himself on fire in Tahrir Square in central Cairo on Thursday and was being treated for burns at a hospital in the capital, security sources said.
There was no immediate official comment on the incident.
Videos circulating on social media appeared to show the man filming himself as he walked along the street and then in the square, complaining about alleged corruption.
Dressed in a suit and tie, he started shouting before setting fire to his clothes.
Another video taken from a balcony overlooking the square showed security guards and bystanders rushing to put out the flames with water and loose clothes.
A source from Cairo's security directorate said the man was under guard at a local hospital, where he had told officials that he worked at Egypt's Central Auditing Organization.
Security in Tahrir Square, home to the mass demonstrations that toppled former President Hosni Mubarak in 2011, is closely monitored, and authorities have clamped down on public acts of protest.
https://english.alarabiya.net/en/News/middle-east/2020/11/13/Man-sets-himself-on-fire-in-Cairo-s-Tahrir-Square-Egypt-security-sources-say
--------
Abu Dhabi, Tel Aviv Collaborating to Return Terrorists to Southern Syria
2020-November-12
The Arabic-language al-Khalij Online news website quoted the sources as claiming that the UAE is attempting to form a military organization under the title of Syrian opposition in line with its efforts to confront Turkey and Iran's presence in Syria.
They added that Abu Dhabi has relied on a number of former Syrian opposition groups, including military commander of Jeish al-Thaura which included members of al-Mo'taz, al-Yamouk, al-Mohajerin and al-Ansar terrorist groups with close ties with the UAE intelligence apparatus, to implement its plans.
The UAE has been one of the main supporters of terrorist groups in Syria by supplying them with money and weapons.
Also, several reports, photos and footages have in the past few years shown that Israeli hospitals were treating the injured ISIL terrorists fighting in Syria.
Israeli Prime Minister Benyamin Netanyahu had made a visit to the field hospital established by the Israeli authorities on the occupied Syrian territories to treat insurgents.
https://www.farsnews.ir/en/news/13990822000614/Ab-Dhabi-Tel-Aviv-Cllabraing-Rern-Terrriss-Shern-Syria
--------
ISIS claims attack on Jeddah's non-Muslim cemetery in Saudi Arabia
Tuqa Khalid
12 November 2020
The ISIS extremist group claimed responsibility on Thursday for the attack on an event at a non-Muslim cemetery in Jeddah, Saudi Arabia, that injured two people on Wednesday.
The ISIS claim was made in a statement published on the militant group's Amaq news agency, according to the SITE Intelligence Group.
For all the latest headlines follow our Google News channel online or via the app.
It said ISIS fighters "planted an explosive device in... the cemetery in the city of Jeddah yesterday," where European diplomats were gathered.
The Spokesman of the Mecca region principality Sultan al-Dosari had said on Wednesday: "Security authorities have launched investigations into a failed and cowardly attack that took place while the French Consul was attending a ceremony in Jeddah Governorate."
"The attack resulted in a minor injury of a Greek consulate employee and a Saudi security man… Investigations are ongoing."
https://english.alarabiya.net/en/News/gulf/2020/11/12/ISIS-claims-attack-at-on-Jeddah-s-non-Muslim-cemetery-in-Saudi-Arabia
--------
Helicopter crash kills 6 Americans, 2 others in Egypt's Sinai
12 November 2020
A helicopter crash in Egypt's Sinai Peninsula involving a multi-national observer force killed eight people on Thursday -- six Americans, a French national and a Czech citizen, the force said.
"During a routine mission in the vicinity of Sharm el-Sheikh, Egypt, nine members of the Multinational Force and Observers (MFO) were involved in a helicopter crash," it said in a statement.
Another member of the force, an American, survived and was medically evacuated, the MFO added.
https://english.alarabiya.net/en/News/middle-east/2020/11/12/Helicopter-crash-kills-6-Americans-2-others-in-Egypt-s-Sinai
--------
Displaced Iraqis desperate as camps close
12 November 2020
Iraq has started closing camps housing tens of thousands of people, including many who fled their homes during the final battle against ISIS, but aid groups warn this could create a second wave of displacement with dire consequences.
Read more: Next four years under Biden 'crucial' to Israel-Palestine peace process: Experts
Among those having to leave are 50-year-old Umm Ahmed and her two sons, who have lived at the Hammam al-Alil camp since 2017 when their house in Mosul was destroyed in an air strike by the US-led coalition as it battled to retake the city from ISIS.
"I don't have any income, no one provides for us. The camp became our home," said Umm Ahmed, who cannot take on manual work due to a disability. She says her sons both have mental health problems.
ISIS upended the lives of millions of Iraqis when they took swathes of the country in 2014 and imposed a brutal rule that in some places like Mosul would last three years.
"Before ISIS, my son used to clean the streets and we would survive with whatever income he managed to get. But now, he is too ill to work," said Umm Ahmed.
Hammam al-Alil, 25 kilometers (15 miles) south of Mosul, is one of several camps due to shut this month. The operation had been scheduled for earlier this year but was delayed by the coronavirus pandemic, according to Khalid Abdul Karim, who heads the displacement and migration office in Mosul.
Each family would receive 1.5 million dinars ($1,263.03) in aid during the first year and the authorities are coordinating with international aid organizations to ensure they receive assistance once they settle elsewhere, Abdul Karim said.
But aid organizations say it will be harder to reach the most vulnerable if spread across the country, and some could face violence and arrest on returning home if they have relatives who were affiliated with armed groups, including ISIS.
Around 100,000 people are at risk of becoming homeless as the closures were not properly planned and coordinated, the Head of Support for Iraq at the humanitarian organization Norwegian Refugee Council, Ahmad Azzam, told Reuters.
Packed up her belongings, an Iraqi woman from the province of Baji says she has no relatives to take care of her and her children. Her husband died during the war and she has been living in the camp since.
Her children, like thousands of others born under ISIS rule, have no identification papers, without which they will struggle to access basic services, including education.
"Whether they give us support money or not depends on their conscience," Umm Ahmed said as she watched her neighbors load their things onto a pickup truck and set off towards an uncertain future.
https://english.alarabiya.net/en/News/middle-east/2020/11/12/Displaced-Iraqis-desperate-as-camps-close
--------
UN human right expert demands lifting of Saudi-led sanctions against Qatar
13 November 2020
A United Nations human rights expert has called on authorities in Saudi Arabia and a number of regional countries to end the economic and diplomatic blockade that they imposed on Qatar in June 2017, saying the restrictions have harmed civilian lives in the gas-rich kingdom.
Alena Douhan, UN Special Rapporteur on the negative impact of unilateral coercive measures on the enjoyment of human rights, said in a report on Thursday that the adverse effects of the sanctions had harmed the Qatari population's ability to enjoy several fundamental rights and freedoms connected to family life, education, work, health, private property, religion, expression, and justice access.
"During my [two-week] visit, I met a large number of victims of human rights violations caused by the sanctions, including couples in mixed marriages and their children, migrant workers who lost their jobs and benefits, Qatari nationals with jobs or businesses in the four countries that imposed the sanctions, and many others," the UN expert said.
She said that she also met government officials, diplomats, lawyers and journalists besides representative of international agencies as well as non-governmental humanitarian and social organizations during her visit to Qatar.
Douhan underlined that unilateral punitive measures are only legal if the UN Security Council enforces them and if they do not violate fundamental human rights.
"Measures directly affecting fundamental human rights shall not be used as the means of influencing the government," she said.
She then called on the boycotting Arab countries to resume cooperation and to settle their political disputes with Qatar through the rule of law.
Saudi Arabia, the United Arab Emirates, Bahrain and Egypt severed diplomatic and trade ties with Qatar on June 5, 2017, after the quartet officially accused Doha of meddling in regional affairs and supporting terrorism.
Qatar's Foreign Ministry condemned the decision as unjustified and based on false claims and assumptions.
The four Arab countries also imposed an air, land and sea blockade on Qatar.
On June 9, 2017, Saudi Arabia and its allies issued a 13-point list of demands, including the closure of al-Jazeera television news network and downgrade of relations with Iran, in return for the reconciliation.
The document also asked Qatar to cut all ties with the Muslim Brotherhood and the Lebanese resistance movement Hezbollah. Qatar rebuffed the demands as "unreasonable."
The call for immediate lifting of sanctions against Qatar comes as little progress has been made regarding a possible resolution to the rift between Doha and the four blockading countries.
Amid no signs of reconciliation in sight, Saudi Arabia, the UAE and Bahrain have been gravitating towards the Israeli regime.
Israeli Prime Minister Benjamin Netanyahu signed US-brokered normalization agreements with Emirati Foreign Minister Sheikh Abdullah bin Zayed Al Nahyan and Bahrain's Foreign Minister Abdullatif Al Zayani during an official ceremony hosted by US President Donald Trump at the White House on September 15.
Palestinians, who seek an independent state in the occupied West Bank and Gaza with East Jerusalem al-Quds as its capital, view the deals as betrayal of their cause.
Meanwhile, Palestinian rights advocates have condemned a recent visit by a group of Israeli settlers to the UAE, voicing concerns that Abu Dhabi's normalization deal with the Tel Aviv regime strengthens the occupation and dispossession of Palestinian land.
Khalil Jahshan, executive director of the Arab Center Washington DC, said the visit proved that the recent deals between Israel and Arab countries were meant to normalize Israeli "excesses."
"There's no better word to describe it other than the Yiddish word 'chutzpah'," which can be translated as shameless audacity, Jahshan said.
"Now you have Arab partners to Israel seeking to legitimize that illegal aspect of Israeli policy," he added, noting that settlements are the "antithesis of peace."
Earlier this week, a group of Israeli settlers, led by outspoken annexation advocate Yossi Dagan, concluded a visit to the UAE. Dagan said in a Facebook post that settlement representatives held a "marathon" of business meetings in Dubai.
Zeina Ashrawi Hutchison, a Palestinian-American activist, also said the settlers' visit and the prospect of direct trade between the UAE and the settlements make Abu Dhabi "complicit" in Israeli abuses against Palestinians.
"The UAE normalizing with Israel at the expense of Palestinian rights, backstabbing the Palestinian cause and selling Palestinian freedom for a shred of a share in the military-industrial complex are all hugely problematic for so many reasons," Ashrawi Hutchison commented, referring to the Persian Gulf state's efforts to procure F-35 stealth fighter jets from the US.
"But to also specifically have talks with, invest in and legitimize Zionist colonial settlements make the UAE government spineless and complicit in Israeli war crimes against the Palestinian people," she added.
More than 600,000 Israelis live in over 230 settlements built since the 1967 Israeli occupation of the Palestinian territories of the West Bank and East Jerusalem al-Quds.
Since Trump took office in December 2016, Israel has stepped up its settlement construction activities in defiance of United Nations Security Council Resolution 2334, which pronounced settlements in the West Bank and East Jerusalem al-Quds "a flagrant violation under international law."
All Israeli settlements are illegal under international law as they are built on occupied land.
https://www.presstv.com/Detail/2020/11/13/638497/Senior-UN-official-demands-Saudi-led-sanctions-against-Qatar-to-be-lifted
--------
Africa
French forces kill senior al-Qaeda leader Moussa in Mali: Minister
13 November 2020
French forces have killed Bah ag Moussa, a military leader of al-Qaeda's North Africa wing, during an operation in northeastern Mali, Armed Forces Minister Florence Parly said on Friday.
For all the latest headlines follow our Google News channel online or via the app.
The former Malian army colonel, also known as Bamoussa Diarra, was a right-hand man of Iyad Ag Ghali, the leader of Mali's most prominent extremist group, Jama'at Nusrat al-Islam wal-Muslimin (JNIM), which has repeatedly attacked soldiers and civilians in Mali and neighboring Burkina Faso.
"A historic figure of the jihadist movement in the Sahel, Bah ag Moussa is considered responsible for several attacks against Malian and international forces," Parly said in a statement.
Moussa, who was on the US terrorism list, was killed on Tuesday after an operation involving ground troops and helicopters and comes after a series of operations that have seen French forces kill dozens of terrorist fighters in recent weeks.
"This is a major success in the fight against terrorism," Parly said.
Former colonial power France has more than 5,100 personnel spread across the region with a large portion in Mali operating against rising militancy.
https://english.alarabiya.net/en/News/world/2020/11/13/French-forces-kill-senior-al-Qaeda-leader-Moussa-in-Mali-Minister
--------
UN votes to crack down on al-Shabaab extremists in Somalia
13 November 2020
The UN Security Council voted Thursday to prevent the sale or shipment to Somalia of components of improvised explosive devices if there is "significant risk" they may be used to manufacture the often deadly devices that are increasingly being used in attacks by al-Shabab extremists.
It also urged the Somali government to keep cracking down on the militant group's illegal financing methods that UN experts estimate raised over $21 million last year.
The resolution, adopted by a 13-0 vote with Russia and China abstaining, reaffirmed the arms embargo on Somalia and banned the resale or transfer of any weapons or military equipment sold or supplied to help develop Somalia's National Security Forces and security sector.
For all the latest headlines follow our Google News channel online or via the app.
a-linked al-Shabab remains the most active and resilient extremist group in Africa, controlling parts of southern and central Somalia and often targeting checkpoints and other high-profile areas in the capital, Mogadishu. It has fired several mortars this year at the heavily defended international airport, where the US Embassy and other missions are located.
In their latest report, experts monitoring the arms embargo and other sanctions against Somalia said: "The threat posed by al-Shabab to peace, security and stability in Somalia goes beyond the impact of the group's conventional military action and asymmetric warfare to include sophisticated extortion and `taxation' systems, child recruitment practices and an effective propaganda machine."
The panel said al-Shabab raised more than the $21 million it spent last year on fighters, weapons and intelligence. Its investigation found the extremist group generated approximately $13 million in just four case studies – a "taxation" checkpoint in Lower Juba, its extortion of businesses in Kismayo, two bank accounts associated with the group's collection of taxes on imports into the port in Mogadishu, and "zakat" – an annual religious obligation.
The resolution adopted by the Security Council "notes with concern al-Shabab's ability to generate revenue and launder, store and transfer resources."
It calls on the Somali government "to continue working with Somali financial authorities, private sector financial institutions and the international community to identify, assess and mitigate money laundering and terrorist financing risks." It encouraged the government to consider a national identification program to help reduce the risks.
The council condemned al-Shabab attacks in Somalia and beyond, saying the group "continues to pose a serious threat to the peace, security and stability of Somalia and the region, particularly through its increased use of improvised explosive devices." It also expressed "grave concern" at the presence of affiliates linked to the Islamic State extremist group in Somalia.
The resolution demands that countries prevent the sale, supply or transfer of a list of components including explosive materials, explosive precursors, explosive-related equipment and related technology "if there is sufficient evidence to demonstrate that the item(s) will be used, or a significant risk they may be used, in the manufacture in Somalia of improvised explosive devices."
It requires any country supplying an item on the list to Somalia to notify the committee monitoring UN sanctions at least 15 days in advance with details and the purpose for the sale or transfer.
Russia's deputy UN ambassador, Anna Evstigneeva, noted that the amendments "meant to optimize the arms embargo" were made at the Somali government's request and expressed hope that "they will support normalization and reduce the terrorist threat coming, in the first place, from Al-Shabaab."
But she said Russia abstained because the resolution didn't take on board "our principled and duly substantiated proposals," including references to Djibouti and Eritrea, whose relations pose "no threat to international peace and security," and to human rights in Somalia, which should be dealt with by the Geneva-based Human Rights Council.
China's deputy UN ambassador, Dai Bing, said Beijing abstained because the council didn't accept its amendments calling for the council to explore benchmarks for assessing the lifting of the arms embargo on Somalia weren't accepted.
"The current embargo has been a serious impediment to enhance security capacity of the Somali government," he said. "The text fails to make a deep response to the strong desire of the Somali government to have the arms embargo lifted."
US political coordinator Rodney Hunter welcomed the continuation of UN sanctions and the extension of the work of the panel of experts for another 12 months.
He said every council member has committed to uphold the arms embargo "in the interest of securing peace and stability both in Somalia, and in the broader region." To achieve that, Hunter said, the United States also supports "the increased focus on thwarting Al-Shabaab's exploitation of the financial system."
https://english.alarabiya.net/en/News/world/2020/11/13/Terrorism-UN-votes-to-crack-down-on-al-Shabaab-extremists-in-Africa
--------
Russia set to open naval base for nuclear warships in Sudan
13 November 2020
Russia has signed a draft deal to build a naval logistics base in Sudan, where it will station up to four nuclear warships on the Red Sea coast.
Russia's Prime Minister Mikhail Mishustin approved the draft agreement on establishing a naval base in the Red Sea and will submit the proposal to President Vladimir Putin in due course.
"The project stems from a mutual desire of Moscow and Khartoum to strengthen and develop military cooperation to increase the defense capacity of both states,' Mishustin said in a statement.
"The presence of the Russian naval logistics base in Sudan, which is set for defense purposes, meets with goals of maintaining peace and stability in the region, and not to pose any threat to other countries."
Once endorsed, the agreement will allow Moscow to station up to four warships, including those with nuclear capabilities, and up to 300 service members in a Sudanese port at any one time.
It will also enable Moscow to use the Sudanese port for repairs and resupply.
The naval base will be constructed in the city of Port Sudan, which is Sudan's main international trade hub, and the largest city on the Red Sea coast.
"The Sudanese side has the right to use the mooring area upon agreement with the authorized body of the Russian side," said the draft text.
In return, the African county will receive weapons and military equipment free of charge to protect the base.
Under the deal, which will extend for 25 years, Sudan will also commit to develop and modernize the country's infrastructure in order to maintain and supply Russian warships and provide hospitality services for crew members.
In 2017, Russia signed an agreement with the then-President of Sudan Omar al-Bashir to speed up the modernization of Sudanese forces.
Last year, after a military coup ousted al-Bashir, a 7-year contract of military cooperation came into force.
The contract stipulates, in particular, "an exchange of opinions and information on military and political issues and the issues of strengthening mutual trust and international security.'
Sudan, Russia's second-largest weapons buyer in Africa, is pursuing a deeper partnership with Moscow as it became a Russia-friendly country years ago.
Russia has recently sought to help Sudan escape its isolation from the global economy caused by western sanctions.
Sudan was put on the so-called terrorism list of the United States in 1993 over allegations that Omar al-Bashir was supporting terrorism. Under al-Bashir, Sudan was a staunch foe of Israel.
Earlier this year, the US lifted many sanctions on Sudan and called on Khartoum to follow the United Arab Emirates (UAE) and Bahrain in establishing ties with Israel in return for Sudan's removal from the terror list.
Sudan, however, said it does not want to link its removal from a US "terrorism list" with the normalization of relations with Israel.
https://www.presstv.com/Detail/2020/11/13/638499/Russia-naval-base-warship-Sudan-Red-Sea
--------
Nigerian military kills Boko Haram militants in air op
Adam Abu-bashal
13.11.2020
Several Boko Haram militants were killed Thursday in an air raid targeting one of their camps in northeast Nigeria, according to a top defense official.
Defense Ministry spokesman John Enenche told reporters that the operation was carried out over the Sambisa Forest in Borno state where Boko Haram members were holding a meeting.
He said a large number of terrorists were killed and the camp was destroyed.
Boko Haram launched a bloody insurgency in 2009 in northeastern Nigeria but later spread its atrocities to neighboring Niger, Chad and Cameroon, prompting a military response.
More than 30,000 people have been killed and nearly 3 million displaced in a decade of Boko Haram's violence in Nigeria, according to the UN Office for the Coordination of Humanitarian Affairs.
Violence by Boko Haram has affected 26 million people in the Lake Chad region and displaced 2.6 million others, according to the UN Refugee Agency.
https://www.aa.com.tr/en/africa/nigerian-military-kills-boko-haram-militants-in-air-op/2042180
--------
North America
Pressure campaign of sanctions on Iran will go on under Biden: US official
12 November 2020
The US special representative for Iran insisted Thursday that a pressure campaign of sanctions targeting Iran would persist into the administration of Joe Biden, even as the president-elect has pledged to potentially return America to Tehran's nuclear deal with world powers.
Elliott Abrams, who also serves as the US special representative to Venezuela, said sanctions targeting Iran for human rights violations, its ballistic missile program and its regional influence would go on.
For all the latest headlines, follow our Google News channel online or via the app.
That, as well as continued scrutiny by United Nations inspectors and American partners in the Mideast, would maintain that pressure, he said.
Iran now has far more uranium than allowed under the deal since President Donald Trump unilaterally withdrew from the accord in 2018.
The Mideast also has been roiled by tensions between Tehran and Washington, which pushed the two countries to the brink of war at the beginning of the year.
"Even if you went back to the (deal) and even if the Iranians were willing to return ... this newly enriched uranium, you would not have solved these really fundamental questions of whether Iran is going to be permitted to violate long-term commitments it has made to the world community," Abrams told The Associated Press in an interview at the US Embassy in Abu Dhabi.
Read more: US policies in the Middle East: An in-depth analysis of Biden's plans
Iran's politicians have increasingly discussed the possibility of the US returning to the deal, which saw Iran limit its enrichment of uranium in exchange for the lifting of economic sanctions.
Alireza Miryousefi, a spokesman for Iran's mission to the UN, dismissed Abram's comments.
"The policy of maximum pressure and sanctions against Iran has failed," Miryousefi told the AP. "The US effort to abuse this corrupt policy is futile and will only lead to further isolation of the US on the international stage."
Iran's enriched uranium stockpile, which would have been under 300 kilograms (660 pounds) in the deal, now stands at over 2,440 kilograms (5,380 pounds), according to the latest report by UN inspectors.
That's potentially enough material to make at least two nuclear weapons, experts say, if Iran chose to pursue the bomb.
Iran also is enriching uranium to as much as 4.5 percent purity, higher than allowed under the accord but still far lower than weapons-grade levels of 90 percent.
Tehran abandoned all limits on its enrichment months after Trump's pullout from the agreement, even as the deal's other international partners China, France, Russia, the United Kingdom and Germany have tried unsuccessfully to salvage it.
Meanwhile, Iran has begun construction at its underground Natanz enrichment site after a fire and explosion it described as "sabotage" struck its advanced centrifuge assembly plant in July.
Abrams described the construction as "another Iranian challenge" to the International Atomic Energy Agency, the UN agency that Iran still allows to monitor its nuclear sites.
He also criticized Iran for its slow response in allowing the IAEA to investigate a suspicious site outside of Tehran where it discovered particles of uranium of man-made origin.
Iran long has insisted its nuclear program is for peaceful purposes. However, the IAEA has said Iran "carried out activities relevant to the development of a nuclear explosive device" in a "structured program" through the end of 2003.
"Iran denies that it ever had a nuclear weapons program," Abrams said. "Therefore, it can't now say, well, things you found from 2003, were part of our old nuclear weapons program. They're caught in their own lie."
Abrams mentioned US citizens still imprisoned by Iran, who activists and their families insist are chips in future negotiations.
He also said the United Arab Emirates' normalization deal with Israel also put new pressure on Iran, especially as the US plans a $23 billion arms deal for Emiratis to purchase F-35 stealth fighter jets and drones.
"I hope that next year the leverage that we've built up through our sanctions program is used (with) any form of pressure including, for example, Iranian fears about a developing relationship between Israel and Arab states in the region," he said. "All of this pressure should be brought to bear to get Iran to change its conduct."
https://english.alarabiya.net/en/News/middle-east/2020/11/12/Pressure-campaign-of-sanctions-on-Iran-will-go-on-under-Biden-US-official
--------
US-UAE weapons deal is detrimental to peace
12 November 2020
By Jeremy Kuzmarov
Yeah, I think this deal is detrimental to peace. I think the UAE is a very repressive regime. They've been involved covertly in supporting the war in Yemen, which is in alliance with Saudi Arabia, which has caused terrible human cataclysm in Yemen, and terrible suffering for the Yemeni people, and weapons that the US has provided in the past have been used to kill civilians.
So, this is just very bad, I think. I think, the Obama administration had huge arms sales but Trump has just expanded it even further. And there's really no regard for human rights issues as far as the regimes that Trump is willing to sell arms with.
And I think this deal went forward because of the recent agreement Israel and the UAE and signed this restore normal diplomatic relations so that may have set the groundwork for this deal.
But I think it's very bad for the region and some of these repressive and autocratic regimes have ever more sophisticated weaponry including drones which they could use to spy on their own people, or again these weapons could be used in wars like in Yemen to kill civilians.
So I think it's something that progressives should be opposed to, and I would hope that the new Biden administration will be pressured to cut back on some of these kinds of deals.
Will there be a change in US foreign policy under Biden?
Well, I think that's the case, because you have to look at who's financing the two major political parties, and there was actually a good article in the Nation magazine that points to the fact that Biden received more money from military contractors than Trump. Biden received something like $24 million from these companies like Lockheed Martin and Raytheon. Some of them were hedge funds who had major stock ownership who were giving money to Biden.
So, yeah I mean Trump was heavily tied with the so-called military-industrial complex, and I mean yeah these, this arms deal to UAE, I mean the big beneficiary of these companies like Lockheed Martin or General Atomics which manufactures drones or Raytheon, and they give to both parties, and increasingly they're giving more to the Democrats because I think they view Trump as unstable.
And he gives a bad image for the United States, and also Trump in some areas, he was threatening to cut back troops like in Afghanistan, and Africa. He's mentioned that he might want to cut back on troops in the Africom. So they don't like that.
And, you know, Biden has said that he will basically sustain the military budget. He's not planning any major cuts to the US military budget, which is more than the next eight or nine countries combined. Like the US spends upwards of $800 billion on the military every year. And it's just a bonanza of untrammeled profits for the corporations that give money to both parties and increasingly to the Democratic Party.
So yeah I wouldn't think there will be a major change. There'll be a change in tone from the White House and a little more rationality from the commander-in-chief, but I think he's going to be continuing a very militaristic policy and sustaining the US Empire's military bases.
And there may be more of a shift toward Southeast Asia, and towards containment of Russia seems to be the priority of the Biden administration. So it's possible there would be some retreat from the Middle East, but I wouldn't bet on it.
Jeremy Kuzmarov is J.P. Walker assistant professor of history, University of Tulsa and author of The Myth of the Addicted Army: Vietnam and the Modern War on Drugs (Massachusetts, 2009) and Modernizing Repression: Police Training and Nation Building in the American Century (Massachusetts, 2012).
https://www.presstv.com/Detail/2020/11/12/638481/US-UAE-weapons-deal-is-detrimental-to-peace
--------
6 Americans among dead in helicopter crash in Egypt
Servet Gunerigok
12.11.2020
WASHINGTON
Six American service members were killed along with two partner nation service members when a UN helicopter crashed Thursday in Egypt near the Israeli border, according to the Pentagon.
"The Defense Department is deeply saddened by the loss of six U.S. and two partner nation service members in a helicopter crash in the Sinai Peninsula operating with the United Nations Multinational Force and Observers (MFO)," Acting Secretary of Defense Chris Miller said in a statement.
"I extend the Department's condolences to the families, friends and teammates of these service members," said Miller.
The crash occurred during a routine mission in the vicinity of Sharm el-Sheikh, which also killed a French and a Czech national, according to a MFO statement.
Chief Pentagon spokesman Jonathan Hoffman said the agency is in close contact with MFO leadership and are standing by to support their investigation.
"We will provide more details as they become available. We will not release the names of those lost until next-of-kin notifications are completed," Hoffman tweeted.
https://www.aa.com.tr/en/americas/6-americans-among-dead-in-helicopter-crash-in-egypt/2042038
--------
Mideast
Israeli Forces Kidnap Director Of Al-Aqsa's Manuscripts Centre, Arrest More Palestinians
12 November 2020
Israeli forces along with undercover agents have kidnapped the director of al-Aqsa Mosque's Manuscripts Center during an operation in East Jerusalem al-Quds and detained several Palestinians in a series of separate raids across the occupied Palestinian territories.
Palestinian media, quoting sources, said Israeli troops stormed al-Thawri neighborhood south of al-Aqsa Mosque, on Wednesday evening, and broke into Radwan Amr's house, before detaining him.
Amr, an academic and activist, is well known for exposing the Israeli regime's Judaization plans in Jerusalem al-Quds. His mother, Zeina, works as a teacher at the al-Aqsa Mosque compound and his father is expert on revealing Israeli violations.
The Israeli occupying authorities have recently escalated their persecution campaign against Palestinian officials and employees of the Islamic Waqf (Endowment) organization that oversees Muslim holy sites in the Israeli-occupied Jerusalem al-Quds.
In recent months, Israeli settlers have repeatedly violated the al-Aqsa Mosque compound in the occupied Old City of East Jerusalem al-Quds under the strict protection of regime forces as part of break-ins into the Islamic holy site.
Outside the compound and particularly at its gates, Israeli soldiers have also imposed restrictions on Palestinian worshipers' access to the mosque, demanded their ID cards, frisked them, and searched their bags.
Hardline Israeli legislators also regularly violate the al-Aqsa Mosque compound in the occupied city, a provocative move that infuriates Palestinians.
Israeli forces kidnap Palestinians, attack youths in West Bank
Separately, the Palestinian Information Center said on Thursday that Israeli forces abducted several Palestinians in large-scale overnight raids in the occupied West Bank and East Jerusalem al-Quds.
A number of activists, university students and even minors were among the detainees.
The Israeli troops kidnapped the Palestinian youths after breaking into their homes in the West Bank cities of Bethlehem, al-Khalil (Hebron) and Nablus.
Some Palestinians were also forcibly taken away by Israeli troops in the Ramallah villages of al-Mughayyir and Kafr Ni'ma.
They also stormed the Tulkarem refugee camp and the Ramallah town of Kobar during the abduction campaign. Local residents said violent clashes occurred between troops and local residents at the old cemetery in Kobar and elsewhere across the region.
A series of violent clashes also broke out as Israeli forces stormed Qalandiya refugee camp in east Jerusalem al-Quds. They also abducted two Palestinian youths from at-Tur town of the occupied region.
The circumstances surrounding the kidnappings are yet unknown, but the Israeli forces carry out such swoops on a nearly daily basis, taking away Palestinians whom the regime usually accuses of acting against its so-called interests.
More than 7,000 Palestinians are reportedly held in Israeli jails. Hundreds of the inmates have apparently been incarcerated under the practice of administrative detention, a policy under which Palestinian inmates are kept in Israeli detention facilities without trial or charge.
Some Palestinian prisoners have been held in administrative detention for up to eleven years.
Palestinian inmates regularly stage hunger strikes in protest at the administrative detention policy and their harsh prison conditions in Israeli jails.
The new development comes at a time of rising tensions between Israelis and Palestinians in the wake of prime minister Benjamin Netanyahu's intention to annex parts of the West Bank.
Conditions have also been tense since US President Donald Trump announced his decision on December 6, 2017 to recognize Jerusalem al-Quds as Israel's 'capital' and relocate the US Embassy from Tel Aviv to the occupied city.
The developments also come as Abu Dhabi and Tel Aviv signed a US-mediated agreement at the White House to normalize ties in September.
The normalization deals have drawn widespread condemnation from Palestinians, who seek an independent state in the occupied West Bank and Gaza, with East Jerusalem al-Quds as its capital. They say the deals ignore their rights and are a betrayal of the Palestinian cause.
The UAE and Bahrain justified their deals with Israel as a means to stop the annexation plans in the West Bank and bring peace to the region. Nevertheless, Israel is still going ahead with its expansion plans.
https://www.presstv.com/Detail/2020/11/12/638464/Palestine-al-Thawri-al-Aqsa-Mosque-Radwan-Amr-Jerusalem-al-Quds-West-Bank-
--------
Israel speeds up settlement construction amid fears about Biden's possible freeze plans
12 November 2020
Israeli authorities are reportedly expediting approval of plans for the construction of more settler units across the occupied territories, amid growing fears that the projected winner of US presidential election Joe Biden would oppose such plans once he enters the White House early next year.
According to Israeli newspaper Haaretz, the so-called Jerusalem City Hall and the Israel Lands Authority (ILA) have been identifying and speeding up approval of construction plans beyond the Green Line, part of the border that Israel drew between the West Bank and the rest of historical Palestine, over the next two months to prevent them from being stopped by the next US administration.
The report highlighted that Biden had an important role in Israeli settlement construction freeze in Jerusalem al-Quds during the administration of former US President Barack Obama, where he served as vice president.
This is while the outgoing administration of US President Donald Trump staunchly supported the Israeli regime's settlement expansion and land expropriation policies.
Meanwhile, the Jerusalem Municipality has given the green light for the construction of 108 settler units north of the holy city in in Ramat Shlomo settlement.
The Palestinian Arabic-language Safa news agency, citing a report published by public Israeli KAN 11 television network, said the so-called Jerusalem Local Planning and Building Committee has endorsed plans for the units to be built in Ramat Shlomo settlement.
Anti-settlement watchdog Peace Now also told AFP that plans for 96 homes in the east Jerusalem settlement of Ramat Shlomo were given the green light by the municipal planning committee on Tuesday.
Israel announced plans to build 1,600 settler units in Ramat Shlomo, which adjoins the Palestinian neighborhoods of Shuafat and Beit Hanina, in March 2010.
That announcement, according to AFP, came as Biden, now US President-elect, was visiting Israel, provoking fierce US opposition and souring ties with Washington for months.
"After straining relations with Biden and the US in 2010 over the approval of settlement units in Ramat Shlomo, one would think that Prime Minister (Benjamin) Netanyahu would at least try not to remind the incoming Biden administration of that time," Peace Now spokesman Brian Reeves said.
He added, "Approving units in the exact same location, just as Biden is about to enter office, is both counter to Israel's interests and recklessly provocative toward Biden personally."
More than 600,000 Israelis live in over 230 settlements built since the 1967 Israeli occupation of the Palestinian territories of the West Bank and East Jerusalem al-Quds.
Since Trump took office in December 2016, Israel has stepped up its settlement construction activities in defiance of United Nations Security Council Resolution 2334, which pronounced settlements in the West Bank and East Jerusalem al-Quds "a flagrant violation under international law."
All Israeli settlements are illegal under international law as they are built on occupied land.
Under an agreement reached between Israel and the United Arab Emirates nearly two months ago on normalization of ties, the Tel Aviv regime has supposedly agreed to "temporarily" suspend applying its rule to further areas in the occupied West Bank and the strategic Jordan Valley that Israeli Prime Minister Benjamin Netanyahu had pledged to annex.
While Emirati officials have described the normalization deal with the Tel Aviv regime as a successful means to stave off annexation and save the so-called two-state solution to the Israeli-Palestinian conflict, Israeli leaders have lined up to reject the bluff of Abu Dhabi's crown prince and de facto ruler of the UAE, Sheikh Mohammed bin Zayed Al Nahyan, that Israel's annexation plans were off the table.
The Israeli prime minister has underlined that annexation is not off the table, but has simply been postponed.
Netanyahu signed agreements with Emirati Foreign Minister Sheikh Abdullah bin Zayed Al Nahyan and Bahrain's Foreign Minister Abdullatif Al Zayani during an official ceremony hosted by Trump at the White House on September 15.
Palestinians, who seek an independent state in the occupied West Bank and Gaza with East Jerusalem al-Quds as its capital, view the deals as betrayal of their cause.
https://www.presstv.com/Detail/2020/11/12/638460/Israel-speeds-up-settlement-construction-amid-fears-Biden-would-freeze-plans
--------
'Yemenis aren't going hungry, they're starving:' UN issues solemn warning
12 November 2020
The United Nations (UN) has issued a solemn warning about a looming catastrophe in Yemen that would be affecting millions of Yemeni people, including women and children, as the country grapples with years of a Saudi-led war and blockade.
Top UN officials raised the alarm during a virtual meeting of the UN Security Council on Yemen on Wednesday as they appealed for further funds to prevent the tragedy.
"We are on a countdown right now to a catastrophe in Yemen. The people… they've been ravaged by years of conflict, food [insecurity], hunger, malnutrition. Now, there's a toxic combination taking place of surging violence… [and a] deepening of the economic and currency collapse… And COVID-19 is ratcheting up the misery to a whole new level," the UN food agency's Executive Director David Beasley told the 15-member council.
"And so we've got to get the world to open up its eyes and realize what we've truly seen in the unfolding humanitarian disaster before it's too late. If we choose to look away, there's no doubt in my mind Yemen will be plunged into a devastating famine within a few short months," he said.
The UN has previously described Yemen as the site of the world's largest humanitarian crisis, with 80 percent of the people being in need of help.
UN humanitarian chief Mark Lowcock warned in late 2017 that the war-torn country was at the time facing "the largest famine the world has seen for many decades with millions of victims."
During the virtual meeting on Wednesday, Lowcock described the humanitarian situation in Yemen as "agonizing," and called on the international community to take action to prevent the food crisis in the impoverished Arab country.
"Yemenis are not going hungry. They are being starved. All of us, parties to the conflict, Security Council members, donors, humanitarian organizations, and others should do everything we can to stop this," Lowcock told the Security Council.
"More money for the aid operation is the quickest and most efficient way to support famine prevention efforts right now. So I again implore donors to fulfill their outstanding pledges and to increase their support," he said.
Lowcock also said that the world body had received less than half of what it needed — about $1.5 billion — this year for its humanitarian operations in Yemen, while it had received $3 billion in 2019.
Saudi Arabia and a number of its regional allies launched the devastating war on Yemen in March 2015 with the goal of suppressing a popular uprising that had toppled a Riyadh-friendly regime.
The war has taken a heavy toll on Yemen's infrastructure, destroying hospitals, schools, and factories. The UN says over 24 million Yemenis are in dire need of humanitarian aid, including 10 million suffering from extreme levels of hunger.
Children are among the most vulnerable victims of the Saudi war on Yemen, but the issue has barely drawn any international response.
The UN children's agency warned in late June that the shortage of humanitarian assistance amid the coronavirus pandemic threatened to push more children in Yemen to the brink of starvation.
https://www.presstv.com/Detail/2020/11/12/638450/Yemenis-are-not-going-hungry-they-are-starving-UN-issues-solemn-warning
--------
Intelligence Ministry Confirms Capturing Terrorist Ringleader behind 2018 Attack in Southwestern Iran
2020-November-12
The statement said that the leader of the separatist and terrorist group, which had planned several other large-scale operations in Tehran and Khuzestan in recent years, has been planning a new terrorist operation.
"This terrorist group, which is directly supported by the Saudi intelligence services and the Zionist regime, has been managing terrorist operations in Iran despite the issuance of international arrest orders for the group's leaders," it added.
"The main perpetrator of the bloody terrorist attack in Ahvaz is now in the hands of the Intelligence Ministry; he also has revealed details of other terrorist and bloody operations of this group," the statement said.
Farajollah Chaab, also known as Habib Osivad is the former leader and the current vice-president of the Al-Ahwaziya terrorist group, which claimed responsibility for the September 2018 terrorist attack on a military parade in Ahvaz, Southwest of Iran, which killed 26 and injured 69 others.
The terrorists attacked the bystanders watching the annual Armed Forces' parades, marking the start of the Sacred Defense Week, commemorating Iranians' sacrifices during the 8 years of the Iraqi imposed war on Iran in 1980s, in disguise of the Islamic Revolution Guards Corps (IRGC) and Basij (volunteer) forces, killing and wounding several people, including innocent women and children.
None of the officials participating in the military parades in Ahwaz city in Khuzestan province was injured in the attack.
Last February, the Danish Security and Intelligence Service (PET) and the Netherlands police separately arrested and charged four members of an anti-Iran terrorist group on suspicions of spying for Saudi Arabia and plans to conduct terrorist attack in Iran.
Three members of the Arab Struggle Movement for the Liberation of Ahwaz (ASMLA) or al-Ahwaziyeh terrorist group carried out espionage activities from 2012 to 2018, PET said in a statement on February 3.
It said the three individuals "collected information about individuals in Denmark and abroad and passed on this information to a Saudi intelligence service," among other things.
A pretrial detention hearing is due on February 4.
In August, the Iranian Intelligence Ministry announced it has arrested Jamshid Sharmahd, the ringleader of an anti-Iran terrorist group based in the United States.
Sharmahd directed "armed operations and acts of sabotage" in Iran from the US, according to the Intelligence Ministry.
Following a complicated operation, the ringleader of the group, named Tondar (Thunder), was arrested and he is "now in the powerful hands" of Iranian security forces, it said at the time.
Also, in October 2019, the Intelligence Organization of Iran's Islamic Revolution Guards Corp (IRGC) had managed to arrest Rouhollah Zam, the administrator of counterrevolutionary website Amad News, in a neighboring country.
The meticulous intelligence operation involved outmaneuvering the intelligence services of certain Western countries, especially France, which offered Zam guidance and protection for his operation.
"Intelligence forces had been keeping a watchful eye on Rouhollah Zam's movements for a long time and he stepped into the intelligence trap set by IRGC some two years ago. Ultimately, we were able to arrest him through cooperation with other intelligence services," Second Brigadier General Mohammad Tavallaei, a high-ranking IRGC official, said at the time.
In June this year, Iran's Judiciary sentenced Zam to death after he was convicted of corruption on earth.
https://www.farsnews.ir/en/news/13990822000471/Inelligence-Minisry-Cnfirms-Capring-Terrris-Ringleader-behind-20-Aack
--------
Iran Asks IAEA to Verify S. Arabia, Israel's Activities
2020-November-12
Takht Ravanchi made the remarks at a virtual meeting of the UN General Assembly on Wednesday that endorsed the IAEA's annual report.
He said it is "of utmost importance" for the IAEA to consider available information on Riyadh's nuclear activities, adding, "If Saudi Arabia is seeking a peaceful nuclear program, it should act in a very transparent manner and allow the agency's inspectors to verify its activities."
Additionally, he noted, the IAEA needs to take "an unbiased and professional approach" toward Israel, which has refused to adhere to the agency's safeguards, is not a party to the Nuclear Non-proliferation Treaty (NPT) and is widely believed to possess nuclear weapons.
Referring to Iran's cooperation with the IAEA, Takht-Ravanchi said Iran alone receives 22 percent of all the agency's inspections even during the coronavirus pandemic.
"Iran and the agency have agreed to work in good faith to resolve these safeguards-related questions," he stressed.
In late August, IAEA Director General Rafael Grossi visited Tehran, where he held talks with Iranian officials over safeguards implementation issues.
The two sides then issued a joint statement and said they had agreed "to further reinforce their cooperation and enhance mutual trust to facilitate" the full implementation of Iran's Comprehensive Safeguards Agreement (CSA) and the Additional Protocol (AP) thereto, which has been provisionally applied by Iran since 16 January 2016.
To help facilitate the resolution of the issues raised by the agency, the statement said, Iran agreed to voluntarily provide the IAEA's inspectors with access to two locations specified by the nuclear watchdog.
In a speech to Wednesday's General Assembly meeting, Grossi welcomed the agreement he reached with Iranian officials in August "on implementation of some safeguards implementation issues," including access to the two sites.
"Evaluations regarding the absence of undeclared nuclear material and activities for Iran continue," he said, adding that inspections have taken place and samples from the two locations are being analyzed.
Elsewhere in his remarks, the Iranian envoy underlined the important role of nuclear energy in economic and social development of countries.
He also stressed that the IAEA is tasked with promoting the peaceful use of nuclear energy and strengthening international cooperation in this regard.
The Islamic Republic has achieved significant achievements in using the nuclear energy in the fields of electricity generation, medicine, agriculture and industry, Takht Ravanchi said.
He said Iran believes that the IAEA's safeguards should not violate the countries' rights to peaceful nuclear activities and that proliferation concerns should not restrict these rights, and that any attempt meant to limit the peaceful use of nuclear energy must be rejected.
The Iranian ambassador further described the 2015 Iran nuclear deal, officially called the Joint Comprehensive Plan of Action (JCPOA), as an important multilateral achievement that enjoys strong international support, warning that the agreement is under intense pressure from Washington's unilateral measures.
"The United States' withdrawal from the JCPOA, re-imposition of illegal sanctions against Iran and non-compliance with UN Security Council Resolution 2231 have prevented the Islamic Republic of Iran from enjoying its rights under the resolution," he noted.
US President Donald Trump, a stern critic of the historic deal, unilaterally pulled Washington out of the JCPOA in May 2018, and unleashed the "toughest ever" sanctions against the Islamic Republic in defiance of global criticism in an attempt to strangle the Iranian oil trade, but to no avail since its "so-called maximum pressure policy" has failed to push Tehran to the negotiating table.
In response to the US' unilateral move, Tehran has so far rowed back on its nuclear commitments four times in compliance with Articles 26 and 36 of the JCPOA, but stressed that its retaliatory measures will be reversible as soon as Europe finds practical ways to shield the mutual trade from the US sanctions.
Tehran has particularly been disappointed with failure of the three European signatories to the JCPOA -- Britain, France and Germany -- to protect its business interests under the deal after the United States' withdrawal.
On January 5, Iran took a final step in reducing its commitments, and said it would no longer observe any operational limitations on its nuclear industry, whether concerning the capacity and level of uranium enrichment, the volume of stockpiled uranium or research and development.
https://www.farsnews.ir/en/news/13990822000187/Iran-Asks-IAEA-Verify-S-Arabia-Israel's-Aciviies
--------
Jerusalem renews settlement moves that angered Biden during his visit in 2010
12 November 2020
Israel has approved building of about 100 settlement homes at the same site where settlement expansion plans unveiled during a 2010 visit by then-US vice president Joe Biden angered Washington, an NGO said on Thursday.
For all the latest headlines follow our Google News channel online or via the app
Anti-settlement watchdog Peace Now told AFP that plans for 96 homes in the east Jerusalem settlement of Ramat Shlomo were given the green light by the municipal planning committee on Tuesday.
In March 2010, the Jewish state announced plans to build 1,600 homes in Ramat Shlomo, which adjoins the Palestinian neighborhoods of Shuafat and Beit Hanina.
That announcement came as Biden, now US President-elect, was visiting Israel, provoking fierce US opposition and souring ties with Washington for months.
"After straining relations with Biden and the US in 2010 over the approval of settlement units in Ramat Shlomo, one would think that Prime Minister (Benjamin) Netanyahu would at least try not to remind the incoming Biden administration of that time," Peace Now spokesman Brian Reeves said.
"Approving units in the exact same location, just as Biden is about to enter office, is both counter to Israel's interests and recklessly provocative toward Biden personally."
Israeli public radio put the number of homes approved in Ramat Shlomo at 108.
President Donald Trump broke with decades of US practice by not criticizing Jewish settlement construction in Israeli-annexed east Jerusalem or the occupied West Bank.
Right-wing groups in Israel have raised fears a Biden administration will renew criticism of settlements.
The left-leaning Israeli daily Haaretz said on Thursday that the Jerusalem municipality was deliberately pushing construction while settlement-friendly Trump is still in office.
"Jerusalem City Hall and the Israel Lands Authority have been identifying and expediting approval of building plans," the paper wrote.
"Once the administration in Washington changes, the municipality and the Lands Authority expect a construction freeze."
Israel captured mainly Arab east Jerusalem from Jordan in the 1967 Six-Day war and later annexed it, in a move not recognized by the international community.
https://english.alarabiya.net/en/News/middle-east/2020/11/12/Jerusalem-renews-settlement-moves-that-angered-Biden-during-his-visit-in-2010
--------
Turkey will use S-400 system just like NATO members employ S-300: Defense minister
12 November 2020
Turkish Defense Minister Hulusi Akar downplays concerns over his country's intention to utilize its highly advanced Russian-built S-400 air defense systems, saying Ankara will use the armament just as other members of the NATO military alliance employ their S-300 defense systems.
"Just as the S-300 [missile defense] system, which exists in some NATO member states, is used in the alliance, the S-400 system will also be used [in Turkey] in the same way," Akar told members of the Turkish parliament's Planning and Budget Committee on Thursday.
Akar noted that Turkey would continue on the control and preparation process of the S-400 system "as planned."
He then called on the United States to form a joint working group on the compatibility of the S-400 system and F-35 stealth fighter jets.
"We're ready to discuss the technical concerns of the US on the compatibility of S-400s and F-35s," the Turkish defense chief pointed out.
Back on October 22, Akar told Bloomberg television news network that Turkey will use S-400 anti-aircraft weapon systems as a stand-alone weapon just like what Greece is doing with its Russian-built S-300 systems.
He added that Greece has the Russian S-300s in its inventory, along with some other NATO countries that use Russian-made weapons.
Ankara and Washington have been at loggerheads over Turkey's purchase of the S-400 systems, which the United States says are not compatible with NATO defenses and pose a threat to Lockheed Martin F-35 stealth fighter jets.
Back in April 2018, Erdogan and his Russian counterpart Vladimir Putin said in Ankara that they had agreed to expedite the delivery of the S-400. At the time, it was said that the delivery could be made between late 2019 and early 2020.
The United States is categorically against Turkey's purchase and suspended Turkey's participation in the joint production of the fifth generation F-35 fighters.
The S-400 is an advanced Russian missile defense system designed to detect, track, and destroy planes, drones, or missiles as far as 402 kilometers away. It has previously been sold only to China and India.
Ankara is striving to boost its air defense, particularly after Washington decided in 2015 to withdraw its Patriot surface-to-air missile system from Turkish border with Syria, a move that weakened Turkey's air defense.
Before gravitating towards Russia, the Turkish military reportedly walked out of a $3.4-billion contract for a similar Chinese system. The withdrawal took place under purported pressure from Washington.
https://www.presstv.com/Detail/2020/11/12/638467/Turkey-will-utilize-S-400-system-just-like-NATO-members-using-S-300-Defense-chief
--------
Southeast Asia
Guan Eng: Motion will be tabled to challenge Speaker's ruling favouring Bintulu MP after 'insult' against Dr Noor Hisham
12 Nov 2020
BY EMMANUEL SANTA MARIA CHIN
KUALA LUMPUR, Nov 12 — A motion will soon be tabled in Parliament by DAP MP RSN Rayer to challenge Parliament Speaker Datuk Azhar Azizan Harun's ruling to not punish Bintulu MP Datuk Tiong King Sing for his statements deemed as insulting to the Health Ministry, its director-general and frontliners battling Covid-19.
DAP secretary-general Lim Guan Eng stated his party's intention to file the motion against Azhar after party colleague and Kepong MP Lim Lip Eng was booted out of the Dewan Rakyat for insisting the Speaker make a ruling against Tiong.
"A motion will be tabled by YB Jelutong (Rayer) on the Speaker's decision at that time not to instruct YB Bintulu (Tiong) to retract his statements, interjections, and insults towards Tan Sri Dr Noor Hisham (Abdullah)," Guan Eng said referring to the Health Ministry's director-general.
"But at the same time, we hope the Speaker will admit that it was a mistake on his part, and the ruling he made must be reviewed," Lim said during a press conference in Parliament that was broadcasted "live" on the party's Facebook page.
The Bagan MP then condemned Azhar for initially instructing police officers to escort Lip Eng out of Parliament.
"Efforts to instruct police is something that should not happen because it challenges the superiority of Parliament," he said.
Guan Eng added that he hoped the government would step up and distance itself from Tiong's comments, considering how the Bintulu MP holds the position of the prime minister's special envoy to China, a post equivalent in rank to that of a federal minister.
Meanwhile, the Kepong MP said it was unbecoming of Tiong as a federal lawmaker to make such comments against the frontliners, pointing out how Malaysia was once regarded as one of the top five nations that successfully curbed the spread of the disease.
"As an MP, we should be giving words of encouragement to appreciate all the Health Ministry's officials, and not like the Bintulu MP who belittled, insulted, and humiliated not only Tan Sri Dr Noor Hisham but all the Health Ministry's frontliners as well.
"That is why I am angered and cannot accept the decision by the deputy Speaker and Speaker concerning the comments made by Bintulu MP," he said during the broadcast.
This latest turn of events came after Lip Eng was booted out of Parliament earlier today by Azhar after he called the latter's ruling to allow Tiong's comments to slide "stupid", angering the Speaker who immediately called for the Kepong MP to retract his comments.
A shouting match then ensued, before Azhar booted the Kepong MP out of the hall and barred him for five days.
As two sergeant-of-arms stood by Lip Eng who remained inside despite being asked to leave, Azhar then requested the Dewan Rakyat secretary to instruct the police to assist with escorting the Kepong MP out of the chambers before the DAP man left on his own accord.
Tiong yesterday, while debating the Budget 2021 Bill, claimed that Dr Noor Hisham hardly visited his constituency during the Covid-19 period. He then wondered aloud if the latter feared death and if that was the reason for his absence.
The comments triggered DAP's Rayer, who came to the defence of Dr Noor Hisham, resulting in the former being booted from the Dewan Rakyat after refusing to take his seat as ordered by Deputy Dewan Rakyat Speaker Datuk Seri Azalina Othman Said.
In response, Dr Noor Hisham remarked that as a Muslim, he sees death as inevitable and one which does not discriminate, then adding how he visited Sabah hospitals back in August to check on the state's preparation for an election amid the pandemic.
https://www.malaymail.com/news/malaysia/2020/11/12/guan-eng-motion-will-be-tabled-to-challenge-speakers-ruling-favouring-bintu/1921929
--------
RCEP: Malaysia respects India's decision, hopes it will join in the future, says PM Muhyiddin
13 Nov 2020
KUALA LUMPUR, Nov 13 — Malaysia respects India's decision of not joining the Regional Comprehensive Economic Partnership (RCEP) but remains hopeful that the Asean Dialogue Partner country will join the trade pact in the future, said Tan Sri Muhyiddin Yassin.
The prime minister, in his intervention at the 17th Asean-India Summit yesterday, expressed his appreciation for India's active participation and valuable contributions in the RCEP negotiations and forming the RCEP Agreement.
India opted out from the RCEP negotiations in November 2019. With that, the RCEP, which is scheduled to be signed on the last day of the 37th Asean Summit and related meetings this Sunday, will include the 10 Member States of Asean as well as Australia, China, Japan, South Korea, and New Zealand.
Muhyiddin noted that Malaysia and Asean view India as an important and strategic partner and that trade between Asean and India have increased tremendously over the years.
He said in 2019, India was the sixth largest trading partner among Asean Dialogue Partners with total merchandise trade reaching US$77 billion (RM320 billion).
"This partnership augurs well in the pursuit of Asean's economic development initiatives and also in the evolving economic architecture in Asia. In this context, both sides must redouble the efforts to exploit greater potential that exists in trade and other economic relations," he said at the summit, held within the 37th Asean Summit and related meetings.
Asean-India dialogue relations from a sectoral dialogue partnership in 1992 was upgraded to a full dialogue partnership in December 1995.
The relationship was further elevated with the convening of the Asean-India Summit in 2002 in Phnom Penh, Cambodia.
Meanwhile, Muhyiddin said he is pleased that officials from both sides have agreed on the way forward for the review of the Asean-India Trade in Goods Agreement (Aitiga).
Malaysia, he said, looks forward to the review to make Aitiga more user-friendly, simple, and trade facilitative for businesses.
Malaysia strongly believes that the review is important to ensure Aitiga remains relevant and ensure further improvements on trade relations and enhancing the supply chain for the prosperity of both Asean and India, he said.
The prime minister said he hoped all sides refrain from imposing unnecessary and increasing protectionist measures that may impair the difficulties and challenges due to the Covid-19 pandemic.
"Both Asean and India must work together to ensure that our borders remain open and trade procedures are more facilitative," he said.
Muhyiddin also highlighted the importance of adopting digital solutions in (economic) recovery efforts by seizing opportunities provided by digital transformation such as e-Commerce and the Fourth Industrial Revolution.
"Malaysia believes that digital transformation will help us "futureproof" the economic growth of our region. Therefore, Asean and India must accelerate digitalisation and business reform to tackle these new challenges particularly to achieve sustainable growth as well as for the business to stay afloat," he said.
The prime minister is leading the Malaysian delegation at the biannual summit virtually from here (Kuala Lumpur) which runs till Sunday.
The summit is chaired by Vietnam Prime Minister Nguyen Xuan Phuc in his capacity as Asean Chair 2020 under the theme "Cohesive and Responsive Asean."
Asean, established in 1967, comprises Brunei, Cambodia, Indonesia, Laos, Malaysia, Myanmar, the Philippines, Singapore, Thailand, and Vietnam. — Bernama
https://www.malaymail.com/news/malaysia/2020/11/13/rcep-malaysia-respects-indias-decision-hopes-it-will-join-in-the-future-say/1922275
--------
URL: https://www.newageislam.com/islamic-world-news/deepotsav-ayodhya-muslim-artisans-adorn/d/123464
New Age Islam, Islam Online, Islamic Website, African Muslim News, Arab World News, South Asia News, Indian Muslim News, World Muslim News, Women in Islam, Islamic Feminism, Arab Women, Women In Arab, Islamophobia in America, Muslim Women in West, Islam Women and Feminism