New Age Islam News Bureau
15 Dec 2012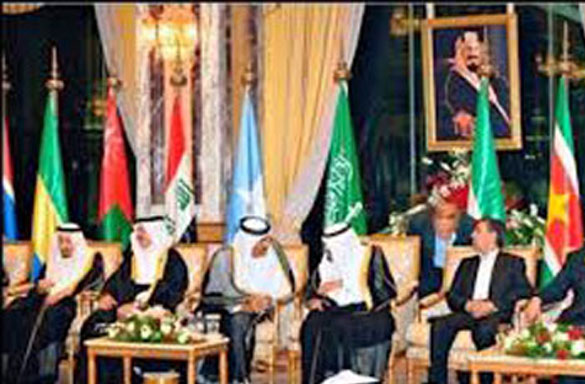 Europe
• Muslim Opposition Highlights Growing Influence of Creationism and Literalist Interpretations of the Quran
• First Muslim Human Rights Commission to Launch End December
• Human Rights Day 2012 marks exclusion and imposition of government by force
• U.S. Assailed on Treatment of Islamic Preacher from Britain
Arab World
• Egypt may lose $20 bln Qatari investments if voted 'no' for the constitution: Qaradawi
• 'We will produce thousands of martyrs to protect Egypt': Brotherhood
• Egyptians vote on Islamist-backed constitution
• In Syria, hunger spreads as war intensifies
• Syrian troops attack rebels near Damascus
• Hospital in Jeddah infects patients with deadly bacteria
• Morsi a polarising figure in Egypt's referendum: Reuters
• NATO says Syrian Scuds hit "near" Turkey
• Syrian FM Blames West for Suffering of His People
South Asia
• Court martial in Afghanistan who urinated on corpse of Taliban fighters
• China behind scrapped GMR deal to extend footprint in Maldives
• Foreign troops should leave villages: Hamid Karzai
• 62 foreign friends honoured by Bangladesh
• Bangladesh to live up with democracy: PM
• Bangladesh Islamist parties threaten to call Hartal for Dec 20
• Last French combat troops leave: Afghanistan
Africa
• Tunisian Salafists attack bar, call drinkers 'infidels'
• 400,000 more people could be made homeless in Mali; If Army tries to oust Islamists
• 'Barbaric' whipping of horse in a race in Doha
• Tunisia ex-leader's son-in-law arrested
• DR Congo fighting 'sees refugee numbers rise'
India
• Pakistan interior minister Rehman Malik compares 26/11 carnage with Babri
• Never compared Babri with Mumbai attack: Rehman Malik
• Indo-US `bonhomie' strains bilateral ties with Iran
• Rehman Malik says 'we have no love lost for Hafiz Saeed'
• Quassab's words can't nail Hafiz Saeed: Rehman Malik
• Will again invite PM Singh to visit Pakistan: Rehman Malik
• India and Pakistan H Ms operationalise new visa regime
• Pak troops violate ceasefire along India-Pakistan border in Poonch
• Sir Creek still 'doable', despite Narendra Modi plea
• Rehman Malik stirs row, says weather may have killed Captain Saurabh Kalia
• Malik invites Sarabjit's family to Pakistan
• Indian judicial panel on 26/11 to visit Pakistan next week: Malik
• On reel, India becomes Pakistan
North America
• Obama to Troops: Don't Insult the Taliban
• US offers $2m for counter terrorism training, announces Burns
• US school shooting: Routine morning, then shots and unthinkable terror
• Political debates increasingly find social networks hospitable debating rooms
• US wants India to train Afghans
• Indian sentenced to prison for threatening to bomb US company
Pakistan
• Pakistan and Afghanistan Peace Initiative: Move to get Taliban off terrorist list
• Pakistan jail staff suspects Indian prisoners and bars them from writing letters
• ATC issues notices to all parties over Musharraf's assets case
• Seven decades on, Hur force puts up grand show
• Six witnesses, including Mark Siegel, summoned in Benazir murder case
• Pakistani fishmonger is internet sensation
Mideast Asia
• Islamic College Funded by Jews, in a village straddling Israel and the West Bank
• Iran sympathises with US after 'tragic' school shooting
• Israeli foreign minister resigns
• OIC presents Human Rights Commission
• Cyber vandalism: Turkish hacker claims gaining access to NADRA, FIA servers
• Yemen Gives 93 Soldiers Jail Terms for Attack on Base
Southeast Asia
• Few Indonesian science papers published in int'l journals
• Raden Saleh: The Emergence Of Modern Art in Indonesia
Compiled by New Age Islam News Bureau
Photo: First Muslim Human Rights Commission to Launch End December
URL: https://www.newageislam.com/islamic-world-news/new-age-islam-news-bureau/muslim-opposition-highlights-growing-influence-of-creationism-and-literalist-interpretations-of-the-quran/d/9694
----------
Europe
Muslim Opposition Highlights Growing Influence of Creationism and Literalist Interpretations of the Quran
Debate on Islam and evolution has to be called off after revolt by student societies
JEROME TAYLOR
14 DECEMBER 2012
Organisers behind a British conference on Islam and evolution say they nearly had to cancel the event after receiving a torrent of opposition from Muslim students at one of the country's top scientific universities, The Independent has learned.
The Deen Institute, a Muslim debating forum which promotes critical thinking, had hoped to hold a conference entitled "Have Muslims misunderstood evolution?" early next year. Among the speakers invited to attend included Muslim scientists, imams who have promoted the compatibility of Islam and evolution as well as those who preach a form of Islamic creationism.
The initial plan was to hold the event next month at Imperial College London, one of the country's foremost universities for scientific exploration and debate, in cooperation with the local Islamic student society. But the Deen Institute said it was forced to pull out when it became clear that opposition to the event from supporters of creationism began mounting. It is now being held without input from any Muslim student society at Logan Hall, a conference centre owned by the University of London.
"We eventually had to give up of getting any support from student societies because it was seen as simply too controversial," Adam Deen, co-founder of the institute, told The Independent. Deen, who describes himself as a "conservative Muslim" who encourages critical thinking, said he was surprised to receive such opposition at a place of scientific study, particularly as he had made sure to invite all sides of the debate including those who preach creationism.
"It's symptomatic of a bigger problem in the Muslim world where people representing practical Muslims have to be seen to be more literalist," he said. "It's almost like there's an intellectual mafia movement who won't allow any freedom of thought."
Usman Siddiqui, president of Imperial's Islamic student society, insisted that they were unable to co-host the event for "logistical reasons" rather than ideological ones.
"I did not say that Imperial ISoc have no qualms with the event - it's just that we did not reach the stage where we were to make that decision," he said. "They wanted to use Imperial as a venue, it didn't work out, and now they have a new venue."
However it is clear that opposition to the event has been increasing ever since the Deen Institute began publicising it. One source involved with preparations said: "As soon as it went live I was inundated with complaints. It's sad because student societies should be desperate to host this kind of debate."
Mr Deen's public Facebook account illustrates many of the concerns people raised. In one comment Mohammad Ali Harrath, the founder of the highly influential Islam Channel, wrote: "This debate is a big mistake. It is shifting debate to make it a Muslim issue rather than an issue between atheists and creationists."
Another commenter, Zeshan Sasjid, added: "Evolution is not Islamic. Prophet Adam did not have parents. A Muslim can't believe that Prophet Adam."
However others criticised their fellow believers for being overly literalist and shunning scientific research.
"If our faith is strong we can only gain from looking at, hearing and understanding difference," wrote Amina Crashaw. "If this were not truth I would not be Muslim. Understanding difference include being open to finding something new to learn from the Qur'an. Not new facts but new depth."
The row is informative because it illustrates some of the controversies currently occupying the Muslim world about the compatibility of science and whether critical thinking is being closed down by more literalist schools of thought.
Muslims believe the Qur'an is the indisputable word of God and therefore any scientific discovery which risks proving something within their holy book as incorrect is highly controversial, particularly among the more literalist schools of thought. For example, most Muslim scholars have long accepted scientifically proven cosmology but even up until his death in 1999, Sheikh Ibn Baaz, the Grand Mufti of Saudi Arabia, continued to insist that the Sun revolved around the Earth based on his interpretation of Islamic texts.
Until recently evolution caused little friction with the majority of Muslim jurists and academics broadly accepting Darwin's findings – albeit in a theistic sense. But in recent years creationism – much of it inspired by similar Christian right movements in the United States – has begun to receive wider acceptance.
Much of this newfound enthusiasm for attacking evolution has been pushed by Harun Yahya, a prominent Turkish theologian whose writings have been seized upon by literalists and those who exhibit a theological suspicion of science. Dr Oktar Babuna, a representative from the Harun Yahya movement, is scheduled to speak at the conference alongside Shaikh Yasir Qadhi, an influential imam who accepts evolution at a micro level but refuses to countenance the idea that man evolved from anything other than Adam himself.
Two Muslim scientists, American biologists Ehab Abouheif and Fatimah Jackson, will also speak alongside Usama Hasan, a British imam who preaches the commonly held scientific view that man is descended from ape-like forebears.
Hasan's inclusion is particularly controversial because he enraged Muslim literalists in his own mosque in Leyton, east London, when he began preaching about evolution and criticised literalists for having a "children's madrasa-level understanding" of science compared to their Islamic forebears who once used to lead the world in such fields. The arguments eventually became so intense he was eventually forced out by hardliners.
In a recent interview with Forbes magazine following a similar conference in the United States, biologist Dr Abouheif explained why he felt it was important to begin challenging literal creationists.
"There's a lot at stake here because it's well beyond evolution," he said. "If it's not about the evidence, if you reject science, if you reject evolution as a science and you're not willing to listen to evidence, then that means that for all of science, when it comes into contact with sociological, political conflicts, then you won't believe it either."
He added: "What got me out of my seat, my lab chair … is my want of the Muslim world to become innovators and to share in being leaders. In technology and innovation, and share in production. And not just be consumers."
http://www.independent.co.uk/news/uk/home-news/debate-on-islam-and-evolution-has-to-be-called-off-after-revolt-by-student-societies-8418022.html
-----------
First Muslim Human Rights Commission to Launch End December
December 13, 2012
WASHINGTON, Dec 13 (IPS) - Gathering for the first time here in Washington, representatives of the newly established human rights commission of the Organisation of Islamic Cooperation (OIC) stated Thursday that they plan to start their substantive work by the end of the month."In recent months we have outlined a series of priority issues, and we now plan to start our work to highlight those issues in working groups later this month in Jeddah," the commission's chair, Siti Ruhaini Dzuhayatin, told journalists in Washington on Thursday."In particular, this commission is expected to work on removing misperceptions over the issue of perceived incompatibility between Islam and universal principles of human rights."On this latter point, she and others involved with the new body are emphasising that the commission's mandate is to deal with civil, political, economic, social and cultural rights in the context of universal application – which the commission will not be attempting to apply any hybrid understanding of human rights as filtered through Islam. They also reiterate that the OIC itself is a political, not a religious, body. Founded in 1969 and representing 56 countries and the Palestinian Authority, the OIC is the second-largest intergovernmental organisation in existence, after the United Nations. The idea of creating an OIC-wide body on human rights first officially surfaced in 2005, when the member states agreed to a new 10-year plan that included the commission's formation. That 10-year plan was also a broad attempt to redefine the nature of the OIC, moulded around ideas of moderation and modernisation. In mid-2011, the OIC formally established the new Independent Permanent Human Rights Commission and elected its 18 commissioners, to operate in an advisory role to the OIC Council of Foreign Ministers. Those members are made up of lawyers, activists, academics and diplomats, and also comprise four women, including the commission's chair, an Indonesian sociology scholar. Each of the OIC's three main areas – Asia, Africa and the Arab world – will be allotted six commissioners. On Thursday, Siti Ruhaini Dzuhayatin reported that the commission had spent the past year formulating its terms of reference and rules of procedure. An important part of that process has been to agree on priority areas, which will include women's and children's issues, political and minority rights, as well as the Israel-Palestine conflict. Over the four decades of the OIC's tenure, this latter topic has been a defining one for the body, now described as a standing agenda item."This will not be from a political point of view, however, but rather from the human rights perspective," she noted. "For instance, how the conflict affects the lives of people, of women and children in particular, in their right to development, their right to peace, security and education."Advisory capacity Beyond these broad areas, relatively little detail has yet been decided upon regarding the processes by which the commissioners choose which issues to focus upon. Rizwan Sheikh, the executive director of the commission's interim secretariat in Jeddah, told IPS that the commission will receive agenda items from above and below, meaning from the OIC Council of Foreign Ministers and from grassroots concerns.The commission's autonomy and independence have clearly been a defining concern for those engaged in the new body, as they remain for many outside observers. As currently mandated, each commissioner will be nominated by his or her home country and then voted upon, through a secret ballot, by the Council of Foreign Ministers. But Sheikh emphasises that it would be up to the commission's collective discretion to decide on how and when to proceed with its agenda."The governing statute provides the commission with a degree of independence that has never been seen in the OIC's work over the last four decades – for the first time in its history, the OIC has created a body of independent experts," Sheikh says."Independence is further ensured by the fact that the nature of the body is of an advisory capacity. Had this not been the case, there would have been certain political considerations that could have crept into the work of this commission. But the very fact that it's an advisory body emboldens the commission … to act in a very candid and unvarnished fashion in rendering its opinions."Once it starts work in late December, some of the issues on which the commission could presumably be offering such opinions, Sheikh suggests, could include violence against women, child labour, children in armed conflict, and more sensitive topics such as early marriage, right to education and the like. At the two preliminary sessions held by the commission this year, the recent violence against Rohingya Muslims in Myanmar's west, the bloodshed in Syria and the Quran-burning in Afghanistan were each noted as especially urgent. So too was a recent OIC-sponsored U.N. resolution against religious intolerance, though the latter action sparked initial concern among human rights groups when the OIC pushed for a global ban on "blasphemy", a stance it later reversed. Wait and watch For now, the commissioners have decided that one of their first moves will be to request each OIC member state to forward all relevant national legislation touching on the commission's priority areas, so the commission can begin to examine and rank current practice. Still, the body's budget – to be provided by OIC member states – is not yet publicly known, and much of the commission's efficacy will undoubtedly hinge on this single piece of information, which will also offer insight into just how active the member states are willing to allow the commission to be."We very much hope this body will be both independent and able to have the means to speak out to OIC governments and reaffirm universal human rights," Joelle Fiss, a senior associate with Human Rights First, a Washington-based advocacy group, told IPS. Like Fiss, many observers are withholding judgement on the prospects of the new commission."Any time you have a well-respected international body like the OIC taking up these issues, it is significant," Ibrahim Hooper, a spokesperson for the Council on American-Islamic Relations, the United States' largest Muslim civil liberties group, told IPS. "We'll see where it goes from here, but for now it deserves to be encouraged by U.S. government officials and others. Eventually, of course, we will need to evaluate the commission's work to see that its addressing issues of particular concern to the Muslim world."
http://www.iede.co.uk/news/2012_532/first-muslim-human-rights-commission-launch-end-december
----------
Human Rights Day 2012 marks exclusion and imposition of government by force
By Eva Abdulla | December 15th, 2012
As we look back on this week's celebration of Human Rights Day 2012, it is important to recall what, beyond the pageantry and back-slapping, this day really stands for.
During the 30-year long dictatorship of President Gayoom, those of us who longed for a fair, just and democratic Maldives would mark Human Rights Day by wearing secretly-printed t-shirts to mark the occasion – printed in stealth, worn in stealth. We took this risk (open advocacy of human rights and political reform was liable to end with a jail-term) because Human Rights Day was, we believed, important – a moment to remember that the outside world stood steadfastly behind our hopes for a better future.
It is therefore difficult, in 2012, not to feel a sense of disappointment – even shame – at what Human Rights Day has become, at least for Maldivians.
Human Rights Day 2012 goes under the banner of "inclusion and the right to participate in public life".
Over recent days we have heard the UN Resident Coordinator encourage people to play an active role in public life and to hold public servants accountable (no word, however, about securing accountability for the systematic human rights violations that have occurred since February). We have heard the Human Rights Commission of the Maldives warn us that enjoying human rights should not be taken as an excuse to break the law (an unusual message for a national human rights institution to focus on – but not entirely a surprise). We have heard the Commonwealth Secretary-General remind the government (more in hope than expectation) that those responsible for gross human rights violations following February's coup – mainly police officers guilty of beatings and torture – must be held accountable.
And yet, these platitudes come against a background wherein, in 2012, the majority of Maldivians who voted in 2008/9 have been disenfranchised; wherein those of us who want a new election in order to reassert our fundamental right to choose our government are being routinely beaten, arrested and tortured, wherein members of parliament who have sought to protest against the death of our democracy are being hounded, threatened and chastised as infidels; wherein the presidential candidate of the Maldives' largest party is being manoeuvred into prison by the ancient regime; wherein the man who stands accused of torturing many over his 30 years of dictatorship announces he is likely to be a presidential candidate, again, and wherein our corrupt and immoral judiciary is openly attacking parliamentary prerogative and the constitutional separation of powers in order to protect those guilty of sexual harassment, and to protect the government from democratic scrutiny.
How is it possible that the UN, the HRCM, and our friends in the international community can let this year's Human Rights Day pass without any mention of the dismantling of our democratic rights; without any suggestion that in 2012 we have lost, for the foreseeable future, our right to participate in public life and to determine, freely, our government; and without any meaningful call for those who have had their rights violated in 2012 to receive justice and redress?
For those of us who weep for the lost promise of our young democracy; for those of us who flinch at every new injustice heaped upon us; for those of us who wish our former friends in the international community would stand-up for the rights and principles that they purport to uphold; Human Rights Day 2012 will be remembered as nothing more than an empty shell.
Not even worthy of a hidden t-shirt.
Eva Abdulla is an MP in the opposition Maldivian Democratic Party (MDP).
All comment pieces are the sole view of the author and do not reflect the editorial policy of Minivan News. If you would like to write an opinion piece, please send proposals to editorial@minivannews.com
http://minivannews.com/politics/comment-human-rights-day-marks-exclusion-and-imposition-of-government-by-force-48963
----------
U.S. Assailed on Treatment of Islamic Preacher From Britain
By BENJAMIN WEISER
Dec 15, 2012
Lawyers for a disabled Islamic preacher, who has been jailed in Manhattan since his extradition from Britain in October, said on Friday that prison officials had not yet accommodated his many medical, hygienic and physical needs, including new prosthetic devices for his arms.
The preacher, Mostafa Kamel Mostafa, 54, who faces federal terrorism charges, has long worn hooks as prosthetic devices; he lost the lower portions of both arms in explosions years ago.
The hooks are routinely removed from Mr. Mostafa when he is taken from his cell or goes to court. He was to be fitted with new devices six weeks ago, but that has not occurred, one of his lawyers, Lindsay A. Lewis, told a judge in Federal District Court in Manhattan.
"We're not looking for special treatment here for Mr. Mostafa," Ms. Lewis said.
Full report at:
http://www.nytimes.com/2012/12/15/nyregion/disabled-preacher-in-terror-case-isnt-
------------
Arab World
Egypt may lose $20 bln Qatari investments if voted 'no' for the constitution: Qaradawi
A renowned preacher comes out in support of the constitution
14 Dec 2012
The Qatar-based Egyptian Islamic preacher Youssef Qaradawi has called on Egyptians to participate and vote 'yes' in the constitutional referendum set on Saturday, Turkish news agency Anadolu reported on Friday.
Qaradawi, who heads the International Union of Muslim Scholars, said during the Friday prayer's speech that voting 'no' in the awaited polling in Egypt will cost the country a 'big loss' as the attraction of investments will be hampered especially, $20 billion from Qatar.
Full report at:
http://english.ahram.org.eg/NewsContent/3/12/60504/Business/Economy/Egypt-may-lose--bln-Qatari-investments-if-people-v.aspx
----------
'We will produce thousands of martyrs to protect Egypt': Brotherhood
15 Dec, 2012
Mohamed El-Beltagy, secretary-general of the Muslim Brotherhood's Freedom and Justice Party, accuses foreign powers of attempting to damage Egypt's fledgling democracy
Muslim Brotherhood leader Mohamed El-Beltagy has accused the US, Zionists and Gulf states of trying to ruin Egypt's democratic process.
El-Beltagy, secretary-general of the group's Freedom and Justice Party (FJP), said people who seek support from Western countries are misled.
Full report at:
http://english.ahram.org.eg/NewsContent/1/64/60484/Egypt/Politics-/We-will-produce-thousands-of-martyrs-to-protect-Eg.aspx
---------
Egyptians vote on Islamist-backed constitution
Dec 15, 2012
CAIRO: Egyptians were voting on Saturday on a proposed constitution that has polarized their nation, with President Mohamed Morsi and his Islamist supporters backing the charter, while liberals, moderate Muslims and Christians oppose it.
With the nation divided by a political crisis defined by mass protests and deadly violence, the vote on the disputed charter has turned into a choice between moving Egypt closer toward a religious state led by Morsi's Muslim Brotherhood and the ultraconservative Salafi bloc, or one that retains secular traditions and an Islamic character.
Full report at:
http://timesofindia.indiatimes.com/world/middle-east/Egyptians-vote-on-Islamist-backed-constitution/articleshow/17623659.cms
----------
In Syria, hunger spreads as war intensifies
Dec 14, 2012
BEIRUT: Desperation for food is growing in parts of Syria, where fist fights or dashes across the civil war front lines have become part of the daily struggle to secure a loaf of bread.
Conditions are especially dire in the northern city of Aleppo, where civilians enduring incessant clashes and air raids in rebel-held districts say hunger is a new threat to survival in the 20-month-old revolt against President Bashar al-Assad.
"I went out yesterday and could not get any bread. If only the problem was just lack of food - there is also a huge shortage of fuel, which the bakeries need to run," said Ahmed, a resident of the battle-scarred Salaheddine district.
Full report at:
http://timesofindia.indiatimes.com/world/middle-east/In-Syria-hunger-spreads-as-war-intensifies/articleshow/17616447.cms
----------
Syrian troops attack rebels near Damascus
15 Dec, 2012
Syrian government troops have launched a major attack on rebel-held areas south of the capital Damascus, opposition activists said on Saturday.
"The Syrian troops are trying, under a barrage of heavy shelling, to storm Daraya from various directions," Haytham al-Abdullah, a Damascus-based activist, told DPA.
Daraya is a poor Sunni Muslim suburb and a stronghold of the hard-line group Al-Nousra Front, which has been blacklisted by the United States as "a terrorist organization." The head of the London-based Syrian Observatory for Human Rights, Rami Abdel Rahman, said forces loyal to President Bashar al-Assad were eager to tighten their grip on the area.
Full report at:
http://www.thehindu.com/news/international/syrian-troops-attack-rebels-near-damascus/article4203467.ece
----------
Hospital in Jeddah infects patients with deadly bacteria
14 December 2012
A Saudi woman yesterday accused a well-known private hospital in Jeddah of killing her brother by committing fatal medical errors. She said that her brother had undergone two unnecessary surgical operations in his back though he died due to a lung infection.
The sister said that she was told by doctors of another hospital she consulted that the symptoms shown by the victim were indicative of the MRSA infection, an infection which usually spreads in operation rooms and intensive care units when hygienic conditions are poor.
Full report at:
http://www.arabnews.com/hospital-infects-patients-deadly-bacteria
----------
Morsi a polarising figure in Egypt's referendum: Reuters
Voting in Egypt's referendum on a new constitution may have started calmly on Saturday, but there was no mistaking the highly charged atmosphere that has polarised citizens for weeks
15 Dec 2012
Hostility and fear of the Islamist line espoused by Egypt's President Mohamed Morsi and his Muslim Brotherhood were major reasons many voters gave for casting "no" ballots, rather than the text of the draft charter itself.
Full report at:
http://english.ahram.org.eg/NewsContent/1/64/60534/Egypt/Politics-/Morsi-a-polarising-figure-in-Egypts-referendum-Reu.aspx
----------
NATO says Syrian Scuds hit "near" Turkey
As the European Union leaders says all options are on the table to support the Syrian opposition, NATO confirms that a handful of Scud missiles were launched inside Syria and that several landed fairly close to the Turkish border
15 Dec 2012
NATO accused Syrian President Bashar al-Assad's forces of firing Scud missiles that landed near to the Turkish border, in explaining why it was sending anti-missile batteries and troops to the bloc's frontier.
Full report at:
http://english.ahram.org.eg/NewsContent/2/8/60529/World/Region/NATO-says-Syrian-Scuds-hit-near-Turkey.aspx
----------
Syrian FM Blames West for Suffering of His People
Dec 15, 2012
BEIRUT (AP) — Syria's foreign minister has blamed the suffering of his country's people on U.S. and European sanctions imposed on his country.
Walid al-Moallem has called on the United Nations to condemn these sanctions and work toward lifting them.
Full report at:
http://www.nytimes.com/aponline/2012/12/15/world/middleeast/ap-ml-syria.html?ref=middleeast
-------------
South Asia
Court martial for marine in Afghanistan who urinated on corpse of Taliban fighters
Dec 15 2012
Washington: US Defence Department authorities has announced a special court martial for a marine, who was involved in an alleged desecration incident in Afghanistan, wherein he was seen urinating on corpse of Taliban fighters.
"Staff Sgt Joseph W Chamblin would be tried by special court-martial at Marine Corps Base Camp Lejeune in North Carolina on December 19," an official statement said yesterday.
The incident took place during a counter-insurgency operation in the vicinity of Sandala, Musa Qala District in Helmand Province of Afghanistan, on July 27, 2011. The video of this incident surfaced on you tube early this year.
Full report at:
http://www.indianexpress.com/news/spl-court-martial-for-marine-in-afghanistan-who-urinated-on-corpse-of-.../1045735/
----------
China behind scrapped GMR deal to extend footprint in Maldives
Dec 15, 2012
NEW DELHI: China's growing ties with the Maldives, blamed discreetly for the scrapped GMR airport deal, may be part of its larger scheme to dominate the strategically-important sea lanes of the Indian Ocean Region (IOR), according to an assessment of the Indian intelligence agencies. Beijing is reportedly wooing Male to pre-empt a US move to set up a new military base in the Maldives' southernmost island of Gan.
Full report at:
http://timesofindia.indiatimes.com/india/China-behind-scrapped-GMR-deal-to-extend-footprint-in-Maldives/articleshow/17620252.cms
----------
Foreign troops should leave villages: Hamid Karzai
15 Dec, 2012
KABUL: Afghan President Hamid Karzai said the US and Nato troops transferring security to Afghan forces should leave Afghan villages as soon as possible.
Karzai spoke Saturday on the opening day of a conference to develop Afghanistan's foreign policy strategy for the next three years.
He said international forces will end their combat mission at the end of 2014. But he said that before that — in 2013 — Afghan forces will take charge of securing the entire nation.
Karzai said the sooner that transition can be completed, the better. He said he wanted the international troops to leave Afghan villages, draw back to their bases and slowly withdraw from there.
http://dawn.com/2012/12/15/foreign-troops-should-leave-villages-karzai/
----------
62 foreign friends honoured by Bangladesh
15 Dec, 2012
Bangladesh on Saturday conferred awards on 62 more foreign friends for their outstanding contributions to the country's Liberation War 41 years ago.
The foreign friends' support came when Bangalees stood up against the atrocities and genocide and contributed to the eventful emergence of sovereign Bangladesh through a nine-month war.
Prime Minister Sheikh Hasina ceremonially handed over "Muktijuddho Moitri Sammanana" (Friends of Liberation War Honour) to them at Bangabandhu International Conference Centre in the capital.
Full report at:
http://www.thedailystar.net/newDesign/latest_news.php?nid=43187
----------
Bangladesh to live up with democracy: PM
15 Dec, 2012
Prime Minister Sheikh Hasina on Saturday expressed her steadfast resolve to live up with the expectation of the international community to uphold the principles and values of equity, democracy, social justice, inclusive development and rule of law for which Bangladesh was born 41 years ago.
"The world acknowledges Bangladesh as a country where moderation and tolerance are practiced--, we are steadfast in our endeavour to live up to your expectations and turn Bangladesh into a country that you had envisioned while extending your support in 1971," the prime minister said.
Full report at:
http://www.thedailystar.net/newDesign/latest_news.php?nid=43192
----------
Bangladesh Islamist parties threaten to call Hartal for Dec 20
15 Dec, 2012
Twelve like-minded Islamist parties yesterday threatened to enforce a Hartal on Thursday if the left-leaning political parties do not withdraw their Tuesday's Hartal.
The Communist Party of Bangladesh (CPB) and Bangladesh Samajtantrik Dal (BSD) on December 7 called a countrywide daylong Hartal for December 18 [Tuesday] demanding ban on communal politics including that of the Jamaat-e-Islami, and quick disposal of the war crimes trials.
Full report at:
http://www.thedailystar.net/newDesign/news-details.php?nid=261233
---------
Last French combat troops leave: Afghanistan
Dec 15, 2012
KABUL: France flew its last combat troops out of Afghanistan on Saturday, two years before allied nations in the 100,000-strong Nato mission led by the United States are due to recall their fighting forces.
Around 200 soldiers of the 25th Belfort infantry regiment, responsible for overseeing the hastened French exit from the 11-year war, took off around 2:30 pm local time (1000 GMT), an airport official said.
http://timesofindia.indiatimes.com/world/south-asia/Last-French-combat-troops-leave-Afghanistan/articleshow/17625912.cms
------------
Africa
Tunisian Salafists attack bar, call drinkers 'infidels'
Meat cleaver-wielding Salafists attack hotel bar in Tunisian city of Subaytilah in growing struggle between ultra-conservative Muslims and their more secular-minded compatriots
14 Dec 2012
Ultra-conservative Salafist Muslims attacked a hotel in the Tunisian city of Subaytilah on Thursday, police sources and eyewitnesses told AFP.
An estimated 15 Salafists destroyed the hotel's furniture and bar and burned a vehicle parked in front of the building. Bearded men threatened hotel guests with meat cleavers and called them "infidels," eyewitnesses said.
Full report at:
http://english.ahram.org.eg/NewsContent/2/8/60487/World/Region/Tunisian-Salafists-attack-bar,-call-drinkers-infid.aspx
----------
400,000 more people could be made homeless in Mali; If Army tries to oust Islamists
Mali intervention by Ecowas: Refugee fears
By Mark Doyle
15 Dec, 2012
Some 400,000 more people could be made homeless in Mali if West African armies try to oust Islamists from their northern stronghold, a confidential United Nations report warns.
Armed groups, some linked to al-Qaeda, took control of northern Mali in April.
Neighbouring countries are drawing up plans to reconquer the area, subject to UN backing.
But as well as a refugee crisis, the UN report, seen by the BBC, warns of possible Islamist counter-attacks.
Full report at:
http://www.bbc.co.uk/news/world-africa-20726391
----------
'Barbaric' whipping of horse in a race in Doha
By Tom McGowan
December 14, 2012
Animal welfare groups have criticized the "utterly barbaric" whipping of a horse which competed in a race against Paralympic icon Oscar Pistorius.
The South African double amputee, who made history by competing in the 2012 Olympic and Paralympic Games, beat an Arab horse in a race in Doha, Qatar on Wednesday -- as part of a campaign highlighting contributions made by people with disabilities.
Full report at:
http://edition.cnn.com/2012/12/14/sport/pistorius-horse-whipping-qatar/index.html?hpt=iaf_c2
----------
Tunisia ex-leader's son-in-law arrested
15 Dec, 2012
The son-in-law of Tunisia's former president has been arrested in the Seychelles, Tunisian officials say.
Businessman Sakher El Materi was convicted in absentia of corruption by a Tunisian court in July 2011.
He had fled to Qatar after the uprising that ousted President Zine al-Abidine Ben Ali last year.
Justice Minister Noureddin Bhiri said Tunisia has asked for Materi's extradition and he expected this to take place soon.
Full report at:
http://www.bbc.co.uk/news/world-africa-20728392
----------
DR Congo fighting 'sees refugee numbers rise'
15 Dec, 2012
Humanitarian workers have warned of a sharp rise in refugees in the east of the Democratic Republic of Congo as a result of recent fighting.
The charity Medecins Sans Frontieres (MSF) told the BBC that there were now more than 800,000 displaced people in the province of North Kivu.
That marks a sharp rise from the 500,000 estimated in the province before the latest violence.
Full report at:
http://www.bbc.co.uk/news/world-africa-20737544
---------
India
Pakistan interior minister Rehman Malik compares 26/11 carnage with Babri
By Vishwa Mohan & Bharti Jain
Dec 15, 2012
"We don't want any 9/11, we don't want any Mumbai bomb blast (attacks), we don't want any Samjhauta Express blast and we don't want Babri masjid issue," Malik said, stunning his hosts into silence and souring the positive vibes over the new visa regime designed to facilitate travel between the two countries.
Although he concluded by saying that he wanted to work for peace between the two countries and in the entire region, his reference to Babri was seen as a provocation. This was the first instance that a visiting Pakistani dignitary had waded into the sensitive Babri issue.
Full report at:
http://timesofindia.indiatimes.com/india/Pakistan-interior-minister-Rehman-Malik-compares-26/11-carnage-with-Babri/articleshow/17618899.cms
----------
Never compared Babri with Mumbai attack: Rehman Malik
Dec 15, 2012
NEW DELHI: Pakistan interior minister Rehman Malik on Saturday denied he had equated the demolition of the Babri Masjid with terror attacks, and offered an assurance that he would get the death of Kargil martyr Captain Saurabh Kalia investigated.
Explaining comments he made after landing in New Delhi Friday evening, which were widely reported by the Indian media, Malik told NDTV news channel that he "had never compared" terror attacks with the Dec 6, 1992 mosque demolition.
Full report at:
http://timesofindia.indiatimes.com/india/Never-compared-Babri-with-Mumbai-attack-Rehman-Malik/articleshow/17624978.cms
----------
Indo-US `bonhomie' strains bilateral ties with Iran
Dec 15, 2012
NEW DELHI: As Iran reached a deal with the International Atomic Energy Agency ( IAEA) for the next round of nuclear talks to be held on January 16, Tehran said India was leaning too close to the US for bilateral ties to remain untouched.
"We have long and friendly relations with India. We can continue to be friends. We can try to materialize this potential. But if India keeps moving towards Washington, then there will be some limitations for us," Mostafa Dolatyar, head of Iran's Institute of Political and International Studies and a member of Iran's nuclear negotiating team, told journalists. Full report at:
http://timesofindia.indiatimes.com/india/Indo-US-bonhomie-strains-bilateral-ties-with-Iran/articleshow/17620100.cms
----------
Rehman Malik in Delhi, says 'we have no love lost for Hafiz Saeed'
Dec 14, 2012
NEW DELHI: The India-Pakistan "journey to peace" is progressing "very well", Pakistan's interior minister Rehman Malik said on Friday.
Speaking to the media soon after his arrival on a three-day visit, Malik also promised to arrest Mumbai terror attack mastermind Hafiz Saeed if New Delhi provided credible evidence about his involvement in the 26/11 Mumbai terror attacks.
"Pakistan and India have to be friends," Malik said, adding that this would only be possible when there was deeper people-to-people interaction among the two peoples.
Full report at:
http://timesofindia.indiatimes.com/india/Rehman-Malik-in-Delhi-says-we-have-no-love-lost-for-Hafiz-Saeed/articleshow/17615197.cms
----------
Quassab's words can't nail Hafiz Saeed: Rehman Malik
Aloke Tikku
December 14, 2012
Rehman Malik, advisor to Pakistan prime minister on internal affairs, began his India visit on an uneasy note on Friday, brushing aside the demand for action against Jamaat-ud-Dawa chief Hafiz Saeed, allegedly the main plotter of the 26/11 Mumbai carnage.
His argument: Not enough evidence were supplied by India to pin down Saeed even after Ajmal Quassab, the lone surviving 26/11 attacker who was later hanged, named Saeed in his confessions.
Full report at:
http://www.hindustantimes.com/India-news/NewDelhi/Quassab-s-words-can-t-nail-Hafiz-Saeed-Rehman-Malik/Article1-972889.aspx
----------
Will again invite PM Singh to visit Pakistan: Rehman Malik
December 14, 2012
Interior minister Rehman Malik on Friday said he would reiterate government's invitation to Prime Minister Manmohan Singh to visit Pakistan during his trip to India.
President Asif Ali Zardari had already invited Singh to visit Pakistan, Malik told the media before leaving for Delhi.
"I would also invite the Indian Prime Minister for a visit on behalf of our leadership," he said.
Malik is visiting the Indian capital for the operationalisation of a new visa agreement signed by the two countries in September.
Full report at:
http://www.hindustantimes.com/world-news/Pakistan/Will-again-invite-PM-Singh-to-visit-Pakistan-Rehman-Malik/Article1-972796.aspx
------
India and Pakistan H Ms operationalise new visa regime
Dec 15, 2012
NEW DELHI: Travel between India and Pakistan will become easier with the operationalisation of a new visa regime on Friday that allows multi-city visas for up to five cities, visitor visas for two years for senior citizens and children below 12 years, visa on arrival for senior citizens, and group tourist visa, besides exempting specified categories of businessmen from police reporting.
Full report at:
http://timesofindia.indiatimes.com/india/Sushil-Kumar-Shinde-Rehman-Malik-operationalise-new-visa-regime/articleshow/17620414.cms
----------
Pak troops violate ceasefire along India-Pakistan border in Poonch
Dec 15, 2012
JAMMU: In yet another ceasefire violation, Pakistani troops fired on Indian posts along the Indo-Pak border in Jammu and Kashmir's Poonch district.
Pakistani troops fired on Indian forward posts in Krishna Ghati sector along the Line of Control (LoC) in Poonch late last night, a defence spokesman said.
Full report at:
http://timesofindia.indiatimes.com/india/Pak-troops-violate-ceasefire-along-India-Pakistan-border-in-Poonch/articleshow/17625066.cms
----------
Sir Creek still 'doable', despite Narendra Modi plea
Dec 15, 2012
NEW DELHI: Sir Creek was supposedly a "low-hanging fruit", within reach of a resolution between India and Pakistan until the Gujarat polls intruded. Three months ago, PM Manmohan Singh, returning from Tehran after meeting Asif Zardari — on the sidelines of the NAM summit — had described a possible resolution on Sir Creek as "doable", a term first used during a lunch meeting between them in April.
Full report at:
http://timesofindia.indiatimes.com/india/Sir-Creek-still-doable-despite-Narendra-Modi-plea/articleshow/17620451.cms
----------
Rehman Malik stirs row, says weather may have killed Captain Saurabh Kalia
Dec 14, 2012
NEW DELHI: Pakistani interior minister Rehman Malik on Friday said that he wasn't sure whether the Indian Army's Capt Saurabh Kalia "was killed by a Pakistani bullet, or the weather" during the Kargil conflict in 1999.
"When the fight is going on the border, we really don't know whether he was killed with a Pakistani bullet or he died because of the weather," Malik told reporters here on arrival on a three-day visit.
Full report at:
http://timesofindia.indiatimes.com/india/Rehman-Malik-stirs-row-says-weather-may-have-killed-Captain-Saurabh-Kalia/articleshow/17616140.cms
----------
Malik invites Sarabjit's family to Pakistan
15 Dec, 2012
Indian prisoner Sarabjit Singh's sister and his daughter on Friday met visiting Pakistani Interior Minister Rehman Malik and appealed for his release as early as possible.
Mr. Malik told an emotional Sarabjit's sister Daljit Kaur and daughter Sapandeep Kaur that the Pakistan government was trying its best to process Sarabjit's case by following the judicial process.
Full report at:
http://www.thehindu.com/news/national/malik-invites-sarabjits-family-to-pakistan/article4200711.ece
----------
Indian judicial panel on 26/11 to visit Pakistan next week: Malik
December 15, 2012
A judicial commission from India on the 26/11 probe is likely to visit Pakistan next week while a National Investigation Agency team is to go to Islamabad in January 2013 to take forward the probe, Pakistani interior minister Rehman Malik said in New Delhi on Saturday. In an
interview with NDTV news channel on Saturday, Malik said that the matter was discussed during his meeting with Indian home minister Sushilkumar Shinde on Friday evening. "And yesterday we have worked out a way forward so that the judicial commission may come next week," said Malik.
Full report at:
http://www.hindustantimes.com/India-news/NewDelhi/Indian-judicial-panel-on-26-11-to-visit-Pakistan-next-week-Malik/Article1-973169.aspx
----------
On reel, India becomes Pakistan
Dec 15, 2012
NEW DELHI: India is becoming Pakistan, at least in reel life. There have been spate of international projects recently that have been shot in India where the by-lanes of old Delhi transform into Lahore and Chandigarh becomes Abbottabad.
The most recent film to get the information and broadcasting (I&B) ministry's nod for shooting in India is a film tracing the years Princess Diana spent with Pakistani surgeon Hasnat Khan. Full report at:
http://timesofindia.indiatimes.com/india/On-reel-India-becomes-Pakistan/articleshow/17619971.cms
----------
North America
Obama To Troops: Don't Insult The Taliban
12/14/2012
Political Correctness: The administration blames U.S. troop rudeness for insider attacks by Afghan training partners. So it's issuing an etiquette book ordering them not to criticize "pedophilia" and other things Islamic.
Echoing Afghan President Hamid Karzai, who recently compared our troops to terrorists, the administration says troop insensitivity to Afghan culture, not Taliban infiltration, is behind the recent spike in deadly green-on-blue attacks.
Full report at:
http://news.investors.com/ibd-editorials/121412-637206-troops-gagged-from-criticizing-taliban-or-islam.htm#ixzz2F6zyV4Ug
---------
US offers $2m for counter terrorism training, announces Burns
Silvia Radan
15 December 2012
US Deputy Secretary of State William Burns announced approximately US$2 million for counterterrorism training, during the Global Counterterrorism Forum (GCTF) that took place in Abu Dhabi on Friday.
"As a result of international cooperation, Al Qaeda is finding it more difficult to raise money, train recruits, and plan attacks outside the region. Its leadership has been dealt serious blows. In Yemen, thanks to a combination of international pressure and national leadership, Al Qaeda affiliates now hold little ground. And in Somalia, Al Shabaab has gone from controlling most of the country's south and central regions and almost all of Mogadishu to scrambling for places to operate," said Burns.
Full report at:
http://www.khaleejtimes.com/nation/inside.asp?xfile=/data/nationgeneral/2012/December/nationgeneral_December252.xml&section=nationgeneral
----------
US school shooting: Routine morning, then shots and unthinkable terror
Dec 15, 2012
In this TV grab, Ryan Lanza, the 24-year-old brother of Sandy Hook Elementary School shooter Adam Lanza, is escorted by police into a cruiser in Hoboken, NJ.
RELATED
Why Gmail, Facebook and Twitter are banned on Wall StreetUS stocks: Wall Street opens flat, fiscal talks in focusApple's new management team fails to impress Wall StreetHacktivist group pyknic brings down NBC websitesCan colleagues be friends?
NEWTOWN, Connecticut: First, he killed his mother.
Nancy Lanza's body was found later at their home in Newtown, after the carnage at Sandy Hook Elementary School; after a quiet New England town was scarred forever by unthinkable tragedy; after a nation seemingly inured to violence found itself stunned by the slaughter of innocents.
Full report at:
http://timesofindia.indiatimes.com/world/us/US-school-shooting-Routine-morning-then-shots-and-unthinkable-terror/articleshow/17623030.cms
----------
Political debates increasingly find social networks hospitable debating rooms
December 12, 2012
WASHINGTON: Social media like Facebook and Twitter have become important elements in political and social discourse in a number of countries, particularly in the Arab world, but have yet to catch on for the majority in Pakistan, a survey showed Wednesday.
A 21-nation survey found wide use of social networks across the globe, and that many people, especially in Arab countries, are using these networks to express social and political views.
"Expressing opinions about politics, community issues and religion is particularly common in the Arab world," said the Pew Research Center's Global Attitudes Project survey.
Full report at:
http://tribune.com.pk/story/478904/political-debates-increasingly-find-social-networks-hospitable-debating-rooms/
----------
US wants India to train Afghans
Dec 15 2012
New Delhi : The US is interested to partner India to help develop agriculture, health and education in Afghanistan, sources privy to a senior USAID official's discussions in New Delhi said on Friday.
J Alexander Thier, assistant to the USAID administrator for the Office of Afghanistan and Pakistan Affairs, is particularly keen on "training" Afghans in India in election management, public service and agriculture since it would be cheaper — and more relevant — than training them in the US.
USAID is already partnering Indian NGO SEWA to train Afghan women in learning various skills, which will lead to their empowerment.
http://www.indianexpress.com/news/us-wants-india-to-train-afghans/1045476/
----------
Indian sentenced to prison for threatening to bomb US company
A Dec 15 2012
New York : A 56-year old Indian man, who had called himself a "terrorist", has been sentenced to six months imprisonment for threatening to bomb a Connecticut-based company.
Shaneel Jain of Rhode Island was sentenced today by US District Judge Robert Chatigny in Hartford to six months of imprisonment, one year of supervised release and three months of home confinement for threatening to bomb the facilities of Z-Medica Corporation, US Attorney for the District of Connecticut David Fein said.
Full report at:
http://www.indianexpress.com/news/indian-sentenced-to-prison-for-threatening-to-bomb-us-company/1045737/
----------
Pakistan
Pakistan and Afghanistan Peace Initiative: Move to get Taliban off terrorist list
15 Dec, 2012
WASHINGTON: Pakistan and Afghanistan are pursuing a new peace initiative that would permit some Taliban leaders to be removed from a UN list of terrorists, says a senior Afghan official.
Azizullah Din Mohammad, a senior member of Afghanistan's High Peace Council, told Bloomsburg news agency the draft plan would allow the Taliban to join the Afghan government or take part in national, parliamentary or provincial elections.But before doing so, they must sever any ties to Al Qaeda, renounce violence, and respect the Afghan Constitution.
Full report at:
http://dawn.com/2012/12/15/move-to-get-taliban-off-terrorist-list/
----------
Pakistan jail staff suspects Indian prisoners and bars them from writing letters
Dec 14, 2012
AMRITSAR: Many Indian prisoners lodged in Pakistani jails are still suspected and are even not allowed to write letters to their dear ones in India.
Revealing this, Pakistani advocate Awaish Sheikh , who is also contesting the case of Sarabjit Singh, informed TOI on Friday that during his meeting with Indian prisoner Kuldeep Singh in Central jail on December 13th the deputy superintendent of central jail refused Kuldeep Singh to write a message for his family.
Full report at:
http://timesofindia.indiatimes.com/india/Pakistan-jail-staff-suspects-Indian-prisoners-and-bars-them-from-writing-letters/articleshow/17615786.cms
-------
ATC issues notices to all parties over Musharraf's assets case
15 Dec, 2012
ISLAMABAD: Rawalpindi's Anti-Terrorism Court on Saturday issued notices to all parties in the Pervez Musharraf assets case to appear for the preliminary hearing of the request for the obtaining the records of Musharraf's assets, DawnNews reported.
Judge Chaudhry Habibur Rehman heard the petition filed by Sehba Musharraf (his wife of Pervez Musharraf) to restore the former president's frozen accounts.
During the hearing, the petitioner's counsel Ilyas Siddiqui submitted another request, seeking records of joint accounts held by Musharraf.
Subsequently, the court issued notices to all parties in the case to appear for a preliminary hearing and adjourned the hearing until Dec 22.
http://dawn.com/2012/12/15/atc-issues-notices-to-all-parties-over-musharrafs-assets-case/
----------
Seven decades on, Hur force puts up grand show
December 15, 2012
HYDERABAD: Dormant for nearly seven decades, the Hur Jamaat of Pir Pagara, under the banner of Pakistan Muslim League – Functional (PML-F) re-emerged on Friday chanting slogans of 'one Sindh, one system'.
The PML-F is all set to grab the 'Sindh card' from the Pakistan Peoples Party (PPP) in the upcoming general elections, the party's leader and the spiritual head of Hur Jamaat, Syed Sibghatullah Shah Rashdi, popularly known as Pir Pagaro, signalled.
Full report at:
http://tribune.com.pk/story/479965/populist-politics-seven-decades-on-hur-force-puts-up-grand-show/
----------
Six witnesses, including Mark Siegel, summoned in Benazir murder case
15 Dec, 2012
RAWALPINDI: An anti-terrorism court in Rawalpindi has summoned six prosecution witnesses, including late Benazir Bhutto's friend and lobbyist Mark Siegel to record his statement in the former prime minister's assassination case.
The ATC was hearing the case at Rawalpindi's Adiyala Jail premises on Saturday. During today's proceedings, counsels for the prosecution and defence concluded their arguments over two witnesses, Magistrate Ahmed Masood Janjua and police officer (SHO) Aijaz Shah.
Full report at:
http://dawn.com/2012/12/15/six-witnesses-including-mark-siegel-summoned-in-bb-murder-case/
----------
Pakistani fishmonger is internet sensation
December 15, 2012
Nazir's 'One Pound Fish' has now been made into a slick video and heading up the charts
The mother of Pakistani internet sensation One Pound Fish Man is praying to Allah that her son has a Christmas No1 hit so his wife and children can join him for a new life in Britain.
When Mohammad Shahid Nazir left his four children behind in Pakistan to study business in London, he could never have imagined he would one day be cavorting in a Warner video with scantily-clad Western beauties, singing about fish.
Full report at:
http://gulfnews.com/about-gulf-news/al-nisr-portfolio/tabloid/pakistani-fishmonger-is-internet-sensation-1.1118854
----------
Mideast Asia
Islamic College Funded by Jews, in a village straddling Israel and the West Bank
By Oren Kessler
December 14, 2012
The school aims to promote a moderate vision of Islam, but it faces deep scepticism from Jews and Muslims
In a village straddling Israel and the West Bank, an Arab college is trying to walk the tightest of ropes: reinterpreting the study of Islam for the modern age, and doing so on the dime of the Jewish state.
Full report at:
http://www.tabletmag.com/jewish-news-and-politics/119206/islamic-college-funded-by-jews
----------
Iran sympathises with US after 'tragic' school shooting
15 Dec, 2012
TEHRAN: Iran was quick on Saturday to express condolences after the "tragic" shooting rampage that left 26 people dead, including 20 small children, at an elementary school in the United States.
Foreign ministry spokesman Ramin Mehmanparast condemned the "tragic incident" and expressed sympathy with the families of the victims, the state broadcaster's website IRIB reported.
Full report at:
http://dawn.com/2012/12/15/iran-sympathises-with-us-after-tragic-school-shooting/
----------
Israeli foreign minister resigns
Dec 14, 2012
JERUSALEM: Israel's powerful foreign minister announced his resignation from government on Friday, a day after an indictment for breach of trust was filed against him by the country's attorney general, in a move that shakes up the election campaign and heavily impacts Prime Minister Benjamin Netanyahu's election calculations.
Avigdor Lieberman continued to maintain his innocence in a statement and indicated that he could return to politics in time for the national elections in January if he was cleared or could reach a plea bargain.
Full report at:
http://timesofindia.indiatimes.com/world/middle-east/Israeli-foreign-minister-Avigdor-Lieberman-resigns/articleshow/17617146.cms
----------
OIC presents Human Rights Commission
Dec 15, 2012
It was the middle of last year that the Organization of Islamic Cooperation elected eighteen people -- primarily lawyers -- diplomats -- and activists to serve as the first Commissioners of the OIC's first Permanent Human Rights Commission.
On Friday at the UN -- the Chair of the new Commission said that addressing negative and erroneous misconceptions about Islam's relationship to universal human rights is important. She added that the Commission will serve to integrate human rights into all of the OIC's mandates.
Full report at:
http://www.presstv.ir/detail/2012/12/15/278121/oic-presents-human-rights-commission/
----------
Cyber vandalism: Turkish hacker claims gaining access to NADRA, FIA servers
December 15, 2012
KARACHI: The Turkish hacker – who recently defaced Google Pakistan's webpage along with 284 other .pk domains – has claimed to have access to the National Database and Registration Authority (Nadra) and the Federal Investigation Agency's (FIA) servers, potentially acquiring personal data of millions of Pakistanis.
According to a TechCrunch (TC) report published on December 13, the hacker, Eboz, had hacked the servers of PKNIC, the internet registry that manages top level domains for Pakistan on November 24, thereby defacing google.com.pk and hundreds of other websites with similar domains.
Full report at:
http://tribune.com.pk/story/480044/cyber-vandalism-turkish-hacker-claims-gaining-access-to-nadra-fia-servers/
--------
Yemen Gives 93 Soldiers Jail Terms for Attack on Base
December 15, 2012
SANAA (Reuters) - A Yemeni military court sentenced 93 members of the Republican Guard to prison terms of up to seven years for an attack on a military complex in August, the Defense Ministry said on Saturday.
The sentences, which were more lenient than expected, followed increased tensions between factions loyal to former President Ali Abdullah Saleh, whose son commands the Republican Guard, and the interim government led by President Abd-Rabbu Mansour Hadi.
Full report at:
http://www.nytimes.com/reuters/2012/12/15/world/middleeast/15reuters-yemen-military-court.html?hp&_r=0&gwh=C9BE714194559B621DCB78E995109F07
----------
Southeast Asia
Few Indonesian science papers published in int'l journals
Elly Burhaini Faizal
December 15 2012
Poor analytical capacity among Indonesian researchers is to blame for the lack of academic papers published in international journals. Poor English aggravates the problem.
Enny Sudarmonowati, a research trainer with the Indonesian Institute of Sciences (LIPI), said Indonesian writers should equip themselves with skills in interpreting research findings.
In addition, they must produce excellent scientific papers in English that can be published in international journals.
Full report at:
http://www.thejakartapost.com/news/2012/12/15/few-indonesian-science-papers-published-int-l-journals.html
----------
Raden Saleh: The Emergence Of Modern Art in Indonesia
Katrin Figge | December 15, 2012
When Goethe-Institut Indonesia director Franz Xaver Augustin first moved to Indonesia in 2007, he didn't know anything about Raden Saleh, the 19th century painter of Javanese nobility who is often referred to as the pioneer of modern Indonesian art. That changed, however, when the Jakarta Arts Institute organized a symposium in June 2010 on Raden Saleh at his former villa in Cikini, which now functions as a hospital.
Full report at:
http://www.thejakartaglobe.com/lifeandtimes/raden-saleh-the-emergence-of-modern-art-in-indonesia/561492
----------
URL: https://www.newageislam.com/islamic-world-news/new-age-islam-news-bureau/debate-on-islam-and-evolution-has-to-be-called-off--growing-influence-of-creationism-and-literalist-interpretations-of-quran-highlighted/d/9694