New Age Islam News Bureau
6 Aug 2015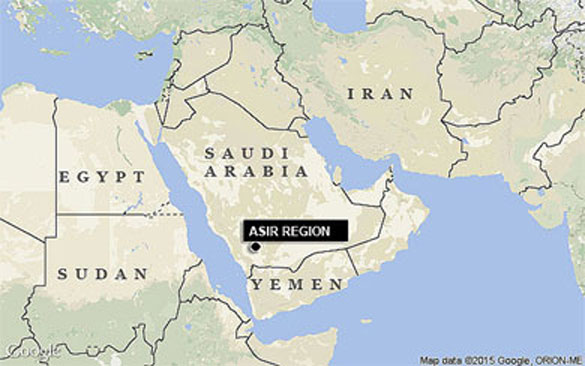 Locator map for Saudi mosque bomb Photo: Google Maps
-----------
Arab World
• Deadly Suicide Attack at Mosque in Saudi Arabia's Aseer
• Hezbollah Takes Full Control of Syria's Western Zabadani
• ISIS Seizes Key Syrian Town in Homs
• First U.S. Drone Strike from Turkey against ISIS in Syria
• Syrian Army, Kurdish Forces Repel ISIL's Fresh Attack on Hasaka
• Saudi Apache Chopper Downed in Yemen
• Syrian Army Kills Nusra Militants in Aleppo
• In latest video, Islamic State threatens to kill Croatian in Egypt
• Push for Retribution in Egypt Frays Muslim Brotherhood
• U.S., Russia agree to act on Syria chemical attacks
• Iran to submit Syria peace plan to U.N
• Egypt detains over 60 Muslim Brotherhood supporters
• Arab League urges U.N. to act against Israeli settlers
• U.S. targets alleged Qatari militant backers
-----------
Pakistan
• 50 Madrasas Linked With Banned Outfits in Sindh
• Six Judges Declare 21st Amendment, Military Courts Illegal
• JUI's Maulana Sami supports Afghan Taliban's new chief
• 'MQM' letters to Indian HC sought help over missing workers
• TTP claims killing of senior Rawalpindi judge
• Non-bailable arrest warrant issued for Altaf in Karachi
• Voices of Pakistani Christians: Call for equal citizenship for non-Muslim Pakistanis
• APS attack victims' families hail SC for military courts' verdict
-----------
India
• Captured Terrorist Naved Not Registered As Our Citizen: Pakistan
• Mumbai: Muslim Groups Seek To Quell 'Anger' In Muslim Youth
• National Minority Panel Report Highlights Problems Of Muslims
• Cong Muslim workers to run 'Kanwar Sewa' camps on highway
• Full text of Union home minister on Udhampur terrorist attack
• Islamabad tests Modi govt's terror threshold
• India to grant citizenship to 'persecuted migrants' in Pakistan
• Beef Trader Associations in Kerala to Shut Stalls In Protest
-----------
Mideast
• Saudi Warplanes Pound Civilian Targets In NW Yemen
• Settler Raises Israeli Flag On Al-Aqsa
• In Turkish Areas Facing Daesh, Doubt Hangs Over US Strategy
• 18 Turkish reporters face imprisonment for promoting terror
• Turkey Launches First "Halal Cruise"
• Iran, Turkey must work together to fight ISIS: Rowhani
• Israel jails Jewish extremist without trial
• Deputy FM: Iran to Present Updated Plan on Syria to UN
• Former Iranian Intelligence Minister Warns French of US Plots
• Ukraine and Turkey create an international Muslim Brigade
• US set 'to intervene' in Palestinian terror case
------------
South Asia
• Daesh 'Facebook' Recruiter among Six Detained In Kabul
• Military chopper crash in southern Afghanistan kills 17
• Breaking News: Gunmen attack security post in Kandahar city
• Six public welfare projects to be implemented in Khost, Baghlan
-----------
North America
• US Pushes Anti-Extremism Program Despite Backlash - Muslim Rights Group
• Obama Administration Modifies U.S. Oath of Allegiance to Accommodate Muslims
• 'See Something, Say Something': US Muslims Urged to Spy on One Another
• Muslim groups and civil rights activists seek more transparency in US counterterrorism efforts
-----------
Europe
• Islamic State Recruiters Are Coming For Russia's Best and Brightest
• Muslim Converts 'Slash Broadmoor Staff in Row – Leaving Them with Horrific Injuries'
• Britain's Muslim cleric Anjem Choudhary charged for supporting ISIS
• As ties with the West suffer, Russia embraces its own 'East'
• North Texas, UK Residents: No Muslim Cemetery Here
-----------
Southeast Asia
• E-cigarettes Haram for Muslims: Malaysian Mufti
• Moderates rule Muhammadiyah board
• US Congress confirms new ambassador to Maldives
------------
Africa
• Boko Haram Abducts 135, Kills 8 in Cameroon Raid
• Minimah: Boko Haram, a Tool to Advance Political, Religious and Sectional Interests
• Al-Shabaab Earns Praises from Al-Qaeda-Linked Uighurs for Chinese Embassy Bombing
• Kenya leaders laud Obama for speaking on Muslim rights
• Boko Haram: Danjuma Committee Releases N140m to 7 North-East Hospitals
• Somalia: Mortar Rounds Rain Down On Al-Shabaab Bases
Compiled by New Age Islam News Bureau
URL: https://www.newageislam.com/islamic-world-news/new-age-islam-news-bureau/deadly-suicide-attack-at-mosque-in-saudi-arabia-s-aseer/d/104191
------------
Arab World
Deadly suicide attack at mosque in Saudi Arabia's Aseer
06 Aug 2015
At least 17 members of the security forces have been killed in suicide attack on mosque in Saudi Arabia's southwest, according to state TV.
The attack on Thursday took place in a mosque belonging to the emergency forces in the city of Abha in Aseer province near the Yemeni border.
http://www.aljazeera.com/news/2015/08/suicide-attack-mosque-saudi-arabia-southwest-150806110739697.html
-----------
Hezbollah Takes Full Control of Syria's Western Zabadani
Aug 05, 2015
Ain Tayat in Western Zabadani was purged of Al-Nusra Front and Ahrar al-Sham terrorists today.
Ain Tayat had become the most important stronghold of the Takfiri terrorists in Western Zabadani.
Tens of terrorists were killed in Hezbollah's operations against Ahrar al-Sham and Al-Nusra Front which lasted several others.
The Syrian army and Hezbollah fighters have concentrated on mop-up operations in Zabadani.
In late July, the Syrian military and fighters of the Lebanese resistance movement Hezbollah retook a key residential area in Zabadani.
Lebanese sources said Tuesday that the allied forces have taken full control of Hay al-Sultani neighborhood South of Zabadani, capturing the main entrance to the border city.
Scores of militants have reportedly been killed in the fighting in Zabadani which culminated in late July.
http://english.farsnews.com/newstext.aspx?nn=13940514000834
-----------
ISIS seizes key Syrian town in Homs
6 August 2015
Islamic State of Iraq and Syria (ISIS) militants seized control of a key town in the central Syrian province of Homs overnight after heavy clashes with forces loyal to President Bashar al-Assad, a monitor said on Thursday.
The violent group started the attack on Wednesday morning when three suicide bombers targeted pro-regime checkpoints at entrances to the city, according to the Britain-based Syrian Observatory for Human Rights.
"ISIS seized Al-Qaryatain town in the southeastern countryside of Homs after violent clashes with pro-regime forces and loyalist fighters," Observatory chief Rami Abdel Rahman told AFP.
A total of 37 regime soldiers and loyalist fighters were killed, while 23 ISIS militants also died, Abdel Rahman said.
He said the town held strategic importance because of its location along a road linking the ancient city of Palmyra, which has been held by ISIS militants since May, with Qalamun region in Damascus province.
"The control of Al-Qaryatain allows ISIS to link the areas under its control in the eastern countryside of Homs with the areas under its control in the eastern countryside of Qalamun, and allows it to transfer fighters and supplies between the two regions," Abdel Rahman said.
The ongoing clashes between government troops and the militant group are one of many fronts in Syria's complex war, which has left more than 230,000 people dead since it began in March 2011.
http://english.alarabiya.net/en/News/middle-east/2015/08/06/ISIS-seizes-key-Syrian-town-in-Homs-.html
-----------
First U.S. drone strike from Turkey against ISIS in Syria
6 August 2015
The United States has conducted its first drone strike into northern Syria from a base in Turkey, the Pentagon said on Wednesday, ahead of what Ankara said would soon be a "comprehensive battle" against ISIS militants there.
A spokesman in Washington said the raid by an unmanned drone was launched on Monday from the Incirlik air base near the southern city of Adana in Turkey, a U.S. ally with the second largest armed forces in NATO. Preparations were underway for strikes inside Syria by manned U.S. warplanes.
Until recently, only reconaissance drones flew missions from Incirlik.
But Turkey formally agreed to open its air bases to U.S. and coalition strike aircraft last month, a major policy change after years of reluctance to take a frontline role against the Islamist fighters pressing on its borders.
Ankara and Washington have been working on plans to provide air cover for a group of U.S.-trained Syrian rebels and jointly sweep ISIS from a strip of territory stretching about 80 km (50 miles) along the Turkish frontier.
"As part of our agreement with the U.S. we have made progress regarding the opening up of our bases, particularly Incirlik," Foreign Minister Mevlut Cavusoglu earlier told state broadcaster TRT, referring to a major air base near the southern city of Adana.
"We're seeing that manned and unmanned American planes are arriving and soon we will launch a comprehensive battle against ISIS all together," he said during a trip to Malaysia.
Syrian Foreign Minister Walid al-Moualem was quoted by state television on Wednesday as saying Syria supported efforts to combat ISIS provided they were coordinated with Damascus.
"For us in Syria there is no moderate opposition and immoderate opposition. Whoever carries weapons against the state is a terrorist," he was quoted as saying during a visit to ally Iran, adding Damascus had been informed about the presence of the U.S.-trained rebels.
"The United States contacted us before they sent in this group and said they are fighting against Daesh (Islamic State) and not the Syrian army at all," he said.
"We said we support any effort to combat Daesh in coordination and consultation with the Syrian government, otherwise it will be a breach of Syrian sovereignty."
Potential "game-changer"
Turkish President Tayyip Erdogan spoke by phone with his Iranian counterpart Hassan Rouhani, informing him of Turkey's latest military operations and reiterating his view that there can be no peace in Syria without the removal of President Bashar al-Assad, sources in Erdogan's office said.
Tehran, which has stood by Assad through more than four years of civil war, said it would present the United Nations with its own peace plan for Syria.
Russia, another Assad ally, meanwhile said it had not been able to agree on a common approach to fighting ISIS after its foreign minister met U.S. Secretary of State John Kerry for the second time in recent days.
Diplomats familiar with the U.S.-led coalition's plans say cutting off ISIS's access to the Turkish border, over which foreign fighters and supplies have flowed, could be a game-changer in the fight against the insurgents.
The core of the U.S.-trained rebels, who number fewer than 60, will be well equipped and be able to call in close air support when needed, they say.
But there are major challenges.
Washington said on Tuesday it had indications some of the rebels trained by its military were captured by fighters from al Qaeda's Syria wing, Nusra Front, underscoring the vulnerability of a group only deployed to the battlefield in recent weeks.
Turkey is meanwhile distrustful of the Syrian Kurdish YPG militia, which has proved a useful U.S. ally in fighting ISIS, and which controls adjacent territory. Ankara wants the Kurdish guerrillas to advance no further than the Euphrates river, on the eastern fringe of the planned "safe zone".
Coalition forces
Turkey launched several air strikes against ISIS fighters in northern Syria just under two weeks ago after one of its soldiers was killed in cross-border fire. It also carried out near-simultaneous attacks on camps belonging to the PKK Kurdish militant group in northern Iraq.
Turkey fears Kurdish fighters could build on Syrian Kurdish gains and move towards creation of a Kurdish state embracing Iraqi, Syrian and Turkish territory.
Opponents have accused President Tayyip Erdogan of using the war against ISIS as a cover for preventing Kurdish gains, pointing out the air strikes against the PKK have so far been heavier than those against the Islamist radicals.
Turkish officials deny the campaign against ISIS is a cover, saying the offensive is a joint operation with the coalition and will only begin in earnest when Washington and its allies are ready.
"There are other countries within the coalition ... interested in joining such as Britain and France, while among the countries in the region, there is a possibility that Saudi Arabia, Qatar and Jordan will take part," Cavusoglu said.
"ISIS poses the biggest threat to Turkey both because it is right on the other side of our border and also due to the flow of foreign fighters. It has to be eliminated."
ISIS has seized large parts of Syria and neighbouring Iraq in its drive to create a caliphate.
Erdogan has said a "safe zone" created by pushing out ISIS could allow 1.7 million refugees in Turkey to start going home. U.S. officials say this is not the main aim, while the United Nations has warned against calling it a "safe zone" unless the protection of civilians can be guaranteed.
http://english.alarabiya.net/en/News/middle-east/2015/08/06/First-U-S-drone-strike-from-Turkey-against-ISIS-in-Syria.html
-----------
Syrian Army, Kurdish Forces Repel ISIL's Fresh Attack on Hasaka
Aug 05, 2015
Fierce clashes erupted between the Syrian forces and the ISIL militants for several hours on Wednesday when the Takfiri terrorists tried to attack a Syrian army base near the city of Hasaka.
Tens of terrorists were killed and dozens more were injured during heavy clashes with the Syrian and Peshmarga forces.
On July 8, the top commander of popular forces in Hasaka announced that his forces and the Syrian army troops are now in control of the Northeastern city.
"All parts of Hasaka city are under the control of our forces, the Syrian army troops and the Kurdish popular committees and at present, no operations are being carried out by the ISIL terrorists in Hasaka," Sheikh Fayez Abdul Rahman Sheikh Namess told FNA.
Noting that the cooperation and coordination among the three forces have driven out the terrorists 20km away from Hasaka, he said that they have freed many districts and villages near Hasaka, including Abdulaziz mountain, and killed tens of ISIL terrorists in the past months.
The ISIL Takfiri terrorists currently control shrinking swathes of Syria and Iraq. They have threatened all communities, including Shiites, Sunnis, Kurds, Christians, Ezadi Kurds and others, as they continue their atrocities in Iraq.
Senior Iraqi officials have blamed Saudi Arabia, Qatar, and some Persian Gulf Arab states for the growing terrorism in their country.
The ISIL has links with Saudi intelligence and is believed to be indirectly supported by the Israeli regime.
http://english.farsnews.com/newstext.aspx?nn=13940514001255
-----------
Saudi Apache Chopper Downed in Yemen
Aug 05, 2015
The Yemeni army's air defense forces downed the helicopter with a surface-to-air missile in the district of Harad in Hajjah.
Saudi Arabia has been striking Yemen for 133 days now to restore power to fugitive president Mansour Hadi, a close ally of Riyadh. The Saudi-led aggression has so far killed at least 5,333 Yemenis, including hundreds of women and children.
Hadi stepped down in January and refused to reconsider the decision despite calls by Ansarullah revolutionaries of the Houthi movement.
Full report at:
http://english.farsnews.com/newstext.aspx?nn=13940514000820
-----------
Syrian Army Kills Nusra Militants in Aleppo
Aug 05, 2015
The army targeted movements of al-Nusra terrorists in Dweir al-Zaitoun and Tallet al-Mallah in the Northern countryside of Aleppo, killing scores of the terrorists and destroying a number of their vehicles that were equipped with machine guns.
A group of terrorists were also killed and injured in Khan Touman area in the Western countryside of Aleppo.
Terrorists of al-Nusra Front also suffered losses in personnel and equipment during special army operations against their concentration centers in the vicinity of al-Nairab airport in the Southeastern countryside of Aleppo.
Meanwhile, the army destroyed positions of al-Nusra Front-linked terrorists in the neighborhoods of Bani Zaid, al-Salehin, al-Khaldiyeh, al-Shaar, Alliramoun, Bustan al-Qasr and al-Rashideen in Aleppo city.
Full report at:
http://english.farsnews.com/newstext.aspx?nn=13940514001317
-----------
In latest video, Islamic State threatens to kill Croatian in Egypt
Aug 5, 2015
A purported Islamic State group video released Wednesday threatened to kill a Croatian hostage if Egyptian authorities do not release "Muslim women" held in prison within 48 hours, a day before the country plans to unveil a highly promoted new extension of the Suez Canal. The video, circulated on social media by Islamic State sympathizers, shows a man wearing a yellow jumpsuit kneeling in the desert before a knife-wielding masked man in military fatigues. An Islamic State flag flutters next to him and the video identifies it as coming from the Islamic State affiliate in Egypt's lawless Sinai Peninsula.
Full report at:
http://indianexpress.com/article/world/middle-east-africa/in-latest-video-islamic-state-threatens-to-kill-croatian-in-egypt/
-----------
Push for Retribution in Egypt Frays Muslim Brotherhood
By DAVID D. KIRKPATRICK and MAYY EL SHEIKHAUG. 5, 2015
CAIRO — A veteran leader of the Muslim Brotherhood was so alarmed by the rising calls for violence from the group's youth that he risked arrest to urge the movement to stay peaceful.
Already hunted by the police for his role in a banned organization when he released his online manifesto in May, the leader, Mahmoud Ghuzlan, conceded that shunning violence in the face of the government crackdown on the Brotherhood was "like grasping a burning coal." But, he said, history taught that "peacefulness is stronger than weapons, and violence is the reason for defeat and demise."
Full report at:
http://www.nytimes.com/2015/08/06/world/middleeast/younger-muslim-brotherhood-members-in-egypt-bridle-at-nonviolent-stance.html?gwh=BE5DA01B928A0C511F8CDE5FFF2B09B5&gwt=pay&assetType=nyt_now
-----------
U.S., Russia agree to act on Syria chemical attacks
6 August 2015
U.S. Secretary of State John Kerry on Thursday said an agreement has been reached with his Russia counterpart on a U.N. resolution that would designate accountability for use of chemical weapons in Syria.
"We also talked about the U.N. resolution and indeed I believe reached an agreement that should try to see that resolution voted shortly, which would create a process of accountability which has been missing," Kerry said a day after talks with Russia's Sergei Lavrov in Malaysia.
Earlier Thursday, a U.S. official said the United States and Russia have reached agreement on a draft U.N. resolution aimed at identifying the perpetrators of chemical weapons attacks in Syria so they can be brought to justice.
Two Security Council diplomats, speaking on condition of anonymity because discussions were private, also said on Wednesday that the final draft has been circulated to all 15 Security Council members. They have until 10 a.m. EDT (1400 GMT) on Thursday to raise objections, the diplomat said.
"The work is almost done. We hope to make it to Friday," said Alexey Zaytsev, spokesman for the Russian U.N. mission, referring to the possible vote.
If there are no objections to the text, one diplomat said the resolution could be put to a vote as early as Friday.
While Russia and the United States have failed to agree on a way to end the Syrian conflict, now in its fifth year, they did agree on eliminating its chemical weapons stockpile.
The U.S. has been pressing for the council to take action to ensure accountability for an increasing number of alleged chlorine attacks that have caused deaths and injuries. Russia's U.N. Ambassador Vitaly Churkin said in June the council should look for the best way to ensure that people allegedly responsible for chlorine attacks are brought before a court.
The Organization for the Prohibition of Chemical Weapons, the global chemical weapons watchdog, has a mandate to carry out fact-finding missions to determine whether there have been chemical attacks. But neither the OPCW nor the U.N. have a mandate to determine responsibility for the use of chlorine or chemical weapons.
According to one council diplomat, the final draft asks U.N. Secretary-General Ban Ki-moon, in coordination with OPCW Director-General Ahmet Uzumcu, to submit to the Security Council within 20 days recommendations to establish an "OPCW-United Nations Joint Investigative Mechanism."
Full report at:
http://english.alarabiya.net/en/News/middle-east/2015/08/06/U-S-Russia-agree-to-act-on-Syria-chemical-attacks.html
-----------
Iran to submit Syria peace plan to U.N.
6 August 2015
Iran said Wednesday it will submit a new peace plan for war-ravaged Syria to the United Nations on the back of an international shift in favour of a political settlement.
Deputy Foreign Minister Hossein Amir-Abdollahian said the plan, drafted after "detailed consultations" between Damascus and Tehran, was an amended version of an Iranian initiative presented last year.
The new proposal, to be submitted to UN chief Ban Ki-moon, amounts to "one of the most effective and serious plans on the agenda of the United Nations and international players", Amir-Abdollahian told the Beirut-based Al-Mayedeen television channel that supports the Syrian regime.
Full report at:
http://english.alarabiya.net/en/News/middle-east/2015/08/06/Iran-to-submit-Syria-peace-plan-to-U-N-.html
-----------
Egypt detains over 60 Muslim Brotherhood supporters
Aug 5, 2015
Egyptian security forces have detained at least 61 supporters of the Muslim Brotherhood across the country over the past 24 hours, Press TV reports.
The Egyptian Interior Ministry said in a statement on Wednesday that most of the arrests were made during a series of security raids on homes in the provinces of Giza, Fayoum, Gharbiya and Minya.
The detainees were arrested on suspicion of inciting violence against state institutions.
The news came ahead of the inauguration of a controversial development project, which is due on August 6.
The project is reportedly meant to bolster the credibility of military-backed Egyptian President Abdel Fattah el-Sisi.
On Tuesday, a senior Egyptian Interior Ministry official threatened to take action against those who seek to disrupt the inauguration of the controversial project.
In a separate development, an international human rights organization known as Human Rights Monitor (HRM) warned of the growing number of people that go missing at the hands of security services in Egypt.
The rights group has documented more than 580 cases of enforced disappearances in the first half of 2015.
Full report at:
http://www.presstv.in/Detail/2015/08/05/423441/Egypt-Muslim-Brotherhood-Giza-Fayoum-Gharbiya-Minya
-----------
Arab League urges U.N. to act against Israeli settlers
5 August 2015
Arab League foreign ministers agreed to call on the UN to protect the Palestinians from "terrorist crimes" by Israeli settlers after meeting on Wednesday alongside Palestinian President Mahmoud Abbas.
The announcement by 15 ministers meeting in Cairo comes after Friday's death of an 18-month-old Palestinian baby who was burned alive in an arson attack blamed on Jewish extremists.
The baby's parents and his brother were seriously injured in the attack on their house in the Israeli-occupied West Bank.
Extreme rightwing Jewish activists have waged a so-called "price tag" campaign in Israel and the Palestinian territories, attacking and vandalizing Muslim and Christian places of worship in particular.
"The Arab Group (at the UN) must act to submit a draft resolution to the Security Council concerning terrorist crimes by Israeli settler groups against the Palestinian people," League chief Nabil al-Arabi said before the meeting.
"We must seriously think about real international protection for the Palestinian people," he added.
Full report at:
http://english.alarabiya.net/en/News/middle-east/2015/08/06/Arab-League-urges-UN-to-act-against-Israeli-settlers.html
-----------
U.S. targets alleged Qatari militant backers
5 August 2015
The U.S. Department of Treasury has imposed on Wednesday sanctions on two Qatari men who were allegedly involved in financial support for al-Qaeda and its Syrian affiliate, Al-Nusra Front.
Saad bin Saad Mohammed Sharyan al-Kaabi and Abdul Latif Bin Abdallah Salih Muhammad al-Kawari were designated as "global terrorists" under a law that allows the ministry to freeze the assets of those involved with terrorism and prevents Americans from doing business with them.
A U.S. official said that al-Kaabi and al-Kuwari ran large networks of funding and that sanctions against the Qatari men would hopefully have a significant impact on their ability to raise any further funds in the region.
The official also added that while the U.S. Treasury is focusing on cutting off international funding to ISIS, "that does not mean that we are neglecting other terrorist groups."
U.S. officials told reporters on Wednesday that Kaabi set up a website to solicit money for extremist groups in Syria, but that the Qatari government has since shut it down.
'Disrupt the funding schemes'
"These sanctions target two major facilitators of the Nusra Front and al-Qaeda," said Acting Under Secretary for Terrorism and Financial Intelligence Adam J. Szubin. "Treasury remains committed to using our financial intelligence and authorities to unravel and disrupt the funding schemes exploited by terrorist groups."
The treasury said that Kaabi had set up donation campaigns in Qatar to aid with fundraising in response to a request from a Nusra Front associate to raise funds for weapons and food.
During that same period, a Nusra Front official requested Kaabi to act as an intermediary in collecting a ransom for a hostage being held by the group.
The treasury said Kawari collected financial support for al-Qaeda and that he had served as an al-Qaeda security official.
Full report at:
http://english.alarabiya.net/en/News/middle-east/2015/08/05/U-S-targets-alleged-Qatari-financiers-of-Al-Nusra-and-Al-Qaeda.html
-----------
Pakistan
50 Madrasas Linked With Banned Outfits in Sindh
August 6th, 2015
KARACHI: The Sindh government with the help of intelligence agencies has identified at least 48 madrassas in the province having links with banned organisations and half of them are operating in Karachi, according to local media sources.
"These seminaries are promoting terrorism. We have worked out and our security forces are ready to take action against these illegal and un-registered madaris," IG Sindh Police Ghulam Hyder Jamali told a meeting on Wednesday at CM House.
The meeting, chaired by Chief Minister Qaim Ali Shah, was held in compliance with the decision of the apex committee which decided to coordinate with the ulema of all schools of thought to get all madrassas registered under the amended laws in the province, sources further added.
Full report at:
http://www.pakistantoday.com.pk/2015/08/06/national/50-madrassas-linked-with-banned-outfits-in-sindh/
-----------
Six judges declare 21st Amendment, military courts illegal
August 6th, 2015
ISLAMABAD: A dissenting but minority judgement by six judges of the Supreme Court against the majority judgement of 11 judges has declared the 21st Amendment as well as trials of the accused by military courts as illegal and unconstitutional.
In his dissenting note, Justice Jawwad S. Khawaja held that the 21st Amendment was liable to be struck down since parliament was not a sovereign or supreme body in the sense that there were no limitations on its power to amend the constitution.
Also read: Military courts get Supreme Court nod
"The limitations on the parliament are not only political but are borne out from the constitution itself," he observed.
He said the Supreme Court had the power to judicially review a constitutional amendment passed by the parliament and to strike it down where appropriate. But Article 175A as amended by the 19th Amendment is not liable to be struck down as it does not transgress the limitations of parliamentary power to amend the constitution.
"Our legal and constitutional history has amply demonstrated that laws can be made by parliament which does not necessarily represent the aspirations of the people. In the 2010 NRO case, the Supreme Court held that even so it is for parliament to make laws regardless of whether the same are unpopular or are based on expediency. This power to make laws (including constitutional amendments), however, is not absolute and untrammelled," observed Justice Khawaja.
The maturity of the nation is reflected in the manner in which differences are resolved in accordance with the governing compact, which is the constitution. "Differences of opinion between constitutional bodies or organs of the state cannot be seen as adversarial turf-wars between the two bodies," he said.
Parliament's power to make laws is not absolute and untrammelled:Justice Khawaja
"All constitutional bodies and functionaries must have the common aim that the constitution which embodies the will of the people is enforced because this is an obligation set out in the constitution itself. It, therefore, must be accepted and implemented both in letter and in spirit with sincerity by every organ and functionary of the state," Justice Khawaja observed.
Justice Asif Saeed Khosa partially allowed the petitions challenging the 21st Amendment and the Pakistan Army (Amendment) Act (PAA) 2015 by declaring the amendments unconstitutional, without lawful authority and of no legal effect.
"As a consequence of this declaration all the trials conducted and the appeals decided by the military courts deriving authority from the PAA are to be treated as non est and all the judgements delivered by invoking that law are rendered incapable of implementation and execution," he said in his dissenting note.
"As an outcome of the declaration made above in respect of the PAA the 21st Amendment has lost its raison d'être, efficacy and utility and, therefore, no determination needs to be made about its fate or continued existence."
Justice Khosa, however, did not accept the academic theory of basic features or basic structure of the constitution as conferring jurisdiction upon this court for striking down an amendment of the constitution and thus dismissed the petitions challenging the 18th Amendment.
Full report at:
http://www.dawn.com/news/1198632/six-judges-declare-21st-amendment-military-courts-illegal
-----------
JUI's Maulana Sami supports Afghan Taliban's new chief
August 6th, 2015
NOWSHERA: Chief of his own faction of Jamiat Ulema-i-Islam Maulana Samiul Haq has announced full support for the new Afghan Taliban chief Maulana Akhtar Mansoor, and urged all jihadi groups to shun differences and accept his leadership, according to local media sources.
He was addressing ulema of Pakistan and Afghanistan at the inaugural ceremony of the new education year at Darul Uloom-i-Haqania here on Wednesday, sources further added.
Samiul Haq said it was need of the hour to stand united against foreign powers as they were hatching conspiracies against Afghan people who had rendered sacrifices of their lives for freeing their country from 'foreign occupation'.
Full report at:
http://www.pakistantoday.com.pk/2015/08/06/national/juis-maulana-sami-supports-afghan-talibans-new-chief/
-----------
'MQM' letters to Indian HC sought help over missing workers
August 6th, 2015
KARACHI: Letters purportedly written by the Muttahida Qaumi Movement (MQM) to the Indian High Commission emerged on Thursday, in which the party asked the mission to raise its voice to safeguard human rights "particularly in Karachi".
One letter — apparently penned by Nasreen Jalil of the party's central co-ordination committee — the party stresses the "lawlessness of law enforcement agencies" and requests the high commission to use its good offices "to improve the situation of urban Sindh".
— Letter purportedly from MQM dated June 18 this year
— Letter purportedly from MQM dated June 18 this year
The letter undersigned by the MQM senator is addressed to Indian High Commissioner in Pakistan Dr. T.C.A Raghavan.
It reads, "The targeted operation in Karachi was initiated to bring law and order in the city but since then, 40 MQM workers have been killed in custody, 90 party workers are missing while hundreds are killed in target killings.
It also added that that no compensation has been paid to the families of victims belonging to MQM who were killed "extra-judicially" or to those who are missing.
The document dated June 18, 2015 tells the HC that the provincial government did not form a monitoring committee to oversee the operation and to check whether the activities of law enforcement agencies are judicious.
The letter also laments the unchecked 'high handedness' of law enforcement agencies during the operation along with other issues in urban Sindh which, according to the letter, is giving rise to a feeling of alienation among the people of Karachi.
Another letter dated July 30 on a letterhead of the party's international secretariat bears the subject 'Unathorised arrest of MQM innocent workers'. It reads: "We have the honour to bring to your kind notice that inn workers and sympathisers of MQM have been arrested while they were going from Karachi to Hyderabad to attend a marriage ceremony on 29th July 2015"
Second letter dated July 30 appears to be from the party's international secretariat
Second letter dated July 30 appears to be from the party's international secretariat
"We request your honour to kindly look into this matter and raise your voice for the safeguard and protection of human values/rights particularly in Karachi."
The letter is addressed to Indian HC Raghavan. and undersigned by Arif Khan Advocate, ex MNA and member of central co-ordination committee-MQM; Adbul Qadir Khanzada ex-MNA and member of central co-ordination committee-MQM and Shabbir Qaim Khani ex-MPA and Sindh and Member of central co-ordination committee-MQM.
Letter to Indian HC is an error, says Sattar
Full report at:
http://www.dawn.com/news/1198767/mqm-letters-to-indian-hc-sought-help-over-missing-workers
-----------
TTP claims killing of senior Rawalpindi judge
REUTERS | ALI AKBAR
August 6th, 2015
PESHAWAR/RAWALPINDI: The Tehreek-e-Taliban Pakistan (TTP) on Thursday claimed the killing of a lower court judge in Rawalpindi, the insurgent group said in a statement.
"Our special task force has targeted additional session judge Tahir Khan Niazi in Rawalpindi successfully," TTP spokesman Muhammad Khorasani said in an emailed statement. He did not say why Niazi was targeted.
Abdul Hafiz, a clerk at the sessions court in the city next to Islamabad, confirmed Wednesday's killing.
"Some people came to his home and fired on him," he said.
Read more: Senior judge shot dead at his home
According to the police, Mr Niazi's wife heard the door bell at around 1.30 pm and found a stranger at the door who forced his way inside the house and took the mobile phone. Mr Niazi rushed to his wife's rescue and attempted to overpower the intruder when another man entered the house and shot him, injuring him critically.
The two men fled the scene with a third, waiting outside the house on a motorcycle. They also took Mrs Niazi's mobile phone.
According to the police, the gunman used a 30-bore pistol and fired two shots, one of which hit the judge.
Full report at:
http://www.dawn.com/news/1198756/ttp-claims-killing-of-senior-rawalpindi-judge
-----------
Voices of Pakistani Christians: Call for equal citizenship for non-Muslim Pakistanis
By Hammaad Khan
August 6, 201
ISLAMABAD: An international human development expert has called for a change in the Constitution so as to give the country's non-Muslims their due citizenship rights.
Binghamton University (New York) Associate Professor Dr Lubna Chaudhry stressed the need for ensuring equal citizenship rights to all non-Muslim Pakistanis at a talk titled "Voices of Pakistani Christians: A preliminary analysis of perspectives on violence, belonging and citizenship" at the Sustainable Development and Policy Institute on Tuesday.
Read: Non-Muslim seats to remain vacant in two neighbourhood councils
The associate professor, while talking to The Express Tribune, said the Constitution needed to be changed, the electoral process reformed and the way government jobs were given overhauled, to realise equal citizenship rights for all non-Muslim Pakistanis. Chaudhry's talk focused on the perspectives she gathered of Pakistani Christians living in Islamabad and Rawalpindi about violence, identity, and citizenship.
Sharing her research findings, she said Pakistani Christians belonging to the upper and middle class saw structural discrimination against the community at large but they did not feel it at the more personal level.
On the other hand, Chaudhry said Pakistani Christians belonging to the lower and lower-middle class experienced discrimination in all walks of life, ranging from education to jobs to everyday interaction with Muslim Pakistanis.
She said that they believed that change needed to happen at both the macro-policy level as well as at the grassroots level. Chaudhry said they wanted to see the government and the Christian and Muslim religious leaders taking more responsibility.
SDPI Executive Director Dr Abid Qaiyum Suleri told The Express Tribune that Quaid-i-Azam's vision in favour of equal citizenship rights was clear as stated in his August 11, 1947 speech to the constituent assembly. He said that non-Muslims should be brought into the mainstream as this would help repair the eroding societal fabric.
Dr Suleri further suggested that all citizens of Pakistan should enjoy equal rights such as the right to hold public office, including that of the head of state.
He added that it might sound symbolic but it was still important for those at the fringe of the society.
Full report at:
http://tribune.com.pk/story/933032/voices-of-pakistani-christians-call-for-equal-citizenship-for-non-muslim-pakistanis/
-----------
APS attack victims' families hail SC for military courts' verdict
August 6th, 2015
PESHAWAR: Parents of the martyred students of Army Public School (APS), Peshawar, have hailed the Supreme Court verdict of dismissing constitutional petitions against setting up of the military courts, saying that the historic decision is the outcome of the sacrifices rendered by their innocent children who were killed by terrorists in a cowardly attack, according to local media sources.
However, the parents added in the same breath that their children would not have been killed if the government had taken timely action against terrorists. They demanded of the government and Pakistan Army to share with parents and people of the country the details of crimes committed by those being tried in the military courts and the nature of punishment awarded to them, sources revealed.
Full report at:
http://www.pakistantoday.com.pk/2015/08/06/national/aps-attack-victims-families-hail-sc-for-military-courts-verdict/
-----------
India
Captured terrorist Naved not registered as our citizen: Pakistan
TNN | Aug 6, 2015
NEW DELHI/ISLAMABAD: Pakistan said on Thursday that terrorist Mohammad Naved Yakub alias Usman, who was caught alive in Jammu and Kashmir on Wednesday, was not registered as a Pakistani citizen, Times Now reported.
Pakistan said that India should provide proof of any Pakistani found involved in terrorist activity on the Indian soil, Pakistani newspaper Dawn reported quoting a statement issued by Foreign Office (FO) spokesperson Syed Qazi Khalilullah.
According to Dawn, Qazi Khalilullah said that the Indian claim was baseless and further said, "We have repeatedly asked India to refrain from accusations."
Udhampur attack part of attempts to vitiate J&K atmosphere: Rajnath
The terror strike in Udhampur is a part of "persistent attempts by terrorists" from Pakistan to vitiate the peaceful atmosphere in Jammu and Kashmir, government told the Lok Sabha on Thursday while informing that the two attackers had infiltrated from across the border.
Making a suo motu statement in both Houses of Parliament on Wednesday's attack, Union home minister Rajnath Singh said the interrogation of one of the two terrorists, who was captured alive, is expected to reveal their modus operandi, including the details of their infiltration from across the border and their targets.
"We strongly condemn the attack and the persistent attempts by terrorists from across the border to vitiate the peaceful atmosphere in Jammu and Kashmir," he said.
He said that there were five infiltration attempts in a month, four of which were foiled and eight terrorists were neutralised.
Giving details about Wednesday's incident, Singh said the apprehended terrorist was Mohammad Naved Yakub alias Usman, a resident of Faisalabad in Pakistan, and he had identified his slain accomplice as Mohammad Nomen alias Nomin, a resident of Bahawalpur, Pakistan.
Full report at:
http://timesofindia.indiatimes.com/india/Captured-terrorist-Naved-not-registered-as-our-citizen-Pakistan/articleshow/48374681.cms
-----------
Mumbai: Muslim Groups seek to quell 'anger' in Muslim youth
Swati Goel Sharma, Hindustan Times, Mumbai| Updated: Aug 05,
The huge turnout of young Muslims at Bada Kabrastan, Marine Lines, for the funeral of 1993 serial blasts convict Yakub Memon on July 30 has caused unease among some in the community. A section of Muslims believes the turnout reflects a growing anger, borne out of a sense of discrimination.
Now, three organisations have appealed to the community's leaders and educated elites to come up with ways to deal with what they term a "growing negativity". The All Indian Milli Council, Mumbai Aman Committee and Khair-e-Ummat Trust have all used the Urdu press to ask community leaders to suggest ways for young Muslims to deal with their perceived discrimination.
MA Khalid, general secretary of the All India Milli Council, said, "Several group leaders called an urgent meeting on August 2, alarmed at the anger. After all, without any call, thousands closed their shops and turned up for the funeral."
Haroon Mozawala, general secretary of Khair-e-Ummat Trust and a member of the All India Mumbai Personal Law Board, added, "We have asked scholars, academicians, businessmen and anyone else who has something substantial to say, to mail us with suggestions. The deadline is August 9. We've already received 15 letters after several Urdu dailies carried our appeal this week."
Unwilling to reveal names, Mozawala said prominent advocates and Islamic scholars have written in. "Among their suggestions are community gatherings to motivate young people to get involved in civic services for a better say in the city's administration, and spreading the message of peace," he said.
Full report at:
http://www.hindustantimes.com/mumbai/mumbai-groups-seek-to-quell-anger-in-muslim-youth/article1-1376918.aspx
-----------
National minority panel report highlights problems of Muslims
Mohammad Ghazali, Hindustan Times, Mansa| Updated: Aug 05, 2015
Member of the National Minority Commission, Ajaib Singh, who visited the state last month, has sent a detailed report of the commission's findings on the problems faced by minorities to the chief minister. Singh had met the officials of Bathinda, Mansa and Ludhiana districts on his 3-day analysis tour in Punjab.
The report primarily highlights the problem of scanty availability of land for graveyards faced by the minority community. HT has accessed the report which says Christians have only one graveyard in Bathinda district catering to the needs of people from Bathinda, Mansa and Barnala.
Full report at:
http://www.hindustantimes.com/bathinda/national-minority-panel-report-highlights-problems-of-muslims/article1-1376908.aspx
-----------
Cong Muslim workers to run 'Kanwar Sewa' camps on highway
Uday Rana,TNN | Aug 5, 2015
MEERUT: In a confidence-building measure, the Youth Congress will post its Muslim workers at 'Kanwar Sewa' camps on highways in western UP.
The camps will provide services such as food, water and first aid to devotees. Youth Congress national secretary Sitaram Lamba told TOI that the party is trying to "repair the secular fabric" of western UP.
"Right now, only a few small camps have been set up at some locations but we are planning to set up many more camps along the highway. These will provide food, water, rest and first aid to devotees who are undertaking the Kanwar Yatra. The workers who will run these Kanwar Sewa camps will primarily be Muslims," Lamba said.
Lamba said the aim of these camps is to bridge the gap between the two communities that developed after the communal riots of 2013 in Muzaffarnagar. "The secular fabric of the region was ruptured in 2013 and we are trying to repair it. We know that communal forces will try to widen this gap for political gain considering the impending the state assembly elections. We are trying to pre emptively counter any such move. ," he said.
Speaking about the other major issue that the Congress has on agenda for the region, he said that reservation for Jats and communal harmony would be the two linchpins of our campaigns.
Full report at:
http://timesofindia.indiatimes.com/city/meerut/Cong-Muslim-workers-to-run-Kanwar-Sewa-camps-on-highway/articleshow/48365083.cms
-----------
Full text of Union home minister on Udhampur terrorist attack
Aug 6, 2015
The Union home minister Shri Rajnath Singh on Thursday made a statement in both the Houses of Parliament on the terrorist attack at Udhampur in Jammu & Kashmir on August 5, 2015. Following is the full text of his statement:
"On August 5, 2015 at around 0700 hrs., terrorists attacked a BSF convoy on the Jammu - Srinagar Highway near Narsoo Nallah, Tehsil Chenani, Distt. Udhampur, around 18 kms from Udhampur town. Two BSF personnel, namely Constable Rocky No. 120628139 of 59th Bn. BSF, r/o District Yamuna Nagar, Haryana; and Constable Subhendu Roy, No. 994001199 of 2nd Bn. BSF, r/o District Jalpaiguri, West Bengal, died in the attack and 14 BSF personnel were injured. One of the two militants involved in the attack was killed, while one was subsequently apprehended by the local people and the police.
The apprehended terrorist was brought to Jammu, where he is being questioned by the concerned authorities. Preliminary interrogation of the captured terrorist reveals his identity as Md. Naveed Yakub @ Usman, r/o Faisalabad (Pakistan). He also revealed the identity of his slain accomplice as Md. Nomen @ Nomin (code name) r/o Bhawalpur, Pakistan. In this connection, a Case in FIR No. 60/2015 U/S120/120-B/307/302/RPC, 7/25 Arms Act, 15/16 Unlawful Activities Prevention Act has been registered at Police Station Chenani and further investigation of the case is in progress. Two AK-47 rifles along with some magazines, grenade and ammunition etc. have been recovered from the terrorists.
We strongly condemn the attack and the persistent attempts by terrorists from across the border to vitiate the peaceful atmosphere in Jammu & Kashmir. On behalf of this august House, I take this opportunity to extend our heartfelt condolences to the families of the martyred BSF personnel and our sympathies to those injured in this mindless act of violence. The Security Forces, including the BSF, J&K Police, and the CRPF have shown exemplary courage in thwarting the attack with minimum casualties. Besides the ex-gratia compensation and jobs to be provided to the families of the martyred BSF personnel we will also consider them and others who displayed courage and bravery in the incident for immediate award of the Gallantry Medal.
Full report at:
http://timesofindia.indiatimes.com/india/Full-text-of-Rajnath-Singh-on-Udhampur-terrorist-attack/articleshow/48373459.cms
-----------
Islamabad tests Modi govt's terror threshold
Rajeev Deshpande,TNN | Aug 6, 201
NEW DELHI: The fresh infiltration of Jihadis days after the Gurdaspur attack underlines Pakistan's determination to keep probing the Modi government's threshold for terrorism and test its capacity to devise effective responses to cross-border terror.
Terror crossings in J&K are usually well coordinated by Pakistan's military and ISI. While the immediate provocation may range from wanting to scuttle the NSA talks to keeping Jihadi clients like LeT happy or both, Pakistan's role as a launch pad is in disputable.
Reports of Pakistan's politically powerful army being at odds with PM Nawaz Sharif over pushing ties with India — evidenced by the Ufa statement's terror focus — are hard to decipher given how goals can diverge and intertwine in a deep state where secret agencies act with little accountability. Despite rocky ties, Sharif has been in touch with Narendra Modi. While he may see the benefits of peace, he'd know that his instinct to curtail the army's influence is risky. He won't be unaware that his base, Punjab, is a major catchment for the anti-India Lashkar and Jaish.
The Pakistani army has a battle on its hands with the Taliban which sees it as a "heretical" force antithetical to the Taliban's view of a religious state. Though indoctrinated on religious lines, the army may need to burnish its credentials supporting anti-India terror, having taken on the Taliban.
This leaves little choice for India but to develop options. For, underlying the Pakistani army's shifting tactical considerations is the goal of curbing India's rise as a regional powerhouse, an aim that's well beyond claiming Kashmir as the unstates is essential for boosting the finished business of Partition.
Full report at:
http://timesofindia.indiatimes.com/india/Islamabad-tests-Modi-govts-terror-threshold/articleshow/48368274.cms
-----------
India to grant citizenship to 'persecuted migrants' in Pakistan
August 6th, 2015
NEW DELHI: India plans to amend the Citizenship Act, 1955, to grant citizenship to undocumented migrants who fled religious persecution in Pakistan and Bangladesh, The Hindu said on Wednesday, according to local media sources.
It said the migrants include not just Hindus but also Buddhists, Christians, Zoroastrians, Sikhs and Jains. There was no mention of Ahmedis in the published list or of Muslim sects facing the wrath of religious bigotry in the concerned countries, sources added.
The Hindu said top home ministry sources confirmed that a bill is in the works to amend the act and make changes to some provisions, reportedly.
"This is an idea floated right after the Modi government came to power, but it was found that many people who fled into India fearing religious persecution do not have valid documents, or have their visas expired, sources claimed.
Full report at:
http://www.pakistantoday.com.pk/2015/08/06/national/india-to-grant-citizenship-to-migrants-persecuted-in-pakistan/
-----------
Beef trader associations in Kerala to shut stalls in protest
Aug 6, 2015
In a bid to intensify its agitation against attacks on trucks transporting slaughter animals, the Kerala Cattle Merchants Association decided to keep all beef stalls in Kerala shut beginning Thursday. The sector employs around 5 lakh traders. For the past two weeks, the association has led a protest against the against the attacks on cattle-laden trucks in Tamil Nadu.
Already, beef has almost disappeared from Kerala's menu following the agitation that seeks "protection for safe transport of cattle". Due to the ongoing protest, slaughter houses across the state were facing a shortage of animals. Besides, the traders increased the price of beef from Rs 250 to Rs 300 per kg due to the scarcity. Hotels, too, were refusing to supply beef due to the shortage of meat supply. Truck loads of slaughter animals were brought to 44 cattle markets across Kerala every week before the protest began. The president of the cattle merchants association, K H Kamaludhin, said the merchants had lost 14 truck-loads of animals after being attacked, with each consignment being worth Rs 5.5 lakh. "Since our plea to ensure protection for safe transport of cattle was not addressed by the Tamil Nadu government, the merchants decided to go on an indefinite strike," Kamaludhin said. He added that the cattle abducted from the merchants were taken to various private farms near Coimbatore, which is the main entry point to Kerala. Despite getting favourable court orders, traders claimed that they failed to get their cattle released from some farms that demanded huge sums from the merchants. The association is slated to meet its counterparts in Tamil Nadu on August 7 to chalk out the future course of action. "We want all markets in Tamil Nadu to shut down to express solidarity with our demand. Unless the government ensures safe transportation of slaughter animals, the agitation will continue,'' the association president said. In Kerala, the annual demand of red meat stands at 2.3 lakh metric tonnes (MT). Since cattle are not reared in Kerala to meet the huge demand for beef, the animals are ferried from other states, sometimes illegally. Kerala agriculture minister K P Mohanan said the state government had taken up the issue with the home and animal husbandry departments in Tamil Nadu. "The Tamil Nadu government agencies have no role in preventing the movement of cattle trucks to Kerala. Certain elements have taken the law into their own hands. We are awaiting a reply from the Tamil Nadu government," the minister said. According to official statistics, Kerala requires 2,500 MT of animals every day to meet the state's beef demand. Around 90 MT of that demand is met by supply from other states.
http://indianexpress.com/article/india/india-others/beef-traders-in-kerala-to-shut-stalls-in-protest/
-----------
Mideast
Saudi warplanes pound civilian targets in NW Yemen
Aug 6, 2015
Saudi warplanes have carried out attacks against civilian targets in the northwestern Yemeni province of Sa'ada.
According to reports on Thursday, Saudi assaults targeted a girls' school and several residential blocks in the town of Zahyan in Sa'ada.
Saudi warplanes also pounded the Baqim and Kitaf regions in Sa'ada, the reports added.
No information has yet been released on the possible casualties of the latest raids.
Riyadh is pushing ahead with its military campaign against the Yemeni people despite the fact that the civilian death toll is increasing on a daily basis as a result of unabated Saudi airstrikes.
Yemeni men stand amid the ruins of buildings destroyed in a Saudi airstrike on the capital city of Sana'a on July 16, 2015. (© AFP)
The attacks came a day after eight people lost their lives and several others were injured following Saudi attacks on Yemen's northwestern province of Hajjah.
In a separate development, Yemen's Ansarullah fighters and popular committees have reportedly killed dozens of al-Qaeda terrorists in the provinces of Lahij and Aden. Two al-Qaeda leaders were among the casualties. The Ansarullah and its allies have been gaining ground against forces loyal to the country's fugitive former president and al-Qaeda militants over the past few months.
Full report at:
http://www.presstv.in/Detail/2015/08/06/423508/Yemen-Saudi-Arabia-Saada-Zahyan-Hajjah
-----------
Settler Raises Israeli Flag on Al-Aqsa
05 August 2015
AL-QUDS – Provoking Muslim sentiments, an Israeli ultraorthodox settler raised an Israeli flag in the centre of the hall entrance of the Dome of the Rock mosque inside Al-Aqsa mosque, Islam's third holiest site in the world.
"Once he reached the Dome of the Rock, he produced an Israeli flag and installed it at a wall of the holy shrine in a move that provoked the Muslim sentiments," Samer Al Rifaei, a guard in Al Aqsa Mosque and an eyewitness, told Gulf News.
"The boldness this colonist showed in the centre of the holy shrine before the eyes of the Palestinians praying there, and the intervention of the Israeli Special Forces, clearly shows that the entire drama was planned and coordinated to make a statement about Israeli undisputed sovereignty over the entire occupied East Jerusalem area including Al Aqsa Mosque," Al Rifaei added.
The settler, of French origin, entered the holy site as a tourist before putting the flag.
The move sparked clashes between the settlers and Al Murabiteen volunteers and Palestinian worshippers before Israeli Special Forces intervened, wounding two of the mosque's guards and arresting another eight guards.
The move is not the first by Israeli settlers who have repeatedly tried to raise the Israeli flag in different parts of the holy shrine.
"Israeli's around the clock, serious, and unstoppable attempts to put Al Aqsa Mosque under Israeli full control will not come to an end. This is a fact which we should confront for sure," Al Rifaei said.
"Had the colonists not been provided with protection by the Israeli police and military forces, they would never have dared to raid the holy shrine."
The Palestinian guard accused the Israeli security forces of supporting the unprecedented escalation in conflicts over Al Aqsa Mosque.
"Calm can easily be restored in the holy shrine by suspending the daily provocative raids of the Israeli colonists who are carefully chosen to be the worst possible and most brutal people, and who were raised in the kibbutz," he said.
Full report at:
http://www.onislam.net/english/news/middle-east/491173-settler-raises-israeli-flag-in-al-aqsa.html
-----------
In Turkish areas facing Daesh, doubt hangs over US strategy
August 05, 2015
KARKAMIS, Turkey — Packets of cigarettes and tea gathering dust in his one-room store, Mustafa Karatas doubts a joint US-Turkish plan to flush Daesh (the so-called IS) militants from the Syrian border will make much difference to his business any time soon.
This main commercial street in Karkamis, a Turkish town of 10,500 people, sits directly opposite the border post. Shut for more than a year, the military sealed the crossing with a breeze block wall a few months ago. Behind it, just inside Syria, the black flag of Daesh flaps in the breeze.
Karkamis lies on the northeastern edge of a rectangle of Syrian territory some 80 km long, controlled by the radicals. The United States and Turkey hope that by sweeping Daesh from this border zone, they can deprive it of a smuggling route which has seen its ranks swollen with foreign fighters and its coffers boosted by illicit trade.
Moderate Syrian rebels, trained by the US army, will fight Daesh on the ground and help coordinate airstrikes by the US coalition, launched from Turkish air bases, under the strategy drawn up by Washington and Ankara.
Diplomats familiar with the plans say cutting off one of Daesh lifelines could be a game-changer in this corner of Syria's complex war.
The core of the rebels, who number less than 60, will be highly equipped and be able to call in close air support when needed, they say. But there are major challenges.
Turkey is distrustful of the Syrian Kurdish YPG militia, which has proved a useful US ally in fighting Daesh. It controls adjacent territory on the eastern side of the Euphrates river, just across from Karkamis and the militant-held town of Jarablus.
Ankara wants it to advance no further and considers the Euphrates a red line not to be crossed. Locals say they hear gunbattles at night, but struggle to tell which of the three sides are firing at each other.
The YPG has already accused Turkish tanks of firing on its positions here in recent days. Ankara denies targeting the Kurds but has said its forces will defend themselves if attacked.
A batch of US-trained rebels deployed to northern Syria meanwhile came under fire on Friday from rival militants, highlighting the threat they face on multiple fronts.
"Of course if they clear Daesh out it'd be great. But I don't think it'll happen any time soon," said Karatas, 33, sat among plastic toys and kitchen appliances, drawing on a cigarette and doubtful of any quick resolution.
Full report at:
http://www.saudigazette.com.sa/index.cfm?method=home.regcon&contentid=20150806252539
-----------
18 Turkish reporters face imprisonment for promoting terror
August 05, 2015
ANKARA — Eighteen Turkish journalists have been charged with spreading terrorist propaganda for publishing a photo of a legal official held at gunpoint by far-left militants in March, local media said, heightening concerns about Turkey's press freedom record.
Prosecutors have asked for jail terms of up to 7-1/2 years each for staff from nine newspapers, accusing them in an indictment of trying to portray a terrorist organization "strong and capable enough for any action," according to the reports.
The picture of militants holding a gun to the head of Istanbul prosecutor Mehmet Selim Kiraz, who was later killed in a shoot-out, spread widely online.
Turkish authorities initially ordered Facebook, Google and other sites to remove it, triggering accusations by academics and rights groups of an authoritarian crackdown.
Can Dündar, editor-in-chief of the daily Cumhuriyet newspaper and one of the journalists charged, has said he had intended the photo to portray the dark and ugly face of terrorism.
Journalists and editors from dailies Millet, Sok, Posta, Yurt, Bugun, Ozgur Gundem, Aydinlik and Birgun were also named in the indictment, and all had pleaded not guilty, media reported on Wednesday.
Full report at:
http://www.saudigazette.com.sa/index.cfm?method=home.regcon&contentid=20150806252540
-----------
Iran, Turkey must work together to fight ISIS: Rowhani
6 August 2015
Iran and Turkey must work with one another to root out the threat of extremism in the region, President Hassan Rowhani told his Turkish counterpart, the official IRNA news agency reported.
The two countries "should achieve a joint plan and a practical solution, with each other's help, for uprooting terrorism in the region," Rowhani told Recep Tayyip Erdogan in a Wednesday night telephone call.
"A consolidation and expansion of ties between Tehran and Ankara is of paramount importance to us," he said.
Nearly a year after a U.S.-led coalition started air strikes against the Islamic State of Iraq and Syria (ISIS) group, Ankara has launched a two-pronged offensive against the jihadists in Syria and Kurdistan Workers' Party (PKK) militants based in northern Iraq.
Turkey's strikes began two weeks ago after a series of attacks inside its territory including a devastating suicide bombing blamed on ISIS.
The security situation has since deteriorated, with several attacks blamed on PKK fighters in Turkey, including two on the Tehran-Ankara railway, leading to a suspension of the train route.
Shiite Iran, an ally of President Bashar al-Assad, has urged Turkey to respect Syria's sovereignty in its bombing of ISIS targets.
"Any action that leads to the weakening of national governments can, in effect, encourage terrorist groups to fulfil their criminal actions," Iran's Foreign Ministry spokeswoman Marzieh Afkham said.
Full report at:
http://english.alarabiya.net/en/News/middle-east/2015/08/06/Iran-Turkey-must-work-together-to-fight-ISIS-Rowhani-.html
-----------
Israel jails Jewish extremist without trial
6 August 2015
JERUSALEM: Israel has jailed a Jewish extremist for six months without charges or trial, expanding a crackdown against militant Jews and deploying a contentious measure typically used for Palestinians suspected of planning attacks.
It is the first time the measure, known as administrative detention, has been applied to an Israeli since the crackdown began following a pair of deadly attacks last week.
Defense Minister Moshe Yaalon signed an order that jailed Mordechai Meyer, an extremist from the West Bank settlement of Maaleh Adumim, for six months. A statement from Yaalon's office said Meyer, 18, was being held in connection to "his involvement in violent activities and recent terror attacks." The ministry would not elaborate, but Israel's internal security agency, Shin Bet, said Meyer was among five people arrested in connection with the arson attack against a well-known church in northern Israel in June.
http://www.arabnews.com/middle-east/news/787126
-----------
Deputy FM: Iran to Present Updated Plan on Syria to UN
Aug 05, 2015
"Iran's updated initiative on Syria will be presented to the UN secretary general," Amir Abdollahian said in an interview with al-Mayadeen news channel on Wednesday.
Yet, he dismissed reports on the details of Iran's updated plan as media speculations, and said, "The plan will be declared and presented to the UN secretary general after precise consultations between Tehran and Damascus."
Full report at:
http://english.farsnews.com/newstext.aspx?nn=13940514001358
-----------
Former Iranian Intelligence Minister Warns French of US Plots
Aug 05, 2015
"The US wants to push the Iranian people's hatred for the US towards France through a well-calculated and precise plan," Moslehi said on Wednesday.
Iranians are showing growing discontent with the French state and private sectors' return to the Iranian market after the recent nuclear deal in Vienna.
French Foreign Minister Laurent Fabius sounded extremely harsh, especially in the last week of the talks in the Austrian capital, when his antagonistic moves eventually incited the Iranian president to caution Paris about the repercussions of its stance. Fabius, who is worried about Iran's posture towards French companies in post sanction-era, has directly stated that Iran should not force the French firms to pay the price for France's hard line during the negotiations.
Full report at:
http://english.farsnews.com/newstext.aspx?nn=13940514001209
-----------
Ukraine and Turkey create an international Muslim Brigade
5 AUGUST 2015
Meeting at the Hotel Bilkent in Ankara (Turkey), on the 1st August 2015, under the co-presidency of the Ukrainian Minister for Foreign Affairs, Pavlo Klimkine, and the Turkish deputy Prime Minister, Numan Kurtulmuş, the second World Congress of the Tatars united more than 200 associations.
Mustafa Abdülcemil Cemiloğlu, the historic leader of the anti-Russian Tatars and CIA collaborator during the Reagan presidency, announced, on behalf of the Uukrainian government, the creation of an International Muslim Brigade to oppose « Crimean Russian separatism » (sic). The Brigade will be based at Herson, near the Crimean frontier, and will include volunteers from Tatarstan and Chechnya (Russia), Ouzbekistan, Azerbaidjan, and Meskhetia (Géorgia).
Full report at:
http://www.voltairenet.org/article188381.html
-----------
US set 'to intervene' in Palestinian terror case
6 August 2015
DUBAI — A lawyer for Americans who were awarded hundreds of millions of dollars in a lawsuit over Palestinian terror attacks condemned the US government on Tuesday for moving to intervene in the case.
The government took a step closer to wading into the high-stakes civil case as representatives from the Justice and State departments met with relatives of the victims to discuss a jury verdict that American officials fear could weaken the stability of the Palestinian government.
At issue is $218.5 million in damages awarded by a New York jury in February for attacks that killed 33 people and wounded hundreds more — a penalty lawyers say would be automatically tripled under the US Anti-Terrorism Act.
The case has represented one of the most notable efforts by American victims of the Israel-Palestinian conflict to seek damages in US courts.
US victims and their relatives have filed suit in federal court in New York against the Palestinian Authority (PA) and the Palestine Liberation Organization (PLO).
The six attacks took place between 2001 and 2004, killing 33 people. But the PA and the PLO, which were held liable for the bloodshed, have indicated that they are unable to pay the damages and won't provide money while their appeal is pending.
American officials are concerned that monthly bond payments sought by the victims would put the cash-squeezed Palestinian Authority on shaky financial ground and weaken the group's ability to govern.
Full report at:
http://www.saudigazette.com.sa/index.cfm?method=home.regcon&contentid=20150806252542
------------
South Asia
Daesh 'facebook' recruiter among six detained in Kabul
By KHAAMA PRESS - Thu Aug 06 2015,
The National Directorate of Security (NDS) – Afghanistan's intelligence agency has detained a key recruiter of the militant group of Daesh in Kabul, the agency announced on Thursday.
A statement issued by the NDS states that Abdul Fatah alias Mohammad had the responsibility to recruit fighters and introduce them to the armed groups of Daesh.
The statement adds that Abdul Fatah was arrested with his colleagues, Sayed Mustafa S/O Mohammad Qasim, Noor-ul-Hadi S/O Noorullah, Mohammad Younus S/O Mohammad Murad, Noor-ul-Haq S/O Eidi Mohammad and Ghawsuddin alias Amir Sahib S/O Abdul Baqi.
The statement adds that Noor-ul-Haq and Ghousuddin were previously working for Taliban.
According to the statement Noor-ul-Haq was now working as the finance manager for Daesh in western Herat province.
Full report at:
http://www.khaama.com/daesh-facebook-recruiter-among-six-detained-in-kabul-3713
-----------
Military chopper crash in southern Afghanistan kills 17
Aug 6, 2015
At least 17 people have been killed after a military helicopter crashed in Afghanistan's southern Zabul Province, police sources say.
Zabul's police chief Mirwais Noorzai said the Afghan National Army helicopter crashed into a remote region in the province, on Thursday.
He added that five of those killed were pilots while the remaining 12 were soldiers.
The incident is the worst suffered by the Afghan military since US-led forces formally ended their combat mission in the country last December, handing security control to Afghan forces.
The cause of the crash remains unknown and an investigation is currently underway.
The Taliban militants have been carrying out attacks in the southern province of Zabul in recent months. In May, the militants targeted a government complex and later attacked a number of police posts in July.
Full report at:
http://www.presstv.in/Detail/2015/08/06/423524/Afghanistan-Taliban-Zabul-Mirwais-Noorzai
-----------
Breaking News: Gunmen attack security post in Kandahar city
By KHAAMA PRESS - Thu Aug 06 2015,
A group of unknown gunmen have launched attack at security post located in the 4th police district of Kandahar city.
A fierce gun battle between the two sides is ongoing.
Full report at:
http://www.khaama.com/breaking-news-gunmen-attack-security-post-in-kandahar-city-3714
-----------
Six public welfare projects to be implemented in Khost, Baghlan
By ZABIHULLAH MOOSAKHAIL - Thu Aug 06 2015
Six public welfare projects to be implemented in Khost and Baghlan provinces, officials at the Ministry of Public Work said on Wednesday.
The projects will cost 95 million Afghanis, about $1.5, and is being paid from the treasury of the government.
Mainly bridges, the projects have been awarded to local companies that will also create job opportunities for hundreds of people.
Mahmoud Baligh, Minister of Public Work urged the implementing companies to complete the projects within the given 12 months.
Full report at:
http://www.khaama.com/six-public-welfare-projects-to-be-implemented-in-khost-baghlan
-----------
North America
US Pushes Anti-Extremism Program Despite Backlash - Muslim Rights Group
06.08.2015
The US government continues to promote a program to counter domestic violent extremism despite complaints that it targets Muslim Americans and is a waste of US taxpayer dollars, an Islamic advocacy group said in a press release.
WASHINGTON (Sputnik) — President Barack Obama's administration has neglected to respond to the Islamic community's complaints, Manjlai added, including the fact that the CVE exclusively targets Muslim Americans and is a waste of public resources.
"The government has decided to prioritize CVE [Countering Violent Extremism], a program proven to be ineffective, with no support from the community it is directed towards, and major civil rights implications," Council on American-Islamic Relations (CAIR) Public Affairs Coordinator Haroon Manjlai said on Wednesday.
On July 15, 2015, a US congressional committee approved a proposal to set up a $40-million office devoted to countering extremism within the Department of Homeland Security.
In this October 22, 2014, file photo, thick smoke from an airstrike by the US-led coalition rises in Kobani, Syria, as seen from a hilltop on the outskirts of Suruc, at the Turkey-Syria border.
© AP PHOTO/ LEFTERIS PITARAKIS, FILE
Full report at:
http://sputniknews.com/us/20150806/1025446837.html
-----------
Obama Administration Modifies U.S. Oath of Allegiance to Accommodate Muslims
By Raymond Ibrahim
August 6, 2015
The Obama administration recently made changes to the Oath of Allegiance to the United States in a manner very conducive to Sharia, or Islamic law.
On July 21, the U.S. Citizenship and Immigration Services (USCIS) announced some "modifications" to the Oath of Allegiance that immigrants must take before becoming naturalized.
The original oath required incoming citizens to declare that they will "bear arms on behalf of the United States" and "perform noncombatant service in the Armed Forces of the United States" when required by the law.
Now the USCIS says, "A candidate [to U.S. citizenship] may be eligible to exclude these two clauses based on religious training and belief or a conscientious objection."
The new changes further add that new candidates "May be eligible for [additional?] modifications based on religious training and belief, or conscientious objection arising from a deeply held moral or ethical code."
These changes serve incoming Islamic supremacists especially well. For, while Islamic law allows Muslims to feign loyalty to non-Muslim "infidel" authorities, it bans Muslims from living up to the pretense by actually fighting or killing fellow Muslims on behalf of a non-Muslim entity, such as the United States.
The perfectly fitting story of Nidal Hassan -- the U.S. army major and "observant Muslim who prayed daily" but then turned murderer -- comes to mind and is illustrative.
A pious Muslim, Hasan seemed a "regular American," even if he was leading a double life -- American Army major and psychiatrist by day, financial supporter of jihadi groups and associate of terrorists by night. However, when time came for this American soldier to "bear arms on behalf of the United States" -- to quote the original Oath of Allegiance -- against fellow Muslims, things got ugly: he went on a shooting spree in Fort Hood, killing thirteen Americans, including one pregnant woman in 2009.
Much of Hasan's behavior is grounded in the Islamic doctrine of Loyalty and Enmity. According to this essential teaching, Muslims must always be loyal to Islam and fellow Muslims while having enmity for all non-Islamic things and persons.
However, whenever Muslims find themselves under the authority of non-Islamic institutions and persons, they are permitted to feign loyalty -- even to the point of cursing Islam and pretending to have abandoned it -- with one caveat: Muslims must never take up arms on behalf of "infidels" against fellow Muslims. In other words, their loyalty to non-Muslims must be skin deep.
Many are the verses in the Koran that support this divisive doctrine (3:28, 4:89, 4:144, 9:23, and 58:22; the last simply states that true Muslims do not befriend non-Muslims -- "even if they be their fathers, sons, brothers, or kin").
Most germane is Koran 3:28:
"Let believers not take for friends and allies infidels rather than believers: and whoever does this shall have no relationship left with Allah -- unless you but guard yourselves against them, taking precautions."
The words translated here as "guard" and "precaution" are derived from the Arabic word taqu, from the trilateral root w-q-y -- the same root that gives us the word taqiyya, the Islamic doctrine that permits Muslims to deceive non-Muslims whenever under their authority.
Ibn Kathir (d. 1373), author of one of the most authoritative commentaries on the Koran, explains taqiyya in the context of verse 3:28 as follows: "Whoever at any time or place fears … evil [from non-Muslims] may protect himself through outward show." As proof of this, he quotes Muhammad's close companion Abu Darda, who said, "Let us grin in the face of some people while our hearts curse them."[1]
Muhammad ibn Jarir at-Tabari (d. 923), author of another standard commentary on the Koran, interprets verse 3:28 as follows:
Full report at:
http://www.americanthinker.com/articles/2015/08/_obama_administration_modifies_us_oath_of_allegiance_to_accommodate_muslims.html
-----------
'See Something, Say Something': US Muslims Urged to Spy on One Another
06.08.2015
The "countering violent extremism" (CVE) pilot program states as its objectives 1) to better understand "violent extremism," 2) to support local communities, and 3) to support local law enforcement. But many are concerned that these programs encourage an "improper characterization of American Muslims as a suspect community," linking them, even if indirectly, to overseas terror groups like the self-proclaimed Islamic State, Shadow proof reported.
All promotional materials issued by the Department of Homeland Security for the CVE initiative suggest the program is aimed at increasing the quality of security information in order to be able to react more effectively to potential terror threats.
That includes encouraging communities to report suspicious behaviour. To that end, "functional standards" on how to detect suspicious activity have been issued. They include watching out for individuals "breaching an area with limited access to the public," "eliciting information … at a level beyond mere curiosity," and taking pictures of potential targets.
"There is aggressive recruitment of non-law enforcement individuals to act as a soft arm of law enforcement," Shannon Erwin, co-founder of the Boston-based Muslim Justice League, told Shadowproof.
Moreover, Erwin suggests, DHS' strategy fosters splits within the Muslim public, and plays up prejudices that are already entrenched in society.
"This is already intensifying the false 'good Muslim, bad Muslim' dichotomy and creating divisions within our community."
Erwin's criticisms are supported by other civil rights advocates.
"Clearly, this targets a single community, and creates the appearance that the Muslim community poses a disproportionate threat," said Corey Saylor, the director of the Department to Monitor and Combat Islamophobia for the Council on American Islamic Relations (CAIR).
Full report at:
http://sputniknews.com/us/20150806/1025446004.html
-----------
Muslim groups and civil rights activists seek more transparency in US counterterrorism efforts
August 06, 2015
BOSTON – Muslim groups and civil rights activists across the nation are calling for greater transparency in an Obama administration program aimed at countering homegrown terrorism.
The organizers are speaking out Thursday through coordinated efforts in Boston, Los Angeles and Minneapolis, the three cities where the so-called "Countering Violent Extremism" program is being piloted.
The groups include local chapters of the American Civil Liberties Union and the Council on American-Islamic Relations.
Full report at:
http://www.foxnews.com/us/2015/08/06/muslim-groups-and-civil-rights-activists-seek-more-transparency-in-us/
-----------
Europe
Islamic State recruiters are coming for Russia's best and brightest
06 August 2015
When a female Moscow university student disappeared in May and turned up a week later on the Turkish-Syrian border, with the apparent goal of joining the Islamic State, Russian officials realized they had a new problem.
International coalition forces continue their year-old military strikes against IS, and Russia has assured the world of its commitment to the fight. But it's also grappling with how to handle the threat increasingly close to home.
Estimates vary, but the Foreign Ministry says as many as 2,200 Russian nationals are already fighting alongside IS and other insurgents in Syria and Iraq. Many of them are from Russia's troubled and predominantly Muslim North Caucasus region.
If true, that's one big, alarming figure: It's at least half the number of those who've fled European Union countries for the same purpose, and way more than the 200 Americans who've done so.
IS recruiting efforts aren't just directed at the North Caucasus, an area long plagued by extremist violence, officials say. The group is also taking aim at educated young people, especially women, in other Russian regions.
Those fears grow as Russian media takes greater interest.
The Moscow State University student who made national headlines after her capture was reportedly busted with around a dozen other Russian citizens, several of them young women, making the same journey.
Then, over the next month, came news of at least two other teenage female students from Moscow who had run away from home with alleged plans to join IS.
After her initial disappearance, some media reports focused on how the quiet and studious Varvara Karaulova, who was learning Arabic and studying Islam, could have fallen prey to recruiters.
Full report at:
http://theweek.com/articles/568550/islamic-state-recruiters-are-coming-russias-best-brightest
-----------
Muslim converts 'slash Broadmoor staff in row – leaving them with horrific injuries'
Aug 6, 2015
The men suffered "life-changing" wounds to their faces after they were apparently repeatedly slashed by the inmates at Broadmoor Hospital.
It was reportedly sparked after the Muslim patients were told they could not pray during the day or in dining rooms throughout the facility.
The staff members, aged 63 and 64, were taken to hospital after the incident at Crownthorne, West Berkshire, and are still receiving treatment.
A source said: "'There was blood everywhere. It was horrendous. The poor blokes' faces were a mess.
"They seemed to have life-changing injuries."
The attackers are reportedly "British guys, who converted to Islam fairly recently" and felt they were being "picked on" by staff at the hospital.
Police are investigating the attack – which took place on July 23 and has led to a weapons search in the patients' wards.
Yorkshire Ripper Peter Sutcliffe, who is housed at Broadmoor, allegedly complained that his area "looked like a bomb had gone off" after the search.
The West Berkshire hospital is also home to patients such as Robert Napper - the killer of ex-model Rachel Nickell.
Full report at:
http://www.express.co.uk/news/uk/596417/Broadmoor-Muslim-Converts-Staff-Peter-Sutcliffe-Yorkshire-Ripper-high-security-psychiatric
-----------
Britain's Muslim cleric Anjem Choudhary charged for supporting ISIS
5 August 2015
Prominent Pakistani-origin radical preacher Anjem Choudary and another man was today charged by the Scotland Yard with inviting support for the dreaded Islamic State militants. UK-born Choudary, 48, was charged along with Mohammed Rahman, 32, with inviting support for a proscribed terrorist organisation, namely Islamic State in Iraq and the Levant (ISIL). "It is alleged that Anjem Choudary and Mohammed Rahman invited support for ISIS (also known as ISIL) in individual lectures which were subsequently published online, said Sue Hemming, of the Crown Prosecution Service (CPS).
"Each man is charged with one offence contrary to section 12 of the Terrorism Act 2000," Hemming said. "Criminal proceedings have now commenced and both men have a right to a fair trial. It is extremely important that there should be no reporting, commentary or sharing of information online which could in any way prejudice these proceedings," he added.
Both appeared before Westminster Magistrates' Court today but details of the hearing are yet to be released. Choudary, of Ilford in east London, and Rahman, of Whitechapel in east London, were arrested on September 25 last year on suspicion of being members of ISIL. Proscription means membership of the militant group is a criminal offence, and that the organisation cannot lawfully operate in the UK.
Full report at:
http://www.dnaindia.com/world/report-britain-s-muslim-cleric-anjem-choudhary-charged-for-supporting-islamic-state-isis-2111369
-----------
As ties with the West suffer, Russia embraces its own 'East'
August 6, 2015
by Joshua Kucera
KAZAN, Russia — Rustam Batrov, the 37-year-old, baby-faced deputy mufti of Tatarstan, is warm and engaging as he describes the renaissance of his faith in the republic, one of the traditional centers of Russian Islam. More than 1,500 mosques have been built in Tatarstan since the collapse of communism, Muslim holidays are now state holidays, and the government supports Islamic studies.
But when the conversation turns to the conflict between Russia and the West over Ukraine, and the sanctions that have slowed Russia's economy, Batrov's voice rises. "Yes, we're suffering. But for a Russian it's his soul that's important," he says, brandishing last year's model of the iPhone. "Of course I'd like to buy an iPhone 6, and I don't have the money. But never mind — we're right, we're doing something great, we're not giving up. It's like what we had in the Soviet Union — that we're a world power, that we're saving the world, we're helping developing countries, internationalism."
An enthusiastic embrace of Russian, much less Soviet, power may seem unlikely coming from a Muslim cleric. Historically, Muslims have been at best tolerated, and often persecuted, in Russia, where either Orthodox Christianity or socialist atheism has been the state ideology. And today, President Vladimir Putin's political dominance and Russia's newly assertive foreign policy have been in large part driven by Russian nationalism as Putin has tried to defend the rights of Russia-identifying people in Crimea and eastern Ukraine.
But there is another, countervailing trend that also has been gaining momentum: the government's embrace of its multinational identity, in particular its Muslim heritage. And many of the country's Muslim leaders, in turn, have taken the opportunity to position themselves as allies of the regime by defending traditional values against the decadence of the West.
"Just like after the fall of Byzantium, [when] Moscow saw itself as the Third Rome, defending orthodoxy, under Stalin we were the defenders of the proletariat, [and] today Russia is the defender of traditional values on the world stage," says Batrov.
This "traditional values" agenda has been a key ideological justification for Russia's break with Europe and the U.S. and Moscow's redoubled efforts to strengthen ties with Asia, in particular China. Just as Washington is attempting to execute a "pivot to Asia," Russia has the equivalent strategic catchphrase: the "razvorot na vostok" — the "turn to the East." And while the realpolitik in this strategy is inescapable, Putin and the Kremlin have attempted to explain it in terms of values: the traditional family and community of the East versus the individualism and libertinism of the West.
"We can see how many of the Euro-Atlantic countries are actually rejecting their roots, including the Christian values that constitute the basis of Western civilization," Putin said in a 2013 speech to an international foreign policy conference. "They are implementing policies that equate large families with same-sex partnerships, belief in God with the belief in Satan."
Meanwhile, Batrov is far from the only Russian Muslim cleric to invoke the spiritual dimensions of foreign policy. The two top-ranking Muslim officials in Russia, Talgat Tadzhuddin and Ravil Gainutdin, frequently appear with Putin in public and regularly criticize NATO, Ukraine's new government and Western values. In doing so, they have tapped into the obscure, but increasingly popular, intellectual school of "Eurasianism," which posits that Russia is not European but rather has more in common with an often hazily defined "East."
"Beginning with the Renaissance, Europeans have rejected faith in the Creator, because it was burdensome to them. The pursuit of wealth for personal gain eclipsed everything else, individual desires were placed above common interests, and an anthropocentric type of thinking dominated. These were called universal values, and then these values were spread across the entire world, including by colonialist methods," Gainutdin said in a December speech to an international Islamic forum in Russia. "The West is a hegemon in the contemporary world, but it doesn't want to take responsibility for the fruit of its hegemony."
Many younger, lower-ranking clerics are prolific bloggers and opine on earthly geopolitics as well as more celestial concerns. In September, a new central mosque will open in Moscow, and various leaders from Muslim counties in the Middle East and elsewhere are expected to attend. The event will be " 'zero hour' in the formation of a Eurasian trend in the Muslim world," wrote Damir Mukhetdinov, the second-ranking mufti in the Spiritual Administration of the Muslims of the Russian Federation, one of the country's two main Muslim organizations, on his blog. "The informal Russia-Muslim world summit ... can be the first brick in the foundation of a completely new system of Eurasian security."
It's not clear to what extent this is genuinely believed and how much is political pragmatism. "Gainutdin — first of all, he's an opportunist," says Rafael Khamikov, director of the Institute of History at the Tatarstan Academy of Science and a proponent of what he calls "Euro-Islam," an alternative, Western-oriented vision of Russian Islam. "What the Kremlin tells him ..." Khakimov trails off and laughs. "If he were sitting here with us he'd say something different, and all the more so if he were speaking Tatar instead of Russian."
In light of the limits on speech in Russia, embracing Eurasianism clearly gives Muslim leaders more room to maneuver. "All spiritual leaders express devotion to Putin's path, and they do it in a particularly opportunistic form to flatter the Kremlin — calling Russia and Ukraine 'a common civilization of Slavs and Turks,' " wrote Alexei Malashenko, one of Russia's leading experts on Islam, in a recent op-ed. "One can understand the Muslim leaders — the current external and internal politics of the state don't allow for any other, more flexible approaches."
Indeed, there is a hint of the tactical in Batrov's embrace of Russian traditional values. "Personally, I have nothing against gay marriage," he says. "But people see this as Europe losing its way." And he smiles as he adds, "We have you Americans to thank for bringing us all together like this."
Tactical or not, as Russia becomes more estranged from Europe, the Kremlin is reciprocating its Muslim leaders' support. The number of Muslims in Russia is difficult to determine, but Putin tends to use the figure of 20 million, which would make Muslims about 15 percent of the population. (Independent estimates suggest the number may be closer to 15 million.) They are split roughly equally between the Volga region (which includes Tatarstan) and the North Caucasus, and those two groups historically have little connection other than both being subsumed by Russian imperial expansion.
Traditionally the Volga Tatars have been enthusiastic allies of the Russian empire, while the Caucasus has resisted Russian assimilation. That pattern largely persists; the leaders of the two most prominent national Muslim groups are Tatars, and Kazan, Tatarstan's capital, has become a sort of showcase for Russian efforts to woo the Muslim world. One of Russia's most prosperous cities, it is a magnet for domestic tourism. Russians come to photograph themselves in fanciful oriental costumes and tour the Kul Sharif mosque, destroyed in 1552 when Russia conquered the city and reconstructed in 2005 to celebrate the 1,000th anniversary of the city's founding.
In June, Tatarstan hosted an economic summit of the leading Muslim international group, the Organization of the Islamic Cooperation. Also this year, the Kremlin formed a new Russia-Islamic World Strategic Vision Group, aimed at boosting ties between Russia and Muslim countries, and named the president of Tatarstan, Rustam Minnikhanov, its chair.
Most controversially, the Volga Tatar religious and political authorities have served as envoys to the Crimean Tatars during Russia's annexation of the formerly Ukrainian territory, traveling to Crimea to meet with Tatar leaders there. The Crimean Tatar leadership was among the most outspoken in its opposition to joining Russia, believing its rights would be better protected within Ukraine than in Russia. Volga Tatar leaders say they acknowledged the Crimeans' objections, but tried to convince them that they would prosper in Russia.
"Of course there was some concern here for the Crimean Tatars," says the Russian Islamic University's rector, Rafik Mukhametshin, who was among the Volga Tatar envoys. "We tried to show that in Russia you can adapt … but from the beginning the Crimean Tatars were against joining Russia. How much that's changed, I don't know."
In any case, the issue is not the subject of much public discussion in Tatarstan, says Azat Akhunov, a scholar at the Kazan Federal University's Institute for International Relations, History and Oriental Studies. "To speak against the unification almost means you're an enemy of Russia. It's basically impossible to say that out loud," he says. "There are people like that, but they stay quiet."
Full report at:
http://america.aljazeera.com/articles/2015/8/6/as-ties-with-the-west-suffer-russia-embraces-its-own-east.html
-----------
North Texas, UK Residents: No Muslim Cemetery Here
First Publish: 8/6/2015
Residents of both northern Texas and a suburb of Lancashire, UK are actively petitioning against the establishment of Muslim cemeteries in their towns. Residents of Farmersville, Texas, have been quoted as saying that they did not want the cemetery there because of the fear that it might attract "terrorist elements," others said that they were opposed because it was not right for the specific parcel of land that has been allocated for the cemetery.
The Farmersville cemetery is to be a private one, to be run by the Islamic Association of Collin County (IACC). The parcel is actually outside Farmersville's city limits, so the city council cannot prevent its establishment – but it can regulate the zoning of the land's use, as it is located adjacent to the city limits, according to local zoning laws.
Local media have quoted residents as saying they are "uncomfortable" with the presence of Muslims. Speaking to KDFW-TV, a Dallas station, the AP quoted Pastor David Meeks of Bethlehem Baptist Church as saying that local residents "have a real anxiousness about Islamic people, Muslim people coming to Farmersville. I don't think they'll tell the truth about this issue. I think eventually, there will be a mosque.
Full report at:
http://www.israelnationalnews.com/News/News.aspx/199103#.VcM1aPOqqko
-----------
Southeast Asia
E-cigarettes Haram for Muslims: Malaysian Mufti
August 06, 2015
Kuala Lumpur: The usage of e-cigarettes, or vape devices, has been ruled as Haram (forbidden) to Muslims, according to Federal Territories Mufti Datuk Dr. Zulkifli Mohamad al-Bakri.
In a Facebook posting, the decision was made recently. "Irsyad"; is a religious guidance issued by the Office of the Mufti.
This "Irsyad" aims to address various issues related to Islamic practices and perspectives on current developments.
"Among the most popular reasons (for its usage) was that it served as a substitute for real cigarettes.
"The reasoning for this makes it appear as though it was 'Halal', which led to the widespread use of electronic cigarettes," he said.
Zulkifli also listed that vaping being similar to cigarette smoking was among reasons for the edict.
Full report at:
http://www.dailyexpress.com.my/news.cfm?NewsID=102113
-----------
Moderates rule Muhammadiyah board
August 06 2015
The muktamar (national congress)of Muhammadiyah, the country's second largest Muslim organization, chose 13 new members for its leadership board for the 2015-2020 term on Wednesday night, with only two of the newly elected officials considered representatives from the conservative wing of the organization.
Participants of the congress selected 11 individuals deemed to be moderates in the organization to serve as members on the board of leadership. The leaders are Haedar Nashir, Dahlan Rais, Abdul Mu'ti, Busyro Muqoddas, Anwar Abbas, Muhadjir Effendy, Syafiq A. Mughni, Dadang Kahmad, Agung Danarto, Suyatno and Hajriyanto Y. Thohari.
Meanwhile, the two selected leaders considered conservatives were Yunahar Ilyas and Goodwill Zubir.
Mu'ti, who currently serves as Muhammadiyah's secretary, was credited for defending beleaguered minority groups like the Ahmadiyah and Shiite sects despite many conservative clerics in the country declaring the sects to be deviant forms of Islam.
The views of Yunahar and Goodwill have often clashed with those of Mu'ti.
"In Muhammadiyah, we can see two sides: those who are deemed conservatives, like Pak Yunahar and Pak Goodwil, and progressives like Pak Mu'ti, who have staked out a bold stance on a number of issues like the persecution of Ahmadis and Shiite followers," Muhammadiyah expert Ahmad Najib Burhani told The Jakarta Post on Wednesday night.
The 13 new leaders are expected to hold a meeting among themselves to determine who will replace retiring Muhammadiyah chairman Din Syamsuddin for the 2015-2020 term.
If they fail to reach a consensus, then they are expected to take a vote.
Najib, who is a social researcher at the Indonesian Institute of Sciences (LIPI), said that the public at large should not be concerned by the presence of conservatives on the board of leadership because Muhammadiyah applied a collectivist, collegial philosophy in its decision-making process.
He said that whatever the religious views of the soon-to-be-elected chairman, they would not influence the organization's stance on strategic issues including its stance on minority groups in the country.
The 13 elected leaders were selected by some 2,600 congress participants who cast their ballots on Wednesday afternoon.
Each of the participants submitted a list of 13 of their preferred candidates to the congress committee.
As of 10 p.m. Wednesday, Haedar had received the largest number of votes with 1,903 out of a possible 2,600 votes, followed by Yunahar with 1,884 votes, Dahlan with 1,780 votes, Busyro with 1,771 votes, Mu'ti 1,770 votes, Anwar 1,406 votes, Muhadjir 1,255 votes, Syafiq with 1,180 votes, Dadang with 1,126 votes, Suyatno with 1,074 votes, Agung with 1,030 votes, Goodwill with 1,025 votes and Hajriyanto with 950 votes.
There is no guarantee that the leader who tops Wednesday's polling will become the chairman because the decision regarding the organization's chairmanship will be made during a deliberation conducted by the 13 leaders scheduled for Thursday.
In addition to the leadership vote, the muktamar participants also met on Wednesday night to decide what strategic programs the Muslim organization would focus on for the next five years.
Full report at:
http://www.thejakartapost.com/news/2015/08/06/moderates-rule-muhammadiyah-board.html
-----------
US Congress confirms new ambassador to Maldives
Aug 06, 2015
The US Senate on Wednesday confirmed a top State Department official as the country's new ambassador to the Maldives and Sri Lanka.
President Barrack Obama nominated Indian-American Atul Keshap to the post in March, after then ambassador Michele J. Sison was appointed the US representative to the UN Security Council in July 2014.
Chargé d'Affaires Andrew Mann had been heading the US embassy in Colombo for the past year.
Keshap, 44, a former official at the US embassy in India, is currently working as the Deputy Assistant Secretary of State in South and Central Asian Affairs Bureau of State Department. He joined the Foreign Service in 1994.
Keshap also served as special assistant for the Middle East, North Africa, and South Asia for the under Secretary of state for political affairs.
In 2003, he moved to the White House as director for North African and Middle Eastern regional affairs on the staff of the National Security Council. He was also the director for UN Human Rights in the Bureau of International Organisation Affairs from 2008 to 2010.
The Maldives and US established diplomatic in 1966 – about a year after Maldives received independence.
Full report at:
http://www.haveeru.com.mv/news/61412
------------
Africa
Boko Haram abducts 135, kills 8 in Cameroon raid
06 August 2015
Yaoundé (AFP) - Boko Haram militants kidnapped 135 people and killed at least eight others in a raid in northern Cameroon, as the Islamists continued to strike beyond their strongholds in neighbouring Nigeria, police and local sources said Wednesday.
The insurgents also shot dead nine fishermen in a village near the shores of Lake Chad in northeastern Nigeria, amid heightened violence region-wide since Nigerian President Muhammadu Buhari's was sworn in in May.
More than 800 people have been killed in just two months in a surge of Boko Haram attacks, which began after Buhari took office on a pledge to defeat the militants.
Cameroon, which is part of a regional force fighting the militants, has been the target of some of the deadly assaults.
The latest raid took place before dawn on Tuesday in the village of Chakamari in a region of Cameroon known as the Extreme North.
It came as Guinea offered help in the regional fight against Boko Haram, whose bloody insurgency in Nigeria has increasingly spread to neighbouring states.
"Men from Boko Haram attacked our neighbours in the village of Chakamari overnight Monday-Tuesday. They killed eight people, two women and six men," a member of a vigilante group in a neighbouring village told AFP on Wednesday.
The vigilante, who spoke on condition of anonymity, said the attackers torched many homes before making off with the hostages.
He said a total of 135 people had been abducted.
A police source confirmed the death toll and the number of those kidnapped.
Cameroon has been hit in the areas of Fotokol and Maroua by five suicide bombings in recent weeks, some of them carried out by women and girls.
Boko Haram's bloody insurgency has left more than 15,000 people dead since 2009.
The fishermen killed near Lake Chad were headed for the fishing town of Baga on Tuesday when the militants stopped their van, dragged them out and shot them.
"They dashed into the road when they heard us approaching. Our driver managed to turn back and headed to Monguno," Grema Ari, who was in a second vehicle and survived, told AFP on Wednesday.
- Nigerians deported -
Full report at:
http://news.yahoo.com/suspected-islamists-kill-six-abduct-50-cameroon-soldier-130151831.html
-----------
Minimah: Boko Haram, a Tool to Advance Political, Religious and Sectional Interests
06 Aug 2015
The immediate past Chief of Army Staff (COAS), Lt-Gen. Kenneth Minimah (rtd), has stated that the fight against Boko Haram lingered for such a long time because it was used as an effective tool to advance political, religious, and sectional interests in the country.
Minimah however said with the strict disciplinary measures he instilled through various court-martial, he was able to turn the table against the terrorists that they could no longer mount an open warfare against the Nigerian military.
The former COAS made these remarks yesterday during his valedictory speech on the occasion of his pulling out ceremony at Mogadishu Cantonment Parade Ground in Abuja.
According to him, the country could have defeated Boko Haram if there was united voice in the counter-terrorism and counter-insurgency operations against the terrorists in the North-east.
He said: "Boko Haram may have its greatest impact in Nigeria but its ability to hurt other nations' interests no matter the distance is real. In the last decade, we have seen the extent to which people who harbour evil against their fellow humans can go to inflict pain and death on innocent people.
"This is the time for all to rise in unison to not only condemn but take actions against the activities of the Boko Haram terrorists and other criminal elements in order to foster peace and security in our society.
"Perhaps, if we had all stood against the terrorists at the onset through public condemnation of their activities and active collaboration with the military to confront them rather than use it as a tool to advance sectional, tribal, religious and political interests, we would not have been where we found ourselves today. We must therefore all unite and support our government and security forces to tackle the current security challenges," he added.
Minimah said he encountered enormous challenges on assumption of office but he was able to turn things around and prioritise efforts towards enhancing their collective operational readiness through the three pillars of improved training, modernisation of equipment and enhancing of troops' welfare.
Full report at:
http://www.thisdaylive.com/articles/minimah-boko-haram-a-tool-to-advance-political-religious-and-sectional-interests/216704/
-----------
Al-Shabaab Earns Praises from Al-Qaeda-Linked Uighurs for Chinese Embassy Bombing
5 Aug 2015
The Turkistan Islamic Party (TIP), an al-Qaeda-linked group largely made up ethnic Uighurs, commended the al-Qaeda affiliate in Somalia for detonating a suicide car bomb that damaged the Chinese embassy in Somalia's capital Mogadishu.
At least 15 people were reportedly killed in the July 26 attack on the Jazeera hotel, including a Chinese embassy staff member. Many others were wounded.
"One embassy staff member in charge of security and guard duties" died of injuries sustained in the assault, and three other embassy staff employees were injured, confirmed China's Foreign Ministry spokesman Lu Kang on Monday, China Daily USA, reported.
Liu Guijin, former special representative of the Chinese government on African affairs, reportedly noted that the attack "was not specifically targeting China," and the Chinese embassy would continue operating its daily missions.
The assault was carried out in response to the Somali government and the UN-backed African Union Mission (AMISOM) cracking down on al-Shabaab's malign activity in the region, a spokesman for al-Shabaab told Reuters.
Full report at:
http://www.breitbart.com/national-security/2015/08/05/al-shabaab-earns-praises-from-al-qaeda-linked-uighurs-for-chinese-embassy-bombing/
-----------
Kenya leaders laud Obama for speaking on Muslim rights
05 August 2015
Muslim leaders in Kenya praised U.S. President Barack Obama for speaking on Muslim rights in the East African country during his three-day visit last month.
Obama was in Kenya to officially open the Global Entrepreneurship Summit. He also met with government officials to strengthen bilateral ties between Kenya and the United States.
"We commend President Barack Obama's call on the government to end the profiling of Muslims and engage with the community as part of effective mechanisms to address the challenges of terrorism," said Abdullatif Shaaban, director general of the Supreme Council of Kenya Muslims. "This is the same strategy that Muslims leaders have consistently advocated to the government to adopt instead of a policy of victimization."
Shaaban said that during his visit, Obama pledged more assistance to the government to fight the growing threat of terrorism in East Africa without abusing human rights, especially those of the Kenyan Muslim community.
"While assistance is important, we wish to state that it should be tied to the government's willingness to embrace human rights principles in the fight against terrorism," he said.
Muslim leaders have asked the government to investigate the disappearance and extrajudicial killings of Muslim youth and women suspected to be involved in militant activities.
"Some of these extrajudicial incidents happened a few days prior to the visit of President Obama," said Al-Amin Kimathi, executive director of the Muslim Human Rights Forum. "While we support the government's measures to weed out terrorism, we are concerned that the measures being taken are selective and often deliberately target members of the Muslim community."
Full report at:
http://www.worldbulletin.net/world/162853/kenya-leaders-laud-obama-for-speaking-on-muslim-rights
-----------
Boko Haram: Danjuma Committee Releases N140m To 7 North-East Hospitals
Kareem Haruna
— Aug 6, 2015
Seven major hospitals in NorthEast Nigeria were yesterday issued cheques worth N140 million by the Gen Theophilus Danjuma-led Victims Support Fund (VSF) Committee to enable them carry on with the medical treatment of all injured victims of Boko Haram terrorism.
Each of the issued cheques worth N20 million were handed to heads of various hospitals after a memorandum of understanding was signed between the officials of the VSF and the benefitting health facilities.
In Borno State, two hospitals, the University of Maiduguri Teaching Hospital (UMTH) and the State Specialists Hospital were selected for the grant, while other hospitals in Yobe, Adamawa and Gombe states were also said to have benefitted.
Presenting the cheques to the benefitting health facilities at different grant award ceremonies, a top official of the VSF, Prof Sunday Ochoche, who represented the chairman of the committee, General Danjuma, said the idea behind the support and the signed memoranda of understanding was to assist the hospitals to continue caring for the victims.
He said their action was in line with the mandates given to them by Nigerians as well as to encourage the hospitals in the good works they have been doing, with the believe that whatever little financial support they are given would add to the hospitals' capacity and ability to cater for the victims of the violent armed conflict.
Professor Ochoche said the signed MOU would open a working relationship with the hospitals management in such a manner that the target victims of the insurgency will continue to have the right medical treatment without recourse to the problems of lack of resources by the hospitals.
Full report at:
http://leadership.ng/news/452057/boko-haram-danjuma-committee-releases-n140m-to-7-north-east-hospitals
-----------
Somalia: Mortar Rounds Rain Down On Al-Shabaab Bases
5 AUGUST 2015
By Shabelle English
Kenyan forces, serving under African Union Mission for Somalia (AMISOM) have on Tuesday night fired several mortar rounds on Al Shabab controlled bases in Gedo region.
The mortar fire rained down on Biyo-Guuleed area, just 30Km from Bardhere town where Al Shabab militants were driven out by Somalia army, along with African Union forces.
The casualties resulted from the incident are yet to be established by local authorities for Somalia government.
Full report at:
http://allafrica.com/stories/201508051498.html
-----------
URL: https://www.newageislam.com/islamic-world-news/new-age-islam-news-bureau/deadly-suicide-attack-at-mosque-in-saudi-arabia-s-aseer/d/104191