New Age Islam News Bureau
15 Nov 2014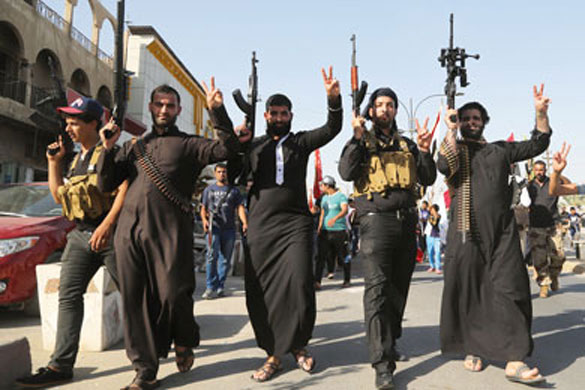 Photo: Islamic State commanders liable for mass war crimes
-----------
Mideast
• Deadly Houthi Clashes between Rebels and Tribesmen Leave 86 People Killed
• Turkey's Top Cleric to Discuss Islamophobia with Pope Francis
• Israel bars Colombia FM entry to Ramallah
• 2,000 Syrian rebels to be trained in Turkey
• US funds used to compensate drone victims -Yemen
• Senior Cleric Describes Iran's Indigenized RQ-170 as Major Blow to US
• Palestinian govt asks Arab states for 'financial cover'
Arab World
• Iraqi Air Strikes Kill 51 ISIL Terrorists in Salahuddin Province
• Officials: Baghdad car bombs kill at least 17
• Islamic State leader urges attacks in Saudi Arabia
• Foreign Extremists Blamed For Inspiring Saudis to Join IS
• Jabhat al-Nusra eyes Idlib for Islamic emirate
• More Australians slip away to join Islamic State's fight in Middle East
• ISIL faces war of attrition in Syria's Kobane
• Syrian Islamic rebel leader brands Kobane's Kurdish defenders as enemies
• War against ISIS seen unifying Kurds in the diaspora
• First Kurds arrested for smuggling ISIS oil
• Assad under Scrutiny by Lebanese Tribunal
• Syrian opposition: UN plan will strengthen Assad regime
• Deviant IS Tactics Fail to Sway KSA Students
• 'No alternative to traditional Islamic education'
Pakistan
• Pak Militants Behead Man in Full Public View in North-Western Tribal Region
• Six militants killed, eight held in Bolan
• Five militants killed in clash on Pak-Afghan border, Chitral
• Pakistan plays ISIS card as army chief Raheel Sharif visits US
• Taliban plans suicide attack on Musharraf: report
• Imran chases Nawaz in newly released 'Go Nawaz Go'
• Man held over blasphemy allegation
• Govt to counter militant propaganda through radio in Fata
• Target killings rise in Rawalpindi as sectarian hatred is fanned
• Qadri tells Imran to think profoundly before trusting rulers
Africa
• Six dead in 'Boko Haram' suicide attack at Nigeria filling station
• Boko Haram seizes Chibok, hometown of kidnapped schoolgirls
• This is how a Libyan city joined the Islamic State
North America
• U.S. Sees No Tie Up Between Al-Qaeda and ISIS in Syria
• Muslim Community Denounces Fox News Bigotry against Islam
• ISIL most acute challenge in Iraq and Syria: US envoy
• Top U.S. general in surprise visit to Iraq amid ISIS airstrike campaign
• Hagel reassures troops of US commitment to nuclear arms mission
• Suspected Paris synagogue bomber can be extradited from Canada
• No Islamophobia in Latin America, says Turkey's religious head
Europe
• He 'Wanted to Be Important': How One Westerner Spiralled Toward Jihad
• Islamic State commanders liable for mass war crimes: UN
• British Army 'abandoned' Afghan war interpreters to resurgent Taliban
• New anti-terror bill soon, Cameron tells Australian Parliament
• Anti-Muslim crimes up in UK after rise of ISIL
• Gaza war caused explosion of online hate speech in Europe, report finds
South Asia
• Joy: No Dialogue As Long As Jamaat-e-Islami Is Involved In Process
• Taliban militants suffer heavy casualties in clearing operations
• NATO soldier killed militants attack in northern Afghanistan
• Ghani dubs Pakistan 'important pillar' of Afghanistan foreign policy
Southeast Asia
• Courts' Courage Laudable In Asserting Constitution's Power versus Sharia Law in Malaysia
• Indonesian Ulema council wants to keep religion column
• Nothing difficult about returning Bibles, except saying sorry
India
• Adopt Common Strategy to Counter Global Terror: Modi
• 'Love Jihad' Not Worth Talking About: National Commission for Women
• Chinese train Pakistani soldiers along border with India
Compiled by New Age Islam News Bureau
URL: https://www.newageislam.com/islamic-world-news/new-age-islam-news-bureau/deadly-houthi-clashes-between-rebels-and-tribesmen-leave-86-people-killed/d/100030
------------
Mideast
Deadly Houthi Clashes between Rebels and Tribesmen Leave 86 People Killed
Nov 15, 2014
At least 86 people have been killed in clashes between Houthi rebels and local tribesmen in war-entrenched Yemen, Al Arabiya's correspondent reported.
Clashes broke out earlier in the day after at least 25 Houthi rebels were killed in an ambush by tribesmen near the town of Radaa, which is 100 miles south east of the capital Sanaa.
The tribesmen in Radaa, a mostly-Sunni district, reportedly destroyed two tanks and three armoured vehicles used by the Houthi rebels.
Friday's clashes followed an attack by Houthi militias earlier on Thursday which killed at least 15 members of local tribes, including five women, in the same town, during heavy artillery shelling, according Agence France Presse.
Yemen has plunged into war since former mass protests led to the resignation of former President Ali Abdullah Saleh in 2012. Yemen has been beset for years by an al-Qaeda-led insurgency that has staged dozens of suicide attacks against security personnel and army forces. Poverty and unemployment also take a huge toll on Yemen.
But the Shiite militias have especially shocked the region with their surprise takeover of the capital Sanaa on Sep. 21.
The Houthis, who are members of the Zaydi sect of Shi'ite Islam that predominates in Northern Yemen, have expanded their presence throughout the country taking advantage of the disarray in the national army and security forces.
Saleh, arguably the most influential leader Yemen has known for decades, has been accused of backing the rebels in his attempt to return to power.
http://english.alarabiya.net/en/News/2014/11/14/Yemen-25-Houthis-killed-in-an-ambush-.html
------------
Turkey's top cleric to discuss Islamophobia with Pope Francis
Nov 15, 2014
Turkey's top cleric has said Islamophobia will be high on the agenda of his upcoming meeting with Pope Francis during the latter's landmark visit to Turkey in late November.
Some are presenting violent acts committed in the name of Islam as violent acts produced by Islam or all Muslims, Mehmet Görmez, the head of the Directorate for Religious Affairs (Diyanet), said in an interview with the NTV news channel, adding that the topic would be an important part of his meeting with Pope Francis.
"The turning of the presence of Islam in Europe and the world into a problem of security will be one of the most important issues that should be dealt with in the coming years," Görmez was quoted as saying on Nov. 13. "I don't presume that politicians can overcome this alone."
The interview with NTV was held on the occasion of the first ever Muslim Leaders of Latin America Summit held in Istanbul this week.
Holding his current post since November 2010, the outspoken Görmez has consistently raised the issue of Islamophobia as a problem. Back in September, he drew attention to steadily rising attacks against mosques in Germany and urged the Pope to "translate words into deeds regarding the misperception and misinterpretation of Islam."
Pope Francis is expected to touch down on Turkish soil on Nov. 28, arriving in Ankara before he visits Istanbul on Nov. 30. He will be the fourth pope to visit Turkey, following Pope Paul VI in 1967, Pope John Paul II in 1979 and Pope Benedict XVI in 2006.
"The entire world is facing a very important problem that is actually being overlooked with globalization. All cultures have intermingled across the whole world; all religions have become neighbors with each other and distant places have come closer. But the politics and the administration that rules the world are incapable of having these different religions and different cultures live together. Problems that occur in one corner of the world have started to be reflected in the same way in another corner of the world," Görmez said.
All religious institutions have been mulling over how to foster a culture of living together in the world, and the pope's visit to Turkey is a part of these deliberations, he added.
"At a time like this, the issue of Muslim minorities has turned into a very important question across the world, and it will continue to be so. You just see how a murder committed in Syria in the name of Islam is influencing the lives of 30 million Muslims living in Europe," Görmez said.
The Diyanet was created in 1924 to replace the Ottoman Sheikh al-Islam, the mufti with the authority to confirm new sultans and who also served as chief legal adviser. The caliphate itself was abolished in 1924, part of early modernizing efforts by Mustafa Kemal Atatürk, who founded the secular Turkish Republic on the ruins of the Ottoman Empire.
Today, Görmez's department drafts the weekly sermon delivered at the nation's 85,000 mosques, which it supervises. It also employs all of Turkey's imams, who are technically civil servants trained by the state.
http://www.hurriyetdailynews.com/turkeys-top-cleric-to-discuss-islamophobia-with-pope-francis.aspx?pageID=238&nID=74304&NewsCatID=393
------------
Israel bars Colombia FM entry to Ramallah
15 November 2014
Israeli authorities denied this week Colombia's foreign minister entry to Ramallah, in what seemed to be a loud diplomatic statement on the status of Jerusalem, Israel's Haaretz newspaper reported.
The Foreign Ministry of Bogota released a statement explaining that Israel would allow Foreign Minister Maria Angela Holguin to visit Ramallah only if she added Jerusalem to her itinerary.
A senior Israeli official confirmed Bogota's statement, adding that the decision was ordered by Foreign Minister Avigdor Lieberman.
Had Israel permitted Holguin to visit Ramallah while not stopping by Jerusalem, the Colombian foreign minister's visit may set a precedent many countries would follow, which Liberman, according to the official, said contradicts Israel's stance on Jerusalem.
On Nov.3, the Colombian Embassy forwarded its request to allow Holguin into Ramallah, clearly stating that she intends to meet with the Palestinian Foreign Minister Riyad al-Maliki and possibly Palestinian President Mahmoud Abbas.
Lieberman instructed Foreign Ministry staff to alert their Colombian counterparts that Holguin's visit to Ramallah should be made only if she lands in Jerusalem as well, which authorities would regard as a visit to Israel as it claims the city at its capital, a claim not recognized by the international community.
Shortly afterward, the Colombian Foreign Ministry announced that a visit to Palestine had been removed from Holguin's itinerary, which initially included visits to Jordan and GCC states, due to a full schedule.
She did manage to meet with al-Maliki, albeit during her visit to Amman.
In response to the diplomatic confrontation, spokesman for the Foreign Ministry in Jerusalem, Emmanuel Nahshon, said in response: "As is customary and especially in light of the friendly relations [between Israel and Colombia], we invited the minister to attend a short meeting in Jerusalem, but in light of scheduling restraints the minister decided not to visit the Palestinian Authority and Israel during her current trip."
"We hope that we will be able to arrange a visit for Minister Holguin to Israel soon," he added.
Colombia is one of the last two states in South America that are yet to recognize Palestine as a state.
http://english.alarabiya.net/en/News/middle-east/2014/11/15/In-loud-statement-Israel-denies-Columbia-FM-entry-to-Ramallah.html
------------
2,000 Syrian rebels to be trained in Turkey
Nov 15, 2014
Military officials from the United States and Turkey have met at the Turkish General Staff's headquarters in Ankara for a third time to discuss equipping and training moderate Syrian rebels, and agreed on using the Hirfanlı military training center in Kırşehir for the training ground.
Officials from both the United States European Command (EUCOM) and the U.S. Central Command (CENTCOM) and high-ranking Turkish military officials agreed on a number of points about the training of Syrian opposition fighters in Turkey.
Free Syrian Army (FSA) members, including Syrian Turkmens will be trained at the Hirfanlı gendarmerie training center in Kırşehir, sources told to the Hürriyet Daily News. U.S. officials will also take part in the training.
The U.S. will primarily provide weapons and ammunition for the Syrian opposition, with the costs of the training also expected to be provided by Washington.
Around 2,000 Syrian fighters are slated to be given military training, which is set to begin at the end of December.
Sources suggested that Ankara and Washington were not able to agree on the training of Democratic Union Party (PYD) fighters, so the U.S. will conduct the training in the Iraqi Kurdistan region.
Ankara is not warm on the idea of training PYD fighters, as it sees the group as an affiliate of the outlawed Kurdistan Workers' Party (PKK).
Turkey also insists on a broader strategy that includes the ouster of Bashar al-Assad, but the U.S. is cold to purely targeting the al-Assad regime, expressing the necessity of including the struggle against elements of the Islamic State of Iraq and the Levant (ISIL), according to sources.
"We don't approve of one-dimensional policies," Prime Minister Ahmet Davutoğlu had earlier said, underlining the government's position that permanent peace in the region will only be brought if the al-Assad regime is toppled. He said Turkey could only contribute to the international coalition if the coalition agrees to establish a safe haven and a no-fly zone in Syria.
"At the moment, the PYD is equal with the PKK for us. It is also a terrorist organization. It would be very wrong for America – with whom we are allies and are together with in NATO – to expect us to say 'yes' after openly announcing such support for a terrorist organization. It cannot expect such a thing from us and we cannot say 'yes' to such a thing either," President Recep Tayyip Erdoğan told reporters on board of a plane returning from Kabul to Istanbul, state-run Anadolu Agency reported on Oct. 19.
http://www.hurriyetdailynews.com/2000-syrian-rebels-to-be-trained-in-turkey.aspx?pageID=238&nID=74353&NewsCatID=352
------------
US funds used to compensate drone victims -Yemen
World Bulletin/News Desk
Nov 15, 20144
Yemeni authorities have paid out tens of thousands of dollars to victims of drone strikes using U.S.-supplied funds, a source close to Yemen's presidency said, echoing accounts by legal sources and a family that lost two members in a 2012 raid.
In Washington, the White House National Security Council would not discuss individual cases, but a spokesperson said that when non-combatants were killed in U.S. strikes overseas, "condolence or other ex gratia payments ... may be available for those injured and the families of those killed".
President Barack Obama has authorized use of drones against militant groups abroad deemed a threat. Civilians are mostly killed, a toll Amnesty International and Human Rights Watch have estimated is in the dozens in Pakistan and Yemen alone.
In Sanaa, the source close to the presidency said the largest compensation payment to date amounted to one billion riyals ($4.65 million) made to victims of a December 2013 U.S. strike that killed 15 people on their way to a wedding.
Full report at:
http://www.worldbulletin.net/world/148386/us-funds-used-to-compensate-drone-victims-yemen
----------
Senior Cleric Describes Iran's Indigenized RQ-170 as Major Blow to US
Nov 15, 2014
Tehran's Provisional Friday Prayers leader Ayatollah Mohammad Ali Movahedi Kermani underlined that the reverse engineering of the US RQ-170 drone that was downed in 2011 and its redesigning and production has struck a heavy blow at the United States.
Addressing a large and fervent congregation of the people on Tehran University campus on Friday, Ayatollah Movahedi Kermani said, "The manufacture of Iranian drone based on the US RQ-170 spying drone, which was captured by the Islamic Revolution Guards Corps (IRGC) Aerospace Force was a major blow to the US."
Full report at:
http://english.farsnews.com/newstext.aspx?nn=13930823000582
------------
Palestinian govt asks Arab states for 'financial cover'
World Bulletin/News Desk
Nov 15, 2014
The Palestinian prime minister on Friday reiterated calls to Arab countries for "financial cover" to allow the new Palestinian unity government to "fulfill its obligations to institutions and citizens."
"There will be consequences from Israel if [Palestinian Authority] President Mahmoud Abbas heads to the [UN] Security Council and other international organizations this month," Prime Minister Rami Hamdallah said in a televised interview.
Israel could resort to pressuring the Palestinian government through its control of Palestinian tax revenues, Hamdallah warned.
Israel collects taxes on Palestinian imports and exports on behalf of the Palestinian Authority (PA).
Full report at:
http://www.worldbulletin.net/headlines/148428/palestinian-govt-asks-arab-states-for-financial-cover
------------
Arab World
Iraqi Air Strikes Kill 51 ISIL Terrorists in Salahuddin Province
Nov 15, 2014
Iraqi air strikes pounded the positions of the ISIL Takfiri group in Salahuddin province, and killed at least 51 terrorists.
The Iraqi warplanes, backed by Jubour tribal forces, launched massive strikes against the hideouts of the terrorists in Northwestern parts of Dhuluiyah town and claimed the lives of 51 Takfiri terrorists.
Also, 12 vehicles belonging to the terrorists were targeted during the strikes.
The crisis in Iraq escalated after the ISIL militants took control of Mosul in a lightning advance on June 10, which was followed by the fall of Tikrit, located 140 kilometers (87 miles) Northwest of the capital, Baghdad.
Soldiers of the Iraqi army and Pishmarga have been engaged in heavy fighting with the militants on different fronts and have so far been able to push them back in several areas.
http://english.farsnews.com/newstext.aspx?nn=13930824000669
------------
Officials: Baghdad car bombs kill at least 17
Nov 15, 2014
Car bomb blasts in two northern Baghdad neighborhoods killed at least 17 people and wounded at least 57 on Friday, medical and security sources said.
One explosion went off near the Tigris River in the Graiat area, killing at least seven people. The other struck near a restaurant in the Adhamiyah district, killing 10, they said.
There was no immediate claim for the attacks but the Islamic State of Iraq and Syria (ISIS) group has claimed much of the recent violence to hit the Iraqi capital and elsewhere in the country.
Baghdad is hit by near-daily bombings and shootings that kill hundreds of people each month.
And security forces, despite being deployed at checkpoints and other positions across the city, are consistently unable to prevent the attacks.
The violence comes as Iraqi security forces and pro-government fighters battle to push back ISIS, which has seized significant territory since June.
They are now backed by U.S.-led air strikes targeting ISIS in both Iraq and neighboring Syria, while Washington and other governments have also pledged training personnel to aid Iraqi forces.
http://english.alarabiya.net/en/News/middle-east/2014/11/14/Officials-Baghdad-car-bombs-kill-at-least-17.html
------------
Islamic State leader urges attacks in Saudi Arabia
Nov 15, 2014
BEIRUT: Islamic State leader Abu Bakr al-Baghdadi called for attacks against the rulers of Saudi Arabia in a speech purported to be in his name on Thursday, saying his self-declared caliphate was expanding there and in four other Arab countries.
Baghdadi also said a US.-led military campaign against his group in Syria and Iraq was failing and he called for "volcanoes of jihad" the world over.
Reuters could not independently confirm the authenticity of the speech - an audio recording carried on Islamic State-run social media. The voice sounded similar to a previous speech delivered by Baghdadi in July in a mosque in the Iraqi city of Mosul in July, the last time he spoke in public.
It followed contradictory accounts out of Iraq after US. air strikes last Friday about whether he was wounded in a raid. The United States said on Tuesday it could not confirm whether he was killed or wounded in Iraq following a strike near the city of Falluja.
Full report at:
http://www.dailytimes.com.pk/foreign/14-Nov-2014/islamic-state-leader-urges-attacks-in-saudi-arabia
------------
Foreign Extremists Blamed For Inspiring Saudis To Join IS
Nov 15, 2014
A Saudi writer has criticized what he said has been Saudi Arabia's policy of allowing Salafist thinkers from the Muslim Brotherhood to come to the Gulf state, which he believes has led to the radicalization of young Saudis, some of whom have joined the Islamic State (IS) group.
In an op-ed in the "Al-Madina" newspaper, which has been widely circulated among other Arabic sites, Saudi writer Qaisar Hamid Metawea said that Saudi Arabia had even hosted many of "the disciples of Sayyid Qutb," the Egyptian Islamist Muslim Brotherhood thinker who was executed in 1966 for being part of a conspiracy to assassinate the then Egyptian President Gamal Abdel Nasser. Qutb's brother Mohammad once taught at a Saudi university, Metawea claimed.
Metawea tries to make the case that Saudi Arabia's extremist problem comes from external elements (and by extension, therefore, cannot be a problem of local culture). He argues that, while there have been some "extremist Saudi teachers," the bulk of the proponents of radical Salafist Islamist ideology were non-Saudis who came to live and work in the kingdom.
These foreign Islamist thinkers had helped draft the Gulf state's education syllabuses, Metawea argued.
Full report at:
http://www.rferl.org/content/under-black-flag-saudi-muslim-brotherhood-extremists-islamic-state/26679913.html
------------
More Australians slip away to join Islamic State's fight in Middle East
Nov 15, 2014
The counter-terrorism chief of the Australian Federal Police has revealed more Islamic State (IS) recruits have managed to leave Australia "a few days ago" without being detected by authorities.
AFP Assistant Commissioner Neil Gaughan made the revelation while appearing before a Parliamentary Committee examining new counter-terrorism legislation, known as the Foreign Fighters Bill.
The Assistant Commissioner told the committee Australia's control order regime needs to be overhauled with a lower threshold for evidence, so police can catch terror suspects.
"I think what we're missing is the ability to stop people – the enablers and the supporters. We haven't got anything there," Assistant Commissioner Gaughan warned.
He said more Australians have managed to slip out of the country to join IS fighters in the Middle East.
Full report at:
http://www.abc.net.au/news/2014-11-13/more-australians-slip-away-to-join-islamic-state/5889550
------------
ISIL faces war of attrition in Syria's Kobane
Nov 15, 2014
The Islamic State of Iraq and the Levant (ISIL) group is locked in a war of attrition in the Syrian border town of Kobane, where Kurdish fighters backed by US-led air strikes are mounting fierce resistance.
Two months after ISIL launched a major offensive to try to capture the strategic prize on the Turkish frontier, the jihadists have failed to defeat the town's Kurdish defenders.
"Several weeks ago, it looked like Kobane would fall, but it is now clear that it will not," said Romain Caillet, a French expert on jihadist movements.
"IS controls more than half of the town but is unable to advance further," he told AFP.
Buoyed by a string of victories in Syria and Iraq, ISIL launched a major offensive on September 16 to seize Kobane and expand its self-proclaimed Islamic "caliphate".
Full report at:
http://www.hurriyetdailynews.com/isil-faces-war-of-attrition-in-syrias-kobane.aspx?pageID=238&nID=74365&NewsCatID=352
------------
Syrian Islamic rebel leader brands Kobane's Kurdish defenders as enemies
Nov 15, 2014
ERBIL, Kurdistan Region - The leader of Syria's Islamic Front rebels says he intends to "liberate" the besieged border town of Kobane from its occupiers, including the Syrian Kurdish fighters currently defending it.
In a videoed press conference, Zahran Alloush, who heads an alliance of rebel forces reported to number 45,000, accused the Syrian-Kurdish Democratic Union Party (PYD) of being loyal to the Damascus regime of President Bashar al-Assad.
He also branded Turkey's Kurdistan Workers' Party, with which the PYD is allied, of serving the Assad regime.
Full report at:
http://rudaw.net/english/middleeast/syria/10112014
----------
War against ISIS seen unifying Kurds in the diaspora
Nov 15, 2014
AMSTERDAM, The Netherlands - The war against the common Islamic State enemy is helping to heal long-standing rifts among Kurds in the diaspora, according to Bakhtiar Bakr, who represents the Iraqi Kurdish Patriotic Union of Kurdistan (PUK) in the Netherlands.
"The different Kurdish parties here now regularly meet together," Bakr said in an interview. "The atmosphere is much better than before."
There are more than one million people of Kurdish origin living in Western Europe alone, many belonging to families of immigrants from Turkey who came to work there in the 1960s. There are also long-standing exiles and expatriates from all corners of Kurdistan – Turkey, Iraq, Syria and Iran.
Full report at:
http://rudaw.net/english/world/10112014
----------
First Kurds arrested for smuggling ISIS oil
Nov 15, 2014
ERBIL - Eleven people have been arrested for smuggling oil produced by the Islamic State (ISIS) through the Kurdistan Region, a senior Kurdish security official announced on Thursday.
Kurdistan Regional Government Interior Minister Karim Sinjari told reporters in Erbil that "so far we have captured 11 individuals charged with smuggling oil with ISIS and our investigation will continue."
He added that "it's still early to reveal their names and the court will decide when to reveal them."
Analysts estimated ISIS was earning as much as $3 million a day in oil sales from fields in Iraq and Syria, although a German intelligence agency reported that this figure was probably closer to $274,000 a day, especially after US-led coalition air strikes to hit oil production and refinery targets in ISIS territory.
Full report at:
http://rudaw.net/english/kurdistan/131120142
------------
Assad under Scrutiny by Lebanese Tribunal
Nov 15, 2014
The Special Tribunal for Lebanon has decided to allow prosecutors to present new evidence in the investigation of the country's worst political crime in recent history: the assassination of former Prime Minister Rafik Hariri nearly a decade ago.
Lebanon's Daily Star reported that prosecutors will seek to expose the role of Syrian President Bashar Assad in the massive bombing that killed Hariri. The evidence focuses on the breakdown of relations between Hariri and Assad.
"Let's call a spade a spade your honor," Iain Edwards, a defense lawyer for a senior Hezbollah operative accused of complicity in the attack, told the court. "The prosecutor is now basing his case on Syria being behind the assassination of Rafik Hariri."
Full report at:
http://www.jpost.com/Middle-East/Assad-under-Scrutiny-by-Lebanese-Tribunal-381859
------------
Syrian opposition: UN plan will strengthen Assad regime
World Bulletin/News Desk
Nov 15, 2014
The U.N.'s "action plan" to call a temporary halt to the violence in Syria will only work to strengthen the Assad regime, an opposition leader said on Friday.
In an exclusive interview with Anadolu Agency, the defense minister of the Syrian provisional government Mohammad Nour El-Halluf said that the U.N. Special Envoy on Syria Staffan de Mistura's plan to call a halt to the ongoing violence in Aleppo and certain Syrian provinces will only work in favor of the Assad regime.
"It is not possible for us to accept this plan, because we do not see anything in it to resolve the problem. Our people do not want a local anesthesia. The plan in question will only help the regime to gather its dispersed strength and concentrate it in a specific region," Halluf said. De Mistura has fallen into a trap set by the Assad regime with his plan to halt the violence as proposed in late October, Halluf added.
Full report at:
http://www.worldbulletin.net/headlines/148431/syrian-opposition-un-plan-will-strengthen-assad-regime
------------
Deviant IS Tactics Fail to Sway KSA Students
Nov 15, 2014
Islamic State militants have scored limited success in attracting Saudi students with very few people joining the organization. Some students said the IS has a clear plan to target Saudi youth by providing them booklets and literature that contain stories about fighters battling the system.
Dr. Yousif Al-Isaimi, a former member of the teaching faculty at King Saud University, said the country should protect students and its youth from extremist organizations that have nothing to do with Islam.
Full report at:
http://www.arabnews.com/featured/news/660396
------------
'No alternative to traditional Islamic education'
Nov 15, 2014
Youth of the 21st century are in danger of being exploited by unlawful Islamic teachings and easy access to the Internet and social media, according to analysts.
With this view, an Islamic convention which aimed to discuss and rejuvenate the traditional Islamic education system among the youth was recently organized under the auspices of the Global Islamic Circle of Peace and Unity in association with the Twin-Cities Youth Welfare Forum at a local restaurant.
It was attended by chief guest of the program, renowned Indian journalist Syed Fazil Hussain Parvez, who was here to perform Umrah. He was also honoured for his contribution to strengthening the foundations of Islam through his feature columns.
Syed Ali Mahmood head of the Islamic Circle welcomed the guests and lauded Parvez's unbiased journalism and his sincerity.
Full report at:
http://www.arabnews.com/saudi-arabia/news/660326
----------
Pakistan
Pak Militants Behead Man in Full Public View in North-Western Tribal Region
Press Trust of India
November 15, 2014
Taliban militants have publicly beheaded a man for allegedly spying for the security forces in Pakistan's north-western tribal region.
The execution was carried out Friday in Mehraban Kalay area of Tirah valley in Khyber district.
The militants killed the tribesman in a market and ordered local people not to remove the body till evening, the Dawn reported today.
Mehraban Kalay and adjacent areas are under control of the outlawed Tehreek-i-Taliban Pakistan, but Lashkar-i-Islam also has some influence.
The two groups joined hands after Lashkar's chief Mangal Bagh invited all outlawed militant groups to come to Bara and fight against security forces.
The security forces have launched the Khyber-1 military operation against militants in the area on October 16. The operation has forced thousands of people to flee their homes.
In Bara, security forces and local political administration extended the deadline to today for Sipah and Malikdin Khel tribes to vacate their homes.
The deadline was extended after tribal elders sought more time to shift families to safe places.
Full report at:
http://indianexpress.com/article/world/asia/pak-militants-behead-man-in-full-public-view/#sthash.LCfveqiJ.dpuf
------------
Six militants killed, eight held in Bolan
Nov 15, 2014
QUETTA: At least six suspected militants were killed and eight others arrested during an `encounter' with the Frontier Corps in Shoran area of Bolan district on Friday.
FC spokesman Khan Wasey said that on information about the presence of militants a search operation was launched in the mountainous area. Militants attacked the troops with heavy weapons, but soldiers returned fire. Helicopters also took part in the operation, he said.
"At least six militants have been killed so far in the fight which is still continuing," he said, adding that eight others had been arrested.
The spokesman claimed that a huge quantity of arms, including rockets, landmines, explosives and thousands of rounds, had been seized. He said that militants belonging to banned outfits were planning attacks in different areas.
http://www.dawn.com/news/1144650/six-militants-killed-eight-held-in-bolan
------------
Five militants killed in clash on Pak-Afghan border, Chitral
Nov 15, 2014
PESHAWAR: A terrorist attack at the Pakistan-Afghanistan border in Arandu, Chitral left five militants and two Afghan security officials dead on Saturday.
Two Pakistani civilians including a woman were also wounded, whilst two Pakistani security forces personnel were injured.
The five militants were killed as Pakistani and Afghan forces responded to the attack.
Official and security sources close to the border say that the militants targeted the Afghan security forces on a border post in Arandu. An exchange of fire is still continuing along both sides as light and heavy weapons are used.
The Arandu police station has also been damaged and as the clash continues.
One of the dead Afghan personnel has been identified as Juma Khan.
The border between Pakistan and Afghanistan passes through remote and mountainous terrain making it difficult to police. The length and porousness of the border allows the Taliban and various militant groups to easily cross the border without detection at various points.
http://www.dawn.com/news/1144683/five-militants-killed-in-clash-on-pak-afghan-border-chitral
------------
Pakistan plays ISIS card as army chief Raheel Sharif visits US
Chidanand Rajghatta,TNN | Nov 15, 2014
WASHINGTON: First it was the threat of Soviet/communism card. Then it was the al-Qaida card. Pakistan is now pulling out a new one: The ISIS card.
On the eve of the visit to the United States of Pakistan's most powerful man, army chief Raheel Sharif, the Pakistani military has fashioned a new narrative to sell to Washington in order to return to its good books and extract continued flow of military supplies and civilian aid. It is the imminent threat of the Islamic State of Iraq and Syria (ISIS) sweeping into the nuclear-armed country that is already under siege from al-Qaida, although the alternative narrative suggests it is complicit in sheltering al-Qaida and an assortment of extremist-terrorist organizations to further its strategic and policy objectives.
One of those of objectives is to obtain continued US support in the form of aid and military hardware, so ahead of the army strongman's visit starting this weekend, the first by the country's military supremo in four years, Pakistani media is replete with stories of ISIS surfacing in the country in the form of flags, pamphlets, and wall-chalking. Amid some rolling of the eyes in Washington, one newspaper reported this week that signs of local support for the dreaded Islamic State have surfaced in various parts of Pakistan, including graffiti that welcomed the head of Syrian Daish Group Abu Bakkar Al Bagdadi.
Full report at:
http://timesofindia.indiatimes.com/world/pakistan/Pakistan-plays-ISIS-card-as-army-chief-Raheel-Sharif-visits-US/articleshow/45153924.cms
------------
Taliban plans suicide attack on Musharraf: report
Nov 15, 2014
ISLAMABAD - Outlawed Tehreek-e-Taliban Pakistan has planned attack on former Pakistan president Pervez Musharraf, an intelligence report warned the government on Saturday.
A secret agency has warned Federal Interior Ministry, Sindh Home Department, Rangers director general, Sindh IG and other law enforcement agencies about the threat. A letter disclosed that the planning of terrorist attack on Musharraf has been made under TTP commander Adnan Rasheed. Five suicide bombers are being prepared and funding being arranged under Adnan Rasheed for the plot, the report said.
The report hinted at likely attack on the former president in near future while on his way to hospital for medical checkup. After the intelligence report, concerned authorities have issued orders for foolproof security arrangements for the former president and a strategy to tackle the suicide bombers.
http://www.dailytimes.com.pk/national/15-Nov-2014/taliban-plans-suicide-attack-on-musharraf-report
------------
Imran chases Nawaz in newly released 'Go Nawaz Go'
Nov 15, 2014
The Islamabad dharna-inspired online games continue to amuse in a country where political flavour makes its way into pretty much every avenue of life. A new game titled 'Go Nawaz Go' has been released on the Google App Store, featuring a bat-wielding Imran Khan chasing a Nawaz Sharif animation as it jumps over containers and barbed wire.
"Help PM defend himself by running from Imran Khan to save himself and his designation," reads the synopsis of the newly launched game.
"In this game, Imran Khan is running after Nawaz Sharif. The game mimics the environment over there in Islamabad with the protesters and Red Zone area buildings and stuff. Tap the screen to jump over the containers, Road Blockers, Blocker Wires and other Obstacles that are on the roads of Red Zone Islamabad and protect Nawaz character from colliding with them. Also collect coins for better score and position," it continues.
Full report at:
http://www.dawn.com/news/1144686/imran-chases-nawaz-in-newly-released-go-nawaz-go
------------
Man held over blasphemy allegation
Nov 15, 2014
CHAKWAL: Chakwal police have arrested a Christian man from Lahore over an alleged act of blasphemy.
According to police sources, the 40-year-old man was booked for blasphemous remarks made by him.
He holds a Masters degree in computer science and used to run a website and also wrote blogs on it. According to the sources, he used derogatory language against the Holy Prophet (PBUH) in his blogs.
On July 4, 2010, a man posted a comment on the website of a private TV channel and alleged that the accused was committing blasphemy in his blogs.
On June 9, 2011, Mohammad Saeed, a resident of Talagang in Chakwal, filed an application in the City Police Station against the accused and a case was registered under Section 295C.
According to police, the accused went into hiding after the registration of the case. He was arrested from Lahore after about three and a half years.
SP Rawalpindi Range Jabbar Hussain is investigating the case.
The accused will be produced before a court in Talagang on Saturday.
http://www.dawn.com/news/1144655/man-held-over-blasphemy-allegation
--------
Govt to counter militant propaganda through radio in Fata
Nov 15, 2014
PESHAWAR: The Pakistan government is set to launch FM radio stations in all seven tribal agencies with an apparent plan of disseminating information to counter militant propaganda in the militancy-hit area bordering Afghanistan.
In a statement issued here, the Federally Administered Tribal Area (Fata) secretariat said that a central production house will also be set up at the secretariat.
Additional Chief Secretary Fata, Azam Khan has directed the authorities to make arrangements for setting up the radio stations in all tribal agencies of Fata.
The decision came against the backdrop of ongoing military offensives against local and foreign militants in the northwestern tribal regions of North Waziristan and Khyber.
Militant oraganisations use local radio stations to propagate their agenda besides threatening rivals.
Full report at:
http://www.dawn.com/news/1144479/govt-to-counter-militant-propaganda-through-radio-in-fata
------------
Target killings rise in Rawalpindi as sectarian hatred is fanned
Nov 15, 2014
While the military has been fighting militancy in the turbulent tribal areas, sectarian violence, a strain of that militancy, has been on the rise elsewhere in the country. Targeted killings are the hallmark of the menace, which, sadly, has also arrived in Rawalpindi.
So far this year, malevolent elements have targeted 13 people in the garrison city. Of them seven died of the unidentified assassins' bullets. The dead included two Muhafiz Force personnel who were gunned down as they gave chase to men who came to attack an Imambargah in Sadiqabad locality.
Full report at:
http://www.dawn.com/news/1144577/rawal-note-target-killings-rise-in-rawalpindi-as-sectarian-hatred-is-fanned
------------
Qadri tells Imran to think profoundly before trusting rulers
Nov 15, 2014
HOUSTON – Pakistan Awami Tehreek (PAT) chairman Dr Tahirul Qadri has said that Pakistan Tehreek-e-Insaf (PTI) Chairman Imran Khan should trust the shrewd, cunning and deceptive rulers only after thinking profoundly.
He said that it is a matter of routine for these rulers to set up judicial commissions and then refuse to accept their recommendations. Qadri expressed these views while addressing the Pakistani community on the last day of three-day Convention in the American state of Texas. He said that these rulers do not have any credibility, adding it was for this reason that PAT decided to wrap up Islamabad sit-on on its own and convert it into a countrywide movement instead of trusting the rulers.
Full report at:
http://www.dailytimes.com.pk/national/15-Nov-2014/qadri-tells-imran-to-think-profoundly-before-trusting-rulers
------------
Africa
Six dead in 'Boko Haram' suicide attack at Nigeria filling station
Nov 15, 2014
Six people were killed, including three police, in a suicide bomb attack at a petrol station in northern Nigeria's biggest city Kano, police said, blaming Boko Haram militants.
The blast happened at about 7:30 pm (1830 GMT) at the Nagarshiku filling station in the Hotoro area of Kano, causing a fire that engulfed the facility and set cars ablaze.
The petrol station is opposite the scene of a July 28 suicide attack by a female bomber and is used as a base by a military unit that patrols the area, indicating troops may have been the target.
The soldiers park their patrol vans inside the Nagarshiku petrol station at night, from where they coordinate their operations, local residents said.
"A man driving a Toyota Sienna drove into the filling station as if he was going to buy fuel," Kano state police commissioner Adenrele Shinaba told reporters.
"The vehicle exploded causing six deaths, including three policemen. Five were injured. It is obviously a suicide attack.
Full report at:
http://english.ahram.org.eg/NewsContent/2/9/115555/World/International/Six-dead-in-Boko-Haram-suicide-attack-at-Nigeria-f.aspx
------------
Boko Haram seizes Chibok, hometown of kidnapped schoolgirls
Nov 15, 2014
Boko Haram has seized the town of Chibok in Borno state, northeast Nigeria, from where 276 schoolgirls were kidnapped more than six months ago, a local pastor and a senator told AFP on Friday.
"Chibok was taken by Boko Haram. They are in control," said Enoch Mark, a Christian pastor whose daughter and niece are among the 219 teenagers still being held.
Mark and the senator for southern Borno, Ali Ndume, said the militants attacked at about 4:00 pm (1500 GMT) on Thursday, destroying communications masts and forcing residents to flee.
Ndume said that he had received calls from fleeing residents saying the town "was now under their (Boko Haram) control".
"There is no telephone service now in Chibok, which is why it took time before the reports reached me," he added.
Boko Haram fighters stormed the Government Girls Secondary School in Chibok on the evening of April 14 this year and forced students onto trucks in a mass abduction that caused global outrage.
Full report at:
http://english.alarabiya.net/en/News/africa/2014/11/14/Boko-Haram-seizes-Chibok-hometown-of-kidnapped-schoolgirls-.html
------------
This is how a Libyan city joined the Islamic State
BY THE ASSOCIATED PRESS
14 November 2014
On a chilly night, bearded militants gathered at a stage strung with colorful lights in Darna, a Mediterranean coastal city long notorious as Libya's center for jihadi radicals. With a roaring chant, they pledged their allegiance to the leader of the Islamic State group.
With that meeting 10 days ago, the militants dragged Darna into becoming the first city outside of Iraq and Syria to join the "caliphate" announced by the extremist group. Already, the city has seen religious courts ordering killings in public, floggings of residents accused of violating Shariah law, as well as enforced segregation of male and female students. Opponents of the militants have gone into hiding or fled, terrorized by a string of slayings aimed at silencing them.
The takeover of the city, some 1,000 miles (1,600 kilometers) from the nearest territory controlled by the Islamic State group, offers a revealing look into how the radical group is able to exploit local conditions. A new Islamic State "emir" now leads the city, identified as Mohammed Abdullah, a little-known Yemeni militant sent from Syria known by his nom de guerre Abu al-Baraa el-Azdi, according to several local activists and a former militant from Darna.
Full report at:
http://mashable.com/2014/11/09/libyan-city-islamic-state/
---------
North America
U.S. sees no tie up between Al-Qaeda and ISIS in Syria
15 November 2014
James Clapper, the director of U.S. National Intelligence, Clapper said Friday analysts had not seen any evidence indicating militants belonging to the Islamic State of Iraq and Syria (ISIS) and Al-Qaeda had forged an alliance in Syria.
Clapper told CBS television U.S. experts were unaware of any pact between the two groups, which would potentially complicate the U.S.-led military campaign in Syria, reported AFP.
"We don't see that," Clapper said.
"There have been tactical accommodations, on the battlefield, on occasion, where local groups have united in the interest of the tactical objective, but broadly, I don't see those two uniting, at least yet."
The Daily Beast reported earlier this week that veterans of the Al-Qaeda splinter group known as Khorasan – which has been bombed repeatedly by U.S. warplanes – were trying to broker a deal between ISIS fighters and members of the Al-Nusra Front, Al-Qaeda's Syrian affiliate.
"Khorasan sees its role now as securing an end to the internal conflict between Islamic State [ISIS] and Al-Nusra," a senior rebel source was quoted as saying.
Full report at:
http://english.alarabiya.net/en/News/middle-east/2014/11/15/U-S-sees-no-tie-up-between-Al-Qaeda-and-ISIS-in-Syria.html
------------
Muslim Community Denounces Fox News Bigotry against Islam
Nov 15, 2014
New York- In the world population, there are approximately 1.6 billion Muslims, making Islam the second largest religion. As Dr. Omid Safi states in his book "Memories of Muhammad", "whether some of us think of ourselves as Americans first or citizens of one shared planet first, it is simply part of being an educated citizen to have accurate knowledge of the faith of Islam."
It appears, however, that there are some news organizations in this country that are intent on ensuring that the exact opposite happens: that the image of one quarter of the world population gets distanced as far as possible from the reality and that people become persuaded that tearing down the faith of a fourth of humanity will somehow lead to a solution to the problems we face.
Full report at:
http://www.moroccoworldnews.com/2014/11/144050/muslim-community-denounces-fox-news-bigotry-against-islam/
------------
ISIL most acute challenge in Iraq and Syria: US envoy
Nov 15, 2014
The United States regards the threat posed by the extremist jihadists in both Iraq and Syria as the most "acute" challenge and is focusing its efforts on defeating them, the new American envoy to Ankara has told the Hürriyet Daily News, stressing the importance of supporting the "moderate Syrian opposition."
"We believe the Islamic State of Iraq and the Levant [ISIL]. is the most acute challenge we face in Syria and Iraq today, and that's where we are focusing much of our effort, but we are also continuing to work very closely with the Turkish government to support the moderate Syrian opposition, to enable them to continue defending their homes, and to continue to press the case on the ground with that goal of a negotiated political settlement down the road," U.S. Ambassador to Turkey John Bass said, in his first interview since he begun to serve in Ankara.
Full report at:
http://www.hurriyetdailynews.com/isil-most-acute-challenge-in-iraq-and-syria-us-envoy.aspx?pageID=238&nID=74313&NewsCatID=510
------------
Top U.S. general in surprise visit to Iraq amid ISIS airstrike campaign
15 November 2014
America's top military leader arrived Saturday to Iraq, state television reported, his first visit to the country since a U.S.-led coalition began a campaign of airstrikes targeting the extremist Islamic State of Iraq and Syria (ISIS) group.
The visit by Army Gen. Marin Dempsey, chairman of the U.S. Joint Chiefs of Staff, was not previously announced. It came just two days after he told Congress that the United States would consider dispatching a modest number of American forces to fight with Iraqi troops as they engage in more complex missions in the campaign against ISIS, which controls about a third of Iraq and neighboring Syria.
Full report at:
http://english.alarabiya.net/en/News/middle-east/2014/11/15/Top-U-S-general-in-surprise-visit-to-Iraq-amid-ISIS-airstrike-campaign.html
------------
Hagel reassures troops of US commitment to nuclear arms mission
Nov 15, 2014
Defense Secretary Chuck Hagel announced a multi-billion dollar revamp of US nuclear forces on Friday and later reassured troops responsible for atomic bombers and missiles that he was committed to revitalizing their service after years of neglect.
Hagel told a Pentagon briefing that two reviews he ordered earlier this year found a "consistent lack of investment" in the nuclear forces and "systematic problems" that could undermine the safety of the enterprise if not addressed, including a culture of over-inspection and micro-management.
The Pentagon chief ordered the reviews after a spate of incidents in the nuclear force, including cheating on proficiency exams by missile launch officers, the discovery of a drug ring and the sacking of the head of the force for drunkenness and bad behavior on an official visit to Moscow.
Full report at:
http://english.ahram.org.eg/NewsContent/2/9/115556/World/International/Hagel-reassures-troops-of-US-commitment-to-nuclear.aspx
--------
Suspected Paris synagogue bomber can be extradited from Canada
Nov 15, 2014
TORONTO — Canada's Supreme Court declined to hear the case of the prime suspect in a deadly 1980 synagogue bombing in Paris, paving the way for his extradition to France.
The nation's top court on Thursday did not give reasons for its refusal to hear the case of Hassan Diab, who was seeking to appeal lower court rulings that called for his extradition.
French authorities allege that Diab was a member of the Popular Front for the Liberation of Palestine and took part in the bombing of the Rue Copernic synagogue that killed four and injured more than 40.
Diab, 60, a dual Lebanese and Canadian citizen, has repeatedly denied the allegations. He and lawyers appealed an extradition order charging that France's reliance on secret information raised issues of constitutionality and procedural fairness in Canada.
French authorities also cite fingerprint and handwriting evidence against Diab.
In case before the Supreme Court, Canadian authorities had argued that it "raises no issue of public importance."
Full report at:
http://www.jpost.com/Breaking-News/Suspected-Paris-synagogue-bomber-can-be-extradited-from-Canada-381776
----------
No Islamophobia in Latin America, says Turkey's religious head
Nov 15, 2014
It is noticeable that Latin America has not displayed Islamophobic tendencies recently, though the same cannot be said for the U.S. and Europe, Turkey's Directorate of Religious Affairs (Diyanet) head Mehmet Görmez has said.
"The Islamic world has faced, and is continuing to face, great traumas in our century. The latest incidents have led us to be embarrassed for Muslims in Latin American countries. Even though these incidents have helped form Islamophobia in the West, namely in the U.S. and Europe, it is remarkable that there is no Islamophobia in Latin America," said Görmez at the first ever Muslim Leaders of Latin America Summit held in Istanbul on Nov. 12.
Full report at:
http://www.hurriyetdailynews.com/no-islamophobia-in-latin-america-says-turkeys-religious-head.aspx?pageID=238&nID=74251&NewsCatID=393
------------
Europe
He 'Wanted to Be Important': How One Westerner Spiralled Toward Jihad
BY CARLO ANGERER
Nov 15, 2014
STUTTGART, Germany — In handcuffs in a high-security courtroom, a 24-year-old man named Ismael described a troubled upbringing, a breakup with a girlfriend and the downward spiral that drove him into the open arms of jihad.
The man was arrested a year ago at a rest stop in Germany on his way to Syria, his car packed with supplies for the battlefield, including night-vision devices and camouflage. He was in court to face terrorism charges for joining ISIS.
Ismael is an increasingly typical example of how the militant organization has lured Westerners. Their targets are men in the third decade of their lives, with a Muslim background and a history of failure — men like Ismael.
He is one of thousands of foreign fighters who have travelled to Syria and Iraq to join extremists in droves, many now among the ranks of ISIS. A recent U.N. report put that number 15,000 from about 80 different countries.
Full report at:
http://www.nbcnews.com/storyline/isis-terror/he-wanted-be-important-how-one-westerner-spiraled-toward-jihad-n247916
------------
Islamic State commanders liable for mass war crimes: UN
Nov 15, 2014
slamic State commanders are liable for war crimes on a "massive scale" in northeast Syria where they spread terror by beheading, stoning and shooting civilians and captured fighters, UN investigators said.
The experts told world powers to make sure the commanders guilty of war crimes and crimes against humanity were held accountable by the International Criminal Court.
The latest report by the independent UN investigators is based on interviews with more than 300 men, women and children who fled or still live in Islamic State's northeastern stronghold, including Aleppo.
"In carrying out mass killings of captured fighters and civilians following military assaults, ISIS (Islamic State) members have perpetrated egregious violations of binding international humanitarian law and the war crime of murder on a massive scale," said the report.
Foreign fighters, many of them recruited by violent videos, have swollen the group's ranks and dominate its leadership structure, the report said.
Full report at:
http://english.ahram.org.eg/NewsContent/2/8/115528/World/Region/Islamic-State-commanders-liable-for-mass-war-crime.aspx
------------
British Army 'abandoned' Afghan war interpreters to resurgent Taliban
Nov 15, 2014
The British army has been accused of 'abandoning' Afghan interpreters, leaving them open to attacks by a resurgent Taliban, despite 'hundreds' of requests for help.
According to reports in The Times, more than 200 Afghan interpreters have requested amnesty from the British government, after they and their families were threatened by senior Taliban fighters.
Despite these pleas, the British government has allegedly provided only limited advice to the interpreters, recommending they change their mobile numbers and find 'alternative' routes to their homes.
"I feel that I have been abandoned," one interpreter, who did not wish to reveal his name, told The Times.
Full report at:
http://rt.com/uk/204891-uk-afghan-translator-amnesty/
------------
New anti-terror bill soon, Cameron tells Australian Parliament
PARVATHI MENON
Nov 15, 2014
As part of a new and comprehensive Counter-Terrorism Bill to be pushed through the British Parliament, fresh powers will be given to the police to seize passports from suspected British Islamists and stop them from returning to the United Kingdom, British Prime Minister David Cameron has announced.
He was addressing the Australian Parliament in Canberra where he is on an official visit.
New anti-terror legislation has been in the making since September, when Mr. Cameron announced in Parliament his government's intention to beef-up the powers of the police to stop the two-way flow of British jihadists to Syria to join the Islamic State (IS) army and back.
This pledge came after the beheading of U.S. journalist James Foley by IS militants, and the identification of the assassin in the video of the killing that the IS uploaded on YouTube, as a possible Briton.
Full report at:
http://www.thehindu.com/news/international/world/new-antiterror-bill-soon-cameron-tells-australian-parliament/article6599991.ece
------------
Anti-Muslim crimes up in UK after rise of ISIL
World Bulletin/News Desk
Nov 15, 2014
The rise of the ISIL has resulted in an increase in anti-Muslim hate crime in London, according to a monitoring group.
Fiyaz Mighal of Tell Mama, a charity which documents crimes or acts against Muslims in the U.K. based on religious, racial or ethnic hatred, told the Anadolu agency that Muslims were being abused both on and offline following the release of videos showing beheadings carried out by ISIL.
Mighal said: "Cases of verbal abuse against Muslims suggests that perceptions about ISIL motivate anti-Muslim hatred nationally and in London.
"We've had cases of women being abused on the way to the shops, with people shouting at them: 'Why don't we chop your head off?'"
In another case, he said perpetrators shouted at a Muslim woman: "Oh, your head will be much better on the floor."
Full report at:
http://www.worldbulletin.net/muslim-world/148405/anti-muslim-crimes-up-in-uk-after-rise-of-isil
------------
Gaza war caused explosion of online hate speech in Europe, report finds
Nov 15, 2014
THE HAGUE, Netherlands — The summer war between Israel and Hamas generated an explosion of online anti-Semitic hate speech in several European countries, an international watchdog reported.
The assertion came in a report on 10 European countries released Wednesday by the International Network Against Cyber Hate and the Paris-based International League Against Racism and Anti-Semitism — or INACH and LICRA respectively.
In the Netherlands, the Complaints Bureau Discrimination Internet, or MDI, recorded more instances of online hate speech against Jews during the two-month conflict than during the entire six months that preceded it, revealed the report, which the groups presented in Berlin at a meeting on anti-Semitism organized by the Organization for Security and Co-operation in Europe, or OSCE.
Full report at:
http://www.jpost.com/Diaspora/Gaza-war-caused-explosion-of-online-hate-speech-in-Europe-report-finds-381852
---------
South Asia
Joy: No Dialogue As Long As Jamaat-e-Islami Is Involved In Process
Nov 15, 2014
Sajeeb Wazed Joy yesterday said the Awami League is always ready to talk with any party except Jamaat-e-Islami.
Apparently indicating the BNP, he said: "If a party wants to sit for a dialogue, we will not agree as long as they keep Jamaat involved in the process."
Joy labelled the BNP as a party of collaborators "as the party collaborates with Jamaat-e-Islami and opposes the trial of the war criminals."
Joy, the son and ICT adviser to Prime Minister Sheikh Hasina, made the remarks while speaking at a discussion programme of Shuchinta Foundation at the Radisson Blu Hotel in Dhaka yesterday.
He said: "Jamaat-e-Islami is a party of war criminals. Since BNP has formed an alliance with, and has close connections to Jamaat, it is also a party of collaborators.
"If BNP believes in the country's independence and sovereignty, it must sever all ties with Jamaat."
Full report at:
http://www.dhakatribune.com/politics/2014/nov/15/joy-no-dialogue-long-jamaat-involved-process#sthash.PxM59tZX.dpuf
------------
Taliban militants suffer heavy casualties in clearing operations
Nov 15 2014
At least 40 Taliban militants were killed and 10 others were injured following military operations in the past 24 hours.
The Ministry of Interior (MoI) following a statement said the operations were conducted by Afghan National Police in cooperation with Afghan National Army and Afghan intelligence – National Directorate of Security (NDS) operatives.
The statement further added the operations were conducted in Kunar, Kapisa, Faryab, Laghman, Helmand and Paktia provinces.
"Also, during these operations, Afghan National Police discovered and confiscated light and heavy rounds ammunition," the statemetn said.
The statement also added, Afghan National Police discovered and defused 22 rounds of Improvised Explsoive Device (IED) placed by enemies of Afghanistan for destructive activities in Helmand, Badghis, Ghor, Herat, Baghlan and Kandahar provinces.
The anti-government armed militant groups have not commented regarding the reports so far.
http://www.khaama.com/taliban-militants-suffer-heavy-casualties-in-clearing-operations-8993
------------
NATO soldier killed militants attack in northern Afghanistan
Nov 15 2014
A service member of the NATO-led International Security Assistance Force (ISAF) was killed following militants attack in northern Afghanistan on Friday.
The alliance following a statement said "An International Security Assistance Force service member died as a result of an enemy forces attack in northern Afghanistan on Nov. 14, 2014."
The statement did not disclose further information regarding the exact location of the incident and nationality of the deceased soldier.
International Security Assistance Force (ISAF) generally do not disclose identities of the NATO service members killed in Afghanistan, saying "It is ISAF policy to defer casualty identification procedures to the relevant national authorities."
At least 68 NATO service members, including 49 US troops, 6 British troops and 13 soldiers from the other nations contributing troops to ISAF mission have been killed since the beginning of the year, according to icasualties.org which tracks NATO forces casualties in Afghanistan.
http://www.khaama.com/nato-soldier-killed-militants-attack-in-northern-afghanistan-8991
------------
Ghani dubs Pakistan 'important pillar' of Afghanistan foreign policy
Nov 15, 2014
ISLAMABAD: Afghan President Ashraf Ghani Ahmadzai said Saturday that partnership with Pakistan is an important pillar of Afghanistan's foreign policy, adding that this was a historical occasion to mend ties.
He was addressing a joint press conference with Prime Minister Nawaz Sharif.
He said adoption of practical steps would improve the bilateral relations of the two countries, adding that the Central Asia-South Asia Regional Energy and Trade (CASA) and Turkmenistan-Afghanistan-Pakistan-India (TAPI) projects would help link the two countries.
Ghani said both countries were on the same page for abolition of poverty and underdevelopment, adding that people of both countries desired peace, stability and security.
Full report at:
http://www.dawn.com/news/1144677/ghani-dubs-pakistan-important-pillar-of-afghanistan-foreign-policy
---------
Southeast Asia
Courts' Courage Laudable In Asserting Constitution's Power versus Sharia Law in Malaysia
Nov 15, 2014
Three recent judicial review applications have ruffled the feathers of many conservative Muslims in Malaysia.
One was the courageous judicial decision in the Borders Bookstore's case involving the illegal raid, search and seizure of the book "Allah, Liberty and Love" and the criminal investigation against its Muslim and non-Muslim staff by the Islamic department.
The second was a challenge by the Muslim women's group, Sisters in Islam, of a Selangor fatwa that condemns "liberalism" and "pluralism" and paints the group as a deviant organization.
The third was the trail-blazing judicial response to the questioning on constitutional grounds by three Muslim individuals with Gender Identity Disorder of a Negeri Sembilan law that criminalizes "cross-dressing" and imposes the penalty of jail and fines.
Full report at:
http://www.chinapost.com.tw/commentary/the-china-post/special-to-the-china-post/2014/11/15/421805/p1/Courts'-courage.htm
------------
Indonesian Ulema council wants to keep religion column
Nov 15, 2014
The Indonesian Ulema Council (MUI) has supported a recent call from Home Minister Tjahjo Kumolo to allow people who do not belong to one of the six religions recognized by the state to leave the religion column on their identity cards blank.
The Indonesian Democratic Party of Struggle (PDI-P) politician announced last week that adherents of faiths other than the country's six official religions — Islam, Christianity, Catholicism, Hinduism, Buddhism and Confucianism — may leave the religion column on their ID cards blank, after being forced for decades to fill in the column with one of the six religions.
Full report at:
http://www.thejakartapost.com/news/2014/11/14/ulema-council-wants-keep-religion-column.html
------------
Nothing difficult about returning Bibles, except saying sorry
Nov 15, 2014
Here is a question to Selangor Mentri Besar Mohamed Azmin Ali: why was it such a difficult decision to return property that was wrongfully taken from someone else?
A day after the Bahasa Malaysia and Iban-language Bibles were returned by Majlis Agama Islam Selangor (Mais) to a group of Christians from Sarawak, Azmin said that it was a bold decision and a difficult one to make for all those involved.
Really? How can a black-and-white case be difficult to resolve? How was doing the right thing and the correct thing difficult?
The Jabatan Agama Islam Selangor (Jais) and Mais, powered by their paranoia, took action that was unlawful and way out of their scope when they raided the Bible Society of Malaysia (BSM) in January. Their act was in contravention of the Federal Constitution, not to mention the 10-point agreement on religious matters cobbled together by the Najib government during the last Sarawak state election campaign.
Full report at:
http://www.themalaysianinsider.com/malaysia/article/nothing-difficult-about-returning-bibles-except-saying-sorry#sthash.jnl9EhAt.dpuf
------------
India
Adopt Common Strategy to Counter Global Terror: Modi
PTI | Nov 15, 2014
BRISBANE: As the US leads a sustained campaign against the dreaded terror outfit Islamic State (IS), Prime Minister Narendra Modi on Saturday said success against global terror is within reach if countries adopt a common strategy.
The call for a common strategy by Modi came during his bilateral meeting with French President Francois Hollande on the sidelines of the G20 summit.
"Success against global terror is within reach if States adopt a common strategy," Modi told Hollande.
Modi's remarks came against the backdrop of US defence secretary Chuck Haagel's comments that the US-led air war against Islamic State of Iraq and Syria (ISIS) will intensify and that the American people must prepare for a long and difficult struggle.
ISIS or IS is an al-Qaida splinter group and it has seized hundreds of square miles in Iraq and Syria, declaring an Islamic Caliphate.
Hagel defended the US strategy during a House of Representatives hearing on Thursday, saying "As Iraqi forces build strength, the tempo and intensity of our coalition's air campaign will accelerate in tandem."
"ISIL's advance in parts of Iraq has stalled, and in some cases been reversed, by Iraqi, Kurdish, and tribal forces supported by US and coalition airstrikes," Hagel said.
He used the term ISIS, another acronym for the militant group.
http://timesofindia.indiatimes.com/india/Adopt-common-strategy-to-counter-global-terror-Modi/articleshow/45156875.cms
------------
'Love Jihad' Not Worth Talking About: National Commission For Women
Nov 15, 2014
National Commission for Women chairperson Lalitha Kumaramangalam has said that 'love jihad' is not an issue worth talking about, but has been "blown out of proportion" due to "media hype". She said she would much rather use her position to work on bigger issues like honour killing.
"I do not want to talk about love jihad. It is a totally unimportant issue compared to some of the other issues that women need to tackle. If you (media) stop talking about it they (political leaders) will also stop talking. There is a deep-rooted bias in society against women…Take the issue of honour killings. It is far more important for me to deal with that than against love jihad," Kumaramangalam said during an interaction at the Indian Women's Press Corps.
On occasional advisories from BJP leaders on how women should dress, she said: "I have always been very vocal against it… It is very unfortunate (that people make such statements)".
http://indianexpress.com/article/india/india-others/love-jihad-not-worth-talking-about-ncw/#sthash.BoPhhUQo.dpuf
------------
Chinese train Pakistani soldiers along border with India
Bharti Jain,TNN | Nov 15, 2014
NEW DELHI: Chinese troops are conducting weapons training exercises for Pakistan army at some posts in Pakistan-occupied Kashmir (PoK) adjoining Rajouri in Jammu & Kashmir, a BSF report submitted to national security adviser Ajit Doval has said.
The Chinese army trainers, spotted in some Pakistani forward posts in the area of 3rd and 4th PoK brigades opposite the Rajouri sector, are imparting weapon handling training to their Pakistani counterparts. However, the report does not give details regarding the weapons.
Pakistan army units are also taking over charge of key posts along the international border from Pakistani Rangers to beef up manpower and are also deploying guns, mortars and sniping equipment there. Pakistan army artillery units are now deployed under 3 PoK brigade, Kotli, opposite the Rajouri sector, while 8 Sindh has been deployed near Kot Katera alongwith 856 Mujahideen, opposite Sundarbani sector. A mortar platoon has been deployed close to the border adjoining Sriganganagar sector, while a Pakistan infantry division with 18 heavy vehicles is carrying out a military exercise near Kandera opposite Jaisalmer sector.
Escalated firing by Pakistan last month along the IB/LoC had met with a befitting response from the Indian border forces. The BSF report reveals that a Pakistani army subedar and 4 jawans of 651 Mujahideen and 645 Mujahideen were killed during the cross-firing on October 6.
Full report at:
http://timesofindia.indiatimes.com/india/Chinese-train-Pakistani-soldiers-along-border-with-India/articleshow/45155095.cms
------------
URL: https://www.newageislam.com/islamic-world-news/new-age-islam-news-bureau/deadly-houthi-clashes-between-rebels-and-tribesmen-leave-86-people-killed/d/100030