New Age Islam News Bureau
24 Feb 2015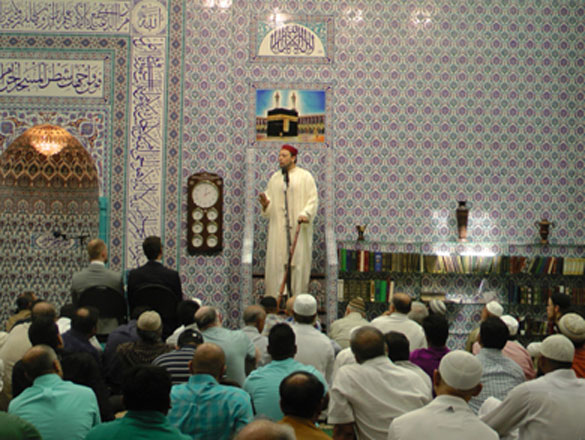 Dr. Hamid Slimi, centre, chairman of the Muslim seminary, the Canadian Centre for Deen Studies, called on the federal government to stop using language linking Islam to terror at a conference last week in Toronto
------------
North America
• De-link Islam from Terror: Canadian Muslims
• America facing anti-Muslim bigotry
• 'Muslim Day at the Capitol' seeks to engage Islamic community
• U.S. defense chief convenes anti-ISIS war council in Kuwait
• US jury orders Palestinians to pay $218.5m over attacks
• Spy Cables expose 'desperate' US approach to Hamas
• LA Fitness won't let Muslim pray at gym
• Muslim Americans Widely Seen As Victims Of Discrimination
• Islamic tribunal in Dallas draws criticism and clients
Europe
• Muslim boycott of Jewish event highlights religious tensions in France
• Russia seeks Shari'ah funds to offset sanctions
• Call for more evidence over report's claims Bradford Muslims are duped by charities supporting terror
• France seizes passports of 'six Syria-bound fighters'
• Pegida Norway Leader Rejects Muslims' Help
• 40 French banned from travel over jihad plans: government
• French president pledges to protect Jewish community
• France's Pain Helps Explain Islamic Extremism's Causes
Australia
• Australia's national security law and Muslim concerns
• New Zealand to join anti-ISIS mission
India
• Over 180 million Muslims in India but they are not part of global terror groups: Govt
• This Muslim RSS member, Hindutva refers to Indianness
• India counters Obama's religious intolerance jibe with facts and figures
• Rs 1,00,786 bounty on Muslim cleric who called Shiva 'messenger of Islam'
• Conversion was Mother Teresa's real aim, RSS chief Mohan Bhagwat says
• Mufti Mohammad Sayeed likely to take oath as J&K CM on March 1
• Muslim RSS member, Hindutva refers to Indianness
Pakistan
• Nisar urges West to do more to curb Islamophobia
• India's involvement or support to Taliban cannot be ruled out: Asif
• Terrorist involved in APS attack arrested
• COAS apprises PM Nawaz of APS arrests
• Bhagwandas and some other non-Muslim Pak luminaries
• Blast in Chaman kills one, wounds 8
• Maldivian president due to arrive in Islamabad tomorrow
• Haram ingredients in most of imported food items
• Son of PML-N MNA arrested after scuffle with security guard in Lahore
• US support's Pak-Afghan efforts for reconciliation process with Taliban
• Army chief, Chinese envoy discuss Afghanistan
South Asia
• 37 Militants Killed in Separate Afghan Military Operations
• Gunmen abduct 30 Shia Muslims in Afghanistan
• Missing Korean teen at IS training camp: Intelligence
• Japanese Mosques Bear Brunt of ISIL
• Maldives police drag former president into court
• Fugitive Bangladesh ex-lawmaker sentenced to life for war crimes
• Two men sentenced to 25 years in plot to attack Americans in Afghanistan
• 4 Bangladeshis killed in fire in Saudi Arabia
• Rizvi on 3-day remand again in violence case
Mideast
• ISIL poses threat to Turkey, not the PYD: Demirtaş
• Israeli troops kill Palestinian near Bethlehem
• Turkey seeks to turn Syria into terror base: Jaafari
• Message to donors and Tony Blair: Give Gaza its future
• Israel denies causing Gaza floods by opening dams
• Independent Palestinian state stressed
• Backing Hadi, GCC exhorts UN to free Sanaa of Houthis
• Turkey denies cooperation with PYD, calls it a terrorist organization
• Turkish officials differ over NATO link of planned missile system
• Iran supports stability, unity in Lebanon: Senior official
• Preemptive military action runs against UN Charter: Iran
Africa
• Central African leaders join battle against Boko Haram
• Terrorists abandon heaps of arms in Baga
• In South Sudan, a chance to be children again
• Spy Cables: South African spies wary of Iran operations
• Libyan government to exclude Turkish firms from contracts
• Algeria: Crackdown on Labor Rights Defenders
• South Africa: Why South African Muslims Won't Join Isil En Masse
• Boko Haram Resorts to Guerilla Tactics as Pressure Mounts
• Al-Shabaab video shows how far it lags behind in 'jihadi draft'
Southeast Asia
• Terengganu mulls Friday prayer rule for Muslims
• Islam demands PAS-Umno unity, says Perlis mufti
• Forget Umno, PAS alone is for clean Islamic government, says veep
• Indonesia Demands Explanation From Brazil Over Diplomatic Snub
• Jakarta court dismisses Australians' plea for clemency
Arab World
• Govt raps extremists for 'hijacking Islam'
• ISIL kidnaps 90 Christians in Syria
• Muslim scholars condemn linking Islam to acts of terrorism
• ISIL Sells Kurdish Bodies for Money
• ISIS militant's partner faces jail for sending cash to fund terrorism
• ISIS not 'tech-savvy': Social media expert tells UAE forum
• ISIS Recruiting Child Soldiers: Parents Concerned About Islamic State's Influence Should Fight Back With Facts, Experts Say
• ISIL kidnaps 90 Christians in Syria
• Sunni boycott threatens reconciliation efforts in Iraq
• Yazidis battle ISIL: Disaster 'made us stronger'
• Iraq moving to retake town from Islamic State
• Egyptian court sentences activist to 5 years in prison
• ISIS opens English-language schools in Syria's Raqqa: report
• Questions persist over Süleyman Şah tomb abandonment in Syria
Compiled by New Age Islam News Bureau
URL: https://newageislam.com/islamic-world-news/new-age-islam-news-bureau/de-link-islam-from-terror--canadian-muslims/d/101677
-----------
North America
De-link Islam from Terror: Canadian Muslims
23 February 2015
CAIRO – A semantic battle over the use of language linking Islam to terrorism has been raging recently in Canada, as the country Muslim community called on federal government to stop using these terms which demonize the whole community.
"Lead by example, change the rhetoric, and stop saying these words. They hurt," said Dr Hamid Slimi, former chairman of the Canadian Council of Imams and current chairman of the Muslim seminary, the Canadian Centre for Deen Studies, the National Post reported.
Dr Slimi was speaking at a conference to combat radicalization held last week in Toronto.
He was referring to remarks made by Prime Minister Stephen Harper weeks before that characterized mosques as potential spaces of radicalization.
Clothing terror in Islamic terms "has skewed the public's perceptions of Canadian Muslims as some kind of dangerous and 'un-Canadian' group and reinforces stereotypes of the Muslims as some kind of fifth column and whose loyalty is suspect," said Ihsaan Gardee, executive director of the National Council of Canadian Muslims.
Other Canadian Muslims have rejected the government's use of the language of Islam to describe terror as stigmatizing.
Sheik Aarij Anwer of Khalid Bin Al-Walid Mosque in the Toronto suburb of Etobicoke tried to correct the meaning of the term "jihad" based on the Qur'an.
He added that the use jihadism to describe terror is "careless", saying it draws an inaccurate link from "irrational violence" to theology and implicates all Muslims in violent extremism.
Muslims make around 2.8 percent of Canada's 32.8 million population, and Islam is the number one non-Christian faith in the country.
A recent survey showed that the overwhelming majority of Muslims are proud to be Canadian, and that they are more educated than the general population.
The dual terror attacks in Ottawa and Saint-Jean-sur-Richelieu, a few months ago, coupled with Paris shooting spree have led to unprecedented levels of anti-Muslim attacks in Canada where several mosques were vandalized.
Opposition
Reacting to the Muslims call, some analysts said that politicians can not overlook the religious roots of groups such as ISIL.
"By trying to de-link Islam from Islamic terrorism, [Mr. Obama] is engaging in an act of deception and self-deception," said Peter Wehner, a senior fellow at the Washington-based Ethics & Public Policy Center and a member of three past Republican administrations.
"In order to defeat an enemy you need to understand the nature of the enemy you face."
Wehner was referring to Obama speech in which he defended his government's position this week at a White House summit on combating extremism.
"We are not at war with Islam," Obama said. "We are at war with people who have perverted Islam."
Michael Jackson Bonner, a historian of Iran at the Paris-based research group Project CTESIPHON, shared a similar opinion.
"Disguising the threat of militant Islam under the cover of 'violent extremism' makes Obama seem soft on [ISIS] and its allies," he said, using another acronym for the so-called Islamic State.
"[ISIS] calls itself Islamic; its territory is called a 'caliphate;' its leader is a 'caliph.' "
As Canadian government officials still use terms like "jihad", a 2012 report by the Royal Canadian Mounted Police questioned its use.
"Terms like 'Islamic terrorism,' 'Islamist terrorism,' 'Jihadism' and 'Islamo-fascism' succeed only in conflating terrorism with mainstream Islam, thereby casting all Muslims as terrorists or potential terrorists," said the report, Words make Worlds.
http://www.onislam.net/english/news/americas/483327-de-link-islam-from-terror-canadian-muslims.html
-----------
America facing anti-Muslim bigotry
By Dean Obeidallah
February 23, 2015
"I have been told at my job to hide the fact I am Muslim for my own personal safety by a manager."
"I worry for my wife who wears a headscarf and my children when they are with her and I am not there to protect them."
"I feel terrified for my two sons. Although all three of us were born and raised here I fear for our safety."
"My dad recently asked my mother and sister to try and disguise their hijab with a hat."
"I don't feel safe. I fear that if some could shoot me and my family and get away with it, they would."
Those are just a small sample of the alarming responses I received on Facebook when I asked my fellow Muslim Americans if they felt safe.
Our community's fears have been elevated by the killing this month of three young Muslim American students in Chapel Hill, North Carolina. And while there's still a debate going on over whether this was, from a legal point of view, a hate crime, to the Muslim American community it seems hard to imagine the attack wasn't motivated at least in part by the faith of the three young victims.
True, the suspect reportedly had disagreements with other residents in his apartment complex. But it seems telling that when he allegedly turned violent, it was only three Muslims who were shot in the head.
Regardless, the concern felt by many in our community -- including myself -- actually predates these killings. In fact, six days before the shooting, I was one of 14 Muslim Americans to meet Present Barack Obama at the White House, and I raised the very fears that many of us feel. I explained to the President my worry that if anti-Muslim bigotry continues to go unchallenged, we could see someone target Muslim Americans in a violent attack.
The President expressed his sincere concern, making it clear that there's no place for bigotry in our nation. And during his speech Wednesday at the White House summit on countering violent extremism, he also acknowledged that "many Muslim Americans are worried and afraid." To underscore the point, he then read a Valentine's Day card sent to him by an 11-year-old Muslim American girl named Sabrina, who wrote: "I am worried about people hating Muslims. ... If some Muslims do bad things, that doesn't mean all of them do. Please tell everyone that we are good people and we're just like everyone else."
Her concerns are by no means misplaced, because the truth is that anti-Muslim bigotry has been building in recent years. We have seen acid thrown at an Islamic school in Illinois, and shots fired at a Southern California mosque.
And the list goes and on.
In the last week alone, an Islamic school in Rhode Island was vandalized with anti-Muslim graffiti and the words: "Now this is a hate crime." And despicably, some on social media even cheered the burning down of an Islamic center in Houston. Last Thursday, meanwhile, a Muslim American man in Michigan was allegedly beaten up at a local grocery store by two white men yelling racial and religious slurs.
While these events don't garner national headlines, they do make headlines within our community. And although statistically Muslims are second to Jews in terms of being victims of hate crimes, there were still five times more hate crimes perpetrated against Muslims in recent years than before 9/11, The Washington Post notes.
Sobering as these statistics are, though, they mean little to Muslim American parents who are more worried about their own children's safety. Nor to the young Muslim American woman who fears she will be harassed for simply wearing a hijab. The perception for many in our community is that we are under siege, unsafe and alone.
Why this uptick in fear? Well, the primary cause is events we have zero involvement in, namely the actions of al Qaeda and ISIS. But these fears have been exacerbated by the professional anti-Muslim bigots, certain pundits (primarily on the right, but some on the left as well) and some Republican elected officials (Louisiana Gov. Bobby Jindal's baseless claims about Muslims setting up "no go" zones being one of the most talked about examples).
So, what can be done to reduce this climate of anti-Muslim bigotry? I wish I had a simple answer, but there isn't one. It's akin to trying to counter anti-Semitism, racism or homophobia -- it will require a concerted effort over time, as well as constant vigilance to ensure these forms of hate remain on the fringes of society.
Meanwhile, my hope is that the "good people," as the Rev. Martin Luther King Jr. put it, will no longer be silent in the face of hate. If you believe that no American should have to fear for his or her safety or be harassed simply because of his or her religious beliefs, then speak out. It could be through as simple an act as countering a hateful posting on social media or not sitting silently as someone spews ignorant comments.
But whatever role you choose to play, you will be doing a real service to America by making one thing clear: There's no place for this type of bigotry in our great nation.
http://edition.cnn.com/2015/02/23/opinion/obeidallah-muslims-america-bigotry/
-----------
'Muslim Day at the Capitol' seeks to engage Islamic community
Feb 24, 2015
OKLAHOMA CITY — Oklahoma Muslims and their interfaith supporters will converge on the state Capitol on Friday for panel discussions and sessions aimed at promoting civic engagement within the Islamic community.
Anti-Muslim protesters might be in attendance, as well.
Adam Soltani, executive director of the Council on American-Islamic Relations-Oklahoma Chapter, said the CAIR-OK-sponsored "Muslim Day at the Capitol" will take place despite the prospect of protesters.
"I think there are some people who think that the Capitol is sponsoring it, but we are sponsoring it," Soltani said.
http://www.tulsaworld.com/homepagelatest/muslim-day-at-the-capitol-seeks-to-engage-islamic-community/article_93e2ade2-1fca-5e68-a2a1-96afb113be97.html
--------
U.S. defense chief convenes anti-ISIS war council in Kuwait
23 February 2015
New Pentagon chief Ashton Carter will hold talks Monday in Kuwait with top U.S. commanders and diplomats to discuss the war effort against the Islamic State jihadist group, officials said.
Carter flew to Kuwait City from Afghanistan on Sunday to chair the extraordinary meeting that will see more than two dozen senior military officers and ambassadors gather at the sprawling U.S. Army base of Camp Arifjan, officials said.
Carter, an experienced Pentagon technocrat who took office last week, "wants it to be an open conversation regardless of rank," a senior U.S. defense official told reporters.
The meeting was not intended to produce a new strategy but to allow Carter to better understand the challenge posed by the jihadists and the range of efforts aimed at defeating them, said the official, who spoke on condition of anonymity.
Carter will be looking for an update on all facets of the campaign on both the military and diplomatic front, including the Iraqi government's efforts to recruit Sunnis into the fight against the ISIS extremists, the official said.
The talks also will examine how to counter the ISIS group across the region.
Carter likely will raise questions about "what it means when we have groups swearing allegiance to ISIL in Libya, in Egypt, in Afghanistan," said the official using another acronym for ISIS and "how are we thinking about the next few years of the counter-terrorism fight," the official said.
The meeting will include the commander running the anti-ISIS campaign, Lieutenant General James Terry, as well as the heads of U.S. Central Command, Africa Command, European command, Special Operations Command and Joint Special Operations Command, said Pentagon spokesman Rear Admiral John Kirby.
Diplomats and civilian officials due to take part include John Allen, President Barack Obama's envoy to the anti-ISIS coalition as well as the U.S. special envoy to Syria, Daniel Rubinstein, he said.
Washington's ambassadors to Egypt, Jordan, Kuwait, Saudi Arabia and the United Arab Emirates will also attend the meeting.
Senior intelligence officials also will be on hand for talks that are meant to transcend bureaucratic divisions and information "stovepipes," officials said.
Carter told reporters before arriving in Kuwait City that he had called the meeting because he was "trying to assess the situation in Iraq, Syria, and the region more generally."
The ISIS threat was "a regional issue," Carter said, "and I wanted to have all of that expertise represented."
On his first trip abroad as defense secretary after being sworn in last Tuesday, Carter came to Kuwait after a two-day visit to Afghanistan, consulting commanders about the pace of a U.S. troop withdrawal.
http://english.alarabiya.net/en/News/middle-east/2015/02/23/U-S-defense-chief-convenes-anti-ISIS-war-council-in-Kuwait.html
-----------
US jury orders Palestinians to pay $218.5m over attacks
23 Feb 2015
A US jury has found the Palestinian Authority (PA) and the Palestine Liberation Organisation (PLO) liable for supporting attacks in Israel more than a decade ago that killed American citizens.
Jurors in Manhattan federal court on Monday awarded $218.5m in damages to 10 American families who brought the case, a sum that is automatically tripled to $655.5m under a 1992 US anti-terrorism law.
The PA rejected the verdict as "baseless".
"The decision is a tragic disservice to the millions of Palestinians who have invested in the democratic process and the rule of law," Palestinian Deputy Minister of Information Mahmoud Khalifa said in a statement submitted to Al Jazeera.
Full report at:
http://www.aljazeera.com/news/2015/02/jury-palestinians-attacks-150223193342748.html
-----------
Spy Cables expose 'desperate' US approach to Hamas
23 Feb 2015
A CIA agent "desperate" to make contact with Hamas in Gaza pleaded for help from a South African spy in the summer of 2012, according to intelligence files leaked to Al Jazeera's Investigative Unit. The US lists Hamas as a terrorist organisation and, officially at least, has no contact with the group.
That was just one of the revelations of extensive back-channel politicking involving the US, Israel and the Palestinian Authority as they navigate the Israeli-Palestinian conflict amid a stalled peace process.
Classified South African documents obtained by Al Jazeera also reveal an approach by Israel's then-secret service chief, Meir Dagan, seeking Pretoria's help in its efforts to scupper a landmark UN-authorised probe into alleged war crimes in Gaza, which was headed by South African judge Richard Goldstone.
Full report at:
http://www.aljazeera.com/news/2015/02/spy-cables-expose-approach-hamas-guardian-hamas-israel-mossad-cia-obama-goldstone-pa-150219190914146.html
-----------
LA Fitness won't let Muslim pray at gym
February 23, 2015
An American Muslim and former college basketball star who regularly worked out at the Oakley LA Fitness was told by gym workers he no longer was allowed to pray in the locker room, a Monday lawsuit alleges.
Mohammed Fall, 28, filed the suit in federal court against LA Fitness, its corporate parents and four workers at the 4700 Marburg Ave. gym.
The Oakley gym referred a Monday call from The Enquirer to the corporate offices, where a worker provided only a corporate email regarding media calls. That email wasn't immediately answered.
Mohammed was born in Senegal and raised a Muslim. He came to America in 1999 at age 12. After graduating from Western Hills High, he attended and played basketball at Tiffin University and then Ohio Christian University in Circleville. He captained both teams and was named his conference's player of the year his senior year.
Full report at:
http://www.cincinnati.com/story/news/2015/02/23/muslim-allowed-pray-la-fitness-sues/23885739/
-----------
Muslim Americans Widely Seen As Victims Of Discrimination
Matt Sledge
24/02/2015
Muslim Americans are widely seen as victims of discrimination, but also viewed by a slim majority as members of a religion that encourages violence, according to an Economist/YouGov poll released Friday. Americans who know a Muslim, meanwhile, are more likely to view adherents of the religion favorably.
Those results come in the midst of a spate of either suspected or confirmed anti-Muslim hate crimes. The shooting of three Muslims in Chapel Hill on Feb. 10 by a killer with murky motives crystallized the moment of fear.
A full 73 percent of Americans believe Muslims face a great deal or a fair amount of discrimination. That total outstrips both African-Americans, whom 63 percent of Americans see as victims of bias, and Mexican-Americans, who are viewed as targets of discrimination by 60 percent.
Full report at:
http://www.huffingtonpost.com/2015/02/23/muslim-americans-discrimination_n_6738642.html?ir=India
-----------
Islamic tribunal in Dallas draws criticism and clients
23 February 2015
An Islamic tribunal, launched in Dallas last year to settle civil disputes among the growing Muslim population, is drawing quarrels over its use of Shariah law.
Opponents fear it would open the door to extreme practices and corporal punishment linked to Shariah law in certain Muslim-majority countries. Still others argue it would replace the U.S. Constitution.
But organizers say the panel of arbitrators issues nonbinding decisions on matters such as business disputes and religious divorces. They note its parallels with Jewish rabbinical courts and Catholic tribunals.
The very word "Shariah" invokes backlash from those who don't understand it and use it as a "catch phrase for fear-mongering against Islam and Muslims," said Hadi Jawad, a Dallas businessman and a Muslim.
Full report at:
http://www.dallasnews.com/news/metro/20150223-islamic-tribunal-in-dallas-draws-criticism-and-clients.ece
-----------
Europe
French Muslim leaders boycott Jewish event in Paris
24, February 2015
French President François Hollande outlined a plan to fight anti-Semitism Monday at a Jewish council event that was boycotted by Muslim leaders after the council's president said young Muslims were behind "all" the violent crime in France.
Speaking at the annual dinner of the Jewish umbrella group, Conseil Représentatif des Institutions juives de France (CRIF) -- a major event on the French political calendar -- Hollande called for "faster and more effective sanctions" against racism, anti-Semitism and homophobia. The French president's comments came as his government prepares to unveil a plan to fight hate crimes next month.
The CRIF annual dinner was meant to provide a platform for Hollande to highlight his government's plan to crack down on hate crimes. But the president's address was overshadowed by a major row, which broke out between France's leading Jewish and Muslim organisations.
Full report at:
http://www.france24.com/en/20150223-france-jewish-crif-dinner-muslim-boycott-hollande/
---------
Russia seeks Shari'ah funds to offset sanctions
24, February 2015
The State Duma, the lower house of parliament, may review the law to allow Islamic banking in the next two months, said Anatoly Aksakov, a deputy in the assembly and president of the Association of Regional Banks of Russia. The goal is to establish a legislative framework in the second half of the year, he said.
"The amendments are aimed at attracting capital from Islamic countries first of all, the United Arab Emirates, Arab states, Malaysia, Indonesia," Aksakov said by phone from Moscow on 19 February. Russia aims to attract "tens of billions of dollars," including Shari'ah-compliant funds, to finance government-backed projects such as railroads and domestic manufacturing, he said.
A combination of sliding oil prices and sanctions imposed by the US and its allies following President Vladimir Putin's annexation of Crimea from Ukraine in March have left Russia, the world's biggest energy exporter, on the brink of a recession. Moody's Investors Service cut the country's credit rating to junk last week, citing the Ukraine crisis, exchange rate shocks, oil prices and the country's restricted access to international capital markets.
Full report at:
http://www.cpifinancial.net/news/post/30242/russia-seeks-shariah-funds-to-offset-sanctions
-----------
Call for more evidence over report's claims Bradford Muslims are duped by charities supporting terror
February 24, 2015
CALLS were last night made for more evidence after a report suggested Muslims in Bradford who give money to charity could be being tricked into funding criminal or terrorist organisations.
Police officers in West Yorkshire told researchers that "religious injunction" within some of the city's communities to give to charitable groups had left them open to questionable practice.
The concerns were raised as part of a research project which looked at the role of community policing in combating extremism and promoting the Government's Prevent counter-radicalisation strategy.
Full report at:
http://www.thetelegraphandargus.co.uk/news/local/localbrad/11812991.Call_for_more_evidence_over_report_s_claims_Bradford_Muslims_are_duped_by_charities_supporting_terror/
----------
France seizes passports of 'six Syria-bound fighters'
24 February 2015
France has seized the passports of six people for allegedly planning to leave the country to join armed groups in Syria, the first such bans since a sweeping anti-terrorism law was passed last year.
Interior Minister Bernard Cazeneuve said on Monday that about 40 others will also face travel bans in the coming weeks.
The six people prevented from departing the country have not been named.
"Today these six administrative bans on leaving the country have been signed, another 40 are in preparation," Cazeneuve told reporters outside the interior ministry.
http://www.aljazeera.com/news/europe/2015/02/france-seizes-passports-syria-bound-fighters-150223133338331.html
---------
Pegida Norway Leader Rejects Muslims' Help
23 February 2015
CAIRO – An offer by Muslim youth to clean windows of a bookshop owned by the Norway head of anti-Islam Pegida movement, which were spray-painted with the words "Nazi Swine", has been rejected, turning down a chance to bridge gaps.
"I do not want symbolic actions, I want a new asylum and integration policy," Max Hermansen told Norway's state broadcaster NRK, Local.no reported on Sunday.
Hermansen, who led the country's first Pegida march in January, discovered the words "Nazi Swine" spray painted on the window of his book shop last Saturday.
Though the graffiti was not blamed on Muslims, Thee Yezan, from "Islamophobia Awareness Norway", made the offer to clean the shop with the help of a group of four young Muslims.
"We are offering to wash away the graffiti from Max Hermansen's shop, after which we are offering him a cup of Arabic tea and a massage," Yezan, who is not using his real name, wrote on Facebook.
Full report at:
http://www.onislam.net/english/news/europe/483317-pegida-norway-leader-rejects-muslims-help.html
-----------
40 French banned from travel over jihad plans: government
February/23/2015
Six French citizens have had their passports confiscated and 40 more will be banned from leaving the country after allegedly planning to travel to Syria and Iraq, Interior Minister Bernard Cazeneuve said Feb. 23.
It is the first time the measure has been used in France following its introduction as part of a raft of new counter-terrorism laws in November.
"If French people go commit attacks in Iraq or in Syria, on their return they will present an even greater danger of carrying out large-scale terrorist attacks on the national territory," Cazeneuve told reporters.
Full report at:
http://www.hurriyetdailynews.com/40-french-banned-from-travel-over-jihad-plans-government-.aspx?pageID=238&nID=78725&NewsCatID=351
-----------
French president pledges to protect Jewish community
2015-02-24
PARIS (AP) — French president Francois Hollande said that the country must offer its protection and affection to the Jewish community as anti-Semitism is on the rise in France.
ADL Says Shooting At Synagogue In Copenhagen "Another Wake-Up Call" To Europe To Threat Against Jews PR Newswire
"Jewish are at home in France, it's the anti-Semites who have no place into the Republic", Hollande said in a speech at a prestigious annual dinner of the country's main Jewish organization.
Many French Jews feel increasingly worried about anti-Semitism, particularly coming from young Muslims who embrace radical ideology propagated online.
France has Europe's largest Jewish population, about half a million. More than 7,000 emigrated to Israel last year.
Full report at:
http://news.yahoo.com/frances-muslim-leaders-boycott-jewish-councils-dinner-170911469.html
-----------
France's Pain Helps Explain Islamic Extremism's Causes
By GERALD F. SEIB
Feb. 23, 2015
Bernard Cazeneuve, France's interior minister and a man on the front lines in the struggle against Islamic extremism, was in Washington a few days ago, and over dinner he mused about what France has learned in the newest chapter of that struggle. His thoughts are useful in helping Americans come to grips with their own version of the threat—and to get past some of the simplistic debate now under way here.
France has the West's most painful recent experience in this struggle, of course, in the form of the extremist attack on the Charlie Hebdo cartoonists and the associated killings at a Jewish market. But France has a much longer history of dealing with the problem, which is one reason Mr. Cazeneuve was a featured player at an Obama administration conference on battling extremism.
Full report at:
http://www.wsj.com/articles/capital-journal-frances-pain-helps-explain-islamic-extremisms-causes-1424712185
-----------
Australia
Australia's national security law and Muslim concerns
Royce Kurmelovs
23 Feb 2015
Adelaide, Australia - Personal freedoms will need to be redrawn, according to Prime Minister Tony Abbott, who talked tough on security on Monday after the release of a report on the handling of a deadly siege at a Sydney café.
In his speech marking the report's release, Abbott told his audience "the system has failed us", and he warned of an "ominous" new "dark age", while doubling down on his commitment to expand the power of law enforcement agencies to fight "terrorism".
"For too long, we have given those who might be a threat to our country the benefit of the doubt," said Abbott, who among other things has pledged to revoke citizenship, crack down on immigration, and prevent access to other "privileges" such as welfare services.
"If there's a choice between latitude for suspects or more powers to police and security agencies, more often we should choose to support our agencies," said Abbott.
The idea of "home-grown terrorists" has had Australian authorities spooked in the wake of the "Sydney Siege", and with the knowledge that Australia is one of the largest contributors of foreign fighters per capita to organisations such as the Islamic State of Iraq and the Levant.
Growing numbers
Full report at:
http://www.aljazeera.com/indepth/features/2015/02/australia-national-security-law-muslim-concerns-150223102229958.html
-----------
New Zealand to join anti-ISIS mission
24 February 2015
New Zealand will send troops to Iraq on a non-combat mission helping to boost the local military's capacity to fight the Islamic State of Iraq and Syria (ISIS), Prime Minister John Key said Tuesday, according to Agence France-Presse.
Key said about 140 troops would begin a "behind the wire" mission in May after a request from the Iraqi government for international help in increasing its military capability to battle the militants.
"We cannot, and should not, fight Iraq's battles for them -- and actually Iraq doesn't want us to," he told parliament.
Full report at:
http://english.alarabiya.net/en/News/middle-east/2015/02/24/New-Zealand-military-trainers-to-join-anti-ISIS-effort-.html
-----------
India
Over 180 million Muslims in India but they are not part of global terror groups: Govt
By Vijaita Singh
February 24, 2015
The government might not have officially released the religious data of Census 2011, but in a presentation before an international delegation in the United States it said that over 180 million Muslims were living in India, constituting 14.88 per cent of the total population. It also asserted that despite a large Muslim population in India, there was hardly any case of the community members joining violent pan-Islamic groups.
Representing India at the White House hosted Summit to Counter Violent Extremism last week, Joint Intelligence Committee (JIC) chief RN Ravi told a delegation, where representatives from 60 countries were present, that "the usual alienation of minorities is not valid in the Indian context. Going by the usual definition of minority, their population is over 260 million i.e over 21 per cent of India's population. There are over 180 million Muslims in India."
"Terrorism that India faces has their source often outside the country," he pointed out.
The data given by the government at an international platform assumes significance after US President Barack Obama, during his India visit, said: "India will succeed so long as it is not splintered along the lines of religious faith, as long as it is not splintered along any lines, and it is unified as one nation."
Full report at:
http://indianexpress.com/article/india/india-others/over-180-million-muslims-in-india-but-they-are-not-part-of-global-terror-groups-govt/
-----------
For this Muslim RSS member, Hindutva refers to Indianness
February 24, 2015
By Sabyasachi Bandopadhyay
When he decided to come to Uluberia in Howrah to attend the Rashtriya Swayamsevak Sangh (RSS) camp, he had in mind what an Union minister had to face last year for coming late to a Sangh event in Agra. RSS chief Mohan Bhagwat had made the minister sit at the last row.
So, Mazharul Haque (32) — a resident of Asansol in Burdwan district — took the late night train from Asansol to Howrah and was in Uluberia early morning to ensure that he was not late for Sunday's "initiation" camp.
"An important reason why I joined the Sangh is their discipline and strict punctuality,'' said Haque, a devout Muslim, who was among the 15 new swayamsevaks initiated to the RSS at the Uluberia camp. Haque and the other 14 new members had applied online to join the RSS around six months ago. After some initial formalities, they were called for a one-day initiation programme at the RSS' Uluberia Sakha.
Son of a businessman originally from Bihar, Haque got attracted to RSS after the Modi government came to power at the Centre in May 2014. "I believed Prime Minister Narendra Modi would bring India to the path of development with the help of science and technology.
He is a politician with a vision. I wrote to the Prime Minister suggesting ways to make India scientifically developed," he said.
Full report at:
http://indianexpress.com/article/cities/kolkata/for-this-muslim-rss-member-hindutva-refers-to-indianness/
-----------
India counters Obama's religious intolerance jibe with facts and figures
Bharti Jain,TNN | Feb 24, 2015
NEW DELHI: Strongly countering US President Barack Obama's charge of "religious intolerance" in India, the Modi government has conveyed to Washington that the usual notion of alienation of minorities is not valid in the Indian context as the government has ensured their socio-economic and political integration with the mainstream.
Addressing the White House summit in Washington DC last week on Countering Violent Extremism, chief of of India's Joint Intelligence Committee RN Ravi reeled off facts and figures relating to minority welfare schemes and measures undertaken by the government, to underline that the social, educational and economic empowerment of the smaller communities was taken due care of.
Full report at:
http://timesofindia.indiatimes.com/india/India-counters-Obamas-religious-intolerance-jibe-with-facts-and-figures/articleshow/46348836.cms
----------
Rs 1,00,786 bounty on Muslim cleric who called Shiva 'messenger of Islam'
Feb 23, 2015
BAREILLY: Muslim cleric and leader of the Jamiat Ulema Hind, Mufti Mohammad Ilyas Qasmi, had referred to Lord Shiva as the "first messenger of Islam" in Ayodhya on Thursday, asserting that Indian Muslims were followers of the Sanathan Dharma. Now, the Bareilly-based All India Faizan-e-Madina Council, a socio-political group, has announced a bounty of Rs 1,00,786 on his head. The 'national president' of the outfit, Mooen Siddiqui Noori, on Monday said the cash award would be given only to a Muslim. An "Islamic" sword would also be presented to the killer.
Qasmi, long known as a champion of communal amity in Ayodhya, has also said that Muslims should not be averse to being called Hindus, for the people of China were called Chinese, and the people of Japan, Japanese.
Full report at:
http://timesofindia.indiatimes.com/city/bareilly/Rs-100786-bounty-on-Muslim-cleric-who-called-Shiva-messenger-of-Islam/articleshow/46347243.cms
-----------
Conversion was Mother Teresa's real aim, RSS chief Mohan Bhagwat says
Feb 24, 2015
ALWAR: RSS chief Mohan Bhagwat on Monday said that the prime motive behind Mother Teresa's service to the destitute was converting them to Christianity at a function in a village in Bharatpur, adding that her selfish aim devalued the virtues of a noble cause.
"It's good to work for a cause with selfless intentions. But Mother Teresa's work had ulterior motive, which was to convert the person who was being served to Christianity," said Bhagwat. "In the name of service, religious conversions were made. This was followed by other institutes, too," he said.
Bhagwat was overseeing the functioning of an NGO, Apna Ghar, and inaugurated a 'Mahila Sadan' and 'Sishu Bal Grah' for helpless women and children. He applauded their work and maintained that it was dedicated to the service of the poor and helpless.
At the function, former DGP of Border Security Force Prakash Singh, too, criticized Mother Teresa.
Full report at:
http://timesofindia.indiatimes.com/india/Conversion-was-the-motive-behind-Mother-Teresas-work-RSS-chief-Mohan-Bhagwat-says/articleshow/46348555.cms?
-----------
Mufti Mohammad Sayeed likely to take oath as J&K CM on March 1
Feb 24, 2015,
NEW DELHI: A PDP-BJP coalition government in Jammu and Kashmir, headed by Mufti Mohammad Sayeed, is likely to be sworn in on March 1 with the two parties sorting out all issues, including differences over AFSPA and Article 370.
To give finishing touches to formalisation of the alliance, PDP chief Mehbooba Mufti is likely to meet BJP president Amit Shah here on Wednesday after seven-week long negotiations between the two parties.
It will be followed by a meeting between PDP patron Sayeed with Prime Minister Minister Narendra Modi later this week.
The swearing-in ceremony is likely to take place on March 1, sources privy to the talks said here on Tuesday.
Full report at:
http://timesofindia.indiatimes.com/india/Mufti-Mohammad-Sayeed-likely-to-take-oath-as-JK-CM-on-March-1/articleshow/46354013.cms
-----------
Pakistan
Nisar urges West to do more to curb Islamophobia
February 24, 2015
ISLAMABAD: Interior Minister Chaudhry Nisar Ali Khan has urged the West to do more to curb Islamophobia, a report published on Radio Pakistan said.
Talking to British Home Secretary Theresa May in London, he said democracy and freedom of speech in no way give a license to anybody to humiliate Muslims, distort their religious beliefs or make jest of their religious personalities.
He said success in the war against extremism can only be achieved through global unity and that those spreading Islamophobia are the biggest divisive factor in stopping the international community from coming together.
May said Britain attaches great importance to its relationship with Pakistan, adding that it will do everything to further strengthen these bilateral ties.
Nisar also held a meeting with British National Security Adviser Sir Kim Darroch and discussed matters of bilateral interest.
Full report at:
http://www.dawn.com/news/1165622/nisar-urges-west-to-do-more-to-curb-islamophobia
-----------
India's involvement or support to Taliban cannot be ruled out: Asif
February 24, 2015
Islamabad- Defence Minister Khawaja Muhammad Asif has said, foreign elements are involved in spreading terrorism in Pakistan, but we are fully capable to thwart their nefarious designs.
In an interview, he said tension on eastern border and working boundary has been heightened, under a well thought out plan to divert Pakistani security forces' attention from the war against terrorists.
Khawaja Muhammad Asif said, Pakistan is raising voice at international forums about incidents of terrorism and involvement of a neighboring country in such activities.
To a question, he said India's involvement or support to Taliban, cannot be ruled out in spreading terrorism in Pakistan.
http://nation.com.pk/national/24-Feb-2015/india-s-involvement-or-support-to-taliban-cannot-be-ruled-out-asif
-----------
Terrorist involved in APS attack arrested
February 24, 2015
RAWALPINDI: Another terrorist, Taj Muhammad alias Rizwan, one of the main executors in Peshawar APS attack has been arrested by security forces in an intelligence based operation. Taj Muhammad was commander of the 2nd group which attacked APS on December 16, 2014. Other terrorist group was being led by Atique-ur-Rehman alias Usman who has already been apprehended by security forces, said a press release by ISPR. 27-year-old Taj Muhammad alias Rizwan is resident of Sippah, Koi Chowk Bara Khyber. He was disguising as an IDP in village Pawakai, Peshawar. Taj Muhammad confessed his affiliation with the TTP since 2008 and has been involved in many other terrorist activities in North Wazirstan Agency (NWA) and around Peshawar.
http://www.dailytimes.com.pk/national/24-Feb-2015/terrorist-involved-in-aps-attack-arrested
-----------
COAS apprises PM Nawaz of APS arrests
Mateen Haider
February 24, 2015
ISLAMABAD: Chief of Army Staff (COAS) General Raheel Sharif on Tuesday met Prime Minister Nawaz Sharif at the Prime Minister House in Islamabad and discussed with him the internal security situation of the country as well as Chinese President Xi Jinping's forthcoming visit to Pakistan.
The COAS briefed the premier about the arrests made by security forces in connection with the attack on Peshawar's Army Public School.
On Monday, one of the primary executors of the Taliban attack on APS, Taj Muhammad alias Rizwan, was arrested by security forces in an Intelligence Based Operation (IPO).
Previously, the army had claimed to have made key arrests in connection with the school attack and said that all those involved, except six suspects, had either been killed or captured.
Full report at:
http://www.dawn.com/news/1165613/coas-apprises-pm-nawaz-of-aps-arrests
-----------
Bhagwandas and some other non-Muslim Pak luminaries
February 24, 2015
LAHORE: Former Acting Chief Justice of Pakistan, the late Rana Baghwan Das, will always stand tall among the most celebrated Pakistani non-Muslims, who have rendered meritorious services for the country in the fields of judiciary, defence, business, sports, medicine, healthcare, arts, education and public service etc. since 1947.
Here follows a brief list of some of the most publicly-acknowledged Pakistani non-Muslims:The Agra-born Justice Alvin "Bobby" Robert Cornelius (1903-1991) was Pakistan's fourth Chief Justice from 1960 until 1968.
Full report at:
http://www.thenews.com.pk/Todays-News-2-303488-Bhagwandas-and-some-other-non-Muslim-Pak-luminaries
-----------
Blast in Chaman kills one, wounds 8
Syed Ali Shah
February 24, 2015
QUETTA: At least one person was killed and seven others injured in an explosion on the Mall Road area of Balochistan's Chaman district on Tuesday.
Explosives planted on a bicycle detonated with a huge bang wounding eight passersby.
The intensity of the blast destroyed four vehicles situated in the vicinity and also damaged more than a dozen shops. Windowpanes of nearby buildings also shattered due to the blast.
Security and rescue teams rushed to the blast site and rescue personnel shifted the victims to District Headquarters Hospital Chaman. One of the victims succumbed to his wounds while receiving medical treatment.
FC and police personnel cordoned off the area as a probe into the incident went under way.
No group immediately claimed responsibility for the bombing.
The blast comes two days after an explosion in Chaman killed a child and wounded nine others.
Full report at:
http://www.dawn.com/news/1165615/blast-in-chaman-kills-one-wounds-8
-----------
Maldivian president due to arrive in Islamabad tomorrow
Mateen Haider
February 24, 2015
ISLAMABAD: Maldivian President Abdulla Yameen Abdul Gayoom is scheduled to arrive in Islamabad tomorrow (Wednesday) on a two-day official visit.
Official sources told Dawn that during his first ever visit to Pakistan, President Gayoom would meet his counterpart Mamnoon Hussain and would also call upon Prime Minister Nawaz Sharif.
President Gayoom was scheduled to visit Islamabad last year in August but did not make the trip due to the political crisis in the country and the sit-ins outside the Parliament by the Pakistan Tehreek-i-Insaf (PTI) and Pakistan Awaami Tehreek (PAT).
Take a look: Maldivian president cancels visit to Pakistan
Maldives is part of the South Asian Association for Regional Cooperation (Saarc) and matters relating to SAARC and regional issues would be discussed when leadership of both countries would meet in Islamabad, sources said.
http://www.dawn.com/news/1165609/maldivian-president-due-to-arrive-in-islamabad-tomorrow
-----------
Haram ingredients in most of imported food items
Amir Wasim
February 24, 2015
ISLAMABAD: A senior government official stunned members of a National Assembly committee on Monday when he told them that most of imported packed food items being sold in the country contained Haram ingredients.
The Additional Secretary of the Ministry of Science and Technology, Mian Ijaz, presented a list of 19 such items containing Haram ingredients.
Should the government establish a body to promote trade in Halal items and processes?
Yes it should
No there is no need
Vote
View Results
He said the ministry had no mandate to stop sale of such products.
The products are:
Two brands of Chicken Tonight (imported from Holland)
Bubblicious (UK)
Chupa Bubble (Holland)
Pascual Yogikids (Spain)
Three brands of Skittle Fruit (UK)
Picnic Chicken (USA)
Slima Soup (UK)
Knorr Chicken Soup (France)
Cup A Soup (UK)
Tulip Chicken (Denmark)
Rice Chicken Broccoli (USA)
Pasta Chicken Broccoli (USA)
Pasta Creamy Chicken (US)
Heinz Dinner Chicken (England)
Jell-O (US)
Pop Tarts (USA)
The items, according to the ministry's data, contain ingredients like white and red wine, gelatine and E120 (animal-based food colour). Some of the food items containing chicken have been placed in the list due to "doubts" about the "slaughtering mechanism" since "stunning is prohibited" in Islam. Some other products have been placed in the list due to lack of "proper source or traceability to ascertain the Halal/Haram status".
The members were told that the ministry intended to see establishment of the Pakistan Halal authority through an act of parliament to promote imports and exports and inter-provincial trade and commerce in Halal items and processes.
Full report at:
http://www.dawn.com/news/1165567/haram-ingredients-in-most-of-imported-food-items
-----------
Son of PML-N MNA arrested after scuffle with security guard in Lahore
Wasim Riaz
February 24, 2015
LAHORE: The son of a Pakistan Muslim League - Nawaz (PML-N) Member of the National Assembly was arrested on Tuesday after a case was registered against him at the Lahore North Cantonment Police Station.
Police action was taken in response to a complaint filed by a security guard regarding a scuffle that took place between the him and Ali Rohail Asghar on Monday night at the Royal Palm Golf and Country Club.
Ali Rohail Asghar is the son of MNA Sheikh Rohail Asghar who was elected from NA-124 constituency of Lahore.
Full report at:
http://www.dawn.com/news/1165608/son-of-pml-n-mna-arrested-after-scuffle-with-security-guard-in-lahore
-----------
US support's Pak-Afghan efforts for reconciliation process with Taliban
February 24, 2015
Washington- The United States has assured full support to the efforts of Afghanistan and Pakistan, for reconciliation process with Taliban.
The State Department spokesperson at a daily briefing said, Obama administration is supportive of an Afghan-led and Afghan-owned reconciliation process, whereby the Taliban and the Afghan government may engage to resolve the conflict.
http://nation.com.pk/national/24-Feb-2015/us-support-s-pak-afghan-efforts-for-reconciliation-process-with-taliban
-----------
Army chief, Chinese envoy discuss Afghanistan
February 24, 2015
Islamabad  Ambassador of China to Pakistan, Sun Weidong, on Monday called on Chief of Army Staff, General Raheel Sharif, at General Headquarters and discussed with him matters of mutual interest.
They discussed bilateral relations and cooperation and regional developments, especially with reference to Afghanistan.
They also expressed satisfaction over the exemplary relations between the two countries.
http://nation.com.pk/national/24-Feb-2015/army-chief-chinese-envoy-discuss-afghanistan
-----------
South Asia
37 Militants Killed in Separate Afghan Military Operations
24 February 2015
37 militants have been killed in separate military operations in past 24 hours, Afghan Ministries of Defense and Interior said on Tuesday.
A statement issued by the Ministry of Interior on Tuesday stated that 24 militants were killed in separate police operations in Nangarhar, Takhar, Kunduz, Badakhshan, Sar-e-Pul, Balkh, Kandahar, Uruzgan, Maidan Wardak, Paktiya, Herat, Farah and Helmand provinces in past 24 hours, Khaama Press reported.
The same statement added that 40 others militants were also injured and two others arrested by the security forces.
Full report at:
http://english.farsnews.com/newstext.aspx?nn=13931205001053
--------
Gunmen abduct 30 Shia Muslims in Afghanistan
Feb 24, 2015
Masked gunmen have kidnapped 30 Shia Muslims who were traveling on two buses in central Afghanistan, officials say.
The incident occurred in Zabul Province on the road between the western city of Herat and the capital, Kabul, on Monday evening.
The kidnapped individuals were men from the Hazara ethnic group, which is often targeted by militants in Afghanistan and neighboring Pakistan.
"Our driver saw a group of masked men in Afghan army uniform signaling him and he thought they were soldiers so he stopped," said Nasir Ahmad, an official with the Ghazni Paima bus company, adding, "The gunmen took 30 Hazaras away with them."
Ahmad further noted that the abductors took only the men on the two buses and freed the women and children accompanying them.
Police forces were "doing everything to ensure their safe release," Afghan Interior Ministry spokesman Sediq Sediqqi said.
Full report at:
http://www.presstv.in/Detail/2015/02/24/398944/Gunmen-abduct-30-Shias-in-Afghanistan
------------
Missing Korean teen at IS training camp: Intelligence
24 February 2015
A South Korean teenager who went missing last month has joined the Islamic State (IS) group and is receiving training, South Korea's spy agency said Tuesday.
The 18-year-old middle school dropout, identified only by his surname Kim, went missing in Turkey on January 10. There had been speculation that he crossed into Syria to join the radical Islamist group.
The National Intelligence Service (NIS) said in a report to a parliamentary committee that Kim was receiving training at an undisclosed IS camp, Yonhap news agency reported.
The NIS report was disclosed by lawmakers who attended the closed committee session.
The teenager was last seen leaving his hotel in the southern Turkish city of Kilis -- not far from the border.
South Korea's foreign ministry said earlier that CCTV footage obtained by Turkish police showed Kim taking an unlicensed taxi, together with an unidentified man, outside a mosque near his hotel.
Full report at:
http://english.ahram.org.eg/NewsContent/2/8/123809/World/Region/Missing-Korean-teen-at-IS-training-camp-Intelligen.aspx
--------
Japanese Mosques Bear Brunt of ISIL
23 February 2015
CAIRO – Bringing anti-Muslim sentiments to a new level, Japanese hostage crisis with ISIL has widely affected the country Muslims, with mosques and organizations receiving threats of attacks for the past weeks.
"Die," "Religion of murderers" and "I hate even the sight of Muslims," as well as threats such as "Get out of Japan right now if you don't want to be killed", were some of the messages sent to mosques according to Japan Times report published on Monday, February 23.
According to the Tokyo-based Japan Muslim Association, there are between 70 and 80 mosques in Japan.
Among 16 mosques that responded to queries, six reported having received abusive telephone calls or emails.
Full report at:
http://www.onislam.net/english/news/asia-pacific/483325-mosque-threats-harass-japanese-muslims.html
-----------
Maldives police drag former president into court
23 Feb 2015
Police in the Maldives have dragged the country's former president into a court which had ordered his detention while he is tried over his decision to arrest a top judge three years ago.
Mohamed Nasheed, now an opposition leader, fell to the ground after police pushed him in attempts to stop him from speaking to journalists gathered outside the Criminal Court in Male before his first hearing on Monday.
Nasheed was arrested on Sunday and charged under an anti-terrorism law for abusing his powers while president in 2012 by illegally using the military to arrest Criminal Court Judge Abdulla Mohamed.
The three-judge panel gave Nasheed three days to name his lawyers.
The government says the anti-terrorism law covers not only violent terrorism, but a wide array of actions against the state.
Nasheed resigned as president in 2012 following weeks of public protests against his order to arrest Mohamed.
Full report at:
http://www.aljazeera.com/news/southasia/2015/02/maldives-police-drag-president-court-150223143212679.html
-----------
Fugitive Bangladesh ex-lawmaker sentenced to life for war crimes
February 24, 2015
DHAKA: Bangladesh's war crimes tribunal on Tuesday sentenced a fugitive former lawmaker to life in prison for genocide and religious persecution of the country's Hindu minority during the 1971 independence war, the prosecutor said.
The 82-year-old Abdul Jabbar, a member of parliament in the 1980s for the government-aligned Jatiya Party, was tried in absentia, as he is thought to have fled to the United States.
Enayetur Rahim, a war crimes tribunal judge, sentenced Jabbar to life in prison after finding him guilty of five charges of atrocities committed during the nine-month war against Pakistan, the prosecutor said.
"He was found guilty of all five charges including genocide, murder, arson and religious persecution," Zahid Imam told AFP.
Full report at:
http://www.dawn.com/news/1165618/fugitive-bangladesh-ex-lawmaker-sentenced-to-life-for-war-crimes
-----------
Two men sentenced to 25 years in plot to attack Americans in Afghanistan
24 February 2015
Two men convicted of seeking to join al Qaeda and training to carry out attacks on Americans in Afghanistan were sentenced on Monday to 25 years in federal prison, the U.S. Justice Department said.
U.S. District Judge Virginia Phillips sentenced Sohiel Omar Kabir, 37, and Ralph Deleon, 26, who prosecutors said trained at firearms and paintball facilities in Southern California to prepare for their mission.
The two were found guilty in federal court in September of conspiring to provide material support to terrorists and conspiring to murder U.S. military and government personnel.
Deleon was also convicted of conspiracy to commit murder, kidnapping or maiming overseas.
Prosecutors said trial evidence showed that Kabir introduced Deleon and another defendant, Miguel Alejandro Santana Vidriales, to militant Islamist theology in 2010 and, after traveling to Afghanistan in 2012, encouraged them to follow him there to join al Qaeda.
Later that year, Deleon and Santana recruited a fourth defendant, Arifeen David Gojali, to join them overseas to commit violent jihad, according to prosecutors.
Full report at:
http://english.alarabiya.net/en/News/world/2015/02/24/Two-men-sentenced-to-25-years-in-plot-to-attack-Americans-in-Afghanistan-.html
-----------
4 Bangladeshis killed in fire in Saudi Arabia
Staff Correspondent
At least six migrant workers, including four Bangladeshis, were killed in a fire at a sofa manufacturing factory in Dammam of Saudi Arabia early Monday.
The Bangladeshis were identified as -- Abu Musa and Ziaur Rahman of Comilla, Mir Rahman of Feni, and Abu Mollah of Chandpur, said Sarwar Alam, counsellor (Labour Wing) at the Bangladesh embassy in Riyadh.
"The fire broke out at the factory around 1:30am (Saudi Arabia local time). The victims were asleep at that time," he told The Daily Star over the phone.
Around 15 workers, mostly Bangladeshis, work at the factory, Alam added.
The bodies were kept at Dammam Central Hospital mortuary, and would be sent back home after police verification.
The counsellor, however, couldn't confirm whether they were working legally or not.
On Friday, a fire at a two-storey building in Abu Dhabi claimed the lives of 10 migrant workers of different nationalities. Three of the deceased were thought be Bangladeshis.
http://www.thedailystar.net/backpage/4-bangladeshis-killed-in-fire-in-saudi-arabia-66390
-----------
Rizvi on 3-day remand again in violence case
February 24, 2015
A Dhaka court yesterday placed BNP leader Ruhul Kabir Rizvi Ahmed on a three-day remand in a case filed over violence in the capital's Mohammadpur area on January 17.
Metropolitan Magistrate Md Maruf Hossain passed the order after Ratan Krishna Roy, investigation officer of the case, produced Rizvi before it with a seven-day remand prayer.
Earlier in the day, Rizvi was produced before the same court on completion of his three-day remand in another arson case.
On January 17, two petrol bombs were hurled at a bus in Rayerbazar Beribadh of Mohammadpur.
Following the incident, police filed a case against 43 people, including Rizvi, for their alleged involvement with the arson attack.
Roy in the remand prayer yesterday said Rizvi instructed his party men to carry out the arson attack intending to kill the bus driver, helper and passengers.
Defence lawyers told the court that their client was implicated in the case for political harassment.
http://www.thedailystar.net/city/rizvi-on-3-day-remand-again-in-violence-case-66375
-----------
Mideast
ISIL poses threat to Turkey, not the PYD: Demirtaş
February/23/2015
The Islamic State of Iraq and the Levant (ISIL) poses a threat to Turkey, not the People's Protection Units (YPG) militia of the Syrian Kurds, Peoples' Democratic Party (HDP) Co-Chair Selahattin Demirtaş said on Feb. 23.
"We see that ISIL has gradually started to threaten Turkey, and I think it will henceforth pose an even greater threat to Turkey," Demirtaş told reporters in Diyarbakır.
"Turkey should realize how important it is to cooperate with democratic powers in the region, particularly the PYD, in the fight against ISIL and against its mentality," he added.
Demirtaş also expressed his hope that this would enable Ankara to enhance its "formal relations with the PYD."
The operation for the evacuation of the Süleyman Şah Tomb showed that the PYD is not an enemy to Turkey, he added.
Turkey and Kobane canton in talks for relocation of Süleyman Şah Tomb
Meanwhile, another senior HDP executive has indicated that Ankara's direct contact with the administration of the Kobane canton in Rojava would be inevitable for the relocation of the Süleyman Şah Tomb, arguing that otherwise there would be an impossible "de facto" situation.
Full report at:
http://www.hurriyetdailynews.com/isil-poses-threat-to-turkey-not-the-pyd-demirtas.aspx?pageID=238&nID=78726&NewsCatID=338
-----------
Israeli troops kill Palestinian near Bethlehem
24 February 2015
Israeli troops have shot dead a 19-year-old Palestinian man during unrest at a refugee camp near the West Bank town of Bethlehem, Palestinian medics said Tuesday, according to Agence France-Presse.
Jihad al-Jafari, a supporter of Palestinian president Mahmud Abbas's Fatah movement, was killed in an overnight confrontation at the Dheisheh camp, the medics said.
A spokeswoman for the Israeli army said that troops were attacked by people throwing stones and incendiary devices, adding that one soldier was wounded.
"After trying in vain to disperse the crowd of attackers, our forces felt in danger and opened fire at the leader of the rioters, who was hit," the spokeswoman said, without elaborating.
http://english.alarabiya.net/en/News/middle-east/2015/02/24/Israeli-troops-kill-Palestinian-near-Bethlehem-.html
-----------
Turkey seeks to turn Syria into terror base: Jaafari
Feb 24, 2015
Syria's UN envoy Bashar al-Jaafari accuses neighboring Turkey of rallying Takfiri terrorists from many countries to turn the Arab state into a terror base.
Addressing a Security Council session on protecting the international peace and security in New York on Monday, Jaafari added that Turkey sends criminal terrorists and foreign mercenaries to Syria to establish their self-proclaimed state and make it a base for terrorism.
These terrorists will be set off from Syria to the neighboring countries and the whole world, Jaafari added.
"Training foreign mercenaries in camps, supervised by the US Pentagon in Saudi Arabia, Turkey, Qatar and Jordan and sending them through borders to fight the Syrian state is a flagrant violation of the simplest UN principles," the diplomat added.
He also described Ankara's move as "an unjustifiable breach by the US to Security Council resolutions No. 2170, 2178 and 2199."
Full report at:
http://www.presstv.in/Detail/2015/02/24/398935/Turkey-seeks-to-make-base-in-Syria
------------
Message to donors and Tony Blair: Give Gaza its future
23 Feb 2015
Gaza - Freezing weather conditions and flooding continue to affect tens of thousands of Palestinians who lost their homes during last summer's Israeli bombardment of the besieged Gaza Strip.
The seven-week conflict ended in a truce on August 26, 2014. The UN reported that 2,100 Palestinians, most of them civilians, were killed during 51 days of conflict.
The UN Relief and Works Agency (UNRWA) recently assessed that 96,000 Palestinian refugee dwellings remain either destroyed or damaged, a figure expected to rise in its next review. Displaced families remain in overcrowded, unsanitary temporary shelters.
Last October, at the Cairo conference, international donors pledged $5.4bn for the reconstruction of damaged infrastructure, homes and neighbourhoods. These funding commitments have not yet been met.
Full report at:
http://www.aljazeera.com/indepth/features/2015/02/message-donors-tony-blair-give-gaza-future-150222075024307.html
-----------
Israel denies causing Gaza floods by opening dams
24 Feb 2015
Israel has rejected allegations by government officials in the Gaza strip that authorities were responsible for released storm waters flooding parts of the besieged area.
"The claim is entirely false, and southern Israel does not have any dams," said a statement from the Coordinator of Government Activites in the Territorities (COGAT).
"Due to the recent rain, streams were flooded throughout the region with no connection to actions taken by the State of Israel."
At least 80 Palestinian families have been evacuated after water levels in the Gaza Valley (Wadi Gaza) rose to almost three meters, .
The Gaza Ministry of Interior said in a statement on Sunday that civil defence services had worked alongside teams from the Minsitry of Public Works to evacuate families to shelters in al-Bureij refugee camp and in al-Zahra neighbourhood sponsored by UNRWA, the UN Relief and Works Agency.
Full report at:
http://www.aljazeera.com/news/2015/02/gazans-flee-floods-caused-israel-dams-opening-150222115950849.html
-----------
Independent Palestinian state stressed
24 February 2015
Custodian of the Two Holy Mosques King Salman held talks with Palestine President Mahmoud Abbas in Riyadh on Monday and reaffirmed Saudi Arabia's support for the Palestinians to establish an independent state.
"King Salman affirmed the Kingdom's solid stand on the Palestinian issue and the Palestinians legitimate right to have independent state with Jerusalem as its capital," said an official statement carried by SPA.
The Saudi leader also stressed the Kingdom's efforts to establish a just and lasting peace in the Middle East and urged the international community to take effective steps to protect the Palestinians from unending Israeli aggression.
King Salman and President Abbas reviewed the current situation in the occupied Palestinian territories. Abbas thanked the Saudi government and people for their continuous support to the Palestinians.
Crown Prince Muqrin, deputy premier, Riyadh Gov. Prince Faisal bin Bandar and National Guard Minister Prince Miteb bin Abdullah attended the talks.
http://www.arabnews.com/featured/news/709171
-----------
Backing Hadi, GCC exhorts UN to free Sanaa of Houthis
24 February 2015
Saudi Arabia and other GCC countries have urged the UN Security Council to shoulder its responsibility toward establishing security and stability in Yemen and support the country's legitimate president.
The GCC welcomed the move of Yemen's President Abed Rabbo Mansour Hadi to flee to Aden to avoid house arrest in the Houthi-controlled capital Sanaa as an important step to ensure his legitimacy.
"GCC countries call upon all Yemenis and political and social groups in the country to rally behind President Hadi and support him to carry out his constitutional duties to save Yemen from the present dangerous situation," said GCC Secretary-General Abdullatif Al-Zayani.
"The Security Council should consider the measures taken by the Houthis as null and void as they have no legitimacy," Al-Zayani said in a statement on Monday.
The GCC urged the Houthis to lift the house arrest imposed on the country's prime minister and other politicians and release all those kidnapped by the militants.
The GCC reiterated its support for peaceful political process on the basis of the Gulf initiative and national dialogue.
http://www.arabnews.com/middle-east/news/709106
-----------
Turkey denies cooperation with PYD, calls it a terrorist organization
February/23/2015
Turkey did not contact the armed wing of the Syrian Kurds' Democratic Union Party (PYD) or the Islamic State of Iraq and the Levant (ISIL) prior to the evacuation operation of its troops from an historic Ottoman tomb inside Syria, a spokesperson for the presidency has said, reiterating the country still regards the PYD as a terrorist organization.
"First of all, the PYD is a terrorist organization to us," İbrahim Kalın, a spokesperson for the presidency, told reporters at a press conference Feb. 23, following statements from PYD officials that the party's armed People's Protection Units (YPG) provided assistance in the entry and the exit of Turkish troops into Syrian territory over the weekend.
Turkey sees the PYD as the Syrian wing of the outlawed Kurdistan Workers' Party (PKK) and has designated it a terror organization. However, the PYD's leader, Salih Müslim, is often hosted in Ankara to discuss regional matters and his most recent visit to Turkey was last week just before the evacuation of the troops.
Full report at:
http://www.hurriyetdailynews.com/turkey-denies-cooperation-with-pyd-calls-it-a-terrorist-organization.aspx?pageID=238&nID=78759&NewsCatID=352
-----------
Turkish officials differ over NATO link of planned missile system
February/23/2015
Senior Turkish officials have differed over whether the planned new-long range missiles will be compatible with NATO systems, with a presidential spokesperson correcting the defense minister Feb. 23, stressing that these systems will surely be integrated with the alliance's defense structure.
"As one of the most important countries in NATO's security line, we will definitely ensure this integration and harmony," a spokesperson for the presidency, İbrahim Kalın, told reporters at a press conference.
alın made this point upon a question on Defense Minister İsmet Yılmaz's recent statement, in which he argued the system wouldn't be integrated into the alliance's system.
NATO member Turkey chose China Precision Machinery Import and Export Corp as a preferred bidder in 2013 to supply the missile system, prompting Western concerns about security and the compatibility of the weaponry with NATO infrastructure. NATO countries, particularly the United States, objected to the idea, pointing to the fact that these systems will not be integrated with the alliance defense structure.
Full report at:
http://www.hurriyetdailynews.com/turkish-officials-differ-over-nato-link-of-planned-missile-system.aspx?pageID=238&nID=78732&NewsCatID=338
-----------
Iran supports stability, unity in Lebanon: Senior official
Feb 24, 2015
A senior Iranian official says the Islamic Republic attaches importance to stability and tranquility in Lebanon, reiterating Tehran's support for unity and solidarity among the Lebanese factions for the election of a new president in the Arab country.
"The Islamic Republic of Iran supports the election of a Lebanese president in the shortest possible time on the basis of a consensus among all political currents in the country," Hossein Amir-Abdollahian, Iran's deputy foreign minister for Arab and African affairs, said on Monday.
He made the remarks in a meeting with visiting Lebanese Minister of Education and Higher Learning Elias Bou Saab (pictured below) in Tehran, where the two officials discussed bilateral ties and regional developments.
Bou Saab has traveled to Tehran to attend a ministerial meeting of the Non-Aligned Movement (NAM).
The Iranian official further voiced the Islamic Republic's preparedness to enhance bilateral ties with Beirut in various domains.
The Lebanese minister, for his part, expressed gratitude to the Islamic Republic for its support for Lebanon.
Lebanon has not had a president since former President Michel Sleiman's tenure ended in May 2014; the country's parliament has failed to find a successor to him.
http://www.presstv.in/Detail/2015/02/24/398927/Iran-backs-stability-unity-in-Lebanon
-----------
Preemptive military action runs against UN Charter: Iran
Feb 24, 2015
The Iranian ambassador to the United Nations says preemptive military action against sovereign countries contravenes the world body's Charter.
The UN Charter has either rejected or restricted the use of force to maintain international peace and security, Gholamali Khoshrou said at a Security Council meeting on Monday, adding that any military action as a preemptive measure is against the Charter.
The Iranian diplomat, who was speaking on behalf of the Non-Aligned Movement, said world countries need to avoid resorting to the Chapter VII of the UN Charter as an authorization for the use of force when it comes to issues that are not considered a threat to international peace and security.
Full report at:
http://www.presstv.in/Detail/2015/02/24/398928/Preemptive-wars-against-UN-Charter
-----------
Africa
Central African leaders join battle against Boko Haram
24.Feb.2015
MORE international pressure is being ramped up on Boko Haram, as Central African leaders joined President Goodluck Jonathan to explore ways to bring the menace of the Islamic terrorist group to an end.
President of the Republic of Congo, Denis Sassou N'Guesso and his Equatorial Guinea counterpart, President Teodoro Obiang Nguema Mbasogo, were in Abuja, on Monday, to confer with President Jonathan on how to proceed with the war against the insurgents.
The meeting took place at the Presidential wing of the Nnamdi Azikiwe International Airport.
The leaders were planning to put up a security architecture to tame the Boko Haram terrorists through the utilisation of political, military and diplomatic actions.
In a remark to State House correspondents after the meeting, President N'Guesso said their visit to Abuja was in pursuance of the African Union (AU) recent resolution to tackle the insurgents, who are active in Nigeria, Cameroon and Chad.
He said they also deliberated on the ongoing efforts to curtail Ebola in Liberia, Sierra Leone and Guinea, which along with terrorism, he said, were challenges confronting the continent.
"As we know, Africa is confronting two challenges. Significantly, Ebola is affecting basically countries in West Africa. These countries are Liberia, Guinea and Serra Leone.
"Also, the operations of the terrorists generally affecting countries in the Sub-Saharan Africa and in northern Africa, particularly Boko Haram, which has been affecting Nigeria, Chad and Cameroun," he said.
Full report at:
http://www.tribune.com.ng/news/top-stories/item/30348-central-african-leaders-join-battle-against-boko-haram
-----------
Terrorists abandon heaps of arms in Baga
23 Feb 2015
TROOPS engaged in cordon and search in Baga continue to discover more arms of various background and shapes abandoned in some houses and the surrounding by fleeing terrorists.
A statement issued by the Director, Defence Information, Major-General Chris Olukolade, further disclosed that heaps of weapons, most of which were strange looking or destroyed, were still being gathered.
Many abandoned or destroyed motorcycles had also been discovered.
Meanwhile, a soldier was stabbed while another was shot during a close quarter battle which ensued as troops caught up with some of the fleeing terrorists on Sunday evening.
A number of individuals who claimed to be residents were also being interrogated in order to ascertain their identity and motive.
The group, consisting mostly women, continued to hail and cheer the troops as they conducted thorough search in the area.
Wanting to be sure the group was not working for the terrorists despite the excitement, they had to be placed under watch.
The cordon and search, as well as patrol of the localities continued, while the offensive on terrorists was progressing in other areas of the theatre of the counter-terrorist campaign.
http://www.tribune.com.ng/news/top-stories/item/30238-terrorists-abandon-heaps-of-arms-in-baga
-----------
In South Sudan, a chance to be children again
Sebastian Rich
23 Feb 2015
Pibor, South Sudan - In the relative cool shade provided by two giant water-starved trees in the unforgiving South Sudanese bush sits patiently a large dishevelled group of children. Sitting in front of them are an earnest group of adults.
On approaching this group you could be forgiven for thinking this was a field trip undertaken by a local school. It's not until you get a little closer that you notice that most of these children are carrying high velocity automatic weapons.
A little unnerving seeing such weapons in such tiny hands.
The warring Cobra faction, after months of delicate negotiations, were in the process of handing over 300 war-weary child soldiers to the care of UNICEF.
With a few suspicious frowns, but mostly in good spirits, the boys laid down their automatic weapons under the watchful eyes of the SPLA (Sudanese Peoples Army), local police, UNICEF and the Guvnor of Pibor.
Full report at:
http://www.aljazeera.com/indepth/inpictures/2015/02/south-sudan-child-soldiers-150217131933638.html
-----------
Spy Cables: South African spies wary of Iran operations
23 Feb 2015
Iran's efforts to use official and unofficial channels in South Africa to beat western-imposed sanctions have raised concerns within South African security services, according to leaked intelligence documents obtained by Al Jazeera.
The Spy Cables provide a detailed account of Tehran allegedly using secret front companies, as well as open diplomatic channels, in its efforts to work around trade restrictions in order to obtain materials for both arms manufacture and other industries.
A 128-page "Operational Target Analysis," written by South African spies, profiles dozens of alleged Iranian operatives, listing their names, cover stories, families, addresses and phone numbers.
Full report at:
http://www.aljazeera.com/news/2015/02/spy-cables-south-africa-spies-iran-operations-guardian-ssa-tehran-undercover-carpet--150219184023503.html
-----------
Libyan government to exclude Turkish firms from contracts
23 February 2015
BENGHAZI, Libya: Libya's internationally recognized government has said it will end all contracts with companies from Turkey, a country it has accused of supporting a rival administration.
The government of Prime Minister Abdullah Al-Thinni did not spell out its reasons for the decision, posted on a cabinet website.
A Turkish official said the government was evaluating the situation in the north African oil producer, where Turkish businesses have traditionally had a strong presence.
Al-Thinni and the allied elected parliament have been confined to a rump state in the east since an armed group called Libya Dawn seized the capital Tripoli and reinstated a previous assembly.
"The council of ministers ... decided to review all contracts with foreign companies in all areas and exclude Turkish firms from operating in Libya," the cabinet statement said.
Major world powers have boycotted the Tripoli government which critics say is backed by radical groups. But the UN has included lawmakers from the rival parliament in a dialogue aimed at defusing a violent power struggle between the two Libyan administrations.
Turkey is one of a handful of countries which has publicly received officials from the Tripoli government and parliament.
Full report at:
http://www.arabnews.com/middle-east/news/708741
-----------
Algeria: Crackdown on Labor Rights Defenders
FEBRUARY 23, 2015
(Tunis) – Algerian courts have sentenced nine labor rights activists to prison since late January 2015 for engaging in peaceful protests to support unemployed workers. One was sentenced to 18 months in prison for "unauthorized gathering." The others received one-year sentences, six months of which were suspended for the same charge.
Algerian authorities should respect the right to peaceful protest and stop prosecuting workers' rights activists on "unauthorized gathering" charges. The government should also amend law 91-19, which unduly restricts the right to peaceful assembly, and penal code provisions that criminalize unauthorized peaceful gatherings.
"Unemployed workers, already suffering because of the economy, now face arrest and imprisonment for peacefully voicing their discontent," said Eric Goldstein, deputy Middle East and North Africa director at Human Rights Watch. "Algerian authorities are woefully misguided if they think that locking up peaceful protesters is the way to deal with their grievances."
Full report at:
http://www.hrw.org/news/2015/02/23/algeria-crackdown-labor-rights-defenders
-----------
South Africa: Why South African Muslims Won't Join Isil En Masse
23 FEBRUARY 2015
South Africa woke up on Monday to a Daily Maverick piece about the first Islamic State of Iraq and the Levant (Isil) recruit from South Africa. We don't want to believe that a South African would be duped into joining an illegitimate organisation that stages violent land-grabs but hey, stranger things have happened. South African Jews have gone to Israel to fight for Zionism and ex-South African soldiers from the bad old days have functioned as very effective mercenaries on the continent.
Full report at:
http://allafrica.com/stories/201502231641.html
-----------
Boko Haram Resorts to Guerilla Tactics as Pressure Mounts
23, 2015
ABUJA—
As multinational forces and the Nigerian military make inroads against Boko Haram in Nigeria's northeast, the sect has been staging attacks outside its usual areas of strength. Experts say this may be a sign of a shift in the group's tactics.
Boko Haram's attack on the city of Gombe earlier in February came as a surprise to many. The fighters reached the heart of the city, fired on soldiers, and distributed leaflets warning against voting in the March 28 presidential election. Boko Haram has carried out bombings in Gombe, but the attack was unusual.
Full report at:
http://www.voanews.com/content/boko-haram-resorts-to-guerilla-tactics-as-pressure-mounts/2655726.html
-----------
Al-Shabaab video shows how far it lags behind in 'jihadi draft'
February 23, 2015
A propaganda video released by the Somali militant group al-Shabaab, threatening attacks against shopping centres in the west, smacks of a bid to remain relevant as other extremist groups such as Islamic State (Isis) and Boko Haram grab the world's attention.
The slickly produced 77-minute film, posted online on Saturday, calls for strikes on Oxford Street and two Westfield malls in London, the Mall of America in Minnesota and Canada's West Edmonton mall. "Westgate was just the beginning," it proclaims, invoking what might cynically be described as al-Shabaab's greatest hit: the siege of the Westgate mall in Nairobi, Kenya, in which 67 people were killed by four gunmen.
But that was September 2013 and a great deal has happened since then. Isis has overrun swaths of Iraq and Syria, and produced macabre videos tailored to the modern media cycle. Boko Haram has rampaged through northern Nigeria and stolen headlines with the kidnapping of 276 schoolgirls in Chibok. Islamist gunmen have stunned the world by attacking a satirical magazine in Paris, killing 17 people over three days.
Full report at:
http://www.theguardian.com/world/2015/feb/23/al-shabaab-video-jihadi-draft-propaganda-somali
-----------
Southeast Asia
Terengganu mulls Friday prayer rule for Muslims
24 February 2015
Terengganu Menteri Besar Datuk Ahmad Razif Abdul Rahman said today those violating the rule would be sent for counselling and repeat offenders would face legal action.
"We will educate our young and implement enforcement in the best way, without any negative impact on society," he told reporters after attending a briefing at Wisma Persekutuan.
He also said that the Maidam move to act against Muslims who engaged in disorderly behaviour and those who were attired indecently in public places was provided for in the Maidam rules.
Maidam adopted the approach of educating the people, especially Muslim youths, to be well-mannered in public, he said. – Bernama, February 24, 2015.
http://www.themalaysianinsider.com/malaysia/article/terengganu-mulls-friday-prayer-rule-for-muslims-bernama
-----------
Islam demands PAS-Umno unity, says Perlis mufti
February 24, 2015
KUALA LUMPUR, Feb 24 — It is the Islamic religious duty of leaders in political arch-rivals PAS and Umno to bury the hatchet and start working together, Perlis mufti Dr Mohd Asri Zainul Abidin claimed today.
The outspoken Islamic scholar — the first in the country to be appointed mufti twice — said the country can only benefit from active cooperation between the two old adversaries, especially if it leads towards good and taqwa or adhering to God's will.
"All this while PAS has struggled from outside to improve Umno's politics, why does PAS not try instead to do so within a government.
Full report at:
http://www.themalaymailonline.com/malaysia/article/islam-demands-pas-umno-unity-says-perlis-mufti
-----------
Forget Umno, PAS alone is for clean Islamic government, says veep
February 24, 2015
KUALA LUMPUR, Feb 24 — Malays should unite behind PAS if they are sincere in wanting an Islamic government that is corruption-free, the Islamist party's vice-president Datuk Tuan Ibrahim Tuan Man said today.
Dismissing calls for PAS and Umno to form a unity government, Tuan Ibrahim stressed that his party has never discussed joining forces with Umno and questioned if the ruling Malay nationalist party could be trusted, pointing out that Putrajaya has long refused Kelantan oil royalties or funds for infrastructure development.
"If the rationale is for Malay unity, then let the Malays support PAS for a new Islamic government and let them no longer be seen as a community that can accept corruption and abuse of power as part and parcel of the Umno government," Tuan Ibrahim said in a statement today.
Full report at:
http://www.themalaymailonline.com/malaysia/article/forget-umno-pas-alone-is-for-clean-islamic-government-says-veep
-----------
Indonesia Demands Explanation From Brazil Over Diplomatic Snub
Feb 24, 2015
Jakarta. Indonesia's Foreign Affairs Ministry has demanded an explanation from Brazil after President Dilma Rousseff refused to accept the diplomatic credentials of Indonesia's ambassador-designate.
The diplomatic snub was reportedly over the imminent execution of a Brazilian convict on death row for drug trafficking in Indonesia, but Foreign Affairs Minister Retno LP. Marsudi has summoned the Brazilian ambassador for an official explanation.
"We don't know the official reason, the information received by the ambassador from the Brazilian foreign affairs minister was the postponement was related to the execution," Retno said on Tuesday.
Full report at:
http://thejakartaglobe.beritasatu.com/news/indonesia-death-penalty-protest-brazil-ambassador/
-----------
Jakarta court dismisses Australians' plea for clemency
Feb 24, 2015
An Indonesian court has dismissed a last-ditch legal bid by two Australian drug traffickers on death row to avoid execution.
Australian nationals Andrew Chan and Myuran Sukumaran were arrested in 2005 and sentenced to death the following year for trying to smuggle heroin out of the Indonesian island of Bali into Australia.
Their appeals for presidential clemency have been rejected by Indonesian President Joko Widodo.
Full report at:
http://www.presstv.in/Detail/2015/02/24/398937/Jakarta-court-rejects-Australians-plea
------------
Arab World
Govt raps extremists for 'hijacking Islam'
24 February 2015
The Kingdom has intensified efforts to counter extremist groups locally and abroad who are attempting to hijack Islam, the Cabinet said here on Monday.
At a meeting chaired by Custodian of the Two Holy Mosques King Salman at Al-Yamamah Palace on Monday, the Council of Ministers said these groups were distorting Islam's message of peace.
Briefing the media on the outcome of the meeting, Adel Al-Toraifi, culture and information minister, highlighted the message against terrorism of King Salman at the World Islamic Conference Against Terrorism, which started on Sunday in Makkah.
The Cabinet also highlighted the Kingdom's participation in the first world summit against extremism held last week in Washington.
It said that the Kingdom has been at the forefront of tackling extremism in all its forms.
"It is indeed our responsibility to be involved in serious international efforts that seeks to mobilize concerted international action against this evil phenomenon and its sources," Al-Toraifi said.
Full report at:
http://www.arabnews.com/featured/news/709186
-----------
ISIL kidnaps 90 Christians in Syria
Feb 24, 2015
The ISIL terrorist group has kidnapped at least 90 Christians in northeast Syria.
The so-called Syrian Observatory for Human Rights said on Tuesday that the abductions were carried out in Assyrian Christian villages near the town of Tel Tamer in the province of Hasakah.
It said the Takfiri militants attacked the villages after dawn.
Tel Tamer, home to the ancient Christian minority, is located in the western countryside of the Kurdish city of Hasakah.
There are at least 28 Assyrian villages in the Hasakah Province.
The ISIL militants, with members from several Western countries, control parts of Syria and Iraq, and have been carrying out horrific acts of violence such as public decapitations and crucifixions against all communities.
The new abductions came amid heavy clashes between Kurdish fighters and ISIL militants over the control of several villages in Hasakah.
Media reports said that the terror group has executed two people for "dealing with Kurds" in the village of Ghibsh located near the town of Tal Tamer in the province.
Syria has been grappling with a deadly crisis since March 2011. The violence fueled by Takfiri groups has so far claimed the lives of over 210,000 people.
http://www.presstv.in/Detail/2015/02/24/398951/ISIL-kidnaps-90-Christians-in-Syria
-----------
Muslim scholars condemn linking Islam to acts of terrorism
24 February 2015
Islamic scholars from across the world lambasted on Monday the double standard being followed at the global level in wrongly linking Islam with terrorism.
Taking part in a session on the second day of the three-day Global Islamic Conference in Saudi Arabia under the theme "Countering Terrorism," they said extremists from other faiths also misuse religion as an umbrella for terrorism.
"There have been concerted efforts by some agencies to link Islam with terrorism, but this has not been the case as regards other religions. If a Muslim, who is quite unaware of the fundamentals of Islam, commits an act of terror, it is linked to Islam.
"But if the same terror act is committed by a Christian, Jew, Hindu or Buddhist, it is seldom linked to the perpetrator's religion," the scholars argued.
The scholars said terrorism is not the product of any religion and race but instead it is a phenomenon that has existed in various communities in different forms and manifestations through the ages.
Full report at:
http://english.alarabiya.net/en/News/middle-east/2015/02/24/Muslim-scholars-condemn-linking-Islam-to-acts-of-terrorism.html
--------
ISIL Sells Kurdish Bodies for Money
24 February 2015
The 'Islamic State of Iraq and the Levant' (ISIL) Takfiri terrorist group is offering to deliver bodies of the Kurdish operatives who were killed fighting within its ranks in return for cash, in reference to the financial problems suffered by the terrorist organization recently.
The German Frankfurter Allgemeine Sonntagszeitung news paper on Sunday quoted security sources as saying that ISIL seeks to deliver the bodies of Kurdish fighters killed in battles in exchange for cash "ranging between 10 thousand and 20 thousand dollars per body.
The German paper said "it is unlikely" that ISIL be able to take advantage of these bodies through trading organs, for not having the medical technology and expertise required for this task.
The newspaper added that ISIL takfiri group has cut its fighters' salaries by two-thirds, and is no longer able to sell the oil barrel for "more than ten to twenty dollars."
http://english.farsnews.com/newstext.aspx?nn=13931205000964
--------
ISIS militant's partner faces jail for sending cash to fund terrorism
24 February 2015
The partner of a man fighting alongside the Islamic State of Iraq and Syria (ISIS) has been jailed for sending him around $1500 to fund his terrorist activities, the Daily Mail reported Monday.
Hana Khan, allegedly made the transaction to Jafar Turay via Western Union, after he sent her pictures of children posing with weapons.
The 23-year-old was found guilty of knowingly funding terrorist activities and was released on conditional bail. She will be sentenced on March 27.
Judge Gerald Gordon said Khan, who is from Willesden, northwest London, is not an ISIS supporter.
"Unlike some she is not, in my view prone to fundamentalist beliefs herself," he said.
"I think it is more the attraction of Jafar Turay," he added.
Turay, fled to the war-torn country in 2012 after converting to Islam. He is wanted by the British police for crimes he committed before leaving the UK.
http://english.alarabiya.net/en/perspective/features/2015/02/24/ISIS-militant-s-girlfriend-facing-jail-for-sending-cash-to-help-fund-terrorism-.html
--------
ISIS not 'tech-savvy': Social media expert tells UAE forum
23 February 2015
Social media experts have denied claims that ISIS are somehow tech-savvy and that the militant group's use of social networking tools does not mean that the technology is the root of the problem.
Speaking at the International Government Communication Forum in Sharjah, UAE, Ben Hammersley, a journalist and researcher on social networking tools, said the militant group's attempts to recruit Westerners through social media was only affecting a "minority of people."
He said, in a discussion chaired by Al Arabiya News Channel TV anchor and reporter Rima Maktabi, that from an estimated population of 1.7 million Muslims in the United Kingdom, a relatively small group of 400 were recruited to join ISIS.
"The fact that it happens through social media does not make social media the problem," he said, adding that ISIS propaganda affects "people who are already susceptible" to such extremist ideas, who do not make up the majority.
Full report at:
http://english.alarabiya.net/en/media/digital/2015/02/23/ISIS-not-tech-savvy-expert-says.html
--------
ISIS Recruiting Child Soldiers: Parents Concerned About Islamic State's Influence Should Fight Back With Facts, Experts Say
Feb 24, 2015
Amira Abase's dad spent the weekend begging her to come home. "Remember how we love you," Abase Hussen pleaded, holding a teddy bear, in a public video message to his missing 15-year-old. "We cannot stop crying. Please think twice. Don't go to Syria." That's the feared destination for Amira and her two teenage friends, all of whom left London last week to allegedly join the Islamic State group. They're not the first youth to be seduced by ISIS -- just Friday, the United States criminally charged a Minnesota teen for attempting to join up in November -- and they likely won't be the last. As the militants ramp up their recruitment techniques, parents like Hussen are questioning how best to protect their kids from being lured overseas.
Above all, University of Maryland psychology professor Arie W. Kruglanski recommended constant vigilance. ISIS militants draw young people in with messages of power and determination, he said, and teens are especially susceptible because of the lifestyle changes they're going through. "They're confused," he said. "They look for clarity and coherence, and this kind of ideology that is black and white, clear-cut, very structured is of great appeal to them."
Full report at:
http://www.ibtimes.com/isis-recruiting-child-soldiers-parents-concerned-about-islamic-states-influence-1825472
---------
Sunni boycott threatens reconciliation efforts in Iraq
23 Feb 2015
Baghdad - Iraqi Sunni lawmakers said they would reconsider an earlier decision to suspend all parliamentary activities if the government agrees to create a Sunni force to be in charge of security in Iraq's Sunni-dominated provinces.
"As a matter of principle, we are in negotiations to ban all the militias," Raad al-Dahalaki, a lawmaker familiar with the negotiation process, told Al Jazeera. "But since the government does not have the will to do so, our alternative demand is to form a Sunni force similar to the Shia one equipped and armed by government."
Sunni lawmakers, who hold 73 seats in the 328-strong parliament, suspended their parliamentary activities on February 14 to protest against the abduction of fellow politician Zaid al-Janabi and the killing of his uncle, Qassim Swedan, a well-known tribal sheikh, his son and seven bodyguards in southern Baghdad.
Full report at:
http://www.aljazeera.com/news/2015/02/sunni-boycott-threatens-reconciliation-efforts-iraq-150223091549767.html
-----------
Yazidis battle ISIL: Disaster 'made us stronger'
23 Feb 2015
Mount Sinjar, Iraq - Beritan Soza barely has to lower her head when she climbs out of the mud-caked tent she calls home. The 18-year-old clutches a Kalashnikov rifle that hangs off her shoulder, gripping it tightly so the strap does not slip. The gun, she tells Al Jazeera, was given to her three months ago by the Sinjar Resistance Units (YBS), and she has not let it out of her sight since.
Soza says volunteering to fight with the YBS - an all-Yazidi militia force of 600 fighters based on Mount Sinjar - has given her a feeling of control. Hundreds of thousands of Yazidis have been displaced since last August, when the Islamic State of Iraq and the Levant (ISIL) advanced on Sinjar in Nineveh province.
"I'm not a victim," Soza says. "The disaster that happened to the Yazidi people just made us stronger. We know we don't need anyone to help us now, because we are helping ourselves."
The Yazidis, an ethno-religious minority in Iraq, follow an ancient Mesopotamian religion with roots in Zoroastrianism. Yazidis, referred to as "devil worshippers" by ISIL, have been targeted by the group's fighters.
Full report at:
http://www.aljazeera.com/news/2015/02/yazidis-battle-isil-disaster-stronger-150222112936773.html
-----------
Iraq moving to retake town from Islamic State
24 February 2015
CAMP ARIFJAN, Kuwait: Iraqi forces appear set to drive Islamic State militants out of the town of Al-Baghdadi, securing an area near a key air base where US Marines are training local forces, a top US commander said on Monday.
Lt. Gen. James Terry, the senior US commander of US-led coalition efforts in Iraq and Syria, played down the militants' seizure of large parts of the town earlier this month, saying that the area had long been contested.
Speaking to reporters before an unusual war strategy meeting with top US military and diplomatic leaders in Kuwait, Terry portrayed Islamic State as being on the back foot after they swept through northern Iraq last summer.
"My assessment is (Islamic State) is halted, on the defensive, and really forced-exposed themselves in order to achieve gains," Terry told reporters in Kuwait.
The Iraqi army's 7th Division, including one of its commando units, were joining with tribal forces to retake Al-Baghdadi, which is about 85 km northwest of Ramadi in Anbar province, Terry said.
Full report at:
http://www.arabnews.com/middle-east/news/709096
-----------
Egyptian court sentences activist to 5 years in prison
23 February 2015
CAIRO: A court in Egypt has sentenced an icon of its 2011 revolt to five years in prison after a retrial.
The verdict came Monday in the case against well-known activist Alaa Abdel-Fattah, who faced a retrial after he was sentenced to 15 years in prison for taking part in an unauthorized protest and allegedly assaulting a police officer.
The courtroom erupted after the verdict, with some shouting: "Down with oppression!"
Abdel-Fattah is a prominent blogger who has been a vocal government critic. The charges against him stem largely from a law prohibiting protests in Egypt without prior government permission, a measure that came after the military overthrew Islamist President Muhammad Mursi in 2013. Activists and rights groups have criticized the law as a way to stop all dissent.
http://www.arabnews.com/middle-east/news/708751
-----------
ISIS opens English-language schools in Syria's Raqqa: report
24 February 2015
The Islamic State of Iraq and Syria (ISIS) has reportedly opened two English-language schools in Syria's Raqqa, the capital of its so-called caliphate, in an apparent attempt to cater to the families of foreign fighters, the Independent newspaper reported on Monday.
The daily referred to activists in Raqqa who had drawn attention to a flier for the "attention [of] English speaking muhajiroon."
The ISIS- emblazoned flier – which includes contact details and lesson times for two separate facilities, one for boys, the other girls – claims that "by the grace of Allah we have opened schools for English speaking children."
One activist with the group "Raqqa is Being Slaughtered Silently" posted an image of the flier online, the daily said.
Abu Ibrahim Raqqawi said the flier offered "teaching to foreign fighters' children" in a range of subjects including religious studies according to ISIS' interpretation of Islamic law, English, maths, and "jihadiyyah."
Full report at:
http://english.alarabiya.net/en/perspective/features/2015/02/24/ISIS-opens-English-language-schools-in-Syria-s-Raqqa-report-.html
-----------
Questions persist over Süleyman Şah tomb abandonment in Syria
February 23, 2015
As more details emerge about Turkey's extraction of its troops guarding the Tomb of Süleyman Şah -- the grandfather of the founder of the Ottoman Empire -- in northern Syria, it's still not clear whether Turkey launched its military operation alone or with the help and/or permission of the US, Kurdish groups that Turkey considers terrorists or the Islamic State in Iraq and the Levant (ISIL).
Although Turkish government officials are trying to present the abandonment of the tomb as a military success, several reports and opposition politicians in Turkey have questioned the reasons behind the military operation dubbed "Operation Shah Euphrates."
Turkey launched a military operation late on Saturday to bring back 38 troops guarding the tomb -- the only Turkish territory that is not attached to the rest of the country. While the operation signaled the apparent collapse of Turkey's Syria policy under the threat of the terrorist Islamic State in Iraq and the Levant (ISIL), it was hailed as a success by the government.
Full report at:
http://www.todayszaman.com/diplomacy_questions-persist-over-suleyman-sah-tomb-abandonment-in-syria_373443.html
------------
URL: https://newageislam.com/islamic-world-news/new-age-islam-news-bureau/de-link-islam-from-terror--canadian-muslims/d/101677