New Age Islam News Bureau
29 March 2012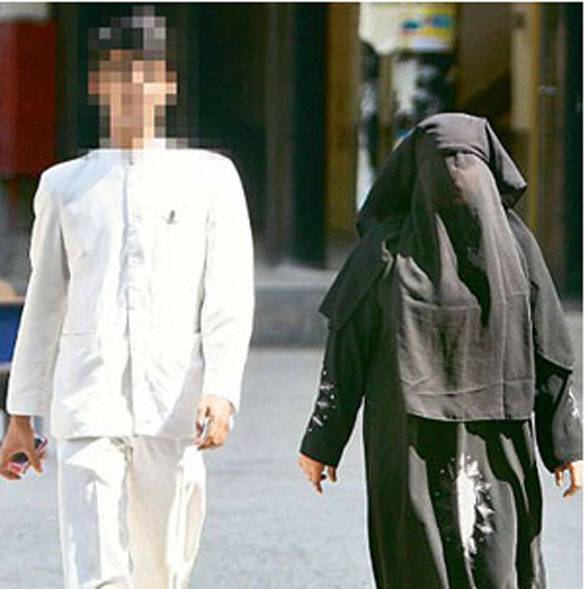 • Indonesian minister declares miniskirts 'pornographic'
• US City Council passes resolution condemning 2002 Gujarat riots
• 'Afghan women fleeing abuse being jailed'
• FBI Islamic training materials gave OK to infringe on targets' civil rights
• French gunman's father to sue police over his death
• Gunman Mohamed Merah 'to be buried in France'
• Maldives police accused of torturing women
• Malaysian Mosque Is Also a Methadone Clinic
• Bahrain's Shiite-Sunni Animosities Linger on Campus a Year After Clashes
• Penalizing Criticism of Islam Threatens Free Speech and Reforms
• Nigeria: I Never Preached Against Islam, Says Sacked Islamic 'Preacher'
• Refugees Say Neighbor Shoots Neighbor in Syrian Crackdown
• Spanish court drops rape probe against Saudi prince
• Indonesia jails Islamic school principal for terrorism
• Over 40 killed in north Syrian town: Activists
• Baghdad rocked by blast as Arab summit opens
• European Union calls for end to Sudan, South Sudan clashes
• Muslim Leader: Algeria Doesn't Want Gunman's Body
• Frenchmen Suspected in Indonesian Embassy Blast
• ISTANBUL: A Fashion Magazine Unshy About Baring a Bit of Piety
• Islamist intrigue: Gaddafi's secret missionaries
• 2 Syrian Colonels Killed in Attack in Central City
• One U.N. staff among six killed in Pak
• Gaza baby dies after respirator runs out of fuel
• KSA demands Yemen group free diplomat immediately
• Islamist to head panel drafting Egypt`s constitution
• Indian immigrant in US found guilty of supporting Hezbollah
• NATO 'failed to aid' Libyan migrant boat - Council of Europe
• Quetta, Mastung firing incidents leave eight dead
• Nigeria forces search houses for Boko Haram, kill 4
• Former US official gets prison over Afghanistan bribe
• US generals, Pakistan army chief to meet to discuss NATO skirmish
• Pak SC says Gilani may face second contempt case
• Pakistan addicted to using militants against India: Pentagon
• Gilani makes stopover in China after nuclear summit
• Need to link hearts of Indians, Pakistanis: Kapil Sibal
• MQM Chief warns nationalists against using 'threatening language' against Mohajirs
• Pakistan willing to use F-16s to destroy hideouts, US told
• Pakistan: Hindu couples' registration
• Bin Laden informer: Dr Shakil Afridi sacked by the Pakistan Health Deptt.
• Enough evidence to charge Syria's Assad: UN rights chief
• Civilians bear brunt of bombing in Syria
• Arab summit divided over approach to Syria
• Survivor: Homs has become a ghost city
• Medvedev: Annan's mission is Syria's last chance
• BRICS to focus on Syria, Iran today
• US assails Syria's Assad for not implementing peace plan
• Syrian-American brothers in arms join Syria fight
• BRICS countries affirms commitment to support Afghanistan
• NATO supply convoy ambushed in west Afghanistan
• Two hundred French troops leave Afghanistan
• UK to pull 1,500 troops out of Afghanistan in 2013
• Grand religious celebrations organized at Budgam, Amira Kadal, Khanyar in Kashmir, India
• Pak population increased by 46.9% between 1998 and 2011
• J&K CM Will begin revoking AFSPA by year-end
Complied by New Age Islam News Bureau
Photo: Darul accepts Talaq on phone by 'drunk' Muslims
URL: https://newageislam.com/islamic-world-news/new-age-islam-news-bureau/darul-uloom,-deoband-okay-with-talaq-on-phone-by-'drunk'-muslims/d/6944
----------
Darul Uloom, Deoband Okay with Talaq on Phone by 'drunk' Muslims
By Piyush Srivastava
Mar 29, 2012
THE Darul Uloom, Deoband, has delivered yet another religious edict that underscores its deep- rooted bias against women.
While replying to a recent query, Darul Ifta — the online fatwa department of the renowned Islamic seminary in Uttar Pradesh's Saharanpur district — ruled in favour of a Talaq ( divorce) given by an inebriated man on a mobile phone.
It declared that the woman cannot continue living with her husband even if he admitted later that he was drunk and had inadvertently uttered " talaq" thrice on the cell phone.
In November 2010, the seminary had given a fatwa that talaq uttered thrice by a man on a mobile phone would be considered valid even if his wife was unable to hear it thrice owing to network or other problems. The Sunni seminary had also spoken out against working women in May that year, though it retracted the statement eventually.
In the latest instance, the fatwa seeker was the brother of the aggrieved woman. He had written to Darul Ifta about her predicament and sought guidance.
"My sister married my brother- in- law two and a half years ago and has no child yet. We came to know that he was habituated to alcohol. Recently, after getting drunk, he told my sister that he was divorcing her," the online query stated.
He quoted his brother- in-law telling his sister on her mobile phone: " I am pronouncing Talaq three times.
Talaq, Talaq, Talaq." The girl's brother, however, added: "Now, he is feeling guilty and wants to resolve the issue." The Darul Uloom — which could well have settled the matter amicably by taking a broader view, considering that the husband was repentant — wrote back: "Now she cannot marry your brother- in- law without a valid halalah." The latter refers to the process of the woman tying the knot with another man and getting a divorce from him before remarrying the first husband.
The seminary further instructed: "After the iddah is over, the divorced woman should marry someone else.
If the second husband dies or divorces her after having marital relations, then she may marry her first husband after completing the iddah ( a period fixed by a Maulvi that a woman needs to spend alone before she gets married the second time)." However, Sunni cleric Khalid Rashid Firangimehli disagreed with the Darul Uloom's opinion. "Talaq is a complicated issue if it is obtained on a mobile phone and in an inebriated condition.
A thorough inquiry is needed to ascertain whether it was a genuine divorce," he pointed out.
"It could be valid if the drunken man was aware of the repercussions of his act.
But such a Talaq would amount to nothing if he forgets everything after consuming liquor. The issue cannot be decided in one sitting," he added.
Mail Today
----------
Indonesian minister declares mini skirts 'pornographic'
Mar 29 2012
Jakarta : Indonesia's Religious Affairs Minister Suryadharma Ali has declared that mini skirts are pornographic and would be banned under the country's tough new anti-porn laws.
Ali has been appointed to run Indonesia's new anti-porn task force, announced by President Susilo Bambang Yudhoyono earlier this month.
The Jakarta Post quoted him as telling reporters in Jakarta yesterday that before deciding what they must ban as pornography, the task force would consult widely to come up with "a set of universal criteria", adding that "one [criteria] will be when someone wears a skirt above the knee."
Once a standard of pornography was established, the task force would apply it nationwide across all ethnicities, the newspaper reported.
The president announced the anti-pornography task force earlier this month to try to remove it entirely from Indonesia.
Judging by a recent Google survey, Indonesians consume porn at least as enthusiastically as other people, despite a large majority of the population being Muslim.
http://www.indianexpress.com/story-print/930004/
----------
US City Council passes resolution condemning 2002 Gujarat riots
Mar 29, 2012
WASHINGTON, A US City Council has passed a resolution condemning the 2002 post-Godhra riots in Gujarat and expressed concern over the "denial" of justice for the victims.
The resolution, passed this week by the City Council of Harvey, Illinois, expressed solidarity with the victims, including those who died in the Godhra train fire on February 27, 2002.
"The Harvey City Council condemns the Gujarat pogrom of 2002 as a gross violation of human rights and a failure of the law and order machinery in the state of Gujarat," the resolution stated, expressing concern over "denial of justice" to the surviving victims "despite worldwide condemnation".
The resolution also said there have been very few arrests and even fewer convictions arising out of the cases registered during and after the "mass killings".
City Mayor Eric Kellogg presided over the meeting, which was attended by four other voting council members, and members of the public.
"There are times when events in far-flung parts of the world not only move our hearts, but strengthen our resolve to always stand up for truth and justice. The horrific massacres that took place in the Indian state of Gujarat in 2002 is one such event," Kellogg said.
He said the fact that such an incident took place in the birth place of Mahatma Gandhi, was "especially shameful".
Kellogg hailed the Indian-American community in Harvey for their contributions in the field of relief, charity and social services, and resolved to raise funds for the victims of the Gujarat riots.
The passage of the resolution has been welcomed by the Indian American Muslim Council (IAMC).
With a population of over 30,000, Harvey is considered as a suburb of Chicago.
http://timesofindia.indiatimes.com/world/us/US-City-Council-passes-resolution-condemning-2002-Gujarat-riots/articleshow/12454275.cms
----------
'Afghan women fleeing abuse being jailed'
Mar 29 2012
Kabul : For Afghan women, the act of fleeing domestic abuse, forced prostitution or even being stabbed repeatedly with a screwdriver by an abusive husband, may land them in jail while their abusers walk free, Human Rights Watch said.
Running away is considered a moral crime for women in Afghanistan while some rape victims are also imprisoned, because sex outside marriage — even when the woman is forced — is considered adultery, another moral crime.
"From the first time I came to this world my destiny was destroyed," 17-year-old Amina, who has spent months in jail after being forced into prostitution, told researchers from Human Rights Watch in a report published on Wednesday. Despite progress in women's rights since the fall of the Taliban a decade ago, women throughout the country are at risk of abduction, rape, forced marriage and being traded as commodities.
"The treatment of women and girls accused of 'moral crimes' is a black eye on the face of the post-Taliban Afghan government and its international backers," the New York-based group said. The rights organisation said that there were about 400 women and girls being held for moral crimes, and they rarely found support from authorities in a dysfunctional criminal justice system.
The plight of a woman called Nilofar illustrates the problem. She was stabbed repeatedly with a screwdriver in the head, chest, and arms by her husband who accused her of adultery for inviting a man into the house, the group said. But afterwards, she was arrested, he was not. "The way he beat her wasn't bad enough to keep him in jail. She wasn't near death, so he didn't need to be in prison," the prosecutor of the case said.
http://www.indianexpress.com/story-print/929694/
----------
FBI Islamic training materials gave OK to infringe on targets' civil rights
Mar 29 2012
Senator Dick Durbin releases documents uncovered as part of senate committee probe into FBI training on American Muslims
Training materials used by the FBI for dealing with American Muslims and other Islamic communities have advised agents they can break the law and impinge on some of their targets' civil rights.
The instructions were contained in confidential materials reviewed by the Senate Judiciary Committee as part of an internal FBI probe into what sort of training agents were exposed to when dealing with Islam.
The investigation uncovered 876 pages and 392 presentations that failed to meet standards or could be considered offensive amid more than 160,000 pages of FBI documents and slides.
Though that material has not been published – and senate staffers were not allowed to keep copies – committee member Senator Dick Durbin has revealed some of its contents in a letter written to FBI director Robert Mueller.
In the letter – first revealed by the Danger Room blog on wired.com – Durbin describes one slide that read: "Under certain circumstances, the FBI has the ability to bend or suspend the law and impinge on freedoms of others."
Full report at:
http://www.guardian.co.uk/world/2012/mar/28/fbi-training-materials-infringe-islam-rights?newsfeed=true
----------
French gunman's father to sue police over his death
Mar 29, 2012
ALGIERS: The father of Mohamed Merah, the Islamist gunman who killed seven people in southern France, has hired an Algerian lawyer to sue a crack French police unit over his son's death, the lawyer said on Wednesday.
"Mr. (Mohamed Benalal) Merah came to our office in Algiers on Tuesday to formally ask us to sue the French security services (RAID) for not having followed procedure during the attempt to arrest Mohamed Merah and his murder," Zahia Mokhtari said.
"Mr. Merah thinks that his son was murdered. He has asked us to file a complaint against the French security services," she added. "We will begin the procedure once the burial is completed."
Algerian authorities have reportedly not yet agreed to a family request that Merah be buried in the north African country
Mokhtari explained that a convention signed between France and Algeria authorises lawyers to pursue cases in both countries.
Mokhtari is a well-known lawyer in Algeria, notably for having won a 2005 case in a German court on behalf of an Algerian man, Ibrahim Badaoui, who was accused of belonging to al-Qaida.
Full report at:
http://timesofindia.indiatimes.com/world/europe/French-gunmans-father-to-sue-police-over-his-death/articleshow/12449076.cms
----------
Gunman Mohamed Merah 'to be buried in France'
Mar 29, 2012
Toulouse gunman Mohamed Merah is to be buried in France after Algerian authorities denied permission for a burial, a French Muslim official says.
Abdallah Zekri, of the Muslim Council of France, said Algeria had cited security as the reason for its refusal.
He told AFP news agency that Merah's family had asked him to organise the funeral within 24 hours.
Family members had been hoping to escort Merah's body to Algeria, where the family is originally from.
The family had planned to hold the funeral in the municipality of Souagui, about 80km (50 miles) south of the capital, Algiers.
Merah, 23, killed seven people, including three children, in south-western France before he was shot dead in a siege at his home last week.
Police have found an abandoned car near Toulouse with possible links to Merah and the attacks, French media say.
Full report at:
http://www.bbc.co.uk/news/world-europe-17548561
----------
Maldives police accused of torturing women
Mar 29, 2012
Maldivian police tortured and sexually harassed women detained during anti-government protests since February following allegations of a coup, a human rights body alleged today.
The London-bases Amnesty International said that Maldives authorities must immediately investigate allegations that police beat and sexually harassed four women detained during an anti-government rally.
"While in detention they were forced to undergo naked body checks on the spurious suspicion of concealing drugs in their genitals. They were forced to strip and squat several times while in prison," Amnesty International said in a statement.
There is no indication that the women protesters were involved in any acts of violence during the rally. Their detention therefore was arbitrary, it said.
According to testimony gathered by Amnesty International, the women, who were arrested on 19 March, were beaten during and after their arrest.
Full report at:
http://www.indianexpress.com/story-print/929600/
----------
Malaysian Mosque Is Also a Methadone Clinic
By LIZ GOOCH
Mar 29, 2012
KUALA LUMPUR — Every Monday and Thursday morning, the slightly built man rides the bus for an hour and a half from his home on the outskirts of Kuala Lumpur to the Ar-Rahman mosque.
After reciting his prayers, he climbs the stairs to the mosque's mezzanine level, gives a urine sample and consults a doctor. A pharmacist then gives him a small plastic cup containing methadone, to help wean him from his heroin addiction.
The man, who did not want to be identified because of the stigma surrounding illicit drug use in the Muslim-majority country, said he had injected heroin for seven years before coming to the Ar-Rahman mosque about a year ago. "It makes me no longer take heroin on the street," he said, referring to the methadone. "It makes me able to work."
Some Muslim scholars believe that drugs that may prevent Muslims from carrying out their religious duties are forbidden under Islam, and Malaysia enforces strict laws, including the death penalty, for drug trafficking. Penalties for those found in possession of heroin include a fine, up to life in prison and whipping, depending on the amount.
Full report at:
http://www.nytimes.com/2012/03/29/world/asia/malaysian-mosque-is-also-methadone-clinic.html?ref=world&gwh=A6162F066EE77421AA2CAFC1F8A55473
----------
Bahrain's Shiite-Sunni Animosities Linger on Campus a Year After Clashes
By SOUAD MEKHENNET
Mar 29, 2012
MANAMA, BAHRAIN — As students mill about during their lunch break in the food court of the University of Bahrain, it could be a scene from a university cafeteria anywhere in the Gulf. There are lines to buy offerings that range from Italian dishes to sandwiches and hamburgers. Young women in black abayas carry designer bags and type messages into their cellphones.
But underlying the apparent normality, there is tension and distrust: Four female students looked around for a place to sit and talk the other day, but not just anywhere. "Don't sit at that table," said Zehra, who asked not to be identified further. "We are surrounded by students from the other side."
Zehra and her friends are among about 500 mainly Shiite students who were expelled from the university last year after clashes between pro- and anti-government demonstrators. According to the university's president, Ebrahim Mohammed Janahi, the rioting caused $5 million in damage.
Full report at:
http://www.nytimes.com/2012/03/29/world/middleeast/bahrains-shiite-sunni-animosities-linger-on-campus-a-year-after-clashes.html?ref=middleeast&gwh=2DC6E4101E42186028E256DC4D27B222
----------
Penalizing Criticism of Islam Threatens Free Speech and Reforms
03/19/2012
Professor Ekmeleddin Ihsanoglu, the eminent Turkish Secretary General of the Organisation of Islamic Cooperation (OIC) was recently welcomed in Europe, the U.S. and Australia.
However, this organization has an agenda to criminalize criticism of Islam, which threatens to strangle dissent and reform.
Established in 1969 and based in Saudi Arabia, the OIC represents 57 member states with sizeable Muslim populations, and wields considerable influence in the U.N.
Professor Ihsanoglu believes "no one has the right to insult another for their beliefs" but does it follow that insults should be criminalized?
Although the OIC does not define offensive speech, the policies and practices of member states are instructive. Muslims wishing to give up Islam are branded apostates, often with dire penalties. Ahmadis and Baha'is are persecuted as "insulters" of Islam. Saudi journalist Najeeb Kashgari was recently charged with apostasy following three tweets considered heretical by Saudi clerics. He fled the country, but was arrested in Malaysia on the way to New Zealand and extradited. Christian Egyptian Naguib Sawiris faces trial for insulting Islam, after tweeting images of a bearded Mickey Mouse and veiled Minnie Mouse.
Full report at:
http://www.huffingtonpost.com/ida-lichter-md/penalizing-criticism-of-islam-threatens-free-speech_b_1334590.html?ref=islam
----------
Nigeria: I Never Preached Against Islam, Says Sacked Islamic 'Preacher'
BY ALIYU M. HAMAGAM, 26 MARCH 2012
Minna — A self acclaimed Islamic preacher, Sheik Mohammad Isa Okete, yesterday refuted reports that he was sacked from Shobawosi in Agaie Local Government Area of Niger State for preaching contrary to the teachings of Islam.
In February this year, it was reported that Sheik Okete was sacked from his village by the followers of Sheik Khalifa Tijjani for preaching that adultery is permissible for a Muslim as long as he/she says the five daily prayers, and that the Ramadan fast is not obligatory in Islam. It was also reported that he trivialized the five pillars of Islam.
But speaking yesterday, Sheik Okete said he never preached against the teachings of Islam, and would never do so.
"I am fully aware of the consequences that await anyone who does that, so I can never preach against the doctrine of my religion", he said.
Sheik Okete maintained that his sack was masterminded by people who were jealous of the fact that people were trooping to his house from all parts of the state for spiritual blessings.
Full report at:
http://allafrica.com/stories/201203260308.html
-----------
Refugees Say Neighbor Shoots Neighbor in Syrian Crackdown
By ANNE BARNARD
Mar 29, 2012
AL QAA, Lebanon — Sunni Muslims who have fled Syria described a government crackdown that is more pervasive and more sectarian than previously understood, with civilians affiliated with President Bashar al-Assad's minority religious sect shooting at their onetime neighbors as the military presses what many Sunnis see as a campaign to force them to flee their homes and villages in some sections of the country.
The refugees, from in and around Qusayr, a town in the province of the rebellious city of Homs, this week offered a rare witness account of the unfolding tumult in western Syria as an intensive bombardment of communities continues. They said it appeared that the government concluded that when it pushed rebels from strongholds like the Bab Amr neighborhood in Homs, opposition fighters and protesters quickly regrouped in other Sunni areas.
Full report at:
http://www.nytimes.com/2012/03/29/world/middleeast/refugees-say-neighbor-shoots-neighbor-in-syrian-crackdown.html?ref=world&gwh=209D448FC0A608FC8667A9BE2148572F
----------
Spanish court drops rape probe against Saudi prince
Mar 29, 2012
MADRID: A Spanish court has dropped a probe into allegations a Saudi billionaire prince raped a model on a yacht in Ibiza three years ago, according to a ruling seen on Wednesday.
The case concerns Prince Alwaleed bin Talal, a nephew of King Abdullah and one of world's richest men, who is being asked to respond to a complaint of sexual assault against him in August 2008 by a model who was 20 at the time.
The 57-year-old has denied the allegations. He has said he was nowhere near Ibiza at the time.
A provincial court on Palma de Majorca, the capital of the Balearic Islands, on Monday ordered a stay of proceedings in the case due to the "contradictions and vagueness" of the alleged victim's testimony, the court ruling said.
"In light of recent statements by the complainant, we cannot firmly establish with evidence what happened overnight August 11-12, 2008, on the yacht," it added.
Full report at:
http://timesofindia.indiatimes.com/world/europe/Spanish-court-drops-rape-probe-against-Saudi-prince/articleshow/12451376.cms
----------
Indonesia jails Islamic school principal for terrorism
Mar 29, 2012
TANGERANG: An Indonesian court on Wednesday jailed an Islamic boarding school head for 17 years for possessing more than two dozen home-made bombs and inciting terrorism.
Abrory M Ali, who was the head of the Umar bin Khatab boarding school in West Nusa Tenggara province, eastern Indonesia, was arrested in July when some of his home-made bombs went off accidentally, killing a school employee.
Following the blast, police tried to raid the school but students attempted to stop them in a bid to prevent the discovery of the explosives and firearms.
This prompted a three-day standoff during which the students, armed with machetes and swords, barricaded themselves inside. "The evidence during the trial showed that the defendant was guilty of having assembled 27 pipe bombs" and of collecting firearms, chief judge Iman Gultom told Tangerang district court on Jakarta's outskirts. "He also spread deviated teaching about jihad to his students which caused the loss of people's lives," he added. One of his students has previously been sentenced to 15 years in jail for killing a police officer with a sword.
http://www.dailytimes.com.pk/default.asp?page=2012\03\29\story_29-3-2012_pg4_3
----------
Over 40 killed in north Syrian town: Activists
Mar 29, 2012
Syrian forces have captured a northern town from rebels after four days of fighting in which more than 40 people were killed and homes were burned down, activists said on Wednesday.
It was just the latest in a string of opposition strongholds to fall to ruthless assaults by the better-equipped Syrian military.
Activists also reported clashes between Syrian army units and rebels in the country's center and east.
The fresh violence comes one day after President Bashar Assad said he has accepted a six-point UN plan to resolve the country's year-long crisis, including a cease-fire.
The Local Coordination Committees network said there were many unidentified corpses and wounded people in the streets of Saraqeb, the northern opposition town that the military seized after a four-day offensive that began Sunday.
As in other towns and cities recaptured recently by the army, Syrian troops left behind a trail of death and destruction.
Full report at:
http://www.dailypioneer.com/world/53337-over-40-killed-in-north-syrian-town-activists.html
----------
Baghdad rocked by blast as Arab summit opens
Mar 29, 2012
BAGHDAD: A blast rocked central Baghdad near the Iranian embassy on the outskirts of the Iraqi capital's heavily-fortified Green Zone as a landmark Arab summit opened Thursday, an AFP journalist said.
"It was a mortar round that landed near the (Iranian) embassy. There are no casualties," though some of the windows of the embassy were broken, a police official said.
The blast was heard at around 1:40 pm and took place in the Salhiyeh neighbourhood of central Baghdad.
As smoke billowed into the sky, security forces members, military vehicles and fire-fighters were seen heading to the site of the blast.
The Honein jihadist forum has included several recent messages from users threatening attacks on the Arab summit, particularly using mortar rounds as well as with suicide bombers.
Deputy National Security Adviser Safa Hussein told AFP before the summit that the most likely form of attack during the summit was "indirect fire," referring to mortars or rockets.
The blast came despite strict security measures by the Iraqi government, which had 100,000 security forces members on alert in Baghdad, and effectively locked down the city, closing swathes of roads, shutting down air space and cutting mobile phone networks.
http://www.dawn.com/2012/03/29/rocket-explodes-as-arab-summit-begins-source.html
-------------
European Union calls for end to Sudan, South Sudan clashes
Mar 29, 2012
BRUSSELS: The European Union's foreign policy chief urged Sudan and South Sudan on Wednesday to end fighting along their disputed border, saying further clashes could lead to a wider military conflict.
Sudan and South Sudan blame each other for the fighting. South Sudan said its neighbour Sudan launched air strikes on major oilfields in its Unity state on Tuesday. It was one of the most serious reported confrontations since the South declared independence from Sudan in July.
"Recent cross-border attacks and continued aerial bombing represent a dangerous escalation of an already tense situation," a statement from Catherine Ashton's office said.
"Further cross-border military activity could result in a wider military confrontation."
South Sudan won its independence under a 2005 peace deal that ended decades of civil war with Khartoum, but distrust still runs deep. Both sides are still at loggerheads over the position of their shared border and how much the landlocked south should pay to transport its oil through Sudan.
Sudan has denied launching air strikes but said its ground forces had attacked southern artillery positions which had fired at the disputed oil-producing area of Heglig, which is partly controlled by Khartoum.
Full report at:
http://timesofindia.indiatimes.com/world/europe/European-Union-calls-for-end-to-Sudan-South-Sudan-clashes/articleshow/12443048.cms
----------
Muslim Leader: Algeria Doesn't Want Gunman's Body
Mar 29, 2012
TOULOUSE, France (AP) — A regional Muslim leader says that Algerian authorities have refused to let the gunman who killed seven in southern France be buried in Algeria.
Abdallah Zekri of the French Muslim Council, or CFCM, told The Associated Press on Thursday that Algerian authorities refused for "reasons of public order." He has been liaising with Algerian authorities in Toulouse about what to do with Mohamed Merah's body.
Merah claimed responsibility for a spate of terror attacks that left three Jewish schoolchildren, a rabbi and three paratroopers dead. He was killed in a gunfight with police last week.
Merah's father is from Algeria and said he wanted his son buried with relatives there.
Zekri said he is working with the family to find a solution for the funeral ceremony.
http://www.nytimes.com/aponline/2012/03/28/world/europe/ap-eu-france-terrorism.html?ref=world&gwh=2C97166F78C703328A10E0DED90D7D3E
----------
Frenchmen Suspected in Indonesian Embassy Blast
Mar 29, 2012
JAKARTA, Indonesia (AP) — A top anti-terrorism official in Indonesia says a French militant is suspected in an attack on the country's embassy in Paris.
A package exploded at the Indonesian Embassy on March 21. No one was hurt and aside from a few broken windows the blast caused little damage.
Indonesia's anti-terrorism agency chief Ansyaad Mbai said Thursday there were "strong indications" Frenchman Frederic C. Jean Salvi was involved.
The man has been on Indonesia's wanted list since 2010 for allegedly planning a car bombing with other members of a small terror cell.
He allegedly spent several years studying with Islamic militants in Indonesia.
http://www.nytimes.com/aponline/2012/03/29/world/asia/ap-as-indonesia-french-embassy-attack.html?_r=1&ref=global-home
----------
ISTANBUL: A Fashion Magazine Unshy About Baring a Bit of Piety
By DAN BILEFSKY
Mar 29, 2012
ISTANBUL — Across a neon-lighted corridor in a hyper-designed modernist loft here, a group of Eastern European models posed coquettishly for a magazine spread, their heads covered in brightly colored scarves.
Except for the religious headgear, the shoot could have been for any glossy fashion magazine. But Ala — called the "Vogue of the veiled" in the Turkish news media — is no conventional publication. In an unlikely fusion of conservative Muslim values and high fashion, it unabashedly appeals to the pious head-scarf-wearing working woman, who may covet a Louis Vuitton purse but has no use for the revealing clothing that pervades traditional fashion magazines.
One of Ala's founders, Ibrahim Burak Birer, 31, a religious Muslim and a former marketing analyst who favors jeans and designer jackets, said he decided to start the magazine — its name means "the most beautiful of the beautiful" in Turkish — after seeing a transsexual with strap-on breasts in a transparent dress on the cover of an international fashion magazine.
Full report at:
http://www.nytimes.com/2012/03/29/world/europe/a-turkish-fashion-magazine-ala-is-unshy-about-showing-some-piety.html?ref=world&gwh=C07B3239A090389B3E59B83D5349E3A9
----------
Islamist intrigue: Gaddafi's secret missionaries
Mar 29 2012
Tripoli: On a tidy campus in his capital of Tripoli, Dictator Muammar Gaddafi sponsored one of the world's leading Muslim missionary networks. It was the smiling face of his Libyan regime, and the world smiled back.
The World Islamic Call Society (WICS) sent staffers out to build mosques and provide humanitarian relief. It gave poor students a free university education, in religion, finance and computer science. Its missionaries traversed Africa preaching a moderate, Sufi-tinged version of Islam as an alternative to the strict Wahhabism that Saudi Arabia was spreading.
The Society won approval in high places. The Vatican counted it among its partners in Christian-Muslim dialogue and both Pope John Paul and Pope Benedict received its secretary general. Archbishop of Canterbury Rowan Williams, spiritual head of the world's Anglicans, visited the campus in 2009 to deliver a lecture. The following year, the U.S. State Department noted approvingly how the Society had helped Filipino Christian migrant workers start a church in Libya.
Full report at:
http://www.indianexpress.com/story-print/929999/
----------
2 Syrian Colonels Killed in Attack in Central City
Mar 29, 2012
BEIRUT (AP) — Syria's state news agency says gunmen have killed two army colonels in Aleppo, the country's largest city and a stronghold of support for President Bashar Assad.
SANA says four men belonging to an "armed terrorist group" opened fire on the officers at a roundabout in the central city of Aleppo on Thursday. The colonels were on their way to work.
They were identified as Abdel-Karim al-Rai and Fuad Shaban. No one immediately claimed responsibility for the attack.
The anti-Assad uprising has become increasingly militarized since it started last March, but Aleppo has largely been spared clashes between government forces and rebels.
Full report at:
http://www.nytimes.com/aponline/2012/03/28/world/middleeast/ap-ml-syria.html?ref=global-home
----------
One U.N. staff among six killed in Pak
Mar 29, 2012
Police said gunmen have killed six people in a pair of attacks in southwest Pakistan, one of which targeted local U.N. employees.
Police officer Rustam Khan said gunmen attacked a car carrying local staff of the United Nations Food and Agriculture Organization in Baluchistan province's Mastung district Thursday, killing two people.
A U.N. official said the two killed were a driver and a member of the group's project staff. Another member was wounded.
The official spoke on condition of anonymity because he was not authorized to talk to the media.
Police officer Shaukat Khan said gunmen on motorcycles opened fire on a passenger van in Quetta, the capital of Baluchistan province, killing four Shia Muslims in an apparent sectarian attack.
http://www.thehindu.com/news/international/article3257211.ece
----------
Gaza baby dies after respirator runs out of fuel
Mar 29, 2012
GAZA CITY, Gaza Strip: A Gaza man said Sunday his 5-month-old baby died after the generator powering his respirator ran out of fuel, the first known death linked to the territory's energy crisis.
The baby, who was born with lymphatic disorder, had only a few months to live, said his father, Abdul-Rahim Helou, 27. But his parents miscalculated how much fuel a new generator needed to remove fluids that accumulated in his respiratory system, he said.
"If we were living in a normal country with electricity, I think his chances of living (longer) would have been better," Helou said.
Gaza health official Bassem Al-Qadri said the baby arrived dead at a Gaza City hospital on Friday night.
Full report at:
http://arabnews.com/middleeast/article600298.ece
----------
KSA demands Yemen group free diplomat immediately
Mar 29, 2012
JEDDAH: The Foreign Ministry yesterday warned the armed group which kidnapped Saudi diplomat Abdullah bin Muhammad Al-Khalidi in front of his house in Aden, Yemen.
Saudi Arabia's deputy consul Abdullah Al-Khalidi, was seized in Mansoora district of Aden as he was about to enter his car.
A ministry source said the group would be held responsible for the captive's safety and demanded his immediate release.
"The kidnappers will achieve nothing out of this act," the official said, adding that the Kingdom would take all necessary measures to protect its diplomats and employees.
Saudi Ambassador in Sanaa Ali Al-Hamdan said: "Some signs of a fight were visible in the car owned by the kidnapped diplomat, who apparently showed resistance."
He said his glasses, found in the diplomatic car, were broken. Al-Hamdan added the deputy consul was believed to be abducted at 9 a.m. yesterday morning near his house.
Full report at:
http://arabnews.com/saudiarabia/article600689.ece
----------
Islamist to head panel drafting Egypt`s constitution
29th March, 2012
CAIRO: Members of a disputed panel drafting Egypt`s new constitution elected an Islamist as its head on Wednesday, intensifying a stand-off with secularists over the country`s post-revolution charter.
Saad al-Katatni, a member of the Muslim Brotherhood and the current speaker of the Islamist-dominated parliament was chosen as the head of the constituent assembly, during its first session.
The panel, which is made up of more than 60 per cent Islamists, has been at the centre of a dispute with the country`s secular forces who fear their calls for a civil state will be muffled.
Katatni`s appointment comes after liberal, leftist and independent parties and figures angrily withdrew from the committee, accusing Islamists of monopolising the process.
Full report at:
http://www.dawn.com/2012/03/29/islamist-to-head-panel-drafting-egypt-s-constitutio.html
----------
Indian immigrant in US found guilty of supporting Hezbollah
Mar 29 2012
New York : An Indian citizen, living "illegally" in the US, has been found guilty by a US court of providing material support to Lebanese group Hezbollah and faces a maximum sentence of 75 years in prison.
Patrick Nayyar, 48, was convicted after a week-long jury trial before US District Judge Robert Sweet. He was found guilty of five counts related to the support he attempted to provide to Hezbollah, which has been designated as a foreign terrorist organisation by the US.
Attorney for the Southern District of New York, Preet Bharara said Nayyar, who had been residing "illegally in America", was convicted of conspiring and attempting to provide material support or resources to a foreign terrorist organisation; conspiring to make or receive a contribution of funds, goods or services to Hezbollah and conspiring to traffic in firearms and ammunition.
Full report at:
http://www.indianexpress.com/news/indian-immigrant-in-us-found-guilty-of-supporting-hezbollah/929923/
----------
Nato 'failed to aid' Libyan migrant boat - Council of Europe
Mar 29, 2012
A report into the deaths of 63 Libyan refugees on a small boat last May said a "catalogue of errors" by coastguards and Nato meant they were never rescued.
The Council of Europe inquiry says two Nato ships close by failed to respond to distress calls sent by coastguards.
Only nine people survived the 15-day Mediterranean voyage after the boat ran out of fuel and drifted back to Libya.
Nato has said it has no record of any of any aircraft or ship under its command making contact with the boat.
However, it says other search and rescue missions were launched around this time.
The report says some 1,500 people died at sea trying to reach Europe in 2011.
Many of these were trying to flee from Libya or other conflicts in North Africa.
The Council of Europe launched its investigation into the incident after The Guardian newspaper spoke to survivors.
They say smugglers removed their supplies in order to get more people into the boat.
Full report at:
http://www.bbc.co.uk/news/world-europe-17548410
-----------
Quetta, Mastung firing incidents leave eight dead
Mar 29, 2012
QUETTA: Eight people lost their lives in separate incidents of firing by unidentified armed men in Balochistan province on Thursday, DawnNews reported.
The first attack took place in Kali Mubarak area near Spini road, Quetta, where five people including a woman were killed and six people were injured, when some unknown armed men opened fire.
According to police sources, a Suzuki pick up was on its way to the city, from Hazara town when it was ambushed by armed gunmen on Spini Road near Kali Mubarak. The indiscriminate firing killed two on the spot, while three of the injured lost their lives on their way to the Combined Military Hospital. The condition of three other injured was also believed to be critical.
The victims belonged to the minority Shia Hazara ethnicity.
The Hazara Democratic Party condemned the attack and announced a 'shutter down' strike call for Friday, 30th March.
Full report at:
http://www.dawn.com/2012/03/29/six-killed-seven-injured-in-firing-balochistan-firing-incidents.html
----------
Nigeria forces search houses for Boko Haram, kill 4
Mar 29, 2012
MAIDUGURI, Nigeria: Nigerian forces swept through the remote northeast on Wednesday, searching houses for suspected Boko Haram militants after killing four in a gunbattle, the military said.
The crackdown on the group in its heartland of Maiduguri followed a spate of attacks in the past few days, including the killing of a prison official and a retired police inspector.
A Reuters reporter saw several military patrols stop in Maiduguri neighborhoods and carry out house to house searches.
Islamist sect Boko Haram has been unrelenting in its low level violent campaign against President Goodluck Jonathan's administration, which has continued since a brief flirtation with peace talks collapsed at the beginning of last week.
Months of gun and bomb attacks blamed on the sect have killed hundreds since it launched its uprising more than two years ago to try to carve out an Islamic state in Nigeria.
Full report at:
http://arabnews.com/world/article600267.ece
----------
Former US official gets prison over Afghanistan bribe
Mar 29, 2012
ATLANTA: A federal judge in Atlanta sentenced a former U.S. defense department official on Wednesday to a year and eight months in prison for taking nearly $100,000 in bribes from a company seeking a contract in Afghanistan.
Desi Deandre Wade, 40, of Climax, Georgia, was arrested in August after traveling to Atlanta from Afghanistan for the Fire Rescue International Conference, officials said.
While at the convention, Wade, then the Defense Department's chief of fire and emergency services in Kabul, accepted $95,000 in cash from an Afghan-based company in exchange for the guarantee of a government contract, prosecutors said.
The cash was in Wade's backpack when he was arrested, authorities said.
The contractor had contacted U.S. authorities in Afghanistan last summer and reported that Wade was soliciting bribes, Assistant U.S. Attorney Robert McBurney told Reuters.
Full report at:
http://timesofindia.indiatimes.com/world/us/Former-US-official-gets-prison-over-Afghanistan-bribe/articleshow/12450414.cms
----------
US generals, Pakistan army chief to meet to discuss NATO skirmish
Mar 29, 2012
ISLAMABAD: The US Central Command chief and the commander of NATO forces in Afghanistan will meet Pakistan's army chief on Wednesday, the Pakistan military said, the first high-level military contact since a cross-border US attack last November killed 24 Pakistani soldiers.
Their talks, announced by the Pakistani military, take place a day after US President Barack Obama met Pakistani Prime Minister Yusuf Raza Gilani in Seoul. He expressed hope that Pakistan's review of strained ties with Washington would respect US security needs.
The Pakistani parliament is reviewing recommendations from its national security committee on future ties with Washington. They include a halt to US drone strikes on militants in northwestern Pakistan and the possible reopening of overland supply routes to NATO troops in Afghanistan.
The routes were suspended after the Nov. 26 incident, which sparked rage across Pakistan.
Full report at:
http://arabnews.com/world/article600268.ece
----------
Pak SC says Gilani may face second contempt case
Mar 29 2012
Islamabad : Adding to woes of Premier Yousuf Raza Gilani, Pakistan's Supreme Court today warned him that a second contempt case could be initiated against him if he failed to act on its verdict that annulled a graft amnesty issued by former military ruler Pervez Musharraf.
During a hearing by a seven-judge bench on the implementation of the apex court's verdict striking down the National Reconciliation Ordinance (NRO), Justice Ejaz Afzal Khan said that another case of contempt could be taken up against Gilani if he does not act on the court's orders.
The same bench is hearing a contempt case initiated against Gilani earlier this year after he failed to act on the court's orders to approach Swiss authorities to revive cases of alleged money laundering against President Asif Ali Zardari.
The NRO, which was issued by Musharraf in late 2007 as part of a secret understanding between him and slain former premier Benazir Bhutto, benefited Zardari and over 8,000 others.
Full report at:
asking Swiss authorities to reopen the cases against Zardari.
http://www.indianexpress.com/story-print/929987/
----------
Pakistan addicted to using militants against India: Pentagon
Mar 29, 2012
WASHINGTON: Pakistan has an "addiction" of "playing around" with militant groups against India, a top Pentagon official has said.
"They have an addiction to playing around with militia groups to achieve certain interests, particularly vis-a-vis India. That gets them in all kinds of trouble,"
Michael Sheehan, assistant secretary of Defence for Special Operations/Low-Intensity Conflict, told lawmakers at a Congressional hearing. Responding to questions, Sheehan said the US has been having discussion with Pakistan in this regard, but without much success.
"We've had these conversations with them forever about that. I don't see that changing. I don't see any set of talking points that's going to be delivered by some new diplomat that's going to change their mind," Sheehan said, adding the US has virtually "given up" in its effort to change the mindset of Pakistan with regard to India.
Full report at:
http://timesofindia.indiatimes.com/world/pakistan/Pakistan-addicted-to-using-militants-against-India-Pentagon/articleshow/12452129.cms
----------
Gilani makes stopover in China after nuclear summit
ANANTH KRISHNAN
Mar 29, 2012
Pakistan Prime Minister Yusuf Raza Gilani on Wednesday hailed his country's relations with China as being "stronger than steel" when he made a brief stopover in the northeastern port city of Tianjin near here on his way home from the Nuclear Security Summit in Seoul.
Mr. Gilani met with the Mayor of Tianjin, Huang Xing Guo, during what the Pakistani Embassy said was "a technical stopover" at the city airport for refueling. The Pakistan leader is also scheduled to make another visit to China early next week for the Boao Forum in southern Hainan province.
Mr. Gilani told Mr. Huang that Pakistan wanted to increase trade links with Tianjin, a major industrial city that is known for its port as well as for its power companies. The Tianjin Electric Power Company (TEPC) is already involved in hydropower projects in Pakistan, and is also keen to sell nuclear power reactors to the country.
Full report at:
http://www.thehindu.com/news/international/article3255093.ece
----------
Need to link hearts of Indians, Pakistanis: Kapil Sibal
Mar 29, 2012
The challenge before India and Pakistan is to link the hearts of the people in both countries, Human Resource Development Minister Kapil Sibal said while releasing a Pakistani author's book. "People in both the countries are the same. They are people who think good about India…people who
think good about Pakistan and we need to link the hearts of people of both the countries," Sibal said at the launch of the book "Smoke without Fire: Portraits of Pre-Partition Delhi" Tuesday.
The book has been penned by Pakistani writer Abdul Rehman Siddiqqui, who has talked about Delhi and its culture before India's partition in 1947.
Sibal said though the capital has witnessed massive changes with flyovers, the Metro and high-rise buildings, somewhere its soul was restless.
Full report at:
http://www.hindustantimes.com/India-news/NewDelhi/Need-to-link-hearts-of-Indians-Pakistanis-Sibal/Article1-832052.aspx
----------
MQM Chief warns nationalists against using 'threatening language' against Mohajirs
29th March, 2012
KARACHI: Muttahida Qaumi Movement chief Altaf Hussain urged the president, prime minister and army chief on Wednesday to stop the so-called nationalist elements of Sindh from using "threatening language" against Mohajirs.
Otherwise, he warned, "people may take matters into their own hands".
In a video message, he said a "planned conspiracy" was being hatched to fan hatred in Sindh, where the nationalist elements and certain political leaders were using provocative and foul language against Urdu-speaking people and talking about "turning the Indus into a river of blood".
According to a press release issued from London, Mr Hussain appealed to President Asif Zardari, Prime Minister Yousuf Raza Gilani, Chief of the Army Staff General Ashfaq Parvez Kayani, ISI Director General Lt-Gen Zahirul Islam and Interior Minister Rehman Malik to rein in such elements.
Full report at:
http://www.dawn.com/2012/03/29/altaf-warns-nationalists-against-using-threatening-language-2.html
----------
Pakistan willing to use F-16s to destroy hideouts, US told
29th March, 2012
WASHINGTON: Pakistan is apparently insisting that the United States must stop drone strikes in Fata and has offered to use its own air force to destroy militant hideouts, diplomatic sources told Dawn.
"They say they are willing to use the F-16s to bomb the hideouts," a senior diplomatic source said. "They want the drone strikes to halt."
According to these sources, Pakistan has proposed that whenever the Americans want to bomb a particular militant target inside Fata, "they should pass on the information to them and they will bomb the target for the Americans".
The US media, however, are reporting that the United States also has sent a set of proposals to Pakistan to settle this dispute.
The proposals include an offer to give Pakistan advanced notice of drone strikes and implement new limits on the types of targets.
Full report at:
http://www.dawn.com/2012/03/29/pakistan-willing-to-use-f-16s-to-destroy-hideouts-us-told-2.html
----------
Pakistan: Hindu couples' registration
Mar 29, 2012
ISLAMABAD: Hearing a suo motu case regarding the problems faced by Hindus in obtaining the Computerised National Identity Cards (CNICs), the Supreme Court on Wednesday ordered the National Database and Registration Authority (NADRA) to furnish amended policy on March 30 to register Hindu couples for CNICs.
A three-member bench, headed by Chief Justice of Pakistan Iftikhar Muhammad Chaudhry, took suo motu notice following media reports, which highlighted problems faced by a Hindu woman, Pram Sari Mai, a resident of Rahim Yar Khan. She failed to get a passport to visit India even after paying a huge fee. During the hearing, the court expressed concern over miseries of the Hindu community regarding the verification of their marital status. "How can we satisfy three million Pakistanis (Hindu community) as they have equal rights as you have," the CJP asked a NADRA official. He said that the court was bound to protect the rights of minorities under Article 36 of the constitution.
The attorney general (AG) told the bench that NADRA had amended its law regarding the registration of Hindu couples. The court ordered the AG to submit the amended policy on March 30
http://www.dailytimes.com.pk/default.asp?page=2012\03\29\story_29-3-2012_pg7_11
----------
Bin Laden informer: Dr Shakil Afridi sacked by the Pakistan Health Deptt.
Mar 29, 2012
PESHAWAR: Dr Shakil Afridi, the doctor who provided vital information to the US to help track down Osama bin Laden in Abbottabad, was terminated from his job by the health department on Thursday.
The health department issued a notification in this regard, which said that Afridi has been terminated under the Efficiency & Disciplinary (E&D) Rules for being involved in anti-state activities.
Prior to this 15 lady health workers who were part of the vaccination campaign were also terminated from their jobs.
Last year, British newspaper The Guardian reported that the CIA launched a fake vaccination drive in Abbottabad to gather the DNA information of Bin Laden's family. It said that Khyber Agency Surgeon Dr Afridi, under the pretext of a private polio vaccination campaign, launched a CIA programme to trace the al Qaeda leader in Abbottabad.
Action was initiated against him and some other provincial health department officials for running a fake polio vaccine campaign.
http://tribune.com.pk/story/356927/bin-laden-informer-dr-shakil-afridi-sacked/
----------
Enough evidence to charge Syria's Assad: UN rights chief
Mar 29 2012
London : There is enough evidence to bring human rights charges against Syrian President Bashar al-Assad over his crackdown on protesters, UN rights chief Navi Pillay has said.
In an interview with the BBC broadcast yesterday but recorded earlier, Pillay said the president's role as commander of the security forces left him responsible for their actions during the unrest.
She also highlighted what she said was the regime's systematic targetting of children.
The Syrian army's use of heavy weapons against civilians in densely populated areas was a crime under international law, said Pillay.
"Factually there's enough evidence pointing to the fact that many of these acts are committed by the security forces, (and) must have received the approval or the complicity at the highest level," she said.
"President Assad could simply issue an order to stop the killings and the killings would stop...," the UN Human Rights Commissioner Pillay told the BBC.
"So this is the kind of thing that judges hearing cases on crimes against humanity will be looking at on command responsibility."
Pillay also spoke of evidence she had seen that the regime was systematically targeting children in its bid to stamp out resistance.
Full report at:
http://www.indianexpress.com/story-print/929915/
----------
Civilians bear brunt of bombing in Syria
29th March, 2012
LONDON: The vast majority of casualties of bombing are civilians and more than 20,000 were reported killed or injured last year by shells, mortars, and improvised explosive devices, new research shows.
The report, by Action on Armed Violence (AOAV) which is linked to the International Network on Explosive Weapons, coincides with evidence that for the first time in many years the use of landmines is increasing. Syria is widely reported to be laying new mines on its borders.
Eleven people are killed or injured by landmines every day, says MAG, the Mines Advisory Group. It is staging a global "week of action" began on Wednesday to raise awareness of the deaths and injuries which result from these weapons and to raise funds to support the group`s clearance and risk education work in 15 countries throughout the world.
AOAV says UN agencies and the Red Cross are demanding action against the bombing of populated areas such as those by state security forces in Syria — where most victims are civilians.
Full report at:
http://www.dawn.com/2012/03/29/civilians-bear-brunt-of-bombin.html
----------
Arab summit divided over approach to Syria
Mar 29, 2012
Baghdad: Arab leaders gathering here on Thursday will call for Syria to implement a cease-fire, but there's little faith that President Bashar Assad will do anything to halt his crackdown on the year-old uprising.
That could set the stage for Gulf Arab nations, eager to see Assad's downfall, to take stronger action on their own.
Arab governments are divided over how strongly to intervene to stop the bloodshed in Syria, and their divisions illustrate how the conflict has become a proxy in the region's wider rivalry — the one between Arabs and powerhouse Iran.
Sunni-led nations of the Gulf such as Saudi Arabia and Qatar — hoping to break Syria out of its alliance with Shiite Iran — are believed to be considering arming the Syrian rebels to fight back against Assad's forces. But other Arab nations are reluctant to openly call for that step yet.
Full report at:
http://www.firstpost.com/world/arab-summit-divided-over-approach-to-syria-259083.html
----------
Survivor: Homs has become a ghost city
Mar 29, 2012
Syrian who escaped to Riyadh recounts appalling conditions under Bashar Assad's torture regime.
A Syrian who fled to the Kingdom has told Arab News that Syria's leader Bashar Assad had initially ordered his forces to kill all demonstrators protesting against his regime, but then commanded that they kill everyone in their way, whether they were civilians or militants.
A'ayed Ahmed Younus described the sad events he witnessed and the bad situation the country was in, characterized by a lack of food and other basic necessities.
"The Syrian regime has created an appalling humanitarian crisis. Tanks, mortars and heavy artillery continue targeting civilians in residential areas, including women and children, leaving hundreds of people dead on a daily basis," said Younus, bursting into tears as he spoke.
"No electricity, no communication devices, no water. The regime's forces have stormed hospitals and forced thousands of Syrians to flee from their homes and occupied mosques to make them military barracks. The United Nations has found that crimes against humanity have been committed in Syria, but they did nothing but throw out statistics."
Full report at:
http://arabnews.com/saudiarabia/article600678.ece
----------
Medvedev: Annan's mission is Syria's last chance
Mar 29, 2012
MOSCOW: Russian President Dmitry Medvedev told the UN and Arab League envoy to Syria on Sunday that his mission may be the final opportunity for Syria to avoid "a protracted bloody civil war" and promised Russia's full support.
Kofi Annan was in Moscow for meetings with Russia's president and foreign minister. He now travels to China, which along with Russia has shielded Syrian leader Bashar Assad from United Nations' sanctions over his crackdown on an uprising. More than 8,000 people have been killed since the uprising began a year ago.
"We highly value your efforts," Medvedev told Annan during the televised portion of their meeting. "This may be the last chance for Syria to avoid a protracted bloody civil war. Therefore we will provide any assistance at any level."
Full report at:
http://arabnews.com/middleeast/article600276.ece
----------
BRICS to focus on Syria, Iran today
SANDEEP DIKSHIT
Mar 29, 2012
Russia, China against any bid to put the five nations under threat of intervention
On Thursday morning, the strategic community around the world will be focussed on the outcome of the hour-long restricted meeting between the heads of government of Brazil, Russia, India, China and South Africa (BRICS) to see if they can forge an effective and common approach to the problems facing Syria and Iran.
Russia and China have made it clear that they will press for opposing any West-led attempt to put these countries under the threat of intervention. But the stand of the other three BRICS members will have to be reconciled with that of Russia and China. India opposes foreign military intervention in principle but has broken ranks with the two by opting to vote with the West on Syria.
Brazil under the new President, Dilma Rouseff, imprisoned by an earlier military junta and whose father as a Communist leader was forced to flee Bulgaria to escape persecution, has turned around the country's approach to human rights. Brasilia now opposes any prolonged attempt by a regime to indulge in prolonged violence.
Full report at:
http://www.thehindu.com/news/article3255480.ece
----------
US assails Syria's Assad for not implementing peace plan
Mar 29, 2012
WASHINGTON: The United States on Wednesday accused Syria's President Bashar al-Assad of failing to fulfill a pledge to respect a UN-Arab League peace plan.
State Department spokeswoman Victoria Nuland assailed the Syrian leader, telling reporters that "Assad has not taken the necessary steps to implement" the peace plan crafted by former UN secretary general Kofi Annan.
Washington is concerned over "arrests and violence continuing in Syria today," Nuland said, vowing to "keep the pressure on Assad."
"We will judge him on his actions, not his promises," the spokeswoman said.
Nuland made her remarks as her boss, US secretary of state Hillary Clinton, prepared to attend global talks Sunday on Syria in Istanbul, Turkey.
Annan said on Tuesday that Assad's government had accepted his plan, a move cautiously welcomed by Western nations.
The plan calls for a commitment to stop all armed violence, a daily two-hour humanitarian ceasefire and media access to all areas affected by the fighting in Syria.
Full report at:
http://timesofindia.indiatimes.com/world/middle-east/US-assails-Syrias-Assad-for-not-implementing-peace-plan/articleshow/12448732.cms
----------
Syrian-American brothers in arms join Syria fight
By Marine Olivesi
Mar 29, 2012
Two Syrian-American brothers sneaked back into Syria to fight the Assad government. They ran into their father in the besieged city of Idlib, and he was not happy to see them.
Last week, a 20-year-old man called Abdul knocked on the door of a house outside Philadelphia.
He knew the apartment was packed with relatives waiting for him, and he was nervous.
When the door opened, two brothers, several cousins and uncles crowded around him and slapped him on the back. Abdul - a blue-eyed, muscular young man - fell into his mother's arms.
"It's enough, mum," he whispered to her in Arabic. "Stop crying. I'm here now."
It was a homecoming with a difference.
Full report at:
http://www.bbc.co.uk/news/world-us-canada-17536338
----------
BRICS countires affirms commitment to support Afghanistan
Mar 29, 2012
NEW DELHI: BRICS countries on Thursday affirmed their commitment to support Afghanistan's emergence as a peaceful, stable and democratic state, free of terrorism and extremism.
"We support the global community's commitment to Afghanistan, enunciated at the Bonn International Conference in December 2011, to remain engaged over the transformation decade from 2015-2024. We affirm our commitment to support Afghanistan's emergence as a peaceful, stable and democratic state, free of terrorism and extremism, and underscore the need for more effective regional and international cooperation for the stabilisation of Afghanistan, including by combating terrorism," said a joint declaration by Brazil, Russia, India, China and South Africa.
Full report at:
http://timesofindia.indiatimes.com/india/BRICS-countires-affirms-commitment-to-support-Afghanistan/articleshow/12455263.cms
----------
Nato supply convoy ambushed in west Afghanistan
Mar 29, 2012
KABUL: Militants ambushed a Nato coalition supply convoy in a mountainous area of western Afghanistan, sparking a three-hour firefight in which, Afghan officials said Thursday.
Najibullah Najibi, a spokesman for the Afghan National Army's western region, said the battle raged Wednesday along a highway regularly used by coalition supply trucks in Bala Buluk district of Farah province.
"The fighting was intense and we sent in extra forces," Najibi said.
There were varying estimates of the number of militants killed.
Raouf Ahmadi, a spokesman for the Afghan National Police in the west, said more than 30 militants were killed and 10 others were wounded.
Sayed Abdul Wahid, an official of the Arya security company, said his workers who were fighting with AK-47s were overpowered by militants using heavy weapons, including rocket-propelled grenades and machine guns.
He said five of his employees were killed and five others were wounded by insurgents who burned three vehicles in the convoy.
http://www.dawn.com/2012/03/29/nato-supply-convoy-ambushed-in-west-afghanistan.html
----------
Two hundred French troops leave Afghanistan
Mar 29, 2012
KABUL: Two hundred French troops have said goodbye to the war in Afghanistan as part of France's accelerated pullout from the country.
In January, French President Nicolas Sarkozy announced a faster-track exit for France, breaking from previous plans to go along with to the US-led coalition's plan to withdraw combat forces by the end of 2014.
Sarkozy said France would speed up its withdrawal timetable, pulling out 1000, 400 more than its previous target, of its current 3600 soldiers by year-end and withdraw all combat forces by the end of 2013.
His announcement came a week after four unarmed French troops were killed by an Afghan soldier in Kapisa province in eastern Afghanistan.
The French troops waiting Wednesday to board their flight out of Afghanistan were not stationed in Kapisa, but in Surobi district, about 45 kilometers east of Kabul.
They said they were elated to leave and thought the Afghan forces they left behind were ready to go solo.
Full report at:
http://www.dawn.com/2012/03/29/two-hundred-french-troops-leave-afghanistan.html
----------
UK to pull 1,500 troops out of Afghanistan in 2013
29th March, 2012
LONDON: The UK is preparing to pull 1,500 troops out of Afghanistan next year before rapidly accelerating its withdrawal at the beginning of 2014.
Government ministers are expected to endorse plans that stick closely to advice from British commanders in Helmand, and from Nato headquarters in Kabul, when they come before the UK`s National Security Council (NSC).
The strategy would leave the bulk of UK forces in place throughout most of next year, though there is also an option for a "fast-track" pullout by early 2014.
Pressure to speed up the withdrawal has intensified because of recent atrocities against Afghan civilians, which provoked protests across the country, and left troops in Nato`s International Security and Assistance Force (Isaf) vulnerable to retribution from Afghan colleagues.
A British marine and a soldier from the UK Adjutant`s General Corps were killed on Monday by a member of the Afghan security forces, raising further questions about the viability of the Nato mission.
Full report at:
http://www.dawn.com/2012/03/29/uk-to-pull-1500-troops-out-of-afghanistan-in-2013-uk-to-pull-1-500-troops-out-of-afghanistan-in-201.html
----------
Grand religious celebrations organized at Budgam, Amira Kadal, Khanyar in Kashmir, India
By Scoop News
March 29, 2012
Srinagar, March 26 (Scoop News) - Grand religious celebrations were organized at Budgam, Amira Kadal and Khanyar in Kashmir
At Badgam in Kashmir,a grand Milad-un-Nabi (SAW) celebration was organised in Laterihal, Khansahib, the other day. The Milad (SAW) celebration was attended by 20 thousand of devotees of Prophet (SAW).
The function was attended by the scholars, intellectuals, ulemas, respected citizens and addressed the sacred gathering. Among those who spoke on the occasion include Sajada Nisheen Dargah Gousia, Khanyar, Mir Syed Khalid Geelani, Director Information Khawaja Farooq Renzushah, District Development Commissioner, Budgam, Mohammad Rafi, General Secretary, Anjuman-i-Ulema-i-Ahnaf, Maulana Akhzar, Mirwaiz Central Kashmir, Peerzada Maulana Lateef, Chairman Haqani Memorial Trust, Syed Hamid Haqani, representatives of Sufi Organisations, Saut-ul-Auliya, General Secretary, Jamiat-i-Hamdania, Bashir Ahmad Kanth.
Full report at:
http://www.groundreport.com/World/Grand-religious-celebrations-organized-at-Budgam-A/2945076
-----------
Pak population increased by 46.9% between 1998 and 2011
Mar 29, 2012
ISLAMABAD: Pakistan's population increased by 46.9 per cent between 1998 and 2011 while Balochistan province witnessed the highest increase in population and Punjab the lowest, according to the preliminary results of the country's latest census.
Households witnessed an increase of 50.4 per cent since 2011 and the population increased from 130,857,717 in 1998 to 192,288,944 in 2011, The News daily quoted preliminary results as showing.
The results did not include three districts of Balochistan, South Waziristan Agency and the regions of Pakistan-occupied Kashmir and Gilgit-Baltistan.
However, with the inclusion of the population of PoK and Gilgit-Baltistan, the population would touch 197,361,691 in 2011, as against 134,714,017 in 1998, marking an increase of 46.5 per cent.
The highest increase in population was witnessed in Balochistan, followed by Sindh, the semi-autonomous tribal areas, Khyber-Pakhtunkhwa and the federal capital, while Punjab witnessed the lowest increase in population when compared to the three other provinces.
Full report at:
http://timesofindia.indiatimes.com/world/pakistan/Pak-population-increased-by-46-9-between-1998-and-2011/articleshow/12453387.cms
----------
J&K CM Will begin revoking AFSPA by year-end
Mar 29 2012
Jammu : Admitting for the first time that his government has the power to roll back Armed Forces Special Powers Act (AFSPA) in Jammu and Kashmir, Chief Minister Omar Abdullah said on Wednesday that his government was working to ensure beginning of its gradual withdrawal this year itself.
Referring to his stand on gradual withdrawal of AFSPA, he said, "Power to withdraw it under the Act either lies with the Centre or with us. We can recommend it." He added that when AFSPA was extended to Jammu in 2000, the state had not sought the Centre's help, and it was the state Cabinet that made the recommendation to the Governor and the latter gave his assent to it.
There is no need for the state government to make a formal request to the Centre in this regard, Omar said, adding that it was the Centre that referred the matter to the state asking for a consensus at the Unified Headquarters meeting on the issue. "There has been no consensus on it so far. Whenever we have talked on it, all security agencies, except the Army, have favoured its gradual withdrawal," Omar said, adding that his government is working to ensure its gradual withdrawal and "this process will start this year itself; in areas where the Army has not carried out any operation for the last many years".
http://www.indianexpress.com/story-print/929690/
URL: https://newageislam.com/islamic-world-news/new-age-islam-news-bureau/darul-uloom,-deoband-okay-with-talaq-on-phone-by-'drunk'-muslims/d/6944