New Age Islam News Bureau
7 Aug 2015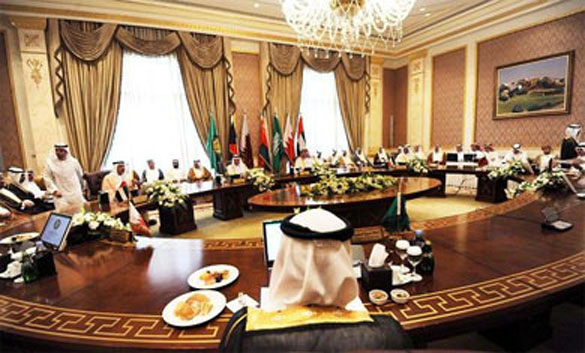 Foreign Ministers of GCC member states attend a meeting, in this June 11, 2015 photo, in the Saudi capital Riyadh. (AFP)
---------
India
• Darul Uloom Deoband Fatwa Declares Shaving Un-Islamic
• Mumbai Resident Who Wanted To Join IS Detained By Delhi Police
• SC Judge Who Rejected Yakub Memon's Plea Gets Threat Letter
• Privilege notice against Sadhvi Prachi for 'terrorists in Parliament' remark
• NIA court: Conduct Abu Jundal trial via video conferencing
• Abdul Qayoom Najar: Valley's most wanted militant caught on camera for 1st time
• Muted coverage on Naveed's arrest continues in Pak media
----------
South Asia
• Fourth Secular Blogger Murdered In Bangladesh, Says Activist
• Nine Killed In Taliban's First Major Attack since Omar Death Disclosure
• Kabul Truck Bomb Kills Seven People, Wounds 400: Afghan Police
• 'Slaves and oppressors die in worst ways', Sayyaf recalls message to Taliban
• Two more Taliban top negotiators reportedly resigned from Qatar office
• NATO condemns blast in Kabul which left 8 dead, nearly 400 wounded
• Senior ISIL commander killed in Afghanistan's Helmand
----------
Arab World
• Disgruntled Youth in Egypt Opting To Tread a Violent Path
• U.S.-Trained Syrian Rebels Refuse to Fight Al-Qaeda
• Mosque Attack Contrary To Values of Islam: GCC
• U.S. transfers widow of top ISIS figure to Iraq
• ISIS abducts 230 civilians in central Syria
• U.S. reports 27 airstrikes against ISIS in Syria, Iraq
• Court frees 11 suspects in Kuwait mosque attack
• Syria: ISIL Militants Targeted in Sweida
• Syrian Forces Kill 7 Militants in Daraa
• Fresh Saudi Air Strikes Reported in Yemen
----------
Pakistan
• Mullah Omar Did Not Die In Pakistan, Khawaja Asif Tells NA
• US Drone Strike Kills Five 'Militants' In North Waziristan
• Search Operations in Punjab Seminaries
• Quetta ATC issues non-bailable arrest warrant for Altaf Hussain
• Resolutions passed against Altaf Hussain in Sindh Assembly
• Unseating resolutions withdrawal 'hardly pleases' PTI
• AJK assembly adopts 9 resolutions to condemn Altaf's statements
• Musharraf criticises Altaf for inviting enemy state into Pakistan's affairs
------------
Africa
• Clashes in Central African Republic Leave Dozen Dead
• Boko Haram Takfiris Gun Down 9 Villagers in Northeastern Nigeria
• Britain restates support to fight against Boko Haram
• AU, Somali forces capture villages from Al-Shabaab in Somalia
• Hotel comes under attack in central Mali, 1 dead
• U.N. to host Libya talks Monday in push for unity government
• Kenyan Muslims laud Obama's Support
• Boko Haram abducts 135 villagers in Cameroun
• The Chief of Army Staff Assures No Personnel Will Engage in Human Rights Violation
----------
Europe
• British Muslim Who Pleaded Guilty To Terror Offences Tells Old Bailey That UK 'Is A Joke'
• Saudi Bombing Shows Terror Sweeping Mideast: Russia
• Anjem Choudary supporters threaten revenge for preacher charge in online campaign
-----------
Southeast Asia
• Muhammadiyah Grassroots Oppose Shia, Ahmadi Talks
• Muhammadiyah Should Do More to Protect Religious Minorities, New Chief Says
• Reelected NU chairman pledges to avoid politics
• Malaysia Police Intelligence Bosses Awarded Indonesian Medal
• Disgraced Senior Lawyer Reports KPK for Alleged 'Kidnapping' and 'Abuse of Power'
-----------
Mideast
• Kurd Leader Demirtas Urges World to Denounce Turkey's 'Unjust War'
• Two Killed In Fresh Clashes in Southeast Turkey
• Syrian Army Kills Notorious Terrorist Ringleader in Zabadani
• Middle East arms race started long before Iran deal
• Turkey offers U.S. access to other air bases: diplomat
• French hostage freed in Yemen arrives in Oman
• Iranian Mission: Construction Operations at Parchin Site Insignificant
• Iranian President: Israel Shuddered by N. Agreement
• Iranian FM: US Granted Exceptional Opportunity to Reform Past Policies
----------
North America
• US Muslim, Civil Rights Groups Urge Transparency
• First Fox Debate Included Repeated Questions On Islamic Terrorism, Zero On White Supremacist Attacks
• Escaping Islamic State: 12 Iraqi Christians Seeking Freedom Now Face Deportation by US Gov't
Compiled by New Age Islam News Bureau
URL: https://www.newageislam.com/islamic-world-news/new-age-islam-news-bureau/darul-uloom-deoband-fatwa-declares-shaving-un-islamic/d/104202
-----------
India
Darul Uloom Deoband Fatwa Declares Shaving Un-Islamic
TNN | Aug 7, 2015
LUCKNOW: A Darul Uloom Deoband fatwa stating it is un-Islamic to shave one's beard has put barbers from the community and clean shaven Muslims in a quandary. The barber in Saharanpur who sought the fatwa has decided neither to shave nor trim any beards.
The fatwa issued by India's leading Islamic seminary in Saharanpur was sought by Mohammmad Irshad and Mohammad Furqan, who run a hair salon in Bajia-ul-Haq locality of the district. For now, the duo has stopped shaving or trimming of beards.
Issued by a panel of three muftis—Faqrul Islam, Waqar Ali and Zain-ul-Qasmi—the Fatwa states that shaving a beard was un-Islamic as it is not permitted in the Sharia. The Islamic constitution doesn't allow us to cut the beard of a person of any religion. If someone is in this business he should try to change to some other job, the fatwa reads.
"The Fatwa was issued in the light of the Sharia and is based on the premise that keeping a clean shave is un-Islamic and those who assists someone to do any thing that is not permitted in Islam, shares the responsibility for the violation," explains Maulana Ashraf Usmani, the spkesperson for Darul Uloom Deoband.
Clerics in Lucknow say not supporting a beard is un-Islamic but not forbidden in Islam. "Supporting a beard is Sunnat (something Prophet Mohammed did)," says Maulana Khalid Rashid Firangi Mahali, who heads a unit that issues fatwas in Lucknow. "Shaving a beard is Mamnoon (not preferred) but not Haraam (forbidden) in Islam," he says.
For the salon owner duo which sough the Fatwa, the problem at hand was convincing the clientele that shaving was un-Islamic, hence they were not offering the service any longer. As a result, they have put up a copy of the fatwa outside their shop. For now they are only offering services like dressing and cutting of hair. The salon owners say it was getting difficult for them to explain why they were not offering services like shaving or trimming beard, so they decided to put up copy of the fatwa.
The diktat has left hair salon owners in Lucknow in a dilemma. "We are not aware of the fatwa and once we get a copy of it, we will decide what needs to be done," says Shahid Siddiqui, onwer of a salon in Lucknow. "As far as we know, it is preferred for people to support a beard, but it is not mandatory," he says.
http://timesofindia.indiatimes.com/city/lucknow/Darul-Uloom-Deoband-fatwa-declares-shaving-un-Islamic/articleshow/48382932.cms
-----------
Mumbai Resident Who Wanted To Join IS Detained By Delhi Police
Karn Pratap Singh
Aug 07, 2015
A 50-year-old man from Mumbai, who had declared on social media that he wants to give up his Indian citizenship and become an official spokesperson for the Islamic State (IS), was on Friday detained by the Delhi Police from the embassy of Iraq.
Sources said officials at the embassy found the behaviour of the man, identified as Zuber Ahmed Khan, suspicious they contacted the police.
"He went to the embassy to apply for a working visa but was detained after the embassy found his behaviour odd. The officials informed us that they got suspicious about the man during a conversation with him," sources said.
Police have detained Khan on grounds of suspicion and is currently questioning him at the Vasant Vihar police station in south Delhi. Khan told the police he wanted to go to Iraq for a job but is reportedly changing his statements frequently.
While Khan claims to be a journalist from Navi Mumbai on his Facebook profile, police said he worked as a lecturer in Maharashtra and had lost his job in 2007.
Khan had addressed his post on Facebook to IS leader Abu Bakr al-Baghdadi and expressed his desire to become an official spokesperson for the west Asian terrorist group that has declared caliphate in parts of Iraq and Syria. He had also written that he is a sympathiser of 1993 Mumbai serial blasts convict Yakub Memon and made several posts before and after Memon's execution on July 30 in which he called him a martyr.
In a post on August 1, he said he would reach Delhi by the Rajdhani Express on August 4 and visit the embassy of Iraq to express his desire to be an IS spokesperson. He also wrote that he would visit the Pakistani embassy to expedite his visa request.
On Thursday, a Mumbai Police source said that Khan was traced to Bandra, where crime branch officials went to arrest him on Tuesday afternoon. He managed to evade the police.
http://www.hindustantimes.com/india-news/mumbai-resident-who-wanted-to-join-is-detained-by-delhi-police/article1-1377442.aspx
-----------
SC judge who rejected Yakub Memon's plea gets threat letter
Aug 07, 2015
The Supreme Court judge, who led the bench that rejected 1993 Mumbai serial blasts convict Yakub Memon's last-ditch appeal to stop his execution, received a death threat in writing, reports said on Friday.
Justice Dipak Misra received an anonymous letter which says "irrespective of the protection you may avail, we will eliminate you", NDTV new channel reported.
The Delhi Police have registered a case against unknown people at the Tughlak Road police station and are investigating the letter which reports say was received by his guard.
"We have registered a case on the basis of the judge's complaint. We are scrutinising the letter to verify its authenticity. We are also finding out if its a prank played by someone or is circulated by the associates of Memon," police sources told IANS.
Justice Misra and his colleagues justice Amitav Roy and justice Prafulla Pant considered Yakub's new petition in unprecedented pre-dawn hearing on July 30 before ruling that they would not stop his execution hours later. They said Yakub had exhausted all legal options available to him and had ample time and opportunity to challenge his death sentence.
Soon after Yakub was hanged on July 30, security for Misra, Roy and Pant was increased.
Yakub, the brother of prime accused Tiger Memon, and 11 others were sentenced to death by a special TADA court in July 2007 for the dozen explosions that ripped through India's financial capital, killing 257 people and leaving more than 700 injured.
The only well-educated member of the Memon family was found guilty of criminal conspiracy, arranging money for buying vehicles used by the bombers and organising air tickets to Dubai for some of them.
http://www.hindustantimes.com/india-news/judge-who-rejected-yakub-memon-s-mercy-plea-threatened-security-tightened/article1-1377376.aspx
-----------
Privilege notice against Sadhvi Prachi for 'terrorists in Parliament' remark
PTI | Aug 7, 2015
NEW DELHI: 20 MPs from various opposition parties have submitted a privilege notice to Rajya Sabha chairman against VHP leader Sadhvi Prachi's controversial remarks about 'terrorists in Parliament."
Sadhvi Prachi had on Thursday triggered another controversy by alleging there are "one or two terrorists" in Parliament in remarks that appeared to be targeting MPs who were against hanging of 1993 Mumbai blasts convict Yakub Memon.
READ ALSO: 'There are 1-2 terrorists in Parliament', says Sadhvi Prachi, stokes another controversy
Prachi also asked the Centre to hand over the Pakistani terrorist Mohammed Naved Yakub arrested in Udhampur on Wednesday to Hindu organizations so that he is taught a "good lesson".
She was speaking to mediapersons in Roorkee when asked about some opposition to death penalty for Yakub Memon who was hanged on July 30 in a Nagpur prison.
http://timesofindia.indiatimes.com/india/Privilege-notice-against-Sadhvi-Prachi-for-terrorists-in-Parliament-remark/articleshow/48389366.cms
-----------
NIA court: Conduct Abu Jundal trial via video conferencing
by Kaunain Sheriff M
New Delhi
Aug 7, 2015
The special court Thursday allowed a plea by the National Investigation Agency (NIA) to conduct the trial of the alleged 26/11 attack mastermind Abu Jundal through video conferencing. In its plea seeking trial through video conferencing, the NIA stated that the Maharashtra government feared that the suspected Lashkar-e-Toiba operative could either be killed or abducted while being brought to the Delhi court. Jundal is currently lodged at Mumbai's Arthur Road Jail.
Full report at:
http://indianexpress.com/article/india/india-others/nia-court-conduct-abu-jundal-trial-via-video-conferencing/
-----------
Abdul Qayoom Najar: Valley's most wanted militant caught on camera for 1st time
by Bashaarat Masood
Srinagar
Aug 7, 2015
For more than two decades, expelled Hizbul Mujahideen commander and one of the most wanted militants in the Valley Abdul Qayoom Najar was a faceless militant who kept police on their toes. But now, the J&K Police is believed to have got the first clues about his appearance. Najar was caught on camera, outside a telecom operator's showroom, in Srinagar.
The video footage, police sources said, suggested that Najar was personally involved in the attack on a telecommunication company's showroom in Srinagar. "We have his identity now. Full report at:
http://indianexpress.com/article/india/india-others/abdul-qayoom-najar-valleys-most-wanted-militant-caught-on-camera-for-1st-time/
-----------
Muted coverage on Naveed's arrest continues in Pak media
Aug 07, 2015
The Pakistani media on Friday persisted with its muted coverage of the capture of a Pakistani terrorist after an attack in Jammu and Kashmir, with most media outlets focussing on the foreign office's dismissal of India's accusation as baseless.
Mohammad Naveed was nabbed shortly after he and an accomplice ambushed a BSF convoy and killed two troopers on Wednesday. Naveed told investigators he is a resident of Faisalabad in Pakistani Punjab. A Pakistan-based man acknowledged to Hindustan Times on Thursday he was the "unfortunate father" of Naveed.
Most Pakistani media outlets had blanked out or played down the report of Naveed being captured and his remarks that was a member of the Lashkar-e-Taiba and had come to India to "kill Hindus".
On Friday, the muted coverage of Naveed's case continued in the Pakistani media.
Leading dailies such as The News and The Express Tribune focussed on foreign office spokesperson Qazi Khalilullah's comments that India should share "necessary information" to verify Naveed's nationality instead of levelling "baseless" allegations. Most newspapers also buried the reports about Naveed deep inside.
"We expect Indian authorities to share necessary information about him with us to enable verification of his national status," Khalilullah told a weekly news briefing at the foreign office.
"We have affirmed many times that terrorism is our common enemy and requires a cooperative approach to combat the menace rather than a blame game," he said.
The Express Tribune quoted an official source as saying that a preliminary investigation by Pakistani authorities had showed India's allegations about Naveed to be "unsubstantiated and unwarranted".
"The NADRA's (National Database and Registration Authority) record shows that India's claims that the arrested person, Usman Khan, originated from Pakistan are totally baseless," the source was quoted as saying.
Full report at:
http://www.hindustantimes.com/india-news/pak-media-s-coverage-on-naveed-muted-reports-termed-baselesss/article1-1377450.aspx
-----------
South Asia
Fourth secular blogger murdered in Bangladesh, says activist
Aug 7, 2015
DHAKA: A gang armed with machetes hacked a secular blogger to death at his home in Dhaka on Friday in the fourth such murder in Bangladesh since the start of the year, an activist group and police said.
Niloy Neel was murdered after the gang broke into his apartment in the capital's Goran neighbourhood, according to the Bangladesh Blogger and Activist Network which was alerted to the attack by a witness.
Full report at:
http://www.dawn.com/news/1198998/fourth-secular-blogger-murdered-in-bangladesh-says-activist
-----------
Nine killed in Taliban's first major attack since Omar death disclosure
Aug 7, 2015
KABUL: Taliban insurgents killed nine people in multiple attacks on police targets in Afghanistan on Thursday, in their first major assaults since an acrimonious power transition after the announcement of leader Mullah Omar's death.
In the first attack a suicide truck bomber killed six people early Thursday when he struck a police compound in Pul-i-Alam, the capital of insurgency-racked Logar province just south of Kabul.
The force of the explosion damaged government buildings near the site, which was left littered with debris and shards of broken glass.
The bombing highlights growing insecurity amid a faltering peace process with the Taliban as Afghan forces face their first summer fighting season without full Nato support.
"A water truck filled with explosives was detonated when it was stopped at the gate of the Quick Reaction Force (police) compound," said deputy provincial police chief Mohammad Qari Wara. "It was a powerful explosion... which killed three members of the Quick Reaction Force and three civilians".
President Ashraf Ghani condemned the "cowardly act" in a statement, adding that the "killing of innocent people is an unforgivable crime that can be justified in no religion".
In two other separate attacks in the southern province of Kandahar, Taliban militants raided a police checkpoint and a police station, sparking brief gun battles that killed three local security officials, including an intelligence officer.
Meanwhile, at least 17 people, including 12 Afghan army soldiers, were killed in a helicopter crash in the volatile southern province of Zabul, although officials said the incident was caused by a technical fault and not insurgent activity.
The attacks in Logar and Kandahar mark the first major insurgent assaults since the Taliban confirmed last week the death of their leader Mullah Omar, who led the militant movement for some 20 years.
Full report at:
http://www.dawn.com/news/1198849/nine-killed-in-talibans-first-major-attack-since-omar-death-disclosure
-----------
Kabul truck bomb kills seven people, wounds 400: Afghan police
Aug 7, 2015
KABUL: A bomb hidden in a truck exploded in the centre of the Afghan capital, killing seven people and wounding about 400, police and health officials said Friday.
Police chief Abdul Rahman Rahimi said the pre-dawn blast was near a Defence Ministry compound, but that all of the victims were civilians, including women and children.
Health Ministry spokesman Wahidullha Mayar said about 400 people were hurt, mostly after being hit by flying glass.
Rahimi said the target of the blast, which blew out windows in nearby homes, was not known.
Police do not allow trucks to enter in Kabul during the daytime, but they can enter from 9pm until 5am.
Full report at:
http://www.dawn.com/news/1198969/kabul-truck-bomb-kills-seven-people-wounds-400-afghan-police
-----------
'Slaves and oppressors die in worst ways', Sayyaf recalls message to Taliban
By KHAAMA PRESS - Fri Aug 07 2015,
A prominent Afghan religious cleric and politician Ustad Abdul Rab Rasool Sayyaf said Friday that the slaves and oppressors always die in worst ways.
In his speech following a deadly car bomb blast in Kabul earlier this morning, Sayyaf recalled a message to Taliban 15 years ago saying that the slaves and oppressors will die in worst ways.
He said "he had warned Taliban that their masters would arrest them and unfortunately they were used against the Afghan nation."
"From whom they were receiving commands during the past 2 years? Obviously they were fighting on behest of their masters as Mullah Omar could not give commands from the grave," Sayyaf said.
The remarks by Sayyaf comes as Taliban's top commander Mullah Mansoor Dadullah confirmed last week that Mullah Omar did not die naturally but was assassinated, confirming the reports suggesting Mullah Omar was mysteriously killed in April 2013 in a hospital in Karachi city of Pakistan.
Full report at:
http://www.khaama.com/slaves-and-oppressors-die-in-worst-ways-sayyaf-recalls-message-to-taliban-1362
-----------
Two more Taliban top negotiators reportedly resigned from Qatar office
By KHAAMA PRESS - Fri Aug 07 2015
After the resignation of Sayed Mohammad Tayyeb Agha from the political office of Taliban in Qatar two more top negotiators from the same office have reportedly resigned.
The two have been identified as Aziz Rahman and Maulawi Nik Mohammad, who was a deputy minister during Taliban regime.
The turmoil within the leadership of Taliban occurred after the group's supreme leader Mullah Mohammad Omar was announced dead recently.
Although, Mullah Omar's death was many times reported in the past but those reports were turned down by Taliban spokesmen.
Recently when Fidai Mahaz, a splinter group of Taliban, revealed that Mullah Omar has died, Taliban for the first time confirmed the report and that was the beginning of a crack within the Taliban leadership as the death was kept secret for years.
Full report at:
http://www.khaama.com/two-more-taliban-negotiators-reportedly-resigned-from-qatar-office-3715
-----------
NATO condemns blast in Kabul which left 8 dead, nearly 400 wounded
By KHAAMA PRESS - Fri Aug 07 2015
The NATO-led Resolute Support (RS) mission strongly condemned a car bomb attack in capital Kabul earlier this morning.
"Headquarters Resolute Support strongly condemns an attack occurring early this morning that killed several innocent Afghan civilians and wounded scores more, including many women and children," the alliance said in a statement.
"Insurgents conducted this attack in a heavily populated civilian area, demonstrating their deplorable, callous disregard for innocent human life," said Brig. Gen. Wilson Shoffner, Resolute Support Deputy Chief of Staff for Communications.
Full report at:
http://www.khaama.com/nato-condemns-blast-in-kabul-which-left-8-dead-nearly-400-wounded-1361
-----------
Senior ISIL commander killed in Afghanistan's Helmand
Aug 7, 2015
Afghan officials say a senior commander of the ISIL terrorist group has been killed along with four of his comrades during a cleanup operation in Afghanistan's troubled south, Press TV reports.
Shah Mahmood Ashna, a spokesman for the provincial police headquarters said on Friday that the militant commander, identified as Sulaiman, was killed along with four others when Afghan security forces launched a surprise attack on their hideout in the Kajaki district of the southern Helmand Province.
Ashna also noted that Afghan forces suffered no casualties during the encounter.
Afghan security sources say the death of notorious ISIL militants and commanders would be a major setback for the terrorist group operating inside Helmand and adjacent provinces.
A file photo of ISIL Takfiri militants in Afghanistan
Senior Afghan officials have warned that the violent Takfiri group, which controls swathes of land in Iraq and Syria, is actively recruiting militants in the war-torn country. Afghan President Ashraf Ghani has recently said that ISIL is worse than al-Qaeda for Afghanistan.
More US drone strikes
Meanwhile in a separate development, a fresh US drone strike claimed the lives of at least six people in the country's southeast.
The causalities were caused after a US unmanned aerial vehicle (UAV) targeted a vehicle carrying Taliban militants in the Bermal district of the southeastern Paktika Province on Thursday night.
Afghan officials say a senior Taliban commander identified as Sultan was among those killed in the attack.
Full report at:
http://www.presstv.in/Detail/2015/08/07/423667/Afghanistan-Helmand-ISIL-Taliban-drones-
----------
Arab World
Disgruntled youth in Egypt opting to tread a violent path
August 06, 2015
The 20-year-old law student says he has had enough of fruitless protests in support of Egypt's deposed Islamist president, two years of a losing struggle with police.
Now he wants to join the extremists of the Daesh (the so-called IS) group who are battling the army in the Sinai Peninsula.
He and other youths are growing increasingly open in their calls for violence and a move toward extremism, frustrated by the police crackdown since the military ousted President Mohammed Morsi in 2013. Some want to avenge friends and family killed or abused by police.
Once sympathetic to Morsi's Muslim Brotherhood, some of them resent it as weak and ineffectual.
"Now we know there is only one right way: jihad," said the law student, Abdelrahman, showing off scars from pellets fired at him by police shotguns during protests. Like other protesters interviewed by The Associated Press, he spoke on condition he be identified only by his first name for fear of police retaliation.
He spoke bitterly about the series of ballot box victories in 2011 and 2012 that gave the Muslim Brotherhood political dominance and made Morsi the country's first freely elected president.
"Democracy doesn't work. If we win, the powers that be, whoever they are, just flip things over," he said. "The Brotherhood thought they could play the democratic game, but in the end, they were beaten."
At a time when militants are carrying out more sophisticated attacks in Egypt, the apparent spread of radicalism among youths in Cairo is a worrying sign for Egyptian authorities, who say they are working to quell violence.
In recent weeks, militants who declared themselves to be the Sinai branch of the Iraq- and Syria-based Daesh group tried to take over a Sinai town in an elaborate attack on security forces, and Egypt's top prosecutor was killed by a bomb in the first assassination of a senior official here in a quarter-century. Attacks are frequent in Cairo and elsewhere, often killing policemen or soldiers, and hitting businesses and some tourist sites.
The insurgency swelled after the army overthrew Morsi following mass nationwide protests of his rule. Since then, the more than 80-year-old Brotherhood has been shattered by a security crackdown. Most of its top leaders are in prison, with several sentenced to death, including Morsi. Since 2013, hundreds of protesters have been killed, many more wounded and thousands arrested, often brutalized in prison.
With other leaders in hiding or abroad, lower-level supporters of the Brotherhood have been the ones working to keep protests alive. Members of the Brotherhood themselves are divided over whether to stick to its official policy of peaceful protest or to embrace violent confrontation with the government. Authorities already accuse the group of fueling violence and have branded it a terrorist organization.
An official at Egypt's Interior Ministry, which is responsible for the police, said its policies aim to eradicate lawlessness and chaos, saying it must confront those who seek to incite youth in rough neighborhoods to violence.
"The Interior Ministry also follows information and monitors social media sites to track people who promote extremist ideas and who are affiliated in groups," according to the official, who spoke on condition of anonymity because regulations did not allow him to talk to reporters.
The ministry has carried out several "pre-emptive strikes" against such individuals, he said without elaborating.
Full report at:
http://www.saudigazette.com.sa/index.cfm?method=home.regcon&contentid=20150807252661
----------
U.S.-trained Syrian rebels refuse to fight al-Qaeda
7 August 2015
A group of U.S.-trained Syrian rebels have declared their refusal to fight al-Qaeda's affiliate in the country, the Nusra Front, following a series of kidnappings by the militant group, The Guardian reported on Thursday.
Citing a source in Division 30, a group believed to have been trained by U.S.-backed forces, the British newspaper said the rebels also oppose U.S. airstrikes against al-Nusra Front.
In late July, al-Nusra Front vowed to cut off "the arms" of the American government in Syria when they attacked headquarters of Division 30, killing at least five fighters.
Al-Nusra Front detained the rebel group's commander Col. Nadim al-Hassan along with six others last week.
Full report at:
https://english.alarabiya.net/en/News/middle-east/2015/08/07/U-S-trained-Syrian-rebels-refuse-to-fight-al-Qaeda.html
-----------
Mosque attack contrary to values of Islam: GCC
7 August 2015
RIYADH: The Gulf Cooperation Council (GCC) states on Thursday condemned the suicide bombing in Asir in the strongest words, describing it as "a heinous crime by cowards, which is contrary to the values and principles of Islam and humanity."
Abdullatif Al-Zayani, GCC secretary-general, expressed total support of GCC countries to the Kingdom in all its actions to protect its security and stability and to ensure the safety of its citizens.
Asserting that Kuwait fully stands with the Kingdom, its foreign ministry said, "this heinous crime that comes in continuation of the series of hateful terrorism (which) seeks to undermine the safety and security of the Gulf countries."
Abdullah Al-Turki, Muslim World League (MWL)secretary-general and a member of Council of Senior Scholars, expressing deep sorrow that the deviant group is carrying on with its heinous crimes. "It has become no secret that the thought of these deviant groups is not related to Islam as Prophet Muhammad, peace be upon him, prohibited such acts and described it as a great danger to Islam and Muslims."
The UN resident coordinator in Riyadh, Ashok Nigam, told Arab News: "We condemn this terrorist act in strongest possible words. Our sympathies go out to the victims' families, those who lost precious lives and sustained injuries. Such incidents have no place in society."
US Ambassador to Saudi Arabia Joseph W. Westphal said: "I condemn in the strongest terms the attack on the mosque in Asir. My heart is with the families of those who were killed and I hope for a rapid recovery of the wounded."
Full report at:
http://www.arabnews.com/saudi-arabia/news/787716
-----------
U.S. transfers widow of top ISIS figure to Iraq
7 August 2015
The United States on Thursday handed over to Iraqi authorities the widow of a senior ISIS leader who had been detained by US forces since May, the Pentagon announced.
Nasrin As'ad Ibrahim, also known as Umm Sayyaf or "Mother of Sayyaf", was the wife of Abu Sayyaf or "Father of Sayyaf," who was killed in a U.S. special forces raid in Syria in May.
She is now being held by the interior ministry of Iraq's autonomous province of Kurdistan, the U.S. Defense Department said.
"The decision to transfer Umm Sayyaf to the Iraqi government was based on the U.S. government determination that the detainee's transfer would be appropriate with respect to legal, diplomatic, intelligence, security, and law enforcement considerations," it said in a statement.
Abu Sayyaf, who was alleged to be the militants group's top financier, was killed on May 15 in a rare U.S. commando raid on the town of Al-Omar inside war-torn Syria.
The Pentagon said that "about a dozen" ISIS fighters had been slain in a close quarters gun battle during the raid.
Full report at:
https://english.alarabiya.net/en/News/middle-east/2015/08/07/U-S-transfers-widow-of-top-ISIS-figure-to-Iraqi-custody-.html
-----------
ISIS abducts 230 civilians in central Syria
7 August 2015
The Islamic State of Iraq and Syria (ISIS) group has abducted 230 civilians, including at least 60 Christians, in a central Syrian town hours after it captured it, a monitoring group said on Friday.
The Syrian Observatory for Human Rights said the civilians were taken on Thursday in the town of Al-Qaryatain, which ISIS jihadists had captured late Wednesday.
"Daesh kidnapped at least 230 people, including at least 60 Christians, during a sweep through Al-Qaryatain," Observatory chief Rami Abdel Rahman said, using another name for ISIS.
Many of the Christians had fled from Aleppo province, in Syria's north, to seek refuge in Al-Qaryatain.
He said those abducted were wanted by ISIS for "collaborating with the regime," and their names were on a list used by the jihadists as they swept through the town.
Families who tried to flee or hide were tracked down and taken by the jihadists, he said.
Al-Qaryatain lies at the crossroads between ISIS territory in the eastern countryside of Homs and areas further west in the Qalamun area.
It had a pre-war population of 18,000, including Sunni Muslims and around 2,000 Syriac Catholics and Orthodox Christians.
Full report at:
https://english.alarabiya.net/en/News/middle-east/2015/08/07/ISIS-abduct-dozens-of-Syrian-Christians-after-capturing-a-town-Homs-.html
-----------
U.S. reports 27 airstrikes against ISIS in Syria, Iraq
August 2015
The United States and it allies conducted 27 airstrikes against ISIS militants in Syria and Iraq on Wednesday, the U.S. military said.
Eleven air strikes were carried out in Syria, including seven near the city of Hasaka, the U.S. military said in a statement on Thursday. In Iraq, militant targets were hit in 16 strikes near eight different cities, it said.
Full report at:
https://english.alarabiya.net/en/News/middle-east/2015/08/07/U-S-reports-27-air-strikes-against-ISIS-in-Syria-Iraq.html
-----------
Court frees 11 suspects in Kuwait mosque attack
7 August 2015
KUWAIT CITY: A Kuwaiti court trying 29 suspects in a deadly bomb attack on a Shiite mosque freed 11 defendants Thursday, while the main accused said he had been told worshippers would not be harmed.
A travel ban, however, remains in place on the freed defendants, including two women. Of the 29 initial suspects, five have gone on trial in absentia.
Abdulrahman Sabah Saud, the main suspect, renewed his confession at the second hearing that he transported the Saudi suicide bomber to the Kuwait City mosque attacked in June.
But Saud insisted he was told by the suicide bomber, Fahad Al-Qaba'a, he would only blow up the mosque after it was emptied of worshippers.
The prosecutor played footage taken by security cameras showing Saud driving the car with the bomber seated next to him, before he dropped him off and left.
Saud, a stateless Arab, said the footage was genuine and recognized the bomber in the video.
The court set Aug. 10 for the next hearing in the trial over the June 26 bombing that killed 26 people and wounded hundreds of others.
Full report at:
http://www.arabnews.com/middle-east/news/787406
-----------
Syria: ISIL Militants Targeted in Sweida
Aug 06, 2015
The army destroyed hideouts of the ISIL terrorists in the Northeastern countryside of Sweida, a military source said.
The source added that a unit of the army carried out a precise operation against positions of the ISIL terrorists in Rajm al-Dawleh village after closely monitoring their movements, killing and injuring a large group of the Takfiri militants.
The ISIL Takfiri terrorists currently control shrinking swathes of Syria and Iraq. They have threatened all communities, including Shiites, Sunnis, Kurds, Christians, Ezadi Kurds and others, as they continue their atrocities in Iraq.
Full report at:
http://english.farsnews.com/newstext.aspx?nn=13940515000529
-----------
Syrian Forces Kill 7 Militants in Daraa
Aug 06, 2015
The Syrian army conducted military operations against terrorists' hideouts to the South of Abu Baker mosque in Daraa al-Mahatta neighborhood, killing 7 terrorists and destroying a number of their ammunition-loaded vehicles.
Meanwhile, the army destroyed terrorists' concentration centers and supply lines from the Jordanian territories, and destroyed a vehicle belonging to terrorists of al-Nusra Front in al-Manshiyeh and al-Abasiyeh neighborhoods and on the road between the Meteorology Department building and al-Sad in Daraa al-Balad neighborhood.
The Syrian troops also destroyed a vehicle equipped with heavy machinegun, and killed all the terrorists onboard to the West of the water reservoir in al-Yadouda town in the Northwestern countryside of Daraa.
Full report at:
http://english.farsnews.com/newstext.aspx?nn=13940515000554
-----------
Fresh Saudi Air Strikes Reported in Yemen
Aug 06, 2015
The Saudi air strikes targeted a girls' school and several residential blocks in the town of Zahyan in Sa'ada.
Saudi warplanes also bombed the Baqim and Kitaf regions in Sa'ada.
No information has yet been released on the possible casualties of the latest raids.
Meanwhile, Yemen's Ansarullah fighters and popular committees killed dozens of Al-Qaeda terrorists in the provinces of Lahij and Aden. Two Al-Qaeda leaders were among the casualties.
Full report at:
http://english.farsnews.com/newstext.aspx?nn=13940515000469
-----------
Pakistan
Mullah Omar did not die in Pakistan, Khawaja Asif tells NA
IRFAN HAIDER
Aug 7, 2015
ISLAMABAD: Defense Minister Khawaja Muhammad Asif while addressing the National Assembly on Friday said that the Afghan Taliban leader Mullah Omar did not die in Pakistan nor was he buried here.
He said that the Afghan Taliban leader was not in Quetta nor Karachi, adding that Pakistan does not want to be involved in controversy pertaining to Taliban leadership. Asif also clarified that the Afghan Taliban leader was not treated in a hospital in Karachi.
Asif said that statements made by Mullah Omar's family prove that he died in Afghanistan and was buried there as well.
He further said that Pakistan wants peace in the region and is playing its role as a facilitator in negotiations between the Afghan Taliban and the Afghan government. He added that an atmosphere of peace can be established in the region by ensuring peace in Afghanistan.
Last month, Afghanistan announced that Mullah Omar, the reclusive leader of the Afghan Taliban movement, died more than two years ago in Karachi.
Read: Mullah Omar died in Karachi in April 2013: Afghan govt
"The government ... based on credible information, confirms that Mullah Mohammad Omar, leader of the Taliban died in April 2013 in Pakistan," the Afghan presidential palace had said in a statement.
Afghanistan's main intelligence agency had also said that the Taliban leader had died in a Karachi hospital in April 2013, after a BBC report earlier claimed the reclusive Taliban leader had died two or three years ago.
Full report at:
http://www.dawn.com/news/1198993/mullah-omar-did-not-die-in-pakistan-khawaja-asif-tells-na
-----------
US drone strike kills five 'militants' in North Waziristan
AFP | ALI AKBAR
Aug 7, 2015
PESHAWAR: A US drone attack on a militant compound in North Waziristan on Thursday killed at least five militants, security officials said.
Military sources said the drone strike took place in Lawra Mandi village of Datta Khel in the North Waziristan tribal district bordering Afghanistan, where the military is battling Taliban militants.
The drone fired two missiles targeting a house, killing at least five suspected militants, sources said.
"At least five militants were killed in the drone attack," senior security official told AFP.
Another security official in Peshawar confirmed the attack and the casualties.
The area is generally off-limits to journalists, making it difficult to independently verify the number and identity of the dead.
North Waziristan is among Pakistan's seven tribal districts near the Afghan border which are rife with insurgents and have been strongholds of Taliban and Al Qaeda operatives, among others.
Full report at:
http://www.dawn.com/news/1198786/us-drone-strike-kills-five-militants-in-north-waziristan
-----------
Search operations in Punjab seminaries
Aug 7, 2015
MULTAN: The Counter-Terrorism Department, police and intelligence officials carried out joint search operations in seminaries of Multan, Faisalabad division, Gujranwala and Bahawalpur on Thursday.
On Sunday, one such operation was launched in Lahore seminaries where 14 students had been taken into custody.
Know more: 14 arrested in seminaries search operation
Multan City Police Officer Azhar Ikram led the search operation in the city and Chungi No 9.
The spate of raids on seminaries is to bust militants, if any, from seminaries. It is a part of the National Action Plan to avert reaction to the Zarb-i-Azb Operation.
The police officer said that entire area was sealed before starting the operation while pickets were raised at several intersections and along roads for random searches. The seminaries of banned organisations, those on the fourth schedule and the workers of banned organisations were also searched, he said.
A house-to-house search was conducted to seize illegal weapons and explosives and people living in these localities illegally were detained.
He said 20 people were arrested and 20 Kalashnikovs seized from seminaries and houses.
CHINIOT: Seven people were taken into custody during raids on seminaries while books, CDs and computers were seized.
Full report at:
http://www.dawn.com/news/1198863/search-operations-in-punjab-seminaries
-----------
Quetta ATC issues non-bailable arrest warrant for Altaf Hussain
SYED ALI SHAH
Aug 7, 2015
QUETTA: An Anti-Terrorism Court (ATC) in Quetta issued a non-bail able arrest warrant for the arrest of Muttahida Qaumi Movement (MQM) chief Altaf Hussain on Friday.
The warrants were issued on the order of ATC-II judge Nauroz Khan Hout after hearing on a petition filed by a citizen Khudai Rahim.
The judge also ordered that Altaf Hussain be immediately arrested and produced in court on August 25.
In his petition, Rahim had said that the recent statements issued by the MQM supremo were tantamount to treason against the state of Pakistan.
The MQM chief Altaf Hussain has already been in hot waters due to his recent speeches which resulted in registration a number of First Information Reports (FIR) in different cities across Pakistan.
On July 29, an anti-terrorism court (ATC) in Gilgit-Baltistan (GB) also issued a non-bailable arrest warrant against Hussain as a result of multiple First Information Reports (FIRs) registered in the province.
Read: Non-bailable arrest warrant issued for Altaf in Gilgit-Baltistan
The FIRs were registered under sections related to treason and rebellion against the state of Pakistan.
Full report at:
http://www.dawn.com/news/1198990/quetta-atc-issues-non-bailable-arrest-warrant-for-altaf-hussain
-----------
Resolutions passed against Altaf Hussain in Sindh Assembly
Aug 7, 2015
KARACHI: The Pakistan Tehreek-i-Insaf, PML-F and PML-N on Friday moved resolutions condemning recent statements of Muttahida Qaumi Movement (MQM) chief Altaf Hussain in the Sindh Assembly.
The PTI celebrated the development as a historic move as it managed to persuade the Pakistan Peoples Party's (PPP) Sohrab Sarki to sign its resolution.
Amidst protest and sloganeering from MQM lawmakers, the resolutions calling for the government to take notice of the statements of the MQM supremo and "take legal action against Altaf" were submitted in the presence of Speaker Agha Siraj Durrani.
The Sindh Assembly Speaker moved the resolutions in the House and called for a vote. After majority voted in favour of the resolutions, the speaker concluded, "The ayes have it," and adjourned the session until Aug 10.
The PTI resolution submitted under Rule 256 of the Sindh Assembly rules says, "This House condemns the statements of Altaf Hussain asking for intervention by foreign institutions and countries in the internal matters of Pakistan. His statements asking for the breakup of Sindh are also strongly condemned."
The resolution went on to say it approached the Sindh government to take notice of these statements, and take action against the MQM supremo. The resolution was signed by Samar Ali Khan from PTI.
Shafi Muhammad Jamot from the PML-N and Nand Kumar of the PML-F also passed resolutions against the MQM chief in the Sindh Assembly.
Speaking to Dawn.com Samar Ali Khan said, "We submitted one resolution two weeks ago when Altaf Hussain started off on Rangers and the military. Day before yesterday, we submitted another one ─ Altaf Hussain specific."
He condemned Hussain for asking foreign countries to get involved in Pakistan's matters, dubbing it "very unpatriotic".
He said that the resolution was based on several points ─ one is Altaf Hussain's appeal to United Nations, Nato and India for intervention; the second is language used by Hussain against the military and Rangers, and the third is Hussain asking to break up Sindh.
PPP shows support
The PPP's Nisar Khuhro while addressing the press outside the Sindh Assembly said the party also supported the resolutions moved by the PTI, PML-F and PML-N.
He said the PPP was against any attack on Sindh or the breakup of Sindh. "Any attack on Sindh is like an attack on the entire country ... We will not tolerate future attacks on Sindh."
MQM's letters to Indian High Commissioner
Letters purportedly written by the MQM to the Indian High Commission emerged on Thursday, in which the party asked the mission to raise its voice to safeguard human rights "particularly in Karachi".
Full report at:
http://www.dawn.com/news/1198995/resolutions-passed-against-altaf-hussain-in-sindh-assembly
-----------
Unseating resolutions withdrawal 'hardly pleases' PTI
Aug 7, 2015
LAHORE: Pakistan Tehreek-i-Insaf central organiser Jahangir Khan Tareen has said the party does not feel like thanking any party or anybody for withdrawing the MQM and JUI-F's resolutions about unseating of its legislators from the National Assembly.
Flanked by PTI Punjab organiser Chaudhry Sarwar, Mr Tareen told a news conference at the newly-established PTI chairman's secretariat on Thursday that the PTI did not want or plan derailment of democracy. As Mr Tareen said the PTI was still ready to stay out of the assemblies, Mr Sarwar said PML-N legislators were wise enough not to unseat the PTI members.
"I had predicted that there would be general elections and not by-elections, if the PTI parliamentarians were unseated," he said.
He said Imran would currently not go to the NA session but at an appropriate time, when there would be a need to speak on national issues. He also criticised NA Speaker Ayaz Sadiq for requesting MQM chief Altaf Husain to withdraw PTI members' unseating resolution.
He lauded the law-enforcement agencies for purging Karachi of the menaces of extortion, kidnapping and target killing. He said the Kalabagh dam should have been constructed with due consensus among all the provinces and until then focus should be on developing Bhasha Dam.
Tareen said the PTI had given all proofs to the Judicial Commission and it pointed out some 40 lapses and mismanagement by Election Commission officials. He said Imran had also written a letter to the chief election commissioner to take disciplinary action against those held responsible for lapses by the JC.
Full report at:
http://www.dawn.com/news/1198929/unseating-resolutions-withdrawal-hardly-pleases-pti
-----------
AJK assembly adopts 9 resolutions to condemn Altaf's statements
TARIQ NAQASH
Aug 7, 2015
MUZAFFARABAD: The Azad Jammu and Kashmir (AJK) Legislative Assembly unanimously adopted on Thursday nine resolutions moved by legislators of the ruling PPP and the opposition PML-N and Muslim Conference to condemn statements recently made by Muttahida Qaumi Movement (MQM) chief Altaf Hussain against the army.
The two MQM lawmakers boycotted the proceedings after the party's parliamentary leader Mohammad Tahir Khokhar was not allowed to speak on the issue by Speaker Sardar Ghulam Sadiq.
The first resolution was read out by Raja Farooq Haider, leader of the opposition in the assembly.
Know more :AJK PM sacks MQM ministers after ultimatum on Altaf Hussain
As he was about to start reading the resolution, Mr Khokhar stood up and demanded permission to speak. The speaker did not allow him to do so but he kept on speaking after which his microphone was switched off on the order of the speaker.
Mr Khokhar and his colleague Mohammad Saleem Butt then walked out of the hall in protest.
Interestingly, the MQM legislators — who were members of the AJK cabinet until their dismissal by Prime Minister Chaudhry Abdul Majeed on Tuesday— were sitting on the opposition benches.
Mr Haider condemned the recent "provocative and contemptible" statements made by Altaf Hussain and called upon the UK to take action against him for "inciting hatred and violence in Pakistan".
Full report at:
http://www.dawn.com/news/1198887/ajk-assembly-adopts-9-resolutions-to-condemn-altafs-statements
-----------
Musharraf criticises Altaf for inviting enemy state into Pakistan's affairs
August 07, 2015
Pervez Musharraf
KARACHI – Former president Pervez Musharraf has strongly criticised Altaf Hussain – a London-based chief of Muttahida Qaumi Movement (MQM) – for begging India to come to the rescue of his 'party workers' in Pakistan.
"How can someone praise a person who is inviting an enemy state for help," he said in a latest TV interview. Minister for Interior Affairs Chaudhry Nisar Ali Khan already said that the purpose of Altaf Hussain's speech was to defame Pakistan and its institutions.
The target killings in Karachi decreased drastically, and that all parties except the MQM were satisfied with the performance of the security forces, he said. In August 2013, MQM leader Dr Farooq Sattar requested the government to handover Karachi's administrative control to the military.
Full report at:
http://www.dailytimes.com.pk/national/07-Aug-2015/musharraf-criticises-altaf-for-inviting-enemy-state
------------
Africa
Clashes in Central African Republic leave dozen dead
Aug 6, 2015
At least a dozen people have lost their lives after gunmen carried out attacks in the southern Basse-Kotto Prefecture of the Central African Republic (CAR).
"On Sunday and Monday, gunmen claiming to be anti-Balaka attacked a herdsmen's camp in the village of Malegbassa in the Zangba commune to steal their cows, killing four people and wounding four others," a police source, speaking on condition of anonymity, said on Thursday.
The attacks were followed on Monday by reprisals by the ex-Seleka rebel group and armed herdsmen against residents of neighboring Ndoma village, killing at least eight people and wounding several others, the source added.
Several people were also taken captive in Ndoma, the source said, noting that the death toll could rise further.
"The reprisals also caused many Ndoma and Malegbassa residents to flee into the bush and (nearby) Democratic Republic of Congo," the police source said.
Amnesty International has condemned the ongoing violence against Muslims in the CAR, saying Muslims face religious persecution in the country.
A report released on July 31 cited evidence that the anti-Balaka militiamen force the Muslims in the western CAR to hide their religion or convert to Christianity.
"We have to hide, do it [prayers] quickly, and do it by ourselves," said a trader in Sangha-Mbaere Prefecture, adding that it is effectively impossible to pray in the face of incessant threats by the Christian militia.
Full report at:
http://www.presstv.in/Detail/2015/08/06/423593/Clashes-Central-African-Republic-BasseKotto
-----------
Boko Haram Takfiris gun down 9 villagers in northeastern Nigeria
Aug 6, 2015
Members of the Takfiri Boko Haram militant group have fatally shot nine people and set a number of houses ablaze after they stormed a village in Nigeria's crisis-stricken northeastern state of Yobe.
Witnesses said dozens of Boko Haram militants attacked the village of Tadagara at around 10:30 p.m. local time (2130 GMT) on Wednesday, looting thatch-roofed mud homes and shops before setting them on fire.
"Boko Haram gunmen came on motorcycles and opened fire on the village after we had retired for the night and killed nine residents," Tadagara villager, Shuaibu Nuhu, said.
"We fled into the bush from where we saw fire erupting from our homes as the gunmen set them alight after looting them," he added.
Tadagara residents said the Takfiri militants stayed in the village until dawn, when heavy rain stopped, and moved to the neighboring Dunbulwa village afterwards.
"We luckily left the village as soon as we heard Boko Haram gunmen were on the attack in Tadagara, which was why they found the village empty," Dunbulwa resident, Sani Mai-Masara, said, adding, "They carted away food and jerrycans of fuel. They then set fire to our homes."
The developments came only three days after the terrorists killed 13 people in Nigeria's northeastern village of Malari. The attack also left 27 more people injured.
This file photo shows Nigerian soldiers during a military exercise.
Full report at:
http://www.presstv.in/Detail/2015/08/06/423599/Boko-Haram-militants-shooting-villagers-Tadagara-Yobe-Dunbulwa
-----------
Britain restates support to fight against Boko Haram
07 August 2015
Lagos – Britain has re-affirmed its resolve to assist Nigeria in the fight against the Boko Haram terrorists.
The country's Deputy Chief of Defence Staff on Military Strategy and Operations, Lieutenant General Gordon Messenger, gave this assurance when he and other senior British military officers paid courtesy call on the Nigeria Chief of Defence Staff, Major General Gabriel Olonisakin at the Defence Headquarters in Abuja.
Messenger stated that the essence of the visit of the senior British officials to Nigeria was to broaden the deep relationship and re-energise the bilateral cooperation between Nigeria and Britain.
He pointed out that they came to Nigeria for deliberations towards identifying the ideal area of collaboration to be adopted in the fight against insurgency and the best way to make it work.
Also Read: Army makes breakthroughs in terror hotsposts
He stressed that the fight against terrorism is a multifaceted problem that demands strategy and careful exploration of grey areas in order to re-appraise the best support the British could offer.
Full report at:
http://www.news24.com.ng/National/News/Britain-restates-support-to-fight-against-Boko-Haram-20150807
-----------
AU, Somali forces capture villages from Al-Shabaab in Somalia
IANS | Mogadishu
August 7, 2015
The Africa Union (AU) forces, alongside Somali government troops, on Thursday captured several villages in central Somalia's Hiran region from Al-Shabaab militants, a local official said.
Hiran region mayor Abdifitah Hassan Afrah said the joint forces seized the villages after fierce battles during which the AU fighter jets conducted air strikes on the militants, Xinhua news agency reported.
Afrah said four villages were retaken and the militants took heavy causalities.
"This operation is aimed to liberate all villages controlled by Al-Shabaab in Hiran region, and AU warplanes carried out airstrikes against the enemies to force them to flee these villages," he said.
Full report at:
http://www.business-standard.com/article/news-ians/au-somali-forces-capture-villages-from-al-shabaab-in-somalia-115080700051_1.html
----------
Hotel comes under attack in central Mali, 1 dead
Aug 7, 2015
Gunmen have stormed a hotel in central Mali, killing one person and prompting Malian Army forces to be called to the scene of the attack.
The army has surrounded the hotel in the town of Sevare, located more than 600 kilometers (370 miles) north of the Malian capital Bamako.
http://www.presstv.in/Detail/2015/08/07/423678/Mali-Army-Sevare
-----------
U.N. to host Libya talks Monday in push for unity government
7 August 2015
The United Nations will convene a new round of Libya talks on Monday in Geneva in a push to persuade warring parties to agree on a unity government and end the violence gripping the oil producer, the U.N. said on Thursday.
There are many challenges to ending Libya's armed conflict four years after the overthrow of Muammar Qaddafi.
Last month, some factions signed an initial U.N.-sponsored deal to form a unity government, but delegates from a parliament controlling the capital Tripoli stayed away.
An armed alliance known as Libya Dawn took over Tripoli and declared its own government and parliament a year ago, driving out the internationally recognised premier.
"Underscoring the significant progress achieved to date ... (U.N. envoy Bernardino) Leon is urging the main parties to redouble their efforts and continue working together towards narrowing existing differences," Leon's U.N. mission for Libya said in a statement.
"Leon acknowledges that while some of the parties continue to have reservations about what has been achieved to date, it is important for all parties to continue working on jointly addressing and resolving these concerns," the statement added.
Some representatives from municipalities in Tripoli and the western city of Misrata allied to Libya Dawn signed the deal.
Under the plan, Libya will get a one-year government of national accord. A council of ministers headed by a prime minister and two deputies would have executive authority. The House of Representatives would be the legislative body, a plan meeting opposition from the GNC.
Full report at:
https://english.alarabiya.net/en/News/middle-east/2015/08/07/U-N-to-host-Libya-talks-Monday-in-push-for-unity-government.html
-----------
Kenyan Muslims laud Obama's Support
06 August 2015
NAIROBI – Kenyan Muslim leaders have praised US President Barack Obama for addressing human rights discrimination facing Muslims in the East African country, demanding an end to profiling of Muslims.
"We commend President Barack Obama's call on the government to end the profiling of Muslims and engage with the community as part of effective mechanisms to address the challenges of terrorism," Abdullatif Shaaban, director general of the Supreme Council of Kenya Muslims, told Anadolu Agency on Wednesday, August 5.
"This is the same strategy that Muslims leaders have consistently advocated to the government to adopt instead of a policy of victimization."
Obama was in Kenya to officially open the Global Entrepreneurship Summit.
During the three-day visit, he met with government officials to strengthen bilateral ties between Kenya and the United States.
According to the Muslim leader, Obama pledged more assistance to the government to fight the growing threat of terrorism in East Africa without abusing human rights, especially those of the Kenyan Muslim community.
"While assistance is important, we wish to state that it should be tied to the government's willingness to embrace human rights principles in the fight against terrorism," Shaaban said.
There are nearly ten million Muslims in Kenya, which has a population of 36 million.
Kenya Muslims have been sensing eradication of their rights after their country was involved in the so-called war on terrorism in East Africa.
Supported by UK and US, Kenya's anti-terror police have been accused of targeting innocent Muslims with arbitrary arrests and disappearances.
Muslims problems increased following Westgate mall attack in which 67 people were killed, in September 2013, the attack which was claimed by Somalia's militant al Shabaab group.
Disappearances
Muslim leaders have asked the government to investigate the disappearance and extrajudicial killings of Muslim youth and women suspected to be involved in militant activities.
"Some of these extrajudicial incidents happened a few days prior to the visit of President Obama," said Al-Amin Kimathi, executive director of the Muslim Human Rights Forum.
"While we support the government's measures to weed out terrorism, we are concerned that the measures being taken are selective and often deliberately target members of the Muslim community."
Full report at:
http://www.onislam.net/english/news/africa/491199-muslims-laud-obamas-support-in-kenya.html
-----------
Boko Haram abducts 135 villagers in Cameroun
August 7, 2015
• Jonathan's govt acquired sophisticated weapons, blocked Shekau's threats, says ex-nsa Dasuki
• 'Why insurgents couldn't stop elections'
SUSPECTED Boko Haram Islamists have kidnapped 135 people in a raid on a village in northern Cameroun which left eight people dead, local sources said on Wednesday.
The raid took place before dawn on Tuesday in the village of Chakamari in a region known as the Extreme North, which borders Boko Haram strongholds in neighbouring Nigeria.
Cameroun, which is part of a regional force fighting Boko Haram, has been hit by a series of deadly Islamist attacks in recent months.
The attack came as Guinea offered help in the regional fight against Boko Haram whose bloody insurgency in Nigeria has increasingly spread to neighbouring states.
"Men from Boko Haram attacked our neighbours in the village of Chakamari overnight Monday-Tuesday. They killed eight people, two women and six men," a member of a vigilante group in a neighbouring village told AFP.
The vigilante, who spoke on condition of anonymity, said the attackers torched many homes before making off with the hostages.
A police source confirmed the death toll and the number of people abducted.
A soldier at the scene confirmed finding six bodies, describing them as vigilantes.
"The villagers told us that more than 50 people had been kidnapped by Boko Haram terrorists," he told AFP.
Meanwhile, the immediate past National Security Adviser (NSA), Col. Sambo Dasuki (rtd), yesterday, said the administration of President Goodluck Jonathan successfully blocked Boko Haram's threats, especially in the twilight of the regime, through the use of sophisticated weapons.
Some of the weapons, which, according to him, decided the outcome of the anti-terror war in favour of Federal Government in the last few months of Jonathan's administration, were Alpha jets, APCs, MRAP vehicles, advanced artillery pieces, assorted arms and ammunition, highly sophisticated surveillance drones and T72.
According to Dasuki, the Federal Government, following a six-week shift from the original election date, was able to ward off the threat from Boko Haram, held the elections and sent the leader of the sect into hiding.
In a chat with Abuja-based PRNigeria, Dasuki said the previous government also carried out modification of F7 supersonic jet fighters and was able to facilitate acquisition of hitherto elusive military weaponry, a feat, which he said led to the recovery of many local councils that were previously occupied by Boko Haram terrorists.
Recall that the presidential and National Assembly elections were originally set to take place on February 14, to be followed by the governorship and state assembly elections on February 28. However, one week before the elections, the Independent National Electoral Commission (INEC) announced the postponement, with Presidential and National Assembly elections shifted to March 28 and governorship and state assembly elections to April 11, 2015.
Dasuki said the Federal Government amid international conspiracy, was able to procure some decisive acquisitions for the Nigeria military to effectively check the threat by Abubakar Shekau and his sect against the democratic process.
"We are glad that we also provided assorted Armoured Personnel Carriers to transport troops to the battlefield. They are armed for self-defence and to provide protection from attacks from shrapnel and small arms fire.
"All these were acquired in the last one year after years of frustration by Western powers, who denied us of the equipment and sabotage our efforts to acquire same from other sources which are reasons for some delay in delivery."
The embattled Dasuki, who just a day after he was relieved of his duties as the NSA, by President Muhammadu Buhari, was restricted from moving out of his house by Operatives of the Department of State Services (DSS) for "security reasons" said Jonathan facilitated the acquisition of the hitherto elusive weaponry in the last one year, which helped in the recovered of many local governments that had been occupied by Boko Haram terrorists, just within six weeks.
Full report at:
http://www.ngrguardiannews.com/2015/08/boko-haram-abducts-135-villagers-in-cameroun/
-----------
The Chief of Army Staff Assures No Personnel Will Engage in Human Rights Violation
06 Aug 2015
The Chief of Army Staff (COAS), Maj-Gen. Tukur Buratai has vowed to ensure that the Nigerian Army under his watch would uphold the rules of engagement and respect for human rights in the ongoing counter-terrorism and counter-insurgency operations against Boko Haram in the North East.
Buratai gave this assurance on Thursday when the Executive Secretary of National Human Rights Commission (NHRC), Prof. Bem Angwe, paid a courtesy to him at Army Headquarters, Abuja.
Full report at:
http://www.thisdaylive.com/articles/boko-haram-buratai-assures-no-personnel-will-engage-in-human-rights-violation/216764/
-----------
Europe
British Muslim who pleaded guilty to terror offences tells Old Bailey that UK 'is a joke'
Aug 7, 2015
Atiq Ahmed, 32, yesterday admitted two charges brought under the Terrorism Act of disseminating terrorist publications – and described Britain as "a joke".
The offences relate to two "relatively short" videos posted on his Google Plus account between January and March this year.
Ahmed, who is unemployed, had told the court: "I want out of this land… it's like a joke to me."
Throughout the brief hearing, Ahmed – wearing a grey prison-issue tracksuit – muttered and rocked his head back and forth, and could be heard saying: "People kill innocent people and blame us."
udge Michael Topolski QC adjourned the case until 21 September for sentencing and said: "The psychiatric element is going to be important for me to consider."
He added: "There won't be a trial now, but there will be a sentencing exercise to go through."
But Ahmed – who claimed he had sought out material out of "curiosity and study" – ranted as he left court: "It should be an Islamic court. This is an enemy of Islam court".
Prosecutor Steven Gray said the Crown accepted the pleas on the basis that he was "reckless" as to the effect of the material.
The court heard Ahmed had "literally thousands" of files on his computer, many of which were of a religious or historical context.
Ahmed pleaded not guilty to a further charge of possessing material useful for terrorist purposes, which was allowed to lie on file.
The alleged document, entitled 'Hijra to the Islamic State', is said to be an ISIS 'how to guide' for aspiring Jihadis.
Full report at:
http://www.express.co.uk/news/uk/596695/muslim-tells-old-bailey-uk-joke-atiq-ahmed
-----------
Saudi bombing shows terror sweeping Mideast: Russia
Aug 7, 2015
Russia says the recent bomb explosion at a mosque in the Saudi city of Abha illustrates the point that terrorism is spreading in the Middle East region.
"The Abha bombing is yet another evidence [that] the wave of terrorism, triggered by extremist organizations, is sweeping the region of the Middle East," the Russian Foreign Ministry said on Thursday.
Full report at:
http://www.presstv.in/Detail/2015/08/07/423652/Russian-Foreign-Ministry-Saudi-Arabia-bomb-blast
-----------
Anjem Choudary supporters threaten revenge for preacher charge in online campaign
Aug 6, 2015
The hashtag #FreeAnjemChoudary has been shared nearly 600 times already, potentially reaching 700,000 people.
In all, 28% of the people who shared the worrying rallying cry are British, with the majority of the others coming from America and Canada.
According to the data, compiled by an online analytics company, an astonishing 69% of Choudary's supporters are from those three western nations, with another 10% tweeting from Australia.
Choudary is behind bars tonight after he was remanded in custody by a judge. The 48-year-old appeared in court yesterday charged with supporting Islamic State (ISIS).
In one chilling tweet, an ISIS supporter using the hashtag posed in front of Big Ben with the terrorist group's flag.
Disturbingly, they wrote: "The black days is coming to Britain if it doesnt (sic) release the Muslims."
Others also claimed Muslims will deliver retribution on Britain over the detention of Choudary, who is one of the country's most controversial figures.
They were also tweeting in support of Mizanur Rahman, also known as Abu Baraa, who appeared in court alongside Coudary.
One user said: "Many Muslims in UK say what #FreeAnjemChoudary #FreeAbuBaraa say. We won't be scared Cameron you Taghout (infidel)."
Another wrote: "Even if no one tweets I still stand by #FreeAnjemChoudary and #FreeAbuBaraa and support them allah aid them and destroy their enemies."
A third said: "Their popularity and support will increase even more after their imprisonment. Don't get happy munafiq's (disbelievers)."
Several of the users referred to Choudary as a "lion" and called for an uprising against the British government.
One wrote: "Their speech shakes the false thrones of taghut (infidels)."
Another added: "#FreeAnjemChoudary and #FreeAbuBaraa words shook the thrones of the tawagith (non believers). May Allah release them from captivity. Ameen."
One woman described Choudary as a someone who "taught the Muslim community so much & helped the community reminding them to be good Muslim citizens"
The British preacher was arrested last year by officers from the Metropolitan Police's counter terrorism command.
Full report at:
http://www.express.co.uk/news/uk/596636/Anjem-Choudary-Twitter-campaign?_ga=1.218034709.247494639.1438857159
-----------
Southeast Asia
Muhammadiyah grassroots oppose Shia, Ahmadi talks
August 07 2015
Despite Muhammadiyah's firm stance on protecting beleaguered religious minorities in the country, an internal discussion during the fourth day of the second-largest Islamic organization's national congress (muktamar) on Thursday revealed that many of the organization's members in the region had reservations about the position.
On Thursday afternoon, a proposal to start a Sunni-Shia dialogue mediated by Muhammadiyah was met with rejection from several members, including official representatives from West Papua's Muhammadiyah branch office.
A Muhammadiyah member from West Papua, who wished to remain anonymous, said he could accept the proposal as long as Muhammadiyah's central board specified clear guidelines on how the dialogue would take place.
He also said that such dialogue would be futile given the wide ideological differences between Sunnis and Shiites.
"We would like to know what kind of dialogue it will be. Shi'ism is very dangerous," the local Muhammadiyah official said.
Tension in the room rose when others in the audience began talking about other minority groups.
Some in the discussion proposed that "Muhammadiyah should follow the Indonesian Ulema Council's [MUI] in declaring that Shia and Ahmadiyah branches were deviant versions of Islam."
Many began to chant Allahu Akbar (God is Great) as tensions rose.
Calm only returned after newly elected Muhammadiyah board of leadership member Abdul Mu'ti took the floor to give a lengthy explanation about the plan.
Mu'ti acknowledged there were still Muhammadiyah members that had failed to see through the plan due to their conservative views.
"The plan is not to find whether Shia or Sunnni is right or wrong," said Mu'ti, who is also known for his stance on protecting religious minority groups in the country.
In an interview with reporters after the discussion, Mu'ti said that angry participants rejected the plan because they did not have a clear picture of it.
"We have to acknowledge that within Muhammadiyah there remains gaps of knowledge among its members. Today's discussion proves this. At the top leadership level, we're used to having interfaith dialogue with other groups but that does not happen at the grassroots level," Mu'ti said.
Full report at:
http://www.thejakartapost.com/news/2015/08/07/muhammadiyah-grassroots-oppose-shia-ahmadi-talks.html
-----------
Muhammadiyah Should Do More to Protect Religious Minorities, New Chief Says
By Yustinus Paat & Kiblat Said
Aug 07, 2015
Makassar, South Sulawesi. The newly elected chairman of Muhammadiyah, Indonesia's second-biggest Islamic organization, has urged the group's 30 million followers to work toward better protection for religious minorities in the country.
"The reality is that we all live in a pluralist nation," Haedar Nashir said at a press conference at the Makassar Muhammadiyah University soon after his election on Thursday evening. "The majority should protect minorities; minorities should work with the majority."
"We need the capacity to mediate conflicts, whether they concern religious or ethnic minorities, and we must create a pluralist culture that looks after minorities wherever they are," he added.
Haedar, who until recently taught at the Yogyakarta Muhammadiyah University, was elected chairman of Muhammadiyah at the group's 47th congress in Makassar, South Sulawesi, and will serve a five-year term.
Full report at:
http://thejakartaglobe.beritasatu.com/news/muhammadiyah-should-do-more-to-protect-religious-minorities-new-chief/
-----------
Reelected NU chairman pledges to avoid politics
August 07 2015
Nahdlatul Ulama (NU), the country's largest Islamic organization, ended its 33rd muktamar (national congress) in Jombang, East Java, on Thursday, appointing senior cleric Ma'ruf Amin as its rais aam (supreme leader) and reelecting Said Aqil Siradj as its chairman.
"I will not bring NU into politics. I will focus on economics, education and health programs," Said said in his victory speech in the congress' plenary session on Thursday morning.
Said openly supported Prabowo Subianto in last year's presidential election in a personal capacity and not as the NU leader.
Said's supporters raised the issue of rejecting involvement in practical politics since the beginning of the congress, which was opened by President Joko "Jokowi" Widodo on Saturday night, against their rivals, mainly Hasyim Muzadi, a member of the Presidential Advisory Board, and Salahuddin "Gus Sholah" Wahid, leader of the Tebuireng Pesantren (Islamic boarding school) in Jombang.
When Hasyim was still NU chairman, he was the running mate of then president Megawati Soekarnoputri, who was also the chairwoman of the Indonesian Democratic Party of Struggle (PDI-P), in the country's first direct presidential election in 2004.
In the same presidential election, Gus Sholah, who is the youngest brother of the country's fourth president, Abdurrahman "Gus Dur" Wahid, also ran as the running mate of presidential candidate Wiranto. The election was won by Susilo Bambang Yudhoyono and Jusuf Kalla.
The plenary session also agreed to appoint Ma'ruf, the deputy chairman of the Indonesian Ulema Council (MUI), as rais aam since noted cleric Mustofa "Gus Mus" Bisri refused the position.
"[The congress'] plenary session decided to approve Ma'ruf Amin as rais aam and Said Aqil Siradj as chairman," announced Ahmad Muzakki, who presided over the plenary session.
The appointment of Gus Mus, who is also known as a poet, by a council of nine senior clerics called Ahlul Halli Wal Aqdi (AHWA) triggered disappointment from Hasyim's supporters who have demanded the position of supreme leader should be voted in a direct election.
They accused the AHWA council, which was proposed by the current NU central board (PBNU), of aiming to stop the candidacy of Hasyim.
The PBNU repeatedly denied the accusations, saying that the council was aiming to prevent conflicts among senior clerics who wanted to get the supreme leader position and to avoid vote buying practices.
In Makassar, Hasyim was defeated by respected cleric Sahal Mahfud while Said beat Gus Sholah and other candidates, including Golkar politician Slamet Effendy Yusuf.
On Wednesday night, Hasyim's and Gus Sholah's supporters left the congress venue and returned to their base in the Tebuireng pesantren, leaving the venue almost half empty.
The plenary session was resumed at midnight when it was attended by more than half of the participants from NU's 508 chapters across the country and the seven chapters from overseas who have voting rights.
Full report at:
http://www.thejakartapost.com/news/2015/08/07/reelected-nu-chairman-pledges-avoid-politics.html
-----------
Malaysia Police Intelligence Bosses Awarded Indonesian Medal
By Farouk Arnaz
Aug 07, 2015
Jakarta. The Indonesian National Police have awarded two senior Malaysian police intelligence officials a meritorious service medal in recognition of their roles in strengthening the ties between the nations' law enforcement bodies.
Comr. Akhil Bin Bulat, the head of Special Branch, and one of his his deputies, Sr. Dep. Comr. Abdul Hamid Bin Bador, were presented their awards on Friday at the National Police headquarters in South Jakarta.
Special Branch is an intelligence unit of the Royal Malaysia Police (PDRM) tasked with protecting national security.
"This honor serves as a sign of the National Police's appreciation of the cooperation with these two PDRM generals, which has been going on for a long time, until now, when those concerned are about to retire," said Gen. Badrodin Haiti, the chief of Indonesia's police forces.
Full report at:
http://thejakartaglobe.beritasatu.com/news/malaysia-police-intelligence-bosses-awarded-indonesian-medal/
-----------
Disgraced Senior Lawyer Reports KPK for Alleged 'Kidnapping' and 'Abuse of Power'
By Farouk Arnaz
Aug 06, 2015
Jakarta. High-profile lawyer and graft suspect Otto Cornelis Kaligis has reported the Corruption Eradication Commission, or KPK, to the National Police over what he alleges to be "kidnapping" and "abuse of power."
It is unclear when Kaligis filed his complaint, but the National Police confirmed on Thursday that they would follow up on the report.
The KPK named the lawyer a graft suspect last month for allegedly bribing a judge.
"We are currently studying Kaligis' report," National Police Chief Detective Comr. Gen. Budi Waseso said on Thursday. "The KPK is accused of kidnapping and abusing its authority when its investigators handled Kaligis."
KPK officials last month arrested Muhammad Yagari Bhastari, a lawyer from Kaligis' law firm, shortly after he had handed Rp 250 million ($18,500) in cash to Tripeni Irianto Putro, chief of the North Sumatra State Administrative Court (PTUN) in Medan.
Afterward, KPK investigators forcibly picked up Kaligis, who heads one of the country's largest law firms, at a Central Jakarta hotel after he failed to attend KPK summons.
The anti-graft agency said the senior lawyer had provided false information regarding his whereabouts. Kaligis has since been placed in KPK detention.
North Sumatra Governor Gatot Pujo Nugroho and his wife Evi Susanti have also been named suspects in the bribery case.
Waseso said his office would coordinate with the anti-corruption body in response to Kaligis' report.
If the report can prove that a crime has been committed, the National Police will require Kaligis to testify and therefore must ask for KPK's permission to question him, Budi said.
Police will also have to question the KPK investigators who allegedly mistreated Kaligis.
Budi has denied allegations that police immediately acted on Kaligis' report to use it as another tool to intimidate KPK leaders amid the ongoing conflict between the National Police and the embattled KPK.
Tension between the two institutions began escalating after the KPK named Comr. Gen. Budi Gunawan, then the sole candidate for the National Police chief, a graft suspect in January. Budi Gunawan is currently the deputy chief of the National Police.
In what many see as retaliatory action, police charged top KPK officials — including Abraham Samad and Bambang Widjojanto, then chief and deputy chief respectively — over minor, cold cases.
Full report at:
http://thejakartaglobe.beritasatu.com/news/jakarta/disgraced-senior-lawyer-reports-kpk-to-police-for-kidnapping-power-abuse/
-----------
Mideast
Kurd leader Demirtas urges world to denounce Turkey's 'unjust war'
7 August 2015
BRUSSELS: Turkey's Kurdish political leader Selahattin Demirtas on Thursday urged the world to denounce Ankara's new "unjust war" on rebel Kurds and asked the EU to push clearly for a truce.
During an unscheduled visit to Brussels, Demirtas told AFP he spoke by telephone last week with EU foreign policy chief Federica Mogherini and that he would meet with her top aide Stefano Manservisi here on Friday.
"The European Union must very clearly and openly support negotiations between the PKK and Turkey," said the leader of the HDP party which scored a breakthrough in Turkish elections in June.
He asked why the EU no longer appeared to support two and a half years of peace talks that collapsed when Ankara launched a new bombing campaign at the end of last month against bases of the PKK, the rebel Kurdistan Workers Party, in northern Iraq.
"Why don't they support them anymore?" Demirtas asked. "You must support the negotiations between (jailed Kurdish leader Abdullah) Ocalan and the Turkish government, and push for a cease-fire."
Full report at:
http://www.arabnews.com/middle-east/news/787396
-----------
Two killed in fresh clashes in southeast Turkey
7 August 2015
Two people have been killed in fresh clashes between Turkish police and Kurdish rebel supporters in the restive Kurdish-majority southeast, the local mayor said on Friday.
At least 10 people were also injured in the shooting that erupted overnight in the Silopi district of Sirnak near the border with Iraq and Syria, Silopi mayor Seyfettin Aydemir told AFP.
Two Kurds, one of them a teenager, died of gunshot wounds in hospital, Aydemir said, adding that the two of the injured were police officers.
Ankara has launched a two-pronged offensive to bomb Islamic State of Iraq and Syria (ISIS) militants in Syria and Kurdistan Workers' Party (PKK) rebels in northern Iraq, after a series of attacks in Turkey.
Full report at:
https://english.alarabiya.net/en/News/middle-east/2015/08/07/Two-killed-10-wounded-in-clashes-in-Turkey-s-southeast-.html
-----------
Syrian Army Kills Notorious Terrorist Ringleader in Zabadani
Aug 06, 2015
The forces killed and injured terrorists and freed a number of blocks in Za'tout district in Zabadani city on Thursday.
During the conflicts, a notorious terrorist ringleader named Abdolrahim Kharitah nicknamed Abu Ali was killed in Bardi street in the Southeastern parts of Zabadani.
Abu Ali commanded the al-Nusrah Front terrorist group's anti-armor unit and was a close comrade to Mohammad Zaitoun, the commander of al-Nusrah in Zabadani.
Also on Wednesday, the Lebanese Hezbollah resistance fighters backed by the Syrian army purged the last Takfiri terrorists from the Western parts of Zabadani in Damascus countryside.
Ain Tayat in Western Zabadani was purged of Al-Nusra Front and Ahrar al-Sham terrorists.
Ain Tayat had become the most important stronghold of the Takfiri terrorists in Western Zabadani.
Full report at:
http://english.farsnews.com/newstext.aspx?nn=13940515000652
-----------
Middle East arms race started long before Iran deal
TOBIN HARSHAW
August 7, 2015
CRITICS of the Obama administration's Iran nuclear deal warn that, among other faults, it is setting off a new Middle East arms race. In Qatar this week, Secretary of State John Kerry seemingly admitted as much, saying that Washington had "agreed to expedite certain arms sales that are needed and that have taken too long in the past".
And how: just weeks after the pact was announced, Saudi Arabia signed up to buy 600 Patriot missiles from the United States at $5 billion, and it is expected to purchase 10 Sikorsky MH-60R naval helicopters. Qatar has inked a $17 billion contract for French-made Rafale fighter jets, and wants to buy Boeing F-15s. Kuwait recently bought 28 F-18 Super Hornets. The United Arab Emirates is expecting $200 million worth of General Atomics Predator drones next year. (Iran, soon to be relieved of sanctions, has a deal with Russia for a missile-defence system and is eyeing French and Russian fighters.)
But the arc of history shows that the cheque-book bellicosity of the Gulf monarchies is hardly new. The hyper-arming of the Middle East actually dates to the mid-2000s, before the United States and its partners began negotiating in earnest with Tehran over nuclear weapons.
What were the triggers? First, the US invasion of Iraq, which by the time of the first Saudi boom in arms spending in 2004, was not going well. That was also the year of the Khobar massacre, in which four terrorists inspired by Al Qaeda murdered 22 people and injured 25, mostly foreigners, at the central hub of the Saudi oil industry. Saudis were also on edge over the terrorist threat from Yemen and had started building a 10-foot-high, 50-mile border wall (it was later abandoned).
Over the following four years, the members of the Gulf Cooperation Council outspent Iran 10 to 1 in arms imports. Saudi Arabia put $3 billion into Abrams tanks, Black Hawk helicopters and light armoured vehicles from the US. It also went on a European shopping spree: $4 billion in French helicopters, Eurofighter Typhoon aircraft, and a $2.8 billion deal to build a high-tech security fence on its border with Iraq. (Believe it or not, another finalist for that deal was the Bin Laden family construction firm.)
More recently, the monarchies were spooked by the Arab Spring uprisings. Saudi Arabia's spending rose by 14 per cent in 2013 from the previous year; at $67 billion, it exceeded that of France, Japan and Britain for the first time. Bahrain's government, which was so threatened by the revolutionary movement that Saudi tanks rolled in to quell demonstrations, upped military spending that year by 26 per cent.
Certainly Iran, nuclear-armed or not, poses a real threat to its Sunni neighbours. It has a large army — 600,000 troops excluding reserves, 1,700 tanks, nearly 300 fighter and ground-attack planes, several hundred surface-to-air and ballistic missile launchers, and a bevy of small, fast boats that could wreak havoc in the narrow Persian Gulf.
In some respects, however, Iran is more daunting on paper than on the battlefield. Arms expert Anthony Cordesman of the Center for Strategic and International Studies notes that while Iran has invested heavily in artillery and ballistic missiles, "the Iranian systems lack the lethality and accuracy to pose more than a terror threat to area targets" other than nearby Kuwait. And it is more than rivalled by the GCC, which even before the recent build-up had equivalent man- and seapower, twice as many modern planes and combat helicopters, and five times as many major weapons. Not to mention the backing of the world's lone military superpower, which usually keeps a US aircraft carrier group in the neighbourhood.
The easing of sanctions under the nuclear deal will give Iran billions of new dollars in revenue, but that cash won't necessarily go to the military or to efforts to destabilise the region. "The lion's share of the funding that will be freed up with the sanctions relief will go to things economic," James Clapper, the director of national intelligence, said last month at the Aspen Security Forum. "Funding proxies, funding the Iranian Revolutionary Guard Corps, the Quds Force and all that, well, they've been funded anyway, even with the sanctions regime. So I'm sure they'll get some money, but I don't think it'll be a huge windfall for them."
Full report at:
http://www.dawn.com/news/1198838/middle-east-arms-race-started-long-before-iran-deal
-----------
Turkey offers U.S. access to other air bases: diplomat
7 August 2015
Turkey has offered the United States additional access to its air bases in the southeast after it accepted Washington's long-pending request to use the Muslim NATO member's Incirlik base in Adana province to launch airstrikes against Islamist militants, an Ankara-based senior Western diplomat told a Turkish daily in an interview published Thursday.
"There is an offer [from the Turkish side] to make use of additional bases," the diplomat, who spoke under the condition of anonymity, told Today's Zaman.
Military officials from the Turkish and U.S. sides have been examining the offer, he added.
Turkey changed its position after a bombing in a border town and killing of a Turkish soldier in cross-frontier clashes.
Full report at:
https://english.alarabiya.net/en/News/middle-east/2015/08/07/Turkey-offers-U-S-access-to-other-air-bases-diplomat-.html
-----------
French hostage freed in Yemen arrives in Oman
7 August 2015
French hostage Isabelle Prime, who was released in Yemen after nearly six months of captivity, arrived in neighboring Oman on Friday on her way home, the official ONA news agency said.
The French presidency announced late Thursday that 30-year-old Prime, who worked as a consultant on a World Bank-funded project in Yemen, had been freed by her captors.
The Omani foreign ministry said efforts by the Gulf nation "in coordination with certain Yemeni parties" had helped track her down.
Meanwhile, the French president's office said in a statement early on Friday that Prime would come back to France in the coming hours.
"Our compatriot Isabelle Prime has been freed tonight," the statement said.
"The President of the Republic (Francois Hollande) wishes to thank all those who helped reach this outcome, and in particular Sultan Qaboos Bin Said, the Sultan of Oman," the statement said, without providing any details on her liberation.
An official in the president's office said Prime was excepted to be back in Paris late in the morning on Friday.
Prime and her Yemeni translator Shereen Makawi were abducted by gunmen in the capital Sanaa on Feb. 24 while the pair were on their way to work. Yemeni tribal sources said in March that Prime would be released, but only Makawi was freed at the time.
In recent years tribesmen have taken foreigners hostage to press the government to provide them with services or to free jailed relatives.
Yemen is also home to one of the most active branches of al Qaeda, to which tribal kidnappers have reportedly often sold their kidnapped victims.
In June, France had authenticated a video that showed Prime, a consultant for Yemen's Social Fund for Development, crouching on sand and in distress. Dressed in black, she made her appeal to French President Francois Hollande and Yemen's Abd Rabo Mansour Hadi in English.
"Please bring me to France fast because I'm really, really tired," she had said in the video. "I tried to kill myself several times because I know you will not cooperate and I totally understand."
Full report at:
https://english.alarabiya.net/en/News/middle-east/2015/08/07/French-hostage-freed-in-Yemen-president-s-office-says.html
-----------
Iranian Mission: Construction Operations at Parchin Site Insignificant
Aug 06, 2015
"The Parchin military zone is a vast area which includes different military, industrial, administrative and residential districts and therefore, construction operations in there are natural and common," the statement said on Thursday.
It added that in recent days, one of the roads in front of Mamlou dam near Parchin was slightly destroyed which is now being repaired using heavy road construction machinery.
Stressing that Iran has never sought military use of the nuclear energy, the statement said the claims raised by certain US media are nothing new and are baseless.
Full report at:
http://english.farsnews.com/newstext.aspx?nn=13940515000611
-----------
Iranian President: Israel Shuddered by N. Agreement
Aug 06, 2015
Addressing the Iranian people in the Western part of Tehran province on Thursday, Rouhani said that during the past three decades after the Islamic Revolution's victory in Iran, Israel grew disappointed and dreadful three times; first, right after the victory of the Islamic Revolution and ruling of the Islamic Republic in Iran (1979); second, after the end of Iraqi-imposed war against Iran (1988); and today, after the agreement between Iran and the Group 5+1 (the US, Russia, China, Britain and France plus Germany) in Vienna (July 14).
"Today, you observe that the only regime which is crying out since morning to night is the usurper Zionist regime," he said.
"Today all the regional nations and the great Iranian nation, except the usurper Zionist regime and the American warmongers, are happy with this big agreement," Rouhani underlined.
Iran and the world powers reached a final agreement in Vienna on July 14 to end a 13-year-old nuclear standoff.
A week later, the UNSC unanimously endorsed a draft resolution turning into international law the Joint Comprehensive Plan of Action (JCPOA) of Iran and the G5+1.
After striking the agreement, President Rouhani said his country has achieved all its four goals.
President Rouhani said his nation started talks with the world powers in a bid to remove all sanctions while maintaining its nuclear program and nuclear progress as two main goals.
All sanctions, including the financial, banking, energy, insurance, transportation, precious metals and even arms and proliferation sanctions will be, not suspended, but terminated according to the Tuesday agreement as soon as the deal comes into force, he said, adding that Iran will only be placed under certain limited arms deal restrictions for five years.
Meantime, Iran will inject gas into its highly advanced IR8 centrifuge machines, continue its nuclear research and development, and keep its Arak Heavy Water Facility and Fordo and Natanz enrichment plants under the agreement, he said, elaborating on Iran's gains.
Another goal, Rouhani said, was taking Iran off Chapter Seven of the UN Charter, "and we did it".
Full report at:
http://english.farsnews.com/newstext.aspx?nn=13940515000349
-----------
Iranian FM: US Granted Exceptional Opportunity to Reform Past Policies
Aug 06, 2015
"Tens of years of wrong policy against the Iranian nation have been tested and have yielded no achievements for the US and now there is an exceptional opportunity for the US to reform the past and test a new way which has resulted in a big achievement for all peace-seekers in (the last) two years," Zarif said on Thursday.
Reacting to Obama's allegations that the nuclear agreement stopped Iran from acquiring nuclear weapons, he underlined, "The Islamic Republic of Iran has never been and will not be after nuclear weapons."
The US officials repeat such claims only for domestic consumption to soothe their critics and the Zionists, Zarif said.
Iran and the world powers reached a final agreement in Vienna on July 14 to end a 13-year-old nuclear standoff.
A week later, the UNSC unanimously endorsed a draft resolution turning into international law the Joint Comprehensive Plan of Action (JCPOA) of Iran and the Group 5+1 (the US, Russia, China, Britain and France plus Germany).
After striking the agreement, Iran's President Hassan Rouhani said his country has achieved all its four goals.
Full report at:
http://english.farsnews.com/newstext.aspx?nn=13940515000382
-----------
North America
US Muslim, Civil Rights Groups Urge Transparency
06 August 2015
WASHINGTON – Muslim groups and civil rights activists across the nation are calling for greater transparency in an Obama administration program aimed at countering homegrown terrorism.
"Despite repeatedly raising concerns, civil rights and community-based groups have received no response from the government," Haroon Manjlai, the Public Affairs Coordinator of Los Angeles chapter of the Council on American-Islamic Relations (CAIR-LA), said in a statement obtained by OnIslam.net.
"Instead, the government has decided to prioritize Countering Violent Extremism (CVE), a program proven to be ineffective, with no support from the community it is directed towards, and major civil rights implications," he added.
Manjlai was speaking ahead of several news conferences planned on Thursday, August 6, in Minneapolis, Los Angeles and Boston.
Organized by Muslim and civil rights organizations, the news conferences will be used to express growing community concerns about proposed government-initiated "countering violent extremism" (CVE) programming.
These events are being held in the three cities designated to launch CVE pilot programs.
"The Minnesota Muslim Community is united over its growing concerns about the CVE pilot program, which so far has only alienated the very communities it was seeking to influence, while attempting to derail the communities own initiative to enhance its ability to build community resilience," CAIR-MN Executive Director Jaylani Hussein said.
The groups include local chapters of the American Civil Liberties Union and the Council on American-Islamic Relations.
"These joint actions send a powerful statement attesting to the degree to which the Department of Homeland Security has ignored criticism of local dissent in the proposed CVE pilot cities, instead selectively highlighting the relatively few groups who have thus far pledged support," CAIR-MA Executive Director Dr. John Robbins said.
"We hope these declarations by community and civil rights leaders will illustrate the broad concerns they have about planned CVE programs."
Full report at:
http://www.onislam.net/english/news/americas/491183-us-muslim-civil-rights-groups-urge-transparency.html
-----------
First Fox Debate Included Repeated Questions On Islamic Terrorism, Zero On White Supremacist Attacks
BY ALICE OLLSTEIN
AUG 6, 2015
In the first GOP debate, consisting of the seven candidates whose poll numbers failed to put them in the top 10 prime-time debate, Fox News moderators asked question after question about how the contestants would confront ISIS and other Islamic extremists in the U.S. and abroad.
"ISIS-inspired terrorists have been arrested in this country, in the homeland, and the FBI assures us there are likely many more to come," asked the moderators. "How far are you willing to go to root out this problem here at home?"
Louisiana Governor Bobby Jindal, who has a long history of making inaccurate pronouncements about Islam, replied he would solve the problem by declaring religion the enemy: "Unlike President Obama, I'll actually name the enemy that we confront," he said. "We've got a president who cannot bring himself to say the words radical Islamic terrorism. How can we beat them if our Commander in Chief doesn't have the honesty and moral clarity to say that problem is radical Islam?"
There was no question, however, about the threat of right-wing, white supremacist mass violence, which has killed many more Americans since 9/11 than attacks by those inspired by Islam. American Muslims have carried out 20 plots in the last 13 years resulting in 50 deaths. In contrast, right-wing extremists averaged 337 attacks per year in the decade after 9/11, causing a total of 254 fatalities.
A survey of 382 law enforcement agencies conducted by the Police Executive Research Forum also found that police cited right-wing, anti-government extremism as a much more pressing threat than extremism connected with Al Qaeda or like-minded terrorist organizations.
Even the most recent tragedy, the mass shooting at a historic African American church in Charleston carried out by a young man who explicitly vowed to spark a race war, received no mention Thursday night.
Full report at:
http://thinkprogress.org/election/2015/08/06/3688996/repeated-questions-in-gop-debate-on-islamic-terrorism-zero-on-white-supremacist-terrorism/
-----------
Escaping Islamic State: 12 Iraqi Christians Seeking Freedom Now Face Deportation by US Gov't
August 6, 2015
Twelve of the 28 Iraqi Christians who fled Islamic State violence and were detained at the Mexican border while trying to enter the U.S., will face deportation after being held for months at a San Diego detention center.
Lauren Mack, U.S. Immigration and Customs Enforcement Public Affairs Officer, responded with an official statement to The Christian Post on Thursday confirming that there were currently 28 Iraqi nationals in custody at the Otay Detention Facility in San Diego. "One of those individuals was criminally charged last week in a federal court with providing false information on an immigration application. Twelve others in the group have now been ordered removed by an immigration judge."
But Mark Arabo, spokesman for the local Chaldean Christian community in San Diego and for the Minority Humanitarian Foundation, is upset by the U.S. government's decision to refuse refuge for the Iraqi Christians escaping the Islamic State, and said in a recent press statement, "These Christians have escaped slavery and death from Islamic State only to be imprisoned. The symbol for America is the Statue of Liberty. It's not a gated fence."
Arabo told CP that he is in touch with 20 of the 28 Iraqi Christian refugees currently being held at the detention center. "The families of the detained refugees say they did not come across illegally or evade law enforcement. Rather they came with the right paperwork and told immigration officers that they were fleeing persecution by Islamic State in Iraq and were seeking refuge in America."
Full report at:
http://www.christianpost.com/news/escaping-islamic-state-12-iraqi-christians-seeking-freedom-now-face-deportation-by-us-govt-142293/
-----------
URL: https://www.newageislam.com/islamic-world-news/new-age-islam-news-bureau/darul-uloom-deoband-fatwa-declares-shaving-un-islamic/d/104202