New Age Islam News Bureau
24 Apr 2018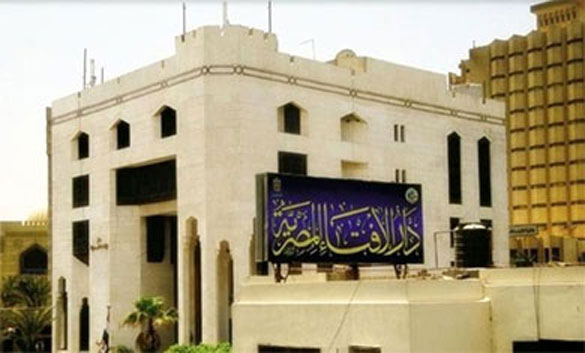 Egypt's Dar Al-Ifta (House of Fatwa)
-----
• Dar Al-Ifta, Egypt, Establishes World Council of Muslim Minorities
• A Muslim Group Adopts 100 Villages in Southern India
• PUC Wants Islamic Alliance against Interference in Muslim Countries' Affairs
• Divisive Language in EU Helps Rise of Extremism: Turkish FM
• Don't Let Muslim Travel Ban Join List of America's Moral Failures
• Crossing Divides: Meet the British Army Veteran Turned Pro-Mosque Campaigner
Arab World
• Dar Al-Ifta Establishes World Council of Muslim Minorities
• UAE to Fund $50.4m Project to Rebuild Mosul's Grand al-Nuri Mosque
• Islamic State Threatens Polling Station Attacks Ahead of Iraq Vote
• King Salman declared 'Islamic World's Personality of the Year'
• Terrorists' Key Command Posts Razed in Syrian Air Raids in Hama
• Militants Trained by Norway Planning to Fight against Syrian Gov't
• Key Militant Brigade Planning to Join Syrian Army in Eastern Qalamoun
• Syrian Armed Forces Pound Terrorists' Positions in Homs, Hama Provinces
• Turkey-Backed Militants Blackmailing Civilians, Looting People's Assets in Northern Syria
• Syrian regime drops leaflets warning Homs, Hama residents of imminent strike
• Human Rights Watch: Egypt fight against ISIS threatens humanitarian crisis
--------
India
• A Muslim Group Adopts 100 Villages In Southern India
• IAS and IPS officers on al-Qaeda kill list
• Supreme Court seeks govt's reply on plea against polygamy, nikah halala
• 'Babuji Dheere Chalna', Former Afghan President Hamid Karzai Tells PM Modi
• Don't Care About Fatwa, Will Continue To Visit Temples, Says BJP Legislator Buqqal Nawab
• Mecca Masjid blast verdict: Despite confession, NIA failed to get proof against IED 'planter'
--------
Pakistan
• PUC Wants Islamic Alliance against Interference in Muslim Countries' Affairs
• Int'l Conference Vows to Wage Global Effort against Terrorism
• Stalemate as fresh round of negotiations with US ends
• JI reviewing its role in KP govt, says Sirajul Haq
• MQM 'hitman' Raees Mama confesses to 59 murders, says investigation report
• After over two decades, Maulana Fazl to address a conference in North Waziristan
--------
Mideast
• Divisive Language in EU Helps Rise of Extremism: Turkish FM
• Dozens Killed In Air Raid on Yemen Wedding
• Israel's campaign against Hamas drones
• Palestinian dies of wounds, bringing Gaza toll to 40
• Houthi political leader Saleh al-Sammad killed in coalition raid
• Palestinians file complaint to UN over Israel's breach of anti-racism treaty
• Israel targets Syrian artillery in Golan Heights, cites alleged mortar fire
• Chairman of Yemen's Political Council killed in Saudi strike in Hudaydah
• Yemen's Houthis hit Saudi Aramco oil facilities in Jizan
--------
North America
• Don't Let Muslim Travel Ban Join List of America's Moral Failures
• Hate Crimes against US Muslims Rose 15 Percent Last Year
• Group blames Trump for jump in attacks on US Muslims
• Toronto van tragedy bonds city in blood. But no one will say the word 'terrorism'
--------
Europe
• Crossing Divides: Meet the British Army Veteran Turned Pro-Mosque Campaigner
• Macron's Plan Is the Latest Attempt at Religious Integration in France
• French Muslims blast anti-Semitism letter as attack on Islam
• Russia's Lavrov says no decision yet on delivery of S-300 missiles to Syria
• Paris attacks suspect gets 20-year jail term over gunfight in Brussels
--------
South Asia
• 20 Taliban And Al-Qaeda Militants Killed In Nangarhar Operations
• India to Help Equip Afghan Military with Improved Weapon Systems
• 3 'Ansar al-Islam militants' held in Rajshahi
• US human rights report slams Bangladesh
• Taliban attacks kill 14 troops, policemen: Afghan officials
• Dhaka says no 'security threat,' in response to new US travel advisory
• MoI refutes dismissal reports of ministry's top security General
--------
Africa
• Troops Discover Boko Haram Training Camp, Kill One Insurgent
• US Sets up $110 Million Drone Base to Fight Terrorism in Nigeria
• Rival groups from Somalia's army fight at former UAE training facility
• Christian Group Urges Nigeria's Muslim President to Ignore Theresa May's LGBT Push
• Fears of more IEDs after al Shabaab steal fertiliser from Somalia farmers
• Somalia: Jubbaland Forces Clash With Al Shabaab Near Kismayo City
• NE Nigeria Boko Haram attacks leave 21 dead
--------
Southeast Asia
• Islamic Party Aims to Hold the Key In Malaysia's Election
• Killing of engineer a possible blow to Malaysian terror hotbed
• Malaysia releases images of suspects in Palestinian killing
• Indonesia investigates reports top Daesh commander killed
Compiled by New Age Islam News Bureau
URL: https://www.newageislam.com/islamic-world-news/dar-al-ifta-egypt-establishes/d/115033
--------
Dar Al-Ifta, Egypt, Establishes World Council of Muslim Minorities
Apr. 23, 2018
CAIRO – 23 April 2018: The Islamophobia observatory department affiliated with Egypt's Dar Al-Ifta (House of Fatwa) praised the launch of a world council focusing on the Muslim minorities around the globe.
The aim of this council is to support the said minority in times of hardships that they might face because of their faith and Islamophobia caused by negative beliefs towards the religion of Islam.
Located in Abu Dhabi, the supreme committee that organized the international conference of the Muslim minorities, announced the launch of an international council named "The International Council of Muslim Minorities". The council's headquarters will be located in Abu Dhabi.
According to the observatory department, the council was launched after several requests from the organizing committee of the conference. Abu Dhabi decided to host the conference on May 8 and 9, 2018, after receiving numerous letters and requests from Muslim minority representatives around the world, hoping for a worldwide entity that focuses on their needs and concerns as a Muslim minority, hoping to create a council that unites them.
The council is going to arrange several tasks that back and re-enforce Muslim minority practices in different countries by launching several initiatives related to the goals of the council, including the international charter of the rights and freedom of practice for the Muslim minorities. The committee is also going to focus on creating a strategic plan to establish advancement in the civilized practices of the Muslim minorities, according to Mohammed El-Bashary, the vice president of the council.
The observatory department in Egypt's Dar Al-Ifta stressed on the importance of coordinating between the council and the numerous entities that are affiliated with such concerns regarding the Muslim minorities' issues around the world. The main goal is to try to portray Islam in its true image, and demolish Islamophobia that is becoming widely spread worldwide since the twin towers attacks in 2001.
The Muslim minority observatory department in Egypt's Dar Al-Ifta is aiming to demolish the racist views towards Islam, by creating new means of communication with different recipients and entities, especially in the fields of media and research, in the hope of clarifying and changing any negative beliefs towards Islam. Another approach is trying to communicate with decision-makers in different entities; communication is based on knowledge, observing and analyzing of such entities and their approaches in life, in the hope of creating a new refined Islamic speech that would serve the needs of the Muslims worldwide, and give them the support they may need.
Another approach is to try and spread the knowledge of Islam to the world. A speech to change the way the world thinks of Islam and to support and serve the needs of the Muslims worldwide.
https://www.egypttoday.com/Article/1/48438/Dar-Al-Ifta-establishes-World-Council-of-Muslim-minorities
--------
A Muslim group adopts 100 villages in southern India
Apr 24, 2018
Kozhikode, India — Markazu Saqafathi Sunniyya (Sunni Cultural Centre), led by Sheikh Aboobacker Ahmed, has decided to adopt 100 villages in the country as part of the 41st foundation anniversary of the institution.
Markaz has decided to implement four different programs in these villages which are educational empowerment projects, socio-economic services, community welfare schemes and agricultural initiatives. Another project launched in the function is the distribution of one million notebooks for school students.
Dr. Wael Albattrekhi, deputy head of Palestine embassy in India, inaugurated the program which was held at Markaz headquarters here. He stated that Markaz's activities have been incredible as the institution carefully engages with the marginalized communities in India. A country becomes highly developed when farsighted leaders lead from the front. Sheikh Aboobacker is such a talented scholar who for decades has been serving to develop the underprivileged communities irrespective of their religion or ethnicity, he added.
As part of the distribution of the orphan fund, a portion of Rs1.5 crore's check was presented to orphans in the function. Sheikh Ahmed handed over the check. In his address, he said that Markaz has spread its activities to 22 states in a bid to improve the living conditions of poor people. Now, Markaz has extended its activities by adopting 100 villages as part of the mission's focus on educational and humanitarian activities. Thousands of people who work in India and abroad, especially the GCC countries, invaluably support Markaz's activities. Their financial and organizational supports enable us to undertake such big projects for the upliftment of the community and nation. Educated young people in the community can lead a large number of people towards straight path, giving them bright futures, he added.
Sayyid Zainul Abideen Bafakhi Thangal launched 'One Million Notebooks' project and Chennai district judge Zakkir Hussain inaugurated the smart village project during the occasion. C. Muhammed Faizy, the general manager of Markaz, delivered the keynote address.
Besides providing food and shelter to the residents, Markaz will impart education and training in the 100 villages with the intention of changing the status of villages. Markaz also will supply one million notebooks and other educational equipment to underprivileged students. As part of Markaz Orphan Care Project, 5000 orphans are being given financial aid. — SG
http://saudigazette.com.sa/article/533366/World/Asia/A-Muslim-group-adopts-100-villages-in-southern-India
--------
PUC Wants Islamic Alliance against Interference in Muslim Countries' Affairs
April 24, 2018
Lahore
Joint declaration of '3rd International Message of Islam Conference' announced to carryout worldwide movement for annihilation of terrorism, extremism, sectarian violence and to constitute 'World Islamic Ideological Alliance' against prevailing foreign interference in affairs of Muslim countries, specifically in the Arab World. The conference also resolved that Muslim Ummah will seek every possible measure to ensure security and sanctity of Harmain Al-Sharifain and announced unanimously to observe 'Jumat-ul-wida' as 'Youm-e-Tahaffuz-e-Harmain Al-Sharifain, Al-Aqsa'. The conference also demanded of the government of Pakistan to ensure implementation on 'Paigham-e-Pakistan' draft with necessary amendments by seeking arrangements for protection of non-Muslim communities living in Pakistan.
The Joint Declaration of the conference also announced to declare Khadim-e-Harmain Al-Sharifain Shah Salman bin Abdul Aziz as the most favourite personality of Islamic World for year 2017 on account of his services for the cause of Islamic World and specifically for raising voice on the issue of Palestine. The visiting delegates and representatives of different Islamic countries also presented a 'Honorary Shield' to Pak-Security Forces for their services to eliminate menace of terrorism and extremism.
In aegis of Pakistan Ulema Council, '3rd International Message of Islam Conference' held here on Monday at 'Aiwan-e-Iqbal' Lahore. Dignitaries and ambassadors of different Islamic countries, religious scholars, clerics and Mashaikh from all over Muslim world and Pakistan attended the conference. Hafiz Muhammad Tahir Mehmood Ashrafi, Chairman Pakistan Ulema Council chaired the conference, while Secretary Ministry of Religious Affairs of Saudi Arabia, Al-Sheikh Talal Al-Aqeel attended the conference as Chief Guest. Among other notable guests of the conference include Al-Sheikh Dr Rashid Al-Zahrani, Palestine's Acting Qazi-ul-Qaza Justice Victoor Mehmood, President International Islamic University Dr Ahmed Yusuf Al-Darvesh, Saudi Ambassador to Pakistan Nawaf Saeed Al-Maliky, Dr Abda Hussain and Chairman Islamic Ideology Council Dr Qibla Ayaz.
Saudi Ambassador to Pakistan Nawaf Saeed Al-Maliky addressing the conference stated that Pakistan and Saudi Arabia are knotted in relation of eternal friendship. Respect and honour of Harmain Al-Sharifain in hearts of Pakistanis is exemplary.
https://pakobserver.net/puc-wants-islamic-alliance-against-interference-in-muslim-countries-affairs/
--------
Divisive language in EU helps rise of extremism: Turkish FM
April 24 2018
The "divisive language" used by some European politicians is "a very dangerous game" that helps fuel the rise of extremism in Western Europe, Turkish Foreign Minister Mevlüt Çavuşoğlu said on April 23 in New York.
"We, the decision-makers and the politicians, have important responsibilities. One of the reasons for the rise of extremism in Western Europe particularly is the divisive language used by some politicians," Turkey's top diplomat said at a high-level meeting of the U.N. Security Council on building and sustaining peace.
"This approach divides people along ethnic and religious lines. This is a very dangerous game," he said.
Urging politicians to refrain from creating stereotypes, he said everyone must convey positive and unifying messages to the world.
Young people around the world are being targeted by radical, extremist and terrorist ideologies, Çavuşoğlu said.
"Terrorist groups such as ISIL (Islamic State of Iraq and the Levant), Al-Qaida, PKK (Kurdistan Workers' Party), YPG (People's Protection Units) and FETÖ (Fethullahist Terrorist Organization) continue to recruit women, children and youth. We must stop this. What we need is a holistic approach," he noted, saying that radicalization and violent extremism are not limited to one particular religion, faith or community.
"This is our common challenge, and we need to face it together. Security Council Resolution 2250 is proof of the crucial role of youth in [contributing to] peace and security, and the new resolution to be adopted should provide further guidance," he said. "We can also use the potential of existing mechanisms such as the [UN] Alliance of Civilizations [UNAOC], and Spain and Turkey are trying to re-energize this initiative, and we need it more than ever. We also need to create interaction between national, regional and global measures. Good practices and lessons learned in one part of the world can be employed globally. This is why we need to expand the U.N.'s capabilities to support member states, and we will continue to contribute to all efforts aimed at empowering the youth," he said.
Turkey has developed "tailor-made government structures and policies" to address the needs of its young generation, which correspond to half of the total population, as well as nearly a million Syrian youth being hosted within its borders, Çavuşoğlu noted.
Additionally, he said the age barrier for the young population has been lowered in order to help them join politics and take part in decision-making processes.
"We promote role models, social integration and rehabilitation programs. Education is also a key factor, and we leave no one behind and provide equal opportunities for all. We also promote dialogue among youths from different backgrounds," he said, adding that all the efforts are made to achieve sustainable development goals.
Çavuşoğlu arrived in New York on April 22 to address the U.N. General Assembly on Turkey's contributions and approach to U.N. efforts to build and sustain peace. He is also set to meet with U.N. Secretary-General Antonio Guterres, hold bilateral meetings with his counterparts on the meeting's sidelines and speak with Turkish and U.S. media outlets.
http://www.hurriyetdailynews.com/divisive-language-in-eu-helps-rise-of-extremism-turkish-fm-130775
--------
Don't let Muslim travel ban join list of America's moral failures
April 24, 2018
I could hear my heart pounding out of my chest as I stood in front of my first-grade classroom. A few weeks earlier, our teacher assigned us to bring a traditional dish from our culture to share with the class — an exercise that I now realize was meant to foster tolerance and understanding of different cultures in my predominantly white school.
"This is," my voice trembled, "mast-o-kheyar." It is a dish made of plain yogurt mixed with dried herbs and diced cucumber that Iranians traditionally eat as a side dish. The deafening silence was suddenly pierced with a loud shriek of "Eww! This tastes so gross!" More classmates joined in, as kids that age normally do, and eventually the entire class was rushing to the classroom sink to wash the taste out of their mouths. I could see our teacher out of the corner of my eye, laughing and smiling along with the rest of my class.
That was just one example of the many times I felt I did not belong, growing up in suburban America. These experiences were seeds planted during my childhood, and were slowly nurtured into a lifelong pursuit of equality and justice. I eventually attended Florida A&M University College of Law and served on the legal team representing Trayvon Martin's family, doing my small part to rally in defense of black lives.
In 2014, I ran for Congress in an effort to represent all the people of Florida's 10th Congressional District, especially those who felt left out and left behind. Back in that elementary school classroom, I would have never in a million years guessed the turns my life would take.
I am now looking forward to another major life event, one that should be joyous but is stirring those old feelings of dread and rejection. I will be getting married this September, and my aunts, uncles and cousins in Iran won't be able to come to my wedding because President Trump has banned them.
As devastating as this is, the consequences of the ban have been far worse for others. We have left refugees stranded overseas with no place to turn. Mothers have been separated from their sick children. Grandparents are unable to meet their grandchildren. And why? Because Trump wants to keep people out because of how they choose to pray and where they come from.
The administration was forced to change the ban twice following legal pressure, and now the Supreme Court will consider the legality of the third iteration, which places restrictions on travelers from seven countries, five of them predominantly Muslim. They are Iran, Libya, Syria, Yemen, Somalia, North Korea and Venezuela. (An eighth, Chad, was recently dropped from the list.) Many of us will be watching the oral arguments in suspense, fearful that the land's highest court will enshrine a policy that treats the families of certain Americans differently because of their national origin or religion.
The product of a diverse America is that Americans have very different life experiences and truths. But beneath the differences in skin color, nationality or religion, we all want the same thing: to feel welcome, to be treated equally, and to feel like we belong as Americans.
Celebrating our differences is what makes America great; the exploitation of our differences has always revealed the worst in humanity and led to bombs, barriers and bans.
The long list of moral failures in American history — the genocide of Native Americans, slavery and segregation, to name a few — have primarily been motivated by the exploitation of our differences. Indeed, Donald Trump won the presidency by appealing to the worst instincts of humans: to fear and view one another with suspicion; to see our fellow human beings as unequal and undeserving of dignity and respect.
We, as a country, have traveled down this road of self-destruction before and have seen the devastating consequences. True patriots stand for religious freedom for all in an inclusive, tolerant America.
I am holding out hope that I will walk down the aisle this fall and see my uncles, aunts and cousins in the crowd, wiping away their tears and holding up their phones to snap photos of my new wife and me. I still believe America is better than a Muslim ban, and maybe we will get this one right, even if it requires a favorable Supreme Court decision first.
http://www.orlandosentinel.com/opinion/os-ed-supreme-court-immigration-ban-20180423-story.html
--------
Crossing Divides: Meet the British Army veteran turned pro-mosque campaigner
23 April 2018
It's hard to miss Ian Durrant's house in Lincoln.
A Union flag and the cross of St George flutter 20ft (6.1m) high in his front garden.
Ian says they're there "because I'm a veteran and I'm proud to be English". But he admits the flags sometimes give off the wrong impression.
"Someone came to talk to me, and he said, 'Congratulations on flying the flag, what are you going to do about those bloody Muslims?' I said, 'Are you National Front?' 'Yes I am, brother,' he said. So I advised him - using army language - to get out of my garden."
A decade of waiting
With its towering facade, jade green dome and glistening gold crescent, Lincoln's first purpose-built mosque is already settling into the city's skyline.
In a few weeks the £2m ($2.9m) building will officially open - more than a decade after its first planning application was submitted to the council.
Ian was one of the mosque's most vociferous opponents. The former soldier - who served for 25 years in the army - set up a group trying to stop the application.
But he says his reservations were about traffic.
"There was no parking, there would have been nearly 90 cars, and the building only provided 12 parking spaces."
'We'll burn the mosque'
However, things then got nasty. The site where the mosque was planned to be built burned down in unexplained circumstances.
On three separate occasions, groups including the English Defence League (EDL) and East Anglian Patriots marched through the city centre.
Participants shouted chants like "Burn the poppy, and we'll burn the mosque".
This is my country, too: Life as a black British Muslim
Worried that his campaign against the mosque was being hijacked by anti-Islamic groups, Ian felt compelled to act.
"We had a letter campaign in the press against the EDL, asking people, 'If you see them, turn your back on them and walk away.' And they did," he says.
Rumours flying
Lincoln's Muslim population is small compared with cities such as Leicester or Birmingham, but it's long outgrown its current mosque. On Friday - the most important day of the week in Islam - it has to rent a larger community hall to accommodate about 250 worshippers.
After the mosque's initial planning bid failed, a subsequent application at a former dairy site was approved. This placated people like Ian who had been unhappy about the original location, but others were still sceptical about the mosque's intentions.
Tanweer Ahmed, chairman of the Lincoln Islamic Association, says there were rumours flying around that the new mosque would have "loudspeakers doing the call to prayer five times a day - and some thought we would try and get rid of the local war memorial".
In reality, he says, local Muslims simply wanted "to feel comfortable".
So he decided to act - by knocking on every door in the area.
Safety worries
"A lot of people welcomed us - but a few people were not happy. We were giving them leaflets, and they were throwing them straightaway into the bin," Tanweer says.
Even Muslim people questioned his moves.
"My wife was saying, 'Why are you doing that?', and my children were worried that someone could harm me. Some of my colleagues were also worried about safety. And there were some that just didn't want to do it."
Tanweer also needed to show locals that the presence of Islam in their area wouldn't threaten their way of life. So he reached out to Ian.
"I knew nothing about Islam, and someone sent me an email saying, 'We're running a series of talks - would you like to come?' So I did. I sat in the front on my own and it was fascinating," Ian says.
He's attended so many events - including Eid celebrations and mosque open days - that many worshippers recognise him on the street. But he's raised eyebrows within his own community.
"I took pride in being friends with, and talking to, Muslim people. Other people would say, 'Why the hell are you doing that?' And I said, 'They're people.'"
Joining Remembrance Day
"If I look out of the window to the left, I can see the cathedral in its glory," says Ian, as he draws a net curtain. "If I look right I see the mosque. East has met West in Lincoln."
Lincoln is best known for its beautiful 1,000-year-old cathedral. But it also has links with the armed forces - it was the birthplace of the military tank, and produced the renowned Royal Lincolnshire Regiment.
So Remembrance Day is a big deal for local residents. Ian and other veterans parade at their local war memorial, just 100 metres from the new mosque.
In 2012, he got a pleasant surprise when Tanweer and other Muslims turned up, carrying wreaths and wearing poppies.
"People who I knew have said, 'It's good to see them joining in the community.' I said, 'Tanweer Ahmed is here - not out of invite, but by right!'"
Shared history
Tanweer says some Muslims were sceptical about attending the memorial.
"People were saying, 'Why are you going there? Why do we need to go there?' I said to them, 'We live in this country, and these people have given their lives to save this country.'"
He also wanted to highlight both the English and Muslim communities' shared history. In World War One, 400,000 Indian Muslim soldiers fought for Britain, and in World War Two, 600,000 soldiers took part.
Tanweer says it was important for him and Ian to step into each other's sacred spaces and embrace each other's cultures, without sacrificing their own identities.
"Locals feel much more comfortable if we go to their space, they can ask us questions - but if they come to mosques, they might not feel comfortable asking questions," says Tanweer.
"So it's important that we visit them. But at the same time, they're coming to us".
Focusing on the future
Tanweer will be relieved once the mosque opens. But he knows his job isn't over.
Last year's terrorist attacks have created a sense of unease among Muslims in the city. Tanweer himself has been verbally abused, and the old mosque has been pelted with stones.
He thinks the Muslim community needs to continue engaging with locals to prevent any more trouble. He hopes the new mosque can help by offering space within the building for non-Muslims to run activities, such as children's clubs or exercise classes.
"A lot of people don't know what happens in the mosque, so if they're using the mosque on a regular basis, they will feel much more comfortable building a relationship with us," Tanweer says.
Ian's excited about the mosque's opening ceremony, and hopes to bring his friends along. He admits that their opinions about Islam have changed over the years - largely thanks to him.
"My guys - apart from one - don't mention Muslims any more to me. I'd like to think they're accepting my way of thinking. I don't like prejudice.
"I served in Kuwait with Muslims. I served in Borneo with Muslims. It makes me feel very proud that I have been accepted."
http://www.bbc.com/news/uk-43337775
--------
Arab World
UAE to fund $50.4m project to rebuild Mosul's Grand al-Nuri Mosque
April 24, 2018
The United Arab Emirates (UAE) will finance a $50.4 million project to rebuild Mosul's Grand al-Nuri Mosque, famous for its eight-century-old leaning minaret, that was blown up by ISIS militants last year, the United Nations said on Monday.
Reconstruction and restoration of the mosque and al-Hadba minaret will be in partnership with the UN cultural agency UNESCO, Iraq's culture ministry, and the International Centre for the Study of the Preservation and Restoration of Cultural Property (ICCROM), Dubai's media office said in a Twitter post.
ISIS demolished the Grand al-Nuri Mosque, which dated to the 12th century, in the final weeks of the US-backed Iraqi campaign that ousted the extremists from Mosul, their de facto capital in Iraq, last July.
The protracted and fierce urban warfare largely reduced the historic landmarks of Iraq's second city to rubble.
Paris-based UNESCO said the project would take at least five years, with the first 12 months focused on clearing districts of debris. Other sites including historic gardens will be rebuilt and the plan includes the building of a memorial and museum.
Mosul needs at least $2 billion of reconstruction aid, which would unblock streets and rebuild destroyed homes among other things, according to Iraqi government estimates. About 700,000 of Mosul's population, estimated at 2 million before Daesh seized the city in 2014, is displaced.
It was from the mediaeval mosque in mid-2014 that Daesh leader Abu Bakr al-Baghdadi declared a self-styled "caliphate" spanning parts of Syria and Iraq that the extremists had overrun in a shock offensive.
The mosque was named after Nuruddin al Zanki, a noble who fought the early crusaders from a fiefdom that covered territory in modern-day Turkey, Syria, and Iraq. It was built in 1172-73, shortly before his death, and housed an Islamic school.
By the time renowned mediaeval traveller and scholar Ibn Battuta visited two centuries later, the minaret was leaning. The tilt gave the landmark its popular name — the Hunchback.
The minaret was composed of seven bands of decorative brickwork in complex geometric patterns that have also been found in Iran and Central Asia.
https://nation.com.pk/24-Apr-2018/uae-to-fund-50-4m-project-to-rebuild-mosuls-grand-al-nuri-mosque
--------
Islamic State Threatens Polling Station Attacks Ahead of Iraq Vote
April 23, 2018
BAGHDAD (REUTERS) - Islamic State said it would attack polling stations in Iraq during parliamentary election next month and that anyone who participated in the vote would be considered an infidel.
In an audio message released late on Sunday, the militant group's spokesman accused Iraq's Shi'ite-led government of being a proxy of Iran and warned that anyone who runs or votes in the May 12 election would be targeted. Iraqi officials have said polling stations will be well protected.
"We warn you Sunnis of Iraq of these people (Shi'ites) taking power. Polling stations are a target for us, so stay away from them," said Abu al-Hassan al-Muhajer.
Full report at:
https://www.usnews.com/news/world/articles/2018-04-23/islamic-state-threatens-polling-station-attacks-ahead-of-iraq-vote
--------
King Salman declared 'Islamic World's Personality of the Year'
23 April 2018
LAHORE: A group of religious scholars in Pakistan have declared King Salman the "Islamic World's Personality of the Year 2017," in recognition of his services to the Muslim world, especially to Palestine.
The scholars gathered in Lahore to participate in the International Paigham-e-Islam Conference (Message of Islam Conference) organized on Monday by the Pakistan Ulema Council (PUC).
The event was chaired by PUC President Maulana Hafiz Tahir Ashrafi and attended by Saudi Ministry of Religious Affairs Secretary Talal Al-Aqeel as chief guest.
The Saudi Ambassador to Pakistan, Nawaf Saeed Ahmad Al-Maliki, was also in attendance.
The participants of the conference expressed deep appreciation for the role played by King Salman in uniting the Muslim Ummah and raising his voice for its rights at every international forum.
King Salman's Islamic World's Personality of the Year Award was received on his behalf by the Saudi ambassador.
During the course of the conference, the participants fully endorsed the decision of the 29th Arab League Summit and rejected US decision to move the American Embassy to Jerusalem. They unanimously declared that the US decision was not acceptable to anyone among the Muslim countries.
"The only solution to the issue is the establishment of an independent Palestinian state that has its capital in Jerusalem. No other solution can bring peace to the region," said the resolution adopted by the conference.
The participants also noted that Muslims of the world were facing significant challenges due to the menace of extremism, terrorism and sectarianism.
Many of them stated that the enemies of Islam were benefiting from these differences that had fragmented Muslim communities all over the world. They also noted that after destroying Iraq, Syria, Libya and Yemen, such elements were also planning to turn on, and destablize, Saudi Arabia.
The conference participants expressed their concern over missile attacks on Saudi Arabia by the Houthis, saying no Muslim would tolerate an attack on Islam's holiest cities and that the UN Security Council should take note of those who were supporting the Houthis.
"No one can afford the destabilization of Saudi Arabia, and Iran should not support the Houthis. The world should take notice of excesses committed by Houthis," Hafiz Tahir Ashrafi, president of the PUC, said while addressing the gathering.
Speaking on the occasion, the Saudi ambassador thanked the conference for declaring King Salman the Islamic World's Personality of the Year.
"The Saudi government is always ready to serve the people of Pakistan. The two countries are tied by the bonds of friendship and Saudi Arabia values Pakistan's feelings for the Kingdom," he said.
The conference also lauded the Pakistan Army for providing training facilities to Saudi forces.
Full report at:
http://www.arabnews.com/node/1290036/world
--------
Terrorists' Key Command Posts Razed in Syrian Air Raids in Hama
Apr 23, 2018
The fighter jets pounded terrorists' movements and positions in Qantara and al-Satahiyat regions West of the town of al-Salamiyah.
The warplanes further launched a heavy bombing raid on terrorists' positions in Eidoun and al-Satahiyat in Southern Hama and destroyed four large command posts of the militants.
In the meantime, the army men, backed up by artillery and missile units, engaged in tough battle with terrorists in Salim and al-Hamrat regions in Northern Homs.
Field sources reported that the army troops managed to advance against militants in Madajen Jabar, al-Alamah and Madajen Abu Sa'er West of al-Salamiyah in Southwestern Hama.
Earlier today the army and Air Force started targeting terrorists' positions and movements in Northern Homs and Southern Hama after reconciliation talks failed due to the militants' tumbling.
The terrorists, deployed in Jabal (Mount) al-Kan in Northern Homs, opened mortar fire at the villages of Qabibat and Qor al-Asi after the reconciliation talks failed.
The army then started reciprocating attacks. The army aircraft later pounded terrorist groups' movements and positions in al-Za'afaraneh, Deir Foul, Ezzeddeen, Talbiseh, al-Rastan, Ein Hossein, al-Ameriyeh and al-Qantarat regions in Northern Homs.
Also, the army's artillery and missile units opened heavy fire at terrorists' strongholds and movements in Northern Homs, al-Satahiyat farms West of the town of al-Salamiyah, near Hirbnafsa and al-Houleh regions in Southern Hama.
Full report at:
http://en.farsnews.com/newstext.aspx?nn=13970203001244
--------
Militants Trained by Norway Planning to Fight against Syrian Gov't
Apr 23, 2018
According to Klassekampen, the rebel group is now openly fighting for a regime change in Syria.
In May 2016, it was announced that Norwegian soldiers were to be dispatched to Syria's neighbor country Jordan to provide "training, counseling and operational support" to Syrian paramilitary groups fighting ISIL as part of the US-led Operation Inherent Resolve.
In June 2016, the Norwegian parliament also green-lit similar missions in Syria itself.
While Norway's Syria contribution was formally concluded in March this year, as the mandate formally expired, the exact extent and nature of Norway's involvement was largely kept secret. MaT commander Muhannad al-Talla confirmed to Klassekampen that his group was trained by Norwegians in al-Tanf in Southeastern Syria, where the US also has a base.
While both Prime Minister Erna Solberg and then-Defense Minister Ine Eriksen Søreide emphasized the mandate was to fight ISIL, ensuring that they "won't endanger the peace process," al-Talla claimed that his Western allies never concealed that his soldiers were to fight both terrorists and the Syrian government.
"From the very beginning, I've been completely aware that I'm fighting "the ISIL" and the al-Assad forces. (ISIL) is not gone but is clearly weakened. Now the priority is the fight Assad," al-Talla admitted to Klassekampen.
The al-Tanf Base is a strategic outpost along the main route between Damascus and Baghdad. There, the US has created a so-called 55-square-kilometer safety zone secured by US soldiers with the help of al-Talla's units.
Within the zone, Syrian army troops have been bombed at least two times by US combat aircraft. At the same time, several rebel groups, including MaT took part in an offensive against government forces after ISIL's withdrawal from Eastern Syria.
The Free Syrian Army (FSA) Spokesman and Counselor Ibrahim al-Idlibi confirmed to Klassekampen that Norway-trained "militia" took part in the struggle against the government forces, such as the operation "The Country is Ours" carried out in May and June 2017.
While the Syrian government has managed to reclaim most of the country's territory from ISIL and various rebel groups, MaT leader Muhannad al-Talla is by his own admission not ready to lay down arms.
"It is true that the current balance of power favors Assad. But we will never let him have peace. Even if he wins the war, we will continue to make his life sad for him," al-Talla pledged.
Full report at:
http://en.farsnews.com/newstext.aspx?nn=13970203001124
--------
Key Militant Brigade Planning to Join Syrian Army in Eastern Qalamoun
Apr 23, 2018
The source said that the FSA's Ahmad Al-Abdou Brigade surrendered to the Syrian Army and handed over its weapons to the government forces in the towns of Jayroud and al-Rahibeh last week.
Per the peace deal established in Eastern Qalamoun, the Ahmad al-Abdou Brigade has vowed to join the ranks of the Syrian Army and fight their enemies.
Well-informed sources reported earlier today that a fresh wave of differences and rifts started among senior commanders of the terrorist groups after the a number of militant groups handed over their heavy weapons and missile stockpiles to the Syrian Army in Eastern Qalamoun a couple of days ago.
The sources said that former Saudi Commander of Tahrir al-Sham Hay'at (the Levant Liberation Board or the Al-Nusra Front) Abdullah al-Muhaysini slammed Jeish al-Islam's surrender of its heavy weapons to the army in Eastern Qalamoun as a betrayal.
In the meantime, Head of Jeish al-Islam's political Headquarter Mohammad Aloush opposed other militant group's criticisms, saying that Jeish al-Islam was only one of the ten groups that delivered their depots of weapons and missiles to the army in Eastern Qalamoun.
Aloush further accused other militant groups, mainly the joint command that took part in reconciliation talks with the Syrian army and Russian military, of handing over of their weapons to Damascus forces first, adding that Ahrar al-Sham, Faylaq al-Rahman, Aswad al-Ashraqiyah, Ahrar al-Qaryatayn, Jeish al-Islam, Tahrir al-Sham Hay'at (Al-Nusra Front), Jeish al-Tahrir al-Sham, Liwa Maqawir al-Sahara and Ahmad Abdu militants had endorsed the agreement with the army first.
Full report at:
http://en.farsnews.com/newstext.aspx?nn=13970203001155
--------
Syrian Armed Forces Pound Terrorists' Positions in Homs, Hama Provinces
Apr 23, 2018
The terrorists, deployed in Jabal (Mount) al-Kan in Northern Homs, opened mortar fire at the villages of Qabibat and Qor al-Asi after the reconciliation talks failed.
The army then started reciprocating attacks. The army aircraft later pounded terrorist groups' movements and positions in al-Za'afaraneh, Deir Foul, Ezzeddeen, Talbiseh, al-Rastan, Ein Hossein, al-Ameriyeh and al-Qantarat regions in Northern Homs.
Also, the army's artillery and missile units opened heavy fire at terrorists' strongholds and movements in Northern Homs, al-Satahiyat farms West of the town of al-Salamiyah, near Hirbnafsa and al-Houleh regions in Southern Hama.
Over 20 terrorists were killed and several more were wounded and their military equipment were destroyed in the attacks.
The Arabic-language al-Watan daily reported on Tuesday that the army temporarily halted its operation in Southeastern Hama and Northern Homs to pave the ground for the start of reconciliation talks with the militants that applied for a peace agreement.
The daily further said that the militants demanded local activists to mediate and end the army assault amid the government forces' rapid advances in Southeastern Hama and Northern Homs.
Al-Watan went on to say that the army remarkably advanced against the terrorists in the town of al-Rastan that was a main bastion of the militants.
Full report at:
http://en.farsnews.com/newstext.aspx?nn=13970203000875
--------
Turkey-Backed Militants Blackmailing Civilians, Looting People's Assets in Northern Syria
Apr 23, 2018
The SOHR said that the FSA militants have started stealing and looting properties and assets of local people that are still in Afrin region, adding that the FSA also is seizing assets of people that have left the region after the start of Operation Olive Branch.
The SOHR further said that the FSA has also embarked on accusing young people and men of fake crimes to detain and torture them.
Its went on to say that the FSA later called for a hefty amount of money as ransom to free the detainees.
The FSA has also embarked on expelling several families in Shera region in Northeastern Afrin, accusing them of affiliation with Kurdish fighters, the SOHR said, adding that the FSA is settling Eastern Ghouta terrorists in Afrin region after expelling the locals.
Last week, the Ankara-backed militants prevented civilians from entering their own houses in the Turkey-occupied Afrin region to settle the Al-Nusra-affiliated Faylaq al-Rahman terrorists who arrived from Eastern Ghouta in the town.
Militants of Jeish al-Sharqiyeh affiliated to the FSA stormed residents of the town of Jandaris in Southern Afrin after they called on the militants to allow them to live in their houses that had been occupied by Faylaq al-Rahman militants.
Faylaq al-Rahman is affiliated to the Al-Nusra Front that is backed by Turkey. Yet, the Turkey-backed militants have treated other militant groups like Jeish Al-Islam that are backed by Saudi Arabia differently, forcing them to surrender their weapons and stay in camps.
In the meantime, SOHR reported that the Turkish army and allied militants started detaining civilians in Afrin region after the Ankara forces looted their assets, and further demanded ransom for their release.
SOHR further said that talks are underway between the Turkish intelligence and Faylaq al-Rahman commanders to be relocated to Afrin and its countryside.
Full report at:
http://en.farsnews.com/newstext.aspx?nn=13970203000547
--------
Syrian regime drops leaflets warning Homs, Hama residents of imminent strike
23 April 2018
Helicopters belonging to the Syrian regime threw leaflets calling upon civilians in rural areas of northern Homs and South of Hama to leave the positions of the armed militia.
This step indicates the approach of a military operation by the regime in the northern Homs and South of Hama.
Armed factions control the towns located in the countryside of Homs and Hama, including Nusra Front previously.
The Syrian regime intensified, for the fourth consecutive day, its military campaign on Yarmouk camp, Al Hajar Al Aswad and the neighborhoods of southern Damascus to impose an evacuation agreement reached with the fighters of ISIS and Nusra Front.
According to identical sources, some 6,000 Palestinian civilians were trapped in the Yarmouk camp because of the clashes.
Full report at:
https://english.alarabiya.net/en/News/middle-east/2018/04/23/Expected-regime-military-operation-in-northern-Homs-Hama.html
--------
Human Rights Watch: Egypt fight against ISIS threatens humanitarian crisis
24 April 2018
Egypt's military operations against an affiliate of ISIS in North Sinai is threatening to spark a humanitarian crisis, Human Rights Watch said on Monday. The offensive launched on February 9 has "left up to 420,000 residents in four northeastern cities in urgent need of humanitarian aid", said the New York-based organization.
The campaign "has included imposing severe restrictions on the movement of people and goods in almost all of" North Sinai, HRW said in a report. "Residents say they have experienced sharply diminished supplies of available food, medicine, cooking gas, and other essential commercial goods."
The authorities conducting the campaign, dubbed "Sinai 2018", have also banned the sale of gasoline for cars in the area "and cut telecommunication services for several days at a time," the report said. The Egyptian army denounced the report, saying it was based on "undocumented and unreliable sources".
— The New Arab (@The_NewArab) April 23, 2018
"We are distributing food rations to people, including in areas where military operations are taking place," army spokesman Tamer al-Rifai told AFP. HRW also said authorities had "cut water and electricity almost entirely in the most eastern areas of North Sinai, including Rafah and Sheikh Zuwayed."
"A counterterrorism operation that imperils the flow of essential goods to hundreds of thousands of civilians is unlawful and unlikely to stem violence," said Sarah Leah Whitson, the organization's Middle East and North Africa director. "The Egyptian army's actions border on collective punishment," she added.
The army spokesman denied water and electricity had been cut.
Full report at:
https://english.alarabiya.net/en/News/north-africa/2018/04/24/Human-Rights-Watch-Egypt-fight-against-ISIS-threatens-humanitarian-crisis.html
--------
India
IAS and IPS officers on al-Qaeda kill list
Himanshu Mishra
April 24, 2018
The emir, or general, of al-Qaeda in the Indian Subcontinent (AQIS) has exhorted Indian Muslim youths to wage jihad against the country, especially to target Hindus and kill IPS and IAS officers.
In an audiotape accessed by India Today, maulana Asim Umarborn in Sambhal, Uttar Pradesh, slams the National Democratic Alliance government as anti-Muslim.
Pakistan-based Umar calls for lone wolf attacks on IPS and IAS officers saying that they force Muslims to deposit their arms and ammunition during riots. The Delhi Police has issued a circular asking IPS and IAS officers to be extremely careful.
In the audio, Umar also asks Indian Muslims to follow Muslims who committed lone wolf attacks in Europe. These Muslims were born in Europe. But when they realised that jihad is their calling, these men rattled the continent, Umar further says.
Umar, who was declared the emir of AQIS by al-Qaeda leader Ayman Al-Zawahiri in 2014, also asks Muslim youths to wage war against India by referring to the battles of Panipat in the 15-minute audio.
Muslims should wage jihad against Hindus because they are targeted for not saying, Victory for Mother India. Muslims are being forced to convert to Hinduism. Muslims, not Hindus, have always ruled India, he says.
Soon after he was appointed the emir of AQIS, Umar started releasing similar audios trying to instigate Indian Muslims. In fact, he released a propaganda video after Narendra Modi was elected Prime Minister mentioning his name, French satire newspaper Charlie Hebdo and the World Bank.
A dozen AQIS members from Jharkhand, Bihar and Uttar Pradesh nabbed by the Special Cell of the Delhi Police a year ago had revealed that they joined the outfit after being inspired by Umars speeches. The Delhi Police had also released photographs of eight more AQIS members and declared them absconders.
In 2016, the United States designated AQIS as a foreign terrorist organisation and called Umar a specially designated global terrorist. The creation of AQIS in 2014 was announced by As Sahab, al-Qaedas official media outlet, in a video posted on social media outlets, including YouTube.
A new branch of al-Qaeda was established and is Qaedat al-Jihad in the Indian sub-continent seeking to raise the flag of jihad, return the Islamic rule, and empowering the sharia of Allah across the Indian sub-continent, Zawahiri said in the opening of the video, according to the translation by SITE Intelligence Group.
Zawahiri said that the group will defend the vulnerable in the Indian sub-continent, in Myanmar, Bangladesh, Assam, Gujarat, Ahmedabad, and Kashmir... and your brothers in Qaedat al-Jihad did not forget you and that they are doing what they can to rescue you from injustice, oppression, persecution, and suffering.
In 2017, strategic expert Seth G Jones told the House Homeland Security Subcommittee on Counterterrorism and Intelligence, US, that by 2017, AQIS boasted of several hundred members and had cells in Afghanistans Helmand, Kandahar, Zabul, Paktika, Ghazni, and Nuristan Provinces.
Al-Qaida operatives in Bangladesh were particularly active conducting a range of attacks. In addition, al-Qaeda in the Indian subcontinent conducted a steady propaganda campaign from its media arm As-Sahab," Jones added.
https://www.indiatoday.in/india/story/qaeda-branch-calls-for-jihad-against-hindus-ips-ias-officers-1218667-2018-04-24
--------
Supreme Court seeks govt's reply on plea against polygamy, nikah halala
April 23, 2018
The Supreme Court on Monday directed the Centre to respond to a plea seeking to declare the provisions of Muslim Personal Law (Shariat) validating the practice of polygamy and 'nikah halala' as unconstitutional. A bench comprising Chief Justice Dipak Misra and Justices A M Khanwilkar and D Y Chandrachud, while issuing notice to the Centre and the National Commission for Women, also ordered tagging of the petition with other similar pleas which have already been referred to a five-judge constitution bench for further hearing.
The order came on a separate petition, filed by Lucknow resident Naish Hasan. Senior lawyer V K Shukla and advocate Ashwini Kumar Upadhyay representing Hasan said similar pleas have already been admitted for hearing by a five-judge constitution bench. "Declare Section 2 of the Muslim Personal Law (Shariat) Application Act, 1937, unconstitutional and violative of Articles 14(Equality before law), 15 (Prohibition of discrimination on grounds of religion, race, caste, sex or place of birth) and 21 (Protection of life and personal liberty) of the Constitution, insofar as it seeks to recognise and validate the practice of Polygamy, Nikah Halala, Nikah Mutah and Nikah Misyar," the plea said.
Naish Hasan, in the fresh petition, said the pivotal issue that needed to be answered was whether under a secular Constitution, women, merely by virtue of their religious identity, can be relegated to a status significantly more vulnerable than their counterparts professing other faiths. "The practices under challenge [Polygamy, Nikah Halala, Nikah Mutah and Nikah Misyar] are practices which impact the social status and dignity of Muslim women and render them unequal and vulnerable qua men belonging to their own community; women belonging to other communities and also Muslim women outside India," Hasan said.
'Nikah Mutah' and 'Nikah Misyar' are both temporary marriages where the duration of the relationship is specified and agreed upon in advance. The apex court had on March 26 referred a batch of pleas challenging the practice of polygamy and others to the constitution bench. The bench had considered the submission that an earlier five-judge constitution bench, in its 2017 verdict, had kept open the issue of polygamy and 'nikah halala' while quashing triple talaq.
Full report at:
http://indianexpress.com/article/india/supreme-court-seeks-govts-reply-on-plea-against-muslims-polygamy-nikah-halala-5148785/
--------
'Babuji Dheere Chalna', Former Afghan President Hamid Karzai Tells PM Modi
Siraj Qureshi
April 23, 2018
While he was the President of Afghanistan, Hamid Karzai was deeply critical of the United States and its heavy-handed way of solving delicate regional issues. This critical attitude has grown even bolder since he left the presidency and it was blatantly visible in a meeting Karzai held with the local dignitaries of Agra.
Criticising the speed at which PM Modi is making friendly overtures towards the United States, Karzai indirectly warned the Indian PM by singing lines from an old Bollywood song "Babuji dheere chalna - bade dhokhe hain iss raah mein".
Citing the example of his own country, Karzai said that despite all the bombings and interference in his country, peace could not be established. The United States arrived in Afghanistan to fight religious fanaticism and terrorism but it could do neither. What was left was devastation of his country, giving rise to the Islamic State while it was still present in Afghanistan.
Karzai was in Agra to participate in the 'Living History' convention being held in Agra by a local newspaper and the Institute of Peace and Conflict Studies (IPCS).
Karzai said that America used Afghanistan as the proving grounds for its nastiest of weapons, killing innocent Afghan citizens, calling it collateral damage, humiliating family elders in front of children, creating a reign of terror in the entire country, raiding houses in the dead of the night. "These activities do not end religious fanaticism, they only make the hate grow stronger," he said.
Karzai said that religious fanaticism is not born out of thin air, it is deliberately propagated and enhanced. The United States and Pakistan together gave birth to this fanatical approach towards Islam in Afghanistan to combat Soviet Russia and Afghanistan is paying the price for it even today. Pakistan is regularly sponsoring terrorist attacks into Afghanistan.
He said that if India-China-Russia work together in this region, Asia could become the most prosperous and peaceful regions of the world. The joining of these three powers will be greatly beneficial for Afghanistan and it will be able to combat the terrorism promoted by Pakistan more effectively. Karzai thanked India for giving aid worth 250 dollars crore to Afghanistan in the past 16 years towards redeveloping education, health, power and irrigation infrastructure in the country.
Asked about the destruction of the Bamiyan Buddhas by the Taliban, Karzai said that the Taliban destroyed the Buddhas for political reasons, not religious. The statues were there for 1400 years and nobody touched them and the Afghan culture paid the price of their destruction.
Karzai said that he is a positive thinker and believes that someday, even Pakistan will think about peace and prosperity. The people of India, Pakistan and Afghanistan want peace and friendship. Even the Mughals who arrived in India from Tashkent and Samarkand did not want to return there and started living permanently in India, even getting married here. Emperor Akbar married a Hindu princess and honored all religions. Ustad Bismillah Khan, Dilip Kumar, Raj Kapoor, Shahrukh Khan, all have roots in Afghanistan.
Full report at:
https://www.indiatoday.in/india/uttar-pradesh/story/-babuji-dheere-chalna-former-afghan-president-hamid-karzai-tells-pm-modi-1218258-2018-04-23
--------
Don't care about fatwa, will continue to visit temples, says BJP legislator Buqqal Nawab
April 23, 2018
Neelanshu Shukla
The Bharatiya Janta Party MLC Buqqal Nawab has said that he is not bothered about fatwa issued against him by Darul Uloom Asharfia and will continue to visit temples.
Buqqal Nawab earlier openly backed construction of Ram Temple in Ayodhya and further added that the land should be gifted to the Hindu community if the verdict comes in favour of Muslims.
Maulana Saalim Ashraf Qasmi, the head of the madrassa Darul Uloom Asharfia had expelled BJP leader Buqqal Nawab for offering prayer at the Hanuman Temple in Lucknow after becoming the member of legislative council.
Qasmi while speaking to the media said, "Buqqal will only be welcomed back if he purifies himself by offering an apology to Allah and reading the Kalma thrice".
However, Buqqal in an interview to India Today said, "I have been visiting temples since many years and will continue to do so".
Buqqal also claimed to have genes of a brahmin and getting many temples built in Lucknow by his family. He also refuted allegations of the Opposition parties and various Muslim organisations calling his temple visit an attempt to please the BJP.
Taking a dig at those opposing his temple visit, Buqqal recited poetic verses and said, "People can cage me and chop my tongue but still no one can stop me from expressing my thoughts."
Earlier, a similar fatwa was issued from Darul Uloom Deoband against BJP Minister Mohsin Raza when he had recently offered prayers at a Hanuman temple along with his family members.
Full report at:
https://www.indiatoday.in/india/story/don-t-care-about-fatwa-will-continue-to-visit-temples-says-bjp-legislator-buqqal-nawab-1218400-2018-04-23
--------
Mecca Masjid blast verdict: Despite confession, NIA failed to get proof against IED 'planter'
by Sreenivas Janyala
April 24, 2018
The National Investigation Agency (NIA) failed to gather evidence to show that Rajender Chowdary and Tejoram Parmar were in Hyderabad on May 18, 2007, when the blast took place at the city's Mecca Masjid, killing nine people, despite a confessional statement by Chowdary that he and Tejoram had planted two IEDs at the mosque.
Chowdary had also drawn a rough sketch of places they visited in the vicinity as part of their recce.
In his April 16 verdict acquitting all the accused in the blast case, NIA court judge K Ravinder Reddy observed that the prosecution failed to connect Chowdary to the blast, and therefore it was not proven that he had planted the bomb.
Chowdary was the eighth accused in the case, and was acquitted along with the others. Tejoram was not chargesheeted.
Chowdary was arrested from Ujjain in December 2012. He was in NIA's custody in Hyderabad from March 11-26, 2013, in connection with the Mecca Masjid case. On March 14, 2013, Chowdary allegedly made a full confession before NIA officers and witnesses — two Central Excise inspectors — at NIA's Begumpet office.
In his alleged confession, Chowdary stated that on May 17, 2007 he and Parmar arrived in a train from Bhopal in an unreserved compartment, carrying two IEDs in two bags. They allegedly got off at Hyderabad's Nampally station and went to Charminar area.
According to the alleged confession, they moved around Charminar and Mecca Masjid area as part of a recce and entered the mosque at 7 am on May 18, 2007 in the guise of pilgrims. Chowdary allegedly planted one bomb and Tejoram another — the latter did not explode — and escaped.
Besides stating that they travelled in a train from Bhopal to Hyderabad, Chowdary also drew a sketch of all the places he and Tejoram visited, including Nampally station, Charminar and Mecca Masjid. They were taken by the NIA team to all those places to reconstruct the scene.
In his order, Judge Reddy noted that no incriminating evidence was recovered by NIA to connect Chowdary to the Mecca Masjid case. "No incriminating material was found in pursuance to the statement of A8 (accused number 8 Chowdary) connecting him with the Mecca Masjid blast case. The alleged confession of A8 is not admissible in the evidence, and it is hit by Section 26 of Evidence Act. In terms of Section 27 of Indian Evidence Act, if by any reason of statements made by accused some facts have been discovered, some would be admissible against person who made the statement — (that is) the information must relate distinctly to the fact discovered. "In other words, articles recovered must be shown to have been connected with the offence."
Full report at:
http://indianexpress.com/article/india/mecca-masjid-blast-case-despite-confession-nia-failed-to-get-proof-against-ied-planter-5149032/
--------
Pakistan
Int'l conference vows to wage global effort against terrorism
APRIL 24, 2018
Lahore: Four resolutions were passed at the '3rd International Message of Islam Conference', said a press release issued on Monday.
The first stated that belief on the Finality of Prophethood was fundamental part of every Pakistani's faith. It asked the government to make public the report of Raja Zafar-ul-Haq led commission of inquiry and punished those responsible for the changes made in the oath in the Elections Act and to include 'believe on Finality of Prophethood' in the column of visa forms for Hajj and Umrah.
The second said that political and religious leadership of the country should play their effective role to resolve basic problems of the people of the country.
In the third resolution, the government was asked to lift a ban on registration of new seminaries and mosques and to avoid putting names of innocent political and religious representatives on the 4th Schedule. Lastly, Chief Justice of Pakistan was asked to restore security for all those political and religious leaders facing severe security threats.
The joint declaration of the conference vowed to carry out a worldwide movement for annihilation of terrorism, extremism, sectarian violence and to constitute a 'World Islamic Ideological Alliance' against prevailing foreign interference in affairs of Muslim countries.
A statement issued on the occasion noted, "Muslim Ummah will seek every possible measure to ensure security and sanctity of Harmain Al-Sharifain." It said that the conference decided unanimously to observe 'Jumatul Wida' as 'Youm-e-Tahafuz-e-Harmain Al-Sharifain, Al-Aqsa'. It also demanded of the government to ensure implementation of the 'Paigham-e-Pakistan' draft with necessary amendments by seeking arrangements for protection of non-Muslim communities living in Pakistan.
The joint declaration announced to declare Khadim-e-Harmain Al-Sharifain Shah Salman bin Abdul Aziz as the most favorite personality of Islamic World for year 2017 on account of his services for the cause of Islamic World, and specifically for raising voice on the issue of Palestine. The visiting delegates and representatives of different Islamic countries presented an 'Honorary Shield' to Pakistan security forces for their services to eliminate menace of terrorism and extremism.
Saudi Ambassador to Pakistan Nawaf Saeed Al-Maliky said, "Pakistan and Saudi Arabia are eternal friends. Respect and honour of Harmain Al-Sharifain in hearts of Pakistanis is exemplary. Kingdom of Saudi Arabia is the centre of unity for the Muslims of the world. Shah Salman bin Abdul Aziz and Crown Prince Ameer Muhammad bin Salman want unity of Muslim Ummah and there is no change in stance of Saudi Arabia on the issue of Palestine."
The joint declaration noted that the Muslim Ummah was being taken towards devastation and catastrophe on the pretext of terrorism, extremism and sectarian violence. "After devastation in Libya, Iraq, Syria and Yemen, enemies of Islam and Muslims are hatching conspiracies to make instability and chaos in Saudi Arabia and Pakistan."
Condemning the decision of US President Donald Trump to relocate US Embassy in Jerusalem, the conference underlined that the US leadership should refrain from making a mess in the region. "Any solution for Palestinian issue will not be accepted except an independent and autonomous Palestine with Jerusalem as capital. The entire Muslim world fully endorse the decisions of Arab League's 29th Summit on the issue of Palestine." The declaration also demanded that the OIC and the UN should take immediate and stern action against Houthi rebel tribes and their perpetrators.
Further, the document welcomed the decision of Pakistan armed forces to initiate a consultative and training mission with Saudi Arabia, stating, "being a nuclear power and largest army of Islam, it is responsibility of the people of Pakistan to assist the Kingdom of Saudi Arabia in protection and security of the Holy sites."
Appreciating 'Paigham-e-Pakistan narrative', the document stated that the national narrative against menace of terrorism, extremism and sectarian violence should be implemented in letter and spirit with necessary amendments. The joint declaration also demanded that the religious leadership of the country should come forward to contain the influence of extremists and terrorists.
The joint declaration announced to support and endorse the cause of the oppressed Syrians, Palestinians and Kashmiris. "World leadership has to take action against state terrorism and ensure arrangements for people of Palestine, Syria and Kashmir to take decision with power of their votes."
Lauding the efforts of Pakistani government against terrorism and extremism, the document stated that the entire Muslim Ummah felt proud on Pakistan's struggle against extremists and terrorists.
The declaration also appealed to religious and political leadership of the country to get united to contain confronting challenges of Pakistan and Muslim Ummah. It was also pointed out at the forum of the conference that India 'and other enemies of Pakistan aim at creating differences between Pakistan and Arab countries. Leasing agreement between India and Iran on 'Chahbahar Port' is very concerning for Pakistan and it could be very alarming for future of this region'.
https://dailytimes.com.pk/231815/intl-conference-vows-to-wage-global-effort-against-terrorism/
--------
Stalemate as fresh round of negotiations with US ends
Baqir Sajjad Syed
April 24, 2018
ISLAMABAD: Another round of Pakistan-United States talks aimed at getting Islamabad to fulfil Washing­ton's expectations, envisioned in its South Asia and Afghanistan policy, ended here on Monday without any breakthrough or breakdown, but new issues have been added to the already heavy and complicated agenda.
A senior official of the State Department's Bureau of South and Central Asian Affairs Ambassador Alice Wells visited Islamabad on Monday on a daylong trip for continuing her talks with Pakistani officials on the US list of expectations. Ambassador Wells met Foreign Secretary Tehmina Janjua at the Foreign Office. This was her second trip in less than a month. She last visited Pakistan from March 28 to April 3.
Foreign Office spokesman Dr Mohammad Faisal only tweeted a picture of Ambassador Wells at the FO with the caption: "FS receives Amb Wells for a call at MOFA today." No press release was issued on the meeting afterwards.
The US embassy's statement on the meeting was also unusually very brief. Ambassador Wells "visited Islamabad today for meetings with Foreign Secretary Janjua and other senior officials. In her meetings, she discussed the status of the United States' South Asia strategy and efforts to make progress on regional security and stability," the statement read and contained a link to President Trump's Fort Myers speech in which he unveiled the US Strategy on South Asia and Afghanistan.
The strategy, to quote Deputy Secretary of State John Sullivan, reflects the intention of the Trump administration "to hold Pakistan accountable for its failure to deny sanctuary to militant proxies" and "encourage(s) restraint in Pakistan's military nuclear and missile programs, and seek(s) continued, closer alignment of Pakistan's nonproliferation policies with our own". The US has been calling on Pakistan to take decisive action against all militant and terrorist groups allegedly based on its territory. Pakistan, on the other hand, strongly denies the allegation and insists that no organised sanctuary exists on its soil. Moreover, it calls for ending terrorist sanctuaries on the Afghan side of the border from where militants attack it. Islamabad has also been demanding an early repatriation of Afghan refugees.
A diplomatic source said the agenda points of both sides at the meeting at FO were same as before with the addition of two new issues — the restrictions on Pakistani diplomats that would take effect from May 1 and traffic accident involving US defence attaché Col Joseph Hall, who had earlier this month ran a red light killing a motorcyclist. Pakistan has demanded waiver of diplomatic immunity enjoyed by Col Hall so that he could be prosecuted.
Full report at:
https://www.dawn.com/news/1403521/stalemate-as-fresh-round-of-negotiations-with-us-ends
--------
JI reviewing its role in KP govt, says Sirajul Haq
Ahmad Fraz Khan | Amir Wasim
April 24, 2018
LAHORE / ISLAMABAD: As the relationship between the Pakistan Tehreek-i-Insaf (PTI) and the Jamaat-i-Islami (JI) appears to have turned sour on the issue of Senate elections, JI chief Senator Sirajul Haq on Monday declared that his party was "reviewing its role" in the PTI-led provincial government of Khyber Pakhtunkhwa.
Talking to Dawn in Lahore, the JI chief claimed that they had held back so far because budget preparations were under way and a member of their party held the portfolio of finance ministry in the KP government.
"The Jamaat has decided that it should neither weaken the KP government nor become the reason for its downfall when budget preparations are under way," Mr Haq said, ignoring the fact that PTI chairman Imran Khan had already announced that KP Chief Minister Pervez Khattak will not present the provincial budget this year.
"On top of that, only a few weeks of its (KP government) life are left anyway," Mr Haq said in an apparent reference to the challenge put before him by the PTI — to quit the government if they believed that the PTI had played a negative role in the Senate elections.
The two parties have had strained relationship since the Senate elections in which the JI did not support the PTI-backed candidate for Senate chairperson seat, Sadiq Sanjrani.
The differences between the two parties became apparent when, while talking to the media at Mansoora last week, Mr Haq disclosed that KP CM Khattak had told him that the PTI had received directions from somewhere to support Mr Sanjrani for the office of Senate chairman. The PTI had reacted strongly to this "disclosure".
Mr Haq had revealed that Mr Khattak had called him some days before the Senate chairman's election and sought JI's votes for their nominee. The JI chief claimed that when he asked about the name of the nominee, Mr Khattak feigned ignorance and said that he was also not aware of the name yet because the decision was coming from the top and the only thing he knew was that the nominee was from Balochistan.
The JI chief hastened to add that he did not understand what Mr Khattak had meant by "from the top".
When asked why he had waited so long time to reveal this, Mr Haq said he had only responded to a query put before him by a media person.
Amid a back-and-forth between leaders of both parties, Mr Khattak explained that he meant that he had received instructions from Banigala — the residence of party chairman Imran Khan.
"No one can issue orders to me. I receive orders only from Allah and in party matters, from Imran Khan," the chief minister explained, while responding to a question during a press conference in Islamabad on Monday. He added that he had told the JI chief that the PTI had decided to support a candidate from Balochistan for the post of Senate chairperson, while for the post of deputy chairperson they would support a candidate from the Federally Administered Tribal Areas (Fata). He, however, criticised Fata senators for not showing unity and forcing the PTI to vote for the Pakistan Peoples Party's candidate.
The JI has already announced its decision to join the recently-revived Muttahida Majlis-i-Amal (MMA) and, according to sources, the party is expected to take some important decisions with respect to its relations with the PTI and its role in the KP government in consultation with other component parties of the MMA during a meeting of the alliance scheduled for April 27.
Reacting angrily to the JI chief's disclosure, PTI's information secretary Fawad Chaudhry challenged the JI to quit the KP coalition government.
"I am surprised as to why the JI has not yet quit the PTI-led KP government," Mr Chaudhry had said in a statement issued by the party's media office in Islamabad on Sunday.
The PTI leader had regretted that on one hand, the JI had filed a petition in the Panama Papers case in the Supreme Court against former prime minister Nawaz Sharif and, on the other hand, had become an ally of the Pakistan Muslim League-Nawaz (PML-N) in the election of the Senate chairman and deputy chairman, alleging that the Jamaat's politics was based on "hypocrisy".
"The JI has so much love for the government that it is not ready to come out of the PTI-led coalition in KP," the PTI leader said, terming the Mr Haq's allegations against his party "baseless".
Once again on Monday, Mr Chaudhry attacked the Jamaat, saying there "there is a need to check on whose agenda Sirajul Haq is working," and added: "At present, both Nawaz Sharif and Sirajul Haq seem to have the same tone and tenor."
Separately, Mr Chaudhry dared the ruling PML-N to take action against its party members who had voted for PTI's Chaudhry Sarwar in the Senate elections.
Full report at:
https://www.dawn.com/news/1403519/ji-reviewing-its-role-in-kp-govt-says-sirajul-haq
--------
MQM 'hitman' Raees Mama confesses to 59 murders, says investigation report
Mohammad Raza
April 23, 2018
Raees alias Mama — the alleged MQM hitman who was extradited to Karachi through Interpol last month — has admitted to killing 59 people, DawnNewsTV reported citing an investigation report.
The report, a copy of which is available with DawnNewsTV, has Raees making a number of major confessions regarding his time as a gun for hire.
"In 2010, I was made the in charge of a 10-man target killer team," he was quoted as saying. "We had made a torture cell at a sector office where our rivals were tortured and their corpses were dumped later."
"All the directives used to be issued by the leadership in London," Raees said.
Raees, in the report, owns up to killing eight and injuring several others near Baloch Colony during the infamous May 12 carnage of 2007.
Also among his tally of 59 killings were five political leaders who had met MQM-Haqiqi Chairman Afaq Ahmed in jail, four Jeay Sindh political workers, SP Shah Mohammad and Dr Dilshan (both in 2012), and KDA Assistant Director Abdul Jammad Mangi — who was reportedly assassinated at the behest of Hammad Siddiqui and Nadeem Nusrat.
The report says that Raees also confessed to murders of four MQM-Haqiqi workers each in a 2012 attack on a taxi and during the 2013 general elections, as well as the 2014 murder of Anti-encroachment Assistant Director Amir Zia.
He also admitted to being involved in kidnapping for ransom, China cutting, land grabbing, extortion as well as other crimes of serious nature.
Full report at:
https://www.dawn.com/news/1403411/mqm-hitman-raees-mama-confesses-to-59-murders-says-investigation-report
--------
After over two decades, Maulana Fazl to address a conference in North Waziristan
Rehmat Mehsud
APRIL 24, 2018
ISLAMABAD: After the military has declared most parts of the Federally Administered Tribal Areas (FATA) purged of militants, the chief of the Jamiat Ulema-e-Islam-F Maulana Fazlur Rehman gets set to visit North Waziristan tribal region on Wednesday to attend a religious conference at the renowned Nizamia seminary, his party leader said on Monday.
Maulana Fazl will address the Ulema and Fozala (religious leaders and scholars) Conference in Mir Ali, a hamlet in North Waziristan. "He will be the first leader of any mainstream political party to visit the tribal region since 1991,"said Saeed Anwar, the most likely contender to contest from the tribal region for the National Assembly (NA) on a JUI-F ticket.
Earlier on Monday, while speaking to media, Fazl announced that Muttahida Majlis-e-Amal (MMA) would hold a meeting in Islamabad on April 27 in which matters pertaining to the country's political situation and the 2018 election would be pondered upon.
"The visit of JUI-F chief to North Waziristan will be a sort of political power show and to garner public support ahead of the fast-approaching general election," Anwar stated.
He said a convoy of hundreds of vehicles would escort his party chief to North Waziristan where he would be accorded a warm welcome.
Top leadership of any national level political party could not visit the tribal region for over a decade because of spiraling violence and clashes between the security forces and militants.
However, families of the Internally Displaced Persons (IDPs) are now being repatriated to parts of tribal region.
Full report at:
https://dailytimes.com.pk/231682/after-over-two-decades-maulana-fazl-to-address-a-conference-in-north-waziristan/
--------
Mideast
Dozens killed in air raid on Yemen wedding
April 24, 2018
SANAA - Dozens were killed and wounded in an air raid on a wedding party in Yemen, local officials said Monday, with Huthis blaming a Saudi-led military coalition.
The Iran-backed rebels who control most of northern Yemen blamed Sunday's attack on the Arab coalition that backs the country's government, in the latest in a string of such incidents. Medical sources and local officials put the number of dead between 22 and 33, with at least 40 to 50 wounded, while the exact circumstances of the raid remained unclear. Rescue teams said the wedding was being held in the Huthi-controlled Bani Qais area of Hajjah province, north of Sanaa, when jets carried out the raid.
Doctors Without Borders (MSF) said on Twitter that a hospital it supports in Hajjah received at least 45 patients, including 13 children, wounded in the air strikes, which it said were "among the most devastating in the area in recent months".
A local official told AFP that at least 23 civilians, including women and children, were killed and 36 others wounded in the attack. The official, speaking on condition of anonymity, said a double air strike on the crowded party venue had left a number of dead bodies buried beneath the rubble. Huthi-run Al-Masirah television said at least 33 people, including women and children, were killed and as many as 55 people wounded. The Saudi-led coalition's spokesman Colonel Turki al-Malki did not immediately respond to a request for comment. Iran, which is accused of supplying arms to the Shiite Huthis, swiftly condemned the raid. "The escalated bombardment of residential areas proves the desperation and inability of the invaders in achieving their goals," foreign ministry spokesman Bahram Qassemi said in a statement.
The Saba news agency, controlled by the rebels, branded the attack "the new genocidal crime of the Saudis".
It was not the first deadly strike on a wedding during Yemen's conflict, which has killed nearly 10,000 people and wounded 54,000 others since the coalition intervened in March 2015 to battle the Huthis and restore Yemen's internationally recognised government to power.
In late 2015, coalition air strikes on two wedding parties in northern Yemen killed at least 159 civilians.
Violence has also hit funerals. In October 2016, 140 mourners were killed in an air strike on a house in Sanaa. Elsewhere in Yemen on Monday, five pro-government soldiers were killed and 19 wounded in clashes with jihadists in the southern city of Taez, medics said.
Meanwhile, Saudi air defense has intercepted two ballistic missiles fired by Houthi militias towards the border city of Jazan, according to Al Arabiya television on Monday. The spokesperson of the Saudi-led coalition involved in a war in Yemen against Houthis, Col. Turki Al Maliki, accused the militias of targeting residential areas of civilians.
Huthi political leader killed
in coalition raid
The political leader of Yemen's Huthi rebels, Saleh al-Sammad, was killed last week in an air strike by the Saudi-led coalition, the Iran-allied rebels said on Monday. Sammad, head of the Huthi's supreme political council, was "martyred" in the eastern province of Hodeida on Thursday, the rebels said in a statement published on the Huthi-run Saba news agency.
https://nation.com.pk/24-Apr-2018/dozens-killed-in-air-raid-on-yemen-wedding
--------
Israel's campaign against Hamas drones
Shlomi Eldar
April 23, 2018
Israeli Defense Minister Avigdor Liberman has dismissed accusations that Israel gunned down Palestinian electrical engineer Fadi al-Batsh in the Malaysian capital of Kuala Lumpur. However, in an April 22 interview on Israel's Kan public radio, Liberman left no room for doubt that Israel had all the reasons in the world to want to assassinate him. "The man was not a saint," Liberman said. "He wasn't involved with improving the electricity grid or infrastructure and water. We have heard the announcements by the heads of Hamas taking responsibility for the man, explaining that he was involved with the production of rockets, with improving the rockets' accuracy."
Transportation Minister Yisrael Katz, who also holds the government's intelligence affairs portfolio, provided an even stronger hint. "Based on the cries of despair from the heads of Hamas in the Gaza Strip, it turns out he wasn't such a great saint and the citizens of Israel have no reason to shed a tear over him being gone," he told Ynet news website. Nonetheless, he added, Hamas has other enemies, and "many elements in this region, not just Israel, have an interest in hurting its capabilities."
Katz also referred to the implied threat by Hamas political bureau chief Ismail Haniyeh, who accused Israel of the Malaysian operation and warned that his organization could settle the score by terror attacks against Israeli targets abroad. "There will be an unsettled account between us and [the Mossad]," Haniyeh said. To which Katz responded with a barely veiled threat of his own: "Gaza is much closer than Malaysia."
Batsh was born in Jabaliya refugee camp. He studied electrical engineering at the Islamic University and left the Gaza Strip for Malaysia in 2011 to complete his doctoral studies. Several years later, he became a senior lecturer at the University of Kuala Lumpur. His move to Malaysia probably saved his life in the past. During Operation Protective Edge in 2014, 18 of his family members were killed in an Israeli attack. Then, on April 21, two assassins on motorbikes fired 20 rounds at point-blank range, killing Batsh.
Both Hamas and Islamic Jihad have issued threats to avenge his assassination. Both have claimed him as their own. Whether he was originally a Hamas or Islamic Jihad recruit, one thing is clear: Batsh was an excellent engineer who helped the Hamas military wing improve the range of its rockets and contributed greatly to the development of the movement's ambitious new drone project.
At the mourning tent put up for Batsh in Gaza, Haniyeh said, "The timing of the assassination of the scholar is intended." He did not elaborate, but appeared to be hinting at what Israel already knows — that the Hamas military wing is busy developing an unmanned aerial vehicle (UAV), and has even tested it. During these test flights, Hamas UAVs infiltrated Israeli airspace and were shot down. In February 2017, an Israeli F-16 fighter jet shot down a Hamas aircraft flying over the Mediterranean coast. Six months earlier, the Israel Defense Forces (IDF) published a video clip showing a Hamas drone intercepted along the coastline. According to the IDF, Israel detected the launch of the drone from Gaza and monitored its flight until its interception.
Despite the interceptions, Hamas continues its test flights. A Palestinian source in Gaza told Al-Monitor that Gaza residents occasionally see aircraft flying over the coast. These aircraft take off from inside the Gaza Strip in the Khan Yunis area and head for the Mediterranean, the source said on condition of anonymity.
Israel claims that both Hamas drones it intercepted were primitive, low-tech aircraft constituting little threat. However, experience in confronting Hamas weapons development capabilities shows that such projects must be stopped from the outset. At the turn of the century, Israel ignored, and even derided, Hamas rocket development attempts. The IDF treated the initial rockets test fired along the Gaza coast as crude projectiles. It only realized afterward that Hamas was investing extensive resources in developing the rockets, and even recruiting Islamic University students to contribute their skills to the military project that would shift the balance of power with Israel.
When Israel killed Qassam rocket developers Adnan al-Ghoul and Nidal Farahat in 2004, it was too late. The Qassam project could not be stopped and it has since enabled the Hamas military arm to develop a deterrent capability against Israel. Israel has no intention of making the same mistake in identifying future threats and thwarting them.
Batsh is not the first engineer whom Israel is thought to have killed, according to foreign media reports, over his alleged involvement in developing Hamas drones. In December 2016, an engineer named Mohammed al-Zoari was assassinated in Tunisia. He, too, was reportedly engaged in the UAV project, and he, too, was shot at point-blank range by two motorcycle-riding assassins.
Just as Zoari's assassination did not stop the progress of the Hamas flagship project, Batsh's death is unlikely to signal its demise, either. The organization has significantly accelerated its drone development. The Hamas leadership has intensified these efforts in recent months as it watched Israel destroy, one by one, the Palestinian attack tunnels dug under Gaza, burying an investment estimated at tens of millions of dollars.
Full report at:
https://www.al-monitor.com/pulse/originals/2018/04/israel-gaza-strip-hamas-kuala-lumpur-drones-idf-tunnels.html
--------
Palestinian dies of wounds, bringing Gaza toll to 40
April 24, 2018
GAZA CITY : Two Palestinians wounded in clashes with Israel were pronounced dead Monday, a Gaza official said, bringing the toll from Israeli fire since March 30 to 40.
A spokesman for the Hamas-controlled territory's health ministry named the latest fatalities as Tahrir Wahada, 18, and Abdullah Shamali, 20.
Wahada was shot in the head in a clash east of Khan Yunis on April 6, and Shamali died of "bullet wounds to his belly" sustained on Friday, according to the spokesman Ashraf al-Qudra. Most of the 40 Palestinians killed by Israel since the start of "March of Return" protests on March 30 were shot by snipers on the border, while a few others were killed by Israeli artillery or air strikes.
Tens of thousands of Palestinians in the coastal enclave, wedged between Israel, Egypt and the Mediterranean, have gathered at the border on consecutive Fridays to call for Palestinian refugees to be allowed to return to their former homes now inside Israel.
Some protestors have launched stones or burning tires at Israeli soldiers.
Israeli forces have responded with live ammunition, wounding hundreds in addition to those killed.
The Israeli army says its fores only open fire in self-defence or to stop protestors attempting to breach the barrier separating the territory from Israel.
More than 440 demonstrators suffered bullet wounds or gas inhalation on Friday, rescuers said.
Israel has drawn harsh criticism from rights groups along with calls for investigations by the United Nations or the European Union.
Full report at:
https://nation.com.pk/24-Apr-2018/palestinian-dies-of-wounds-bringing-gaza-toll-to-40
--------
Houthi political leader Saleh al-Sammad killed in coalition raid
23 April 2018
Houthi militias have announced the death of the head of their political council Saleh Ali al-Sammad after a coalition raid.
Sammad headed the Houthi-led Supreme Political Council and was the second on the Arab Coalition's list of wanted people in Yemen.
Al Arabiya sources said Sammad was killed in an air raid near the suburb of al-Buraihi, south of al-Hudaydah province.
Full report at:
https://english.alarabiya.net/en/News/gulf/2018/04/23/Houthi-political-leader-Saleh-al-Sammad-killed-in-coalition-raid.html
--------
Palestinians file complaint to UN over Israel's breach of anti-racism treaty
Apr 24, 2018
Palestinian diplomats in Geneva have filed a complaint with the United Nations against Israel for resorting to discriminatory measures and violating its obligations under a UN anti-racism treaty only to maintain a "colonial occupation."
The complaint was delivered by the Palestinian Ambassador to the UN Human Rights Council Ibrahim Khraishi to the body that monitors the implementation of the UN convention against racism on Monday.
In the 350-page document seen by The Guardian, Palestinians say the Tel Aviv regime is implementing policies that have "the common aim of displacing and replacing the Palestinian people for the purpose of maintaining a colonial occupation."
Palestinians listed several cases of rights violations by Israel in the occupied territories, accusing the regime of seeking to sustain "a Jewish demographic majority in the entirety of historic Palestine."
"Not only is the purpose of the settlement regime discriminatory in itself, it is further maintained by a system of discriminatory measures, severely depriving Palestinians of their fundamental rights," it said.
The complaint also said Palestinians are severely limited in their freedom of movement compared to Israeli settlers and are subject to "confiscation and seizure" of their land, including home demolitions.
It also said Israel violates the right to equal treatment before tribunals by using separate legal systems for Palestinians and settlers, and points to higher maximum sentences for Palestinian defendants.
The UN Committee on the Elimination of Racial Discrimination (CERD), a body of 18 independent experts, is tasked with monitoring the Convention on the Elimination of All Forms of Racial Discrimination Israel ratified in 1979.
Palestinians, who were granted observer status at the UN General Assembly in 2012, signed the convention in 2014.
They say Israel is in breach of article 3 of the convention, which prohibits racial segregation and apartheid.
"It is clear that Israel's acts are part of a widespread and oppressive regime that is institutionalized and systematic; that accords separate and unequal treatment to Palestinians," Palestinians said, calling for the dismantling of all illegal Israeli settlements.
Earlier on Friday, Palestinian ambassador to the UN Riyad Mansour called on the world body to set up an independent commission to investigate Israeli crimes after four more Palestinians were killed in the besieged Gaza Strip.
The case is likely to spark a lengthy and high-profile investigation by world bodies monitoring racism and discrimination.
In recent weeks, Israel has been violently cracking down on peaceful mass demonstrations in Gaza against the regime's occupation. Forty Palestinians have been killed during this time.
The regime in Tel Aviv has come under criticism in the international community by allowing its snipers to open fire on the unarmed protesters that come close to the fence.
The Tel Aviv regime occupied the West Bank, East Jerusalem al-Quds and parts of Syria's Golan Heights during the Six-Day War in 1967. It later annexed East Jerusalem al-Quds in a move not recognized by the international community.
Full report at:
http://www.presstv.com/Detail/2018/04/24/559503/Palestine-UN-complaint-Israel-discrimination
--------
Israel targets Syrian artillery in Golan Heights, cites alleged mortar fire
Apr 23, 2018
The Israeli military has targeted a Syrian army artillery position in the Golan Heights after claims that a mortar shell exploded close to the occupied territory.
Israeli forces claimed on Monday that the mortar had apparently been fired during fighting between Syrian government forces and militant groups, and finally landed near the border fence in the northern part of the region.
"A mortar shell fell adjacent to the security fence in the northern Golan Heights," the Israeli army said in a statement.
In response, Israeli forces "targeted one artillery piece in the area from which the fire originated, in the northern Syrian Golan Heights."
Israel seized the Golan Heights from Syria after the 1967 Six-Day War and later occupied it in a move that has never been recognized by the international community. The regime has built dozens of settlements in the area ever since and has used the region to carry out a number of military operations against the Syrian government.
During the past few years, Israel has frequently attacked Syrian military targets in the Golan Heights in what is considered an attempt to prop up terrorist groups that have been suffering heavy defeats against Syrian government forces.
Back in April 2015, Israeli Prime Minister Benjamin Netanyahu officially admitted for the first time that the regime's military had conducted strikes in the Syrian territory.
Damascus says Israel and its Western and regional allies are aiding Takfiri terrorist groups operating inside the Arab country, while the Tel Aviv regime's military carries out such sporadic strikes against Syrian government forces. The Israeli regime has even set up field hospitals to treat wounded militants evacuated from Syria.
Full report at:
http://www.presstv.com/Detail/2018/04/23/559479/Israel-Defense-Forces-mortar-shell-Golan-Heights
--------
Chairman of Yemen's Political Council killed in Saudi strike in Hudaydah
Apr 23, 2018
President of Yemen's Supreme Political Council, Saleh al-Samad, has been killed last week in a Saudi Arabia's airstrike in the western province of Hudaydah, the council says.
Yemen's official Saba news agency, citing a statement released by the Supreme Political Council on Monday, reported that the top political figure of the Houthi Ansarullah movement lost his life after Saudi jets bombarded his residence in the Red Sea port city of Hudaydah on Thursday.
The council also conveyed its sincere condolences to the Yemeni nation for the loss of Samad, an influential figure in Yemen's resistance against a more-than-three-year-old war imposed by Riyadh on the impoverished country.
The council, Yemen's top governing body, also appointed Mehdi Mohammad Hussein al-Mashat as its new chairman.
According to a report by al-Arabiya, a Saudi-owned pan-Arab television news channel, the Saudi-led military coalition, which has constantly bombarded Yemen since 2015, had offered a 20-million-dollar prize for any information that could help uncover the location of Samad's domicile.
However, the so-called military coalition has not yet commented on the incident.
Meanwhile, leader of Yemen's Houthi Ansarullah movement Abdul-Malik Badreddin al-Houthi, in a live speech, said all aggressor countries, including the US and Saudi Arabia, were responsible for the killing of Samad, and they must await the consequences of their crime.
He also stressed that such crimes against the Yemeni nation would not break the will of his people in defending their country against the so-called military coalition.
Elsewhere in his remarks, al-Houthi said that the top figure had been killed, along with six of his companions, after their convoy was hit by a three Saudi airstrikes in al-Khamsin Street in Hudaydah.
He also called on the Yemeni people to participate in a massive demonstration, urged by Samad days prior his demise, against the Saudi-led war.
The Saudi campaign was launched in March 2015 in support of Yemen's former Riyadh-friendly government and against the country's Houthi Ansarullah movement, which has been running state affairs in the absence of an effective administration. The offensive has, however, achieved neither of its goals despite the spending of billions of petrodollars and the enlisting of Saudi Arabia's regional and Western allies.
The Yemeni Ministry of Human Rights announced in a statement on March 25 that the Saudi-led war had left 600,000 civilians dead and injured during the past three years.
Full report at:
http://www.presstv.com/Detail/2018/04/23/559474/Yemen-Saleh-alSamad-Saudi-strike-Hudaydah-Houthi-Ansarullah
--------
Yemen's Houthis hit Saudi Aramco oil facilities in Jizan
Apr 23, 2018
Fighters from Yemen's Houthi Ansarullah movement have fired two ballistic missiles at a Saudi Aramco facility in the country's southwest.
Yemen's Arabic-language al-Masirah television network said on Monday that two Badr 1-type missiles had targeted the oil facilities that belong to energy giant Aramco in the Saudi border province of Jizan.
There was no immediate report on possible casualties or damage.
Saudi state media claimed that the country's air defenses had intercepted and destroyed both projectiles over the skies above the region.
The attack was carried out following bombardment of a wedding ceremony in Yemen's Hajjah province by Saudi jets late on Sunday, which claimed the lives of over 30 civilians, including women and children.
The Yemeni army also targeted several cities, including the capital Riyadh, with a barrage of ballistic missiles on April 11.
Yemenis' attacks on positions of Saudi Arabia are in retaliation for air raids on the impoverished Arab country by the Western-backed Saudi coalition.
Saudi Arabia launched a military campaign in March 2015 in support of Yemen's former Riyadh-friendly government of president Abd Rabbuh Mansur Hadi and against the country's Houthi Ansarullah movement, which has been running state affairs in the absence of an effective administration.
The offensive has, however, achieved neither of its goals despite the spending of billions of petrodollars and the enlisting of Saudi Arabia's regional and Western allies.
The Yemeni Ministry of Human Rights announced in a statement on March 25 that the Saudi-led war had left 600,000 civilians dead and injured during the past three years.
Full report at:
http://www.presstv.com/Detail/2018/04/23/559461/Yemen-Houthi-Ansarullah-movement-alMasirah-TV-Aramco-Jizan
--------
North America
Hate crimes against US Muslims rose 15 percent last year
April 23, 2018
BOSTON — Hate crimes targeting U.S. Muslims rose 15 percent in 2017, the second year of increases, according to a study released on Monday by advocacy group the Council on American-Islamic Relations.
The group recorded 300 U.S. hate crimes targeting Muslims last year, ranging from the June beating of a Muslim man in the Bronx borough of New York City by attackers who called him a terrorist to a November incident when a Muslim family's Kansas restaurant was burned down. That was up from 260 in 2016.
CAIR attributed the increase in part to the policies of U.S. President Donald Trump, particularly restrictions on immigration from Muslim-majority countries.
"There has been nothing like this ever, for the Muslim community to be regularly the punching bag of the president of the United States," said Gadeir Abbas, an attorney with CAIR.
Responding by email to a request for comment, White House spokeswoman Kelly Love said, "The Trump Administration stands for the rule of law and abhors all forms of lawlessness including hate crimes."
"President Trump has repeatedly condemned violence, racism and hate groups."
As a candidate, Trump promised "a total and complete shutdown of Muslims entering the United States." Soon after taking office he signed an executive order banning most travelers from several Muslim-majority countries. A revised version of that order, which also included North Korea, took effect late last year.
Trump drew criticism in November for retweeting anti-Muslim videos posted by a far-right British political group.
The 300 hate crimes were a slice of the 2,599 incidents CAIR logged as representing anti-Muslim bias in 2017, a figure that was up 17 percent from 2016. The larger total included harassment, employment discrimination and times when Muslims were subjected to what CAIR recorded as biased treatment by government agencies including the Federal Bureau of Investigation and Customs and Border Protection.
More than one-third of the incidents involved federal agencies, CAIR said, adding, "This represents an almost unprecedented level of government hostility toward a religious minority within the United States."
CAIR said its lawyers investigated 5,650 reported anti-Muslim incidents and concluded that slightly less than half of them were authentic.
The group's count of hate crimes targeting Muslims is lower than the FBI's, which recorded 307 anti-Islamic hate crimes in 2016, the most recent year for which it has released data.
Last year's report measured a 44 percent increase in hate crimes into 2016 from 2015.
https://nypost.com/2018/04/23/hate-crimes-against-us-muslims-rose-15-percent-last-year/
--------
Group blames Trump for jump in attacks on US Muslims
April 23, 2018
SUNRISE, Fla. — A Muslim civil rights group blasted President Donald Trump and his administration Monday, saying his words and policies led to a sharp increase in attacks and bias against Muslims in 2017.
The Council on American-Islamic Relations said Monday the number of reported anti-Muslim hate crimes and reported incidents of discrimination, bullying, harassment and other acts of anti-Muslim bias both jumped 15 percent last year. The group blames the increase on the president, particularly his push to ban immigrants from several Muslim-majority countries. The ban now includes Iran, Libya, Somalia, Syria and Yemen, along with non-Muslim North Korea and some Venezuelan officials. It originally also included Iraq.
The report says "Trump's xenophobic rhetoric ... emboldened those who sought to express their anti-Muslim bias and provided a veneer of legitimacy to bigotry."
The White House did not immediately respond to a request for comment. Trump has said the goal of the ban is to "keep radical Islamic terrorists out."
"We only want to admit those into our country who will support our country and love deeply our people," the Republican president added as he signed the order days after his January 2017 inauguration.
The Supreme Court is scheduled to hear arguments Wednesday on whether the ban is constitutional.
CAIR said the number of anti-Muslim hate crimes reported jumped from 260 in 2016 to 300 in 2017 while the incidents of anti-Muslim bias rose from 2,213 to 2,599.
Wilfredo Ruiz, a CAIR spokesman, and CAIR attorney Omar Saleh conceded that some of the increase might be attributable to the Washington-based group getting better at documenting incidents and Muslims being more likely to report abuse. But they said there also has been an increase in attacks on mosques and Islamic centers since Trump began speaking about Muslims during the 2016 campaign. Such incidents have always been recorded, he said.
"Targeting an entire group of people on how they worship God is contrary to our shared American values," Ruiz said. "American Muslims share the same American values and freedoms all cherish and deserve the same opportunities as we are all Americans."
CAIR said many anti-Muslim attackers cite Trump during their assaults. For example, a traveler kicked and cursed a Muslim employee at New York's Kennedy Airport in March 2017. The employee, who was wearing a Muslim head covering, recalled him saying, "Trump is here now. He will get rid of all of you. You can ask Germany, Belgium and France about these kinds of people. You see what happens." The man was apparently referring to terror attacks carried out by Muslim extremists in those countries.
Full report at:
https://www.washingtonpost.com/national/religion/group-blames-trump-for-jump-in-attacks-on-us-muslims/2018/04/23/779183c8-471f-11e8-8082-105a446d19b8_story.html?utm_term=.71d31ba8e5df
--------
Toronto van tragedy bonds city in blood. But no one will say the word 'terrorism'
By ROSIE DIMANNO
April 23, 2018
A sneaker. A purse. A tiny backpack. A cellphone.
Personal possessions scattered along the path of a rampaging, careering white van, the maniacal and homicidal man at the wheel purposefully mowing down pedestrians.
Heartbreaking artifacts now of a weaponized vehicle attack.
And the bodies. My God, the bodies.
Two near a pharmacy south of Finch, one at Yonge and Empress, one close to Parkview.
A trail of blood and wreckage stretching from Finch to Sheppard on a sunny spring afternoon in Toronto.
A day when apparent random terrorism struck in this city.
Any fanciful notion that we are far away from the dogs of war unleashed, from the seething corners of the world where hatred fulminates, buffered from European capitals, from American metropolises where mayhem has been inflicted down through these recent years — that comforting thought died on Monday.
Along with the 10, at least, killed in a mass murder, and the 15, at least, injured, ambulances racing to hospitals and sirens blaring.
An abomination of a day.
How naive we have been, whistling by the graveyard as carnage was wrought in Manchester, in Nice, in Paris, in Orlando, in London, in Madrid, in Toulouse, in Barcelona, in Istanbul, in Berlin, in Stockholm, in Boston. On and on in this new normal. When it's not guns and makeshift bombs, it's knives and axes and the thousands of pounds of lurching vehicle steel. Into a promenade crowd, into a Christmas market, into a pop concert, into the subway.
When it's not a clash of civilization ideology or the desecration of a religion, it's the madness of a nihilist shooter bristling with assault weapons — Las Vegas, Parkland, Sandy Hook, nursing a grudge.
Maddened or mesmerized or mentally ill. And how can you even sift the difference anymore?
On Monday, the horror rose on its hind legs in Toronto, up onto the sidewalk along the city's main artery, the pulsing core of North York.
The bedlam began around 1:10 p.m., the van racing helter-skelter, banging into bus shelters and fire hydrants, mailboxes and benches, but mostly, according to stunned witnesses, mounting the curb and dead-aiming at people. Young people, including students. Old people, basking in rare April warmth.
Hours later, in ghastly scenes along the miscreant's route, lifeless bodies still lay on the ground, tarps thrown over them.
How many fearful families, unable to reach loved ones, must have scoured those photographs of victims, straining to recognize a shoe, a hoodie, an outstretched arm. Please don't let it be, don't let it be …
And the countless many who saw it unfold, from the driver of a TTC bus who raised the first alarm, to other motorists who slammed on their brakes to avoid colliding with the erratic van, to scores of pedestrians jumping out of the way, running for their lives.
"I thought someone had a heart attack," one driver who found himself close to the van told CP24. "Oh my God. Oh my … it wasn't a heart attack. This person was intentionally doing this, he was killing everybody. I'm going to be sick … I stopped at Empress, he was just going on …one after the other, all the way down to Yonge and Sheppard, I seen people get hit, one by one … They went down one after another. An old lady, crumpled. I seen a stroller split in half … flying in the air. Ah man, I can't believe this. Oh my God. The most gruesome … a woman's leg … blood all over. Ah man, ah man."
Another bystander: "It was indiscriminate. He was hitting whoever he could hit. He was hitting innocent people."
And yet another driver who said he actually caught a glimpse of the suspect, through the window. "He looked really angry. But he also looked scared."
Rebuking himself, the man admitted to reporters, for not ramming the vehicle when he had the chance. "I regret not doing that. I'm not sure it's legal. But if I could have stopped him, I wish I would have."
Screams, chaos, shattering glass raining. some rushing forward to perform CPR, others frozen where they stood with fear. Because you never know how you'll react and Lord willing you'll never have to find out.
At Sunnybrook Health Sciences Centre, which received 10 casualties, one victim was pronounced DOA; others were rushed into surgery. Those who were at the hospital for their own business were corralled into the trauma, distraught by what they were seeing in front of their eyes — mangled bodies and doctors frantically working on them in emergency.
The lucky ones, said John Flengas, EMS acting supervisor, suffered fractures.
"On the job for nearly 21 years, I've never seen anything like this."
Most haven't. Hardly anyone thinks of it happening in their midst. Which is the only way to be, when the odds are infinitesimally teensy. We put our faith in the vast apparatus of national security and shared intelligence agencies, but the lone attacker keeps slipping through, the very randomness of it near impossible to avert. The bitter and radicalized individual who never appears as even a blip on the radar. The mentally deranged loner. The freak fanatic. The angry young man who hates women.
But of course, as the hours wore on, not a single elected official, not a senior cop, allowed the word "terrorism" to cross their lips. Not Mayor John Tory, not the acting police chief. (Federal Public Safety Minister Ralph Goodale said Monday evening: "This incident that happened here on the street behind us was horrendous but it does not appear to be connected in any way to national security.")
Promptly Tory leapt to the next phase, reminding that Canada is admired for its peaceful multiculturalism. Know what? We don't need reminding, any more than we did collectively mourning the murder of Cpl. Nathan Cirillo at the National War Memorial in Ottawa in 2014 and the horrific mass shooting of Muslims at the Islamic Cultural Centre in Quebec City last year.
Condolences and assurances, of course. But mealy-mouthed non-speak. Even shorn of death-cult association, devoid of jihad affiliation or political messaging, it's terrorism.
"From my point of view, it was a terrorist attack," said the young man who wished he'd crashed the van.
The motive may be unknown, the suspect's ideology unclarified, if such exists, and thus far the suspect may have been just one more male rejected by women — the Twitter chatter — taking out his grievances on innocents.
But we've seen the footage captured on phone video.
A remarkably composed cop, standing mere feet from the suspect where his battered van came to a halt near Sheppard, the man extending his arm, stiff, with something in his hand that could have been a firearm. (It was apparently a cellphone but wielded like a gun.)
"SHOOT ME! SHOOT ME! KILL ME!" he yelled.
All the fingerprints of suicide by cop.
But the officer didn't shoot and the suspect dropped to his knees, flinging his arms in the air.
The cop de-escalated the melodrama, moving in to take the suspect down, cuffing him. On a day of many heroes, that brave cop is at the top of the list, along with the many first responders, paramedics and hospital resources stretched to the limits.
Read more: 'Cop deserves a medal': Toronto officer praised for cool response in tense standoff with van suspect
No identifying him, except that the officer is a veteran with 32 Division. Because this is a country, unlike the U.S., laggard in releasing any information.
"He's shaken up by the whole thing, and shaken up by the magnitude," Mike McCormack, president of the Toronto Police Association, told reporters. "He said, 'you know, I was just doing my job. I wanted to arrest this guy.' "
Police named the suspect as Alek Minassian, 25, taken into custody. Forensic teams are now faced with the monumental task of processing a crime scene that extends for two kilometres, numerous points of impact to meticulously cull for evidence, a frenzied attack to reconstruct, and that battered Ryder van.
For block after block, cops ministered to the shaken and comforted the traumatized, scared-witless kids, senior citizens, merchants who ventured cautiously outside.
Full report at:
https://www.thestar.com/opinion/star-columnists/2018/04/23/toronto-van-tragedy-bonds-city-in-blood-but-no-one-will-say-the-word-terrorism.html
--------
Europe
Macron's plan is the latest attempt at religious integration in France
April 23, 2018
Regarding the April 18 World article "France, fighting terrorism, seeks to 'reform' Islam":
The latest calls by French President Emmanuel Macron and Hakim El Karoui, a leading voice on how Islamic traditions fit within French culture, to create a "French Islam" in the name of improved security indicate the primary goal of religious integration policy. Since the 1980s, the French Interior Ministry has launched numerous initiatives to form an officially recognized religious association for Islam. These initiatives were done in the name of equity and religious expression to allow Islam to participate in the institutional fabric of the French Republic. The prevention of radicalization and terrorism, while noted as a potential benefit, was not the primary aim of such attempts.
Beginning in the early 2000s, French integration policy toward Islam has dramatically shifted to focus on the prevention of radicalization. In 2004, the religious-symbol ban in schools was passed based on evidence that the headscarf indicated potential student radicalization.
The January 2015 Charlie Hebdo attack and the November 2015 Paris attacks crystallized the notion that poorly integrated Muslims represented a security concern. Policy doubled down on integration processes such as the school and the neighborhood to improve perceived integration gaps and further secure critical social institutions. The latest declarations for a new "blueprint" clearly indicate the troubling view that an unintegrated Muslim will eventually pose a security risk.
https://www.washingtonpost.com/opinions/macrons-plan-is-the-latest-attempt-at-religious-integration-in-france/2018/04/23/9e33c2be-44ce-11e8-b2dc-b0a403e4720a_story.html?utm_term=.43b4a4ea8655
--------
French Muslims blast anti-Semitism letter as attack on Islam
23rd April 2018
A French manifesto calling for certain passages of the Koran to be removed on the grounds of rising anti-Semitism sparked anger Monday from Muslims who said their religion was being unfairly "put on trial".
The open letter published Sunday in the Parisien newspaper blamed "Islamist radicalisation" for what it said was "quiet ethnic purging" in the Paris region, with abuse forcing Jewish families to move out.
After a series of high-profile attacks on Jews, Muslim leaders contacted by AFP acknowledged that anti-Semitism was a problem in France.
But they charged that the nearly 300 signatories, who included ex-president Nicolas Sarkozy and former prime minister Manuel Valls, were blaming a whole religion for the actions of an extremist minority.
"The only thing we can agree on is that we must all unite against anti-Semitism," said Ahmet Ogras, head of the French Council of the Muslim Faith umbrella group.
Dalil Boubakeur, rector of the Grand Mosque of Paris, said the manifesto "subjected French Muslims and French Islam to an unbelievable and unfair trial".
"It creates a clear risk of pitching religious communities against one another," he said in a statement.
The manifesto calls for verses of the Koran calling for the "murder and punishment of Jews, Christians and disbelievers" to be removed on the grounds that they are "obsolete".
But Tareq Oubrou, imam of the Grand Mosque of the southern city of the Bordeaux, pointed out that Islam was not the only religion whose ancient holy texts contain anachronistic passages.
"Any number of holy texts are violent, even the Gospel," Oubrou said, adding that the signatories, who also included celebrities like actor Gerard Depardieu, had misinterpreted the Koran.
The writer Pascal Bruckner, among those who signed the letter, told France Inter radio it had not been intended "to stigmatise but to spur on the goodwill of reformist Muslims".
The letter said that since 2006, "11 Jews have been assassinated -- and some tortured -- by radical Islamists because they were Jewish".
The latest attack rocked France last month when two perpetrators stabbed an 85-year-old Jewish woman 11 times before setting her body on fire, in a crime treated as anti-Semitic.
Officially, the number of anti-Semitic crimes fell in France in 2017 for a third year running, according to the interior ministry, down seven percent.
But Jews are the target of about a third of France's recorded hate crimes despite making up only about 0.7 percent of the population.
Full report at:
https://www.expatica.com/fr/news/country-news/France-religion-politics-discrimination-Jews-Muslims_1826189.html
--------
Russia's Lavrov says no decision yet on delivery of S-300 missiles to Syria
Apr 23, 2018
Russian Foreign Minister Sergei Lavrov says his country has not yet decided to supply advanced S-300 missile defense systems to Syria, adding that the issue will be made public if Moscow makes such a decision.
Russia's TASS news agency cited Lavrov as saying on Monday that the question of providing Syria with S-300 air defense systems had not been settled yet and Russian President Vladimir Putin had discussed the issue with Defense Ministry officials to reach a conclusion.
"We'll have to wait to see what specific decisions the Russian leadership and representatives of Syria will take," he said. "There is probably no secret about this and it can all be announced (if a decision is taken)."
The top Russian diplomat stressed that Moscow was determined to help avoid a situation in which Damascus was not prepared enough for "aggressive actions" like the massive airstrike conducted by the US, France and the UK earlier this month.
"We know what Russian President Vladimir Putin said. He has discussed such matters with an official of our Defense Ministry from the standpoint of preventing a situation where Syria might turn out insufficiently prepared for aggressive attacks, like the one that occurred on April 14," Lavrov said.
Earlier in the day, Russia's Kommersant business daily reported that Moscow might start supplying S-300 long-range surface-to-air missile systems to Syria on a free-of-charge basis in the near future and within the framework of military assistance to the Arab country.
Citing unnamed diplomatic and military sources, the paper said the issue of Russia's supplies of the advanced air defense systems "has practically been resolved."
The Kremlin refused to comment on the report.
Lavrov said on Friday that the latest US missile strikes against Syria had removed any moral obligation for Russia not to deliver advanced S-300 missile defense systems to the Arab country.
On April 14, the US, France and the United Kingdom carried out a missile attack on a number of targets in Syria in response to a suspected chemical attack in the town of Douma that reportedly took place on April 7. Syria has rejected any role in the alleged attack.
International experts from the OPCW on Saturday visited the site of the suspected chemical attack and took samples. The OPCW said in a statement that the samples would be sent to the agency's laboratory in Rijswijk, a suburb of The Hague, and then analyzed by designated labs.
The Russian Defense Ministry said a total of 103 cruise missiles were launched by the United States and its allies, 71 of which were intercepted by Syria's air defenses. Russian missile systems deployed to the Arab country were not involved in the interception.
Following the strikes, Russia announced it may consider giving Syria S-300 systems so it can defend itself in the face of such acts of aggression.
Full report at:
http://www.presstv.com/Detail/2018/04/23/559445/Russia-Sergei-Lavrov-S300-defense-system-Syria
--------
Paris attacks suspect gets 20-year jail term over gunfight in Brussels
Apr 23, 2018
The only surviving suspect in the terror attacks that hit the French capital, Paris, in 2015, has been sentenced to 20 years in jail by a Belgian court over a shootout with police in Brussels months later.
The court in Brussels found Salah Abdeslam, 28, guilty of attempted terrorist murder of police during the March 2016 shootout in the Belgian capital.
Neither Abdeslam nor co-accused Sofien Ayari, 24, who was also given a 20-year jail term, were present at the courtroom, according to Belgian news agency Belga.
Despite the absence of both accused, security was tight around the Brussels court, with heavily armed police on guard.
Abdeslam is a French citizen born to Moroccan parents in Brussels.
The attacks on November 13, 2015, saw Daesh-linked gunmen and bombers attack a variety of locations in Paris, including a concert hall, a stadium, restaurants, and bars, killing a total of 130 people.
Following the attacks, Abdeslam, whom French prosecutors believe played the main role in the Paris attacks, became Europe's most wanted man.
Prosecutors accused Abdeslam of helping organize the attacks and ferry Takfiri militants, who had earlier fought in Syria, around Europe. They say he, too, would have died if his explosive vest had not failed to detonate.
After four months at large, he was eventually found hiding in a flat in his home district of Molenbeek in Brussels alongside Ayari.
Before being arrested, they got into a gun battle with Belgian police who raided the flat.
Four days after his arrest, bombers attacked Brussels Airport and the city's metro, killing 32 people.
Full report at:
http://www.presstv.com/Detail/2018/04/23/559422/Brussels-Trial-Abdeslam-Ayari
--------
South Asia
20 Taliban and Al-Qaeda militants killed in Nangarhar operations
Apr 24 2018
At least twenty militants belonging to Taliban and Al-Qaeda terrorist network were killed during the operations of the Afghan Intelligence or National Directorate of Security (NDS) operatives and airstrikes in eastern Nangarhar province of Afghanistan.
The provincial government media office in a statement said the NDS Special Forces conducted an operation in Zawi area of Khogyani district on Monday night.
The statement further added that 18 Taliban insurgents including two commanders of the group were killed during the operation and three suspects were arrested.
According to the provincial government, at least two Al-Qaeda network militants were killed in the airstrikes conducted in Shirzad district.
In the meantime, the provincial government said several vehicles, explosives, ammunition, suicide bombing vests, and mortar rounds were confiscated from the Taliban compound in Khogyani district.
The airstrikes against the Al-Qaeda terrorist network were carried out in the vicinity fo Gadi Khel area of Shirzad, the provincial government added.
The anti-government armed militant groups including Taliban militants have not commented regarding the report so far.
https://www.khaama.com/20-taliban-and-al-qaeda-militants-killed-in-nangarhar-operations-04965/
--------
India to help equip Afghan military with improved weapon systems
Apr 24 2018
The government of India is mulling to supply improved weapon systems for counter-terrorism to Afghanistan in a bid to help equip the Afghan armed forces, it has been reported.
The military equipment and weapons will be delivered to Afghanistan as part of the latest decision by the government of India to help the friendly countries, and as part of that the country will likely provide Afghanistan with troop carriers, spares for tanks, and rocket systems that are used in counter-insurgency operations.
Top sources have told India Today that the Defence Ministry has asked the three services to draw-up a list of weapon systems that they can spare.
Sources said New Delhi wants to give Afghanistan the Indian Army's excess stocks.
The Afghan National Army is comfortable handling Russian-origin platforms, which comprise at least 60 per cent of India's arsenal.
Apart from this, India is also looking to procure weapon systems from the erstwhile Soviet Block.
"We will be providing them improved and strengthened weapons systems and platforms needed for effective counter-insurgency operations," top sources told India Today.
Full report at:
https://www.khaama.com/india-to-help-equip-afghan-military-with-improved-weapon-systems-04963/
--------
3 'Ansar al-Islam militants' held in Rajshahi
April 23, 2018
Rapid Action Battalion today claimed to have arrested three members of banned militant outfit Ansar al-Islam in Puthia upazila of Rajshahi.
Rab members arrested Raju Ahmed, 24, of Jamira village this morning, reports our Rajshahi correspondent quoting Major Ashraful Islam of Rab-5.
Based on his statement, they conducted a raid the village and arrested Farhad Hossain, 30, and Jahangir Alam, 36, the Rab official said.
The arrestees confessed to their involvement with the Ansar al-Islam, said Major Ashraful Islam.
Rab members seized three books on jihad and five leaflets from their possession.
https://www.thedailystar.net/country/3-ansar-al-islam-militants-held-rajshahi-1566604
--------
US human rights report slams Bangladesh
April 23, 2018
A Bangladeshi government minister has trashed the latest U.S. State Department report on human rights in the country as baseless, but rights activists and church officials say the report sheds lights on worsening violations.
The Bangladesh 2017 Human Rights Report, published April 20, said the most significant issues included extrajudicial killings, torture, arbitrary or unlawful detentions and forced disappearances by security forces, restrictions on civil liberties including freedom of speech, the media and the activities of non-government organizations (NGOs).
The state has also failed to address a lack of freedom to participate in the political process or to curb corruption, violence and discrimination based on gender, religion, caste, tribe including indigenous persons, and sexual orientation, the report said.
Ain o Salish Kendra, a Dhaka-based rights group, recorded 162 cases of "crossfire" — a common euphemism used for arbitrary police shooting — in 2017. Another rights group, Odhikar, said 118 extrajudicial killings took place that year.
Human trafficking, workers' rights and child labor were among the most serious problems. Security forces enjoyed widespread impunity for abuses and limited measures were taken to investigate and prosecute cases of abuse and killings by security forces.
Information Minister Hasanul Haq termed the report one-sided, unethical, baseless and fictitious.
"We reject the report as it was prepared without taking opinions, especially from the information, law and home ministries," Haq told reporters on April 22. "The government does not support extrajudicial killings and therefore action would be taken against those involved in such killings."
Father Anthony Sen, convener of the Justice and Peace Commission in Dinajpur Diocese, said the government is denying the facts for political interests.
"The government knows everything yet continues to deny as extrajudicial killings are mostly politically motivated. Restrictions on NGOs, freedom of speech, endemic corruption and abuses of human rights, especially those of minorities, are rampant," Father Sen told ucanews.com.
Nur Khan, a prominent rights advocate, said the government was lying about the report's findings.
Full report at:
https://www.ucanews.com/news/us-human-rights-report-slams-bangladesh/82121
--------
Taliban attacks kill 14 troops, policemen: Afghan officials
April 23, 2018
Taliban attacks in western Afghanistan killed 14 soldiers and policemen on Monday as Kabul residents prepared to bury their loved ones slain in a horrific bombing by the Islamic State group that targeted a voter registration centre the day before, killing 57.
The near-simultaneous attacks in western Badghis province, where a large number of insurgents attacked army units in the district of Ab Kamari, killing nine soldiers, said Ghulam Sarwar Haidari, the deputy provincial police chief.
At the same time, another group of insurgents struck police in Qadis district, killing five policemen. Sharafuddin Majidi, the spokesman for the provincial governor, confirmed the casualty tolls.
Taliban spokesman Zabihullah Mujahid claimed the attacks in Badghis in a statement to the media.
The attacks came on the heels of Sunday's suicide bombing in Kabul. The staggering casualty toll 57 dead and 119 wounded underscored the struggles the government faces to rein in militant assaults even in large and well-protected urban centres.
The Kabul explosion echoed across the city around 10 am, shattering windows miles from the attack site, leaving the pavement covered with bodies and blood stains and destroying nearby vehicles.
The bomber targeted civilians who were registering for national identification cards, Kabul police said. The Islamic State group claimed responsibility for the attack in a statement carried by its Aamaq news agency, saying it had targeted Shiite "apostates".
Afghan security forces have struggled to prevent a recent surge in attacks both by the local Islamic State affiliate as well as the more firmly established Taliban. The attacks increased after the United States and NATO concluded their combat mission in Afghanistan at the end of 2014.
Both groups regularly carry out attacks, with the Taliban usually targeting the government and security forces and IS targeting the country's Shiite minority.
In violence elsewhere in Afghanistan on Monday, four policemen were killed and three were wounded in a Taliban attack in western Farah province, in Bala Buluk district, according to Mohammad Naser Mehri, spokesman for the provincial governor.
Three Taliban fighters were killed and two others were wounded in the gunbattle there that lasted two hours, Mehri said.
In eastern Nangarhar province's Chaparhar district, militants killed three university students on Monday, said Attaullah Khogyani, the governor's spokesman. The three were brothers, he added.
No one immediately claimed responsibility for the killing, but Khogyani blamed the Islamic State group, which has been active in Chaparhar and repeatedly claimed attacks in the district.
Full report at:
https://nation.com.pk/23-Apr-2018/taliban-attacks-kill-14-troops-policemen-afghan-officials
--------
Dhaka says no 'security threat,' in response to new US travel advisory
23 April 2018
DHAKA: Officials in Bangladesh have denied that there are any new security threats to US citizens in Bangladesh.
The US State Department on Friday issued a new travel advisory for Bangladesh, urging US citizens to reconsider travel to Dhaka due to crime and terrorism. The advisory put Bangladesh at Level 2, which means "exercise increased caution."
Hayatul Islam Khan, deputy commissioner, Diplomatic Security Division of Bangladesh Police, told Arab News that they were not aware so far of any threats. "We don't have any information of a security threat to US citizens."
The latest US travel advisory says, "There is a possibility of terrorist attacks in urban areas despite the heavy police presence."
In the advisory, the State Department urged its citizens to "exercise increased caution" while visiting Bangladesh.
Maj. Gen. (Retd.) Abdur Rasid, a well-known security analyst, said that whenever one country puts out this type of security alert, other countries soon follow. Bangladesh experienced such an alert two years ago during the Holy Artisan Bakery attack in the Gulshan area in Dhaka.
"In recent times, our law enforcement agencies have carried out many successful operations against extremist groups. Sometimes we receive intelligence information from neighboring countries such as India, but not from Western countries who give public security alerts before sharing it with the host countries," added Rashid.
Full report at:
http://www.arabnews.com/node/1289946/world
--------
MoI refutes dismissal reports of ministry's top security General
Apr 24 2018
The Ministry of Interior (MoI) rejected the reports regarding the dismissal of the ministry's top security General by President Mohammad Ashraf Ghani.
According to a statement by MoI, steps regarding the appointments and changes in top ranks of the ministry are taken in line with the recommendations of the ministry and approval of President Mohammad Ashraf Ghani.
However, the ministry said no decree has been issued regarding the dismissal or transfer of the ministry's senior deputy minister for security General Murad Ali Murad.
The statement by MoI further added that the reports regarding the dismissal of Gen. Murad are not correct.
This comes as reports emerged earlier suggesting that Gen. Murad has been dismissed amid deteriorating security situation across the country including capital Kabul.
According to reports, the head of the security guards of the presidential palace Akhtar Ibrahimi has appointed as the successor of Gen. Murad.
However, deputy presidential spokesperson Shah Hussain Muratazai said reports regarding the dismissal of Gen. Murad are not true.
Full report at:
https://www.khaama.com/moi-refutes-dismissal-reports-of-ministrys-top-security-general-04964/
--------
Africa
Troops Discover Boko Haram Training Camp, Kill One Insurgent
April 23, 2018
The Nigerian Army has discovered a Boko Haram training camp in Afa general area of Benisheikh in Borno State.
The training camp according to a statement signed by Deputy Director Public Relations of Theatre Command Operation Lafiya Dole, Colonel Onyema Nwachukwu, is a base where instructional training was provided for the insurgents.
"Troops of Operation Lafiya Dole deployed at a Forward Operational Base in Benisheikh have uncovered a Boko Haram training camp where instructional training was provided to its foot soldiers.
"Troops uncovered the Camp located in a hideout in Afa general area on Sunday morning at about 9.30 a.m., following a tip-off that insurgents were being trained in the hideout.
"Armed with the information, troops immediately mobilised to the area where they conducted a cordon and search operation," the statement read in part.
After the discovery of the training base, the troops engaged the Boko Haram insurgents in a crossfire with one of them killed. The insurgents later withdrew from the camp.
"In the shootout that ensued, troops killed one of the insurgents and recovered one Dane gun. Troops also rescued one Mallam Abba, who was held hostage in the camp by the insurgents."
The entire training camp has since been destroyed by the troops.
https://www.channelstv.com/2018/04/23/troops-discover-boko-haram-training-camp-kill-one-insurgent/
--------
US sets up $110 million drone base to fight terrorism in Nigeria
23.04.2018
The United States Air Force is building a multi-million dollar base for armed drones in Niger.
This base will serve as a new front in America's battle against the growing extremist threat in Africa's vast Sahel region, including the Boko Haram insurgency, the Associated Press reports.
The Niger Air Base 201 is expected to be functional early next year.
The base which lies a few miles outside Agadez, Niger, was built at the request of the Nigerien government.
AP writes that the sophisticated base will eventually house fighter jets and MQ-9 drones transferred from the capital Niamey.
West and North African countries
The drones, with surveillance and added striking capabilities, will have a range enabling them to reach a number of West and North African countries.
Only a few knew of the drone base until October 2017, when an ambush by Islamic State group-linked extremists killed four U.S. soldiers and five Nigeriens.
US Air Force officials say the $110 million project is the largest troop labor construction project in U.S. history.
It will cost $15 million annually to operate.
According to AP, the drones at the base are expected to target several different al-Qaida and Islamic State group-affiliated fighters in countries throughout the Sahel, a sprawling region just south of the Sahara, including the area around Lake Chad, where Nigeria's Boko Haram insurgency has spread.
Civilians being mistaken for fighters?
There are fears that as the U.S. puts drones at the forefront of the fight against extremists in Africa, civilians will be mistaken for fighters.
"We are afraid of falling back into the same situation as in Afghanistan, with many mistakes made by American soldiers who did not always know the difference between a wedding ceremony and a training of terrorist groups," Amadou Roufai, a Nigerien administration official told AP.
U.S. Africa Command spokeswoman Samantha Reho says Intelligence, surveillance and reconnaissance which the drone base will provide, are crucial in the fight against extremism.
"The location in Agadez will improve U.S. Africa Command's capability to facilitate intelligence-sharing that better supports Niger and other partner nations, such as Nigeria, Chad, Mali and other neighbors in the region and will improve our capability to respond to regional security issues," Reho said.
The intelligence gathered by the drones can be used by Niger and other U.S. partners for prosecuting extremists, said Commander Brad Harbaugh, who is in charge of the new base.
Extremist haven
Extremist threats in Africa include al-Qaida-linked fighters in Mali and Burkina Faso, Islamic State group-affiliated fighters in Niger, Mali and Boko Haram insurgency in Nigeria.
These extremist groups often take advantage of the vast region's widespread poverty and countries' often poorly equipped security forces, to wreak havoc and kill hundreds.
Nigeria has been battling the Boko Haram insurgency since 2009. The terrorist sect seeks to carve out an Islamic State in the predominantly Muslim north of the country.
Full report at:
http://www.pulse.ng/news/local/us-sets-up-110-million-drone-base-to-fight-boko-haram-id8291926.html
--------
Rival groups from Somalia's army fight at former UAE training facility
Apr 23, 2018
Rival forces from Somalia's army shot at each other in the capital Mogadishu on Monday, with one group trying to storm a training center the United Arab Emirates left behind after it ended a training program there, soldiers and residents said.
The clash was an indication of the difficulty in rebuilding unified security forces for a state where centralized authority collapsed in 1991 and an internationally backed government, elected last year, faces huge challenges.
It was also another sign of the fallout from a crisis in the Persian Gulf region that has spilled into the volatile Horn of Africa.
The UAE has trained hundreds of troops since 2014 as part of an effort boosted by an African Union military mission to defeat an extremist insurgency and secure the country for the government backed by Western countries, Turkey and the United Nations.
The Persian Gulf nation ended its program in Somalia this month in response after Somali security forces seized millions of dollars and temporarily held a UAE plane.
"Some Somali military forces attacked us at the base, they wanted to loot it but we repulsed them," Ahmed Nur a soldier who was trained under the discontinued program, told Reuters.
After 90 minutes of sporadic gunfire, the training facility was secured by presidential palace guards, a Reuters journalist at the scene said.
Some of the UAE-trained Somali soldiers fled, said Abdirahman Abdullahi, a second soldier who was also trained under the program: "Most of my colleagues jumped over the wall and ran away with their guns. Others left the guns and ran away and so I had to (flee) also."
Residents in the area said they saw UAE trained forces discarding their military uniforms and fleeing the facility in three-wheeled rickshaws with their guns in their laps.
Full report at:
http://www.presstv.com/Detail/2018/04/23/559447/Somalia-UAE-army-training-program-soldiers-residents
--------
Christian Group Urges Nigeria's Muslim President to Ignore Theresa May's LGBT Push
Apr 23, 2018
The Christian Association of Nigeria has urged Nigerian President Muhammadu Buhari, a Muslim, to ignore calls from British Prime Minister Theresa May to embrace LGBT rights and laws that decriminalize same-sex activity.
Same-sex marriage and same-sex relationships are illegal in Nigeria, which is roughly split in half between its Christian and Muslim populations.
Last week, May, a Christian and a vicar's daughter who has embraced gay marriage in the U.K., said that she has "deep regrets" over the criminalization of gay relations in former British colonies, which includes Nigeria.
"As the United Kingdom's Prime Minister I deeply regret both the fact that such laws were introduced and the legacy of discrimination, violence and death that persists today," May said while speaking at the Commonwealth Heads of Government Meeting.
"As a family of nations we must respect one another's cultures and traditions but we must do so in a manner consistent with our common value of equality — a value that is clearly stated in the Commonwealth Charter," she added, as reported by Sky News.
"Nobody should face discrimination or persecution because of who they are or who they love and the UK stands ready to help any Commonwealth member wanting to reform outdated legislation that makes such discrimination possible."
Her comments were in response to LGBT groups asking the U.K. to apologize for anti-gay legislation that still remains in place in several Commonwealth countries.
Pastor Adebayo Oladeji, special assistant on Media and Communications to CAN President Dr. Olasupo Ayokunle, said in comments published in Vanguard and other sources that Nigeria should never consider legalizing gay marriage.
"If we may remind the British authorities, the same-sex marriage contradicts the position of the Scripture and any human law that contradicts the Bible cannot stand," the statement reads.
"The plan of God for marriage is very clear. Men and women are designed to complement each other so they may be capable of satisfying each other's emotional and sexual needs and of providing children.
"The fact that British authorities or all countries of the world practice or allow it does not make it right. Whatever that is ungodly is unacceptable to CAN and to Nigerians."
Oladeji insisted that gay marriage "is Sodomy and it was one of the major reasons God overthrew Sodom and Gomorrah in the Bible. No human right should set aside the commandment of God. Man cannot be God to himself/herself."
He proclaimed that he is confident that the Nigerian government will "never contemplate" introducing gay marriage, stressing that CAN stands by "the moral situations according to the Holy Book."
Back in May 2017, May clarified that while she personally supports gay marriage, she believes churches should not be forced to perform such marriages if they do not want to.
"We were very clear when we introduced the equal marriage legislation that it was not about forcing the Church of England to conduct marriage ceremonies, but removing a legal injustice," the British PM said at the time, referring to the U.K. government's decision to legalize gay marriage in 2014.
Full report at:
https://www.christianpost.com/news/christian-group-urges-nigerias-muslim-president-to-ignore-theresa-mays-lgbt-push-223263/
--------
Fears of more IEDs after al Shabaab steal fertiliser from Somalia farmers
Apr. 23, 2018
Suspected members of the Al Shabaab terror group on Saturday stole fertilisers from local farmers in Gedo region, Somalia.
The farmers started preparing their farms for planting three weeks ago soon after the rainy season kicked in.
They mainly engage in the cultivation of bananas, watermelons, onions, and tomatoes.
They had received fertiliser supplies from humanitarian aid agencies working in Somalia.
However, a group of militants raided a village in Lower Shebelle and demanded for the consignment.
The supplies had been delivered to the farmers the previous week by the aid agencies.
Kamal Abdi, a tomato farmer, reported that four armed militants raided his home on Saturday morning while he was away at the farm.
He said the militants took away all his fertiliser and repeatedly raped his teenage daughter who had been left alone at home.
Security agents suspect that the militants are using the fertiliser as a component in making Improvised Explosive Devices (IEDS).
The terror group is synonymous with using IEDs against enemy forces allied to AMISOM and troops from the Somali National Army.
Full report at:
https://www.the-star.co.ke/news/2018/04/23/fears-of-more-ieds-after-al-shabaab-steal-fertiliser-from-somalia_c1748275
--------
Somalia: Jubbaland Forces Clash With Al Shabaab Near Kismayo City
23 APRIL 2018
The troops of Somalia's southern Federal member state of Jubbaland were reported to have clashed with the Al-Qaeda-linked militants near the port city of Kismayo on Monday.
The combat flared up after Al Shabaab fighters began military movements around areas near Bula-Gadud town which are largely controlled by the regional forces.
Al Shabaab said in a statement published on its affiliated websites that it attacked Jubbaland soldiers manning checkpoint set up on the outskirts of the town.
There were independent sources confirming the attack and number of the casualties on both sides. Jubbaland is yet to comment on the latest raid on its army in the region.
http://allafrica.com/stories/201804230614.html
--------
NE Nigeria Boko Haram attacks leave 21 dead
24 April 2018
KANO, Nigeria - Suspected Boko Haram militants killed 21 people in separate attacks in a remote northeastern region of Nigeria, security officials and a witness told AFP on Monday.
The jihadists shot dead 18 forest workers who had been collecting firewood in Borno state, close to the town of Gamboru, on the border with Cameroon on Sunday, according to a member of a local anti-militant militia in the area.
"The bodies were scattered over several hundred metres, and they were mostly shot in the head or the back," another militiaman told AFP.
Also on Sunday, a vehicle carrying civilians travelling in a nearby army convoy hit a mine planted by the insurgents, killing three people near the village of Wumbi, a militia member said.
"Three people including the driver were killed and 11 passengers were wounded," he said.
A local resident confirmed the toll, adding that the victims were buried on Sunday.
The Boko Haram insurgency which broke out in 2009, has killed at least 20,000 people and displaced more than 2.6 million, forcing them into camps and host communities.
In August 2014, the group seized Gamboru, a trading hub along with the neighbouring town of Ngala.
Nigerian troops retook both towns in September 2015 with the help of Chadian forces following a months-long offensive.
Full report at:
https://www.enca.com/africa/21-dead-in-ne-nigeria-boko-haram-attacks
--------
Southeast Asia
Islamic party aims to hold the key in Malaysia's election
APRIL 22, 2018
KOTA BHARU, Malaysia (Reuters) - The outcome of next month's election in Malaysia may hinge on the performance of a party that has strived for decades to turn the country into an Islamic state and enforce harsher penalties on Muslims for adultery, theft and drinking alcohol.
Parti Islam se-Malaysia (PAS) is hopeful that it can win 40 of parliament's 222 seats, enough to place it in the position of kingmaker. With the balance of power, it would be able to make policy demands as its price for supporting either Prime Minister Najib Razak, or the opposition alliance trying to oust him.
Even if PAS falls short of its ambitions, it is still likely to play a decisive role by dividing the opposition vote, handing a massive advantage to Najib's Barisan Nasional (BN) coalition.
If PAS does hold sway over the next government, some political analysts say it could stoke divisions in multi-ethnic, Muslim-majority Malaysia. The government could come under pressure to further entrench affirmative-action policies that favor ethnic Malays in business, education and housing, and to strengthen Islamic courts, they say.
Muslims, the majority of whom are ethnic Malays, make up about 60 percent of Malaysia's population of 32 million. Ethnic Chinese and Indians, who are Buddhist, Christian or Hindu, account for most of the rest.
PAS President Abdul Hadi Awang says if he holds the balance of power after the election, he will insist the government makes Islam central to its policies.
"We want to introduce Islam as a political, economic and social agenda," Hadi told Reuters at the PAS headquarters in Kuala Lumpur, saying he was confident of winning 40 seats and "possibly even more".
However, few outside PAS believe the party will emerge from the May 9 election with the clout it is counting on, even if the Islamic conservatism it espouses has become more widely followed in Malaysia since the 2013 election, when it won 21 seats.
One reason for the bleak outlook is a split in PAS in 2015 that led to the creation of a breakaway group, Amanah, a more progressive Islamic grouping that is likely to siphon votes away from the parent party.
There are few reliable opinion polls in Malaysia but two political consultancies told Reuters they see PAS winning no more than 10 seats.
MISSED OPPORTUNITY
Most analysts tip Najib to win despite a corruption scandal that has dogged him since 2015, resentment over higher living costs and a challenge from former leader Mahathir Mohamad, a 92-year-old who commands respect among many Malaysians and heads the main opposition alliance.
PAS quit that alliance three years ago. One of its lawmakers conceded that by creating three-way contests for seats, the opposition had squandered a chance to exploit the government's troubles.
"The opportunity to change Malaysia has been missed and we, the opposition, are the culprits," said Nik Mazian Nik Mohamad, a lawmaker in the north-eastern state of Kelantan, where PAS has ruled for the past 28 years.
Since it was founded in 1951, PAS has swung between moderation and fundamentalism, taking its cue in the 1980s from the Iranian revolution to press for the establishment of an Islamic state. Today, it portrays itself as a party committed to fighting poverty and corruption.
But, under Hadi, it has also pushed for the power of sharia courts to be expanded and for parts of a strict penal code to be incorporated into the existing Islamic legal system in Kelantan.
Islamic law is implemented in all Malaysian states but is restricted to family issues like divorce and inheritance, as well as sharia crimes involving Muslims, such as consuming alcohol and adultery. Criminal cases are handled by federal law.
Hadi has proposed amending federal regulations to broaden the powers of the sharia court in Kelantan, giving it the authority to order punishments of up to 100 lashes of a cane.
Some PAS members say sharia law provides for more severe penalties, but there is no sign the party is pushing for that.
A practicing surgeon who met Reuters at a scruffy food court in Kelantan's capital, Kota Bharu, Nik Mazian said that amputation of a hand is the appropriate penalty for theft.
"It sounds barbaric, but that's the way to stop stealing," he said, grinning broadly.
"ONLY MUSLIM PARTY"
PAS has put its stamp on Kota Bharu over decades of rule. A down-at-heel town with Islamic-style architecture and signs in Jawi, an Arabic script used for the Malay language, nightclubs and cinemas are banned here, and there are separate public benches for men and women.
But it faces a battle with Najib for its bastion in state assembly elections that will also be held on May 9.
Najib was chief guest at a recent groundbreaking ceremony for a rail line that will link agriculture-dependent Kelantan to the more prosperous west coast, part of his push to woo Malay votes away from PAS.
Ibrahim Suffian, director of independent polling firm Merdeka Center, said it is "highly likely" that PAS will lose control of the Kelantan assembly to Najib's party, the United Malays National Organisation (UMNO).
Wan Abdul Rahim Wan Abdullah, a local leader of the breakaway Amanah party, says PAS has done little to lift Kelantan out of poverty and will pay the price on election day.
"I'm sorry to say that they know how to read the Koran ... but they don't have any expertise in governing," he said.
But Mustapa Mohamad, the country's trade minister and a close ally of Najib who is leading UMNO's assault on PAS in its stronghold, said it would be a mistake to underestimate the support the Islamic party enjoys in Kelantan.
"I do not want to dismiss them or discount them," he said in an interview in Kota Bharu, which is already festooned for the election with PAS flags, a white full moon on a green field.
"I've never taken them lightly because in the villages ... PAS is a religion. For them, PAS is the only Muslim party."
https://www.reuters.com/article/us-malaysia-election-islamic/islamic-party-aims-to-hold-the-key-in-malaysias-election-idUSKBN1HT00R
--------
Killing of engineer a possible blow to Malaysian terror hotbed
04.23.18
While Turkey has in recent years become the seat of Hamas' central headquarters, Malaysia has for years served as the training center for operatives of the military wing of the terrorist organization that controls the Gaza Strip.
Should Saturday's killing of Palestinian engineer and member of Hamas Fadi Albatsh be revealed as a plan orchestrated and executed by the Mossad, as Hamas claims, it could very well be an attempt to strike at the safe haven enjoyed by Hamas operatives in the Asian country, or to hinder their initial training stage.
In recent years, the Shin Bet has uncovered a large number of cases in which Hamas terrorists have been trained in Malaysia and received regular military training with the tacit agreement between Hamas and the Muslim state.
In January 2013, a few months after Operation Pillar of Defense, Prime Minister Najib Razak of Malaysia visited the Gaza Strip. He expressed regret over the assassination of Hamas chief of staff Ahmed Jabari at the beginning of the operation and laid a cornerstone for the rebuilding of a Hamas government building that was destroyed in an Israeli attack.
A year later, the Shin Bet arrested Wassim Kawasma, who was recruited with several other Palestinians during their academic studies in Malaysia. The IDF arrested another member of the Hamas military wing in Khan Yunis, who admitted that he had been sent by Hamas to Malaysia along with ten other militants to train in paragliding for an attack in Israel.
The training in Malaysia was conducted under strict secrecy and was revealed by Israel only after the arrest of one of the militants who took part in it and was captured during Operation Protective Edge.
The Malaysian government has officially and consistently denied Israeli allegations that it is providing a sanctuary for Hamas terrorist operatives to practice in its territory, and has repeatedly claimed that the Malaysian aid to Hamas is strictly for political, morale and humanitarian reasons.
According to Israel, the interrogation of Kawasma and subsequent investigation revealed that under the cover charitable committees at the International Islamic University in Malaysia, Palestinian students are secretly recruited to the Hamas military wing, sent to Turkey for military training, which is paid for by the Gaza-based terror group, and from there continue to the West Bank to establish terrorist cells.
The Shin Bet estimates that dozens of students have been recruited in this way in Malaysia in recent years to Hamas' military wing.
Kawasma was arrested by the Shin Bet on his return from Malaysia via the Allenby crossing in February 2015, and was later accused of receiving terror funds from another Hamas operative. The indictment against him revealed that he had also passed a week-long military course in Turkey on Hamas's tab.
According to the findings of his interrogation, his handler in Malaysia instructed him how to behave in the event that he is interrogated after returning to Israel via Jordan.
Kawasma's indictment also named two operatives that have been in the crosshairs of Israeli intelligence for years for allegedly being behind the recruitment of many young Palestinians studying in Malaysia—Dr. Ma'an Khatib and Dr. Radwan al-Atrash.
Both, according to the Shin Bet security service, swore in Kawasma when he joined Hamas.
Another affair involved Hamas' attempt to topple the Palestinian Authority in the West Bank by means of a violent coup in mid-2014, in the months preceeding Operation Protective Edge.
According to the Shin Bet, 93 militants arrested in the affair—half of them by Israel—planned terror attacks against Israel in order to undermine stability in the West Bank in the hope that it would precipitate the fall of Mahmoud Abbas' rule.
Among the main militants arrested were Palestinians who studied chemistry and engineering in Malaysia, which was supposed to help them create precision and other lethal weapons, such as explosive charges and rockets.
Full report at:
https://www.ynetnews.com/articles/0,7340,L-5238410,00.html
--------
Malaysia releases images of suspects in Palestinian killing
23 April 2018
Malaysian police on Monday released composite images of two suspects who gunned down a Palestinian engineer and said they appeared to be European or Middle Eastern, fueling suspicion that the slaying was an Israeli assassination.
Gaza's ruling Hamas militant group has accused Israel of being behind Saturday's killing of Fadi al-Batsh, an important member of Hamas. Israel has neither confirmed nor denied its involvement.
Malaysian national police chief Mohamad Fuzi Harun said the composite images were based on eyewitness descriptions. He said the suspects, clad in black jackets, were fair-skinned, well-built and had beards, and were likely European or Middle Eastern.
Fuzi said the images were displayed at all exit points in the country but said it was unclear if the men had fled Malaysia.
Police said the 34-year-old al-Batsh was hit with 14 bullets by the two assailants who shot from a motorbike as he was heading to a mosque for dawn prayers in a suburb near Kuala Lumpur. Police said closed-circuit television footage showed the suspects had waited for him for almost 20 minutes.
Police have said al-Batsh had lived in Malaysia for more than seven years and was a permanent resident of the country. He had a degree in electrical engineering and lectured at a local university, but police couldn't confirm reports that al-Batsh was an expert in rocket making.
Full report at:
https://english.alarabiya.net/en/News/middle-east/2018/04/23/Malaysia-releases-images-of-suspects-in-Palestinian-killing.html
--------
Indonesia investigates reports top Daesh commander killed
April 24, 2018
JAKARTA/MANILA: Indonesia is investigating reports from Daesh supporters that the most senior Southeast Asian commander of the militant group was killed by US air strikes in eastern Syria last week, counter-terrorism officials said.
Online messages from Daesh propagandists viewed by Reuters say Bahrumsyah, an Indonesian national, died after US air strikes hit Hajjin, north of the Syrian city of Abu Kamal, last Tuesday.
A spokesman for Indonesia's foreign ministry, Arrmanatha Nasir, said the embassy in Syria had made enquiries but had yet to confirm Bahrumsyah's death.
Two senior Indonesian counter-terrorism officials, speaking on condition of anonymity, said they were taking the online reports seriously.
"We are in the process of investigating," said one senior official with Indonesia's counter-terrorism agency.
If the reports were true, it would become a "motivation to carry out reprisal attacks" in Indonesia, the senior official said.
A Pentagon spokesman, Eric Pahon, said US aircraft were bombing the "general area" in eastern Syria on the day Bahrumsyah is believed to have died but was unable to confirm his death.
As well as leading Katibah Nusantara, an armed unit comprising more than 100 Southeast Asians, Bahrumsyah also organized funding for the Islamist rebels who captured part of the southern Philippines city of Marawi in a bloody siege last year, analysts and officials say.
A message purportedly from the Daesh figure Abu Nuh reviewed by Reuters said Bahrumsyah had been attending a meeting of leaders when he was killed. An Daesh headquarters and a vehicle-borne improvised explosive device factory were destroyed in the attack, the message said.
Another post eulogized the Indonesian, receiving sympathetic comments and crying emojis.
There were reports last year of Bahrumsyah's death, but analyst Sidney Jones from the Jakarta-based Institute for Policy Analysis of Conflict said the latest had a "much higher degree of credibility".
"As far as we know, he was the highest ranking Indonesian to fight with ISIS. The fact that he commanded a fighting unit that was recognized by ISIS underscores his importance," said Jones, using an alternative acronym for Daesh.
His death, if confirmed, would be a blow to pro-Daesh forces in Southeast Asia, where fears of hardened fighters returning from Syria as the militants' self-declared caliphate crumbles has authorities on alert.
More than 600 Indonesians, including at least 166 women and children, traveled to Syria to join Daesh, according to data from Indonesia's counter-terrorism agency reviewed by Reuters.
Full report at:
http://www.arabnews.com/node/1290321/world
--------
URL: https://www.newageislam.com/islamic-world-news/dar-al-ifta-egypt-establishes/d/115033
New Age Islam, Islam Online, Islamic Website, African Muslim News, Arab World News, South Asia News, Indian Muslim News, World Muslim News, Women in Islam, Islamic Feminism, Arab Women, Women In Arab, Islamophobia in America, Muslim Women in West, Islam Women and Feminism