New Age Islam News Bureau
22 Aug 2015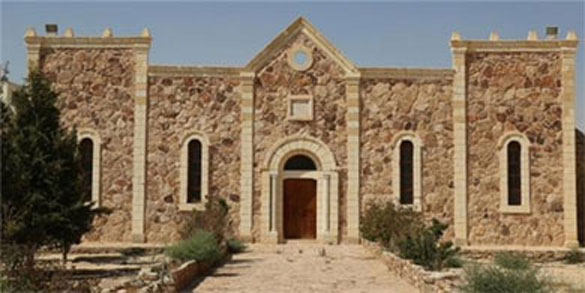 St. Elian Church before its destruction
----------
Arab World
• Daesh Terrorists Execute Over A Dozen Children in Northern Iraq
• U.S.: ISIS Chief Baghdadi's Deputy Killed in Airstrike
• ISIL Terrorists Destroy 1,600-Year-Old Saint Elyan Church in Syrian Homs
• Syrian Army Repels ISIL Attack on Aleppo Airbase, Kills over 20 Terrorists
• Syrian Forces Retake Jazram Hill in Hama, Kill over 15 Rebel Fighters
• At Least Five Killed in Israeli Airstrikes in Syrian Al-Quneitra
• Egyptian soldiers kill 10 militants in restive Sinai Peninsula
• U.S. finds chemical agents from ISIS arms
• Qatar passes new law to regulate organ donations
• Israeli raid on Syria kills five
• Daesh heritage destruction worst since WWII: UNESCO
• Syrian Army Shoots Down Israeli Fighter Jet over Quneitra
• Syria in Last 24 Hours: Army Destroys Terrorists' Positions in Daraa
-----------
South Asia
• Myanmar Passes Extreme Religion Bills Targeting Marginalized Muslim Population
• 30 Militants Killed In Afghanistan Security Operations
• Bomb Blast Claims Eight Lives in Urozgan
• Gen. Dostum's tank comes under heavy fire by Taliban in Faryab
• PM: No doubt Khaleda, her son involved in Aug 21 attack
• Afghanistan seethes at Taliban meetings 'held in Pakistan'
• Afghan vice-president fights off Taliban ambush
-------------
Mideast
• Iran Unveils New Surface-To-Surface Missile
• 'U.S. Drone' Kills Three Qaeda Suspects In Yemen: Tribal Sources
• Coalition: Saudi Helicopter Crash Kills Two on Yemen Border
• Iran: Partisanship damaging U.S. foreign policy
• Yemeni president proposes 15-day ceasefire
• Iran downplays 'unfounded' US military threat
• 4 injured as Israeli forces attack Palestinian rally in West Bank
• Iranian Commander Blasts IAEA for Double-Standard Policy on N. Activities
• Senior Serbian Official: Belgrade Keen on expanding ties with Iran
• 17,000 people in urgent need of leaving Gaza: Hamas
------------
India
• Rajasthan Sharia Court Fights for Muslim Women's Rights
• J-K: Youths Burn PDP's Flag, Wave IS And Pakistan Flags in Srinagar
• Muslim Leaders Talk about Importance of Voting
• Indo-Pak NSA talks: Sushma Swaraj, Sartaj Aziz to hold press meets
• Recriminations fly before India-Pakistan peace talks
• Taslima Nasreen's India visa extended by one year
------------
Pakistan
• Zarb-E-Azb to Continue Till Terrorists' Elimination: Mamnoon
• IED Blast in Bajaur Kills Two Tribal Elders, Injures Three Others
• KP Police Foil Terror Bid, Arrest Wanted Terrorist in Peshawar
• Islamabad police anti-terrorism cell set-up under NAP
• Four men linked to Attock attack picked up in dramatic midnight raid
• MQM says no more talks, resignations final
• Joint efforts have brought Balochistan out of crisis, say army, govt
• Protest over 'ban' on Altaf speech
• Afghanistan to revitalise ties with Pakistan: EU envoy
• 'SEPA overlooked objections to nuclear power plants'
------------
Southeast Asia
• Marian Shrine Serves As Faith Beacon for Muslims, Catholics
• Zahid: Donor Wanted Malaysia to Remain Sunni
• DAP slams Umno leader's 'stupid Jewish link' claim
• Basuki Steps In to Thwart Church Demolition
------------
Africa
• Two Nigerian Soldiers Killed By Boko Haram Land Mine: Army
• Scores Of Boko Haram Members, Two Soldiers Die in Maiduguri
• Al-Shabaab attacks Somali military training base with car bomb
• Tens of thousands displaced by group in two weeks in Chad
• Senegal jails seven men for 'being gay'
------------
North America
• American Muslims Launch an Organization in Washington DC
------------
Europe
• Cameron's 'Knee-Jerk' Policies Will Fail To Root Out Hate Preachers, Blasts Muslim Leader
• Annual Convocation of Ahmadiyya Muslim Community begins in Hampshire, UK
Compiled by New Age Islam News Bureau
URL: https://www.newageislam.com/islamic-world-news/new-age-islam-news-bureau/daesh-terrorists-execute-over-a-dozen-children-in-northern-iraq/d/104350
----
Arab World
Daesh terrorists execute over a dozen children in northern Iraq
Aug 21, 2015
The Daesh Takfiri terrorist group has executed over a dozen children in Iraq's northern city of Mosul, saying they deserted the battlefield.
Saeed Mamouzini, a senior official from the Iraqi Kurdistan Democratic Party, said on Friday that 15 children, aged 13 to 18, were all killed after fleeing fighting in Baaj district, west of the militant-held Mosul.
The children, who had previously been recruited by Daesh militants, were killed in Sinjar district, north of Mosul, Mamouzini added.
The official noted that the Daesh terrorist group has abducted hundreds of children, mainly from Mosul, over the past few months and has forced them to take part in battles.
The children undergo military training and are given hard-line indoctrination following their recruitment.
Some videos released by the group show recruited children or teenagers executing captured soldiers and civilians.
Rights organizations have in numerous cases warned that the Takfiri group uses the children as spies or guards and encourages parents to send their kids to training camps.
Violence has plagued the northern and western parts of Iraq ever since Daesh launched its deadly terror campaign in June 2014, and took control of portions of Iraqi territory.
The terrorist group has gained notoriety for its barbarity, heinous atrocities, and sacrilegious acts. Its militants have been accused of committing war crimes in areas they control in Syria, Iraq, and Libya.
http://www.presstv.ir/Detail/2015/08/21/425783/Iraq-Daesh-Mosul-Mamouzini-Sinjar-Baaj-children-execution
-------------
U.S.: ISIS chief Baghdadi's deputy killed in airstrike
21 August 2015
Hajji Mutazz, the Islamic State of Iraq and Syria (ISIS)'s second-in-command, was killed in a U.S. military airstrike on August 18, the White House confirmed on Friday.
"Fadhil Ahmad al-Hayali, also known as Hajji Mutazz ... was killed in a U.S. military air strike on August 18 while traveling in a vehicle near Mosul, Iraq, along with an ISIL media operative known as Abu Abdullah," White House spokesman Ned Price said in a statement.
"Al-Hayali's death will adversely impact ISIL's operations given that his influence spanned ISIL's finance, media, operations, and logistics," Price said, referring to the group by an acronym.
The White House said the dead leader was a "primary coordinator" for moving weapons, explosives, vehicles, and people between Iraq and Syria. He was in charge of operations in Iraq and helped plan the group's offensive in Mosul in June of last year.
The United States and its allies stage daily air strikes on ISIS targets in the group's self-declared caliphate in Iraq and Syria. A drone strike last month killed a senior Islamic State leader in its Syrian stronghold of Raqqa.
Hayali - also known as Abu Muslim al-Turkmani - was reportedly a former Iraqi officer under Saddam Hussein and had served time in a U.S.-run prison before becoming "the right hand man" of ISIS chief Abu Bakr al-Baghdadi.
One counter-terrorism specialist cautioned that the impact of the killing on ISIS could be short-lived.
"My experience in looking at the Islamic State suggests they have demonstrated  an ability to move people up into positions" when high-ranking operatives are killed, said Seth Jones, a former Pentagon official now at the RAND Corporation.
Jones said how much territory ISIS controls was more important in determining the group's power. "The key issue is territorial control," he said.
http://english.alarabiya.net/en/News/middle-east/2015/08/21/U-S-confirms-death-of-ISIS-second-in-command.html
-------------
ISIL Terrorists Destroy 1,600-Year-Old Saint Elyan Church in Syrian Homs
Aug 22, 2015
The sources said that a number of bulldozers were pictured by the terrorist group destroying the St. Elyan Monastery's historical walls, along with the collection of Christian exhibits.
St. Elian Church before its destruction
In early August of 2015, the ISIL captured the ancient city of Al-Qurayteen from the civilian-led "National Defense Forces" (NDF) after a series of intense firefights that led to the eventual withdrawal of the latter's fighters from this area.
Upon seizing Al-Qurayteen, the terrorist group rounded up the remaining civilians living inside the ancient city; this prompted the ISIL militants to single-out specific individuals in order for them to take these residents captive.
The terrorist group kidnapped 230 people from the city of Al-Qurayteen in early August – their whereabouts and health are unknown, despite numerous attempts by human rights organizations to negotiate their release from ISIzl' captivity.
http://english.farsnews.com/newstext.aspx?nn=13940531000538
-------------
Syrian Army Repels ISIL Attack on Aleppo Airbase, Kills over 20 Terrorists
Aug 22, 2015
The sources said that the terrorist group's assault began on Friday morning, when an ISIL suicide bomber attempted to detonate his vehicle borne improvised explosive device (VBIED) – via his BMP – into the Kuweires airbase's Southern guard post.
However, as the ISIL suicide bomber approached the Kuweires airbase, the Syrian soldiers opened fire and destroyed the BMP and killed the terrorist before he could reach his destination.
According to a military source in the Aleppo governorate, the Syrian Armed Forces defending the Kuweires airbase killed 21 enemy combatants from the ISIL, including Abdullah Zaid Hakim, Yousif Waleed Barakat, Iyad Hussein Al-Jawad, and Mohammad Fouad Khashab.
Finally, after near seven hours of non-stop fighting, the terrorist group withdrew their fighters from the Kuweires Military Airbase.
http://english.farsnews.com/newstext.aspx?nn=13940531000590
-------------
Syrian Forces Retake Jazram Hill in Hama, Kill over 15 Rebel Fighters
Aug 22, 2015
The sources went on to say that the Syrian Armed Forces , led by the 87th Brigade at the Southern front, restore security to Jazram Hill, killing over 15 members of Ahrar Al-Sham, Al-Nusra Front, and Jund Al-Aqsa before on Friday night.
The Syrian Air Force launched a series of airstrikes in the Al-Ghaab Plains on Friday, targeting Jeish Al-Fateh's positions at the imperative city of Frikka and Jisr Al-Shughour to North.
Sources said on Friday that the Syrian army troops stormed frontlines of Ahrar al-Sham and al-Nusra Front at the Southern axis of Qarqur town, killing 17 enemy combatants and wounding tens more.
As a result of their successful infiltration into Qarqur, the Syrian soldiers restore security to the Southern sector of the town after a series of intense clashes with Ahrar al-Sham, Jund al-Sham, and al-Nusra Front.
Full report at:
http://english.farsnews.com/newstext.aspx?nn=13940531000633
-------------
At Least Five Killed in Israeli Airstrikes in Syrian Al-Quneitra
Aug 22, 2015
The sources said that the Israeli air forces, on Friday night, targeted positions of the Syrian Army and National Defense Forces (NDF) inside the cities of Al-Kawm, Al-Ba'ath, Jibba, Khan Arnabi, and Hader for the second straight night.
Also on Friday, the Israeli air force launched an unmanned predator drone that struck the Syrian army's defensive positions at the Brigade 90 base in the Al-Quneitra Governorate's Eastern countryside, no casualties were reported.
Full report at:
http://english.farsnews.com/newstext.aspx?nn=13940531000491
-----------
Egyptian soldiers kill 10 militants in restive Sinai Peninsula
Aug 22, 2015
Egyptian government forces have carried out a series of operations in the violence-plagued Sinai Peninsula, killing nearly a dozen Takfiri militants there.
A security source, speaking on condition of anonymity, said the forces launched offensives against militants, in in the town of Sheikh Zuweid, located about 334 kilometers (214 miles) northeast of the capital, Cairo, the city of el-Arish, situated 344 kilometers (214 miles) northeast of the capital, and the border town of Rafah, located 340 kilometers (211 miles) east of Cairo, on Friday
The source added that 10 militants were killed and 11 others captured during the operations.
On August 9, an Egyptian police captain and a conscript lost their lives when a roadside bomb explosion ripped through their vehicle in el-Arish. Three others also sustained injuries in the act of terror.
According to police accounts, the explosive device used in the attack was detonated by remote control as the police vehicle passed by.
Earlier this month, a senior commander of Velayat Sinai militants, previously known as Ansar Bait al-Maqdis, was killed during an encounter with Egyptian army troops in the town of Sheikh Zuweid.
Full report at:
http://www.presstv.ir/Detail/2015/08/22/425840/Egypt-North-Sinai-Sheikh-Zuweid-elArish-Rafah-Velayat-Sinai-Militants
-------------
U.S. finds chemical agents from ISIS arms
21 August 2015
Fragments from mortars used by the Islamic State of Iraq and Syria (ISIS) to attack Kurdish forces had traces of chemical arms agents, a field test conducted by the U.S. military showed.
Marine Corps Brigadier General Kevin Killea, chief of staff for operations against ISIS, said the field test was not conclusive proof of chemical weapons use, and the fragments are currently undergoing more definitive testing to confirm the finding.
Full report at:
http://english.alarabiya.net/en/News/middle-east/2015/08/21/U-S-tests-ISIS-fragments-chemical-agent-found.html
-------------
Qatar passes new law to regulate organ donations
22 August 2015
Qatar has passed new legislation that allows organ donation for transplant by people who are not related to the recipients, according to Qatar daily newspaper the Peninsula.
Under the new law, the main condition for organ donation for transplant patients is that the procedure can only take place if the case is urgent and after a doctor has exhausted all other medical treatment options.
An ethics committee will also be created in hospitals across the Gulf Arab state whose sole job is to determine and approve the donation on a case by case situation.
Minors and people determined to be of "unsound mind" will also not be allowed to donate their organs even if their parents or legal representatives have given permission for them to do so.
Punishments are also laid out for illegal organ trades and transfers where any sale or purchase of human organs would count as an offence punishable with a jail term of up to 10 years and fine of up to $270,000 or both.
One other condition set out under the new legislation is that a donor can change his mind at the last moment and withdraw without having to give any reasons.
The country launched its first organ donation center in 2011, and started at the same time a donor register, according to Doha News.
Full report at:
http://english.alarabiya.net/en/News/middle-east/2015/08/22/Qatar-passes-law-on-organ-donations-amid-campaign-for-more-donors.html
-------------
Israeli raid on Syria kills five
22 August 2015
DAMASCUS: A new Israeli raid on Syrian-controlled territory in the Golan Heights killed at least five civilians on Friday, Syrian TV reported.
The Syrian Observatory for Human Rights said the strike killed two pro-regime militiamen traveling in a car.
Full report at:
http://www.arabnews.com/saudi-arabia/news/795011
-------------
Daesh heritage destruction worst since WWII: UNESCO
Aug 22, 2015
The United Nations cultural wing says the Daesh (ISIL) Takfiri terrorist group has launched the worst destruction of world heritage since World War II.
"We haven't seen something similar since the Second World War," the world body's Educational, Scientific, and Cultural Organization (UNESCO)'s chief Irina Bokova said on Friday.
The group laid waste to St. Elian Monastery earlier in the day in central Syria. The site houses an ancient tomb and served as a major pilgrimage site in the past.
The terrorists have overrun huge swathes of territory in Syria and Iraq. They have been engaged in crimes against humanity as well as destruction of mosques, churches, and archeological sites in the areas under their control.
Sending ripples of shock throughout the world earlier in the week, the group decapitated Khaled al-Asaad, an 81-year-old antiquities scholar, who had dedicated his life to overseeing the ruins of the ancient city of Palmyra, also located in central Syria. Daesh forces occupied Palmyra on May 21, promptly raising fears that the terrorists would once more destroy historic world heritage sites and artifacts there, like what they did months ago in the city of Mosul, Iraq.
Full report at:
http://www.presstv.ir/Detail/2015/08/22/425805/UN-Daesh-Syria-Iraq-Palmyra-Irina-Bokova-ISIL
-------------
Syrian Army Shoots Down Israeli Fighter Jet over Quneitra
Aug 22, 2015
The Israeli fighter jet was targeted over the city of Al-Quneitra on Friday.
Israel regularly violates the Syrian airspace and it launches missile attacks against the Arab country.
On Friday, the Israeli Air Force resumed airstrikes on Western Syria, targeting Brigade 68 Base in Khan Al-Sheih in Damascus province and Brigade 90 Base in the al-Quneitra province after a six hour halt in attacks that followed their multiple air raids over the Golan Heights.
The Brigade 68 Base has no heavy weaponry that can reach Israel's borders and the soldiers inside its parameters have been under siege by the al-Qaeda-linked group of al-Nusra Front and their allies from Ajnad al-Sham and Jeish al-Islam.
According to a military source in Damascus, the Israeli aircraft were identified as helicopters that crossed into the Syrian Golan Heights before midnight on Thursday night.
In mid-July, Israel launched missile attacks against an army base in Syria's Southeastern Suweida province.
The Syrian dissidents were quoted by Qassioun news website as claiming that Israel fired several missiles at the base of the Syrian army's division 150 in Suweida in which the SAM-5 anti-aircraft missiles are stocked up and is 20km away from Khalkhala airport.
Qassioun claimed that it was a deterrence measure to prevent the access of armed groups to the long-range missiles with high destructive power.
"These claims are raised as Israel is everyday increasing its assistance and supports for the terrorist groups in Syria and the terrorists have not even once attacked Israel and its interests in the region," political analyst Seyed Mostafa Khoshcheshm said.
Reports in January said that Israeli hospitals continue admitting the terrorists who are wounded in Syria.
The terrorists wounded in fierce clashes with the Syrian army are currently undergoing treatment in the Israeli hospitals, according to the Israeli media outlets.
The admittance of a growing number of Syrian militants in the Israeli medical facilities is a clear indication of the continuing support being offered by the Tel Aviv to the terrorists who are fighting against the government of Syrian President Bashar al-Assad.
Full report at:
http://english.farsnews.com/newstext.aspx?nn=13940531000300
-------------
Syria in Last 24 Hours: Army Destroys Terrorists' Positions in Daraa
Aug 22, 2015
The Army units targeted the militants' hideouts and concentration camps in Daraa countryside, killing tens of terrorists and injuring dozens more.
A large number of Al-Nusra Front terrorists were killed and their military hardware were destroyed in the army operations.
Other army units also destroyed several vehicles of the terrorists in Tal al-Harra in the Northwestern countryside of Daraa near the border with the occupied Syrian Golan.
Also in the past 24 hours, the Israeli Air Force resumed airstrikes on Western Syria, targeting Brigade 68 Base in Khan Al-Sheih in Damascus province and Brigade 90 Base in the al-Quneitra province after a six hour halt in attacks that followed their multiple air raids over the Golan Heights.
The Brigade 68 Base has no heavy weaponry that can reach Israel's borders and the soldiers inside its parameters have been under siege by the al-Qaeda-linked group of al-Nusra Front and their allies from Ajnad al-Sham and Jeish al-Islam.
According to a military source in Damascus, the Israeli aircrafts were identified as helicopters that crossed into the Syrian Golan Heights before midnight on Thursday night.
Meantime, the Syrian Army's 104th Airborne Brigade of the Republican Guard – in coordination with the 137th Artillery Brigade of the 17th Reserve Division and the National Defense Forces (NDF) – finally lifted the six-month-long siege of the Al-Jourah District after they broke through the ISIL terrorists' frontline at the Al-Qusour district, sources said.
The sources said that the Syrian army, after lofting the siege of al-Jourah, began to bring in humanitarian aid for the 20,000 residents of the Al-Jourah district, providing them food, medical supplies, and large cases of water.
In addition to their success at the al-Jourah district, the Syrian soldiers cleared the al-Muri'iyah Farms after intense clashes with the terrorist group inside this village that borders the Deir Ezzur Military Airport to the East.
Firefights between the Syrian army and the ISIL were also reported inside the al-Rashidiyah, al-Hamidiyah, al-Jubeileh, Old Airport, al-Kanamat, Sheikh Yassine, and al-Husseiniyeh Districts of Deir Ezzur City.
Inside al-Jafra, the Syrian army troops targeted an ISIL hideout near the Jafra-Hatla axis, resulting in the death of 13 enemy combatants.
Elsewhere, the Syrian Army's 63rd Brigade of the 4th Mechanized Division, the Hezbollah fighter, the National Defense Forces (NDF), and the Syrian Social Nationalist Party (SSNP) continued their full-scale siege of al-Zabadani, capturing more territory from Ahrar al-Sham and al-Nusra Front inside the city in the West of Syria, informed sources said.
The sources confirmed that the Syrian forces and Hezbollah began their assault inside the Uthman Neighborhood near al-Zabadani's city-center, killing 13 enemy combatants from Ahrar al-Sham and the so-called Free Syrian Army (FSA) before they were able to seize the entire area from the aforementioned rebel units.
Following the capture of the Uthman Neighborhood, the Syrian army and the Lebanese resistance movement advanced to the Rawada Al-Bara'am Neighborhood, where they experienced similar success as the previous assault, killing 9 enemy combatants from Ahrar al-Sham and the FSA before they would impose full control over this area near al-Zabadani's city-center.
Full report at:
http://english.farsnews.com/newstext.aspx?nn=13940531000390
-------------
South Asia
Myanmar Passes Extreme Religion Bills Targeting Marginalized Muslim Population
BY BEENISH AHMED AUG 21, 2015
Myanmar's parliament passed two bills on Thursday that are widely believed to offer further legal cover to the country's harsh policies toward its Rohingya Muslim population. Proposed by hardline Buddhist nationalists who claim that their traditions are threatened by the country's Muslims, the bills regulate religious conversion and polygamy.
While details about the bills have not yet been released, advocates believe the measures targeting the country's Rohingya, who are denied citizenship despite the fact that many of them have lived in Myanmar for generations.
"These discriminatory draft laws risk fanning the flames of anti-Muslim sentiment," Phil Robertson, deputy Asia director at Human Rights Watch, told ThinkProgress in an email.
The bills are particularly vexing ahead elections which are slated for early November.
"Parliament has not only shown disregard for basic human rights norms, but turned up the heat on Burma's tense inter-communal relations and potentially put an already fragile transition at risk, with landmark elections right around the corner," Roberston added.
The election is expected to be the freest and fairest seen in Myanmar for decades. The country has been transitioning from military rule towards democracy since 2011.
Aung San Suu Kyi, an opposition leader and Nobel Laureate who lived under house arrest for 15 years, is expected to win the upcoming elections.
While she is widely seen as an advocate for democracy in the country, she has remained largely silent on the plight of Myanmar's Rohingya population. While many believe she has not addressed the issue for fear of alienating voters ahead of the election, others, including the Dalai Lama, have urged her to take a decisive stance on the matter.
While Myanmar has opened up to foreign businesses and visitors and allowed for increased press freedoms in recent years, it has continued to persecute the ethnic Rohingya through a series of discriminatory laws. Myanmar has limited the number of children the Rohingya can have to two and restricted the frequency of their pregnancies to one every three years. Hundreds of Rohingya have been killed in religion-fuelled violence, and 140,000 have abandoned their homes to live in "apartheid-like" conditions. Over the course of the last year, tens of thousands of them have fled Myanmar on dangerous, often over-crowded boats.
The United States Holocaust Memorial Museum has deemed the treatment of the Rohingya to constitute early warning signs of genocide.
Full report at:
http://thinkprogress.org/world/2015/08/21/3693846/myanmar-bills/
-------------
30 Militants Killed In Afghanistan Security Operations
Aug 22 2015
30 insurgents have been killed in newest security operations in six provinces, Ministry of Interior announced in on Saturday.
A statement issued by the ministry states that the operations were conducted in the jurisdiction of Nangarhar, Sar-e-Pul, Kandahar, Urozgan, Logar and Helmand provinces in past 24 hours.
According to the statement, the operations carried out jointly by Afghan National Police, Afghan National Army and personnel from the National Directorate of Security (NDS) – Afghanistan's intelligence agency in which six militants were also wounded and 16 other arrested.
Full report at:
http://www.khaama.com/30-militants-killed-in-newest-security-operations-3799
-------------
Gen. Dostum's tank comes under heavy fire by Taliban in Faryab
Aug 21 2015
The convoy of the First Vice President Gen. Abdul Rashid Dostum was ambushed by the Taliban in militants in Qaisar district of northern Faryab province.
Gen. Dostum was reportedly travelling in an armored in an M11117 Armored Security Vehicle and was on his way to Ghormach district of Badghis province when he was ambushed by Taliban militants.
He survived the attack unhurt but his tank received numerous bullet shots by the Taliban militants.
At least eight Taliban militants were reported killed and 13 others were detained after the security forces responded to the Taliban ambush.
Gen. Dostum is currently busy in coordinating counter-terrorism operations against the Taliban insurgents in northern parts of the country.
He said earlier this month that he will go to frontline if the Taliban militants did not refrain from violence and surrender to the Afghan security forces.
Going to the frontline along with the Afghan security forces was part of Gen. Dostum's promises to clear northern parts of the country from the Taliban militants and foreign insurgents.
Full report at:
http://www.khaama.com/gen-dostums-tank-comes-under-heavy-fire-by-taliban-in-ghormach-1418
-------------
PM: No doubt Khaleda, her son involved in Aug 21 attack
august 22, 2015
Prime Minister Sheikh Hasina yesterday said there was no doubt that Khaleda Zia and her son were involved in the August 21, 2004 grenade attack that left 21 people dead and several hundred injured.
"As Ziaur Rahman was involved in the August 15 killing, Khaleda Zia and her son were involved in the August 21 grenade attack. There is no doubt about it," UNB quotes the prime minister as saying.
The prime minister was speaking at a rally after placing wreaths at the memorial of martyrs of the gruesome August 21 grenade attack at Bangabandhu Avenue, marking the 11th anniversary of the gruesome attack.
The makeshift memorial was set up in front of the Awami League office where militants lobbed 13 grenades on a peaceful Awami League rally on this day in 2004.
Hasina said the attack on a peaceful public rally was sufficient to measure the limit of the Bangladesh Nationalist Party's (BNP) democratic mentality and respect for human rights, BSS reports.
"A party which can carry out such brutality is sufficient to prove that the party does not at all believe in democracy and human rights of the people," she said.
After the grenade attack, the BNP government barred the Awami League from filing a case with the police or bringing out a mourning procession, she said.
The treasury bench rejected a motion for discussion of the issue in parliament, Hasina said, adding: "BNP members sarcastically blamed me – that I carried those grenades and hurled them at the people."
"The BNP's founder and former military ruler Ziaur Rahman was linked with the brutal killing of the Father of the Nation Bangabandhu Sheikh Mujibur Rahman on August 15, 1975. Similarly, his wife Khaleda Zia and son Tarique Zia were involved in the grenade attack on August 21, 2004," BSS quotes Sheikh Hasina as saying.
Tarique, several senior BNP leaders and top leaders of banned militant outfit Harkat-ul Jihad al-Islami Bangladesh (HujiB) are among 52 accused in the two cases filed over the attack.
Hasina said with each and every action of the then BNP-Jamaat government it was clear that the BNP intended to kill her and annihilate the Awami League.
"Today, it is clear that being in the government their [BNP] every activity proved that they were in an evil move to kill me, the then opposition leader, and make the Awami League vanish," the UNB quotes her saying.
Sheikh Hasina first placed a wreath at the memorial as the prime minister and then another as the Awami League president.
Cabinet members, the prime minister's advisers, senior leaders of Awami League and the 14-party combine and family members of the martyrs and those injured in the attack were present.
Full report at:
http://www.dhakatribune.com/politics/2015/aug/22/pm-no-doubt-khaleda-her-son-involved-aug-21-attack
-------------
Afghanistan seethes at Taliban meetings 'held in Pakistan'
Aug 22, 2015
KABUL: The new leader of the Afghan Taliban has met influential clerics seeking to heal a rift after the death of founder Mullah Omar, a gathering which has angered the Afghan government — which accuses Pakistan of allowing militants to meet on its territory.
Several key Taliban commanders pledged allegiance to Mullah Akhtar Mansour after his swift appointment to lead the armed movement in July, but other senior figures, including Omar's son, reject the way he was selected.
"These clerics tried to remove differences between Mansour and other Taliban members," Taliban spokesman Zabihullah Mujahid told Reuters, referring to Thursday's meeting. "They listened to each other's viewpoint, but didn't reach a conclusion."
Also read: New Taliban leader calls for unity in ranks in first audio message
Combined with a chill between the neighbours after Afghan President Ashraf Ghani indirectly blamed Pakistan for a spate of deadly bombings in Kabul, the leadership tussle has dashed short-term hopes of a new round of Taliban peace talks.
The council of clerics will rule in the next few days on whether Mansour should remain the Taliban's chief, said sources in the movement, who declined to be identified as the topic is sensitive.
Deeper rifts are likely if Mansour and his supporters decline to accept a negative outcome. He is also backed by Al-Qaeda and the powerful Haqqani network.
It took the clerics several days to track down Mansour, prompting them to warn his deputy that the delay threatened the movement's unity. Spokesman Mujahid blamed security concerns for Mansour's lack of response.
New Taliban leader Mullah Akhtar Mansoor called for unity in the movement in his first audio message released after him taking the new responsibilities.
"We should all work to preserve unity, division in our ranks will only please our enemies, and cause further problems for us," he had said in the recording released by the group.
Afghan fury
The Taliban is fighting a war against the Afghan government, which says Pakistan should do more to stop top leaders and supporters it believes are openly meeting around cities such as Quetta since Omar's death was announced last month.
"What would be the feeling of the people of Pakistan if the Pakistani Taliban held meetings in big cities of Afghanistan, such as Jalalabad?" asked foreign ministry spokesman Shakaib Mostaghni.
Full report at:
http://www.dawn.com/news/1201934/afghanistan-seethes-at-taliban-meetings-held-in-pakistan
-------------
Afghan vice-president fights off Taliban ambush
Aug 22, 2015
KABUL: A Taliban ambush on Afghan Vice-President Abdul Rashid Dostum's convoy backfired on Friday when the war-hardened leader's men fought back, killing at least four militants and capturing a dozen more on a remote highway.
Dostum's armoured vehicle was moving in a convoy along a remote highway through Qaysar district in the province of Faryab when 20 militants opened fire, said police chief Subhan Qul, who was in the convoy. Dostum's vehicle was hit several times by shots in the gunfight that followed, Afghan media reported.
"As a result of almost three hours of fighting, at least four Taliban are killed and 13 are captured alive," an official from the vice president's media office said. Earlier a spokesman said eight militants died. There were no initial reports of casualties among the security forces.
Provincial police chief Massoud Yaqubi said that one of the killed insurgents was of Uzbek nationality.
Dostum, an ethnic Uzbek who led a personal army fighting the Taliban regime before the 2001 US military intervention and who is accused by rights groups of involvement in war crimes, joined the political mainstream last year as President Ashraf Ghani's running mate.
He traded his suit for a military uniform last month to accompany the army and armed villagers fighting an offensive by the Islamic extremists in his northern heartland.
Afghan forces are largely fighting the Taliban alone for the first time this year after all but a rump of foreign coalition soldiers left the country last year. The insurgents have made advances in the north and south but struggled to hold territory.
Dostum has been itching to take the fight to the Taliban for months, but has had to tread carefully because of concerns by Ghani that his return to the front lines would drag Afghanistan back into the chaos of the 1990s when militias waged civil war.
Full report at:
http://www.dawn.com/news/1201937/afghan-vice-president-fights-off-taliban-ambush
-------------
Mideast
Iran unveils new surface-to-surface missile
22 August 2015
Iran on Saturday unveiled a new surface-to-surface missile it said could strike targets with pin-point accuracy within a range of 500 km and it said military might was a precondition for peace and effective diplomacy.
The defense ministry's unveiling of the solid-fuel missile, named Fateh 313, came little more than a month after Iran and world powers reached a deal that requires Tehran to abide by new limits on its nuclear program in return for Western governments easing economic sanctions.
According to that deal, any transfer to Iran of ballistic missile technology during the next eight years will be subject to the approval of the United Nations Security Council, and the United States has promised to veto any such requests. An arms embargo on conventional weapons also stays, preventing their import and export for five years.
But Iran has said it will not follow parts of the nuclear deal that restricts its military capabilities, a stance reaffirmed by President Hassan Rowhani on Saturday.
"We will buy, sell and develop any weapons we need and we will not ask for permission or abide by any resolution for that," he said in a speech at the unveiling ceremony broadcast live on state television.
"We can negotiate with other countries only when we are powerful. If a country does not have power and independence, it cannot seek real peace," he said.
The defense ministry said the Fateh 313, unveiled on Iran's Defence Industry Day, had already been successfully tested and that mass production would start soon.
Full report at:
http://english.alarabiya.net/en/News/middle-east/2015/08/22/Iran-unveils-new-missile-with-pin-point-accuracy.html
-------------
'U.S. drone' kills three Qaeda suspects in Yemen: tribal sources
21 August 2015
Three suspected Al-Qaeda militants were killed on Friday in an apparent U.S. drone strike in Marib province, east of the capital Sanaa, tribal sources said.
The three were riding in a vehicle that was struck at dawn by a missile in the desert region of Harib, the sources said.
The United States is the only country known to operate armed drones over Yemen, and strikes have continued on suspected militants even as the country has been battered by months of fighting between pro- and anti-government forces.
Full report at:
http://english.alarabiya.net/en/News/middle-east/2015/08/21/-U-S-drone-kills-three-Qaeda-suspects-in-Yemen-tribal-sources-.html
-------------
Coalition: Saudi Helicopter Crash Kills Two on Yemen Border
Aug 22, 2015
The two pilots were killed when their aircraft crashed, the coalition said in a statement published by the official SPA news agency.
It said that the Apache helicopter went down in the Jizan region of the kingdom, adding that an inquiry had been launched into the causes of the crash.
On Friday, the Yemeni army and popular forces shot down a Saudi military helicopter with a surface-to-air missile in the province of Jizan, in Southern Saudi Arabia.
The Saudi Apache military chopper exploded after it was hit by the Yemeni forces' missile in Jizan, the Arabic-language Al-Masyra TV reported.
The Yemeni forces' attack came in retaliation for the Saudi-led continued airstrikes on Yemen's residential areas.
Full report at:
http://english.farsnews.com/newstext.aspx?nn=13940531000741
-------------
Iran: Partisanship damaging U.S. foreign policy
22 August 2015
The fevered partisanship of U.S. politics is damaging the country's foreign policy, Iran said Saturday, hitting out at threats of military action against it should nuclear diplomacy ultimately fail.
The comments in Tehran came after U.S. President Barack Obama said in a letter that all options remain on the table against Iran.
Iran and six world powers led by the U.S. struck a deal last month on Tehran's disputed nuclear program but it is undergoing a bruising review in Congress and has yet to be implemented.
"Political partisanship and competition have taken U.S. foreign policy hostage," foreign ministry spokeswoman Marzieh Afkham said, calling Obama's remarks "repetitive and baseless".
These claims are "showing the uncertainty and depth of confusion of American officials in determining their national interests," Afkham said, according to the official IRNA news agency.
The U.S. president said in a letter to Jerrold Nadler, a Democrat who has announced his support for the deal, that the agreement is good for America, Israel and the Middle East in Full report at:
http://english.alarabiya.net/en/News/middle-east/2015/08/22/Iran-Partisanship-damaging-U-S-foreign-policy.html
-------------
Yemeni president proposes 15-day ceasefir
22 August 2015
Yemen's president is proposing a 15-day ceasefire that would coincide with the withdrawal of Houthi militias from all government institutions and military installations and all cities and provinces - even the province they call home.
President Abdrabbu Mansour Hadi's proposal, obtained Friday by The Associated Press, was given to the U.N. envoy for Yemen in Saudi Arabia's capital on Thursday, and Ismail Ould Cheikh Ahmed was heading to Oman on Friday to meet with Houthi representatives to discuss it, according to a U.N. diplomat.
Yemen's government has expressed support for a ceasefire in the past, but this might be its first formal proposal for one.
The proposal, dated Thursday, calls for the Houthi militias and allied troops loyal to former President Ali Abdullah Saleh to immediately implement a U.N. Security Council resolution which demands an end to violence and a swift return to U.N.-led peace talks.
Hadi's proposal comes after pro-government troops, backed by a Saudi-led coalition carrying out airstrikes, regained strategic ground from the rebels, including the southern port of Aden. They now push north toward the capital, Sanaa.
Yemen's government has repeatedly demanded that the Houthis withdraw. With government forces retaking territory and the Houthis on the defensive, it remains to be seen if the two sides will be more amenable to talking. An attempt at U.N.-brokered talks in Geneva in June failed.
Full report at:
http://english.alarabiya.net/en/News/middle-east/2015/08/22/Yemeni-president-proposes-15-day-ceasefire.html
-------------
Iranian Commander Blasts IAEA for Double-Standard Policy on N. Activities
Aug 22, 2015
Deputy Chief of Staff of the Iranian Armed Forces Major General Gholam Ali Rashid said that based on reports provided by reliable international sources, the Zionist regime of Israel has 200 to 400 nuclear bombs and is a big threat to the global community. "Unfortunately, westerners have over recent years used Iran nuclear issue as a pretext to cover up reality and divert the world public opinion from production of bombs and Weapons of Mass Destruction (WMDs) by Israel," the Iranian commander went on to say.
"Have the IAEA inspectors inspected the sites for production of nuclear bombs and Weapons of Mass Destruction in Israel, which has up to 90 percent enrichment?" Major General Rashid asked.
Iran, an NPT-signatory, has called for the removal of all weapons of mass destruction from across the globe.
The UN General Assembly approved a draft resolution proposed by Iran on nuclear disarmament in October 2009 amid strong opposition by the US, Britain, France, Israel and a number of western countries.
Full report at:
http://english.farsnews.com/newstext.aspx?nn=13940531000192
-------------
Senior Serbian Official: Belgrade Keen on Expanding َTies with Iran
Aug 22, 2015
Referring to commercial, economic, agricultural and cultural activities in the Southern Serbian city of Nis, which is the second largest city in the country, Racic said on Friday that traders of this city are ready to make investment in various joint ventures with the Iranian side.
"People of Iran and Serbia are interested in expansion of good relations and cooperation in various domains and Iran sees no impediment to expansion of mutual cooperation," the Iranian ambassador for his part said.
Fahimpour announced that an Iranian economic delegation, headed by Deputy Minister of Industry, Mines and Trade and Head of the Trade Promotion Organization of Iran Valiollah Afkhamirad will visit Belgrade mid September to get first hand account of information on expansion of mutual economic cooperation.
As reported, Serbian Education Minister, Srđan Verbić, Deputy Prime Minister and Minister of Trade, Tourism and Telecommunication, Rasim Ljajić, and First Deputy Prime Minister and Minister of Foreign Affairs of the Republic of Serbia, Ivica Dacic, will visit Iran this year, which is sign of good mutual ties and interest in expansion of bilateral ties.
Iran and Serbia have in recent years made great efforts to further develop their bilateral relations and mutual cooperation in all fields.
In a meeting between Fahimpour and Serbian Interior Minister Nebojsa Stefanovic in the past June, the two sides underlined the need for both Tehran and Belgrade to boost mutual cooperation and exchange experiences to eradicate terrorism in the Middle East and the Full report at:
http://english.farsnews.com/newstext.aspx?nn=13940531000281
-------------
17,000 people in urgent need of leaving Gaza: Hamas
Aug 22, 2015
The Palestinian resistance movement, Hamas, says tens of thousands of Palestinians need to urgently leave the Israeli-blockaded Gaza Strip either for medical treatment or educational purposes.
Iyad al-Bozum, spokesman for the Hamas Interior Ministry announced that Egypt closed the Rafah border crossing with Gaza on Friday after keeping it open for only four days, allowing 2,579 people to leave the besieged enclave for humanitarian reasons.
According to Bozum, some 17,000 resident of Gaza are in urgent need of leaving the blockaded territory for medical treatment or studies abroad.
The Hamas official also said 3,178 people were allowed to enter the coastal sliver during the four-day period. The Egyptian authorities, however, prevented 146 Palestinians from leaving Gaza, Bozum added.
Since 2007, the Tel Aviv regime maintains its land, air and sea blockade on more than 1.8 million people living in Gaza, denying them the most basic items like food, medicine and fuel.
This is while the Gaza Strip is still reeling from the Israeli regime's military offensive last year. Nearly 2,200 Palestinians, including 577 children, lost their lives and more than 11,000 others sustained injuries in the 50-day war.
During the 2014 war, the regime's military did not even spare hospitals, which were already suffering from a shortage of basic medical equipment and medicine due to the Israeli siege on Gaza.
The latest Israeli military campaign has taken a heavy toll on the strip's ability to provide medical and humanitarian services to the injured.
A Palestinian girl sits on a suitcase as she waits with her family for permission to enter Egypt at the Rafah border crossing in the southern Gaza Strip, August 17, 2015. (© AFP)
According to latest media reports, up to 20,000 Palestinians have registered on the lists of Gaza's Interior Ministry for an exit permit, among them are hundreds of Gaza students, whose studies or scholarships have been jeopardized by their failure to return to their campuses abroad.
Full report at:
http://www.presstv.ir/Detail/2015/08/22/425812/Palestine-Egypt-Gaza-Hamas-Rafah-Iyad-alBozum-
------------
India
Rajasthan Sharia Court Fights for Muslim Women's Rights
Shoeb Khan
Aug 22, 2015
JAIPUR: A narrow lane in Johri Bazaar leading to a dilapidated building is the address of Rajasthan's first Sharia court established in 2013. Nishat Hussein, a widow in her 60s, is heading the Sharia court in Jaipur that counsels and settles cases related to Muslim women under the light of Islamic jurisprudence.
Hussein is also the head of Rajasthan chapter of Bhartiya Muslim Mahila Andolan (BMMA), an NGO whose nationwide survey revealed that 90% of Muslim women are against the tradition of oral talaq. The report has come as an eye opener that how Muslim women fail to exercise the rights given to them in Islam.
Having started the battle against oral Talaq in 1989, Hussein has faced a series of opposition and challenges. She recalled that during early years even talking against oral Talaq was seen as blasphemy. "Initially people were upset with me for meddling with Islamic laws. I read Quran and Hadith and found that most of the prevalent norms being followed in Talaq are traditions and not in tune with Islamic teachings," said Hussein.
She quoted verses from the Quran which say that an arbitration process should be followed before divorce. "Pronouncing Talaq thrice at one stretch is also un-Islamic as the difference between pronouncing two talaqs should be of three months," said Hussein.
Full report at:
http://timesofindia.indiatimes.com/city/jaipur/Sharia-court-fights-for-Muslim-womens-rights/articleshow/48599612.cms
-------------
J-K: Youths Burn PDP's Flag, Wave IS And Pakistan Flags in Srinagar
By Adil Akhzer
Aug 21, 2015
The flags of Islamic State (IS) and Pakistan were waved after prayers in the old city on Friday, the protesters also set ablaze flags of ruling People's Democratic Party (PDP). Soon after the Friday prayers ended at city's Jamia Masjid, minor clashes broke out between the protesters and the security personnel deployed there. The protesters raised anti-India slogans and waved Pakistani and ISIS flags. Security forces deployed in the area swung into action and chased the youth, triggering clashes.
Full report at:
http://indianexpress.com/article/india/india-others/jk-tricolour-burnt-pakistan-and-isis-flags-hoisted-in-srinagar/
-------------
Muslim Leaders Talk About Importance of Voting
22nd August 2015
BENGALURU:Muslim Muthahida Mahaz, a confederation of Muslim organisations, and the Khateeb-O-Imam of Jamia Masjid briefed members of the community during Friday prayers on the importance of voting and appealed to all to come out and participate in the democractic process by exercising their voting rights.
Speaking to Express, Masood Abdul Khader, convener of the Mahaz said, "The community members have been told not to accept any gifts and vote for the candidate they feel is right and judge the candidate by his/her ethics."
No Vote For Note
Maqsood Imran Rashadi, Khateeb-O-Iman, Jamia Masjid, City Market, said that a few members in the community were running behind money. He said this practice should be stopped and a good candidate should be elected. "Note ke badle vote mat do, (do not cast your vote for money). Discuss among elders about the candidate's profile and then vote for him/her for development of your area. If you want to have good civic amenities and your area to be clean, select a good candidate cutting across party lines," he advised.
http://www.newindianexpress.com/cities/bengaluru/Muslim-Leaders-Talk-About-Importance-of-Voting/2015/08/22/article2987432.ece
-------------
Indo-Pak NSA talks: Sushma Swaraj, Sartaj Aziz to hold press meets
Aug 22, 2015
NEW DELHI: As suspense mounted over holding of the Indo-Pak NSA-level talks after both sides hardened their positions on the issue of Kashmiri separatists, external affairs minister Sushma Swaraj on Saturday called a press conference in Delhi.
A day before his scheduled departure for Delhi, Pakistan national security adviser Sartaj Aziz too has called a media meet in Islamabad at 1pm (local time). Swaraj will meet the press at 4pm.
The Pakistan NSA is scheduled to hold discussions with his Indian counterpart Ajit Doval tomorrow and day after.
While India has made it clear to Pakistan that a meeting between the separatists and Aziz was not appropriate, Pakistan reacted strongly to insist that it would not depart from the "established past practice" of interacting with separatist Hurriyat leaders.
India has described the invitation to Hurriyat representatives as a "provocative action" and accused Pakistan of trying to evade its commitment to engage in a substantive discussion on terrorism as had been agreed between Prime Minister Narendra Modi and his Pakistani counterpart Nawaz Sharif in Ufa (Russia) last month.
Full report at:
http://timesofindia.indiatimes.com/india/Indo-Pak-NSA-talks-Sushma-Swaraj-Sartaj-Aziz-to-hold-press-meets/articleshow/48611214.cms
-------------
Recriminations fly before India-Pakistan peace talks
21 Aug 2015
NEW DELHI/ISLAMABAD: Pakistan has rejected India's demand that it cancel a meeting with separatist leaders from the disputed Kashmir region, ahead of crucial talks between the arch-rivals' top security officers in New Delhi on Sunday.
The latest round of recriminations between the two nuclear-armed neighbours leaves the talks, set at a meeting between prime ministers Narendra Modi and Nawaz Sharif in Russia last month, on a knife edge.
While neither side went as far as calling off the talks, each blamed the other for putting them at risk, undermining prospects for substantive debate at a time of rising frontier tension.
Pakistan has insisted on holding talks with the separatist leaders, a step New Delhi on Friday said would be unacceptable. Responding, Pakistan said it would not adhere to India's "advice".
In a statement, Pakistan's foreign ministry said, "Pakistan remains willing to attend the (national security advisers') meeting without any pre-conditions."
India called off peace talks with Pakistan a year ago after its neighbour consulted the separatists ahead of a meeting between their foreign secretaries.
"We wanted to hold talks to build trust but Islamabad has rejected our request. They have soured the mood," said a senior foreign ministry official in New Delhi.
Vikas Swarup, spokesman for India's foreign ministry, said Pakistan's offer to meet with the separatists "would not be appropriate" or in "keeping with the spirit" of a pledge to jointly combat the threat from militants.
Full report at:
http://www.channelnewsasia.com/news/asiapacific/recriminations-fly-before/2066712.html
------------
Taslima Nasreen's India visa extended by one year
Aug 22, 2015
Exiled Bangladeshi writer Taslima Nasreen's visa was extended for a year by Union Home Ministry on Friday. After her residency permit lapsed on August 17, the author had been urging the government to renew it. The decision has been taken following an intervention of Union Home Minister Rajnath Singh as Taslima has been requesting the government to further extend her visa. The 52-year-old writer's visa was granted for a year with effect from July 23, a Home Ministry official said. Earlier, government sources had said that an extension of her visa was pending a final nod from security agencies. Reacting to the decision, Taslima told PTI that she was very happy though she was expecting her visa to be extended by more than a year. "Anyway, this is always a welcome news. I am yet to be officially conveyed (the government decision) and you are the one who broke the news to me," she said. Taslima, who also holds Swedish citizenship, left Bangladesh in 1994 amid threats issued to her by fundamentalist groups for alleged blasphemy of Islam. She has been given an Indian visa on a continuous basis since 2004. Since leaving Bangladesh, she has been living in exile in the US, Norway, Germany, Sweden and India, but has expressed her desire to live permanently in India, preferably in Kolkata. - See more at: http://indianexpress.com/article/india/india-others/taslima-nasreens-india-visa-extended-by-one-year/#sthash.hkEYaFWv.dpuf
http://indianexpress.com/article/india/india-others/taslima-nasreens-india-visa-extended-by-one-year/
-------------
Pakistan
Zarb-e-Azb to continue till terrorists' elimination: Mamnoon
August 22, 2015
Islamabad - President Mamnoon Hussain has said Pakistan wants to further strengthen its friendly and brotherly relations with all the countries.
He said this while talking to ambassadors-designate of Australia, Brazil, Holy See, Germany, Saudi Arabia, Korea, Mauritius, Singapore, and Guinea to Pakistan, who separately called on him on Friday and presented their credentials.
The President said there are ample opportunities of investment in Pakistan and foreign investors should take advantage of Pakistan's investment friendly policies by investing in the country.
Highlighting Pakistan's sacrifices in war on terror, he said Pakistan has rendered numerous sacrifices in this war and is trying to eliminate the scourge at the international level.
Mamnoon Hussain said military operation Zarb-e-Azb is going on successfully against terrorism and will continue till the elimination of last terrorist.
Full report at:
http://nation.com.pk/national/22-Aug-2015/zarb-e-azb-to-continue-till-terrorists-elimination-mamnoon
-------------
IED blast in Bajaur kills two tribal elders, injures three others
ALI AKBAR
Aug 22, 2015
PESHAWAR: Two tribal elders were killed on Saturday in an improvised explosive device (IED) blast in the Arang area of Bajaur agency.
According to security sources, tribal elders Malik Dawakhan and Haji Kareem died in the blast as the IED targeted their vehicle, injuring three others. A search operation in the area to apprehend suspects is under way.
Earlier this year, a pro-government tribal elder was killed in a remote-controlled IED blast in Bajaur's Bar Kamar area.
According to sources, tribal elder Malak Muhammad Jan was on his way to the Har area when an IED planted on the roadside went off.
The pro-government tribal elder and five of his companions had died in the blast while the vehicle they were travelling in was also severely damaged.
Full report at:
http://www.dawn.com/news/1202123/ied-blast-in-bajaur-kills-two-tribal-elders-injures-three-others
-------------
KP police foil terror bid, arrest wanted terrorist in Peshawar
ALI AKBAR
Aug 22, 2015
PESHAWAR: The Khyber Pakhtunkhwa (KP) police claimed to have averted a terror attack on Friday when it arrested a wanted terrorist from Haji Camp area of Peshawar and recovered 11 kilogrammes of explosives from his possession.
According to the details provided by special police force, the wanted terrorist Waheedullah was arrested after intelligence agencies shared information regarding his whereabouts.
Police also claimed to have recovered an improvised explosive device, which was fitted inside a water cooler, from the possession of the arrested man.
The police sources further claimed that Waheedullah has confessed to his involvement in six terror attacks in Bara, Khyber Agency, which had resulted in the deaths of 42 security personnel.
Also read: Peshawar police thwart terrorism plot
The arrested militant also confessed to his involvement in the abduction of several security officials, the sources added.
ASP Farhan told DawnNews that the bomb was ready to be detonated and the arrested man had planned to plant the explosive device in Haji Camp area.
Security personnel cordoned off the area after the arrest as a probe into the incident went underway.
Full report at:
http://www.dawn.com/news/1201925/kp-police-foil-terror-bid-arrest-wanted-terrorist-in-peshawar
-------------
Islamabad police anti-terrorism cell set-up under NAP
August 21, 2015
ISLAMABAD: An Anti-terrorism cell has been set-up by Islamabad police to pursue the National Action Plan (NAP) successfully at the Federal Capital.
According to media reports, the selections of around 300 individuals have been completed initially. The individuals will be getting their training starting next week from the experts of Pakistan Army in Kharian.
Full report at:
http://nation.com.pk/national/21-Aug-2015/islamabad-police-anti-terrorism-cell-set-up-under-nap
------------
Four men linked to Attock attack picked up in dramatic midnight raid
MUNAWER AZEEM
Aug 22, 2015
ISLAMABAD: In a midnight raid on a seminary in the heart of the capital, law enforcement agencies have picked up four men allegedly involved in the attack on the Punjab home minister in his hometown of Attock. However, the capital's police was unaware of the action until the last minute, sources in the department told Dawn.
The Madaressah Haqqania is located on the green belt along Eighth Avenue – a stone's throw from Faisal Mosque and Naval Headquarters – and was raided by a joint team from the police's Counter Terrorism Department (CTD) as well as units from Rawalpindi police and paramilitary personnel.
Those taken into custody included Imadullah, the son of seminary administrator Qari Ahsanullah, as well as a teacher, Arshad, and two visitors to the seminary, one of whom was identified as Shoukat.
Officials said that the raid was carried out on the basis of solid information regarding the presence of a suspect linked with the attack in Attock.
At least 20 vehicles, including vans from the Banni and Sadiqabad police stations in Rawalpindi and Punjab Elite Force units also participated in the raid.
Local police not informed of raid on Madressah Haqqania until last minute | Punjab police, Elite Force and other agencies search seminary, adjoining mosque | Seminary administrator's son among those in custody | IGP stays mum, no official word on raid, arrests
Perhaps due to their unfamiliarity with Islamabad, the raiding party first headed to E-7, then emerged from near the Faisal Mosque and headed wrong-way down Faisal Avenue and pulled up outside the seminary – which is located on the green belt between Eighth Avenue and Ismail Zabeeh Road – just after 1am on Friday.
Only after the raiding party arrived at the seminary were the local police informed, officials told Dawn, adding that the senior officer concerned and station house officer arrived at the scene along with the night-patrolling staff later.
"Why the raiding party did not inform the local police is a mystery. Either there was some urgency or other apprehensions, we don't know," senior police officials told Dawn.
As Islamabad police officials looked on, the raiding party entered the seminary and took four people into custody after searching the premises for over an hour.
Initially, the police party was not allowed to enter the seminary by those inside, officials said. However, they then broke down the door and entered forcefully, combing every nook and cranny of the building, especially the living quarters.
Officials told Dawn that the mosque adjacent to the seminary and the green belt was also searched thoroughly.
Full report at:
http://www.dawn.com/news/1202087/four-men-linked-to-attock-attack-picked-up-in-dramatic-midnight-raid
-------------
MQM says no more talks, resignations final
Aug 22, 2015
KARACHI: Muttahida Qaumi Movement (MQM) late Friday night in a statement released on its website announced that its members' resignations from all three legislative floors were final, adding that it would not partake in dialogue over the matter anymore.
The statement said the decision was taken at an emergency joint session of MQM's Rabita Committees in London and Karachi.
The party says it will temporarily abandon parliamentary politics and focus on the "establishment of a province and welfare activities."
The statement goes on to say the party had unanimously decided to tender resignations in protest and the government will have to "accept them at every cost."
"Every MQM member in Senate, National Assembly and Sindh Assembly should be seen as having resigned."
The meeting also observed that the government had "not valued Jamiat Ulema-i-Islam – F chief Maulana Fazlur Rehman's role" as a mediator to reconcile differences between the party and the government. The party also condemned "Prime Minister Nawaz Sharif's behaviour" during his recent visit to Karachi, terming it "arrogant and threatening."
The party expressed dismay over the premier not visiting its critically injured MNA, Rashid Godil, in hospital.
Also read: MQM 'disappointed' by PM's Karachi visit
MQM also criticised Sindh Chief Minister Qaim Ali Shah's lack of initiative to form a monitoring committee to oversee the ongoing Karachi operation.
MQM lawmakers had simultaneously submitted their resignations in the National Assembly, Senate and the Sindh Assembly on Wednesday August 12, 2015 due to reservations over the Rangers-led operation in Karachi.
Full report at:
http://www.dawn.com/news/1202106/mqm-says-no-more-talks-resignations-final
-------------
Joint efforts have brought Balochistan out of crisis, say army, govt
SALEEM SHAHID
Aug 22, 2015
QUETTA: With their concerted efforts, the army and the provincial government have taken guns from the youths of Balochistan and given them pens. To a large extent they have brought the province out of the mayhem and chaos it had been facing a couple of years ago.
This was stated by Adviser to Chief Minister on Education Sardar Raza Muhammad Barech and Commander of Southern Command Lt Gen Muhammad Naseer Khan Janjua while speaking at the inaugural ceremony of a hostel for students of the FC Public Boys School at Ghazaband Scouts headquarters here on Friday.
Take a look: Army to back Balochistan's quest for peace, progress
The hostel building comprises 12 rooms, each for 50 students, a mosque, a library, a dining room and a recreation room.
Addressing the gathering, Sardar Barech said the government had increased its educational budget by up to 24 per cent to provide maximum educational facilities to youths of the province and to bring them on a par with youths of the other provinces of the country.
He said that because of these efforts, the number of government schools in the province had increased to 13,000, leading to a corresponding increase in the number of enrolled students.
He said the province still needed about 14,000 more schools because a large number of students still could not go to schools because of absence of educational institutions in their areas. He said the government would continue these efforts and more schools would be built across the province as quickly as possible to bring about an educational revolution in the province.
He lauded the efforts of the Frontier Corps and the army for establishing schools and colleges in different areas of the province where the government could not provide such facilities because of its meagre budget resources.
He said the government was also concentrating on giving technical education to students and, with the joint efforts of the army and the provincial government, problems of the education sector would be solved.
Commander of Southern Command Lt Gen Muhammad Nasser Khan Janjua said the army and the provincial government had jointly taken guns from the youths and given them pens.
He said a large number of youths were now taking interest in acquiring education and excelling in different fields.
Full report at:
http://www.dawn.com/news/1202096/joint-efforts-have-brought-balochistan-out-of-crisis-say-army-govt
-------------
Protest over 'ban' on Altaf speech
Aug 22, 2015
KARACHI: Workers and supporters of the Muttahida Qaumi Movement gathered in front of the Karachi Press Club on Friday to protest against the Pakistan Electronic Media Regulatory Authority for allegedly imposing an unannounced ban on airing Altaf Hussain's speeches on television channels.
Carrying tri-colour party flags and placards, the protesters, including women, shouted slogans against Pemra and demanded that the unannounced ban be lifted forthwith as it was tantamount to curbing the freedom of expression.
Speaking on the occasion, senior MQM leader Dr Farooq Sattar declared that his party would never accept any minus-Altaf formula.
He claimed that in Islamabad certain quarters were plotting to create "a new MQM". "We will oppose anyone who talks about minus-one [formula]," he added.
Dr Sattar said that the Pemra ban on Mr Hussain's speeches was unjust. The freedom of expression was being blocked in Karachi as authorities were not willing to tolerate voices of dissent, he added.
He said that Mr Hussain was following the policy of reconciliation and peace.
About the Karachi operation, he said that the MQM never demanded an end to the operation.
He said that the MQM only asked the authorities to conduct an impartial and transparent operation within the legal and constitutional framework.
Full report at:
http://www.dawn.com/news/1201985/protest-over-ban-on-altaf-speech
-------------
Afghanistan to revitalise ties with Pakistan: EU envoy
Aug 22, 2015
ISLAMABAD: European Union's Special Envoy for Afghanistan Franz-Michael Mellibin said on Friday that Afghan government was thinking about "revitalising" the process for normalisation with Pakistan.
Amb Mellibin, who also heads the EU Delegation for Afghanistan, was speaking at the Institute of Strategic Studies Islamabad.
The EU ambassador's views contrasted the vibes coming from Kabul, where the leadership is increasingly adopting a belligerent tone towards Islamabad.
Afghan President Ashraf Ghani had after assuming presidency last year taken a number of steps to improve ties with Pakistan that had been marred by distrust during his predecessor Hamid Karzai's tenure.
However, Mr Ghani's critical remarks against Pakistan after last week's high-profile terrorist attacks in Kabul and series of allegations by Afghan intelligence agency NDS suggested that the bonhomie had been lost.
The envoy said Mr Ghani, notwithstanding his outburst, remains committed to continuing with his project for improving relations with Islamabad as well as resuming the reconciliation talks.
The Afghan president, he said, was trying to develop unanimity within his National Unity Government on the process for improving ties with Pakistan.
Amb Mellibin explained that though the truck bomb attack in Kabul was a triggering event behind Mr Ghani's media statement against Pakistan, he was already under pressure in Kabul over his overtures to Pakistan while Taliban violence continued unabated.
Encouraging the two countries to carry on with their rapprochement, he warned that any break in the process could be exploited by non-state actors to aggravate the situation.
He said Pakistan's role in the reconciliation process would remain important, if it were to continue.
Full report at:
http://www.dawn.com/news/1202100/afghanistan-to-revitalise-ties-with-pakistan-eu-envoy
-------------
'SEPA overlooked objections to nuclear power plants'
Aug 22, 2015
KARACHI: The construction work on the twin nuclear power plant project is moving forward with absolute disregard for the safety and well-being of 20 million people who live in Karachi. Further construction on the project must be halted, says a press statement jointly released by civil society organisations and human rights activists on Friday.
The federal and Sindh governments, it says, have failed to consider the serious risks posed by these nuclear power plants, which included a potentially devastating nuclear accident.
"The approval of this project has come without proper public consultation and involved repeated failures to uphold environmental laws that are supposed to protect the public," says the statement that has come after construction work on one of the nuclear power plants was officially launched by the prime minister on Thursday.
According to the statement, the disregard for public consultations and legal oblig­ations could be gauged from the fact that the Environmental Impact Asse­ssment (EIA) report was initially submitted in utmost secrecy and there was no public consultation process.
"The Sindh Environmental Protection Agency (Sepa) became a part of this recklessness when it first approved the initial EIA report in haste without public consultation, which is required under the law. Then, it held a public hearing on the orders of the Sindh High Court in a very objectionable manner.
"The Environmental Impact Assessment process was deeply flawed. Sepa chose to overlook a number of objections raised by the public. It violated its own laws by failing to inform the public representatives why their critical comments were rejected or ignored. Its approval glossed over serious threats to public interests and the environment," the statement points out.
The provincial environmental watchdog and the Pakistan Nuclear Regulatory Authority (PNRA), it says, callously overlooked the fact that the reactor spent fuel storage pool could also face an accident and that in such an event there is nothing that can stop a very high level of most lethal radioactivity to be dispersed in the direction of some of the most dense population centres of Karachi.
They complained that Sepa in giving a blanket approval to the project failed to ask the Pakistan Atomic Energy Commission (PAEC) to explore the option for other alternative sources of electricity generation as required under the law, such as wind and solar power — currently the most rapidly growing sources of electricity generation all over the world. Even in China, annual growth in nuclear power plants is only five to 10 per cent of that in wind energy power plants.
Full report at:
http://www.dawn.com/news/1201996/sepa-overlooked-objections-to-nuclear-power-plants
-------------
Southeast Asia
Marian shrine serves as faith beacon for Muslims, Catholics
August 21, 2015
A Marian shrine in Central Java, Indonesia, has become a beacon of interreligious peace and understanding for visiting groups of Muslims and Catholics.
Dozens of non-Catholics have been coming to the shrine in Kerep village every day for their own version of contemplative prayer, said Yohanes Aris Widyatmoko, head of the shrine's secretariat.
"If there is a magnet for the shrine, it's the garden. Many young Muslims wearing headscarves spend their time walking around the garden. It is not taboo for them," Widyatmoko said.
Among them is Marwiyah, a Muslim who works as an aid for an elderly Catholic woman in Semarang. She usually accompanies her employer to the shrine once a week.
"I do wear the headscarf. But I feel comfortable here. It does not matter as long as I keep my own faith. What we have is a mutual respect," she said.
Susilo, a 36-year-old Muslim construction worker, says he visits the shrine every day to "find peace of mind".
"I come here and pray according to my own faith. In a way, it's like I'm borrowing the shrine," he told ucanews.com.
Susilo, who like many Indonesians uses one name, believes that all wholehearted prayers will be answered. "I pray for my family. I also pray that God gives me a solution to a complicated problem involving my family's good name," he said.
The shrine, administered by the Semarang archdiocese, has been a magnet for religious tourism since it was inaugurated by Bishop Albertus Soegijapranata of Semarang on Aug. 15, 1954 — the feast of the Assumption.
A Marian grotto and other devotional items of interest are spread among the shrine's 5.5 hectares.
'Interfaith dialogue'
Putrimah, a 51-year-old Muslim from Ngampon village, says visiting the grotto makes her "feel at peace".
Full report at:
http://www.ucanews.com/news/marian-shrine-serves-as-faith-beacon-for-muslims-catholics/74119
-------------
Zahid: Donor wanted Malaysia to remain Sunni
August 22, 2015
KUALA LUMPUR: Umno vice-president Ahmad Zahid Hamidi is said to have met representatives of the Middle Eastern family behind a controversial US$700 million (RM2.67 billion) "donation" deposited in bank accounts in the name of Najib Razak, the party leader and prime minister.
Zahid told members of Sri Gading Umno in Johor that he had met the chief investment officer and also the trustee of the funds, Malaysian Insider reported.
The report did not say when the meeting took place. However, Zahid has previously accompanied Najib on official visits to the Middle East in his capacity as defence minister and later as home minister.
News reports have said the deposit was made in 2013, before the general election, and the money was initially linked to companies associated with the federal government's investment arm 1Malaysia Development Bhd.
Najib later stated that the money was a "donation" and the anti-corruption agency, which has been investigating 1MDB, said the money had come from a Middle Eastern source.
Zahid said the donor's two representatives had told him the money was to ensure a victory for Barisan Nasional and Umno in the 13th general election in May 2013, because of the Malaysian government's commitment to counter terrorism and maintain Malaysia's position as a Sunni country.
Full report at:
http://www.freemalaysiatoday.com/category/nation/2015/08/22/zahid-donor-wanted-malaysia-to-remain-sunni/
-------------
DAP: Perak Mufti must explain silence in 2009
August 21, 2015
PETALING JAYA: Perak DAP chairman Nga Kor Ming has questioned the state mufti Harussani Zakaria's silence six years ago when the opposition-led state government was toppled by Barisan Nasional.
Why did Harussani not voice out his opinion that toppling a government was forbidden in Islam back then, Nga asked.
"The public and all Muslims have a right to get a fair and unbiased explanation," he was reported by The Malaysian Insider to have told members of the press in Ipoh earlier today.
Yesterday, Harussani claimed that Islamic teachings did not touch on the matter and that accordingly it was forbidden by Islam.
Full report at:
http://www.freemalaysiatoday.com/category/nation/2015/08/21/dap-perak-mufti-must-explain-silence-in-2009/
-------------
Basuki Steps In to Thwart Church Demolition
Aug 22, 2015
Jakarta. Jakarta Governor Basuki Tjahaja Purnama has once again come to the defense of a religious minority congregation targeted by Islamic hard-liners, this time siding with a church threatened with demolition after three decades of serving its parishioners.
Basuki on Sunday intervened to stop the demolition of the Indonesian Protestant Christian (GKPI) church in Jatinegara subdistrict, East Jakarta, which had been ordered by the East Jakarta mayor's office at the behest of the local chapter of the Interfaith Communication Forum (FKUB) – comprising hard-line Islamic groups that tend to be against the presence of churches in their communities.
The mayor's office had threatened to send in public order officers to demolish the church, and even stationed police personnel and soldiers outside the building.
The office said that the church, built in the 1980s, did not have a building permit, and gave the congregation the option to tear down the structure themselves on Sunday.
Basuki, though, stepped in, saying the demolition order was based on a frivolous technicality that was not enforced for countless of other houses of worship throughout the capital, most of them mosques.
He acknowledged that the church leaders had never obtained a building permit, or IMB, when construction of the church first began, and that the matter only came to the East Jakarta authorities' attention when the congregation applied for a permit in 2013 to carry out renovations.
Basuki said his administration would provide some leeway for churches and other houses of worship to get their paperwork in order – if they had a long and established presence in their community. He warned that the alternative, to throw the book at them, would only serve to rupture the capital's social and religious cohesion.
"We must not allow this [permit] issue to be exploited by intolerant groups," the governor said on Sunday at a gathering of interfaith community leaders.
"If we're talking about houses of worship that have been around for a long time, I'll stand up for them."
He noted that dozens of mosques were also built in violation of zoning regulations, but there was no effort made to tear them down.
"There are lots of mosques built within housing estates where you're not supposed to have a house of worship," he said.
Full report at:
http://jakartaglobe.beritasatu.com/news/basuki-steps-thwart-church-demolition/
-------------
Africa
Two Nigerian soldiers killed by Boko Haram land mine: army
21 August 2015
ABUJA - Two Nigerian soldiers died during an advance through Boko Haram's northeastern stronghold on Friday when they stepped on a land mine buried by the Islamists, the army said.
Two other troops were seriously wounded in the explosion in Dikwa, a town in Borno State that was recaptured from the jihadist group in July, army spokesman Sani Usman said in a statement.
"The bodies of the two gallant soldiers have been evacuated, to the rear, while the other two wounded soldiers have also been evacuated and are receiving treatment at the military hospital," he said.
The unit also lost an armoured personnel carrier in the blast, he added.
Usman said troops entered and cleared the town of Gudumbali, also in Borno, in a separate assault, killing "quite a number of the terrorists" and destroying their weapons.
Nigeria's army said in July it had liberated 30 hostages held by Boko Haram, including 21 children and seven women, amid ongoing offensives against the extremists in the Dikwa area.
The town is located around 90 kilometres (56 miles) east of Borno state capital Maiduguri.
Boko Haram has stepped up its attacks since Nigeria's new President Muhammadu Buhari was sworn in on May 29.
Full report at:
http://www.enca.com/africa/two-nigerian-soldiers-killed-boko-haram-land-mine-army
-------------
Scores Of Boko Haram Members, Two Soldiers Die In Maiduguri
August 22, 2015
AS the war against the Boko Haram insurgents rages on, two soldiers were killed in a landmine explosion as scores of the terrorists lost their lives in an encounter yesterday in Maiduguri.
A statement issued by the Acting Director Army Public Relations (DAPR), Colonel Sani Usman in Abuja said: "Troops of 7 Brigade entered and cleared Gudumbali town, Kukawa Local Government Area of Borno State", one of the areas hitherto infested by members of the group.
http://www.ngrguardiannews.com/2015/08/scores-of-boko-haram-members-two-soldiers-die-in-maiduguri/
-------------
Al-Shabaab attacks Somali military training base with car bomb
August 22nd 2015
MOGADISHU: A suicide car bomb rammed into a Somali military training base in the southern port city of Kismayu on Saturday, the militant group, al Shabaab, and local residents said. "We heard a huge blast from the military training camp in Kismayu and then gunfire followed," Hussein Nur, a shopkeeper in the city, told Reuters by phone. Sheikh Abdiasis Abu Musab, al Shabaab's spokesman for military operations, said the group was behind the car bomb and claimed there were several casualties. Police and government officials were not immediately available for a comment.
http://www.standardmedia.co.ke/article/2000173759/al-shabaab-attacks-somali-military-training-base-with-car-bomb
-----------
Tens of thousands displaced by group in two weeks in Chad
21.08.2015
Two members of the Philippine Coast Guard taken hostage by al Qaeda-linked militants three months ago have escaped captivity during a raid by U.S.-trained commandos on a remote southern island, an army spokesman said on Thursday.
Four other hostages, including two businessmen from Malaysia and South Korea, held at the same location in the jungle near Indanan town on Jolo island have still not been accounted for, army spokesman Captain Antonio Bulao said.
He said security forces had killed 15 members of the Abu Sayyaf group late on Wednesday during the rescue operation.
The two coast guardsmen took advantage of the confusion during the firefight and escaped.
"They are here with us and having a meal right now," Bulao told reporters by phone from an army base on Jolo. "They are in high spirits but tired after hiding all night before they were found today.
Full report at:
http://pulse.ng/local/boko-haram-tens-of-thousands-displaced-by-group-in-two-weeks-in-chad-id4093133.html
-------------
Senegal jails seven men for 'being gay'
21 August 2015
Seven men have been jailed for six months in Senegal, after they were found guilty of homosexuality.
A court in Dakar heard police caught the men having sex during a raid.
The mother of one of the accused told the authorities her son was gay, but she failed to show up as a prosecution witness at the trial.
Homosexuality is banned in the west African country. It is punishable by up to five years in prison and fines of up to $2,500 (£1,500).
Defence lawyer, Abdoul Daff, said the mother's failure to appear in court should have caused the case to collapse.
"There was neither material evidence nor testimony in order to corroborate the claims," he added.
Full report at:
http://www.bbc.com/news/world-africa-34023204
-------------
North America
AMERICAN MUSLIMS LAUNCH AN ORGANIZATION IN WASHINGTON DC
Mike Ghouse
August 21, 2015
Washington D.C., August 21, 2015 – "American Muslims of the Washington, DC area are pleased to announce the formation of a nonprofit organization to provide reliable information and advice to public and policy makers on Islam and Muslims. We need constructive solutions to current and emerging problems emanating from wrong perceptions and misinformation about Islam and Muslims in America." said Dr. Islam Siddiqui, President of the newly formed American Muslim Institution.
Our Mission is to work for a world of co-existence through inclusiveness and participation. As a member of diverse family of faiths, our efforts will be directed towards justice and equality to attain peace for Americans with a firm grounding in commonly held values.
We are committed to be a proactive voice for American Muslims and promote a positive image of Muslims through dialogue and understanding.
The sponsors of the organization are deeply committed to the peace, security and prosperity of the United States of America. The organization in its nascent stages has just begun the process of gathering some of the brightest minds from academia, public intellectuals, activists and futurists to find pluralistic and positive solutions to the problems facing the country and wrongly attributed to Islam. Indeed, this organization will be a reliable source of information and advice in dealing with the issues facing the homeland.
"We will continue to make concerted efforts to increase our participation in the civil society and earn our trusted social, political and religious space in the U.S."Mike Ghouse, the Executive Director of American Muslim Institution added.
Ambassador Islam Siddiqui is a former U.S. Under Secretary of Agriculture and Chief Agricultural Negotiator, and was the highest ranking American Muslim in the United States Government under the Clinton and Obama Administrations.
Mike Ghouse is a public speaker, thinker, writer and a TV-Radio commentator on Pluralism, Islam, and Politics and is a human rights activist committed to building cohesive societies and offers pluralistic solutions on issues of the day.
Both Dr. Siddiqui and Mr. Ghouse can be reached at the above mentioned numbers to discuss the vision and mission of the American Muslim Institution.
Details of the official launch will be announced in the next few weeks.
Contacts:
Islam Siddiqui (202) 725-7409 | Islam@AmericanMuslimInstitution.org
Mike Ghouse (214) 325-1916 | Mike@AmericanMuslimInstitution.org
What am I doing in Washington
I am requesting your generous feedback. Here is an effort to write the shortest possible note, and yet say most of it, please let me know if I did it.
Pursuing our dreams and realizing them in our life time is the biggest achievement in one's life. The dream comes in two parts and most of us have achieved the first part; i.e., taking care of ourselves and our families to the best of our abilities. America has been a great catalyst in achieving our dreams, thank you America!
The second part is what most of us are hunkering for, and at times it is not clear where we should place our priorities or what legacy we want to leave behind us. Bill Gates had the best advice – do it while you are alive and relish the good, instead of letting it happen on its own when we are gone abruptly. We all struggle to make our life purposeful and that is good. You can join us in that direction.
My friend Ambassador Islam Siddiqui and I were walking from our office to the congressional building for a meeting. On our left were Supreme Court and the Library of Congress, and on the right was the Capitol Hill. We were talking about the founding fathers and their vision that has carried this nation this far, what a vision they had, and how utterly unselfish were they! We are all the beneficiaries of the systems and structures they left behind. You and I wouldn't be here had it not been for their immortal declaration of independence that all men are created equal.
Full report at:
http://thearabdailynews.com/2015/08/21/american-muslims-launch-organization-washington-dc/
-------------
Europe
Cameron's 'knee-jerk' policies will fail to root out hate preachers, blasts Muslim leader
Aug 21, 2015
Speaking ahead of the country's biggest annual gathering of Muslims this weekend, Naseer Dean, the London head of the influential Ahmadiyya Muslim group, launched a scathing attack on Prime Minister David Cameron and Home Secretary Theresa May.
He argued that Tory ministers had allowed for the radicalisation of 4,000 young British Muslims by failing to grasp the scale of the problem of religious extremism.
He accused the media regulator Ofcom of being "reactive" rather than proactive and attacked the Home Office for cutting off funding to vital services aimed at monitoring extremist preachers.
And he called on the Government to "educate itself" about Islam so that "they have a better handle of what is going on in the mosques".
Shortly after the General Election, the Prime Minister announced plans for tough new rules to tackle extremism, claiming Britain had become a "passively tolerant" society.
They included "closure orders" brought in to shut buildings used by extremist preachers and a ban on radical clerics mixing with vulnerable young Muslims.
But, in an exclusive interview with Express.co.uk, Mr Dean rubbished the proposals as "a knee-jerk reaction".
"They are expecting the local authority and everybody to be monitors and to snoop, which is not the way to go," he said.
"They need to find out what is going on in the mosques and a lot of the clerics that are coming to the United Kingdom are being allowed to come here."
In May, Mr Cameron also revealed plans to give more power to Ofcom to take action against channels that broadcast extremist content.
But Mr Dean said the regulator had "very little resources available to them to monitor what is going on".
He added: "They are more reactive, it is only when they get a complaint from a viewer [that they act].
"On satellite channels we have had to go to Ofcom to tell them that they are broadcasting from Britain and that they are creating a sectarian divide. They need to look into that."
At least 4,000 young Muslims living in the UK have been radicalised, Mr Dean estimated, although he added that the figure was likely to be even higher.
"If you assume that there are two-and-a-half million Muslims in the UK, and you say that there are even one per cent of them that are radicalised, that is 25,000," he said.
"There could be 25,000 or 30,000 radicalised."
He also called on ministers to implement stronger policies to tackle extremism in schools, saying not enough was being done to prevent the indoctrination of youngsters.
"A lot of lip service is given when people are worried about a few people going off to Syria, and then it goes very quiet," he added.
"The Government needs to look at visiting schools and getting people in who can give the right message.
Full report at:
http://www.express.co.uk/news/uk/599898/Islamic-extremism-UK-knee-jerk-Government-policies-fail-young-British-Muslims
-------------
Annual Convocation of Ahmadiyya Muslim Community begins in Hampshire, UK
August 22, 2015
LONDON: The 49th Jalsa Salana (Annual Convention) of the Ahmadiyya Muslim Community in the United Kingdom commenced on Friday, August 21, at the vast Hampshire farm known as 'Hadeeqatul Mahdi'. It is anticipated that more than 30,000 delegates from over 90 countries have travelled to attend the Jalsa.
On first day, the World Head of the Ahmadiyya Muslim Community, the Fifth Khalifa (Caliph), His Holiness, Hazrat Mirza Masroor Ahmad delivered the Friday Sermon and later delivered the inaugural address of this year's Jalsa Salana during which he said that the purpose of the Jalsa Salana was to promote the true and peaceful teachings of Islam.
His Holiness also raised the Flag of the Ahmadiyya Muslim Community, whilst Rafiq Hayat, the National President of the Ahmadiyya Muslim Community in the United Kingdom, raised the Union Jack.
In his address, Hazrat Mirza Masroor Ahmad said that where the Jalsa is a spiritual gathering to increase faith in God, it is also be a means of increasing humanity and a sense of brotherhood.
Hazrat Mirza Masroor Ahmad said: "According to the teachings of the Holy Quran, the love that a Muslim must adopt for humanity should be such that he or she should become restless upon seeing any other person in discomfort. A true Muslim must always be watchful of the sentiments of others and must sacrifice his own comfort for the sake of the comfort of his fellow beings."
Full report at:
http://punjabnewsexpress.com/international/news/annual-convocation-of-ahmadiyya-muslim-community-begins-in-hampshire-uk-42797.aspx
----
URL: https://www.newageislam.com/islamic-world-news/new-age-islam-news-bureau/daesh-terrorists-execute-over-a-dozen-children-in-northern-iraq/d/104350