New Age Islam News Bureau
24 Sept 2018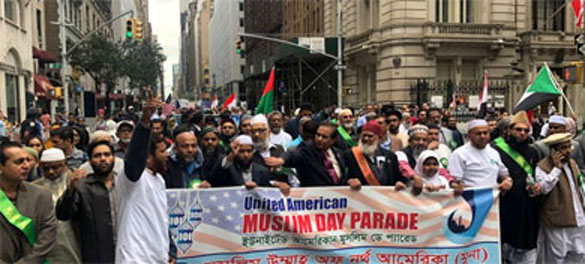 At the 33rd annual Muslim Day Parade in Manhattan on Sunday, hundreds marched down Madison Avenue from 37th Street to 27th Street. Photo Credit: Oumou Fofana
------
• Crown Prince: Saudi Arabia Committed To Principles of Islam
• Muslim Day Parade Draws Hundreds to Madison Avenue for 33rd Annual Event
• Pakistan Parties Question PM Imran Khan for 'Too Much Keenness' to Mend Ties with India
• Maldives Presidential Election: Opposition's Ibrahim Salih Wins, India Calls it 'Triumph of Democratic Forces'
• ISIS Posts Video of Men Allegedly Involved Iran Attack
• 'Meet a Muslim' Event Hopes To Dispel Misconceptions around Islamic Faith
Arab World
• Crown Prince: Saudi Arabia Committed To Principles of Islam
• Muslim Brotherhood Chief, 65 Others Get Life for Egypt Attack
• Turkish Army's Elite Troops Arrive in Northern Syria
• Terrorists Oppose Russian-Turkish Agreement on Syria's Idlib
• Turkey vows to impose secure zones east of Euphrates in Syria
• Gargash: UAE's stance against terrorism clear, Iran's claims are baseless
• Iran Threatens UAE after Tweet By Emirati Writer On Ahwaz Attack
• Iraqi court sentences four Takfiri Daesh terrorists to life imprisonment
• Russia says Israel fully responsible for downing of plane in Syria
• Syrian army forces shoot down militants' combat drone in northern Latakia
• Iraq not allowing Turkish troops back to Bashiqa: Report
--------
Europe
• Muslim Day Parade Draws Hundreds to Madison Avenue for 33rd Annual Event
• French Muslim Rapper Cancels Bataclan Shows after Far-Right Protests
• UK Populist UKIP Takes Racist Leap Forward With Islamic Venom Manifesto
--------
Pakistan
• Pakistan Parties Question PM Imran Khan for 'Too Much Keenness' to Mend Ties with India
• Afghan, Bengali Refugees Gather In Karachi to Thank PM over Citizenship Announcement
• Pakistan Still Willing To Open Kartarpur Border for Sikh Pilgrims: Fawad Ch
• Pakistan to raise Kashmir issue at UN meeting
• Pakistan won't abandon peace efforts, says Qureshi
• 3 tribesmen killed, 2 injured by unknown attackers in Balochistan
• PM Khan's Saudi visit strengthened strategic cooperation: envoy
• Taliban deny meeting US officials at Bagram
• Musharraf admonishes Indian army chief, hits back hard at threats
--------
South Asia
• Maldives Presidential Election: Opposition's Ibrahim Salih Wins, India Calls it 'Triumph of Democratic Forces'
• Unexploded Mortar Detonates In Afghanistan, Kills 8 Children
• Bangladesh minister proposes forming joint investment forum with Qatar
• Rohingya Refugees Celebrate Islamic Holiday In Makeshift Mosques In Bangladesh
• Over 500 militants killed, wounded in past 6 months in Nangarhar
• Senior NATO General vows all-out support to Afghanistan during elections
--------
Mideast
• ISIS Posts Video of Men Allegedly Involved Iran Attack
• Pro-Turkey Syria Rebels Accept Idlib Deal, Albeit Cautiously
• Iran's Judiciary Calls for International Prosecution of Al-Ahwaziya Terrorist Group
• MPs Condemn Terrorist Attack in Southwestern Iran, Blame US, Regional States
• Israel sets October deadline to evacuate Bedouin village in West Bank
• Turkey's Erdogan vows to impose secure zones east of Euphrates in Syria
--------
North America
• 'Meet a Muslim' Event Hopes To Dispel Misconceptions around Islamic Faith
• American Victims Want Palestinian Leader Barred From UN General Assembly
• Pompeo: Trump willing to meet Iran's Rouhani at UN this week
• Rouhani blames U.S. after attack on Iran military parade leaves 25 dead, despite Islamic State taking credit
--------
Africa
• Tripoli Clashes Leave 115 Dead, 383 Injured- Health Ministry
• Rights Group Alleges Plot to Thwart Boko Haram War
• Boko Haram landmines in Nigeria killed at least 162 in two years – study
• State to Increase Security in Ijara to Ward Off Shabaab
• Al-Shabaab terrorist Mohamed Abdirahman Osman living in Arizona on Obama era immigration rules
--------
India
• Assam Police Arrest 8 Suspected Hizbul Terrorist, Muslims Take Out Protest Rally Against Terrorism
• Pakistan's 'One-Trick Pony' Act on Kashmir Has No Resonance In UN: India
• Symposium Held On Promoting Interfaith Understanding in AMU
• Indian Mujahideen facilitator shot dead in Nepal
--------
Southeast Asia
• Minister Hits Out at Zakir Naik-Style Islamic Preaching
• Dr M To Deliver Major Lecture On Islam At Oxford Centre For Islamic Studies
• Yeoh: Shariah Nod Doesn't Mean Cops Can't Probe Child Marriages
• Stranger things: When Umno chiefs seek Mahathir's advice
Compiled by New Age Islam News Bureau
URL: https://www.newageislam.com/islamic-world-news/crown-prince-saudi-arabia-committed/d/116472
--------
Crown prince: Saudi Arabia committed to principles of Islam
September 23, 2018
JEDDAH: Saudi Arabia "will remain committed to the principles" of Islam, "the religion of tolerance and moderation," Crown Prince Mohammed bin Salman said on Sunday in a speech to mark the Kingdom's 88th National Day.
The Kingdom "will keep on fighting against extremism and terrorism," and "we will not allow anyone to attack the sovereignty of our homeland or jeopardize its security," he added.
The crown prince paid tribute to "the efforts of our countrymen in all fields, and most importantly our soldiers and security personnel."
The 88th National Day is an opportunity to recall the achievements of the country's founder King Abdul Aziz and his sons, the crown prince said, praising the nation's growth and prosperity under King Salman.
"On our National Day, we take pride in our country's position on an international, Islamic and Arab level," the crown prince said.
He praised the Kingdom's achievements of "security, regional and international peace" and "economic prosperity."
Government agencies have established the principles of transparency and justice to promote integrity, fight corruption and achieve the goals of the Kingdom's Vision 2030 reform plan, he said.
Vision 2030 "looks forward to the future," and seeks to place Saudi Arabia "at the forefront of countries with continuous follow-up, guidance and support from King Salman," the crown prince added.
"This special occasion requires us to thank God for His generosity toward our country to serve the Two Holy Mosques and care for Hajj and Umrah pilgrims and visitors," he said.
"That care was reflected in the great success of the last Hajj season and God's continuous blessings to the Saudi government and its hospitable people," as well as "its continuous concern for sustained development of holy lands and services" in order to ensure that pilgrimages can be performed with ease, he added.
http://www.arabnews.com/node/1376481/saudi-arabia
--------
Muslim Day Parade draws hundreds to Madison Avenue for 33rd annual event
September 23, 2018
Hundreds of people marched in midtown Manhattan Sunday for the 33rd annual Muslim Day Parade.
The procession's theme was "mercy for all," which Mohammad Malik, a trustee at Muslim Majlis of Staten Island, said celebrated Muslims' commitment to spreading peace and loving people of all religions.
"Everybody belongs to Allah, so we will spread love," Malik, 58, yelled, while marching.
The parade kicked off with Zohr prayer, near 38th Street and Madison Avenue. Those marching carried flags from more than a dozen countries — including the U.S., Nigeria, the Dominican Republic and India — highlighting the array of communities practicing Islam around the globe.
Meryema Mulic, whose family has been coming from New Jersey to the march since she was a child, said the tradition helps convey cultural pride and dispel stereotypes about Islam. "A Muslim is like every other person walking in New York City," said Mulic. "It's sort of like a cultural thing and a part of my family's identity and how we want to show that we have pride in being Muslim."
The parade launched in 1985, with the goal of uniting and politically empowering American Muslims, according to organizers. The parade was canceled in 2001 after the Sept. 11 attacks, according to organizers. They said crowds have been smaller since then due to the rise of Islamophobia and the political climate buoying President Donald Trump's ban on travel from countries with a mostly Muslim population.
Still, the parade organizers said New York Muslims were pleased when their decades-long advocacy prompted the public school system to stop holding classes on the Eid holidays in 2015.
"We are Americans," said Hussin Syed, chairman of this year's parade. "We have a voice, and we will use it."
https://www.amny.com/news/muslim-day-parade-manhattan-1.21228076
--------
Pakistan Parties Question PM Imran Khan For 'Too Much Keenness' to Mend Ties With India
September 23, 2018
Islamabad (Pakistan): Pakistan's two major opposition parties on Sunday launched an attack on Prime Minister Imran Khan for showing "too much keenness" to mend the country's ties with India and held him responsible for the "diplomatic debacle". The parties said Imran Khan should have done his homework before approaching India for a dialogue.
Following New Delhi's refusal to hold talks with the country on the sidelines of UNGA in New York later this month, Pakistan parties — Pakistan Muslim League-Nawaz (PML-N) and the Pakistan Peoples Party (PPP) — held the Pakistan Tehreek-e-Insaf government responsible for the latest "diplomatic debacle".
Former foreign minister Khawaja Mohammad Asif criticised Khan for stating in the letter that "Pakistan remains ready to discuss terrorism" and said it seemed the government was "not prepared" from the day one. "Too much keenness being shown by the prime minister showed weakness on our part. Giving India too much reflects haste on our part to mend fences with India," Asif was quoted as saying by Dawn news.
Asif said that he was not against India and Pakistan mending ties but "dignity must be maintained". Regretting that Imran Khan wrote a letter to India, Asif said that he failed to realise that the US and India had recently issued a joint statement after the visit of Secretary of State Mike Pompeo to New Delhi and Islamabad which was "dead against" Pakistan.
"The US and India raised all kinds of allegations against Pakistan and you are talking about terrorism in the letter. This is a sign of weakness (on our part)," Asif said.
Attacking India for cancelling talks with Pakistan blaming the latter for the killings of three soldiers last week, PPP Vice-President Sherry Rehman said, "The Indian Govt and Army chief's response are both immature and irresponsible. What are they threatening Pakistan about? They have crossed all diplomatic norms and protocols to emerge as a belligerent nuclear power that is only looking to externalise its own extremisms."
Following India's refusal to hold talks with Pakistan, PM Imran Khan expressed disappointment saying that New Delhi's response to his resumption of peace dialogue was "arrogant and negative". Making an attack on India, he further said that he has seen "small men occupying big offices who lack the vision to see the larger picture."
http://www.india.com/news/world/pakistan-parties-question-pm-imran-khan-for-too-much-keenness-to-mend-ties-with-india-accuse-him-of-diplomatic-debacle-3342564/
--------
Maldives Presidential Election: Opposition's Ibrahim Salih Wins, India Calls it 'Triumph of Democratic Forces'
September 24, 2018
New Delhi: Congratulating Maldives Opposition leader Ibrahim Mohamed Solih over his thumping victory in the Presidential Election, India on Monday asserted that the poll not only marks the triumph of democratic forces in the South Asian country, but also reflects the firm commitment to the values of democracy and the rule of law.
"We welcome the successful completion of the third Presidential election process in the Maldives which, according to preliminary information, Mr. Ibrahim Mohamed Solih has won. We heartily congratulate Ibrahim Mohamed Solih on his victory and hope that the Election Commission will officially confirm the result at the earliest," Ministry of External Affairs (MEA) said in a press statement.
India further asserted that it is looking forward to work closely with the Maldives. "In keeping with our 'Neighbourhood First' Policy, India looks forward to working closely with the Maldives in further deepening our partnership," the External Affairs Ministry added.
The United States also congratulated the people of Maldives, who peacefully raised their democratic voices to determine the future of their country.
Maldives Opposition legislator Ibrahim Mohamed Solih won the country's bitterly-fought presidential election with 58.3 per cent of the popular vote, official results claimed. Results released by the Elections Commission showed Solih securing 1,33,808 votes compared to the 95,526 for incumbent Abdulla Yameen. The voter turnout was over 88 per cent out of the 2,62,000-strong electorate.
http://www.india.com/news/india/maldives-presidential-election-oppositions-ibrahim-mohamed-solih-wins-india-calls-it-triumph-of-democratic-forces-3343245/
--------
ISIS posts video of men allegedly involved Iran attack
24 September 2018
ISIS' Amaq agency has posted a video of three men in a vehicle who it said were on their way to carry out an attack on an Iranian military parade.
Two of the men spoke in Arabic about jihad, while the third spoke in Farsi suggesting they were targeting Iranian Revolutionary Guards, according to the recording, released after Saturday's assault on the Guards in the Iranian city of Ahwaz.
https://english.alarabiya.net/en/News/middle-east/2018/09/24/ISIS-posts-video-of-men-allegedly-involved-Iran-attack.html
--------
'Meet a Muslim' event hopes to dispel misconceptions around Islamic faith
24 Sep, 2018
The age-old saying, "don't judge a book by its cover" is particularly important in today's society. And one which a Muslim initiative is using in an attempt to dispel negative connotations associated around what it means to be Muslim.
"Since the horrendous events on 9/11 and the countless terror attacks since, scepticism and uncertainty have enshrouded the religion of Islam and Muslims around the world," Ahmadiyya imam, Mustenser Ahmad Qamar said.
"We want to assure everyone that no one despises these terrorists more than the Muslim community itself. These terrorists have twisted the religion of Islam and are using it for their own personal gains and political motives."
While New Zealanders, for the most part were able to "divorce the actions of a few barbaric individuals within the religion of Islam," Qamar said there were still a large number who had never met a Muslim.
Ahmaddyia Muslim community New Zealand, head of outreach, Mohamed Anas Raheem said a lot of the "misunderstanding and misconceptions around the faith" stemmed from a "fear of the unknown".
As members of the Ahmaddyia Muslim community, they are taking part in "Meet a Muslim" initiative, to allow non-Muslims to know a Muslim person in New Zealand. The campaign began two years ago and has had positive results.
"They realise that we are normal human beings - proud New Zealanders that are contributing to the country and want to give back as much as possible. When they realise that, they understand a lot of the things they are hearing are myths."
Under the umbrella of the nationwide ''True Islam Campaign'', people wearing "I am a Muslim, ask me anything," will head to Napier for the first time this Saturday.
While there will be a number of events, including the Quran Exhibition, seminars on the Quran and the topic of terrorism, people are invited to attend a Q&A allowing questions to be asked about anything to do with Islam.
"We hope through initiatives like this we are able to build bridges of understanding and foster a much more harmonious society," Qamar said.
https://www.nzherald.co.nz/religion-and-beliefs/news/article.cfm?c_id=301&objectid=12128697
--------
Arab World
Muslim Brotherhood chief, 65 others get life for Egypt attack
24 September 2018
An Egyptian court on Sunday sentenced 66 people to life in prison, including Muslim Brotherhood chief Mohammed Badie, over an August 2013 attack on a police station in Minya.
Death sentences were meted out to 183 people over the deadly attack on the police station in the southern province, before a retrial was ordered.
On Sunday, around 700 people were tried again in this case, defense lawyer Abdel Moneim Abdel Maqsood told AFP.
Sixty-six of the 700 were sentenced to life imprisonment, which is 25 years in Egypt, 288 were acquitted, six have died since the first trial and the rest were sentenced to between three and 15 years in prison.
Badie, 75, was on Sunday convicted of inciting his supporters to violence in the Minya case following the ouster of Islamist president Mohamed Morsi in July 2013.
Badie, on trial in 35 cases related to the Brotherhood, has been sentenced to death in several of them but the verdicts have been overturned by the court of cassation. He got life sentences in more than five cases.
https://english.alarabiya.net/en/News/middle-east/2018/09/24/Muslim-Brotherhood-chief-65-others-get-life-for-Egypt-attack.html
--------
Turkish Army's Elite Troops Arrive in Northern Syria
Sep 23, 2018
A battalion of the Turkish commandoes entered Idlib crossed Tonkli province border with Northwestern Syria and entered Idlib province.
The elite forces' dispatch to Idlib is allegedly aimed at reinvigoration of truce-monitoring points in the Northwestern province.
In the meantime, field sources in Northern Syria reported that a new convoy of the Turkish troops, including elite forces, personnel-carrier vehicles and canons have been dispatched to Rayhanli region in Hatay province near the border with Western Idlib.
On Tuesday, Turkish Foreign Minister Mevlut Cavusoglu spoke in favor of deploying additional troops to the Syrian city of Idlib after Russian President Vladimir Putin and his Turkish counterpart Recep Tayyip Erdogan agreed to create a demilitarized zone along the contact line between the armed opposition and government troops in Idlib by October 15.
"We will have 12 observation points in Idlib. However, we need to send additional troops there," the foreign minister stated at a press conference in Ankara broadcasted by the NTV television channel.
Russia and Turkey will carry out coordinated patrols, with drones also taking part, Cavusoglu said.
"Terrorist groups will leave, heavy weapons will be withdrawn, civilians and moderate opposition with a small number of light weapons will remain. Turkey and Russia will jointly control this process. We will need to deploy additional military troops to Idlib," Cavusoglu added.
Before the talks, Ankara reportedly sent reinforcement troops to Idlib province, increasing its presence in the country.
Full report at:
http://en.farsnews.com/newstext.aspx?nn=13970701000965
--------
Terrorists Oppose Russian-Turkish Agreement on Syria's Idlib
Sep 23, 2018
The Arabic-language website of RT reported that the Ankara-backed National Liberation Front which includes a number of Free Syrian Army units has stressed that it will not lay down arms and will never hand over their positions in Idlib in violation of the Sochi agreement endorsed by Ankara and Moscow over Idlib.
The Arabic RT further said that the National Liberation Front has kept its gunmen on alert to counter the Syrian Army.
The report further quoted Russian President Vladimir Putin as saying that the entire heavy weapons of the militant groups, including cannons, mortars, tanks and missile systems must be taken out of the demilitarized zone.
Earlier today, the Kurdish-language Hawar news quoted Aladdin al-Khaled, the head of Syria's al-Mostaqbal Party in al-Shahba region, as reporting that Ankara is transferring Tahrir al-Sham Hay'at from Idlib to Afrin under the Sochi agreement on Idlib in an effort to rescue them.
It further said that a number of Tahrir al-Sham terrorists have entered the village of Deir Balout in Jandaris region in Afrin under the Turkish intelligence forces' monitoring.
In the meantime, local sources in Afrin reported that the Turkish army and its allied militants have forced civilians to leave their residential units in the villages of Kokan Foqani, Kokan Tahtani and Dar Karah in Mobata region to settle family members of Idlib terrorists.
Also, the London-based Syrian Observatory for Human Rights (SOHR) said that the Ankara-backed Free Syrian Army (FSA) has expelled almost 200 family members of Eastern Ghouta terrorists from a region in Afrin and moved them towards Idlib to pave the ground for sheltering the FSA members in Afrin.
On Monday, after three-hour negotiations between Turkish President Rajab Tayyip Erdogan and Russian President Vladimir Putin , Russia and Turkey agreed to create by October 15 a demilitarized zone in Syria's Idlib province along the contact line between the Syrian government forces and the armed opposition. According to Ankara's proposal, the armed opposition's tanks, multiple launch rocket systems and other heavy weaponry are to be fully withdrawn from the area by October 10. The demilitarized zone will be controlled by mobile patrol groups of the Turkish military and Russia's military police.
Full report at:
http://en.farsnews.com/newstext.aspx?nn=13970701000818
--------
Turkey vows to impose secure zones east of Euphrates in Syria
24 September 2018
President Tayyip Erdogan said Turkey will take action east of the Euphrates river in Syria and impose secure zones as it has done in northwest Syria, the Hurriyet daily and other media said on Monday.
Turkey previously carried out a military operation to seize control of Syria's Afrin region from the Syrian Kurdish YPG militia, which Ankara considers a terrorist organization. The YPG also controls the region east of the Euphrates.
"God willing, in the period ahead we will increase the number of secure zones in Syria, encompassing the east of the Euphrates," the Hurriyet website quoted Erdogan as saying in a speech during a visit to New York.
Full report at:
https://english.alarabiya.net/en/News/middle-east/2018/09/24/Turkey-vows-to-impose-secure-zones-east-of-Euphrates-in-Syria.html
--------
Gargash: UAE's stance against terrorism clear, Iran's claims are baseless
23 September 2018
UAE's Minister of State for Foreign Affairs Anwar Gargash tweeted on Sunday saying his country's "historic stance against terrorism and violence" was clear and described Iran's recent allegations as baseless.
"Incitement against the UAE inside Iran is unfortunate and is escalating following the Ahwazi attack… UAE's historic position against terrorism and violence is clear and Tehran's accusations are baseless," Gargash tweeted.
Iran on Sunday summoned the top diplomat of the United Arab Emirates over a tweet attributed to a UAE writer on the weekend's attack on an Iranian military parade in Ahwaz province.
Full report at:
https://english.alarabiya.net/en/News/gulf/2018/09/23/Gargash-UAE-s-stance-against-terrorism-clear-Iran-s-claims-are-baseless.html
--------
Iran threatens UAE after tweet by Emirati writer on Ahwaz attack
23 September 2018
Iran on Sunday summoned the top diplomat of the United Arab Emirates over a tweet attributed to a UAE writer on the weekend's attack on an Iranian military parade in Ahwaz province.
The Emirati charge d'affaires was summoned to the foreign ministry over what Iran is considering as "blatant support" for Saturday's attack in the city of Ahwaz that killed 29 people, said the ministry's spokesman Bahram Ghasemi.
The spokesperson described falsely the writer as a "political advisor."
"The charge d'affaires was warned ... it will have repercussions for the UAE government," said Ghasemi.
The ministry did not disclose the writer's name or the controversial comments.
However, Emirati academic Abdulkhaleq Abdulla, has tweeted on the Ahwaz attack by saying: "A military attack against a military target is not a terror act."
The tweet drew sharp criticism from Muhsin Rezai, the secretary of the Expediency Discernment Council in Iran, who considered the comment a clear threat of new attacks on the territory of the Islamic Republic.
For his part, the mayor of Tehran, Mohsen Rafsanjani, joined the threat, stressing that "Emirates camps is more than just a goal!"
Full report at:
https://english.alarabiya.net/en/News/gulf/2018/09/23/Iran-warns-UAE-over-offensive-remarks-on-Ahwaz-attack.html
--------
Iraqi court sentences four Takfiri Daesh terrorists to life imprisonment
Sep 23, 2018
Iraqi judicial officials have handed down life terms to four people over membership in the Daesh Takfiri terrorist group and involvement in acts of terror in the war-ravaged Arab country's northern provinces of Kirkuk and Nineveh.
Abdul Sattar al-Biraqdar, the spokesman for Iraq's Supreme Judicial Council, said the Central Criminal Court of Iraq, which is the country's flagship criminal justice institution, found the defendants guilty of "membership in the so-called Islamic police of the terrorist Daesh group, and undergirding weapons training."
Biraqdar added that the convicts confessed to having received generous sums of money from Daesh terror outfit, emphasizing that the verdicts passed on them are in accordance with under Article IV of Iraq's Anti-Terrorism Law.
On September 19, an Iraqi court sentenced a deputy of purported Daesh leader Ibrahim al-Samarrai, aka Abu Bakr al-Baghdadi, to death by hanging, after he was found guilty of orchestrating a series of terrorist attacks.
Biraqdar said in a statement that the Karkh Criminal Court passed the ruling on Ismail Alwan Salman al-Ithawi in accordance with Article IV of the Anti-Terrorism Law. Ithawi was extradited from Turkey earlier this year, having fled Syria.
The spokesman for Iraq's Supreme Judicial Council added that the high-profile Daesh figure held several positions in the terror group. He was apparently in charge of the Committee on Issuing Fatwas (religious creeds) and a member of the committee tasked with developing curricula for Daesh terrorists.
Iraqi Prime Minister Haider al-Abadi, who is also the commander-in-chief of Iraqi forces, pledged on June 30 to hunt down Daesh terrorists across Iraq after a series of attacks and abductions carried out by the terrorist group.
"We will chase the remaining cells of terrorism in their hideouts and we will kill them, we will chase them everywhere, in the mountains and the desert," Abadi said.
Abadi declared the end of military operations against Daesh in the Arab country on December 9, 2017.
On July 10 that year, the Iraqi prime minister had formally declared victory over Daesh in Mosul, which served as the terrorists' main urban stronghold in the conflict-ridden Arab country.
In the run-up to Mosul's liberation, Iraqi army soldiers and volunteer Hashd al-Sha'abi fighters had made sweeping gains against Daesh.
Iraqi forces took control of eastern Mosul in January 2017 after 100 days of fighting, and launched the battle in the west on February 19 last year.
Full report at:
https://www.presstv.com/Detail/2018/09/23/575001/Iraqi-court-sentences-four-Takfiri-Daesh-terrorists-to-life-imprisonment
--------
Russia says Israel fully responsible for downing of plane in Syria
Sep 23, 2018
The Russian Defense Ministry says "misleading" information from the Israeli Air Force Command has in fact downed a Russian Ilyushin Il-20 reconnaissance aircraft off a Syrian coast, holding the Israeli regime fully responsible for the tragic event, which killed more than a dozen servicemen.
Major General Igor Konashenkov, the chief spokesman for the Ministry of Defence of the Russian Federation, made the remarks on Sunday, stressing that a minute-by-minute account of the incident showed that Israel was culpable for what happened for the Russian aircraft.
"We believe that the blame for the Russian Il-20 aircraft tragedy lies entirely with the Israeli Air Force," Konashenkov said before giving a detailed account of events leading to the downing of the aircraft on September 17 by Syria's S-200 missile defense system.
The Russian plane with 15 servicemen was circling over Idlib's de-escalation zone on a special reconnaissance mission, when four Israeli F-16 warplanes left the regime's airspace and flew over the neutral Mediterranean waters towards the Syrian coast.
Konashenkov said the Russian military received a call from Israeli command warning that its warplanes were about to strike "north of Syria", where the doomed plane was monitoring. But the Russian aircraft had only less than a minute for any safety maneuvers to return to its base, before Israeli jets dropped their precision-guided glide bombs in Latakia, he added.
"The misleading (information) by the Israeli officer regarding the location of the strikes made it impossible to guide the Il-20 to a safe location," he said.
As the Il-20 was landing near Latakia, one of the Israeli jets "began to maneuver" at 1859 GMT "getting closer to the Il-20", which was interpreted as a repeat attack by the Syrian air defense and resulted in it being shot down, Konashenkov added.
He explained that the intentional close proximity of the Israeli jet to the Russian aircraft practically deceived the Arab country's air defense units and showed the reconnaissance plane as a group of Israeli jets on the Syrian radars, effectively used the big aircraft as a "shield."
Actions by the Israeli pilots "either speak of their unprofessionalism or criminal negligence at the very least," Konashenkov said, adding, "The military leadership of Israel either has no appreciation for the level of relations with Russia, or has no control over individual commands or commanding officers who understood that their actions would lead to tragedy."
He also said "adventurism" of the Israeli military could have even put in danger civilian planes which use the same airspace to land at the nearby Hmeimim airbase, run by the Russian military.
Furthermore, the Russian embassy in Tel Aviv said the actions of the Israeli air force were "irresponsible and unfriendly" and exposed the Il-20 aircraft to danger.
Additionally, Syrian President Bashar al-Assad blamed Tel Aviv for the tragic deaths of Russian servicemen, stressing that the "unfortunate incident" was a result of "Israeli arrogance and depravity."
Russian jets have been conducting air raids against Daesh and other terror outfits inside Syria at the Damascus government's request since September 2015.
The strikes have helped Syrian forces advance against anti-Damascus militants, who have been wreaking havoc in the Arab country since 2011.
Full report at:
https://www.presstv.com/Detail/2018/09/23/574997/Russia-Syria-Israel-downing-Il20-Idlib
--------
Syrian army forces shoot down militants' combat drone in northern Latakia
Sep 23, 2018
Syrian government forces have intercepted and targeted an unmanned aerial vehicle as it flew in the skies over the western coastal province of Latakia, where Russia has an air base and from which its fighter jets conduct airstrikes against Daesh terrorists and foreign-sponsored Takfiri militants in the conflict-plagued Arab country.
Informed sources, speaking on condition of anonymity, told Syria's pro-government and Arabic-language al-Masdar news agency that Syrian troops shot down the armed drone using a ZU-23-2 anti-aircraft auto-cannon.
The sources added that members of the Jabhat Fateh al-Sham, formerly known as al-Nusra Front, Takfiri terrorist group had launched the unmanned aerial vehicle from the neighboring militant-held Idlib province.
The development came only two days after a militant drone attack left eight Syrian soldiers injured in the northern part of Latakia province.
The Russian Reconciliation Center for Syria said the assault was launched by a group of foreign-backed militants, based in the city of Jisr al-Shughur, against a group of Syrian troopers near the town of Qala'at Marza.
Syrian army tightens noose on Daesh terrorists in Sweida's al-Safa hills
Meanwhile, Syrian army forces, supported by allied fighters from popular defense groups, have dealt stinging blows to Daesh terrorists in the country's southwestern province of Sweida.
Syria's official news agency SANA reported that Syrian soldiers and their allies fortified their positions in the al-Safa hills and carried out a counter-terrorism operation in the area. Scores of Daesh extremists were killed and injured in the process.
Full report at:
https://www.presstv.com/Detail/2018/09/23/574991/Syrian-army-forces-shoots-down-militant-combat-drone-in-northern-Latakia
--------
Iraq not allowing Turkish troops back to Bashiqa: Report
Sep 23, 2018
Iraq has refused to allow Turkish troops back into the Arab country following a leave from their bases, a government-affiliated think tank in Baghdad has reported.
According to Al-Nahrain Center for Strategic Studies, the move is in line with the Iraqi government's efforts to put an end to Turkish military presence in the country.
The measure had been adopted over the previous months, withholding visas to the Turkish forces who sought to return to Iraq, Iraqi News website reported on Sunday.
Watheq al-Hashemi, director of the center, said the decision had helped reduce the number of Turkish troops significantly.
"The government's stance of not allowing Turkish soldiers to return will end the Turkish military presence in Bashiqa without any diplomatic or military friction," he said.
The Bashiqa camp, al-Hashemi said, is totally cordoned by Iraqi troops and Turkey cannot carry out any plans without the knowledge of Iraqi troops.
Turkey has been conducting air raids against areas in northern Iraq, which serve as safe havens for the Kurdistan Workers' Party (PKK) militants. The militants have been fighting a deadly separatist war against Ankara.
In 2014, Turkey sent troops to Bashiqa in northern Iraq under the banner of fighting the Daesh terror group which was defeated in the country late last year.
Baghdad has repeatedly called on Ankara to pull out its forces but Turkey says they will stay as long as the PKK threat persists.
Last Sunday, Iraq announced plans to deploy troops along the border with Turkey in an effort to defend the frontier against any "violations" of its territory and airspace.
Full report at:
https://www.presstv.com/Detail/2018/09/23/574956/Iraq-Turkey-troops-visa-PKK
--------
Europe
French Muslim rapper cancels Bataclan shows after far-right protests
SEP 23, 2018
A popular French Muslim rapper has cancelled two sold-out October shows at the Bataclan concert hall in Paris, due to pressure from far-right groups.
Medine, a 35-year-old performer, has said in interviews that he is intentionally provocative in his songs so that he can shatter stereotypes.
Since June the right and far right have waged a campaign against him, with the aim of shutting down his shows.
130 people were killed in a series of coordinated terrorist attacks on 13 November 2015. A Bataclan concert was targeted during the killing spree.
Patrick Jardin, the father of Nathalie Jardin, an attack victim, joined the protests against the rapper, although he stressed that he was apolitical and just wanted action.
Later Mr Jardin said that cancelling the concert avoided the risk of violence.
"I think they avoided blood running again at the Bataclan," he said, adding that "very determined" people were expected to protest at the concerts.
"Out of respect for these families and to guarantee the security of my public, these concerts cannot go ahead," Medine said in a statement.
The rapper said the far-right activists were trying "to divide" France and that they did not "hesitate to manipulate and reawaken the pain of the families of victims".
Marine Le Pen was one of the far-right leaders who celebrated the cancellation of the concerts.
Medine will instead perform at another major Paris music venue.
Staff at the Bataclan had initially resisted the cancellation of the concerts.
The far-right groups had claimed that the rapper's performance would desecrate the site.
A spokesperson for the concert hall said that the performances would take place elsewhere "out of respect for the victims" of the 2015 attacks but added that "the freedom of expression of artists ... must remain a fundamental right in our democracy".
https://www.independent.co.uk/news/world/europe/medine-bataclan-shows-protests-marine-le-pen-far-right-a8551506.html
--------
UK Populist UKIP Takes Racist Leap Forward With Islamic Venom Manifesto
September 23rd, 2018
Britain's populist UK Independence Party (UKIP) has taken a big leap into becoming a racist far-right movement with an interim manifesto full of anti-Islam actions in the future.
The so-called "interim manifesto", which came to daylight as the UKIP's autumn conference began in Birmingham on Friday and it contains plans for all-Muslim prisons, enhanced screening for migrants from Islamic countries and plans to scrap a swathe of equality and anti-racism laws in the U.K.
The party has claimed extremism is "actively fostered" in jails, where "Muslim gangs hold sway" and "non-Islamic prisoners are converting for their own protection."
"UKIP would introduce the separation of prisoners or prisons exclusively for Islamic prisoners who promote extremism or try to convert non-Islamic prisoners," the manifesto said.
"UKIP would build new prisons as necessary to accommodate the number of persons convicted of imprisonable crimes," it added.
The UKIP manifesto includes the abolition of the category of hate crime in the U.K., alongside with the Equalities and Human Rights Commission and the government's equalities office.
The document is understood to have taken far-right English Defense League (EDL) and Britain First movements' policies, as it also calls for a national inquiry into the so-called grooming gangs, which it describes as "one of the greatest social scandals in English history".
The sharper shift to the far-right of the party has initiated with the presidency of Gerard Batten who allied himself with former EDL leader Tommy Robinson after taking over the leadership from Henry Bolton in April.
Tommy Robinson is a far-right figure known with his anti-Islamic campaign in the UK.
Batten insulted Prophet Mohammad at a rally, organized by the Democratic Football Lads Alliance (DFLA) -- an anti-Muslim movement formed by far-right hooligans -- last weekend.
Speaking to the British press, party's ex-leader Nigel Farage warned that Batten needs "to be careful what company he keeps".
"My concern with all of these groups is that that argument spills into an argument against an entire religion," Farage told Sky News.
The UKIP manifesto also calls for a wider crackdown on immigration, and says the arrivals from Muslim countries should face a "security-based screening policy" to check their views.
UKIP was "determined to protect our freedom of speech and the right to speak our minds without fear of the politically correct thought police knocking on our doors," Batten said when he introduced the manifesto.
The party conference will discuss to scrap a ban on membership to UKIP of members of far-right organizations.
Full report at:
https://www.albawaba.com/news/uk-populist-ukip-takes-racist-leap-forward-islamic-venom-manifesto-1189846
--------
Pakistan
Afghan, Bengali refugees gather in Karachi to thank PM over citizenship announcement
Sep 24, 2018
Afghan and Bengali refugees gathered outside Karachi Press Club to thank Prime Minister Imran Khan over his citizenship announcement.
Earlier this month, the premier said that current government will take steps to give citizenships to the Afghan and Bengali refugees, who were born in Pakistan.
In a video, shared by a journalist Naimat Khan, the refugees can be seen in a gathering waving Pakistani flags and listening to the national songs as the tweet read: "These men waving Pakistan's national flags and playing Pakistani Milli songs are Afghan refugees and Bengalis who have gathered in front of Karachi Press Club to say Thank You to #pakistan and @ImranKhanPTI for his citizenship announcement #ShukriaPakistan #ShukriaImranKhan."
https://www.pakistantoday.com.pk/2018/09/24/afghan-bengali-refugees-gather-in-karachi-to-thank-pm-over-citizenship-announcement/
--------
Pakistan still willing to open Kartarpur Border for Sikh pilgrims: Fawad Ch
Sep 24, 2018
Despite the refusal of the Indian government to resume dialogue with Pakistan, Pakistani authorities are willing to open the Kartarpur border crossing for the Sikh pilgrims to visit Gurdwara Darbar Sahib without a visa, Information Minister Fawad Chaudhry said in an interview to Hindustan Times on Saturday.
Talking to the Indian publication, Chaudhry said that while India's decision to cancel the meeting was "unfortunate" and that citizens should not suffer.
The meeting was to be held between both countries' foreign ministers on the sidelines of the United Nations General Assembly.
"This is an issue of the ordinary people, Sikhs and other Indian pilgrims, and an issue of faith," he said in a phone interview. "They shouldn't suffer and we want to formalise the informal proposal the Pakistan army chief made to [Punjab State Minister Navjot Singh] Sidhu."
Chaudhry further reiterated the government's stance to look for a "peaceful solution to the Kashmir issue" — which he said was the basic issue between Pakistan and India — and said that New Delhi had "wasted a wonderful opportunity [for peace] by rejecting the prime minister's offer".
"There are several ways we can handle things. One way is we could go to war, both countries have atomic weapons and those who survive can handle the outstanding issues. But it is foolish to think we can go to war," said Chaudhry, adding that "can't we look for a solution to our problems through dialogue?"
He also rubbished India's accusations of Pakistan's interference in held Kashmir.
"It is wrong to hold Pakistan responsible for the ongoing struggle in held Kashmir," he said, but reiterated that: "Pakistan supports Kashmiris' struggle for freedom."
He further said that Pakistani authorities had "solid evidence" of Indian interference in Balochistan.
He said that Pakistan was ready to hold talks on every issue, but the efforts cannot remain one-sided.
"We cannot change our neighbours," the information minister said. "India has to decide [its future strategy]."
On Saturday, Fawad Chaudhry issued a response backing the DG ISPR's statement and said, "Pakistan and India are nuclear powers; a war is out of the question."
The information minister had termed the Indian army chief's statement an attempt to divert the attention of Indian public from the mega corruption scandal and the subsequent calls for resignation faced by PM Modi-led BJP government.
Chaudhry had said that the Indian army chief's statement was inappropriate and that the general must refrain from using statements as a political tool.
"The Indian army chief needs to understand that he is not a BJP leader," Chaudhry had remarked, adding that "the world stands witness to who wants war and who wants peace".
"As a peace-loving nation, Pakistan desires peace [with India]," he stressed, highlighting the fact that peace will be in the benefit of billions across both nations.
He had said that Pakistan had reached out in hopes for peace and will continue its efforts to that end.
Earlier, Pakistan had expressed its "deep disappointment" after New Delhi announced to cancel the meeting of foreign ministers of India and Pakistan — which was to be held on the sidelines of the United Nations General Assembly (UNGA) in New York — and blamed India for "once again wasting an opportunity to change the dynamics of the bilateral relationship".
On Friday, India called off the meeting between the Pakistani and Indian foreign ministers just a day after confirming the development.
Indian Ministry of External Affairs (MEA) Spokesperson Raveesh Kumar cited "unclean intentions" on Pakistan's side.
Last month, Sidhu had visited Pakistan to attend Prime Minister Imran Khan's oath-taking ceremony. He had also met Army Chief Gen Qamar Javed Bajwa, who told him that "when [Sikh community] celebrates the 550th birthday of Baba Nanak […] we'll open the Kartarpur-Sahib Corridor."
Commenting on India's volte-face, Pakistan's Foreign Office had said in a statement that the reasons cited by the Indian side for the decision to cancel the foreign ministers' meeting are entirely unconvincing.
"The so-called 'disturbing developments' alluded to in the Indian statement predated the Indian agreement to hold the bilateral meeting in New York," the FO said.
The other reason cited by the Indian ministry referred to the issuance of 20 special postage stamps by Pakistan Post on July 24, highlighting the gross violation of human rights by Indian forces in held Kashmir.
Islamabad clarified that the postage stamps mentioned in the Indian statement were issued before the July 25 elections, following which Prime Minister Imran Khan assumed office.
The Foreign Office had also expressed disappointment over the "reference in the Indian MEA statement to the person of the Prime Minister of Pakistan", and termed it "unfortunate".
"We choose not to further comment beyond saying that these comments are against all norms of civilised discourse and diplomatic communication," read the statement.
Putting the record straight, the FO had mentioned that PM Imran Khan had, in his first public comments after his electoral success, outlined a forward-looking vision of Pakistan-India relations.
Prime Minister Imran Khan took to Twitter on Saturday to respond to India's cancellation of the meeting, calling New Delhi's response "arrogant and negative".
"Disappointed at the arrogant and negative response by India to my call for the resumption of the peace dialogue," said PM Khan. "However, all my life I have come across small men occupying big offices who do not have the vision to see the larger picture."
Separately, Foreign Minister Qureshi had said he was "deeply saddened" by how New Delhi first accepted and later backtracked from a meeting between him and his Indian counterpart Sushma Swaraj.
PAKISTAN ARMY RESPONDS:
Pakistan Army had also warned India that the nuclear-armed country is capable of defending its borders if a war is waged on it, moments after Indian Army chief General Bipin Rawat made inflammatory remarks against Pakistan.
"We [Pakistan Army] are ready for war but choose to walk the path of peace in the interest of the people of Pakistan, the neighbours and the region," Major General Asif Ghafoor, director general of the Inter-Services Public Relations (ISPR), said in reaction to Gen Rawat's comments.
While addressing the Indian media, the Indian army chief had said, "We need to take stern action to avenge the barbarism that terrorists and the Pakistan Army have been carrying out. Yes, it's time to give it back to them in the same coin, not resorting to similar kind of barbarism. But I think the other side must also feel the same pain."
On questions of talks with Pakistan, Gen Rawat had reiterated the government's stand that "talks and terrorism cannot go together".
Gen Ghafoor had said Pakistan has a long-standing record of fighting terrorism, adding "we know the price [that is paid] for peace".
As far as the issuance of postal tickets is concerned, the UN released a human rights violation report following which the then interim government issued those tickets highlighting the plight of Kashmiris.
"To turn this into an excuse that the peace process has been tainted or that Pakistan has somehow changed its stance is inappropriate," the ISPR chief had said.
"They [India] should come forward for a dialogue. Whenever attempts for dialogue have failed, it is because India had run away from the table.
"The government of Pakistan's offer still stands for India to come forward and hold talks with us," the ISPR chief had said.
Gen Rawat's comments came shortly after Prime Minister Imran Khan took to Twitter to respond to India's cancellation of the meeting between the Pakistani and Indian foreign ministers.
PM Khan had earlier written a letter to Prime Minister Narendra Modi expressing his desire for talks between the two countries and also suggested a meeting between the foreign ministers of the two countries.
Full report at:
https://www.pakistantoday.com.pk/2018/09/23/pakistan-still-willing-to-open-kartarpur-border-for-sikh-pilgrims-fawad-ch/
--------
Pakistan to raise Kashmir issue at UN meeting
Masood Haider
September 24, 2018
UNITED NATIONS: When some 146 world leaders gather at the United Nations General Assembly in New York this week, they are expected to discuss issues of international peace and security as several conflicts from Syria to Yemen rage on, defying any resolution.
The Pakistani delegation will be led by Foreign Minister Shah Mehmood Qureshi who arrives in New York, which houses the UN headquarters, from Washington on Sunday night. It will be the new Pakistani government's first senior level interaction with the United Nations.
Take a look: Pakistan won't abandon peace efforts, says Qureshi
However, the much-heralded India-Pakistan foreign ministers' meeting was called off by New Delhi citing an incident in occupied Kashmir.
According to Pakistani officials, a busy programme awaits the foreign minister who will attend at least 40 events and hold about two dozen bilateral meetings.
The highlight of his visit will, of course, be his speech in the General Assembly on Sept 29 in which he will set out the new government's priorities and its position and policy on key international and regional issue including the situation in occupied Jammu and Kashmir, particularly in the light of UN Human Rights Council's report which has cited India of violations. New Delhi bristles at the mention of occupied Kashmir and human rights violations there.
Pakistan's foreign minister is expected to deliver his speech in Urdu language.
Daunting challenge
This year, the diplomats here say, the big and daunting challenge that looms over the gathering is actually one of the world leader: US President Donald Trump.
It is a known fact that US President Trump is not a fan of the UN. In the past, he has criticised the UN calling it a club of sorts. And he has also proposed steep cuts to US funding for the UN that the world body has said would make it impossible for the organisation to maintain its essential operations.
The US is the biggest financial contributor to the UN in the world and its most important player when it comes to decision-making on issues ranging from food aid to peacekeeping to nuclear non-proliferation.
So now all eyes are on President Trump, who will preside over a UN Security Council meeting which is going to focus on the Middle East, and Iran in particular.
The big question baffling the world leaders is: will President Trump behave like past American presidents have and speak in measured tones about the need for global cooperation on various fronts, diplomats here say.
Full report at:
https://www.dawn.com/news/1434653/pakistan-to-raise-kashmir-issue-at-un-meeting
--------
Pakistan won't abandon peace efforts, says Qureshi
Anwar Iqbal
September 24, 2018
WASHINGTON: Foreign Minister Shah Mehmood Qureshi said on Sunday that despite India's reluctance, Pakistan would not close doors on its efforts to promote peace in the region.
Addressing a news conference at the Pakistan Embassy in Washington, Mr Qureshi also dispelled the impression that Pakistan was being forced to choose between China and the United States. "China has no issue with Pakistan's efforts to maintain friendly relations with the United States as well," he said.
The foreign minister reiterated Pakistan's offer to open the Kartarpur corridor for allowing Sikh pilgrims to attend Baba Guru Nanak's anniversary this year.
"India is reluctant, we will not close our doors," said Mr Qureshi while defining his government's policy towards the neighbouring country. "Hiding away from issues will not make them disappear. It will not improve the situation in Kashmir."
The minister noted that India used incidents that happened in July to cancel peace talks that it agreed to in September.
Mr Qureshi confirmed that he was meeting US Secretary of State Michael Pompeo in Washington on Oct 2 and said the decision to hold these follow-up talks was taken during Mr Pompeo's visit to Islamabad earlier this month.
US or China?
Asked if Pakistan was finding it difficult to balance its relations with both the United States and China, as the two major powers were vying for influence in the region, Mr Qureshi said: "Both relationships are very important for Pakistan. China is a very important and reliable, friend. We are working on a very, very important project, the CPEC," he said. "And America is also very important for Pakistan, so we will engage with both. The Chinese understand Pakistan's position and they have no issue with it."
Pakistan-India ties
The foreign minister said he was unable to understand India's refusal to participate in peace talks with Pakistan. "Engagement, no-engagement. Coming, not coming. We desired talks as we believe the sensible way is to meet and talk. They agreed, and then disagreed."
The minister pointed out that India's response to Pakistan's peace offer was harsh and non-diplomatic. "We did not use a non-diplomatic language in our rejoinder. Our response was matured and measured. They adopted a new approach, and moved back."
Mr Qureshi said that Sushma Swaraj's "language and tone was unbecoming of a foreign minister".
Asked if tensions between India and Pakistan could lead to a war between the two countries, the minister said: "Who is talking of war? Not us. We want peace, stability, employment and improving lives. You identify where is the reluctance."
Mr Qureshi said that Pakistan's desire for peace should not be mistaken for a sign of weakness. "We want peace. It does not mean, we cannot defend ourselves against aggression. We can but we do not have an aggressive mindset," he said.
Saudi-UAE investments
Responding to a question about reports that Saudi Arabia had agreed to invest more than $10 billion in Pakistan, Mr Qureshi said no amounts were discussed in his visits to Saudi Arabia and the UAE.
He said that since the country did not have a foreign minister for four years, Pakistan's relations with those two important allies suffered but the new government had now launched an effort to re-engage with them.
Mr Qureshi said that since his return from those countries, he has exchanged letters with his counterparts in Saudi Arabia and the UAE and their officials would soon visit Pakistan to talk about opportunities. "What you see in the news is not correct," he added.
US-Pakistan relations
The foreign minister said he had also seen media reports about the restoration of US security assistance to Pakistan but he would not comment on them until he heard it directly from US officials.
He said the US severed security assistance to Pakistan in the past too and the consequences of such disconnects were not good.
"Direct contacts lead to face-recognition and personal understanding, which help improve relations," said the minister while referring to the US decision to discontinue training facilities for Pakistani defence officials.
Mr Qureshi said the misunderstanding created after the US press statement on Secretary Pompeo's conversation with Prime Minister Imran Khan had been removed. Now, both sides were working on how to re-inject warmth in this old, traditional relationship. He said that during Mr Pompeo's visit to Islamabad both sides had "very candid, frank and honest conversations" and both civil and military officials participated in those talks. "The US statement about those meetings was also positive, defying the prediction that it would be negative and sticks will come out."
He disagreed with the suggestion that reference to Pakistan-based terrorist groups in a recent US-India joint statement was negative for Pakistan.
"If you believe that India will not mention terrorism, you are wrong. But this is no reason to worry," he said.
Mr Qureshi said if India continued to increase pressure on the eastern borders, it would hurt Pakistan's ability to focus on the western border and those interested in peace and stability in the region must note this.
US-India relationship
The foreign minister said Pakistan understood the US desire to forge a strategic relationship with India but old friends should not be ignored in the enthusiasm to make new friends.
"The US has always benefited from its relations with Pakistan — during the Cold War, the Soviet war in Afghanistan and the war against terrorism," he said.
Asked why was the US ignoring Pakistan now, Mr Qureshi said that individuals and countries "always look for excuses to justify their failures but everyone owns up a victory. We need to understand this and move this relationship forward. Where we have convergence, we should."
Postal stamp
The foreign minister also rejected India's concerns about a postal stamp that showed a Kashmiri freedom fighter. "Hundreds of thousands of people are fighting in Kashmir, not all of them are terrorists," he said.
US-Taliban talks
Full report at:
https://www.dawn.com/news/1434644/pakistan-wont-abandon-peace-efforts-says-qureshi
--------
3 tribesmen killed, 2 injured by unknown attackers in Balochistan
Syed Ali Shah
September 23, 2018
Three men were killed and two injured after unidentified armed men attacked the camp of a pro-government tribal militia in the Dasht Goran area of Balochistan's Dera Bugti district on Sunday, Levies sources told DawnNewsTV.
The attack was carried out at 3am, after which the assailants fled the scene, security forces said.
The dead were identified as Tahir Shambani, Ghulam Sharif Shambani and Pir Bakhsh Shambani, while Rezakh Shambani and Hafizullah Shambani were injured. The victims belong to the Shambani tribe.
Full report at:
https://www.dawn.com/news/1434521/3-tribesmen-killed-2-injured-by-unknown-attackers-in-balochistan
--------
PM Khan's Saudi visit strengthened strategic cooperation: envoy
Sep 24, 2018
ISLAMABAD: Ambassador of Saudi Arabia in Islamabad Nawaf Saeed Al-Maliki has said that Prime Minister Imran Khan's decision to choose Saudi Arabia as the destination of his first official visit abroad confirmed that Pakistan considers the kingdom as the first country in the list of its strategic allies.
"This visit carries many messages, the most important of which is that Saudi Arabia and Pakistan ties are like one soul and two bodies which cannot be separated," he said in an interview to Al Arabiya.
Al-Maliki said the first foreign visit of Prime Minister Imran Khan included cooperation in the fields of economics and culture as well as military, and it would be followed with subsequent visits.
He said PM Khan's visit to Saudi Arabia had many dimensions, it would help in further strengthening and deepening the bilateral, brotherly, strategic and economic relations, underscoring that Saudi Arabia had always stood with Pakistan in difficult times and crises.
He said the Pakistani premier choice of Saudi Arabia for his first official visit confirmed the sincere expression of the new government of Pakistan that Saudi Arabia was its important strategic ally.
"It is expected that the visit has given firm impression to public opinion in the world that Pakistan considers Saudi Arabia as its preferred country and first ally," he added.
He stressed that Pakistani Muslims brothers considered the Kingdom of Saudi Arabia as the centre of their direction due to the existence of Makkah and Madinah.
Full report at:
https://www.pakistantoday.com.pk/2018/09/23/pms-saudi-visit-strengthened-strategic-cooperation-envoy/
--------
Taliban deny meeting US officials at Bagram
Tahir Khan
SEPTEMBER 24, 2018
The Afghan Taliban on Sunday rejected as rumors media reports about a meeting between several high ranking officials of the insurgent movement and Americans in Bagram.
In a statement, Taliban spokesman Zabihullah Mujahid said Taliban has an internationally recognised political office for diplomatic activities in Qatar, and every country including America is able to freely contact and visit them.
"No member of the Islamic Emirate nor any delegation has met anyone in Bagram," Mujahid said. He also denied reports that the Taliban officials met with the Americans in Dubai.
"It is entirely possible that some self-interested individuals – for financial and other motives – could have tried to fool the Americans with such actions and posed as representatives of the Islamic Emirate to the Americans who have fallen for similar traps multiple times. But the reality remains that all our diplomatic contacts shall be conducted through the Political Office and known addresses," he said.
Separately, the Taliban have written a letter to several Pakistani ulema, urging them to not join an upcoming joint conference of ulema from both countries to evolve a consensus approach regarding the war in Afghanistan.
Though no date has yet been decided for the conference, however, during his Kabul visit this month, Foreign Minister Shah Mehmood Qureshi had agreed on a meeting of a steering committee of the Joint Ulema Conference to be held in Islamabad to make preparations for the conference.
Pakistani and Afghan sources have told Daily Times that both sides had been involved in discussions to hold the conference, however, the Taliban attack in Ghazni affected the process.
Official sources, aware of the consultations for the conference, say that Afghan scholars will suggest names of ulema they believe hold influence over the Taliban for the meeting. Afghanistan believes Pakistani ulema can play a useful role in encouraging the Taliban to end violence and join peace process. Earlier, such conferences have been held in Saudi Arabia, Indonesia and Kabul, where declarations were issued against violence in Afghanistan. Several Pakistani clerics boycoted the Saudi conference on Taliban's urging. The 15-member Pakistani delegation that attended the Indonesian conference persuaded the organisers to not specify the Taliban's name in the joint declaration.
Besides, nearly 2000 Pakistani ulema issued an edict against suicide bombings in Pakistan this January. Afghan president Ashraf Ghani had responded to the edict, titled "Paigham-e-Pakistan", by pointing out that it did not mention the Taliban fighting in Afghanistan.
In the letter dated Muharram 11 (September 22), the Taliban has urged Pakistani clerics to 'avoid participation in such conferences as the U.S. wants to weaken the ongoing holy war through conferences of the scholars'.
Full report at:
https://dailytimes.com.pk/302009/taliban-deny-meeting-us-officials-at-bagram/
--------
Musharraf admonishes Indian army chief, hits back hard at threats
SEPTEMBER 24, 2018
Former president General (Retd) Pervez Musharraf has hit back hard against the Indian Army Chief threat cum warning to Pakistan.
Admonishing Indian Army Chief, the ex- Army chief tweeted, "Let India put something into practice first, they will be taught a lesson. Yes, it's time to give it back to them in the same coin, not resorting to similar kind of barbarism. But, I think the other side must also feel the same pain,"
He was responding in the wake of recent remarks from Indian army chief General Bipin Rawat:"talks and terrorism can't go hand in hand" and that there is a need to take revenge against the Pakistan army.
Former military dictator Pervez Mushrraf lambasted while dubbing India a paper lion, "India should note that our military is brave, experienced and proficient in the battle field."
Recalling 2001 Indian Parliament attack, Musharraf said after that incident, India had brought all of its troops on the borders and we stood in front of them for 10 months that forced Indian army to turn their tails from the ground.
Full report at:
https://dailytimes.com.pk/301926/musharraf-admonishes-indian-army-chief-hits-back-hard-at-threats/
--------
South Asia
Unexploded mortar detonates in Afghanistan, kills 8 children
Sep 23, 2018
At least eight children in Afghanistan were killed and several others sustained injuries when unexploded ordnance detonated in the country's northern province of Faryab.
The eight children, including four siblings, were killed in Faryab's Shirin Tagab district after a mortar shell they were playing with exploded, witnesses said on Saturday. Another six children were also wounded in the blast.
Karim Yuresh, a spokesman for the provincial police chief, said all of the children had been aged between five and 12 and were playing when the bomb went off, adding that two of the wounded children — who lost limbs — were in critical condition.
"They found an unexploded mortar shell and brought it near our house," a relative of one of the victims told AFP. "They didn't know what it was and were trying to open it when it suddenly exploded."
Local officials said the mortar had been fired by the Taliban, which last week captured Koh-e-Sayad, the village where the children lived.
The war-wracked country suffers from scores of deadly attacks by the Taliban militant group almost across the country.
The Taliban's former, five-year rule over at least three quarters of Afghanistan came to an end when the United States and its allies invaded the country in 2001 as part of Washington's so-called war on terror; but, ever since, the group has been involved in widespread militancy, killing thousands of civilians as well as Afghan security forces and displacing tens of thousands of people across the country.
Many parts of the country remain plagued by militancy despite the presence of US-led foreign forces.
Since late last year, Daesh, which has already lost all its urban strongholds in Syria and Iraq, has also taken advantage of the chaos in Afghanistan and established a foothold in the country's eastern and northern regions.
Thousands of kids killed in Afghan war
The latest fatalities add to the ever-growing civilian death toll in the long-running war in Afghanistan, following the US-led invasion in 2001.
Civilians, including children, have borne the brunt of the 17-year conflict, with reports indicating that children are often killed or maimed by explosive devices left over from the war.
United Nations (UN) figures show that 3,179 children were killed or wounded in 2017, accounting for almost one-third of the total civilian casualties for the year.
Improvised explosive devices, such as remotely detonated or pressure-plate bombs, killed or wounded 545 children last year, according to the UN. Unexploded ordnance also claimed the lives of 142 children and wounded 376 in the same period.
https://www.presstv.com/Detail/2018/09/23/574962/Afghanistan-unexploded-ordnance
--------
Bangladesh minister proposes forming joint investment forum with Qatar
September 24 2018
Bangladesh has proposed to form a joint investment forum with Qatar to further explore business opportunities in a range of industries, including energy, tourism, and garments, among others.
Speaking at the Bangladesh Forum Qatar (BFQ) on Saturday, Minister of State for Foreign Affairs Md Shariar Alam proposed to form the Bangladesh-Qatar Investment Forum, "considering the enormous opportunities for bilateral co-operation between the two countries."
In his speech, Alam said: "We are in dire need of investments from our capital friends like Qatar. In the power and energy sector where Qatar is already exporting LNG to Bangladesh, we are in need of $60bn by 2041 just to set aside our need for energy and power, as well as related petroleum products.
"There is huge potential for collaboration between our two brotherly countries in all these sectors. We have yet to see Qatar as an active partner in all our development initiatives."
On the sidelines of the forum, Bangladesh Investment Development Authority (Bida) executive chairman Kazi M Aminul Islam told Gulf Times that he will send Qatar Financial Centre (QFC) and Qatar Investment Authority (QIA) a draft of a memorandum of understanding (MoU) for the Bangladesh-Qatar Investment Forum, including a letter that would provide an overview of existing projects in Bangladesh that QIA could consider for investments.
He said the MoU would revolve mainly on how QFC and Bida could work to promote strategic investments for both Qatar and Bangladesh.
The MoU also aims to engage Qatar's financial sector and capital market, especially in mergers and acquisitions, "which is a big area of investments where QFC has the strength," Islam pointed out. Aside from the energy sector, Qatar and Bangladesh have potential investment opportunities in agro-processing, education and skills development, hospitality, and healthcare, Islam said.
According to Islam, the government is not only looking to infuse Qatari investments in major projects in Bangladesh, but it is also eyeing to bring companies to setup shop in Qatar "to create added value" for both countries' economies.
He also underscored Bangladesh's role in helping develop the ecosystem of Qatar's small and medium-sized enterprise (SME) sector.
"Bangladesh has created world-class entrepreneurs in a number of sectors such as RMG (readymade garments), textiles, power, and in leather and footwear. Our pharmaceutical industry is world-class," he said.
"In the Mena region, it's possible to develop our pharmaceutical industry and target this region, and the facility could be based in Doha. Our entrepreneurs and skilled workers can come here, take Qatari capital, and build a great pharmaceutical industry here," he continued.
He said Bangladesh "as an SME country," has undertaken a massive entrepreneurship development programme, which has been implemented even in the remotest part of the country.
"It could be, what you can call, an inclusive model of developing entrepreneurship. Bangladesh will come out as a nation of entrepreneurship and innovation.
Full report at:
https://www.gulf-times.com/story/607116/Bangladesh-minister-proposes-forming-joint-investment-forum-with-Qatar
--------
Rohingya refugees celebrate Islamic holiday in makeshift mosques in Bangladesh
23 Aug 2018
Hundreds of thousands of Rohingya refugees living in sprawling camps in Bangladesh celebrated the Muslim holiday of Eid al-Adha.
They prayed for better lives and wondered if they would ever again celebrate the holiday at their homes in Myanmar.
The calls to the faithful came early in the camps and people streamed into the makeshift mosques, the children in freshly washed clothes.
The Muslim Rohingyas have faced generations of discrimination in largely Buddhist Myanmar, denied citizenship rights, attacked in pogroms and sometimes not able to practise their faith openly.
"I have freedom here, but I don't want it here," he said.
More than 700,000 Rohingya poured into Bangladesh last year, fleeing a scorched-earth campaign by the Myanmar military and Buddhist mobs after attacks by a Rohingya insurgent group.
Last year's attacks against the religious minority were described as "textbook ethnic cleansing" by the United Nations.
"We don't belong here," Mr Alam said.
"It's good that nobody is coming to kill us, but I want to go back where my parents' graves are located."
'I am nobody here'
"We are happy, but again we are not happy," 60-year-old Shamsul Alam said as he walked to a mosque for prayers.
He added that food was often more accessible in the camps, but he didn't have what he needed.
"I am nobody here," he said.
The four-day holiday of Eid al-Adha celebrates the prophet Ibrahim.
Muslims often slaughter sheep, cattle or goats on the holiday and distributing meat to the poor.
But few in the camps could afford such luxuries this year.
Denied citizenship rights back in Myanmar
Many in Myanmar see the Rohingya as illegal migrants from Bangladesh, deriding them as "Bengalis".
Most have long lived in poverty in Myanmar's Rakhine state, next to Bangladesh where they are denied citizenship.
The Muslim minority have faced generations of discrimination in largely Buddhist Myanmar.
Full report at:
http://www.abc.net.au/news/2018-08-23/rohingya-refugees-celebrate-holiday-amid-memories-of-home/10155586
--------
Over 500 militants killed, wounded in past 6 months in Nangarhar
Sep 23 2018
The local officials in eastern Nangarhar province have claimed that more than 500 militants have been killed or wounded during the military operations in the past 6 months.
The provincial government media office in a statement said at least 380 militants were killed during the operations over the course of the past six months in Achin, Nazian, Chaparhar, Khogyani, Pacher Agam, Haska Mina, Ghani Khel, and Bati Kot districts.
The statement further added that the national defense and security forces have conducted 164 operations during the same period and as a result at least 129 militant have also sustained injuries and at least 371 others were arrested.
According to the provincial government, the security forces have also confiscated 225 various types of weapons, 234 kgs of explosives, 32 vehicles, 263 landmines, and some other explosives and munitions.
The provincial police commandment also responded to 143 criminal related incidents during the same period which included 14 kidnapping cases, 68 murder cases, 27 robbery cases, and 48 other criminal related incidents, the statement added.
Full report at:
https://www.khaama.com/over-500-militants-killed-wounded-in-past-6-months-in-nangarhar-06015/
--------
Senior NATO General vows all-out support to Afghanistan during elections
Sep 23 2018
A Senior NATO General has vowed all-out support to Afghanistan during the upcoming parliamentary and district council elections.
The Office of the President, ARG Palace, in a statement the Senior NATO General Andrew Poppas attended the security and defense meeting regarding the security of the upcoming elections.
The statement further added that Gen. Poppas vowed that the coalition forces is committed to support Afghanistan and the Afghan armed forces to maintain security during the elections.
According to ARG Palace, Gen. Poppas has said that the coalition would provide all the required facilities to help with the security of the elections.
He also added that the alliance is committed to all-out support to implement the security plan during the elections, ARG Palace added.
The Office of the President said the last meeting of the security and defense sectors was organized in ARG Palace on Saturday evening to review the security arrangements for the elections.
Full report at:
https://www.khaama.com/senior-nato-general-vows-all-out-support-to-afghanistan-during-elections-06014/
--------
Mideast
Pro-Turkey Syria rebels accept Idlib deal, albeit cautiously
September 23, 2018
BEIRUT: Pro-Turkey rebels have cautiously accepted a Moscow-Ankara deal to prevent a Russia-backed regime attack on Syria's last major opposition bastion of Idlib, while a small militant group has rejected it.
The dominant force in the northwestern region bordering Turkey, the Hayat Tahrir Al-Sham (HTS) alliance led by militants of Syria's former Al-Qaeda affiliate, had on Sunday however still not responded.
Late Saturday, the National Liberation Front (NLF) rebel alliance in a statement accepted the deal reached on Monday for Idlib, but said they remained on their guard.
They announced "our full cooperation with our Turkish ally in helping to make a success their efforts to spare civilians from the afflictions of war."
"But we will stay alert to any betrayal by the Russians, the regime or the Iranians," the NLF warned, fearing the agreement to be "temporary."
"We will not abandon our weapons, our land or our revolution" against the Russia- and Iran-backed forces of President Bashar Assad, the rebels said.
Also on Saturday, in a statement circulated on social media, the Al-Qaeda-linked Hurras Al-Deen rejected the agreement reached in the Russian resort of Sochi.
"We at the Hurras Al-Deen organization again announce our rejection of these conspiracies," it said.
Monday's agreement provides for a U-shaped buffer zone 15 to 20 kilometers (9 to 12 miles) wide to be set up around Idlib.
Under the deal, all factions in the planned demilitarized zone must hand over their heavy weapons by October 10, and radical groups must withdraw by October 15.
Both the extremist Hurras Al-Deen and NLF rebels are present inside this planned buffer area, the Syrian Observatory for Human Rights says.
But the dominant HTS alliance is also widely present, according to the Britain-based monitor.
The militant-led group — which controls more than half of the Idlib region — has not officially responded to the agreement.
But its propaganda agency Ebaa has cast doubt on Turkey's motivations.
In August, HTS leader Abu Mohamed Al-Jolani warned opposition factions in Idlib against handing over their weapons.
Syria's war has killed more than 360,000 people and displaced millions from their homes since erupting in 2011 with the brutal repression of anti-Assad protests.
http://www.arabnews.com/node/1376456/middle-east
--------
Iran's Judiciary Calls for International Prosecution of Al-Ahwaziya Terrorist Group
Sep 23, 2018
"The group which claimed responsibility for the yesterday terrorist acts should be sued as a terrorist group by our country's officials at the international and internal courts and all of their supporters should be arrested and be questioned," Mohseni Eje'i told reporters in a press conference in Tehran on Sunday.
He said that the terrorists who conducted the Saturday attacks in Ahwaz are supported by those who claim to be advocates of human rights.
The judiciary spokesman fruther expressed regret that some of the said countries even failed to express clear statements in condemnation of the terrorist attack.
29 people were killed and 70 were injured in the Saturday morning attack by al-Ahwaziya terrorist group during the nationwide military parades in Iran's Southwestern city of Ahwaz.
The terrorists attacked the bystanders watching the annual Armed Forces' parades, marking the start of the Sacred Defense Week, commemorating Iranians' sacrifices during the 8 years of the Iraqi imposed war on Iran in 1980s, in disguise of the Islamic Revolution Guards Corps (IRGC) and Basij (volunteer) forces, killing and wounding several people, including innocent women and children.
None of the officials participating in the military parades in Ahwaz city in Khouzestan province was injured in the attack.
Spokesman of the Iranian Armed Forces Brigadier-General Abolfazl Shekarchi told FNA that 4 terrorists carried out the attack during military parades in Ahwaz, noting that three of them were killed and the last one was captured by security forces.
He added that none of the terrorists could escape, noting that other reports about the details of the attack are not confirmed.
Meantime, Head of the Islamic Revolution Guards Corps Public Relations Department and IRGC Spokesman General Ramezan Sharif said that the terrorists who attacked people during the Armed Forces' parades in Ahwaz were affiliated to al-Ahwaziya stream which is nourished by Saudi Arabia.
He added that the terrorists aimed to overshadow the magnificence of the Iranian Armed Forces' parades.
General Sharif said that people were also invited to watch the parades and the terrorists both fired at people and the Armed Forces.
Full report at:
http://en.farsnews.com/newstext.aspx?nn=13970701000993
--------
MPs Condemn Terrorist Attack in Southwestern Iran, Blame US, Regional States
Sep 23, 2018
"The US administration and certain regional governments which nourish the terrorists are blamed for the September 22 incident in Ahwaz," the statement read.
It added that the terrorist attack will further increase unity and solidarity among the Iranian people and vigilance of the security forces.
The Iranian lawmakers asked the relevant bodies to insistently pursue identification and firm confrontation against the culprits behind the terrorist attack.
29 people were killed and 70 were injured in the Saturday morning attack by al-Ahwaziya terrorist group during the nationwide military parades in Iran's Southwestern city of Ahwaz.
The terrorists attacked the bystanders watching the annual Armed Forces' parades, marking the start of the Sacred Defense Week, commemorating Iranians' sacrifices during the 8 years of the Iraqi imposed war on Iran in 1980s, in disguise of the Islamic Revolution Guards Corps (IRGC) and Basij (volunteer) forces, killing and wounding several people, including innocent women and children.
None of the officials participating in the military parades in Ahwaz city in Khouzestan province was injured in the attack.
Spokesman of the Iranian Armed Forces Brigadier-General Abolfazl Shekarchi told FNA that 4 terrorists carried out the attack during military parades in Ahwaz, noting that three of them were killed and the last one was captured by security forces.
He added that none of the terrorists could escape, noting that other reports about the details of the attack are not confirmed.
Meantime, Head of the Islamic Revolution Guards Corps Public Relations Department and IRGC Spokesman General Ramezan Sharif said that the terrorists who attacked people during the Armed Forces' parades in Ahwaz were affiliated to al-Ahwaziya stream which is nourished by Saudi Arabia.
He added that the terrorists aimed to overshadow the magnificence of the Iranian Armed Forces' parades.
General Sharif said that people were also invited to watch the parades and the terrorists both fired at people and the Armed Forces.
Full report at:
http://en.farsnews.com/newstext.aspx?nn=13970701000667
--------
Israel sets October deadline to evacuate Bedouin village in West Bank
23 September 2018
Israel on Sunday told residents of Khan al-Ahmar, a Bedouin village in the occupied West Bank slated for demolition, to clear their houses by October, 1.
Khan al-Ahmar consists of tin and wood shacks built on a desert hillside beside an Israeli highway that runs from Jerusalem to the Dead Sea.
Israel plans to demolish the village and relocate its 180 residents- Bedouins who scrape a living by raising sheep and goats- to a site 12 kilometres (7 miles) away. The move has drawn criticism from Palestinians and some European states, who cite the impact on the community and prospects for peace.
A spokeswoman for Israel's military liaison agency with the Palestinians said no date had been set for demolition should the houses remain after the deadline.
Israeli security forces on Sunday morning handed out letters telling residents to voluntarily take down the buildings by October, 1 or Israeli authorities would enforce the demolition orders.
"We will not voluntarily evacuate the place," said village resident Faisal Abu Dahuk. "The occupation forces that have an army and weapons can evacuate us by force, but there is no other place to go and we refuse to be moved anywhere else."
Full report at:
https://english.alarabiya.net/en/News/middle-east/2018/09/23/Israel-sets-October-deadline-to-evacuate-Bedouin-village-in-West-Bank.html
--------
Turkey's Erdogan vows to impose secure zones east of Euphrates in Syria
September 24, 2018
ISTANBUL: Turkey will take action east of the Euphrates river in Syria and impose secure zones as it has done in the northwest of the country, President Tayyip Erdogan said in comments broadcast on Turkish media on Monday.
Earlier this year, Turkey carried out a military operation to seize control of Syria's Afrin region from the Syrian Kurdish YPG militia, which Ankara considers a terrorist organization. The YPG also controls the Syrian region east of the Euphrates.
"God willing, in the period ahead we will increase the number of secure zones in Syria, encompassing the east of the Euphrates," Erdogan said in a speech during a visit to New York.
Before the Afrin operation, Turkey also carried out a cross-border operation dubbed "Euphrates Shield," which targeted both the YPG and Daesh fighters east of Afrin.
After the completion of Euphrates Shield in early 2017, Turkey set up local systems of governance in the swathe of land under its control and protected by Turkish forces. It has done the same in Afrin.
Erdogan has in the past warned of new military operations against the YPG along the Syrian border and if necessary into northern Iraq.
Expanding Turkey's military campaign into the much larger Kurdish-held territory east of the Euphrates would risk confronting troops of NATO ally the US, that are deployed alongside a YPG-dominated force there.
The YPG has been Washington's main ally against Daesh in Syria, infuriating Ankara which sees the Kurdish force as an extension of a militant group waging a decades-long insurgency in southeast Turkey.
Full report at:
http://www.arabnews.com/node/1376836/middle-east
--------
North America
American victims want Palestinian leader barred from UN General Assembly
23 September 2018
A group of American victims of Palestinian violence are asking President Donald Trump to bar Palestinian leader Mahmoud Abbas from entering the United States for the annual United Nations General Assembly meeting.
The group appealed Sunday for Trump to declare Abbas a "persona non grata" because of the Palestinian Authority's payment of stipends to relatives of their families' killers.
Micah Lakin Avni, whose father Richard Lakin was killed by Palestinians in 2015, called Abbas "the Grand Wizard of incitement to violence and terror."
The group includes the families of 15 other American citizens killed by Palestinians, including Ari Fuld, who was killed last week.
Also signed are the parents of Taylor Force, a 28-year-old university student and military veteran who was stabbed to death during a 2016 visit to Israel.
https://english.alarabiya.net/en/News/middle-east/2018/09/23/American-victims-want-Palestinian-leader-barred-from-UN-General-Assembly.html
--------
Pompeo: Trump willing to meet Iran's Rouhani at UN this week
23 September 2018
US President Donald Trump is willing to meet with Iran's President Hassan Rouhani at the UN this week, US secretary of State Michael Pompeo said in an interview with NBC.
Trump will address the UN's General Assembly on Tuesday and on Wednesday will chair a Security Council meeting where Rouhani might be in attendance as well.
"He's happy to talk with folks any time," Pompeo told NBC's 'Meet the Press' talk show. "The president's been pretty clear about that."
Trump had tweeted on Friday that his visit to the UN would focus on Iran, while White House officials said that the meeting would focus on halting the spread of nuclear weapons.
According to Bloomberg, Iran can attend the Security Council meeting if it is the main topic of discussion. This will increase the likelihood of an encounter between both presidents.
Full report at:
https://english.alarabiya.net/en/News/world/2018/09/23/Pompeo-Trump-willing-to-meet-Iran-s-Rouhani-at-UN-this-week.html
--------
Rouhani blames U.S. after attack on Iran military parade leaves 25 dead, despite Islamic State taking credit
SEP 24, 2018
TEHRAN, IRAN – Iran's president on Sunday accused an unnamed U.S.-allied country in the Persian Gulf of being behind a terror attack on a military parade that killed 25 people and wounded 60, further raising regional tensions.
Hassan Rouhani's comments came as Iran's Foreign Ministry also summoned Western diplomats over them allegedly providing havens for the Arab separatists who claimed Saturday's attacks in the southwestern city of Ahvaz.
The Iranian moves, as well as promises of revenge by Iran's elite Revolutionary Guard, come as the country already faces turmoil in the wake of the American withdraw from Tehran's nuclear deal with world powers. The attack in Ahvaz, which saw women and children flee with uniformed soldiers bloodied, has further shaken the country.
Rouhani's remarks could refer to Saudi Arabia, the United Arab Emirates or Bahrain — close U.S. military allies that view Iran as a regional menace over its support for militant groups across the Middle East.
"All of those small mercenary countries that we see in this region are backed by America. It is Americans who instigate them and provide them with necessary means to commit these crimes," Rouhani said before leaving for the U.N. General Assembly in New York.
Iran meanwhile summoned diplomats from Britain, Denmark and the Netherlands early Sunday for allegedly harboring "members of the terrorist group" that launched the attack. Danish Foreign Minister Anders Samuelsen condemned the attack and stressed that there would be "consequences" if it turns out that those responsible have connections to Denmark.
The ministry later summoned the UAE's envoy as well over what it called the "irresponsible and insulting statements" of an Emirati adviser, according to the semi-official ISNA news agency. The UAE did not immediately acknowledge the summons.
Saturday's attack, in which militants disguised as soldiers opened fire on an annual Iranian military parade in Ahvaz, was the deadliest attack in the country in nearly a decade. Women and children scattered along with once-marching Revolutionary Guard soldiers as heavy gunfire rang out, the chaos captured live on state television.
The region's Arab separatists, once only known for nighttime attacks on unguarded oil pipelines, claimed responsibility for the assault, and Iranian officials appeared to believe the claim. The separatists accuse Iran's Persian-dominated government of discriminating against its ethnic Arab minority. Khuzestan province also has seen recent protests over Iran's nationwide drought, as well as economic protests.
The attack killed at least 25 people and wounded 60, according to the state-run IRNA news agency. It said gunmen wore military uniforms and targeted a riser where military and police commanders were sitting. State TV hours later reported that all four gunmen had been killed.
At least eight of the dead served in the Revolutionary Guard, an elite paramilitary unit that answers only to Iran's supreme leader, according to the semi-official Tasnim news agency. The Guard responded to the attack on Sunday, warning it would seek "deadly and unforgiving revenge in the near future."
Tensions have been on the rise in Iran since the Trump administration pulled out of the 2015 nuclear accord with Iran in May and began restoring sanctions that were eased under the deal. It also has steadily ramped up pressure on Iran to try to get it to stop what Washington calls its "malign activities" in the region.
The U.S. government nevertheless strongly condemned Saturday's attack and expressed its sympathy, saying it "condemns all acts of terrorism and the loss of any innocent lives."
The Islamic State group also claimed responsibility for the attack in a message on its Aamaq news agency, but provided no evidence it carried out the assault. They also initially wrongly said the Ahvaz attack targeted Rouhani, who was in Tehran. The militants have made a string of false claims in the wake of major defeats in Iraq and Syria.
On Sunday, IS militants posted a video online of three men, two of whom who spoke in Arabic extolling the benefits of martyrdom. A third who spoke in Farsi said they wanted to attack the Guard. The video included no time stamps, nor any specific references to the Ahvaz attack.
The attack dominated Iranian newspaper front pages on Sunday. The hard-line daily Kayhan warned that Iranians would demand Saudi Arabia feel the "hard slap" of the country's power.
Iran's government declared Monday as a nationwide public mourning day, state-run IRNA news agency reported Sunday.
Also all governmental organizations, banks, schools and universities in southeastern Khuzestan province will be closed on Monday, semi-official Tasnim news agency reported.
An overnight impromptu candle-light vigil in Ahvaz honored the dead and wounded. Among the dead is 4-year-old Mohammad Taha, who was captured by a photographer being carried away from the attack by a Guardsman in full dress uniform and sash. The photograph, showing the boy bloodied and helpless, shocked Iran.
A doctor interviewed on state television said Mohammad had been up the night before marking Ashoura, a commemoration of the death of the Prophet Muhammad's grandson Hussein, one of Shiite Islam's most beloved saints. Mourners wear black in honor of his 7th century death in the Battle of Karbala in present-day Iraq.
Full report at:
https://www.japantimes.co.jp/news/2018/09/24/world/rouhani-blames-u-s-attack-iran-military-parade-leaves-25-dead-despite-islamic-state-taking-credit/#.W6iQ7FQzazc
--------
Africa
Tripoli clashes leave 115 dead, 383 injured- health ministry
September 23, 2018
TRIPOLI: At least 115 people have been killed and 383 injured in month-long clashes between rival factions in Tripoli, Libya's health ministry said on Sunday.
The fighting pitted the Seventh Brigade, or Kaniyat, from Tarhouna, a town 65 km (45 miles) southeast of Tripoli, against the Tripoli Revolutionaries' Brigades (TRB) and the Nawasi, two of the capital's largest armed groups.
Tripoli and western Libya are run by a UN-backed government mainly supported by armed groups, while Eastern Libya is controlled by a rival administration. The country has been riven since Muammar Qaddafi was toppled in 2011.
The Kaniyat and other groups from outside Tripoli launched an assault on the capital in late August amid unease over reports of the wealth, power and extravagant lifestyles of some Tripoli militia commanders.
At the Frontline in Tripoli's southern residential areas of Wadi Rabea and Fatma Zahra, shelled houses, torched vehicles, destroyed shops and deserted streets attest to the intensity of the clashes.
"The death toll could surge because of the critical condition of the injured and the continuing fighting," Wedad Abo Al-Niran, media officer at the health ministry told Reuters.
The armed groups which claim official status through the UN-backed Government of National Accord (GNA) in Tripoli patrol the area in armored vehicles and pickup trucks mounted with anti-aircraft guns.
The fighting has knocked out most power stations in the city and crippled Tripoli's main airport.
Although civilian targets continue to be shelled, Hakeem Al-Sheikh, commander of 42 Brigade loyal to GNA, said "the situation is under control."
Meanwhile residents in southern Tripoli continue to bear the brunt of the infighting, with many forced to flee their homes.
"We are staying with our relatives as we are afraid of looting acts," said Abdulqader Al-Ryani, a father of three who left everything behind when he left his house.
So far, calls by the GNA for all sides to uphold a cease-fire agreed on Sept. 4 have fallen on deaf ears.
Full report at:
http://www.arabnews.com/node/1376631/middle-east
--------
Rights group alleges plot to thwart Boko Haram war
Sep 24, 2018
A human rights group has alleged plot by foreign agents to thwart the country's war against insurgency through fictitious reports in the media to undermine troops fighting the Boko Haram group.
The group under the aegis of Coalition on Conflict Resolution and Human Rights in Nigeria accused some foreign news agencies of projecting the activities of Boko Haram terrorists that are false for hidden agenda.
National President of the group, Maxwell Gowon in a press conference yesterday said the group was aware that Nigeria's Defence Minister Mansur Dan Ali told Reuters last month that "The country has been stable for the past three years," but the same news agency decided to paint a picture of gloom and doom, of deserting troops and thousands killed.
Full report at:
https://www.dailytrust.com.ng/rights-group-alleges-plot-to-thwart-boko-haram-war.html
--------
Boko Haram landmines in Nigeria killed at least 162 in two years – study
23 Sep 2018
Hundreds of people have been killed or maimed by landmines in north-east Nigeria, research shows.
Mines laid by Boko Haram, the extremist group that has waged a deadly insurgency in the Lake Chad region, killed 162 people in two years and wounded 277 more, according to the Mines Advisory Group (MAG), a landmine clearance charity.
Casualties rose from 12 per month in 2016 to 19 per month in 2017-18, making Nigeria's casualty rate from mines the eighth highest in the world.
After nine years of the insurgency, locally produced landmines, unexploded bombs and improvised explosive devices are scattered across the north-east.
"All around here people are dying. Just looking for firewood is very risky," said Saleh Ibrahim, the deputy leader of a camp in Ngala, in Borno state, that shelters more than 100,000 people.
"Last November, five girls between eight and 17 years old found a metal ring on the ground. Two were young daughters of my sister. They thought it might be jewellery. One picked it up but it was linked to a bomb. They all died."
MAG's Avishek Banskota, who is based in Maiduguri, said: "Everyone I have met in Borno state has been affected in one way or the other, whether losing a family member, a friend or a house. People can't move around freely in most of the region and much of the land can't be used to farm or collect firewood, so the impact on communities is huge."
According to the police, militants use pipes, pots and other items to make their own munitions and harvest explosives from undetonated ordnance. One officer said the militants tended to plant items in areas where they thought the army would visit, and also mined around their bases in remote areas.
Boko Haram splintered into several groups in 2016 but its factions still wield considerable power. Abubakar Shekau, the longtime leader of the group who pledged allegiance to Isis, was rejected by the latter in favour of Abu Musab al-Barnawi, the son of the group's founder, possibly because Shekau had been targeting Muslim civilians. Barnawi's faction is perceived to be primarily targeting Christians and the military, while Shekau's indiscriminately abducts, rapes and kills.
However, there are indications that Barnawi's group, Islamic State West Africa Province (ISWAP), is becoming more extreme. Mamman Nur, a more moderate leader, was reportedly killed by his own men in August.
The MAG data suggests more mines have been laid in the south of the region, where Shekau's group mostly operates, though the figures may be skewed as the north, where ISWAP operates, is less accessible.
The data may show only a fraction of the landmine problem. The military does not share information about how many mines it clears and refuses to allow access to much of Borno state. Humanitarian organisations are not allowed in areas not controlled by the military, and 900,000 people are thought to be stuck in these areas without adequate food or healthcare.
The Nigerian authorities have been sending thousands of people back to garrison towns in unsafe areas, where they run the risk of Boko Haram attacks, in an apparent attempt to show they have secured the north-east before next year's presidential election. Many of those who have returned have regrets. Some are not even originally from the areas to which they are moving.
It is unclear at what rate Boko Haram is still laying mines. This month the military bombed what it described as an IED factory in Guzumala.
MAG is launching a campaign to raise awareness of the landmine situation in Nigeria. "Despite hundreds of people being recently killed or injured by landmines in Nigeria, the issue has largely gone under the radar," said Chris Loughran, the organisation's director of policy and advocacy.
Full report at:
https://www.theguardian.com/global-development/2018/sep/23/boko-haram-landmines-in-nigeria-killed-at-least-162-in-two-years-study
--------
State to increase security in Ijara to ward off Shabaab
Sep. 24, 2018
The government plans to increase security in Ijara constituency due to its proximity to Boni Forest where al Shabaab militants have been hiding.
Interior CS Fred Matiang'i on Friday said the government will continue executing its cardinal responsibility of protecting citizens and property. "We will not only supplement police patrols in the area but also encourage constructive participation by the community to increase crime reporting," the CS said.
Matiang'i said the new measures will go a long way in ensuring an ideal environment for effective response to security challenges in the best interests of the community and the country.
Matiang'i spoke after receiving a memo of concerns from a team of Ijara leaders in his Harambee Office.
The memo was signed by Garissa senator Yusuf Haji, Ijara MP Sophia Noor, Garissa deputy governor Abdi Dakane and MCAs Irshad Osman (Ijara), Adow Said (Hulugho), Abdullahi Buthul (Sangailu), Abukar Shide (Masalani) and Ayan Mohamed (nominated).
The leaders identified community mistrust of the police as one of the major challenges contributing to insecurity in the area.
They proposed more collaboration between security officers and the Kenya Police Reservists. The leaders also recommended the upgrading of major roads to ease movements of security personnel.
Matiang'i said the government will continue sealing all the security loopholes, especially infiltration of the militants along the Southern Somalia border.
"Our plan is to ensure collaboration with the people and the local leaders in security operations," he said. The CS said community policing forums will not only foster communication but also enhance complementary support.
In February, KDF troops killed three al Shabaab militants in Boni Forest and recovered three AK-47 rifles, 236 bullets, bomb-making materials and their personal items.
In December last year, al Shabaab militants destroyed a safaricom mast in Ijara cutting off communication before looting a shop in the town.
The militia also razed Ijara police station and made away with a police Land Cruiser and ammunition.
After the mast was destroyed, residents were forced to travel more than 100km to Masalani town to access services. The militants were suspected to be hiding in Boni Forest.
The mast has been reinstalled. Residents commended area MP Noor, who was among leaders who pushed for the reinstallment of the mast.
Full report at:
https://www.the-star.co.ke/news/2018/09/24/state-to-increase-security-in-ijara-to-ward-off-shabaab_c1823361
--------
Al-Shabaab terrorist Mohamed Abdirahman Osman living in Arizona on Obama era immigration rules
Sep 23rd, 2018
In a distressing case out of Arizona, an Ethiopian man granted refugee status by the Obama administration is really a terrorist who lied to the U.S. government about his identity. The man, Mohamed Abdirahman Osman, and his wife, Zeinab Abdirahman Mohamed, have lived in Tucson since Uncle Sam invited them into the country as refugees back in 2014. Wonder how their neighbors feel that a grand jury recently indicted the couple for making false statements to a government agency and lying about the husband's ties to the militant Somali group Al-Shabaab?
Osman used a fake Somalian passport to get to the U.S., according to the 11-count indictment, which charges the husband with eight crimes and the wife with three for helping him conceal his true identity. The feds say Osman was injured while handling explosives for Al-Shabaab in 2009 but told authorities the injury occurred in a 2010 terrorist attack at the Bakara Market in Somalia. In 2008 the State Department designated Al-Shabaab an official Foreign Terrorist Organization (FTO). "Al-Shabaab is a violent and brutal extremist group with a number of individuals affiliated with al-Qaida," according to the State Department. "Many of its senior leaders are believed to have trained and fought with al-Qaida in Afghanistan." The agency further writes in its designation that "Al-Shabaab has used intimidation and violence to undermine the Somali government and threatened civil society activists working to bring about peace through political dialogue and reconciliation."
Osman and his wife fled to China and applied for refugee status with a U.S. Citizenship and Immigration Services (USCIS) officer in Beijing using an alias. Documents submitted by the couple contained "false, fictitious, and fraudulent statements," according to the indictment. The fraudulent statements included Osman's true name and nationality and denial of his association with a terrorist organization. Osman was born in Ethiopia and obtained a passport from the Somali Republic, the indictment says. The feds claim that he moved from Ethiopia to Mogadishu, Somalia's capital, at "the direction of Al-Shabab." The couple was finally arrested last month, after living in Tucson for four years. Osman and Mohamed had already submitted applications for legal permanent residence.
It's not clear how federal authorities completely missed the red flags to allow this suspected terrorist to live in the U.S. for years or how they finally discovered the truth. What the case indisputably reveals is that there are gaping vulnerabilities in the refugee program. Judicial Watch has reported on this for years. In fact, back in 2011 Islamic terrorists— including two al Qaeda affiliates indicted in Kentucky—entered the United States legally through a refugee resettlement program. It was called the U.S. Refugee Admissions Program (USRAP), a joint venture between the State Department and USCIS to help tens of thousands of the world's most vulnerable refugees start a new life in America each year. Most of the refugee referrals in USRAP are made by the notoriously corrupt United Nations, which has published an extensive handbook on the subject.
Full report at:
https://www.theglobaldispatch.com/al-shabaab-terrorist-mohamed-abdirahman-osman-living-in-arizona-on-obama-era-immigration-rules-58826/
--------
India
Assam police arrest 8 suspected Hizbul terrorist, Muslims take out protest rally against terrorism
23 Sep 2018
After the arrest of Qamar-uz-Zaman, a suspected terrorist of Hizbul Mujahideen who hails from Hojai's Jamunamukh area by the Uttar Pradesh Anti-Terrorist Squad (ATS) at Kanpur on Sept 13, the Assam police have arrested four of its operatives from different locations of the state.
According to the reports, police arrested a suspected Hizbul terrorist identified as Abhimanyu Chouhan from Mosoka No – 1 under Kheroni police station in Karbi Anglong district on Saturday.
Earlier, Hojai district police had arrested seven suspected terrorists including Qamar-uz-Zaman's ender brother Saiful Islam alias Liton.
Qamar-uz-Zaman is the same person whose photograph was appeared in the social media with an AK-47 rifle as a Hizbul ultra.
A top official of Assam police said that, the Kashmiri separatist terrorist group had planned explosions in Assam and to conduct recruitment drive in Assam and send at least 12 Assamese youths to Pakistan and Afghanistan for arms training.
"We have so far arrested eight persons including Qamar-uz-Zaman's childhood friend 39-year-old Shahnawaz Alam, his elder brother Saiful Islam. The terrorist group also tried to set up base camps in Assam and Meghalaya and procurement arms from Nagaland based arms dealer, separatist groups. A Jammu and Kashmir origin leader of Hizbul Mujahideen came to Assam few months back and holding several meetings with some people and a religious preacher. The Hizbul Mujahideen leader had visited several areas of Assam and Meghalaya," the top Assam cop said.
On the other, Assam police had detained three persons from lower Assam's Barpeta district last night for their alleged links with arrested Hizbul terrorist Qamar-uz-Zaman and they were identified as Nasir-uz-Zaman, Shahjahan Ali and Hemanta Deka.
Meanwhile, Assam DGP Kuladhar Saikia said that, lots of information has come out during interrogation.
"We are exchanging our information and getting intelligence inputs from them (UP Police) and verifying it. We have cross-checked the people who have been arrested. We are looking different angles including funding, arms dealing etc," the Assam DGP said.
On the other hand, while the Hojai district police continues to bust Hizbul Mujahideen module, hundreds of Muslim community people on Saturday took part in a protest rally against terrorism at Nilbagan area in Hojai district.
The Muslim protesters urged all community people in the state to come out against the terrorism.
https://www.indiablooms.com/news-details/N/42997/assam-police-arrest-8-suspected-hizbul-terrorist-muslims-take-out-protest-rally-against-terrorism.html
--------
Pakistan's 'one-trick pony' act on Kashmir has no resonance in UN: India
Sep 24, 2018
NEW YORK: With Pakistan expected to rake up the Kashmir issue during the high-level UN General Assembly session this week, India said a "onetrick pony" can "regurgitate" the same act but "single act plays" have no resonance on multi-lateral platforms like the United Nations.
India's Permanent Representative to the UN, Ambassador Syed Akbaruddin said the UN General Assembly session is a global platform to address global issues, yet each country is sovereign and can do what they feel is in their best interests.
"If somebody else would like to be a one-trick pony, it is for them to regurgitate and act. We have handled this act many times in the past and are confident that we will do so again," Akbaruddin told reporters here on Sunday.
He was responding to a question on Pakistan expected to rake up the Kashmir issue "at a higher decibel" during the high-level session of the 73rd UN General Assembly beginning at the world body's headquarters on Monday.
"Our contention is that the UN works best on multilateralism and multi-lateral platforms work best when nations work in partnerships.
"Single act plays have no resonance in such matters. Anybody can try and be a solo player. However, solo players in a multilateral context have no future," he said, adding that it is a country's call on how they spend the time allocated to them during the UNGA session.
India works in partnerships, Akbaruddin said, adding that India is proud that its priorities during the General Assembly have great resonance in the international community.
Pakistan has consistently used the platform of the UN General Assembly to rake up the Kashmir issue and its leaders have sought to internationalize it during their addresses in the General Debate. India responds strongly to Pakistan, whose attempts to raise the Kashmir issue every year at the multi-lateral forum have found no resonance with the international community.
Following India's acceptance of Pakistan Prime Minister Imran Khan's request for a meeting, External Affairs Minister Sushma Swaraj and her Pakistani counterpart Shah Mahmood Qureshi were slated to meet on the sidelines of the General Assembly.
However, India called off the meeting, citing the brutal killings of three policemen in Jammu and Kashmir and Islamabad releasing postage stamps "glorifying" Kashmiri terrorist Burhan Wani.
Khan had tweeted that he is disappointed at the "arrogant and negative" response by India to his call for resumption of the peace dialogue.
When asked about Khan's response, Akbaruddin said India responds to multi-lateral issues of global nature that it is confronted with. "What you have raised is an issue relating to our bilateral ties. Those will be addressed bilaterally in a format in which we desire to address them."
On whether India will raise strongly the issue of cross-border terrorism during the UNGA session, Joint Secretary for UN Political in the Ministry of External Affairs Dinesh Patnaik said the issue of cross-border terrorism has been raised by the country since 1996 when it had put the idea of the Comprehensive Convention on Terrorism.
Akbaruddin said the scourge has been and is a concern for India.
"It's a global concern. Terrorism is threatening countries across vast spades of land in diverse continents," he said, adding that terror outfits such as Boko Haram and Islamic State are a threat to several countries across Africa and West Asia.
"Even in our neighbuorhood, terrorism has increased as a major threat. This has been our perennial concern and obviously perennial concerns will be articulated in unison with many other countries that are raising this," he said.
Pakistan's foreign minister Shah Mahmood Qureshi is expected to highlight the situation in Kashmir during his General Assembly address, Pakistani media reported on Monday.
Full report at:
https://timesofindia.indiatimes.com/india/pakistans-one-trick-pony-act-on-kashmir-has-no-resonance-in-un-india/articleshow/65929429.cms
--------
Symposium held on promoting interfaith understanding in AMU
Sep 23, 2018
ALIGARH (September 12, 2018): The Centre for Inter-Faith Understanding, Aligarh Muslim University (AMU) organised a symposium and discussion on "Ways to promote Inter-faith Understanding". Swami Shri Hari Prasad of Vishnu Mohan Foundation, Chennai was the chief guest while AMU Pro Vice Chancellor Prof M H Beg presided over the function.
Addressing the symposium, Swami Shri HariPrasad, an eminent faith leader and scholar, said that all religions talk about same fundamental values and no religion teaches hatred. "What is harmful to you, do not do to others, should be the guiding principle in life" said the faith leader. He said it does not matter how and whom one prays, one should be honest and practice non violence.
Shri Prasad said that Sir Syed Ahmad Khan was a great proponent of Hindu-Muslim unity.
Citing recent events of communal amity during Kerala floods, where Hindus opened the door of temples for Muslim brothers for prayer, Swami HariPrasad said "my Guru taught me to spread love and peace and we should celebrate our differences" instead of fighting on distinctions.
"People should come together and indulge in dialogue so that inter-faith relations are strengthened in society", emphasized Swami HariPrasad.
Presiding over the function, AMU Pro-Vice Chancellor Professor M H Beg said Islam teaches us to respect all religions. "On several occasions, the holy prophet stressed we should follow middle path and there is no place for extremism".
Prof Beg pointed out that pluralism is the law of nature, there are so many colours, so many flowers and so many trees etc. Likewise, we should co-exist with our differences, in complete harmony.
Describing the establishment of Centre for Interfaith Understanding as a big step in line with Sir Syed's Aligarh Movement, Prof Beg said Sir Syed strongly vouched for peaceful co-existence of Hindus and Muslims.
Earlier, Prof A R Kidwai (Director, K A Nizami Centre for Quranic Studies) introduced the theme of the symposium. Talking about oriental studies and writings about Islam and Muslims by Western scholars, Prof Kidwai said that modern Orientalists have written about commonalities between Quran and Bible which is a positive change in their outlook. He said Sir Syed was a great reformer and he wrote more than fifty articles about social evils in Hindu society and called for reforms.
Prof Saud Alam Qasmi (Department of Sunni Theology) said that Inter-faith Understanding started with Prophet Mohammad as he had peace treaty with Jews and others on several occasions. He said that Al Biruni learnt Sanskrit and Vedas and wrote about Hindu religion and society. Cultural exchange and understanding happens only this way, he added.
He further said that Sir Syed learnt Hebrew and wrote interpretation of Bible to explore commonalities between Christianity and Islam.
Welcoming the guests, Prof Syed Ali Mohmmad Naqvi, Director of the Centre said that AMU always stood for Inter-Faith understanding and Sir Syed Ahmad Khan was the first ambassador and champion of Inter-Faith movement in India. None of us can live in peace if there is an atmosphere of mistrust and hate in society, said Prof Naqvi. He emphasized the need for Inter-Faith understanding and peaceful co-existence.
Full report at:
http://www.milligazette.com/news/16427-symposium-held-on-promoting-interfaith-understanding-in-amu
--------
Indian Mujahideen facilitator shot dead in Nepal
September 24, 2018
Maulana Khurshid Ansari, a teacher in Nepal's Sunsari district who was suspected of providing safe passage to Indian Mujahideen suspects, was shot dead by unknown assailants on Thursday.
Ansari was a member of the ruling Nepal Communist Party. Soon after he was killed, the Nepal government declared him a martyr and announced Rs 1 million compensation for his family.
A highly placed police source told The Indian Express that Ansari had allegedly helped four IM suspects, who were wanted in a series of bomb blasts at different places in India in 2008, secure Nepali citizenship and passports. "The Indian embassy in Kathmandu had approached Nepal police to keep a watch on Ansari's activities," the source said.
The role of Ansari, who was killed by two motorcycle-borne assailants, first came to light following the 2008 Batla House encounters. His name surfaced after the arrest of Mohammad Salman, one of the IM bombers involved in Delhi bombings.
Full report at:
https://indianexpress.com/article/india/indian-mujahideen-facilitator-shot-dead-in-nepal-5371089/
--------
Southeast Asia
Minister hits out at Zakir Naik-style Islamic preaching
Nur Hasliza Mohd Salleh
September 24, 2018
KUALA LUMPUR: The minister in charge of Islamic affairs today hit out at Indian Muslim preacher Dr Zakir Naik, saying his combative style of propagating the religion by putting down other beliefs is not suitable for Malaysia.
Mujahid Yusof Rawa said Naik, who has sought refuge in Malaysia amid an investigation by Indian authorities, has a penchant for insulting other religions.
"We don't want a debate that ridicules others. We need a more intellectual and composed method of Islamic propagation without the need to ridicule other religions," he said in his speech to launch a seminar today on Islam and the challenges in a multiracial society.
Naik is accused of giving provocative speeches, which were cited as a reason by Bangladesh for an attack in Dhaka in 2016 which left 22 people dead. India's National Investigation Agency is also investigating Naik's Islamic Research Foundation, over allegations of money laundering.
Naik has denied the charges, saying he is a victim of the Indian media whom he accuses of sensationalising the issue in their quest to get a bigger audience.
The 52-year-old televangelist, who was close to leaders of the previous government and was granted Malaysian permanent resident status, is fighting attempts to have him deported.
Mujahid said as the minister in charge of Islamic affairs, he was also responsible for defending the rights of other religions.
He said Islamic missionary work in the past was successful because it did not attack other beliefs.
"When has Islam been spread by insulting other religions? If Islam is compassionate, there is no need for insults," he added.
https://www.freemalaysiatoday.com/category/nation/2018/09/24/minister-hits-out-at-zakir-naik-style-islamic-preaching/
--------
Dr M to deliver major lecture on Islam at Oxford Centre for Islamic Studies
By ZAHARAH OTHMAN
September 23, 2018
LONDON: Tun Dr Mahathir Mohamad is expected to deliver a major lecture at the Oxford Centre for Islamic Studies (OXCIS) at the University of Oxford, as part of his visit to the United Kingdom.
The prime minister, who is now in the UK en route to New York to attend the 73rd United Nation General Assembly, will be presenting a lecture titled "The Challenge of Good Governance in the Muslim World" as part of the Distinguished Lecture Series, at OXCIS' newly-completed Malaysia Auditorium.
According to the centre's website, Dr Mahathir's lecture would also be live streamed in an adjacent room due to high demand.
Since its founding in 1985, the centre has brought many leading figures to Oxford to speak on matters related to the Islamic world. In its new premises, the centre has a number of dedicated lecture spaces including the Malaysia auditorium to allow further development of its programmes.
This marks the first major lecture that Dr Mahathir will deliver in the West since becoming Malaysia's seventh prime minister, his second time at the helm of the country.
Dr Mahathir is no stranger to OXCIS, a recognised independent centre of the University of Oxford, where as Malaysia's fourth prime minister, he delivered the lecture titled "Islam the Misunderstood Religion" on his first visit to the centre in 1996.
It is understood that for more than 20 years now, Dr Mahathir had maintained a keen, longstanding interest in the work carried out at OXCIS, where a number of Malaysian scholars had benefited from its numerous resources.
Dr Mahathir had made several visits to the new building when it was under construction and after it was completed in 2017.
The prime minister, accompanied by his wife Tun Dr Siti Hasmah Mohamad Ali as well as senior government officials on this first leg of the UK trip, has a packed two-day working itinerary.
He is expected to meet students and members of the UK chapter of the Bunga Raya Club, on Sunday afternoon. The Bunga Raya Club was set up by Dr Mahathir's party, Parti Pribumi Bersatu Malaysia (Bersatu), in Feby 2017 for Malaysians residing in the UK.
Prior to his trip to Oxford, Dr Mahathir will first visit the Dyson Design and Engineering Centre at the Imperial College London.
The prime minister and the Malaysian delegation are expected to depart for New York on Tuesday.
Dr Mahathir is expected to stop over in London again on Sept 29 after the UN General Assembly. During his return leg visit, he will meet captains of industry as well as fund managers in the UK to draw investment into Malaysia.
Full report at:
https://www.nst.com.my/news/nation/2018/09/414257/dr-m-deliver-major-lecture-islam-oxford-centre-islamic-studies
--------
Yeoh: Shariah nod doesn't mean cops can't probe child marriages
23 September 2018
KUALA LUMPUR, Sept 23 — Police must not take the Shariah courts' approval for recent child marriages as indication that no further investigations were required, said Deputy Minister Hannah Yeoh.
The deputy women, family and community development minister said the agency should still establish if elements of child grooming exist in any of the cases.
"There is nothing stopping the police from investigating further. What I'm saying is, although Shariah Courts have recognised these marriages as valid, we must check the background of how they came to be in the first place.
"We have laws against child grooming, so please fully utilise it," she told reporters after a fire hydrant testing and flushing exercise at Taman Sri Sinar in Segambut today.
Yeoh was referring to Offences Relating to Child Grooming under Part III of the Sexual Offences Against Children Act 2017.
Those found guilty of communicating with a child for the purpose of publishing, accessing, selling and distributing child pornography, or making sexual and non-sexual assaults will face the maximum penalty of five years jail time and whipping.
Yeoh's remark came after another recent case of child marriage in Kelantan, this time involving a 15-year-old girl and a man nearly 30 years her senior.
Deputy Prime Minister Dr Wan Azizah Wan Ismail previously confirmed that the marriage was established with mutual consent.
Full report at:
https://www.malaymail.com/s/1675617/yeoh-shariah-nod-doesnt-mean-cops-cant-probe-child-marriages
--------
Stranger things: When Umno chiefs seek Mahathir's advice
Sep 24, 2018
Politics in Malaysia gets stranger with each passing day. As the adage goes, truth is stranger than fiction, and it seems to apply well here.
Shortly after the general election in May, when the Barisan Nasional was trounced and consigned to the scrap heap, then acting Umno president Zahid Hamidi raised eyebrows when he called on Tun Dr Mahathir Mohamad for advice.
Dr Mahathir revealed that Datuk Seri Zahid "wanted to know how to manage Umno. So, I was frank and said Umno had betrayed the Malays".
Yes, at least that's what the man said. Mr Zahid wanted advice on how to manage Umno and he got it from the best man possible.
"I reminded him that we formed Umno to help the Malays, but that Umno had changed and prioritised self-wealth.
"Because of that, Umno is now hated. It'll be hard for Umno to recover. Once seen as noble, now viewed with disgust," Dr Mahathir apparently said.
Incredibly, Mr Zahid was not the only loser who queued up to acquire Dr Mahathir's wisdom. He was, in fact, the third opposition party leader to do so, believe it or not.
Parti Islam SeMalaysia (PAS) president Abdul Hadi Awang and Parti Pesaka Bumiputera Bersatu president Abang Johari Abang Openg made their moves earlier.
Forgive our naivety in politics, but are we missing something here? These people had just lost the election, leaving their parties in disarray (at least Umno), and the first thing they do is run to the man who defeated them for advice on how to run their own houses?
Are we reading this right? But then, this is Bolehland, and what is regarded as strange can easily be real.
Last week, another top Umno name - Datuk Seri Hishammuddin Hussein Onn - also scooted off to see the nation's foremost nonagenarian. It's uncertain if the purpose of his visit was, likewise, to learn how to save Umno and run the party. Honestly, why would Dr Mahathir, even as former president, want to save Umno?
No one would have known better had Datuk Kadir Jasin, the media adviser to the Prime Minister, not let the cat out of the bag about the meeting.
"Assalamuailaikum Datuk Seri Hishammuddin, nak tanya, semalam pergi Putrajaya jumpa siapa? (I wish to ask, who did you meet in Putrajaya yesterday?)" Mr Kadir wrote.
Presumably caught off guard by the revelation, Mr Hishammuddin, who is also a former Umno vice-president, however said the meeting was only to listen to Dr Mahathir's plans for the country's future.
And also last week, Perlis Umno deputy chairman Zahidi Zainul Abidin claimed Umno and Barisan Nasional MPs had met Parti Pribumi Bersatu Malaysia (PPBM) leaders to discuss the possibility of a union.
Mr Zahidi, who is Padang Besar MP, said the purpose of the discussions was to seek the "best option to save the Malays".
"We are trying to discuss with PPBM to save the Malays. We want PAS, but PAS is not ready, so we are looking for the best option because we want the best for the Malays," he said.
According to him, Barisan MPs met PPBM leaders two to three months ago, but he refused to disclose details. However, he said: "We are planning to merge with PPBM but we do not want to quit Umno.
"Some of the MPs agreed to discuss with PPBM while some agreed to discuss with PKR (Parti Keadilan Rakyat). So, we will see which one is best. We have met PPBM."
Dispensing with the bravado and hyperbole, what Mr Zahidi is trying to convey is simply that Umno is in trouble and going nowhere. We want PPBM or PKR to hold us, we can't just quit Umno, but without the two parties, we are dead.
And of course, the narrative must be about saving the Malays - not saving ourselves politically.
Meanwhile, in Bolehland, the Chinese and Indians are upset that Datuk Seri Anwar Ibrahim is said to be drumming up support by doing a devil's deal with some Umno MPs to overthrow Dr Mahathir by November.
Why November? Well, that's when Parliament meets, but that's what a friend of a friend told me. I didn't ask why November either because that seemed like an insignificant detail.
So, here's when many of us become confused: Who is cosying up to Umno? Is it Dr Mahathir to checkmate the ever-impatient Mr Anwar, or is it really Mr Anwar himself? Now, this is when the truth gets stranger than fiction, or so it seems.
But dig deeper, and it sounds more like a group of Umno MPs - who find the gravy train now derailed, and without benefit in sight - cooking up a juicy story to let the various insecure factions in Pakatan Harapan fight over them, for what they are still worth as MPs.
And if nothing is offered, what can be more pleasing to the egos than be heralded as the saviour of the race and religion at this week's party assembly for their undying proclamation to the party, race and religion?
Full report at:
https://www.straitstimes.com/opinion/stranger-things-when-umno-chiefs-seek-mahathirs-advice
--------
URL: https://www.newageislam.com/islamic-world-news/crown-prince-saudi-arabia-committed/d/116472
New Age Islam, Islam Online, Islamic Website, African Muslim News, Arab World News, South Asia News, Indian Muslim News, World Muslim News, Women in Islam, Islamic Feminism, Arab Women, Women In Arab, Islamophobia in America, Muslim Women in West, Islam Women and Feminism