New Age Islam News Bureau
1 Oct 2018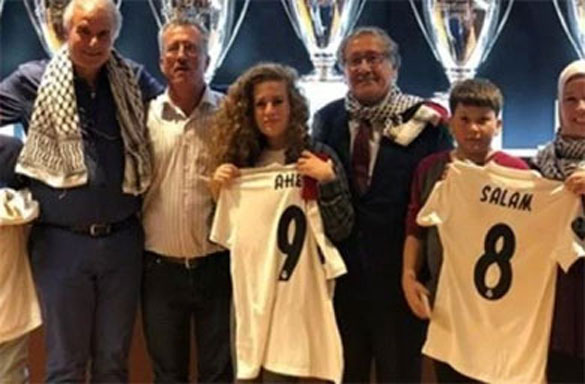 Tamimi was invited by Real and on Saturday arrived at the club where she was received by former striker and co-manager Emilio Butragenio
-------
• Creation of UN Body on Myanmar Atrocities 'Important Step'
• French Muslims Want a Say In Macron's New Rules For Islam
• Saudi National Library of Film-Shooting Sites Launched
• Israel Cries Foul as Real Madrid Hosts Palestinian Icon
• Ludhiana: Three Booked For Performing Circumcision on 10-Year-Old In Bid To 'Convert' To Islam
South Asia
• Creation of UN Body on Myanmar Atrocities 'Important Step'
• 21 ISIS militants killed in drone strikes in Nangarhar province
• Haqqani Network members arrested for masterminding attacks in Kabul city
• Bangladesh's opposition group says 'strongly' wants to contest elections
• Maldives ex-leader Maumoon Abdul Gayoom freed on bail: Official
• Senate House warns against privatization of the war in Afghanistan
--------
Europe
• French Muslims Want A Say In Macron's New Rules For Islam
• Erdogan Hopes His Recent Germany Visit To Enhance Ties
• Russian strikes on Syria kill 18,000 in 3 years: monitor
--------
Arab World
• Saudi National Library of Film-Shooting Sites Launched
• Yesterday Foes Change Course As Syria Thrashes Militancy
• Tahrir Al-Sham Forms Three Terrorist Armies before Declaring Position on Sochi Agreement
• Unknown Gunmen Steal Tahrir Al-Sham's Chemical Stockpile in Northwestern Syria
• Syria: Tahrir Al-Sham Sends Military Equipment to Aleppo Following Clashes with Rival Terrorists
• More Popular Uprising against US-Backed Militia Reported in Eastern, Northeastern Syria
• US-Backed Militia Engaged in Fresh Clashes in Northeastern Syria
• Syrian Army Repulses Terrorists' Attack in Hama
• Israel prepared to reopen UN crossing with Syria: Military
--------
Mideast
• Israel Cries Foul as Real Madrid Hosts Palestinian Icon
• Israel Re-Arrests Palestinian-French Activist Minutes After Release
• Turkish Warplanes 'Neutralize' Over Dozen PKK Terrorists In Northern Iraq
• Israel says ready for UN crossing with Syria to reopen
• Iran: Interpol Ready to Cooperate in Fight against Terrorism after Ahwaz Attack
• Iran Guard Launches Missiles into Syria 'In Retaliation for Ahwaz Attack'
• Reuters cameraman shot, wounded by Israeli fire in Ramallah
• UAE should expect more attacks if aggression on Yemen continues, Ansarullah spokesman
• Yemeni army controls the road between Hajjah and Saada
--------
India
• Ludhiana: Three Booked For Performing Circumcision on 10-Year-Old In Bid To 'Convert' To Islam
• Ahmadiyya Scholars for Ban on 'Nikah Halala'
• Rohingyas from Every Corner of North East Entering Kerala: Railway Protection Force's 'Secret' Notice
• PM Modi warns Pakistan of 'befitting' reply to ceasefire violations
• J&K cop killed as militants target police station
• Pak Chopper Intrudes Into Indian Airspace, Reports Say PoK PM Was Aboard
--------
Pakistan
• Pervez Musharraf 'Growing Weak Rapidly' Due To Unspecified Illness, Can't • Return To Pakistan Now: Report
• Saudi team arrives in Pakistan, may sign four MoUs
• FM Qureshi to meet US NSA on visit to White House
• National Party Leader Criticises Centre's Move To Give Afghan Refugees Citizenship Rights
• Minister, DPC request UN to declare India as 'terrorist state'
• Not in US for aid, but to rebuild 'powerful' relationship: Qureshi
• Siraj lauds Qureshi's UNGA address
• Pakistani Christians demand end to persecution
--------
Africa
• Nigeria's President Thanks Islamic Body's Help to Face Terrorism
• Why U.S. Got Nigeria's Muslim, Christian Leaders to Sign Peace Pact
• Somalia: Al Shabaab inches closer to Mogadishu
• Boko Haram extremists has been defeated, Cameroon's leader declares
• FG must intensify fight against Boko Haram, herdsmen –Ortom
--------
Southeast Asia
• Anwar Slams PAS for Questioning His Visits To Non-Muslim Places Of Worship
• Dr Mahathir previews British Museum's Islamic World collection
• Hadi: Anwar cannot be trusted
• No support for Aung San Suu Kyi: Malaysia PM Mahathir
--------
North America
• NYC: Prosecutors Want Death Penalty for Muslim Bike Path Terrorist
• Presence of US military forces on Syrian soil illegal, act of aggression: Muallem
• Iran, US in tense wait for world court sanctions ruling
Compiled by New Age Islam News Bureau
URL: https://www.newageislam.com/islamic-world-news/creation-un-body-myanmar-atrocities/d/116537
--------
Creation of UN body on Myanmar atrocities 'important step'
September 28, 2018
Rights groups have lauded a United Nations Human Rights Council (UNHRC) resolution to create an independent body to expedite criminal prosecutions against perpetrators of atrocities committed against the Rohingya in Myanmar.
The UNHRC passed a resolution on Sept. 27 that creates an international body to help prepare case files for future criminal proceedings.
The UNHRC's 47 members voted a resolution by 37-3 with seven abstentions. China, the Philippines and Burundi voted against the resolution drafted by the European Union and the Organization of Islamic Cooperation.
John Fisher, Geneva director at Human Rights Watch, said the UNHRC has made an important step for justice by creating the body to pinpoint criminal responsibility for the countless atrocities in Myanmar.
"It deals a blow to Myanmar's deep-seated culture of impunity and moves victims closer to seeing Myanmar's generals held to account," Fisher said in a statement.
Tirana Hassan, Amnesty International's crisis response director, said that while the U.N. Security Council remains bogged down by politics, the UNHRC has stepped up to the challenge with this serious and constructive approach.
"It sends a clear message of solidarity to the victims and survivors as well as a stark warning to Myanmar's military that their crimes will be punished," Hassan said in a statement.
Six regional and local rights groups — Forum-Asia, Equality Myanmar, Progressive Voice, Kachin Women's Association Thailand, Women's Peace Network-Arakan and Rohingya Women Welfare Society — have also supported the UNHRC resolution.
"The establishment of a U.N. body is a ray of hope for victims and survivors of horrific atrocities in Myanmar. This will ensure that these crimes and perpetrators are not forgotten and strengthen the hope for actual trial and prosecutions in the near future," Wai Wai Nu of Women's Peace Network-Arakan said in a joint statement.
The resolution also expands a one-year mandate to an earlier U.N. fact-finding mission which said military chief Min Aung Hlaing and five other senior generals must be prosecuted for genocide and war crimes against Rohingya and other ethnic minorities.
The resolution also calls for the new mechanism to cooperate with the International Criminal Court (ICC), which ruled earlier this month that it had jurisdiction to investigate the forced deportation of Rohingya from Myanmar into Bangladesh.
Min Aung Hlaing insisted on Sept. 23 that the U.N. has no right to interfere in Myanmar's sovereignty.
More than 700,000 Rohingya fled to Bangladesh after a Myanmar military crackdown in August 2017 began following attacks on security personnel by Rohingya insurgents.
https://www.ucanews.com/news/creation-of-un-body-on-myanmar-atrocities-important-step/83485
--------
French Muslims want a say in Macron's new rules for Islam
October 1, 2018
A number of prominent French Muslim activists said Sunday that President Emmanuel Macron should listen to more Muslim voices before finalizing plans for new rules for Islam in France.
The French government needed to decide if it was "capable of treating 5 million of its citizens as grown-up, autonomous human beings," Marwan Muhammad, former head of the Collective Against Islamophobia in France, said.
French governments have for years puzzled over how to deal with the growing popularity of hardline interpretations of Islam in poor suburbs with large populations of immigrant origins.
In July, Macron said he planned to give Islam "a framework and rules guaranteeing that it will be practiced everywhere in accordance with the laws of the republic."
Local authorities have been ordered to hold consultations on the issue.
France's strict law on the separation of church and state, and the lack of any religious hierarchy in Sunni Islam, have so far made it difficult to come up with any organization that could act as an Islamic religious authority.
The activists said that in their own online consultation, the majority of the 24,000 respondents preferred the government not to play a role in organizing French Islam.
Muhammad told German Press Agency that the activists would be "perfectly willing" to work together with the government "as partners."
But, he said, any attempt to "dictate" to French Muslims how to organize themselves would be "an attack on the principle of secularism, which is very important in France, and an attack on our fundamental freedoms as a religious community."
https://www.dailysabah.com/europe/2018/09/30/french-muslims-want-a-say-in-macrons-new-rules-for-islam
--------
Saudi national library of film-shooting sites launched
September 30, 2018
JEDDAH: The General Authority for Culture, represented by the Saudi Film Council, has launched the first national library of film-shooting sites in the Kingdom.
The digital library constantly updates information on the sites, and is part of the council's strategy to support the infrastructure of the Saudi film industry and showcase the Kingdom's beauty. The council is urging private companies and citizens to add sites to the list via www.film.sa. The council works to support and encourage the local film industry.
The Board of Directors of the General Authority for Audiovisual Media approved on December 11, 2017, the issuance of licenses for those wanting to open theaters in the Kingdom.
http://www.arabnews.com/node/1380256/saudi-arabia
--------
Israel cries foul as Real Madrid hosts Palestinian icon
Sep 30, 2018
Palestinian resistance icon Ahed Tamimi has been symbolically awarded Real Madrid's number 9 jersey, in a move that has prompted Israel to accuse the club of "embracing terrorism."
The 17-year-old is touring Europe after being released from an Israeli jail where she was held for slapping and pushing Israeli forces outside her home in the occupied West Bank late last year.
Tamimi was invited by Real and on Saturday arrived at the club where she was received by former striker and co-manager Emilio Butragenio and given the jersey which bore her name.
"What a shame, Real Madrid accepts a terrorist that incites to hatred and violence, what is the connection between this and soccer values?" Israeli Foreign Ministry spokesman Emanuel Nachshon tweeted.
"Ahed Tamimi does not fight for peace, she defends violence and terror, the institutions that have received and celebrated her indirectly encourage aggression and not the dialog and understanding that we need," Daniel Kutner, Israel's ambassador to Spain, wrote.
Tamimi took on the Israeli forces after they shot her cousin in the head with a rubber bullet. She was arrested last December after the video of the incident took the Internet by storm.
She was then charged with a total of 12 counts, including assault, incitement, obstructing Israeli forces, and stone-throwing.
In March, she reached a plea bargain with Israeli military prosecutors, according to which she was sentenced to eight months in prison and fined $1,500.
Tamimi was released on July 29, pledging to continue the Palestinian struggle against the Israeli occupation.
https://www.presstv.com/Detail/2018/09/30/575641/Palestine-Israel-icon-Tamimi-Real-Madrid-jersey
--------
Ludhiana: Three Booked For Performing Circumcision on 10-Year-Old In Bid To 'Convert' To Islam
October 1, 2018
Ludhiana police on Sunday booked three people for allegedly performing circumcision on a 10- year old boy in Machhiwara. The child, in his statement, told police that the accused wanted to 'convert' him forcefully.
The boy was admitted to a hospital in serious condition on Friday following the incident and an FIR against Mohammad Mobin and two of his unidentified accomplices was registered at Machhiwara police station. However, no arrests have been made yet.
The boy told police that he hailed from Ghaziabad and his father abandoned him after his mother died around eight months back. After his father remarried, the boy said, he was left in a train and he reached Ludhiana. For seven months, he worked as a domestic help at a residence in Gurugarh village.
However, last week, he was employed by Mobin for Rs 1,000 a month in his roadside juice vending shop at Machhiwara. The boy said that soon Mobin started assaulting him daily and forced him to accept Islam.
On Friday, Mobin and his two accomplices allegedly performed circumcision on the boy, following which he started bleeding profusely. The 10-year-old said he somehow managed to run away and reached a nearby market in Kohara where members of a tempo union rushed him to hospital. Union head Inderjit Singh informed the police about the incident.
Rajesh Kumar, SHO Machhiwara police station, said the condition of the boy was now stable. "He told us that his father abandoned him after his second marriage. The main accused Mobin allegedly performed circumcision and his two unidentified accomplices tied hands of the victim. We are yet to arrest them," the SHO said.
The FIR against the three accused has been registered under Sections 295 (hurting religious sentiments), 326 (voluntarily causing grievous hurt by dangerous weapons) and 34 (act done by several persons with common intention) of IPC.
https://indianexpress.com/article/cities/chandigarh/punjab-three-booked-for-performing-circumcision-forceful-conversion-5380407/
--------
South Asia
21 ISIS militants killed in drone strikes in Nangarhar province
Oct 01 2018
The U.S. forces based in Afghanistan carried out airstrikes against ISIS militants in eastern Nangarhar province of Afghanistan, leaving at least 21 militants dead.
The 201st Silab Corps of the Afghan Military in the East in a statement said the airstrikes were carried out on Sunday in Khogyani district.
The statement further added that the coalition forces carried out airstrikes using unmanned aerial vehicles, targeting ISIS militants in Sikanar area of Wazir Tangi.
According to 201st Silab, at least 21 militants affiliated with the terror group were killed in the airstrike.
The anti-government armed militant groups including ISIS loyalists have not commented regarding the airstrike so far.
Nangarhar is among the relatively calm provinces in East of Afghanistan but the Taliban militants and ISIS loyalists have been attempting to expand their foothold and activities in this province.
However, the Afghan and U.S. often conducted counter-terrorism operations and airstrikes to suppress the anti-government armed militants.
https://www.khaama.com/21-isis-militants-killed-in-drone-strikes-in-nangarhar-province-06066/
--------
Haqqani Network members arrested for masterminding attacks in Kabul city
Sep 30 2018
The Afghan Intelligence, National Directorate of Security (NDS), says two of Haqqani Network's members have been arrested on charges of masterminding attacks in Kabul city.
The National Directorate of Security (NDS) in a statement said the two Haqqani network member were arrested from the vicinity of the 3rd police district of the city.
The statement further added that the two militants have been identified as Feroz Kochi and Rafiullah who were attempting to carry out attacks in the vicinity of the 9th police district of Kabul.
According to NDS, the militants were specifically looking to target the Urban Belt in the 9th police district of the city and carry out various other attacks on political and religious experts and activists of the civil society.
The statement by NDS also added that the two individuals have been trained in Akora Khattak and were sent to Kabul by a commander of the Haqqani network to plan and coordinate attacks in Kabul city.
Both the Haqqani network members are experts in producing landmines, car bombs, and suicide attack vests, NDS added.
Full report at:
https://www.khaama.com/haqqani-network-members-arrested-for-masterminding-attacks-in-kabul-city-06065/
--------
Bangladesh's opposition group says 'strongly' wants to contest elections
Sep 30, 2018
DHAKA: Bangladesh's main opposition political group, the Bangladesh Nationalist Party (BNP), "strongly" wants to take part in national elections due in three months, the party's secretary general told Reuters on Saturday.
The BNP will hold a public meeting in the capital Dhaka on Sunday and present demands that include the release of its jailed leader Khaleda Zia, installing a neutral caretaker government, and involving the army to oversee the December elections, BNP Secretary General Mirza Fakhrul Islam Alamgir said.
"As a large party, we have all the preparations for participating in (a) coming election, but for that we need a level playing field, which is not there," he said.
"We are demanding a neutral government as it is our experience that with the ruling party there cannot be a free and fair election."
The interview marks the first time the BNP has explicitly stated its plans for the national election, during which Prime Minister Sheikh Hasina's Awami League - accused of increasingly authoritarian rule - is expected to face a tough fight.
Elections in Bangladesh, which won independence in 1971, are usually marked by violence and protests, and the national polls in December are expected to be no different, as several members of the BNP including its leader are in jail.
The BNP boycotted the 2014 polls after Hasina's governing Awami League, which has been in power since 2009, declined demands to put in place a nonpartisan caretaker government.
BITTER RIVALRY
Khaleda, a two-term prime minister with whom Hasina has a long and bitter rivalry, was jailed in February for five years on corruption charges that she alleged were part of a plot to hamper her political career. Her son Tarique Rahman was also convicted and sentenced to a 10-year prison term, though he now lives in exile in London.
Dozens of other BNP members have also been sent to prison in recent years on what the party alleges were false charges.
Alamgir said a decision on who would run for Prime Minister would be taken in consultation with Khaleda and Rahman.
While Hasina has been lauded internationally for providing shelter for nearly a million Rohingya Muslims who have fled violence and persecution in Myanmar, she is facing increasing criticism over free speech.
Security forces fired tear gas and rubber bullets at students who took to the streets last month to demand better road safety.
Several people, including students and a senior photographer Shahidul Alam, were put behind bars following the protests, sparking calls from international rights activists for their release.
Security forces have also been accused of extrajudicial killings in a war on drugs declared by Hasina, under which more than 200 people have been killed since July. Most recently, a new digital security law passed by parliament last week has come under intense criticism from journalists who say it would cripple media freedom.
The government has said its crackdown during the student protests was aimed at BNP workers who tried to provoke the students, and has denied allegations of extrajudicial killings.
Full report at:
https://timesofindia.indiatimes.com/world/south-asia/bangladeshs-opposition-group-says-strongly-wants-to-contest-elections/articleshow/66014354.cms
--------
Maldives ex-leader Maumoon Abdul Gayoom freed on bail: Official
Sep 30, 2018
COLOMBO: A Maldivian court on Sunday granted bail to jailed former president Maumoon Abdul Gayoom, the country's longest-serving leader, a week after his estranged half-brother was defeated at a presidential election.
Gayoom, 80, and his legislator son Faris Maumoon, were released by the high court in Male after they mounted fresh appeals against their controversial convictions.
The release followed appeals from President-elect Ibrahim Mohamed Solih who urged incumbent Abdulla Yameen to free all political prisoners in the tourist paradise atoll nation after his stunning victory at the September 23 election.
Gayoom had ruled the nation of 340,000 Sunni Muslims for 30 straight years till he was defeated at the country's first multiparty elections in 2008.
He helped his half-brother Yameen win a controversial run-off election in 2013, but they later fell out and became bitter foes.
Gayoom was arrested in February along with the country's chief justice and another supreme court justice on a charge of attempting to topple Yameen. He declared a 45-day state of emergency to block impeachment.
The country's elder leader was serving a 19-month jail term for obstruction of justice and was also under trial on a "terrorism" charge.
Another Maldivian dissident, Qasim Ibrahim, was also granted bail. Soon after his defeat, Yameen freed five other political prisoners but was delaying the release of his half-brother who could have made a claim to the leadership of his PPM party.
Full report at:
https://timesofindia.indiatimes.com/world/south-asia/maldives-ex-leader-maumoon-abdul-gayoom-freed-on-bail-official/articleshow/66018629.cms
--------
Senate House warns against privatization of the war in Afghanistan
Oct 01 2018
The Afghan Senate House, Meshrano Jirga, has opposed with the recommendations for the privatization of war in Afghanistan.
The Chairman of the Senate House Fazal Hadi Muslimyar said remarks regarding the privatization of the war in Afghanistan are 'painful' and 'unacceptable'.
Muslimyar further added that Afghanistan has a strategic partnership agreement with the U.S. government and not with the private security companies.
He urged the government to deal with the issue with the vigilance, warning that the privatization of the Afghan war would not be harmful for the country but would have negative consequences for the region as well.
The Senate House Chairman also urged Washington not to repeat the past mistakes and take practical steps regarding its commitments.
According to reports, the founder of Blackwater Erik Prince, presented its plan regarding the privatization of the Afghan war to the U.S. President Donald Trump nearly a year ago.
Full report at:
https://www.khaama.com/senate-house-warns-against-privatization-of-the-war-in-afghanistan-06067/
--------
Europe
Erdogan hopes his recent Germany visit to enhance ties
30.09.2018
Turkish President Recep Tayyip Erdogan on Sunday expressed hope that his recent state visit to Germany will improve bilateral relations.
"I believe our state visit to Germany will strengthen Turkish-German friendship in every aspect", Erdogan said in a Twitter post.
Aiming to improve political and economic relations with Berlin, Erdogan paid a three-day high-profile state visit to Germany on Sept. 27-29.
Relations between Ankara and Berlin suffered several setbacks in past years, but both sides have taken steps in recent months towards improving ties.
"We are leaving painful terms in the recent past with Germany behind," Erdogan said.
He noted that Turkey lifted the state of emergency following the June 24 presidential and parliamentary elections in the country.
Turkey declared a state of emergency for the first time on July 20, 2016 following a defeated coup attempt by the Fetullah Terrorist Organization (FETO) which left 251 people martyred and nearly 2,200 injured. It was since extended by the government.
Erdogan said Turkey's new presidential system has paved the way for progress in the country. He said reforms within the scope of the country's EU membership process will continue and Turkey will fulfill the remaining six criteria for visa liberalization in the shortest time.
"In this regard, we care about Germany's support to Turkey", he said.
Noted that Turkey and Germany enjoy strong economic and trade ties, Erdogan said his country wants to further strengthen economic ties.
"We want our German friends to continue reposing trust in Turkey, Turkish economy and our country's future," Erdogan said.
https://www.aa.com.tr/en/economy/erdogan-hopes-his-recent-germany-visit-to-enhance-ties-/1269208
--------
Russian strikes on Syria kill 18,000 in 3 years: monitor
October 1, 2018
More than 18,000 people, nearly half of them civilians, have been killed in Russian air strikes on Syria since Moscow began its game-changing intervention exactly three years ago, a monitor said Sunday.
Russia, for its part, said its "accurate" strikes had killed 85,000 "terrorists".
A steadfast ally of Syria's ruling regime, Russia began carrying out bombing raids in the country on September 30, 2015 – more than four years into the devastating conflict.
Since then, they have killed 18,096 people, according to the Syrian Observatory for Human Rights.
"That number includes 7,988 civilians, or nearly half of the total," said Observatory chief Rami Abdel Rahman.
Another 5,233 ISIS fighters were also killed in Russian strikes, with the rest of the dead including other rebels, the Britain-based monitor said.
Russia's defence commission published drastically different figures on Sunday.
"All of the air strikes have targeted and are still accurately targeting terrorist targets," said commission chief Viktor Bondarev, cited by the Russian Interfax agency.
Human rights groups and Western governments have criticised Russia's air war in Syria, saying it bombs indiscriminately and targets civilian infrastructure including hospitals.
The White Helmets, a Syrian rescue force that works in opposition areas, said in a report released Sunday that it had responded to dozens of strikes by Russia on buildings used by civilians since 2015.
They included Russian bombing raids on 19 schools, 12 public markets and 20 medical facilities over the past three years, as well as 21 of its own rescue centres.
"Russia has flaunted its disregard for agreements over safe zones, no-conflict zones, cessations of hostilities, and de-escalation zones by continuing with airstrikes on civilian spaces," the White Helmets charged.
Russia has operated a naval base in Syria's coastal Tartus province for decades, but expanded its operations to the nearby Hmeimim airbase in 2015.
It also has special forces and military police units on the ground in government-controlled parts of the country.
The air strikes were crucial in helping troops loyal to President Bashar Al Assad retake swathes of the country, including second city Aleppo in 2016 and areas around Damascus, the rural centre, and the south this year alone.
"The regime controlled just 26 per cent of Syrian territory" when Russia intervened, said Mr Abdel Rahman, compared with close to two-thirds now.
In addition to the Russian and Syrian air forces, warplanes from the US-led coalition fighting ISIS have also been carrying out bombing raids on Syria since September 2014.
Last week, the Observatory said that US-led coalition air strikes on Syria had killed more than 3,300 civilians since the alliance began operations against IS targets.
Full report at:
https://www.thenational.ae/world/mena/russian-strikes-on-syria-kill-18-000-in-3-years-monitor-1.775621
--------
Arab World
Yesterday foes change course as Syria thrashes militancy
Sep 30, 2018
As the Syrian army clears swathes of the country from the control of foreign-backed terrorists, there are signs on the horizon that some countries who were previously lending support to those terrorists have come to grips with reality that the Syrian government is going to be there for the foreseeable future and are accordingly changing course from hostility to recognizing the sovereignty of Damascus.
In the latest development, the foreign minister of Bahrain's Bahraini Foreign Minister Sheikh Khalid bin Ahmed bin Mohammed Al-Khalifa has been seen in a friendly encounter with his Syrian counterpart, Walid al-Muallem, at headquarters of the United Nations on the sidelines of the 73rd annual meeting of the UN General Assembly in New York.
The video shows the rare encounter between the two ministers, who hugged each other, shook hands and exchanged a few works as other officials from both countries were watching the scene.
The encounter was the first of its kind since the Syrian crisis erupted in 2011.
The development is notable as Bahrain was one of those countries who voted to freeze Syria's membership at the Arab League in Cairo after which, many Arab countries also recalled their ambassadors from Damascus.
Another factor that makes the encounter one-of-a-kind is that Bahrain, which has been also faced with an uprising by the country's Shia majority since 2011, owes its survival to Saudi Arabia's help, which send forces to the tiny Persian Gulf monarchy to suppress Bahraini protesters. As a result, Manama has so far served as a Saudi stooge to promote Riyadh's political agenda on various fronds, including by funding and abetting terrorist operations against the legitimate government of Syria.
It is no secret that Saudi Arabia has spared neither effort nor money in helping foreign-backed militancy in the war-ravaged Syria and Bahrain, as one of its close allies, has been a tool in its grand plan to topple the Syrian government.
Virtually all of the Persian Gulf Cooperation Council states supported various militant groups in Syrian over the past years. In recent years, however, this unity has diminished and states' priorities have changed. Those countries that have invested the most in the Syrian conflict, namely Saudi Arabia and Qatar, have fallen apart. The current splits between Riyadh and Doha seem durable.
Other countries, including Bahrain, Kuwait, and the United Arab Emirates (UAE), have toned down their rhetoric and reduced their support for militants.
Unlike Saudi Arabia and some of its allies, Egypt has also repeatedly expressed support for Syria's unity and the government of President Bashar al-Assad.
Egypt condemned an April 14 missile attack by the US, Britain and France against sites and research facilities near Damascus and Homs.
Egyptian Foreign Minister Sameh Shoukry has said Cairo and Riyadh did not share common views on the Syria crisis while Egyptian President Abdul-Fattah el-Sisi stressed that he supported the Syrian army in its war against terrorists.
Egypt sent a large delegation to the Damascus International Fair held on August 17-26, 2017.
Egyptian Charge d'Affaires in Damascus Muhammad Tharwat and the delegation members stressed their support for the Syrian people and for the Syrian government, and their desire for closer economic relations and Egyptian participation in the rehabilitation of Syria.
In an interview with the Syrian government Al-Watan daily, Tharwat said, "Egypt's participation in this year's Damascus International Fair is natural given the character of the commercial relations between the two countries. We hope that this participation will play a part in restoring the economic relations between the two countries, and that we will play a part in the re-building [of Syria]."
Tharwat stated that, throughout the Syria crisis, Egypt maintained its neutrality and "the Egyptian Embassy continued to operate and did not close following the decision of the Arab League, at the start of the crisis, to recall the ambassadors [from Syria]... [True,] we decided to downgrade relations to the level of charge d'affaires, [but] we are not the only country that did that."
Also in November 2016, Egypt reportedly sent 18 helicopter pilots to Syria to support the war-torn Arab nation in its fight against terrorism. Cairo's decision to play a role on the battlefield against terrorists, including the Takfiri Daesh militant group, in Syria came at a time when Egypt is also battling the Takfiri outfit's branch at home.
Militants have been leading a deadly campaign of violence against both Egyptian security forces and civilians in Cairo and the restive Sinai Peninsula.
Meanwhile, Jordan has also said only a political solution would guarantee the stability and the territorial integrity of Syria.
"Continued violence will only lead to more violence, conflict, fighting and displacement whose victim is the Syrian people," Jordanian government spokesman, Mohammad al-Momani, who is also minister of state for media affairs and communications, said in a statement on April 14 carried by state-news agency Petra.
In a surprising change of tone, Israeli minister for military affairs Avigdor Lieberman, who has a long history of hurling threats of doom and destruction against Syria and President al-Assad, last week expressed readiness to reopen the Quneitra border crossing with Syria in the Golan Heights.
"We are ready to open the crossing as it was before, and now the ball is in the Syrian court," Lieberman told reporters as he toured the area on Thursday.
Lieberman added that Israel never wanted conflict with Syria and was ready to ensure a 1974 armistice agreement between the two sides is strictly observed.
The Golan Heights is a Syrian territory, which Tel Aviv has been occupying since 1967 and claims as its own territory despite international criticism.
In August, the United Nations Disengagement Observer Force (UNDOF) returned to the border between Syria and the occupied territories, four years after it was shuttered due to militant attacks.
Lieberman's comments come against the backdrop of Syria's major victories against terrorists, drawing an outlook for the country that is far more different than what Tel Aviv and its allies had hoped for over the past years.
The apparent call for de-escalation could also be a product of strained relations with Russia.
Ties between Israel and Russia spiraled down to historic lows last week, after Israeli fighter jets pounding Syrian government targets misled the Syrian air defenses into shooting down a Russian surveillance plane by using it as a shield.
While the US and certain governments in the region have been cited as supporters of Daesh and other anti-Assad militant groups, it is common knowledge today that Israel has also had its fair share in helping the terror outfits survive.
Throughout their battles, Syrian army forces have time and again discovered Israeli weapons and equipment in large volumes from terrorist hideouts. Israeli hospitals have also taken in some of the militants injured in Golan areas.
The Israeli air force has carried out regular airstrikes against the Syrian army and government targets across the country, a trend that Israeli Prime Minister Benjamin Netanyahu claims are aimed at pushing Iranian military advisers helping Damascus in its anti-terror fight out of the country.
Moshe Ya'alon, Lieberman's predecessor, admitted last year that Tel Aviv had formed a tacit alliance with Daesh, saying the group had "immediately apologized" to Tel Aviv after firing "once" into Israel.
French President Emmanuel Macron in June said his country no longer deems the removal of al-Assad as a precondition for resolving the conflict in the Arab country.
"The new perspective that I have had on this subject is that I have not stated that Bashar al-Assad's departure is a precondition for everything because nobody has shown me a legitimate successor," said Macron on June 21 in an interview published in several European newspapers.
While noting that global cooperation is required to solve the crisis in Syria, Macron stressed that Russia's cooperation is "especially needed" to eradicate Daesh.
US Ambassador to United Nations Nikki Haley said in March last year that the United States' diplomatic policy on Syria for now is no longer focused on making al-Assad, leave power.
Syria has been gripped by unrest since 2011, when militancy first began in the country. Foreign states opposed to President Assad have since then been funding and providing weapons to anti-Assad militants, among them thousands of paid foreign terrorists dispatched to help force Assad out of power.
The Syrian government, however, has been fighting that militancy back, aided in that battle by advisory military support from Iran and Russia. Moscow has also been conducting an aerial campaign against terrorist positions in the Arab country on a request by Damascus.
Syria has been struggling with foreign-backed militancy since 2011 in a battle that has left large parts of the country in ruins, destroyed most of its infrastructure and killed hundreds of thousands of people.
All in all, the sudden about-face more than anything else shows how the Syrian government, with the help of its allies, has been able to turn the tide against the foreign-backed militancy.
https://www.presstv.com/Detail/2018/09/30/575676/Syria-Assad-Saudi-Persian-Gulf-US-Trump
--------
Tahrir Al-Sham Forms Three Terrorist Armies before Declaring Position on Sochi Agreement
Sep 30, 2018
SOHR reported that Tahrir al-Sham formed Jeish (army) Abu Bakr al-Sediq through a merger of the so-called armies (jioush) of Idlib, al-Badiyeh and Hama; Jeish Omar Bin Khatab from the armies (jioush) of Aleppo, Eastern Ghouta and al-Sharqiyeh and Jeish Othman from the armies (jioush) of al-Sham, al-Hodoud and al-Sahel.
Tahrir al-Sham has formed the new armies as it plans to declare its position on the demilitarized zone mentioned in the Sochi Agreement, SOHR said, adding that most of the terrorist groups, including Jeish al-Izzah, have opposed the Sochi Agreement.
Last week, the Kurdish-language Hawar news quoted Aladdin al-Khaled, the head of Syria's al-Mostaqbal Party in al-Shahba region, as reporting that Ankara was transferring Tahrir al-Sham Hay'at from Idlib to Afrin under the Sochi agreement on Idlib in an effort to rescue them.
It further said that a number of Tahrir al-Sham terrorists entered the village of Deir Balout in Jandaris region in Afrin under the Turkish intelligence forces' monitoring.
In the meantime, local sources in Afrin reported that the Turkish army and its allied militants forced civilians to leave their residential units in the villages of Kokan Foqani, Kokan Tahtani and Dar Karah in Mobata region to settle family members of Idlib terrorists.
Full report at:
http://en.farsnews.com/newstext.aspx?nn=13970708000758
--------
Unknown Gunmen Steal Tahrir Al-Sham's Chemical Stockpile in Northwestern Syria
Sep 30, 2018
The Arabic-language website of Sputnik quoted well-informed sources as reporting that a number of unknown assailants stormed an arms depot of Tahrir al-Sham and stole several sarin and chlorine gas cylinders after killing four guards.
It further said that Idlib has been witnessing a growing wave of tensions and infighting among rival terrorist groups in recent months.
The report further said that terrorists of Soqour al-Sham and other allies of Tahrir al-Sham have engaged in fresh tensions, adding that they were forced to relocate their military hardware from the town of Jajanaz East of Ma'arat al-Nu'aman to Jabal al-Zawiyeh in Southern Idlib.
Last week, the Arabic-language website of Russia's state news agency, Sputnik, quoted the source as reporting that Tahrir al-Sham dispatched six cargoes of Sarin and chlorine gas to the ISIL and Ansar al-Towhid terrorists that have recently been deployed in Northern Hama and Northeastern Lattakia.
It further said that most of the regions, where the ISIL deployed forces in Hama and Lattakia, were among regions where militants should be disarmed based on the Sochi agreement.
The Arabic Sputnik went on to say that the fate of three other chemical cargoes was unknown after a number of members of the pro-militant White Helmets Organization were killed and could not hand over the chemicals to the recipient group in an area between Northeastern Idlib and Aleppo province.
Other news sources recently said that ISIL's Asian members have merged in Tahrir al-Sham and deployed forces in regions that are under the control of al-Turkistani Islamic Party in western and Southwestern Idlib.
An Arab media outlet reported earlier this month that the pro-militant White Helmets Organization, directed by its foreign supporters, were planning to transfer poisonous materials to new locations in Hama province as terrorist groups were trying to stage a false-flag chemical attack.
The Arabic-language al-Mayadeen TV channel quoted a well-informed source in Jisr al-Shughour as disclosing that the White Helmets were planning to transfer a large volume of poisonous materials to Qala al-Maziq and Kafr Naboudeh in Northern Hama as requested by their foreign backers.
Full report at:
http://en.farsnews.com/newstext.aspx?nn=13970708000419
--------
Syria: Tahrir Al-Sham Sends Military Equipment to Aleppo Following Clashes with Rival Terrorists
Sep 30, 2018
Tahrir al-Sham dispatched a large number of gunmen and a large volume of military equipment to a region between the small towns of al-Jineh and Abin Sam'an near the town of al-Artab in Western Aleppo.
Tahrir al-Sham's moves came after intensifying tensions with the National Liberation Front in Western Aleppo that closed a main road between Tamanin and Dar al-Izzah towns.
In the meantime, a number of gunmen of Tahrir al-Sham and the National Liberation Front were killed or wounded in heavy fighting between them near Dar al-Izzah.
Last week, the Kurdish-language Hawar news quoted Aladdin al-Khaled, the head of Syria's al-Mostaqbal Party in al-Shahba region, as reporting that Ankara was transferring Tahrir al-Sham Hay'at from Idlib to Afrin under the Sochi agreement on Idlib in an effort to rescue them.
It further said that a number of Tahrir al-Sham terrorists entered the village of Deir Balout in Jandaris region in Afrin under the Turkish intelligence forces' monitoring.
In the meantime, local sources in Afrin reported that the Turkish army and its allied militants forced civilians to leave their residential units in the villages of Kokan Foqani, Kokan Tahtani and Dar Karah in Mobata region to settle family members of Idlib terrorists.
Full report at:
http://en.farsnews.com/newstext.aspx?nn=13970708000634
--------
More Popular Uprising against US-Backed Militia Reported in Eastern, Northeastern Syria
Sep 30, 2018
"Villagers in Kadiran in Western Raqqa printed anti-SDF graffiti on the walls and hoisted the Syrian government flags," the sources said, adding that the SDF later arrested a number of villagers.
Residents of Mahimidiyeh village in Northwestern Deir Ezzur also made a similar move, they added.
"The SDF has also put its gunmen on alert in the village of Sweidan as tensions with the villagers intensified."
The sources said that two SDF militias were killed and several more were wounded after unknown parties detonated a bomb in the Northern deserts of Deir Ezzur.
Local sources said on Wednesday that tens of residents of Al-Rahman Street in Raqqa city's al-Ramileh district revolted against the SDF, while chanting slogans in support of the Syrian army.
They reiterated that the SDF's security forces arrested several protesters after surrounding them.
Full report at:
http://en.farsnews.com/newstext.aspx?nn=13970708000828
--------
US-Backed Militia Engaged in Fresh Clashes in Northeastern Syria
Sep 30, 2018
The sources said that gunmen of the Syrian Democratic Forces (SDF) and other Washington-backed militants of Asayesh (the Kurdish security forces) exchanged fire in al-Moror neighborhood in the Western part of Raqqa city that inflicted several casualties on both sides.
The sources further said that the infighting erupted after the SDF prevented Asayesh forces from entering their own base and later Asayesh gunmen laid siege on several SDF bases in al-Moror.
The sources went on to say that a units of the US-backed forces known as HAT were sent to the scene of infighting to end the clashes.
Local sources in Raqqa reported on Thursday that 6 SDF fighters were killed and wounded after several grenades were thrown by unknown attackers at a vehicle carrying them in Mafraq al-Jazrah region in Raqqa city.
The SDF forces surrounded the region after the attack, detaining a number of civilians.
Meantime, a road-side bomb was detonated by unknown parties on the way of a vehicle carrying the SDF forces near al-Adnaniyeh farm in Northwestern Raqqa, killing a number of the US-backed militants.
Full report at:
http://en.farsnews.com/newstext.aspx?nn=13970708000362
--------
Syrian Army Repulses Terrorists' Attack in Hama
Sep 30, 2018
The artillery units, deployed in the village of al-Masasana in Northern Hama, shelled heavily terrorists' movements near the town of Latamina and inflicted heavy casualties on the terrorists, forcing the remaining of them to retreat towards their positions in Latamina.
In the meantime, other artillery units, stationed in the village of Baridij, pounded terrorists' movements West of the small town of al-Jisat, imposing major losses on the terrorists.
Meanwhile, the army soldiers embarked on hunting terrorists in the farms near the town of al-Zakat in Northern Hama.
Earlier this month, the Syrian army's artillery units pounded the military positions and movements of Tahrir al-Sham Hay'at (the Levant Liberation Board or the Al-Nusra Front) terrorists in Hama and Idlib provinces, inflicting heavy losses on them.
The artillery units opened heavy fire at Tahrir al-Sham's positions in the village of Tal Othman and its nearby regions in Northern Hama, inflicting major losses on the terrorists.
In the meantime, the army's missile units targeted the movements of a group of Kataeb al-Izzah near the village of al-Zakat, killing and wounding a number of terrorists and forcing the remaining pockets of them to retreat towards the village.
Full report at:
http://en.farsnews.com/newstext.aspx?nn=13970708000300
--------
Israel prepared to reopen UN crossing with Syria: Military
Sep 30, 2018
The Israeli military says Tel Aviv is ready to reopen its side of the crossing point with Syria following the return of the UN peacekeepers to the Golan Heights after four years.
Israeli minister for military affairs Avigdor Lieberman" authorized the reopening of the Alpha gate of the Quneitra Crossing between Israel and Syria, allowing the UN to resume activity via the crossing pending Syria's reopening their side," the military said on Saturday.
In August, the United Nations Disengagement Observer Force (UNDOF) returned to the border between Syria and the occupied territories and carried out a first patrol in the area, four years after it was shuttered due to militant attacks.
The UN force returned to the area after Syrian government forces, backed by Russia, succeeded in recapturing territory near the Golan Heights and driving out militant groups from a "de-escalation zone."
In a surprising change of tone, Israel on Thursday expressed its readiness to reopen the Quneitra border crossing with Syria in the Golan Heights, now that the Arab country's armed forces have purged militant groups from there.
"We are ready to open the crossing as it was before, and now the ball is in the Syrian court," Lieberman told reporters as he toured the border area.
The Golan Heights is a Syrian territory, which Tel Aviv has been occupying since the Six-Day War of 1967 and claims as its own territory despite international criticism.
In an email on Friday, a spokesman for UN Peacekeeping in New York, Nick Birnback, said Quneitra crossing is "an operational crossing for UNDOF in the implementation of its mandate."
According to the UN spokesperson, UNDOF is working to "complete the rehabilitation of the Quneitra crossing" due to be reopened soon.
Syria, which has been gripped by foreign-backed militancy since March 2011, has time and again said that the Israeli regime and its Western and regional allies have been aiding Takfiri terrorist groups.
The Daesh Takfiri terrorist group, which once held large swathes of land in Syria, is no longer in control of any urban center. Following its crushing defeat against Syrian government forces late last year, Daesh is only active through its remnants, sparsely based in some rural areas. Other Takfiri outfits are either significantly weakened or increasingly losing ground to the advancing government troops.
Full report at:
https://www.presstv.com/Detail/2018/09/30/575680/Golan-Israel-Syria-Avigdor-Lieberman-Quneitra
--------
Mideast
Israel re-arrests Palestinian-French activist minutes after release
Sep 30, 2018
Israeli authorities have ordered the re-arrest of a French-Palestinian attorney who has been held behind bars for more than a year without trial or charge, less than an hour after he was released.
Palestinian political prisoner Salah Hamouri, 33, was first arrested at his home in a pre-dawn raid in Israeli-occupied east Jerusalem al-Quds on August 23 last year, based on unspecified allegations that Israeli authorities tended to describe them as confidential.
But in fact he was instantly detained under arbitrary Administrative Detention, a controversial policy of detention without trial or charge, which is renewable for six-month periods.
Since his arrest, Salah, who also hold French citizenship, spent nearly all of his detention in a prison in the Negev Desert Detention Camp in the southern parts of the occupied territories, until he was released, according to his lawyer Mahmoud Hassan, on Sunday at Jerusalem al-Quds police headquarters.
Upon his release, his lawyer said that his client was forbidden to participate in any celebrations, demonstration or protests for a period of a month and was also required to post a bond of 3,000 shekels ($825).
It is not yet clear why Jerusalem-born Salah, who was a political prisoner for more than six years, was re-arrested almost minutes after his release.
Salah is married to Elsa Lefort, a French woman, and the couple has a child. After he was arrested last year, the Israeli authorities were quick to deport his wife to France, citing "security reasons", along with their child and banned her from entering Palestine, while at the same time denying him the right to travel, thus separating the family.
French President Emmanuel Macron had discussed several times the case of Salah with Israeli Prime Minister Benjamin Netanyahu, asking that his rights be respected and that he could see his son and his wife, but all to no avail.
Salah, who was working for the human rights organization Addameer before his detention, was for the first time detained on 2005 on the allegations of attempting to assassinate rabbi Ovadia Yosef, the spiritual leader and founder of the party of the ultra-orthodox Shass, who died in 2013.
He was, however, released in 2011 as part of a swap of over 1,000 Palestinian prisoners for Gilad Shalit, an Israeli trooper held captive in the besieged Gaza Strip for more than five years.
Salah has always insisted on his innocence and strongly denied allegations leveled against him by Israeli authorities.
https://www.presstv.com/Detail/2018/09/30/575664/Palestine-Israel-Salah-Hamouri-prison-Negev
--------
Turkish warplanes 'neutralize' over dozen PKK terrorists in northern Iraq
Sep 30, 2018
Turkey's military says more than a dozen members of the Kurdistan Workers' Party (PKK) militant group have been killed as Turkish military aircraft conducted a series of airstrikes against terrorist hideouts in Iraq's northern semi-autonomous Kurdistan region.
The Turkish General Staff, in a statement published on its official Twitter page on Sunday, announced that six armed PKK militants were "neutralized" in Gara region of northern Iraq, when they were plotting an attack on a Turkish base.
Separately, Turkish airstrikes "neutralized" eight PKK terrorists in Avasin-Basyan and Metina regions.
Moreover, a Turkish soldier lost his life and four others suffered injuries when Kurdish PKK militants detonated an improvised explosive device as the former were conducting a counter-terrorism operation in northern Iraq.
The injured soldiers were reportedly brought back to Turkey in a helicopter.
The Turkish military generally uses the term "neutralize" to signify that the militants were killed, captured or surrendered.
PKK militants regularly clash with Turkish forces in the Kurdish-dominated southeast of Turkey attached to northern Iraq.
Turkey, along with the European Union and the United States, has declared the PKK a terrorist group and banned it. The militant group has been seeking an autonomous Kurdish region since 1984.
A shaky ceasefire between the PKK and the Turkish government collapsed in July 2015. Attacks on Turkish security forces have soared ever since.
Over the past few months, Turkish ground and air forces have been carrying out operations against PKK positions in the country as well as in northern Iraq and neighboring Syria.
Full report at:
https://www.presstv.com/Detail/2018/09/30/575656/Turkish-warplanes-neutralize-over-dozen-PKK-terrorists-in-northern-Iraq
--------
Israel says ready for UN crossing with Syria to reopen
30 September 2018
Israel is prepared to open its side of the crossing point with Syria following the return of UN peacekeepers to the Golan Heights following a four-year absence, the army said.
Defence Minister Avigdor Lieberman "authorized the reopening of the Alpha gate of the Quneitra crossing between Israel and Syria, allowing the UN to resume activity via the crossing pending Syria's reopening their side," it said in a statement Saturday.
The UN Disengagement Observer Force (UNDOF) resumed its patrols in the area of the crossing point in August, after withdrawing in 2014 when Al-Qaeda-linked rebels overran the area, three years into Syria's devastating civil war.
The return of UNDOF was made possible after Syrian government forces, backed by Russia, recaptured territory near the Golan, driving out rebel groups from a "de-escalation zone" agreed by Jordan, Russia and the United States.
Quneitra crossing is "an operational crossing for UNDOF in the implementation of its mandate," according to Nick Birnback, a spokesman for UN Peacekeeping in New York.
UNDOF is working to "complete the rehabilitation of the Quneitra crossing" which is expected to be reopened soon, Birnback said in an email on Friday.
Israel seized much of the Golan Heights from Syria in the Six-Day War of 1967 and later annexed it in a move not recognized by the international community.
Established in 1974, UNDOF monitors a ceasefire line separating Israeli-occupied parts of the Golan Heights from Syria.
The Quneitra crossing was used by Druze living on the Israeli side travelling to Syria for higher education or weddings. Druze farmers also exported apples to Syria through Quneitra.
At a tour of the Israeli side of the crossing on Thursday, Lieberman said that once Quneitra was open, authorities would have to "consider each possibility (for the crossing's use) according to the security situation".
"We're in different times now," he said.
Israel was "ready to open the crossing as it had been in the past", Lieberman told journalists accompanying him at the site.
"The ball is now in the Syrians' court."
Syria's transport ministry also said Saturday its main border crossing with Jordan would reopen to trade next month for the first time in three years, although Amman said consultations were still ongoing. Full story
Syrian government troops retook the Syrian side of the crossing in July under a deal with rebel fighters brokered by Moscow.
Full report at:
https://english.alarabiya.net/en/News/middle-east/2018/09/30/Israel-says-ready-for-UN-crossing-with-Syria-to-reopen.html
--------
Iran: Interpol Ready to Cooperate in Fight against Terrorism after Ahwaz Attack
Sep 30, 2018
"The secretary-general of Interpol (Jurgen Stock) in a letter to Iran's police commander extended his condolences over the recent terrorist attack in Ahwaz and voiced the organization's readiness for any cooperation," Head of the Iranian Police's international department Brigadier General Hadi Shirzad said, addressing a meeting in Alborz province near Tehran on Sunday.
26 people were killed and 69 others were wounded in an attack by al-Ahwaziya terrorist group during the nationwide military parades in the Southwestern city of Ahwaz on September 22.
The terrorists attacked the bystanders watching the annual Armed Forces' parades, marking the start of the Sacred Defense Week, commemorating Iranians' sacrifices during the 8 years of the Iraqi imposed war on Iran in 1980s, in disguise of the IRGC and Basij (volunteer) forces, killing and wounding several people, including innocent women and children.
None of the officials participating in the military parades in Ahwaz city in Khuzestan province was injured in the attack.
The number of the terrorists who carried out the attack in Ahwaz had on September 22 been put at 4 by Spokesman of the Iranian Armed Forces Brigadier-General Abolfazl Shekarchi. The general had explained that three of them were killed and the last one was captured by security forces.
He told FNA that none of the terrorists could escape, noting that other reports about the details of the attack are not confirmed.
Later the intelligence ministry put the number of terrorists at five, naming them as Ayad Mansouri, Foad Mansouri, Ahmad Mansouri, Javad Sari and Hassan Darvishi who were killed on the scene of the clashes with the Iranian security forces after riddling people with bullets.
Meantime, Head of the Islamic Revolution Guards Corps Public Relations Department and IRGC Spokesman General Ramezan Sharif said that the terrorists who attacked people during the Armed Forces' parades in Ahwaz were affiliated to al-Ahwaziya stream which is nourished by Saudi Arabia.
He added that the terrorists aimed to overshadow the magnificence of the Iranian Armed Forces' parades.
General Sharif said that people were also invited to watch the parades and the terrorists both fired at people and the Armed Forces.
Full report at:
http://en.farsnews.com/newstext.aspx?nn=13970708001020
--------
Iran Guard launches missiles into Syria 'in retaliation for Ahwaz attack'
1 October 2018
Iranian state media said on Monday the country's Revolutionary Guard, known as the IRGC, fired missiles into eastern Syria in response to a recent attack on a military parade in the Iranian city of Ahwaz last week.
State television and the state-run IRNA news agency said the attacks "killed and wounded" what it described as "militants."
It later said the "IRGC aerospace branch" strikes targeted the "gatherings of the ringleaders" behind the Ahwaz attack with several surface-to-surface ballistic missiles and published images purporting to show the strikes.
The report specified the missile launches came in retalliation to the Ahwaz attack, which killed at least 24 people - including members of the Revolutionary Guard - and wounded more than 60.
https://english.alarabiya.net/en/News/middle-east/2018/10/01/Iran-Revolutionary-Guard-launches-missiles-into-Syria-.html
--------
Reuters cameraman shot, wounded by Israeli fire in Ramallah
Sep 30, 2018
Israeli soldiers have shot and wounded a cameraman during violent clashes that erupted in the occupied West Bank.
The official Palestinian news agency, WAFA, citing its correspondent on the scene, reported that the cameraman, who works for the Reuters news agency, sustained injuries on Sunday after Israeli forces shot him with a rubber-coated steel bullet during protests in Batn al-Hawa area in Ramallah province.
The report added that the cameraman, identified as Mohammed Turkman, was shot in the leg.
The report added that a number of other protesters were also wounded after inhaling tear gas fired by Israeli troopers. It also said that Israeli forces stormed the area and blocked several roads leading to it before surrounding a residential building there, provoking residents and prompting clashes.
Meanwhile, other Palestinian sources in Ramallah said that Israeli forces had arrested two young men and a girl following the violent clashes.
On Tuesday, the Committee to Support Palestinian Journalists said in a report that the number of instances of Israeli military's use of violence against Palestinian journalists since the beginning of the current year stood at 637.
The committee further noted that the month of August witnessed the highest number of Israeli violations against Palestinian journalists, recorded at 129.
The New York-based committee also condemned the Israeli regime's bans on the broadcast of Arabic-language Palestinian al-Quds television network.
Full report at:
https://www.presstv.com/Detail/2018/09/30/575687/Israel-West-Bank-Reuters-
--------
UAE should expect more attacks if aggression on Yemen continues, Ansarullah spokesman
Sep 30, 2018
The spokesman for Yemen's Houthi Ansarullah movement says the United Arab Emirates (UAE) has no option but to expect more operations from Yemeni army forces and their allied fighters from Popular Committees in case the Saudi-led military aggression and blockade against his impoverished homeland continues.
"The Yemeni air force has carried out the second attack of its kind within a month against Dubai International Airport using a domestically-built and long-endurance Sammad-3 (Invincible-3) unmanned aerial vehicle," Yemen's Arabic-language al-Masirah television network cited Mohammed Abdul-Salam as writing on his official Twitter page on Sunday.
The Houthi spokesman added, "Even though Emirati authorities are trying to conceal the attack for the time being and deny air traffic disturbances at their airport, they will be forced to expect more operations should aggression and siege on Yemeni people continue."
Earlier in the day, Yemeni forces, backed by Popular Committees fighters, launched a drone airstrike against Dubai International Airport.
Yemeni troops and their allies had already targeted the same strategic economic target in the UAE using the same type of home-grown unmanned aerial vehicle in retaliation for the Riyadh regime's devastating military aggression against their conflict-ridden homeland.
The UAE is Saudi Arabia's key ally in its deadly war against Yemen.
On July 26, Yemeni army forces and Popular Committees fighters targeted Abu Dhabi International Airport.
Abdullah al-Jafri, a spokesman for Yemeni air force and air defense, said at the time that the drone attack had halted flights to and from the airport, adding this was the first time that Yemeni forces used a drone to attack the airport.
He said Yemeni forces would target the infrastructure of countries that have taken part in the aggression against Yemen in future attacks.
Yemeni forces target Saudi military vessels off Jizan coast
Meanwhile, Yemeni naval forces, supported by fighters from Popular Committees, have reportedly targeted and destroyed several military vessels in a missile attack off the coast of Saudi Arabia's southwestern region of Jizan.
A military source, speaking on condition of anonymity, told Arabic-language al-Masirah television network that the vessels were targeted with guided missiles.
Yemeni general: UAE no longer safe for investors
Meanwhile, a Yemeni army general has said that his country will continue its missile and drone attacks against the United Arab Emirates unless the sheikhdom stops attacking Yemen.
Sharaf Loqman also warned foreign investors that the UAE will be no longer safe if the war on Yemen does not end.
He added that Sunday attacks on the UAE and the Saudi region of Jizan show Yemen's growing power to retaliate the crimes committed against his country by the Saudi-led coalition.
Saudi Arabia and a number of its regional allies launched a devastating military campaign against Yemen in March 2015, with the aim of bringing the government of Yemen's former president, Abd Rabbuh Mansur Hadi, back to power and crushing the country's popular Houthi Ansarullah movement.
Full report at:
https://www.presstv.com/Detail/2018/09/30/575649/UAE-has-to-admit-more-attacks-if-aggression-on-Yemen-continues-Ansarullah-spokesman
--------
Yemeni army controls the road between Hajjah and Saada
September 30, 2018
DUBAI: The Yemeni army controls the road between Hajjah and Sa'ada towards Maran, Al Arabiya News Channel reported on Monday.
Saturday, the Yemeni army killed Houthi militia commander and 12 other militants during clashes along the Al-Malahit front, north of Saada province according to Saudi state-news agency SPA.
A military official said that the clashes came after successful raids by the army following a surprise attack on the militants.
Elsewhere, the Yemeni army targeted Houthi gathering areas in the Baqam district as they were preparing to attack army positions in the vicinity.
In other news, another Houthi leader and several militants were killed in Arab Coalition raids in Hodeidah.
Full report at:
http://www.arabnews.com/node/1380046/middle-east
--------
India
Ahmadiyya scholars for ban on 'nikah halala'
Oct 1, 2018
Welcoming the Centre's approval of an ordinance making instant triple talaq a punishable offence, scholars from the Ahmadiyya sect demanded government's intervention in stopping the practice of 'nikah halala' here on Sunday.
Gyani Tanveer Ahmad Khadim, deputy secretary of the Qadian(in Punjab's Gurdapur)-based sect of Islam, told The Tribune that 'nikah halala' has become a "barbaric" tool for the exploitation of Muslim women.
An Islamic scholar, Khadim said 'halala' was a pre-Islamic practice which deserved to be condemned.
"Like instant talaq, 'halala' is being abused by a section of Muslims, and holds no religious sanctity," he said.
The Ahmadiyya Muslim Jamat is of the opinion that if subjects of its state are subjected to exploitation in the garb of religion, the government should intervene to check such malpractices," he said while speaking at a "peace symposium" . Khadim said Islam permitted a Muslim to divorce and remarry the same woman twice. However, if he decides to dissolve the marriage for the third time, he can only remarry the woman if she first marries another man, consummates the marriage, and only if her new husband man dies or willingly asks for a divorce, can the woman go back to her first husband and remarry him, said the scholar. "However, the religion is being misinterpreted and women are being sexually abused. 'Halala' has become an industry where middlemen charge money for a short-term marriage in the name of religious practice," he added.
Another Islamic scholar Abdul Alim Aftab said the Ahmadiyya sect maintained a progressive approach. "Religious intolerance is a serious threat to the social fabric. The sect prohibits slaughtering of cows and eating its meat worldwide as a mark of respect for Hindu sentiments. Also, we have no objection to chant 'Vande Matram'. However, these cannot be parameters of the patriotic integrity of a person or community," he said.
Aftab said Islam emphasised on attaining education and skills, but its wrong interpretation has deprived a sizeable section of right education. "Following Islamic traditions, the Ahmadiyya sect has more than 30 schools where students from various faiths are enrolled. Corrective measures need to be taken," he said.
About 'Nikah halala'
Tanveer Ahmad Khadim said Islam permitted a Muslim to divorce and remarry the same woman twice. However, if he decides to dissolve the marriage for the third time, he can only remarry the woman if she first marries another man, consummates the marriage, and only if her new husband man dies or willingly asks for a divorce, can the woman go back to her first husband and remarry him, said the scholar.
https://www.tribuneindia.com/news/haryana/ahmadiyya-scholars-for-ban-on-nikah-halala/661170.html
--------
Rohingyas from every corner of North East entering Kerala: Railway Protection Force's 'secret' notice
Sep 30, 2018
A day after Rajnath Singh said that Rohingyas have started entering Kerala, a 'secret' communication from the Railway Protection Force stated that many Rohingyas are coming to Kerala by train.
According to a report in TheNewsMinute, the communication is dated September 26, a day before Rajnath Singh's speech in Kerala. The communication lists out 14 trains on which Rohingyas were reportedly travelling. The communication was sent by Principal Chief Security Commissioner of RPF To all his divisional commisioners.
The notice states: "Input indicates that huge number of Rohingyas (an ethnic group of Myanmar's Rakhine province), are travelling from every corner of North East states and ultimately heading towards Kerala, especially in the south bound trains."
On Thursday, calling all Rohingya in India "illegal immigrants", Rajnath Singh said state governments have been asked to observe their movements and obtain their personal details so they could be deported to Myanmar.
Talking tough on the issue, he said all states including Kerala have been asked to collect data related to Rohingya as they have moved to different parts of the country.
Singh, who recently said all Rohingya in India were "illegal immigrants" as none of them had applied for asylum as refugees, asked opposition parties not to make it a "political issue".
"I appeal all the political parties not to make the issue of national security a political issue. The presence of Rohingya is confined not only to the northeastern states.They have reached south Indian states including Kerala," Singh told a meeting of the BJP's Kerala state council here.
"The Centre has directed the states to be cautious.
The states have been directed to observe their movements.They should not get documents that could help them prove they are Indian citizens," the minister said.
He said the issue will be taken up with the Government of Myanmar through diplomatic channels after securing complete details from states.
Addressing a seminar organised by the National Human Rights Commission (NHRC) recently,Singh had wondered why some people were objecting to the deportation of Rohingya when Myanmar was ready to take them back.
"The home ministry has clarified its position through its affidavit (in the Supreme Court) that these are illegal immigrants and they will be deported. The Rohingya are not refugees.
"There is a procedure to get refugee status and none of them followed this procedure. No Rohingya has got asylum in India nor anyone has applied for it. They are illegal immigrants," he had said.
Hundreds of minority Rohingya have been killed in the northern Rakhine province of Myanmar by the military in alleged ethnic cleansing, setting of an exodus with lakhs taking shelter in camps in Bangladesh. Many of them are also living in India.
Singh had earlier said India would not be violating any international law if it were to deport Rohingya as New Delhi is not a signatory to the UN Refugees Convention, 1951.
Meanwhile, Centre has asked all states to take biometric details of Rohingyas and other illegal immigrants living in their jurisdiction as part of a country-wide security exercise, Home Ministry officials said.
The move has been taken so that the illegal immigrants can be identified as they move to different parts of the country.
The state governments have been told to instruct the local police to capture the biometric details of Rohingyas and other illegal immigrants, a senior Home Ministry official said.
Around 14,000 Rohingyas living in the country are registered with the United Nations High Commissioner for Refugees, while about 40,000 are said to be staying illegally.
Home Minister Rajnath Singh had said in Parliament in July that some Rohingya Muslim migrants in India have been found indulging in illegal activities and maintained that security forces have been deployed to stop their infiltration into the country.
The official said capturing the biometrics details does not mean that they will be given any valid identification document.
Documents such as Aadhaar can be issued only to those non-citizens, who visit India legally and are residents in India for minimum six months but the Rohingyas, being illegal migrants, do not qualify for it, the official said.
The Supreme Court Wednesday had also directed the government not to issue Aadhaar card to illegal immigrants.
Full report at:
https://www.dnaindia.com/india/report-rohingyas-from-every-corner-of-north-east-entering-kerala-railway-protection-force-s-secret-notice-2669892
--------
PM Modi warns Pakistan of 'befitting' reply to ceasefire violations
Oct 1, 2018
NEW DELHI: In what will be read as a signal to the new government of Imran Khan, Prime Minister Narendra Modi on Sunday warned that the Indian Army will respond firmly to any ceasefire violation by Pakistan and other provocative actions intended to disturb peace and spark violence.
"It has been decided that our soldiers will give a befitting reply to whosoever makes an attempt to destroy the atmosphere of peace and progress in our nation. We believe in peace, we are committed to taking it forward... but not at the cost of compromising our self-respect and sovereignty of our nation," Modi said in his monthly radio programme
'Mann ki Baat'+ .
The PM's remarks on the officially promoted second anniversary of surgical strikes on terror launch pads in Pakistan-occupied Kashmir and in the backdrop of India's decision to cancel a meeting between Indian and Pakistani foreign ministers can indicate recourse to a tougher or more proactive response to violence along the LoC. The Modi government has followed a policy of heavy retaliatory firing on the LoC and the IB in J&K.
The comments also need to be seen in the context of the new government under Imran Khan taking charge in Pakistan and the Indian assessment that this has been accompanied by an uptick in violence in J&K where state police personnel have been kidnapped and murdered amid strong indications that terror organisations and separatists are working to scuttle panchayat elections. Modi's comments can be read as a signal to the Pakistani government not to misread the likely response to crossLoC violence.
The PM dedicated a large part of his radio address to the armed forces and said, "Yesterday, 125 crore Indians celebrated 'Parakram Parva'+ , the festival of valour. We remembered the surgical strikes carried out in 2016, where our soldiers gave a befitting reply to the audacity of a proxy war under the garb of terrorism."
In recent comments, Army chief General Bipin Rawat+ had said Pakistan's actions needed to be met with strong deterrence.
"We need to take stern action to avenge the barbarism that terrorists and Pakistan army have been carrying out against our soldiers. Yes, it is time to give it back in the same coin, not resorting to similar kind of barbarism. But I think the other side must also feel the same pain," General had said.
Foreign minister Sushma Swaraj's intervention at the UN General Assembly on Saturday, as has been the case in the last few years, was a denouncement of Pakistan's role in promoting terrorism. A junior diplomat followed this up by pointing to dozens of banned organisations and sanctioned terrorists being active in Pakistan.
The PM underlined that India was committed to peace and its record going back to the role of Indian soldiers in the two World Wars was evidence of its non-aggressive intent. "We have never eyed someone else's territory maliciously. This in itself is our commitment and dedication towards peace," Modi said.
He said the nation had recently remembered the centenary of the battle of Haifa in Israel and paid tributes to our brave soldiers of Mysuru, Hyderabad and Jodhpur Lancers. India is one of the largest contributors to various United Nations peacekeeping missions.
The tough talk also comes as the election campaign for important state elections is heating up and BJP has targeted Congress leader Rahul Gandhi for being "in sync" with Pakistani leaders and criticised him over his meeting with the Chinese ambassador when the military standoff in Doklam was in progress. With Congress responding to the charges by arguing that the government had failed to maintain peace in J&K and that the situation had deteriorated, the issue is likely to figure in the campaign.
The PM also spoke of the Indian Air Force's traditions, saying it had bestowed upon citizens a sense of security. "We celebrate Air Force Day on October 8. Making a humble beginning in 1932 with six pilots and 19 airmen, our air force has emerged as one of mightiest and the bravest," he said.
Full report at:
https://timesofindia.indiatimes.com/india/pm-modi-warns-pakistan-of-befitting-reply-to-ceasefire-violations/articleshow/66021145.cms
--------
J&K cop killed as militants target police station
October 1, 2018
A J&K POLICE constable was killed when militants attacked a police station in South Kashmir's Shopian district early on Sunday.
Police officials said the militants fired indiscriminately at the police station Shopian. "The attack was repulsed by the alert personnel," said a police spokesperson.
Sources said police constable Saqib Mir, 24, who was manning the main gate of the police station, sustained bullet injuries. He was shifted to a nearby hospital where he was declared dead.
Sources said the militants — one of whom was wearing a burka — lobbed a grenade towards police station before opening fire. A senior official said the militants also took away a service rifle.
Full report at:
https://indianexpress.com/article/india/jk-cop-killed-in-militant-attack-on-shopian-police-station-5379913/
--------

Pak chopper intrudes into Indian airspace, reports say PoK PM was aboard
Sep 30, 2018
A Pakistani helicopter crossed 700 metres into Indian air space along the Line of Control in Jammu and Kashmir's Poonch sector on Sunday afternoon. According to reports from Pakistan, Pakistan-occupied Kashmir's prime minister Raja Farooq Haider Khan was travelling in this chopper.
Reuters quoted Pakistan-occupied Kashmir's PM Raja Farooq Haider Khan as saying that his civilian helicopter was fired upon by India. "The Indian army fired to show that Pakistan had violated their airspace," Khan's office said in a statement, but added "when the firing took place, we were within our own airspace".
Khan claimed his helicopter was not armed in any way, and called for calm heads. "We do not want any war hysteria in this region," he said.
Defence spokesman Lt Col Devender Anand said a white-coloured Pakistani helicopter had violated Indian airspace around noon on Sunday.
It entered around 700m inside the Indian territory and flew over Krishna Ghati sector before returning, he said.
Air sentries at forward locations had engaged it with small arms, a move intended to warn the pilot about the intrusion and force the chopper to turn back. The chopper wasn't hit.
Defence sources said the chopper flew over Gulpur area across the Line of Control in Jammu and Kashmir's Krishna Ghati sector at 12:13 pm before returning to Pakistani airspace.
A 30-second video of the chopper flying over Indian airspace was also released by news agency ANI.
The incident comes at a time when relations between the two neighbours are at a low.
External Affairs Minister Sushma Swaraj had launched a particularly stinging attack on Pakistan at the UN General Assembly on Saturday, accusing it of funding and glorifying terrorists and warning of a "conflagration" if terrorism was not rooted out.
Just an hour before the intrusion was reported on Sunday, Prime Minister Narendra Modi, in his monthly radio programme, too had underscored India's commitment to peace and its commitment to take it forward but not at the cost of compromising our self-respect and sovereignty of our nation.
"It has now been decided that our soldiers will give a befitting reply to whosoever makes an attempt to destroy the atmosphere of peace and progress in our nation," PM Modi said, a message that was widely seen to have been targeted at Pakistan.
In February this year, a Pakistani military helicopter flew dangerously close to the LoC) in Khari Karmara area of Poonch district, where Indian army had foiled an attack by Pakistan's Border Action Team (BAT) on January 18 killing a heavily armed terrorist.
Full report at:
https://www.hindustantimes.com/india-news/pakistan-helicopter-violates-indian-airspace-in-jammu-and-kashmir-s-poonch-sector-army/story-hkCf76n6snysDK6WG5OSYO.html
--------
Pakistan
Pervez Musharraf 'growing weak rapidly' due to unspecified illness, can't return to Pakistan now: Report
October 1, 2018
Pakistan's former dictator General Pervez Musharraf cannot return to the country as he is "growing weaker rapidly" due to an unspecified illness, a senior leader of his party told The Dawn. "We cannot put his life at risk," the party leader said, adding that Musharraf would return to Pakistan but on the guarantees that he would be given a free trial and also allowed to leave the country for treatment.
Musharraf, 75, is facing a treason case for suspending the Constitution on November 3, 2007. He, however, left Pakistan in 2016 and moved to Dubai citing medical reasons. The former dictator hasn't returned since then and has been declared a proclaimed offender, with a special court now considering ways to extradite him.
According to Muhammad Amjad, a former chairman of the All Pakistan Muslim League (APML) — a political party floated by Musharraf in 2010 — Musharraf has to visit London for treatment every three months due to his ailment. "Pervez Musharraf had a fracture in his spine, for which he got treated in the USA. But nowadays he is being treated for a separate ailment. For this, he has to go to London after every three months," Amjad said, without mentioning any details about the alleged medical problem.
Adding that the party cannot divulge much about his illness to the country, Amjad said the medical reports will be presented to the chief justice and the Pakistani court. Amjad reiterated that Musharraf wants to appear before the court and is in consultation with his legal team to decide when and how to return. He also claimed that the former dictator was to return to Pakistan before the July 25 general elections but "hurdles were created in his way".
Last month, Pakistan's Supreme Court assured Musharraf that high-level security will be provided to him if he returns to the country to face the trial in the treason case. He was recently snapped watching the Pakistan-India Asia Cup match in Dubai.
https://indianexpress.com/article/pakistan/pervez-musharraf-growing-weak-from-unspecified-illness-cant-return-to-pakistan-now-5380827/
--------
Saudi team arrives in Pakistan, may sign four MoUs
Khaleeq Kiani
October 01, 2018
ISLAMABAD: Pakistan and Saudi Arabia are expected to sign four memoranda of understanding (MoUs) for oil and mineral sector investment and trade cooperation that would ultimately extend the Chinese Belt and Road Initiative (BRI) from Gwadar to Africa through Oman and Riyadh.
The MoUs are planned to be signed on the conclusion of a four-day visit of Saudi delegation that arrived here on Sunday, sources said. The move will enable Islamabad to secure supply of petroleum products and crude oil on deferred payments and Riyadh will be looking into setting up of an oil refinery at Gwadar, invest in a copper and gold project in Balochistan's Reko Diq and LNG-based power projects in Punjab.
Led by the Minister for Energy, Industry and Mineral Resources, the visiting delegation would also have members from the Saudi national oil firm, Aramco, the sources said. Besides authorities of various ministries, state-run Pakistan State Oil (PSO) would be the only Pakistani firm to be part of a direct dialogue, the sources added.
They said Riyadh had been looking for diversifying its trade routes, including for oil supplies because of its tension with Qatar and Iran.
It is considering two options — about 40km bridge or tunnel — to link Gwadar with Muscat and Oman at the mouth of Strait of Hormuz on one side and connect its industrial city of Jazan with Eritrea's Massawa region through a 440km tunnel across the Red Sea. The land route between Muscat and Jazan port is around 2200km.
The sources said the meetings would be held on Monday between the officials of Saudi and Pakistani companies under the aegis of the ministries of energy & mineral resources and industries & production for a 110,000 barrel per day (BPD) refinery at Gwadar and investment in copper mines of Reko Diq and phosphate supply.
The sources said the two sides would also discuss the supply of refined products and crude oil imports on deferred payments followed by another session for proposed privatisation of two LNG-based power plants set up by federal funding in Punjab the same day (Monday).
They said the teams would then travel to Gwadar port and Reko Diq on Tuesday for field visits. The two sides would hold final discussions on Wednesday on proposed MoUs on the Gwadar refinery, Reko Diq, two power plants and oil supplies — both refined and crude.
The sources said Pakistan had requested Saudi Arabia for a long-term arrangement for oil supplies on delayed payments – one of the most crucial avenues for balance of payments support.
Pakistan is importing about 110,000 barrels per day (BPD) crude oil from Saudi Arabia, out of its total import of about 350,000 BPD.
Riyadh provided deferred payment facility for oil supplies initially for two years soon after Pakistan went nuclear in 1998 and then kept extending the facility for another three years.
The Gwadar refinery proposed to be set up by Saudi Arabia could be used for supply of refined products to Pakistani market or for export.
All the projects would take time to materialise, said a finance ministry official but hinted that investments flowing into Pakistan could support declining foreign exchange reserves.
The discussions are taking place at a time when a staff mission of the IMF is simultaneously holding Article IV consultations with the authorities that could become the basis for a future IMF programme if the government agreed. The support from Saudi Arabia would be one of the key factors to determine if Pakistan should go for the IMF programme.
Full report at:
https://www.dawn.com/news/1436099/saudi-team-arrives-in-pakistan-may-sign-four-mous
--------
FM Qureshi to meet US NSA on visit to White House
Anwar Iqbal
October 01, 2018
In addition to his planned meeting with United States (US) Secretary of State Michael Pompeo, Foreign Minister Shah Mehmood Qureshi will also hold a meeting with the country's National Security Adviser John Bolton at the White House, Dawn reported on Monday.
Qureshi had arrived in Washington DC on Sunday for talks on bilateral relations with US officials following his trip to New York for the United Nation's General Assembly session. He is expected to meet both, Bolton and Pompeo, on Tuesday.
His first stop is expected to be the White House where he will meet Bolton for talks on untangling Pakistan's ruffled relations with the US. He will then proceed to the US State Department for his second meeting with the secretary of state.
On Monday, Qureshi will meet Pakistani diplomats and experts to prepare for the crucial talks that are to be held on Tuesday.
Pompeo and Qureshi first met in Islamabad early in September when the US government approached the new Pakistani government to discuss key issues that have strained decades-old ties between the two countries.
In a briefing about his earlier meeting, Pompeo said that, following the election of Prime Minister Imran Khan in July, the US "wanted to get out there at the beginning of his time in an effort to reset the relationship between the two countries".
It was during his Islamabad visit that Pompeo invited the Pakistani foreign minister to visit Washington for further talks.
Pak-US relations and the Afghan dynamic
Speaking to a US radio station over the weekend about the newly-elected government's foreign policy objectives, particularly in regard to the US and Afghanistan, Zalmay Khalilzad, the new US envoy for Afghanistan said: "Pakistan says now that it wants to turn a new page, that it wants to help the US with this objective (Afghan reconciliation) that I outlined. And we'll have to see".
Khalilzad said that the Trump administration was ready to learn from the new Pakistani government about how they wanted to address the main issue, Afghanistan.
When asked about how the two countries would overcome the lack of trust that prevents them from rebuilding ties, he said, "It's not about trust. I mean, we're talking about international politics. Trust is good, but, you know, you have to verify, and that would apply to a lot of states."
Diplomatic observers in Washington see a genuine desire from both sides to rebuild ties but warn them to move "step by step, tackling the major issues first, if they want progress," as one of them said.
According to these observers, the most pressing question before the Pakistani and US negotiators will be to determine how to reset ties.
"Will it be a repeat of the same, old rhetoric or something new is also on the plate," asked an observer adding, "If the Americans continue to ask Pakistan to do more and Pakistan insists that it has already done what the Americans want it to do, where will these talks go?"
The observer was referring to the US position that Pakistan needs to take more concrete steps against those Afghan Taliban — particularly the Haqqani Network — who allegedly use its territory to carry out attacks in Afghanistan.
Pakistan says that it has already eradicated all terrorist hideouts from the tribal areas and attacks in Afghanistan do not originate from Pakistani territory.
The US also wants Pakistan to persuade the Taliban to join the Afghan reconciliation process.
Pakistanis says that they are willing to do so, but there should also be a general reconciliation that improves relations between the US and Pakistan.
"No arming twisting. Normalise relations, expand cooperation and then work together in resolving the Afghan dispute," said a Pakistani expert on US-Pakistan relations who did not want to be identified.
He argued that in today's Pakistan, it was no longer possible to ignore public opinion and "unless Americans take steps that have a positive impact on the Pakistani public opinion, there will be no real improvement in bilateral relations".
Pakistani officials also endorse these views and say that whatever success they achieved in the war against terror, they did so through national consensus and they wanted a similar consensus on US-Pakistan relations.
Full report at:
https://www.dawn.com/news/1436125/fm-qureshi-to-meet-us-nsa-on-visit-to-white-house
--------
National Party leader criticises Centre's move to give Afghan refugees citizenship rights
Bahram Baloch
October 01, 2018
GWADAR: Former chief minister of Balochistan and senior leader of National Party (NP) Dr Abdul Malik Baloch has criticised the federal government's move to grant citizenship rights to Afghan refugees in Pakistan. He said the NP would not let anyone turn Baloch people into minority on their own soil.
Speaking at a public meeting in Behman area of Turbat on Sunday, he asked Baloch people and workers of the National Party to be politically more vigilant and active to safeguard their genuine rights and interests and to meet future challenges.
He also asked party workers to immediately intensify their political activities across the province and to make functional all units of the party.
Dr Baloch said that despite being part of the previous PML-N-led provincial government, the National Party had never compromised on interests of the local people of the province.
Full report at:
https://www.dawn.com/news/1436110/national-party-leader-criticises-centres-move-to-give-afghan-refugees-citizenship-rights
--------
Minister, DPC request UN to declare India as 'terrorist state'
October 1, 2018
ISLAMABAD: Federal Minister for Religious Affairs and Interfaith Harmony Noorul Haq Qadri on Sunday said that any aggression from India would be responded in a befitting manner as a whole nation was united to defend the motherland.
Addressing the 'All Parties Conference' (APC), organised by the Difa-e-Pakistan Council, he said that Pakistan was a peaceful country and intended to resolve all the political and the territorial issues with dialogue. However, he said that Indian response for peace and dialogue was as usual stubborn and reluctant to come across the table for negotiations.
The APC declaration announced by DPC Chairman Samiul Haq said that war-mongering Indian threats would destroy the peace of entire South Asia. The APC also demanded the UN to investigate the use of chemical weapons in the Indian-held Kashmir (IHK) under the international tribunal for war crime and declare India as a terrorist state.
Qadri said that the government has adopted a strong stance in the UN General Assembly and highlighted the Indian involvement in terror activities across Pakistan which had taken thousands of innocent lives. He said that Foreign Affairs Minister Shah Mehmood Qureshi had wisely presented Kashmir issue and the Indian atrocities and human rights violations before the world forum and diverted the attention towards the flashpoint.
ARTICLE 297C: The minister said that the government in a short span of time has achieved many diplomatic successes and stopped the blasphemous competition in The Netherland. He also said that the government was determined to restore the Article 297C in its true spirit and the bill which was presented by Muttahida Qaumi Movement-Pakistan (MQM-P) leader Khalid Maqbool Siddiqui was withdrawn due to its content as the government was not aware of the matter.
Full report at:
https://www.pakistantoday.com.pk/2018/09/30/minister-dpc-request-un-to-declare-india-as-terrorist-state/
--------
Not in US for aid, but to rebuild 'powerful' relationship: Qureshi
October 1, 2018
Foreign Minister Shah Mahmood Qureshi on Monday said the purpose of his visit to the US was not to seek aid but build deteriorating ties between the two countries.
"I am not here to talk dollars and cents, I am not here seeking aid," Qureshi said in an interview with Fox News.
"I am not here to talk dollars and cents, I am not here seeking aid," Qureshi added. "I am here to fix a relationship that went sour – a relationship that has mutually-benefited both sides. We have been allies for a long time, it is time to rebuild that powerful relationship."
Qureshi acknowledged that while relations have "soured" significantly between his country and the United States since Trump took office and publicly ramped up pressure on them to do more to obliterate terrorist sanctuaries, his stance is that Pakistan is being unjustly blamed for the destabilisation of neighbouring Afghanistan.
"When you are in a difficult situation you look for scapegoats, for areas and people and institutions that have not delivered to your expectations," he said. "Pakistan is there to help and facilitate, we recognise that a stable and peaceful Afghanistan is in our interest."
Qureshi insisted that the Pakistani government is in full control of the country, including the rugged and remote tribal regions, and that terror hideouts have been eliminated. He also pointed out that they will "play a role" and use "whatever influence they have" to bring the Taliban to the negotiating table for peace talks, but declined to comment on whether monetary cuts were having an impact on Pakistan's military or involvement in the protracted war against terror.
Speaking about Dr Shakil Afridi, who helped the US capture Usama bin Laden in Pakistan by running a fake vaccination programme to collect DNA but since then has languished behind bars, Shah Mehmood Qureshi said that the issue is not over.
"Openings are always there," Qureshi said. "He is viewed in a particular light in Pakistan, he is viewed as a traitor in Pakistan. But he is viewed as a friend in the US. So we have to bridge this gap."
Afridi's future, Qureshi attested, lies not with politics but with the courts.
Full report at:
https://www.pakistantoday.com.pk/2018/10/01/not-in-us-for-aid-but-to-rebuild-powerful-relationship-qureshi/
--------
Siraj lauds Qureshi's UNGA address
OCTOBER 1, 2018
Ameer, Jamaat e Islami, Pakistan, Senator Siraj-ul- Haq, has appreciated the Foreign Minister Shah Mehmood Qureshi's address to the UN General Assembly.
Talking to the media, after the JI Ijtema in Bahawalpur on Sunday, he said that Qureshi courageously presented the nation's stance to the world exposing India's involvement in terrorism in this country.
He said that New Delhi's stance on Kashmir was totally baseless and it would have to get out of there soon, as the Kashmiris and Pakistani nation are not ready to tolerate India's hold on Kashmir.
Criticising the government on the recent price hikes, the JI chief said that contrary to its election promises, the PTI government has begun its first 100- day agenda with increase in the prices of essential items, thereby adding to the worries of the masses.
He said that almost half of the government's first 100 days period is over and with this speed of doing things; the government won't be able to complete its agenda.
He said that the Finance Minister's statement that the country's economy required bye-pass has sent a wave of unrest among the people. It was evident that the government has decided to go to the IMF for fresh loans which would add to the burden of the general public.
He said that the price hike would affect the poor and the middle class, as the elite and the VIPs would not be hit.
Sirajul Haq further said that the previous Bahawalpur state had been a most fertile and prosperous state and Pakistan was greatly indebted to the rulers of Bahawalpur State. However, he said that the demand for the revival of this state was being pushed to the back burner.
The JI chief deplored that the new generation was being driven away from its elders due to the promotion of the western culture.
Referring to the profane caricatures' issue, he said there had been world wise protest over these caricatures. He said the JI has arranged a Jurist conference on the issue of caricatures and a four member committee headed by the former Chief Justice Iftekhar Muhammad Chaudhry has been constituted to decide a line of action for ending this trend.
Full report at:
https://dailytimes.com.pk/304757/siraj-lauds-qureshis-unga-address/
--------
Pakistani Christians demand end to persecution
October 1, 2018
Dozens of Pakistani Christians gathered outside the United Nations offices in Geneva, Switzerland, to protest the persecution of their coreligionists in their homeland.
They gathered for the Sept. 27 rally from several Western European countries where they have received asylum, including Germany, France, Switzerland and the United Kingdom.
The protesters wielded signs and placards that read "Save Pakistani Christians" and "Stop targeting Christians in Pakistan."
Speaking through bullhorns, their representatives called on the U.N. to apply pressure on Pakistan to repeal its dreaded blasphemy laws, which are often used by the dominant Muslim majority against religious minorities.
Four members of the European Union's parliament also participated in the rally in support of Pakistan's Christians. They urged their parliament's human rights committee to devote more attention to the situation of religious minorities in Pakistan.
"The protest was organized by different human rights NGOs to draw the attention of the United Nations to the suffering of Christians in Pakistan due to blasphemy and other discriminatory laws," Asher Sarfraz, a Pakistani Christian rights advocate who lives in Germany and participated in the event, told ucanews.com.
Hundreds of Christians have fallen foul of Pakistan's draconian blasphemy laws on what rights advocates have called trumped-up charges. People convicted of blasphemy are sentenced to long prison terms and sometimes death. Many of the accused have been lynched by irate mobs.
"[Many Christians] have been falsely accused of blasphemy and other crimes," said Sarfraz, who is CEO of Christians' True Spirit, which advocates on behalf of persecuted Christians in the South Asian nation. "They are easy targets under false pretenses."
Pakistan's government claims that the rights of religious minorities are fully upheld in the conservative Muslim nation. Christians, however, insist that they have long faced both deep-seated prejudice and institutionalized discrimination because of their faith.
"For decades religious minorities in Pakistan, especially Christians, have been victims of discrimination and all sorts of oppression," Sarfraz said.
Most of the country's four million Christians languish in grinding poverty, reduced to lowly menial jobs such as garbage collecting and street sweeping. Many better-paying jobs and government positions remain inaccessible to them.
There have also been numerous reported cases of Christians being targeted by vigilante Muslim mobs and unscrupulous individuals. Arson attacks on Christian homes and other crimes are common. Local Christian say that officials are often reluctant to act against the perpetrators in such cases.
Full report at:
https://www.ucanews.com/news/pakistani-christians-demand-end-to-persecution/83497
--------
Africa
Nigeria's President Thanks Islamic Body's Help to Face Terrorism
October 1, 2018
Abuja, Sep 30 (Prensa Latina) Nigerian President Muhammadu Buhari celebrated the promise of the Organization for Islamic Cooperation (OCI) to help the African country through a good religious education directed to the terrorist group Boko Haram, a regional publication reported on Sunday.
The head of State stressed the importance of that preparation to extirpate the erroneous spirit of indoctrination in the religious level followed by that organization, which practices the extreme tendencies of Islam known as 'Islamists' 'fundamentalists' or 'jihadists,' Hiiraan Online added.
In a bilateral meeting on the subject, the Secretary General of the OIC, Youssef Ahmed Al-Othaimeen, told Buhari that his institution voted a resolution addressed to its member states to help Nigeria fight extremism.
The religious leader told the Nigerian President that the OIC is ready to use its services and its institutions to rectify the misinterpretation that the Boko Haram rebels make of Islam.
According to international organizations, Boko Haram is among the deadliest armed groups in the world.
https://www.plenglish.com/index.php?o=rn&id=34377&SEO=nigerias-president-thanks-islamic-bodys-help-to-face-terrorism
--------
Why U.S. got Nigeria's Muslim, Christian leaders to sign peace pact
September 21, 2018
By Adeola Yusuf
More facts have emerged on the reason the International Community led by the United States (U.S) and the United Nations (UN) got Muslim and Chris-tian leaders in Nigeria to sign an agreement to hold the peace ahead of the February 2019 General Election. The religious leaders penned the agreement in Abuja on Tuesday in the presence of the UN and US officials.
US ambassador to Nigeria, Mr. Stuart Syminton, who gave reason for the signing of peace pact, maintained that there should be no compromise in ensuring peace in the country. The religious leaders affirmed their commitment to peace and harmony in the populous nation so afflicted by religious and ethnic divisions. Nigeria has been divided along ethnic line, which is being worsened by the forthcoming election.
Several churches have openly urged worshippers to obtain their Permanent Voters Card (PVC) to vote out Muslims, an apparent reference to President Muhaammadu Buhari, a Muslim Hausa/Fulani. The Muslims, on the other hand, were pitching tent with President Buhari, who is under pressure from his northern stronghold to ensure the region retains the top seat in 2019. All the main presidential aspirants so far are Hausa Fulani Muslims, like President Buhari, prompting analysts to see the religious angle to the political situation as a deliberate effort to prop up the opposition Peoples Democratic Party (PDP), which lost the 2015 elections after 16 years in office.
The situation was generating tension, compelling the international community to caution both sides against invoking religious and ethnic sentiments in the political contest. The Sultan of Sokoto, who is the spiritual leader of Muslims in Nigeria, Alhaji Sa'ad Abubakar III, has condemned the religious leaders he alleged no longer promoted religious values. Alhaji Abubakar called for a peaceful co-existence among Muslims and Christians for sustainable growth.
Full report at:
https://newtelegraphonline.com/2018/09/why-u-s-got-nigerias-muslim-christian-leaders-to-sign-peace-pact/
--------
Somalia: Al Shabaab inches closer to Mogadishu
9/30/2018
The Islamist, Qaeda-linked Al Shabaab too over an extensive area in the Middle Shabelle region of Hirshabelle federal State from government control bringing them so much closer to the capital of the internationally propped Federal Government of Somalia capital of Mogadishu.
The Shabaab fighters, on Saturday, took full control of villages and farming settlements dotting the Balcad-Jowhar 50-kilometre road.
People who know the area estimate that the areas Shabaab are now in full control of extend all the way to the Indian Ocean coast to the south and Jowhar to the north giving the fighters a very wide area to set up ambush and maneuvering points.
Balcad is about 30 kilometers to the north of the security-prone capital, Mogadishu. Jowhar is a little over 50 kilometers to the north of Balcad. In between Balcad and Jowhar hundreds of fair-sized villages and smaller farming hamlets dot.
None has, however, explained why the government has abandoned its positions since there was no fighting to force them to do so.
Full report at:
https://menafn.com/1097511850/Somalia-Al-Shabaab-inches-closer-to-Mogadishu
--------
Boko Haram extremists has been defeated, Cameroon's leader declares
September 30, 2018
YAOUNDE, Cameroon — Cameroon's president says Boko Haram has been defeated in the country, the first such announcement since he declared war on the extremist group four years ago.
President Paul Biya spoke during his first visit to the Far North region since 2012 as he campaigned on Saturday ahead of the Oct. 7 election. The 85-year-old, one of Africa's longest-serving leaders, has been in power since 1982 and is likely to win again as the fractured opposition has been unable to put forward a strong candidate.
Security is a major issue in Cameroon, a U.S. and French military ally, as it also faces a bloody English-language separatist movement in the southwest and northwest.
Addressing a rally in Maroua, Biya said he would focus on rebuilding what has been destroyed in the Far North "now that terrorism has been defeated."
The region for years has been the target of suicide bombings and other attacks by Boko Haram fighters who spilled over the border from Nigeria, where the extremist group is based. Nearly a quarter-million people in Cameroon have been displaced.
Boko Haram has not carried out a major attack in Cameroon in the past year and the number of attacks has fallen. Its fighters continue to attack military targets and cities in Nigeria's northeast despite repeated government declarations that it has been "crushed."
Biya warned Far North residents to remain vigilant despite recent progress including the re-opening last month of 40 schools along the border.
Not everyone warmed to the president's comments at the rally.
Biya had abandoned the Far North and its people, said Garga Haman Adji, candidate with the Alliance for Democracy and Development opposition party.
"Biya never visited to encourage the soldiers who fought to defeat Boko Haram. He never visited people suffering from terrorism and is now here to beg for votes," Garga said.
The fight against Boko Haram has raised questions about Cameroon's security forces. Shocking videos that recently circulated online showed soldiers shooting defenceless civilians including women with young children strapped to their backs, Amnesty International said after expert analysis. Cameroon's government has announced several arrests related to one of the videos and said any alleged abuses will be investigated.
Biya has not announced any campaign visits to the troubled southwest and northwest where fighting between government forces and the Anglophone separatists has killed nearly 400 people and sent nearly 200,000 civilians fleeing.
A heavy military deployment and recent crackdown on suspected separatist hideouts especially in the southwest, however, indicates that the president intends to visit in an effort to show the world that in spite of the tensions he remains in control.
Biya last visited the southwest in 2014 and the northwest in 2010.
The unrest began in 2016 when teachers and lawyers peacefully expressed dissatisfaction with what some English speakers, who make up about 20 per cent of the country's population, have called marginalization by French-speaking authorities in the officially bilingual country.
Full report at:
https://nationalpost.com/news/boko-haram-has-been-repelled-cameroons-leader-declares
--------
FG must intensify fight against Boko Haram, herdsmen –Ortom
October 1, 2018
The Benue State Governor, Samuel Ortom, on Sunday, enjoined Nigerians to sustain their faith in the corporate existence, unity and indivisibility of Nigeria even as the country faces so many challenges.
In an Independence Day message signed by his Media Adviser, Tahav Agerzua, Ortom reiterated his belief that Nigerians have cause to celebrate, having gained independence from the colonialists and come a long way in spite of several threats to the corporate existence of the country.
The governor called on the Federal Government as well as states and major stakeholders to synergise and intensify the fight against terrorism and other insurgencies such as Boko Haram, herdsmen attacks and criminal acts across the country.
Governor Ortom also called on Nigerians to redouble the efforts to be patriotic wherever they find themselves in positions of service, leadership and followership so that the country could move fast to join the comity of developed nations.
Full report at:
https://punchng.com/fg-must-intensify-fight-against-bharam-herdsmen-ortom/
--------
Southeast Asia
Anwar slams PAS for questioning his visits to non-Muslim places of worship
1 Oct 2018
PORT DICKSON: Datuk Seri Anwar Ibrahim (pic) has slammed PAS for questioning his visits to non-Muslim places of worship while campaigning for the Port Dickson by-election, saying members of the Islamist party used to accompany him to such places when PKR was in Pakatan Rakyat.
The PKR president-elect said he was also surprised that PAS president Datuk Seri Abdul Hadi Awang should question his decision to contest in Port Dickson, just because it was not a Malay-majority seat.
"Why wasn't it wrong for me to visit these places of worship when we were in Pakatan Rakyat?
"When I visit these places of worship, I do not go to their prayer hall or take part in the prayer sessions.
Anwar said visiting non-Muslim places of worship was not forbidden in Islam, which taught its adherents to be respectful of other faiths.
Anwar said if he had contested in a Malay-majority seat, then Abdul Hadi would have asked why wasn't the contesting in a mixed constituency.
"Port Dickson is actually a microcosm of what Malaysia is, as the majority of the constituents are Malays, followed by Chinese and Indians.
"Although the only shortcoming is that there are not many Ibans and Kadazans here, I'm happy that I managed to meet a Kadazan who retired from the army and has been living here for the past 15 years," he said.
On another statement by Abdul Hadi that Prime Minister Tun Dr Mahathir Mohamad should be allowed to serve his full term as Prime Minister, Anwar said the PAS leader was entitled to his views.
"I know there are attempts from many sides to stop me from taking over from him.
"Although Abdul Hadi is entitled to his view, Dr Mahathir has already decided on this," he said.
Asked on talks of a unity government with Umno, Anwar reiterated that this was not going to happen.
"The Pakatan leadership, including Dr Mahathir and Tan Sri Muhyiddin, have also stated the same on this.
"I am surprised there are still some social media outlets talking about this, although I myself have repeatedly said this won't be happening," he said.
According to Anwar, he had been warmly received by the constituents while on his campaign rounds so far.
"I have gone to the masjid, temples, market, villages and warong.
"I'm glad that the response has been good," he said.
Asked why senior party members were not seen campaigning for him, Anwar said they would do so in the coming days.
"I have reminded them to come as Pakatan leaders and not as ministers or holding other government positions," he added.
https://www.thestar.com.my/news/nation/2018/10/01/anwar-slams-pas-for-questioning-his-visits-to-non-muslim-places-of-worship/
--------
Dr Mahathir previews British Museum's Islamic World collection
September 30, 2018
LONDON: Prime Minister Tun Dr Mahathir Mohamad had an exclusive preview of the Albukhary Foundation Gallery of the Islamic World at the British Museum on Sunday.
The Albukhary Foundation Gallery of the Islamic World, currently under construction, will be opened to the public on Oct 18 this year.
The new gallery of the museum displays a comprehensive presentation of the Islamic world through art and material culture.
The gallery features objects that give an overview of cultural exchange in an area stretching from Nigeria to Indonesia and from the seventh century to the present day.
"It will underscore global connections across a vast region of the world from West Africa to Southeast Asia and reflect links between the ancient and medieval as well as the modern worlds," according to a statement released by the British Museum.
The gallery is supported by Malaysia-based Albukhary Foundation and the Islamic Arts Museum Malaysia.
Also present at the exclusive preview was Albukhary Foundation chairman Tan Sri Syed Mokhtar Albukhary, who is a well-known philanthropist.
British Museum director Hartwig Fisher in the statement said the Albukhary Foundation Gallery ofthe Islamic World allowed the museum to display the world-class collection to tell a more universal story of Islam in a global context.
Meanwhile, Syed Mokhtar thanked the British Museum for a fruitful collaboration aimed at displaying the convergence and divergence of Islam.
Full report at:
https://www.nst.com.my/news/nation/2018/09/416583/dr-mahathir-previews-british-museums-islamic-world-collection
--------
Hadi: Anwar cannot be trusted
By Syed Umar Ariff
October 1, 2018
PORT DICKSON: PAS president Datuk Seri Abdul Hadi Awang has hit out at Datuk Seri Anwar Ibrahim, saying that the PKR president-elect could not be trusted as a Muslim and a leader.
At a media conference tonight after delivering a speech to campaign for PAS' candidate in the Port Dickson by-election, Mohd Nazari Mokhtar, Abdul Hadi described Anwar as being inconsistent in his Islamic practice.
For example, he said Anwar would indulge in other religious practices according to his surroundings.
"We live in a multiracial community. We respect the freedom to embrace any religion. But we must be consistent with our religion and our race.
"For example he (Anwar) becomes an imam in the mosque, but in Sikh places (gurdwaras) he dressed up like a Sikh and in Tamil places (Hindu temples) he dances according to Tamil tunes," Abdul Hadi said.
He pointed out that Anwar should hold on to his self-identity.
"We have our own (religious) culture. And the Tamils (Hindus) respect if we have our own identity.
"(If we uphold our own cultural values) the Tamils will not be angry with us. The Chinese will not be angry with us.
"We can hold (religious) dialogues with anyone. But we must be consistent with our own self-identity."
Earlier in his speech Abdul Hadi also said a leader, in alluding to Anwar, must be chosen based on his consistency with his identity.
"Now we have a person who 'berlakon' (impersonates) according to his surroundings. Inconsistent.
"We need to understand this. When choosing a leader, we must not do so based on worldly requirements."
Abdul Hadi also proposed that Anwar did not have "faith in his own race" as he had picked to run for Port Dickson, where the Malays only formed 43 per cent of the population.
"He picked a place dominated by other races. If he does not believe in his own race (to support him), how will the others put their faith in him?"
Full report at:
https://www.nst.com.my/news/politics/2018/10/416616/hadi-anwar-cannot-be-trusted
--------
No support for Aung San Suu Kyi: Malaysia PM Mahathir
October 1, 2018
PETALING JAYA (THE STAR/ASIA NEWS NETWORK) - Malaysia will no longer lend its support to Myanmar leader Aung San Suu Kyi over her handling of the Rohingya crisis, Prime Minister Mahathir Mohamad said.
Ms Suu Kyi seemed to be a "changed person" and he had lost faith in her, said Tun Mahathir.
"She did not want to say anything against the action taken by the (Myanmar) military against the Rohingya. So, we made (it) quite clear that we don't really support her anymore," he said at an interview with Mr Ghida Fakhry of the Turkish international news channel TRT World last Saturday (Sept 29).
The interview was held on the sidelines of the United Nations General Assembly (UNGA) in New York before he left for London.
Dr Mahathir said that when Ms Suu Kyi was under house arrest, Malaysia campaigned to get her released. But when he wrote to Ms Suu Kyi, he did not receive any reply and was "very disappointed".
"We have complained to the world about the treatment of the Rohingya. In fact, we have ourselves received quite a lot of Rohingya people in our country," he said.
Dr Mahathir had addressed the UNGA last Friday (Sept 28) over the plight of Myanmar's Rohingya Muslim minority, who have been driven to Bangladesh in huge numbers.
He criticised the authorities in Myanmar and Ms Suu Kyi for denying that the Rohingya people were being murdered, their homes torched and over a million refugees were forced to flee.
Dr Mahathir also questioned the world for keeping silent on the massacres.
Several other countries have similarly criticised Ms Suu Kyi.
There have been calls to revoke the Nobel Peace Prize awarded to her in 1991, while Canada has stripped Ms Suu Kyi of her honorary citizenship.
Meanwhile, soon after his arrival in London late last Saturday, Dr Mahathir was briefed on the future direction of Group Lotus, which produces high-end sports cars and racing cars.
The closed-door briefing on Sunday was given by Group Lotus chief executive officer Feng Qingfeng, who is also vice-president and chief technology officer of Geely Auto Group, Bernama reported.
Dr Mahathir is believed to have been given a glimpse of the mock model of the latest Lotus car.
China's automaker Zhejiang Geely Holding Group purchased a 49.9 per cent stake in Proton Holdings Bhd as well as 51 per cent of Lotus, both owned by DRB-Hicom, last year.
Dr Mahathir is a former chairman of Group Lotus and Proton Holdings.
Also present at the briefing were Malaysian tycoon Syed Mokhtar Al-Bukhary and DRB-Hicom CEO Syed Faisal Albar.
Full report at:
https://www.straitstimes.com/asia/se-asia/no-support-for-aung-san-suu-kyi-malaysia-pm-mahathir
--------
North America
NYC: Prosecutors Want Death Penalty For Muslim Bike Path Terrorist
September 30, 2018
A Muslim man charged with using a truck to kill eight people last year on a New York City bike path will face the death penalty at a trial next year, federal prosecutors said Friday in a case where President Donald Trump has tweeted that the defendant deserves to be executed.
The government filing said the case against Sayfullo Saipov met several legal standards for a capital case, including premeditation to commit terrorism and the "heinous, cruel and depraved manner" in which the victims were slaughtered.
In a statement, defense attorney David Patten said he was disappointed that the Justice Department signed off on seeking the death penalty.
"We think the decision to seek the death penalty rather than accepting a guilty plea to life in prison with no possibility of release will only prolong the trauma of these events for everyone involved," Patten said.
After Saipov's arrest in the deadliest attack on New York City since Sept. 11, 2001, Trump tweeted, "SHOULD GET DEATH PENALTY" and "Should move fast. DEATH PENALTY." The tweets were cited in defense papers filed earlier this month that demanded an independent prosecutor make a decision, arguing that Sessions' tenuous relationship with Trump made it impossible for DOJ to be fair.
Sessions "works for President Trump and obviously wants to keep his job," Saipov's federal public defenders wrote. "It defies reality, not to mention all appearances, to believe that he could make a truly independent decision as to whether Mr. Saipov should face the death penalty, knowing that a decision not to seek death would inevitably trigger a 'tweetstorm' of ridicule and scorn from the President and might well lead to the loss of his job."
In a separate filing on Friday, prosecutors said the argument "strains credulity" because there was no evidence that the decision was influenced by politics.
"After fully complying with the law and Justice Manual, the attorney general appropriately exercised his discretion in determining that the circumstances of this case – which involve a terrorist attack that caused extensive death and human suffering – justify the ultimate sanction available," prosecutors wrote.
The 30-year-old Saipov moved to the United States legally in 2010 from Uzbekistan. He lived in Ohio and Florida and worked as a commercial truck driver before living more recently with his family in Paterson, New Jersey.
Court papers say that after his arrest, he told the authorities that he was inspired by ISIS videos, and that he had used a truck in the attack to inflict maximum damage against civilians. He's pleaded not guilty.
The trial is set to begin Oct. 7, 2019. A jury, if it finds Saipov guilty, will be asked to decide in a second phase of the trial if he should be executed.
https://www.theyeshivaworld.com/news/general/1597244/nyc-prosecutors-want-death-penalty-for-muslim-bike-path-terrorist.html
--------
Presence of US military forces on Syrian soil illegal, act of aggression: Muallem
Sep 30, 2018
Syrian Foreign Minister Walid al-Muallem has roundly condemned the presence of hundreds of American troopers in the southeastern part of his country close to the border with Iraq, terming the deployment as "illegal" and an "act of aggression."
Speaking in an exclusive interview with Russia's Arabic-language RT Arabic television news network, Muallem stated that Americans at al-Tanf garrison recruit and train Daesh terrorists, and then dispatch them to the front line to fight Syrian government forces in a bid to prolong the Syrian crisis in favor of Israel.
'Damascus-Tehran relations not negotiable at all'
The top Syrian diplomat went on to say that relations between his country and the Islamic Republic of Iran were not open to any negotiations.
"The presence of Iranian advisers in Syria is legitimate and at the request of the Damascus government contrary to the American deployment, which is an act of aggression against Syria and must cease," Muallem pointed out.
He also made a reference to the Turkish-Russian agreement on a buffer zone in Syria's militant-held northern province of Idlib, describing it as a positive step on the path of asserting state control over the entire Syrian territory.
"The agreement provided conditions for a peaceful solution in Idlib. Reconciliations have proved effective in many areas of Syria. The legitimate Syrian government has the right to use other means to establish its sovereignty," Muallem said.
The senior Syrian official further noted that the danger in the eastern regions of the country now stems from US soldiers, who are stationed there illegally, provide military support to the so-called Syrian Democratic Forces in that region, and obstruct their dialogue with the Syrian government.
"We are committed to the Astana Peace Process, Sochi talks as well as efforts made by the Russian Federation and the Islamic Republic of Iran to find an appropriate solution that serves Syrian people best in the political process," Muallem underlined.
He also named the United States, Britain and France as the developers of the foreign-sponsored conspiracy against Syria, saying, "All the weapons that terrorists possess in many parts of Syria have been manufactured in these countries."
'We call on Syrians living abroad to return to their homeland'
Elsewhere in his remarks, Muallem called on all Syrian expatriates to return and play a role in the reconstruction of their country.
He expressed regret that the West prevented their repatriation through the policy of intimidation.
'S-300 missile system is a guarantor of our security, stability'
Muallem stated that Syria neither has harassed nor interfered in the domestic affairs of any country, and looks forward to good relations with world states.
"Whoever attacks us and interferes in our internal affairs, must reconsider his position," he commented.
Full report at:
https://www.presstv.com/Detail/2018/09/30/575671/Presence-of-US-military-forces-on-Syrian-soil-illegal-act-of-aggression-Muallem
--------
Iran, US in tense wait for world court sanctions ruling
October 01, 2018
THE HAGUE: The International Court of Justice will hand down an eagerly awaited decision this week on Iran's demand for the suspension of debilitating nuclear-related sanctions imposed by the United States.
Accusing Washington of "strangling" its economy, Tehran has asked the court in The Hague to order Washington to lift the measures, reimposed after US President Donald Trump pulled out of a multilateral 2015 accord.
Despite its long enmity with the United States, Iran brought the case under a 1955 "friendship treaty" that predates the country's Islamic Revolution.
Washington has forcefully told the court, which rules on disputes between United Nations member states, that it has no jurisdiction to rule on the case as it concerns a matter of national security.
The ruling on Wednesday at 0800 GMT — in the grand surroundings of the 1913-built Peace Palace in the Dutch city — follows four days of hearings at the end of August.
Rulings by the ICJ are binding and cannot be appealed, but it has no way to enforce its decisions.
"If the court orders measures, they should be respected," Eric De Brabandere, a professor of international law at the University of Leiden, told AFP.
If the court decides it has jurisdiction, it will likely "declare that the parties should refrain from aggravating the dispute," but any steps beyond this remain to be seen, he said.
The 2015 nuclear deal saw Iran agree to limit its nuclear program and let in international inspectors in return for an end to years of sanctions by the West.
But Trump pulled out of the deal in May, to the dismay of European allies, arguing that funds from the lifting of sanctions under the pact had been used to support terrorism and build nuclear-capable missiles.
At the United Nations General Assembly last week, Trump denounced the deal as "horrible" and "one-sided."
During the ICJ hearings, Iran said the sanctions reintroduced in September are causing economic suffering for its citizens. US lawyers retorted that economic mismanagement was at the root of Iran's woes.
A second wave of US measures is due to hit Iran in early November, targeting its vital oil exports.
Experts said the Iran-US case was an important opportunity for the ICJ to rule on the issue of "economic warfare" — not currently designated as a use of force.
The case "may offer the court sufficient legal basis to indicate a limit under international law to coercion by the US," Geoff Gordon, an international law expert at the Asser Institute in The Hague, told AFP.
"International law, for reasons to do with power politics, has never formally recognized economic warfare to be a use of force as prohibited by the UN Charter, though economic sanctions can have the same effects and worse as guns and bombs."
But he warned that "the decision is likely to be occasion for escalating tensions."
Relations have plunged to a new low since Trump's election, even as the US president reaches out to North Korean leader Kim Jong-un over his nuclear program.
Trump and Iranian President Hassan Rouhani faced off at the UN last week, with Rouhani denouncing leaders with "xenophobic tendencies resembling a Nazi disposition."
Despite their 1955 Treaty of Amity and Economic Relations, Iran and the United States have not had diplomatic ties since 1980.
Full report at:
http://www.arabnews.com/node/1380441/world
--------
URL: https://www.newageislam.com/islamic-world-news/creation-un-body-myanmar-atrocities/d/116537
New Age Islam, Islam Online, Islamic Website, African Muslim News, Arab World News, South Asia News, Indian Muslim News, World Muslim News, Women in Islam, Islamic Feminism, Arab Women, Women In Arab, Islamophobia in America, Muslim Women in West, Islam Women and Feminism