New Age Islam News Bureau
29 Jan 2019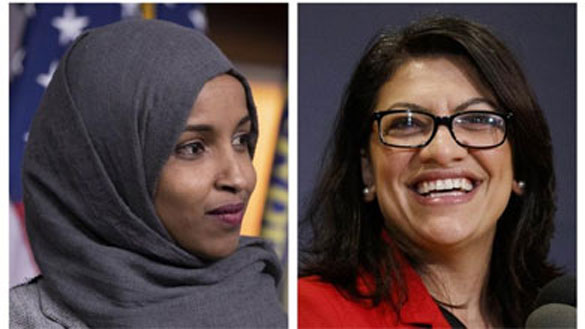 Less than a month into their terms, symbolic US House resolution targets Ilhan Omar and Rashida Tlaib over their criticism of Israel
-------
• Council of Islamic Ideology, Pakistan, To Recommend Steps for Madina State Formation
• Kerala Youth Jailed In Saudi Arabia Following His Tweets Criticising Prophet Mohammed
• 'Naseeruddin Shah, Aamir Khan Don't Deserve Respect, Are Traitors,' Says RSS Leader Indresh Kumar
• BJP Union Minister Attacks Congress Neta for Marrying a Muslim Woman
• Shia Islam And The Muslim Brotherhood: Could An Alliance Be On The Cards?
• World's First 'Sharia Compliant' Browser Set To Deliver 'Muslim-Friendly Web Experience'
• Racism Warning as Muslim Pupils Asked To Draw God in Scottish Schools
• Activists Reject US Resolution Accusing Muslim Congresswomen of Anti-Semitism
• UN Urges Myanmar to Enact Annan's Counsel on Rohingya
Pakistan
• Council of Islamic Ideology, Pakistan, To Recommend Steps for Madina State Formation
• Speakers at a Function in Pakistan Urge Revival of Sir Syed's Education Ideology
• Pakistan Will Be Developed As a True Islamic Welfare State: Usman Buzdar
• Chinese national embraces Islam after being impressed by PTI minister
• FTA with United States difficult, says Dawood
• 2,401 schools functioning in Sindh under PPP scheme, PA told
• PM Khan orders arrangements for Torkham border to remain open 'round the clock'
• Afghan deal will also push TTP towards reconciliation
--------
India
• Kerala Youth Jailed In Saudi Arabia Following His Tweets Criticising Prophet Mohammed
• 'Naseeruddin Shah, Aamir Khan Don't Deserve Respect, Are Traitors,' Says RSS Leader Indresh Kumar
• BJP Union Minister Attacks Congress Neta for Marrying a Muslim Woman
• US-Taliban Talks Put India In Tight Spot
• Mumbai finds the idea of India in Ghalib
• Bodh Gaya blast in retaliation of alleged atrocities against Rohingyas in Myanmar: NIA
• Islamabad ready to resume talks with India after elections, says Pakistan minister
--------
Arab World
• Shia Islam And The Muslim Brotherhood: Could An Alliance Be On The Cards?
• UAE Embodies Islamic Teachings: Grand Mufti
• UAE Builds Bridges of Tolerance With Pope's Visit: Muslim Clerics
• Counterterrorism law comes into effect in Saudi Arabia
• Walking The Talk In Promoting Tolerance: UAE-Based Hindu Priest
• Turkey-Backed Forces Killed in Clashes with Kurdish Fighters in Aleppo
• Amnesty raps Bahrain for upholding life sentence for Sheikh Salman
• Hayat Tahrir al-Sham terrorists torturing opponents in northwestern Syria: HRW
--------
Southeast Asia
• World's First 'Sharia Compliant' Browser Set To Deliver 'Muslim-Friendly Web Experience'
• Are Indonesia and Malaysia Ready to Stand up for China's Muslims?
• Moderate Muslims Seek Political Room And Weight In Elections
• ISIS Bombing of Cathedral in Philippines Shows Group's Reach into Asia
• At townhall session to address critics, minister says Islamic governance embraces diversity
--------
Europe
• Racism Warning as Muslim Pupils Asked To Draw God in Scottish Schools
• Draft EU Document Leaked On How to Circumvent US Sanctions on Iran
• Germany's Merkel Calls for "Zero Tolerance" Of Anti-Semitism and Hate
• Targeting the Muslim 'Enemy Within': The British Government Must Come Clean
• Germany says EU soon to launch Iran funding scheme
• UK says no Iran role in Iraq 'fanciful' but chides reliance
--------
North America
• Activists Reject US Resolution Accusing Muslim Congresswomen of Anti-Semitism
• US Envoy Khalilzad Confirms 'Draft Framework' With Taliban: NYT
• Trump warns Europeans not to try to evade Iran sanctions
• Trump lenience in Khashoggi case payback for Saudi favors: Analyst
--------
South Asia
• UN Urges Myanmar to Enact Annan's Counsel on Rohingya
• In Kabul, US Reports 'Agreements in Principle' With Taliban
• Afghan president says long-term presence of foreign forces not welcome
• Deadly airstrikes target Taliban training camp in Kandahar province
• President Ghani urges Taliban to start direct talks with Afghan government
• ISIS-K militants blown up by IED in Kunar province
• Militants suffer heavy casualties in Ghazni province
• Senior official: US not seeking permanent military presence in Afghanistan
--------
Mideast
• Experts Who Exposed Israeli Spy Firm's Link to Khashoggi Killing Targeted: AP
• Dozens of Houthis Killed in Raids in Yemen's Al-Jawf and Saada
• Yemen truce, prisoner swap timelines pushed back: UN
• Arab Coalition steps up air strikes targeting Houthi gatherings in Yemen
• Iran honored to spearhead anti-terror fight: First VP
• Yemen's rival parties must pull forces out of Hudaydah: UN envoy
• Turkey to set up safe zones in Syria: President Erdogan
• PKK earns $1.5bn annually from drug trade, says Turkish interior minister
--------
Africa
• Relations with Eritrea Are Vital In the Fight Against Al Shabaab
• Sudan's Bashir Vows to Bring Peace as Protests Called in Conflict Zones
• Eastern Libya govt delegation visits key southern city of Sabha
• 17 suspected al Shabaab recruits arrested in Samburu
• Art, Drama Help Children Who Survived Boko Haram Attacks
• Jordan won't control al-Tanf base after US withdraws from Syria: FM
• 7 Ways Al Shabaab Uses to Make Millions
Compiled by New Age Islam News Bureau
URL: https://www.newageislam.com/islamic-world-news/council-islamic-ideology-pakistan-recommend/d/117588
--------
Council of Islamic Ideology, Pakistan, To Recommend Steps for Madina State Formation
Waseem Abbasi
January 29, 2019
ISLAMABAD: The country's apex advisory body on Islam has prepared recommendations for the PTI government which had promised to make naya Pakistan a replica of "Madina state" that existed during early days of Islam.
The recommendation will be deliberated upon and finalised during the Council of Islamic Ideology's (CII) 214th meeting to be held today. The council is a constitutional body which recommends changes to Pakistani laws to make them Sharia-compliant.
Talking to The News, CII Chairman Qibla Ayaz said the recommendation had been prepared by a 20-member committee constituted in response to a government request in this regard.
"Two members of Federal Cabinet (Ali Muhammad Khan and Noor-ul-Haq Qadri) had approached the CII with request for recommendation to make the country a model state on the pattern of state of Madina," Ayaz told The News.
If the recommendations are implemented, the country would have to do away with interest-based economy and bring about wide-ranging reforms in the country's legal, administrative and education systems, Ayaz added.
He said the committee recommended measures to make the country a welfare state. However, the CII Chairman said it was"raw draft" at the current stage and micro-level recommendations would be prepared by a task force, to be formed later.
Prime Minister Imran Khan has repeatedly claimed before and after the elections that his vision of Naya Pakistan is to establish a welfare state on the pattern of Madina.
During two-day meeting the Council will also take up the issue of restriction on Islamic sadaqa donations under the Punjab Charity Act 2018.
Ayaz said the council would discuss whether or not the Act promulgated last year by Punjab government was in line with the Islamic teachings.
The prominent religious scholars would also discuss whether the government should subsidise extra-expenses for Haj Package 2018 to fulfill its religious obligation? The meeting will discuss Islamic point of view on subjecting the electoral candidates to an oath under which they are bound to uphold religious and national requirements.
The two-day gathering will also talk about the legal theory of the council.
It will also look into amendments in laws regarding right of inheritance for women and make suggestions in this regard.
Issues of penalising men for giving triple divorce in one sitting would also be further discussed in today's meeting.
The council will also consider a public letter in which its attention was drawn towards change of women name in national identity cards after their marriage and problems they face afterwards.
https://www.thenews.com.pk/print/425102-cii-to-recommend-steps-for-madina-state-formation
--------
Kerala youth jailed in Saudi Arabia following his tweets criticising Prophet Mohammed
Jan 28, 2019
ALAPPUZHA: An Alappuzha youth has landed in 10-year jail term in Saudi Arabia following his series of tweets criticising prophet Mohammed.
According to Radhakrishnan Nair, his son Vishnu Dev Radhakrishnan, 28, has been undergoing imprisonment in a jail since June 2018.
As per the letter sent to the family of Vishnu from the Consular, Passport and visa division of the ministry of external affairs, he was arrested for "cybercrime pertaining to blasphemy and spreading messages against the Kingdom through social media."
"My son, who completed mechanical engineering, had been working as planning engineer there for the past six years. He has made friendship with a Muslim woman in United Kingdom on Twitter and they shared messages. When she spoke against Hindu Gods in one of her conversations on Twitter. Vishnu tweeted something against prophet Mohammed. Following it, he was arrested on June 7, 2018. On September 13, he was given a five-year jail term and a penalty of 1.5 lakh Saudi Riyal. His sentence was increased to 10 years on January 24 as per the direction of higher court," said Radhakrishnan Nair.
"I have sought the help of union government and union minister of external affairs Sushma Swaraj to release my son from jail.
But I have not received any positive reply from them,'' said Nair, who has retired from Indian Air Force after 21 years of service.
https://timesofindia.indiatimes.com/india/kerala-youth-jailed-in-saudi-arabia-following-his-tweets-criticising-prophet-mohammed/articleshow/67728713.cms
--------
'Naseeruddin Shah, Aamir Khan don't deserve respect, are traitors,' says RSS leader Indresh Kumar
Jan 29, 2019
RSS leader Indresh Kumar likened Congress leader Navjot Singh Sidhu, and actors Aamir Khan and Naseeruddin Shah to Rajpur king Jaichand and Najafi Nawab of Bengal Mir Jafar while referring to the trio as 'traitors.'
Speaking to media after anevent on Monday, Kumar opined that India doesn't need Muslim youth like Ajmal Kasab (lone terrorist caught alive after 26/11 attack),but rather like former president APJ Abdul Kalam.
"India doesn't need Muslim Youth like Kasab, Yakub, and Ishrat Jahan but rather those who walk on the path shown by Kalam. Those who walk on the path of Kasab will be considered only as traitors," said Indresh Kumar.
"They may be good actors (Navjot Singh Sidhu, Naseeruddin Shah, and Aamir Khan) but they don't deserve respect as they are traitors. They are like Mir Jafar and Jaichand," he added.
Kumar also said that Congress, Left parties, communal religious forces, and few judges are responsible for the delay in Ayodhya case hearing.
"The first reason for the delay in construction of Ram Temple is Congress, second is the left parties, third is the communal religious forces, and the fourth are few judges who are delaying justice.I appeal to the saints and sadhus to sit at dharna outside the Congress office, office of left parties and outside the house of Judges who are delaying the matter," he added.
The Supreme Court cancelled the hearing in the Ayodhya title suit case, slated for January 29, due to the unavailability of one of the judges, Justice SA Bobde.
https://www.hindustantimes.com/india-news/navjot-singh-sidhu-naseeruddin-shah-are-traitors-says-indresh-kumar/story-lw4MxcIylWVqcrxYP8KqYO.html
--------
BJP Union Minister Attacks Congress Neta for Marrying a Muslim Woman
Jan 29, 2019
BENGALURU: A day after Union minister Anantkumar Hegde sparked an uproar by urging fellow Hindus to "chop off" the hands of those who touch a Hindu girl, he courted further controversy on Monday by launching a personal attack on Karnataka PCC president Dinesh Gundu Rao, berating him for marrying a Muslim.
Hegde attacked Rao on Twitter on Sunday evening, questioning his achievements as Union minister and MP. Tagging the minister, Rao said, "What are your contributions for Karnataka's development? All I can say for sure, it's deplorable that such people have become ministers & have managed to get elected as MPs."
The minister countered saying the KPCC president did not have any "moral standing" to question him. "I shall definitely answer @dineshgrao's queries, before which could he please reveal himself as to who he is along with his achievements? I only know him as a guy who ran behind a Muslim lady," Hegde tweeted on Monday, referring to Rao's wife Tabassum.
Rao responded to the personal attack, saying: "Sad to see @AnantkumarH stoop to such low levels."
Tabassum also responded by questioning Hegde for "polarising elections" by referring to her. "They should mind their language. I want to state that I am not a political person, I am a housewife. Why do you want to use me to polarise elections?," she said in a post.
https://timesofindia.indiatimes.com/india/hegde-attacks-congress-neta-for-marrying-a-muslim/articleshow/67731839.cms
--------
Shia Islam and the Muslim Brotherhood: Could an alliance be on the cards?
Marco Carnelos
28 January 2019
One of the most interesting unintended consequences of Jamal Khashoggi's murder has been a clash over the leadership of the Muslim world.
This seems to be one of the motivations behind Turkey's political use of the affair, through its drip-by-drip leaks that are embarrassing Saudi Arabia's current rulers. The al-Saud family's claim to leadership of the Muslim world, built upon the state's custodianship of the two Holy Mosques of Mecca and Medina, are now in question more than ever before.
Turkish President Recep Tayyip Erdogan's aspirations towards a leading role in the Muslim world are not new. The support he has extended to the Muslim Brotherhood, alongside Qatar, has fuelled tensions with Saudi Arabia, the UAE and Egypt, which view the Brotherhood as an existential threat. The two camps have supported opposite factions in Libya for years, and Ankara openly sided with Doha in the Saudi-led blockade of Qatar.
Regional power balance
This contest for the leadership of the Muslim world, to which Western chancelleries and media have so far paid little attention, might evolve into something even more traumatic, further shaking the regional power balance: an alliance on the ground between the Muslim Brotherhood and Shia political Islam.
Although in the last seven years these two movements have been on opposite sides of the Syrian battleground, the zero-sum mentality characterising the confrontation between the US, Israel, Egypt, Saudi Arabia and the UAE on one hand, and Iran, Iraq, Syria and Hezbollah on the other, could turn them into allies. The repression that the Brotherhood is enduring in Egypt and other Gulf states, together with renewed sanctions against Iran and its allies, could result in the classic "the enemy of my enemy is my friend" approach.
The Brotherhood-Shia political Islam connection has existed, almost unnoticed, for decades. Among the main translators of Sayyid Qutb's works to Farsi is Iranian Supreme Leader Ayatollah Ali Khamenei. Since the early 1950s, Qutb was the Brotherhood's chief theoretician, as well as the main challenger to Egyptian president Gamal Abdel Nasser.
Executed in 1966, Qutb rejected a pardon, saying: "My words will be stronger if they kill me." His works had a huge influence throughout the Muslim world and political Islam, including in Shia political Islam circles.
One of the most venerated Shia religious leader, Ayatollah Muhammad Baqir al-Sadr, founded the Islamic Dawa Party, which included Sunni members. He was executed in 1980 for his opposition to Saddam Hussein's rule. Qutb's works also played an important role in the period leading up to the Islamic Revolution in Iran.
Struggle against oppression
Both the Brotherhood and Shia political Islam appear moved by a common sociological view of Islam's role in society; namely, the struggle for equity and against oppression and injustice. Apart from in Syria, it is undeniable that Iran and its allies are increasingly facing the same foes as the Brotherhood.
They both despise the idea of Western hegemony in the region and its apparent "local agents and stooges", whether Israel or Arab autocracies; they both see Palestine and Yemen as the most obvious examples of oppression and injustice; and they both believe that the lifestyle and corruption of certain Arab kingdoms insults the equity preached by Islam.
In the last four decades, the Middle East has gone through two geopolitical tectonic shifts: the Iranian revolution in 1979 and the US invasion of Iraq in 2003. Their consequences, intended and unintended, are still with us and will be for a long time. Had it not been brutally crushed, the 2011 Arab Spring could have been another one.
Nothing would be as much of a game-changer, however, as the possible alignment of the Brotherhood and the Shia "resistance" movements; their bond would be sustained by a political drive based on a religious and socially-oriented understanding that could be unprecedented in the region's recent history.
As Iran and the Brotherhood are increasingly portrayed as existential threats for Arab secular and monarchical autocracies, it is difficult to imagine the threat level that could be aroused by a potential marriage of their interests, translated into concerted political and military action on the ground. Targeting two different enemies at the same time is usually a bad strategic choice.
Dislodging the US
The US and its regional allies, however, have ignored this basic lesson. They conceived a bold policy, based on US-Israel-Saudi common ambition, to corner Iran into regime change, curb Turkey's interests and aspirations, while selling to the Arab street an indigestible "Bantustan solution" to the Palestinian question. Yet, after the recklessness of the Khashoggi affair, Saudi Crown Prince Mohammed bin Salman appears to have demolished his persuasive power.
Israel's forthcoming elections and the judicial inquiries into the shady deals of Prime Minister Benjamin Netanyahu are restricting his capabilities, and Trump's Syrian policy has generated a lot of confusion among regional allies on the US endgame, no matter how much shuttle diplomacy Mike Pompeo can perform.
Meanwhile, as Israel and some Arab countries are no longer hiding their growing contacts and converging interests, Turkey and Iran could find the Brotherhood-Shia political Islam synergy convenient. The two countries could move to redesign the geopolitical map of the Middle East as a sort of condominium, with Russia as the vigilant administrator.
The trio's pragmatism, alongside their shared interest in dislodging the US from the region, could allow them to manage the contradictions inherent in their relationship, represented by Bashar al-Assad's survival in Syria.
If that scenario were realised, there is very little the US-Israeli-Saudi axis could do to prevent it, short of launching another major war that would drag on for decades, with an uncertain outcome.
https://www.middleeasteye.net/columns/alliance-cards-between-muslim-brotherhood-and-shia-political-islam-1363752042
--------
World's first 'sharia compliant' browser set to deliver 'Muslim-friendly web experience'
28 Jan, 2019
Malaysian startup SalamWeb seeks to create a Halal web-experience for Muslims including messaging, browsing and news, filtered through user ratings, to be in accordance with Islamic law.
As anyone who has spent enough time on Facebook or Twitter can tell, modern social media can hardly be described as a bastion of morality. This may be doubly-true for those attempting to browse in accordance with the tenets of Islam, which prohibits web-favorites like gambling, pornography and celebrations of excessive drinking. And here's where the new company wants to capitalize, setting an ambitious goal of capturing the market on at least 10% of the world's 1.8bn Muslims.
"We want to make the internet a better place," the project's managing director Hasni Zarina Mohamed Khan explained, according to Bloomberg. "We know the internet has the good and the bad, so SalamWeb offers you a tool to create this window that lets you go to the internet to see the good."
The program has several features which aim explicitly "to optimize the Islamic way of life" including prayer-timers, a compass which points to Mecca and filters which avoid alcohol and pork-related businesses. It is the first browser to be endorsed by the International Shariah Supervisory Board as being compliant with Islamic law.
However, the project is not exclusively vetted for Muslims. The Reddit-like community-based system of tagging and voting aims at "promoting universal values," warning users when they approach content which has been flagged as abusive or fraudulent.
As Facebook and Google come under increasing scrutiny over privacy and security concerns, third-party safety filters are likely to become increasingly in-demand.
While SalamWeb seemingly offers a voluntary experience to help users browse in accordance with their beliefs, the fusion of Religion and technology is not always so benign. Last November, Indonesia unveiled an app which helps users inform the government of people practicing "heretical beliefs" not recognized by the state.
https://www.rt.com/news/449965-shariah-compliant-browser-salamweb/
--------
Racism Warning as Muslim Pupils Asked To Draw God in Scottish Schools
January 29 2019
Concerns have been raised after a teacher asked Muslim children to draw a picture of god, in breach of Islamic law. The incident was revealed by an academic who has warned of widespread racism and cultural ignorance in Scottish schools.
Khadija Mohammed, a lecturer and leading figure in Scotland's equal rights movement, said that minority children faced covert and explicit racism in class, and teachers were denied promotion because of their ethnicity.
She has urged minority teachers not to "assimilate" into white culture, and to use their backgrounds to educate children about other societies. This might include using racial ignorance as a springboard for discussion rather than a cause for complaint, she said.
During her research, Mrs Mohammed spoke to a probationer who heard a…
https://www.thetimes.co.uk/edition/scotland/racism-warning-as-muslim-pupils-asked-to-draw-god-m7wk686zx
--------
Activists reject US resolution accusing Muslim congresswomen of anti-Semitism
Ali Harb
28 January 2019
WASHINGTON - Leading Palestinian- and Muslim-American rights campaigners have decried a proposed US House of Representatives resolution accusing Muslim congresswomen of anti-Semitism due to their criticism of Israeli policies, saying the measure amounts to anti-Muslim bigotry.
Robert McCaw, director of the government affairs department at the Council on American-Islamic Relations (CAIR), denounced the "Islamophobic" resolution for specifically targeting two Muslim members of Congress for their views on the Israeli-Palestinian conflict: Rashida Tlaib and Ilhan Omar.
Tlaib, the daughter of Palestinian immigrants from Michigan, and Omar, a former Somali-American state legislator in Minnesota who came to the United States as a refugee, were sworn in as the first Muslim women in Congress earlier this month.
They are part of a wave of progressive women of colour who won Democratic seats in November's mid-term elections.
Both women have voiced support for the Boycott, Divestment and Sanctions (BDS) movement for Palestinian rights, breaking with a longstanding trend in modern US history of lawmakers from both major parties favouring Israel and limiting the discourse in Washington around Israeli violations against Palestinians.
Last week, three Republicans introduced a symbolic resolution to condemn the "anti-Israel and anti-Semitic hate infiltrating American politics and the halls of Congress", calling out Omar and Tlaib by name.
However, CAIR's McCaw said the congresswomen's diverse backgrounds allows them to bring fresh viewpoints to enrich the debate on foreign policy in Congress.
"They're going to bring a new perspective in which we can now have legitimate conversations about human rights abuses in Israeli-controlled Palestinian territories and the stifling of democracies by autocratic regimes, like the kingdom of Saudi Arabia," McCaw said of Tlaib and Omar.
The resolution
The Muslim lawmakers' outspoken stance against the Israeli occupation and violence against Palestinians appears to have prompted the resolution against them - less than a month into their first term in Congress.
The measure references Omar and Tlaib's support for BDS, a non-violent movement that seeks to pressure Israel politically and economically to stop its abuses against Palestinians.
It then references a photo that Tlaib took with a Palestinian-American activist whom the resolution also accuses of anti-Semitism.
The measure also quotes a Twitter post by Tlaib in which she said US senators trying to impose penalties on companies that boycott Israel "forgot what country they represent".
The congresswoman later clarified that her statement intended to criticise American lawmakers for ignoring US laws that protect free speech, including boycotts.
The measure also cites a 2012 tweet by Omar during an Israeli military operation in Gaza, in which she said she hoped the world opens its eyes to the "evil doings of Israel".
Asked about the proposed resolution, Yousef Munayyer, the executive director of the US Campaign for Palestinian Rights, said accusing Omar and Tlaib of anti-Semitism amounts to anti-Muslim bigotry.
"This resolution is an Islamophobic and attack against two outspoken women of colour who are shaking things up by boldly standing for crucial issues," Munayyer told MEE in an email.
He said advocacy for Palestinian right is part of "progressive politics of justice for all", dismissing the effort to conflate criticism of Israeli policies with anti-Semitism.
"It is no coincidence that both of these targeted lawmakers are Muslim women of colour," Munayyer said. "It is the people who exist at the intersections of multiple vulnerable identities in our society that are usually seen as easy targets by adversaries looking to piggy-back on the prevalence of bigotry in society to achieve their political ends."
Munayyer likened the attacks against the congresswomen to Israeli politicians' efforts to suppress the voices of Palestinian members of the Israeli parliament, the Knesset.
That includes Haneen Zoabi, a Palestinian citizen of Israel who has faced suspension, investigations and attempts to disqualify her from running for re-election because of her criticism of the Israeli government.
References to Pittsburgh, Charlottesville
In an attempt to highlight the rise of anti-Semitism in the US, the proposed resolution also cites violent incidents and deadly hate crimes - alongside the section on Omar and Tlaib.
It references the Pittsburgh synagogue shooting carried out by a white supremacist, which killed 11 Jewish congregates late last year and the 2017 neo-Nazi rally in Charlottesville, Virginia, that ended in the killing of an anti-racist, counter-protester. US President Donald Trump, a Republican, drew criticism after the Charlottesville incident for saying there were "very fine people on both sides" and suggesting that both the neo-Nazi demonstrators and the people protesting against their hateful rally shared the blame for the violence.
Congressman Lee Zeldin, the lead sponsor of the resolution targeting Tlaib and Omar, defended Trump at the time.
"It is not right to suggest that President Trump is wrong for acknowledging the fact that criminals on both sides showed up for the purpose of being violent," Zeldin said in a statement in August 2017. "That particular observation is completely true."
Omar and Tlaib have both repeatedly condemned anti-Semitism and other forms of racial hatred.
"With the rise of Anti-Semitic and Neo-Nazi ideology, it's more important than ever we learn from the atrocities of the past & commit to fighting intolerance," Omar wrote on Twitter on Monday, in observance of Holocaust Memorial Day.
https://www.middleeasteye.net/news/activists-reject-resolution-accusing-muslim-congresswomen-Tlaib-Omar-anti-semitism-265292337
--------
UN urges Myanmar to enact Annan's counsel on Rohingya
Jan 28, 2019
The United Nations (UN) has urged Myanmar to implement the recommendations of a panel on the Rohingya crisis that was led by a former UN head, the late Kofi Annan, including ensuring freedom of movement and access to education for children from the persecuted Muslim minority.
Speaking at a forum in the Myanmarese capital, Naypyidaw, on Monday, the head of the UN's Children's Fund, UNICEF, Henrietta Fore, gave a bleak assessment of the outlook for Rohingya children in Myanmar and the larger number of them who have fled with their families to neighboring Bangladesh.
Fore said the refugees, who have fled state-sponsored violence in Myanmar, faced risks and those still in Myanmar lacked access to proper education.
She said the Rohingya children were living "a precarious and an almost hopeless existence" in camps in neighboring Bangladesh. Myanmar, she said, was yet to create the right conditions for the return of the refugees from Bangladesh.
"We urge that the necessary steps are taken to enable their safe, voluntary, and dignified return back to their homes, where their rights are respected and they can once again live peaceably with their neighbors," said Fore, adding, "Taking these steps will also go a long way towards creating the right conditions for the return of refugees from Bangladesh."
In August last year, UNICEF said thousands of Rohingya Muslim children lacked proper education both in Myanmar and in the border camps in Bangladesh, warning that the Myanmarese kids could become "a lost generation."
The Annan commission was created in 2016 to find long-term solutions to the deep-seated ethnic and religious divisions in Myanmar's western Rakhine State, where most of the minority Rohingya Muslims were concentrated before state-sponsored violence began against them in November 2016. Annan died in August last year.
The commission's recommendations included points urging the government to "immediately expand primary education to the communities in... Rakhine..., and intensify efforts to ensure that teachers assigned to Muslim villages resume their work, including by providing adequate security when necessary." It also called on authorities to "ensure that all children in the state have access to education in Myanmar language" and that the tertiary education access is expanded.
But the implementation of the recommendations has been impeded, not just because most of the minority Muslim children are out of the country but also because their home villages — and schools — have been razed by the Myanmarese government to make room for Buddhists who have been shuttled by the government to repopulate the area and change its demography.
The violence against the Rohingya — carried out by military soldiers and Buddhist mobs — intensified in August 2017. Thousands of Muslims were killed, and more than 700,000 others survived only by fleeing to neighboring Bangladesh.
In October 2018, Bangladeshi and Myanmarese government officials announced that they had struck a "very concrete" repatriation deal for the return of the Rohingya Muslims. The refugees, and rights activists, however, fear that violence awaits them back home.
The UN has appointed a special envoy for Myanmar, Yanghee Lee, who said on Friday that for the repatriation to happen, "the perpetrators [of the crimes against the Rohingya] must be held to account."
https://www.presstv.com/Detail/2019/01/28/587035/Myanmar-Kofi-Annan-panel-UNICEF
--------
Pakistan
Speakers at a Function in Pakistan Urge Revival of Sir Syed's Education Ideology
KHALID MEHMOOD
January 29, 2019
Wah cantt - Participants of the third board of governors of Sir Syed education foundation of Pakistan on Monday call upon the revival of ideology of education of greatest Muslim reformer and statesman of the 19th century, Sir Syed Ahmed Khan in true spirit to get the nation out from clutches of illiteracy, ignorance and intolerance.
The participants including from different fields of life including education, social, cultural, religious, economical, welfare and philanthropist sector have urged the need to equip the youth of the country to meet the challenges at educational, ideological, social and cultural fronts.
The board of governors session which was held at local hotel was presided over by Dr Sarfarz Khan, Patron area study centre University of Peshawar. The event was also attended by Professor Tahir Durrani President Sir Syed education foundation, members including Qazi Zahoor Ul Haq former Chief education officer district Rawalpindi, General Election commission of Pakistan former director Raja Ghias Ud Din Balbun, , Information Technology University Lahore Director Of Communications Tahir Parwaz, human rights activist Dr Khalid Aftab Sulehri- and social scientist Dr Shafi Aftab, Urdu department Cadet College Hassanabdal Professor Zia Ul Mustafa, President Founder education foundation Prof Attaur Rehman Chaudhry, Journalist and Writer Zahid Hussain Chaughti, English department University of Wah Prof Nadia Saeed and educationist Captain (retd) Umer Farooq.
The speakers said that it is hard to neglect the importance of Sir Syed's educational efforts as he was the intellectual pioneer of the theory of nationalism of Pakistan is direct outcome of nationalism which took its roots in 19th century and now ideological doctrine of field of education in the country as he established an institute that imparted modern education to the Muslims focusing on character building. The speakers were of the view that it is open secret that when Muslims ignored education, they were left behind in the world and it is high time to follow the Sir Syed's ideology and take guidance from his philosophy.
The speakers further said that it is the need of the hour that we made intellectual efforts in the face of stern opposition from fundamentalists and his detractors sowed the seeds of enlightenment and progress among the Muslims like Sir Syed made at his time. Speaking on this occasion, Professor Tahir Durrani President Sir Syed education foundation said it is our passion to take this institution to the height that Sir Syed Ahmed Khan had dreamed for Muslims of sub continent.
https://nation.com.pk/29-Jan-2019/speakers-urge-revival-of-sir-syed-s-education-ideology
--------
Pakistan will be developed as a true Islamic welfare state: Usman Buzdar
JANUARY 29, 2019
Chairman Pakistan Ulema Council Mualana Tahir Mahmood Ashrafi called on Punjab Chief Minister Sardar Usman Buzdar at his office here on Monday.
Talking on the occasion, Chief Minister necessitated the need of promoting societal norms of tolerance, brotherhood and patience adding that religious scholars have always promoted tolerance and unity in the society. The role played by the religious scholars in obstructing fanaticism is praiseworthy. We should move forward the golden principles of Islam including tolerance, peace, harmony and brotherhood. Under the leadership of Prime Minister Imran Khan, Pakistan will be transformed as an Islamic welfare state in its real sense by changing the course of history, he added.
Usman Buzdar said that steps will be taken for promoting religious harmony in consultation with the religious scholars and the process of this consultation will be continued. The Ulema of different schools of thought will be included in peace committees. The nation has attached high expectations with the government and we will have to fulfill it. He said that fanaticism and sectarianism can be chucked out of the country by following the way of life of the Holy Prophet Muhammad (Peace Be Upon Him). Meanwhile, the religious scholars should promote the teachings of socio-economic justice from their respective platforms. He said the incident that occurred in Sahiwal is very tragic. Punjab government is with the bereaved family and every effort will be made to provide justice to it. He said that responsible persons will be put on trial in an anti-terrorism court and justice will be visible to everybody.
Tahir Ashrafi, on the occasion, said that Ulema are with the government for promoting brotherhood, peace and harmony. The Punjab government has taken immediate steps to provide justice to the bereaved family and they were timely succored.
Regarding hosting of International Livestock Show/International Buffalo Congress-Chief Minister presided over a high-level meeting at his office here on Monday to review the arrangements. Talking on the occasion, Chief Minister said that tremendous potential of livestock sector exists in the province of Punjab and national economy can be strengthened by developing this sector on permanent basis. However, there is strong need to give attention to the aspect of research and development in the livestock sector, he added. He said that Punjab's livestock sector will get new identity through this international event and government will re-strengthen it by benefiting from the international experiences and technology. This event will be greatly beneficial for livestock sector in the Punjab, he added.
The Chief Minister directed to constitute a committee for making arrangements of international event. Secretary Livestock briefed about holding of International Livestock Show/International Buffalo Congress in Lahore in the middle of next month in which international livestock experts will be invited to attend.
Cardiac Centre in Quetta-A cardiac center will be established by the Punjab government in Quetta for the people of Baluchistan, added CM. This modern cardiac facility will be a gift to the people of Baluchistan. He said that resources will be provided for the construction of this center on priority basis which will be a message of Punjab's love for its brethren in Baluchistan. He has directed that necessary steps should be completed early for the construction of cardiac center in Quetta. The people of Baluchistan and Punjab are conjoined in the chain of mutual love and affection. We will move together in the journey of development, he said. Meanwhile, the officials of Punjab Health Department visited Quetta in recent days and inspected various places for the construction of cardiac center there.
A delegation of Pakistan Ethanol Manufacturing Association (PEMA) called on Punjab Chief Minister Sardar Usman Buzdar at his office here on Monday and apprised him about their problems. Talking on the occasion, Chief Minister said that difficulties faced by every industrial sector will be solved on priority basis to promote trade and industry in the province. It is imperative to encourage the investors for increasing exports and I will play my role for solving the genuine problems of the PEMA. The delegation thanked the Chief Minister for taking interest in the solution of their problems.
Full report at:
https://dailytimes.com.pk/349072/pakistan-will-be-developed-as-a-true-islamic-welfare-state-usman-buzdar/
--------
Chinese national embraces Islam after being impressed by PTI minister
Jan 29, 2019
Khyber Pakhtunkhwa (KP) Minister Amjad Ali on Monday welcomed a Chinese citizen to the path of Islam and named him Abdullah.
According to a video released by the Pakistan Tehreek-e-Insaf (PTI) social media cell, the Chinese national recited kalima and embraced Islam on the advice of the KP minister for mines and minerals.
The video shows Ali, MPA from PK-82 Swat-III, first reciting the kalima and the Chinese national following the suit.
"Congratulations, you are a Muslim. Your name is Abdullah," the provincial minister then tells the Chinese national.
Ali has stated that he was visiting Guangzhou in China when he met Abdullah at the tomb of Sa'ad bin Abi Waqas, one of the companions of the Prophet Muhammad (PBUH).
"He captured a few pictures with us and later we started talking," Ali said and added that the pair began talking and he explained the religion and its philosophy to him.
"He [Chinese national] was impressed and immediately asked us to convert him to Islam," the minister said.
Ali said Abdullah then travelled to Pakistan where he was taught the teachings of Islam.
Full report at:
https://www.pakistantoday.com.pk/2019/01/28/chinese-national-embraces-islam-after-being-impressed-by-pti-minister/
--------
FTA with United States difficult, says Dawood
January 29, 2019
LAHORE: Adviser to the Prime Minister on Commerce, Textile, and Industry Abdul Razak Dawood said on Monday that though Pakistan is helping America in restoring peace in Afghanistan, a free trade agreement (FTA) with the US is very difficult.
"Pakistan is doing a great job in this regard. But when we talk about the FTA with the United States it is very difficult as it will take five to seven years," Dawood said when asked by the media to comment over the reported statement by US Republican Senator Lindsey Graham that Pakistan may be offered an FTA if it renders full support and cooperation over restoring peace and bringing Taliban together for a dialogue.
"We would be very happy if they (the US) offer us the FTA but it will take a long time," he said.
Mr Dawood was responding to various questions raised by reporters during a media talk after he inaugurated the 5th Pakistan Mega Leather Show-2019 at the Lahore Expo Centre.
When questioned whether or not the PTI-led government expected improvement in free trade relations with India via the Wagah border, the adviser said: "It depends on the improvement in political relations between Pakistan and India. An FTA with India is not easy at the moment."
He said the results of devaluing rupee have not been seen immediately and will take some time. "It is not a company, it is the economy that takes time to improve," he said.
The adviser said that some announcements made in the mini-budget would be implemented with immediate effect and some with effect from July 1, 2019.
Talking about the issue of security clearance and giving visa on arrival facility to 60 countries, Mr Dawood said the government first wants to see what will happen once we open Pakistan to more and more countries. "Through this decision, we will come to know the visits of foreigners from these countries and their interests in investing in Pakistan. It will also be helpful in promoting our tourism sector," he said.
While speaking at the inaugural ceremony, the advisor said the British Airways would soon be operating flights from Pakistan to UK. "I will hold a meeting with a delegation of British Airways on Tuesday (Today) to finalise this arrangement. Initially there would be three flights from Islamabad to UK in week," he added.
He said though the current accounts deficit still existed, it had slightly dropped. Due to this, our exports and imports have slightly increased and decreased respectively, he said.
Mr Dawood said the results of the government efforts to revive economy would emerge in July this year. "I honestly feel that we are getting better since we are moving in the right direction."
He said the government had decided that no policy decision related to commerce, trade, etc. would be taken without taking the business community into confidence.
Full report at:
https://www.dawn.com/news/1460510/fta-with-united-states-difficult-says-dawood
--------
2,401 schools functioning in Sindh under PPP scheme, PA told
January 29, 2019
KARACHI: The Sindh Assembly was told on Monday that 2,401 schools were functioning across the province under the public-private partnership programme through the Sindh Education Foundation.
Giving replies to the lawmakers' queries during Question Hour in the provincial assembly, Education Minister Syed Sardar Ali Shah said that 23 schools — 15 in Khairpur and eight in Sukkur — had so far been outsourced to educational organisations through the public-private partnership programme.
Answering a question, he said 989 low-cost schools were being operated by the Promoting Private Schools in Rural Sindh Programme, 1,130 by the SEF Assisted Schools Programme, 151 by SEF Middle and High School Programme, 50 by the Existing School Support Programme and 81 by Adol­escent and Adult Learning and Training Programme.
In reply to another question, the minister said that 1,305 private secondary schools and 218 private primary schools had been registered in the past five years. He said that the private schools registered in the past five years included 88 Cambridge-system schools.
Replying to another question, he said that the privately managed institutions in the province were registered under the Sindh Private Educational Institutions (Regulation & Control) Ordinance 2001, Amended Act, 2003 and Rules 2005.
Mr Shah further stated that the directorate of curriculum, assessment and research had planned and completed review of the curriculum.
He said that after the 18th Constitutional Amendment, powers to review the curriculum had been delegated to the province. "Textbooks for Grade IX-X are in development process; hopefully [they] will be completed by the end of this academic year. The curriculum of grade XI-XII is under revision and will be handed over to the Sindh Textbook Board by March 2019, then the process of development of new textbooks will be carried out and most probably will be completed during academic year 2019-20," he added.
In reply to another question, he said there was no shortage of furniture in any college in Karachi. "The government is making efforts to provide furniture to the newly constructed colleges as per requirement after observing the formalities of SPPRA," he said and added that arrangements had been made to provide furniture to run academic activities. He said that there were around 52,572 students in 32 public colleges in Karachi.
Answering another question, he said that Bibi Asifa Government Girls Degree College had been functioning since academic year 2017-18.
In reply to a question, the minister said that there was no violation of rules in the posting of taluka education officer as no teacher was posted as a TEO.
Full report at:
https://www.dawn.com/news/1460389/2401-schools-functioning-in-sindh-under-ppp-scheme-pa-told
--------
PM Khan orders arrangements for Torkham border to remain open 'round the clock'
January 28, 2019
Prime Minister Imran Khan on Monday said he has tasked officials to make arrangements so that the Torkham border crossing to Afghanistan can remain open 24 hours a day. He said he wants to see a plan finalised and implemented within the next six months.
In a tweet, the premier said the functioning of the border crossing "round the clock" would be "instrumental in boosting bilateral trade [and] enhancing people to people contacts between the two brotherly countries".
Khan's post followed an announcement by KP Finance Minister Taimur Saleem Khan Jhagra, who revealed earlier in the day that the federal and Khyber Pakhtunkhwa governments had decided to expedite the reopening of the Torkham border crossing.
A day after Inter-Services Public Relations (ISPR) Director General Maj Gen Asif Ghafoor said that work on a 900-kilometre-long portion of fence along the Pak-Afghan border has been completed, the KP minister announced "two key decisions" regarding the Torkham border.
"In a joint meeting with the federal government, two key decisions [were taken]," Jhagra tweeted. "First, to open Torkham border 7 days a week asap, and second, to create a task force to open the border 24-7 within 6-12 months."
The development, the minister said, is "very positive news for the Pakhtunkhwa and Khyber district economies".
A day earlier, the DG ISPR had given an update to journalists and anchorpersons regarding the fencing work along the Pak-Afghan border.
Maj Gen Ghafoor said that the fence had helped check the movement of terrorists from across the border and the situation would further improve after the completion of the project next year.
In 2018, bilateral trade with Afghanistan via the Torkham border crossing had gained momentum, albeit at a slow pace, as the government decided to ease certain restrictions it had imposed on export and import to and from Afghanistan since 2016.
Full report at:
https://www.dawn.com/news/1460367/pm-khan-orders-arrangements-for-torkham-border-to-remain-open-round-the-clock
--------
Afghan deal will also push TTP towards reconciliation
JANUARY 28, 2019
Inter-Services Public Relations (ISPR) Director General Major General Asif Ghafoor Sunday said a peace deal in Afghanistan will also push the Pakistani Taliban having backing of inimical forces in the neighbouring country to opt for a reconciliatory path. "Following the settlement, the terror elements having backing of inimical forces in Afghanistan, like the TTP (Tehreek-e-Taliban Pakistan), will have to opt for some reconciliatory path as they will be left with no other choice," Maj Gen Ghafoor said while briefing a team of reporters at Ghulam Khan, a bordering village in North Waziristan Agency. To a question regarding the impact of reconciliation process in Afghanistan on Pakistan, he said Pakistan had been playing a role in the efforts and if the parties concerned strike some mutual settlement, it will ultimately be in Islamabad's interest.
The ISPR chief said work on about 900-kilometer-long fence along Pakistan-Afghanistan border has been completed. He said the work on erection of fence along about 1200-km chunk, the most sensitive portion out of the total 2600-km-long border with the neighbouring country, had commenced last year. He said the project would cost about Rs 70 billion, which also includes the cost of gadgets and surveillance equipment to keep strict vigil on the illicit movement from across the border. He said the fence had amply helped check the movement of terrorists from across the border and it would further assist after completion of the project which was expected next year.
Maj Gen Ghafoor said the military is fencing the border between Pakistan and Afghanistan to ensure peace on both sides and that he hoped that Kabul will not allow Afghan soil to be used as a staging ground for attacks against Pakistan.
The ISPR chief said 95 percent of the tribal people in North Waziristan displaced by military operations against militants had returned to their homes in the region, which once served as Taliban headquarters. He said the Pakistani Taliban now operate in neighboring Afghanistan after the military evicted or killed them in North Waziristan. He said thousands of security forces and civilians were killed in the fighting. "Normalcy is back, smiles are back on the faces people but it was not without a cost," he said.
Earlier, Commander 11 Corps Lt Gen Shaheen Mazhar and his team separately arranged a briefing at the Corps Headquarters Peshawar. During the question-answer session, the corps commander said after the end of war in the area the troops were now in the process of consolidation while steps were in hand to resettle about 4,000 families, which had earlier gone to Afghanistan.
Regarding the Pashtun Tahhafuz Movement (PTM), he said their most of the demands have already been met while the rest, if any, could be sorted out through a dialogue process. The DG ISPR on the issue added that the PTM leadership instead of making a hue and cry abroad should sit with the local leadership and seek settlement of their genuine grievances. "Pakistani Taliban used religion to spread violence and now Manzoor Pashteen was misguiding and inciting youths against the army," he added.
The corps commander said following the operation against militants, there was no 'no-go area' in the erstwhile FATA. He said the local commanders have been empowered to hold dialogue and meetings with the people of their respective areas and help mitigate their grievances.
The delegation was also taken to Miranshah, the district headquarters of North Waziristan, where they directly interacted with the local populace. Students, traders and common citizens, while interacting with the media persons, welcomed the role of Pakistan Army in restoring complete peace in the area.
Maj Gen Ghafoor was hugged by youths and tribal elders in a sign of respect as he visited the town's main bazaar with reporters. As Ghafoor spoke, some youths nearby shouted, "Long live Pakistan, and Long Live the Pakistan army."
However, some others showed anguish for not being given financial compensation by the civil administration for the losses incurred during over a decade-long drive against militancy.
While interacting with the local populace, Major Gen Ghafoor said steps were in hand to sort out their genuine demands besides promptly undertaking work on the development schemes.
Residents said they are happy about the return of peace. "Taliban are gone and we pray that they don't come back," said Tahseen Ullah, a local resident who sells cooked rice in the Miranshah bazaar.
Full report at:
https://dailytimes.com.pk/348599/afghan-deal-will-also-push-ttp-towards-reconciliation/
--------
India
US-Taliban talks put India in tight spot
Jan 28, 2019
NEW DELHI: With the US and Taliban making "significant" progress in their talks in Doha, India's own position on the Taliban is coming under scrutiny.
According to reports that are mainly attributed to Taliban sources, the USTaliban talks have moved forward after Taliban appointed Mullah Abdul Ghani Baradar as the lead negotiator from their side. There has been talk of a ceasefire, as US negotiator, Zalmay Khalilzad said, some have talked of a US withdrawal in 18 months, others have said the Taliban has committed to not prove sanctuary to Al Qaeda and Daesh among other international terror groups. Khalilzad himself ruled out any talk of an "interim" government, emphasizing he was trying to facilitate an intraAfghan dialogue. But, as he has himself tweeted, nothing is done until it is done.
India will be deeply affected by the outcome of these talks, yet it is not at the table, nor is it being heard.
The Army chief, Gen Bipin Rawat's bold suggestion that India steps on to the "bandwagon" by talking to the Taliban in Afghanistan because everyone else is doing it, has made the MEA establishment deeply uncomfortable.
India has been on the defensive regarding Afghanistan in the recent past — first, to counter Donald Trump ridicule on India building "libraries" in Afghanistan, then Rawat's unsolicited comment. Pakistan's official spokesperson trotted out the old line that India has "no role" in Afghanistan, echoed by a NATO official Alejandro Alvargonzález that India was just one among "hundreds" in Afghanistan, while Pakistan held all the cards. The MEA spokesperson defended the Indian official position with the same mantra on "Afghan-led, Afghan-owned" peace process. "Our position on Afghanistan has been very clear and very consistent. We have said in the past and we continue to do so that India supports the peace and reconciliation efforts in Afghanistan ... that is inclusive," Raveesh Kumar said.
What has changed has been the US-Taliban talks led by special envoy Zalmay Khalilzad. In addition, the "leak" that the US may be drawing down in Afghanistan by about 7000 forces has galvanized all the regional players to start different tacks to put a foot into the door, by making themselves part of the peace process. Iran has jumped in, negotiating a peace deal with the Taliban. Russia is marketing its "Moscow Format" as the forum to be in. Pakistan believes it is back in the saddle as the only country to have supported the Taliban all these years and can call the shots to get the Islamist group to the table, in the process carving out its own strategic depth in Afghanistan against India.
In his conversations with Indian leaders, Khalilzad stressed that the US would maintain its existing red lines for peace in Afghanistan. He added that there would be more pressure on Pakistan to "deliver". The US would want the Taliban to distance itself from the Haqqani Network, which is directly under Pakistan's control, a deadly terror group that has repeatedly attacked US and Indian interests in Afghanistan. Pakistan cleverly inserted Sirajuddin Haqqani as the vice chief of Taliban after Mullah Omar's death, in a bid to whitewash him — the US has never labeled Taliban as a terror group but its guns are trained on the Haqqani network. Extricating one from the other is impossible. How will the US "reconcile" with the Taliban when its chief is a Haqqani?
India, in these years, has built enormous goodwill in Afghanistan, despite not having "boots on the ground". It has remained on the side of the Afghan government, built infrastructure and rebuilt relations with the Pashtuns in southern Afghanistan.
However, just the fact that there appear to be two distinct schools of thought within the national security establishment in India is significant.
To the clamor that India needs to "engage" the Taliban, the MEA plans to hold a steady line. Whether India maintains a covert line to the Taliban, for the moment New Delhi will stand by Kabul and will open communications with Taliban after Kabul does so. This group believes that India's brand equity, built over the past 17 years, will be enough to secure Indian interests in Afghanistan.
The army chief was reflecting the views of another group that believes that India should maintain some contact with the Taliban. "If Pakistan is successful in putting its own people in government in Kabul, India can expect to witness the destruction of all the assets it has built there, like the Bamiyan Buddhas," said high-level sources.
Regional powers don't have a clear path forward either. Iran flirted with the Taliban against the US, but after the US leaves, the divisions between them will naturally sharpen. Russia will be in a similar position because no matter what Moscow says, the Taliban and Daesh have been known to share resources in some parts of Afghanistan — this means Moscow, by helping the Taliban, may, unwittingly be giving space to their real enemy, Daesh. China wants action against ETIM (Uighur group) but Beijing has had to swallow the fact that a lot of ETIM'straining camps are helped by Taliban elements in Pakistan. Daesh is growing as a terror group in Afghanistan, but they are seen mainly as disaffected members of the Tehrik-e-Taliban Pakistan (TTP). That brings a whole new level of action and reaction in the region.
China will continue to support Pakistan regardless. Pakistan is already in the suds on terrorism and despite the general feeling of triumph in Islamabad this is likely to continue. ImranKhan secured promises of support from Saudi Arabia and UAE for his faltering economy, but sources said, this has come with a number of conditions. Nevertheless, Pakistan's ability to play the old double game is getting constrained every day. Any Afghan government in Kabul, whether Ashraf Ghani-Saleh or Hanif AtmarQanooni is likely to take an anti-Islamabad position.
India's stakes in Afghanistan at its most basic is two — helping Afghanistan stand on its feet and thwarting Pakistan's designs of strategic depth and an installing an anti-India establishment there. The first does not envisage seeing the Taliban in power in Kabul. The second is aimed at reducing Pakistan's ability to run terror groups against India. The government at present believes that even without talking directly to the Taliban, it can continue to play an effective game. Nobody is quite sure whether this is confidence or bravado.
https://timesofindia.indiatimes.com/india/us-taliban-peace-dialogue-puts-india-on-a-sticky-wicket/articleshow/67727341.cms
--------
Mumbai finds the idea of India in Ghalib
Jan 29, 2019
MUMBAI: There couldn't have been better ambassadors for legendary Urdu poet Mirza Ghalib (1797 – 1869) than eminent poet-lyricist Javed Akhtar and scriptwriter Javed Siddiqui. After unveiling India's first mural of Ghalib (42X10ft) at Nagpada junction, Akhtar and Siddiqui, along with BMC officials, politicians, including corporator Rais Shaikh who initiated the project, moved to the massive Jijamata Udyan (Zoo in Byculla) to remember Ghalib's singular contributions to India's culture.
Though it was technically a conversation between Akhtar and Siddiqui, it is Akhtar who did most of the speaking and Sidiqqui admitted it jokingly: "Once Javed sahib begins speaking, it is difficult to stop him." Akhtar deconstructed Ghalib, the man and the poet. "It is true that Ghalib is the greatest poet of Urdu but it is also true that Ghalib could have been possible only in India," said Akhtar. "All syncretic religions (Islam, Judaism and Christianity) survive on the idea of a creator and creations. It is only in India where the creator is also considered his own creation (ekamvaad). Ghalib was the product of that beautiful synthesis built on centuries of shared living and confluence of cultures."
Full report at:
https://timesofindia.indiatimes.com/city/mumbai/city-finds-the-idea-of-india-in-ghalib/articleshow/67731876.cms
--------
Bodh Gaya blast in retaliation of alleged atrocities against Rohingyas in Myanmar: NIA
Jan 28, 2019
The Bodh Gaya blast in 2018 was carried out in retaliation of alleged atrocities against the Rohingyas in Myanmar and to overawe the Indian government by the terrorist act, according to a supplementary charge sheet filed on Monday in a Patna court by the NIA.
It said Bangladesh-based terrorists group Jamaat-ul-Mujahideen was responsible for hatching the conspiracy to attack Bodh Gaya temple and other symbols of Buddhist faith.
In the charge sheet, the National Investigation Agency (NIA) named six people behind carrying out the attack.
One of them is Bangladesh resident Md Jahidul Islam, and the other five are Md Adil Sheikh, Dilwar Hossain, Abdul Karim, Mustafizur Rahman and Arif Hussain from West Bengal, according to a statement issued Monday.
The NIA said investigation has revealed that Md Jahidul Islam alias Kausar along with the other accused formed a terrorist gang and hatched a conspiracy to plant IEDs in the Bodh Gaya temple complex and other symbols of Buddhist faith.
"The motive was to attack symbols of Buddhism in retaliation to the alleged atrocities committed on the Rohingyas in Myanmar and to overawe the government of India by the terrorist act," it said.
Investigations also revealed that the accused Ahmed Ali, Nur Alam, Paigambar Sheikh, Adil Sheikh, Dilwar Hossain, Abdul Karim, Kausar and Mustafizur Rehman travelled to different places in south India, including Hyderabad and Chennai, where the conspiracy to target Bodh Gaya and other Buddhist places of worship was hatched, the NIA said.
"In furtherance of the conspiracy, the accused persons contacted and assembled at various places, took hideouts at Jehanabad and Masaurhi, recceed Bodh Gaya temple complex, procured the explosives and other materials for fabrication of the IEDs," it said. According to the statement, Jahidul Islam fabricated three improvised explosive device (IED) and two hand grenades.
CCTV footage of the Bodh Gaya temple complex along with evidences collected during the probe established that Adil Sheikh, Dilwar Hossain and Arif Hussain planted the IEDs in and around the premises of the Mahabodhi temple complex in Bodh Gaya on January 19, 2018, to cause loss of life and property during the auspicious presence of Dalai Lama and also during the visit of the Governor of Bihar and thus committed a terrorist act, it said.
Dilwar Hossain also put one of the IEDs (hand grenades) in the cistern of a public toilet near Kalchakra maidan which was later recovered, the NIA said.
Investigation also established that the accused used fake and assumed names for travel and for renting hideouts, and used protected text for communication to conceal their real identities. The designs of the conspiracy to wage war against the government, it said.
The probe agency said that investigation also brought out that Jahidul Islam is a Bangladeshi fugitive who was staying in India without any legal documents and used different fake IDs.
It has been revealed that after committing the act of terror, the accused escaped and were hiding in various locations in and around Bengaluru and other places.
"The accused persons also committed a number of dacoities in and around Bengaluru in order to raise funds for their criminal activities. Accused Arif Hussain is still absconding and investigation against him continues," the NIA said.
Full report at:
https://www.tribuneindia.com/news/nation/bodh-gaya-blast-in-retaliation-of-alleged-atrocities-against-rohingyas-in-myanmar-nia/720226.html
--------
Islamabad ready to resume talks with India after elections, says Pakistan minister
Jan 28, 2019
Imtiaz Ahmad
Islamabad is willing to resume peace talks with New Delhi but only after elections in India, Pakistan's information minister Fawad Chaudhry has said.
Terming the present circumstances unfit for talks, Chaudhry told Gulf News in an interview, "We have delayed our efforts to hold talks with India because we do not expect any big decision from the present Indian leadership."
"It is useless to talk to them now unless there is some stability. We will move forward once the new government is formed after the elections."
He said opening of the Kartarpur Corridor between India and Pakistan last November would not only help the Sikh community but also improve bilateral ties.
Asked which Indian leader Pakistan would prefer for peace talks, the minister said, "We will respect any Indian leader and the party elected by the Indian people. And, we would like to move forward to hold dialogue with whosoever comes into power in India."
He said Pakistan was playing its role at a fairly advanced level for the Afghan peace dialogue. "We expect a positive outcome from the negotiations between the US and the Afghan Taliban."
US President Donald Trump also wrote a letter to Prime Minister Imran Khan last year, seeking Islamabad's help in facilitating a negotiated settlement of the lingering conflict in Afghanistan.
Full report at:
https://www.hindustantimes.com/india-news/islamabad-ready-to-resume-talks-with-india-after-elections-says-pakistan-minister/story-qsWykru3v4tMUSq84W4QHI.html
--------
Arab World
UAE Embodies Islamic Teachings: Grand Mufti
Saman Haziq
January 29, 2019
In Part 3 of the five-part series, we sit down for a candid chat with Dr Mohammed Ayada Ayoub Alkobaisi, Grand Mufti of Islamic Affairs and Charitable Activities in Dubai.
The UAE has been formed on principles of Islam and it has implemented them in a "beautiful way", bringing itself to the forefront of the global drive to promote tolerance and peaceful coexistence, said Dr Mohammed Ayada Ayoub Alkobaisi, Grand Mufti of Islamic Affairs and Charitable Activities in Dubai (IACAD).
"The founding fathers established the UAE on the principles of tolerance, noble ethics and humanitarian values, and the UAE has become the living example of tolerance and peaceful coexistence in the world today. It has shown the world how people of all faiths and backgrounds can live and prosper together in peace and harmony, with mutual respect, while upholding Islamic values and friendly local culture and customs," he said.
Mufti Alkobaisi spoke on how Islam establishes a concept of a peaceful society based on the principles of justice; goodness; freedom of religion and thought; protection of life, dignity and property; kindness; and cooperation for the benefit and welfare of society and humanity.
This, he said, works on multiple dimensions, from the religious institutes and educational systems to the official departments, legal system, the media and many others.
"All of them work together to create this beautiful reality and harmony that we experience here in the UAE."
Quoting a few verses from the Holy Quran and Hadith, he said: "Islam established the unity of human beings and considered all people to be one big family. Allah Almighty ordered Muslims to be fair and just all the time with all people, and this was further emphasised by the Prophet Muhammad (PBUH) who said that one should feel mercy inside their heart for people, love and compassion for them, as they are one of two types: either your brother in Islam, or your brother in humanity."
These are not mere words, but real principles in Islam that are respected and practised by Muslims, from the early days and throughout Islamic history, he added.
Citing examples from history when the Caliphs of Islam signed peace treaties with Christians and Jews, the Grand Mufti said: "Prophet Muhammad (PBUH) defined real Muslim as the one from whom other Muslims are safe from harm by his actions or speech, and as one to whom people entrust their lives and their properties. That is why many Jews and Christians have lived peacefully within the Muslim World - in the Arab Peninsula, Ash-Sham Levant, Egypt, Iraq, Morocco and Yemen, among many other countries, and many of them continue to live there until this day."
For him, the UAE is a "unique role model" from where many countries can learn from.
"The UAE is the modern icon of Islamic civilisation, and its wise approach and serious implementation led to constructive cooperation among more than 180 nationalities, who are living and progressing together in the country."
He said the UAE's declaration of 2019 as Year of Tolerance highlights its position and role in instilling the values of respect and harmony locally and worldwide.
Pointing out the significance of the upcoming Papal visit, Mufti said: "The historical visit of the global icon Pope Francis of the Vatican to the UAE is an important continuation of the message of tolerance and constructive dialogue.
"Religion plays a major role in establishing and strengthening moral values and humanitarian activities, and it is the duty of religious heads to spread these values and promote them across the world. Through such visits, we hope to strengthen mutual respect and constructive dialogue, and spread the message of peace and brotherhood among all people."
In this day and age where all kinds of information are readily available, religious leaders have a "duty to expose fallacies and spread correct information", he said.
Mufti Alkobaisi said true Islamic teachings affirm peaceful coexistence, seek to promote dialogue among peoples, and reject all causes of extremism and fanaticism.
https://www.khaleejtimes.com/nation/dubai/uae-embodies-islamic-teachings-grand-mufti-
--------
UAE builds bridges of tolerance with Pope's visit: Muslim clerics
January 28, 2019
ABU DHABI: The UAE has joined forces with Al Azhar and the Vatican to build harmony,spread prosperity and tolerance and show a united front against all forms of intolerance, leading Muslim scholars have said.
Pope Francis' historic visit to the UAE, the first to the Gulf region, comes at a time when constructive dialogue between people of all faiths is of paramount importance, the scholars said.
Dr Ahmad Al Haddad, Grand Mufti of Dubai, said the joint visit by the Pope and the Grand Imam of Al Azhar and the launching of the Abu Dhabi Declaration on Human Fraternity reflect the leading global role that the UAE plays in supporting values of being tolerant and moderate while rejecting violence, extremism and hatred.
Our Muslim predecessors lived with people of different religions at the height of the Islamic civilisation in a spirit of tolerance and on the principle of citizenship with equal rights and duties.
- Dr Ahmad Al Haddad, Grand Mufti of Dubai
Call for peace
The UAE seeks to revive tolerance and the human side of the Islamic civilisation as the Abu Dhabi Declaration on Human Fraternity will be signed during Pope Francis' visit from February 3 to 5 and in the presence of the Grand Imam of Al Azhar Dr Ahmad Al Tayeb. The declaration calls for peace and rejection of exploitation of religion in conflicts and wars, strengthening of social contracts, positive citizenship and respect for all religious sanctities and international treaties.
Islam's ties with religions that preceded it are not political or social; rather, they are ties of brotherhood, for Islam is a sister to the religions of Noah, Abraham, Moses and Jesus.
- Dr Ahmad Al Tayeb,| Grand Imam of Al Azhar
Dr Al Haddad said, "The UAE seeks to revive tolerance. Our Muslim predecessors lived with people of different religions at the height of the Islamic civilisation in a spirit of tolerance and on the principle of citizenship with equal rights and duties."
The conference highlights that all leaders, public figures and those who head religious congregations, communities and churches have a key role to spread the light of peace and the message of tolerance.
Human advancement
The UAE's opposition to extremist groups that exemplify intolerance spans more than two decades, The nation's belief in a future defined by human advancement characterises its approach to development assistance around the world, but is best expressed in the society it has created within the UAE which is home to people of diverse nationalities and ethnicities.
Dr Ahmad Al Kubaisi, a leading Muslim scholar, said since its foundation, the UAE, its Rulers, its government and its people have always acted in the best interests of all on the international stage.
It [the UAE] is a young nation, but one that has matured. It is based on tolerance and cherished peaceful co-existence and has helped others nurture these fundamental values.
- Dr Ahmad Al Kubaisi, Leading Muslim scholar
"The UAE serves as a role model for co-existence among different cultures that are represented by the millions who live in the country. It is a young nation, but one that has matured. It is based on tolerance and cherished peaceful co-existence and has helped others nurture these fundamental values," Al Kubaisi said.
Al Kubaisi said the harvest of progress is brought to fruition through co-operation and co-existence, tolerance and support — all pursued in harmony with partners on the international arena.
Driver of dialogue
Shaikh Abdullah Bin Bayyah, chairman of the UAE Fatwa Council and president of the Forum for Promoting Peace in Muslim Societies, said the upcoming visit of Pope Francis reflects a significant aspect of the spirit of tolerance embodied by the UAE and its endeavours to establish itself as a leading nation in spreading the values of tolerance and peaceful co-existence and a driver of dialogue between religions.
The moves are a new testimony to the culture of tolerance and forgiveness embraced by the UAE, the seeds of which were sown by Shaikh Zayed Bin Sultan Al Nahyan.
- Shaikh Abdullah Bin Bayyah, Chairman of the UAE Fatwa Council
Bin Bayyah extended appreciation to the UAE's wise leadership against the backdrop of declaring 2019 as the Year of Tolerance by President His Highness Shaikh Khalifa Bin Zayed Al Nahyan and the upcoming Abu Dhabi Declaration on Human Fraternity.
"The moves are yet a new testimony to the culture of tolerance and forgiveness embraced by the UAE, the seeds of which were sown by Shaikh Zayed Bin Sultan Al Nahyan," added Bin Bayyah.
Founder's values
Dr Mohammad Mattar Al Kaabi, chairman of the General Authority of Islamic Affairs and Endowments, said the founding father Shaikh Zayed Bin Sultan Al Nahyan sought to establish tolerance and noble values as a guiding principle for the UAE.
The UAE President's declaration of 2019 as the Year of Tolerance provides a valuable opportunity to promote the true essence of the approach pursued by the country...
- Dr Mohammad Al Kaabi, General Authority of Islamic Affairs and Endowments
"The nation has established great foundations, including religious and social tolerance that was the lifestyle of its founder," Dr Al Ka'abi said.
"The UAE President's declaration of 2019 as the Year of Tolerance provides a valuable opportunity to promote the true essence of the approach pursued by the country to inculcate the genuine values of brotherhood, mutual respect and cooperation," he added. Top priority
Amnah Nuseir, professor of Islamic Philosophy at Al Azhar University and a member of the Egyptian Parliament, said, "Enhancing ties between Islam and Christianity is a top priority for Pope Francis. Since he became Pope in 2013, he has been interested in improving ties with the Islamic world. This message is emphasised by the trips he has made to several Islamic countries including Egypt,Turkey and now the UAE. In a world afflicted by militancy and bloody violence in the name of religion, the sincere efforts made by the Vatican and Al Azhar to promote inter-faith dialogue are crucial for global peace. The international community should lend unlimited backing to these efforts."
Jaber Tayae, the head of the religion sector at Egyptian Ministry of Awqaf, said, "Tolerance and peaceful coexistence are the focus of Pope Francis' landmark visit to the Emirates, which itself is an inspiring symbol of these values. The visit and its implications are a strong message against forces of evil and fanaticism that seek to spread hate among Muslims and Christians. All divine religions repudiate extremism and violence, and call for affinity and cooperation among all humans for their common good and prosperity of the universe."
Human interaction
Shaikh Salah Al Jowdar, Imam at Al Khair Mosque and member of the board of King Hamad Global Centre for Peaceful Co-existence, said "The visit by Pope Francis to the UAE is a historic event that reinforces relations and dialogue between civilisations. It confirms the significance of human interaction among religions across the world.
Full report at:
https://gulfnews.com/uae/uae-a-model-of-tolerance-say-catholic-clerics-1.61709394
--------
Counterterrorism law comes into effect in Saudi Arabia
January 28, 2019
JEDDAH: Legislation to combat terrorism and its funding has come into effect in the Kingdom, and has been published by the Saudi Press Agency (SPA).
Dimah Al-Sharif, a legal consultant and member of the International Association of Lawyers, said the 26-article piece of legislation will help to protect the Kingdom from terror attacks.
The legislation "has succeeded in covering most of the aspects that fuel terrorism, from spreading ideas to…the funding of terrorist organizations," she said.
It also tackles the use by terrorists of charities and non-profit institutions as facades to fund their activities, she said.
The legislation "gives prosecutors the right to request records or documents from a suspicious institution," and "obligates institutions to implement the counterterrorism law in a full and accurate manner," she added.
A report published last year by the Financial Action Task Force (FATF), an intergovernmental organization, commended the Kingdom for making drastic changes to the way it combats money laundering, terrorism funding and arms proliferation.
Saudi Arabia had proven its understanding of the risks it faces by its measures to address them, the report said. It added that the Kingdom has a strong legal framework to implement targeted financial sanctions imposed by the UN on terrorists.
In 2017, Saudi Arabia introduced the Anti-Money Laundering Law, under which the penalty for money laundering is between three and 15 years' imprisonment, or a fine of up to SR7 million ($1.87 million).
A money-laundering crime, according to the law, includes any transaction involving property or proceeds with the knowledge that they are the result of criminal activity or originate from an illegitimate source in order to disguise, protect or help that source or any other person involved in the crime through which the property or proceeds were obtained.
Meanwhile, in a recent annual report, the US State Department praised Saudi Arabia for its efforts to combat terrorism, describing the Kingdom as an active and key member of the global coalition to defeat Daesh.
The report highlighted the strategic cooperation between Saudi Arabia and the US in a number of new initiatives to counter terrorist messages and disrupt the financing of terrorism.
It said Saudi Arabia has put in place systems to implement UN Security Council sanctions on groups and individuals linked to terrorist organizations such as Daesh and Al-Qaeda.
The report added that the Kingdom has expanded existing counterterrorism programs and projects to rehabilitate those who have left extremist groups, and has adopted laws to combat the financing of terrorist groups.
The report referred to terrorist plans that were thwarted in the Kingdom, and noted the efforts being made in legislation, law enforcement and border security.
"Saudi Arabia has maintained strict control over the banking sector and tightened sanctions on the financing of terrorism," it said.
Full report at:
http://www.arabnews.com/node/1443516/saudi-arabia
--------
Walking the talk in promoting tolerance: UAE-based Hindu priest
January 27, 2019
The UAE is walking the talk when it comes to spreading the culture of tolerance by implementing policies on the ground and celebrating the virtue in all spheres of action, a senior Hindu priest has said.
Speaking to Khaleej Times on the UAE's decision to celebrate 2019 as the Year of Tolerance, Swami Brahmavihari, senior priest of BAPS Swaminarayan Sanstha, said: "It is truly inspiring, not just locally, but globally.
"While almost every country professes it, the UAE has wisely gone out of the grid and created ministries and policies (for tolerance). To 'mean what they say, and do what they believe' speaks volumes for the sincerity of the UAE leadership.
Here, tolerance is no longer a beautiful word or a great value, it is seen implemented through actions, emotions and celebrations.
"While many around the world speak of universal values and harmony, the UAE's leadership has given tangible form to these values with decisive action, steadfast commitment and a global vision for a better future. And now giving the 'Value of Tolerance' national importance all year round, is a path breaking inspiration for countries and leaders to follow," Swami added.
As someone who has personally overseen his faith's activities in the Middle East and currently leading the development of the BAPS Hindu Mandir in Abu Dhabi, Swami says he has seen and experienced first hand "love, warmth and acceptance" in the UAE "right from the Presidential Palace and Royal Majlises to the government offices and common streets.
The priest said with the generous gift of land from His Highness Sheikh Mohamed bin Zayed Al Nahyan, Crown prince of Abu Dhabi and Deputy Supreme Commander of the UAE Armed Forces, to build the first traditional stone temple and cultural complex in Abu Dhabi, the world welcomed the UAE's commitment to increasing tolerance, interfaith dialogue, collective coexistence and global harmony.
"I believe that the worth of a nation cannot be measured by the size of the country, but the quality and character of its people. The open-hearted friendliness in the UAE has its roots in the vision of its founding father, late Sheikh Zayed. His vision of tolerance is still very much alive today - indeed it has become the very bedrock of a diverse, tolerant and vibrant society, of over 200 nationalities.
"Sheikh Zayed is known for teaching 'to treat every person, no matter what his creed or race, as a special soul is a mark of Islam'. Our spiritual guru His Holiness Pramukh Swami Maharaj also revealed: 'Religion is that which spreads love for one another'. We see these joint values in action everyday as we work to contribute to the UAE's happiness and progress."
True to the Hindu values of 'Vasudhaiva Kutumbakam' (The whole world is a family), Swami said: "It is our hope that we, the Hindu community, can join together to contribute to the UAE's mission of tolerance by making a unique spiritual complex in Abu Dhabi which will become a hub of cultural exchange and mutual understanding - a landmark which will forever reflect this nation's dedication to the human ideals of tolerance and harmony.
"We believe it is an intrinsic part of spirituality to strive not just to attain heaven beyond earth but to create a bit of heaven on earth, to bring heavenly happiness and joy to Earth as well. That is why we are greatly encouraged to see countries around the world work towards inculcating the values of harmony and tolerance," he added.
"The Hindu community has witnessed the UAE's strides towards greater harmony since its earliest days. And over the years, we have been able to practice and share our faith and customs."
Commenting on the upcoming visit of Pope Francis and the coinciding Interfaith Conference, Swami Brahmavihari said it is a great beginning to a year of both introspection and action.
Full report at:
https://www.khaleejtimes.com/nation/abu-dhabi/walking-the-talk-in-promoting-tolerance
--------
Turkey-Backed Forces Killed in Clashes with Kurdish Fighters in Aleppo
Jan 28, 2019
The Kurdish-language Hawar News reported that the Kurdish militias targeted the Turkish Army and its allied militants in al-Mahmoudieh district in Center of Afrin City, killing three Turkish soldiers and injuring another one.
In an attack by Kurdish snipers in Afrin in Northwestern Aleppo, a Turkish Army soldier was killed in the village of Baseleh in Shirawa region, it added.
A heavy military vehicle of al-Shamiya Front (Jbahat al-Shamiya) was also destroyed by Kurdish fighters in Tois village near the town of Ma'areh in the outskirts of Arabeen.
Several Ankara-backed militants were killed and wounded in the Kurdish forces' military operation.
Meantime, a center of Ankara-backed militants was destroyed in an assault by the Kurdish militias in Ableh village in Izzaz region in Northern Aleppo. A military vehicle of Ankara-backed militants was destroyed and three militants were killed and several others were also wounded in the attack.
In a relevant development earlier on Sunday, the Turkish Army and its allied militants engaged in heavy clashes with the Syrian Democratic Forces in the surrounding areas of the city of Manbij in Northeastern Aleppo.
The Kurdish-language Hawar News reported that heavy clashes followed after the Turkish Army and its allied militants known as 'Euphrates Shield' targeted and attacked the military positions of Manbij Military Council along Sojour control line in the outskirts of Manbij city in Northeastern Aleppo.
It noted that the villages of Sokria Kabira, Halounji and Mohsena to the North and Northwestern parts of Manbij city came under attack by the Turkish Army and its allied militants.
Meantime, battlefield sources reported heavy clashes between Turkish Army troops and militants of Manbij military council near the village of Halvanji in Northern Manbij.
Several Ankara-backed militants were also killed and wounded in fierce clashes with the Kurdish fighters in al-Malekia front and Mara'anaz as well as Ma'areh in Northern Aleppo.
In a relevant development earlier this month, the Turkish army dispatched a new convoy of forces and equipment to borders with Syria's Hasaka to counter the Kurdish militias.
The Turkish army forwarded a long convoy of military vehicles to borders with Syria near the Syrian town of Ra'as al-Ain that is under the Kurdish fighters' control in Northwestern Hasaka.
The Turkish convoy, including a number of vehicles, Tanks, armored vehicles and a large volume of military hardware, entered the Kilis region.
The Turkish military is preparing to kick off military operations against the Syrian Democratic Forces in Eastern Euphrates.
Meantime, the Arabic-language Al-Manar news website reported that the Turkish Army has fired artillery and rockets at SDF's military positions in Silvaha region in Ra'as al-Ain in Northwestern Hasaka.
The sources said that the Turkish Army attacks on the SDF have taken place after SDF fired at Jilanbiner region in Turkey just opposite to Ra'as al-Ain.
Local sources, meantime, reported that the US-backed Syrian Democratic Forces (SDF) arrested a number of people in Hasaka and Raqqa provinces after accusing them of cooperating with the Ankara forces.
Hawar news had reported earlier this month that the Turkey-backed militants continued shelling the strongholds of the US-backed Kurdish militia in Manbij region in Northeastern Aleppo regardless of the US support for the Kurds.
It added that gunmen of the Turkey-led Euphrates Shield Force targeted the positions of the Manbij Military Council from the village of Tokhar in Northeastern Aleppo.
Full report at:
http://en.farsnews.com/newstext.aspx?nn=13971107000727
--------
Amnesty raps Bahrain for upholding life sentence for Sheikh Salman
Jan 28, 2019
Amnesty International has blasted Bahrain for upholding a life sentence against prominent Shia cleric and opposition figure Sheikh Ali Salman, describing the verdict as another blow to the freedom of expression in the country.
The Court of Cassation in Bahrain on Monday confirmed life imprisonment sentences against the 53-year-old Sheikh Salman, who is the secretary general of the now-dissolved al-Wefaq movement, and two of his assistants over charges of colluding with Qatar to commit subversion.
"Today's verdict is yet another nail in the coffin for the right to freedom of expression in Bahrain and exposes the country's justice system as a complete farce. The decision to uphold Sheikh Ali Salman's conviction and life prison sentence following an unfair trial highlights the authorities' determination to silence critical voices," said Samah Hadid, Amnesty International's Middle East director of campaigns.
"The Bahraini authorities must quash Sheikh Ali Salman's conviction and release him immediately and unconditionally. They should also rescind the decision to dissolve the two opposition political groups, al-Wefaq and Wa'ad, and guarantee the right of everyone to freedom of association," she added, referring to another political movement dissolved by the Bahraini regime.
Sheikh Salman, along with two senior al-Wefaq leaders, namely Sheikh Hassan Sultan and Ali Alaswad, had been charged in November last year with "communicating with Qatar to commit hostile acts aimed at destabilizing the state."
Back then, al-Wefaq said that the Bahraini judiciary was a tool in the hands of the ruling Manama regime, and the ruling reflected the magnitude of the turmoil in the country.
Sheikh Salman reacted to the Monday verdict by saying, "I will endure all hardship for the sake of Allah and the people."
Sheikh Salman has been in jail since late 2014. The regime has brought a litany of charges against him, including "insulting" government officials, "inciting" unrest through his speeches targeting the authorities during a 2011 uprising, attempting to overthrow the regime, and collaborating with foreign powers.
The senior Bahraini cleric denies all the charges, saying that he has merely been seeking reform in the country through peaceful means.
Thousands of anti-regime protesters have held demonstrations in Bahrain on an almost daily basis ever since a popular uprising began in the country in mid-February 2011.
They are demanding that the Al Khalifah regime relinquish power and allow a just system representing all Bahrainis to be established.
Full report at:
https://www.presstv.com/Detail/2019/01/28/587062/Amnesty-International-Bahrain-Sheikh-Ali-Salman-life-sentence-uphold
--------
Hayat Tahrir al-Sham terrorists torturing opponents in northwestern Syria: HRW
Jan 28, 2019
Human Rights Watch has accused the al-Qaeda-linked Hayat Tahrir al-Sham (HTS) terrorist group of using "torture" against those opposing its rule in Syria's militant-held northwestern province of Idlib.
The New York-based rights group said on Monday that it had documented 11 cases in which HTS, which is a coalition of different factions of terror outfits, largely composed of Jabhat Fateh al-Sham, "detained Idlib residents, apparently because of their peaceful work documenting abuses or protesting the group's rule."
"Six of those detained were apparently tortured," including a 16-year-old boy, it said in a statement.
"One man described being hung from a pole upside down for hours during interrogation," it added.
Another detainee said he was locked up in something similar to a coffin for three hours, while a third said he was pushed through a tire and beaten incessantly.
"The maximum you can do is to move your shoulders a bit. And scream for help. But on several occasions, they stuffed things in my mouth so I can't scream. I used to lose my consciousness a lot," the captive told HRW.
Seven of those interviewed by Human Rights Watch said they were media activists or journalists, who had taken part in or covered protest rallies against HTS, or were working with foreign media outlets.
Four were forced to sign a document, pledging they would no longer film or report on the militants.
HRW then demanded the immediate release of all unlawfully held prisoners, including four still being held or missing among the 11 cases documented.
"There is no legitimate excuse for rounding up opponents and arbitrarily detaining and torturing them," Lama Fakih, the deputy Middle East director at HRW, said.
Full report at:
https://www.presstv.com/Detail/2019/01/28/587029/Hayat-Tahrir-alSham-Takfiri-terrorists-torturing-opponents-in-northwestern-Syria-HRW
--------
Southeast Asia
Are Indonesia and Malaysia Ready to Stand up for China's Muslims?
By Nithin Coca
January 28, 2019
By now, the scale of the crisis is clear. There are up to 3 million Turkic Muslims – primarily Uyghurs but also ethnic Kazakhs and Kyrgyz – in a vast network of concentration camps in China's far western region of Xinjiang. The result is the 21st century's greatest human rights crisis: Empty Uyghur neighborhoods. Students, musicians, athletes, and peaceful academics jailed. "Graduates" of these camps are being put into forced labor factories, churning out goods that are even reaching the United States.
It's clear that what began as a movement to clamp down on terrorism has become an attempt to eradicate an entire ethnic group and their religion – Islam, which is being seen as a mental illness and incompatible with Chinese-style socialism. Yet, so far, the world's reaction has been muted – including in the Islamic world, in the same countries where, in the past years, there have been widespread protests and public statements in support of the human rights of Palestinian and Rohingya Muslims.
"I don't know what they are waiting for," said Omer Kanat, director of the Uyghur Human Rights Project in Washington, DC. "All the evidence shows that a crime against humanity is being committed by the Chinese government in East Turkestan," he added, using the Uyghur's preferred name for Xinjiang.
Enjoying this article? Click here to subscribe for full access. Just $5 a month.
While many are looking toward the Middle East, Turkey, or China's neighboring Muslim-majority nations of Pakistan and Kazakhstan as possible leaders, the best hope for pressure from the Islamic world may come from an unlikely place: Southeast Asia, namely, Malaysia and Indonesia.
Why Southeast Asia
They key factor is that, even though Southeast Asia's two Muslim-majority countries have limited historical, cultural, or linguistic ties to the Uyghurs, they are both democracies that are responsive to public pressure, unlike most other Muslim majority nations. They also have a freer press that has allowed for more coverage of what's happening in China – and that coverage is, slowly, increasing.
"In mainstream Indonesian press since mid-December or so, when it became a topic of debate in Parliament, there has been more coverage," said Aaron Connelly, research fellow for Southeast Asian politics and foreign policy at the International Institute for Strategic Studies. "And Malaysians have been reading about what has been going on Xinjiang even more frequently than Indonesians."
In fact, in both countries, there are early signs that the Uyghur issue is gaining traction. Malaysia has been standing up to China more and more, canceling several joint projects since the Pakatan Harapan coalition took power earlier this year. This might soon translate to human rights issues. A telling moment came earlier this year, when likely future Prime Minister Anwar Ibrahim spoke publicly in support of Uyghurs, making him one of the first Muslim political leaders anywhere in the world to do so. The government even followed up rhetoric with action, letting a groups of Uyghur asylum seekers go to Turkey rather than be deported to China, despite the latter's protests, and reversing the policy of the previous government.
"We took a strong stand on human rights, and it says a lot about our new government," said Ahmad Farouk Musa, the director of the Malaysian nongovernmental organization Islamic Renaissance Front. "There was no valid reason for us to deport the asylum seekers back to China, because if we sent them to China, we are sending them the gallows."
Neighboring Indonesia, the world most populous Muslim country, is seeing early signs that the Uyghur issue may play a role in the coming election, due for this coming April. One Islamic party, the Prosperous Justice Party (PKS), a member of the opposition coalition, has already called on President Joko "Jokowi" Widodo to speak out. And earlier in January, Indonesia's powerful Ulema Council became one of the first such entities in the Islamic world to condemn the oppression of the Uyghurs.
The challenge for Indonesia is that 2019 is an election year, and there is strong evidence that the emergence of the Uyghur issue is connected more to domestic politics than genuine human rights concerns. Many noted the presence of notorious right-wing Islamist organizations, including the Islamic Defenders Front, at pro-Uyghur rallies that took place last December in several Indonesia cities. One of the organizers, Slamet Ma'arif, became well known when, in 2016 and 2017, he helped lead mass mobilizations against Jakarta Governor Basuki "Ahok" Tjahaja Purnama, who was ethnically Chinese and Christian, using racist and religiously tinged rhetoric.
This bring up another concern – that the Uyghur issue could play into domestic racial politics and lead to the conflation of Chinese and Chinese-Indonesian.
"If you're pluralist, but Javanese Muslim like Jokowi you're going to worry that your country is not mature enough to distinguish between Beijing and Chinese Indonesians, and that if you push and things become tense between Indonesia and Beijing, then things are going to become difficult for Chinese-Indonesians," said Connelly.
Add in Indonesia's notorious quietness on the global stage, and you have a country that is not likely to lead unless protests rise to the level that Jokowi can no longer ignore them without risking his political future.
"There's no courage in Indonesian diplomacy at the moment… it likes to be seen as constructive and nonconfrontational," said Connelly. "It's very unlikely that Indonesia try to play a constructive role."
That's why action from Malaysia is more promising, due several factors; to its more favorable domestic situation – the ruling coalition is being led by caretaker Prime Minister Mahathir Mohamad, who is not concerned about future elections – and, crucially, its position in the Muslim world. Unlike officially secular Indonesia, Malaysia is officially an Islamic country and has a history of leadership in organizations like the Organization for Islamic Cooperation (OIC).
The OIC is key venue that Uyghur activists and human rights advocates believe could help bring the Uyghur cause to attention in the Muslim world. In the past, the OIC has spoken out on issues of human rights in Palestine, Yemen, and even convened a meeting on the Rohingya crisis. But it has remained mostly silent on the Uyghurs since 2009. A statement or collective action from the body, which counts 57 member nations, could help bring what happening to Xinjiang to the forefront of the entire Muslim world.
There was a tantalizing glimpse of what an OIC response could look like in late January, when OIC Secretary-General Yousef Al-Othaimeen told a meeting of senior level officials that the organization "followed closely the reports on the status of Uyghur Muslims and I discussed the issue with Chinese officials." Al-Othaimeen added that an OIC delegation "would visit to see the situation on the ground in the coming days." That means the issue, in some form, is likely to be on the agenda at the next OIC Council of Foreign Ministers, scheduled for March 1 to 2 in the UAE. And on that front, Malaysia could be soon ready to act.
"Malaysia has a different view of its relationship with the Islamic world than Indonesia," said Connelly. "I would be less surprised to see Malaysia go to the OIC than Indonesia, as it's more consistent with how Malaysia has displayed its diplomacy and taken a harder line on Islamic world issues."
Moreover, the Malaysian government has more political cover domestically due the fact that the ruling coalition has a strong representation of Chinese-Malaysians through the Democratic Action Party, the largest party in Pakatan Harapan.
"I think that gives them a little more license to push back on China," said Connelly, noting that it was the ethnically Chinese finance minister who canceled the Chinese infrastructure projects.
What will be needed is more public pressure, believes Farouk.
"The pressure must come from civil society," he said. His organization is working with other human rights groups to organize a seminar and they hope to have the prime minister or other high-level officials participate.
Even a Small Move Could Have a Big Impact
In the bigger picture, if either Indonesia or Malaysia begins to speak up on the Uyghur issue alongside Western countries, it could be the tipping point that forces China to change its policies. The response from the Chinese government and media so far is to paint news stories as a Western conspiracy, aimed at hurting the country's economy. It would be harder to take that position if countries that Beijing sees as key partners and central to its massive Belt and Road Initiative begin to ask questions.
"I think that Indonesian and Malaysian pressure could be the straw that breaks the camel's back and forces China to reduce the amount of pressure," said Connelly. While he is doubtful that this could lead to an ideal situation for Uyghurs, it could result in less Uyghurs in the camps and more access to the region.
What will likely drive this is not leaders like Jokowi, Mahathir, or Anwar becoming suddenly inspired. It will be because Indonesians and Malaysians demand it. In Indonesia, that means watching to see if the Uyghurs become a campaign issue and whether the opposition pushes Jokowi to take more concrete action. In Malaysia, the question will be how effective civil society and media pressure is, and just how far Mahathir and Anwar want to take their role as leaders in the Islamic world.
Meanwhile, for the millions of Uyghurs toiling away in anonymity in re-education camps, any action cannot come quickly enough.
https://thediplomat.com/2019/01/are-indonesia-and-malaysia-ready-to-stand-up-for-chinas-muslims/
--------
Moderate Muslims seek political room and weight in elections
01/28/2019
by Mathias Hariyadi
Jakarta (AsiaNews) – Nahdlatul Ulama (NU), the largest moderate Islamic organisation in Indonesia and the world with 90 million members, is demanding more leeway in Indonesian politics and hopes "the victory of its representative in the next presidential election," said yesterday NU President Said Aqil Siradj (picture 1), at an event marking the 73rd anniversary of Muslimat NU, the movement's women branch.
During the meeting, attended by thousands of NU members at Jakarta's Soekarno Sport Stadium (picture 2), Siradj said that the reasons for NU's greater involvement in the country' political life "are contained in the Qurʾān".
"The Prophet Muhammad was called to form a mass organisation that played an important role in society," the NU president explained. "NU leaders should take on important positions in the country's religious life. The minister for Religious Affairs should be one of us. Otherwise, many mistakes will be made."
Since Indonesia's independence, a NU representative has always headed that ministry.
Presidential elections in April will see the president Joko Widodo and NU member (picture 3) run for re-election against Prabowo Subianto, backed by Islamist political groups.
Widodo chose as vice presidential candidate Ma'ruf Amin, chairman of the Council of the Indonesian ulema (MUI) and former NU chief advisor (he resigned after he was chosen).
Until an hour this was announced, former Justice Minister Mohammad Mahfud Md was expected to be his pick.
According to some sources, the president's political advisers persuaded him to drop Mahfud since he is not well liked by the NU nor the president's party, the National Awakening Party.
Siradj's statement has been controversial. However, for Helmy Faishal Zaini, NU's secretary general, the remarks by the NU president should be seen as "words of encouragement" to the members of the organisation.
Full report at:
http://www.asianews.it/news-en/Moderate-Muslims-seek-political-room-and-weight-in-elections-46095.html
--------
ISIS Bombing of Cathedral in Philippines Shows Group's Reach Into Asia
By Hannah Beech and Jason Gutierrez
Jan. 28, 2019
BANGKOK — A deadly bombing of a cathedral in the Philippines has brought fresh attention to the Islamic State's ability to metastasize across the world, even as the militant group has been reduced to a sliver of turf in Syria.
The attack, consisting of two detonations, struck the Cathedral of Our Lady of Mount Carmel on the island of Jolo at the southern end of the Philippines, a region where Muslim insurgents have for decades battled the Catholic-majority state. At least 20 people were confirmed dead in the assault, which took place just as worshipers gathered for Mass on Sunday.
Through various online bulletins, the Islamic State, also known as ISIS, claimed responsibility.
The violence showcased the ability of the Islamic State to graft onto faraway militant movements and fan the flames of local conflicts by striking a high-profile target like a cathedral, the premier church in a Catholic diocese. Fighters from Indonesia, the Philippines and Malaysia flocked to Iraq and Syria in recent years, and returnees from the Islamic State's battles have strengthened the reach and tactical power of extremist groups back in Southeast Asia.
The bombings in the Philippines occurred just after a Muslim-majority part of the island group of Mindanao, which includes Jolo, held a referendum on a delicate peace process. On Monday, the Philippine national security adviser, Hermogenes Esperon, implied that the bombings on Sunday were most likely the work of rebels affiliated with Abu Sayyaf, a separatist militia with a stronghold in Jolo that is excluded from the current peace process.
Last week's referendum on whether to create a Muslim autonomous region in Mindanao was approved by voters everywhere except on Jolo.
Through kidnappings, beheadings and the occasional bombing, Abu Sayyaf has terrorized the region for years, targeting foreigners and locals alike. A former leader of the militant group pledged allegiance to the Islamic State in 2014 and was later recognized as the Islamic State's regional emir, but other factions of Abu Sayyaf have not publicly sworn their loyalty to the militant group.
President Rodrigo Duterte of the Philippines, who long served as mayor of Davao City, the capital of Mindanao, visited Jolo on Monday and directed security forces to "crush" the militants, according to Delfin Lorenzana, the country's defense secretary.
Mr. Lorenzana, who traveled to Jolo with the president, said that the police considered six people seen in video footage of the cathedral to be suspects. Mr. Esperon, the national security adviser, said that those six people had been identified by intelligence sources as possibly the sons or relatives of known Abu Sayyaf operatives.
The earliest high-profile extremist to pledge allegiance to the Islamic State in the Philippines was a former leader of Abu Sayyaf, Isnilon Hapilon. After declaring his loyalty in 2014, Mr. Hapilon united ragtag rebels from the jungle, university-educated ideologues and even former Catholics with the particular zeal of the converted.
In 2017, his coalition laid siege to the Mindanao city of Marawi. The Philippine military operation to extract the extremists decimated much of the city and left more than 1,200 people dead, including Mr. Hapilon and a legion of foreign fighters.
Ahmad El-Muhammady, a counterterrorism analyst at the International Islamic University Malaysia, who has conducted extensive interviews with jailed Islamic State militants in Malaysia, said that such groups "may be locally created, but they are regionally networked and globally inspired by ISIS."
"For Mindanao, ISIS is coming along at the right time, and each side is benefiting from the other," he added. "ISIS can say, 'We have global reach,' and local groups, like Abu Sayyaf factions, can sit on the shoulder of a giant like ISIS and get connections and financial support."
As Philippine investigators sifted through the debris of the devastated cathedral — shattered pews and crushed crucifixes — a statement from the Islamic State said that suicide bombers had carried out the attacks.
On Monday, however, the chief of the Philippine National Police, Oscar Albayalde, said from Jolo that the explosions, which he described as occurring 12 to 15 seconds apart, had probably been detonated by cellphone. The casualty list released by the Philippine authorities is not believed to include the names of anyone suspected of being a bomber.
Suicide bombing is a rarity in the Philippines. The first case in recent history occurred last July on the Mindanao island of Basilan, a stronghold of Abu Sayyaf rebels who have pledged loyalty to the Islamic State.
The Islamic State claimed responsibility for that suicide attack, too, in which a Moroccan national detonated an explosive-filled van at a checkpoint, killing nine security officers and bystanders. Philippine authorities have denied that that assault had any link with the Islamic State, however.
For years, officials in the Philippines have been reluctant to acknowledge that the Islamic State has taken root in the country, even as the militant group has taken credit for a series of deadly attacks across Southeast Asia and been implicated in other plots foiled by regional governments.
In 2015, a year after formally announcing its caliphate, the Islamic State issued an anniversary video in which it revealed that 16 of the 35 "provinces" of its state were located outside Iraq and Syria. One was in the Philippines.
Southeast Asian counterterrorism experts note that Islamic State literature often glorifies the exploits of militants from Mindanao.
"The Filipino government downplays the ideological element of pro-ISIS coalitions to its detriment," said Sidney Jones, the director of the Institute for Policy Analysis of Conflict in Jakarta, Indonesia, who has tracked the rise of the Islamic State and other militant groups in Southeast Asia.
"There are personal rivalries and clan money that drive what's happening in Mindanao but to discount ISIS totally is dangerous because it ignores something that is happening across the region," she added. "When ISIS says it has bombed a church in the Philippines, I think it's part of an effort to clearly target something big and symbolic and say, 'We're here.' "
The first assaults claimed by the Islamic State in Southeast Asia occurred in January 2016, when suicide attackers mounted deadly raids near a Starbucks in central Jakarta.
Indonesia, home to the world's largest Muslim population, had endured terror attacks before, most notably the bombing of a nightclub in Bali that killed more than 200 people in 2002. That attack and others, including the bombings of Western-owned hotels and of the Australian Embassy in Jakarta, were orchestrated by the homegrown radical group Jemaah Islamiyah, which aligned itself with Al Qaeda.
But just as Al Qaeda lost strength elsewhere in the world, Jemaah Islamiyah was supplanted in Indonesia by other militant groups that pledged allegiance to the Islamic State. In one of the most shocking episodes, an entire family — mother, father, two teenage sons and two younger daughters — blew themselves up in back-to-back attacks on three churches in Surabaya, the second largest city in Indonesia, in May last year.
The Islamic State claimed responsibility for those assaults, which killed 12 people, describing them as a "martyrdom operation."
Within another day, two other families in Surabaya fatally set off their own bombs, one at a police station and another in a premature misfire in their own apartment.
All three families appeared to be linked to Jamaah Ansharut Daulah, an Indonesian militant organization that has pledged allegiance to the Islamic State. Since then, about 300 people believed to be connected to Jamaah Ansharut Daulah have been rounded up by Indonesian counterterrorism forces.
Surabaya is a multiethnic, multifaith city, in a country run by a secular government. The southern tip of the Philippines, while majority Muslim, has a significant Catholic minority. And Malaysia, from where at least 130 people, according to Malaysian counterterrorism experts, have traveled to Iraq and Syria to join the Islamic State, balances a Malay Muslim majority with large ethnic Chinese and Indian populations.
Yet militants in all three countries have over the decades called for those sharing an ethnic Malay heritage to create a crescent-moon-shape caliphate across the region. Other extremists have expressed more isolated concerns for local autonomy.
Southeast Asian militants gained battlefield experience in Afghanistan and ideological guidance in Pakistan, Saudi Arabia and Yemen. More recently, hundreds of Filipinos, Indonesians and Malaysians traveled to Iraq and Syria to act as foreign fighters for the Islamic State, forming their own corps with its own recruitment tools online.
"We have to look at these extremist movements in the region without dividing them by national borders," said Badrul Hisham Ismail, program director for IMAN Research, a security-focused think-tank in Kuala Lumpur, Malaysia, who has studied violent extremism.
"A top-down, nation-by-nation approach doesn't work," he added.
In June 2016, the Islamic State confirmed in a video that Mr. Hapilon, the former Abu Sayyaf commander, was the leader of the group in Southeast Asia. The same video called for those who could not travel to Syria to instead make their way to the southern Philippines, Ms. Jones of the Institute for Policy Analysis of Conflict said. Some did, dying the next year in the battle for Marawi.
Making a cameo in the same video was Abu Walid, an Indonesian who spent nine years in detention in the Philippines before turning up in Syria and becoming close to the leadership of Islamic State, according to the United States Treasury Department, which placed sanctions on him. Last Wednesday, Abu Walid, the nom de guerre of Mohammed Yusop Karim Faiz, was killed in fighting in Syria.
Full report at:
https://www.nytimes.com/2019/01/28/world/asia/isis-philippines-church-bombing.html
--------
At townhall session to address critics, minister says Islamic governance embraces diversity
29 January 2019
By Syed Jaymal Zahiid
KUALA LUMPUR, Jan 29 — The Pakatan Harapan administration's push for a more inclusive Islam reflects the true nature of the faith, Minister in the Prime Minister's Department Datuk Seri Mujahid Yusof Rawa told a townhall session organised to address critics here today.
The Islamic affairs minister said the progressive values promoted by the government are integral to Islam despite claims by conservatives that plurality threatens the faith.
"Multi-religion and multi-racialness are not in any way alien... but why do we want to have this isolationist attitude?" he told the audience.
"What we are doing is nothing new, (what) we are doing now is to incorporate it into governance."
Upon his appointment as Islamic affairs minister, Mujahid introduced three core principles to guide all policies regarding Islam that espouse openness and flexibility.
The three principles are the maqasid Syariah or the higher objective of Shariah, rahmatan lil alamin or universal good, and the two fall under what he described as Gagasan Besar, or the higher concept.
Mujahid said eradicating religious dogmatism was crucial to reform the Islamic agencies, which have come to represent intolerance over the years.
Conservative and hardline Muslims have accused PH of sidelining Islam to push a liberal agenda, pointing to Mujahid's tolerant position on issues such as allowing a beer festival or espousing soft treatment of the lesbian, gay, bisexual, transgender and queer (LGBTQ) community as proof.
There are signs that the campaign against Mujahid and PH has resonated to certain degree with the religious conservatives in the country.
Last year, Putrajaya reversed its intention to ratify the International Convention Against All Forms of Racial Discrimination (ICERD) following a mass demonstration in protest in the capital city on December 8.
Many Malays and Muslims believe ICERD to pave the way for minority rule and the subversion of Islam as the federal religion, a message touted by groups like PAS and ISMA.
Mujahid said today's townhall session was intended to "correct" the misleading messages about PH's brand of Islamic governance.
"Whatever we do, it will be based on the Federal Constitution and we have made it quite clear in our manifesto.
Full report at:
https://www.malaymail.com/news/malaysia/2019/01/29/at-townhall-session-to-address-critics-minister-says-islamic-governance-emb/1717566
--------
Europe
Draft EU document leaked on how to circumvent US sanctions on Iran
Federica Marsi
January 28, 2019
A joint EU statement is imminent on the new payment mechanism to circumvent the sanctions imposed by the US on Iran following Washington's withdrawal from the 2015 deal on Tehran's nuclear programme.
The official unveiling of the Special Purpose Vehicle (SPV) is slated for the start of this week, if all 28 member states were to agree on the draft statement.
The initiative – spearheaded by France, Germany and the UK – got the greenlight from Italy, according to a draft communique. However, Spain has so far objected to the wording of the document.
A copy of the EU communique seen by Bloomberg News welcomed the three-nation initiative as providing "a positive impact on trade and economic relations with Iran, but most importantly on the lives of Iranian people."
SPV is designed to shield European companies keen to do business with Iran from US sanctions that could result from dollar-based transactions.
Iranian Foreign Ministry Spokesman Bahram Qassemi on Sunday called on the EU to stay committed to their promise of launching SPV. Mr Qassemi lamented the delay in launching the tool and called on the Europeans to show their independence from the US.
Deputy Foreign Minister Seyyed Abbas Araqchi set off for Europe on Monday morning to negotiate with Austrian, Slovak and Bulgarian officials.
The Trump administration branded the initiative an attempt to evade its "maximum pressure" campaign against Iran and questioned whether it will work. Sigal Mandelker, the Treasury's top sanctions official, said in December she wasn't concerned "at all" that the EU initiative could side-track US efforts.
"I think the bigger news in Europe is that companies are withdrawing from Iran in droves," Mrs Mandelker told reporters.
"I am not concerned by the SPV actually at all. I do believe we are going to find additional mechanisms by which we can work together."
France, which has been one of the promoters of the European-backed system to facilitate non-dollar trade with Iran, insisted last week that the approval of SPV would be conditional to Tehran reining in its missile activity.
"We are ready, if the talks don't yield results, to apply sanctions firmly, and they know it," French Foreign Minister Jean-Yves Le Drian told reporters.
In response, Iran's Foreign Ministry spokesman Bahram Qasemi said that "our missile capability is not negotiable ... we have repeatedly said that during our political talks with France." according to the Iranian state news agency (IRNA).
On Monday, Mr Qasemi denied reports that it was holding secret talks with France over its ballistic missile development.
"There have been no talks, whether secret or not secret, about our missile program with France or any other country," Mr Qasemi told state TV.
He also reiterated that an EU decision to reimpose sanctions on Iran would result in the country resuming its uranium enrichment program.
The UN Security Council resolution which enshrined Iran's 2015 nuclear deal called upon Tehran to refrain for up to eight years from working on ballistic missiles.
Iran, which has since conducted missile tests, maintains they do not violate the resolution as the missiles are not enabled to carry nuclear warheads.
Despite concerns over Iran's role in the region, the EU also reiterated its desire to preserve the nuclear deal, which the bloc sees as the best way to keep Iran's nuclear work in check.
https://www.thenational.ae/world/europe/draft-eu-document-leaked-on-how-to-circumvent-us-sanctions-on-iran-1.819102
--------
Germany's Merkel calls for "zero tolerance" of anti-Semitism and hate
28.01.2019
German Chancellor Angela Merkel underscored the urgency of combating anti-Semitism, racism and hatred more than 70 years after the Holocaust, calling for new ways to keep alive the memory of the millions of people killed by the Nazis.
Merkel, in a video address released ahead of Sunday's International Holocaust Remembrance Day, said it was everyone's responsibility to ensure "zero tolerance" of xenophobia and all forms of anti-Semitism.
"People growing up today must know what people were capable of in the past and we must work proactively to ensure that it is never repeated," Merkel said.
Millions of people were robbed of their rights, tortured and murdered – including an estimated six million Jews – across Europe from 1933 to 1945, when the Nazis ruled Germany.
The German leader called for new forms of remembrance due to the dwindling number of eyewitnesses from the Nazi era and because of persistent hatred and incitement today.
Merkel expressed deep regret about anti-Semitism among Germans, as well as hatred of Jews among Muslim migrants and a hatred of Israel that she said could not be tolerated.
Germany last year appointed a commissioner to oversee efforts to combat anti-Semitism and will also set up a central repository to collect information about such incidents and attacks, with an eye to bolstering prevention, Merkel said.
"It will be crucial in the coming time to find new ways of remembrance," she said. "We must look more closely at the personalities of people who were victims back then and to tell their stories."
Merkel cited the importance of supporting Holocaust memorials and private initiatives such as the "stumbling stones" project, which installs brass bricks inscribed with the names and key details of people near the homes from which they were deported during the Nazi era.
"I think these forms of remembrance ... are very important and will become more significant in the future," Merkel said.
On Friday, the director of the memorial at the largest Nazi concentration camp on German soil barred the anti-immigrant Alternative for Germany (AfD) from a commemoration for the 56,000 people killed there during the Holocaust.
Volkhard Knigge, director of the Buchenwald Memorials Foundation, told AfD politicians in the state of Thuringia where the camp is located that he was responding to anti-democratic, racist and anti-Semitic tendencies in the party.
Full report at:
https://en.qantara.de/content/germanys-merkel-calls-for-zero-tolerance-of-anti-semitism-and-hate
--------
Targeting the Muslim 'enemy within': The British government must come clean
Malia Bouattia
28 January 2019
The British government has a Muslim problem. And it chooses to address it by spending millions on deceiving the community, spreading propaganda and rendering them all suspects by introducing policies – like Prevent – which target, criminalise and further discriminate against them.
While the Prevent agenda has received much attention (and rightly so) as the most visible and repressive aspect of the state's approach, other more insidious and indirect means are equally worrying.
Covert propaganda
For example, the Research, Information and Communications Unit (RICU) which sits within the Home Office's Office for Security and Counter-Terrorism (OSCT), has been described as a machine for covert propaganda mostly targeting Muslims in Britain.
Recently, the work of RICU has come under fire following its strong reluctance to publish information on a project that attempted to use supposedly independent British radio dramas to disseminate so called counter-terrorism messages.
A Freedom of Information request focused on a Preston FM radio drama that was made by Manchester-based film researcher Faisal Qureshi.
The 2010 drama, initially titled "Divided We Fall", was broadcast through a community Lancashire-based station and involved professional actors including Mina Anwar as well as local students.
The plot centred around the radicalisation of Ibrahim (played by Conor Alexander), who is described as a young Muslim Asian boy, and Jonno (played by John Catterall), a white soldier who returned from serving in Afghanistan.
The drama explored how people are drawn towards violent extremism, and the alternative options that exist. While the public were made aware of Home Office funding in relation to this project, nothing was said of the OSCT or RICU's involvement.
Apparently, the government deem the disclosure of details relating to RICU's involvement to be a potential national security threat. They justify this decision as a wish to protect the identities of those people and organisations involved in order to maintain an effective working relationship.
In other words, they want to use every legal loophole and manoeuvre to avoid accountability, along with other groups and individuals who are playing the role of state informants and propagandists. Not to mention the need to continue with a project dependent on deceiving the target audience.
Silence, deception and covert messaging
The public, and in particular the Muslim community, has a right to know about projects being funded by the Home Office.
What was the nature of the work? How many members of the community have been targeted and lied to? What relationships have been built without the individuals' knowledge?
If a programme needs to be based on deception, silence, and covert messaging towards the state's own population, it is probably safe to say that it is part of the problem when it comes to radicalisation, rather than the solution.
It may seem like an exaggeration, but the Spy Cops campaign which raised awareness of the undercover police officers who duped numerous women activists into relationships to gather information, has taught us – once more – that the state has no limits or moral framework.
If police officers were prepared to enter false relationships and marriages, father children, and lie to their (supposed) friends and colleagues in order to gather intelligence about political activists, what lengths are they currently prepared to go to in order to police and discipline the Muslim community?
Some will argue that the government is simply misguided in its method of approaching a "sensitive" minority group, but that it ultimately seeks to "do good". Well, RICU itself was a concoction inspired by a 1948 propaganda division known as the Information Research Department (IRD).
This unit was created to counter the influence of communism, target trade unionists as well as journalists who would not take what propaganda was dictated to them by the Atlee government – from the "enemy within" back then, to the "enemy within" today.
Subterfuge campaigns
The Home Office's model for "effective communication" is to approach Muslims as dangerous and guilty, guided by a collective ideology that needs to be crushed and replaced with that of blind allegiance to the British state.
It has even been suggested that the government's resistance to sharing information about their propaganda projects may relate to the unknown scale of their subterfuge campaigns within the arts. How many more radio shows, plays, films, exhibitions etc has RICU funded?
The division's links to a documentary which aired a few years ago on Muslim Olympic athletes at the 2012 competition have already been exposed. RICU was also linked to the establishment of a charity for Syria and various websites, which were thought to be Muslim civil society collectives. All of these spaces were being used for the purpose of so-called counter-terrorism strategies.
It may come as no surprise today that a drama with such a clichéd storyline (at least as far as state counter-terrorism work goes) was being used to further the work of Prevent.
However, it is down to the tireless efforts made by trade unions, students, Muslims, anti-racist campaigners, victims of counter-terrorism policies, academics, healthcare professionals and so many more that we have reached the point of identifying the state's practices and being able to call them out.
Crushing critical thought
It is also within this context that we should acknowledge that the recent announcement of an independent review of Prevent is not a cause for celebration.
How can a government that is funding such covert operations, and has recently expanded the reach of counter-terrorism measures to criminalise internet use, international travel, and imbedded it into local government, expect to be taken seriously when it claims that it will facilitate (and submit to) an independent review?
In fact, if the government was actually listening to the demands of those most impacted - Muslims, migrants, people of colour, students, academics, civil servants who are mandated to comply - they would scrap the policy and move towards de-criminalising an entire community, exhausted by living under continuous siege.
Qureshi's FOI request has now been taken as far as the courts because the information on the scale of the RICU operations have been blocked by the government's lawyers. As we await the outcomes of the tribunal, we must also mobilise against the state's attempts to crush critical thought and dissent through their racist, repressive policies.
Full report at:
https://www.middleeasteye.net/columns/british-government-has-muslim-problem-769267858
--------
Germany says EU soon to launch Iran funding scheme
28 January 2019
The European Union is on the verge of launching an alternative channel to send money to Iran that would sidestep US sanctions against the Islamic republic, Germany's foreign minister said Monday.
The "special purpose vehicle," or SPV, is part of EU efforts to keep alive an international agreement aimed at curbing Iran's nuclear ambitions. The future of the UN Security Council underwritten pact was thrown into doubt when President Donald Trump pulled out last year slamming it as a "horrible, one-sided deal."
German Foreign Minister Heiko Maas told reporters in Brussels that "as far as the special purpose vehicle is concerned: it will be registered, it has not yet been registered, but I would say that the implementation of our plan is imminent."
Maas said the EU's aim is to ensure that "business not sanctioned by the US can be upheld, and there is a suitable instrument for international payments." He said that Germany has been working notably with Britain and France but also other EU partners in recent months to set it up, without providing details.
EU member country envoys discussed Iran Monday, but didn't announce the SPV's completion. It is likely to be discussed when EU foreign ministers meet over two days in Romania from Thursday.
Senior EU officials have been saying for weeks that the financing mechanism would be up and running soon, but they have hesitated to provide details amid European concern that Trump would target the country where it is based and any others taking part.
The White House has been warning the Europeans that they could face stiff fines and penalties should they try to circumvent the sanctions.
Still, the EU insists that the nuclear deal is vital to regional and global security. The bloc has already introduced measures to stop European companies from complying with the US sanctions without authorization from Brussels.
The measures block the effect of any US court action in Europe and allow European firms to recover damages arising from the sanctions from anyone who causes them.
Full report at:
https://english.alarabiya.net/en/News/world/2019/01/28/Germany-says-EU-soon-to-launch-Iran-funding-scheme.html
--------
UK says no Iran role in Iraq 'fanciful' but chides reliance
Jan 28, 2019
The UK has acknowledged that it is unreasonable to expect Iraq to sever relations with neighboring Iran but called on Baghdad to reduce its reliance on Tehran.
Iraq has extensive trade ties with Iran and heavily depends on Iranian natural gas imports, but such close relations do not sit well with the West whose leaders want the two neighbors to remain disengaged.
Britain's Minister of State for the Middle East Alistair Burt was the latest to bring up the subject in Baghdad Sunday, calling on Iraqi leaders to keep Iran at an arm's length.
"What is important is that Iraq finds the opportunity to follow its own future in terms of foreign relations and that its economy is strong, and isn't reliant on Iran," he told Reuters at the UK Embassy in Baghdad.
However, "to expect Iran to have no influence in Iraq is fanciful," said Burt who is the latest on a long list of Western officials visiting Iraq over the past weeks, with Iran being a key subject on their itinerary.
At the center of their discussions is the argument that US President Donald Trump's surprise decision to pull out troops from Syria would lead to Iran digging its heels in Iraq.
Burt played down the possibility of a military standoff between Iran and the US in Syria amid American warnings of a "confrontation which might occur should there be a miscalculation."
Barring extensive economic ties, Iran and Iraq have deep-rooted religious bonds which have grown in recent years, marked by cross-border trekking of millions of pilgrims to Karbala and Najaf.
Iran was famously the first country to rush to Iraq's help in 2014 when Daesh terrorists reached the gates of Baghdad as the Arab country's pleas for help from the US and other countries went unheeded.
With the Iraqi government overwhelmed by the number of volunteers after Grand Ayatollah Ali al-Sistani's fatwa for Jihad, Iranian military advisers stepped in to train and prepare them for combat.
Several Iraqi leaders have acknowledged that without Iran's help, their country would have fallen to Daesh.
Burt's visit followed similar high-profile stops in Baghdad by Trump and his secretary of state, Mike Pompeo, to forward plans to form an international anti-Iran front.
Years of political clashes along with a devastating US invasion have destroyed most of Iraq's critical infrastructure, leaving it heavily reliant on power imports from Iran.
Currently, Iraq imports about 1.5 billion standard cubic feet per day of gas plus electricity and a wide range of goods from Iran.
Iraq shares a 1,450-kilometer border with Iran. Their annual trade stands at $12 billion but the two neighbors are seeking to raise it to $20 billion in the near future.
The US gave Iraq a 45-day waiver for imports of gas from Iran in November 2018 when it re-imposed the second round of sanctions on Tehran. In December, the United States extended the waiver for 90 days.
Iraq's former prime minister and leader of the opposition al-Wataniya faction in parliament Ayad Allawi warned back then that the new US sanctions on Iran would have deep impact on the Iraqi economy.
Prime Minister Adel Abdul-Mahdi also said that Iraq "will not be part of the sanctions regime, as it will not be part of aggression against any country."
Iraq not attending anti-Iran summit in Poland
On Sunday, Iraqi Foreign Minister Muhammad Ali al-Hakim said his country was not going to partake in an anti-Iran conference that Washington will co-host with Poland in Warsaw next month.
Hakim said Baghdad had not received an invitation from the US to attend the meeting, "but it will certainly turn it down if it gets one."
"We will not take part in such meetings, because we believe they are not in the interests of Iraq and the region," he said.
Full report at:
https://www.presstv.com/Detail/2019/01/28/586990/UK-US-Burt-Iraq-energy-imports-Iran-influence-Middle-East
--------
North America
US envoy Khalilzad confirms 'draft framework' with Taliban: NYT
January 29, 2019
The United States and the Afghan Taliban have drafted the framework of a deal which could pave the way for peace talks with Kabul, Washington's main negotiator was quoted as saying on Monday, but major hurdles including a ceasefire and a withdrawal of foreign forces remain.
The comments by special envoy Zalmay Khalilzad to the New York Times are the clearest signal yet from a US official that talks between Washington and the militants are progressing, igniting hopes of a breakthrough in the grinding 17-year conflict.
Khalilzad has been leading a months-long diplomatic push to convince the Taliban to negotiate with the Afghan government, but the militants have steadfastly refused, dismissing authorities in Kabul as "puppets".
The flurry of activity culminated in an unprecedented six straight days of talks in Qatar last week, with both the US and the Taliban citing progress over the weekend.
"We have a draft of the framework that has to be fleshed out before it becomes an agreement," Khalilzad, who arrived in Kabul on Sunday to update Afghan authorities on the talks, was quoted as saying by the Times.
He told Afghan media that Washington and the insurgents had "agreed to agreements in principle on a couple of very important issues", and said Afghans must "seize the opportunity", according to comments released by the US embassy in Kabul.
Experts quickly hailed the development as a milestone, noting it indicated willingness on both sides to find a way out of the conflict.
Acting US Defence Secretary Patrick Shanahan described the talks as "encouraging".
However, there is still no accord on a timetable for a US withdrawal or a ceasefire — major issues on which previous attempts at negotiations have foundered.
On Saturday Taliban spokesman Zabihullah Mujahid said that without a withdrawal timetable, progress on other issues is "impossible".
'Good faith'
Khalilzad confirmed the Taliban had acceded on one major issue for the US: safe havens.
"The Taliban have committed, to our satisfaction, to do what is necessary that would prevent Afghanistan from ever becoming a platform for international terrorist groups or individuals," he told the Times.
He gave no further details, but the statement gave weight to reports last week that the Taliban had agreed to oppose Al Qaeda and the militant Islamic State (IS) group in Afghanistan.
The US invasion of 2001 was driven by the Taliban's harbouring of Al Qaeda, but more than 17 years later the militant group appears diminished in the region.
IS, however, is a growing and potent presence in Afghanistan, where it is fighting a fierce turf war with the Taliban in some areas.
Analyst Michael Kugelman of the Wilson Centre in Washington, DC said such a move had long been a major ask of the US — but noted it was more of a "conciliatory gesture" than a concession.
"The Taliban has never been a friend of ISIS, and Al Qaeda has become a shadow of its former self," he told AFP.
Even so "it signals, at least at this point, that the insurgents are willing to negotiate in good faith and agree to a key US demand".
'Clear, hard assurances'
Afghan authorities have warned that any deal between the US and the Taliban would require Kabul's endorsement.
"I call on the Taliban to ... show their Afghan will, and accept Afghans' demand for peace, and enter serious talks with the Afghan government," President Ashraf Ghani said in a televised address on Monday.
US President Donald Trump's clear eagerness to end America's longest war has also weighed heavy on the discussions, and Ghani warned against rushing into a deal, citing violence following the Soviet withdrawal in 1989.
"We want peace, we want it fast but we want it with a plan," he said.
"No Afghan wants foreign troops to remain in their country indefinitely. No Afghan wants to face suicide attacks in hospitals, schools, the mosques, and parks."
Civilians continue to pay a terrible price for the Taliban insurgency, with some estimates showing the Afghan conflict overtook Syria to become the world's deadliest last year.
Ghani's office said Khalilzad had reassured the government that the negotiations in Qatar remain focused on bringing the insurgents to the table for talks with Kabul.
The palace said Khalilzad confirmed that no agreement had been made on a withdrawal or a ceasefire.
Nato combat troops left Afghanistan in 2014, but thousands remain in training, support and counter-terrorism roles. Trump has said he wants to pull out half the remaining 14,000 American troops, according to US officials.
Kugelman said the process could yet collapse over a withdrawal.
"Who's to say the Taliban won't decide to seize on the resulting battlefield advantage and take up the fight anew?" he said.
Afghan security forces are already taking staggering losses, with 45,000 killed since late 2014, and morale is low.
"There will need to be clear, hard assurances that any troop withdrawals take place only after the Taliban has begun talks with the Afghan government," Kugelman continued.
Underlining the parlous backdrop to the talks, the Taliban on Monday claimed to have killed or wounded 33 US and Afghan forces in two recent incidents, according to the SITE monitoring group. The Taliban routinely exaggerates its attacks, and Nato denied the claims.
The Taliban and US officials have agreed to continue negotiations, though no date has been publicly announced.
https://www.dawn.com/news/1460378/us-envoy-khalilzad-confirms-draft-framework-with-taliban-nyt
--------
Trump warns Europeans not to try to evade Iran sanctions
28 January 2019
The Trump administration is closely eyeing efforts in Europe to set up an alternative money payment channel to ease doing business with Iran and avoid running afoul of sanctions the US has levied on the Islamic republic.
The White House is putting the Europeans on notice, saying that if they try to do an end-run around US sanctions on Iran, they will be subject to stiff fines and penalties. Unfazed, the European Union is marching forward with the plan, which, if implemented, could further strain trans-Atlantic relations.
German Foreign Minister Heiko Maas said Monday that the EU was on the verge of setting up the alternative channel to send money to Iran that would side-step US sanctions on Tehran. He said Germany had been working on it in recent months with Britain, France and other EU partners.
"This has always been our goal and we will implement it," Maas said.
The EU has struggled to keep alive the Iran nuclear deal since President Donald Trump pulled out of it last year. The bloc has already introduced measures to stop European companies from complying with the US sanctions without authorization from Brussels. Getting out ahead of a possible announcement, a senior administration official told The Associated Press on Friday that the US will fully enforce its sanctions and hold individuals and entities accountable for undermining them. The official spoke on condition of anonymity to discuss the issue.
"The choice is whether to do business with Iran or the United States," Sen. Tom Cotton, R-Ark., told the AP. "I hope our European allies choose wisely."
The US joined China, France, Germany, Russia and Britain in signing a pact with Iran in 2015 that offered to lift economic sanctions in exchange for Tehran's pledge to rein in its nuclear weapons program.
President Donald Trump called it a "horrible, one-sided deal." He pulled out of the pact last year and restored punishing US sanctions on Iran. Tehran, which denies wanting nuclear weapons, continues to abide by the agreement, and the remaining five nations in the pact are trying to keep it intact.
Restoring the sanctions regime is part of the Trump administration's "maximum pressure campaign" on the Iranians to force them to radically alter their policies on developing ballistic missiles, supporting regional militant groups and violating human rights.
The US has many concerns about the alternative payment system, according to an outside Trump administration adviser. The adviser spoke on condition of anonymity to discuss the key US worries.
Long-term, the US worries that the alternative money payment system could become successful enough to compete with the international bank transfer system known as SWIFT. The fear is that it could eventually supplant SWIFT as the leading global vehicle for financial institutions to send and receive information about banking transactions.
Secondly, the US is concerned that other countries might try to route transactions through the European system just to circumvent US sanctions, the adviser said. Thirdly, while the Europeans have signaled that the alternative money transfer system would be used only for humanitarian transactions, the US is suspicious that it could be used for non-humanitarian transactions to evade US sanctions, the adviser said.
"We should oppose efforts to create foreign financial channels that Iran could use to circumvent America's maximum pressure campaign against it, especially when humanitarian exceptions are already in US sanctions laws," Sen. Marco Rubio, R-Fla., told the AP.
As the administration prepares for the potential fallout from the possible European move, it is pressing ahead with its sanctions campaign against Iran and preparing to co-host with Poland next month a conference that will focus on combatting Iranian threats.
On Thursday, Treasury imposed sanctions on two Iran-backed militias in Syria and on Qeshm Fars Air, an Iranian civilian airline it accuses of ferrying weapons and personnel to Syria to support President Bashar Assad's government. The sanctions block any assets those targeted might have in U.S. jurisdictions and bar Americans from doing business with them.
At the same time, the State Department told Congress earlier this month that it would waive some Iranian sanctions to allow US companies to sell spare parts to Iranian airlines, which need them to operate aging, American-built Boeing jets.
The waivers raised questions on Capitol Hill because some lawmakers are weighing legislation to specifically target Iran's civilian aviation sector. And Iran hawks outside the administration have expressed concern too.
Mark Dubowitz, the chief executive of the Foundation for the Defense of Democracies, said Iran's aviation sector is being used by the Iranian Revolutionary Guard Corps, a branch of the Iranian military that has ties to militant networks, which Iran uses to expand its influence in the region and abroad.
Full report at:
https://english.alarabiya.net/en/News/world/2019/01/28/Trump-warns-Europeans-not-to-try-to-evade-Iran-sanctions.html
--------
Trump lenience in Khashoggi case payback for Saudi favors: Analyst
Jan 28, 2019
US President Donald Trump refrained from holding Saudi Crown Prince Mohammad bin Salman to account over the murder of Saudi dissident journalist Jamal Khashoggi last October as a means of paying back Riyadh's favors, an American political analyst says.
"Being very wealthy, one moves among the same circle of people and favors are done for each other. People, such as many Saudis, would help bail him out of desperate situations and there would be some payback," Myles Hoenig told Press TV on Saturday.
"In Trump's case, the saved favor was letting" bin Salman "get off nearly 'Scott-free,'" he added.
Khashoggi, a royal insider-turned-bin Salman critic, was killed after entering the Saudi Consulate in Istanbul on October 2, 2018.
After weeks of denials of any involvement in Khashoggi's disappearance, the Riyadh regime acknowledged the "premeditated" murder, but has vehemently sought to distance the heir to the throne from the case.
A Saudi prosecutor has said Khashoggi's body was dismembered, removed from the diplomatic mission, and handed to an unidentified "local cooperator."
Various reports have verified that some on a team that traveled to Istanbul to carry out the murder were drawn from among the crown prince's personal bodyguards. Last December, the Istanbul Chief Prosecutor's office issued arrest warrants for two Saudi nationals close to bin Salman over the foul play.
Trump's deal with Democrats
Hoenig also addressed the issue of Trump's finally reaching a deal with congressional Democrats on Friday to terminate the partial government shutdown that had lasted over a month, without getting the $5.7 billion he had requested for building the US-Mexico border barrier.
He said the US president gave in, in the face of House Speaker Pelosi's "power," and amid attrition among the ranks of his supporters in the country.
"What Trump has likely never encountered was an equal, someone who yields enormous power, if not necessarily financially. He met his match with Nancy Pelosi, a seasoned political fighter who knows how to wield power, and for once, able to capitalize on it," the analyst said.
Full report at:
https://www.presstv.com/Detail/2019/01/28/587012/United-States-Saudi-Arabia-Donald-Trump-Mohammad-bin-Salman-Jamal-Khashoggi-government-shutdown-Pelosi
--------
South Asia
In Kabul, US reports 'agreements in principle' with Taliban
January 29, 2019
KABUL: Negotiators for the United States and the Taliban insurgents have reached "agreements in principle" on key issues for a peace deal that would end 17 years of war in Afghanistan, the top US envoy said Monday.
The statement by US envoy Zalmay Khalilzad followed six days of talks last week with the Taliban in Qatar, where he urged the insurgents to enter into direct negotiations with the government of Afghan President Ashraf Ghani.
Ghani on Monday assured Afghans that their rights will not be compromised in the name of peace with the Taliban, who have been staging near-daily attacks against Afghan forces, causing scores of casualties every week. Their offensive has not let up despite the severe Afghan winter and the insurgents now hold sway over nearly half of the country.
Khalilzad said in an interview with The New York Times that an agreement in principle was reached with the Taliban on the framework of a peace deal "which still has to be fleshed out" that will see the insurgents commit to guaranteeing that Afghan territory is not used as a "platform for international terrorist groups or individuals."
He said the deal could lead to a full pullout of US troops in return for a cease-fire and Taliban talks with the Afghan government.
In his statement released by the US Embassy, Khalilzad said, "We made progress on vital issues in our discussions and agreed to agreements in principle on a couple of very important issues."
"There is a lot more work to be done before we can say we have succeeded in our efforts but I believe for the first time I can say that we have made significant progress," he said.
Acting Defense Secretary Patrick Shanahan said he has been briefed on the talks and described them as encouraging, but he also told reporters that the department has not been directed to prepare for a full withdrawal from Afghanistan.
Speaking before a meeting at the Pentagon with Shanahan, NATO Secretary General Jens Stoltenberg said any discussion about the withdrawal of NATO forces from Afghanistan would be premature. He said Khalilzad had briefed NATO allies on the talks weeks ago. "We are in Afghanistan to create the conditions for a peaceful negotiated solution," Stoltenberg said. "We will not stay longer than necessary, but we will not leave before we have a situation that enables us to leave or reduce the number of troops without jeopardizing the main goal of our presence and that is to prevent Afghanistan from becoming a safe haven for international terrorists once again."
He added that he believes it's too soon to speculate on withdrawal because "what we have to do now is to support the efforts to try to find a peaceful solution. We strongly support those efforts."
Ghani sought to assure Afghans that no deals would be made without Kabul's awareness and full participation.
"Our commitment is to provide peace and to prevent any possible disaster," Ghani said in an address to the nation. "There are values that are not disputable, such as national unity, national sovereignty and territorial integrity."
Ghani's office said he and Khalilzad met late Sunday in Kabul to discuss details from the talks.
Khalilzad's statement emphasized the inclusion of the Afghan government in the talks.
"There is a false narrative that Afghans are not included. That is not true. The Afghan voice is there," he said. "We are working together to get to a comprehensive cease-fire. We are working with the Afghan government, with international partners, to find implementing mechanisms to reach these goals."
Khalilzad has met with the Taliban on a number of occasions in recent months in the latest bid to end America's longest war. The US invaded Afghanistan after the Sept. 11, 2001, attacks to topple the Taliban, who were harboring Osama bin Laden and Al-Qaeda.
The statement from Ghani's office also claimed that the Taliban demanded from Khalilzad the withdrawal of all foreign troops from Afghanistan, but that there was also no agreement on that issue.
The statement added that Khalilzad has no authority to discuss issues such as a future Afghan administration but that his goal is to facilitate an intra-Afghan dialogue, meaning direct talks between the Taliban and Kabul.
Khalilzad had tweeted Saturday about progress in the talks in Qatar, where the insurgents have a political office, saying: "Meetings here were more productive than they have been in the past."
"We made significant progress on vital issues," he tweeted, without offering details.
Abdul Hakim Mujahid, a former Taliban official and currently a member of the High Peace Council, an independent body of clerics and respected Afghan figures, said he believes the Qatar talks resulted in a "good understanding between both sides" but that more discussions are needed in the coming weeks or months.
"Afghanistan's problem is not so simple that it can be solved in a day, week or month, it needs more time and more discussions," Mujahid told The Associated Press.
The Taliban have in the past refused to negotiate directly with Kabul — a standing that does not appear to have changed. They have maintained that they are prepared to talk with US officials only and only about the pullout of foreign forces from Afghanistan.
Afghan political analyst Waheed Muzhda says he believes that Khalilzad and the Taliban have reached agreement on both the withdrawal of US forces from Afghanistan and a cease-fire deal, but that neither side is prepared to say so at this point.
"But peace talks are not possible unless both sides first agree on a cease-fire," Muzhda said.
In Monday's address to the nation, Ghani also stressed that US and other foreign forces are in Afghanistan because they are needed here and that if there is to be any downsizing or pullout, the Kabul government will have to play a role in the talks.
Ghani also reiterated his call on the Taliban to engage "in direct talks with the Afghan government."
http://www.arabnews.com/node/1443701/world
--------
Afghan president says long-term presence of foreign forces not welcome
28 January 2019
Afghan President Ashraf Ghani said on Monday the presence of foreign forces was based on an international agreement and they will not be required in the long term.
"No Afghans want foreign forces in their country for the long term," Ghani said in a televised address.
"The current presence of foreign forces is based on need, and this need has always been contemplated and will be contemplated ... and according to an exact and arranged plan we are trying to bring down that number to zero," he said.
Meanwhile, Ghani called on the Taliban to "enter serious talks" with the government in Kabul Monday, following unprecedented marathon negotiations between the insurgents and the US in Qatar last week.
"I call on the Taliban to... show their Afghan will, and accept Afghans' demand for peace, and enter serious talks with the Afghan government," he said in a nationally televised address from the presidential palace in Kabul.
Afghan authorities have previously complained of being excluded from the discussions in Qatar, and warned that any deal between the US and the Taliban would require Kabul's endorsement.
However the Taliban have long refused to speak directly to Ghani's government, branding them "puppets".
Ghani spoke hours after his office released a statement saying that US special envoy Zalmay Khalilzad had assured them that the focus of the talks in Qatar remains finding a way to facilitate peace negotiations between the militants and Kabul.
Khalilzad arrived in Afghanistan late Sunday after six days of talks between Taliban representatives and US officials in Doha.
Both parties have cited "progress" as hopes rise that the unprecedented length of the negotiations could mean a deal paving the way for Afghan peace talks may be in sight, although sticking points remain.
"We want peace, we want it fast but we want it with a plan," Ghani continued Monday.
Full report at:
https://english.alarabiya.net/en/News/world/2019/01/28/Afghan-president-says-Afghans-do-not-want-foreign-forces-long-term-.html
--------
Deadly airstrikes target Taliban training camp in Kandahar province
28 Jan 2019
Several militants have been killed or wounded in a series of airstrikes which were conducted in southern Kandahar province of Afghanistan.
According to the informed security sources, at 17 Taliban militants were killed and 11 were injured in a series of air strikes in Spinboldak on Saturday night and Sunday morning.
The sources further added that insurgents were targeted at a known enemy training camp in Kandahar which resulted in the destruction of the training compound and all enemy weapons within it as well.
In the meantime, provincial police chief of Kandahar Gen. Tadin Khan Achekzai has said at least 19 Taliban militants were killed and 11 others were wounded in the airstrikes.
Full report at:
https://www.khaama.com/deadly-airstrikes-target-taliban-training-camp-in-kandahar-province-03198/
--------
President Ghani urges Taliban to start direct talks with Afghan government
28 Jan 2019
President Mohammad Ashraf Ghani has urged the Taliban group leaders to start direct negotiations with the Afghan government regarding peace and reconciliation process.
In his televised speech to the nation regarding ongoing reconciliation efforts, President Ghani said Taliban have two options, to join hands with the Afghan nation or to remain an instrument of the outsiders and implement their objectives.
He said the continuation of war prevents the formation of a strong government which is one of the main objectives of the enemies of country.
Emphasizing that the Afghan nation wants peace and reconciliation with a proper plan, President Ghani said the government insists on a peace deal with proper plans to prevent the bitter experience of the former government led by Dr. Najeebullah who was deceived and the deal led to a catastrophe despite the United Nations had given him assurances.
President Ghani also added that he is fully aware of the role of the region and the international community as well as the possible threats and risks after the conclusion of a peace agreement.
Full report at:
https://www.khaama.com/president-ghani-urges-taliban-to-start-direct-talks-with-afghan-government-03199/
--------
ISIS-K militants blown up by IED in Kunar province
28 Jan 2019
At least four militants affiliated with ISIS Khurasan terrorist group have been killed in an explosion triggered by an Improvised Explosive Device.
The 201st Silab Corps of the Afghan Military confirmed that the militants were blown up by an Improvised Explosive Device which the militants were looking to use in an attack.
According to a statement released by 201st Silab, the incident has taken place in the vicinity of Pech Dara district of Kunar province.
The statement further added that the explosion took place while the militants were looking to transfer and plant the IED in Kalaigal area of the district.
The anti-government armed militant groups including ISIS-K loyalists have not commented regarding the incident so far.
Full report at:
https://www.khaama.com/isis-k-militants-blown-up-by-ied-in-kunar-province-03196/
--------
Militants suffer heavy casualties in Ghazni province
28 Jan 2019
Several anti-government armed militants have been killed or wounded during the separate operations, airstrikes, and clash in southeastern Ghazni province of Afghanistan.
The 203rd Thunder Corps of the Afghan Military said at least 4 militants were killed and 2 others were wounded during the Thunder-3 operations in Andar district.
According to a statement released by 203rd Thunder Corps, the coalition forces also carried out airstrikes in Qarabagh district of Ghazni.
The statement further added that the coalition airstrikes resulted into the killing of at least 12 militants while two vehicles were also destroyed.
A clash also broke out between the anti-government armed militants and security forces in Moqor district of Ghazni leaving at least 6 militants dead and 2 others wounded, the 203rd Thunder Corps added in its statement.
Full report at:
https://www.khaama.com/militants-suffer-heavy-casualties-in-ghazni-province-03195/
--------
Senior official: US not seeking permanent military presence in Afghanistan
28 January 2019
A senior US government official, speaking after six days of talks between a US team and the Afghan Taliban, said on Monday that Washington was committed to the withdrawal of foreign forces from Afghanistan after 17 years of war.
The official, who declined to be identified, described "significant progress" in talks last week with Afghan Taliban militants in Qatar on a foreign troop pullout, but more negotiations were needed on a ceasefire and its timing."Of course we don't seek a permanent military presence in Afghanistan," the official said in the capital Kabul.
"Our goal is to help bring peace in Afghanistan and we would like a future partnership, newly defined with a post peace government," the official told Reuters. "We would like to leave a good legacy."
There could not be a withdrawal without a ceasefire, the official added.
Both US officials and the militant group hailed progress after the talks on Saturday, but the US official said that no draft deal had been finalized.
As well as the sticking point of the ceasefire, the Taliban did not discuss the need for talks with the Afghan government to reach a political settlement that the US believes is a core part of a deal.
The Taliban have repeatedly refused to talk to the Western-backed Afghan government, which they see as a puppet of the US.
The US team, headed by special peace envoy Zalmay Khalizad, is in Kabul this week meeting Afghan President Ashraf Ghani.
After being toppled by a US-led invasion in 2001, the Taliban control about half of Afghanistan and are staging daily attacks amid the diplomacy.
Further talks are due to start in Qatar on February 25.
As well as the withdrawal of troops, the official said progress was made on addressing US concerns that Afghanistan is not used as a base by al Qaeda or ISIS for attacks against the US and its allies.
Full report at:
https://english.alarabiya.net/en/News/world/2019/01/28/US-doesn-t-seek-permanent-military-presence-in-Afghanistan.html
--------
Mideast
Experts who exposed Israeli spy firm's link to Khashoggi killing targeted: AP
Jan 28, 2019
Undercover agents have targeted researchers who found out that an Israeli spyware firm had helped Saudi Arabia spy on the communications of dissident journalist Jamal Khashoggi before his murder last year.
According to the Associated Press, men disguising themselves as socially conscious investors have lured members of the Canadian internet watchdog Citizen Lab to upscale hotels to ask them for hours about their work exposing Israeli surveillance.
Two such incidents have taken place in the past two months during which the experts who believe they were secretly recorded were also quizzed about details of their personal lives, the report said.
Citizen Lab Director Ron Deibert slammed the actions as "a new low."
"We condemn these sinister, underhanded activities in the strongest possible terms," he said in a statement. "Such a deceitful attack on an academic group like the Citizen Lab is an attack on academic freedom everywhere."
Whom these agents are working for remains an enigma, the report said, noting that the operatives' tactics recall those of private investigators who assume elaborate fake identities to gather intelligence or compromising material on critics of powerful figures in government or business.
In October, the University of Toronto-based lab confirmed that Saudi Arabia used NSO Group's controversial software, known as Pegasus, to monitor the online activities of Omar Abdulaziz, a Saudi opponent and a friend of Khashoggi, only months before the grisly murder.
Omar later filed a lawsuit against the Israeli spyware firm for helping Riyadh spy on his communications and kill the dissident journalist.
Last month, a report in the Washington Post said the Israeli regime had been directly involved in the sale of sophisticated spyware to Saudi Arabia to help the kingdom purge and assassinate dissidents.
The Post said in its report that Israel's ministry of military affairs had authorized the NSO Group to sell Pegasus, a patch of highly complicated software used for hacking and espionage, to the kingdom.
The targeted researchers Bahr Abdel-Razzak and John Scott-Railton said they didn't want to speculate about who was involved. But both said they believed they were being steered toward making controversial comments that could be used to defame Citizen Lab's reputation.
"It could be they wanted me to say, 'Yes, I hate Israel,' or 'Yes, Citizen Lab is against NSO because it's Israeli,'" said Abdel-Razzak, a Syrian refugee who works at Citizen Lab.
https://www.presstv.com/Detail/2019/01/28/587014/Experts-Israel-spy-firm-Khashoggi
--------
Dozens of Houthis killed in raids in Yemen's Al-Jawf and Saada
January 29, 2019
DUBAI: Dozens of Houthi militants were killed in Arab coalition airstrikes and clashes with the Yemeni army in Al-Jawf and Saada provinces on Monday night, Saudi state-news agency SPA reported.
The coalition raids targeted members of the militia making their way to the Al-Jawf front, while ground troops attacked the Houthis in Saada's Baqim, according to a military statement issued on the Yemeni Ministry of Defense's official website September Net.
The surprise attack left 20 militants killed, including the field commander, while the army recovered large quantities of weapons and various ammunition.
http://www.arabnews.com/node/1443711/middle-east
--------
Yemen truce, prisoner swap timelines pushed back: UN
28 January 2019
The UN envoy for Yemen said Monday the expected timeline for a truce in the flashpoint city of Hodeidah and a prisoner swap between warring parties had been pushed back.
Envoy Martin Griffiths hosted hard-won peace talks between the Yemeni government and Iran-aligned Houthi militias in Sweden last month.
The two parties, who have been at war for four years, agreed at the talks to a mass prisoner swap and an ambitious ceasefire pact in Hodeidah, the Red Sea city home to the impoverished country's most valuable port.
Griffiths, who arrived Monday in Sanaa on his third trip to Yemen this month, said there had been "changes in timelines" for both deals.
"That momentum is still there, even if we have seen the timelines for implementation extended, both in Hodeidah and with regard to the prisoner exchange agreement," he told Asharq Al-Awsat newspaper.
"Yet such changes in timelines are expected, in light of the facts that the timelines were rather ambitious and we are dealing with a complex situation on the ground."
Griffiths also confirmed reports of plans to replace retired Dutch general Patrick Cammaert, who heads the monitoring team tasked with overseeing the Hodeidah truce.
"General Cammaert's plan was to stay in Yemen for a rather short period of time to... lay the ground for establishing the Hodeidah mission," he said.
"All the speculations about other reasons for General Patrick's departure are not accurate."
Cammaert arrived Saturday in Yemen.
The Houthis, who control Hodeidah, have accused Cammaert of not being up to the task and of pursuing "other agendas".
Hodeidah was for months the main front line in the Yemen war. But a precarious calm has largely held in the city since the ceasefire agreement came into force on December 18.
The Hodeidah agreement stipulates a full ceasefire, followed by the withdrawal and redeployment of rival forces from the city -- two clauses that have yet to be fulfilled.
Griffiths said on Monday another round of consultations was temporarily on hold pending progress on the current agreements. Earlier this month he had said that planned talks had been postponed until February.
Full report at:
https://english.alarabiya.net/en/News/gulf/2019/01/28/Yemen-truce-prisoner-swap-timelines-pushed-back-UN.html
--------
Arab Coalition steps up air strikes targeting Houthi gatherings in Yemen
28 January 2019
The Arab Coalition backing Yemen's legitimate government launched 15 air strikes against Houthi militia gatherings in the Hajjah governorate, northwest of the country on Sunday, according to Al Arabiya sources.
On Saturday, coalition fighter jets staged eight air strikes targeting Houthi reinforcements near the Hajour tribal areas.
On Thursday, Yemen's Hajour tribes had appealed for support from the Arab Coalition to confront an attack staged by the militias against the al-Abysa tribe of Hajour in the district of Kashar using rockets and heavy artillery.
The militias had indiscriminately shelled the villages of al-Abysa tribe with heavy artillery, according to eyewitnesses.
Since last September, the Houthis imposed a blockade on Hajour, according to local sources, in an attempt to subdue them.
Full report at:
https://english.alarabiya.net/en/News/gulf/2019/01/28/Arab-Coalition-steps-up-air-strikes-targeting-Houthi-gatherings-in-Yemen-s-Hajjah.html
--------
Iran honored to spearhead anti-terror fight: First VP
Jan 28, 2019
Iran's First Vice President Es'haq Jahangiri says the Islamic Republic is honored to be spearheading the anti-terror campaign in the region while felicitating the Syrian government and nation for their achievements in the fight against terrorism.
Jahangiri made the remarks in a meeting between high-ranking delegations of Iran and Syria, co-chaired by him and Syrian Prime Minister Imad Khamis in Damascus on Monday.
Iran's vice president expressed hope that terrorists would be completely eliminated in the Middle East and said, "The international community and the Europeans should know that if it were not for the sacrifices of the Syrian government and people as well as the country's allies, Daesh terrorists … would establish a government in the region and would turn into a big and insolvable problem for global security."
Back in August 2018, Iran's Defense Minister Brigadier General Amir Hatami hailed the steadfastness of the Syrian people and government forces in their battle against terrorism, expressing confidence that they will achieve a final victory in this path.
"Not only regional people, but people around the world are indebted to the fight carried out against terrorists in Syria," Hatami said in a meeting with Syrian President Bashar al-Assad in Damascus.
The Iranian vice president further said that regional and global security is closely intertwined, emphasizing that the promotion of security in the region leads to enhanced international security.
Jahangiri added that Iran would stand by the Syrian government and nation in the reconstruction plans of the war-stricken country, saying, "Syria has entered a new phase and efforts should be made toward the country's reconstruction."
He noted that Iran is among the countries in the region and across the world that enjoy high capabilities to build power plants and pledged to help Syria in this regard.
Heading a 40-member delegation, the Iranian vice president arrived in the Syrian capital on Monday on a two-day visit to hold talks with senior officials of the Arab country.
Iran is a key ally of Syria. Tehran has been providing military advisory assistance to Damascus in its anti-terror fight.
Jahangiri said in June that the Islamic Republic would stand by Syria in the reconstruction projects of the war-stricken country.
"As the Iranian government and nation stood by the Syrian government and people in the fight against terrorist groups, they will also stand by the Syrian people now that major parts of Syria are under the control of the country's government," Jahangiri said in a meeting with Syrian Minister of Economy and Foreign Trade Mohammad Samer al-Khalil in Tehran on June 19, 2018.
Syria will continue to resist against terrorists: Khamis
Khamis, for his part, hailed Iran's support for his country in recent years and said the achievements made by Syria in the war against terrorists were the triumphs of the two countries, the resistance front as well as all countries in the Middle East.
The Syrian prime minister added that the Arab country's government and people would stand up to foreign plots and are optimistic about their future in the light of cooperation with friendly countries.
He noted that the current visit by the high-ranking Iranian delegation to Damascus would provide an opportunity for the expansion of relations in all fields and called on friendly countries to help Syria with its reconstruction plans.
Full report at:
https://www.presstv.com/Detail/2019/01/28/587061/Jahangiri-Imad-Khamis-Iran-Syria-reconstruction-terrorism
--------
Yemen's rival parties must pull forces out of Hudaydah: UN envoy
Jan 29, 2019
The United Nations' special envoy for Yemen has called on the country's warring sides to pull their forces out of the Red Sea port city of Hudaydah as soon as possible under a recent UN-brokered ceasefire.
Martin Griffiths tweeted on Monday that the timelines set for the withdrawal of Houthi fighters and Saudi-backed militants loyal to the ex-Yemeni government from Hudaydah had slipped.
Representatives from the Houthi Ansarullah movement and the Riyadh-sponsored government of ex-president, Abd Rabbuh Mansur Hadi, reached the truce deal during UN-mediated peace talks in Sweden last month.
Under the deal, they agreed to the withdrawal of their troops and the deployment of UN monitors to the port city, a lifeline for millions of Yemenis.
However, the Houthis – who control Hudaydah -- have repeatedly complained that the Saudi-led coalition, which has been waging a deadly war on Yemen since March 2015, has been violating the ceasefire.
The two sides have also exchanged the names of some 16,000 prisoners, whose transfers were expected to begin on January 19.
"We have seen the timelines for implementation extended, both in Hudaydah, and the prisoner exchange agreement. Such changes in timelines are expected," Griffiths said. "The initial timelines were rather ambitious. We are dealing with a complex situation on the ground."
Separately on Monday, the UN envoy told London-based Asharq al-Awsat newspaper that he was optimistic about the resolution of the Yemen conflict.
"We have seen the two parties demonstrate remarkable political will, first to reach a ceasefire agreement, and then to abide by it. What we need to see now is the implementation of the provisions of the agreement, fully and rapidly," he said.
The official further confirmed that retired Dutch General Patrick Cammaert, who has been leading an advance UN mission tasked with overseeing the Hudaydah truce, was stepping down. He, however, denied reports that disagreements had led to the resignation. "There is no element of truth to such reports. As a matter of fact, General Cammaert and I have been working closely to close the gap between the two parties on the operational implementation of the Hudaydah Agreement," Griffiths noted.
Earlier on Monday, UN Secretary General Antonio Guterres notified the Security Council, in a letter seen by Reuters, that Cammaert would be replaced with Danish Lieutenant General Michael Anker Lollesgaard, who led a UN peacekeeping mission in Mali in 2015 and 2016.
Meanwhile, Ansarullah leader Abdul-Malik Badreddin al-Houthi sat down with Griffiths in the capital Sana'a on Monday.
During the meeting, Houthi criticized the Saudi-led aggressors for maintaining the inhumane siege on Yemen, closing the Sana'a airport and taking unjust measures against Yemeni civilians.
Griffiths, for his part, vowed that he would take serious steps in the coming days regarding the implementation of the Hudaydah ceasefire and the planned prisoner swap.
Aid groups raise concerns
In another development on Monday, 14 international aid agencies met in London, warning that conditions for thousands of starving Yemeni people were deteriorating fast.
"It is what I like to call a prison without walls for the people living in the country at the moment. It is a difficult situation where people are struggling to buy their daily rations to be able to feed their children," said Yemeni Oxfam campaign manager Awssan Kamal.
Moreover, Isabelle Moussard Carlsen of Action Against Hunger underlined the need for a political solution to the conflict.
Full report at:
https://www.presstv.com/Detail/2019/01/29/587082/Yemen-Hudaydah-Martin-Griffiths-Saudi-Arabia
--------
Turkey to set up safe zones in Syria: President Erdogan
Jan 28, 2019
Turkey says it will form safe zones in northern Syria so that millions of Syrian refugees hosted by the Ankara government could return to their home country, which is now recovering from nearly eight years of foreign-sponsored militancy.
Speaking in the Turkish port city of Istanbul on Monday, President Recep Tayyip Erdogan said nearly 300,000 Syrians had already returned and that he expected millions more to move to the safe areas.
The establishment of safe zones on the Syrian-Turkish border was recently proposed by the United States, which has decided to withdraw its troops from Syria. But America is concerned that its Syrian Kurdish allies in the area would be targeted by Turkey when it withdraws. Ankara regards armed Syrian Kurds as terrorists.
US President Donald Trump earlier suggested the creation of a 30-kilometer safe zone along Turkey's border with Syria but did not specify who would create or pay for it.
Erdogan said Turkey will be establishing the zones.
"We are aiming in the first phase to create safe zones where four million Syrians who now live in our country can return," he said in his Monday remarks. "We will soon bring security and peace to the east of the Euphrates."
Erdogan also said Turkey had held "positive talks" with the US and Russia and pledged to "continue to be in contact with powers which have a military presence in the field."
Russia has earlier rejected the US proposal.
There was no immediate reaction from Moscow to Erdogan's remarks.
Turkey considers the US-backed People's Protection Units (YPG) a terrorist organization and an extension of the outlawed Kurdistan Workers' Party (PKK), which has been fighting for an autonomous region inside Turkey since 1984.
Turkey says it hosts about four million Syrian refugees.
In December last year, the United Nations (UN)'s refugee agency said that up to 250,000 Syrian refugees could return to Syria as most of the once-militant-held regions were now back under government control.
According to the UN, over five million Syrian refugees still live in neighboring countries, such as Turkey, Lebanon, Jordan, Egypt, and Iraq.
The return of the refugees began after Syrian army troops liberated Syrian cities, towns, and villages from militants and terrorists.
Full report at:
https://www.presstv.com/Detail/2019/01/28/587057/Turkey-President-Tayyip-Erdogan-Syria-UN-Trump
--------
PKK earns $1.5bn annually from drug trade, says Turkish interior minister
Jan 28, 2019
Turkish Interior Minister Suleyman Soylu says the Kurdistan Workers' Party (PKK) militant group is annually earning more than a billion US dollars from drugs.
"The revenue [the] PKK earns from drugs annually is $1.5 billion ... [The] PKK is an organization [involved in] human smuggling and drug trafficking. Even the United States has confessed this reality in official reports," Soylu said at an anti-narcotics event in Turkey's southern province of Antalya.
He highlighted that drug trafficking and acts of terror went hand in hand with each other.
"Terror opens space for drugs and provides logistical facilities to it. Drugs, on the other hand, provide finances to terror," Soylu said.
The Turkish interior minister said the 28-member European Union seized a total amount of 4.27 tons of heroin in 2016.
"The amount we seized alone in 2017 was 15 tons and 17.9 tons in 2018," Soylu pointed out.
Back in November last year, the Turkish interior minister said the PKK controlled 80 percent of the drug trade in Europe.
PKK militants regularly clash with Turkish forces in the Kurdish-dominated southeast of Turkey attached to northern Iraq.
Turkey, along with the EU and the US, has declared the PKK a terrorist group and blacklisted it. The militant group has been seeking an autonomous Kurdish region since 1984.
A shaky ceasefire between the PKK and the Turkish government collapsed in July 2015. Attacks on Turkish security forces have soared ever since.
Over the past few months, Turkish ground and air forces have been carrying out operations against PKK positions in the country as well as in northern Iraq and neighboring Syria.
Full report at:
https://www.presstv.com/Detail/2019/01/28/587023/PKK-earns-15bn-annually-from-drug-trade-in-Europe-Turkish-interior-minister-says
--------
Africa
Relations with Eritrea are vital in the fight against Al Shabaab
29th Jan 2019
It has been said that one of the most important tactics in the war against terrorism is stopping the flow of money, support, and arms, and preventing terrorists from acquiring and expanding their base of operations.
The Americans understood this in Afghanistan and used it to moderate success. Similarly, many world leaders have come to understand that if you manage to stop the money and arms, it is far easier to stop the bloodshed.
In 2011, the world witnessed two planes landing at an Al Shabaab-controlled airfield in Somalia, loaded with arms destined for terrorist group.
While it was known where the planes landed and what was on them, few knew from where the planes had taken-off. Many fingers immediately pointed at Eritrea, an accusation the government in Asmara vigorously rejected. However, not many experts and international observers believed the denials.
"I think no one doubts that Eritrea has throughout the last four years been supportive of Al Shabaab, sending in weapons, sending in trainers and also training hundreds of Al Shabaab fighters in some of its military camps," said Rashid Abdi, an analyst with the International Crisis Group, at the time.
"But, as I said, it is very difficult to confirm this news story that this support has been resumed by Eritrea."
The United Nations Security Council imposed an arms embargo on Eritrea in December 2009, including travel restrictions and asset freeze on top Eritrean political and military leaders because of alleged support for Al Shabaab militants.
Been frosty
A United Nations report released in 2011 alleged Eritrea had flown weapons and fighters into Somalia on numerous occasions.
The report also said Eritrea had been funnelling about $80,000 a month to people linked Al Shabaab through the Eritrean embassy in Nairobi.
The Kenyan authorities at the time had seen and heard enough and directly accused the Eritreans of supporting the terrorists, and had indicated it would review its diplomatic relations with its neighbour to the north.
Since then, the relations between the two nations have been frosty. However, President Uhuru Kenyatta has been working hard over the past few years to ensure that the Eritrea-Al Shabaab links are broken.
In 2013, not long after the Westgate massacre, Eritrean President Isaias Afwerki arrived in Nairobi for the Golden Jubilee celebrations of the country's independence. He held talks with Uhuru on "regional peace and stability".
Early last year, Afwerki returned to Nairobi for talks of a similar nature. Not long after, the United Nations lifted its sanctions against Eritrea, having concluded that the Red Sea nation had stopped its assistance to Al Shabaab.
Now, President Uhuru is traveling to Eritrea to become the first Kenyan president to visit that nation since 1999, and the timing is not a coincidence.
Landmark agreement
The President knows that in the wake of the dusitD2 attack, he must take a holistic approach to defeating the terrorist organisation, and that means ensuring that all channels of assistance and support are stopped.
Eritrea, for many years, was seen as part of the problem in our region, especially with its assistance to terrorists, but now it can become part of the solution.
Kenya has played a significant role in turning Asmara away from being a base of support for terrorism to becoming a pivot for peace in the Horn of Africa, especially since it signed a landmark agreement with Ethiopia in June of last year, committing to end a bitter two-decade dispute with Addis Ababa.
Now that Al Shabaab has launched another deadly attack on Kenya, the President is using all of his reputed diplomatic acumen to enlist the support of President Afwerki in the fight against the Somalia-based terrorist organisation.
President Kenyatta will leave no stone unturned in ensuring that Al Shabaab is dealt a heavy blow for shedding the blood of Kenyans. Sometimes it takes a heavy military hand to defeat terrorism, but without a holistic and clever diplomatic strategy, terrorists have long demonstrated their ability to change and adapt.
The key to success is to stop and disrupt the remaining channels that they might have to regroup, restock and rearm. Eritrea is an absolutely vital player in this strategy and President Uhuru's historic visit there could not have been better timed.
The net circling around Al Shabaab held by President Kenyatta is at the ready. Now he just has to ensure there are no gaping holes in it.
https://www.standardmedia.co.ke/article/2001311130/relations-with-eritrea-are-vital-in-the-fight-against-al-shabaab
--------
Sudan's Bashir vows to bring peace as protests called in conflict zones
28 January 2019
President Omar al-Bashir vowed Monday to bring peace in the state of South Kordofan where Sudanese forces are fighting rebels, as protesters planned to hold anti-government rallies in the country's conflict zones.
Deadly protests triggered by a government decision to raise the price of bread have rocked the east African country for weeks.
The demonstrations have spiraled into nationwide rallies against the government of Bashir, who swept to power in an Islamist-backed coup in 1989.
Officials say 30 people have died in the violence since the protests first erupted on December 19 in the farming town of Atbara, before spreading to Khartoum and other regions.
Rights groups say more than 40 people have been killed.
On Monday, Bashir vowed to work to bring peace in South Kordofan, a region ravaged by a deadly conflict between government forces and rebels since 2011.
"Our top priority is to bring peace to this area," Bashir, dressed in military uniform, told a crowd of cheering supporters at a televised rally in Kadguli, the capital of South Kordofan.
"We are ready to go to any length to bring peace to this area. We will undertake all efforts that will bring peace to this area."
In 2011, fighting erupted in the states of South Kordofan and Blue Nile, both bordering South Sudan, eight years after a brutal conflict broke out in the country's western region of Darfur.
Tens of thousands of people have been killed in the three conflicts and millions displaced over the years after ethnic minority rebels took up arms against Khartoum, accusing it of economic and political marginalization.
Bashir is wanted by the Hague-based International Criminal Court on charges of war crimes, crimes against humanity and genocide related to the war in Darfur. He denies the charges.
The Sudanese Professionals Association (SPA) leading the protest campaign has called for rallies in the three conflict zones of Darfur, Blue Nile and South Kordofan on Monday.
Rallies have also been called in other states and in camps for internally displaced people "to show our people's rejection of the dictator", the SPA said in a statement on Sunday.
For years, anger has been mounting across Sudan over growing economic hardships and deteriorating living conditions.
Full report at:
https://english.alarabiya.net/en/News/middle-east/2019/01/28/Sudan-s-Bashir-vows-to-bring-peace-as-protests-called-in-conflict-zones.html
--------
Eastern Libya govt delegation visits key southern city of Sabha
28 January 2019
A high-level delegation from Libya's parallel government in the east visited the main southern city of Sabha on Monday after its forces this month seized control of the city, an official said.
The eastern government is allied to Khalifa Haftar, whose Libyan National Army (LNA) launched a campaign this month in southwestern Libya.
Sabha had been nominally under the control of the internationally recognized government in Tripoli but in reality was run by local groups including tribes.
Control of Sabha is seen as vital for securing southern Libya's oilfields, one of the stated goals of the LNA campaign.
The interior, health and junior justice ministers of the eastern government, which is based in Benghazi, were seen meeting local officials in the municipality of Sabha in pictures sent to Reuters by members of the visiting delegation.
The officials later visited the main hospital and a court, journalists said.
Tripoli officials could not be reached for comment on the visit, which further highlighted the internationally recognized government's continued lack of authority in most of Libya.
Tripoli-based Prime Minister Fayez al-Serraj said during a visit to Vienna on Monday that "many things" were not going well in the south, but he did not allude to the visit by the eastern delegation or to the LNA advance.
"Regarding the south we need better support for our security forces. We need more cooperation between all security forces," he said.
The LNA has secured Sabha airport and other strategic sites in the area in recent days, after local groups handed them over without a fight.
The LNA says its campaign is aimed at combating militant groups and securing oil facilities in the south, which include El Sharara oilfield, Libya's biggest.
On Monday LNA forces killed a suspected al-Qaeda fighter called Adel Ahmed al-Abdaly when they stormed his house in Sabha, LNA spokesman Ahmed Mismari said. Otherwise the city has been largely quiet since the arrival of the LNA.
Full report at:
https://english.alarabiya.net/en/News/north-africa/2019/01/28/Eastern-Libya-govt-delegation-visits-key-southern-city-of-Sabha.html
--------
17 suspected al Shabaab recruits arrested in Samburu
Jan. 28, 2019
Police on Sunday arrested 17 youths at a hideout in Samburu town.
Authorities say they suspected the youth to be al Shabaab recruits who were being prepared to be transported to Somalia.
Kinango OCPD John Kemboi said the 17 were hiding in the holding centre, a two-room house near Samburu market.
They are 2 ladies and 15 men aged between 18-27 years.
"Our informers tipped us and we raided the house," Kemboi told the Star.
Kemboi said after interrogations, the youths confessed to having been promised jobs with huge salaries.
The OCPD said two suspects arrived a few days ago while the others have lived in the house for almost a month.
Two of them had completed form four and another two had completed class eight.
The rest were drop-outs according to the police boss.
Identification documents show that they come from Tana River, Kilifi, Nakuru, Baringo and Kisii counties.
Full report at:
https://www.the-star.co.ke/news/2019/01/28/17-suspected-al-shabaab-recruits-arrested-in-samburu_c1885725
--------
Art, Drama Help Children Who Survived Boko Haram Attacks
January 28, 2019
DAKAR —
Growing mental health services for children who have survived Nigeria's Islamist insurgency can help prevent future violence, aid agencies said Monday, although huge needs remain unmet.
In Niger's Diffa region, about 250,000 people have fled fighting around Lake Chad where Islamist group Boko Haram has been waging attacks since 2009, according to the United Nations.
Two-thirds are children, many of whom have witnessed extreme violence and have no way to process their anger and trauma, said medical charity Medecins Sans Frontieres (MSF).
"We have many children who tell us, 'When I grow up I'm going to revenge myself,'" said Yacouba Harouna, MSF's supervisor of mental health activities in Diffa.
"This is why we say, better to act early than late."
Boko Haram has targeted schools and abducted more than 1,000 children since 2013, according to the U.N. children's agency, including, most notably, the abduction of 276 schoolgirls from the town of Chibok in 2014.
MSF works primarily with Nigerian refugees between the ages of 7 and 14 in Diffa, some of whom were kidnapped, said Harouna. Art and drama help them release their emotions, he said.
Many draw pictures of people being slaughtered or in combat.
The aid group expanded its work with children last year, carrying out 700 consultations between March and June. Children now make up 35 percent of its mental health patients in Diffa, but it is the only agency providing these services in the area and is nowhere near reaching everyone in need, Harouna said.
"Child protection and children's support in conflict zones is already underfunded ... and psychosocial support even less," said Natalie Turgut, a policy and advocacy adviser for War Child, a U.K.-based charity for children affected by war.
Full report at:
https://www.voanews.com/a/art-drama-help-children-who-survived-boko-haram-attacks/4762474.html
--------
Jordan won't control al-Tanf base after US withdraws from Syria: FM
Jan 28, 2019
Jordanian Foreign Minister Ayman Safadi says his country's military forces will neither take over nor control a US-run military base in southern Syria after American troops withdraw from the war-battered Arab country.
Speaking in an exclusive interview with Russia's Sputnik news agency, Safadi said that al-Tanf base lies outside the Jordanian territory, dismissing speculations that the facility would be handed over to Jordan.
The top diplomat stressed that Amman hoped Jordan, Russia and the United States would instead hold trilateral talks to take necessary measures to ensure security in Syria's border region with Jordan.
"Jordan will protect its borders but will not cross into Syrian territory. What we are hoping for is again to have a trilateral discussion that will agree on arrangements that will ensure security on the other side of the border.
"Al-Tanf is on the other side of the Jordanian border. As I said, Jordan will not cross its border. We will take every measure we have to protect our security. We will eliminate any threat to our security. But arrangements on the other side of the border after withdrawal will have to be agreed by all parties, and they have to ensure the safety and security in the area," Safadi pointed out.
Rukban refugee camp
Elsewhere in his remarks, the Jordanian foreign minister hoped that a second UN humanitarian convoy would soon reach the Rukban refugee camp, located on the Syrian-Jordan border.
"The discussions over allowing the second humanitarian convoy to Rukban from inside Syria have been going on for some time. We are hopeful that an agreement will be reached soon so that the needs of the residents of the camp are met. We understand there has been some progress and we hope the convoy will be arranged soon," Safadi said.
He highlighted that Amman continues negotiations with Moscow and Washington in a bid to permanently dismantle the camp.
The Jordanian foreign minister said the Rukban refugee camp poses a threat to his country's security, emphasizing that terrorist attacks organized inside and carried out outside the camp have claimed the lives of several Jordanian security personnel over the past few years.
"We are in discussions with the Russians and the Americans on the modalities of achieving that as soon as possible … Similar conversations have taken place in the past through the Amman monitoring center. So we are working to have the meetings happen there … What we are working on now is to make sure that those meetings continue with a view to ensuring a quick agreement on steps to have these IDPs [internally displaced people] go back to their homes," Safadi said.
The United Nations says about 45,000 people, mostly women and children, are trapped inside the Rukban refugee camp.
This is while Geneva-based international aid agency Doctors Without Borders (MSF) has put the number of refugees living there at some 60,000.
Last October, the so-called Syrian Observatory for Human Rights (SOHR) said people in Rukban have been without access to food and humanitarian aid for several months.
The group highlighted that the tough situation is further complicated with a closed border by Jordan.
Jordan closed its border with Syria following an attack on its soldiers by Daesh Takfiri terrorists back in 2016. In October last year, however, Amman re-opened the Nasib border crossing with Syria for the first time in three years, as the crisis in Syria is gradually winding down thanks to the Syrian army's decisive gains against terrorists.
The area where Rukban is located is controlled by the former US-backed Shuhada al-Qaryatayn militant group. The extremists were supposed to evacuate to Syria's northwestern province of Idlib in accordance with a Russian-backed deal, but refused to do so.
Full report at:
https://www.presstv.com/Detail/2019/01/28/587054/Jordan-wont-control-alTanf-base-following-US-Syria-withdrawal-foreign-minister-says
--------
7 Ways Al Shabaab Uses to Make Millions
By TIMOTHY MAINA
29 January 2019
Terror group Al Shabaab has devised new efficient ways to make money and remain in operation.
According to National Counter-Terrorism Centre, sympathisers are now using mobile money to fund the terrorists.
Locally, Al Shabaab thrives on taxation and illegal sale of charcoal.
The Organised Crime and Corruption Reporting project estimates that group earns about Ksh700 million from smuggling charcoal to the Middle East every year.
"The group derives its revenue from a variety of domestic sources, primarily taxation on transiting vehicles and goods, business and agriculture and forced zakat (alms).
The funds are then at the disposal of the head of Al Shabaab department of finance and it's governing council to distribute to other departments," a report by United Nations Security Council.
Globally, it is funded by other terrorist groups, states, charities, the Somali diaspora, kidnapping and extortion of local businesses and farmers.
"At one point in Bay region, it is estimated that Al Shabaab generates approximately Ksh1 billion per years by taxing transiting vehicles and goods."
Collection of the taxes is enforced through violence and intimidation.
Full report at:
https://www.kenyans.co.ke/news/36398-7-ways-al-shabaab-use-make-millions
--------
URL: https://www.newageislam.com/islamic-world-news/council-islamic-ideology-pakistan-recommend/d/117588
New Age Islam, Islam Online, Islamic Website, African Muslim News, Arab World News, South Asia News, Indian Muslim News, World Muslim News, Women in Islam, Islamic Feminism, Arab Women, Women In Arab, Islamophobia in America, Muslim Women in West, Islam Women and Feminism