New Age Islam News Bureau
25 Aug 2017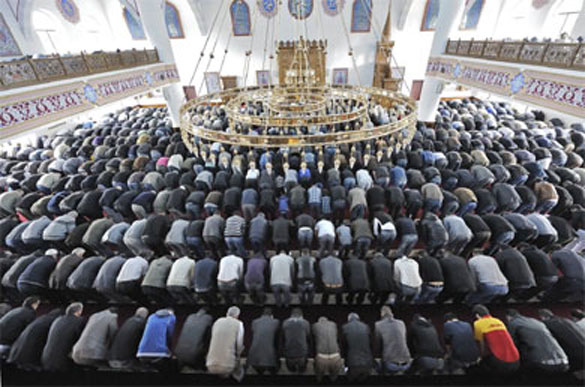 FILE - In this Sept. 10, 2010 file photo Muslims pray at a mosque for the Eid al-Fitr holiday, which marks the end of the holy Muslim fasting month of Ramadan in Duisburg, western Germany. A new study says the integration of Germany's 4.7 million Muslim immigrants is improving especially when it comes to employment and language skills. The Bertelsmann foundation said Thursday, Aug. 24, 2017 about 60 percent of Muslims, who moved to Germany before 2010, now hold a full-time job and 20 percent work part-time jobs _ similar to ethnic Germans. (Martin Meissner, file/Associated Press)
----
• Confusion in Islamic Courts Post Supreme Court Ruling
• Islamic State Urges Muslim Extremists to Wage War in Philippine City Of Marawi
• ISIS Brands Australia 'Guard Dog of America
• 70-Year-Old Muslim Cleric Murdered Over Sectarian Beliefs in Pakistan
• Coordinated Taliban Attacks Repulsed In Nuristan, 30 Militants Killed, Wounded
India
• Confusion in Islamic Courts Post Supreme Court Ruling
• The Indian Muslims for Secular Democracy Lauds SC's Verdict, Slams Jamiat Ulema-e-Hind
• Four Pakistani women, two Hindu and two Muslim, get Indian citizenship
• Separatist leader Geelani's sons questioned by NIA again in terror funding probe
--------
Southeast Asia
• Islamic State Urges Muslim Extremists to Wage War in Philippine City Of Marawi
• China Official Says Xinjiang's Muslims Are 'Happiest in World'
• 'Religious developments' in peninsula worry non-Muslim Sarawak leaders
• Memali RCI will show 'misconduct' towards Islam by 1985 leaders, Hadi claims
• Indonesians uncover syndicate spreading hate speech online: police
--------
Europe
• ISIS Brands Australia 'Guard Dog of America
• Study: Integration of Muslims In Germany Moving Ahead
• Muslims have the most to lose from Barcelona
• In Spain, Muslims hold rally against terrorism following deadly attacks
• Fourth suspect in Spain attacks granted release
• German FM: Turkey will never be EU member under Erdogan
• Germany rules out EU membership for Turkey under Erdogan
--------
Pakistan
• 70-Year-Old Muslim Cleric Murdered Over Sectarian Beliefs in Pakistan
• Only Interfaith Harmony Can Bring Absolute Peace In Pakistan: WCR
• China, Russia defend Pakistan's important role in Afghanistan
• Pakistan's Muhajirs: An ally in ending terrorism
• Parliament to finalise way forward over Trump threat
• Cleric's relatives prevented from holding presser at Lal Masjid
• Pakistan committed to peace in Afghanistan: Asif
--------
South Asia
• Coordinated Taliban Attacks Repulsed In Nuristan, 30 Militants Killed, Wounded
• Worst Violence in Months Kills 12 in Myanmar's Rakhine
• Police probe after pig's head left at Muslim prayer centre in Co Down
• Bangladesh University drops dress code after backlash
• Surrendered Taliban leader speaks of foreign intelligence role in Afghan violence
• Top US general in Afghanistan claims Taliban cannot win war
• New Zealand to increase military personnel in Afghanistan
• Explosion in Kabul city leaves one wounded
• General Dostum welcomes announcement of new US strategy for Afghanistan
--------
Arab World
• Over 300 Daesh Terrorists Slain, 31 Districts Retaken In Tal Afar Op: Official
• Hezbollah Seizes Much of ISIS Enclave on Syrian-Lebanese Border: Nasrallah
• Fresh US-led air raids kill 7 civilians in Syria's Mayadin
• Syrian troops surround Daesh terrorists in Badiya desert: Monitor
• Thousands of Tribal Forces Join Syrian Army for Anti-ISIL Operations
• Fierce Infighting Reported among Ankara-Backed Terrorists in Al-Bab
• Al-Nusra, ISIL Terrorists Heavily Defeated in Homs
• ISIL Heavily Defeated as Syria, Russia Intensify Operations in Deir Ezzur
• Syrian Army Surrounding ISIL in Badiyeh
• Syria: Tens of Gunmen Receive Gov't Amnesty in Northern Homs
• Bahrain dismantles cell of 10 people plotting terror operation
• US, Saudis urge Syria opposition to accept Assad's political role: Report
--------
Mideast
• US 'Destabilizing' Policies Spawn Terrorism in Region: Iran
• Israel Charges Palestinian Cleric Sheikh Salah with Incitement of Terror
• Pessimism as Kushner holds Israeli, Palestinian talks
• Deposed Yemen's Saleh rallies followers in Sanaa amid Houthi rift
• Kushner's Mideast peace push met with Palestinian skepticism
• Iraqi Kurdistan referendum in line with US policy: Iranian general
--------
Africa
• Britain's Johnson Meets Libya's Khalifa Haftar, Urges Dialogue
• Buhari warns off foes as he takes back the reins
• Uganda courts accused of targeting Muslims
• Lamido Sanusi, Kano's 'progressive fraud', takes aim at child marriage in Nigeria
--------
North America
• Trump Backs off Afghan Withdrawal, Lambasts Pakistan
• Abdul El-Sayed Could Be America's First Muslim Governor
• In the South, a new helping hand: Muslim disaster relief teams
• Kushner arrives in Palestine amid protests
• Add Anti-Racism Lessons To Curriculum: Canadian Muslim Leader
Compiled by New Age Islam News Bureau
URL: https://www.newageislam.com/islamic-world-news/confusion-islamic-courts-post-supreme/d/112332
--------
Confusion in Islamic Courts Post Supreme Court Ruling
Aug 24, 2017
The Supreme Court's historical verdict on triple talaq seems to have affected the working of Islamic courts (Darul Qaza) here, as they are clueless on how to deal with the cases that come up. Officials said suitable instructions would be passed to the Darul Qaza only after the All India Muslim Personal Law Board's (AIMPLB) review meet.
"Utter confusion prevails in Islamic courts as scholars are clueless over giving judgements on triple talaq-related issues," said a man associated with an Islamic court at Farangi Mahal here.
He said the confusion stemmed from the fact that the court's order did not define what would be the fate of the talaq or marriages taking place within the 'vacuum period' or within six months. "Issues like what will happen to those who go for talaq within six months (by the time the government forms a law), what will be the punishment or what will be the fate of the marriage taking place within six months after giving talaq and what will be the legal status of the wife or the children are still not clear," said Maulana Khalid Rasheed Farangi Mahali.
The situation is no different at another Islamic court in Nadwa.
Maulana Khalid, member of AIMPLB, said necessary instructions would be passed to the Islamic courts to entertain the issues related to triple talaq only after the AIMPLB review meet.
http://www.hindustantimes.com/lucknow/confusion-in-islamic-courts-post-supreme-court-ruling/story-PSuNZFbEWyROK7yRhmeJAM.html
--------
Islamic State urges Muslim extremists to wage war in Philippine city of Marawi
Nicola Smith, tapei
25 AUGUST 2017
The Islamic State terrorist group has released a new video calling on Muslim extremists in Southeast Asia to wage holy war in the besieged Philippine city of Marawi, while denouncing America and Australia for aiding the country's military.
Its release comes as the battle between Isil-linked militants and government forces in the southern Muslim city of Marawi enters its fourth month, fuelling fears that the terrorist group is trying to set up a regional base in Southeast Asia after crushing defeats in the Middle East.
In the seven-minute long video, produced by Isil's Al Hayat media centre, a fighter identified as Abul-Yaman from Marawi, appeals to Muslim brothers in East Asia, particularly those in Indonesia, Malaysia, Brunei, Thailand and Singapore to migrate to the city "to perform jihad."
The graphic and chilling footage, which depicts dead Philippine soldiers and militant "martyrs" dying in battle, is accompanied by an American-accented narrator who rails against the "subjugation" of Muslims in the Philippines.
It opens with scenes of young men engaged in heavy fighting amid the city ruins, brandishing AK-47s through incoming mortar fire and air strikes.
In scenes reminiscent of the destruction of Mosul, Iraq, it then switches to the destruction of a Catholic church, showing militants tearing down a cross, smashing statues of the Virgin Mary and ripping up posters of the pope.
"We will make revenge...We will be in Rome, in'shallah," shouts a masked militant.
The terrorist group then turns its ire on Philippine President Rodrigo Duterte, for running to "his masters, the defenders of the cross, America, along with their regional guard dog Australia" to beg them for help.
It accuses the Philippines' allies of aiding Duterte in "a malicious air campaign" against the Islamic State.
The fighting in Marawi has put Canberra on edge, with rising concerns that the growth of Isil in the region could herald more terrorist attacks in Australia.
In June Australia deployed two surveillance planes to Mindanao province, where Marawi is located, to help the Philippine military in the battle. Earlier this week, Australian spy chief Nick Warner also met President Duterte in an unusually public visit to discuss progress.
The Philippines regional neighbours are also nervous. Malaysia's top terrorist officer, Ayob Khan Mydin Pitchay, told Channel NewsAsia that the new video was "powerful" and would "inflame the passions" of Muslim fanatics.
"Since the Marawi siege started, we have seen increased activities from IS cells in Malaysia trying to enter into the southern Philippines," he said.
http://www.telegraph.co.uk/news/2017/08/25/islamic-state-urges-muslim-extremists-wage-war-inphilippine/
--------
ISIS Brands Australia 'Guard Dog of America
August 25, 2017
Islamic State has released a graphic video from the ­besieged southern Philippines city of Marawi, appealing to Muslims across Southeast Asia to join the battle and deriding Australia as the ­"regional guard dog" of America for aiding the military's effort.
Regional concerns that the three-month siege of central Marawi by militants affiliated with Islamic State could spill over into Southeast Asia led Australia to deploy two P3 Orion surveillance planes to Mindanao in June to help The Philippines' security forces to recapture the city.
Australian spy chief Nick Warner met President Rodrigo Duterte this week to discuss the country's contribution and progress in the military effort.
Foreign Minister Julie Bishop was forced yesterday to defend the Australian Secret Intelligence Service director-general amid criticism from rights groups and the opposition over a series of photographs taken after the meeting in which both men made the President's trademark fist gesture. Mr Duterte is facing rising domestic and international ­condemnation for his murderous war on drugs, which has claimed more than 12,000 lives, many thousands of them in extra-­judicial killings.
Experts have said Mr Warner's appearance was "highly unusual" but his willingness to allow the images and video to be released indicated how important co-operation with the Duterte government had become because of the protracted Marawi conflict.
Ms Bishop suggested this was the case, but was confident that the photo "was not the director-general's idea".
"This has the potential to be the Southeast Asian headquarters for ISIS, so we take this conflict very seriously and we are providing support to The Philippines government to assist the armed forces of The Philippines to end this conflict," Ms Bishop said.
The latest Marawi video, an ­almost seven-minute ­English-language production from Islamic State's Al-Hayat Media Centre, features graphic battle footage and images of young militants setting fire to a church, ripping up pictures of Pope Francis and smashing a large crucifix and statues of Mary. It also attacks Australia's role in aiding the Duterte government.
"After soldiers of the Taghut (Infidel government) were left ­embarrassed and demoralised, Duterte ran to his masters, the ­defenders of the cross — America, along with their regional guard dog Australia and begged them for help," the narrator says in ­American-accented English.
"Despite having been previously insulted by Duterte, they were quick to put their differences aside, aiding him in a malicious air campaign in the hope of either achieving victory over the Islamic State or repelling its threat."
The new video is the fourth to be released on the Marawi conflict since 500 militants from the homegrown Maute group and a faction of Abu Sayyaf, led by ­Islamic State's emir of Southeast Asia, Isnilon Hapilon, stormed the city on May 23.
In it, an Islamic State fighter also makes a direct appeal to "our Muslim brothers of East Asia, specifically those in Indonesia, Malaysia, Brunei, Thailand and Singapore".
"Come forth to the land of Jihad. Come forth to dar-al-Islam (house of Islam) in Marawi," says the militant, captioned as Abul Yamaan.
Indonesian National Police spokesman Setyo Wasisto said authorities were studying the video for any evidence of Indo­nesian fighters, and were taking steps to prevent its circulation on social media. "Our hope is that people will not be provoked by the message," he said. "Even before the video emerged, all agencies and institutions in Indonesia have been working together to stop Indonesians from going to conflict areas, including Marawi."
Malaysian counter-terrorism chief Ayob Khan Mydin Pitchay told Channel News Asia yesterday the video had the potential to "inspire (Islamic State) followers in Malaysia, Indonesia — all of Southeast Asia — to go to southern Philippines to wage jihad".
Malaysian intelligence officials say they have tracked heightened efforts by local Islamic State cells to enter the southern Philippines since the conflict began, despite co-ordinated maritime patrols of the common seas by Malaysia, The Philippines and Indonesia.
An earlier propaganda video featured an Australian Islamic State fighter, known as Abu Adam al-Australi, exhorting aspiring Australian jihadists to join the fight in Marawi.
Australia and the US are the only two countries with which The Philippines has signed a ­defence treaty, and both have sprung to the aid of The Philippines' embattled security forces.
The US military has also ­deployed a P3 Orion surveillance plane to Marawi as well as drones with infra-red and thermal-­imaging capacity to identify militant hideouts there.
The Philippines' military ­effort to recapture the city has been complicated by the fact that ­thousands of civilians were ­initially held hostage and used as human shields by militants ­fighting among the densely built-up business district of the Muslim-majority city.
About 200,000 residents have been evacuated since the start of the conflict but several hundred are believed still to be held captive inside the city.
Southeast Asia terror expert Greg Barton said the video's ­relatively slick production and ­"romantic" message appeared ­targeted at luring teenagers and 20-somethings to join the fight and refresh the numbers of militants lost in the battle.
Philippines government figures put the death toll at 758: 584 militants, 129 soldiers and 45 ­civilians.
The video claims Islamic State militants have killed more than 300 soldiers.
"They know they can't hold (Marawi) indefinitely but they can draw this out and then retreat to Sulu indefinitely and prepare for the next round," Professor Barton said of the militants.
"There is no reason why they can't sustain it (insurgency) for a very long time."
UPDATE: Malcolm Turnbull says he is "determined" to prevent Islamic State militants from gaining a foothold in the Southern Philippines as he refused to be drawn on whether Australia would sent ground troops if issued with a request.
"We are determined to ensure that ISIL does not establish a foothold in our region," the Prime Minister said today. "We have a very strong vested interest in ensuring that the ISIl insurgency in the Southern Philippines in Marawi is defeated."
"We are providing assistance as you to the government of the Philippines in their actions to retake Marawi and extinguish this ISIL insurgency." - Joe Kelly
http://www.theaustralian.com.au/news/nation/isis-asia-video-brands-australia-guard-dog-of-america/news-story/bce501b3a79ddec1478d440252cde3a0
--------
70-year-old Muslim cleric murdered over sectarian beliefs in Pakistan
Aug 24, 2017
A 70-year-old member of an Islamic group was murdered while another was injured by members of a rival group over disagreement about religious beliefs in Pakistan's Punjab province, police said on Thursday.
Waliur Rehman, a resident of Karachi, was leading an 11- member team of a Tablighi Jamaat and travelled from Raiwind to Chiniot for preaching purposes.
During the course of door-to-door preaching, Rehman and his group went to the house of two brothers - Ikram Khan and Imran Khan - who were students of Darul Uloom Muhammadia Ghousia, Bhera, Sargodha District, Sadar Police Station SHO Muhammad Afzal was quoted as saying by The Express Tribune.
"Rehman had an argument with Ikram and Imran over difference of opinion over religious beliefs," he said.
Afzal said that Rehman and one of his companions Abdullah Khan were sleeping in a mosque when accused Ikram and Imran attacked them with a spade yesterday.
"Rehman was killed on the spot while Abdullah suffered critical injuries on various parts of the body," he said.
The injured was shifted to a hospital in Faisalabad.
"The police have arrested accused Ikram while his brother is still at large," Afzal said.
A case had been registered against them.
http://www.hindustantimes.com/world-news/70-year-old-muslim-cleric-murdered-over-sectarian-beliefs-in-pakistan/story-KXMIrCNY70hurZsvNxIfvL.html
--------
Coordinated Taliban attacks repulsed in Nuristan, 30 militants killed, wounded
Aug 24 2017
The Afghan security forces repulsed coordinated attacks by the Taliban insurgents in eastern Nuristan province of Afghanistan, leaving nearly 30 militants dead or wounded.
The 201st Silab Corps of the Afghan National Army (ANA) forces in a statement said the Taliban insurgents launched a coordinated attack on the security posts in Nurgeram district late on Wednesday night.
The statement further added that at least 8 militants were killed and 15 others were wounded during the clashes.
According to Silab Corps, at least 4 militants were killed and 2 others were wounded during a separate clash in Kamdish district.
The 201st Silab Corps said a commander of the group identified as Mohammad Naeem was also among those killed.
The anti-government armed militant groups including the Taliban insurgents have not commented regarding the reports so far.
Nuristan is among the relatively volatile provinces in eastern Afghanistan where anti-government armed militants are actively operating in a number of its remote districts and often carry out insurgency activities.
Insurgents belonging to Taliban group as well as foreign militants are operating in this province which is located along the Durand Line bordering the tribal regions of Pakistan.
http://www.khaama.com/coordinated-taliban-attacks-repulsed-in-nuristan-30-militants-killed-wounded-03277
--------
India
The Indian Muslims for Secular Democracy Lauds SC's Verdict, Slams Jamiat Ulema-e-Hind
Aug 25, 2017
The Indian Muslims for Secular Democracy (IMSD) on Thursday applauded the Supreme Court verdict terming instant triple talaq unconstitutional. In a press conference on Thursday, the group said that the verdict breached the hegemony of ulemas.
The meet was chaired by IMSD's Javed Anand, Feroze Mithoborwala, senior Urdu journalist Hasan Kamaal, Suraiya Shaikh of Bharatiya Muslim Mahila Andolan and Haseena Khan of Bebaak Collective among others.
"What the Jamiat Ulema-E-Hind has done is contempt of court and incited people to continue the practice of triple talaq. They have also added fuel to the Islamophobic propaganda that Muslims don't respect law of the land," said Anand.
Questioning the functioning of All India Muslim Personal Law Board (AIMPLB), Kamaal said, "They should dissolve themselves and reconstitute the board. They have not been able to codify Muslim personal law because they do not agree with each other."
Also, while Kamaal slammed the Jamiat for saying that petitioners were instigated, he also said that, "Similarly, it can't be said that the verdict is because of the government; it's because of the Supreme Court. Had the right wing being so concerned of women's rights, they would have done something about the 20 lakh divorced women in the Hindu community," said Kamaal.
http://www.dnaindia.com/india/report-muslim-group-lauds-sc-s-verdict-slams-jamiat-2540262
--------
Four Pakistani women, two Hindu and two Muslim, get Indian citizenship
Aug 24, 2017
BAREILLY: Thirty-year-old Mahak Khan was on cloud nine after she received her long-awaited certificate of Indian citizenship here on Thursday. Mahak's mother Shabana, a Pakistani national, got married to a Bareilly resident Yusuf Ali in 1986. And the next year, she gave birth to Mahak in Karachi, where she was visiting her ailing father. Since then, they have been living in India on long-term visa (LTV).
The mother-daughter duo is among four Pakistani women whom the Government of India has granted citizenship. Additional district magistrate (city) O P Verma handed over the certificates to them here on Thursday.
"It's like a dream coming true," said Mahak, who was deported to Pakistan in 2002 when she was just 15, describing her happiness after receiving her citizenship certificate.
"In 2002, after the relations between the two neighbours got strained, the Government of India had, along with many other Pakistanis, deported me as well. Soon my LTV also got expired. I had to spend 13 months in exile at my maternal uncle's house, far away from my parents. And, it was only after the bilateral relations between the two nations improved in 2003, I could return to my parents in India. Since then I have been living in a dilemma whether I would ever get Indian citizenship or not. But, ultimately it got over, and now, I am a bona fide citizen of India," Mahak told TOI.
Narrating her struggle to acquire Indian citizenship for her daughter and herself, Shabana said, "I was pregnant when I had visited my ailing father in Karachi in 1987 and gave birth to my first child there. As soon as we returned to India, we applied for Indian citizenship. Since then we have been living on LTV as it took more than two decades to get Indian citizenship."
Another recipients of Indian citizenship Anita Belani (45) and Bhagvati Bai (56) from Sanghar district of Sindh province in Pakistan got married to Bareilly residents Dilip Belani and Prem Prakash, in 1990 and 1983, respectively. Both Belani and Prakash hail from Sindhi community and their forefathers had migrated to Bareilly after the partition.
Full report at:
http://timesofindia.indiatimes.com/india/four-pakistani-women-two-hindu-and-two-muslim-get-indian-citizenship/articleshow/60212954.cms
--------
Separatist leader Geelani's sons questioned by NIA again in terror funding probe
Aug 24, 2017
For the second time in a fortnight, two sons of pro-Pakistan separatist leader Syed Ali Shah Geelani were on Thursday questioned by the NIA in connection with a terror funding probe allegedly involving Jamaat-ud-Dawa chief Hafiz Saeed, officials said.
Nayeem and Naseem were questioned earlier on August 8. The elder son Nayeem is a surgeon by profession, while Naseem is an employee of the Jammu and Kashmir government.
According to officials, who are not authorised to speak to media, the two were asked to bring certain documents related to financial transactions that have come under the scanner of the NIA.
Nayeem is tipped as the natural successor to lead the Tehrek-e-Hurriyat, a separatist conglomerate comprising pro-Pakistan hardline groups, after his 87-year-old ailing father.
The NIA had registered the case of terror funding and named Saeed, leader of the Pakistan-based Jamaat-ud-Dawa and banned terrorist outfit Lashkar-e-Taiba, as an accused.
It had registered the case on May 30, accusing separatist and secessionist leaders of being in cahoots with terrorist groups.
The case was registered over raising, receiving and collecting funds through various illegal means, including through hawala channels, for funding separatist and terrorist activities in the state.
The case also included causing disruption in the Valley by pelting security forces with stones, burning schools, damaging public property and waging war against India.
Full report at:http://www.hindustantimes.com/india-news/separatist-leader-geelani-s-sons-questioned-by-nia-again-in-terror-funding-probe/story-cQy3Hem4UpUgd7Wg0LLwTK.html
--------
Southeast Asia
China Official Says Xinjiang's Muslims Are 'Happiest in World'
Aug. 25, 2017
BEIJING (Reuters) - Muslims living in China's far western region of Xinjiang are the happiest in the world and people should not believe the lies spread by extremists and their Western supporters, a senior official wrote on Friday in an unusually strongly worded piece.
Hundreds of people have been killed in Xinjiang in the past few years in violence between Uighurs, a mostly Muslim people who speak a Turkic language, and ethnic majority Han Chinese, blamed by Beijing on Islamist extremists.
Rights groups and Uighur exiles say the unrest is more a product of Uighur frustration at Chinese controls on their culture and religion. China denies any repression.
Writing in the official Xinjiang Daily, the region's deputy foreign publicity director, Ailiti Saliyev, said Xinjiang was stable, harmonious, prosperous, open and modern.
Visitors see this for themselves when they visit, subverting the impression created in Western media of the opposite, he added.
"Many people say from the bottom of their heart: 'The happiest Muslims in the world live in Xinjiang'," he wrote.
The problem stems from the "evil collusion" between extremists and "hostile Western forces", the official added, without offering any names.
"They coordinate with hostile Western forces to wantonly spread rumors, misrepresent, vilify and besmirch Xinjiang in the overseas media," he added.
Extremists unfairly accuse the government of trying to annihilate the Uighur language and culture with development projects and promotion of bilingual education and of seeking to ban religion with measures to ensure people's safety, he said.
They also laud criminal elements as "warriors resisting the oppression of the Han Chinese government" and "the mother of the Uighurs", the official added, a reference to Uighur leader Rebiya Kadeer, once a successful businesswoman who now lives in exile in the United States.
Groups overseas who claim to speak for Uighurs are nothing more than "running dogs and pawns" of the same hostile Western forces, the official said, adding his mission as a Uighur himself is to tell the real facts about Xinjiang to the world.
"Xinjiang's image will brook no distortion," he wrote.
While foreign reporters can easily visit Xinjiang, unlike Tibet which requires special permission, the government keeps a close watch on their movements, making interference-free reporting hard.
https://www.usnews.com/news/world/articles/2017-08-25/china-official-says-xinjiangs-muslims-are-happiest-in-world
--------
'Religious developments' in peninsula worry non-Muslim Sarawak leaders
25 Aug 2017
Desmond Davidson
NON-MUSLIM leaders of Sarawak are concerned over religious developments they see occurring on the peninsula, fearing they could undermine religious tolerance in the Borneo state, Deputy Chief Minister Douglas Uggah said.
There are now plans to convey these concerns to Minister in the Prime Minister's Department in charge of National Unity, Joseph Kurup, some time in the next two weeks, to be passed on to the Federal Cabinet.
Uggah would not elaborate what the concerns were, but hinted that one of them had to do with the withdrawal of Section 88A from the Law Reform (Marriage and Divorce) Act to prevent unilateral conversion of children to Islam.
Clause 88A states that a child will remain in the religion practised by the parents at the time the marriage was registered and may choose his own religion upon reaching the age of 18.
Minister in the Prime Minister's Department Azalina Othman Said, however, tabled the amendment t the bill, minus Clause 88A, in the last Dewan Rakyat sitting, sparking an outcry among the opposition that the move was to placate Islamist party PAS and Malay voters ahead of the 14th general election which must be called before August next year.
Non-Muslim leaders from Sabah and Sarawak had also protested when the Centre for Human Rights Research and Advocacy CEO, Azril Mohd Amin, had called for laws banning Christian evangelism in Malaysia two months ago.
Earlier, Sarawak church leaders cancelled the All Borneo Revival Convocation in Miri after Malay groups protested over a similar event, Jerusalem Jubilee, which was to have been held in Malacca.
Uggah said Sarawak's non-Muslims leaders, who are members of the non-Islamic affairs unit in the chief minister's department, were worried by the events taking place "on the other side" which could cause friction if they were to make their way to the state where Muslims were in the minority.
"We will therefore be presenting our views to Putrajaya," he said after attending the annual National Day prayer service at the Christian Ecumenical Worship Centre in Kuching.
Uggah said the non-Islamic affairs unit that will regulate policies to promote religious harmony had been officially named the Unit for Other Religion, or Unifor.
Uggah, who is the minister in charge of Unifor, said the 17 positions in the unit were in the midst of being filled.
"We've got quite a number (filled) already."
Uggah said applications for funds and land for the building or repair of churches or temples are still the dominant issues for Unifor.
"Unifor will be a platform for them (non-Muslims) to air their grievances, whatever (religious) issues they are facing."
Uggah gave the promise that Unifor will bring the issues raised to the attention of the state and federal governments.
Full report at:
https://www.themalaysianinsight.com/s/12247/
--------
Memali RCI will show 'misconduct' towards Islam by 1985 leaders, Hadi claims
August 25, 2017
KUALA LUMPUR, Aug 25 ― PAS president Datuk Seri Abdul Hadi Awang has backed calls for a Royal Commission of Inquiry (RCI) into the Memali incident 32 years ago, claiming the 18 deaths in the Kedah village was a result of "misconduct" towards Islam by the country's leaders then.
In an editorial published in PAS' mouthpiece Harakah Daily today, Hadi said that the victims of the incident were individuals who were "forced" to defend the purity of Islam.
"The incident is a victim to the misconduct towards Islam by the country's leaders. The police were forced to take action against a religious group who were forced to defend the purity of Islam, which was insulted," Hadi said.
Hadi said that it is fitting for a RCI to be formed as matters pertaining Islam comes under the purview of the constitutional monarchy.
"The incident caused deaths, criminal allegations and allegations of heresy, and it should be investigated independently and fairly," he said.
Hadi also said that PAS is willing to cooperate with the authorities if an RCI is formed to investigate the incident.
Prime Minister Datuk Seri Najib Razak has not rule out the possibility of a RCI, saying yesterday that the federal government will gauge public opinion before deciding on establishing one.
In November 1985, a police force numbering 200 besieged Memali, a village in the Kedah district of Baling, targeting an controversial Islamic sect founded by Ibrahim Mahmud, also known as Ibrahim Libya.
The incident resulted in the deaths of 14 civilians and four policemen.
Full report at:
http://www.themalaymailonline.com/malaysia/article/memali-rci-will-show-misconduct-towards-islam-by-1985-leaders-hadi-claims#xp4CWPoKGBDt5YZx.97
--------
Indonesians uncover syndicate spreading hate speech online: police
Aug 25, 2017
JAKARTA (Reuters) - Indonesian authorities have uncovered a group spreading hate speech and fake news online, one of many that they fear could undermine national unity.
Indonesia has an ethnically diverse population of 250 million people, most of them Muslim but with significant minorities from other religions, and unity across the archipelago has been a priority of governments for generations.
Three people were arrested this week on suspicion of being part of a syndicate being paid to spread incendiary material online through social media, police said.
"If this is allowed to continue, it isn't just about violating the law but also has the potential to damage the unity of this country," said presidential spokesman Johan Budi.
Budi said it was up to investigators to determine the motive of those behind the campaign, adding police should investigate the issue "right down to its roots".
National police spokesman Awi Setiyono said the material involved religious and ethnic issues and posts defamatory to government officials.
He declined to comment on the motive, saying investigators were still building their case and had yet to identify who was behind the syndicate, which calls itself Saracen, that has been spreading the material.
The police cyber crime unit said dozens of Facebook and other social media accounts were being sued to spread the material to an estimated 800,000 social media accounts.
Setiyono said investigators had uncovered money transfers of up to $5,000 to pay those spreading the material.
Religious and ethnic tensions flared in the capital, Jakarta, this year when city elections pitted an ethnic Chinese Christian governor, who was accused on insulting Islam, against a Muslim candidate.
Authorities have scrambled to remove hate speech from social media and online forums in an attempt to defuse tension but a growing amount of content encouraging religious intolerance or radicalism is being shared.
Full report at:
https://www.reuters.com/article/us-russia-northkorea-tourism-idUSKCN1B41SJ
--------
Europe
Study: Integration of Muslims in Germany moving ahead
AUGUST 24, 2017
BERLIN
The integration of Germany's more than 4 million Muslims is moving ahead, especially when it comes to employment and language skills, according to a study released Thursday.
The Bertelsmann Foundation said in its Religion Monitor 2017 study that about 60 percent of Muslims who moved to Germany before 2010 now hold a full-time job, while 20 percent work part-time jobs — similar to ethnic Germans. Muslims also had higher employment rates in Germany than in other western European countries, in part driven by Germany's strong economy and big demand for workers.
However, the study said it's still harder for very religious Muslims to find jobs in Germany than in Britain.
The study said 73 percent of children born in Germany to Muslim immigrants now speak German as a first language.
But when it comes to school education, Germany's shortcomings are stark: 36 percent of Muslim youths in Germany leave school without a degree, while it's only 11 percent in neighboring France, according to the report.
When it comes to daily interactions, 93 percent of German-born Muslims say they spend their free time with both Muslims and non-Muslims.
On the downside, 19 percent of non-Muslim Germans questioned for the study said they don't want to have Muslim neighbors.
More than 10,000 Muslims who were born in the country or arrived before 2010 and non-Muslims were questioned for the study in Germany, Switzerland, Austria, France and Britain.
http://www.sacbee.com/news/business/article169048432.html
--------
Muslims have the most to lose from Barcelona
KONRAD YAKABUSKI
Aug. 24, 2017
Perhaps the most sobering realization to emerge from last week's carnage in Barcelona is that not even a country as welcoming to Muslim immigrants as Spain is immune to home-grown Islamist terrorism.
There is little doubt that Islamophobia and the rise of anti-immigration parties in France, Germany, the Netherlands, Britain and even Finland have contributed to the radicalization of young Muslims in those countries. When prominent far-right politicians clamour for burka bans or call Islam an existentialist threat, it's hard not for Muslim youth – immigrants or native born – to take it more or less personally.
But the far right is not a political factor in Spain. The scars of fascism are still fresh enough – Francisco Franco's four-decade-long fascist regime ended only with his death in 1975 – that Spaniards remain particularly allergic to any nativist or isolationist discourse. Spain also benefited enormously from immigration following its 1986 entry into the European Union. And no region of the country has been more welcoming to North African immigrants than Catalonia, of which Barcelona is the capital, in part because such newcomers are seen as more willing to learn Catalan than Spanish-speaking Latin Americans.
The concentration of Moroccan immigrants around Barcelona has been offered up as one explanation for last week's attacks on La Rambla and 120 kilometres west in Cambrils. Yet, Catalonia's Muslim community is arguably Western Europe's most well-integrated. It's true that there are Salafists among them. But Spain's two million Muslims face little of the stigmatization their French or British counterparts live with. Most feel quite at home in their adopted country.
Another unsatisfying explanation for the question of why this happened in Spain is the Islamic State's stated goal of re-establishing a caliphate there. Most of Spain's territory was conquered by 8th-century Muslim invaders who named it al-Andalus. The caliphate's borders were progressively eroded by Christian conquerors and, by the 16th century, most Muslims had been forced to convert or leave the country. But rather than denigrate its Muslim past, modern Spain celebrates it.
Spanish cities abound with medieval Moorish castles and Neo-Mudejar architecture from the late 19th century, when the country experienced a revival in Islamic design. Barcelona itself offers some of the best examples of the latter, from the Arco de Triunfo built for the 1888 World's Fair to Antoni Gaudi's Casa Vicens from the same period. There is no place in Europe with which North African immigrants can feel a greater historical or visual connection. While that might inspire dreams of a renewed caliphate in some, it seems more likely to foster a feeling of familiarity and belonging among Muslim newcomers and their children.
The far more deadly 2004 bombings of Madrid's commuter rail network, linked to an al-Qaeda terrorist cell, differ from last week's attacks in that they were seen as retribution for Spain's heavy involvement in U.S.-led wars in Iraq and Afghanistan. They had little to do with the alienation of young Muslims in Spain. And while Spain is part of the current coalition battling the Islamic State, its contributions have been modest. The Islamic State has a long hit list, but Spain has not been at the top of it.
Still, last week's attacks have changed everything and the political fallout could be even greater than in 2004, when terrorists struck Madrid three days before a national election. This time, Spanish voters could turn on the ruling People's Party of Prime Minister Mariano Rajoy amid reports that the Spanish Interior Ministry failed to pass on CIA warnings of an impending Barcelona attack to Catalonia's Mossos d'Esquadra, the local police force that has had full jurisdiction over the region since 2008.
Distrust between the two levels of government and their respective police forces is at an all-time high after Catalonia's sovereigntist government recently named an ardent separatist to run the Mossos. Madrid insists the Mossos must apply Spanish law to prevent Catalonia from holding an independence referendum on Oct. 1. The head of the Mossos thinks otherwise.
Last week, Mr. Rajoy, Catalonian President Carles Puigdemont and King Felipe VI put on a united front. But the blame game that followed their display of unity threatens to exacerbate regional tensions rather than attenuate them.
Full report at:
https://www.theglobeandmail.com/opinion/muslims-have-the-most-to-lose-from-barcelona/article36065863/
--------
In Spain, Muslims hold rally against terrorism following deadly attacks
August 24, 2017
Two hundred Muslims have rallied in the streets of Granada, southern Spain, in protest against a surge in anti-Islamic hate crimes following last week's deadly attacks in the country. The yesterday's protest was called after the city's main mosque was attacked with flares on Saturday by a handful of members from a far-right group, Hogar Social, who also unfurled a Spanish flag outside the building, according to images on Spanish TV.
Muslim groups have reported a jump in anti-Islamic hate incidents since the twin vehicle attacks in Barcelona and the nearby seaside resort of Cambrils that killed 15 people last week. Those attacks were claimed by the Islamic State group. "It is very important for us to affirm our values as Muslims which are the same as those of all other human beings on this planet," said Nizar Liemlahi, director of the Dar Loughat Muslim cultural association, one of the co-organisers of the rally.
Only 0.1 per cent of the world's Muslims commit attacks and these people "do not represent our values or our principles," added Liemlahi, a psychologist who moved to Spain from Morocco in 2010. The protesters brandished banners with slogans such as "I am Muslim and I want to live in peace" and "We also are victims" as they gathered outside Granada city hall.
Mounir Benjelloun, head of the Spanish Federation of Islamic Religious Entities (FEERI), said the increase in anti-Islamic incidents since the attacks was "unbearable". "Unfortunately, after what happened, there is an avalanche of cases. In my 25 years in Spain I have not seen anything like it."
Full report at:
http://indianexpress.com/article/world/muslims-rally-in-spain-against-terrorism-after-attacks-4811538/
--------
Fourth suspect in Spain attacks granted release
Aug 25, 2017
MADRID - The fourth suspect in last week's twin attacks in Spain was released Thursday pending further investigation and placed under surveillance, the country's National Court said.
Salh El Karib, the manager of a store that lets people make calls abroad in Ripoll, a town in northern Catalonia where many of the alleged attackers came from, will have to show up at a local court every week and is banned from leaving Spain, the court said in a statement.
Salh El Karib, a 34-year-old Moroccan, is the second of four suspects to have been granted conditional release.
The two others - Mohamed Houli Chemlal, 21, and Driss Oukabir, 28 - were remanded in custody and charged with terror-related offences after being quizzed by a judge at Madrid's National Court, which deals with cases of extremism.
Authorities are still probing the vehicle attacks in Barcelona's busy Las Ramblas boulevard last Thursday and in the resort town of Cambrils several hours later.
Fifteen people died and more than 120 were injured.
According to a court document, credit cards in the name of Salh El Karib were used to buy plane tickets for Oukabir and Abdelbaki Es Satty, the imam believed to be the mastermind of the terror cell. He is now dead.
But the investigation found that the shop he manages sells plane tickets as part of its regular business offering, which means he did not necessarily play a part in the terror cell.
Full report at:
http://nation.com.pk/international/25-Aug-2017/fourth-suspect-in-spain-attacks-granted-release
--------
German FM: Turkey will never be EU member under Erdogan
25 August 2017
Turkey will never be a member of the European Union as long as it is governed by Tayyip Erdogan, German Foreign Minister Sigmar Gabriel said on Thursday, accusing the Turkish president of failing to take accession talks with the bloc seriously.
His remarks in an interview with mass-selling newspaper Bild are likely to further inflame relations between the two NATO allies after Erdogan urged German Turks to boycott Germany's main parties in next month's general election.
"It is clear that in this state, Turkey will never become a member of the EU," Gabriel said. "It's not because we don't want them but because the Turkish government and Erdogan are moving fast away from everything that Europe stands for."
EU leaders have been critical of Erdogan's crackdown on opponents before and after a failed military coup against him in July last year. Accession talks have ground to a virtual halt though Turkey remains a candidate for membership.
Turkey's Western allies fear that sweeping new powers Erdogan won in a tightly fought referendum in April are pushing Turkey away from democratic values.
Erdogan says both the crackdown and the increased presidential powers are needed to help tackle serious challenges to Turkey's security both at home and beyond its borders.
At a highpoint in tensions earlier this year, Erdogan angered Germany, home to 3 million Turks about half of whom can vote in the election on Sept. 24, by accusing German authorities of Nazi-like behavior.
Full report at:
https://english.alarabiya.net/en/News/world/2017/08/25/German-FM-Turkey-will-never-be-EU-member-under-Erdogan.html
--------
Germany rules out EU membership for Turkey under Erdogan
Aug 25, 2017
Turkey will never be accepted into the European Union as long as President Recep Tayyip Erdogan is in office, Germany's Foreign Minister Sigmar Gabriel says, blasting the Turkish head of state for not taking accession talks seriously.
"It is clear that in this state, Turkey will never become a member of the EU," said Gabriel, who is also Germany's Vice Chancellor. "It's not because we don't want them but because the Turkish government and Erdogan are moving fast away from everything that Europe stands for."
European leaders have been critical of Erdogan over his government's crackdown on opponents following last year's botched military coup in the country.
The Turkish president has also come under fire for holding a referendum to expand his presidential powers.
Gabriel's remarks followed a series of fiery exchanges between the leaders of the two countries. Germany has repeatedly criticized Ankara's crackdown on those suspected of involvement in the coup, saying the Turkish government has acted beyond the rule of law.
Ankara in response, has accused Berlin of sheltering outlawed Kurdish militants and allowing their sympathizers to stage anti-Turkey rallies across Germany.
Erdogan stirred more tensions between the two sides last week, when he accused Berlin of Nazi-like behavior and urged the three million or so Turkish nationals living in Germany to vote against German Chancellor Angela Merkel in the country's September federal election.
The comment drew a strong response from Germany, with Gabriel denouncing Erdogan's "interference" in the vote.
The Turkish president in response said Gabriel has to learn his "limits."
"He knows no limits! Who are you to talk to the president of Turkey? Know your limits. He is trying to teach us a lesson… How long have you been in politics? How old are you?" Erdogan said Saturday.
Full report at:
http://www.presstv.ir/Detail/2017/08/25/532841/Germany-Turkey-Gabriel-Erdogan-EU-Merkel
--------
Pakistan
Only interfaith harmony can bring absolute peace in Pakistan: WCR
Aug 25, 2017
LAHORE – Peace lovers in Pakistan gathered Thursday to advance their mission to bring back stability and interfaith harmony in the country which has faced worst form of religious extremism in recent decades.
Leading scholars and prominent figures from all religions existing in Pakistan attended a conference titled 'Peace and Co-existence between Religions,' organised by World Council of Religions at a local hotel in Punjab capital, stressing upon the government to protect the rights of all religions and sects.
They called for a total ban on proscribed organisations from collecting animal hides, while urging facilitation for the charity groups which are registered with the government.
The conference was attended by members from Muslim, Sikh, Christian and Hindu community who represented all walks of life including students, intellectuals, journalists, teachers and religious clerics.
WCR director Hafiz Muhamamd Nauman Hamid expressed that the purpose of council was to promote brotherhood between people from different faiths. "We strive for solving societal problems through debate and dialogue," Hamid said while opening the conference. Dr Munawar Chand from Hindu community expressed that respecting religious beliefs and rituals of others paves way for tolerance among people.
Sardar Janam Singh, who represented Sikh community, was of the view that teachings of any religion stand incomplete without message of love.
Qazi Niaz Hussain Naqvi stated that prior to affiliation with any religion, humanity was the common attribute among people. "All the religions convey message of love, affection and peace," he said.
The representative of Punjab Government, Rana Arshad expressed that such events apprise youth of teachings of different religion. Arshad, who serves as adviser to chief minister, noted that such conferences instill a feeling of reverence in people for other religions.
The conference was also addressed by renowned journalist Habib Akram, who declared that if different religions work jointly for humanity, many complex problems like poverty, unemployment and illiteracy would be addressed automatically.
Besides notable intellectuals, others who addressed the conference included Dr Samiah Raheel Qazi, Asim Makhdoom, Pastor IB Roki, Bhagat Laal Khokhar, Emanuel Khokhar, Mufti Ashiq Hussain, Dr Mudassir Hussain, Sohail Ahmed Raza, Haji Amir Rasheed, Dr Majeed Abel, Father Nadeem Francis, Hafiz Kazim Raza Naqvi, Sardar Kalyan Singh, Qari Inaamur Raheem, Shakeel ur Rehman Nasir, Hafiz Sami Ullah and Aslam Nadeem Naqshbandi, and Engr Sohail Lashari (former LCCI president).
At the end of the conference, bouquets and shields were presented to outgoing Bishop Samuel Azarayah in recognition of his efforts for peace.
A reception was also hosted for newly appointed Bishop of Raiwind.
The conference's participants hailed the efforts of Muslim community regarding farewell and welcome of new Bishop as a positive step towards promotion of interfaith harmony and peace.
The WCR course of actions includes:
Rights of all Pakistanis are equal and must be respected regardless of religion or sect.
Extremism, terrorism and killing using name of faith are against the religion.
No sect will be called Kafir except those are declared in Constitution of Pakistan.
Extra judicial killing of any Muslim and non-Muslim will not be allowed.
Loudspeakers will only be used for Azaan and Arabic sermon, and other violation will be made.
Inciting content will not be spread.
Complete ban should be announced on the posting of provoking material on social media websites and violators should be arrested.
Scholars, writers should maintain balance in their speeches and books, besides avoiding spreading hatred.
Sectarian issues should be resolved through mutual understanding and serious debates.
Respect will be given to holy personalities and books of all religions and sects.
All scholars and intellectuals will remain united for making Pakistan stronger.
https://en.dailypakistan.com.pk/pakistan/only-interfaith-harmony-can-bring-absolute-peace-in-pakistan-wcr/
--------
China, Russia defend Pakistan's important role in Afghanistan
25-Aug-17
BEIJING: China's top diplomat has defended Pakistan's "important role" in Afghanistan in a phone call with US Secretary of State Rex Tillerson, after President Donald Trump accused Islamabad of harbouring terrorists.
Trump, in unveiling his Afghanistan strategy this week, said Pakistan was playing a double game by accepting American aid while giving safe haven to insurgents who kill Afghan and NATO troops.
But China State Councillor Yang Jiechi told Tillerson that "we should attach importance to the important role that Pakistan plays in the Afghanistan issue, respect (Pakistan's) sovereignty and legitimate security concerns," according to a Foreign Ministry statement.
It is the second time Beijing has defended its South Asian neighbour this week, with Foreign Ministry spokeswoman Hua Chunying praising Pakistan on Tuesday for making "great sacrifices and contributions to fighting terrorism".
Beijing is investing around $50 billion in Pakistan as part of a plan unveiled in 2015 to link its far-western Xinjiang region to the Pakistani port of Gwadar in Balochistan.
Yang said Beijing was committed to "advancing the peace and reconciliation process in Afghanistan" and that political dialogue was "the only way to solve the Afghanistan problem".
He added that China would like to continue to "maintain communication and coordination on the Afghanistan problem with the US side".
Pakistan has been battling militants for years. It sees Afghanistan as a vital strategic interest and a bulwark against old rival, India.
China and Pakistan consider each other "all-weather friends" and have close diplomatic, economic and security ties. Beijing has its own security concerns in the region, in particular any links between militants in Pakistan and Afghanistan and militant groups China blames for violence in its far western region of Xinjiang.
The call between the US and Chinese diplomats came after new tensions arose between the two powers on Wednesday as Washington slapped sanctions on Chinese companies accused of links with North Korea, angering Beijing.
China has also warned Washington against triggering any "trade war" after Trump ordered an investigation into Beijing's intellectual property practices.
But the ministry statement issued late Wednesday did not say whether Tillerson and Yang discussed the trade issue, the sanctions or the North Korean nuclear crisis.
Yang said Washington and Beijing communicate and cooperate on a "wide range of areas" and the two diplomats discussed Trump's planned visit to China later this year.
He also voiced hope that the two sides maintain "mutual respect" and "handle disputes properly and jointly to uphold the good momentum of development of Sino-US relations".
On the other hand, after China's strong message defending Pakistan's role in Afghanistan and asking the global community to acknowledge its sacrifices in war against terrorism, Russia echoed similar sentiments following US President Donald Trump's allegations that Pakistan was offering safe haven to terrorists.
Russian Presidential Envoy to Afghanistan Zamir Kabulov slammed Trump's Pakistan strategy and insisted that Islamabad is "a key regional player to negotiate with."
Full report at:
http://dailytimes.com.pk/pakistan/25-Aug-17/china-russia-defend-pakistans-important-role-in-afghanistan
--------
Pakistan's Muhajirs: An ally in ending terrorism
By Puneet Ahluwalia
August 24, 2017
Being an immigrant and a minority is something I can very well relate to. I came to the United States from India in 1990 seeking a better life for my family and myself.
From this vantage point, it is clear to see that the Muhajirs of Pakistan can play a vital role in advancing reforms in their nation, especially in the building of religious plurality and neutralizing terrorism and Islamic extremism.
The Muhajirs of Pakistan are Muslims who left their homes and material possessions in India to migrate to the newly formed Islamic State of Pakistan after the two countries split in 1947. They moved with the hope of finding religious freedom and stability for their families, and many of them took refuge in the southern city of Karachi and the surrounding areas in Sindh Province. Yet, more than 70 years later, they are still treated as third-class citizens in their adopted country and labeled "Hindustanis" rather than welcomed as Pakistanis
Since its inception, Pakistan has romanticized Islamism. The early speeches of Muhammad Ali Jinnah, the Founding Father of the Nation of Pakistan, reflected his views about the future of the young country and its people.
In an address delivered on October 30, 1947, he asked each Pakistani to take a vow and "be prepared to sacrifice his all, if necessary, in building up Pakistan as a bulwark of Islam."
"Do not be afraid of death," Jinnah said. "Our religion teaches us to be always prepared for death. We should face it bravely to save the honor of Pakistan and Islam. There is no better salvation for a Muslim than the death of a martyr for a righteous cause."
Fast-forward to the rule of General Zia ul-Haq, Pakistan's president from 1976 to 1988, whose commitment to fight the Soviet Union in Afghanistan endeared him to many Western nations. The crisis in Afghanistan substantially strengthened his domestic position and that of the Pakistani Army and eventually generated aid from the U.S. totaling $1 billion per year. By arming the Afghan Mujahedeen through the Pakistani Army and Directorate of Inter-Services Intelligence (ISI), he used the crisis to shift Pakistan toward "sharia-zation" and away from secularism.
The Pakistani Army and ISI have now fulfilled the dream of its founder and its masterminds. In the name of Islamization, Pakistan has emerged as an infamous hub for harvesting a pipeline of terrorist actors and promoting instability across the region at large.
This much is well known. Less acknowledged is the incredible price being paid by the minorities and youth of Pakistan for these disastrous decisions. Today, Pakistan is ruled by Punjabi Muslims, the Pakistani Army and the ISI while Pakistan's minorities — including the Muhajirs, Balochis, Gilgit, Ahmadis, Agha Khan Ismailis, Shias, Sindhis and others — face rampant persecution.
Of all the above communities, however, the Muhajirs are arguably the only organized and secular force to have confronted the Pakistani Army, ISI and the establishment elite. They've emerged as the country's strongest proponents of religious freedom and equal rights for all minorities.
The Muhajirs have been grossly marginalized for more than 70 years and brutally oppressed by the Pakistani Army, with over 20,000 killed or forcibly "disappeared." They face vicious crackdowns by the federal government almost daily, yet they still hold the unique ability to advance reform in Pakistan.
The Muhajirs are the unused arrow in the quiver of the U.S., India, Afghanistan and free people the world over to combat and reverse the radicalization of Pakistan, beginning in Karachi. That massive city's suburbs have emerged as a recruiting hub for al Qaeda, the Taliban, ISIS and other terror outfits. You might recall that the deadly 2008 Mumbai attacks in India were masterminded and launched from Karachi.
Karachi is the nerve center of Pakistan. The Karachi Port makes it an industrial hub, helping to generate and collect over 65 percent revenue from the Sindh Province for the federal government. In the growing city of over 23 million, Muhajirs are the largest and strongest segment of its population.
The Muhajirs' other great asset is their ability to help build a coalition of other oppressed and disenfranchised minorities in Pakistan. Discontentment is growing within these communities in response to the gross human rights abuses they are suffering — and which are largely unreported by the global media. The men and women of these minorities are fighting a daily struggle for their very survival, let alone to preserve their heritage and customs.
The Trump administration has realized the importance of confronting the menace of terrorism. President Trump's clear message urging leaders of the Muslim world to unite and work together with the West to combat Islamist extremism was reiterated when he met Indian Prime Minister Narendra Modi in Washington.
It is time for the Pakistani establishment to re-evaluate the future it is providing for its fellow citizens, especially its youth. Without a dramatic change in policy, Pakistan's internal problems will only get worse, further tarnishing its reputation on the international stage.
A more pluralistic Pakistan society in the nuclear power country of Pakistan is in the best interests of the civilized world. Pakistan must begin by ridding itself of the strong-armed persecution of its minorities that's become commonplace since Zia's rule.
With a new and sincere willingness to embrace all elements of Pakistani society, the free world could find a capable new ally in the Muhajirs, who are positioned to aid in the fight for the soul of Pakistan and end the country's destructive relationship with terrorism.
http://www.washingtontimes.com/news/2017/aug/24/pakistans-muhajirs-ally-ending-terrorism/
--------
Parliament to finalise way forward over Trump threat
Iftikhar A. Khan
August 25, 2017
ISLAMABAD: A joint session of parliament will finalise the way forward in the aftermath of US President Donald Trump's threat to Pakistan.
This was indicated by Prime Minister Shahid Khaqan Abbasi in his brief remarks made in the Senate on Thursday soon after Foreign Affairs Khawaja Muhammad Asif's speech, who was supposed to wind up discussion on matters related to Mr Trump's tirade, chose to instead read out a press release of the National Security Council (NSC) meeting.
Mr Abbasi described it as a critical issue and said the federal cabinet deliberated on it for three hours on Tuesday and the NSC discussed the matter for some four hours.
Senate Chairman Raza Rabbani had earlier informed the prime minister that a Senate panel had been formed to frame recommendations spelling out the way forward after the US president's aggressive remarks. He said the panel was on the verge of completing a draft.
He proposed that the recommendations be taken to the joint sitting of parliament for adoption or any amendments — an idea apparently accepted by the prime minister. He indicated that after adoption of the draft by the Senate, it would be taken to the joint session of parliament.
Mr Abbasi regretted that the PTV could not telecast live the discussion on an important issue like this. He said the PTV was under instructions to cover proceedings of both houses of parliament.
Following his brief remarks, the prime minister during an in-camera session wound up discussion on an adjournment motion regarding the implications of the decision of an arbitration tribunal of the World Bank's International Centre for Settlement of Investment Disputes (ICSID), on the arbitration claims filed by Tethyan Copper Company against Pakistan in relation to the denial of a mining lease for the Reko Diq project.
Earlier, taking part in the discussion, senators reminded the United States that Pakistan as a frontline state in the war on terror had suffered the most. They said the US that mocked Pakistan for receiving dollars in aid should keep in mind that it had not given a fraction of the losses incurred by Pakistan in the war amounting to around $150 billion.
They pointed out that the educational institutions and health facilities and other infrastructure of Pakistan badly suffered due to blasts that took place in the country following the then military ruler retired General Pervez Musharraf's complete surrender before the US. Besides this, they said, thousands of civilians and armed forces personnel had laid down their lives.
The members also hailed the reaction of the international community following the irresponsible remarks of Mr Trump.
They also blasted Mr Trump for not mentioning human rights violations in India-held Kashmir and encouraging India's role in Afghanistan.
Former interior minister Rehman Malik said that the threat emanating from Washington should be taken seriously.
Earlier during the question hour, the interior ministry's written replies surprised many by disclosing that it was unaware that moves in the United Nations to impose sanctions on the banned Jaish-e-Muhammad (JeM) leader Maulana Masood Azhar had repeatedly been blocked by China.
Senator Farhatullah Babar asked whether such a move in the UN had been thwarted repeatedly and whether the interior ministry had any role in it.
In his written reply, Interior Minister Ahsan Iqbal stated that his ministry was regularly briefed by intelligence agencies on activities of banned organisations, but it was not aware of blocking of UN moves against the JeM leader.
"It is requested that the Honourable Senator should be specific in his question in order that the same be replied in clear and categorical terms,'' said the written reply of Mr Iqbal.
Reports of China repeatedly blocking such moves in the UN have been widely reported in the media.
Full report at:
https://www.dawn.com/news/1353735/parliament-to-finalise-way-forward-over-trump-threat
--------
Cleric's relatives prevented from holding presser at Lal Masjid
Kalbe Ali
August 25, 2017
ISLAMABAD: The capital administration on Thursday stopped relatives of deposed Lal Masjid cleric Maulana Abdul Aziz from holding a press conference on the grounds that mosques should not be politicised.
A press conference on alleged enforced disappearances of Mr Aziz's family members was scheduled for 3pm. When it was time for the press conference, a large contingent of Islamabad police arrived at the mosque and closed off the main entrance.
Mediapersons who had entered the mosque prior to the arrival of the police remained within the mosque's courtyard for half an hour, while those outside attempted to persuade the police to let them in.
"This is a mosque and not a political area," the police official posted at the spot said, adding: "Besides, there is no one inside the mosque for the briefing, as the maulana and his wife have not arrived."
Mr Aziz' nephew Haroon Rashid, meanwhile, criticised the police for taking charge of the mosque gates and said the move was a human rights violation.
"Mosques are also the community centres of Muslims," he said. "Not allowing media persons to enter the mosque is a violation of freedom of movement and freedom of expression. Maulana's sisters wanted the address the media – what is the threat in that?"
The police officer in turn suggested Mr Haroon address the media on the road in front of the mosque.
"Why not call maulana sahib and hold a briefing on the road? You have been doing it earlier too, so why not today," the police officer, standing by the gate, asked Mr Haroon.
While their exchange continued, some media professionals demanded the police let them into the mosque so they could pray.
Amidst the arguments, the new assistant commissioner city, Saad Asad, entered the mosque holding his mobile phone close to his ear.
After a brief discussion with Mr Haroon, he directed the media to leave the premises and told the police to let the faithful in to pray. A mediaperson also entered the mosque to pray.
Later, Assistant Commissioner Asad came out to tell the media the press conference had been called off and the grievances of the family registered.
Since there were no words from Mr Haroon, it was acknowledged that the briefing had been called off.
Meanwhile, one police official told the press that Mr Aziz' family should adopt the course of law.
"There are three forum and they approached none of them. First is to lodge a complaint at the relevant police station; they can also approach the courts and there is the national commission on missing persons," he said, adding: "Creating a fuss is not the best option."
A spokesperson for Mr Aziz acknowledged that none of the aforementioned forums had been approached, but added that they would file an application with the Supreme Court.
A statement issued by the Shohda Foundation decried the police and Islamabad Capital Territory administration's actions.
Full report at:
https://www.dawn.com/news/1353825/clerics-relatives-prevented-from-holding-presser-at-lal-masjid
--------
Pakistan committed to peace in Afghanistan: Asif
25-Aug-17
by By Ijaz Kakakhel
ISLAMABAD: Foreign Minister Khawaja Asif on Thursday rejected US President Donald Trump's allegations and reiterated that Pakistan backed all international efforts for a peaceful Afghanistan.
Giving a policy statement in the Senate, the minister denied US allegations that Pakistan wanted to destabilise Afghanistan.
"Pakistan has been supporting all international efforts for a peaceful Afghanistan. Islamabad backs Washington and Kabul in their efforts to restore peace in Afghanistan through talks," he said.
The minister said the National Security Committee, in its meeting on Thursday, had completely rejected Donald Trump's allegations against Pakistan. "Scapegoating Pakistan will not stabilise Afghanistan," he said.
"Due to the Afghan issue, there has been an influx of refugees, drugs and arms in our country. Safe havens against Pakistan have been formed on the Afghan soil. Pakistan has always taken indiscriminate action against terrorists and has suffered over $120 billion losses in the war on terror. We don't allow our soil to be used against any country and expect other states to reciprocate," Asif said.
The foreign minister also said the country was ready to cooperate with the United States and Afghanistan for lasting peace in the region.
The minister slammed India over its role of spreading terrorism in Afghanistan and called it a sensitive issue. "India wants to de-stabilise Pakistan from both east and the west," he said. The minister further mentioned that the NSC members had condemned aggressive Indian policies of waging war in the region, calling it a threat to regional peace. He accused India of using terrorists in order to fulfill its state policies.
Meanwhile, Prime Minister Shahid Khaqan Abbasi assured the Senate that he would probe why the Pakistan Television (PTV) had not provided live coverage to the debate on the US President Donald Trump's recently announced South Asia strategy.
Earlier, Senate Chairman Mian Raza Rabbani had expressed concern over the non-coverage of the debate.
The PM said he would investigate why a directive in this regard had not been complied with.
During the proceedings, the Senate chairman suggested that the session be extended as the house's foreign affairs committee was in the process of formulating its recommendations on the issue.
To this, the prime minister said the committee should finalise the recommendations which could be communicated to the National Assembly after being adopted by the Senate.
"Even a joint session of the parliament could also be convened on the matter," he said.
Prime Minister Abbasi said the federal cabinet had discussed the issue for three hours and the National Security Committee had also deliberated over it during its four-hour long meeting.
Earlier, senators had strongly denounced the statement made by US President Donald Trump about Pakistan and said that the whole nation was on one page against the US new policy.
They were discussing a motion over the US president's new strategy for South Asia and Afghanistan and remarks about Pakistan. They said that Pakistan was a strong and brave nation and Pakistanis knew well how to defend their motherland. The senators said a national narrative against terrorism should be formulated in consultation with all the stakeholders and the parliament.
Full report at:
http://dailytimes.com.pk/pakistan/25-Aug-17/pakistan-committed-to-peace-in-afghanistan-asif
--------
South Asia
Worst violence in months kills 12 in Myanmar's Rakhine
Aug 25, 2017
YANGON: At least 12 people including five police officers were killed Friday in Myanmar's restive Rakhine state as Rohingya militants launched pre-dawn raids on border posts, according to the office of State Counsellor Aung San Suu Kyi.
It is the worst outbreak of violence for months in the coastal state bisected by religious hatred and follows a milestone report by a commission led by former UN chief Kofi Annan urging immediate action to heal the divide.
More than 20 police posts came under attack by an estimated 150 militants in the early hours of Friday, prompting soldiers to fight back, the statement issued by the State Counsellor's office said.
"Currently, five police officers have been killed and... according to initial information, we have seven bodies of the extremist Bengali terrorists," it added, using a government description for the Rohingya militants who emerged as a force last year.
"Many police posts and stations were attacked," it said, in at least one case using homemade mines.
Confirming the unrest, a police officer in Buthidaung town, close to the worst violence, said border guard posts remained surrounded by militants as day broke in a fluid and dangerous flare up of violence.
"The situation is complicated... the military is arriving," the officer told AFP on condition of anonymity, adding some of the attackers were armed with guns.
The northern wedge of Rakhine closest to Bangladesh has been in lockdown since October 2016 deadly attacks by militants on border posts sparked a military response that left scores dead and forced tens of thousands to flee.
The UN believes those security "clearances" may have amounted to ethnic cleansing of the Rohingya, a mainly Muslim minority living in Buddhist Myanmar.
The army and Suu Kyi's civilian government vehemently deny allegations of widespread abuses including rape and murder.
After a period of slackening violence, tensions have boiled over in recent weeks with the military moving hundreds of troops into remote village areas.
Annan was appointed by Suu Kyi to head a year-long commission tasked with healing divisions between the Rohingya and local Buddhists.
His report urged Myanmar to scrap restrictions on movement and citizenship for its roughly million-strong Rohingya minority, the majority of whom are stateless.
Friday's "attacks coincidedly came after release of the final report by advisory commission on Rakhine State led by Dr Kofi Annan," Suu Kyi's office said.
Myanmar security forces have conducted sporadic operations to flush out suspected militants throughout this year, often resulting in casualties among Rohingya villagers.
They have spoken of their fear at being trapped between the security forces and the militants, who are accused of conducting a shadowy assassination campaign against perceived collaborators with the state.
It was not immediately clear if Friday's outbreak of violence was led by the Arakan Rohingya Salvation Army (ARSA), which claims to lead an insurgency based in the remote May Yu mountain range in northern Rakhine.
Recent tensions have been further tweaked after several Buddhists were found dead, prompting some ethnic Rakhine villagers to flee.
http://timesofindia.indiatimes.com/world/rest-of-world/worst-violence-in-months-kills-12-in-myanmars-rakhine/articleshow/60218375.cms
--------
Police probe after pig's head left at Muslim prayer centre in Co Down
4 AUG 2017
The head of a dead pig has been left outside a Muslim community and prayer centre in Co Down.
It is believed it was left to distress and upset local Muslim people whose faith forbids them to consume pork.
Police are investigating the incident as a hate crime.
The head of the pig was placed outside the Bangladesh Islamic Community Centre in Newtownards on Greenwell Street around 11.15pm yesterday.
Graffiti was also daubed on the wall of the same building, a converted Victorian house. Police are treating the incidents as the first of two hate crimes
And in the second hate crime, anti-Muslim graffiti was daubed on a nearby wall in Castle Street.
A source in Newtownards said: "This graffiti was bad enough and it basically was a clear message that Muslims should get out of the area.
"But leaving the pig's head outside a centre used primarily by Muslim families for community work and prayer is just sick. It was intended as an insult, to distress and upset and it has done just that.
"Newtownards has a healthy population of Muslims living working in the community and integrating very well in the larger community. And every member of the public in Newtownards should be allowed to get on in peace and with some respect. This sort of abuse cannot be tolerated."
Patrick Corrigan, Northern Ireland Programme Director of Amnesty International, condemned the attack.
He said: "Our solidarity goes to the local Muslim community, who were the targets of this vile attack, apparently fuelled by a hatred of Islam or of Muslims.
"Anyone with information about the attack should contact the PSNI. This is a hate crime and must be prosecuted as such by the authorities.
"Amnesty calls on Northern Ireland's political representatives to do all in their power to stand against hate and to ensure all minority communities feel welcome and able to live free from fear."
Muslims do not consume pork as part of their faith, taking the word of the Qur'an as law.
Mural celebrating diversity of people who fought for Britain in World War One unveiled
It states: Forbidden to you (for food) are dead animals, blood, the flesh of swine, and that which is slaughtered as a sacrifice for other than God.
A PSNI spokesman said: "Police in Newtownards are investigating two incidents in the town which occurred overnight, Wednesday, 23 August, and earlier this morning Thursday, 24 August."
Chief Inspector Hazel Reid said: "At approximately 11:15pm last night it was reported to police that a pig's head had been placed on the doorstep and graffiti painted on a wall of a building.
GRAPHIC CONTENT: Pig heads left outside derelict church in West Belfast bearing anti-Islam slogan
"Shortly after 1am, it was reported that graffiti had also been painted on the wall of a building in the Castle Street area. Both these incidents are being treated as hate crimes.
Full report at:
http://www.belfastlive.co.uk/whats-on/music-nightlife-news/police-probe-after-pigs-head-13525087
--------
Bangladesh university drops dress code after backlash
Aug 24, 2017
A women's dormitory at Bangladesh's most prestigious university said on Thursday it has dropped a ban on students wearing what it called "indecent" clothing after an uproar.
A notice posted at Dhaka University's Kabi Sufiya Kamal Hall barred its 2,300 residents from wearing such clothes including t-shirts, threatening disciplinary action against anyone who disobeyed.
A photo of the order went viral on social media, with many accusing authorities of "Talibanising" the dormitory.
"Do we have to change our clothing every time we go to the dining room for lunch or dinner?" said one student at the dormitory, who asked not to be named. "I am not sure whether I should study or keep changing clothes three times a day."
Dhaka University is Muslim-majority Bangladesh's largest secular bastion. The head of the dormitory said she had not issued the order, which did not reflect its policies.
"We are very embarrassed seeing the distorted notice," Sabita Rezwana Rahman told AFP.
Full report at:
http://www.hindustantimes.com/world-news/bangladesh-university-drops-dress-code-after-backlash/story-HxvGyt0YxhkAxzYHFasUMJ.html
--------
Surrendered Taliban leader speaks of foreign intelligence role in Afghan violence
Aug 24 2017
A Taliban leader who has just joined the peace process with his fighters in eastern Nangarhar province has unveiled the role of the foreign intelligence in the ongoing violence in the country.
The Taliban leader, Amir Khan famous as Zangal Pacha, joined peace process together with his six fighters.
He said the foreign intelligence agencies were motivating them to take part in the conflict as they were brainwashed that Afghanistan has been occupied by the 'Pagans'.
Pacha further added that they were receiving specific instructions from the intelligence agencies to carry out target killings of tribal elders besides carrying out attacks on public welfare projects including schools.
He did not specifically name any foreign intelligence agency involved in sparking violence in the country but the Afghan officials have long been blaming the Inter Services Intelligence for the violence in the country.
The Afghan officials have long been emphasizing that the leadership councils of the Taliban and Haqqani terrorist network are based in the key cities of Pakistan, including Peshawar and Quetta, from where they plan and carry out deadly attacks inside Afghanistan.
"Afghanistan, in particular, continued to experience aggressive and coordinated attacks by the Afghan Taliban, including the affiliated Haqqani Network (HQN) and other insurgent and terrorist groups," the US State Department said in a report last month.
Full report at:
https://www.khaama.com/surrendered-taliban-leader-speaks-of-foreign-intelligence-role-in-afghan-violence-03275
--------
Top US general in Afghanistan claims Taliban cannot win war
August 25, 2017
KABUL: The top US military commander in Afghanistan said on Thursday President Donald Trump's new strategy is a sign of a long-term commitment to what is already America's longest war and called on Taliban militants to agree to peace talks.
"The Taliban cannot win on the battlefield; it's time for them to join the peace process," General John Nicholson told reporters in Kabul. "We will not fail in Afghanistan; our national security depends on that as well."
Critics, including Trump himself, have argued in the past that Afghanistan is no closer to peace despite billions of dollars spent on aid and nearly 16 years of US and allied military operations.
Urges militants to join peace efforts
In February, Gen Nicholson told the US Congress he needed "a few thousand" more troops in Afghanistan, mostly to help advise Afghan security forces that are battling Taliban and fighters from other militant groups.
Trump has now approved an extended American presence in Afghanistan, although neither he nor his military leaders have provided any specifics about troop numbers or timelines.
The current US force for the predominantly advise-and-assist mission in Afghanistan stands at around 8,400, well down from around 100,000 during the "surge" decided on by Trump's predecessor, Barack Obama.
Several thousand more troops are often in the country on "temporary" or other uncounted missions.
Nicholson said new advisers from the United States and Nato coalition allies would increase the training missions, including at specialised military schools, and expand the Afghan air force and special forces.
He also praised Trump's decision not to impose "arbitrary" deadlines on the American mission in Afghanistan. "This policy announcement... is proof of our continued commitment," he said.
The Taliban government was overthrown by US-backed Afghan forces in late 2001 but US forces have been bogged down there ever since. About 2,400 US troops have been killed in Afghanistan.
The US military and intelligence officials are concerned that a new Taliban victory would allow Al Qaeda and the militant Islamic State group to establish bases in Afghanistan.
Full report at:
https://www.dawn.com/news/1353792/top-us-general-in-afghanistan-claims-taliban-cannot-win-war
--------
New Zealand to increase military personnel in Afghanistan
Aug 25, 2017
WELLINGTON: Just days after the United States said it would increase troop numbers in Afghanistan and ask its allies to do the same, New Zealand on Friday announced an extra three non-combat military personnel, boosting its military commitment to 13.
US President Donald Trump on Monday unveiled his strategy to end the conflict in Afghanistan, committing the United States to an open-ended conflict and signaling he would dispatch more troops to America's longest war.
US officials have said Trump had signed off on plans to send about 4,000 more US troops to add to the roughly 8,400 now deployed in Afghanistan. US Defense Secretary James Mattis has since said exact troop numbers are yet to be decided.
Trump said he would ask coalition allies to support his new strategy, with additional troops and funding, to end the 16-year conflict.
New Zealand Defence Minister Mark Mitchell's announcement boosting the country's Kabul-based troops to 13 follows a request for NATO (National Atlantic Treaty Organization) to send more troops to Afghanistan earlier this year.
New Zealand has had troops in Afghanistan since 2001. Its presence has been decreasing since 2013 but it has kept some personnel on the ground to train local officers.
"New Zealand will continue to stand alongside our partners in supporting stability in Afghanistan and countering the threat of international terrorism," said Mitchell.
Prime Minister Bill English said the government has ruled out making a decision on sending combat troops to Afghanistan before New Zealand's election on Sept. 23.
Full report at:
http://nation.com.pk/international/25-Aug-2017/new-zealand-to-increase-military-personnel-in-afghanistan
--------
Explosion in Kabul city leaves one wounded
Aug 24 2017
An explosion has taken place in Kabul city earlier tonight with preliminary repots indicating at least one person was wounded.
The incident has taken place in the vicinity of Sarai Shamali area of the city targeting a vehicle.
The Ministry of Interior spokesman Najib Danish confirmed the incident and said a magnetic bomb planted in a Land Cruiser type vehicle went off at around 7:30 pm local time.
He said initial reports indicate the driver of the vehicle was slightly wounded in the explosion.
Danish further added that more details regarding the incident will be released later.
No individual or group has so far claimed responsibility behind the incident.
This comes as the anti-government armed militant groups have been attempting to carry out large attacks across the country, including the key cities and provinces as they attempt to expand their insurgency.
Full report at:
http://www.khaama.com/explosion-in-kabul-city-leaves-one-wounded-03345
--------
General Dostum welcomes announcement of new US strategy for Afghanistan
Aug 24 2017
The First Vice President of Afghanistan General Abdul Rashid Dostum welcomed the announcement of the new strategy by the United States for Afghanistan and South Asia.
Dostum, who is currently in Turkey for the treatment purposes, welcomed the announcement of the new strategy through a short statement posted on his official Twitter account.
"I welcome President Trump's new strategy. Now it is time for real reform within the NUG and constitution to guarantee our success," the First Vice President said.
The US President Donald Trump on Tuesday unveiled the new US strategy outlining the approaches for Afghanistan and South Asia as he harshly criticized Pakistan for harboring the terrorist groups besides he vowed continued support to Afghanistan and war against terrorism.
The announcement of the new strategy by President Trump has attracted mixed reactions as the majority of the Afghan politicians, political parties and figures have welcomed the declaration, specifically the reconsideration of the US administration's views towards Pakistan.
Full report at:
http://www.khaama.com/general-dostum-welcomes-announcement-of-new-us-strategy-for-afghanistan-03344
--------
Arab World
Over 300 Daesh terrorists slain, 31 districts retaken in Tal Afar op: Official
Aug 24, 2017
A high-ranking Iraqi military commander says more than 300 Daesh Takfiri terrorists have been killed and tens of districts liberated ever since army soldiers, backed by allied fighters from the Popular Mobilization Units, launched a multi-pronged operation to retake the northern city of Tal Afar.
The spokesman for Iraq's Joint Operations Command (JOC), Brigadier General Yahya Rasool, told a press conference in Baghdad on Thursday that Iraqi soldiers together with fighters from the Popular Mobilization Units, commonly known by the Arabic word Hashd al-Sha'abi, and members of the Counter-Terrorism Service (CTS) have managed to regain control over 31 districts between August 20 and August 23, Arabic-language al-Sumaria television network reported.
Rasool added that Iraqi forces and their allies have killed 302 Daesh terrorists, destroyed 33 car bombs, 15 militant positions, 35 underground tunnels and 19 mortar launchers. They have defused 752 improvised explosive devices and cleared seven booby-trapped houses as well, he said.
The remarks came as the media bureau of Hashd al-Sha'abi announced in a statement that volunteer fighters and security forces had wrested complete control over al-Jazeera region east of Tal Afar, located 63 kilometers west of Mosul.
Separately, the media bureau of Iraq's Badr Organization stated that the pro-government forces had liberated Jolaq junction in Tal Afar, and raised the national flag over the Directorate of Education building.
The commander of the Tal Afar liberation operation, Lieutenant General Abdul Amir Yarallah, also said that soldiers from the 37th Infantry Brigade, 9th Armored Division and fighters from the 11th Brigade of Hashd al-Sha'abi have liberated al-Nour al-Oula neighborhoods from the clutches of Daesh Takfiris, and made advances through al-Nasr area.
Moreover, fighters from the 26th Brigade of Hashd al-Sha'abi have recaptured Khader Elias hilltop south of Tal Afar.
Also on Thursday, Hashd al-Sha'abi forces seized Daesh's self-proclaimed "Education Bureau of the Nineveh State" in al-Wahda neighborhood northeast of Tal Afar, and liberated al-Khadra district east of Tal Afar following two days of heavy clashes with Daesh Takfiris.
Later in the day, Iraqi army soldiers and Hashd al-Sha'abi fighters reclaimed al-Wahda neighborhood, and are now moving towards al-Rabi' neighborhood.
The International Organization for Migration said in a statement on Tuesday that nearly 3,200 individuals had fled Tal Afar to two refugee camps south of Mosul over the past four days.
"These internally displaced persons carried a minimal amount of clothes; some only had what they wore, some were partially clothed," the statement said, adding that thousands more are expected to flee in the coming days.
The Office of the United Nations High Commissioner for Refugees says it has received around 1,500 families, or some 9,000 people, from Tel Afar at the Hamman al-Alil displacement camp in the past week.
The UN refugee agency also says it is making preparations to accommodate around 30,000 more refugees from the city within the next few days.
http://www.presstv.ir/Detail/2017/08/24/532795/Iraq-Hashd-alShaabi-Tal-Afar-districts
--------
Hezbollah seizes much of ISIS enclave on Syrian-Lebanese border: Nasrallah
Aug 25, 2017
BEIRUT (Reuters) - Hezbollah has captured much of an Islamic State pocket on Syria's side of the border with Lebanon in a joint offensive with the Syrian army, its leader said on Thursday.
In parallel with the fighting, talks on a truce have begun with Islamic State but a military victory is more likely, Sayyed Hassan Nasrallah said in a televised speech.
Syrian troops and Iran-backed Hezbollah have been fighting to oust Islamic State from Syria's western Qalamoun region.
The attack began last week, coinciding with a Lebanese army offensive against Islamic State on its side of the border in northeast Lebanon.
The zone straddling the border is the last part of the Lebanese-Syrian frontier under militant control.
Both offensives have advanced toward the border from opposite sides. The Lebanese army says it is not coordinating the assault with the Syrian army or Shi'ite Hezbollah, which Washington classifies as a terrorist group.
Any joint operation between the Lebanese army on one hand and Hezbollah with the Syrian army on the other would be politically sensitive in Lebanon and could jeopardize the sizeable U.S. military aid the country receives.
The frontier battle was nearing a "very big victory", Nasrallah said.
"So far, more than 270 square km have been fully captured on Syrian land" by Hezbollah and the Syrian army, he said. "Around 40 square km remain under Daesh control."
Islamic State is on the back foot in Iraq and Syria. It has lost ground in Syria to various separate enemies over the past year and the eastern Deir al-Zor province its last major foothold.
Hezbollah has played a major role in fighting Sunni militants along the border, and has sent thousands of fighters into Syria to support President Bashar al-Assad's government against Syrian rebel groups.
Earlier this month, Nusra Front militants left Lebanon's border region under an evacuation deal after Hezbollah routed them in their last footholds there. Thousands of refugees also departed with them to rebel territory in Syria.
Northeast Lebanon saw one of the worst spillovers of Syria's war into Lebanon in 2014, when Islamic State and Nusra Front militants briefly overran the border town of Arsal.
The fate of nine Lebanese soldiers that Islamic State took captive then remains unknown.
Islamic State leaders in Syria's western Qalamoun had asked for negotiations, Nasrallah said on Thursday.
"The first condition of any deal reached with Daesh will be revealing the fate of the Lebanese soldiers," he added.
If the Lebanese state wanted to negotiate an evacuation deal with Islamic State militants on its own side, Damascus would be ready to cooperate, Nasrallah said.
"But the condition is an official Lebanese request, and public coordination, not under the table," he said.
Hezbollah and its allies have been pressing Lebanon to normalize relations with Damascus, challenging the state's policy of neutrality toward the conflict next door.
Full report at:
http://nation.com.pk/international/25-Aug-2017/hezbollah-seizes-much-of-isis-enclave-on-syrian-lebanese-border-nasrallah
--------
Fresh US-led air raids kill 7 civilians in Syria's Mayadin
Aug 24, 2017
At least seven civilians have lost their lives when the US-led coalition purportedly fighting the Daesh Takfiri terrorist group conducted a series of aerial assaults on Syria's eastern province of Dayr al-Zawr.
Local sources told Syria's official news agency, SANA, on Thursday that seven people, mostly women and children, were killed when US-led jets targeted residential buildings in the town of Mayadin, located some 45 kilometers southeast of the provincial capital city of Dayr al-Zawr.
The sources added that the death toll was expected to rise as rescue teams were pulling people out of the debris of destroyed buildings, and some of injured locals were in a critical condition.
The report came only a day after the Syrian Ministry of Foreign Affairs and Expatriates, in two separate letters sent to UN Secretary General António Guterres and rotating President of the UN Security Council Amr Abdellatif Aboulatta, stated that the US-led coalition was perpetrating war crimes and crimes against humanity through aerial bombardment of residential neighborhoods.
The Syrian Foreign Ministry also stressed that the military alliance was using internationally-banned white phosphorus munitions in flagrant violation of international law and the Charter of the United Nations.
The letters further pointed to the loss of 78 civilian lives and injury of tens of others, mostly women and children, in the US-led aerial attacks against residential neighborhoods in Raqqah on August 23.
"The Syrian government calls on the Security Council to implement resolutions pertaining to the fight against terrorism, especially Resolution 2253 that covers asset freeze, travel ban, arms embargo and listing criteria for Daesh, al-Qaeda plus associated individuals and groups, and to immediately stop the coalition's crimes against innocent Syrian civilians," they read.
The US-led coalition has been conducting airstrikes against what are said to be Daesh targets inside Syria since September 2014 without any authorization from the Damascus government or a UN mandate.
Full report at:
http://www.presstv.ir/Detail/2017/08/24/532779/Syria-USled-strikes-civilians-Mayadin-Dayr-alZawr
--------
Syrian troops surround Daesh terrorists in Badiya desert: Monitor
Aug 24, 2017
Syrian forces have managed to encircle Daesh terrorists in the semi-arid region of Badiya, a UK-based monitoring group says.
The so-called Syrian Observatory for Human Rights said on Thursday that the Syrian troops, advancing against terrorists north and south of the region, recaptured Jabal Dahek area and dealt a "strategic" blow to the Daesh elements.
Over the past months, Syrian forces have been fighting for Badiya, which stretches from central Syria to the Iraqi and Jordanian borders and has been under Daesh's control since 2014.
Reports said that fighting rages on near the town of Sukhnah, also situated in Badiya.
The liberation of Badiya is seen as key for retaking Dayr al-Zawr, the last Syrian province that remains almost completely under Daesh's grip.
Over the past few months, Daesh has retreated from much of the territory under its control amid sweeping gains made by Syrian army soldiers and allied fighters against the terror outfit.
Daesh demands withdrawal to Dayr al-Zawr
Separately on Thursday, a pro-Damascus official said that Daesh militants had requested the Syrian army and its ally, the Hezbollah resistance movement, to let them withdraw from the Lebanese-Syrian border region to Dayr al-Zawr Province.
Daesh "asked for negotiations and a withdrawal, and the Syrian side and Hezbollah agreed," the official said.
Anti-Daesh border fight to end soon
In a relevant development on Thursday, a Syrian army officer told the Beirut-based Al Mayadeen TV channel that the anti-Daesh battle in the area along the border between Syria and Lebanon will end within hours.
The remarks came as Lebanese artillery and aircraft pounded Daesh positions on the Lebanese side of the frontier with Syria.
The Lebanese army command had already announced that the fourth phase of its offensive should eventually evict all Daesh elements from the border.
Hezbollah and the Syrian military launched an offensive against Daesh in Syria's western Qalamoun region on Lebanon's border on Saturday. The operation coincided with a Lebanese army counter-terrorism campaign on the Lebanese side of the frontier.
Last month, Hezbollah concluded a joint counter-terrorism campaign with the Syrian army at Lebanon's highlands of Arsal.
The militants of the al-Nusra Front group, recently renaming itself Fateh al-Sham, withdrew from Arsal following a series of consecutive defeats that forced them to agree to a ceasefire deal.
Full report at:
http://www.presstv.ir/Detail/2017/08/24/532778/Syria-Daesh-Badiya-Hezbollah
--------
Thousands of Tribal Forces Join Syrian Army for Anti-ISIL Operations
Aug 24, 2017
The sources said that most of these forces are residents of villages and towns recently liberated by the Syrian troops, including al-Sabkheh, al-Akirsheh, Qanem al-Ali, al-Shanan, Bu Ahmad and other towns of Raqqa, while hundreds of others are from the tribes in Deir Ezzur and Hasaka provinces.
They added that the number of tribal forces who have joined the army increased from 2,800 to 7,000 fighters in the past month, noting that they will be supported militarily by the Russian forces in Syria.
Also, a sum of 700 tribal volunteer forces joined the Syrian Army troops in battle against ISIL in Badiyeh desert in Eastern Hama and Homs on Wednesday, a military source disclosed.
The source said that a growing number of tribal forces have joined the army in Syria's Badiyeh in recent weeks.
The source further said that over 350 tribal forces are fighting against ISIL along with the army in Ithriya region in the Eastern direction of the town of al-Salamiyah, adding that the tribal forces have played an effective role in laying siege on ISIL in a region between Ithriya in Hama and Mount al-Sha'er in Homs.
He went on to say that over 250 tribal fighters and the National Defense Forces joined the army soldiers in Syria's Badiyeh at the beginning of this week, while another two groups with 100 fighters participated in clashes in Badiyeh and al-Sukhnah region. The operation is aimed at removing the siege on Deir Ezzur
Full report at:
http://en.farsnews.com/newstext.aspx?nn=13960602300428
--------
Fierce Infighting Reported among Ankara-Backed Terrorists in Al-Bab
Aug 24, 2017
The Kurdish-language Hawar news quoted an informed source as saying on Thursday that fierce clashes erupted among several groups of the terrorists who are affiliated to the Turkish army in al-Bab, adding that the clashes spread to the main road between the two towns of al-Ra'i and Qabaseen.
The source also confirmed that during the clashes, a number of militants were killed and wounded and hundreds of residents of the region have fled to the adjacent villages and towns as well as the Syrian-Turkish bordering areas.
In a relevant development last Saturday, a large number of Ankara-backed militants were killed or wounded after the Kurdish-led Syrian Democratic Forces (SDF) shelled the militants' positions in Northern Aleppo.
Hawar news reported that missile and artillery units of the Turkish army and Ankara-backed militants targeted the village of Qastal Jandou in Afrin region and the villages of Ein Daqna, Sheikh Issa, Sha'alah, Nirbiyeh, Um Hawsh and Harbal as well as the town of Tal Rifat in al-Shahba region.
The news website further said that the SDF in al-Shahba region retaliated and opened heavy fire at the positions of the Turkish army and militants near the town of al-Bab, wounding 11 militants.
In the meantime, SDF carried out mortar attacks on militants' gathering in the town of Mare'a, killing and wounding a number of them, Hawar news said, adding that Turkish ambulances arrived in Mare'a latter to transfer the injured militants.
Full report at:
http://en.farsnews.com/newstext.aspx?nn=13960602300212
--------
Al-Nusra, ISIL Terrorists Heavily Defeated in Homs
Aug 24, 2017
The Syrian army units engaged in fierce clashes with al-Nusra terrorists who had attacked several military points near the village of Jabourin in Northwestern Homs on Thursday, repelling the offensive and leaving a number of militants dead and wounded.
Also, the Syrian army's artillery units targeted the terrorists' positions in the village of al-Mashrou in Northwestern Homs, smashing a number of their bases and military equipment and killing several militants.
Meantime, the Russian warplanes intensified airstrikes on ISIL positions in the Eastern parts of the town of al-Sukhnah, blowing up an arms and ammunition cache and several military vehicles, as the Syrian army advanced from the depth of Badiyeh (desert) region towards Deir Ezzur.
In a relevant development on Wednesday, the Syrian Army troops managed to drive ISIL out of several key regions in areas surrounding the newly-liberated town of al-Sukhnah after tough battle with terrorists in Eastern Homs.
The army men prevailed over ISIL's defense lines and took control over Wadi Abu Zeleh region in Eastern Homs and managed to deploy in Khashm al-Zoweihak region Northeast of al-Sukhnah.
Also, the army units captured Qara al-Arizah region and Qara al-Tahin and Qobour al-Sha'alan hill and some of the heights overlooking Qara al-Arizah and Southeast of Khirbet al-Haywaniyah and West of mount al-Sha'er.
In the meantime, Mount al-Hajanah and Rajm al-Hajanah region came under control of the army.
Full report at:
http://en.farsnews.com/newstext.aspx?nn=13960602300187
--------
ISIL Heavily Defeated as Syria, Russia Intensify Operations in Deir Ezzur
Aug 24, 2017
The Syrian and Russian fighter jets heavily pounded the ISIL moves and positions near al-Ta'min Brigade base, Ayash warehouses, Monjem al-Malah region and the village of Sabkhah on Thursday, smashing their bases and killing a large number of militants.
Also, the artillery units of the army targeted ISIL positions near al-Ta'amin Brigade base, Panorama region, al-Amal and al-Arafi districts and the villages of al-Masrab, al-Kharitah, al-Shamitiyeh, Ain Bujomeh, Ayash and al-Baqiliyeh, destroying the terrorists' military vehicles.
Other units of the army also engaged in sporadic clashes with the ISIL in the cemetery region and near the airport and the village of al-Baliqiyeh, inflicting heavy toll and damage on the militants.
Meantime, local sources in Western Deir Ezzur confirmed fierce clashes between the residents of the town of al-Shamitiyeh and the ISIL militants in the region.
In a relevant development last week, the Russian Air Force targeted a number of ISIL positions in the Eastern city of Deir Ezzur and its outskirts, destroying a large depot of arms and ammunition in the city's districts.
The warplanes bombed heavily ISIL's positions in Civil Defense region North of al-Mufti Grand Mosque in Deir Ezzur city, destroying a large weapons and munitions depot of the terrorists.
The fighter jets, later, targeted ISIL's defense lines in Jonayd division base, Tal (hill) Aloush, Tal Milad in the Southwestern outskirts of Deir Ezzur city.
Full report at:
http://en.farsnews.com/newstext.aspx?nn=13960602300145
--------
Syrian Army Surrounding ISIL in Badiyeh
Aug 24, 2017
The army troops could gain back control of the strategic mountain of al-Zahak in the Northern parts of the town of al-Sukhnah in Eastern Homs.
Also, other units of the army advanced in Khashm al-Zawihak region in the Northeastern parts of al-Sukhnah after retaking control of Wadi Abuzelah region.
The army forces also could win back control of the five towns and villages of Harif, al-Osfouriyeh, Roz al-Wahsh, Qatqat and Jabal al-Menshar in Eastern Homs.
They killed and wounded a large number of ISIL terrorists during the operations, destroying several armored vehicles and seizing 2 tanks and a military vehicle.
Almost 700 tribal volunteer forces have joined the Syrian Army troops in the battle against ISIL in Badiyeh desert in Eastern Hama and Homs, a military source disclosed on Wednesday.
The source said that a growing number of tribal forces have joined the army in Syria's Badiyeh in recent weeks.
The source further said that over 350 tribal forces are fighting against ISIL along with the army in Ithriya region in the Eastern direction of the town of al-Salamiyah, adding that the tribal forces have played an effective role in laying siege on ISIL in a region between Ithriya in Hama and Mount al-Sha'er in Homs.
He went on to say that over 250 tribal fighters and the National Defense Forces joined the army soldiers in Syria's Badiyeh at the beginning of this week, while another two groups with 100 fighters participated in clashes in Badiyeh and al-Sukhnah region. The operation is aimed at removing the siege on Deir Ezzur
Full report at:
http://en.farsnews.com/newstext.aspx?nn=13960602300071
--------
Syria: Tens of Gunmen Receive Gov't Amnesty in Northern Homs
Aug 24, 2017
Based on amnesty decree issued in 2016, the Syrian authorities pardoned 175 militants of the Syrian cities of Talbiseh and Rastan in Northern Homs on Wednesday after the latter vowed not to participate in any activities affecting the country's security.
In a relevant development late in July, over 150 gunmen that had handed over their arms to relevant officials and endorsed peace with the Syrian army in Northern Homs were pardoned by the government.
Damascus government granted amnesty to 153 gunmen that had previously handed over their arms to the relevant officials in Northern Homs and in several other neighborhoods of Homs city and had applied for the pardoning.
http://en.farsnews.com/newstext.aspx?nn=13960602300152
--------
Bahrain dismantles cell of 10 people plotting terror operation
24 August 2017
Bahrain today said that it had dismantled a 10-member cell suspected of involvement in terrorist acts, led by 31-year-old Hussein Ali Ahmed Dawood, 31.
Dawood was one of the leaders of the Saraya al-Ashtar, the terrorist armed wing of the so-called Al-Wafaa Islamic movement, and a fugitive from Bahrain, living in Iran.
He hasbeen sentenced to life imprisonment in three terrorist cases and is closely linked to the Iranian Revolutionary Guards.
In the operation to dismantle the cell, the Bahraini investigators came upon a trove of incriminating information that lso led to the seizure of explosive materials at various sites in centrally populated areas, intended to be used for bomb-making and manufacturing of explosive devices.
Full report at:
https://english.alarabiya.net/en/News/gulf/2017/08/24/Bahrain-dismantles-cell-of-10-people-plotting-terror-operation.html
--------
US, Saudis urge Syria opposition to accept Assad's political role: Report
Aug 25, 2017
In a major policy U-turn, US and Saudi diplomats have reportedly been urging the armed Syrian opposition to come to terms with President Bashar al-Assad's role in Syria's future as Damascus' army irreversibly holds the upper hand on the battlefield against militant groups.
In a Thursday article, the Associated Press pointed to the major shift in the strategies of Western and regional supporters of Syrian opposition groups and militants with regard to the developments in Syria.
"Western and regional rebel patrons, currently more focused on advancing their own interests rather than accomplishing regime change in Damascus, are shifting their alliances and have ceased calls on Assad to step down," the report said.
Former US ambassador to Syria, Robert Ford, who is widely considered as Washington's civil war engineer in different parts of the world and a key instigator of the Syrian conflict in 2011, has ruled out the likelihood of Assad's removal, saying, "There is no conceivable military alignment that is going to be able to remove him."
"Everyone, including the US, has recognized that Assad is staying," said Ford, who is currently a fellow at the Middle East Institute in Washington, D.C.
The Syrian government is currently in control of most of the populated west, while Daesh and al-Qaeda Takfiri terrorists, US-backed Kurds and Turkey-backed militants control the remaining pockets in the north, east and south.
Meanwhile, violence has significantly decreased in de-escalation zones where over 2.5 million people live, including the southern provinces of Dara'a, Quneitra, Suwayda, the northwestern province of Idlib, parts of the central province of Homs and the militant-controlled Eastern Ghouta Province near Damascus.
During the previous round of Syrian peace talks in the Kazakh capital city of Astana in May, delegations from Russia, Iran and Turkey as well as the Syrian sides and the United Nations teams agreed to create the de-escalation zones.
The talks in Astana have been going on in tandem with another series of UN-brokered talks in Geneva, which have been stalled for months mainly due to the opposition groups' disagreement over Assad's future political role.
With the next round of Geneva talks on the horizon, even the key supporters of the opposition's chief representative group, the High Negotiations Committee (HNC), are urging the group to adapt to the new realities, the report pointed out.
According to an interlocutor, who mediates between the opposition and state capitals and requested anonymity, Saudi Foreign Minister Adel al-Jubeir told the opposition it was time to formulate "a new vision."
"He did not explicitly say Bashar [Assad] is going to stay, but if you read between the lines, if you say there needs to be a new vision, what is the most contentious issue out there? It is whether Bashar stays," said the interlocutor.
At a two-day meeting in Riyadh this week, which aimed to unify the visions of Syria's three main political opposition groups, divisions were still on full display.
While the HNC maintained its position that Assad must step down before any political transition, the other opposition group known as the "Moscow Platform" argued that Assad's departure must not be a precondition for negotiations.
Internal talks are currently underway to restructure the HNC in an attempt to give weight to the more conciliatory voices among the opposition, the report said.
The main supporters of the opposition, the US, EU, Saudi Arabia and Turkey, which are currently more concerned with preserving their own strategic interests than with removing Assad, have changed their priorities in Syria.
The report cited US Secretary of State Rex Tillerson reportedly as telling the UN Secretary General Antonio Guterres that President Donald Trump's administration "would leave Syria's fate in Russia's hands."
On the other hand, in a speech for Syrian diplomats in Damascus this week, Assad derided the West and said that when it comes to political, economic and cultural ties, Syria will look east.
Full report at:
http://www.presstv.ir/Detail/2017/08/25/532857/Syria-Assad-US-Saudi-Arabia
--------
Mideast
US 'destabilizing' policies spawn terrorism in region: Iran
Aug 25, 2017
Iran has censured US President Donald Trump's new strategy in Afghanistan, saying Washington must stop interfering in the internal affairs of other countries and abandon its "destabilizing" policies in the region.
Earlier this week, Trump said he was committed to a prolonged US military presence in Afghanistan as long as there is "determination and progress" in the South Asian country.
He also took a tough line with Pakistan, warning Islamabad against providing terrorists with "safe havens."
"What the US today is condemning other countries for is the very outcome of its own wrong and irrational policies over the years in the region and particularly in Afghanistan," Iranian Foreign Ministry Spokesman Bahram Qassemi said Thursday night.
Washington's "opportunistic strategies and unilateral policies, coupled with its wrong interventions, have only intensified chaos and tension and spread terrorism and extremism across the region," he added.
Advising the Trump White House against adopting meddlesome policies and deciding for other nations, Qassemi said, "The countries of the region have the required capacity to cooperate on the fight against terrorism and maintain stability and security in their own region."
The countries in the region "do not need America's destabilizing and terrorist-breeding policies."
Trump's announcement marked a clear U-turn from his campaign pledges to end the now 16-year-long occupation of Afghanistan.
"My original instinct was to pull out, and historically I like following my instincts, but all of my life I heard that decisions are much different when you sit behind the desk in the Oval Office," he said Monday.
Trump's administration has been under overwhelming pressure to "turn the tide in Afghanistan," to borrow Republican Senator John McCain's words.
The US invaded Afghanistan in 2001 to allegedly eradicate the Taliban and other terror groups. After 16 years of deadly clashes, however, the Taliban are seemingly stronger while the Daesh Takfiri group has also gained a foothold in the country.
The second-longest war in the US history has also killed over 2,000 American soldiers and injured 20,000 more. It has also cost the US economy more than $714 billion.
http://www.presstv.ir/Detail/2017/08/25/532844/Iran-Ghasemi-US-Afghanistan-Trump
--------
Israel charges Palestinian cleric Sheikh Salah with incitement of terror
Aug 24, 2017
The Tel Aviv regime has indicted Sheikh Raed Salah, a cleric who supported Palestinian protests over Israel's controversial security measures imposed last month at a holy site in occupied Jerusalem al-Quds.
The Israeli court formally charged Salah on Thursday with incitement of terror over speeches he delivered encouraging Palestinians to protest for the right of holding prayers inside the Haram al-Sharif compound, which is home to the revered al-Aqsa Mosque, the third holiest site in Islam.
Israel had earlier in the week extended Salah's detention, nearly a week after he was arrested. Prosecutors had demanded the renewed detention, saying they intended to bring charges against the 58-year-old cleric.
Israel's security measures, which came after the July 14 deadly shooting and killing of two Israeli policemen, sparked some unprecedented protests and sit-in gatherings in occupied East Jerusalem al-Quds as Palestinians refused to accept the restrictions for nearly two weeks.
Israel was later forced to remove metal detectors and cameras installed at the gates and Palestinians ended sit-ins and prayers outside the mosque.
Salah had served for nine months in Israeli jails before he was released in January. He was previously charged with "incitement of violence" and "incitement of racism." His latest arrest sparked condemnations in the occupied territories as his supporters said it was part of a political witch hunt aimed to silence dissent.
Full report at:
http://www.presstv.ir/Detail/2017/08/24/532793/Israel-Palestinian-cleric-Raed-Salah-Aqsa-
--------
Pessimism as Kushner holds Israeli, Palestinian talks
Aug 25, 2017
JERUSALEM - White House aide Jared Kushner held talks on the Israeli-Palestinian conflict Thursday with the aim of restarting long-stalled peace efforts, but pessimism was high over President Donald Trump's pledge to reach the "ultimate deal".
The visit comes with both Palestinian president Mahmud Abbas and Israeli Prime Minister Benjamin Netanyahu not in position to make major concessions, some analysts say, and no details have emerged of how Trump's team would overcome that.
Trump also faces a range of crises in addition to controversies at home that may make it difficult for him to focus on the complexities of a major Israeli-Palestinian peace push.
"We have a lot of things to talk about - how to advance peace, stability and security in our region, prosperity too," Netanyahu said in brief public remarks as he met Kushner in Jerusalem. "And I think all of them are within our reach."
Kushner, who is also Trump's son-in-law, said: "The president is very committed to achieving a solution here that will be able to bring prosperity and peace to all people in this area."
EU condemns Israeli dismantling of Palestinian schools
The European Union on Thursday condemned Israeli measures against three Palestinian schools in the occupied West Bank days before classes restart following the summer holidays. On Monday, a kindergarten structure in a Bedouin Arab community in the eastern West Bank was confiscated, while overnight Tuesday a small primary school was demolished in the southern West Bank.
Solar panels used to power another school were also removed.
Some Palestinian children returned to school this week, while others are due to return in the coming days.
Israeli officials say the structures did not have proper permits.
Many such projects are built by European NGOs with funding from the European Union.
The EU, in a statement, expressed "strong concern about the recent confiscations of Palestinian school structures undertaken by Israel in Bedouin communities in the occupied West Bank."
"Every child has the right to safe access to education and states have an obligation to protect, respect and fulfil this right, by ensuring that schools are inviolable safe spaces for children."
Palestinian premier Rami Hamdallah said the confiscations were "a deliberate policy of the Israeli authorities to pressure Palestinian communities to leave, in order to confiscate their land and build additional settlements."
COGAT, the Israeli agency that oversees civilian affairs in the Palestinian territories, told AFP that the buildings were built without the necessary permits.
Israel has occupied the West Bank since 1967 and has built settlements, considered illegal by the international community, for hundreds of thousands of Israelis.
The US delegation was to meet Abbas in the West Bank city of Ramallah on Thursday evening.
A US official said earlier that Trump "remains optimistic that progress toward a deal can be achieved". The visit is part of a regional tour by Kushner, Trump aide Jason Greenblatt and Deputy National Security Adviser Dina Powell.
They have also held talks with Egyptian, Saudi, Emirati, Qatari and Jordanian officials.
"I think (the Israeli-Palestinian conflict) clearly remains important, important enough that senior officials continue to engage on it, including Jared Kushner," Dan Shapiro, US ambassador to Israel under Trump's predecessor Barack Obama, told journalists this week.
"But given the very poor prospects of a significant political breakthrough, I'd be surprised it if warrants a major investment by the president."
Palestinian leaders have grown frustrated with the White House after initially holding out hope that Trump could bring a fresh approach to peace efforts despite his pledges of staunch support for Israel.
Trump aides have held a series of meetings with both sides, portraying them as hearing out concerns before deciding on a way forward, while the US president himself visited Israel and the Palestinian territories in May.
But Palestinian leaders note that the White House has not even said clearly whether its focus will be a two-state solution to the conflict, which has been longstanding US policy.
The two-state solution envisions an independent Palestinian state alongside Israel, a concept which has been the focus of international diplomacy for years.
When Trump met Netanyahu at the White House in February, he said he would support a single state if it led to peace, delighting right-wing Israelis who want to annex most of the West Bank, but raising deep concern among Palestinians.
Signalling their frustration, some Palestinian leaders have spoken of taking a harder line in recent days.
Ahmed Majdalani, a senior Palestinian Liberation Organisation official who is close to Abbas, told AFP on Thursday that one option if no progress is reached would be to dissolve the Palestinian Authority - a threat that has been made in the past.
That would in theory leave Israel with the responsibility of governing and providing services to Palestinian cities in the occupied West Bank.
But at the same time, Majdalani said they could also unilaterally declare Palestinian statehood.
He said it was an option under consideration because "the American administration has not presented any initiative until now, while the Israelis continue with their settlement activities and refuse to abide by obligations they signed up to."
A couple dozen Palestinians protested the visit on Thursday in Ramallah, burning the Israeli flag and pictures of Trump.
Netanyahu, for his part, is under pressure from his rightwing base not to make concessions to the Palestinians and to continue Jewish settlement building, and there is little incentive at the moment for him to change course, some analysts say.
He is also facing a graft investigation that limits his room for political manoeuvre, Shapiro noted.
Shapiro, currently a fellow at the Institute for National Security Studies think-tank in Tel Aviv, said the focus should instead be on short-term goals such as improving the Palestinian economy in order to keep the possibility of a two-state solution alive.
Full report at:
http://nation.com.pk/international/25-Aug-2017/pessimism-as-kushner-holds-israeli-palestinian-talks
--------
Deposed Yemen's Saleh rallies followers in Sanaa amid Houthi rift
24 August 2017
Deposed Yemeni president Ali Abdullah Saleh rallied thousands of supporters in the capital Sanaa on Thursday in a show of force amid an unusual public rift within the alliance fighting the legitimate government, for control of the country.
Fighters loyal to the armed Houthi movement, which runs northern Yemen together with Saleh, decried him as "evil" a day earlier and condemned his description of them as a "militia".
The Houthi leadership recommended the announcement of a state of emergency and suspension of all "party activity", telling Saleh's supporters any mass gatherings should be made on battlefronts, not in public squares.
Thursday's gathering went ahead, regardless.
"We are ready to fill the fronts with thousands of fighters and they are ready to go," said Saleh, wearing a dark suit and speaking from behind protective glass as armed men in fatigues stood guard.
The tactical alliance between Saleh and the Houthis has often appeared fragile, with both groups suspicious of each other's ultimate motives and sharing little ideological ground.
The two factions have traded barbs on responsibility for challenges such as unemployment and mounting hunger after 2-1/2 years of fighting the internationally recognized legitimate government, based in the south and backed by the Arab coalition.
Demonstrators, gathered since the early morning in Sabeen Square in central Sanaa to celebrate the 35th anniversary of the formation of Saleh's General People's Congress (GPC), waved flags, signs and pictures of the man who remains one of Yemen's most powerful politicians and military figures.
"With our spirit and our blood, we sacrifice for you oh Yemen!" they cheered, television footage showed.
Full report at:
https://english.alarabiya.net/en/News/gulf/2017/08/24/Yemen-s-Saleh-rallies-followers-in-Sanaa-amid-Houthi-rift.html
--------
Kushner's Mideast peace push met with Palestinian skepticism
25 August 2017
Presidential adviser Jared Kushner met with Israeli and Palestinian leaders on Thursday to try to jumpstart moribund peace talks, but after months without progress the Mideast envoy faces growing skepticism on the Palestinian side.
With no clear vision for peace outlined by the administration and domestic issues distracting President Donald Trump, Israeli Prime Minister Benjamin Netanyahu and Palestinian President Mahmoud Abbas, expectations for the new peace push are low.
The Palestinians initially welcomed Trump's election, but they have since grown impatient with what they say is a failure by the US president to present a roadmap for peace. Specifically, they are seeking a halt to Israeli settlement construction on occupied lands, and an American commitment to the establishment of an independent Palestinian state as part of a peace deal with Israel.
"If the US team doesn't bring answers to our questions this time, we are going to look into our options because the status quo is not working for our interests," said Ahmad Majdalani, an aide to Abbas. It was not clear whether Kushner offered any clarity during his three-hour meeting with Abbas.
Nabil Abu Rdeneh, Abbas' spokesman, called the meeting "positive," without discussing details, and said the Palestinian leader had reiterated his desire for an American commitment to a Palestinian state.
Best step forward
The White House later said both sides agreed the US-talks were the best step forward. "The Palestinian Authority and the US delegation had a productive meeting focused on how to begin substantive Israeli-Palestinian peace talks. Both sides agreed to continue with the US-led conversations as the best way to reach a comprehensive peace deal," the statement said.
Abbas said ahead of the meeting the Palestinian side appreciated Trump's efforts. "We know things are difficult and complicated, but nothing is impossible with good intentions," he said.
Trump took office with hopes of striking what he calls the "ultimate deal" between Israelis and Palestinians - a goal that has eluded administrations before his dogged by the same intractable issues. But he has since given few details of his vision for peace, managing to frustrate both sides.
Kushner, Trump's chief Middle East adviser and his son-in-law, met Netanyahu in Tel Aviv earlier Thursday before traveling to Ramallah later in the day to meet with Abbas. Kushner is expected to return to the US on Friday.
Before his meeting with Kushner, Netanyahu spoke optimistically of the road ahead. "We have a lot of things to talk about, how to advance peace, stability and security in our region, prosperity too," Netanyahu said, standing alongside Kushner. "I think that all of them are within our reach."
A statement from Netanyahu's office after the meeting said the talks were "substantive" but gave no details on progress or further steps.
On the campaign trail, Trump took a staunchly pro-Israel line, energizing Netanyahu and hard-liners in his coalition. He promised to relocate the US Embassy from Tel Aviv to Jerusalem – a move welcomed by Israel and opposed by the Palestinians - and refused to endorse the Palestinian goal of independence.
The settlement movement
His platform played down the significance of Israeli settlements and he surrounded himself with advisers with deep ties to the settlement movement, including Kushner and the US ambassador to Israel, David Friedman.
But since taking office, Trump decided not to move the embassy and has urged Israel to restrain settlement construction. He has not come out in support of the two-state solution, a position backed by most of the international community and also his Republican and Democratic predecessors, indicating vaguely that he supports whichever solution the sides agree to.
Disappointed Palestinian officials privately gripe that Trump's team has begun to support Israeli positions and ignore their concerns. Further complicating any hope for progress are internal troubles for all three leaders. Trump's administration has become preoccupied with a series of domestic crises, most recently the fallout from the deadly racially charged violence in Charlottesville, Virginia, earlier this month.
Netanyahu's indictment?
Netanyahu, meanwhile, is facing a growing corruption investigation that could soon lead to an indictment against him. These legal troubles, along with Israeli concerns about a possible long-term Iranian presence in neighboring Syria, make it unlikely that he will agree to any major diplomatic initiative.
Since the collapse of US-mediated peace talks three years ago, the sides have grown further apart and have been plagued by repeated rounds of violence, including a war between Israel and Hamas and recurring low-level violence sparked by tensions over a contested Jerusalem site holy to both Jews and Muslims.
Israel, meanwhile, has increasingly shifted its sights toward a regional deal with certain Arab countries, rather than one focusing solely on the Palestinians, an approach Trump has expressed support for.
Full report at:
https://english.alarabiya.net/en/features/2017/08/25/Kushner-s-Mideast-peace-push-met-with-Palestinian-skepticism.html
--------
Iraqi Kurdistan referendum in line with US policy: Iranian general
Aug 24, 2017
Iran's chief Armed Forces spokesman says the planned referendum on the independence of Iraq's semi-autonomous Kurdistan region is in line with the US policy of partitioning the region, reaffirming Iran's opposition to the plebiscite.
Deputy Chief of Staff of Iran's Armed Forces Brigadier General Massoud Jazayeri said on Thursday that the referendum scheduled for September 25 "is in line with the US policy of partitioning the regional countries," adding that Iran is definitely opposed to it.
Chief of Staff of the Iranian Armed Forces Major General Mohammad Baqeri visited Turkey last week, where the two sides discussed pressing issues of the region, including the referendum plan and the threat of militant groups to both countries.
Jazayeri said, "The Islamic Republic of Iran has so far proved that it strongly opposes terrorist elements as well as their supporters in the region and counters them and this trip was also made in that regard."
Iran "is trying to eradicate terrorism in the region through cooperation with other Western Asia states, so it has begun contacts with other countries," the Iranian commander added.
Through these contacts, he said, Tehran is trying to improve border security as there are some issues between Iran, Turkey and other regional states.
The central government in Baghdad is opposed to the vote and regional players like Iran and Turkey have also voiced alarm about the planned referendum by Iraqi Kurdish authorities, arguing that it could create further instability in the region.
On Wednesday, Turkish Foreign Minister Mevlut Cavusoglu visited Iraq, where he conveyed Ankara's concerns about the plebiscite to the Kurdistan Regional Government's President Massoud Barzani.
Full report at:
http://www.presstv.ir/Detail/2017/08/24/532808/Iraq-Kurdistan-Iran
--------
Africa
Britain's Johnson meets Libya's Khalifa Haftar, urges dialogue
25 August 2017
British Foreign Secretary Boris Johnson met Libyan leader Khalifa Haftar on Thursday during a visit to Benghazi, officials said. Their talks focused on "the development of the political situation in Libya", Haftar's spokesman Khalifa al-Abidi said without giving further details.
Johnson said the meeting came in support of efforts to amend a December 2015 UN-backed deal for a unity government in Libya. "We are reaching out to all sides in Libya in support of the United Nations work to amend the Libyan Political Agreement so that it delivers for all Libyans," he said in a statement.
Britain's foreign ministry said Johnson was the first British minister to visit Libya's second city since 2011, the year longtime dictator Muammar Qaddafi was overthrown and killed in a NATO-backed uprising.
On Wednesday, Johnson met Libya's unity government chief Fayez al-Sarraj, whose Government of National Accord has struggled to impose its authority across the conflict-ridden North African country.
The 2015 deal
Haftar backs a rival administration based in Libya's east that has refused to recognize the GNA, product of the 2015 deal. The accord gave no role to Haftar, who enjoys the support of Libya's parliament. But Johnson said Thursday he believed Haftar, whose forces also control much of Libya's desert south, "has a role to play in the political process".
"Ultimately it will be for Libyans to decide what an acceptable compromise looks like," he said. "I have encouraged all sides to resolve their differences by dialogue, not conflict, and to respect international human rights law."
Sarraj met Haftar near Paris in July in a bid to reach a peace agreement in Libya. Their commitment to holding elections was endorsed by the UN Security Council, of which Britain is a member.
Johnson last visited Libya in May, holding talks in Tripoli as well as in the eastern city of Tobruk where the rival administration is based.
https://english.alarabiya.net/en/News/middle-east/2017/08/25/Britain-s-Johnson-meets-Khalifa-Haftar-urges-dialogue-.html
--------
Buhari warns off foes as he takes back the reins
25 August 2017
Nigeria's President Muhammadu Buhari said on Monday, in his first speech after his return, that he would stop separatist activists spreading unrest, seeking to reassert his hold on power after returning from his second stint of medical leave this year.
Buhari, looking thin but sounding stronger than his last broadcast in June, said he had been troubled by social media posts calling for splits in a country made up of a mostly Muslim north and a Christian south.
Since he travelled to London for treatment of an unspecified condition on May 7, campaign groups have stepped up calls for a separate south-eastern state known as Biafra, evoking memories of the conflict there that killed hundreds of thousands in the 1960s.
Militants and community groups have also called for the independence of the restive southern Niger Delta oil hub, saying it should receive a greater share of Nigeria's energy wealth. Islamist Boko Haram militants are fighting for a separate caliphate in the north-east.
Buhari, a northern Muslim, has spent more time out of Nigeria so far this year than he has inside the country, prompting fears he is not well enough to run Africa's largest economy, which is mired in its first recession in 25 years.
The former military ruler's refusal to disclose details of his illness have prompted calls for greater transparency.
In a televised speech, his first since his return last Saturday, the 74-year-old said he followed events in Nigeria on a daily basis.
"I was distressed to notice some of the comments, especially in the social media, have crossed our national red lines by daring to question our collective existence as a nation," said Buhari.
"Nigeria's unity is settled and not negotiable. We shall not allow irresponsible elements to start trouble," he said, adding that some ethnic violence was "fuelled by political mischief makers".
He did not mention the recession gripping the oil producer due to low oil prices, the main issue for many normal people trying to survive amid inflation of 16%.
Hours later, his spokesperson said Buhari had written to lawmakers to notify them of his return to office.
Buhari first left for medical leave in Britain this year in January, staying for nearly two months. Both times he handed over power to his deputy, Christian southerner Yemi Osinbajo.
Buhari will be working from his office at home due to renovation works at his main office, Bashir Ahmad, one of his personal assistants told reporters.
After his first return from London, Buhari mostly worked from home on advice of his doctors.
He also travelled to London to see a doctor in June last year over what his officials described as an ear infection.
Underlining the divisions simmering during his term in office, the Ijaw Youth Council, an organisation which represents the largest ethnic group in the Niger Delta, issued a statement on Monday contradicting the president, saying Nigeria's unity was "negotiable".
"We call on Buhari to have a change of approach toward the resolution of the ongoing agitations," it said.
Full report at:
https://www.africanindy.com/news/buhari-warns-off-foes-as-he-takes-back-the-reins-10919244
--------
Uganda courts accused of targeting Muslims
25.8.2017
A Ugandan court this week jailed four members of a Muslim sect for life on terrorism charges, a judgment denounced by some as the latest in a series of anti-Muslim rulings.
On Tuesday Kampala's High Court sentenced Sheikh Yunus Kamoga and three members of his Tabliq sect to life in prison, while two others were given 30 years each.
But a day earlier the same court had acquitted Kamoga and 13 others of the murder and attempted murder of leaders of two rival Muslim factions — on the same evidence.
The apparently contradictory verdicts have left some observers suspicious.
"I find the decision very unusual because the main case was about the murders and the terrorism was arising from the murders, so if they were not guilty of the murders then they should be not guilty of the terrorism," said human rights lawyer Ladislaus Rwakafuzi.
In his three-and-a-half-hour judgement Justice Muhanguzi said that while the men were not proven to have killed anyone, they had used threatening leaflets and loudhailers to intimidate rivals.
Those threats amounted to terrorism against the entire community, he ruled.
"Court finds that death threats were delivered by word of mouth and on loudspeakers, hence it was indiscriminate," Muhanguzi said.
Defence lawyer Fred Muwema thought he had an explanation for what he saw as the judgement's inconsistencies.
"I do not have direct evidence… but there is always political pressure and interference in a country like this," he said. "I think the state was interested in the Tabliq community.
"Court cannot accept something and deny it at the same time," Muwema continued. "That's a contradiction and a miscarriage of justice."
But Solomon Muyita, the spokesman for Uganda's judiciary, said if lawyers had evidence that judges had been politically influenced they should bring it to court.
Uganda has taken a hardline against suspected Islamists since the deadly suicide bombings in 2010 carried out by the Al-Qaeda-aligned Shabaab militants in their first attack outside of Somalia.
But some say that Muslims are being scapegoated.
They argue that this week's terrorism conviction is just the latest in a series of questionable cases where Muslims have been blamed for the murders of officials and Islamic clerics.
The cases include the murders of nine Muslim clerics since 2012; of Joan Kagezi, a prosecutor working on the 2010 Kampala bombings case, in March 2015; of an army officer in November 2016 who had defected from a Ugandan-led Islamist rebel group in eastern Democratic Republic of Congo; and of a prominent policeman in March.
In each case the victims were shot dead by motorbike-riding assassins, and in each case Muslim suspects were rounded up.
For Rwakafuzi, the evidence for Muslim involvement in the high-profile killings is flimsy at best.
"The Muslims are being profiled," he said.
"We have very poor, underfunded investigation mechanisms. It's an easy way out to show to the public that you're doing something about these killings."
Muslims were being targeted, he said, because "it is easier to believe" thanks to widespread fears of Islamic terrorism, in Uganda and elsewhere.
A spokesman for the Tabliq sect, Siraje Nsambu, said the terrorism and murder charges against Kamoga and the others were trumped up. He denounced the ruling against them as "purely political".
But government spokesman Ofwono Opondo dismissed allegations that Muslims were unfairly targeted.
"Uganda has a very long standing record of having no political, religious or racial persecution," he said.
"There is no reason whatsoever why the government of Ugandan should target those Muslim cliques."
Nonetheless, this week's ruling and its harsh sentences has further embittered a community that already feels marginalised by the government and victimised by authorities.
Full report at:
https://citizen.co.za/news/news-africa/1626557/uganda-religion-trial/
--------
Lamido Sanusi, Kano's 'progressive fraud', takes aim at child marriage in Nigeria
25 August 2017
Lamido Sanusi II, Nigeria's second highest Islamic authority, is on a mission to end child marriage.
As the emir of Kano in northern Nigeria, one of 13 states where there is no minimum age for marriage, he is well placed to understand the issue. Yet Sanusi, a hugely symbolic religious figure, is at pains to point out that it is a social rather than scriptural problem.
"Every day you're dealing with young girls who are withdrawn from school and are married, often into abusive or vulnerable situations, then divorced and left with nothing," says Sanusi.
"There is an idea in the north [of Nigeria] that child marriage is Islamic, but it is not an article of faith, it is something societies decide for themselves."
Although the legal age for marriage is 18, the Nigerian constitution allows states to set their own limits. This gives child marriage a legal and cultural foothold in regions across the country, including Kano and other areas of the largely Muslim north.
According to Girls Not Brides, a coalition of more than 700 organisations working to end early and forced marriage, 76% of girls in Nigeria's north-west are married before they turn 18.
The UN Population Fund is working with the government to end child marriage by 2030. In Kano, it is specifically working with the state government and, significantly, the Kano emirate council, to set a legal age limit.
Sanusi has proposed setting the legal age at 17, or younger provided consent is given by a judge. But his views have ruffled feathers in the conservative region, not only among local clerics who believe any age restriction on marriage is unacceptable, but also among campaigners, who want an outright ban on marriage before the age of 18.
"What I'm proposing is a 'third-eye'," Sanusi explains. "Our approach has been to offer reforms that can pass, because, if you say you are outlawing child marriage completely, they [the religious establishment] will respond that you can't prohibit what has not been prohibited in Islamic law. But you can say it needs to be regulated."
Zubaida Abubakar, a UN Population Fund programme analyst for adolescent sexual and reproductive health, feels Sanusi's plan is "not ideal", but recognises the challenges he faces.
"We're still working to end child marriage, but at the same time we recognise his campaign is a huge step forward from two years ago," says Abubakar. "When we had this discussion then, people were saying the age should be 13."
Abubakar says the emir's advocacy offers unique validation for the campaign in local communities. "We have an adolescent girls initiative where we're targeting about 114,000 girls, helping their access to education and funding safe spaces to teach them about their reproductive system and give them confidence and agency. We're making progress, but the palace are the custodians of the culture in Kano. Their impact goes much further and there is already a change in attitudes."
Sanusi, who married his fourth wife in 2015, when she was 18, says he also faces criticism at home. "My daughters tell me that I'm a progressive fraud. They say my changes are mild, that I don't have a single woman on the emirate council, that I'm not going far enough to improve women's representation. But I tell them that my proposals are already meeting resistance. If I went any further or if I move too fast, people would rebel."
This year, the council convened debates with scholars in Kano, hoping to win religious support for the bill, but the process has stalled.
"Many feel that child marriage is acceptable under Islam," says Bashir Umar, a chief imam at Kano's Al-Furqan mosque. Regulating against sex with child wives is – for many – hard to accept, he says.
One imam, who wishes to remain anonymous, says efforts to help girls should focus on medical issues. "If the palace and the government feel there are medical issues young girls face, we can address these issues without attacking Islamic practices or making such changes."
But even making the medical case against early marriage, which will often result in girls having sex at a young age, has come under attack. Sanusi says some doctors dispute evidence linking high rates of fistula and maternal deaths to child marriage and pregnancy. At a conference at Bayero University, a female gynaecologist who had been collecting childbirth data for 30 years presented statistics showing the harmful effects of underage marriage. But two male doctors disagreed with her research, blaming fistula on poor facilities.
"There was a crowd in the audience who were extremely hostile to the findings," says Sanusi. "The two male doctors … [rebutted] her evidence. People who came open-minded said, 'Well, we were told that there were medical problems linked to child marriage but now we have two doctors saying it is not an issue.'
"If you look at the data on maternal health, girls who get pregnant below the age of 15 are five times more likely to die than girls who get pregnant at the age of 20. But this is the anti-intellectual, emotional environment that we deal with."
Despite slow progress on setting a legal age in Kano, the campaign is yielding results. After his imam began to speak out on child marriage last year, retired businessman Dasut Usman, 64, decided against marriage for his youngest daughter, Hamzat, 14. His first three daughters were all married before the age of 16.
"For her, she won't marry until after she finishes her compulsory education and university," says Usman, whose daughter hopes to become a nurse.
Full report at:
https://www.theguardian.com/global-development/2017/aug/25/lamido-sanusi-emir-kano-end-child-marriage-nigeria
--------
North America
Trump backs off Afghan withdrawal, lambasts Pakistan
24 August 2017
President Donald Trump cleared the way for the deployment of thousands more US troops to Afghanistan Monday, backtracking from his promise to rapidly end America's longest war, while pillorying ally Pakistan for offering safe haven to "agents of chaos."
In his first formal address to the nation as commander-in-chief, Trump discarded his previous criticism of the 16-year-old war as a waste of time and money, admitting things looked different from "behind the desk in the Oval Office."
"My instinct was to pull out," Trump said as he spoke of his frustration with a war that has killed thousands of US troops and cost US taxpayers trillions of dollars.
But following months of deliberation, Trump said he had concluded "the consequences of a rapid exit are both predictable and unacceptable" leaving a "vacuum" that terrorists "would instantly fill."
He warned that the approach would now be more pragmatic than idealistic. Security assistance to Afghanistan was "not a blank check" he said, warning he would not send the military to "construct democracies in faraway lands or create democracies in our own image."
"We are not nation building again. We are killing terrorists."
The US has grown increasingly weary of the conflict that began in October 2001 as a hunt for the 9/11 attackers has turned into a vexed effort to keep Afghanistan's divided and corruption-hindered democracy alive amid a brutal Taliban insurgency.
The Islamist group later vowed it would make the country "a graveyard" for the United States and would continue its "jihad" as long as American troops remained in the country.
"If America doesn't withdraw its troops from Afghanistan, soon Afghanistan will become another graveyard for this superpower in the 21st century," Zabiullah Mujahid, a spokesman for the Taliban in Afghanistan, said in a statement.
Trump also indicated that single-minded approach would extend to US relations with troubled ally Pakistan, which consecutive US administrations have criticized for links with the Taliban and for harboring leading jihadists -- like Osama bin Laden.
"We have been paying Pakistan billions and billions of dollars at the same time they are housing the very terrorists that we are fighting," he said, warning that vital aid could be cut. That will have to change and that will change immediately."
Ahead of the speech Pakistan's military brushed off speculation that Trump could signal a stronger line against Islamabad, insisting the country has done all it can to tackle militancy.
"Let it come," army spokesman Major General Asif Ghafoor told reporters, referring to Trump's decision. "Even if it comes... Pakistan shall do whatever is best in the national interest."
http://www.worldbulletin.net/america-canada/193247/us-to-limit-visas-from-nations-that-refuse-deportees
--------
Abdul El-Sayed Could Be America's First Muslim Governor
24 Aug 2017
Dr. Abdul El-Sayed of Michigan has a good chance of becoming the country's first Muslim governor, The Guardian reports.
El-Sayed, 32, grew up in Detroit the son of Egyptian immigrants and left his position as executive director of the Detroit Health Department in February to run for governor in next year's Democratic Party primary. He made a pledge to accept no campaign contributions from corporations, calling them "bribes," and already has raised over $1 million.
If elected, he promises to push for universal healthcare for the state, to legalize marijuana, to establish Michigan as a "sanctuary state," and to raise the minimum wage to $15 per hour.
The Guardian notes, while following El-Sayed on the campaign trail, that he's been dogged by rumors about his religion. After delivering a stump speech about his personal history in Adrian, Michigan, El-Sayed was asked about his views on Sharia law.
"I believe in a separation of church and state," he said, mentioning that John F. Kennedy's election as the first Catholic president was a turning point for the nation.
"I can tell you that my ability to practice my faith in person, in my own home, when I choose to, where I'm allowed to, because of freedoms in this country have everything to do with that separation of church and state," he continued. "If I am going to want to be able to put my face on the ground 34 times a day, like I do, because I'm Muslim, I want to make sure no one can take that right away from me. And I will not take that right away from anyone else."
His response prompted a round of applause. The man who asked the question told the Guardian's Drew Philp after the event that he did not think El-Sayed would bring Sharia law to this country.
Full report at:
https://www.newsmax.com/Politics/abdul-el-sayed-america-first-muslim/2017/08/24/id/809549/
--------
In the South, a new helping hand: Muslim disaster relief teams
Aug. 24, 2017
PRINCEVILLE, N.C. — When it comes to disaster relief, few outfits across the South have been as organized, efficient or cheerful as the Baptist and Methodist recovery networks.
Whether it's tornadoes, floods or hurricanes, their know-how and can-do spirit have helped people gut uninhabitable homes and rebuild them from stud to kitchen cabinet.
Imagine Delores J. Porter's surprise, then, when she gingerly stepped onto the exposed floor joists of her torn-out home to find a troop of young Muslim volunteers in blue "Islamic Relief USA" T-shirts installing support beams in the 90-degree heat.
"I just don't know how to thank you enough," said Porter, 61, a lifelong resident of Princeville, wiping the sweat off her forehead. "If I start tearing, just forgive me. It has been a long journey."
Porter had been delivering Meals on Wheels in the small Eastern North Carolina community when she saw people working at her house, abandoned since mid-October after floodwaters rose nearly 10 feet in the one-story house she shares with her husband.
She was so overjoyed to see the workers she had to stop to peek in.
"I will take a hug from everybody," said the former schoolteacher and administrator. "I am a hugging person. And if you don't mind my perspiration, I definitely don't mind yours."
At a time when the far right often cites the inability — or refusal — of Muslims to assimilate, these young volunteers are ready, willing and able to do what other religious groups in this country have been doing for decades: providing emergency aid, labor and comfort to people suffering the effects of natural disasters.
"It's a great way to show other people that Muslims are friends and that we can work together," said Mimi Hassanain of Livingston, N.J., an employee with Islamic Relief who sanded drywall in a Princeville home Tuesday(Aug. 22).
Hurricane Floyd, which plowed through here in 1999, destroying much of the town, was supposed to be a 500-year flood. But it was followed 17 years later by another 500-year flood when Hurricane Matthew bore down, submerging Princeville after the Tar River levee failed.
Ten months later, the work of rebuilding the nation's oldest town incorporated by freed slaves continues. Many of its 2,080 residents — nearly all of whom are African-American — have taken shelter in FEMA trailers, hotels, rentals or relatives' bedrooms. Many can't afford flood insurance, which can be pricey in a flood plain, and are living off Social Security. They're grateful for any assistance they can get.
The town's only restaurant reopened recently, as have a few hair salons and a transmission shop. But many ranch-style homes are still empty.
In the neighboring community of Tarboro, the North Carolina Conference of the United Methodist Church has set up an operational base in an old health department building, turning office cubicles into sleeping quarters and a former laboratory into a communal kitchen.
From here, an average of 50 volunteers — Methodists, Baptists, Presbyterians, Lutherans and Mennonites — spend one week at a time gutting homes or installing new drywall. Among the most recent recruits: 18 Muslim volunteers with Islamic Relief USA. The nonprofit relief and development group based in Alexandria, Va., was founded in 1993 and is now the largest Muslim charity in America, with a budget this year of $113.5 million.
The organization first sent a team to Princeville shortly after the October hurricane. Now it's extending its collaboration with the Methodists.
"This partnership is awesome," said Jason DuVall, the Methodist site manager. "I'm super stoked."
On a sweltering day, the volunteers, plus five Islamic Relief employees, split up into two groups; one to sand and tape drywall in the home of Marvin and Yvonne Dancy; the other to add support beams in the Porter home.
A day earlier, all 23 of them attended a daylong training session led by the United Methodist Committee on Relief that covered everything from how to handle moldy interiors to how to use a chainsaw and what supplies to bring to the job.
More Muslim volunteers will be traveling to Princeville for weeklong stints in September, October, November and December.
"We're building up our capacity as a team," said Hani Hamwi, Islamic Relief's team manager. "We're bringing in more skill sets."
Princeville does not have a mosque and there are probably few Muslims living in the town. But its residents weren't bothered by the volunteers' faith.
In other places, that hasn't always been the case. Last year, a Louisiana sheriff ordered the Islamic Relief workers to leave immediately after they arrived alongside the American Red Cross to assess property damage from a recent flooding, said Hamwi. When volunteers with the American Red Cross objected, the sheriff asked them to leave, too.
In Princeville, people seem to see aid workers, as opposed to Muslim aid workers.
"I don't even know all the denominations that are here," said Greg Bethea, Princeville's interim town manager. "It's like a love fest here. People are hugging the community."
Bethea said the only help the town doesn't want is the help people don't want to give.
Over a bagged lunch of turkey, mayo and pepperoncini sandwiches, apples and chips, the volunteers shared how they wanted to make a difference.
There was Lamyaa Mowery, 24, who works for the Alliance for an Indivisible America 2020, a Sterling, Va., nonprofit organization that works to counter radicalization and xenophobic violence.
And there was Amaney Kazlak, 32, a civil engineer from Jersey City, N.J., who had never been to North Carolina but wanted the experience of volunteering before she switched jobs to work as a career counselor for young engineers.
The majority of the Muslim volunteers were women — many wearing a headscarf — and they made it a point to reassure homeowners who popped in to see the work that they were honored to work in their home.
They also insisted on a selfie.
Porter explained to the volunteers that she lost her parents' home in 1999 and never imagined she would live to see another flood. She was visiting her daughter and granddaughter in Durham, 100 miles to the west, when the town flooded, but like many residents she decided to return to Princeville.
"I'm like Dorothy in 'The Wizard of Oz,'" Porter told the volunteers. "I said, 'There's no place like home.'"
Porter, who is a member of Macedonia Missionary Baptist Church, which lies kitty-corner from her house, said she was surprised to see the Muslims there. They were not there in 1999, when it was mostly Christian volunteers helping the town rebuild.
Full report at:
http://www.deseretnews.com/article/865687466/In-the-South-a-new-helping-hand-Muslim-disaster-relief-teams.html
--------
Kushner arrives in Palestine amid protests
Aug 24, 2017
US President Donald Trump's son-in-law and senior adviser, Jared Kushner, has arrived in Palestine amid protests over Washington's favoritism towards Israel in resolving the decades-long stalemate in the occupied territories.
Dozens of angry protesters marched in the occupied West Bank city of Ramallah on Thursday, as Kushner entered the city to meet with Palestinian authorities in hopes of sealing the "ultimate deal" that Trump has so ardently touted ever since taking office. Chanting "the American is not welcome," the protesters expressed their disappointment with the Trump administration and its Israel-first approach.
The pessimism is prevalent among Palestinian authorities as well, who at first welcomed Trump's election, thinking he was going to change things around.
Perhaps the frustration was best echoed by Ahmed Majdalani, a senior Palestine Liberation Organization official, who blasted Trump's lack of plan on Thursday.
"The American administration has not presented any initiative until now, while the Israelis continue with their settlement activities and refuse to abide by obligations they signed up to," said Majdalani, who is close to President Mahmoud Abbas.
A problem called Trump
More than eight months into his presidency, Trump has yet to make a clear stance on the decades-long Israeli-Palestinian conflict. In fact, the Republican president's statements have always been tainted by a degree of bias towards Israel.
In a White House press conference with Israeli Prime Minister Benjamin Netanyahu, Trump made a U-turn on decades of US policy in favor of a so-called two-state solution by saying he would not insist on it if it seemed too out of reach.
Trump's lax stance on Israel's settlement activities has deteriorated the situation by encouraging the Tel Aviv regime to approve thousands of more units, drawing fire from Palestinians and the international community alike.
Seemingly undisturbed by the consequences of his policies, Trump has promised to relocate the US embassy in Tel Aviv to Jerusalem al-Quds, a move guaranteed to prompt a strong response.
The prospect of Trump's promised "ultimate deal" on the Israeli -Palestinian conflict fades away even further when a wide array of his domestic struggles, such as the ongoing Russian "collusion" case, the Democratic obstructionism and a widely divided Republican Party, are factored in.
Abbas, Netanyahu keep up hope
Abbas tried to remain optimistic after his meeting with Kushner, hoping for progress towards Trump's "peace deal."
However, even the Palestinian president could not hide his frustration with the Trump White House when he met with an Israeli delegation earlier this week.
"I don't even know how they are dealing with us, because his entire administration is in chaos," he told the visiting left-wing Israeli senators.
Before meeting with Abbas, Kushner met with Netanyahu and told him that Trump was "very committed" to help broker a deal.
Bibi thanked Kushner and the Trump administration for their efforts and said a deal was "within our reach."
Kushner's choice
All that aside, it seems that Kushner has been the wrong choice for the job. While Trump has tasked his son-in-law to work out conflicts in Iraq and Palestine, there remains to be seen any sign of progress.
Kushner himself seems unsure about his ability. According to leaks, he recently told a group of congressional interns that there may not be a solution to the conflict in Palestine.
Full report at:
http://www.presstv.ir/Detail/2017/08/24/532833/US-Kushner-Palestine-Israel-Trump-Abbas-peace-deal
--------
Add Anti-Racism Lessons To Curriculum: Canadian Muslim Leader
Aug 24, 2017
A Muslim leader in Winnipeg wants schools to make anti-racism education part of the curriculum when students return in the fall.
Shahina Siddiqui, executive director of the Islamic Social Services Association (ISSA), says she worries about what children will face when they go back to school after a summer that has seen number of racist incidents in Manitoba and abroad.
Siddiqui said she is crafting a letter that she intends to send to school divisions and teachers. It will ask them to talk to their students about racism as part of their regular lessons, and not simply on a single day set aside to discuss human rights.
"We need our diverse school body of students to be talking to each other, to be understanding and caring — that it's not just the issue of visible minorities, that is the issue for all of us," Siddiqui told CBC News.
Verbal attack captured on video
In a video posted online, a Muslim woman from Calgary was verbally attacked in early July by a stranger after she stopped to ask for directions in a parking lot near Seven Sisters dam.
The man told the woman, who wears a hijab, to take her "head towel off" because it "supports Muslims" and told her to "go back to your country." The man also called himself a "Nazi."
The incident ended after two women who were passing by confronted the man, which Siddiqui said shows the importance for bystanders to intervene when they see attacks like this happening.
"Many times people, what they don't realize is that when Muslim women are targeted, mothers are targeted. There are children that are witnessing this and it is also impacting them. And they don't have the ability to articulate how they're feeling, and so they are internalizing it," Siddiqui said.
"That has always been my concern, and still is, as to what happens in this new school year, with all that has happened? Are the teachers ready to have a discussion about this? What are the children going to face?"
Racist graffiti and counter-demonstrations
Last week, racist and anti-Semitic graffiti was found scrawled in several public places, including along Wellington Crescent, in Omand Park and on a bridge at The Forks.
That came days after a rally of neo-Nazi's, Ku Klux Klan members and white nationalists turned deadly in Charlottesville, Va.
Several cities across Canada have seen rallies by anti-migrant and anti-Muslim groups met with large counter-demonstrations. Over the weekend in Quebec City, far-right demonstrators hid inside a parking garage for hours after fights with counter-demonstrators.
In July, someone defaced public signs in Neepawa with racist graffiti targeting Asian people.
After hearing that a group called World Coalition Against Islam - Canada was planning a rally in Winnipeg, Siddiqui said, she and others formed plans to hold an anti-racism demonstration on Sept. 9.
"We need to show that this kind of hatred,this kind of messaging that this group is bringing is not welcome," she said. "It's not the voice of Winnipeg."
Siddiqui hasn't settled on a location yet, but said details will be shared through social media.
Anti-Islam groups hide behind slogans of free-speech, when really they promote hate speech, Siddiqui said.
"When we don't stand up and we don't speak out, people who bring these kinds of hateful messages and try to divide us as Canadians get the impression that people agree. Silence becomes agreement and is taken as such, or that we are afraid, and we want to show them that we're not."
Islam 101
ISSA has also planned a series of public events to educate the public about Islam and Muslims. The event, called Islam 101, begins Sept. 12 at the Millennium Library and includes a panel to answer any questions people have about Muslims and their faith.
Sincere questions are welcome, as long as it's done "in the spirit of learning," Siddiqui said.
Full report at:
http://www.cbc.ca/news/canada/manitoba/anti-racism-curriculum-1.4260498
--------
URL: https://www.newageislam.com/islamic-world-news/confusion-islamic-courts-post-supreme/d/112332
New Age Islam, Islam Online, Islamic Website, African Muslim News, Arab World News, South Asia News, Indian Muslim News, World Muslim News, Women in Islam, Islamic Feminism, Arab Women, Women In Arab, Islamophobia in America, Muslim Women in West, Islam Women and Feminism