New Age Islam News Bureau
10 May 2013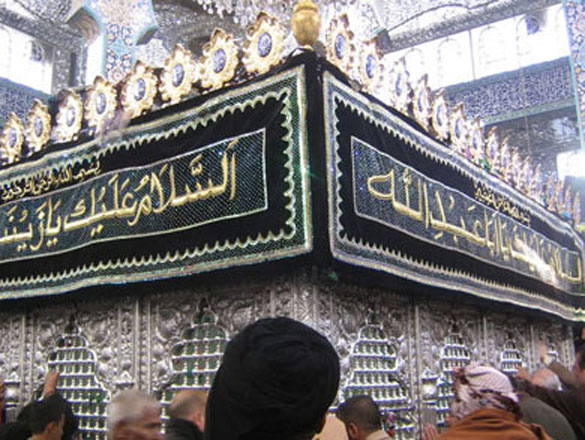 This pic. is of shrine of hazrat zainab (r.a) the daughter of Hazrat Ali (A.S)
-------
Arab world
• Devout Muslims should protect the Tomb of Hadhrat Zainab: religious scholar of Iraq
• UAE defendants deny Islamist plot, demand abuse inquiry
• Syria will 'respond immediately' to any Israeli strike
• Syria welcomes US-Russia initiative
• US Adjusting to Egypt's Muslim Brotherhood
• Baghdad opposes PKK armed groups in Iraq
• Brahimi to stay on as Syria envoy after Russia-US bid: UN
• Hosni Mubarak's retrial to be aired live Saturday
------------
Pakistan
• Death mandate: TTP Chief Commandor sanctions polling day attacks
• USAID provides scholarships to victims of terrorism in FATA, KP
• Ex-Pak PM Gilani's son got threats from two terror outfits
• Bomb blasts in Miramshah kill five; injure 13
• Militants attack checkpost in Kurram region
• Crazy to serve nation: Nawaz
• Liberal forces asked to stand against terrorism
• I will go to SC with 'Sharifs corruption proofs': Malik
------------
Africa
• Gunmen from Nigeria cult kill 23 police in ambush
• Tunisia arrests Libyan "terrorist" entering port with explosives
• Somalia: Thousands of Peacekeepers Have Died During Mission, U.N. Says
• Tanzania: Suspects in Church Blast Include 4 Saudis
• Libya crisis deepens as rebels expand demands
------------
North America
• US drones are a mess ethically, morally and legally: EU Parliament
• Slain Boston Marathon suspect 'entombed'
• Suspect in Boston Bombing Talked Jihad in Russia
------------
India
• Indo-Pak bitterness won't survive for long': Faiz Ahmed Faiz's daughter
• Gujarat H C grants bail to its former security in-charge accused of planting bomb
• Two Indians appointed to Malaysian state's executive committee
• 82 Indians stranded in Saudi Arabia
------------
Southeast Asia
• Indonesia extremists out to exploit anger over Burma unrest
• Indonesian Gay People to Be 'Publicly Lashed' 100 Times under Proposed Bylaw
• Police Search for Fugitive Suspect After Terrorism Raids
------------
Mideast
• U.S. Imposes Sanctions on Those Aiding Iran
• Yemeni intelligence officer gunned down
• Hezbollah says Syria will send it new weapons
------------
South Asia
• Afghan police demand weapons amid tension with Pakistan
• Karzai Says U.S. Bases Can Stay, Raising Some Eyebrows in West
• Death Sentence in Bangladesh for War Atrocities
------------
Europe
• Islamist Abu Qatada may leave Britain voluntarily
• Abducted European hostages freed in Yemen
• French Muslims look to science to determine start of Ramadan
Compiled by New Age Islam News Bureau
URL: https://newageislam.com/islamic-world-news/new-age-islam-news-bureau/confiscate-qawmi,-wahabi,-atheist,-jamaat-islam-distorting-publications--sunni-islamist/d/11505
------------
Confiscate Qawmi, Wahabi, Atheist, Jamaat Islam-Distorting Publications: Sunni Islamist
MAY 10, 2013
Sunni Islamist organisation Ahle Sunnat Wal Jama'at yesterday demanded that the government confiscate all Islam-distorting publications by Qawmi madrasas, Wahabis, atheists and Jamaat-e-Islami founder Abul A'la Maududi and his followers.
Addressing a discussion Ahle Sunnat organised in the capital's Jatiya Press Club, the Ahle Sunnat leaders also demanded incorporating the Alia madrasa syllabus into Qawmi madrasas and monitoring activities of members of "Tablighi Jamaat", which preaches Islam.
Hefajat-e Islam and Jamaat activists and teachers and students of Qawmi madrasas tarnished the image of Islam by burning religious books and damaging Baitul Mukarram Mosque and Golap Shah Mazar in the capital on May 5, they said.
They, alongside atheist bloggers who allegedly defamed Islam and Prophet Muhammed (pbuh), should be arrested and handed down the highest punishment, said the leaders.
They announced to assemble 20 lakh people from around the country at a gathering of Sunni Muslims in the capital on May 25 to, what they said, counter Hefajat's May 5 gathering and press home the demands.
Ahle Sunnat Member Secretary Mosaheb Uddin Baktiar said atheist bloggers and Hefajat men who were trying to distort the principles of Islam were the enemies of Islam and had "evil political motives".
"Sunnis, who neither belong to Awami League nor BNP, are the real followers of Islam," he claimed, urging all to follow the Sunni ideology.
Terming the Qawmi madrasas the root of all militancy, he said, parents should not push their kids towards militancy by enrolling them in Qawmi madrasas.
Ahle Sunnat Coordinator MA Matin said Hefajat-e Islam should be banned as it has been tarnishing the image of Islam at home and abroad on the pretext of protecting it.
Ahle Sunnat Presidium Member Abul Qeshem Rezve presided over the discussion.
http://www.thedailystar.net/beta2/news/confiscate-qawmi-wahabi-atheist-jamaat-publications/
------------
Arab world
Devout Muslims Should Protect the Tomb of Hadhrat Zainab: Religious Scholar Of Iraq
New Age Islam News Burea
May 10, 2013
Iraq: The renowned religious scholar of Iraq Sheikh Muhammad Mehdi Asafi has appealed to devout Muslim youth of Iraq to come forward and protect the graves of Hadhrat Zainab and other members of the family of the holy prophet (pbuh). He has issued the appeal in light of the digging of the grave of Hadhrat Hujr ibn Adi, the holy companion of the prophet (pbuh). He said that by digging out the grave of Hadhrat Adi and desecrating his body, the Al Qaida has added on more crime to its record of heinours crimes against humanity. He said that the youth should come forward to protect the graves of all the sufis and saints of Islam in the region.
------------
UAE defendants deny Islamist plot, demand abuse inquiry
May 10, 2013
By Yara Bayoumy
DUBAI: Islamists charged with a coup plot in the United Arab Emirates (UAE) have said they were abused in custody and, in a statement on social media, demanded an independent inquiry.
The trial of 94 Emiratis, which began in March, is seen as an attempt by the U.S.-allied Gulf Arab state to address what it says is a security threat from the banned Muslim Brotherhood.
The 94 were among dozens of people detained in a crackdown on Islamists over the past year amid heightened worries among officials about a spillover of unrest in other Arab countries.
In an open letter to the UAE president and vice-president published on a Twitter account belonging to the Islamist group al-Islah, the defendants said they had been insulted, threatened and in some cases subjected to physical abuse after arrest.
It was not clear how many of the 94, most of whom are in custody, had signed the letter or how it had been communicated outside prison.
Most of the detainees belong to al-Islah, which denies government charges that it is an arm of the Muslim Brotherhood.
Attorney-general Saleem Saeed Kubaish said in January that group members had sought to penetrate state institutions, including schools, universities and ministries, according to state news agency WAM.
"ILLEGAL ORGANISATION"
The defendants are accused of "belonging to an illegal, secret organisation ... that aims to counter the foundations of this state in order to seize power and of contacting foreign entities and groups to implement this plan," WAM said.
Local media, which have attended the trial proceedings, have said the accused deny the charges. Foreign media have been barred from attending.
The group, which signed the letter dated May 7 as 'Prisoners from the Islah group', said they were "unjustly accused of planning to seize rule".
"We ... have been subjected to solitary confinement for many months in tight cells with no windows and with continuous light morning and night," the letter said.
The group complained of insults and threats and said some had been physically abused or had not been allowed to speak to their lawyers.
"(We call for) ... the formation of an independent committee to investigate these abuses," said the group.
Anwar Gargash, the UAE's state minister for foreign affairs, dismissed the letter as "nothing new".
"Actually it is a repetition of the campaign that the Brotherhood has chosen against the nation," Gargash, who is also state minister for Federal National Council Affairs, said on his Twitter page late on Thursday.
"The statement repeats this tale about torture, which it wants to attach to the nation ... and the statement disregards that the Emirates' measures took place within a constitutional and legal framework," he said.
http://www.dailystar.com.lb/News/Middle-East/2013/May-10/216598-uae-defendants-deny-islamist-plot-demand-abuse-inquiry.ashx#axzz2SFVyHEbM
------------
Syria will 'respond immediately' to any Israeli strike
May 10, 2013
DAMASCUS: Syria has threatened an immediate response to any new Israeli strike, as its militant ally Hezbollah said Damascus would provide "game-changing" weapons despite two reported attacks on military sites.
Damascus also welcomed a US-Russian initiative to find a political solution to end the two-year-old civil war, while balking at Washington's demand that President Bashar al-Assad would need to stand down.
The Assad regime also said it was ready to receive a UN team to probe claims that chemical weapons had been used in the country.
In an exclusive interview with AFP on Thursday, Deputy Foreign Minister Faisal Muqdad said "the instruction has been made to respond immediately to any new Israeli attack without (additional) instruction from any higher leadership, and our retaliation will be strong and will be painful against Israel."
Senior Israeli sources have said strikes early Friday and Sunday targeted weapons bound for the powerful Shiite group Hezbollah based in neighboring Lebanon, but Muqdad denied that.
In Beirut, Hezbollah chief Hassan Nasrallah said Syria would supply his movement with "game-changing weapons" and open up the front to "resistance fighters" against the Jewish state on the Golan Heights.
Israel captured the Golan from Syria in the 1967 Six-Day war and subsequently annexed it.
Israel has repeatedly warned that it will intervene to prevent the transfer of advanced weaponry to Hezbollah, with which it fought a devastating 2006 war.
Hezbollah is battling alongside Assad's troops in several parts of the country.
The regime is relying increasingly on its alliance with Hezbollah, and Lebanese newspaper Al-Akhbar quoted Assad as saying that Syria would "give Hezbollah everything" for its loyalty.
The military and the Syrian Observatory for Human Rights watchdog group both reported that loyalist forces, including Hezbollah elements, had advanced in the Qusayr area, strategically located along the Lebanese border.
Observatory chief Rami Abdel Rahman said the army's campaign was "fierce."An army officer told AFP the military seized control of Shumariyeh village near Qusayr "and troops are currently on their way to the village of Ghassaniyeh," which has been under rebel control for more than a year.
Meanwhile, Syria's foreign ministry welcomed the US-Russian "rapprochement," under which the two countries will seek to convene an international conference to build on a six-point accord agreed in Geneva last year.
The Geneva agreement aimed at finding a path towards a transitional government but made no mention of Assad's departure, which the opposition says is non-negotiable.
US Secretary John Kerry said Assad would have to step down as part of the resolution to the conflict.
That was rejected by the Syrian foreign ministry, which stressed that the decision belongs "only" to the Syrian people.
And the ministry said it was "confident that the Russian position, which is based on the principles of the UN Charter and international law, will not change."
Russia is a top ally of the regime in Damascus and has staunchly resisted any bid to oust Assad.
The Obama administration is treading cautiously on Syria, and the reports of chemical weapons use, after what it sees as Washington's past errors in the Iraq invasion and occupation, Vice President Joe Biden said.
Biden told Rolling Stone magazine that "we don't want to blow it like the last administration did in Iraq, saying 'weapons of mass destruction.'
Iraq's alleged weapons of mass destruction, cited by George W. Bush's administration as the main motive to launch the US-led invasion in 2003, never surfaced after the fall of Saddam Hussein's regime.
Biden stressed that once the use of the chemical weapons has been verified, Obama would likely make a "proportional response in terms of meaningful action," without providing further details.
Echoing the cautious tone, US Defense Secretary Chuck Hagel said the problems that plague the Middle East, including Syria's civil war, require "political, not military" solutions.
The United Nations said its Syria envoy, Lakhdar Brahimi, has withdrawn a threat to quit and will stay the course in light of the US-Russian agreement.
And The Wall Street Journal reported that Israel had informed Washington about the imminent sale to Syria of Russian S-300 missile batteries, advanced ground-to-air weapons that can take out aircraft or guided missiles.
Reacting to the report, Kerry warned in Rome that the sale would be "potentially destabilising" for the region.
Moscow has continued to supply Damascus with weapons throughout the conflict, which has left more than 70,000 people dead since March 2011.
Under mounting international pressure over the possible use of chemical weapons, Syria said it was ready to receive a UN team to investigate the claims.
"We were ready and we are always ready, right now, to receive the delegation that was set up by Ban Ki-moon to investigate what happened in Khan al-Assal," Muqdad said.
http://dawn.com/2013/05/10/syria-will-respond-immediately-to-any-israeli-strike/
------------
Syria welcomes US-Russia initiative
May 10, 2013
DAMASCUS
Syria on Thursday welcomed a US-Russian initiative to find a political solution to its conflict, counting on ally Moscow to stand firm, even as Washington said President Bashar al-Assad would have to step down.
US Secretary John Kerry, who announced the initiative earlier this week, said the embattled president would have to step down as part of the resolution to the conflict. "Syria welcomes the US-Russian rapprochement," the Syrian foreign ministry said in a statement.
"It is confident that the Russian position, which is based on the principles of the UN Charter and international law, will not change," it said. "Only the Syrian people will decide on their future and the constitutional system of their country, with no foreign interference," the ministry added.
Russia is a top ally of the regime in Damascus and has staunchly resisted any bid to out Assad from power.
Washington, by contrast, has backed the uprising, with Kerry saying Thursday that all sides were working to "effect a transition government by mutual consent of both sides, which clearly means that in our judgement President Assad will not be a component of that transitional government."
The comments were significantly more direct than those he made in Moscow on Tuesday in announcing the initiative, which would build on a deal agreed in Geneva last year that made no mention of Assad's future. Then, while saying it was "impossible for me as an individual" to imagine Assad continuing to govern, Kerry only the Syrian people could decide.
In Rome, Kerry also officially unveiled $100 million (76 million euros) in additional US humanitarian aid for Syrian refugees, almost half of which will go to help Jordan cope with a tide of people fleeing the 26-month war.
Washington has now pledged some $510 million dollars in humanitarian aid to the Syrian people, and a further $250 million in non-lethal aid to the rebels fighting to oust Assad.
On Tuesday, Kerry and his Russian counterpart Sergei Lavrov said they would seek to convene an international conference to build on a six-point accord agreed in Geneva last year.
The agreement aimed at finding a path towards a transitional government but made no mention of Assad's departure, which the opposition says is non-negotiable.
In its response to the initiative, the opposition National Coalition reiterated on Wednesday that any political settlement must start with Assad's ouster.
Syrian pro-regime daily Al-Watan on Thursday quoted an official as welcoming the effort and saying Russia's stance would be adopted internationally.
"All the capitals of the world will sooner or later come around to Russia's position because this position is based on international law and the right of people to decide their fate without foreign intervention."
The differences between the United States and Russia were underlined Thursday by reports that Israel has warned Washington of Moscow's plans to sell Syria sophisticated missile systems.
The Wall Street Journal reported that Israel had informed Washington about the imminent sale of Russian S-300 missile batteries, advanced ground-to-air weapons that can take out aircraft or guided missiles.
Moscow remains one of the Syrian regime's closest allies, and has continued to supply Damascus with weapons throughout the conflict, which has left more than 70,000 people dead since March 2011.
The regime has also relied increasingly on its alliance with Lebanese Shiite group Hezbollah, with a newspaper on Thursday quoting Assad as saying Syria would "give Hezbollah everything" for their loyalty.
The newspaper also quoted Assad as saying his country would follow the militant organisation's model of "resistance" against Israel, after the Jewish state twice carried out strikes against Syrian military targets last week.
Hezbollah, whose leader Hassan Nasrallah is scheduled to deliver a televised address on Thursday, is battling alongside regime troops in several parts of the country, including Qusayr in central Syria.
The military and the Syrian Observatory for Human Rights watchdog both reported on Thursday that forces loyal to Assad had advanced in the Qusayr area, which is strategically located along the Lebanese border.
"Backed by pro-regime militia and Hezbollah fighters, the army is advancing in the Qusayr area," Observatory director Rami Abdel Rahman told AFP.
"They have superior firepower and their campaign to take back Qusayr is fierce," he added.
Weeks after radical Sunni sheikhs in Lebanon called on men from the country to join Syrian rebels, two Lebanese fighters from the northern city of Tripoli were killed in Qusayr, a Lebanese security source said.
http://www.nation.com.pk/pakistan-news-newspaper-daily-english-online/international/10-May-2013/syria-welcomes-us-russia-initiative
------------
US Adjusting to Egypt's Muslim Brotherhood
Mohamed Elshinnawi
May 09, 2013
WASHINGTON — Almost a year after a Muslim Brotherhood candidate was elected president of Egypt, the United States is still trying to recalibrate its relations with a country that for decades has been one of Washington's closest allies in the Middle East.
Muslim Brotherhood candidate Mohamed Morsi won the presidency last June promising voters they would have more civil rights than under former president Hosni Mubarak, who was forced from office during the Arab Spring uprisings that shook the Middle East and North Africa.
But Morsi has not yet delivered on many of his promises and President Barack Obama's administration is finding it increasingly difficult to stand by him while holding firm in its demands for freedom and human rights in Egypt. The result, say Middle East analysts, is an increasingly complicated relationship between Washington and Cairo.
Michael Wahid Hanna, a foreign policy expert with the New York-based Century Foundation, says the U.S. State Department is trying to adjust to Egypt's new political reality.
Hanna says continued U.S. engagement in Egypt is essential, but that Washington must make clear to Morsi and the Muslim Brotherhood that U.S. support is not a substitute for the support of Egypt's own citizens.
Critical message
"This is a critical message for America's undemocratic allies in the region, and this conditional engagement represents the only plausible path forward for the United States," Hanna said.
Since the Muslim Brotherhood's victory in Egypt's first democratic elections in six decades, the once-banned Islamist group has been faced with the task of cleaning up the corruption and reversing the political repression that flourished under Mubarak.
Progress has been slow, at best. The State Department's annual report on human rights says Egypt's transition to democracy is beset by political turmoil as well as the breakdown of law and order and established social norms.
"This breakdown has had the largest effect on society's most vulnerable elements, including women and minorities, who often became the target of violent attacks," the 2012 report said.
James Zogby, president of by the Arab American Institute in Washington, says the Obama administration may be considering a tougher approach toward Cairo, and if it does, would have solid public support.
A recent poll by the Arab American Institute indicates just 13 percent of Americans have a favorable opinion of the Muslim Brotherhood, while 53 percent do not believe the Brotherhood is committed to democracy.
Most significantly, 51 percent of Americans believe the U.S. government "should insist that rights be guaranteed for all citizens as a condition for any U.S. support."
The Brotherhood's rejection of equal status for women and the Coptic Christians, as well as its repression of opposition, have damaged its image, Zogby said.
He suggests restructuring U.S. aid to Egypt to be more sensitive to the facts on the ground. Such a change, Zogby said, would give policymakers flexibility.
U.S. leverage in Egyptian politics
The State Department has been pressing Congress to approve $450 million in direct aid to Egypt since last fall, but Congress is seeking to apply pressure on Cairo rather than provide unconditional support.
"Our approach is rather a measured approach of tying tranches [of aid] to results as it pertains to the peace treaty with Israel, to cooperation with respect to smuggling to Gaza, and with respect to economic reforms to guarantee civil rights and the rule of law within Egypt," said Republican Ed Royce, chairman of the House Foreign Affairs Committee.
Both Republican and Democratic party members of Congress have proposed attaching conditions to the more than $1 billion in annual military assistance Washington gives Egypt.
During a recent visit to Cairo, Defense Secretary Chuck Hagel urged Egypt's Islamist-led government to press ahead with reforms to ensure continuing American support.
But Amr Darrag, Egypt's newly appointed minister of planning, argues that putting conditions on U.S, aid is the wrong approach.
Full report at:
http://www.voanews.com/content/us-egypt-muslim-brotherhood/1658069.html
------------
Baghdad opposes PKK armed groups in Iraq
09 May 2013
Iraq's central government has said it would not accept armed groups entering its territory as Kurdish militants began withdrawing from Turkey under a peace deal.
"The Iraqi government welcomes any political and peaceful settlement to the Kurdish cause in Turkey to stop the bloodshed and violence between the two sides and adopt a democratic approach to end this internal struggle," said a statement issued by the Iraqi Foreign Ministry on Thursday.
"But at the same time ... it does not accept the entry of armed groups to its territories that can be used to harm Iraq's security and stability," the ministry said.
In March, the Kurdistan Workers Party, or PKK, announced a deal to end a nearly three-decade conflict in turkey that has killed tens of thousands of people. The deal was reached in talks between imprisoned PKK leader Abdullah Ocalan and the Turkish government.
The refuge offer came from Iraq's Kurdish region, which enjoys limited independence from the central Iraqi government in Baghdad. Iraqi Kurds were involved in the talks with Turkey.
The prospect of additional fighters joining the Kurdish forces in Iraq's north could add tension to already souring relations with Baghdad. The two sides are in conflict over contested areas, including key oil-producing sectors.
As part of the accord, the PKK rebels agreed to a gradual retreat from Turkish territory to Iraq's Kurdish region. On Thursday, Baghdad rejected that.
Full report at:
http://www.aljazeera.com/news/middleeast/2013/05/201359133815629930.html
------------
Brahimi to stay on as Syria envoy after Russia-US bid: UN
10 May 2013
Lakhdar Brahimi has withdrawn a threat to resign as UN-Arab League envoy on the Syria conflict after Russia and the United States launched a joint political initiative, officials said Thursday.
UN leader Ban Ki-moon "has asked the joint special envoy to stay on and he has accepted to stay on," UN Deputy Secretary General Jan Eliasson told reporters, praising the US-Russia effort to organize a conference on the two-year-old conflict.
Brahimi had told the UN leadership he planned to tender his resignation this month out of growing frustration at the major powers' failure to back a negotiated end the conflict, diplomats said.
But the announcement by US Secretary of State John Kerry and Russia's Foreign Minister Sergei Lavrov on Tuesday that they would seek to convene an international conference on Syria has added new impetus to political efforts to halt the war.
Brahimi on Wednesday welcomed the conference bid as "the first hopeful news concerning that unhappy country in a very long time." But he cautioned that it was "only a first step."
UN diplomats have said that as the conflict intensifies, the success of the Russia-US initiative will depend on how quickly a conference can be organized.
Ban spoke by telephone on Thursday with Kerry and Lavrov, said UN spokesman Martin Nesirky. Ban "commended both men for their leadership and initiative," he added.
The UN leader has also spoken several times with Brahimi and will "intensify" efforts to get a conference organized, Nesirky said.
Full report at:
http://english.ahram.org.eg/NewsContent/2/8/71098/World/Region/Brahimi-to-stay-on-as-Syria-envoy-after-RussiaUS-b.aspx
------------
Homeless Egyptian stabs an American near US embassy in Cairo
9 May 2013
A homeless Egyptian man stabbed an American citizen in the neck with a knife near the American embassy in Cairo's Garden City district Thursday, according to Al-Ahram Arabic language news website.
Local residents in the neighbourhood helped the embassy's security personnel arrest the man as he was trying to escape.
Full report at:
http://english.ahram.org.eg/NewsContent/1/64/71047/Egypt/Politics-/Homeless-Egyptian-stabs-an-American-near-US-embass.aspx
------------
Pakistan
Death mandate: TTP Chief Commandor sanctions polling day attacks
By Nasruminallah
May 10, 201
WANA / MIRANSHAH: Taliban commanders have been issued a mandate to carry out widespread attacks in the country on May 11 by the chief commander of Tehreek-e-Taliban Pakistan (TTP) through a letter.
Issued on May 1, 2013 and addressed to TTP spokesperson Ehsanullah Ehsan, TTP chief Hakimullah Mehsud wrote: "I will keep control of the attacks in Khyber-Pakhtunkhwa and Balochistan, while you should cover Sindh and Punjab."
Referring to poll candidates and the democratic system, Mehsud expressed hope that the Taliban commanders would be busy working against the agents of an "infidel system."
"I am sending a list of attacks and the modus operandi, along with a separate list of fidayeen (suicide bombers)," wrote Mehsud, adding that TTP leaders could prescribe amendments to it after consultation.
The letter also lists targets in Punjab and Sindh for Election Day.
Earlier, in a letter to media personnel, Mehsud had written that his group was focused on jeopardising democracy by hindering elections.
Mullah Nazir stands guard
In another letter issued by the Shura of pro-government Mullah Nazir Group in Wana subdivision, all group members have been warned to maintain peace and avoid siding with any election candidate.
The letter says that the Mullah Nazir group should struggle to ensure that polling is carried out in a smooth and stable manner, adding that all candidates contesting for NA-41 are equal for them.
10-point rules
Furthermore, the letter says that voters and candidates should follow the 10-point rules to maintain peace – adding that those found guilty of violation deserve to be punished. The points are as follows:-
All candidates should advise their supporters to remain peaceful at polling stations.
All candidates should refrain from making fiery statements and slogans at polling stations.
All voters should keep 100 yards distance from polling stations. Voters must not cast more than one vote. No agent of any candidate is allowed to stop polling.
The presiding officers should also take care of rules and regulations at their respective polling stations.
A queue should be made for casting vote according to rules.
Voters are not allowed to bring any kind of weapons to the polling station.
A person who cannot go outside of his home will be guaranteed peace, whereas those guilty of rule violation will be fined Rs1 million, and his house will also be demolished. The order is applicable on all areas equally.
Full report at:
http://tribune.com.pk/story/546827/death-mandate-mehsud-sanctions-polling-day-attacks/
------------
USAID provides scholarships to victims of terrorism in FATA, KP
May 10, 2013
ISLAMABAD: The U.S. government, through the United States Agency for International Development (USAID), has awarded five educational scholarships to children affected by terrorism in Khyber Pakhtunkhwa (KP) and the Federally Administered Tribal Areas (FATA).
Over the next three years, the USAID will provide a total of 1,000 educational scholarships to support conflict victims.
Terror incidents in Pakistan have claimed more than 15,000 lives since 2003, leaving scores of widowed women and orphaned children.
Through its three-year $25 million Conflict Victims Support Programme, the USAID is working to provide a wide range of support for individuals, families and communities suffering losses from conflict-related violence.
This support includes educational scholarships to the children who have lost family members to conflicts.
"I can now finally have peace of mind. I want my children to have a better life than mine and that can only happen with education," said the mother of one of the scholarship recipients at a ceremony in Islamabad.
The programme will collaborate with Pakistan's telecom sector to utilise mobile financial services in the disbursement of scholarship funding to conflict victims.
Full report at:
http://www.dailytimes.com.pk/default.asp?page=2013\05\10\story_10-5-2013_pg11_6
------------
Ex-Pak PM Gilani's son got threats from two terror outfits
May 10, 2013
ISLAMABAD: Former premier Yousuf Raza Gilani's son Ali Haider, kidnapped by gunmen on Thursday while campaigning for Pakistan's landmark elections, had received threats from the banned Lashkar-e-Jhangvi and Sipah-e-Sahaba.
Though no group has claimed responsibility for the abduction, Gilani and other members of his family told The Express Tribune that Ali Haider had been receiving "death and kidnapping threats" from the LeJ and Sipah-e-Sahaba.
Ali Haider, 27, was kidnapped while campaigning for the May 11 polls in his hometown of Multan, often considered a stronghold of the Gilani family.
The gunmen shot and killed Ali Haider's personal secretary and a bodyguard when they resisted.
Police arrested five suspects in Multan and officials claimed two of them had "important information" about the kidnapping.
While there was no official word on the interrogation of the suspects, the Tribune quoted its sources as saying that Ali Haider had been taken by his abductors to Kabeerwaala, considered a stronghold of the LeJ.
The banned Tehrik-e-Taliban Pakistan refused to comment on the abduction.
"I do not want to comment (on the incident). We do not know as to who has kidnapped him, and why and how he was kidnapped," said Taliban spokesman Ihsanullah Ihsan.
Sources in Punjab Police told PTI on Thursday that they believed Ali Haider was kidnapped by a faction of the Punjabi Taliban based in Mian Chanu, 80 km from Multan district.
Full report at:
http://timesofindia.indiatimes.com/world/pakistan/Ex-Pak-PM-Gilanis-son-got-threats-from-two-terror-outfits/articleshow/19983979.cms
------------
Bomb blasts in Miramshah kill five; injure 13
Zahir Shah Sherazi
May 10, 2013
PESHAWAR: At least five people were killed and 13 others were injured in two bomb blasts on Friday in Miramshah's Khwaja Jan market and checkpost in the North Waziristan tribal region, DawnNews reported.
The blasts occurred within an hour of each other. According to initial reports, the first bomb was planted on a motorcycle and it was detonated using a remote-controlled device. However, the exact nature of the second explosion is yet to be confirmed.
Full report at:
http://dawn.com/2013/05/10/three-dead-10-injured-in-miranshah-blast/
------------
Militants attack checkpost in Kurram region
May 10, 2013
PESHAWAR: At least three security personnel were killed in a militant attack on a checkpost in central Kurram tribal region on Friday, DawnNews reported.
Full report at:
http://dawn.com/2013/05/10/militants-attack-checkpost-in-kurram-region/
------------
Crazy to serve nation: Nawaz
May 10, 2013
Lahore - PML-N chief Nawaz Sharif, addressing a mammoth rally at Samnabad here Thursday night, said that a ghastly conspiracy has been hatched against the PML-N to divide its vote.
He said the conspirators have brought in their frontmen to execute the plan. He said that despite all that, the people have resolved to vote for the PML-N and defeat the conspiracies and plots against him and the party. Zardari is conspiring from behind the curtain but on May 11 the 'tiger' will roar, Nawaz said while addressing a highly charged crowd.
In the constituency NA-122 where PTI chief Imran Khan and PML-N candidate Sardar Ayaz Sadiq are in the run, Nawaz Sharif said the PML-N triumph in the election is not far away. Nawaz said he loves the nation and the nation loves him as he has served the people sincerely and is committed to serve the people more. He said only a sincere leader is destined to win and his and his party record is before the nation to decide who can better serve the country in future. "Whenever Nawaz Sharif thinks, he only thinks of the people, the country and its prosperity and progress. This is not affordable to their rivals as such they all have trained their guns at him and the PML-N, but I am determined to serve the people," the PML-N chief added.
Nawaz Sharif said premiership is not his ambition but his only desire is to serve the nation.
He said that for the honour and respect of the nation, he refused a $5 billion offer from the US and made the country a nuclear power. "I know we are an honourable nation that wants to live with honour, dignity and head high in the world."
He said the enthusiasm of the crowd heralds the victory of the PML-N in the May 11 election. He said previously the PML-N was not let complete the tenure, but even in the short span in rule, it did historic feasts of development in the country. He said his party with the help of the youth and the supporters is ready to serve the country again and make it a world power.
Nawaz Sharif said the country cannot afford new experiences and it needs a tested leadership which could solve the problems. And the PML-N will provide that leadership which is capable of overcoming the problems and direct the country to prosperity. He said his party has a future agenda for the whole country. Motorway will be extended and Gwadar will be given complexion of a Dubai port, he added.
Nawaz said the time is short and job is tough, therefore from day one in the government his party will set to address the problems and build the country. He said he has no ambition for prime ministership but a craze to do something for the nation and the country and make it a power in the world. He said youth are his big hope and he would not dupe them as other leaders are doing for the sake of election. He said he is committed to sincerely do something for them.
Online adds: Nawaz Sharif said that if voted to power, his party would stop drone strikes without retaliation. In an interview to a private TV channel, he said that according to the constitution, elected prime minister is bound to take oath from the president of the country.
Talking about Imran Khan's fall, the PML-N chief said that he sent Shahbaz Sharif to enquire after Imran.
Commenting on the Taliban, he said that allegation of his party being pro-Taliban is extremely baseless, adding that talks can be held with the Taliban, but the laws of the land would have to be accepted by everyone.
Nawaz lashed out at Rehman Malik over allegation of money laundering against him and family. He said Malik is not setting a good tradition and intending to disrupt the environment.
He reminded the Quranic pledge of Zulfiqar Mirza and observation of the Supreme Court about Rehman Malik.
"Pervaiz Elahi doesn't know the meaning of Metro that is why he is calling it Jangla Bus," he remarked.
Full report at:
http://www.nation.com.pk/pakistan-news-newspaper-daily-english-online/national/10-May-2013/crazy-to-serve-nation-nawaz
------------
Liberal forces asked to stand against terrorism
May 10, 2013
KARACHI -
The ANP and PPP leaders have said the terrorists and extremists have announced battle against the country's liberal forces. They said it is need of the hour that all the liberal forces should unite against the elements those are harming the democratic process in the country.
ANP leader Senator Shahi Syed and PPP`s Taj Haider expressed these views while addressing a joint press conference here at Mardan House Thursday. Shahi said the ANP has always supported the democratic and development process in the province. He said, "The ANP has decided to withdraw its candidates in favour of the PPP form three of the National Assembly constituencies of Karachi including NA-240, NA-250 and NA-258, while eight candidates has been withdrawn from the Sindh Assembly constituencies of Karachi including PS-90, PS-92, PS-94, PS-113, PS-114, PS-126, PS-129 and PS-130."
On the other hand, the PPP has decided to withdraw its candidates in favour of the ANP form NA-241 of National and PS-91, PS-93 and PS-128 of Provincial constituencies of Karachi.
The leaders of the both parties said that they have directed their workers to support each other from the constituencies where the seat adjustment has been made for the elections.
Full report at:
raise their voice against the conspiracy being hatched to destabilise Pakistan.
http://www.nation.com.pk/pakistan-news-newspaper-daily-english-online/karachi/10-May-2013/liberal-forces-asked-to-stand-against-terrorism
------------
I will go to SC with 'Sharifs corruption proofs': Malik
May 10, 2013
LAHORE - Former Interior Minister and PPP leader Rehman Malik has said that he will go to the Supreme Court with proofs against 'Sharif brothers corruption'.
Holding files and documents, he said that these were proofs of cases of corruption, collected by him against the Sharif brothers.
He was addressing a Press conference at a local hotel here on Thursday.
He challenged PML-N leaders Nawaz Sharif and Shahbaz Sharif to debate on these proofs anywhere.
Rehman Malik condemned PML-N President Nawaz Sharif's statement regarding reinvestigation about agencies role in Mumbai incident.
He said Nawaz Sharif should not make Armed Forces and judiciary's role controversial.
He said before accusing President Asif Ali Zardari of stopping foreign doctors to work for dengue in Punjab, Sharifs should have a debate with me.
He asked the authorities for taking steps for recovery of the black-money shifted by Sharif brothers to other countries.
He condemned the PML-N for publishing photograph of Chief Justice Iftikhar Chaudhry in a paid advertisement in local newspapers for election campaign and appealed to the CJ and Chief Election Commissioner to take suo moto action against Sharif brothers.
Malik alleged that former Punjab Chief Minister Shahbaz Sharif had wasted huge amount on tandoor project which should be investigated.
Full report at:
http://www.nation.com.pk/pakistan-news-newspaper-daily-english-online/lahore/10-May-2013/i-will-go-to-sc-with-sharifs-corruption-proofs-malik
------------
Africa
Gunmen from Nigeria cult kill 23 police in ambush
May 10, 2013
KANO, Nigeria : Gunmen from a shadowy cult ambushed a group of police officers in central Nigeria, killing 23 of them and then setting fire to their bodies, the state's police chief said Thursday.
"A detachment of 60 police... came under attack from members of Ombatse cult in an ambush," Nassarawa state police chief Abayomi Akeremale said of the attack on Tuesday.
"The Ombatse gunmen opened fire on our men, killing 23 and burning them," he told AFP, adding that 17 officers remain missing.
Nassarawa roughly falls on the dividing line between Nigeria's mostly Christian south and predominately Muslim north. One of the state's major ethnic groups, the Eggon, is divided between the two faiths, but also has a history of links to pagan movements.
Ombatse, which means "time has come" in Eggon, has described itself as a movement committed to purging society of certain vices, including alcohol and adultery.
The police chief said the security forces had tried to arrest some Ombatse leaders following allegations of forced conversions in the village of Elakyo, not far from the state capital Lafia. Full report at:
http://www.nation.com.pk/pakistan-news-newspaper-daily-english-online/international/10-May-2013/gunmen-from-nigeria-cult-kill-23-police-in-ambush
------------
Tunisia arrests Libyan "terrorist" entering port with explosives
9 May 2013
Tunisia said on Thursday police had arrested a Libyan "terrorist" trying to enter a southern port with explosives, as security forces wage a nationwide campaign against militants.
"The anti-terrorism task force ... arrested on Wednesday a terrorist Libyan trying to enter with a quantity of explosives in Port of Ktef in Ben Guardan," the interior ministry said.
The Tunisian army and police said on Tuesday they were hunting more than 30 suspected al Qaeda-linked militants close to the border with Algeria, and President Moncef Marzouki travelled to the area to oversee the operation.
Tunisia has become increasingly concerned about attacks the authorities blame on armed Islamists.
Full report at:
http://english.ahram.org.eg/NewsContent/2/8/71061/World/Region/Tunisia-arrests-Libyan-terrorist-entering-port-wit.aspx
------------
Somalia: Thousands of Peacekeepers Have Died During Mission, U.N. Says
May 9, 2013
As many as 3,000 African Union peacekeepers have been killed in Somalia in recent years trying to bring stability, the United Nations deputy secretary general, Jan Eliasson, said Thursday. The 17,700-strong African Union force began deploying to Somalia in 2007 and has helped push out the Shabab, an Islamist militant group, from the capital and other urban centers, though the group can still conduct major attacks.
http://www.nytimes.com/2013/05/10/world/africa/somalia-thousands-of-peacekeepers-have-died-during-mission-un-says.html?ref=africa&_r=0&gwh=E5C6A1F5DCD4725EC0DE7A10A6A8E3E7
------------
Tanzania: Suspects in Church Blast Include 4 Saudis
May 6, 2013
Tanzanian authorities said Monday that they had arrested four men from Saudi Arabia and four Tanzanians in connection with the bombing of a Catholic church in the city of Arusha on Sunday that killed two people and wounded 60. Magesa Mulongo, a regional commissioner, said that the Saudis were detained late Sunday as they tried to cross the border into Kenya. Full report at:
http://www.nytimes.com/2013/05/07/world/africa/tanzania-suspects-in-church-blast-include-4-saudis.html?ref=africa&_r=0&gwh=327F6C5E85240B52499CEB8B21BB13A5
------------
Libya crisis deepens as rebels expand demands
09 May 2013
Libya's political crisis has deepened as armed groups surrounding two ministries in the capital said they had formed an alliance to present an expanded list of six demands that included the resignation of Prime Minister Ali Zeidan.
The armed groups initially demanded that parliament pass the "political isolation law" banning senior officials, who held a senior position under late Muammar Gaddafi, from office, and members had hoped the vote would be enough to dislodge the gunmen from their positions at the government ministries.
Instead, the groups have settled in and expanded their list of demands, which they presented to Reuters news agency on a printed notice late on Wednesday.
The additional demands included Zeidan's resignation, the freezing of a recently released state budget and the right to form a committee to take charge of the Foreign Ministry.
Rival warning
In a separate development, a rival coalition that said it supported the government warned those stationed at the ministries it was prepared to use force to dislodge them.
"If you do not respond to our demands, we will form a common national force from all the cities of Libya to handle this situation," the group said on Wednesday.
Its members included federalists in eastern Cyrenaica and leaders of former rebel groups in a number of towns including Benghazi in the east.
Full report at:
http://www.aljazeera.com/news/africa/2013/05/2013590282732356.html
------------
North America
US drones are a mess ethically, morally and legally: EU Parliament
May 9, 13
BRUSSELS - Speakers at a meeting of the European Parliament on Thursday lashed out at US drone strikes in Pakistan and termed them illegal. They further said that drone strikes were counter-productive to security objectives.
According to details, British Member of the European Parliament, Sajjad Karim said, "US drone killings in Pakistan casts an even darker shadow with the Pakistani government explicitly stating that they did not give consent for the attacks. And it is telling that a nation as great as the USA was not here to make clear its opposition."
Pakistan's Ambassador to the EU Munawar Bhatti expressed his country's opposition to the drone strikes.
"We are opposed to the drone strikes and we have consistently condemned the drone attacks .We regard the drone strikes as illegal in international law, counterproductive and a violation of Pakistan's sovereignty and integrity," he said.
Bhatti noted that the drone strikes caused collateral damage and incited a feeling of revenge among innocent victims against the US which further exacerbated the problem.
Another British Member of the European Parliament Baroness Sarah Ludford pointed out the EU had rejected the US legal justification that drone strikes were a part of the War on Terror. "It is not drones in themselves; it is weaponised drones which are the problem," she said.
There are legitimate uses for drones in other circumstances," she added.
The deputy director of international NGO Reprieve Hilary Stauffer said that at least 4,700 people had been killed including only 4 percent of "high-level militants" by US drone strikes.
Full report at:
http://www.pakistantoday.com.pk/2013/05/09/news/national/us-drones-are-a-mess-ethically-morally-and-legally-eu-parliament/
--------
Slain Boston Marathon suspect 'entombed'
May 10, 2013
NEW YORK: Slain Boston Marathon bomber suspect Tamerlan Tsarnaev has finally been buried, ending a growing row over what to do with his body, police in the Massachusetts town of Worcester said Thursday.
"As a result of our public appeal for help, a courageous and compassionate individual came forward to provide the assistance needed to properly bury the deceased," the police said. "His body is no longer in the City of Worcester and is now entombed," a statement said.
Tsarnaev, 26, died in a gun battle with police three days after the April 15 bombings that killed three people and injured more than 260 at the marathon finish line. He was killed by bullets and blunt trauma, and was apparently hit by the car driven by his younger brother Dzhokhar, who is being detained in a prison hospital with gunshot wounds.
Ever since the bloody denouement of the Boston bomb plot, the body of the once promising amateur boxer had been in limbo at a funeral home.
Cemeteries refused to accept him and municipal officials in the Boston area declined to intervene, while protesters besieging the funeral home demanded Tsarnaev's corpse be sent back to his home province of Dagestan in Russia's troubled, mostly Muslim Caucasus region.
However, an uncle living in the United States said that Tsarnaev should be laid to rest in what had become his true home in Boston, leading to an increasingly ugly impasse.
On Wednesday, Worcester Police Chief Gary Gemme pleaded for a resolution, saying: "We are not barbarians. We bury the dead."
But Boston Mayor Thomas Menino said he didn't want Tsarnaev buried there. This was echoed by the city manager in Cambridge, where Tsarnaev had last lived, citing fears of "turmoil, protests and widespread media presence at such an interment."
In their statement Thursday, Worcester police did not identify the person who finally solved the standoff and held off from giving the location of the grave.
"The chief thanks the community that provided the burial site. There is no further information at this time," the department said.
Full report at:
http://www.nation.com.pk/pakistan-news-newspaper-daily-english-online/international/10-May-2013/slain-boston-marathon-suspect-entombed
------------
Suspect in Boston Bombing Talked Jihad in Russia
By ELLEN BARRY
May 9, 2013
KIZLYAR, Russia — It's not every day that a well-dressed American shows up in this town, where shaggy cows meander over deeply rutted roads, so people remember Tamerlan Tsarnaev. Among the things that made the young visitor stand out, two acquaintances recalled on Thursday, was his avid interest in waging jihad.
"He already had jihad views when he came; I think because he was Chechen, he was rooting for his homeland," Zaur M. Zakaryayev, 29, a member of a Salafi advocacy organization, the Union of the Just, said Thursday. "When he got here he was surprised at the conditions. I think he expected to find a full-fledged war, that one people was fighting with another."
These new accounts out of Kizlyar, where Mr. Tsarnaev spent time with a cousin who is a prominent Salafi Islamist leader, have begun to flesh out a picture of what he did during his six months in Russia last year.
On Sunday agents from the Federal Security Service, the successor to the Soviet-era K.G.B., interrogated Mr. Tsarnaev's cousin, who is in police custody, asking if he impressed the young man with "extremist" views, his lawyer said.
But the cousin, Magomed Kartashov, told them it was the other way around. In interviews, several young men here agreed, saying that Mr. Kartashov spent hours trying to stop Mr. Tsarnaev from "going to the forest," or joining one of the militant cells scattered throughout the volatile region, locked in low-level guerrilla warfare with the police.
"Magomed explained to him at length that violent methods are not right," Mr. Zakaryayev said.
Mr. Tsarnaev's friends in Kizlyar may be responsible for a crucial change in his thinking. When he left, he was no longer focused on the local grievances that fueled the fighting against the police — but instead broader issues in the Islamic world, including the effect of United States and Russian policy in the Middle East.
Rasim B. Ibadamov said that by last summer, Mr. Tsarnaev was taking steps that suggested he had let go of the idea of joining the underground — for instance, applying to renew his Russian passport. "What I can say is there was the impression that Tamerlan listened to Magomed and to some extent, he changed," Mr. Ibadamov said. "His behavior changed. He started to read more, and to read different books. In general, as far as I understand, he changed his views."
Mr. Tsarnaev's body was interred Thursday in an undisclosed location, the police in Worcester, Mass., said in a statement. The announcement represented an end to a grim effort to find a place to bury the bombing suspect, who was shot by the police and run over by his brother, Dzhokhar, after the two tried to elude the authorities during a chase that began April 18.
A long list of cemeteries had refused to accept the body.
"A courageous and compassionate individual came forward to provide the assistance needed to properly bury the deceased," read a statement on the Police Department's Web site.
Mr. Tsarnaev's relationship with Mr. Kartashov, which was first reported by Time magazine on Wednesday, may help explain his mentality as he returned to the United States. Kizlyar is one of the most dangerous spots in Dagestan's insurgency, in which militants kill scores of policemen every year and counterterrorism raids can leave neighborhoods in ruins. Mr. Kartashov once served as a police inspector there, but left the force around 10 years ago and has since become a charismatic Salafi leader.
His group protests police counterterrorism tactics in the region, which are often brutal, and it burned American and French flags after the release of the anti-Islam YouTube film "Innocence of Muslims." The authorities in Dagestan have viewed Mr. Kartashov's activity with mounting suspicion. He was arrested two weeks ago, after the police stopped a wedding convoy that was flying black flags with Arabic phrases.
"To all our questions there was only one answer: 'We only have two flags: the flag of the Russian Federation and the flag of the republic of Dagestan. Do not raise any other flag,' " Mr. Ibadamov said. Mr. Kartashov now faces a possible 10-year sentence for resisting the police.
Mr. Ibadamov said that Tamerlan Tsarnaev's parents had first turned to Mr. Kartashov for counseling during earlier trips to Russia, and that when Mr. Tsarnaev came to Russia last year they wanted him to follow suit.
"I understand that they had a kind of Islamic vacuum," he said. "They turned to Magomed as a knowledgeable person. Magomed was happy about this; he explained what Islam was, what his views were. And the father was complaining that Tamerlan was sort of a tough kid, a boxer."
When Mr. Tsarnaev arrived in Kizlyar to consult with Mr. Kartashov, they all noticed: "His pants, his scarf, his glasses, everything in aggregate set him apart from the mass," Mr. Ibadamov said. He was partial to the Internet sermons of the cleric Anwar al-Awlaki, who called for jihad against the United States and was killed in a drone strike in 2011.
But after spending a week in Kizlyar in conference with his cousin, he seemed to have new goals. Mr. Zakaryayev said he ran into Mr. Tsarnaev repeatedly at a Salafi mosque in Makhachkala, Dagestan's capital, and was increasingly sure he would not join an insurgent group. "He could have gone if he wanted," he said. "It's not hard to do it, because every day there is a special operation, and every day people are leaving."
Full report at:
http://www.nytimes.com/2013/05/10/world/europe/in-russia-marathon-bombing-suspect-talked-jihad.html?hp&gwh=EA3BC10E5F351787C841A6B94ABFB0F2
------------
India
Indo-Pak bitterness won't survive for long': Faiz Ahmed Faiz's daughter
May 10, 2013
Jo aaj dikhe hai duniya ko... woh asl ka Pakistan nahi...
Ummeed-e-sehar ki baat suno... jo sach hai wahi hum dekhenge
LUCKNOW: These words, in rhyme and synchronicity with poet Faiz Ahmed Faiz's classic 'Hum dekhenge', were uttered randomly by his daughter Moneeza even though she has never tried her hand at poetry. The words are laden with hope that people in Pakistan have not given up despite terrorist attacks, insecurity, law and order crisis and political instability.
Moneeza prays for a peaceful election in her country. "The general image of Pakistan is that it is a fundamentalist country which is not the case. Jo aaj dikhe hai duniya ko, woh asl ka Pakistan nahi... (that which appears to the world today is not the real Pakistan). We are in fact the change the young generation is pledged to bring. Ummeed-e-sehar ki baat suno, Jo sach hai wahi hum dekhenge (listen to the hope of morning, we will see only the truth)," she says. Expressing solidarity with families of Sarabjit and Sanaullah, she believes bitterness between India and Pakistan won't survive for long.
As Pakistan goes to poll on next week, Moneeza says her country has pinned hopes on Imran Khan and Pakistan Tehreek-e-Insaf party. Her reasons to support Khan are as clear as the causes for disliking the ruling Pakistan People's Party. "They (PPP) claimed they were secular but people of different faiths died in their regime. There were so many honour killings. They have been given enough opportunity," Moneeza says.
"Imran is honest and most of those with him are trustworthy. He is passionate about the country. I am impressed by the way he has mobilised and motivated the youth. They (youth) are no longer a group of restless souls. Instead, they have become an ear that listens and a mind that is analysing the situation. I think Imran has given them a goal which will help save the democratic fabric of Pakistan," says the daughter of Faiz, one the biggest names in Urdu poetry in the 20th century.
Full report at:
http://timesofindia.indiatimes.com/city/lucknow/Indo-Pak-bitterness-wont-survive-for-long/articleshow/19979104.cms
------------
Gujarat H C grants bail to its former security in-charge accused of planting bomb
May 9, 2013
AHMEDABAD: Gujarat high court on Wednesday granted bail to former security in-charge of its campus, F M Kureshi in connection with allegations of plantation of bomb near campus earlier this year.
Justice Anant Dave ordered his release on Rs 10,000 bail bond and on various conditions including surrendering passport and prohibition to leave Gujarat. The HC granted bail with observation that detaining him till the end of the trial would amount to "pre-trial punishment". Kureshi has been booked and jailed under the provisions of the Explosives Act.
Kureshi allegedly planted bomb to earn some acolytes about his meritorious service and to gain sympathy fearing allegations of sexual abuse by an army officer. He has been granted bail by a trial court in connection with the alleged rape case.
Full report at:
http://timesofindia.indiatimes.com/city/ahmedabad/Gujarat-high-court-grants-bail-to-its-former-security-in-charge-accused-of-planting-bomb/articleshow/19974852.cms
------------
Two Indians appointed to Malaysian state's executive committee
May 9, 2013
KUALA LUMPUR: For the first time, two Indians have been appointed to the state executive committee of the Malaysian state of Penang, local media reported today.
Jagdeep Singh Deo, son of Democratic Action Party chairman Karpal Singh, and P Ramasamy of the same party were among 10 committee members sworn-in today in Penang's capital Georgetown, The Star reported.
Ramasamy was retained as the deputy chief minister II while Jagdeep replaces former Penang state town and country planning and housing committee chairman Wong Hon Wai.
The swearing-in ceremony took place in the presence of Penang Chief Minister Lim Guang Eng.
Full report at:
http://timesofindia.indiatimes.com/nri/other-news/Two-Indians-appointed-to-Malaysian-states-executive-committee/articleshow/19972184.cms
------------
82 Indians stranded in Saudi Arabia
May 10, 2013
JAIPUR: For about a month now, eighty-two wage-earners from the country including 33 from Rajasthan are stranded in Saudi Arabia. A travel and placement company from Jaipur had sent them to Saudi Arabia, where they were made to work as labourers for a few months and then left stranded in Riyadh. It is alleged that an India-based labour supplier conned these labourers and disappeared with their passports and other documents.
Speaking to TOI on phone, a labourer, Gulzar, from Tonk district, broke down and pleaded that he and other labourers be rescued. He said they are being forced to live in makeshift rooms and starved every alternate day.
Prem Bhandari, media chairman of Rajasthan Association of North America's (RANA), an association of Rajasthanis living in New York, said that a plea has been forwarded to chief minister Ashok Gehlot requesting him to lodge an FIR against the Jaipur-based agent who had sent these labourers to Saudi Arabia. Bhandari said that he has also requested foreign minister Salman Khurshid to intervene.
Bhandari said that while 33 labourers are from Rajasthan, most of others are from Bihar and Uttar Pradesh.
"A Jaipur-based agent Kamal Soni had sent these people from Jaipur and Mumbai airports to Saudi Arabia on fake visa documents," Bhandari said. "Each of these labourers had paid Rs 1 lakh to the agent and promised a salary of Rs 21,000 per month. They were handed over to a labour supplier identified as Jai Kumar from Kerala. The labourers were shocked to find that the company for which they worked did not even exist," said Bhandari.
Full report at:
http://timesofindia.indiatimes.com/india/82-Indians-stranded-in-Saudi-Arabia/articleshow/19979765.cms
------------
Southeast Asia
Indonesia extremists out to exploit anger over Burma unrest
May 10, 2013
A bomb plot, coinciding with a noisy rally by the Islamic Defenders' Front (FPI), has rattled nerves in Indonesia, where extremist groups appear to have found a new pretext for violent jihad. The target this time is Burma, where Muslim communities have come under increasing attacks by local Buddhist mobs.
Religious leaders, meanwhile, are urging Indonesians not to let anger over events in Burma feed the agenda of militant groups whose activities are contrary to Islamic teachings.
On May 3rd, officials said that they had foiled a plot to bomb the Burmese Embassy in Jakarta in retaliation for attacks against Muslims. "We are very certain that they would have launched the attack if we did not stop them," said Ansyaad Mbai, the head of Indonesia's anti-terrorist agency.
Thirteen suspects have been detained in connection with the alleged conspiracy, and seven others were killed by counterterrorism police in a series of raids on Thursday.
Abu Bakar Bashir, the jailed spiritual mentor of the hardline Jemaah Islamiyah, is thought to be encouraging campaigns for violence against Burma. According to Indonesian media reports, he addressed a letter to the Burmese government last August and warned that Islamists would bring about Burma's destruction.
Muslims in Burma: "we totally reject this call for violence"
Burmese Muslims, however, have staunchly rejected such threats, saying that jihadist violence would do nothing to help their community.
"This is not the solution. We totally reject this call for violence," All Myanmar Muslim Federation spokesperson Ko Ko La said in comments quoted by The Irrawaddy.
Abdullah Sahidi, a 57-year-old Islamic cleric living in Jakarta, agreed. Muslims, he said, would do better to focus their efforts on providing humanitarian assistance.
"Muslims along with the Indonesian government can continue their effort in improving health and education for Rohingya Muslims here (Indonesia) and in Myanmar. It will have a better impact than killing people under the name of Jihad," he continued.
Extremist violence is contrary to Islam, he stressed.
"We need to make sure everyone knows that doing 'jihad' by killing other people is not jihad; it is wrong. We should remind all of our Muslim fellows that the act of killing people by using bombs is not Islamic, and it is not what Muhammad, our prophet, teaches us," Abdullah said.
Even as the bomb plot was being uncovered, protesters gathered last Friday in front of the Burmese embassy to demand an end to the anti-Muslim violence.
For some, the rally was an opportunity to press the Burmese government to intervene and protect the rights of the Muslim minority.
"They had five demands: for [Burma's] government to stop the ethnic cleansing of Rohingya Muslims, to return the Rohingya Muslims' rights, grant citizenship to them, ensure the welfare of Rohingya Muslims, and specifically for the Indonesian government to put pressure [on Burma] to help Rohingya Muslims," said Puspita Sari, a 24-year-old student who witnessed the protest.
But with hundreds of FPI militants showing up, however, the mood threatened to escalate into violence.
"They were calling for jihad, tearing pictures of President Thein Sein, and ripping up [the Burmese] flag. They can do unpredictable things, including harm people. I told my family to stay away from the location. Thank goodness we saw thousands of police there to secure the location," said Arif Asrudin, a 55 year-old Jakarta resident.
"Actually, even local people in the area were scared of the FPI movement," he added.
Analyst: Burma situation must be contained
Conflict resolution expert Rizal Panggabean said the Burma situation can have serious consequences for Indonesia.
Full report at:
http://khabarsouthasia.com/en_GB/articles/apwi/articles/features/2013/05/10/feature-02
------------
Indonesian Gay People To Be 'Publicly Lashed' 100 Times Under Proposed Bylaw
By Amanda Schiavo
May 09, 2013
Gay men and women living in the Indonesian province of Aceh could be subjected to 100 lashes from a rattan cane if a new bylaw proposed by the Capital's deputy mayor is passed.
In the strict Islamic province of Aceh Shariah Law is followed to the letter. According to The Telegraph, "Shariah is the body of Islamic law implemented in Muslim countries across the world...although most modern Islamic nations operate a dual legal system with elements of secular law alongside it...All aspects of a Muslim's life are governed by Shariah, which is derived from a combination of sources, including the Koran...In a number of countries, Shariah Law is associated draconian punishments such as theft, adultery or blasphemy, such as amputation of limbs, death by stoning or lashes."
Like Us on Facebook
Most people affiliate Shariah Law with the oppression of Islamic women. One such example is that of a rape victim put on trial and found guilty of "being in the company of strangers in private and sentenced to be lashed." The rape victim was later pardoned.
This new bylaw proposed by the deputy mayor and supported by politicians will allow police to punish gay men and women, basically for being who they are.
The Deputy Mayor of Banda Aceh, Illiza Sa'aduddin Djamal (a woman) believes that homosexuality is a "social disease that should be eradicated." The deputy mayor believes there should be harsher laws enforced against those that are gay.
According to the timesofummah.com the deputy mayor was complaining about the fact that there are no specific laws targeting gay people. She said, "There is no law that could be used to charge them. The existing [regulations] only stipulate about khalwat [being in close proximity] for intimate relations between unmarried males and females."
Gaystarnews.com reports the deputy mayor went on her anti-gay crusade after seeing a survey done in 2012 about the number of those with HIV in Aceh. It was not the number of those infected with HIV that startled the politician, it was the fact that some who participated in the survey admitted they were gay.
Gay Star News reports Djamal as saying, "If even one case of homosexuality is found, it's already a problem."
Full report at:
http://www.latintimes.com/articles/3770/20130509/indonesian-gay-people-publicly-lashed-100-times.htm
------------
Police Search for Fugitive Suspect After Terrorism Raids
May 10, 2013
Jakarta/Bandung. A series of counterterrorism raids spanning three provinces on Wednesday has left seven suspects dead, 13 in custody and one on the run, as police reveal links to the country's most wanted terror suspect.
Brig. Gen. Boy Rafli Amar, a spokesman for the National Police, said on Thursday that the suspected terror cell uncovered in the raids was essentially formed to raise funding, through criminal activity, for a terrorist training camp in Poso, Central Sulawesi, headed by Santoso, Indonesia's top terror fugitive.
"These people are growing, they're planning, they're becoming violent. It's these kinds of threats that we have to address," Boy said.
He added that the suspects were believed to have carried out at least three bank heists across the country, netting a combined Rp 1.8 billion ($185,000) for their fai, or financing for a jihad or holy war.
"We're still trying to track the flow of the funds. If they've bought assets, we want to know what those are, because the cash that we've seized doesn't amount to that much," Boy said.
In coordinated raids on Wednesday in Jakarta, Bandung and Sumedang in West Java, and Kebumen and Kendal in Central Java, the police's counterterrorism unit, Densus 88, shot dead seven terror suspects and arrested 13.
Five of those taken alive were caught in Jakarta. They were identified as Faisal, Endang, Agung, Agus Widharto and Imam. Police seized a handgun, 20 rounds of ammunition and Rp 30 million in cash from the suspects.
These people are growing, they're planning, they're becoming violent. It's these kinds of threats that we have to address.
Brig. Gen. Boy Rafli Amar, National Police spokesman
In Kebumen, Densus arrested four suspects, identified as Farel, Wagiono, Budi and Slamet, and shot dead three — Toni, Bastari and Bayu.
In Kendal, the suspects taken alive were identified as Puryanto and Iwan, while a third person, Abu Roban, was shot dead while attempting to resist arrest. Police seized an assault rifle with six rounds and a handgun with three rounds from the suspects there.
In Sumedang, meanwhile, police arrested one person, William Maksum, and recovered a handgun, 280 rounds of ammunition, a knife and Rp 6 million in cash.
At a house in nearby Bandung, Densus arrested Haris Fauzi and shot dead three of his associates, identified as Budi, Bang Junet and Sarame.
Based on the information gleaned during the operation, police raided a boarding house in Bandung district on Thursday but failed to find the person they were looking for, identified as Tedi.
Full report at:
http://www.thejakartaglobe.com/news/police-search-for-fugitive-suspect-after-terrorism-raids/
------------
Mideast
U.S. Imposes Sanctions on Those Aiding Iran
By RICK GLADSTONE
May 9, 2013
The United States on Thursday expanded its roster of those violating Iran sanctions, blacklisting four Iranian companies and one individual suspected of helping the country enrich nuclear fuel. It also singled out two other companies, including a Venezuelan-Iranian bank, accused of helping Iran evade other Western-imposed prohibitions on oil sales and financial dealings.
The penalties announced by the Treasury and State Departments came a day after the Senate introduced legislation that could effectively deny the Iran government access to an estimated $100 billion worth of its own money parked in overseas banks, a step that proponents said could significantly damage Iran's financial stability.
That legislation, known as the Iran Sanctions Loophole Elimination Act, is expected to be integrated into a broader House measure introduced in February.
The actions on Thursday appeared to signal an accelerated American effort to squeeze Iran economically over the lack of progress in negotiations on the disputed Iranian nuclear program, which Iran says is peaceful but the West has called a guise to achieve the ability to make atomic bombs.
The latest round of negotiations last month ended inconclusively, and Western critics of Iran have accused it of stalling for time while it continues to enrich uranium.
"With Iran's nuclear program marching steadily forward, we need to work as quickly as possible to eliminate any sources of funding for the regime," the chairman of the House Foreign Affairs Committee, Representative Ed Royce, a California Republican, said in a statement issued jointly with the ranking Democrat, Representative Eliot Engel of New York.
They said the committee would hold a hearing Wednesday on Iran's nuclear activities.
Any assets that blacklisted companies or individuals may have under American jurisdiction can be frozen, and they are prohibited from doing business with American citizens or businesses. Other individuals or business that engage with those under sanctions are themselves subject to penalties.
Iran has characterized the sanctions as illegal bullying by the United States and its allies. Some critics of the sanctions have said they are more likely to harden Iran's resistance.
A State Department announcement said four Tehran-based businesses, identified as Aluminat, Pars Amayesh Sanaat Kish, Pishro Systems Research Company and Taghtiran Kashan Company, and an Iranian citizen from Tehran identified as Parviz Khaki, were all blacklisted for providing goods, technology and services for activities that violated United Nations Security Council sanctions on Iran's nuclear activities.
"This action was taken in light of the ongoing concerns that the international community has with respect to Iran's nuclear program, which Iran continues to refuse to address," the State Department announcement said.
In what appeared to be a coordinated announcement, the Treasury Department's Office of Foreign Assets Control, which helps administer sanctions, announced that it was punishing Sambouk Shipping FZC, based in the United Arab Emirates, for cloaking the origin of Iranian oil and selling it on the international market. The Treasury said that the company was owned by a Greek business executive, Dmitris Cambis, who was blacklisted earlier this year for ties to sanctioned Iranian companies.
Full report at:
http://www.nytimes.com/2013/05/10/world/middleeast/us-imposes-sanctions-on-those-aiding-iran.html?ref=middleeast&_r=0&gwh=85202BFA5EADA970C3C63BF7CBF4F139
------------
Yemeni intelligence officer gunned down
10 May 2013
ADEN: Suspected Al-Qaeda militants shot dead a Yemeni intelligence officer yesterday in the southern province of Lahj, a local security official said, a day after three air force pilots were killed in a similar attack.
About 60 military and security officials have been shot dead in southern and eastern Yemen since 2011 after an insurgency erupted, exploiting political chaos caused by a mass uprising Full report at:
http://www.arabnews.com/news/451011
------------
Hezbollah says Syria will send it new weapons
10 May 2013
The head of Hezbollah has said he is ready to receive "game-changing" weapons from Syria, which has long been a conduit for Iranian weapons bound for the Lebanese armed group.
Hassan Nasrallah, in an address televised to an audience in Beirut on Thursday as a security precaution, said the shipments of new types of weapons would serve as the Syrian reaction to Israel's air strikes.
His speech, marking the 25th anniversary of the founding of Hezbollah's radio station Al-Nour, comes just days after Israeli air raids on Damascus reportedly targeted shipments of advanced Iranian weapons bound for the group.
Western and Israeli sources said the aim of Sunday's air attacks was to take out "game-changing" Iranian missiles destined for Hezbollah, which fought a war with Israel in 2006 and is a staunch ally of Syrian President Bashar al-Assad.
"The resistance [against Israel] is prepared to accept any sophisticated weaponry even if it was to break the equilibrium [in the region]," Nasrallah said in his speech.
"We are worthy of having such weapons and we would use them to defend our people and our country and our holy sites."
Later on Thursday, Chuck Hagel, US defence secretary, said the US remained committed to protecting Israel.
"Israel's security is further enhanced by America's defence cooperation with other regional partners," he said in Washington.
"In my consultations with Israeli leadership, I emphasised that strong US security relationships with Arab nations - including Egypt and Jordan, and our partners in the Gulf - are not only in our strategic interests, they are also in Israel's security interests."
Fierce border clashes
In recent weeks, Nasrallah has acknowledged that Hezbollah fighters are backing Syrian troops fight rebels trying to topple Assad.
And as he spoke on Thursday, opposition activists and military sources reported fierce clashes between rebels and fighters loyal to Assad raged around the rebel-held town of Qusayr near the borders with Lebanon.
Backed by Hezbollah fighters, the Assad government launched an intensified bid last month to retake the town, strategically located just south of Syria's third city, Homs, which lies on the road linking Damascus to the coast.
An army officer told AFP news agency on Thursday that the military seized control of a village just outside Qusayr.
"The Syrian army seized back control of Shumariyeh in the Qusayr countryside, and troops are currently on their way to the village of Ghassaniyeh" which has been under rebel control for more than a year, the officer said.
Qusayr fell out of regime control more than a year ago, but has faced daily shelling and frequent aerial bombardment.
The UN presence in the Golan Heights on the Syrian-Israeli border has also been challenged in recent months.
Full report at:
http://www.aljazeera.com/news/middleeast/2013/05/201351001534135760.html
------------
South Asia
Afghan police demand weapons amid tension with Pakistan
May 10, 2013
GOSHTA
Afghan border police, enraged by recent clashes with their Pakistani counterparts, are pleading for more weapons, escalating the tension between the two sides.
The fighting, in which an Afghan border policeman was killed last week, has caused a sharp deterioration in relations between the important US allies, coming days before the Pakistani general election.
Pakistan is seen as vital in bringing stability to Afghanistan as most Western forces prepare to withdraw by the end of next year.
The commander of border police in Goshta district in Afghanistan's eastern Nangarhar province, Bakht Jamal Eshaaqzai, said his 250-strong forces were armed with mortars and machine guns, but that it would be difficult to match Pakistan's heavy artillery and tanks, visible on the other side of the border.
Eshaaqzai says Pakistan had 12 manned outposts in Goshta, while Afghanistan had three. "We are under threat from their superior equipment. We urge the government to send us more as soon as possible," he told reporters and members of Kabul-based think tank Afghan Analysis Awareness, who drove from the capital to Goshta on Wednesday. Shahzada, who only goes by one name, is one of hundreds of border police who have taken up positions over the last two days in Goshta.
"We have high morale, but what we really need is heavy artillery," he said. Sporting a long beard and resting his hand on a machine gun, he added: "We're ready to eliminate our enemies."
Full report at:
http://www.nation.com.pk/pakistan-news-newspaper-daily-english-online/international/10-May-2013/afghan-police-demand-weapons-amid-tension-with-pakistan
------------
Karzai Says U.S. Bases Can Stay, Raising Some Eyebrows in West
By MATTHEW ROSENBERG
May 9, 2013
KABUL, Afghanistan — Afghanistan is ready to let the United States and its allies keep military bases here after the end of the NATO combat mission next year, President Hamid Karzai said on Thursday, offering a concrete public signal that foreign troops would remain welcome in the coming years.
The United States and Afghanistan are negotiating a security agreement that would allow American forces to stay here beyond the end of 2014, and Mr. Karzai said the Obama administration had asked for nine bases spread across the country.
"We agree to give them these bases," Mr. Karzai told students during a speech at Kabul University. "We consider our relations with the United States beyond 2014 to be positive for Afghanistan."
The American reaction, though, was far less positive than one would expect. Officials characterized Mr. Karzai's comments as premature at best, and said they appeared to reflect the Afghan government's desire for a larger force than the United States is likely to be willing to commit.
The Obama administration has yet to decide how large a force it would like to keep in Afghanistan, but administration officials have signaled that it is unlikely to total more than 10,000 service members. They said it was more important now to hash out a range of issues, like whether American troops would continue to have legal immunity in Afghanistan after next year, than to talk about the specifics of where troops would be based.
The American officials also stressed that no matter the final number of troops, the United States envisions using Afghan bases — not its own — to house its forces.
"As President Obama has made clear, we do not seek permanent military bases in Afghanistan," the American Embassy said in a statement. Any deal would "address access to, and use of, Afghan facilities by U.S. forces."
Still, the officials seemed relieved that the comments were generally positive, especially in light of more recent statements from Mr. Karzai, like his suggestion — weeks after demanding that Special Operations forces leave an entire province — that both the American-led coalition and the Taliban were working to destabilize the government.
The United States, for its part, has unleashed its share of public salvos. In January, days before Mr. Karzai was to visit Washington, administration officials said that one option after 2014 was simply to leave no American forces in Afghanistan — a move that some officials worry would leave the government unable to contain the Taliban.
Yet even as the discussion has heated and cooled, officials in Kabul and Washington have repeatedly stressed that both sides want a deal and a post-2014 troop presence, even if no one can yet say what it would look like.
Mr. Karzai offered a glimpse of his thinking in his speech on Thursday at Kabul University, saying he was ready to agree to American bases in Kabul and Kandahar, the country's two biggest cities, and at Bagram, north of Kabul, the current site of one of the largest coalition bases in Afghanistan.
He also said the United States wanted two bases in Herat Province, which borders Iran, and others in the north, east and south of Afghanistan.
At the same time, Mr. Karzai said he wanted more clarity from Western countries and from NATO as a whole about what they planned to contribute to Afghanistan after next year.
So far, Germany, which has more than 4,000 soldiers in Afghanistan, is the only major NATO member to have made a firm offer of troops after 2014. It said last month that it was prepared to keep 600 to 800 soldiers here until 2017 to train Afghan forces.
"At first, they said that they are all leaving in 2014, and now every one of them is coming one by one and saying, 'We are not leaving,' " Mr. Karzai said.
"We know that they are not leaving, and so we are insisting that we have our own words with them," he said, adding that he wanted an overall agreement with NATO in addition to any agreements with individual countries.
Full report at:
http://www.nytimes.com/2013/05/10/world/asia/karzai-says-us-can-keep-afghan-bases-after-2014.html?ref=asia&gwh=154393C4960FCD50343661BDDE9DF314
------------
Death Sentence in Bangladesh for War Atrocities
May 9, 2013
DHAKA, Bangladesh (Reuters) — A Bangladesh tribunal on Thursday convicted and sentenced an Islamist party leader to death for atrocities in the country's war of independence, generating a nationwide wave of violent protest from the leader's supporters.
The leader, Mohammad Kamaruzzaman, 61, assistant secretary general of the Jamaat-e-Islami party, was found guilty of genocide and torture of unarmed civilians during the 1971 war to break away from Pakistan, lawyers and tribunal officials said. Mr. Kamaruzzaman's lead defense lawyer, Abdur Razzaq, said he would appeal.
War veterans were among the hundreds on the street outside the court who cheered the verdict, the fourth war crimes conviction by the tribunal. More are expected.
"We are happy with the verdict as it fulfills the demands of the countrymen, especially the young generation," said Imran Sarker, who gave up his medical practice to lead the movement demanding the death penalty for all war criminals.
Bangladesh, which is still reeling from a garment factory collapse that killed more than 900 people last month, has also been rocked in recent months by protests and counter protests related to the complex legacy of the 1971 war. More than 100 people have been killed in clashes this year, most of them Islamist party activists and members of the security forces.
Full report at:
http://www.nytimes.com/2013/05/10/world/asia/islamist-leader-in-bangladesh-gets-death-sentence-for-war-atrocities.html?ref=asia&_r=0&gwh=8156B394EDBEF2A4364C8D62C81F3142
------------
Europe
Islamist Abu Qatada may leave Britain voluntarily
May 10, 2013
By Estelle Shirbon
LONDON: Islamist Abu Qatada will return to Jordan voluntarily if the Jordanian parliament ratifies a deal with Britain that ensures he will receive a fair trial, his lawyer said on Friday.
Britain's government has for years tried to deport Abu Qatada, who is accused of being Osama bin Laden's right-hand man in Europe, but judges have repeatedly blocked this on grounds he could receive an unfair trial, embarrassing the government.
Abu Qatada has never been charged with an offence in Britain, but faces terrorism charges in Jordan.
Full report at:
http://www.dailystar.com.lb/News/Middle-East/2013/May-10/216591-islamist-abu-qatada-may-leave-britain-voluntarily.ashx#axzz2SFVyHEbM
------------
Abducted European hostages freed in Yemen
09 May 2013
A Finnish couple and an Austrian student abducted in Yemen by al-Qaeda fighters more than four months ago have been freed and handed over to Omani authorities, a Yemeni official said.
The three Europeans, seized in Sanaa on December 21, were freed by local tribesmen on the border with Oman overnight Wednesday, the official said on Thursday.
"The three hostages were released overnight Wednesday and they are now with Omani authorities," said the official on condition of anonymity.
"They were kidnapped by al-Qaeda militants," the official added.
The three were seized by masked gunmen in an electronics shop in the capital and moved to different locations around Yemen, the official said, winding up in Hawf, a village on the Omani border.
He said Hawf residents had arrested the kidnappers and set free the hostages who were handed over to Omani authorities.
There was no immediate confirmation from Oman about their whereabouts.
At the end of March, the foreign minister of Finland held talks in Sanaa with President Abdrabuh Mansur Hadi about the fate of the hostages.
In February, the Austrian student appeared in a YouTube clip with a gun to his head, saying his captors would kill him unless Austria, Yemen and the European Union met their ransom demands.
Full report at:
http://www.aljazeera.com/news/middleeast/2013/05/20135917520490263.html
------------
French Muslims look to science to determine start of Ramadan
By Tom Heneghan
MAY 10, 2013
PARIS (Reuters) - France's Muslim leaders have agreed to end almost 1,400 years of Islamic tradition and use modern astronomy to determine the start of the holy month of Ramadan and other Islamic holidays.
The French Muslim Council (CFCM) voted on Thursday to start using astronomical calculations to set the date rather than relying on the naked eye to sight the new crescent moon.
Ramadan traditionally begins the morning after the sighting, which has in the past been delayed by a day or even two by weather.
Council President Mohammad Moussaoui said the old method played havoc with French Muslims' schedules for work, school and festivities. France's five million Muslims are the largest Islamic minority in Europe.
"Now all this will be simplified," he said, and promptly announced the Ramadan fast would begin on July 9 this year.
Turkey began using scientific calculations to set the start of Ramadan decades ago. Muslims in Germany, who are mostly of Turkish origin, and those in Bosnia also use this method.
Muslim minorities elsewhere in Europe often start Ramadan according to its beginning in their countries of origin, or in Saudi Arabia. That can lead to different ethnic groups starting it on different days, even in the same country.
"This is historic. Now all Muslims in France can start Ramadan on the same day," said Lyon Muslim leader Azzedine Gaci.
Full report at:
http://news.yahoo.com/french-muslims-look-science-determine-start-ramadan-191803050.html
------------
URL: https://newageislam.com/islamic-world-news/new-age-islam-news-bureau/confiscate-qawmi,-wahhabi,-atheist,-jamaat-islam-distorting-publications--sunni-islamist/d/11505