New Age Islam News Bureau
13 March 2018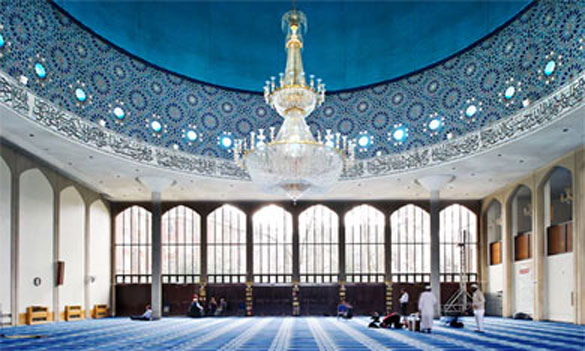 The main prayer hall of the London Central mosque, built in the 1970s and designed by architect Sir Frederick Gibberd. Photograph: The Historic England Archive
-----
• Come To America, Mohammed Bin Salman. But Free These Activists First.
• London Mosques Listed For Historic and Cultural Significance
• Hadiya Denies Meeting Salafi Hardliner Who Claimed To Have Converted Her to Islam
• Muslim World Considers Pakistan as Its Strength: Imam-e-Ka'aba
• PAS Manifesto Promises Islam-Based Prosperity
North America
• Come To America, Mohammed Bin Salman. But Free These Activists First.
• U.S. Braces for Return of Terrorist Safe Havens to Afghanistan
• Washington will act unilaterally on Syria: US envoy to UN
• Mississauga man who plotted terror attacks in New York City deserves life in prison: prosecutors
--------
Europe
• London Mosques Listed For Historic and Cultural Significance
• 'U.K. Committed To Safety of Muslims'
• Sadiq Khan reveals anti-Muslim death threats he has received as London Mayor
• Two charged in Muslim youth's fatal stabbing in Britain
• Arson attacks hit Turkish community sites in Germany
• European Parliament chief urges East Ghouta ceasefire
--------
India
• Hadiya Denies Meeting Salafi Hardliner Who Claimed To Have Converted Her to Islam
• Allah Has Sent Muslims as the Sympathizers for All: Maulana Rabey Hasni
• Muslim youth dies, five of seven 'Bajrang Dal members' arrested
• NIA raids Srinagar central jail, seizes Pakistan flag and jihadi material
• 'Terror Funding': NIA Summons T R Zeliang for Questioning
• B.Tech Student among Three Militants Killed In Kashmir
• Parents Influenced By Antinational Forces, Need Time To Accept Me as Muslim: Hadiya
• NIA charges ISI operative for blackmailing lady Army officer
• IS emir in J&K, two others gunned down
--------
Pakistan
• Muslim World Considers Pakistan as Its Strength: Imam-e-Ka'aba
• 1,671 Soldiers Deputed In Saudi Arabia
• MMA meeting ends without consensus on Fazl as president
• Sanjrani: Pakistan's first senate chair from Balochistan
• FIA files case against Hussain Haqqani over 'embezzlement of funds, misuse of authority'
• Pakistan releases senior Afghan Taliban leader
--------
Southeast Asia
• PAS Manifesto Promises Islam-Based Prosperity
• Islamic School Welcomes All Children, Fights for Their Civil Rights
• Perak Sultan: Wrong to Link Islam to Terrorism
• In action plan, Putrajaya wants human rights balanced with Islam
• Indonesian duo in terror plot face death penalty
• Police monitoring thousands of IS-linked social media accounts
• Indonesia urges religious tolerance for elections in June
--------
South Asia
• MoD says 22 Afghan Soldiers Martyred in Farah and Nimroz Clashes
• Abdullah Slams Taliban for Their Silence on Government's Peace Proposal
• US Defense Secretary Makes Unannounced Visit to Afghanistan
• Taliban likely to miss Afghan peace meeting, says host Uzbekistan
• Sri Lanka slammed over response to anti-Muslim attacks
• Suspected US drone strike kills at least six alleged terrorists
• Taliban overrun district centre in Afghanistan's west
--------
Arab World
• Syrian Army Seizes Terrorists' Chemical Weapons Workshop in Eastern Ghouta
• Daesh Takfiri Terrorists Shoot Dead 25 across Iraq
• Egypt faces 'global, regional terrorism' aided by foreign entities: minister
• US Military Threat Mean To Provoke Terrorists To Launch Chemical Attack: Syria
• More civilians leave Syrian rebel enclave as army advances
• Forces Press Ghouta Advance despite Calls to End 'Bloodbath'
• Syrian Army Imposes Control over Almost 60 Percent of Eastern Ghouta
• Syrian Army Frees 26 Children Kidnapped by Terrorists in Eastern Ghouta
• Bin Talal not allowed leave Saudi Arabia after release: Report
--------
Mideast
• Attack On Iran Embassy In London Aimed At Appeasing Saudis: Shamkhani
• Yemeni Forces Announce End of Battle against Al-Qaeda in Abyan
• More than a dozen Houthi militants killed in Yemen's Al-Bayda
• Car bomb hits military kitchen for UAE-backed Yemeni forces in Aden
• In retaliatory attacks, Yemeni snipers kill several Saudi troopers in Jizan
• Suicide attack targets Iranian Guards' headquarters in Balochistan
• Turkey begins debating changes to electoral laws
--------
Africa
• Tillerson Vows US 'Full Support' For Nigeria in Jihadism Fight
• Kenya: U.S. Lists Al-Shabaab Leaders in Kenya As Global Terrorists
• Somalia: Somali Forces Clash with Al Shabaab in Mogadishu, 1 Dead
• FG probes sources of Boko Haram IEDs' materials
Compiled by New Age Islam News Bureau
URL: https://www.newageislam.com/islamic-world-news/come-america-mohammed-bin-salman/d/114579
--------
Come To America, Mohammed Bin Salman. But Free These Activists First.
March 12, 2018
SAUDI CROWN Prince Mohammed bin Salman is on a mission to charm the West. The 32-year-old de facto leader of one of the world's largest oil producers paid a visit to Britain last week and is due in the United States next week. His supporters tout him as a bold modernizer who is moderating the severe Saudi version of Islam, granting greater freedoms to women and introducing desperately needed economic reforms. While other Arab states lean toward Russia, the crown prince appears eager to double down on Saudi bonds with the West.
All that is true to an extent, and welcome. Saudi women will finally be allowed to drive in June, and guardianship rules controlling them have been loosened. Religious police have been reined in, and cinemas are opening. The problem is that the liberalizing steps have been accompanied by even bolder acts of repression. Hundreds of Saudi businessmen and princes were arrested late last year and forced to hand over billions of dollars in assets to Prince Mohammed or the government without due process. According to a report in the New York Times, at least 17 were hospitalized for physical abuse, and one, a major general, died.
Those in the West who support the cause of Saudi modernization, and businesspeople who may wish to invest in it, badly need reassurance. Fortunately, there is a ready way for the crown prince to offer it, even before he arrives in Washington: He can release some of the dozens of political prisoners who were jailed for advocating some of the very reforms he is attempting to advance.
Prime among them is Raif Badawi, a blogger and activist who challenged the religious establishment and advocated women's rights. He was arrested in 2012 and in 2014 was sentenced to 10 years in prison and 1,000 lashes — 50 of which were cruelly delivered in a public square three years ago. In response to international protests, Saudi officials have hinted that Mr. Badawi could be pardoned, but he remains in prison. Now is the time to free him.
The same goes for members of the Saudi Civil and Political Rights Association, who called for political reforms and the reinterpretation of Islamic law. A court dissolved the group in 2013, and most of its members remain imprisoned. So, too, do Mohammed al-Otaibi and Abdullah al-Attawi, who were sentenced to long prison terms in January for founding a human rights organization, the Union for Human Rights, in 2013.
When The Post's David Ignatius asked the crown prince last month whether he would release some of the political detainees before his U.S. visit, the prince replied, "If it works, don't fix it." But if his modernizing is working, why does he need to imprison peaceful advocates of modernization? He should fix that before he arrives in Washington.
https://www.washingtonpost.com/opinions/global-opinions/come-to-america-mohammed-bin-salman-but-free-these-activists-first/2018/03/12/63c4016e-2617-11e8-874b-d517e912f125_story.html
--------
London Mosques Listed For Historic and Cultural Significance
13 Mar 2018
A landmark London mosque has been given Grade II* listed status in recognition of its historic, cultural and architectural importance.
The London Central mosque in Regent's Park was built in the 1970s, three decades after the acquisition of the site was authorised by Churchill's war cabinet in recognition of the importance of Islam in an increasingly multicultural society.
A design by the British architect Sir Frederick Gibberd was chosen in an international competition. According to Historic England, which recommended the mosque for listing by the Department for Culture, Media and Sport (DCMS), "his elegant scheme combined architectural traditions of British modernism with historic Islamic forms".
The mosque, which took two years to build at a cost of £6m, can hold several thousand worshippers in its grand prayer hall. Its golden dome and 44-metre minaret make it a London landmark.
The Fazl mosque in Southfields, south-west London, has been given Grade II listing. It was the first purpose-built mosque in London when inaugurated in October 1926 and cost £6,223. It is now the headquarters of the Ahmadiyya Muslim community.
The Guardian, which attended the opening ceremony, described it as "a graceful little building with a dome in concrete ... placed close to the District railway and in the midst of suburban villas. After the ceremony the imam called the faithful to prayer from the minarets high over the roofs of suburbia.
"It is built altogether with steel and concrete, and, unlike the eastern mosques, it has windows, as a concession to our climate … It is in its incongruous surroundings a thing of beauty."
The DCMS has also upgraded the listing of two other mosques. The Shah Jahan in Woking, Surrey, England's earliest purpose-built Muslim place of worship, has become the only Grade I listed mosque in the UK, upgraded from its previous Grade II* listing.
A mosque at 8 Brougham Terrace in Liverpool was promoted to Grade II* "in recognition of its significance in telling the story of the emergence of Islam in England", said Historic England.
Established in a Georgian terraced house in 1889, "it is an example of Liverpool's capacity to embrace different cultural and faith communities, as well as evidence of the social and cultural diversity that developed as a consequence of the city's role as an internationally significant port and trading centre".
Michael Ellis, the heritage minister, said:"By listing these beautiful mosques, we are not only preserving important places of worship, but also celebrating the rich heritage of Muslim communities in England."
A guide to Islamic architecture in Britain, published this month by Historic England, charts the architectural and social history of Islamic places of worship. The British Mosque, by architect Shahed Saleem, analyses different types of mosques to illustrate the diversity of the UK's Muslim population.
There are estimated to be almost 2,000 mosques and Islamic prayer rooms in the UK, serving 4.1 million Muslims, or 6.3% of the UK population.
https://www.theguardian.com/world/2018/mar/13/london-central-mosque-given-grade-ii-listed-status-historic-england
--------
Hadiya denies meeting Salafi hardliner who claimed to have converted her to Islam
13th March 2018
KOZHIKODE: In a major twist, Hadiya on Monday denied meeting Fasal Musthafa, a hardline Salafi practitioner, and his wife Shirin Shahana, who had claimed to have converted her to Islam."I haven't met Fasal Musthafa in person. I haven't even talked to him over the phone. I don't know him. I think he is the husband of Shirin Shahana, to whom I have talked over the phone. But I severed all my ties with them when I realised that the Islam they preached to me wasn't right. It was then I went to Sathya Sarani," she said.
But as per the statement of Musthafa, recorded in the judgment of the Kerala High Court in a writ petition (297 of 2016) filed by Hadiya's father Asokan K N, it shows that "they were introduced to Ms. Akhila by his wife's cousin, Sri. Shanib, that Ms. Akhila was in constant contact with his wife clearing her doubts about Islam. In 2015, September, his wife had called Ms. Akhila when they were at Ernakulam. Thereupon, she had come to the Kaloor bus stand. It was on the said date that his wife recited the necessary verses and made her accept Islam religion. According to him, she had assumed the name 'Aasiya'. She had travelled with him and his wife in their car and was dropped off close to her house."
In its status report submitted to the Supreme Court, the NIA had claimed "Akhila Asokan aka Hadiya was converted to Islam by puritan Salafi practitioners Shirin Shahana and Fasal Musthafa, who are understood to be in Yemen now."
On another query about an audio clip that her father had submitted to the High Court and Supreme Court claiming that Hadiya was even ready to go to Yemen, she denied saying anything of that sort. "I have not said I will go to Yemen. You must check if that is true. I don't want to speak anything much about the audio clip that my father submitted to the High Court or Supreme Court," she said.
http://www.newindianexpress.com/states/kerala/2018/mar/13/hadiya-denies-meeting-salafi-hardliner-who-claimed-to-have-converted-her-to-islam-1786131.html
--------
Muslim world considers Pakistan as its strength: Imam-e-Ka'aba
Mar 12 2018
ISLAMABAD: Prime Minister Shahid Khaqan Abbasi met with Imam-e-Ka'aba Al Sheikh Dr Sale bin Muhammad bin Talib at the PM Office on Monday.
The Imam-e-Ka'aba thanked the prime minister and the government for a warm welcome and observed that the entire Muslim world considered Pakistan as its strength and takes pride in its accomplishments.
Discussing regional situation and the challenges faced by the Muslim Ummah, Imam-e-Ka'aba appreciated the efforts of Pakistan for promoting peace in the region.
He appreciated the efforts and the steps taken by the government towards overcoming the menace of terrorism and expressed his best wishes for the government and the people of Pakistan.
Prime Minister Shahid Khaqan Abbasi said Pakistan greatly values its ties with the Kingdom of Saudi Arabia, which draw its strength from religious affinities, historic bonds and mutual respect.
The prime minister added that the people of Pakistan had great respect for the Imam-e-Ka'aba and consider his visit as a matter of honour.
The Prime Minister said the visit of Imam-e-Ka'aba would further strengthen existing close and brotherly ties between the people of the two countries.
The Prime Minister conveyed warm wishes, on his own behalf and on behalf of the people of Pakistan, for Khadim Al-Haramain Al-Sharifain His Majesty King Salman bin Abdulaziz Al Saud, the Crown Prince His Royal Highness Mohammad bin Salman bin Abdulaziz Al Saud, the Saudi government and the brotherly people of Saudi Arabia.
The Imam-e-Ka'aba was accompanied by Ambassador of Saudi Arabia Nawaf Saeed Al-Maliky and other Saudi dignitaries.
Minister for Communications Hafiz Abdul Kareem, Minister for Religious Affairs Sardar Muhammad Yousuf, Senator Professor Sajid Mir and senior officials were also present during the meeting.
https://www.geo.tv/latest/185954-pm-abbasi-meets-imam-e-kaaba-says-pakistan-values-ties-with-saudi-arabia
--------
PAS manifesto promises Islam-based prosperity
BY JERRY CHOONG
March 12, 2018
KUALA LUMPUR, Mar 12 — PAS has promised to deliver a more prosperous Malaysia as part of its 14th General Election manifesto, but did not specify how it would be done yet.
The party said a full manifesto will be launched this Sunday, March 18 by Datuk Seri Abdul Hadi Awang at the Majlis Syarahan Perdana event in Astana Banquet Hall, Cyberjaya.
PAS' research centre director Mohd Zuhdi Marzuki said among the cores that will be spoken about at length this weekend would be about helping the people understand that Islam is encompassing.
"Islam consists of all aspects in life, from good governance to economy and banking. It is not solely focused on crime and punishment, as some have mistaken it to be," he said today in a press conference at the PAS headquarters.
Meanwhile, deputy president Datuk Tuan Ibrahim Tuan Man said the manifesto, which consists of nine cores, was formulated by the Gagasan Sejahtera electoral pact, which includes the Ikatan and Berjasa parties and over 200 NGOs.
Themed 'Prosperous Malaysia', the manifesto's cores include forming a corruption-free government, increasing disposable income for Malaysians, reducing the income gap between urban and rural communities and increasing the quality of education.
The other cores include harmonising the legal system in accordance with Islamic Sharia, strengthening federalism by returning certain rights to state governments, augmenting the public's voice in line with democratic practices and improving the social support system for the needy.
"I am confident the cores, which were formulated to be high impact, will find support from various social layers, including non-Muslims and voters under the age of 40.
"Malaysians are presently faced with many issues including housing, student loan debts, living costs, among others, hence the focus of the cores, which emphasise on the younger generations," he added.
In addition, PAS secretary-general Datuk Takiyuddin Hassan said the party will hold an election fundraising dinner at De Palma Hotel, Ampang on March 25.
"We have also decided to postpone the Muktamar, in light of the upcoming elections.
"It was supposed to be held from May 4 to 5 this year, but now it will most likely take place after the elections," he said.
The Muktamar is a huge annual gathering and debate session held yearly by the party.
http://www.themalaymailonline.com/malaysia/article/pas-manifesto-promises-islam-based-prosperity#2l6opVHrq5SuHPdZ.97
--------
North America
U.S. Braces for Return of Terrorist Safe Havens to Afghanistan
By HELENE COOPER
MARCH 12, 2018
WASHINGTON — For 17 years, three successive presidents have told the American public that above all else, Afghanistan must never again provide "safe haven" to terrorist groups seeking to harm the United States and its interests.
But Defense Department and intelligence officials now say exactly that may be on the verge of happening.
With the war against the Islamic State in Iraq and Syria in its twilight, American officials are tracking foreign fighters veering to provinces in Afghanistan's north and east. Meanwhile, Al Qaeda remains a persistent and deadly threat across the country, a senior American general told senators last week.
And a report published in November by the Institute for the Study of War flatly stated that Afghanistan is "a safe haven for terrorist plots against the U.S. homeland."
Afghan officials believe there are now an estimated 3,000 Islamic State fighters in Afghanistan. Last week, the Islamic State in Khorasan released a video promoting Jowzjan Province in Afghanistan's north and Nangarhar Province in the east as the next spot for Islamic extremists to establish a caliphate now that the group has been routed from its de facto capital in Syria.
Titled "The Land of Allah Is Vast," the 25-minute video bragged about the strength of the Islamic State contingent that has taken safe haven in Tora Bora and Wazir Tanki, districts in Nangarhar Province that are both close to Afghanistan's border with Pakistan. It also mocked President Trump for using the so-called mother of all bombs, the largest conventional bomb in the American arsenal, in an unsuccessful effort last April to clear Islamic State fighters from a cave complex in nearby Achin district.
"From the mountains of Tora Bora, we send the glad tidings to the caliph of the Muslims, of the return of the caliphate to this area that was swarming with immigrants and supporters who fought for the caliphate to be established," a narrator intoned in the video, posted by the Washington-based SITE Intelligence Group, which monitors terrorist organizations.
Sweeping footage from the video showed militants training, fighting, eating and praying in remote Afghan areas.
In its report, the Institute for the Study of War found that the Islamic State was planning attacks in the United States from safe havens in Afghanistan and Pakistan. It said that residents in Jowzjan Province reported in November that Islamic State extremists from France, Sudan, Chechnya, Uzbekistan and Tajikistan were recruiting fighters and training child suicide bombers.
American military officials confirmed that the Islamic State, as well as the Taliban, has now established training camps in Jowzjan Province.
In October, the Justice Department unsealed charges against three Islamic State operatives in a plot for coordinated attacks in New York in summer 2016. Two of the men, according to the charges, said they were working with the Islamic State Khorasan in Afghanistan; one said he received authorization from the Afghanistan group for the planned attacks.
Most of the concerns about safe havens focus on the Islamic State's move into Afghanistan.
The Islamic State, a successor to Al Qaeda in Iraq, has joined a battle for turf and power among about 20 terrorist groups in Afghanistan, many of them with designs on the West. Together, they make up the highest concentration of extremist groups worldwide among 98 that have been designated as terrorist organizations by the United States or the United Nations, according to Gen. John W. Nicholson, the commander of American and NATO forces in Afghanistan.
Many experts say that General Nicholson's data may be conflated. Yet no one questions that the number of terrorist groups in Afghanistan has increased sharply in recent years — despite the 17-year presence of American troops.
"The Afghanistan war is almost old enough to vote, and we have more groups that want to launch attacks against the U.S. operating there than we did when we started," said Caitlin Forrest, an Afghanistan expert with the Institute for the Study of War.
Weeks after the Sept. 11 attacks, President George W. Bush sent a small group of Special Operations troops into Afghanistan. Ever since, top officials have repeatedly justified the war as necessary to ensure that Afghanistan never again allows safe haven for groups that targeted American interests.
"Afghanistan provided safe haven for Al Qaeda," Mr. Bush said during a 2006 news conference. "That's where they trained. That's where they plotted. That's where they planned the attacks that killed thousands of innocent Americans."
President Barack Obama picked up that mantle when he took office, sending a surge of American troops there in 2009 before declaring the end of the combat mission in Afghanistan a few years later. "As president and commander in chief, I've made it clear that I will not allow Afghanistan to be used as safe haven for terrorists to attack our nation again," Mr. Obama said on July 6, 2016.
Mr. Trump has struck a similar note. "We are committed to ensuring that Afghanistan never again becomes a safe haven for terrorists who want to commit mass murder of our citizens," Mr. Trump said in August, announcing a strategy to send an additional 4,000 American troops to the country.
But as the Islamic State in Khorasan has surged under Mr. Trump, and the Taliban and Haqqani networks have continued relentless attacks on civilian and military targets in Afghanistan, American officials have increasingly warned that safe havens are back. Administration officials cited a huge concern at United States Central Command, which largely runs the war in Afghanistan, about the return of safe havens. Russia is also worried that an increased Islamic State presence in Afghanistan will further radicalize the Caucuses; as a result, according to Central Command officials, Moscow began supporting the Taliban as a counterweight, sending its fighters weapons and night vision goggles.
At a Senate hearing last week, Lt. Gen. Robert P. Ashley, director of the Defense Intelligence Agency, said the Islamic State in Khorasan intended to "expand ISIS' self-declared caliphate and compete with the Taliban for recognition as the dominant militant group in the region."
He also said that Al Qaeda had "retained the intent and limited capability to threaten coalition and Afghan forces and interests in the region," a reference to the American-led NATO coalition that has been fighting in Afghanistan.
The official line at the Pentagon is that the textbook definition of "safe havens" — where insurgent groups can plan and conduct operations without disruption by significant external factors like arrest and airstrikes — has not quite been re-established in Afghanistan.
Military officials said American and Afghan forces were doing just enough to pressure training camps and strongholds that the Islamic State had built in remote and ungoverned areas of the country. One high-profile example of that, Central Command officials said, was the "MOAB" — the massive GBU-43/B Massive Ordnance Air Blast, nicknamed the "mother of all bombs," that General Nicholson ordered against the Islamic State cave complex.
But how the largest American conventional weapon came to be deployed, some 16 years after Mr. Bush first vowed that Afghanistan would never again provide safe haven to terrorist groups plotting against the United States, says much about the difficulties of keeping that pledge.
One year ago, after Islamic State insurgents seized a series of towns and villages in the east, American and Afghan Special Operations forces responded with Operation Hamza to take back the territory. In its initial stage, American commandos helped run the extremists from the area. But officers in the Afghan 201st Corps at the nearby Tactical Base Gamberi were reluctant to secure the territory to keep the extremists from returning.
"They did not have the appetite to go into southern Nangarhar and fight Daesh," said Maj. Richard Anderson, an American operations adviser to the 201st Corps, using another name for the Islamic State. During a fight a month earlier, the 201st Corps lost 16 men in one night.
So General Nicholson ordered that the huge bomb be dropped on Achin. Though it did initially clear the area of Islamic State fighters, many have since returned. And Afghan troops have urged American commanders to simply drop more bombs instead of launching ground battles.
"They said: 'You dropped the MOAB. Why don't you just drop another MOAB?'" Major Anderson recalled in an interview at Gamberi in August.
But securing territory — generally with constant patrols and ground intelligence — is necessary to prevent safe havens from being created. And now, Afghan and American officials said, the same area that was obliterated by the United States' biggest conventional bomb is once again being used by extremists to plot attacks against the Afghan government and the West.
Eric Schmitt contributed reporting.
Get politics and Washington news updates via Facebook, Twitter and the Morning Briefing newsletter.
https://www.nytimes.com/2018/03/12/world/middleeast/military-safe-havens-afghanistan.html?mtrref=www.google.co.in&gwh=D16A0E7C81BA76E6800750BBEA5431E6&gwt=pay
--------
Washington will act unilaterally on Syria: US envoy to UN
Mar 12, 2018
US Ambassador to the United Nations Nikki Haley has warned that if the Security Council fails to act on Syria, Washington is ready "to act if we must," just as it did last year when it bombed a Syrian government air base over allegations of chemical weapons attack.
Haley's comments on Monday are to back a draft resolution circulated at the council earlier in the day that demands an immediate 30-day ceasefire in Damascus and eastern Ghouta, where Syrian forces are targeting terrorist groups which are shelling the capital.
"It is not the path we prefer, but it is a path we have demonstrated we will take, and we are prepared to take again... When the international community consistently fails to act, there are times when states are compelled to take their own action," Haley told the 15-member Security Council, stressing that a cease-fire resolution adopted by the Security Council two weeks ago "has failed."
UN Resolution 2401, which was unanimously passed by the Security Council on February 24, called on the parties to the Syrian conflict to stop all hostilities and adhere to a humanitarian pause across Syria in order to ensure the safe and unhindered delivery of humanitarian aid, as well as medical evacuations for those injured.
UN Secretary-General Antonio Guterres briefed the council on Monday on the implementation of the resolution but Russia has said the ceasefire could not be imposed by the Security Council without a deal between the warring parties, while Damascus argues that a ceasefire ordered by the UN Security Council protects members of terrorist groups in eastern Ghouta.
"There has been no cessation of hostilities," Guterres said. "Violence continues in eastern Ghouta and beyond -- including in Afrin, parts of Idlib and into Damascus and its suburbs... No sieges have been lifted ... To our knowledge, not one critically sick or wounded person has yet been evacuated."
Russian Ambassador Vassily Nebenzia said some countries were accusing the Syrian government of carrying our chemical weapons attacks in a bid to "prepare the ground for the unilateral use of force against sovereign Syria," adding that Damascus has "every right to try and remove the threat to the safety of its citizens", describing the militant-held Eastern Ghouta, near the capital, as a "hotbed of terrorism."
For the past several years, the flashpoint enclave, home to some 400,000 people, has been under the control of multiple foreign-backed terror groups, particularly the so-called Jaish al-Islam Takfiri outfit and the Jabhat Fateh al-Sham Takfiri terrorist group, formerly known as al-Nusra Front, which have practically captivated the civilians and use them as human shield against the government's liberating forces.
The Syrian army troops, backed by pro-government forces, have launched a full-scale offensive to crush the terror outfits, which constantly launch mortar attacks against residential neighborhoods in and around Damascus, killing and wounding dozens of people.
Furthermore, the Ghouta-based militants are trying to prevent civilians from leaving the enclave as they constantly target the safe passages of al-Wafideen and Jisreen with shells and explosive bullets, killing a number of people so far.
Syria has been gripped by foreign-backed militancy since March 2011. The Syrian government says the Israeli regime and its Western and regional allies are aiding Takfiri terrorist groups that are wreaking havoc in the country.
Full report at:
http://www.presstv.com/Detail/2018/03/12/555252/Haley-US-act-unilaterally-Syria
--------
Mississauga man who plotted terror attacks in New York City deserves life in prison: prosecutors
March 12, 2018
U.S. prosecutors are requesting a life sentence for a Canadian man who admitted to plotting terrorist attacks on New York City landmarks at the behest of a high-ranking Daesh, also known as ISIS or ISIL, operative.
Abdulrahman El Bahnasawy, a 20-year-old from Mississauga pleaded guilty in October 2016 to planning bombings and mass shootings at Times Square, in subway stations and at concert venues while still a teenager.
With his sentencing scheduled for April 9, American federal prosecutors have asked a judge to send El Bahnasawy to prison for life, in accordance with U.S. guidelines for punishing similar terror offences.
"El Bahnasawy's willingness to kill innocent civilians and martyr himself for ISIS (Daesh), his absolute commitment to ISIS (Daesh) at the time of his arrest, and his deeply disturbing conduct since then … powerfully support a single conclusion: the incapacitation of El Bahnasawy should be total and lifelong," U.S. prosecutor Geoffrey Berman said in a written submission filed to a New York federal court.
El Bahnasawy's lawyers have requested a sentence "no greater than necessary to comply with (the law)," and suggested he be released from custody in his mid-twenties, "when his cognitive development will be complete."
El Bahnasawy, a Canadian citizen who emigrated from Kuwait as a child, spent several months in treatment at the Centre for Addiction and Mental Health in Toronto in 2014, court documents show.
In a handwritten letter submitted to the court on March 2, El Bahnasawy apologized for his behaviour and asked for a "second chance," recounting his years of substance abuse, mental health issues and multiple suicide attempts.
"I want to experience life away from drugs and away from war and violence," he wrote. "I want a stable life and I want to stop having extreme turns that keep getting me in trouble, like my turn towards drugs or my turn towards jihad."
But Berman argued in his submission to the court that neither mental illness nor addiction justify, explain or mitigate El Bahnasawy's criminal actions.
"If anything, El Bahnasawy's asserted instabilities and addictive tendencies only further underscore the need for a sentence of life imprisonment to protect the public from a future attack or other criminal conduct by El Bahnasawy," Berman said.
Since being incarcerated in a New York corrections facility, El Bahnasawy has used opioids and marijuana multiple times, and "marked the walls of his prison cell with images and statements expressing his support for ISIS (Daesh) and terrorist attacks, and warning that more attacks were to come," Berman said in his submission.
One photo of El Bahnasawy's cell walls submitted to court shows a scrawled list of high-profile terror attacks, including 9/11 and the Boston Marathon bombing, encircled by what appears to be a heart and the words, "and more coming."
El Bahnasawy began communicating online with Daesh followers in 2015, Berman said in his submission.
In 2016, at the request of a high-ranking member of the terror organization, El Bahnasawy began planning a suicide attack on New York that was to include the detonation of improvised explosive devices at Times Square and in subways, and mass shootings at concert venues, court documents show.
El Bahnasawy recruited other purported Daesh sympathizers to help co-ordinate and carry out the attacks, including one man who, unbeknownst to him, was an undercover FBI agent.
On May 21, 2016, under the guise of taking a family vacation, El Bahnasawy, then 18, drove to Cranford, N.J., with his parents and sisters to set the attack in motion, unaware that he was being heavily monitored by U.S. law enforcement.
He was arrested by the FBI upon his arrival.
Full report at:
https://www.thestar.com/news/canada/2018/03/12/mississauga-man-who-plotted-terror-attacks-in-new-york-city-deserves-life-in-prison-prosecutors.html
--------
Europe
'U.K. committed to safety of Muslims'
MARCH 13, 2018
Minister reassures MPs following concerns over offensive letters sent to Muslims
The British government has promised tough action against hate crimes but has rejected calls for a legal definition of 'Islamophobia', following the discovery of threatening letters sent out to Muslims in London and beyond. The letters are currently under investigation by the police.
"This government wants to give a strong message to Muslim people across this country… we are committed to their safety and security," said Victoria Atkins, a Home Office Minister, in Parliament following an urgent question from Labour MP Yasmin Qureshi in Parliament calling for clarity on the government's strategy for tackling the rising issue of Islamophobia.
Ms. Atkins said that letters such as those sent at the weekend would be treated with the "utmost seriousness".
Tackling extremism
"The issue of anti Muslim and far-right extremism is a focus for the government," she said, pointing to the government's anti-radicalisation programme, Prevent, which she said did not focus just on Islamic radicalisation but other forms of extremism, including of the far right.
However she rejected the suggestion from Conservative backbencher Anna Soubry that a legal definition of 'Islamophobia' was needed to tackle what Ms. Soubry described as an "act of incitement to terrorism".
The Islamophobia monitoring charity TellMAMAUK reported over the weekend that it was working with police after receiving reports of an offensive letter being sent to Muslims in London, the Midlands and Yorkshire. The letters refer to a reward system — from 10 points for verbally abusing a Muslim to 100 points for beating up a Muslim.
"We take religious hatred extremely seriously and my officers will be carrying out a full and thorough investigation in response to these reports," said Martin Snowden, head of counterterrorism policing in North East England. Other police forces across the country called on any of those impacted to contact police forces or charities.
Increasing attacks
The letters come amid rising concern about Islamphobia and attacks on Muslims in the U.K. Figures published by the Mayor's office in London last month revealed a 40% rise in anti-Muslim hate crime in the year to January.
Last week, the House of Commons Home Affairs Committee wrote to Google, questioning why material from the far-right anti-Muslim group National Action continued to be hosted on YouTube, despite promises that it would be removed.
http://www.thehindu.com/news/international/uk-committed-to-safety-of-muslims/article23165634.ece
--------
Sadiq Khan reveals anti-Muslim death threats he has received as London Mayor
Mar 13, 2018
London Mayor Sadiq Khan has revealed how strangers have labelled him a "gay Muslim terrorist" and wished he was killed.
Some people have said he should be deported; another wished he would "blow himself up".
The Mayor highlighted some of the vicious abuse and threats he has received on Twitter in an effort to highlight racism and its effect on young people.
He spoke out after a former Tory minister urged the Government to introduce a "proper legal definition of Islamophobia" following reports that anti-Islamic letters were posted across Britain at the weekend.
West Yorkshire Police are investigating a possible hate crime after receiving a string of reports of letters advertising "Punish a Muslim Day".
Social-media users in London and Birmingham also reported receiving the letters.
Mr Khan, a practising Muslim, read out a selection of the inflammatory tweets he has received to a business event in Texas in the US.
"Treason is still a crime punishable by death in this country. Your name will be at the top of that list," @Latino_Amante wrote to him last year.
Then just two months ago, @SpeedwagonPRST wrote: "I'd pay for someone to execute Sadiq Khan."
Last June @billwall69 tweeted: "I say kill the Mayor of London and you will be rid of one Muslim Terrorist?"
Then last August, @MemAuSe wrote: "Deport all Muslims and make London white again, all problems will be gone".
The next month @warprivia tweeted: "@sadiqkhan is just a gay muzzie terrorist."
In 2016, @Emmanuel_Maris tweeted: "Muslims have no dignity. I wish Sadiq Khan would blow himself up like they all do. He might get his 12 virgins."
Mr Khan said: "I could go on and on, but I won't. I don't read these out to be portrayed as a victim, or to ask for sympathy.
"But ask yourself this - what happens when young boys and girls from minority backgrounds see this kind of thing on their timelines – or experience it themselves?
"Or someone thinking about becoming a politician?
"And what about young girls and women who are being driven from these platforms – reversing our long fight for gender equality?"
Mr Khan, who was born in south London to a British Pakistani family, was given the Politician of the Year award at the British Muslim Awards in 2016.
Anna Soubry, a former business minister, called for a legal definition of Islamophobia following the series of letters sent to Muslims at the weekend.
"This isn't really a hate crime. This is actually an act of blatant incitement to terrorism," said Ms Soubry.
Victoria Atkins, minister for crime, safeguarding and vulnerability, condemned the letters as "abhorrent".
Labour MP Yasmin Qureshi, asking an urgent question in the Commons, said the letter calling for an attack on Muslims on April 3 offered rewards of 10 points for verbal abuse, 50 points for throwing acid, 1,000 points for bombing a mosque and 2,500 points to "nuke Mecca".
"Can I ask the minister if she can explain why no government minister in the last eight years has ever made a speech on the rise of anti-Muslim hatred," she asked.
Ms Atkins said the Government had brought in new plans to tackle hate crime as well as investing millions of pounds to protect places of worship.
"The Government condemns the content of these letters as clearly abhorrent with no place in decent society," she said. "In terms of the definition of Islamophobia, there are many definitions. The definition that is used by the Runnymede Trust tends to be the one that I think most people adhere to.
Full report at:
http://www.independent.co.uk/news/uk/home-news/sadiq-khan-death-threat-muslim-london-mayor-racist-islamophobic-gay-terrorist-a8252446.html
--------
Two charged in Muslim youth's fatal stabbing in Britain
Mar 13 2018
OLDHAM: British police have formally charged two men over the murder of a youth that took place here on a street earlier on Friday, it said in a statement issued Tuesday.
"Two men have been charged with murder after a man was stabbed to death in Oldham," Greater Manchester Police wrote.
"Mohammed Jama (01/01/1998) of Ashley Street, Oldham, and Musa Jama (01/01/1996) of Ashley Street, Oldham, have been charged with murder and the possession of a bladed weapon."
Mohammed Nabeel Hassan, the deceased, was discovered by passersby on Waterloo Street "at around 3.20pm" after "reports that a man was unconscious and not breathing on Waterloo Street".
It is believed that Hassan was walking home after prayers at the nearby Jalalabad Jama Masjid (Mosque) when he was attacked with a knife, Daily Mail reported. He was found "with a single stab wound".
Hassan is survived by a wife, whom he had recently wed, as per a family friend.
At the time, Chief Superintendent Neil Evans — the territorial commander for GMP's Oldham borough — had said: "Mohammed Nabeel's family has to deal with the most tragic news, but have been extremely calm and have supported us with our investigation, which I would like to thank them for.
"[…] Speculation about what has happened is not helpful to the investigation nor to the family who are grieving the loss of their son, brother and friend.
"Someone knows exactly what happened and who is responsible for bringing a premature end to Mohammed Nabeel's life," according to Manchester Evening News.
Full report at:
https://www.geo.tv/latest/186031-two-charged-in-muslim-youths-fatal-stabbing-in-britain
--------
Arson attacks hit Turkish community sites in Germany
13 March 2018
Arsonists on Monday struck a Turkish community center in Germany, the latest in a string of attacks which Turkey has sometimes blamed on Kurdish militants amid its military offensive in northern Syria.
Unknown attackers hurled incendiary devices in the center of the town of Ahlen, police said, also telling national news agency DPA they were not ruling out a political motive.
At the weekend Molotov cocktails were thrown at Turkish community mosques in Berlin and the town of Lauffen, a cultural center in Meschede and a Turkish vegetable shop in Itzehoe, where the windows of a mosque were also smashed. No-one was wounded in the attacks.
Police arrested three Syrian men, who denied involvement, after the Meschede attack, DPA reported. The attacks came on a weekend that saw several demonstrations against Turkey's military operation to oust the Kurdish People's Protection Units (YPG) from the Afrin region of northern Syria.
Pro-Kurdish demonstrators rallied in Hamburg Saturday, where rocks were thrown at the Turkish consulate, and on Sunday at Duesseldorf airport some protesters scuffled with police who employed pepper spray.
Turkey's foreign ministry voiced "deep concern" about the attacks and said on Sunday that the incident in Lauffen had been claimed by a group affiliated with the banned Kurdistan Workers Party (PKK).
Islamophobic groups
It added that there had been "a considerable increase in the number of attacks against Turkish mosques in Germany recently by racist and Islamophobic groups as well as the PKK terrorist organization".
"We expect the perpetrators of these attacks to be caught as soon as possible and brought to justice and necessary measures to be taken by the German authorities to prevent the recurrence of such attacks."
On Monday Turkey summoned the German ambassador over the recent upsurge of attacks targeting Turkish mosques and cultural associations in Germany, a Turkish government spokesman said.
"The necessary warning was conveyed" to the German ambassador and a diplomatic note sent to Berlin, Deputy Prime Minister Bekir Bozdag said after a cabinet meeting in Ankara.
A pro-Kurdish website has published purported videos of the Lauffen and Meschede attacks, claiming they were carried out by Kurdish youths.
The Kurdish Community in Germany group sharply condemned the attacks as well as social media calls that were "urging Kurdish youths to employ violence against Turkish institutions".
Its chairman Ali Ertan Toprak said such attacks "endanger innocent human lives and politically damage primarily the cause of the Kurds while jeopardising peaceful coexistence in Germany".
Full report at:
https://english.alarabiya.net/en/News/middle-east/2018/03/13/Arson-attacks-hit-Turkish-community-sites-in-Germany.html
--------
European Parliament chief urges East Ghouta ceasefire
13 March 2018
The president of the European Parliament on Monday called for the immediate implementation of a UN Security Council resolution on a ceasefire in the besieged Syrian enclave of Eastern Ghouta.
"No interest, no cause can justify the ethnic cleansing, the barbarism, the massacre of innocence," Antonio Tajani said during the opening speech of the European Parliament's General Assembly in Strasbourg, northeastern France.
Tajani appealed in the name of the European Parliament for the resolution's implementation to end the 'tragedy' in the opposition-held suburb of Damascus.
On Feb. 24, the UN Security Council unanimously adopted Resolution 2401, which calls for a month-long ceasefire in Syria -- especially Eastern Ghouta -- to allow the delivery of humanitarian aid.
Despite the resolution, the regime and its allies began a major ground operation on March 3 backed by Russian air power aimed at decisively capturing the enclave.
"There is an absolute urgency for a sustainable ceasefire. Civilians have to be protected. The injured and the sick have to be evacuated and security has to be the goal. All of this must be done under the Geneva process," Tajani said.
"Humanity is in ruins in Syria; let us not lose ours," he added.
Home to some 400,000 people, Eastern Ghouta has remained the target of a crippling siege by the Bashar al-Assad regime for the last five years.
The regime has stepped up its siege in recent months, preventing the delivery of badly needed humanitarian aid and leaving thousands of residents in need of medical treatment.
Last week, a UN commission of inquiry released a report accusing the Assad regime of committing war crimes in Eastern Ghouta, including the use of chemical weapons against civilians, causing mass starvation and forcibly preventing medical evacuations.
Full report at:
http://www.worldbulletin.net/europe/199732/european-parliament-chief-urges-east-ghouta-ceasefire
--------
India
Allah has sent Muslims as the sympathizers for all: Maulana Rabey Hasni
March 12, 2018
Samastipur: Addressing the 'Payam-e-Insaniyat' conference organised by the All India Muslim Personal Law Board, Maulana Rabey Hasni Nadwi said it is important to practice the knowledge that is obtained. He claimed that 'when we followed the teachings of the Holy Quran we gained victory in the entire world. When we renounced the message of the humanity we faced destruction in the entire world. We need to propagate the message of humanity. When we gave the message of humanity we became the greatest community in the world. When we lost morals our community is being looked upon with contempt. He further said Allah sent us as the sympathizer of the whole world. Misconceptions are being spread against us hence we are scorned at. To dispel the misconceptions we should practice the teachings of Prophet Mohammed (pbuh).
The organiser of Payam-e-Insaniyat Movement, Maulana Bilal Abdul Hai said Allah has made us the khair-e-Ummah. Hence we should not restrict ourself. Whatever we are facing today is due to our demoralization and bad conduct. He stressed the need to maintain good relations with our countrymen.
Prof Shakeel Ahmed Qasmi said the conference is dedicated to the message of humanity. We should pledge that we would give good in return to bad.
https://www.siasat.com/news/allah-has-sent-muslims-sympathizers-all-maulana-rabey-hasni-1328774/
--------
Muslim youth dies, five of seven 'Bajrang Dal members' arrested
March 13, 2018
A 32-year-old Muslim man, Farnaz Saiyed, who was attacked by alleged Bajrang Dal members at Chhatral town of Gandhinagar district a week ago, died on Monday at a hospital here. His mother, Roshanbiwi Syed, who was also injured in the attack, is recuperating at the hospital.
Meanwhile, police arrested five of the seven accused. "The other two will be arrested soon. We are looking into the matter and probe is on," said SP of Gandhinagar Virendra Yadav.
According to family members, Farnaz and his mother were attacked by Bajrang Dal members for disobeying their diktat of remaining indoors. "The tension started on December 6 when Bajrang Dal led a procession through the Muslim-dominated Kasbavaas in Chhatral to mark the demolition of the Babri mosque. Both had gone to graze their cattle on March 5, when they were attacked by Bajrang Dal members. They cut my sister's fingers and hit my nephew on his head. This is not the fist time that such an attack has taken place in our village," said Farnaz's uncle Ahmed Hussain Sabbir.
Police admitted that incidents of communal violence have been recurring at the town. "In other cases that have happened in the recent past, we have made arrests and some matters are also in the court. We are aware of the recurring incidents and we are ensuring that there is no tension," said the SP.
Meanwhile, family members allowed postmortem of Farnaz after a daylong agitation by members of the Muslim community. They were demanding arrest of the accused and compensation to the family. Vadgam MLA Jignesh Mevani, who visited the hospital, said, "Time and again memorandums have been given to the Collector and the SP about violence in the area, but no action has been taken."
Full report at:
http://indianexpress.com/article/cities/ahmedabad/muslim-youth-dies-five-of-seven-bajrang-dal-members-arrested-5095715/
--------
NIA raids Srinagar central jail, seizes Pakistan flag and jihadi material
March 12, 2018
The NIA on Monday raided the central jail here and seized over two dozen mobile phones, jihadi literature and a Pakistani flag apart from data hardware, official spokesperson said. At least 20 teams of the central probe agency, with commandos of the NSG and drones in tow, searched the barracks and open ground of the high-security prison that houses some of the most wanted and dreaded terrorists, including those from Pakistan.
The searches, the spokesperson said, were carried out in connection with an investigation over the arrest of two youths in Kupwara – Danish Ghulam Lone and Sohail Ahmed Bhat. The two youths had claimed that the fresh recruits of Al-Badr, a proscribed terrorist organisation, were being sent across for arms training in furtherance of a conspiracy hatched from inside the Central Jail, Srinagar.
The searches started early morning and continued till late afternoon during which all the barracks and the open ground were thoroughly searched with the help of well-trained teams and deep search metal detectors. A close watch was kept on the entire operation with the help of drones, the spokesman said. During the search, 25 mobile phones, some SIM cards, 5 secure digital cards, 5 pen drives, one iPod and large number of documents and articles, including a poster of Hizbul Mujahideen, a Pakistani flag besides jihadi literature, were seized, he said.
Full report at:
http://indianexpress.com/article/india/nia-raids-srinagar-central-jail-seizes-pakistan-flag-and-jihadi-material-5095366/
--------
'Terror Funding': NIA Summons T R Zeliang for Questioning
March 13, 2018
Former Nagaland Chief Minister T R Zeliang was summoned by the NIA for questioning in a case of alleged terror funding, days after being ousted from office following Assembly polls. The agency had summoned his OSD and two office staff for questioning just before the elections.
A notice sent to Zeliang on March 11 has asked him to appear before the investigating officer at the NIA headquarters in Delhi. The notice has asked Zeliang to carry "relevant documents" related to the case. However, sources said that Zeliang has expressed his inability to appear before the NIA on Tuesday as the Assembly is in session in the state. He has sought more time from the NIA and is now likely to appear before the agency on March 17, the sources added.
The case pertains to alleged extortion from at least 14 government departments by groups such as NSCN (K), NSCN (IM) and Naga National Council.
Zeliang, who heads the Nagaland People's Front (NPF), ran the previous government in Nagaland in alliance with the BJP. However, just before the elections in February, BJP entered into an alliance with NPF breakaway Nationalist Democratic Progressive Party (NDPP), led by Neiphiu Rio. Though NDPP notched up less seats than NPF, it formed the government with help from the BJP.
The notice sent to Zeliang has asked him to reach NIA headquarters at 10 am, "along with documents relevant to the payments received from the government departments for the purpose of answering certain questions relating to investigation of the instant case."
NIA had questioned Ruokuovizo Chupno, OSD to Zeliang, and two public relations officers. NPF press secretary Sebastian Zumvu had then said: " Since they (BJP) are no longer in coalition with us for the elections, this is what they are doing. NIA is a central agency and it would be fair for them to enquire into large money withdrawals by BJP candidates and their families from banks just before the polls."
On January 18, 2017, the NIA had conducted searches in various government departments in Nagaland and seized receipts that showed payments to the tune of Rs 2 crore. In an official statement, the agency had said, "These seizures prima facie indicate the connivance of these government organisations in funding various underground organisations operating in Nagaland."
Full report at:
http://indianexpress.com/article/india/terror-funding-nia-summons-t-r-zeliang-for-questioning-5095705/
--------
B.Tech student among three militants killed in Kashmir
12th March 2018
SRINAGAR: Three militants including a B.Tech student from Srinagar who was driven by pan-Islamic ideology were killed in an encounter with security forces in south Kashmir's Anantnag district of Jammu and Kashmir.
Inspector General of Police (IGP) Kashmir, S P Pani told New Indian Express that security forces launched a combing and search operation in Hakura area of south Kashmir's Anantnag district last night after receiving information about presence of militants there.
He said militants hiding in the area fired on the search party. "The fire was returned by the troops and in the ensuing gunfight, three militants were killed".
The IGP identified two of the slain militants as Eesa Fazli of Srinagar and Syed Owais of Kokernag.
He said identity of the third militant is being ascertained.
He said Fazili, who was a BTech student and had joined militancy in August last year, and Owais were affiliated with Tehreek-ul-Mujahideen.
Police said arms and ammunition including AK 47 rifles, pistols, hand-grenades, were recovered from the encounter site.
Asked whether Fazili and Owais were associated with ISIS or Zakir Musa-led Al-Qaeda affiliate, IGP said, "We are ascertaining such reports".
Fazili, who was driven by pan-Islamic ideology, had joined B Tech (IT) course in Baba Ghulam Shah Badshah University (BGSBU) in Rajouri in 2014 had joined the militancy last year and pledged his support to "Ansar Ghazwat-ul-Hind" headed by Zakir Musa.
Owais, who was also a BTech student, had joined course in Electronics and Communication from BGSBU in November 2017.
Thousands of people attended the funeral prayers of Fazili at his native place in Soura area of Srinagar. The funeral prayers were led by his father Noor-un-Naeem Fazili. The black ISIS flags were waved by some youth during his funeral procession.
People in large numbers also attended the funeral prayers of Owais at his native place at Guhnoo, Kokernag area of Anantnag district. His funeral prayers were led by his father, Syed Mohammad Shafi, a retired zonal education officer.
The Militant group Tehreek-ul-Mujahideen spokesman Ameer Sheikh Jameel-ur-Rehman in a statement said two of the slain militants Fazili and Sabzar Ahmad Sofi killed in the encounter belonged to the outfit while Owais belonged to Hizbul Mujahideen.
Police had launched a massive manhunt for Fazili for his involvement in killing a policeman guarding residence of separatist leader Fazal Haq Qureshi in Soura area of Srinagar last month. He had also snatched rifle of the deceased policeman.
After the incident, ISIS through its propaganda channel had claimed responsibility of the attack and also displayed picture of the rifle snatched from policeman killed in the attack.
After killing of three militants in the overnight encounter, authorities imposed restrictions in parts of Srinagar and south Kashmir, closed educational institutions in the Valley and postponed all the exams.
Police also placed Syed Ali Geelani, Mirwaiz Umar Farooq and other separatist leaders under house arrest while JKLF chairman Mohammad Yasin Malik alongwith his close aide Noor Mohammad Kalwal were arrested by police.
Full report at:
http://www.newindianexpress.com/nation/2018/mar/12/btech-student-among-three-militants-killed-in-kashmir-1786045.html
--------
Parents influenced by antinational forces, need time to accept me as Muslim: Hadiya
Mar 13, 2018
Kozhikode (Kerala): Days after the Supreme Court scrapped the Kerala High Court order annulling the marriage of Hadiya, the 24-year-old woman on Monday demanded the state government to compensate for the losses she incurred during her two years of struggle.
Clarifying to reporters that she had not demanded any compensation from her parents, Hadiya said, "There were some reports in the media that I demanded compensation from my parents. That is absolutely wrong. I sought compensation from the state government".
"My legal struggle lasted roughly for two years and the six months I spent with my parents were horrible. I was literally under house arrest. I lost two precious years of my life. I don't think my parents would want to harm me but they were under the influence of some antinational forces," Hadiya was quoted as saying by The Times of India.
Not elaborating on the "antinational forces" she earlier claimed, Hadiya added, "They are using them (parents) for political benefits".
On being asked whether she would visit her parents, she said that she would not meet them as they needed time to accept her as a Muslim.
"My parents also need some time to come to terms with all that has happened. I am not going to meet them this time. They need some time to accept that I am a Muslim," NDTV quoted Hadiya as saying.
The Supreme Court on March 8 restored Hadiya's marriage with Shafin Jahan stating that she was free to live with her husband and "pursue her endeavours".
Hadiya, who was born to a Hindu couple in Kerala, made headlines after she converted to Islam and married a Muslim man against the wishes of her parents.
Full report at:
http://www.asianage.com/india/all-india/130318/parents-influenced-by-antinational-forces-need-time-to-accept-me-as-muslim-hadiya.html
--------
NIA charges ISI operative for blackmailing lady Army officer
Mar 12, 2018
NEW DELHI: The NIA on Monday filed a chargesheet against an alleged ISI operative for blackmailing a lady army officer of threatening to circulate her morphed pictures on social networking site.
The agency, which registered a case in September last year, filed the charge sheet against Mohammed Parvez before a designated NIA court.
The allegations are that accused had sent obscene and morphed WhatsApp images and messages from a mobile phone and Facebook ID with a veiled threat to circulate them on social media, to the complainant, thereby causing mental harassment to her as well as threatening to ruin her reputation.
"This was done in pursuance of a deep-rooted conspiracy hatched by Pakistani Intelligence officials and the arrested accused (Parvez) with a view to compromise an officer of the Indian Army into divulging national security secrets," an NIA spokesman said here.
The chargesheet has been filed against accused 43-year-old Pervez, a resident of walled Delhi, under various sections of Indian Penal Code, Information Technology Act and anti-terror law UAPA.
Parvez was arrested on September 13, 2017 by the local police but after it was found that he had visited Pakistan a few times, the matter was transferred to the Special Cell for probe. The NIA took over the case later.
A woman colonel filed a police complaint in Dwarka, alleging that she had been receiving morphed and obscene pictures through WhatsApp from two unknown numbers.
She was threatened that if she did not speak to the sender of the messages, the pictures would be circulated on the Internet, the police said.
After she blocked the two numbers, the woman colonel's daughter started receiving morphed pictures and messages from the Facebook profile of a woman, they said.
The person sending the pictures and messages asked the woman's daughter to speak to the sender and threatened her with uploading the pictures on social media.
The woman colonel approached the police and a case was registered. On the basis of the information gained through the Facebook profile and the records of the two numbers, Parvez was arrested.
Full report at:
https://timesofindia.indiatimes.com/india/nia-charges-isi-operative-for-blackmailing-lady-army-officer/articleshow/63275013.cms
--------
IS emir in J&K, two others gunned down
Rajshekhar Jha and M Saleem Pandit
Mar 13, 2018
NEW DELHI / SRINAGAR: Islamic State terror group emir in Jammu & Kashmir Abu Yahya was among three terrorists killed in an encounter with security forces in south Kashmir's Anantnag early on Monday.
IS commander, Eisa Fazili aka Abu Yahya al Istashadi, was a top target for security forces in the last six months. The other two have been identified as Syed Owais Shafi alias Abu Barra al Kashmiri and Sultan al Hyderabadi alias Abu Zarr al Hindi.
The trio was earlier affiliated to groups like the Tehreek-ul-Mujahideen (TeM) and Hizbul Mujahideen but had pledged allegiance to Islamic State (ISJK) last year. They are part of a small but significant number of terrorists who have left groups like HM, Lashkar or Jaish to declare their allegiance to IS. The group sees Hurriyat as "compromised" politicians and its online propagation is resulting in a steady stream of recruits.
Full report at:
https://timesofindia.indiatimes.com/india/is-emir-in-jk-two-others-gunned-down/articleshow/63277030.cms
--------
Pakistan
1,671 soldiers deputed in Saudi Arabia
March 13, 2018
Islamabad - As many as 1671 army personnel are deputed in Saudi Arabia , the National Assembly was told on Monday.
Minister for Defence Khurram Dastgir Khan said in his written reply that 912 personnel had been deployed under Saudi Ministry of Defence while 759 had been under the Ministry of Interior of the kingdom.
Of the 912 personnel, 742 belong to the army, eight from Navy and 62 from the air force. The Pakistani forces serving under the Saudi Ministry of Interior comprised of 653 from military, 56 from navy and 50 from the air force.
Other than Saudi Arabia , the Pakistani forces are serving in seven other countries as well, the reply said.
After Saudi Arabia , the second largest number of Pakistanis armed forces' personnel is deployed in Qatar.
There is one army person in Australia, 15 in Bahrain, four in Brunei and six in Jordan.
As many as 63 are serving in Oman, 629 in Qatar, and 66 are deployed in the United Arab Emirates.
These personnel are on deputation under various memoranda of understanding and agreements with the respective countries. The defence minister clarified that no financial cost was borne by Pakistan on account of the deputations.
He said that presently, a total of 6,118 Pakistani troops had been deployed on the United Nation missions.
In December 2013, a total of 7,684 troops were deployed in UN missions. From 2014, 2015 and 2016, the total number of troops deployed abroad was 7490, 7389 and 6893 respectively.
The highest number of Pakistani troops had been deployed in Congo, where 3491 personnel are serving currently. The second destination is the Central African Republic where 1,139 Pakistanis are serving.
486 cases tried by military
courts since 2015, NA told
The government on Monday told the National Assembly that 486 cases have been tried by military courts since 2015.
In his reply to the National Assembly Secretariat, Defence Minister Khurram Dastagir said that of the total 486 cases, 333 cases have been finalized and 186 individuals awarded death penalties and 79 given life imprisonment.
The reply further said that 101 cases were under trial, while 52 cases have been dropped.
According to the document, as many as 20 individuals were given 20-year rigorous imprisonment (RI), one individual 18-year, one 16-year and 13 were awarded 14-year RI.
Two were given sever-year rigorous imprisonment each, while only one individual was acquitted.
The cases against 52 individuals were dropped, the reply said.
The minister further said that 25 cases were pending in the military courts of appeal, while
He said that the army chief has received 151 mercy petitions against the sentences and he has rejected all of them.
President has processed or rejected 62 mercy petitions while 89 are under process with the Ministry of Interior.
The reply said that 74 cases were under process in superior courts. The Supreme Court is hearing 49 cases, the Lahore High Court, the Peshawar High Court and the Sindh High Court are processing three, six and 16 cases respectively, the reply said.
The military courts were established through an amendment to the Constitution in early 2015 for a period of two years. In January 2017, after three months of hectic consultations by parliamentary parties, the parliament revived the special courts for another two years, on the request of armed forces.
After the expiry of initial two years, the Inter-Services Public Relations announced that a total of 274 cases were tried and 161 individuals were awarded death sentences. As many as 12 were executed, while 113 were awarded varying degree imprisonments.
The special courts had remained controversial since they were established in the wake of the brutal terrorist attack on Army Public School Peshawar, where around 150 students were killed and as many injured.
Many believe that the judicial system must be reformed and instead of empowering the military to try civilians, the judicial system must be strengthened.
They argue that no matter how fair trial may be conducted in the military courts, it cannot be an alternative to the civilian courts where an accused enjoys the greater right to defence and has ample opportunity to prove his innocence.
Others believe that since terrorists have struck the very fabric of the society, they must be dealt with sternly to make the country safe. They argue that since the investigation system is flawed, no witness comes forward and due to lengthy and complicated legal procedures, the culprits ultimately go scot-free.
Last November, Army Chief Gen Qamar Javed Bajwa reportedly expressed his concerns over the slow pace of transferring terrorism-related cases to military courts.
In a letter to Prime Minister Prime Minister Shahid Khaqan Abbasi, Gen Bajwa wrote that no case had been forwarded to military courts for the last many months.
Reportedly, another 90 cases were in the process to be transferred to the military courts.
https://nation.com.pk/13-Mar-2018/1-671-soldiers-deputed-in-saudi-arabia
--------
MMA meeting ends without consensus on Fazl as president
March 13, 2018
ISLAMABAD : The meeting of a Muttahida Majlis-e-Amal (MMA) ended without consensus of appointing Maulana Fazlur Rehman as President.
The meeting which was held at the home of Fazlur Rehman was ended without any results. The meeting was attended by Maulana Fazlur Rehman, Sajid Naqvi, Sirajul Haq, Sajid Mir and Owais Noorani. When MMA , the joint alliance of religious parties, was broken, late Qazi Hussain Ahmed was Emir of the party. Monday's meeting was summoned to elect president and electoral symbol of MMA but it was ended without any results. It is vital to mention here that JI Emir Sirajul Haq asked Maulana Fazlur Rehman to quit federal government and JI will quite alliance from PTI in Khyber Pakhtunkhwa. Fazlur Rehman delayed the meeting of MMA until Senate elections for seeking seat of Deputy Chairman in the Upper House.
https://nation.com.pk/13-Mar-2018/mma-meeting-ends-without-consensus-on-fazl-as-president
--------
Sanjrani: Pakistan's first senate chair from Balochistan
Mar 13, 2018
Pakistan's governing party has lost the election of the chairman of the Upper House - the Senate - as the joint opposition candidate convincingly clinched the office, according to official results.
Mohammad Sadiq Sanjrani, who hails from the southwestern Balochistan province, and is a candidate of the joint opposition, secured 57 out of a total of 103 votes, while his rival, Raja Zafar-ul-Haq, of the Pakistan Muslim League (Nawaz group) won 46 votes on Monday.
Baloch
Sanjrani, who is the first Senate chairman from the restive Balochistan province since Pakistan's independence in 1947, embodied the support of the main opposition Pakistan People's party (PPP), Pakistan Tehrik-e-Insaf (PTI) of the former cricketing hero, Imran Khan, and independent senators from Balochistan and the northwestern tribal region.
Hailing from the Sanjrani tribe, mainly based in the remote Chagai district which borders Afghanistan and Iran, the newly-elected chairman - who has just turned 40 - is also the youngest chairman of the Upper House.
He holds a masters degree in political science from Quaid-i-Azam International University, Islamabad.
PML setback
Meanwhile, former Finance Minister Saleem Mandviwalla, fielded by the joint opposition, has been elected as deputy chairman with 54 votes, compared with 44 votes obtained by the ruling alliance's candidate, Usman Kakar.
Live footage aired on local broadcaster Express News showed the government and the opposition supporters shouting chants and thrashing each other as soon as the presiding officer, senator Yaqoob Khan Nasir, announced the results.
The result is seen as a major setback to the governing party, the Pakistan Muslim League, which had emerged as the single largest party - 33 seats in a 104-member house - following the by-polls results on March 3, months before the new general elections.
But the party required 20 more votes from its allied parties to clinch the office of the Senate chairman, which it could not get.
Full report at:
https://www.aljazeera.com/news/2018/03/sanjrani-pakistan-senate-chair-balochistan-180312160338115.html
--------
FIA files case against Hussain Haqqani over 'embezzlement of funds, misuse of authority'
Shakeel Qarar
March 13, 2018
Federal Investigation Agency on Monday registered a case against former envoy to the United States Hussain Haqqani accusing him of committing "criminal breach of trust, misuse of authority and embezzlement of funds", DawnNewsTV reported.
Haqqani is the principal accused in the Memogate scandal.
According to the first information report, a copy of which is available with Dawn.com, the offences occured at the Pakistan Embassy in the US.
The case was registered under Section 3,4, 409, 420, and 109 of Pakistan Penal Code following an inquiry conducted by the anti-corruption establishment. The
Now that a case has been registered, FIA will initiate the process for issuance of red warrant against the accused.
Last month, the Supreme Court had issued an arrest warrant for the former envoy, following which the agency had sought the assistance of Interpol in arresting Haqqani.
Know more: 'What measures have been taken to bring back Husain Haqqani?' SC asks
In 2012, a judicial commission tasked with probing the matter had submitted its report to the apex court. It held Haqqani guilty of authoring the controversial memorandum and said that he "is not loyal to the country".
Recent developments
On February 1, the SC had constituted a three-member bench to resume hearings of the controversial Memogate case involving the former ambassador to the US.
The case, first taken to the apex court by then opposition leader Nawaz Sharif, had forced Haqqani's resignation.
In December last year, three people had separately lodged FIRs against Hussain Haqqani in two police stations of Kohat for delivering hate speeches and writing books and articles against the armed forces and the 'sovereignty of Pakistan'.
The complainants alleged that Haqqani was responsible for the Memogate scandal and had issued visas to CIA and Indian agents while serving as Pakistani ambassador to the US. They had argued that Haqqani maligned Pakistan in the books he wrote, "which proves that he is a traitor".
The cases were registered under Sections 120(b) (hatching a criminal conspiracy) and 121(a) (waging a war against Pakistan) of the Pakistan Penal Code.
More recently, Haqqani's name had echoed in the apex court while a three-judge bench heard a set of petitions moved by PTI chief Imran Khan and a group of citizens in connection with the right of overseas Pakistanis to participate in the democratic process.
The case had reminded the chief justice of Haqqani.
"Should we also give him the right to vote?" the chief justice had wondered.
"Why don't we issue him [Haqqani] a notice and summon him to face the Memogate case," the chief justice had then said.
Full report at:
https://www.dawn.com/news/1394812/fia-files-case-against-hussain-haqqani-over-embezzlement-of-funds-misuse-of-authority
--------
Pakistan releases senior Afghan Taliban leader
Tahir Khan
MARCH 13, 2018
ISLAMABAD: Pakistani authorities have freed senior Afghan Taliban leader Ahmadullah Muti alias Mullah Nanai, Taliban officials have confirmed.
Mullah Nanai, member of the Taliban leadership council, was arrested from a Balochistan district in October 2016.
There has been no official word on the Taliban leader's release so far. Taliban spokesman Zabihullah Mujahud also did not confirm the release, when he was contacted on Sunday.
Pakistan may have released the Taliban key leader to encourage the militia to join the peace process.
When Nanai was taken into custody, then foreign affairs adviser Sartaj Aziz had stated that the arrest was aimed at mounting pressure on the Taliban to come to the negotiating table. But it did not work since the Taliban have so far refused to join the intra-Afghan dialogue and they insist on direct talks with the United States. Taliban also ignored President Ashraf Ghani's dialogue offer in his address to the meeting of Kabul Process on February 28.
A Taliban political envoy had earlier told Daily Times that Taliban were fighting to end foreign invasion, but Mr Ghani did not even mention it.
He said it was Ghani who had approved an extended stay for foreign troops under the Bilateral Security Agreement signed on his first day in office in September 2014. Karzai had refused to approve the BSA as he was annoyed at the US failure to help him in peace with the Taliban.
In January, a five-member Taliban political team from their office in Qatar held talks with Pakistani officials on the prospects for peace talks. A Taliban statement later said Taliban political representatives have also held discussions with China, Qatar and some other countries and shared their recommendations with the top leaders.
A Taliban source says the political representatives await response from the top leadership of these countries on their proposals.
Some Taliban sources say Mullah Nanai may have been released due to his poor health but the possibility to seek his help in encouraging the Taliban to come to peace negotiations cannot be ruled out. Nanai had served as the chief justice and the intelligence chief during the Taliban rule.
In September last year, Afghanistan's National Security Adviser Hanif Atmar confirmed his country offered exchange of prisoners and wanted repatriation of five Afghan Taliban leaders detained by Pakistan including Mullah Nanai for a Pakistani Taliban leader, Mufti Khalid, who was arrested after the Taliban 2014 brutal attack on the army public school in Peshawar.
Mufti Khalid, who was using the name of Mohammad Khorasani had spoken to the media to claim the responsibility, and was arrested in Afghanistan's eastern Nangarhar province.
Two other Taliban leaders Suleman Agha, the Taliban governor for Daykund province, and Mullah Sani, also known as Samad Sani, chief of a religious school and a well-known trader, were also arrested in Balochistan days before Nanai's arrest.
Full report at:
https://dailytimes.com.pk/214222/pakistan-releases-senior-afghan-taliban-leader-2/
--------
Southeast Asia
Islamic School Welcomes All Children, Fights for Their Civil Rights
March 13, 2018
The Raudlatun Nasyiin Ashidiqiyyah school in the Sedan sub-district of Rembang, Central Java, unites children of all ethnicities, backgrounds, descriptions. It is also one of the very few Islamic boarding schools that know how to and want to look after students with disabilities.
Founded in 1999 by Muhammad Abadi, 39, the school has 134 children, most of them coming from outside Java, from places far way in Papua, Jambi, Lampung, and Central Kalimantan.
Many of the pupils are orphans or were abandoned. They have no birth certificates.
While he gives them care and education, Muhammad Abadi also fights for the kids to obtain Indonesian citizenship and have their basic rights recognized.
http://jakartaglobe.id/eyewitness/islamic-school-welcomes-children-fights-civil-rights/
--------
Perak Sultan: Wrong to link Islam to terrorism
March 13, 2018
IPOH, March 13 — Islam is the religion of peace while terrorism involves violence, said Sultan Nazrin Muizzuddin Shah when rejecting associations between the two.
"Peace and terrorism do not go together. Terrorist groups identify themselves with Islam only because they seek to corrupt the teachings of Islam to serve their evil cause," he said.
In his keynote address at the Asean — Australia Dialogue 2018 in Sydney today, Sultan Nazrin added that Islam was a guide to both the hereafter and present life.
"As it emerged out of the crucible of conflict and tribal warfare, it therefore prescribes rules of engagement. These rules are strikingly similar to modern international law and humanitarian law.
"Islam allows for the taking up of arms in defence of self, family and progeny, property and territory. This is why many Muslims in zones of conflict like Iraq, Afghanistan and Syria and Muslims elsewhere, who are moved by the death and destruction they witness, enlist to fight in the name of Islam," he said.
The Perak royal added that terrorists who target civilians were abusing the interpretation of the principle to commit terrorism in conflict zones as well as in other countries, especially those they think are implicated in the attacks on Muslims.
"But they commit their despicable acts in violation of the strict rules of conduct and prohibitions in Islam," he said.
The religion, he added, forbids the killing of children, women, the elderly, the sick and those in places of worship.
"It prohibits the destruction of inhabited places, villages, towns and cultivated fields. And it asks that captives be freed, the hungry be fed and the sick be visited," he said.
Sultan Nazrin said in combating terrorism, it is vital to counter the terrorists' twisted narratives.
"It is also vital to address the root factors that led to violence in the conflict zones and the terrorist acts committed in other countries," he added.
Sultan Nazrin reiterated that Asean was committed to a holistic effort to address the threat of terrorism.
"It involves the use of relevant economic, social, political and security measures to neutralise and eliminate the threat at the national, regional and international levels," he said.
He added Asean looked forward to working with all its Dialogue Partners to implement its common agenda for greater peace and prosperity in the region.
"Australia is one of our most valuable and committed partners in this enterprise. We collaborate on a broad spectrum of important areas."
"We share many values and principles. We confront common challenges and we are committed to the same goals. We all want the same rules-based order, grounded in international law and an open trading system.
Full report at:
http://www.themalaymailonline.com/malaysia/article/perak-sultan-wrong-to-link-islam-to-terrorism#uORgCT5gQ4CEpDsG.97
--------
In action plan, Putrajaya wants human rights balanced with Islam
March 12, 2018
KUALA LUMPUR, March 12 — The United Nations' Universal Declaration of Human Rights (UDHR) should not be the sole benchmark for human rights, the Malaysian government said in its National Human Rights Action Plan (NHRAP).
Putrajaya said the blueprint towards guaranteeing Malaysians' human rights was developed with four main references in mind: The Federal Constitution, the UDHR, Malaysian politics and socio-culture and the Cairo Declaration on Human Rights in Islam (CDHRI).
"In the context of Malaysia, the human rights issue especially those involving the role of religion, ethics and culture must be tackled parallel to Islamic teachings and the Federal Constitution.
"Otherwise, it would erode a life of religion and bring about moral ruin among the society," it said in the plan, under a section detailing the framework of human rights in the country.
The plan stated that countries under the Organisation of Islamic Cooperation (OIC), of which Malaysia is a member, should instead adhere to the interpretation of human rights in accordance to the Shariah law, and instruments such as the CDHRI should be a primary reference.
It said referencing the CDHRI is important, claiming that mankind still needed religion to sustain civilisation and preserve rights, despite technological progress and advances.
Malaysia is a signatory of the CDHRI signed in 1990, alongside 44 other Muslim-majority OIC members such as Brunei, Bangladesh, Indonesia and Pakistan.
The declaration was drafted in response to the UDHR, which the OIC criticised as following the "secular understanding of Judeo-Christian traditions".
The Declaration itself has since been criticised for declaring that all rights and freedoms must be subject to the Shariah, while failing to protect freedom of religion.
In the NHRAP, Putrajaya said OIC members may adhere to their own interpretations of human rights based on CDHRI's Article 25 that states: "The Islamic Shariah is the only source of reference for the explanation or clarification of any of the articles of this Declaration."
Putrajaya said the Article proved that human rights and universal freedom are considered a core part of Islam and it emphasises the importance of upholding rights protecting human beings from exploitation, persecution and to live freely and with dignity based on the teachings of Islam.
Last week, Prime Minister Datuk Seri Najib Razak launched the NHRAP, which was called a "living document" to map Malaysia's human rights commitment.
He said under the plan, Putrajaya will develop a mobile application for public feedback and also appoint independent civil society members to gather and evaluate public feedback on the implementation of the plan.
Full report at:
http://www.themalaymailonline.com/malaysia/article/in-action-plan-putrajaya-wants-human-rights-balanced-with-islam#kgaeG6QZsRDC0GJ6.97
--------
Indonesian duo in terror plot face death penalty
Mar 13, 2018
A former Indonesian migrant worker who was deported from Hong Kong last year after she posted a Facebook video of her pledging allegiance to Islamic State in Iraq and Syria (ISIS) leader Abu Bakr al-Baghdadi is now facing the death sentence along with her newly wed husband for terror-related offences at home.
Both are facing charges in connection with planning terror attacks and making explosives in a rented house in Bandung.
"Anggi Indah Kusuma alias Khanza Syafiyah al-Fuqron has committed evil conspiracy, consciously tried to or assisted (others) to carry out terror acts. She has made and stored explosives with the intention to launch terror acts," stated court documents seen by The Straits Times.
Anggi, 24, returned to Indonesia in March last year and was immediately interrogated by police. She was subsequently sent to a Social Affairs Ministry rehabilitation centre before being allowed to go home to her parents in Klaten, Central Java.
But in May last year, Anggi fled home and married another migrant worker, Adilatul Rahman alias Rahman Factory, who had returned home from Malaysia. Her parents disapproved of the marriage.
Anggi was introduced to Rahman on Facebook while she was in Hong Kong and, after their marriage, the couple moved to Bandung, West Java. Less than three months after their wedding, on Aug 15 last year, Anggi and Rahman were nabbed during simultaneous raids by Densus 88, the elite counter-terrorism unit, on three places in Bandung. Three of their accomplices were also picked up.
All those arrested were allegedly members of a terror cell manufacturing homemade chemical bombs to be used to attack the presidential palace in Jakarta, the police mobile brigade squad headquarters outside Jakarta and state-owned weapons manufacturer PT Pindad.
Court documents said that in early August, Rahman and an accomplice, Young Farmer alias Abu Nakir Shaab, went to a chemical store in Bandung to procure bomb-making materials but could not get any because the store required identification from the buyers, who also had to certify their use.
The men then resorted to a popular local online marketplace, procured the materials and had them delivered on Aug 11 to the rented house in Bandung.
The couple as well as their accomplices then began the process of making a bomb using a manual provided by Young Farmer, whose real name has not been established yet.
The court was told that while making the bomb, everyone was shocked by thick smoke and a strong odour in a room in Rahman's house. Anggi, who was then pregnant, was nauseous. The decision was then taken to move the process to Young Farmer's house, also in Bandung.
Counter-terrorism officials said Anggi was radicalised while in Hong Kong after she befriended two men, Musa Wisesa and Abu Alqosam al-Ajeneseh, who indoctrinated her on Islamic syariah law and the ISIS caliphate.
Full report at:
http://www.straitstimes.com/asia/se-asia/indonesian-duo-in-terror-plot-face-death-penalty
--------
Police monitoring thousands of IS-linked social media accounts
March 13, 2018
KUALA LUMPUR, March 13 ― Thousands of social media accounts suspected of links to the Islamic State (IS) terrorist group are being monitored by local law enforcers, said the Home Ministry.
Deputy Home Minister Datuk Masir Kujat told Parliament that to date 3,871 Facebook accounts are being monitored while 800 more were blocked and 240 users arrested.
On Twitter, the police are monitoring 76 accounts, have blocked nine and arrested eight people.
On Instagram, the police are monitoring 72 accounts and have made one arrest.
"We find that they use social media to recruit new members and to look for funds from sympathisers. We have arrested those who use social media as (IS) recruiting grounds," he said when answering an additional question by Tasek Gelugor (BN) MP Datuk Shabudin Yahaya.
He attributed the police's success to its counter messaging centre (CMC), which has been tasked to curb IS influence and propaganda on social media.
Earlier, Masir also told Dewan Rakyat that the Home Ministry is deradicalising 19 people consisting of 18 locals and one foreigner.
Another nine individuals have also reached the last phase, which is phase four of the deradicalisation programme.
"The deradicalisation programmes uses a systematic and holistic deradicalisation procedures on terrorist consisting of religious, nationalistic, psychological, familial and core values.
Full report at:
http://www.themalaymailonline.com/malaysia/article/police-monitoring-thousands-of-is-linked-social-media-accounts#55hgfZ0J7KBbkmlX.97
--------
Indonesia urges religious tolerance for elections in June
March 13, 2018
Indonesian President Joko Widodo has stressed the importance of maintaining religious tolerance as the political situation heats up ahead of regional elections this summer and next year's presidential election.
The General Elections Commission (KPU) said the regional electoral campaigns will conclude on June 23 with votes to be cast on June 27 for 17 provinces, 115 districts and 39 municipalities. It also set a series of guidelines to curb sectarianism. The campaigns officially began on Feb. 15.
The presidential election will take place in May 2019.
"Regional and presidential elections are only a once-in-five-year democratic party. Go to the polls, then unite again," Widodo told about 3,000 farmers who gathered in Cirebon, West Java, on March 11.
He urged people not to let their political views get in the way of religious tolerance.
"I appeal to you not to let your different choices serve as a basis for intolerance," he said. "We can't build friendships with our neighbors and other villages if we are intolerant [of the choices] they make."
He said this was especially the case in Indonesia given the vast size of the country and its numerous religions, ethnicities and races.
Hard-line groups exploited religious sentiment to bolster their campaigns during last year's elections in Jakarta, which saw the Chinese Christian governor of the capital lose a bitter, religiously-tinged race.
Leaders of the hard-line Islamic Defenders Front claim the use of dakwah, or preaching, at mosques, helped garner votes for Muslim candidates, leading Muslim Anies Baswedan to defeat Basuki Tjahaja Purnama, a former education minister commonly known as 'Ahok.'
Ahok was leading the polls until he was accused of blasphemy against Islam in a criminal trial. His supporters blasted this as a case of political sabotage by his opponents.
Masdar Farid Mas'udi, chairperson of Nahdlatul Ulama, the largest Islamic organization in Indonesia, said he hoped the religious and racially tinged strife of that election would not be repeated.
"It is dangerous," he told ucanews.com on March 12. "We need a leader who can work for all the people."
Others said the government must not let religious sentiment divide the nation.
"It must keep peace in the country until the election is finished so that people don't become divided," said Azas Tigor Nainggolan, who works for the human rights desk of the Indonesian Bishops' Commission for Justice, Peace and Pastoral for Migrant-Itinerant People.
He said people who deliberately spread fake news to stoke religious sentiment must be held accountable and may face arrest.
"I hope our law enforcement apparatus monitors the campaigns to see if there is anyone exploiting religious issues. Such actions must be stopped even if it means they have to be arrested," he said.
Political analyst Lucius Karus said it is difficult to separate religion and politics in Muslim-majority Indonesia.
"Elections are not just a political activity but something that affects people's social and religious lives," he said. "Moreover, Indonesia has a history of using religion to serve political interests."
Karus expressed concern about outbreaks of violence by factions aligned with various political groups in the run-up to the next elections.
"The president's appeal to religious leaders to tolerate other faiths shows how this is an important pillar many parties lean on," Karus said.
He said religion teachings should inform people's code of ethics but should not infiltrate politics.
Maria Fernanda, 21, who attends university in Jakarta, said the public should be on guard for fake news and not let their differences destroy social bonds.
Full report at:
https://www.ucanews.com/news/indonesia-urges-religious-tolerance-for-elections-in-june/81768
--------
South Asia
MoD says 22 Afghan soldiers martyred in Farah and Nimroz clashes
Mar 12 2018
The Ministry of Defense says at least twenty Afghan soldiers have lost their lives during the clashes with the militants in western Farah and Nimroz provinces.
A spokesman for the Ministry of Defense Gen. Dawlat Waziri says at least 63 militants were killed and 22 others were wounded during the clashes in the two provinces.
He said the clashes took place in the past 24 hours and as a result at least 22 Afghan soldiers have also embraced martyrdom.
Gen. Waziri further added that five Afghan soldiers have also sustained injuries during the clashes but did not elaborate further regarding their health condition.
This comes as the local officials in Farah said earlier today that the control of the district center of Anar Dara has fallen into the hands of the Taliban group.
In the meantime, the Ministry of Defense says additional troops have been deployed to Farah province to suppress the insurgent groups.
The Ministry of Interior had earlier said the Afghan security forces have tactically retreated from the center of the Anar Dara district but operations are underway to suppress the insurgents.
https://www.khaama.com/mod-says-22-afghan-soldiers-martyred-in-farah-and-nimroz-clashes-04633/
--------
Abdullah slams Taliban for their silence on government's peace proposal
Mar 13 2018
The Chief Executive of the Government of National Unity Abdullah Abdullah slammed the Taliban group for their silence regarding the proposal of the government for reconciliation.
In his speech during the Council of Ministers meeting in Kabul on Monday, Abdullah condemned the brutal acts and recent attacks by the militant and terrorist groups.
He was particularly pointing towards last Friday's deadly in Kabul which left several people dead or wounded and said all those who groups which are rejecting the government's offer for reconciliation and commit atrocities will have their names listed in the black history of the country.
This comes as Abdullah had earlier reiterated the government's peace offer to Taliban group in a bid to end the ongoing violence through reconciliation.
Speaking during a gathering organized on the eve of International Women's Day last week, Abdullah said the government is prepared to recognize Taliban as a political group if the group lay down arms, cut ties with the terror groups and networks, and renounce violence.
Abdullah further added that the government is committed to share the details with the public regarding any peace agreement to be reached with the Taliban group as he assured that no deal will be concluded in secret.
However, the Taliban group has so far refrained from participation in direct peace talks with the Afghan government and insists on direct talks with the US.
On the other hand, Principal Deputy Assistant Secretary Alice Wells of the Bureau of South and Central Asian Affairs told reporters last week that President Ghani offered a dignified process during the Kabul Process-II summit.
Full report at:
https://www.khaama.com/abdullah-slams-taliban-for-their-silence-on-governments-peace-proposal-04635/
--------
US Defense Secretary makes unannounced visit to Afghanistan
Mar 13 2018
The US Secretary of Defense James Mattis has arrived in Kabul in unannounced visit as he is expected to hold talks with the Afghan and coalition officials.
There are no reports available regarding the agenda for his trip to Afghanistan but ahead of his travel to the country Mattis had talked regarding the ongoing efforts to end the Afghan conflict through dialogue.
"There is interest that we´ve picked up from the Taliban side," Mattis was quoted as saying in a report by Reuters shortly before landing in Kabul, saying the signs date back several months.
"We´ve had some groups of Taliban who have either started to come over or expressed an interest in talking," he said.
This comes as the Taliban group has so far refrained from participation in direct peace talks with the Afghan government and insists on direct talks with the US despite the Afghan government shared its proposal with the group regarding the reconciliation process during the Kabul Process summit.
On the other hand, Principal Deputy Assistant Secretary Alice Wells of the Bureau of South and Central Asian Affairs told reporters last week that President Ghani offered a dignified process during the Kabul Process-II summit.
Full report at:
https://www.khaama.com/us-defense-secretary-makes-unannounced-visit-to-afghanistan-04637/
--------
Taliban likely to miss Afghan peace meeting, says host Uzbekistan
Mar 12, 2018
The Taliban is likely to miss an Afghan peace conference at which participants are set to call for direct talks between the militant group and the government of President Ashraf Ghani, the Foreign Ministry in Uzbekistan says.
Representatives of the group have made no application to attend the March 26-27 meeting in the Uzbek capital Tashkent, suggesting they will not attend, a ministry statement said on Monday.
Ghani is set to attend along with US Deputy Secretary of State John Sullivan and European Union foreign policy chief Federica Mogherini.
Also set to attend are the foreign ministers of India, Iran, Kazakhstan, Kyrgyzstan, Pakistan, Russia, Tajikistan and Turkey and UN Special Representative for Afghanistan Tadamichi Yamamoto.
The Taliban urged Washington last month to begin talks to end almost 17 years of war in Afghanistan, which suggests they want to explore dialogue.
The group ruled Afghanistan until 2001 when it was toppled by a US-led military invasion in the wake of the September 11 attacks and it is struggling to retake the control of territories it held in the country.
Ghani in February offered recognition of the Taliban as a legitimate political group as part of a proposed process he said could lead to talks.
Conference participants will call for an urgent start of direct talks between the Kabul government and the Taliban, the press office of Uzbekistan's Foreign Ministry said in a written reply to questions from Reuters.
The US military, which stepped up its airstrikes in Afghanistan last year, says the raids have hit the Taliban hard, but a recent study shows they are still active in 70 percent of the country's soil.
Full report at:
http://www.presstv.com/Detail/2018/03/12/555222/Uzbekistan-Afghanistan-Taliban-conference-Ashraf-Ghani-militants-foreign-ministry
--------
Sri Lanka slammed over response to anti-Muslim attacks
by Bernard Smith
Mar 13, 2018
Sri Lanka's week-long state of emergency has not been lifted, as expected. It was imposed after Muslim-owned homes and businesses were set on fire by Sinhalese Buddhist nationalist gangs.
The government is accused of failing to act fast enough to protect life and property.
https://www.aljazeera.com/news/2018/03/sri-lanka-slammed-response-anti-muslim-attacks-180312185124713.html
--------
Suspected US drone strike kills at least six alleged terrorists
Mar 13, 2018
KABUL: A suspected United States (US) drone strike near the Pak-Afghan border killed at least six alleged terrorists on Monday.
Those who were killed in Afghanistan's Nangarhar province reportedly belonged to the global terror group Daesh/Islamic State.
Sources said that posts were also destroyed in the suspected drone attack and the dead included Daesh commander Dawood Mehsud's son.
On March 7, another suspected US drone strike in the Afghan province of Kunar killed at least 20 suspected terrorists.
The terrorists reportedly belonged to the proscribed Tehreek-e-Taliban Pakistan (TTP). Among those killed was an individual responsible for training suicide attackers, namely Ustad Yaseen, and multiple suicide bombers.
Full report at:
https://www.pakistantoday.com.pk/2018/03/12/suspected-us-drone-strike-kills-at-least-six-alleged-terrorists/
--------
Taliban overrun district centre in Afghanistan's west
Mar 12, 2018
Taliban militants in Afghanistan have captured a government district headquarters in the western province of Farah, continuing their attacks on the government despite a recent overture by Kabul to start direct dialog with the militants.
At least 15 government forces were killed in the Monday attack on Anardara district, said Fared Bakhtawer, the provincial council's head.
"The Anardara district headquarters is under the insurgents' control, and right now, an intense battle is going on all around the district center and government offices," Bakhtawer said.
Attacks against security forces by Taliban militants have increased in recent months, prompting local officials to call for the deployment of added government forces.
Over the weekend, a Taliban attack killed seven army commandos and eight policemen in Farah Province's Bala Buluk district.
In a separate attack, in Bati Kot district in eastern Nangarhar Province on Sunday night, seven civilians — including three children and two women — were killed when their vehicle was hit by a grenade, said Attahullah Khogyani, a spokesman for the provincial governor.
Khogyani said two other people in the vehicle were wounded in the attack. The victims were all members of a single family, he added. No group has claimed responsibility for the attack.
In late February, Afghan President Ashraf Ghani called on the Taliban militant group to join peace talks. He said a framework had to be created for peace talks, with the Taliban recognized as a legitimate political group.
The Taliban militants, who had offered to talk to the United States, did not respond positively to President Ghani's offer.
Both the Taliban and Daesh militant groups are present in Afghanistan.
The US-led forces invaded Afghanistan and toppled a ruling Taliban regime some 17 years ago.
Full report at:
http://www.presstv.com/Detail/2018/03/12/555179/Afghanistan-Farah-Taliban-Militants
--------
Arab World
Syrian Army Seizes Terrorists' Chemical Weapons Workshop in Eastern Ghouta
Mar 12, 2018
The Arabic-language website of Sputnik quoted Syrian Army Colonel Feras Ibrahim as saying that the army men seized a workshop that was used by the terrorists to build chemical weapons near the small town of Aftaris.
He further told Sputnik that the seized chemicals would likely be used to launch a false-flag chemical attack in Eastern Ghouta to later accuse the army of the attack.
Earlier reports said that the army troops continued their attacks on terrorists' positions after hours of a daily ceasefire ended in Eastern Ghouta on Sunday afternoon and laid siege on the town of Douma, the most important bastion of the terrorists in region.
The army men started attacking terrorists' defense liens from the newly-feed Modira region and advanced in Harasta.
The government troops, then, seized control over a number of buildings near the Vehicles Management Center, the farms near Modira and near the town of Harasta.
The advancing army soldiers met each other in a region between Harasta and Modira and laid siege on the strategic town of Douma, the main and the largest base of terrorists in Eastern Ghouta.
Field sources said that the terrorist-held regions in Eastern Ghouta have now been split up into the three parts of Harasta, Douma and the Southern regions.
http://en.farsnews.com/newstext.aspx?nn=13961221000966
--------
Daesh Takfiri terrorists shoot dead 25 across Iraq
Mar 12, 2018
Remnants of the Daesh Takfiri terrorist group have shot and killed more than two dozen civilians and pro-government fighters in two separate attacks amid ongoing counter-terrorism operations to purge the extremists from all parts of the war-battered Arab country.
Captain Habib al-Shamri said Daesh terrorists set up a fake security checkpoint on a highway near al-Azim district in the eastern Iraqi province of Diyala, and stopped a number of civilian vehicles.
Shamri added the Takfiri then opened fire on the passengers, killing 15 civilians and injuring five others. The injured civilians were taken to a nearby hospital to receive medical treatment. He noted that the terrorists escaped after the attack.
The officer also said that another Daesh attack in the same province killed three more people.
Separately, seven fighters from volunteer forces, better known by the Arabic name Hashd al-Sha'abi, were killed when Daesh militants attacked a house of a tribal sheikh in the town of Mukashafah, south of Tikrit.
Major Sabhan Matar said Daesh extremists mounted the assault when the Hashd al-Sha'abi fighters were meeting at the house.
On December 9, 2017, Iraq's Prime Minister Haider al-Abadi declared the end of military operations against the Daesh terrorist group in the Arab country.
On July 10, Abadi formally declared victory over Daesh extremists in Mosul, which served as the terrorists' main urban stronghold in the conflict-ridden Arab country.
In the run-up to Mosul's liberation, Iraqi army soldiers and volunteer Hashd al-Sha'abi fighters had made sweeping gains against Daesh.
The Iraqi forces took control of eastern Mosul in January 2017 after 100 days of fighting, and launched the battle in the west on February 19 last year.
Full report at:
http://www.presstv.com/Detail/2018/03/12/555203/Daesh-militants-kill-over-dozen-civilians-Hashd-alShaabi-fighters-in-Iraq
--------
Egypt faces 'global, regional terrorism' aided by foreign entities: minister
March 12, 2018
Minister of Justice Hossam Abdel Rahim said on Sunday that the police and army are making major efforts to combat terrorism in the country and that foreign entities support local militants in their exploitation of the religion of Islam for other purposes. During a workshop titled "Countering the promotion of terrorist ideology and means of combating it", Abdel Rahim added, "Egypt is exposed to global and regional terrorism 'financially and logistically' aided by states and organisations which take the Islamic religion as a cover to its non-Islamic unaccepted acts."
Abdel Rahim pointed out that foreign bodies recruit youth to terrorist organisations through media outlets and websites used as platforms for spreading terrorist ideology.
Full report at:
http://www.egyptindependent.com/egypt-faces-global-regional-terrorism-aided-by-foreign-entities-minister/
--------
US military threat mean to provoke terrorists to launch chemical attack: Syria
Mar 13, 2018
Syria's UN envoy has slammed his American counterpart for threatening military action against the Arab country over chemical attack claims, saying such comments are merely aimed at provoking a chemical attack by terrorists and fabricating evidence against the Damascus government.
Earlier, US Ambassador to the UN Nikkie Haley had warned that if the Security Council fails to act on Syria, Washington is ready to act on its own, just as it did last year when it bombed a Syrian government airbase, which Washington claimed was used for a sarin attack.
In response, Syria's envoy to the UN Bashar al-Ja'afari said at a UN Security Council (UNSC) meeting on Monday that Haley's comments were irresponsible and in violation of the UN Charter.
Haley's remarks, Ja'afari said, "serve as direct provocation to terrorist groups to use chemical weapons and fabricate evidence in order to accuse the Syrian army of it," the official SANA news agency reported.
"As the Syrian Arab Army advances in its war on terrorism, countries that support terrorism have been launching misleading propaganda campaigns to divert attention from the aggression and terrorism Syria is confronting," he said.
In recent weeks, the Syrian army, backed by Russian air power, has been engaged in a military operation to liberate Eastern Ghouta from a host of militants groups, including the notorious al-Nusra Front, which have been using the Damascus suburb as a launch pad for deadly attacks against the capital.
Amid the army gains, a report by pro-militant sources claimed earlier this month that a chemical attack had taken place in Eastern Ghouta in late February.
Building on those claims, the US and its allies, especially France and Britain, have been pointing the finger of blame at the Syrian government.
Washington, London and Paris have said they would strike Syria if the chemical attack allegations are proven.
Both Russia and Syria have rejected the allegations.
On Monday, Russia said the Syrian military has found a workshop used by foreign-backed militants to make chemical weapons in a recently-liberated area in the Eastern Ghouta.
Last year, a suspected sarin gas attack hit the town of Khan Shaykhun in the northwestern Syrian province of Idlib, taking at least 80 lives.
Accusing Damascus, the US then launched several dozen Tomahawk cruise missiles at a Syrian airbase, which the opponents of the Syrian government claimed was used as the launch-pad for the alleged gas attack, taking the lives of about 20 people, including both Syrian soldiers and civilians.
Ja'afari reminded Haley that back then the Organization for the Prohibition of Chemical Weapons (OPCW) and the UN refused to take samples from the attacked air base "because if it did, the Syrian government would be proved to have no responsibility for Khan Shaykhun chemical incident and what the US has done is considered an aggression."
Ja'afari further called upon the US, British, and French representatives to stop breaching the UNSC counterterrorism resolutions and ask their respective governments "not to provide support to the terrorist groups in Syria or cover up their ongoing crimes against the Syrian people."
The Syrian official, meanwhile, said since the adoption last month of the UNSC Resolution 2401 that mandated a ceasefire in the Arab country, Damascus had taken many measures to alleviate the suffering of civilians in Ghouta, including opening two humanitarian corridors to ensure their safe exit.
He, however, said those measures have been impeded by terrorist groups "and their operators, some of them members at the Security Council."
Full report at:
http://www.presstv.com/Detail/2018/03/13/555268/Syria-Haley-United-States-UN-Eastern-Ghouta
--------
More civilians leave Syrian rebel enclave as army advances
AP | Mar 12, 2018
BEIRUT: A small group of Syrian civilians left the rebel-held enclave of eastern Ghouta just outside of Damascus on Monday while the area's largest armed rebel group said it agreed with Russian forces to have the wounded evacuated from the besieged territory.
State-run Syrian TV broadcast footage showing a group of men, women and children it says left the town of Madyara after it was captured by Syrian troops on Sunday. The TV showed several women carrying babies and welcoming the Syrian army, and claiming the rebels were preventing civilians from leaving eastern Ghouta.
The civilians used a corridor established by the Syrian army amid the military's gains that have effectively divided eastern Ghouta into three parts.
Recapturing the enclave would mark one of the most significant victories for President Bashar Assad in the seven-year civil war. It would also be the worst setback for rebels since the opposition was ousted from the eastern half of the city of Aleppo in late 2016 following a similar siege and bombing campaign.
Eastern Ghouta is larger and more populated, with some 400,000 people believed to be living there, trapped under a relentless air and ground bombardment and a crippling years-long siege. More than 1,000 people have been killed since the large-scale government offensive began on Feb. 18.
In rapid advances over the weekend, Syrian government forces split eastern Ghouta in two _ a northern and southern part _ then cut off key towns of Douma and Harasta from the rest of the enclave, further squeezing the residents inside them. Douma is eastern Ghouta's largest settlement.
The military's advances have apparently also increased the fear and confusion among residents and armed groups inside the territory. Local council member Iyad Abdelaziz said residents and local authorities are now considering evacuating the town.
Many, however, are too scared to leave through corridors set up by the Syrian government and their Russian allies.
The largest rebel group in eastern Ghouta, the Army of Islam, said it agreed with Russian forces to evacuate the wounded from the enclave. Its statement said the deal with the Russians was reached through the United Nations.
The Army of Islam said the wounded will be evacuated in stages but made no mention if they are rebel fighters or civilians. The group also did not say when the evacuations would begin or where the wounded would be taken.
Meanwhile, thousands of people were fleeing the northwestern town of Afrin on Monday as Turkish troops and Turkey-backed opposition fighters inch closer to completely besieging it. Ebrahim Ebrahim, a Europe-based spokesman for the largest Kurdish group in Syria, the Democratic Union Party, or PYD, said those fleeing were heading toward government-controlled areas.
He said people are fleeing out of fear that Turkish troops and Turkey-backed Syrian opposition fighters might commit atrocities against the Kurds and minorities in the town.
Turkish troops have destroyed water and power stations that supply the town of Afrin, making it difficult for people to stay there, Ebrahim said. He blamed Russia and Turkey for what he called ``war crimes that are being committed in Afrin.''
Turkey's Hurriyet newspaper also reported that civilians were leaving the town of Afrin, heading to government-controlled areas and the town of Manbij, held by the Kurdish-led Syrian Democratic Forces.
Full report at:
https://timesofindia.indiatimes.com/world/middle-east/more-civilians-leave-syrian-rebel-enclave-as-army-advances/articleshow/63271565.cms
--------
Forces press Ghouta advance despite calls to end 'bloodbath'
March 13, 2018
DOUMA - Syrian government forces pounded rebel towns in Eastern Ghouta with air strikes on Monday, as troops edged closer to retaking the battered opposition enclave outside Damascus.
The regime advances in Eastern Ghouta came as a monitor reported more than 350,000 people killed in Syria's war, and as hundreds fled a Turkish-led advance in the northern area of Afrin, where a Kurdish-majority city is also under threat of being besieged.
Syria's civil conflict enters its eighth year this week with fighting on several fronts, but the assault on Eastern Ghouta has been one of the most ferocious of the war.
Since February 18, forces loyal to President Bashar al-Assad have retaken nearly 60 percent of the enclave, whittling down rebel territory to three isolated pockets.
Backed by Russia, the advance has battered Eastern Ghouta with air strikes, artillery and rocket fire, raising widespread international concern and prompting urgent calls for a ceasefire.
France's envoy to the United Nations, Francois Delattre, on Monday urged Moscow to put pressure on its ally to halt the offensive, saying: "Russia can stop the bloodbath."
Pro-regime forces advanced again on Monday, heavily bombing two rebel-controlled towns closest to the capital, said the Syrian Observatory for Human Rights.
Air strikes and rocket fire slammed into the towns of Harasta and Arbin, the Britain-based monitor said, as the regime used the recently recaptured town of Medeira nearby as a launching pad for a ground assault.
Syrian state media also reported a government advance in Ghouta , seizing the town of Efteris to the south.
The other two areas still in rebel hands are Douma, the region's biggest town in the north of the enclave, and the zone around Hammuriyeh and other towns to the south.
Queuing for meat
An AFP correspondent in Douma said the morning was relatively quiet, allowing civilians to venture out of bomb shelters to check on the destruction in their homes or gather food.
Residents were seen queuing at a butcher shop, whose owner had slaughtered a calf that he could fatten up no further because there was nothing left to feed it.
Syria's conflict broke out in March 2011 with peaceful protests against Assad, but a regime crackdown paved the way for a fully-fledged war.
At least 353,935 people have died since, including more than 106,000 civilians, the Observatory said on Monday, providing a new overall death toll for the conflict.
More than 19,800 children are among the dead, it said.
UN children's agency UNICEF on Monday reported a 50 percent increase in the number of children killed in the conflict last year, condemning "extreme and indiscriminate violence".
In the Ghouta offensive alone, at least 1,162 civilians have been killed, including 241 children, the Observatory said in a new toll on Monday.
More than 35 civilians have also been killed in rebel fire on government-controlled zones in Damascus and its outskirts since the start of the Ghouta offensive, according to the Observatory.
Rebel mortar and rocket fire killed two civilians on Monday, according to state news agency SANA.
Even before the offensive began, rebel-held parts of Ghouta were facing a crippling government siege that made food and medicine hard to access.
The United Nations on Monday said more than 1,000 people in Eastern Ghouta needed urgent evacuation from the area for treatment.
"The majority of them are women and children," said Linda Tom, from the UN's humanitarian coordination office (OCHA) in Damascus.
Last month, the UN Security Council demanded a month-long ceasefire to allow aid deliveries and medical evacuations, but no such evacuations have taken place.
Hundreds flee Afrin
Syrian troops have used siege tactics on several areas around the capital, sealing off rebel-held territory and pressing a military operation before securing an evacuation deal.
A similar deal has been put forward for parts of Eastern Ghouta , including the town of Hammuriyeh, a negotiator and the Observatory told AFP.
The agreement would offer safe passage to rebels and civilians who wanted to leave and the town would come under government control.
The Observatory confirmed talks were taking place on Hammuriyeh, as well as the towns of Kafr Batna, Jisreen and Saqba, but said no agreement had yet been reached.
All three towns are controlled by Islamist rebel group Faylaq al-Rahman, which has repeatedly denied engaging in talks with the regime. Since the conflict broke out seven years ago, an array of world powers have become involved, including Turkey.
For weeks, Ankara and allied Syrian rebels have pursued an offensive against Afrin, a Kurdish-controlled region of northwest Syria.
Hundreds of residents were seen fleeing the city of Afrin on Monday, with the Observatory reporting more than 2,000 arriving in an area controlled by pro-regime forces .
Full report at:
https://nation.com.pk/13-Mar-2018/forces-press-ghouta-advance-despite-calls-to-end-bloodbath
--------
Syrian Army Imposes Control over Almost 60 Percent of Eastern Ghouta
Mar 12, 2018
Field sources said that the army units, backed up by artillery and missile units, engaged in fierce clashes with the terrorists in Harasta region after the daily ceasefire ended in the region.
The sources said that the terrorist front is on the verge on collapse after the army's recent advances.
They added that the army has laid siege on the terrorists in Harasta region after the pro-government forces, deployed in Kilani Petrol Station, met their comrades at Douma-Harasta highway near the Vehicles Management Center.
In the meantime, the London-based Syrian Observatory for Human Rights said that the army has gained control over 59 percent of Eastern Ghouta in 13 days of operation against the terrorists.
Local sources said earlier today that residents of several settlements, including Saqba, Kafr Batna and Hamouriyeh took to the streets and called for expulsion of terrorists from Eastern Ghouta.
The sources further said that the protestors hoisted the Syrian army flag and called for deployment of the pro-government forces to Eastern Ghouta.
Full report at:
http://en.farsnews.com/newstext.aspx?nn=13961221001418
--------
Syrian Army Frees 26 Children Kidnapped by Terrorists in Eastern Ghouta
Mar 12, 2018
The ministry said that a sum of 52 civilians, including 26 children, were released from the terrorists' custody after hours of talks between the army and militants in Eastern Ghouta.
The ministry further said that talks are underway for the release of tens of kidnapped civilians in return for the safe exit of militants and their family members from Eastern Ghouta.
It added that the Syrian army and the country's Red Crescent have dispatched several buses to Harasta to evacuate the freed civilians from Eastern Ghouta via a newly-established safe corridor.
A group of terrorists laid down arms and surrendered to the Syrian Army troops on Sunday amid rapid advances of the pro-government forces in the region.
A group of terrorists handed over their weapons and ammunition to the army men and applied for government amnesty after the army managed to advance in Harasta region.
Full report at:
http://en.farsnews.com/newstext.aspx?nn=13961221000638
--------
Bin Talal not allowed leave Saudi Arabia after release: Report
Mar 13, 2018
Saudi billionaire Prince Alwaleed bin Talal, who recently was released after nearly three months in detention as part of a so-called anti-corruption purge, reportedly does not have the permission to travel outside of the kingdom.
Sources told Qatari newspaper al-Sharq on Monday that bin Talal, who had hoped to spend time in the south of France and also travel overseas to meet with his aides and advisers, has not received the necessary license to leave the kingdom, which has left him in "a state of gloom."
The travel ban has led the prince into deactivating his Twitter account, where he has regularly commented on events in the past, according to the report.
Bin Talal, the chairman of Kingdom Holding Company, is one of the world's richest men with assets valued by Bloomberg at $19 billion. His Riyadh-based investment holding company, owns stakes in hotels like The Four Seasons, Fairmont and Raffles, as well as companies such as News Corp., Disney, 21st Century Fox, Citigroup, GM, Twitter, and Apple.
Dozens of princes, ministers and former ministers were detained in late December 2017 on the order of Saudi Arabia's so-called Anti-Corruption Committee headed by the Crown Prince, in a crackdown, which is widely believed to be aimed at consolidating his power.
The detained individuals faced allegations of money laundering, bribery, extorting officials and misappropriation of public funds for personal benefits.
Reports said the high-profile detainees, including bin Talal, were even subjected to torture in detention. The billionaire was said to have been beaten and hung upside down.
Many of the detainees have been released so far after forking out exorbitant amounts reaching as high as one billion dollars.
Bin Talal was freed in late January after he reached a financial settlement with the attorney general, said a Saudi official back then, without elaborating on the amount he had paid to secure his release
Earlier this month, Forbes magazine said it was excluding all Saudi Arabian tycoons, including bin Talal, from its annual list of the world's richest people after the Saudi purge.
Meanwhile, fresh revelations show that prisoners caught up in the campaign were mistreated.
The New York Times reported Monday the body of Major General Ali al-Qahtani, an officer in the Saudi National Guard, who died while still in custody, showed signs of abuse including a neck that appeared twisted and a badly swollen body.
One person who saw the corpse of the officer also said that his body was badly bruised and distended, while his skin showed other signs of physical abuse.
A doctor and two other people briefed on the condition of the body said that it had burn marks that appeared to be from electric shocks, the report said.
General Qahtani was a top aide to Prince Turki bin Abdullah, a son of the late King Abdullah and a former governor of Riyadh.
The report also said that more than a dozen of the prisoners were abused while they were being held, and that many of the assets of the 381 princes, ministers and tycoons have yet to be seized.
The majority of the 381 people held have been released, but many now wear ankle bracelets that track their movements and cannot gain access to their bank accounts, according to the Times.
Full report at:
http://www.presstv.com/Detail/2018/03/13/555273/Saudi-billionaire-Prince--Alwaleed-bin-Talal-travel-ban
--------
Mideast
Attack on Iran Embassy in London aimed at appeasing Saudis: Shamkhani
Mar 12, 2018
A senior Iranian official says the attack on the Islamic Republic's embassy in London was a "very disgraceful" bonus by the British government to sweeten a multi-billion dollar arms deal with Saudi Arabia.
"This ping pong game was designed by the British government and conducted simultaneously with a visit by one of the leaders of the regional countries to London," Secretary of Iran's Supreme National Security Council (SNSC) Ali Shamkhani said on Monday in reference to the laxity and passivity of UK government and police forces in response to the attack.
A number of attackers scaled the wall of Iran's Embassy building in London on Friday and took down the Iranian flag.
According to the Islamic Republic News Agency, IRNA, British police did nothing to protect the compound during the attack.
Iran on Saturday summoned the British ambassador to Tehran over the attack on its diplomatic mission in London.
"Following an assault by a number of individuals affiliated to an extremist religious group on the Islamic Republic of Iran's Embassy in London, the country's ambassador was summoned by the director general for Europe affairs [at the Iranian Foreign Ministry] today," Iranian Foreign Ministry Spokesman Bahram Qassemi said.
The Iranian spokesperson's comments came a day after he strongly condemned the assault, urging swift action to counter the attackers.
Immediately after receiving news of the assault, Iranian Deputy Foreign Minister for Political Affairs Abbas Araqchi voiced Tehran's strong protest to Britain's ambassador to Tehran, Qassemi said.
Later on Friday, Qassemi said the attackers who had climbed on the balcony of the Iranian embassy in London were arrested, adding the spectacle was over.
He called for the trial and punishment of the perpetrators of the assault.
Iranian Ambassador to London Hamid Baeidinejad has also been threatened with death by a member of the extremist group which carried out the attack on the Islamic Republic's embassy in London.
In a post on his official Twitter account on Sunday, Baeidinejad introduced the person as Hossein Mar'ashi Qazvini, who also leveled accusations against the Iranian diplomat on social media, including allegations of murder.
In reaction to a recent rhetoric by Saudi Crown Prince Mohammed bin Salman against Iran and the Islamic resistance, Shamkhani said the Israeli regime and United States are known by regional countries as evil forces due to their attacks on Iraq and Afghanistan and the spread of terrorism in the region.
"Unfortunately, Saudi rulers throughout their political existence have created bloody borderlines in the Muslim world by promoting Takfiri groups," the SNSC secretary added.
Saudi Arabia's crown prince has claimed that Turkey along with Iran and what he called as Islamist groups are parts of a "triangle of evil" in the region, the Cairo-based Al-Shorouk and other local newspapers reported on Wednesday.
Bin Salman arrived in London on Wednesday for a three-day trip, where the Downing Street spokesperson said the two sides had agreed to counter Iran's "destabilizing" role in the region after a meeting between the Saudi crown prince and British Prime Minister Theresa May.
Bin Salman and May also agreed on a target of 65 billion pounds ($90 billion) of mutual trade and investment in the coming years, hailing it "a significant boost for UK prosperity ... as we prepare to leave the European Union."
Iranian Foreign Ministry Spokesman Bahram Qassemi on Thursday chided British leaders over their anti-Iran remarks during the Saudi crown prince's first official foreign visit, calling on them to stop trading global peace and security for economic interests.
Qassemi condemned the "irresponsible unison" of the British and Saudi officials in accusing Iran of destabilizing the region.
http://www.presstv.com/Detail/2018/03/12/555210/Shamkhani-London-embassy-attack-Saudi-Arabia-Britain
--------
Yemeni Forces Announce End of Battle against Al-Qaeda in Abyan
12 March 2018
Yemen forces backed by Arab coalition forces concluded Operation Sweeping Torrent to purge Abyan of al-Qaeda remnants and accomplished major victories in record time.
The UAE's news agency said Al Mahfad District, Abyan's largest districts, and Wadi Hamra were completely purged of al-Qaeda.
Operation Sweeping Torrent is one of the most significant military operations in Yemen as it succeeded in eliminating al-Qaeda's presence in Abyan and Shabwa. Wadi Al Masini in Hadhramaut was also purged of al-Qaeda during Operation Decisive Sword.
Warehouses containing large amounts of missiles, ammunition and explosives were seized during the operation against the group and several al-Qaeda members, including commanders, were killed and detained.
https://english.alarabiya.net/en/News/gulf/2018/03/12/Yemeni-forces-announce-end-of-battle-against-al-Qaeda-in-Abyan-.html
--------
More than a dozen Houthi militants killed in Yemen's Al-Bayda
13 March 2018
DUBAI: Yemen's national army killed 17 Iran-backed Houthi militants and wounded several others in Yemen's Al-Bayda province, Saudi state-news channel Al-Ekhbariya reported.
A military source said the resistance was also able to liberate sites in the Qifa and Al-Qoraisha directorates.
http://www.arabnews.com/node/1265046/middle-east
--------
Car bomb hits military kitchen for UAE-backed Yemeni forces in Aden
13 March 2018
ADEN: An explosion hit a military kitchen in Aden used to prepare meals for Yemeni forces trained and backed by the United Arab Emirates (UAE), causing casualties on Tuesday, witnesses said.
They said ambulances were seen taking casualties to hospitals after the blast, which some witnesses said was caused by a booby-trapped car driven toward the kitchen.
http://www.arabnews.com/node/1265116/middle-east
--------
In retaliatory attacks, Yemeni snipers kill several Saudi troopers in Jizan
Mar 12, 2018
Yemeni army soldiers, backed by fighters from allied Popular Committees, have reportedly killed several Saudi troopers in the kingdom's southwestern border region of Jizan over the past 24 hours, in retaliation for the Riyadh regime's military campaign against the crisis-hit country.
Yemeni military sources told Arabic-language al-Masirah television network on Monday that Yemeni forces shot and killed at least three soldiers in Hamdah village in Jizan province, which is located 967 kilometers southwest of the capital Riyadh. A Saudi armored vehicle was also completely destroyed in the military operation.
This came a day after at least five Saudi soldiers were killed by Yemeni snipers in the same troubled region.
Yemeni forces and their allies also fired a volley of rockets at military bases belonging to Saudi mercenaries.
Separately, a number of militants loyal to former Yemeni president Abd Rabbuh Mansur Hadi were killed during a series of fierce clashes with Yemen's popular Houthi Ansarullah movement across the war-battered country's provinces of Jawf, Ta'izz and Dali'. Saudi Arabia has been incessantly pounding Yemen since March 2015 in an attempt to crush the popular Houthi Ansarullah movement and reinstate Hadi, who is a staunch ally of the Riyadh regime.
A new study by the Stockholm International Peace Research Institute (SIPRI) shows weapons imports to the Middle East and Asia have soared over the past five years, with Saudi Arabia leading the steep rise amid its bloody war on Yemen.
More than 13,600 people have been killed since the onset of Saudi Arabia's military campaign against Yemen. Much of the Arabian Peninsula country's infrastructure, including hospitals, schools and factories, has been reduced to rubble due to the war.
Full report at:
http://www.presstv.com/Detail/2018/03/12/555216/Saudis-Yemen-Jizan-awfTaizz-Dhale
--------
Suicide attack targets Iranian Guards' headquarters in Balochistan
12 March 2018
Iran's Revolutionary Guard announced on Sunday that one of its border checkpoints in the Sarawan district of Sistan and Balochistan province had been attacked by a suicide bomber, killing the attacker and wounding two men from the Basij militias.
Tasnim news agency reported on Monday, that a group of gunmen tried to attack an Islamic Revolutionary Guard headquarter in the Sarawan border town of Sistan and Balochistan province in the southeast.
The Revolutionary Guards described the attackers as "aggressive members of a terrorist group" and said his forces had repulsed the attack but one of the attackers detonated his explosive jacket, killing himself and wounding two Basij forces personnel.
This is not the first time that the city of Sarawan, Balochistan witnesses an attack on the border points of the Revolutionary Guard or the Iranian army. On January 7, 2017, an Iranian border guard was killed and three others injured in clashes with an armed Balochian group on Friday in area of Jekygor of Sistan and Balochistan provinces in southeastern Iran on the Pakistani border.
The Iranian news agency "Irna" then quoted a government source familiar with the clashes that occurred on Friday afternoon between militants and border guards in the region of Jekygor south of Sistan and Balochistan province.
The news stated that the attackers were traveling in a truck to transport food supplies to the border guards in the area of Jekygor, where they clashed with a gunman at 11:30 local time.
On December 19, 2016, the Iranian Revolutionary Guards announced the killing of one of its officers and the wounding of another in a car bomb attack, following overnight clashes with an armed opposition group in the city of Sarawan, located east of Pakistan's Balochistan province, southeast of Iran.
Baloch Sunnis form the majority of the population of Sistan and Baluchistan province in southwestern Iran along the sides of Baluchistan province of Pakistan.
Full report at:
https://english.alarabiya.net/en/News/middle-east/2018/03/12/Suicide-attack-targets-Iranian-Revolutionary-Guards-headquarter-in-Baluchistan.html
--------
Turkey begins debating changes to electoral laws
Mar 12, 2018
The Turkish parliament has begun debating a series of changes in the country's electoral laws, something that opponents of President Recep Tayyip Erdogan say would further consolidate his powers while affecting the integrity of votes.
The debate started on Monday and lawmakers are expected to vote on the amendments sometime this week.
The proposed changes include a new mechanism that would allow smaller parties to enter alliances with the ruling party even if they fail to pass the minimum threshold of gaining 10 percent of votes.
Opponents say in the new system, parties with a smaller base of public support, like the nationalist party favored by Erdogan, would gain an unfair advantage over other major opposition parties. They say the scheme would lead to a "dirty alliance" between Erdogan's Justice and Development Party (AKP) and the nationalists, enabling Erdogan to secure the nationalists' continued support in presidential elections set for November 2019.
The changes in electoral laws also cover the supervision and organization of votes.
The opposition, which failed to have the measures, which it called "unconstitutional" withdrawn from parliament on Monday, insists that fraudulent voting would be likely as a result of the changes as Erdogan's administration would have the power to appoint partisan government officials to oversee ballot stations, while it would be able to move ballot boxes and call troops whenever it thinks there are security threats.
Opposition legislator Muharrem Erkek criticized the new motion, saying it would "shake the security of the ballots at the core," while "fair representation is being abolished."
The government has defended the new changes as necessary to ensure "electoral security" in Turkey's southeast, citing an insurgency by Kurdish militants in the region.
Given sufficient majority for the AKP and the nationalists in parliament, the changes are expected to easily pass the chamber.
Full report at:
http://www.presstv.com/Detail/2018/03/12/555245/Turkey-electoral-laws-changes
--------
Africa
Tillerson vows US 'full support' for Nigeria in jihadism fight
MARCH 13 2018
ABUJA,
US Secretary of State Rex Tillerson on Monday slammed last month's mass abduction of schoolgirls in northern Nigeria and promised Washington's "full support" in the country's fight against Boko Haram jihadists.
"The recent kidnapping of 110 schoolgirls is heartbreaking," Tillerson said on his arrival in the capital Abuja on the final leg of an African tour.
"Nigeria has the US in full support and we are actively working with our partners in what we can assist you in this fight."
BUHARI
Tillerson, who was greeted by Nigerian President Muhammadu Buhari, is on the final part of his first tour of Africa since becoming secretary of state.
He arrived from Chad, where he also promised support for a state fighting jihadism.
His tour, which began on Wednesday, has also included Ethiopia, Djibouti and Kenya.
CHIBOK
Heavily armed Islamist militants abducted 110 girls from their school in Dapchi, in Yobe state, northeast Nigeria, on February 19.
Parallels were immediately drawn to the abduction of more than 200 schoolgirls in Chibok in 2014, which captured world attention and contributed to the ouster of Buhari's predecessor, Goodluck Jonathan.
OVERNIGHT
Tillerson had initially been scheduled to stay in Abuja overnight, hold further meetings on Tuesday with US embassy staff and then fly back to Washington.
But the schedule was shortened because of work, aides said.
https://www.nation.co.ke/news/africa/US-help-Nigeria-fight-Boko-Haram/1066-4339126-uw2xhgz/index.html
--------
Kenya: U.S. Lists Al-Shabaab Leaders in Kenya As Global Terrorists
10 MARCH 2018
By Kevin J. Kelley
The US State Department has listed two Kenyan leaders of Al-Shabaab as "specially designated global terrorists".
The targeting of Ahmad Iman Ali and Abdifatah Abubakar Abdi is intended to deny them resources needed to plan and carry out attacks inside Kenya as well as in Somalia.
Ali has directed Shabaab's Kenyan operations for the past six years and is believed responsible for hundreds of deaths.
KDF ATTACK
The State Department says Ali coordinated the January 2016 attack on a Kenya military base in el Adde that ranks as the worst military defeat in Kenyan history.
At least 150 Kenyan soldiers were killed in that raid, according to the United Nations.
"Ali is also responsible for Al-Shabaab propaganda targeting the Kenyan government and civilians, such as a July 2017 video in which he issues threats to Muslims serving in Kenya's security forces," the State Department related.
Ali served as a cleric for the Nairobi-based Muslim Youth Center, which announced in 2012 that it had merged with Al-Shabaab. He subsequently sought to recruit youth for Al-Shabaab in Nairobi's slums
Abdi is wanted in connection with the June 2014 attacks in Mpeketoni, Kenya that claimed more than 60 lives.
Full report at:
https://allafrica.com/stories/201803100058.html
--------
Somalia: Somali Forces Clash With Al Shabaab in Mogadishu, 1 Dead
12 MARCH 2018
At least one soldier was killed and several were wounded in Mogadishu after Somali security forces clashed with Al Shabaab militants on Monday, Police and witnesses said. The clash came following an attack against Somali Intelligence officers on a security patrol in a remote area in Kahda district which left one soldier dead and several wounded.
The local authorities said the attack has been repulsed and the Somali troops inflicted heavy losses on the Al Shabaab attackers, without elaborating the number of the fatalities. This comes hours after Al Shabaab gunmen shot dead a Soldier in the same district and seized his AK-47 rifle gun, according to the residents.
Al Shabaab did not comment so far on both attacks in Kahda, a newly established district in southern Mogadishu, which has been hit by attacks from Al Shabaab in the past few months.
http://allafrica.com/stories/201803120635.html
--------
FG probes sources of Boko Haram IEDs' materials
MARCH 12, 2018
ABUJA-THE federal government is to launch probe into sources of materials used by the Boko Haram terrorist group in manufacturing Improvised Explosive Devices,IEDs, in the country.
This was even as it disclosed it has already identified the prevalent types of explosives, accessories, fertilizers and procursor chemicals being used by the terrorists to unleash carnage on innocent citizens and would soon block access to them.
The National Security Adviser, Maj. Gen. Babagana Monguno, rtd, disclosed this Monday, in Abuja, while declaring open a five-day National Chemical Security Training Conference,organized by his office in conjunction with the Chemical Security Programme, CSP. According to Monguno, the federal administration would henceforth focus its attacks on criminal networks of sourcing for materials used in preparing IEDs by the terrorists group. Monguno, who spoke through the Coordinator of Counter Terrorism Centre, Rear Admiral Yem Musa, further said all relevant agencies involved in the procurement, use and control of harmful chemicals would be made to ensure that Nigeria comply with global best practices in the importation, storage, transportation and distribution of chemicals in the country. " The Office of the National Security Adviser has over the years investigated series of Improvised Explosives Devices (IED) incidents, within the urban terrorism and insurgency theatre of operations and have been able to identify the prevalent types of explosives, accessories, fertilizers and precursor chemicals used in the preparation of the IEDs. "IED attacks have become an integral part the Boko Haram Terrorist tactics. Over the years, nations faced with the threats and dual use of chemical substances and precursor for illicit and criminal activities, have evolved strategies to mitigate, pre-empt and respond to such threats. " Similarly in Nigeria, we have also included counter IED initiatives in our National Counter Terrorism Strategy (NACTEST). The focus of this Strategy is to attack the criminal network of sourcing for the materials used in preparing the IEDs, including the various dual use chemicals, explosives/accessories and specific blends of fertilizers. "Working with relevant stake holding Ministries Departments and Agencies (MDAs) we have emplaced strategic measures to control the importation, transportation, storage and use of these sensitive substances, thereby taking them out of the reach of criminal elements. "The MDAs are engaged as follows: National Agency for Food and Drug Administration and Control (NAFDAC) – For Chemical Control, Ministry of Mines and Steel Development (MMSD) – For Explosives and Accessories Control and the Federal Ministry of Agriculture and Rural Development (FMARD)- For Fertilizer Control, "he said. The NSA said his office had extended its efforts to curtail use of drugs and chemical to the human aspect of chemical security threat, stressing that "we have identified that most of these violent crimes , such as person borne IEDs are perpetrated under the influence of drugs." In his remarks, the Director General of NAFDAC, Prof. Mojisola Adeyeye said time has come for the federal government to declare emergency in the drug and chemical sectors of the nation's economy in view of the perversive use of drugs and the porous nature of the country's borders. "Some weeks ago about three trucks of Tramador were impounded, after NAFDAC received a tipped off on their exit from Apapa Port, we were told the substance were being transported to Yola, probably to Sambisa forest. "You will all agree with me that it will be difficult for a normal person to strap around herself Improvised Explosive Devices, this is what our young girls are being made to do. It is because their minds have been stolen. Therefore we must do every thing possible to address this issue." Prof. Adeyeye lamented that NAFDAC for now is not allowed access to the nation's port to check illegal importation of drugs, stressing that unless such anomally is corrected "we will be hiding our heads in the sands as fas as the the importation, storage and transportation of drugs and chemicals into the country are concerned.
Full report at:
https://www.vanguardngr.com/2018/03/fg-probes-sources-boko-haram-ieds-materials/
--------
URL: https://www.newageislam.com/islamic-world-news/come-america-mohammed-bin-salman/d/114579
New Age Islam, Islam Online, Islamic Website, African Muslim News, Arab World News, South Asia News, Indian Muslim News, World Muslim News, Women in Islam, Islamic Feminism, Arab Women, Women In Arab, Islamophobia in America, Muslim Women in West, Islam Women and Feminism