New Age Islam News Bureau
3 Jul 2017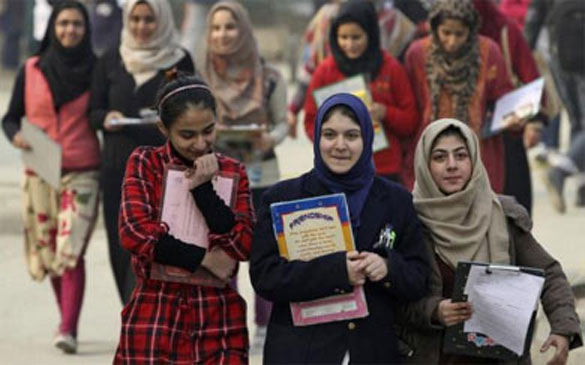 The competition involved students from various schools across the valley. (Photo: PTI/Representational)
----
• Columnist to Be Suspended For Equating Saudi King to God
• Sufi Organization in J&K Spreads Message of 'Love' Through Poetry Contest
• 'We Won't Let Pakistan Become Like Syria, Iraq or Libya': All Parties Conference
• All of Germany's Muslim MPs Voted In Favour Of Same-Sex Marriage
• IRGC Commander: Abu Bakr Al-Baghdadi Most Likely Dead
Arab World
• Columnist to Be Suspended For Equating Saudi King to God
• Iraqi Army Forces Blocks Away From Historic Victory in Mosul
• Damascus bomber kills 18 after car chase
• Iraq: 14 killed after suicide attack hits camp in Anbar province
• Syria Denies Using Chemical Weapons in War-Hit Country
• Saudi Arabia and allies give Qatar two more days to accept demands
• Fire destroys Syrian refugee camp in Lebanon
• Assad appears on Syrian currency for first time
• Iraq battles last few hundred militants in Old Mosul
• Egyptian court sentences 20 to death for killing policemen
• Israel Targets Syrian Army Positions Following Terrorists' Heavy Defeat in Al-Ba'ath
--------
India
• Sufi Organization in J&K Spreads Message of 'Love' Through Poetry Contest
• Hindu-Muslim Riots, Caste-Based Conflicts Should Not Be Part Of Curriculum: ICSSR Chief
• Muslim Group to Offer Prayers at Dargah for Construction of Ram Temple in Ayodhya
• 'Global Terrorist' Syed Salahuddin Boasts To Pakistan TV Channel That He 'Carried Out Terror Attacks In India'
• Encounter in Pulwama, 2 terrorists killed
• Samjhauta Express blasts: Pakistan seeks time on sending blast witnesses to India
• Ballabhgarh lynching: Randeep Surjewala flays BJP, CM Khattar seeks arrests of all culprits
--------
Pakistan
• 'We Won't Let Pakistan Become Like Syria, Iraq or Libya': All Parties Conference
• 'I Wish I Knew One Reason Why the Rest of Pakistan Ignores Parachinar'
• Even world establishment can't save rulers: JI
• Spike in terrorist attacks: Pakistan expedites fencing Afghan border
• No role in Raymond's release, says Shehbaz
--------
Europe
• All of Germany's Muslim MPs Voted In Favour Of Same-Sex Marriage
• France and Africans Must Eradicate 'Terrorists, Thugs, Murderers': Macron
• France rules out terrorism after eight wounded in mosque shooting
• UN urges Europe to help Italy with refugees
• Russia stresses need for diplomacy in Persian Gulf dispute
--------
Mideast
• IRGC Commander: Abu Bakr Al-Baghdadi Most Likely Dead
• Two Govt Officials, 13 Militants Killed In Turkey
• Two suspected al-Qaeda militants killed in Yemen drone strike
• Saudi forces counter Houthi attack opposite border province of Jazan
• Syria not using chemical weapons against terrorists: Iran's defense minister
• Rouhani: Iran should act so as to isolate US
--------
South Asia
• Deadly Airstrike Target ISIS Militants In Nangarhar, Leaving Several Dead
• Father Joins Taliban after Killing His Teen Daughter for Eloping In Badghis
• Major Taliban offensive repulsed in the strategic Kunduz province
• Couldn't Root Out Militancy, but Destroyed Its Network
• Burma not to allow outside world to investigate genocide of Rohingya Muslims: official
• Ghani off to Turkmenistan to boost cooperation between Kabul and Ashgabat
--------
Africa
• Islamic State Increases Its Dominance In Africa
• At Least 15 Killed In Fresh C. Africa Clashes
• Roadside bomb kills two near Somalia's capital
• Militant video purports to show westerners held in Mali
• France Pledges to Bolster African Antiterrorism Force
• Boko Haram Leader Targets Non-Violent Muslims in Video: 'You Are Playing with Hellfire'
• Nigeria: Boko Haram Refugees Find New Home
--------
North America
• The Supreme Court's "Muslim Ban" Decision Is Terrifying
• Alienation Worries at US Mosque amid Travel Ban
• Trump discusses 'concerns' over Qatar crisis in calls to Gulf leaders
• No change in US Kashmir policy: US' McCain
--------
Southeast Asia
• Malaysia's Perkasa Also Calls for Boycott against Starbucks over 'Pro-LGBT Stand'
• Amanah and PAS cut from same cloth, MCA tells DAP
• Utusan praises Hadi, muftis for opposing DoJ suit
• Cops nab three suspects, rescue five victims of human trafficking
Compiled by New Age Islam News Bureau
URL: https://www.newageislam.com/islamic-world-news/columnist-be-suspended-equating-saudi/d/111759
--------
Columnist to be suspended for equating Saudi King to God
July 3, 2017
DUBAI: Saudi Arabia´s King Salman bin Abdulaziz has ordered an over-enthusiastic columnist to be suspended from his job after he equated him with God, Saudi media reported on Sunday.
King Salman has frequently been lauded by columnists in local media, in traditional deference to authority, since the 81-year-old assumed office in 2015.
But Ramadan al-Anzi´s column in Al Jazeera newspaper describing King Salman as "Haleem", or forbearing, and "Shadeed al-Eqab", strict in punishment – both terms associated with Islam with God – appeared to have gone too far.
Attributing divine qualities or giving individuals any of the 99 names of God is frowned upon in the kingdom.
The newspaper published an apology late on Saturday.
"The phrases and tribute which the author bestowed on the personality of the Custodian of the Two Holy Mosques, are not acceptable, despite what God had bestowed upon him, may God protect him, of the honour of serving the two holy mosques, Islam, the homeland and the people," Al Jazeera wrote.
Saudi media reported that the king had ordered that action is taken against the newspaper, but no specifics were given.
In a message to Information Minister Awwad bin Saleh Alawwad, the King wrote that he was "astonished by some of the phrases used in the column", according to Okaz newspaper.
An online newspaper, sabq, quoted the king as saying in his written complaint: "This is an issue that has distressed us, we don´t accept it and don´t approve of it, recognising its dangers and the danger
https://www.pakistantoday.com.pk/2017/07/03/columnist-to-be-suspended-for-equating-saudi-king-to-god/
--------
Sufi organization in J&K spreads message of 'love' through poetry contest
Jul 2, 2017
Srinagar: The Sufi organization in Jammu and Kashmir (J&K) organised a poetry competition at a local school in Srinagar, to create awareness about humanity, brotherhood and the teachings of Prophet Mohammad through Islamic poetry.
The competition involved students from various schools across the valley.
Kashmir society chairman Farooq Renzu Shah asserted that there is a lot of hatred in the world, and the sole resolution to the problem is 'love and affection'.
Shah said, "Our future generation should not delve into these things. Youth should follow the path of love, which Kashmir was once known for."
Farmaan Ali, a participant of the competition said that the platform is a good exposure for students to learn, especially the ones in the primary level.
"The competition is a good platform for aspirants of this field. Students would get to know more about their hidden talent, and an activity different from education is always a good exposure for students", he said.
"Debates on crucial topics are certainly important, but such practices evolve a child's personality", he added.
Hafisa Jaan, another participant of the event said, "This is a very prestigious occasion for the entire school. It is a jubilant moment for the school."
The youth in Kashmir is diverting in different directions which do not represent Islam and Sufism; therefore, such activities would help them to know more about the religion and the leaders who have furthered the religion.
http://www.asianage.com/india/all-india/020717/sufi-organization-in-jk-spreads-message-of-love-through-poetry-contest.html
--------
'We Won't Let Pakistan Become Like Syria, Iraq Or Libya': All Parties Conference
July 3, 2017
KARACHI: All political parties will together thwart any attempt to push Pakistan towards the state in which countries like Syria, Libya and Iraq currently are, an All Parties Conference (APC) summoned by the Majlis Wahdat-e-Muslimeen (MWM) decided on Sunday.
The MWM convened the APC on the subject of 'Sectarianism is poisonous for Pakistan' at the Catholic Garden. Representatives from Pakistan Peoples Party, Muttahida Qaumi Movement – Pakistan, Pakistan Tehreek-e-Insaf, Pak Sarzameen Party, Jamat-e-Islami, Jamiat Ulema Pakistan (Noorani), Jamiat Ulema Islam, Sunni Tehrik and others attended the conference.
Talking to participants of the conference, MWM Secretary-General Raja Nasir Abbas said that the centre of global power is in Asia and the United States, United Kingdom and their allies could not stand it.
To avert this shift in power, these countries want to push Pakistan and other possible beneficiaries into war.
"The terrorism fueled by the US and its allies has rocked Pakistan. Their agents are instigating sectarianism in the country to achieve goals for their handlers," Abbas accused, asking political parties to join hands in fighting against the country's enemies.
"A strong central government is inevitable to eliminate takfiriyat [labeling others as infidels] from the country. And for this, the motives of all political parties should be retaining the Pakistan envisaged by Mohammad Ali Jinnah and Allama Iqbal," Abbas commented.
Eight-day sit-in: Army chief helps end Parachinar protest
He criticised former military dictator General Ziaul Haq for pushing Pakistan towards sectarianism and held him accountable for making the country lose the spirit laid in it by its founders.
Mentioning the strategic importance of Parachinar where over 70 people were recently killed and hundreds were wounded in twin bomb blasts by terrorists, he said that the area was the frontline in the defence of the country.
"Parachinar is facing threats from terrorist organisations like Da'ish and Lashkar-e-Jhangvi. If Parachinar weakens, then the entry of Da'ish to Pakistan cannot be stopped," he remarked, saying that the country needs to think every act of terrorism is on the nation and not on a particular group or community.
Cheques distributed among injured and families of Parachinar blast victims
PSP Secretary-General Raza Haroon said that people should respect the views and beliefs of others rather than engaging in a debate to prove one right and the others wrong. "To understand the sectarianism in Pakistan, we need to understand the great game against Islam."
He advocated that each and every citizen of the country possessed equal rights regardless of their caste, creed, religion, sect or affiliation.
https://tribune.com.pk/story/1448681/wont-let-pakistan-become-like-syria-iraq-libya/
--------
All of Germany's Muslim MPs voted in favour of same-sex marriage
July 3, 2017
All six of Germany's Muslim members of parliament voted in favour of same-sex marriage as Angela Merkel faced criticism for opposing the bill and announcing: "Marriage is between a man and a woman."
Despite the Chancellor's opposition, the historic "marriage for all" measure was approved with 393-226 votes in the Bundestag on Friday, leading hundreds of MPs to rise to their feet in a spontaneous standing ovation.
The Green Party, who launched rainbow confetti into the chamber when the result was announced, have since confirmed that the party has four Muslim lawmakers – Cem Özdemir, Ekin Deligöz, Özcan Mutlu and Omid Nouripour – who approved the legislation.
Aydan Özoğuz, a Muslim MP for the centre-left Social Democratic Party, also voted in favour of the bill after his party criticised Ms Merkel for "embarrassing" delays to the legislation.
The issue has divided the Chancellor's Christian Democratic Union (CDU/CSU) party, which remains the largest in the German parliament and has enjoyed comfortable poll leads and local election victories ahead of September's federal elections.
Ms Merkel has always been unequivocal with her personal opposition to marriage equality, but her party's MP Cemile Giousouf, the first Muslim elected into the Bundestag in 2013, was praised on social media after endorsing the landmark measure.
Activist Filipe Henriques tweeted: "She's a Muslim woman and a Conservative. She voted for marriage equality, most of her CDU colleagues voted against.
"Merkel thinks marriage is sacred bond between men and woman. Most Germans and all Muslim MPs believe in equality. Who needs integration?"
Only three lawmakers are listed as being Muslim on the Bundestag website, but German newspaper Welt spoke to the parties and confirmed that all six consider themselves Muslim.
Ms Merkel said after the vote: "I hope that the vote today not only promotes respect between different opinions but also brings more social cohesion and peace."
The Chancellor also said she supported the bill's introduction of full adoption rights for same-sex couples – a move she had previously opposed – and was fighting anti-LGBT discrimination.
When opposing same-sex marriages she has cited German law, her values as an evangelical Christian and those of her party, which describes its foundations as the "Christian understanding between people and their accountability before God".
In December 2015 the German leader claimed that multiculturalism was a "lie" and responded to criticism of her move to open the country's borders to one million refugees by saying: "We want and we will reduce the number of refugees noticeably."
With almost all of its neighbours supporting legal unions between gay partners, calls had been increasing in Germany for the government to drop resistance that appeared increasingly anachronistic.
The Netherlands was the first European country to legalise same-sex marriage, back in 2001, followed by countries including Belgium, Spain, Canada, Norway, Sweden, Portugal, Iceland, Denmark, France and the UK.
You do not have access to view this Atom.
Germany has allowed same-sex couples to enter civil partnerships since 2001, but same-sex marriages remained illegal.
The draft law legalising same-sex marriage was first moved in 2015 in the upper house of parliament by the state of Rhineland Palatinate.
It is expected to be signed into law by the President some time after 7 July but could face legal challenges.
http://www.independent.co.uk/news/world/europe/angela-merkel-chancellor-germany-same-sex-marriage-vote-lgbt-muslim-mps-berlin-bundestag-cdu-sdp-a7819391.html
8 wounded in France mosque shooting, not terrorism: prosecutor
Eight people including a girl were lightly wounded late Sunday in a shooting in front of a mosque in the southeast French city of Avignon, the prosecutor's office said, ruling out terrorism.
According to initial accounts taken on the spot, at least two men got out of a car around 10:30pm near the mosque and opened fire, including with a shotgun, the prosecutor's office said.
None of the wounded had life-threatening injuries, it said.
"From what we know this evening, the mosque was not targeted. The fact that it happened in the street of the religious establishment was unconnected with it," the prosecutor said, ruling out terrorism.
Witness accounts mentioned four men in the car, all hooded.
The criminal investigation department has taken charge of the case.
The shooting comes a few days after a man on Thursday attempted to drive his car into worshippers outside the Creteil mosque in southeast Paris.
The driver, a 43-year-old Armenian who suffered from schizophrenia, hit barriers and pillars outside the mosque with his 4x4 without causing any injuries before crashing into a traffic island.
According to a source close to the investigation, the suspect had made "confused remarks in relation" to a string of militant attacks that have struck France, killing 239 people since 2015.
Following a van attack against worshippers leaving Finsbury Park Mosque in London on June 19 which left one dead and 11 injured, France's Muslim community has also felt threatened.
Some Muslim officials have described the Paris incident as an attack and called on the authorities to "strengthen protection of places of worship".
The Paris police commissioner reiterated his orders for vigilance in protecting Muslim places of worship.
https://www.dawn.com/news/1342949/8-wounded-in-france-mosque-shooting-not-terrorism-prosecutor
--------
IRGC Commander: Abu Bakr Al-Baghdadi Most Likely Dead
Jul 02, 2017
"Apparently, the Russians say that he has been killed but we should wait a little. Also on the other side, the evidence and behavior of the ISIL members show that he has been killed and recently, any where his name is uttered it comes with weeping and mourning (among the terrorists)," Lieutenant Commander of the IRGC for General Operations Brigadier General Mohammad Reza Zahedi told FNA on Sunday.
The Russian Defense Ministry reported last month that al-Baghdadi might be killed as a result of a Russian airstrike South of Raqqa in late May.
The ISIL leader might alongside other leaders of the extremist group and 330 terrorists be killed in the air raid.
"As a result of the Su-35 and Su-34 airstrikes, high-ranking commanders of the terrorist groups who were part of the so-called ISIL (Daesh) military council, as well as about 30 mid-level field commanders and up to 300 militants of their personal security, have been killed," the ministry said in a statement.
Also, local sources in Syria said last Wednesday that ISIL has started replacing senior field commanders in Deir Ezzur after sustaining repeated defeats in the battle against the Syrian army troops and reported death of its leader al-Baghdadi.
The sources said that the ISIL is replacing a number of its notorious commanders in the Eastern province of Deir Ezzur to regroup its forces after heavy defeats the terrorist group has suffered in clashes with the army.
The sources further added that Abu Bin Laden Iraqi has been appointed by the ISIL as the chief commander of the terrorist group in Deir Ezzur, while Abu Tofiq Iraq was appointed as Security Commander and Abu Aref Iraq as the financial official responsible of the group in Deir Ezzur.
http://en.farsnews.com/newstext.aspx?nn=13960411000977
--------
Arab World
Iraqi army forces blocks away from historic victory in Mosul
Jul 2, 2017
Iraqis are getting ready for nationwide celebrations as government forces are just blocks away from battles raging in the last few districts, where members of the Daesh Takfiri militant group are dug in.
Army soldiers have tied banners and Iraqi flags to lamp posts and damaged buildings, including the base of 12th-century Hadba (Hunchback) minaret, which Daesh extremists blew up late on June 21 along with the Grand al-Nuri Mosque, where purported Daesh ringleader, Ibrahim al-Samarrai aka Abu Bakr al-Baghdadi, announced the forming of the group's so-called caliphate back in June 2014.
Government authorities are planning a week of jubilation across the country and Prime Minister Haider al-Abadi is expected to visit Mosul to formally declare victory.
The recapture of Mosul, located some 400 kilometers (250 miles) north of the capital Baghdad, would mark the effective end of Daesh in Iraq.
Earlier on Sunday, Commander of Nineveh Liberation Operation Lieutenant General Abdul Amir Yarallah stated that Iraqi Federal Police forces had liberated the Makawi area of the Old City, and hoisted the national Iraqi flag over a cluster of buildings there, Arabic-language al-Sumaria television network reported.
Commander of Federal Police Forces Lieutenant General Shaker Jawdat also said security forces had completely retaken Bilal al-Habashi Mosque in Bab al-Jadid neighborhood of Mosul's Old City.
He noted that Federal Police forces were advancing from three sides, and were pursuing Daesh terrorists in the few remaining militant-held areas of the Old City.
Iraqi army soldiers and volunteer fighters from the Popular Mobilization Units, commonly known by their Arabic name, Hashd al-Sha'abi, have made sweeping gains against Daesh since launching the Mosul operation on October 17, 2016.
The Iraqi forces took control of eastern Mosul in January after 100 days of fighting, and launched the battle in the west on February 19. Iraqi authorities expect the battle to end soon as the remaining Daesh elements are bottled up in a few districts of the Old City.
An estimated 862,000 people have been displaced from Mosul ever since the battle to retake the city began nine months ago. A total of 195,000 civilians have also returned, mainly to the liberated areas of eastern Mosul.
http://217.218.67.231/Detail/2017/07/02/527207/Iraqis-prepare-celebration-Mosul-liberation-Daesh-terrorists
--------
Damascus bomber kills 18 after car chase
July 03, 2017
Damascus - A suicide car bomber pursued by security forces blew himself up in eastern Damascus on Sunday, with a monitor reporting 18 killed in the deadliest attack to hit the Syrian capital in months.
Syrian state media and the Syrian Observatory for Human Rights monitoring group said security forces intercepted three car bombers on their way into the city early on Sunday morning.
State television said two of the vehicles were blown up on the outskirts of the city. A third managed to reach the eastern Tahrir Square district, where the driver was surrounded but able to detonate a bomb.
There was no immediate claim of responsibility, but previous deadly attacks in Damascus have been claimed by the Islamic State group and rival jihadist factions.
The Observatory, a Britain-based monitor, said 18 people were killed in Sunday's bombing, including at least seven members of pro-regime security forces and two civilians. It had not identified the remaining victims. It said at least 12 other people were wounded in the blast.
Syrian state news agency SANA quoted an interior ministry statement as saying two of the vehicles had been "destroyed" at a roundabout on the road to the city's airport.
The driver of the third blew himself up while being pursued, it said, "killing a number of civilians, injuring others, and causing material damage to public and private properties."
An AFP correspondent at Tahrir Square saw extensive damage to nearby buildings. Two bombed-out cars were visible to one side of the square, which was strewn with debris.
A woman was crying in an apartment near the site of the attack. Her balcony had collapsed and the living room was a mess of broken glass and shattered masonry, with pictures and curtains strewn across the floor.
The woman said her daughter had been taken to hospital after being injured by flying glass.
Tahrir Square resident Mohammad Tinawi told AFP that he had heard "gunfire at around 6:00 am (0300 GMT), then an explosion which smashed the glass of houses in the neighbourhood."
He said he had seen Red Crescent volunteers treating two wounded soldiers. A shopkeeper confirmed that the explosion had gone off at around 6:00 am.
Hours after the blast, security was still tight at checkpoints around the city centre although local authorities had reopened some streets leading to Tahrir Square.
University exams that were supposed to be held on Sunday near the site of the first two blasts were postponed.
Damascus has been spared the large-scale battles that have devastated other major Syrian cities during the country's six-year civil war. But dozens of people have been killed in bombings, usually on the outskirts of the capital.
In mid-March, bomb attacks on a courthouse and restaurant in central Damascus killed 32 people. That rare assault in the heart of the city, which remains under government control, was claimed by IS.
It came days after two explosions that left 74 dead in the capital's Old City and were claimed by the Tahrir al-Sham coalition, led by the jihadist Fateh al-Sham Front.
Full report at:
http://nation.com.pk/national/03-Jul-2017/damascus-bomber-kills-18-after-car-chase
--------
Iraq: 14 killed after suicide attack hits camp in Anbar province
2 July 2017
At least 14 people were killed and more than 10 injured after a suicide bomber attacked a camp for displaced persons in western Anbar, Iraq.
Al Arabiya's correspondent reported that the attack on the camp occurred 60 km west of Anbar province.
According to initial reports, the suicide bomber was wearing a women's uniform when he infiltrated the camp.
https://english.alarabiya.net/en/News/middle-east/2017/07/02/Iraq-At-least-14-people-killed-in-suicide-attack-on-displaced-camp-in-Anbar.html
--------
Syria Denies Using Chemical Weapons in War-Hit Country
Jul 02, 2017
The General Command said that some websites affiliated to the terrorist groups are releasing false and baseless reports claiming that the army used chlorine gas against the terrorists of Faylaq al-Rahman in Ein Terma region in the Eastern Ghouta.
The General Command refuted these claims, reiterating that it never used chemical weapons before and will never use them in future as it doesn't even possess them, asserting that "such lies and false narratives have become apparent to everyone and cannot fool anyone, as they are fabricated by the terrorist groups to justify their defeats and heavy losses whenever the army makes progress in a battlefield".
Meanwhile, a diplomatic source told Sputnik that officers of the Russian Center for Syrian Reconciliation deployed on Saturday in the al-Qabas quarter of Damascus do not confirm the alleged use of chemical weapons by the Syrian troops.
"On late July 1, a group of officers of the Center for Syrian Reconciliation worked in Al-Qabas quarter adjacent to the settlement of Ein Terma. They did not register any 'use of chemical weapons' by the government troops from this quarter of neighboring areas," the source stressed.
The Spokesperson for the United States administration had accused Syria of preparing to stage a chemical attack in the country, threatening that Washington would make Damascus pay "a heavy price."
The Iranian foreign ministry warned that any US aggression against Syria will further deteriorate the security situation in the region and help the terrorists.
"While the Syrian government has been fighting against terrorism and terrorist groups with all its power and resources for 6 years now and has paid a heavy price to this end, raising such unfounded allegations and adopting measures which will yield no result but strengthening the terrorist groups' status and situation and further complicating the fight and confrontation against these groups is highly questionable and suspicious," Foreign Ministry Spokesman Bahram Qassemi said on Wednesday in reaction to the recent US threats against Syria.
He reminded the US illegal aggression against Syria's al-Shayrat airbase under the pretext of an alleged chemical weapons use by Damascus, and said Iran and Russia had called for sending an international fact-finding delegation to study Washington's allegations but the US blocked the move.
Qassemi called on the international community to show proper and deterrent reaction against such unilateral and illegal moves.
Russian Ministry of Foreign Affairs said in a statement Wednesday that Moscow perceives allegations made by the White House that Syria could be preparing a chemical attack as an "invitation" for terrorists to launch a provocation using chemical weapons.
"We consider these new insinuations on the issue of weapons of mass destruction — in the worst traditions of 2003 NATO intervention in Iraq — to be nothing less than an invitation for terrorists, extremists and armed opposition in Syria to fabricate another mass provocation using chemical weapons," the statement, published on the Ministry's website, said.
"After (the provocation), the 'inevitable punishment' for the Syrian President Bashar al-Assad should follow, as envisioned by Washington," it added.
The Kremlin also commented on the White House's claim on Tuesday and stressed that it considers US' threats against Syrian legitimate leadership to be "unacceptable."
Kremlin Spokesperson Dmitry Peskov pointed out that the Syrian government cannot be held accountable for the April 4 chemical attack in the Idlib province "because, as you know, despite all of Russia's demands, an unbiased international investigation of the previous tragedy has not been carried out."
Damascus also denied the allegation, as Ali Haidar, the Minister of State for National Reconciliation Affairs in Syria, said that Damascus "never used and will never use such weapons," adding that the statement issued by the White House portends a "diplomatic battle" against Syria in the UN.
As Washington claims that it fights against the ISIL group, US warships fired 59 Tomahawk cruise missiles from two warships in the Mediterranean Sea at the Shayrat airfield in Homs province on April 7, following a chemical weapons incident in Idlib province on April 4 which the Western countries blamed on the Damascus government.
The Syrian government has fiercely denied using or even possessing chemical weapons since the country's compliance with the Chemical Weapons Convention was certified by international observers in 2013, as the world is still waiting for the US and its allies to provide any proof for its claims of Bashar al-Assad government involvement in the alleged chemical attack.
Full report at:
http://en.farsnews.com/newstext.aspx?nn=13960411000909
--------
Saudi Arabia and allies give Qatar two more days to accept demands
July 3, 2017
Saudi Arabia and three allies accusing Qatar of supporting terrorism have agreed to a request by Kuwait to extend by 48 hours Sunday's deadline for Doha to comply, according to a joint statement on Saudi state news agency SPA.
Without stating whether Qatar had rejected the ultimatum as was widely expected, Kuwaiti state news agency KUNA said Kuwait's Emir Sheikh Sabah Al-Ahmad Al-Jaber Al-Sabah had asked Saudi Arabia and the three other countries boycotting Qatar to grant it an extension.
Kuwait has been acting as a mediator after Saudi Arabia, the United Arab Emirates, Bahrain and Egypt severed diplomatic and travel ties with Doha, accusing it of supporting terrorism and being an ally of regional foe Iran.
Qatar has called the charges baseless and its foreign minister, Sheikh Mohammed bin Abdulrahman al-Thani, said the stiff demands - including closing Qatar-based al Jazeera TV and ejecting Turkish troops based there - were made to be rejected.
The countries have threatened further sanctions against Qatar if it does not comply with their list of 13 demands presented to Doha through Kuwait 10 days ago.
Egypt said on Sunday that foreign ministers from the four boycotting countries would meet in Cairo on Wednesday to discuss Qatar, without providing further details.
They have not specified what further sanctions they could impose on Doha, but commercial bankers in the region believe that Saudi, Emirati and Bahraini banks might receive official guidance to pull deposits and interbank loans from Qatar.
Full report at:
http://nation.com.pk/international/03-Jul-2017/saudi-arabia-and-allies-give-qatar-two-more-days-to-accept-demands
--------
Fire destroys Syrian refugee camp in Lebanon
July 3, 2017
QAB ELIAS : A fire tore through a camp for Syrian refugees in Lebanon's Bekaa Valley on Sunday, killing at least one person and leaving two in critical condition, the UN refugees' organisation said.
Flames and thick clouds of black smoke rose from the site near the town of Qab Elias, around a hour's drive east of Beirut, in footage broadcast by Lebanon's MTV, and at least one explosion was seen,
Reuters TV footage showed the blaze had virtually razed the camp as a fire truck doused down the still-smouldering ground. A Syrian refugee said many of the people living at the camp had come to Lebanon from the Raqqa area of Syria.
UNHCR spokeswoman Dana Sleiman said the camp had been home to 102 families.
"We've started the assessment as to how many tents have been damaged. As soon as the assessment is done, we will provide the families with all the help they need," she said. "Apparently it started with a cooking stove. We are waiting to confirm that."
Sleiman and a Lebanese security source had initially put the death toll at three.
Full report at:
http://nation.com.pk/international/03-Jul-2017/fire-destroys-syrian-refugee-camp-in-lebanon
--------
Assad appears on Syrian currency for first time
July 3, 2017
DAMASCUS : President Bashar al-Assad has appeared on the Syrian currency for the first time, his portrait printed on a new 2,000-pound banknote that went into circulation on Sunday.
Central bank governor Duraid Durgham said the 2,000-pound note was one of several new notes printed years ago but the decision to put it into circulation was delayed "due to the circumstances of the war and exchange rate fluctuations".
The new note is equal to around $4 at current exchange rates. The currency has plunged in value since the conflict began in 2011, from 47 pounds to the dollar in 2010 to around 500 pounds to the dollar at present.
Citing wear and tear of the existing notes, Durgham said the time was right to put the new note into circulation, the state news agency SANA reported.
Previously, the highest denomination of Syrian banknote was 1,000 pounds. Assad's father, the late President Hafez al-Assad who died in 2000, appeared on coins and on an older version of the 1,000 pound note, which is still in circulation.
Durgham said the new note was put into circulation "in Damascus and a number of the provinces".
Full report at:
http://nation.com.pk/international/03-Jul-2017/assad-appears-on-syrian-currency-for-first-time
--------
Iraq battles last few hundred militants in Old Mosul
July 3, 2017
Mosul - Iraqi forces were battling the last few hundred militants in Mosul's historic centre Sunday as they pressed the final stages of an assault to drive the Islamic State group from the city.
More than eight months since the country's forces launched a gruelling operation to retake Mosul, IS has gone from fully controlling the city to holding a few neighbourhoods on its western side.
"The number is... more or less 300 fighters, most of them of European nationalities, Arabs of other nationalities or of Asian origin," said Staff Brigadier General Nabil al-Fatlawi, a commander in the elite Counter-Terrorism Service (CTS).
"We are not able to specify when the battles will end because of the narrow type of streets in the Old City and also the presence of civilian detainees," Fatlawi said, referring to residents being used as human shields by IS. "But I can say within days," he said.
Earlier in the day, Iraq's Joint Operations Command announced CTS forces had recaptured the Makawi area of the Old City, in a further blow at the heart of the militants' cross-border "caliphate".
Iraqi forces have been closing in on the Old City for months, but its narrow streets and closely spaced buildings combined with a large civilian population made for an extremely difficult fight.
Security forces recaptured a series of nearby districts, cornering the militants, and launched an assault inside the Old City on June 18. They have since made significant progress.
On Saturday, officers announced the recapture of a hospital and its surroundings north of the Old City, removing a nearby but unconnected pocket of IS resistance. Interior ministry forces recaptured the Ibn Sina hospital along with other medical facilities including a blood bank and a clinic, said Staff Lieutenant General Abdulamir Yarallah. IS has occupied several of Mosul's hospitals during the battle for the city.
Some security personnel have complained that restrictions on using heavy weapons against hospitals, intended to protect the facilities, have made operations riskier and more time-consuming.
Federal police chief Lieutenant General Raed Shakir Jawdat said the area around the hospital, Al-Shifaa, had been completely retaken, limiting IS's presence in Mosul to the Old City.
"Our forces are advancing from three sides and are pursuing the terrorist groups in the few remaining areas of the Old City," said Jawdat.
On Thursday, Iraqi forces retook the remains of the Grand Mosque of al-Nuri in their greatest symbolic victory since the battle began.
IS chief Abu Bakr al-Baghdadi gave a triumphal sermon at the mosque after the militants captured Mosul in 2014, calling on Muslims to obey him.
The mosque thus became a symbol of Baghdadi's rule and IS's "caliphate".
The militants made sure that the Nuri mosque was not captured intact, blowing it up as Iraqi forces closed in, along with its famed leaning minaret — known affectionately as "Al-Hadba" (The Hunchback).
IS claimed on its Amaq propaganda agency that the site was hit in a US air strike, but the US-led coalition said it was the militants who had "destroyed one of Mosul and Iraq's great treasures".
Even though it lies in ruins, the mosque's recapture has provided a boost to Iraq's forces and its government. Prime Minister Haider al-Abadi declared the militants' "caliphate" was coming to an end.
The next day, a senior Iraqi commander said victory in Mosul would be declared within the "next few days".
IS overran large areas north and west of Baghdad in 2014, but Iraqi forces backed by US-led coalition air strikes have since regained much of the territory they lost. The recapture of Mosul will not however mark the end of the war against IS.
Full report at:
http://nation.com.pk/international/03-Jul-2017/iraq-battles-last-few-hundred-militants-in-old-mosul
--------
Egyptian court sentences 20 to death for killing policemen
July 3, 2017
CAIRO - An Egyptian court on Sunday upheld the death penalty for 20 men charged with killing policemen in the violence that followed the military's ousting of an Islamist president in 2013, while changing the sentence for many others to hefty prison terms.
The verdicts can again be appealed.
The case involves 156 people on trial and is known as the "Kerdasa incident" in reference to the pro-Muslim Brotherhood neighbourhood where the violence took place in the Giza province adjacent to Cairo.
Islamist gunmen fired rocket propelled grenades at a police station in Kerdasa on Aug. 14, 2013, and slit a policeman's throat before burning the building down, hours after security forces violently dispersed two protest camps, killing hundreds.
"The crimes the defendants are accused of were committed by a group charged with carrying them out," said Judge Sherine Fahmy before reading out the verdict. "Some committed murder themselves, others stole, or burnt, some guarded the road so the assailants could commit their crimes, and some blocked the roads to prevent help from coming, some incited citizens against the military and police using mosque speakers and microphones on the streets. If it were not for all of that, these crimes would not have been committed."
The court also sentenced 80 people to life in prison and 34 to 15 years in jail. One minor was sentenced to 10 years in prison and 21 people were acquitted.
A different court had initially sentenced 183 people to death, including 28 in absentia, and a minor to jail for 10 years in 2015 for the murder of 11 policemen. Those sentenced in absentia are automatically retried if they hand themselves in. The defendants appealed and the Court of Cassation, Egypt's highest criminal and civil court, ordered a retrial of the 156 who are in custody. Egypt's legal system allows the defendants a second and final appeal following Sunday's verdict. Egypt's military, led by General Abdel Fattah al-Sisi, ousted former president Mohamed Mursi of the Muslim Brotherhood in July 2013 following mass protests against his rule. Sisi was elected president a year later.
Full report at:
http://nation.com.pk/international/03-Jul-2017/egyptian-court-sentences-20-to-death-for-killing-policemen
--------
Israel Targets Syrian Army Positions Following Terrorists' Heavy Defeat in Al-Ba'ath
Jul 02, 2017
The al-Mayadeen reported that the Israeli missile units deployed in occupied Golan Heights in Tal (hill) Abu al-Nadi fired three missiles at army positions near Naba'a al-Fawar, damaging the army's equipment.
The Israeli attack was done after the army soldiers repelled an Al-Nusra attack in al-Ba'ath and then in a rapid counter-attack recaptured lost lands.
Relevant reports said on Saturday that an Israeli military helicopter targeted two positions of the Syrian Army in areas near the town of Eastern al-Samadaniyeh and another position around the town of al-Ba'ath.
No accurate information has been released on the possible damage to the Syrian army.
Full report at:
http://en.farsnews.com/newstext.aspx?nn=13960411000534
--------
India
Hindu-Muslim riots, caste-based conflicts should not be part of curriculum: ICSSR chief
July 2, 2017
Textbooks today are aimed at creating "activists" and not educating students, and subjects such as Hindu-Muslim riots and caste-based conflicts should not be part of school curriculum, according to newly appointed ICSSR Chief Braj Bihari Kumar. Kumar, an anthropologist who took over as the head of the apex body promoting research in social sciences last month, also believes that universities like JNU are becoming a "nurturing ground" for activists.
The 76-year-old Kumar also believes that caste-based conflicts and intolerance in the country are "fringe" phenomena and should not be seen as a reflection of the Indian society. "Textbooks are not meant for making students activists but for educating them. Unfortunately the books are driven by an agenda today and there is a need for a curriculum re-haul. Subjects like Hindu-Muslim riots and caste-based conflicts should not form basis of students' mindset and their grooming," Kumar said.
"Textbooks are in bad shape today. I had found a map in a social science textbook which was showing Jammu and Kashmir out of India, there was another one not showing north east area as part of the country. There are several lapses in our textbooks," he added. Kumar, who used to used to edit a journal, Dialogue, before he joined the Indian Council of Social Science Research (ICSSR), had also written in an editorial in 2016 that "NCERT textbooks are driven by political agenda and are partly responsible for the increasing social conflicts and anarchical trends in society".
"I had also written two letters to former HRD minister Smriti Irani pointing out the issue but I did not get any response," he said. Kumar lashed out at "JNU-like universities", claiming, "If you are part of society and you are not ideologically driven, several persons from a single family are massacred in Chhattisgarh and there is jubilation in JNU and a march in praise of the killers, much cannot be said about the kind of varsity that is."
Kumar claimed they project themselves to be one of the best universities but "they can't claim excellence when they are hurting nationality's sentiments and becoming a nurturing ground for activists and not a place for education. Taxpayers do not pay money for activist-making". Kumar further said that "caste-based conflicts" and "intolerance" should not be seen as reflection of Indian society.
"Caste-based conflicts, untouchability and intolerance are all fringe phenomena. They should not be treated as general phenomena and reflection of Indian society," he said. The ICSSR was established in 1969 by the central government to promote research in social sciences. It gives grants to institutions and scholars, and reviews the progress of social science research.
http://indianexpress.com/article/india/hindu-muslim-riots-caste-based-conflicts-should-not-be-part-of-curriculum-icssr-chief-4731697/
--------
Muslim Group to Offer Prayers at Dargah for Construction of Ram Temple in Ayodhya
July 2, 2017
A team of a pro-Ram temple Muslim group will visit the Dewa Sharif Dargah in Barabanki district on Monday to offer prayers and seek "divine intervention" in the early construction of a "grand" temple in Ayodhya. The visit by a 15-member team of the Shri Ram Mandir Nirman Muslim Karsewak Manch was announced after saints pledged to intensify their campaign for building the temple.
"We will seek divine intervention for the construction of a grand temple for Ram Lalla in Ayodhya," Mohd Azam Khan, the Manch president, told PTI today. Azam went on to say, "If the temple is built at a place, where Lord Ram was born, then we will hold a 'bhandara' (mass feasting) for 1,000 poor people. We will also offer 'chaadars' made of gold and silver at the shrine."
The Dewa Sharif Dargah, located almost 45 kilometres from here, is famous for the shrine of Haji Waris Ali Shah, a sufi saint. A push for construction of a Ram temple in Ayodhya is likely to gain momentum from Guru Poornima next week when saints gather at the Naradanand Ashram in Sitapur to chalk out a roadmap in this regard.
"Saints from different akhadas of Uttar Pradesh and neighbouring states will be assembling at the ashram to discuss and deliberate on the construction of a grand Ram temple in Ayodhya," Swami Vidya Chetanaiya Maharaj, who heads the Nardanand Ashram (in Sitapur), said.
"Guru Poornima is on July 9 and it will mark the beginning of a campaign to gather support from not only the saints, but also from the common public for construction of the Ram temple," he told PTI.
Referring to his June 27 meeting with Uttar Pradesh Chief Minister Yogi Adityanath, Chetanaiya Maharaj said, "We are confident that the commencement of construction of a grand Ram temple will begin well before 2019."
Full report at:
http://indianexpress.com/article/india/muslim-group-to-offer-prayers-at-dargah-for-construction-of-ram-temple-in-ayodhya-4732311/
--------
'Global Terrorist' Syed Salahuddin Boasts To Pakistan TV Channel That He 'Carried Out Terror Attacks In India'
Jul 3, 2017
NEW DELHI: Recently designated 'global terrorist' by the US, Syed Salahuddin + boasted to a Pakistani television channel that he and his outfit the Hizbul Mujahideen (HM) have carried out terror attacks+ in India, reported ANI.
"Till now our focus was on Indian occupation forces. All the operations that we have done or are underway, we focus only on the installations of these occupational forces," Salahuddin said in an interview+ with Geo TV.
Two days ago it was reported that Salahuddin said at a Saturday rally in Muzaffarabad that his "fighters' attacks were on legitimate military targets as opposed to civilians", reported Pakistani newspaper Nation .
Salahuddin is the HM chief who last year threatened to turn the Kashmir valley "into a graveyard for Indian forces".
Pakistan had last week called the US action "completely unjustified"+ because it involved an individual "supporting the Kashmiri right to self-determination". And at the Saturday rally, Salahuddin called US President Donald Trump "crazy"+ for the action against him. He also called the Trump administration "idiotic", saying it was "a gift to (Indian Prime Minister Narendra) Modi".
The US announcement came during PM Modi's visit to Washington last week.
According to US legal provisions, individuals named 'global terrorists' are those "who have committed, or pose a significant risk of committing, acts of terrorism that threaten the security of US nationals or the national security, foreign policy, or economy of the United States," according to a state department notification.
"Donald Trump's decision will be thrown out if anyone challenges it in American courts. No other Western nation has endorsed what this crazy Donald Trump has done," Salahuddin said at the rally in Pakistan-occupied-Kashmir's (PoK) Muzaffarabad on Saturday.
"This (the Trump administration's) idiocy can neither weaken our courage, nor stop the freedom struggle and the target-oriented actions of freedom fighters," Salahuddin added.
"It vindicates India's longstanding position that cross-border terrorism is behind the crisis created in Kashmir, especially since last year. It underlines strongly the fact that both India and the US face the threat of terrorism and are working together to counter this threat. Terrorism knows no boundaries," said external affairs ministry spokesman Gopal Baglay minutes after news of the state department's notification broke.
The state department's notification said that under Salahuddin's tenure as a senior Hizb leader, the group "has claimed responsibility for several attacks" including the April 2014 explosives attack in Kashmir, which injured 17 people. He has also time and again "vowed to block any peaceful resolution to the Kashmir conflict" and "threatened to train more Kashmiri suicide bombers", the state department said.
Full report at:
http://timesofindia.indiatimes.com/india/global-terrorist-salahuddin-boasts-to-pakistan-tv-channel-that-he-carried-out-terror-attacks-in-india/articleshow/59418915.cms
--------
Encounter in Pulwama, 2 terrorists killed
Jul 3, 2017
SRINAGAR: Two terrorists were killed on Monday morning in an encounter in Pulwama, south Kashmir.
Police said, acting on a specific information they were killed in an operation by army at Bahmnoo area of Pulwama.
The slain terroristswere reportedly identified as Kifayat and Jehangir of the Zakir Musa group. One more is believed to be trapped. Police and CRPF have joined in, and the operation is going on.
http://timesofindia.indiatimes.com/india/encounter-in-pulwama-terrorist-killed/articleshow/59418184.cms
--------
Samjhauta Express blasts: Pakistan seeks time on sending blast witnesses to India
Jul 2, 2017,
NEW DELHI: Pakistan has sought four more months from India for a decision on producing 13 witnesses before a special Haryana court which is trying the 2007 Samjhauta Express blasts case in which 68 people were killed.
Last month, summons issued by the special NIA court at Panchkula were handed over to the Pakistani authorities, for sending the 13 witnesses to India for the trial.
Pakistani recently conveyed through diplomatic channels that it needed four more months for taking a decision on producing the witnesses before the Indian court, official sources said.
The court, while issuing the summons on March 17, had asked the witnesses to appear before it from July 4.
The NIA counsel would inform the special court about the decision of Pakistani authorities once the court resumes hearing on Tuesday, the sources said. Out of 299 witnesses, court proceedings for 249 have been completed.
Sixty-eight people were charred to death in the blasts in two coaches of the Samjhauta Express in Panipat on February 18, 2007.
The investigators had initially believed activists of the banned SIMI (Students Islamic Movement of India) were behind the blasts, but later concluded that the attack had been planned by a group with right-wing leanings.
The NIA has filed a charge sheet against several people, including Swami Aseemanand, who walked free in the Ajmer Dargah blast case earlier this year after prosecution witnesses turned hostile.
The NIA had on June 20, 2011, filed the charge sheet before the special court at Panchkula under various provisions of the Indian Penal Code and Unlawful Activities (Prevention) Act against five people - Naba Kumar Sarkar alias Swami Aseemanand, Sunil Joshi (now dead), Lokesh Sharma, Sandeep Dange and Ramchandra Kalasangra alias Ramji.
The case pertains to an alleged criminal conspiracy which resulted in the blasts in Samjhauta Express.
The NIA, in investigations spreading over almost a year, held that the entire conspiracy was hatched between 2005 and 2007 by Aseemanand, Joshi and their associates at different places including Gujarat and Madhya Pradesh.
It further said Aseemanand was upset with terrorist attacks on temples - Akshardham (Gujarat), Raghunath Mandir (Jammu) and Sankat Mochan Mandir (Varanasi). He used to "give vent" to his feelings while discussing the attacks with Joshi and his associates. As a result, Aseemanand propounded a "bomb ka badla bomb" (Bomb for a bomb) theory, according to the NIA charge sheet, which added that they chose the Samjhauta train as most of its passengers are Pakistani citizens.
Full report at:
http://timesofindia.indiatimes.com/india/samjhauta-express-blasts-pakistan-seeks-time-on-sending-blast-witnesses-to-india/articleshow/59410438.cms
--------
Ballabhgarh lynching: Randeep Surjewala flays BJP, CM Khattar seeks arrests of all culprits
Jul 2, 2017
CHANDIGARH: Senior Congress leader and In-Charge, AICC Communications, Randeep Singh Surjewala on Sunday demanded stricter action against the culprits responsible for killing the Junaid Khan at Ballabhgarh lynching incident.
Surjewala was speaking to media persons at village Khandawali in district Faridabad after condoling the family members of Junaid Khan. He also met the injured brother of Junaid Khan and other family members. He assured complete support to the family on behalf of Congress party in its fight for justice on the issue.
Referring to his conversation with the grandfather Hazi Azam Khan in which he had said that all the people have one God and all the people are the descendants of the same God, who is addressed by some as Shiva and some by Hazrat Adam Alaihissalam but why there were differences.
`` question by Hazi Saab needed to be answered by the ruling dispensation and the government. The Government should take strict action against the culprits,'' he added.
Responding to a question about no union minister visiting the deceased family to pay homage or express condolences, Surjewala `` the than chief minister Narendra Modi has compared the deaths in Gujarat riots to the dogs. Similarly, Union Minister Gen. VK Singh has compared the victim Dalit family members with dogs, but no action was taken against him and he was continuing as the minister. Similarly, chief minister Mr Manohar Lal Khattar has said objectionable things about women. In such circumstances, how can you expect some sensitivity from them ?''
Full report at:
http://timesofindia.indiatimes.com/india/randeep-surjewala-flays-bjp-cm-khattar-seeks-arrests-of-all-culprits/articleshow/59412407.cms
--------
Pakistan
'I wish I knew one reason why the rest of Pakistan ignores Parachinar'
Amena Shah
July 3, 2017
I graduated from an Indian high school in Dubai, and I was one of the two Pakistani students in the whole school. The other student was a boy and we barely interacted since our school was segregated.
Throughout high school, I was very Pakistani. I got teased when Pakistan lost a cricket match to India and students used to ask me questions about anything and everything related to Pakistan.
But when I started my bachelor's programme in a very popular university in Dubai, I was suddenly in the midst of many Pakistani students. I was excited, but only until orientation. A couple of those students asked me where in Pakistan was I from, and none of them knew Parachinar. Suddenly, I wasn't so Pakistani anymore.
Throughout my university days, I hid the fact that I was from Parachinar. I was young, naive, and wanted to be part of the Pakistani student circle. But I was too different to fit. My Urdu had an accent, I came from a place no one knew about, I grew up in Dubai where most of the Pakistani students hadn't lived for long , and I didn't look like the rest.
Nowadays though, I never hide that I am from Parachinar – and proud of it. Over the years, I have realised that those Pakistani students should have been embarrassed that they didn't know enough about their own country.
Related: Parachinar pains
At the same time, I often wonder if it was the students' fault for being so ignorant or was the Pakistani media to blame as well?
The media only talks about Parachinar when tragedy strikes. The rest of the country finds out about it through the hourly news, cast in the middle of other important news. Or when it's Eid, an attack like the one on June 23rd, is almost entirely ignored in favour of Eid shows.
Till date, I have not heard one positive story from Parachinar, Kurram Agency. Before you say, "well there isn't", let me tell you about the most obvious one. While so many parts of FATA were under Taliban control for the longest time, Parachinar was not. Can you fathom how difficult life is when surrounded by the Taliban? In case you didn't know, the Taliban did try to take over Kurram Agency, but our brave tribal force put up a valiant fight and defeated them.
Was there a sitara for them in recognition and celebration of their struggle? Don't we deserve the rest of the country to be proud of us?
When the world thinks that Pakistan is just a war zone stuck in medieval times, you get angry. Yet, you think the same of many places in your own country, including FATA and Parachinar.
When there is some terrible incident in a major city in Pakistan, and the rest of the world ignores it, you get angry. Yet, you ignore Parachinar's pain.
When you go to a Western country and face racism, you complain. Yet, your attitude is no different toward your own countrymen who come to make a living in your big cities from regions you have never heard of .
You are tired of seeing the rest of the world stereotype Pakistanis in their movies and news. Yet, the representation of Pashtuns in your own media is just as deplorable.
You complain that the rest of the world ignores Pakistani artists, philanthropists, scholars, intellectuals, sportsmen, musicians and so many more. But I can raise that same complaint against you.
Do you know what it feels to be treated like foreigners in one's own country? Are you ignoring us because you think we are not 'Pakistani enough?'
I wish I knew one reason why the rest of the country ignores us. Is it because we live in an area too far away from the Pakistani mainland? Is it because Urdu is not our first language? Or is it because we are Shia? Is it because of all these reasons?
Do you need proof from us to show you how patriotic we are? If you do, I can give you a personal example.
When I went to the US in 2010, I did not want to tell anyone that I was from Pakistan. Whenever asked, I would say Dubai.
My parents, who were born and raised in Parachinar, were disappointed in me for doing so. They told me to always be proud of my origins.
My mother told me my good behaviour as a Pakistani will convey a good message about the country as a whole. It can change foreigners' opinions who might think of Pakistanis otherwise.
The people of Parachinar aren't asking much from the rest of the country. We wanted the media to give coverage to our sit-in protests. We want you to help amplify our voice, to protest with us against a prime minister who was late in expressing his condolences, late in announcing compensation for the victims, and who still hasn't bothered to visit the area.
Full report at:
https://www.dawn.com/news/1342571/i-wish-i-knew-one-reason-why-the-rest-of-pakistan-ignores-parachinar
--------
Even world establishment can't save rulers: JI
July 3, 2017
LAHORE: Jamaat-i-Islami emir Sirajul Haq has said if court verdict in Panama case is given against the prime minister and his family, it will mark the beginning of the nation's drive against "crocodiles in the sea of corruption".
He was speaking at an election-related convention organised by the Punjab chapter of the party here on Sunday.
He said even if the coterie of the corrupt and dishonest leaders hid themselves behind the cover around the Holy Ka'ba, they would be searched out and every penny of the plundered money would be recovered from them.
He said the actual place of the corrupt rulers was (Rawalpindi's) Adyala jail, adding that even the "international establishment" won't be able to protect them from the public wrath.
He wondered why the party that had distributed sweets on the formation of the JIT was shedding tears now, a reference to the ruling PML-N.
Mr Haq said although the rulers were expert in rigging and corruption, they won't be able to hoodwink the electorate in the next elections.
"The masses will make the next elections the Judgment Day for the Raymond Davis' kins who had handed over Dr Aafia Siddiqui, Yousaf Ramzi and Aemal Kansi to the US."
He denounced the US decision of declaring Kashmiri leader Syed Salahuddin a terrorist. He regretted that for Washington, Syed Ali Gilani, Shabbir Shah, Yasin Malik, Asya Andarabi and young men embracing martyrdom for Kashmir's liberation were also terrorists. He said that Kashmir was Pakistan's issue and whoever betrayed the Kashmir cause was a traitor.
Full report at:
https://www.dawn.com/news/1342872/even-world-establishment-cant-save-rulers-ji
--------
Spike in terrorist attacks: Pakistan expedites fencing Afghan border
July 03, 2017
ISLAMABAD - The recent string of terrorist attacks has pushed Pakistan to expedite fencing of its 2,611 kilometres long porous border with Afghanistan in an effort to forestall attacks in future.
According to the Inter-Services Public Relations (ISPR) Director General, Major General Asif Ghafoor, "Pakistan has decided to completely fence its border with Afghanistan in two phases. In the first phase, fence will be built in the most sensitive areas."
Fencing along the Pakistan-Afghanistan border commenced in earlier March after series of terrorist attacks in Pakistan, which were believed to have been planned on the Afghan soil and carried out by Pakistani Taliban groups operating out from Afghanistan. "A secure Pak-Afghan border is in [the] common interest of both countries and a well-coordinated border security mechanism is essential for enduring peace and stability," a statement issued by the ISPR said.
Both Mohmand and Bajaur agencies, which border Afghanistan's Nangarhar and Kunar provinces have seen a frequent spike in attacks, including ones by banned militants groups Jamaatul Ahrar and Tehreek-i-Taliban Pakistan (TTP).
In the first phase, high infiltration prone border areas in Bajaur, Mohmand and Khyber agencies are being fenced, said the military's media wing.
Whereas in the second phase, fencing of the remaining border areas, including Balochistan, will be executed.
Besides fencing, the Pakistan Army and Frontier Corps Khyber-Pakhtunkhwa are constructing new forts and border posts to improve surveillance and "defencibility".
"A secure Pak-Afghan border is in common interest of both the countries and a well-coordinated border security mechanism is essential for enduring peace and stability," the ISPR stated.
A security official said that a 2,611km long border — 1,230km in K-P and 1,381 in Balochistan— with Afghanistan would be fenced.
Of 1,230 in K-P, 237km high infiltration prone areas of Khyber, Bajaur and Mohmand agencies are being fenced in the first phase. So far, 43 border posts and forts have been constructed, while another 63 border posts and forts are under construction, he added.
As many as 338 border posts and forts are in the pipeline, which will be completed by 2019.
The fencing is part of the new border mechanism Pakistan has started implementing last year to check the infiltration of terrorists.
Apart from fencing, Pakistan no longer allows people without a valid passport and visa to enter the country through key crossing points.
Tensions between Pakistan and Afghanistan have been simmering for many months.
Both sides accused the other of turning a blind eye towards the militant groups operating along their shared border.
From page 1
another 63 border posts and forts are under construction, he added.
As many as 338 border posts and forts are in the pipeline, which will be completed by 2019.
The fencing is part of the new border mechanism Pakistan has started implementing last year to check the infiltration of terrorists.
Apart from fencing, Pakistan no longer allows people without a valid passport and visa to enter the country through key crossing points.
Full report at:
http://nation.com.pk/national/03-Jul-2017/pakistan-expedites-fencing-afghan-border
--------
No role in Raymond's release, says Shehbaz
July 03, 2017
LAHORE - Chief Minister Shehbaz Sharif said on Sunday the Punjab government had no role in the Raymond Davis saga.
He was speaking to the media during an official meeting in Lahore. He clarified that the Punjab government had nothing to do with the payment of blood money on behalf of Raymond. He said that questions relating to the CIA contractor should be asked to those mentioned in his book. He went on to say that democracy was heading in the right direction.
In a related development, Punjab Law Minister Rana Sanaullah Khan said a joint investigation team (JIT) should be set up to ascertain who paid Rs240 million blood money to the families of the victims on behalf of Raymond. In an interview to a private TV channel, he said the Punjab government was under pressure that it should not register an FIR against Raymond after he shot two men dead in Lahore on January 27, 2011, but the government did not succumb to this pressure and got a case registered.
Pakistan People's Party's Qamar Zaman Kaira said the US government had tried to pressurise the then federal and the Punjab governments, as well as the army, to release Raymond. He said that country's agencies had played a main role in the entire episode. He admitted that the blood money was channelled through the federal government, but it was later refunded to 'whosoever' paid it.
Defence analyst Lt-Gen (r) Amjad Shoaib said the decision to release Raymond was taken by the civilian government and the then ISI chief, Lt-Gen Shuja Pasha, was asked to implement it. He said the ISI chief held meetings with political leaders of the country except Nawaz Sharif, who was not in the country at the time, and the political leadership agreed that Raymond's release was the best way forward.
Lt-Gen (r) Shoaib rejected Raymond's claim that the ISI chief was text messaging senior US government officials during final hearing of the case on March 16, 2011. He said that Pasha never went to hearing, adding that ISI officers were however present inside the court.
Raymond recently launched his tell-all book titled "The Contractor: How I Landed in a Pakistani Prison and Ignited a Diplomatic Crisis". In his memoir, Davis talks in detail about his experience in Pakistan.
Full report at:
http://nation.com.pk/lahore/03-Jul-2017/no-role-in-raymond-s-release-says-shehbaz
--------
Europe
France and Africans Must Eradicate 'Terrorists, Thugs, Murderers': Macron
July 3, 2017
Bamako. France and its African partners must work together to wipe out Islamist militants in the volatile Sahel region, President Emmanuel Macron said at the opening of a summit in Mali's capital Bamako on Sunday (02/07).
Leaders of the G5 Sahel bloc - Mali, Burkina Faso, Mauritania, Niger and Chad - were expected to launch a new multi-national force at the meeting aimed at combating Islamist militants and illegal activity in the vast arid zone.
"Every day we must combat terrorists, thugs, murderers ... who we must steadfastly and with determination eradicate together," said Macron, who was making his second visit to Mali since taking office in May.
Islamist militant groups, some with links to Al Qaeda, seized control of Mali's desert north in 2012.
While they were driven out of major cities and towns a year later by a French-led military intervention, they continue to carry out attacks against on UN peacekeepers, Malian soldiers and civilian targets.
The violence has spilled over into neighboring countries in West Africa's Sahel region and Paris has deployed thousands of French troops to combat Islamists under a cross-border operation known as Barkhane.
http://jakartaglobe.id/international/france-africans-must-eradicate-terrorists-thugs-murderers-macron/
--------
France rules out terrorism after eight wounded in mosque shooting
3 July 2017
Eight people including a girl were lightly wounded late Sunday in a shooting in front of a mosque in the southeast French city of Avignon, the prosecutor's office said, ruling out terrorism.
According to initial accounts taken on the spot, at least two men got out of a car around 10:30 pm near the mosque and opened fire, including with a shotgun, the prosecutor's office said.
None of the wounded had life-threatening injuries, it said.
"From what we know this evening, the mosque was not targeted. The fact that it happened in the street of the religious establishment was unconnected with it," the prosecutor said, ruling out terrorism.
Witness accounts mentioned four men in the car, all hooded.
The criminal investigation department has taken charge of the case.
The shooting comes a few days after a man on Thursday attempted to drive his car into worshippers outside the Creteil mosque in southeast Paris.
The driver, a 43-year-old Armenian who suffered from schizophrenia, hit barriers and pillars outside the mosque with his 4x4 without causing any injuries before crashing into a traffic island.
According to a source close to the investigation, the suspect had made "confused remarks in relation" to a string of jihadist attacks that have struck France, killing 239 people since 2015.
Following a van attack against worshippers leaving Finsbury Park Mosque in London on June 19 which left one dead and 11 injured, France's Muslim community has also felt threatened.
Full report at:
https://english.alarabiya.net/en/News/world/2017/07/03/France-rules-out-terrorism-after-eight-wounded-in-mosque-shooting-.html
--------
UN urges Europe to help Italy with refugees
Jul 2, 2017
The United Nations (UN) refugee agency has called on Europe to assist Italy with defusing what it has described as the "unfolding tragedy" of tens of thousands of refugees and asylum seekers arriving on the country's shores.
UN High Commissioner for Refugees Filippo Grandi made the plea on Saturday, saying that Italy needed more international support to tackle the growing number of refugees who have braved the Mediterranean Sea in pursuit of reaching Europe this year.
"What is happening in front of our eyes in Italy is an unfolding tragedy," Grandi said in a statement. "In the course of last weekend, 12,600 migrants and refugees arrived on its shores, and an estimated 2,030 have lost their lives in the Mediterranean since the beginning of the year."
Acknowledging that Rome was "playing its part" in accepting and protecting those rescued from the Mediterranean, the UN official said, "These efforts must be continued and strengthened. But this cannot be an Italian problem alone."
Grandi stressed that Europe had to follow an "urgent distribution system" of refugees and should widen legal channels for the admission of asylum seekers.
The remarks were made as the interior ministers of France, Germany, and Italy prepare to meet in Paris on July 2 to discuss a "coordinated approach" to help Italy, which threatened last week to close its doors to people arriving on boats that were not flying Italian flags.
Italy is struggling to host thousands of refugees, who have traveled through the Mediterranean to escape war, persecution or poverty in their home countries. Some Italians are against the decision to settle the refugees in the European country.
Since January 2017, 83,650 people have reached Italy by sea, an increase of nearly 20 percent compared to the same period last year, according to UN figures. Reports say that nearly all of Italy's 200,000 places for accommodating refugees have been filled.
Meanwhile, the European Union's commissioner for migration, Dimitris Avramopoulos, said the bloc was "ready to support" Italy with the migration crisis after Rome appealed to Brussels for help in taking in African refugees.
Makeshift camp at border crossing between Italy and France
In a separate development, a video emerged on Saturday, showing refugees stranded at a border crossing between Italy and France near the coastal city of Ventimiglia, where they have set up a makeshift camp despite repeated expulsions of refugees trying to cross to the French side.
On June 25, the municipal district of Ventimiglia ordered the clearance of the area along the Roja River in Ventimiglia, which is home to some 400 refugees, prompting the group to march toward France. Police were forced to use tear gas against the refugees as they sought to bypass the security barricade.
Europe has been experiencing an unprecedented influx of refugees over the past months. The asylum seekers flee conflict-ridden zones in North Africa and the Middle East, particularly Syria.
Full report at:
http://217.218.67.231/Detail/2017/07/02/527164/UN-Europe-Italy-refugee-crisis
--------
Russia stresses need for diplomacy in Persian Gulf dispute
Jul 1, 2017
Russian President Vladimir Putin has stressed the need for diplomacy to end the dispute between Qatar and several other Persian Gulf states.
"Vladimir Putin stressed the importance of political-diplomatic efforts aimed at overcoming differences of opinion and the normalization of the difficult situation that exists," said a statement released by the Kremlin on Saturday.
While noting that the conversation was initiated by Qatar and Bahrain, it noted that boosting cooperation in the field of energy and investment was also discussed.
Saudi Arabia, Bahrain, Egypt, and the United Arab Emirates severed diplomatic ties and cut all land, sea, and air contacts with Qatar on June 5. The four countries accused Qatar of supporting terrorism and destabilizing the region, allegations denied by Doha.
The countries later issued a list of demands for Qatar to meet in return for the normalization of ties. Among them was that Qatar should shut down Al Jazeera, a media network that has reportedly been critical especially of Saudi Arabia, close a Turkish military base, limit its ties with Iran, and "compensate" the sanctioning countries.
Qatar: list of demands designed to be rejected
Meanwhile, Qatar's Foreign Minister Sheikh Mohammed bin Abdulrahman Al Thani has stressed that Doha will not give in to any of the demands made by Riyadh and its allies, noting that the requests were "meant to be rejected."
"Everyone is aware that these demands are meant to infringe the sovereignty of the state of Qatar, shut the freedom of speech and impose auditing and probation mechanism for Qatar," he added.
"We believe that the world is not governed by ultimatums, we believe that the world is governed by the international law, it is governed by an order that does not allow large countries to bully small countries," he noted.
Thani made the remarks with less than 48 hours remaining to the end of the demands' deadlines, stressing that "those parties brand any party of state who opposes their designs as terrorists."
"The United States administration and institutions firmly believe in the state of Qatar, yet the statement made by President [Donald] Trump was based on false allegations and the false impression given to him by the heads of states who imposed blockade on Qatar," he added.
"The state of Qatar has been subjected to unlawful measures on the basis of false allegations without the submission of evidence," he stressed.
Saudis push on with Qatar demands
On Saturday, Saudi Arabia reiterated that its demands on Doha were "non-negotiable."
Saudi Foreign Minister Adel al-Jubeir tweeted that Riyadh's "demands on Qatar to stop funding terrorism are non-negotiable."
"Restrictions on Qatar show zero tolerance for terrorism," he said, claiming that Doha had failed to keep previous vows of stopping "funding terrorism and interfering in other countries' affairs."
Full report at:
http://217.218.67.231/Detail/2017/07/01/527129/russia-qatar-saudi-arabia-thani
--------
Mideast
Two govt officials, 13 militants killed in Turkey
July 3, 2017
ANKARA : Kurdish militants shot and killed two officials from the ruling AK Party in southeast Turkey over the weekend, while the Turkish military killed more than a dozen militants in air strikes, state authorities said on Sunday.
Orhan Mercan, the AKP's deputy head in the Lice district of Diyarbakir province, was shot in front of his home on Friday night and died of his wounds in hospital, the provincial governor's office said.
Militants killed Aydin Ahi, deputy head of the AKP in the Ozalp district of Van province on Saturday night, the governor's office said. Security sources said the gunmen seized Ahi from his home at gunpoint and killed him nearby.
Energy Minister Berat Albayrak wrote on Twitter that Kurdistan Workers Party (PKK) militants had killed both men. There was no immediate comment on the attacks from the PKK, but the group has targeted officials from the party in the past.
The PKK launched a separatist insurgency against the state in 1984 and more than 40,000 people, mostly Kurds, have been killed in the conflict. It is designated a terrorist group by Turkey, the United States and European Union.
A ceasefire between the Turkish state and the militants broke down in July 2015 and the southeast region of the country, where the PKK is strongest, subsequently saw some of the worst violence since the insurgency began.
Violence flared across the region on Saturday.
In an air strike in the southeastern province of Mardin, the Turkish military killed five PKK militants preparing an attack on an army base, a general staff statement said.
In separate air strikes on Saturday, the army also killed five PKK fighters in southeast Turkey's Bingol province and another four militants in the Metina region of northern Iraq, the army said.
It said another three PKK militants were killed in clashes on Saturday in the southeastern provinces of Diyarbakir, Hakkari and Sirnak.
http://nation.com.pk/international/03-Jul-2017/two-govt-officials-13-militants-killed-in-turkey
--------
Two suspected al-Qaeda militants killed in Yemen drone strike
2 July 2017
Two suspected al-Qaeda militants were killed in a drone strike while traveling on a motorbike in southern Yemen late on Saturday, residents said.
The men died on the outskirts of al-Wadei town in Abyan province, said residents who identified one of them as a local leader for the militant group called Ibrahim al-Adani.
There was no immediate statement from the militants or from US forces who have repeatedly launched drone and air strikes on Yemen's al-Qaeda branch, known as al-Qaeda in the Arabian Peninsula (AQAP).
The group has taken advantage of a more than two-year-old civil war between the Iran-aligned Houthi group and President Abd-Rabbu Mansour Hadi's Saudi-backed government to strengthen its position in the impoverished country.
US officials say they are trying to wear down the group's ability to coordinate attacks abroad.
Another suspected US drone strike killed two men believed to be al-Qaeda militants in southern Yemen late on Friday, residents and local sources said.
In June, a drone strike killed two suspected al-Qaeda militants traveling in a vehicle in al-Naqba area of Shabwa province.
Full report at:
https://english.alarabiya.net/en/News/gulf/2017/07/02/Two-suspected-al-Qaeda-militants-killed-in-Yemen-drone-strike.html
--------
Saudi forces counter Houthi attack opposite border province of Jazan
2 July 2017
The Arab coalition renewed its targeting of sites besieged by Houthi militias and forces loyal to Yemen's former deposed president on Sunday near the village of Al Khubah, Jazan.
Al Arabiya's correspondent reported that the reconnaissance teams on the ground spotted military vehicles carrying dozens of militias near the area, while another convoy of militias at a nearby site attempt to move towards Yemen's border with Saudi Arabia.
According to military sources, Saudi ground forces dealt with some of the positions where the militias had been stationed. The other areas were targeted by coalition aircraft. The operation resulted in the killing of more than 40 Houthi militias and the wounding of others.
Full report at:
https://english.alarabiya.net/en/News/gulf/2017/07/02/Saudi-forces-counter-Houthi-attack-opposite-border-province-of-Jazan.html
--------
Syria not using chemical weapons against terrorists: Iran's defense minister
Jul 2, 2017
Iran's defense minister says despite Western countries' propaganda, Syrian forces have never used chemical weapons against terrorists, who are using weapons of mass destruction in their war against Damascus.
Addressing a ceremony held to mark the 30th anniversary of a chemical attack against the Iranian city of Sardasht, Brigadier General Hossein Dehqan said during the past few days, 3,000-4,000 sorties have been conducted over the region by countries like the UK and Italy, who have announced that the Syrian government is planning to use chemical weapons in its future operations.
"The Islamic Republic of Iran announces that the Syrian government is not after using chemical weapons and this claim (that the Syrian government has used chemical weapons) by some individuals who regard themselves as the rulers of the world is questionable," he added.
Dozens of people were killed in a chemical attack in the Syrian town of Khan Shaykhun in Syria's northwestern province of Idlib on April 4.
The United States and its allies were quick to accuse the Syrian government forces of carrying out the attack. The Syrian army; however, said that "it has never used them (chemical weapons), anytime, anywhere, and will not do so in the future."
Pointing to the US support for terror groups in the Middle East, the Iranian defense minister said the world is concerned that terrorists have combined terrorism and war with weapons of mass destruction.
He added that Takfiris are using weapons of mass destruction; however, some countries are cooperating with these terrorists instead of countering them.
The Iranian minister criticized some countries for claiming that they were countering terrorists at a time that terror groups were provided with financial support.
The Islamic Republic is a victim of terrorism and chemical weapons, Dehqan said, adding, "We have always expressed our objection to producing, stockpiling and use of weapons of mass destruction."
He emphasized that during the Iraqi imposed war on Iran in the 1980s, the Islamic Republic never used weapons of mass destruction and Iran's stance in this regard was unchanging.
Dehqan said 111 civilians lost their lives and more than 8,000 people were injured in the chemical attack on the Iranian city of Sardasht on June 28, 1987 by Iraq during the rule of the executed Iraqi dictator, Saddam Hussein.
Sardasht was the third populated city in the world, after Japan's Hiroshima and Nagasaki, to be deliberately targeted with weapons of mass destruction. It was also the first city in the world to be attacked with poisonous gas.
The Iranian defense minister further expressed concern over the ongoing situation in the region and warned that acts of terror would result in "terrible consequences" for the international community.
Full report at:
http://217.218.67.231/Detail/2017/07/02/527213/Iran-Syria-Sardasht-Hossein-Dehqan-weapons-mass-destruction
--------
Rouhani: Iran should act so as to isolate US
Jul 2, 2017
President Hassan Rouhani says Iran should exercise such foreign policy, which would rally the world behind it rather than behind the United States.
"We should not allow the US hand to expand and become powerful," he said on Sunday at a meeting convened by Iran's Judiciary.
"Our foreign policy should be of such effect that would make powers condemn the US and reproach it should it choose to stand against us," he added.
Rouhani said, "Being revolutionary means isolating the United States, and speaking to the world in such a language that it would comprehend and accept our discourse."
The president said the US has become isolated in the international community because of its insistence to impose new sanctions against the Islamic Republic in breach of a nuclear accord.
He proceeded to cite examples of Washington's isolation on the world stage in its opposition against Iran.
Rouhani recalled a Thursday plenary meeting of the United Nations Security Council held to address the implementation of Iran's nuclear deal with world powers. The event saw the UN, the European Union, and many major world countries all speaking appreciatively of Iran's commitment to the nuclear deal, while the United States alone cried foul.
Also, the Financial Action Task Force (FATF), which fights money laundering, extended last month a freeze on some of its restrictions against Iran after verifying the Islamic Republic's continued compliance with its directives. The decision came despite pressure from Washington not to do so.
"Does it suit us better for the US to remain alone on the international arena alongside Israel and Saudi Arabia [in its opposition to Iran], or should we act in such a way that would make the entire Europe, China, and Russia stand behind the United States?" he asked.
Rouhani said the enemy was seeking to rob the Middle East of peace, stability, and development so it could both sell its arms and have an excuse to intervene.
Full report at:
http://217.218.67.231/Detail/2017/07/02/527168/Iran-US-Rouhani
--------
South Asia
Deadly Airstrike Target ISIS Militants In Nangarhar, Leaving Several Dead
Jul 02 2017
Several militants affiliated with the Islamic State of Iraq and Syria (ISIS) terrorist group's offshoot in Afghanistan, ISIS Khurasan, were killed in three separate airstrikes conducted in eastern Nangarhar province of Afghanistan.
The provincial government in a statement said at least six ISIS militants were killed in an airstrike conducted in the vicinity of Tora Bora and Alef Khal areas of Pacher Agam district late on Saturday night.
The statement further added that several weapons, ammunitions, and explosive belonging to the terror group were also destroyed.
In another airstrike conducted in the vicinity of in Tangi area of Pekha in Achin district, at least five ISIS militants were killed, the statement added.
According to the local officials, the local residents and security personnel did not suffer any casualties in the airstrikes.
The anti-government armed militant groups including the ISIS insurgents have not commented regarding the report so far.
The ISIS loyalists have been attempting to expand their foothold and activities in certain districts of Nangarhar during the recent years as efforts are underway to eliminate the loyalists of the terror group from this province.
The US forces based in Afghanistan have stepped up airstrikes against the anti-government armed militants in Afghanistan.
The airstrikes were increased particularly after the former US administration granted broader role to the US forces to resume counter-terrorism operations, a step that was taken after growing instability in the country, mainly due to the insurgency led by the Taliban and ISIS militants.
https://www.khaama.com/deadly-airstrike-target-isis-militants-in-nangarhar-leaving-several-dead-03062
--------
Father joins Taliban after killing his teen daughter for eloping in Badghis
Jul 02 2017
A man in northwestern Baghis province of Afghanistan has killed his fourteen year old daughter in the latest case of honor killing after she allegedly eloped with her friend.
According to the local government officials, the incident took place in the outskirts of the provincial capital of Badghis and the perpetrator has reportedly joined the Taliban ranks after the murder.
Provincial governor's spokesman Zahir Bahand confirmed the incident and said the teenage girl was shot dead by her father in Qala-e-Naw area after she allegedly eloped with her friend.
Bahand further added that the victim's friend who was believed to be eighteen years old was also shot dead by the man.
He said the man managed to flee the area after the brutal killing and has joined the Taliban ranks.
This comes incidents involving violence against women including rape of young children by armed individuals are on the rise in the remote parts of the country amid rampant violence against the women.
The Afghanistan Independent Human Rights Commission officials said last year that they have recorded around 3,000 cases of violence against women and young girls.
Full report at:
http://www.khaama.com/father-joins-taliban-after-killing-his-teen-daughter-for-eloping-in-badghis-03063
--------
Major Taliban offensive repulsed in the strategic Kunduz province
Jul 02 2017
A major Taliban offensive on the strategic Kunduz province has been repulsed by the Afghan national defense and security forces, inflicting heavy loss on the Taliban insurgents.
According to the local government officials, the Taliban insurgents launched a coordinated attack on Dasht-e-Archi district earlier on Saturday, targeting the district from several angles.
The officials further added that the attack was repulsed by the Afghan security forces who were on alert regarding the possible attack.
The provincial government media office in a statement also confirmed the attack and said at least fourteen insurgents were killed after the Afghan forces responded to the Taliban fire.
The statement further added that several key commanders of the group were among those killed and at least nine others were wounded.
The key Taliban figures killed during the gun battle have been identified as Ismail Fidayi, Qari Jalat, Nazir Ahmad, Mawlavi Ghafar, and Sher Alam who originally hailed from Badakhshan province and were sent to Kunduz for the attack.
The other militants killed during the clashes have been identified as Janatullah, commander Mohammad Agha also famous as Mudasir, Qari Zia-ul-Haq, Qari Nader, Zakir, Ahmad, Mohammadullah, Sedaqat, and Ibrahim who originally hailed from the same district of Dasht-e-Archi, while Qari Imam who was killed during the clashes was hailing from Imam Sahib district, the statement said.
The provincial government also added that the security forces did not suffer any casualties during the clashes.
Full report at:
https://www.khaama.com/major-taliban-offensive-repulsed-in-the-strategic-kunduz-province-03061
--------
Couldn't Root Out Militancy, but Destroyed Its Network
July 03, 2017
Inspector General of Police (IGP) AKM Shahidul Hoque believes militants will not be able to carry out attacks as their strength has been reduced through continued police operations since the Holey Artisan attack.
He admitted that militancy wasn't uprooted altogether, and stressed that its network was destroyed.
Most of the senior militant leaders were either killed or captured in police raids, he said talking to reporters at police headquarters yesterday.
Police have been successful in countering militancy because people of the country including Islamic scholars support the efforts, he said.
The police chief, however, observed that the entire nation should come forward to completely eradicate the evils of militancy from society.
Asked why most of the busted militant dens were in the northern districts of the country, he said the top leaders of banned militant outfit Jama'atul Mujahideen Bangladesh (JMB) Siddikul Islam Bangla Bhai and Shaykh Abdur Rahman once had a stronghold and a large number of supporters there.
"Since the old JMB had a stronghold in the region, the Neo-JMB activities are also seen there," he said.
He also claimed that police were working on creating mass awareness to prevent young people from joining militancy after coming across misinterpretations of Islam on social media.
He also dismissed the likelihood of any attack carried out by absconding militant suspects including the "Neo-JMB" leader Ayub Bacchu and several others accused in the case filed over the Holey Artisan Attack.
Full report at:
http://www.thedailystar.net/frontpage/dhaka-cafe-attack-couldnt-root-out-militancy-destroyed-its-network-1427494
--------
Burma not to allow outside world to investigate genocide of Rohingya Muslims: official
July 3, 2017
Burma will refuse entry to members of the UN trying to investigate the alleged killing, violence and abuse against the Rohingya people, The Independent reported.
The government of Aung San Suu Kyi has already said it would refuse to cooperate with a UN mission following a resolution adopted by the Human Rights Council in March.
Kyaw Zeya, permanent secretary at the Ministry of Foreign Affairs, said: "If they are going to send someone with regards to the fact-finding mission, then there's no reason for us to let them come."
Mr Zeya added that visas to enter Burma would not be issued to any staff working on the mission.
The Burmese government has repeatedly denied claims that the Rohingya Muslim ethnic group is facing genocide in the country's remote Rakhine State. It previously brushed away evidence of human rights violations as fake news and "propaganda".
It also deemed "exaggerated" a UN report published in February which found babies and children were reportedly slaughtered with knives amid "area clearance operations".
The report concluded counter military operations by security forces were subjecting the Rohingya population to brutal beatings, disappearances, mass gang rape and killings.
Ms Suu Kyi, who came to power last year as a part of a transition from military rule, has been criticised for failing to stand up to the more than one million stateless Rohingya Muslims.
People in Burma, which is a Buddhist-majority country, have long seen the Rohingyas as illegal immigrants from Bangladesh.
Some 75,000 Rohingyas fled the northwestern state of Rakhine to Bangladesh last year following security operations carried out by the Burmese army.
In March, the EU called for a mission to look into the allegations of abuse in the north of the country.
Indira Jaising, an advocate from the Supreme Court of India, was appointed to lead the mission in May.
But Burma insists that a domestic investigation, which is headed by former lieutenant general and Vice President Myint Swe, is sufficient to look into the allegations in Rakhine.
"Why do they try to use unwarranted pressure when the domestic mechanisms have not been exhausted?" said Kyaw Zeya.
"It will not contribute to our efforts to solve the issues in a holistic manner," he said.
Last month, Ms Suu Kyi clashed with the EU over the necessity to carry through the UN resolution and send an international fact-finding mission to Burma.
Speaking in Brussels, Ms Suu Kyi said distrust between the two communities went as far back as the 18th century and that what the country needed was time.
"We have not ignored allegations of rape or murder or anything. We have asked that these are placed before a court and trialled," she said.
She added her government was disassociating itself from the UN resolution "because we don't think the resolution is in keeping with what is actually happening on the ground."
Full report at:
https://www.pakistantoday.com.pk/2017/07/02/burma-not-to-allow-outside-world-to-investigate-genocide-of-rohingya-muslims-official/
--------
Ghani off to Turkmenistan to boost cooperation between Kabul and Ashgabat
Jul 03 2017
President Mohammad Ashraf Ghani left for Turkmenistan leading a delegation of high level government officials to boost cooperation between Kabul and Ashgabat.
The Office of the President, ARG Palace, in a statement said "The President of the Islamic Republic of Afghanistan Mohammad Ashraf Ghani left for Ashgabat, the capital of Turkmenistan, leading a delegation of high level government officials."
The statement further added that President Ghani is expecting to meet his Turkmen counterpart during the one day visit and hold talks on further boosting bilateral ties between the two countries.
According to the ARG Palace, the Afghan and Turkmen officials are expecting to sign some agreements in the presence of the presidents of the two countries.
President Ghani is accompanied by Finance Minister Eklil Hakimi, Minister of Economy Abdul Satar Murad, head of the administrative affairs Abdul Salam Rahimi, senior presidential adviser Dr. Humayoun Qayumi, senior presidential envoy for the Central Asia Mohammad Shakir Kargar, and senior presidential adviser for public relations and strategic relations Shah Zaman Maiwandi.
http://www.khaama.com/ghani-off-to-turkmenistan-to-boost-cooperation-between-kabul-and-ashgabat-03066
--------
Africa
Islamic State increases its dominance in Africa
Jul 3rd, 2017
By NDT Ghana Bureau
The Islamic State has started to grip Africa in its terror activities. Islamic terror groups operating in particular in East Africa are increasingly being swayed by the radical ideology of the ISIS. Such a collusion has posed a grave security threat in the region.
In October 2015, an audio recording of then senior Harakat al-Shabaab al-Mujahideen ideologue Abdiqadir Mumin surfaced online, in which he pledged allegiance (baya) to Islamic State leader Ibrahim al-Badri (alias Abu Bakr al-Baghdadi), in his own name as well as those of an unspecified number of militants under his command. There were conflicting reports regarding how many of Mumin's militants defected with him, with estimates ranging from a low of approximately 20 to as high as 200. After defecting from Al-Shabaab and pledging allegiance to Baghdadi, Mumin and his forces worked to recruit more defectors and locals into their ranks, including children.
Mumin's defection came amid a renewed media operations push by the Islamic State to attract defectors from Al-Shabaab that began in early October and continued through to January 2016. The first official Islamic State propaganda film aimed at Somali and East African audiences, which featured Somali and Ethiopian militants, was released in May 2015 by the media office of the group's self-styled Wilayat al-Furat (Euphrates province). The Islamic State's media campaign sought initially to convince Al-Shabaab leaders to shift the militant group's loyalty from Al-Qaeda to the Islamic State, but when that failed, the Islamic State changed tack to try to attract individual defections from rank-and-file Al-Shabaab militants and sympathetic field commanders.
Puntland has become the hub of pro-Islamic State activity in Somalia On 26 October 2016, a year after the publication of his baya, 50-70 of Mumin's militants took control of the port town of Qandala, a former pirate hub, on Somalia's northern coast in the semi-autonomous region of Puntland, alarming the region's officials since it lies approximately 75 km from the regional capital Bosaso. The town's residents fled after the militants cut off telephone communications and rebuffed calls by local clan elders to leave. The Islamic State-affiliated Amaq News Agency released video footage of Mumin's militants entering Qandala on 26 October and also issued a short written statement. Mumin's forces were expelled from Qandala in December by an alliance of Puntland regional and clan militia forces, but they continued to conduct attacks in the region, including the February 2017 abduction of five to nine people from a bus about 25 km from Qandala and the subsequent beheading of three of them. Mumin, who is from originally from Puntland, draws support from elements of his clan, the Majerteen Ali Saleeban, as well as from his own group's aggressive recruiting of locals including child soldiers, and strategic alliances with other disaffected forces in the region such as the militia of Abdisamad Mohamed Galan, the former governor of the Bari region, whose forces have clashed with Puntland forces as part of an ongoing political power struggle with Puntland's president, Abdiweli Mohamed Ali. Renewed fighting, which broke out in October and November 2016, between the Puntland and Galmudug regions around the disputed town of Galkayo may also provide Mumin's group with another regional conflict to exploit. Pro-Islamic State defectors also took advantage of Al-Shabaab's relatively weak presence in Puntland. The Somali insurgent group maintains a cell in Bosaso but does not have a strong presence outside of the city. Before his defection in October 2015, Mumin and the fighters under his command were the majority of Al-Shabaab's forces in the north. An Al-Shabaab amphibious landing of 200-300 militants along the Puntland coast in March 2016, which resulted in the initial insurgent capture of the port town of Garad, was ultimately defeated in a series of battles with Galmudug regional forces and allied clan militias there and in Mudug.
In April 2016, a film with a running time of 16 minutes and 45 seconds was released by the Islamic State-affiliated Furat Media outlet – distinct from the Wilayat al-Furat media office – showing about a dozen militants from Mumin's faction training on a dry plain in an undisclosed location at a military camp named after Abu Numan al-Yentari, an Al-Shabaab field commander who defected to the Islamic State but was killed by Al-Shabaab's Amniyyat internal security apparatus in 2015. Mumin, who appeared at the end of the film, identified the camp as "the first military training camp of the [Islamic State's self-proclaimed] Caliphate in Somalia". He went on to extol the small group of trainees to be steadfast in their zeal, and urged patience and constancy in waging jihad before leading them in a pledge of allegiance to Baghdadi. A larger group of two to three dozen militants were shown with Mumin in another Furat Media film of an Eid al-Adha gathering that was released in mid-September 2016. The film featured addresses by several militants in Somali, English, and Arabic urging other Al-Shabaab fighters to defect to the Islamic State.
Defections of small groups of Al-Shabaab militants also occurred outside of Puntland but have generally been suppressed with relative ease by the Amniyyat through arrests and killings of defectors, either in small-arms clashes or summarily. Since October 2015, there have been defections of Al-Shabaab militants to the Islamic State in the regions of Bakool, Bay, Jubbada Dhexe, Jubbada Hoose, Shabeellaha Dhexe, and Shabeellaha Hoose. In the United States, several Somali-US youths were charged and convicted with attempting to join the Islamic State, including Minneapolis residents Guled Ali Omar, Mohamed Abdihamid Farah, and Abirahman Yasin Daud in June 2016 and Minnesota-resident Hamza Ahmed in November 2016.
In an interview published in the 12th issue of the Islamic State's English-language magazine Dabiq in mid-November 2015 an Al-Shabaab defector to the group, Abu Muharib al-Somali, claimed that the Islamic State's prospects in Somalia were generally positive despite raids by the Amniyyat. He claimed that there was widespread popular support among Al-Shabaab militants and field commanders for the Islamic State but that the Amniyyat's repression was preventing some factions from openly pledging baya to Baghdadi. Despite this, he said that there was greater co-ordination of media efforts between Islamic State supporters and defectors in Somalia and the group's core media operations network, a claim supported by the inclusion of Somalia-based pro-Islamic State groups in the group's media campaign through the Furat Media outlet beginning in April 2016. Somali also claimed that many rank-and-file members of Al-Shabaab were confused by the group's leadership's continued loyalty to Al-Qaeda leader Ayman al-Zawahiri and then Taliban leader Mullah Akhtar Muhammad Mansour, the latter of whom was subsequently killed in a US unmanned aerial vehicle (UAV) strike on 21 May 2016 near the Afghanistan-Pakistan border. Somali alleged that the Al-Shabaab leadership was using ties to Al-Qaeda as a 'political tool' and in practice did not pay much attention to directives and guidelines from Zawahiri.
In Kenya, pro-Islamic State supporters attempted to attract Kenyans and Somali refugees in the country to switch support for Al-Shabaab to pro-Islamic State factions such as Mumin's and others in southern and central Somalia. Somali refugees in the Dadaab refugee camp told in October 2016 that local pro-Islamic State militants were taxing locals less than Al-Shabaab for commercial transactions and zakat (Islamic tax) collections and did not implement sharia (Islamic law) as harshly as their Somali insurgent rivals. These shifts in behaviour, which are quite different from the Islamic State core's practices in Iraq, Libya, and Syria, suggested that pro-Islamic State groups in East Africa were attempting to attract support by taking local sensibilities more into account than other Islamic State regional affiliates. This may be in part to compete with Al-Shabaab, whose administrative officials maintain ties with local powerbrokers such as clan elders in a bid to win their support.
In April 2016, a new East African Islamist militant group, Jabha East Africa (East Africa Front) pledged allegiance to Baghdadi and the Islamic State in a written statement that claimed a presence "on the border of Somalia" and "deep from within Tanzania". The group, which appears to be very small and more of a media presence than an actor with any substantial operational presence, condemned Al-Shabaab in a second written statement in July 2016. It also released three short videos in late June and early July 2016, one of which showed a German militant, identified as Martin Andreas Mueller, formerly affiliated with Al-Shabaab, who was killed after defecting to Jabha East Africa. English-speaking militants, possibly foreign fighters, had also been featured in the Islamic State's Furat Media videos in Somalia.
Between April 2016 and late February 2017, Islamic State-affiliated media outlets claimed responsibility for conducting 26 attacks in Somalia and Kenya. These claims were made in online written statements from the Islamic State's official media network and the affiliated Amaq News Agency, which is close to the militant group's core media operations. Only three of the 26 claimed attacks were also reported in fully official Islamic State online written statements: the most recent was an attack by gunmen on the Village Hotel in Bosaso on 8 February 2017, the second was an attack with "light weapons" on an "apostate Somali forces" base in the Sinkadir district of Mogadishu on 5 May 2016, and the oldest was the planting and detonation of an improvised explosive device (IED) targeting an African Union Mission in Somalia (AMISOM) convoy in the Tridish area of Mogadishu in late April 2016. With regards to the geographical distribution of the claimed attacks: 15 took place in Banaadir region, including Mogadishu; one in western Somalia; six in Puntland; one in Bay region; one in Shabeellaha Hoose region; and two in Kenya. Unlike Al-Shabaab, pro-Islamic State factions in Somalia and East Africa have not conducted large-scale co-ordinated or suicide vehicle-borne improvised explosive device (SVBIED) attacks in major urban centres such as Mogadishu and instead relied on small- and medium-scale types of attacks, typified by hit-and-run attacks on AMISOM and Somali police and army bases and checkpoints, throwing grenades, planting IEDs, ambush, and targeted assassinations. This probably underlines a comparative lack of capabilities.
The first Islamic State-claimed operation in Kenya was an attack by three women on a police station in the coastal city of Mombasa on 11 September 2016. A letter purportedly written by the three women – identified as Umm Maysara, Umm Mabad, and Umm Saad – was released unofficially online by Islamic State supporters. In the letter, the three women pledged allegiance to Baghdadi and threatened to retaliate for the persecution and oppression of Muslims by non-Muslim powers, specifically singling out the Kenyan government. This letter was misinterpreted by some people as being instead from Ahmad Iman Ali, the Kenyan commander and senior guiding ideologue of Al-Shabaab's Kenyan foreign fighters. In mid-September 2016 when the Mombasa attack occurred, there were unsubstantiated claims made that he had defected from Al-Shabaab and pledged allegiance to the Islamic State. Although it is unclear what Iman Ali's current status is, since there has not been a media release from him via Al-Shabaab or other Islamist militant media since June 2016, there is no verifiable evidence in open sources that he has defected. As of mid-January 2017, Iman Ali was still identified by the US Department of State's Counter-Terrorism Rewards Program, Rewards for Justice, as being affiliated with Al-Shabaab as a field commander of 300-500 Kenyan militants, as well as a recruiter and fundraiser for the group. A second attack in Kenya, the stabbing of a US embassy guard in Nairobi on 27 October 2016, was claimed two days later by the Islamic State, although in generic terms that identified the killed attacker simply as "a soldier of the Caliphate". This approach to claiming lone-actor attacks has been utilised on multiple occasions by the Islamic State, and should not be understood as a definitive indication of the group's involvement.
Al-Shabaab's senior leadership under leader Ahmed Umar (alias Abu Ubaida) has been proactive and harsh in dealing with defectors and militants suspected of having pro-Islamic State leanings. The Amniyyat conducted arrests and killings of defectors such as field commander Abu Numan al-Yentari in 2015. In November 2015, Ali Mohamud Rage (alias Ali Dheere), Al-Shabaab's official spokesperson, issued a lengthy warning at a press conference to those seeking to "divide the Muslims and the mujahideen in Somalia". To date, Al-Shabaab's regional allies, the Kenyan Islamist militant groups Al-Muhajiroun in East Africa and the Muslim Youth Centre/Al-Hijra founded by Iman Ali, remain loyal to the Somali militant group and Al-Qaeda rather than shifting allegiance to the Islamic State. In a 12 January 2016 written statement, the former criticised "misguided 'mujahideen' [sic]" from the Islamic State for trying to "sow seeds of discord here in East Africa", accusing them of doing the devil's work, and reiterated its loyalty to Al-Shabaab and Al-Qaeda. The MYC/Al-Hijra network, because of Iman Ali's position within Al-Shabaab, has essentially been subsumed within the Somali militant group's own structure, although it is possible that divisions may emerge if Iman Ali himself were to defect to the Islamic State.
In the near-to-medium term, Al-Shabaab will almost certainly maintain its position as the pre-eminent militant Islamist group in Somalia, as well as East Africa more broadly, because of its superior manpower, financial resources and revenue streams, and military and operational capabilities. It is unlikely that Mumin's group or other Islamic State loyalists in the region will be able to present a viable challenge to Al-Shabaab outside of Puntland. Clashes in December 2015 between Mumin's group and Al-Shabaab forces in the region proved inconclusive and both sides have continued to operate there but have focused on targeting the regional government.
As the core of the Islamic State continues to suffer major battlefield setbacks and shrinking territorial control in Iraq and Syria, there is a possibility that foreign fighters in the group's ranks from Ethiopia, Kenya, Somalia, and other East African countries may attempt to return to their home countries or Somalia. If significant numbers of these foreign fighters return to the region, particularly those with substantial operational skills in military and media affairs, and join with groups such as Mumin's, this may start to even out the balance of power and aid the Islamic State and its supporters in establishing a greater foothold and operational capabilities to launch attacks. Al-Shabaab, although the undisputed dominant militant Islamist actor in the region currently, could have this position undermined if it suffers major battlefield defeats or losses of key leaders such as Ahmed Umar or powerful provincial governors such as Hasan Yaqub Ali and Mohamed Abu Abdullah.
https://www.newdelhitimes.com/islamic-state-increases-its-dominance-in-africa/
--------
At least 15 killed in fresh C. Africa clashes
3 July 2017 -
BANGUI, Central African Republic: At least 15 people died in clashes between UN peacekeepers and former rebels in the centre of the chronically restive Central African Republic, a humanitarian source said Sunday.
The violence broke out on Saturday in the market town of Kaga-Bandoro when rebels from the former Seleka movement of mainly Muslim fighters attacked the town "to settle an old score", a source in MINUSCA, the UN mission which has some 12,000 troops in the country, told AFP.
"They (the former Seleka rebels) were confronted by the Pakistani and Burundian contingents stationed in the town," the UN source said.
"The MINUSCA forces did their job and protected the civil population" in the town, some 400km north of the capital Bangui, the source added.
Seleka rebels briefly seized power in March 2013 and deposed the Christian President Francois Bozize.
The Seleka group was itself then ousted, leading to a wave of violent reprisals against the Muslim population by the Christian anti-Balaka militia.
Clashes towards the end of last month left around 100 people dead in the central town of Bria just hours after the government signed a peace deal with rebel groups aimed at ending simmering sectarian violence which has blighted Central Africa since 2013.
Although the unrest has long pitted Christian anti-Balaka militias against mainly Muslim ex-Seleka rebels, there have been growing splits within the various armed groups that have turned deadly.
Full report at:
http://www.thesundaily.my/news/2017/07/03/least-15-killed-fresh-c-africa-clashes
--------
Roadside bomb kills two near Somalia's capital
July 3, 2017
Mogadishu: A roadside bomb struck a minibus north of the Somali capital Mogadishu late on Saturday, killing two people and injuring six others, police said. The blast occurred on a busy road in the Elasha district less than 20 kilometres northeast of the capital, said Dahir Ahmed, a police major. "The bomb killed the driver and a woman and injured six other civilians," he told Reuters. There was no immediate claim of responsibility, although the Islamist al Shabaab group has carried out regular attacks on officials, government offices and civilian sites. –Reuters
Full report at:
http://nation.com.pk/international/03-Jul-2017/roadside-bomb-kills-two-near-somalia-s-capital
--------
Militant video purports to show westerners held in Mali
2 July 2017
Islamist militants operating in Mali released a video purporting to show six western hostages, ahead of a regional security summit in the West African country attended by France's president on Sunday.
A narrator speaking in English said the 17-minute video showed hostages from South Africa, France, Colombia, Australia, Romania and Switzerland. The film bore the name of al-Qaeda-affiliated militant group JNIM.
Reuters was unable to verify the authenticity of the footage, or when or where it was taken.
Romania's foreign ministry said the Romanian man from the video, Iulian Ghergut, was kidnapped from a mine in Burkina Faso in April 2015.
France's Foreign Ministry declined to comment while the Swiss government said it was aware of the video and called for the release of its citizen.
Islamist militant groups, some with links to al Qaeda, seized Mali's desert north in 2012.
Military intervention
A military intervention by former colonial power France drove them out of major cities a year later, but they continue to attack UN peacekeepers, Malian soldiers and civilian targets.
The violence has spilled over into neighboring countries in West Africa's arid Sahel region and Paris has deployed thousands of French troops to combat Islamists under a cross-border operation known as Barkhane.
President Emmanuel Macron said on Sunday that France would "put all our energy towards eradicating" those responsible for kidnapping a French hostage shown in a video posted online by an al-Qaeda-linked militant group.
Full report at:
https://english.alarabiya.net/en/News/world/2017/07/03/France-rules-out-terrorism-after-eight-wounded-in-mosque-shooting-.html
--------
France Pledges to Bolster African Antiterrorism Force
JULY 2, 2017
BAMAKO, Mali — President Emmanuel Macron of France on Sunday promised strong support for a new multinational military force to combat extremists in parts of West Africa, saying the "terrorists, thugs and assassins" needed to be eradicated.
Meeting in Mali with leaders from the five countries that make up the Sahel region, Mr. Macron said France would provide military support for antiterrorism operations and 70 tactical vehicles, communications, and operational and protective equipment.
The 5,000-strong force will be deployed by September, Mr. Macron said at a news conference in the Malian capital, Bamako, by which time the force's funding is expected to be finalized.
The leaders of Mali, Mauritania, Niger, Burkina Faso and Chad — the countries of the Sahel region known as the G5 — must clarify their roles and contributions for the force to attract more support from outside countries, Mr. Macron added. "We cannot hide behind words, and must take actions," he said.
The new antiterrorism force will operate in the region along with 12,000 United Nations peacekeepers in Mali, one of the most dangerous peacekeeping missions in the world, and an existing French force of 5,000, the country's largest overseas mission. The new force is not meant to replace those missions, Mr. Macron said. "It's a force that fights against terrorism, and the trafficking of drugs and humans."
President Ibrahim Boubacar Keita of Mali said that each of the Sahel countries would contribute 10 million euros, or $11 million, toward the force's €423 million ($480 million) budget.
The European Union has already pledged about €50 million ($57 million) in support of the Sahel force. In June, the United Nations Security Council unanimously approved a resolution endorsing the new force. The United Nations, however, will not contribute financially.
The meeting with Mr. Macron and the Sahel leaders on Sunday came a day after the recently formed extremist group Nusrat al-Islam wal Muslimeen, based in Mali, released a video showing six foreign hostages seized in the region in recent years. The video claimed that "no genuine negotiations have begun to rescue your children."
Mr. Macron said he welcomed the first sign of life for several months from the French hostage in the video, Sophie Petronin. "They are terrorists, thugs and assassins," Mr. Macron said of the extremists. "And we will put all of our energies into eradicating them."
Full report at:
https://www.nytimes.com/aponline/2017/07/02/world/africa/03mali.html
--------
Boko Haram Leader Targets Non-Violent Muslims in Video: 'You Are Playing with Hellfire'
2 Jul 2017
The leader of the Nigeria-based Islamic State (ISIS/ISIL) affiliate Boko Haram has reportedly reappeared in a new video, claiming Christians and Muslims cannot coexist in the West African country as equals.
"There is no way [for] we Muslims in mosques and Christians in churches, and you [Islamic clerics] think we can work together," declared a man claiming to be Abubakar Shekau. "This has never happened before even during the lifetime of all apostles of the prophet."
Nigeria has a significant Christian population, continuously persecuted by the jihadist group.
According to the CIA World Factbook, 50 percent of the population is Muslim, 40 percent Christian, and the rest practice indigenous beliefs.
The terrorist group posted the 14-minute long video on YouTube. Nigeria's Premium Times has translated Shekau's remarks to English.
In a move described as "unusual" by the Nigerian news outlet, the terrorist leader threatened "so-called Islamic clerics" in Nigeria, accusing them of misleading Muslims about the true teachings of Islam and dismissing them as "betrayers" for condemning Boko Haram as well as allegedly urging Christians and Muslims to live in peace
"My message is to Islamic clerics in Nigeria who, despite their position, are giving [the] wrong interpretation to the Holy Quran; you are playing with hellfire," declared Shekau. "You have to be careful because Quran has divided mankind into three; some are believers, some are hypocrites, and some are non-believers."
The Boko Haram chief acknowledged that constitutional democracy is incompatible with the group's intended goal of establishing Sharia law.
"If you are insisting on dialogue we have to have a situation where Muslims are ruling with Sharia, and the non-Muslims agree to remain by the side without interference, then we can discuss on their rights; such non-Muslims are the ones that could be labelled as the trusted," said the Boko Haram chief, addressing clerics.
"But where the country is being run by constitution and democracy, such kind of dialogue cannot be possible. And you the Islamic clerics are all out there preaching in the mosques and spoiling the image of Islam. If you don't repent you shall not end well," he continued.
Boko Haram leader also claimed responsibility for an ambush of a convoy of commercial, private, and government vehicles escorted by armed soldiers and law enforcement officials, noting that the jihadist organization has abducted an estimated 16 policewomen to serve as slaves.
Boko Haram reportedly killed two people, including a police officer, during the incident
Al Jazeera has reported that the war between Boko Haram and the U.S.-backed Nigerian military has led to 20,000 casualties since 2009, including Christian civilians who have been abducted and forced to marry Islamic extremists.
"The terrorist group has bombed churches and government buildings, vowing to drive out all followers of Christ from the country," notes the Christian Post.
Abu Musab al-Barnawi threatened Christians soon after he was elected to serve as the group's spokesman in August 2016.
"They strongly seek to Christianize the society," proclaimed al-Barnawi at the time. "They exploit the condition of those who are displaced under the raging war, providing them with food and shelter and then Christianizing their children."
Full report at:
http://www.breitbart.com/national-security/2017/07/02/boko-haram-leader-targets-non-violent-muslims-video-playing-hellfire/
--------
Nigeria: Boko Haram Refugees Find New Home
2 JULY 2017
By Andrea Stäritz
In Nigeria, Mubi is known as the city of peace; half of the population is Christian, the other half Muslim. It has now become home to 100,000 Boko Haram refugees.
The city of Mubi is strategically located close to the Yedseram river, 10 kilometers (6 miles) from Cameroon's northern border. It is a place bustling with energy and activity: the old trade metropolis is one of three cities in Nigeria with the fastest economic growth.
In October 2014, the city, with a population of 200,000 inhabitants, was overrun by Boko Haram militants. Forty days later, the Nigerian military recaptured Mubi. The residents returned and many of them opened their homes to refugees. More than 100,000 people from Borno and other municipalities around the Sambisi forest have come to stay in the city.
On the border road to Cameroon, engines of loaded trucks are running, small shops have cropped up along the route. Algoni Ibrahim, who is 23, originally comes from Banki, some 200 kilometers north of Mubi. When Boko Haram occupied the border town three years ago, he ran for his life across the border to Cameroon. After two years in the refugee camp, he heard about the chance to work in Mubi and returned to Nigeria.
For six months, the young man worked as a day laborer: carrying water canisters and loading trucks. He slept on the street and was arrested five times because the police suspected him of being a Boko Haram fighter.
In between, Ibrahim worked as a tailor. With the tenfold pay of a day laborer he could support his family who live in a camp for internally displaced persons in Maiduguri. "One must be able to do something, a craft, and then one can find work," Ibrahim said.
Picking up the pieces
A little further along the road towards Cameroon is a disused brick factory which has been turned into the Mubi transit camp. Men sleep in the production hall, whereas women and children shelter in five plastic huts.
The camp should have been closed long ago, but now 80,000 refugees, who had previously taken refuge in Cameroon, are being repatriated via the transit camp. Nigeria, Cameroon and the UN agency for refugees, UNHCR, agreed in March to return the Nigerian refugees. More huts are now being erected on the neighboring site.
Most of the registered refugees have found work in Mubi. They live with relatives or families who have willingly opened their doors. In the villages surrounding Mubi, land belonging to the chiefs has been given to the refugees so they can begin to rebuild their lives. Many businessmen have also given land to the refugees.
"If the security situation permits, all refugees would like to return immediately to their home villages," Safratu Ayuba, spokesman for the refugees in the transit camp said. The camp is managed and protected by the Nigerian military. Mohamed Buba Hakim returned a few days ago from Cameroon with some 130 other refugees. "Everyone wants to return," the 36-year-old administrative employee said. The military had promised to secure the roads after the end of Ramadan.
Life for refugees in Mubi
In the center of the town, on the first floor of a commercial building, is the office of the local chamber of commerce. Abdulkadir Musa, who heads the office, said trade is booming: "Business is going better than before the takeover of the city by Boko Haram, everyone is playing their part."
Mubi is growing at a tremendous pace since businessmen from the northern districts of Gwoza, Bama and Maidagali relocated there due to the difficult security situation in the north. Many of the roads in the north remain unsafe. Mubi, on the other hand, has a secure route to Cameroon and to the south. According to Musa, even the thousands who fled from Boko Haram to Cameroon, and now have returned to Nigeria, would be integrated without problems.
Seeking peace and security
Danladi Abubakar, representative of the emir, works as a mediator at the market. He knows everyone and is quick to deal with misunderstandings when they arise. Abubakar sees himself as a peace negotiator. He said he is not concerned with conflicts, but with peace. "We have learned that security is not a matter for the military alone," Abubakar said. "Everyone at the market has to become a guardian of peace."
Mubi residents are concerned that Boko Haram fighters may have come into the city disguised as refugees. "Every newcomer is closely watched," Abubakar said. "If he comes in peace, he is welcome. But if we notice anything strange, we ask him, and if necessary, involve the military."
Mubi is known as the city of peace. Pastor Dean Harris lives behind a prison once bombed by Boko Haram. It now has new walls. "We celebrated the end of Ramadan, we celebrated Christmas, and even at midnight we received guests of all religions," Pastor Harris said.
Full report at:
http://allafrica.com/stories/201707030036.html
--------
North America
The Supreme Court's "Muslim Ban" Decision Is Terrifying
July 02, 2017
I'm a U.S. citizen. I'm also Muslim. And the Supreme Court decision on the Trump administration's Muslim travel ban scares me.
In a June 26 ruling, the court decided to leave in place parts of the Muslim ban while the merits of the case are debated, effectively barring individuals from six Muslim-majority countries without a "bona fide" relationship in the U.S. -- say, with family members, an employer, or an educational institution -- into the country. This decision may also prevent entry for all refugees for 120 days.
The ruling has been hailed as a victory for the Trump administration -- not just on the legal end, but also in the degree to which it instills fear in Muslims. The fear is real, and not just for those who may be directly impacted, but for the larger community, too. After all, what the travel ban is ultimately meant to do is to hold all Muslims collectively responsible for the actions of a (minuscule) few.
As a Muslim American of Egyptian descent, will I be legally impacted by the decision? In theory, no. But will I think twice about leaving the country, knowing that I could return to the possibility of being harassed, interrogated, and/or denied entry back into the U.S.? Absolutely. Because after almost 16 years of the war on terror, you come to learn -- or become conditioned to fear -- that one day you could be next.
The distinction between citizen and non-citizen becomes ever more perilous when you "look Muslim," have a Muslim sounding name, or work on issues relating to Muslims. This doesn't mean I'll experience the same consequences as Muslim non-citizens, but neither does my citizenship reassure me that my fellow Muslim Americans and I will be protected, especially in light of this administration's history over the last few months alone.
And that's exactly the intent of policies like these -- they target some while causing others to reel back in fear that they too will be impacted. They generate enough fear to make anyone with any relationship with a targeted group censor themselves and modify their behavior. The government wins not only because of whom it targets directly, but because of who else becomes an indirect target. These are precarious times for Muslims. And while we're told to trust in our democracy and our judicial system, decisions like these -- which come on the heels of a long history of discriminatory, racist, and Islamophobic policies under several administrations -- magnify the legitimate fear that one will either be targeted by state violence or become a target of societal violence.
Worryingly, not a single judge dissented from the unsigned Supreme Court ruling -- and in fact, three conservative judges, including the newly seated Neil Gorsuch, concurred that they would've gone even further and implemented the ban in full. So we know to expect that yet again, the highest law of the land is in favor of institutionalizing Islamophobia. Where then do Muslims turn for reprieve?
As a Muslim American, I'm tired of explaining my fear. I'm tired of pointing out how negatively the war on terror has impacted by community, and I'm tired of being treated as a means to a security end.
I'm tired of explaining the legacy of the war on terror and the fact that under the Bush administration, security policies that began by targeting non-citizens ended up, through a long and thoroughly calculated process, targeting citizens as well -- something that also continued under Obama, who spied broadly on ordinary people's communications and even ordered lethal drone strikes on U.S. citizens.
I'm tired because I know this isn't the end, but the beginning of a new war on terror -- one whose thinly veiled racist manifestations have become explicit.
The Muslim ban means that Muslims will be in the spotlight even more and viewed almost exclusively as national security pawns. Non-citizens, of course, stand to lose the most. But let's remember what the war on terror has always been designed to do: demonize all Muslims -- citizens or not -- to justify the most egregious, abusive, and racist laws and policies.
I don't know what's yet to come, and I'm afraid to find out.
http://www.truth-out.org/opinion/item/41130-the-supreme-court-s-muslim-ban-decision-is-terrifying
--------
Alienation worries at US mosque amid travel ban
01 July 2017
The Trump administration's most recent attempt to curtail Muslim immigration is having a "counterproductive" effect on its stated goal - securing the nation, according to a top official at one of the nation's largest mosques.
The Islamic Center of America has served the Detroit, Michigan area's substantial Muslim community in its present form since 2005.
But the Muslims who call the area home have deep roots in the U.S. dating to the early 20th century when auto-pioneer Henry Ford opened plants in Dearborn and Detroit, attracting immigrants from across the world to what would become Motor City.
Arab-Americans, many of whom are Muslim, now make up about 30 percent of the population of Dearborn and have gone on to become established figures in the community and beyond.
They include circuit court judges, highly-esteemed physicians, university professors, and law enforcement officials.
"We have the desire and motivation to be an integral part of securing our country, and when there is this type of rhetoric, when the rhetoric is aimed at Muslims in general, and immigrants in particular, and refugees, then it really erodes some of the confidence that has been built up over the generations," said Kassem Allie, the executive administrator at the Islamic Center of America.
Following a Supreme Court decision earlier this week to allow parts of President Donald Trump's travel ban on six Muslim-majority countries to go into effect, the State Department announced Thursday how it would interpret the Court's guidance.
The Court specified that while the administration could proceed with the order's implementation, it could not enforce it on individuals from the six countries who have a "credible claim of a bona fide relationship" with a U.S. person or entity.
The Trump administration is interpreting that decision capriciously.
Mothers and fathers of U.S. persons will be allowed in, as will children, but not grandmothers and grandfathers, nor grandchildren. Brothers and sisters of U.S. persons, and brothers and sisters-in-law will be granted visas, but not aunts and uncles.
As far as entities go, the Trump administration has decided that pertains only to relationships that are "formal, documented, and formed in the ordinary course of events rather than to evade the executive order itself".
Refugee agencies seeking to resettle asylum seekers who do not have one of the approved familial relations need not apply.
That is likely to sharply curtail refugee entry from the six designated countries which include Iran, Libya, Somalia, Sudan, Syria and Yemen.
The order went into effect at 8 p.m. (0000GMT) Wednesday.
In seeking to get as close to barring entire populations as much as possible until a Supreme Court ruling in the fall, the Trump administration may be "in a sense alienating those people who would perhaps be a part of an effort to secure your country", Allie said.
It should be noted that since 1975 no individual born in any of the six designated countries has carried out a terrorist attack in the U.S. Those countries that have been home to attackers, such as Saudi Arabia from where 15 of the 19 Sept. 11, 2001, hijackers hailed, have not been designated.
"When you generalize and group people all into the same category of being somehow suspect or at risk, you're the one who is alienating those people who you would not normally be alienating," Allie said.
"It doesn't make any sense for us to secure our country and be so ambiguous as to how exactly we're going to secure ourselves based on these selected countries," he added.
The Council on American-Islamic Relations (CAIR), which bills itself as the largest Muslim advocacy group in the U.S., is weighing legal action to challenge the administration's move, according to spokesman Ibrahim Hooper who cited Trump's stated goal of seeking to ban Muslims from coming to the U.S.
Full report at:
http://www.worldbulletin.net/america-canada/191372/alienation-worries-at-us-mosque-amid-travel-ban
--------
Trump discusses 'concerns' over Qatar crisis in calls to Gulf leaders
3 July 2017
President Donald Trump spoke separately to the leaders of Saudi Arabia, Abu Dhabi and Qatar on Sunday to discuss his "concerns about the ongoing dispute" between Qatar and its Gulf and Arab neighbors, the White House said.
"He reiterated the importance of stopping terrorist financing and discrediting extremist ideology. The president also underscored that unity in the region is critical to accomplishing the Riyadh Summit's goals of defeating terrorism and promoting regional stability," the White House said, according to Reuters news agency.
President Trump, nevertheless, believes that the overriding objective of his initiative is the cessation of funding for terrorism," it said.
Saudi Arabia, Bahrain, UAE and Egypt broke off the ties last month over allegations of Qatar's links to terrorism.
Qatar's Foreign Minister Mohammed bin Abdulrahman Al Thani is set to hand over Doha's decision over a list of demands from boycotting countries to Kuwait on Monday, according to Al Arabiya sources.
Speaking in Rome on Saturday, Qatari Foreign Minister Sheikh Mohammed bin Abdulrahman al-Thani said the demands were made to be rejected, adding that the Arab ultimatum was aimed not at tackling terrorism but at curtailing his country's sovereignty.
But he told reporters in Rome that Doha remained ready to sit down and discuss the grievances raised by its Arab neighbors.
"This list of demands is made to be rejected. It's not meant to be accepted or ...to be negotiated," Sheikh Mohammed said in Rome. "The state of Qatar instead of rejecting it as a principle, we are willing to engage in (dialogue), providing the proper conditions for further dialogue."
The countries have threatened further sanctions against Qatar if it does not comply with their list of 13 demands which were presented to Doha by Kuwaiti mediators 11 days ago.
The demands include closing a Turkish military base in Qatar and shutting down the Al Jazeera pan-Arab television network, which Doha also rejected.
Full report at:
https://english.alarabiya.net/en/News/gulf/2017/07/03/Trump-discusses-Qatar-crisis-with-Gulf-and-Arab-states-in-calls.html
--------
No change in US Kashmir policy: US' McCain
02 July 2017
Senator John McCain, chairman of the U.S. Senate's Armed Services Committee, Sunday said there was no change in Washington's Kashmir policy despite the designation last week of a key pro-freedom Kashmiri leader as a "global terrorist".
According to Pakistan's Foreign Ministry, McCain, leading a five-senator delegation in the capital Islamabad, made the remarks during a meeting with Pakistani foreign policy adviser Sartaj Aziz.
"There is no change in U.S. policy on Kashmir. The U.S. will continue to pursue its [traditional] Kashmir policy", McCain was quoted as saying by state-run Pakistan Television, citing Foreign Ministry officials.
McCain's remarks followed a U.S. State Department spokesperson on Saturday declaring, "Our Kashmir policy has not changed".
Aziz, who serves as de facto foreign minister, reiterated his country's position, saying, "Pakistan firmly believes in the legitimacy of the Kashmir cause and the peaceful struggle of the Kashmiri people to claim the right to self-determination promised to them by the international community through the UN Security Council resolutions".
On June 26, hours before the first-ever meeting between U.S. President Donald Trump and Indian Prime Minister Narendra Modi at the White House, Washington declared Syed Sallahuddin, the head of Hizb-ul-Mujahddin -- the largest armed group fighting Indian occupation of Kashmir -- a global terrorist.
The move instantly invited ire from Islamabad, which rejected the U.S. decision, saying the 70-year-old indigenous struggle of Kashmiris in Indian-occupied Jammu and Kashmir remains legitimate.
Many see the U.S. senators' visit as an attempt to ease escalating tensions between the two close allies in the so-called war on terror following Washington's latest move.
Aziz also warned on Saturday that his country's relations with the U.S. could be affected following the designation of Sallahuddin as a terrorist.
Full report at:
http://www.worldbulletin.net/america-canada/191424/no-change-in-us-kashmir-policy-us-mccain
--------
Southeast Asia
Malaysia's Perkasa Also Calls for Boycott against Starbucks over 'Pro-LGBT Stand'
JULY 3, 2017
KUALA LUMPUR — Malay rights group Pribumi Perkasa Malaysia had urged Muslims nationwide to boycott Starbucks on Sunday (July 2) over a four year-old quote by its then chief executive supporting the lesbian, gay, bisexual and transgender (LGBT) community.
Just a day after Muslim hardliners in Indonesia made the same call, the group also urged authorities to cancel the international coffee chain's operating licence, together with other "pro-LGBT" firms, naming tech giant Microsoft as an example.
"Perkasa urges Muslims in this country to boycott Starbucks because this United States-based international coffee chain supports LGBT and same-sex marriage," the group's Islamic affairs bureau chief Amini Amir Abdullah said in a statement.
"Perkasa also urges the government to reevaluate the trading licence given to companies that support same-sex marriages and LGBT," he added.
Mr Amini said his statement was allegedly based on a report that Starbucks CEO Howard Schultz supports same-sex marriage and LGBT.
It is unsure which report he was referring to, but Mr Schultz, who is now chairman, had in 2013 told anti-gay shareholders to sell their stocks if they are opposed to diversity.
Mr Schultz made the remark in response to criticism over the firm's support for Washington's state's referendum backing gay marriage in 2012.
Mr Amini's call came a day after Anwar Abbas of Muhammadiyah, an Indonesian Islamic group, urged the republic's government to revoke Starbucks' operating licence since its LGBT stand is "not in line" with the nation's ideology.
Reuters reported PT Sari Coffee Indonesia, the chain's licence holder there, saying it is a legal entity that "always obeys the prevailing regulations and appreciates the cultural values in Indonesia".
Starbucks is a regular target for seasonal boycott by Muslims here, but the boycotts rarely last.
In 2014, Muslim NGOs had called for a concerted boycott against Starbucks, fast food franchise McDonald's, and British bank HSBC for allegedly "lending their support to Zionist Israel". MALAY MAIL ONLINE
http://www.todayonline.com/world/asia/after-indonesia-malaysias-perkasa-calls-boycott-against-starbucks-over-pro-lgbt-stand
--------
Amanah and PAS cut from same cloth, MCA tells DAP
July 3, 2017
KUALA LUMPUR, July 3 — A leader from MCA today accused Amanah of being ideologically identical to PAS from which it drew most of its leaders and members.
MCA Publicity Bureau Chairman Senator Dato' Chai Kim Sen noted that Amanah vice-president Datuk Husam Musa was previously part of the Kelantan PAS government that supported the local government's policy of prohibiting non-Muslim traders from operating during the evening Mahgrib prayers.
Chai was responding to DAP leader Lim Kit Siang's endorsement of Husam as the Kelantan mentri besar, and said this was akin to supporting the Islamisation of Malaysia.
"Kit Siang's support for Husam Musa as Kelantan MB repeatedly shows that DAP is willing to collaborate with PAS in order to seize federal and state power, and for the fourth time, has no qualms in selling out the interests of the non-Muslim community," he said in a statement.
"Kit Siang can churn out all sorts of excuses for Husam Musa, that he has transformed, and that the establishment of Parti Amanah Negara aims to safeguard non-Muslim rights.
"But no matter how much DAP repackages and emphasises on Amanah, there is no ideological distinction between PAS and its splinter party Amanah," the MCA leader added.
To support his claim, Chai noted that none of the six Amanah MPs have objected to PAS presisent Datuk Seri Abdul Hadi Awang's tabling of his Private Member's Bill to amend the Syariah Courts (Criminal Jurisdiction) Act 1965.
MCA and other non-Malay component Barisan Nasional parties vehemently opposed the Bill, which they claimed could pave way for hudud in Kelantan and eventually the entire country.
Full report at:
http://www.themalaymailonline.com/malaysia/article/amanah-and-pas-cut-from-same-cloth-mca-tells-dap
--------
Utusan praises Hadi, muftis for opposing DoJ suit
July 2, 2017
KUALA LUMPUR, July 2 ― Umno-owned daily Utusan Malaysia has praised PAS president Datuk Seri Abdul Hadi Awang and several state muftis for opposing the United States Department of Justice's (DoJ) recent lawsuit to seize assets allegedly linked to 1Malaysia Development Bhd (1MDB).
Writing under the collective pseudonym of Awang Selamat, its editors accused the DoJ suit of an attempt at foreign intervention meant to topple the Barisan Nasional government.
"In matters of opposing foreign intervention when it comes to the 1MDB issue, PAS' stance especially its president, Hadi Awang is consistent enough," Awang wrote in its Sunday edition Mingguan Malaysia today.
"Awang salutes Hadi's firmness including in the second attack of the 1MDB civil suit issues that was recycled by the DoJ with the help of certain politically-motivated parties in Malaysia."
The broadsheet also praised several muftis for the same reason: Perak Mufti Tan Sri Harussani Zakaria, Pahang Mufti Datuk Abdul Rahman Osman, Negri Sembilan Mufti Datuk Mohd Yusof Ahmad, Federal Territories Mufti Datuk Zulkifli Mohamad, Kedah Mufti Datuk Syeikh Muhamad Baderudin Ahmad, and Melaka Mufti Datuk Abdul Halim Tawil.
The paper also accused the DoJ suit as the latest trick following the alleged failure of the Bersih rallies, and predicted that the upcoming roadshow on the suit organised by opposition pact Pakatan Harapan will not receive support form the public.
"The rally will be the arena for foreign proxies that will become a bad omen for Pakatan Harapan in the 14th general elections … The question is, who is using who? DoJ or Pakatan Harapan?" asked Awang.
The DoJ is currently seeking to recover US$540 million (RM2.3 billion) in assets — including artworks, jewellery and film rights — that it alleged were purchased with misappropriated funds.
In July 20 last year, the DoJ had led a civil lawsuit seeking the forfeiture and recovery of more than US$1 billion in assets linked to what it described as an "international conspiracy to launder funds misappropriated" from 1MDB, the largest case ever brought by the Kleptocracy Asset Recovery Initiative.
Full report at:
http://www.themalaymailonline.com/malaysia/article/utusan-praises-hadi-muftis-for-opposing-doj-suit
--------
Cops nab three suspects, rescue five victims of human trafficking
July 3, 2017
JOHOR BARU, July 3 — Police arrested two men and a woman here yesterday and rescued five foreign women believed to be victims of human trafficking in two raids, on an old folks home and the house of an agent supplying foreign workers, according to police. Johor Criminal Investigation Department chief Datuk Kamarul Zaman Mamat said the 'Ops Lebaran' raids were conducted at about 6.30 pm by three officers and 12 personnel of the department.
"The arrested trio were two Malaysian men in their 60s, one the manager of the old folks home and the other the caretaker of the house of the supplier of foreign workers, and an Indonesian woman domestic helper," he said in a statement here today.
Kamarul Zaman said all the women who were rescued were from Indonesia and aged between 28 and 60.
Full report at:
http://www.themalaymailonline.com/malaysia/article/cops-nab-three-suspects-rescue-five-victims-of-human-trafficking
--------
URL: https://www.newageislam.com/islamic-world-news/columnist-be-suspended-equating-saudi/d/111759
New Age Islam, Islam Online, Islamic Website, African Muslim News, Arab World News, South Asia News, Indian Muslim News, World Muslim News, Women in Islam, Islamic Feminism, Arab Women, Women In Arab, Islamophobia in America, Muslim Women in West, Islam Women and Feminism