New Age Islam News Bureau
17 Jul 2019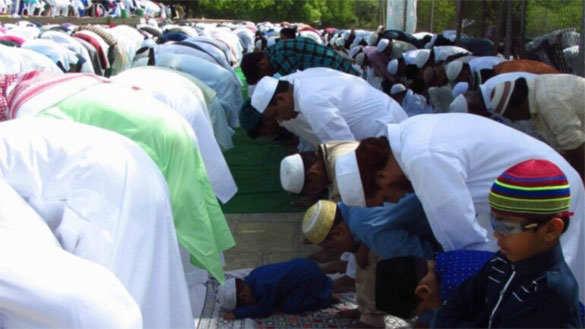 Activists of religious group Hindu Yuva Vahini (HYV) have registered their opposition to offering 'namaaz' on the streets by reciting "Hanuman Chalisa" on the road in Uttar Pradesh's Hathras. (Photo: IANS)
--------
• Close On the Heels of the NCR in Assam, Muslim Family in Bengal Asked Proof of Citizenship
• 'Hanuman Chalisa' Recited On Road to Oppose 'Namaaz' On Streets
• Madrasa In UP Set on Fire over Beef Rumours
• Bail Rider for Woman Held for Offensive Post: Donate Quran Copies
• NRC Deadline Approaching, Families Stranded In Assam Floods Stay Home, Don't Want To Be Rescued
• Hafiz Saeed Arrested By Punjab CTD, Sent On Judicial Remand in Terrorism Financing Case
• JUI-F Leader Sees Conspiracy against Islam, Pakistan
• U.S. Imposes Travel Restrictions on Myanmar Military Leaders over 'Atrocities'
• Trump Says US Wants to Help and Work with Iran, Not Looking For Regime Change
• Italy Seizes 'Combat-Ready' Missile in Raids on Far Right
• French Gov't Supports Youth Project with Ties to Palestinian Terror Group
• Muslim Nations Are Defending China As It Cracks Down On Muslims, Shattering Any Myths of Islamic Solidarity
• Saudi King to Host 200 Pilgrims From Families Of Christchurch Massacre
• Arab Paper: Saudi-Led Coalition Losing in New Regional Balance
India
• Close On the Heels of the NCR in Assam, Muslim Family in Bengal Asked Proof of Citizenship
• 'Hanuman Chalisa' Recited On Road to Oppose 'Namaaz' On Streets
• Madrasa In UP Set on Fire over Beef Rumours
• Bail Rider for Woman Held for Offensive Post: Donate Quran Copies
• NRC Deadline Approaching, Families Stranded In Assam Floods Stay Home, Don't Want To Be Rescued
• Pro-Pak and Pro-Caliphate Groups Fight For Kashmir's 'Jihadi' Space
• 14 Tamil Nadu Men Raised Funds to Set Up ISIS Cell in India: Sources
• Terror detentions: A locked office and a neighbourhood left in the dark in Chennai
• UAE-deported men reveal IS plot in Tamil Nadu
• India pitches to grill Dawood aide in London, Pak rushes to his defence
• J&K separatists reject colonies for return of Pandits
• Helpline against Hate to report mob violence launched
--------
Pakistan
• Hafiz Saeed Arrested By Punjab CTD, Sent On Judicial Remand in Terrorism Financing Case
• JUI-F Leader Sees Conspiracy against Islam, Pakistan
• US welcomes increased 'people-to-people ties' between Pakistan, India through Kartarpur
• Pakistani journalists hold protests to denounce censorship
• Opposition to hold public meeting in Karachi on 25th
• Opposition stresses parliament's role in Reko Diq fiasco inquiry
• Committee to Protect Journalists honours Editor Dawn Zaffar Abbas with press freedom award
• Punjab govt asks SC to cancel Rizvi's bail
• LHC's decision to grant bail to Khadim Rizvi challenged
• Governor announces more land for Gurdwara Darbar Sahib Kartarpur
--------
North America
• U.S. Imposes Travel Restrictions on Myanmar Military Leaders over 'Atrocities'
• Trump Says US Wants to Help and Work with Iran, Not Looking For Regime Change
• Democratic Congresswomen respond to Trump over tweets
• Anti-Defamation League Head Blasts Facebook CEO Mark Zuckerberg Over Online Extremism
• Judge recommends $14M award to neo-Nazi trolling victim
• Terror leader Hambali finally to face US justice
• Rio's far-right governor likens drug dealers to Hezbollah
• Protests planned against Iranian American council accused of lobbying for Tehran
• US imposes sanctions on Myanmar army chief over Rohingya crimes
--------
Europe
• Italy Seizes 'Combat-Ready' Missile in Raids on Far Right
• French Gov't Supports Youth Project with Ties to Palestinian Terror Group
• Christchurch Muslim Community To Receive $1m Cheque From Jewish Community
• British Muslims must do more to stop the potential "Jihadi Jacks" of the future
• Driverless car bomb plot shows the threat from Isis supporters who are unable to fight abroad
• Former German spy chief causes alarm by sharing far-right tweets
• Italy Police Seize Missile from Neo-Nazi Sympathizers
• UAE, Egypt, US and others call for immediate end to Libya violence
• Portugal suspends visas for Iranians, cites security reasons
• Italy seizes air-to-air missile that belonged to Qatar in raids on neo-Nazis
• Russia, Hamas hold talks in Moscow, stress intra-Palestinian unity
• UK government doubles funding for prosecuting ISIS in Iraq
-------
Southeast Asia
• Muslim Nations Are Defending China As It Cracks Down On Muslims, Shattering Any Myths of Islamic Solidarity
• Philippines, US to Step up War on Terror amid Suicide Attacks
• Islamic NGOs slam Saudi Arabia over liberalisation, ties with Israel, US
--------
Arab World
• Saudi King to Host 200 Pilgrims From Families Of Christchurch Massacre
• Arab Paper: Saudi-Led Coalition Losing in New Regional Balance
• Kuwait hands Muslim Brotherhood-linked militants to Egypt: KUNA
• Twin suicide blasts kill two people, wound 20 in Baghdad
• Workers recover hundreds of bodies from Syrian mass grave
• Iraqi security forces kill eight terrorists in Salahuddin
• Bahrain Defense Force: Al Jazeera program aims to incite discord, undermine GCC
• Bahrain recruited al-Qaeda operatives to target dissidents, Iran: Documentary
• US-led airstrike kills 15 civilians in Syria's Dayr al-Zawr: Report
• British football fan says 'tortured' in UAE for supporting Qatar squad
--------
Mideast
• Pompeo Says Sanctions Have Worked and Regional Countries United Against Iran
• Yemenis go hungry as UN-rebel tiff disrupts aid
• Senior Hamas official urges Palestinians worldwide to kill 'every Jew on the globe'
• US fears Iran seized UAE-based tanker in Strait of Hormuz
• Iran says Zarif's missile remarks meant to challenge US, not negotiate over nukes
• Iran's Zarif not allowed to move beyond a six-block radius in New York
• Arab Coalition downs three Houthi drones targeting Jazan, Abha
• Palestine demands intl. investigation into detainee's death in Israeli prison
--------
Africa
• Sudan Military Council, Opposition Sign Political Agreement
• Two leaders of Mali al-Qaeda affiliate put on US terrorism list after attacks
• 6 nations call for immediate halt to Libya violence
• Borno emir returns home 5 years after displacement by Boko Haram
• Somalia: Somali Army Retakes Fresh Areas from Al-Shabaab After Offensive
• Kenyan police kill 3 al-Shabab suspects in coastal region
• UN envoy meets UAE minister to discuss fighting in Libya
• One killed, several injured as Nigerian army attack Sheikh Zakzaky's supporters
--------
South Asia
• Dadullah Alias Surkhabi, One of the Most Dangerous Leaders of Taliban Killed In Jawzjan
• Special Forces Seize Up To 100 Weapons of Taliban, 1000 Rounds of Ammunition in Logar
• ICC delegation in Bangladesh to discuss Rohingya crisis
• Death toll in Taliban roadside bombing rises to 13 in Kandahar, over 30 more wounded
• Afghan Special Forces large caches of weapons, IEDs in Ghazni province
• Airstrikes kill 7 Taliban militants; destroy car bomb in Helmand, Zabul, Wardak, Nangarhar
• Afghan Special Forces arrest ISIS Khurasan militant in Kabul
Compiled by New Age Islam News Bureau
URL: https://www.newageislam.com/islamic-world-news/close-heels-ncr-assam-muslim/d/119217
--------
Close On the Heels of the NCR in Assam, Muslim Family in Bengal Asked Proof of Citizenship
New Age Islam News Bureau
Jul 17, 2019
Close on the heels of the NCR in Assam, Muslims in Bengal are feeling the heat of NCR in Bengal. A retrired head mistress of a school Mustabsera Khatoon and her son Asad Rauf living in Kolkata have got notice from EC to produce proof of their citizenship. The family claims that they have been living in Kolkata for the last forty years. Her husband Abdur Rauf has got a job in Netherlands and is considered among intellectuals in Bengali circles. They live in Meher Ali Road in South Kolkata.
Mustabsera Khatun said that she got a notice from the EC saying that they were not found to be ordinary residents of the address during verification of voters' list and so they should produce the proof of their residence on 14th July before the EC. Surprisingly, the EC has not issued summons to her husband Abdur Rauf. Her son Asad Rauf has written to the EC that he was born at the address and compoleted his education there. He also exercised his voting rights in the recently held elections. However, he is not in the country at the moment and so he would not be able to be present before the EC. He also said that his passport too had the same address. Mustabsera Khatun says that no one came to her house to very their address and without verifying the address the EC has issued the summon. She says that even before the implementation of NCR in Bengal, they were being asked to proof their citizenship. This incident has creaed panic among the Muslims of the state.
--------
'Hanuman Chalisa' recited on road to oppose 'namaaz' on streets
July 17, 2019
Hathras (Uttar Pradesh): Activists of religious group Hindu Yuva Vahini (HYV) have registered their opposition to offering 'namaaz' on the streets by reciting "Hanuman Chalisa" on the road in Uttar Pradesh's Hathras.
According to reports, a group of HYV activists sat outside a Hanuman temple in Sikandrarau area and recited the "Hanuman Chalisa" repeatedly for over an hour on Tuesday evening.
The HYV men said that they would continue to hold recitation of "Hanuman Chalisa" every Tuesday till the Muslims stopped offering 'namaaz' on the roads.
Ravindra Kumar Singh, a HYV activist, said that by offering 'namaaz' on the roads on Fridays, Muslims were causing inconvenience to the people since roads remained blocked.
"If they stop this practice, we will also stop otherwise we will make sure that 'Hanuman Chalisa' is recited outside each Hanuman temple on Tuesdays," he said.
The police was silent on the issue. A senior police official said, "There is no complaint and no trouble so our role does not figure in the matter."
https://www.siasat.com/news/hanuman-chalisa-recited-road-oppose-namaaz-streets-1550544/
-------
Madrasa in UP set on fire over beef rumours
Jul 17, 2019
A madrasa was set on fire by a mob in Behta village in Uttar Pradesh's Fatehpur district following allegations that beef was found in the area, police said on Tuesday.
Sub-Inspector Uma Shankar Yadav of Bindki police station said a mob of around 50 people had demolished the boundary wall of the madrasa and then set the building on fire on Monday.
The police registered a case under the UP Prevention of Cow Slaughter Act after a team veterinarians confirmed that meat recovered near the seminary was beef. Yadav and other policemen had been stationed in the village since Monday after tension prevailed in the area following the recovery of a cow carcass.
The police said no one was inside the madrasa when the mob attacked it.
District magistrate Sanjeev Singh and SP Fatehpur Ramesh said the situation was brought under control.
One person has been booked for cow slaughter, police said, adding that the suspect is absconding.
https://www.hindustantimes.com/india-news/madrasa-in-up-set-on-fire-over-beef-rumours/story-YbEJGY8PT3E7FJY3m4staO.html
-------
Bail rider for woman held for offensive post: Donate Quran copies
July 17, 2019
A 19-year-old B.Com student, recently arrested for sharing an offensive social media post, has been granted bail by a local court on one condition: that she donate five copies of the Quran to separate institutions in the city.
Judicial Magistrate (First Class) Manish Kumar Singh, while granting conditional bail Monday, asked Richa Bharti to submit one copy of the Quran to the local Anjuman Committee in the presence of police authorities, and four more copies to different libraries in the city, said her lawyer, Pravesh Singh.
He told reporters, "She will then have to submit receipts to the court within 15 days." Bharti was arrested on July 12 after the Anjuman Committee filed a complaint against her at the Pithora police station for sharing an objectionable post on Facebook, which allegedly hurt religious sentiments.
The judge has also directed the investigating officer in the case to be present when Bharti donates the Quran to the committee, said sources.
While the Anjuman Committee welcomed the order, Bharti told PTI: "I respect the court's verdict. I have done nothing wrong… will consult my family and lawyer if I can move the High Court."
https://indianexpress.com/article/india/jharkhand-court-grants-bail-to-woman-held-for-offensive-post-tells-her-to-donate-quran-5832852/
-------
NRC Deadline Approaching, Families Stranded In Assam Floods Stay Home, Don't Want To Be Rescued
By Tora Agarwala
July 17, 2019
FOR TWO days now, Parvesh Kumar, a rescuer from the National Disaster Response Force (NDRF), has been trying to persuade Rina Begum, a resident of Tulsibari village in Assam's Morigaon district, to leave her half-submerged house.
Over the last 48 hours, as rescuers shuttle her neighbours from their marooned homes to dry land, Begum, a 50-year-old grandmother of four, watched but remained defiant. "How can we leave our home?" she says, standing in waist-deep water.
Kumar says Begum's family isn't the only reluctant one. "There are many families who are refusing to leave their homes," he says. "Yesterday, we went to a very remote area. There were 20 people stuck in one house, but only seven came back with us." The team still gave the villagers their phone number, in case they changed their mind. Later at night, as the water rose, Kumar got a call. "When it gets worse, they change their mind usually," he says.
In minority-dominated areas of Assam, home and land are tangible markers of identity in a state that is days away from the July 31 deadline for publication of the final National Register of Citizens (NRC). "This could be one of the reasons that they feel so scared to leave their homes," says an official from the local administration.
According to Kumar, the families who agree to be rescued make sure that their documents are safe too. "So many times, we brought them to safety only to go back again because they realise they have forgotten their documents," says Kumar.
For Begum, her daughter, and four grand-daughters, the youngest a six-month-old, the only safe space is their bed, supported by two sticks, and tied up at a higher level. On it, the infant sleeps, as floodwaters from an overflowing Brahmaputra swivel around. Their clothes have been washed away, upturned chairs float in the brown water, and at a distance, the tin-roof of their toilet is bare visible.
When the rains came on July 8, Begum did not pay much attention. This was regular. When the waters started rising, it still did not perturb her. This had happened the previous year, too.
But by Sunday afternoon, when two embankments in the Laharighat and Bhuragaon revenue circles were breached and the water rose above their waists, Begum and her daughter started stowing away their paddy on the roof. As did her sister-in-law and niece, in the house next door. Their husbands, daily wage workers, were in Dibrugarh.
monsoon. At least 30 out of 33 districts in Assam are reeling, with 1,47,304 people in 695 relief camps. About 95 per cent of the UNESCO World Heritage Site Kaziranga is under water. Many say it's the worse deluge in more than a decade.
In Morigaon, more than 5 lakh people have been affected. In Laharighat revenue circle, where Begum's home is, 1 lakh people have been affected, with the NDRF in action for the past five days.
Sofikul Islam, a 45-year-old farmer, lost not just the two bikes his family owned, but goats too. "Our house has gone under but that happened two years ago as well," he says. "The flimsy embankments don't help. All of them are made of sand and are not strong. What we need is better rehabilitation when the flood strikes."
While rice, salt and dal have reached the village, residents claim it's neither enough nor equally divided. At the revenue circle office, an official says, "Relief takes time to reach us. And even the villages which have not been affected come for food. It is hard to ensure that everyone gets their share."
On Tuesday, the Centre announced Rs 251 crore in assistance to the State Disaster Response Fund, but Begum and her family haven't eaten all day. Her husband reached earlier in the morning, and has gone to get Seera (flattened rice) for the family.
"Today is the first day in a week that it hasn't rained," says Begum. "Maybe, it will get better."
https://indianexpress.com/article/north-east-india/assam/nrc-deadline-approaching-families-stranded-in-assam-floods-stay-home-dont-want-to-be-rescued-5833091/
-----
Hafiz Saeed Arrested By Punjab CTD, Sent On Judicial Remand in Terrorism Financing Case
Waseem Riaz
uly 17, 2019
Jamaatud Dawa (JuD) chief Hafiz Muhammad Saeed was on Wednesday arrested in connection with a terrorism financing case while on his way from Lahore to Gujranwala, officials of the Punjab Counter-Terrorism Department confirmed.
According to a spokesperson for CTD Punjab, Saeed was sent to prison on judicial remand after the counter-terrorism department presented him before a Gujranwala anti-terrorism court (ATC).
The CTD has been directed to complete its investigation and submit a charge sheet to the court in the stipulated time.
Earlier, according to CTD sources, Saeed was arrested by CTD Punjab in the Gujranwala jurisdiction while he was on his way to an ATC in Gujranwala to seek bail.
A JuD spokesperson also confirmed the arrest to Reuters.
On July 3, the top 13 leaders of the banned JuD, including Saeed and Naib Emir Abdul Rehman Makki, were booked in nearly two dozen cases for terror financing and money laundering under the Anti-Terrorism Act, 1997.
The CTD, which registered the cases in five cities of Punjab, declared that the JuD was financing terrorism from the massive funds collected through non-profit organisations and trusts, including Al-Anfaal Trust, Dawatul Irshad Trust, Muaz Bin Jabal Trust, etc.
These non-profit organisations were banned in April as the CTD during detailed investigations found that they had links with the JuD and its top leadership, accused of financing terrorism by building huge assets/properties from the collected funds in Pakistan.
On Monday, a Lahore High Court division bench sought replies from the Ministry of Interior, Punjab home department and CTD on a petition filed by JuD chief Saeed and his seven aides challenging an FIR carrying a charge of terror financing.
Advocate A.K. Dogar represented the petitioners and contended that the facts narrated in the impugned FIR registered on July 1, 2019 illegally described them as members of LeT and levelled unlawful allegations of terror financing.
The counsel referred to a 2009 judgement by an LHC full bench against the then detention of Hafiz Saeed and stated that the petitioners were not members of LeT.
He said the LHC through another judgement issued in 2003 had also held that Hafiz Saeed left the leadership of LeT on Dec 24, 2001 while the organisation was banned on Jan 14, 2002.
The lawyer pleaded that the claim of the government that the petitioners were members of LeT stood disapproved in light of the two judgements.
Therefore, he asked the court to quash the impugned FIR lodged by the CTD for being unlawful and of no legal effect.
A government law officer opposed the petition and stated that it was not maintainable at this stage of the case.
However, the bench comprising Justice Shehram Sarwar Chaudhry and Justice Waheed Khan directed the law officer to furnish written replies on behalf of the respondents by July 30.
The other petitioners are Mohammad Ayub Sheikh, Zafar Iqbal, Syed Luqman Ali Shah, Hafiz Abdul Rehman Makki, Abdul Salam, Abdul Ghaffar and Abdul Qudoos Shahid.
Also on Monday, an ATC in Lahore had granted pre-arrest bail to the JuD chief and three others in a case pertaining to the outfit's alleged illegal use of land for its seminary, against surety bonds of Rs50,000 each.
In February, Paris-based Financial Action Task Force (FATF) had warned Pakistan to deliver on its commitments to curb terror financing and money laundering.
Risks to the global financial system have virtually put the country's entire machinery into an aggressive mode to show tangible progress within two months of the warning.
While the meetings were taking place, the government had announced a ban on JuD and Falah-e-Insanyat Foundation to partially address the concerns raised by India that Pakistan supported these and six similar organisations, including Jaish-e-Mohammad (JeM) or at least considered them low-risk entities.
https://www.dawn.com/news/1494606/hafiz-saeed-arrested-by-punjab-ctd-sent-on-judicial-remand-in-terrorism-financing-case
-----
JUI-F leader sees conspiracy against Islam, Pakistan
July 17, 2019
CHAKDARA: Jamiat Ulema-i-Islam-Fazl (JUI-F) leader Maulana Attaur Rehman on Tuesday urged the opposition parties to forge unity to thwart conspiracies against Islam and Pakistan.
Speaking at a meeting of the party's Executive Council, he said the 'selected' prime minister had been brought to power under a conspiracy. He said the Jewish lobby had been conspiring to weaken our country and damage its Islamic identity. The Maulana said the JUI-F would hold a million march in Peshawar on July 25 against price-hike and 'unfair' taxes. "Our party has decided to protest against the imposition of undue taxes. The opposition parties should join hands to foil the conspiracies being hatched by the anti-Islam and anti-Pakistan forces", JUI-F leader said.
https://www.thenews.com.pk/print/499694-jui-f-leader-sees-conspiracy-against-islam-pakistan
-------
U.S. imposes travel restrictions on Myanmar military leaders over 'atrocities'
By John Hudson, Shibani Mahtani and Timothy McLaughlin
July 16, 2019
The Trump administration has banned senior military officials in Myanmar from traveling to the United States for what it calls "gross violations of human rights" and "atrocities" against the country's Rohingya Muslim minority.
A government crackdown in the country has prompted international condemnation and driven more than 700,000 Rohingya Muslims into Bangladesh, a number that continues to rise amid ongoing violence.
The measures target the Myanmar government's commander in chief, Min Aung Hlaing; deputy commander in chief, Soe Win; and two brigadier generals, Than Oo and Aung Aung. U.S. officials said that no other government in the world has taken public action against military leaders in Myanmar, which is also known as Burma.
"We designated these individuals based on credible information of these commanders' involvement in gross violations of human rights," Secretary of State Mike Pompeo said in a statement. "We remain concerned that the Burmese government has taken no actions to hold accountable those responsible for human rights violations and abuses, and there are continued reports of the Burmese military committing human rights violations and abuses throughout the country."
In the months before the State Department decision, the U.S. ambassador to Myanmar, Scot Marciel, consulted with senior members of Aung San Suu Kyi's National League for Democracy, ethnic leaders and prominent activists on the efficacy of sanctions, according to a person familiar with the meetings. The person, who like others spoke on the condition of anonymity to discuss a sensitive issue, said Marciel and other U.S. officials sought to gather feedback on the practical effect the sanctions would have on the military leader.
A U.N. report called for Myanmar generals to be investigated and prosecuted for war crimes.
Human rights groups have been pushing for a strong response against Myanmar military leaders, including financial sanctions, for the past few years. Some believed an opportunity for a strong U.S. response was missed last year when the State Department considered denouncing Myanmar for crimes against humanity but ultimately did not.
A piece of legislation known as the JADE Act, passed more than a decade ago, also gives the United States the authority to block Myanmar generals from visiting, but that act does not name specific individuals.
Francisco Bencosme, the Asia Pacific advocacy manager at Amnesty International USA, said the move was largely a symbolic one, as it publicly names and shames the generals but stops short of full accountability. Groups like his have pushed for coordinated financial sanctions against the Myanmar military.
"Two years after some of the most heinous crimes that have ever been committed, if all the U.S. can do is a symbolic gesture, then it is pretty disappointing and still falls short," he said.
The U.S. Treasury Department in August imposed sanctions on three Myanmar military commanders, a border guard police commander and military units who directly led the crackdown against the Rohingya. But it has so far declined to take action against Min Aung Hlaing, who holds significant political sway in the country. He leads the military, which controls a quarter of Myanmar's parliament, and three key ministries in the country.
A senior U.S. official said that while the Treasury Department was weighing its options against the generals, the State Department went ahead with the travel ban because it could act through its own authorizations provided by Congress.
Pompeo, in his statement, said there has been a "severe lack of accountability for the military and its senior leadership," particularly regarding the commander in chief's decision to release soldiers convicted of extrajudicial killings at Inn Din.
"The Commander-in-Chief released these criminals after only months in prison, while the journalists who told the world about the killings in Inn Din were jailed for more than 500 days," Pompeo said.
Reuters journalists Wa Lone and Kyaw Soe Oo exposed the mass execution of 10 Rohingya men in the Rakhine state town of Inn Din during the August 2017 crackdown. They were arrested, charged and found guilty of violating a colonial-era secrets act, before being freed in a May prisoner amnesty.
Facebook kicked Min Aung Hlaing and other generals off its platform in August to "prevent them from using our service to further inflame ethnic and religious tensions," it said. The social media giant was under significant pressure at the time to act on charges that it had helped fan the flames of hate in Myanmar and created fertile ground for the military's operation.
After initially studying law at university in Yangon, Min Aung Hlaing entered the Defense Services Academy and graduated in 1977. Over the next three decades he advanced through the military ranks and was named senior general in 2013. He fills the roles of military commander and statesman, meeting with diplomats and world leaders.
In explaining why the decision was being taken now, a U.S. official said the move was "complicated" and required "evidence."
https://www.washingtonpost.com/world/national-security/us-imposes-travel-restrictions-on-myanmar-military-leaders-over-atrocities/2019/07/16/290b1457-600b-4463-9c2e-f29cfb65bf28_story.html
-------
Trump says US wants to help and work with Iran, not looking for regime change
16 July 2019
President Donald Trump said Tuesday the United States is not pushing to topple Iran's leadership but is determined to stop it acquiring nuclear weapons.
"We are not looking for regime change. We are not looking for that at all," Trump said during a cabinet meeting. "They can't have a nuclear weapon."
The United States quit an international deal aimed at curbing Iran's nuclear program last year, hitting Tehran with crippling sanctions.
Iran said last week that it had enriched uranium past the 3.67 percent limit set by the 2015 nuclear deal, and has also surpassed the 300-kilogram cap on enriched uranium reserves.
Tensions have soared since Trump pulled out of the deal, with the US calling off air strikes against Iran at the last minute after Tehran downed an American drone, and Washington blaming the Islamic republic for a series of attacks on tanker ships.
Iranian Foreign Minister Mohammad Javad Zarif warned on Monday that the United States is "playing with fire."
According to leaked diplomatic cables published at the weekend, Britain's ambassador to Washington believed Trump pulled out of the nuclear deal because it was associated with his predecessor Barack Obama.
"The administration is set upon an act of diplomatic vandalism, seemingly for ideological and personality reasons -- it was Obama's deal," wrote the envoy, Kim Darroch, who resigned amid a storm triggered by the release of the sensitive documents.
https://english.alarabiya.net/en/News/middle-east/2019/07/16/Trump-says-US-wants-to-help-and-work-with-Iran-not-looking-for-regime-change.html
-------
Italy seizes 'combat-ready' missile in raids on far right
15 July 2019
Anti-terrorism police in northern Italy have seized an air-to-air missile and other sophisticated weapons during raids on far-right extremist groups.
Three people were arrested, two of them near Forli airport. Neo-Nazi propaganda was also seized.
The raids were part of an investigation into Italian far-right involvement in the conflict in eastern Ukraine, the Turin police said.
The missile originated from the Qatari armed forces, the police said.
The Turin special police force, called Digos, led the operations, assisted by police in Milan, Varese, Forli and Novara.
Italian media named those arrested as Fabio Del Bergiolo, 50, an Italian ex-customs officer and far-right Forza Nuova party activist; Alessandro Monti, 42, a Swiss national; and Fabio Bernardi, 51, also Italian.
Initially, on 15 July, the police said the arrests were part of an investigation, started about a year ago, into far-right groups "who have fought in Ukraine's Donbass region against the separatists".
But the latest police statement did not mention groups fighting the pro-Russian separatists, referring only to an investigation into Italian extremists who had "taken part in the armed conflict in Ukraine's Donbass region". The police did not make it clear which side the Italians were on in this case.
The missile appears to be a French-made Matra Super 530 F.
"During the operation, an air-to-air missile in perfect working order and used by the Qatari army was seized," police said in a statement.
Separately, a court in Genoa jailed three men on 3 July who were found guilty of fighting alongside the Russian-backed separatists, who control a large swathe of Ukraine's Donetsk and Luhansk regions.
In the Genoa case, two men - Italian Antonio Cataldo and Albanian-born Olsi Krutani - got terms of two years and eight months. The third, Moldovan citizen Vladimir Vrbitchii, got one year and four months.
More than 10,000 people have died in fighting since the heavily-armed separatists launched an insurgency in eastern Ukraine in April 2014. Skirmishes with Ukrainian government troops continue, but the frontline has remained generally static for more than a year.
https://www.bbc.com/news/world-europe-48987723
-------
French Gov't Supports Youth Project With Ties To Palestinian Terror Group
JULY 16, 2019
The French government, along with local municipalities in France, has donated almost €400,000 to a new youth program in east Jerusalem in coordination with a a socio-cultural center run by a convicted member of the terror organization Popular Front for the Liberation of Palestine (PFLP), NGO Monitor reported.
On July 10, 2019, at the Jerusalem French Institute a new youth program for east Jerusalem was launched in the presence of UN employees in coordination with the Al Bustan center.
The project, "Towards the Youth of East Jerusalem" was initiated by the RCDP, a French association that supports ties between local French and Palestinian authorities.
The project is funded by various local French government bodies, including the French Ministry of Europe and Foreign Affairs, who donated €204,000, the municipality of Rennes, €34,286, the municipality of Ivry-Sur-Seine (€21,429), and other French municipalities.
The Al Bustan center is described as a socio-cultural center, and listed as one of their founders, treasurer and contact point for the new project is Daoud Ghoul.
In 2015, Ghoul was convicted in Israel for his membership in the Popular Front for the Liberation of Palestine (PFLP), for which Ghoul served an 18 month sentence.
The PFLP is a secular Marxist-Leninist revolutionary organization affiliated with the Palestinian Liberation Organization. It has been classified as a terrorist organization by the US, Canada, Australia, Japan, the EU and Israel.
A verdict from a Jerusalem District Court obtained by NGO Monitor stated that Ghoul "has two criminal convictions in his past for membership in a terrorist organization in 2005 and 2006, and for ideologically motivated violent crimes, for which he was sentenced to significant jail sentences of 12 and 18 months. Nevertheless, this was not sufficient to deter him and he returned to commit offenses in the years following his release."
The Al Bustan center, based in Silwan, has a history of promoting violent and anti-Israel ideas among their young members. One post published on Facebook in July 2018 showed pictures of a youth camp, in which young Palestinians wore different flags representing countries on their shirts. The children representing Israel and the United States brandished guns and proceeded to conduct a mock execution of "Palestine."
It has also shared praise of terrorist attacks in Israel and propaganda of various terrorist groups through Facebook posts.
The involvement of an international government has led the Israeli Ministry of Foreign Affairs and a number of Jerusalem City Council members sent an official protest to the French government, raising their concerns about the issue.
https://www.jpost.com/Israel-News/French-govt-supports-youth-project-with-ties-to-Palestinian-terror-group-595788
-------
Muslim nations are defending China as it cracks down on Muslims, shattering any myths of Islamic solidarity
by Tamara Qiblawi
July 17, 2019
Beirut, Lebanon (CNN)Last week, 22 mostly Western countries launched the world's first major collective challenge to China's crackdown on Uyghur Muslims and other minorities.
In a joint statement to the High Commissioner of the United Nations' Human Rights Council, the nations criticized Beijing for what they described as "disturbing reports of large-scale arbitrary detentions" and "widespread surveillance and restrictions."
A day later, 37 other countries jumped to Beijing's defense, with their own letter praising China's human rights record, and dismissing the reported detention of up to two million Muslims in western China's Xinjiang region. Nearly half of the signatories were Muslim-majority nations, including Pakistan, Qatar, Syria, the United Arab Emirates, and Saudi Arabia, according to the Chinese government.
"Faced with the grave challenge of terrorism and extremism, China has undertaken a series of counter-terrorism and deradicalization measures in Xinjiang, including setting up vocational education and training centers," the letter said, according to Reuters, which saw a copy of the letter. The letter went on to say that there had been no terrorist attacks in the past three years in the region, and that the people there were happy, fulfilled and secure.
The language in the letter echoed previous claims made by China, which has denied allegations of torture or forced political indoctrination in Xinjiang and said that the camps were "vocational training centers" designed to fight terrorism and combat Islamic extremism.
But reports of China's abuse of Muslims in the Xinjiang region are rampant. Many Uyghurs and other Muslim ethnic minorities are believed to have been hauled into conditions that activists call re-education camps. Accounts given to CNN by former detainees describe being forced into the camps under the threat of violence. Detainees who have since fled China say they were forced to renounce Islam while pledging loyalty to China's ruling Communist party, according to a report by the Council of Foreign Relations.
So why are some Muslim-majority countries coming to Beijing's defense?
"I was surprised that (Muslim countries) would put it in writing and put their names on it and sign a document to actually praise China," Azeem Ibrahim, a director at the DC-based Center for Global Policy, told CNN. "It's one thing to keep quiet and abstain. It's another thing to overtly support (the policies) when there was no need for them to do so."
"I think that's indicative of the influence and power that China has," he said.
https://edition.cnn.com/2019/07/17/asia/uyghurs-muslim-countries-china-intl/index.html
-------
Saudi king to host 200 pilgrims from families of Christchurch massacre
July 17, 2019
RIYADH: King Salman Abdulaziz of Saudi Arabia will host 200 pilgrims from the families of the Christchurch mosque shooting victims in New Zealand, Xinhua News Agency reported.
The hosting is part of the Saudi King Guests Programme for Hajj and Umrah implemented and supervised by the Islamic Affairs ministry.
Minister of Islamic Affairs and general supervisor of the programme, Sheikh Abdullatif Al-Sheikh, said in a statement to the Saudi Press Agency that the initiative was part of the kingdom's counterterrorism efforts.
He said that the ministry would follow up on the required procedures through the Saudi embassy in New Zealand to finalise the pilgrims' departure to the Kingdom, and provide them with all facilities to perform the pilgrimage.
The Saudi king also said he would host 1,000 Palestinian pilgrims this year.
The Christchurch mosque shootings were two consecutive terrorist shooting attacks at mosques in Christchurch, New Zealand, during Friday prayers on March 15, which left 51 Muslim worshippers killed.
https://www.freemalaysiatoday.com/category/world/2019/07/17/saudi-king-to-host-200-pilgrims-from-families-of-christchurch-massacre/
-------
Arab Paper: Saudi-Led Coalition Losing in New Regional Balance
Jul 16, 2019
"After the gap created in the Saudi-UAE coalition, imminent changes are waiting for the region and considerable changes will be made in the regional power balance to the detriment of the Saudi-led coalition," the Arabic-language al-Quds al-Arabi paper wrote on Tuesday.
It added that after the Saudi-led coalition persuaded the US to launch a war against Iran, its difficulties and destructive impacts were revealed and therefore the Americans avoided such a war which would annihilate all sides, noting that the Yemeni forces' advances and reinvigorating their side of the military balance also made it difficult for Riyadh to end the war militarily and therefore, Riyadh is after a political solution with unclear results.
"The UAE may retrieve a part of its balance after withdrawing forces from Yemen and decreasing tensions with Iran but Saudi Arabia will lead the region and itself to a catastrophe by continuing its current policies," the paper underlined.
The New York Times reported on Saturday that the UAE had pulled most of its forces from the Yemen "quagmire" in a "face-saving" decision that has deeply upset its Saudi allies.
UAE officials have been saying for several weeks that they have begun a phased and partial withdrawal of forces, estimated at 5,000 troops a few years ago.
However, significant reduction has already occurred, The NY Times quoted Western and Arab diplomats briefed on the drawdown as saying.
Over the past month, the UAE has cut its deployment around the strategic Red Sea port of Hudaydah by 80 percent to fewer than 150 men, according to people briefed on the drawdown. They have pulled out their attack helicopters and heavy guns, effectively precluding a military advance on the city.
The UAE, according to a senior Emirati official, announced the drawdown is intended to support a shaky United Nations-brokered ceasefire in Hudaydah that came into effect in December.
The drawdown, the daily said, is "a belated recognition that a grinding war that has killed thousands of civilians and turned Yemen into a humanitarian disaster is no longer winnable".
The Associated Press also quoted experts as saying that the troop drawdown aims to restore the Persian Gulf country's reputation, even though it may strain ties with Saudi Arabia at a time of heightened tensions with Iran.
"The Emiratis are driven mostly by their desire to exit a war whose cost has become too high, even if it means angering their Saudi allies," the newspaper added.
The paper quoted Mike Hindmarsh, a retired Australian major general who commands the Emirati presidential guard, recently telling Western visitors that Yemen had become a quagmire where the Houthis were the "Yemeni Viet Cong".
The drawdown "is going to expose the Saudis to the reality that this war is a failure", stated Michael Stephens of the Royal United Services Institute, a research group in London.
"It tells us the two main protagonists on the coalition side, Saudi Arabia and the United Arab Emirates, don't have the same idea of what success looks like," he told The Times.
According to diplomats, the Saudis were "deeply disappointed" by the Emirati decision.
"Top officials with the royal court personally intervened with the Emirati leaders to try to dissuade them from the drawdown," a Western diplomat familiar with the matter was quoted as saying.
The Emiratis have avoided publicly announcing their decision in part to minimize the unhappiness of the Saudis, noted several people briefed by the Emiratis.
Western diplomatic sources announced in late June that the UAE was scaling back its military presence in Yemen as worsening US-Iran tensions "threatened security closer to home", according to Reuters.
Saudi Arabia and a number of its regional allies launched a devastating campaign against Yemen in March 2015, with the aim of bringing the government of former Yemeni President Abd Rabbuh Mansur Hadi back to power and crushing the Ansarullah movement.
The war has been unsuccessful to this day, and reports have revealed cracks in the coalition in the form of differences between Hadi and the UAE, which has reportedly gained oversized influence in southern Yemen.
Tensions between Riyadh and Abu Dhabi — yet to play out in full display — could have major consequences for the Saudi-led coalition, which has for more than four years been fighting a war it hoped to finish in a matter of weeks.
In May, the UAE reportedly deployed dozens of Southern separatists on the Yemeni island of Socotra in the Arabian Sea as divisions grew in the Saudi-led coalition over Abu Dhabi's military build-up on the strategic island.
Citing sources close to Hadi, the Middle East Eye news website earlier reported that Hadi was angry at Emirati forces for acting "like an occupation power" in Yemen.
Despite Riyadh's claims that it is bombing the positions of the Ansarullah fighters, Saudi bombers are flattening residential areas and civilian infrastructures. Weddings, funerals, schools and hospitals, as well as water and electricity plants, have been targeted, killing and wounding hundreds of thousands.
According to a December 2018 report by the Armed Conflict Location and Event Data Project (ACLED), a nonprofit conflict-research organization, the Saudi-led war has claimed the lives of over 60,000 Yemenis since January 2016.
Save the Children, a charity, has reported that more than 84,700 children under the age of five may have starved to death in Yemen since the Saudi regime and a coalition of its allies launched the brutal war on the already-impoverished nation.
France, the United States, the United Kingdom and some other Western countries have faced criticisms over arms sales to the Saudi Arabia and the UAE, whose aggression against Yemen has affected 28 million people and caused what the United Nations calls "one of the worst humanitarian crises in the world". According to the world body, Yemen is suffering from the most severe famine in more than 100 years.
A UN panel has compiled a detailed report of civilian casualties caused by the Saudi military and its allies during their war against Yemen, saying the Riyadh-led coalition has used precision-guided munitions in its raids on civilian targets.
https://en.farsnews.com/newstext.aspx?nn=13980425000488
-------
India
Pro-Pak and pro-Caliphate groups fight for Kashmir's 'jihadi' space
Jul 17, 2019
NEW DELHI/SRINAGAR: In a 'martyrs' graveyard in Eidgah area of Downtown, two tombstones—one that of Srinagar's chief cleric Mirwaiz Mohammad Farooq and the other of his assassin, Mohammad Abdullah Bangroo, stand out. The Mirwaiz was a separatist seeking Kashmir's 'independence' from India and Bangroo, a Hizbul Mujahideen terrorist, fighting for Kashmir's accession with Pakistan.
That Bangroo was buried next to the Mirwaiz, almost a month after his assassination in May 1990 and both designated as 'martyrs', not only captured the struggle between pro-independence and pro-Pakistan forces at the very outset of the violent conflict in Kashmir, but underlined the fact that the latter had won.
29 years later, a new strife to occupy the militant space in Kashmir is going on now between the pro-Pakistan and the pro-Caliphate terror outfits. Last month, an Islamic State of Jammu and Kashmir (ISJK) terrorist was killed by Hizbul Mujahideen following which ISJK declared that Pakistan-backed terror groups in Kashmir were "traitors" to the cause of Islamic jihad. Just two days ago, al-Qaida's global chief Ayman al-Zawahiri announced that 'jihad' in Kashmir was for Caliphate and needed to be freed from the clutches of Pakistan's ISI and Army.
"In the 90s, hundreds of Jammu and Kashmir Liberation Front (pro-azadi) militants got killed by tip-off provided by Hizbul Mujahideen. Today, the affiliates of ISIS and al-Qaida in Kashmir, ISJK or Wilayah-al-Hind and Ansar Ghazwat ul-Hind (AGuH) are now vying for the same space which once was a turf war between pro-azadi and pro-Pakistan groups," a senior police officer who did not want to be quoted told TOI.
This new war began in 2014 when masked youth in Downtown first began waving pro-Caliphate Islamic State flags. The trend had started soon after the ISIS assumed prominence with its use of social media technology to run their propaganda videos of seizing key cities in Iraq and Syria and executing people gruesomely in public.
"That the idea of Islamic State had captured the imagination of the militant youth in Kashmir became evident when the commander of pro-Pakistan terror outfit Hizbul Mujahideen, Burhan Wani, began using social media on the lines of the ISIS and also declared that he was fighting for the establishment of Caliphate," a counter-insurgency official said.
Why Wani chose to shift his goal from Pakistan to Caliphate wasn't clear at the time but when the floodgates of violence opened after his killing by the Indian security forces in 2016, "it indicated that he represented popular sentiment among the militant youth in Kashmir," a political activist in Bijbehera told TOI.
The ideological shift, according to many police officers in Kashmir, had happened way before Wani was killed. "That is why Wani's successor Zakir Musa parted ways with Hizbul Mujahideen and affiliated with al-Qaida and set up its provincial branch, Ansar Ghazwat-ul-Hind in 2017," a counter-insurgency expert said.
This coincided with black ISIS shrouds replacing Pakistani green flags which had been used as cerements to wrap slain terrorists in their funerals. "At one point, the tussle became so intense that the green shroud of a slain terrorist was removed and replaced by the black, right at the funeral procession," another official said.
While mainstream politicians in Kashmir at the time rubbished ISIS flag waving and draping as "juvenile rage attempted at teasing India," pro-independence separatists and pro-Pakistan terror groups alleged that it was "all stage-managed by Indian intelligence agencies to malign their movement." The entire separatist bandwagon even called Zakir Musa an Indian agent, an Army officer said.
According to Musa fans in Kashmir on social media, it was only after Indian security forces killed Musa and al-Qaida released audio recordings of Musa's phone conversations with a Pakistani terrorist Abu Dujana, conspiracy theories about his ideological commitment subsided. In his long discussion with Dujana, Musa settled the ideological battle for all his supporters. "The fight in Kashmir is for Islamic Caliphate and not Kashmiri nationalism or Pakistani nation. I will prove it with my 'shahadat' (martyrdom)," Musa told Dujana.
A section of Kashmir's intellectual class believes that this shift from "freedom for Kashmir to the movement for Pakistan and now to jihad for Caliphate had been inevitable" for a very long time. "Militancy in Kashmir began with the slogan of 'Islam khatarey mein' (Islam in danger) and the rhetoric about separate Muslim identity, the genesis of which is the creation of Pakistan. The pro-Pakistan terror groups and even Jamaat believes in Sharia and jihad for Caliphate. They are just strategic about it," a scholar of Islamic University said.
However, the security establishment in Kashmir believes the transformation is an outcome of the tremendous challenge Pakistan is facing due to its own economic crisis and the pressure from the global terror-funding watchdog, Financial Action Task Force (FATF). "They have a resource crunch and they are being forced to shut down some of their cross-border terror infrastructure. ISIS and al-Qaida, many believe are defeated but they are not. They are alive and thriving by entering newer domains and can activate themselves through their global network as and when they need to," a counter-terrorism analyst said.
A section of counter-terror grid suspects that Pakistan has been strategically holding back pro-Pakistan groups and making way for pan-Islamist terror groups in Kashmir so as to project that it has taken effective steps to end cross-border terror and has nothing to do with Kashmir's home-grown jihadi movement.
https://timesofindia.indiatimes.com/india/pro-pak-and-pro-caliphate-groups-fight-for-kashmirs-jihadi-space/articleshow/70253176.cms
-------
14 Tamil Nadu Men Raised Funds To Set Up ISIS Cell In India: Sources
July 17, 2019
Fourteen men from Tamil Nadu who were arrested by the National Investigation Agency raised funds in Dubai to set up a cell of the terror group in ISIS in India, sources in the probe agency said.
The men allegedly support another terror group, Al-Qaeda, and have links with Ansarullah, a terrorist group in Yemen, NIA sources said. They operate in different names including Wahadat-e-Islam, Jamaath Wahadat-e-Islam Al Jihadiye and Jihadist Islamic Unit.
The UAE had kept them in jail for six months before deporting them to India last week.
On Monday, the probe agency flew the men to Chennai, where a court sent them to custody till July 25.
Investigators say the group, many of them management professionals, had made the UAE their home. One of them had been staying in Dubai for 32 years.
"They have knowingly raised funds to use for terror attacks. The ideology is to establish ISIS in India by waging a war against the government of India," said NIA public prosecutor CS Pillai.
Following their interrogation, the NIA arrested two men in Nagapattinam - Harish Muhammad and Hassan Ali. Sources alleged Hassan Ali is an ISIS operative who has been recruiting people to strike India.
He also posted videos asking his supporters to launch strikes using vehicles as weapons, or with explosives, poison and knives, sources said.
The NIA has been cracking down on alleged ISIS groups for the last few months.
Full report at:
https://www.ndtv.com/india-news/14-isis-supporters-from-tamil-nadu-raised-funds-in-uae-says-national-investigation-agency-2070768
-------
Terror detentions: A locked office and a neighbourhood left in the dark in Chennai
by Arun Janardhanan
July 17, 2019
Last Saturday, when they saw their apartment block on TV and a man being led away, residents of Krishna Apartments on Poonamallee high road in Chennai were bewildered. They had no clue to what was happening in their complex. Much later, they found out that the man taken away, Syed Mohammed Bukhari, was being questioned in an alleged terror case.
"On Saturday, a few men in plainclothes, escorted by a police team, came at 5 am. There was a search operation and it went on for several hours. Later, we learnt that one of the men living in the house was being questioned as a terror suspect. Who knows what the truth is," a resident said.
Bukhari, an office-bearer of the religious organisation Wahdat-e-Islami Hind, was detained for questioning by the National Investigation Agency. The agency arrested two others — Hassan Ali Yunusmaricar and Harish Mohammed, both from Nagapattinam — "based on incriminating facts revealed during searches and subsequent investigations". They are already accused in a NIA case registered on July 9 against Ansarulla, an alleged terror outfit.
On Monday, two days after the search at Bukhari's residence, 14 persons, deported from the UAE and apprehended by the NIA for suspected association with the arrested men, were flown from New Delhi to Chennai on a special flight.
The men were produced before an NIA court which granted their custody to the agency. Sources claimed that the men — they were said to be from Chennai, Tirunelveli, Theni, Nagapattinam and Ramanathapuram — were members of Wahdat-e-Islami Hind.
The Wahdat-e-Islami Hind, on its part, has maintained it is a religious organisation with no connection to radical thought. Established in 2009 in Chennai as a religious organisation, it had denied links to the banned SIMI.
While booking Bukhari's associates, the NIA, in a statement, said they had been charged under the Unlawful Activities (Prevention) Act "based on credible information received that the accused persons, while being within and beyond India, had conspired and conducted consequent preparations to wage war against the Government of India…".
The NIA claimed that it had "learnt that the accused persons and their associates had collected funds and made preparations to carry out terrorist attacks in India, with the intention of establishing Islamic rule in India".
During the searches Saturday, the NIA claimed to have seized nine mobile phones,15 SIM cards, seven memory cards, three laptops, five hard disks, six pen drives, two tablets and three CDs/DVDs besides documents, including magazines, banners, notices, posters and books.
On Tuesday, when The Indian Express visited the office of the Wahdat-e-Islami Hind in George Town in Chennai, it was locked. On its door, on the second floor of the building, was a poster of an event organised by Wahdat-e-Islami Hind between November 22 and December 6 last year. The poster, with slogans in Tamil, referred to the Babri Masjid.
"People used to come to this office late in the evening and leave early morning. We never had any conversation with them," said a group of workers at a nearby tailoring shop.
Officers of the Tamil Nadu police declined to comment on the case, saying they have not been kept in the loop.
The NIA claimed that it had "learnt that the accused persons and their associates had collected funds and made preparations to carry out terrorist attacks in India, with the intention of establishing Islamic rule in India".
During the searches Saturday, the NIA claimed to have seized nine mobile phones,15 SIM cards, seven memory cards, three laptops, five hard disks, six pen drives, two tablets and three CDs/DVDs besides documents, including magazines, banners, notices, posters and books.
On Tuesday, when The Indian Express visited the office of the Wahdat-e-Islami Hind in George Town in Chennai, it was locked. On its door, on the second floor of the building, was a poster of an event organised by Wahdat-e-Islami Hind between November 22 and December 6 last year. The poster, with slogans in Tamil, referred to the Babri Masjid.
"People used to come to this office late in the evening and leave early morning. We never had any conversation with them," said a group of workers at a nearby tailoring shop.
Full report at:
https://indianexpress.com/article/india/terror-detentions-a-locked-office-and-a-neighbourhood-left-in-the-dark-in-chennai-5833043/
-------
UAE-deported men reveal IS plot in Tamil Nadu
Jul 17, 2019
CHENNAI: A day after 14 Islamic radicals were deported from the United Arab Emirates, their statements recorded by National Investigation Agency (NIA) and Tamil Nadu police revealed a "meticulous plan to foment unrest" in Tamil Nadu using terror modules/activities.
NIA officials said one of the suspects, Hasan Ali, is an Islamic State (IS) operative assigned to collect explosives, poison, vehicles and knives and also get recruits. Ali and his associate Harish Mohammed were picked up from Nagapattinam district. All 16 were produced before a special court at Poonamalee on Tuesday and were remanded in judicial custody till July 25. An official of the NIA said the suspects had formed several fronts, such as Wahadat-e-Islami, Jamaat Wahadat-ui-Islam-al-Jihadiya, Jihadist Islamic Unit and Ansarallah, to "spread terror" and "establish an Islamic State" in Tamil Nadu.
The officials, however, could not confirm whether they had any hand in the Easter bombings in Sri Lanka, and if the arrested Nagapattinam duo received funds from the 14 to fuel terror activities in Tamil Nadu. On Saturday, NIA officials raided the house and office of Wahadat-e-Islami leader Syed Mohammed Bukhari in Chennai, besides the houses of Hassan Ali and Harish Mohammed. They seized nine mobiles, 15 SIM cards, seven memory cards, three laptops, five hard disks, six pen drives, two tablets and three CDs/DVDs besides documents.
Full report at:
https://timesofindia.indiatimes.com/india/uae-deported-men-reveal-is-plot-in-tamil-nadu/articleshow/70253107.cms
-------
India pitches to grill Dawood aide in London, Pak rushes to his defence
Jul 17, 2019
India is hoping the UK will approve its request to interview Jabir Siddiq, aka Motiwala, considered one of Dawood Ibrahim's closest aides, because it believes this will help get some insights into the drugs and extortion operations the main accused in the 1993 Mumbai terror attacks still runs in the country, and perhaps even provide some proof of the fugitive's presence in Pakistan.
According to Jabir's dossier with Indian security agencies, which has been reviewed by Hindustan Times, he is the only one of Dawood's associates who is a trustee in the Karachi-based Islam Baba Trust, where Ibrahim, his wife, his son and two sons-in-law are trustees. This trust is described by the Indian national security establishment as a religious front to manage properties of the D-company.
India is also working with US enforcement agencies to get access to Siddiq – he is currently in Wandsworth jail in south-west London, awaiting extradition to the US on charges of drug smuggling, extortion, blackmail and money laundering dating back to a 2011-12 Federal Bureau of Investigation operation. His case comes up for hearing on July 22. It is believed that Siddiq may be able to provide the first real evidence of Ibrahim's involvement in the trade of drugs originating from Afghanistan. Siddiq, 53, a Pakistani national, is believed to be one of Ibrahim's most trusted men, and someone who has full knowledge of the latter's finances, investments, and the shell companies through which the so-called D-company (as Ibrahim's operation is called) operates around the world.
Siddiq was arrested by Scotland Yard on August 17, 2018 at the behest of US enforcement agencies. According to counterterror operatives based in New Delhi and Washington, he has been entrusted with the financial affairs and investments of the D-company in Pakistan, West Asia and countries across Asia, Africa and Europe. His proximity to Ibrahim is evident from the fact that he owns properties adjacent to his palatial bungalow in D-block of Defence Housing Authority in Clifton, Karachi. According to the Indian security dossier, he is very close to Ibrahim's family, including the latter's wife, son and two sons-in-law. Islamabad has repeatedly denied that it has knowledge of Ibrahim's location.
The real worries for Islamabad are the likely disclosure of Ibrahim's presence in Karachi, details of his activities and, most importantly, his strong links with the Pakistani spy agency ISI. These prompted the Pakistan High Commision in London's direct intervention in the case at the first day of hearing. Although the counsel representing the US prosecution team (through UK's Crown Prosecution Service) told the UK court that Siddiq was a top henchman of Ibrahim, the defence produced a letter from the Pakistan High Commission stating that the drug smuggler is, in fact, a well-known and respectable businessman (a stock broker) with a Pakistani passport, and only that. Siddiq's lawyers have now opposed his extradition to US citing that he is not mentally stable and has been suffering from depression since 2008.
The real reason of the High Commission's intervention may have been to hide Siddiq's links with Ibrahim, people familiar with the matter said. That may be difficult, they added, because the Ibrahim link is in-built in the FBI undercover operation, and even the drug deal for which he was arrested involves discussions about the deal being on behalf of Ibrahim, who is on top of India's list of most wanted. They add that there is also strong evidence of at least $1.2 million being laundered too.
Ironically, Jabir Siddiq holds various important positions at companies such as M/s MAC Securities (Pvt) Ltd, Karachi and M/s Zaffar Moti Capital Securities (Pvt) Ltd, Karachi as director, and M/s Siddiqui Moti Capital Securities and SM Securities (Pvt) Ltd as chief executive officer. He became CEO of SM Securities in 2013.
It is understood that the US authorities sent a new note to the UK court last year, alleging that Siddiq was involved in setting up a sale of 4kg of Class A drugs in the US. The D-company has been involved in large-scale shipments of narcotics in the past – prompting the US to include the syndicate and Dawood Ibrahim individually in the Foreign Narcotics Kingpin Designation Act in January 2006. The other two top D-company operatives under this Act are Chhota Shakeel and Ibrahim Abdul Razaaq Memon aka Tiger Memon, the principal instigator of the 1993 Mumbai blasts in which 257 people died.
Siddiq, whose is married for the third time to a Pakistan International Airlines cabin crew member, has two sons and two daughters. Before he was arrested, Siddiq was trying to acquire the citizenship of known tax havens of Antigua, Dominican Republic, St Kitts , Nevis, and even permanent residency in Hungary for his family, according to Indian security agencies.
During the court proceedings, the prosecution argued that Siddiq was a senior member of the D-company, terming this an organised crime syndicate with links to terrorism, and engaged in arms and narcotics trafficking and money laundering.
Siddiq's lawyer Edward Fitzgerald was not immediately available for comment, but he used the CPS-US claim of Siddiq's link to Ibrahim to build his case that, if extradited, his client would be subjected to "special administrative measures" (SAMs) in a correctional centre in New York, which means a risk to his human rights under Article 3 of the Human Rights Act of the UK. (Courts in the UK are bound to refuse extradition if there is a risk of human rights being violated). He has also claimed that Motiwala suffers from depression and has suicidal tendencies, while arguing against his extradition.
Full report at:
https://www.hindustantimes.com/india-news/india-makes-pitch-to-grill-dawood-ibrahim-aide/story-LSqmRiXV2jINUmDAuri2EP.html
-------
J&K separatists reject colonies for return of Pandits
Jul 17, 2019
Mir Ehsan
Kashmiri separatist leader Syed Ali Geelani on Tuesday rejected the idea of creating separate colonies for the return of displaced Kashmiri Pandits.
In an interview to HT on Sunday, Jammu and Kashmir governor Satya Pal Malik justified the concept of building separate townships for the Pandits saying locations for such boroughs had been identified and work was underway to develop them.
In a statement, Geelani said they wholeheartedly and sincerely want the Pandits to return. "But will oppose any move to settle them in separate colonies as it negates the very fabric of our social, cultural and mutual bonds." The statement said they welcome with open arms anybody displaced from the state since 1947.
Full report at:
https://www.hindustantimes.com/india-news/j-k-separatists-reject-colonies-for-return-of-pandits/story-J7vICgi1eaQSqkWwBhWLyL.html
-------
Helpline Against Hate to report mob violence launched
July 16, 2019
New Delhi: A toll-free number 1800-3133-600-00, named Helpline Against Hate, was launched by United Against Hate, a collective of eminent citizens campaigning for social justice and peace, here on Monday.
The number will be available to help victims of hate crime in as many as 100 cities. The helpline was launched in the backdrop of rising instances of hate crime and mob lynching, being reported from various parts of the country.
The launch event was attended by eminent lawyer Sanjay Hegde, senior journalist Urmilesh, Kafeel Khan of BRD Medical College in Gorakhpur, who was suspended after the encephalitis deaths, and Professor Apoorvanand of Delhi University, among others.
"It's time to identify, define and deliberate on hate crime as is being done in many European countries. It was necessary to launch the helpline because minorities are being attacked just because of their identities. Cops refuse to take cognizance of hate crimes," said Apoorvanand.
Full report at:
https://www.siasat.com/news/helpline-against-hate-report-mob-violence-launched-1549950/
-------
Pakistan
US welcomes increased 'people-to-people ties' between Pakistan, India through Kartarpur
July 17, 2019
The US State Department on Tuesday said that it was "incredibly supportive" of anything that increases "people-to-people ties between India and Pakistan".
During a press briefing, State Department spokesperson Morgan Ortagus was asked to comment on the Kartarpur Corridor: "Yeah, that was certainly a good news report, wasn't it? We encourage it," she said.
"Anything that increases people-to-people ties between India and Pakistan is something that we're incredibly supportive of," she added.
Ortagus' comments follow the latest talks between the two sides — which took place on July 14 — on the opening of the Kartarpur corridor for Sikh pilgrims. Pakistan claimed to have made headway on "80 per cent and beyond" issues in the much-delayed second round of talks.
The talks were held at the Wagah border where a 13-member Pakistan team was led by Saarc and South Asia desk Director General and Foreign Office (FO) spokesperson Dr Mohammad Faisal, while an eight-member Indian team was headed by interior joint secretary S.C.L. Das.
The corridor, a peace initiative of the Pakistani government, is being constructed to commemorate the 550th birth anniversary of Guru Nanak. The corridor will provide Indian Sikhs visa-free access to Gurdwara Darbar Sahib at Kartarpur in Pakistan.
To work out modalities for the opening of Kartarpur opening, a Pakistani delegation on March 14 visited Attari where a meeting was held with Indian officials. While the next round of talks was scheduled for April 2 at Wagah, India pulled out of it over reservations that pro-Khalistan activists such as Gopal Chawla and Bisan Singh had been included in Pakistan Sikh Gurdwara Prabandhak Committee — a body that works for facilitating Sikh pilgrims.
The Indian Ministry for External Affairs on that occasion had stated: "The next meeting on the modalities can be scheduled at an appropriate time after receiving Pakistan's response." Pakistan's FO had then regretted the Indian decision to cancel the meeting.
https://www.dawn.com/news/1494601/us-welcomes-increased-people-to-people-ties-between-pakistan-india-through-kartarpur
-------
Pakistani journalists hold protests to denounce censorship
Jul 16, 2019
KARACHI: Pakistani journalists held nationwide protests Tuesday to denounce rampant censorship by the country's powerful security services, massive layoffs due to budget cuts and months-long delays in payments of their wages.
The rallies, dubbed Day of Protests, were spearheaded by the Pakistan Federal Union of Journalists, which said that journalists, who face the roughest phase in the country's history, have decided to "fight the unprecedented censorship."
Tuesday was only the "beginning of a protest movement," said Afzal Butt, union president.
Journalists and press freedom advocates say that the Pakistani military is pressuring media outlets to quash critical coverage while the newly elected government is slashing its advertising budget, squeezing a key source of revenue for private newspapers and TV stations.
In the last few months, hundreds of journalists have been laid off as media houses came under financial constraints after government advertising was drastically reduced.
At the rallies Tuesday, journalist wore black bands and held banners demanding an end to censorship, economic woes for those working in the media and abuse of media laws to curb free expression.
Authorities control "even minute details of the media content these days, and dictate who will be the face of print and electronic media," Butt said.
There was no immediate comment from the government.
Zafar Abbas, editor of the leading Dawn daily which has faced increasing pressures, said Pakistani journalists have seen severe restrictions in the past, including shutting down of newspapers, imprisonment of journalists and direct censorship.
"But what we are witnessing today in the form of pressures from the state institutions ... news blackouts and self-censorship, is far worse," Abbas said.
Cyril Almeida, a prominent journalist associated with Dawn, was charged with treason after he published an interview with Nawaz Sharif in which the former prime minister accused the Pakistani military of aiding the militants who carried out the 2008 Mumbai attacks.
Full report at:
https://timesofindia.indiatimes.com/world/pakistan/pakistani-journalists-hold-protests-to-denounce-censorship/articleshow/70246128.cms
-------
Opposition to hold public meeting in Karachi on 25th
July 17, 2019
KARACHI: The opposition political parties have jointly decided to hold a public meeting in Karachi near the mausoleum of Quaid-e-Azam Mohammad Ali Jinnah on 25th July, 2019 to observe a black day on the first anniversary of the 2018 general elections, which according to them, was heavily rigged.
The decision to this effect was announced by General Secretary of Pakistan Peoples Party Sindh chapter Waqar Mehdi while addressing a press conference here at the media cell of PPP on Tuesday. It was held after the local leaders of the opposition parties held a meeting at Bilawal House. The meeting was attended by the local and provincial leaders of PPP, Pakistan Muslim League (Nawaz), Jamiat Ulema-e-Islam (F), Awami National Party, National Party, Jamiat Ulema-e-Pakistan, Pakhtunkhwa Milli Awami Party. It decided to constitute an organizing committee for the 25th July public meeting comprising representatives of all the opposition parties. The meeting would be addressed by the central leaders of the opposition parties.
Full report at:
https://www.thenews.com.pk/print/499451-opposition-to-hold-public-meeting-in-karachi-on-25th
-------
Opposition stresses parliament's role in Reko Diq fiasco inquiry
Amir Wasim
July 17, 2019
ISLAMABAD: The two main opposition parties — Pakistan Muslim League-Nawaz and Pakistan Peoples Party — have sought parliament's role in investigations to be carried out by a government-proposed commission on the Reko Diq issue, saying a similar probe be conducted in other such projects affected by court decisions causing huge losses to the country.
The demand made by opposition members during the one-day requisitioned session of the National Assembly here on Tuesday, however, did not receive any attention of Speaker Asad Qaiser or members of the government, who as usual in their speeches consumed most of the time in criticising the leadership of the two opposition parties for their alleged involvement in corruption and money laundering.
The session was requisitioned by the PML-N members on July 2 "to discuss the post-budget situation" in the country and the arrest of party's Punjab president and MNA Rana Sanaullah, but most of the senior party members, including Opposition Leader Shahbaz Sharif, did not attend the sitting.
Before the start of the session, both the treasury and the opposition members had reached an understanding that the sitting would only continue for two hours and then the regular session of the house will begin from July 29
The demand for the parliament's role in the probe into the Reko Diq case was made by former prime minister Raja Pervez Ashraf, who also recalled as to how during the hearing of the case in the Supreme Court he had pleaded before the then chief justice Iftikhar Chaudhry for more than an hour, telling him that it was an international issue and any decision could have adverse effects on the country.
Expressing concern over the decision of the International Centre for Settlement of Investment Disputes tribunal to slap $5.97 billion award against Pakistan in the Reko Diq case, Mr Ashraf held the then chief justice entirely responsible for this loss, alleging that Mr Chaudhry had issued the verdict only due to his "personal ego".
Mr Ashraf said the terms of reference (ToR) of the proposed commission announced by Prime Minister Imran Khan on the Reko Diq case issue should be finalised and approved by the parliament after a thorough discussion.
He said that even a joint sitting of the parliament could also be convened to discuss this important matter. He said no politician was responsible for this fiasco and the people should also know that only politicians should not be blamed for every bad thing happening in the country.
When Mr Ashraf called for only the parliament's oversight, parliamentary leader of the PML-N Khawaja Asif asked Speaker Asad Qaiser to form a special committee of the house to discuss and investigate not only the Reko Diq case, but other cases such as Karaoke, Broadsheet and Pakistan Steel Mills' privatisation which caused huge losses to the country.
Mr Asif said Pakistan had to suffer $850m to $900m loss due to the Karaoke ship dispute. Similarly, he said, the country had recently been imposed fines of trillions of rupees in the Broadsheet and Reko Diq cases. He warned that decisions on more such cases could be announced against Pakistan in near future.
The PML-N MNA from Sialkot said the parliamentary committee should investigate all those people who were in governments at the time of these decisions, saying that the PML-N leaders were ready to appear before it.
He accused the government of pursuing a "vendetta" against opposition leaders and called for even-handed accountability. Referring to the removal of accountability court judge Arshad Malik over a video scandal, the PML-N member regretted that "while the judge has been sent back, Nawaz Sharif is still in jail".
The PML-N's parliamentary leader also lashed out at the government for implicating the party MNA from Faisalabad Rana Sanaullah in what he called a false narcotics case. He regretted that when the opposition talked about cooperation, the government members said the opposition wanted a deal. He said the opposition did not want any deal and would "fight this battle till the end". He said the opposition members had faced jails in the past and they were still ready to face it.
Taking the floor, Minister of State for Anti-Narcotics Shehryar Afridi claimed that the Anti-Narcotics Force (ANF) had "complete evidence" to pro­­­ve charges against Rana Sana­ul­lah, who was caught "red handed" while carrying narcotics in his car after three weeks of surveillance. He said the evidence, including video foo­tage, would be produced in the court.
Full report at:
https://www.dawn.com/news/1494535/opposition-stresses-parliaments-role-in-reko-diq-fiasco-inquiry
-------
Committee to Protect Journalists honours Editor Dawn Zaffar Abbas with press freedom award
July 16, 2019
Editor Dawn Zaffar Abbas has been awarded the 2019 Gwen Ifill Press Freedom Award by the Committee to Protect Journalists (CPJ) for "extraordinary and sustained achievement in the cause of press freedom", the body announced on Tuesday.
CPJ's Gwen Ifill Press Freedom Award, previously known as the Burton Benjami Memorial Award, was renamed in 2017 to honour a veteran journalist and former board member who died in 2016.
"The award is presented annually to an individual who has shown extraordinary and sustained achievement in the cause of press freedom," notes the CPJ website.
Notable past recipients of the award include Alan Rusbridger, former editor-in-chief of The Guardian who was awarded in 2012, The Associated Press's Kathy Gannon who was the recipient in 2015, and CNN's Christiane Amanpour who received it in 2016.
In a statement released by the CPJ to announce the award, it observed that at a time when journalists and media in Pakistan were facing extraordinary pressure, Abbas continued to be a vocal supporter of steps taken to keep journalists safe. He was elected as the chairman of Editors for Safety in 2015, a body of editors who work to provide protection to journalists who faced threats.
"Zaffar Abbas is the embodiment of journalistic courage, which is why the board is so pleased to honour him with the Gwen Ifill Press Freedom Award," said Kathleen Carroll, chair of the CPJ board.
"Every day he fights to deliver facts to Dawn's readers in the face of pressure, obstacles, and blockades from the institutions in Pakistan that would much prefer to go about their business without scrutiny from the press or the public."
Abbas, who was named Dawn's editor in 2010, started his journalism career in 1981 as a junior reporter for The Star, a Karachi-based newspaper.
He started working with the Herald magazine in 1988 as an investigative journalist and later joined the BBC as the network's Pakistan correspondent in 1992. He joined Dawn in 2006 and covered the insurgency and civil war in Afghanistan during the Soviet occupation, post-9/11 events and their impact on the region which included the rise of religious extremism.
Abbas has been subjected to intimidation and physical torture more than once in his journalism career. He and his brother were attacked at their house by armed men in 1991 when he reported on the activities of the Muttahida Qaumi Movement. A few years later, when he was working at the BBC, the network's office in Islamabad was set on fire by militants and Abbas and his colleague were physically assaulted. The violence was said to be a reaction to two videos broadcast on the BBC regarding sectarian killings in the country.
In recent years, Dawn has come under increasing pressure and its circulation has been disrupted in several cities on multiple occasions after the paper published an exclusive report in 2016 pertaining to relations between the civil and military leadership. The CPJ statement, quoting Abbas, said that he and the reporter of the news story were subjected to hours of interrogation by members of intelligence agencies but refused to reveal their sources.
"Even discussing politics or serious conflicts can be a red line," the CPJ quoted Abbas as saying.
International Press Freedom Awards
The committee will also honour journalists from Brazil, India, Nicaragua, and Tanzania with the 2019 International Press Freedom Awards "amid the erosion of press freedom in democracies around the globe", the body's press release stated. A brief background on the journalists is given below:
Patrícia Campos Mello, a reporter and columnist at Brazil's daily Folha de S. Paulo. During the Brazilian presidential election campaign in 2018, Campos Mello was attacked online and doxxed in response to her coverage of supporters of then presidential-candidate Jair Bolsonaro allegedly sponsoring bulk messaging in WhatsApp.
Neha Dixit, a freelance investigative journalist in India who covers human rights. She has faced legal and physical threats, as well as online harassment, after reporting on alleged wrongdoing by right-wing nationalist groups and police.
Lucía Pineda Ubau, news director, and Miguel Mora, founder and editor, of Nicaraguan broadcaster 100% Noticias. The pair was imprisoned in December 2018 in relation to their coverage of political unrest. They were freed on June 11 after six months behind bars, under surveillance and in isolation most of the time.
Maxence Melo Mubyazi, champion of online freedom of expression in Tanzania, who co-founded and is the managing director of Jamii Forums, an online discussion site and source of breaking news. Melo has been charged under the country's restrictive CyberCrimes Act and, in 2017, appeared in court 81 times.
Editor's note:
Full report at:
https://www.dawn.com/news/1494429/committee-to-protect-journalists-honours-editor-dawn-zaffar-abbas-with-press-freedom-award
-------
Punjab govt asks SC to cancel Rizvi's bail
Jul 17, 2019
The Punjab government has moved the Supreme Court against a Lahore High Court (LHC) that allowed Tehreek-e-Labbaik chief Khadim Rizvi to be released on bail, saying the high court "did not fulfill legal requirements" in its decision to grant bail to the fiery cleric.
Rizvi was booked in the aftermath of violent protests against the acquittal of Aasia Bibi last year. The petition said that there was enough evidence against the TLP chief and urged the top court to nullify the high court's verdict.
In November 2018, Rizvi was taken into "protective custody" by police in Lahore after the law enforcement agencies launched a crackdown on TLP workers amid their call to observe martyrs day on November 25.
Rizvi had reportedly asked workers and supporters to gather at Islamabad's Faizabad — the same venue where the party had staged a weeks-long sit-in in November 2017 that had virtually paralysed the federal capital and led to several people losing their lives.
Rizvi's arrest also came weeks after the TLP led three-day protests across the country against the acquittal of Aasia Bibi — a Christian woman whose blasphemy conviction was overturned by the apex court.
In November 2017, TLP workers demanding the resignation of then law minister Zahid Hamid had staged a weeks-long sit-in at the Faizabad interchange that had disrupted daily life in the federal capital and led to several deaths. The apex court had taken notice of the sit-in and directed the defence and interior secretaries to submit a detailed report on the matter.
Days later, the then PML-N government had launched against the protesters an operation which, when failed, had forced the authorities to cave and Hamid to resign.
Full report at:
https://www.pakistantoday.com.pk/2019/07/16/punjab-govt-asks-sc-to-cancel-rizvis-bail/
-------
LHC's decision to grant bail to Khadim Rizvi challenged
JULY 17, 2019
The Punjab government on Tuesday challenged in the Supreme Court a Lahore High Court (LHC) decision to grant bail to Tehreek-i-Labbaik Pakistan (TLP) chief Khadim Hussain Rizvi, who was booked for launching violent protests against the acquittal of Aasia Bibi last year.
The provincial government, in its appeal, had argued that the high court "did not fulfil legal requirements" in its decision to grant bail, which was made in May this year.
The petition said that there was enough evidence against the TLP chief and urged the top court to nullify the high court's verdict.
The appeal was submitted in the Supreme Court Registrar's Office and will be heard in the Lahore Registry by a two-member bench headed by Justice Manzoor Ahmed Malik on July 18.
Full report at:
https://dailytimes.com.pk/431604/lhcs-decision-to-grant-bail-to-khadim-rizvi-challenged/
-------
Governor announces more land for Gurdwara Darbar Sahib Kartarpur
Hassaan Ahmed
JULY 17, 2019
Punjab Governor Chaudhry Muhammad Sarwar on Tuesday announced to increase the land for Gurdwara Darbar Sahib Kartarpur from three acres to 42 acres, while further announcing not to do any kind of commercial construction on the land which remained under cultivation of Baba Guru Nanak during his last days spent in Kartarpur.
He made these announcements while briefing the media during his visit to the Kartarpur Corridor on Tuesday. He was of the view that total land for Kartarpur Corridor would be 408 acres after its completion. Sarwar inspected the pace of development work on Gurdwara Darbar Sahib and Kartarpur Corridor for more than an hour and lauded the performance of FWO and other departments working on the site. "We also want Indian Prime Minister Narendra Modi to participate in the inaugural ceremony of the Kartarpur Corridor," he said. "The FWO and other departments have completed the work on the corridor in months which otherwise would have taken years to complete," he maintained. He said that Pakistan would complete work on the corridor in its territory during the month of October this year before the 550th birthday celebrations of Baba Guru Nanak.
He was of the view that 5,000 Sikh pilgrims having valid visas would also be able to stay in Kartarpur. He made it clear that the Sikh pilgrims coming from India would have to return from Kartarpur in the given time. The governor said that 80 percent work on the Kartarpur Corridor had been completed as per vision of Prime Minister Imran Khan. He said that it was a good omen that the second round of talks between Pakistan and India on the Kartarpur Corridor remained successful. He hoped that India would also complete development work on Kartarpur Corridor on its side within the given timeframe. He said three acres of land was allocated under the Kartarpur Corridor project for Gurdwara Darbar Sahib Kartarpur but "we have decided to increase it". "We want to give a message to the Sikhs residing all over the world that no cut will be made in land for Gurdwara Darbar Sahib Kartarpur and Baba Guru Nanak," he said, adding that 42 acres of land had also been allocated for Gurdwara Darbar Sahib and 62 acres for cultivation. In this way, the total land for Gurdwara Darbar Sahib would be 104 acres, he added.
Sarwar further said that special transport would be provided from the checkpoint to Darbar Sahib to those Sikh pilgrims coming from India. "Work is underway at three lungar khanas at Darbar Sahib where the Sikh pilgrims will be provided quality meal and other facilities," he said. The governor further said that the Sikh pilgrims coming from the UK, USA and other countries on valid visas would be granted permission to stay here and residences were being built for them. He said 5,000 Sikh pilgrims would be able to stay in at the residences at a time.
To a question, he said that the Religious Tourism and Heritage Committee headed by him was making efforts for promotion of tourism in country as per the vision of Imran Khan. Four federal ministers, including federal minister for religious affairs, three provincial ministers and officers of relevant departments were also part of the committee, he added. "God willing, we will generate $4 billion to $5 billion through religious tourism as Pakistan has huge potential for the religious tourism," the governor said.
The initiative on Kartarpur Corridor was taken last year by Pakistan in November at the 549th birthday of Baba Guru Nanak and both the countries have held two rounds of talks on the corridor since then. The governor was informed that 72 booths of immigration would be established in Pakistan for the facilitation of Sikh pilgrims at Kartarpur.
Full report at:
https://dailytimes.com.pk/431489/governor-announces-more-land-for-gurdwara-darbar-sahib-kartarpur/
-------
North America
Democratic Congresswomen respond to Trump over tweets
Servet Gunerigok
16.07.2019
WASHINGTON
Democratic Reps. Ayanna Pressley of Massachusetts, Ilhan Omar of Minnesota, Rashida Tlaib of Michigan and Alexandria Ocasio-Cortez of New York lashed out at President Donald Trump on Monday over his remarks targeting them.
The freshmen lawmakers held a news conference at the Capitol hours after Trump defended his tweets singling out the congresswomen of color, falsely claiming "these are people who hate our country".
Trump issued the controversial tweets Sunday against "'Progressive' Democrat Congresswomen" whom he did not name, saying they should go back to "the totally broken and crime infested" countries they came from.
"I encourage the American people and all of us in this room and beyond to not take the bait," Pressley said. "This is a disruptive distraction from the issues of care, concern and consequence to the American people."
Trump's remarks have been condemned as racist and xenophobic.
"This is the agenda of white nationalists," said Omar, and the remarks were Trump's "blatantly racist attack".
"And so for him to condemn us and to say we are un-American for wanting to work hard to make this country be the country we all deserve to live in, it's complete hypocrisy," she said.
The group of progressive lawmakers is collectively known as "the squad," and all of them were born in the U.S. except Omar, who is a naturalized citizen.
"We all know the tweets and words from the president are simply a continuation of his racist and xenophobic playbook," Tlaib, for her part, said. "We cannot allow these hateful actions to distract us from the critical work to hold this administration accountable."
Omar stirred controversy with a series of comments critical of Israel's lobbying efforts in Congress, and Tlaib used an expletive to describe the president when addressing supporters.
Trump posted messages on Twitter while the conference was underway.
"We will never be a Socialist or Communist Country. IF YOU ARE NOT HAPPY HERE, YOU CAN LEAVE! It is your choice, and your choice alone. This is about love for America. Certain people HATE our Country," he tweeted.
House Democrats could vote Tuesday on a resolution to condemn Trump's tweets sponsored by Rep. Tom Malinowski of New Jersey.
In a letter, House Speaker Nancy Pelosi accused Trump of "going beyond his own low standards using disgraceful language about Members of Congress".
"The House cannot allow the president's characterization of immigrants to our country to stand," Pelosi wrote.
"We'll stay focused on our agenda and we won't get caught slipping," Ocasio-Cortez said. "Because all of this is a distraction. It is a distraction from what is most important and from our core values as American citizens."
https://www.aa.com.tr/en/americas/democratic-congresswomen-respond-to-trump-over-tweets/1532683
--------
Anti-Defamation League Head Blasts Facebook CEO Mark Zuckerberg Over Online Extremism
By Jeff John Roberts
17 July 2019
July 15, 2019The head of a leading anti-hate group says Facebook's CEO failed a critical test in removing toxic speech from its service.
Mark Zuckerberg's recent justification for not removing a doctored video depicting the House Speaker Nancy Pelosi amounted to an ethical failure, said Jonathan Greenblat, who leads the Anti-Defamation League.
"He refused to offer the kind of answer responsible people would expect ... It's ugly and it's got to change," Greenblatt said at Fortune's Brainstorm Tech conference in Aspen, Colo. on Monday.
Zuckerberg defended the decision against removing the video, which falsely depicted Pelosi slurring her speech, by saying Facebook shouldn't censor everything that is false. However, he added that the company should have done more to stop the video going viral.
Joining a growing list of critics, Greenblatt also blasted Facebook, along with Google and Twitter, for failing to confront a rising tide of white supremacy, which he described as a "scourge" sustained by social media.
While extremism and hate are age-old problems, Greenblatt says social media has given rise to new and dangerous strains by allowing disturbed individuals to find each other in online communities like 4Chan. He added that people engage in behavior on these platforms that would never be tolerated in most other places online.
"If you go to Shake Shack and yell "Die dirty Jew," they will throw you out," Greenblatt said, asking why tech platforms like Facebook don't operate their businesses in the same fashion. "It shelters the sociopaths and encourages the kind of intolerance we'd never tolerate in the real world."
Greenblatt also offered a series of practical suggestions for tech companies to combat the spread of toxic behavior. Notably, he suggested that the firms reset their algorithms to screen for hate, and "slow it down" so that what people upload doesn't always appear instantly. Greenblatt also called for eliminating or at least labeling social media bots, and also demanded that companies stop making a profit from hate speech through their advertising.
Full report at:
https://fortune.com/2019/07/15/anti-defamation-league-facebook-ceo-mark-zuckerberg/
-------
Judge recommends $14M award to neo-Nazi trolling victim
By MATT VOLZ
17 July 2019
HELENA, Mont. (AP) — The publisher of a neo-Nazi website should have to pay the victim of an internet trolling campaign over $14 million and remove all posts that encouraged his readers to contact the Montana real estate agent, a magistrate judge recommended on Monday.
U.S. Magistrate Judge Jeremiah Lynch called The Daily Stormer publisher Andrew Anglin's behavior reprehensible and atrocious in telling his internet followers to unleash a "troll storm" on Tanya Gersh, her husband and her 12-year-old son in 2016.
The magistrate judge doesn't have the final word in the case. His findings and recommendations must be approved by U.S. District Judge Dana Christensen to take effect.
Gersh, whom Anglin accused of trying to run white nationalist Richard Spencer's mother out of the mountain resort community of Whitefish, said her family received hundreds of threatening, harassing and anti-Semitic messages. She sued Anglin, who argued unsuccessfully through his attorneys that his writings were protected by the First Amendment.
Anglin, who lives outside the U.S., was found in default when he didn't show up for a deposition scheduled in April. His attorneys withdrew from the case when he failed to appear.
Lynch said that Gersh deserves $10 million in punitive damages, the maximum amount in punitive damages allowed under Montana law, because of the "particularly egregious and reprehensible nature of Anglin's conduct." He also said she should be awarded $4 million more for lost earnings and pain and suffering.
Plus, the court should issue a permanent injunction ordering Anglin to remove the posts and photos because "the atrocious conduct directed at Gersh and her family has not entirely abated," Lynch wrote.
Even if Christensen approves Lynch's recommendations, it's questionable whether Gersh will see a dime if Anglin remains outside the reach of U.S. authorities.
But that's not the point, said her attorney, David Dinielli of the Southern Poverty Law Center.
"The significance is not in whether we will collect the money," Dinielli said in an emailed statement to The Associated Press. "The significance is that Tanya Gersh, a real estate agent from a small town in Montana, stood up to fight the most notorious neo-Nazi on the web, and she won."
Gersh said in a statement that Lynch's recommendation is a clear message to extremists that nobody should be terrorized for simply being who they are.
"This lawsuit has always been about stopping others from enduring the terror I continue to live through at the hands of a neo-Nazi and his followers, and I wanted to make sure that this never happens to anyone else," she said.
Anglin did not immediately return an email seeking comment.
He faces default judgments in at least three other federal cases, including lawsuits filed by two other alleged targets of his online trolling campaigns.
Full report at:
https://apnews.com/79f34a1339ab44ed98b0a7a800a2b4d9?utm_source=Twitter&utm_medium=APWestRegion&utm_campaign=SocialFlow
-------
Terror leader Hambali finally to face US justice
ByJOHN MCBETH
17 July 2019
Legal teams are interviewing witnesses across the region in preparation for the long-awaited trial of Indonesian terrorist leader Riduan Isanuddin, who has been incarcerated at the United States-run Guantanamo Bay detention facility for 13 years.
Isanuddin, 55, better known as Hambali, was captured by American and Thai intelligence agents in Thailand's ancient riverside capital of Ayutthaya in August 2003, 10 months after the devastating Bali bombing which he stands accused of funding.
Ironically, the alleged mastermind of the attack will apparently finally go on trial more than a decade after Indonesia and its often criticized judicial system prosecuted the last of the Bali bomb perpetrators, along with 250 other militants linked with the al Qaeda-linked Jemaah Islamiyah regional terror network.
Two US Federal Bureau of Investigation (FBI) agents and two military prosecutors were in Jakarta late last year to gather evidence, and a defense team visited Kuala Lumpur in late June for the same purpose. It is understood some witnesses will be flown to Guantanamo Bay to give testimony in the trial.
But that's still some months away as US military and civilian judicial authorities continue to wrangle over the nature of the charges to be brought against Isanuddin and his Malaysian associates, Bashir Lap, 43, and Mohammad Farik bin Amin, 44.
In June 2017, a US military court charged Isanuddin alone with the murder of 202 people, 159 of them foreign tourists, who died in the twin nightclub blasts in Bali in 2002. He was also accused of playing a role in the killing of 11 in the 2003 suicide bombing of Jakarta's JW Marriott Hotel.
Seven Americans were among those killed in Bali, along with 88 Australians, 38 Indonesians, 23 Britons and nationals from 19 other countries in the worst terrorist outrage since the September 11, 2001 attacks rocked the US.
Over the subsequent two years, the military court's civilian oversight authority has twice returned the case because of procedural issues, which have never been made clear.
Last April, Pentagon prosecutors refiled the charges, this time including the crime of conspiracy, in addition to the previous counts of murder, terrorism, attempted murder, intentionally causing serious bodily harm and destruction of property as a war crime.
The Pentagon's Court of Military Commission Review recently declined to rule on whether conspiracy is a lawful war crime, but it still left intact the 2008 conspiracy conviction of Al Hamza a-Bahlul, the sole Guantanamo inmate to be tried so far.
The 49-year-old Yemeni is serving a life sentence for making a recruiting video for al Qaeda and other activities as Osama bin Laden's media adviser, including setting up a satellite receiver so bin Laden could listen to live radio coverage of the 9/11 attacks.
When a trial for Isanuddin is finally approved, it will be followed by an arraignment before a military commission and then pretrial legal motions. But following proceedings from Indonesia is difficult because the commission's website is blocked to selected overseas locations for unknown reasons.
New York-based Human Rights Watch contends that the military commissions do not meet international fair-trial standards and should be disbanded, leaving the cases to be adjudicated in US federal courts.
"They (the commissions) are, among other things, mired in excessive secrecy, fail to adequately protect attorney-client privileged communications, and permit the introduction of coerced information," the organization said in a 2018 update.
Isanuddin's lawyer, Major James Valentine, told the New York Times recently it would be "a really big stretch" to implicate his client in the Bali plot, noting that a star witness at the trial of the three men later executed for their role in the crime had never mentioned him.
The Pentagon has said it will not seek the death penalty as prosecutors deal with claims that Isanuddin was tortured during the 1,280 days he spent in US Central Intelligence Agency (CIA) custody, mostly at the al-Jafr prison in the desert of southeast Jordan.
Details of his mistreatment there were described in the US Senate Select Committee's 2014 report into the agency's worldwide rendition program, whose first victim, Muhammad Saad Iqbal Madni, was secretly whisked out of Jakarta in early 2002.
Madni, 41, was rendered to a similar black site in Egypt and then to Afghanistan's Bagram airbase before being flown to Guantanamo, where he was held without charge until his repatriation to Pakistan in 2008. His only crime: boasting about his unverified links to al Qaeda.
Like other prisoners subjected to so-called enhanced interrogation techniques, Isanuddin was allegedly waterboarded on numerous occasions at a time when it was deemed as justified by officials in an effort to extract actionable intelligence.
To date, all but 40 of the 775 alleged militants detained at Guantanamo since it opened in 2002 have been either transferred to their home countries or released without charge. Many of those remaining are referred to as "forever prisoners."
Only eight are currently charged with crimes, among them Pakistani Majid Khan, 39, who pleaded guilty in 2012 to delivering US$50,000 from al Qaeda to the Jemaah Islamiyah terror network to fund the 2003 JW Marriott suicide bombing.
The sole legal US resident confined at the Cuba-based facility, Majid has yet to be sentenced and there is speculation a plea deal may see him acting as a key witness in Isanuddin's trial.
Isanuddin is one of 14 "high-value" detainees confined to a top-secret section known as Camp 7, which also houses al Qaeda mastermind Khalid Sheikh Mohammad, 55, and four others accused of staging the 9/11 attacks.
A federal task force recommended Isanuddin for trial as early as 2010, but nothing more was heard of his case until mid-2016 when the Periodic Review Board said he remained "a significant threat to the security of the United States" in rejecting his request to be released.
Created by the Barack Obama administration to whittle down Guantanamo's population, the board cited the Indonesian's role in major attacks and as the key link between al Qaeda and Jemaah Islamiyah as reasons for his eventual prosecution.
It was only in 2008 that Detachment 88 counterterrorism unit officer Tito Karnavian, now Indonesia's national police chief, and two National Intelligence Agency (BIN) operatives were permitted to interrogate Isanuddin at Guantanamo.
During that questioning, he is said to have made several admissions about his role in the al Qaeda-funded 2000 Christmas bombings across Indonesia, the 2002 Bali bloodshed and the first of the two attacks on the JW Marriott the following year.
But despite pubic statements by some senior officials, Indonesia never pressed the US government to return him to Jakarta for trial, due to worries about the publicity surrounding such a high-profile event and whether his conviction could be guaranteed.
Senior prosecutors said that Indonesia's 2003 Terrorism Law could only be applied to him in facilitating the transfer of the $50,000 from Khalid Sheikh Mohammad's nephew, Ammar al-Baluchi, 41, to finance the Marriott bombing of that year.
Full report at:
https://www.asiatimes.com/2019/07/article/terror-leader-hambali-finally-to-face-us-justice/
-------
Rio's far-right governor likens drug dealers to Hezbollah
17 July 2019
Rio de Janeiro's far-right governor Wilson Witzel on Tuesday compared drug dealers to the Shiite movement Hezbollah and warned police would respond like Israel by showing no leniency to "terrorists."
Defending his hardline security strategy that has fueled a surge in police killings this year, Witzel said criminals in Rio's poorer neighborhoods known as favelas "raped children, killed innocent people and used the areas to sell drugs."
"What do they do differently to Hezbollah? Nothing," the tough-talking Witzel told foreign journalists at a rare briefing.
"Are we going to be tolerant with Hezbollah when they use missiles and bombs against the population of Israel? No.
"What is done in Israel will be done in Rio de Janeiro. We are not going to be lenient with anyone who has a gun."
"You don't want to die? Don't go on the street with a gun.
"Police are facing (criminals) without fear of killing."
Witzel, a former federal judge, was elected in large part due to his support for the tough anti-crime policy of far-right President Jair Bolsonaro, who also came to power in January.
He has presided over a sharp increase in the number of police killings, with 731 people dying during "police interventions" in the first five months of this year -- a 19.1 percent increase from the same period in 2018, the most recent official figures show.
Witzel has previously sparked outcry among activists for advocating the use of a "missile" to blow up criminals in favelas, and applauding the deployment of police snipers to take out suspects from long distances.
He created further controversy in May after posting a video on Twitter of himself in a police helicopter as officers fired toward a favela below.
But Witzel accused the media on Tuesday of biased reporting of the incident in particular, and police operations against gangs more generally.
"If we were looking at the Second World War it would be like ignoring the Nazis and only looking at Britain bombing Dresden and Berlin," Witzel said.
"The media is showing the police side, but not the side of terrorism."
Reducing crime would help boost the number of visitors to the tourist hot-spot and revitalize the state's economy, he added.
"We want tourists to feel good in Rio de Janeiro."
Full report at:
https://english.alarabiya.net/en/News/world/2019/07/17/Rio-s-far-right-governor-likens-drug-dealers-to-Hezbollah.html
-------
Protests planned against Iranian American council accused of lobbying for Tehran
16 July 2019
Members of the Iranian diaspora are planning to protest against the National Iranian American Council (NIAC) in Washington DC on Friday, with the hashtag #ProtestAgainstNIAC gaining traction as protesters accuse the council of lobbying on behalf of the Iranian regime.
Despite NIAC's claim to be a nonprofit and nonpartisan organization, it has been repeatedly accused of lobbying on behalf of the Iranian regime and against the interests of the Iranian disapora in the US, whom it claims to represent.
"For too long we have stood by as NIAC has promoted to the US government harmful appeasement policies toward the Islamic Republic. NIAC protects the interests of the ruthless, corrupt regime suffocating our beloved homeland. It neither represents Iranian-Americans who aspire for an end to the repression of the Iranian people nor the hope for true peace between Iran and the US," a statement from a press release by the protest organizers read.
"As inside Iran our courageous countrymen and women wage their struggle against tyranny, we here will broaden awareness of the true motives behind what is essentially the regime's lobby in America," the statement added.
The hashtag #ProtestAgainstNIAC first started around three days ago, gaining considerable traction since. Protesters have been tweeting using the hashtag in both Persian and English, many of whom said they plan on attending the protest themselves.
Navid Mohebbi
@navidmohebbi
In six days, Iranians will gather outside @NIACouncil office to voice their disgust and frustration with NIAC's pro-Iran regime advocacy and lobby work. We invite journalists and media outlets to come and report the #ProtestAgainstNIAC.https://www.facebook.com/events/359874824686460/ …
352
11:11 PM - Jul 13, 2019
Twitter Ads info and privacy
Amir Fassihi
@AmirFassihi
It is imperative for the #Iranian_Americans to express themselves and let American politicians know that NIAC represents the voice of FM of Islamic Republic of murder, torture, rape, looting and terrorism of #Iran. #ProtestAgainstNIAC
397
11:30 PM - Jul 13, 2019
218 people are talking about this
Twitter Ads info and privacy
The protests are set to be held on Friday between 1-3 p.m. EST outside of the NIAC offices in Washington. NIAC is yet to respond to the scheduled protests.
In late May, 2019, the hashtag #NIACLobbies4Mullah went viral on Twitter, just a week after the #NoWarWithIran hashtag was launched by the NIAC.
NIAC has a history of attempting to raise unsuccessful lawsuits against its critics. The council and its founder, Trita Parsi, have previously sued Iranian-American bloggers and intellectuals who published pieces which challenged its status as an independent nonprofit organization.
In 2015, two circuit judges and a senior circuit judge from the US Federal Court of Appeals for the District of Columbia forced NIAC to pay $183,480.09 in monetary sanctions to a blogger named Hassan Daioleslam. The court decided NIAC had to reimburse the blogger for the money he had spent fighting a defamation lawsuit NIAC brought against him in 2008, which was decided in his favor and dismissed in 2012.
Full report at:
https://english.alarabiya.net/en/News/world/2019/07/16/Protests-planned-against-Iranian-American-council-accused-of-lobbying-for-Tehran.html
-------
US imposes sanctions on Myanmar army chief over Rohingya crimes
Jul 17, 2019
The United States has imposed sanctions on Myanmar's military chief and three other top officers over their role in the atrocities against the Rohingya Muslim minority group in the Buddhist-majority country.
The US State Department announced on Tuesday that army chief Min Aung Hlaing and two other senior commanders, Brigadier Generals Than Oo and Aung Aung, were responsible for the massacres of Rohingya Muslims in Myanmar, also known as Burma.
The Department, barring the military officials and their families from entering the US, said it had found credible evidence that they had been involved in the violence that took place two years ago and forced about 740,000 Rohingya to flee across the border to Bangladesh.
"We remain concerned that the Burmese government has taken no actions to hold accountable those responsible for human rights violations and abuses, and there are continued reports of the Burmese military committing human rights violations and abuses throughout the country," US Secretary of State Mike Pompeo said in a statement.
Pompeo said a recent disclosure that Min Aung Hlaing had ordered the release of Myanmarese soldiers convicted of "ethnic cleansing" of Rohingya in 2017 was "one egregious example of the continued and severe lack of accountability for the military and its senior leadership."
The US State Department has so far stopped short of calling the abuses against Rohingya Muslims genocide, preferring instead to ethnic cleansing and a "well-planned and coordinated" campaign of mass killings, gang rapes and other atrocities.
Myanmar's western Rakhine state came to global attention in 2017, when the army drove thousands of ethnic Rohingya across the border into Bangladesh. Myanmar is facing growing international calls for accountability over the Rakhine massacre.
Last year, a UN fact-finding mission, said the campaign against the Rohingya was orchestrated with "genocidal intent." It urged charging the army chief and five other generals with the "gravest crimes under international law." The International Criminal Court (ICC) has already opened a preliminary examination into the violence.
About 800,000 Rohingya Muslims are living in camps in Bangladesh after they were driven out of Rakhine during the deadly campaign in 2017, which the United Nations has described as ethnic cleansing.
Rakhine has been the scene of communal violence since 2012. Many Muslims have been killed while tens of thousands have been forced to flee as a result of attacks by Buddhists. The refugees largely live in camps in dire conditions.
Full report at:
https://www.presstv.com/Detail/2019/07/17/601124/US-sanction-Myanmar-military-chief-Rohingya-Muslim-
-------
Europe
Christchurch Muslim community to receive $1m cheque from Jewish community
17 July 2019
The Christchurch Muslim community will be presented with a cheque from some Jewish communities from around the world today.
The US, Sydney and New Zealand Jewish communities will hand over more than $1 million at a ceremony at Christchurch City Council this afternoon.
Before the ceremony, a delegation of Jewish and Muslim leaders visited the Christchurch synagogue and the two mosques which were attacked on March 15.
The cheque will be formally handed over to Christchurch mayor Lianne Dalziel this afternoon.
The money is set to go towards ongoing education, counselling and health care for those affected.
https://www.tvnz.co.nz/one-news/new-zealand/christchurch-muslim-community-receive-1m-cheque-jewish
-------
British Muslims must do more to stop the potential "Jihadi Jacks" of the future
By Adeem Younis
16/07/2019
The number of people converting to Islam in the UK is growing rapidly, but they often make headlines for all the wrong reasons. Whether it's Oxford-born Jack Letts' alleged Islamic State (IS) links or a contentious tweet by the newly-converted singer-songwriter, Sinead O'Connor, Muslim converts are generally met with an air of suspicion or, in many cases, open hostility.
This cynicism towards Muslim converts is nothing new. In the 1800s, Britain was home to a generation of Victorian Muslim converts with the founder of England's first Mosque, William Abdullah Quilliam, being branded an anti-British traitor for his connections with the global Muslim community.
While some politicians, media outlets and elements of our security services have presented Muslim converts as a potential threat, as research by the Henry Jackson Society shows, the reality is that many of the most inspiring, inclusive and transformative Muslim leaders around the world - past and present - have been converts. And in the UK, converts represent a unique bridge between the diverse communities they hail from and the 'Muslim-born' communities who are settled here.
Whilst complex, the story of Jack Letts represents what can happen when this journey goes frightfully wrong. But the journey of a convert - from a seeker to one integrated into a community and grounded in the balanced practice of their new faith - illustrates the role Islam can play as a crucible for the best of what both heritage Muslim cultures and Western civilisation has to offer.
Today, recent estimates suggest 80,000 have converted to Islam in Britain, with their number growing by 5,000 every year. Two thirds of them are women. Every convert brings their unique experiences, talents and gifts to the Muslim community, but they also bring their own challenges. Muslim communities have generally struggled to sufficiently provide the necessary welfare, support, training and mentorship to those who have newly embraced Islam.
Converts represent the changing face of the religion in Britain, and their fusion of identities can often challenge the status quo of established Muslim communities who may be resistant to change.
Equally, their conversion can bewilder their own family and friends, who may go as far as disavowing them, leaving them potentially vulnerable and without support.
Their journey to Islam - and through it - is often difficult. This is where strong Muslim civic society is needed to provide a guiding hand and safety net for those in particular need. That's why the charity I founded ten years ago has made care for Muslim converts a priority.
We need to see beyond the famous converts like Muhammad Ali and Yusuf Islam (Cat Stevens), as well as the infamous ones like Jack Letts and Westminster attacker Khalid Masood.
Many converts are caught between the ambivalence of their new Muslim brethren and the hostility of their old non-Muslim ones. Extremism happens when community fails, when people fall between the cracks, and are left to discover themselves in the perilous, unfettered space of the internet.
As post-colonial, pre-Brexit Britain wrestles with existential questions of what it means to be British today, we should look to learn from Muslim converts who have been able to straddle multiple identities; identities that are often presented as conflicting.
It is by no means a stretch to now call Islam a British religion and with thousands embracing Islam every year, this is becoming more and more self-evident. Just like people of all faiths and none, converts to Islam deserve to be respected, valued and have access to appropriate pastoral care and support.
As someone embedded in grassroots Muslim communities, I'm acutely aware that converts represent the future of Islam in Britain. That's why I am less concerned with the quantity of people embracing my religion than I am with the quality of both their faith and their journey to and through Muslim communities.
Full report at:
https://www.euronews.com/2019/07/16/british-muslims-must-do-more-to-stop-the-potential-jihadi-jacks-of-the-future-view
-------
Driverless car bomb plot shows the threat from Isis supporters who are unable to fight abroad
17 July 2019
An Isis supporter who attempted to create a driverless car bomb is the latest terrorist to plot an attack on the UK after failing to join Isis abroad.
British security services have been heavily criticised for allowing at least 900 men, women and children to leave for Syria and Iraq since 2014.
The flow of jihadis has dried up since the UK and international partners increased efforts to intercept anyone attempting the journey and prosecute them for terror offences.
https://www.independent.co.uk/news/uk/home-news/isis-attacks-uk-plot-farhad-salah-syria-prevent-threat-a9005886.html
-------
Former German spy chief causes alarm by sharing far-right tweets
15 Jul 2019
When he was in charge of Germany's domestic intelligence agency, Hans-Georg Maaßen warned of how easy it was for people to be led astray by "disinformation" and "clumsy fake reports" on the internet.
But since his dismissal from office last September, the former spy chief's behaviour on social media has raised questions over his own ability to distinguish conspiracy theories from truthful reporting, and sparked a debate about the neutrality of the powerful intelligence agency during a period in which a resurgent far right marched over several days in the city of Chemnitz.
On Sunday Maaßen shared on Twitter an article from a rightwing extremist blog claiming that the rescue of a group of people adrift off the Libyan coast by the rescue boat Sea-Watch 3, and the subsequent arrest of its German captain, Carola Rackete, was in fact a "piece of propaganda" orchestrated by the German public broadcaster ARD.
The article likens a documentary about Sea-Watch 3 by ARD's programme Panorama to the Nazi propaganda ministry embedding film crews on "Strength Through Joy" cruise ships, and suggests the film crew could have dragged the rescued refugees out to sea in the first place.
Maaßen, who started tweeting in April, commented on the shared article with the words: "Should this report be true, then Panorama is not western television" – a reference to an earlier tweet in which he implied that modern German media was as censorious as that of socialist East Germany.
The tweet has since been deleted, but questions over his judgment remain.
The blog, Journalistenwatch, is run by one of the co-founders of the now-dissolved Die Freiheit, a small rightwing party that was under observation by the Federal Office for the Protection of the Constitution (BfV), the intelligence agency that Maaßen used to lead. It currently advertises a demonstration in Halle organised by the Identitarian Movement, a group the BfV recently classified as a far-right threat.
"When you have a former head of the domestic intelligence agency referring to media whose business model consists of spreading obvious lies and rightwing extremist agitation, then that's more than alarming," said Claudia Roth, a Green party politician and Bundestag vice-president.
"It is terrifying to realise that, despite warnings, someone who finds meaning in a conspiracy theory outlet for the radical right was for years in charge of protecting the German constitution. The Green party has long been calling for a clear break and structural reorganisation of the domestic intelligence agency. Every day Hans-Georg Maaßen proves how urgent this is."
In the wake of the murder of the Christian Democratic Union politician Walter Lübcke, allegedly at the hands of a neo-Nazi, politicians have questioned whether the domestic intelligence agency has neglected surveillance of rightwing extremist networks.
Maaßen was forced to step down last year after he provoked controversy by questioning the authenticity of video footage showing far-right protesters in Chemnitz chasing down migrants, and also appeared to downplay the violence. In 2016, he made headlines after insinuating that the US whistleblower Edward Snowden was a Russian spy – a claim not made by heads of other western intelligence agencies at the time.
While Maaßen no longer holds public office, he remains a member of Angela Merkel's CDU, where he is a vocal supporter of the Werteunion, an inner-party group formed in protest against the chancellor's asylum policy in 2017.
A spokesperson for the Werteunion confirmed the authenticity of Maaßen's Twitter account, but denied the ex-spy chief had endorsed the content of the article.
Full report at:
https://www.theguardian.com/world/2019/jul/15/former-german-spy-chief-georg-maassen-alarm-sharing-far-right-tweets
-------
Italy Police Seize Missile From Neo-Nazi Sympathizers
July 15, 2019
The police in Italy seized a large arsenal of weapons, including an air-to-air missile, in raids on Monday on neo-Nazi sympathizers.
Elite police forces searched properties across northern Italy following an investigation into Italians who had fought alongside Russian-backed separatist forces in eastern Ukraine, a police statement said.
Three men were arrested, including a customs officer who had previously stood for Parliament for an extreme right party, the neo-fascist Forza Nuova.
During their raids, police discovered a French-made Matra air-to-air missile that appeared to have once belonged to the Qatar armed forces. Subsequent checks showed the weapon was in working condition but lacked an explosive charge.
Police said the suspects had tried to sell the missile in conversations with contacts on the WhatsApp messaging network.
Among other weapons uncovered were 26 guns, 20 bayonets, 306 gun parts, including silencers and rifle scopes, and more than 800 bullets of various calibers. The arms were primarily from Austria, Germany and the United States.
Police also seized Nazi memorabilia from the properties.
The investigation "came into being because of the activities of some Italian fighters with extremist backgrounds who had taken part in the armed conflict in the Ukrainian region of Donbass," the police statement said.
Full report at:
https://www.nytimes.com/2019/07/15/world/europe/italy-neo-nazi-missile.html
-------
UAE, Egypt, US and others call for immediate end to Libya violence
17 July 2019
The United Arab Emirates, Egypt, France, Britain, United States and Italy on Tuesday called for an immediate end to hostilities around Tripoli, and warned of attempts by "terrorist groups" to take advantage of the political void in Libya.
The six countries reiterated in a rare joint statement their deep concern over the ongoing hostilities in Tripoli and called for an immediate de-escalation, end of the current fighting, and urged a rapid return to the political process under the auspices of the United Nations.
Also on Tuesday, the UN envoy to Libya, Ghassan Salame, met UAE Foreign Minister Sheikh Abdullah bin Zayed in Abu Dhabi to discuss ways to end the fighting in Libya, the UN Support Mission in Libya said in a tweet.
Salame explained the heavy human cost of the fighting in Libya and "stressed the importance of adhering to a unified roadmap for reuniting the Libyans and helping them agree and reconcile."
Gargash: UAE supports stability
For his part, the UAE's Minister of State for Foreign Affairs Anwar Gargash on Wednesday said in a tweet: "The statement of the six states on Libya calling for an immediate end to hostilities around the capital of Tripoli represents the will of the international community and the importance of returning back on track, politically."
Full report at:
https://english.alarabiya.net/en/News/world/2019/07/17/France-Britain-Egypt-UAE-US-Italy-call-for-immediate-end-of-Libya-violence.html
-------
Portugal suspends visas for Iranians, cites security reasons
16 July 2019
Portugal has suspended the issuance of entry visas for Iranian nationals for unspecified security reasons, Foreign Minister Augusto Santos Silva told a parliamentary committee on Tuesday.
Answering a question from a committee member on whether such a move had been taken, Santos Silva said during the televised meeting: "Yes, we suspended those for security reasons ... I will provide explanations later, but not publicly".
"Portugal does not play around with entry into its territory," he added, without disclosing when the decision was taken.
The chairman declared the meeting closed after about two hours without further off-camera testimony.
Joao Goncalves Pereira, the lawmaker from the conservative CDS-PP party who asked the question, told Reuters: "We received information that visas for Iranians had been suspended for two or three weeks, and we just wanted to confirm that."
He would not say what was the source of that original information or whether any Iranian nationals had complained about the situation.
Full report at:
https://english.alarabiya.net/en/News/world/2019/07/16/Portugal-suspends-visas-for-Iranians-cites-security-reasons.html
-------
Italy seizes air-to-air missile that belonged to Qatar in raids on neo-Nazis
16 July 2019
Italian police have seized a large arsenal of weapons, including an air-to-air missile that belonged to Qatar's armed forces, in raids on neo-Nazi sympathizers, they said on Monday.
During their raids, police discovered a French-made Matra air-to-air missile that appeared to have once belonged to the Qatar armed forces. Subsequent checks showed the weapon was in working condition but lacked an explosive charge.
Elite police forces searched properties across northern Italy following an investigation into Italians who had fought alongside Russian-backed separatist forces in eastern Ukraine, a police statement said.
Three men were arrested, including a customs officer who has previously stood for parliament for an extreme right party.
Police said the suspects had tried to sell the missile in conservations with contacts on the WhatsApp messaging network.
Among other weapons uncovered were 26 guns, 20 bayonets, 306 gun parts, including silencers and rifle scopes, and more than 800 bullets of various calibers. The arms were primarily from Austria, Germany and the United States.
Police also seized Nazi memorabilia from the properties.
"The police investigation ... came into being because of the activities of some Italian fighters with extremist backgrounds who had taken part in the armed conflict in the Ukrainian region of Donbass," the police statement said.
Full report at:
https://english.alarabiya.net/en/News/world/2019/07/16/Italy-seizes-air-to-air-missile-that-belonged-to-Qatar-in-raids-on-neo-Nazis.html
-------
Russia, Hamas hold talks in Moscow, stress intra-Palestinian unity
Jul 17, 2019
A delegation from the Hamas resistance movement has met with Russia's Deputy Foreign Minister Mikhail Bogdanov in Moscow, with both sides underlining the need for intra-Palestinian unity as the US is preparing to unveil a contentious "peace" plan aimed at consolidating Tel Aviv's occupation of Palestinian territories.
The Russian embassy in Tel Aviv said in a statement that Bogdanov and Mousa Abu Marzook, who headed the Hamas delegation, had "exchanged views on Israeli-Palestinian settlement" during their meeting on Tuesday.
The pair "also discussed efforts to restore intra-Palestinian unity," read the statement, adding, "There is no alternative to a political solution to the Palestinian problem on the existing legal basis."
It also noted that the Russian side had "reaffirmed its readiness to provide the Palestinians with the necessary assistance in order to achieve national consensus."
Russia🇷🇺 in Israel
✔
@israel_mid_ru
July 16. Deputy FM Bogdanov received member of Hamas Politburo Abu Marzook. They exchanged views on Israeli-Palestinian settlement. There is no alternative to a political solution to the Palestinian problem on the existing legal basis, 🇷🇺 side said https://bit.ly/2GfsdyP . -1/2-
16
9:07 PM - Jul 16, 2019
See Russia🇷🇺 in Israel's other Tweets
Twitter Ads info and privacy
The Hamas delegation travelled to Moscow on Monday at the invitation of Bogdanov.
Hamas runs the Gaza Strip independently of the Ramallah-based Palestinian Authority as the two Palestinian factions are involved in a political row. Gaza has been under a crippling siege by Israel since 2007 and witnessed three deadly Israeli wars since 2008.
The talks in Moscow come as the US has been working to draw up a highly controversial deal aimed at ending the long-running Israeli-Palestinian conflict. That plan — which is widely reported to be biased towards the regime in Israel — has already been unanimously rejected by all Palestinian factions, including Hamas and the Palestinian Authority.
Washington says its deal would not adhere to the Arab Peace Initiative, which was adopted by the Arab League in 2002 and urges Israel's withdrawal from lands it occupied in the 1967 war, including the West Bank, East Jerusalem al-Quds and Syria's Golan Heights.
Moscow has warned that Washington's so-called peace plan would "ruin everything" gained from previous conflict resolution, and will fail to fully guarantee a Palestinian state based on the 1967 borders.
Full report at:
https://www.presstv.com/Detail/2019/07/17/601132/Russia-Mikhail-Bogdanov-Hamas
-------
UK government doubles funding for prosecuting ISIS in Iraq
Taylor Heyman
July 16, 2019
Britain's legal adviser at the United Nations has doubled UK funding for bringing violent ISIS members to justice to £2 million, or Dh9.1m.
The UN investigative team looking into crimes committed by ISIS was created in 2017 to provide closure and justice for relatives of those killed by the terrorist group and survivors of its atrocities.
Susan Dickson, the UK legal adviser at the UN, said the team had made remarkable progress in establishing the agency, known as Unitad, in Iraq and opening investigations.
"Since its inception, survivors and victims have been at the heart of the team's efforts," Ms Dickson said.
"We commend the team's approach in emphasising that there is no hierarchy of victims and the recognition that all Iraqis suffered at the hands of Daesh.
"Their work will be important in supporting the government of Iraq and its efforts towards national reconciliation."
The agency's main tasks are to investigate attacks by ISIS against the Yazidi community in Sinjar in August 2014, in Mosul between 2014 and 2016, and the mass murders of unarmed Iraqi cadets from Tikrit Air Academy in June 2014.
Britain has advocated for adding more Iraqis to the team, which employs 79 staff in Iraq including criminal investigators, analysts, witness protection experts and forensic scientists. Women make up 55 per cent of the staff.
On Monday, Karim Ahmad Khan, the head of the agency, told the UN Security Council that he expected his investigators to provide concrete support for at least one case before Iraqi courts.
Mr Khan's team heard harrowing accounts of "mass killings, of entire families erased and of women and girls taken as slaves", he said.
He said they gained access to more than 600,000 videos related to the ISIS crimes, and more than 15,000 pages of internal ISIS documents originally obtained from the conflict zone by journalists.
The UK has struggled to form a consistent policy on the return of ISIS members to Britain since the group was driven out of its last territory, in Baghouz, in March.
Teenage ISIS recruit Shamima Begum was stripped of her citizenship in February after she was discovered in Al Hol refugee camp, Syria.
The decision by UK Home Secretary Sajid Javid gave rise to a national debate on how to handle returning ISIS members.
Full report at:
https://www.thenational.ae/world/mena/uk-government-doubles-funding-for-prosecuting-isis-in-iraq-1.887078
-------
Southeast Asia
Philippines, US to step up war on terror amid suicide attacks
JUL 16, 2019
Raul Dancel
MANILA - The Philippines and the United States have agreed to step up efforts to fight violent extremism in the South-east Asian nation following the first suicide attack carried out by a Filipino militant in June.
"We know danger still exists in parts of the country. This is why counter-terrorism has been such a key element of our bilateral cooperation," US Ambassador to the Philippines Sung Kim told reporters shortly after two days of bilateral talks between Manila and Washington ended on Tuesday (July 16).
https://www.straitstimes.com/asia/se-asia/philippines-us-to-step-up-war-on-terror-amid-suicide-attacks
-------
Islamic NGOs slam Saudi Arabia over liberalisation, ties with Israel, US
July 16, 2019
PETALING JAYA: A coalition of Islamic NGOs has slammed Saudi Arabia for liberalising its policies, most notably allowing the Jeddah World Fest, which was to feature US rapper Nicki Minaj, to be organised.
In a statement, the Malaysia Islamic Organisations Consultative Council (Mapim) also cited Saudi Arabia's cooperation with the US and Israel, along with human rights abuses, in its attack on the kingdom.
Mapim president Mohd Azmi Abdul Hamid said even though Minaj had announced her withdrawal from performing at the concert, the "mere fact" that Saudi authorities allowed her to be invited was "shocking and utterly disgusting".
"We are outraged by this immoral policy newly introduced by the Saudi government which plans to turn the kingdom into an entertainment hub as an attempt to generate billions of dollars in revenue," Azmi said.
The coalition also said it was "perturbed" by the string of Saudi policies which had affected the region's stability and misrepresented the teachings of Islam.
Azmi said these included the attack on Yemen, the "normalisation" of ties with Israel and the purchase of US arms worth billions, which strengthened its economy.
"All these policies and measures are escalating tensions in the region and creating a situation of pervasive conflict.
"What the Saudis have created is widening the division among Muslims not only in the region but also throughout the world," he said.
Azmi said Mapim wanted Saudi Arabia to stop denigrating Islam with "liberal policies", to cancel its "unIslamic" performances, withdraw its troops from Yemen, and stop all human rights abuses, among others.
He said Mapim planned to deliver a memorandum to Prime Minister Dr Mahathir Mohamad, the Saudi Arabian embassy in Kuala Lumpur and the Organisation of Islamic Cooperation (OIC) upon obtaining enough signatures.
Full report at:
https://www.freemalaysiatoday.com/category/nation/2019/07/16/islamic-ngos-slam-saudi-arabia-over-liberalisation-ties-with-israel-us/
-------
Arab World
Kuwait hands Muslim Brotherhood-linked militants to Egypt: KUNA
JULY 15, 2019
DUBAI (Reuters) - Kuwait has handed over to Egypt eight Egyptians who it said had admitted to carrying out terrorist operations in their home country, and had fled to Kuwait after being convicted in Egypt, the state news agency KUNA reported.
Kuwait's interior ministry had said on Friday that the men had belonged to a militant cell linked to the Muslim Brotherhood, and had fled to Kuwait after being sentenced at home to up to 15 years in jail.
Kuwait has not specified the circumstances of their sentencing, and there has been no official comment from Egyptian authorities.
"After conducting preliminary investigations, they admitted to carrying out terrorist operations ... inside Egyptian territory," said Kuwaiti Deputy Prime Minister Anas Khalid al-Saleh, according to KUNA.
The men were returned under the terms of bilateral agreements, KUNA quoted a senior foreign ministry official as saying late on Sunday. The interior ministry said investigations were continuing to find other members of the cell.
Egypt banned the Muslim Brotherhood in 2013 after the late Mohamed Mursi of the Brotherhood, Egypt's first democratically elected president, was toppled by the military following widespread unrest.
Since then, Egyptian authorities have arrested tens of thousands of political opponents, many of them Islamists, according to human rights organizations.
The Brotherhood says it publicly renounced violence decades ago and pursues an Islamist political vision using exclusively peaceful means.
https://www.reuters.com/article/us-kuwait-security-egypt/kuwait-hands-muslim-brotherhood-linked-militants-to-egypt-kuna-idUSKCN1UA1AP
-------
Twin suicide blasts kill two people, wound 20 in Baghdad
by Mohammed Ebraheem
Jul 15, 2019
Baghdad (IraqiNews.com) – At least two Iraqi people were killed and 20 others injured in a suicide bombing near a Shiite mosque in southwestern Baghdad, a security source said Monday.
Speaking to the Arabic-language Baghdad Today news website, the source said that two suicide bombers blew themselves up near Abul Fadhel al-Abbas mosque in al-Malef district in southwestern Baghdad, leaving at least two people dead and 20 others injured.
The death toll is expected to rise, the source added.
No group has so far claimed responsibility for the attack, but the Islamic State (IS) militant group, in most cases, is responsible for attacks targeting crowded areas, including markets, cafes and mosques across Iraq.
Violence in the country has surged further with the emergence of Islamic State extremist militants who proclaimed an "Islamic Caliphate" in Iraq and Syria in 2014.
Full report at:
https://www.iraqinews.com/iraq-war/twin-suicide-blasts-kill-two-people-wound-20-in-baghdad/
-------
Workers recover hundreds of bodies from Syrian mass grave
Jul 15, 2019
In an open field on the outskirts of the Syrian city of Raqqa, workers in black uniforms, surgical masks and red hardhats toil under a scorching sun to dig up bodies from a large mass grave discovered last month.
They have so far unearthed 313 bodies from the grave since it was discovered last month, the official said. All of the dead are men, women and children believed to have been killed or died during the Islamic State group's rule over the northern city, once the de facto capital of the extremist group's so-called Islamic caliphate and the site of atrocities committed by the group against residents who opposed its extremist ideology.
The group at the time commanded large swathes of territory in Syria and Iraq that it administered based on its own radical version of Islamic rule.
U.S.-backed Syrian forces retook Raqqa from IS in 2017 after a lengthy campaign that left the city in ruins. Since then, an organization known as the Civil Council of Raqqa has been working to uncover mass graves in and around the city, amid concerns about the preservation of bodies and evidence for possible war crimes trials. International human rights groups say they are concerned that local groups are not getting the support they need in terms of forensic expertise and human resources.
Yasser al-Khamees, who leads a team of first responders, said workers have unearthed 4,760 bodies from a series of mass graves starting from January 2018.
The mass grave discovered in mid-June in al-Fukheikha agricultural fields south of the city is the latest grave located in and around Raqqa to date.
An Associated Press video showed workers on a recent day wearing surgical masks using shovels to dig up bodies from the field. Forensic workers then put the remains in white body bags, marking them with the date and location and other details.
Asaad Mohammed, a forensic worker, said workers were exhuming an average of 10 to 12 bodies on daily basis.
"We inspect the body, identify the sex, age, time of death, cause of death. We take samples from each body and give it a number, we document it on official papers and then save the information on a computer database along with samples taken from this area," he said.
Full report at:
https://abcnews.go.com/International/wireStory/workers-recover-hundreds-bodies-syrian-mass-grave-64338347
-------
Iraqi security forces kill eight terrorists in Salahuddin
by Mohammed Ebraheem
Jul 15, 2019
Salahuddin (IraqiNews.com) – An Iraqi joint force killed on Monday eight terrorists during a security operation in Salahuddin province, a police chief said.
Speaking to the privately-owned Alghad Press website, Salahuddin Police Chief Maj. Gen. Kandil al-Jabouri said that a joint force, backed by the U.S.-led international coalition warplanes, carried out a security operation in the Siniya island, west of Salahuddin province.
"The troops managed to kill eight terrorists and destroyed an armored vehicle during the operation," al-Jabouri said.
He added that the security operation is still going on to pursue other terrorists.
Iraq declared the collapse of Islamic State's territorial influence in November 2017 with the recapture of Rawa, a city on Anbar's western borders with Syria, which was the group's last bastion in Iraq.
Full report at:
https://www.iraqinews.com/iraq-war/iraqi-security-forces-kill-eight-terrorists-in-salahuddin/
-------
Bahrain Defense Force: Al Jazeera program aims to incite discord, undermine GCC
16 July 2019
The spokesman of the Bahrain Defense Force (BDF) says the program "Ma Khufiya Aatham," which was broadcast on Sunday on Qatari-owned Al Jazeera network, marks a new series of conspiracies against the Kingdom of Bahrain and is an attempt by Qatar to undermine the Gulf Cooperation Council (GCC).
"This is a new episode of the conspiracy against the Kingdom of Bahrain and the desire of Qatar to undermine the Gulf Cooperation Council and incite discord amongst its countries," the spokesman said.
"Through the information provided by the guest Yasser Athbi al-Jalahma, this program presents false information to distort the facts," he added.
In the "Ma Khufiya Aatham" episode, al-Jalahma claims that he was assigned to work in a unit belonging to Bahrain's interior ministry which was responsible for dispersing a protest in Manama's Pearl Roundabout in 2011.
However, the spokesman says that al-Jalahma was assigned to work at the Salmaniya Medical Complex in 2011, and that he was not present at the Pearl Roundabout, adding that al-Jalahma's allegations and comments are based on lies.
The spokesman added that in 2018, the security agencies in the BDF spotted al-Jalahma recruiting cluster cells in order to spy on behalf of a foreign country: Qatar.
"He conspired with other suspects engaged in intelligence activities to disclose Bahrain's defense secrets and to hand over classified information to Qatar intelligence agencies in order to damage Bahrain's military and defense status," the spokesman said.
Al-Jalahma and the other suspects disclosed "sensitive classified information and military secrets to unauthorized individuals," he added.
On April 30, 2019, Bahrain's military court issued sentenced the above-mentioned suspects to temporary and life prison terms. Al-Jalahma was sentenced to death in absentia and his rank was demoted to soldier. He was also discharged from the BDF without insignia and his name was written off the BDF reserves list. He is still a wanted fugitive, according to the spokesman.
Full report at:
https://english.alarabiya.net/en/News/gulf/2019/07/16/Bahrain-Defense-Force-Al-Jazeera-program-aims-to-incite-discord-undermine-GCC.html
-------
Bahrain recruited al-Qaeda operatives to target dissidents, Iran: Documentary
Jul 16, 2019
A documentary by Qatar's pan-Arab broadcaster Al Jazeera has revealed that Bahrain recruited al-Qaeda terrorists to take out dissidents inside the Arab country and conduct terrorist attacks in Iran.
The documentary, titled "Playing with fire" and aired by Al Jazeera's Arabic-language news channel, said Bahraini intelligence officers were in direct contact with al-Qaeda terrorists and organized them into a terrorist cell to take out Shia figures inside Bahrain.
It exposed what it said were recorded communications between Bahraini intelligence officials and the al-Qaeda members and said the operations were authorized by Bahraini King Hamad bin Isa Al Khalifa himself.
The documentary said the king intervened personally to ensure the success of the operations.
'Terrorist contacted Saudi Arabia for weapons'
One notorious terrorist commander, Mohammed Saleh, is seen in the documentary revealing that he contacted Saudi Arabian officials to ask for weapons.
The documentary said Bahraini intelligence officials also met with al-Qaeda-linked terrorists in southeastern Iran to coordinate attacks within the country.
One terrorist, Hosham Baluchi, who headed the terror cell Ansar al-Forghan, had been recruited by the Bahraini intelligence in 2006 for the purpose of conducting acts of terror in Iran, according to Al Jazeera.
Iranian security forces hunted down and killed Baluchi in 2015.
Full report at:
https://www.presstv.com/Detail/2019/07/16/601091/Bahrain-al-Qaeda-Al-Jazeera-documentary-Iran
-------
US-led airstrike kills 15 civilians in Syria's Dayr al-Zawr: Report
Jul 16, 2019
At least 15 civilians have reportedly been killed in an airstrike by the US-led coalition purportedly fighting the terrorist Takfiri Daesh group on a residential area in Syria's eastern province of Dayr al-Zawr.
The media outlet al-Araby al-Jadeed, citing a militant source, reported on Tuesday that the coalition warplanes pounded a house in the village of Takihi near Basirah Town in the early hours of the day, claiming that the a Daesh commander, identified as Hassan Ebrahim, was hiding in the house.
The strike destroyed several nearby houses either fully or partially, leaving 15 civilians dead and an unspecified number of others wounded.
The report further said that the strike, which purportedly killed Ebrahim, was conducted after the he allegedly refused to surrender himself to the US-supported Syrian Democratic Forces (SDF) and engaged in an exchange of fire with them.
It added that at least one SDF member was killed and two others were wounded in the shooting.
The US-led coalition has been conducting airstrikes and operations against what are said to be Daesh targets inside Syria since September 2014 without any authorization from the Damascus government or a United Nations mandate. Damascus has repeatedly condemned the airstrikes.
The military alliance has repeatedly been accused of targeting and killing civilians.
Full report at:
https://www.presstv.com/Detail/2019/07/16/601090/Syria-USled-coalition-airstrike-Dayr-alZawr-civilians
-------
British football fan says 'tortured' in UAE for supporting Qatar squad
Jul 16, 2019
A British man says he was detained, verbally abused and tortured in the United Arab Emirates for wearing a jersey of the Qatar national football team during the 2019 Asian Football Confederation (AFC) Asian Cup.
Ali Issa Ahmad, from Wolverhampton in central England, said he wore the apparel during a group stage match between Iraq and Qatar on January 22, without knowing anything about the diplomatic row between Abu Dhabi and Doha, the Arabic service of the British Broadcasting Corporation (BBC) reported.
The 26-year-old dual Sudanese-British citizen added that a group of men followed him after the game, claiming they were police officers. They ripped his Qatar's jersey and followed him to the hotel, where he was staying on holiday.
Ahmad noted that the purported police officers followed him again when he decided to leave the hotel. The Briton was then attacked in the car he was renting.
When he arrived at a gas station to ask for an ambulance, a uniformed Emirati police officer arrived at the scene, arrested him and then took him for interrogation.
"The traces of what happened (to me) spread all over my body. I was beaten. I lost my teeth, and was wounded. I was tortured by electricity, and stabbed when I was in the cell.
"I was forced to sign a statement in exchange for some water. I have a lot of nightmares now. Not only did they torture me physically, but they also called me terrible names especially because I am black," Ahmad pointed out.
Ahmed's lawyers said FIFA was unable to meet its obligations to protect the rights of fans and to prevent racial discrimination against them.
They said they had lodged complaints with the British Foreign Office and the UN Human Rights Council against UAE authorities.
"It is a shame that Ali has been tortured harshly and without justification while attending an international football competition in the UAE," said Rodney Dickson, head of Ahmed's lawyer team.
"A football fan should not suffer such inhumane and racist treatment, and FIFA must take action to hold those responsible accountable," he added.
Saudi Arabia, the UAE, Bahrain and Egypt cut off diplomatic ties with Qatar on June 5, 2017, after officially accusing it of "sponsoring terrorism."
Libya, the Maldives, Djibouti, Senegal and the Comoros later joined the camp in ending diplomatic ties with Doha. Jordan downgraded its diplomatic relations as well.
Qatar's Foreign Ministry later announced that the decision to cut diplomatic ties was unjustified and based on false claims and assumptions.
On June 9, 2017, Qatar strongly dismissed allegations of supporting terrorism after the Saudi regime and its allies blacklisted dozens of individuals and entities purportedly associated with Doha.
Later that month, Saudi Arabia and its allies released a 13-point list of demands, including the closure of Al Jazeera television network and downgrade of relations with Iran, in return for the normalization of diplomatic relations with Doha.
Full report at:
https://www.presstv.com/Detail/2019/07/16/601084/British-football-fan-tortured-in-UAE-for-supporting-Qatar-squad
--------
Mideast
Pompeo Says Sanctions Have Worked And Regional Countries United Against Iran
July 16, 2019
U.S. Secretary of State Mike Pompeo says Washington's sanctions have had a strong impact on Iran, and Iran's behavior has united unlikely allies in the Middle East against Iranian hegemony.
In a radio interview with Sean Hannity on June 15, Pompeo agreed with his host about the impact of U.S. sanctions on the Iranian economy and added that critics who predicted sanctions would not work without European participation came out to be wrong.
Pompeo also commented that he hopes the sanctions will make Iran's leaders realize they should change their regional policies.
"And so we do hope that the Islamic Republic of Iran leadership will come to know what I think their people know. I think their people think their leadership is on the wrong end of the stick. I think the Iranian people understand that underwriting Hezbollah in Lebanon and in Syria and in providing money in Yemen —", Pompeo said.
Besides the impact of sanctions, Pompeo also argued that Iran's behavior has brought together former adversaries in the region. To defend themselves against Iranian influence, many Arab countries and Israel now cooperate.
"The framework that had set the Middle East for so many years was the conflict between Israel and the Palestinians, and now the major destabilizing force in the Middle East is the Islamic Republic of Iran", the Secretary said, adding that the U.S. helped foster that trend. "This is truly historic. And they have come to understand that they have a common threat, and they are increasingly finding ways to work together to keep each of their nations secure."
In response to a comment by Hannity about how the nuclear deal provided Iran with $150 billion, Pompeo agreed, repeating, "150 billion. Yes, sir."
But fact-checking by CNN and others reveal that the large figure is just an estimate of the maximum amount of benefits Iran could have gotten from the 2015 nuclear agreement known as JCPOA. It is not what Iran actually received.
Frozen cash assets that were unlocked amounted to a maximum of $50 billion, much in previous oil sales that were locked-up due to international sanctions. The rest were in various kinds of economic deals with countries such as China that would not translate into liquid money available to Iran for its foreign policy expenditures.
However, Pompeo also mentioned a delivery of cash to Iran during the last months of the Obama administration. "They allowed Iran to have enormous wealth, lots of money, put cash on pallets and sent it to Iran, and then let them continue to enrich uranium so they had the capacity to build out their nuclear weapon system and foment terror. Those were the failures of the previous agreement the President identified, and I think we've made real progress", Pompeo argued.
In January 2016, the U.S. secretly shipped $400 million dollars to Iran as the first installment of $1.7 billion, which was a settlement of an old deal going back to the pre-revolution days between the two countries.
On the same day Tehran released four Iranian-American prisoners as it formally implemented the 2015 nuclear agreement. CNN reported that President Barrack Obama had approved the delivery of cash.
At this time, Iran was heavily involved in the Syrian civil war, sending thousands of troops and proxy forces to fight alongside Bashar al-Assad and Russian forces. The joint effort against Syrian forces began to bear fruit soon, with Assad taking back a substantial part of the country.
In the interview Hannity also asked about Russian and Iranian ties. Pompeo emphasized that the two countries work closely together in Syria and criticized Russia for siding with Iran on the nuclear issue.
"There is no doubt that Iran and Russia are working closely together, and Russia, who was one of the signatories of the JCPOA, has decided to stay in that deal, which we believe is fundamentally the wrong direction for the world to take in trying to constrain Iran,", Pompeo said.
https://en.radiofarda.com/a/pompeo-says-sanctions-have-worked-and-regional-countries-united-against-iran/30057814.html
-------
Yemenis go hungry as UN-rebel tiff disrupts aid
Naseh Shaker
July 16, 2019
SANAA, Yemen — As the United Nations' partial suspension of aid to Yemen's capital Sanaa enters its fourth week — with no hope of resumption — Um Ahmed, 60, sees little hope of feeding her two sons and providing them with the medical treatment they need. The aid suspension across Sanaa has left parents like Um Ahmed destitute and perplexed as they watch their children waste away.
"I have two sons suffering from health problems. One has cancer and the other suffers from a mental illness," Um Ahmed told Al-Monitor as she drove on a minibus June 28 in the Shoob district.
All passengers on the bus blamed both the United Nations World Food Programme (WFP) and the Houthi government for doubling their suffering.
Um Ahmed received a bag and half of flour per month along with peas or lentils before the WFP aid was suspended. She would sell either the half or the whole bag to buy cancer medication for her son. Following WFP accusations that Houthis were selling food aid on the black market right in front of schools where the organization would distribute the food, people stopped selling them.
The Houthis denied the WFP accusations but the rebel-run Ministry of Interior tasked police forces to join WFP staff at schools' gates to prevent people from selling the food and organize the distribution process.
Um Ahmed was undeterred. She said, "I showed the officials at the school's gate the hospital documents proving that my son has cancer, and they allowed me to sell the food so I can buy medication."
On June 20, the WFP partially suspended aid to 850,000 people, in a country where 14 million people are "facing pre-famine conditions," according to the UN.
"WFP will maintain nutrition programmes for malnourished children, pregnant and nursing mothers throughout the period of suspension," the agency said in a statement.
The WFP and the Houthi Sanaa-based government continue to trade accusations over alleged misuse of food aid, which the WFP says is being diverted to fuel the conflict in Yemen while the Houthis accuse the WFP of sending spoiled supplies. The WFP has called for independent identification of beneficiaries and a biometric registration system.
Al-Monitor reached out to the WFP via email, but it declined to comment on the ongoing dispute.
Tareq Qutafi, a flour mill owner in Sanaa, claims very few beneficiaries of the WFP aid sell him their food for money. Rather, he said, the poor exchange the WFP flour — which is of low quality — for his own high quality flour mix. Others sell him their food baskets so they could pay their rent.
"Beneficiaries ask me to exchange their WFP Australian-produced red flour for white flour," Qutafi told Al-Monitor as he sat on a bag of flour marked WFP in Arabic. "Some give me sugar or oil [also from the WFP food basket] in exchange for my white flour so they can mix it with the red WFP wheat to make bread."
Qutafi said that some people sell him their food so they can buy medication, but he refused to say whether Houthi loyalists had sold him large amounts of food.
Al-Monitor visited two schools in the Shoob district, where the WFP distributed the aid. The school's guards told Al-Monitor people visit the school in the afternoons and evenings asking if there is any news of the aid distribution resuming.
When the WFP did distribute the aid in public schools in the Houthi-run capital, recipients would receive a text informing them that the aid had arrived at a specific school. Their names would be included on a list, and with a show of ID, they would receive the aid.
The head of the Houthis' Supreme Revolutionary Committee, Mohammed Ali al-Houthi, told Reuters June 4 that the WFP's insistence on controlling the data of the beneficiaries is a breach of Yemen's sovereignty.
Since early this year, and most recently on June 25, the Houthis have blocked four ships carrying food aid at the Red Sea port of Hodeidah after the WFP threatened to suspend aid, claiming the food was spoiled.
Faisal Mudhesh, a senior official in the Houthis' National Authority for the Management and Coordination of Humanitarian Affairs and Disaster Response, said the dispute with the WFP is over the body's insistence on sharing the data with donors.
"WFP is asking to take the fingerprints of all beneficiaries, including children and elders. It also wants to take their photographs and conduct an iris scan," Mudhesh told Al-Monitor via phone June 29.
"WFP wants the database to be at its disposal and to have the right to share it with the so-called donors including Saudi Arabia, the UAE and the US, i.e. the aggressor countries," he noted.
Mudhesh said his organization has offered the WFP alternatives such as a biometric registration system that does not violate Yemeni law, or an electronic ID system with a national number for all beneficiaries.
"We even told the WFP that the Department of Civil Status and Civil Registration can cooperate with it to carry out field registration. The DCSCR would save the data, while the WFP would have full access to check and supervise the data," he said, insisting, "No one has the right to share citizens' personal data with foreign countries."
Meanwhile, the most vulnerable in Yemen will continue to pay the price of this dispute.
Full report at:
https://www.al-monitor.com/pulse/originals/2019/07/yemen-wfp-partial-food-aid-suspension-sanaa-houthis.html
-------
Senior Hamas official urges Palestinians worldwide to kill 'every Jew on the globe'
by John Gage
July 15, 2019
Fathi Hammad, a senior Hamas official, called upon Palestinians worldwide to begin the "slaughter and killing" of Jews around the world.
"Our patience has run out. We are on the verge of exploding. If this siege is not undone, we will explode in the face of our enemies, with God's permission and glory. The explosion is not only going to be in Gaza but also in the [West] Bank and abroad, if God wills," Hammad said Friday. "But our brothers [in the diaspora] are still preparing. They are trying to prepare. They are warming up. A long time has passed with them warming up. All of you 7 million Palestinians abroad, enough of the warming up. You have Jews everywhere and we must attack every Jew on the globe by way of slaughter and killing, if God permits. Enough of the warming up," he added.
A spokesman for Israeli Prime Minister Benjamin Netanyahu tweeted a response to the comments Sunday.
"We use his statements to rally support for us and to reveal Hamas's true face. Thank you Fathi!" Ofir Gendelman, Netanyahu's Arabic-language spokesman, said.
Gendelman added that Hammad's comments were revealing about Hamas.
"Hamas senior terrorist Fathi Hammad revealed in a speech some facts so that you will know what Hamas is about: Hamas is behind the riots on the Gaza border. Hamas built factories for explosive vests to be used by Gazan boys & girls. Hamas wants to murder Jews worldwide," Gendelman said.
Another Hamas official condemned Hammad's comments as not representative of the group as a whole.
"These are personal statements that do not represent Hamas. They are no more than emotional comments that he may have said because of the killing of one of our members," the official said. "Our problem is not with the Jews, but rather the occupation and the Zionist movement that is occupying Palestine."
Full report at:
https://www.washingtonexaminer.com/news/senior-hamas-official-urges-palestinians-worldwide-to-kill-every-jew-on-the-globe
-------
US fears Iran seized UAE-based tanker in Strait of Hormuz
By JON GAMBRELL
Jul 17, 2019
DUBAI, United Arab Emirates (AP) — A small oil tanker from the United Arab Emirates traveling through the Strait of Hormuz entered Iranian waters and turned off its tracker three days ago, leading the U.S. to suspect Iran seized the vessel amid heightened tensions in the region.
Iranian state media quoted its Foreign Ministry spokesman early Wednesday as saying the Islamic Republic had aided a foreign oil tanker with a malfunction, but the report didn't explain further. Oil tankers previously have been targeted in the wider region amid tensions between the U.S. and Iran over its unraveling nuclear deal with world powers.
The Panamanian-flagged Riah turned off its transponder late Saturday night but an Emirati official said it sent no distress call. The concern over its status comes as Iran continues its own high-pressure campaign over its nuclear program after President Donald Trump unilaterally withdrew America from the accord over a year ago.
Recently, Iran has inched its uranium production and enrichment over the limits of its 2015 nuclear deal, trying to put more pressure on Europe to offer it better terms and allow it to sell its crude oil abroad.
However, those tensions also have seen the U.S. send thousands of additional troops, nuclear-capable B-52 bombers and advanced fighter jets into the Mideast. Mysterious attacks on oil tankers and Iran shooting down a U.S. military surveillance drone has added to the fears of an armed conflict breaking out.
The 58-meter (190-foot) Riah typically made trips from Dubai and Sharjah on the UAE's west coast before going through the strait and heading to Fujairah on the UAE's east coast. However, something happened to the vessel after 11 p.m. on Saturday, according to tracking data.
Capt. Ranjith Raja of the data firm Refinitiv told The Associated Press on Tuesday that the tanker hadn't switched off its tracking in three months of trips around the UAE. "That is a red flag," Raja said.
A U.S. defense official later told the AP that the Riah was in Iranian territorial waters near Qeshm Island, which has a Revolutionary Guard base on it.
"We certainly have suspicions that it was taken," the official said. "Could it have broken down or been towed for assistance? That's a possibility. But the longer there is a period of no contact ... it's going to be a concern."
The official spoke on condition of anonymity as the matter did not directly involve U.S. interests.
An Emirati official, speaking on condition of anonymity to discuss an ongoing security matter, said the vessel "did not emit a distress call."
"We are monitoring the situation with our international partners," the official said.
Iran's IRNA news agency quoted Foreign Ministry spokesman Abbas Mousavi as saying Iran had helped an unnamed tanker by towing it to an Iranian port, without elaborating. The report did not identify the ship, nor explain the malfunction and the lack of a distress call or any crew contact with home.
The ship's registered owner, Dubai-based Prime Tankers LLC, told the AP it had sold the ship to another company called Mouj Al-Bahar. A man who answered a telephone number registered to the firm told the AP it didn't own any ships. The Emirati official said the ship was "neither UAE owned nor operated" and carried no Emirati personnel, without elaborating.
Separately Tuesday, Iran's Supreme Leader Ayatollah Ali Khamenei said his country will retaliate over the seizure of an Iranian supertanker carrying 2.1 million barrels of light crude oil. The vessel was seized with the help of British Royal Marines earlier this month off Gibraltar over suspicion it was heading to Syria in violation of European Union sanctions, an operation Khamenei called "piracy" in a televised speech.
"God willing, the Islamic Republic and its committed forces will not leave this evil without a response," he said. He did not elaborate.
British Foreign Secretary Jeremy Hunt said Saturday that Britain will facilitate the release of the ship if Iran can guarantee the vessel will not breach European sanctions on oil shipments to Syria.
Iran previously has threatened to stop oil tankers passing through the strait, the narrow mouth of the Persian Gulf through which 20% of all crude oil passes, if it cannot sell its own oil abroad.
Meanwhile, Iranian Foreign Minister Mohammad Javad Zarif seemed to suggest in a television interview that the Islamic Republic's ballistic missile program could be up for negotiations with the U.S., a possible opening for talks as tensions remain high between Tehran and Washington. Zarif suggested an initially high price for such negotiations — the halt of American arms sales to both Saudi Arabia and the United Arab Emirates, two key U.S. allies in the Persian Gulf.
Iran's ballistic missile program remains under the control of the Iranian paramilitary Revolutionary Guard, which answers only to Khamenei.
Zarif brought up the ballistic missile suggestion during an interview with NBC News that aired Monday night while he is in New York for meetings at the United Nations. He mentioned the UAE spending $22 billion and Saudi Arabia spending $67 billion on weapons last year, many of them American-made, while Iran spent only $16 billion in comparison.
"These are American weaponry that is going into our region, making our region ready to explode," Zarif said. "So if they want to talk about our missiles, they need first to stop selling all these weapons, including missiles, to our region."
Iran's mission to the United Nations later called Zarif's suggestion "hypothetical."
"Iran's missiles ... are absolutely and under no condition negotiable with anyone or any country, period," the mission said.
However, U.S. Secretary of State Mike Pompeo seized on Zarif's comments in comments at a Cabinet meeting Tuesday at the White House as a sign the U.S. maximalist campaign against Iran was working.
"For the first time, the Iranians have said that they're prepared to negotiate about their missile program," he said. "So we will have this opportunity, I hope."
Trump during his time in the White House has pointed to arms sales to the Mideast as important to the American economy, so it remains unclear how he'd react to cutting into those purchases. In pulling out of the Iran nuclear deal, Trump in part blamed the accord not addressing Iran's ballistic missile program. The U.S. fears Iran could use its missile technology and space program to build nuclear-capable intercontinental ballistic missiles, something Tehran denies it wants to do.
Ayham Kamel, an analyst for the Eurasia Group, said Zarif's comments were aimed at show flexibility for possible.
Full report at:
https://apnews.com/14bcf671b33b40baa297676bf436ed23
-------
Iran says Zarif's missile remarks meant to challenge US, not negotiate over nukes
17 July 2019
Iran says remarks by the country's foreign minister about Iran's missile program possibly being up for negotiations with the US meant to challenge Washington's arms sales policy to the region - and were not meant to indicate a readiness by Tehran for any such talks.
The Foreign Ministry's spokesman, Abbas Mousavi, tweeted late on Tuesday that Mohammad Javad Zari's comments "threw the ball into the US court while challenging America's arm sales" to its Mideast allies.
Zarif had said in an NBC News interview that if the US wants to talk about Iran's missiles, "they need first to stop selling all these weapons, including missiles, to our region."
Iran has long rejected negotiations over its missile program.
Full report at:
https://english.alarabiya.net/en/News/middle-east/2019/07/17/Iran-says-Zarif-s-missile-remarks-meant-to-challenge-US-not-negotiate-over-nukes.html
-------
Iran's Zarif not allowed to move beyond a six-block radius in New York
16 July 2019
Iran's Foreign Minister Mohammed Javad Zarif is not allowed beyond a six-block radius during his visit to New York City, Secretary of State Mike Pompeo said on Sunday, adding that Zarif was only given a US visa as part of the US's obligation toward the UN- being that it is the host country of the organization's headquarters.
Zarif and the Iranian delegation arrived in New York on Sunday morning to attend a UN Economic and Social Council ministerial meeting. The meeting is set to focus on sustainable development goals, which aim to tackle issues including conflict, hunger, gender equality and climate change by 2030.
Zarif is only allowed to travel between the United Nations, the Iranian UN mission, the Iranian UN ambassador's residence and New York's John F. Kennedy airport, a US State Department official said.
"US diplomats don't roam around Tehran, so we don't see any reason for Iranian diplomats to roam freely around New York City, either," Pompeo said in a statement on Sunday.
"We have largely working with our diplomatic security, but we put in place the necessary protocols to ensure that they stay within that six-block radius," Brian Hook, the US Special Representative for Iran, said in an interview on Fox News.
He added that no US government officials will meet with Zarif.
Since his arrival, Zarif has done television interviews, but TV crews conducted them at the Iranian UN ambassador's residence, which is within the set limitations.
According to a UN 1947 agreement, the US is required to allow foreign diplomats entry for access to the UN. However, Washington says it holds the right to deny visas for "security, terrorism, and foreign policy" reasons.
In April 2014, the US did not grant a visa to Iran's chosen UN ambassador, Hamid Abutalebi, because of his links to the 1979-1981 Tehran hostage crisis when radical students seized the US Embassy and held 52 Americans hostage for 444 days. Abutalebi said he acted only as a translator.
Full report at:
https://english.alarabiya.net/en/News/middle-east/2019/07/16/Iran-s-Zarif-not-allowed-to-move-beyond-a-six-block-radius-in-New-York.html
-------
Arab Coalition downs three Houthi drones targeting Jazan, Abha
16 July 2019
The Arab Coalition supporting the legitimate government in Yemen has intercepted and downed three drones launched by the Iran-backed Houthis in the two Saudi cities of Jazan and Abha, the coalition's spokesperson said.
"While the UN special envoy to Yemen, Martin Griffiths, is in Sanaa, the Houthi militias continue targeting civilians and civilian airports in Abha, Jizan and Najran and continue to threaten regional and international security," the coalition spokesman, Colonel Turki al-Malki, said in a statement.
A Syrian resident of Saudi Arabia died last month from wounds sustained in a drone attack on Abha Airport that was claimed by the Houthis.
Full report at:
https://english.alarabiya.net/en/News/gulf/2019/07/16/Arab-Coalition-intercepts-two-Houthi-drones-targeting-Jazan.html
-------
Palestine demands intl. investigation into detainee's death in Israeli prison
Jul 16, 2019
The Palestinian Ministry of Foreign Affairs and Expatriates has called for an international investigation into the death of a Palestinian prisoner in solitary confinement at a detention facility in the Israeli-occupied territories.
The ministry, in a statement released on Tuesday, said the Israeli regime and its security apparatus, including the Israel Prison Service (IPS), are fully responsible for the death of 31-year-old Nassar Taqataqa of Beit Fajjar town, located eight kilometers south of Bethlehem, at the Nitzan Prison two days earlier.
The statement then urged the International Committee of the Red Cross (ICRC) to form an international investigation committee to look into the reasons for Taqataqa's death, and to provide legal and political protection to all Palestinian prisoners in Israeli jails.
"The indifference by the international community, its organizations and special councils toward Israeli violations and crimes encourage the occupying power to insist on committing such atrocities.
"The martyrdom of Taqataqa in interrogation cells demands an immediate action by the International Criminal Court and the opening of an official investigation into the crimes of the occupying power in order to pursue and prosecute Israeli war criminals," the ministry pointed out.
Qadri Abu Bakr, head of the Commission of Prisoners' Affairs, told Palestine's official WAFA news agency that Israeli forces detained Taqataqa about a month ago after raiding his family home. They initially moved him to the Kishon prison, also known as the al-Jalame detention center, for interrogation before he was put in solitary confinement at Nitzan Prison, where he passed away.
Jawad Thawabteh, a member of the Fatah movement, said Israeli forces brought Taqataqa handcuffed to his family house about two weeks ago to search it. He was severely beaten before being taken back to prison.
On February 8, a Palestinian prisoner died inside the Eshel Prison in Beersheba.
The Palestinian Prisoner's Society confirmed the death of prisoner Yaser Hamed Ashtia, 36, from the northern West Bank city of Nablus, pointing out that the circumstances of his death were not immediately known.
Ashtia was detained by Israeli forces in 2009. He was sentenced to life imprisonment over alleged killing of a settler.
The development came only two days after Palestinian prisoner Fares Baroud died hours after being suddenly transferred to intensive care from Ramon prison in the occupied territories.
The late 51-year-old was suffering from a number of health conditions, including a hernia and liver disease, and had repeatedly spoken about medical neglect and denial of necessary health treatment to Palestinian inmates.
Baroud was arrested in 1991, and was supposed to be released in 2013 as part of negotiations between the Palestinian Authority and the Tel Aviv regime. Israeli officials, however, reneged on the agreement, refusing to release the final 30 prisoners, including him.
Full report at:
https://www.presstv.com/Detail/2019/07/16/601073/Palestine-demands-intl-investigation-into-detainees-death-in-Israeli-prison
--------
Africa
Sudan military council, opposition sign political agreement
17 July 2019
The first phase of a political agreement was signed by Sudan's Transitional Military Council and the Forces of Freedom and Change opposition alliance with the attendance of the African Union and Ethiopian envoys.
At a press conference on Wednesday, it was announced that the constitution draft will be discussed this Friday.
The deputy head of Sudan's Transitional Military Council, Gen. Mohamed Hamdan Dagalo, said that the agreement is "a historic moment," and makes way for "a new era of cooperation."
The African Union envoy said the agreement marks a "new era" and "paves the way for the next stage."
For his part, the Ethiopian envoy said that the "people of Sudan deserve this great day."
The Forces of Freedom and Change opposition alliance said: "We must stay away from all that divides the Sudanese people."
https://english.alarabiya.net/en/News/middle-east/2019/07/17/Military-council-opposition-sign-political-agreement.html
-------
Two leaders of Mali al-Qaeda affiliate put on US terrorism list after attacks
16 July 2019
The United States added two leaders of al-Qaeda's affiliate in Mali to its global terrorism list on Tuesday, accusing them of engaging in destabilizing attacks across the West African country, the US Treasury said.
Ali Maychou and Bah Ag Moussa, both leaders of Jama'at Nusrat al-Islam wal-Muslimin, were designated by the US Treasury as global terrorists and placed on a list of people whose assets in the United States can be blocked, the Treasury's Office of Foreign Asset Control said.
"Treasury is targeting the leadership of JNIM, al-Qaeda's branch in Mali, for its destabilizing role conducting terrorist attacks across the country," Treasury Undersecretary Sigal Mandelker said in a statement. "As a leader within JNIM, Bah Ag Moussa directly contributes to the violence and instability fueled by al-Qaeda's terrorism."
The Treasury said it added Moussa to its sanctions list because he had acted on behalf of JNIM and its leader, Iyad Ag Ghali. Both JNIM and Ghali were added to the sanctions list previously.
Moussa, a former Malian army colonel, led an operation in March against the Malian Armed Forces base in Dioura that killed at least 21 Malian soldiers.
The U.S. State Department said Maychou, a native of Morocco, had claimed responsibility for a JNIM attack on a military camp that housed Malian troops in Gao, killing dozens. It said Maychou had an operational role in JNIM's activities.
Full report at:
https://english.alarabiya.net/en/News/world/2019/07/16/Two-leaders-of-Mali-al-Qaeda-affiliate-put-on-US-terrorism-list-after-attacks.html
-------
6 nations call for immediate halt to Libya violence
Beyza Binnur Dönmez
16.07.2019
Egypt, France, Italy, the United Arab Emirates (UAE), the U.K. and the U.S. reiterated concern about ongoing hostilities in Tripoli, urging Libya to return to UN-mediated political process.
In a joint statement released Tuesday, the six nations called for an "immediate" de-escalation and halt to the current fighting.
"There can be no military solution in Libya," the statement said.
Voicing the concerns about the ongoing attempts by terrorist groups to "exploit the security vacuum" in the country, the statement called on all parties of the Tripoli conflict to "dissociate themselves from all such terrorists".
"We need to re-energize UN mediation, which aims to promote a transitional government representing all Libyans, prepare for credible parliamentary and presidential elections, enable a fair allocation of resources, and advance the reunification of the Central Bank of Libya and other Libyan sovereign institutions," it said.
Persistent violence has claimed nearly 1,100 lives, displaced more than 100,000, and fueled a growing humanitarian emergency in the country, according to the statement.
"The ongoing confrontation has threatened to destabilize Libya's energy sector, and exacerbated the tragedy of human migration in the Mediterranean," it added.
Libya has remained beset by turmoil since 2011 when a NATO-backed uprising led to the ouster and death of long-serving President Muammar Gaddafi after more than four decades in power.
Full report at:
https://www.aa.com.tr/en/africa/6-nations-call-for-immediate-halt-to-libya-violence/1533554
--------
Borno emir returns home 5 years after displacement by Boko Haram
July 15, 2019
The Emir of Gwoza in Borno State, Mohammed Shehu-Timta, has returned home following relative peace and security five years after displacement from the kingdom by Boko Haram insurgents.
The News Agency of Nigeria (NAN) reports that mammoth crowd gathered at Pulka and major streets in Gwoza metropolis on Monday to give the first class traditional ruler a rousing welcome.
Mr Shehu-Timta who was accompanied by the Deputy Governor of the state, Usman Kadafur, Ali Ndume, the senator for Borno South, members of the state House of Assembly and village heads, among others, was received in a colourful celebration showcased with a martial display of Gwoza culture at the emir's palace.
Addressing the people, Governor Babagana Umara said the return of the monarch signified the return of civic authority in the local institution.
Represented by Mr Kadafur, the governor said his administration accord high respect and commitment to the traditional institution, describing it as a "symbol and pride of every society''.
"I felicitate with the Emir and people of Gwoza over the official relocation and return of our Emir back to his palace after years in Maiduguri.
"This administration will not afford to toy with the people of Gwoza and the traditional institution.
"I therefore call on you to support the Emir and security agencies to end insurgency in order to move the emirate forward.
"The government is not unaware of the numerous challenges related to the relocation of the Emir. We are going to accelerate the reconstruction and rehabilitation of Gwoza General Hospital, water sources and other public utility buildings, among others," he said.
According to him, the government will fast track construction of the mega schools to enable the students resume classes.
Speaking earlier, Mr Shehu-Timta said he voluntarily returned home to build confidence and encouraged his subjects to also return home and go back to their normal livelihood.
He recalled when the insurgents sacked the town in 2014, killings dozens of people, declaring the town as their spiritual caliphate.
He said: "Dozens of my people ran for their lives and became Internally Displaced Persons in Maiduguri, Adamawa, Abuja and Lagos, while some fled to Cameroon.
"Today's is my happiest day in life as I officially returned back to my domain after been displaced by insurgents.
"I therefore call all people of Gwoza to come back home, so that we will rebuild our communities."
The monarch also appealed to the Borno Government to construct more tents in the town for IDPs to return and rebuild their livelihood.
On Security, the monarch appealed to President Muhammadu Buhari and the security agencies to restore mobile network in the town, noting that without communication, life will be difficult for the people.
Also speaking, Mr Ndume appealed to security agencies to beef up security to protect farmers from Boko Haram attacks.
He also urged the military to intensify its operations on the Mandara Mountains to clear the remnants of the insurgents and to enable residents of the area to return.
NAN recalls that in August 2014, Boko Haram captured Gwoza town with a population of 275,000 people and declared it the headquarters of its caliphate.
It was later liberated by the Nigerian military.
Full report at:
https://www.premiumtimesng.com/regional/nnorth-east/341032-borno-emir-returns-home-5-years-after-displacement-by-boko-haram.html
-------
Somalia: Somali Army Retakes Fresh Areas From Al-Shabaab After Offensive
14 JULY 2019
Somali National Army has taken new areas from al-Shabaab in Lower Shabelle region on Sunday. The troops seized Yaaqbari Weyne, MadaxMarodi and Lego villages during operation.
Colonel, Mohamed Abdullahi Arale who was leading contingents from the 35th brigade of the 60th division confirmed the news to state media.
Col. Arale said his troops killed 15 fighters during the operation while destroying several vehicles used by the militants.
According to sources, the operation was backed by US force air support since no confirmation from AFRICOM.
The new grounds retaken by Somali troops were held by al-Shabaab fighters since 2015 when AMISOM contingents from Burundi retreated following an attack.
Somali National Army backed By AU peacekeeping troops in support from US drone strikes intensified operations against armed group al-Shabaab in recent months.
Full report at:
https://allafrica.com/stories/201907150387.html
-------
Kenyan police kill 3 al-Shabab suspects in coastal region
2019-07-16
LAMU, Kenya, July 15 (Xinhua) -- Kenyan security forces on Monday killed three suspected al-Shabab militants shortly after an improvised explosive device (IED) detonated, injuring two police officers in Kiunga, Lamu town, near Kenya-Somalia border.
David Lusava, Lamu East deputy commissioner confirmed the incident in the coastal town of Lamu, saying the IED believed to have been planted by the militants was targeting security units on patrol in the area.
"I have received information of the IED attack somewhere in Kiunga towards the Somalia border but I don't have the details. So I can't even say how many have been injured or killed and whether they are terrorists or security officers," Lusava said.
"The area is under the multi-agency security operation Linda Boni, they are better placed with the details," he added.
A police officer in Kiunga confirmed that three militants were killed during the incident.
"My unit was among the first responders to the scene shortly after the RBPU (Rapid Border Patrol Unit) had been ambushed. We counted three bodies belonging to al-Shabab militants. They were dressed in jungle green military regalia and had around their necks, flags similar to those used by the militia group," said the officer who declined to be named.
He said they suspect the militants might have been around 30 owing to the number of footprints located inside the bushes where they hid.
"We can't tell the exact number as they were obviously hiding so they can ambush these officers but we counted tens of different footprint patterns which suggested they were about 30 in number. Two officers were fatally wounded but have been flown out of Lamu for treatment," the police officer said.
Full report at:
http://www.xinhuanet.com/english/2019-07/16/c_138229418.htm
-------
UN envoy meets UAE minister to discuss fighting in Libya
17 July 2019
The UN envoy to Libya, Ghassan Salame, has met United Arab Emirates Foreign Minister Sheikh Abdullah bin Zayed Al Nahyan in Abu Dhabi to discuss ways to end the fighting in Libya, the UN Support Mission in Libya said in a tweet on Tuesday.
Salame explained the heavy human cost of the fighting in Libya, according to the tweet, which added that he "stressed the importance of adhering to a unified roadmap for reuniting the Libyans and helping them to agree & reconcile."
https://english.alarabiya.net/en/News/north-africa/2019/07/17/UN-envoy-meets-UAE-minister-to-discuss-fighting-in-Libya-.html
-------
One killed, several injured as Nigerian army attack Sheikh Zakzaky's supporters
Jul 17, 2019
At least one person has lost his life and several others sustained injuries when Nigerian army opened fire on protesters demanding the release of top Muslim cleric Sheikh Ibrahim Zakzaky, who has been held for four years on trumped-up allegations.
On Tuesday, dozens of supporters of the leader of Islamic Movement in Nigeria (IMN), who has been held since December 2015 following a deadly raid by the Nigerian army troops on his residence in the country's northern Kaduna State, took to the streets, calling for his immediate freedom.
Nigerian troopers fired shots at the demonstrators, killing at least one person. There are reports that two people had suffered life-threatening injuries after being shot in the chest.
The development came nearly a week after Nigerian police used live bullets and tear gas canisters to disperse Muslim demonstrators calling for the speedy release of Sheikh Zakzaky.
Sheikh Zakzaky, who is in his mid-sixties, lost his left eyesight when Nigerian government forces raided the northern town of Zaria more than three years ago. His wife also sustained serious wounds while more than 300 of his followers and three of his sons were killed in the violence.
The cleric has been kept in custody along his wife and a large number of his followers ever since.
Back in 2016, Nigeria's federal high court ordered his unconditional release from jail following a trial but the government has so far refused to set him free.
Full report at:
https://www.presstv.com/Detail/2019/07/17/601123/One-killed-several-injured-as-Nigerian-army-attack-Sheikh-Zakzakys-supporters
-------
South Asia
Dadullah alias Surkhabi, one of the most dangerous leaders of Taliban killed in Jawzjan
17 Jul 2019
The Afghan security forces killed one of the most dangerous leaders of Taliban group during an operation in Jawzjan province.
The 209th Shaheen Corps in a statement said the security forces killed Dadullah alias Surkhabai, one of the most dangerous leaders of Taliban during operation in Jawzjan.
The statement further added that the security forces killed Dadullah and his 3 companions i Shorabi Village of Qarqin district.
Teh 209th Shaheen Corps also added that the security forces also destroyed a Taliban compound and cleared several villages during the same operation.
https://www.khaama.com/dadullah-alias-surkhabi-one-of-the-most-dangerous-leaders-of-taliban-killed-in-jawzjan-03955/
-------
Special Forces seize up to 100 weapons of Taliban, 1000 rounds of ammunition in Logar
16 Jul 2019
The Afghan Special Forces seized up to 100 weapons and 1000 rounds of ammunition during an operation in central Logar province.
The Special Operations Corps in a statement said the Special Forces seized the weapons and ammunition in Kharwar district of Logar.
The statement further added that the Special Forces confiscated 83 Ak-47s and 7 pistols during the operation.
Full report at:
https://www.khaama.com/special-forces-seize-up-to-100-weapons-of-taliban-1000-rounds-of-ammunition-in-logar-03954/
--------
ICC delegation in Bangladesh to discuss Rohingya crisis
Md. Kamruzzaman
16.07.2019
A delegation of the International Criminal Court (ICC) arrived in Bangladesh's capital Dhaka on Tuesday on a weeklong visit to assess the Rohingya crisis and judicial process, local media reported.
The delegation is led by ICC's Deputy Prosecutor James Kirkpatrick Stewart.
"Apart from holding meetings with the senior officials of the law and home ministries and representatives of international organizations, the ICC delegation members would also visit Rohingya camps to see the situation", United News of Bangladesh quoted Bangladeshi officials as saying.
According to a statement by the office of ICC's spokesman, the visit is in the context of office's "ongoing activities pursuant to its mandate under the Rome Statute, concerning the situation in Bangladesh/Myanmar."
The statement added that the ICC prosecutor has already completed a thorough preliminary examination process over the allegation of crimes against humanity perpetrated by Myanmar army in Rakhine State against minority Rohingya Muslims.
"Following her thorough preliminary examination process, the ICC Prosecutor has recently requested the Court's Judges to authorize an investigation into alleged crimes against humanity committed against the Rohingya people from Myanmar. The outcome of this request is still pending and is before the Court's judges," it added.
About the weeklong visit of the delegation, the statement said: "The delegation will not engage in any evidence collection in relation to any alleged crimes. The purpose of this visit, in general terms, is to engage with relevant stakeholders and explain the judicial process and the status of the situation."
Persecuted people
The Rohingya, described by the UN as the world's most persecuted people, have faced heightened fears of attack since dozens were killed in communal violence in 2012.
According to Amnesty International, more than 750,000 Rohingya refugees, mostly women and children, have fled Myanmar and crossed into Bangladesh after Myanmar forces launched a crackdown on the minority Muslim community in August 2017, extending the number of persecuted people in Bangladesh above 1.2 million.
Since Aug. 25, 2017, nearly 24,000 Rohingya Muslims have been killed by Myanmar's state forces, according to a report by the Ontario International Development Agency (OIDA).
More than 34,000 Rohingya were also thrown into fires, while over 114,000 others were beaten, said the OIDA report, titled "Forced Migration of Rohingya: The Untold Experience."
Full report at:
https://www.aa.com.tr/en/asia-pacific/icc-delegation-in-bangladesh-to-discuss-rohingya-crisis/1533060
-------
Death toll in Taliban roadside bombing rises to 13 in Kandahar, over 30 more wounded
16 Jul 2019
The death toll as a result of a roadside bombing in southern Kandahar province has climbed to 13 people with 30 more wounded.
The 205th Atal Corps in a statement said an improvised explosive device planted by Taliban went off in Khakrez district.
The statement further added that the explosion killed 13 civilians including children and wounded more than 30 others.
Furthermore, the 205th Atal Corps said the civilians were travelling between Darzab and Mandigak areas when their vehicle struck the roadside bomb.
Full report at:
https://www.khaama.com/death-toll-in-taliban-roadside-bombing-rises-to-13-in-kandahar-over-30-more-wounded-03948/
-------
Afghan Special Forces large caches of weapons, IEDs in Ghazni province
16 Jul 2019
The Afghan Special Forces destroyed large caches of weapons and Improvised Explosive Devices during an operation in Ghazni.
The military sources said Tuesday that the Special Forces conducted the operation in Deh Yak district.
The sources further added that the Special destroyed 20 IEDs, 2 Mortars, 1 RPG Warhead, 10 lbs Homemade Explosives, 4 Grenades, 250 ALP Uniforms, 5 acres of Marijuana, a large IED cache and a large Weapons cache.
Full report at:
https://www.khaama.com/afghan-special-forces-large-caches-of-weapons-ieds-in-ghazni-province-03946/
-------
Airstrikes kill 7 Taliban militants, destroy car bomb in Helmand, Zabul, Wardak, Nangarhar
17 Jul 2019
The security forces conducted a series of airstrikes in four provinces in the past 24 killing at least 7 Taliban militants.
The informed military sources said Wednesday that airstrikes killed 5 Taliban militants and wounded another militant in Kajaki district of Helmand.
The sources further added that an airstrike killed another Taliban militant in Shah Joy district of Zabul.
Furthermore, the sources said an airstrike killed a Taliban fighter in Chak-e Wardak district of Wardak province.
Full report at:
https://www.khaama.com/airstrikes-kill-7-taliban-militants-destroy-car-bomb-in-helmand-zabul-wardak-nangarhar-03958/
-------
Afghan Special Forces arrest ISIS Khurasan militant in Kabul
17 Jul 2019
The security arrested a militant affiliated with the Islamic State of Iraq and Syria Khurqasan (ISIS-K) in Kabul.
The informed military officials confirmed that the Special Forces arrested the ISIS-K militant during a Special Operation in Kabul.
The officials did not disclose further information regarding the operation.
This comes as the Afghan Special Forces arrested 5 militants of the terror group during a similar operation in Kabul last week.
The security forces also arrested another suspected militant who was facilitating weapons supply to ISIS terrorists in Kabul.
The Ministry of Interior (MoI) in a statement said Sunday the Special Operations Unit of the Afghan National Police arrested the suspect during an operation earlier today.
The statement further added that the Special Force detained the suspect from the 16th district of Kabul city.
Furthermore, the Ministry of Interior said the detained individual has been identified as Juma Khan.
Full report at:
https://www.khaama.com/afghan-special-forces-arrest-isis-khurasan-militant-in-kabul-03957/
-------
URL: https://www.newageislam.com/islamic-world-news/close-heels-ncr-assam-muslim/d/119217
New Age Islam, Islam Online, Islamic Website, African Muslim News, Arab World News, South Asia News, Indian Muslim News, World Muslim News, Women in Islam, Islamic Feminism, Arab Women, Women In Arab, Islamophobia in America, Muslim Women in West, Islam Women and Feminism