New Age Islam News Bureau
9 Nov 2015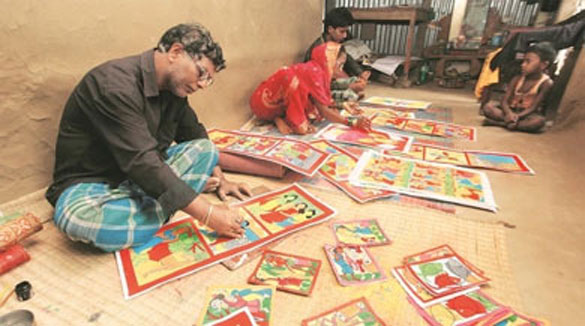 Yakub Chitrakar painting scroll along with his family members at his home at Noya in West Midnapore. (Source: Express photo by Subham Dutta
-------------
India
• Clerics of Dargah Aala Hazrat Take On Joblessness among Muslims
• Yakub's Ramayana: A Muslim Artisan and His Rendition of the Classic
• Muslim Group of Ghaziabad in Uttar Pradesh Makes Cow Protection Its Mission
• Owaisi in Bihar: Muslims Don't Buy His Religious Pitch
• Kerala local body polls: Parties floated by fringe Muslim outfits gain seats
---------
Arab World
• Nearly 60 ISIL Terrorists Killed in Deir Ezzur
• Tens of ISIL Militants Killed in Syrian Air Attacks East of Aleppo
• Syria Readying for Massive Freedom Operation in Lattakia
• Syrian Air Force Readying to Blitz ISIL in Palmyra
• Terrorists Come Under Massive Air Raid by Syrian Air Force in Hama
• Syrian Warplanes Pound ISIL Targets in Homs
• Syrian Forces Continue Haunting Militants in Southern Districts of Aleppo City
• Russian soldiers 'geotagged in Syria locations'
• Investigators '90pc sure' of bomb on crashed Russian plane
• Saudi Arabia executes three Iranian drug traffickers
• 'Billions of dollars' smuggled out of Iraq during Maliki's rule
• After lull, U.S.-led air campaign in Syria intensifies
---------
South Asia
• Islamic State Kidnaps, Kills 7 in Afghanistan
• Daesh-Taliban Clashes Restarted in Nangarhar's Chaparhar District
• NDS Detains Two Would-Be Suicide Bombers in Kunar
• Six sentenced to death for brutal Bangladesh child murders
• NATO Ponders Future of Afghan Mission
• Closure of Kundoz-Baghlan highway enters fifth day
• District governor survives bomb blast in Nangarhar
• Bangladesh: Boy Killers Sentenced To Death
---------
Southeast Asia
• No Need for 'Halal', 'Haram' Trolleys, Muslim Preacher Says
• Sabah Government to Continue Assisting SJK, Non-Muslim Religious Bodies
---------
Africa
• 9 Killed In Burundi Attack as Police Launch Crackdown
• Boko Haram Suicide Bombing Kills Two in Chad
• Clashes between Rival Political Parties Kill Seven in Nigeria
• EU turns to African leaders to stem refugee crisis
• Serbia says two embassy staff seized in Libya
---------
Pakistan
• Police Get Data of 300 'Ghost' Employees to Look into Possible Links with RAW
• Two Hazaras Shot Dead in Quetta, Two Bodies Recovered In Khuzdar
• JUI-F 'won't accept' closed door decision on Fata
• CJP's address a watershed in parliament-judiciary relations
• Pak-Afghan peace interdependent: Asfandyar
---------
North America
• Michigan City Elects for the First Time a Muslim Majority City Council
• US Paper Calls For Reigning In Pakistan's Nuclear Programme
• Political processes must 'accompany' UN peacekeeping
• US air force drone crashes in Kuwait
---------
Europe
• Muslim Cleric Claims Irish Muslim Children Are Being Taught 'Hatred Of Other Communities'
• UK 'Letting Down' Allies Over IS In Syria: Defence Chief
• Morocco king in rare visit to disputed Western Sahara
• Germany warns refugee capacity 'reaching limit'
• Scotland to take 300 Syrian refugees before year end
---------
Mideast
• Roadside bomb kills 16 Yemeni soldiers in Marib city
• Some local media act like 'secret police': Rouhani
• Yemen fighting kills more than 50
• Knife, car attacks in West Bank wound 5, attackers shot
• Zarif Blasts Certain Neighbours of Iran for Playing with Extremism
• Yemeni Forces Renew Missile Attacks on Saudi Military Bases
• Iran kicks off 15th International Electricity Exhibition
• Israel confirms dropping bombs on impoverished Gaza Strip
• Lebanon arrests three for 'spying for Israel'
Compiled by New Age Islam News Bureau
URL: https://www.newageislam.com/islamic-world-news/new-age-islam-news-bureau/clerics-of-dargah-aala-hazrat-take-on-joblessness-among-muslims/d/105221
---------
India
Clerics of Dargah Aala Hazrat Take On Joblessness Among Muslims
Priyangi Agarwal
Nov 8, 2015
BAREILLY: The clerics of Dargah Aala Hazrat have decided to launch a campaign on the last day of the annual Urs-e-Razvi to combat unemployment in the community. In invitation posters to the annual Urs next month, visitors have been told to give the total amount of zakat money (mandatory alms) to one unemployed and poor person for setting up a business, rather than distributing it among scores of poor people.
The posters of invitation have been sent to followers of the Barelvi School of Islamic theology across the world on behalf of Hazrat Subhan Raza Khan alias Subhani Miyan, chairperson of the shrine. The poster mentions that the rate of unemployment among youth, and not just in the community, has been rising. India is counted among poor and backward countries of the world because of the high unemployment, the poster explains.
" However, nothing could be a better service to the country than if our community could come together to combat unemployment. Every person attending Urs should promise that they will donate the Zakat to an unemployed and needy person, to assist him in setting up a business," Subhani Miyan told TOI.
A mandatory donation in Islam, equal to 2.5% of a follower's wealth, is collected from all those whose wealth and income exceed 52 tolas of silver a year. This is called zakat.
Maulana Mohammed Ehsan Raza Khan, the Sajjadanasheen (hereditary head) of the shrine said, "If an unemployed person becomes employed, he would be able to help other poor people. However, if the same amount is distributed among many poor people, it will not help in eradicating poverty."
Besides the invitation posters which have been printed in Urdu, pamphlets in English and Hindi are also being readied for distribution among visitors to the Urs, set to begin from December 6.
Full report at:
http://timesofindia.indiatimes.com/india/Clerics-take-on-joblessness-among-Muslims/articleshow/49714330.cms
---------
Yakub's Ramayana: A Muslim artisan and his rendition of the classic
By Premankur Biswas
November 8, 2015
Diwali marks Ram's return to Ayodhya, victorious from the battle with Ravan. Ahead of the festival this year, we look at the many versions of the epic, which has shaped our culture, arts and politics. It is a splendidly various tradition, from the rationalism of the Jain Ramayana to the humour of the Mapilla Ramayanam. It is both a political ideal and a deeply personal experience. It is the mega-story that contains a multitude of narratives of India.
Maybe it's a case of divine intervention, maybe it's just a happy coincidence. But the symbolism of his little hut in West Bengal's Noya village being surrounded by Lokkhon trees is not lost on Yakub Chitrakar. The thorny fruits of the tree, named after Ram's dutiful brother, have seeds which ooze an almost neon-red juice. The fruit and its name are of equal significance to Yakub, 59, who belongs to the artisan caste known as patuas (painters) or chitrakars (picture-makers). Their paintings include episodes from Bengali versions of the Hindu epics Ramayana and Mahabharata. "I don't know how the trees started growing here. I have seen them since I was a little kid. As has my father; we use the seed to make dye for the painting," says Yakub.
For centuries, Muslim patuas of this village, about 150 km from Kolkata, and a few others spread across several districts of West Bengal like Hooghly, Bankura Birbhum and Purulia, have retold India's favourite story through songs and scrolls. "When I am singing and pointing out how Ravan repents his deeds as Ram is about to kill him, I am not a Hindu or a Muslim. I am just the story," says Yakub.
The paintings are characterised by the use of bright colours and quirky narrative styles. Traditionally, each scroll is about 30 foot long, replete with intricate panels depicting scenes such as Sita's abduction or Ravan's death. The paintings are a part of performance and the chitrakar unfurls it to the accompaniment of the song.
Noya village, which is also inhabited by farmers and small-time traders, seems to be a picture out of an Indian tourism handbook. Ducks waddle in ponds, the facades of the mud huts are covered with intricate wall paintings and women and children sit under an imposing bel tree, drawing flat human figures on chart papers.
Sudha Chitrakar, 35, who has been painting scrolls since she was 12, stresses on the importance of practice. "When we are teaching our children how to make a scroll, we use chart paper. The paper used for the scrolls is handmade paper and absorbs colour more readily. It is then thickened with layers of cloth," she says. Though traditionally chitrakars are men, today, women chitrakars are not uncommon.
"Painting a scroll is a family affair. Everybody contributes, including the women and children. Previously, men would be the only ones who would sing, but today some women are doing so as well. It's good for the business," says Anwar Chitrakar, 34, who lives a few houses away from Yakub.
Full report at:
http://indianexpress.com/article/lifestyle/art-and-culture/yakubs-ramayana-a-muslim-artisan-and-his-rendition-of-the-classic/
---------
Arab World
Nearly 60 ISIL Terrorists Killed in Deir Ezzur
Nov 09, 2015
The Syrian army killed 58 ISIL Takfiri terrorists and wounded dozens more in the villages of Nasib Daghim, al-Zira'a and Hwejat al-Mara'iayeh in Deir Ezzur on Sunday.
An armored vehicle, three machinegun-equipped vehicles and a rocket launcher of the terrorists were also destroyed in the operations.
Earlier reports said Syrian warplanes destroyed terrorists' military positions and hardware in the provinces of Aleppo and Deir Ezzur on Sunday afternoon.
The Syrian warplanes hit the positions of the foreign-backed militants in the region of al-Mara'iya in the countryside of Aleppo on Sunday afternoon.
In Deir Ezzur, the Syrian jet fighters also pounded the militants' strongholds in the region of al-Jafra.
The Syrian air force is staging an increasing number of flights in different provinces, specially Aleppo, these days as the country's ground troops have launched a fresh wave of offensives on militant positions.
http://english.farsnews.com/newstext.aspx?nn=13940818000361
---------
Tens of ISIL Militants Killed in Syrian Air Attacks East of Aleppo
Nov 09, 2015
The ISIL positions near the villages of Tal Istabl, Tal Faouri, Sheikh Ahmad and al-Bab came under massive strikes of the Syrian warplanes.
Early reports said the militant group suffered heavy death toll in the air raid.
The Syrian bombardment also destroyed ISIL's military vehicles and equipment.
On Sunday, the Syrian Army alongside popular forces advanced in the key battlefield of Air Force Academy (South of Kuweires Airbase) and inflicted heavy death toll on the terrorists.
Military sources said that the Air Force Academy and its nearby regions were the scenes of heavy clashes between the Takfiri terrorists and the government forces, which left dozens of the militants dead or wounded.
The ISIL military grid also suffered significant damage in this morning battle.
http://english.farsnews.com/newstext.aspx?nn=13940818000220
---------
Syria Readying for Massive Freedom Operation in Lattakia
Nov 09, 2015
Informed sources in the Syrian army said the government troops and NDF are preparing to launch a massive offensive to retake the Takfir militants' stronghold of Salma in Lattakia.
On Sunday, the Syrian army and NDF backed by the Lebanese Hezbollah resistance forces managed to take control of a strategic hilltop in the province of Lattakia, after killing Tens of terrorists.
"The army and the resistance forces seized back Katf Hasoun hilltop in the Lattakia province," a Syrian popular combatant fighting against the al-Nusra Front terrorists told FNA on Sunday.
A large number of al-Nusra Front terrorists were killed and wounded in the army operations in Katf Hassoun region.
The strategic hilltop of Katf Hasoun not only paves the way for the army's operations in Sahl al-Qab, but also increases the control of the Syrian army over Jbal al-Farak region which was captured by the popular and Hezbollah forces several days ago.
Earlier on Sunday, the Syrian army's artillery units massively shelled gathering centers of the terrorist groups in at least eight different locations across the Northern and Northeastern parts of Lattakia province, leaving 36 militants dead.
The militants' positions in Al-Karoura Mountain, Arafeet, Ocober, al-Daghmashliya, al-Zwaik, Deir Hanna, Katef al-Ghader and Katef al-Ghanama were heavily targeted by the Syrian artillery, which resulted in the killing of 36 terrorists.
The militant military sites also sustained heavy damage in the army shelling.
On Saturday, the Syrian army and the Lebanese Hezbollah resistance forces were very close to seizing back Al-Daghmashliya, a strategic village in the province of Lattakia.
Also on Saturday, the Syrian army and the National Defense Forces, backed by Russian warplanes, destroyed the positions of the Takfiri militants in the Northeastern parts of Lattakia.
The Syrian forces took full control over the remaining hilltops in the Northeastern Lattakia.
Tens of terrorists were killed and dozens more were injured in heavy clashes in Lattakia.
The army and the NDF also destroyed the terrorists' arms depot in the region.
http://english.farsnews.com/newstext.aspx?nn=13940818000439
---------
Syrian Air Force Readying to Blitz ISIL in Palmyra
Nov 09, 2015
The Syrian fighter jets bombed the ISIL military sites near Palmyra, in which scores of the terrorists were killed and their military grid were seriously damaged.
In the meantime, the Syrian Air Force targeted the ISIL gathering centers in Arak and Khanifis in the Central Homs province, destroying terrorists' vehicles and killing a reportedly large number of them.
Also on Sunday, the Syrian air force pounded the terrorists' gathering centers and vehicles in the Eastern parts of the province of Homs.
The Syrian warplanes hit the positions of the foreign-backed militants near the village of Maheen in East of Homs.
Several vehicles and military hardware of the terrorists were also destroyed in the Syrian fighter jets' strikes in the vicinity of Maheen village.
http://english.farsnews.com/newstext.aspx?nn=13940818000390
---------
Terrorists Come Under Massive Air Raid by Syrian Air Force in Hama
Nov 09, 2015
The Syrian warplanes targeted terrorists' positions in Kafr Zita, Atshan and Tal A'as in the Northern countryside of Hama, and killed and wounded dozens of militants and destroyed their vehicles and weapons on Sunday.
Also on Sunday, at least 16 ISIL terrorists were killed in bloody clashes with the Syrian Army troops in the Northern battlefronts of the Hama province.
The Syrian army's massive operations across the Northern part of Hama province ended in the killing of at least 16 ISIL terrorist and wounding of many more.
The ISIL military vehicles and equipment also sustained serious damage in the pro-government forces' assaults.
The ISIL group later confirmed the killing of 16 of its members in Hama.
On Saturday, the Syrian army killed nearly 20 terrorists, including an emir of "Ahrar al-Sham Islamic Movement" terrorist group, in military operations in Hama province.
http://english.farsnews.com/newstext.aspx?nn=13940818000280
---------
Syrian Warplanes Pound ISIL Targets in Homs
Nov 09, 2015
On Sunday, the Syrian warplanes bombed ISIL positions in the vicinity of the Maheen and Hawarin villages in the Southeastern countryside of Homs.
Tens of Takfiri terrorists were killed and their concentration centers and vehicles were destroyed in the air raids.
Also on Sunday, military sources said 40 ISIL terrorists were killed in the Syrian Army's offensive against their defense lines in the war over Palmyra in the Eastern part of Homs province.
Heavy clashes erupted between the ISIL militants and the pro-government forces in the Eastern part of al-Hyal mountain towards al-Bayarat-Palmyra, in which the militant group suffered heavy death toll, including 40 killed and many more wounded members, the sources announced.
Full report at:
http://english.farsnews.com/newstext.aspx?nn=13940818000325
---------
Syrian Forces Continue Haunting Militants in Southern Districts of Aleppo City
Nov 09, 2015
Pro-government forces engaged in heavy clashes with the militant groups in al-Sheikh Saeed, al-Sukari, al-Ansari and al-Sakhour districts, and killed or wounded scores of them.
The Syrian army's intensified operations in the Southern part of Aleppo did
On Sunday, the Syrian forces advanced in the key battlefield of Air Force Academy (South of Kuweires Airbase) and inflicted heavy death toll on the terrorists.
Full report at:
http://english.farsnews.com/newstext.aspx?nn=13940818000272
---------
Russian soldiers 'geotagged in Syria locations'
9 November 2015
Three serving or former Russian soldiers have been geolocated by photographs in Syria, including locations near Hama, Aleppo and Homs, Russian bloggers said on Sunday, suggesting the Kremlin's operation stretches well beyond its air campaign.
Russia first launched air strikes to support President Bashar al-Assad in Syria's four-year civil war on Sept. 30 but has repeatedly said it has no intention of mounting a ground operation.
It has instead said it will limit its help to military trainers, advisers and deliveries of military equipment.
U.S. security officials and independent experts told Reuters last week that Moscow had increased its forces in Syria to 4,000 personnel from an estimated 2,000. A U.S. defense official said multiple rocket-launcher crews and long-range artillery batteries were deployed outside four bases the Russians were using.
Sunday's report by Conflict Intelligence Team (CIT), a group of Russian investigative bloggers, said that photos on social media had been used to geolocate three Russian serving or former soldiers in Syria.
"Although we still don't have indisputable evidence of Russian servicemen taking a direct part in the fighting on the ground in Syria, we believe the situation observed contradicts the claims of Russian officials that Russian troops are not taking part and are not planning to take part in ground operations," CIT said.
Russia's military jets are based in Latakia in western Syria, far from where the three men were geolocated.
Full report at:
https://english.alarabiya.net/en/News/middle-east/2015/11/09/Russian-soldiers-geolocated-in-Syria-locations-.html
---------
Investigators '90pc sure' of bomb on crashed Russian plane
November 09, 2015
CAIRO - Investigators of the Russian plane crash in Egypt are "90 percent sure" the noise heard in the final second of a cockpit recording was an explosion caused by a bomb, a member of the investigation team told Reuters on Sunday.
The Airbus A321 crashed 23 minutes after taking off from the Sharm al-Sheikh tourist resort eight days ago, killing all 224 passengers and crew. Islamic State militants fighting Egyptian security forces in Sinai said they brought it down.
"The indications and analysis so far of the sound on the black box indicate it was a bomb," said the Egyptian investigation team member, who asked not to be named due to sensitivities. "We are 90 percent sure it was a bomb." His comments reflect a higher degree of certainty about the cause of the crash than the investigation committee has so far declared in public.
Lead investigator Ayman al-Muqaddam announced on Saturday that the plane appeared to have broken up in mid-air while it was being flown on auto-pilot, and that a noise had been heard in the last second of the cockpit recording. But he said it was too soon to draw conclusions about why the plane crashed.
Confirmation that militants brought down the airliner could have a devastating impact on Egypt's lucrative tourist industry, which has suffered from years of political turmoil and was hit last week when Russia, Turkey and several European countries suspended flights to Sharm al-Sheikh and other destinations. It could also mark a new strategy by the hardline Islamic State group which holds large parts of Syria and Iraq.
Asked to explain the remaining 10 percent margin of doubt, the investigator declined to elaborate, but Muqaddam cited other possibilities on Saturday including a fuel explosion, metal fatigue in the plane or lithium batteries overheating.
He said debris was scattered over a 13-km (8-mile) area "which is consistent with an in-flight break-up".
"What happened in Sharm al-Sheikh last week, and to a lesser extent with the ... (Germanwings) aircraft, are game changers for our industry," Emirates Airlines President Tim Clark said, referring to the crash of a Germanwings airliner in the French Alps in March, believed crashed deliberately by its co-pilot.
"They have to be addressed at industry level because no doubt the countries - US, Europe - I would think will make some fairly stringent, draconian demands on the way aviation works with security," he said at the Dubai Airshow.
Clark said he had ordered a security review but was not suspending any flights as a result of the disaster. Emirates does not operate regular flights to Sharm al-Sheikh.
British Foreign Secretary Philip Hammond also said the incident could lead to changes in flight security.
Full report at:
http://nation.com.pk/international/09-Nov-2015/investigators-90pc-sure-of-bomb-on-crashed-russian-plane
---------
Saudi Arabia executes three Iranian drug traffickers
November 09, 2015
RIYADH - Saudi Arabia on Sunday executed three Iranians convicted of drug trafficking, the interior ministry said, bringing to 145 the number of death sentences carried out in the kingdom this year. The three convicts had attempted to "smuggle a large amount of hashish by sea" into Saudi Arabia, the ministry said in a statement published on the official SPA news agency. They were executed in the eastern port city of Dammam, it said. Saudi executions are usually carried out by beheading with a sword.
http://nation.com.pk/international/09-Nov-2015/saudi-arabia-executes-three-iranian-drug-traffickers
---------
'Billions of dollars' smuggled out of Iraq during Maliki's rule
9 November 2015
The Iraqi central bank has taken legal action against several banks and customers who went against official instructions regarding the sale of hard currency between from 2012 to 2014, during former Prime Minister Nouri al-Maliki's rule, the Anadolu news agency reported on Sunday.
The Central Bank said in a statement to Anadolu that along with the legal proceedings taking place, "heavy fines are being collected," noting that "the bank's audit teams are currently working on such actions in coordination with judicial authorities on financial irregularities."
The statement comes only two days after the release of official documents from the Finance Committee in the Iraqi parliament which exposed the smuggling of billions of dollars out of Iraq through a number of banks and financial companies between 2006 and 2014 when Maliki was in power.
One of the documents dated Oct. 8, 2014, showed that the local Iraqi al-Huda bank used foreged documents when it had purchased foreign currency from the central bank for the years 2012, 2013 and 2014, during which a total of $6.5 billion were transferred to banks and companies in Jordan.
Full report at:
https://english.alarabiya.net/en/News/middle-east/2015/11/09/Iraq-smuggled-billions-of-dollars-during-Maliki-s-rule.html
---------
After lull, U.S.-led air campaign in Syria intensifies
8 November 2015
The U.S.-led air campaign against ISIS militants in Syria, which ground to a near halt in late October, has intensified in recent days.
Coalition forces carried out 56 strikes against ISIS in Syria in the eight days from Oct. 30 to Nov. 6 after going the previous eight days with only three strikes, according to U.S. military figures. The strikes have focused on the towns of Mar'a, al Hawl, al Hasakah and Dayr az Zawr.
The United States and its allies carried out a dozen strikes in Syria on Saturday, the U.S. military said in a statement on Sunday.
The jump in air and rocket strikes in Syria coincided with Washington's shift in approach to the conflict after efforts to train Syrian rebels to fight ISIS collapsed. Russia also deployed warplanes to Syria, adding pressure on Washington to take more effective action.
The White House confirmed on Oct. 30 it would deploy dozens of special operations forces to Syria to advise and assist a coalition of rebels already on the ground. Defense Secretary Ash Carter also signaled his intent to intensify the air campaign.
U.S.-backed forces in Syria have renewed their drive to capture the eastern town of al Hawl and to push ISIS away from the Turkish border along the Mar'a line north of Aleppo.
The U.S. air campaign has been criticized by Republican lawmakers and others who say the intensity of the strikes is insufficient to reverse the advances of ISIS fighters, who overran large parts of Iraq and Syria last year.
The air campaign reached a peak in July, when warplanes carried out 887 air strikes - 518 in Iraq and 369 in Syria, U.S. military data analyzed by Reuters shows.
Since then, strikes in Iraq have remained in the range of 500 per month, while in Syria they dropped steadily each month, reaching a low of 117 in October, daily strike tallies show.
U.S. military officials downplay the significance of the strike data, saying they represent the ebb and flow of battle and are affected by things like bad weather, which may prompt changes in targeting on a particular day.
Full report at:
https://english.alarabiya.net/en/News/middle-east/2015/11/08/U-S-allies-conduct-31-strikes-against-ISIS.html
---------
Owaisi in Bihar: Muslims don't buy his religious pitch
Nov 9, 2015
His had been one of the most talked about forays in the Bihar elections but there is little beyond the pre-election headlines and allegations of benefitting BJP that Asaduddin Owaisi, Hyderabad MP and chief of the All India Majlis-E-Ittehadul Muslimeen will take away from Bihar.
BJP bit electoral dust and Owaisi's AIMIM sank without a trace in the six seats that it contested – a far cry from the 24 seats in the four Seemanchal districts of Purnea, Katihar, Kishanganj and Araria – it had originally been speculated to contest. Party chief Akhtarul Iman who contested from Kochadaman – a seat where even the BJP had on the record given AIMIM a fair chance – was the only one from the party who came in second place but the margin of 16,745 (till the time this is uploaded) is not going to be something that he or his party president would want to be talking about.
Full report at:
http://indianexpress.com/article/india/india-news-india/owaisi-in-bihar-muslims-dont-buy-his-religious-pitch/
---------
Kerala Local Body Polls: Parties Floated By Fringe Muslim Outfits Gain Seats
By Shaju Philip
November 8, 2015
Political parties of right wing Muslim outfits, Popular Front of India and Jamaat-e-Islami, have together bagged 93 seats in the local body elections in Kerala. Social Democratic Party of India (SDPI), of Popular Front of India, bagged 51 seats in various local bodies. Of them, 10 were in municipalities. In the last local body elections, its electoral debut, SDPI had won only two seats in Kerala.
Full report at:
http://indianexpress.com/article/india/india-news-india/kerala-right-wing-muslim-outfit-parties-win-local-body-elections/
---------
South Asia
Islamic State kidnaps, kills 7 in Afghanistan
November 09, 2015
KANDAHAR - Islamic State militants kidnapped and killed seven people, including three women, in the southern province of Zabul, a police official said on Sunday, amid heavy fighting in the region between the group and Taliban insurgents.
Groups associated with Islamic State have made growing inroads in Afghanistan in recent years, attracting fighters and support away from disenchanted members of the Taliban. They have been battling government forces and the Taliban in a challenge for supremacy of the Islamist insurgency, and its rise has caused alarm outside Afghanistan, with US commanders citing the movement as a reason to delay troop withdrawals. Ghulam Jilani Farahi, a deputy police chief in Zabul, said police found the victims, who were abducted on Oct 1 from Rasani village in the Gelan district of the neighbouring Ghazni province.
"Daesh fighters brutally killed these people and their dead bodies have been carried to Shah Joi district hospital," Farahi said by telephone, using the local name for the Islamic State. The victims were members of the Hazara ethnic group, Farahi said, adding that police were investigating. Photos seen by Reuters showed their throats were cut. The killings underscore the extent of violence directed at civilians as security in Afghanistan deteriorates. Heavy fighting between militants from the two groups was ongoing in three other districts in the province, with 60 Islamic State fighters and 15 Taliban killed, Farahi said.
Full report at:
http://nation.com.pk/international/09-Nov-2015/islamic-state-kidnaps-kills-7-in-afghanistan
---------
Daesh-Taliban clashes restarted in Nangarhar's Chaparhar District
Nov 09 2015
Clashes between two rival militant groups of Daesh and Taliban have restarted in Chaparhar District of eastern Nangarhar province, after a break of about one month.
Colonel Hazrat Hussain Mashriqiwal, spokesman for Nangarhar police says two militants of Daesh (IS-Khorasan) group were killed in a clash with rival group in Sholani area of Chaparhar District on Sunday.
Previous clashes had left dozens of fighters from both sides killed and severely harmed civilians.
Both the Taliban and the newly emerged group of Daesh under the name of Khorasan have announced Jihad against each other.
Daesh was operating in Iraq and Syria from several years but it emerged in Afghanistan about a year ago.
Full report at:
http://www.khaama.com/daesh-taliban-clashes-restarted-in-nangarhars-chaparhar-district-4097
---------
NDS detains two would-be suicide bombers in Kunar
Nov 09 2015
The National Directorate of Security (NDS) – Afghanistan's intelligence agency has detained two suicide bombers in eastern Kunar province of Afghanistan.
A press release issued by NDS on Monday states that Abdul Khaliq, 15, and Samiullah, 14, were sent to Afghanistan from across the border.
According to the statement, Abdul Khaliq is a student of grade 7 in Tirah and Samiullah is studying at grade six in Dandoi area of Khyber Pakhtunkhwa province of Pakistan and recruited by Taliban for suicide attacks.
Full report at:
http://www.khaama.com/nds-detains-two-would-be-suicide-bombers-in-kunar-4092
---------
Six sentenced to death for brutal Bangladesh child murders
Nov 9, 2015
DHAKA: A Bangladesh court on Sunday handed four men the death sentence over the brutal killing of a 13-year-old boy that provoked national outrage after video footage of the attack went viral, a lawyer said.
Another two men were ordered to hang for the separate torture and murder of another 13-year-old that occurred less than a month later, the prosecutor said.
In the first case, ten people were found guilty in the northeastern city of Sylhet of lynching Samiul Alam Rajon, a verdict that sparked cheers from hundreds of people gathered outside the courtroom.
"We're happy with the judgement. Samiul's parents are satisfied," Shahidul Islam, a lawyer representing his family, said after the Metropolitan Sessions Court's decision.
"I am sure the verdict will send a powerful message to all those child beaters and molesters," said Islam.
Samiul, accused of stealing a bicycle, was tied to a pole on July 8 and then subjected to a brutal assault in which he pleaded for his life. An autopsy found 64 separate injuries had been inflicted on the teenager.
A 28-minute video of the lynching, which was widely circulated after being posted on social media, prompted deep soul-searching among Bangladeshis as well as street protests to demand the perpetrators be hanged.
The lawyer said that the main accused, Kamrul Islam, was sentenced to death. Three of his friends were given the same sentence, one of them in absentia after going on the run.
Another six accused were given jail sentences ranging from life through to one year, he said.
Kamrul Islam also fled, to Saudi Arabia, a day after the attack, but he was later arrested and extradited after outraged members of the country's large Bangladeshi expatriate community tipped off police.
Full report at:
http://www.dawn.com/news/1218363/six-sentenced-to-death-for-brutal-bangladesh-child-murders
---------
NATO ponders future of Afghan mission
November 09, 2015
KABUL: NATO partners are considering ways of beefing up their training and assistance mission in Afghanistan as concern grows over the ability of local forces to fight an escalating insurgency by Taliban militants, according to officials in Brussels and Kabul.
The Taliban's success in seizing the northern city of Kunduz in late September and holding it for several days caused shock among Afghanistan's international partners, who have invested billions of dollars trying to create a security force capable of standing on its own.
"The situation is sobering, it is not as stable as we hoped it would be," said General Hans-Lothar Domroese, a veteran of Afghanistan who is Germany's second-most senior general in the NATO alliance.
Speaking at the margins of a NATO exercise in Spain, he said weak government control in many areas and corruption were making the job of reinforcing security more difficult, but added: "If we don't stay, they will drift into a maelstrom, and there is a significant danger that they get torn away."
Ministers from NATO countries are due to meet in early December to decide on the future of Resolute Support, the non-combat NATO-led mission launched in January to train, advise and assist the Afghan government and security forces.
Full report at:
http://nation.com.pk/international/09-Nov-2015/nato-ponders-future-of-afghan-mission
---------
Closure of Kundoz-Baghlan highway enters fifth day
By ZABIHULLAH MOOSAKHAIL
Nov 09 2015
The closure of Kundoz-Baghlan highway has entered fifth consecutive day, angry protesters are stepping up barricades on the road and do not allow traffic flow.
Eyewitnesses say, the highway which connects nine provinces with capital Kabul is closed from morning to evening and open only during nights.
Protesters warn the highway would remain closed as it is until government fulfills their demands.
Full report at:
http://www.khaama.com/closure-of-kundoz-baghlan-highway-enters-fifth-day-4099
---------
District governor survives bomb blast in Nangarhar
Nov 09 2015
A senior government official survived life attempt in eastern Nangarhar province on Monday.
Abdul Wahab, governor of Kama District, was driving towards his office when a bomb exploded on his vehicle in Banda area of Behsood District around 09:00 am this morning.
Wahab and his people survived but his vehicle partially damaged.
Governor of Behsood District confirming the blast said it left two children wounded who were later taken to hospital for treatment.
Meanwhile, a bomb exploded in Rokhan Mina area of Jalalabad city this morning but did not have casualties or damages.
Full report at:
http://www.khaama.com/district-governor-survives-bomb-blast-in-nangarhar-4098
---------
Bangladesh: Boy Killers Sentenced To Death
08 November 2015
Six men have been sentenced to death for torturing and killing two young boys in Bangladesh earlier this year.
Samiul Islam Rajon, 13, died in July of a brain haemorrhage after suffering multiple wounds to the head during an attack in Sylhet.
The second victim, 12-year-old Rakib Hawlader, died in August after his former employer at a car repair shop used a nozzle to pump air into his rectum after he quit his job.
A 28-minute video of Rajon screaming for help as he was being beaten was posted online and went viral.
He pleads with his attackers: "Don't beat me, please, I will die, I will die."
The men, who accused him of trying to steal a bicycle rickshaw van, can he heard laughing and jeering.
Full report at:
http://news.sky.com/story/1583778/bangladesh-boy-killers-sentenced-to-death
---------
Southeast Asia
No need for 'halal', 'haram' trolleys, Muslim preacher says
BY IDA LIM
November 9, 2015
KUALA LUMPUR, Nov 9 — Putrajaya's proposal to mandate separate supermarket trolleys for non-halal products is unnecessary as such items are already stocked in segregated sections, independent Muslim preacher Wan Ji Wan Hussin said.
He also pointed out that the non-halal food items in supermarkets are not in direct contact with the trolleys as they are packaged.
"The reason why the issue of segregation does not have to arise from this angle is because the segregation to buy alcohol and pork already exists. Muslims will not buy pork in supermarkets," he told Malay Mail Online when contacted yesterday.
"Because if one goes to the supermarket, the pork is not placed in the trolley, it is placed in packaging.
"If the (packaged) pork is put into the trolley and after that Muslims use (the trolley), the trolley doesn't have to be washed as the pork is in packaging," he added.
In a report by Utusan Malaysia dated November 6, Domestic Trade, Co-operatives and Consumerism Minister Datuk Hamzah Zainuddin said his ministry was considering imposing new laws to segregate trolleys at supermarkets nationwide and proposed using trolleys of different colours, such as red for non-halal products.
Hamzah has reportedly said that the proposal to legislate the segregation of supermarket trolleys was still at the discussion stage and required comprehensive study due to the expected high costs that supermarket operators will have to bear.
Citing multiple complaints received about shoppers insisting on paying for non-halal products at regular checkout counters, Hamzah also said all supermarket operators have a responsibility to provide segregated check-out counters.
Wan Ji agreed that the issue of dedicated trolleys for packaged halal and non-halal items was different from the matter of Muslims refraining from eating a meal made using utensils that had previously been in direct contact with non-halal food such as pork, or from eating out of kitchenware that had been used to serve non-halal food, even if they have been washed.
Wan Ji said although the Quran is clear that pork and alcohol are forbidden to Muslims, the issue of segregation of containers for "halal" (permissible) and "haram" (forbidden) things does not arise in the religion and there is only Islamic tradition on the cleansing of containers that had touched forbidden items.
Under the Shafi'i school of thought that is predominant in Malaysia, containers that had touched non-halal things such as pork have to be washed seven times with water, with soil to be used in any of these seven times, before it can be used again by a Muslim, Wan Ji explained.
Full report at:
http://www.themalaymailonline.com/malaysia/article/no-need-for-halal-haram-trolleys-muslim-preacher-says
---------
Sabah government to continue assisting SJK, non-muslim religious bodies
November 8, 2015
TAWAU, Nov 8 — The Sabah government has always been clear with its objective to continue assisting national-type schools (SJK) and non-Muslim religious bodies, says Sabah Youth and Sports Minister Datuk Tawfiq Abu Bakar Titingan.
In fact, he said the status recognition given to the nine private secondary schools in the state was not an issue as many students from these schools also received scholarships and educational aid from the state government.
"The government will also continue to provide assistance to SJK and non-Muslim religious bodies for the development of education and religions in the state, including by increasing the allocations every year," he said during the presentation of state government's aid at Dewan SJKC Yuk Chin, today.
Full report at:
http://www.themalaymailonline.com/malaysia/article/sabah-government-to-continue-assisting-sjk-non-muslim-religious-bodies
---------
Africa
9 killed in Burundi attack as police launch crackdown
November 09, 2015
NAIROBI - Gunmen executed nine people in Burundi's capital hours before police launched house-to-house searches for weapons on Sunday, amid international fears of fresh bloodletting in the central African nation.
Hundreds of police and soldiers ringed the opposition flashpoint Mutakura district of the capital Bujumbura early Sunday to start a widely feared crackdown on "enemies of the nation.
"
Residents said security forces were carrying out house-to-house searches.
"The police started the search operation for hidden weapons in Mutakura," city mayor Freddy Mbonimpa said, adding the raids were being "done professionally, because the police are using weapon detectors.
"
The mayor said seven people were killed in an "execution" attack on a bar on Saturday night, adding that a probe had been launched to track the "assassins.
" Two others later died of their wounds.
Witnesses said attackers stormed into the bar, forcing those drinking outside to enter and lie on the ground before opening fire.
International alarm has grown as a government amnesty ended to hand in weapons ended with fears that it will trigger further violence and drawing warnings from the head of the UN, Washington and the world's only permanent war crimes court.
Rwandan President Paul Kagame has accused Burundi's leaders of carrying out "massacres" on their people in his most critical speech yet of the crisis in the troubled neighbouring state.
"People die every day, corpses litter the streets.
How can the leaders allow their population to be massacred from morning to night?" Kagame said, speaking in Kinyarwanda on Friday, in a speech heard by AFP on Sunday.
Relations between Rwanda and Burundi are tense, with Bujumbura accusing Kigali of backing those who oppose President Pierre Nkurunziza's controversial third term in office.
Burundi has been hit by waves of violence since Nkurunziza launched his successful bid to win a third term, with bodies found dumped in the streets on a nearly daily basis.
People in largely opposition areas have fled Bujumbura, leaving key districts that have seen some of the worst recent violence almost empty.
But one resident of Mutakura district, who asked not to be named, said that while many had fled ahead of the security operation, "mostly men have stayed behind to protect their belongings.
"
The security warnings have sparked intense fear.
"I was terrified, I understood that this time they would kill every last one of us," said Marie, a secretary in her forties who fled Mutakura on Saturday, taking her five children to a relative's house in a calmer part of the capital.
But apart from the bar attack, the city was otherwise reported to be largely calm overnight, the mayor said.
Full report at:
http://nation.com.pk/international/09-Nov-2015/9-killed-in-burundi-attack-as-police-launch-crackdown
---------
Boko Haram suicide bombing kills two in Chad
8 November 2015
A twin suicide bombing by women attackers in the flashpoint area of Lake Chad on Sunday killed two people and wounded 14 others, a security source in the Chadian capital N'Djamena said.
"The two women suicide bombers and two civilians died in the blast," the source told AFP on condition of anonymity, adding that "14 others were injured" in the attack blamed on Nigeria's Boko Haram group on Ngouboua village near the Nigerian border.
The village has suffered repeated attacks by Boko Haram jihadists since they first launched operations in Chad in February.
Suicide bombings -- many by women and girls -- are fast becoming Boko Haram's preferred method of inflicting civilian casualties.
Full report at:
https://english.alarabiya.net/en/News/africa/2015/11/08/Boko-haram-suicide-bombing-kills-two-in-chad-.html
---------
Clashes between rival political parties kill seven in Nigeria
Nov 9, 2015
At least seven people have been killed in clashes between the supporters of rival political parties in Nigeria's eastern Taraba State after an election dispute.
Clashes broke out in the town of Wukari on Sunday after a court invalidated the election win of the state governor and declared another politician as the new leader.
"Seven people were killed and 15 injured in fighting between supporters of PDP (Peoples Democratic Party) and APC (All Progressives Congress) in Wukari following the election tribunal verdict overturning the governorship election in favor of the APC," Taraba state police spokesman Joseph Kwaji said.
Kwaji said that several homes and businesses were burnt in the violence that started on Saturday and continued through Sunday. However, residents in Wukari, some 220 kilometers (140 miles) from the state capital, Jalingo, put the death toll at 13 and the number of injured at 39.
Full report at:
http://www.presstv.ir/Detail/2015/11/09/436897/Nigeria-Taraba-Wukari-PDP-APC-Kwaji
---------
EU turns to African leaders to stem refugee crisis
08 November 2015
EU leaders will push their wary African counterparts to help tackle the migration crisis at a summit in Malta this week, offering them billions of euros in aid in exchange for cooperation.
Having recently pressed Turkey to stem the flow of Syrian refugees, Europe is turning its attention to the other main source of an unprecedented number of people fleeing across the Mediterranean.
The gathering of more than 50 leaders from both continents on Tuesday and Wednesday will see an overwhelmed Europe call on Africa to take back more people classed as economic migrants and not refugees from war.
In return, Europe will offer development funds in a fresh thrust by the wealthy EU to tackle the wars and poverty in Africa that are the root cause of nearly a quarter of the nearly 800,00 migrant arrivals in Europe this year.
"It's a new impetus we want to give," a European diplomat told AFP.
The summit was first called months ago when the Mediterranean route from a lawless Libya was still the main springboard for migrants travelling to the EU in battered fishing boats and flimsy dinghies.
Since then the journey from Turkey over the hazardous Aegean Sea to the Greek islands, and then up through the Western Balkans, has become the principal route, but the EU wants to keep a focus on Africa.
Eritreans make up the bulk of nearly 140,000 migrants who arrived in Italy from Africa by sea in 2015, along with 18,000 Nigerians and 8,000 Sudanese, according to International Organization for Migration figures.
"Despite the current focus on Syria, the Valletta summit is very important for European capitals, because it is aimed at tackling a long-term problem," the diplomat said.
- 'Trust fund' for Africa -
He acknowledged the concerns of senior African officials like Khadim Diop, Senegal's minister for African integration.
"We cannot tolerate double standards," Diop said, adding Europe admits people from the Middle East and central Asia as refugees while turning away Africans as economic migrants.
Invited to the meeting are leaders from more than 30 African countries, including Libya as well as Eritrea, Ethiopia, Somalia, South Sudan and Sudan, the sources of many people fleeing conflict and repression.
Also due to attend are the leaders of Chad, Cameroon, Niger, and Nigeria in the drought-stricken Lake Chad basin, where 2.5 million people have been displaced by abject poverty and the Boko Haram Islamist militant movement.
The 28 EU leaders will hold a second, separate summit on their own immediately after the EU-Africa meeting on Wednesday.
The African nations will be asked to approve an action plan aimed at tackling the root causes of mass migration, according to a draft obtained by AFP.
It calls for stepping up diplomatic efforts to ease or resolve conflicts, such as those in Libya and the regions of Sahel, Lake Chad and the Horn of Africa.
The plan also aims to boost economic and agricultural development.
The European Commission is also expected to announce a 1.8-billion-euro ($2.0-billion) emergency trust fund for Africa to underpin the plan, but member states have been slow to match that amount.
Full report at:
http://www.worldbulletin.net/africa/166122/eu-turns-to-african-leaders-to-stem-refugee-crisis
---------
Serbia says two embassy staff seized in Libya
8 November 2015
Two Serbian Embassy staff members were kidnapped on Sunday in Libya's coastal city of Sabratha, the Foreign Ministry said.
It named the pair as Sladjana Stankovic, a communications officer, and Jovica Stepic, a driver.
"The ministry is making utmost efforts to gather information and secure the safe return of our citizens," the statement said, adding the foreign ministers of Serbia and Libya had discussed the situation.
No reason was given for the seizure and Serbian diplomats in Libya were not immediately reachable for comment.
Full report at:
https://english.alarabiya.net/en/News/middle-east/2015/11/08/Serbia-says-two-embassy-staff-seized-in-Libya.html
---------
Pakistan
Police get data of 300 'ghost' employees to look into possible links with RAW
IMRAN AYUB
Nov 9, 2015
KARACHI: Police have acquired data of more than 300 'ghost' employees of local bodies department to investigate their links, if any, with the Indian intelligence agency Research and Analysis Wing (RAW), after the law-enforcers found over 200 RAW sleeper cells operating in different municipal organisations of the city, officials said.
The recent wave of arrests of suspected RAW agents in the 'targeted operation' convinced police authorities of the growing influence of RAW and its role in deteriorating law and order in the city which eventually led to the creation of an 'anti-RAW cell' at the counter-terrorism department (CTD).
"The national intelligence agencies are onboard with us and coordinating with the cell in intelligence gathering and tracking down suspects," said SSP Naveed Khawaja, who heads the cell.
"We have arrested eight suspects so far who are found to be linked with RAW. They all are employees of local bodies' institutions and associated with a 'political party'. These arrests actually led to the initiative for the cell," he said.
However, the officer did not sound so sure if their links with RAW and association with a 'political party' were interlinked and result of mutual understanding or not. It was the government's job to establish such links while the law enforcement agencies were doing their job to track down and identify such elements, he said.
"After arrests of the eight suspects, we decided to acquire data of all ghost employees. So far, we have managed to gather data of more than 200 ghost employees of Karachi Water and Sewerage Board and over 100 of the Karachi Metropolitan Corporation. We hope to get similar data from the Karachi Development Authority soon," said the SSP.
He said the CTD men were busy analysing the data and gathering other details which could lead to further action and arrests of other RAW agents. The police had already filed challans of five of the eight suspects in courts, he added.
Arrest of suspected RAW agents is not a new phenomenon. The law enforcement agencies and the governments had in the past been blaming the neighbouring country and its intelligence agency for disrupting peace in Karachi allegedly through political workers. In August, police had claimed to have arrested four suspects, including a government official, allegedly trained by RAW to carry out terror attacks in Pakistan to 'disturb China-Pakistan Economic Corridor'.
Full report at:
http://www.dawn.com/news/1218392/police-get-data-of-300-ghost-employees-to-look-into-possible-links-with-raw
---------
Two Hazaras shot dead in Quetta, two bodies recovered in Khuzdar
SYED ALI SHAH
Nov 9, 2015
QUETTA: Armed assailants on Saturday evening killed two members of the Hazara community in the provincial capital.
"Armed assailants opened fire at a vehicle on Spini road and killed two members of the Hazara community," said a police official.
The police official added that one person died at the spot of the attack while the other succumbed to his injuries while undergoing treatment.
"The two individuals belonged to the Hazara community and were residents of Hazara Town," stated the police official.
Read: Two 'militants' killed in Balochistan's Washuk district
The unknown assailants managed to flee the spot of the incident.
A contingent of police and Frontier Corps (FC) personnel reached the site of the incident and commenced initial investigation.
Full report at:
http://www.dawn.com/news/1218131/two-hazaras-shot-dead-in-quetta-two-bodies-recovered-in-khuzdar
---------
JUI-F 'won't accept' closed door decision on Fata
Fazl demands repatri
November 09, 2015
PESHAWAR - JUI-F chief Fazal Rehman has said his party will not accept any closed door decision on changing Fata's status, without sharing his party's exact stance on the proposed 22nd amendment in the constitution.
"Time has come to treat tribesmen like that of other countrymen. Give them due rights and make decision on Fata's future status as per their wishes," he said on Sunday.
"Let tribal people decide what they want. Tribesmen should be taken into confidence before imposing any decision regarding Fata's future status," he told Mufti Mehmood Conference organised by his party's Peshawar chapter.
Fazal Rehman said that government should first send back the displaced families to their homes in tribal areas and then take any decision about the future of Fata.
Stressing the need of a unanimous decision, he said if establishment has decided to change Fata's present status, there should be no differences within tribal people and various tribes on this issue.
He said his party will not accept any closed door decision, because "we are aware that some elements are once again trying to play with the sentiments of tribal people in the name of changing Fata's status". Changing present status of Fata is a serious step, so, it must be taken seriously, he added.
Prominent among others who addressed the conference were Raza Rabbani, Qaumi Watan Party's head Aftab Ahmad Khan Sherpao, Awami National Party's Ghulam Ahmad Bilour, Pir Sabir Shah of Pakistan Muslim League-Nawaz and Jamaat-e-Islami's Liaqat Balooch.
Probably referring to the steps being taken under National Action Plan against terrorism and extremism, Fazal Rehman said that madaris and mosques were under threat. Such 'nefarious' designs would be foiled if all religions forces get united against such conspiracies, he added, without specifying what designs he was actually talking about.
He said that Mufti Mehmood had played a vital role in 1973 Constitution and Nizam-e-Mustafa Movement. The JUI chief endorsed the idea of Senate Chairman Raza Rabbani to initiate the doctrine of intra-dialogues among the state institutions.
In his speech, Senate Chairman Mian Raza Rabbani called upon religious parties to play their due role in eliminating sectarian violence, religious extremism and militancy in the country.
He said that democracy and democratic institutions might be at danger if the state institutions could not recognise the constitutional power of each other. He said that they had taken the lead to invite Chief Justice of Pakistan to the Upper House of parliament to promote harmony among the state institutions respect their constitutional mandate. In past the dictatorial forces had created mistrust among the state organisations and political parties, Rabbani added.
Aftab Ahmad Khan Sherpao said that like late Mufti Mehmood the present leadership of JUI-F and other religious scholars should utilise their energies for a peaceful, stable and democratic Pakistan.
Full report at:
http://nation.com.pk/national/09-Nov-2015/jui-f-won-t-accept-closed-door-decision-on-fata
---------
CJP's address a watershed in parliament-judiciary relations
NASIR IQBAL
Nov 9, 2015
ISLAMABAD: While the Chief Justice of Pakistan's (CJP) unprecedented address to the upper house of parliament was widely welcomed by the legal fraternity, some quarters have expressed concerns over what this precedent could mean for the relationship between the legislature and the judiciary.
On the invitation of Senate Chairman Raza Rabbani, CJP Anwar Zaheer Jamali spoke to the Senate as part of 'an intra-institutional dialogue' on Nov 4, where he reminded legislators that the real test lies in the implementation of laws.
"While the performance of the parliament leaves much to be desired, there are also several question marks on the judicial system as well," said retired Justice Tariq Mehmood. The former president of the Supreme Court Bar Association wondered how the judiciary would react if parliament were to point finger at its shortcomings.
Also read: Chief justice reminds Senators of constitutional duties in first ever speech
In 2009, Mr Mehmood recalled, the Supreme Court had taken the position that the summoning of its registrar by the Public Accounts Committee (PAC) to settle certain audit objections was against the independence of the judiciary. A bench of the court had even issued a stay, restraining the registrar from attending the PAC meeting.
"Had this been a seminar or a conference where people from all walks of life are invited to share their experience on various topics, it would have been a different matter. But to address a house of parliament, which is in fact a political forum, is completely unusual and incomprehensible."
The Chief Justice of Pakistan, he said, had gone to the Senate knowing that the legislation or constitutional amendments adopted by parliament eventually landed before the superior judiciary for interpretation. It would be better if the judiciary maintained a distance from the affairs of parliament, which is only accountable to the people of Pakistan, civil society and the media, he concluded.
But Mr Mehmood's views are not shared by most other members of the legal fraternity, who consider the gesture a positive development that will go a long way in fostering badly-needed harmony between institutions.
"There has been a lot of discussion in bar rooms because the Chief Justice of Pakistan's address was something novel, but we eventually reached the conclusion that dialogue between democratic institutions is far healthier than backdoor negotiations that have taken place in the past," commented rights activist Asma Jahangir.
As long as such initiatives remain transparent and without agenda, there is no harm in having such exchanges between the judiciary and legislators, she said.
Ahmer Bilal Soofi, a leading expert on international law, argued that the address would set a good tradition and that it was helpful to understand the points of view of various constitutional institutions.
Full report at:
http://www.dawn.com/news/1218409/cjps-address-a-watershed-in-parliament-judiciary-relations
---------
Pak-Afghan peace interdependent: Asfandyar
November 09, 2015
PESHAWAR - Awami National Party (ANP) Chief Asfandyar Wali Khan on Sunday said that instability in Afghanistan is not in favour of Pakistan, so both countries should take steps for bringing stability.
Addressing a convention of National Youth Organization (NUO) at Bacha Khan Markaz, he said that instability in Afghanistan has a direct impact on Pakistan. Destabilised Afghanistan would also affect Pakistan, thus Pak-Afghan peace is interdependent.
Both the countries are faced with the menace of terrorism, therefore joint ventures to end militancy is needed of the hour, he added.
Asfandyar alarmed that if measures for establishing peace were not taken by both countries in collaboration; menace of militancy would engulf the whole region.
He said that Islamabad and Kabul should follow the policy of non-interference in internal matters and join hands for eliminating terrorism from the region, as terrorists are the enemies of both the countries.
After the death of Mullah Omar, bilateral ties between the two counties have hampered for short span of time and now there was need for developing it again, he urged.
Expressing his views on the future of FATA, he said that ANP does not believe in division among Pakhtuns.
Full report at:
http://nation.com.pk/national/09-Nov-2015/pak-afghan-peace-interdependent-asfandyar
---------
North America
Michigan City Elects For the First Time A Muslim Majority City Council
NOVEMBER 8, 2015
By Cathaleen Chen
The city of Hamtramck, an enclave of Detroit, made history this week when it became what is likely the first city in America to elect a Muslim-majority city council.
Historically Polish, the city of about 22,000 voted three Muslim Council candidates onto the six-member panel, one of whom was an incumbent Muslim council member not up for reelection this year. This means that the freshly formed council now has a two-thirds Muslim majority. The mayor, Karen Majewski, is Polish.
According to Bill Meyer, a Hamtramck community leader who isn't Muslim, the incumbent Muslim councilmen have accomplished a lot for the city.
"[They've] helped bring stability, security and sobriety while lessening the amount of drugs and crime in the city," he told the Detroit Free Press.
The election was also a landslide, he added. "The election was far from close, with the three Muslim winners each gaining over 1,000 votes, while the other three candidates garnered less than 700 votes each."
Many believe it's the first time an American city has elected a Muslim majority city council, though the city itself has been under a similar spotlight before. In 2004, Hamtramck garnered heavy attention when the city council allowed a mosque to broadcast its call to prayer from loudspeakers. Opponents claimed it was an intrusion of Islam into their lives.
At that point, only one city council member was Muslim.
But Hamtramck's Muslim population has been steadily growing, thanks to heightened immigration. Today it is estimated that half of Hamtramck is Muslim. According to University of Michigan-Dearborn professor Sally Howell, Hamtramck might have become the first city to have a Muslim majority in 2013.
"The growth is taking place in these Muslim communities, and they are transforming the city scape," Howell told Washington Post. "It's become much more visible in the last 15 years."
In the early 20th century, Polish immigrants flocked to Hamtramck because of a Dodge Brothers plant built in 1914. By the 1970s, Polish-Catholics made up 90 percent of the city. But Asian and Arab immigrants began to settle there as the Poles moved to the suburbs. Most of them come from Bangladesh and Yemen.
The latest US Census surveys found that Hamtramck is now 24 percent Arab, mostly Yemeni, 19 percent African American, 15 percent Bangladeshi, 12 percent Polish, and 6 percent Yugoslavian. Out of the four new Muslim council members, three are Bangladeshi and one is Yemeni.
Full report at:
http://www.csmonitor.com/USA/USA-Update/2015/1108/Michigan-city-elects-for-the-first-time-a-Muslim-majority-city-council
---------
US paper calls for reigning in Pakistan's nuclear programme
November 09, 2015
NEW YORK - Blaming Indian Prime Minister Narendra Modi for contributing to the current tensions between India and Pakistan, a leading US newspaper on Sunday called for "greater" international attention to the intensifying nuclear arms race in South Asia.
In an editorial, The New York Times repeated its claim that Pakistan's nuclear arsenal was growing "faster than any other country's",stating, "Persuading Pakistan to rein in its nuclear weapons programme should be an international priority."
Pakistan Army's stand that it needs still more nuclear weapons to counter India's conventional arsenal, the editorial, 'The Pakistan Nuclear Nightmare' said, "The competition with India, which is ,adding, to its own nuclear arsenal, is a losing game, and countries like China, a Pakistan ally, should be pushing Pakistan to accept that."
Army Chief General Raheel Sharif is due to visit Washington this month for security talks with US officials.
The Times said that Prime Minister Narendra Modi had "done nothing to engage Islamabad on security issues, and he also bears responsibility for current tensions."
But the editorial was mainly directed at Pakistan, stating, "With as many as 120 warheads, Pakistan could in a decade become the world's third-ranked nuclear power, behind the United States and Russia, but ahead of China, France and Britain. Its arsenal is growing faster than any other country's, and it has become even more lethal in recent years with the addition of small tactical nuclear weapons that can hit India and longer-range nuclear missiles that can reach farther.
"These are unsettling truths," the editorial claimed, "The fact that Pakistan is also home to a slew of extremist groups, some of which are backed by a paranoid security establishment obsessed with India, only adds to the dangers it presents for South Asia and, indeed, the entire world.
Persuading Pakistan to rein in its nuclear weapons program should be an international priority, the Times said.
"The major world powers spent two years negotiating an agreement to restrain the nuclear ambitions of Iran, which doesn't have a single nuclear weapon. Yet there has been no comparable investment of effort in Pakistan, which, alongwith India, has so far refused to consider any limits at all."
"The Obama administration has begun to address this complicated issue with greater urgency and imagination, even though the odds of success seem small.
The recent meeting at the White House on Oct 22 between President Obama and Prime Minister Nawaz Sharif appears to have gone nowhere. Yet it would be wrong not to keep trying, especially at a time of heightened tensions between Pakistan and India over Kashmir and terrorism.
"What's new about the administration's approach is that instead of treating the situation as essentially hopeless, it is now casting about for the elements of a possible deal in which each side would get something it wants. For the West, that means restraint by Pakistan and greater compliance with international rules for halting the spread of nuclear technology. For Pakistan, that means some acceptance in the family of nuclear powers and access to technology.
"At the moment, Pakistan is a pariah in the nuclear sphere to all but China; it has been punished internationally ever since it followed India's example and tested a weapon in 1998. Pakistan has done itself no favours by refusing to join the Nuclear Nonproliferation Treaty and by giving nuclear know-how to bad actors like North Korea. Yet, it is seeking treatment equal to that given to India by the West.
"For decades, India was also penalised for developing nuclear weapons. But attitudes shifted in 2008 when the United States, seeking better relations with one of the world's fastest-growing economies as a counterweight to China, gave India a pass and signed a generous nuclear cooperation deal that allowed New Delhi to buy American nuclear energy technology."
Full report at:
http://nation.com.pk/international/09-Nov-2015/us-paper-calls-for-reigning-in-pakistan-s-nuclear-programme
---------
Political processes must 'accompany' UN peacekeeping
November 09, 2015
UNITED NATIONS - Pakistan has underscored the need for UN-sponsored political processes in the world's conflict regions to promote peace, saying the world body's peacekeeping operations cannot be a "standalone" activity.
"UN peacekeeping works best when there is peace to keep; their success hinges on political processes," Ambassador Maleeha Lodhi, permanent representative of Pakistan to the UN, told General Assembly's Fourth (Special Political and Decolonisation) Committee on Friday.
"Increasing the (UN) Secretariat's capabilities in the field of prevention and mediation will enhance its conflict prevention role," she said while speaking in the course of the committee's comprehensive review of UN peacekeeping operations, in which Pakistan is a leading participant.
In her remarks, the Pakistani envoy said troop- and police-contributing countries must be fully and formally consulted on decisions about formulating and changing mandates. Peacekeeping principles must be given primacy, since the edifice of peacekeeping had been built upon them. They did not impede civilian-protection mandates, she pointed out, while urging caution in mandating enforcement tasks.
Such mandates must be crafted judiciously so as to retain the distinction between peacekeeping and peace enforcement, the Pakistani envoy said, emphasising that conflating peacekeeping with peace operations would be a "recipe for confusion".
Ambassador Lodhi stressed that resource adequacy was critical to the fulfilment of mandates. Moreover, the Secretariat must flag resource gaps, and the Security Council must move quickly to fill them.
Full report at:
http://nation.com.pk/international/09-Nov-2015/political-processes-must-accompany-un-peacekeeping
---------
US air force drone crashes in Kuwait
Nov 8, 2015
A US military drone has crashed in a countryside in Kuwait, says the Persian Gulf country's defense ministry.
The unmanned plane came down late on Sunday in the Bir Mutla region close to the Ali al-Salem air base, which is currently being used by the US air force.
So far, no casualties have been reported in the incident.
Full report at:
http://www.presstv.ir/Detail/2015/11/08/436856/kuwait-us-drone-persian-gulf--
---------
Europe
Muslim cleric claims Irish Muslim children are being taught 'hatred of other communities'
Dr Muhammad Umar Al-Qadri
Nov 9, 2015
A PROMINIENT IRISH Muslim cleric has claimed that Muslim children are being taught "hatred of other communities" at unregulated weekend classes in Ireland.
Shaykh Dr Muhammad Umar Al-Qadri, founder of the Irish Muslim Peace and Integration Council (IMPIC), has said that the Irish government needs to help the Muslim community set a standard syllabus for these Islamic classes.
Speaking this afternoon on RTÉ's News at One, Shaykh Umar said that if Muslim children are not taught their religion correctly, they could become radicalised:
My concern is that children may be taught incorrect teachings of Islam and children may develop a distorted version of Islam. These teachers are often unqualified in Islamic studies, they have no training and there is no body to regulate them or transparency in the syllabus.
"If these children are taught incorrect teaching of Islam, it may leave the children very vulnerable to radicalisation," he added.
Shaykh Umar said that he believes this problem is "widespread" and claims that he has been approached by parents of children who are concerned that their children are being taught beliefs that are "incompatible with real Islamic teaching".
"Islam believes, for example, in pluralism and mutual respect and tolerance and I have been told that certain children are being though hatred of other communities," he claimed.
Shaykh Umar has previously been vocal about the need to denounce extremism in Ireland. He has claimed before that up to 100 of the 50,000 Muslims in Ireland are silent supporters of Islamic State with radical ideologies.
As part of his latest claims, he says that the majority of mosques do not conduct proper checks when hiring teachers.
Full report at:
http://www.thejournal.ie/umar-al-qadri-teaching-2430709-Nov2015/
---------
UK 'letting down' allies over IS in Syria: Defence chief
November 09, 2015
LONDON - The head of Britain's armed forces on Sunday said the country was "letting down" allies by not participating in air strikes against Islamic State group militants in Syria.
Britain is part of a coalition hitting IS targets in Iraq, but its parliament has yet to be convinced of the need to join air strikes in neighbouring Syria and an influential committee of MPs recently advised against action.
"To an extent yes, we are letting our allies down by not being a full player," General Nicholas Houghton, the chief of the defence staff, told Sky News on Sunday.
"The source of their power, their command and control, their logistics, their organisation, the place from which they issue orders to international terrorists is from within Syria.
"In the most simplistic way it's like being asked to win a football match but not being able to go into the opponents' half," he added.
Foreign Secretary Philip Hammond later denied that the government had given up on a parliamentary vote.
"We are in exactly the same place that we've been for months," he told the BBC.
"When we think its right to do so, when we think we have a consensus, we will go to the House of Commons.
"
Hammond said the government was still in an "exploratory" phase with the opposition Labour party, which recently elected leftist Jeremy Corbyn as its leader, and was yet to establish if it had the cross-party support required to win a vote to extend the air strikes.
He admitted that Britain's decision "wasn't going to tip the balance" in Syria and called for a political solution to bring about a ceasefire in the four-year civil war.
The government has argued that it is illogical to conduct air strikes in Iraq and not neighbouring Syria, saying the two countries are "a single theatre of conflict".
But the Commons Foreign Affairs Committee - a cross-party MPs' body which scrutinises Britain's foreign policy - said in a new report that Prime Minister David Cameron's focus on joining air strikes was "incoherent" and "a distraction".
However, the crash of a Russian passenger jet in Egypt, which Britain believes was probably the result of a bomb, has once again thrust the issue centre stage.
Britain has suspended scheduled flights out of Sharm el-Sheikh as a result, and has sent over aircraft to fly home Britons remaining in the resort.
Full report at:
http://nation.com.pk/international/09-Nov-2015/uk-letting-down-allies-over-is-in-syria-defence-chief
---------
Morocco king in rare visit to disputed Western Sahara
8 November 2015
Morocco's King Mohammed VI has vowed that revenues from the mineral-rich Western Sahara will continue to be invested locally, on a rare visit to the disputed territory.
He was speaking late Friday in the territory's main city Laayoune, to mark 40 years since hundreds of thousands of Moroccan civilians marched across the border with the then Spanish colony to lay claim to it.
The Green March triggered war with the Algerian-backed Polisario Front which had been campaigning for independence for the territory since 1973 and continues to do so to this day.
King Mohammed, who arrived to much fanfare in the city for only his third visit since he succeeded to the throne in 1999, described the Green March as "a watershed moment in the process of completing the kingdom's territorial integrity."
He listed several projects that are due to be implemented to improve infrastructure in the territory, including a desalination plant and industrial zones.
He promised that "revenues from natural resources will continue to be invested in the region, for the benefit of the local populations and in consultation and coordination with them."
On Saturday night, during a televised ceremony in Laayoune, the king announced a 7.2-billion-euro development plan for the region.
But King Mohammed also renewed his insistence that there could be no compromise on Morocco's claim to sovereignty over the Western Sahara.
A U.N.-brokered ceasefire between Morocco and the Polisario has held since 1991, but U.N. efforts to organize a referendum on the territory's future have been resisted by Rabat.
Morocco has offered some autonomy but flatly refuses to make any more concessions.
"Those who are waiting for any other concession on Morocco's part are deceiving themselves. Indeed, Morocco has given all there was to give," the king said in Laayoune.
The Polisario controls a small part of the desert interior of the Western Sahara but its main base is in Tindouf across the border in Algeria, where tens of thousands of Sahrawi refugees also live in desert camps.
Full report at:
https://english.alarabiya.net/en/News/africa/2015/11/08/Morocco-king-in-rare-visit-to-disputed-Western-Sahara.html
---------
Germany warns refugee capacity 'reaching limit'
9 November 2015
Germany needs to send a message to the world that it's reaching the limit of its capacity to help Europe's flood of migrants, German Finance Minister Wolfgang Schaeuble said on Sunday, as he advocated restricting family reunions for Syrian refugees.
Germany has become a magnet for people fleeing war and violence in the Middle East. It expects 800,000 to a million refugees and migrants to arrive this year, twice as many as in any prior year.
"We need to send a clear message to the world: we are very much prepared to help, we've shown that we are, but our possibilities are also limited," Schaeuble said in an interview with ARD television.
The pace and scale of the arrivals has put pressure on local communities and opened a rift among the ruling coalition parties over the best way to handle the crisis.
The divisions re-opened over the weekend, after Interior Minister Thomas de Maiziere said in future Syrian refugees would receive modified refugee status and be barred from having family members join them, a statement he later retracted.
The Social Democrats (SPD), who share power with Chancellor Angela Merkel's conservatives, rejected that proposal.
Schaueble, however, spoke out in favor of the measure and said it was a proposal that the government was examining in detail.
"I think it's a necessary decision and I'm very much in favor that we agree on this in the coalition," he said.
Full report at:
https://english.alarabiya.net/en/News/world/2015/11/09/Germany-s-capacity-to-take-in-refugees-limited-.html
---------
Scotland to take 300 Syrian refugees before year end
09 November 2015
Scotland will be receiving a third of the Syrian refugees which are due to arrive in the UK before Christmas. In a reflection of the country's readiness in comparison to other parts of the UK, Scotland is preparing to welcome one in three of the thousand refugees David Cameron has agreed to take, before the end of the year according to a report in The Guardian.
Making the announcement, the Scottish government's minister for Europe and international development, Humza Yousaf, said: "Scotland's response to the humanitarian crisis has been phenomenal and we have been working to ensure we provide a very warm welcome to those who come to Scotland seeking protection, safety and security."
Full report at:
http://www.worldbulletin.net/europe/166139/scotland-to-take-300-syrian-refugees-before-year-end
---------
Mideast
Roadside bomb kills 16 Yemeni soldiers in Marib city
Nov 9, 2015
SANAA: At least 16 Yemeni government soldiers have been killed by a roadside bomb in the province of Marib east of the capital Sanaa, military sources told Reuters late on Sunday.
The sources said the bomb, which also wounded six soldiers, appeared aimed at a patrol near an army camp in Marib. They said it was not clear who was behind the attack.
Also Read: 19 killed in Saudi-led coalition strikes, clashes in south Yemen
At least 5,600 people have been killed in seven months of war in Yemen, the poorest country on the Arabian Peninsula.
Full report at:
http://www.dawn.com/news/1218505/roadside-bomb-kills-16-yemeni-soldiers-in-marib-city
---------
Some local media act like 'secret police': Rouhani
November 09, 2015
TEHRAN - Iran's President Hassan Rouhani Sunday accused local media outlets opposed to his policies of behaving like "a secret police".
Iran's most conservative newspapers have strongly criticised the moderate president elected in 2013 whose foreign policy in July led to Tehran signing a landmark nuclear deal with world powers.
The accord seeks to curb Iran's atomic drive in return for lifting sanctions that have crippled its economy.
The media benefits from "a permanent security margin.
.
.
so that not only can they say whatever they want, but they also sometimes act like the secret police," Rouhani told representatives of around 600 media outlets at a press event in Tehran.
"You learn from some publications who will be arrested tomorrow, what is going to be closed down tomorrow, which individual's reputation should be damaged," he said, without giving any names.
The speech came several days after the arrest of three pro-reform journalists, one of whom had recently been critical of Iran's Ayatollah Ali Khamenei, according to news agencies.
State television said the elite Revolutionary Guards had arrested "several members of an infiltration network linked to hostile Western governments who were working in the country's media and social networks.
"
Rouhani told the press "some claim to be revolutionary" but "being revolutionary means not to lie.
.
.
it means not to accuse others.
Full report at:
http://nation.com.pk/international/09-Nov-2015/some-local-media-act-like-secret-police-rouhani
---------
Yemen fighting kills more than 50
November 09, 2015
ADEN - More than 50 people were killed in Yemen in the past two days in fighting pitting an Arab coalition against Houthi fighters backed by troops loyal to former president Ali Abdullah Saleh, medical sources and residents said on Sunday.
In Taiz, medical sources told Reuters 29 people including eight civilians were killed in clashes in Yemen's third largest city, where relief workers have said fighting has blocked food supplies and left thousands of people in extreme hunger.
About 30 people were killed in fighting in Damt district in Dhalea governorate in the south, residents said.
At least 5,600 people have been killed in seven months of war in Yemen, the poorest country on the Arabian Peninsula, and the United Nations says the humanitarian situation, exacerbated by the Arab coalition's blockade of Yemeni ports, grows worse every day.
The conflict pits the Iran-allied Houthis and army units loyal to Saleh against armed groups who support exiled President Abd-Rabbu Mansour Hadi alongside a Saudi-led Arab coalition.
The coalition is fighting to restore Hadi to power following the Houthis' seizure of control of much of Yemen in late 2014 and early 2015, and reverse what it sees as an expansion of influence by Iran, the regional rival of Riyadh.
Full report at:
http://nation.com.pk/international/09-Nov-2015/yemen-fighting-kills-more-than-50
---------
Knife, car attacks in West Bank wound 5, attackers shot
November 09, 2015
JERUSALEM - A car-ramming attack and a stabbing wounded five Israelis in the West Bank on Sunday while the two alleged assailants were shot, authorities said, the latest in a weeks-long wave of violence.
In the first incident, a Palestinian rammed a group of Israelis with a car at a junction, wounding four of them, and was then killed by security forces, police said.
The alleged attacker was said to have driven the car into an area south of Nablus where Israelis typically gather to hitch rides. A checkpoint is located nearby and Israeli border police opened fire.
Israeli public radio described two of the wounded as in a serious condition. Later, a Palestinian woman stabbed a security guard near a West Bank settlement and was shot by the victim, the Israeli police and army said.
The incident occurred at the entrance to the Beitar Illit settlement south of Jerusalem. The fate of the woman was not immediately clear. A wave of knife, gun and car attacks have hit Israel and the Palestinian territories since the start of October. The violence has left 73 Palestinians dead, around half of them alleged attackers.
Nine Israelis have also been killed as well as one Arab Israeli.
Violent protests have also erupted in annexed east Jerusalem, the occupied West Bank and the Gaza Strip.
Full report at:
http://nation.com.pk/international/09-Nov-2015/knife-car-attacks-in-west-bank-wound-5-attackers-shot
---------
Zarif Blasts Certain Neighbors of Iran for Playing with Extremism
Nov 09, 2015
"Today, our region is facing a highly serious and extreme danger, that is the danger of unchartered and unlimited extremism and sectarianism resulting from the wrong and short-sighted policies of a number of regional and international actors," Zarif said, addressing a gathering of Iranian envoys to foreign states and the country's governor-generals in Tehran on Monday.
He described extremism and sectarianism as a security risk for the entire world, and said, "Unfortunately, certain neighbors still look at extremism as a playing card and not a danger."
"As long as our neighbors don't fully accept this reality that extremism is no capital for anyone and cannot be used as a playing instrument, unfortunately, we will continue to witness that the Takfiri groups are and will be extensively supported by certain regional states or certain parts of their ruling system."
In relevant remarks in September, Iranian Foreign Ministry Spokeswoman Marziyeh Afkham said that the Riyadh government is the main supporter of extremism in the region.
"The continuation of armed intervention in Syria and Yemen and destruction of the infrastructures of the Arab and Muslim countries has resulted in the spread of pervasive extremism and instability in the region," Afkham said.
Full report at:
http://english.farsnews.com/newstext.aspx?nn=13940818000352
---------
Yemeni Forces Renew Missile Attacks on Saudi Military Bases
Nov 09, 2015
According to the Arabic-language al-Mayadeen television, the missiles destroyed Khabash military base in Najran on Sunday.
On Saturday, the Yemeni rockets also destroyed a Saudi boat in the coastal waters of the port of Al-Mukha in Ta'iz province.
Saudi Arabia's navy vessels retreated from Yemen's coastal waters after the Yemeni army and popular forces targeted and destroyed a Saudi warship in the waters near Bab al-Mandab Strait, the fourth Saudi warship sinking in Yemen's offshore waters in the last one month.
The Saudi warship was targeted with Yemeni missiles in the coastal waters in Ta'iz.
The sunken ship had repeatedly fired rockets on residential areas in Ta'iz province, inflicting casualties and destruction there.
It was the fourth time that a Saudi warship is completely destroyed during the Saudi-led war on Yemen.
Other Saudi battleships retreated fast following the attack.
On Friday, two smaller vessels of the Saudi navy were destroyed by the Yemeni missile attacks.
The coast of al-Mukha is located in Bab al-Mandab strait and the Saudi-led forces have been trying hard for several months now to win control over coastal regions near the waterway.
On October 25, the Yemeni forces fired rockets at a Saudi-led coalition warship and destroyed it near al-Mukha coast.
Full report at:
http://english.farsnews.com/newstext.aspx?nn=13940818000387
---------
Iran kicks off 15th International Electricity Exhibition
Nov 8, 2015
Iran has launched the 15th edition of its International Electricity Exhibition, which is attended by representatives of hundreds of Iranian and foreign companies active in the field of power generation.
According to Iranian media, the event was kicked off in the Iranian capital, Tehran, on Sunday by Minister of Energy Hamid Chitchian.
Addressing the inaugural ceremony of the exhibition, Chitchian said Iran's power industry has greatly progressed during recent years and at present its products are being used in 36 countries as parts of their power distribution networks, power plants and transmission lines.
He added that boosting cooperation between Iranian and foreign companies in order to promote the quality of domestic energy industry products, is the main goal of the exhibition.
Chitchian said Iran's energy industry is mostly reliant on domestic products and services, but contacts with other countries will prevent Iranian power industry from becoming stagnant.
The Iranian minister, however, noted that in order for Iranian power industry to be competitive at international level, it must engage in exchanges with international companies active in the field.
He also stated that existence of suitable laws supporting generation of renewable forms of energy in Iran has caused Iranian and foreign producers to be enthusiastic about getting involved in this field.
Full report at:
http://www.presstv.ir/Detail/2015/11/08/436822/iran-15th-International-Electricity-Exhibition-Minister-of-Energy-Hamid-Chitchian-Tehran-International-Fairgrounds
---------
Israel confirms dropping bombs on impoverished Gaza Strip
Nov 9, 2015
Israeli war planes have launched an attack against a site allegedly belonging to Palestinian resistance movement Hamas in the southern part of the besieged Gaza Strip.
The attack happened in the early hours of Monday with warplanes targeting the city of Khan Yunis in the coastal strip.
So far, no reports of casualties have been released by Israeli forces or Palestinian authorities.
A spokesman for the Israeli military told local media that the raid was in response to a missile attack that hit southern Israel a few hours earlier, which he blamed on Hamas.
According to Israeli media, the alleged rocket triggered warning sirens across southern Israel when it landed in the late hours of Sunday, adding that there were no reports of injuries or damage.
West Bank violence
Meanwhile, Israeli soldiers killed a Palestinian man, and critically wounded two others near the occupied West Bank city of Nablus with Tel Aviv claiming the man was involved in a reported car-ramming incident that wounded three Israelis.
An Israeli was lightly wounded by gunfire from a soldier who was trying to target the driver.
Another Israeli soldier who had been wounded in a reported car-ramming incident near the the West Bank city of al-Khalil (Hebron) days earlier has also died.
A Palestinian woman was also shot and wounded during another stabbing attack near the city of Bethlehem.
Clashes also continued between Israeli forces and Palestinians across the occupied West Bank in the cities of Tulkarm, al-Khalil, and Bethlehem. At least three Palestinians were injured by Israeli fire and dozens more by tear gas and rubber bullets.
'Dangerous consequences'
Nabil Abu Rudeineh, a spokesman for the Palestinian President Mahmoud Abbas, has slammed the United States for its stance on the recent wave of violence by Israeli forces in the occupied territories.
Full report at:
http://www.presstv.ir/Detail/2015/11/09/436866/Israel-warplanes-bomb-Gaza-Strip-violence-region-tension
---------
Lebanon arrests three for 'spying for Israel'
November 09, 2015
BEIRUT - Lebanese authorities said Sunday they had arrested two Lebanese nationals and a Syrian on allegations of spying for Israel.
"In the framework of pursuing operations to combat terrorism and espionage.
.
.
the directorate of General Security arrested a spy network working for the Israeli enemy in the south (of Lebanon)," the security service said in a statement.
The statement said the three arrested were a Syrian man, his Lebanese wife, and a Lebanese man.
The three were identified only by their initials.
There were no details on exactly when or where the three were detained.
The statement said the three had confessed to the charges against them, admitting they had gathered information on individuals and security and military targets.
The three also allegedly filmed "sensitive" roads and other areas in southern Lebanon "and sent the footage to their employers to be used in later attacks.
"
Lebanon and Israel remain technically in a state of war, with occasional skirmishes on the ceasefire line between the two.
Full report at:
http://nation.com.pk/international/09-Nov-2015/lebanon-arrests-three-for-spying-for-israel
---------
URL: https://www.newageislam.com/islamic-world-news/new-age-islam-news-bureau/clerics-of-dargah-aala-hazrat-take-on-joblessness-among-muslims/d/105221