New Age Islam News Bureau
26 March 2013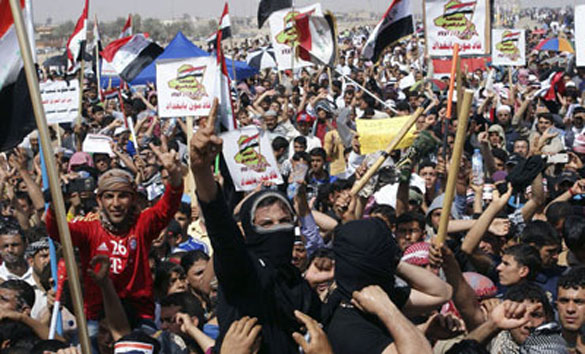 Pakistan
• Clerics Attack Ahmadi House, Torture Family in Punjab
• Vendor arrested under blasphemy law in Pakistan for burning the pages of Quran
• Girls' school teacher shot dead in Khyber: officials
• 'Pak on the cusp of granting MFN status to India'
• 'Pervez Musharraf unlikely to have much impact on Pak elections'
• Bilawal Bhutto leaves Pakistan after row with Asif Ali Zardari
• Baloch militants posing a challenge to democracy
• People will eliminate all 'symbols' of corruption: Punjab CM
• LHC defers hearing on petition seeking equal rights for lower judiciary
India
• Woman asked to Rejoin Husband to Fulfil Her "Marital Obligations" Under the Muslim Law
• Kolkata Muslim outfits plan pro- Jamaat-e-Islami Bandh
• Centre to review J& K rehab policy
• Hollande regrets killing of 2 Indians by French troops in Africa
• Help my mum, says Zaibunisa's daughter
• Recast Harkat-ul-Ansar stoking anti-India sentiments in Kashmir
• Army intercepts infiltration attempt, shoots intruder dead
• Separatists damaging economic avenues of common people: Omar Abdullah
• Urdu degree courses introduced in Manipur
• JK govt had informed home ministry on Liyaqat's return
Arab World
• Iraq's Sunni-Shiite Families Fear Renewed Sectarian Violence
• Oman grants asylum to Muammar Gaddafi family
• Rise in Egypt Sex Assaults Sets off Clash over Blame
• Arrest of Anti-Islamist Figures Is Ordered in Egypt
• Saudis fighting in Syria will be arrested on return
• Bomb kills two Iraq politicians in Tuz Khurmatu
• Cleric: Staying In Iraqi Government a 'Sin'
• Egypt extradites two Gaddafi-era officials to Libya
• Egyptian Gets Death Penalty for Killing in Raid on Christians
• Opposition takes Syria's seat at Arab summit
• Saudi Arabia warns citizens against Syria jihad
• BRICS asked to show solidarity with Syrian people
• 54% Saudis satisfied with existing innovations
North America
• US has no favourites in Pakistani political arena
• US Steps up War against Syria after Obama's "Peace" Trip To Israel
• U.S. Muslim, Arab-American Delegation Visiting Morocco to Discuss Political Reforms
• Obama to bring Arab states into peace push
South Asia
• The culture of flogging in the Maldives: a systematic abuse of human rights
• S C Judge asked me to file case against Nasheed, alleges sacked HR Minister
• Khaleda playing 'vicious role' to save war criminals: Ashraf
• Five killed in suicide attack at Afghan police base
• Death toll from Myanmar unrest hits 40
• China defends deal to build 1000 MW nuclear plant for Pakistan
• Australian troops to quit Afghanistan as base closes
• Myanmar government struggles to contain anti-Muslim hostility
• In Taliban heartland, villagers declare 'enough'
Mideast Asia
• Yemen clashes between Al Qaeda, militiamen kill nine
• Kurdish Politicians Ask Erdogan for Assurances in Talks with PKK
• Palestinian Land Owner Suffers Repeated Settler Attacks
• Yemeni Art Scene Flourishes in Basement
• Israeli suggests creating buffer zone in a post-Assad Syria
Europe
• Human rights groups: UAE trial 'flagrantly unfair'
• Marriage Becomes Problem for UK Muslims
• Muslim convert quits Catholic Church, says it's too weak against Islam
Africa
• Tunisian Jihadists Fighting in Syria
• Henry Okah: Nigerian oil militant jailed for 24 years
Southeast Asia
• Execution and Indonesia's justice system
• Kit Siang ready to embrace Islam - MCA
• Malaysia's social media election is already over
• Little Optimism for Breakthrough in Thailand's Forgotten Jihad
Compiled by New Age Islam News Bureau
Photo: Sunni Muslims shout slogans during an anti-government demonstration in Fallujah, 50 km (31 miles) west of Baghdad, March 15, 2013. (photo by REUTERS/Mohanned Faisal)
URL: https://newageislam.com/islamic-world-news/new-age-islam-news-bureau/clerics-attack-ahmadi-house,-torture-family-in-punjab/d/10906
---------------
Pakistan
Clerics Attack Ahmadi House, Torture Family in Punjab
By Rana Tanveer
March 26, 2013
KASUR: Local clerics attacked a house belonging to an Ahmadi family in the Kasur district of Punjab on Tuesday and subjected the family members to violence allegedly over their religious belief, The Express Tribune has learnt.
A mob led by a local cleric chanted slogans against Ahmadi families, their religious beliefs and their community before breaking into Mansoor's* house in the Shamsabad area.
The five members of Mansoor's family tried to take refuge in a room but the mob broke into the room as well.
Police personnel were reportedly present at the spot but did not take any action against the mob.
Mansoor was severely tortured after which he lost consciousness, while his wife and his 70-year-old uncle were also beaten.
Mansoor was shifted to a hospital where authorities claimed that he is in critical condition.
Sheikh Yousaf, Head of the Ahmadi community in Kasur, told The Express Tribune that he had repeatedly asked the DPO Kasur to establish a police check post in the area as they had been receiving threats since six months. He said that the DPO had agreed to his demands but the local MNA created hurdles in establishment of the check post.
He claimed that the police had deliberately left the Ahmadi family at the mercy of the mob, and the clerics who attacked that threatened the family to convert to their religion or face consequences.
The house was attacked when Mansoor refused to convert, Yousaf added.
*Name has been changed to protect identity
http://tribune.com.pk/story/526633/clerics-attack-ahmadi-house-torture-family-in-punjab/
----------
Vendor arrested under blasphemy law in Pakistan for burning the pages of Quran
PTI | Mar 26, 2013
LAHORE: Pakistani Police have arrested a vendor under the controversial blasphemy law for allegedly burning the pages of Quran in Lahore, officials said today.
Police had to rescue Ghulam Hussain, said to be in his thirties, from an angry mob that gathered outside his house in Shahdara area of Lahore yesterday.
"Before the angry mob broke into Hussain's home, police reached the area and controlled the situation," a senior police official said.
A case was registered against Hussain under the blasphemy law.
Superintendent of Police Imtiaz Sarwer said some children, who had gone to pick up a ball that fell inside Hussain's house, had claimed they had seen him burning pages of the Quran.
The children reported the matter to their mother, who alerted the police, Sarwer said.
He said Hussain seemed to mentally deranged. Some weeks ago, a mob torched and vandalized about 200 homes in a Christian neighbourhood in Badami Bagh area of Lahore after a Muslim man accused a Christian sanitation worker of blasphemy.
Local residents and police officials later said the Muslim man had made the accusation after a drunken quarrel with the Christian.
Rights groups say the blasphemy law is often used to persecute minorities like Christians and to settle personal scores.
http://timesofindia.indiatimes.com/world/pakistan/Vendor-arrested-under-blasphemy-law-in-Pakistan/articleshow/19214206.cms
-------------
Girls' school teacher shot dead in Khyber: officials
2013/03/26
PESHAWAR: A Pakistani girls' school teacher was killed in a drive-by shooting on Tuesday in the country's volatile tribal belt on the Afghan border, officials said.
There was no immediate claim of responsibility for the attack, but militants are particularly opposed to girls' education in the northwest, where they have bombed hundreds of schools in recent years.
Shahnaz Nazli, 41, was shot dead in Shahkas, near the town of Jamrud in Khyber tribal district, between the northwestern city of Peshawar and the Afghan border.
She was on her way to the government girls' primary school in Shahkas when gunmen fired at her about 200 metres from the school and fled, local government official Asmatullah Wazir told AFP.
"The teacher was killed after unknown gunmen on a motorbike shot her and fled," Wazir said.
Local education officer Mohammad Jadoon Khan confirmed the shooting and death of the teacher.
Violence has increased in northwest Pakistan ahead of elections, which are due on May 11 and which will mark the first time an elected civilian government completes a full term in office.
Last October, a Taliban gunman shot and wounded schoolgirl Malala Yousafzai for campaigning for girls' education in Pakistan's Swat Valley, in an attack that shocked the world.
The military has long been fighting Taliban and other insurgents in Khyber, which straddles a key Nato supply route into Afghanistan, where US-led combat troops are due to leave next year.
http://dawn.com/2013/03/26/girls-school-teacher-shot-dead-officials/
----------
'Pak on the cusp of granting MFN status to India'
March 26, 2013
Observing that Pakistanis are very much in favor of enhanced economic relationship with India, a top American diplomat stationed in Islamabad has said the country is on the cusp of granting the most favored nation status to its eastern neighbour.
"I think that there's been progress in the relationship between Pakistan and India, and as you know, we're on the cusp of Pakistan granting most favored nation status to India. My sense is that most Pakistanis are actually very much in favor of an enhanced economic relationship with India," the US Ambassador to Pakistan, Richard Olson, told a Washington audience on Monday.
Full report at:
http://www.hindustantimes.com/world-news/northamerica/Pak-on-the-cusp-of-granting-MFN-status-to-India/Article1-1032861.aspx
-----------
'Pervez Musharraf unlikely to have much impact on Pak elections'
Mar 26 2013,
Washington : The White House has said the return of Pervez Musharraf, the former dictator of Pakistan, is an "internal matter" of the country, even as a top US diplomat in Islamabad said the event is unlikely to have much impact on the results of the May 11 general polls.
"I don't see this as a terribly large or significant event. I could be surprised, but I don't see this as terribly consequential," the US Ambassador to Pakistan, Richard Olson, told a Washington audience yesterday while responding to questions on the return of the former Pak General, who ruled the country for a decade.
Full report at:
http://www.indianexpress.com/news/pervez-musharraf-unlikely-to-have-much-impact-on-pak-elections/1093527/
---------------
Bilawal Bhutto leaves Pakistan after row with Asif Ali Zardari
Mar 26 2013
Islamabad/Lahore : Bilawal Bhutto Zardari has left for Dubai after a tiff with his father, President Asif Ali Zardari, over the affairs of the PPP, leaving the party without its star campaigner for Pakistan's general election.
Bilawal, recently named patron-in-chief of the Pakistan People's Party, developed differences with Zardari and his sister, Faryal Talpur, over the party's handling of key issues, including militant violence, sectarian attacks against Shias and the award of party tickets for the polls scheduled for May 11.
Full report at:
http://www.indianexpress.com/news/bilawal-bhutto-zardari-leaves-pakistan-after-tiff-with-father-zardari-.../1093611/
-------------
Baloch militants posing a challenge to democracy
By Kiyya Qadir Baloch
March 26, 2013
Islamabad: Akhtar Mengal, the leader of the Balochistan National Party-Mengal (BNP-M) landed on Monday in Karachi amid pressure from Baloch militants and exiled nationalists, calling on him to boycott the 2013 elections.
The warning came as election campaigning kicked-off in Balochistan. Dr Allah Nazar Baloch, commander of Balochistan Liberation Front (BLF) warned all the politicians to boycott the elections arguing that "elections are to suppress the voice and demands of Baloch people and nothing else."
Full report at:
http://www.dailytimes.com.pk/default.asp?page=2013\03\26\story_26-3-2013_pg7_25
----------
People will eliminate all 'symbols' of corruption: Punjab CM
March 26, 2013
LAHORE: Punjab Chief Minister Muhammad Shahbaz Sharif has said that the PML-N government in the province has served the masses with complete sincerity, dedication and honesty, during the last five years.
"Pakistan Muslim League-N has presented a revolutionary manifesto for general elections. It would field candidates who are imbued with the spirit of national service and they will achieve success during the elections because of the splendid performance of the party. PML-N would establish new records of national service, after again coming into power, and transform Pakistan into a country as envisioned by Quaid-e-Azam and Allama Iqbal, under the dynamic leadership of Muhammad Nawaz Sharif," proclaimed the CM.
Full report at:
http://www.dailytimes.com.pk/default.asp?page=2013\03\26\story_26-3-2013_pg13_1
----------
LHC defers hearing on petition seeking equal rights for lower judiciary
March 26, 2013
LAHORE: Justice Syed Mansoor Ali Shah of Lahore High Court (LHC) has deferred the hearing of a petition, seeking exclusion of employees of lower judiciary from the rules and regulations of Civil Servants Act 1973, on a request by Punjab government's counsel.
The petitioner also sought for them a basic salary equal to the one being paid to employees of higher and superior judiciary.
The judge on March 7 had sought replies from the respondents and had also directed the advocate general, Punjab to appear and assist the court on the matter.
Full report at:
http://www.dailytimes.com.pk/default.asp?page=2013\03\26\story_26-3-2013_pg13_3
----------
India
Woman asked to Rejoin Husband to Fulfil Her "Marital Obligations" Under the Muslim Law
Mar 26 2013
New Delhi: A woman, who had deserted her husband, has been asked by a Delhi court to rejoin him at her matrimonial home on the ground that she has failed to fulfil her "marital obligations".
The court's direction came while granting a decree of restitution of conjugal rights under the Muslim Law in the favour of the husband.
The woman, who had earlier filed her reply in the court, stopped contesting the case and was proceeded ex-parte. "There is no reason to disbelieve the uncontroverted, un rebutted and unchallenged testimony of the plaintiff (husband).
He has been deserted by the defendant (wife) on her own without any lawful reason and she has failed to perform her marital obligations.
"Accordingly, the husband is entitled to a decree of restitution of conjugal rights in his favour and the wife is directed to re-join the company of the plaintiff at her matrimonial home," Administrative Civil Judge (ACJ) Shuchi Laler said.
Full report at:
http://www.indianexpress.com/news/court-asks-woman-to-rejoin-husband-at-matrimonial-home/1093620/
-----------
Kolkata Muslim outfits plan pro- Jamaat-e-Islami Bandh
Mar 26 2013
Kolkata: OVER a dozen Muslim outfits along with Human Rights Association are planning to hold a demonstration in Kolkata on March 30 demanding the stepping down of Bangladesh Prime Minister Sheikh Haseena amid the war crime tribunal's verdicts against Jamaat-e-Islami's leaders in connection with the atrocities committed by them during 1971's Liberation War.
Some of the Muslim outfits in Bengal are demanding setting Bangladeshi Islamic orator and politician Delwar Hossain Sayeedi free after the tribunal awarded him death penalty.
Prominent Muslim leaders such as Syed Md Nurur Rahman Barkati, Shahi Imam of Tipu Sultan Masjid and Maulana Syed Athar Abbas Rizvi, imam, Cossipore Masjid are expected to participate in the demonstration.
Full report at:
http://www.indianexpress.com/news/kolkata-muslim-outfits-plan-projamaat-bandh-want.../1093570/
---------------
Centre to review J& K rehab policy
By Kartikeya Sharma
Mar 26, 2013
THE controversy over the arrest of suspected Hizbul Mujahideen operative Liyaqat Ali Shah has prompted the home ministry to hand over the case to the National Investigation Agency ( NIA).
Alarmed by the differences of opinion between the Centre and the state government, the Prime Minister's Office ( PMO) has decided to relook into the Jammu and Kashmir rehabilitation policy for surrendered militants.
Full report at: Mail Today
---------------
Hollande regrets killing of 2 Indians by French troops in Africa
March 26, 2013
Two Indians were killed and six others seriously injured on Monday by French troops in the Central African Republic, as the strife-torn country was overrun by a rebel group.
Prime Minister Manmohan Singh on Monday received a letter in Durban from France's President Francois Hollande expressing regret for the tragic incident.
Two Indian nationals were killed and six others seriously injured by French troops at Bangui Airport in the Central African Republic on Monday morning, the letter said.
French troops, were guarding the airport, when the incident took place.
Bangui, Central African Republic, has been a overrun by a rebel group in the ongoing civil war in the country.
Full report at:
http://www.hindustantimes.com/world-news/africa/Hollande-regrets-killing-of-2-Indians-by-French-troops-in-Africa/Article1-1032858.aspx
---------------
Help my mum, says Zaibunisa's daughter
Bharati Dubey, TNN | Mar 26, 2013
MUMBAI: The daughter of Zaibunisa Anwar Kazi (75), whose sentence of five years' rigorous imprisonment in the 1993 serial blasts was upheld by the Supreme Court, has approached director Mahesh Bhatt to speak for her just like he and others in the film industry have spoken up for Sanjay Dutt.
Zaibunnisa was convicted for keeping in her house weapons that were from the same cache of arms delivered to Dutt. Seeking leniency, her daughter, a city-based designer, said, "I saw Mahesh Bhatt on TV fighting for Sanjay Dutt. So I went to ask him to help my mother. She is innocent and I cannot imagine my life without her."
Full report at:
http://timesofindia.indiatimes.com/india/Help-my-mum-says-Zaibunisas-daughter/articleshow/19207030.cms
---------------
Recast Harkat-ul-Ansar stoking anti-India sentiments in Kashmir
Deeptiman Tiwary, TNN | Mar 26, 2013
NEW DELHI: Even as Kashmir has seen four attacks on security forces within just over a month — the latest being the Sunday strike on policemen at Sopore — security agencies believe it's not just Lashkar-e-Toiba (LeT) and Hizb-ul-Mujahideen (HM) that they need to worry about. Inputs suggest that several defunct terror groups have been revived in the recent past to take advantage of the belligerent mood in the Valley after the hanging of Parliament attack case convict Afzal Guru in early February.
Full report at:
http://timesofindia.indiatimes.com/india/Recast-Harkat-ul-Ansar-stoking-anti-India-sentiments-in-Kashmir/articleshow/19206329.cms
---------------
Separatists damaging economic avenues of common people: Omar Abdullah
Mar 26 2013
Jammu : Attacking the separatist leaders for "marring the economic avenues" of common people in Jammu and Kashmir, Chief Minister Omar Abdullah said they do not want to deal with the government on political grounds and indulge in arson.
"Separatist leaders are marring the economic avenues of common people and are bent upon disturbing peace," Omar said in the state Assembly.
Responding to a statement in the Assembly that separatists should be tackled politically, Omar said he had always dealt with them politically and will continue to do so.
"But it is they who do not want to deal with the government on political grounds and resort to stone-pelting and violence," Omar said.
Full report at:
http://www.indianexpress.com/news/separatists-damaging-economic-avenues-of-common-people-omar-abdullah/1093541/
---------------
Urdu degree courses introduced in Manipur
26 March 2013
By Dr. Syed Ahmed
Imphal: Jamia Misbahul Uloom, an institution managed by Jamia Halima Aziz Educational Trust launched Urdu Study and Examination Centre at Khabeisoi Azamnagar in Imphal East District on 24 March 2013.
Speaking at the opening function, Director of the trust Sheikh Riyazuddin said that the institute has introduced graduation degree courses in Urdu language. Jamia Urdu, Aligarh, a minority educational institution recognised by the Central Government, had authorised the Jamia Halima Aziz Educational Trust to open the Study and Examination Centre for Urdu courses at Jamia Misbahul Uloom, he added.
Full report at:
http://twocircles.net/2013mar26/urdu_degree_courses_introduced_manipur.html
-----------
JK govt had informed home ministry on Liyaqat's return
Shishir Gupta
March 26, 2013
The arrest of suspected terrorist Liyaqat Shah has taken a new twist with fresh evidence pointing to the Jammu and Kashmir government informing the Union home ministry as early as January 2013 about his possible return to India under the UPA government approved militant rehabilitation policy.
While home minister Sushil Kumar Shinde decided that the entire controversy over Shah arrest be probed by National Investigation Agency (NIA), the process of formally handling over the inquiry will be completed on Tuesday as top ministry officials were still ascertaining the views of Delhi Police and JKP till late Monday evening.
Full report at:
http://www.hindustantimes.com/India-news/newdelhi/JK-govt-had-informed-home-ministry-on-Liyaqat-s-return/Article1-1032864.aspx
-------------
Arab World
Iraq's Sunni-Shiite Families Fear Renewed Sectarian Violence
By: Bushra Al Mudhafar
March 26, 2013
The signs of anticipation take shape upon her face as 26-year-old Alia feels her heart begin to race with anxiety. She stands in front of the television watching a speech by Iraqi Prime Minister Nouri al-Maliki from March 7 on the occasion of International Women's Day. She listens to him say "sectarian war is at the gates, and it won't spare anyone this time." Iraq is undergoing a state of instability, and danger is creeping toward the country, he added.
Alia lives with her husband in the Sunni-majority region of al-Amiriyyah, adjacent to al-Karakh in Baghdad. She had not finished listening to Maliki's speech when the memories of the sectarian violence she and her family had endured from 2006 to 2008 came flooding back. Alia says that "for many long months I was unable to see my sick, bed-ridden father or my brothers. They're Shiites, and live on Palestine Street on the al-Risafah side [the other half of Baghdad]."
She adds: "Even after the sectarian violence started to decrease, communicating with my family is still very nerve-wracking for me."
Full report at:
http://www.al-monitor.com/pulse/originals/2013/03/iraq-mixed-families-fear-violence.html#ixzz2OcYgbKdc
---------------
Oman grants asylum to Muammar Gaddafi family
March 25, 2013
Muscat: Oman has granted the late Libyan leader Muammar Gaddafi's widow and her family asylum on humanitarian grounds, an official at the foreign ministry was quoted as saying in Omani media.
The move comes in coordination with the Libyan government and the Algerian government following a pledge by the Gaddafi family that they will not use Oman as a base for political or media activity.
The family, consisting of Gaddafi's widow Safiyyah Farkash, daughter Aisha and sons Mohammad and Hannibal, as well as their children, has been living in Oman since October, 2012, and their expenses are being covered entirely by the Omani government, according to Omani newspapers.
Full report at:
http://gulfnews.com/news/gulf/oman/oman-grants-asylum-to-muammar-gaddafi-family-1.1162543
---------------
Rise in Egypt Sex Assaults Sets Off Clash Over Blame
By MAYY EL SHEIKH and DAVID D. KIRKPATRICK
2013/03/26
CAIRO — The sheer number of women sexually abused and gang raped in a single public square had become too big to ignore. Conservative Islamists in Egypt's new political elite were outraged — at the women.
"Sometimes," said Adel Abdel Maqsoud Afifi, a police general, lawmaker and ultraconservative Islamist, "a girl contributes 100 percent to her own raping when she puts herself in these conditions."
The increase in sexual assaults over the last two years has set off a new battle over who is to blame, and the debate has become a stark and painful illustration of the convulsions racking Egypt as it tries to reinvent itself.
Full report at:
http://www.nytimes.com/2013/03/26/world/middleeast/egyptian-women-blamed-for-
---------------
Arrest of Anti-Islamist Figures Is Ordered in Egypt
By DAVID D. KIRKPATRICK and MAYY EL SHEIKH
2013/03/26
CAIRO — The public prosecutor on Monday ordered the arrest of five anti-Islamist political activists on charges of using social media to incite violence against the Muslim Brotherhood. The order stirred accusations of a vendetta by the group's close ally, President Mohamed Morsi.
Egyptians are already on guard against the possibility that their first freely elected president may seek to become a new autocrat, and some said they feared that the arrest warrants might be the first clear example that Mr. Morsi's government was using law enforcement as a political tool to punish his critics.
Full report at:
http://www.nytimes.com/2013/03/26/world/middleeast/in-egypt-arrest-of-5-anti-islamist-
---------------
Saudis fighting in Syria will be arrested on return
26 March 2013
Saudis fighting in Syria will be arrested when they return home. The warning has been issued by the Interior Ministry. Maj. Gen. Mansour Al-Turki, the ministry's spokesman, said: "Involvement in the Syrian crisis is against Saudi laws."
Al-Turki said authorities will also crack down on Saudis planning to travel to Syria to join the fighting there and that some Saudis who joined the Syrian conflict have already fought for Al-Qaeda outside the Kingdom, AP reported.
Full report at:
http://www.arabnews.com/news/446106
---------------
Bomb kills two Iraq politicians in Tuz Khurmatu
March 26, 2013
A powerful bomb tore through an armoured car near a disputed town north of Baghdad today, killing two officials and badly wounding a third, weeks ahead of Iraq's first polls since 2010. The blast also killed one of the officials' bodyguards and wounded another in the town of Tuz
Khurmatu.
Mayor Shallah Abdul, council chief Abdulqader Naimi and Salaheddin provincial councillor Rashid Khorshid had been travelling together to inspect a road paving project north of the town when the bomb went off close to their armoured car.
Full report at:
http://www.hindustantimes.com/world-news/restofasia/Bomb-kills-two-Iraq-politicians-in-Tuz-Khurmatu/Article1-1033057.aspx
---------------
Cleric: Staying In Iraqi Government a 'Sin'
March 26, 2013
The controversial cleric Muqtada al-Sadr is paving the way for the collapse of Iraqi Prime Minister Nouri al-Maliki's government. On March 19, Sadr issued a strongly worded statement in which he criticized the government and declared that "staying in the government is a sin and a fatal error." When a Shiite cleric uses the word "sin" in Iraq, it serves to prohibit or forbid.
In the statement, released by his office in Beirut, Sadr said, "The government is selling its land to the south, and claims that al-Qaeda controls some of Iraq's western and Northern provinces. The country is without a president, the parliament is weak, and the judiciary is politicized. Thus, staying in this government has become more damaging than useful; remaining in the government assists 'sin' and aggression."
Full report at:
http://www.al-monitor.com/pulse/originals/2013/03/sadr-letter-against-maliki.html#ixzz2OcYzPcet
---------------
Egypt extradites two Gaddafi-era officials to Libya
AP | Mar 26, 2013
CAIRO: A Cairo airport official says authorities have extradited two Libyan officials from the regime of deposed dictator Muammar Gaddafi back to their home country.
It is the first time in years that Egypt has conducted such a high-profile extradition.
The official says the two, 71-year-old former ambassador to Cairo Ali Maria and another ex-official, 44-year-old Mohammed Ibrahim Gaddafi, were handcuffed after resisting the transfer.
Full report at:
http://timesofindia.indiatimes.com/world/middle-east/Egypt-extradites-two-Gaddafi-era-officials-to-Libya/articleshow/19216671.cms
---------------
Egyptian Gets Death Penalty for Killing in Raid on Christians
March 26, 2013
A Muslim man was sentenced to death in Egypt for killing two people during a dispute with Christians in the southern Sohag province.
A court in Upper Egypt on Monday found Mahmoud Abdel Nazir guilty also of raiding Christian houses in the November 2011 incident, state-run Middle East News Agency reported Tuesday.
In a separate incident yesterday, a group of Muslims surrounded a church in Beni Suef governorate claiming local Christians had kidnapped a young Muslim woman, and forced her to marry a Coptic Christian before sending her to live abroad, state-run Ahram gate said Tuesday.
Full report at:
http://www.thejakartaglobe.com/international/egyptian-gets-death-penalty-for-killing-in-raid-on-christians/582174
---------------
Opposition takes Syria's seat at Arab summit
2013/03/26
Syrian opposition representatives took the country's seat for the first time at an Arab League summit that opened in Qatar on Tuesday, a significant diplomatic boost for the forces fighting President Bashar Assad's regime.
In a ceremonious entrance accompanied by applause, a delegation led by Moaz al-Khatib, the former president of the main opposition alliance the Western-backed Syrian National Coalition took the seats assigned for Syria at the invitation of Qatar's emir, Sheik Hamad bin Khalifa Al Thani.
Full report at:
http://www.thehindu.com/news/international/world/opposition-takes-syrias-seat-at-arab-summit/article4550781.ece
---------------
Saudi Arabia warns citizens against Syria jihad
Has information about presence of Saudi fighters in Syria, but does not know how many
March 25, 2013
Dubai: Saudis fighting the regime of Bashar Al Assad in Syria will be detained immediately upon their return to the Kingdom, a Saudi interior ministry official has said.
In comments published by Saudi media, Major General Mansour Turki, spokesman at the Saudi interior ministry, said participation in the fighting in Syria is in violation of Saudi laws, and that anyone who is proven to be intending to travel to Syria to join the fight against the regime there will be investigated and barred from travelling, adding that some who had been involved with Al Qaida in foreign countries may be heading to Syria or elsewhere to wage war.
Full report at:
http://gulfnews.com/news/gulf/saudi-arabia/saudi-arabia-warns-citizens-against-syria-jihad-1.1162463
---------------
BRICS asked to show solidarity with Syrian people
Mar 26 2013,
Washington : Ahead of the BRICS summit in Syria, a group of eminent people from across the world has asked the leaders of Brazil, Russia, India, China and South Africa to show their solidarity with the people of the strife-torn country.
"As they meet in Durban, the BRICS countries should demonstrate their solidarity with the people of Syria and take meaningful steps to address their plight," more than two dozen individuals, primarily from these four countries, said in a joint letter to BRICS leaders.
"We urge to them to make a public appeal to President Assad to grant the UN unimpeded humanitarian access so that it can reach civilians from across all Syria's borders; anytime and anywhere.
Full report at:
http://www.indianexpress.com/news/brics-asked-to-show-solidarity-with-syrian-people/1093524/
-----------
54% Saudis satisfied with existing innovations
26 March 2013
Only five out of 10 people are satisfied with innovations currently available in the Kingdom, a report stated yesterday. The data was released at a panel discussion hosted by Philips Electronics Middle East, in Riyadh to announce its latest study.
Philips Meaningful Innovation Index is a 5,000-person, multi-country survey looking at people's needs, attitudes and expectations of innovation. Based on responses from five key markets , the survey showed that even with the recent advances in technology, there is a huge appetite for innovations that will make a difference in people's everyday lives.
The panel discussion was moderated by Faisal Al Saif.
Full report at:
http://www.arabnews.com/news/446086
---------------
North America
US has no favourites in Pakistani political arena
2013/03/26
WASHINGTON: The United States does not want to return President Zardari to power or block Nawaz Sharif or Imran Khan from winning the forthcoming election, said a senior US official while talking to a group of Pakistani journalists at a recent diplomatic reception.
Other US officials are equally enthusiastic in denying the general perception in Pakistan that the US government wants to influence the electoral process in Pakistan to bring in a friendly government.
As Dawn reported on Saturday, US Secretary of State John Kerry skipped a planned visit to Pakistan this week to avoid accusations of meddling in the May 11 elections.
Hours after Secretary Kerry landed in Kabul on an unannounced visit, a senior US official confirmed that he wanted to visit Islamabad as well but did not because Pakistan "enters a very historic period on this electoral process and we wanted to fully respect those institutions and the on-going process."
Full report at:
http://dawn.com/2013/03/26/us-has-no-favourites-in-pakistani-political-arena/
----------
US Steps Up War Against Syria After Obama's "Peace" Trip To Israel
By Johannes Stern
25 March, 2013
After US President Barack Obama's trip to Israel last week the US and its allies are moving ahead with plans to topple Syrian President Bashar al-Assad and install a pro-Western regime. CIA operations and calls to arm the Syrian opposition are escalating, amid a US diplomatic offensive in the Middle East to isolate Assad, and the collapse of a pro-Syrian government in Lebanon.
Full report at:
http://www.countercurrents.org/stern250313.htm
---------------
U.S. Muslim, Arab-American Delegation Visiting Morocco to Discuss Political Reforms
3/25/2013
(RABAT, MOROCCO, 3/25/2013) -- A delegation of American Muslim and Arab-American leaders is currently visiting Morocco at the invitation of that nation's government to meet with civil organizations and officials for discussions about political reforms and the process of strengthening democracy.
The 16-member delegation, which includes American Muslim community and religious leaders, academics and political activists, has so far met with a number of civic associations and with Moroccan officials representing the parliament, the Ministry of Foreign Affairs and Cooperation, the Muhammadan League of Religious Scholars, the Central Authority for Corruption Prevention, and the National Council for Human Rights, among others.
Full report at:
consultant and former George W. Bush administration official.
------------
Obama to bring Arab states into peace push
26 March 2013
RAMALLAH: The US is seeking to bring Arab countries into efforts to restart Israeli-Palestinian negotiations that broke down more than four years ago, a senior Palestinian official said yesterday.
However, gaps are wide on the terms of renewing talks. The Palestinians say Israel must freeze settlement building on lands it captured in 1967 before any negotiations can resume. Israel says the issue of settlements can be addressed in negotiations.
During a visit to the region last week, President Barack Obama sided with the Israeli view.
It is not clear how the US can bring the Palestinians back to the table without a settlement freeze.
Full report at:
http://www.arabnews.com/news/446040
-------------
South Asia
The culture of flogging in the Maldives: a systematic abuse of human rights
By Mariyath Mohamed | March 25th, 2013
The Maldives is a tourist paradise, crowned the World's Most Romantic Destination during the World Travel Awards in 2011. But while a popular destination for couples around the globe, it takes a radical paradigm shift when it comes to its own citizens.
Under the 2008 Constitution the Maldives is a '100 percent' Muslim country, with a justice system based on a hybrid of common law and Islamic Sharia.
Although the country does not implement many of the 'Hadd' or penalties prescribed by Sharia law, including amputation and stoning, it does practice some selective punishments.
One such penalty is the implementation of flogging for a number of crimes including, but not limited to, fornication outside of wedlock.
In recent days, global media attention has been drawn to the case of a 15 year old-girl convicted of fornication and sentenced to flogging, despite her history of alleged sexual abuse dating back to 2009.
Minivan News has spoken with a number of locals about their experiences with flogging, and the societal impact it has had in the past.
Faheem*, a 47 year old former court official in a small island in the North of the Maldives, shared his experiences in regard to related cases.
"In my 10 years serving as a court official during the 90′s, I have witnessed many people being subjected to public flogging. Although we are, in fact, a Muslim nation, most of these sentences were for cases of extra marital sex," Faheem said.
Full report at:
http://minivannews.com/politics/the-culture-of-flogging-in-the-maldives-a-systematic-abuse-of-human-rights-55092
-------------
S C Judge asked me to file case against Nasheed, alleges sacked HR Minister
By Mohamed Naahee | March 26th, 2013
Sacked Human Rights Minister Fathimath Dhiyana Saeed has sent a letter to Chief Justice Ahmed Faiz Hussain requesting that he investigate a Supreme Court judge, whom she alleged requested that she file a case against former President Mohamed Nasheed in a bid to prevent him from running for presidency in the 2013 presidential elections.
The former SAARC Secretary General's claims follow the High Court's rejection of a petition filed by her and a team of lawyers, requesting the court look into the legality behind the controversial transfer of power that took place in February 2012.
The High Court rejected the case on the grounds that it did not have jurisdiction to look into the matter. Saeed was later quoted in the media saying that she would file the case at the Supreme Court.
Full report at:
http://minivannews.com/politics/supreme-court-judge-asked-me-to-file-case-against-nasheed-alleges-sacked-human-rights-minister-55164
-------------
Khaleda playing 'vicious role' to save war criminals: Ashraf
2013/03/26
BNP Chairperson Khaleda Zia is playing a 'vicious role' to save the war criminals, Awami League general secretary Syed Ashraful Islam said on Tuesday.
"Khaleda is backing Jamaat-e-Islami in the killing of law enforcers and minorities. She is trying to foil the trial of '71 war criminals," said Ashraf while addressing journalists after placing wreaths at the National Mausoleum in Savar on Tuesday, Prothom-Alo reported.
He condemned Khaleda for her March 23 speech in Bogra, where she urged the army to intervene into the politics, governance and constitution of the country.
Full report at:
http://www.thedailystar.net/beta2/news/khaleda-playing-vicious-role-to-save-war-criminals-ashraf/
-------------
Five killed in suicide attack at Afghan police base
March 26, 2013
A group of seven suicide bombers attacked a police base in the eastern Afghan city of Jalalabad on Tuesday, killing five officers, police said. One bomber set off a large explosion at the entrance of the quick reaction police headquarters before two bombers blew themselves up inside the facility and four others died in a gun fight with police.
"The first one detonated a car bomb; two others entered the base and detonated themselves and the remaining four were shot dead in police fire," Hazrat Hussain Mashriqiwal, the Nangarhar province police spokesman, told AFP.
Full report at:
http://www.hindustantimes.com/world-news/afghanistan/Five-killed-in-suicide-attack-at-Afghan-police-base/Article1-1032869.aspx
---------------
Death toll from Myanmar unrest hits 40
March 26, 2013
The death toll from recent communal violence in central Myanmar has risen to 40 after eight more bodies were pulled from the wreckage of a riot-hit town, state media reported on Tuesday.
The clashes were a stark reminder of the challenge that Muslim-Buddhist tensions pose to Myanmar's government as it tries to reform the country after decades of iron-fisted military rule ended two years ago.
In a televised statement, Myanmar's government on Monday called for an end to "religious extremism" that it warned could detail the country's reform process.
Full report at:
http://www.hindustantimes.com/world-news/myanmar/Death-toll-from-Myanmar-unrest-hits-40/Article1-1032871.aspx
-----------
China defends deal to build 1000 MW nuclear plant for Pakistan
PTI | Mar 25, 2013
BEIJING: Tacitly confirming reports of signing of an agreement with Pakistan to build a huge 1000 MW nuclear power plant, China on Monday defended the deal saying that it confirmed to safeguards of the IAEA and rejected allegations that it has violated NSG norms.
"China has noted the relevant report", Chinese foreign ministry spokesman Hong Lei told a media briefing here on Monday.
Full report at:
http://timesofindia.indiatimes.com/world/south-asia/China-defends-deal-to-build-1000-MW-nuclear-plant-for-Pakistan/articleshow/19196070.cms
-------------
Australian troops to quit Afghanistan as base closes
March 26, 2013
Australia's main base in Afghanistan will close and most of its troops will be home by the end of the year, defence minister Stephen Smith said on Tuesday, admitting the mission had run too long.
The International Security Assistance Force (ISAF), the NATO-led force in Afghanistan, has decided to shut the base in Tarin Kot in Uruzgan province, and this means an end to Australia's main mission.
With ISAF's closure of Tarin Kot, "the majority of Australia's troops will come home from Afghanistan", Smith said in a statement, calling it a significant milestone.
The move is in line with Canberra's aim of withdrawing the bulk of its 1,550 troops in 2013, earlier than planned due to security gains, and Smith told reporters the time was right to pull out.
Full report at:
http://www.hindustantimes.com/world-news/australia/Australian-troops-to-quit-Afghanistan-as-base-closes/Article1-1032863.aspx
---------------
Myanmar government struggles to contain anti-Muslim hostility
March 26, 2013
MEIKHTILA: Myanmar's government is struggling to contain anti-Muslim violence that touched the outskirts of the capital, Naypyitaw, at the weekend and forced it to send troops to patrol the streets in the town where the recent trouble started.
Four houses and a small mosque in Tatkon township on the northern edges of Naypyitaw were set ablaze late on Sunday, a civil servant in the capital told Reuters on Monday.
Communal tension, stifled under half a century of army rule, has resurfaced since President Thein Sein's reformist government took office in 2011.
Full report at:
http://www.dailytimes.com.pk/default.asp?page=2013\03\26\story_26-3-2013_pg14_1
----------
In Taliban heartland, villagers declare 'enough'
New York Times
Mar 26 2013,
An uprising against the Taliban that began last month in this southern Afghan village has now spread through dozens of towns, according to residents and Afghan and US officials, in the most significant popular turning against the Islamist insurgents in recent years.
Since early February, when villagers joined with police forces to begin ousting Taliban fighters from this region of rich vineyards and orchards southwest of Kandahar, hundreds of residents have rallied to support the government. Nearly 100 village elders recently vowed to keep the Taliban out.
Full report at:
http://www.indianexpress.com/news/in-taliban-heartland-villagers-declare-enough/1093388/
---------------
Mideast Asia
Yemen clashes between Al Qaeda, militiamen kill nine
2013/03/26
SANAA: Yemini security officials say clashes in the south between Al Qaeda and pro-government fighters have killed nine persons.
The officials said Sunday that pro-government fighters recaptured the town of Batis, north of the city of Jaar in Abyan province, after three days of fighting that left six militants and three pro-government militiamen dead. Seven were wounded and 11 Al Qaeda members were captured.
Full report at:
http://dawn.com/2013/03/26/yemen-clashes-between-al-qaeda-militiamen-kill-nine/
---------
Kurdish Politicians Ask Erdogan For Assurances in Talks With PKK
By: Tulin Daloglu
March 26, 2013
Turkish Prime Minister Recep Tayyip Erdogan remains cautious in engaging Turkish parliament in any way on the steps taken in talks with the jailed Kurdistan Workers Party (PKK) leader Abdullah Ocalan, which got under way in Oct. 2012, and denies sharing direct information with any of the parliamentary political parties on this issue. While the Erdogan government stresses that the process is very sensitive and needs encouragement and support from all segments of society, Gultan Kisanak, pro-Kurdish Peace and Democracy Party (BDP) co-chairwoman, however, is asking for legal guarantees that they will not face any legal ramifications for helping the government's initiative, and therefore, calls for assurances acknowledged and approved by parliament.
Full report at:
http://www.al-monitor.com/pulse/originals/2013/03/bdp-turkish-kurdish-ceasefire-legal-guarantees.html#ixzz2OcbgBSvV
---------------
Palestinian Land Owner Suffers Repeated Settler Attacks
By: Linah Alsaafin
March 26, 2013
Khaled Daraghmeh always insists that the youth and visitors who volunteer to work on his property every week fill their bags with the herbs and fruit grown on his land.
"The almonds at this time of year are very good," Khaled says, also known as Abu Jamal. He calls his son Mo'men to show the guests the best almond tree. "The lemon trees are never bare — see the yellow lemons? In the summer, they change color to green but in both cases they are still delicious."
Full report at:
http://www.al-monitor.com/pulse/originals/2013/03/settlers-attack-palestinian-land-owners.html#ixzz2Ocbtbd3G
---------------
Yemeni Art Scene Flourishes in Basement
March 26, 2013
SANAA, Yemen — There was a jam session in the music room of Basement Foundation, a brand new cultural center in Sanaa in early February 2013. The lights were lowered and three musicians improvised melodies on the classical Arabic Hijaz scale.
Khaled Haidar led on his keyboard and the guitarists joined in. Methal Hamadi, 22, occasionally put down her pink guitar to play the harmonica. She also plays the piano, the ukulele and the Melodicas she ordered on Amazon — much to the dismay of her mother, the breadwinner of the family, who wants to see her daughter have a career and make good money. So, much like many talented young Middle Easterners, Hamadi is studying medicine.
Full report at:
http://www.al-monitor.com/pulse/originals/2013/03/the-art-scene-of-yemen-flourishes-in-a-basement.html#ixzz2OccHyZ3D
----------
Israeli suggests creating buffer zone in a post-Assad Syria
March 26, 2013
JERUSALEM: An Israeli general has raised the possibility of creating a buffer zone in Syria, in cooperation with local forces wary of jihadist fighters, should President Bashar al-Assad be toppled.
Major-General Yair Golan said "many hundreds" of radical Islamists were fighting in Syria's two-year-old civil war and could "take root" in Israel's northern neighbour should Assad fall.
He said the Israeli military was working on the assumption that these fighters would ultimately launch attacks against Israel, which captured the Golan Heights from Syria in the 1967 Middle East war.
http://www.dailytimes.com.pk/default.asp?page=2013\03\26\story_26-3-2013_pg7_24
----------
Europe
Human rights groups: UAE trial 'flagrantly unfair'
2013/03/26
A coalition of international human rights groups has released a report criticising the trial of 94 activists in the United Arab Emirates.
The report describes the proceedings as being in "flagrant disregard of fair trial guarantees".
It cites what it says is the failure by the judge to investigate "credible" allegations of torture of defendants.
The human rights groups also note that international observers were denied access to the trial.
Full report at:
http://www.bbc.co.uk/news/world-middle-east-21935780
------------
Marriage Becomes Problem for UK Muslims
25 March 2013
CAIRO – Marriage has become a troubling problem for many Muslims in Britain as parents are finding difficulty in finding suitable partners for their children, forcing many to postpone it to older age.
"Parents should start a dialogue with their children regarding marriage earlier rather than delaying it. Maybe from the age of twenty onwards," a Muslim scholar, who did not wish to be named, told Asian Image on Monday, March 25.
"Assistance should be sought from senior members of the community outlining a clear criterion for the prospective spouse.
Full report at:
http://www.onislam.net/english/news/europe/461967-uk-muslim-scholar-promotes-marriage.html
---------------
Muslim convert quits Catholic Church, says it's too weak against Islam
By Alessandro Speciale
March 26, 2013
VATICAN CITY — A high-profile Italian Muslim who converted to Catholicism and was baptized by Pope Benedict XVI announced on Monday (March 25) that he will leave the church to protest its soft stance against Islam.
Egyptian-born Magdi Cristiano Allam, 61, a prominent journalist and outspoken critic of Islam, publicly entered the Catholic Church on March 22, 2008 during an Easter Vigil service, receiving baptism directly from Benedict.
After his conversion, Allam founded a small right-wing political party that lost badly in Italy's general elections last April.
Full report at:
http://www.washingtonpost.com/national/on-faith/muslim-convert-quits-catholic-church-
---------------
Africa
Tunisian Jihadists Fighting in Syria
By: Nesrine Hamedi
March 26, 2013
The subject of foreign jihadists coming to fight in Syria is nothing new. But the issue of Tunisian fighters who have flocked by the dozens over Syria's borders, passing through a long process of enlistment and training, has garnered a great deal of attention in recent days. It has shed light on the events transpiring behind the scenes of the jihadist journey to Syria, and upon those forces driving it.
At present, Tunisia estimates that around 40% of foreign jihadists in Syria hold Tunisian nationality. More than two-thirds of them are fighting in the ranks of Jabhat al-Nusra. A number of their families have organized demonstrations demanding that the authorities return their sons to Tunisia. At the same time, the Guide of the Ennahda Party, Rachid al-Ghannouchi, took the occasion as an opportunity to stress that his movement was not responsible for the phenomenon.
Full report at:
http://www.al-monitor.com/pulse/originals/2013/03/tunisian-jihadists-syria.html#ixzz2OcdpEomx
---------------
Henry Okah: Nigerian oil militant jailed for 24 years
2013/03/26
A South African court has sentenced Nigerian oil militant Henry Okah to an effective 24 years in jail.
He was found guilty of 13 terrorism-related charges over twin car bombings during Nigeria's independence day celebrations in 2010.
At least 12 people were killed and 36 others injured.
Okah led a group which said it was fighting to help Niger Delta residents gain a greater share of the oil wealth from their part of southern Nigeria.
The court established that Okah was the former leader of the Movement for the Emancipation of the Niger Delta, Mend.
Full report at:
http://www.bbc.co.uk/news/world-africa-21937985
------------
Southeast Asia
Execution and Indonesia's justice system
Michael O'Connell S.C., Melbourne
March 25 2013
Adami Wilson's execution on March 15, is a timely reminder that the death penalty remains part of Indonesia's rule of law landscape. Much of the reportage of Wilson's execution highlighted his continuing criminality in jail. The message is none too subtle — "He deserved to die".
It may well be that for more and more Indonesians that message misses the point. It is not a question of whether he deserved to die, but rather whether he needed to.
Is killing power how, in a modern Indonesia, respect for the rule of law should be upheld, or is there a better way?
The Indonesian government's efforts to save its nationals on death row in places like Saudi Arabia or Malaysia has been applauded internationally. Those efforts sit well with the unmistakable momentum worldwide to abolish the death penalty.
Full report at:
http://www.thejakartapost.com/news/2013/03/25/execution-and-indonesia-s-justice-system.html
-------------
Kit Siang ready to embrace Islam - MCA
March 26, 2013
The suggestion by DAP advisor Lim Kit Siang that he and other party leaders could contest under PAS or PKR if DAP is suspended or de-registered before the coming polls has riled up MCA.
The Chinese-only party today turned the issue into one of religion, even asking whether Lim would convert to Islam.
"Will Kit Siang convert to please PAS?" asked Chai Kim Sen, its Youth wing's secretary general, who said the veteran DAP leader had taken "the first step towards" embracing Islam in order to fulfil the requirement that only a Muslim be appointed as prime minister.
Without elaborating how, Chai said by standing as a candidate on a PAS ticket, DAP was being 'subservient' to PAS.
Full report at:
http://www.malaysia-chronicle.com/index.php?option=com_k2&view=item&id=75232:kit-siang-ready-to-embrace-islam-mca&Itemid=2
---------------
Malaysia's social media election is already over
James Gomez
March 26, 2013
The upcoming general election is not a "social media election". The so-called "social media election" is already over. Observers are just waiting for the results. Let me explain.
Social media in Malaysia has been influential in keeping important political issues in the forefront in the last five years. Hence, when evaluating the social media-related outcomes of the next general election, it is the net impact of social media's political influence in the last five years and not just the campaign period that analysts need to consider.
Full report at:
http://www.malaysia-chronicle.com/index.php?option=com_k2&view=item&id=
---------------
Little Optimism for Breakthrough in Thailand's Forgotten Jihad
Andrew R.C. Marshall | March 26, 2013
Duku, Thailand. Rusnee Maeloh slept through the 30-minute gunfight that killed her husband, but her neighbors in the notoriously violent Bacho district of southern Thailand heard distant explosions and feared the worst.
Mahrosu Jantarawadee, 31, was Rusnee's childhood sweetheart, the father of their two children, and part of a secretive Islamic insurgency fighting a brutal nine-year war with the Thai government that has killed more than 5,300 people.
Mahrosu died with 15 other militants while attacking a nearby military base in Bacho district on Feb. 13. Acting on a tip-off, Thai marines repelled the attack with rifle fire and anti-personnel mines. "He died a martyr," said Rusnee, 25, dabbing her eyes with a black headscarf.
Full report at:
http://www.thejakartaglobe.com/international/little-optimism-for-breakthrough-in-thailands-forgotten-jihad/582113
-------------
URL: https://newageislam.com/islamic-world-news/new-age-islam-news-bureau/clerics-attack-ahmadi-house,-torture-family-in-punjab/d/10906