New Age Islam News Bureau
13 Sept 2015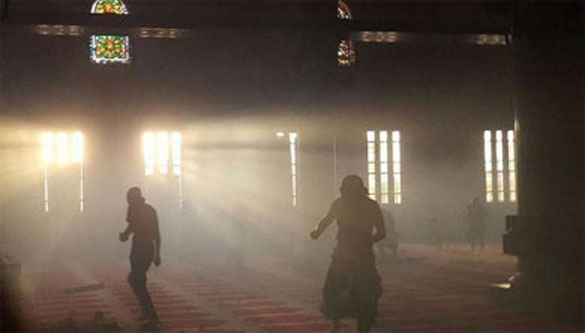 The Al-Aqsa Mosque is Islam's third holiest site after Masjid al-Haram in Makkan and Masjid al-Nabawi in Medina, Saudi Arabia.
----------
Mideast
• Clashes rock Jerusalem's Al-Aqsa mosque compound
• 16 Yemeni civilians killed in Saudi-led air strikes
• Yemeni forces launch operation to retake Marib
• Yemen's exiled leader calls off peace talks with rebels
• Lifting of curfew reveals devastation in Turkish town
• Iran discovers 'considerable' uranium reserves: Atomic chief
-----
Arab World
• Egyptian army kills 64 ISIS militants in Sinai
• Saudi Arabia launches crane collapse investigation
• Meet the Kurdish fighters mobilising against Tehran
• Egyptian PM resigns in wake of corruption scandal
• Tawaf on bridge suspended for safety of pilgrims
• King Salman decorates Widodo with King Abdulaziz medal
--------
South Asia
• Drone strike kills five Taliban in Nangarhar
• Security forces prevent suicide attack in Kunar
• Islamic State' militants claim attack on Pak-Afghan border
• Taliban torch WFP vehicles in Badakhshan
• Four suspected drug dealers arrested with 325 KG of hashish in Nangarhar
------
Europe
• Tens of thousands attend pro-migrant rallies in Europe
• Germany 'stretched to capacity' amid refugee surge
• UN chief unveils agenda for peacekeeping missions
-----
Pakistan
• World Pashto Conference: Speakers demand national, official status for Pashto
• Six Pakistanis among dead in Makkah crane accident: FO
• Bullet-ridden bodies of three men found in Gwadar
• Karachi operation: Two 'gang-members' killed during Rangers raid in Lyari
• Govt should complete its tenure, says Jamaat-i-Islami chief
• Nomination 'withdrawal' by two LG poll candidates shocks PTI
• Security beefed up as 10 militants shifted to Sukkur jail from Karachi
• Sartaj Aziz: Pakistan-Afghanistan relations strained following Kabul attacks
------
India
• Indo-Pak Border Confidence Building Measures Implemented in Next 15 Days
• Top LeT Militant Carrying Rs 10 lakhs Award Killed in Jammu and Kashmir Gunfight
• Despite 2 Days of Talk, No End to Pakistan Firing Along LoC in Jammu and Kashmir
• NPP Blames BJP-PDP Government for Anti-national Activities in J-K
• Jhabua Blast: Man Who Stored Explosives in Building Absconding
• India to help cure 4,000 Afghan children having heart disease
• 15 Afghan army cadets graduated from Indian Army's Officers Training Academy
------
Africa
• Kenya unveils memorial to those tortured during British rule
Compiled by New Age Islam News Bureau
URL: https://www.newageislam.com/islamic-world-news/new-age-islam-news-bureau/clashes-rock-jerusalem-s-al-aqsa-mosque-compound/d/104565
--------
Mideast
Clashes rock Jerusalem's Al-Aqsa mosque compound
AFP — 13 September 2015
JERUSALEM: Palestinians clashed with Israeli police at Jerusalem's flashpoint Al-Aqsa mosque compound on Sunday just hours before the start of the Jewish New Year, police and witnesses said.
The disturbances came with tensions running high after Israeli Defence Minister Moshe Yaalon last week outlawed two Muslim groups that confront Jewish visitors to the compound, which is holy to both faiths.
Palestinian witnesses said police entered the mosque, Islam's third-holiest site. Police only said they closed the doors to the mosque to lock in rioters throwing stones, fireworks and other objects.
Authorities have used the same tactic in the past in a bid to restore calm and which has seen them briefly enter.
According to police, the rioters had barricaded themselves in the mosque overnight with the aim of disrupting visits by Jews to the site ahead of the start of New Year celebrations on Sunday evening.
"Masked protesters who were inside the mosque threw stones and fireworks at police," a police statement said. "Suspect pipes that could be filled with homemade explosives were also found at the entry to the mosque."
A Muslim witness accused police of entering the mosque and causing damage, saying prayer mats were partially burned.
Clashes later continued outside the mosque complex, with police firing tear gas and stun grenades.
The defence minister's move last week banned the Murabitat and Murabitun, which he said was necessary to "defend the security of the state, the well-being of the public and public order".
His office said the groups were "a main factor in creating the tension and violence" at the site, venerated by Jews as the Temple Mount, and in Jerusalem at large.
Non-Muslims are allowed to visit the compound, but Jews are forbidden from praying or displaying national symbols for fear of triggering tensions with Muslim worshippers.
Israel seized east Jerusalem, where Al-Aqsa is located, in the Six Day War of 1967 and later annexed it in a move never recognised by the international community.
http://www.dawn.com/news/1206722/clashes-rock-jerusalems-al-aqsa-mosque-compound
-----
16 Yemeni Civilians Killed In Saudi-Led Air Strikes
REUTERS —13 September 2015
SANAA: At least 16 Yemeni civilians, including ten people from a single family, were killed in nationwide air strikes by a Saudi-led military coalition on Saturday, medics in three provinces said.
Gulf Arab countries have stepped up their air attacks targeting the Shia Houthi movement allied to Iran after the group killed at least 60 Arab troops deployed to Yemen in a missile attack on their base on Friday.
The raids pummelled the Houthi-controlled capital Sanaa and the southern city of Taiz, which is being fought over in heavy street battles between Houthi fighters and Gulf-backed Yemeni forces.
Two civilians were killed in the capital and ten people from one family died in Taiz. Eyewitnesses said the strikes appeared to target the houses of political leaders allied to the Houthis.
http://www.dawn.com/news/1206638/16-yemeni-civilians-killed-in-saudi-led-air-strikes
------
Yemeni forces launch operation to retake Marib
By Staff writer | Al Arabiya News
13 September 2015
Forces loyal to exiled President Abd Rabbu Mansour Hadi have started a military operation aimed at retaking the central Yemeni province of Marib from the Iranian-backed Houthi militias, according to Al Arabiya News Channel.
Popular Resistance units, backed by the Saudi-led coalition, started the operation early Sunday with the help of the Yemeni army.
According to Al Arabiya News Channel, Houthis have withdrew from some areas in Marib as a result of intensive bombing from the coalition.
In the north of the province, dozens of Houthis were killed after an attack led by the Popular Resistance and the national army.
Meanwhile, in the portal city of Hodeida, the Arab coalition targeted Houthi militia positions leading to the killing of seven of their members.
The coalition also hit Houthis in Yemen's central province of al-Bayda, according to the channel.
Since late March, an Arab coalition led by Saudi Arabia has bombed Iranian-backed Houthi militias and forces allied to deposed leader Ali Abdullah Saleh.
https://english.alarabiya.net/en/News/middle-east/2015/09/13/Pro-Hadi-forces-launch-military-operation-to-retake-Yemen-s-Marib-.html
------
Yemen's exiled leader calls off peace talks with rebels
13 Sep 2015
Yemeni President Abd-Rabbu Mansour Hadi has backed out of the planned UN-brokered talks with Houthi rebels, his office has said.
In a statement released on Sunday, Hadi said that there would be no talks with the Houthis until they accept a UN resolution that obliged them to withdraw from areas they seized and surrender weapons taken from state institutions.
The peace negotiations were scheduled for later this week as more than five months of war have ravaged the impoverished country.
On Saturday, Saudi-led coalition warplanes heavily bombarded rebel positions across the Yemeni capital, Sanaa witnesses said.
The strikes targeted arms depots and military camps in the rebel-held areas of Sanaa.
Warplanes also struck the presidential residence in Sanaa's southeast and nearby arms depots, witnesses said.
In the eastern Marib province, where the coalition has been focusing its operations in recent days, pro-government military sources said air strikes hit two separate rebel convoys.
Military officials on the Saudi border told the AFP news agency that 20 more coalition military vehicles crossed into oil-rich Marib, following at least 40 similar vehicles a day earlier.
The reinforcements are being sent in preparation for an offensive to retake the capital, seized by the Shia Houthi fighters a year ago.
The United Nations estimates that Yemen's conflict has killed more than 4,500 people since March.
http://www.aljazeera.com/news/2015/09/yemen-exiled-leader-calls-peace-talks-rebels-150913071731949.html
-------
Lifting of curfew reveals devastation in Turkish town
AFP — 13 September 2015
CIZRE: Residents of the Turkish south-eastern city of Cizre on Saturday emerged to find scenes of destruction and despair after authorities lifted a nine-day curfew imposed for an operation against Kurdish militants.
A correspondent found several buildings had been destroyed and others pock-marked with bullet holes during the curfew, which took effect late on September 4.
People were being allowed to move in and out of Cizre despite continued army checks at roadblocks, said the correspondent who entered the city after the restriction ended 7am.
The government had said the curfew was necessary for a military "anti-terror" operation in the city against suspected members of the outlawed Kurdistan Workers Party (PKK).
But the pro-Kurdish Peoples' Democratic Party (HDP) has said over 20 civilians were killed during the operation, which deprived residents of access to essential amenities and triggered food shortages.
Telephone and Internet communications were still severely limited as residents ventured outside for the first time to inspect the extent of the damage. "Our children were dying of fear," said Mehmet Guler, a local official.
During the curfew, outsiders had not been allowed to enter Cizre, in what Kurdish activists termed a blockade akin to Israel's actions in the Gaza Strip.
"There is no water, electricity and our provisions are running out," Guler added, saying that even the call to prayer had stopped for the duration of the curfew.
The remnants of the fighting were still apparent in Cizre, with barricades and trenches blocking streets scattered with empty shell casings and the wrecks of burned-out cars.The length of the curfew in Cizre — meaning that citizens were unable to move freely outside their homes for over a week — also caused international concern.
http://www.dawn.com/news/1206641/lifting-of-curfew-reveals-devastation-in-turkish-town
------
Iran discovers 'considerable' uranium reserves: Atomic chief
September 13, 2015
Recent explorations in Iran have resulted in the discovery of more natural uranium reserves, the Head of the Atomic Energy Organization of Iran, Ali-Akbar Salehi, announced here on Saturday.
Over 63 present of Iran's geography has been explored for uranium reserves and the rest will be surveyed in the next four years, Salehi said, Xinhua reported, citing the official IRNA news agency.
"I cannot talk about the level of the country's uranium reserves. The important thing is before the aerial survey, we were not much hopeful about uranium ores, but the recent explorations have made us hopeful about the deposits," he said.
Presently, Iran is extracting uranium from Saghand in Yazd mines in central Iran, and the mines of Ardakan are also scheduled for exploitation in near future, he said.
The announcement by Iran's atomic chief came before the arrival of experts of the United Nations nuclear watchdog International Atomic Energy Agency here for talks on implementation of the recent historic nuclear deal between Iran and the world powers reached in July.
The deal put an end to the decade-long disputes over the country's controversial nuclear programme.
Under the nuclear deal, international inspectors will have access to Iranian nuclear sites to verify that Iran fully implements the deal in exchange for relieving the country of major economic sanctions imposed by the Western powers. (IANS)
http://www.siasat.com/news/iran-discovers-considerable-uranium-reserves-atomic-chief-2-834964/
-----
Arab World
Egyptian Army Kills 64 ISIS Militants In Sinai
September 13, 2015
Cairo: At least 64 militants were killed and 22 arrested on Saturday by Egyptian army in an operation against the Islamic State (IS) group in the Sinai Peninsula, MENA news agency reported.
Two army servicemen, including an officer, were killed in the offensive, while one soldier was injured, the report said.
The army launched the operation dubbed "the martyr's rights" on Monday around the Sinai towns of Rafah, Sheikh Zuweid and El-Arish, Xinhua news agency reported.
The toll of the militants has reached 296 since Monday.
During the operation, 42 explosive devices were defused, a booby-trapped car and 45 hotbeds were destroyed, according to the report.
Egypt has been battling a surge of anti-security attacks in the restive Sinai Peninsula since the military overthrew Islamist president Mohamed Morsi in 2013, in response to mass protests against his one-year rule.
Hundreds of police and soldiers have been killed in attacks, many of which were claimed by Ansar Bayt al-Maqdis group, which has changed its name to "Sinai State" and declared allegiance to the IS last year.
"The martyr' rights" operation came days after the Sinai State released a video documenting its attacks on the military in Sinai, including footage of a wire-guided missile strike that destroyed a navy vessel.
Continuous massive military operations in the peninsula have killed hundreds of militants as part of the country's "war against terrorism," the army said. IANS
http://www.siasat.com/news/egyptian-army-kills-64-militants-834984/
----
Saudi Arabia launches crane collapse investigation
13 Sep 2015
Saudi Arabia's King Salman has pledged to find out what caused a crane collapse that killed 107 people at Mecca's Grand Mosque in the run-up to the annual Hajj pilgrimage.
The Hajj, a pillar of the Muslim religion which last year drew about two million faithful worshippers, will take place despite Friday's tragedy, Saudi authorities said on Saturday as crowds returned to pray.
Parts of the Grand Mosque remained sealed off around the wreckage of the crane, which also injured about 200 people when it crashed into a courtyard on Friday.
Hundreds of thousands of pilgrims had already arrived in Mecca when the red-and-white crane toppled over during a thunderstorm.
But there was little mourning among pilgrims, who snapped pictures of the collapsed metal and continued with their prayers and rituals.
"We will investigate all the reasons and afterwards declare the results to the citizens," Salman said after visiting the site, one of Islam's holiest.
Salman, the Custodian of the Two Holy Mosques, said: "My visit today is to check what had happened and know how we can rehabilitate the site again.
"We will open investigation into the causes of the accident and then announce the results to the public."
Several nationalities
Afterwards, Salman paid a visit to Al-Noor Specialist Hospital in Mecca where he was reassured of the health of the injured from several nationalities.
He also ordered the provision of all medical services to them.
Indonesians and Indians were among those killed when the crane collapsed, while the injured included Malaysians, Egyptians, Iranians, Turks, Afghans, and Pakistanis.
Tragedy strikes Mecca Grand Mosque
Salman expressed his condolences to the families of the dead, and then visited a local hospital "to check on the health of the injured", the official Saudi Press Agency said.
A Saudi official said the Hajj, expected to start on September 21, would go ahead despite the tragedy.
"It definitely will not affect the Hajj this season, and the affected part will probably be fixed in a few days," said the official, who declined to be named.
The pilgrimage is a must for all able-bodied Muslims who can afford it.
An investigative committee has "immediately and urgently" begun searching for the cause of the collapse, SPA reported.
The contractor, engaged in a major expansion of the mosque, has been directed to ensure the safety of all other cranes at the site, it said.
The cranes soar skywards over the expansion taking place beneath the Mecca Royal Clock Tower, the world's third tallest building.
Mosque enlargement
For years, work has been under way on a 4.3-million sq ft enlargement of the Grand Mosque to allow it to accommodate up to 2.2 million people at once.
Irfan al-Alawi, co-founder of the Mecca-based Islamic Heritage Research Foundation, suggested that the authorities had been negligent by having a series of cranes overlooking the mosque.
Indonesians and Indians were among those killed when a crane toppled on the Grand Mosque on Friday [EPA]
"They do not care about the heritage, and they do not care about health and safety," he told AFP.
Alawi is an outspoken critic of redevelopment at the Muslim holy sites, which he says is wiping away tangible links to the Prophet Muhammad.
But an engineer for the Saudi Binladin Group, the developer, told AFP news agency the crane had been installed in "an extremely professional way" and that there had been no technical problems.
"It was an act of God," he said.
Bloodied bodies
Condolences came in from around the world, including from Arab leaders, as well as from Britain, Canada, India, and Nigeria.
Pictures of the incident on Twitter showed bloodied bodies strewn across the courtyard, where part of the crane had landed atop an ornate, arched and colonnaded section of the complex.
It was not the first tragedy to strike Mecca pilgrims, although the Hajj has been practically incident-free in recent years.
In 2006, several hundred people died in a stampede during the Stoning of the Devil ritual in nearby Mina, following a similar incident two years earlier.
Sheikh Ahmed al-Ghamdi, former head of Mecca's religious police, told AFP the accident was a "test" from God.
"We need to accept what happened," he said, at the same time calling for a thorough investigation.
http://www.aljazeera.com/news/2015/09/saudis-launch-crane-collapse-investigation-150913020455852.html
------
Meet the Kurdish fighters mobilising against Tehran
Campbell MacDiarmid | 12 Sep 2015
Near Choman, Iraq - Standing in a mountain camp just inside the Iraqi border, the burly commander gestured expansively towards a high pass beyond which lay Iran. "This is the gate to our home," he said.
Khalid Wanawasha is the commander of the armed wing of the Kurdistan Democratic Party Iran (KDP-I), a group that for 70 years has campaigned for autonomy for Iranian Kurds. Some of Wanawasha's fighters are nearly as old.
It's a struggle with which few outsiders are familiar, but 52-year-old Wanawasha and many of his comrades have devoted most of their lives to the cause.
For the last 20 years, the KDP-I and other Kurdish groups outlawed in Iran, have pursued their goals politically from exile in Iraq. They watched recently as Kurds in Turkey, Iraq, and Syria have attracted international attention, while their own struggle has stalled.
Convinced now that they will never achieve autonomy for Iranian Kurds without force, Iranian Kurdish fighters have once again taken up arms, returning to the mountains of the Iran-Iraq border.
While the newly mobilised fighters are exuberantly confident, observers question whether, despite their grievances, significant numbers of Iranian Kurds will support armed insurrection.
Alex Vatanka, an Iran analyst at the Middle East Institute in Washington, DC, told Al Jazeera: "I question very much how much support they will find for an armed struggle among the Kurdish people. They see what armed conflict in the Middle East looks like, why on earth would they want to invite that mayhem and destruction?"
Iran's Kurds have long struggled for greater autonomy. In 1946, they founded the short-lived Mahabad Republic, which foundered the next year after the Soviets withdrew support. It remains the only time Kurds have maintained an independent state.
Kurds again demanded autonomy after the 1979 Iranian revolution, which led to armed conflict with the new Islamist government, and was followed by clashes that continued into the 1990s.
The long-running revolt largely ended in 1996, when government offensives and pressure on the autonomous Kurdish Regional Government (KRG) in Iraq encouraged the Iranian Kurdish fighters to withdraw from bases along the Iraqi-Iranian border in the Qandil Mountains to settle in camps within Iraq's northern Kurdish region.
The KDP-I and other Iranian Kurds then reached a tacit agreement with the KRG to continue their struggle politically and not carry out military attacks against Iran from Iraqi territory.
Despite their discontent, some Iranian Kurds question the ability of the fighters to achieve their goals [Campbell MacDiarmid/Al Jazeera]
Back in the mountains after a two decade hiatus of military activity, Wanawasha said although some of the several thousand men and women under his command are now crossing into Iran, the KDP-I is not looking for a war. He conceded, though, that their presence could provoke one.
"The Iranians have shown up in massive force since we came here three months ago. They are definitely planning a reaction," he said, adding that his forces would only act in self defence.
The KDP-I has a separate faction though, which is talking a tougher game. Loghman Ahmedi, an Iranian Kurd raised in Sweden, is head of foreign relations of the Democratic Party of Iranian Kurdistan (PDKI). Ahmedi, who spends up to eight months a year travelling to promote his party's cause, explained that the original party - formed in Mahabad in 1945 - split in 2006 due to personality clashes.
The PDKI was able to mobilise several thousand fighters, he said, some of whom were now operating in Iran under new rules of engagement. Previously, they were ordered to fire only in self-defence, but he said this has now changed: "We have a clear decision by our party leadership that we will fight this regime by any means possible."
In recent weeks, local affiliates of these groups have reported carrying out sabotage attacks in Iran and engaging in firefights with the Iranian army.
Lack of economic development in Kurdish areas and the Iranian government's allegedly repressive domestic policies are a major grievance for many of the country's estimated seven million Kurds, according to these leaders.
So far in 2015, the Iranian government has executed 17 Kurdish political prisoners, the most recent on August 26 when Amnesty International reported the execution of 30-year-old Kurd Behrouz Alkhani - despite the fact that he was awaiting the outcome of a supreme court appeal.
Such executions have convinced many that the government will never truly reconcile with Kurds, said Hajir Sharifi, an Iranian Kurdish human rights activist living in Iraq. "Kurds in Iran simply lost their faith in Tehran's ability to make any positive changes in its policy towards them."
While Iran appears to have recently moved closer to Western countries by reaching a deal to limit its nuclear programme in return for sanctions relief, the Iranian Kurdish parties remain distrustful.
Ahmedi says he sees signs that Kurds in Iran may be close to the boiling point. In May, predominantly Kurdish cities across Iran erupted in protest after a Kurdish woman in the city of Mahabad died after falling from a balcony, allegedly following a sexual assault by a member of the Iranian security services.
But despite their discontent, some Iranian Kurds question the ability of the fighters to achieve their goals. Hemn, a 28-year-old unemployed Kurdish university graduate from Sanandaj, said he supported the goals of the KDP-I but doubted their current effectiveness.
Declining to give his family name, he said: "The KDP-I and other Kurdish dissident parties won't get the full support of people just by going back to the mountains and sporadic fights with some military outpost on the border."
This sentiment is echoed by some observers. Massoumeh Torfeh, an Iran specialist at the London School of Economics, told Al Jazeera: "There is no way they can exploit the internal Iranian discontent, strong as they might be." Moreover, public discontent in Iran appears to have been much reduced by the recent nuclear deal, she added.
The Iranian government did not respond to repeated requests for comment.
The KRG in Iraq, for its part, has urged Iranian Kurdish groups to avoid antagonising Iran. "We continue to say that armed conflict won't help to resolve any problems, and that the Kurdistan area of Iraq should not be an area to settle scores, as it will only lead to instability," KRG spokesman Safeen Dizayee told Al Jazeera. "Our advice is that all sides should refrain from violence and all forms of conflict."
For now, the Iranian Kurdish fighters are unperturbed. "There's a Kurdish saying: 'If you don't give up, you won't lose,'" Ahmedi said.
http://www.aljazeera.com/news/2015/09/meet-kurdish-fighters-mobilising-tehran-150903093406685.html
-----
Egyptian PM resigns in wake of corruption scandal
AFP — 13 September 2015
CAIRO: Egyptian President Abdel Fattah al-Sisi on Saturday accepted the resignation of the government after it was rocked by a corruption scandal, and tasked the oil minister with forming a new cabinet.
A senior official said the resignation of premier Ibrahim Mahlab's administration aimed to "pump new blood" into the government after the arrest on Monday of agriculture minister Salah Helal on suspicion of taking bribes.
The presidency said Sisi asked outgoing oil minister Sharif Ismail to form a new cabinet within a week.
Media had reported an impending reshuffle after Helal's arrest following his resignation in connection with an investigation into corruption.
Helal and his chief of staff were accused of having "requested and received" bribes from a businessman, via an intermediary, to legalise the purchase of state property.
The government had denied reports of an impending reshuffle, and said no other ministers had been im­ pli­cated in the corruption case.
But there have growing calls for Mahlab's resignation and increasing protests by civil servants over a new law that centralises promotions while taxing bonuses.
"The main reason was the president was displeased with the job of some ministers, and his feeling that the government wasn't achieving what he wanted, especially in light of complaints by citizens regarding services," said Mostafa Kamel al-Sayyed, a Cairo University political science professor. Mahlab's resignation comes as Egypt prepares to hold long-delayed legislative elections in two phases between October 17 and December 2.
The elections had initially been scheduled for early 2015 but were cancelled by a court on technical grounds.
Mahlab, who had headed the Arab Contractors construction firm, had been appointed by interim president Adly Mansour in March 2014, less than a year after the army toppled Islamist president Mohamed Morsi.
He was viewed as a capable technocrat close to Sisi, the former army chief who removed Morsi and won the presidential election in May that year. Ismail, who has experience in state-owned petroleum companies, had been the managing director of Ganoub El Wadi Petroleum Holding Company before his appointment as oil minister in July 2013 following Morsi's overthrow.
Morsi's removal and detention unleashed a deadly crackdown on Islamists that killed hundreds of protesters, and the army has struggled to quash a jihadist insurgency in the Sinai Peninsula.
The government had enjoyed support in the face of militants who have killed hundreds of soldiers, but in recent months had come under fire for corruption and the unpopular civil service law.
http://www.dawn.com/news/1206639/egyptian-pm-resigns-in-wake-of-corruption-scandal
-----
Tawaf on bridge suspended for safety of pilgrims
September 13, 2015
Khalid Al-Himaidi
Okaz/Saudi GAzette
MAKKAH — The circumambulation around the Kaaba (tawaf) on the bridge which is used as a temporary circumambulation platform especially for wheelchair-bound pilgrims and the elderly, will be temporarily suspended as a result of Friday's crane collapse tragedy, according to a source at the General Presidency of the Affairs of the Two Holy Mosques.
The two-story bridge is 12 meters wide and is 34 meters above the ground. "The General Presidency and the expansion project construction company have decided to suspend tawaf on the bridge for the safety of pilgrims," said the source.
The bridge was built as a temporary mataaf (the area where Haj and Umrah pilgrims circle the Kaaba during the Tawaf ritual) route until the expansion of the main mataaf is completed.
The construction on the main mataaf has reduced the total accommodation capacity of pilgrims by almost half. The bridge accommodates 35,000 pilgrims an hour.
http://www.saudigazette.com.sa/index.cfm?method=home.regcon&contentid=20150913256471
-----
King Salman decorates Widodo with King Abdulaziz medal
September 13, 2015 12:40 AM
JEDDAH – Custodian of the Two Holy Mosques King Salman and Indonesian President Joko Widodo held talks at Al-Salam Palace in Jeddah on Saturday, Saudi Press Agency (SPA) said.
At the outset, King Salman decorated the Indonesian President with the King Abdulaziz Medal, which is the highest Saudi medal that is awarded to leaders of sisterly and friendly countries.
During the talks they reviewed bilateral relations between the two countries and the means to support them in different fields. They also discussed the latest developments in the Islamic, regional and international arenas.
Earlier, the Indonesian president was accorded an official reception by the King. The King also hosted a luncheon in Widodo's honor.
http://www.saudigazette.com.sa/index.cfm?method=home.regcon&contentid=20150913256404
-----
South Asia
Drone Strike Kills Five Taliban In Nangarhar
By ZABIHULLAH MOOSAKHAIL - Sep 13 2015
A US drone strike has killed five Taliban insurgents in eastern Nangarhar province, an official said on Sunday.
Colonel Hazrat Hussain Mashriqiwal, spokesman for the police headquarters of Nangarhar province said that the air strike was carried out in Marsangi area of Lal Pur District last night.
He said five Taliban were killed and two others wounded in the aerial attack.
According to Mashriqiwal, those killed included a local commander of the group.
Nangarhar has turned into a hot spot for militant groups in recent months.
According to reports and local officials, Taliban and Daesh have speed up their activities and recruitment in this eastern province.
Militants have also established prisons at least in one district of this province.
Governor of Achin District recently told media that there are three detention centers in his district where several people are being held by militants.
The doors of at least six schools have also shut down due to security reasons in this district.
http://www.khaama.com/drone-strike-kills-five-taliban-in-nangarhar-3893
-----
Security Forces Prevent Suicide Attack In Kunar
By KHAAMA PRESS - Sep 13 2015
A statement issued by the ministry states that the raid was conducted based in a tip-off in the jurisdiction of Marawar District around 08:30 this morning.
The statement further states that the arrested terrorist planned to carry out attack in the same district.
According to the pre release, two suicide vests were recovered from the position of this terrorist who has confessed to his intentions.
Marawara which shares a border with Pakistan is a restive district in Kunar province. The district has witnessed severe clashes between security forces and Taliban in the past.
http://www.khaama.com/would-be-suicide-bomber-detained-in-kunar-3894
------
Islamic State' militants claim attack on Pak-Afghan border
By Reuters: September 13, 2015
DERA ISMAIL KHAN: Former Tehreek-e-Taliban Pakistan (TTP) militants who have pledged allegiance to Islamic State said on Sunday they had attacked a paramilitary checkpoint along the Afghan border, in the first such assault claimed by a former faction of the TTP in several months.
A militant affiliated with the faction told Reuters the group attacked Damadola district of the Bajaur tribal area, where the military has been battling a militant insurgency since 2007, late on Saturday.
"Our men destroyed the post, set it on fire and left it after our operation was complete," he said by telephone.
Two Pakistani intelligence officials confirmed a checkpoint had been attacked, but there were no casualties.
The Pakistani government says that Islamic State, a group founded in Syria and Iraq in 2013, does not have a credible presence in the country.
Several smaller militant groups and factions of the Pakistani Taliban have, however, pledged allegiance to Islamic State and its leader Abu Bakr al-Baghdadi since last year.
So far, Islamic State has not formally accepted any of those pledges, nor has its central leadership claimed responsibility for any attacks carried out in Pakistan.
On Sunday, at least 12 militants were killed after military jets bombed the Mana area of Shawal Valley, two security officials said.
The deeply forested valley is a key Taliban stronghold and a main smuggling route into Afghanistan.
The Shawal Valley is still dotted with Taliban bases and foreign fighters more than a year after the military announced an offensive to clear the Taliban from the North Waziristan region along the Afghan border.
A drone strike across the border also killed four members of the Afghan Taliban on Sunday morning, said Taliban fighters.
http://tribune.com.pk/story/956010/islamic-state-militants-claim-attack-on-pak-afghan-border/?utm_source=Daily+Roundup+Newsletter&utm_campaign=e23943a0bf-Daily_Roundup_5pm&utm_medium=email&utm_term=0_19961368d8-e23943a0bf-65338937
------
Taliban torch WFP vehicles in Badakhshan
By KHAAMA PRESS - Sun Sep 13 2015
2Taliban militants have torched five vehicles of the UN's World Food Program (WFP) in northeastern part of Afghanistan.
Colonel Sakhidad Haidari, the deputy police chief of Badakhshan province said that the incident took place in Sar-i-Sofa area of Yaftal District yesterday.
He said Taliban captured drivers of these vehicles but later let them go.
As per Haidari's information, these drivers delivered food to Yawan District and on the way back they were stopped by the Taliban.
Haidari further said that the militants involved in the attacked belonged to Safiullah group of Taliban.
This happens only two days after the convoy of another UN agency was attacked in eastern Nangarhar province.
On September 10, a bomb exploded on a convoy of vehicles belonging to the United Nations International Children's Emergency Fund (UNICEF) in the outskirt of the capital city Jalalabad which did not have casualties but partially damaged the vehicle.
http://www.khaama.com/taliban-torch-wfp-vehicles-in-badakhshan-3899
-------
Four suspected drug dealers arrested with 325 KG of hashish in Nangarhar
By ZABIHULLAH MOOSAKHAIL - Sun Sep 13 2015
Security forces have detained four suspected drug dealers with 325 kilograms of raw hashish in eastern Nangarhar province.
Colonel Hazrat Hussain Mashriqiwal, spokesman for the police headquarters of Nangarhar province said that the suspects were arrested during a raid in Samarkhil area of Behsood District yesterday.
He said that the hashish was placed very professionally in a vehicle which came from northern Baghlan province.
According to Mashriqiwal, the arrested suspects planned to deliver the hashish to Ghanikhil District but Counter-Narcotics Department of the police headquarters foiled the plan.
The arrested suspects are under further investigation at the police HQ in provincial capital Jalalabad.
Ghanikhil is a restive district in Nangarhar province where not only the armed militant groups operate but also the drug dealers run businesses.
http://www.khaama.com/four-suspected-drug-dealers-arrested-with-325-kg-of-hashish-in-nangarhar-3898
-----
Europe
Tens of thousands attend pro-migrant rallies in Europe
AFP — 13 September 2015
LONDON: Tens of thousands of Europeans rallied on Saturday urging solidarity with the huge numbers of refugees entering the continent, as Hungary's populist premier said leaders were "in a dream world" about the dangers posed by the influx.
In London, one of dozens of events planned across Europe, tens of thousands of people marched brandishing placards reading "Open the Borders", a journalist said, while in Copenhagen some 30,000 took to the streets, according to police.
Other demos were planned in Germany, Spain, France and elsewhere. But highlighting how the arrival of hundreds of thousands of migrants is dividing the EU, several counter-demonstrations were also scheduled in eastern members of the bloc.
"It's time to speak out against the deadly borders that have been enacted in our name. People all over Europe are organising resistance and solidarity in their towns and cities," organisers of the "#EuropeSaysWelcome" initiative said on social media.
The International Organisation for Migration said that more than 430,000 people have crossed the Mediterranean to Europe this year, with 2,748 dying or going missing in packed and unseaworthy boats operated by often unscrupulous human traffickers.
Hungary, meanwhile, has seen some 175,000 people travel up from Greece across its borders this year. Its plans to build a large fence, deploy the army and jail illegal immigrants have earned it stiff criticism, stoked by images of migrants in packed camps.
The influx has exposed deep rifts with the European Union, with "frontline "states Italy, Greece and Hungary struggling to cope and European Commission proposals for sharing 160,000 of the new arrivals in a quota scheme facing resistance among eastern members.
Germany has absorbed the lion's share so far, taking in 450,000 people with the government of Chancellor Angela Merkel — hailed as a heroine by many migrants but under fire at home, even from allies — relaxing asylum rules for Syrians.
On Friday Germany's foreign minister, saying the crisis could be the biggest in the EU's history, failed in Prague to convince counterparts from eastern Europe to sign up to the Brussels scheme, which both Berlin and the UN say doesn't go far enough.
Austrian Chancellor Werner Faymann, whose country has seen thousands of migrants enter from Hungary in recent days, with all but a few passing through, was quoted on Saturday as comparing Hungary's treatment of migrants to the Nazi era.
http://www.dawn.com/news/1206634/tens-of-thousands-attend-pro-migrant-rallies-in-europe
-----
Germany 'stretched to capacity' amid refugee surge
13 Sep 2015
Germany has warned that the country was stretched to capacity to accommodate refugees streaming in through Hungary and Austria with southern city of Munich struggling to cope with the new arrivals.
More than 13,000 asylum seekers arrived in Munich on Saturday, adding up to about 450,000 others who have already made it to the country this year.
"Given the numbers from yesterday, it is very clear that we have reached the upper limit of our capacity," said a Munich police spokesman.
Alexander Dobrindt, Germany's federal transport minister, said "effective measures" were necessary to stop the influx.
"That includes help for countries from where refugees are fleeing and also includes an effective control of our own borders which also no longer works given the EU's complete failure to protect its external borders," Dobrindt said in a statement.
The International Organization for Migration said on Friday that more than 430,000 people have crossed the Mediterranean to Europe this year, with more than 2,700 dying en route or going missing.
'Ready to help'
Four European mayors called on Europe's governments, in a joint column published on Sunday, to do more to help the refugees.
"European cities are ready to become places of refuge. States grant the status of asylum but it is cities that provide shelter," said Paris' Anne Hidalgo, Barcelona's Ada Colau, and the mayors of the Greek and Italian islands of Lesbos and Lampedusa - key entry points for refugees entering Europe - in the appeal published in Spanish daily El Pais.
"Our municipal services are already working on hosting plans to ensure bread, shelter and dignity to all who flee war and hunger. All that is needed is the help of states."
The column was published on the eve of an extraordinary meeting of EU interior ministers in Brussels called to seek urgent solutions to a migration crisis unprecedented in the bloc's history.
"We ask that they do not turn their backs on cities, that they listen to the cry that is coming from them, we need the support and cooperation of states," the mayors said.
This comes a day after people across Europe marched calling on their governments to help the distraught refugees.
Tens of thousands of people marched through the streets of London, Copenhagen, Berlin, Stockholm, Helsinki, and Lisbon waving placards, saying "Refugee lives matter."
There have been anti-immigration marches too in the Eastern European capitals. Thousands gathered to protest against accepting refugees in the Polish capital, Warsaw, calling for refugees to "go home".
http://www.aljazeera.com/news/2015/09/germany-stretched-capacity-refugee-surge-150913110111973.html
-----
UN chief unveils agenda for peacekeeping missions
THE NEWSPAPER'S CORRESPONDENT — 13 September 2015
UNITED NATIONS: UN Secretary-General Ban Ki-moon on Friday unveiled his agenda to strengthen Uni­ted Nations peacekeeping, including setting out three "fundamental" chang­ es urg­ently required to adapt operations to new realities, as well as measures to root out sexual exploitation and abuse.
As Ban spoke about the new agenda, his peacekeeping chief announced that following reports of alleged sex­ ual exploitation and abuse, seven peacekeepers serving with the UN mission in the Central African Republic (CAR) have been repatriated, while nine have had their payments suspended.
"There have been since the mission started last year 63 allegations of possible misconduct," Under-Secre­tary Ge­n­­e­­­ral for Peace­keep­ing Oper­ations Hervé Lads­ous told reporters in New York follo­w­ing a four-day visit to CAR.
"Out of these 63 allegations, 15 relate to possible sex­ual exploitation and abuse. […] Most of those cases are under investigation."
In addition to meeting with government officials and well as average citizens during his visit to the country, Mr Ladsous met personnel of the UN Multidi­mensional Integ­rated Stabili­ sation Mission in CAR (MINUSCA) and discussed the fight against sexual exploitation and abuse, in the wake of recent allegations.
http://www.dawn.com/news/1206635/un-chief-unveils-agenda-for-peacekeeping-missions
-----
Pakistan
World Pashto Conference: Speakers demand national, official status for Pashto
SYED ALI SHAH — 13 September 2015
QUETTA: Writers, poets, intellectuals, authors and literary figures have demanded the government to make Pashto an official and educational language.
Speakers at the World Pashto Conference spoke at length on the importance of mother-languages and urged the federal government to grant national and official status to all languages in the country.
Pashto Academy Quetta organised a three-day Pashto International Conference "Pashto Language and Globalisation, Challenges and Possibilities" at a local hotel in Quetta on Saturday.
Governor Balochistan Muhammad Khan Achakzai while inaugurating the conference termed the mother-language imperative for the promotion of education and success of a society.
Renowned Pashto literary personalities from Kabul, Kandahar, Canada, Germany and various parts of the world participated in the conference, which thoroughly discussed history, the importance of, and challenges to, the Pashto language.
Prominent among those who participated in the Conference were Pashto Academy President Syed Khair Muhammad Arif, Muhammad Masoom Hotak from Canada, Wali Muhammad Achakzai from Germany, Habibullah Rafi from Kabul Afghanistan, Professor Dr. Fazal Rahim Marwat, Vice Chancellor Bacha Khan University Charsada, Abdul Ghafoor Lewal from Afghanistan and others.
"Committed nations make their dead languages alive," Muhammad Khan Achakzai said while referring to various ancient languages around the globe. He pointed out that Pashto was neither an educational nor official language, but Pashto-loving personalities were still publishing books in Pashto, despite the odds.
Pashto writers, poets, intellectuals, journalists and authors presented their papers during the conference and thoroughly shed light on the history and importance of Pashto language. "Everyone has to work hard for promotion of Pashto," Habibullah Rafi, a writer from Afghanistan told the participants of the conference. The conference will continue till September 14.
http://www.dawn.com/news/1206728/world-pashto-conference-speakers-demand-national-official-status-for-pashto
------
Six Pakistanis among dead in Makkah crane accident: FO
IRFAN HAIDER —13 09 15
ISLAMABAD: At least six Pakistanis have been confirmed dead in the crane accident in Makkah's Grand Mosque on Friday, which had resulted in the deaths of at least 107 pilgrims, the Foreign Office (FO) said on Sunday.
Headed by the Pakistani Ambassador to the Kingdom of Saudi Arabia, Manzoorul Haq, a team of Pakistani embassy personnel visited a mortuary in Makkah last night.
The team during its four-hour visit confirmed, through documentary evidence available and identification of bodies by relatives, that six of the deceased were Pakistani nationals, FO spokesman Qazi Khailullah said.
However, according to Saudi media reports, the number of those who died in the incident is 15.
At least 47 Pakistanis were injured in the crane accident, earlier reports had said.
The FO spokesman had said that out of the 47 injured, 26 Pakistanis were still admitted in three hospitals near Makkah, while others were discharged after necessary medical treatment. None of the Pakistanis in hospitals were said to be in serious condition, he said.
Pakistanis wishing to know about the condition of their loved ones or any other information regarding the incident can contact Pakistan's Embassy in Saudi Arabia on these numbers: 00966580734001 or 00966504517632.
Haj will proceed despite the accident, Saudi authorities said on Saturday as crowds returned to pray a day after the tragedy.
107 pilgrims reported dead
At least 107 people died and 238 others were injured when a massive construction crane crashed into Makkah's Grand Mosque during stormy weather Friday, Saudi authorities said, less than a fortnight before the annual Haj pilgrimage starts.
According to the Saudi civil defence authority around 238 people were injured in the incident and they were being treated in nearby hospitals.
The Saudi Press Agency said that almost 800,000 pilgrims had arrived by Friday for the Haj, which all able-bodied Muslims are expected to perform if they have the means to do so. Last year, just over two million people took part.
A massive project is currently underway to expand the area of the mosque by 400,000 square metres, allowing it to accommodate up to 2.2 million people simultaneously. The mosque is surrounded by a number of cranes.
Though marred in the past by deadly incidents including floods, stampedes and fires, the Haj has become nearly incident-free in recent years because of multi-billion dollar projects.
These have included transport networks and other infrastructure to facilitate movement of the huge numbers of people who perform Haj.
dawn.com/news/1206719/six-pakistanis-among-dead-in-makkah-crane-accident-fo
-----
Bullet-ridden bodies of three men found in Gwadar
SYED ALI SHAH, 13 September 2015
QUETTA: Three bullet-riddled bodies were found in Pasni area of Balochistan's Gwadar district on Sunday morning.
Police sources told Dawn News that locals had spotted three bodies in Pasni area of Gwadar.
The residents informed local administration regarding the recovery. Levies and Police officials reached the spot as an investigation into the incident went underway.
Police said all victims received multiple bullet wounds from a close range.
The bodies were shifted to a nearby hospital for postmortem.
The victims are yet to be identified while there has been no claim of responsibility for the killings.
http://www.dawn.com/news/1206730/bullet-ridden-bodies-of-three-men-found-in-gwadar
-----
Karachi operation: Two 'gang-members' killed during Rangers raid in Lyari
IMTIAZ ALI — 13 September 2015
KARACHI: Two 'criminals' allegedly linked with the Uzair Baloch group, operating in Karachi's Old Golimar Area, were killed by Rangers in an exchange of fire in the early hours of Sunday.
The 'gangsters' were identified as Adnan Baloch and Sajid Ganga, who were wanted for a number of target killings, kidnapping for ransom and "other vicious crimes", according to a Rangers press release.
Rangers also claimed the recovery of weapons and ammunition from their possession.
An intelligence-based targeted operation had been conducted on the suspected hideouts of gang war criminals in Lyari Town, a Rangers press release said.
The suspects snuck into a hideout located at Adam Tea Store around 2:30am, in efforts to evade arrest and flee, after opening indiscriminate fire at the Rangers troops, the press release further said.
"The Rangers retaliated effectively, killing two of them while others escaped, seeking cover of darkness and narrow streets," the press release said.
Prime Minister Nawaz Sharif on Friday said that the ongoing operation against criminals in Karachi would be taken to its logical conclusion, Dawn newspaper earlier reported.
"The miscreants now are carrying out cowardly attacks as a last resort but are destined to be defeated ultimately," he said.
According to a performance report on the ongoing Karachi operation prepared by the Sindh home department, police had recorded 935 shootings against criminal gangs and individuals by the end of July, which are 66 more than the 869 encounters last year, Dawn newspaper reported in August.
A total of 596 gangs have been busted – 118 more than the 478 gangs eliminated last year, while 386 'criminals' have been 'neutralised' – 125 more than the alleged criminals gunned down in 2014.
http://www.dawn.com/news/1206725/karachi-operation-two-gang-members-killed-during-rangers-raid-in-lyari
-------
Govt should complete its tenure, says Jamaat-i-Islami chief
THE NEWSPAPER'S CORRESPONDENT — 13 September 2015
UPPER DIR: Jamaat-i-Islami chief Sirajul Haq has said that his party wants a stable and strong democracy in the country and will oppose any move to derail it.
He was addressing a public gathering in Wari, Upper Dir, in connection with the election campaign of JI candidate Malik Azam Khan. Pakistan Tehreek-i-Insaf central additional secretary general Saifullah Niazi also spoke on the occasion. Ex-MPA Malik Behram, Upper Dir district nazim Sahibzada Fasihullah and supporters of JI and PTI were also present on the occasion.
The JI chief said that the PML-N-led federal government should complete its tenure. He praised the National Accountability Bureau's initiative launched against corrupt elements. He said that accountability process should be expanded to Punjab and Khyber Pakhtunkhwa.
He said that those who had looted the national wealth and transferred it abroad must be sent to jails. Referring to the NAB list, he claimed that 70 per cent of people involved in corruption belonged to Pakistan Peoples Party. He praised former chief justice Jawad S. Khwaja for giving a historical verdict to declare Urdu as an official language.
Saifullah Niazi said that PTI had formed an alliance in PK-93 with JI. Conveying a special message of Imran Khan to the party workers, he asked them to vote for the JI candidate on Sept 15.
Mr Haq said that the voting by women had been declared compulsory by the ECP and the notification of election result could not be issued until women cast vote in the election. He asked the JI activists to give full freedom to women so they could use their constitutional right in the by-election.
Meanwhile, police have devised an elaborate security plan for the by-election in Wari.
District police officer Israruddin Bacha said that 71 polling stations had been declared most sensitive and 18 sensitive in Upper Dir. He said that over 7,000 security personnel would be deployed at these polling stations while mobile teams would also patrol the area. He said that apart from police personnel about 300 Levies men would also be deployed.
The DPO appealed to the leadership of political parties to cooperate with the police in maintenance of law and order.
http://www.dawn.com/news/1206703/govt-should-complete-its-tenure-says-ji-chief
-----
Nomination 'withdrawal' by two LG poll candidates shocks PTI
MANSOOR MALIK — 13 September 2015
LAHORE: The Pakistan Tehreek-i-Insaf suffered a major blow on Saturday as its three candidates for union council chairman and vice-chairman slots `withdrew' their nomination papers allegedly under PML-N pressure.
The development came as a shock for PTI leadership as it remained clueless about the pressure that was allegedly being faced by the party candidates. As a result PML-N's Khwaja Ahmad Hassaan and Jaffar Husain were elected unopposed as UC-107 chairman and vice-chairman, respectively.
The PTI had not fielded covering candidates in the constituency for the upcoming local government elections. Similarly, PML-N's Haji Jamil won UC-263 chairman slot following withdrawal of nomination papers by PTI's Malik Sajjad.
The party alleges coercion by PML-N
t is learnt that Khawaja Hassaan is also PML-N's candidate for Lahore Mayor slot.
It is alleged that the PML-N men detained PTI's chairman candidate Nawaz Chaudhry at MNA Mehr Ishtiaq's residence, while vice-chairman candidate Rana Asghar movement was restricted to his residence.
The both candidates were allegedly pressurised to sign their nomination withdrawal papers. Eventually their papers were withdrawn without their personal appearance before the returning officer.
PTI Punjab Organiser Chaudhry Sarwar has sought a detailed report about the episode from Lahore organiser Shafqat Mahmood, while Opposition Leader in the Punjab Assembly, Mian Mahmoodur Rasheed, announced moving the Lahore High Court on Monday (tomorrow) on the issue.
The opposition leader confirmed that the party's candidates -- Nawaz Chaudhry and Rana Asghar -- were detained by the PML-N and their mobile phones were `confiscated' so that they could not contact PTI leadership.
Mr Rasheed said the PML-N's two "squads" continued to pressurise the party's candidates at their residences till early Saturday.
He said Nawaz Chaudhry was escorted to MNA Mehr Ishtiaq's residence, where his close relatives as well as PML-N candidate Khwaja Hassaan were already present. He said Chaudhry claimed that he was told that PTI vice-chairman candidate had already withdrawn his papers and he would not be able to contest the election even if he did not sign his withdrawal papers.
Mr Rasheed said the candidates told him they were were allowed to leave only signing their nomination withdrawal papers at around 12noon. "Both the candidates did not appear personally to withdraw their nomination papers," he told Dawn.
Mr Rasheed also asked the Election Commission of Pakistan to take notice of the PML-N's "pressure tactics" and allow PTI's candidates to contest the elections.
Mr Rasheed admitted the PTI had not fielded any covering candidate in the UC-107. He alleged the PML-N goons had also not allowed any other party to field its candidates in the constituency. "Many candidates continued visiting the Town Hall, but they were told that the nominate forms were not available," he alleged.
He dared Mr Hassaan to show moral courage and contest the election. He said the PTI would not allow the PML-N to rig the local government elections.
Meanwhile, at an emergency news conference, Nawaz Chaudhry and Rana Asghar flanked Mr Rasheed and reiterated the allegations of coercion by PML-N men. They said they were still with the PTI and would continue fighting for people's cause under the leadership of Imran Khan.
It is learnt that PTI Punjab organiser Chaudhry Sarwar also discussed the issue with deputy organiser Sibtain Khan, Mahmoodur Rasheed, Shafqat Mahmood and Zaheer Abbas Khokhar at an emergent meeting, where he asked them why no covering candidates were fielded in the constituency.
Punjab government spokesman Zaeem Qadri, Khwaja Hassan and Mehr Ishtiaq could not be contacted despite several phone calls on their mobile phones.
http://www.dawn.com/news/1206661/nomination-withdrawal-by-two-lg-poll-candidates-shocks-pti
--------
Security beefed up as 10 militants shifted to Sukkur jail from Karachi
THE NEWSPAPER'S CORRESPONDENT — 13 September 2015
SUKKUR: Security has been beefed up at the Sukkur central prison after transfer to it of 10 dangerous prisoners associated with banned outfits from Karachi, according to Jail Superintendent Shahid Hussain Chhajro.
Mr Chhajro told journalists on Saturday that overall security at the jail had been tightened, jammers had been installed and construction of a bomb proof wall around the jail was going on at a fast pace. It would be completed soon, he added.
He said that policemen and Rangers personnel performed duty in and outside the jail premises round the clock and they were on high alert and ready to tackle any situation.
http://www.dawn.com/news/1206577/security-beefed-up-as-10-militants-shifted-to-sukkur-jail-from-karachi
------
Sartaj Aziz: Pakistan-Afghanistan relations strained following Kabul attacks
By ZABIHULLAH MOOSAKHAIL - Sep 13 2015
The attacks left at least 50 people killed and more than 400 others wounded at the beginning of August.
Afghan leaders held Pakistan responsible for these attacks saying that insurgents are being armed and financed in Pakistan.
While talking to foreign ministers' forum at the Institute of Business Administration (IBA) in Karachi, Aziz stressed on friendly relations between the two countries and joint efforts to get an enduring peace.
He said: "Afghanistan must understand that just joining the table for talks with Taliban is not enough to ensure peace. Efforts must be directed at making these talks result oriented."
Meanwhile, Aziz blamed India for promoting terrorism in Pakistan.
"Not only is India interfering in Pakistan's internal matters, it is also supporting terrorism in our country," he said.
Quoted by Pakistan's Dawn news, Aziz said that the documentary evidence of Indian involvement had "already been prepared," adding that copies of this documentary would be given to Indian side.
Pakistan and India have a history of blaming each other for interference and support of terrorism.
http://www.khaama.com/sartaj-aziz-pakistan-afghanistan-relations-strained-following-kabul-attacks-3894
-------
India
Indo-Pak Border Confidence Building Measures Implemented in Next 15 Days
By PTI Published: 13th September 2015
NEW DELHI: The latest set of confidence building measures (CBMs) agreed upon by BSF and Pak Rangers to put an end to ceasefire violations and firing along the border are expected to be put in place in the next fortnight.
The two sides, during their three-day DG-level talks here, had decided to enhance communication channels by getting in touch over the fastest modes of communication like mobile phone, fax and email and ensure that they alert the other side with a precautionary illumination fire if either side detects something suspicious on the International Border (IB).
"The 20-point joint record of discussions stipulates that the new CBMs and other points agreed upon shall be put into operation in the next 15 days. "A number of these initiatives do not require the permission of governments on either side and can be implemented by the two forces on their own keeping in mind the top most agenda of peace, tranquillity and safety of border population," sources privy to the development said.
They said like in the case of exchange of mobile numbers, both the sides have to work out modalities as international calling is barred from border locations and hence mechanisms have to be put in place for this. "Basic details like the colour of the warning flare shots that will be used by either side will have to be worked upon and communicated to each other within the next fortnight so that the decisions taken during the DG-level talks could be implemented on ground," they said.
The joint record was signed and endorsed yesterday here by the two chiefs-- Border Security Force DG D K Pathak and Pak Rangers Director General Maj Gen Umar Farooq Burki. The Rangers delegation, after this official ceremony, crossed over to their side in the evening through the Attari-Wagah land border. These bi-annual border talks had taken place almost after a break of two years as relations between the two neighbours came under strain due to a host of issues.
As part of efforts to bring peace on the border, India and Pakistan had yesterday also decided to put a complete ban on firing of mortar shells along the IB in Jammu and Kashmir which has claimed the lives of several civilians and damaged their houses.
The outcome of the talks, which both the sides said were held in a "cordial and constructive atmosphere", also endorsed a CBM that in case either side notices suspicious movement along IB, they will fire precautionary illumination shots to alert the counterpart that the forthcoming fire is aimed at the intruder and not at them.
http://www.newindianexpress.com/nation/Indo-Pak-Border-Confidence-Building-Measures-Implemented-in-Next-15-Days/2015/09/13/article3025981.ece
------
Top LeT Militant Carrying Rs 10 laths Award Killed in Jammu and Kashmir Gunfight
By Fayaz Wani : 12th September 2015
SRINAGAR: A top militant of Pakistan-based militant group Lashkar-e-Toiba, who was involved in 2013 deadly attack on army convoy and carrying an award of Rs 10 lakhs, was killed in an encounter with security forces in South Kashmir Pulwama district of Jammu and Kashmir on Saturday.
Police sources said acting on specific intelligence input, army, J&K Police's Special Operation Group (SOG) and paramilitary CRPF men launched a combing operation in Naman village, Kakapora in South Kashmir Pulwama district at around 3.30 pm.
They said militants hiding in paddy fields fired on the search party of security forces. "The fire was returned by the troops and in the ensuing two-hour long gunfight, a top Lashkar-e-Toiba militant was killed".
Sources said two managed to escape from the area during the course of gunfight.
They identified the deceased Lashkar militant as Irshad Ahmad Ganai of Awantipora area of Pulwama district.
Terming Ganai's killing as a major achievement for security forces, sources said he was one of the wanted militants and a manhunt was going on for him since 2013.
"He was an A-category militant and carrying a reward of Rs 10 lakhs," they said.
Police sources further said Ganai, who was active since 2011, was also involved in deadly attack on army convoy at Hyderpora area on Srinagar airport road on June 24, 2013.
Eight army men were killed and 19 others injured in the militant attack on army convoy at Hyderpora. It was one of the deadly militant attacks in the Valley.
Sources said after the 2013 attack on army convoy, security forces had been hunting for him. "He was also involved in many other attacks on police, army and paramilitary forces. He had managed to escape during many encounters but today his luck ran out and was killed".
http://www.newindianexpress.com/nation/Top-LeT-Militant-Carrying-Rs-10-lakhs-Award-Killed-in-Jammu-and-Kashmir-Gunfight/2015/09/12/article3024614.ece
------
Despite 2 Days of Talk, No End to Pakistan Firing Along LoC in Jammu and Kashmir
By Express News Service: 13th September 2015
SRINAGAR: There has been no end to the firing by Pakistani troops along the LoC in Jammu and Kashmir despite two days of talks between the BSF chief and his Pakistan Rangers' counterpart in New Delhi.
"Pakistani troops again violated border ceasefire on Friday evening in two sectors along the LoC in Poonch district of Jammu province," Jammu-based defence spokesman Lt Colonel Manish Mehta told Express.
He said the Pakistani troops fired from small and heavy weapons towards Army posts in two sectors, including Balakote in Poonch from 11 pm. "Army men deployed at the LoC returned the fire effectively," Mehta said, adding that there was no loss of life or injury to Indian side during the exchange of fire, which continued for some time.
The firing incident took place hours after Pakistani Rangers DG Maj Gen Burki and BSF DG D K Pathak concluded the two-day level talks to ease tension along the LoC and the International Border (IB).
Even during Burki's stay in New Delhi, Pakistani troops violated border ceasefire and targeted Army posts along the LoC in Poonch sector. On September 11, Pakistani troops fired from automatic and heavy machine guns in Balakote sector.
http://www.newindianexpress.com/nation/Despite-2-Days-of-Talk-No-End-to-Pakistan-Firing-Along-LoC-in-Jammu-and-Kashmir/2015/09/13/article3024928.ece
------
NPP Blames BJP-PDP Government for Anti-national Activities in J-K
By PTI: 13th September 2015
NEW DELHI: National Panthers Party (NPP) chief Bheem Singh on Sunday held the BJP-PDP government responsible for anti-national activities in Jammu and Kashmir.
Blaming the ruling BJP-PDP government for anti-national activities in Jammu and Kashmir, National Panthers Party (NPP) chief Bheem Singh on Sunday said that the pro-Pakistan slogans raised at the 'Big Kashmir Marathon' was only to embarrass the country in front of the world.
"The ruling BJP-PDP government is responsible for all the anti-national activities in Jammu and Kashmir. I want to ask who organised this marathon. This was a publicity stunt by the government," Singh told ANI here.
"No Muslim organisation has ever organized such a marathon. This marathon was organised only to embarrass India and gain international publicity," he added while commenting on today's incident at Hazratbal where a clash broke out between the police and protestors after pro-Pakistan slogans were raised near the venue of the 'Big Kashmir Marathon'.
The 21-kilometre marathon was to begin from Naseem Bagh at Kashmir University and go along the Dal Lake.
However, the youth raised slogans in favour of freedom and pelted rocks on the forces guarding the venue in the varsity. The police and paramilitary forces later baton charged the protesting youth.
http://www.newindianexpress.com/nation/NPP-Blames-BJP-PDP-Government-for-Anti-national-Activities-in-J-K/2015/09/13/article3025984.ece
-----
Jhabua Blast: Man Who Stored Explosives in Building Absconding
By PTI Published: 13th September 2015
JHABUA: Police have launched a manhunt to arrest the person who stored a huge pile of explosives for mining work in a building which triggered off a series of explosions killing 89 people and injuring over 100 at Petlawad town here.
"We have booked Rajendra Kasawa under IPC section 304 (man slaughter or punishment for culpable homicide not amounting to murder) and section 3 (punishment for causing explosion likely to endanger life and property and section 4 (punishment for attempt to cause explosion, or for making or keeping explosive with intent to endanger life and property) of Explosive Substances Act yesterday," Petlawad Sub-Divisional Officer of Police A R Khan told PTI.
Police have carried out searches at some places to arrest Kasawa, he said. After the explosion yesterday, Kasawa and his family members fled from their residence.
Police have sealed his place where the explosive material was stored. Meanwhile, locals expressed anger over such huge amount of explosives being stored in a busy area that caused a massive blast leaving a trail of deaths and destruction.
At least 89 people were killed and nearly 100 injured yesterday after a massive blast caused by mining explosives stored in a building ripped through a crowded area in Petlawad town here.
The blast completely destroyed at least two buildings-- one in which explosive material for digging wells wasstored and an adjacent restaurant, and damaging several houses, officials said.
The explosion took place in the building of Kasawa who had a licence to use explosive material for digging wells in rocky areas.
Kasawa stored the explosive material, including gelatin sticks in huge quantity, in the residential building having two shops in it and situated close to the busy Sethia Restaurant in new bus stand area, a police official said.
In the vicinity of the restaurant, a large number of daily wage labourers were sitting when the explosion occurred. Besides, many persons were there inside the restaurant which is a major eatery in the area. Chief Minister Shivraj Singh Chouhan has ordered a judicial inquiry into the incident.
http://www.newindianexpress.com/nation/Jhabua-Blast-Man-Who-Stored-Explosives-in-Building-Absconding/2015/09/13/article3025903.ece
-----
India to help cure 4,000 Afghan children having heart disease
By ZABIHULLAH MOOSAKHAIL - Sun Sep 13 2015
India to help cure 4,000 Afghan children having heart disease, Afghanistan Red Crescent Society (ARCS) announced on Saturday.
Most of these children are having 'hole in heart' which in medical terms is called Ventricular Septal Defect (VSD).
Based on an agreement between ARCS and Indian Embassy in Kabul, India will spend $3000 or little above it on every patient in the coming five years. But if the expenses exceed 4,000 then the remaining balance would be paid by ARCS.
ARCS chairperson Fatima Gilani urged Afghan Hajis who are performing Hajj this year to make a donation of at least 1,000 AFG each to ARCS in order to help with the treatment and take part in this holy act of worship.
She praised India for taking care of Afghan children and said that India has always assisted ARCS.
Amar Sinha the Indian Ambassador to Kabul said it was a pleasure for him to see his government supporting Afghan kids.
Sinha said that his government will also provide training opportunities for Afghan cardiologists to handle simple cardiac cases in the country.
http://www.khaama.com/india-to-help-cure-4000-afghan-children-having-heart-disease-3896
------
15 Afghan army cadets graduated from Indian Army's Officers Training Academy
By KHAAMA PRESS -Sep 12 2015
Fifteen cadets of the Afghan National Army (ANA) completed their training at the Indian Army's Officers Training Academy and were commissioned as officers.
The Afghan army cadets were among 279 cadets who passed out of the academy on Saturday during a parade in the presence of General Officer, Commanding-in-Chief of Army's Eastern Command, Lt Gen Praveen Bakshi.
According to an official release carried in a report by The Times of India, the batch comprised 230 men, 33 women and 16 foreign cadets — 15 from Afghanistan and one cadet from Lesoto, South Africa.
The statement further added that the cadets were commissioned as 'officers' after completion of the vigorous training at the academy.
In his address to the cadets, Lt Gen. Bakhshi urged the newly commissioned officers to comprehend the fine qualities expected from them and constantly endeavour to be fully equipped to meet up the responsibilities and expectations.
Insisting on formidable image of the Indian Army at home and abroad for its professionalism, patriotism and discipline, Gen. Bakhshi told the officers to "remember the troops you will command are the finest in the world and you must treat them decently and with respect".
Later, he presented the "Sword of Honour" for Best All Round Gentlemen/Lady Cadet to Senior Under Officer Pragun Bali and the "Gold medal" for standing first in the Order of Merit to Battalion cadet Adjutant Vishwaraj Singh.
http://www.khaama.com/15-afghan-army-cadets-pass-out-of-indian-armys-officers-training-academy-1504
-----
Africa
Kenya unveils memorial to those tortured during British rule
AP —13 September 2015
NAIROBI: Thousands of Kenyans attended the inauguration on Saturday of a monument that pays tribute to the victims of torture and ill-treatment during the emergency period of British rule.
The memorial, backed by Britain, was officially opened in a ceremony witnessed by many veterans of the "Mau Mau" rebellion, which hastened the end of colonial rule in the East African country.
Several thousand now-elderly Kenyans say they were beaten and sexually assaulted by officers acting for the British administration trying to suppress the Mau Mau rebellion, when groups of Kenyans attacked British officials and white farmers who occupied fertile lands.
The British High Commission said in a statement that the memorial was built as part of an out-of-court agreement reached between the British government and some Mau Mau veterans in 2013. The agreement, which included more than 5,200 claimants, was worth nearly 20 million pounds.
The memorial features a statue of an armed rebel receiving a bag of supplies from a woman. It "stands as a symbol of reconciliation" between the British government and all the victims of the emergency period, which lasted from 1952 to 1960, the statement from the British High Commission said.
"This memorial is about reconciliation, allowing us to discuss together the issues arising from a difficult period in our shared history, and to move forward together," said British High Commissioner Christian Turner. Kenya gained independence in 1963.
http://www.dawn.com/news/1206630/kenya-unveils-memorial-to-those-tortured-during-british-rule
------
URL: https://www.newageislam.com/islamic-world-news/new-age-islam-news-bureau/clashes-rock-jerusalem-s-al-aqsa-mosque-compound/d/104565