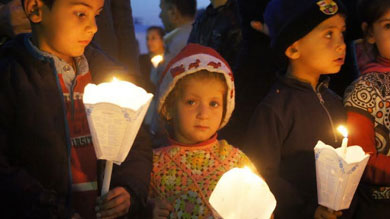 Christian Iraqi refugee children take part in a Christmas ceremony in Ankawa, the Christian quarter of Erbil (Photo courtesy of Aleteia)
Pakistan
Christmas Is a Big Hit in Islamic Republic of Pakistan
Action Likely Against Seminaries Involved In Militancy
Altaf Asks COAS to Impose Martial Law
Three 'TTP Men' Killed In Karachi
Black out coverage of terrorists, NA body tells media
Pakistan to Form Military Courts to Tackle Terrorism
Peshawar attack: won't let children's blood go in vain: Nawaz Sharif
Pakistan extremist leader held for two more weeks in murder case
ATC issues death warrants of two convicts
Illegal Afghans to be expelled immediately: KP CM
Woman 'refused compensation' moves court against Qadri
Arab World
Baghdad's Christians Gather Defiantly for Christmas Eve Mass
Clashes with Syria Kurds Kill 30 ISIS Militants
Iraqi Forces Kill 10 ISIL Terrorists in Salahuddin
5 'terrorists' killed, 78 arrested in North Sinai: Army
ISIL Takfiri militants Launches Chlorine Gas Strikes in Iraq's Anbar province
Egypt keeps Salafist imams out of pulpits ahead of elections
Saudi beheads Pakistani for heroin smuggling
Oman promises 'true' Arabia to boost tourism
Father of Jordan pilot prays for ISIS 'mercy'
Syria dissidents to discuss ways to end war
Saudi rights group accuses employers of sexism
Europe
Tandoori Turkey? How British Muslims Are Celebrating Christmas
Russian FM: ISIL Emissaries Sighted Near Russian Borders
UN urges IS to treat seized Jordanian pilot 'humanely'
North America
US Muslims, Jews Help Needy in Xmas
Muslim Center Reaches Out To Community and Other Faiths
Jordan jet was not shot down by IS group: US military
Obama accelerating shut down of Guantanamo
San Diego Calls for Inquiry into Use of Pilot Training Manual with Anti-Muslim, Sexist Illustrations
South Asia
China City Bans Christmas in Schools, Warns Over 'Western' Culture
2 ANA Embraced Shahadat, 13 Insurgents Killed
Case filed against three Ansar al-Islam men in Shafiul murder
AL: BNP hatching conspiracy with Jamaat to destabilise country
Saudi delegation visit Maldives to assess investment opportunities
India
'ISIS Tweet' Posted Via Proxy Server in UAE'
'Ghar Wapsi' Put Off, Wait and Watch In Aligarh
MHA Team to Resolve Citizenship Issues of Pakistan-Migrant Hindus in MP
Africa
Libyan Human Rights Group Calls for Halt to Militias Hiring Minors
Nigeria sentences another 4 soldiers to death
Muslim man sentenced to death in Mauritania for apostasy
Sudan: President Says No Concessions for Rebel and Opposition Forces
Mideast
PKK Hopes to Leave Terror Lists with Fight against Islamic State
Turkish gov't in new bid to block Internet access without legal order
Israel approves 380 new settler homes
Turkey says normalization with Egypt possible 'only with return to proper democracy'
Two killed in clashes in southern Yemen
Southeast Asia
Let's Dialogue To Save Malaysia from Religious Fires, PAS Leader Tells Muslims, Christians
Puteri Umno Slams 'No Headscarf' Rule For Muslim Staff at Toy Store
God will punish 'arrogant' Umno minister for denouncing Isma, activist says
President Jokowi: Indonesia's Newest Mass Murderer
Compiled by New Age Islam News Bureau
URL: http://www.newageislam.com/islamic-world-news/new-age-islam-news-bureau/christmas-is-a-big-hit-in-islamic-republic-of-pakistan/d/100684
----------
Pakistan
Christmas Is a Big Hit in Islamic Republic of Pakistan
Dec 25, 2014
ISLAMABAD, Pakistan — Like millions of children around the world, Annaseema Peshimam dutifully wrote her letter to Santa Claus in early December, promising she had been a good girl all year. The five-year-old asked for a Mermadia doll, and requested "some things for Shahlale, my sister ... She is too small to write."
And like so many dads, her father Gibran Pesh imam mailed a missive addressed to "Santa Claus, North Pole."
Unlike millions of fellow Santa letter-writers, Pesh imams are not Christian but Muslim. And they live in Karachi, the teeming megacity in the Islamic Republic of Pakistan. They have nevertheless embraced the holiday because it makes sense, Gibran Pesh imam said.
"The entire process is so perfect for a child," the 32-year-old online journalist said. "The request to Santa, the anticipation while decorating the tree, the excitement of waking up in the morning to wrapped presents, it is almost like Christmas is made for all children all over the world — regardless of religion or culture."
The Pesh imams are not alone. Christmas is embraced in certain parts of Pakistani society, especially among the wealthy and educated. Paradoxically, the country is also seeing an uptick in violence against its nearly 4 million Christians as some use the country's controversial "Blasphemy Law" to marginalize and oppress their non-Muslim countrymen.
Christmas kiosks spring up every holiday season. The Kohsar Market in the capital Islamabad, where the elite can buy everything from non-alcoholic eggnog to Santa masks to 20-feet Christmas trees, sits next to mosques, a paramilitary Special Forces post and a butcher selling "Halal" meat prepared to comply with Muslim dietary laws.
The soldiers, who are there to guard against attack on the foreigners who often visit the site, don't deter Imran Masih, a 35-year-old Christian manning one of the kiosks. Business thrives during the holidays, he said, which is good given that he doesn't work much the rest of the time.
"We've been doing this for years," Masih said as he fixed decorations onto miniature Christmas trees. "It's good business in a city where there are people who are exposed to the world."
"Over the last couple of years, we've been seeing fewer and fewer foreigners and more and more locals," said Masih, whose last name means "Christian" in Urdu. "The politics of Osama [bin Laden] have overtaken by Santa Claus!" he said, referring to the former leader of al Qaeda who hid in Pakistan for years and died during a secret U.S. raid in 2011.
But while the well-heeled embrace the holidays' glitz and glitter, the country's beleaguered Christians are struggling to cling to their traditions.
In the yard of a church built in "100 Quarters," a Christian ghetto that lies hidden behind whitewashed walls next to one of Islamabad's poshest neighbourhood, groups of young men huddle around open fires. Stray dogs and abandoned vehicles litter the parameter of the church. A couple of obviously inebriated men flail around and sing Bollywood tunes.
There are no decorations or kiosks in 100 Quarters — a single street light illuminates the churchyard. The stench from overflowing half-frozen sewers permeates the small neighbourhood.
"Celebrations will be on Christmas Day, in the church," said Kaisar Maseeh, a local teen as he carried bread home for dinner. "Nobody's got the extra cash to deck this place up ... Maybe some middle-class families will get some special food, but not all of us [Christians]."
Not everyone is deprived of an opulent holiday feast when it comes to Christmas dinner in Pakistan, however.
At a black-tie Christmas ball thrown by a western embassy, well-connected diplomats and privileged predominately Muslim Pakistanis enjoy a fabulous feast. A singer in a ball gown belts out festive favourites like "All I Want for Christmas" and the tables are decked out with Christmas trees.
The menu reads as if an especially corpulent Santa had providing dinner: Brie and cranberry parcels, roast turkey, gravy, beef, stuffing and mushroom roulade. Spiced pumpkin cheesecake and "Christmas Pie Sundae" complete with orange, almond and whisky sauce cap off dinner.
The guests are politely advised by the liveried staff that the pigs-in-blankets and Christmas pie sundae are not Halal — pork and alcohol are un-Islamic. Many revellers disregard this information, and continue to enjoy the ball.
http://www.nbcnews.com/news/world/christmas-big-hit-islamic-republic-pakistan-n270666
----------
Action likely against seminaries involved in militancy
Dec 25, 2014
LAHORE: The Punjab government has hinted at the possibility of taking action against the religious schools found to be involved in militancy in any way.
"We've completed mapping of registered and unregistered madaris in the province and may initiate action against 10 percent of them," Punjab Home Minister retired Col Shuja Khanzada told reporters at the Punjab Assembly on Wednesday.
He chose not to divulge detail of the madaris to be targeted, and said the provincial government had formed a panel, consisting of political and security leaders, to suggest precautionary measures to meet security needs besides implementing the decisions to be taken by the federal government on this issue.
To a query, the minister said he condemned the stance of Lal Masjid's Abdul Aziz about the Peshawar Army Public School, adding the masses hoped that a legal action would be taken against the cleric.
He said the government would not accept pressure from any side on the execution of terrorists.
Also, the government introduced a third amendment in the Punjab Local Government Act.
The statement of objectives of the amendment bill, tabled by provincial minister Chaudhry Sher Ali, said the changes in the law were being affected in the light of the meeting held with the Election Commission of Pakistan (ECP) on December 2 under a Supreme Court directive.
It said the ECP sought defining the word 'election', banning alteration in constituencies after the election schedule is made public, authorising the ECP to select returning officers even from federal government employees, as well as correcting a 'clerical error' in Section 37 of the act.
The law was updated only four weeks ago on November 24.
The agriculture minister told the Punjab Assembly on Wednesday it would introduce new laws to minimise the role of middlemen in markets.
During the Question Hour, Dr Farrukh Javed said the step was necessary to arrest increase in the prices of food items.
He said that the government had decided to shift food markets outside the municipal limits.
He would not respond to a supplementary question by a treasury member about the collection of fees from the Faisalabad Agriculture University students.
Mian Tariq had to withdraw his question when the chair, being held by Speaker Rana Muhammad Iqbal, snubbed him for putting "unnecessary" stress on queries.
Through a point of order, Jamaat-i-Islami's Dr Syed Waseem Akhtar raised the issue of shortage of gas and sharp increase in prices of LPG, an alternate source of energy, despite a declining trend in world prices.
The chair adjourned the proceedings till Friday morning.
http://www.dawn.com/news/1153012/action-likely-against-seminaries-involved-in-militancy
----------
Altaf asks COAS to impose martial law
Dec 25, 2014
LONDON: Muttahida Qaumi Movement (MQM) chief Altaf Hussain said on Wednesday that it would be better to declare martial law then to establish army courts and urged Chief of Army Staff (COAS) General Raheel Sharif to impose martial law for as many as two years.
He expressed these views in a press conference via telephone. The MQM chief said that if an "undemocratic path" has to be taken then it would be better to declare martial law. "The houses of the muhajireen were raided in the name of 'operation' and they were called agents of Indian Research and Analysis Wing (RAW)," he said, adding that "derogatory remarks" were passed against the muhajireen.
He said Sindh passed the resolution in favour of Pakistan and the province itself is accused of treason, he added. Altaf urged COAS General Raheel Sharif to take charge of the country for as many as two years. If the nation supports the Pakistan Army then Pakistan could be saved of the terror and that the COAS should impose such a martial law that the corrupt people pay every single penny back to the nation from whom they stole it. While answering a question, he said that an unequal distribution of food between two brothers is bound to trigger a quarrel.
Altaf said that MQM formed a coalition with Pakistan Muslim League-Nawaz (PLM-N) and Jamaat-e-Islami (JI) thus MQM also reserves a side in the wrongdoing. He said that it was difficult to lift up the bodies of MQM workers still they raised Pakistan Zindabad slogans on way to graveyards.
http://www.dailytimes.com.pk/national/25-Dec-2014/altaf-asks-coas-to-impose-martial-law
----------
Three 'TTP men' killed in Karachi
Dec 25, 2014
KARACHI: Three suspected militants were killed in an `encounter' in Surjani Town here on Wednesday night, officials said.
Law-enforcement personnel during routine patrolling at Northern Bypass signalled the suspects to stop but they opted to open fire at the troops, resulting in injuries to one soldier, said the Rangers' spokesperson. The troops chased the fleeing suspects and after an exchange of fire, three suspects were killed and a fourth escaped in the cover of darkness.
The deceased were identified as Anwar, Shere Raheem and Nasrullah, who belonged to the outlawed Tehreek Taliban Pakistan (Khan Zaman group), said Karachi West SSP, Azfar Mahesar.
He said one policeman had also been injured in the shootout.
http://www.dawn.com/news/1153063/three-ttp-men-killed
----------
Black out coverage of terrorists, NA body tells media
Dec 25, 2014
ISLAMABAD: "Just as the story of a banned group claiming a bomb blast was aired, I was approached by security personnel and scrutinised thoroughly," Jehangir Baloch, a correspondent working in Turbat, Balochistan, recounts.
"After examining my phone records, family history and other details, I was able to assure security personnel that I would not be filing any story regarding the terrorists or their claims," he says, with a wry smile. "But the very next day, the other party who we call 'terrorists', called me and simply said that if I did not report their claims, there would be no need for an inquiry the next time."
Unable to speak out at the time, Mr Baloch is now confident enough to discuss the matter, having moved to Islamabad out of fear for his safety.
His case is not new or unusual in the country, especially for electronic media professionals living in Sindh, Balochistan and Khyber Pakhtunkhwa.
Standing committee issues recommendations, psycho-social guidelines for media
Similarly, a low-intensity bomb was exploded outside the head office of a major news channel after they refused to run the claims of a banned organisation. A spokesperson for the proscribed group called the channel's bureau office to confirm that they had filed the story and the attack was carried out moments after they confirmed that the head office was delaying broadcast, which demonstrated a scary level of coordination and understanding of the media infrastructure on the part of the terrorists.
However, despite these facts, the Standing Committee on Information, Broadcasting and National Heritage on Wednesday ordained unilaterally that the media would not cover statements issued by those classified as `terrorists'.
The committee also stated that the government would define who are to be considered terrorists and the two categories in this regard are Banned organisations and potential terrorists.
Incidentally, the participants of the meeting stressed that providing security was the responsibility of the state, and both the government and media houses would share the responsibility of ensuring security to the media personnel.
However, the committee recommended that the government clearly define which groups were or were not classified as terrorists.
An official statement released after the meeting said that the body had endorsed and approved 46 recommendations for the media to counter terrorism in the prevailing wartime situation.
The recommendations highlighted that laws already existed in the country and open with the words: "The press shall not lend itself to the projection of crime [or] terrorism as heroic and criminals, terrorists, as heroes."
"We are not suggesting anything new, simply that existing laws should be implemented," said ruling party lawmaker Talal Chaudhry.
However, when asked who will be responsible for addressing security threats to mediapersons, he said, "The government is preparing a strategy for this, which will be announced by the prime minister himself, and media owners and the government will work together to ensure the protection of journalists and media workers."
The committee also suggested psycho-social guidelines, including recommendations that say that visuals which are unsuitable for children, of a sensitive nature or are and disturbing should not be shown before 10pm and repetition of footage should be restricted to just two loops.
Reiterating existing guidelines that call on media houses not to name terrorists or run images of their faces, the recommendations include stipulations such as, "Don't show anti- state elements, [or] take sides in sectarian issues." But one of the most amusing and vague recommendations reads: "Always show good news first and if possible at bedtime also. (sic)"
The recommendations also stress that media channels, "[Shouldn't] repeat bad news too often",
The committee has also suggested to the government that, "Telecom and electronic media [should] have special broadcast tribunals," but details of what powers these tribunals would have were not discussed in the meeting.
The recommendations spell out penalties for violations, which will be imposed on both individual journalists as well as media houses, both for print and electronic media.
"In case of an editorial lapse, the media should be compelled to take punitive action against professional and journalistic negligence," the committee recommended, noting that '[A] Mindset change and capacity-building [is] required at media houses".
The committee also recommended that live coverage of terrorist attacks be highly restricted and media houses restrict discussion of plans and the movement of law enforcement agencies.
The recommendations also include positive steps, such as the prohibition of the identification of victims of terrorism and kidnapping for ransom or their families. Footage of bereaved families and people mourning the death of their loved ones should also be restricted, the committee suggested.
Meanwhile, Mujeeb-ur-Rehman Shami, president of the Council of Pakistan Newspaper Editors (CPNE), opposed the idea of blacking out terror groups from media coverage. He said that the legal position might be one way, but practically, things were different and difficult.
"How can anybody protect media persons or media offices from terrorist attacks," he asked the committee. "One thing needs to be understood; without media coverage, nobody would have known what is happening in the rest of the country," he said.
http://www.dawn.com/news/1153067/black-out-coverage-of-terrorists-na-body-tells-media
---------
Peshawar attack: won't let children's blood go in vain: Nawaz Sharif
Dec 25, 2014
The Pakistan Prime Minister, Nawaz Sharif, announced that the country will set up special trial courts under the supervision of military officers to prosecute terrorism cases in the wake of the Taliban school massacre. Sharif spoke in a nationally televised address after a marathon meeting with all political parties and the country's military leadership to hash out new counter-terrorism policies in the wake of the horrific attack.
"The Peshawar attack has shocked the nation. We will not let the blood of our children go in vain," said Sharif. In the wake of the Pakistani Taliban attack on December 16 that killed 149 people the government has scrambled to show that it is getting tough on militancy.
The military has stepped up operations in the tribal areas, and the government has reinstated the death penalty. Already six people have been executed. The military-run courts were the most controversial of 25 measures announced by Sharif after the daylong meeting earlier Wednesday in the capital. He gave few details about how the courts would function, except to say they would operate for the next two years and that changes to the current laws would be needed.
Full report at:
http://indianexpress.com/article/world/neighbours/nawaz-sharif-gets-tough-on-terrorism-calls-for-military-courts/#sthash.8dDSmJBL.dpuf
----------
Pakistan to form military courts to tackle terrorism
AFP | Dec 25, 2014
ISLAMABAD: Pakistan on Thursday said it will set up military courts for terror-related cases, as part of an ambitious anti-terrorism plan following a deadly Taliban school attack that killed 150 people.
In a midnight address to the nation after almost 11 hours of deliberations with leaders of political parties, Prime Minister Nawaz Sharif said strong action was needed to root out extremism and warned no mercy would be shown to those behind attacks.
He announced the establishment of military courts as part of the 17-point plan of action — a week after a six year moratorium on the death penalty was lifted for terror cases in the wake of the deadliest assault by militants in Pakistani history.
"Special courts, headed by the officers of armed forces, will be established for the speedy trial of terrorists," he said.
Full report at:
http://timesofindia.indiatimes.com/world/pakistan/Pakistan-to-form-military-courts-to-tackle-terrorism/articleshow/45638021.cms
----------
Pakistan extremist leader held for two more weeks in murder case
DECEMBER 25, 2014
LAHORE, Dec 25 — The leader of a banned Pakistani sectarian militant group who was set to walk free from jail is being held for two more weeks in a murder case, officials said today.
Malik Ishaq, the head of Lashkar-e-Jhangvi (LeJ) which is dedicated to killing minority Shiah Muslims, was to be released today after the Punjab provincial government withdrew a request to extend his detention under public order laws.
But he has now been detained in a murder case, a police official said, and is being held in the central city of Multan.
The news of Ishaq comes with the country ramping up its anti-terror strategy after an attack on an army-run school this month killed 150 people, spurring the country to set up military courts and drop its moratorium on capital punishment in terror cases.
Full report at:
http://www.themalaymailonline.com/world/article/pakistan-extremist-leader-held-for-two-more-weeks-in-murder-case#sthash.1vrsa2Ji.dpuf
----------
ATC issues death warrants of two convicts
Dec 25, 2014
LAHORE: An anti-terrorism court ssued death warrants of two condemned prisoners convicted on terrorism charges.
Presiding judge Muhammad Qasim issued the warrants on an application of superintendent of Faisalabad jail.
The superintendent stated that condemned prisoner Faiz Ahmad was awarded death penalty in 2006 for killing Lance Naik Tariq Mahmood in Nankana Sahib.
He said the appeal of the convict against the sentence was also dismissed by the superior courts.
He said the second prisoner on death row, Muhammad Sharif, was convicted in 2000 for involvement in various terrorism activities. The jail chief pointed out that mercy petitions of the convicts had also been rejected by President. Therefore, he asked the court to issue death warrants of the convicts for their execution. The court allowed the application and issued the death warrants.
http://www.dawn.com/news/1153014/atc-issues-death-warrants-of-two-convicts
----------
Illegal Afghans to be expelled immediately: KP CM
Dec 25, 2014
PESHAWAR: Khyber Pakhtunkhwa Chief Minister Pervez Khattak has said that government will take steps to immediately expel all illegal Afghan refugees.
He said that a mechanism would be evolved for honourable repatriation of legal Afghan refugees as soon as possible. "Similarly our borders with Fata also need immediate attention to secure Khyber Pakhtunkhwa and rest of the country from infiltration of miscreants wherein sending back and deployment of FC platoons at Fata borders is prerequisite," he added.
Mr Khattak said durable peace, prosperity and progress was possible with strictly following the golden principles of Quiad-i-Azam Mohammad Ali Jinnah.
In his message to the nation on the birth anniversary of the founder of the country, he assured the people of the province to have full confidence in their elected government as it was taking all out measures to ensure peace, safety and prosperity by practicing the Quaid's teachings in letter and spirit.
Full report at:
http://www.dawn.com/news/1153049/illegal-afghans-to-be-expelled-immediately-cm
----------
Woman 'refused compensation' moves court against Qadri
By Imran Gabol
25 Dec, 2014
A female life member of Dr Tahirul Qadri's Tehreek-i-Minhajul Quran has approached the sessions court for registration of a criminal case against the heads of the organisation, allegedly for not paying her the promised amount for participating in 'Inqilab March' and sit-in at Islamabad.
Hajan Momina of Kot Lakhpat has arraigned Dr Qadri, his son Hassan Mahyudin, daughter Fatima and Pakistan Awami Tehreek (PAT) president Raheeq Abbasi as respondents in her petition.
She alleged the respondents did not keep their promise of paying her and a batch of six other women Rs3, 500 per day for joining the protest.
She implored that she was a life member of PAT since 2007. She said that PAT chief's son Hassan and daughter Fatima requested her on Aug 7, 2014, to gather women of her area to observe 'Martyrs Day' after the Model Town incident, in which 14 people were killed and more than 100 injured.
She said she gathered six women -- Shaista, Farzana, Saima, Syeda Bibi, Amna and Shahbana Bibi and participated in the event on Aug 10, 2014.
She alleged that on completion of the 'Martyrs' Day' programme, Mr Hasan Mohyudin and Ms Fatima stopped the women in PAT secretariat in Model Town and asked me to participate in the 'Inqilab' on Islamabad.
She submitted that she refused to participate in the March because Shaista was suffering from cancer, Syeda had paralysis while the other women could not afford the cost of participating in the political show.
Ms Momina said that after her refusal to participate in the march, Mr Hasan arranged her meeting with Dr Qadri at his Model Town residence.
She said that she informed Dr Qadri about their problems and he assured her that PAT would pay Rs3,500 per day to each woman and the sick ones would also be provided medical treatment.
Full report at:
http://www.dawn.com/news/1153011/woman-refused-compensation-moves-court-against-qadri
------
Arab World
Baghdad's Christians Gather Defiantly for Christmas Eve Mass
Dec 25, 2014
Baghdad. The embattled Christian community of Baghdad worshipped defiantly Wednesday night at Christmas Eve mass.
The pews filled at Baghdad's Sacred Heart church, as people remembered the darkest year in memory.
Blast walls shielded the church and seven policemen flanked the outside of the house of worship, in an indication of the government's fear of an attack on the religious groups by jihadists who consider them non-believers.
The congregation sang in unison: "Praise Jesus, our Lord. Oh praise him" as incense burnt in the darkened church.
The worshippers paid tribute to the thousands of Christians displaced this summer in northern Iraq when Islamic State seized the city of Mosul in June and in August pushed on towards Iraqi Kurdistan, over-running Christian towns on the Nineveh plain.
"The recent conditions have left us with a bit of sadness for our brethren, be they Christian or non-Christian, those who were displaced and harmed," Father Thair Abdul Masih told Reuters.
Full report at:
http://thejakartaglobe.beritasatu.com/international/baghdads-christians-gather-defiantly-for-christmas-eve-mass/
----------
Clashes with Syria Kurds kill 30 ISIS militants
25 December 2014
At least 30 members of the Islamic State of Iraq and Syria (ISIS) group were killed in clashes with Kurdish troops in northeastern Syria on Thursday, a monitoring group said.
The fighting pitted ISIS militants against members of the Kurdish People's Protection Units (YPG) in the village of Qassiab in Hasakeh province, according to the Syrian Observatory for Human Rights.
The YPG regained control of the village, two days after it was seized by the militants, said the Britain-based group, which has a wide network of activists on the ground in Syria.
The Kurds also lost three fighters in the clashes, it added.
Elsewhere, Syrian air force raids killed at least 12 people and wounded dozens in ISIS-held Al-Bab and Qbasin in Aleppo province, said the Observatory.
Nearly four years of civil war ravaging the country have killed an estimated 200,000 people and also displaced half of the population.
http://english.alarabiya.net/en/News/middle-east/2014/12/25/Monitor-30-ISIS-militants-killed-fighting-Syria-Kurds-.html
---------
Iraqi Forces Kill 10 ISIL Terrorists in Salahuddin
Dec 25, 2014
The Iraqi security forces on Wednesday killed 10 terrorists of the Islamic State of Iraq and the Levant (ISIL) group in al-Sajlaa area of Dujail district in Salahuddin province.
"Armed clashes broke out between the security forces, backed by members of Khazraj tribe, and the ISIL terrorists in al-Sajlaa area," a security source said, adding that ten of the terrorists, including a key leader named "Abu al-Qasim", were killed during the clashes.
http://english.farsnews.com/newstext.aspx?nn=13931003001331
----------
5 'terrorists' killed, 78 arrested in North Sinai: Army
Dec 25, 2014
The Egyptian army said that it killed five "terrorists" during an attack on one of their hideouts, between 21 and 23 of December in North Sinai.
According to the army, security personnel have also apprehended 78 suspects and seized eighteen motorcycles and nineteen vehicles. A car the army alleged was stolen from Ismailia's national security department was also located.
According to the statement by army spokesperson, Brigadier-General Mohamed Samir, nine tunnels and 29 Jihadists hideouts in North Sinia were destroyed and four bombs – 50 kg each – were defused.
A military campaign against militants was launched by Egypt's army after attacks spiked in the Sinai Peninsula following the ouster of Islamist president Mohamed Morsi in 2013.
The campaign intensified following a massive militant attack in the North Sinai town of Sheikh Zuweid in October, where more than 30 army personnel were killed and a few dozens injured. Responsibility for the attack was later claimed by Ansar Beit El-Maqdis group, which pledged loyalty to the Islamic State in early November.
Full report at:
http://english.ahram.org.eg/NewsContent/1/64/118764/Egypt/Politics-/-terrorists-killed,--arrested-in-North-Sinai-Army.aspx
----------
ISIL Takfiri militants Launches Chlorine Gas Strikes in Iraq's Anbar province
Dec 25, 2014
ISIL Takfiri militants have launched chlorine gas strikes on a sub-district in the city of Hit in the troubled Western province of al-Anbar, an Iraqi security source said.
The ISIL militants attacked the Baghdadi district with mortar shells loaded with chlorine gas, the unnamed sources said on Wednesday, press tv reported.
According to the source, the district has come under siege and heavy shelling by the ISIL terrorists.
The situation has already left people, mostly children in the area, in dire need of food supplies.
The area is also suffering from water shortage as the ISIL snipers have prevented water department employees from entering the region to fix a water project.
The Takfiri ISIL militants killed at least 300 Iraqi soldiers in a chlorine gas attack on an army battalion in al-Anbar Province in September.
Full report at:
http://english.farsnews.com/newstext.aspx?nn=13931004000415
----------
Egypt keeps Salafist imams out of pulpits ahead of elections
Dec 25, 2014
CAIRO — The conflict between the Egyptian government and Islamic political forces continues over the issue of religious sermons, particularly the Friday sermons. This crisis remains one of the thorniest issues, and it has always been a tool for political Islam to garner popularity. The government's decision to ban access to the mosque's pulpits without official authorization from the Ministry of Religious Endowments has renewed the conflict between the Salafists and the Egyptian government. Salafist groups such as the Salafist Call, an Egyptian group seeking to spread Salafi ideology in Islam, accused the ministry of excluding them, as the tests to grant these authorizations include questions in Islamic doctrine to ensure the Salafists' failure.
Over the last two months, the Egyptian Ministry of Religious Endowments held two such exams. Many of the questions used are known for being disputed by Salafists, most notably those about the ruling of Islam regarding the military salute, standing during the national anthem, women in the judiciary, the concept of the caliphate, the reconstruction of places of worship for non-Muslims, bank profits, women wearing the veil and the establishment of museums for ancient Egyptian and Pharaonic artifacts. Salafists have well-known and radical opinions about all these issues, as they believe that Islam forbids such things.
Full report at:
http://www.al-monitor.com/pulse/originals/2014/12/egypt-mosques-crackdown-salafist-call.html#ixzz3MxhkSz8m
-----------
Saudi beheads Pakistani for heroin smuggling
Dec 25, 2014
Saudi Arabia on Thursday beheaded a Pakistani man for heroin smuggling, the twelfth person from Pakistan to be executed in the kingdom for drug trafficking since mid-October.
They are among 85 foreigners and Saudis put to death this year in the oil-rich kingdom, according to an AFP tally.
Saudi Arabia has one of the world's highest execution tolls.
The sentence against Ismail Khan Sayed was carried out in Eastern Province after his conviction for smuggling "a large amount" of heroin, the Interior Ministry said in a statement carried by the official Saudi Press Agency.
In addition to amphetamines and other drugs, Saudi authorities seized almost 18 kilogrammes (40 pounds) of raw heroin during the Islamic calendar year that ended in October, according to the Interior Ministry.
The Gulf has become an increasingly important market for illicit drugs in recent years, according to the United Nations Office on Drugs and Crime.
Rape, murder, apostasy and armed robbery are also punishable by death under Saudi Arabia's strict version of Islamic sharia law.
http://english.ahram.org.eg/NewsContent/2/8/118802/World/Region/Saudi-beheads-Pakistani-for-heroin-smuggling.aspx
----------
Oman promises 'true' Arabia to boost tourism
Dec 25, 2014
MUSCAT: From desert camping to luxury hotels, turtle-watching, and even the Arabian Peninsula's first Italian-style opera house, Oman is hoping to carve out a place on the global tourist track.
Heavily reliant on energy exports, the tiny Gulf sultanate is keen to diversify its economy, especially as the drop in global oil prices begins to bite.
But despite its natural beauty and rich culture, Oman's tourism industry has a long way to go.
"Oman reflects the true Arabian history and culture," said Amina al-Balushi, an assistant director with the tourism ministry.
"We really need to capitalise on this," she said, adding that the ministry is preparing a 25-year tourism strategy to be unveiled next year.
Western tourists like 46-year-old Marc Jost, who has made five trips to Oman, need no convincing.
Full report at:
http://www.dawn.com/news/1152923/oman-promises-true-arabia-to-boost-tourism
----------
Father of Jordan pilot prays for ISIS 'mercy'
25 December 2014
The father of the Jordanian pilot, who was captured by ISIS on Wednesday, prayed for mercy and for the radical militants to release his son in an interview with a local website published Thursday.
"I hope god will put mercy in their hearts and they will release my son," Yusuf al-Kassasbeh told Saraya News.
His son, Maaz, was on a mission Wednesday morning conducted by several Jordanian Air Force planes against ISIS bases in the Raqqa region of Syria. He was taken hostage after his plane went down.
The father also urged Jordanian King Abdullah to do his best to save his 26-year-old son.
He also received a phone call from the head of the Jordanian air force, who reportedly told him: "We are currently working to save [his son's] life. The king is concerned to save his life."
At the same time, Kassasbeh urged the king "to bring back" my son, adding "we are all for the country and the king."
Full report at:
http://english.alarabiya.net/en/News/middle-east/2014/12/25/Father-of-Jordanian-pilot-prays-for-mercy-in-ISIS-hearts-.html
----------
Syria dissidents to discuss ways to end war
Dec 25, 2014
Opponents of Syrian President Bashar al-Assad's regime will meet in Cairo to try to reach a common "vision" to end the nearly four-year war, an opposition source said Wednesday.
"Several opposition groups and individuals have been in talks for more than two months, and we have been in contact with them to try to reach a joint vision to solve the crisis," said Munzer Khaddam of the National Democratic Body for Democratic Change, which is tolerated by the regime.
A "national gathering" is planned in Cairo, followed by a second meeting in Moscow, Khaddam told AFP without giving a timetable.
Twelve opposition groups as well as Kurdish officials and members of the exiled opposition National Coalition will join the Cairo meeting, said Khaddam.
Full report at:
http://english.alarabiya.net/en/News/middle-east/2014/12/24/Syria-dissidents-to-discuss-ways-to-end-war-.html
----------
Saudi rights group accuses employers of sexism
Dec 25, 2014
The National Society for Human Rights (NSHR) criticized companies requesting approval from the male guardians of prospective women job candidates, labeling the practice as sexism, Makkah daily reported.
General Secretary of NSHR Khalid al-Fakhry said: "No company, private or public, has the right to refuse prospective women employees due to their gender. The charters of the Ministry of Labor and Ministry of Civil Services do not state in any regulation that women require the approval of their guardians before they can work."
He also added that the civil service and its departments, Human Resources Development Fund and the private sector all conform to the regulations set by the Ministry of Labor.
"Requesting a guardian's approval as a condition for employment is considered gender discrimination. The Kingdom has signed international contracts holding it responsible for eradicating all occurrences and forms of discrimination against women."
Full report at:
http://english.alarabiya.net/en/perspective/features/2014/12/24/Saudi-rights-group-accuses-employers-of-sexism.html
----------
Europe
Tandoori Turkey? How British Muslims Are Celebrating Christmas
25 December 2014
No Christmas feast is ever complete without a roast turkey and the trimmings to go with the feast. A tradition that dates back to the 16th century is becoming increasingly popular amongst some British Muslims. Key ingredients may remain centuries old but flavours are evolving.
"We've made the Christmas lunch into an annual family tradition for the past five years," explains Sarah Aziz from East London.
"Feasting at Christmas has always been a time for family and that spirit of togetherness has not been lost on Muslims."
"The traditional dinner at Christmas forms a focal point for all of us to get together. We may not mark Christmas as a religious festival but that doesn't mean we can't be part of the festive spirit."
Full report at:
http://english.alarabiya.net/en/life-style/art-and-culture/2014/12/25/Tandoori-turkey-How-British-Muslims-are-celebrating-Christmas.html
----------
Russian FM: ISIL Emissaries Sighted Near Russian Borders
Dec 25, 2014
The Islamic State of Iraq and the Levant (ISIL) terrorist group's emissaries have been spotted in Northern Afghanistan close to the Russian border, Foreign Minister Sergei Lavrov said citing unspecified intelligence reports.
"It is necessary to eliminate their (ISIL militants') domination on vast swathes of territory in Iraq, Syria, they have already made incursions in Libya," Lavrov said in an interview with Russia's Kommersant newspaper published on Thursday, RIA Novosti reported.
"There are reports that their (ISIL) emissaries have been sighted in Northern Afghanistan, which means they are closing in on Central Asia and, therefore, on the Russian borders," Lavrov stressed.
Full report at:
http://english.farsnews.com/newstext.aspx?nn=13931004000397
----------
UN urges IS to treat seized Jordanian pilot 'humanely'
Dec 25, 2014
NEW YORK: UN Secretary-General Ban Ki-moon urged the Islamic State captors of a Jordanian pilot whose warplane was shot down in northeast Syria to treat him humanely, his spokesman said.
"He (Ban) calls on his captors to treat the pilot in accordance with international humanitarian law," UN spokesman Stephane Dujarric said.
He told reporters that Ban was also "deeply concerned with the continued use of violence across the country, including the use of 'barrel bombs' in populated areas." Dujarric noted that the indiscriminate use of such weapons was a violation of international law.
Jordan's government spokesman Mohammad Al-Momani told satellite TV station Al Hadath the jet fighter "was shot at from the ground by rocket missiles and was brought down" and that an attempt to rescue the pilot before he was captured failed.
The pilot's father Youssef said the family had been informed by the air force of his capture. He said the military promised it was "working to save his life" and that Jordan's King Abdallah was following events.
http://www.arabnews.com/featured/news/679486
----------
North America
US Muslims, Jews Help Needy in Xmas
25 December 2014
ST. LOUIS – It's Christmas day again, and St. Louis Muslims and Jews are putting the final touches on their programs for a day of interfaith community service, to cheer their Christian counterparts and reach out to those who need help.
"There are so many people I would not have met if it wasn't for this event, and every year I meet more and more people," Sophie Malik, one of the Muslim co-chairs for the event, told St. Louis Public Radio on Tuesday, December 23.
"Within my own faith I have met a lot of new people, but also, it's not just Jewish and Muslim we have people of all faiths who participate."
For Malik, the annual service events have allowed her to make many friendships that otherwise would not exist.
The young Muslim is one of the volunteers who host a Jewish and Muslim Day of Community Service annually.
On its fourth year, the event has grown since it was implemented in 2010, and more than 700 people are expected to show up to help.
The volunteers see the day a chance to helping those in the St. Louis community that are in need.
"It's really about coming together and helping others, and showing that there are really positive things happening in our region, where people are working across lines," Gail Wechsler, one of the Jewish co-chairs for the event, said.
Full report at:
http://www.onislam.net/english/news/americas/481097-us-muslims-jews-help-needy-in-xmas.html
---------
Muslim Center Reaches Out To Community And Other Faiths
25 December 2014
AVON — At the end of 2012, members of the former Christ Church decided there were two few of them to continue, so they disbanded and vacated their building on Harris Road.
Two years later, that building has undergone a dramatic change and is the home of the Farmington Valley American Muslim Center. On a recent Sunday, the place was bustling with children and families from throughout the area. Activities are held there most days of the week, and the center is vigorously reaching out to the community.
"Our goal is to keep this place as busy and active as possible," said Khamis Abu-Hasaballah, who helped found the center and is its president. A Palestinian, he moved to the United States more than 30 years ago as a teenager.
The center was established in January 2013 and began renting the former church from the Episcopal Diocese of Connecticut in October of that year. Last October, the center bought the building. In December, there was a formal grand opening that included diocese leaders but also an Episcopal bishop from Pakistan along with town officials and a representative of the Farmington Valley Jewish Congregation Emek Shalom.
Full report at:
http://www.courant.com/community/avon/hc-fx-cover-0101-20141222-story.html
---------
Jordan jet was not shot down by IS group: US military
Dec 25, 2014
Washington (AFP) - The United States dismissed Wednesday a claim by the Islamic State jihadist group that it had shot down a Jordanian F-16 fighter flying with US-led coalition forces, which crashed in eastern Syria.
"Evidence clearly indicates that ISIL did not down the aircraft as the terrorist organization is claiming," said US Central Command, the body overseeing the coalition air war over Iraq and Syria.
The statement did not give a cause for the "crash," and confirmed the lost jet's Jordanian pilot had been taken captive by IS guerrillas.
"We strongly condemn the actions of ISIL, which has taken captive the downed pilot," said CentCom commander General Lloyd Austin.
"We will support efforts to ensure his safe recovery, and will not tolerate ISIL's attempts to misrepresent or exploit this unfortunate aircraft crash for their own purposes."
"The Jordanians are highly respected and valued partners and their pilots and crews have performed exceptionally well over the course of this campaign," he added.
http://news.yahoo.com/not-clear-jordanian-jet-shot-down-us-official-194113460.html
----------
Obama accelerating shut down of Guantanamo
25 December 2014
The Obama administration is accelerating its efforts to shut down the Guantanamo Bay detention center, The Washington Post newspaper reported Wednesday.
President Barack Obama is speeding up of the process to significantly reduce the Guantanamo population over the next six months i because "[Obama] does not want to leave this to his successor," Paul M. Lewis, the Pentagon's special envoy for shutting down Guantanamo, told the paper.
"The accelerated effort to close Guantanamo is at the center of a larger effort to wind down a war-time detainee system that was created after the Sept. 11, 2001, attacks," reported the paper.
U.S. officials hope to cut the prison's population from 132 to the mid-120s by the middle of next month.
Relocating those prisoners would bring to 28 the total number of detainees transferred this year. Five or six more prisoners are expected to be moved in the first weeks of January.
http://english.alarabiya.net/en/News/2014/12/25/Obama-accelerating-shut-down-of-Guantanamo-.html
---------
San Diego Calls for Inquiry into Use of Pilot Training Manual with Anti-Muslim, Sexist Illustrations
25 December 2014
(SAN DIEGO, CA, 12/24/14) -- The San Diego chapter of the Council on American-Islamic Relations (CAIR-San Diego) today called for an inquiry into a local flight school's use of a manual containing Islamophobic and sexist illustrations to train pilots.
CAIR-San Diego called for that inquiry after receiving reports of inappropriate images in the manual, "Everything Explained for the Professional Pilot," which is used at California Flight Academy.
he manual depicts a scantily clad flight attendant saying "Coffee, tea, or. . .?" in apparent imitation of the outdated advertising phase "coffee, tea or me." It also shows a person with his faced covered by a keffiyeh (a traditional Middle Eastern headdress) holding what appears to be a Quran (Islam's revealed text) and a knife stating "Allah is great. . .Life sucks!" in a section of the manual on "prohibition against carriage of weapons."
Full report at:
http://www.cair.com/press-center/press-releases/12786-cair-san-diego-calls-for-inquiry-into-use-of-pilot-training-manual-with-anti-muslim-sexist-illustrations.html
------------
South Asia
China city bans Christmas in schools, warns over 'Western' culture
Dec 25, 2014
A Chinese city has banned schools from holding Christmas events, state media reported on Thursday, highlighting official suspicions about the increasingly popular festival because of its foreign origins.
China's Christian population, currently estimated at around 60 million, is rapidly growing and Christmas is increasingly marked in the country ruled by the officially atheist Communist Party.
But the government education bureau in Wenzhou, an eastern Chinese coastal city sometimes called "China's Jerusalem" because of its large Christian population, banned schools from holding "Christmas-related" events, the Global Times reported.
Local officials "hope schools can pay more attention to Chinese traditional festivals instead of Western traditions", said the tabloid, which has close ties to the Communist Party.
Interest in Christmas has grown in China as an occasion for shopping, with marketeers using everything from saxophones and Smurfs to steam trains to get consumers to open their wallets.
Full report at:
http://english.ahram.org.eg/NewsContent/2/9/118781/World/International/China-city-bans-Christmas-in-schools,-warns-over-W.aspx
----------
2 ANA embraced Shahadat, 13 insurgents killed
Dec 25, 2014
The Defense Ministry of Afghanistan says two Afghan National Army soldiers have embraced martyrdom in an explosion.
A statement issued by the ministry Thursday morning only tells that these soldiers embraced martyrdom in past 24 hours.
The statement would not specify the exact location of the incident.
The defense ministry also says that during these 24 hours 8 insurgents were killed in 3 provinces of the country, adding that 13 others sustained injuries.
The ministry also says that a good quantity of heavy and light weapon was also seized from the insurgents.
Fighting terrorism has been challenging to the Afghan National Security Forces (ANSF) with foreign forces winding up their combat role.
The military analysts believe that the ANSF is able to defeat terrorism but getting well equipped is key to the success.
http://www.khaama.com/2-ana-embraced-shahadat-13-insurgents-killed-2601
----------
Case filed against three Ansar al-Islam men in Shafiul murder
Dec 25, 2014
Police yesterday filed a case against three members of Ansar al-Islam Bangladesh that earlier claimed it had killed Rajshahi University professor AKM Shafiul Islam.
Shafiul Islam, a teacher of Sociology Department of RU, was hacked to death on November 15 on the way to his home near the university campus.
After 38 days of the sensational murder, Abdus Salam, sub-inspector of Motihar police station filed the case in the evening, confirmed Officer-in-charge Alamgir Hossasin.
The accused were named as Shariful Islam, 25, a teacher of Shibganj Upazilla Ghaghurduar Private Cadet College, Raihanul Haque, 15, a student of Class VIII of Gokul Taslim Uddin College under Bogra city and Abdur Rahim of Bogra.
Full report at:
http://www.dhakatribune.com/crime/2014/dec/25/case-filed-against-three-ansar-al-islam-men-shafiul-murder#sthash.7F2mfooF.dpuf
----------
AL: BNP hatching conspiracy with Jamaat to destabilise country
Dec 25, 2014
Awami League Presidium Member and Health and Family Welfare Minister Mohammad Nasim yesterday said Chairperson of BNP Khaleda Zia was hatching conspiracy again with Jamaat-e-Islam to destabilise the country.
"The anti-forces had killed the family of Bangabandhu Sheikh Mujibur Rahman to ruin the spirit of our Liberation War," he said while addressing the triennial conference of Naogoan district Awami League at Naojoyan field yesterday.
Referring to January 5 general election, Mohammad Nasim said martial law could have been promulgated in the country if the election was not held in time. Prime Minister Sheikh Hasina had protected democracy by holding the election.
The minister said: "There will be no election before 2019 as there is no chance to violate the constitution. Prime Minister Sheikh Hasina do politics not to grab power. She is working to change the fate of country's people."
Full report at:
http://www.dhakatribune.com/politics/2014/dec/25/nasim-bnp-again-hatching-conspiracy-jamaat-destabilise-country#sthash.oCKqfFC7.dpuf
-----------
Saudi delegation visit Maldives to assess investment opportunities
Dec 25, 2014
Minister of Islamic Affairs, Dr Mohamed Shaheem has said Saudi Arabia will be informing other Arab nations about the many investments opportunities in the Maldives.
Addressing the press after a meeting with a special Saudi delegation, Shaheem stated the country was assessing means through which it can assist in developing the Maldivian economy.
"The delegates will have a meeting with officials from the Ministry of Economic Development tomorrow where they will discuss potential investment opportunities in the Maldives and how to increase outreach regarding investment," he added.
The 16 strong delegation arrived from Saudi Arabia this morning consisting of seven Saudi government officials alongside representatives from private sector Saudi enterprises who have shown an interest in pursuing business in the Maldives.
Speaking at the meeting, Saudi Arabia's Deputy Minister for Foreign Trade at the Ministry of Commerce and Industry Dr Abdullah A. Al-Obaid said the visit signifies his country's intention to enhance the bilateral relationship through trade, investment, and Islamic affairs.
"We are so proud to hear that Maldives is keeping with its Aqeeda [faith], its religion and trying to stick with it even though we have globalism effecting all countries," said Dr Abdullah.
Full report at:
http://minivannews.com/business/saudi-delegation-visit-maldives-to-assess-investment-opportunities-91792
----------
India
'ISIS tweet' posted via proxy server in UAE'
TNN | Dec 25, 2014,
MUMBAI: An intelligence agencies' probe into a recent tweet, suspected to be posted by one of the three missing Kalyan youths now with ISIS, has revealed that it originated in the UAE from a proxy server. Police say no special security arrangement has been made following the tweet, since they are already on high alert.
The tweet, supposedly uploaded by Fahad Shaikh, one of the three Kalyan youths, said India was targeted on 26/11 because people from a specific community and region financed riots and killed many innocents. The Twitter handle threatened to take them on.
An officer of inspector general of police rank in the security establishment said, "The tweet was uploaded around two weeks ago. We can just suspect that it has been tweeted by the missing Kalyan youth, Fahad Shaikh. However, we don't have any proof to authenticate it. The Twitter handle used a proxy server and showed its origin in the UAE."
Full report at:
http://timesofindia.indiatimes.com/india/ISIS-tweet-posted-via-proxy-server-in-UAE/articleshow/45635586.cms
----------
'Ghar wapsi' put off, wait and watch in Aligarh
Dec 25, 2014
The RSS affiliate, Dharm Jagran Samiti (DJS), has put off its planned December 25 'ghar wapsi' of 5,000 Christian and Muslim families in Aligarh, but has not given up on the plan.
Cadres of the organisation were camping in nearby villages on Christmas eve, keeping watch on the target group for possible attempts by Christian missionaries to approach them to participate in any celebrations.
A senior member of the DJS in Aligarh told The Indian Express: "Our cadres have been regularly visiting families whom we want to bring back to the Hindu fold. I will visit the villages myself to check on our brothers. The programme of ghar wapsi has only been postponed, not cancelled. A programme will be organised soon, at which people who have gone astray will be brought back."
Full report at:
http://indianexpress.com/article/india/india-others/ghar-wapsi-put-off-wait-and-watch-in-aligarh/#sthash.jqKOmgib.dpuf
----------
MHA Team to Resolve Citizenship Issues of Pakistan-Migrant Hindus in MP
Bagish K Jha,TNN | Dec 25, 2014
INDORE: A large number of Pakistani-migrant Hindus, who have been staying in Madhya Pradesh for years have a reason to rejoice as a team from union home ministry will soon visit Indore and Bhopal to resolve their problems related to citizenships and long-term visa (LTV) issues.
Indore has a large population of Pakistani Hindus, mostly migrated from Sindh province of Pakistan in the last few decades, and they have been facing problems related to citizenships and LTV. Sindhi community had even filed a case before MP High Court in March, 2014, in which the court had issued notices to union and state governments.
In the last 26 years, only around 696 migrant Hindus in Indore have procured Indian citizenship and still thousands of people are waiting to get citizenship of the country.
Now, union home minister has set up a task force to monitor and expedite processing of citizenships and LTV applications. The team will visit 16 selected districts of the country, including Indore and Bhopal to hold camps for resolving pending issues.
IDA Chairman Shankar Lalwani, who has been fighting for Indian citizenship for migrant Pakistani Hindus, said most migrant Pakistani Hindus are staying in Indore and his party has been raising this issue. "One can apply for citizenships only after staying in the country for 7 yrs and every year they had to apply for LTV. Now the tenure of LTV has been increased up to 5 yrs and the process for applying for citizenships has been simplified," said Lalwani.
Full report at:
http://timesofindia.indiatimes.com/india/MHA-team-to-resolve-citizenship-issues-of-Pakistan-migrant-Hindus-in-Madhya-Pradesh/articleshow/45638785.cms
----------
Africa
Libyan human rights group calls for halt to militias hiring minors
Dec 25, 2014
The Libyan Observatory for Human Rights (LOHR) has expressed "deep concern" that ever greater numbers of Libyans under the age of 18 are being recruited into the ranks of the country's militias.
Insisting that the use of minors be stopped, the LOHR called on parents to stop allowing their children to join militias
Full report at:
http://www.libyaherald.com/2014/12/23/libyan-human-rights-group-calls-for-end-of-minors-joining-armed-groups/
---------
Nigeria sentences another 4 soldiers to death
World Bulletin/News Desk
Dec 25, 2014
A Nigerian court-martial has sentenced another four soldiers to death for offences including mutiny related to ongoing counterinsurgency operations in the country's Boko Haram-ravaged northeastern region.
"Between yesterday night and this morning, another set of four soldiers were sentenced to death by firing squad after the court-martial found them guilty of mutiny and failure to obey lawful orders," a top military official told The Anadolu Agency on Thursday morning.
He said all four were low-ranking army personnel.
No official statement has been issued on the latest raft of death penalties, which came only hours after 16 soldiers – including senior officers – were slapped with two-year jail terms for failing to prevent Boko Haram's abduction in April of 276 schoolgirls in Chibok, a town in Nigeria's northeastern Borno State.
Full report at:
http://www.worldbulletin.net/todays-news/151602/nigeria-sentences-another-4-soldiers-to-death
----------
Muslim man sentenced to death in Mauritania for apostasy
Dec 25, 2014
NOURAKCHOTT: A Muslim man in Mauritania was sentenced to death for apostasy after a court ruled that he had written something blasphemous, a judicial source told AFP.
Mohamed Cheikh Ould Mohamed, who is around 30 years old, fainted when the ruling was read out late Wednesday in a court in Nouadhibou in the northwest of the country, the source said on condition of anonymity.
He was revived and taken to prison, the source added.
Mohamed has been detained since January 2 and pleaded not guilty to the charge when proceedings opened on Tuesday.
Mauritania has the death penalty but has not executed anyone since 1987, according to human rights organisation Amnesty International.
Full report at:
http://www.dawn.com/news/1153104/muslim-man-sentenced-to-death-in-mauritania-for-apostasy
---------
Sudan: President Says No Concessions for Rebel and Opposition Forces
Dec 25, 2014
Khartoum — Sudanese president Omer al-Bashir reiterated that his government would make no concession to the rebel and opposition forces, saying that the dialogue process will not wait for them.
Since last January, al-Bashir launched a call for a national dialogue to discuss peace and democratic reforms in the country. However, he refused the opposition and rebel demands for a conducive environment and transitional government.
Speaking at the graduation ceremony of a new promotion of the Joint Command and Staff College on Tuesday, Bashir reiterated the government willingness to continue negotiations with the SPLM-N on the basis of the Comprehensive Peace Agreement (CPA) and Darfur rebel groups on the basis of the Doha Document for Peace in Darfur (DDPD).
However he said the second phase of the "Decisive Summer" military campaign will "get rid of the rebellion and remove its roots".
Full report at:
http://allafrica.com/stories/201412241212.html
---------
Mideast
PKK hopes to leave terror lists with fight against Islamic State
Dec 25, 2014
A senior official from the Kurdistan Workers Party (PKK) said that he hopes his group's participation in the US-led anti-Islamic State coalition would result in it being removed from countries' terrorist lists.
Cemil Bayik, co-founder of the PKK, told The Guardian in a report published on Wednesday that the terrorist label was a "great injustice" and that its fight against Islamic State demonstrates that it was mistaken.
The PKK, which the US and other Western countries designate as a terrorist organization, is fighting on their side against Islamic State.
"The international coalition's dealings with the PKK have been conducted through intermediaries and have remained secret," Bayik said.
Full report at:
http://www.jpost.com/Breaking-News/PKK-hopes-to-leave-terror-lists-with-fight-against-Islamic-State-385682
----------
Turkish gov't in new bid to block Internet access without legal order
Dec 25, 2014
The Turkish government has been preparing to make yet another move which would add insult to injury for those who have been concerned over plight of freedom of expression in the country, as a Cabinet member has confirmed they are drafting a bill which would grant the prime minister and the communication minister the ability to block access to certain webpages without a court order if they deem them posing a danger to "national security and public order."
Minister for Transportation, Maritime Affairs and Communications Lütfi Elvan, speaking with daily Vatan, recalled that they have already announced bringing in legislation which outlines pecuniary penalties up to 500,000 Turkish Liras for those who don't implement court rulings to block access to certain webpages or remove content from certain webpages.
Noting that this was the first article of the draft, Elvan said there was a second article planned.
Full report at:
http://www.hurriyetdailynews.com/turkish-govt-in-new-bid-to-block-internet-access-without-legal-order.aspx?pageID=238&nID=76069&NewsCatID=338
----------
Israel approves 380 new settler homes
Dec 25, 2014
JERUSALEM: Israeli authorities gave final approval on Wednesday to the construction of 380 new settler homes in two areas of annexed east Jerusalem, a local official said.
"The municipal commission has given construction permits for 307 homes in Ramot and 73 in Har Homa," Yosef Pepe Alalu, a Jerusalem city councillor with the opposition Meretz party, said.
He said local officials were taking advantage of attention focusing on Israeli elections due in March to expand settlements.
"This kind of decision distances us from any chance of reaching an agreement with the Palestinians," he said.
Full report at:
http://www.dawn.com/news/1153029/israel-approves-380-new-settler-homes
----------
Turkey says normalization with Egypt possible 'only with return to proper democracy'
Dec 25, 2014
Turkey's bilateral ties with Egypt could "normalize if the country properly returns to democracy, if the Egyptian people's free will is reflected in politics and social life," Foreign Ministry spokesperson Tanju Bilgiç said.
"Only if the Egyptian authority follows an inclusive and egalitarian policy will the grounds be paved to examine our bilateral ties," Bilgiç said, speaking at a press conference on Dec. 24.
Bilgiç stressed that Turkey's policy was due to its principled stance as "democracy in Egypt has distorted from its path after the democratically elected government was toppled with a military coup."
Turkey has no problem with the people of Egypt "with whom Turkish people have historical ties," he noted.
Asked about the change in Qatar's policy regarding relations with the government of Egypt's President Abdel Fattah el-Sisi, Bilgiç said he would not comment on the policies of a third country.
Full report at:
http://www.hurriyetdailynews.com/turkey-says-normalization-with-egypt-possible-only-with-return-to-proper-democracy.aspx?pageID=238&nID=76048&NewsCatID=510
----------
Two killed in clashes in southern Yemen
World Bulletin/News Desk
Dec 25, 2014
Two people were killed and six others injured in Thursday clashes between Yemeni security forces and armed tribesmen in the southern Lahj province, a local official has said.
"Tribesmen blocked a main road in the province, prompting security forces to launch a campaign to reopen the road," the official, requesting anonymity, told The Anadolu Agency.
Two tribesmen were killed and six others injured in the ensuing clashes, the official said.
No casualties were reported among security forces.
According to the official, tribesmen had blocked the road to demand the release of a detained colleague.
Yemeni authorities have yet to comment.
Yemen has been dogged by instability since pro-democracy protests in 2011 forced autocratic President Ali Abdullah Saleh to step down one year later after 33 years in power.
http://www.worldbulletin.net/todays-news/151604/two-killed-in-clashes-in-southern-yemen
----------
Southeast Asia
Let's dialogue to save Malaysia from religious fires, PAS leader tells Muslims, Christians
DECEMBER 25, 2014
KUALA LUMPUR, Dec 25 — Malaysia needs to push for interfaith dialogue to combat religious extremism and strengthen the ties among its people of diverse beliefs, PAS lawmaker Datuk Dr Mujahid Yusof Rawa said today.
Amid a "dark cloud" of religious insults and the use of religion to kill and incite hatred, Mujahid pointed to the "Common Word" model — a Jordan-based interfaith initiative — as a solution.
"On the day that Christians celebrate their big occasion, I invite all so that the Kalimatin Sawak or Common Word programme will be started in Malaysia.
"Much can be discussed and worked on together, only this will reflect our sincerity and our courage to nullify the conspiracy theories and thickening prejudice that is becoming more serious in the Malaysia that we love," the Parit Buntar MP said in a statement in Malay.
In October 2007, 138 Islamic personalities wrote an open letter titled "A Common Word between Us and You" to the-then Pope Benedict XVI to promote dialogue between Muslims and Christians.
Full report at:
http://www.themalaymailonline.com/malaysia/article/lets-dialogue-to-save-malaysia-from-religious-fires-pas-leader-tells-muslim#sthash.9zOi9eSC.dpuf
----------
Puteri Umno Slams 'No Headscarf' Rule For Muslim Staff at Toy Store
Dec 25, 2014
A well known toy retailer in Kuala Lumpur has come under fire from Puteri Umno over its alleged ruling barring female employees from wearing the "tudung" (headscarf).
The Umno women's youth wing criticised the toy retailer for discriminating against its Muslim staff, and demanded an apology over the issue, Bernama reported today.
Puteri Umno chief Datuk Mas Ermieyati Samsudin said such action by the toy retailer went against the rights of Muslims and was also indicative of the prejudice that still existed among some people against Muslim women wearing the "tudung".
"Being denied a job because one wears the tudung or being ordered to take off the tudung while on duty are superficial excuses and is not relevant to the performance of an employee," she said in a statement, according to Bernama.
She was neither responding to a tweet which was posted by popular actor Datuk Rosyam Nor last Thursday after the toy retailer had allegedly requested his daughter to remove her "tudung" as a requirement for employment.
Mas Ermieyati called for the toy retailer to make an open apology through the media for infringing on the sensitivities of the Muslim community, Bernama reported.
http://www.themalaysianinsider.com/malaysia/article/puteri-umno-slams-no-tudung-rule-for-muslim-staff-at-toy-store#sthash.U5nm088G.dpuf
----------
God will punish 'arrogant' Umno minister for denouncing Isma, activist says
Dec 25, 2014
A central committee member of Ikatan Muslimin Malaysia (Isma) today labelled Datuk Abdul Rahman Dahlan "arrogant" after the Umno minister publicly scorned the group for warning Muslims against wishing Christians "Merry Christmas".
According to Mohd Hazizi Ab Rahman, the Urban Wellbeing, Housing and Local Government minister will be given a "harsh lesson" by God for his arrogance, and that this would similarly affect others.
"I am aware of the current arrogance of Umno members, who are still comfortable and proud of their party although the Malays are now under threat," Mohd Haziz said in a public Facebook update on his page, which has since been reposted by Isma's official account.
"The attitude of this minister symbolises the epitome of the arrogance of Umno leaders today," he added, referring to Abdul Rahman, while attaching a screen capture of the minister's tweets yesterday.
Full report at:
http://www.themalaymailonline.com/malaysia/article/god-will-punish-arrogant-umno-minister-for-denouncing-isma-activist-says#sthash.iu5S26OQ.dpuf
----------
President Jokowi: Indonesia's Newest Mass Murderer
Dec 25, 2014
According to President Jokowi and Vice President Jusuf Kalla, drug trafficking leads to thousands of fatalities every year. It is therefore an "extraordinary crime" for which the only appropriate penalty is death by firing squad.
Ever since that fateful day on Dec. 9, when Jokowi stood before an audience of students and condemned 64 felons to a bloody execution, we have been led to believe that drug trafficking is, in itself, a lethal offense, and that drug traffickers can therefore be held personally responsible for overdose deaths and other tragic, drug-related accidents.
"[T]here will be no clemency for convicts who committed narcotics-related crimes," Jokowi said. "There are between 40 and 50 Indonesians, mostly young people, who lose their lives every day due to drug use…"
Similarly, when Kalla was asked whether the 64 executions would contravene the "right to life," which is enshrined in Indonesia's Constitution as well as international law, the vice president argued that it is the drug traffickers who violate human rights when they supply deadly substances to an illicit market: "[E]veryone must obey the law," he simply stated, "[and] drugs cause the deaths of others… Where [am I] wrong?"
Full report at:
http://thejakartaglobe.beritasatu.com/opinion/president-jokowi-indonesias-newest-mass-murderer/
----------
URL: http://www.newageislam.com/islamic-world-news/new-age-islam-news-bureau/christmas-is-a-big-hit-in-islamic-republic-of-pakistan/d/100684