New Age Islam News Bureau
30 Jun 2020
• Hajj Medic: Here's Why It's A Blessing in Disguise That the Hajj Pilgrimage Has Been Cancelled
• Pompeo Calls China Muslim Sterilization Reports 'Shocking' And 'Disturbing'
• Israel's Annexation Plan in West Bank 'Illegal': UN Rights Chief
• Tablighi Jamaat Meet: SC Asks MHA To Clarify on Visa Status of Foreign Attendeesfrom 35 Countries
• Kremlin Rejects Reports of Russian Bounties to Taliban To Kill US Troops in Afghanistan
• Taliban Release Details of Mullah Baradar's Meeting with Iran's Special Envoy
---------
Pakistan
• Chinese Companies Prohibit Pakistani Employees from Namaz
• Pakistan Reopens Kartarpur Corridor on Ranjit Singh's Death Anniversary
• Pakistan-American body hails Joe Biden's support to Kashmiris' cause
• 4 separatist gunmen storm stock exchange in Karachi, kill 7 before being shot dead
• Drop in Covid-19 patients' inflow at hospitals
• Masterminds of Karachi attack to be traced soon: minister
--------
Arab world
• Hajj Medic: Here's Why It's A Blessing in Disguise That the Hajj Pilgrimage Has Been Cancelled
• Idlib Turns Into 'Ticking Bomb' Amid Hayat Tahrir Al-Sham Domination
• UAE Announces Gradual Reopening of Mosques, Other Places Of Worship From 1st July
• 'We turned the page,' says US ambassador to Lebanon after order to silence her
• Arab Coalition, US Envoy Brian Hook reveal Iranian weapons used against Saudi Arabia
• Millions of Syrians at risk of starvation, warn leading aid groups
• UN report on Iranian missiles in Yemen used against Saudi: Key takeaways explained
• Lebanese seek to fly out of dire economic situation as Beirut airport reopens
• Saudi Arabia and US push for extension of Iran arms embargo
--------
North America
• Pompeo Calls China Muslim Sterilization Reports 'Shocking' And 'Disturbing'
• For Muslim Americans, A Moment Of 'Deep Reflection' After Floyd
• Secretary Pompeo to address UN Security Council on Iran arms embargo
• US and its allies are leading an arms race in Middle East, not Iran: Scholar
• US: Lifting arms embargo on Iran will trigger regional arms race
• Violence by far-right is among US's most dangerous terrorist threats, study finds
--------
Mideast
• Israel's Annexation Plan in West Bank 'Illegal': UN Rights Chief
• Israeli Annexation Plan An 'Existential Threat' To Palestinian People: PM Shtayyeh
• Israeli defense chief says West Bank annexation 'will wait'
• 'Day of Rage' protests against Israeli annexation to hit US, Europe
• Iran issues arrest warrant for Trump, US officials over top IRGC general's assassination
• Turkish coastguard rescues 35 migrants from half-sunken boat in Aegean Sea
• Turkish soldier dies in clashes with Kurdish PKK rebels in northern Iraq
• US in no position to undermine nuclear deal's achievements: Iran
• Iran's arms shipments to Houthis fuel war in Yemen, experts say
--------
India
• Tablighi Jamaat Meet: SC Asks MHA To Clarify on Visa Status of Foreign Attendeesfrom 35 Countries
• Delhi High Courts Seeks Reply on Islamic Sect Members' Request for Accommodation
• Syed Ali Shah Geelani quits Hurriyat, passes separatist baton to Pak-based successor
• Mosque Assets Illegally Diverted to Manjeshwar MLAAnd IUML Leader M C Kamaruddin's Gold Business: CPM
• Top Hizbul commander, Lashkar duo killed in Anantnag encounter
• India slams Pakistan foreign minister's 'absurd' remarks on Karachi terror attack
• Pakistan violates ceasefire along LoC in Naugam sector of Jammu and Kashmir
• 2 terrorists responsible for killing CRPF trooper, 5-yr-old shot dead in J-K encounter
--------
Europe
• Kremlin Rejects Reports of Russian Bounties to Taliban To Kill US Troops in Afghanistan
• Macron slams Turkey's 'criminal responsibility' in Libya
• 'France isolated after Haftar's defeat in Libya'
• Intel: Congress pushes European Union to fully designate Hezbollah as terrorist group
• ISIS Militant Lands in UK Jail for Inciting Violence in Germany
• Belgium strips Islamic State returnee of Belgian nationality
--------
South Asia
• Taliban Release Details of Mullah Baradar's Meeting with Iran's Special Envoy
• 23 Civilians, Kids Included, Die In Rain Of Rockets On Afghan Market
• Bangladesh boat crash kills at least 32, as ferry sinks in 20 seconds
• Taliban militants suffer heavy casualties in Jawzjan province
--------
Southeast Asia
• Factory Supervisor Fined RM6,000 For Insulting Islam, By The Sessions Court In Kuala Lumpur
• Freeze Temple Demolitions in Kedah Pending New Policy, Says Former Exco
• 'New beginning' as 500 Muslim Bumiputeras join Kitingan's party
• MCO: All theme parks in Malaysia allowed to operate July 1, says Ismail Sabri
--------
Africa
• Sudan Detains 122 Fighters, Including Eight Children, Headed For Libya
• Over 90 migrants, including woman who gave birth on dinghy, returned to Libya: IOM
• Ethiopia's grand mufti commends Hajj decision
• Boko Haram militants killed in Nigerian military airstrikes in northeast region
• Chad denies claims 44 Boko Haram suspects suffocated to death
Compiled by New Age Islam News Bureau
URL: https://www.newageislam.com/islamic-world-news/chinese-companies-prohibit-pakistani-employees/d/122254
--------
Chinese companies prohibit Pakistani employees from namaz
30 Jun 2020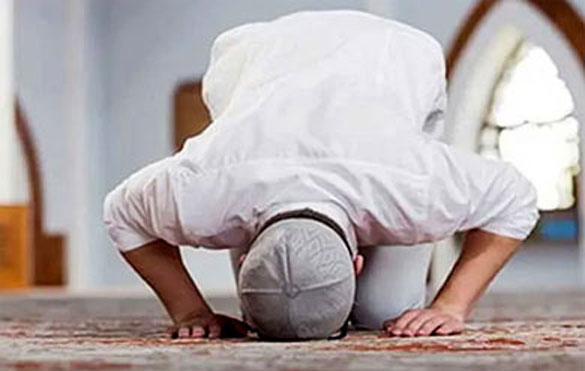 Representational Image
----
Islamabad [Pakistan], June 29 (ANI): Some Chinese companies operating in Pakistan do not seem to allow time to Pakistani employees to offer namaz, one of the five basic tenets of Islam.
In a video that surfaced on social media on June 26, a Muslim cleric, while delivering a sermon, is urging Pakistanis to be firm and tell the Chinese that in Pakistan "they'll have to follow local laws and the country does not belong to them.""We cannot ignore namaz. People are afraid that they will lose their jobs. But it has now become a matter of self respect for us," the cleric is saying in what appears to be a sermon.
China is known to be an all-weather ally; a 'dearest friend' of Pakistan, from playing a central role in Asia's geopolitics to being the greatest economic hope and the most trusted military partner. But Beijing's continued and aggressive repression of homegrown Chinese Muslims, especially the Uighur ethnic minorities in its northwestern Xinjiang province, may soon enable the mainland to losen its grasp on Pakistani public opinion. And amid such condition Beijing will obviously find Pakistan a difficult ally to work with.
In a misguided attempt to thwart a terrorism problem that China primarily associates with the country's Muslim Uighur population, the city of Karamay in Xinjiang banned "men with beards and women with Muslim headscarves" from using public transportation. Additionally, the declaration bans people sporting the Islamic star and crescent from using public transport as well.
China's discrimination against Muslims is growing. The domestic consequences of its policies is controversial. However, according to media reports, Beijing, in 2014, publicly spoke with leaders from both Afghanistan and Pakistan about concerns over the uighurs staging attacks against the Chinese populations. While the governments in Kabul and Islamabad expressed interest in complying with the Communist Party's request to better monitor their northern borders, China still faces the prospect of alienating the Pakistani and Afghan public with its policies of religious intolerance. (ANI)
https://www.malaysiasun.com/news/265612921/chinese-companies-prohibit-pakistani-employees-from-namaz
--------
Hajj Medic: Here's Why It's A Blessing In Disguise That The Hajj Pilgrimage Has Been Cancelled
June 30, 2020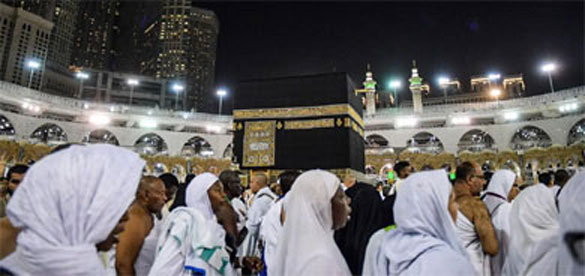 After almost a decade participating in camps for 50,000 to 60,000 pilgrims during the busiest times, it pains me to say this year's downscaling is the right decision
----
This year's announcement that Hajj will be limited to only those living in the region has brought mixed emotions. Hajj is a wonderful spiritual experience for so many practising Muslims – a pilgrimage to Mecca attended annually by 2.5 million people with religious activities lasting a week. Denying so many people this unique opportunity is heart-breaking. But as a frontline NHS doctor and regular Hajj medic, not only have I seen the devastation Covid-19 has brought, I can see how a Hajj outbreak could be catastrophic.
Despite having been blessed with the opportunity to attend regularly, I still eagerly look forward to returning the following year. The Hajj is always an uplifting spiritual experience, meeting fellow pilgrims from around the world, dressing in white robes of humility and performing the same rituals in a grand demonstration of unity. But therein lies the problem: with attendees from all corners of the world in attendance, side by side and breathing the same air in tightly confined places, a single pilgrim carrying Covid-19 would be a recipe for disaster.
Moreover, whilst exhilarating and uplifting, Hajj is also challenging. The exhausting schedule, sleep deprivation and close proximity of so many pilgrims from around the world provides the perfect storm to transmit viral infections. The "Hajj cough" – a lingering dry upper respiratory tract infection born out of the spread of multiple viruses from different locations around the world, is a real phenomenon – if not a rite of passage for pilgrims! I often need to prescribe a few doses of strong antibiotics and strict bed rest, and even these are not enough sometimes, with some patients needing hospitalisation, ventilation and monitoring.
For medics like myself, Hajj is busy at the best of times and whilst the Saudis have made extraordinary efforts to support the influx of pilgrims, it is still incredibly challenging. Waiting for ambulances to arrive is often futile, and on more than one occasion I have had to navigate crowds of tens of thousands to take a critically ill person to nearby emergency facilities. These facilities are often overwhelmed too; many groups don't have medical support, and rely heavily on the local services to assist elderly or chronically unwell pilgrims who fall ill. Of course, outside of the Holy Precincts, Hajj is also a huge social affair, an opportunity to meet and spend time with brothers and sisters in faith from across the world. Introducing Covid-19 to this scenario doesn't bear thinking about.
That's why, after almost a decade as a volunteer doctor looking after groups of 150 and participating in camps for 50,000 to 60,000 pilgrims during the busiest times, it pains me to say this year's downscaling is the right decision.
For the 2.5 million attendees, the pilgrimage is more than an obligation, it is an intensely emotional, uplifting and transformative experience, representing the spiritual pinnacle of their faith. Many will sadly miss out on that this year, but with Saudi Arabia currently suffering from one of the largest coronavirus outbreaks in the Middle East, with 161,000 declared infections and more than 1,300 deaths, tempting a potential global spread by opening its doors is unthinkable.
Limiting the Hajj makes sense for a whole host of logistical reasons too. Organisational efforts are mammoth – add to that measures to protect against Covid-19 and you can see how difficult a 2020 Hajj would be. With almost all nationalities in attendance, the chance of Hajj becoming the epicentre for a global Covid-19 outbreak would be huge; a kick in the teeth to the stringent measures being taken by countries to prevent outbreaks, and a potential public relations disaster.
On balance, the downscaling of Hajj appears to be an acceptable solution for all parties concerned. And in the end, the wisdom of Prophet Mohammed has given solace to many Muslims, with his advice remembered and shared widely at this time: "If you hear of an outbreak of plague in a land, do not enter it; but if the plague breaks out in a place while you are in it, do not leave that place." Whilst listening to Prophet Mohammed's call to the Hajj 1400 years ago is a priority, at this time his advice on health and safety is just as important.
https://www.independent.co.uk/voices/hajj-cancelled-saudi-arabia-mecca-pilgrimage-coronavirus-outbreak-a9591031.html
--------
Pompeo calls China Muslim sterilization reports 'shocking' and 'disturbing'
JUNE 30, 2020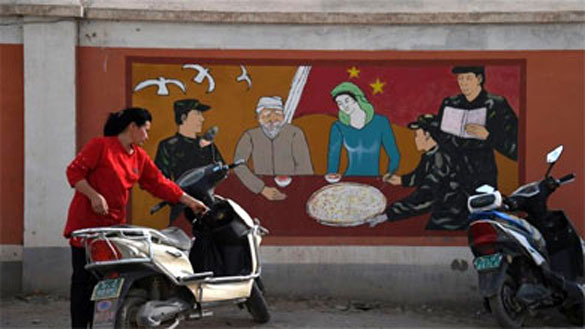 A Uighur woman beside a propaganda painting outside a military hospital near Kashgar in China's Xinjiang region, where China is accused of using coercive family planning to reduce the Muslim population [File: Greg Baker/AFP]
-----
WASHINGTON (Reuters) - U.S. Secretary of State Mike Pompeo on Monday labeled as "shocking" and "disturbing" reports that China's ruling Communist Party is using forced sterilization, forced abortion and coercive family planning against minority Muslims.
Pompeo highlighted a report about the situation in China's Xinjiang region by German researcher Adrian Zenz published by the Washington-based Jamestown Foundation think tank.
Pompeo, a persistent critic of China, including its treatment of Muslims in Xinjiang, said in a statement the findings were consistent with decades of Chinese Communist Party practices "that demonstrate an utter disregard for the sanctity of human life and basic human dignity."
"We call on the Chinese Communist Party to immediately end these horrific practices and ask all nations to join the United States in demanding an end to these dehumanizing abuses."
In his report, Zenz said his findings represented the strongest evidence yet that Beijing's policies in Xinjiang met one of the genocide criteria cited in the U.N. Convention on the Prevention and Punishment of the Crime of Genocide, namely "imposing measures intended to prevent births within the [targeted] group."
Zenz said analysis of Chinese government documents showed natural population growth in Xinjiang had fallen "dramatically." He said that in its two largest Uighur Muslim prefectures, growth rates fell by 84% between 2015 and 2018 and further in 2019.
The Chinese Embassy in Washington referred to a statement by Foreign Ministry spokesman Zhao Lijian, saying that "some institutions are bent on cooking up disinformation on Xinjiang-related issues. ... Their allegations are simply groundless and false."
Documents from 2019 revealed plans for a campaign of mass female sterilization targeting 14% and 34% of all married women of childbearing age in two Uighur counties, Zenz wrote. The campaign, he said, likely aimed to sterilize rural minority women with three or more children, as well as some with two children - equivalent to at least 20% of all women of childbearing age.
"Budget figures indicate that this project had sufficient funding for performing hundreds of thousands of tubal ligation sterilization procedures in 2019 and 2020," he wrote.
Zenz said that by 2019, Xinjiang planned to subject at least 80% of women of childbearing age in its four southern minority prefectures to intrusive birth prevention surgeries - placement of intrauterine devices or sterilizations.
He said that in 2018, 80% of all new IUD placements in China were performed in Xinjiang, while only 1.8% of the population live there.
https://uk.reuters.com/article/uk-usa-china-xinjiang/pompeo-calls-china-muslim-sterilization-reports-shocking-and-disturbing-idUKKBN24030P
--------
Israel's annexation plan in West Bank 'illegal': UN rights chief
29 June 2020
Israel's aim to annex parts of the occupied West Bank was clearly "illegal", the UN's human rights chief said on Monday, warning that the consequences could be "disastrous".
"Annexation is illegal. Period," Michelle Bachelet said in a statement, adding that "the shockwaves of annexation will last for decades, and will be extremely damaging to Israel, as well as to the Palestinians".
https://english.alarabiya.net/en/News/middle-east/2020/06/29/Israel-s-annexation-plan-in-West-Bank-illegal-UN-rights-chief.html
--------
Tablighi Jamaat Meet: SC Asks MHA To Clarify on Visa Status of Foreign Attendees from 35 Countries
BY RASIA HASHMI
JUNE 29, 2020
New Delhi: The Supreme Court on Monday asked Ministry of Home Affairs to clarify its stand about the status of visa of around 2,500 citizens from 35 countries, who were blacklisted for ten years for their alleged involvement in Tablighi Jamaat activities.
The top court asked the Centre to place on record whether individual notices were issued with regard to cancellation of visas of the foreign nationals.
A bench of Justices A M Khanwilkar, Dinesh Maheshwari and Sanjiv Khanna, which took up a batch of pleas filed by foreign nationals against their blacklisting for hearing through video conferencing, posted the matter for further hearing on July 2.
If the visas of the foreigners who had attended the Tablighi Jamaat meet in Delhi in mid-March were cancelled, why were they still in India? "You deport them," the top court said.
The bench noted that the MHA notification said that the decision has to be taken on case to case basis by the state authorities. The bench said if visas have been cancelled, then it needs an explanation as to "why they (foreigners) are still here in India. And if visas have not been cancelled, it is a different situation." The bench said let the Centre issue a statement on this matter.
Nair, who initially appeared for the Centre said that the copies of these petitions has not been served upon them, therefore they need time to file reply.
Senior advocate C U Singh, appearing for the petitioners said that they have served the copy of the petition upon advocate on record and added that blacklisting note was a general order for over 900 persons.
The bench said that the notification of Ministry of Home Affairs says the decision has to be taken on case to case basis by the authorities and it needs to be found out whether any such orders were passed.
Singh said that there should not be any violation of visa norms, now their native countries want them back and embassies are asking about them.
The bench said then let the Union of India make a statement on the status of their visa and told Mehta to find out whether any individual orders were passed for cancellation of visa of these foreign nationals.
At the outset, the bench asked Singh as when was the order for cancellation of visa was served upon them, to which he replied that it was a general order and no individual notices were given to them.
The bench said its understanding is that in each case separate order needs to be passed for cancelling the visa.
However, what is before the court is a press release and no specific order, it said.
Singh contended that as far as blacklisting or visa cancellation is concerned there was no individual order was served on any person and even during the hearing of bail applications before the High Courts, no such orders were placed on record.
On June 26, the top court had asked advocates appearing for petitioners to serve the copy to Centre's counsel.
Four petitions have been filed by 34 individuals, including a Thai national who is seven months pregnant, challenging the Centre's orders of April 2 and June 4 by which over 2,500 foreign nationals, who are currently in India, were blacklisted.
The impugned decision, by its very unilateral nature, infringes the principle of natural justice, particularly audi alteram partem' by blacklisting the said foreigners present in India without first granting an opportunity of being heard or notice of any form, and resultantly depriving the aggrieved foreign nationals of their right of locomotion and travelling back to the country of their citizenship, said the plea filed by the Thai woman.
One of the petitioners named Fareedah Cheema, a Thai national in the seventh month of her pregnancy, said she was quarantined in March, like other foreign nationals but was released from quarantine only in late May and is still at a facility under restricted movements, without the avenue to go back to her home nation and experience the birth of her child with security and dignity, with her loved ones.
The petitions, filed through advocate Fuzail Ahmad Ayyubi and drafted by advocates Ibad Mushtaq and Ashima Mandla, have contended that the en-masse blacklisting of foreigners without any opportunity to defend themselves is a blatant violation of Article 21 (protection of life and personal liberty) of the Constitution.
They said the sudden blacklisting, apart from registration of FIRs, led to the forfeiture of their passports by state authorities, thereby resulting in a complete deprivation of their personal liberty sans procedure established by law.
The impugned decision, therefore, has been passed arbitrarily against the aggrieved foreign nationals, being devoid of any documentary proof or evidence to substantiate the allegations of alleged Tablighi activities, and in the absence of any opportunity being afforded to defend or to explain, is an affront to not only the right to life and personal liberty, guaranteed under Article 21 but also to the rudimental principles of natural justice, the Thai woman's plea said.
In barely 50 words, the impugned decision as reflected in the press release dated April 2, 2020 has arbitrarily first forfeited the personal liberty of more than 960 foreign nationals, belonging to 35 countries, presently in India, having entered on valid tourist visas, by merely alleging their involvement in Tablighi Jamaat Activities' despite the guidelines of the Respondent No.1 (MHA) placing no bar on attending religious congregations or visiting religious places, it said.
The Respondent No.1 (MHA) baselessly and arbitrarily passed a blanket ban on the aggrieved foreign nationals under the garb of alleged visa violations pursuant to alleged Tablighi activities, forcing such persons to remain in India under restricted movements, it said.
It has sought direction to MHA and Ministry of External Affairs to remove the said foreigners from the blacklist and reinstate their visas and facilitate their return to their countries.
The petitions sought to declare the decision of the MHA of blacklisting the foreign nationals who attended the Tablighi Jamaat congregation as "arbitrary".
"All human beings are born with some unalienable rights like life, liberty and pursuit of happiness. The importance of these natural rights can be found in the fact that these are fundamental for their proper existence, and no other right can be enjoyed without the presence of the right to life and liberty. Life bereft of liberty would be without honour and dignity and it would lose all significance and meaning and the life itself would not be worth living," read the plea.
"Unilateral blacklisting of 960 foreigners by the Home Ministry vide press release dated April 2, 2020, and the subsequent blacklisting of around 2500 foreigners as reported on June 4, 2020, is in violation of Article 21. Therefore, it is void and unconstitutional as the petitioners have neither been provided any hearing nor notice or intimation in this regard," the plea said.
These foreign nationals presently in India were blacklisted for a period of 10 years from traveling to India for their alleged involvement in Tablighi Jamaat activities.
The Home Ministry had said that foreign Tablighi Jamaat members, who were staying in India in violation of visa rules during the nationwide lockdown implemented to combat the COVID-19 spread, have been blacklisted.
A large congregation organised by Tablighi Jamaat in the national capital in March had emerged as a major COVID-19 hotspot in the country.
The government had said the decision of banning the foreign Tablighi Jamaat members was taken after details of foreigners found illegally living in mosques and religious places emerged from various states across the country.
https://www.siasat.com/tablighi-meet-sc-asks-mha-clarify-visa-status-foreign-attendees-1916075/
--------
Kremlin rejects reports of Russian bounties to Taliban to kill US troops in Afghanistan
29 June 2020
Russia has dismissed as "lies" media reports alleging that a Russian military intelligence unit attempted to pay bounties to members of the Taliban militant group to kill American troops in Afghanistan.
In a controversial report on Friday, the New York Times, citing an unnamed source, claimed that a top-secret unit within the Russian military intelligence, or the GRU, had allegedly offered monetary rewards to Taliban-linked militants to kill US troopers in the country last year.
The bombshell report, which was soon "confirmed" by some other newspapers, including the Washington Post and the Wall Street Journal, further claimed that US intelligence officials had also reached the conclusion about the clandestine payments and then briefed President Donald Trump in March.
However, Trump on Sunday tweeted that "nobody" had ever briefed him about such a report by the "Fake News" NYT, calling on the daily to name the anonymous source for its story, "which 'Everybody is denying it.'"
Later in the day, he added in a separate Tweet that "Intel just reported to me that they did not find this info credible, and therefore did not report it to me or @VP."
On Monday, Kremlin spokesman Dmitry Peskov lambasted the Times story as a bunch of "lies," stressing that media outlets should take heed of Trump's comments and also said that the American President and his Russian counterpart, Vladimir Putin, had never discussed the allegations.
Furthermore, Russia's top Afghanistan diplomat denounced the Times story as "fake news," whose aim is to target the Trump administration and his attempts to pull American troops out of Afghanistan.
"It is clear that there are forces in the US which don't want to withdraw from Afghanistan, want a justification for their own failures. This is what it's all about," Zamir Kabulov said in an interview with RT.
"We really shouldn't waste time commenting on the obvious lie," he added.
The Taliban likewise has denied having had any deal with the Russian intelligence service.
In 2019, 20 US soldiers were killed in Afghanistan but ever since Washington and the Taliban reached an agreement in February, there have been no reported attacks by the militant group on the US positions.
https://www.presstv.com/Detail/2020/06/29/628509/Russia-report-Afghanistan-US-troops
--------
Taliban release details of Mullah Baradar's meeting with Iran's special envoy
30 Jun 2020
The Taliban group released the details of the meeting between Mullah Abdul Ghani Baradar and Mohammad Ibrahim Tahiryan, the special envoy of the government of Iran for Afghanistan.
Suhai Shaheen, a spokesperson for the political office of Taliban in Qatar, said Mullah Baradar met with Tahiryan in Qatari capital of Doha on Monday.
According to Shaheen, the two sides held talks on issues of the Afghan refugees in Iran, border issues and the intra-Afghan talks.
Mullah Baradar urged Tahiryan that the authorities in Iran must deal with the Afghan refugees in accordance with the Islamic brotherhood principles, Shaheen added.
In regards to intra-Afghan talks, Mullah Baradar said the Taliban group is committed to all materials of the peace agreement, emphasizing that the group would start intra-Afghan talks once all Taliban prisoners are released, according to Shaheen.
https://www.khaama.com/taliban-release-details-of-mullah-baradars-meeting-with-irans-special-envoy-08930/
--------
Pakistan
Pakistan reopens Kartarpur corridor on Ranjit Singh's death anniversary
June 30, 2020
LAHORE: The government on Monday reopened the Kartarpur Corridor after three-and-a-half months to commemorate the death anniversary of Sikh Maharaja Ranjit Singh.
According to Sardar Gobind Singh, Head Granthi Darbar, Kartarpur, the death anniversary rituals of Sikh Maharaja Ranjit Singh at Darbar Baba Guru Nanak Kartarpur will begin at 12:30pm.
However, due to the lockdown, the entry to Kartarpur Gurdwara has been closed.
Gobind Singh said that the entire Sikh nation is immensely happy with the reopening of corridor after nearly four months.
He said that Sikh pilgrims from all over the world, including Pakistan, would participate in prayer ceremony on the occasion while the Indian government should also allow Sikh pilgrims to visit Kartarpur corridor.
Prime Minister Imran Khan had inaugurated the Kartarpur Corridor on November 9 last year but the corridor was closed after the outbreak of the Covid-19.
On the other hand, Pakistan had announced to open Kartarpur corridor on June 29 and India was also informed about the development but New Delhi had refused to open the corridor for its pilgrims.
https://www.pakistantoday.com.pk/2020/06/29/pakistan-reopens-kartarpur-corridor-on-ranjit-singhs-death-anniversary/
--------
Pakistan-American body hails Joe Biden's support to Kashmiris' cause
JUNE 30, 2020
A prominent Pakistani-American organization Sunday welcomed Democratic presidential nominee Joe Biden's call for restoration of the rights of people in Indian occupied Kashmir as well as those of Muslims and other minorities in India, with the hope that, as US president, he would take immediate practical steps to uphold their respective causes.
Biden, a former US vice president, drew attention to the Kashmir issue and the plight of Indian Muslims in a policy paper, entitled: "Joe Biden's agenda for Muslim American community' which his campaign unveiled on Friday. He also expressed disappointment over the Prime Minister's Narendra Modi's other controversial measures, including Citizenship (Amendment) Act and the National Register of Citizens in Assam, that discriminate against Muslims. "We warmly welcome Mr. Biden's policy declaration in support of people in occupied Kashmir and Muslims in India", Dr. Ijaz Ahmed, chairman of the American-Pakistani Public Affairs Committee (APPAC), issued here.
The APPPAC chairman said Biden's pronouncements reflected his determination to promote peace, justice and equality in the world and that the US Democratic leader would have their full support. By highlighting the human rights violations in Indian occupied Kashmir and the discriminatory policies against Muslims and other minorities in India, he said that Biden had fully exposed the really nature of 'democracy' in that country.
Last week, Biden held a virtual meeting with Dr. Ijaz Ahmed and several members of the Pakistani-American community during which he sought their support for his White House bid.
Full report at:
https://dailytimes.com.pk/633881/pakistan-american-body-hails-joe-bidens-support-to-kashmiris-cause/
--------
4 separatist gunmen storm stock exchange in Karachi, kill 7 before being shot dead
Jun 29, 2020
ISLAMABAD: Four heavily armed separatist gunmen stormed the Pakistan Stock Exchange (PSX) in the southern port city of Karachi on Monday, killing four people and wounding several others before being shot dead by security officials.
According to the police, one sub-inspector and three security guards were killed in the attack.
PTI put the toll at 11 dead — 4 terrorists, one police SI, four security guards and two civilians.
The Baloch Liberation Army (BLA), an ethnic Baloch insurgent group in southwestern Balochistan province, claimed responsibility for the attack in social media posts. "Majeed Brigade of Baloch Liberation Army has carried out a self-sacrificing attack on Karachi stock exchange today," the group claimed.
According to the police, four gunmen, armed with assault rifles, hand grenades and explosives, drove up to the gate in front of the PSX. Two of them managed to enter the parking area before all of them were gunned down in a firefight with security forces.
"The gunmen hurled grenades at the main gate to the building and opened indiscriminate fire but they failed to enter the building," the police said, adding that the staff inside locked themselves into rooms and many were evacuated.
"The attackers came in a silver Toyota Corolla and were stopped by the police at the gate outside where the exchange of fire took place," said Ghulam Nabi Memon, additional IG, Sindh police.
Witnesses working inside the PSX building said they heard heavy gunfire and explosions when the attackers entered the complex. "We were all terrified," said Abid Habib, PSX's director "There was gunfire and suddenly everyone was rushing to the windows to see what was happening. As the firing was close by, everyone was scared and we closed our outside doors," Habib said.
Video footage of the attack showed four assailants getting out of a car and taking up positions at a security barrier to the building, firing at security guards.
PSX Karachi, Pakistan's biggest stock exchange, has offices for hundreds of financial institutions and is situated in the city's high security zone along with the head offices of banks and other businesses.
Several thousand people work at PSX on a normal day but numbers were low because many were working from home due to the Covid-19 pandemic.
Balochistan, a resource-rich region, has seen a decades-long rebellion by the Baloch ethnic minority for independence.
Efforts by the Pakistani security forces to put down the insurgency have led to disappearances and widespread accusations of abuses.
In recent years, the group has targeted Chinese interests in Balochistan, a centre for huge development projects that are part of China's Belt and Road Initiative. Separatist militants in Balochistan oppose Chinese investment, saying it is of little benefit to local people.
Omer Ahmed Bukhari, director-general of the Sindh Rangers, a paramilitary force, said the terrorists had planned to take hostages in the building. All the attackers were equipped with AK-47s, hand grenades, food and water supplies, suggesting that they had prepared for a long standoff," he said.
Pakistani officials have long accused India of supporting Baloch separatists and the accusation was levelled yet again after the attack on the PSX. Bukhari claimed the possibility of the involvement of foreign agencies, especially India's Research and Analysis Wing (RAW), cannot be ruled out. "Such attacks are not 'stand-alone incidents' and cannot take place without the aid of outside intelligence agencies," he told media.
"Straightaway, I can assure you that this terrorist incident cannot have taken place without the help of an outside agency. And among them, RAW's frustration is apparent to all of you," he said.
Full report at:
https://timesofindia.indiatimes.com/world/pakistan/4-separatist-gunmen-storm-stock-exchange-in-karachi-kill-7-before-being-shot-dead/articleshow/76697740.cms
--------
Drop in Covid-19 patients' inflow at hospitals
Ikram Junaidi
June 30, 2020
ISLAMABAD: Federal Minister for Planning, Development and Special Initiatives Asad Umar has said that all the circumstantial evidence indicates a drop in patients' inflow at hospitals despite the recent increase in the number of Covid-19 tests across the country.
But the positive development has enhanced the worries of the decision makers, as they feared that people might stop taking precautionary measures against the highly contagious virus with the slight improvement in the situation.
While talking to Dawn, Minister for Planning, Development and Special Initiatives Asad Umar said the number of daily tests, which had dropped to around 20,000 [during last week], was again increased to around 25,000 across the country.
"However, the inflow of the patients has decreased. Though the Sindh has not given us proper feedback, the feedback given by Punjab, Balochistan, Khyber Pakhtunkhwa and Islamabad shows that the inflow of the patients has reduced," he said.
"There are four different parameters through which it can be identified that if the spread of the virus has been reduced. In other words, the system exhibits its situation through number of daily positive cases, number of admitted patients, number of patients on ventilators and number of deaths. All four parameters have been showing positive signs as numbers are decreasing," he said.
The minister said the anecdotal evidences were also showing that number of coronavirus cases had been on the decline.
"I have talked to health minister of Punjab Yasmin Rashid and she also told me that the inflow of patients, at hospitals, has reduced. On Monday, during the meeting of the National Command and Operation Center (NCOC) Dr Faisal Sultan [Focal Person to PM on Covid-19] said he used to see crowds at the mobile testing van which remains outside his house. However, for the last few days people hardly came there to get themselves tested for the deadly virus," he said.
While replying to a question, the minister said he was very happy over the situation but at the same he was also worried that people might stop following the SOPs due to the decrease in cases. "Every person should strictly adopt precautionary measures, because otherwise there will be another spike of cases in coming days," the minister said.
Over the past 24 hours, the country reported 2,711 coronavirus cases and 100 more deaths, taking the national tally of new cases to 208,358 and death toll to 4,254.
Media coordinator of Pakistan Institute of Medical Sciences (Pims), Islamabad, Dr Waseem Khwaja said 75pc beds, dedicated for Covid-19 patients, were vacant at Pims. "There are 212 oxygenated beds and 25 ventilators in the hospital, but only 56 Covid-19 patients are admitted (on Sunday) of which 10 are on the ventilators," he said.
Full report at:
https://www.dawn.com/news/1566059/drop-in-covid-19-patients-inflow-at-hospitals
--------
Masterminds of Karachi attack to be traced soon: minister
Kalbe Ali
June 30, 2020
ISLAMABAD: Interior Minister retired Brig Ejaz Shah on Monday said that the masterminds of the terrorist attack on the Pakistan Stock Exchange (PSX) would be traced soon.
He said in a statement that the terrorists could not enter the PSX building as Sindh Rangers, Sindh police and PSX's security guards conducted a successful operation against them.
"The law enforcement and intelligence agencies will destroy the bases of these terrorists as they have done it in the past," Mr Shah added.
The minister said an inquiry had been launched on the incident.
SECP asks PSX management to abide by advisories of intelligence agencies
Meanwhile, PSX chairman Suleman Mehdi told Dawn that the terrorist attack had been foiled only due to the tips received in the past from the intelligence agencies.
There was a meeting with the security officials in November last year, he added.
"The style and modus operandi of the terrorists were very similar to the attack on the Chinese consulate in Karachi in November 2018 and we have been informed by the intelligence personnel that the same group was involved in the attack on the stock exchange," Mr Mehdi said.
Incidentally, the Securities and Exchange Commission of Pakistan (SECP) had written to the PSX management on May 5 that there were reports that the terrorists could strike economically sensitive installations, mainly in Karachi.
Then the PSX management held several meetings with the quarters concerned and it was asserted that the outlawed groups, along with proscribed sectarian organisations, could target the stock exchange.
The SECP has directed the management of the stock exchange and other entities to abide by the advisories of intelligence agencies.
The PSX had ensured extraordinary security arrangements which included deployment of Sindh police personnel, Pakistan Rangers armored personnel carriers and snipers of elite force.
In addition, full-dress rehearsals were conducted by Pakistan Rangers in collaboration with the anti-terrorist team of Sindh Rangers.
The PSX also raised the height of the stock exchange's boundary wall with installation of concertina razor security wires, constructed firing posts, installed modern technology X-ray scanning machines, electronic walkthrough gates and additional CCTV cameras.
"The PSX has a good quality SOPs in terms of security developed with the help of Rangers and police," Mr Mehdi said.
The PSX management held online meetings in the afternoon with the senior stock brokers, the SECP and security officials.
The SECP said that while the horrific incident was going on, the stock market remained operational and trading continued uninterruptedly, which demonstrated the confidence of investors on the foolproof security system of the PSX.
SECP chairman Amir Khan talked to the chairman and managing director of the PSX and agreed to ensure continuity of trading that was essential to retain the confidence of investors.
Full report at:
https://www.dawn.com/news/1566072/masterminds-of-karachi-attack-to-be-traced-soon-minister
--------
Arab world
Idlib turns into 'ticking bomb' amid Hayat Tahrir Al-Sham domination
June 30, 2020
ANKARA: The deployment of a Turkish convoy with 15 armored cars and trucks laden with logistical materials to Syria's last major rebel bastion Idlib is causing concern about an incoming military offensive.
The convoy reportedly entered Syrian territories from the Kafr Losin border crossing and is aimed at supplying Turkish observation posts.
Hayat Tahrir Al-Sham (HTS), which is still the dominant rebel group in Idlib, recently reinforced its military footprint in the region by increasing its pressure on radical jihadis.
But HTS has opted for a pragmatic approach toward Ankara after allowing the circulation of Turkish lira as an alternative to the devalued Syrian currency, even though Syria lists the group as a terrorist organization.
It was the Shura Council, linked to the HTS-backed Salvation Government in Idlib, that decided to replace the Syrian pound with the Turkish lira after convening a meeting in early June.
HTS has been criticized by its rivals for siding with Turkey after it was allegedly instructed by Ankara to prevent local attempts to block the strategic M4 highway, where Turkish and Russian soldiers conduct regular patrols.
HTS ended its infighting with a challenger group led by Huras Al-Din in Idlib through a cease-fire after the death of 30 militants. But it still continues a wide-ranging crackdown on alternatives to its regional domination as well as on defectors within its ranks. It has arrested some of its senior members, such as Abu Malek Al-Tali and Abu Salah Al-Uzbeki, over charges of insurrection and defection.
Aydin Sezer, an expert on Turkish-Russia relations, said that the ongoing situation in Idlib was like a ticking bomb.
"Anything can happen at any time, including a provocation which would mobilize the Syrian regime's army or the Turkish armed forces," he told Arab News.
Under the Astana, Sochi and March 5 Moscow deal with Russia, Turkey committed to eliminate all terrorist groups in the region including HTS.
"In the latest deal in March, Moscow reportedly gave a deadline to Ankara to eradicate them in six months," Sezer added. "We already reached the fourth month of this period. I personally think that Russia prevented President Bashar Assad's regime from taking any offensive against Turkish troops in this time frame."
According to Sezer, the recent attacks by HTS and related groups toward Russian bases were some attempts of provocation against the Kremlin.
But, for the time being, the priority of Ankara is to prevent any refugee exodus from Idlib toward its borders and to avoid the anger of any Al-Qaeda-inspired group toward Turkey.
Interior Minister Suleyman Soylu, Turkish President Recep Tayyip Erdogan and his wife Emine Erdogan recently donated dozens of briquette houses to displaced Syrians seeking shelter at camps close to Turkish borders, with the aim of keeping them within Syrian territory in the event of a possible violation of a cease-fire in the region.
Orwa Ajjoub, an affiliated researcher at the Center for Middle Eastern Studies at Lund University, said that HTS had managed to develop a sort of interdependent relationship with Ankara.
"In January 2019 for example, in return for Turkey's silence regarding the HTS offensive against the National Front of Liberation supported by Turkey, HTS leader Abu Muhammad Al-Jolani expressed his support for the potential Turkish operation in northeast Syria to uproot the PKK (the Kurdistan Workers Party)," he told Arab News.
Ajjoub said that the power dynamics shifted after the Turkish military intervention in May, without which the Syrian regime would have probably advanced to Idlib, while the latest developments, with the introduction of the Turkish lira, had already started to corner HTS with an increased dependency on Turkey.
"This should not suggest, however, that Turkey's need for HTS is over. As the most potent group in Idlib, HTS provides security, stability and governance in Idlib. It, furthermore, can achieve Turkey's commitment to Sochi and Astana by eliminating radical jihadi groups."
But Navar Saban, a military analyst from the Istanbul-based Omran Center for Strategic Studies, said that if Turkey conducted any operation against HTS right now it would need to offer a "Plan B" for the administration and security services in Idlib that were currently being provided by HTS.
"Turks are not in a position to provide these kinds of services to the province," he told Arab News. "It is the main reason that Turkey doesn't conduct a large-scale operation against HTS. They keep a monitoring eye on them because, although HTS is not a well-accepted group, it keeps many governance responsibilities under its control."
Experts were skeptical about Russia's potential reaction to Turkey's military presence in Idlib and the interdependent regional dynamics.
"For Russia, the Turkish military reinforcements in the north cannot be seen but with a suspicious eye," said Ajjoub. "Nevertheless, I do not think that Ankara will break the March 5 deal, which came after the killing of more than 40 Turkish soldiers."
Ajjoub said that the recent Turkish presence was meant to provide it with a better position for the coming rounds of talks.
"We should not forget also that Russia and Turkey have another open battlefront, which is Libya. What happens in Syria can be felt in Libya and vice-versa."
https://www.arabnews.com/node/1697496/middle-east
--------
UAE announces gradual reopening of mosques, other places of worship from 1st July
29-06-2020
ABU DHABI, 29th June, 2020 (WAM) – The UAE government today announced that mosques, prayer spaces, and other places of worship will gradually reopen nationwide from 1st July and operate at 30 percent capacity. The development comes in coordination with relevant federal and local authorities who continue to take all considerations for precautionary and preventive measures.
However, prayer spaces located on motorways, industrial areas, labour camps, cooperative societies, commercial centres and parks twill all remain closed until further notice.
The development was announced during the UAE government's regular media briefing today wherein Amna Al Dahak Al Shamsi, official spokesperson of the UAE Government, and Dr. Saif Juma Al Dhaheri, Spokesman for the National Emergency Crisis and Disasters Management Authority (NCEMA) provided an update on Covid-19 developments and the measures taken to reduce its impact.
Al Shamsi said that the daily average rate of recoveries exceeds 660 cases, heralding the tireless efforts made by the medical staff in all UAE healthcare facilities, including doctors and nurses.
She noted that more than 43,551 additional Covid-19 tests were conducted among UAE citizens and residents, resulting in the detection of 449 new cases, taking the total number of infections in the country to 48,246.
Al Shamsi said an additional 665 individuals have fully recovered from Covid-19, bringing the total number of recoveries to more than 37,076, with a total of 10,856 individuals still being treated, most of whom are in stable condition.
She also announced the death of one individual as a result of Covid-19 complications, taking the total number of fatalities in the country to 314.
Dr. Al Shamsi expressed her sincere condolences to the families of the deceased and wished current Covid-19 patients a speedy and full recovery.
"All UAE departments and institutions are forging ahead with all measures needed to ensure a safe return to normalcy across all fields," she said. "However, we are in a critical period that requires enhanced awareness and increased cooperation from all community members."
Addressing the briefing, Al Dhaheri said the decision to reopen places of worship does not include prayer spaces located on motorways, industrial areas, labour camps, cooperative societies, commercial centres and parks; these will all remain closed until further notice."
He added, "Reopening places of worship is due to the tremendous efforts made by all relevant departments who initiated the Covid-19 testing of all mosque imams and workers in places of worship.
"Friday prayers will remain suspended in all mosques until further notice and therefore mosques will remain closed on Fridays only," he said. The public is again instructed to comply with precautionary and preventive measures while coming for prayers, including adhering to a minimum 3-metre safety distance between worshippers, and avoiding congregations and handshaking in all forms.
"All should perform ablution at home and hand sanitize regularly in addition to wearing face masks before coming for each prayer," he added.
"Quran recitals and readings should be from the worshiper's own personal or electronic Moshaf," he said, noting that using communal Holy books already available in mosques is prohibited.
"Every Muslim should bring his own prayer mat and should not leave it behind or store it at mosques after prayers," he said, noting all mosque goers have to download Al Hosn app on their smart phones.
All the guidelines related to the gradual reopening of mosques will be circulated to all places of worship by the relevant authorities.
"Elderly people, including Emiratis and residents, as well as children aged under 12 years old and people with chronic and respiratory diseases are not allowed to come to mosques or other places of worship under the current circumstances to ensure their safety," he warned.
He stressed the need for all those who are living with people in contact with COVID-19 patients as well as those living with patients under treatment should not to come to mosques until they get treated in order to ensure public safety.
"Mosques and places of worship where COVID-19 cases is detected shall be closed and necessary measures shall be taken," he said.
In the meantime, Al Dhaheri announced that excursion boats, and personal and commercial yachts can now operate at 50 percent. Jet skis are to be used by only one rider.
Concluding the briefing, Al Shamsi warned that any negligence and recklessness may undo all efforts made by the nation's first line of defence and other authorities concerned.
Full report at:
http://wam.ae/en/details/1395302852048
--------
'We turned the page,' says US ambassador to Lebanon after order to silence her
29 June 2020
After a judicial order banning her from speaking to local televisions, the US ambassador to Lebanon said Monday that it was time to "turn the page" despite a judge's non-binding order to silence the diplomat for comments made against Hezbollah.
Ambassador Dorothy Shea met with Lebanon's foreign minister, Nassif Hitti, following the latter's summoning over an interview Shea gave to Al Hadath last week. In her interview, Shea criticized Iran-backed Hezbollah for jeopardizing Lebanon's economic recovery and the country's stability.
For all the latest headlines follow our Google News channel online or via the app.
A south Lebanon judge issued an order Saturday banning local media outlets from conducting interviews with Shea. But Shea said that the Lebanese government apologized and downplayed the order. Lebanon's information minister said this was not true, in which Shea said, "the information minister doesn't have all the information."
On Monday, after meeting Hitti, Shea said, "We turned the page on this unfortunate distraction so we can all focus on the real crisis at hand, which is the deteriorating economic situation in Lebanon."
Shea said she had a "positive meeting" with the Lebanese foreign minister, where they reinforced the importance of the bilateral relationship between each country."
Over the weekend, Shea expressed her surprise at "such a brazen attempt to silence the media and to curb freedom of expression. They really caused quite a tempest in a teapot."
She said that in her original interview, she called out Hezbollah "on some inaccurate and inappropriate and violent language," adding that "it's more reminiscent of what you might see in Iran, not met here in Lebanon."
A week prior, the group's leader, Hasan Nasrallah, said the US was trying to starve the Lebanese people and that Washington was preventing US dollars from entering the Lebanese market. Nasrallah also called out Shea in his televised remarks, before calling on Lebanon to "go East" and strike deals with Iran and China.
China and Iran
Separately, China and Iran's embassies in Beirut lashed out at Shea and the US Embassy.
"The more she [Ambassador Shea] gossips, the more she insults herself and her country. She does not have the right to attack another country with fabricated claims," the Iranian embassy wrote on Twitter.
China's embassy posted a statement on its website. "We hope that the United States can view China's cooperation with other countries in a correct and objective way. The US side should at least stop impeding others from assisting these developing countries, whereas serving its own political needs at the cost of the developing countries' benefit," the statement said.
Full report at:
https://english.alarabiya.net/en/News/middle-east/2020/06/29/-We-turned-the-page-says-US-ambassador-to-Lebanon-after-order-to-silence-her.html
--------
Arab Coalition, US Envoy Brian Hook reveal Iranian weapons used against Saudi Arabia
29 June 2020
New Iranian missiles and weapons found in Yemen were revealed by the Arab Coalition in a press conference on Monday.
US Special Representative for Iran Brian Hook and Saudi Arabia's Minister of State for Foreign Affairs Adel al-Jubeir hosted a joint press conference after examining the weapons.
Saudi Arabia is consulting with all the countries on the UN Security Council on the dangers of not extending the arms embargo on Iran, says the Kingdom's Minister of State for Foreign Affairs Adel al-Jubair.
For all the latest headlines follow our Google News channel online or via the app.
A UN report recently stated that missiles and drones used in attacks against Saudi Arabia were of Iranian origin, marking the first time that the organization's Secretary-General has explicitly recognized Iran's role in attacks on the Kingdom.
The US President Donald Trump pulled out of a nuclear deal with Iran in 2018, saying that it had not stopped Iran from continuing to destabilize the region. Since then, the Iranians have violated the deal several times.
"Iranian leaders are rejecting diplomacy, fueling instability, and worsening the suffering of innocent Yemenis...Iran will never be allowed to develop a nuclear weapon," Hook said at the press conference.
The US submitted a draft resolution to the UN Security Council saying that the current arms embargo on Iran should be extended beyong its expiration date on October 18, 2020.
"The weapons that we see here today … are all the evidence we need, that the arms embargo on Iran must not be lifted. If the embargo expires, Iran will be able to purchase and sell these weapons, as well as many other kinds of weapons without any restrictions at all," Hook said.
Full report at:
https://english.alarabiya.net/en/News/middle-east/2020/06/29/Exclusive-Saudi-Arabia-to-reveal-new-Iranian-missile-cargo-today-3-30-p-m-Riyadh-.html
--------
Millions of Syrians at risk of starvation, warn leading aid groups
29 June 2020
Leading aid groups called on Monday for increased access and funding for millions of Syrians at risk of starvation, on the eve of a key conference in Brussels.
More than nine years into the conflict, the fighting has receded but the humanitarian emergency remains acute, the international NGOs said in a joint statement.
"A staggering 9.3 million Syrians are now going to sleep hungry and more than another two million are at risk of a similar fate," they said.
The statement -- signed by the Norwegian Refugee Council, Oxfam, CARE, Mercy Corps and others -- said the number of Syrians facing food insecurity has risen by 42 percent since last year.
"Almost a decade of war has thrown Syrians into a spiral of despair and destitution that keeps worsening every year. International assistance is needed now more than ever," the aid groups said.
The Brussels IV conference hosted by the European Union and United Nations opens on Tuesday to assist war-affected people inside and outside Syria.
"Unless funding and humanitarian access are increased, many Syrians, including those living as refugees in the region, will be pushed to the brink of starvation," the aid groups said.
Full report at:
https://english.alarabiya.net/en/News/middle-east/2020/06/29/Millions-of-Syrians-at-risk-of-starvation-warn-leading-aid-groups-.html
--------
UN report on Iranian missiles in Yemen used against Saudi: Key takeaways explained
29 June 2020
A new UN report endorses long-standing claims that weapons "of Iranian origin" were used in several attacks against Saudi Arabia last year and have been exported to the Houthis in Yemen.
The report provides evidence for US officials in their case to extend the arms embargo on Iran and further calls into question Tehran's public commitments to dialogue and the nuclear deal.
Authored by the UN's chief, Secretary-General António Guterres, it examines the implementation of UN Security Council Resolution 2231 – the resolution by which the UN endorsed the Iran nuclear deal, officially known as The Joint Comprehensive Plan of Action (JCPOA) in 2015.
Limited information from the report was leaked on June 11, including the key finding that missiles launched against Saudi Arabia in recent attacks were "of Iranian origin."
Now, Al Arabiya English has obtained the full report, along with a range of photographic and video evidence of Iranian missiles and arms shipments, including exclusive images of Iranian weapons found from a previously undisclosed raid on a dhow in April, 2020, and footage showing a new angle of the attack on Saudi Arabia's Abha airport in 2019.
With the UN Security Council set to discuss extending the arms embargo on Iran past October, the report is "significant in its content and timing" and will strengthen the US case for extending the embargo, according to Jason Brodsky, the policy director at United Against a Nuclear Iran.
Saudi Arabia has also welcomed the report, saying that it confirmed Iran's well-known destabilizing regional behavior.
"The Kingdom of Saudi Arabia has consistently warned of the security consequences of arms agreements that overlook Iran's regional expansion and ignore the legitimate security concerns of regional states. Today, we are glad that international partners are acknowledging these issues. It might have taken some time, but better late than never," Saudi Arabia's ambassador to the UN Ambassador Abdallah Y. al-Mouallimi told Al Arabiya English.
Here is all you need to know about the new report and its evidence.
Key takeaways
1) Missiles and drones used in attacks against Saudi Arabia were "of Iranian origin."
Secretary-General Guterres said the UN examined debris of weapons used in attacks on a Saudi oil facility in Afif in May, on the Abha international airport in June and August and on the Saudi Aramco oil facilities in Khurais and Abqaiq in September.
"The Secretariat assesses that the cruise missiles and/or parts thereof used in the four attacks are of Iranian origin," said Guterres. The drones used in the May and September attacks were also "of Iranian origin," he said.
While Saudi Arabia, the US and other investigators had reached this conclusion previously, it is the first time the UN secretary-general has explicitly confirmed their findings.
"There was always a very strong suspicion that the cruise missiles used were Iranian. Initially the UN said that it acknowledged the US and the Saudi findings, but couldn't endorse their findings until they'd examined the evidence. Now it looks like they've come to the same conclusion," said Douglas Barrie, senior fellow for military aerospace at the International Institute for Strategic Studies.
2) Iranian arms "may have been transferred in a manner inconsistent" with UN resolution 2231 and the JCPOA.
The US seized two hauls of arms and related materials in the Arabian Sea, believed to be headed for Yemen, in November 2019 and February 2020.
The UN found these shipments to contain the following material:
a) Container launch units of anti-tank missiles "of Iranian origin,"
b) Fifteen POS-type optical weapon sights that were delivered to Iran between February 2016 and April 2018,
c) Thermal optical weapon sights that had "design characteristics similar ... to those also produced by a commercial entity in Iran,"
d) A keyboard of a computer terminal associated with the anti-ship missile, a relay box tester of an unidentified missile, and a navigation antenna and module of the cruise missile, all of which had Farsi markings on them.
According to Guterres, "these items may have been transferred in a manner inconsistent" with UN resolution 2231.
3) Despite these findings, the UN still sees the JCPOA as the best way to ensure Iran does not develop a non-peaceful nuclear weapon.
Secretary-General Guterres reiterated the UN's support for the nuclear deal.
"I regret the May 2018 withdrawal of the United States from the Plan, as well as the steps taken by the Islamic Republic of Iran since 2019 to cease performing its nuclear-related commitments under the Joint Comprehensive Plan of Action," wrote Guterres.
Guterres also acknowledged the concerns raised by the UK, France, and Germany and their call for Iran to reverse its violations of the deal.
"I appeal again to the Islamic Republic to return to full implementation of the Plan. I also urge the Islamic Republic of Iran to carefully take into account and urgently address the other concerns raised by other participants," he said.
Guterres also said that it is "vital" that the procurement channel for nuclear-related provisions continue to operate.
Video and photographic evidence of Iranian missiles and weapons
The UN report examined several pieces of evidence.
The first were two caches of arms and related material seized by US raids on ships in the Arabian Sea in November, 2019, and February, 2020.
November 25, 2019, dhow seizure
"On November 25, a US warship conducted a flag verification boarding in the Arabian sea in accordance with international law of what was subsequently determined to be a stateless vessel, and discovered a cache of weapons and advanced missile components," said Pentagon spokesperson Cmdr. Sean Robertson in a statement at the time. "An initial investigation indicates that these advanced missile components are of Iranian origin. A more thorough investigation is underway."
Additional evidence seen by Al Arabiya English
On top of the evidence surveyed by the UN, Al Arabiya English has obtained a range of photographic and video evidence of Iranian missiles and arms shipments collected by the Arab Coalition.
For a full analysis of the new material, click here.
This material comes from a previously undisclosed raid on a dhow on April 17, 2020, revealing caches of weapons and arms bound for Yemen for the first time.
The material obtained by Al Arabiya English also includes missile parts and debris from a range of attacks against Saudi Arabia, as well as exclusive footage showing new angles of the attack on Saudi Arabia's Abha airport in 2019.
Implications for the nuclear deal
Guterres' suggestion that the transfer of Iranian arms to Yemen may be "inconsistent" with UN resolution 2231 and the JCPOA could have implications for negotiations on the future of the deal, or any replacement deals.
While Iran has already violated several elements of the JCPOA following the US withdrawal from the deal, experts said that this UN report will weaken Iran's overall case as a credible partner.
"Fundamentally, I think the issue is above all bad PR for the Islamic Republic," said Alex Vatanka, senior fellow and director of the Iran program at the Middle East Institute in Washington, DC.
"The fact that this is the UN providing this report makes Iranian denials that much harder to be credible," he said.
However, Vatanka pointed out that Russia and China are still committed to using their veto power in the UN Security Council to protect Iran at the UN level. Unless Moscow and Beijing shift their position, the growing international consensus that Iran has been committing malpractice won't result in meaningful change within the UN Security Council.
Other experts pointed to the "sunset provisions" of UN resolution 2231, under which the current arms embargo expires in October.
Implications for the arms embargo
The UN report has been seen as bolstering the case for extending the arms embargo on Iran, which is currently set to expire in October, 18, 2020.
On Tuesday, the US said it has shared a draft resolution with members of the UN Security Council that would extend an arms embargo on Iran indefinitely, according to diplomats.
The resolution cites the conclusions of this UN report regarding the attacks on Saudi Arabia, and expresses "grave concern about the risk that these attacks posed to global energy supplies, to freedom of navigation in the region, to the safety of persons working in the energy and maritime transportation sectors and to the environment."
"Such attacks and continued proliferation of arms and related material by Iran constitute a threat to international peace and security," adds the resolution.
According to Jason Brodsky, the report "will add to the US case for extension of the arms embargo, which is set to expire on October 18, 2020. In fact, there is evidence Tehran is expanding its weapons shipments, with Iranian anti-tank guided missiles being found in Libya."
"The sunset provisions in UN Security Council Resolution 2231 should have never been agreed to in the first place, as Iran never made a reciprocal and binding commitment to change its malign regional posture," he added.
However, both China and Russia have suggested they will oppose the extension of the embargo.
UN Security Council vote on Iran approaches
The Security Council began negotiations on the resolution on Wednesday, diplomats said.
If the council votes not to extend the embargo, Washington has threatened to trigger a return of all UN sanctions on Iran under the nuclear deal.
On the other hand, Iranian officials have recently threatened to rip up the nuclear deal and continue regional destabilization if the arms embargo is extended.
According to missile expert Douglas Barrie, the expiration of the arms embargo would allow Iran to access external sources of technology to significantly enhance their existing capabilities.
Full report at:
https://english.alarabiya.net/en/features/2020/06/29/UN-report-on-Iranian-missiles-in-Yemen-Key-takeaways-explained.html
--------
Lebanese seek to fly out of dire economic situation as Beirut airport reopens
29 June 2020
When Ziad Moutran, a Lebanese architect, returned to Lebanon after five years working in Montreal, he thought he was coming home for good.
But now, a year and a half after that homecoming, he's preparing to head back across the Atlantic, fleeing skyrocketing inflation and an increasingly unstable political situation in Lebanon.
At 48, Moutran has lived through Lebanon's civil war and multiple other periods of crisis. After mass anti-government protests broke out last October, he joined them, hoping that they could bring about change. But now, he's not hopeful that it will come, or at least not soon enough.
"I sacrificed a lot here, and I cannot sacrifice another five years before the country gets a little better," he told Al Arabiya English. "…Today is bad, tomorrow is worse, and the day after is going to be worse. We have to be realistic."
As Lebanon prepares to reopen its airport July 1 and travel becomes possible again following a three-and-a-half-month closure amid the coronavirus pandemic, many Lebanese are planning their exit.
Emigration is nothing new for Lebanon. Even before the current economic crisis, which has seen the real value of the Lebanese lira deteriorate from the official rate of about 1,500 lira to the dollar to about 8,000 to the dollar on the black market, job opportunities for skilled young people were scarce.
According to a 2017 report by Lebanese bank Credit Libanais, at the end of 2015, there were some 798,140 Lebanese emigrants abroad. The remittances they sent back totaled around $7.31 billion as of the end of 2016, representing 14.10 percent of GDP.
Looking to leave
But now, as inflation and unemployment accelerate, along with increasing political tensions that have raised fears of violence, even Lebanese who had firmly resisted emigrating before are preparing to pack their bags.
Salam Abdel Samad, an immigration attorney in Beirut, said that in the weeks since the countrywide COVID-19 lockdown was eased, he has received 20-25 calls a day from people inquiring about immigration options and taking five or six appointments in his office. That's about double the rate from before the crisis, he said.
And where before many of those wanting to emigrate were fresh graduates in search of career opportunities, Abdel Samad said, "Now, no, now families are looking at immigration." And rather than traveling for a job, he said, they are looking for stability.
"Really we are expecting many, many, people to take [to] the airport with a one-way ticket and to not be back," he said.
Charbel, 35, is one of the Lebanese who, until now, had never thought he would go abroad.
Charbel, who asked to be identified only by his first name because his employer is not aware of his plans, has a wife and two-year-old daughter and a job in the banking sector that allowed the family to live comfortably, if not in luxury, before the lira collapsed.
"For me it was more than enough, especially that I'm near my parents and near my brother and sisters, and my wife, as well, is near her family, so I never thought of leaving," he said.
But now, worried about their own future and their daughter's, he and his wife are applying for immigration; their first choice is Australia, then the United States and Canada.
Although he is set on leaving, Charbel said, "I'm still thinking about the many things I will be losing if I want to quit the country for good, especially that my parents are here – we are a very close family with my brother and sisters. We gather often all together around the table and have dinner or lunch."
It's not only the economic situation that has them ready to leave; Charbel said he's also fearful of the possibility of instability turning to war and wants a Plan B.
"I don't have hope (for a future in Lebanon) currently, now at this moment," he said. "I can't see it. I can't find any other solution."
Escape routes
Meanwhile those, like Moutran, who have a second nationality, are planning their moves and applying for visas for family members – in Moutran's case, for his mother.
Moutrain applied for and got citizenship in Canada to have an escape route just in case of such a crisis, but now he's using it reluctantly.
"I'm very sad, because I love it here in all terms," he said. "I love Canada too – I mean, Montreal was very good to me, but it doesn't compare. I was raised here."
Dalia Abirafeh is another dual citizen planning to leave.
Abirafeh is a Lebanese-American who grew up in the US and came to Lebanon for university. She fell in love with the country and then with her now-husband, who is from her family's hometown of Aley. She has been living in Lebanon since 2011 and now has two small children.
Abirafeh said until recently, her husband, who owns a car mechanic garage, had never been interested in leaving Lebanon. But as the situation began to deteriorate, he agreed to apply for a green card. For her own part, Abirafeh said after the mass protests began last year, she was ready to leave, fearing political instability; meanwhile, the currency situation has pushed her husband over the edge.
"He loves Lebanon, but he's gotten to a point where he's completely fed up," Abirafeh said. "Every year he would say, 'Let's wait, it will get better, maybe it will get better, we're stable, we're fine.' And then this year, it was just like the final straw, he was like, 'I'm done.'"
They are waiting for the US Embassy to reopen to complete the final steps in the application process and are planning to leave Lebanon within a few months.
Brain drain
While the expected exodus might mean an increase in remittances from abroad, experts said it will also drain much-needed human resources from the country.
Kamal Badr, associate dean of medical education at the American University of Beirut (AUB), has been part of an effort to coax Lebanese expats working in the health field to come back to work at AUB's medical center, an effort that brought more than 200 physicians back to the country.
But now, Badr said unless there is a major investment from the international community in saving Lebanon's economy, along with an overhaul of the political system, "There will be a big reversal of the reversal of the brain drain."
It's a pattern the country is all too familiar with, as periods of relative stability and prosperity have been repeatedly interrupted by local or regional crises, sending new waves of emigrants abroad.
Before the latest set of crises hit, Badr said, Lebanon "was poised, really to be the Silicon Valley of this area."
Full report at:
https://english.alarabiya.net/en/features/2020/06/29/Lebanese-look-to-leave-dire-economic-situation-as-country-s-airport-reopens-July-1.html
--------
Saudi Arabia and US push for extension of Iran arms embargo
June 29, 2020
JEDDAH: Saudi Minister of State for Foreign Affairs Adel Al-Jubeir and US Special Representative for Iran Brian Hook on Monday called on the international community to extend a UN embargo on sales of weapons to Iran to prevent any expansion of the nation's state-sponsored terrorism.
Speaking during a joint press conference in Riyadh, Al-Jubeir said Saudi and US policies on Iran are identical.
"We both see Iran as a grave danger not only to regional stability, but international stability," he said.
"We believe that Iran is the chief sponsor of terrorism and that the international community has to be more firm in dealing with the Iranians and their proxies."
To illustrate the threat, the Arab Coalition displayed weapons, including drones and missiles, believed to have been supplied by Iran to Houthi militias in Yemen, which were used in cross-border attacks on Saudi cities.
Iran-backed Houthis have carried out 1,659 attacks on Saudi Arabia in the past five years, using a variety of weapons, including 318 ballistic missiles, 371 drones, 64 explosive boats and 153 naval mines. The attacks are designed to threaten and target civilians, harm the global economy and disrupt shipping in violation of international and humanitarian laws, the coalition said.
Al-Jubeir said a shipment of weapons from Iran bound for Houthi militias was seized off the Yemeni coast on Sunday. It is unlikely to be the last shipment, he added, and so the international community must extend the embargo to limit Iran's ability to supply weapons.
The UN embargo, which imposed 13 years ago, is due to expire in October. Adopted under UN Resolution 1747, which tightened sanctions in response to Tehran's refusal to halt its nuclear program, it prohibits Iran from moving conventional weapons beyond its borders.
Al-Jubeir said that Tehran continues to supply terrorist groups with weapons despite the embargo, and if it is lifted Iran will become even more aggressive and disruptive.
US envoy Hook agreed, saying: "The weapons that we see here today ... are all the evidence we need that the arms embargo on Iran must not be lifted. We need to ensure that Iran has a harder time spreading deadly weapons.
"This is a fraction of the kind of deadly arms that have made their way not only here to Saudi Arabia, but around the Middle East, so this is the right time for the Security Council to do the right and necessary thing."
Both officials agreed that the international community must put strong pressure on Tehran to abide by international laws, cease its support of terrorism, stop dealing with criminal organizations and drug cartels, and halt the killing of innocent people.
They added that Washington and Riyadh are working closely to mobilize international allies in an attempt to end this threat posed by Iran to the international community. Al-Jubeir said that this threat extends beyond the Gulf region to Europe, South America and Asia.
"We both wish for nothing more than Iran to be a normal country that lives in the international community the way other countries do, respecting international law and the sovereignty of other states, not interfering in their internal affairs, and that it (ends) its ballistic missile and terrorism programs," he added.
The minister said that the Iranian regime grows more ideological and aggressive with every passing year, increasing its interference in the affairs of other countries at the cost of innocent lives.
Hook said that the five permanent members of the UN Security Council — the US, the UK, China, France and Russia — have a shared interest in ensuring the Middle East is more peaceful and stable, and that Iran never acquires the ability to build a nuclear weapon. He is hopeful and optimistic, therefore, that they will make the right decision regarding the arms embargo on national security grounds.
He added that the Iranian regime had exploited the 2015 Joint Comprehensive Plan of Action, the so-called Iran nuclear deal, as a cover to further its expansionist and sectarian foreign policies. US President Donald Trump withdrew the US from the agreement in May 2018.
However, the regime is increasingly facing rejection, especially in Iraq and Lebanon, and even within its own borders, Hook said.
"Iran faced the worst wave of protests in the past 41 years last November," he said.
"The regime responded to the demonstrations by killing 1,500 people, injuring thousands and arresting between 8,000 and 10,000 people."
If the arms embargo expires, Iran will acquire new technologies and step up exports to its proxies in the region, he added.
Hook also praised Saudi Arabia's prominent humanitarian role in Yemen, compared with Iran's complicity in the humanitarian catastrophe afflicting the war-torn country.
Hook also met with the Kingdom's deputy defense minister Prince Khalid bin Salman, and hey discussed the bilateral relations between the two countries and stressed the importance in preserving peace and security in the region and addressing the destabilizing hostile activities of Iran.
Full report at:
https://www.arabnews.com/node/1697251/saudi-arabia
--------
North America
For Muslim Americans, a moment of 'deep reflection' after Floyd
June 29, 2020
By Mariam Fam
As a young student, Hind Makki recalls, she would call out others at the Islamic school she attended when some casually used an Arabic word meaning "slaves" to refer to Black people.
"Maybe 85% of the time, the response that I would get from people ... is, 'Oh, we don't mean you, we mean the Americans,'" Ms. Makki said during a virtual panel discussion on race, one of many organized in the wake of George Floyd's death.
"That's a whole other situation about anti-Blackness, particularly against African Americans," said Ms. Makki, who identifies as a Black Arab Muslim.
In recent weeks, many Muslims in the United States have joined racial justice rallies across the country and denounced racism in sermons, statements, and webinars. American Muslims, Black and non-Black, are also having raw conversations like Ms. Makki's as they grapple with questions of racial equity, tensions, and representation in their own faith communities.
"Everyone is talking about this, like from the uncle who's been here since the early '70s, was a retired doctor somewhere, a retired board member of a mosque to ... a high school student in the suburbs," Ms. Makki, an anti-racism and interfaith educator, said in an interview. "The question needs to be pushed further than what words, what slurs you're using, which you shouldn't be using. How can we reach equity ... in the spaces that we actually can change?"
Muslims in America are diverse. No racial or ethnic group makes up a majority of Muslim American adults, and 20 percent are Black, according to a 2017 survey by Pew Research Center.
Margari Hill, executive director of the Muslim Anti-Racism Collaborative, says she has seen a surge of interest, questions, and demand from Muslim communities for her expertise: Can she look at a statement or provide topics for a program? Are there resources in Arabic or Bengali? Is it more appropriate to say Black or African American? Can she talk about anti-Blackness?
"There's been a lot of calling out and calling in and deep reflection," she said. "We're asking people to be committed to, like, unlearning, you know, and building authentic relationships" that last beyond the current moment.
Questions about how much change the flurry of discussions can spark echo those about a larger, national reckoning.
"The openness of all different corners of the Muslim community to have this conversation in a really robust way is unprecedented and it is commendable," said Imam Dawud Walid, the executive director of the Michigan chapter of the Council on American-Islamic Relations. "The challenge is when the protests eventually fizzle and the next calamity hits our country, will the conversation continue within the Muslim community?"
For this not to be a fleeting moment, Mr. Walid said, the makeup of leadership at national Islamic organizations must be more representative. He and others have called for more Black Muslim speakers and not just to talk about race or only during Black History Month.
At the Islamic Society of North America, where the current elected board of 10 directors has no African Americans, executive director Basharat Saleem said the organization has been working to boost diversity but acknowledged that more must be done.
African American Muslims have been well represented as speakers at ISNA events, he said, but attendance from people in that community at annual conventions has been low.
"We have to do more work to basically reach out to the community," Mr. Saleem said. "Also, [the] same thing has to happen from that community."
Through the likes of art and social media hashtags, many Black Muslims have worked in recent years to amplify their stories and highlight a narrative that many of them say have been overshadowed by that of other Muslims. Some reflect on what it's like to be Black and Muslim.
Some experiences feel "exhausting," Ms. Hill said. She remembers being referred to as a "slave" in Arabic at a Muslim store. One time, she was asked if she could "really read" a copy of the Quran she wanted to buy. "No one wants to, you know, feel like they have to justify their humanity or their faith."
Ubaydullah Evans, resident scholar for the American Learning Institute for Muslims, says he's experienced "interpersonal racism," from some Muslims. Still, other non-Black Muslims "have always sought to build community," and work with African Americans, he said.
Mr. Walid, like many others, says Islam sends a clear message of egalitarianism.
Over the years, there have been efforts to build bridges. More recently, some have taken an oath against using the Arabic word for "slaves."
Others focused discussions on how to improve relations between Arab and Muslim store owners and the Black communities they serve. Dozens of American Muslim organizations came together to demand police reform and pledged to support Black-led groups.
Mr. Evans credits younger Muslims with a lot of work challenging racial inequality. He hopes "we get the maximum mileage out of this moment," but says some Black American Muslims "have been hurt so badly that it's hard for them to summon that trust."
Sylvia Chan-Malik, who teaches about race and about Islam in America at Rutgers University, said some of the tensions stem from divergent views of America. Many African American Muslims have, historically, engaged Islam as a repudiation of anti-Black racism and "have long viewed the police as a threat to Black communities," she said. Meanwhile, some immigrants "really want to believe in the promise of America" and have faith in the system, she added.
And because Islam's history in the U.S. is "marginalized," Ms. Chan-Malik argued, misconceptions by some about African American Muslims may include thinking that they are all converts or practice an inauthentic form of Islam.
"Islam entered this country as a religious presence through the bodies, the culture, the voices, and perspectives of enslaved Africans," she said. "You cannot divorce Islam in America from the African American experience."
On a recent virtual panel to bring attention to the history of Black American Muslims and address racism, Imam Jihad Saafir said he was "hopeful and happy" about Muslims' response.
Some imams, he said, have been telling him they want to learn more and better understand racism. He shared plans to send African American imams to different California mosques for a day.
"No co-opting our issues on that day," he told participants. "The pleasure of Allah lies in us building community with one another."
https://www.csmonitor.com/USA/2020/0629/For-Muslim-Americans-a-moment-of-deep-reflection-after-Floyd
--------
Secretary Pompeo to address UN Security Council on Iran arms embargo
30 June 2020
US Secretary of State Mike Pompeo will address the United Nations Security Council on Tuesday on the expiration of a UN arms embargo on Iran, the US State Department said on Monday.
The United States is pushing the 15-member UN Security Council to indefinitely extend an arms embargo on Iran, which is currently set to end in October under Tehran's 2015 nuclear deal with world powers.
The UN Security Council will decide on the matter and veto-powers Russia and China have signaled they oppose re-imposing the ban.
For all the latest headlines follow our Google News channel online or via the app.
A new UN report endorses long-standing claims that weapons "of Iranian origin" were used in several attacks against Saudi Arabia last year and have been exported to the Houthis in Yemen.
Full report at:
https://english.alarabiya.net/en/News/world/2020/06/30/Secretary-Pompeo-to-address-UN-Security-Council-on-Tuesday-on-Iran-arms-embargo.html
--------
US and its allies are leading an arms race in Middle East, not Iran: Scholar
29 June 2020
The United States and its allies, Israel and Saudi Arabia, are leading an arms race in the Middle East region, not Iran, an American scholar has said.
Kevin Barrett, an author, journalist and radio host with a Ph.D. in Islamic and Arabic Studies, made the remarks in an interview with Press TV on Monday, after US Special Representative for Iran Brian Hook said that lifting the arms embargo on Iran will trigger an arms race in the Middle East.
Speaking at a joint news conference with Saudi minister of state for foreign affairs Adel al-Jubeir in Riyadh on Monday, Hook said lifting the ban would "only embolden" Iran and destabilize the region.
"This is not an outcome that the UN Security Council can accept. The council's mandate is clear: to maintain international peace and security," Hook added.
Barrett said that "Brian Hook is the US Special Representative to the United Nations and he's trying to extend the UN weapons embargo on Iran, and he's claimed to be doing so under provisions of the JCPOA, which the US has withdrawn from."
"So, this is quite mind-boggling. Why he thinks the US has the right to invoke the JCPOA after it exited the JCPOA is a mystery. Likewise, it's a mystery why he thinks that the lack of an arms embargo on Iran would lead to an arms race in the Middle East region," he stated.
"Clearly, the regimes that are arming themselves and initiating an arms race in the region are the US allies, Israel, and Saudi Arabia, and Iran is far from leading an arms race in the region. If we look at population, and so on, Iran is actually relatively under-armed, although it seems to be doing okay despite the fact that it's essentially been embargoed and so it has to do everything itself, make its own rockets, and it's managed to put satellites into space despite all of these sanctions, and opposition from other countries including sabotage," he said.
"We just saw an explosion in Iran maybe some form of sabotage; certainly, we know that Iran's enemies have been supporting terrorism in Iran, and elsewhere in the region. They've killed nearly 20,000 innocent civilians in Iran, through support for some of the world's worst terrorist groups," he noted.
"So, this is of course absurd, but it just goes to show that the US Empire is still in its arrogant phase. It has not yet been fully humbled although its reputation in the world has certainly taken a hit after the coronavirus pandemic, which many suspects is a US biological attack, or perhaps a biological attack by the Western international bankers who largely own the US and dictate policy in the US, that the US has had such a terrible response to it," the analyst said.
"The US now has the worst coronavirus caseload in the world per capita, and it's still growing here. And yet the US pretends that it's going to be running around the world dictating policy and telling people what they can do in each region. And of course, if Brian hook really wants to end the arms race in the Middle East, the first thing he should do is stop selling the weapons that Saudi Arabia is using to commit genocide in Yemen and stop handing the Israelis billions of American taxpayer dollars to commit genocide in occupied Palestine," he said.
"If the US did those two things there would be a much more peaceful Middle East or Muslim east as a result, but don't hold your breath because decadent empires often become rabid before they die. And that seems to be what's happening here in Washington," he concluded.
Washington has stepped up calls for the extension of the UN arms embargo on Iran, which will expire in October under UN Security Council Resolution 2231, which endorses Iran nuclear deal, officially known as the Joint Comprehensive Plan of Action (JCPOA).
The Trump administration has threatened that it may seek to trigger a snapback of all sanctions on Iran if its attempts to extend the arms embargo fail.
Tehran, however, has firmly rejected Washington's plans as the US is no longer a party to the nuclear deal ever since it withdrew from the multilateral agreement in 2018.
China and Russia, which are both signatories to the JCPOA, echoed Tehran's position in their recent statements.
"US failed to meet its obligations under Resolution 2231 by withdrawing from Joint Comprehensive Plan of Action," China's UN mission said.
Full report at:
https://www.presstv.com/Detail/2020/06/29/628535/%E2%80%98US-and-its-allies-are-leading-an-arms-race-in-Middle-East%E2%80%99
--------
US: Lifting arms embargo on Iran will trigger regional arms race
29 June 2020
US Special Representative for Iran Brian Hook has again called for extending an expiring United Nations weapons embargo on the Islamic Republic, claiming that lifting the arms embargo on the country will trigger an arms race in the Middle East region.
Speaking at a joint news conference with Saudi minister of state for foreign affairs Adel al-Jubeir in Riyadh on Monday, Hook said lifting the ban would "only embolden" Iran and destabilize the region.
"This is not an outcome that the UN Security Council can accept. The council's mandate is clear: to maintain international peace and security," Hook added.
Jubeir said, "Despite the embargo, Iran seeks to provide weapons to terrorist groups, so what will happen if the embargo is lifted? Iran will become more ferocious and aggressive."
"We urge the international community to extend the embargo on selling arms to Iran and on Iran's ability to sell arms to the world," the Saudi foreign minister added.
The accusations come as the United States, the biggest arms exporter in the world, has been supporting a devastating Saudi-led war in Yemen, which the UN has described as the world's worst humanitarian crisis.
Washington has stepped up calls for the extension of the UN arms embargo on Iran, which will expire in October under UN Security Council Resolution 2231, which endorses Iran nuclear deal, officially known as the Joint Comprehensive Plan of Action (JCPOA).
The Trump administration has threatened that it may seek to trigger a snapback of all sanctions on Iran if its attempts to extend the arms embargo fail.
Tehran, however, has firmly rejected Washington's plans as the US is no longer a party to the nuclear deal ever since it withdrew from the multilateral agreement in 2018.
China and Russia, which are both signatories to the JCPOA, echoed Tehran's position in their recent statements.
"US failed to meet its obligations under Resolution 2231 by withdrawing from Joint Comprehensive Plan of Action," China's UN mission said.
Also noting that Washington is in gross violation of Resolution 2231, Russian Deputy Foreign Minister Sergei Ryabkov stressed that "no one is allowed to implement UNSC Security Council resolutions selectively and extremely fragmentarily".
In May 2018, President Trump unilaterally pulled his country out of the JCPOA, unleashing the "toughest ever" sanctions against Iran.
While the US is no longer a party to the 2015 deal, it has launched a campaign to renew the arms ban through a resolution at the UN Security Council.
The Security Council is scheduled to discuss the measure on June 30, but Russia and China are most likely to veto it.
Earlier this month, Iran's UN ambassador said Washington's call for the extension of the arms embargo on Tehran lacks legal standing in international law.
Majid Takht-e Ravanchi said the US ambassador to the UN "wrongly" believes the US retains the right to initiate snapback of sanctions under the Security Council Resolution 2231.
"WRONG: US cannot be a JCPOA 'Participant', since Donald Trump ceased US participation," the Iranian ambassador noted, referring to Trump's 2018 decision to withdraw his country from the Iran nuclear deal in violation of the Resolution 2231.
Full report at:
https://www.presstv.com/Detail/2020/06/29/628514/US:-Lifting-Iran-arms-embargo-will-trigger-arms-race
--------
Violence by far-right is among US's most dangerous terrorist threats, study finds
27 Jun 2020
Violence by far-right groups and individuals has emerged as one of the most dangerous terrorist threats faced by US law enforcement and triggered a wave of warnings and arrests of people associated with those extremist movements.
The most recent in-depth analysis of far-right terrorism comes from the Center for Strategic and International Studies (CSIS).
In a report released last week, the Escalating Terrorism Problem in the United States, CSIS analyzes 25 years of domestic terrorism incidents and finds that the majority of attacks and plots have come from the far right.
The report says "the majority of all terrorist incidents in the United States since 1994, and the total number of rightwing attacks and plots has grown significantly during the past six years", with the far right launching two-thirds of attacks and plots in 2019, and 90% of those in 2020.
The report adds: "Far-right terrorism has significantly outpaced terrorism from other types of perpetrators." The second most significant source of attacks and plots in the US has been "religious extremists", almost all "Salafi jihadists inspired by the Islamic State and al-Qaida".
The report shows the far left has been an increasingly negligible source of attacks since the mid 2000s. At that time the FBI defined arsons and other forms of property damage as domestic terrorism during a period some have called the "Green Scare".
The CSIS study came during a new wave of terror attacks and plots from white supremacist and anti-government extremists.
Last Monday, the Department of Justice announced that it had brought an array of charges, including terrorism related offenses, against a US army soldier who subscribed to a mix of white supremacist and satanist beliefs which are characteristic of so-called "accelerationist" neo-nazis like Atomwaffen Division.
Last week, federal charges were brought on Steven Carillo for the murder of a federal security officer and a sheriff's deputy. Like the three men arrested for an alleged terror plot in Nevada earlier this month, the FBI says Carillo identified with the extreme anti-government "boogaloo" movement, which is principally concerned with removing government regulation of firearms.
But critics question the timing and motivations of the intelligence community's pivot to combatting rightwing extremism as it comes at a time when some are arguing the legal and institutional counterterrorism apparatus developed to combat overseas terror groups should now be adapted to domestic extremists.
For some that has deep implications for civil liberties and constitutional rights, especially when it comes to suggestions that new laws should be drafted to certify such groups as domestic terrorist organizations.
Eric Ward, executive director of the civil rights nonprofit the Western States Center, said: "We are deeply concerned by the idea of any type of law that creates a legal definition around domestic terrorism. There are significant laws already on the books that meet the challenges of this moment."
Ward said that rather than new laws, "we need a responsible leadership that is actually willing to use the tools that are already on hand".
Ward added: "Too often we have to respond to political crisis with criminalization. And I think that is a mistake".
But the push for new laws is an ongoing one.
In April, a joint report from George Washington University's Program on extremism (GWU PoE) and the Anti-Defamation League (ADL) included a proposal for a "rights protecting domestic terrorism statute". They said the law could provide "more tools for the investigation and prosecution of groups and individuals" associated with rightwing extremism.
The report did acknowledge "significant constitutional questions" would be raised by such a statute, and the possibility of "unintended consequences, particularly for members of minorities".
There are also concerns around the creation of a surveillance state.
The GWU/ADL proposal called for increased information sharing between law enforcement agencies, increased data collection and increased resourcing.
Similar arguments have been made by influential legal and national security academics, national security nonprofits and policy shops.
Congressman Max Rose, a New York Democrat, has gone further in calling for the formal designation of US-based groups with international connections as Foreign Terror Organizations.
The FBI, meanwhile, is increasingly prepared to make comparisons between right wing extremists and Islamist terror groups.
Seth Jones, the lead author of the CSIS report, offered qualified support for the formal designation of terror groups, saying: "I still think it's important to think through the first amendment implications and other pros and cons. But I do support taking a serious look at designation."
Designation could open the way, he said, to also investigating people who support such groups without having formal membership in any.
But critics are alarmed by what they see as the application of ideas derived from the "war on terror" to domestic extremists.
Mike German, Brennan Center fellow, is a former FBI agent who investigated rightwing extremists but is now focused on law enforcement and intelligence oversight and reform. He sees arguments for domestic terror statutes as part of a broader reorientation of the "national security establishment" away from conflicts in the Middle East.
German attributes this move to a realization "that Isis and al-Qaida were were not as threatening to Americans as they had been, and that foreign counter-terrorism in general was sort of running out of steam".
German said: "It's a way of expanding the target realm that gives the counterterrorism enterprise targets that they can use to to get statistical accomplishments, rather than looking at whether or not the violence itself is reduced."
German has argued federal authorities should prioritize the investigation of the violent crimes of far right extremists, and call them terrorist acts where appropriate, but that they should be prosecuted using existing laws, with a consideration of alternative responses like restorative justice.
Full report at:
https://www.theguardian.com/world/2020/jun/27/us-far-right-violence-terrorist-threat-analysis?utm_source=iterable&utm_medium=email&utm_campaign=1322256_
--------
Mideast
Israeli annexation plan an 'existential threat' to Palestinian people: PM Shtayyeh
June 29, 2020
LONDON: Palestine's prime minister on Monday branded Israel's annexation plan an "existential threat" to the Palestinian people and urged European countries to take the lead in multilateral peace negotiations.
In an online briefing premier Mohammad Shtayyeh said: "Annexation of the West Bank is part of the systematic destruction of a future Palestinian state, but not only that. It is an existential threat to Palestinians as a people."
Israel's parliament will on Wednesday vote on whether to initiate the highly controversial plan of annexing up to 30 percent of the West Bank.
Shtayyeh warned that if the move went ahead it could be the beginning of a far more expansive Israeli expansion, threatening almost all Palestinian land.
"This annexation is a creeping annexation — a gradual annexation — that will only end by Israel swallowing all of the West Bank. This would leave Palestinians only with Gaza," he added.
Israel's plans, which have been rejected outright by all Palestinian groups, were developed and approved by the US without consultation with the Palestinians.
Shtayyeh said this showed that America was not an "honest broker" in the negotiations and that it could not be trusted, adding that the US should no longer take the lead in the peace process.
Instead, the PM urged a "paradigm shift from bilateralism to multilateralism," and pushed for European countries and the EU to take the lead in negotiating a fair settlement.
He proposed an international conference to start a multilateral process and said: "We are ready for serious negotiations based on international law." He added that British and European recognition of Palestinian statehood would be a justified and significant step in supporting the Palestinian people.
In a late development on the issue Monday, Benny Gantz, Israeli Prime Minister Benjamin Netanyahu's coalition partner, suggested that the annexation vote may not take place on Wednesday at all, saying that Israel should instead focus on fighting the country's coronavirus disease (COVID-19) outbreak.
Netanyahu, however, told members of his Likud party that the issue was "not up to" Gantz.
Israeli plans for annexation have been met with widespread international condemnation, including from the Arab League, the Organization of Islamic Cooperation, and the EU.
Human rights experts from the UN have likened it to "21st-century apartheid," and British Middle East minister, James Cleverly, told the UN Security Council last week that the UK "strongly opposes" annexation as a breach of international law. "Annexation could not go unanswered, and we implore Israel to reconsider," he said.
However, it remains unclear what concrete steps the British government, EU and many other objecting countries will take should Israel follow through with the annexation.
https://www.arabnews.com/node/1697346/middle-east
--------
Israeli defense chief says West Bank annexation 'will wait'
June 29, 2020
JERUSALEM: Israel's defense minister says Prime Minister Benjamin Netanyahu's plan to begin annexing West Bank territory will have to wait due to the country's coronavirus crisis.
Benny Gantz, who also holds the title of alternative prime minister, told his Blue and White Party on Monday that his top priority is helping the country navigate the health and economic crisis stemming from the coronavirus.
"Anything unrelated to the battle against the coronavirus will wait," he said.
Netanyahu has said he wants to begin annexing occupied land as soon as this week.
The UN's human rights chief on Monday said that Israel's planned annexation of parts of the occupied West Bank would have "disastrous" consequences for the region, as US and Israeli officials were meeting in Jerusalem to try and finalize the move.
The warning by Michelle Bachelet, the UN High Commissioner for Human Rights, added to the growing chorus of international voices urging Israel not to annex territory in line with President Donald Trump's Middle East plan.
The UN secretary-general, the European Union and key Arab countries have all spoken out against annexation, saying it would violate international law and all but destroy any remaining hopes of establishing a viable Palestinian state alongside Israel.
"The precise consequences of annexation cannot be predicted," Bachelet said in a statement issued by her office in Geneva. "But they are likely to be disastrous for the Palestinians, for Israel itself, and for the wider region."
Israel's Foreign Ministry accused Bachelet of politicizing her office and noted that it froze ties with her office early this year due to what it called her "one-sided" attitude.
"It is not surprising that she decided today to join the Palestinian campaign against the American peace plan, and to publish declarations before any decision has been made," the ministry said in a statement.
The Trump plan, unveiled in January, envisions leaving some 30% of the West Bank under permanent Israeli control, while granting the Palestinians autonomy in the remainder of the area.
The Palestinians claim all of the West Bank, along with east Jerusalem and the Gaza Strip, for a fully independent state. Israel captured all three areas in the 1967 Mideast war, though it withdrew from Gaza in 2005, clearing the way for Hamas militants to seize control two years later.
Israeli Prime Minister Benjamin Netanyahu, a strong supporter of Trump, has been unswayed by the international criticism. He says the supportive Trump presidency has provided a rare opportunity to redraw the Mideast map and annex Israel's scores of settlements, as well as the strategic Jordan Valley. He has pledged to move forward as soon as July 1, seeking to take action well before the US presidential election in November.
In a speech to evangelical Christian supporters of Israel late Sunday, Netanyahu said Trump's plan "finally puts to rest the two-state illusion" and would "advance peace."
"President Trump's plan doesn't really change the reality on the ground. It recognizes the reality on the ground," he said.
Netanyahu's coalition partner, Defense Minister and Alternate Prime Minister Benny Gantz, however, has appeared to be more cautious. Both Netanyahu and Gantz were meeting with White House envoy Avi Berkowitz and the US Ambassador to Israel David Friedman to work on a final map outlining which areas will be annexed. The talks were continuing after a series of meetings in Washington last week ended inconclusively.
Gantz was quoted by Israeli media as saying that Netanyahu's target date of this Wednesday is not "sacred." The plan has also come under surprising criticism from West Bank settler leaders, who believe it does not go far enough and say that any plan that envisions even a watered-down Palestinian state must be opposed.
Israeli media have reported that Netanyahu is considering scaling back his plans and is expected to annex just a small number of settlements in a largely symbolic move.
But in her statement, Bachelet warned that even a small annexation would create a "highly combustible mix."
She said deepening Israel's control of West Bank land would likely harm Palestinian freedom of movement, turn Palestinian population centers into "enclaves" and clear the way for Israel to "illegally" expropriate Palestinian land.
"The shockwaves of annexation will last for decades, and will be extremely damaging to Israel, as well as to the Palestinians," Bachelet warned. "However there is still time to reverse this decision."
Dozens of Jewish legal scholars, meanwhile, sent a letter to the Israeli government urging Israel to drop the annexation plan.
Full report at:
https://www.arabnews.com/node/1697336/middle-east
--------
'Day of Rage' protests against Israeli annexation to hit US, Europe
29 June 2020
Protests condemning the Israeli plan to annex parts of the occupied West Bank are set to take place in the United States and Europe on the same day prime minister Benjamin Netanyahu plans to begin the process.
The demonstrations will be held on Wednesday in Chicago, San Diego, Brooklyn, Los Angeles and San Francisco. Other Western cities will also witness similar protests, including Toronto, Madrid and Valencia.
Students for Justice in Palestine, Jewish Voice for Peace, and American Muslims for Palestine are among the pro-Palestinian groups organizing the protests.
The Samidoun Palestinian Prisoner Solidarity Network, one of the organizers, urged "direct actions and popular mobilizations in [Palestinian] refugee camps, cities and villages," and professed "loyalty to the martyrs" on its call for the events.
Another group, Al-Awda or the Palestinian Right to Return Coalition, decried "72 years of genocide, ethnic cleansing and dispossession" of Palestinians.
It also tied their demonstrations to the protests against anti-black racism in the US and beyond.
"We demand the defunding and dismantling of US police alongside the defunding and dismantling of Zionist colonialism and racist Israeli apartheid," Al-Awda said on its website.
Netanyahu has set July 1 as the date for the start of cabinet discussions on the annexation plan.
He has been driven ahead by US President Donald Trump, who unveiled a "peace" plan for the Middle East in January that effectively sidelines the Palestinians altogether.
The plan, which Trump himself has described as the "deal of the century," envisions Jerusalem al-Quds as "Israel's undivided capital" and allows the Tel Aviv regime to annex settlements in the occupied West Bank and the Jordan Valley. The plan also denies Palestinian refugees the right of return to their homeland, among other controversial terms.
Full report at:
https://www.presstv.com/Detail/2020/06/29/628478/Anti-annexation-protests-US
--------
Iran issues arrest warrant for Trump, US officials over top IRGC general's assassination
29 June 2020
A senior Iranian judge says Interpol Red Notices have been issued for the prosecution of dozens of military and political officials of the United States, including President Donald Trump, on charges of planning and implementing a terrorist attack in the Iraqi capital that assassinated Iran's top general Qassem Soleimani and his companions.
"Thirty-six people who were involved in the assassination of General Qassem Soleimani have been identified, including political and military officials from the United States and other governments," Tehran Prosecutor Ali Alqasi-Mehr said on Monday.
He added that Iran's Judiciary has issued arrest warrants and requested "Red Notices" to be put out for them by Interpol.
The Iranian judicial official emphasized that these individuals would face charges of "murder and act of terror," saying that Iran would continue to pursue Trump's prosecution even after his presidency ends.
"At the top of the list is US President Donald Trump, and his prosecution will be pursued even after the end of his term in office," the Iranian judge said.
US terrorists assassinated Lieutenant General Soleimani, the commander of the Quds Force of the Islamic Revolution Guards Corps (IRGC), along with Abu Mahdi al-Muhandis, deputy head of Iraq's Hashd al-Sha'abi, and their companions by targeting their vehicles outside Baghdad International Airport on January 3.
The act of terror was carried out under the direction of Trump, with the Pentagon taking responsibility for the strike.
General Soleimani is viewed by the world's freedom-seeking people as the key figure in defeating Daesh, the world's most notorious terrorist group, in the Middle East battles.
Several million people attended the funeral processions held for the commanders in the Iraqi cities of Kadhimiya, Baghdad, Karbala and Najaf as well as the Iranian cities of Ahvaz, Mashhad, Tehran, Qom and Kerman.
NBC News has revealed the details of the assassination, saying the terrorist operation used Israeli intelligence and was run from the US Central Command (CENTCOM) headquarters in Qatar.
Iran's Judiciary chief Ebrahim Raeisi said in February that judicial officials in the Islamic Republic have been in contact with Iraqi authorities to pursue the case of General Soleimani's assassination by terrorist US forces in Iraq.
"We are seriously pursuing the case and have no doubt and are confident that … we will avenge his assassination," the top Iranian judiciary official stated.
Trump has doubled down on the insanity of General Soleimani's assassination, saying he should have been killed "many years ago."
In a series of tweets, he accused the top Iranian military commander of killing and wounding thousands of Americans over an extended period of time and "plotting to kill many more."
'Iran identified about 40 persons related to Gen. Soleimani's assassination'
In a related development on Monday, Iran's Deputy Foreign Minister for Legal and International Affairs Mohsen Baharvand said about 40 people have been identified in relation to the assassination of Lt. Gen. Soleimani and his companion.
"Our intelligence and security agencies have so far identified about 40 Americans, who have been one way or another involved in this assassination through issuing order or facilitation of the process. A number of other people, including some American drone operators, have are not known yet, but will be identified in the near future," he said.
The deputy foreign minister emphasized that after the rest of American and non-American people involved in the assassination of Lt. Gen. Soleimani are identified, "the judge will indict them on the basis of undeniable evidence and the Islamic establishment in its entirety will not stop until they are brought to justice."
Full report at:
https://www.presstv.com/Detail/2020/06/29/628502/Soleimani-Tehran-prosecutor-Ali-Alqasimehr-Red-Notice-arrest-warrant-Interpol
--------
Turkish coastguard rescues 35 migrants from half-sunken boat in Aegean Sea
29 June 2020
Turkey's coastguard said it rescued 35 migrants from a boat found half sunken in the Aegean Sea early on Monday, and was searching for four more missing people.
The migrants were rescued around 2:45 a.m. (2345 GMT) near a small island off the coast of Ayvalik in Turkey's western Balikesir province, the coastguard said.
Greece has been the main gateway into the European Union for people fleeing conflict in the Middle East and beyond, largely via its islands near the Turkish coast. More than a million people reached its shores from Turkey in 2015-16.
For all the latest headlines follow our Google News channel online or via the app.
Earlier this year, tens of thousands of migrants tried to cross into Greece via land and sea borders after Ankara said it would no longer stop them, as it had agreed in a 2016 deal with Brussels in return for European aid for Syrian refugees.
Full report at:
https://english.alarabiya.net/en/News/middle-east/2020/06/29/Turkish-coastguard-rescues-35-migrants-from-half-sunken-boat-in-Aegean-Sea.html
--------
Turkish soldier dies in clashes with Kurdish PKK rebels in northern Iraq
29 June 2020
A Turkish soldier died on Sunday in clashes with rebels from the banned Kurdistan Workers' Party (PKK) during an offensive in northern Iraq, the defense ministry said in a statement.
The soldier "fell as a martyr during clashes with terrorists in the Operation Claw-Tiger region" in Iraq, the ministry said, without specifying where the fighting occurred.
For all the latest headlines follow our Google News channel online or via the app.
Turkey launched on June 17 an air and ground offensive against the PKK, which has fought an insurgency against the Turkish state since 1984 and which is listed as a terror group by Ankara and its Western allies.
The army frequently conducts operations against PKK hideouts in southeast Turkey and rear bases in Iraq.
The latest offensive has sparked protests from Iraq which has summoned the Turkish envoy in Baghdad twice over the operation.
Local Kurdish officials in northern Iraq say at least five civilians have been killed since the operation began nearly two weeks ago.
Full report at:
https://english.alarabiya.net/en/News/middle-east/2020/06/29/Turkish-soldier-dies-in-clashes-with-Kurdish-PKK-rebels-in-northern-Iraq.html
--------
US in no position to undermine nuclear deal's achievements: Iran
29 June 2020
Iran says the United States has forfeited all rights to bring the 2015 Iran nuclear deal's achievements into doubt, urging Washington and its European allies against trying to damage the agreement any further.
"The Americans, due to their destructive actions against the JCPOA and Resolution 2231, have lost the position to question the deal's achievements," ministry spokesman Abbas Mousavi told a press conference on Monday.
The Joint Comprehensive Plan of Action (JCPOA) is the official name of the historic nuclear accord that was signed between the Islamic Republic and the P5+1 group of states -- the US, the UK, France, Russia, and China plus Germany -- in Vienna that year, while Resolution 2231 refers to the UN Security Council resolution that enshrined the deal after it was concluded.
The agreement led to many achievements, including certain voluntary changes to Iran's nuclear energy program and the lifting of nuclear-related sanctions against the Islamic Republic. It also foresaw the removal of an arms embargo against the country in October.
The United States, however, began discrediting the JCPOA in 2018 by leaving the accord and returning the sanctions. And now, it is trying to prevent the removal of the arms embargo, although, it is no longer a JCPOA partner.
Mousavi critiqued Washington and its Western allies' attitude towards Iran's defensive capability as witnessed, among other things, in their bid to extend the embargo, calling their approach "inadmissible."
The country "does not stand on ceremony when it comes to its defensive capability," he added, and advised the allies to stop trying to violate the Resolution.
Extension of the arms embargo "carries its own repercussions," the official said, warning that Tehran has planned several "special measures" to take in the event of the ban's prolongation.
He, however, said, "We predict another defeat for the US in this area," adding, "I don't think things will proceed in such a way (as far as the embargo's extension)."
US elections
The Islamic Republic would not interfere in the US or any other country's internal affairs, Mousavi said, turning to the issue of the United States' next presidential polls.
What goes on between American electoral candidates concerns their own internal and party political affairs and "is of no consequence to us how they choose to decide their country's fate," he noted.
What is important for Iran is the US's regional policy, according to which Iran regulates its behavior, the official pointed out.
Regional fight against terror
Mousavi then addressed a recent coincidence between Iran and Turkey's attacks on the terrorist Kurdistan Workers' Party (PKK)'s elements along the countries' borders.
Despite the coincidence, there was currently no joint operation against the anti-Ankara separatist group, he said, but notified that the anti-terror fight was on the joint agenda of the regional countries, including Iran, Turkey, and Iraq where the terrorists could engage in border area activity.
European havens for terrorists
The spokesman renewed the Islamic Republic's criticism of some European countries for their providing safe havens for anti-Iran groups, including the terrorist cult of the Mujahedin Khalq Organization (MKO) that is responsible for slaying around 17,000 Iranians since the 1979 victory of Iran's Islamic Revolution.
Iran has, time and again, cautioned the countries against housing the terrorists, who have the blood of the Iranian people on their hands, he said, adding the issue of their accommodating the terrorists constitutes "one of our main issues with the Europeans."
The Islamic Republic wonders how those European states suddenly took the MKO out of their terror lists, Mousavi said.
He, however, called the MKO "a disintegrated and displaced group in Europe," whose effectuality does not go much beyond causing social media fanfare.
Humanitarian blockade on Iran
The official, meanwhile, pointed to the ongoing prevention of the transfer of humanitarian supplies to the Islamic Republic.
He reminded how these supplies, including medical items, were exempted from the US's illegal sanctions after Tehran won an International Court of Justice case against Washington.
"Although, medical and humanitarian items are exempt from the bans, they have practically blocked their entrance into the country," Mousavi said.
"Here, we're addressing the European firms and countries, for whom the human rights issues are apparently very important," he said.
Romania should be transparent on fugitive judge's death
The official separately urged Romania to trust Iran with more information in the aftermath of a fugitive former Iranian judge's recent death in Bucharest.
Gholamreza Mansouri's body was found at a hotel in the Romanian capital earlier in June. Mansouri was a co-defendant in a major financial corruption trial that is currently underway in Iran.
"There are some ambiguities concerning this issue, and the Romanian government has not done anything yet, despite our requests," Mousavi said.
He asked Bucharest to help Iran clarify the matter in light of the case's "sensitivity and complexity."
Full report at:
https://www.presstv.com/Detail/2020/06/29/628492/Iran-United-States-nuclear-deal-arms-embargo
--------
Iran's arms shipments to Houthis fuel war in Yemen, experts say
June 30, 2020
AL-MUKALLA, YEMEN: The latest Saudi-led-coalition seizure of an Iranian arms shipment destined for the Houthis is further evidence of Iran's destabilizing role in war-torn Yemen, according to government officials and experts.
"This is concrete proof of Iran's involvement in Yemen," Salem Al-Khanbashi, the deputy prime minister of Yemen, told Arab News.
At a press conference in the Saudi capital, Riyadh, on Monday, the Saudi-led coalition announced intercepting a dhow carrying hundreds of weapons, made in Iran, early this month, including missiles, sniper rifles and ammunition. The dhow was seized off the Yemeni coastal town of Mocha on the Red Sea and was heading to the Houthis, the coalition said.
The Yemeni government has swiftly demanded that the international community put an end to Iranian meddling in Yemen in their sending arms shipments that fuel the war to the Houthis.
"There must be strong punishments against this country that supplies Houthis with those advanced weapons," Al-Khanbashi said.
Even before the start of the war 5 years ago, consecutive Yemeni governments accused Iran of smuggling arms to the Houthis, enabling them to keep fighting despite coming under heavy attacks by government and Saudi-led coalition forces. The Yemeni coast guard has intercepted many similar arms shipments off the Yemeni coast over the past several years.
"There is a continuous smuggling process that resupplies Houthis with advanced weapons. The national army forces have seized many Iranian weapons from Houthis during fighting," Al-Khanbashi said.
Gerald Feierstein, the former US ambassador to Yemen, said that the Iranians supported the Houthis with weapons and trained them in using them long before the start of the Saudi-led military operation in Yemen.
"The Iranian engagement began long before the outbreak of the civil war or the Saudi coalition's intervention. It's clear that the Iranians saw the Houthi movement as an opportunity to put pressure on Saudi Arabia and to threaten its southern border," he told Arab News in an interview in March.
The Yemeni government and military officials believe that the Houthis are bringing in shipments of Iranian weapons through coastal areas under their control on the Red Sea.
The Houthis remain in control of strategic seaports on the Red Sea, including Hodeidah. The impact of the undisrupted supplies of the advanced Iranian weapons to the Houthis can been seen on the battlefield. Yemeni military commanders have recently told Arab News that the Houthi bombardment has become more destructive and precise, killing more soldiers and civilians. This shows that Houthis resupplied their depleted arsenal of weapons that were destroyed during fighting with advanced weapons that sometime gave them superiority on the battlefield, army commanders say.
Experts argue that the continuing supplies of weapons from Iran has not only extended the conflict in Yemen, but also allowed them to target Saudi Arabia through ballistic missiles and drones.
"The Iranian support to the Houthis has not only prolonged the war, but also enabled the Houthis to target civilian areas in neighboring Saudi Arabia, as well as oil shipments, and to threaten international navigation through the Bab Al-Mandab," Saleh Al-Baydhani, a Yemeni political analyst, told Arab News.
To stem the flow of Iranian weapons to Yemen, military experts suggest increasing sea patrol vessels near the Yemeni coast and liberating the remaining Yemeni coastal areas under Houthi control.
"Each time an arms shipment is intercepted, an attack inside Yemen or on Saudi Arabia is foiled. So I see the latest interception as a success," Brig. Khaled Al-Nasi, a Yemeni military analyst, told Arab News.
Full report at:
https://www.arabnews.com/node/1697466/middle-east
--------
India
Delhi High Courts Seeks Reply on Islamic Sect Members' Request for Accommodation
June 29, 2020
New Delhi: The Delhi High Court Monday asked the centre, Delhi government and police to reply to a plea by several foreign nationals, who are connected to the Islamic Sect Tablighi Jamaat and had participated in the religious congregation at Nizamuddin Markaz event earlier this year amid the coronavirus outbreak, seeking permission to add three more places of alternate accommodation for them.
A bench of Justices Vipin Sanghi and Rajnish Bhatnagar issued notices to the centre and Delhi government and Delhi Police and asked them to take instructions on the matter.
The court, which conducted the hearing through video conferencing, listed the matter for further hearing on Tuesday.
The application sought modification to the court's May 28 order by seeking to include three more places of alternate accommodation for the foreign nationals connected to the Tablighi Jamaat in light of the ongoing criminal proceedings.
On May 28, the high court had directed that 955 foreign nationals, who had participated in the Nizamuddin event, be shifted from institutional quarantine centres, where they were kept since March 30 despite testing negative for coronavirus, to nine alternate accommodations.
The plea, filed through advocates Mandakini Singh and Ashima Mandla, said that during the course of the month, 65 foreign nationals housed at Meeraj International School have faced discomfort with regard to the arrangements there.
It said the community is praying for permission to immediately shift these 65 foreign nationals from Meeraj International School to Texan Public School in Delhi's Moujpur, a new accommodation suggested by them.
"Apart from the Texan Public School, the community has now identified an additional 2 alternate places of accommodation, which may be used in the future, if need be, to house any of the 955 foreign nationals in question. The community once again undertakes to bear all costs for shifting accommodation and further duly notify the Respondent No 4 (Delhi Police) of the whereabouts of the foreign nationals," it said.
The high court had on May 28 disposed of two petitions filed by various foreign nationals seeking to be shifted to alternate accommodation and stating that the financial burden will be borne by the community, Tablighi Jamaat.
The high court had warned that they should not shift to any other location without the permission of Delhi Police.
Delhi Police had told the High Court that 47 chargesheets have been filed against 910 foreign nationals belonging to 35 countries.
After being exposed to a large gathering in March amid the coronavirus lockdown, many members of Tablighi Jamaat who attended an event at Delhi's Hazrat Nizamuddin were taken out by the authorities and lodged in different quarantine centres in Delhi. Some of them were sent to the centres a few days later after being detained from various mosques.
In April, COVID-19 cases in Delhi spiked after hundreds of Tablighi Jamaat members, who had attended the large congregation in Nizamuddin, tested positive.
The other members were directly taken to quarantine centres to contain the spread of COVID-19.
https://www.ndtv.com/india-news/delhi-high-courts-seeks-reply-on-islamic-sect-members-request-for-accomodation-2254076
--------
Syed Ali Shah Geelani quits Hurriyat, passes separatist baton to Pak-based successor
Jun 29, 2020
SRINAGAR: In a sudden move that left Kashmir's separatist conglomerate in disarray, pro-Pakistan hardliner Syed Ali Shah Geelani on Monday quit his faction of the All Parties Hurriyat Conference and named Rawalpindi-based Abdullah Geelani as his successor amid speculation that he was doing ISI's bidding.
Officially, the 91-year-old Hurriyat patriarch cited disenchantment with the way fellow constituents of the group responded to the nullification of Article 370 last August as the primary reason for his decision to dissociate himself from them. He also alleged lack of accountability within the Hurriyat and a rebellion brewing in the ranks.
"I, Syed Ali Shah Geelani, chairman of the All Parties Hurriyat Conference, have decided to completely quit the amalgam," he said in an audio message.
A spokesperson for the Hurriyat said the outgoing chairman and three-time MLA had written to all eight constituents of the group, outlining the reasons for his quitting, including a series of allegations against colleagues based in Pakistan-occupied Kashmir. "The activities of these representatives are now limited to seeking access to assemblies and ministries there (POK). Some members were expelled while others started holding their own meetings. These activities were endorsed by you (constituents) by holding a meeting here to ratify their decisions," he wrote.
On the alleged "inaction" by Hurriyat members after J&K lost its special status and was split into two Union Territories, Ali Shah Geelani said, "I sent messages to you through various means so that the next course of action could be decided, but all my efforts went in vain. Now that the sword of accountability is hanging over your heads for financial and other irregularities, you thought of calling the advisory committee meeting."
Sources said Abdullah Geelani being chosen to run the Hurriyat from Rawalpindi effectively means sidelining the separatist cabal in the Valley. Abdullah Geelani is the younger brother of SAR Geelani, the former DU professor who died of a heart attack in 2019, 16 years after being acquitted in the 2001 Parliament attack case.
"Abdullah Geelani is known to be close to ISI. Ali Shah Geelani was forced to relinquish his post and hand over the reins to Abdullah Geelani because ISI wasn't in favour of either Hizbul Mujahideen chief Syed Salahuddin or Hurriyat veteran Ghulam Mohammad Safi," an insider said.
The feud within the secessionist set-up erupted last January when Ali Shah Geelani removed Safi, once a close aide, as chief of the Hurriyat's POK chapter. The bone of contention was apparently distribution of the spoils of the narcotics trade that funds terrorism in the Valley, sources said.
The recent attempt on the life of Hizb chief Salahuddin in Rawalpindi was allegedly masterminded by Abdullah Geelani with the ISI's support. Kashmir-born Salahuddin wanted to head the Hurriyat, the sources said.
Full report at:
https://timesofindia.indiatimes.com/india/geelani-quits-hurriyat-passes-separatist-baton-to-pak-based-successor/articleshow/76697768.cms
--------
Mosque Assets Illegally Diverted to Manjeshwar MLA And IUML Leader M C Kamaruddin's Gold Business: CPM
30th June 2020
KASARAGOD: If last week Manjeshwar MLA and IUML leader of Kasaragod M C Kamaruddin was mired in quicksand, this week he could be beginning to sink.
The CPM has alleged that around nine mahal committees in Padna, Trikaripur, and Valiyaparamba gram panchayats have illegally invested in Kamaruddin's Fashion Gold business. "The investments were made without the permission of the Kerala State Waqf Board," said CPM district secretary M V Balakrishnan.
Mahal committees control the assets of the mosques under them, and if the mosques are registered with Waqf Board, then the assets also belong to the board.
In a press conference on Monday, Balakrishnan alleged the IUML leaders, including Kamaruddin, misuse the influence as community leaders to raise money for their business.
"With the gold businesses tanking, many small investors and the Mahal committees are in a spot of losing their money," said V P P Mustafa, CPM district secretariat member and a party leader from Trikaripur, Kamaruddin's home town.
Mustafa said the chairman of Fashion Gold is Kamaruddin and the managing director is T K Pookoya Thangal, who is also the district president of the Sunni Mahal Federation and president of Trikaripur Muslim Jamaath. "These positions give Pookoya Thangal unquestioned access to and influence over the assets of Mahal committees," Mustafa said and added that he was using the influence to further his business interest.
Several small investors in the coastal villages have also trusted their gold with Kamaruddin's group.
"Fashion Gold enters into an agreement with the small investors assuring them of monthly dividends and return of their investment in the form of gold jewellery when they need it back," said an investor who pledged gold worth Rs 7 lakh in the group. The investor, who returned from the Gulf now after losing his job, said he made the investment for his daughter's wedding. "I am not in a position to ask the money back because of the presence of Thangal," he said.
A Thangal is a revered figure in the Muslim community because he is considered to be a descendant of Prophet Muhammad.
Last week, it came to light that the Trikaripur Educational and Charitable Trust -- run by seven IUML leaders including Kamaruddin -- illegally bought two acres and three cents of Wakf land at Rs 30 lakh when the purported market price is Rs 6 crore.
The land in West Trikaripur was managed by Jamia Sadiya Islamia, an organisation of E K faction of Samastha Kerala Jamiat-ul-Ulema -- the principal Sunni scholarly body.
Jamia Sadiya Islamia is registered with Kerala State Wakf Board and was started to set up as a home for orphans and the destitute in 1993.
Interestingly, the chairman of Jamia Sadiya Islamia is Pookoya Thangal and the land was illegally transferred to M C Kamaruddin, said Mustafa.
The land has a 10,000 sqft two-storey Gems English Medium School, a 1,000 sqft mosque, and two more buildings with an asbestos roof.
The CEO of Kerala State Wakf Board B M Jamal has sent show-cause to the stakeholders. "The Wakf Board should expedite the legal process and take action," said Balakrishnan.
According to Section 52 (A) of the Wakf Act, selling or buying of wakf property without the board's sanction is a criminal offence and attracts rigorous imprisonment of up to two years.
The CPM's district secretary said the frontline leaders of the IUML in the district were raising money from small households by promising them assured dividend and return of the investment, and putting the money in jewellery businesses, private colleges and schools and a hospital in Mangaluru. "They must have raised at least Rs 100 crore in cash and gold," he said.
He said the Trikaripur Educational and Charitable Trust -- which run Trikaripur Arts and Science College -- is run by Kamaruddin, district panchayat president A G C Basheer, Trikaripur panchayat standing committee chairperson V K Bava, and Valiyaparamba panchayat president M T Jabbar among others.
The CPM leader said the trust bought 10 acres of wet and marshy land in Trikaripur to construct its own building for the college knowing very well that construction on wetland was not allowed. "But the corruption in the land dead will be known when the rate is made public," Balakrishnan said.
The owners of the land got Rs 6,000 per cent, but the college committee paid Rs 58,000 per cent for the marshy land, the CPM district secretary said.
The CPM leaders said the small investors who trusted the money with Trust stand to lose the money.
According to Kannur University's rules, a college should have its own building within three years of starting academic activities. When Trikaripur Arts and Science College failed to have its own building, the university forbade it from admitting students in 2018.
In 2019, the Trikaripur Trust showed the building of Peace International School and said it was shifting to the building and got permission to admit students.
"This year (2020), the college showed the building of Gems English Medium School on the 2.03 acres illegally bought from Jamia Sadiya Islamia. How long will they continue this charade," Balakrishnan asked.
Full report at:
https://www.newindianexpress.com/states/kerala/2020/jun/30/mosque-assets-illegally-diverted-to-manjeshwar-mlas-gold-business-cpm-2163351.html
--------
Top Hizbul commander, Lashkar duo killed in Anantnag encounter
Jun 29, 2020
SRINAGAR: Top Hizbul Mujahideen commander Masood Ahmad Bhat of J&K's Doda district was killed along with two other Lashkar-e-Taiba terrorists in south Kashmir's Anantnag district on Monday. With the killing of Masood, who was the "last-surviving terrorist" in Doda, the district is now terrorist-free, J&K DGP Dilbagh Singh said.
Early on Monday, a joint team of Army's 19 Rashtriya Rifles, CRPF and J&K Police launched a cordon-and-search operation in Anantnag's Runipora Khull Khulchohar area based on intelligence inputs about the presence of terrorists there, IGP (Kashmir Range) Vijay Kumar said.
As the forces neared the spot where the terrorists were cooped-up, the latter opened fire at the search party, triggering a gunfight in which Masood and Lashkar duo — Tariq Khan of Anantnag and Nadeem of Kulgam — were killed, IGP Kumar said, adding that arms and ammunition were also recovered from the encounter site.
DGP Dilbagh Singh said Masood had shifted his area of operation from Doda in Jammu region to Kashmir. With his killing, "Doda has once again become totally militancy-free as Masood was the last surviving terrorist there," Singh added.
The bodies were sent to Handwara for last rites after the completion of medico-legal formalities, including DNA collection. In case the family of the slain want to claim their bodies, they can come forward for identification and participation in the last rites at Handwara, IGP Kumar said.
Full report at:
https://timesofindia.indiatimes.com/india/top-hizbul-commander-lashkar-duo-killed-in-anantnag-encounter/articleshow/76697789.cms
--------
India slams Pakistan foreign minister's 'absurd' remarks on Karachi terror attack
Jun 29, 2020
NEW DELHI: India on Monday hit out at Pakistan foreign minister Shah Mehmood Qureshi for his "absurd comments" linking India to the terror attack on the Pakistan stock exchange building in Karachi.
In a strongly-worded response, external affairs ministry spokesperson Anurag Srivastava said unlike Pakistan, India has no hesitation in condemning terrorism anywhere in the world including in Karachi.
He also reminded Qureshi how the Pakistan prime minister described a global terrorist as a "martyr", a reference to Imran Khan's remarks in Pakistan Parliament calling slain Al-Qaeda chief Osama bin Laden a 'shaheed'.
Hours after gunmen attacked the Pakistani stock exchange in Karachi, Qureshi alleged that the clues of strike are leading towards sleeper cells activated by India.
"India rejects the absurd comments of the Foreign Minister of Pakistan on the terrorist attack in Karachi. Pakistan cannot shift the blame on India for its domestic problems. Unlike Pakistan, India has no hesitation in condemning terrorism anywhere in the world, including in Karachi," Srivastava said.
"Foreign Minister Qureshi may wish to reflect on this, as also his own government's position, including his prime minister's description of the global terrorist as a martyr," the Spokesperson said.
Four heavily armed militants attacked the busy Pakistan Stock Exchange building here with guns and grenades on Monday morning, killing four security guards and a police officer before being shot dead in an exchange of fire, Pakistani authorities said.
Full report at:
https://timesofindia.indiatimes.com/india/india-slams-pakistan-foreign-ministers-absurd-remarks-on-karachi-terror-attack/articleshow/76696853.cms
--------
Pakistan violates ceasefire along LoC in Naugam sector of Jammu and Kashmir
Jun 30, 2020
Pakistani troops opened unprovoked fire towards Indian positions along the Line of Control (LoC) in Naugam sector of Jammu and Kashmir on Tuesday in violation of a ceasefire agreement, an army official said.
"On 30 Jun 2020, in the morning hours, Pakistan initiated an unprovoked ceasefire violation (CFV) along the LoC in Naugam sector (in north Kashmir's Kupwara district) by firing mortars and other weapons," the official said.
He said befitting response is being given to the Pakistani aggression.
There were no reports of any casualties so far.
https://www.hindustantimes.com/india-news/pakistan-violates-ceasefire-along-loc-in-naugam-sector-of-jammu-and-kashmir/story-DmtR1PMHnoqubbpkFNhoSO.html
--------
2 terrorists responsible for killing CRPF trooper, 5-yr-old shot dead in J-K encounter
Jun 30, 2020
Two terrorists who killed a five-year-old and Central Reserve Police Force trooper last week have been killed in an encounter with security forces in Anantnag district's Bijbehara area, Jammu and Kashmir police said on Tuesday.
The forces are on the lookout for the third terrorist involved in the gunbattle in Waghama village of Bijbehara.
An INSAS rifle and pistol were recovered from the encounter site.
The terrorists shot dead in today's gunfight had opened fire at a road opening party of CRPF's 90 Battalion near the Padshahi Bagh bridge in Bijbehara area on Friday injuring a CRPF personnel and a 5-year-old boy in the attack. Both of them succumbed to their injuries in the hospital, an official said.
Tuesday's encounter comes a day after one Hizbul Mujahideen and two Lashkar-e-Taiba terrorists were gunned down in the Khulchohar area of Anantnag.
One of the terrorists killed in the encounter was identified as Masood Ahmad Bhat, a resident of Doda, the region's last surviving so-called commander of Hizbul Mujahideen.
Dilbag Singh, Jammu and Kashmir's police chief, called his killing "a big success" and pronounced the Union territory's Doda district "totally militancy free"
The terrorists were buried away from their native places in Baramulla, Handwara, and Ganderbal due to Covid-19 restrictions over the last two months.
Full report at:
https://www.hindustantimes.com/india-news/encounter-breaks-out-in-south-kashmir-s-anantnag-district/story-JbKp8HCpsHtEKirFO07BmJ.html
--------
Europe
Macron slams Turkey's 'criminal responsibility' in Libya
June 29, 2020
MESEBERG, Germany: French President Emmanuel Macron on Monday accused fellow NATO member Turkey of "criminal responsibility" over its involvement in the Libyan conflict, in an escalating row with Ankara.
Turkey has increased its military presence "and massively re-imported extremist fighters from Syria" even after foreign powers agreed earlier this year to end their meddling and respect a UN arms embargo, Macron told reporters.
"I think this is a historic and criminal responsibility for someone who claims to be a member of NATO," Macron said after holding talks with German Chancellor Angela Merkel at Meseberg castle near Berlin.
Turkey's conduct in Libya is "unacceptable to us," Macron said, adding that the moment had come for Ankara to "urgently clarify" its stance.
Ankara supports Libya's UN-recognized Government of National Accord (GNA) in the conflict against rebel strongman Khalifa Haftar.
France is suspected by analysts of backing Haftar alongside Egypt, Russia and the United Arab Emirates, but insists it is neutral in the conflict.
Oil-rich Libya was thrown into chaos after veteran dictator Muammar Qaddafi was ousted in a 2011 NATO-backed uprising.
Rival administrations and militias have been vying for power ever since, increasingly drawing in foreign countries and threatening the region's stability.
Macron last Monday accused Turkish President Recep Tayyip Erdogan's government of playing a "dangerous game" in the north African country that could no longer be tolerated.
Turkey fired back the following day, saying it was "actually France which is playing a dangerous game in Libya" by supporting military leader Haftar in his campaign to take Tripoli.
Tensions have risen over the last year between Macron and Erdogan, notably when the French leader said the lack of NATO response to a unilateral Turkish operation in northern Syria showed the alliance was undergoing "brain death."
The Ankara-Paris strains soared further this month when France denounced an "extremely aggressive" intervention by Turkish ships against a French navy vessel participating in a NATO mission in the Mediterranean, a claim Ankara dismissed as "groundless."
https://www.arabnews.com/node/1697331/world
--------
'France isolated after Haftar's defeat in Libya'
Faruk Zorlu
30.06.2020
France, which has played a critical role in the rise of warlord Khalifa Haftar in Libya, now finds itself isolated and in a difficult position after his defeat, The Independent reported on Monday.
"Swallowing France's line that Paris was fighting 'terrorism' by supporting strongman Haftar against the 'Islamists' in Tripoli, some within the French foreign ministry and security apparatuses are reportedly beginning to push back" following his defeat in Libya, said an article written by international correspondent Borzou Daragahi.
Libya has been torn by civil war since the ouster of late ruler Muammar Gaddafi in 2011. The country's new government was founded in 2015 under a UN-led agreement, but efforts for a long-term political settlement failed due to a military offensive by Haftar's forces.
The story also quoted a ranking official familiar with France's Libya policy who spoke on condition of anonymity as saying that France's backing of Haftar was provided for "the sake of anti-terrorism, a tactical choice to eliminate some of the [extremist] groups."
Its tactical choice turned into a strategy based on the belief that "tough guys are the right protection against terrorism, which they never are," the official said.
Also, by relying on the United Arab Emirates, France played a "vital role in the rise of warlord Khalifa Haftar by providing him with a veneer of respectability as well as diplomatic cover," it said.
The story went on to say that Paris now finds itself isolated and has not benefited from its political and diplomatic moves after Haftar's defeat in western Libya.
Recalling French President Emmanuel Macron's remarks in which he referred to Turkey's support for the Libyan government as a "dangerous game," it said "French officials now sound comical to their colleagues in London and Berlin when they try to defend their Libya policy, blaming all of the country's problems on Turkey."
Meanwhile, "They've been backing Haftar for so many years that they don't know how to back out. Instead of acknowledging mistakes, it's easier to say Turkey is the country causing all these problems," a risk management consultant specializing in Libya said in the article.
The UN recognizes the Libyan government headed by Fayez al-Sarraj as the country's legitimate authority as Tripoli battles Haftar's militias.
Full report at:
https://www.aa.com.tr/en/africa/france-isolated-after-haftars-defeat-in-libya/1894164
--------
Intel: Congress pushes European Union to fully designate Hezbollah as terrorist group
Jun 26, 2020
A bipartisan group of 30 US lawmakers sent a blanket letter to all European Union member states Thursday asking them to designate the entirety of Lebanon's militia-cum-political party Hezbollah as a terrorist organization.
"Unfortunately, Hezbollah has increasingly used Europe as a launching pad for its criminal and terrorist activities, including money laundering, drug smuggling, recruitment and training," the lawmakers wrote. "In particular, Hezbollah's fundraising and illicit business activities have generated additional annual revenue which the organization uses to support its global terrorism, including a 2012 Hezbollah terror attack in Bulgaria that killed five Israeli tourists and one Bulgarian citizen."
The letter, signed by prominent pro-Israel lawmakers in both chambers, was spearheaded by Sens. Marsha Blackburn, R-Tenn., and Jackie Rosen, D-Nev., as well as House Middle East panel Chairman Ted Deutch, D-Fla., and Rep. Lee Zeldin, R-N.Y.
Why it matters: Although the European Union distinguishes between Hezbollah's political and military wings, some of its member states have moved closer to the US position in recent months, which makes no such delineation. (Hezbollah itself makes no distinction between its political and paramilitary wings.)
The lawmakers commended Germany's April "designation of Iranian-backed Hezbollah as a terrorist organization and the nation's associated ban of all Hezbollah activity." The United Kingdom designated all of Hezbollah as a terrorist group in January.
What's next: The lawmakers also acknowledged "Austria's efforts with regard to a similar proposed resolution and encourage its passage in the coming months."
Full report at:
https://www.al-monitor.com/pulse/originals/2020/06/congress-push-eu-designate-hezbollah-terror-group-lebanon.html?utm_source=iterable&utm_medium=email&utm_campaign=1322256_
--------
ISIS Militant Lands in UK Jail for Inciting Violence in Germany
26 June, 2020
An ISIS militant who encouraged mass murder in Germany has been sentenced to at least nine years in prison in Britain.
Fatah Abdullah, 35, had been charged under Britain's terrorism laws with encouraging another person to plow a car into crowds, attack people with a meat cleaver and detonate bombs, "with the aim of killing and/or causing serious injury."
The incitement took place between April 9 and Dec. 11, 2018, The Associated Press reported.
Abdullah, who was born in Iran but was living in the northern English city of Newcastle after receiving asylum, was arrested after a joint investigation by British and German police.
Full report at:
https://english.aawsat.com/home/article/2355616/isis-militant-lands-uk-jail-inciting-violence-germany?utm_source=iterable&utm_medium=email&utm_campaign=1322256_
--------
Belgium strips Islamic State returnee of Belgian nationality
26 June 2020
An Antwerp court has stripped an Islamic State supporter of her Belgian nationality and sentenced her to five years in prison.
The 32-year-old woman, identified as Rahma B., was also fined €8,000 as part of her conviction for participating in the activities of a terrorist organisation.
In the aftermath of Turkey's military incursion into northern Syria in November, Rahma B. fled to Turkey where authorities handed her over to Belgium after she turned herself in.
She arrived in Zaventem airport in November 2019 and was immediately transferred to a prison in Bruges.
During her time in Syria, she reportedly lost two husbands and three children in attacks and now has to use crutches to move around, La Libre reports.
The 32-year-old had already been sentenced in absentia in June 2019 but appealed her conviction upon her arrival to Belgium, arguing she now rejected the terror group's radical ideologies.
"I realise that what I went through is my fault," she told the court during her trial. "This radical ideology, which caused nothing but problems, is now no longer in me."
Her appeal was nevertheless rejected by the court, which ordered her immediate arrest after public prosecutors described her profile as "worrying."
Full report at:
https://www.brusselstimes.com/all-news/world-all-news/118640/belgium-strips-islamic-state-returnee-of-belgian-nationality-turkey-syria-antwerp-court-five-years/
--------
South Asia
23 civilians, kids included, die in rain of rockets on Afghan market
29 June 2020
Nearly two dozen civilians, including children, have been killed and several others injured when a barrage of rockets fell on a cattle market in Afghanistan's southern province of Helmand.
Hundreds of villagers from the neighboring districts had gathered at the open-air weekly cattle market in Sangin to trade sheep and goats on Monday.
It was the rockets, fired from a source disputed by the Taliban militant group and the Afghan government, that fatally disturbed the peasant life of the town of about 20,000 people.
A spokesman for Helmand's governor confirmed the death of at least 23 civilians.
Kabul and Taliban blame each other for the rain of rockets.
Qari Yousuf Ahmadi, a Taliban spokesman, said the Afghan army had fired several rounds of mortars on civilian houses and the market.
A government statement denied a narrative of that sort.
Khushakyar, identified by a single name, said he was trying to sell a calf when the rockets hit the market. He said his two nephews were killed and his son was wounded.
"I saw around 20 bodies on the ground," he said, adding that dozens were wounded and "livestock lay dead next to men."
Some local residents said the shelling occurred during fierce clashes between the Taliban militants and security forces in residential areas surrounding the market.
Violence has surged despite a deal in February between the Taliban and the United States. Official data shows Taliban bombings and other assaults have increased 70 percent since the militant group signed the deal with Washington.
https://www.presstv.com/Detail/2020/06/29/628503/Afghanistan-Helmand-Sangin-market
--------
Bangladesh boat crash kills at least 32, as ferry sinks in 20 seconds
June 29, 2020
Dhaka (CNN)More than 30 bodies have been recovered from a river in Bangladesh, and more people are feared dead, after two ferries collided on Monday morning.
A vessel called the Morning Bird, which was carrying up to 60 passengers, sank in just 20 seconds after colliding with Mayur-2, a larger ferry, at around 8:55 a.m. in Dhaka, local police chief Shah Jamal told CNN.
Jamal said the bigger boat was attempting to drop its anchor at a port on the River Buriganga at the time of the crash. He added there were at least eight women and three children among the deceased, and that the Morning Bird sank very quickly, in around 15-20 seconds.
Shahidul Islam, a Bangladesh Fire Service official, told CNN: "We have so far recovered 32 bodies from the capsized ferry. We have already handed over the bodies to the relatives. A joint team of Navy, water authorities and private divers along with river police are working on the rescue mission."
Navy diver Nazrul Islam pulled up two bodies to the surface, but he believes there might more people inside the boat. He said the vessel is lying around 60-70 feet deep on the riverbed, which consists of soft earth and plastic trash.
A four-member committee has been formed to look into the crash, said Commodore Golam Sadeq, who is Chief of Bangladesh Inland Water Transport Authority.
Full report at:
https://edition.cnn.com/2020/06/29/asia/bangladesh-ferry-collision-intl/index.html
--------
Taliban militants suffer heavy casualties in Jawzjan province
30 Jun 2020
The Taliban militants suffered heavy casualties during the operations in northern Jawzjan province of Afghanistan, the Afghan military said.
The 209th Shaheen Corps in a statement said at least 7 Taliban militants were killed and 4 others were wounded during the operations in Khamaab district and on the highway between Jawzjan and Sar-e Pul provinces.
The statement further added that the security forces also destroyed 2 motorcycles of the militants during the militants along with some weapons and munitions.
The security forces also destroyed an armored vehicle of the militants during an airstrike in the same areas, the 209th Shaheen Corps added.
Full report at:
https://www.khaama.com/taliban-militants-suffer-heavy-casualties-in-jawzjan-province-08931/
--------
Southeast Asia
Factory Supervisor Fined RM6,000 For Insulting Islam, By The Sessions Court In Kuala Lumpur
June 29, 2020
KUALA LUMPUR: A furniture factory supervisor was fined RM6,000 in default three months' jail by the Sessions Court here today for posting an insulting comment on Islam on Facebook.
Koh Teen Ern, 37, pleaded guilty after the charge was read out by the court interpreter before judge MM Edwin Paramjothy.
He was accused of uploading a comment which insulted Islam, using his Facebook account "Tim Koh", with the intention to hurt the feelings of other people between 2.47am on Dec 20 and 9.56am on Dec 21, 2019.
The charge was framed under Section 233 (1)(a) of the Communications and Multimedia Act 1998, and punishable under Section 233 (3) of the same Act, which provides for a maximum fine of RM50,000 or up to one year's jail, on conviction.
Koh, who was represented by counsel Wong Chiang Kiat, pleaded for a minimum fine but deputy public prosecutor Annur Atiqah Abd Hadi asked for a deterrent sentence as his action had sparked anger among the public.
"A deterrent sentence would serve as a lesson to all Malaysians to be more sensitive and mindful when expressing opinions on social media. Many people have viewed and accessed the posting," she said.
Koh paid the fine.
https://www.freemalaysiatoday.com/category/nation/2020/06/29/factory-supervisor-fined-rm6000-for-insulting-islam/
--------
Freeze temple demolitions in Kedah pending new policy, says former exco
June 30, 2020
ALOR SETAR: A former Kedah executive councillor today questioned the authorities' handling of illegal temples following reports of several temples being torn down and others threatened with demolition.
Former local government chairman Tan Kok Yew said the previous Pakatan Harapan administration had agreed to hold off on any enforcement action on places of worship until a policy on the matter was formed.
In a statement, he voiced regret over the move by the Alor Setar City Council to demolish non-Muslim places of worship and issue notices for demolition.
This follows reports that a Hindu shrine near the Alor Setar railway station had been threatened with demolition as it was located on a road reserve.
The demolition was later put on hold pending talks with the shrine's caretaker and the state government.
Tan, who is Derga assemblyman, said many such temples and shrines were built by roadsides, in housing areas and on government and private land.
"As a responsible government, we must find solutions that are in line with the constitutional aspirations of living in a harmonious and united community."
Adding that all enforcement action on places of worship should be stopped, he said the state should meanwhile consider issuing reserve certificates or written permission for temples located on government land.
Full report at:
https://www.freemalaysiatoday.com/category/nation/2020/06/30/freeze-temple-demolitions-in-kedah-pending-new-policy-says-former-exco/
--------
'New beginning' as 500 Muslim Bumiputeras join Kitingan's party
Jason Santos
June 29, 2020
KOTA KINABALU: The opposition Parti Solidariti Tanah Airku (STAR) has shed its Kadazan, Dusun and Murut (KDM) image by welcoming 500 new Muslim Bumiputera members from the Bajau heartland in Kota Belud.
Party president Jeffrey Kitingan said the entry of the group led by a former Warisan branch leader marked a new beginning for the party.
Kitingan said STAR was expecting more new members from the east coast districts and Kudat, where the majority of the people were from Muslim Bumiputera ethnic groups.
"We are pleased that more are joining us, especially from the east coast areas like Semporna, as well as from Kudat, Kota Belud and Penampang," he said after receiving membership applications from the 500 Muslim Bumiputera members, led by Awang Salleh Makmud, at the party headquarters in Penampang today.
Formed in 2016, STAR holds the state seats of Bingkor and Tambunan and the Keningau federal seat, where most of the voters comprise non-Muslim Bumiputera ethnic groups, or better known as the KDM communities.
The party has been vocal about the return of state rights and finding a solution to the illegal immigrant problem in Sabah, which Kitingan has accused the Warisan-led state government of failing to resolve.
FMT has learnt that former Warisan members with connections in Sabah Umno have been visiting the east coast districts to persuade party members to leave and join Umno or STAR.
Sources said hundreds of party members in Kinabatangan, Sukau, Beluran, Tawau, Lahad Datu and Semporna on the east coast were expected to resign from Warisan in the coming weeks.
Full report at:
https://www.freemalaysiatoday.com/category/nation/2020/06/29/new-beginning-as-500-muslim-bumiputeras-join-kitingans-party/
--------
MCO: All theme parks in Malaysia allowed to operate July 1, says Ismail Sabri
BY JULIA CHAN
29 Jun 2020
KUALA LUMPUR, June 29 — All theme parks, including water-based parks, are allowed to operate again as of July 1, said Senior Minister Datuk Seri Ismail Sabri Yaakob.
He said that the special Ministers Meeting on MCO enforcement decided that some 54 registered theme parks in the country could open next month, which will involve some 10,000 people going back to work.
"They will have to follow and enforce strict SOPs and social distancing at all times as well as limit the number of people depending on capacity and size of their parks," he said.
He also said water parks will have the same SOP and criteria as swimming pools. The guidelines are detailed on the National Security Council website while the theme parks guidelines will be on the Ministry of Tourism, Arts and Culture website.
After a motorcycle convoy resulted in the death of three men in Pahang, Ismail Sabri said that police would take action against the group if they were flouting rules of the RMCO, but they would not be rescinding rules for all convoys yet.
"We believe this is an isolated incident. I hope this is the first and the last. We won't punish all motorcyclists.
"As adults, they should be able to control themselves and practice caution. If there are more cases after this, we will review the rules, but for now we won't ban it," he said.
On the SOP for Muslim wedding solemnisation (akad nikah) ceremonies, he said that the same limit and SOPs that apply to weddings can be used.
"There was some confusion in regard to the akad nikah ceremony which was not stated under social events which was allowed to proceed starting July 1. We had agreed to allow up to 250 guests for wedding ceremonies and akad nikah to be held at mosques, halls, homes, or other venues," he said.
Other religions hold wedding ceremonies at houses of worship and premises of religious associations.
On schools reopening, Ismail Sabri said that students who are allowed to go back to schools to prepare for their exams should know to continue practicing social distancing even once they leave the school compound.
"They are sitting for SPM and STPM. We are treating them like adults and they should know how to practice discipline and take care of themselves.
Full report at:
https://www.malaymail.com/news/malaysia/2020/06/29/ismail-sabri-all-theme-parks-in-malaysia-allowed-to-operate-july-1/1879854
--------
Africa
Sudan detains 122 fighters, including eight children, headed for Libya
29 June 2020
Sudan said on Sunday it has arrested 122 of its nationals as they headed to neighboring Libya to fight as "mercenaries," state media reported.
The Tripoli-based Government of National Accord (GNA) has long accused Sudan of sending fighters to back Gen. Khalifa Haftar, who claims legitimacy from an eastern-based elected parliament.
Sudan, which shares a border with southeastern Libya, denies the allegations.
State news agency SUNA on Sunday cited Brigadier Jamal Jumaa, spokesman for the Rapid Reaction Forces, saying that "joint security forces detained 122 outlaws including eight children who were heading to (fight as) mercenaries in Libya."
SUNA published a video showing dozens of youths sitting on the ground, surrounded by military vehicles carrying soldiers armed with Kalashnikov assault rifles.
It said the video was shot in Al-Junayna, the capital of West Darfur province.
Sudan's Foreign Minister this week denied that Sudanese forces were involved in the conflict in Libya.
Full report at:
https://english.alarabiya.net/en/News/middle-east/2020/06/29/Sudan-detains-122-fighters-including-eight-children-headed-for-Libya-.html
--------
Over 90 migrants, including woman who gave birth on dinghy, returned to Libya: IOM
27 June 2020
More than 90 migrants were returned to Khums, Libya, including a woman who gave birth on the rubber dinghy, the International Organization for Migration said in a tweet.
The Libyan Coast guard returned 93 migrants to the coastal city east of Tripoli Friday night. Migrants reported to the IOM that six people died during the journey. The coast guard regularly returns people intercepted at sea to migrant detention centers.
So far, nearly 150,000 people have fled their homes to escape the civil war in Libya that has raged for over a year.
Libya has seen fierce fighting as warring factions have battled for the right to rule, and there are an estimated 645,000 migrants, refugees and asylum seekers in Libya. The New Humanitarian reported in February that "between 3,200 and 5,000 of them are being held in [Government of National Accord] GNA-affiliated centres across western Libya, where conditions are often desperate, and abuse is rife."
In early 2020, hundreds of refugees were forced to leave a UNHCR facility that was opened in late 2018. While it was intended to be a safe space for migrants, the center was mired in problems, the UK's The Guardian reported. UNHCR suspended operations, saying it would soon become a military target.
Refugees said that GNA-aligned militias sheltered in the center and forced refugees to work, with some refugees describing themselves as slaves.
"In a country without a functioning government, huge sums of European money have been diverted to intertwined networks of militiamen, traffickers and coast guard members who exploit migrants. In some cases, UN officials knew the money was going to militia networks, according to internal emails," the Associated Press reported in December.
Migrants from other African countries, as well as Libyans, seeking to leave Libya have often sought to reach Europe across the Mediterranean, but the EU funded the Libyan Coast Guard in an attempt to prevent them from reaching European shores as Europe struggled with an influx of refugees and migrants.
EU countries have spent more than $97 million to provide training, equipment and ships to assist the Libyan Coast Guard since 2017. But Italy, the leader of the EU program, does not directly pay salaries and coast guard members reported not being paid for months, the New Humanitarian reported.
"The militias torture, extort and otherwise abuse migrants for ransoms in detention centers under the nose of the UN, often in compounds that receive millions in European money," the Associated Press investigation found.
Full report at:
https://english.alarabiya.net/en/News/north-africa/2020/06/27/More-than-90-migrants-including-woman-who-gave-birth-on-dinghy-returned-to-Libya.html
--------
Ethiopia's grand mufti commends Hajj decision
June 30, 2020
RIYADH: Sheikh Haji Omar Idris, the grand mufti of Ethiopia and the president of the country's Islamic Affairs Supreme Council, has praised the Kingdom's decision to hold Hajj this year with pilgrims from a limited number of nationalities who are already in the country.
He said the decision embodied the Kingdom's keenness to hold the Hajj in a way that met the safety requirements of coronavirus prevention.
https://www.arabnews.com/node/1697516/saudi-arabia
--------
Boko Haram militants killed in Nigerian military airstrikes in northeast region
June 30, 2020
Scores of Boko Haram militants were killed in multiple airstrikes carried out by the Nigerian military in the country's northeast state of Borno, a military spokesman said on Monday.
Saturday's airstrikes followed days of aerial surveillance missions by the military in Warshale, a settlement in Borno, John Enenche, spokesman for the Nigerian military, said in a statement.
The missions conducted by two military jets found that the settlement was being used by the terror group to launch attacks.
During the airstrikes, several structures in the camps of Boko Haram were destroyed and some terrorists were neutralized, Enenche added.
Since 2009, Boko Haram has been trying to establish an Islamic state in northeastern Nigeria, extending its attacks to countries in the Lake Chad Basin.
https://africa.cgtn.com/2020/06/30/boko-haram-militants-killed-in-nigerian-military-airstrikes-in-northeast-region/
--------
Chad denies claims 44 Boko Haram suspects suffocated to death
Jun 29, 2020
Chad's government on Monday denied allegations that 44 men who died in a prison in April were not Boko Haram jihadists but civilians who suffocated in a scorching, overcrowded cell.
The government of the semi-desert nation, insisted the prisoners were members of the Nigerian Islamist group that has staged attacks in several sub-Saharan countries.
On Saturday, the Chadian Convention for Human Rights (CTDDH), said the 58 men imprisoned were "farmers and villagers who were arbitrarily arrested ... on last-minute instructions."
The CTDDH said 44 of 58 prisoners died after being held in a windowless cell measuring 6 metres by 3 metres (19 feet by 10 feet).
Despite temperatures of more than 50 degrees Celsius (122 Fahrenheit), they were not given food or water, it said.
But Justice Minister Djimet Arabi told AFP on Monday: "We will not give credence to a report that does not correspond to reality at all."
Officials at one point said the men had committed mass suicide and that traces of poison had been found in their bodies.
But the CTDDH said the Chadian authorities had committed several "exactions" and routinely executed Boko Haram suspects.
All the men were captured during a major army operation around Lake Chad launched by President Idriss Deby Itno early in April.
That operation came in response to the deaths of 98 Chadian soldiers in a March 23 attack on a base at Bohoma, in the Lake Chad marshlands -- the worst one-day loss their army has ever suffered.
Full report at:
https://www.wionews.com/world/chad-denies-claims-44-boko-haram-suspects-suffocated-to-death-309508
--------
URL: https://www.newageislam.com/islamic-world-news/chinese-companies-prohibit-pakistani-employees/d/122254
New Age Islam, Islam Online, Islamic Website, African Muslim News, Arab World News, South Asia News, Indian Muslim News, World Muslim News, Women in Islam, Islamic Feminism, Arab Women, Women In Arab, Islamophobia in America, Muslim Women in West, Islam Women and Feminism