New Age Islam News Bureau
29 Sept 2017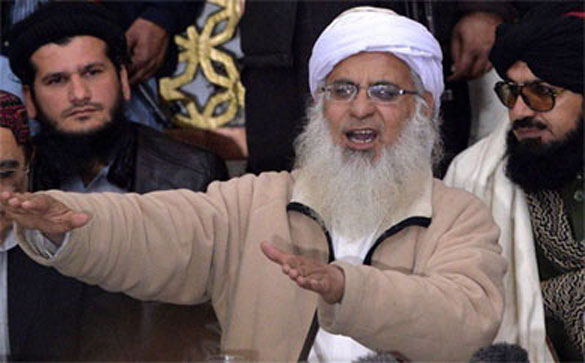 Authorities had recently stopped the firebrand cleric and the Shuhada Foundation from holding events at Lal Masjid. PHOTO: AFP/File
----
• Chinese Authorities Confiscating All Copies of the Quran
• Pakistan's Contradictory Crackdown on 'Red Mosque' Extremism
• IS Leader Baghdadi Urges Militants to Keep Fighting
• Report: Underworld don Dawood Ibrahim funded Zakir Naik's NGO
• Rohingya Crisis: Myanmar Cancels UN Rakhine Visit
Southeast Asia
• Chinese Authorities Confiscating All Copies of the Quran
• Koreans of Different Faiths Voice Concern Over Rohingya Crisis
• Ugly politics in Malaysia's inconsistent refugee policy
• Bootleg IS toys pulled from Singapore store
• Pop concerts to snub Malaysia as Muslim hardliners tighten grip
• 5,000 Brimob personnel to guard Friday's anti-communist rally
--------
Pakistan
• Pakistan's Contradictory Crackdown on 'Red Mosque' Extremism
• Pakistan Ministry Seeks Ban on New Party Backed By Prominent Islamist
• Saudi Arabia is true friend of Pakistan, says Saudi ambassador
• Quetta: Gunmen kill Hazara Shia Muslim family members
• Five Suspected Terrorists Killed in Police Shootout in Karachi
• Pakistan received 26 per cent fewer non-immigrant US visas in 2017
• NAB court dispatches Sharif family's arrest warrants to UK
• Pakistanis value ties with Saudi brethren: PM Abbasi
--------
Arab World
• IS Leader Baghdadi Urges Militants to Keep Fighting
• Muslim Brotherhood Supreme Guide Sentenced To Life in Egypt
• US Verifying Baghdadi Recording, But Says 'No Reason to Doubt' Authenticity
• ISIL Attempting to Maintain Remaining Occupied Areas in Deir Ezzur
• Key Terrorist Group Defects Tahrir Al-Sham in Hama
• ISIL's Attempt to Flee Eastern Hama Fails Again
• Syrian Army Regains Control of Key Region in Eastern Homs
• US willing to 'facilitate' talks between Baghdad, Kurds
• Syria writes to UN again to urge end to US 'war crimes'
--------
India
• Report: Underworld don Dawood Ibrahim funded Zakir Naik's NGO
• Freed From Islamic State's Captivity, Kerala Priest Prays For His Captors
• Bajrang Dal Disrupts Interfaith Couple's Marriage in Meerut
• NIA Focus on 32 Kerala 'Conversions'
• Governments supporting terrorism inviting suicide: India
• Pak Taliban Chief The Jailed Jihadi In Jadhav Swap Talk?
• India and Afghanistan sign MoU on police training
• NIA summons Independent J&K MLA in terror funding probe
• J&K separatist leaders barred from seminar at Geelani's house
--------
South Asia
• Rohingya Crisis: Myanmar Cancels UN Rakhine Visit
• Bangladeshi Bishops Visit Rohingya Camps, Promise Aid
• Pope's mission to Myanmar will focus on peace for all
• 12 Afghan soldiers killed in suicide attack
• Explosion leaves 19 dead, wounded in Kabul city
• Many Rohingya Muslim refugees lack water, shelter in Bangladesh: Oxfam Canada
• US airstrike leaves 5 ISIS militants dead in Nangarhar province of Afghanistan
• Afghan forces suffer casualties in Kandahar VBIED suicide attack
--------
North America
• U.S. Born Muslims More Hostile To America
• Israel Occupies Just 2 Percent of West Bank: US Ambassador
• Hate crimes against Muslims in Canada on the rise
• US cuts number of refugees it is ready to resettle
• US military carries out more airstrikes in Libya
• U.S. visas to six Muslim nations drop after Supreme Court backs travel ban
--------
Mideast
• Iran May Abandon Nuclear Deal If US Withdraws: FM Zarif
• Buthaina's appearance in Riyadh daunts Houthi propaganda machine
• Turkey agrees to 'only deal with Baghdad' over oil exports
• UN warns to blacklist firms working in lands occupied by Israel: Report
• Turkey's Erdogan links fate of detained US pastor to wanted cleric Gulen
--------
Africa
• Somalia's Al Shabaab Militants Kill 17 in Attack on Military Base outside Capital
• Libya arrests ISIS militant involved in 2015 beheadings
• Scores of undocumented migrants rescued off Libya coast
• Africa: France Must Bring Counter-Terrorism Law in Line With International Rights Obligations - UN Experts
--------
Europe
• Pope Francis Launches Campaign to Encounter and Welcome Migrants
• Pope Calls On Christians to Share Hope with Migrants
• Ukip's new leader could be anti-Islam activist with links to far right
• EU plans to take 50,000 refugees from Africa, Mideast
• De-escalation zones help end war in Syria: Putin
• German Muslims community worried over surge of AfD
• 'I would be dead': Britain's Rohingyas speak out
Compiled by New Age Islam News Bureau
URL: https://www.newageislam.com/islamic-world-news/chinese-authorities-confiscating-all-copies/d/112708
--------
Chinese Authorities Confiscating All Copies of the Quran
September 28, 2017
Authorities in China's northwestern Xinjiang region have ordered Muslim families to hand in religious items including prayer mats and Qurans, sources said.
Officials across Xinjiang have been warning neighborhoods and mosques that ethnic minority
Uyghur, Kazakh and Kyrgyz Muslims were being told they must hand in the items or face harsh penalties, the sources told Radio Free Asia (RFA).
"Officials at village, township and county level are confiscating all Qurans and the special mats used for namaaz [prayer]," a Kazakh source in Altay prefecture, near the border with Kazakhstan said Sept. 27.
"Pretty much every household has a Quran, and prayer mats," he said.
According to Dilxat Raxit, spokesman for the World Uyghur Congress group, the order on the religious items went out in Kashgar, Hotan and other areas earlier in September.
"We received a notification saying that every single ethnic Uyghur must hand in any Islam-related items from their own home, including Qurans, prayers and anything else bearing the symbols of religion," Raxit said.
"They have to be handed in voluntarily. If they aren't handed in, and they are found, then there will be harsh punishments," RFA reported him as saying.
Police are making announcements on the popular social media platform WeChat, he said.
"The announcements say that people must hand in any prayer mats of their own accord to the authorities, as well as any religious reading matter, including anything with the Islamic moon and star symbol on it," he said.
Earlier this year, authorities in Xinjiang began confiscating all Qurans published more than five years ago due to "extremist content."
http://www.ucanews.com/news/chinese-authorities-confiscating-all-copies-of-the-quran/80372
--------
Pakistan's Contradictory Crackdown On 'Red Mosque' Extremism
Sep 28, 2017
ISLAMABAD: Despite public humiliation and periods of house arrest, the former leader of Pakistan's notorious Red Mosque+ is inspiring a new generation of extremists with his old rhetoric — highlighting Islamabad's ambivalent attempts to bring religious hardliners to heel.
Ten years after the military raid on his mosque made international headlines and shocked his country, Abdul Aziz remains influential, overseeing a network of seminaries as he calls for a "caliphate" to be established in Pakistan.
During his time at the helm of the Red Mosque, Aziz shot to prominence for his inflammatory sermons, advocating jihad against the West and a hardline interpretation of Islam.
He spread this message among his thousands of students, mostly poor children from rural areas who are educated for free at madrassas affiliated with the mosque, sparking accusations of brainwashing from critics.
By 2007 things had reached a tipping point.
His armed followers had begun taking his message to the streets of the capital, vandalising CD and DVD stalls and kidnapping Chinese masseuses, with tensions quickly degenerating into murderous clashes.
When the regime of then-President Pervez Musharraf launched an assault on the mosque on July 10, 2007, the army found itself facing heavily armed jihadists.
The controversial operation was followed minute-by-minute on live television, with more than 100 people killed in the week-long effort to pacify the mosque and arrest its leaders.
The attack on the religious site sparked ferocious blowback from extremists across the country, marking the emergence of the Pakistani Taliban (TTP) - an umbrella organisation for homegrown militant groups targeting the Pakistani state.
In the following years Islamist violence increased dramatically, with thousands of Pakistanis killed, maimed, or forced to flee their homes as security deteriorated.
Aziz himself was arrested as he tried to flee the besieged mosque in a burqa, taken straight to a television studio and paraded in the garment - earning the nickname "Mullah Burqa".
He faced two dozen indictments, including incitement to hatred, murder and kidnapping. But Aziz was released on bail in 2009.
"He was acquitted in all these cases, and the government has chosen not to file appeals," said lawyer and civil rights activist Jibran Nasir.
"There is no willingness for prosecution against him."
Despite brief stints under house arrest, Aziz now appears to be galvanising the next generation with his fiery preaching — apparently without fear of repercussions.
"The curious thing is that the army has gone after the TTP but not Aziz," said Pervez Hoodbhoy, a leading anti-extremist activist.
"There's sympathy for his cause that's greater than the fear of being attacked again."
Aziz is known to boast of his relations with well known jihadists like Osama Bin Laden and has spoken sympathetically about the Islamic State group. He has also condoned high-profile extremist attacks, like the massacre at the Charlie Hebdo offices in Paris.
"The impunity enjoyed by Abdul Aziz and other radical clerics raises fear of the capital returning to a 2007-like situation," said political commentator Zahid Hussain.
In 2014, a video of students from his madrassa voicing their support for IS did not earn him any condemnation.
"There should be a caliphate in the world including in Pakistan," said Aziz in a televised interview around that time.
Aziz "is tolerated... because it would be like touching a hornet's nest", explains former general Talat Masood.
Given the sensitivity of the population to religious questions, intervening "would risk attracting sympathies".
Authorities, however, appear to be keeping him on a tight leash for now.
Aziz is no longer welcome at the Red Mosque, which theoretically belongs to the state, and he has been placed on the Pakistan's anti-terrorist list.
A rally planned by his supporters to commemorate the 10th anniversary of the Red Mosque siege was banned by the courts.
In recent months, the authorities have blocked roads surrounding the mosque to prevent Aziz from holding rallies and have taken measures to stop him from preaching on Friday, even remotely by phone.
The Red Mosque's new imam Maulana Aamir Sadeeq, an affable 30-year-old, said it was time to "forget the past" and "the extreme positions" of a decade ago.
"We must put a distance between terrorism and us," said Sadeeq — who happens to be Aziz's nephew.
http://timesofindia.indiatimes.com/world/pakistan/pakistans-contradictory-crackdown-on-red-mosque-extremism/articleshow/60868077.cms
--------
IS leader Baghdadi urges militants to keep fighting
Sep 29, 2017
CAIRO: Islamic State leader Abu Bakr Al-Baghdadi has exhorted followers across the world to wage attacks against the West and to keep fighting in Iraq, Syria and elsewhere.
The message released on Thursday was his first purported audio communication in almost a year during which his militant group lost much of its self-proclaimed 'caliphate'.
The audio, partly dedicated to religious scriptures, came after several reports Baghdadi had been killed. His last recording was in November 2016, two weeks after the start of the battle to recapture the city of Mosul from Islamic State (IS).
"Oh Soldiers of the caliphate, fan the flames of war on your enemies, take it to them and besiege them in every corner, and stand fast and courageous."
"Beware of retreat, or the feeling of defeat, beware of negotiations or surrender. Do not lay down your arms," Baghdadi said, referring to followers in Iraq, Syria, Saudi Arabia, North Africa and elsewhere in Africa.
The date of the 46-minute recording, released via the Al-Furqan news organization, was not clear. But in it, Baghdadi makes an apparent reference to recent events, including North Korean threats against Japan and United States, and the recapture two months ago of Mosul by US-backed Iraqi forces.
Since Baghdadi proclaimed the caliphate stretching across Iraq and Syria in 2014, Iraqi forces have retaken a string of cities in western and northern Iraq including Mosul, where Baghdadi made his announcement from the city's El Nuri mosque.
Western-backed Syrian forces are also thrusting into the eastern Syrian city of Raqqa, Islamic State's operational headquarters from where it plotted many of the attacks that have killed hundreds of people around the world.
Baghdadi also called for attacks on Western media, saying: "Oh soldiers of Islam in every location, increase blow after blow, and make the media centres of the infidels, from where they wage their intellectual wars, among the targets."
"Continue your jihad and your blessed operations and do not let the crusaders rest in their homes and enjoy life and stability while your brethren are being shelled and killed."
The fall of Mosul in July effectively marked the end of the Iraqi half of Baghdadi's "caliphate" even though Islamic State continues to fight in some territory outside of Mosul, the largest city they came to control in both Iraq and Syria.
An IS branch in Libya was also defeated last year in the city of Sirte, where they had set up a North African beachhead in 2014. In Egypt's northern Sinai, another affiliated militant group is still fighting Egyptian military forces.
"With God's will and his strength, we are staying determined, patient…The abundance of killing will not stop us," Baghdadi said in the audio recording.
Officials have said they believed it could take years to capture or kill Baghdadi as he is thought to be hiding in a vast swathe of sparsely-populated desert between Mosul and Raqqa, where attacking drones are easy to spot.
The United States has offered a $25 million bounty for information that would locate Baghdadi.
Russia's defence ministry said earlier this year it might have killed Baghdadi in an air strike on a gathering of IS commanders on the outskirts of Raqqa. But US officials said they could not corroborate the death and other Western, as well as Iraqi officials, were sceptical.
https://www.pakistantoday.com.pk/2017/09/29/is-leader-baghdadi-urges-militants-to-keep-fighting/
--------
Report: Underworld don Dawood Ibrahim funded Zakir Naik's NGO
September 29, 2017
KUALA LUMPUR: The brother of India's notorious gangster Dawood Ibrahim has revealed that Dawood Ibrahim had helped fund controversial preacher Zakir Naik's Islamic Research Foundation.
According to The Siasat Daily, Iqbal Kaskar admitted to police on Tuesday that the underworld don used to fund the IRF.
The report said Naik's chief financial officer, Aamir Gazdar, too, had said that Dawood had funded the IRF.
Dawood Ibrahim fled India several years ago and is living in Pakistan. The money to IRF is said to have been sent via Pakistan.
Naik, who fled India after police opened investigations into alleged money laundering and terrorism-related offences.
The Siasat Daily said Iqbal Kaskar had been arrested on charges of extorting money from property developers for Dawood Ibrahim.
Meanwhile, The Asian Age reported that India's Enforcement Directorate (ED) had registered a case against Iqbal Kaskar and two of his associates for allegedly laundering extortion money abroad.
Part of this money, the report said, was believed to have been rerouted to India as donation to Naik's IRF.
It quoted an unnamed senior ED official as saying that they were probing the link between the money sent out of India and donations to IRF.
Sources in the ED told The Asian Age the properties allegedly extorted by Iqbal Kaskar and his associates were later sold and the money made out of such transactions, along with cash extortions, were sent to Dawood Ibrahim in Pakistan and Iqbal Kaskar's family in Dubai.
http://www.freemalaysiatoday.com/category/nation/2017/09/29/report-underworld-don-dawood-ibrahim-funded-zakir-naiks-ngo/
--------
Rohingya crisis: Myanmar cancels UN Rakhine visit
Sep 29, 2017
The United Nations said a planned visit to Myanmar's Rakhine state, which has seen a mass exodus of Rohingya Muslims, has been canceled by the authorities, reported by BBC
The visit would have been the first by UN officials to the area since violence broke out on 25 August.
UN aid personnel were forced to leave Rakhine when the military began a crackdown on Rohingya militants behind attacks on security personnel.
A UN spokesperson in Yangon told the BBC no reason was given for the move.
The UN has been pushing to visit Rakhine to investigate the flight of more than 400,000 Rohingya Muslims to Bangladesh in a month.
Rohingya who has crossed the border accuse Myanmar's military, backed by Buddhist mobs, of trying to drive them out with a brutal campaign of beatings, killings, and village burnings. Images and reports from journalists confirm many villages have been razed.
But the military says they are only targeting militants. Earlier this week, they said bodies of 45 Hindus killed by Rohingya militants had been found in a mass grave.
Assessing the situation on the ground in Rakhine is difficult because access is tightly controlled. But humanitarian groups say that in addition to those who have fled to Bangladesh, say many people are displaced within Rakhine and hundreds of thousands lack food, shelter, and medical care.
The Rohingya, a mostly Muslim minority, are denied citizenship by Myanmar, which says they are illegal immigrants. Rakhine Buddhists are the majority in the state and deadly communal violence has erupted several times in the past.
UN spokesman Stephane Dujarric said on Wednesday, before the cancellation, that chiefs of UN agencies were due to take part in the trip, which he hoped would be "the first step towards much freer and wider access to the area".
Myanmar's de facto leader has faced strong international criticism for her government's handling of the crisis. On Thursday UK Foreign Office minister Mark Field met Ms. Suu Kyi and urged her to end the violence in Rakhine.
http://nation.com.pk/international/28-Sep-2017/rohingya-crisis-myanmar-cancels-un-rakhine-visit
--------
Southeast Asia
Koreans of different faiths voice concern over Rohingya crisis
September 29, 2017
A South Korean interfaith group has called for an end to the persecution of the Muslim Rohingya during a press conference held out the front of the Myanmar Embassy in Seoul.
Members of South Korea's Buddhist, Won-Buddhist groups and the Catholic and Protestant Churches jointly gathered for the event on Sept. 19.
"Although we have a different ethnic background, we should not lose the way of love and peace among us," Franciscan Father Aloisius Kim Jong-hwa said. "We should embrace them as our neighbors whom Jesus told us to love," he said.
Some 500,000 Rohingya have fled northern Rakhine State in the past month. The exodus began after the Myanmar military conducted operations following attacks by Arakan Rohingya Salvation Army militants on government posts, Aug 25.
The U.N. has said that Myanmar's treatment of the Rohingya is textbook ethnic cleansing.
Venerable Beobil, president of the Buddhist Environmental Solidarity, said Myanmar is a holy place for Buddhists.
"If Myanmar's Buddhist monks do not intervene to settle the problem, it means the total abnegation of their responsibilities as Buddhists," said Venerable Beobil. "In addition, Korean Buddhists should raise their voices over the issue."
Also, attending the press conference was Mohammed Ishque, a Rohingya who has been in been South Korea for 15 years. "I don't know whereabouts of my family in Myanmar," said Ishque. "The Rohingya have been lived in Myanmar for generations and we don't have the same rights as Myanmar citizens," he said referring to the 1982 Citizenship Law that made the ethnic minority stateless in their own country.
http://www.ucanews.com/news/koreans-of-different-faiths-voice-concern-over-rohingya-crisis/80370
--------
Ugly politics in Malaysia's inconsistent refugee policy
Robin Augustin
September 29, 2017
PETALING JAYA: There certainly is inconsistency in the way the government deals with refugees from various ethnicities and religions.
However, say several people working with refugees or who are familiar with the situation, this is largely due to politics rather than religion.
MP Charles Santiago and lawyer Latheefa Koya feel the government's "ad hoc" approach is geared towards scoring political points while Tenaganita executive director Glorene Das wants the government to give equal protection to all refugees regardless of race or religion.
They were commenting on an opinion piece published in Asia Times, that Putrajaya's handling of the Rohingya refugee issue reflects the inconsistencies, and the bias, inherent in its refugee policy.
The writer, Josh Hong, had noted that Malaysia had shown solidarity with Muslim Palestinian, Bosnian and now Rohingya refugees over the years, but the same couldn't be said of its stance towards non-Muslim refugees worldwide.
Speaking to FMT, DAP's Santiago said the problem wasn't that Putrajaya had adopted a bias in its refugee policy, but rather that it had tailored it for political mileage.
He said: "When you look at the Palestine and Rohingya issue, not everyone affected are Muslims. There are Christian and Jewish Palestinians, and Hindu Rohingya as well.
"The problem is the narrative which the government sets, by condemning atrocities against these people as atrocities against Muslims instead of it being a humanitarian issue."
At the same time, he said, despite the perceived bias, Rohingya refugees in Malaysia were living in squalor with no access to jobs and education.
Last December, Malaysia officially held a protest rally against the oppression of the Rohingya people, with Prime Minister Najib Razak, Deputy Prime Minister Ahmad Zahid Hamidi, PAS president Abdul Hadi Awang and his number two Tuan Ibrahim Tuan Man leading the rally which was jointly organised by Umno and PAS.
Santiago said when there were inconsistencies, the public would start to see the nature of Putrajaya's foreign policy as opportunistic, to secure votes from Malay voters by appearing to be a defender of Muslims worldwide.
Santiago said government and religious leaders must view acts of genocide and refugee crises from a humanitarian point of view rather than through religious lenses, as it could divide Malaysians.
"Humanitarian issues mustn't be viewed through religious lenses, because those from outside the religion will stay away from supporting it."
Santiago said when he condemned the Myanmar government over the Rohingya issue, he received backlash from some non-Muslims because many already saw it as a Buddhist versus Muslim issue.
"And how the government and religious leaders view and portray it sets the tone for the people. As long as a humanitarian crisis is seen from a humanitarian point of view, people will support it."
Meanwhile, Tenaganita's Glorene Das urged Putrajaya to give equal protection and support to all refugees regardless of their ethnicity or religion.
"Refugees from Myanmar in Malaysia don't come from only the Rohingya community. There are also refugees from the Shan, Chin and Kachin communities.
"Yet the government's pilot project to allow refugees to work was limited only to Rohingya people."
Glorene said the government must review and rethink its policies and practices with regard to refugees.
Putrajaya, she said, must look at the bigger picture rather than ad hoc measures and policies catering to specific groups, as Malaysia would continue to attract refugees due to the nation's stability.
In February, Zahid had announced a pilot plan which would allow Rohingya refugees to work here.
Under this plan, 300 successful applicants were to be placed in selected companies in the plantation and manufacturing industries.
Human rights lawyer Latheefa Koya also lamented Putrajaya's ad hoc and different policies for different refugee communities.
"Some are given accommodation, jobs, documents, access to social services while others are left to their own devices."
She said the government's approach was geared more towards scoring political points, whether internationally or more recently locally with the support for the Rohingya, than addressing the issues at hand.
"Refugees have been deported when it suits the government, so it's better to have coherent and concrete policies and laws that are in line with international law."
She added that Putrajaya should ratify the 1951 United Nations Refugee Convention so that the refugees can benefit from consistent policies on their treatment and protection.
Full report at:
http://www.freemalaysiatoday.com/category/nation/2017/09/29/ugly-politics-in-malaysias-ad-hoc-refugee-policy/
--------
Bootleg IS toys pulled from Singapore store
September 29, 2017
PETALING JAYA: A store in Singapore has removed counterfeit Lego sets featuring Islamic State (IS) fighters following concerns that the toys could lead to the glorification of the terror group.
Singapore daily The Straits Times (ST) said 8 Series, a local retail store in People's Park Complex, had pulled the toys from its shelves on Wednesday night.
Store manager Jack Lim was quoted as saying that fewer than 20 of the sets had been sold since the store began selling them in August.
Likewise, online marketplace Carousell, which had shown two listings for the toys on Wednesday morning, took down the entries later that afternoon.
The toys in question, known as "Falcon Commando" sets, reportedly pitch "information intelligence officers" against IS jihadists.
Russian international television network RT.com said images on the boxes show IS fighter figurines tossing dynamite sticks and launching a flaming oil barrel from a catapult, and a militant fighter armed with a chainsaw looking at a man's decapitated head.
According to ST, the sets were being sold for between S$3.80 and S$25 on Carousell and at 8 Series.
The "Falcon Commando" sets were reportedly sold in Malaysia as well, with Perak schoolteacher Mahnun Mat Isa saying he had found the China-made toys and reported the matter to the police and state Islamic council.
"I came to know about it when my son who was playing with the toy showed me the 'terrorist' character holding a banner which displayed the words 'Allah' and 'Muhammad'," he reportedly said.
"I ask the authorities not to freely allow the entry of toys that touch on religious sensitivities in this country."
Full report at:
http://www.freemalaysiatoday.com/category/nation/2017/09/29/bootleg-is-toys-pulled-from-singapore-store/
--------
Pop concerts to snub Malaysia as Muslim hardliners tighten grip
September 29, 2017
KUALA LUMPUR: Organisers of pop concerts and some other big events are increasingly wary of including Malaysia on their itineraries, as the cancellation of a beer festival due to take place next month highlighted growing intolerance towards activities regarded as insulting to Islam by some Muslim groups.
The promoters say that international music stars, especially those known for risqué lyrics or revealing clothing, are unlikely to be brought to Malaysia as part of regional or global tours. The same goes for any gatherings that could in any way be deemed un-Islamic.
While such concerns have been building for some time in this majority Sunni Muslim nation, the organisers say that the atmosphere has become particularly difficult in the past year.
The politicisation of Islam has increased as Prime Minister Najib Razak's ruling party seeks to appease more-fundamentalist elements to secure its large, rural Malay vote bank ahead of an election expected in the coming months.
A United Nations cultural rights expert warned in a report last week that there is growing pressure to adopt a more narrow interpretation of the Islamic religion and identity in Malaysia, which excludes the country's cross-cultural history, marginalises religious minorities, and fails to take account of the diversity of Malay Muslims.
"Of course it does affect the overall attractiveness of Malaysia being a venue for artists, events or festivals to be held. With artists' touring of Southeast Asia, Malaysia will not be the first choice for any act to tour," said Darren Choy, the chairman of the Recording Industry Association of Malaysia who also heads the Malaysian unit of US entertainment and record label group Warner Music.
"It may end up being the last to be considered, or not at all," he added.
The Malaysian government did not respond to requests for comment for this story.
'Vice centre' warning
The popular Better Beer Festival 2017, which has been held for the past five years, was unexpectedly called off last week after the Kuala Lumpur city council banned the Oct 6-7 event. The ban followed protests by PAS, who said the event would turn the capital into "the largest vice centre in Asia".
The beer festival's organisers said that authorities called it off "due to the political sensitivity surrounding the event".
Police said later that it was cancelled because of the threat of a militant attack.
PAS said on Thursday it has now also filed an objection over plans to host next month the annual Oktoberfest beer festival in Petaling Jaya. The party said in a statement that it was its "social responsibility" to oppose alcohol festivals.
Also last week, after rumours that a gay party was being planned for Kuala Lumpur, the government issued a ban notice, and ordered immigration officers to deny entry to anyone planning to attend either that or the Better Beer Festival. The gay party organisers said they only ever intended to hold the party in Thailand, not Malaysia.
Enforcement authorities last month launched a probe into the Kuala Lumpur chapter of Atheists Republic, a Canada-based organisation. A minister in Najib's cabinet said later that Muslim apostates should be "hunted down vehemently".
Malaysia has already made international headlines this year for barring the screening of the 2017 edition of Disney's "Beauty and the Beast" due to a "gay moment" in one scene. The film was eventually released after local distributors asked the censor board to review the decision.
Shortly after, the catchy summer dance song "Despacito" was taken off state radio and television stations after complaints that the lyrics were obscene.
Costume concerns
For some years it has been getting more difficult for international pop stars who wish to make appearances in Malaysia. In 2013, a concert set to be performed by musical artist, Kesha, was banned. In the past, artists such as Beyonce have cancelled performances in Malaysia due to restrictions over costumes and dancing.
A concert by US pop star Selena Gomez was only allowed in July 2016 after assurances that she would cover herself up. But fear of trouble at the concert – PAS youth leaders protested outside the venue – kept many fans away and thousands of tickets were left unsold.
There have been no big Western acts so far this year, though British singer Ed Sheeran is expected to perform in Kuala Lumpur in November.
This weekend's Formula 1 Malaysian Grand Prix does not include major international pop stars as has usually been the case in recent years. Organisers denied this was due to recent controversies.
"You have to be very careful about the type of acts you book and make sure you comply with all the rules and even then, there's no guarantee it will be approved by the authorities," said Qisthina Razin, representative of Malaysian events organisation, Freeform.
Rizal Kamal, vice-president of the arts, live festivals and the arts association (Alife), a body representing event organisers, said Malaysian show producers have started moving out.
"Malaysian producers are going to Singapore and Indonesia due to problems in Malaysia," he said.
Choy said the bans are "denting the perception of Malaysia being a moderate and tolerant Islamic country".
Growing Islamisation
The impact of religious fundamentalism isn't just about Malaysia's image to the outside world. It also gnaws away at the country's multicultural and pluralistic fabric.
About 40% of Malaysia's population is non-Muslim, including Christians, Buddhists and Hindus.
Najib's approach risks empowering and legitimising conservative parties and organisations once only classified as extreme fringe groups. Such religious organisations are also in an increasingly strong position to influence the government and its policies. United Nations Special Rapporteur Karima Bennoune in her report last week expressed deep concern at the level of involvement of religious authorities in policy decisions.
She said some Malaysians have expressed concern about a growing Islamisation, which represented a "significant break with the past".
Bennoune expressed particular concern over bans regarding traditional Malay arts and restrictions on women performing in public in the northeastern state of Kelantan, which is governed by PAS.
Double speak
Najib has projected a global image of a moderate Muslim leader and has widely promoted himself as a key player in the fight against Islamic extremism.
In a meeting with US President Donald Trump last month, Najib said Malaysia is a partner in the US' fight against the Islamic State, and it will be a key player in promoting moderate Islam.
He has been largely silent during a series of recent religion-related incidents in Malaysia.
He did, though, comment this week after the owner of a laundromat in southern Malaysia apologised for barring non-Muslim users, a ban that had gone viral on social media and triggered condemnations by community leaders, including the Sultan of Johor.
"The government will remain committed to upholding the true Islamic teachings while protecting the interests of the other communities as demanded of Islam," Najib said in a statement late on Wednesday, state news agency Bernama reported.
Cynthia Gabriel, executive director for Kuala Lumpur-based group C4, said there is an urgent need to accept multi-culturalism again.
Full report at:
http://www.freemalaysiatoday.com/category/nation/2017/09/29/pop-concerts-to-snub-malaysia-as-muslim-hardliners-tighten-grip/
--------
5,000 Brimob personnel to guard Friday's anti-communist rally
September 28, 2017
At least 5,000 personnel from the police's Mobile Brigade command (Brimob) will be deployed to guard Friday's anti-communist rally in Jakarta.
"Some Brimob personnel [at the regional level] will be moved to Jakarta to strengthen the personnel here [in Jakarta]," National Police spokesman Insp. Gen. Setyo Wasisto said on Thursday as quoted by Tribunnews.com.
Setyo said the personnel would come from West Java, Banten, Central Java and East Java.
Thousands of people are set to participate in the rally, including members of conservative Muslim groups who rallied against former Jakarta governor Basuki "Ahok" Tjahaja Purnama in November last year.
The participants will protest against what they perceive as a revival of communism in the country.
They will also protest the newly-issued regulation in lieu of a law (Perppu) on mass organizations, which is being used as a legal instrument by the government to disband Hizbut Tahrir Indonesia (HTI), an Islamist organization that seeks to establish a global Islamic caliphate.
"We instruct [participants] to be peaceful at the rally," Setyo warned.
Full report at:
http://www.thejakartapost.com/news/2017/09/28/5000-brimob-personnel-to-guard-fridays-anti-communist-rally.html
--------
Pakistan
Pakistan ministry seeks ban on new party backed by prominent Islamist
SEPTEMBER 29, 2017
ISLAMABAD (Reuters) - Pakistan's interior ministry has called for the electoral commission to bar from politics a new party backed by an Islamist with a $10 million U.S. bounty on his head, a government document seen by Reuters showed on Thursday.
In a letter dated Sept. 22, the ministry recommended that the Election Commission of Pakistan reject the newly formed Milli Muslim League's (MML) application to become an official party as it is "affiliated" with Lashkar-e-Tayyeba (LeT), a militant group blamed for the 2008 Mumbai attacks that killed 166 people.
"The registration of MML is not supported," the ministry said in the two-page document.
Spokesmen for the election commission and the interior ministry acknowledged the correspondence and confirmed that the letter was authentic.
The United States has designated LeT founder Hafiz Saeed, who currently heads the Jamaat-ud-Dawa Islamic charity, a terrorist. It views him as the mastermind of the 2008 Mumbai attacks and has offered a $10 million reward for information leading to his imprisonment.
Saeed is currently under house arrest. Pakistan's reluctance to press charges against him has been a sore point in relations with Washington and India over the past decade.
The ministry said MML is "ideologically of the same hue" as LeT and its affiliated charities Jamaat-ud-Dawa (JuD) and the Falah-e-Insanyat Foundation (FIF).
Tabish Qayyum, a spokesman for the MML, said in a statement that the ministry's letter was unlawful.
"MML isn't a bus or truck which needs registration," he said, denying that MML had links with any banned militant group.
The ministry's stance appears at odds with what political sources and a retired army general have said is a plan proposed by the military's Inter Services Intelligence (ISI) to 'mainstream' some Pakistan-based anti-Indian militant groups as part of deradicalisation efforts by bringing them into politics.
The interior ministry's letter was written a week after MML caused a stir by winning 5 percent of votes in a parliamentary by-election in Lahore on Sept. 17.
The document said foreign countries have raised diplomatic objections to MML's existence and the interior ministry has sought the opinions of intelligence agencies on the group.
One of the agencies, the ministry said, has warned against letting proscribed and monitored organizations enter politics with a view to gaining legitimacy.
The interior ministry said the security agency has informed it that "given the clamour, philosophy, outreach and modus operandi to operate, it is difficult to believe that MML will tread its own path completely at variance with its mother organisation."
"Therefore, they have recommended that since the registration of such groups would breed violence and extremism in politics, as such registration of such groups be avoided."
In the Lahore by-election, Yaqoob Sheikh, who swears loyalty to Saeed, stood as an independent candidate but was backed by MML and had Saeed's colleagues running his campaign.
Saeed's portraits adorned posters promoting Sheikh, who the United States has also designated a terrorist and a senior LeT commander.
https://uk.reuters.com/article/uk-britain-politics-may/free-market-is-best-may-says-as-labour-closes-in-idUKKCN1C2331
--------
Saudi Arabia is true friend of Pakistan, says Saudi ambassador
Sep 29, 2017
ISLAMABAD: National Assembly Speaker Sardar Ayaz Sadiq said that the friendship between Pakistan and Saudi Arabia is deeply engraved on the hearts and minds of Pakistanis.
While addressing the ceremony held at the Saudi Embassy in Islamabad to mark the 87th anniversary of founding of the Kingdom of Saudi Arabia on Thursday, the speaker said, "The relationship between Saudi Arabia and Pakistan is not an ordinary relationship restricted to the formalities of the respective foreign offices, instead, it is an association deeply etched into the hearts and minds of people. We are bound in irrevocable ties of common faith, culture, history and heritage."
He said that both countries have maintained a time-tested relationship and have supported each other through thick and thin and
He said the Saudi investments in various projects in Pakistan and the services rendered by more than 2.6 million overseas Pakistanis in Saudi Arabia reflect our common interests.
"This relationship needs to be further strengthened to commensurate with the strong fraternal bonds existing between the two countries. An enhanced access for Pakistani exports to Saudi markets, to address the trade imbalance and accelerated Saudi investments under Vision 2025 in Pakistan would be the steps in the right direction," he added.
The Saudi ambassador, Nawaf Saeed Al Malkiy, expressed his heartfelt gratitude to the guests for observing the National Day of Saudi Arabia with an unparalleled compassion.
He said Pakistan has a special place in the foreign policy of the Kingdom and Saudi royal family has always treated Pakistan like its second home. He said the decades-long relations between the two countries reflected the historic, religious and cultural depth which would further deepen with the time.
The ambassador said that King Salman bin Abdel Aziz has always kept the interest and welfare of Pakistan at priority.
A cake was also cut to mark the national day celebrations as the hall echoed with the Saudi songs during the ceremony. The embassy staff also performed sword dance to mark the cultural and traditional aspect of the Kingdom.
The guests at the ceremony included Pakistan Muslim League-Q (PML-Q)chief Shujaat Hussain, former information minister Ali Durrani, Gilgit Baltistan Chief Minister Hafizur Rehman, Punjab Governor Rafique Rajwana, KP Governor Iqbal Zafar Jhagra, Senator Rehman Malik, Fardoos Ashiq Awan and many others.
Full report at:
https://www.pakistantoday.com.pk/2017/09/28/saudi-arabia-is-true-friend-of-pakistan-says-saudi-ambassador/
--------
Quetta: Gunmen kill Hazara Shia Muslim family members
Sep 29, 2017
Gunmen in southwestern Pakistan killed four members of a Shia Muslim Hazara family, in the latest apparent sectarian attack on the minority community, officials said.
Two men on a motorcycle opened fire on a family of eight while they were at a filling station some 30km north of Quetta, the capital of Pakistan's Balochistan province, late on Sunday.
Aside from those killed, two others were wounded. Two female members of the family escaped unscathed, having remained in their vehicle.
"This was a sectarian attack," senior police officer Tanveer Shah told the Reuters news agency, adding that no group had claimed responsibility for the shooting.
Hazaras are frequently targeted by the Taliban, the Islamic State of Iraq and the Levant (ISIL, also known as ISIS) group, and other Sunni Muslim armed groups in both Pakistan and Afghanistan.
Many Hazaras fled to Pakistan during decades of conflict in neighbouring Afghanistan, and nearly half a million now live in and around Quetta.
In 2013, three separate bombings killed over 200 people in Hazara neighbourhoods, raising international awareness of the plight of the community.
More than 20 Hazaras have been killed in similar shootings in Balochistan over the past two years, police say.
Full report at:
http://www.aljazeera.com/news/2017/09/gunmen-kill-sectarian-attack-pakistan-170911073842008.html
--------
Five Suspected Terrorists Killed in Police Shootout in Karachi
September 28, 2017
WASHINGTON —
Pakistan's Sindh province police on Thursday killed five suspected terrorists who had ties to al-Qaida and Islamic State terror groups in the southern port city of Karachi, according to provincial law enforcement officials.
Rao Anwaar, a senior provincial police official, told local media that the suspects were gunned down in a shootout with police who raided a compound believed to be housing terrorists near the Sachal neighborhood of Karachi.
"An important al-Qaida member, Amir Sharif, was killed in this shootout. The other four people killed were previously in Lashkar-e-Jhangvi, later switched to Tehrik-e-Taliban Pakistan [TTP], and lately they have joined Islamic State," Rao Anwaar told local Pakistani media.
Attack plans
The suspects were allegedly planning to target the city during the current Islamic month of Muharram when Shi'ite Muslims commemorate the death anniversary of Imam Hussain, the grandson of the prophet of Islam on the 10th day of the month. Some extremists consider the annual ritual as blasphemous.
According to local law enforcement authorities, Amir Sharif was an engineer by profession and found evidence that he was an expert in drone technology.
Sharif reportedly improvised an explosive-laden vehicle that operates without a driver. Authorities believe he was likely going to use it to attack Shi'ite mourners on the day of Ashura. Two militants were also arrested during the raid on the compound in Karachi. Police recovered three suicide jackets, one rocket, hand grenades and other explosive materials.
Youth extremism
In recent months, militants have increasingly become active in Karachi, the financial hub of Pakistan.
Ansar al-Sharia is a new al-Qaida-inspired militant group that claims to act as a platform for militants who have grown disaffected with the Islamic State militant group in the country. The group has recently emerged in Karachi.
The country's security officials are worried that young, highly educated students are increasingly being enticed by extremism.
"Unfortunately, according to the names that have come up in the investigation, their [Ansar al-Sharia] kill team has three young men who have masters [degrees] in applied physics," Major General Mohammad Saeed, the head of Rangers paramilitary security force in Karachi, told local media recently.
Speaking to VOA, Sanaullah Abbasi, chief of Sindh's counterterrorism department, expressed concerns about this emerging trend.
Full report at:
https://www.voanews.com/a/suspected-terrorists-killed-by-police-in-karachi/4049318.html
--------
Pakistan received 26 per cent fewer non-immigrant US visas in 2017
September 28, 2017
Nine months since US President Donald Trump first introduced travel restrictions, Pakistan received 26 per cent fewer non-immigrant visas in 2017 in comparison to its monthly average in fiscal year 2016, a detailed analysis by Politico revealed.
The number of non-immigrant visas granted to majority-Muslim countries also dropped when compared to monthly average in 2016 with 33 out of 48 countries seeing a decline while the remaining 15 saw an increase. For countries targeted in the travel ban, the figure dropped 44 per cent.
But the data provided by the US State Department only shows the number of visas issued, not the number of applications received – making it impossible to find out whether more applications were rejected or if Muslims were reluctant to apply in the first place.
Trump signs new travel ban, imposes restrictions on 8 countries
"The law does require you to err in the direction of refusing a case," said a US State Department official "It's possible that there were officers who were just harder to persuade and were being more cautious and refusing visas."
The visa issuance is closely monitored by US Homeland Security Department, intelligence and law enforcement agencies, who can issue a 'red light' to halt any application. The department remains committed to facilitating the legitimate travel for international business travelers while ensuring the security of the US borders," a US State Department official said.
According to Reaz Jafri, a New York City-based partner at the immigration law firm Withers Worldwide, many people from Muslim-majority countries were choosing not to come to the US, adding that he recently met several clients who "didn't want to go through the hassle."
"Besides denials, what you're seeing is increasingly people go through background checks under a process called administrative processing," said Jafri. "Business travelers, especially, they can't operate in that type of uncertain environment… so they're not travelling as much."
Earlier this week, the US added Venezuela and Chad to the list in an attempt to discourage it being labeled as a 'Muslim Ban'. The countries now include Iran, Libya, Somalia, Syria, Yemen, Chad, North Korea and Venezuela.
US Supreme Court reinstates Trump travel ban
The US Statement Department data showed Iran to have been hit the hard due to travel ban imposed by Trump administration with a 37 per cent decline.
"Students are being impacted, family members, fiancees," said Shayan Modarres, legal counsel for the National Iranian American Council. "This isn't keeping America safe or making America more safe. This is just hurting America, and it's self-inflicted damage."
Yemen and Syria saw steepest drops while Somalia was down to 42 per cent from March to August 2017. Iraq, which was removed from the original ban, and US's best ally in the Muslim world, Saudi Arabia saw drops of 26 and 11 per cent respectively.
As per the information compiled by Politico, a notable drop can be seen in the number of visas issued to people from Muslim-majority countries overall, not just the ones targeted in the ban.
A Los Angeles-based immigration attorney and former counselor with a decade-worth of experience at the US State Department, David Strashnoy said he had seen longer wait times for people from Muslim nations who have been flagged for administration processing. "I don't think it's a coincidence," he said, citing the administration's stated commitment to combating terrorism. "This is one of the ways that they're doing it, by vetting individuals from Muslim-majority countries more thoroughly than other countries."
Full report at:
https://tribune.com.pk/story/1518383/pakistan-received-26-per-cent-fewer-non-immigrant-us-visas-2017/
--------
NAB court dispatches Sharif family's arrest warrants to UK
29-Sep-17
ISLAMABAD/LONDON: The accountability court hearing corruption references against the Sharif family has dispatched bailable arrest warrants to deposed prime minister Nawaz Sharif's three children and his son-in-law's London residence address through Pakistan's High Commission in London.
Sources said that two copies of warrants for each of the accused were sent to the high commissioner. A copy of the warrants was also sent to their residence in Lahore.
Earlier, the accountability court had issued bailable arrest warrants for Nawaz Sharif's children Hassan, Hussain and Maryam along with his son-in-law Captain (r) Safdar over failure to appear before the in NAB references. The warrants were issued after Nawaz Sharif was granted permission by the court to leave for UK to attend his ailing wife, following his short appearance on September 26. The court also announced to indict the former prime minister on October 2 in cases pertaining to London flats and Azizia Steel Mills against the Sharif family.
The references were filed by the National Accountability Bureau (NAB) on the orders of the Supreme Court which disqualified Nawaz Sharif from holding public office on July 28 in the Panama Papers case.
Full report at:
http://dailytimes.com.pk/pakistan/29-Sep-17/nab-court-dispatches-sharif-familys-arrest-warrants-to-uk
--------
Pakistanis value ties with Saudi brethren: PM Abbasi
29-Sep-17
ISLAMABAD: Nawaf Saeed Al Malikiy, ambassador of Saudi Arabia to Pakistan, called on Prime Minister Shahid Khaqan Abbasi in Islamabad on Thursday. The PM congratulated Al Malikiy on his new assignment as ambassador to Pakistan.
The PM stated that Pakistan and Saudi Arabia enjoyed very close relations that were marked by close brotherly relations, commonalities views on all issues of mutual interest at regional and international level. The PM said that the people of Pakistan deeply valued their strong bonds with the Saudi brethren.
"We would welcome Saudi investment in Pakistan under vision 2030, especially in the energy, infrastructure and agriculture sectors," he said. He emphasised that Pakistan offered attractive investment regime that guaranteed equal treatment of foreign and domestic investments and ensures a liberal foreign exchange regime and one window operation. The PM conveyed his good wishes for the Custodian of the Two Holy Mosques His Majesty Salman Abdulaziz Al-Saud. Nawaf Saeed Al Malikiy congratulated the PM on assuming the office and expressed the desire to further strengthen bilateral relations. He underscored the potential for enhancing bilateral trade between the two countries and assured his full support in this regard.
Sindh governor: Sindh Governor Muhammad Zubair called on Prime Minister Shahid Khaqan Abbasi at PM Office.
Full report at:
http://dailytimes.com.pk/pakistan/29-Sep-17/pakistanis-value-ties-with-saudi-brethren-pm-abbasi
--------
Arab World
Muslim Brotherhood supreme guide sentenced to life in Egypt
Sep 28, 2017
An Egyptian court on Thursday sentenced banned Muslim Brotherhood supreme guide Mohamed Badie and three others to life in prison for planning attacks against the country by inciting chaos and violence.
On August 14, 2013, Egyptian security forces raided protest camps at Rabaa al-Adawiya square and al-Nahda square in Cairo. The sit-ins were being held by supporters of Mohammed Morsi who had been ousted as president a month earlier. At least 800 and possibly many more were killed that day.
Badie, the supreme guide of the banned outfit, and three other Brotherhood members were convicted of setting up an "operation room" to direct their supporters as part of plans to defy the state and spread violence and chaos, following the dispersal of Rabaa and Nahda sit-ins in August 2013 by police.
Ninety-three defendants are also being tried for inciting chaos and violence.
The court also sentenced 12 defendants to life in prison in absentia and 77 to 15 years of intensive prison. One defendant died before the trial so his charges were dismissed.
Since Morsi's ouster in 2013, the Egyptian government has launched a crackdown on the Muslim Brotherhood and its supporters. The Muslim Brotherhood was designated as a terrorist organisation in November 2013 by the Egyptian government.
Some 22,000 people have been arrested, including most of the Brotherhood's leaders, since Morsi's ouster in July 2013.
Morsi is in prison over charges of killing peaceful protesters, espionage and escaping from prison during the January 25 Revolution in 2011 that toppled Egyptian strongman Hosni Mubarak.
http://www.hindustantimes.com/world-news/muslim-brotherhood-supreme-guide-sentenced-to-life-in-egypt/story-RZ5XYJOgoosY5wqUJSf5fL.html
--------
US verifying Baghdadi recording, but says 'no reason to doubt' authenticity
28 September 2017
The United States is still trying to verify a purported recording of ISIS leader Abu Bakr al-Baghdadi, who had been rumored to be dead, but suggested audio released Thursday could well be real.
"We are aware of the audio tape purported to be of Abu Bakr Al-Baghdadi and are taking steps to examine it," an intelligence community source said in statement to AFP.
"While we have no reason to doubt its authenticity, we do not have verification at this point." Thursday's was the first audio message said to be of Baghdadi since November 2016.
It was not clear when the message released by the ISIS-affiliated Al-Furqan media group was recorded.
In it, the apparent ISIS leader lashed out at "infidel nations headed by America, Russia and Iran" who, along with their allies, have inflicted losses on the militants during separate anti-ISIS offensives in Syria and Iraq.
Full report at:
https://english.alarabiya.net/en/News/middle-east/2017/09/28/Baghdadi-remerges-with-new-speech-calling-on-followers-to-be-patient-and-strong-.html
--------
ISIL Attempting to Maintain Remaining Occupied Areas in Deir Ezzur
Sep 28, 2017
An informed source confirmed on Thursday that the ISIL has changed its high-ranking commanders in Deir Ezzur after the army succeeded in breaking the siege on Deir Ezzur city and rapidly advanced in several fronts in the region.
He added that the ISIL has given its sensitive posts to the Syrian nationals in Deir Ezzur to persuade them to remain in the region after its foreign members fled from the two towns of Albu Kamal and al-Mayadeen in Southeastern Deir Ezzur.
According to the source, the ISIL has appointed Saddam al-Jamal, a Syrian national, as the commander of a number of Tunisian members to defend the terrorist group's positions in Albu Kamal and participate in imminent clashes with the army forces.
On Wednesday, the Syrian Army troops, backed up by the country's Air Force, repelled ISIL's heavy offensive on the pro-government forces' positions in the Southeastern outskirts of Deir Ezzur city, inflicting major losses on the terrorists.
The army units engaged in fierce clashes with ISIL and warded off the terrorists' attack on their positions in Huweija Sakar region, killing or wounding a number of militants and destroying their equipment.
Also, the army men targeted and destroyed a bomb-laden vehicle of ISIL before hitting their positons in Huweija Sakar.
Full report at:
http://en.farsnews.com/newstext.aspx?nn=13960706000570
--------
Key Terrorist Group Defects Tahrir Al-Sham in Hama
Sep 28, 2017
The Arabic-language al-Ahd news website quoted media sources affiliated to the terrorists as saying on Thursday that Shohada al-Ghab Brigade has defected Tahrir al-Sham terrorist group in Northern Hama.
It added that Shohada al-Ghab was one of the biggest terrorist groups affiliated to Tahrir al-Sham deployed in the Northern parts of Hama.
Relevant reports said earlier this month that one of the largest terrorist groups in Idlib defected Tahrir al-Sham Hay'at as widening rifts and tensions among commanders.
Jeish al-Ahrar terrorist group led by Abu Saleh Tahan declared in a statement that it has defected Tahrir ah-Sham in Idlib.
The statement added that Jeish al-Ahrar decided to leave its bonds with Tahrir al-Sham after audio files leaked in recent days disclosed widening rifts among the commanders of the Al-Nusra Front (Tahrir al-Sham Hay'at or the Levant Liberation Board).
Full report at:
http://en.farsnews.com/newstext.aspx?nn=13960706000795
--------
ISIL's Attempt to Flee Eastern Hama Fails Again
Sep 28, 2017
The army units repelled ISIL's attack on their positions in Wadi al-Azib region in Eastern Hama on Thursday. The terrorists sought to find a way out towards regions controlled by al-Nusra Front (Tahrir al-Sham Hay'at or the Levant Liberation Board) in Southern Idlib and Northern Hama.
The army soldiers inflicted a number of casualties on ISIL terrorists and forced the remaining militants to retreat.
Also, the Syrian and Russian fighter jets launched massive attacks on ISIL positions and moves in the villages of Sarouj, Ibn Wardan Palace and Abu Hanaya in Eastern Hama, killing a large number of terrorists and destroying their military equipment.
Meantime, the Russian Defense Ministry reported on Wednesday that five notorious field commanders of Al-Nusra Front, who led an attack on the Russian military police officers in Hama province earlier this month, were killed in an airstrike in Idlib province in Syria, .
The airstrike targeted the commanders of Tahrir al-Sham, a group that was formed after the collapse of Al-Nusra Front terrorist organization, near the city of Idlib, Defense Ministry Spokesman Igor Konashenkov said.
Also, 32 militants were killed in the strike, the spokesman said.
The attack on the Russian military police took place in Hama province, 80km from Idlib, on September 18, Konashenkov said.
Full report at:
http://en.farsnews.com/newstext.aspx?nn=13960706000546
--------
Syrian Army Regains Control of Key Region in Eastern Homs
Sep 28, 2017
The army soldiers clashed with the ISIL terrorists in Eastern Homs on Thursday, winning back control of the village of Shuwaiheh in the Northeastern parts of Job al-Jarah region.
A military source said that less than 25 regions of Eastern Homs have remained under the ISIL occupation after the army's recent advanced in Central Syria.
The Syrian army troops had also on Wednesday hit ISIL's defense lines in the Central part of the war-hit country, imposing control over four more villages.
The army men drove ISIL out of the villages of al-Qazileh, al-Rak, Um Huweish and Safiyeh Northeast of Jubb al-Jarah in Eastern Homs.
The army units tightened noose on the ISIL in the Central Syria after their recent advances in Eastern Homs.
Also on Wednesday, the Syrian Army troops continued their operation against ISIL in Eastern Homs, driving terrorists out of three more key villages in the Central part of the war-hit country.
The army men stormed the remaining regions still under ISIL's control in Jubb al-Jarah and captured the villages of Um al-Sous, al-Kharafish and Rasm al-Arnab.
A field source said that a large number of terrorists were killed and ISIL's military equipment was destroyed in the attack.
Full report at:
http://en.farsnews.com/newstext.aspx?nn=13960706000673
--------
US willing to 'facilitate' talks between Baghdad, Kurds
29 September 2017
Washington is willing to "facilitate" talks between Baghdad and Iraq's Kurdish region to calm soaring tensions surrounding a controversial independence referendum, the US State Department said Thursday.
Iraqi Kurds overwhelmingly chose independence in a non-binding vote on Monday, drawing condemnation from Baghdad and neighboring countries.
"If asked, we would be willing to help facilitate a conversation between the two" sides, State Department spokeswoman Heather Nauert told journalists in Washington.
Calm on all sides
"We would like to see some calm on all sides," Nauert said, noting that the US had opposed the referendum "because we thought it would be destabilizing."
The fallout from the vote has so far been largely political, though a flight ban Baghdad plans to impose on Kurdistan from Friday will take an economic toll as well.
The US-led coalition against the ISIS group has also said that the referendum has taken focus away from the war against the militants.
Full report at:
https://english.alarabiya.net/en/News/middle-east/2017/09/29/US-willing-to-facilitate-talks-between-Baghdad-Kurds.html
--------
Syria writes to UN again to urge end to US 'war crimes'
Sep 28, 2017
Syria has written to the UN again, urging the world body to take immediate action against a US-led bombing campaign, which is taking a heavy toll on civilians and devastating the country's infrastructure.
In two letters addressed to the UN chief and the Security Council chairman, the Syrian Foreign and Expatriates Ministry has denounced repeated US attacks on civilians and the country's infrastructure.
The letters cited a deadly US airstrike on al-Suwar town in eastern Dayr al-Zawr Province on Wednesday and a similar air raid on Markadah town in the northwestern Hasakah Province, which killed a number of civilians.
The ministry accused the US of being engaged in "war crimes and crimes against humanity" in Syria under the pretext of fighting Daesh.
Damascus also regretted that some countries, which claim to respect human rights and international law, are members of the US-led coalition, urging them to leave an alliance that has marred their reputation and "shed plenty of the Syrians' blood in their name."
In the letters, Syria demanded a swift action by the UN Security Council to stop "barbarous crimes" and "gross violations" of international humanitarian law by the US and its allies.
The US and its allies have been bombing Syria since September 2014. The strikes have resulted in many civilian casualties and failed to fulfill their declared aim of countering terrorism.
'Dayr al-Zawr to be retaken in a week'
On Thursday, fighting raged on in Dayr al-Zawr, with one Syrian army officer saying the strategic city will be recaptured from Daesh in a week.
Terrorists, he said, were using heavy weapons, explosive-laden vests and car bombs to slow army advances, which have gained momentum in recent months.
"The city of Dayr al-Zawr will be liberated in a week at the most and we'll free some of the suburbs too," the officer identified only as Ibrahim added.
"The cost will undoubtedly be high… It's a challenging battleground. From dense urban areas to lush river banks and even trenches," he said.
Earlier this month, Syrian government forces broke the three-year-long Daesh siege on Dayr al-Zawr.
With Daesh's defense lines broken, a ragtag grouping of mostly Kurdish militants supported by the US has also been on the march in a bid to carve out a foothold in the oil- and gas-rich province.
Full report at:
http://www.presstv.ir/Detail/2017/09/28/536794/Syria-UN-US-Dayr-alZawr
--------
India
Freed From Islamic State's Captivity, Kerala Priest Prays For His Captors
Sep 28, 2017
NEW DELHI: Not in the least angry with his captors, Father Tom Uzhunnalil, who was released by Islamic State terrorists from an undisclosed location in Yemen, said on Thursday that he prays to God that He be gracious to them.
"I pray for those who kept me...that god may realise how they took care of me, in as much as they gave me food, in as much as they did not hurt or torture me," Father Tom told reporters here. Earlier in the day, he also met Prime Minister Narendra Modi.
Kerala priest Father Tom was released earlier this month by his captors after more than 18 months. He was kept blindfolded for most part during his captivity and held at more than one location.
"God be gracious to them... There's goodness in all of us," he said.
When asked by a reporter whether he was suffering from "Stockholm Syndrome", he said he didn't know what it meant. Nor did he know, he said, whether the people who held him captive were from the terrorist group ISIS.
Stockholm Syndrome refers to a feeling of trust or affection felt in many cases of kidnapping or hostage-taking by a victim towards a captor.
He also said that he doesn't have any clue if any ransom was paid for his release.
The priest, who had flown first to the Vatican City after his freedom before coming to India, said he never felt scared for a moment during his confinement.
"Thank god I never cried. I never shivered. I never thought I was going to be killed in this moment or next... He will never abandon us provided we fulfil the mission he has chosen for us," he said.
"Nothing will happen without His (God's) knowledge, whether pleasant or painful. He must be permitting it... Only he knows what it means... Through this experience, I have come to realise that I belong to the world," he added, saying he was grateful to all who prayed for his wellbeing and freedom.
In March 2016, militants had barged into the care home for the elderly set up by Mother Teresa's Missionaries of Charity in Yemen's Aden and shot dead many, including four nuns, among whom one was from India.
Father Tom was the only one who was taken away by the terrorists and held in captivity by them till he was released.
http://timesofindia.indiatimes.com/india/freed-from-islamic-states-captivity-priest-prays-for-his-captors/articleshow/60874555.cms
--------
Bajrang Dal disrupts interfaith couple's marriage in Meerut
SEPTEMBER 28, 2017
An interfaith couple, whose attempt to register their marriage was disrupted by Bajrang Dal workers on Wednesday, were produced before a court in Faridabad on Thursday but were let off after the woman testified that she was not abducted as alleged by her uncle.
Krishna, 21, who hails from Greater Noida, said she had gone to Meerut with Saddam, a 24-year-old labour contractor from Shamli, out of her own volition. They planned to register their marriage at a court there.
But before they could do so, Bajrang Dal workers reached the court premisesand tried to attack Saddam. The police lathicharged the Bajrang Dal activists when they turned on the policemen protecting the couple.
Superintendent of Police Man Singh, told The Hindu that the Meerut police handed over the couple to the Haryana police, who had arrived in Meerut looking for them.
According to the Faridabad police, Krishna who is second-year BA student at the K.L. Mehta Women's College, became friends with Saddam three years ago when she was pursuing B.Tech from an institute in Greater Noida.
But the two remained in touch even when she dropped out of her engineering course midway to go and live with her uncle, who is a head constable in Delhi police.
Facilitating 'love jihad'
After Krishna eloped with Saddam on Wednesday, her uncle reported the matter to the police and a case was registered under Section 346 (wrongful confinement) of the Indian Penal Code at the SGM Police station in Faridabad.
The coordinator of the Bajrang Dal in western Uttar Pradesh, Balraj Dungar was furious with the police for "not cooperating" with his group. He accused the police of facilitating "love jihad".
"We are proud that we did not let a Muslim boy manipulate a Hindu girl into marrying him. We would never let Muslim boys marry Hindu girls," Mr. Dungar told The Hindu.
This is the second attack of its kind on inter-religious couples. It comes four days after a similar incident occurred in Hapur in western U.P., where Sangh Parivar workers tried to assault an inter-religious married couple living together in a rented accommodation.
Police had to resort to lathi charge to disperse the mob that tried to snatch the man while they were escorting the two to safety.
Full report at:
http://www.thehindu.com/news/national/other-states/bajrang-dal-disrupts-interfaith-couples-marriage-in-meerut/article19769190.ece
--------
NIA focus on 32 Kerala 'conversions'
SEPTEMBER 28, 2017
Probe into cases of Hindu women allegedly 'lured' to convert, marry Muslim men
The National Investigation Agency (NIA) said it was scrutinising over 30 cases in Kerala where Hindu women were allegedly lured, forced to convert to Islam and marry Muslim men.
NIA had asked the Kerala police for details of forced conversions at Therbiyathul Islam Sabha in Kozhikode, a religious centre authorised by the Kerala government.
An NIA official said the State police sent the details of 92 cases but in the initial phase, the agency was concentrating only on 32 cases, which involved Hindu women.
Akhila-Hadiya case
Supreme Court had last month asked the federal anti-terror agency to investigate the case of Akhila Asokan alias Hadiya, a 25-year-old Hindu woman, who converted to Islam and married a Muslim man.
Akhila's parents had moved the Kerala High Court in 2016 alleging that she was radicalised and converted to Islam and forcibly married to a Muslim man. The High Court annulled the marriage and Akhila's husband Shafin Jahan moved the Supreme Court, which in turn asked the NIA to investigate the 'love jihad' case.
The NIA submitted a preliminary report in the apex court saying there was an "organised effort" behind the conversion. However, the NIA has not questioned Akhila even once. She had earlier told the Kerala police that she converted to Islam and married Shafi Jahan on her own.
The NIA had mentioned that Akhila's case was similar to that of Athira Nambiar, another Hindu woman who converted to Islam at the religious centre in Kozhikode. Athira's parents had moved a habeas corpus petition in the Kerala High Court against the conversion and the court had asked the NIA to probe the matter. The woman has since returned to her parents. "The Kerala police has provided us the details of forced conversions. As of now we are scrutinising 32 cases which involves Hindu women who converted to Islam and married Muslim men. We have to unearth the entire racket as we have been asked by Supreme Court to do so and Kerala Police registered FIRs in all these incidents based on a complaint by family members," said an NIA official.
Focus on activist
In both the cases of alleged forced conversions, the NIA named a woman named Sainaba, an activist of the Social Democratic Party of India, the political arm of the Popular Front of India (PFI).
An NIA official said it had sent details of four terror cases where members of PFI were involved as the Centre was considering a ban on the outfit.
Full report at:
http://www.thehindu.com/news/national/nia-focus-on-32-kerala-conversions/article19772187.ece
--------
Governments supporting terrorism inviting suicide: India
Sep 28, 2017
BISHKEK/NEW DELHI: In a veiled reference to Pakistan, India on Thursday said that governments which offer sanctuary to terrorists are sending an invitation to suicide.
In his keynote address at a conference on "Islam in a Modern Secular State" in Bishkek, Kyrgyzstan, Minister of state for External Affairs M.J. Akbar said that faith-based terrorists are anti-modern and challenge the nation state, which is the principal building block of the architecture of contemporary stability.
"They believe in faith based space, not nations. They are a danger to Kyrgyzstan as much as to Iraq or Mali or Somalia or India," Akbar said.
"Governments who offer sanctuary to this evil are sending an invitation to suicide," he said. "They are as guilty as terrorists."
Stating that terrorists target human anxiety and coexistence, he said: "They use fear, induced by havoc, to build walls of fear in societies that live by civilisational values of harmony across differences of faith and ethnicity. Terrorists offer despotism as an alternative."
Though Akbar said that terrorists would lose the war they have begun, he stated that the war was far from over.
"It is a war that must be fought not just on the ground, but also in the mind."
Akbar said that it is time "to address a pernicious and extremely dangerous phenomenon that has arisen among some Muslim communities: the doctrine of faith supremacy, with its barbaric overtones of terrorist violence, ethnic cleansing and as a collateral disease, gender oppression".
"Let us be clear. There are no ifs and buts to justify this horrific danger. Long before the terrorists who spread havoc in the name of faith supremacy damage any imagined or manufactured enemy, they are grievously wounding the very essence of Islam, which is, as its name itself, a mission of peace," he stated.
"Islam is a brotherhood, not a nationhood; it is a humanitarian philosophy, not a tool of self-destructive fantasists."
Akbar described today's big challenge as the conflict between faith supremacists and those who believe in faith equality.
Describing acquisition of knowledge as an important principle of modernity, he said that from its its earliest days, Islam spread through regional battlefields, but its true consolidation came only when Muslim communities sought and reached the forefront of knowledge.
Full report at:
http://economictimes.indiatimes.com/news/defence/governments-supporting-terrorism-inviting-suicide-india/articleshow/60869495.cms
--------
Pak Taliban Chief The Jailed Jihadi In Jadhav Swap Talk?
Omer Farooq Khan
Sep 29, 2017
ISLAMABAD/NEW DELHI: Ever since Pakistan foreign minister Khawaja Muhammad Asif's claim that the Afghan NSA had offered a terrorist involved in the 2014 attack on Army Public School, Peshawar, Proposal made to swap Kulbhushan Jadhav for terrorist: Pak minister arrested in Pakistan for alleged espionage, speculation has grown about the identity of the terrorist.
Speaking at the Asia Society in New York, Khawaja said on Wednesday, "The (Afghan) national security adviser told me we can exchange him (Peshawar attacker) for the terrorist you have, which is Kulbhushan Jadhav," Asif said. It was not immediately clear when the Afghan NSA made the offer.
According to some media reports, Afghan forces have captured Tehrik-e-Taliban Pakistan (TTP) chief Mullah Fazlullah. A source said the Afghan NSA could have been hinting at swapping Fazlullah, wanted in Pakistan, in exchange for Jadhav
An analyst said if the proposal for such a swap was confirmed by authorities in Kabul, it would mean a big success for Pakistan's narrative about an alleged India-Afghanistan nexus to destabilise Pakistan+ . India and Afghanistan have dismissed the allegation. However, with sources in the ministry of external affairs claiming no knowledge about the identity of the terrorist, there is a view that Khawaja could be tossing up a red herring. Besides, the alleged perpetrators of the attack have been accounted for, according to Pakistan.
Two days after the Peshawar school massacre that killed more than 150 people+ , including 132 children, a video was released by TTP on its website, with a group commander, Umar Mansoor, claiming to have planned the attack.
Pakistani officials had then stated that the attack was planned by Saddam Jan, the commander of a Taliban faction, and that he was instructed by Mansoor on behalf of TTP chief Fazlullah. In December 2014, Jan was killed in a shoot-out with Pakistani forces. In July 2016, the Pakistan army's media wing and Pentagon confirmed Mansoor was killed in a US drone attack in Afghanistan.
Full report at:
http://timesofindia.indiatimes.com/india/pak-taliban-chief-the-jailed-jihadi-in-jadhav-swap-talk/articleshow/60876543.cms
--------
India and Afghanistan sign MoU on police training
Sep 29, 2017
NEW DELHI: Expanding their security ties, India and Afghanistan signed an MoU for technical cooperation on police training and development after a meeting between PM Narendra Modi and visiting Afghan Chief Executive Abdullah Abdullah on Thursday .In the meeting, Modi and Abdullah, who is on a two-day visit to India, reaffirmed the strength and closeness of the multifaceted strategic partnership between India and Afghanistan, the MEA said in a statement.
"They welcomed the accelerated cooperation, including through the recent announcement of a New Development Partnership during the meeting of the bilateral Strategic Partnership Council in New Delhi. They discussed enhancing bilateral economic and development cooperation and the abundant opportunities in this regard," it said.The Union cabinet chaired by Modi had approved the MoU on Wednesday .
Full report at:
http://timesofindia.indiatimes.com/india/india-and-afghanistan-sign-mou-on-police-training/articleshow/60877142.cms
--------
NIA summons Independent J&K MLA in terror funding probe
Bharti Jain
Sep 29, 2017
NEW DELHI: The NIA has summoned Sheikh Abdul Rashid alias Engineer Rashid, an Independent MLA in Jammu & Kashmir, on October 3 for questioning in the terror-funding case. Rashid, who represents the Langate constituency, is the first mainstream politician to figure in the case that has so far seen the arrest of 10 Hurriyat-linked suspects.
According to NIA sources, Rashid, known for making controversial statements on the floor of the assembly, including in support of a plebiscite and sympathising with Hizbul Mujahideen and Zakir Musa (of Ansar Gazawatul-Hind, al-Qaida's Kashmir cell), came under the scanner during the agency's probe into the links of Kashmiri businessman Zahoor Ahmad Watali, one of the 10 people arrested in the case.
Watali is believed to be the chief financier of Rashid's political and electoral activities.
In fact, during the last J&K elections, Watali had not only funded Rashid's political campaign, but also those of four to five other candidates fielded by him. However, no one other than Rashid could win.
"Watali has been providing funds to support Rashid's political career. We suspect that these funds may have come from sources in Pakistan. Rashid is known for his pro-Pakistan views, and we believe Pakistan-based elements may be routing terror funds to him through Watali to articulate such views," a senior NIA officer told TOI.
The NIA has reportedly got a trail of some terror funds handed over by Watali to Rashid, and now wants to interrogate the latter on the same. Rashid has denied any involvement in the case.
The J&K terror-funding case was registered by the NIA on May 30 against separatists who have allegedly been conniving with active militants of proscribed terrorist organisations Hizbul Mujahideen, Dukhtaran-e-Millat, Lashkare-Taiba and other outfits and gangs, officials said.
The case pertains to the raising, receipt and collection of funds through various illegal means, including hawala, to fund separatist and terrorist activities in Jammu & Kashmir, and cause disruption in the Valley through stone-pelting targeted at the security forces, burning of schools, and inflicting damage on public property, according to the NIA's FIR.
Full report at:
http://timesofindia.indiatimes.com/india/nia-summons-independent-jk-mla-in-terror-funding-probe/articleshow/60876802.cms
--------
J&K separatist leaders barred from seminar at Geelani's house
September 29, 2017
Separatist leaders Mirwaiz Umar Farooq and Yasin Malik were on Thursday barred by authorities from participating in a seminar at the residence of Syed Ali Shah Geelani.
A spokesman said that police arrived at the Nigeen residence of Hurriyat chairman Mirwaiz Umar Farooq and placed him in detention. He later tweeted, "Placed under #HouseArrest as i was about to leave for a seminar at Geelani Sb's house to pay tributes to #ImamHussain(RA)& MartyrsOfKarbala".
An official said, "Malik reached outside the residence of Hurriyat (G) chairman Syed Ali Geelani in Hyderpora where the seminar was being held. He was not allowed to enter and was asked to leave."
Full report at:
http://indianexpress.com/article/india/jk-separatist-leaders-barred-from-seminar-at-geelanis-house-4866339/
--------
South Asia
Bangladeshi bishops visit Rohingya camps, promise aid
September 28, 2017
Senior church officials have called for greater "humanity and solidarity" with Rohingya refugees in Bangladesh and pressed for a "lasting solution" to the crisis.
Cardinal Patrick D'Rozario of Dhaka and Archbishop Moses M. Costa of Chittagong, visited refugee camps in southeastern Cox's Bazar and Bandarban this week.
Over 430,000 Rohingyas have fled to Bangladesh following a deadly military crackdown in Myanmar's Rakhine State in response to Rohingya militant attacks on security check posts Aug. 25.
The refugees are now sheltering in 14 camps in Cox's Bazar and Bandarban, just across from Rakhine state in Myanmar.
Cardinal D'Rozario visited the refugee camps in Bandarban on Sept. 24. He met with refugees, listened to their tales of violence in Rakhine, their pressing needs and assured them of the local church's support.
On behalf of the Bangladesh church and bishops, they donated 1 million taka (US$12,500) for refugees through the chief government officer in Bandarban.
"I met refugees, not to distribute relief material but to express the church's solidarity and support. Their tales of persecution have saddened me and I assured them that the church will be with them in every possible way," Cardinal D'Rozario, president of the Catholic Bishops' Conference of Bangladesh told ucanews.com after the visit.
"This is a massive human catastrophe and Bangladesh was not ready to cope with it in the first place. Now things are under control, but the refugees need much support," said Cardinal D'Rozario.
A "lasting solution" to the Rohingya crisis is a must, but it should not distract from the "prime call of duty" to respond to the humanitarian needs of refugees, he said.
"No doubt, Rohingya have faced horrific persecution in Myanmar but it's not a time for vilification. First, we need to fulfill their basic needs, and then we should go for a permanent solution to end this crisis," he said.
Archbishop Moses M. Costa of Chittagong, whose archdiocese covers both Cox's Bazar and Bandarban, in a Sept. 25 statement said that "the brutal attack on civilian children, women and men in the name of action against militancy is fully unjust."
"On behalf of the church in Chittagong, I also express our stand against the violence against humanity in Rakhine, Myanmar. Catholics of Chittagong are urging a stop of this ethnic cleansing operation and take back the refugees from Bangladesh with proper dignity as Myanmar nationals," Archbishop Costa said.
Senior officials from Caritas accompanied both prelates during the visits.
"We have received necessary funds from donors and got government approval to launch field operations, so it will start soon," Ranjon Francis Rozario, Caritas' executive director told ucanews.com.
During the first phase, Caritas will offer food items — including rice and wheat, and utensils to some 14,000 refugee families, Rozario said.
UNICEF has also sought Caritas' help to ensure basic education for Rohingya children, he said.
"International aid groups are looking for capable partners and this broadens scope for Caritas to undertake maximum effort to help this distressed community," Rozario said.
http://www.ucanews.com/news/bangladeshi-bishops-visit-rohingya-camps-promise-aid/80382
--------
Pope's mission to Myanmar will focus on peace for all
September 28, 2017
While the tragic plight of the Rohingya has grabbed the world's attention, Myanmar's first cardinal has said the upcoming visit of Pope Francis to Myanmar is aimed broadly to help bring peace and reconciliation to all levels of one of Asia's most conflict-ridden countries.
In an interview with ucanews.com, Cardinal Charles Maung Bo of Yangon revealed that the pope will consider the totality of the country's challenges including the tragic exodus of over 500,000 Rohingya from Rakhine State, the 120,000 people, many Christians, trapped in displaced persons camps in Kachin and Shan states as well as other mainly Christian groups in camps across the Thai border.
For years, Cardinal Bo has been something of a lone voice in Myanmar in his warnings about the human rights situation of the Rohingya especially regarding human trafficking that saw unknown thousands of Rohingya perish in so-called death camps in remote areas of Thailand and on packed, unseaworthy vessels.
Since then he has urged the Myanmar government to act before terrorism reached Rakhine State.
But despite both his and the pope's well-known advocacy for the Rohingya, Cardinal Bo has admitted that headline stories linking the pope's visit with the snowballing Rohingya crisis has added a degree of difficulty to the visit.
Even the pope's brief public support for the Rohingya triggered a barrage of nationalist–soaked criticism across Burmese language social media of the pope and Catholics and Christians in general.
"If we say that the pope's visit is mainly on the Rohingya issue, it is out of context," Cardinal Bo said, explaining that the country's modern history has been tragic.
Since independence from Britain in 1948 the country has been wracked by civil wars. The military has fought more than half a dozen of its biggest ethnic minorities, including the ethnic Rakhine who are Buddhists, that the military now says it is protecting.
Myanmar's difficult path to peace and the relentless economic problems of a country emerging from decades of neglect were at the center of de facto leader Aung San Suu Kyi's recent attempt to explain her government's inaction on the Rohingya crisis to international diplomats.
In his interview, Cardinal Bo made it clear that Pope Francis understood the realities of Myanmar's political situation and that it was not his job to interfere.
"The problem will not be solved just by the Holy Father commenting on the Rohingya. Criticizing the military and the government may be counterproductive," Cardinal Bo said.
"We cannot allow the pope to make comments and then leave with the church in opposition with the military, the government and the Buddhist community," he said.
But Cardinal Bo was sure that the pope would address the Rakhine crisis and the ongoing civil war in Kachin in ways acceptable to Myanmar's authorities, the military and the Buddhist majority.
"The pope's motto is love and peace: love means among the ethnic groups, among the religious people and the majority Buddhist and other religions, peace means to end decades-long civil wars which are still raging in the country's north," Cardinal Bo said. "The problem of Rohingya is certainly a great problem. Yet one must address it in the wider situation of the issues of all people," he said. "To reduce his visit only to address one problem will put the aims and objectives of this visit out of focus and will be very counter-productive."
Cardinal Bo was keen to impress upon the international community the complex and delicate power sharing reality that Suu Kyi has with the nation's military.
"We are two parallel governments," he said.
The military rigged the 2008 constitution in its favor, trapping the civilian government with responsibility but little real power outside the economy and government services.
"They (the international community) don't really understand the real situation. Suu Kyi is facing a tightrope and no one could doubt she sacrificed her life and she is filled with integrity," Cardinal Bo said.
"Her main obstacle is dealing with the military and the road she walks is slippery and difficult," he said.
Making the Myanmar choice
Cardinal Bo said that, despite 40 standing invitations from various governments to visit their countries, Pope Francis asked if he could travel to Myanmar. The request followed the realization that India's Hindu-nationalist government was mishandling arrangements for a planned trip there.
The cardinal had to take the request to the country's de-facto leader Aung Sa Suu Kyi who replied with a positive response within a week. Cardinal Bo described the time frame as so tight that the Vatican had to press, successfully, for a formal presidential invite.
But this could not have occurred without the opening of diplomatic relations between the Holy See and Nay Pyi Taw for the first time in May this year, the cardinal explained.
The pope is focused on Asia, home to hundreds of millions of followers of each of the world's four big religions Christianity, Islam, Hinduism and Buddhism, he said.
In the region, religious persecution abounds but so does growth in church numbers in many country's despite Catholicism being a minority faith in every nation except the Philippines and Timor-Leste.
"Pope Francis is focusing on minorities, those at the margins and Catholics in Bangladesh and Myanmar are minority groups," Cardinal Bo said.
Full report at:
http://www.ucanews.com/news/popes-mission-to-myanmar-will-focus-on-peace-for-all/80359
--------
12 Afghan soldiers killed in suicide attack
Sep 29, 2017
KANDAHAR - At least a dozen Afghan security forces were killed when a suicide attacker driving an explosives-packed Humvee blew himself up in the southern province of Kandahar, police said Thursday.
The Taliban claimed the deadly assault on the government and police headquarters in Maroof district that also wounded several others. "Twelve security forces were killed and four others were wounded," Kandahar police spokesman Zia Durrani told AFP.
Durrani said the Taliban attackers had been "defeated".
A border police commander in Maroof, which borders Pakistan, gave a slightly higher toll, telling AFP that 14 security personnel had been killed and eight wounded in the attack that happened late Wednesday.
"The intensity of the blast caused damage to the building and led to casualties," he said.
"The clean-up operation is under way in the area."
The attack is the latest deadly assault by the Taliban, which has been on the offensive since US-led NATO combat troops withdrew in 2014 and now controls swathes of territory across the country.
During a high-profile visit by US Defense Secretary Jim Mattis and NATO chief Jens Stoltenberg to the Afghan capital Kabul on Wednesday, insurgents launched a volley of rockets near the city's international airport.
Full report at:
http://nation.com.pk/international/29-Sep-2017/12-afghan-soldiers-killed-in-suicide-attack
--------
Explosion leaves 19 dead, wounded in Kabul city
Sep 28 2017
An explosion took place in Kabul city earlier this evening leaving at least nineteen people dead or wounded.
According to the security officials, the incident took place at around 6:30 pm local time in the vicinity of the first police district of the city.
The ministry of interior spokesman Najib Danish confirmed the incident and said a magnetic mine went off in Chendawol area of the city.
He said at least three people including a civilian and three policemen lost their lives in the explosion.
Danish further added that sixteen others including two policemen and fourteen civilians sustained injuries.
According to Danish, the incident took place after a magnetic bomb planted in a vehicle of the police forces went off, setting the vehicle ablaze.
No individual or group has so far claimed responsibility behind the incident.
This comes as a coordinated rocket attack rocked Kabul city on Wednesday after a group of insurgents launched an attack o Hamid Karzai international airport.
According to the security officials, at least one civilian was killed and eleven others were wounded in the attack.
Full report at:
http://www.khaama.com/explosion-leaves-19-dead-wounded-in-kabul-city-03541
--------
Many Rohingya Muslim refugees lack water, shelter in Bangladesh: Oxfam Canada
September 28, 2017
OTTAWA - Oxfam Canada says hundreds of thousands of Rohingya Muslims, who have been fleeing violence in Myanmar in recent weeks, are without shelter and clean water in flooded refugee camps.
The international development agency says nearly 480,000 Rohingya have fled to Bangladesh and more than 70 per cent are without adequate shelter, while half have no safe drinking water.
It said in a release Wednesday that heavy rains and floods in camps have left people facing extreme hardship, and have slowed down the building of emergency shelters and clean water tanks, and the delivery of aid.
Oxfam says is has reached nearly 100,000 people with clean drinking water, emergency toilets, water pumps and food rations and is planning to help more than 200,000 people during the first phase of its response.
Oxfam Bangladesh's humanitarian co-ordinator Paolo Lubrano says most of the families are huddled under sarongs and urgently need help.
Due to the volatile and chaotic situation, Oxfam says it is concerned about abuse and exploitation of women and girls.
"Women and children are particularly vulnerable, sleeping under open skies, roadsides, and forest areas with little or no protection," Lubrano said.
The head of the UN's migration agency said Wednesday there are increasing reports of sexual violence directed at Rohingya Muslims.
Director-general William Lacy Swing of the International Organization for Migration said he was "shocked and concerned" about the reports of sexual and gender-based violence among Rohingya in Bangladesh.
IOM said rape, sexual assault, domestic violence, child marriage and other forms of gender-based violence have been identified. It did not specify who was responsible for the violence.
An agency statement on Wednesday said IOM doctors have treated dozens of women who experienced "violent sexual assault" since August, but that the known cases likely represent only a "small portion" of actual cases.
Full report at:
http://www.ctvnews.ca/world/many-rohingya-muslim-refugees-lack-water-shelter-in-bangladesh-oxfam-canada-1.3609826
--------
US airstrike leaves 5 ISIS militants dead in Nangarhar province of Afghanistan
Sep 29 2017
At least five militants affiliated with the Islamic State of Iraq and Syria (ISIS) terrorist group were killed in an airstrike carried out in eastern Nangarhar province of Afghanistan.
The provincial government media office in a statement said Thursday the airstrike was carried outin Haska Mina district on Wednesday.
The statement further added that the militants were targeted in the vicinity of Nari Oba area of the district.
In the meantime, the Afghan security forces arrested two ISIS militants and confiscated weapons from them during an operation in Chaparhar district.
The anti-government armed militant groups have not commented regarding the report so far.
Both the Taliban and ISIS militants attempt to expand their foothold in the key and remote districts of Nangarhar province.
The movements have forced the Afghan forces ad US forces based in Afghanistan to conduct regular operations and airstrikes to eliminate the terrorists from expanding their insurgency in this province.
Full report at:
http://www.khaama.com/us-airstrike-leaves-5-isis-militants-dead-in-nangarhar-province-of-afghanistan-03542
--------
Afghan forces suffer casualties in Kandahar VBIED suicide attack
Sep 28 2017
The Afghan national defense and security forces suffered heavy casualties in a suicide attack in southern Kandahar province of Afghanistan.
According to the local officials, the incident took place late on Wednesday night after a suicide bomber rammed a vehicle packed with explosives into the base of the Afghan forces.
The provincial police spokesman Zia Durani confirmed the attack and said a base of the security forces was targeted in Maruf district.
He said the militants rammed a Vehicle-borne Improvised Explosive Device (VBIED) into a joint military base, leaving at least twelve dead.
He said the militants had planted the explosives into a Humvee armored personnel carrier.
According to Durani, at least four people were also wounded and those killed in the attack include members of the intelligence, national and border police personnel.
The Taliban insurgents group claimed responsibility behind the attack.
This comes as the Taliban insurgents have stepped up their insurgency activities in Kandahar province where the security situation had relatively improved during the recent years.
Full report at:
http://www.khaama.com/afghan-forces-suffer-casualties-in-kandahar-vbied-suicide-attack-03538
--------
North America
U.S. born Muslims more hostile to America
The source is one of those Pew writeups that is 99 percent spin and 1 percent statistics. I'll skip on quoting much of it, because it's largely concerned with promoting claims of Muslim victimhood. But it does show a pattern.
The common pattern in America and Europe is that Muslim settlers born in the host country are actually more negatively disposed to the country than their immigrant parents.
European defenders usually put this down to the classic "failure to integrate." And their American cousins insisted that we wouldn't have "no go zones" because we didn't have that problem. Except it turns out that second-generation immigrants are more likely to have issues with us.
Indeed, just three-in-ten U.S.-born Muslims say the American people are friendly toward Muslim Americans, compared to 73% of immigrants who feel this way.
And U.S.-born Muslims are more likely than their immigrant counterparts to say there is discrimination against Muslims, and to say they have personally experienced at least one of several specific types of discrimination, such as people acting suspicious of them or calling them offensive names, being singled out by airport security or by some other law enforcement, or being physically attacked or threatened.
Nine-in-ten (91%) U.S.-born Muslims say there is a lot of discrimination against Muslims, compared with 65% of immigrants who say this. And six-in-ten U.S.-born Muslims (61%) say that in the past 12 months they have experienced at least one of the specific types of discriminatory behavior asked about in the survey, compared with 39% of immigrants who say this.
If this discrimination were real, immigrants would be likely to have experienced it. That's just common sense.
Immigrants would be far more likely to have negative experiences with airport security. And if Americans are hostile to Muslims, immigrants, with accents and foreign dress, are far more likely to encounter it.
So, like most claims of Islamophobia, this is a myth. But it does reflect how they see us. The people you are hostile toward, generally appear hostile to you. These statistics reflect the fact that second-generation Muslim immigrant settlers are more hostile than their parents. And this is reflected in the pattern of Islamic terrorism.
The question might be why.
Second-generation Muslim migrants are more likely to have been indoctrinated by the CAIR/MSA/ISNA establishment and its leftist allies into seeing hostility everywhere. But the basic xenophobia also seems to manifest itself, universally, more in the second generation which has the right accent and could feel a sense of ownership, if not for religious differences.
Islam makes it difficult for the followers of its creed to genuinely feel part of any non-Muslim nation which does not follow Islamic law and is, therefore, a part of the Dar-Al-Harb which must be conquered and subjugated. Immigrants don't have that same keen sense of the separation. It's the Muslim settlers born in this country who feel that the only thing standing between them and the country they were born in is its refusal to adopt Islam.
http://canadafreepress.com/article/u.s.-born-muslims-more-hostile-to-america
--------
Israel occupies just 2 percent of West Bank: US ambassador
Sep 29, 2017
The US ambassador to Israel has angered Palestinians after claiming that the Israeli regime has occupied only two percent of the West Bank.
David Friedman said in an interview with the Israeli news site Walla on Thursday that the Israeli settlements "are part of Israel."
"They (Israelis) are only occupying 2 percent of the West Bank," he said.
Friedman added that the settlements have a high nationalistic, historical and religious significance.
'No change in US policy'
US State Department spokeswoman Heath Nauert later said Friedman's remarks "should not be read as a change in US policy."
"I'm aware of what he said," Nauert told reporters in Washington, DC. "His comments — and I want to be crystal clear about this — should not be read as a way to prejudge the outcome of any negotiations that the US would have with the Israelis and the Palestinians. It should also not indicate a shift in US policy."
Israel captured and occupied the West Bank in the 1967 war. Israel has full control over the 60 percent of the area, while the Palestinians have very limited autonomy over the remaining 40 percent.
Israelis are not halting their illegal settlement construction in the occupied West Bank, despite the fact that the international community regards all the Israeli settlements across the West Bank as illegal under international law.
About 600,000 Israelis live in over 230 illegal settlements built since the 1967 Israeli occupation of the Palestinian territories of the West Bank and East Jerusalem al-Quds.
The presence and continued expansion of illegal Israeli settlements in occupied Palestine have created a major obstacle for the efforts to establish peace in the Middle East. Palestinians want the West Bank as part of their future independent state, with East al-Quds as its capital.
Palestinians want the West Bank as part of a future independent Palestinians state, with East Jerusalem al-Quds as its capital.
US ambassador displays 'absolute ignorance'
Nabil Shaath, an aide to Palestinian President Mahmoud Abbas, said on Thursday the US ambassador displayed "absolute ignorance of facts of law and of the position of the United States."
Friedman's remarks are "very bad news for the future of any American attempt to make peace in the Middle East," Shaath added.
Senior Palestinian negotiator Saeb Erekat called Friedman's comments "false and misleading." He said in a statement that "such positions undermine ongoing efforts toward achieving a just and lasting peace between Israel and Palestine," based on 1967 borders.
Full report at:
http://www.presstv.ir/Detail/2017/09/29/536823/Israel-occupies-just-2-percent-of-West-Bank-US-ambassador
--------
Hate crimes against Muslims in Canada on the rise
September 28, 2017
When countries across southern Europe and the United States refused entry to refugees fleeing war in Syria and elsewhere, Canada was one of very few to open its borders and embrace the new arrivals. Footage of prime minister Justin Trudeau handing over clothes and welcoming "home" the first Syrian refugees to land in Toronto from Beirut in December 2015 was broadcast around the world.
But since then, there's been a mounting backlash. Canadian government statistics show a 253 per cent rise in the number of police-reported, anti-Muslim hate crimes since 2014. Six worshippers were shot dead at a mosque in Quebec City on January 29, laying bare the extent to which anti-Muslim sentiment has exploded in Canada.
Shaila Kibria-Carter, 42, a mother of four, says she has lived with the xenophobia and racism for decades. Canadian born and raised, and the child of immigrants from Bangladesh, she has faced abuse ever since her days as a college student when a swastika was carved into her dormitory room door. Now, the Brampton, Ontario native is worried for her children, two of whom are in university and one in high school.
It is at high schools in the Peel municipality, which incorporates Brampton, that the controversy is brewing.
"Groups of people are going to these schools on Fridays — our day of prayer — to protest against Islam; they wear T-shirts with 'no Islam' written on them," she says.
The protesters are opposing the schools' facilitating of Friday prayers for Muslim students.
"We've gone to the police to ask them to help, and they said they'd talk to the schools, but unless a student makes a complaint [the police] said they can't do anything," says Ms Kibria-Carter. "These kids are born here, they consider themselves Canadian."
The mayor of Brampton has spoken of her frustration at the protests, saying she was disheartened "to see hatred and prejudice towards a single faith group".
More than 2,700 kilometres west in the province of Alberta, scuffles last May between Syrian and Canadian students sparked anti-Muslim protests at the Lindsay Thurber Comprehensive High School in the city of Red Deer, leading to police being dispatched. Several Syrian students were accused of whipping their colleagues, and a small group of protesters, including an anti-Muslim group called Worldwide Coalition Against Islam, converged outside the school to - in the words of one member - protect "Canadian culture" in schools.
The demonstrators were also criticising what they believed to be the unfair punishment meted out to Canadian students, though the school said all eight students involved were suspended.
It was the attack at the Quebec City mosque by university student Alexandre Bissonnette, Ms Kibria-Carter says, that shocked Canadian Muslims on an entirely unprecedented level, and echoes the shadow of white supremacist activity across the border in the US.
"That was a huge thing for us. That happened right after [US president] Trump's election. You look at the guy's [Bissonnette] social media posts, he is a Trump supporter," she says. "They were targeted because of their religion, my religion. It's painful to know people are being killed for being Muslim."
A car owned by the president of the cultural centre attached to the same mosque was destroyed in an arson attack outside his home last month, the latest in an increasing number of hate crimes directed at Muslims.
An attack in November 2015 badly damaged the only mosque in the town of Peterborough, Ontario used by around 1,000 worshippers and in Calgary, a mosque was damaged twice within a week last October, where attackers left behind a hateful letter and a burnt copy of the Quran.
Last March, the Canadian parliament was forced to respond to the rise in hate crimes by passing a non-binding motion condemning Islamophobia, and called on the government to recognise a "public climate of fear and hate". A parliamentary report on how to quell growing Islamophobia is slated for publication in November.
For Farheen Khan, who was subjected to a vicious hate crime assault in her hometown of Mississauga following Al Qaeda's 9/11 attacks, Canada is not becoming less tolerant, because it may never have been so in the first place.
"I don't know that we as a society are seeing the emergence of this type of behaviour for the first time. I think it's been there, but now there's more of this language from people in positions of power," she says, referring to Mr Trump.
During a bid for public office during Canada's federal elections in 2015, Ms Khan said she was repeatedly subjected to "provocative questions" about her religion by sections of the media and in town hall meetings.
For the more than 48,000 Syrians resettled here, Canada remains the last chance at a new start. A number of recent arrivals from Syria refused to speak to The National about the specific incidents of racism they said they've experienced, but activists working closely with Syrian refugees say that for the overwhelming majority, Canada has so far been positive.
"Canada is definitely a safe haven for all refugees. We have a multicultural society with a lot of resources set up for newcomers," says Bayan Khatib, a native of Syria and the communications director at QED, a foundation supporting refugees and others in Oakville, Ontario.
Full report at:
https://www.thenational.ae/world/the-americas/hate-crimes-against-muslims-in-canada-on-the-rise-1.662556
--------
US cuts number of refugees it is ready to resettle
Sep 29, 2017
WASHINGTON - The United States will reduce the number of refugees it is prepared to welcome for resettlement to only 45,000 over the next year - just over half the figure for 2016, officials said Wednesday.
The decision will disappoint refugee advocates and United Nations agencies, which are struggling to cope with millions displaced by several major wars.
In the 2016 fiscal year, the United States accepted 84,995 refugees from around the world. This year it is on course to take in around 50,000.
The United States is still the world's biggest destination for refugees, but arrivals are well down from a high of more than 200,000 in 1980.
These are people selected abroad, vetted and admitted to the US, where they are ultimately eligible for permanent resident status. So they are seen as not comparable to the millions of refugees fleeing war and hardship and taken in in recent years by countries in the Middle East and Europe.
And President Donald Trump has made no secret of his hostility to resettlement, having ordered a moratorium on new arrivals and tougher background checks.
Officials said they plan to complete a review of security procedures for vetting new arrivals by next month, but arrivals next year will be reduced.
"The security and safety of the American people is our chief concern," a senior US official told reporters on a call to announce the new figure.
"We need to ensure refugee resettlement opportunities go to those who are eligible for such protection and who are not known to present a risk to the safety or the security of our country."
Those who are accepted for resettlement in the United States are selected by the United Nations refugee agency from among the most vulnerable displaced people.
Widows with children, the elderly and the disabled are given priority and subjected to a thorough screening process by US security and intelligence agencies.
The process takes between 18 months and two years, and only then are the refugees assigned to resettlement agencies working under contract with the State Department.
The agencies help families find housing and employment, mainly in small and medium cities around the United States.
Nevertheless, Trump has ordered a security review to further tighten procedures, slowing acceptances.
The International Refugee Assistance Project, part of the New York-based Urban Justice Center, condemned the announcement as a case of the United States abdicating its leadership role on humanitarian issues at time when the world is grappling with the largest number of refugees since World War II.
"Resettlement is only an option in the most urgent refugee cases," said Betsy Fisher, IRAP's policy director.
Full report at:
http://nation.com.pk/international/29-Sep-2017/us-cuts-number-of-refugees-it-is-ready-to-resettle
--------
US military carries out more airstrikes in Libya
Sep 29, 2017
The United States military has carried out more airstrikes against the Daesh terrorist group in Libya, the US Africa Command has said.
The strikes which took place on Tuesday about 160 kilometers (100 miles) southeast of the Mediterranean city of Sirte killed several Daesh militants, AFRICOM said in a statement on Thursday.
Daesh "and Al-Qaeda have taken advantage of ungoverned spaces in Libya to establish sanctuaries for plotting, inspiring, and directing terror attacks; recruiting and facilitating the movement of foreign terrorist fighters; and raising and moving funds to support their operations," AFRICOM said.
US jets targets inside Libya on Sunday, first time since President Donald Trump took power in January.
In August last year, the US military conducted airstrikes in Libya to target the Daesh stronghold of Sirte, marking the first time the United States has carried out such operations in the North African country since 2011.
Sirte, the major stronghold of Daesh outside Iraq and Syria, fell to the Takfiri terrorists in February 2015. The full recapture of the city would be a major boost to the unity government, which has come to office through support from the United Nations.
Full report at:
http://www.presstv.ir/Detail/2017/09/29/536827/US-military-carries-out-more-airstrikes-in-Libya
--------
U.S. visas to six Muslim nations drop after Supreme Court backs travel ban
WASHINGTON (Reuters) - In the first two months after a June Supreme Court ruling allowed partial implementation of President Donald Trump's travel ban, visas issued on average each month to citizens of six countries targeted by the order were 18 percent lower compared to the month prior to the ban, a Reuters analysis of government data shows.
The 3,268 visas issued in July and 3,884 visas issued in August to citizens of the six majority-Muslim countries were down from 4,351 issued in June. The July figure was lower than the monthly average at any point since 2007, when an average of 3,080 visas per month were issued to those countries.
The lower July and August numbers were especially noteworthy, immigration attorneys say, because a larger number of visas are typically issued in the summer months, as foreign students prepare to arrive in the United States for the fall semester.
"We are processing visa applications for nationals of the six affected countries as directed by the Executive Order and to the extent permitted by court decisions," a State Department official said on condition of anonymity when asked about the lower numbers.
The decline comes on top of already plummeting figures for U.S. visas issued to citizens of Iran, Libya, Somalia, Sudan, Syria and Yemen after Trump issued an executive order in late January halting entry of travelers from those countries for 90 days.
That order, and a more limited form of the ban issued in March, were hamstrung by months of legal challenges until the Supreme Court approved a limited version in June. But in the interim, the State Department issued far fewer visas to travelers from those six countries compared to the number issued in 2016 under the administration of President Barack Obama.
On Sunday, Trump issued a third version of the ban, which indefinitely restricts travelers from Iran, Libya, Syria, Yemen, Somalia, Chad and North Korea. Certain government officials from Venezuela will also be barred.
From March through June, a period when Trump's order was mostly blocked by the courts, citizens of the six countries were issued an average of 3,929 visas monthly, 42 percent fewer than the 2016 monthly average of 6,799, according to State Department data. After the Supreme Court ruling, that monthly average was 47 percent lower than in 2016.
(For a graphic of visas issued to six countries affected by the travel ban, see tmsnrt.rs/2yd6BAA)
Trump's initial travel ban, which barred citizens of the six countries as well as Iraq, sparked chaos and protests at airports around the United States. Issued with little forewarning, the order's scope was unclear and sowed confusion among travelers as well as authorities responsible for implementing it. Courts quickly enjoined the main parts of the order. Trump eventually issued a new order that excluded Iraq and delayed its enactment to allow the administration and travelers time to prepare.
But that order, too, was soon blocked by courts. The case eventually reached the Supreme Court, which allowed a limited version of the ban affecting only those citizens of the six countries lacking "bona fide" ties to the United States. After Trump issued the revised ban on Sunday, the Supreme Court canceled oral arguments scheduled for Oct. 10 to decide whether or not the earlier version of the ban was discriminatory.
Even as sharply fewer visas were being issued, the president often complained on social media and in speeches about limits imposed by U.S. courts on the two executive orders establishing the travel ban.
"The travel ban into the United States should be far larger, tougher and more specific-but stupidly, that would not be politically correct!" Trump tweeted on Sept. 15.
(Follow Trump's impact on energy, environment, healthcare, immigration and the economy at The Trump Effect www.reuters.com/trump-effect)
'CHILLING EFFECT'
Because the State Department only releases data on how many visas are issued and not total application numbers, it is unclear if the drop is due to fewer people applying, or because the administration is denying more applications.
In addition, a month-by-month comparison with prior years is not possible because the State Department released only annual numbers – not monthly data - until March of this year.
Stephen Pattison, a former U.S. consular official and now an immigration attorney, said he suspects that the huge drop in visas issued is due to fewer people applying rather than higher rejection rates.
"Quantifying the chilling effect of the Trump administration's policies on the international public is hard to do, but I think that's the biggest impact of what this administration has done," Pattison said. "This atmosphere is causing bona fide, legitimate travelers to think twice about coming to the United States."
Michael Boos, general counsel for the conservative nonprofit Citizens United, which filed a brief to the Supreme Court in support of the Trump administration in the travel ban case, said the figures show the ban is having its intended effect.
Full report at:
http://www.reuters.com/article/us-trump-effect-visas-analysis/u-s-visas-to-six-muslim-nations-drop-after-supreme-court-backs-travel-ban-idUSKCN1C40FP
--------
Mideast
Iran may abandon nuclear deal if US withdraws: FM Zarif
Sep 28, 2017
Foreign Minister Mohammad Javad Zarif says Iran may walk away from the 2015 nuclear deal with the P5+1 group of countries if the US withdraws from the agreement.
"If Washington decides to pull out of the deal, Iran has the option of withdrawal and other options," the Twitter feed of the Qatar-based broadcaster Al Jazeera quoted Zarif as saying in an exclusive interview on Thursday.
The remarks came amid repeated threats by Washington to quit the nuclear agreement, known as the Joint Comprehensive Plan of Action (JCPOA).
Iran and the five permanent members of the UN Security Council – the United States, France, Britain, Russia and China – plus Germany signed the JCPOA in July 2015 and started implementing it in January 2016.
Under the deal, Iran applied some limits to its nuclear program in exchange for the termination of all nuclear-related sanctions against it.
The administration of US President Donald Trump, which took over in January 2017, one year after the JCPOA came into force, has been actively seeking a pretext to unilaterally withdraw from the deal or undermine it.
All the other parties to the deal have, in contrast, have stressed that the nuclear accord must be sustained.
Earlier this month, Trump said the JCPOA was "an embarrassment to the United States" and "one of the worst and most one-sided transactions the United States has ever entered into."
The Trump administration has twice certified Iran's compliance with the deal in notifications to the US Congress under an American law. But it has signaled that a third verification — due in mid-October — would not be forthcoming.
Elsewhere in his interview, Zarif said, "Washington will be in a better position if it remains committed to the deal."
Last week, German Foreign Minister Sigmar Gabriel warned that any US move to scrap Iran's nuclear deal would discourage other countries from going to the negotiating table to discuss their nuclear activities.
European Union's foreign policy chief, Federica Mogherini, also said last week that the nuclear agreement signed between Iran and the P5+1 group of countries worked fine and belonged to the entire world, not just the United States.
"I have said many times that the agreement is working fine, [and] the IAEA (International Atomic Energy Agency) [has] confirmed several times that Iran is fulfilling its obligations," Mogherini said.
http://www.presstv.ir/Detail/2017/09/28/536807/Iran-US-JCPOA-Mohammad-Javad-Zarif
--------
Buthaina's appearance in Riyadh daunts Houthi propaganda machine
28 September 2017
The appearance of Yemeni child Buthaina al-Rimi in Riyadh has surprised the Houthi militias in Sanaa and deterred their propaganda machine.
A video of Buthaina, who was the lone survivor of a raid that wrongly targeted her house, appeared showing her with her uncle in Riyadh at the King Salman Center, where she is receiving treatment under the patronage of King Salman.
The Houthi militias propagated in their media that the child was under their care while their partner Ali Abdullah Saleh also claimed that he has guaranteed her sponsorship.
The Houthis exploited the tragedy of Buthaina, the youngest of five, in an attempt to gain public sympathy while trying to hide their record of child abuse, kidnapping, murder and forced recruitment into armed battle.
After the appearance of Buthaina in Riyadh with her uncle and his family, the militias stated that the girl was abducted and hastily published a false judgment document from a court under their control in Sanaa granting her custody to her grandmother.
The document, viewed by Al Arabiya, showed contradicting dates for the ruling proving the efforts to politicize the situation.
Full report at:
https://english.alarabiya.net/en/News/gulf/2017/09/28/Buthaina-s-appearance-in-Riyadh-daunts-Houthi-propaganda-machine.html
--------
Turkey agrees to 'only deal with Baghdad' over oil exports
Sep 28, 2017
In a major U-turn, Turkey has agreed to solely deal with the central Iraqi government over crude oil exports, following a contentious secession referendum held by Iraq's semi-autonomous Kurdistan region, the Baghdad government says.
The office of the Iraqi Prime Minister Haider al-Abadi reported Ankara's change of mode on Thursday, following a phone call between Abadi and his Turkish counterpart, Binali Yildirim.
Yildirim "confirmed the support of his country on all decisions" taken by the Iraqi government, said the statement.
As part of the measures, Turkey would restrict oil export operations to the Baghdad government, it added.
The Turkish PM also emphasized Ankara's "commitment to cooperate and coordinate fully with the Iraqi government to implement all necessary steps for imposing of federal authorities at land and air ports," according to the statement.
Ankara has long been buying oil from the Kurdistan Regional Government (KRG) in defiance of Baghdad's stiff opposition.
Oil exports serve as the KRG's main source of income. The Kurdistan region exports an estimated 650,000 barrels of oil per day through Turkey's Ceyhan pipeline.
Turkish government spokesman Bekir Bozdag also said Thursday that Ankara is set to conduct its dealings in Iraq with the central government, and that the two premiers will sit down down for talks soon.
Turkey is furious at the Monday referendum, which saw over 90 percent of the voters say 'Yes' to secession from Iraq, according to regional Kurdish officials.
The unconstitutional referendum, which went ahead despite Baghdad's objections, has sparked angry reactions from the international community and Iraq's neighbors, particularly Turkey.
The regime in Israel is the only voice supporting the plebiscite.
In a strong-worded speech on Wednesday, Turkish President Recep Tayyip Erdogan also said Ankara will seal its border with the Kurdistan region and threatened the Kurdish leaders with blocking their key oil exports to other buyers.
Turkey, which is home to the largest Kurdish population in the region, fears that the Kurdistan plebiscite would embolden the outlawed Kurdistan Workers' Party (PKK) in its push for autonomy in southeastern areas at home.
In the aftermath of the vote, pressure has been building on officials in Erbil, Kurdistan's regional capital, over the referendum, with regional carriers, including Turkish Airlines, EgyptAir and Lebanon's Middle East Airlines submitting to Baghdad's request to suspend their flights serving Iraqi Kurdistan.
Qatar Airways also said Thursday that it is cancelling flights to Iraqi Kurdistan from September 29 to Oct 1 at the request of Iraq's Civil Aviation Authority.
Meanwhile, Erbil airport director Talar Faiq Salih told AFP that "all international flights without exception to and from Erbil will stop from 6:00 p.m. (1500 GMT) on Friday following a decision" by the Abadi cabinet.
Full report at:
http://www.presstv.ir/Detail/2017/09/28/536749/Kurdistan-Iraq-alAbadi-referendum-Baghdad---Binali-Yildirim
--------
UN warns to blacklist firms working in lands occupied by Israel: Report
Sep 28, 2017
The United Nations human rights office has reportedly threatened to blacklist nearly 150 Israeli and international companies for operating in the Israeli occupied territories, including the West Bank, East Jerusalem al-Quds and Golan Heights.
Israeli daily Haaretz cited anonymous Israeli officials as saying on Wednesday that UN High Commissioner for Human Rights chief Zeid Ra'ad al-Hussein notified the companies through letters two weeks ago.
In response, several of the companies assured Hussein that they do not plan to renew their current contracts or to enter into new ones.
The letter said that due to the companies' activities in the occupied Palestinian territories, they may be added to the blacklist being compiled by the UN of companies "that operate in opposition to international law and in opposition of UN resolutions."
According to an unnamed western diplomat, over half of the companies that received the letter were Israeli, nearly 30 were American and the rest were mainly from Germany, Norway and South Korea.
The copies of Hussein's letter have reportedly been sent to the respective countries of the firms and seen by the Israeli cabinet.
The companies include giant international corporations such as Coca-Cola, TripAdvisor, Airbnb and Caterpillar as well as major Israeli firms, including pharmaceutical giant Teva, the national phone company Bezeq, bus company Egged, the national water company Mekorot and the regime's two largest banks, Hapoalim and Leumi.
In 2016, the UN Human Rights Council voted, with 32 nations in favor and 15 abstentions, to a proposal by the Palestinian Authority and Arab states to compile a database of all businesses enabling or profiting from development of Israeli settlements in the occupied Palestinian territories.
The proposal also condemned Israeli settlement construction and urged companies not to do business with Israeli settlements.
In June, US Ambassador to the UN Nikki Haley slammed the blacklist as "the latest in this long line of shameful actions" adopted by the UNHRC, warning that the US may withdraw from the 47-member UN body unless it is reformed, end condemnation of Israel and cancel the membership of what she called notorious human rights violators from the council.
Since 2007, Israel has been the only entity whose human rights violations have been regularly discussed in the framework of a single permanent item on the Human Rights Council's agenda.
Since the inauguration of US President Donald Trump in January, the regime in Tel Aviv has stepped up its construction of settler units on occupied Palestinian land in a blatant violation of international law.
Less than a month before Trump took office, the United Nations Security Council had adopted Resolution 2334, calling on Israel to "immediately and completely cease all settlement activities in the occupied Palestinian territories, including East Jerusalem" al-Quds.
About 600,000 Israelis live in over 230 illegal settlements built since the 1967 Israeli occupation of the Palestinian territories of the West Bank and East Jerusalem al-Quds.
Full report at:
http://www.presstv.ir/Detail/2017/09/28/536739/Palestine-UNHRC-israel
--------
Turkey's Erdogan links fate of detained US pastor to wanted cleric Gulen
29 September 2017
ANKARA: President Tayyip Erdogan suggested on Thursday that Turkey could free a detained US pastor if the United States handed over a Muslim cleric living in Pennsylvania whom Ankara has blamed for a failed military coup last year, an idea that Washington appeared to dismiss.
Turkey has been seeking the extradition of Fethullah Gulen, a former ally of Erdogan whose supporters are blamed for trying to overthrow Erdogan's government in July 2016.
Gulen has denied any role in the coup attempt, in which 250 people were killed. US officials, speaking on condition of anonymity, have said the Turkish government has yet to provide enough evidence for the US Justice Department to act.
Thousands of people have been detained in a crackdown since the failed coup, including American Christian missionary Andrew Brunson, who ran a small church in Izmir on Turkey's western coast.
Brunson has been held since October. Turkish media has said the charges against him include membership of Gulen's network, considered a terrorist organization by the Turkish government. The United States has said that Brunson has been wrongfully imprisoned and has called for him to be released.
In a speech to police officers at the presidential palace in Ankara, Erdogan appeared to link the fate of the two men.
"'Give us the pastor back', they say. You have one pastor as well. Give him (Gulen) to us," Erdogan said. "Then we will try him (Brunson) and give him to you."
"The (pastor) we have is on trial. Yours is not — he is living in Pennsylvania. You can give him easily. You can give him right away."
A decree issued in August gave Erdogan authority to approve the exchange of foreigners detained or convicted in Turkey with people held in other countries "in situations required by national security or national interests."
Asked about Erdogan's suggestion of a swap of Gulen for Brunson, State Department spokeswoman Heather Nauert said, "I can't imagine that we would go down that road."
"We have received extradition requests for him (Gulen)," she told a daily State Department briefing. "I have nothing new for you on that. We continue to call for Pastor Brunson's release."
Full report at:
http://www.arabnews.com/node/1169396/middle-east
--------
Africa
Somalia's al Shabaab militants kill 17 in attack on military base outside capital
Sep 29, 2017
Somalia's al Shabaab fighters attacked a military base outside the capital using car bombs and guns, killing 17 soldiers and taking control of the base and a nearby town, the group said, while residents and officials confirmed the incident.
"After morning prayer today, two Mujahideen rammed into Barire military base with suicide car bombs. We killed 17 soldiers and took seven technical vehicles," Abdiasis Abu Musab, al Shabaab's military operation spokesman told Reuters on Friday.
Barire is 50 km (30 miles) southwest of Mogadishu.
Ali Nur, the deputy governor of Lower Shabelle region where Barire is located, confirmed the fighting but gave no more details on casualties.
http://nation.com.pk/international/29-Sep-2017/somalia-s-al-shabaab-militants-kill-17-in-attack-on-military-base-outside-capital
--------
Libya arrests ISIS militant involved in 2015 beheadings
28 September 2017
Libyan authorities have arrested a suspected ISIS militant they believe was involved in the beheading of 21 Egyptian Coptic Christians in Libya in 2015.
Chief Prosecutor Al-Sadiq al-Sour told reporters on Thursday that the beheadings took place behind a seaside hotel in the coastal city of Sirte. He says authorities have also identified the site where the bodies were buried.
The killings, documented in a grisly video released online by the extremists, shocked Egypt and led it to launch punitive airstrikes.
Al-Sour said ISIS militants have been using Sudan, the country's southern neighbor, to get into Libya.
Hundreds of ISIS militants are believed to have fled Sirte into the Libyan interior after their defeat last year by militias loyal to a UN-backed government in Tripoli, the capital.
https://english.alarabiya.net/en/News/middle-east/2017/09/28/Libya-arrests-ISIS-militant-involved-in-2015-beheadings.html
--------
Scores of undocumented migrants rescued off Libya coast
28 September 2017
The Libyan navy on Thursday announced the rescue of 213 undocumented migrants off the Mediterranean coast east of capital Tripoli.
"The rescue operation took place yesterday afternoon 14 miles [roughly 23 kilometers] north of the town of Gasr Garabulli," Colonel Ayoub Qassem, a spokesman for the Libyan navy, told Anadolu Agency.
"Most of the migrants, who hail from various African countries, have not yet been identified," Qassem added.
Ever since the collapse of central authority in Libya six years ago, the country's northwestern coast has become a hub for illegal migration to Italy and other countries in Europe.
http://www.worldbulletin.net/africa/194453/scores-of-undocumented-migrants-rescued-off-libya-coast
--------
Africa: France Must Bring Counter-Terrorism Law in Line With International Rights Obligations - UN Experts
27 SEPTEMBER 2017
Warning of possible "discriminatory repercussions," especially for Muslims, two United Nations rights experts expressed concern over a new law that may perpetuate the emergency measures France introduced in 2015 - establishing a permanent state of emergency.
"The normalization of emergency powers has grave consequences for the integrity of rights protection in France, both within and beyond the context of counter-terrorism," said the Special Rapporteur on the protection of human rights in the context of countering terrorism, Fionnuala Ní Aoláin, today in a statement calling on France to honour its international human rights commitments and obligations while debating the new draft law.
The draft law "to Strengthen Internal Security and the Fight Against Terrorism" was approved by the Senate on 18 July and is currently being debated by the National Assembly.
On 22 September in a letter to the French Government, Ms. Ní Aoláin drew attention to several provisions of the draft that may adversely impact people's rights to liberty and security as well as freedoms of movement, peaceful assembly, expression and religion.
Echoing these concerns, the Special Rapporteur on human rights defenders, Michel Forst, reiterated his fear that, if adopted, the law would impair rights to liberty, security, freedom of assembly, freedom of religion and others.
"As France is strengthening its fight against terrorism, the draft bill includes a number of security measures, which will incorporate into ordinary law several restrictions on civil liberties currently in place under France's state of emergency," Ms. Ní Aoláin pointed out.
She underscored that both regional and international human rights institutions affirm that the means open to the State to regulate terrorism by law are limited by its compliance with international human rights standards. The duration of the state of emergency must be time-bound, revised regularly, and meet the criteria of necessity and proportionality.
Full report at:
http://allafrica.com/stories/201709280851.html
--------
Europe
Pope Francis launches campaign to encounter and welcome migrants
By Elise Harris
Vatican City, Sep 27, 2017 / 12:18 pm (CNA/EWTN News).- Pope Francis on Wednesday announced a new initiative encouraging a "culture of encounter" and efforts to warmly welcome immigrants and refugees.
Sponsored by the global Catholic charities network Caritas Internationalis, the "Share the Journey" initiative is a two-year campaign dedicated to promoting both awareness and action on behalf of migrants and refugees, and helping them build connections with local communities.
"Don't be afraid of sharing the journey. Don't be afraid of sharing hope," Pope Francis said during his weekly General Audience in St. Peter's Square Sept. 27.
According to Caritas, the project was launched as a response to Pope Francis' frequent call for a "culture of encounter."
The project also aims to shed light on both the challenges and effects of migration at every stage of the journey in order to promote a "shift in thinking" on the issue. It will have the support of the ACT Alliance, which is a network of 145 Christian agencies and a variety of other religious congregations and civil society groups worldwide.
As part of the project, Caritas will launch various action-based initiatives in the communities in which they are present throughout the world.
Cardinal Luis Antonio Tagle of Manila, president of Caritas Internationalis, said he himself is an example of what young migrants can offer if given the opportunity.
"Whenever I hear news about the restrictions or even some moves that might affect children, minors (who are) migrants, I remember my grandfather, my maternal grandfather," Cardinal Tagle told CNA.
"He was born in China and his mother was widowed, and she in her desperation didn't know how to raise her child up into a decent life, so I suppose with a heavy heart, she decided to give away the child to an uncle, who was trying to do some trade in the Philippines."
Cardinal Tagle explained that his grandfather never went back to China, but "thanks to people who received him, helped him, educated him, he was able to contribute to society."
In addition to his work, "he was able to contribute a priest, a bishop, in my person," Cardinal Tagle said. "So watch out. The children that we might be rejecting might be giving valuable contributions to society."
The cardinal's comments were made in reference to rising tensions surrounding the issue of migration in the U.S., where controversy has arisen over President Donald Trump's travel ban, proposed border wall, and recent announcement of the phasing out of the Deferred Action for Childhood Arrivals program (DACA), which has benefited hundreds of thousands of undocumented immigrants who entered the U.S. as minors.
In a press conference announcing the "Share the Journey" initiative, Cardinal Tagle said world leaders should remember that "we are all migrants. Nobody can claim to be a non-migrant, we are all passing in this world."
"Nobody is a permanent resident," and no one can claim to "own the space they occupy," he said, voicing his hope that there would be a universal "conversion of mind" on the issue.
Acknowledging the fear that some might feel at having foreigners enter their country, the cardinal said these fears often dissipate when people take the time to sit with immigrants and listen to their stories. "You will see that they are like you and me," he said.
Recalling how his grandfather came to the Philippines as a "poor boy from China," he said, "who would have thought he would have a cardinal for a grandson?"
Present alongside Cardinal Tagle at the press conference was Sister Norma Pimentel, executive director of Catholic Charities of the Rio Grande Valley, along the U.S. border with Mexico, as well as the director of Caritas Ethiopia, Bekele Moges, and three young migrants from Africa.
The migrants were Yancuba Darboe from Gambia, 21; Amadou Darboe from Senegal, 20; and Berete Ibrahima from Guinea, 23. Each of them left their homes due to poverty or a lack of opportunities and endured harsh conditions, including torture at the hands of traffickers, before eventually arriving in Italy and finding a fresh start.
In comments to CNA, Sr. Pimentel stressed the importance of getting to know migrants personally.
Meeting and speaking with migrants face-to-face is "so important," she said, "because that's what causes the transformation in us."
Sr. Pimentel recalled the story of a woman who had come to visit one of the centers operated by Catholic Charities in Rio Grande Valley. The woman was "one hundred percent against" their work, believing that migrants shouldn't be allowed into the country. In response, the sister gave the woman a tour, and "took her to visit the families and the children and showed her the reality, and she met them personally."
When the visit ended, the woman's whole perspective had changed, and she encouraged Sr. Pimentel to continue the work they were doing. The woman's husband even called the center later to express his shock at the change in his wife's attitude toward the issue.
"So I believe if somebody can be transformed so fast because of the fact that they saw that mother, that infant, that child (and) we have it in our hearts to reach out to those we find suffering, we will help that person that needs our help," she said.
Sr. Pimentel described current immigrant policy in the U.S. as "harsh."
"All the administrations, even the previous administration, were very harsh in deporting a lot of the immigrants and making those detention centers for family units," she said, adding that in her view, "it's so unjust and so unfair for a family with children, with infants, to be placed in detention facilities."
"Just like the previous administration, this administration is doing the same and probably harsher," she said, stressing that placing families in such centers is "not humane," because they are essentially being put "into prisons."
Whether you call it a detention center or even a "child care center," Sr. Pimentel said, the reality is that "they really are prisons and it's very depressing, so children should not be in those conditions."
Instead, the sister said there should be an alternative available where families are allowed to stay together with someone to help them in the immigration process while authorities "figure out whether they have a reason to be in the United States or not, but not keep them for months in facilities that are so depressing and inhumane."
Sr. Pimentel voiced hope that the new Caritas campaign would help people to truly understand the plight of migrants and push for "laws in our countries that respect the dignity and human life of people."
The process of breaking the stigma surrounding incoming migrants starts with individuals and the process of encounter, she reiterated.
"Find that immigrant, just one, find out who they are," she said. "Find out why they left their country and try to understand that, try to put yourself in their shoes and see if that helps you understand better why an immigrant has to go through what they do and what should be your responsibility and response to that reality."
https://www.catholicnewsagency.com/news/pope-francis-launches-campaign-to-encounter-and-welcome-migrants-28915?utm_source=CNA&utm_medium=email&utm_campaign=daily_newsletter
--------
Pope calls on Christians to share hope with migrants
In Brief » Refugees/migrants » Vatican City
September 28, 2017
The same hope that moves people to seek a better life for themselves and their loved ones also moves the hearts of men and women to welcome migrants and refugees with open arms, Pope Francis said.
"Those who come to our land and we who go toward their heart to understand them, to understand their culture and language" embark on a shared journey that "without hope cannot be done," the pope said Sept. 27 at his weekly general audience.
"Brothers and sisters, do not be afraid to share the journey! Do not be afraid to share hope," he said.
During the audience, Pope Francis launched the "Share the Journey" campaign, an initiative sponsored by Caritas Internationalis, the global network of Catholic charitable agencies.
The campaign encourages Catholics to understand, get to know and welcome refugees and migrants.
Continuing his series of audience talks on Christian hope, the pope reflected on the enemies of hope who, like the Greek myth of Pandora's box, "unleash so many misfortunes throughout the world's history."
However, he said, few people remember that at the end of the story, the final item unleashed from the box is hope, which is what "sustains life, protects it, cares for it and makes it grow."
Pope Francis urged Christians to keep hope alive and fight against desperation through Jesus "who can open wide the doors" and "look beyond the horizon.
Full report at:
http://www.ucanews.com/news/pope-calls-on-christians-to-share-hope-with-migrants/80373
--------
Ukip's new leader could be anti-Islam activist with links to far right
29 September 2017
British politics could make a notable shift towards extremist nationalism when Ukip announces its new leader at its annual conference in Torquay on Friday, amid speculation the winner could be an anti-Islam activist with close links to the far right.
Insiders say the party faces splits or even disintegration if this happens, two and a half years after it was the UK's third-biggest party by vote share at the 2015 general election.
The race is extremely close, with senior figures saying six of the seven candidates could feasibly succeed Paul Nuttall, whose disastrous six-month stint ended after Ukip plummeted from almost 4m votes to fewer than 600,000 in June's election.
Several insider say they fear such a tight contest could favour the limited but fervent support base of Anne Marie Waters, whose pitch is largely based on her extreme views on Islam, a faith she has described as "evil".
Waters, a co-founder of the UK branch of the anti-Islam group Pegida, is open about her ambition to move the party to a form of cultural nationalism based around religious intolerance.
She has close links to the far right and has received help in her campaign from Jack Buckby, formerly a prominent member of the British National party, who then spent time in the openly racist group Liberty GB.
If Waters wins she will probably oversee a fracturing of the party, with almost all its MEPs saying they would resign the whip if that happens.
Ukip's most prominent figure, Nigel Farage, has criticised Waters and reportedly plans to launch a rival party if she triumphs.
Nonetheless, she is viewed as a possible victor. "The problem is the rest of the field," said a senior Ukip member, speaking anonymously. "There's not one obvious alternative for people to rally round. That's why I'm worried."
Even without a Waters win, the party could move noticeably to the right, a direction indicated by the decision to invite a speaker from Germany's nationalist member Alternative für Deutschland to address the conference.
Two other candidates who could become leader espouse similar, if milder, variants on Waters' rightwing cultural focus. They are Peter Whittle, formerly Nuttall's deputy, who devised the party's initial policies targeting Muslims; and David Kurten, who promises to oppose what he calls the "cultural Marxism" of transgender rights.
Elsewhere are those who are more mainstream, at least in the context of Ukip. Jane Collins, an MEP who styles herself as a unifier, is seen as another possible winner, as is Henry Bolton, a previously little-known ex-soldier viewed by some as having gathered momentum.
Somewhere in the middle is John Rees-Evans, a sometimes unlikely figure who seeks to bypass parliament with a "direct democracy" based on electronic voting booths. Finally – and the only candidate among the seven seen as having no chance – is Aidan Powlesland, best known for suggesting Brexit could be financed by mining the asteroid belt.
Whoever wins will be taking over an unpaid post in a much-diminished party, becoming the fourth leader in just over a year of a group still searching for a new focus after the vote for Brexit.
Full report at:
https://www.theguardian.com/politics/2017/sep/29/ukips-new-leader-anne-marie-waters-could-be-anti-islam-activist-with-links-to-far-right
--------
EU plans to take 50,000 refugees from Africa, Mideast
27 September 2017
The EU unveiled plans on Wednesday (Sept 27) to take at least 50,000 refugees directly from Africa, the Middle East and Turkey to discourage migrant boats from making the risky Mediterranean crossing.
The proposal involves admitting refugees to European Union countries over the next two years under the bloc's resettlement programme, which was introduced during the migration crisis that hit the continent in 2015.
"We need to open real alternatives to taking perilous irregular journeys," European Union Migration Commissioner Dimitris Avramopoulos told a news conference in Brussels.
The European Commission said in a statement that it was "recommending a new EU resettlement scheme to bring at least 50,000 of the most vulnerable persons in need of international protection to Europe over the next two years".
The EU has already resettled 23,000 people from refugee camps in countries outside the EU under the scheme, particularly Turkey and Jordan, which were overwhelmed with people fleeing the war in Syria.
Resettlement would continue from those areas but there would be "increased focus" on North Africa and the Horn of Africa - particularly Libya, Egypt, Niger, Sudan, Chad and Ethiopia, the commission said.
"This will contribute to further stabilizing migration flows along the Central Mediterranean route," which mainly involves people making the dangerous crossing from Libya to Italy, it said.
The resettlement programme is different from the EU's controversial refugee quotas, which involved moving asylum-seekers who had already reached Italy and Greece to other EU countries, under compulsory quotas.
The latter scheme, which ended on Wednesday, saw just 29,000 people out of a planned 160,000 shared out around EU states to ease the pressure on the overstretched Greek and Italian authorities.
Schengen controls extended
Brussels separately released plans on Wednesday to allow countries in the passport-free Schengen area to reintroduce border controls for security reasons for up to three years.
Countries in the 26-country Schengen travel area can currently reintroduce frontier checks for six months for security reasons, and two years if that is combined with a threat to borders such as Europe's migration crisis.
"Under today's proposals, member states will also be able to exceptionally prolong controls if the same threat persists," the European Commission, the executive arm of the EU, said in a statement.
Avramopoulos however said this should be a "last resort", and that keeping the Schengen area open for travel should be a priority.
Several countries including France and Germany have called for the extension after a series of terror attacks. France reinstated the checks after the November 2015 Paris attacks.
Border checks introduced by Germany, Denmark, Austria, Sweden and Norway in May 2016 to deal with a huge influx of migrants into Europe from Syria and North Africa are set to expire in November.
Full report at:
https://english.alarabiya.net/en/News/world/2017/09/27/EU-plans-to-take-50-000-refugees-from-Africa-Mideast.html
--------
De-escalation zones help end war in Syria: Putin
Sep 28, 2017
Russian President Vladimir Putin says the establishment of de-escalation zones in Syria is paving the way for the final defeat of terrorists and the end of a years-long war in the crisis-hit Arab country.
The Russian leader made the remarks at a joint press conference with his Turkish counterpart Recep Tayyip Erdogan in Turkey's capital Ankara during a visit to the country on Thursday, saying the so-called zones have created the "de facto conditions necessary for the end of the fratricidal war in Syria and the final defeat of terrorists as well as for the Syrian people's return to normal life."
Back in May, the fourth round of the intra-Syrian talks, held in Kazakhstan's capital Astana, resulted in an agreement on creating four de-escalation zones across Syria, with Russia, Iran, and Turkey serving as guarantor states.
Three of the safe zones have been created to date in Syria's central province of Homs, in the Eastern Ghouta area of the southern Rif Dimashq province, and a southwestern militant-controlled stretch along the border with Jordan. They have sharply reduced fighting in the conflict zones.
The push for establishing the fourth zone, to be created in Syria's northern province of Idlib, still continues. Earlier this month, Moscow, Tehran, and Ankara agreed on the details of a safe zone in the province, which borders Turkey and is largely under the control of al-Nusra Front Takfiri militants.
The Russian and Turkish leaders on Thursday asserted that they had agreed to make further push for the creation of the Idlib de-escalation zone to help end the seven-year-long foreign-backed militancy in Syria.
"We are creating conditions for the refugees' return, and — which is of principal importance — for stepping up the search for a long-term political settlement in Geneva," Putin further said, referring to the next round of the UN-brokered peace talks to be held in the Swiss city.
He also noted that Moscow and Ankara would work "with the aim of deepening the coordination of joint activity to solve the Syria crisis."
Erdogan, for his part, underlined the need for a "joint political will" to resolve the Syrian crisis.
"We have discussed the developments in our region, including Iraq and Syria. We are of the same opinion on the need for the protection of the territorial integrity of both Iraq and Syria," the Turkish leader said after a three-hour meeting with Putin, referring to the highly controversial referendum on independence the Kurdish leaders of the semi-autonomous Iraqi Kurdistan region held on Monday.
Meanwhile, despite speculation that Putin and Erdogan would discuss Turkey's plan to purchase Russia's most advanced S-400 air defense missile system, neither side mentioned the deal for which Turkey said earlier this month it had paid a deposit.
Full report at:
http://www.presstv.ir/Detail/2017/09/28/536820/Russia-Turkey-Syria--deescalation-zones-Idlib-S400
--------
German Muslims community worried over surge of AfD
28 September 2017
Germany's Muslim community is voicing concern over the surge of the far-right Alternative for Germany (AfD) in Sunday's federal election.
Aiman Mazyek, who chairs the Central Council of Muslims in Germany (ZMD), said they feared increased discrimination and violence after the AfD became the third-biggest party.
"The AfD have changed the political climate, and now it is poisoning it," he said.
"Of course we have some fears. We worry about attacks targeting Muslims, which has already risen to alarming levels in Germany," he said.
The AfD adopted explicitly anti-Islamic rhetoric during the election campaign and argued that the country was under the threat of "Islamization" especially after nearly one million refugees, mostly from Syria and Iraq, arrived since 2015.
Mazyek said the AfD's anti-Islam propaganda might lead to growing discrimination against Muslims in the coming days and also encourage extremists to carry out attacks targeting mosques.
Germany is home to nearly 4.7 million Muslims, and three million are of Turkish origin. Many of them are second or third-generations of Turkish families who migrated to Germany in the 1960s and are well-integrated.
The AfD attacked Chancellor Angela Merkel's open-door policy for refugees during its election campaign and its leaders repeatedly argued that Islam does not belong in Germany.
Mazyek said the ill-informed public discussion about refugees, Muslims and Islam in the past few years contributed to the rise of the AfD, which succeeded in passing a national 5-percent electoral threshold.
"The far-right and the extremists have exploited the endless debate on refugees, Islam or Turkey," he said, referring to the often negative media coverage about refugees and Muslims.
Mazyek underlined that during the pre-election debate, real problems on social security issues, pensions or unemployment were often neglected.
The AfD has become the third-strongest party in the Bundestag after winning 12.6 percent of the vote in Sunday's election, gaining 94 out of 709 seats.
Mazyek urged mainstream parties not to drift into the same populist rhetoric of the AfD, but take a clear stance against the party.
Full report at:
http://www.worldbulletin.net/europe/194420/german-muslims-community-worried-over-surge-of-afd
--------
'I would be dead': Britain's Rohingyas speak out
SEPTEMBER 28, 2017
LONDON — For members of Europe's biggest Rohingya community in Bradford, northern England, the news from Myanmar brings a mix of anger, fear and haunting memories of dramatic escapes from their homeland.
Some 300 members of the Muslim minority have settled in Bradford in recent years under a refugee programme and they are desperate to draw international attention to the plight of their brethren.
"If I grew up in Burma (Myanmar) I would be dead today," said Omme Kulsum Harun, a 17-year-old wrapped in a traditional long white and yellow robe with a thick grey veil covering most of her head of black hair.
Kulsum said she would like to study nursing in order to help fellow Rohingya, hundreds of thousands of whom have fled into Bangladesh in recent weeks following a crackdown by Myanmar's military.
Harun's mother Samuda saw her own aunt raped by a soldier when she was a little girl and was told by villagers that her sister suffered the same fate while the family were trying to flee Myanmar.
"Today, I don't even know if my sister is alive," the mother of seven told AFP, holding back tears.
"It makes me so sad and angry when I watch the news and see the situation in Burma," she said.
The contrast could not be bigger with her new life.
Harun shows off a picture of her son Ismail Mohamed — a student at Bradford University.
A former wool-making hub, Bradford is one of Britain's most diverse cities and around a quarter of the population is Muslim, according to the latest census figures.
'WE WON'T GIVE UP'
In a city where Victorian-era terraced houses stand side by side with mosques and abandoned industrial plants, Nijam Uddin Mohammed said he has found freedom.
The 36-year-old arrived in 2008 after spending more than 18 years in a refugee camp in Bangladesh.
"My life started in Bradford. In the refugee camps back in Bangladesh we couldn't do what we wanted.
"If we wanted to go for a walk or see some friends in another camp we had to ask permission. It was like a mini-prison. It was not a life," he said.
During the day, the father of two young children works as an interpreter for the state-run National Health Service and at night he drives a minicab.
He also heads up the Rohingya association of Bradford, which holds meetings at the homes of local Rohingya families every Monday.
At these meetings, the Rohingyas share news about their loved ones and discuss how to put pressure on the British government to become more active.
They have started petitions, held public meetings and sent letters to politicians including Prime Minister Theresa May.
"The (Myanmar) army wants to shut us down but here in Bradford we are free and we are not afraid," Mohammed said.
"Even if they have never known their homeland, our kids will always raise their voices. We won't give up."
SUU KYI 'BETRAYED US'
Their anger has been stoked further by speeches from the head of Myanmar's civilian administration, Aung San Suu Kyi, who has refused to condemn the military.
"She betrayed us. We had great expectations but instead of helping us she remained silent.
"She's doing politics with our lives," Mohammed said.
Referring to Suu Kyi's comments about reports of Rohingya suffering as "fake news", Harun said: "Is it fake news that my sister was raped by the military?"
Mohammed said he welcomed Britain's decision to suspend military assistance to Myanmar's army.
But the deputy head of the association, Nur Huda, said it was up to Muslim countries to take the lead and follow the example of Turkey, where President Recep Tayyip Erdogan has condemned "Buddhist terrorism".
Full report at:
http://www.todayonline.com/world/asia/i-would-be-dead-britains-rohingyas-speak-out
--------
URL: https://www.newageislam.com/islamic-world-news/chinese-authorities-confiscating-all-copies/d/112708
New Age Islam, Islam Online, Islamic Website, African Muslim News, Arab World News, South Asia News, Indian Muslim News, World Muslim News, Women in Islam, Islamic Feminism, Arab Women, Women In Arab, Islamophobia in America, Muslim Women in West, Islam Women and Feminism