New Age Islam News Bureau
18 December 2020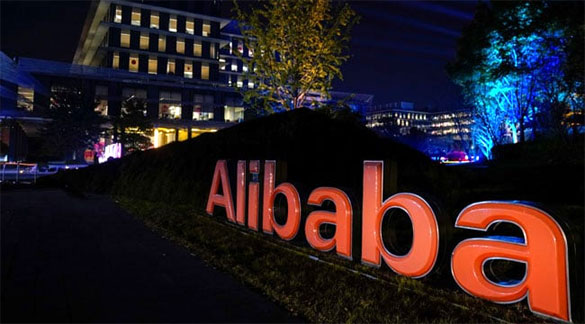 Alibaba is the leader in China's huge e-commerce sector. (File)
-----
• Triple Talaq Law Can't Curb Right to Pre-Arrest Bail: SC
• US Muslims Press Organization of Islamic Cooperation on China
• Pakistan Returns $1 Billion of Saudi Arabia's Soft Loan, Officials Say
• Murder Case against Activists of Hefazat-e-Islam Bangladesh Over The Death Of Islamist Group's Supreme Leader Shah Ahmad Shafi
• International Rights Groups Voice Concern over Deteriorating Health of Imprisoned UAE Dissident, Ahmed Mansoor
• More Than 300 Families Wait To Be Reunited With Freed Nigerian Schoolboys
• French Court Jails More Than A Dozen People Accomplices of Islamist Gunmen Who Attacked Charlie Hebdo
Southeast Asia
• China's Tech Giant Alibaba 'Eliminates' Ethnic Tag That Identifies Uighur Muslims
• Maybank Islamic expects to issue 45,000 Islamic corporate cards
• Indonesia begins merger of 3 state-owned Islamic banks
--------
India
• Triple Talaq Law Can't Curb Right to Pre-Arrest Bail: SC
• Zafar Sareshwala, Considered Close To Prime Minister, To Train Muslim Youths To Enhance Biz Skill To Win The Confidence Of Muslim Community
• Abducted Girl in 'Love Jihad' Case Traced, Accused Nabbed In Odisha's Cuttack
• Gujarat: Govt Invokes 'Love Jihad' To Oppose Rape-Accused's Bail
• Special NIA court jails BTech graduate for pledging allegiance to Islamic State; youth was caught enroute Libya in 2015
• Terrorists hurl grenade ahead of BJP rally in Anantnag, CRPF jawan injured
• Ahead of PM Modi's address, AMU faculty calls for unity
--------
North America
• US Muslims Press Organization of Islamic Cooperation on China
• Pompeo urges Turkey to re-commit itself to its NATO obligations
• Top US General Milley meets with Taliban, Afghan leader in bid to reduce violence
• Biden will slowly reverse Trump-inflamed US-Iran tensions
• Boogaloo Bois member pleads guilty to trying to sell weapons to Hamas
--------
Pakistan
• Pakistan Returns $1 Billion of Saudi Arabia's Soft Loan, Officials Say
• PM Modi Offers Condolences to Nawaz Sharif on His Mother's Death
• Opposition staging 'drama' to get NRO: Murad
• UNGA Adopts Pakistan-Sponsored Resolution On Self-Determination
• FM Qureshi meets UAE counterpart, apprises him of difficulties faced by Pakistani community
• MQM assures Imran of support for Senate polls
--------
South Asia
• Murder Case against Activists of Hefazat-e-Islam Bangladesh Over The Death Of Islamist Group's Supreme Leader Shah Ahmad Shafi
• Fresh Graduates to 'Defend Afghanistan' in Helmand Frontline
• 'Sticky Bombs' Sow Terror and Chaos in a City on Edge
• Lyons Urges Int'l Allies to 'Pressure' Warring Sides on Violence Reduction in Afghanistan
• Culprits of Ghor Terrorist Attacks Nabbed
• Parliament Slams Saleh for Ongoing Security Threats
--------
Arab World
• International Rights Groups Voice Concern over Deteriorating Health of Imprisoned UAE Dissident, Ahmed Mansoor
• Lebanese Pop Singer Fadel Shaker Gets 22-Year Jail Sentence Over Providing Support To Terrorist Group
• Lebanon's PM-designate Hariri to Macron: Your initiative will not be abandoned
• Turkey's Erdogan Urges Iraq Not To Let Its Soil Be Launchpad for Kurdish Militant Attacks
• Damascus: Security Council tool in hands of Western states to promote their political agendas
-------
Africa
• More Than 300 Families Wait To Be Reunited With Freed Nigerian Schoolboys
• Sudan says army officers ambushed by Ethiopian forces, militia
• Suspected Al-Shabab Operative Brought to US to Face Terror Charges
• Militant attacks force 570,000 to flee homes in northern Mozambique, president says
--------
Europe
• French Court Jails More Than A Dozen People Accomplices of Islamist Gunmen Who Attacked Charlie Hebdo
• Russia has sent 100,000 tonnes of wheat to Syria since start of 2020: Lavrov
• Newcastle and London terror convicts' sentences challenged
• Counter terrorism police will board London buses in new effort to prevent attack
• Austria set to ban 'religious extremism'
--------
Mideast
• Turkish Human Rights Defender Accused Of Espionage on Trial for Alleged Ties to Coup
• Official: Iran, Afghanistan Set New Coexistence Model
• Spokesman Raps Sponsors of Anti-Iran Resolution for Instrumental Use of UN
• Iran says no new agreement needed after Biden takes office, refutes IAEA chief
• Iran begins construction at underground nuclear facility amid US tensions
• Iran-backed Houthi militia launches missile that lands in Yemen's Sana'a
• UN condemns Israel killing of Palestinian child as 'grave violation of international law
• Palestinian construction worker beaten to death while working in Israeli settlement
Compiled by New Age Islam News Bureau
URL: https://www.newageislam.com/islamic-world-news/chinas-tech-giant-alibaba-eliminates/d/123804
--------
China's Tech Giant Alibaba 'Eliminates' Ethnic Tag That Identifies Uighur Muslims
Dec 18, 2020
by Mallika Soni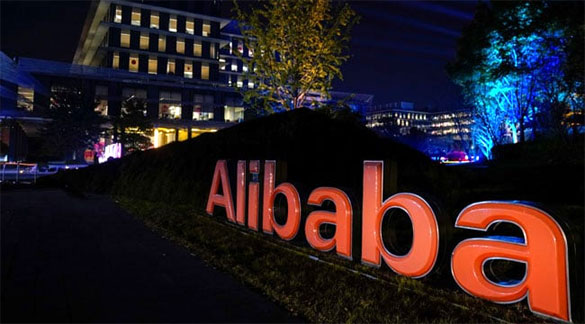 Alibaba is the leader in China's huge e-commerce sector. (File)
-----
Chinese tech giant Alibaba has sought to distance itself from a face-recognition software feature devised by its cloud computing unit that could help users to identify members of the country's Muslim Uighur minority.
A report this week revealing the software feature made Alibaba, one of the world's most valuable companies, the latest Chinese corporate entity embroiled in the controversy over China's treatment of Uighurs.
In a statement posted online late Thursday, Alibaba said it was "dismayed to learn" that Alibaba Cloud developed the feature.
The technology was used only in for capability-testing and not deployed by any customer, Alibaba said, adding that it had "eliminated any ethnic tag" in its products.
"We do not and will not permit our technology to be used to target or identify specific ethnic groups," it said.
The Uighur issue looms as a worrying threat for Chinese companies as global criticism grows over Beijing's policies in the northwest region of Xinjiang.
Rights groups say as many as one million Uighurs and other mostly Muslim minorities have been held in internment camps there.
Beijing initially denied the camps' existence but now calls them vocational training centres aimed at offering alternatives to religious extremism.
China's Uighurs, a Muslim people of Turkic origin, have for decades chafed at Chinese control, anger that has periodically exploded into deadly violence.
Surveillance spending in Xinjiang has risen sharply in recent years, with facial recognition and other technologies deployed across the province.
Washington last year blacklisted eight Chinese tech firms for alleged links to the surveillance effort.
Last week, US-based surveillance research firm IPVM said Chinese telecoms company Huawei had been involved in testing facial-recognition software that could send alerts to police when Uighur faces were recognised.
Huawei denied the claim.
But the controversy caused Barcelona's World Cup-winning French football star Antoine Griezmann to sever an endorsement deal with Huawei.
Alibaba is the leader in China's huge e-commerce sector, projecting a sunny image to the world epitomised by globe-trotting founder and billionaire former chairman Jack Ma.
It has also moved into cloud computing, bricks-and-mortar retail and delivery services, as well as an overseas expansion.
The Trump administration has imposed an escalating series of US sanctions against Huawei over alleged digital collusion with Chinese state security and has hinted at applying pressure on other companies, possibly including Alibaba.
https://www.hindustantimes.com/world-news/china-s-alibaba-eliminates-ethnic-tag-that-identifies-uighur-muslims/story-KBewIknY2GyrYSMEKXSr5I.html
--------
Triple Talaq Law Can't Curb Right To Pre-Arrest Bail: SC
Dec 18, 2020
NEW DELHI: In a significant decision, the Supreme Court on Thursday ruled that the Muslim Women (Protection of Rights on Marriage) Act, declaring triple talaq mode of divorce among Muslims illegal, did not take away a person's right to seek anticipatory bail from a competent court.
A bench of Justices D Y Chandrachud, Indu Malhotra and Indira Banerjee gave this ruling in a case where a man was booked under Section 4 of the Act after his estranged wife accused him of giving triple talaq and marrying a second time.
She also accused the husband and his mother of harassing her for dowry. The man said he and his first wife had been estranged for the last three years. He said six months earlier, she had complained to the Masjid Committee but had not complained of any matrimonial ill treatment. It was only after he contracted a second marriage, which was permitted under Muslim personal law, that the first wife made the complaint under the triple talaq abolition law as well as Section 498A of IPC. He said he had not given divorce through triple talaq. He also said his mother was falsely roped in the case by his first wife.
The Justice Chandrachud-led bench pointed to differences in provisions in the law making triple talaq an offence and that of the Scheduled Caste and Scheduled Tribe (Prevention of Atrocities) Act, and said the latter expressly provided that no court should exercise its discretionary powers under Section 438 of CrPC to grant pre-arrest bail.
The bench discussed Section 7(c) of the Act, which provides that "no person accused of an offence ...shall be released on bail unless the magistrate...is satisfied that there are reasonable grounds for granting bail to such person". The mandatory provision of hearing the aggrieved woman before grant of bail would mean that the accused person would have to first suffer incarceration and then apply for bail. The bench said the Act, as evident, did not expressly exclude the court's jurisdiction to grant bail, which would include grant of pre-arrest bail.
https://timesofindia.indiatimes.com/india/triple-talaq-law-cant-curb-right-to-pre-arrest-bail-sc/articleshow/79787850.cms
--------
US Muslims press Organization of Islamic Cooperation on China
17/12/2020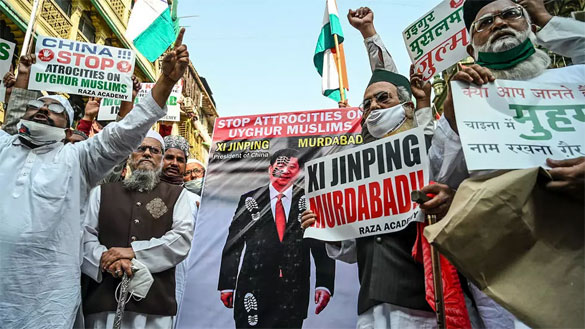 Muslims in Mumbai hold a placard of Chinese President Xi Jinping during a November 2020 protest against Beijing's treatment of the Uighur minority Punit PARANJPE AFP/File
-----
US Muslim groups pleaded Thursday for the Organization of Islamic Cooperation to speak out on China's mass incarceration of Uighurs, accusing the global body of abetting what some described as genocide.
The OIC consists of 57 Muslim-majority nations and frequently takes up cases in which it believes Muslims are mistreated, criticizing Israel and, at Pakistan's behest, India.
But the group headquartered in Saudi Arabia has not voiced alarm over China's western region of Xinjiang, where rights groups say that more than one million Uighurs and other Turkic-speaking Muslims are being held in camps as part of an effort to stamp out Islamic customs and forcibly integrate the community.
In a March 2019 resolution, the OIC said it "commends the efforts of the People's Republic of China in providing care to its Muslim citizens" after a delegation visited.
A coalition of US Muslim organizations including the Council on American-Islamic Relations accused member-states of being cowed by China's power.
"It's very clear that China has an economic chokehold on the Muslim world and has been able to isolate every Muslim country into fear of even paying lip service to the Uighur cause," Omar Sulieman, a Muslim American scholar and rights activist, told a virtual news conference.
"Whereas some Muslim countries will pay lip service to causes like the Palestinian cause," he said, on the Uighur issue they will "continue to aid in the oppression," especially by turning back asylum seekers.
Uighur Americana campaigner Rushan Abbas warned that nations could see the export of policies targeting Muslims as China pursues its massive Belt and Road infrastructure-building initiative.
"China has a track record of buying and bullying. The genocide of the Uighurs is not China's internal issue but is a humanity issue," said Abbas, who said that her activism led China to detain her sister.
The United States, which has a rising rivalry with China, has likened the treatment of the Uighurs to actions of Nazi Germany and voiced disappointment that the OIC has not spoken up.
Turkish President Recep Tayyip Erdogan is a rare leader from the Islamic world to have criticized China, while Malaysia has said it will not extradite Uighurs.
China describes the camps as vocational training centers and says that, like Western nations, it is working to reduce the allure of Islamic extremism.
https://www.rfi.fr/en/us-muslims-press-organization-of-islamic-cooperation-on-china
--------
Pakistan returns $1 billion of Saudi Arabia's soft loan, officials say
Dec 17, 2020
ISLAMABAD: Pakistan has returned $1 billion to Saudi Arabia as a second instalment of a $3 billion soft loan, as Islamabad reaches out to Beijing for a commercial loan to help it offset pressure to repay another $1 billion to Riyadh next month, officials said on Wednesday.
Analysts say it is unusual for Riyadh to press for the return of money. But relations have been strained lately between Pakistan and Saudi Arabia, historically close friends.
With the $1 billion flowing out, Pakistan - which has $13.3 billion in central bank foreign reserves - could face a balance of payments issue after clearing the next Saudi instalment.
"China has come to our rescue," a foreign ministry official told Reuters.
A finance ministry official said Pakistan's central bank was already in talks with Chinese commercial banks, including the debt swap option.
"We've sent $1 billion to Saudi Arabia," he said. Another $1 billion will be repaid to Riyadh next month, he said. Islamabad had returned $1 billion in July.
A finance ministry spokesman declined comment, saying these are "bilateral confidential issues". The central bank also refused to comment, and the foreign office didn't respond.
The People's Bank of China did not respond to a Reuters request for comment, and Riyadh didn't issue any details after a meeting between Pakistani army chief General Qamar Javed Bajwa, and the Saudi ambassador in Islamabad on Tuesday.
Although a $1.2 billion surplus in its current account balance and a record $11.77 billion in remittances in the past five months have helped support the Pakistani economy, having to return the Saudi money is still a setback.
Saudi Arabia gave Pakistan a $3 billion loan and a $3.2 billion oil credit facility in late 2018. After Islamabad sought Riyadh's support over alleged human rights violations by India in the disputed territory of Kashmir, Saudi Arabia has pushed Pakistan to repay the loan.
Washington has expressed concerns about Pakistan and other developing countries getting stuck in a Chinese debt trap. It has criticised Beijing's China-Pakistan Economic Corridor plans, involving more than $60 billion in pledged support for infrastructure projects in Pakistan.
https://timesofindia.indiatimes.com/world/pakistan/pakistan-returns-1-billion-of-saudi-arabias-soft-loan-officials-say/articleshow/79778389.cms
--------
Murder Case against Activists of Hefazat-e-Islam Bangladesh Over The Death Of Islamist Group's Supreme Leader Shah Ahmad Shafi
Anwar Hussain
December 17th, 2020
Court orders Police Bureau Investigation (PBI) to investigate the case
A case has been filed with a Chittagong court against 36 leaders and activists of Hefazat-e-Islam Bangladesh, including its Joint Secretary General Mamunul Haque, over the death of Islamist group's supreme leader Shah Ahmad Shafi.
Md Moyeenuddin, brother-in-law of Shafi lodged the case with the court of Chittagong Judicial Magistrate Shiplu Kumar Dey on Thursday.
The accused are Hefazat's incumbent Joint Secretaries General Mamunul Haque, Nasir Uddin Munir, Organizing Secretary Azizul Haque Islamabadi, Assistant Organizing Secretary Meer Idris, Assistant Secretary General Habib Ullah, Assistant Finance Secretary Ahsan Ullah, Publicity Secretary Zakaria Noman Foyezi, Personal Secretary to Junayed Babunagari In'amul Hasan Faruqi and others.
Mainuddin Ruhi, former joint secretary general of Hefazat-e-Islam Bangladesh, also confirmed the matter to Dhaka Tribune.
The plaintiff in the case alleged that Shafi was murdered premeditatedly.
Taking it into cognizance, the court ordered Police Bureau Investigation (PBI) to investigate the case.
According to the case document, Shafi, despite his illness, was confined to Hathazari Madrasa and the accused vandalized his room. The ambulance carrying Shafi was obstructed and In'amul Hasan Faruqi played a key role in it.
Shafi was mentally tortured and his oxygen mask was removed during the unrest at Hathazari Madrasa, the plaintiff alleged.
Shafi died while undergoing treatment at Asgar Ali Hospital in the capital on September 18. Shafi was the director general of Al-Jamiatul Ahlia Darul Ulum Moinul Islam, also known as the Hathazari Madrasa.
Hefazat was formed in 2010 and came to prominence by mobilizing opposition to the Shahbagh Movement in early 2013.
It was then that its leaders issued their now infamous 13-point charter, which included demands for death penalty for atheists and certain restrictions on social gathering between men and women.
https://www.dhakatribune.com/bangladesh/nation/2020/12/17/mamunul-35-others-sued-over-hefazat-chief-shafi-s-death
--------
International Rights Groups Voice Concern Over Deteriorating Health Of Imprisoned UAE Dissident, Ahmed Mansoor
18 December 2020
I have expressed serious concern over the health condition of prominent Emirati pro-democracy campaigner and rights activist Ahmed Mansoor, warning that his life is at grave risk as he has been detained in solitary confinement for more than three years without basic necessities.
Human Rights Watch (HRW) and the Persian Gulf Center for Human Rights (GCHR) said in a joint statement that Emirati authorities denied the 51-year-old activist adequate warm clothing and access to hot water between December 2017 and March 2018.
Mansoor was diagnosed with hypertension later in 2018 and has not been provided appropriate medication ever since, putting him at increased risk for heart disease and stroke.
The two organizations, citing sources with direct knowledge of the pro-democracy campaigner's detention conditions, highlighted that the Emirati officials have forced him to sleep on the floor without a bed or mattress in a small isolation cell.
"Mansoor is suffering through his fourth winter in a small, dirty isolation cell because he dared to speak up for human rights in a country hell-bent on silencing anyone that doesn't toe the official line," Adam Coogle, deputy Middle East director at Human Rights Watch, said.
He added, "The years-long isolation and dire conditions have no doubt taken a toll on his mental and physical health."
The Emirati authorities should release Mansoor immediately and unconditionally, and barring that, end his solitary confinement and provide him with the needed medication, warm clothing and blankets, and a mattress and bed, Human Rights Watch and GCHR said.
"Authorities in the UAE should celebrate the hard work of Ahmed Mansoor to defend the civil and human rights of his fellow citizens in the UAE instead of putting him in prison," Khalid Ibrahim, executive director of GCHR, said.
"His ill-treatment or torture will never make him give up his rights. We have known him for many years as a courageous defender. The more he is targeted, the more he has shown his determination to achieve his desired goal – which is basic human rights for all," Ibrahim added.
On December 31, 2018, the UAE Federal Supreme Court upheld a 10-year prison sentence against the activist, and ordered him to pay a fine of 1 million dirhams (US $270,000).
Mansoor, an electrical engineer and poet, was arrested at his home in the Emirate of Ajman in March 2017. He was later charged with "publishing false information and rumors, promoting a sectarian and hate-inciting agenda, and using social media to harm national unity and social harmony and damage the country's reputation."
In 2011, the Emirati activist was convicted of "insulting officials" and sentenced to three years in jail. He was released after serving eight months but was stripped of his passport and not allowed to leave the country.
Mansoor has campaigned for freedom of expression, civil and political rights in the UAE since 2006.
Rights groups, including Amnesty International and HRW, have frequently called on the Emirati government in the past to release Mansoor, arguing that his detention goes against freedom of expression and opinion.
https://www.presstv.com/Detail/2020/12/18/640979/Rights-groups-voice-concern-over-deteriorated-health-of-imprisoned-UAE-dissident
--------
More than 300 families wait to be reunited with freed Nigerian schoolboys
18 December 2020
Nearly 350 kidnapped Nigerian schoolboys are expected to be reunited with their families on Friday after security forces rescued them from a vast forest in the north of the country.
Last Friday night, gunmen raided the Government Science Secondary School in Kankara town, Katsina state, on motorbikes and marched the boys into the sprawling Rugu forest, one of the country's largest woodland areas.
It was one of the biggest mass abductions in recent years.
Katsina Governor Aminu Bello Masari said late on Thursday that 344 boys had been freed from the forest in neighboring Zamfara state. There was still some uncertainty as to whether all of those abducted had been rescued.
Photographs released by Katsina state government showed smiling boys looking out from the back of trucks.
"I couldn't believe what I heard until neighbors came to inform me that it's true," Hafsat Funtua, mother of 16-year-old Hamza Naziru, said in a phone interview.
Describing the moment she heard the news, she said she ran out of her house with joy "not knowing where to go" before returning home to pray.
Another parent, Husseini Ahmed, whose 14-year-old Mohammed Husseini was also among those abducted, expressed happiness and relief that he would soon be reunited with his son.
"We are happy and anxiously expecting their return," he said.
A Katsina state government spokesman on Friday said the boys would undergo a medical examination before being reunited with their parents. He also said they would meet President Muhammadu Buhari on Friday.
Hours before the rescue of the boys was announced, a video started circulating online purportedly showing Islamist militants from Boko Haram with some of the boys. Reuters was unable to immediately verify the authenticity of the footage, the boys, or who released it.
In an interview with state TV channel NTA, in which he announced the release of the captives, Masari said "most" of the boys had been rescued.
But an aide told Reuters early on Friday said they were all free. "No student is still with the abductors," Katsina state government spokesman Abdu Labaran said via telephone.
The president posted a tweet on Friday of a video in which he said he had spoken to the governor and the military to congratulate them.
"The military is well trained. I am very impressed with the governor," said Buhari.
Authorities released few details about the rescue operation.
Katsina state's governor said security forces had cordoned off the area around the boys, and that not a single shot was fired.
Labaran, his spokesman, said questions about the captors and whether they had been arrested should be directed to the military.
Armed forces spokesman John Enenche and army spokesman Sagir Musa did not immediately respond to text messages and phone calls seeking comment on the military operation.
https://english.alarabiya.net/en/News/world/2020/12/18/More-than-300-families-wait-to-be-reunited-with-freed-Nigerian-schoolboys
--------
French Court Jails More Than A Dozen People Accomplices of Islamist Gunmen Who Attacked Charlie Hebdo
December 17, 2020
PARIS: A Paris court on Wednesday handed jail terms ranging from four years to life to more than a dozen people convicted of helping Islamist gunmen who attacked satirical weekly Charlie Hebdo and customers at a Jewish supermarket in January 2015.
Survivors and family members of the dead sat in silence as the verdicts were read out, which they hailed afterwards as a victory for justice and freedom of speech after a sometimes traumatic trial that revived the horror of the killings.
The editor of Charlie Hebdo Laurent "Riss" Sourisseau, who lives under round-the-clock police protection, was also in court to hear the sentencing by a five-member team of magistrates who had listened to evidence against the accused over three months.
"It's been painful, searing. It's been a stage in our mourning process, necessary and unavoidable," said a lawyer for Charlie Hebdo, Richard Malka. "I hope it's the start of something else, of an awareness, a wake-up call."
In the absence of the attackers themselves — all three were killed by security forces in the days after their rampage — French investigators instead focused on accomplices to the men, including their weapon suppliers.
The main accused, Ali Riza Polat, was judged to have known about his friend Amedy Coulibaly's plans to take part in the attacks, and was given a 30-year sentence for complicity, which he immediately said he would appeal.
Another 10 accused were present in court, all men ranging from 29 to 68 years old with prior criminal records but no terror convictions. They were all found guilty on a range of charges.
In all, 13 sentences were handed down, including to two accused who were tried in absentia: Hayat Boumeddiene, the partner of gunman Coulibaly, received a 30-year sentence, while Mohamed Belhoucine, a known Islamic extremist, was handed a life term.
Both of them are presumed to be in Syria and may be dead.
A fourteenth suspect was not sentenced because he was convicted in a separate terror trial earlier this year and is thought to dead.
'Freedom has last word'
During the attacks in January 2015, seventeen people were killed over three days, beginning with the massacre of 12 people at Charlie Hebdo magazine by brothers Said and Cherif Kouachi.
They said they were acting on behalf of Al-Qaeda to avenge Charlie Hebdo's decision to publish cartoons of the Prophet Mohammed, while Coulibaly had sworn loyalty to the Islamic State group.
Coulibaly was responsible for the murder of a French policewoman and a hostage-taking at a Hyper Cacher market in which four Jewish men were killed.
Those shot dead in the Charlie Hebdo office included some of France's most celebrated cartoonists such as Jean Cabut, known as Cabu, 76, Georges Wolinski, 80, and Stephane "Charb" Charbonnier, 47.
To mark the start of the trial on Sept 2, the fiercely anti-religion magazine defiantly republished the prophet cartoons, leading to fresh violence and protests against France in many Muslim countries.
Three weeks later, a Pakistani man wounded two people outside the magazine's former offices, hacking at them with a cleaver.
On Oct 16, a young Chechen refugee beheaded teacher Samuel Paty who had showed some of the caricatures to his pupils.
And on Oct 29, three people were killed when a young Tunisian recently arrived in Europe went on a stabbing spree in a church in the Mediterranean city of Nice.
President Emmanuel Macron's government has introduced legislation to tackle radical Islamist activity in France, a bill that has stirred anger in some Muslim countries.
On the cover of its new issue published before the verdicts, Charlie Hebdo in typically provocative style published a picture of God being led away in a police van with the title "God put in his place".
"The cycle of violence, which had began in the offices of Charlie Hebdo, will finally be closed," editor Riss, who was badly injured in the attacks, wrote in an editorial.
"At least from the perspective of criminal law, because from a human one, the consequences will never be erased," he added.
'Thanks to justice'
The Charlie Hebdo killings triggered a global outpouring of solidarity with France under the "I am Charlie" slogan and signalled the start of a wave of Islamist attacks around Europe.
Later that year, in November 2015, Paris was again besieged when Islamist gunmen went on the rampage at the Bataclan concert hall, the national stadium and at a host of bars and restaurants.
A trial of the only surviving gunman and suspected accomplices is expected to start in September next year.
Christophe Deloire, the head of press freedom group Reporters Without Borders (RSF), said he welcomed the verdict in court on Wednesday.
"It is proof that violent extremists don't have the last word. Thanks to justice, it is freedom that has the last word," he wrote on Twitter.
Patrick Klugman, lawyer for the victims at Hyper Cacher, said: "For most of the victims … I believe that they have a feeling of having been heard."
https://www.freemalaysiatoday.com/category/world/2020/12/17/french-court-jails-accomplices-over-charlie-hebdo-attack/
--------
Southeast Asia
Maybank Islamic expects to issue 45,000 Islamic corporate cards
18 Dec 2020
KUALA LUMPUR: Maybank Islamic Bhd expects to issue about 45,000 of its new Maybank Islamic corporate cards, which has a charity element, within the next five years
In a statement issued on Friday following the launch of the card, Maybank said this card is the first in the market that channels a percentage of customer spending to charity.
Maybank Group said the bank will contribute 0.1% of all customer spending on overseas merchants such as eBay US, Amazon US and Apple Store US, to selected charity bodies.
"Based on Shariah principles, the Maybank Islamic corporate card also provides a digital Shariah-compliant payment platform to assist businesses in the management and planning of their operations, " it said.
Card members will receive cashback for retail and online purchases - 0.3% cashback for local spend and 0.7% cashback on overseas spend.
It is also the first Islamic corporate card in Malaysia to be offered in both Visa and Mastercard.
Maybank Islamic CEO Datuk Mohamed Rafique Merican said: "Embodying the Islamic finance values of equitability and social well-being, this new Maybank Islamic corporate card is aimed at meeting the increasing demand by Shariah compliant and halal conscious businesses."
He said the current Covid-19 pandemic has made it more important than ever for banks to play a role in addressing the challenges within the communities they serve.
"Maybank Islamic is committed to provide Shariah-compliant financial solutions that meet the needs of our customers and create a positive impact to the community, " he said.
Datuk Hamirullah Boorhan, head, community financial services Malaysia of Maybank, said as the market leader in cards, the banking group is constantly looking for new value-adding offerings for its customers.
"The new Maybank Islamic Corporate Card caters to an increasingly conscious corporate customer segment by providing an alternative which they feel is better suited to their beliefs and values.
"With this new addition which complements our conventional commercial cards range, we now offer a holistic suite of cards for our corporate, as well as individual customers. Having Visa and Mastercard, two of the world's biggest payment network providers as our partners, our customers can be assured that their card experience will be a smooth and safe one, locally or overseas."
Ng Kong Boon, Visa country manager for Malaysia said: "We are pleased to partner Maybank Islamic to launch the first fully Shariah-compliant corporate card in Malaysia that has a charity element.
"The corporate card business is an important segment for us, given that large corporations and Small and Medium Enterprises (SMEs) make up more than one third of Malaysia's GDP, " he said.
Ng said by using business payment cards, corporations will be able to better manage their expenses.
He said Visa had created a halal lifestyle eCommerce platform "Myhalalstop.com" in collaboration with its global network of halal and Muslim-friendly merchant partners.
Perry Ong, country manager for Malaysia and Brunei, Mastercard said by leveraging Maybank Islamic's strong customer base in Islamic financing and Mastercard's payments technology, the new offering supports the rising demands of corporates and SMEs while ensuring payment transactions are easy, safe and secure.
"Most importantly, it allows businesses to expand their social responsibility by giving back to the community," he said.
https://www.thestar.com.my/business/business-news/2020/12/18/maybank-islamic-expects-to-issue-45000-islamic-corporate-cards
--------
Indonesia begins merger of 3 state-owned Islamic banks
Iqbal Musyaffa
17.12.2020
The merger of three state-owned Islamic banks in Indonesia has started with the signing of the Conditional Merger Agreement earlier this week.
As of Feb. 1, BNI Syariah and Bank Syariah Mandiri will officially merge with BRI Syariah (BRIS) to form Bank Syariah Indonesia, the country's largest Islamic bank.
The merger was approved at an extraordinary general meeting of BRIS – the surviving entity in the merger – shareholders, Hery Gunardi, chief executive officer (CEO) of Bank Syariah Indonesia, said in an online news conference on Wednesday.
Gunardi, who is vice president director of Indonesian financial giant Bank Mandiri, was appointed CEO of Bank Syariah Indonesia by the Ministry of State-Owned Enterprises.
The ministry has also approved the structure of the new bank's board of directors.
It will include a CEO, two deputy CEOs, and directors of wholesale and transaction banking, retail banking, sales and distribution, information technology and operations, risk management, compliance and human capital, and finance and strategy.
"We have been working on this merger plan since March and we will continue our preparations so that all processes can, hopefully, be completed on schedule," said Gunardi.
"We have finalized articles of association, the name, logo, and the organizational structure. All of these have been approved by shareholders."
The next step of the process, he added, is the legal merger of bank branches, products, IT technology for digital banking, and human resources.
He said it is estimated that the total assets of the merged entity will reach 214.6 trillion Indonesian rupiah ($15.2 billion), with total equity of 20.4 trillion Indonesian rupiah ($1.4 billion).
It will rank among Indonesia's top 10 banks in terms of assets and the top 10 Islamic banks in the world in terms of market capitalization.
Kartiko Wiroatmodjo, deputy minister for state-owned enterprises, said Bank Syariah Indonesia is expected to be a catalyst for growth in the country's Islamic finance economy.
"It will be an adviser for global sukuk [financial products compliant with Islamic law] issuance for prospective Indonesian companies," he said.
According to the minister, the merger has been undertaken so that Indonesia, the country with the world's largest Muslim population, can optimize its economic and Islamic finance potential.
https://www.aa.com.tr/en/asia-pacific/indonesia-begins-merger-of-3-state-owned-islamic-banks/2079910
--------
India
Zafar Sareshwala, Considered Close To Prime Minister, To Train Muslim Youths To Enhance Biz Skill To Win The Confidence Of Muslim Community
Dec 18, 2020
Lucknow: In an outreach programme to win the confidence of Muslim community, prominent businessman and educationist Zafar Sareshwala, considered close to Prime Minister Narendra Modi, will hold a workshop for counselling youths for jobs in the financial sector and enhance their entrepreneurship.
Governor Anandiben Patel would be the chief guest at workshop "Atmnirbhar Ayodhya Ki Or" to be held in Ayodhya on December 24 , where youths of the adjoining districts have also been invited.
Sareshwala is organising one-day programme under his banner of "Taleem-O-Tarbiyat". Additional chief secretary, information and the MSME, Navneet Sehgal, who will also give a special lecture on this occasion, told TOI that he has requested Sareshwala to organise such programmes in all 75 districts in the state for promoting ODOP programme of the chief minister and also traditional art and handicraft.
Sareshwala has been organising such conferences and programmes in different parts of the country to increase education and employment among the vulnerable sections of the society, mainly Muslims.
Sareshwala explained to TOI that his organisation's agenda was to spread positivity through education and employment among the vulnerable sections. In small cities like Ayodhya, the younger minds, mainly from the humble background, are not exposed to the financial sector and his organisation would be bringing the financial experts to counsel them on how to grow into an entrepreneur and also avail welfare schemes of the state and Central governments.
Sareshwala said he did not want to get involved in contentious issues like 'love jihad' and UP's ordinance in this regard. "Why shall I worry for a few, when there are crores to be counselled and addressed," he remarked. He also said that he would also meet the ACS MSME in this regard to explore the possibilities of the holding simultaneous exercise with the ODOP programme.
"UP has immense potential and it has the largest number of youth in the country, so my organisation's priority would obviously be this state for imparting skill training to make them employable and be self-reliant," Sareshwala said.
Sareshwala has been working among Muslims, mainly to shape up the career of the youth of the community by counselling them to not to indulge in contentious and sensitive matters. "Instead they should focus on their career and education," he added.
https://timesofindia.indiatimes.com/city/lucknow/sareshwala-to-train-muslim-youths-to-enhance-biz-skill/articleshow/79787246.cms
--------
Abducted girl in 'Love Jihad' case traced, accused nabbed in Odisha's Cuttack
18th December 2020
JAJPUR: Police rescued the 21-year-old girl, who was allegedly abducted by a Muslim youth, on Thursday night. The girl was allegedly kept in captivity in Jagatpur area of Cuttack district. Police also nabbed the accused youth, identified as Shaikh Abdul Sehmat Khan alias Bobby of Choramuhan village. Sub-divisional police officer of Jajpur Road Chinmaya Kumar Nayak said both the accused and victim were being brought to Dharmasala police station.
On Wednesday, the girl's father had lodged a complaint against Bobby for kidnapping his daughter and alleged it to be a case of 'Love Jihad'. Earlier on the day, police had arrested Bobby's father Shaikh Abdul Hamid Khan for his alleged involvement in the abduction and threatening the girl's parents of dire consequences. He was produced in the local court which remanded him in judicial custody for 14 days.
Besides, an audio clip of the girl claiming torture by her abductor had gone viral on the day. In a recorded telephonic conversation with her mother, the victim from Chahata in Jajpur district was heard alleging that she has been confined by her kidnapper in a hotel room near Puri sea beach for the last two days. She informed that the abductor is planning to take her to a mosque in Cuttack for marriage.
"My abductor is shifting me from one place to another. Now we are in a hotel near the beach in Puri. I am confined to the room for the last two days. He is torturing me and my life is in danger," the girl was heard telling her mother in the audio.
The victim further said she will be taken to a mosque at Sutahat in Cuttack for marriage. "They would change my religion in the mosque before marriage," the girl said and prayed her family members to rescue her from the kidnapper's clutches immediately.
In his complaint to the Jajpur SP on Wednesday, the girl's father had stated that his daughter had gone to collect her migration certificate from Vyasa Nagar Autonomous College at Jajpur Road on December 5. However, she did not return home in the evening and her mobile phone was switched off. He alleged that Bobby had earlier made several attempts to kidnap and marry his daughter by changing her religion.
https://www.newindianexpress.com/states/odisha/2020/dec/18/abducted-girl-in-love-jihad-case-traced-accused-nabbed-in-odishas-cuttack-2237854.html
--------
Gujarat: Govt invokes 'love jihad' to oppose rape-accused's bail
Dec 18, 2020
SURAT: A 28-year-old man arrested for abducting and raping a minor girl in February this year was denied bail by a local court here even as the prosecution invoked 'love jihad' to oppose his release as he and the survivor belong to different faiths.
The court special Pocso court rejected the bail application of accused Nadeem, who was arrested by the Amroli police for allegedly luring the 16-year-old girl by offering to marry her. He, however, reneged on his promise after indulging in sexual intercourse with the girl at different places.
Additional public prosecutor KV Revaliya argued that it was a case of 'love jihad' as the accused and victim belong to different religions.
"The victim was minor at the time of incident. Accused has committed a serious offence of kidnapping and rape. It appears from the police papers that he had a role in inducement of marriage and taking away the victim and committing sexual intercourse. The girl was rescued from his custody. She is a Hindu and the accused a Muslim and this is a case of love jihad," Revaliya argued.
A FIR was lodged on February 2, 2020 in Amroli Police station by the girl's father under various sections of IPC including 376 (2), 366 and sections of Protection of Children from Sexual offences Act, 2012 against unknown persons. In the FIR, her father stated that on January 31, 2020, his minor daughter did not return from her work place.
Investigation revealed Nadim's name and that had taken the girl at various places with an inducement of marriage.
Nadim was later arrested and sent to judicial custody. Earlier, the court had rejected his regular bail plea and a chargesheet was filed against him.
Appearing for the Nadim, lawyer Sanjay Vaniya argued that he was falsely implicated in the case and the matter had been amicably settled with the girl and her family.
He had even submitted an affidavit giving details about the settlement with the girl wherein her family stated that even they had no objection if he was released on bail.
"Nowadays, cases of kidnapping and abduction are on the high and young girls are being lured by young boys and are subjected to sexual abuse. As such, considering social aspects of the offence, I am of the opinion that the accused is actively involved in the alleged offence," the court observed while rejecting the bail plea.
https://timesofindia.indiatimes.com/city/surat/govt-invokes-love-jihad-to-oppose-rape-accuseds-bail/articleshow/79783728.cms
--------
Special NIA court jails BTech graduate for pledging allegiance to Islamic State; youth was caught enroute Libya in 2015
December 17, 2020
New Delhi: A special NIA court in New Delhi has convicted a BTech graduate from Chennai who pledged his allegiance to the Islamic State terror group in a bid to fight along with it in Syria, an official said on Thursday. The NIA Speical Court at Patiala House, New Delhi, pronounced the judgement against Mohammad Naser on Wednesday.
The case, registered by the NIA in December 2015 under sections of the IPC and UAPA, pertains to the criminal conspiracy hatched by the Islamic State to establish its base in India by recruiting Muslim youths for Islamic State, a proscribed terrorist organisation, through different social media platforms.
"As a result, a few known and other unknown Indian youths expressed their solidarity, allegiance and support to the Islamic State in different forms and left India or their place of residence for abroad and joined Islamic State under the influence of persistent indoctrination by their handlers," an NIA spokesperson said.
After completion of investigation, the NIA filed chargesheets against 16 accused including Naser on 3 June this year. In this case, 15 accused were earlier sentenced to up to 10 years of rigorous imprisonment by the NIA Special Court on 16 October this year for the conspiracy hatched by Islamic State handlers based in Syria and subsequent formation of a group namely Junood-ul-Khilafa-fil-Hind owing its allegiance to Islamic State.
Naser, a BTech (IT) and certified ethical hacker from Chennai, was working as a web developer and graphic designer in Dubai in 2014, the NIA official said.
He got radicalised and motivated to join Islamic State through the lectures delivered on YouTube by Islamic scholars namely Anjem Choudary and Abu Barra, the official said.
Naser was fully convinced that Islamic State was following the true edicts of Islam and struggling to create a Caliphate, which will be governed on the basis of Sharia, the NIA official said. Hence, he made frantic efforts to find persons who could facilitate his travel to Syria/Libya for joining Islamic State, the official said.
On persistent efforts, he came across some online handlers and left Dubai to join Islamic State for Libya via Sudan, but, he was interdicted by the Sudanese authorities and deported to India in December 2015, according to the NIA official.
After completion of investigation and subsequent trial, the NIA Special Court convicted Naser for the various offences committed by him and sentenced him to rigorous imprisonment for seven years and slapped a fine of Rs 40,000 on Wednesday, the official said.
Trial continues against chargesheeted accused Imran Khan.
https://www.firstpost.com/india/special-nia-court-jails-btech-graduate-for-pledging-allegiance-to-islamic-state-youth-was-caught-enroute-libya-in-2015-9121521.html
--------
Terrorists hurl grenade ahead of BJP rally in Anantnag, CRPF jawan injured
Dec 18, 2020
SRINAGAR: Minutes before the beginning of a BJP rally at Bijbehara in Anantnag district of south Kashmir, terrorists lobbed a hand grenade on a CRPF party on Thursday, leaving one jawan injured.
The injured jawan, identified as Patil Parmakar of 40 BN, was shifted to the sub-district hospital where his condition is stated to be stable, a police officer said.
The area has been cordoned off and a massive search operation launched to track down the attackers.
https://timesofindia.indiatimes.com/india/terrorists-hurl-grenade-ahead-of-bjp-rally-in-anantnag-crpf-jawan-injured/articleshow/79788577.cms
--------
Ahead of PM Modi's address, AMU faculty calls for unity
Hemendra Chaturvedi
Dec 18, 2020
The Aligarh Muslim University (AMU) administration bolstered security and senior faculty members called for unity on Thursday after some campus student groups opposed Prime Minister Narendra Modi as the chief guest of the institution's centenary celebrations on December 22. On Wednesday, AMU vice chancellor Professor Tariq Mansoor announced that Modi will attend the online function with Union education minister Ramesh Pokhriyal Nishank via video conference on December 22. Extending gratitude to the Prime Minister, Mansoor said that the outreach will help in the growth and development of the institution.
Modi will be the first PM to address an AMU event since Lal Bahadur Shastri in 1964. He will be speaking to the university and its members for the first time. The PM is also expected to release a commemorative stamp on AMU's centenary year during the interaction. But some groups on campus opposed the announcement, prompting the administration to step up vigilance and senior professors to appeal for calm. "We need to work together in the interest of the university. We appeal to everyone to celebrate the centenary programme above politics…centenary celebrations are to be kept above differences," read a statement signed by 12 of the senior most faculty members. The university has also taken steps to ensure that the programme is not disrupted, and avert any disturbance on campus. "It would be an online programme with links issued through NIC (National Information Center) and participants from AMU would be at registrar office," stated Shafey Kidwai, the public relation officer for AMU. The faculty members requested protesting students to come on board.
"We must not lose sight of the fact that the centenary is a great landmark achievement in the history of any university. Our unity on the occasion will bring greater confidence among various university units and alumni associations, who are engaged in organising programmes with illustrious people as the guests," they wrote.
This came after former AMU Students' Union (AMUSU) vice-president Nadeem Ansari, now a Samajwadi Party leader, opposed invitation to PM Modi. "Vice Chancellor Tariq Mansoor's vested interest will be served through PM Modi's participation. If anything goes wrong, the V-C will be responsible," said Ansari. Other student groups also pointed out that the Centre opposed the university's minority status appeal in the Supreme Court.
The university and its students hit the headlines in recent years for opposing several government moves, including the revocation of Jammu and Kashmir's special status and the Citizenship Amendment Act (CAA).
Last year, on December 15, the university turned into a war zone as protesting students clashed with security forces, resulting in several injuries
https://www.hindustantimes.com/india-news/ahead-of-modi-s-address-amu-faculty-calls-for-unity/story-qXdKSW9FZ3ufNFYWZacbHK.html
--------
North America
Pompeo urges Turkey to re-commit itself to its NATO obligations
Rawad Taha
18 December 2020
US Secretary of State Michael R. Pompeo spoke with Turkish Foreign Minister Mevlut Cavusoglu to discuss the December 14 imposition of sanctions by the US on its NATO Ally Turkey for its procurement of the Russian-made S-400 missile defense system, as required under the Countering America's Adversaries Through Sanctions Act (CAATSA).
Secretary Pompeo made clear to Foreign Minister Cavusoglu that Turkey's purchase of the S-400 system endangers the security of US personnel and military technology and allows Russian access to the Turkish armed forces and defense industry.
For all the latest headlines, follow our Google News channel online or via the app.
The Secretary stressed that the goal of the sanctions is to prevent Russia from receiving substantial revenue, access, and influence, and they are not intended to undermine the military capabilities or combat readiness of Turkey or any other US Ally or partner.
Secretary Pompeo also urged Turkey to resolve the S-400 issue in a manner consistent with our decades-long history of defense-sector cooperation and to re-commit itself to its NATO obligations to purchase NATO-interoperable weaponry.
https://english.alarabiya.net/en/News/middle-east/2020/12/18/Pompeo-urges-Turkey-to-re-commit-itself-to-its-NATO-obligations
--------
Top US General Milley meets with Taliban, Afghan leader in bid to reduce violence
17 December 2020
The top US military officer met separately this week with the Taliban and Afghanistan's president to push for a negotiated solution as the United States pulls out, the Pentagon said on Thursday.
Meeting the Taliban in Qatar, General Mark Milley "discussed the need for an immediate reduction of violence and (to) accelerate progress towards a negotiated political solution which contributes to regional stability and safeguards US national interests," spokeswoman Commander Sarah Flaherty said.
Army Gen. Mark A. Milley, chairman of the Joint Chiefs of Staff, met for about two hours with Taliban negotiators in Doha, Qatar, on Tuesday and flew Wednesday to Kabul to discuss the peace process with Afghan President Ashraf Ghani.
Milley's meetings came amid a new drawdown of US troops, although under current US policy a complete pullout hinges on the Taliban reducing attacks nationwide.
"The most important part of the discussions that I had with both the Taliban and the government of Afghanistan was the need for an immediate reduction in violence," Milley told three reporters, including one from The Associated Press, who accompanied him to Qatar and Afghanistan. "Everything else hinges on that."
Under ground rules set by Milley for security reasons, the journalists traveling with him agreed not to report on either set of talks until he had departed the region. It was Milley's second unannounced meeting with the Taliban's negotiating team; the first, in June, also in Doha, had not been reported until now.
Although Milley reported no breakthrough, his Taliban meetings represent a remarkable milestone -- America's top general coming face-to-face with representatives of the group that ruled Afghanistan until it was ousted 19 years ago this month in the early stages of what became America's longest war. Milley served three tours of duty in Afghanistan, the first in 2003 and the last in 2013-14.
Army Gen. Scott Miller, the top commander of US and coalition forces in Afghanistan, said in an interview at his military headquarters in Kabul on Wednesday that the Taliban have stepped up attacks on Afghan forces, particularly in the southern provinces of Helmand and Kandahar, and against roadways and other infrastructure.
"My assessment is, it puts the peace process at risk -- the higher the violence, the higher the risk," Miller said. Miller meets at least once a month with Taliban negotiators as part of Washington's effort to advance a peace process.
Speaking in the same interview, Ross Wilson, the ranking American diplomat in Kabul, said he also sees growing risk from Taliban violence. He said it has created "an unbearable burden" on the Afghan armed forces and the society as a whole.
In the so-called Doha agreement signed last February by the United States and the Taliban, the administration of President Donald Trump agreed to a phased withdrawal of US troops, going down to zero troops by May 2021 if the agreement's conditions are upheld. One condition is a reduction in violence by the Taliban, leading to a nationwide ceasefire. The Taliban also agreed to begin peace negotiations with the Afghan government, which are in an early stage.
The Taliban have demanded a halt to US airstrikes, which have been conducted since February only in support of Afghan forces under Taliban attack.
https://english.alarabiya.net/en/News/world/2020/12/17/Top-US-General-Milley-meets-with-Taliban-Afghan-leader-in-bid-to-reducing-violence-
--------
Biden will slowly reverse Trump-inflamed US-Iran tensions
17 December 2020
By Walt Peretto
Iranian President Rouhani stated today that US President-elect Joe Biden will abandon Trump's policy of sanctions against the Islamic Republic, stressing national unity as a key factor. Biden has also mentioned the possibility of the US returning to the JCPOA which Trump had abandoned in 2018.
For four years, Israel has been putting pressure on Trump to provoke a war with Iran before taking matters in their own hands by assassinating Iran's top nuclear scientist. I think the strategy of the Democrats is to pacify Iran until Syria is pressured into regime change and is firmly under globalist/Zionist control.
Iran and Syria have a mutual defense pact and there has been talk about Biden ramping up the conflict in Syria. When Biden was vice-president, his Secretary of State Hillary Clinton was openly belligerent towards Syria and during that time the actions of the Western-backed Daesh caused ghastly misery and forced thousands of refugees to flee to Europe and beyond. This strategy was designed to destabilize Syria to provoke regime change. It also feeds the globalists' desire to break down European culture to soften their eventual transition to a one-world culture and government. Biden's foreign policy will likely return to these strategies.
It probably won't be long after Biden is sworn in as president that we'll see escalating tensions in Syria. The Western mainstream media will likely portray the situation as a resurrection of ISIS and the US political right-wing will likely blame Biden for being soft on terrorism when it will be the US and its allies behind the violence. Of course this is speculation for the time being, but based on recurring patterns of behavior it seems like the Democrats hold a securing Syria first policy before concentrating on any conflict with Iran. Donald Trump is very close to Israeli leadership and I believe the Israelis felt they could convince Trump to go to war with Iran. It's likely that US military leaders advised against it until Syria is securely in the hands of the West.
So I see Biden slowly reversing tensions between the US and Iran which Trump has inflamed, while giving the go ahead for mercenaries to wreak havoc in Syria. On the home front, Biden will be facilitating conditions to 'convince' reluctant Americans to take the Covid-19 vaccines using monetary incentives and threats of disabling people's ability to travel, work, go to school, shop etc without proof of vaccine compliance. This will likely define his domestic policy while his foreign policy will concentrate on the Middle East and Western Asia.
The American people will have their hands full sorting out the major changes in society to the extent that foreign policy will be given little thought---even if a full-scale conflict commences abroad.
In the meantime, on the surface at least, I see US/Iranian relations warming in the first two years or so of Biden's presidency while tensions increase in and around Syria. If the globalist's plans are exposed and people begin to understand the pathologies and motivations behind it all, which is the establishment of a one world government, then people can formulate counter-strategies and reverse this downward spiral. Void of broad-based knowledge of this global reality, the future does not look good for the average person.
Walt Peretto is a writer and researcher in Washington, DC. He recorded this article for Press TV website. He recorded this article for Press TV website.
https://www.presstv.com/Detail/2020/12/17/640965/%E2%80%8B%E2%80%8B%E2%80%8B%E2%80%8B%E2%80%8B%E2%80%8B%E2%80%8BBiden-will-slowly-reverse-Trump-inflamed-US-Iran-tensions
--------
Boogaloo Bois member pleads guilty to trying to sell weapons to Hamas
By Andy Mannix
DECEMBER 16, 2020
A member of the anti-government Boogaloo Bois pleaded guilty Wednesday to attempting to provide weapons to Hamas, a designated terrorist organization, in the days and weeks following protests over the death of George Floyd in Minneapolis.
Benjamin Ryan Teeter, 22, could face up to 20 years in prison for the federal felony. His sentencing has not been scheduled.
Appearing via video and wearing orange jail garb, Teeter told U.S. District Judge Michael Davis that he came to Minneapolis from North Carolina after Floyd's death. He and Michael Robert Solomon, 30, another Boogaloo Bois member who's charged with the same crimes, met several times with two men they believed represented Hamas, but who were actually working covertly for the federal government. Teeter and Solomon negotiated selling gun suppressors and a "drop in auto sear" — a device that converts semi-automatic weapons into illegal machine guns, according to charges.
Teeter acknowledged in court he believed the materials would be used by the militant wing of Hamas. "I mean, why would someone buy suppressors if they weren't going to deliver them to a militant wing?" he said.
Teeter said they hoped Hamas would help them "to exit the country and open a training facility" for Boogaloo Bois, a loose-knit, far-right group bent on starting the next American civil war. He and Solomon also planned to bomb a courthouse in northern Minnesota, and then changed their target to an unspecified courthouse in the Twin Cities, he said in court Wednesday.
"This case highlights the real threat posed by domestic violent extremists who self-radicalize and threaten to violently attack others opposed to their views, with little or no warning," said Michael Paul, special agent in charge of the FBI's Minneapolis field office, which led the investigation.
According to court documents, Teeter, of North Carolina, is part of a group called "Boojahideen," a subgroup of the Boogaloo Bois. Around the time of the riots, he and Solomon "discussed committing acts of violence against police officers and other targets in furtherance of the Boojahideen's stated goal of overthrowing the government and replacing its police forces," a witness told the FBI. They talked about destroying government monuments, raiding the headquarters of a white supremacist organization in North Carolina and targeting politicians and members of the media, according to court documents.
In recorded conversations, Teeter and Solomon told undercover government sources they wanted to become mercenaries for Hamas to generate cash for the Boogaloo movement, and that they shared anti-U.S. government views, according to court documents. They met several times with undercover employees for the FBI, and in July they purchased a large drill press to make the suppressors. Teeter and Solomon delivered five suppressors to undercover sources on July 30 and agreed to make more, which they believed "would be used against Israeli and United States military personnel overseas," according to court documents.
"The defendant was a self-described member of the Boogaloo Bois whose extremist ideologies had moved into the realm of violent action," said Minnesota U.S. Attorney Erica MacDonald. "I am grateful for the quick and effective action by law enforcement to keep our community safe."
In addition to Teeter and Solomon, another Boogaloo member, Ivan Hunter, is also facing federal charges related to the Floyd riots. Hunter allegedly shot a rifle 13 times into the burning Minneapolis Third Precinct, while people were inside, in an attempt to achieve the Boogaloo Bois' goal of ramping up violence and starting a civil war.
https://www.startribune.com/boogaloo-bois-member-pleads-guilty-to-trying-to-sell-weapons-to-hamas-after-minneapolis-riots/573410351/?utm_source=iterable&utm_medium=email&utm_campaign=1828969_
--------
Pakistan
PM Modi Offers Condolences To Nawaz Sharif On His Mother's Death
18 December 2020
Prime Minister Narendra Modi wrote a personal letter to PML-N supremo Nawaz Sharif last month, extending heartfelt condolences to Pakistan's former premier over his mother's death, recalling that her simplicity and warmth were "indeed very touching".
In the letter dated November 27, which was released by the Pakistan Muslim League-Nawaz (PML-N) on Thursday, Prime Minister Modi conveyed his "heartfelt condolences" to Sharif over his mother's death on November 22.
The letter was forwarded to Sharif's daughter and PML-N Vice President Maryam Nawaz by the Indian High Commission in Islamabad last week with a request to be conveyed to her father, who has been residing in London since last year, the Dawn newspaper reported on Thursday.
"Dear Mian Sahib, I am deeply saddened to learn about the demise of your mother Begum Shamim Akhtar on November 22 in London. My heartfelt condolences are with you in this hour of intense grief," Modi wrote.
Prime Minister Modi recalled his interaction with Sharif's mother during his brief surprise visit to Lahore in 2015, saying: "Her simplicity and warmth was indeed very touching."
"In this moment of profound grief, I pray to the Almighty to bestow strength upon you and your family to bear this irreparable loss," he added.
In a separate letter sent to Maryam on December 11 at her Lahore residence, Indian Charge d'Affaires Gaurav Ahluwalia requested her to convey the condolence message to Nawaz in London, the paper said.
Sharif, three-time former prime minister who is entangled in a number of corruption cases, has been in London since November last year after the Lahore High Court granted him permission to go abroad for four weeks for treating the heart disease and an immune system disorder.
Sharif's mother Begum Shamim Akhtar died in Britain on November 22. Her body was later flown to Pakistan and she was buried at the family's Jati Umra estate in Lahore.
In December 2015, Modi had paid a brief surprise visit to Lahore on his way back to India from Afghanistan. He was received by Sharif and both leaders had flown to Raiwind from Lahore airport in a helicopter.
Modi then briefly attended Sharif's grand daughter's wedding ceremony at his residence and held a brief meeting with his Pakistani counterpart at the time before departing for New Delhi.
This was the first time an Indian premier visited Pakistan in more than a decade.
Ties between India and Pakistan nosedived after a terror attack on the Pathankot Air Force base in 2016 by terror groups based in the neighbouring country. Subsequent attacks, including one on Indian Army camp in Uri, further deteriorated the relationship.
The relations between the two countries further deteriorated after India scrapped Jammu and Kashmir's special status on August 5, 2019 and bifurcated it into two union territories.
https://www.outlookindia.com/website/story/world-news-pm-modi-offers-condolences-to-nawaz-sharif-on-his-mothers-death/367601
--------
Opposition staging 'drama' to get NRO: Murad
Haseeb Hanif
December 18, 2020
ISLAMABAD:
Communications Minister Murad Saeed criticised the opposition Pakistan Democratic Movement (PDM) on Thursday, terming its anti-government campaign a "drama" to get relief for its leaders from the corruption cases.
Addressing a press conference, the minister said the opposition leaders were on the roads after they failed to get an NRO, a reference to former president Pervez Musharraf-era political amnesty through the now-defunct National Reconciliation Ordinance in 2007.
"The opposition parties in the name of the PDM, are staging a drama in the country. They are on the roads after failing to get an NRO, which they had sought from the government in writing," the minister told reporters.
He said that the opposition had sought NRO during the legislation related to the Financial Action Task Force (FATF). He added the opposition had demanded the inclusion of amendments to the National Accountability Bureau (NAB) laws in the Senate session agenda to get relief from the corruption cases.
On the one hand, they were making noise of rigging and on the other they want an NRO to escape accountability for their corruption," he said. "Even some opposition members are astonished as to why they should campaign for an NRO for Nawaz Sharif, a proclaimed offender sitting in London," he added.
He added that issues important for the opposition were not important for the people, therefore, they had rejected the PDM's drama. "The credit goes to the nation, which has defeated such people in the general election," he added.
EU DisinfoLab expose
At the press conference, the minister also said that the recent EU DisinfoLab report was a bombshell expose about India's involvement in carrying out fake propaganda campaigns to destabilise Pakistan for the last 15 years.
The Brussels-based non-government organisation, in its report, uncovered fake network of some 10 NGOs present in 116 countries, using fake identities, which were involved in malicious and disinformation campaigns against Pakistan.
"Indian media outlets and social media were used for propaganda against Pakistan. Anti-Pakistan demonstrations were organised by those organisations, which were attended by foreign nationals instead of Pakistanis as evident from their facial features," the minister said.
He said India had made all-out efforts to put Pakistan into the FATF blacklist but failed in its nefarious designs. The Pakistanis, he added, might have different political views and ideologies, but they were united to defend Pakistan's ideology irrespective of political affiliations.
The minister said Indian occupation forces were committing gross human right violations in the Illegally Indian Occupied Jammu and Kashmir. However, when the Pakistan Muslim League-Nawaz (PML-N) was in power, its leader Nawaz Sharif covered up Indian abuses to save his own business interests in India.
The minister mentioned that in the past India was spreading terrorism in the world but Pakistan was blamed. "With the arrival of Prime Minister Imran Khan, Pakistan has become known as for terrorism but for tourism, he said, adding: "Imran Khan has become ambassador of the Kashmiris."
https://tribune.com.pk/story/2276378/opposition-staging-drama-to-get-nro-murad
--------
UNGA adopts Pakistan-sponsored resolution on self-determination
Anwar Iqbal
18 Dec 2020
UNITED NATIONS: The United Nations General Assembly has approved a Pakistan-sponsored resolution that reaffirms the right to self-determination for peoples subjected to colonial, foreign and alien occupation.
The 193-member body adopted the resolution by consensus on Wednesday afternoon when it also considered other human rights issues.
The resolution — "Universal realisation of the right of peoples to self-determination" — clearly stating that self-determination is a fundamental right of all peoples — including those under colonial, foreign and alien domination.
The resolution, which was co-sponsored by 71 countries, observed that "self-determination is a fundamental condition for the guarantee and observance of human rights".
Akram says the world body reaffirmed Islamabad's legal, political and moral case in support of Kashmiris
Declaring its firm opposition to foreign military intervention, aggression and occupation, the Assembly called on "those States responsible to cease immediately their military intervention in and occupation of foreign countries and territories".
The world body also "deplored the plight of millions of refugees and displaced persons who have been uprooted as a result of such acts and reaffirmed their right to return".
Pakistan's UN Ambassador Munir Akram said that by adopting Pakistan's resolution, the General Assembly had "reaffirmed our legal, political and moral case in support of all peoples, including the Kashmiri people, to struggle for self-determination against foreign occupation by all means available to them".
The text of the resolution was recommended last month by the General Assembly's Third Committee, which deals with social, humanitarian and cultural issues. While taking up a report on "Social development", the assembly also "stressed the importance of removing obstacles to realizing the right to self-determination".
By a recorded vote of 168 in favour to five against with 10 abstentions, the Assembly then adopted draft resolution II — "The right of the Palestinian people to self-determination." The resolution reaffirms the right of the Palestinian people to self-determination, including to their independent State of Palestine.
It urged all states and specialised UN agencies to continue to assist Palestinians in the early realisation of this right.
The United States, Israel, Marshall Islands, Federated States of Micronesia and Nauru voted against the resolution.
Ambassador Akram said the resolution on self-determination had empowered legitimate freedom movements and had also renewed international commitment to help those living under occupation and subjugation. Pakistan, he said, would continue to speak up for all peoples who were suffering under foreign occupation. "This has been a cornerstone of our foreign policy and we are proud to be a voice of the voiceless," he added.
The General Assembly also proclaimed Aug 31 as the International Day for People of African Descent to "promote greater recognition and respect for the diverse heritage, culture and contribution of people of African descent to the development of societies".
The Assembly deferred action on two draft resolutions: "Situation of human rights of Rohingya Muslims and other minorities in Myanmar", and "a global call for concrete action for the elimination of racism, racial discrimination, xenophobia and related intolerance". The resolutions would be reviewed after budgetary considerations.
https://www.dawn.com/news/1596375/unga-adopts-pakistan-sponsored-resolution-on-self-determination
--------
FM Qureshi meets UAE counterpart, apprises him of difficulties faced by Pakistani community
18 Dec 2020
Foreign Minister Shah Mahmood Qureshi met with his United Arab Emirates (UAE) counterpart, Sheikh Abdullah bin Zayed Al Nahyan, late on Thursday in Abu Dhabi.
The foreign minister is currently on a two-day visit to the UAE. The visit is taking place weeks after the UAE included Pakistan among the 12 countries for whose nationals it had suspended visit visas.
Qureshi apprised his counterpart of the difficulties being faced by the Pakistani community in the UAE and stressed the need for their early resolution, Radio Pakistan reported.
According to Radio Pakistan, Pakistan and the UAE have agreed to develop an institutional mechanism to strengthen bilateral relations.
During the meeting, the two ministers exchanged views on bilateral relations and promotion of cooperation in various fields and regional issues, the report said.
Qureshi said Pakistan and the UAE have deep, historic and fraternal ties, adding that the country has always supported Pakistan in its hour of need.
He stated that around 1.6 million Pakistanis living in the UAE have been contributing to the country's development for the last several decades. He said the Pakistani community in the UAE has a pivotal role in promoting contacts at a public level between the two countries, the report added.
They also discussed the positive progress made with regard to the establishment of peace in Afghanistan. Qureshi said Pakistan is committed towards continuing its sincere efforts for peace and stability in the region, including the Afghan peace process.
The foreign minister also apprised his counterpart about the deteriorating security situation in occupied Kashmir.
According to a statement released by the Foreign Office (FO), Qureshi also expressed his sincere appreciation for the warm welcome and hospitality extended to him and his delegation during the visit.
He extended an invitation to Sheikh Abdullah Bin Zayed Al Nahyan to visit Pakistan on mutually convenient dates in the near future which he graciously accepted, the statement added.
In a tweet, Qureshi said it was "always a pleasure" to meet his UAE counterpart, adding that "avenues for deepening Pakistan and UAE relations" were discussed during the meeting.
"The welfare of our 1.6 million strong diaspora in the UAE was discussed, with the strengthening of our people to people ties a cornerstone of our bilateral relationship," he said.
He added that the two also spoke about the "situation in South Asia, conditions in occupied Kashmir and discussed peace in Afghanistan". "Pakistan appreciates the UAE's cooperation during the Covid-19 pandemic," he added.
Shortly after his arrival is Dubai on Thursday, Qureshi had discussed issues pertaining to welfare of Pakistani diaspora in the United Arab Emirates with the ruler of Dubai.
The foreign minister had urged Sheikh Mohammed bin Rashid Al Maktoum to encourage UAE's business community to avail investment opportunities in Pakistan.
According to the FO, Qureshi had reaffirmed Pakistan's commitment to further strengthening and augmenting existing strong bilateral relations with the UAE. Sheikh Mohammed bin Rashid had warmly reciprocated the sentiments.
https://www.dawn.com/news/1596442/fm-qureshi-meets-uae-counterpart-apprises-him-of-difficulties-faced-by-pakistani-community
--------
MQM assures Imran of support for Senate polls
Syed Irfan Raza
18 Dec 2020
ISLAMABAD: In a 'give-and-take' move, Prime Minister Imran Khan on Thursday assured the Muttahida Qaumi Movement of a 'prominent role' in the recently formed Gilgit-Baltistan government, while the MQM gave him complete assurance to support the ruling Pakistan Tehreek-i-Insaf (PTI) in the forthcoming Senate elections.
During a meeting between the prime minister's team and an MQM delegation on the lawns of Prime Minister House, it was decided that the PTI, MQM and Grand Democratic Alliance (GDA), a cluster of seven different local parties in Sindh, would jointly contest the Senate polls.
It was officially informed by the PM Office that the prime minister and the MQM delegation led by its chief Khalid Maqbool Siddqui discussed the upcoming Senate polls. Federal Minister for Information Technology Syed Aminul Haq also attended the meeting. The MQM is a prominent ally of the government at Centre.
Later talking to Dawn, Aminul Haq said the meeting was held in a cordial atmosphere and Prime Minister Khan had assured that the MQM would have an adviser in the PTI-led GB government.
PM promises Muttahida will have an adviser in GB government
"In fact PTI leader Zulfiqar Abbas Bukhari (commonly known as Zulfi Bukhari) and me inked an agreement under which MQM withdrew its candidate in support of PTI a day before GB polls held on Nov 15, while PTI assured MQM's participation in GB government," he said.
The MQM leader said his party had a good track record in GB where it got the second highest number of votes in the 2009 elections and that one or two of its members (MLAs) always remained in the GB Legislative Assembly. "Since MQM has now no MLA in the GB assembly, the prime minister assured that the party will have at least one adviser [in GB government]," he added.
Mr Haq said the MQM had assured the prime minister of its support in the Senate elections and both sides agreed that the PTI, MQM and GDA would jointly contest the Senate polls from Sindh.
Regarding the MQM's other demands, the prime minister assured that politically motivated cases against its leaders and workers would be withdrawn and the issue of missing MQM workers would be addressed.
"We are also meeting newly appointed Interior Minister Sheikh Rashid Ahmed on Friday (today) in which the minister will be apprised of our problems and demands," Aminul Haq said.
Talking about the Rs1.1 trillion Karachi Transformation Plan, the prime minister assured the MQM that it would be taken onboard on all decisions regarding development of the metropolis.
Meeting on SMEs
Presiding over a meeting of the National Coordination Committee on small and medium enterprises, the prime minister directed the authorities concerned to accomplish the targets set for SMEs' uplift. He said the country's all economic indicators were on a positive trajectory and promotion of SMEs was a must to bring further improvement.
The Sindh chief secretary, secretaries of industries of Gilgit-Baltistan, Punjab, Khyber Pakhtunkhwa, Balochistan and Azad Jammu and Kashmir and CEO of the Trade Development Authority participated in the meeting via video link.
The prime minister said SMEs were a key component of the economy and their empowerment would help strengthen the economic outlook and create employment opportunities.
The meeting was told that the government was in consultation with all stakeholders to extend financial support to SMEs for which a special fund would also be created. It was also told that targets had been set to address legal, administrative and regulatory issues for betterment of the SME sector. Moreover, restructuring of the Small and Medium Enterprises Development Authority was also being done to facilitate the business sector.
The meeting was informed that working groups had been created in the provinces and SMEs' database was being updated on priority for their timely facilitation.
Ravi, Bundle Island projects
During a separate meeting on the much ambitious Ravi Urban Development project in Lahore and Bundle Island project in Karachi, the prime minister was informed that a design and construction consultant had been appointed for the Ravi project, while scrutiny for technical consultancy was under way for the island project.
Punjab Chief Secretary Jawwad Rafiq Malik informed the meeting, via video link, that the provincial government had given approval in principal for allocation of funds for the Ravi project and an investment plan was being devised for investors.
Officials of the Pakistan Island Development Authority apprised the meeting that a memorandum of understanding had been signed between International Mangroves Alliance and LEAD Pakistan for protection of mangroves in Karachi's coastal belt.
Prime Minister Khan said both the projects would fetch billions of rupees of foreign investment and provide jobs to the locals. "A comprehensive strategy should be devised to get maximum benefits of the two projects," he added.
UNDP delegation
Prime Minister Khan reiterated the importance of digital solutions for improved governance and said Pakistan was committed to using digital technologies for achieving the Sustainable Development Goals.
"It would help the vulnerable sections of society, in particular, to get maximum benefit from the social welfare and social protection policies of the government at grassroots level," the prime minister said while talking to a delegation of the United Nations Development Programme (UNDP), dealing with digital governance, which briefed him on digital transformation.
The UNDP delegation comprised Resident Representative for Pakistan Aliona Niculita and Chief Technical Adviser on Digital Governance Tariq Malik.
https://www.dawn.com/news/1596392/mqm-assures-imran-of-support-for-senate-polls
--------
South Asia
Fresh Graduates to 'Defend Afghanistan' in Helmand Frontline
By Mohammad Arif Sheva
18 Dec 2020
HELMAND, Afghanistan – At least 89 commando forces have received certificate of accomplishment after finishing their training under the Afghan National Army Commando Corps in Helmand province, said the Ministry of Defense in a statement Friday.
"85 commando forces graduated from commando school in Helmand province, today," said the MoD in a tweet. "They have received advanced military training and are now fully ready to fight terrorists and defend Afghanistan.
1260 Enrollees to Server alongside ANA after Completing Military Training
360 ANA Pledge to Fight Terrorists till 'Last Breath'
Last month, some 1260 soldiers in Kabul had joined the school for Afghan National Army Commando Corps to serve Afghanistan in the frontline against terrorism after graduation.
https://www.khaama.com/fresh-graduates-to-defend-afghanistan-in-helmand-frontline-4534/
--------
'Sticky Bombs' Sow Terror and Chaos in a City on Edge
By David Zucchino and Fahim Abed
Dec. 16, 2020
KABUL, Afghanistan — As he has done most workdays, Mahbubullah Mohibi left his home on Tuesday morning in a white armored S.U.V. with government plates, bound for his office job as deputy governor for Kabul Province.
His driver was wheeling through the narrow streets of Kabul's Macroyan neighborhood when the S.U.V. was rocked by an explosion. Mr. Mohibi, 42, and his secretary were killed and two bodyguards were wounded, a spokesman for the Interior Ministry said.
Someone had attached a homemade magnetic bomb to Mr. Mohibi's vehicle, an increasingly common and lethal tactic targeting government officials and other prominent Afghans in the capital.
The dull, crumpling echo of a magnetic bomb detonation has lately provided the daily soundtrack to Kabul's busy morning commute. A so-called "sticky bomb" exploded nearly every day somewhere in Afghanistan this fall — with dozens such attacks in Kabul alone the past six months, according to New York Times tallies.
A few hours after the attack on Mr. Mohibi, a magnetic bomb killed Abdul Rahman Atshan, the provincial council deputy chief of central Afghanistan's Ghor Province, and seriously injured a council member riding with him, a provincial police spokesman said.
And on Wednesday morning, a police officer and a government intelligence officer were killed in separate blasts in Kabul caused by magnetic bombs attached to their vehicles, a police official said.
Magnetic bombs are part of a Taliban strategy to sow terror and chaos among Afghans, particularly in the capital, local security officials say. Coupled with assassinations of government employees, security forces and civil leaders by roving gunmen, the attacks have underscored the government's inability to protect its own people — and are adding fuel to the public's growing discontent and distrust of Afghanistan's leaders in the midst of their efforts to negotiate peace terms with the Taliban.
"It's a great outcome for the Taliban — each one is like a news bomb in the media," Mohammad Arif Rahmani, a member of the Afghan Parliament's security committee, said of the magnetic explosives. "These bombs are spreading big fears through society."
As part of a deal signed with the United States in February that laid out the timeline for a final American withdrawal from Afghanistan, the Taliban pledged to curtail mass-casualty attacks, like truck-bombings, in cities.But the group has instead expanded its use of magnetic bombs to demonstrate the extent of its reach into the capital, as well as the government's vulnerability, as it seeks leverage at the next round of peace talks that are scheduled to reconvene in Qatar in January.
Magnetic bombs have been used in Afghanistan since the early years of the insurgency around 2005, as well as in Iraq. But the intensified pace of such attacks this year has shifted the security equation in Kabul, forcing anyone connected to the government to reassess how and when they use their vehicles.
Kabul's chaotic traffic works to bombers' advantage. Vehicles are often pinned in traffic jams, where attackers on motorbikes or passing pedestrians can ease past and furtively attach a magnetic bomb.
The capital now feels like a city under siege, with something as prosaic as a commute to work a source of dread, and every car on the street a potential deathtrap.
"The situation is so unpredictable — you don't know what will happen tomorrow when you get into your car," said Aiman Mayar, 22, whose father, a Ministry of Education official, was killed by a magnetic bomb in Kabul three months ago.
The official, Dr. Abdul Baqi Amin, was riding in a ministry vehicle that had been parked in a ministry parking lot the night before, his son said. Like the loved ones of so many other bombing victims, Mr. Mayar was left wondering why his father was targeted — and how someone managed to attach an explosive device to his vehicle despite government bodyguards and security precautions.
"I want to know how it's possible that a car with a governmental number plate gets blown up with a magnetic bomb and the government doesn't even know who did it or how," Mr. Mayar said. "It's been three months since they promised an investigation, but there's been nothing."
The Taliban has claimed responsibility for some magnetic bomb blasts, but others go unclaimed, such as the attacks on Mr. Mayar's father and Mr. Mohibi, exacerbating public fears that anyone could be targeted at any time for reasons that will never be explained.
The brazen attacks leave an enduring impression that the militants can operate in the government's capital with near impunity, said Atiqullah Amarkhel, a retired Afghan general who watched an insurgency slowly strangle Kabul in the early 1990s until Afghanistan's Russian-backed government collapsed.
"Kabul is an open city — these Taliban live here and make their bombs here," Mr. Amarkhel said. "After each one of the magnetic bomb explosions, the government gets more discredited."
The magnetic bombs are typically assembled using plastic high explosives and powerful magnets, a government intelligence official said, speaking on condition of anonymity. The official said insurgents smuggle explosives into Kabul using an underground courier system known as belti.
Attackers try to attach the bombs as close as possible to a car's fuel tank to ensure that the vehicle is engulfed in flames. The devices can be detonated remotely with radio signals or with a time-delay fuse.
At the same time, the Taliban have stepped up widespread attacks against government forces in rural provinces and remote district centers. Afghan civilians are frequently killed in the crossfire. At least 212 civilians were killed in October, the deadliest month for civilians since September 2019, according to data compiled by The New York Times.
Even low-level functionaries affiliated with the government have been targeted by magnetic bombs. In October, Yousaf Jan, an Afghan contractor hired to deliver fuel for police vehicles, was killed by a bomb attached to his delivery vehicle in Khost Province in eastern Afghanistan.
Gul Nawaz, the contractor's cousin, said he had no idea who had attacked Mr. Jan or why.
"I just know that nobody has investigated his case and nobody has helped his family," Mr. Nawaz said.
The magnetic bomb attacks are likely to persist. The device is a brutally effective weapon — cheap, precise and lethal.
"It doesn't cost much and requires little in the way of facilities," said Mr. Rahmani, the Parliament security member. "But it has a very high impact."
https://www.nytimes.com/2020/12/16/world/asia/afghanistan-magnetic-bombs.html?utm_source=iterable&utm_medium=email&utm_campaign=1828969_
--------
Lyons Urges Int'l Allies to 'Pressure' Warring Sides on Violence Reduction in Afghanistan
By Mohammad Arif Sheva
18 Dec 2020
KABUL, Afghanistan – The UN Secretary-General's Special Representative for Afghanistan Deborah Lyons in a live webcast Thursday said ongoing violence should be the first topic discussed during peace negotiations, urging international allies to "pressure" warring sides on violence reduction in the country.
The UN Security Council session on the Secretary-General's latest Report on Afghanistan was webcasted live on Thursday at 10:00 New York local time (19:30 Kabul local).
Achieving sustainable peace in Afghanistan will only be possible "if security anxieties are addressed and the process is inclusive from the outset, with meaningful participation by women, youth, minorities, victims of conflict and religious leaders," Lyons said.
"In the coming months, I anticipate that this larger security transition will become a central topic in the dialogue amongst Afghan officials, regional countries, and the larger international community," she said, as TOLOnews quoted.
"I ask all countries to continue to pressure the parties to the conflict to bring about a sustained reduction in violence and expect that this will be a top priority in the negotiations."
Leaked Document Exposes Agenda on Afghan Peace
Doha: Peace Talks Delayed Until January 5
The remarks came at a time peace negotiators of Afghanistan and the Taliban representatives took a 20-day beak to discuss the "agenda item" with their respective board and leaders. The negotiation is expected to resume on January 5, 2021.
https://www.khaama.com/lyons-urges-intl-allies-to-pressure-warring-sides-on-violence-reduction-in-afghanistan-2342/
--------
Culprits of Ghor Terrorist Attacks Nabbed
By Mohammad Arif Sheva
18 Dec 2020
GHOR, Afghanistan – At least two Taliban – involved in a number of terrorism in central province of Ghor, are arrested, said the Ministry of Defense in a statement Friday morning.
According to the statement, the arrest came after the Afghan National Army (ANA) carried a search operation in Firoz Koh area of the province on Thursday.
"2 #Taliban who had been involved in terrorist activities and targeted killing in Ghor province, were arrested by ANA in Firoz Koh provincial center, yesterday," said the MoD in a tweet.
In the brief statement, officials did not specify identities of the culprits or which exact terrorist attack have they carried in the province.
Meanwhile, pictures posted by the Ministry show an amount of arm and ammunition, including an AK-47 assault rifle, allegedly seized by officials.
Taliban did not immediately comment on the incident.
https://www.khaama.com/culprits-of-ghor-terrorist-attacks-nabbed-3454/
--------
Parliament Slams Saleh for Ongoing Security Threats
By Mohammad Haroon Alim
17 Dec 2020
Mir Rahman Rahmani, speaker of the House of Representatives, criticized First Vice President Amrullah Saleh on his 6:30 a.m. meetings, saying these gatherings have so far yielded no results and have failed, Sources confirmed.
Rahmani said on Thursday that the government should strengthen the country's security and intelligence forces instead of holding such meetings.
Previously, Rahmani has criticized the actions of Amrullah Saleh in response to an alleged insult to the House of Representatives. He said that the post was ceremonial and that he should not insult the House by relying on it.
Speaker of the House of Representatives had previously called Saleh to be summoned to parliament in connection with the insecurity in Kabul.
https://www.khaama.com/parliament-criticized-saleh-over-insecurity-879799/
--------
Arab World
Lebanese pop singer Fadel Shaker gets 22-year jail sentence over providing support to terrorist group
17 December 2020
The Lebanese Military Tribunal has sentenced prominent pop singer-turned fugitive Fadel Shaker in absentia to 22 years in prison with hard labor for providing support to a terrorist group.
The court, presided by Brigadier General Mounir Shehadeh, issued the verdict on two counts.
The first sentence includes 15 years in prison for "involvement in terrorist acts committed by terrorists, with his knowledge of the matter by providing logistical services to them."
And another seven years was added for financing the terrorist group of hardcore Lebanese Takfiri preacher Sheikh Ahmad al-Assir, which was responsible for killing 18 Lebanese soldiers in the southern city of Sidon during clashes in 2013 following the spillover of violence from the conflict in neighboring Syria.
The court also ordered him to pay a fine of 5 million Lebanese pounds ($3,293) on charges of sponsoring terrorism.
Shaker started his career in mid-1990s, and was catapulted to fame in 1999.
In 2012, he quit his music career and became a follower of Assir. He announced his comeback to the music arena six years later.
Assir was sentenced to death in September 2017 for his role in fueling sectarian violence in Lebanon and organizing attacks against members of the army.
The radical Lebanese cleric was apprehended at Beirut–Rafic Hariri International Airport in August 2015 as he was trying to flee the Arab country using a forged passport. He had even undergone plastic surgery to change his appearance.
The extremist used to encourage sectarian strife in Lebanon by issuing audio statements while in hiding, calling on people to join the ranks of Takfiri terrorists in Syria.
The violence in Syria has sporadically spilled over into Lebanese territory, where Takfiri terrorists have every now and then conducted operations against the army.
https://www.presstv.com/Detail/2020/12/17/640941/Lebanese-pop-singer-Fadel-Shaker-charged-with-terrorism,-gets-22-year-jail-sentence
--------
Lebanon's PM-designate Hariri to Macron: Your initiative will not be abandoned
Rawad Taha
17 December 2020
Lebanon's Prime Minister-Designate Saad Hariri addressed Macron on Thursday evening following the French President infection with COVID-19 saying that his political initiative for Lebanon will not be abandoned.
"I sincerely wish the friend of Lebanon, President Macron, for a recovery and health. The most sincere wishes for a friend of Lebanon, President Macron, for a good health. Your initiative is a trust that we will not give up on, many challenges," Hariri added in a tweet.
French President Emmanuel Macron will cancel all his forthcoming trips, including a scheduled visit to Lebanon, after being diagnosed with COVID-19, a French presidency spokeswoman told Reuters on Thursday.
Macron's Elysee office had earlier added in a statement that Macron would self-isolate but would continue to work and carry out duties remotely.
https://english.alarabiya.net/en/News/middle-east/2020/12/17/Lebanon-s-PM-designate-Hariri-to-Macron-Your-initiative-will-not-be-abandoned
--------
Turkey's Erdogan urges Iraq not to let its soil be launchpad for Kurdish militant attacks
17 December 2020
Turkey's President Recep Tayyip Erdogan asks Iraq to prevent its soil from being used by militants of the Kurdistan Workers' Party (PKK) as a launchpad for attacks against the Turkish soil.
Erdogan made the request following talks with visiting Iraqi Prime Minister Mustafa al-Kadhimi in Istanbul on Thursday.
He said the two sides viewed as their "common enemies," the PKK that has been holing up in Iraq's hard of approach Qandil mountains and reportedly striking the Turkish territory from there.
Tens of thousands have reportedly died throughout almost five decades of PKK's efforts to forcibly win an independent state in southeastern Turkey.
The Turkish Air Force has been laying into the group's hideouts across the border for years, something that has not gone down so well with Baghdad.
Erdogan told a joint televised news conference with Kadhimi that the two sides "agreed to continue our fight against our common enemies" including Daesh and PKK.
The Daesh Takfiri terrorist group has been eradicated in Iraq, but keeps staging sporadic attacks throughout the Arab country and elsewhere.
"Our region will not reach peace unless the head of terror is crushed," Erdogan said. "There is no place for terror in the future of Iraq, Turkey, and Syria," the Turkish head of state added.
Despite declaring opposition to violence in Syria, Turkey has reportedly been providing safe passage to terrorists into and out of Syria and promoting militant outfits there.
Kadhimi, for his part, said his country would not allow any terror group to use Iraq's soil for attacks inside Turkey, and that it was cooperating with Ankara to confront terrorist groups.
"Iraq has a clear stance in condemning any action threatening Turkey or using the Iraqi territory to threaten Turkey's national security," he said.
https://www.presstv.com/Detail/2020/12/17/640960/Turkey-Iraq-PKK-militants
--------
Damascus: Security Council tool in hands of Western states to promote their political agendas
17 December 2020
Syria's deputy foreign minister has strongly criticized certain Western countries for turning the UN Security Council into a tool to serve their political agendas, saying those countries have been seeking to foment the crisis in his country.
Bashar al-Jaafari said in a statement during a Security Council session on the situation in Syria via a video link that some Western states have sought to repeat in Syria their catastrophic scenarios, which had been applied in other countries under fake titles and terms.
"Syria has long lived with the failure of the Security Council to deal with issues that pose threat to ... peace and security in our region and the world, on top, those related to the Israeli occupation of Arab lands," Jaafari said, according to Syria's official news agency SANA.
He added that the Western countries that have intensified the crisis in Syria and obstructed settlement efforts still continue to undermine the task of the UN Security Council.
Al-Jaafari: western countries turned security council into a tool to serve their political agendas, inflamed crisis in Syria https://t.co/Ym2xaG8iF9 via @SanaAjel
— SANAEnglishOfficial (@SANAEnOfficial) December 16, 2020
The Syrian diplomat said certain countries have denied for years the existence of cross-border terrorism in Syria, while many others have even denied the presence of the Daesh terrorist group in the Arab country.
They have named foreign terrorists as "moderate armed Syrian opposition," Jaafari lamented.
He said after ten years of Security Council intervention, the US is currently occupying territories in Syria's northeastern areas, and is supporting terrorists.
"What have the Western states done to enable the Council assume an active role in the fight against terrorism represented by Daesh and Jabhat al-Nusra, and the terrorist entities and groups affiliated to them?" al-Jaafari asked.
Since the beginning of the conflict in Syria in March 2011, millions of people have been displaced and traumatized while hundreds of thousands have been killed. The Syrian government blames Western and regional powers for backing terrorist groups that have been wreaking havoc in the Arab country.
On the other hand, the Western countries have condemned the Syrian government for alleged chemical attacks in the country. Damascus, which surrendered its entire chemical stockpile in 2013, has denied any use of chemical weapons, saying it is not in possession of such weapons and remains committed to cooperating with the Organization for the Prohibition of Chemical Weapons (OPCW).
In remarks last week, al-Jaafari, however, regretted that the OPCW has turned into a tool in the hands of the US and its allies.
"Syria condemns the use of chemical warfare and all weapons of mass destruction (WMD) at any time, place and under any circumstances. I reiterate that the OPCW has lost its identity as a technical organization tasked with safeguarding the Chemical Weapons Convention, and has instead turned into a tool in the hands of the US and its allies," Jaafari said at a United Nations session on the situation in Syria via a video link on December 11.
He emphasized that his country has never used chemical weapons and is closely cooperating with the OPCW to settle all lingering issues surrounding the issue.
https://www.presstv.com/Detail/2020/12/17/640934/UNSC-become-tool-hands-of-Western-states
-------
Africa
Sudan says army officers ambushed by Ethiopian forces, militia
17 December 2020
Sudan's military says several of its officers have been ambushed by Ethiopian "forces and militias" during a security patrol of the border region.
"During the return of our forces from combing the area around Jabal Abutiour inside our territory, they were ambushed by Ethiopian forces and militias inside Sudanese territory, as a result of which lives and equipment were lost," the Sudanese army said in a statement on Wednesday, adding the attack had occurred a day earlier.
However, it did not reveal the precise number of the officers killed in the ambush.
According to locals, reinforcements were being sent to the area, which is part of al-Fashaqa, a locality that stretches over about 600 square kilometers of highly fertile agricultural land and where some Ethiopian refugees have crossed into after fleeing hostilities at home.
Fierce fighting broke out between Ethiopia's government and the then-governing party in Tigray region — the Tigray People's Liberation Front (TPLF) — on November 4, when Prime Minister Abiy Ahmed announced the launch of military operations against the regional government there.
The prime minister has accused rebel forces loyal to the TPLF of launching deadly attacks on a pair of federal military camps in the region. He has also accused the party of defying his government and seeking to undermine it.
The clashes are believed to have killed thousands of people and displaced 950,000, some 50,000 of them into Sudan, according to United Nations (UN) estimates.
On Sunday, Sudanese Prime Minister Abdalla Hamdok visited Ethiopia briefly and expressed his concerns about threats to Sudan's security along its border with the flashpoint Tigray region. His visit came two weeks after the Ethiopian leader declared victory in the fight against the TPLF.
Sudan, one of the world's poorest countries, is now faced with the massive influx. UN agencies have been mobilizing resources and trying to assist the refugees, who have been arriving in growing numbers with few possessions or provisions.
Regional experts have suggested that Sudan could use its control over key border crossings as leverage to press the warring sides in Ethiopia to talk. But so far there are no public signs it is doing so.
https://www.presstv.com/Detail/2020/12/17/640906/Sudan-says-army-officers-ambushed-by-Ethiopian-forces,-militia
--------
Suspected Al-Shabab Operative Brought to US to Face Terror Charges
By Masood Farivar
December 16, 2020
WASHINGTON - An al-Shabab terror group operative accused of conspiring to carry out a 9/11-style attack in the United States has been brought to New York to face terrorism charges, the Justice Department announced on Wednesday.
Kenyan national Cholo Abdi Abdullah was transferred on Tuesday from the Philippines where he had been in local custody since his arrest in July 2019. The Philippines handed him over to U.S. authorities on Tuesday.
Abdullah is accused of conspiring to hijack a commercial airliner and crash it into a building in the United States. As part of the plot directed by senior al-Shabab leaders, Abdullah allegedly obtained pilot training in the Philippines.
He was charged in a six-count indictment unsealed on Wednesday and expected to be presented to a federal magistrate judge in New York. The charges against him include providing material support to a foreign terrorist organization, conspiracy to murder U.S. citizens and conspiracy to hijack and destroy an aircraft
"This case, which involved a plot to use an aircraft to kill innocent victims, reminds us of the deadly threat that radical Islamic terrorists continue to pose to our nation," assistant attorney general John Demers said in a statement. "No matter where terrorists who plan to target Americans may be located, we will seek to identify them and bring them to justice."
Prosecutors said the alleged plot was part of a larger campaign by Somalia-based al-Shabab, al-Qaida's principal affiliate in east Africa, to target Americans following the U.S. decision in 2018 to move its embassy in Israel to Jerusalem.
In January 2019, the group launched a suicide attack at a hotel in Nairobi, Kenya, killing about 21 people, including one American.
More recently, it has claimed responsibility for attacks on U.S. military facilities in both Kenya and Somalia.
According to the indictment, Abdullah traveled to the Philippines for pilot training at the direction of the al-Shabab commander responsible for the Nairobi hotel attack.
While attending an unidentified flight school, Abdullah conducted research on "the means and methods to hijack a commercial airline to conduct an attack," according to the indictment. He allegedly researched online information about the tallest building in a major U.S. city, aircraft hijackings, and how to obtain a U.S. visa, the indictment said.
https://www.voanews.com/usa/suspected-al-shabab-operative-brought-us-face-terror-charges?utm_source=iterable&utm_medium=email&utm_campaign=1828969_
--------
Militant attacks force 570,000 to flee homes in northern Mozambique, president says
DECEMBER 16, 2020
MAPUTO (Reuters) - Militants have forced 570,000 people to flee their homes in Mozambique's northern Cabo Delgado province, President Filipe Nyusi said on Wednesday, vowing to defeat insurgents who stepped up attacks since pledging loyalty to Islamic State last year.
Fighters have been taking on the army and seizing entire towns in recent months in the province, home to gas developments worth some $60 billion.
Earlier this week, the U.N. refugee agency UNHCR said at least 424,000 people had fled to neighbouring Niassa, Nampula and Pempa provinces, and warned that the crisis could spread beyond Mozambique's borders.
"Those who are terrorists must be aware that it will be the people who will win this war," Nyusi said in a televised address to the nation.
"We will keep mobilizing humanitarian aid to the victims of terrorists. These acts have forced 570,000 to flee who are now crying to get back to their destroyed homes."
Nyusi said Mozambique had received offers "from all corners of the world" to help it fight terrorism. The government "will keep training and equip our military to fight", he added.
The insurgent group, Ahlu Sunnah Wa-Jama, staged its first attack in 2017. Known at first mainly for crude beheadings, the fighters declared allegiance to Islamic State in June 2019 and since then have massively increased attacks in scale and frequency.
Nathan Sales, the Coordinator for Counterterrorism at the U.S. State Department, said last week the insurgents in northern Mozambique belonged to a "committed" affiliate of Islamic State and should be seen as a global terrorism threat.
Violence spilled across the border into Tanzania in October, prompting the two countries to launch joint military operations.
https://uk.reuters.com/article/mozambique-insurgency/militant-attacks-force-570000-to-flee-homes-in-northern-mozambique-president-says-idUKKBN28Q16A?il=0&utm_source=iterable&utm_medium=email&utm_campaign=1828969_
--------
Europe
Russia has sent 100,000 tonnes of wheat to Syria since start of 2020: Lavrov
17 December 2020
Foreign Minister Sergei Lavrov says Russia has sent 100,000 tonnes of wheat in humanitarian aid to Syria since the beginning of this year and plans to ship more wheat to the war-stricken country.
Lavrov said during a briefing on Thursday that Moscow plans to ship more in coming weeks and months.
Russia, one of the world's largest exporters of wheat, has been supporting Syria in its efforts to ease the food shortage in the Arab country.
In October, Syria's economy minister said his country needed to import between 180,000 tonnes and 200,000 tonnes of wheat a month. He blamed the shortfall on Western-backed militant groups preventing farmers from selling their wheat to the state.
Lavrov also said concrete actions were being currently discussed to rebuild the Syrian economy.
"In terms of goals of rebuilding the Syrian economy, we have already had very significant decisions taken in recent weeks that will significantly enhance Syria's ability to organize (this) work in a systematic manner," Interfax quoted the top Russian diplomat as saying.
Since 1979, the war-torn Arab country has been under rounds of unilateral and crippling economic sanctions by the United States. Syria has also been battling a foreign-backed militancy over the past years.
In April, Syria's Ambassador to the United Nations Bashar al-Ja'afari sent a letter to the world body, reiterating a call by Damascus for the immediate and unconditional lifting of all US economic sanctions.
Russian Ambassador to Damascus Aleksandr Yefimov, for his part, also called for the lifting of sanctions against Syria, stressing that the restrictive measures obstruct the Arab country's battle against the novel coronavirus pandemic.
The coercive measures have blocked imports of essential goods, impacting the Syrian people's access to medical equipment, food, heating, gas, and electricity.
The US and its allies invaded Syria in 2014 under the pretext of dislodging Daesh. The coalition sustains its presence, although Damascus and its allies defeated the Takfiri terrorist outfit in late 2017.
Syria has been gripped by foreign-backed militancy since March 2011. The Syrian government says the Israeli regime and its Western and regional allies are aiding Takfiri terrorist groups that are wreaking havoc in the country.
The government forces have already managed to undo militant gains across the country and bring back almost all Syrian soil under the government control.
The government gains in Syria have enraged the US, which has long been collaborating with anti-Damascus militants and stealing Syria's crude resources.
In recent months, Syria's economy has further been strained by a financial crisis in neighboring Lebanon.
https://www.presstv.com/Detail/2020/12/17/640940/Russia-Lavrov-Syria-US-Israel-Daesh--
--------
Newcastle and London terror convicts' sentences challenged
Dec 18, 2020
A man who incited a German terror cell to commit mass murder has had his jail term challenged by the attorney general.
Lawyers for Suella Braverman told the Court of Appeal the nine-year minimum term for Fatah Abdullah, from Newcastle, was too lenient.
They also challenged the 14-year minimum term given to Safiyya Shaikh, from West London, for plotting a terror attack at St Paul's Cathedral.
The ruling will be given later.
Abdullah, 35, was sentenced to life imprisonment in June after pleading guilty to inciting terrorism overseas and engaging in conduct in preparation to assist others to commit terrorist acts.
Between 9 April and 11 December 2018, the Iranian national had encouraged Omar Babek and Ahmed Hussein to plan terror attacks in Germany, including driving a car into a crowd, attacking people with a meat cleaver and causing an explosion.
Shaikh, 37, admitted preparation of terrorist acts and dissemination of terrorist publications on the internet.
Representing Ms Braverman, Alison Morgan QC told the court that Abdullah, who lived in Arthur's Hill, should have been given a 12-year minimum term and Shaikh, from Hayes, a minimum term of 18-and-a-half years.
Lawyers representing Abdullah and Shaikh disagreed and argued for Ms Braverman's challenge to be dismissed.
https://www.bbc.com/news/uk-england-tyne-55341407?utm_source=iterable&utm_medium=email&utm_campaign=1828969_
--------
Counter terrorism police will board London buses in new effort to prevent attack
Dec 18, 2020
Counter terrorism police will board London buses and check other vehicles in a new effort to prevent an attack in the capital.
Officers will also patrol at bus stops, bus stations and transport interchanges to make it harder for would-be terrorists to move around the city.
Sniffer dogs and automatic number plate recognition technology will be deployed in a further measure to detect threats, while police will monitor movements at key locations from CCTV control rooms. Armed officers will be available to give support when necessary.
The new drive to strengthen public protection follows a warning by the country's most senior counter terrorism officer, Met Assistant Commissioner Neil Basu, that the number of investigations being carried out by his teams has reached a record high within the past two weeks.
The official threat level has also been raised to "severe" - meaning an attack is judged to be highly likely - following the recent attacks in France and Vienna.
The new transport patrols, which will supplement those already carried out at railway and Tube stations and on busy shopping streets, will be carried out by a new "Project Servator" team set up by the Met's Roads and Transport Policing Command.
Announcing the move, Met Inspector James Beattie said: "The introduction of specially-trained Project Servator officers will make life even more difficult for potential terrorists and criminals to operate across London's roads and transport network.
"Don't be surprised if you see us. It is nothing to worry about and we will be talking to members of the public and urging them to help us. Defeating terrorism requires a collective community effort where police, security staff, retail workers and the public come together to minimise the chance of attacks. The cooperation between the public and the police is a powerful defence against terrorism."
Officers in involved in the new patrols will also encourage members of the public and business owners to be alert and report anything that they believe is suspicious.
Project Servator is a long-running counter terrorism policing operation to detect and disrupt terrorism and other criminal activity and involves officers trained to spot the signs of terrorists carrying out reconnaissance or behaving in other ways which indicate intent to attack.
https://www.standard.co.uk/news/crime/counter-terrorism-police-london-buses-attack-b334940.html?utm_source=iterable&utm_medium=email&utm_campaign=1828969_
--------
Austria set to ban 'religious extremism'
16 December 2020
A ban on extremist religious activities is to be added to Austria's criminal code, according to an anti-terrorism policy package presented by the government.
The package was drawn up in reaction to the Islamist attack in Vienna that left four people dead and more than 20 wounded in early November.
The government coalition between conservatives and Greens foresees prison sentences of up to two years for people who "continually try to replace key elements of the republic's democratic rule of law with an exclusively religious social and political order," according to the draft bill.
Social Integration Minister Susanne Raab made clear that the paragraph is meant to fight "political Islam".
The Austrian Islamic Faith Community on Wednesday criticised the government for not seeking its input when it drafted the policies and said the proposed legislation was sweepingly vague.
"The fight against terrorism and extremism can only be won together," said Umit Vural, the head of the Muslim umbrella organisation.
The goals of the government in Austria are similar to those of the French government, which is working on a law to combat radical Islam and to prevent radicalisation.
Austria's anti-terrorism package includes a register for former terrorism convicts as well as a register for Muslim preachers.
Chancellor Sebastian Kurz also seeks legal changes that would allow courts to impose indefinite imprisonment for terrorism convicts who continue to pose a threat.
However, a bill on this issue has been postponed until next year.
https://au.news.yahoo.com/austria-set-ban-religious-extremism-171425626--spt.html?utm_source=iterable&utm_medium=email&utm_campaign=1828969_
--------
Mideast
Turkish human rights defender accused of espionage on trial for alleged ties to coup
18 December 2020
A Turkish philanthropist businessman and human rights defender is again standing trial in Turkey on Friday, accused of espionage and attempting to overthrow the government in connection to a failed coup four years ago.
Human rights groups have denounced the case against Osman Kavala as unjust and politically-motivated.
Kavala, 63, was acquitted of terrorism-related charges earlier this year for allegedly organizing and financing mass anti-government protests that erupted in 2013. But as his supporters awaited his release from prison, authorities issued a warrant for his re-arrest, this time accusing him of links to a 2016 failed coup attempt.
For all the latest headlines follow our Google News channel online or via the app.
The businessman faces a life term in prison if found guilty of the new charges of attempting to overthrow the constitutional order and a further 20 years for alleged "military and political espionage" to conspire against Turkey. Kavala denies the charges.
Academic Henri Barkey, who lives in the United States and was also charged in the case, is being tried in absentia.
A 64-page indictment alleges Kavala and Barkey collaborated over the coup, which Turkey's government says was orchestrated by a network headed by US-based Turkish Muslim cleric Fethullah Gulen. It cites as evidence mobile phone signals suggesting that Kavala and Barkey met in Turkey around the time of the coup attempt. Human rights groups have described the indictment as "absurd."
Kavala has been in prison since he was detained in October 2017, despite a European Court of Human Rights ruling for his release. Turkey's Constitutional Court is reviewing his complaint challenging his lengthy pre-trial detention.
Several human rights groups have called for his immediate release and for all charges against him to be dropped, insisting that there is no evidence to support the accusations.
"Osman Kavala is facing more baseless, politically motivated charges in a prosecution which is part of a wider attempt by Turkish authorities to silence independent civil society," said Amnesty International's Europe Director, Nils Muizniek. "Osman Kavala should not have spent a single minute behind bars, let alone more than three years in pre-trial detention."
Turkish President Recep Tayyip Erdogan had criticized Kavala's acquittal in February of the terror charges and had called for respect for the decision to re-arrest him. An investigation was launched into a panel of judges that acquitted him, casting a further shadow on the independence of the Turkish courts.
Kavala is known for his support of the arts and his funding of projects promoting cultural diversity and minority rights.
Erdogan, however, has accused Kavala of being the "Turkish leg" of billionaire US philanthropist George Soros, who the Turkish leader alleged has been behind insurrections in many countries.
Earlier this year, Kavala was the recipient of a Turkish human rights prize, and wrote a speech that was read on his behalf at the ceremony.
"The most burning issue for many of our citizens like myself is the erosion of the rule of law, one of the main pillars of the (Turkish) republic" Kavala wrote. "The judiciary does not act in accordance with the legal norms, but rather in line with the political priorities and instructions of the government."
https://english.alarabiya.net/en/News/world/2020/12/18/Turkish-human-rights-defender-accused-of-espionage-on-trial-for-alleged-ties-to-coup
--------
Official: Iran, Afghanistan Set New Coexistence Model
2020-December-18
Baqeri Kani said on Thursday that the amicable coexistence of Afghan immigrants with Iranians has introduced a novel kind of coexistence, emphasizing that the two neighboring nations enjoy religious, cultural, and civilizational commonalities.
He made it clear that the similarities are so great that a magnifying glass should be used to find differences between the two nations.
"Iran is trying not to lose the slightest right of Afghan nationals residing in Iran. Thus, any views of immigrants are welcome," the official added.
"If Westerners had sold tractors to the Afghan people instead of sending tanks to the country, after 20 years, we would have witnessed a safe and economically developing state and Afghanistan's security and economic problems had been resolved," Baqeri Kani stated.
He underlined that the illegitimate interests of Westerners in Afghanistan are based on the existence of terrorism and insecurity, as well as economic backwardness.
In relevant remarks, Iranian Foreign Ministry Spokesman Saeed Khatibzadeh expressed pleasure with inauguration of the Khaf-Herat railway, stressing that relations between Tehran and Kabul are an excellent instance of good neighborliness in the region.
"We are proud to stand by the people and government of Afghanistan on the path of stability and development of the country," Khatibzadeh wrote on his twitter page on Thursday December 10.
He pointed to the inauguration of the Khaf-Herat Railway between Iran and Afghanistan, and said, "Amicable relations between Iran and Afghanistan are increasingly an excellent example of good neighborliness in this region."
"Today's big step: Khaf-Herat Railway. We proudly stand by the people, friendly and brotherly government of Afghanistan on the path of stability and development of this country," he added.
https://www.farsnews.ir/en/news/13990928000095/Official-Iran-Afghanisan-Se-New-Cexisence-Mdel
--------
Spokesman Raps Sponsors of Anti-Iran Resolution for Instrumental Use of UN
2020-December-17
Khatibzadeh made the remarks in reaction to the adoption of the anti-Iranian resolution at the UN General Assembly proposed by Canada and with the support of European countries and the Zionist regime.
The spokesman said on Thursday that the resolution lacks legal credibility, deploring the stances adopted by the initiators of the resolution on the instrumental use of international organizations to impose pressure on Iran.
He stated that many chief initiators of the resolution have a dark record of brazen and systematic violation of human rights, particularly through military interventions in other countries and arms sales to dictatorial and despotic regimes, noting, "The resolution that was adopted at the United Nations General Assembly yesterday with the votes of less than half of the UN Member States and non-participation of more than 110 countries is in fact the same text that was recently ratified by the General Assembly Third Committee with the same votes and was passed at the General Assembly according to modus operandi of the United Nations."
Khatibzadeh expressed abhorrence of the deep-rooted hypocrisy of initiators of the resolution, and said that they have turned a blind eye to the US economic terrorism against the Iranian nation under the influence of the US bullying and have practically sunk to the level of the US regime's accomplices instead of condemning the illegal and anti-human sanctions imposed by the US.
He urged Canada and the other main supporters of the resolution to stop interventionist and immoral behavior towards independent nations.
"Such unconstructive measures would not only not help the promotion of human rights at the global level, but only aggravate negative clichés and political labeling against the independent states," the Iranian diplomat highlighted.
"We condemn the move by the Canadian government and other initiators of the resolution, which is a blatant example of abuse of the transcendent concepts and values of human rights for the advancement of short-sighted political intentions, and find it to be lacking in any legal credibility and effect," he said.
The spokesman also said that like the previous voting at the Third Committee, 114 countries out of around 190 UN Member States have refused to support the resolution, adding that the move by Canada and the chief initiators of the resolution was in line with their policy of pinning the blame on others in the field of human rights.
He emphasized that the repetition of fake and false reports from that group of countries against the Iranian people would only further discredit their human rights claims.
An anti-Iranian resolution initiated by Canada, which had been put forward at the UN in New York several years ago within the framework of a certain work plan among a series of Western states, was adopted by the UN General Assembly yesterday.
The resolution had already received initial approval from the Third Committee of the General Assembly.
Fewer than 80 countries and regimes voted in favor of the resolution, including the Zionist regime, the US, Saudi Arabia, Bahrain, the United Arab Emirates, Albania, the UK, Canada, France, and Germany. However, the majority of the UN Member States -some 115 countries- refused to support the resolution, a clear sign that the bulk of countries are dissatisfied with the arrogant and selective approach of the initiators of the resolution.
The Iranian Foreign Ministry Spokesperson had already mentioned a list of the governments initiating and sponsoring resolutions against Iran and had denounced Canada's shameful move to rally "a group of notorious governments in the human rights sphere", including the US regime, the Zionist regime, and Bahrain, for training Iranian people in human rights.
Khatibzadeh had also called on the Canadian officials to focus their attention on correcting their anti-human performance inside and outside Canada, stop the Canadian regime's systematic policy of genocide of native Canadian people, and be held accountable for aiding and abetting the anti-human crimes committed by the Saudi and Israeli regimes against people of Yemen and Palestine.
https://www.farsnews.ir/en/news/13990927000567/Spkesman-Raps-Spnsrs-f-Ani-Iran-Reslin-fr-Insrmenal-Use-f-UN
--------
Iran says no new agreement needed after Biden takes office, refutes IAEA chief
18 December 2020
Iran's ambassador to the International Atomic Energy Agency on Friday rejected the UN atomic watchdog chief's suggestion that reviving Iran's nuclear deal after a new US administration comes to power would require striking a new agreement.
In an interview with Reuters on Thursday, Rafael Grossi, who heads the IAEA that polices Iran's compliance to the 2015 nuclear deal, said there had been too many breaches by Iran for the agreement to simply snap back into place when US President-elect Joe Biden takes office next month.
Biden has said the United States will rejoin the deal "if Iran resumes strict compliance."
After President Donald Trump quit the deal in 2018 and reimposed US sanctions, Iran responded by breaching many of the deal's restrictions.
"Presenting any assessment on how the commitments are implemented is absolutely beyond the mandate of the agency and should be avoided," Kazem Gharibabadi, Iran's ambassador to IAEA in Vienna, tweeted. "@iaeaorg played its part during negotiations on the JCPoA."
Iranian President Hassan Rouhani, architect of the 2015 nuclear deal with six powers, has repeatedly said Tehran's nuclear steps were reversible if the United States lifted sanctions and fully respected the pact.
https://english.alarabiya.net/en/News/middle-east/2020/12/18/Iran-says-no-new-agreement-needed-after-Biden-takes-office-refuting-IAEA-chief
--------
Iran begins construction at underground nuclear facility amid US tensions
18 December 2020
Iran has begun construction on a site at its underground nuclear facility at Fordo amid tensions with the US over its atomic program, satellite photos obtained Friday by The Associated Press show.
Iran has not publicly acknowledged any new construction at Fordo, whose discovery by the West in 2009 came in an earlier round of brinkmanship before world powers struck the 2015 nuclear deal with Tehran.
While the purpose of the building remains unclear, any work at Fordo likely will trigger new concern in the waning days of the Trump administration before the inauguration of President-elect Joe Biden. Already, Iran is building at its Natanz nuclear facility after a mysterious explosion in July there that Tehran described as a sabotage attack.
"Any changes at this site will be carefully watched as a sign of where Iran's nuclear program is headed," said Jeffrey Lewis, an expert at the James Martin Center for Nonproliferation Studies at the Middlebury Institute of International Studies who studies Iran.
For all the latest headlines, follow our Google News channel online or via the app.
Iran's mission to the United Nations did not immediately respond to a request for comment. The International Atomic Energy Agency, whose inspectors are in Iran as part of the nuclear deal, also did not immediately respond to a request for comment.
Construction on the Fordo site began in late September. Satellite images obtained from Maxar Technologies by the AP show the construction taking place at a northwest corner of the site, near the holy Shiite city of Qom some 90 kilometers (55 miles) southwest of Tehran.
A December 11 satellite photo shows what appears to be a dug foundation for a building with dozens of pillars. Such pillars can be used in construction to support buildings in earthquake zones.
The construction site sits northwest of Fordo's underground facility, built deep inside a mountain to protect it from potential airstrikes. The site is near other support and research-and-development buildings at Fordo.
Among those buildings is Iran's National Vacuum Technology Center. Vacuum technology is a crucial component of Iran's uranium-gas centrifuges, which enrich uranium.
A Twitter account called Observer IL earlier this week published an image of Fordo showing the construction, citing it as coming from South Korea's Korea Aerospace Research Institute.
The AP later reached the Twitter user, who identified himself as a retired Israeli Defense Forces soldier with a civil engineering background. He asked that his name not be published over previous threats he received online. The Korea Aerospace Research Institute acknowledged taking the satellite photo.
Trump in 2018 unilaterally withdrew the US from Iran's nuclear deal, in which Tehran had agreed to limit its uranium enrichment in exchange for the lifting of economic sanctions. Trump cited Iran's ballistic missile program, its regional policies and other issues in withdrawing from the accord, though the deal focused entirely on Tehran's atomic program.
When the US ramped up sanctions, Iran gradually and publicly abandoned the deal's limits as a series of escalating incidents pushed the two countries to the brink of war at the beginning of the year. Tensions still remain high.
Under the 2015 nuclear deal, Iran agreed to stop enriching uranium at Fordo and instead make it "a nuclear, physics and technology center."
"This location was a major sticking point in negotiations leading to the Iran nuclear deal," Lewis said. "The US insisted Iran close it while Iran's supreme leader said keeping it was a red line."
Since the deal's collapse, Iran has resumed enrichment there.
Shielded by the mountains, the facility also is ringed by anti-aircraft guns and other fortifications. It is about the size of a football field, large enough to house 3,000 centrifuges, but small and hardened enough to lead US officials to suspect it had a military purpose when they exposed the site publicly in 2009.
As of now, Iran is enriching uranium up to 4.5 percent, in violation of the accord's limit of 3.67 percent. Iran's parliament has passed a bill that requires Tehran to enrich up to 20 percent, a short technical step away from weapons-grade levels of 90 percent. The bill also would throw out IAEA inspectors.
Experts say Iran now has enough low-enriched uranium stockpiled for at least two nuclear weapons, if it chose to pursue them. Iran long has maintained its nuclear program is peaceful.
While Iranian President Hassan Rouhani opposed the bill, the country's Guardian Council later tweaked and approved it. The bill seeks to pressure European nations to provide relief from crippling US sanctions.
Meanwhile, an Iranian scientist who created its military nuclear program two decades ago recently was killed in a shooting outside of Tehran. Iran has blamed Israel, which has long been suspected of killing Iranian nuclear scientists over the last decade, for the attack. Israel has not comment.
https://english.alarabiya.net/en/News/middle-east/2020/12/18/Iran-begins-construction-at-underground-nuclear-facility-amid-US-tensions
--------
Iran-backed Houthi militia launches missile that lands in Yemen's Sana'a
17 December 2020
The Iran-backed Houthi Militia launched a missile on Thursday morning that landed in Sana'a, the capital of Yemen, said the spokesperson for the Arab Coalition in Yemen General Turki Al-Maliki.
Al-Maliki also stated that the Houthi militia has repeatedly violated international humanitarian law by launching the missile and causing it to land on civilians and population centers, threatening the lives of hundreds of civilians, local UAE media Al Ittihad reported.
https://english.alarabiya.net/en/News/middle-east/2020/12/17/Houthi-militia-launches-missile-in-Sada-a
--------
UN condemns Israel killing of Palestinian child as 'grave violation of international law
17 December 2020
Human rights experts of the United Nations have lambasted as a "grave violation of international law" the killing of the sixth Palestinian child by Israeli soldiers in 2020 in the occupied territories, calling for Tel Aviv's accountability.
Michael Lynk, the UN special rapporteur on the situation of human rights in the Palestinian territory occupied since 1967, and Agnès Callamard, UN special rapporteur on extrajudicial, summary or arbitrary executions, made the comments in a joint statement on Thursday.
They called for an impartial and independent investigation into the killing of the 15-year-old Palestinian boy at a protest rally held in the occupied West Bank earlier this month.
"The killing of Ali Ayman Abu Aliya" by the Israeli military "– in circumstances where there was no threat of death or serious injury to the Israeli Security Forces – is a grave violation of international law," said the experts.
"Intentional lethal force is justified only when the security personnel are facing an immediate threat of deadly force or serious harm," the pair added.
According to the Palestinian health ministry on December 4, the teenage boy "succumbed to his wounds after he was shot with live rounds in the stomach" during clashes during a demonstration in the village of Mughayir north of Ramallah earlier in the day.
The UN experts said Abu Aliya had been the sixth Palestinian child living in the West Bank to be killed in 2020 by Israeli security forces using live ammunition.
The joint statement added that 1,048 Palestinian children have been wounded by Israeli security forces across the Occupied Palestinian Territory between November 1, 2019, and October 31, 2020.
"Children enjoy special protected rights under international law," they stressed, adding, "Each of these killings raises deep concerns about Israel's adherence to its solemn human rights and humanitarian law obligations as the occupying power."
Last month, the Palestinian ministry of information said in a statement that Israeli troops deliberately targeted Palestinian children, revealing that at least 3,097 Palestinian minors had lost their lives at the hands of Israeli forces since the Second Intifada (uprising) began in September 2000.
Despite global condemnation of child-killing by Israeli soldiers, the Tel Aviv regime continues with the crime of claiming the lives of Palestinian minors, particularly with live rounds.
The UN experts also called on the Israeli regime "to either conduct an independent, impartial, prompt and transparent civilian investigation according to international standards into this deeply troubling human rights record, or to allow an international impartial and independent human rights review to be conducted."
The Israeli forces have announced that they would conduct an investigation into Abu Aliya's killing. The human rights experts noted, however, that investigations by the Israeli forces of fatal shootings of Palestinians by its soldiers rarely result in appropriate accountability.
https://www.presstv.com/Detail/2020/12/17/640959/Palestine-Israel-UN-Lynk-Callamard-children-Abu-Aliya-West-Bank
--------
Palestinian construction worker beaten to death while working in Israeli settlement
17 December 2020
A Palestinian man has died after being severely beaten by a group of extremist Jewish settlers at a settlement in the central part of the occupied West Bank, amid acts of vandalism and violence against Palestinians as well as Muslim holy sites.
Palestinian news outlets reported that the man, identified as 37-year-old Abdel-Fattah Obeyyat, was found dead at Har Gilo settlement, located two kilometers (1.24 miles) west of Bethlehem, on Wednesday night.
Fathi Obeyyat, the Palestinian man's brother, said the victim was working in the field of construction along with their another brother and their second cousin in an apartment inside the settlement.
"My brother was alone after Abdel-Fattah finished his work and waved goodbye. They later tried to contact him, but he did not answer his phone. After several attempts, they finally informed the Israeli police who did not know anything about him.
"We, therefore, had no option but to return to the settlement and his workplace. We were shocked to find Abdel-Fattah tied and bludgeoned to death with a noose around his neck," Fathi said.
The Palestinian man added that Israeli police forces and ambulances then showed up, and interrogated family members at the scene.
"My brother's body was taken away, and it is still being held. The Israeli police are refusing to clarify the circumstances surrounding the death and those responsible for the criminal act, especially as a number of security cameras are installed in the area," he noted.
More than 600,000 Israelis live in over 230 settlements built since the 1967 Israeli occupation of the Palestinian territories of the West Bank and East Jerusalem al-Quds.
All Israeli settlements are illegal under international law.
According to human rights groups, incidents of sabotage and violence by extremist settlers against Palestinians and their property are a daily occurrence throughout the West Bank.
Over 100 Israeli settlers storm Aqsa Mosque under police protection
Moreover, scores of Israeli settlers have stormed the al-Aqsa Mosque compound in the occupied Old City of East Jerusalem al-Quds under the strict protection of the regime's security forces.
The Department of Islamic Endowments in Jerusalem al-Quds said in a statement that 107 Israeli settlers had stormed the compound from the Moroccan Gate (Bab al-Magharib) on Thursday morning.
The settlers began their provocative tour of the compound under the full protection of Israeli soldiers. They converged on the eastern flank of the mosque and performed Talmudic rituals.
Hard-line Israeli legislators and extremist settlers regularly violate the al-Aqsa Mosque compound in occupied Jerusalem al-Quds – a provocative move that infuriates Palestinians.
The al-Aqsa Mosque compound sits just above the Western Wall plaza and houses both the Dome of the Rock and al-Aqsa Mosque.
According to an agreement signed between the Israeli regime and the Jordanian government after Israel's occupation of East Jerusalem al-Quds in 1967, non-Muslim worship at the compound is prohibited.
Palestinians want the occupied West Bank as part of their future independent state with East Jerusalem al-Quds as the capital of their future sovereign state.
https://www.presstv.com/Detail/2020/12/17/640932/Palestinian-man-beaten-to-death-while-working-in-Israeli-settlement
--------
URL: https://www.newageislam.com/islamic-world-news/chinas-tech-giant-alibaba-eliminates/d/123804
New Age Islam, Islam Online, Islamic Website, African Muslim News, Arab World News, South Asia News, Indian Muslim News, World Muslim News, Women in Islam, Islamic Feminism, Arab Women, Women In Arab, Islamophobia in America, Muslim Women in West, Islam Women and Feminism