New Age Islam News Bureau
18 May 2019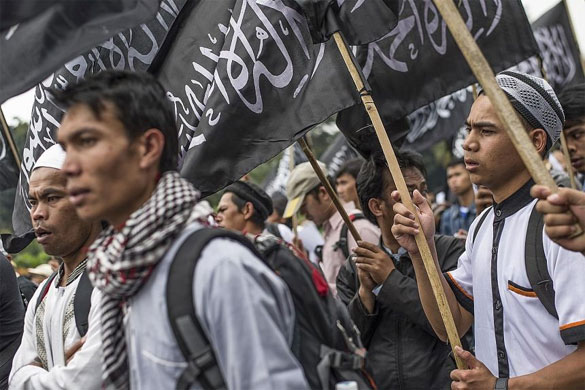 Indonesian Muslims waving the Hizbut Tahrir flag during an anti-government rally in Jakarta in July 2017, to condemn a decree banning groups that oppose Indonesia's official state ideology. The decree was seen as targeting radical Islamists in the country with the world's largest Muslim population. Since then, the government has been making efforts to ensure Indonesian Muslims remain on the moderate path.PHOTO: AGENCE FRANCE-PRESSE
------------
• Indonesia Taking Action to Boost Moderate Islam
• Born Under ISIS, Sick Iraqi Children Left Undocumented, Untreated
• Mulnivasi Muslim Manch Opposes SIMI Ban, Raises Questions about Investigations Into Pune Terror Attacks
• Pakistan's Efforts to Act Against Terror Groups, Money Laundering Questioned At APG Meet In China
• Trump Tells Pentagon Chief He Does Not Want War with Iran
• Ramadan: How a New Generation of British Muslims Are Becoming More Green
• Israel Arrests 100 Palestinians in First Ten Days of Ramadan: Rights Group
Compiled by New Age Islam News Bureau
For Details and More News from All Regions, Please click, 'Read More'
------
South Asia
• Muslim Prayer Sites Shut Down In Myanmar City
• Muslims in Sri Lanka Pray At Vandalized Mosques Amid Tight Security
• Sri Lankan army probes possible additional extremist groups
• Taliban attack leaves 10 soldiers dead in southern Afghanistan
• Sri Lanka bombings: Muslim leaders express solidarity with victims, call for united identity in country
• Bangladeshi Catholic writer gets bail in clergy defamation case
• 6 Taliban militants killed, 4 detained in Special Forces raids in Kunduz and Nangarhar
• Drone strike kills notorious ISIS leader and his fighters in East of Afghanistan
• Official: Bomb blast in western Afghanistan kills 2
--------
Southeast Asia
• 3 Suspects Linked To ISIS 'Wolf Pack' Cell Arrested In Malaysia
• Mujahid willing to meet parties unhappy over Zakir Naik's presence
• Indonesia arrests dozens of terror suspects ahead of poll results
--------
Arab World
• KAUST's Annual Iftar Connects Science Hub with the Rest of Saudi Arabia
• After fleeing bombs, Syrian families shelter in olive groves
• Iraq to handle foreign IS fighters' trials
• Egypt: 5 soldiers killed, dozens of militants die in Sinai
• Homs: Over 12,000 Civilians Flee US-Controlled Refugee Camp
• Food for thought as shift workers forego Ramadan iftars with family
• Egypt's president pardons 560, including prominent columnist
--------
India
• 70th Anniversary Celebrations: India, Indonesia Celebrate Common Islamic Heritage
• Two terrorists killed in gunfight in J&K's Pulwama
• Afghanistan seeks clarity from US on Pakistan's relationship with Taliban
• Indian Army clerk honey-trapped by Pakistan ISI on MI radar since December 2018
• Three killed in Shopian encounter: Police say one was 'active associate of terrorists', family says he was not militant
--------
Pakistan
• Nine Islamic State Militants Killed In Southwest Pakistan Raid
• New Visa Policy to Promote Religious Tourism in Pakistan: Envoy
• Peshawar High Court sets aside conviction of 'militant'
• Pandemonium in PA as opposition denied debate on rise in HIV cases
• Three 'militants' killed in Kalat
• CTD guns down Hazara community attacker in Mustang
• Punjab, father shoots daughter who refused to fast for Ramadan
--------
North America
• Group wants Tennessee DA to resign over anti-Islam post
• Trump criticizes US media for 'fraudulent, highly inaccurate' Iran coverage
• US 'sitting by the phone' but heard nothing from Iran
• US senator demands more security after arson at mosque
--------
Europe
• 24 in Morocco face terror trial in Nordic hikers' slayings
• Escalating anti-Muslim sentiments in Europe manifest itself in recent bans on headscarf
• 'Unity, dialogue key to overcoming hateful trends'
• EU renews sanctions against Assad regime
--------
Mideast
• Al-Jubeir: Houthi attack proves they are indivisible part of IRGC
• Saudi project clears 1,024 Houthi mines, explosive devices in Yemen
• Syria says its air defences intercept several Israeli projectiles
• Soccer star Ronaldo donates $1.5mn to Palestinians for Ramadan
• Iran condemns Saudi bombing of Sana'a residential areas
• Gaza organizers cancel protests along Israel border
--------
Africa
• Spreading the Net: Somali Islamists Now Target Kenyan Recruits
• Key powers urge immediate resumption of Sudan talks: US
• Muslim groups slam deal between Sudan's MTC, opposition
• Niger ambush: Militants kill 28 soldiers near Mali
• Lake Chad Basin no longer safe haven for Boko Haram: Nigerian president
• Burkina Faso Seeks Broad Sahel Anti-Terror Coalition
Compiled by New Age Islam News Bureau
URL: https://www.newageislam.com/islamic-world-news/china-tells-turkey-support-its/d/118639
--------
China tells Turkey to support its fight against Uighur militants
MAY 17, 2019
BEIJING (Reuters) - China has called on Turkey to support its fight against militants operating in China's restive far western region of Xinjiang, following criticism from Turkey about rights in a part of China heavily populated by a Turkic, mostly Muslim people.
China has faced growing international opprobrium for setting up what it calls vocation training centers to combat extremism in Xinjiang, home to the Uighur people, which many Western countries view as internment camps.
Turkey is the only Muslim nation which has regularly expressed concern about the situation in Xinjiang, including in February at the U.N. Human Rights Council, to China's anger.
Meeting Turkish Deputy Foreign Minister Sedat Onal in Beijing, the Chinese government's top diplomat State Councillor Wang Yi said that China sets great store on its ties with Turkey, China's Foreign Ministry said in a statement late on Thursday.
China "has always respected Turkey's sovereignty and territorial integrity, and supports the efforts of the Turkish side to safeguard national security and stability", the ministry paraphrased Wang as saying.
"It is hoped that the Turkish side can also earnestly respect China's core interests in safeguarding national sovereignty and security, and support China's efforts to combat the 'East Turkistan' terrorist forces and safeguard the overall situation of the strategic cooperation between the two countries."
China blames a group called the East Turkistan Islamic Movement for many of the attacks in recent years in Xinjiang. But many diplomats and foreign experts have cast doubt on whether the group exists in any coherent form.
The Foreign Ministry cited Onal as saying that Turkey supports China's efforts to safeguard national unity and combat "terrorist forces" and is willing to deepen pragmatic cooperation with China.
Hundreds have died in unrest in recent years in Xinjiang.
Beijing says its de-radicalisation efforts in Xinjiang have brought unprecedented stability, pointing to a lack of violence in the past two years or so.
https://www.reuters.com/article/us-china-turkey/china-tells-turkey-to-support-its-fight-against-uighur-militants-idUSKCN1SN03K
--------
Indonesia taking action to boost moderate Islam
MAY 17, 2019
A new university campus in Indonesia is being built by the Joko Widodo government to be a showcase for moderate Islam, in a country riven by the rise of conservative Muslims and their active participation in recent elections.
Work on Universitas Islam Internasional Indonesia (UIII) began in June last year. Classes on its campus in Depok township on the outskirts of Jakarta will start late next year.
https://www.straitstimes.com/world/indonesia-taking-action-to-boost-moderate-islam
--------
Born Under ISIS, Sick Iraqi Children Left Undocumented, Untreated
16 May, 2019
No documents? No doctor. Without state-issued IDs, Iraqi mothers struggle to have children born under the now-defeated ISIS group treated for conditions ranging from asthma to epilepsy.
"It's unjust," said Salima, a 36-year-old mother of four living in the Laylan 2 displacement camp in northern Iraq.
Three of her children were born under ISIS rule and cannot go to school or leave the camp because they lack state-issued identity papers -- including Abdulkarim, who was struggling to nap in her lap on a muggy afternoon.
The toddler's breathing was strained, his tiny chest heaving. The asthma, Salima said, was getting worse.
"There's a clinic in the camp but it's no good. They refer us to hospitals but the camp security won't let us go," she said, stroking his head.
To leave Laylan 2 even briefly, displaced families need to present IDs to the federal police at the entrance and sometimes even get a sponsor to vouch for them.
Salima said she tried numerous times to take Abdulkarim to a specialist in nearby Kirkuk, but was not allowed to leave.
And trying to have IDs issued for her three stateless children has proved almost impossible, as both parents' papers need to be submitted.
Her husband was an ISIS member killed in fighting, which means Salima's own papers have been confiscated by camp security.
"I've been trying to get our papers issued for seven months and haven't been able to, because we're 'Daesh' families," she told AFP, using the Arabic acronym for ISIS.
"This affects my children in every way -- from a security perspective, economically, health-wise, education."
Iraq declared victory over ISIS in late 2017, but the militants' three-year reign over swathes of the country planted a destructive and long-lasting legacy.
Much of Iraq remains in ruins, with 1.6 million people still displaced.
Among them are 45,000 children living in camps who were born under ISIS and are therefore lacking state-issued legal documents, the Norwegian Refugee Council (NRC) recently found.
These children cannot register for school or access steady health care, and may not be able to marry or own property, the NRC said.
The effects on health care are not uniform nationwide and appeared to vary depending on the checkpoint or facility.
Laylan 2 seemed to have the toughest restrictions, according to camp representative Hussein Habd, 53.
"Three-fourths of the families in the camp don't have IDs and cannot exit. Even if they're sick, if they have cancer or skin diseases, they're barred from leaving," he told AFP.
At a checkpoint a few kilometers (miles) away, a member of the security forces said orders allowed them to let medical cases through, even without paperwork.
Around Hawija, 80 kilometers (50 miles) to the west, the NRC found infants without papers were denied vaccinations, reportedly causing the emergence of scabies, measles and other diseases.
And further north in Mosul, ISIS' onetime Iraqi capital, women without paperwork were not allowed to give birth in hospitals, according to the NRC, which in turn impacted newborns' access to state-issued birth certificates.
The NRC warned that could condemn children to "life on the margins".
"If this issue is not addressed immediately, it could spiral. This issue did not end with the conflict against ISIS," said NRC spokeswoman Alexandra Saieh.
The lack of documentation has also impeded families' ability to register for state welfare programs.
That restriction has been devastating for five-year-old Methaq.
"My son has epilepsy, autism, and no ID," his mother Alaa Hamza told AFP in a shabby home they rent in Hawija.
Born less than a week after ISIS overran their hometown in 2014, Methaq was never issued a birth certificate.
He now suffers from seizures and mood swings. But sustained care seems a long way off.
Hamza splayed out the contents of a plastic bag on the torn carpet in their living room -- medical prescriptions, brain scans, and other tests dating back to 2017.
"We went to four different doctors, every time they take money: $250 in Kirkuk for an EEG, then another $150 for more tests," she said, which she paid for through donations.
"Our financial situation is dire, and we need to get him an ID so he can benefit from state healthcare," she said.
But she can't even afford that.
"If I want to get him one, it will cost me between 25,000 and 30,000 IQD (around $25). We don't have it," she said.
Methaq currently takes a nightly pill to ease his seizures, donated by Doctors Without Borders. His mother said he needs more intensive help.
"He's five and doesn't speak yet. I'm worried for his future," she said.
https://aawsat.com/english/home/article/1725561/born-under-isis-sick-iraqi-children-left-undocumented-untreated
--------
Mulnivasi Muslim Manch Opposes SIMI Ban, Raises Questions about Investigations into Pune Terror Attacks
May 18, 2019
Mulnivasi Muslim Manch (MMM), a Pune-based outfit, has opposed the ban on the Students Islamic Movement of India (SIMI) and claimed that the investigations that pointed to the involvement of SIMI operatives in terror cases were "suspicious".
Anjum Inamdar, president of MMM, on Friday approached the tribunal constituted by the central government to ascertain whether there was sufficient cause to extend the ban on SIMI.
The tribunal, presided by Delhi High Court Judge Mukta Gupta and comprising Additional Solicitor General Pinki Anand, senior lawyer Sachin Datta and others, has already held hearings in Pune on May 3 and 4, and began its hearings in Aurangabad on Friday.
Inamdar, who reached the tribunal on Friday afternoon a few minutes after Justice Gupta had adjourned the hearing for the day, told The Indian Express, "I came with my say on a letterhead of my organisation. Justice Gupta told me that I have reached a few minutes late, but she was interested in hearing my side. Justice Gupta told me that I should submit my say on Saturday in the form of an affidavit and not on the letterhead of my organisation. I will do that".
"We oppose the ban on SIMI. I have been an activist for many years and have closely seen many of the suspects arrested in different terror cases and branded as SIMI operatives. I found that the investigation done in these cases by different agencies was suspicious. Injustice was done to persons falsely arrested in terror cases. I want to bring before the tribunal the other side of the story, which I believe to be true," he said.
Inamdar said his affidavit will comprise details pertaining to the 2010 German Bakery Blast in Pune and the 2014 Faraskhana bomb blast in Pune. He alleged that the investigations in the two terror cases were "suspicious", and the details he wanted to present before the tribunal were based on information in the recently-published book Brahminists Bombed, Muslims Hanged, authored by former inspector general of Maharashtra Police, S M Mushrif.
"I have been asked to submit four copies of the book along with my affidavit," said Inamdar.
Mushrif is also the author of the controversial book, Who Killed Karkare, on the death of former state Anti-Terrorism Squad (ATS) chief Hemant Karkare, who was killed in the line of duty during the 26/11 terror attack in Mumbai.
Till now, about 50 affidavits have been filed before the tribunal and these include only one from the public, submitted by a former secretary of SIMI from Uttar Pradesh.
During the hearing on Friday, Assistant Commissioner of Police (crime) Bhanupratap Barge, now attached to Pune City Police, deposed before the tribunal. Barge, who was earlier with the Maharashtra ATS, submitted details of the July 2014 Faraskhana bomb blast case, in which he was the investigating officer.
The police officer submitted images of alleged SIMI operatives captured by CCTV cameras and told the tribunal that after the bomb blast at a site near the Dagadusheth Halwai Ganpati Temple in Pune; the suspects went to Swargate bus depot and from there fled to Kolhapur by bus.
"During investigation, the statement of a co-passenger who had travelled in same bus was recorded. This passenger had identified the suspects from the CCTV images….From the investigation done by various agencies and earlier records of the accused in the Faraskhana bomb blast case, it was known they are members of the banned SIMI," he said.
Of the five accused in the Faraskhana blast case, three had died in a police encounter in Madhya Pradesh and two died in an encounter in Telangana. Two officials from Telangana Police — Assistant Commissioner of Police Usha Vishwanath T and Police Inspector J Ravinder — also deposed before the tribunal on Friday.
ACP Usha submitted details of the alleged role of SIMI operatives in a dacoity at the State Bank of India in Karimnagar in February 2014. Inspector Ravinder submitted details of the alleged role of SIMI operatives in robbing a motorcycle at gun point in April 2015. These two "SIMI operatives", who were killed in an encounter with Telangana Police in 2015, were allegedly involved in the 2014 Faraskhana bomb blast in Pune. Two more officials from Telangana Police will be deposing before the tribunal on Saturday.
SIMI was first banned in 2001 and the ban was subsequently extended after frequent intervals. The five-year ban imposed on SIMI in 2014 came to end on January 31 this year, after which the central government issued a notification extending the ban on SIMI for a period of five more years. It also constituted the tribunal in February to adjudicate whether there was sufficient cause for declaring SIMI an unlawful association.
https://indianexpress.com/article/cities/pune/muslim-outfit-opposes-simi-ban-raises-questions-about-investigations-into-pune-terror-attacks-5734572/
--------
Pakistan's efforts to act against terror groups, money laundering questioned at APG meet in China
May 17, 2019
ISLAMABAD: Pakistan's seriousness to act against proscribed terror outfits and its efforts to curb money laundering and terror
financing were questioned by members of a regional affiliate of the Financial Action Task Force (FATF) at a meeting held in
China, according to a media report.
A 10-member delegation, led by finance secretary Mohammad Younas Dagha, attended the two-day meeting of the Asia-Pacific
Group (APG) of the Paris-based FATF in the southern Chinese city of Guangzhou where it defended Pakistan's efforts against
money laundering and terror financing.
According to a Dawn report, some participants, particularly those from India, raised very tough questions about Pakistan's
seriousness to act against proscribed organisations and effectiveness of internal controls.
On May 3, finance minister Arun Jaitley said India will ask the FATF to put Pakistan on a blacklist of countries that fail to meet
international standards in stopping financial crime.
The APG will submit to the FATF its analysis of the compliance report submitted by Pakistan at the meeting, which concluded
yesterday, and the progress made since the group's on-site inspection in Islamabad and Karachi in March, the report said.
The APG report will become the basis for the FATF to decide whether to exclude Pakistan from its grey list or not.
The delegation briefed the meeting about Pakistan's updated actions against currency smuggling, proscribed organisations
and tightening of financial and corporate sector systems and operational effectiveness, the report said.
Giving examples of the measures taken by it, Pakistan cited arrests of key operatives of some proscribed outfits, putting more
such groups and their affiliates in the list of banned outfits, blocking their accounts and financial flows and taking control of
their assets.
In March, bowing down to international pressure, Pakistan launched a major crackdown on Jaish-e-Muhammed, Jamat-udDawa, Falah-i-Insaniyat Foundation and other banned outfits and took over the control of their assets throughout the country.
The Pakistan delegation said the country was very close to accomplish the milestones set under the FATF action plan well
before the September deadline.
It also said the government recently revised its national risk assessment of the corporate sector, strengthened customs
procedures on borders and inland movement of funds and assets.
Besides, internal control of the banking and non-banking financial institutions, insurance companies and stock exchanges has
been strengthened to curb the possibility of money laundering and terror financing.
The delegation cited the creation of a specialised directorate of Cross-Border Currency Movement (CBCM) in Islamabad to
maintain a database of currency seizures.
The APG had earlier flashed contradictory situations and poor coordination among stakeholders, including law enforcement
agencies, in fighting money laundering and terror financing in Pakistan.
Last month, it expressed serious reservations over insufficient physical actions on ground against proscribed organisations to
block flow of funds and activities.
https://timesofindia.indiatimes.com/world/pakistan/pakistans-efforts-to-act-against-terror-groups-money-laundering-questioned-at-apg-meet-in-china/articleshow/69374933.cms
--------
Trump Tells Pentagon Chief He Does Not Want War With Iran
By Mark Landler, Maggie Haberman and Eric Schmitt
May 16, 2019
WASHINGTON — President Trump has sought to put the brakes on a brewing confrontation with Iran in recent days, telling the acting defense secretary, Patrick Shanahan, that he does not want to go to war with Iran, administration officials said, while his senior diplomats began searching for ways to defuse the tensions.
Mr. Trump's statement, during a Wednesday morning meeting in the Situation Room, sent a message to his hawkish aides that he does not want the intensifying American pressure campaign against the Iranians to explode into open conflict.
For now, an administration that had appeared to be girding for conflict seems more determined to find a diplomatic off-ramp.
Secretary of State Mike Pompeo called the leader of Oman, Sultan Qaboos bin Said, on Wednesday to confer about the threat posed by Iran, according to a statement. Long an intermediary between the West and Iran, Oman was a site of a secret channel in 2013 when the Obama administration was negotiating a nuclear agreement with Iran.
Mr. Pompeo also asked European officials for help in persuading Iran to "de-escalate" tensions, which rose after American intelligence indicated that Iran had placed missiles on small boats in the Persian Gulf. The intelligence, which was based on photographs that have not been released but were described to The New York Times, prompted fears that Tehran may strike at United States troops and assets or those of its allies.
Asked on Thursday whether the United States was going to war with Iran, Mr. Trump replied, "I hope not."
The developments cast into sharp relief a president who is instinctively wary of military adventures and a cadre of advisers — led by the national security adviser, John R. Bolton — who have taken an uncompromising line toward Iran. The internal tensions have prompted fears that the Trump administration is spoiling for a fight, even if the commander in chief may not be.
Those divisions are playing out against a fierce internal debate among administration officials about the gravity of the Iranian threat. While officials and British allies say the intelligence about the threat is valid, lawmakers and some inside the administration accuse Mr. Trump's aides of exaggerating the danger and exploiting the intelligence to justify a military clash with Tehran.
The administration's internal debate over Iran was described by five senior officials who demanded anonymity to discuss sensitive internal deliberations.
Iran dismissed any suggestion of a dialogue with Mr. Trump. "The escalation by the United States is unacceptable," the Iranian foreign minister, Mohammad Javad Zarif, said Thursday.
Indeed, there was a new potential flash point in Iran's standoff with the United States, stemming from its vow last week to step away from some of the limitations imposed by the nuclear deal, a year after Mr. Trump pulled the United States out of the agreement that was negotiated between Tehran and world powers in 2015.
State Department officials, speaking to reporters, set a red line that they warned Iran would cross at its peril: It could not ramp up its nuclear fuel production to the point where it could produce a nuclear weapon in less than one year.
The officials did not specify what kind of reaction — military or otherwise — would come if Iran built up enough of a stockpile of uranium and took other steps to cross that threshold. But they acknowledged that the steps announced by Iran's president, Hassan Rouhani, could eventually give Tehran that ability.
No new information was presented to Mr. Trump at the Situation Room meeting that argued for further engagement with Iran, according to a person who attended.
Mr. Shanahan and Gen. Joseph F. Dunford Jr., the chairman of the Joint Chiefs of Staff, presented the president with a range of military options and checked off the troop levels, costs and risks of each, one of the officials said.
But Mr. Trump was firm in saying he did not want a military clash with the Iranians, several officials said.
The president has sought to tamp down reports of divisions among Mr. Bolton, Mr. Pompeo and the Pentagon. Military officials have warned against escalating the confrontation, even as Mr. Bolton ordered the Pentagon to present options to send as many as 120,000 troops to the Middle East to respond to Iranian provocations.
"There is no infighting whatsoever," Mr. Trump said Wednesday on Twitter. "Different opinions are expressed and I make a decisive and final decision - it is a very simple process. All sides, views, and policies are covered."
Mr. Trump added that he was confident that Iran "will want to talk soon," though one senior official said the White House was highly unlikely to pursue a secret diplomatic channel for talking to Iran, as the Obama administration had done.
Mr. Pompeo has outlined 12 steps that Iran must take to satisfy the United States — including halting all ballistic missiles tests and cutting off support for militant groups in Syria and Yemen — which critics in the Pentagon view as unrealistic and could back Iranian leaders into a corner. He recently described American policy as being calculated to produce domestic political unrest in Iran.
But for all of his harsh words toward Tehran, several officials said Mr. Pompeo was rankled by being lumped in with Mr. Bolton as bent on war. A former Republican lawmaker, Mr. Pompeo is an astute reader of Mr. Trump's preferences and will plunge into diplomacy, if necessary, as he has with North Korea.
Mr. Bolton, as a private citizen, long called for regime change in Tehran. He has resisted compromises that would open the door to negotiations, has stocked the National Security Council with Iran hard-liners and has masterminded recent policy changes to tighten the economic and political vise on the clerical government in Tehran.
Three officials said Mr. Trump is less frustrated with Mr. Bolton over his handling of Iran — he favors the tougher measures as a warning to Tehran — than over the evolving narrative that his national security adviser is leading the administration's policy in the Middle East.
The president, they said, is well versed and comfortable with the administration's recent steps, which have included imposing increasingly onerous sanctions on Iran and designating an arm of the Iranian military, the Islamic Revolutionary Guards Corps, a foreign terrorist organization.
Some officials have argued that Iran's actions did not warrant a significant American response, like potentially deploying thousands of troops to the Middle East, or the partial evacuation of the United States Embassy in Baghdad.
"It's a situation where this president has surrounded himself with people, Pompeo and Bolton in particular, who believe that getting tough on a military basis with Iran is in our best interest," said Senator Richard J. Durbin of Illinois, the No. 2 Democrat, as he emerged from an intelligence briefing on Thursday. "I do not."
Mr. Bolton, several of the officials said, has quietly voiced frustration with the president, viewing him as unwilling to push for changes in a region that he has long seen as a quagmire. He has kept an unusually tight grip on the policymaking process for a national security adviser.
Mr. Bolton's independence has rankled the acting chief of staff, Mick Mulvaney, and has even prompted rumors that his job might be in jeopardy — something the White House denies.
But Mr. Trump has poked fun at Mr. Bolton's reputation for hawkishness, joking in meetings with him. "If it was up to John, we'd be in four wars now," one of the senior officials recalled Mr. Trump as saying.
Mr. Trump is also impatient with another of Mr. Bolton's campaigns: the effort to oust President Nicolás Maduro in Venezuela. After the opposition's failed attempt to peel away key Maduro allies and turn the Venezuelan military against him, Mr. Maduro appears harder to dislodge than ever.
In recent days, officials said, Mr. Trump has begun consulting outsiders, including Jack Keane, the former Army vice chief of staff and architect of the Iraq war troop surge who now appears regularly on Fox News.
Mr. Keane declined to discuss any conversations he had with Mr. Trump, but said, "I'm confident that we're not heading to a war with Iran, and whatever measures we will use, if in fact Iran does something provocative, will be measured and deliberate in not tolerating provocation."
Other former government officials, however, criticized the Trump administration's policy as hobbled by internal disarray.
Derek Chollet, an assistant secretary of defense for international security affairs under President Barack Obama, said the Trump administration was "riddled by a fundamental contradiction — a president who wants to withdraw from the Middle East and an administration with a maximalist policy of regime change."
Diplomats who were involved in negotiations with Iran during the Obama administration said intermediaries like Oman could theoretically ease the tensions. But they said the White House's unyielding position — epitomized by Mr. Pompeo's 12 demands — would make fruitful negotiations impossible.
"Reinserting diplomacy into the strategy is not just about signaling that you want to talk and finding a channel, but about actually being ready to talk realistically," said William J. Burns, a former deputy secretary of state who led the secret talks with Iran and recently published "The Back Channel," an account of the diplomacy.
Reporting was contributed by David E. Sanger, Helene Cooper, Edward Wong and Annie Karni.
https://www.nytimes.com/2019/05/16/world/middleeast/iran-war-donald-trump.html
--------
Ramadan: how a new generation of British Muslims are becoming more green
May 17, 2019
Muslims worldwide are about to enter the second half of Ramadan, a month widely known to the public as one for fasting. However, growing concerns around the environmental crisis and social struggles across the globe have lead Muslims to consider its deeper meaning.
For an increasing number of Muslims, Ramadan is interpreted as a time when they distance themselves from material needs, reconnect with nature and spirituality, acknowledge the suffering on the planet and challenge destructive behaviours. It is a time for resistance to consumerism and oppression.
In the UK, an increasing number of Muslims are becoming aware that consumer culture is hijacking Ramadan. In 2018, brands unashamedly turned the sacred time of suhoor – the meal before dawn – into a party, and called for Ramadan to become the equivalent of the Christmas season in terms of its commercialism.
But my research shows that a powerful counter-narrative and a new generation of Muslim change makers are on the rise across Europe. Young, skilled and highly motivated, volunteers from grassroots groups have been working to bring local solutions to their neighbourhoods: people who are feeding the homeless, setting up artists collectives and campaigning for the protection of the environment.
Growing environmentalism
In 2018, Muslims in London organised a "Green Iftaar" – the evening meal after sunset that breaks the daily fast during Ramadan – without plastic, food waste or meat. Muslims alongside groups of all faiths and none recently attended the Extinction Rebellion demonstrations in London, and in April, Britain's first eco-Mosque opened in Cambridge, aiming for no carbon emissions from the site and rainwater harvesting.
The Muslim Action for Development and the Environment, or the MADE initiative, advocates for mosques to become eco-friendly, while the Herbal Blessing Clinic, organises well-being workshops in the English countryside to sensitise Muslims to the protection of the environment through the use of foraged local plants.
Both take their inspiration from the Quranic concept of khilafa: that the role of the human being is to be a steward, a source of mercy for the environment and the society. For these volunteers, my research has shown that Islam is much more than a religion. For them, being a "radical" Muslim is to practice environmental and social justice. Taking care of others and the planet are acts of worship.
Another example is Rumi's Cave, a community hub in north London, which in 2019 is also hosting a Green Iftaar. Small, flexible, innovative, small organisations such as Rumi's are extremely attractive to young people looking for ways to get involved locally.
Organising regular soup kitchens, workshops and open-mics, Rumi's Cave has been a pivotal cradle for the British Muslim activism and arts scene. At times when Muslims are increasingly targeted and excluded, Rumi's is a space for healing, hope and self-love. It is one of the rare places where people have critical discussions about people's responsibility towards making a better world.
Yet, at the same time, Ramadan has become a race for money, when multi-million-pound mega-charities promise to exchange donations for tickets to Paradise. Similarly, playing on the recommendation for people to wear their best clothes for Eid, the festival marking the end of Ramadan, Muslim social media "influencers" use this opportunity to showcase sponsored cosmetics, some of which have scored poorly in ethical consumer rankings.
However, these examples of Muslims being drawn into consumerism are only symptoms of a global neoliberal culture, built around a cult of performance, numbers, individualism and competition.
A month for decolonising
My interviews with young Muslims show that some understand consumerism to be only the tip of a greater iceberg of oppression. Society pushes minorities to adapt their culture, faith, ethics, looks and identity to conform to the dominant society. But these young activists argue that the branding around Ramadan reinforces the narrative that Muslims can only be accepted as a minority if they are consumers.
A growing number of scholars and organisations emphasise that Islam, at its inception, has been a driving force for ending slavery, racial supremacy, oppression against women and class privilege. They argue that beyond the detoxification of the body, Ramadan should be a month for decolonising the mind.
Initiatives like Rumi's are decolonial spaces par excellence. In a society ruled by individualism, instant gratification, conformity and materialism, they are spaces for the celebration of spirituality, conviviality, creativity and heritage. In a society that wins by making the weaker pessimistic, they are spaces for growth and self-determination. They are radical acts of optimism.
https://theconversation.com/ramadan-how-a-new-generation-of-british-muslims-are-becoming-more-green-117271
--------
Israel arrests 100 Palestinians in first ten days of Ramadan: Rights group
May 17, 2019
A Palestinian human rights organization says it has documented the arrest of 100 Palestinians, including four women, by Israeli forces during the first ten days of the holy Muslim fasting month of Ramadan.
The Palestinian Prisoners' Center for Studies said in a statement that the Israeli military stormed Palestinian areas across the occupied West Bank and East Jerusalem al-Quds, raiding Palestinian homes and arresting dozens of civilians.
The center explained that the detainees included 18 minors, the youngest of whom was nine-year-old Mousa Ramadan. He was arrested at a military checkpoint in the southern West Bank city of al-Khalil (Hebron), located 30 kilometers (19 miles) south of Jerusalem al-Quds.
The detainees also included twin brothers Mohammed and Ahmed Abu Adi, 13, who were arrested after Israeli forces stormed their home in the town of Kafr Ni'ma, located northwest of Ramallah.
The center also documented the detention of seven journalists and human rights activists. They were arrested while covering the deportation of Palestinian farmers from their land in the Jordan Valley.
Moreover, five Palestinians from the besieged Gaza Strip were held during Ramadan, including three fishermen who were arrested as they were doing their job off the coast of the Gaza Strip.
More than 7,000 Palestinians are reportedly held at Israeli jails. Hundreds of the inmates have apparently been incarcerated under the practice of administrative detention, a policy under which Palestinian inmates are kept in Israeli detention facilities without trial or charge.
Some Palestinian prisoners have been held in administrative detention for up to eleven years.
Palestinian inmates regularly stage hunger strikes in protest at the administrative detention policy and their harsh prison conditions in Israeli jails.
According to reports, at least 13 Palestinian lawmakers are currently imprisoned in Israeli detention facilities. Nine of them are being held without trial under administrative detention.
https://www.presstv.com/Detail/2019/05/17/596188/Israel-Palestinians-Ramadan
--------
South Asia
Muslim prayer sites shut down in Myanmar city
May 17, 2019
Hard-line Buddhist monks and groups of nationalists closed down Ramadan prayer sites on the outskirts of Yangon in Myanmar.
Some 100 monks led their nationalist supporters into three Muslim quarters in south Dagon township during the nights of May 14 and 15 and demanded that three temporary prayer sites be shut down.
Under pressure, Muslim leaders closed down the prayer sites but have said the sites were allowed by the Yangon Division government.
On May 16, the police chief of Yangon Division said the Muslims could still continue their prayers while saying police would provide security. However, no prayers were held at any of the sites that night, according to Muslim sources.
There are an estimated 10,000 Muslims in the township but there are no mosques.
Kyaw Nyein, secretary of the Ulama Islamic Organization, said the nationalists were not from the township and that it was a planned act.
"It is obvious that some groups who are behind those nationalists are attempting to make a religious conflict," Kyaw Nyein said.
On the night of May 16, prominent monk Ashin Seindita, from the Asia Light Foundation in Pyin-Oo-Lwin, along with other interfaith activists met with the township's Muslim community.
Zaw Min Latt, a Yangon-based Muslim resident, said Seindita thanked the local community for showing fortitude for what occurred.
"The monk called for patience and to show love," said Zaw Min Latt.
Al Haj Aye Lwin, the chief convener of a Yangon-based Islamic school, said hate speech against Muslims remains a problem despite the government trying to rein in nationalist groups.
"Our Muslims have been targeted for political gain … the main intention of such political opportunists is to hurt the civilian-led government," Aye Lwin told ucanews.com.
Hard-line Buddhist monks from the Committee for the Protection of Race and Religion, known as Ma Ba Tha, encouraged anti-Muslim violence in 2012 which left more than 200 people dead and forced tens of thousands to flee their homes in Rakhine State. An estimated 120,000 people in the state still live in temporary camps for displaced people.
Known for its anti-Islamic rhetoric, the nationalist monk organization has renamed itself the Buddha Dhamma Philanthropy Foundation.
Muslims account for 4.3 percent of the population in the Buddhist-majority country, according to the 2014 census. They arrived in the ninth century and most are of Indian, Chinese or Pathi descent.
Myanmar has seen several bouts of religious violence since 2012, much of it targeting Rohingya Muslims in Rakhine State.
https://www.ucanews.com/news/muslim-prayer-sites-shut-down-in-myanmar-city/85216
--------
Muslims in Sri Lanka pray at vandalized mosques amid tight security
17 May 2019
Sri Lanka's minority Muslims attended Friday prayers as heavily armed troops and police guarded all mosques, including those badly vandalized in riots in the wake of the Easter terror attacks.
Police said security would remain tight over the weekend for a major Buddhist festival as well as the 10th anniversary of the ending of the country's decades-long Tamil separatist war.
Clerics said some of the damaged mosques cleared out glass shards and other debris and conducted services with attendance at a high level.
"We had about 450 to 500 people," M. I. M. Siddeeque, the trustee of the riot-hit Kinyama mosque in the worst affected North-Western Province told AFP by telephone.
"There were six soldiers outside the mosques and many more police at the top of the road."
Siddeeque said his mosque was cleared of the debris, but windows, furniture, and the public address system were yet to be replaced.
In the town of Minuwangoda, the faithful packed the first floor of the two-story Hujjaj mosque to pray even though repairs were yet to begin.
Local residents said Buddhists and Catholic priests were also present as a sign of solidarity with Muslims community.
Police said there were no major incidents although sporadic clashes were reported from a handful of places.
"Police are firmly in control and the situation is fast returning to normality," a senior police official told AFP.
A nationwide night curfew was lifted Thursday.
The riots came three weeks after suicide bomb attacks on three churches and three luxury hotels in Colombo, killing 258 people. The April 21 attacks were blamed on a local extremist group.
This weekend Sri Lanka celebrates Vesak which marks the birth, enlightenment and the passing of the Buddha over 2,500 years ago on Saturday and Sunday.
The most important Buddhist celebration coincides this year with the country marking a decade since ending a 37-year-separatist by annihilating the entire leadership of Tamil Tiger guerrillas.
The head of the Tamil Tigers, Velupillai Prabhakaran was killed 10 years ago Saturday while the government declared an end to the war a day later.
President Maithripala Sirisena and Prime Minister Ranil Wickremesinghe are due to attend several ceremonies in and around Colombo on Sunday to pay tribute to over 28,000 security personnel who died during the nearly four-decade-long war.
The minority Tamil community too is expected on Saturday to pay tribute to their war dead, including Tiger rebels at low-key ceremonies in the northeastern district of Mullaittivu where the final battles were fought.
Army chief Mahesh Senanayake said security forces will not obstruct any war remembrance by the Tamils. Under the previous regime, any war remembrance by Tamils was outlawed.
https://english.alarabiya.net/en/News/world/2019/05/17/Sri-Lanka-Muslims-pray-with-Buddhists-Catholic-priests-presence-in-solidarity.html
--------
Sri Lankan army probes possible additional extremist groups
By Krishan Francis
May 16, 2019
COLOMBO, Sri Lanka — Sri Lanka's army chief said Thursday that other groups of Islamic extremists could be operating in the country independent of the one that carried out Easter Sunday bomb attacks.
"There could be other groups, definitely," Lt. Gen. Mahesh Senanayake said.
"To what extent are they offensive, what is the equipment they carry, what is the time frame, who are their handlers, these are all matters under discussion," he told reporters.
More than 250 people were killed in coordinated suicide bomb attacks at three churches and three tourist hotels on Easter Sunday that were claimed by the Islamic State group and carried out by a local radicalized Muslim group.
Seven suicide bombers blew themselves up at their targets and another killed himself and two guests at a motel after his device failed to explode at a fourth tourist hotel. A ninth suicide bomber killed herself and her children as police surrounded her home.
Senanayake said the military is developing a two-year plan to eliminate the new terrorist threat.
The attacks took place a month before the 10th anniversary of the end of Sri Lanka's 26-year civil war between government forces and separatist ethnic Tamil rebels.
Senanayake said the army has organized a series of events to mark the anniversary. People have been asked to light an oil lamp in their homes and offices in honor the fallen soldiers.
Senanayake said the military will not interfere with Tamil civilians remembering their dead relatives in areas where the final battle took place in 2009.
Sri Lanka's military has been accused of deliberately targeting civilians and using disproportionate force that killed thousands of civilians in the final months of fighting.
https://www.washingtonpost.com/world/asia_pacific/sri-lankan-army-probes-possible-additional-extremist-groups/2019/05/16/7f253412-77e9-11e9-a7bf-c8a43b84ee31_story.html?noredirect=on&utm_term=.e24266091793
--------
Taliban attack leaves 10 soldiers dead in southern Afghanistan
16 May 2019
A Taliban attack on two military checkpoints has left 10 Afghan army members dead in southern Zabul province, officials said.
The attack in the Shamulzayi district of the province also wounded at least four soldiers, provincial council member Dur Mohammad Qiam said on Thursday.
Another councillor, Asadullah Kakar, while confirming the details, added that Afghan security forces have technically retreated from the checkpoints in the district.
According to officials, the Taliban control a vast part of the province, with the government trying to retake lost areas. The group controls or influences more territory than ever since its removal by US-led troops following the September 11, 2001 attacks.
Despite the ongoing talks between the United States and the Taliban for a political solution, the armed group has also been launching deadly attacks on US and Afghan security personnel.
Earlier this month, US envoy for peace, Zalmay Khalilzad, said on Twitter that he told the Taliban: "It is time to put down arms, stop the violence and embrace peace."
The Taliban responded by saying Khalilzad "should drive the idea home [to the US] about ending the use of force and incurring further human and financial losses".
The US has about 14,000 troops in Afghanistan as part of a NATO-led mission, known as Resolute Support, that trains and assists Afghan security forces in their battle against the Taliban and other groups.
https://www.aljazeera.com/news/2019/05/taliban-attack-leaves-10-soldiers-dead-southern-afghanistan-190516110918114.html
--------
Sri Lanka bombings: Muslim leaders express solidarity with victims, call for united identity in country
May 17, 2019
Expressing solidarity with the victims of Easter bombings in Sri Lanka, the Muslim leaders of the country have called for one united identity of the island nation.
"We, as a community, have done a lot of soul searching following the attacks. We could not imagine that they came from us. We concede that we saw elements but didn't think it would turn to this," Public Development Minister Kabir Hashim as quoted as saying on Thursday.
The need of the hour was to "forge a Lankan identity", Hashim said, while addressing a media conference in which former Ministers Imthiyaz Bakeer Marker and Ferial Ashroff were present.
He added that there was "soul searching from within the community unbeknownst to many".
A Muslim leader said that admonishing a whole community of two million for what the terrorists did was unjustifiable.
"We immediately took steps to take on the issue of the Madrasas and want them regulated under the Ministry of Higher Education. We want to know what is taught at these Madrasas and who is teaching them, they all must be regulated. The overview of mosques and sermons, the steps to ban the Niqab were all done by the Muslims themselves before intervention of the government."
"We are doing everything possible to quell any form of extremism," he added.
Former Minister Ashroff pleaded against marginalizing of an entire community due to actions of the terrorists.
"We are still in shock as to what happened on Easter Sunday. We are still grieving. We couldn't imagine that these terrorists could come from our community... But I plead of you to not look at an entire community with hate and suspicion" she said.
Protesters had torched Muslim-owned shops and homes earlier this week.
They had also vandalised mosques in several towns as the anti-Muslim unrest spread in the aftermath of the April 21 attacks, in which over 250 people were killed.
Islamic State terrorist group had claimed the responsibility of the attack.
https://www.indiatvnews.com/news/world-sri-lanka-bombings-muslim-leaders-express-solidarity-with-victims-call-for-united-identity-in-country-520676
--------
Bangladeshi Catholic writer gets bail in clergy defamation case
May 17, 2019
A prominent Catholic writer secured bail a day after being jailed for defaming clergy in southern Bangladesh.
A court in Barishal city accepted a bail petition and ordered the release of Henry Sawpon Howlader on May 16.
Henry, 54, was arrested on May 15 under the country's Digital Security Act for writing Facebook posts and newspaper articles that allegedly defamed clergy including Bishop Lawrence Subrata Howlader of Barishal.
Father Lawrence Lecavallier Gomes filed the case on behalf of Barishal Diocese.
The arrest sparked online and street protests in Barishal and capital Dhaka. Writers, journalists and rights activists condemned the arrest and called for his immediate release.
Nurul Islam, a police official in Barishal city, said the local mayor, Serniabat Sadiq Abdullah, intervened to reach "a consensus" between the church authorities and Henry.
"The mayor intervened as he found that although the incident was solely involving the Christian community it could spill over and become a complex issue. Church officials agreed not to oppose his bail, but the case will continue," Islam told ucanews.com.
Father Gomes, the complainant, said the Church decided to withdraw opposition to Henry's bail petition after he promised to apologize for what he did.
"The mayor sent his representative to us and informed Henry agreed to apologize, and he promised not to attack the Church anymore, which we found acceptable," Father Gomes told ucanews.com.
The priest also said a meeting between the mayor, Henry and the church authorities is scheduled for May 18, where they hope to reach a "solution" over the issue.
Henry and two others were subjected to the Church's legal action for allegedly spreading "misinformation" and "baseless propaganda" against the local church via Facebook for years.
Henry was particularly charged for calling "the bishop and his priests, brothers and sisters stupid" in a news article published in newspapers in Barishal city on April 23. Several local Bengali dailies published an article with Henry's byline that had as its headline: "When Rome burns, Bishop Subrata fiddles."
The article was a scathing attack on Bishop Subrata and the church administration of Barishal Diocese for arranging a Bengali New Year and Easter Reunion cultural program on April 22, a day after the Easter Sunday bombings in Sri Lanka that left more than 250 dead.
On May 13, Henry told Barishal media that unknown people had threatened to kill him on several occasions since the article was published.
Concerns over the muzzling of free speech
In a statement on May 17, New York-based Human Rights Watch expressed concerns over attempts to muzzle free speech in Bangladesh.
HRW noted that Henry and two others — Imtiaz Mahmood, a lawyer, and Abdul Kaium, a rights activist — were arrested under the country's repressive Information and Communication Technology Act for exercising their freedom of expression.
Mahmood was arrested in Dhaka on May 15 on charges filed by police in July 2017 under the ICT Act over a Facebook post about violence in Bangladesh's restive Chittagong Hill Tracts (CHT).
The post was critical about serious allegations of human rights violations in the CHT in southeastern Bangladesh, where the military is deployed and sectarian violence between local indigenous peoples and Bengali Muslim settlers is rife.
The case accused Mahmood of spreading rumors with an "ill motive to tarnish the country's image," hurting "religious sentiment," and "deteriorating the law and order."
Kaium, an activist with Odhikar (Rights) and editor of an online news portal, was arrested on May 12 and denied bail on May 13.
An influential local madrasa teacher filed a case against Kaium accusing him of extortion under the Penal Code and spreading "false of fear inducing information" and defaming him under the Digital Security Act.
"Arresting activists, poets, and lawyers for exercising their right to free speech is straight out of the authoritarian playbook," said Brad Adams, Asia director at HRW, said in the statement.
"The Bangladesh government should stop locking up its critics and review the law to ensure it upholds international standards on the right to peaceful expression," he added.
https://www.ucanews.com/news/bangladeshi-catholic-writer-gets-bail-in-clergy-defamation-case/85215
--------
6 Taliban militants killed, 4 detained in Special Forces raids in Kunduz and Nangarhar
15 May 2019
At least six Taliban militants were killed and four others were detained in separate raids of the Special Forces in northern Kunduz and eastern Nangarhar provinces.
"Afghan Special Forces conducted an operation in Chahar Darah district of Kunduz killing 1 Taliban fighter and destroying a weapon and IED cache containing ammunition, RPG rounds, 30 pressure-plate IEDs, 200 kg of homemade explosives and 78 pounds of IED charges," the informed military sources said Wednesday.
The sources further added that a similar operation was conducted in Sherzad district of Nangarhar province in which 5 Taliban fighters were killed and 4 others were detained.
The anti-government armed militants including Taliban have not commented regarding the operations so far.
https://www.khaama.com/6-taliban-militants-killed-4-detained-in-special-forces-raids-in-kunduz-and-nangarhar-03985/
--------
Drone strike kills notorious ISIS leader and his fighters in East of Afghanistan
17 May 2019
A notorious leader of the Islamic State of Iraq and Syria (ISIS) terrorist group was killed with his seven fighters in a U.S. drone strike in eastern Nangarhar province of Afghanistan.
The 201st Silab Corps of the Afghan Military in a statement said the ISIS leader Abu Zar was killed in Khogyani district on Thursday.
The statement further added that Abu Zar was one of the most notorious leaders of the terror group who was involved in vicious activities against the local residents besides conducting other terrorist related activities including roadside bombings.
The anti-government armed militants including ISIS sympathizers have not commented regarding the airstrike so far.
Nangarhar is among the relatively calm provinces in East of Afghanistan but the security situation in some of its districts has deteriorated during the recent years.
Taliban and ISIS militants are active in some of the remote districts of the province where they often attempt to carry out terrorist related activities against the government and security institutions.
https://www.khaama.com/drone-strike-kills-notorious-isis-leader-and-his-fighters-in-east-of-afghanistan-03998/
--------
Official: Bomb blast in western Afghanistan kills 2
May 18, 2019
KABUL: An Afghan official says that a bomb blast in the western province of Herat has killed at least two people, including a child.
Gelani Farhad, a spokesman for the province's governor, says that 14 people were wounded in Saturday morning's attack in the Obe area, including the district administrative chief.
Farhad said that a remotely controlled bomb went off when the district chief's vehicle was passing by the area's main market.
No one immediately claimed responsibility for the attack.
Taliban insurgents are active in the province and regularly target Afghan officials and security forces.
http://www.arabnews.com/node/1498691/world
--------
Southeast Asia
3 suspects linked to ISIS 'wolf pack' cell arrested in Malaysia
MAY 17, 2019
Three suspected militants who were part of a recently busted "wolf pack" cell have been arrested, days after their "brothers in arms" were detained in a series of anti-terror swoops in the country.
National police chief Abdul Hamid Bador said the suspects - two Malaysians and one Indonesian linked to the Islamic State in Iraq and Syria (ISIS) - were arrested in Kedah and Selangor on Tuesday.
https://www.straitstimes.com/asia/se-asia/3-suspects-linked-to-isis-wolf-pack-cell-arrested
--------
Mujahid willing to meet parties unhappy over Zakir Naik's presence
18 MAY 2019
BALIK PULAU: Minister in the Prime Minister's Department Datuk Seri Dr Mujahid Yusof Rawa has offered to with meet parties who continue to be unhappy with the presence of controversial Muslim preacher Dr Zakir Naik in Malaysia.
Despite the fact that the Islamic preacher faces a warrant of arrest in India over claims of incitement of hatred and money-laundering, Mujahid said his primary concern is dealing with certain quarters in Malaysia, who continued to be aghast over the presence of Zakir.
"I cannot say about the government to government dealings (Malaysia and India) over the issue but for the sake of national unity, I am willing to meet individuals or quarters who continue to be unhappy with this issue."
Mujahid said that he plans to address the issue through a Malaysian approach of mutual respect and high tolerance.
For him, the issue revolves around two points, one is the government to government, which concerns foreign diplomacy and legislation, while another, is the localised unhappiness over Zakir's history.
"I can only look and address from the standpoint of those unhappy with Zakir in Malaysia," Mujahid said after attending a breaking of fast ceremony at Masjid Maqbul in Teluk Kumbar last night.
He is also willing to meet Penang Deputy Chief Minister II Dr P. Ramasamy, who has been among those who have criticised the authorities for their continued acceptance of Zakir to remain in the country.
But the minister in charge of religious affairs, is willing to meet with the former academician to address any persistent misgivings over the issue.
Mujahid said that he is also initiating a national inter-faith picnic outing after Hari Raya Aidilfitri next month to create a closer rapport among the diverse religious figures and officials in the country.
"The picnic would be held in Putrajaya and we hope to promote our honorable Malaysians identity of mutual respect and strong inter-faith harmony."
Such initiatives are part of Mujahid's key policy of promoting a compassionate form of Islam in Malaysia where the pillars of moderation and mutual respect represents the cornerstone of his outreach efforts.
Mujahid was responding to concerns among certain quarters that he has abandoned his efforts to foster stronger inter-faith understanding which he had conceived a decade ago.
https://www.thesundaily.my/local/mujahid-willing-to-meet-parties-unhappy-over-zakir-naik-s-presence-BG888641
--------
Indonesia arrests dozens of terror suspects ahead of poll results
May 17, 2019
JAKARTA: Indonesian police said Friday that they have arrested dozens of Daesh-linked terror suspects, including some who planned to detonate bombs at political demonstrations when election results are announced next week.
Some 29 suspects were rounded up this month alone, with 60 in all detained since the start of the year in raids across the Southeast Asian nation, they said.
Eight other suspects had been killed in confrontations with authorities, police said, including the wife of a militant who blew up herself and a child following a dramatic standoff at their home in March.
Some arrested suspects were skilled bomb makers and had fought alongside the militant group in Syria, as well as members of local extremist network Jemaah Anshurat Daulah (JAD), police said.
JAD has pledged allegiance to Daesh and was blamed for a wave of suicide bombings at churches in Indonesia's second-biggest city Surabaya last year.
The world's biggest Muslim majority nation has seen a string of attacks by Islamist militants since the 2002 Bali bombings, which killed more than 200 people, including scores of tourists.
National police spokesman Muhammad Iqbal on Friday described the latest arrests as a "preventative strike" before the official announcement of Indonesian elections, which were held on April 17.
There are concerns about street demonstrations after presidential challenger Prabowo Subianto, a retired military general, warned that protests could erupt over his claims of massive electoral fraud.
Subianto has vowed not to recognize next week's results if they hand a re-election victory to president Joko Widodo, who has a lead of about 12 percentage points, according to unofficial polls.
Police said militants wanted to take advantage of any political unrest to spark chaos by using use WiFi to remotely detonate bomb-filled backpacks at crowded demonstrations.
"So, we're urging the public not to go out on the streets on May 22 because it could be dangerous as they (the suspects) wanted to attack crowds and police officers," he told reporters in the capital Jakarta.
Some 32,000 security personnel are expected to fan out across the capital next week, including in front of the General Elections Commission.
Subianto has attacked the Commission over allegations it was complicit in widespread electoral fraud.
http://www.arabnews.com/node/1498366/world
--------
Arab World
KAUST's annual iftar connects science hub with the rest of Saudi Arabia
May 18, 2019
THUWAL: King Abdullah University of Science and Technology (KAUST) held its annual iftar on Thursday.
The iftar presented an opportunity to connect the science and technology hub with the rest of the Kingdom and the international community.
The director of global marketing communications at KAUST, Mark Mulqueen, said that the story of KAUST was a special one.
"My job is to bring KAUST's story to audiences in Saudi Arabia and globally — that's how I see it. We have a great story to tell, we just need to tell it with much more energy, creativity and in a more compelling way than maybe to date. We're constantly asked what's happening in KAUST," he told Arab News
"There's a huge amount of work happening in KAUST but in today's media age, you really have to be proactive when telling your story, you've got to do your work and show people that you're doing your work.
"There are two jobs to be done. The scientists, entrepreneurs, myself and my team have to make sure that the people of Saudi Arabia, the wider region, and globally engages in what we are doing here because it's a transformative story."
Mulqueen said he had been at KAUST seven months and described it as an "intense place" that was very multicultural. "We have 104 or 107 different nationalities It's not something you'd find at home in terms of that, that richness and variety."
KAUST's new president, Dr. Tony Chan, was keen on creating new energy at the institution's scientific and academic core while engaging with the Kingdom, he added.
"With our new president Dr. Tony Chan, there's a real urgency in the sense of new energy about the institution in terms of both doing the core scientific and academic work, but also the engagement with Saudi Arabia because it's transforming and it's gone into high speed and we have to keep our pace up at that level. One of my main focuses is to tell our story in a much more digital manner. It's a global tech university. KUAST should be cutting edge in how we tell our story because the story itself is cutting edge.
"KAUST is about to have a whole new strategic plan for the university, its existing pillars today will feature there. Its four pillars from its first decade and as it enters its second decade this September, this new strategic plan helps the university realign with the new Saudi Arabia that is so focused on 2030. That is what our president is doing. Our mission and our original mission and the vision from King Abdullah was to be a global beacon for discovery, science, for transforming global problems and global challenges. He's doing that."
http://www.arabnews.com/node/1498591/saudi-arabia
--------
After fleeing bombs, Syrian families shelter in olive groves
MAY 16, 2019
ATMEH, Syria (Reuters) - Families who fled Syrian government and Russian strikes in northwestern Syria are sleeping in an olive grove near the Turkish border without enough food and no place else to go.
They are some of the 180,000 people who have escaped an upsurge in violence in the last major Syrian rebel stronghold in the last few weeks. It marks the most intense escalation between President Bashar al-Assad and his rebel enemies since last summer, with dozens killed in the shelling of insurgent territory.
"The house fell in over my children and grandchildren at night ... but God saved them, they emerged from the rubble," said a 70-year-old woman who gave her name as Aziza as she spoke under the shade of an olive tree.
Aziza's family is one of scores who fled targeted parts of southern Idlib and northern Hama province and are now living in the olive groves at the Turkish border.
There is no room for them at the nearby camp for the displaced in the town of Atmeh.
Aziza fled her town of Kfar Nabuda with 17 relatives nearly two weeks ago, taking nothing with her, as the warplanes flew overhead. The exodus has left many towns and villages empty.
Some have made makeshift tents by stringing sheets between the olive trees. Infants sleep under mosquito nets suspended from the branches. One of the shelters was equipped with a kitchen stove.
The jihadist Tahrir al-Sham is the dominant insurgent faction in the northwest. Rebels launched a counterattack this week to counter ground advances by Syrian government forces.
AIR STRIKES
Air strikes have struck 18 health facilities and violence has destroyed at least 16 schools, U.N. humanitarian adviser Najat Rochdi told reporters in Geneva.
"Aerial bombardment, including the reported use of barrel bombs causing severe damage to civilian infrastructures and civilian casualties is a war practice which goes against every single humanitarian principle," she said.
Medical charity UOSSM said the Tarmala Maternity and Children's Hospital was destroyed by an air strike on Wednesday, but there were no casualties as it had been evacuated.
The Syrian government says it is responding to attacks by al Qaeda-linked militants.
Much of the bombardment has hit a buffer zone agreed in September under a Russian-Turkish deal that spared the region and its 3 million residents from a full-blown assault.
Ankara, which backs some rebels, has deployed forces into the region in agreement with Russia. They are stationed at a dozen positions, one of which was hit by shelling from Syrian government territory.
Turkey has called on the Syrian government to stop the attacks. Still, Abu Abdo al-Khani said Ankara's deal with Moscow had failed to help his family.
"We were supposed to be within the secure zone, where is it?" Khani, 30, said. "Where are (Turkish President) Erdogan and his guarantees to protect us?"
Khani's family fled the town of Khan Sheikhoun on foot through the countryside. He said they had received some blankets and water in the olive field.
"We haven't showered in 15 days ... We're living under the trees at the border, who would accept such a life?"
https://www.reuters.com/article/us-syria-security-northwest-displaced/after-fleeing-bombs-syrian-families-shelter-in-olive-groves-idUSKCN1SM22H
--------
Iraq to handle foreign IS fighters' trials
Mustafa Saadoun
May 17, 2019
Now that the Islamic State (IS) is considered largely contained, the next challenge is what to do with the thousands of jihadis captured and awaiting trial, many of them in Iraq.
In addition to thousands of its own people imprisoned for fighting for IS, Iraq is under pressure to receive and try some 1,000 foreigners in the hand of Syrian Kurds. It would seem expedient to try the detainees there, rather than shipping them back to the roughly 50 other countries involved. Paris doesn't want these fighters back and French President Emmanuel Macron, for one, thinks the trials should be conducted in Iraq — except for the strong possibility Iraq will sentence many of them to death.
The Iraqi judiciary often issues death sentences against IS members. France outlawed the death penalty in 1977. In January 2018, French officials threatened to intervene should death sentences be issued against two extremist French nationals. Yet Macron now says French IS fighters who were captured in Iraq and Syria must be tried in the countries where they face charges.
A judicial source told Al-Monitor that Baghdad is preparing to try French nationals "who fought alongside IS in Iraq and Syria and who were arrested by the Syrian Democratic Forces in Syria a few weeks ago." So far there are about a dozen, but more are expected.
Watheq al-Hashemi, president of the Iraqi Group for Strategic Studies, told Al-Monitor that Iraqi President Barham Salih also thinks the trials should take place in Iraq. However, Iraq is concerned with the financial burden of handling 1,000 prisoners and is seeking about $2 billion from the other countries to cover the costs.
Iraqi officials also worry about Iraqi prisons becoming recruiting ground for IS or other terrorist groups.
Former Iraqi parliament member Rezan Sheikh said she fears IS will restructure itself inside Iraqi prisons.
"Our prisons have many problems and are not correctional facilities. And they can easily lead to the creation of a new terrorist organization, which is why Iraq should not accept this deal," she told Al-Monitor.
Al-Monitor received information that in Iraq, overcrowding in prisons and detention centers exceeds 120%. Iraq doesn't have new prisons and detention centers that match the international standards France and other countries will want Iraq to meet.
Hisham al-Hashemi, a researcher at al-Nahrain Center for Strategic Studies, also warned that Iraqi prisons could become like Bucca Camp, where terrorist organizations were born.
"It's not in Iraq's interest to try [foreign IS] members inside Iraq. Issuing death penalties against such members will lead international human rights organizations to side against Iraq, and keeping them in prison will give them an opportunity to shuffle their cards," he told Al-Monitor.
Razaw Salihy, an Amnesty International campaign leader, concurred, telling Al-Monitor, "We met many families who said that their male relatives had joined IS after being held in prisons such as the Bucca Camp."
The French government is facing pressure from several media outlets and human rights organizations that question the fairness of the Iraqi judiciary and reject the death penalty. So, even though France wants Iraq to keep French nationals, the public wants Macron to pressure Iraq to not sentence them to death.
"Based on what we have seen in recent years, the death penalty is very likely," Salihy added. "Iraq remains among the countries that resort to the death penalty the most. Authorities [there] often respond to terrorism-related attacks by announcing executions."
The concerns of human rights organizations seem justified, given Salih's statements during a Feb. 25 visit to Paris that the convicted in Iraq may face execution. The prisoners "will be tried according to Iraqi law," he said.
https://www.al-monitor.com/pulse/originals/2019/05/iraq-france-islamic-state.html
--------
Egypt: 5 soldiers killed, dozens of militants die in Sinai
May 18, 2019
CAIRO, Egypt – Egypt says five soldiers and dozens of militants were killed in recent clashes in the country's restive northern Sinai Peninsula.
Military spokesman Tamer al-Rifai issued a statement on Thursday saying the five slain troops included an officer. He says four were wounded and as many as 47 militants were killed.
The statement didn't specify when the clashes took place. The last update on Sinai released by al-Rifai was on March 11.
The statement says scores of militant hideouts and much ammunition and bombs were uncovered. It says the bombs were safely detonated by the Egyptian forces.
Egypt has been battling Islamic militants in Sinai for years. The area remains off limits for journalists, diplomats and other observers so information from there cannot be independently verified.
https://www.foxnews.com/world/egypt-5-soldiers-killed-dozens-of-militants-die-in-sinai
--------
Homs: Over 12,000 Civilians Flee US-Controlled Refugee Camp
May 17, 2019
The Arabic-language al-Watan newspaper reported that hundreds of new Syrian families have managed to escape al-Rukban in al-Tanf Region in Eastern Homs near the border with Iraq via Jaliqam crossing.
The newspaper also quoted special sources as saying that 25 percent of al-Rukban residents, amounting to 12,500 residents, most of them women and children, have managed to flee the camp.
The sources, meantime, pointed to a call by a large number of civilians to exit the camp, and said that more civilians plan escape from al-Rukban in the coming days.
In a relevant development late last Month, al-Watan reported that "there are around 40,000 to 60,000 people residing in al-Rukban Camp and about 2,500 of them have managed to leave the camp".
The sources said the exit of the civilians came after terrorists sought to block their departure from the camp.
The families who have escaped al-Rukban have confirmed lack of food and hygiene in the camp, adding that the US-backed terrorists keep people hungry and prevent their evacuation, al-Watan said.
Based on media reports, the US troops that occupy a 55-km zone in Southern Syria block Russian and Syrian diplomatic and military officials from entering al-Rukban Camp to provide people with humanitarian aid.
The US command in Al-Tanf had previously delayed the delivery of aid to al-Rukban from Damascus, after refusing to guarantee its safety. It has also prevented buses sent by Damascus and guarded by the Russian military police from taking Syrians from the camp to other parts of Syria.
Since opening in 2014, Rukban is home to more than 40,000 Syrians, the majority of which have expressed a desire to return home. A survey released by the UN in February found that nine out of 10 living at the camp wanted to return. However, many expressed worry over gaining access to their property, possible retribution, as well as general safety and security concerns.
http://en.farsnews.com/newstext.aspx?nn=13980227000440
--------
Food for thought as shift workers forego Ramadan iftars with family
May 18, 2019
CAIRO: While millions of Muslims gather at home to share Ramadan iftars, for thousands of shift workers breaking their fast is not so simple.
For Hassan, head chef at one of Egypt's famous Seekh Mashwi restaurants, working during the month of fasting is "a different kind of pleasure."
"Despite the fatigue and exhaustion during fasting hours, God gave me the energy and patience to work in high temperatures. During Ramadan and fasting, food is in front of me, but I do not want it at all," he said.
"I can adjust the saltiness of the meal without tasting it, just by smelling it. I have a meal with the restaurant workers after evening prayers during most of the month of Ramadan. We can only adjust our shift to eat our iftar at home once a week, but the rest of the days we are at work," the chef added.
Fathi Shams, a baker in downtown Cairo, told Arab News: "Ramadan to us is a season. The temperature in the streets is 30 degrees, but in the bakery, it can go up to more than 60. But I must work until the fasting person has iftar, and then I can have my meal.
"The work increases massively in Ramadan, and we can never say no," Shams added. "I go home to rest, and then I wake up to eat the suhoor meal in my house. It is the only meal I have with my family in Ramadan. After dawn prayers, I go back down to work the oven."
Sayed Najdi, a traffic police officer from the Gamaliya district of Cairo, also finds family get-togethers during Ramadan disrupted.
"The food comes to me from the Interior Ministry every day, chicken, meat, vegetables and rice, but I definitely miss the feeling of iftar with the family," said Najdi.
"The traffic in Ramadan is very difficult during the day, and the height of the hustle is one hour before iftar. But iftar time is simple, because most of the citizens have already arrived home and the roads are empty."
Najdi has iftar with the family for two days during the week. "I feel happy and thankful for those two days, but when I have my iftar in the street, I feel that I am doing my duty to the people, and this is the will of God."
Rizk Ali, head of Cairo's public transport authority, said the authority would be providing 75,000 meals a month for employees who could not get home.
He added that the distribution of 2,500 daily meals allowed bus services to be suspended during the time of iftar.
Cairo bus driver Hassan Beshir told Arab News that he breaks his fast at the bus stop three days a week because he shares his job with another driver.
"I work during the dusk call to prayers and feel happy when I return to the bus stop without a single passenger," he said.
"I feel happy when all the passengers are in their homes with their families."
http://www.arabnews.com/node/1498601/middle-east
--------
Egypt's president pardons 560, including prominent columnist
May 17, 2019
CAIRO: Egypt's President Abdel Fattah El-Sisi has pardoned 560 prisoners, the majority of whom were accused of supporting the outlawed Muslim Brotherhood, two judicial sources said on Friday. The prisoners included a prominent journalist and several women, who organized demonstrations outside metro stations last year after fare hikes.
At least 482 were imprisoned on charges related to the Brotherhood, the sources said.
The pardons, announced in the official gazette late Thursday, coincide with the Muslim holy month of Ramadan when authorities traditionally release detainees as a goodwill gesture.
A prominent journalist, Abdel Halim Qandil, was sentenced to three years in absentia in December 2017 for "insulting the judiciary." He surrendered in October 2018 as Egypt's highest appeals court upheld his verdict. He was pardoned for health reasons.
Qandil was tried in a case that included 17 other defendants, among them ousted Muslim Brotherhood President Mohammed Mursi, on the same charges.
Among those pardoned are eight women who had been sentenced in 2018 to several years in prison on grounds of belonging to Muslim Brotherhood and staging an anti-government protest in the Delta province of Damietta.
The pardons were announced in the official gazette late on Thursday.
El-Sisi does not have the authority to interfere in Egypt's judicial processes but can issue pardons.
El-Sisi has issued pardons several times a year, including on major national holidays, often releasing students and young protesters.
Exactly a year ago, the Egyptian president had pardoned more than 330 people, many of them youths jailed for demonstrating in recent years. El-Sisi told a youth conference in Cairo broadcasted on state television, he had asked that the Interior Ministry ensure the pardoned youth prisoners be released within the coming hours.
"We signed off on more than 330 (pardoned), and I ask of the interior minister that these youth spend tonight in their home," El-Sisi said.
Wednesday's pardon will secure the release of 332 people, including two members of Egypt's Destour Party and a number of prisoners with health problems, state-run news website Al-Ahram Gate reported.
http://www.arabnews.com/node/1498431/middle-east
--------
India
70th Anniversary Celebrations: India, Indonesia Celebrate Common Islamic Heritage
By Dipanjan Roy ChaudhuryMAY 17, 2019
As part of the continuing 70th Anniversary celebrations of establishment of diplomatic ties
between India and Indonesia, Embassy of India in Jakarta along with Nahdlatul Ulama
Indonesia (NU) jointly hosted Buka Puasa (Iftar) celebrations at the NU Central Office in
Jakarta today.
The evening showcased a special photo exhibit on "Shared Islamic Heritage of India and
Indonesia" along with a special musical performance by a Sufi Qawwali Group led by
Sarfaraz Chisty from India.
The event was attended by select Ambassadors from diplomatic corps based in Jakarta,
along with dignitaries from NU and large number of students from several universities in
Jakarta.
Ambassador of India Pradeep K Rawat along with the General Chairman of NU Prof. Dr.
Said Aqil Siradj jointly inaugurated the special photo exhibit on "Shared Islamic Heritage"
which showcased the rich and vibrant architectural heritage of Islam in India. The photo
exhibition will be open for public viewing at the NU Central Office until 24th May, and is
expected to be visited by hundreds of guests on daily basis during the Holy month of Ramadhan.
Participants also witnessed a special musical concert presented by famous Sufi Qawwali singers i.e. Chishti Brothers from India. The 8
member group was specially flown to Indonesia by Embassy of India and was sponsored by Indian Council for Cultural Relations
(ICCR). Nearly 300 guests including students from various universities enjoyed the Sufi performance.
The Chshti Brothers Group will also perform at University of Pesantren Darul Ulum (UNIPDU) at Jombang on 20 May and at University
of Maarif Hasyim Latif (UMAHA) in Surabaya on 21 May 2019. The group has travelled oversees in many countries popularizing the Sufi
Singing tradition of India abroad. This was the Group's first tour to Indonesia.
The event concluded with prayers followed by Buka Puasa (breaking of fast) over an Indian sumptuous meal. It may be noted that this was for the first time that Embassy of India partnered with Nahdlatul Ulama, which is largest independent
Islamic organization in the world with membership over 90 million (in 2019).
Established on January 31, 1926 in Surabaya, NU has had a rich history of promoting the concept of IslamNusantara which promotes
moderation, compassion, anti-radicalism, inclusiveness and tolerance. As a follow up to the event, it is expected that a high level delegation from NU led by Chairman NU Prof. Dr. Said Aqil Siradj will visit India in the second half of 2019. https://economictimes.indiatimes.com/news/politics-and-nation/india-indoensia-celebrate-common-islamic-heritage/articleshow/69377213.cms
--------
Two terrorists killed in gunfight in J&K's Pulwama
May 18, 2019
SRINAGAR: Two terrorists were killed on Saturday in a gunfight with the
security forces in Jammu and Kashmir's Pulwama district.
Police said the security forces started a cordon and search operation
during night in Panzgam village after receiving information about the
presence of terrorists there.
The hiding terrorists were challenged after which they opened fire at the
security forces, triggering an encounter.
"Two terrorists have been killed and their bodies have been recovered.
Although firing exchanges have now stopped, the operation is still on," a
police officer said.
One of the slain terrorists has been identified as Showkat Ahmad Dar, a resident of Panzgam village. He belonged to the Hizbul
Mujahideen (HM) outfit.
The identity and group affiliation of the other slain terrorist is being ascertained, informed sources said.
https://timesofindia.indiatimes.com/india/two-terrorists-killed-in-gunfight-in-jks-pulwama/articleshow/69382771.cms
--------
Afghanistan seeks clarity from US on Pakistan's relationship with Taliban
May 17, 2019
NEW DELHI: Afghanistan has asked the US to reveal the exact nature of the relationship between Pakistan and Taliban. Umer
Daudzai, Afghan president Ashraf Ghani's special envoy, told a gathering today, "We see that the relationship between Pakistan
and the Taliban remain intact. We have told the US, they should include clarification of Taliban's relationship with Pakistan as
one of the points in the discussions."
All Taliban leaders that travel to Qatar for talks with the US special envoy Zalmay Khalilzad, go through Pakistan. "Mullah
Baradar, who head the Taliban team, also went from Pakistan." Pakistan claims to be supporting the US-Taliban talks in Qatar,
but refuses to facilitate Afghan government-Taliban talks. Daudzai, former interior minister and head of the High Peace Council
is in Delhi to meet foreign minister Sushma Swaraj and national security adviser, Ajit Doval to build a regional consensus on the
peace process.
Daudzai, like most Afghan government, remains sceptical of the true intent of the US special envoy Zalmay Khalilzad. Initially,
he said, the Afghan-US discussions cleared the possibility of US-Taliban talks but not negotiations. But then, he said, Khalilzad
got into negotiations on four issues — US withdrawal, Taliban's cessation of ties with terrorism and terrorists, intra-Afghan
dialogue and ceasefire. "Khalilzad and his team come to share the discussions with us, but we're not sure whether they are
telling us the whole truth." His scepticism echoed similar sentiments by the Afghan NSA Hamdullah Mohib who said Khalilzad
was in undue haste, and engaged in the Taliban discussions for his personal career advancement.
Daudzai is only the latest in a string of recent discussions between top Indian officials and their international counterparts on
the future of Afghanistan. The Iranian foreign minister Javad Zarif and Sushma Swaraj discussed Afghanistan during his most
recent visit earlier this week. Zalmay Khalilzad visited India last week to apprise India on the continuing process in Qatar. India
also received the Chinese special envoy on Afghanistan Deng Xijun last week for talks on the same issue. Indian official
Deepak Mittal travelled to Moscow to meet Zamir Kabulov, Putin's special envoy on Afghanistan — India and Russia do not see
eye to eye on the Afghanistan question.
Daudzai also clarified that there was no question of an interim government in Afghanistan before a peace agreement. After a
peace deal between Afghans and the Taliban, "if it is felt necessary, we can consider an interim setup." Until then, there would
be no interim government. This was an idea that both Khalilzad and Pakistan were flirting with. India has stoutly opposed it,
saying it would be folly to undermine the constitution. Daudzai concurred, "it would require stepping out of the constitution.
Stepping out is easy getting back in would be impossible."
But he admitted that with Russia holding talks with the Taliban as well as the US, Taliban's political profile has gone up, at the
cost of the legitimate government in Kabul. Daudzai criticised the Russian role, saying they had got it wrong if they believed
they could tackle ISIS by befriending the Taliban. "ISIS fights Taliban in Nangarhar province which is close to Pakistan, but they
work together in Badakhshan province." There are about 4000 ISIS fighters in Afghanistan, he said — many of them are ETIM
(Uighurs from China) and IMU (Uzbek), some from Pakistan as well, and some from Syria-Iraq. "The Taliban is a rural
phenomenon, but ISIS is an educated, urban movement."
https://timesofindia.indiatimes.com/india/afghanistan-seeks-clarity-from-us-on-pakistans-relationship-with-taliban/articleshow/69377611.cms
--------
Indian Army clerk honey-trapped by Pakistan ISI on MI radar since December 2018
May 17, 2019
BHOPAL: Honey-trapped Indian army clerk arrested in a joint operation by
the Madhya Pradesh ATS and central intelligence agency from Mhow has
allegedly shared some 'significant' information to a Pakistani intelligence
officer (PIO) through Whatsapp.
The suspect was produced before a special court in Bhopal which
remanded him to 10-days police remand. Army officials are now trying to
get his custody from MPATS for further details pertaining to his association
with Pakistani agencies, information passed, favours received and
involvement of others
He was also on the radar of Lucknow based military intelligence (MI) unit
(responsible for counter intelligence in the Central Command Theatre)
since December 2018, said sources. Days before this arrest, MI had carried out physical, electronic and financial surveillance
with the assistance of Bihar Police and had gathered enough evidence against him since then.
The matter was also reported to MI's command headquarters. Based information provided by central intelligence agencies and
MI, a team of MPATS apprehended him from Mhow (near Indore) on Thursday for his suspected involvement in espionage.
Officials say he came in touch with a Pakistan based Facebook profile operated by a lady and got lured. He started receiving
tasks of providing information pertaining to location, movement and exercise related to the Indian Army.
"He used to gather the information based on his knowledge and using his contacts in the army. The exchange of information
used is through internet-based Mobile applications like Facebook and WhatsApp. Reportedly he has been receiving money in
return of the same," said an officer adding that his activities came to notice of Intelligence agencies and was kept under joint
physical and electronic surveillance of agencies including MI. Secrecy is being maintained due to the sensitivity of the case as
a serving individual is involved, he said.
Sources say that the Facebook ID that lured the clerk at Mhow has been deactivated since they exchanged phone numbers
and shifted to Whatsapp. The suspect reportedly got money deposited in his own salary account and that of his colleagues.
"Pakistani's are not good paymasters. Not more than Rs 15000 must have been deposited at a time," said the officer.
https://timesofindia.indiatimes.com/india/indian-army-clerk-honey-trapped-by-pak-isi-on-mi-radar-since-december-2018/articleshow/69374941.cms
--------
Three killed in Shopian encounter: Police say one was 'active associate of terrorists', family says he was not militant
by Adil Akhzer
May 18, 2019
Hours after police said that three militants were killed in an encounter in Shopian on Thursday, a J&K Police release clarified that one of them was an "active associate of terrorists". His family, however, maintained that he had nothing to do with militancy.
Ishtiyaq Ahmad Bhat's body was among the three bodies recovered from Handew area after an encounter between militants and security forces in the village on Thursday evening. Initially, J&K Police said that three militants were killed in the operation.
In another release, issued by the J&K Police spokesperson at midnight, they said that the militants had been identified. The release said that as per police records, Ishtiyaq was an "active associate of terrorists" and criminal cases were earlier registered against him, including one for militant activities. "His complicity in the instant incident is under probe," the spokesperson said.
The Army spokesperson on Thursday night had said that only two militants were killed in the encounter. It did not mention Ishtiyaq's killing.
At Ishtiyaq's two-storey house in Handew village, the family appeared shocked. "How was he killed and how did he reach there? Only god knows what happened. But I can assure you he was not a militant, he had nothing to do with militancy. He was a civilian," Ishtiyaq's father Mohammed Dawood Bhat told The Indian Express.
That afternoon, Ishtiyaq reportedly returned home with firewood from his orchard, and then left to spend time in the neighborhood. An hour later, his family received news that he was killed in an encounter in a nearby orchard.
When the firing started in the village, Bhat said he immediately called on Ishtiyaq's mobile. "But his phone kept ringing, and was later switched off. I started worrying," he said.
It was only after the Army took some locals to take the bodies out after the operation that one of them was identified as Ishtiyaq, said Bhat
The family admitted that Ishtiyaq was arrested earlier this year. "He was in jail for about a month. As he was regularly going to the police station, he developed good relations with the police and would often play cricket with them," said another relative of Ishtiyaq. "Whenever he got a call from the local police station, he would meet them."
Ishtiyaq got married four years ago. Soon after his death, his mother was hospitalised as her health deteriorated.
"I saw Ishtiyaq at a shop an hour before the incident. Everyone is shocked at his death," said a neighbour.
Local residents said this was the first encounter the village had seen in a long time. "I remember the last encounter was in 2006. There is no local militant here," said one villager.
https://indianexpress.com/article/india/three-killed-in-shopian-encounter-police-say-one-was-active-associate-of-terrorists-family-says-he-was-not-militant/
--------
Pakistan
Nine Islamic State Militants Killed In Southwest Pakistan Raid
May 16, 2019
Pakistani security forces have killed nine Islamic State militants during an hours-long operation near the city of Quetta in the southwestern Balochistan Province where repeated militant attacks occurred this month, officials said on May 16.
Four troops were wounded in the operation in a mountainous area called Qabu Koh-e-Mehran in the Mastung district, 47 kilometers from Quetta.
"Nine bodies (of Islamic State militants) have been brought to hospital from Mastung," said Waseem Baig, a spokesman for a Quetta hospital.
The operation was launched following a sudden surge in militant attacks across Pakistan during the Muslim holy month of Ramadan. Five police officers were killed in the latest attack, on May 13 in Quetta, which was claimed by Islamic State.
Various militant groups as well as separatists fighting the central government are active in mineral-rich Balochistan, where attacks on gas and transport infrastructure and security posts occur frequently.
https://www.rferl.org/a/nine-islamic-state-militants-killed-in-southwest-pakistan-raid/29945952.html
--------
New visa policy to promote religious tourism in Pakistan: envoy
May 18, 2019
WASHINGTON: Pakistani ambassador to the United States Asad Majeed Khan on Friday said the new visa policy is aimed at promoting religious tourism in Pakistan.
Addressing an Iftar dinner at the Pakistani embassy in Washington, the ambassador said Pakistan has demonstrated religious harmony by opening Kartarpur corridor.
Khan said the purpose of arranging an Iftar dinner at the embassy was to share the blessings of Ramazan and promote interfaith harmony and mutual understanding.
Earlier in the week, US President Donald Trump hosted an Iftar dinner for the Muslim members of his administration and top diplomats from various countries at the White House.
Ramadan is a time when people join forces in pursuit of hope, tolerance, and peace, US President Donald Trump had said.
During this month of worship, Muslims fast from sunrise to sundown and focus on prayer and spiritual life to deepen their devotion to god.
"Ramadan is a time of charity, of giving, and service to our fellow citizens. Ramadan is a very special time. It's a time to draw closer as families, neighbors, and communities," Donald Trump had said.
https://www.pakistantoday.com.pk/2019/05/17/new-visa-policy-to-promote-religious-tourism-in-pakistan-says-asad-majeed/
--------
Peshawar High Court sets aside conviction of 'militant'
May 18, 2019
PESHAWAR: Setting aside his conviction in the erstwhile Fata by an assistant political agent, the Peshawar High Court has acquitted a man on the charges of waging war and taking up arms against the state.
A bench consisting of Justice Ikramullah Khan and Justice Musarrat Hilali accepted an appeal of convict Karim Khan of Jamrud area in Khyber tribal district, who was arrested few years ago on the charge of being a member of the defunct Lashkar-i-Islam.
He was later convicted by the Jamrud APA on Oct 25, 2017, and was sentenced to life imprisonment under the Pakistan Penal Code's sections 121 (waging war against the state), 121-A (conspiracy to wage war) and 122 (taking up arms against the state).
Shabbir Hussain Gigyani, lawyer for the appellant, said his client was arrested by security forces several years ago and had remained in their illegal custody before he was handed over to the then administration of Khyber region and was tried under the now repealed Frontier Crimes Regulation.
The lawyer said there were no specific allegations of terrorism against the appellant and that a joint investigation team had asked the administration to convict him without producing any evidence in that respect.
He said a council of elders set up under Section 11 of FCR had also in its findings relied only on the JIT's statement instead of giving any independent findings.
The lawyer said there were scores of such cases as when the arrested suspects were not found to be involved in any particular offence, they were handed over to the administrations in different tribal districts, who convicted them despite having no evidence of their wrongdoing.
Meanwhile, a single-member bench acquitted two appellants in different cases.
Justice Ikramullah accepted appeals of convicts Ziaul Haq and Chinar Gul, both residents of Jamrud, who were convicted by the APA on the charge of having links with a proscribed organisation and were sentenced to 10 years imprisonment each.
Lawyer Gigyani said his clients were taken into custody by the security forces and had remained missing.
He said after remaining in illegal detention for few years, the appellants were handed over to the tribal administration.
The lawyer said no evidence was produced against his clients and that only a 'generalised' allegation of them being members of a proscribed organisation was leveled against them.
BAIL: Justice Ikramullah Khan of a single-member high court bench granted bail to a child charged with smuggling 15kg heroin in a car in Khyber tribal district.
The petitioner's counsel said the Khasadar force had claimed to recovered the contraband from the secret cavities of a car driven by his client on Oct 17, 2017.
He said around two years had passed but the trial of the petitioner hadn't concluded leaving his client behind bars.
The lawyer said the petitioner was entitled to be freed on bail under the Juvenile Justice System Act.
He said the personnel of the Khasadar force didn't fulfil the basic requirement of testing the recovered contraband.
https://www.dawn.com/news/1483016/peshawar-high-court-sets-aside-conviction-of-militant
--------
Three 'militants' killed in Kalat
May 18, 2019
QUETTA: Three suspected militants, including a 'commander' of a banned organisation, were shot dead on Friday during an operation carried out by security forces in Kalat district.
Security officials said that intelligence agencies, along with security forces, had launched an operation in the Dashat-i-Gorran area, some 50km off Kalat town, after receiving information about the presence of militants there.
The armed men opened fire on the security forces after which a heavy exchange of fire continued for several hours, killing three armed militants.
"An important commander of the banned Baloch Liberation Army, Shams Qalandrni, is also killed in the gun battle," security officials said. They identified the other deceased militants as Zafar Ali and Shoaib.
https://www.dawn.com/news/1482994/three-militants-killed-in-kalat
--------
CTD guns down Hazara community attacker in Mustang
May 18, 2019
QUETTA: One of the nine terrorists killed in the Counter-Terrorism Department (CTD) operation in Balochistan's Mastung area was identified as one of the attackers involved in Quetta scuicide blast on April 12 which targeted the Hazara community.
At least 20 people were killed and 48 wounded by a powerful suicide blast at a crowded fruit market in the provincial capital.
According to CTD sources, the dead terrorist identified as Umar Taisani alias Chotta was also involved in attacks on FC personnel.
Sources further informed that identity of the other dead terrorists is being carried out while the search for their accomplices is also underway.
https://www.pakistantoday.com.pk/2019/05/17/ctd-guns-down-hazara-community-attacker-in-mustang/
--------
Punjab, father shoots daughter who refused to fast for Ramadan
05/17/2019
Islamabad (AsiaNews / Agencies) - A Pakistani from the province of Punjab killed his daughter because she did not want to fast for Ramadan. It happened late yesterday evening in the 71 / D village of Malka Hans, in the Pakpattan district. The victim was called Umme Samina and was 18 years old. According to investigators, the young woman had refused to observe the sacred fast for Islam for health reasons.
The police of Malka Hans arrested Gulzar Ahmed, Samina's father. The case came to light thanks to the complaint of Mukhtar Ahmed, the girl's uncle. He said his brother had been furious that his daughter had not woken him up for the Sehri, the morning meal h eaten before the sun came up. The murderer is a man with alcohol addiction and a criminal record, for which he served two years in prison. Faced with the 18-year-old's opposition, he took a gun and shot her. The girl died instantly.
Ramadan, which began on May 6, is the sacred month that Islam dedicates to fasting and prayer. It is one of the five pillars (duties) of Islam together with the pilgrimage to Mecca, the canonical prayer, the testimony of faith and the payment of almsgiving. For almost a month, Muslims refrain from eating and drinking from sunrise to sunset; smoking and sexual relations are also prohibited. The Iftar, which breaks the fast, is the main meal within 24 hours and is consumed in the evening.
According to Islamic tradition, every person who has passed puberty and is healthy in body and mind must follow the precept. Those with psychological problems are exempt, children under the age of puberty, the elderly, the sick, travelers and pregnant, nursing, or just entering the menstrual cycle.
Although non fasting is permitted in the cases mentioned, those who do not abstain from food and drink during Ramadan are the object of discrimination, or even persecution, in most countries where Islam is a state religion.
http://www.asianews.it/news-en/Punjab,-father-shoots-daughter-who-refused-to-fast-for-Ramadan-47034.html
--------
North America
Group wants Tennessee DA to resign over anti-Islam post
May 17, 2019
NASHVILLE, Tenn. — A Tennessee district attorney is facing calls to resign after posting several anti-Islam remarks to social media.
The Council on American-Islamic Relations announced Friday that it was asking for Tennessee's Coffee County District Attorney Craig Northcott to resign. The advocacy group also said it was asking the Tennessee Republican Party to "repudiate" Northcott for posting the remarks.
According to screenshots of the posts, Northcott wrote in a Facebook comment that the Islam belief system is "evil, violent and against God's truth" and that being Muslim is no different than "being part of the KKK, Aryan Nation, etc." Northcott made the comments while responding to a Republican candidate's post in late April.
Northcott's office did not immediately return a phone message seeking comment.
https://www.washingtonpost.com/national/religion/group-wants-tennessee-da-to-resign-over-anti-islam-post/2019/05/17/d29042e4-78e4-11e9-a7bf-c8a43b84ee31_story.html?utm_term=.96cd8fcf7f15
--------
Trump criticizes US media for 'fraudulent, highly inaccurate' Iran coverage
17 May 2019
US President Donald Trump has lambasted "fake news media" for what he said was its "fraudulent and highly inaccurate coverage of Iran."
"The Fake News Media is hurting our Country with its fraudulent and highly inaccurate coverage of Iran. It is scattershot, poorly sourced (made up), and DANGEROUS," he tweeted.
But in Trump's view, the coverage had one positive effect.
"At least Iran doesn't know what to think, which at this point may very well be a good thing!" he added in the tweet.
The Fake News Media is hurting our Country with its fraudulent and highly inaccurate coverage of Iran. It is scattershot, poorly sourced (made up), and DANGEROUS. At least Iran doesn't know what to think, which at this point may very well be a good thing! 62.6K
With all of the Fake and Made Up News out there, Iran can have no idea what is actually going on!
On Wednesday, Trump criticized reports from the Washington Post and the New York Times and denied that there were any disagreements in the White House regarding Iran.
The Trump administration has ordered non-essential diplomatic staff out of Iraq, citing threats from Iranian-backed Iraqi armed groups, and sent an aircraft carrier and heavy B-52 bombers to the region.
https://english.alarabiya.net/en/News/middle-east/2019/05/17/Trump-criticizes-US-media-for-fraudulent-highly-inaccurate-Iran-coverage.html
--------
US 'sitting by the phone' but heard nothing from Iran
17 May 2019
The United States is "sitting by the phone" but has heard no message yet from Iran that it is willing to accept President Donald Trump's overtures for direct talks, a senior Trump administration official said on Friday.
"We think they should de-escalate and come to negotiations," the official, who declined to be identified, told a small group of reporters.
Trump has urged Iran's leadership to hold talks over its nuclear program and regional influence amid rising tensions between the two countries that have fanned fears of armed conflict after the United States deployed an aircraft carrier group to the region.
Asked if there were any indications from the Iranians that they were ready to engage, the official said: "Not yet. We're sitting by the phone."
Trump has communicated to his national security team and other aides that he wants to keep tensions with Tehran from boiling over into a war, but he has also made clear that he will protect US interests in the region, US officials said.
US intelligence showed heightened activity by Iran or its proxies that US officials took as a threat against American targets in the region.
https://english.alarabiya.net/en/News/world/2019/05/17/US-sitting-by-the-phone-but-heard-nothing-from-Iran.html
--------
US senator demands more security after arson at mosque
Umar Farooq
17.05.2019
WASHINGTON
Senator Richard Blumenthal demanded Friday the federal government invest more resources into security at places of worship across the country.
"Invest in resources to make places of worship truly secure and safe," he told congregants at the Diyanet Mosque in the city of New Haven, Connecticut.
Blumenthal spoke before Friday prayer services at the Turkish mosque.
A fire on the first floor of the mosque Sunday spread to the second level. A worshipper who was in the building called firefighters and was able to safely evacuate.
The mosque is still under construction and sustained significant damage.
A criminal investigation is ongoing, in what officials believe is a case of arson.
Investigators are offering a $2,500 reward, and the Connecticut chapter of the Council on American-Islamic Relations is offering $10,000 for information leading to an arrest.
"They attacked this mosque just like they attacked the synagogue in Philadelphia, previously in different churches around the United States," said the co-chairman of the Turkish-American Steering Committee Halil Mutlu.
Mutlu said the response from the Turkish and Muslim American communities was immense, with an online campaign that raised so far raised $150,000 for reconstruction.
https://www.aa.com.tr/en/americas/us-senator-demands-more-security-after-arson-at-mosque/1481096
--------
Europe
24 in Morocco face terror trial in Nordic hikers' slayings
May 18, 2019
SALE, Morocco – Twenty-four people have gone on trial in Morocco on terrorism charges for the brutal slaying of two Scandinavian women hikers that shocked Denmark, Norway and Morocco itself.
The court decided to include the Moroccan government as a civil party to the case during Thursday's hearing in the coastal city of Sale.
Hafida Makssaoui, the government-appointed lawyer representing the four chief suspects, says the trial is expected to run for months.
She told The Associated Press that her clients, aged 25-30, have pleaded guilty and regret their actions. However she expects they will get a death sentence over the December attack on Louisa Vesterager Jespersen of Denmark and Maren Ueland of Norway.
The attackers shared a video of the killing on social networks and pledged allegiance to the Islamic State group.
https://www.foxnews.com/world/24-in-morocco-face-terror-trial-in-nordic-hikers-slayings
--------
Escalating anti-Muslim sentiments in Europe manifest itself in recent bans on headscarf
18.05.2019
There is only one week left until the European Parliament elections. As politicians ramped up their election campaigns and Europeans turned their attention to the upcoming polls, there was yet another significant development behind the scenes that affected millions of people on the continent. The past week was marked by a series of laws against Muslims in Europe, mostly on banning the Muslim headscarf, causing millions of Muslim women to suffer when practicing their religion in public spaces. Although the number and intense influence of the laws was a shock at first, in reality, seeing such moves from various European states is not very surprising since they are basically the manifestation of anti-Muslim sentiments on the continent that have been on the rise in recent years. "There are ongoing policies against Muslims [in Europe]. Since 2008, we have seen the rise of populism and populist parties. Not only right-wing but left-wing populism is also on the rise. This movement gained new momentum in 2015 when the migration crisis started to emerge," said Belgium parliamentarian Mahinur Özdemir, speaking on the rise of anti-Muslim hatred in Europe. "In this political environment, democrats cannot find a place for themselves," she added.
"The traditional parties, as they become unable to answer the people's needs through traditional ways, instead of getting more democratized, get more populist and grasp racist rhetoric," she emphasized.
Austrian lawmakers recently approved controversial plans to ban girls in elementary schools from wearing headscarves, a move that would add to existing restrictions on veils. The Austria Press Agency reported that lawmakers from the governing coalition of Chancellor Sebastian Kurz's conservative People's Party (ÖVP) and the anti-migration Freedom Party (FPÖ) supported the measure late Wednesday.
Although the measure bans wearing "ideologically or religiously characterized clothing" that covers the head, and specifies that it refers to items "that cover the whole or large parts of the hair," to avoid charges that the law discriminates against Muslims, still, the representatives of both parts of the governing coalition have made it clear that the law is targeted at the Islamic headscarf. The government says the patka head covering worn by Sikh boys or the Jewish kippah would not be affected.
Austria is home to around 700,000 Muslims, including 300,000 of Turkish origin. Many of them are second or third-generation Austrian citizens from Turkish families who migrated to the country in the 1960s. Amid widespread fears stemming from the refugee crisis and international terrorism, Austria's right-wing parties proposed several controversial measures including strict controls on mosques and Muslim associations and immediately closing them in the case of suspicious activity.
However, Austria is not the only European country that has a discriminatory stance toward Muslims. France's upper house of parliament on Thursday adopted a bill that prohibits mothers from wearing a headscarf while accompanying students on school trips. The bill was presented in the country's senate by the conservative Republican Party. The bill was passed with 186 yes and 100 no votes, while 159 senators abstained. The bill has to be approved by the National Assembly, the lower house of parliament, to enter into force.
France has the largest Muslim minority in Europe, estimated at 5 million or more out of a population of 67 million. The place of religion and religious symbols worn in public can be a matter of controversy in the staunchly secular country. For years, rights groups have argued that France's secular laws foster anti-Muslim sentiment and discriminate against Muslim women. It was also the first country in Europe to ban Islamic face veils, such as the burqa and the niqab, in public places in 2010. In 2014, the European Court of Human Rights (ECHR) upheld the ban but said the law could appear excessive and encourage stereotyping. France was also embroiled in a row over bans on the burkini, a full-body Islamic swimsuit, in resorts around the Riviera.
European countries violate human rights
Although these laws were a crisis in the making, according to Özdemir, by approving these votes, European countries are actually violating human rights.
"The 9th article of the EU's constitution protects individual rights and liberties. However, these kinds of laws are directly in conflict with that article," she said, speaking of the European values that constitute the foundation of their societies.
However, Özdemir further indicated that in her opinion, there is no direct demand from people for politicians to be more populist or even racist.
"The demand of the people is to live a better, more stable life. However, when politicians come up with such [racist] policies, people are affected by that and get scared of the things that they are unfamiliar with [such as Muslims]," she said.
Anti-Muslim hatred has been on the rise for years. Far-right extremism and xenophobia have fueled anti-Muslim hatred in Western countries, where terror attacks by Daesh and al-Qaida are used as an excuse to legitimize those views. Although enmity toward Muslims is not a new phenomenon, it intensified after 2001 when airplanes crashed into the twin towers in New York City. Since then, for almost two decades, Islam has been unjustly tarnished with labels that have negative connotations and been portrayed as a religion of hate and violence with anti-Western sentiment and women's oppression. This trend of intolerance has triggered deadly attacks against Muslims and immigrants since then.
Attending the Committee of Ministers of the Council of Europe on Friday, Turkey's Foreign Minister Mevlüt Çavuşoğlu also touched upon the issue, calling the council to stand against anti-Muslim acts.
"[The council] must fight together against rising xenophobia, Islamophobia, anti-Semitism, hate speech and populism," Çavuşoğlu said.
Muslims should unite against anti-Muslim acts
In Özdemir's opinion, it is not too late for anything since there is still the option to counter-act on the part of Muslims.
"In Austria, Muslims, if they get together, may bring the issue to a higher court and go for an appeal since the law directly targets Muslims' headscarf. This means that this is an openly racist act since it excludes other religious symbols or clothing such as Sikh's turban," she said.
"However," she underlined, "Muslims should unite first and act together. Not only legal struggles, but also civil struggle is crucial. The important thing is to not quit no matter what. If we [as Muslims] continue our struggle to protect our rights, then we would get recognized by the state as well."
As the first Belgium parliamentarian with a headscarf, Özdemir said that the biggest issue is to not give up in the face of various tests that being a woman Muslim politician in Europe presents to you.
"When I was first elected 10 years ago, of course I received many reactions. I've received lots of criticism and even death threats since I was the first woman parliamentarian in Brussels to wear a headscarf," Özdemir said, indicating she has to do her job without giving into the challenges she faces.
"Right now, there are lots of women politicians all over Europe who wear headscarves. This shows that we have made some progress. When you, as the first in something, manage to overcome the challenges, the ones that come after you are more at ease," she said.
https://www.dailysabah.com/politics/2019/05/18/escalating-anti-muslim-sentiments-in-europe-manifest-itself-in-recent-bans-on-headscarf
--------
'Unity, dialogue key to overcoming hateful trends'
Nilay Kar
18.05.2019
Unity, inclusiveness, dialogue and a comprehensive strategic vision are the only ways to overcome rising trends of xenophobia, Islamophobia and anti-Semitism across the globe, Turkey's foreign minister said Friday.
"Terrorist attacks in New Zealand and Sri Lanka as well as the recent attack against a mosque in the U.S. and many similar ones in Europe remind us of the severity of the threat," said Mevlut Cavusoglu.
Cavusoglu was speaking at the 129th Session of the Committee of Ministers of the Council of Europe in Helsinki, Finland.
On April 21, terrorist attacks on churches and hotels in Sri Lanka's capital of Colombo left 250 people dead on Easter.
At least 50 Muslim worshippers were massacred and as many injured when a white supremacist terrorist attacked two mosques in Christchurch, New Zealand on March 15.
"I share the [Council of Europe] secretary general's appeal to address increased inequality and to strengthen anti-discrimination and equality policies in Europe, including the fight against rising xenophobia, Islamophobia, anti-Semitism, Christianophobia, hate speech and populism," said Cavusoglu.
"Our democracies are at risk in the face of these trends. Attacks against places of worship are becoming commonplace.
"We can only tackle these challenges with unity, inclusiveness, dialogue and a comprehensive strategic vision," he stressed.
Cavusoglu thanked Thorbjorn Jagland, Secretary General of the Council of Europe, for his presentation and final report, which Cavusoglu said "will be remembered as his legacy".
"I also thank him for his sincere engagement and solidarity with Turkey during difficult times," he said.
"I support the secretary general's position on the need to avoid creating a new dividing line in Europe. The emphasis on equal rights and obligations of member states is the right approach to overcome the current impasse.
"Division and exclusion will only undermine what we have achieved in the last seven decades," Cavusoglu said.
Institutional weaknesses should also be addressed, he said.
"Effective, objective and non-politicized use of the existing monitoring and advisory mechanisms is essential. Political approaches undermine their credibility.
"Better coordination between the Committee of Ministers and the Parliamentary Assembly is welcome, without prejudice to each organ's statutory mandate," he said.
Cavusoglu also stressed the need "to equip the Council with ample financial resources".
https://www.aa.com.tr/en/europe/-unity-dialogue-key-to-overcoming-hateful-trends-/1481191
--------
EU renews sanctions against Assad regime
Ali Murat Alhas
17.05.2019
The European Union on Friday extended sanctions against the regime of Bashar al-Assad until next June.
"In line with the EU strategy on Syria, the EU decided to maintain its restrictive measures against the Syrian regime and its supporters as the repression of the civilian population continues," said a written statement by the EU Council.
Five deceased persons and two entities were removed from the sanction list that now has 270 people and 70 entities targeted by the EU.
Those on the list are accused of "being responsible for the violent repression against the civilian population in Syria, benefiting from or supporting the regime, and/or being associated with such persons or entities."
EU sanctions against the regime include an oil embargo, restrictions on certain investments, a freeze of the assets of the Syrian central bank in the EU and on technology and equipment that might be used for internal repression.
Syria has just begun to emerge from a devastating conflict that began in early 2011 when the regime cracked down on demonstrators with unexpected severity.
https://www.aa.com.tr/en/europe/eu-renews-sanctions-against-assad-regime-/1480786
--------
Mideast
Al-Jubeir: Houthi attack proves they are indivisible part of IRGC
16 May 2019
Yemen's Houthis are an indivisible part of Iran's Revolutionary Guard Corps (IRGC) and are subject to the IRGC's orders, Saudi Minister of State for Foreign Affairs, Adel al-Jubeir, said on Thursday.
He added that this is confirmed by the Houthi targeting of facilities in the Kingdom.
In a series of tweets on his official account, al-Jubeir said that the Houthis prove that they implement Iran's agenda "by sacrificing the need of the Yemeni people for the benefit of Iran".
1- The #Houthis confirm day after day that they implement #Iran's agenda by sacrificing the need of the Yemeni people for the benefit of #Iran
2- The Houthis are an indivisible part of #Iran's Revolutionary Guard Corps (#IRGC) and subject to the IRGC's orders. This is confirmed by the #Houthis targeting facilities in the Kingdom
On Tuesday, the Houthi militias claimed responsibility for twin drone strikes on Saudi Arabia's main East-West oil pipeline. Iran has repeatedly threatened to close the vital conduit for global oil supplies in case of a military confrontation with the United States.
Several Arab countries have condemned the attacks on two oil pumping stations in Saudi Arabia, with Egypt adding that coordination with the Kingdom was at the highest level to counter challenges and threats.
https://english.alarabiya.net/en/News/gulf/2019/05/16/Al-Jubeir-Houthi-attack-proves-they-are-indivisible-part-of-IRGC.html
--------
Saudi project clears 1,024 Houthi mines, explosive devices in Yemen
17 May 2019
The Saudi Project for Landmine Clearance in Yemen (MASAM) has announced the extraction of 781 unexploded ordnance, 210 anti-tank mines, 27 anti-personnel mines, and six improvised explosive devices during the second week of May.
The 1,024 mines during the second week of May means the total number of mines extracted by the project since it started its work in June 2018 has now totaled 70,539.
The legitimate Yemeni government has accused the Houthi militias of planting more than one million mines across the country over the course of three years and said more than 2,000 people, mainly civilians, have been killed as a result.
According to a report by UK-based organization Conflict Armament Research (CAR), the use of landmines and IEDs is a growing threat in Yemen, especially as their investigation points to Iran's hand at providing the Houthis with the necessary bomb-making supplies.
"IEDs and Radio Controlled Improvised Explosive Device (RCIED) employed by Houthi forces continue to contain components that originate in Iran. The most recent seizures of IED electronics reveal attempts to conceal their provenance," CAR said in a report published last September 2018.
https://english.alarabiya.net/en/News/gulf/2019/05/17/UAE-s-Gargash-Western-countries-agree-on-Iran-being-a-disruptive-force.html
--------
Syria says its air defenses intercept several Israeli projectiles
May 17, 2019
The Syrian army says its air defense units have brought down several projectiles fired from Israeli-occupied territories.
Syria's official news agency SANA, citing its correspondent, said that the Israeli aerial aggression occurred on Friday night.
Other reports, quoting some residents in the Syrian capital, said several loud explosions were heard near Damascus.
SANA, in a later update, quoted a military official as saying that the projectiles came from "the direction of" Syria's southwestern province of Quneitra near the Israeli-occupied Golan Heights, adding that the air defense units had "countered" them.
The Israeli regime launches airstrikes on the Syrian territory from time to time. Such aggressive moves are usually viewed as attempts to prop up terrorist groups suffering defeats at the hands of Syrian government forces.
On April 13, the Syrian army said that its air defenses intercepted some of the Israeli missiles fired at a Syrian military base near the city of Hama, while the remaining missiles hitting the target destroyed a number of buildings and wounded three Syrian troopers.
On March 27, the Israeli regime launched multiple missile attacks on Shaykh Najjar industrial city located 10 km northeast of Syria's Aleppo.
Syrian TV said the majority of those missiles had been intercepted by the Arab country's air defense, and those that hit their targets only caused material damage.
Israel used to be very careful with its operations over Syria after Russia equipped Damascus with the advanced S-300 surface-to-air missiles in October 2018.
However, US President Donald Trump's recent decision to recognize the "Israeli sovereignty" over the Syrian territories of Golan Heights has seemingly emboldened Tel Aviv to launch new aggression on the Arab country.
https://www.presstv.com/Detail/2019/05/17/596201/Syria-Israel-projectiles-Damascus-airstrikes
--------
Soccer star Ronaldo donates $1.5mn to Palestinians for Ramadan
May 17, 2019
Portuguese soccer star Cristiano Ronaldo has donated $1.5 million to the Palestinians in a move to alleviate the suffering of people in the besieged Gaza Strip.
He allocated the fund to the Palestinians during the holy month of Ramadan.
The soccer player has, in several occasions, denounced Israel's atrocities against the Palestinians.
Back in 2012, Ronaldo had auctioned off his Golden Boot, the prestigious award given to the best European strikers of the season, to raise funds that were later donated to the Palestinian children.
The following year, in March 2013, at the end of the match between Portugal and Israel for the 2014 World Cup qualifiers, Ronaldo refused to exchange his shirt with an Israeli player.
The Gaza Strip has been under Israeli land, air and sea blockade since June 2007. The blockade has caused a decline in the standard of living as well as unprecedented levels of unemployment and unrelenting poverty.
Palestinians have held weekly rallies along the Gaza border to protest the siege on the enclave and demand the right for refugees to return to their homes they fled during the 1948 creation of Israel.
More than 270 Palestinians have been killed in attacks by Israeli forces ever since anti-occupation protest rallies began in the Gaza Strip on March 30, 2018. Over 16,000 Palestinians have also sustained injuries.
https://www.presstv.com/Detail/2019/05/17/596172/Cristiano-Ronaldo-Palestinian-donation-Gaza-Strip
--------
Iran condemns Saudi bombing of Sana'a residential areas
May 17, 2019
Iran has condemned recent Saudi airstrikes on residential areas in the Yemeni capital Sana'a, which killed several civilians.
"We urge international bodies and human rights organizations to act according to their responsibilities and stop such crimes from happening again by any means possible," Iran's Foreign Ministry spokesman Seyyed Abbas Mousavi said on Friday.
"Countries which have supported the invading forces in Yemen by giving destructive arms and bombs are complicit in these crimes and must be held accountable," Mousavi added.
At least seven civilians were killed in the Saudi air raids. Four of those died were from one family. Dozens of others were also wounded in the attacks.
The United Nations Office for the Coordination of Humanitarian Affairs later said that five children died as a result of the airstrike.
An AFP correspondent reported seeing one residential building completely reduced to rubble, with residents using bare hands in a desperate search for survivors.
The residents chanted "Death to America, death to Israel" as they pulled the body of a child, the AFP reported.
The attack happened days after the United Nations confirmed that Yemen's Houthi Ansarullah movement had handed over control of three key ports in the western province of Hudaydah to the local "coastguard".
The measure took place in line with a UN-brokered truce accord. The UN says the Saudis have not yet implemented their commitment under the agreement.
Saudi Arabia and a number of its regional allies, including the United Arab Emirates, launched the war on Yemen in March 2015, with the goal of bringing the government of ex-president Abd Rabbuh Mansur Hadi back to power.
According to a December 2018 report by the Armed Conflict Location and Event Data Project (ACLED), a nonprofit conflict-research organization, the Saudi-led war has claimed the lives of over 60,000 Yemenis.
The war has also taken a heavy toll on Yemen's infrastructure, destroying hospitals, schools, and factories. The UN said in a report in December 2018 that over 24 million Yemenis were in dire need of humanitarian aid, including 10 million suffering from extreme levels of hunger.
The war led to a major surge of Western arms exports to Saudi Arabia, which depends greatly on foreign arms and military support in the war.
Speaking on Wednesday, spokesman and chief negotiator for Ansarullah Mohammed Abdul-Salam said the Yemeni resistance will target Saudi Arabia's economic infrastructure if the Saudis continue attacks against the war-torn country.
"Strategic Emirati facilities will also be targeted by drone attacks," he said.
Abdul-Salam's statements came a day after the Ansarullah movement conducted a number of successful drone strikes on a vital oil pipeline in Saudi Arabia in response to the kingdom's continued aggression.
The strikes forced Saudi authorities to stop pumping crude oil on a major pipeline spanning the kingdom.
The attack prompted the state-aligned Saudi newspaper Arab News to call for "surgical" American strikes against Iran.
The paper claimed that the attack represented a "serious escalation" on the part of Iran and what it claimed were "its proxies", a label vehemently denied by the Ansarullah movement.
Nonetheless, the Saudi paper referred to Trump's 2017 and 2018 strikes against Syria as a "precedent" for a similar attack against Iran.
"The next logical step — in this newspaper's view — should be surgical strikes," the paper added.
The Arab News is usually regarded as reflecting the Saudi kingdom's official position on matters.
is a company that has been chaired by sons of King Salman until 2014.
Turki bin Salman al Saud, brother of Saudi Crown Prince Mohammed bin Salman, currently owns the the Saudi Research and Marketing Group that publishes the newspaper.
https://www.presstv.com/Detail/2019/05/17/596169/Iran-Yemen-Saudi-strike-condemnation
--------
Gaza organizers cancel protests along Israel border
May 18, 2019
GAZA CITY, LONDON: Organizers canceled the main weekly protests along the Gaza-Israel border on Friday, for only the second time in more than a year.
They said a large demonstration had already been held in Gaza on Wednesday to commemorate what Palestinians call the nakba, or catastrophe, when hundreds of thousands were expelled or fled from their homes during the 1948 war surrounding the creation of Israel.
"Today there are no activities in the 'return camps' in the east of the Gaza Strip, due to the high temperature and to provide a break to citizens, who held a large protest two days ago," the organizing committee said in a statement.
The "march of return" demonstrations have been held at least weekly since March 2018, with the backing of Gaza's Hamas rulers.
Friday protests were canceled just once before — after a flare-up between Israel and Hamas in March.
Protesters have been demanding an end to Israel's more than decade-old blockade of Gaza and the right for Palestinian refugees to return to ancestral lands now inside Israel.
Israel says any such return would spell its demise as a Jewish state and accuses Hamas of orchestrating the protests as an excuse for violence.
At least 293 Palestinians have been killed in Gaza since the protests began, the majority during the protests. Six Israelis have been killed in Gaza-related violence.
Facebook bans Israeli firm
In another development, Facebook, facing criticism for enabling disruption of elections worldwide, said it was taking down hundreds of accounts linked to an Israeli political consultancy.
The social media platform said it was banning the Israeli company, Archimedes Group, which on its website boasts of "winning campaigns worldwide".
The US giant said Thursday it had removed 265 accounts on its Facebook and Instagram platforms, Facebook Pages, Groups and events "involved in coordinated inauthentic behavior."
The sites' activity focused on several African countries and on Latin America and Southeast Asia, and was intended to sway voters by peddling misinformation.
The individuals behind the fake network tried to hide their identities but some of the activity linked back to Archimedes Group, which Facebook said had "repeatedly violated" its policies.
"This organisation and all its subsidiaries are now banned from Facebook, and it has been issued a cease and desist letter," the US company's head of cybersecurity policy, Nathaniel Gleicher, wrote in a blog post.
There was no immediate comment from Archimedes, which says it is a leader in "large-scale campaigns worldwide" through its expertise in consulting, lobbying and social media.
About 2.8 million individual accounts followed one or more of the banned Pages, and $812,000 was spent on related ads on Facebook from 2012 to April this year, Gleicher said.
Nine public events were organised by the Pages, most recently this month, but Facebook said it could not confirm whether any of the events had actually occurred.
Facebook has been trying to address the criticism that it has long turned a blind eye to political actors abusing its platforms to sway elections, including the 2016 presidential vote in the US.
"We are making progress rooting out this abuse, and, as we've said before, it's an ongoing challenge," Gleicher said.
This week, Facebook joined other tech giants in issuing the "Christchurch Call" to stamp out violent extremist content on the internet, following massacres at two New Zealand mosques in March.
http://www.arabnews.com/node/1498606/middle-east
--------
Africa
Spreading the net: Somali Islamists now target Kenyan recruits
MAY 17, 2019
The al Qaeda-linked al Shabaab insurgency is using some unconventional accomplices to step up attacks beyond Somalia's borders.
January's assault on an office and hotel complex in the Kenyan capital, Nairobi, was the first to be led by a someone who is not an ethnic Somali since al Shabaab began major cross-border operations in 2010. Twenty-one people were killed.
The attack's leader, Ali Salim Gichunge, nicknamed Farouk, was a 26-year-old Kenyan who attended a Catholic school and whose largely Christian Meru ethnic group has no ties to Somalia. He led four other assailants, including at least one non-Somali used as a suicide bomber, Kenyan security officials said. All died in the attack.
They are among a growing number of Kenyans with no family links to Somalia drafted by the militants in recent years, according to relatives, security officials and analysts.
Widespread poverty and unemployment mean al Shabaab can tempt recruits by offering cash or promises of work, researchers who interviewed defectors said. Even small gifts have lured some young men, their families said.
These new recruits have expanded the militants' reach and complicated efforts by Kenyan security forces to thwart them.
"In the past, the security forces concentrated their efforts in parts of the country that are Muslim majority, Muslim-dominated," said Murithi Mutiga, a project director for the International Crisis Group think-tank. "Now it's much harder because al Shabaab has shown its adaptability by recruiting from outside the traditional areas."
At the same time, al Shabaab has expanded operations from Somalia into East Africa, where it has shown it can hit high-profile targets, such as the offices of Western multinational companies.
FOOTBALL, DRUGS AND MOTORBIKES
Gichunge, the son of a Kenyan military officer, was radicalized while working at a hotel Internet cafe in Isiolo town, his sister told Reuters.
"It all started there. He was able to access new materials online, go to Facebook. He started studying Arabic language and all sorts of things," Amina Sharif said.
His Muslim family had sent him to a mission school in Isiolo, a dusty northern town that is a gateway to three vast, arid counties neighboring Somalia.
Many in Isiolo were reluctant to discuss him, fearing police attention. But some said al Shabaab recruiters had been targeting young, unemployed men from outside the ethnic Somali community there for years.
Abdi Bidu, 53, said smooth-talking recruiters befriended his son Boru, then 20, three years ago while the young man was watching European football matches at video parlors. They offered cigarettes, motor-bike rides and khat, a mildly narcotic leaf, he said.
The Bidu family are ethnic Boranas, a religiously mixed community not previously associated with Islamist violence.
Police caught Boru trying to join al Shabaab near the Somali border in 2017, his father said. The young man went to court, but authorities inexplicably dropped the charges.
His father keeps him at home now, forbidding him to use the phone. Bidu refused to allow Reuters to speak to his son, fearing a backlash.
"There is a big problem in Isiolo," Bidu said. "Many have been persuaded to join the militants. Many others have been caught by authorities and returned."
He said he knew three other families whose sons were recruited. Parents feel angry and helpless, and want the government to step up security.
Martin Kimani, Kenya's chief counter-terrorism official, said statistics on al Shabaab recruitment are classified.
But a USAID-funded study in 2018, quoted in a local government strategy document, estimated the group had recruited about 200 young men in the county to which Isiolo belongs since 2013.
Another 2018 survey asked 190 young Kenyans and 23 community leaders about violent extremism in Isiolo, neighboring Garissa county, the coastal counties of Kwale, Kilifi and Mombasa, and Nairobi. Seventy percent of respondents had a family member, close peer or neighbor involved in such activities, including recruitment, the British-funded study found.
SOPHISTICATED MESSAGING
Al Shabaab grew out of a political movement that used Islamic courts to impose order on war-ravaged Somalia. U.S.-backed Ethiopian soldiers defeated the Islamic Courts Union in 2006, but its youth wing split off and launched an insurgency.
Al Shabaab pledged loyalty to al Qaeda four years later, as the insurgency battled African Union peacekeepers in Somalia.
Kenya sent troops there in 2011 after al Shabaab started recruiting and kidnapping on Kenyan soil. Two years later, the insurgents massacred 67 people at Nairobi's Westgate mall.
As al Shabaab morphed from a nationalist insurgency into an al Qaeda franchise, it increased its messaging to other nationalities.
The first such outreach came after it killed 76 people watching the World Cup football final in twin suicide attacks in Kampala in 2010. Al Shabaab released a video threatening further attacks from militants who "speak your language and walk your streets".
Since then, the group's messaging has grown more sophisticated.
Kenya's 2012 election was denounced in a press release and radio statement as a tool for infidels. Ahead of the 2017 election, the group released seven videos in local languages.
In one video, eight al Shabaab fighters from Kenya spoke about grievances specific to their ethnic groups, such as land-grabbing on Kenya's coast, according to a 2019 report by the London-based Royal United Services Institute for Defence and Security Studies.
Other videos discussed the rising price of flour, or used graphics and statistics to build an economic case for Kenyan troops to leave Somalia.
"Religious ideology ... is entirely absent," the report said. "It seeks to relate to educated, non-Muslim audiences."
COUNTER RADICALIZATION
Kenya launched counter radicalization programs in 2014.
Reuters attended one meeting organized by a grassroots peace group two weeks after the January attack. Fifteen parents who feared their sons had been recruited met at Isiolo's dilapidated main police station. Organizers asked not to be named.
Over samosas, boiled eggs and milky tea, police explained they needed information to thwart the militants. The police had been criticized after previous attacks for making mass arrests and hauling in suspects' families for questioning. This was a softer approach.
"These meetings encourage us ... We are not alone," said a mother whose son disappeared three years ago. She is furious at Islamist recruiters she blames for targeting her son.
"We don't know them. If we knew, we would lynch them," she said.
NEW TARGETS
About two hours drive west from Isiolo, officials in Nyeri town say al Shabaab recruiters have penetrated one of its biggest slums.
The central Kenyan town, far from traditional militant hotspots along the Somali border and the coast, is a staging point for Mount Kenya hikers and home to the grave of Boy Scouts founder Lord Baden-Powell.
"It is not (only) people of Somali origin; we also have Kikuyu who have become members of the al Shabaab movement," said Fredrick Shisia, the county commissioner.
The recruiters were mainly local Kikuyus who had converted to Islam, two intelligence sources in Nyeri told Reuters.
Shisia declined to provide figures on recruitment but confirmed that promises of cash and gifts are often made, sometimes under false pretences.
One female recruiter in the city of Mombasa approached a tailor who was struggling to feed her family and offered the woman 30,000 shillings ($300) to make dresses, according to a 2018 study by Fathima Badurdeen, a researcher at the Technical University of Mombasa.
When the woman went to deliver the dresses near the Somali border, she was seized and taken to an al Shabaab camp in Somalia, the report said. It did not say what happened next or how she escaped.
Others were lured to Somalia for as little as 3,000 shillings ($30), said Badurdeen.
The first female-led attack in Kenya came in September 2016. Three women entered a Mombasa police station, stabbed an officer and set off a petrol bomb before being shot dead.
Gichunge's wife, Violet Kemunto, was another non-traditional recruit.
The Nairobi-born woman from the mainly Christian Kisii ethnic group described herself as an al Shabaab bride on social media. Police believe she has fled to Somalia.
https://www.reuters.com/article/us-kenya-militants/spreading-the-net-somali-islamists-now-target-kenyan-recruits-idUSKCN1SN0OV
--------
Key powers urge immediate resumption of Sudan talks: US
18 May 2019
Major international powers during talks on Friday in Washington urged Sudan's military rulers and protesters to resume stalled negotiations immediately, the United States said.
Representatives from the UN, African Union and European powers "called for an immediate resumption of talks" between the two sides, tweeted Tibor Nagy, the US assistant secretary of state for Africa.
They called on the protesters and the Transitional Military Council to "reach an agreement ASAP on an interim government that is truly civilian-led and reflects the will of the Sudanese people," Nagy tweeted.
"We also expressed concern about the recent violence directed by security forces against protesters, and agreed to call for the TMC to allow peaceful protests and hold accountable those responsible for recent violence," he wrote.
The talks in Washington included representatives of the United Nations, African Union and European Union.
Countries involved were Britain, France, Germany and Norway as well as Ethiopia, which is the chair of an eight-nation Horn of Africa regional bloc, the Intergovernmental Authority on Development, which includes Sudan.
The army last month ousted longtime autocratic president Omar al-Bashir after months of mounting protests led by young people that were sparked by the high cost of bread.
Protesters have remained camped out, saying that they want a rapid transition to democracy rather than continued military rule.
The generals and protest leaders had been expected to come to an agreement on Wednesday on the thorniest issue -- the make-up of a new body to govern Sudan for three years.
But the head of the military council, Abdel Fattah al-Burhan, early Thursday announced a suspension of talks for 72 hours as he demanded that protesters dismantle roadblocks and open bridges and railway lines connecting the capital.
https://english.alarabiya.net/en/News/middle-east/2019/05/18/Key-powers-urge-immediate-resumption-of-Sudan-talks-US-.html
--------
Muslim groups slam deal between Sudan's MTC, opposition
Mohammed Amin
17.05.2019
Thousands of Muslim activists, including members of the Popular Congress Party and Salafists groups, protested in Khartoum on Friday against a deal by which Sudan's ruling Military Transitional Council (MTC) would hand over power to a civilian authority.
Demonstrators chanted slogans against the agreement, which, if implemented, would give the Change and Freedom opposition alliance exclusive authority to form a transitional cabinet and hold a majority of seats in a transitional parliament.
Protesters also chanted slogans calling for the adoption of Islamic Law and rejecting the "secular system" called for by the Change and Freedom coalition.
Earlier this week, the MTC and the opposition alliance agreed on the need for a transitional council of ministers to be drawn up exclusively by the latter.
The agreement would also give the Change and Freedom coalition a majority of seats in a proposed transitional parliament.
Early last month, the Sudanese army ousted President Omar al-Bashir following months of popular demonstrations against his 30-year rule.
The MTC is now overseeing a two-year "transitional period" during which it has pledged to hold presidential elections.
Demonstrators, however, have remained on the streets to demand that the military council relinquish power -- at the earliest possible date -- to a civilian authority.
https://www.aa.com.tr/en/africa/muslim-groups-slam-deal-between-sudan-s-mtc-opposition/1480992
--------
Niger ambush: Militants kill 28 soldiers near Mali
16 May 2019
The bodies of 11 Nigerien soldiers missing since Tuesday's ambush have been discovered, bringing the death toll to 28.
Militants killed four US soldiers at the same place in 2017.
Niger and other countries in the Sahel have been facing a growing militant threat from several Islamist groups.
The Islamic State group has said it was behind the ambush but there has been no confirmation of this claim by the authorities.
Militants belonging to affiliates of al-Qaeda are also active in the region.
They are most active in neighbouring Mali, where French troops intervened in 2013 to prevent them from advancing on the capital, but they often stage cross-border raids.
The soldiers were in pursuit of militants who attacked a high security prison 50km (30 miles) on Tuesday outside the capital, Niamey, a government spokesman told the BBC.
"One of the soldiers' vehicles drove into a landmine and then the assailants started firing at our soldiers," Mr Zakariyyah told the BBC's Focus on Africa programme on Tuesday.
It was initially reported that 17 soldiers had been killed in the ambush.
Without providing any evidence, the Islamic State group has claimed responsibility for the attack via its news agency Amaq. According to the statement, 40 were killed and injured, although for now the government has said that the death toll was 28.
Mr Zakariyyah did not identify the perpetrators of the attack but said it happened near where US troops and five Niger soldiers were killed two years ago.
A search operation, aided by French and American troops, who have a base in Niger, continues.
Niger is part of a five nation anti-insurgency force operating in the Sahel. It includes Burkina Faso, Chad, Mali and Mauritania.
The G5 Sahel, as it is called, is backed by a 3,000-strong French force.
This was the deadliest attack recorded in western Niger, where government troops and their international allies are fighting affiliates of al-Qaeda and the Islamic State group.
Authorities say it was a complex attack in which the militants planted improvised explosive devices. Despite years of heavy deployments of French, US and UN forces, the region - including Niger - remains a tinderbox.
The group called the Islamic State in the Greater Sahara (ISGS), which has claimed responsibility for the attack, has recently been subject to counter-militancy operations, mainly led by the French, making large-scale attacks against government troops difficult.
For one expert on the region, Héni Nsaibia, a researcher at The Armed Conflict Location and Event Data group, this attack could be the result of French forces shifting its focus to central Mali, and to the recent hostage-release operation in Burkina Faso which required attention and assets.
He adds it could also be that militants are heeding the call of Islamic State group leader Abu Bakr al-Baghdadi, who in a recent audiovisual speech explicitly called on them to intensify attacks against France and its allies in the Sahel region.
The statement released on Thursday was issued by the central Islamic State but is being attributed to its affiliate in the region. It is believed to be just the second official claim - in the form of a statement - from ISGS in the region.
https://www.bbc.com/news/world-africa-48286975
--------
Lake Chad Basin no longer safe haven for Boko Haram: Nigerian president
2019-05-17
ABUJA, May 16 (Xinhua) -- The Lake Chad Basin is no longer a safe haven for terror group Boko Haram, as joint military efforts by countries in the region have yielded good results so far, Nigerian President Muhammadu Buhari said on Thursday.
"We have led vigorous military campaigns against the terrorists by re-organizing the multinational joint task force which had dislodged them," Buhari, represented by Nigeria's minister of interior Abdulrahman Dambazzau, said at the closing of the 16th Annual General Meeting of West African Police Chiefs Committee and Meeting of the Forum of Ministers in charge of Security in Abuja.
He said in the past four years, Nigeria, working with regional and international allies, had taken drastic measures and spared no effort in the fight against Boko Haram.
The Nigerian president urged the regional security chiefs to share their experiences, re-assess and harmonize crime control and operations in their various countries to see the end of the terror group.
He said the insecurity posed by corruption, terrorism, communal clashes, and kidnap for ransom, organized crimes, among others, were some vices threatening the region's peace, progress, integration, and development.
Buhari attributed the vulnerability of the region to criminal activities and other threats to peace and security to the vast borders and proximity to the Sahel.
Countries in attendance at the Abuja meeting included Burkina Faso, Cape Verde, Benin, Cote d'Ivoire, Gambia, Ghana, Guinea, Guinea Bissau, Liberia, Mali, Niger, Senegal, Sierra Leone and Togo.
The three-day meeting was aimed at addressing transnational crimes, especially terrorism, violent extremism, kidnapping, illicit circulation of small arms and light weapons, human trafficking, maritime security, herders and farmers' conflict, among others.
http://www.xinhuanet.com/english/2019-05/17/c_138064355.htm
--------
Burkina Faso Seeks Broad Sahel Anti-Terror Coalition
May 16, 2019
UNITED NATIONS —
The foreign minister of Burkina Faso called Thursday on the international community to consider creating a counterterrorism coalition, like the ones for Iraq and Afghanistan, to better combat terrorism in Africa's Sahel region.
The region currently has the G5 Sahel Joint Force, which includes troops from Burkina Faso, Chad, Mali, Mauritania and Niger. Those troops are tasked with fighting threats from extremist and armed groups.
But in the two years since its creation, the force has faced major delays and obstacles, including the car bombing of its headquarters.
The U.N. says the force is now 75 percent operational, but that equipment and training shortfalls are slowing its progress toward full operational capacity.
The Sahel also has 16,000 U.N. peacekeepers in Mali and 3,000 French troops based in Chad to help restore stability.
But despite the presence of the three forces, Burkina Faso Foreign Minister Alpha Barry told the Security Council the situation caused by terrorism and intercommunal violence was worrisome and deteriorating.
"This threat is gaining ground," he said through an interpreter. "It is no longer contained within the north of Mali, in the Burkina-based Sahel or far from the borders of Mauritania. It is spreading and taking other forms, whose consequences are equally dramatic."
Examples of threat
Barry noted the recent attacks on Christian churches in his country, an attack on Niger's military this week that killed 28 soldiers, and the abduction and rescue operation of four foreign tourists in northern Benin to illustrate the scope of the threat. The minister said one of the main drivers of insecurity on the continent was the civil war in Libya, which is fueling terrorism and the proliferation of guns.
He said the Sahel nations required greater assistance because the security challenges were likely to be long term.
"Regarding the urgency of the actions to be undertaken, the member states of the G5 Sahel cannot succeed alone," he said. "It is, therefore, time for the international community to consider creating an international coalition to better tackle the phenomenon of terrorism in the G5 Sahel and throughout the rest of the Sahel."
Dozens of countries participated in the Afghanistan and Iraq coalitions. They fought the Taliban in Afghanistan and al-Qaida in Iraq for many years and at the cost of thousands of lives and billions of dollars.
https://www.voanews.com/a/burkina-faso-seeks-broad-sahel-anti-terror-coalition/4920461.html
--------
URL: https://www.newageislam.com/islamic-world-news/china-tells-turkey-support-its/d/118639
New Age Islam, Islam Online, Islamic Website, African Muslim News, Arab World News, South Asia News, Indian Muslim News, World Muslim News, Women in Islam, Islamic Feminism, Arab Women, Women In Arab, Islamophobia in America, Muslim Women in West, Islam Women and Feminism