Age Islam News Bureau
17 May 2017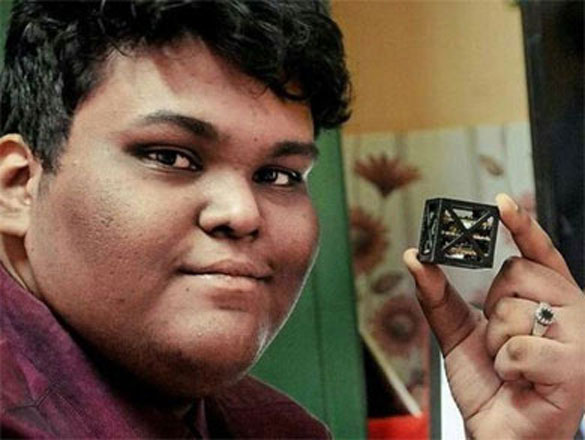 Rifath Shaarook,18, has named the satellite after former Indian president Abdul Kalam. PHOTO: Twitter/Shaarook
-----
• China Set To Expand DNA Testing In Muslim Region
• Triple Talaq in India an Exception Rather Than Rule: Survey
• Indian Muslim Teenager Creates World's Lightest Satellite
• Palestinian Activists Close UN Office in Ramallah In Support Of Hunger Strike
• International Inquiry Finds Sulfur Mustard Exposure in Syria
Southeast Asia
• China Set To Expand DNA Testing In Muslim Region
• Indonesia Seeks To Ban Islamist Group in Wake of Blasphemy Rallies
• Shariah court in Indonesia sentences gay couple to caning
• BIMB Holdings expects earnings in current financial year to reach record high
• Zahid denies three Turkish nationals arrested on orders from their government
• Jokowi to attend Arab Islamic American Summit in Riyadh
--------
India
• Triple Talaq in India an Exception Rather Than Rule: Survey
• Indian Muslim Teenager Creates World's Lightest Satellite
• Muslim Law Board Hiding Talaq Facts, Says Umbrella Outfit of 14 Bodies
• Triple Talaq Matter of Faith like Lord Rama's Birthplace: Muslim Board
• 'Azadi' cries force J&K CM Mehbooba Mufti to retreat
• Want to see Palestine & Israel co-exist peacefully: India
• Security issue in Northeast: Religious radicals may lead to terror, some agents working as NGOs, says Rajnath Singh
--------
Mideast
• Palestinian Activists Close UN Office in Ramallah In Support Of Hunger Strike
• 76 Palestinian Hunger Strikers Hospitalized In Critical Condition
• Intelligence: ISIL Terrorists Planning to Attack Russian Warships in Turkey's Waters
• Ansarullah Ready for Biggest Operation to Defend Yemen's Territorial Waters
• Trump to Visit Jewish, Christian Holy Sites In Jerusalem
• Commander: Iran Puts into Operation New Air Defence Missile Systems
• Kuwait ready to host Yemeni talks under certain conditions
• Turkey detains editor of opposition Cumhuriyet daily
--------
Arab World
• International Inquiry Finds Sulfur Mustard Exposure in Syria
• IS 'On Brink of Defeat' After Losing 90pc of West Mosul
• Saudi Arabia accuses Iran of 'deception' and supporting terrorism
• Trump to sign several deals with Saudi Arabia during Riyadh visit
• ISIL Fails to Cut off Syrian Forces' Supply Line to Aleppo
• Iraq: Few Neighbourhoods in Western Mosul Still under ISIL Control
• Syrian Army Scores More Victories against ISIL in Central Homs
• Terrorists Violate De-Escalation Zones Agreement again in Syria's Aleppo
• US Treasury sanctions Syrians and entities linked to government
• Damascus: Prison crematorium claims by the US are 'totally unfounded'
• Iraqi military spokesman says only 12 sq km of Mosul held by ISIS
• Abu Dhabi Crown Prince talks UAE-US cooperation in Tillerson meeting
--------
Europe
• Labour Party Promises Probe into UK Role in Operation Bluestar
• Donald Trump asserts 'absolute right' to leak to Russia
• Trump's Russia Intel Disclosure Risks Life of Israeli Spy within ISIS
--------
Pakistan
• Tolerant Pakistan Media Launched By Ruling Party Hindu MNA
• US narrative does not reflect realities of Pakistan: envoy
• Zehri orders formation of JIT to probe Mastung bombing
• Terrorists can't defeat nation by cowardly attacks
--------
Africa
• Archaeologists Seek To Promote Tourism in Africa's Old Islamic Sites
• African parliament raises voice for Palestinian inmates
• Nigerian school helping to combat insurgency by enrolling boys
--------
North America
• Trump, Erdogan Vow Friendship despite Anger at US Arming Kurds
• Trump to give speech on Islam in first trip abroad!
• Controversy over Trump Israel policy ahead of visit
• Anti-Muslim Extremist Is Training Police In Arizona
--------
South Asia
• Clash Reported Near Government and State TV Compound in Nangarhar
• Afghan forces recapture key northern district
• Taliban suffer heavy casualties in Laghman operations: Local officials
• Twin explosions rock Kandahar city in South of Afghanistan
Compiled by New Age Islam News Bureau
URL: https://www.newageislam.com/islamic-world-news/china-set-expand-dna-testing/d/111181
--------
China set to expand DNA testing in Muslim region
MAY 16, 2017
Xinjiang is facing security crackdown
China appears to be laying the groundwork for the mass collection of DNA samples from residents of a restive, largely Muslim region that has been under a security crackdown, rights observers and independent experts said on Tuesday.
Police in western China's Xinjiang region confirmed to The Associated Press that they are in the process of purchasing at least $8.7 million in equipment to analyse DNA samples. Observers from Human Rights Watch said they've seen evidence of almost $3 million in additional purchases related to DNA testing. They warned such a collection program could be used as a way for authorities to beef up their political control.
Coercive action
The move comes after Chinese authorities last year reportedly required Xinjiang residents to submit DNA samples, fingerprints and voice records to obtain passports or travel abroad.
Xinjiang borders several unstable Central Asian countries. It has experienced numerous bombings and vehicle and knife attacks blamed on ethnic separatists from the native Uighur Islamic minority.
In one of the most recent attacks, eight people, including three assailants, were killed in a February knife attack in southern Xinjiang's Pishan County, which borders Pakistan.
Chinese authorities seeking to counter religious extremism among the Uighurs (pronounced WEE-gurs) have taken increasingly aggressive steps to quell the unrest. Those have included mandatory satellite tracking systems for vehicles in some areas, rewards for terror-related tips and prohibitions against women wearing veils and men growing beards.
The purchases of DNA testing equipment in Xinjiang were confirmed by an official at the regional Public Security Bureau. The official, who gave only her surname, Huang, said a supplier already had been found. In Xinjiang's Sheche County, suppliers were being sought for voiceprint collection systems and 3-D portrait systems, according to a security official surnamed Yin, who declined to give further details.
If used at full capacity, the new equipment could be used to profile up to 10,000 DNA samples a day and several million a year, said Yves Moreau, a computational biologist specializing in genome analysis and DNA privacy at the University of Leuven in Belgium.
The scale of the purchases raises "a legitimate concern that Chinese authorities could be planning to DNA profile a large fraction, or even all" of the Uighur people in Xinjiang, Moreau said.
DNA database
Since it started collecting DNA profiles in 1989, China has amassed the unique genetic information on more than 40 million people, constituting the world's largest DNA database, according to a study last year by forensic researchers at the China Ministry of Public Security.
Unlike many other countries, China lacks legal protections to guard people's privacy and prevent their genetic information from being misused, said Helen Wallace, founder of the British group GeneWatch.
"Xinjiang is already an oppressive region with a high level of surveillance," said Human Rights Watch researcher Maya Wang. "To collect even more information on a mass scale unrelated to criminal investigation opens the door for an even greater level of surveillance and control."
Government-sponsored DNA databases compile the genetic markers present in each individual, typically from blood, saliva or hair samples. They're used by law enforcement agencies around the globe as evidence in criminal prosecutions and to monitor prior offenders.
In the United States, where laws generally limit DNA collection to people who have been arrested, the Federal Bureau of Investigation has 12.8 million offenders in its DNA database, according to the agency. That's almost 4% of the total U.S. population. The United Kingdom has 5.2 million people in its database, or about 8% of its population, according the British government.
China's database now covers about 3% of its population. It's been used by authorities to reunite abducted children with their parents. It was also used in a highly publicized case last year to help track down a serial killer who authorities said admitted to the murders of 11 women and girls over a 14-year period.
"It's clear there's a fairly large infrastructure being built for DNA collection and they're planning to expand that further," Wallace said. "I would like to see China put their legal database on clear legal footing. That includes the kinds of safeguards we see in other countries."
http://www.thehindu.com/news/international/china-set-to-expand-dna-testing-in-muslim-region/article18468479.ece
--------
Triple Talaq in India an Exception Rather Than Rule: Survey
by Seema Chishti
May 17, 2017
A day before the Supreme Court began hearing the legal challenge to triple Talaq, a Delhi-based institute reported the results of its survey, showing the incidence of this form of divorce among Muslims was less than even 1 in 100.
The Centre for Research and Debates in Development Policy (CRDDP) surveyed 20,671 individuals — 16,860 men and 3,811 women — across India between March and May this year. The respondents in the online survey were picked from a larger data base of about 1, 00,000 verified respondents that CRDDP already had.
The survey was led by Dr Abu Saleh Shariff, former Chief Economist of the National Council of Applied Economic Research (NCAER), and best known as Member Secretary of the Sachar Committee, which in 2006 submitted a report on the social, educational and economic backwardness and deprivation status of Muslims.
Read | Ram born in Ayodhya issue of faith, so is triple Talaq: Muslim Board
Of the 331 Talaqs (divorces) reported by both women and men respondents in Dr Shariff's survey, just about a quarter had occurred through the intervention of religious institutions such as the qazi and dar-ul-kaza.
Most strikingly, however, the survey found that the incidence of the so-called "oral triple Talaq" (where 'Talaq' is uttered thrice at one go, without any witnesses or record) among the 331 cases was just 1 — or a mere 0.3%.
Dr Shariff told The Indian Express, "The survey has found one reporting of triple Talaq in one sitting out of 331 total Talaqs and khulas. This (triple Talaq) is an evil and a bad practice, but its incidents are minuscule, it almost does not exist. The sample set here is of mostly of those with some education, but that approximates national educational levels."
Dr Shariff clarified that "each respondent (in the survey) had been registered by due process".
He added, "The most important thing is the security of women who have gone through Talaq, not only triple Talaq, but what happens after the divorce to them. We believe that there is a due process followed by the community and also, women find it easy to get remarried. The court must take note of this process."
http://indianexpress.com/article/india/triple-Talaq-exception-rather-than-rule-survey-muslim-divorce-4659358/
--------
Indian Muslim teenager creates world's lightest satellite
By Tech Desk
May 16, 2017
An Indian teenager has built the world's lightest satellite which will now be put into orbit by NASA.
The satellite which was designed by 18-year-old Rifath Shaarook, weighs only 64 grams and was 3D printed using carbon fibre. The device will now go on a four-hour mission for a sub-orbital flight during which it will operate for around 12 minutes in a micro-gravity environment of space.
"We designed it completely from scratch," says Shaarook. "It will have a new kind of on-board computer and eight indigenous built-in sensors to measure acceleration, rotation and the magnetosphere of the earth."
Called KalamSat, the tiny satellite has been named after former Indian president Abdul Kalam, a pioneer of the country's aeronautical science ambitions.
Shaarook's belongs to a small town in Tamil Nadu and now works as lead scientist at Chennai-based Space Kidz India.
His project was selected in NASA's Cubes in Space challenge. The KalamSat is not the teenager's first invention who also built a helium weather balloon, as a part of nationwide competition for young scientists, at the young age of 15.
https://tribune.com.pk/story/1411304/indian-teenager-creates-worlds-lightest-satellite/
--------
Palestinian Activists Close UN Office in Ramallah In Support Of Hunger Strike
May 17, 2017
Human rights activists have shut down the United Nations office in the West Bank city of Ramallah to denounce the world body's silence on a mass hunger strike by Palestinian prisoners in Israeli jails as the protest action enters its 31 day.
In a statement released on Wednesday, the campaigners said the UN has shunned its responsibilities and chose to keep mum on the Tel Aviv regime's violation of international law.
The UN should take an immediate action to support the hunger-striking Palestinian inmates, read the statement.
The protest rally comes as hunger strike leader Marwan Barghouti is set to stop drinking water in protest against Tel Aviv's refusal to heed the inmates' calls.
In a statement released on Tuesday, the Palestinian Committee of Prisoners' Affairs quoted Barghouti's lawyer Khader Shqeirat as saying that Barghouti's decision to refuse water would be "a new turning point in the ongoing open-ended hunger strike," dubbed the Freedom and Dignity Strike.
Since April 17, more than 1,600 Palestinian prisoners have gone on hunger strike to demand appropriate medical care and treatment in Israeli jails as well as the right to pursue higher education. They are also calling for an end to the denial of family visits, solitary confinement and the so-called administrative detention, which is a form of imprisonment without trial or charge.
Separately, the media committee established to support the strike warned in a statement that the Palestinian prisoners who are refusing food have "entered a critical health condition," with symptoms such as chronic vomiting, vision impairment, fainting and an average weight loss of 20 kilograms.
"In spite of this, (hunger strikers) sent many messages confirming that they will continue the strike until their demands are achieved," the statement read.
It also raised concerns about the field clinics set up by Israel to avoid transferring the prisoners to civilian hospitals, saying the clinics are unfit to provide medical care and just pressure the detainees into breaking their strikes.
"In these clinics, the role of doctors resembles the role of jailers who offer all kinds of food to the sick detainees and bargain [with] them to provide medical treatment in return for ending the strike," the statement added.
Dozens of the hunger-striking Palestinian prisoners are said to be transferred to hospitals, one of them for internal bleeding.
On Wednesday, human rights activists and relatives of the hunger strikers shut down the UN office in the West Bank city of Ramallah to denounce the world body's silence on the protest action.
Some 6,500 Palestinians are currently being held in Israeli jails, 536 of them arbitrarily, according to figures provided by the Palestinian prisoners' rights group Addameer in January.
Palestinian inmates complain that they have been subjected to assault and torture at Israeli prisons.
http://www.presstv.ir/Detail/2017/05/17/522174/Palestine-Israel-Marwan-Barghouti
--------
International inquiry finds sulfur mustard exposure in Syria
May 17, 2017
Investigators from the global chemical weapons watchdog found that two Syrian women were exposed to sulfur mustard in an apparent attack in Aleppo province last September, a report to the United Nations Security Council said.
The Organisation for the Prohibition of Chemical Weapons (OPCW) Fact Finding Mission was not able to visit the site. Investigators based their finding on interviews with the women, an analysis of blood samples taken under their supervision, and a review of information provided by the Syrian government and Russia.
"The FFM can confirm that the two female casualties reported to have been involved in the incident in Um Hosh, Aleppo of 16 September 2016 were exposed to sulfur mustard," the mission wrote in a report to the Security Council earlier this month and made public on Tuesday.
A Russian team of investigators visited the site two months after the reported attack. The OPCW mission examined a mortar reported to be linked to the attack, which had been recovered by the Russian team and given to the Syrian government.
"Supported by the results of laboratory analysis, the FFM has determined that this mortar ... is a munition containing sulfur mustard," the report said.
The OPCW Fact Finding Mission is only responsible for determining if chemical weapons were used in attacks in Syria.
A joint United Nations and OPCW investigation could now look at the incident to determine who is to blame. This team has already found Syrian government forces were responsible for three chlorine gas attacks in 2014 and 2015 and that Islamic State militants used mustard gas.
Syria agreed to destroy its chemical weapons in 2013 under a deal brokered by Russia and the United States.
The OPCW mission is also investigating a gas attack last month in Syria that killed dozens of people and prompted the United States to launch missiles on a Syrian air base. The OPCW has said a sarin or sarin-like substance was used.
Western powers blame Syrian government forces for the attack in the rebel-held area of northern Syria. The Syrian government, which is backed by Russia, has denied responsibility.
A crackdown by Syrian President Bashar al-Assad on pro-democracy protesters in 2011 led to civil war and Islamic State militants have used the chaos to seize territory in Syria and Iraq. Half of Syria's 22 million people have been uprooted and more than 400,000 killed.
http://nation.com.pk/international/17-May-2017/international-inquiry-finds-sulfur-mustard-exposure-in-syria
--------
Southeast Asia
Indonesia seeks to ban Islamist group in wake of blasphemy rallies
May 17, 2017
The jailing for blasphemy this month of Jakarta's former governor raised fears that the moderate traditions of the world's most populous Muslim-majority nation were under siege. Now the government is fighting back with a drive to outlaw a hardline Muslim group linked to the mass protests against him.
"Hizbut Tahrir's activities threaten the sovereignty of our nation," security minister Wiranto said last week, arguing that the organisation's goals of establishing an international caliphate were in conflict with the democratic ideals of Pancasila, Indonesia's state ideology.
Many Indonesians have become spooked by the growing sway of hardline Islamist groups after they campaigned for the electoral defeat and imprisonment of Basuki Tjahaja Purnama, better known as Ahok. Both the first ethnic Chinese and the first Christian to run the country's capital, he was accused of insulting Islam by referring to a verse in the Koran during a campaign speech. Hundreds of thousands of demonstrators joined rallies against him.
The anti-Ahok campaign was widely seen as a prelude to the next national election in 2019, when conservative and Islamist forces will seek to defeat Joko Widodo, Indonesia's pluralist president who is popularly known as Jokowi and an Ahok ally.
The effort to ban the group is "part of a much bigger plan the palace has to limit the impact of this kind of Islamist mobilisation against Jokowi", said Gregory Fealy of Australian National University.
Hizbut Tahrir, which has operations worldwide, seeks the non-violent establishment of a caliphate for all the world's Muslims, which would be ruled according to Islamic law. It boasts tens of thousands of members in Indonesia, where it has operated for decades.
Many observers say the government may struggle to ban the group. Indonesia's conservative courts could block the decision — and even if they do not, approval would only come after a lengthy legal process. The move could also backfire, observers say, if members go underground and start embracing the violent tactics the organisation officially rejects.
"It looks like it was a hastily made decision," Prof Fealy says. "There should have been a careful process to dissolve an organisation in a democracy."
Some moderate Muslim organisations have signalled their support for the government's move.
The youth division of the country's largest, Nahdlatul Ulama, has in recent weeks worked with the police to break up Hizbut Tahrir gatherings in cities around the archipelago.
"The government has to be firmer," said Yaqut Cholil, the national leader of NU's youth division, a 2m-strong group. Mr Cholil said that if the ban proceeded, his organisation would help the police ensure that former Hizbut Tahrir members did not continue their activities in secret.
Mr Wiranto did not say whether the government intended to ban other hardline groups, suggesting organisations would be examined on a case-by-case basis. However, an obvious contender would be the Islamic Defenders Front (FPI), which was at the forefront of the campaign to put Ahok in prison.
Habib Rizieq, the group's firebrand leader, has spent the past few weeks overseas after being summoned by police for questioning about salacious messages he is accused of sending via a messaging app to a woman who is not his wife. But there has been no formal indication that police want to disband the group, despite the government's apparent desire to embarrass Mr Rizieq with pornography charges.
Ustadz Slamat, a spokesperson for the FPI, said on Tuesday that Mr Rizieq was due to return to Indonesia and turn himself in to the police in response to the summons.
"The FPI is useful to police and politicians," says Yohanes Sulaiman, a security analyst. He notes that the FPI co-ordinates its activities closely with state security services and politicians, whereas the more ideological Hizbut Tahrir, which generally encourages its members not to vote to avoid legitimising democracy, "is not very useful for mainstream politics".
"Basically if there is a sacrificial pawn that will get attacked for the anti-Ahok debacle it's them," he said, referring to Hizbut Tahrir.
The Islamic Defenders Front has made clear it disagrees with the move against Hizbut Tahrir.
"Our suggestion is that there is a dialogue between the government and Hizbut Tahrir Indonesia," says Mr Slamat, a spokesperson for the FPI. "The Islamic Defenders Front sees the disbanding of Hizbut Tahrir as a violation of human rights."
The group is not alone in opposing the decision.
"I myself don't think it's a particularly wise move," says Prof Fealy. He notes that while Hizbut Tahrir's activities are banned by many countries, including Germany, China and Jordan, some have decided prohibition would cause more problems than it solved.
"In Britain and Australia, one thing that ended up preventing bans is intelligence agencies saying the organisation will go underground and become harder to track."
https://www.ft.com/content/1358b1f6-39e7-11e7-821a-6027b8a20f23
--------
Shariah court in Indonesia sentences gay couple to caning
May 17, 2017
JAKARTA, Indonesia — A Shariah court in Indonesia's conservative Aceh province has sentenced two gay men to public caning for the first time, further tarnishing the country's moderate image after a top Christian politician was imprisoned for blasphemy.
The court on Wednesday said the men, aged 20 and 23, would each be subjected to 85 lashes for having sexual relations. One of the men cried as his sentence was read out and pleaded for leniency. The chief prosecutor, Gulmaini, who goes by one name, said they will be caned next week, before Ramadan starts on about May 25.
The couple was arrested in late March after neighborhood vigilantes in the provincial capital Banda Aceh suspected them of being gay and broke into their rented room to catch them having sex. Mobile phone footage that circulated online and formed part of the evidence shows one of the men naked and visibly distressed as he apparently calls for help on his cellphone. The second man is repeatedly pushed by another man who is preventing the couple from leaving the room.
International human rights groups have described the treatment of the men as abusive and humiliating and called for their immediate release. Human Rights Watch said in April that public caning would constitute torture under international law.
Prosecutors had asked for 80 lashes.
The lead judge, Khairil Jamal, said the men were "legally and convincingly proven to have committed gay sex."
He said the three-judge panel decided against imposing the maximum sentence of 100 lashes because the men were polite in court, cooperated with authorities and had no previous convictions.
Full report at:
https://www.washingtonpost.com/world/asia_pacific/shariah-court-in-indonesia-sentences-gay-couple-to-caning/2017/05/17/bd42a844-3ac2-11e7-a59b-26e0451a96fd_story.html?utm_term=.402903c390af
--------
BIMB Holdings expects earnings in current financial year to reach record high
17 May 2017
PETALING JAYA: BIMB Holdings Bhd, the owner of Bank Islam Malaysia Bhd, expects earnings for the financial year ending Dec 31, 2017 to reach another new high, even as its financing growth shows signs of slowing down.
The group reported a 12% increase in net profit to RM151.1mil in the first quarter ended March 31, as revenue improved 3.2% to RM919.6mil.
"Our main operating subsidiaries, Bank Islam and Takaful Malaysia, kept up the earnings momentum in the first quarter of 2017 to deliver stronger earnings for the group," group chief executive officer Datuk Seri Zukri Samat said in a statement.
"We believe that by staying focused on the group's strategic strengths and building on this positive momentum, they will be able to steer the group to post another year of record earnings," he added.
The bank's financing portfolio continued to grow, with net financing assets expanding 12.8% or RM4.5bil from a year ago to reach RM39.8bil at the end of the quarter.
Net financing growth, on an annualised basis, was 5.8%. The bank's financing activity expanded 14.3% last year.
"The banking industry is expected to be resilient despite the prevailing economic conditions such as the continued uncertainty in the commodity prices, the higher cost of living that weighs heavily on consumer sentiment and cautious business sentiment," the bank said in the filing with Bursa Malaysia.
BIMB said that for this year, the bank would be focusing on maintaining its asset quality and deposit drive, as well as digitalisation.
"In line with basel three rules, the bank will continue to manage liquidity and deploy capital efficiently in its operations.
Full report at:
http://www.thestar.com.my/business/business-news/2017/05/17/bimb-holdings-expects-earnings-in-current-financial-year-to-reach-record-high/
--------
Zahid denies three Turkish nationals arrested on orders from their government
May 17, 2017
KUALA LUMPUR, May 17 — Deputy Prime Minister Datuk Seri Ahmad Zahid Hamidi yesterday denied the detention of three citizens of Turkey last week was based on orders from the Turkish government.
He said the arrests were made after receiving information from the Counter-Messaging Centre (CMC) in relation to their involvement in an illegal organisation.
"The three Turkish nationals involved are members of an organisation deemed illegal in their country, and their detention was not made based on the instructions from any party.
"If human rights' bodies want to help them, they can communicate directly with the Turkish government," he told reporters during a dinner with members of the Retired Senior Police Officers' Association Malaysia (Respa) here, tonight.
On Monday, a local portal reported that the Stockholm Centre of Freedom (SCF) has called on the Malaysian government to halt its bidding on behalf of the increasingly repressive Turkish government led by President Recep Erdogan, following the arrest and deportation of three Turkish nationals from Kuala Lumpur.
In another development, Ahmad Zahid said the claim of an armed group infiltrating Lahad Datu, Sabah, had yet to be verified by the authorities, as there was no evidence to back it.
"We've checked, but so far have not found anything that can be linked (to the claim), so there is no evidence that the report was accurate.
On Monday, it was reported that a 52-year-old farm worker lodged a police report after he came across five armed men at Sawit Block 8, Felda Sahabat 2, Cenderawasih near Lahad Datu while cleaning a palm grove.
Full report at:
http://www.themalaymailonline.com/malaysia/article/zahid-denies-three-turkish-nationals-arrested-on-orders-from-their-governme
--------
Jokowi to attend Arab Islamic American Summit in Riyadh
May 16, 2017
Leader of the world's biggest Muslim-majority country President Joko "Jokowi" Widodo is set to attend the Arab Islamic American Summit in Riyadh, Saudi Arabia on Sunday, a top official has confirmed.
Saudi Arabian Ambassador to Indonesia Osama bin Mohammed Abdullah Al Shuaibi said on Tuesday that Jokowi would participate in the first ever summit to be held between leaders of Muslim-majority countries and US President Donald Trump, which aims to decouple Islam's image from terrorism.
For Trump, the visit to Saudi Arabia will be his first state visit.
Al Shuaibi said leaders at the summit aimed to present to the US a united stance of the Muslim world against the Islamic State (IS) group and terrorism at large.
"This summit will show President Trump that all Islamic countries have nothing to do with IS. They do not represent Islam. We are fighting these people and they deceive our people, our youth, into fighting with them," Al Shuaibi told The Jakarta Post on Tuesday.
The ambassador stressed that the IS group was not Muslim, saying the terrorist group was against Islam and delivered the wrong image of Islam to the people. Islam means peace, Al Shuaibi added, while urging united cooperation against the radical group.
Full report at:
http://www.thejakartapost.com/news/2017/05/16/jokowi-to-attend-arab-islamic-american-summit-in-riyadh.html
--------
India
Muslim law board hiding Talaq facts, says umbrella outfit of 14 bodies
Mohammed Wajihuddin
May 17, 2017
MUMBAI: Months before the Centre called the All India Muslim Personal Law Board (AIMPLB) affidavit in the SC "misogynist" for saying that men are superior to women and therefore enjoy the right to end marriage irrevocably through triple Talaq, an influential Muslim body had objected to this stand by the board.
All India Muslim Majlis-e-Mushawarat, an umbrella body of 14 Muslim organisations, had slammed the AIMPLB for not mentioning in its affidavit the methods of Talaq practiced by the Ahle Hadees and Jafri (Shia) sects, who form two major subsets within the community.
The two sects consider Talaq uttered thrice in one sitting as one Talaq and allow the process of reconciliation and mediation between the couple as mandated by the Quran.
The Mushawarat pointed out that the board seems to be representing only the Hanafi school of thought.
In its letter of October 4, 2016 to AIMPLB chief Maulana Syed Rabe Nadvi, Mushawarat criticised the board's legal stand that men and women do not have equal rights, saying it would only "strengthen the allegations that Islam considers women inferior to men" and fuel Islam bashing.
Mushawarat said the board was concealing the fact that sects like Ahle Hadees and Jafri (Shia) don't allow triple Talaq and instead insist on reconciliation and mediation.
"The board is not a platform of just one sect (of Muslims), but it also has people belonging to Ahle Hadees and Jafri sects. Therefore, it is not proper for the board to represent just Hanafi and Sunni sects in the court," the letter said.
"The board hasn't responded to the two letters we had sent to it, raising our objections to some loopholes in its affidavit in the SC. It has not presented the Muslim case very strongly," said Mushawarat's president Naved Hamid.
Mushawarat represents several leading Muslim bodies like Jamaaet-e-Islami and Jamiatul Ulema-e-Hind.
The Centre has expressed dismay over the board's submission that men are more likely to "control emotions" and not take "hasty decisions." It has also sought an apology from the board.
http://timesofindia.indiatimes.com/india/muslim-law-board-hiding-Talaq-facts-says-umbrella-outfit-of-14-bodies/articleshow/58707845.cms
--------
Triple Talaq matter of faith like Lord Rama's birthplace: Muslim board
May 16, 2017
NEW DELHI: Equating the issue of triple Talaq with the belief that Lord Rama was born in Ayodhya, the All India Muslim Personal Law Board told the Supreme Court that these were matters of faith and cannot be tested on grounds of constitutional morality.
"If I have faith that Lord Rama was born at Ayodhya, then it's a matter of faith and there is no question of constitutional morality" and it cannot be interfered with by a court of law, former Law Minister and senior lawyer Kapil Sibal, representing the Board, said while drawing an analogy between triple Talaq and the belief about Lord Rama.
"Triple Talaq has been there since 637 AD. Who are we to say that this is un-Islamic. Muslims are practising it for last 1,400 years. It is a matter of faith. Hence, there is no question of constitutional morality and equity," he told a five-judge Constitution bench headed by Chief Justice J S Khehar said.
Sibal was countering the arguments put forth by the opponents of triple Talaq who have been arguing for the past two days, with the government also saying a new law to regulate marriage and divorce among the Muslim community would be brought, if all forms of divorce including triple Talaq are struck down.
The AIMPLB counsel said the age-old practice was "part of my faith and you cannot determine what should be my faith. This is the question and this is the issue". He asked whether the court should decide the faith of over 16 crore people.
During the day-long hearing before a bench, which also comprised Justices Kurian Joseph, R F Nariman, U U Lalit and Abdul Nazeer, Sibal said the issue of triple Talaq was a matter of personal law, protected under the Constitution.
He referred to holy 'Quran', 'hadith' and interpretations attributed to companions of Prophet Muhammad and scholars on divorce to drive home the point that the issue of triple Talaq was a matter of faith and hence beyond judicial scrutiny.
The Muslim body said despite the existence of laws on dowry prohibition and guardianship, Hindu customs were being allowed to remain like dowry is prohibited but gifts are allowed.
"When it comes to Hindu law, you protect all customs but when it comes to Muslim, you start raising questions over customs. Like when it comes to Dowry prohibition Act or Guardianship Act you follow customs and protect them,"he said.
The bench asked Sibal as to what extent of Muslim Personal Law was part of the religion.
"Some part of Personal Law may be part of religion but some part may not be. There are different schools of thought for Shias and Sunnis. The foremost thing is the essence of Quran which is the principal thing," he said.
Sibal said that ceremonies related to birth, marriage, divorce, properties and death are decided by family influenced by social norms, which cannot be tested on the ground of constitutional morality.
The senior advocate also said the practice of triple Talaq started in 637 AD after the death of Prophet Muhammad in 632 AD by his companions.
He said no legislation can take the place of a custom, being practised over 1400 years, and it cannot be termed un- Islamic.
Full report at:
http://timesofindia.indiatimes.com/india/triple-Talaq-matter-of-faith-like-ramas-birth-place-muslim-board/articleshow/58703291.cms
--------
'Azadi' cries force J&K CM Mehbooba Mufti to retreat
M Saleem Pandit
May 17, 2017
SRINAGAR: J&K chief minister Mehbooba Mufti had to stage a retreat after scores of Kashmiri women raised 'azadi' slogans and threw chairs and empty plastics bottles towards the podium at an event where she had gone to address women selfhelp groups.
Around 15,000 women of various self-help groups had come to Sher-e-Kashmir international convection complex (SKICC) to participate in an event organised by Jammu & Kashmir government on Tuesday.
No sooner than Mehbooba arrived at the podium and started narrating success stories of self-help groups, dozens of women stood up and started raising 'profreedom' slogans. Other women the joined in.
Although the CM stayed for some time, she was taken away when the situation worsened, with angry women throwing chairs and empty plastic bottles towards the podium, sources said. Mehbooba expressed displeasure with the poor arrangements at the venue.
An official spokesperson said the CM expressed her disappointment with the organisers for lack of basic facilities at the venue like drinking water, sanitation or medical help for the women who had come for the meeting.
Full report at:
http://timesofindia.indiatimes.com/india/azadi-cries-force-jk-cm-mehbooba-mufti-to-retreat/articleshow/58709064.cms
--------
Want to see Palestine & Israel co-exist peacefully: India
May 17, 2017
NEW DELHI: India reaffirmed its support to Palestine on Tuesday with Prime Minister Narendra Modi telling Palestinian President Mahmoud Abbas that he hoped to "see the realisation of a sovereign, independent, united and viable Palestine, co-existing peacefully with Israel".
India and Palestine signed five agreements after talks between Modi and Abbas, who is on a four-day visit to India. Ahead of Abbas' visit, India had declared that it would continue to assist developmental projects in Palestine.
After his talks with Abbas, Modi said, "Both sides, through practical cooperation, will work together to build Palestine's economy and contribute to improving the lives of its people. We will continue to support the development and capacity-building efforts of Palestine."
The two sides signed agreements in agriculture, healthcare, youth affairs and sports and technology and electronics, along with a visa exemption pact for officials of both countries.
Abbas visited the C-DAC (Centre for Development of Advanced Computing) centre in Noida, in view of India's offer to help build a techno-park in Ramallah.
Modi said, "Once completed, it will serve as an IT hub in Palestine offering a one-stop solution for all IT-related training and services."
The bulk of the conversation covered the situation in West Asia and the state of the peace process. Palestine has always asked for Indian intervention in its conflict with Israel.
While India has taken an interest in the peace process, New Delhi is unlikely to expend more political capital trying to solve a problem that is beyond its ken.
It is the first visit by Mahmoud Abbas during the Modi government's tenure and comes on the heels of his surprisingly successful visit to Washington DC where he was given an enthusiastic welcome by Donald Trump.
Trump is expected to visit Israel and Palestine later this month on his first tour overseas, which is expected to give fresh oxygen to a struggling process. Martin Indyk of Brookings Institution and former special envoy to the region told a gathering here on Tuesday that while Trump was expected to be very pro-Israel in his outlook, two developments have caught Israelis by surprise — one that Trump publicly asked the Israeli government to stop settlement activity because that would make a two-state deal more difficult and second his invitation to Abbas.
Both added to Trump's unpredictability index, but the new US President has given enough indication that he might want to hammer a deal.
Abbas, Indyk said, is himself under pressure as Palestine's top Arab supporters have been trying to overthrow him. As it is, the global rise of Islamic terror groups like al Qaeda and IS, as well as the Arab revolutions have robbed the Palestinian cause of "altitude".
In the past two decades, India has itself moved away from a singular exposure to Palestine by building a big strategic relationship with Israel.
Full report at:
http://timesofindia.indiatimes.com/india/want-to-see-palestine-israel-co-exist-peacefully-india/articleshow/58708614.cms
--------
Security issue in Northeast: Religious radicals may lead to terror, some agents working as NGOs, says Rajnath Singh
May 17, 2017
Emphaising that religious radicalisation is a serious security threat and if not checked in time "it will turn into terrorism", Union Home Minister Rajnath Singh on Tuesday said that some of these "agents" of radicalisation may be "operating in the name of NGOs".
The minister said that some of these "agents" even get foreign funding. "So it is necessary to closely monitor their foreign funding and utilisation," he said.
Addressing Chief Secretaries and Directors-General of Police (DGPs) of the north-eastern states, Singh said it was essential to identify those responsible for attempts to spread radicalisation because the region was especially vulnerable.
"Some of these agents are operating in the name of religion, while some others are operating in the name of NGOs, or (in the garb of) carrying out development programmes for individuals, socio-cultural uplift and education," he said during a review meeting on the security scenario in the north-eastern states. National Security Adviser Ajit Doval and other top security officials were part of the meeting.
"If we talk about the future security threats, radicalisation has come as a huge security challenge. Radicalisation is a transnational phenomenon," he said.
Singh also expressed concern over proliferation of illegal arms in the region and asked the DGPs to launch organised campaigns against arms smugglers.
Although most of the Northeast is now free from militancy, Singh said, proliferation of illegal arms needs to be tackled. "Illegal arms in such large numbers leads to more crimes. I urge the DGPs to launch an organised campaign against illegal arms traders," he said.
He said arms, narcotics and fake Indian currency notes are being smuggled in through the international border abutting the Northeast. "These borders are practically un-policed. There is a need to set up more police stations…(to) check cross-border crimes and bring a sense of security among people who live in these remote areas," he said.
The Home Minister said that there had been a significant improvement in the security situation in the Northeast in last few years. "Most of the areas are now free from insurgency and militants have been losing support even in the few pockets where they had influence," he said.
Full report at:
http://indianexpress.com/article/india/security-issue-in-northeast-religious-radicals-may-lead-to-terror-some-agents-working-as-ngos-says-rajnath/
--------
Mideast
76 Palestinian hunger strikers hospitalized in critical condition
May 16, 2017
Seventy-six hunger-striking Palestinian inmates held in Israeli prisons have been hospitalized due to critical deterioration of their health conditions, as a mass hunger strike by Palestinian prisoners has entered its 30th day.
The Arabic-language al-Aqsa satellite television network announced the news on Tuesday, adding that the inmates, who are all kept in Israel's Ofer prison, were taken to Hadrim field hospital for treatment and possible force-feeding.
It added that a day earlier, 36 other hunger-striking prisoners from the same detention center had been taken to the hospital for similar reasons.
Meanwhile, Imprisoned hunger strike leader, Marwan Barghouti, has said that he has decided to stop drinking water to express his profound protest at the conditions in Israeli prisons.
According to a statement released by the Palestinian Committee of Prisoners' Affairs on Tuesday, 57-year-old Barghouti, a former top leader of the Palestinian Fatah Movement, would escalate the protest action in response to Tel Aviv's persistent refusal to meet the hunger strikers' demands.
Barghouthi, the statement added, has said that the Israeli regime must agree to all of the demands made by hunger strikers under his leadership without bargaining or making compromises.
Since April 17, some 1,600 Palestinian prisoners, from across the political spectrum, have joined the protest action, led by Barghouti, dubbed the Freedom and Dignity Strike. The strikers are demanding basic rights, such as an end to the policies of administrative detention, solitary confinement and deliberate medical negligence.
The Israeli regime has sentenced Barghouti, a highly popular figure among Palestinians, to serve five life terms in prison over his role in the Palestinian Intifada (Uprising). The Israel Prison Service (IPS) has placed him in solitary confinement since the initiation of the strike.
The IPS has continued to punish the hunger-striking detainees by placing them in solitary confinement and denying family and legal visits by their lawyers since the strike began on Palestinian Prisoners' Day.
The Tuesday statement also quoted lawyer, Khader Shqeirat, as saying that Barghouti's decision to begin a dry hunger strike would be "a new turning point in the ongoing open-ended hunger strike."
According to the statement, the Israeli regime is responsible for leaving the Palestinian inmates with no other choice but to go along a "tragic and disastrous road," by adopting "a criminal stance regarding the just demands of prisoners."
The committee also called on the UN Security Council and the General Assembly to hold an emergency meeting concerning the inmates' hunger strike in an attempt to compel Tel Aviv to respect the prisoners' rights enshrined under the international law. It further called on the world body to oblige the Israeli regime to put an end to its policy of inflicting a "slow death" on the Palestinian prisoners.
The Palestinian inmates regularly go on hunger strikes in protest against the administrative detention policy and their harsh prison conditions.
Back in 2012, a similar hunger strike, involving some 2,000 Palestinian inmates, ended after an agreement was reached with Israeli authorities to terminate the policy of incarceration without trial or charge.
Some 6,500 Palestinians are currently being held in Israeli jails, 536 of them arbitrarily, according to figures provided by the Palestinian prisoners' rights group, Addameer, in January.
http://www.presstv.ir/Detail/2017/05/16/522133/Palestine-Israel-prison-hunger-strike-water-Ofer-Barghouti
--------
Intelligence: ISIL Terrorists Planning to Attack Russian Warships in Turkey's Waters
May 16, 2017
The Arabic desk of RT quoted the Turkish-language Habertürk daily as saying that based on reliable intel the ISIL is planning to launch missile attacks on the Russian navy fleet as it sails through Istanbul's Bosphorus Strait.
Some 146 locations that ISIL militants could stage missile attacks from have been spotted by Turkey, the daily reported on Tuesday, adding that Turkey has established control over these locations.
According to the daily, aerial and naval protection is being provided to the Russian ships during passage. A police helicopter and two assault boats accompany the ships also as a precaution against attacks.
Russian warship "Caesar Kunikov" passed through the Bosphorus on May 15 with a Turkish coast guard boat accompanying it. It was seen that soldiers were on duty on the ship's deck.
Full report at:
http://en.farsnews.com/newstext.aspx?nn=13960226001405
--------
Ansarullah Ready for Biggest Operation to Defend Yemen's Territorial Waters
May 16, 2017
The Arabic-language September 26 news website quoted an informed military source as saying that the Yemeni forces are ready for launching operations codenamed 'al-Bahr al-Masjour' to defend their country against enemy aggression.
According to the report, if the Saudi and US aggressors approach the Yemeni coasts and the Red Sea waters, the army and its allies will start their largest-ever defensive operation.
Saudi Arabia launched brutal aggression against its Southern neighbor on 27 March 2015 in a bid to restore power to Yemen's resigned president who fled to Riyadh after Yemeni people's uprising in 2015.
Western countries especially the US, Britain are among key suppliers of weapons used by the Saudi regime to commit atrocities and war crimes in Yemen.
Over 14,100 Yemenis, mostly civilians including women and children have been killed during the ongoing Saudi-leg aggression on Yemen.
Full report at:
http://en.farsnews.com/newstext.aspx?nn=13960226001281
--------
Trump to visit Jewish, Christian holy sites in Jerusalem
May 17, 2017
President Donald Trump will visit the Western Wall in Jerusalem, Judaism's holiest prayer site, the White House said on Monday amid controversy in Israel over reported comments by a U.S. diplomat that the wall was in the occupied West Bank.
Trump will say a prayer at the Western Wall, national security adviser H.R. McMaster said, as well as pay a visit to the Church of the Holy Sepulchre, considered by Christians to be the site of Jesus' tomb.
The wall, representing the remains of the Jewish Second Temple, sits on territory Israel captured in the 1967 Middle East war and has been a flashpoint of violence in the Israel-Palestinian conflict.
Israel will be the second stop on Trump's first foreign trip, following Saudi Arabia. The Republican president will meet with Israeli President Benjamin Netanyahu in Jerusalem and Palestinian leader Mahmoud Abbas in the West Bank city of Bethlehem.
The announcement of Trump's visit to the Jewish holy site came amid the controversy in Israel over a report that a U.S. diplomat preparing Trump's visit referred to the Western Wall as being part of the Israeli-occupied West Bank.
Israel's Channel 2 reported that during a planning meeting between U.S. and Israeli officials, the Israelis were told that Trump's visit to the wall was private, Israel did not have jurisdiction in the area and that Prime Minister Benjamin Netanyahu was not welcome to accompany Trump there.
Israel considers all of Jerusalem as its indivisible capital, a claim that is not recognized internationally.
An official in Netanyahu's office said on Monday that Israel has contacted Washington about the matter.
Asked about the matter, a White House official told Reuters on Tuesday: "These comments were not authorized by the White House. They do not reflect the U.S. position and certainly not the president's position."
Full report at:
http://nation.com.pk/international/17-May-2017/trump-to-visit-jewish-christian-holy-sites-in-jerusalem
--------
Commander: Iran Puts into Operation New Air Defence Missile Systems
May 16, 2017
"New missile systems are being used in the country's air defense network after successful operational tests and they are utilized in missions," Esmayeeli said in Tehran on Tuesday.
He also underlined that the home-made artillery and missile systems are sufficient for the country to confront all hostile air targets.
In relevant remarks in January, General Esmayeeli underlined that Iran's missile and radar systems that have multi-folded in recent years are fully prepared to confront any threat.
"Our missile, electronic tapping and radar systems have multi-folded and we can confront the modern threats of the world," General Esmayeeli told reporters in Tehran.
He also stressed that Iran's Air Defense units have been deployed in some 3,700 locations across the country to give a crushing response to enemies' threats.
Also, in September, General Esmayeeli said that the skilled Iranian Air Defense Forces are using home-made state-of-the-art weapons and equipment to defend the country, he said that they have discouraged the enemies from launching a military attack against Iran by enhancing their preparedness and diversifying their options to stand against different types of threats.
General Esmayeeli made the remarks two days after the country's Armed Forces put into operation the home-made 'Nazir' radar system with the capability of detecting radar-evading targets and fighting against electronic warfare.
"Nazir radar system was put into operation and from now on, no radar-evading flying object can enter the Islamic Iran's skies without permission," General Esmayeeli said.
"The radar is special to detecting the small flying objects and MQ1, RQ4 and U2 aircrafts and can easily detect and trace ballistic and cruise missiles and most importantly, the radar-evading aircraft," he added.
Full report at:
http://en.farsnews.com/newstext.aspx?nn=13960226000849
--------
Kuwait ready to host Yemeni talks under certain conditions
16 May 2017
Kuwait has announced its readiness to host the parties involved in the Yemeni conflict, provided that they reach an agreement that would end the crisis rather than going into a new marathon of consultations, as happened last year.
This comes in conjunction with the new visit of UN envoy to Yemen Ismail Ould Sheikh Ahmed aiming to revive the peace process in Yemen and reach a truce before the month of Ramadan.
Kuwait's Deputy Foreign Minister Khalid al-Jarallah said that his country is committed to address the situation in Yemen, especially that it hosted a three-month peace consultation last year.
The tour of the UN envoy began from Riyadh, where he met with leaders of the legitimate government and he informed the ambassadors of the countries sponsoring the political settlement in Yemen about the latest developments and the suggestions for a solution that appears to have included some amendments.
Full report at:
https://english.alarabiya.net/en/News/middle-east/2017/05/16/Kuwait-ready-to-host-Yemeni-talks-but-conditions-apply.html
--------
Turkey detains editor of opposition Cumhuriyet daily
May 16, 2017
The editor of a leading Turkish opposition newspaper has been formally arrested for allegedly spreading "terrorist propaganda" as Ankara intensifies a massive crackdown on reporters and media following the coup attempt of July 2016 against President Recep Tayyip Erdogan.
The state-run Anadolu news agency said on Tuesday that Oguz Guven, the editor of Cumhuriyet newspaper's online edition, was formally arrested Monday evening.
He had been taken to Istanbul police headquarters on Friday.
A court issued a warrant for the arrest of Guven after the newspaper posted a message on Twitter about the death of Mustafa Alper, the chief prosecutor of the southwestern province of Denizli, who was killed in a traffic accident last week.
The online breaking news, which was deleted in 55 seconds, described Alper as having been "mowed down" by a truck.
Citing the court decision, Anadolu said the tweet's wording was chosen to create a "perception of warning" for prosecutors working against a network run by Fethullah Gulen, a Turkish cleric based in the United States.
Reporting Guven's testimony, Cumhuriyet said the news was posted in a hurry, leading to an error in language.
Guven has also defended himself by saying that the phrase "mowed down" is often used to describe traffic accidents and was not ill-intentioned.
"We did not aim to commit a crime," the editor said.
On Tuesday, Turkish Prime Minister Binali Yildirim said the judiciary would "do what's necessary to people using inappropriate expressions" following Alper's death.
Alper filed the first indictment against Gulen's network following the coup attempt. The Turkish government blames Gulen for orchestrating the coup, which he denies.
Twelve journalists and senior staff members of Cumhuriyet are imprisoned pending trial on charges of "aiding terrorist organizations."
The newspaper is known for its independent reporting. Last year, the daily's former editor-in-chief, Can Dundar, fled to Germany after a Turkish court sentenced him to five years and 10 months in prison over a May 29, 2015 story that exposed trucks of Turkish National Intelligence Organization (MIT) carrying about 1,000 mortar shells, hundreds of grenade launchers and more than 80,000 rounds of ammunition for light and heavy weapons to Takfiri terrorist groups in neighboring Syria.
Full report at:
http://www.presstv.ir/Detail/2017/05/16/522124/Turkey-Cumhuriyet-Guven
--------
Arab World
IS 'on brink of defeat' after losing 90pc of west Mosul
May 17, 2017
BAGHDAD - Iraqi forces have recaptured nearly 90 percent of west Mosul from the Islamic State group and militants in the city are on the "brink of total defeat," military spokesmen said Tuesday.
Iraqi forces launched the massive operation to retake Mosul from IS nearly seven months ago, fighting their way to the militant-held city, retaking its eastern side and then attacking the west.
Brigadier General Yahya Rasool, spokesman for Iraq's Joint Operations Command, told a news conference in Baghdad that IS now controls just over 10 percent of west Mosul.
Colonel John Dorrian, the spokesman for the US-led international coalition against IS, said that the end was near for militants in the city. "The enemy is completely surrounded," Dorrian told the news conference. "The enemy is on the brink of total defeat in Mosul." The drive to retake Mosul has been supported by a campaign of coalition air strikes in and around the city. "More than 300 vehicle-borne improvised explosive devices (car bombs) have been destroyed by coalition strikes in Mosul," Dorrian said.
"Our strikes have also destroyed more than 200 Daesh tunnels and more than 1,000 of their fighting positions," he said, using an Arabic acronym for IS.
The militant group now controls just a handful of neighbourhoods around the Old City, one of the country's heritage jewels.
The area's narrow streets and closely spaced buildings make it difficult for federal forces to take on the militants, requiring them to fight on foot instead of from vehicles as they have previously done.
Half a million people are currently displaced as a result of the battle for Mosul, and some 250,000 civilians are estimated to still be trapped inside the city's west.
The number of those fleeing has been on the rise, with Thursday seeing around 20,000 people fleeing west Mosul, the Norwegian Refugee Council said, in the biggest single-day displacement since the start of the operation.
The presence of a large civilian population, which either chose not to leave or was prevented from doing so by IS, complicates any final assault to seal victory in Mosul.
While coalition air strikes have aided the advance of Iraqi forces, they have also reportedly caused hundreds of civilian casualties in the city.
Human shields have become a central feature of the vastly outnumbered militants' defences, and IS has stopped at nothing to deter people from escaping the city, including killing people who seek to flee.
Trapped residents reached by AFP inside IS-held areas have also recently warned that hunger was starting to kill more people than the fighting.
In eastern Mosul, life returned to a semblance of normality fairly quickly after Iraqi forces drove the militants back neighbourhood by neighbourhood until the area was fully recaptured earlier this year.
IS overran large areas north and west of Baghdad in 2014, but Iraqi forces backed by US-led air strikes have since retaken much of the territory they lost to the militants.
http://nation.com.pk/international/17-May-2017/is-on-brink-of-defeat-after-losing-90pc-of-west-mosul
--------
Saudi Arabia accuses Iran of 'deception' and supporting terrorism
17 May 2017
The Saudi mission to the UN accused Iran of "deception" and of "supporting terrorism and threatening stability in the region."
In a letter to the UN secretary general and to the president of the UN Security Council, the mission said Iran violated international law through its practices and caused war crimes and crimes against humanity.
It added that Iranian armed militias continue to threaten stability in the region and peace in the world noting that the Iranian regime does not hide its support of terrorism.
The letter described the Iranian Revolutionary Guards as a tool that exports extremist Iranian ideology and spreads terrorism in the world by supporting extremist militias with arms, money and people, such as the case with the Hezbollah terrorist organization and the sectarian militias in Iraq.
Iran was also accused of continuing to support Houthis in Yemen for the purpose of occupying the country and threatening neighboring Saudi Arabia's security.
Full report at:
https://english.alarabiya.net/en/News/gulf/2017/05/17/Saudi-Arabia-accuses-Iran-of-deception-and-supporting-terrorism.html
--------
Trump to sign several deals with Saudi Arabia during Riyadh visit
17 May 2017
US President Donald Trump meets Saudi officials in Riyadh on Saturday and is expected to sign several agreements with the kingdom during his trip.
Trump will participate in a Twitter forum with young people, National Security Advisor H.R. McMaster said on Tuesday. The Twitter event will also host Malala Yousafazai and Twitter's Jack Dorsey.
Trump will meet with 56 Arab and Muslim leaders to discuss combating extremism and cracking down on illicit financing under the summit slogan "Together We Prevail".
He will also deliver a speech on "the need to confront radical ideology" and participate in the inauguration of a new center intended "to fight radicalism and promote moderation," McMaster said.
A website was launched detailing the agenda of the summits, which will include three separate meetings.
Business opportunities
An inaugural Saudi-U.S. CEO forum will be held in Riyadh on Saturday in which several deals are expected to be signed in defense, electricity, oil and gas, industrial and chemical sectors. New licenses for US companies to operate in the Kingdom also will be issued.
The CEO of state oil giant Saudi Aramco is expected to sign deals with top US companies to promote local manufacturing.
General Electric Co is due to sign several memoranda of understanding. Saudi Basic Industries Corp 2010.SE and US oil company Exxon Mobil Corp are also expected to sign a protocol agreement to develop their joint chemical project in Texas, a source close to the matter said.
The White House official said the kingdom was in the final stage of negotiating a $100 billion arms deal.
A New York Stock Exchange delegation is also expected to visit Saudi Arabia after Trump to try to lure a listing by Aramco, slated for 2018 and worth about $100 billion.
World stock exchanges are vying for slices of Aramco's initial public offering, expected to be the largest in history, with Hong Kong currently the frontrunner among bourses in Asia because of its strategic links to key Saudi oil importer China.
Full report at:
https://english.alarabiya.net/en/News/gulf/2017/05/17/Trump-to-sign-several-deals-with-Saudi-Arabia-during-Riyadh-visit.html
--------
ISIL Fails to Cut off Syrian Forces' Supply Line to Aleppo
May 16, 2017
The sources said that simultaneous with the army's rapid advances in Eastern Aleppo to drive ISIL out of the province, the ISIL launched a large-scale assault to cut off the Syrian government's only supply route to Aleppo province once again, hitting hard the army positions in the al-Azib Valley near the Ithriya-Khanasser Road.
The army soldiers engaged in fierce clashes with the ISIL and fended off their attack, inflicting major losses on them.
ISIL has launched several rounds of attacks to take control of Ithriya-Khanasser road in the last two days after the army men impose full control over Jarah airbase and its surroundings.
Informed sources said on Monday that the army troops, backed up by the country's Air Force, continued their anti-ISIL operations around the newly-liberated Jarah airbase to stretch their chain of security around the military airport in Eastern Aleppo.
The sources said that the army soldiers continued to hit ISIL's positions and managed to take control over the last hill overlooking the Jarah airbase.
They added that the army men, meantime, fortified their positions in the villages of Khirbet Aqleh, Jarah al-Kabirhe and Jarah al-Saqirah, advancing towards the rest of the villages that are still under ISIL's control.
Full report at:
http://en.farsnews.com/newstext.aspx?nn=13960226001280
--------
Iraq: Few Neighbourhoods in Western Mosul Still under ISIL Control
May 16, 2017
The Arabic-language al-Mayadeen quoted the Iraqi Joint Operations Command as saying that the Iraqi forces have 90 percent of Western part of Mosul under their control.
In the meantime, General Command of "Qademoun Ya Nineveh Operation" dropped thousands of leaflets over the few regions remaining under ISIL control, calling on civilians to remain in their homes and wait for the arrival of Iraqi forces.
The leaflets urged civilians not to use their vehicles in Mosul streets as the Iraqi fighter jets will target any vehicle moving in the streets.
Reports said on Monday that the Iraqi Federal Police forces engaged in fierce clashes with ISIL and took back control over al-Uraybi district, laying siege on ISIL in five neighborhoods.
The Joint Operations Command declared controlling 89.5 percent of Western Mosul and killing 16,467 members of ISIL.
"The total deaths of ISIL have reached up to 16,467 militants until yesterday," Rasoul said in a press conference earlier today.
According to Rasoul, 679 booby-trapping vehicles, 11 headquarters of the group, 47 drones and 76 booby-trapping workshops were destroyed while 6,661 bombs and 217 explosive belts were defused.
He stressed that "89.5 percent of Western Mosul was liberated. Only few districts are remaining under the terrorists' control."
Rasoul added that the popular forces of al-Hashd al-Shaabi made extreme advance toward Qairawan and Baaj desert regions in Southwestern countryside of Mosul.
The general underlined that 100 percent of districts in Eastern Mosul is under control of the Iraqi troops, and life has returned back to normal.
A spokesperson of the Iraqi command said on Monday that ISIL militants controlled only nine percent of territories in Western Mosul, as battles reach the group's final strongholds.
Spokesman for the Iraqi Joint Operations Command Brig. Gen. Yahia Rasoul said that the Iraqi forces recaptured the Northern section of 17 Tamuz, the first district ISIL captured in the city in 2014.
He added that only a few number of militants were remaining in the city, suffering scarcity of food and combat supplies.
Meanwhile, Federal Police chief Shaker Jawdat told a local news outlet that his forces killed 173 ISIL members while taking control over the al-Uraybi and Refaie districts. He said forces had also recaptured the Eqtesadi'yeen district.
According to Jawdat, 60 senior ISIL members fled with their families from 17 Tamuz.
Full report at:
http://en.farsnews.com/newstext.aspx?nn=13960226001154
--------
Syrian Army Scores More Victories against ISIL in Central Homs
May 16, 2017
The army men engaged in fierce clashes with ISIL Northwest of the T4 airbase approximately 20km away from the Eastern outskirts of Homs city, capturing a number of hills East and Northwest of al-Tafhah region.
Tens of ISIL fighters were killed and several military vehicle of the terrorist group were destroyed in the attack.
In the meantime, the army continued military operation in the Palmyra countryside and hit ISIL's strongholds along the main road to the strategic T-3 Pumping Station East of the Talilah Crossroad.
The Syrian pro-government forces are to capture the T-3 Pumping Station, which is a strategic site along the road to Southwestern Deir Ezzur.
Well-informed sources said on Monday that the Lebanese Hezbollah Resistance Movement deployed hundreds of fighters in two main fronts in Southern Syria near the border with Jordan to prevent the US-backed militants from moving towards Deir Ezzur.
The sources said that the Hezbollah Movement deployed 12 regiments with 1,000 fighters to Homs, Dara'a and Quneitra to face the US-backed militants in al-Tanf border crossing and foil Washington's plan for the capture of Deir Ezzur.
The sources said that the Syrian Army troops and their popular allies were trying hard to intensify their operations in Badiyeh (desert) to reach the border with Iraq and Jordan to prevent the militants backed up by the US and Jordan from attacking Deir Ezzur via the Syrian border with Jordan.
The sources further added that advances of the Syrian soldiers and Hezbollah towards the border with Iraq would be done via two flanks, including Damascus Badiyeh and Eastern Homs, which was considered to be the Syrian units' base to launch their operation to lift ISIL's siege on Deir Ezzur city and airbase.
Field sources, meantime, reported that the pro-government forces were supposed to advance in parallel towards the border with Iraq to block the movements of the militants that were trying to enter Syria through border with Jordan and from areas close to Iraq.
Full report at:
http://en.farsnews.com/newstext.aspx?nn=13960226000889
--------
Terrorists Violate De-Escalation Zones Agreement again in Syria's Aleppo
May 16, 2017
Missile and artillery units of Ahrar al-Sham and Tahrir al-Sham Hay'at shelled the army positions in Jam'iyat al-Zahra district and around al-Rashedeen district in the Western part of Aleppo city, breaching the de-escalation zones agreement.
The Syrian Army's artillery and missile units pounded terrorists' positions heavily in the battlefields and al-Lairamoun district in Aleppo's outskirts in retaliation for the terrorists' attacks.
In the meantime, terrorists embarked on dispatching forces and military equipment towards Mount Sheikh Barakat and the town of Sheikh Suleiman in Western countryside of Aleppo city.
In relevant developments in the province on Friday, missile units of Tahrir al-Sham Hay'at (the Levant Liberation Board) terrorists opened heavy fire at a village in a de-escalation zone in Southern Aleppo.
The sources said that despite a safe zone covering the region, the al-Qaeda-affiliated Tahrir al-Sham Hay'at fired 40 GRAD missiles on an unidentified village in Southern Aleppo.
Tahrir al-Sham has not agreed to the Astana talks which guaranteed no airstrikes over Idlib and Aleppo in return for the cessation of hostilities.
Nevertheless, the Syrian Army and its allies are likely to retaliate on militant-held positions.
Full report at:
http://en.farsnews.com/newstext.aspx?nn=13960226000839
--------
US Treasury sanctions Syrians and entities linked to government
17 May 2017
The US Treasury said it imposed sanctions on Tuesday against five people and five entities accused of providing support to Syria's government or linked to those previously sanctioned over the Syrian government's violence against its citizens.
Among those put on the Treasury sanctions black list are Muhammad Abbas, a cousin of Rami Makhlouf, a dominant business figure in Syria and himself a cousin of Syrian President Bashar al-Assad. The Treasury sanctioned Makhlouf in 2008, accusing him of benefiting from and aiding the corruption of Syrian government officials.
The Treasury said Abbas carried out Makhlouf's financial interests. It also sanctioned the Al-Bustan Charity and its director, saying the charity was owned or controlled by Makhlouf.
Also blacklisted were Ihab and Iyad Makhlouf, Rami Makhlouf's brothers, for helping Rami Makhlouf or the Syrian government evade sanctions. Ihab Makhlouf is the vice chairman of Syrian mobile phone company Syriatel, which Rami Makhlouf owns.
Full report at:
https://english.alarabiya.net/en/News/middle-east/2017/05/17/US-imposes-sanctions-on-Syrians-and-entities-linked-to-regime.html
--------
Damascus: Prison crematorium claims by the US are 'totally unfounded'
16 May 2017
US claims that Syria's regime is using a prison crematorium to destroy the remains of thousands of murdered detainees are unfounded and disconnected from reality, Damascus said on Tuesday.
"These allegations are totally unfounded, they are nothing but the product of the imagination of this administration and its agents," state news agency SANA quoted the foreign ministry as saying.
"Successive US administrations have repeatedly fabricated lies and allegations to justify their aggressive and interventionist policies in other sovereign countries," the ministry said.
"Yesterday the US administration pulled out a new Hollywood screenplay disconnected from reality, accusing the Syrian government of having, according to the administration, built a crematorium at the Saydnaya prison."
The State Department on Monday released satellite images that it said backed up reports of mass killings at the Syrian jail north of Damascus.
Full report at:
https://english.alarabiya.net/en/News/middle-east/2017/05/16/Damascus-Prison-crematorium-claims-by-the-US-are-totally-unfounded-.html
--------
Iraqi military spokesman says only 12 sq km of Mosul held by ISIS
16 May 2017
Iraqi forces have reduced the area of Mosul controlled by ISIS to 12 square km, military spokesman Brigadier General Yahya Rasool told a news conference on Tuesday.
US Air Force Colonel John Dorrian, a spokesman for the coalition backing Iraqi forces in the war against ISIS, said the militants were completely surrounded and "on the brink of total defeat" in the city.
https://english.alarabiya.net/en/News/middle-east/2017/05/16/Iraqi-military-spokesman-says-only-12-sq-km-of-Mosul-held-by-ISIS.html
--------
Abu Dhabi Crown Prince talks UAE-US cooperation in Tillerson meeting
17 May 2017
Abu Dhabi Crown Prince Sheikh Mohammed bin Zayed met US Secretary of State Rex Tillerson in Washington on Tuesday to discuss security cooperation and strengthening diplomatic efforts to address regional conflicts as well as counter Iran's influence.
Sheikh Mohammed, who also serves as Deputy Supreme Commander of the Armed Forces, met with senior members of congress to discuss bilateral ties and the US President Donald Trump's trip later this week to Riyadh for talks with Muslim heads of state and the GCC.
According to the UAE press agency WAM: "The meeting also witnessed deliberations on the current forms of partnership between the two countries, and their commitment to intensify efforts to fight terrorist and extremist organizations.
Full report at:
https://english.alarabiya.net/en/News/gulf/2017/05/17/Abu-Dhabi-Crown-Prince-talks-UAE-US-cooperation-in-Tillerson-meeting.html
--------
Europe
Labour Party promises probe into UK role in Operation Bluestar
May 16, 2017
Prasun Sonwalkar
The Labour Party's manifesto for the June 8 election released on Tuesday promises an independent inquiry into Britain's role in Operation Bluestar at Amritsar's Golden Temple in 1984 , when British special forces were allegedly involved.
The manifesto did not specifically mention India but promised to remove international students from overall migration statistics – a major demand of higher education stakeholders, who believe students are not immigrants since most return after completing studies.
Including them in the statistics has prompted new curbs, leading to a sharp fall in the number of Indian students coming to the UK in recent years.
The controversy over UK's role in Operation Bluestar arose when some British documents declassified in January 2014 led to an inquiry by the cabinet secretary. There have since been demands by UK-based Sikh groups for an independent inquiry, since other documents were allegedly not released.
The cabinet secretary's inquiry report had said military advice was given to the Indira Gandhi government at an early stage (in February 1984, Operation Bluestar was carried out in June), that it had a limited impact, and that it was anyway not followed by the Indian Army that eventually planned and carried out the operation.
The manifesto said: "Labour remains committed to an independent inquiry into Britain's military role in the 1984 raid on the Golden Temple in Amritsar."
Bhai Amrik Singh of the Sikh Federation UK told HT: "We are delighted with the commitment shown by the Labour Party by making the pledge of an independent public inquiry in the manifesto. This puts real pressure on the Conservatives to revisit the issue.
"We will be increasing legal pressure before June 8 and the British government will want to avoid the truth being dragged out in the courts."
Community sources said the mention had more to do with Labour's bid to consolidate the Sikh vote in some constituencies, particularly in the Midlands. The manifesto also briefly mentioned the Kashmir issue.
"We will also urge negotiations towards a political resolution in all other regions currently experiencing conflict, including Kashmir, Libya, Nigeria, Sudan, South Sudan, Somalia and Yemen," the manifesto said.
Releasing the manifesto that focused "on the many" rather than "the few" allegedly favoured by the Conservatives, Labour leader Jeremy Corbyn said his government will always welcome and hail the contribution of immigrants to Britain, including Indian professionals in different sectors.
The party said if it won the elections, its government would frame new immigration rules that will be "informed by negotiations with the EU and other partners, including the Commonwealth".
Full report at:
http://www.hindustantimes.com/world-news/labour-party-promises-probe-into-uk-role-in-operation-blue-star/story-k4nKcB1QYddyS6eS3XgMzN.html
--------
Donald Trump asserts 'absolute right' to leak to Russia
May 17, 2017
President Donald Trump has contradicted the official White House line by admitting he shared classified information with Russian officials in a series of tweets in which he asserted his "absolute right" to do so.
The assertions and turmoil surrounding the leak came amid a sensational report that President Trump asked then-FBI director James Comey to shut down the investigation into disgraced national security adviser Michael Flynn during a meeting in February.
"I hope you can let this go," The President told Mr Comey in a memo the New York Times reports the sacked FBI boss shared in a memo with senior bureau officials and close associates after the meeting.
President Trump was already facing a torrent of condemnation, including from his fellow Republicans, over reports he revealed highly classified intelligence regarding an Islamic State plot with Russian officials at a White House meeting last week.
The President's defiant defense on Wednesday morning (AEST) comes amid reports that a former US official familiar the intelligence has revealed the leaked classified information was provided by Israel.
"As President I wanted to share with Russia (at an openly scheduled W.H. meeting) which I have the absolute right to do, facts pertaining to terrorism and airline flight safety," President Trump posted on Twitter.
"Humanitarian reasons, plus I want Russia to greatly step up their fight against ISIS & terrorism," he said.
In a later tweet, Mr Trump took aim at "LEAKERS in the intelligence community" for revealing details of his meeting with Russian Foreign Minister Sergei Lavrov and ambassador to the US Sergei Kislyak.
US officials told Reuters that while the President has the authority to disclose even the most highly classified information at will, in this case he did so without consulting the ally that provided it, which threatens to jeopardise a long-standing intelligence-sharing agreement.
Mr Trump took to Twitter the morning after his secretary of state, Rex Tillerson, and national security adviser, H.R. McMaster, issued statements saying no sources, methods or military operations were discussed at the Russian meeting.
General McMaster said the story, initially reported by The Washington Post, was false.
The Kremlin also came to President Trump's defense on Tuesday, calling reports that he had disclosed classified material "complete nonsense".
The claims that the source of the intelligence was Israel, first reported by The New York Times, raises potential diplomatic problems for Mr Trump, who is this week preparing to make his first Presidential overseas trip to the United States' closest Middle Eastern ally.
To complicate matters further, Russia has a close relationship with Iran, Israel's fiercest opponent in the region.
Israeli officials would neither confirm nor deny to the NYT the assertions of an unnamed former US official familiar with how information was obtained that Israel was the source of the intelligence.
"Israel has full confidence in our intelligence-sharing relationship with the United States and looks forward to deepening that relationship in the years ahead under President Trump," Ron Dermer, the Israeli ambassador to the United States, said in a statement.
White House spokesman Sean Spicer said he would not comment on the reports.
Mr Spicer also declined to say whether the White House would share transcripts of Trump's meeting with Lavrov with politicians who have asked for them.
The information President Trump is said to have shared reportedly related to an alleged IS operation to install explosives in laptop computers.
The US recently imposed a ban on passengers on flights from some Muslim countries carrying laptops on board planes.
Prime Minister Malcolm Turnbull on Tuesday said he was considering adopting the ban for flights into Australia.
Full report at:
http://thenewdaily.com.au/news/world/2017/05/17/donald-trump-defends-russia-leak/
--------
Trump's Russia Intel Disclosure Risks Life Of Israeli Spy Within ISIS
May 16, 2017
By Aiden Pink
President Trump's decision to share highly classified intelligence about an ISIS plot with Russian officials last week endangered the life of an Israeli spy embedded within the terror organization, ABC News reported Tuesday.
The information, which was provided by Israel to U.S. intelligence, was about an ISIS plan to blow up an airplane with a bomb hidden inside a laptop in a way that could evade airport security, ABC reported, citing current and former U.S. officials. The terror group killed more than 200 people two years ago when it blew up a Russian airliner with a bomb hidden in a soda can.
National Security Advisor H.R. McMaster said Tuesday that the common threat that the U.S. and Russia face from ISIS justified the disclosure. But the former Director of the National Counterterrorism Center, Matt Olsen, told ABC that the president's actions were inappropriate.
"Russia is not part of the ISIS coalition," he said. "They are not our partner."
Former U.S. ambassador to Israel Dan Shapiro warned ABC that the incident would "inevitably cause elements of Israel's intelligence service to demonstrate more caution" when sharing intelligence with its chief ally.
Full report at:
http://forward.com/fast-forward/372172/trumps-russia-intel-risks-israeli-spy-isis/
--------
Pakistan
Tolerant Pakistan Media launched by ruling party Hindu MNA
May 17, 2017
Islamabad: May 16, 2017. (PCP) Federal Minister for Religious Affairs and Interfaith Harmony Sardar Mohammad Yousaf has said that Pakistani society is a diverse society where people from different backgrounds are encouraged to play positive role for the betterment of society as a whole. He was addressing as Chief Guest at the launching ceremony of Tolerant Pakistan Media Network, a forum to motivate journalist community to promote tolerance in the society through their writings, TV shows and blogs. The contribution of prominent parliamentarian Dr Ramesh Kumar Vankwani, for this initiative was widely appreciated on the occasion.
Dr Ramesh Vankwani, in his opening remarks, said that tolerance has direct link with the peace and prosperity. He said that ensuring a peace loving tolerant society is our collective responsibility and in this regard, team work should be encouraged. He also announced to nominate Sabah uddin Qazi as the focal person for the Tolerant Pakistan Media Network.
"If you take a look at the logo of Tolerant Pakistan Media Network, you will see that whatever I am saying is reflecting there as well," he said. People having diverse backgrounds are shown in the logo with joined hands with a purpose to work together for the betterment of Pakistan.
"We highly regard the presence of different ambassadors including EU, Belgium, Mauritius, Azerbaijan, and Russia who are here today to share their experiences of achieving tolerant societies in their respective countries", he said. Dr Ramesh Vankwani urged the need to strengthen cooperation with media and academia. He announced to organize a series of seminars and workshops in different universities with the collaboration of HEC on the issue of tolerance. A good number of Vice Chancellors belonging to different universities were also present.
"As far as media community is concerned, if you are columnist, kindly write at least one column in a month. If you are reporter, please try to find a story to file in a month. If you are TV anchor, please have a talk show in a month on the issue of tolerance," he said, while adding that "This is how we can struggle together to fulfil our dreams to ensure "Tolerant Pakistan", according to the Quaid-e-Azam Mohammad Ali Jinnah's speech on August 11, 1947.
EU Ambassador Jean -Francois Cautain, while welcoming the initiative, said that Europe has a bright track record of promoting tolerance and positive values in the society. He said that the European Union consists of 28 member states and any kind of discrimination in Europe is strictly forbidden. He said that people to people contacts and mutual understanding could be beneficial to change the hostile mindsets. Highlighting the cultural diversity, he said that quality education, respect of human beings, social justice and tolerance are key factors of European society. He also highlighted the need of journalist trainings and exchange programs , which according to him, could deliver positive results to build a tolerant society.
Chairman HEC Dr Mukhtar Ahmad , in his address, emphasized that intolerance is not only limited to Pakistani society but it could be observed in other parts of world as well. He urged the need to promote education for tolerance with a focus on young generation who are future of our country. He was of the view that kids want attention by parents and thus, parents and teachers must be role model for our youth.
Executive Director Lok Virsa Dr Fouzia Saeed in her speech emphasized that our folk arts and tales are based on humanity, tolerance and positive values. TV Anchor Matiullah, while representing the journalist community, said that there is a need to study our history to end the intolerance in Pakistani society. Various distinguished participants from different segments of society also exchanged their views on the occasion.
Commenting on Tolerant Media event, Dr. Nazir S Bhatti, President of Pakistan Christian Congress PCC said that it is stunt of ruling party Pakistan Muslim League Nawaz Group PML (N) launched by a Hindu Member of National Assembly of Pakistan who have not even confidence of Hindu Community because he is not elected by the Hindu voters but selected against their will by Prime Minister of Pakistan Mian Nawaz Sharif.
When Hindu women are kidnapped by Muslims in Sindh and forcibly converted to Islam and sold as sex slaves to influential Muslims like Christian women the slogan of Tolerant Pakistani Media seems a mockery towards minorities.
Dr. Nazir Bhatti said that instead of stunts of Tolerant Media it is important that Hindu MNA in ruling party may struggle and force his masters in government to produce kidnapped Hindu girls in court for fair and free trial against kidnappers.
http://www.pakistanchristianpost.com/detail.php?hnewsid=6453
--------
US narrative does not reflect realities of Pakistan: envoy
May 17, 2017
WASHINGTON: The US narrative of Pakistan's role in war against terrorism does not reflect the rapidly changing realities on the ground, says the country's US envoy Aizaz Ahmed Chaudhary.
Read: 'US asks Pakistan to do more yet fails to compensate'
In his address to the World Affairs Council, Mr Chaudhary also said that China-Pakistan Economic Corridor (CPEC) should not affect relations between the United States and Pakistan and asked Afghanistan to take advantage of this opportunity as its first beneficiary.
"It's mainly in the economic domain that we want better relations with the United States," said the ambassador. "We are getting positive vibes from the Trump administration. There are areas on which we can work. We understand that this relationship can be beneficial to both."
Mr Chaudhary said Pakistan understood the US desire to enhance its military presence in Afghanistan aimed at strengthening the Afghan security forces was "well-meaning" but blaming Pakistan for everything that happened in Afghanistan was wrong. "Afghanistan's problems cannot be resolved by blaming a bad guy called Pakistan. It will not work," he said.
"The US narrative does not reflect the rapidly changing realities in Pakistan," the ambassador said in his opening remarks. "No one supports the so-called holy war anymore, not even the so-called right wing parties."
Mr Chaudhary said this narrative changed when terrorists started attacking schools and places of worship and killing innocent civilians. "The war is no more holy when you kill women and children," he added. "Now, there is a national consensus against these extremists in Pakistan. But this consensus does not reflect in the US narrative."
The Monday night meeting was the ambassador's first at the council and comes at a time when the Trump administration is busy finalising a new Afghan policy aimed at defeating insurgency in Afghanistan.
Ambassador Chaudhary said that Pakistan had shared a four-point proposal with the United States on this issue: (1) there's no military solution to the Afghan conflict (2) need for a political strategy that clearly defined the role of the Taliban (3) talks with the insurgents (4) better border management between Pakistan and Afghanistan.
He said that security was the main issue between the two long-time allies. "We are ready to work with the US to remove the misunderstanding that piled up over the years."
Replying to a question about Osama bin Laden's presence in Abbottabad, he said: "OBL was not Pakistan's creation. We did not like him a bit. We are happy that he got killed. But we are not happy with the way he was killed. This is not how you deal with allies." He said that had the Americans informed Pakistan, the results would have been the same as Pakistan too wanted to get rid of him.
Pak-India ties
Mr Chaudhary stressed the need for better relations between India and Pakistan, saying that New Delhi played into the hands of the terrorists when it cancelled bilateral talks after an attack. "The answer to such attacks is more, not less, talks," he said.
Mr Chaudhary said that after successfully curbing terrorism inside the country, Pakistan is now seeking to consolidate its economy and companies from across the world had responded positively.
"We have American companies too. In some places, you can see the Chinese capital and Pakistani labour working together to install GE turbines to produce electricity," he said. GE is an American company.
The envoy said that since Pakistan was focused on improving its economy, it could not afford to have troubles on its borders and that's why it was seeking friendly ties with both Afghanistan and India.
"We know that if there's trouble and instability in Afghanistan, there cannot be stability and peace in Pakistan," he said, pointing out while that unrest in Afghanistan was preventing Pakistan and other South Asian countries from acquiring electricity and gas from the energy-rich Central Asia.
Full report at:
https://www.dawn.com/news/1333597/us-narrative-does-not-reflect-realities-of-pakistan-envoy
--------
Zehri orders formation of JIT to probe Mastung bombing
SYED ALI SHAH
May 17, 2017
Chief Minister Nawab Sanaullah Khan Zehri on Tuesday announced the formation of a joint interrogation team (JIT) to probe the bombing in Mastung.
"Through the JIT, we would apprehend the terrorists involved in the terror act," said Zehri to Deputy Chairman Senate Abdul Ghafoor Haideri at the Combined Military Hospital (CMH) Quetta.
The JIT would comprise police officials and personnel of various law enforcement agencies.
Zehri also inquired about the health of Haideri and others injured in the bombing. The provincial government has already sought help of the forensics' laboratory established in Punjab.
"We would bring the perpetrators of terrorism to book," said the chief minister.
He added that the "terrorists acts are aimed at sabotaging the multi-billion dollar Chine-Pakistan Economic Corridor (CPEC) project".
"None can derail the process of development in Balochistan," said Zehri.
At least 28 people were killed and over 40 others injured in an explosion in Balochistan's Mastung district, the bombing took place near a local seminary shortly after Friday prayers.
Full report at:
https://www.dawn.com/news/1333524/zehri-orders-formation-of-jit-to-probe-mastung-bombing
--------
Terrorists can't defeat nation by cowardly attacks
May 17, 2017
SADIQABAD-Terrorist attacks are part of the conspiracy to destabilise Pakistan and portray it as a country in front of the world community which lacks capacity to absorb foreign investment.
Provincial Minister for Special Education Ch Muhammad Shafiq stated this while talking to media at public secretariat here the other day.
He said that chief ministers of four provinces accompanied Prime Minister Nawaz Sharif to his visit to China which, he said, is a good notion in politics. He claimed that terrorist attacks cannot foil Pak-China friendship and the enemies will have to bite the dust in their nefarious aims against Pakistan.
He said that friend countries are playing a significant role in the development of Pakistan, adding Pakistan will be turned into an economically stable country under the leadership of PM Nawaz Sharif. He said that the China-Pakistan Economic Corridor (CPEC) will bring about prosperity in Pakistan and it will provide thousands of job opportunities to the unemployed but skilled youth. "Public friendly projects being introduced by the PML-N will make the party successful in the next general elections," he claimed.
Tehsil Municipal Committee (TMC) chairman Ch Shafique Pappa, UC-148/P chairman Haji Abdul Qayyum, PML-N spokesman Abdus Sabur and tehsil president Abdur Razzaq were also present on the occasion.
On the other hand, Sunni Ittehad Council (SIC) chairman Mian Ehsanul Haq said that the terror attacks is a conspiracy to destabilise Pakistan. He said that the government and the opposition have performed nothing for the uplift of healthcare and education sector. The judicial system is also in worst condition where people have to pursue their cases for decades without assurance of justice. He said that Operation Raddul Fasaad must remain continue until elimination of the last terrorist. He said that sacrifices rendered by the Pak Army officers and soldiers are undeniable. He also stressed patience and harmony for having a peaceful society. "Terrorists do not represent Islam," he pointed out.
Full report at:
http://nation.com.pk/national/17-May-2017/terrorists-can-t-defeat-nation-by-cowardly-attacks
--------
Africa
Archaeologists seek to promote tourism in Africa's old Islamic sites
16 May 2017
A group of archaeological experts met in Bahrain to discuss how to use their research on Africa's archaeology to help promote the continent's old Islamic sites.
The Islamic Archaeology in Global Perspective Conference, held in capital Manama, hoped to highlight the important role that archaeology has to play in large parts of Africa.
One such site is in Volubilis, Morocco - an important 3rd century BC outpost of the Roman Empire.
It is said to be one of the richest such sites in North Africa today, indicating the existence of several civilizations from a Christian era to the Islamic period.
"In Morocco for example, we have at the site of Volubilis, a famous site, a UNESCO site, wonderful evidence of the transformation of diet, the transformation of burial practices, for the use of new types of dishes, cooking practices that all come in the 8th century. So this would suggest that in that area at least a very early spread of Islam. Now that is not the case everywhere in North Africa.," said Dr Corsiande Fenwick, a lecturer in Mediterranean archaeology.
While Egypt has led the boom in archaeological tourism, the hope is that many parts of sub-Saharan Africa with Islamic heritage can also meet their tourism potential.
In Mali, the towering Great Mosque of Djenne, which was designated a World Heritage Site by UNESCO in 1988, is a major attraction.
The mud brick building is considered by many architects to be one of the greatest Sudano-Sahelian achievements.
It was built by people in the Sahel and Sudan region during the expansion of Islam in the 14th century.
The old Town of Djenné includes four archaeological sites with nearly 2,000 houses whose decorative facades have remained intact since the 3rd century B.C.
The buildings are among the most famous in Mali, a country that also boasts the ancient town of Timbuktu.
Timbuktu, also a UNESCO World Heritage site, is famous for its manuscripts dating back to the 13th century, and also known for its historic architecture.
But archaeologists worry that, if special steps are not taken to preserve sites, the continent could lose important parts of its history.
Benjamin Kankpeyeng, a professor of archaeology at the University of Ghana, said there are still many more historic architectural sites on the continent that are yet to get the attention they deserve.
Meeting tourism potential
"We also have a Djenne style mosque at Wiyanga in the upper East region. That is also classic dealing with the connections between people of northern Ghana and the Sahel region as well as linking to North Africa," he said.
Across the continent along the East African coastline, Stone Town, the old part of Zanzibar's main city was a major trading point between Asia and Africa for centuries.
Famed for its historic buildings and white-sandy beaches, Zanzibar attracts hundreds of thousands of visitors every year.
But some scholars argue that old stone towns have shadowed many other interesting aspects of the coast and tourists often overlook earlier Islamic settlements and civilizations.
"Most of the heritage tourism today is focused on particular stone towns, but because it is only particular stone towns dated to a particular period, it leaves other sites out in the cold. It leaves smaller local villages without access to this kind of heritage tourism," said Tom Fitton, an archaeologist specializing on the East African Coast.
Many of Africa's archaeological treasures are yet to meet their tourism potential.
But by starting a special drive to promote Islamic heritage in Africa, experts hope to now contribute towards drawing more visitors to the continent
http://www.theafricareport.com/North-Africa/archaeologists-seek-to-promote-tourism-in-africas-old-islamic-sites.html
--------
African parliament raises voice for Palestinian inmates
16 May 2017
The African Union's Pan African Parliament on Tuesday issued a declaration in support of Palestinian prisoners on hunger strike at Israeli prisons and slammed Israel's controversial detention policies.
The pro-Palestinian motion was presented at the parliament's headquarters in Midrand, Johannesburg by Faysal Tebbini, a Tunisia representative to the Pan African Parliament, who urged legislators to pile pressure on Israel and force it to abide by international laws regarding treatment of prisoners.
The motion received overwhelming support from legislators with a number of them condemning Israel's settlements policy, arbitrary arrests and the treatment of prisoners.
"We express our unconditional support to all prisoners in the prisons of the occupying forces, including members of the Palestinian parliament, led by the freedom fighter, Marwan Barghouti," the declaration read.
Bashir Ali, a representative of Sudan, said the African Union body rightly condemned Israeli occupation of Palestine since it represents the voices of African people who once faced injustices under colonialism.
Gabriel Smith, a legislator from Liberia, called for a fact-finding mission to Palestine.
Last month, more than 1,000 Palestinian political prisoners incarcerated at Israeli prisons embarked on a hunger strike.
The inmates are demanding lifting of restrictions on family visits, better medical care, improved treatment of female prisoners and end to solitary confinement. Israel's policy of "administrative detention" allows suspects to be jailed without trial or charge.
Established in 2004, the Pan African Parliament is a legislative organ of the African Union, which aims to ensure full participation of the peoples of Africa and their grassroots organizations in governance and economic integration.
Full report at:
http://www.worldbulletin.net/africa/189593/african-parliament-raises-voice-for-palestinian-inmates
--------
Nigerian school helping to combat insurgency by enrolling boys
May 17, 2017
Nigeria, Africa's most populous nation continues to battle the scourge of insurgency especially in its northeastern Borno State. Years back, the entire Muslim-dominated north was targeted by terrorists.
Government estimates indicate that there are at least 10 million young boys across Nigeria's north who are sent out by parents and guardians to solicit for alms on the streets.
The boys are locally referred 'almajiris' – an Arabic term for boys who leave home in search of knowledge in Islam .
The country's north suffers in the area of different social indicators like enrollment in school, child mortality and early marriages. Records show that attendance remains quite low in schools.
But a school in the region is trying to change the narrative. Here, young boys who would have otherwise fallen prey to Boko Haram recruits have found solace and the programme is seen as a viable means to ensuring that youngsters are not lured by terror groups.
The young boys in this school used to be sent by their families away from home to boarding schools across northern Nigeria, where they could learn the Koran under the care of an Islamic scholar or "Malam", but with time the system became overwhelmed and neglected thus many became vulnerable to trafficking and other forms of abuse.
"We walk around the streets and beg for food to eat. My mallam (teacher) cautioned us against meeting or talking to strangers, he said it is not good because some of them may 'steal' us," one boy told the AFP.
The school which is run with the support of the American University of Nigeria groups the boys according to age and time of enrolment, with the curriculum being expanded as the boys advance.
One of the aims of the programme is to encourage people to stop referring to the boys as 'almajiris', a word that tends to carry negative connotations.
Full report at:
http://www.africanews.com/2017/05/17/nigerian-school-helping-to-combat-insurgency-by-enrolling-boys/
--------
North America
Trump, Erdogan vow friendship despite anger at US arming Kurds
May 17, 2017
WASHINGTON - Presidents Donald Trump and Recep Tayyip Erdogan stood side by side at the White House on Tuesday and promised to work through strained ties despite the Turkish leader's stern warning about Washington's arming of a Kurdish militia.
Fresh from securing his grip on Turkey with a referendum to enhance his powers, Erdogan came to Washington with a list of complaints about US support for Kurdish fighters and its harboring of the alleged mastermind of a failed coup. But both leaders also wanted to put a brave face on their differences and to renew a key alliance between NATO's leading power and its biggest Muslim member, partners in the fight against the IS group.
"It is absolutely unacceptable to take the YPG-PYD into consideration as partners in the region, and it's going against a global agreement we reached," Erdogan said, referring to the the Kurdish Peoples' Protection Units in Syria. "In the same way, we should never allow those groups who want to change the ethnic or religious structures in the region to use terrorism as a pretext," he added, suggesting that the Kurds are using the anti-IS fight as cover for separatist nationalism.
Trump to give speech on Islam
in Saudi Arabia
US President Donald Trump will give a major speech on the Islamic faith during his upcoming visit to Saudi Arabia, home to the religion's holiest shrines, the White House said Tuesday.
"He will meet and have lunch with leaders of more than 50 Muslim countries, where he will deliver an inspiring, direct speech on the need to confront radical ideology and the president's hopes for a peaceful vision of Islam," National Security Advisor HR McMaster told reporters.
Trump was one of the first leaders to congratulate Erdogan on winning the April 16 vote to strengthen his office, and his Turkish counterpart repaid the compliment on Tuesday by hailing his host's "legendary victory" in the US presidential race.
"Of course Mr Trump's victory has led to an awakening of new expectations for Turkey and the region it is in. We know the new US administration will not let these hopes be in vain," Erdogan said.
The US leader paid tribute to Turkey's historical contributions to the Western alliance's Cold War battles and promised: "Today we face a new enemy in the fight against terrorism and again we seek to face this threat together."
Washington and Ankara are bitterly at odds over US support for the YPG, a Syrian armed faction that acts as the main ground force in the Pentagon's plan to defeat the Islamic State group but that Turkey deems a front for the banned Kurdistan Workers' Party (PKK).
And Erdogan remains angry that the United States continues to host Islamic preacher Fethullah Gulen, a former ally who chose exile in Pennsylvania and who has now been accused of masterminding last year's bloody attempted coup in his homeland.
While the pair shared warm words at their joint public appearance, Erdogan again made it clear that he would never accept an autonomous YPG-led Kurdish area in Syria, and that he had "frankly communicated" his expectation that Washington hand over Gulen.
After their appearance, the pair headed into meetings and a working lunch with US Secretary of State Rex Tillerson to dig deeper in to the issues.
"We look forward to having a long and productive discussion," Trump said. "We've had a great relationship and we will make it even better."
Trump hopes to secure at least grudging Turkish agreement not to oppose the US-led drive by YPG fighters to oust the Islamic State from their Syrian stronghold of Raqa.
In return, Trump will have to give Erdogan assurances that Gulen will be closely monitored while the US courts examine an extradition request and that Washington will eventually endorse a Turkish offensive against PKK bases in Sinjar, northern Iraq.
"That's the main ask," said Soner Cagaptay, director of the Turkish research program at the Washington Institute of Near East Policy. "He's going to want US support for a Turkish operation against Sinjar."
Turkish officials had spoken enthusiastically about Trump's election as a chance to turn a new page.
But hopes could have been dashed last week when the Pentagon confirmed that it has increased its support for the YPG by directly arming its fighters ahead of the battle to oust the Islamic State from its de facto capital in Syria.
Ankara regards the YPG as simply the Syrian arm of the "terrorist" PKK, which has waged a deadly insurgency inside Turkey since 1984, and Erdogan is worried his deadly enemy will find itself in charge of a US-armed statelet on his southern frontier.
http://nation.com.pk/international/17-May-2017/trump-erdogan-vow-friendship-despite-anger-at-us-arming-kurds
--------
Trump to give speech on Islam in first trip abroad!
16 May 2017
US President Donald Trump will urge unity between the world's major faiths on an ambitious first foreign trip that will take him to Saudi Arabia, the Vatican and Jerusalem, the White House said Tuesday.
National Security Advisor HR McMaster laid out a detailed itinerary for the "historic trip," due to start late this week, and confirmed that Trump would address a gathering of Muslim leaders on his "hopes for a peaceful vision of Islam."
Previous US leaders have generally chosen a US neighbor such as Canada or Mexico for their first presidential voyage, but Trump intends to plunge right into some of the world's most difficult spiritual and political conflicts.
In Saudi Arabia, after a day of talks with King Salman and his crown prince, Trump will attend a gathering of dozens of leaders from across the Muslim world.
"The speech is intended to unite the broader Muslim world against common enemies of all civilization and to demonstrate America's commitment to our Muslim partners," McMaster said, adding that Trump will help open a center to de-radicalize extremists.
Trump campaigned for office vowing to destroy "radical terrorism" and impose "a total ban on all Muslim immigration" to the United States, raising concerns that his election would only deepen distrust between America and the Muslim world.
In office since January 20, he has already attempted to impose a ban on travellers from a group of mainly-Muslim countries, before his order fell foul of the US courts.
But McMaster stressed that Trump would be visiting sites associated with the world's great religions to stress "that we all have to be united and we have to be joined together with an agenda of tolerance and moderation."
Western Wall
After Saudi Arabia, Trump's voyage will take him to Jerusalem, where he will meet Prime Minister Benjamin Netanyahu and visit the Vad Yashem memorial to the Holocaust. The next day he will pray at the Western Wall, one of Judaism's holiest sites.
On the same day, he will meet President Mahmud Abbas of the Palestinian territories in Bethlehem on the West Bank "where he will convey his administration's eagerness to facilitate an agreement that ends" the Israel-Palestinian conflict.
Palestinian officials have put their hopes in Trump to revive the moribund peace process, but -- after early enthusiasm for the Republican billionaire's rise gave way to concerns -- Israeli officials have been on edge in the run-up to the visit.
McMaster failed to answer a direct question as to whether the US government considers the Western Wall to be within Israeli territory, and he said Israeli leaders would not accompany him on his visit to the site in Jerusalem's Old City.
"He's going to the Western Wall mainly in connection with the theme to connect with three of the world's great religions," McMaster said.
After Jerusalem, Trump will head to the Vatican for an audience with Pope Francis. The US leader will celebrate the contributions of Catholics to America and the world, discuss diplomatic issues with the pontiff and tour St Peter's Basilica.
Full report at:
http://www.worldbulletin.net/america-canada/189595/trump-to-give-speech-on-islam-in-first-trip-abroad
--------
Controversy over Trump Israel policy ahead of visit
16 May 2017
A surprise controversy erupted Tuesday over US policy towards Israel days ahead of a visit by President Donald Trump, with the potential move of the American embassy to Jerusalem again making waves.
Separately, a reported comment by a US official helping prepare Trump's visit also led to Israeli criticism, with the official allegedly telling Israeli counterparts that the Western Wall was part of the occupied West Bank.
Palestinians see east Jerusalem as the capital of their future state.
Both highly sensitive issues made headlines in Israel on Tuesday as preparations intensified for Trump's visit to the country and the Palestinian territories on May 22 and 23.
Trump's controversial new ambassador also presented his credentials to the Israeli president at a ceremony in Jerusalem.
Israel's right-wing had placed high hopes in Trump's presidency following his pledges of ardent support for Israel and a commitment to move the embassy from Tel Aviv to the disputed city of Jerusalem.
Some even called for the end of the idea of a Palestinian state.
But Trump has since backed away from the embassy move, saying it was still being looked at, while Israeli Prime Minister Benjamin Netanyahu has faced political backlash at home over the issue.
A Fox News reporter cited sources saying Netanyahu had asked Trump not to move the embassy now, leading the prime minister to issue an angry rebuttal.
In an unusual move, Netanyahu also partially released the minutes of a meeting he had with Trump in Washington in February, showing he had pressed the new president to move the embassy.
The rival claims to Jerusalem lie at the heart of the Israeli-Palestinian conflict and no countries currently have their embassies in Jerusalem, instead basing them in Israel's commercial capital Tel Aviv.
Palestinians say moving the embassy would be a de facto recognition of Israel's control of all Jerusalem.
- Swearing in ceremony -
Separately, Israeli officials have reacted angrily to reports in local media that representatives of the American consulate had suggested the Western Wall did not belong to Israel.
Trump is reportedly planning to visit the wall in Jerusalem's Old City and Israel's Channel Two reported that Israeli officials offering to help plan the event were told by American counterparts it was not their remit.
One US official said the Western Wall was part of the West Bank, Channel Two reported.
The White House distanced itself from the alleged comments, saying in statements to US media that they did not reflect the views of the adminstration.
The US, like most of the international community, considers Jerusalem disputed ahead of final-status negotiations.
Also on Tuesday, Trump's controversial choice for ambassador David Friedman presented his credentials in a ceremony at President Reuven Rivlin's residence in Jerusalem.
Jewish-American Friedman, a strong supporter of Israeli settlement building in the West Bank, entered the residence with a marching band playing.
Speaking after the ceremony, Friedman did not directly respond to the dispute over the Western Wall but pledged to "support the state of Israel in every way".
"I pledge to you to do all that I can to strengthen and enhance the relationship between our two great nations," he told Rivlin.
Speaking of Trump, he said: "His love for and commitment to the state of Israel is rock solid and it enjoys his highest priority."
Rivlin called on the "whole world to recognise Jerusalem as the official capital of the state of Israel".
Full report at:
http://www.worldbulletin.net/america-canada/189570/controversy-over-trump-israel-policy-ahead-of-visit
--------
Anti-Muslim Extremist Is Training Police In Arizona
17/05/2017
An anti-Muslim bigot and conspiracy theorist is being paid thousands of dollars in public funds this week to train Arizona law enforcement officers about the "jihadi" threat in the U.S., despite calls for the training to be canceled.
The Mesa Police Department is hosting John Guandolo ― a disgraced former FBI agent with deep ties to anti-Muslim hate groups ― at a police facility for a three-day seminar titled, "Understanding and Investigating the Jihadi Network."
The Council on American-Islamic Relations this month launched an online petition ― now with more than 2,000 signatures ― calling for the training to be canceled, citing Guandolo's record of pushing "bigoted" and "downright bizarre" theories about Muslims in the U.S.
"It's unacceptable to have him training Arizona law enforcement officers," the petition says.
The seminar started Tuesday as scheduled.
Guandolo was forced to resign from the FBI in 2009 after it was revealed he'd had a sexual relationship with an informant in a high-profile corruption case, and tried to solicit money from her.
He's since made a career working with anti-Muslim groups, and spreading lies and misinformation to law enforcement about Muslims, who he sees as terrorists or potential terrorists.
Through his consulting company, Understanding the Threat, Guandolo is a leading proponent of the thoroughly debunked "civilization jihad" conspiracy theory, which holds that American Muslims have hatched a massive, secret plot to take over the U.S. and implement sharia, or Islamic law.
He once claimed that a Delaware imam was signaling "civilization jihad" when he touched his nose during the Pledge of Allegiance.
Guandolo made the unhinged claim last year that Muslims are buying up U.S. gas stations and hotels as part of a coordinated "insurgency," and because they're "preparing for a jihad."
In another interview, Guandolo cited a bogus study that said 80 percent of American mosques preach violence and extremism. The government, he said, should shut down those mosques and arrest their leaders.
A recent Understanding The Threat fundraising email made the baseless claim that American mosques and Islamic centers are "organizing for armed confrontation with law-enforcement," and that Muslims are researching "churches and other targets" for an "enemy" insurgency.
In 2013, Guandolo partnered with the hate group Act for America to develop a "Radicalization Map Locator" for cops. The map lists nearly every Muslim Student Association. Guandolo once wrongly said the sole purpose of the student associations is to "recruit jihadis."
He has also accused former CIA Director John Brennan of secretly converting to Islam; has called for CAIR officials to be locked up; and has said mosques have no First Amendment rights.
"Guandolo would be a comical figure if he wasn't given credibility ― and public money," CAIR's petition says. "It's time for these Arizona officials to stop mainstreaming hate and cancel Guandolo's training."
Guandolo's appearance is sponsored by the Arizona Police Association, a statewide coalition of police groups. But the seminar is being funded with taxpayer dollars from the office of Maricopa County Attorney Bill Montgomery.
Amanda Jicinto, a spokeswoman for Montgomery, told HuffPost that he approved two grants worth $28,000 for the Arizona Police Association to sponsor law enforcement trainings, but was unaware what those trainings would entail. (Montgomery faced a big backlash in 2014, when it was revealed his office directly paid Guandolo $40,000 in taxpayer money for another training seminar.)
Michael Dvorak, Mesa Police Department interim chief, has said that Guandolo's training this week would be his last in the department's facilities.
Arizona Police Association's executive director, Levi Bolton, this month rejected a CAIR request that he cancel Guandolo's training, then bizarrely asked CAIR officials to report to police for a "sworn deposition."
The Southern Poverty Law Center, which tracks hate groups, wrote this week that Guandolo's training could lead law enforcement officers to violate the civil liberties of Muslims in America.
Full report at:
http://www.huffingtonpost.in/entry/john-guandolo-arizona-anti-muslim-extremist_us_591b0291e4b0809be1582678
--------
South Asia
Clash reported near Government and State TV compound in Nangarhar
May 17 2017
Heavy gun battle is underway near the provincial government compound and inside State Radio Television headquarters in eastern Nangarahr province of Afghanistan.
The eyewitnesses are saying that the dead bodies of at least two militants are left in the area while the remaining militants have managed to enter the compound.
They are saying that several workers of the State Radio Television are trapped inside the compound as heavy gun battle is underway between the security forces and the assailants.
There are no reports regarding the casualties as a result of the incident so far.
http://www.khaama.com/clash-reported-near-government-and-state-tv-compound-in-nangarhar-02774
--------
Afghan forces recapture key northern district
May 17, 2017
KUNDUZ - Afghan forces on Tuesday regained control of a strategic district close to the restive northern city of Kunduz that fell to the Taliban earlier this month, official said.
The Taliban seized Qala-e-Zal in an assault that triggered fierce fighting with government forces, prompting hundreds of civilians to flee their homes and reigniting fears the insurgents could overrun Kunduz city for a third time.
"The governor's building, police headquarters and several key areas are cleared of terrorists, but the operation is still ongoing in other insecure areas of the district," the interior ministry said, adding that their operation began on Tuesday morning.
A Kunduz government spokesman said security forces were clearing out landmines planted by insurgents in the recaptured areas.
"Around 2,000 families have been displaced, with most relocating in Kunduz city. Some have also fled to other nearby districts," Assadullah Sadat, a member of the Kunduz provincial council, told AFP.
The Norwegian Refugee Council had earlier said that some displaced families were forced to sleep in the open while others were crammed inside the homes of relatives.
Taliban militants launched their annual "spring offensive" in late April, heralding a surge in fighting as the US tries to craft a new Afghan strategy and NATO considers sending more troops to break the stalemate against the resurgent militants.
The offensive normally marks the start of the fighting season, though this winter the Taliban continued to battle government forces. An attack on a military base in the nearby city of Mazar-i-Sharif left at least 135 security forces dead last month.
Full report at:
http://nation.com.pk/national/17-May-2017/afghan-forces-recapture-key-northern-district
--------
Taliban suffer heavy casualties in Laghman operations: Local officials
May 17 2017
The Taliban insurgents suffered heavy casualties during the ongoing counter-terrorism operations in eastern Laghman province of Afghanistan.
Provincial police chief Fazal Ahmad Sherzad said at least 45 insurgents were killed and more than 20 others were wounded during the Silab-5 operations.
He said the operations were conducted in the vicinity of Basram, Katal, Maidani, Qasaba, Salim Gar, Noori and Alingar.
Sherzad further added that the operations were conducted with the support of the Air Force.
Several high level Taliban commanders including Samiullah Darwish, Qari Muhib, and Nasir were among those killed, Sherzad said, adding that two other senior Taliban commanders identified as Qari Rohullah and Qaderi were arrested.
He also added that 25 motorcycles, 5 pickup vehicles, one mortar, one Dshk heavy machine gun, and 822mm rocket launcher were destroyed during the operations.
According to Sherzad, several villages have been cleared from the presence of the Taliban insurgents and clearance operations are still being conducted in the area.
He said the operations will continue until the militants are fully cleared from the area.
Full report at:
http://www.khaama.com/taliban-suffer-heavy-casualties-in-laghman-operations-local-officials-02773
--------
Twin explosions rock Kandahar city in South of Afghanistan
May 16 2017
According to the local government and security officials, the incident took place in the first police district of the city.
The officials further added that the incident took place around 8:20 pm local time targeting the security forces.
The type of the explosion and casualties as a result of the incident has not been ascertained so far.
No group including the Taliban insurgents has so far claimed responsibility behind the incident yet.
Preliminary reports indicate at least one person was killed and around twelve others were wounded in the attack.
According to the security sources, the target of the coordinated explosions was the security posts located in Madad roundabout.
Full report at:
http://www.khaama.com/twin-explosions-rock-kandahar-city-in-south-of-afghanistan-02772
--------
URL: https://www.newageislam.com/islamic-world-news/china-set-expand-dna-testing/d/111181
http://www.newageislam.com/islam,-women-and-feminism/muhammad-yunus,-new-age-islam/advocates-of-instant-triple-talaq-are-gender-terrorists-and-traitors-of-islam-and-may-be-sued-for-human-rights-violation-under-cover-of-religion/d/110871