New Age Islam News Bureau
6 Sept 2014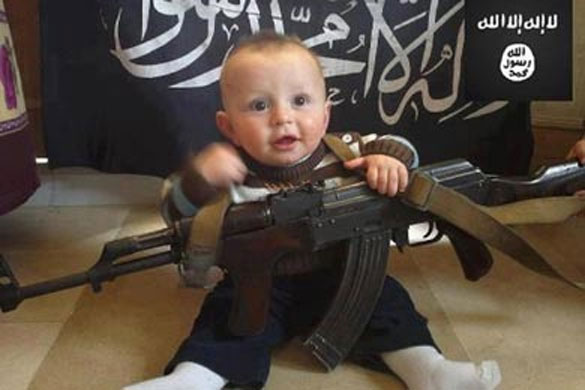 Shocking photo shows 'Jihadi baby' holding Kalashnikov in front of ISIS flag
-------------
South Asia
• China's First Ever Convoy Of Hajj Pilgrims Leaves Ningxia
• 86 Militants Killed, 62 Injured in Afghanistan
• Protesters March With IS Flag Calling For Enforcement of Islamic Shariah in Maldives
• Afghans Say Taliban Are Nearing Control of Key District
• 5 Afghan soldiers martyred following IED and militant attacks
• Major Bangladesh parties express mixed reactions over al-Qaeda statement
• Jt Secy Awami League: Bangladesh determined to stop militancy at any cost
Europe
• Salafists Form 'Sharia Police' In Order To Enforce Sharia Law in Germany
• Shocking photo shows 'Jihadi baby' holding Kalashnikov in front of ISIS flag
• Muslims in Scotland are urged to reject IS extremism
• No role for Assad in fighting 'Islamic State': UK's Cameron
• Merkel vows to fight anti-Semitism in Germany
• Russian agents raiding homes of Muslims in Crimea
• London murder sparks spike in threats to Muslims
• Norway's mass killer Breivik wants to create fascist party
India
• 'Pakistan Army, ISI Stage-Managing Al-Qaida Advance into India'
• Deoband Condemns Al-Qaeda Move to Put the Indian Subcontinent on Its Radar
• Al-Qaida won't find India easy: Intelligence agencies
North America
• Obama recruits 9 allies to help in the battle against ISIS
• U.S. fears Islamic State smuggling radioactive materials
• Minnesota Mosque Ousts Alleged Radical Recruiter
• Hate attacks against Muslims after beheadings of US journalists
Pakistan
• Army Chief Holds off Generals Seeking Nawaz Ouster
• Pak President Calls for Promoting National Unity, Harmony
• Law, Order Improved After Launch of Operation: IG Sindh
• 15 Christians held in Pakistan on blasphemy charge
• Army's operational readiness has acted as deterrence against enemies: COAS
• Imran announces return to D-Chowk from Constitution Avenue
• Jirga says it can't hand over wanted men to Khyber admin
• Engage establishment too to resolve crisis: Zardari
• PAT 'revolutionaries' not being allowed to return: BBC Urdu
• Govt never empowered negotiators, says Qadri
Mideast
• 40 killed in clashes between Yemen army and Houthi rebels
• Hamas' Mashaal agreed in Doha meeting with Abbas to Palestinian state within 1967 borders
• US, Iran deny military coordination plans against ISIL
• Israel 'preparing for war' against Hezbollah
• Iran says nuclear deal possible if world is 'sincere'
• Opp. Leader meets Abbas, calls for resumption of Israeli-Palestinian peace talks
Arab World
• Syrian strikes on ISIS stronghold, Raqqa, kill 13
• Syrian Army Kills, Dislodges Rebels in Aleppo, Damascus
• Obama anti-jihadist plan 'strong message of support': Iraq FM
• Egypt charges ex-President Morsi with passing state secrets to Qatar
• Egyptian militants say Islamic State guiding Sinai-based jihadists
• Report: Terror suspects arrested in Saudi Arabia may be Assad agents
• Iraqi soldier hid himself in bodies to survive massacre
• Iraqi Shiite forces reinvigorated after Amerli victory
Southeast Asia
• Malaysia firmly against ISIS, organisation does no justice to Islam
• Ummo urged to stand united for Malays and Islam
Africa
• Nigeria sends in warplanes against Boko Haram
• Somalia put on high alert after Shabaab leader confirmed dead
• Nigeria's military under fire over Boko Haram response
• Libya's Haftar to launch Tripoli operation 'soon'
Australia
• Islamic bookshop run by brother of suicide bomber 'promotes extremism'
Compiled by New Age Islam News Bureau
URL: https://newageislam.com/islamic-world-news/china-first-convoy-hajj-pilgrims/d/98940
----------
South Asia
China's First Ever Convoy Of Hajj Pilgrims Leaves Ningxia
World Bulletin / News Desk
September 6, 2014
The first ever convoy of Chinese Muslims going to perform the Hajj pilgrimage in the holy city of Mecca left from the autonomous region Ningxia on Friday morning.
The first plane to leave the region was carrying 297 pilgrims out of a total of 14,000 who plan to embark on the spiritual journey from China this year.
The organization of this year's Hajj pilgrimage from China was undertaken by both the central government and local governments in cooperation with private travel agencies, Turkish news portal Dunya Bulteni reported.
Speaking to the local media, some of the pilgrims expressed their happiness to be part of the convoy, noting that their parents had not been able to perform the pilgrimage because of tight restrictions on religion in the Communist country.
Around half of China's 20 million Muslims live in Ningxia, where the people identify their ethnic group as Hui, a recognized minority in China.
Unlike the Uighur Muslims in the autonomous region of Xinjiang, otherwise known as East Turkestan, where the Muslims are largely of a Turkic ethnic background, the Hui population are a Sinitic race that accepted Islam.
http://www.worldbulletin.net/todays-news/143845/chinas-first-ever-convoy-of-hajj-pilgrims-leaves-ningxia
-------------
86 Militants Killed, 62 Injured in Afghanistan
September 6, 2014
About 86 Taliban militants were killed and 62 others were injured as the Afghan security forces carried out cleanup operations in different provinces within the last 24 hours, said the country's Interior Ministry on Saturday morning.
"The cleanup operations were conducted by the Afghan police, army and the National Directorate of Security or intelligence agency personnel in Balkh, Helmand, Zabul, Kandahar, Paktika, Herat, Badghis and Kapisa provinces. Six militants were also detained in the above operations. Several Taliban local leaders were among the killed," the ministry said in a statement providing daily operational updates, Xinhua reported.
Majority of the militants were killed during a raid in Chamtal district of Northern Balkh province, the statement noted.
The security forces also recovered and defused six roadside bombs recently planted by the militants in Kandahar, Jawzjan, and Herat provinces, according to the statement.
The statement did not disclose if there were any casualties on the side of security forces.
The Taliban-led violence continues in Afghanistan. Security forces have pressed on to clear the militants in restive provinces.
The Taliban has yet to make comments.
http://english.farsnews.com/newstext.aspx?nn=13930615000739
-----------
Protesters March With IS Flag Calling For Enforcement of Islamic Shariah in Maldives
By Minivan News | September 6th, 2014
A protest march took place in Malé yesterday with participants bearing the militant organisation Islamic State's (IS) flag calling for the implementation of Islamic Shariah in the Maldives.
'We want the laws of the Quran, not the green book [Maldivian constitution]', 'Islam will eradicate secularism', 'No democracy, we want just Islam', and 'Shariah will dominate the world', read some of the placards, which were all written in English.
'To hell with democracy', 'Democracy is a failed system', 'Shariah gave you the rights, not democracy", 'Shariah is the only solution', and 'No Shariah = no peace', read others.
Some 200 people, including about 30 women in black niqab and 10 children, took part in the march across the capital.
Shortly after the march began near the social centre on the western end of Majeedheemagu – the main thoroughfare of the capital – police reportedly stopped the protesters near the Nalahiya Hotel and demanded they stop using the black IS flag.
Police told the protesters they have been previously informed that the flag of a particular organisation could not be used.
"The call has been made, the flags have been raised," read one of the placards.
However, the protesters reportedly insisted that the flag did not represent IS but was the seal of Prophet Mohamed (pbuh) and contained the phrase of the Shahadha (the declaration of belief in the oneness of God and Mohamed as the messenger).
After a brief exchange, police allowed the march to continue, which made its way down Majeedhee Magu to the tsunami memorial area.
On their way, participants reportedly handed out sweets to children with spectators on the street.
The march ended with a special communal prayer wishing success for Islamic 'Mujahideen' (holy warriors) fighting in conflicts across the world.
ISIS
In late August, Foreign Minister Dunya Maumoon issued a press statement condemning "the crimes committed against innocent civilians by the organisation which identifies itself as the Islamic State of Iraq and the Levant or the Islamic State of Iraq and Syria."
The ISIS or IS jihadist militant group – which has declared an Islamic caliphate in territory held across Iraq and Syria – has been accused by the UN of committing mass murders against prisoners, enemy combatants, and civilians.
"IS is using the veil of religion as a pretext for inflicting terror, and committing violations of human rights," said Dunya, daughter of former President Maumoon Abdul Gayoom and niece of current President Abdulla Yameen.
Dunya's remarks followed Minister of Islamic Affairs Dr Mohamed Shaheem Ali Saeed's declaration that the ISIS would not be allowed to operate in the Maldives.
"ISIS is an extremist group. No space will be given for their ideology and activities in the Maldives," Shaheem tweeted on August 24.
The Maldivian Democratic Party (MDP), however, promptly put out a statement questioning Shaheem's sincerity, suggesting that the words had not been backed up with concrete action by the government.
"We note with concern that neither the Islamic minister nor the government has taken any action while activities related to terrorism in different forms as well as extremism are carried out in the Maldives, religious strife and hatred is incited widely, and death threats are being made against various people over religious matters," the main opposition party said.
The party noted that the ISIS flag was used in recent protests in Malé calling for a boycott of Israeli tourists.
While the protesters had gathered outside the residence of the Islamic minister in violation of freedom of assembly laws, the MDP noted that the government had not taken any action.
The Islamic ministry has also provided a meeting hall of the Islamic centre for a religious sermon which was advertised with the ISIS logo, the MDP claimed.
The party claimed to have learned that police and army officers were involved in putting up the banners across the capital.
Opposition-aligned private broadcaster Raajje TV reported last month that a Facebook group called Islamic State in Maldives was promoting IS in the country.
The group has shared photos of the protests calling for a ban on Israeli tourists.
http://minivannews.com/politics/protesters-march-with-is-flag-calling-for-enforcement-of-islamic-shariah-89957
----------
Afghans Say Taliban Are Nearing Control of Key District
06 Sep, 2014
KABUL, Afghanistan — Local Afghan officials say more than 200 police officers and soldiers have been killed during a fierce Taliban offensive in Helmand Province that has lasted all summer and now threatens to overwhelm a key district.
Officials at the national level have downplayed the violence and even, in some cases, flatly denied that there is a problem. But local military, police and government officials, including two Afghan generals, have said in recent days that they are unsure their forces can continue to hold out against the offensive, which has been underway since June in Sangin district in northern Helmand and in neighbouring Musa Qala, unless they get more support from national authorities and international forces.
Authorities are particularly worried about Musa Qala, a traditional Taliban stronghold and a source of revenue from the lucrative opium poppy trade.
"The situation is deteriorating and the Taliban are almost in the bazaar," the governor of Musa Qala district, Haji-Mohammad Sharif, said Friday night. "If the situation remains the same, the district will soon fall to the hands of the Taliban."
The fighting has been particularly heavy in Musa Qala over the past 10 days, while a simultaneous Taliban ground assault has been underway in Sangin. That was a renewal of an offensive the insurgents began in Sangin in June, with both sides committing large numbers of ground forces to the fight.
The Afghan National Army launched a counteroffensive in Sangin in July and August that pushed the insurgents away from the district capital, but in late August the Taliban renewed their attack. An Afghan Army general familiar with the situation in Sangin, speaking on condition of anonymity because, he said, higher authorities did not want the seriousness of the situation publicized, said that the insurgents had launched 788 attacks in the past three months in Sangin and in two neighbouring districts, Nowzad and Kajaki.
In all, the general said, 71 Afghan National Army soldiers have been killed and 214 wounded since June, while 159 police officers have been killed and 219 wounded in Sangin District. That total of 230 deaths would exceed the number of British and American marines killed in Sangin during the entire war, and both countries lost more military personnel in Sangin than in any other Afghan district.
"The total casualties in the Sangin battle is 900 including civilians," Omar Zwak, the spokesman for the governor of Helmand Province, said on Saturday. "Around 150 would be Afghan security forces." He would not say how many of those casualties were fatalities. Mr. Zwak said that Taliban insurgents had been on the verge of attacking the Musa Qala center in recent days but have now been beaten back, which the local governor disputed.
In Musa Qala, according to the governor there, 50 police officers have been killed or wounded.
"If our forces do not get enough support and enough weapons and ammunition, the battle will get out of control in Sangin, and once the enemy take control of the district, it will be even harder to get them out." said Gen. Juma Gul Himat, head of Helmand's provincial police department.
General Himat complained that the American-led coalition had not provided air support. "We have requested air support from NATO hundreds of times but they are not responding positively," he said.
A spokesman for the coalition, Maj. Paul L. Greenberg of the Marine Corps, said air support had been given to Afghan forces in Sangin. "ISAF has received those requests and ISAF has provided aviation support accordingly in Sangin District over the past several months, to include support over the past several weeks," he said, referring to the International Security Assistance Force.
But General Himat said that national and international forces had failed to responded to pleas from northern Helmand for more support, heavy equipment and reinforcements. "We have shared our problems with higher authorities and the Ministry of Interior itself, but they are also lacking equipment, so we are asking the international community not to let us alone, and provide what we need to fight our enemies," the general said.
General Himat and other officials in Helmand said the Taliban had a great deal of support from criminal elements protecting the lucrative opium trade in northern Helmand, and he claimed that both Iranian and Pakistani terrorists were fighting in the area.
Afghan National Army officials in Helmand also said that coalition forces had provided air support where needed. Mohammad Rasool Zazai, a spokesman for the army's 215th Corps, based in Helmand, said that Afghan helicopters and planes were being used in Sangin and that the coalition had not yet been asked to intervene there, although the Americans had been providing air support in other parts of the province. "If we need their support in Sangin, we will ask them," he said.
In Kabul, Gen. Dawlat Waziri, deputy spokesman for the Ministry of Defense, also insisted there was no crisis in northern Helmand.
"Our military brigades are in the districts of Sangin and Musa Qala, and the situation is normal," he said. "Although there are sometimes militants carrying out hit-and-run attacks, they are not something to be worried about, because it is something that normally happens."
Emanuele Nannini, program coordinator at the Italian aid organization Emergency, said the fighting this summer in Helmand has been the heaviest of the war. His organization runs the major trauma hospital in Helmand Province, the Emergency Hospital in Lashkar Gah, the provincial capital, and has recently increased its beds to 90 from 70. They are running nearly full, he said.
"It's clear they are fighting more, and what is clear now it's really fighting, they're not just attacking and escaping, on many, many occasions they are facing each other," Mr. Nannini said. One measure of that is that doctors are seeing a significant increase in bullet wounds, rather than injuries from bombs and mines, he said.
Qari Yousef Ahmadi, a spokesman for the Taliban in southern Afghanistan, said the insurgents were using more ground assaults in northern Helmand because they no longer had to worry about airstrikes from American and British forces.
http://www.nytimes.com/2014/09/07/world/asia/afghanistan.html?_r=0
----------
5 Afghan soldiers martyred following IED and militant attacks
Sep 06 2014
At least five Afghan National Army (ANA) soldiers were martyred following Improvised Explosive Device (IED) and militants' attacks, defence officials said Saturday.
Gen. Zahir Azimi, spokesman for the Ministry of Defence said the Afghan army soldiers were martyred in the past 24 hours.
He did not disclose further information regarding the exact locations where the ANA service members were martyred.
In the meantime, Gen. Azimi said at least 18 militants were killed and several others were injured following military opeations during the past 48 hours.
Gen. Azimi further added the militants were killed or injured during operations in six different provinces.
Afghan National Army (ANA) soldiers also discovered and neutralized 72 rounds of Improvised Explosive Device (IED) during the same operations, Gen. Azimi said.
The anti-government armed militant groups including the Taliban militants have not commented regarding the reports so far.
http://www.khaama.com/5-afghan-soldiers-martyred-following-ied-and-militant-attacks-8589
----------
Major Bangladesh parties express mixed reactions over al-Qaeda statement
6 September 2014
Major political parties in the country have expressed mixed reactions over a newly-released video that claims to announce al-Qaeda chief Ayman al Zawahiri's plan to establish the flag of jihad in Bangladesh, India and Myanmar.
Speaking to the Dhaka Tribune, ruling party Awami League's Joint General Secretary Mahbub-Ul-Alam Hanif said: "al-Qaeda might try to establish their presence in these counties through its Islamist parties, especially with anti-liberation forces.
"We remain alert and prepared to fend off any threat and criminal activity from al-Qeada."
Meanwhile, main opposition in the parliament Jatiya Party's Secretary General Ziauddin Ahmed Bablu said: "Jatiya Party has always believed in democracy and democratic processes. We think that this video might be linked with BNP's ongoing movement."
BNP Standing Committee Member Lt Gen (Retd) Mahbubur Rahman said: "The situation is very much alarming and the government should take immediate action in his regard. Militancy can flourish taking advantage of the weakness of democracy.
"The government should immediately restore democracy in the country and bring people from defence, civil society and political parties under its confidence to eradicate militancy from the country."
Meanwhile, a leader of Jamaat-e-Islami told the Dhaka Tribune that Islam has no place for violence, militancy or terrorism.
Full report at:
http://www.dhakatribune.com/bangladesh/2014/sep/06/major-parties-express-mixed-reactions-over-al-qaeda-statement#sthash.8nd2LiML.dpuf
---------
Jt Secy Awami League: Bangladesh determined to stop militancy at any cost
6 September 2014
Mahbub-ul-Alam Hanif, joint general secretary of Awami League, reaffirmed the government's resolution to prevent the rise of militancy in the country in a meeting yesterday with the party members at his home in Kushtia. He made the statement while commenting on al-Qaeda leader Zawahiri's recent video message which announced a plan for Bangladesh, India and Myanmar.
Hanif said: "Our government takes into account the possibility of al-Qaeda's attempt to spread its network through the religion based organisations, particularly the ones which accommodate war criminals, and we are determined to prevent them from doing so at any cost."
Full report at:
http://www.dhakatribune.com/politics/2014/sep/06/hanif-government-determined-stop-militancy-any-cost#sthash.XM7ME2gC.dpuf
----------
Europe
Salafists Form 'Sharia Police' In Order To Enforce Sharia Law in Germany
06 Sep, 2014
MOSCOW, September 6 (RIA Novosti), Ekaterina Blinova - Eleven members of the self-proclaimed "Sharia Police," which were allegedly trying to "influence and recruit" German youths, were stopped by local police on Wednesday, September 3, in Wuppertal, a city of 350,000.
"These people's intention is to provoke and intimidate and force their ideology (upon others)," claimed Peter Jung, Wuppertal's mayor, adding that Wuppertal has always been an "open and tolerant city, which is proud of the fact that people of different religions and convictions live together in peace," as cited by Deutsche Welle.
The followers of Salafism, a fundamentalist form of Islam were seen on Wednesday, September 3, dressed in orange traffic safety vests with the words 'Sharia Police' on their backs, 'patrolling' the streets of Wuppertal. The Salafi volunteers have declared the nightlife areas of Wuppertal to be a 'Sharia Controlled Zone,' and persuaded young people "to refrain from alcohol, drugs, gambling, attending concerts, watching pornography or visiting prostitutes," the media source notes.
Full report at:
http://en.ria.ru/analysis/20140906/192692316/Salafists-Form-Sharia-Police-In-Order-To-Enforce-Sharia-Law-in.html
----------
Shocking photo shows 'Jihadi baby' holding Kalashnikov in front of ISIS flag
06 Sep, 2014
A shocking photo of a baby lying sitting with a Kalashnikov on his lap has been posted online by ISIS.
The sick image also shows the youngster, who cannot be much more than 12 months old, in front of the black ISIS flag.
The photo is just the latest in a collection showing kids dressed like terrorists to be posted online.
But this most recent addition, which was posted earlier this year, but has only just emerged, is thought to be one of the youngest children to be used as a sick prop by militants in their propaganda campaign.
It appeared on Twitter with the black ISIS logo in the top right hand corner of the picture.
Other disturbing photos posted by ISIS militants include one of as seven year-old boy holding a severed head and another of a baby lying next to a machine gun and surrounded by grenades.
The one of the youngster holding the head, which is thought to be that of a Syrian soldier, was posted with the message: "That's my boy!"
Earlier this year terrorist Khaled Sharrouf put up a photo of himself and his young sons dressed in camouflage gear, holding machine guns, standing in front of the ISIS flag.
Another, posted by 'Abu Abdur Rahman,' shows a boy of about ten with a holster holding machine gun magazines around his waist.
Full report at:
http://www.mirror.co.uk/news/world-news/shocking-photo-shows-jihadi-baby-4161295#ixzz3CXSzmEFc
----------
Muslims in Scotland are urged to reject IS extremism
Sep 06 2014
MUSLIMS across the country have been told by religious leaders to reject extremist ideology, in an effort to ensure no more Scots travel to the Middle East to join the militant Islamic State (IS) group.
At Friday prayers, a message was delivered by imams to worshippers days after it emerged that 20-year-old Aqsa Mahmood, from Glasgow, had gone to Syria to join the organisation.
Her parents, who have not seen her since November last year, said she told them she wanted to be a martyr. Her mother Khalida Mahmood pleaded in an interview with CNN for her to return home, saying: "My dear daughter, in the name of Allah, please come back."
The pleas came as the Muslim community made renewed calls for the release of Scottish-educated David Haines, who is being held captive in Syria by IS.
Mazhar Khan, a spokesman for the Muslim Council of Scotland, said the appeal to deliver the message of peace had been made to ensure the Muslim community "spoke with one voice" on the issue. "It's a simple message that we reject everything associated with this group," he added. "It is more relevant because of the atrocity in which another journalist was killed and also the young Scots girl turning up in Syria. Most people have realised IS is completely discredited and barbarous. But the message still needs to be there to ensure it is getting across."
Full report at:
http://www.heraldscotland.com/news/home-news/muslims-in-scotland-are-urged-to-reject-is-extremism.25252482
----------
No role for Assad in fighting 'Islamic State': UK's Cameron
6 September 2014
The UK government has strongly rejected calls to cooperate with the Syrian regime to confront the Islamic State militant group.
Prominent politicians and former senior diplomats have argued that the Islamic State (also known as the Islamic State in Syria and the Levant — ISIL) could not be defeated without Syrian government cooperation.
Peter Hain, Labour MP and former Northern Ireland minister, and Sir William Patey, the former UK ambassador to both Iraq and Saudi Arabia, are among those who have advised that it would be impossible to defeat the Islamic State group unless the West talks to Syrian President Bashar Al-Assad.
However, David Cameron, the UK prime minister has ruled out the idea.
"I think President Assad is part of the problem, not part of the solution," he said.
In a television remark on the fringe of the NATO summit in Wales, Cameron reiterated that the Assad regime lost its legitimacy because of "his war crimes."
The Syrian government earlier expressed its readiness to "cooperate and coordinate at the regional and international levels to fight terrorism within respect for the sovereignty and national soil of Syria."
Full report at:
http://english.ahram.org.eg/NewsContent/2/9/110020/World/International/No-role-for-Assad-in-fighting-Islamic-State-UKs-Ca.aspx
----------
Merkel vows to fight anti-Semitism in Germany
World Bulletin / News Desk
September 6, 2014
Chancellor Angela Merkel said on Saturday she would do everything she could to fight anti-Semitism in Germany, amid reports of attacks and a spike in anti-Israel sentiment since the Gaza conflict.
In her weekly podcast, Merkel said she was alarmed that Jewish institutions in Germany still needed police protection and called for a big turnout at a rally against anti-Semitism that she was planning to address in Berlin next weekend.
Authorities and media in Germany, ultra-sensitive about anti-Semitism because of the Holocaust, have criticised chants against Israel and Jews during rallies against Israel's conflict with Hamas in the Gaza Strip.
Full report at:
http://www.worldbulletin.net/todays-news/143848/merkel-vows-to-fight-anti-semitism-in-germany
-----------
Russian agents raiding homes of Muslims in Crimea
World Bulletin / News Desk
September 6, 2014
The homes of Muslims in Crimea are repeatedly searched by Russian agents for banned literature, Qirim News Agency has reported.
On September 5, agents raided the houses of members of the Crimean Tatar Mejlis (Parliament) Mustafa Salman and Dilyaver Hayreddinov in Nizhnegorsk Rayon.
"The searches were conducted by police officers, it is unclear, why in Nizhnegorsk Rayon exactly. They are searching for banned literature," Crimean Tatar national movement activist Zair Smedlyaev said.
Eye-witnesses said police searched for arms while Mustafa Salman and his two sons were deployed to the local police department, journalist Shevket Namatullaev wrote in Facebook.
This is not the first case of such searches in Crimea. Previously, Russian Federal Security Service officers searched Crimean madrassas (religious schools) for banned literature.
Three madrasas were searched during August 13, ahead of Russia's Federal List of Extremist Materials law that will come into force in 2015 that bans a number of popular Islamic books.
The law bans a number of Islamic religious books that under Ukrainian law were deemed legal.
Full report at:
http://www.worldbulletin.net/headlines/143844/russian-agents-raiding-homes-of-muslims-in-crimea
------------
London murder sparks spike in threats to Muslims
6 September 2014
A monitoring group has reported a surge in threats against Muslims and mosques following the gruesome beheading of an elderly woman in north London Thursday.
As detectives Friday tried to establish just what drove Nicholas Salvador, 25, to allegedly decapitate 82-year-old Palmira Silva in her back garden in Edmonton, a group monitoring threats against British Muslims said it saw a rise in reports just hours after news of the incident broke.
Fiyaz Mughal, director of TellMama, said the reported incidents included threats on social media as well as threats in the street in Wales and south London to women wearing the Hijab, The Guardian newspaper reported.
Mughal said what was of particular concern was that the threats now shifted to naming specific targets, among them a mosque.
Full report at:
http://english.alarabiya.net/en/News/world/2014/09/06/London-murder-sparks-spike-in-threats-to-Muslims.html
----------
Norway's mass killer Breivik wants to create fascist party
September 6, 2014
Norwegian mass murderer Anders Behring Breivik, who showed no remorse at his trial for killing 77 people in 2011, said on Friday he was renouncing violence and was willing to apologise for his actions if he were allowed to set up a fascist party.
In a 33-page-long letter, sent to AFP and seen by Reuters, Breivik said he was committed to bring about change by peaceful means and wanted to set up a party called the Norwegian Fascist Party and the Nordic League.
"My heart bleeds as an ex-militant for the barbarity I perpetrated on July 22," the 35-year-old wrote, referring to the day when he planted a car bomb in central Oslo killing eight people and gunned down 69 more on Utoeya Island.
"As an ex-militant, the most important thing in my life now is to make sure that something like this never happens again. The whole purpose with the NFP and the NL is to ensure that it never happens again."
Full report at:
http://www.worldbulletin.net/headlines/143836/norways-mass-killer-breivik-wants-to-create-fascist-party
------------
India
'Pakistan Army, ISI Stage-Managing Al-Qaida Advance into India'
Chidanand Rajghatta,TNN | Sep 6, 2014
WASHINGTON: Pakistan should be warned that it will be placed on the list of states sponsoring terrorism, a former US official and intelligence analyst said on Thursday, while accusing the Pakistani military of stage-managing the latest al-Qaida advance into India in order to strengthen its stranglehold over Pakistani domestic politics.
Amid growing concern in New Delhi over the formation of new al-Qaida affiliate in India and the spread of the ISIS, Bruce Riedel, a former CIA analyst and National Security Council official for South Asia, bluntly pointed to the Pakistan military and its intelligence outfit ISI for the renewed terror threats against India. He said there was no doubt that al-Qaida leader Ayman Al Zawahiri made the latest tape (threatening jihadist attacks across India) in his hideout in Pakistan, protected, as New Delhi suspects, by the ISI.
"The domestic politics of Pakistan are central to this drama, and to this threat," Riedel wrote in his column. "In short, the Pakistani army and its ISI spies are once again playing with fire — with India, the LeT and Kashmir — in order to secure domestic gains against their civilian leaders."
Full report at:
http://timesofindia.indiatimes.com/india/Pakistan-army-ISI-stage-managing-al-Qaida-advance-into-India/articleshow/41815543.cms
----------
Dar ul Uloom Deoband Condemns Al-Qaeda Move to Put the Indian Subcontinent on Its Radar
September 6, 2014
A day after al-Qaeda chief Ayman al-Zawahiri announced the terror outfit's plans to put the Indian subcontinent on its radar, Islamic seminary Dar ul Uloom Deoband on Friday condemned the move, asserting that Indian Muslims would never be convinced by un-Islamic and false arguments of organisations such as the al-Qaeda.
Muslim groups such as the All-India Muslim Majlis-e-Mushawarat, an apex body of over 12 Muslim groups representing different sects, too condemned al-Qaeda.
Indian Air Force chief Air Chief Marshal Arup Raha said the country was ready to tackle such threats.
"The nation is prepared for it," he told presspersons on the sidelines of a seminar.
The Dar ul Uloom Deoband, which has substantial influence in South Asia, was among the first seminaries to have issued a fatwa against terrorism. Mufti Abul Qasim Nomani, director of the seminary, said, "Indian Muslims are non-violent and they love their country. They will never be persuaded by a terrorist group."Reacting to the video message on social media outlets from the al-Qaeda announcing the creation of its branch in the Indian subcontinent, Mufti Nomani said, "Islam is a non-violent religion which talks about propagating peace across the world. Followers of this peaceful religion would never buy arguments of the terrorist groups."
Full report at:
http://www.thehindu.com/news/national/darul-uloom-deoband-condemns-alqaeda-move/article6384559.ece
----------
Al-Qaida won't find India easy: Intelligence agencies
Jayaraj Sivan,TNN | Sep 6, 2014
CHENNAI: Ayman al-Zawahiri's threat to form al-Qaida in Indian Subcontinent (AQIS) has unnerved intelligence agencies in the country forcing them to look for possible links between some of the homegrown extremist outfits and al-Qaida.
Coming from one of the most dreaded terror outfits in the world, nobody dare take the threat lightly, but al-Qaida may not find it easy to set up base in India, say intelligence agencies. A senior official with more than two decades of experience in the Intelligence Bureau (IB) said there could be stray elements with the potential to cause trouble but India did not give them room to flourish.
A young man from Cuddalore district who was working in Singapore made for Syria and joined ISIS. Three others from Thane joined ISIS and one of them died fighting for the rebel group in Iraq. Yet, the official said, a foreign terror group cannot sink its roots in the country unless the social divide is wide enough.
Islamic Forum for the Promotion of Moderate Thought says Indian Muslims are peace loving and do not subscribe to al-Qaida's worldview. Nevertheless, the forum's secretary general, A Faizur Rahman, feels mosques in the country should use Friday sermons to counter puritanical schools of thought in accordance with the Prophetic warning against linking extremism and religion.
Full report at:
http://timesofindia.indiatimes.com/india/Al-Qaida-wont-find-India-easy-Intelligence-agencies/articleshow/41819288.cms
----------
North America
Obama recruits 9 allies to help in the battle against ISIS
Helene Cooper,NYT News Service | Sep 6, 2014
NEWPORT: US President Barack Obama escalated the American response to the marauding Islamic State in Iraq and Syria on Friday, recruiting at least nine allies to help crush the organization and offering the outlines of a coordinated military strategy that echoes the war on terror developed by his predecessor, George Bush, more than a decade ago.
In his most expansive comments to date about how the United States and its friends could defeat ISIS, a once-obscure group of Sunni militants that has now upended the Middle East and overshadowed al-Qaida, Obama said the effort would rely on American airstrikes against its leaders and positions, strengthen the moderate Syrian rebel groups to reclaim ground lost to ISIS, and enlist friendly governments in the region to join the fight.
While the president's aides maintained that he has not yet decided to authorize airstrikes in Syria — which he has already done on a limited basis in Iraq — Obama likened his developing strategy on ISIS to the American effort against al-Qaida in Pakistan's tribal regions, which has relied heavily on air strikes.
Full report at:
http://timesofindia.indiatimes.com/world/us/Obama-recruits-9-allies-to-help-in-the-battle-against-ISIS/articleshow/41837019.cms
----------
U.S. fears Islamic State smuggling radioactive materials
Sep 06 2014
U.S. and Iraqi authorities have jointly ramped up their efforts to prevent terrorists from acquiring nuclear and radioactive materials as concerns mount that Islamic State of Iraq and the Levant (ISIL or ISIS) is seeking to recover these sensitive materials and use them in a terror attack.
ISIL now controls about half of Iraq, potentially giving it access to some low-level radioactive and radiological materials, according to a State Department official.
The threat has been deemed "critical" by the U.S. State Department, which announced on Wednesday that it had inked a new deal with Baghdad to ramp up joint efforts to detect and recover sensitive nuclear materials before ISIL and other terrorist entities can get to them.
http://www.washingtontimes.com/news/2014/sep/5/us-fears-islamic-state-smuggling-radioactive-mater/#ixzz3CW8WfZAt
----------
Minnesota Mosque Ousts Alleged Radical Recruiter
Sep 06 2014
A Minnesota mosque reportedly frequented by jihadists who've traveled to Syria to join the Islamic State (ISIS) has booted out a Muslim member who allegedly was recruiting youth with talk of radical Islamic ideology.
A Fox affiliate in Atlanta reported Amir Meshal, 31, of Bloomington, Minn., was given a ticket for trespassing at the Al-Farooq Youth and Family Center in June – but was being eyed by the FBI in Kenya as early as 2007.
The Fox station reported Meshal started attending the mosque and hanging out at the center earlier this year, but raised eyebrows when he was allegedly overheard talking jihad.
The Fox station quoted a police report from Meshal's removal from the mosque in June that said officials had "concerns about Meshal interacting with our youth."
The Fox station also said it learned some jihadists who traveled to Syria for ISIS had attended the mosque, including including a 19-year old St. Paul, Minn., girl who left for Syria two weeks ago.
Full report at:
http://www.newsmax.com/US/minnesota-mosque-jihadists-ousted/2014/09/05/id/592980/
----------
Hate attacks against Muslims after beheadings of US journalists
Sep 06 2014
NEW YORK: Since the beheadings of two American journalists by the Islamic State (IS), Muslims living in Bay Ridge area of Brooklyn have been threatened by extremist hate groups, New York's media reported on Thursday.
On Wednesday two advocates of Arab civil rights were attacked by a man who shouted anti-Arab epithets and threatened to behead one of them, reports say.
A women interviewed on TV said some miscreants carrying Israeli flags attacked grocery stores belonging to Arabs and threatened them.
On Thursday the New York police charged Brian Boshell with menacing and aggravated harassment as a hate crime and criminal possession of weapon, the New York Daily News reported.
Full report at:
http://www.dawn.com/news/1130191/hate-attacks-against-muslims-after-beheadings-of-us-journalists
---------
Pakistan
Army Chief Holds off Generals Seeking Nawaz Ouster
Sep 06 2014
ISLAMABAD: Weeks of mounting anti-government protests in Pakistan had been enough to convince five of the powerful army's 11 Corps Commanders that it was time for them to step in and force embattled Prime Minister Nawaz Sharif to resign.
According to a minister close to military circles, top generals met in the garrison city of Rawalpindi at the end of August as demonstrations raged in nearby Islamabad. Thousands of protesters had just tried to storm Sharif's residence. At the tense, four-hour conclave, Pakistan's democratic process was once again in peril, with the military pondering another intervention in the country. But army Chief Raheel Sharif decided the time was not right to overthrow the civilian leadership, and moved to quell any disagreement in his ranks by overruling the hawks and declaring the crisis must be solved through politics, not force.
Soon afterwards, the army issued a brief statement, reaffirming its commitment to democracy, and the threat of a coup, at least for now, had passed. The minister, who declined to be named due to the sensitivity of discussing the inner workings of the military, said at least five generals had been pushing for weeks for the army to take a more "active role" in defusing the crisis. "The time for the army to be neutral is over," was how the minister summed up the message from dissenters around the table. Two military sources confirmed this version of events. They, like the minister, spoke on condition of anonymity.
Full report at:
http://www.dailytimes.com.pk/islamabad/06-Sep-2014/army-chief-holds-off-generals-seeking-nawaz-ouster
----------
Pak President calls for promoting national unity, harmony
Sep 06 2014
ISLAMABAD: President Mamnoon Hussain has said that with Pakistan being a responsible nuclear state and having valiant armed forces ever-ready to counter the threats from within and without, there was a need to promote national unity and harmony which was vital to make the country's defence impregnable.
"6th September is known in our national history as an emblem of valour, bravery, determination and strength as well as unity and harmony.
On this day, the armed forces and people of Pakistan stood solid against external aggression and thwarted the enemy's designs," he said in his message on the Defence Day of Pakistan on Saturday (September 6).
The President said, "This day is observed every year to remember the sacrifices and achievements of the country's valiant 'Ghazis and Shaheeds' and to renew the pledge to safeguard the defence of motherland".
Full report at:
http://www.dailytimes.com.pk/national/06-Sep-2014/defence-day-today-mamnoon-calls-for-promoting-national-unity-harmony
----------
Law, order improved after launch of operation: IG Sindh
Sep 06 2014
KARACHI: Sindh Police Inspector General Ghulam Haider Jamali has said that the law and order situation of Karachi has significantly improved after launching an operation against criminals and terrorists in the city. He said, "The city police is determined to protect precious lives of the citizens and we continue to take an indiscriminate action against criminals and terrorists on priority basis."
He was addressing at the inauguration of mobile driving license facility at the Karachi Press Club on Thursday. The Sindh Police chief also formally inaugurated the mobile driving license facility by cutting a ribbon.
Additional IG Ghulam Qadir Thebo, KPC President Imtiaz Khan Faran, KPC members and media personnel were also present.
He expressed pleasure that the facility of mobile driving license issuance has commenced from the KPC and said the media will convey the message about this facility to other parts of Sindh and the country. He said that we can and we will improve the law and order situation of Karachi.
Full report at:
http://www.dailytimes.com.pk/sindh/06-Sep-2014/law-order-improved-after-launch-of-operation-ig-sindh
----------
15 Christians held in Pakistan on blasphemy charge
September 6, 2014
Pakistani police have arrested 15 Christians and booked 45 other members of the minority community under the controversial blasphemy law for allegedly desecrating Muslim graves in a village in Punjab province, sparking tension in the area.
The case was registered after a local cleric filed a complaint alleging that the Christians had desecrated over 400 Muslim graves to occupy the land in Chak village in Faisalabad, about 150 km from Lahore.
Condemning the police action, a rights group alleged that a "fake" blasphemy case was filed against them on the pressure of the cleric and Muslims as they did not want the land allocated to Christians. "In fact there was not a single grave in the land allocated to the Christians by the local administration for their graveyard," Human Liberation Commission Pakistan Chairman Aslam Sahotra said.
He demanded that Punjab Chief Minister Shahbaz Sharif look into the matter.
http://www.thehindu.com/news/international/south-asia/15-christians-held-in-pakistan-on-blasphemy-charge/article6384138.ece
----------
Army's operational readiness has acted as deterrence against enemies: COAS
Sep 06 2014
RAWALPINDI: Chief of Army Staff (COAS) General Raheel Sharif said on Friday that the highest state of operational readiness of the army has always acted as the best deterrence against enemies of Pakistan.
During his visit to the Corps Headquarters Multan, COAS Sharif said the Pakistan army's readiness to respond to any internal threat and disaster as a first responder has been our (army) hallmark.
Earlier, COAS was given a detailed briefing on Operational, training and administrative matters of the corps. COAS witnessed conduct of field training of an Armoured formation in the ambit of Corps Operation, comprising elements of Armour Artillery, Infantry, Air Defence and Light Commando Battalion.
Full report at:
http://www.thenews.com.pk/article-158891-Armys-operational-readiness-acts-as-deterrence-against-enemies:-COAS-
----------
Imran announces return to D-Chowk from Constitution Avenue
Sep 06 2014
ISLAMABAD: Chairman, Pakistan Tehreek-e-Insaf (PTI), Imran Khan has announced to move sit-in to D-Chowk from Cabinet Division Constitution Avenue, Geo News reported.
Addressing the participants of the sit-in, Imran Khan said owing to lack of space, now, they would stage sit-in at D-Chowk, where PTI and PAT originally staged protest sit-ins.
Khan reiterated that they would not end their protest sit-in till resignation of PM Nawaz Sharif.
He said Nawaz Sharif was thinking that the 'Captain' (Imran) would be exhausted. "I want to tell PM Nawaz that captain cannot get tired", he said.
http://www.thenews.com.pk/article-158931-Imran-announces-return-to-D-Chowk-from-Constitution-Avenue
----------
Jirga says it can't hand over wanted men to Khyber admin
Sep 06 2014
LANDI KOTAL: A Kukikhel jirga on Friday expressed its inability to hand over the wanted men to the local administration.
The local political administration had displayed names of 187 wanted men both at its offices and in Jamrud Bazaar and had demanded that the local elders hand over wanted men or facilitate their voluntary surrender.
It was for the second time since the displaying of the list by the administration on August 26 that the Kukikhel jirga met in Jamrud to discuss the official demand and make a joint strategy on it.
More than 300 representatives from all Kukikhel sub-tribes participated in the jirga, which took place at the political administration offices.
Opposes handing over of heavy arms to forces, registration of light weapons
The participants discussed threadbare the official demand regarding the handing over of wanted men and unanimously expressed their inability to meet it.
Full report at:
http://www.dawn.com/news/1130249/jirga-says-it-cant-hand-over-wanted-men-to-khyber-admin
----------
Engage establishment too to resolve crisis: Zardari
Sep 06 2014
ISLAMABAD: Former president and Pakistan People's Party (PPP) Co-Chairman Asif Ali Zadari on Friday suggested engaging the establishment along with all the political parties to steer the country out of the crisis it faces.
"We will have to talk with each and everyone and even engage establishment to resolve the crisis," Zardari told a select group of journalists at the Zardari House. He said that "we have talked to all the democratic forces to take the country forward". About the way out from the prevailing political crisis, the former president noted that more and more understanding between the political forces is the panacea to all the issue, including the ongoing political impasse.
Full report at:
http://www.dailytimes.com.pk/national/06-Sep-2014/engage-establishment-too-to-resolve-crisis-zardari
----------
PAT 'revolutionaries' not being allowed to return: BBC Urdu
Sep 06 2014
ISLAMABAD: Worn out by scorching heat and then heavy rain, allegedly hired on meager payments Pakistan Awami Tehreek marchers have become desperate to return to their homes, BBC Urdu reported on Saturday.
According to a BBC Urdu report, the participants of the prolonged sit-in are not being allowed to leave for their homes by the PAT organizers.
Navid, a resident of Bahawalpur and a student of 10th class, whose real name was not given due to security reasons is among the participants of the Inquilab march. He told BBC that the PAT office bearers paid Rs6000 to his family. "PAT local leader Tanvir Abbasi told my family that Navid is going to Islamabad to attend Inquilab March and will return home within three days," BBC Urdu quoted the boy as saying.
Navid said that almost three hundred youngsters were brought from Bahawalpur and adjacent areas.
Full report at:
http://www.thenews.com.pk/article-158925-PAT-revolutionaries-not-being-allowed-to-return:-BBC-Urdu
----------
Govt never empowered negotiators, says Qadri
Sep 06 2014
ISLAMABAD - The protesters of Pakistan Awami Tehreek finally vacated the lawn of Parliament House on Friday following the Supreme Court's orders given a few days back and erected a tent village outside the building on Constitutional Avenue.
After vacating the lawn and removing tents from the location, a few PAT workers were seen collecting garbage from the lawn to pose a better image of their party and leader. Most of the people just moved outside and did not take part in any kind of cleaning activity.
Comparing with the crowd of last long march of Dr Qadri this time the gathering seemed totally different. There are reports that many of the marchers belong to remote areas of the country and are used to live in tents the same way they are residing in front of the Parliament.
Full report at:
http://www.nation.com.pk/editors-picks/06-Sep-2014/govt-never-empowered-negotiators-says-qadri
----------
Mideast
40 killed in clashes between Yemen army and Houthi rebels
World Bulletin / News Desk
September 6, 2014
At least 40 people were killed in clashes between Yemeni army troops and gunmen affiliated with the Shiite Houthi militant group in the northern province of Al-Jawf, a local official said.
"As many as 30 Houthi militants were killed in fierce clashes with army troops backed by armed tribesmen in Al-Gheil directorate since Friday night," the official, who asked to remain anonymous, told Anadolu Agency.
"Around 10 troops and tribesmen were also killed in the confrontation," he said, adding that sporadic clashes are still underway in the area.
The northern province of Al-Jawf has recently turned into a battleground between the army and allied tribesmen on one hand and Houthi militants on the other.
Violence first erupted in the flashpoint province in April, resulting in casualties on both sides.
A few weeks ago, a presidential mediation committee succeeded in brokering a temporary ceasefire between the warring camps – but this proved short-lived.
Al-Jawf is strategically important in that it is located near Yemen's eastern Maarib province, the center of the country's oil production.
Full report at:
http://www.worldbulletin.net/todays-news/143838/40-killed-in-clashes-between-yemen-army-and-houthi-rebels
----------
Hamas' Mashaal agreed in Doha meeting with Abbas to Palestinian state within 1967 borders
6 September 2014
Hamas leader Khaled Mashaal expressed his agreement to the founding of a Palestinian state within the 1967 Green Line in a meeting with the emir of Qatar, Tamim bin Hamad al-Thani, and Palestinian Authority President Mahmoud Abbas.
The Hezbollah-affiliated newspaper Al-Akhbar published what it said was the protocol of the meeting.
The meeting took place last month in Doha during Israel's Operation Protective Edge in Gaza. Abbas and the emir invited Mashaal to join their meeting to discuss ways to end the fighting between Israel and Hamas, Palestinian sources said.
"We want a full partnership with the Palestinian Authority, and in addition we agree to the creation of a Palestinian state in the 1967 borders," Mashaal was quoted as saying.
"The people of the Gaza Strip do not only want to reach a cease-fire, they also want a comprehensive deal in which the blockade is lifted, the border crossings are open, and the strip is rehabilitated," the leader was quoted as saying in the meeting.
Mashaal emphasized that resolution of these issues was in Abbas's hands who has access to the European Union and Egyptian officials.
Full report at:
http://www.jpost.com/Arab-Israeli-Conflict/Report-Hamas-Mashaal-agreed-in-Doha-meeting-with-Abbas-to-Palestinian-state-within-1967-borders-374546
---------
US, Iran deny military coordination plans against ISIL
6 September 2014
The United States and Iran have denied plans for any military coordination in the fight against the Islamic State of Iraq and the Levant (ISIL) militants.
"We are not going to coordinate military action or share intelligence with Iran and have no plans to do so," State Department deputy spokeswoman Marie Harf said Sept. 5, reacting to reports that Tehran had approved such an arrangement.
Harf said that Washington was "open to engaging" with Iran as it had in the past on select issues, notably on Afghanistan in late 2001, when the two sides worked to put Hamid Karzai into power after the fall of the Taliban.
Full report at:
http://www.hurriyetdailynews.com/us-iran-deny-military-coordination-plans-against-isil.aspx?pageID=238&nID=71364&NewsCatID=352
----------
Israel 'preparing for war' against Hezbollah
World Bulletin / News Desk
September 6, 2014
The Israeli army is currently preparing for the possibility of the eruption of "a very violent war" with Hezbollah in southern Lebanon, Israel's Channel 2 reported.
In the report, Colonel Dan Goldfus of the Israeli army said that they will have to use "considerable force" against Hezbollah and "to act more decisively, more drastically" to win any such conflict with them.
Noting that Hezbollah has an estimated 100,000 rockets, Goldfus said that a conflict against the Shiite Lebanese group would be "a whole different story" from the recently-concluded onslaught against the Gaza Strip.
Full report at:
http://www.worldbulletin.net/headlines/143847/israel-preparing-for-war-against-hezbollah
----------
Iran says nuclear deal possible if world is 'sincere'
September 06, 2014
TEHRAN: A top Iranian negotiator said Friday that a comprehensive nuclear agreement with the West remains possible before a November deadline, as long as world powers are sincere during upcoming talks.
Majid Takht-Ravanchi, deputy foreign minister for European and US affairs and a member of Iran's nuclear negotiations team, made the remarks during a meeting with Czech officials in Prague.
"As long as the P5+1 are sincere and they have a constructive approach, we can reach a good result before November 24," the official IRNA news agency quoted him as saying.
Takht-Ravanchi was referring to the five permanent members of the UN Security Council (Britain, China, France, Russia, the United States) and Germany, with whom Iran has been negotiating since last year.
Full report at:
http://www.nation.com.pk/international/06-Sep-2014/iran-says-nuclear-deal-possible-if-world-is-sincere
----------
Opp. Leader meets Abbas, calls for resumption of Israeli-Palestinian peace talks
6 September 2014
Opposition leader Issac Herzog met with Palestinian Authority President Mahmoud Abbas on Friday, and called for sides to resume peace negotiations in the wake of the Gaza conflict.
In the first meeting between a senior Israeli official and the PA leader since the 50-day Operation Protective Edge in Gaza, Herzog said the current situation amid the intermediary cease-fire provided a rare opportunity to forge a regional political settlement.
Abbas reiterated his position that the Israelis and Palestinians return to the negotiating table on the primary basis of determining, under a strict timeline, the borders of a future independent Palestinian state.
"The time has come for Israel to determine how it envisions the borders of the Palestinian state," Abbas charged.
Full report at:
http://www.jpost.com/Arab-Israeli-Conflict/Herzog-to-Abbas-Israeli-Palestinian-peace-talks-should-resume-in-wake-of-Gaza-conflict-374565
----------
Arab World
Syrian strikes on ISIS stronghold, Raqqa, kill 13
September 6, 2014
BEIRUT: Activists say Syrian airstrikes targeting a stronghold of ISIS have killed at least 13 civilians.
The Britain-based Syrian Observatory for Human Rights says the eight strikes targeted the north-eastern city of Raqqa, which is run by the militant group. The Observatory said at least one strike hit a bakery on a busy street and that the death toll was likely to rise. The Observatory obtains its information from a network of activists on the ground.
The incident was also reported by a Raqqa media collective.
The Syrian government has increased its airstrikes on Raqqa since fighters from ISIS swept into neighbouring Iraq, seizing northern and western swaths of that country and declaring a proto-state straddling the border.
http://www.dailystar.com.lb/News/Middle-East/2014/Sep-06/269786-syrian-strikes-on-isis-stronghold-kill-13.ashx#axzz3CHCdG2lQ
-----------
Syrian Army Kills, Dislodges Rebels in Aleppo, Damascus
September 6, 2014
Syrian Armed Forces carried out a series of large-scale operations against the militants in the countryside of Aleppo and Damascus on Saturday, leaving a large number of them killed and injured.
The army inflicted heavy losses upon the militants in Manbihj, Deir Hafer, Ehras, Kilah, Sheikh Amad, al-Haidarioyeh, Sulaiman al-Halabi and Binyamin areas in Aleppo and its countryside, a military source told SANA.
The brave Syrian soldiers targeted six vehicles loaded with ammunition in Kafer Hamra, Deir Hafer, al-Jandoul and al-Rashidin areas, killing scores of them and injuring others.
Insurgents' hideouts in the countryside of Damascus were also stormed in in the farms of Khan al-Sheih and al-Husainiyeh. Too many rebels lost their lives.
Full report at:
http://english.farsnews.com/newstext.aspx?nn=13930615000962
------------
Obama anti-jihadist plan 'strong message of support': Iraq FM
6 September 2014
US President Barack Obama's plan for an international anti-jihadist coalition is a "strong message of support" for Baghdad and its fight against militants, Iraqi Foreign Minister Hoshyar Zebari said Saturday.
"We welcome that, and we have repeatedly called on our international partners for help and support because this threat is a very deadly threat... not only to the people of Iraq or the region, but to Europe, to America, to NATO," Zebari told AFP.
"This is basically our fight... but we need the support -- our capacity is limited, and we need the support to enhance our capacity," he said.
Full report at http://english.ahram.org.eg/NewsContent/2/9/110067/World/International/Obama-antijihadist-plan-strong-message-of-support-.aspx
----------
Egypt charges ex-President Morsy with passing state secrets to Qatar
September 6, 2014
An Egyptian prosecutor charged ousted President Mohamed Morsy and several of his aides on Saturday with endangering national security by leaking state secrets and sensitive documents to Qatar.
Relations between Qatar, a Gulf Arab state, and Egypt have been tense since mid-2013, when then-Army chief Abdel Fattah al-Sisi toppled Mr. Morsy after mass protests against his rule.
Qatar had supported Mr. Morsy and his Muslim Brotherhood. Security sources said last month that Egypt was investigating Mr. Morsy in connection with documents they said were leaked to Qatar and its Al Jazeera news channel.
http://www.thehindu.com/news/international/world/egypt-charges-expresident-mohamed-morsy-with-passing-state-secrets-to-qatar/article6386308.ece
----------
Egyptian militants say Islamic State guiding Sinai-based jihadists
6 September 2014
CAIRO - Islamic State, fighting to redraw the map of the Middle East, has been coaching Egypt's most dangerous militant group, complicating efforts to stabilize the biggest Arab nation.
Confirmation that Islamic Sate, currently the most successful of the region's jihadi groups, is extending its influence to Egypt will sound alarm bells in Cairo, where the authorities are already facing a security challenge from home-grown militants.
A senior commander from the Sinai-based Ansar Bayt al-Maqdis, which has killed hundreds of members of the Egyptian security forces over the last year, said Islamic State has provided instructions on how to operate more effectively.
Full report at:
http://www.jpost.com/Middle-East/Egyptian-militants-say-Islamic-State-guiding-Sinai-based-jihadists-374561
----------
Report: Terror suspects arrested in Saudi Arabia may be Assad agents
6 September 2014
Several Syrian terror suspects who have been detained by Saudi authorities in recent months may have been employed by the regime of President Bashar al-Assad, a Saudi newspaper reported Friday.
Al-Watan said Saudi security forces monitored over the past nine months "what is believed to be a Syrian network with dubious and terrorist activities." Authorities have detained several suspects in close operations that started since last December, the paper added.
It said 48 Syrians were arrested, including 11 who entered the kingdom as "visitors."
"The Saudi Interior Ministry in its statements did not disclose the charges against them, but the close arrests over the past few months give signals that they were plotting to carry out terrorist acts at the behest of the Assad regime," theb paper said.
The number of Syrians detained in Saudi jails is the second largest for foreign detainees after Yemenis, whose number is 189, according to the paper.
Saudi Arabia's Interior Ministry Tuesday said it had apprehended 88 individuals with suspected links to foreign terror groups.
Full report at:
http://english.alarabiya.net/en/News/middle-east/2014/09/05/Report-Terror-suspects-arrested-in-Saudi-Arabia-may-be-Assad-agents.html
----------
Iraqi soldier hid himself in bodies to survive massacre
September 06, 2014
BAGHDAD: A man who was lined up in a firing squad by ISIS has described his incredible survival story after gun-wielding militants narrowly missed his head with the bullet.
Ali Hussein Kadhim, an Iraqi soldier, was one of hundreds abducted by the extremist group in Tikrit in June. His colleagues were spared death, but Mr Kadhim was ordered to execution.
However, after shooting three Shia soldiers in the back of the head, the assassin turned his gun on 23-year-old Mr Kadhim - and missed.
Instinctively, he fell forwards into the open grave dug for the victims of the murderous rampage. It was a decision that would save his life.
Speaking to the New York Times, Mr Kadhim, who is married with one daughter, described the sensation of the bullet breezing past his temple.
Full report at:
http://www.nation.com.pk/international/06-Sep-2014/iraqi-soldier-hid-himself-in-bodies-to-survive-massacre
----------
Iraqi Shiite forces reinvigorated after Amerli victory
Sep 06 2014
AMERLI, Iraq – Thick black smoke rose from some of the houses in the distance. The rocket and bullet casings lying by the side of the highway attested to the fight for control over the area. Young Shiite men armed with a variety of weapons, including rocket-propelled grenades, manned makeshift checkpoints along the road to the "liberated" town of Amerli. Such was the scene that greeted visitors arriving in the vicinity of Amerli and Sulaiman Bag, in the northern part of Saladin province, some 180 kilometers (112 miles) north of Baghdad.
At the entrance to Amerli, children waved Shiite flags at the vehicles entering their dilapidated town. It was a genuine expression of joy at having survived what would have surely been a brutal fate if the fighters of the Islamic State (IS) had succeeded in setting foot in this town populated by Shiite Turkmen.
Full report at:
http://www.al-monitor.com/pulse/originals/2014/09/amerli-iraq-shiite-forces-islamic-state-lift-siege.html#ixzz3CW4GBC00
----------
Southeast Asia
Malaysia firmly against ISIS, organisation does no justice to Islam
6 September 2014
PUTRAJAYA, Sept 6 — Malaysia stands firmly together with the international community against the terror organisation, Islamic State in Iraq and Syria (Isis) as it does not do justice to Islam. Prime Minister Datuk Seri Najib Tun Razak said Malaysia was concerned with the conflict in Iraq and Syria, as well as the involvement of militant activities as it affected the stability of those countries.
He said Malaysia would work together with the international community to combat the militant organisation and its influence. "We will work together with the large community as Isis does not represent Islam. Isis is a misnomer. It does not do justice to Islam," he said in a joint press conference with his Australian counterpart, Tony Abbot at the Bangunan Perdana Putra here today.
Abbott is on a one-day official visit to Malaysia on Saturday to discuss bilateral issues including the vanished Malaysia Airlines (MAS) Flight MH370, the alleged downing of MAS Flight MH17 in the Eastern Ukraine and trade arrangement.
Full report at:
http://www.themalaymailonline.com/malaysia/article/najib-malaysia-firmly-against-isis-organisation-does-no-justice-to-islam#sthash.0lGflwiS.dpuf
----------
Umno urged to stand united for Malays and Islam
6 September 2014
Umno members must remain united and loyal to the party to ensure that the struggle to defend the Malays and Islam can continue uninterrupted.
Its vice-president, Datuk Seri Mohd Shafie Apdal (pic), said today, they should place the party's struggle on the right track and set aside personal interest to avoid a split.
"The current political environment is very different. The party's struggle is not just about post at division or branch but is to defend the Malays and Islam," he said when opening the Paya Besar Umno division delegates meeting in Kuantan.
Shafie said Umno must strengthen unity as it is the pillar in the struggle to defend the Malays and Islam.
Full report at:
http://www.themalaysianinsider.com/malaysia/article/umno-urged-to-stand-united-for-malays-and-islam-bernama#sthash.JHh8KW40.dpuf
---------
Africa
Nigeria sends in warplanes against Boko Haram
Sep 06 2014
ABUJA: Nigerian warplanes are carrying out air strikes against Boko Haram militant bases in northeast Borno state, a senior official said on Friday, in a government counter-attack against the group's apparent drive to create an Islamist enclave.
The official, who asked not to be named, told Reuters Nigeria's military was battling Boko Haram fighters at Bama, 70 km (45 miles) southeast of the Borno state capital Maiduguri.
Air strikes have been carried out "on all the Boko Haram bases", the official said, adding this reflected President Goodluck Jonathan's order for a "fully-fledged war" against the group which has waged a bloody insurgency since 2009.
Military spokesmen have denied reports Bama was overrun by heavily armed militants earlier this week after they attacked it with captured military vehicles and pick-up trucks mounted with machine guns, all part of a growing Boko Haram arsenal. "Bama today is the center of the military battle with the terrorists ... Boko Haram is being repelled by the Nigerian troops as we are talking now," the government official said, without giving details of the operations or casualties.
http://www.dailytimes.com.pk/foreign/06-Sep-2014/nigeria-sends-in-warplanes-against-boko-haram
----------
Somalia put on high alert after Shebab leader confirmed dead
6 September 2014
Somalia's government warned Sept. 6 that the country's Al-Qaeda-linked Shebab rebels were planning a wave of retaliatory attacks after it was confirmed their leader was killed earlier this week in a US air strike.
"Security agencies have obtained information indicating that Al-Shebab is now planning to carry out desperate attacks against medical facilities, education centres and other government facilities," National Security Minister Kalif Ahmed Ereg told reporters.
"The security forces are ready to counter their attacks and we call on people to help the security forces in standing against violent acts," he said, adding nevertheless that "we congratulate the Somali people" on the death of Ahmed Abdi Godane.
On Sept. 5 the Pentagon confirmed that Godane, the leader of Al-Qaeda's main affiliate in Africa, perished in an attack on Monday in which US drones and manned aircraft rained Hellfire missiles and laser-guided bombs on a gathering of Shebab commanders.
Godane has been fighting to overthrow the war-torn country's internationally-backed government, carrying out a wave of bombings and assassinations.
Full report at:
http://www.hurriyetdailynews.com/somalia-put-on-high-alert-after-shebab-leader-confirmed-dead.aspx?pageID=238&nID=71363&NewsCatID=357
----------
Nigeria's military under fire over Boko Haram response
6 September 2014
When Nigeria's new chief of defence staff was appointed earlier this year, he promised a swift end to the deadly violence being waged by Boko Haram Islamists.
"If we do our work cohesively, I can tell you we will finish that thing (the counter-insurgency) in no time," Air Marshal Alex Badeh said at his investiture on January 20.
Eight months on, Boko Haram look stronger than ever, having seized towns and villages in Nigeria's northeast at a rate which has drawn comparisons to Islamic State militants' rapid gains in Iraq.
The military in contrast seems far from cohesive: some soldiers have reportedly refused to deploy, complaining they are ill-equipped to fight the better-armed rebels.
Hundreds of others are said to have shouldered arms and fled their posts; salaries have reportedly gone unpaid; and soldiers left without proper food. The military denies the claims.
On Thursday, US Assistant Secretary of State for African Affairs Linda Thomas-Greenfield warned that the worsening security situation must be reversed.
Full report at:
http://english.ahram.org.eg/NewsContent/2/9/110079/World/International/Nigerias-military-under-fire-over-Boko-Haram-respo.aspx
-------------
Libya's Haftar to launch Tripoli operation 'soon'
World Bulletin / News Desk
September 6, 2014
Forces loyal to renegade Libyan general Khalifa Haftar are set to launch a military operation in Tripoli within days to purge the city from militant groups, his spokesman said.
"Preparations for the Tripoli operations are almost finalized and it would be conducted in coordination between forces hailing from Zintan [in the northwest] and military aircraft," Haftar's spokesman Mohamed Hegazi told Anadolu Agency.
According to Hegazi, the operation would be overseen by newly-appointed Army Chief-of-Staff Abdel-Razzaq Nazuri.
The army is yet to confirm Hegazi's assertion on the imminent operation.
Tripoli has been the scene of particularly fierce clashes between the Libya Shield, which is widely seen as a pro-Islamist militia, and rival Al-Qaaqaa and Al-Sawaaq militias over control of the city's vital facilities.
Full report at:
http://www.worldbulletin.net/todays-news/143825/libyas-haftar-to-launch-tripoli-operation-soon
-----------
Australia
Islamic bookshop run by brother of suicide bomber 'promotes extremism'
Sep 06 2014
A LOGAN man believed to be the brother of Australia's first suicide bomber in Syria is running a bookshop south of Brisbane which is accused of promoting extremist views.
The Courier-Mail has been told that the iQraa Islamic Centre at Underwood had developed ties to firebrand Perth preacher Mohammed Junaid Thorne.
The centre this year "promoted'' and helped raise funds for two "sermons'' by the self-styled preacher, who is a vocal supporter of jihad and has had ties to the Australian branch of the Millatu Ibrahim group, which is banned in Germany.
It can also be revealed the centre hosted a lecture this year on what followers should do if they were contacted by national security organisation ASIO.
PM warns against terror attack complacency
The lecture included being aware of the "tell-tale'' signs of spies and examples of when a group had been infiltrated.
But a spokesman for the Logan centre said it merely engaged people to speak on a range of opinions.
A key figure in the bookshop is Omar Succarieh, who in an online promotional video is described as "one of the main brothers'' at the centre.
Full report at:
http://www.theaustralian.com.au/news/islamic-bookshop-run-by-brother-of-suicide-bomber-promotes-extremism/story-e6frg6n6-1227049545344
----------
URL: https://newageislam.com/islamic-world-news/china-first-convoy-hajj-pilgrims/d/98940