New Age Islam News Bureau
2 Jul 2013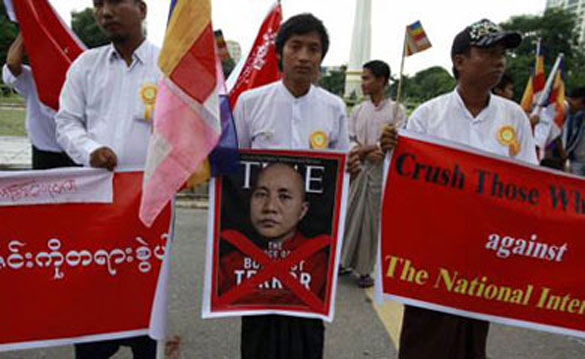 People demonstrate against Time magazine in Yangon June 30, 2013. — Reuters pic
-----------
Arab World
• China on radar of ultras trained by Syrian rebels
• Suicide bomber targets Iraq Shia mosque killing 22
• Catholic Priest 'Beheaded By Jihadist Fighters in Syria'
• UAE jails 68 Islamists for up to 15 years: TV
• Jordan publishes 'Abu Qatada treaty'
• Egypt opposition says would not support 'military coup'
• Egypt President Morsi warns of army ultimatum 'confusion'
• Egypt foreign minister resigns: state media
South Asia
• Saudi Arabia's Muslim World League opens office in Maldives Islamic Ministry
• Sri Lanka bans Time 'Buddhist Terror' edition
• Taliban attack on NATO suppliers kills 8 in Kabul
• Chinese Uygurs receive training in Pakistan to fight in Syria
• Former President Nasheed promises to reform Judicial Service Commission within 68 days
• Buddhist monks protest against Time Magazine in central Rangoon
• Nawaz's visit to boost economic cooperation, says Chinese envoy
• 3 Lakh Irregular Bangladeshis: Saudi Extends Amnesty till Nov 4
India
• Ishrat Was Let Off Then Lured Back to Be Killed
• Jamia Millia Islamia Vice-Chancellor Najeeb Jung to Be Delhi Lieutenant-Governor
• Muslim youth falsely implicated in Malegaon blasts case, says legal expert Yog Mohit Chaudhary
• Jamiat-e- Ulema Hind demands the release of innocent Muslim youth
• UP minority commission and Urdu bodies yet to have new committees
• In Kerala, orthodox Muslim cleric to build knowledge city
• Talks with Taliban should be within Afghan constitutional framework: Khurshid
• It is not actually snooping: Khurshid on US surveillance
• India, Pakistan exchange lists of prisoners in their jails
• Indian businessman helps free hapless inmates in UAE jails
• Plea to prosecute 82 Muslim witnesses rejected by special SIT court
Pakistan
• Terrorism to be resolved through economic overhaul: CM Shahbaz
• Pakistan angers Afghans by suggesting Taliban share power
• Three Sunni Tehreek activists among 4 killed
• For Karachi, 2013 will be a record year of extortion demands: Police
• Civilian deaths in Pakistan drone attacks at all-time low: Report
• Hazara town blasts: Majlis-e-Wahdat-e-Muslimeen marches in Karachi against attacks
• Pakistan looks for political will from India to better ties
• Gilani for promoting politics of reconciliation
• Lyari protesters converge on Rangers HQ against 'extra-judicial killing'
• SC dismisses petition against Altaf Hussain
Africa
• Tunisia's PM says Egypt scenario unlikely to happen there
• Obama honours 1998 Tanzania city of Dar es Salaam bombing dead
Southeast Asia
• Stay Islam Administration Bill - much to amend in Malaysia
• President Urged to Fulfill Tolerance Vow by Supporting Shiites' Safe Return Home
• Indonesian Citizens in Egypt Warned To Stay Alert Following Ultimatum
• Khairy concedes Malaysia's crime situation is "serious"
Australia
• First Australian Muslim minister racially abused for taking oath on Quran
North America
• Jimmy Carter compares Catholic Church to Islam on women's rights
• US and Russia 'making progress' on Syria peace talks
• Edward Snowden 'broadens asylum requests' - Wikileaks
• Obama calls Morsi to express concern over Egypt crisis
• Top US military officer calls Egyptian counterpart
• CAIR Urges End to Force-Feeding of Gitmo Hunger Strikers during Ramadan
Europe
• Georgia Newspaper Calls On U.S. To Send Muslims 'Back To Their Native Land'
• Fresh Incidents in Hotan and Urumchi, Indictment in the of Affairs in East Turkestan
• UK Hindus, Sikhs welcome mosque action against sexual grooming of children
• Iraq violence claims 761 in June: UN
• Syria neighbours must open borders to refugees: Tells HRW
• EU Parliament lifts Marine Le Pen's immunity after Muslim remarks
Mideast
• Israeli held after 2012 monastery 'price tag' attack
Compiled by New Age Islam News Bureau
URL: https://newageislam.com/islamic-world-news/china-radar-ultras-trained-syrian/d/12402
-----------
Arab World
China on Radar Of Ultras Trained By Syrian Rebels
Sutirtho Patranobis , Hindustan Times
July 01, 2013
Muslim extremists trained by Syrian rebels were responsible for the latest wave of violence in northwestern China's Xinjiang region, state media said on Monday with the government later dropping enough hints to bolster the claim. Reports in Chinese media, quoting unnamed intelligence agency sources, said it had been learnt that the Syrian opposition forces had trained those who had triggered last week's violence — the deadliest since the 2009 riots that claimed nearly 2,000 lives — in which 35 people were killed in the Xinjiang Uyghur Autonomous Region.
"This Global Times reporter has recently exclusively learned from the Chinese anti-terrorism authorities that since 2012, some members of the 'East Turkestan' faction have entered Syria from Turkey, participated in extremist, religious and terrorist organisations within the Syrian opposition forces and fought against the Syrian army," the newspaper said.
It blamed the traditional suspects, the East Turkestan Islamic Movement for planning to carry out attacks in China.
"At the same time, these elements from 'East Turkestan' have identified candidates to sneak into Chinese territory to plan and execute terrorist attacks," the report said.
"It is a serious violent terrorist attack. China has firmly opposed to any terrorism. The collusion between ETIM and relevant forces poses great threat to the country," Hua Chunying, foreign ministry spokesperson, said.
http://www.hindustantimes.com/world-news/china/China-on-radar-of-ultras-trained-by-Syrian-rebels/Article1-1085512.aspx
-------
Suicide bomber targets Iraq Shia mosque killing 22
July 02, 2013
At least 22 people have died in a suicide bomb attack targeting a Shia mosque in the Iraqi town of Muqdadiyah on Monday evening, police say.
The attack came on the same day the UN mission in Iraq released figures indicating that over 2,500 Iraqis have died in violent attacks since April.
Muqdadiyah is located 80km (50 miles) north-east of the capital, Baghdad.
It is the latest in a series of deadly sectarian attacks to strike Iraq's Diyala province.
Iraq has been suffering its worst sectarian violence in several years with May the bloodiest month since June 2008, according to recent figures.
However, the UN's latest casualties figures show a drop in the number of fatalities from 1,045 in May to 761 in June.
Trapped
A suicide bomber set off his explosive belt at the funeral ceremony of a police officer in Muqdadiyah late on Monday, police say.
The police officer was reportedly killed in a recent roadside bomb attack.
The explosion brought down the ceiling of the mosque, with people still believed to be trapped beneath the rubble.
A separate attack targeting a cafe in the central city of Baquba reportedly killed at least eight people and wounded 20 others on Monday.
In June, 10 Iranian Shia pilgrims were killed after a suicide bomber rammed a car packed with explosives into a bus in Muqdadiyah.
The recent surge in violence comes amid heightened tensions between Iraq's Sunni and Shia communities, amid claims by the Sunnis that they are being marginalised by Prime Minister Nouri Maliki's Shia-led government.
Violence erupted in April when Iraqi security forces stormed an anti-government Sunni protest in the city of Hawija, killing and wounding dozens of protesters.
http://www.bbc.co.uk/news/world-middle-east-23139975
-----------
Catholic Priest 'Beheaded By Jihadist Fighters In Syria'
By Sara C Nelson
01/07/2013
A Catholic priest has been killed in Syria, it has been confirmed by the official Vatican news agency.
Franciscan Father Francois Murad died after fighters linked to the jihadist group Jabhat al-Nusra attacked the monastery he was staying at, local sources say.
Catholic Online links to amateur footage purporting to show the 49-year-old's horrific death and claims: "The Vatican is confirming the death by beheading of Franciscan Father, Francois Murad, who was martyred by Syrian jihadists on June 23."
It shows a man the channel understands is the priest, sitting cross-legged with his hands bound, alongside two other men while fighters surround them chanting "Allah Akbar" (God is great).
As the first man, believed to be Father Murad, is beheaded with what appears to be a kitchen knife, several observers are seen stepping close to his body to capture close-up photographs and video.
The site claims Father Murad had been accused of collaborating with the regime of Syrian President Bashar Assad, though the accusations are unconfirmed.
The official report into Father Murad's death – submitted via the Fides news agency - states he died in Gassanieh, northern Syria. It claims the circumstances of his death "are not fully clear", but confirms the monastery where he was living had been attacked by militants.
Fides states Father Murad had began the construction of a coenobitic monastery in Gassanieh, shortly after being ordained. At the start of the civil war, the structure was bombed and he moved to the convent of the Custody of the Holy Land for safety.
"Let us pray," wrote the Custody of the Holy Land Pierbattista Pizzaballa OFM "so that this absurd and shameful war ends soon and that the people of Syria can go back to living a normal life.
"Unfortunately Syria has now become a battleground not only between Syrian forces, but also between Arab countries and the international community."
Speaking to Syria Report, he added: "The world must know that the support of gunmen by the west is helping extremists in killing Syrians. With such stances, not a single Christian will remain in the east."
In May David Cameron announced Britain is to double military support for Syrian rebels to help them withstand the "onslaught" from Assad's regime.
Archbishop Jacques Behnan Hindo, titular of the Syrian Catholic archeparchy in Hassaké-Nisibis told Fides: "The whole story of Christians in the Middle East is marked and made fruitful by the blood of the martyrs of many persecutions.
"Lately, father Murad sent me some messages that clearly showed how conscious he was of living in a dangerous situation, and offered his life for peace in Syria and around the world."
http://www.huffingtonpost.co.uk/2013/07/01/francois-murad-catholic-priest-beheaded-jihadist-fighters-syria-_n_3527372.html
-----------
UAE jails 68 Islamists for up to 15 years: TV
July 02, 2013
Sixty-eight Islamists in the United Arab Emirates have been jailed over allegations of a plot to overthrow the government.
Many of those convicted were imprisoned for at least seven years. Another 26, including 13 women, were acquitted.
The 94 defendants were accused of trying to seize power in the Emirates.
The verdict ended a trial criticised by human rights groups, which said the judge failed to investigate "credible" allegations of torture of defendants.
The defendants included human rights lawyers, university lecturers and students.
A majority of those convicted were given jail sentences between seven and 10 years, reports said.
Eight defendants no longer in the country were sentenced to 15 years.
The convictions were condemned by Human Rights Watch. Nick McGeehan, the organisation's Gulf researcher, said they represented "another low point for the UAE's worsening human rights record".
"These verdicts cement the UAE's reputation as a serious abuser of basic human rights," Mr McGeehan added.
No foreign media
The Federal Supreme Court jailed two prominent human rights lawyers to 10 years in prison each, the Emirates Centre for Human Rights said.
The verdict was reported on local state-run TV.
Roads outside the court were blocked and reporters kept away from the site ahead of the verdict, Reuters news agency said.
Foreign observers and international media have not been allowed access to the hearings.
The defendants are said to be members of al-Islah, an Emirati-based Islamist group linked to the Muslim Brotherhood.
They were accused of setting up an organisation "seeking to oppose the basic principles of the UAE system of governance and to seize power".
Political parties and demonstrations are banned in the UAE, which comprises seven sheikdoms run by ruling families.
The trial which began in March has been strongly criticised by global human rights advocates, who have said the proceedings were in "flagrant disregard of fair trial guarantees".
Most of the defendants were arrested in July and August 2012. Their families were denied visitation rights during pre-trial detention.
Human rights groups also alleged that some of the inmates were tortured during their detention.
But the UAE attorney general has rejected the claims, saying the prisoners were being "dealt with according to the law".
The 68 who were convicted have no right of appeal.
The UAE like other Gulf Co-operation Council (GCC) countries has cracked down hard on dissidents and social media activists.
Two more were arrested on Monday night for tweeting in support of the 94, including the brother of a prominent detainee, a local activist told the BBC. He said they were being held in an unknown location.
The activist described the detainees as "singing Islamic songs and chanting God is great" when the verdicts were announced in court.
http://www.bbc.co.uk/news/world-middle-east-23142248
-----------
Jordan publishes 'Abu Qatada treaty'
July 02, 2013
The treaty between the UK and Jordan which paves the way for radical cleric Abu Qatada to be deported has been officially published in Jordan.
The Jordanian government's Official Gazette printed it - a necessary step before it can be fully ratified.
Security Minister James Brokenshire said he welcomed the publication.
"Whilst further steps remain, our focus is on seeing Abu Qatada on a plane to Jordan at the earliest opportunity," he said.
Full report at:
http://www.bbc.co.uk/news/uk-23143700
-----------
Egypt opposition says would not support 'military coup'
July 02, 2013
CAIRO - Egypt's main opposition coalition said Tuesday it would not support a "military coup" and trusted that an army statement giving political leaders 48 hours to resolve the current crisis did not mean it would assume a political role.
"We do not support a military coup," the National Salvation Front (NSF) said in a statement.
"The NSF has been committed, since its formation on 22 November, 2012, to build a civil, modern and democratic state that allows the participation of all political trends, including political Islam. We trust the army's declaration, reflected in their statement (Monday), that they don't want to get involved in politics, or play a political role," it said. — AFP
http://www.saudigazette.com.sa/index.cfm?method=home.regcon&contentid=20130702172055
-----------
Egypt President Morsi warns of army ultimatum 'confusion'
July 02, 2013
Egyptian President Mohammed Morsi says he was not consulted by the army before it set a 48-hour ultimatum to resolve the country's deadly crisis.
Mr Morsi said a part of the statement "may cause confusion in the complex national scene". He vowed to stick to his "national reconciliation" plan.
The army has warned it will intervene if the government and its opponents fail to heed "the will of the people".
However, it denies that the ultimatum amounts to a coup.
Meanwhile, Egypt's state news agency Mena reported early on Tuesday that Foreign Minister Mohamed Kamel Amr had submitted his resignation.
Full report at:
http://www.bbc.co.uk/news/world-middle-east-23140212
--------
Egypt foreign minister resigns: state media
July 02, 2013
Egyptian foreign minister Mohammed Kamel Amr has tendered his resignation, the official MENA news agency reported on Tuesday.
Amr is the latest and most high profile minister to resign, after millions of Egyptians took to the streets to demand president Mohamed Morsi step down.
http://www.hindustantimes.com/world-news/africa/Egypt-foreign-minister-resigns-state-media/Article1-1085715.aspx
-------
South Asia
Saudi Arabia's Muslim World League opens office in Maldives Islamic Ministry
By Minivan News | July 1st, 2013
An office of the Saudi Arabian organisation Rabita al-Alam al-Islami (Muslim World League) was opened in the Maldives yesterday, following a signing ceremony at the Ministry of Islamic Affairs.
Islamic Minister Sheikh Mohamed Shaheem Ali Saeed told local media the organisation would assist the Maldives with "social, religious and humanitarian issues".
Sun Online cited Shaheem as acknowledging that a "non-operational" office of the Muslim World League had already been present in the Maldives for the last 15 years, but said he had no comment on the matter.
The office would initially be located in the Islamic Ministry, Shaheem said.
http://minivannews.com/category/news-in-brief
-----------
Sri Lanka bans Time 'Buddhist Terror' edition
July 02, 2013
Sri Lanka has banned the latest issue of Time magazine over its cover story on Myanmar's Buddhist-Muslim clashes, which it said could hurt religious sentiment on the island, an official said Tuesday. Customs department spokesman Leslie Gamini said they held the July 1 issue, because it
carried a photo of a prominent Myanmar monk under the headline: "The Face of Buddhist Terror".
"By operation of law these magazines will be confiscated," Gamini said. "We did not allow this issue to be distributed in Sri Lanka because we felt it could hurt the religious sentiments of the people."
Buddhist-majority Sri Lanka, where tensions with Muslims and other minority religious communities have been rising, is the second country to censor the edition after Myanmar also blocked it.
Full report at:
http://www.hindustantimes.com/world-news/SriLanka/Sri-Lanka-bans-Time-Buddhist-Terror-edition/Article1-1085712.aspx
-----------
Taliban attack on NATO suppliers kills 8 in Kabul
July 02, 2013
KABUL - A Taliban truck bomb and gun attack killed eight people in the Afghan capital Kabul on Tuesday, destroying the entrance to a NATO supply company's compound in the latest insurgent assault to shake peace efforts.
Four Nepalese and one Romanian were among those killed in the bombing, which came after a series of recent Taliban suicide attacks targeting the Supreme Court, the airport, the presidency and a CIA office.
The US has been pushing for peace talks as 100,000 NATO combat troops prepare to leave Afghanistan next year and local security forces take on the fight against the Islamist extremists.
Full report at:
http://www.saudigazette.com.sa/index.cfm?method=home.regcon&contentid=20130702172056
-----------
Chinese Uygurs receive training in Pakistan to fight in Syria
Jul 02 2013
Beijing : A number of Uygur Muslims from China's volatile Xinjiang province are being trained in Pakistan-based militant camps and then sent to Syria to fight against President Bashar al-Assad regime, the Syrian envoy here has said.
"Our informant told us around 30 young Uyghur men went to Pakistan to receive military training and then went to Turkey," Syrian Ambassador to China Imad Moustapha told "Our estimate is that there are around 30 Chinese involved. We believe the reason they went to Turkey after training in Pakistan is to go to Syria. Most probably, they are now fighting in the northern city of Aleppo but we're not sure about this," he said.
Significantly his allegations carried in Chinese state media comes just ahead of Pakistan Prime Minister Nawaz Sharif's five day visit here beginning July 4.
Full report at:
http://www.indianexpress.com/news/chinese-uygurs-receive-training-in-pakistan-to-fight-in-syria/1136631/
--------
Former President Nasheed promises to reform Judicial Service Commission within 68 days
By Mohamed Naahee | July 1st, 2013
Former President and opposition Maldivian Democratic Party (MDP)'s Presidential Candidate Mohamed Nasheed has said that he and his party will reform the state's judicial watchdog the Judicial Service Commission (JSC) within the remaining 68 days before the scheduled presidential elections.
Speaking during a press conference on Monday, Nasheed said issues coming up recently concerning judges significantly threatened the dignity and credibility of the entire judiciary.
"The Maldives has set standards for judges established through its constitution. We are witnessing a time where those standards are being grossly ignored by the state institution concerned with judicial oversight and accountability," he said.
Full report at:
http://minivannews.com/politics/former-president-nasheed-promises-to-reform-judicial-service-commission-within-68-days-60589
-----------
Buddhist monks protest against Time Magazine in central Rangoon
1 July 2013
Hundreds of Buddhist monks and civilians in Burma have staged a protest against Time Magazine in central Rangoon.
Protesters were unhappy with the magazine's recent cover article titled "the face of Buddhist terror", which reported on the ongoing sectarian violence in the region.
The protests come several weeks after the latest outbreak of violence between Muslims and Buddhists.
http://www.bbc.co.uk/news/world-asia-23128840
-----------
Nawaz's visit to boost economic cooperation, says Chinese envoy
July 02, 2013
ISLAMABAD: Prime Minister Nawaz Sharif's upcoming visit to China will be highly significant in cementing bilateral ties sand enhancing economic cooperation, besides helping to ease energy crisis in Pakistan, Chinese Ambassador Sun Weidong said on Monday.
"The government and the people of China are looking forward to the visit of Prime Minister Nawaz Sharif which is likely to lead to comprehensive cooperation in all fields of common interest especially energy, infrastructure, agriculture and people-to-people contact," he said while briefing the media here at the Chinese embassy on Mr Sharif's visit to China.
He said the energy issue would certainly top the agenda of talks between Prime Minister Sharif and his Chinese counterpart Li Keqiang.
Full report at:
http://beta.dawn.com/news/1022117/nawazs-visit-to-boost-economic-cooperation-says-chinese-envoy
-----------
3 Lakh Irregular Bangladeshis: Saudi Extends Amnesty Till Nov 4
July 02, 2013
Saudi Arabia has extended by four months the amnesty period for the irregular foreign workers to legalise their status.
The decision by King Abdullah, the Custodian of the Two Holy Mosques, comes as a great relief to the hundreds of thousands of migrants, including estimated 3 lakh Bangladeshis who have yet to get their status regularised.
Full report at:
http://www.thedailystar.net/beta2/news/saudi-extends-amnesty-till-nov-4/
-----------
India
Ishrat Was Let Off Then Lured Back to Be Killed
Ajay Umat, TNN | Jul 2, 2013
AHMEDABAD: Why was Ishrat Jahan killed? The CBI chargesheet likely to be filed this week in the court may have some answers to this. The investigating agency has found striking similarities between the case of the 19-year-old Mumbra girl and Kauserbi, wife of Sohrabuddin Sheikh, who was killed soon after her husband, was gunned down in a fake encounter.
Both Ishrat and Kauserbi did not have a criminal record. Investigators believe the Gujarat cops killed them because both were witnesses to the abductions. In Ishrat's case, she was witness to the abduction of Amjad Ali. CBI officials claim to have evidence that Ishrat had visited Ahmedabad with Pranesh Pillai (alias Javed Gulam Sheikh) on May 25, 2004, about 20 days before she was killed, and met Amjad Ali Rana alias Salim on the outskirts of Ahmedabad.
Full report at:
http://timesofindia.indiatimes.com/india/Ishrat-was-let-off-then-lured-back-to-be-killed/articleshow/20869889.cms
-----------
Jamia Millia Islamia Vice-Chancellor Najeeb Jung to Be Delhi Lieutenant-Governor
TNN | Jul 2, 2013
NEW DELHI: Jamia Millia Islamia vice-chancellor Najeeb Jung was on Monday appointed Delhi lieutenant-governor replacing Tejendra Khanna while former Delhi Police commissioner K K Paul was appointed Meghalaya governor replacing Ranjit Shekhar Mooshahary.
President Pranab Mukherjee also appointed former Punjab Congress chief Virendra Kataria as LG of Puducherry succeeding Iqbal Singh while Lt Gen (retired) A K Singh replaced Lt Gen (retired) Bhopinder Singh as LG of Andaman & Nicobar Islands, a Rashtrapati Bhavan statement said. A K Singh retired earlier this year as the chief of Southern Army Command in Pune and is from the Armoured Corps.
Full report at:
http://timesofindia.indiatimes.com/india/Najeeb-Jung-to-be-new-Delhi-LG-K-K-Paul-is-Meghalaya-governor/articleshow/20867554.cms
-----------
Muslim youth falsely implicated in Malegaon blasts case, says legal expert Yog Mohit Chaudhary
New Age Islam News Bureau, July 2, 2013
Mumbai: Renowned legal expert Yog Mohit Chaudhary has claimed that the investigation done by the NIA in the 2008 Malegaon blasts by the National Investigation Agency and the recent charge-sheet filed by it has proved that the state ATS had prepared false cases against the Muslim youth. He said that the investigations had thrown egg at the face of the ATS and demanded that the government should arrest and take stern action against the erring officials. If it is not done, people lose faith in the judicial system of the country. He said that RDX was falsely shown recovered from the accused and false witness accounts and false confessional statements were produced in the court. Fortunately, the case was handed over to the NIA which brought the truth to light.
Renowned legal expert and author of books on law, Mr Chaudhary said that the surprising fact was that even after dozens of evidences of police tortures. Illegal detentions and other violations, no action was taken against any erring police officer during the last 15 years so that other biased police officers would take a lesson. He demanded that action should be taken against all those officials against whom evidences of dishonest investigation are available. A departmental inquiry should be started against them and they should be tried for preparing false cases, concocting evidences and preparing people to give false witnesses.
He also said that the kind of evidences prepared in the Parliament attack cases were produced in the court was doubtful and the governments have been silent spectators in all these cases. This is the reason a trend of preparing false cases has caught up, he said.
He further said that in the past, there have been dozens of incidents when the police had spread the propaganda about some accused that they were hardcore terrorists but later they were acquitted by the court. But no action was taken against the officials who prepared false cases against them.
-----------
Jamiat-e- Ulema Hind demands the release of innocent Muslim youth
New Age Islam News Bureau, July 2, 2013
Mumbai: The a delegation of the Jamiat-e-Ulema Hind under the leadership of Maulana Mahmood Madani, General Secretary and Maulana Hafiz Nadeem Siddiquee, President Jamiat-e-Ulema Hind Maharashtra met the Chief Minister of Maharashtra Prithvi Raj Chavan yesterday and presented an eight point memorandum to him. Nadeem Siddiquee especially raised the issue of falsely implicating Muslim youth in terror cases and their torture by the ATS. He said mentioned the suicide of Rizwan Beg as a result of the torture by the ATS, torturing of Abdul Mujib alias Gabbar by the ATS and forcing them to turn approver. Similarly he said that the ATS threatens arrested Muslim youth to turn approver otherwise threatens them with implicating them in terror cases. He also said that despite the fact that the NIA gave clean chit to the Muslim youth, they have not yet been released. He demanded that their cases should be wound up fast by setting up fast track courts.
Maulana Mahmood Madani said to the Chief Minister that when he had met the former Home Minister Lal Krishna Advani on the issue of beards, he had immediately issued a GR. Hafiz Nadeem Siddiquee said that in Jalna, the SP Md Zaheer who was in the SRP was forbidden to wear a beard was not reinstated even after the Supreme Court put a stay on the order.
Regarding reservations to Muslims, Maulana Mahmood Madani said that the Jamiat had been demanding since 1951 that Muslims should be given reservation in government and quasi-government organisations on the basis of their population and the Congress had also announced in their election manifesto that it will implement Sachar and Ranganathan Mishra Commission reports but no headway has been made in this regard yet.
On the issue of Prevention of Communal Riots Bill, he said that the UPA government had not fulfilled its promise of stopping communal riots despite its promise to this effect. The term of the government is going to be over soon but no solid steps have yet been taken.
Maulana Mahmood Madani and Hafiz Nadeem Siddiquee also raised the issues of load shedding during the Ramadhan, judicial inquiry commission into the Dhauliya riots, minority girls' hostel and Maharashtra Waqf Board in his meeting with the Chief Minister.
-----------
UP minority commission and Urdu bodies yet to have new committees
New Age Islam News Bureau, July 2, 2013
Lucknow: The formation of the new committees of the UP Urdu Academy, Fakhruddin Ali Ahmad Memorial Committee and the Minority Commission of UP is yet to be done and the delay has generated a feeling of disappointment and disillusionment among the Muslims of the state. Not only that the president of Maharashtra Samajwadi Party Abu Asim Azmi has also expressed his bitterness over the state government's apathy on this issue as he is answerable to the Muslim masses. Mr Azmi says that when he demands the formation of the state Urdu Academy in Maharashtra, he is asked to explain the dalay in the formation of the Urdu Academy committee in UP where his party is in power. Muslims have also questioned the silence of eleven Muslim ministers in UP government. Mulayam Singh Yadav had in a press conference asked the Muslims to first tell their problems to the eleven Muslim ministers in the state and then come to him.
-----------
In Kerala, orthodox Muslim cleric to build knowledge city
Jul 02 2013
Thiruvananthapuram: Prominent Muslim cleric Kanthapuram A P Aboo-backer Musaliyar, who advocates for minor girls' marriage and opposes polygamy, has ventured into a not-so conservative business of integrated township comprising IT, malls, multiplex, and hospitality and education business.
On Sunday, foundation stone for Musaliyar's 'knowledge city' was laid in Kozhikode in the presence of political leaders, including Chief Minister Oommen Chandy. Musaliyar's plan to construct the largest mosque in India to house the relic of Prophet Muhammed had drawn flak from various sections of the community.
Musaliyar, who had shifted loyalty from the Left to the Congress, has resorted to orthodox approach on women's issues. Recently, he had said the marriage age for Muslim women should be fixed at 16.
Full report at:
http://www.indianexpress.com/news/in-kerala-orthodox-muslim-cleric-to-build-knowledge-city/1136574/
-----------
Talks with Taliban should be within Afghan constitutional framework: Khurshid
July 02, 2013
India on Tuesday supported Afghanistan's reconciliation process with the Taliban, but warned that it must not undermine the legitimacy of the Afghan government and should be within the internationally accepted "red lines".
"We support the efforts made by the Government of the Islamic Republic of Afghanistan to establish a peaceful dialogue with all armed opposition groups," External Affairs Minister Salman Khurshid said in his Intervention at 20th ASEAN Regional Forum (ARF) meeting here on Tuesday.
Full report at:
http://www.thehindu.com/news/national/talks-with-taliban-should-be-within-afghan-constitutional-framework-khurshid/article4873129.ece
-----------
It is not actually snooping: Khurshid on US surveillance
July 02, 2013
External Affairs Minister Salman Khurshid on Tuesday defended the vast U.S. surveillance programme under which India is the fifth most tracked country, saying, "it is not actually snooping."
"This is not scrutiny and access to actual messages. It is only computer analysis of patterns of calls and emails that are being sent. It is not actually snooping on specifically on content of anybody's message or conversation", Mr. Khurshid, who is currently in Brunei to attend series of ASEAN meetings, told reporters.
Full report at:
http://www.thehindu.com/news/national/it-is-not-actually-snooping-khurshid-on-us-surveillance/article4873351.ece
-----------
India, Pakistan exchange lists of prisoners in their jails
SANDEEP DIKSHIT
July 02, 2013
India and Pakistan on Monday exchanged lists of prisoners lodged in each other's jails, adhering to a six-year-old protocol that lacks clauses to ensure humane treatment to inmates.
Since the list was last exchanged six months ago, at least four prisoners had their sentences cut short by premature deaths, two of them having been bludgeoned to death in quick succession.
The exchange of lists is part of a consular agreement signed in 2008 months before the Mumbai attacks. Since then, some other issues such as consular access and releasing prisoners after their sentences were largely coaxed by the civil society, including a committee of retired judges from both countries.
Full report at:
http://www.thehindu.com/news/national/india-pakistan-exchange-lists-of-prisoners-in-their-jails/article4870588.ece
---------
Indian businessman helps free hapless inmates in UAE jails
Jul 01 2013
Dubai: Moved by their plight, an Indian businessman in the UAE has helped nearly 3,700 prisoners from several nations who had served their sentences but remained in jails in the country for lack of money, by paying off their debts and buying them air tickets for home. Firoz G Merchant, owner of a jewellery company, has already secured the release of about 3,700 prisoners since 2011, including 500 this year spending an estimated Rs 6 crore and plans to pay off the debts of another 1,000 inmates later this year.
Full report at:
http://www.indianexpress.com/story-print/1136194/
-----------
Plea to prosecute 82 Muslim witnesses rejected by special SIT court
TNN | Jul 2, 2013
AHMEDABAD: A special SIT court hearing the 2002 Naroda Gam massacre case on Monday turned down the plea by the accused, seeking the arraignment and prosecution of 82 Muslim witnesses in the case.
Special judge Jyotsna Yagnik refused to arraign the witnesses as accused on the grounds that the provisions under Section 319 of the CrPC, under which the accused sought the relief, do not provide for implication of witnesses in the same trial, said the witnesses' counsel — Mohammed Hussain Mandalwala.
Full report at:
http://timesofindia.indiatimes.com/india/Plea-to-prosecute-82-Muslim-witnesses-rejected/articleshow/20869793.cms
-----------
Pakistan
Terrorism to be resolved through economic overhaul: CM Shahbaz
July 02, 2013
LAHORE: Chief Minister of Punjab Shahbaz Sharif on Monday said solving the electricity crisis in the country would not curb terrorism, DawnNews reported.
Addressing the inauguration ceremony of a two-day health conference in Lahore, the chief minister said the problem of terrorism could only be resolved if societal inequalities were eliminated and the overall system was revamped.
He moreover said that imposition of four martial laws in the country had destroyed Pakistan.
Chief Minister Sharif added that basic amenities like health and education facilities, which were available to the society's elite class, were not accessible to ordinary members of the public.
Full report at:
http://dawn.com/news/1022246/terrorism-to-be-resolved-through-economic-overhaul-cm-shahbaz
-----------
Pakistan angers Afghans by suggesting Taliban share power
July 02, 2013
KABUL: Pakistan has floated the concept of an Afghan power-sharing arrangement between Kabul and the Taliban as part of a peace talks "end game", Afghan Deputy Foreign Minister Ershad Ahmadi said on Monday, a suggestion met with outrage in Kabul.
The idea was raised in a Friday meeting between Pakistani National Security Adviser Sartaj Aziz and Afghan ambassador Umer Daudzai, Ahmadi told Reuters. It involved a form of federalism and ceding power in some Afghan provinces to the Taliban. The suggestion dashed hopes of a reset in the relationship between the South Asian neighbours following the election of Prime Minister Nawaz Sharif last month. It also suggests a visit by British Prime David Cameron to the region at the weekend to promote the Afghan-Pakistan relationship as well as peace talks with the Taliban had failed before he had even arrived.
Full report at:
http://www.dailytimes.com.pk/default.asp?page=2013\07\02\story_2-7-2013_pg1_6
-----------
Three Sunni Tehreek activists among 4 killed
July 02, 2013
KARACHI: At least four people including three activists of Sunni Tehreek (ST) were shot dead in separate incidents of targeted killing on Monday.
A worker of ST was shod dead at Sector 5-F, New Karachi.
Police officials said the victim Junaid Sultan, 22, was standing outside his home, when unidentified armed riders approached him and opened fire. As a result, he died on the spot. The body was shifted to Abbasi Shaheed Hospital (ASH) for autopsy.
A local leader of ST was gunned down in Block-2, Baldia Town. Police said the victim Farooq, 35, son of Noor Mohammad left to his home for a workplace, where unidentified armed men riding a motorbike intercepted him and opened fire. He died on the spot. Further investigation is underway.
Full report at:
http://www.dailytimes.com.pk/default.asp?page=2013\07\02\story_2-7-2013_pg12_11
-----------
For Karachi, 2013 will be a record year of extortion demands: Police
July 2, 2013
KARACHI: One afternoon a stranger called at Muhammad Faizanullah's stationery shop in Karachi and wordlessly handed the man behind the counter two items: a piece of paper with a phone number scrawled on it, and a bullet.
"The letter contained a demand for Rs200,000," Faizanullah, 20, said. "The man said 'Just call this number and pay the amount, otherwise the bullet is meant for you.'"
Businesses in Karachi are facing a surge in extortion demands from criminal gangs, forcing many owners to delay new investment or to relocate their families to escape the sense of insecurity gripping the urban heart of country's economy.
Full report at:
http://tribune.com.pk/story/571302/for-karachi-2013-will-be-a-record-year-of-extortion-demands-police/
-----------
Civilian deaths in Pakistan drone attacks at all-time low: Report
July 2, 2013
The number of reported civilian deaths caused by the CIA's drone campaign in Pakistan is at an all-time low, a report by The Bureau of Investigative Journalism (TBIJ) stated.
According to the data mentioned in the report, the number of drone strikes conducted under Obama's administration stands at 318, while the total number of strikes carried out since 2004 is 370.
These hundreds of strikes in Pakistan's tribal region killed at least 2,500 people, 400 of whom are said to be civilians.
Full report at:
http://tribune.com.pk/story/571348/civilian-deaths-in-pakistan-drone-attacks-at-all-time-low-report/
-----------
Hazara town blasts: Majlis-e-Wahdat-e-Muslimeen marches in Karachi against attacks
July 2, 2013
KARACHI: Majlis-e-Wahdat-e-Muslimeen (MWM) on Monday organised a rally in Karachi to protest against the attack on Imam Bargah Abu Talib in Quetta that claimed the lives of at least 28 people belonging to the Shia Hazara community.
Protestors raised slogans against banned Tehreek-e-Taliban Pakistan and its affiliated terrorist groups as they marched from Numaish Chowrangi to Imambargah Ali Raza located on MA Jinnah road.
Full report at:
http://tribune.com.pk/story/571131/hazara-town-blasts-mwm-marches-in-karachi-against-attacks/
--------
Pakistan looks for political will from India to better ties
Sachin Parashar, TNN | Jul 2, 2013
BANDAR SERI BEGAWAN: India and Pakistan on Tuesday sought to rev up bilateral ties - stuck in suspended animation since the LoC standoff - as Islamabad called for more political will on the part of Indian leadership in responding to the positive gestures made by Pakistan's new prime minister Nawaz Sharif.
In what is the first official engagement between the two countries after Sharif's PML (N) stormed to power, foreign minister Salman Khurshid had an unexpected bilateral meeting with Pakistan's special advisor to PM on foreign affairs Sartaz Aziz here on the sidelines of the 20th Asean Regional Forum meet.
Full report at:
http://timesofindia.indiatimes.com/india/Pakistan-looks-for-political-will-from-India-to-better-ties/articleshow/20871590.cms
-----------
Gilani for promoting politics of reconciliation
July 02, 2013
MULTAN: Former prime minister Syed Yousaf Raza Gilani has called for promoting politics of reconciliation to end lawlessness and terrorism.
Talking to reporters along with JUI-F chief Maulana Fazlur Rehman at his residence on Monday, Gilani said that there were several incompetent politicians in the country, but "I am the only politician who was disqualified".
To a question, he said that no clue had been found about his kidnapped son Ali Haider Gilani, nor had anyone contacted them in this regard.
Full report at:
http://www.dailytimes.com.pk/default.asp?page=2013\07\02\story_2-7-2013_pg7_9
-----------
Lyari protesters converge on Rangers HQ against 'extra-judicial killing'
July 02, 2013
KARACHI: Hundreds of Lyariites led by Pakistan Peoples Party legislators and leaders staged a sit-in in front of the Rangers headquarters on Dr Ziauddin Ahmed Road on Monday against the 'extra-judicial killing' of an area youth by paramilitary soldiers last week, keeping the traffic system in busy district south paralysed for several hours.
The protesters, including dozens of women and children, took to the streets in the second half of the day. They first emerged on Mauripur Road, suspending traffic on the key link for the city cargo traffic. They took more than two hours to 'force their way through' and reach Dr Ziauddin Ahmed Road, said to be a in high-security area housing a number of government buildings and described as a 'red zone' by the security administration.
Full report at:
http://beta.dawn.com/news/1022122/lyari-protesters-converge-on-rangers-hq-against-extra-judicial-killing?view=print
-----------
SC dismisses petition against Altaf Hussain
July 2, 2013
ISLAMABAD: The Supreme Court dismissed a petition filed against Mutuahida Qaumi Movement (MQM) chief Altaf Hussain relating to a controversial speech, reported Express News on Tuesday.
The petition was filed by Barrister Zafarullah of Watan Party after Altaf Hussain made controversial statements on television in a live address.
During the hearing the petitioner argued that Altaf Hussain had made comments against Pakistan to which the chief justice said that the court did not handle cases related to comments made in a speech.
Full report at:
http://tribune.com.pk/story/571346/sc-dismisses-petition-against-altaf-hussain/
-----------
Africa
Tunisia's PM says Egypt scenario unlikely to happen there
July 2, 2013
TUNIS: A situation like the one unfolding in Egypt is unlikely to happen in Tunisia – the cradle of the Arab Spring – Prime Minister Ali Larayedh of the government in Tunis, said late on Monday.
"Our approach is characterised by consensus and partnership," said Larayedh, who is also a senior leader of the Ennahda party.
"The possibility of an Egypt scenario is unlikely in Tunisia because I have great confidence in the awareness of Tunisians and their ability to measure the potential of their country," Larayedh said in an interview on France 24.
In Tunisia, the divide between secularists and conservatists has widened since the ouster of former President Zine El Abidine Ben Ali more than two years ago. Unrest subsequently convulsed much of the Arab world, toppling or challenging entrenched rulers in Egypt, Libya, Yemen, Bahrain and Syria.
Full report at:
http://tribune.com.pk/story/571274/tunisias-pm-says-egypt-scenario-unlikely-to-happen-there/
---------
Obama honours 1998 Tanzania city of Dar es Salaam bombing dead
July 02, 2013
US President Barack Obama has laid a wreath for the victims of the 1998 US embassy bombing in the Tanzanian city of Dar es Salaam.
Eleven Americans were killed in the al-Qaeda attack, which coincided with a bombing in the Kenyan capital, Nairobi, which left hundreds dead.
The president was joined for the ceremony by predecessor George W Bush.
President Obama is on the last leg of his second Africa tour as president, which took in Senegal and South Africa.
Full report at:
http://www.bbc.co.uk/news/world-africa-23141473
-----------
Southeast Asia
Stay Islam Administration Bill - much to amend in Malaysia
Honey Tan Lay Ean
Jul 2, 2013
The government has just tabled the Administration of the Religion of Islam (Federal Territories) Bill 2013 (the Bill). It is interesting to note that the government did not table a bill to only amend or add in new sections to the existing Administration of Islamic Law (Federal Territories) Act 1993 (the Act).
This Bill, when passed, will totally replace the Act. This means that all clauses of the Bill should and must be looked at to see if it is fair to all sections of Malaysian society: not just among Muslims, between Muslims and non-Muslims, but also between parents and their children.
There are many worrying clauses in the Bill, but I will only address Clause 107 (b) which provides that one parent or guardian of a non-Muslim child may convert her.
Do not be thrown off by people who say that Clause 107 (b) was already there as Section 95 of the Act - so what's the fuss now? The answer is this: we must fuss now because the Bill is tabled with all clauses up for debate so any clause may be amended or withdrawn.
Full report at:
http://www.malaysiakini.com/letters/234584
---------
President Urged to Fulfill Tolerance Vow by Supporting Shiites' Safe Return Home
By Stephanie Hendarta
July 1, 2013.
Human rights observers have called on President Susilo Bambang Yudhoyono to step in to support a persecuted group of Shiites in East Java, and by so doing fulfill a promise made when accepting an international award for religious tolerance.
Andreas Harsono of Human Rights Watch on Monday urged the president to order East Java authorities to return evicted Shiite villagers from Sampang district on Madura Island to their homes, after refusing to allow them back since last August.
Full report at:
http://www.thejakartaglobe.com/news/sby-urged-to-fulfill-tolerance-vow-by-supporting-shiites-safe-return-home/
-----------
Indonesian Citizens In Egypt Warned To Stay Alert Following Ultimatum
July 02 2013
The Indonesian Embassy (KBRI) in Cairo, Egypt, has urged all Indonesian people to remain vigilant after the Egypt's military delivered an ultimatum concerning the security situation in the country.
"The KBRI asked all Indonesians to stay calm and remain vigilant due to increasing political tension after the delivering of the Egypt military's ultimatum," said the embassy's head of information, social and politics affairs, Dahlia Kusuma Dewi, in Cairo on Tuesday, as quoted by Antara news agency.
Full report at:
http://www.thejakartapost.com/news/2013/07/02/indonesian-citizens-egypt-warned-stay-alert-following-ultimatum.html
-----------
Khairy concedes Malaysia's crime situation is "serious"
JULY 02, 2013
The worsening crime situation in Malaysia is not mere perception as claimed by some quarters and Youth and Sports Minister Khairy Jamaluddin joined the ranks of believers after being a burglary victim over the weekend.
He conceded in a Facebook post that the burglary was something real and not at all perception, as claimed by some quarters, such as the police and the Home Ministry.
Previous Home Minister Datuk Seri Hishammuddin Hussein and senior police officers have attributed negative sentiments on crime to the people's perception.
Full report at:
http://www.themalaysianinsider.com/malaysia/article/khairy-concedes-malaysias-crime-situation-is-serious
-----------
Australia
First Australian Muslim minister racially abused for taking oath on Quran
July 02, 2013
Hours after Ed Husic became Australia's first ever Muslim minister, he was flooded with online racial abuse for taking oath of office on the Quran.
43-year-old Husic, was appointed as parliamentary secretary to prime minister Kevin Rudd and parliamentary secretary for broadband yesterday .
Husic, son of Bosnian migrants, was the first MP to be sworn in to federal parliament with his hand on the Quran.
Husic told media today that he had made a "straightforward decision as someone of the Muslim faith" to take the oath on the Quran.
"I couldn't take my oath on a Bible and I didn't want to affirm. I am who I am and I just made a straightforward decision," he said.
Full report at:
http://www.hindustantimes.com/world-news/Australia/First-Australian-Muslim-minister-racially-abused-for-taking-oath-on-Quran/Article1-1085757.aspx
-----------
North America
Jimmy Carter compares Catholic Church to Islam on women's rights
July 02, 2013
ATLANTA — Former U.S. President Jimmy Carter says religious leaders, including those in Christianity and Islam, share the blame for mistreatment of women across the world.
The human rights activist said Friday religious authorities perpetuate misguided doctrines of male superiority, from the Catholic Church forbidding women from becoming priests to some African cultures mutilating the genitals of young girls.
Carter said the doctrines, which he described as theologically indefensible, contribute to a political, social and economic structure where political leaders passively accept violence against women, a worldwide sex slave trade and inequality in the workplace and classroom.
"There is a great aversion among men leaders and some women leaders to admit that this is something that exists, that it's serious and that it's it troubling and should be addressed courageously," Carter said at an international conference on women and religion.
Full report at:
http://www.washingtontimes.com/news/2013/jun/28/jimmy-carter-makes-moral-equivalence-between-catho/
-----------
US and Russia 'making progress' on Syria peace talks
July 02, 2013
The US and Russia have made progress on plans to convene a conference to find a solution to the conflict in Syria, Secretary of State John Kerry has said.
"We narrowed down some of the options," Mr Kerry told reporters after attending an Asian regional security meeting with his Russian counterpart, Sergei Lavrov.
The meeting in Geneva might not take place until August or later, he added.
On Monday, UN Secretary General Ban Ki-moon said it was essential that the conference be held as soon as possible.
"There is an urgent need for the violence to end. Far too many lives have been lost already and the conflict has generated a huge and heart-rending humanitarian crisis," Ban Ki-moon said.
Full report at:
http://www.bbc.co.uk/news/world-middle-east-23142382
-----------
Edward Snowden 'broadens asylum requests' - Wikileaks
July 02, 2013
Fugitive US intelligence leaker Edward Snowden has sent asylum requests to 21 countries, according to a statement published by Wikileaks.
They include China, France, Ireland and Venezuela. But eight European countries said the requests were invalid.
And Russia said Mr Snowden later withdrew the application to Moscow as the Kremlin had set conditions.
He accuses US President Barack Obama of putting pressure on the countries to which he has applied.
The former intelligence systems analyst, who is holed up at Moscow airport, is wanted by the US on charges of leaking secrets.
Full report at:
http://www.bbc.co.uk/news/world-europe-23139980
-----------
Obama calls Morsi to express concern over Egypt crisis
July 02, 2013
DAR ES SALAAM: US President Barack Obama called President Mohamed Morsi to warn him that the voices of all Egyptians must be heard as a political crisis escalates, the White House said Tuesday.
Obama placed the call from Tanzania, on the final stop of his African tour and told him Washington was committed to "the democratic process in Egypt and does not support any single party or group," the official said.
"He stressed that democracy is about more than elections; it is also about ensuring that the voices of all Egyptians are heard and represented by their government, including the many Egyptians demonstrating throughout the country," the White House said.
Full report at:
http://beta.dawn.com/news/1022243/obama-calls-morsi-to-express-concern-over-egypt-crisis
--------
Top US military officer calls Egyptian counterpart
Reuters | Jul 2, 2013
WASHINGTON: General Martin Dempsey, the top US military officer, called the chief of staff of Egypt's armed forces on Monday morning, a US defense official told Reuters, without providing details on the conversation.
The call by Dempsey, chairman of the Joint Chiefs of Staff, to Egypt's Sedki Sobhi came the same day that Egypt's armed forces handed Islamist President Mohamed Morsi a virtual ultimatum to share power.
Egypt's military gave feuding politicians 48 hours to compromise or have the army impose its own road map for the country.
The United States has close ties with Egypt's armed forces, providing $1.3 billion a year to the country in military aid. The Pentagon declined to speculate on the Egyptian statement earlier on Monday and what it meant for the country's future.
"We're not entirely sure what's going to happen one way or the other in the next 48 hours, so I wouldn't engage in any kind of speculation," Pentagon spokesman George Little told reporters.
Ruled for three decades by authoritarian former President Hosni Mubarak, a close US ally, Egypt has long been seen as a bulwark of stability in the Middle East, notably because it was the first Arab nation to sign a peace treaty with Israel.
http://timesofindia.indiatimes.com/world/middle-east/Top-US-military-officer-calls-Egyptian-counterpart/articleshow/20868249.cms
--------
CAIR Urges End to Force-Feeding of Gitmo Hunger Strikers During Ramadan
July 02, 2013
(WASHINGTON, DC, 7/1/13) – The Council on American-Islamic Relations (CAIR), the nation's largest Muslim civil rights and advocacy organization, today repeated its call to stop force-feeding hunger-striking prisoners at the Guantanamo Bay detention camp, particularly during the upcoming month-long fast of Ramadan.
CAIR made that renewed request after attorneys for four hunger-striking Guantanamo prisoners filed a motion in federal court asking a judge stop their force-feedings and the administration of medications associated with the procedure.
The detainees are seeking an expedited hearing because the holy month of Ramadan, during which Muslims fast from break of dawn to sunset, is estimated to begin on July 9. Pentagon officials are now saying they will not force-feed the detainees during daylight hours.
In a statement, CAIR said:
"We urge Pentagon officials to end the cruel practice of force-feeding prisoners because it violates medical ethics and the international legal prohibition of cruel, humiliating and degrading treatment of detainees. The practice is always wrong, and is particularly offensive during Ramadan, the month of fasting. Cruelty is cruelty, whether it is inflicted during daylight or after sunset."
Last month, CAIR joined a coalition of 19 other civil liberties and human rights groups and health professionals in sending an open letter to Defense Secretary Chuck Hagel requesting an end to the practice of force-feeding hunger-striking prisoners at Guantanamo Bay.
In its letter to Defense Secretary Hagel, the coalition reaffirmed that the process of force-feeding is fundamentally cruel, inhuman, degrading, and carries the risk of major infections, possible death, and psychological suffering.
The letter references the World Medical Association (WMA) Declaration of Malta on Hunger Strikers stating: "[F]orcible feeding is never ethically acceptable. Even if intended to benefit, feeding accompanied by threats, coercion, force or use of physical restraints is a form of inhuman and degrading treatment." The American Medical Association, a member of WMA, and the International Committee of the Red Cross have similar positions on forced-feeding.
CAIR is America's largest Muslim civil liberties and advocacy organization. Its mission is to enhance the understanding of Islam, encourage dialogue, protect civil liberties, empower American Muslims, and build coalitions that promote justice and mutual understanding.
-----------
Europe
Georgia Newspaper Calls On U.S. To Send Muslims 'Back To Their Native Land'
By Hayes Brown
Jul 1, 2013
A local newspaper in Georgia recently published a column ostensibly about U.S. Middle East policy but which took a hard right turn into birtherism and racism, highlighting the Islamophobia problem at the local-level.
In its June 19 edition, the Advance — local newspaper for Vidalia, GA — published a "Plain Talk" column from author Gerry Allen on the current atmosphere of turbulence in the Middle East. The full article, titled "An Arab Spring or an Arab Fall," can be read in full here.
Allen opens the piece claiming that Rudyard Kipling — author of the poem "The White Man's Burden" essentially justifying Western imperialism — is one of his favorite authors, quoting the British writer as once saying, "East is East and West is West and never the twain will meet." Allen then immediately calls up some of the most repugnant stereotypes of Islam, saying that while denying women and girls educations, Muslims "really don't favor educating anybody in anything but mayhem."
Full report at:
http://thinkprogress.org/security/2013/07/01/2238351/georgia-local-paper-islamophobia/?mobile=nc
-----------
Fresh Incidents in Hotan and Urumchi, Indictment in the of Affairs in East Turkestan
1 July 2013
The World Uyghur Congress (WUC) is deeply concerned for the second time during the last week about further reports of incidents in Hotan and Urumchi. Having previously called for caution on the understanding of, and an independent investigation into, an incident on 26 June 2013 in Lukchan, Pichan County, these latest developments demonstrate clearly that the endemic, failed policies of the Chinese authorities to address the Lukchan incident and the Uyghur human rights situation is at risk of boiling over.
Radio Free Asia (RFA) revealed yesterday that Uyghur residents in Hotan were unhappy at a raid on a mosque by the police during prayers, where the local imam was being forced to keep his sermons "in line with political thinking," following which the Uyghurs protested in the street and were promptly shot at, killing at least 2 people.
Reports from the ground as illustrated by RFA differed markedly from the official narrative. According to the Global Times, a number of casualties were caused following an incident on Friday in which a purported 100 people attacked a police station in Hotan, Qaraqah County (Moyu in Mandarin) after "gathering at local religious venues," thus inferring that the 100 individuals were Uyghur. Global Times also reported that another 200 people "attempted to incite trouble" at an important shopping area in Urumchi, though no casualties were recorded.
During the weekend, images emerged on the internet of swathes of security personnel, paramilitary police and the armed forces descending upon Urumchi and elsewhere in East Turkestan, establishing check-points and spot-searching individuals, providing an alarming reminder of what happened 4 years previously on 5 July 2009 at the same location. China Daily also reported that 19 people have been detained for "making up" and "spreading rumours via text messages and the internet" as the Chinese authorities have been tightening security throughout East Turkestan.
As with the Lukchan and Maralbeshi incident, the Chinese authorities were quick to label the incidents as terrorist attacks, going as far to accuse the Syrian government and opposition forces, without providing evidence. However, we highlighted on both the Lukchan and Maralbeshi occasions, and were corroborated by independent international media, that the lack of ability to verify the facts and the differing reports from the ground compared to the official narrative must urge pause for caution when trying to understand the incidents' root causes.
Whilst the WUC deplores acts of violence, the accusations of terrorism for 4 different incidents go too far, rather illustrating the reticence of the Chinese authorities to address the long standing concerns of Uyghurs by ceasing its repressive policies on Uyghur language, culture, religion and identity, in addition to the use of harassment, arbitrary detention, enforced disappearances, extra-judicial killings and the death penalty to silence critics.
Regarding the Lukchan incident, which was reported by Uighurbiz.net to have been caused by the government's forced demolition programmes, the WUC discovered that there was a telecommunications block put in place on Uyghur phones and internet usage. An AFP article confirmed this, with a second article reporting further that two journalists had been temporarily detained for an hour, informing them that the Lukchan area is "closed to media". The Epoch Times has also revealed how journalists are being followed and harassed by security forces.
The WUC is deeply concerned that during the past two months, several incidents have occurred of this kind. Without counting the deaths in the Hotan incident on Friday, nearly 100 people have died and several hundreds have been arrested, detained or sentenced since the Maralbeshi incident on 23 April 2013. WUC Spokesman Dilxat Rexit confirmed that, contrary to official numbers, which are confused and conflicting, that 67 people were killed at Lukchun, with the youngest being just 13 years old.
This is already a significant increase of arrests and deaths since the same period last year, which was then described as the most repressed 5 July Urumchi anniversary and Ramadan in recent years. Several officials have issued statements expressing their concerns for the Lukchan incident, including the US , EU and Germany.
As we approach the Fourth Anniversary of 5 July Urumchi incident, where there is yet to be an investigation nor anyone held accountable for the egregious human rights violations happening that day and in its aftermath, in addition to the commencement of the observance of Ramadan on 9 July, the WUC is extremely concerned in light of these recent developments.
"It is now clear that an independent, transparent and comprehensive investigation into these incidents, should it happen at all, will not suffice in itself until there is an overhaul of the Chinese authorities' official policies towards Uyghurs in the People's Republic of China (PRC)," WUC President Ms Rebiya Kadeer said.
The international community must follow the US' and Germany's lead in voicing their concerns at the current state of affairs of the Uyghur human rights situation. The WUC therefore calls upon the international community to instigate an international inquiry into these latest incidents, both addressing the past and present causes of such events, as it is clear that the Chinese authorities will not do so. We call on the European Union and the US, as two influential, international actors to work together to use all available diplomatic means to urge the PRC to halt any further incidents like this within internationally accepted legal standards.
-----------
UK Hindus, Sikhs welcome mosque action against sexual grooming of children
July 01, 2013
London: Britain's Hindu and Sikh community leaders have voiced their support for the country's mosque-led initiative to send out a strong message against sexual grooming of children following the conviction and sentencing of seven members of a pedophile ring.
Their statement comes days after imams from nearly 500 mosques across Britain used Friday prayers to highlight how the Quran condemns all forms of sexual indecency, in the wake of seven predominantly Pakistani Muslim men being jailed for a series of child abuse charges last week.
"We welcome last Friday's 'Khutba' sermon by 500 mosques to condemn the sexual grooming of children.... We also welcome the fact that the sermon was delivered in English, aimed to target such confused young men," read a joint statement issued by Hindu Council UK, Network of Sikh Organisations UK and Sikh Media Monitoring Group UK here today.
Full report at:
http://zeenews.india.com/news/world/uk-hindus-sikhs-welcome-mosque-action_859167.html
-----------
Iraq violence claims 761 in June: UN
July 02, 2013
BAGHDAD – The number of people killed in militant attacks across Iraq reached 761 in June, lower than the multi-year high hit the previous month, the United Nations said on Monday.
More than 1,000 people were killed in violence in Iraq during May, making it the deadliest month since the height of sectarian bloodletting in 2006-07. Violence is still well below the level it was then.
The vast majority of casualties in June were civilian, with 131 policemen and 76 members of the Iraqi security forces also killed, the United Nations said in a statement.
Full report at:
http://www.saudigazette.com.sa/index.cfm?method=home.regcon&contentid=20130702171984
-----------
Syria neighbours must open borders to refugees: Tells Human Rights Watch
July 02, 2013
Turkey, Jordan and Iraq must fully reopen their border crossings to allow thousands of Syrians fleeing their country's war to seek refuge, Human Rights Watch said yesterday.
"Iraqi, Jordanian, and Turkish border guards are pushing back tens of thousands of people trying to flee Syria," the international rights group said, adding that the lives of those trying to flee were in danger.
"Iraq, Jordan, and Turkey have either closed numerous border crossings entirely or allowed only limited numbers of Syrians to cross, leaving tens of thousands stranded."
The UN says more than 1.7 million Syrians have fled the conflict in their country. The vast majority have sought refuge in neighbouring countries.
Full report at:
http://www.thedailystar.net/beta2/news/syria-neighbours-must-open-borders-to-refugees/
----------
EU Parliament lifts Marine Le Pen's immunity after Muslim remarks
Jul 02 2013
The European Parliament voted on Tuesday to strip far-right lawmaker Marine Le Pen of her legal immunity so she can be prosecuted in her native France over a remark she made about Muslims in 2010.
Ms. Le Pen, the leader of France's National Front party and a member of the European Parliament since 2004, faces charges of inciting racial hatred for a comment comparing Muslims praying in the street to the Nazi German occupation of Paris during World War II.
The remark led to protests at a Paris mosque, where people had been praying outside due to overcrowding. The conservative government of the day later banned Muslims from praying in the street, after helping to accommodate the overflow.
On Monday, Ms. Le Pen repeated her 2010 comment, shrugging off the threat of a court case.
She said her crime was to have "dared say what the French think, which is that street prayers - which are continuing to take place on French territory - are an occupation." "I will go to court with my head held high to explain that there have to be people in this country who tell the French the truth," she told LCI television, arguing she was being pursued for a "thought crime." If found guilty, she risks a year in prison and a possible 45,000 euros (59,000 dollars) in fines. A conviction for inciting racial hatred would also damage her strategy to rid the National Front of racist associations.
Ms. Le Pen is not aligned with any political group in the parliament.
In 1998, the parliament voted to revoke the immunity of Ms. Le Pen's father, National Front founder Jean-Marie Le Pen, after he declared that the Holocaust was a "detail" of history. A German court later convicted him of playing down the Holocaust.
http://www.thehindu.com/news/international/world/eu-parliament-lifts-marine-le-pens-immunity-after-muslim-remarks/article4873676.ece
--------
Mideast
Israeli held after 2012 monastery 'price tag' attack
July 02, 2013
JERUSALEM: A court on Monday extended the remand of an Israeli man arrested on suspicion of vandalising a Catholic monastery in a 2012 attack that shocked the Holy Land's religious and political establishment.
Moshe Orbach, 22, is a resident of Bnei Brak, a city near Tel Aviv with a predominantly ultra-Orthodox population, according to a protocol distributed by the Rishon LeTzion Magistrates' Court.
He is suspected of involvement in an attack in September 2012 in which the wooden door of the Trappist monastery in Latrun was burnt and insulting remarks were scrawled on a wall.
The court extended his remand by four days.
Full report at:
http://www.dailytimes.com.pk/default.asp?page=2013\07\02\story_2-7-2013_pg4_5
---------
URL: https://newageislam.com/islamic-world-news/china-radar-ultras-trained-syrian/d/12402