New Age Islam News Bureau
7 Apr 2014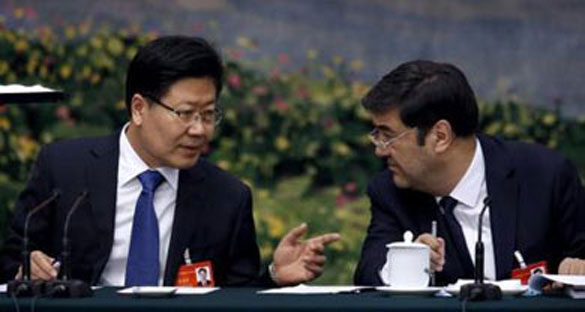 Xinjiang Communist Party Secretary talks with Nur Bekri, chairman of Xinjiang Uygur Autonomous Region, during the Xinjiang delegation's group discussion at the National People's Congress (NPC), in Beijing
----------
South Asia
• China Official Says Islamists Seek To Ban Laughter and Crying
• 41 Taliban Militants Killed or Injured In Afghan Operations
• 2 Afghan soldiers, 32 militants killed in latest wave of violence
• Explosion in Herat leaves 4 policemen dead, 3 others injured
• Maldives Police arrest another, two suspects in a growing series of child abuse reports
• Afghan election officials to release partial election results soon
Arab World
• 29 rebels dead in Syria premature car bomb blast: NGO
• 2 more slain in Egypt tribal feud
• ISIS jihadists open new front in Baghdad push
• Syria opposition names ministers for interim government
• Kuwait minister accused by US of jihad links 'to stay'
• Brotherhood using Syrian, Iraqi and Afghani fighters: Interior ministry
• Al Qaeda chief Ayman al-Zawahiri mourns slain Syria fighter
• Nasrallah says Hezbollah targeted Israel patrol: Report
• Assad tells Russian ex-PM "active phase" of Syria war over this year
Europe
• Western Thrace Turks slam Greece 'Imams Law'
• France says Southern Libya now a "viper's nests for Islamist militants
• Ban says 'shame still clings' to UN over Rwanda genocide
• Putin: Terrorists Trained in Afghanistan, Syria May Attack Russia
• UN Secretary General congratulates Afghans on historic elections
• Spain busts group accused of plans to send arms machinery to Iran
• Gunman kills well-known Dutch priest in Syria's Homs
Mideast
• Experts split over anti-nuclear-weapons fatwa in Iran
• Fighting in Palestinian camp in Lebanon kills five
• Ex-Palestinian prisoner teaches Hebrew, tolerance
• 'Palestinians say no breakthrough in last-ditch peace efforts'
• Syria absolutely behind Reyhanlı attack, says Turkish ministry
Pakistan
• Pakistan's central bank publishes rules of Sharia governance
• 5 Taliban militants killed by gunmen in Pakistan
• Car attack leaves 4 dead in South Waziristan
• Christians protest misuse of blasphemy laws
• Journalists protest 'life threats' from terrorists, vow to continue struggle
• Musharraf ordered to appear in court for Bugti murder trial
• Punjab Minister terms former interior minister 'rumour-monger'
• Pakistan deserves better treatment in US media: Senate DCC
• Taliban non-combatants: Govt ponders proposal to set up special panel
• Amendment authorise police, FIA, Balochistan Levies to take action against terrorists
• Pakistan vows to work with new Afghan rulers
• Govt, TTP working on mechanism for release of each other's prisoners
Southeast Asia
• HC overrides Syariah Court, orders custody of Muslim children to their Hindu mother
• Repent and support Hudud, Muslim NGO tells Umno
• Coordinated bomb blasts hit Thailand's Muslim south
• Indonesian vote to set governor on course for presidency
• World Halal Conference in Malaysia to address global food security concerns
North America
• U.S. bill aims to cut off Hezbollah's funding
• US ambassador plays down Turkey intervention in Syria
India
• 'India's policy for Bangladesh won't change'
• India lauds Afghan polls, offers to continue support
• Police lodge case against Israeli diplomats over scuffle
Africa
• Libya jihadists to impose Islamic law in radical town
• Two foreign UN workers shot dead in central Somalia: Officials
• Tanzania: Educated Young Tanzanians Reject Female Genital Mutilation
Compiled by New Age Islam News Bureau
URL: https://www.newageislam.com/islamic-world-news/new-age-islam-news-bureau/china-official-says-islamists-seek-to-ban-laughter-and-crying/d/66442
-----------
South Asia
China Official Says Islamists Seek To Ban Laughter And Crying
Apr 7, 2014
(Reuters) - The governor of China's restive far western region of Xinjiang wrote on Monday that Islamist militants were trying to ban laughter at weddings and crying at funerals, as he appealed to people to stamp out the "tumour" of extremism.
Xinjiang, resource-rich and strategically located on the borders of central Asia, has been beset by violence for years, blamed by the government on Islamist militants and separatists.
Exiles and many rights groups say the real cause of the unrest is China's heavy-handed policies, including curbs on Islam and the culture and language of the Muslim Uighur people who call Xinjiang home.
China's nervousness about Islamist extremism has grown since a car burst into flames on the edge of Beijing's Tiananmen Square in October, and 29 people were stabbed to death last month in the south-western city of Kunming.
Beijing blamed Xinjiang militants for both.
Writing in the official Xinjiang Daily, Xinjiang governor Nur Bekri said that acts of terror had been made possible by extremists taking advantage of people's faith, especially "young people who have seen little of the world".
"In order to incite fanaticism and control believers, religious extremists have blatantly distorted religious teachings, making up heresy such as 'jihadist martyrs go to heaven,' 'killing a pagan is worth over 10 years of piety,' and 'one gets whatever one wants in heaven'," he wrote.
"They use this to bewilder believers into what they believe is 'jihad' in the form of suicide terrorist attacks or other violence," Bekri added.
People who do not follow the strictures of the Islamists are condemned by them as "traitors" and "scum", he said.
China's ruling atheist Communist Party has issued similar warnings in the past about extremism, accompanied by a harsh crackdown on suspected militants.
Uighurs have traditionally followed a moderate form of Islam, but many have begun adopting practices more commonly seen in Saudi Arabia or Pakistan, such as full-face veils for women, as China has intensified a security crackdown in recent years.
Bekri, an Uighur himself, accused the militants of ignoring the region's own traditions and of wanting to enforce a strict theocratic society.
"They ... push the banning of watching television, listen to the radio, reading newspapers, singing and dancing, not allowing laughter at weddings nor crying at funerals," he added. "They force men to grow beards and women to wear the Burqa."
Extremists are also demanding that not only food, but also cosmetics, medicine and clothing be Halal, and push the idea that government-subsidised housing is not Halal and to be avoided, Bekri wrote.
"Resolutely eliminate the tumour of religious extremism," he added.
http://in.reuters.com/article/2014/04/07/china-xinjiang-idINDEEA360B020140407
-----------
41 Taliban Militants Killed or Injured In Afghan Operations
Apr 07 2014
At least 41 Taliban militants were killed or injured following military operations by Afghan national security forces in the past 24 hours.
The militants were killed or injured during counter-terrorism operations in Kunduz, Faryab and provinces of Afghanistan.
Afghan national police (ANP) forces carried out the operations in cooperation with the Afghan national army (ANA) and Afghan intelligence – national directorate of security (NDS) operatives.
Interior ministry of Afghanistan following a statement said at least 29 Taliban militants were killed and 12 others were injured during the operations.
The statement further added at least 13 Taliban militants were also arrested during the operations and Afghan national security forces confiscated various types of weapons belonging to the Taliban insurgents.
Afghan national police (ANP) forces also discovered and seized 4 improvised explosive device (IED) during operations in Nangarhar, Laghman, Kunduz and Balkh provinces, interior ministry said.
http://www.khaama.com/41-taliban-militants-killed-or-injured-in-afghan-operations-3532
----------
2 Afghan soldiers, 32 militants killed in latest wave of violence
Apr 07 2014
At least two Afghan national army soldiers were killed following improvised explosive device (IED) explosion in the past 24 hours.
Defense ministry spokesman, Gen. Zahir Azimi confirmed that the two Afghan national army soldiers were martyred due to improvised explosive device (IED) explosion.
Gen. Azimi did not disclose further information regarding the exact location of the incident.
The anti-government militants frequently use improvised explosive device (IED) as the weapon of their choice to target the Afghan security forces; however IEDs are also the major contributor to civilian casualties in Afghanistan.
In the meantime, Gen. Azimi said at least 32 anti-government armed militants were killed during military operations in the past 24 hours.
He said the militants were kiled during operations in Logar, Zabul, Faryab, and Kabul provinces. Afghan soldiers are also confiscated various types of weapons during the operations.
http://www.khaama.com/2-afghan-soldiers-32-militants-killed-in-latest-wave-of-violence-3535
-----------
Explosion in Herat leaves 4 policemen dead, 3 others injured
Apr 07 2014
At least four policemen were killed and three others were injured following an explosion in western Herat province of Afghanistan.
According to local government officials, the incident took place on Monday morning in Shindand district.
Shindand district governor, Abdul Hamid Noor said the incident took place around 9 am local time after a vehicle of the Afghan police forces was targeted with a remote controlled improvised explosive device.
Mr. Noor further added at least 4 policemen were killed following the explosion and three otehrs were injured.
He said Afghan security forces have launched an investigation in connection to the incident.
Herat is among the relatively peaceful provinces in western Afghanistan; however the anti-government armed militants have recently increased their insurgency activities in a number of its districts.
http://www.khaama.com/explosion-in-herat-leaves-4-policemen-dead-3-others-injured-3533
-----------
Maldives Police arrest another, two suspects in a growing series of child abuse reports
By Ahmed Rilwan | April 6th, 2014
The Maldives Police Service (MPS) yesterday arrested two people suspected of sexually abusing children as the number of cases reported in recent weeks continues to grow.
The latest addition to a series of child abuse arrests in the past weeks saw a 38-year-old man accused of sexually abusing his three-year-old stepdaughter in Hulhudhoo, Seenu atoll.
He was arrested last night from the tourist resort in which he works.
A 51-year-old Indian migrant worker accused of sexually abusing an eleven-year-old boy was also arrested last night from Feeali, in Faafu atoll. Both cases are currently under investigation by the MPS.
While it has been suggested that the rise represents a greater willingness to report existing abuses, the Human Rights Commission (HRCM) has suggested child abuse is rising, urging parents to be more alert.
Full report at:
http://minivannews.com/politics/police-arrest-another-two-suspect-in-a-growing-series-of-child-abuse-reports-81857
-----------
Afghan election officials to release partial election results soon
Apr 07 2014
The Independent Election Commission (IEC) officials announced Monday that the partial results of the presidential election would be released this week.
The officials further added that the partial results will hopefully be released on April 24, once they verify the count after the ballots arrived in Kabul.
IEC officials also added that the ballot boxes are being transferred to Independent Election Commission (IEC) headquarter in Kabul from the provinces.
More than seven million people turned out to vote on Saturday in order to elect the next president of Afghanistan. The turnout of the election was three million more than last time and a third of them were women.
Full report at:
http://www.khaama.com/afghan-election-officials-to-release-partial-election-results-soon-3534
-----------
Arab World
29 rebels dead in Syria premature car bomb blast: NGO
April 7, 2014
At least 29 rebels died in a blast in the city of Homs in central Syria on Sunday as they primed a car bomb for an attack, an NGO said.
In the capital, meanwhile, two people were killed when mortar fire struck the Damascus Opera House.
The Syrian Observatory for Human Rights said at least 29 rebels were killed in the besieged Old City of Homs when a car bomb exploded.
"The death toll is likely to rise because there are dozens of people missing and body parts in the area of the blast," the Britain-based group said.
State news agency SANA also reported the blast, saying a car had exploded while being loaded with explosives.
The blast took place on the outskirts of the besieged Old City of Homs, which is under rebel control.
Full report at:
http://english.ahram.org.eg/NewsContent/2/8/98407/World/Region/-rebels-dead-in-Syria-premature-car-bomb-blast-NGO.aspx
-----------
2 more slain in Egypt tribal feud
April 7, 2014
ASWAN: Clashes between an Arab clan and a Nubian family resumed Sunday in Egypt's south, killing two people and wounding four, health officials said, leaving the tourist city of Aswan on the edge despite a high-profile effort to end the bloodshed.
The bloody clashes, which began Friday, have so far claimed 25 lives. Gunfights broke out outside the local hospital and morgue near the city's center, a few km from the tourist hotels and its commercial areas.
An angry mob from the Arab clan torched more new Nubian homes Sunday after collecting the bodies of their relatives to bury. The attack pushed armed Nubians into the streets, sparking pitched gun battles. Police struggled to break up the mob outside the hospital. A military helicopter flew over the area.
Full report at:
http://www.arabnews.com/news/551731
-----------
ISIS jihadists open new front in Baghdad push
April 07, 2014
BAGHDAD: A powerful jihadist group inspired by Al-Qaeda has opened a new battlefront with Iraqi security forces that could see it try to push into Baghdad, officials and analysts warn.
The latest clashes, just weeks before parliamentary elections, raise key questions over the capacity of the army and police to repel militant attacks.
Anti-government fighters currently hold all of Fallujah, a town that is just a short drive from Baghdad, and other pockets of territory.
The push by the Islamic State of Iraq and Greater Syria (ISIS) into the Abu Ghraib area, sparking clashes in nearby Zoba and Zaidan, as well as a failed assault on a military camp in Yusifiyah, illustrate the group's ambition, even with Fallujah under military siege.
In perhaps the most worrying sign of ISIS' capabilities, anti-government fighters paraded with dozens of vehicles last week in broad daylight in Abu Ghraib, just 20 kilometers from the capital, according to witnesses and videos posted to YouTube.
Full report at:
http://www.dailystar.com.lb/News/Middle-East/2014/Apr-07/252496-isis-jihadists-open-new-front-in-baghdad-push.ashx#ixzz2yCsjviTu
------------
Syria oppositon names ministers for interim government
World Bulletin / News Desk
Leading opposition group Syrian National Coalition has elected ministers for an interim government that they hope would eventually replace the regime of Bashar Assad.
The Istanbul-based Coalition issued a statement on Sunday announcing the appointment of Muhyi Al-Din Banana as Minister of Education and Adnan Mohamad Hazuri as Minister of Health.
The announcement comes in the second day of the Coalition's 3-day General Assembly meeting in Istanbul.
It is reported that there are no candidates for the post of interior minister.
The interim government was set up in March last year under the leadership of Ghassan Hitto, who was replaced in September upon resignation by Ahmad Tuma. The first group of ministers took their posts in November.
Full report at:
http://www.worldbulletin.net/headlines/133051/syria-oppositon-names-ministers-for-interim-government
-----------
Kuwait minister accused by US of jihad links 'to stay'
April 7, 2014
Kuwait's Islamic affairs minister, accused by a senior US official of promoting jihad in Syria, was reported Monday as saying he will stay on after his resignation was rejected.
Al-Qabas daily cited Nayef al-Ajmi as saying he will remain in the post after a request from the "political leadership" following a meeting on Sunday.
The term "political leadership" generally refers to the ruler of the oil-rich Gulf state.
"I will obey the orders of the political leadership and will continue along the same path I have started," Ajmi, who is also justice minister, said.
Ajmi, who strongly denied the US accusations, said on Friday he had tendered his resignation, citing health problems.
Full report at:
http://english.ahram.org.eg/NewsContent/2/8/98456/World/Region/Kuwait-minister-accused-by-US-of-jihad-links-to-st.aspx
-----------
Brotherhood using Syrian, Iraqi and Afghani fighters: Interior ministry
April 7, 2014
A spokesman for Egypt's interior ministry claims that the Muslim Brotherhood has been using mercenaries from Syria, Iraq and Afghanistan in all recent terrorist attacks in Egypt, according to state-run news agency MENA.
Hani Abdel-Latif also condemned the recent spate of violence and stressed that police forces have been taking all necessary efforts to protect Egyptians.
Abdel-Latif told MENA that police forces have been trying to eliminate "terrorism in all its forms" by freezing monetary funds and locating explosives through information from intelligence services.
He then added that there are two kinds of terrorism in Egypt. The first type, he said, are militant groups with fighters who have previously worked in Afghanistan, Iraq and Syria.
Such groups, he said, are the main ones held responsible for the bombing of a security directorate in Daqahliya governorate and all the attacks taking place in the Sinai Peninsula.
An explosion at a police headquarters in Daqahliya in December killed 15 and injured over 130 policemen and civilians. The attack was claimed by the Sinai-based Al-Qaeda offshoot, Ansar Beit Al-Maqdis. Police later released video testimonies from several primary suspects rounded up after the attack.
Full report at:
http://english.ahram.org.eg/NewsContent/1/64/98417/Egypt/Politics-/Brotherhood-using-Syrian,-Iraqi-and-Afghani-fighte.aspx
-----------
Al Qaeda chief Ayman al-Zawahiri mourns slain Syria fighter
April 7, 2014
Al Qaeda chief Ayman al-Zawahiri has called for Islamist fighters in Syria to end the infighting that killed a one-time companion of Osama bin Laden earlier this year, according to an audio tape posted online.
In the message, Zawahiri mourned the death of Abu Khaled al-Soury, who was killed by an al Qaeda splinter group in a suicide attack in February, and lamented the "strife of the blind that has befallen the blessed land of the Levant."
Soury was one of the highest-profile victims of rebel infighting that surged at the start of the year, pitting the Islamic State of Iraq and the Levant (ISIL) against rival rebels including other hardline Islamists. Some 4,000 people have been killed in the clashes, according to the Britain-based Syrian Observatory for Human Rights. The fighting has hindered the battle against President Bashar al-Assad and pushed rival rebel groups to consolidate power in their respective areas of control.
Full report at:
http://www.nation.com.pk/international/06-Apr-2014/al-qaeda-chief-ayman-al-zawahiri-mourns-slain-syria-fighter
-----------
Nasrallah says Hezbollah targeted Israel patrol: Report
Press Trust of India | Beirut | April 7, 2014
Hezbollah chief Hassan Nasrallah said in an interview published on Monday that his Lebanese Shiite group was behind a blast that targeted Israeli troops on the border between the two countries last month.
"Yes, the explosion in the Shebaa Farms that Hezbollah has not claimed until now was the work of the resistance, which means the work of Hezbollah," Nasrallah told the Al-Safir daily.
The blast, on March 14, came after Israeli warplanes carried out air strikes inside Lebanon that were believed to have targeted its positions near Lebanon's border with Syria.
"This was not the reply, but this was part of the reply," Nasrallah told Al-Safir.
The message to Israel, he said, was "you hit a military target and the resistance responded by hitting a military target".
Full report at:
http://indianexpress.com/article/world/world-others/nasrallah-says-hezbollah-targeted-israel-patrol-report/
------------
Assad tells Russian ex-PM "active phase" of Syria war over this year
April 7, 2014
A former Russian prime minister who recently met Bashar al-Assad said the Syrian president told him that much of the fighting in the country's civil war would be over by the end of the year, Itar-Tass news agency reported on Monday.
Russia has been Assad's most powerful supporter during the three-year conflict that activists say has killed more than 150,000 people, blocking Western and Arab efforts to drive him from power.
Sergei Stepashin, who served as prime minister in 1999 under then-President Boris Yeltsin and now heads a charitable organisation, met Assad in Damascus last week during a visit to the Middle East, according to Russian news reports.
"To my question about how military issues were going, this is what Assad said: 'This year the active phase of military action in Syria will be ended. After that we will have to shift to what we have been doing all the time - fighting terrorists'," state-run Itar-Tass quoted Stepashin as saying.
Full report at:
http://english.ahram.org.eg/NewsContent/2/8/98474/World/Region/Assad-tells-Russian-exPM-active-phase-of-Syria-war.aspx
-----------
Europe
Western Thrace Turks slam Greece 'Imams Law'
World Bulletin / News Desk
Muslim Turks in Greece have expressed their anxiety over a law that was originally drawn up in 2007 but has not been implemented until now, after the '240 Imams Law' was activated following a legal review.
Greece last year insisted that the regulation would enable students from the minority of ethnic Turks who attend public schools to learn the about their religion and the Qur'an from certified Muslim scholars (Ierodidaskalos), who will be selected by a five-member Committee, which is to be composed of one appointed Mufti, one reputable Muslim academic and one Muslim theologian.
However, the Turkish minority, which is mainly based in the Western Thrace region, reacted negatively to this new law, claiming that in infringes on international laws protecting religious freedom. Turkish religious and political leaders in Greece said that the law was introduced without their approval and implemented in spite of their opposition.
The elected Mufti of the mainly Turkish city of Gumulcine (Komotini) Ibrahim Serif said the law has 'deeply shaken' the minority community as it was drawn up without consulting them.
'They want us to put on a costume that was prepared without our request or wishes. This is the same as interfering with our mosques. For this reason our community is upset and does not accept this implementation,' he said.
Full report at:
http://www.worldbulletin.net/muslim-world/132898/western-thrace-turks-slam-greece-imams-law
-----------
France says Southern Libya now a "viper's nests for Islamist militants
April 07, 2014
PARIS: Southern Libya has become a "viper's nest" for Islamist militants and the only way to tackle it is with a strong collective response from neighbouring countries, France's defence minister said in remarks published on Monday.
"We are increasingly worried. It's a viper's nest in which jihadists are returning, acquiring weapons and recruiting," Jean-Yves Le Drian said in an transcript of an interview provided by the ministry. "It is dangerous and the conditions are not in place to find a solution."
Two-and-a-half years after the fall of former leader Moammar Gadhafi, the oil-rich North African state is struggling to contain violence between rival forces, with Islamist militants gaining an ever-stronger grip on the south of the country.
Full report at:
http://www.dailystar.com.lb/News/Middle-East/2014/Apr-07/252568-france-says-southern-libya-now-a-vipers-nests-for-islamist-militants.ashx#ixzz2yCsFYVOG
-----------
Ban says 'shame still clings' to UN over Rwanda genocide
April 7, 2014
UN Secretary-General Ban Ki-moon said Monday that the world body was still wracked by shame over its failure to act against the genocide in Rwanda 20 years ago.
"Many United Nations personnel and others showed remarkable bravery. But we could have done much more. We should have done much more. In Rwanda, troops were withdrawn when they were most needed," Ban said in a speech at commemorations marking the 20th anniversary of the genocide.
One year later in Srebrenica, areas proclaimed 'safe' by the United Nations were filled with danger, and innocents were abandoned to slaughter," he added, saying: "The shame still clings, a generation after the events."
Full report at:
http://www.hurriyetdailynews.com/ban-says-shame-still-clings-to-un-over-rwanda-genocide.aspx?pageID=238&nID=64652&NewsCatID=357
----------
Putin: Terrorists Trained in Afghanistan, Syria May Attack Russia
April 7, 2014
Russian security services exposed the activity of 46 foreign spy service officers and 258 agents last year, President Vladimir Putin said Monday as he addressed a board meeting of Russia's Federal Security Service (FSB).
"Counterintelligence is a traditional sphere of activity for the FSB, and that's really a sector with intensive field operations," Putin said according to ITAR-TAS.
Putin stated that underground terrorist networks still have some chances to commit terrorist attacks in Russia and will try to stage them in different Russian regions other than the North Caucasus.
"The situation still remains quite difficult, as the terrorist underworld still has some opportunities to commit terrorist attacks against civilians despite serious losses," the president said, recalling the suicide bombings in the Russian southern city of Volgograd at the end of the previous year.
Full report at:
http://www.almanar.com.lb/english/adetails.php?fromval=1&cid=22&frid=22&eid=144781
-----------
UN Secretary General congratulates Afghans on historic elections
Apr 07 2014
The United Nations Secretary-General congratulates the people of Afghanistan on Saturday's historic Presidential and Provincial Council elections.
The elections mark an important step forward in Afghanistan's first democratic transition of power, the secretary general quoted in a statement by UNAMA said.
UNAMA in its statement further added that the millions of women and men who cast their ballots are a testament to the courage and the commitment of Afghans to exercise their rights and shape their future.
Full report at:
http://www.khaama.com/un-secretary-general-congratulates-afghans-on-historic-elections-3531
-----------
Spain busts group accused of plans to send arms machinery to Iran
April 07, 2014
MADRID: Spain said on Monday it had dismantled a group it accused of plotting to send industrial equipment to Iran that could be used for weapon manufacture in violation of international sanctions.
The Spanish interior ministry and civil guard said in a joint statement they had arrested four people from the group, which is also accused of sharing technological information through a complex business network, including engineering projects, which may be used to build missiles.
The bust came as chief negotiators prepared for another round of talks in Vienna on Tehran's nuclear programme, part of efforts to reach an agreement by late July on resolving a decade-old dispute that has stirred fears of a Middle East war.
The four suspects - three Spaniards and one Iranian - were arrested in Barcelona, Tarragona and Palma de Mallorca, the Spanish statement said.
Full report at:
http://www.dailystar.com.lb/News/Middle-East/2014/Apr-07/252569-spain-busts-group-accused-of-plans-to-send-arms-machinery-to-iran.ashx#ixzz2yCsQQa3R
-----------
Gunman kills well-known Dutch priest in Syria's Homs
April 07, 2014
BEIRUT: A gunman in Syria's central city of Homs shot and killed well-known Dutch priest Frans van der Lugt on Monday, a monitoring group and the Dutch Jesuit Order said.
His death was also reported by Syria's state news agency SANA, which said he had died immediately after being shot, citing a source in the Homs governorate.
The Britain-based Observatory said the motive for the attack was unclear. Van der Lugt had gained renown for insisting on staying on in besieged Homs despite daily shelling and dwindling supplies.
"I can confirm that he's been killed," Jan Stuyt, secretary of the Dutch Jesuit Order, told AFP by phone.
Full report at:
http://www.dailystar.com.lb/News/Middle-East/2014/Apr-07/252555-dutch-priest-shot-dead-in-homs-report.ashx#ixzz2yCsLxliL
-----------
Mideast
Experts split over anti-nuclear-weapons fatwa in Iran
April 7, 2014
Middle East Media Research Institute says Iranian supreme leader never issued an official fatwa against nuclear weapons.
When US Secretary of State John Kerry said last month, in a Nowruz interview with the Voice of America's Persian service, that he and President Barack Obama were "grateful" that Iran's leader had issued a fatwa banning nuclear weapons, he rekindled a debate about whether the fatwa actually existed.
According to the Washington-based Middle East Media Research Institute (MEMRI), Iranian Supreme Leader Ali Khamenei never issued an official fatwa against nuclear weapons, at least not one for which there is any official record.
Other experts told The Jerusalem Post, on the other hand, that a fatwa can be oral and does not have to be written down.
MEMRI argues that the Iranians are lying about the fatwa and that the Obama administration is endorsing it, not necessarily because it believes it, but because it thinks it could be useful for pushing the Iranians toward a deal.
Full report at:
http://www.jpost.com/Iranian-Threat/News/Experts-split-over-anti-nuclear-weapons-fatwa-in-Iran-347730
-----------
Fighting in Palestinian camp in Lebanon kills five
By REUTERS
04/07/2014
SIDON, Lebanon - At least five people were killed in fighting on Monday between Palestinian factions in a refugee camp near Lebanon's southern city of Sidon, local sources said.
They said the fighting broke out between fighters from a group originally linked to Palestinian Authority President Mahmoud Abbas's Fatah group and a rival militant organization.
It was not immediately clear what triggered the clashes in the Mieh Mieh camp, in which at least 10 people were wounded.
Full report at:
http://www.jpost.com/Middle-East/Fighting-in-Palestinian-camp-in-south-Lebanon-kills-five-347770
-----------
Ex-Palestinian prisoner teaches Hebrew, tolerance
Associated Press | Deir Jarir/ West Bank | April 7, 2014
Facing a classroom of Palestinian 10th graders, Hebrew teacher Esmat Mansour asks his students who is for and against learning the language. A few raise their hands in favor, others against and he asks both sides to explain.
Mansour believes such debates will help motivate young Palestinians to study Israel's dominant language. They need to know Hebrew to be able to deal with the Israeli occupiers, but also to build bridges in the future, he says.
The 37 year old's view of the conflict with Israel is the product of a violent past, as he at 16 helped three older teens stab to death an Israeli man in 1993. Mansour was sentenced to 22 years as an accomplice in the killing of 30-year-old Haim Mizrahi, and was granted early release last year, along with dozens of other long-held prisoners, in a deal brokered by the United States.
Full report at:
http://indianexpress.com/article/world/asia/ex-palestinian-prisoner-teaches-hebrew-tolerance/
-----------
'Palestinians say no breakthrough in last-ditch peace efforts'
April 7, 2014
Last-ditch efforts between Israeli and Palestinian negotiators to save the floundering peace talks ended with no breakthrough on Sunday night, Palestinian sources told AFP.
"The crisis continues. During the whole meeting, the Israelis threatened the Palestinians and no solution to the crisis was found," AFP quoted a Palestinian official as saying. The remarks came after US envoy Martin Indyk met with Palestinian negotiator Saeb Erekat and Israel's negotiator, Justice Minister Tzipi Livni, in hopes of finding a way to break the impasse.
Earlier Sunday, the Palestinian Authority dismissed Israel's threat to unilaterally act against it in response to the PA's application last week to join 15 international treaties and conventions.
Full report at:
http://www.jpost.com/Diplomacy-and-Politics/Palestinians-dismiss-Netanyahus-threat-of-unilateral-moves-347725
-----------
Syria absolutely behind Reyhanlı attack, says Turkish ministry
April 7, 2014
There is no doubt that a deadly bombing that killed over 50 in Reyhanlı on the Turkish-Syrian border in May 2013 was committed by Damascus, Turkish officials have claimed, despite persistent speculation that the attack was staged by al-Qaeda.
"There is no doubt that the Reyhanlı attack was carried out with support from the Syrian regime. Consequently, reports, expressions and attempts aimed at creating a perception as if there are contradicting statements among state officials are completely invalid," the Turkish Foreign Ministry said in a written statement released late April 6.
The statement came in the form of an official answer to a journalist's question by Foreign Ministry spokesperson Tanju Bilgiç.
A report by Al-Monitor concerning the May 2013 attack in Reyhanlı town of Hatay, where two car bombs exploded in the town center, killing more than 50 people, apparently prompted the ministry to deliver such statement.
Full report at:
http://www.hurriyetdailynews.com/syria-absolutely-behind-reyhanli-attack-says-turkish-ministry.aspx?pageID=238&nID=64634&NewsCatID=509
---------
Pakistan
Pakistan's central bank publishes rules of sharia governance
April 07, 2014
Pakistan's central bank has published detailed rules on sharia governance, giving scholars greater independence from their banks' managements, as regulators revamp Islamic finance in the world's second most populous Muslim country.
Pakistan was one of the first countries to introduce Islamic banking at a national level in the 1970s, but the industry has developed slowly partly because of consumer skepticism over its authenticity, an issue which regulators now seem keen to tackle.
The central bank is rolling out a five-year plan to promote Islamic finance through proposed legislative changes, product incentives and instructions to market participants. The new governance rules describe the roles and responsibilities of Islamic banks' managements and their sharia scholars, who rule on whether activities and products at the banks follow religious principles.
Full report at:
http://www.nation.com.pk/national/07-Apr-2014/pakistan-s-central-bank-publishes-rules-of-sharia-governance
-----------
5 Taliban militants killed by gunmen in Pakistan
April 7, 2014
Five Pakistani Taliban militants, including a key commander, were killed when unknown gunmen attacked their vehicle in the restive northwest Pakistan tribal region.
The assailants opened fire at the vehicle in South Waziristan Agency near the Afghan border, killing the occupants who were members of the Hakimullah Mehsud group of the banned Tehrik—e—Taliban Pakistan (TTP), officials said.
The dead included a local commander identified as Shafiq.
The assailants managed to flee the scene after the attack, said the officials.
The incident came when government and Taliban negotiators were gearing up for the next phase of dialogue process to bring an end to a two—decade old bloody war.
Full report at:
http://www.thehindu.com/news/international/south-asia/5-taliban-militants-killed-by-gunmen-in-pakistan/article5882948.ece
-----------
Car attack leaves 4 dead in South Waziristan
April 7, 2014
PESHAWAR: Four people were killed while another sustained injuries in an armed attack on a car in South Waziristan, Express News reported on Monday.
According to initial details, unidentified armed men opened fire on a car in the Shaktoi area of the agency.
The officials of political administration have not reached the area.
No details about the attackers or the deceased are known as yet.
http://tribune.com.pk/story/692429/car-attack-leaves-4-dead-in-south-waziristan/
-----------
Christians protest misuse of blasphemy laws
April 7, 2014
LAHORE: Members of Christian community from Youhanabad and adjacent localities on Sunday held a peaceful demonstration against the misuse of the country's blasphemy laws.
The protesters led by Pakistan Tehreek-e-Insaf (PTI) minorities leaders Rufus Solomon and Asif Sohail Khokhar demonstrated against the blatant misuse of the blasphemy laws especially against the minority Christian community.
Addressing the protesters, Rufus Solomon said that the recent death sentences handed to Sawan Masih, the central character of a blasphemy case which resulted in the riots at Lahore's Joseph Colony in March last year, and Shafqat and Shagufta Emmanuel over alleged blasphemous text messages sent to local Muslims in Gojra, had shocked the Christians and Muslims alike.
Full report at:
http://www.dailytimes.com.pk/national/07-Apr-2014/christians-protest-misuse-of-blasphemy-laws
-----------
Journalists protest 'life threats' from terrorists, vow to continue struggle
April 7, 2014
LAHORE: After issuance of a direct life threat to senior journalist Imtiaz Alam, journalist community, political parties and civil society organisations held a protest demonstration on Sunday.
Members of the Lahore Press Club (LPC), Punjab Union of Journalists (PUJ), Human Right Commission of Pakistan (HRCP), South Asia Free Media Association (SAFMA), South Asia Partnership-Pakistan Chapter (SAP-PK), Pakistan People's Party (PPP), and Jamiat Ulema-i-Islam-Fazl (JUI-F) participated in the demonstration to condemn the issuance of threats to journalists.
Full report at:
http://www.dailytimes.com.pk/punjab/07-Apr-2014/journalists-protest-life-threats-from-terrorists-vow-to-continue-struggle
---------
Musharraf ordered to appear in court for Bugti murder trial
April 7, 2014
Former Pakistani military ruler Pervez Musharraf was today ordered by an anti—terrorism court to appear before it on April 21 in a case relating to the murder of Baloch nationalist leader Akbar Bugti.
The court in Quetta directed 70—year—old Musharraf to appear before it, failing which his bail would be canceled.
"The court will issue arrest warrants against him if he fails to appear before it," Sohail Rajput, the counsel of Bugti's son Jamil, told reporters quoting the remarks the judge made during the hearing.
Meanwhile, former federal interior minister Aftab Ahmed Khan Sherpao and former Balochistan home minister Mir Shoaib Nowsherwani appeared before the court in connection with the case.
Full report at:
http://www.thehindu.com/news/international/south-asia/musharraf-ordered-to-appear-in-court-for-bugti-murder-trial/article5882997.ece
-----------
Punjab Minister terms former interior minister 'rumour-monger'
April 07, 2014
LAHORE- Without direct reference to statements of former interior minister on threats to Bilawal Bhutto, Law Minister Punjab Rana Sanaullah said that Rehman Malik is expert in spreading rumours.
Talking to journalists he said the Punjab government was investigating about the threats given to Bilawal Bhutto Zardari. He hoped that dialogue with the Taliban will soon reach its decisive positive end.
To a question regarding Khyber Pakhtunkhwa government, Sanaullah said people of KP had given mandate to Tehreek-e-Insaf, while those running the forward bloc in the party [PTI] were remnants of dictatorship era. "We will not support the forward bloc of any political party," maintained the law minister.
http://www.nation.com.pk/national/07-Apr-2014/sanaullah-terms-rehman-malik-rumor-monger
-----------
Pakistan deserves better treatment in US media: Senate DCC
April 07, 2014
ISLAMABAD - Senate Defence Committee Chairman Senator Mushahid Hussain Sayed has said that the Pakistani people showed resilience in the war against terrorism, sacrificing much more than any other country and Pakistan's democratic transformation, with multiple power centres and political pluralism, deserves fair and better treatment in the US media.
He was talking to a delegation of American journalists, currently visiting Islamabad on the US-Pakistan Journalist Exchange Programme, offered by the East-West Center, Honolulu.
Senator Mushahid said that the problems faced by the US after 9/11 were due to wrong policies of Washington, particularly an 'ideological foreign policy' that included the unwarranted invasion and occupation of Iraq, the rejection of Saudi Arabia's Middle East peace plan and placing Iran on the so-called 'Axis of Evil', even though Tehran cooperated with the US both in Afghanistan and Iraq. Such wrong policies fuelled anti-Americanism, he added.
Full report at:
http://www.nation.com.pk/national/07-Apr-2014/pakistan-deserves-better-treatment-in-us-media-mushahid
-----------
Taliban non-combatants: Govt ponders proposal to set up special panel
April 7, 2014
ISLAMABAD: The government is considering setting up a special panel to investigate the cases of 'non-combatant Taliban prisoners' amid reports that the military leadership is reluctant to support the release of such inmates.
Last month the Tehreek-e-Taliban Pakistan (TTP) handed over a list of 300 detainees, including women and children, to peace negotiators and demanded they be freed before the fledgling peace process could pick up pace.
"A group or committee may be set up to investigate the cases of those in detention," an official privy to developments told The Express Tribune on Sunday. He added that the proposal has been discussed but a final decision on the matter has yet to be taken.
Full report at:
http://tribune.com.pk/story/692316/taliban-non-combatants-govt-ponders-proposal-to-set-up-special-panel/
-----------
Amendment in PPO authorise police, FIA, Balochistan Levies to take action against terrorists
April 7, 2014
ISLAMABAD: With a Statutory Regulatory Order (SRO), the interior ministry has authorised police, Federal Investigation Agency and Balochistan Levies to take action against terrorists under the Protection of Pakistan Ordinance (PPO), Express News reported on Monday.
PPO – approved by President Mamnoon Hussain last year – is a document that declares all peace-disrupting elements as 'enemies of the state', and states protection of life to be the state's top priority. Despite resistance, the Pakistan Muslim League-N (PML-N)-led government had also presented the controversial Ordinance in the National Assembly on April 2.
Full report at:
http://tribune.com.pk/story/692385/amendment-in-ppo-authorise-police-fia-balochistan-levies-to-take-action-against-terrorists/
-----------
Pakistan vows to work with new Afghan rulers
April 7, 2014
ISLAMABAD: Prime Minister Nawaz Sharif said on Sunday that Pakistan would not only help and support Afghanistan strengthen democracy but would also work in collaboration with the new leadership in that country to bring peace and tranquillity in the region.
Prime Minister Nawaz congratulated President Hamid Karzai and the people of Afghanistan on successfully holding and completing the electioneering process for the president's office. He said that the Afghan people's effort to make decisions through the ballot boxes reflects their determination and keen interest in adopting a democratic culture. "Participation in the democratic process by the Afghan people would play a significant role in bringing peace and stability in the region," Prime Minster Nawaz emphasised.
Full report at:
http://www.dailytimes.com.pk/islamabad/07-Apr-2014/pakistan-vows-to-work-with-new-afghan-rulers
-----------
Govt, TTP working on mechanism for release of each other's prisoners
April 7, 2014
ISLAMABAD: One of the members of the Taliban negotiating committee, Professor Ibrahim, said on Sunday that the government and the Tehreek-e-Taliban Pakistan (TTP) are working on a mechanism for release of prisoners, and both sides are moving forward with full confidence.
Professor Ibrahim said that the success of talks between the government and the TTP would fulfil the dream of peace in the country. Talking to a private television channel Sunday, he said that the government and Taliban liaison committees' members would be leaving for North Waziristan to hold talks with the Taliban political shura in two or three days. He said that the talks proceeding ahead with confidence-building measures and the dream for peace would be fulfilled with the success of talks.
Full report at:
http://www.dailytimes.com.pk/national/07-Apr-2014/govt-ttp-working-on-mechanism-for-release-of-each-other-s-prisoners
-----------
Southeast Asia
HC overrides Syariah Court, orders custody of Muslim children to their Hindu mother
APRIL 07, 2014
The High Court in Seremban today ordered that custody of two children who were converted to Islam be given to their Hindu mother.
Judge Datuk Zabariah Mohd allowed the custody application by S. Deepa in chambers.
Zabariah also allowed Deepa's application to dissolve her civil marriage as the husband Izwan Abdullah had converted to Islam.
The High Court decision overrides a Syariah Court order early last year that granted custody of the children to Izwan who became a Muslim in April last year.
Izwan's lawyer Muhammad Faiz Fadzil told reporters that the judge made it clear Deepa's application was allowed as the civil court had jurisdiction over the matter and provide the relief for custody and dissolution of the couple's marriage.
Full report at:
http://www.themalaysianinsider.com/malaysia/article/high-court-overrides-syariah-court-orders-custody-of-muslim-children-to-the
-----------
Repent and support hudud, Muslim NGO tells Umno
APRIL 07, 2014
A Muslim NGO is calling on Umno to support the PAS-led Kelantan government's move in implementing hudud laws in the state, saying this would lead to Islam being used as a reference point in the party.
Ikatan Muslimin Malaysia (Isma) said Umno had to be "serious" and support the implementation of hudud, starting with Kelantan, without any hesitation.
"Not only that, the Umno leadership has to repent and pave the way for change in making Islam as the reference point in the party," said its vice president Abdul Rahman Mt Dali in a statement.
"In Malaysia, any party that fights without Islam will fail in its struggles along the way. In the same way, the Islam fight, but neglecting the Malays will also fail."
Full report at:
http://www.themalaysianinsider.com/malaysia/article/repent-and-support-hudud-muslim-ngo-tells-umno
-----------
Coordinated bomb blasts hit Thailand's Muslim south
World Bulletin / News Desk
A spate of deadly coordinated explosions rocked a city in Thailand's Muslim south on Sunday, reminding a government ensconced in five months of political crisis that a 10-year-long fighting continues.
A spokesman for the southern military command told the Bangkok Post that four explosions had hit Yala, the capital of the province of the same name, late Sunday.
"One of the devices was hidden in a car which had been stolen a long time ago," Colonel Pramote Prom-in added.
A Yala hospital spokesperson said that one person was killed and 28 injured in the blasts.
Thailand's three Muslim-dominated southern provinces of Yala, Pattani and Narathiwat have been troubled by a Muslim resistance since Siam (the name of Thailand before 1939) invaded what was then a Malay Sultanate following an Anglo-Siamese treaty in 1907.
The resistance became a full-blown civil war in the 1960s when the Bangkok government tried to control education in the region's Islamic schools.
Full report at:
http://www.worldbulletin.net/news/133063/coordinated-bomb-blasts-hit-thailands-muslim-south
---------
Indonesian vote to set governor on course for presidency
April 7, 2014
JAKARTA: Indonesians vote on Wednesday in parliamentary elections expected to set popular Jakarta governor Joko Widodo, a fresh face in a country dominated by an ageing elite from the Suharto era, on course to become president in July.
Known universally by his nickname of "Jokowi", 52-year-old Widodo has been a political phenomenon since he became the capital's leader in 2012, and has topped presidential opinion polls for months.
His common touch -- he regularly visits Jakarta's slums in his trademark checked shirt -- has made him a hit with voters weary of the Suharto-era tycoons and ex-military figures who have long been the main political players in the world's third-biggest democracy.
Polls predict Widodo's main opposition Indonesian Democratic Party of Struggle (PDI-P) will top the vote in the country's fourth legislative elections since the end of Suharto's three-decade rule in 1998.
Full report at:
http://www.channelnewsasia.com/news/asiapacific/indonesian-vote-to-set/1062318.html
-----------
World Halal Conference in Malaysia to address global food security concerns
APRIL 7, 2014
KUALA LUMPUR, April 7 — The Ministry of International Trade and Industry (MITI) will host the World Halal Conference this week to address the escalating food security concerns worldwide.
Organised by the Halal Industry Development Corporation (HDC), the conference also aims to create a sustainable halal industry for future generations.
The conference expected see the participation of more than 600 delegates comprising halal industry experts, technocrats, governments as well as industry leaders and manufacturers worldwide, HDC said in a statement today.
Themed "Global Food Security-The Halal Perspective," the two-day conference will be held at the Kuala Lumpur Convention Centre from April 9-10 in conjunction with World Halal Week 2014.
Full report at:
http://www.themalaymailonline.com/malaysia/article/world-halal-conference-in-malaysia-to-address-global-food-security-concerns#sthash.npUZ9p28.dpuf
-----------
North America
U.S. bill aims to cut off Hezbollah's funding
Apr 7, 2014
BEIRUT: U.S. lawmakers are creating new legislation that will impose further economic sanctions on Hezbollah and its Al-Manar television station as they seek to cripple the party's sources of funding.
The House Committee on Foreign Affairs drafted on April 3 a law that would toughen economic sanctions against Hezbollah, designated by Washington as a terrorist organization, which lawmakers said continued to "pose a threat to the United States, our allies and interests throughout the Middle East, and well beyond."
"The Hezbollah International Financial Prevention Act takes a comprehensive approach to addressing the threat posed by Hezbollah by imposing severe new sanctions on Hezbollah's fundraising channels and restricting its ability to use its funds to support global terrorist activities," a statement by the committee said.
Full report at:
http://www.dailystar.com.lb/News/Lebanon-News/2014/Apr-06/252460-us-bill-aims-to-cut-off-hezbollahs-funding.ashx#ixzz2yCt5NvSD
-------------
US ambassador plays down Turkey intervention in Syria
World Bulletin / News Desk
The US ambassador to Turkey, Françis Ricciardone, has broken his silence on recent wiretapping scandals in the country and an audio leak of a recording from a secret meeting between Turkish officials discussing possible war tactics in Syria.
Speaking to Turkey's daily Hurriyet, Françis Ricciardone said that he did not believe Turkey would actually send troops into Syria and that he had no knowledge of the wiretapping scandal, adding that he feels he has no reason to question statements made by the Turkish Foreign Minister Ahmet Davutoglu regarding the matter.
In regards to the Syria crisis, Ricciardone said that the US and Turkey were on the same page when it came to strategic objectives but naturally looked at events from different perspectives.
Full report at:
http://www.worldbulletin.net/headlines/133076/us-ambassador-plays-down-turkey-intervention-in-syria
-----------
India
'India's policy for Bangladesh won't change'
April 7, 2014
Indian High Commissioner in Dhaka Pankaj Saran has said India's policy towards Bangladesh will remain unchanged even after the change in government of the country after the ongoing general election.
Pankaj Saran was speaking at a programme in the capital on Monday afternoon.
Indians have begun voting in the world's biggest election on Monday.
Public opinion shows that India's 815 million voters are set to inflict a resounding defeat on the ruling Congress party after the longest economic slowdown since the 1980s.
The elections are expected to the main opposition Bharatiya Janata Party (BJP) to power and bring an end to Congress party's decade-long rule.
http://www.dhakatribune.com/bangladesh/2014/apr/07/india%E2%80%99s-policy-bangladesh-wont-change#sthash.vVcwOmtS.dpuf
-----------
India lauds Afghan polls, offers to continue support
Express News Service | New Delhi | April 7, 2014
Praising Afghanistan for successfully conducting elections under the threat of terror, India called it a "resounding rejection of designs and ideology of terrorists" and offered support in efforts of people to build a strong, independent, sovereign and democratic Afghanistan.
Ministry of External Affairs' spokes-person Syed Akbaruddin said, "This democratic expression of the will of the people of Afghanistan is a resounding rejection of the designs and ideology of terrorists and their supporters."
"India will continue to support people of Afghanistan in their efforts to build a strong, independent, sovereign and democratic Afghanistan," he said.
"We salute people of Afghanistan who turned out in such great numbers to exercise their franchise despite the threat of violence and intimidation," the MEA spokesperson said.
http://indianexpress.com/article/india/india-others/india-lauds-afghan-polls-offers-to-continue-support/
-------------
Police lodge case against Israeli diplomats over scuffle
AFP | Apr 7, 2014
NEW DELHI: Police have lodged a criminal case against three Israeli diplomats for allegedly abusing and injuring an airport immigration official, despite them enjoying diplomatic immunity, an officer said on Monday.
A scuffle broke out late Saturday when the consular officials were clearing immigration at New Delhi airport to catch a flight to Kathmandu, the police deputy commissioner in charge of airport security said.
"They kept on arguing with the Indian official at the immigration assistance counter. Once their papers were cleared, they verbally abused the official and when he objected, they pounced on him," MI Haider told AFP.
Full report at:
http://timesofindia.indiatimes.com/india/Police-lodge-case-against-Israeli-diplomats-over-scuffle/articleshow/33387733.cms
-----------
Africa
Libya jihadists to impose Islamic law in radical town
April 7, 2014
A jihadist group in Libya says it plans to take over security in the restive eastern town of Derna and impose sharia Islamic law, in a posting on Facebook.
Witnesses said the group "Majlis Shura of Islamist Youth in Derna" staged a show of force on Friday, parading through the town armed to the teeth.
Photographs on the group's Facebook page show dozens of masked men in military uniform in pickup trucks, armed with rocket-propelled grenade launchers, machineguns and anti-aircraft cannon.
They also brandish black and white jihadist banners.
"We announce the formation of a legal committee to settle differences between people and arrange reconciliations on the basis of sharia," the group said in a statement.
It said it would ensure security in Derna, and rejected "the laws of miscreants" and "institutions which violate the laws of God".
Full report at:
http://english.ahram.org.eg/NewsContent/2/8/98413/World/Region/Libya-jihadists-to-impose-Islamic-law-in-radical-t.aspx
-----------
Two foreign UN workers shot dead in central Somalia: Officials
April 7, 2014
Two foreign U.N. workers, one of them a Briton, were shot dead on April 7 at an airport in Galkayo, central Somalia, officials and witnesses said.
A United Nations source confirmed the two men were international staff members with the United Nations Office on Drugs and Crime (UNODC).
"Two white men have been shot inside the airport as they got off a plane," local security official Mohamed Mire said. An airport official said the attacker was dressed in a police uniform.
Full report at:
http://www.hurriyetdailynews.com/two-foreign-un-workers-shot-dead-in-central-somalia-officials.aspx?pageID=238&nID=64643&NewsCatID=357
-----------
Tanzania: Educated Young Tanzanians Reject Female Genital Mutilation
April 7, 2014
WHEN Janet Hosea and Elly Mgomba got married in their home village of Chiwe in Kongwa District, they did something unimaginable in their area.
Janet wore a poster saying: "I am not circumcised" and her groom wore a matching one that said: "I am very happy to marry an uncircumcised woman." Janet is the first woman in her village to declare in public that she had refused the mutilation to her genitals, considered as a rite of passage for all girls and young women of her tribe.
Between the ages of 13 and 15, young women in that area of Tanzania are subjected to genital mutilation where the clitoris, as well as the inner and outer labia, is removed. Before her wedding four years ago, Janet says she ran away from home rather than undergo the suffering.
Full report at:
http://allafrica.com/stories/201404071125.html?viewall=1
----------
URL: https://www.newageislam.com/islamic-world-news/new-age-islam-news-bureau/china-official-says-islamists-seek-to-ban-laughter-and-crying/d/66442