New Age Islam News Bureau
24 Jul 2019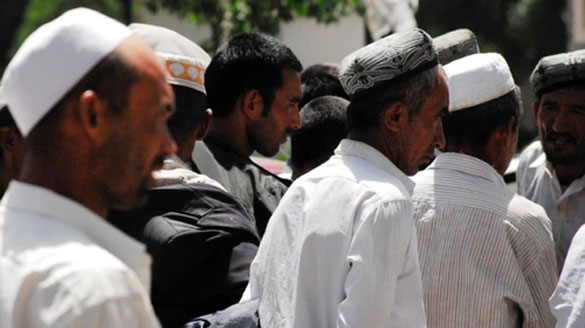 IMAGE VIA FLICKR.
----------
• China Claims Uighurs Were Forced Into Islam
• 'Multiculturalism Based On Islam Bedrock of Malaysia'
• Kashmiri Carried Out Pulwama, We Were Needlessly Blamed: Pak PM Imran Khan
• Buddhists in Bangladesh Safe despite Atrocities against Rohingya Muslims
• National Convention Demands Special Law on Mob-Lynching
• Jaishankar Tells Parl: PM Did Not Seek Trump's Intervention On Kashmir Issue
• Jewish Filmmaker Charts How American-Muslim Life Has Deteriorated Under Trump
• From NJ Mayor to Congress: Muslim Women Targets Of Hate, But They Won't Back Down
• New British PM Has Muslim Ancestors: Report
• Taking Back Israel-Occupied Land a Priority, Syria Tells UN Security Council
• IRGC Official: American Ideology Will Die, Global Operating System to Be Islamic
• Without Israel, Middle East Would Fall To 'Islamic Extremism,' Says Netanyahu
Southeast Asia
• China Claims Uighurs Were Forced Into Islam
• 'Multiculturalism Based On Islam Bedrock of Malaysia'
• Indonesia Says Militant's Arrest Reveals Plots, New Islamic State Links
• Indonesian Couple Carried Out Philippines Cathedral Bombing, Police Say
• Nahdlatul Ulama, non-Muslim voters held 'key role' in Jokowi's win
• Religion used as approach to disaster mitigation in West Nusa Tenggara
--------
Pakistan
• Kashmiri Carried Out Pulwama, We Were Needlessly Blamed: Pak PM Imran Khan
• US Mediation Offer Over Kashmir Huge Diplomatic Success: PTI
• PM Imran addresses US Congress members, says time for a different relationship with United States
• Trump wants stronger economic, trade ties with Pakistan after Imran meeting: White House
• Pak-US relations revived, Trump to visit Pakistan
• Minister denies amending Islamic provisions in Constitution
• 40 militant groups were operating in Pakistan: Imran Khan
• 2 killed, 16 injured in Quetta IED blast: police
• US Secretary of State Mike Pompeo calls on PM Imran
• Pakistan Prime Minister Khan says will try to persuade Taliban to meet Afghan government
--------
South Asia
• Buddhists in Bangladesh Safe despite Atrocities against Rohingya Muslims
• Afghans react angrily to Trump's boast that the US could 'wipe Afghanistan off the face of the Earth'
• Afghan officials: Airstrike kills 6 in eastern province
• Afghan forces kill seven civilians in attack on militants
• 9 ISIS militants, originally hailing from Pakistan killed in Nangarhar clash
• NDS Special Forces storm Taliban leader's compound in Kunar province
• Airstrikes kill 13 militants including ISIS-K terrorists in various provinces
• Taliban says its fighters will join Afghan security forces after US troops leave
--------
India
• National Convention Demands Special Law on Mob-Lynching
• Jaishankar Tells Parl: PM Did Not Seek Trump's Intervention On Kashmir Issue
• Outrage at Indian Minister's Comments over 'Fake' Lynchings
• Trump's Remarks on Kashmir: PM Modi Must Come To Parliament, Make Statement, Asks Opposition
• 2 Muslim Kids Beaten For Not Chanting 'Jai Shree Ram' In Asansol
• Tamil Nadu man held for 'criticising' NIA raids on social media
• J&K parties welcome Donald Trump's offer to mediate on Kashmir
--------
North America
• Jewish Filmmaker Charts How American-Muslim Life Has Deteriorated Under Trump
• From NJ Mayor to Congress: Muslim Women Targets Of Hate, But They Won't Back Down
• Republican Group Apologises For Calling Four Democrat Congresswomen 'Jihad Squad'
• Pakistan China's Vassal, Khan Is Xi's Jester, Says Ex-Pentagon Official
• Ilhan Omar Shuts Down Constant Calls For Muslims To Condemn Things
• Trump to decide soon on when to release Mideast peace plan: envoy
• Rise in US domestic terror arrests linked to white supremacy: FBI
• Pakistan signals prisoners swap agreement with US
--------
Europe
• New British PM Has Muslim Ancestors: Report
• Muslim World League Chief Honored For Strengthening Ties between Islamic World, Russia
• UK appoints expert to tackle Islamophobia
• Russia counters US proposal for Mideast maritime coalition
• UK adds extreme right-wing terrorism to threat level
• UK okays $800M Saudi arms sale 'after Khashoggi murder'
--------
Arab World
• Taking Back Israel-Occupied Land a Priority, Syria Tells UN Security Council
• Iraq Exhumes Bodies Thought To Be Kurds Killed By Saddam
• Syrian activists say airstrikes kill 27 in rebel-held town
• Iraq arrests Islamic State cell, including Baghdadi aide, in Nineveh
• Suspected Hezbollah Agent Arrested In Uganda With Mossad's Help
• Qatar says NY Times rejects request to hand over recording of diplomat
• Lebanon issues arrest warrants for 10 Libyans over Imam Musa al-Sadr's disappearance
• Iraqi troops, Hashd Sha'abi forces purge more areas of Daesh terrorists
--------
Mideast
• IRGC Official: American Ideology Will Die, Global Operating System to Be Islamic
• Without Israel, Middle East Would Fall To 'Islamic Extremism,' Says Netanyahu
• Iran 'Ready to Strike' In the West Using Sleeper Terror Cells: Report Claims
• Iran's Vice President: An Int'l Coalition to Protect Gulf Will Bring Insecurity
• Trump's Mideast envoy under fire at UNSC for attacking intl. law on Palestine issue
• Hezbollah takes cash from starving Yemenis
• Yemeni Houthi rebels' long-range arsenal grows lethal
• UK sent mediator to Iran to 'plead for their ship to be freed': Khamenei aide
• Pro-Israeli Saudi Blogger Jeered By Angry Palestinians In Jerusalem Al-Quds
• Palestine: World must press ICC to probe Israeli home demolitions
• War in Yemen eminently resolvable: UN
--------
Africa
• With Guns, Cash and Terrorism, Gulf States Vie for Power in Somalia
• Sudan Is Heading In The Right Direction But Much Work Remains, Says US Envoy
• Army hands over 151 repentant Boko Haram insurgents to Borno govt
• At Least 17 Killed in Bomb Attack in Somalia Capital
• British troops to join force countering Mali militants
• Why Shiite Muslim protesters and Nigeria's security forces keep clashing
• Iran raps Nigeria's fatal crackdown on pro-Zakzaky rally, urges cleric's release
'Malign state' Qatar condemned for collusion in Somalia terrorism
--------
Australia
• Australia to bar return of citizens who fought for ISIS
Compiled by New Age Islam News Bureau
URL: https://www.newageislam.com/islamic-world-news/china-claims-uighurs-were-forced/d/119285
--------
China Claims Uighurs Were Forced Into Islam
By Meera Navlakha
23 July 2019
Following heightened pressure regarding their treatment of Uighur Muslims in Xinjiang, the Chinese government has responded with a statement claiming that the ethnic minority was actually forced into converting to Islam. On July 21, the State Council Information Office released a white paper which outlined that Uighurs "endured slavery" which "the Turks" inflicted.
"Islam is neither an indigenous nor the sole belief system of the Uighur people," the statement alleges. "Conversion to Islam was not a voluntary choice made by the common people, but a result of religious wars and imposition by the ruling class."
More than anything, they claim that Islam was not a choice made by Uighurs.
The white paper also states that Islam is not the only religion that Uighurs follow. According to the statement, these are merely historical facts. For instance, the history of conflict between Uighurs and Turks dates back to the 8th century, the report outlines.
Historically, Uighurs do have more in common – fundamentally – with the Turks than with Chinese Han. According to TIME Magazine, the Uighurs have had "deep roots" in the Xinjiang region, as descendants of Sogdian traders who were integral parts of the Silk Road. They were once the dominant ethnic group of Xinjiang. In 1933, the Uighurs declared a short-lived independent republic which was quickly submerged into China's communist state.
The white paper claims that history is being distorted by those who are accusing China of ethnic cleansing. It stated that the Uighurs have "reflected elements of Chinese culture" for centuries. That does not seem to be the case.
This comes as the Chinese government faces allegations of separating Uighur families and methodically removing the Islamic faith from their identity. Some of them have been forced to eat pork or drink alcohol, which is forbidden in the Islamic faith. Many children have been treated as if they are orphans, taken from their parents and sent to schools across China. The Uighurs have been oppressed throughout the Xinjiang region, with so-called re-education camps being a birthplace for this systematic persecution.
Mounting criticism towards the Chinese government has taken a global platform over the past few weeks. This has included a statement to the United Nations written by 22 countries, all of whom have condemned the treatment of Uighurs in the camps they have been placed in. China's latest statement appears to be a way to resist international condemnation.
Elaine Pearson, the Australia director at Human Rights Watch, told the ABC that the statement "is a bizarre, blatant distortion of the facts." James Leibold, La Trobe University's expert on Chinese ethnic minorities concurred, stating it is "a classic case of China's ongoing information warfare." Most critics have called it propaganda.
Chinese media, on the other hand, has praised Beijing's effort to paint what it a truly "comprehensive" picture of the Uighur people and their history. China's Global Television Network writes that the white paper corrected "the many misunderstandings of Western countries." The network can be received by over 85 million people in over 100 countries.
https://www.vice.com/en_in/article/9kxxbe/china-claims-that-uighurs-were-forced-into-islam
--------
'Multiculturalism based on Islam bedrock of Malaysia'
By Ahmad Fairuz Othman
July 23, 2019
KUALA LUMPUR: Malaysia's multiculturalism, based on the teachings of Islam, continues to be the bedrock of the nation's success.
This is the opinion of International Institute of Islamic Civilisation and the Malay World - International Islamic University Malaysia's (ISTAC-IIUM) Islam and Buddhism Programme coordinator Assoc Prof Dr Imtiyaz Yusuf.
He said Malaysia was a melting pot of cultures, religions and beliefs that had enriched the nation's social fabric and made it conducive for knowledge, technology and the economy to flourish.
"Malaysia's uniqueness came from it giving citizenship to one million non-Malays at the time of its independence.
"It became the source of the country's multiculturalism as no other country had done that at the time.
"This framework has worked, and it has to be preserved and further built upon since there is a new government in power.
"That is what is expected of them," said Imtiyaz after a discussion on a book titled Multiculturalism in Asia, Peace and Harmony at ISTAC-IIUM, here, on Tuesday.
The book, which is a collection of writings from prominent intellectuals and thought leaders from the region, was edited by Imtiyaz, who is known for his writings on ethnicity and inter-religious relations.
He said the Malaysian way of being open to other cultures has allowed the various races to thrive, while still preserving their linguistic, education and religious identities.
"Malaysia did right as it included outsiders and gave them citizenship, without driving them away as what happened to some other countries.
"This country gave them the right to practise their own language, religions and have their own schools.
"But, the challenge has since been about accommodating all sides," he said.
Imtiyaz said adherence to the teachings of Islam had played a big role in Malaysia's practice of multiculturalism. In this regard, he said, the country had benefited from its tolerant views on Islam.
"Islam in Southeast Asia is very moderate, inclusive and hospitable.
"The Indo-Malay practice of Islam is what I refer to as the maritime culture of Islam.
"The peoples are surrounded by the sea, and they are welcoming.
"They know the dangers of the sea. The peoples of these lands welcome foreigners and outsiders and they are hospitable to them.
"This is set against a backdrop of the southeast Asian culture, which is very moderate and inclusive. This has always been the culture.
"The Chinese and Europeans came to this region and this has something to do with Islam. It is a very inclusive religion," he said.
More than anything, Imtiyaz believes that the Malaysian approach to foster unity under its leaders through the years had ensured its socio-economic stability.
As one of Asean's economic power houses, he said, Malaysia became advanced in terms of human capital and management of natural resources because it thrived due to its diversity.
He said this was in stark contrast to states which were less effective in managing ethnic relations.
Imtiyaz cited Myanmar as an example, that despite it being an Asean member, the country continued to lag behind due to infighting, chaos and discrimination.
Even without the crisis that affected the Rohingyas in Rakhine state, Myanmar faced an uphill challenge in uniting its multi-ethnic society, he added.
"In Myanmar, there continues to be infighting among 135 ethnic groups, excluding the Rohingyas.
"Myanmar does not have the benefit of having stable development.
"It should take a leaf from leading Asean countries like Malaysia and Thailand on how to be accommodating to different groups."
Imtiyaz said the long history of enlightened and intellectual statesmen in Malaysia had gained the nation great respect worldwide, particularly among Muslim countries.
He cited the country's first prime minister, Tunku Abdul Rahman Putra Al-Haj, as an example of a highly charismatic leader who helped the country to achieve independence.
He said the Tunku became a leader at a time when many Asian states were seeking independence, and he achieved independence in a peaceful manner.
"At the time of Malaysia's independence, the leaders in the region were in a different class.
"Tunku Abdul Rahman' leadership was on the same level as people such as Jawaharlal Nehru, Gamal Abdel Nasser Hussein and even Soekarno.
"This was the kind of leadership that won independence for these countries. This was the type of leadership that was needed at the time.
"They paved the way for the next breed of leaders, who comprised people such as Tun Dr Mahathir Mohamad, who focused on domestic development," he said.
https://www.nst.com.my/news/nation/2019/07/506634/multiculturalism-based-islam-bedrock-malaysia
--------
Kashmiri Carried Out Pulwama, We Were Needlessly Blamed: Pak PM Imran Khan
Jul 24, 2019
Prime Minister Imran Khan on Tuesday claimed Pakistan was needlessly blamed for the Pulwama attack in February, which he said was carried out by a local disaffected Kashmiri and the Jaish-e-Mohammad that took responsibility also operated in India. Pakistan was blamed without a reason.
He said in response to a question if the current crackdown on terrorists and militants in Pakistan would continued and if Hafiz Saeed, whose arrest for the eight time impressed only the US president Donald Trump, would stay in custody this time, and not be released as in previous instances.
Khan tried first to make light of the question that while the country wants and needs an independent judiciary he is being asked to predict what it would do. Without directly answering the Saeed arrest question, he said it was in Pakistan's interest to now get rid of all armed militias.
"It is in Pakistan's interest, it's in our interest," he continued. "The country has had enough of militant groups."
The prime minister said the security forces were with him on this. "It's the army that's helping us disarm all militant groups."
"It was clearly an indigenous thing," Khan went to say at a think tank, US Institute of Peace, referring to the Pulwama attack that took place in Kashmir. "It was a Kashmiri boy radicalized by the brutality the security forces. He blew himself up. But because this group claimed responsibility, which was in India as well, Jaish-e-Mohammad is operating in India — but Pakistan suddenly came in the limelight."
https://www.hindustantimes.com/india-news/kashmiri-carried-out-pulwama-we-were-needlessly-blamed-pak-pm-imran-khan/story-VDvmYY6cB2PKQCqJbIjN7J.html
--------
Buddhists in Bangladesh safe despite atrocities against Rohingya Muslims
July 24th, 2019
Reflection of exemplary religious harmony in Bangladesh
Bangladesh has yet again proven that people belonging to any religion are not harmed in a backlash to torture and oppression faced by Muslims and others in neigbouring countries.
The latest unfolding Rohingya crisis situation that began in late August 2017, makes this amply clear.
There were unprecedented atrocities committed against hundreds of thousands of Rohingyas, of whom all but a very few are Muslims. Orchestrated by the Buddhist-led Myanmar security forces and local Buddhists, mobs in Rakhine forced the Rohingyas to cross into Cox's Bazar for shelter.
Government officials, local people, and a senior official of the Bangladesh Buddhist Federation told Dhaka Tribune there are no reports of any attacks on Buddhists or their temples in Cox's Bazar or anywhere else. This, despite the now well-founded allegations of genocide, ethnic cleansing, killing, rape, and burning in Rakhine.
The same is true in the case of Muslims being killed in India by Hindus on suspicion of eating beef, with no backlash of any kind against Hindus in Muslim majority Bangladesh, they said.
This very tolerance reflects nothing but the exemplary religious harmony that exists in the country, they added.
Buddhists and their temples in Cox's Bazar, home to a significant number of Buddha artefacts and statues, were well guarded by the district administration in support of their local minority religious communities. To make sure there were no untoward incidents following the recent Rohingya muslim exodus to Bangladesh, police personnel were assigned to safeguard the minority Buddhist community of Bangladesh and about 300 of their temples in the Cox's Bazar area.
"No, there was not a single attack on any of our community or any temple in Cox's Bazar. We received full protection from the people and the government," said Bhikkhu Sunandatriya, general secretary of the Bangladesh Buddhist Federation.
"We don't feel threatened," he added. "We have been living in such harmony ever since I can remember."
During a recent visit to Cox's Bazar, this correspondent found local police to be vigilant in preventing possible violent situations.
When approached, Muslims said there is no reason to mistreat people who have nothing to do with the atrocities committed by Buddhists in Myanmar.
"Yes, we are sorry for the Rohingyas Muslims for their sufferings in Rakhine. But we cannot hold responsible for that, the Buddhists who live among us, " said Nasir Ahmed, a small business owner in Ukhiya, an upazila in Cox's Bazar that hosts a large number of Rohingya refugees.
"Although we were confident about the tolerance of our people, we were careful so no attack took place against any Buddhists or their temples. We received cooperation from all segments of society in this regard," said Abul Kalam, refugee relief and repatriation commissioner, the top government official in Cox's Bazar to deal with the Rohingya crisis.
"We have kept some of our limited personnel to keep an eye on the temples. We had not anticipated any trouble, but we have remained cautious. Between people's cooperation and our measures, there was not a single untoward incident," said Cox's Bazar Superintendent of Police, ABM Masud Hossain.
"Full credit goes to the entire community for maintaining harmony, put to the test. We were vigilant and will remain so in future."
https://www.dhakatribune.com/bangladesh/2019/07/24/buddhists-in-bangladesh-safe-despite-atrocities-against-rohingya-muslims
--------
National Convention demands special law on Mob-lynching
July 23, 2019
Victims of communal, caste and gender violence and kin came together in Mumbai to question and deliberate upon the recent spate of hate crimes in the country. They were speaking at a National Convention Against State Complicity in Hate Crimes organised by left organisation Democratic Youth Federation of India (DYFI). The family members shared their experiences and described their struggles to get justice. Among the key speakers were Mohammad Qasim, brother of the deceased Junaid Khan, Shweta Bhatt, jailed IPS officer Sanjiv Bhatt, Raju Aage, father of Nitin Aage who was killed in a caste based violence, Mukta Dhabolkar and others. The event also saw some key luminaries and intellectuals namely the actor Naseeruddin Shah, retired judge of the Supreme Court, Justice Gopala Gowda, activist Ram Puniyani, Vice President of the All India Democratic Women's Association (AIDWA), Subhashini Ali and educationist Teesta Setalvad.
Speaking at the convention, Mohammed Qasim, brother of Junaid Khan – the 15-year-old who was lynched by a mob near Ballabhgarh on a train following a dispute over a seat – questioned why Haryana chief minister has never consoled or promised any relief to the family after the brutal killing. "We are living in a constant state of fear. It feels like a sword or a bullet can take our life, any moment," he said.
Shweta Bhatt, wife of former IPS officer Sanjiv Bhatt, while speaking at this convention, appealed to the people to join her fight to free her husband. Bhatt, who had filed an affidavit in the Supreme Court regarding then Gujarat chief minister Narendra Modi's role in 2002 riots case, has now been allegedly framed in a 30-year-old custodial death case. Shweta said, "In 2011, at around 11 am, he deposed against the Nanavati-Mehta Commission. On the same day, at around 5 pm, they started digging up old cases to frame him and initiate prosecution."
"I am travelling across the country, striving for help and support for my husband. Our tolerance, these days, has been too high. I appeal to you not to be so tolerant [to injustice]," she added.
Raju Aage, father of Nitin Aage, a dalit boy [then 17 years old] who was allegedly killed over his affair with an upper caste girl in Ahmednagar, said that the government ensures that the poor do not get justice. An Ahmednagar court has acquitted all the accused in this case – who come from dominant upper caste Maratha from Kharda village. Ascribing this acquittal to their caste, Aage said when dalits are accused in such cases, they're sentenced to death – referring to the Kopardi case verdict.
Echoing his sentiment, Satyabhama – a victim of gender and caste atrocity from Latur – said discrimination was rooted in possession of wealth and political power. "They have ensured that society boycotts me. They ask people, 'Does she employ you at her farm? Does she give you money? If no, why do you support her?'", she said.
A resolution against hate crimes was passed at the Convention.
The resolution highlighted, "The most disturbing aspect of these developments is the complicity of state machinery. Officials in civil administration and police forces are coerced to side with the perpetrators. Upright officers who refuse to surrender are silenced in so many ways.
Some of them are trapped in false cases like Gujarat cadre IPS officer Sanjeev Bhatt and some are even physically eliminated like Police Inspector Subodh Kumar Singh of Bulandshahr who was murdered in choreographed mob violence. From the Prime Minister who exonerates an alleged terrorist on the ground that she belongs to the majority community to all those ministers and leaders of the ruling Parties who have been airing choicest abuses against minorities, the signal to government officers is Clear :forget your constitutional duties, behave like you are karyavahaks of the 'Hindurashtra'."
https://www.sabrangindia.in/article/national-convention-demands-special-law-mob-lynching
--------
Jaishankar tells Parl: PM did not seek Trump's intervention on Kashmir issue
Jul 24, 2019
NEW DELHI: External affairs minister S Jaishankar on Tuesday denied US President Donald Trump's claim that Prime Minister Narendra Modi sought his role as a mediator on Kashmir even as the opposition raised the issue vociferously and demanded that the PM personally clarify the matter.
Both Lok Sabha and Rajya Sabha witnessed walkouts by an agitated opposition with parties indicating that they will raise the issue again on Wednesday along with other grouses such as the government "pushing through" legislation without providing adequate time for discussion and debate.
Responding to Trump's statement, Jaishankar said, "I would like to categorically state that no such request has been made by the prime minister to the US president." He said outstanding issues between India and Pakistan were to be dealt with bilaterally under the Shimla and Lahore accords. He added that any engagement with Pakistan would require an end to cross-border terrorism.
However, the opposition insisted that only Modi could speak on the issue which referred to a private conversation between him and Trump. Deputy leader of opposition in Rajya Sabha Anand Sharma said the country was shocked to hear about the request for mediation. He said there were all-party resolutions of Parliament that all issues between India and Pakistan would be settled bilaterally.
"We have rights as members. There are certain traditions and dignity of the House. Whenever the prime minister goes out and whenever there is an international issue, the PM must reply," Sharma said.
Congress leader Shashi Tharoor struck a different note, saying the government had clarified the matter. "I don't think Trump knows what he is saying. It is not possible that Modi could have asked something like this as our policy has been established for years that we do not want any third party mediation," he told a TV channel.
In Lok Sabha, Congress's Manish Tewari said Trump's claim was an assault on India's sovereignty. Reading out from the transcript of the US leader's remarks made in the presence of Pakistani PM Imran Khan, he quoted Trump as saying, "Such a beautiful name. It is supposed to be such a beautiful part of the world. But right now, there are bombs all over the place. They say, everywhere you go, you have bombs and it is a terrible situation."
Tewari said since Trump had cited a conversation with Modi in Osaka in Japan, the PM should tell the House if the statement was true or should say that Trump was lying. Congress leader Adhir Ranjan Chowdhury said the government had "bowed its head" before the US which was a matter of shame.
Trinamool's Saugata Roy said Trump's claim was in contravention of the position held by India against third-party intervention. His remark that Jaishankar should not speak on the issue triggered a clash, resulting in din. DMK leader T R Baalu repeated that the PM should speak on the issue.
In Rajya Sabha, CPI member D Raja asked if there had been any change in India's long-maintained position against third-party mediation on Kashmir.
A united opposition continued to protest in Rajya Sabha after the House resumed with finance and appropriation bills taken up for discussion. Congress, CPM and AAP members trooped into the well, demanding that the PM come to the House. After another adjournment, the MPs staged a walkout.
https://timesofindia.indiatimes.com/india/jaishankar-tells-parl-pm-did-not-seek-trumps-intervention-on-kashmir-issue/articleshow/70354852.cms
--------
Jewish filmmaker charts how American-Muslim life has deteriorated under Trump
23 July 2019
For the last two-and-a-half years, Rabbi Sharon Kleinbaum of Congregation Beit Simchat Torah has shown up every Friday with her colleagues and congregants in front of the Islamic Center at NYU in Manhattan. With warm smiles and holding handwritten signs sporting "Shalom/Salaam," Kleinbaum and friends greet Muslim worshipers arriving for the afternoon Jummah prayers.
"It's about the power of being an ally," Kleinbaum told The Times of Israel with regard to the interfaith work the progressive CBST synagogue has undertaken with the neighboring mosque.
This alliance is only one example of Jewish-Muslim solidarity shown in Adam Zucker's new documentary film, "American Muslim," premiering this week at the San Francisco Jewish Film Festival. The film focuses on the experiences of American Muslims in the Trump era. Zucker's previous film, "The Return," was about young Poles exploring their Jewish roots.
While the interfaith encounter is not the central aspect of "American Muslim," the documentary challenges Americans of all faiths — or no faith — to consider how they are standing up (or not) for those targeted by increasing xenophobia and racism, which has been linked by some to the current administration's rhetoric and immigration policies.
Director Zucker said his own way of responding to his disappointment at Trump's election was to pick up his camera and make a film that would introduce viewers to Muslims, about whom the president had made numerous controversial statements during his campaign.
For this new project, Zucker set about profiling a handful of American-Muslim New Yorkers of different backgrounds, genders and ages. Finding subjects for the film wasn't so easy, given that the 61-year-old Jew didn't know any American Muslims.
"New York has a very large Muslim population, and I am a lifelong New Yorker, but I hadn't really met any Muslims," Zucker admitted.
According to Zucker, the fact that he is Jewish did not at all bother the people he interviewed and filmed.
"Virtually every American Muslim I spoke to was glad I was there documenting their story. People felt a need to open up, and working on this film opened up for me an unfamiliar world that profoundly moved me," Zucker said.
Zucker found the framework for his film on January 27, 2017, when Trump signed a controversial executive order effectively targeting Muslim migrants. The order banned foreign nationals from seven predominantly Muslim countries from visiting the US for 90 days, suspended entry of all Syrian refugees indefinitely, and prohibited any other refugees from coming into the country for 120 days.
Zucker documented protests against the ban and tracked the trajectory of legal challenges to it. The film begins with the signing of the original executive order and ends with the US Supreme Court's June 26, 2018, decision to uphold a revised version of the ban targeting most or all nationals from Iran, Libya, North Korea, Somalia, Syria, and Yemen, and government officials from Venezuela and their families.
"This is our country. Yet here I am, a US citizen, and I can't even bring my mother to America," lamented a Yemeni-American cell phone store owner whose elderly parent has decided to return to war-torn Yemen after languishing in Jordan for several years waiting for permission to enter the US.
"Because of this ban, there are life moments gone forever," he said.
Under the Trump administration, refugee admissions to the US from countries included in the ban have dropped drastically, as some 95% of the waivers requested by individuals seeking refugee status from those countries have been denied. According to US State Department figures, 2016, the final fiscal year of the Obama administration, saw the US admit 9,880 refugees from Iraq; 3,750 from Iran; 12,587 from Syria; and 9,020 from Somalia. By comparison, the US let in only 282 from Iraq, 109 from Iran, 347 from Syria, and 97 from Somalia in the first five months of 2019.
The refugee ban is still being litigated in the United States Court of Appeals for the Ninth Circuit. A preliminary injunction was issued to block most of the ban, and the court is now deciding whether the government complied with it.
According to Melanie Nezer, senior vice president for public affairs at the refugee assistance agency HIAS, which sued the Trump administration over the executive order, it is unlikely that anything will change as long as Trump occupies the Oval Office.
"Keeping families apart is the hallmark of this administration's policies," Nezer said.
A vibrant, diverse community
It was important to Zucker to reflect the diversity of the American Muslim community, and to dispel misconceptions. More than once, subjects of the film bemoan the fact that many Americans incorrectly think that all Muslims are Arabs, and that all Arabs are Muslims. In fact, most Arabs in the US are Christian.
Although there are large Muslim communities in Brooklyn and Queens (as well as in other parts of the US), Muslims make up only about 1% of the US population. According to a 2017 Pew Research Center study, "There are 3.35 million Muslims of all ages living in the U.S. – up from about 2.75 million in 2011 and 2.35 million in 2007."
The Pew report states that three-quarters of American Muslims are either first or second generation, and 82% of Muslims living in America are citizens either by birth or naturalization. Of Muslims living in America, 42% were born in the US, with the remainder having immigrated from all over the world, with no single country accounting for more than 15% of foreign-born US Muslims.
To his credit, Zucker did not turn "American Muslim" into a primer on Islam. Viewers will not come away more knowledgeable about the Quran or the life of the Prophet Muhammad. Instead, they will get a better idea of what it means to be both a proud American and a devout Muslim.
The film introduces audiences to Dr. Debbie Almontaser, a veteran Yemenite-American educator and activist, and a longtime partner to Kleinbaum in interfaith efforts. With war raging in Yemen and virtually every Yemeni-American family affected, Almontaser has taken a leading role in fighting the Muslim ban by organizing her community and speaking at protests.
Another community activist, Aber Kawas, a young Palestinian-American woman in Bay Ridge, Brooklyn, also leads demonstrations against the ban, and campaigns for a Palestinian-American priest running for local government. With her undocumented father having been detained for three years following 9/11 and then deported to Jordan, Kawas has personally experienced family separation. In the film she emphasizes that unlike after 9/11 when American Muslims largely stayed under the radar, this time they are speaking up and fighting back.
Another featured personality is Mohamed Bahi, a strapping and charismatic young Algerian-American who lives in Sunset Park, Brooklyn. Married and the father of a toddler and baby, Bahi founded Muslims Giving Back, an organization that runs a variety of charity and social programs for residents of the local community — Muslims and non-Muslims alike.
Among his programs is Project Transform, which significantly impacts the lives of one selected immigrant family every month. We see Bahi and a team of helpers — including his outspoken Egyptian-American wife, who dons a baseball cap over her hijab — do an apartment makeover for a Syrian refugee family.
The film often emphasizes that unlike post-9/11, American Muslims can now rely on a network of partnerships with interfaith, pro-immigration, and social justice groups to fight the Muslim Ban.
Zucker noted that the support is mutual. After the October 27, 2018 massacre at the Tree of Life synagogue in Pittsburgh, Muslims he met while making the film reached out to him. Kleinbaum said the first call she got after the shocking crime was from Almontaser.
"It's time to disrupt the narrative of hate that Jews and Muslims can't get along," Kleinbaum said.
https://www.timesofisrael.com/jewish-filmmaker-charts-how-american-muslim-life-has-deteriorated-under-trump/
--------
From NJ mayor to Congress: Muslim women targets of hate, but they won't back down
July 23, 2019
Sadaf Jaffer made headlines after she became the first female Muslim mayor in New Jersey, and possibly in the nation, in January. Then came the hate.
Hundreds of tweets poured in saying that the new mayor of Montgomery would implement sharia law and warning of a Muslim "invasion" and "jihadist takeover."
"It was exhausting. How much of this can you take in?" said Jaffer, noting that she spent days going through messages and reporting them to Twitter. "There are some really very dark corners out there and unfortunately our president is really stoking the hatred."
The bigoted comments directed at Jaffer lay bare the incredible contradiction of public expectations for Muslim women in America. Muslim women are stereotyped as oppressed, silent and failing to assimilate. But when these women take leadership positions in community and government, proving their critics wrong, they are still maligned for being involved while Muslim.
It's a pattern that has spanned from a mayor's office in a New Jersey township up to Congress, where two Muslim congresswomen, Ilhan Omar and Rashida Tlaib, have been called pro-terrorist and un-American, where they've had to hire extra security because of death threats, where their every word is scrutinized and, sometimes, distorted.
Still, female Muslim leaders and organizers said in interviews they would not back down because of the backlash they or others have faced.
Changing minds at the local level
Jaffer, who has degrees from Harvard and Georgetown University School of Foreign Service and is a postdoctoral researcher a Princeton University, envisioned a career in diplomacy.
When she grew unhappy with her local representation in Congress, she became involved in local politics. She saw it an effective way to make a difference by interacting with residents and building bridges among communities.
"People are so focused on state and national and international issues that they neglect the local," said Jaffer, 36. "A lot of our problems are at the local level where you meet face to face."
In her community, she heard a handful of negative comments alluding to her faith and saw fliers calling her ideas "extreme" and "dangerous." But she said it was mostly outsiders, people who did not know her, who sent her messages of hate.
"I think locally my being Muslim is not really very relevant," she said. "It's just incidental."
Jaffer helped start a New Jersey-based group, called Inspiring South Asian American Women, that promotes civic involvement and public service. She's glad to serve as an example to others.
https://www.northjersey.com/story/news/2019/07/23/muslim-women-leadership-targets-hate-but-wont-back-down/1782135001/
--------
New British PM has Muslim ancestors: report
July 24, 2019
KARACHI: The newly elected British Prime Minister Boris Johnson has a Muslim ancestral history and his grandparents were among the most important figures of the former Ottoman Empire, according to BBC Urdu.
During a recent debate on television in connection with the Conservative Party elections, Mr Johnson referred to his Muslim ancestors, the report said.
The revelation raised many questions as Mr Johnson has often come under criticism — particularly on the issue of Islamophobia — with previous comments comparing Muslim women in burqas to "letterboxes".
According to the report, Mr Johnson's paternal great-grandfather was Ali Kemal, a journalist and liberal politician of the Ottoman Empire who worked in the region that is now Turkey.
Born in 1867 to a mother of Circassian heritage, Mr Kemal's journalism allowed him to travel extensively and he visited many countries.
One of his destinations was Switzerland, where he met Winifred Brun, an Anglo-Swiss woman and the daughter of a Margaret Johnson. They married in London in 1903.
Mr Kemal made a move into politics, perhaps foreshadowing his descendant's similar career paths.
He acquired strong 'liberal' views early in his life, which triggered his exile from the Ottoman Empire.
However, when the rule of the Sultan, who had banished Mr Kemal, came to an end, the latter soon found himself to be one of the most prominent figures in Ottoman political life.
During the First World War, the Ottoman Empire was allied with Germany, and so Mr Kemal's son and daughter — who were living in England — adopted their matrilineal surname Johnson.
Mr Kemal's son Wilfred Johnson (his middle name) married Irene Williams, and their son was Stanley Johnson, Boris's father.
In 2008, Mr Johnson's took part in the BBC's Who Do You Think You Are? series, unearthing his lineage for the first time.
https://www.dawn.com/news/1495879/new-british-pm-has-muslim-ancestors-report
--------
Taking back Israel-occupied land a priority, Syria tells UN Security Council
Jul 24, 2019
Syria says at the United Nations that it considers taking back its Israel-occupied Golan Heights through all possible legal instruments to be a priority for the Arab country.
Bashar al-Ja'afari, Damascus' envoy to the UN made the remarks to a UN Security Council session on Tuesday, the official Syrian Arab News Agency (SANA) reported.
Damascus would endeavor to retake the territory — which has been occupied by Tel Aviv since 1967 — "through all means, which are guaranteed by the international law," the agency cited him as saying.
Tel Aviv, the official said, keeps looting the properties of the Golan's residents in order to expand its illegally-built settlements there.
"Israeli continued occupation of Arab lands represents the most dangerous challenge to the credibility and prestige of the international law's rules and conventions," the ambassador said.
He also took the Security Council to task for failing to implement the resolutions it passes against the Israeli regime's continued occupation of Arab territories.
Some countries, he said, take advantage of this failure to bolster the regime's aggressive behavior, he noted, in a pointed reference to the United States.
Washington has endorsed the Golan Heights as Israeli territory, and recognized East Jerusalem al-Quds in the occupied Palestinian territory of the West Bank as the regime's "capital."
Ja'afari denounced the US's pro-Israeli measures as an attempt at reversing realities and disavowing legal obligations.
He finally said Tel Aviv continued to attack the Syrian territory as means of invigorating anti-Damascus terrorists.
The regime launches regular sorties against Syria, targeting the country's defenses or the supplies intended for the foreign forces, who assist Damascus in its counter-terrorism operations.
https://www.presstv.com/Detail/2019/07/24/601710/Syria-Israel-taking-back-Golan-United-States
--------
IRGC official: American ideology will die, global operating system to be Islamic
23 July 2019
The American ideology will die in the next 15 years, and the global operating system will be an Islamic one, a senior Islamic Revolutionary Guard Corps (IRGC) strategist said on Tuesday, the semi-official Tasnim news agency reported.
"After the American ideology dies in the next 15 years, the global operating system will be an Islamic one," said Hassan Abbasi, an IRGC officer who heads its strategic think tank- the Centre for Doctrinal Strategic Studies.
"The government of the elderly will be set aside and a young, revolutionary government will be in charge," he added.
"Islamic Iran is now so strong that if anyone hits [Iran], it would be impossible for them to escape and they must receive a response for their action," said Abbasi.
https://english.alarabiya.net/en/News/middle-east/2019/07/23/IRGC-official-American-ideology-will-die-global-operating-system-will-be-Islamic.html
--------
Without Israel, Middle East would fall to 'Islamic extremism,' says Netanyahu
23 Jul, 2019
Never one to mince his words, Prime Minister Benjamin Netanyahu declared that Israel is the sole force fending off a radical Islamic takeover of the Middle East, arguing Tel Aviv is an indispensable defender of the entire region.
Netanyahu shared this insight with a delegation of Arab journalists and bloggers on a visit to Israel on Tuesday.
"I have told them one thing I believe in: the only force that prevents the collapse of the middle east from within it is Israel," the prime minister said in a Facebook post quoting his remarks, adding "without Israel, the middle east would collapse under the yoke of the forces of Islamic extremism."
Though the PM's post only said the attending journalists had come from nations that "do not maintain any diplomatic relations with Israel," a Knesset press release said that the visiting media figures came from Saudi Arabia, Iraq, Jordan, the United Arab Emirates and Egypt.
Netanyahu also said some of the journalists "have expressed their desire for the Arab public to recognize the state of Israel," and offered to make additional visits to strengthen relations, while the Knesset release quoted one delegate as describing the country as a "dreamland."
The prime minister has previously made overtures to some of Israel's Arab neighbors, telling an audience of diplomats in Israel last year that Tel Aviv was making "gradual normalization with leading countries in the Arab world," particularly as a result of the 2015 nuclear accord signed between Iran and world powers, which Israel and Arab states like Saudi Arabia have slammed as a "bad deal." Tuesday's media visit appears to be another step in that process of normalization.
https://www.rt.com/news/464887-netanyahu-israel-middle-east-extremism/
--------
Southeast Asia
Indonesia says militant's arrest reveals plots, new Islamic State links
July 23, 2019
JAKARTA (Reuters) - Indonesian police said on Tuesday a suspected militant arrested last week was plotting Independence Day bomb attacks and they suspect he was part of a network behind violence in the Philippines that also has ties to Islamic State in Afghanistan.
Officers from Indonesia's anti-terrorism unit, Densus 88, arrested the suspect in the province of West Sumatra last Thursday, national police spokesman Dedi Prasetyo told a news conference.
The suspect, identified as Novendri, was a member of the Islamic State-inspired Jemaah Ansharut Daulah (JAD) group, which was banned in Indonesia last year for "conducting terrorism" and being affiliated with foreign militants.
Authorities believe Novendri was planning bomb attacks including two police headquarters in the city of Padang in West Sumatra province and other police posts on Independence Day on Aug. 17, Prasetyo said.
Police displayed a chart at the news conference, setting out the suspected foreign links of Indonesian militants including a leader, identified as Saefulah, who is believed to be based in an area of Afghanistan where Islamic State militants operate.
According to Prasetyo, some Indonesian militants had tried to reach Afghanistan after the defeat of Islamic State in Iraq and Syria.
Another Indonesian on the chart, who was arrested in the city of Bekasi in West Java, was suspected of planning a suicide attacks in the capital, Jakarta, during protests in May over a disputed election, said Prasetyo.
Police also think the network had links to militants in the Philippines and helped a husband and wife travel there from Indonesia's Sulawesi island.
Authorities believe the couple carried out a suicide attack on a cathedral on Jolo island in the southern Philippines in February in which 22 people were killed.
Prasetyo said Indonesian anti-terrorism officers were working with police from various countries including Malaysia, the Philippines, Afghanistan, the United States and Australia in their investigation.
Indonesia, which is the world's biggest Muslim-majority country, is grappling with a resurgence in militancy.
The government scrambled to tighten its anti-terrorism laws after a series of suicide bombings linked to JAD cells killed more than 30 people in the city of Surabaya last year.
Hundreds of people have been detained under the new laws since the beginning of 2019.
https://wsau.com/news/articles/2019/jul/23/indonesia-says-militants-arrest-reveals-plots-new-islamic-state-links/920539/?refer-section=world
--------
Indonesian Couple Carried Out Philippines Cathedral Bombing, Police Say
By Richard C. Paddock and Jason Gutierrez
Jul 23, 2019
BANGKOK — A deadly cathedral bombing in the Philippines in January was a suicide attack carried out by an Indonesian couple who once tried to reach Islamic State territory and were deported from Turkey, the Indonesian police said on Tuesday.
The married couple, identified as Rullie Rian Zeke and Ulfah Handayani Saleh, went to Turkey in 2016 with hopes of crossing the border into Syria, the police said. Instead, they were arrested in January 2017 and sent back to Indonesia.
The bombing, consisting of two detonations, struck the Cathedral of Our Lady of Mount Carmel on the southern island of Jolo, where the government has long fought Muslim insurgents. At least 23 people were killed and more than 100 wounded in the assault, which took place just as worshipers gathered for Mass. Through various online bulletins, the Islamic State claimed responsibility.
Terrorism officials and independent experts have warned that Indonesia and other Southeast Asian nations face a serious threat from hundreds of returnees who traveled to Syria and Iraq to join the Islamic State. The attack in January showed that they must also be wary of those who were deported from other countries before they could reach their destination.
"This is the first suicide bombing we know of carried out by deportees," said Sidney Jones, director of the Institute for Policy Analysis of Conflict in Jakarta, the Indonesian capital. "A few others have been involved in terrorist activities, but nothing on this scale."
Jolo has been a hotbed of Islamic insurgency and the home of a violent separatist militia, Abu Sayyaf, that espouses an Islamist ideology. The Philippine authorities initially blamed Abu Sayyaf for the bombing, and the attackers may have had the group's help.
Mr. Rullie and Ms. Ulfah were identified during the interrogation of two suspects who were arrested in Malaysia in May, the Indonesian police said.
The Indonesian couple's role in the Philippine bombing demonstrates the regional nature of Islamist militants affiliated with the Islamic State who operate across borders as they pursue their goal of creating a Southeast Asia caliphate that would include Indonesia, Malaysia and the Philippines.
"This shows the need for each police force in the region to understand extremist networks in neighboring countries," said Ms. Jones, a leading expert on terrorism in the region.
Last a year, a couple led their four children on a suicide mission in Surabaya, Indonesia's second-largest city, with bombings at three churches on a Sunday morning that killed all six family members and 12 other people. The Islamic State claimed responsibility for the attacks.
In 2017, the authorities identified seven young Indonesian men who joined the Islamic State, but went to the southern Philippines instead of Syria or Iraq. They joined the battle against the Philippine government in the city of Marawi, which was eventually destroyed by the fighting.
The bombing of the Jolo cathedral will add to the debate over how countries should deal with citizens who were arrested in Islamic State territory and are being held in camps in Syria, Ms. Jones said.
"Some Indonesians and Malaysians have expressed a desire to come home, but there is no great enthusiasm for bringing them back and as of yet, no clear program for doing so," she said.
Mr. Rullie and Ms. Ulfah appear to have been stuck with their three children in Turkey for nearly a year before they were caught and deported. They attended a short rehabilitation program on their return to Indonesia and were allowed to go home. The whereabouts of the children were unknown, Ms. Jones said.
Full report at:
https://www.nytimes.com/2019/07/23/world/asia/philippines-bombing-deportees-isis.html
--------
Nahdlatul Ulama, non-Muslim voters held 'key role' in Jokowi's win
July 24, 2019
The country's largest Muslim organization, Nahdlatul Ulama (NU), and non-Muslim communities played a crucial role in helping President Joko "Jokowi" Widodo and Vice President Ma'ruf Amin win the April 17 presidential election, analysts have said. "One of the keys for Jokowi's and Ma'ruf's win was the non-Muslim factor – 97 percent of non-Muslim citizens voted for Jokowi," Indikator Politik Indonesia researcher Burhanuddin Muhtadi said during a discussion on Friday, quoting the results of an exit poll conducted by the pollster. However, Burhanuddin said it was the NU's role in getting Muslims to vote that was crucial in Jokowi's reelection as, by appointing Ma'ruf, an NU leader, as his running mate, Jokowi had essentially cemented a permanent pact with the organization. "Of all ...
Full report at:
https://www.thejakartapost.com/news/2019/07/24/nahdlatul-ulama-non-muslim-voters-held-key-role-in-jokowis-win.html
--------
Religion used as approach to disaster mitigation in West Nusa Tenggara
July 24, 2019
Panca Nugraha
The West Nusa Tenggara (NTB) administration has released a book on disaster mitigation in the hope of making religion one way to approach natural disaster mitigation.
The attempt to debunk popular belief that a disaster is the result of God's wrath that has to be accepted no matter what is being helped by the NTB Disaster Mitigation Agency (BPBD), with the title Friday Khotbah [sermon]: Disaster in Islam.
The head of NTB BPBD, Ahsanul Khalik, said that besides advancing a religious approach, the book is also an attempt to take disaster as a form of faith and unity test.
"We all hope that a disaster could mature the people of NTB to view it as a way to avoid social issues and to strengthen their faith in Allah SWT," Ahsanul said.
Ahsanul added that as humans, their duty was to perfect their faith in God, that way they could also strengthen disaster mitigation and minimize casualties.
He said the book launch was very important in making people aware that earthquakes, landslides, droughts, fires, floods and other natural disasters were not azab (punishment) from God.
Education about and mitigation of natural disasters through the religious approach has proven to be very effective, according to Ahsanul. An estimated 3,000 copies of the book will be distributed to mosques in remote villages.
Full report at:
https://www.thejakartapost.com/news/2019/07/23/religion-used-as-approach-to-disaster-mitigation-in-west-nusa-tenggara.html
--------
Pakistan
US mediation offer over Kashmir huge diplomatic success: PTI
Amir Wasim
July 24, 2019
ISLAMABAD: The ruling Pakistan Tehreek-i-Insaf (PTI) has termed US President Donald Trump's offer of mediation over the Kashmir conflict a "huge diplomatic success" of Pakistan and Prime Minister Imran Khan.
The newly appointed central information secretary of the PTI, Ahmed Jawad, in a statement here on Tuesday said the world was ready "to believe and respect what Imran Khan says".
"I would call it first victory of gaining global credibility, which has come from low credibility of Pakistan in the past," the PTI information secretary said.
Addressing a joint news conference with PM Khan at the White House Oval Office on Monday, the US president had expressed his willingness to mediate between India and Pakistan to resolve the 70-year-old Kashmir dispute if both the neighbouring countries asked him for it.
"If I can help, I would love to be a mediator. If I can do anything to help, let me know," said Mr Trump when a Pakistani journalist asked him if he would like to mediate between India and Pakistan on Kashmir.
Mr Jawad said never a US president and a Pakistani prime minister had such a long discussion on the Kashmir issue in an open press conference. He went on to add that the biggest achievement of PM Khan in the US trip was official acceptance of the Kashmir issue and even offering mediation by the US.
Mr Jawad particularly mentioned the US president's remarks that "such a beautiful valley of Kashmir cannot be allowed to be littered with bombs" and termed it a huge "diplomatic success" of Pakistan.
He said the 15-year old stance of Mr Khan for peaceful resolution of Afghanistan was finally duly endorsed by the US and they considered Pakistan's role most vital in the world with regard to Afghanistan.
He claimed that Mr Khan's stance that the resolution of the Afghan issue lied in peaceful negotiation involving Taliban had finally been accepted at the Oval Office.
Referring to the US president's comments over press freedom, Mr Jawad said President Trump did not accept any observations regarding restrictions of media in Pakistan and called his own media even worse.
Furthermore, he said the US president almost endo­rsed every view of Mr Khan and supported his campaign against corruption. He added that PM Khan was emerging as one of the most respected and favourite Pakistani leader in the world.
Meanwhile, Pakistan Peoples Party's information secretary Dr Nafisa Shah issued a hard-hitting statement against Mr Khan over his remarks during an interaction with a US think tank, stating that "Imran Khan should be awarded Goebbels Award for the lies he told with confidence".
https://www.dawn.com/news/1495882/us-mediation-offer-over-kashmir-huge-diplomatic-success-pti
--------
PM Imran addresses US Congress members, says time for a different relationship with United States
July 24, 2019
Prime Minister Imran Khan on Tuesday addressed members of the US Congress at Capitol Hill, soon after which he departed for Pakistan, wrapping up his three-day visit to Washington.
The premier attended a reception with a large number of senators and members of US House of Representatives at Capitol Hill on the invitation of Congresswoman Sheila Jackson Lee, the chairperson of Congressional Pakistan Caucus.
Ahead of Prime Minister Imran's address, US House Speaker Nancy Pelosi said she was introduced to Pakistan during her time at university when another student, dressed in a sari, told her to read books in the library on Mohammad Ali Jinnah, through which she had learned about the "greatness of the statesmen".
Pelosi said that the relationship between Pakistan and the United States was an "important one".
As she welcomed the premier, Pelosi thanked Pakistan for the "beautiful gift" of Pakistani Americans that the country had given to the US.
In a joint press conference with Prime Minister Imran, Pelosi said: "United States values the critical relationship, the partnership with Pakistan."
She thanked the premier for his leadership with regards to reconciliation efforts between Pakistan, Afghanistan and the Taliban, and for advancing "enduring peace in the region".
The premier thanked Pelosi for extending the invitation and for giving him a chance to share Pakistan's point of view.
"So far, I feel that Pakistan has not really been represented properly in the US. I feel that it is time to have a different sort of relationship with the US — a reset," he said.
A meeting was also held between Prime Minister Imran and Speaker Pelosi, attended by Foreign Minister Shah Mahmood Qureshi and other officials.
'Whole country is behind me'
In his address at Capitol Hill, the premier shared that the "whole idea" of his visit to the United States was for Americans to have a better understanding of Pakistan.
"Pakistan is not understood here, specifically in the last 15 years when this 'War on Terror' was being fought in Afghanistan and on the borders of Pakistan.
"What I hope is that by the time I leave, I would have made people here understand our point of view."
The premier said that Pakistan was now trying its best to get the Taliban on the table to start dialogue.
"Pakistan has the same objective as the United States of reaching a peaceful solution in Afghanistan as quickly as possible."
He acknowledged that this would not be easy but assured the attendees that Pakistan would try its best.
"The whole country is standing behind me — the Pakistan Army, the security forces, all are behind me. We all have one objective and it is exactly the same objective as the US: to have a peaceful solution as quickly as possible in Afghanistan."
The premier said that it was important that he met US President Donald Trump and Secretary of State Mike Pompeo, who he had told that moving forward, the relationship between the two countries has to be based on mutual trust.
"I will be telling the US what we can do in the peace process.
"I hope that from now on, our relationship is on a different level [...] it was painful for us to watch the mistrust between the two countries."
PM Imran said that 70,000 Pakistanis had been killed in the war and the Pakistani economy had incurred losses of billions of dollars when the country was "fighting the US War on Terror".
"Pakistan had nothing to do with 9/11; Al Qaeda was in Afghanistan, there were no militant Taliban in Pakistan. But we joined the US war.
"Where I blame my government [is] that we did not tell the US exactly the truth on the ground."
He said that part of the reason for this was that 40 different militant groups were operating in Pakistan and the governments weren't in control.
"So while the US expected us to do more and help [the] US win the war, Pakistan was at that time fighting for its own existence."
As he concluded his remarks, Prime Minister Imran said: "We hope from now our relationship will be completely different and rest assured, I will make sure that our relationship is now based on truth, on trust.
Full report at:
https://www.dawn.com/news/1495930/pm-imran-addresses-us-congress-members-says-time-for-a-different-relationship-with-united-states
--------
Trump wants stronger economic, trade ties with Pakistan after Imran meeting: White House
July 24, 2019
WASHINGTON: The declaration released by the White House stated that the US President Donald J. Trump showed willingness 'to strengthen cooperation with Pakistan on issues that are vital to the peace, stability, and prosperity of the South Asia region' during his meeting with Prime Minister Imran Khan.
President Trump and PM Khan discussed a range of issues including counter-terrorism, defense, energy and trade.
President Trump wants to build stronger economic and trade ties with Pakistan, which would benefit both of our countries, as we make progress on core United States security concerns.
"The United States is committed to creating the conditions necessary for a peaceful South Asia."
According to the declaration, President Trump expressed the desire to President 'to build stronger economic and trade ties with Pakistan' which would benefit both countries.
PEACE AND STABILITY:
Pakistan has made efforts to facilitate the Afghanistan peace talks and taken acknowledgeable steps for regional security and counter-terrorism. It added that Islamabad has also taken some steps against terrorist groups operating within the country.
"It is vital that Pakistan take action to shut down all groups once and for all."
The declaration stated, "The path to a strong and enduring partnership between Pakistan and the United States lies in working together to find a peaceful resolution of the conflict in Afghanistan."
TRADE RELATIONSHIP:
The United States and Pakistan enjoy a strong economic partnership while both countries have set a new record for bilateral trade in 2018 of $6.6 billion.
"United States exports to Pakistan reached a record high of $2.8 billion in 2018, supporting approximately 10,000 American jobs. Over the past 15 years, the United States has been one of the top five investors in Pakistan. The United States is the largest export market for Pakistan's goods."
The US energy producers are seeing more and more business opportunities with Pakistan and the American companies are incorporating cutting-edge technologies into energy projects throughout Pakistan, it added.
Full report at:
https://www.pakistantoday.com.pk/2019/07/23/white-house-releases-declaration-of-imran-trump-meeting/
--------
Pak-US relations revived, Trump to visit Pakistan
July 24, 2019
WASHINGTON DC: Minister for Foreign Affairs Shah Mahmood Qureshi on Tuesday said US President Donald Trump has accepted an invitation to visit Pakistan extended to him by Prime Minister Imran Khan.
The foreign minister was addressing a press conference in Washington after three consecutive meetings between the senior leadership of both countries.
"During this tour, the thing that I find unique is that these people have seen the US [Pakistani] community's closeness to this prime minister. You saw that there were thousands gathered in the Capital One arena.
"Even in this very room, we have seen extremely powerful prime ministers and presidents in the past having to address empty chairs.
"The point is, the people that came there and the love that they expressed — that was a message from overseas Pakistanis. I have never seen this kind of a show before.
"This was a very positive message and we are very happy with it," Qureshi said.
REVIVAL OF PAK-US RELATIONS:
According to Qureshi, the exchanges in all three sessions were frank and Pakistan's delegation was able to deliver the message they had come with, "which was to present Pakistan's point of view, as there had been a long gap [in discussions between the two sides] as an interaction of this level had not taken place in the past five years.
"For five years, the top leadership of the two countries had not met. Our country did not have a foreign minister and for five to six years we did not have any lobbyists appointed here — all of this led to a vacuum in the relationship between the two sides."
Talking about the seriousness from both countries towards rebuilding the relationship, Qureshi said: "We cannot forget the fact that the relationship between the two countries was such that no door was being opened for us in the time of Alice Wells and Lisa Curtis. We used to ask for time [for discussions] and they were not ready to give that to us. That was the level [we were at] a few months ago, please understand that. Wasn't our stance the same at the time? Was our Foreign Office not the same at the time?
"From that, we have come this far. I am not saying that this sitting has completely changed the way things were for us. I am saying that a door that was completely shut for us … a possibility has been created for that door to be opened. We have come here in all seriousness to rebuild this relationship. The stiffness that once existed in our relationship has been lessened.
ECONOMIC TIES:
Speaking on the trade front, the foreign minister said: "Interactions between two countries are heavily based on economic ties, which is why it is important that we now pay attention to economic diplomacy too — like I mentioned yesterday during my interaction with the investors.
"The world looks at economics and looks for ways to cater to its own economic needs, so we will try that we also move forward in that direction."
When asked about US economic assistance which had been withdrawn in recent times, Qureshi said: "The first thing that we need to see is why the [economic] programmes had stopped. It was because of the trust deficit that had been built between the two countries.
"Now that we are making an effort to curb that deficit, we can hope that those programmes will be reinstated."
Speaking of the FATF and the pressure being exerted on Pakistan, Qureshi said: "The FATF's greatest focus is on money laundering. Prime Minister Imran Khan has openly said that the plight of South Asian countries lies in the fact that the elite class their takes the money that the country is making and the foreign assistance it gets and misuses it. They send their money out of the country through money laundering.
"America needs to help us out, keep a check on money laundering. Until that happens, the common man in third world countries will continue to suffer and poverty will remain on the rise there. These are words used by the prime minister himself today. He made these comments in today's sitting. This is his commitment, as far as money laundering is concerned.
"The other thing is terror financing. You all know what our stance is on that, we have paid a hefty price for it. We make very clear cut statements in this regard today. We have not come here to lie, nor have we come here to make promises that we cannot keep. There is no point in promising something that you cannot deliver on — that is what we have been doing in the past. We as a government will not promise that which we cannot deliver.
"That said, we want progress in both these things (against money laundering and terror financing). I don't know how much political will the previous governments had in these matters, but one thing is sure, the current government has a very strong will to move forward in these matters — and we have taken concrete measures in this regard. We even have told everyone about the measures we have taken.
"However, there are limitations, but we are trying to get past those. Earlier, there was neither will nor capacity in this regard — now there is will and capacity is being built, so we believe there will be progress in this regard."
INDIA'S REACTION TO KASHMIR MEDIATION:
Speaking of India's reaction to President Trump's offer to mediate between Pakistan and India over Kashmir, Qureshi said:
"Of course India has reacted this way, what else can we expect? They are hardly going to blow trumpets on the offer. India has always reacted this way, they do not want any sort of interference on the Kashmir matter.
"They always say that they want bilateral talks on Kashmir, then they never come to the table for these talks. They do not want mediation and they do not want bilateral talks.
"Pakistan's stance on the matter is very simple: we want peace, we want peace efforts, we believe that the only solution to the problem is through talks."
AFGHANISTAN:
Speaking of the current situation in Afghanistan and Pakistan's efforts to restore peace in its own tribal areas, Qureshi said:
"We all saw that right before the current [Pakistan] government elected, a new US policy was announced and in it, Pakistan was primarily blamed for the situation in Afghanistan. Our point of view is completely opposite to that.
"We believe that the reasons for the Afghan situation are manifold. The internal situation within Pakistan plays a great role in their regional situation. Furthermore, we kept saying and now the world has seen that Pakistan has made huge efforts on our side of the border and cleansed our own areas. We have restored peace there and started reconstruction there, because of which, a number of people that had to repatriate from there have started returning to their homes.
Full report at:
https://www.pakistantoday.com.pk/2019/07/23/trump-accepts-pm-imrans-invitation-to-visit-pakistan-says-qureshi/
--------
Minister denies amending Islamic provisions in Constitution
By Rizwan Ghilzai
July 24, 2019
ISLAMABAD: Federal Minister for Interior Brig (retd) Ijaz Shah has said that the government has no intention of amending the Islamic provisions in the Constitution.
Talking to a 15-member delegation of Pakistan Ulema Council (PUC) in the federal capital on Tuesday, the minister said that the government can never think of changing the law on the belief in the finality of the prophethood.
The PUC delegation was led by Hafiz Muhammad Tahir Mehmood Ashrafi with Maulana Nauman Hashir, Maulana Tahir Aqeel Awan, Maulana Asadullah Farooq, Maulana Aseedur Rehman, Maulana Qasim Qasmi, Maulana Abubakar Sabri, Maulana Afzal Shah Husseini, Maulana Dawood, Maulana Abid Israr, and Maulana Abdul Hadi in attendance.
The interior minister declared that the government had decided to link the registration of seminaries with the Ministry of Education by observing the status of Wafaqul Madaris Al-Arabia. He clarified that no proposal would be taken to amend the syllabus of seminaries.
"The government stands with the ulema and mashaikh to purge the country of extremists and terrorists," he said.
Shah stressed that the social justice system of Islam was most effective and workable for the entire world to seek guidance and implementation.
He urged the religious sections of society to propagate the teachings of Islam for the unity of Muslim brotherhood.
"Elements fanning extremism and sectarianism on account of Islam are not friends of Muslims," he said adding that the ruling government was pursuing effective and explicit policies to uphold the interests of Pakistan.
"No ruler in Pakistan has ever raised voice for implementing a system like the state of Madina. Pakistan can be transformed on the same pattern when all the sections of government and society play an effective role in this regard," he added.
"The government is devising a strategy to award degrees to students of seminaries in order to provide them with better opportunities to excel in life," he said.
Shah urged the ulema to expose those elements who spread hatred in the society and deplored that the issuance of fatwas for political gains.
The interior minister also revealed that Crown Prince of Saudi Arabia Mohammed bin Salman had included Pakistan in the 'Road to Makkah' Project on the special request of Prime Minister Imran Khan.
PUC Chairman Hafiz Muhammad Tahir Mehmood Ashrafi maintained that the council, since its inception, had been struggling for upholding the dignity of Muslims and values of Islam.
Ashrafi recalled that PUC in collaboration with all the leading religious schools of thought in the year 2000 had issued a decree against the menace of terrorism and extremism.
He hailed the linking of madaris with the Ministry of Education and stressed that the council stood by the government to curb those who spread hatred on social media.
He said that the PUC will not only endorse positive undertakings of the government but also hold it accountable for unconstitutional and anti-Sharia steps.
Full report at:
https://tribune.com.pk/story/2019983/1-minister-denies-amending-islamic-provisions-constitution/
--------
40 militant groups were operating in Pakistan: Imran Khan
Jul 24, 2019
WASHINGTON: Successive governments in Pakistan did not tell the truth to the United States, in particular in the last 15 years, Pakistani Prime Minister Imran Khan said on Tuesday, adding that there were 40 different militant groups operating in his country.
"We were fighting the US war on terror. Pakistan has nothing to do with 9/11. Al-Qaida was in Afghanistan. There were no militant Taliban in Pakistan. But we joined the US war. Unfortunately, when things went wrong, where I blame my government, we did not tell the US exactly the truth on the ground," Khan said.
He was addressing a Capitol Hill reception hosted by Congresswoman Sheila Jackson Lee, Chairperson of the Congressional Pakistan Caucus. Lee is also a member of the Congressional Caucus on India and Indian Americans.
Part of the reason for this, Khan explained to the lawmakers, was that the Pakistani governments were not in control.
"There were 40 different militant groups operating within Pakistan. So Pakistan went through a period where people like us were worried about could we survive it. So while the US expected us to do more and help the US win the war, Pakistan at that time was fighting for its own existence," he said.
Khan said it was very important that he met President Donald Trump and other top American leaders.
"We have explained to them that the way forward is: number one, the relationship has to be based on mutual trust," he said, adding that he would be honest in telling the US what Pakistan could do in the peace process.
Pakistan, Khan said, was trying its best to get the Taliban on the table to start this dialogue.
"So far, we have done pretty well," he said and cautioned the US that the process was not going to be easy.
"Do not expect this to be easy, because it is a very complicated situation in Afghanistan. But rest assured, we would be trying our best. The whole country is standing behind me. The Pakistan Army, the security forces, all are behind me. We all have one objective and it is exactly the same objective as the US, which is to have a peaceful solution as quickly as possible in Afghanistan," Khan said.
In his last public engagement before winding up his hectic three-day US tour, Khan hoped that the US-Pak relationship was now on a different level.
Full report at:
https://timesofindia.indiatimes.com/world/pakistan/40-militant-groups-were-operating-in-pakistan-imran-khan/articleshow/70355746.cms
--------
2 killed, 16 injured in Quetta IED blast: police
Syed Ali Shah
July 23, 2019
At least two people were killed and 16 others injured in an improvised explosive device (IED) blast on Quetta's Eastern Bypass area on Tuesday evening, police said.
Quetta DIG Abdul Razzaq Cheema confirmed the incident and said that unknown miscreants had planted the explosive device in a motorcycle and parked it outside a medical store.
The injured were rushed to Civil Hospital Quetta and an emergency was declared in the hospital.
Razzaq Cheema said that two victims of the blast succumbed to their injuries on their way to the hospital. He added that all the injured were civilians.
He said that the culprits and motive behind the attack were yet to be ascertained. Police and other law enforcement agencies personnel reached the sport and an investigation was underway.
Full report at:
https://www.dawn.com/news/1495749/2-killed-16-injured-in-quetta-ied-blast-police
--------
US Secretary of State Mike Pompeo calls on PM Imran
July 24, 2019
WASHINGTON: US Secretary of State Michael R Pompeo called on Prime Minister Imran Khan at the Pakistan House in Washington DC on Tuesday.
Foreign Minister Shah Mehmood Qureshi, Foreign Secretary Sohail Mehmood and Ambassador of Pakistan to the US Dr Asad Majeed Khan were present during the meeting.
The meeting comes during Prime Minister Imran Khan's first official visit to Washington as premier since his party, the Pakistan Tehreek-e-Insaf (PTI) assumed power following the July 2018 general elections.
PM Khan is visiting the US on an invitation from US President Donald Trump, who hosted him at the White House on Monday.
Among many other positive statements during the meeting, Trump offered to mediate the Kashmir dispute between India and Pakistan.
"I will say that we have a very good relationship with India. I know that your relationship was strained a little bit … maybe a lot," Trump said.
"If I can help, I would love to be a mediator. If I can do anything to help, let me know," the US president added.
In addition, Khan said: "The USA is the most powerful country in the world and it can play a very important role for peace in the subcontinent.
Full report at:
https://www.pakistantoday.com.pk/2019/07/23/us-secretary-of-state-mike-pompeo-calls-on-pm-imran/
--------
Pakistan Prime Minister Khan says will try to persuade Taliban to meet Afghan government
July 23, 2019
WASHINGTON: Pakistani Prime Minister Imran Khan on Tuesday said he would try meet with the Taliban in an effort to persuade the group to meet with the Afghan government, as the United States seeks to end the nearly 18-year-old war.
"I will meet the Taliban and I will try my best to get them to talk to the Afghan government," Khan said during an appearance at the US Institute of Peace in Washington.
Khan said a Taliban delegation had wanted to meet him a few months back but he did not because of opposition from the Afghan government.
The United States and the Taliban are getting closer to a deal that is expected to be centered on a US pledge to withdraw troops in exchange for a Taliban promise not to let Afghanistan be used as a base for terrorism, officials say.
However, the Taliban have refused to negotiate with the government, denouncing it as a US puppet, but in an effort to foster Afghan reconciliation, a 60-strong delegation of citizens met the Taliban for two days of talks in Qatar from Sunday.
Pakistan's role in the peace negotiations is a delicate one.
Afghanistan accuses Pakistan of supporting the Taliban, a charge Pakistan denies, saying it has suffered heavily from the fighting.
The United States has also pressed Islamabad to do more to curb militant groups based in its territory.
Even as talks continue, the Taliban and the government have continued fighting.
Full report at:
http://www.arabnews.pk/node/1529821/pakistan
--------
South Asia
Afghans react angrily to Trump's boast that the US could 'wipe Afghanistan off the face of the Earth'
SAYED SALAHUDDIN
July 24, 2019
KABUL: The Afghan government demanded clarification from Washington on Tuesday after President Donald Trump said that the country "would be wiped off the face of the Earth" if he decided to win the conflict there.
Trump made his remarks at the White House ahead of a meeting with Pakistani Prime Minister Imran Khan on Monday in which he sought to mend ties with Islamabad and seek its help to end the war in Afghanistan, the longest and most unpopular conflict in US history.
"I could win that war in a week. I just don't want to kill 10 million people," Trump said, referring to what he claimed were prepared military plans in Afghanistan.
"If I wanted to win that war, Afghanistan would be wiped off the face of the Earth, it would be gone, it would be over in literally 10 days."
The US leader's comments could be a blow for President Ashraf Ghani's government, which signed a security pact with Washington in late 2014 allowing US-led troops to stay in Afghanistan and, in 2017, hailed the US after it dropped the world's largest non-nuclear bomb in the east of the country.
Trump's remarks come amid rising violence in Afghanistan, which has claimed the lives of hundreds of Taliban, government troops and civilians in recent months. Many Afghans are asking why the world's leading superpower has failed to defeat the insurgents 18 years after the ouster of the Taliban regime.
The Afghan government, which relies heavily on US troops and funding in the war against the Taliban, has sought official clarification over Trump's comments.
"Our partnership and cooperation with the world, and in particular with the US, is based on mutual interest and respect," a statement issued by the presidential palace said on Tuesday.
"The Afghan nation has never allowed and will not permit any foreign power to choose its destiny," it added.
Many Afghans, including former government officials, reacted angrily to Trump's comments.
Rahmatullah Nabil, a presidential candidate who served as Afghanistan's spy chief, said in a tweet that Trump's comments should prompt Afghan leaders to set aside their differences.
"In reply to the insults of #Afg by @realDonalTrump, all Afg politicians, including Ashraf Ghani and Taliban leaders, should drop their selfishness and announce that we will make peace among ourselves & there is no need for mediation for US/Pak," he said. Modaser Islami, a leading Afghan religious scholar, said that Trump's remarks showed "hostility toward Afghans" and questioned if Trump was "fighting the Taliban, as terrorists or as Afghans? His recent remarks show he is enemy of latter."
Veteran journalist Bilal Sarwary described the comments as "offensive, stupid and arrogant," while another senior journalist called the remarks an "insult to the entire Afghan nation."
Political analyst Wahidullah Ghazikhail told Arab News that Trump's comments "highlight Washington's failure to defeat the Taliban in Afghanistan."
"Obviously, the US wants to strike a deal with the Taliban and Pakistan's role is key in the peace process," he said.
http://www.arabnews.com/node/1529976/world
--------
Afghan officials: Airstrike kills 6 in eastern province
By Rahim Faiez 
July 22, 2019
KABUL, Afghanistan — A joint airstrike by NATO and Afghan forces killed at least six civilians in eastern Logar province, officials said Monday.
Two children were among those killed in Sunday night's attack, and a woman and three children were wounded, said Mohammad Naser Ghairat, a provincial councilman in Logar.
He blamed the international forces in Afghanistan, saying they carried out the airstrike in Baraki Barak district. The alliance did not immediately comment on the reports.
Shah Poor Ahmadzai, the Logar provincial police chief's spokesman, said a delegation had been sent to the area and that an investigation was underway.
"I can confirm the airstrike and casualties among civilians, including women and children," Ahmadzai said.
The Taliban, who control roughly half of Afghanistan, said via their Twitter account that five women and four children were killed by the airstrike in Logar.
In northeastern Afghanistan, Taliban insurgents overran the district headquarters of Kuran wa Munjan in Badakhshan province, according to Afghan security officials.
A police official from the province said the Taliban had intensified their attacks on Afghan forces over the last nine days, culminating in the district headquarters' capture late Sunday.
He said there were casualties on both sides but could not provide an exact figure, as the fight was still ongoing. The official spoke on condition of anonymity because he was not authorized to talk to the media.
Taliban spokesman Zabihullah Mujahid claimed responsibility and said the group's fighters had taken control of the district headquarters.
Rohullah Ahmadzai, spokesman for the defense ministry, said that Afghan troops were preparing to retake the district headquarters.
Full report at:
https://www.washingtonpost.com/world/asia_pacific/afghan-officials-airstrike-kills-6-in-eastern-province/2019/07/22/ef35ee68-ac73-11e9-9411-a608f9d0c2d3_story.html?noredirect=on&utm_term=.eb830154b4d7
--------
Afghan forces kill seven civilians in attack on militants
JULY 22, 2019
KABUL (Reuters) - Afghan government forces mistakenly killed seven civilians, including children, in an attack on militants south of the capital, a provincial official said on Monday, the latest victims of a war undiminished by peace talks.
Government forces, have been facing Taliban attacks across much of the country, and have responded with air strikes aimed at killing insurgent leaders, even as U.S. and Afghan representatives have been negotiating with the militants in Qatar.
The seven civilians, including women and children, were killed in Logar province, just south of Kabul, on Sunday night said Hasib Stanekzai, a member of Logar's provincial council. Six people were wounded, he said.
Provincial police confirmed the attack on militants by government forces but said they were investigating the casualties.
"According to our initial information a number of militants were killed or wounded, but local people gathered in the area, claiming that a house belonging to a Kuchi family had been bombed, causing civilian casualties," said Shahpor Ahmadzai, a spokesman for Logar police.
Kuchi are nomadic herders, but some now live in permanent settlements.
Ahmadzai, who said police were investigating, also said foreign force were involved in the attack on the militants. Officials with Afghanistan's NATO force were not immediately available to confirm or deny their involvement in the operation.
Afghan forces, backed by U.S. advisers, have in recent months stepped up their air strikes and raids to the highest levels since 2014.
The latest phase of Afghanistan's war - which began when U.S.-backed forces the overthrew the Taliban following the Sept. 11, 2001, attacks on the United States - has intensified despite the most sustained peace talks of the war.
The United Nations has repeatedly expressed concern about civilian casualties, which reached their highest level last year since detailed accounting began nearly a decade ago.
Full report at:
https://www.reuters.com/article/us-afghanistan-attack/afghan-forces-kill-seven-civilians-in-attack-on-militants-idUSKCN1UH17S
--------
9 ISIS militants, originally hailing from Pakistan killed in Nangarhar clash
23 Jul 2019
The public uprising forces killed 9 ISIS militants during a clash in eastern Nangarhar province.
The Provincial Government's media office in a statement said the public uprising forces clashed with ISIS militants in Bandar area of Achin district on Monday night.
The statement further added that the public uprising forces killed 9 ISIS militants hailing from Pakistan.
Furthermore, the Provincial Government said the slain militants were original residents of Bajaur and Orakzai areas of Pakistan.
The Provincial Government also added that the four public uprising personnel also sustained minor injuries during the clash.
Full report at:
https://www.khaama.com/9-isis-militants-originally-hailing-from-pakistan-killed-in-nangarhar-clash-03421/
--------
NDS Special Forces storm Taliban leader's compound in Kunar province
22 Jul 2019
The Special Forces of the National Directorate of Security (NDS) stormed the compound of a Taliban commander in eastern Kunar province.
The National Directorate of Security in a statement said the NDS Special Forces conducted the operation in Dangam district.
The statement further added that the Special Forces killed Ahmadshah, Taliban commander who was in charge of a group of 20 militants.
Furthermore, the National Directorate of Security said the Special Forces arrested three militants during the raid.
Full report at:
https://www.khaama.com/nds-special-forces-storm-taliban-leaders-compound-in-kunar-province-03409/
--------
Airstrikes kill 13 militants including ISIS-K terrorists in various provinces
24 Jul 2019
The security forces conducted airstrikes in various provinces in the past 24 hours killing at least 13 militants including ISIS Khurasan terrorists.
The informed military sources said Wednesday that airstrikes killed 4 Taliban militants in Ab-e Kamarie district of Badghis.
The sources further added that a similar airstrike killed 1 Taliban militant in Ghormach district of Badghis.
Furthermore, the security forces conducted an airstrike in Qaisar district of Faryab and killed 1 Taliban militant.
The source also added that another airstrike in Giro district of Gahzni province killed 3 Taliban militants and a similar raid killed 2 others in Khas Uruzgan district of Uruzgan province.
Full report at:
https://www.khaama.com/airstrikes-kill-13-militants-including-isis-k-terrorists-in-various-provinces-03426/
--------
Taliban says its fighters will join Afghan security forces after US troops leave
TAHIR KHAN
July 23, 2019
ISLAMABAD: Taliban political spokesman Suhail Shaheen said on Tuesday thousands of Taliban fighters would become part of the Afghan army and other security forces after US and other foreign troops left Afghanistan following a peace deal with the United States.
The United States and the Taliban are close to an agreement to end an 18-year-long Afghan civil war. The deal is expected to be centered on a US pledge to withdraw troops in exchange for a Taliban promise not to let Afghanistan be used as a base for terrorism, officials say.
US Special Representative for Afghanistan Reconciliation Zalmay Khalilzad will travel to Afghanistan and Qatar from July 22 – August 1 to restart talks with the Taliban in Doha.
"We have agreed that the army will stay as an institution," the Taliban spokesman told Arab News via telephone when asked about the fate of thousands of Taliban fighters after the peace deal. "The army is required and will remain as a base, as a foundation but reforms are needed."
He said participants at Moscow's intra-Afghan conference this month had also called for reforms in Afghan security institutions, adding that future intra-Afghan meetings would decide how reforms would be introduced.
"Yes of course they (Taliban) will be part of the security system. They have rendered huge sacrifices for the liberation of the country," Shaheen said.
To another question about whether the Taliban would be part of any future political system and the government, the Taliban spokesman answered in the affirmative adding: "But they will not be the part of the present administration. There will be a new system and a new government and we will definitely be part of that."
When asked if the Taliban could become a political party when foreign troops withdrew, Shaheen said: "Our leadership will decide about the future policy. Our top priority is to end the occupation and second, to establish an Islamic government and we will take Afghans into confidence. Our leaders will decide as to how would we work."
He said the Taliban would allow women the right to education, jobs and business under Islamic principles, adding that they would have to observe the Islamic veil.
"There had been no curbs on women education during our previous government. But we had been in the state of war that time and had no financial resources and the priority had been to maintain security as there had been anarchy and chaotic situation that time. But we want the world to help us and we will establish good relations with the world and to solve all our problems under an Islamic system," Shaheen said.
He said the Taliban neither recognized the present system in Kabul nor the constitution in its present form.
"We recognize the constitution as a necessity and want another constitution," Shaheen said. "We think other institutions are also necessary but we do not recognize the present institutions and that is why we are holding intra-Afghan conferences to discuss how the constitution and institutions should be."
When asked if the Taliban recognized the present democratic system, Shaheen said: "We believe in an Islamic system."
He said there was a possibility the Taliban and the United Sates could "conclude certain final points" in the possible peace deal within a month and even before the Muslim festival of Eid, likely to be celebrated in Afghanistan on Aug. 11.
"I am hopeful we will reach an agreement before Eid," he said.
To a question about US Secretary of State Mike Pompeo's statement that he hoped to have a peace deal by September 1, Shaheen said he was hopeful an agreement could materialize even before that as "we want to end bloodshed and destruction in our country."
Full report at:
http://www.arabnews.pk/node/1529836/pakistan
--------
India
Outrage at Indian minister's comments over 'fake' lynchings
July 24, 2019
Leaders of India's religious minorities have been shocked by a government minister's claim that most reports of cow-related lynchings were fabricated.
Mukhtar Abbas Naqvi, the minister for Minority Affairs, said in an interview published online July 21 that the majority of mob lynchings were "concocted and fake."
Christian and Muslim leaders, as well as rights activists, say he was in truth defending his government's pro-Hindu Bharatiya Janata Party (BJP), which is accused of tacitly approving Hindu violence in the name of protecting the animal revered by orthodox members of their religion.
Naqvi "either has no knowledge of this matter or he is trying to shield goons in his party and allied outfits which are committing these very real crimes," said Zafarul Islam Khan, a Muslim who heads the Delhi Minority Commission.
Surveys carried out by International rights organizations show that mob-lynching incidents have risen ever since the BJP came to power in 2014. Most victims were Muslims accused of cow slaughter or carrying beef, but victims also included socially impoverished Dalit people and a tribal Christian.
Khan said his office had "documented over 400 crimes" linked to cow protection since 2014. These included lynching, attacking people with weapons and beating them up on suspicion of consuming or carrying beef or slaughtering or transporting cows for slaughter.
Since 2015, at least 47 people have been lynched across India in cow-related incidents, according to Indiaspend, a data journalism website. More than 300 people were attacked, about 70 percent of them Muslims, and the rest mostly Dalit people or Christians.
Rights activist Ravi Nair said the minister should use his authority to prosecute those involved in the violence against minorities, "instead of trying to shield the goons."
Nair, the executive director of the South Asia Human Rights Documentation Center, wants the government to compensate the families of those killed.
He told ucanews.com: "Instead of "playing ostrich with his head in the sand, Naqvi should use his ministerial power to help the victims of violence."
Christian leader A. C. Michael wondered how a federal minister "could term murders as fake and fabricated."
He said Naqvi's attempt was "a clear indication that BJP wants to shield the criminals. How could mob lynching be fake? Sadly, people behind such incidents are being emboldened by such irresponsible utterances."
As a leader heading the federal Ministry of Minority it is his "constitutional duty to safeguard the interest of minorities instead of ridiculing them," said Michael.
Michael V. Williams, a Christian activist, and leader based in New Delhi said the global community "is well aware of the facts" and the minister's words "aren't going to undermine the reality."
The police under BJP governments "refuse to entertain complaints from victims of hate crimes", despite Prime Minister Narendra Modi publicly stating that his government is committed to protecting the rights of religious minorities, said Williams.
India is the tenth "Most Dangerous Country to Live" in for Christians, according to the international monitoring group Open Doors in its latest annual report World Watch that listed 50 dangerous countries to live as a Christian.
Christians are a tiny minority comprising 29 million — or just 2.3 percent — of India's 1.3 billion people. In contrast, Hindus form 966 million or 80 percent, while Muslims account for 172 million or 14 percent.
https://www.ucanews.com/news/outrage-at-indian-ministers-comments-over-fake-lynchings/85713
--------
Trump's remarks on kashmir: PM Modi must come to Parliament, make statement, asks Opposition
by Abantika Ghosh, Pradeep Kaushal |
July 24, 2019
Insisting that Prime Minister Narendra Modi come to Parliament to make a statement on US President Donald Trump's claim that he had asked him to mediate on Kashmir, the Opposition parties Tuesday refused to settle for the statement made in both Houses by External Affairs Minister S Jaishankar who denied that any such request was made to Trump.
While the government is yet to formally reach out to Opposition leaders on extending the Parliament session,
Opposition leaders are against such a move and may even boycott the extended session, sources said.
The Opposition parties decided not to disrupt the morning sessions during Zero Hour and Question Hour. On the large number of Bills — there are 19 in all — that the government is trying to push through, Opposition leaders agreed to move resolutions on each one, starting with the RTI amendment Bill Tuesday, to send them to Select Committees.
The Opposition staged a walkout while the Bill was being discussed. On the demand for sending the RTI Bill to the Select Committee, BJD too signed the notice moved by Trinamool Congress.
"We will resist the way they are trying to convert the Parliamentary system of democracy into a Presidential system. We will fight it," said Trinamool Rajya Sabha leader Derek O'Brien.
Opposition parties have been agitated ever since last Friday when Minister of State for Parliamentary Affairs V Muraleedharan read out a long list of Bills for which the Business Advisory Committee allocated time with just five days remaining in the session.
As soon as Lok Sabha met Tuesday, members from the Congress, Trinamool Congress and other Opposition parties were on their feet shouting slogans over the Trump claim. As the Speaker took up question hour, Congress members were heard shouting: "We want an answer." Congress floor leader Adhir Ranjan Chowdhury said the Prime Minister should give an answer. The Speaker assured Opposition members that he would allow them to raise the matter during Zero Hour.
Tewari said the remarks made by Trump were serious and insisted that the Prime Minister personally clarify the matter. The same demand was made by Saugata Roy of the Trinamool Congress and T R Baalu of the DMK.
When Jaishankar rose to make a statement, it was drowned in protests by the Opposition. He was still reading his statement when the Opposition staged a walkout.
Amid the ruckus in the House, Speaker Om Birla said it was a serious issue and there should not be any politics over the matter. He urged members to rise above party lines and think about national interest. Parliamentary Affairs Minister Pralhad Joshi said Opposition members were trying to belittle the image of the country, which is "highly unfair and uncalled for".
Home Minister Amit Shah requested the Speaker to allow Jaishankar to repeat the statement as it was essential that people hear him clearly. As the Speaker gave his green signal, Jaishankar read out his statement afresh.
Full report at:
https://indianexpress.com/article/india/trumps-remarks-on-kashmir-pm-modi-must-come-to-parliament-make-statement-asks-opposition-5846303/
--------
2 Muslim kids beaten for not chanting 'Jai Shree Ram' in Asansol
July 24, 2019
Asansol: After the mob lynching of Rizwan, 2 more Muslim children were beaten for not chanting Jai Shree Ram. Muslims there are living in a state of fear, while school and markets remain shut.
Two innocent children who were returning from school at Musaddi locality were stopped and asked to chant Jai Shree Ram. When they refused they were beaten and threatened to be killed.
Meanwhile, local Muslim youth reached the spot and rescued the minors.
Full report at:
https://www.siasat.com/2-muslim-kids-beaten-not-chanting-jai-shree-ram-asansol-1558860/
--------
Tamil Nadu man held for 'criticising' NIA raids on social media
by Arun Janardhanan
July 24, 2019
A 39-year-old man was arrested and remanded in judicial custody for his remarks in a social media group criticising a recent NIA raid in his village. Police said they arrested M Thaj, from Muthupettai near Tiruvarur, for his message criticising NIA raids and attributing political motives to it.
The message in question apparently referred to recent NIA raids, held simultaneously in 14 locations in Tamil Nadu, to probe 14 Muslim youths for their alleged role in funding an alleged terror module called Ansarullah. After they arrived from the UAE, the NIA's decision to bring the suspects in a special flight to Chennai from Delhi had raised eyebrows.
Asked why Thaj was arrested, M Durai, SP of Tiruvarur, said Thaj has no link to the case being probed by the NIA. "But his social media post was portraying the NIA case in bad light. He attributed communal motives to the NIA probe," Durai said.
Full report at:
https://indianexpress.com/article/india/tamil-nadu-man-held-for-criticising-nia-raids-on-social-media-5846458/
--------
J&K parties welcome Donald Trump's offer to mediate on Kashmir
by Adil Akhzer
July 24, 2019
Parties across the political divide in the Valley have welcomed US President Donald Trump's offer to mediate to resolve the Kashmir dispute.
J&K Peoples Democratic Party (PDP) tweeted, "Welcome such a positive development laden with potential to establish permanent peace in the subcontinent. Dialogue and Diplomacy not warmongering the only means which can deliver some respite to the people of subcontinent engulfed in raging fires of hatred."
National Conference president and MP Farooq Abdullah congratulated PM Narendra Modi for seeking the "intervention" of US President Donald Trump. "It is indeed a welcome step to see the Prime Minister make sincere efforts to solve the issue that has been lingering around for more than seven decades. Any mediation in conflict resolution is not a new approach; it is one of the traditional means of diplomacy that affords the two conflict-ridden countries reach a suitable solution," he said in a statement.
"If the news is true, it is a good news for the people of Kashmir," Peoples Democratic Front (PDF) chief Hakeem Yaseen said. "The head of two countries should now come forward to resolve this issue." However, Jammu & Kashmir Pradesh Congress Committee (JKPCC) president Ghulam Ahmad Mir said Trump's statement has "exposed" PM Modi's "policies". "The statement by US President has exposed the policy of Modi. If he (Trump) is saying something, he is talking with full authority…we will not have third party intervention to resolve all our issues. I guess, today's need is same, to resolve all the issues bilaterally," he said.
Full report at:
https://indianexpress.com/article/india/jk-parties-welcome-donald-trumps-offer-to-mediate-on-kashmir-5846314/
--------
North America
Republican group apologises for calling four Democrat congresswomen 'Jihad Squad'
July 24, 2019
Minnesota Rep. Ilhan Omar's face is contorted into an attitude-filled pout and she appears to be toting a large gun.
Below her are the doctored images of three other Democratic congresswomen: Reps. Rashida Tlaib of Michigan, Alexandria Ocasio-Cortez of New York and Ayanna Pressley of Massachusetts.
According to the movie poster-style picture that was recently shared to an official Facebook page for Republican leaders in Illinois, the four minority lawmakers are the stars of "The Jihad Squad."
"POLITICAL JIHAD IS THEIR GAME," reads all-caps text on the fake poster. "IF YOU DON'T AGREE WITH THEIR SOCIALIST IDEOLOGY, YOU'RE RACIST."
The meme, which reportedly first appeared Friday on the Facebook page of the Illinois Republican County Chairmen's Association, has since drawn widespread backlash from top state leaders in both parties.
On Sunday evening, the association's president, Mark Shaw, apologised and announced that the post had been taken down.
It is unclear if the poster was created by the organisation, but its logo was featured on the image.
"A couple of days ago, an image which was not authorised by me was posted on the Facebook page of the Illinois Republican County Chairmen's Association," Mr Shaw wrote in a statement. "I condemn this unauthorised posting and it has been deleted. I am sorry if anyone who saw the image was offended by the contents."
The post, Shaw added, "is an unfortunate distraction from the serious debate surrounding the policies advocated by these four socialist members of the United States House of Representatives of which I strongly disagree."
The poster marks yet another ugly broadside against the congresswomen following President Donald Trump's racist tweets last Sunday in which he suggested that the four women of colour should "go back" to the "totally broken and crime infested places from which they came."
Ms Ocasio-Cortez, Tlaib and Pressley were born in the United States and Ms Omar, a Somali refugee, became a citizen when she was 17.
Rather than walk back the widely condemned comment, Trump has continued to publicly rebuke the freshman representatives, who have become collectively known as "the Squad" - and others have joined in.
At a rally in North Carolina on Wednesday, Trump supporters chanted, "Send her back," at Ms Omar, drawing such fierce backlash that the president falsely insisted that he tried to stop the crowd.
The next day, a Louisiana police officer called Ms Ocasio-Cortez "this vile idiot" in a Facebook post and suggested that she "needs a round....... and I don't mean the kind she used to serve," NOLA.com reported.
The officer's social media post was condemned by local officials, but they have not determined whether the words amounted to a credible violent threat, according to the outlet.
On Sunday, Trump again took aim at the women in a scathing tweet, lambasting them as "weak and insecure people who can never destroy our great Nation!" Hours later, the president shared a video of Fox News host Jeanine Pirro railing against the lawmakers during her Saturday show.
In the roughly six-minute segment, Ms Pirro, a vocal critic of Ms Omar, warned viewers about "a plot to remake America by those who hate America," and added the "the Squad . . . represents a dangerous assault on everything we hold dear."
In Illinois, however, the state's top Republican leaders quickly agreed that "The Jihad Squad" meme went too far, joining their Democratic counterparts in denouncing it.
The poster, which is based on the 2013 crime film "Gangster Squad," featured unflattering images of the congresswomen. The "jihad" references were likely directed at Omar and Tlaib, who are the first two Muslim women to serve in Congress.
"I strongly condemn evoking race or religion as the basis for political disagreement," Tim Schneider, chairman of the Illinois Republican Party, wrote in a statement.
"Bigoted rhetoric greatly distracts from legitimate and important policy debates and further divides our nation."
He continued: "My intense disagreement with the socialist policies and anti-semitic language of these four congresswomen has absolutely nothing to do with their race or religion. I urge everyone who also opposes them to keep the rhetoric focused on policy and political ideology."
Sean Morrison, chairman of the Cook County Republican Party, which includes Chicago, said in a statement that he was "appalled" by the post's "use of hateful rhetoric."
"There are civil ways to express political differences that do not involve going to racist extremes," Morrison said, adding that the country "should instead strive for an intelligent, civil and thoughtful discussion of the philosophical differences between Republicans and Democrats."
On Facebook, the Cook County Democratic Party expressed their support for the congresswomen and accused the GOP group of sharing a post that "perpetuates the recent attacks by President Trump, promoting lies and racism to alienate immigrants, women, and people of colour."
Shaw, the RCCA president, explained Sunday that the organisation "has a multi-stage, approval process" for posts on any of its social media pages.
He noted that the association's internal review process is now under "re-evaluation to insure that any content posted in the future represents the 'big-tent' nature of the Republican Party."
The statement was met with mixed reactions as some praised the effort, but many critics who flooded the group's Facebook page with comments on Sunday found that the apology fell short.
"Incredible non apology," one person wrote. "You said the quiet part loud and are now backtracking."
Another person called the apology "weak."
"I remember when the Republican Party stood for decency, respect, family values and the 'moral majority,'" the commenter said. "They sure have come down from that high ground to take the low road."
https://www.independent.co.uk/news/world/americas/us-politics/republican-gop-illinois-squad-aoc-ilhan-omar-trump-racism-a9015801.html
--------
Pakistan China's vassal, Khan is Xi's jester, says ex-Pentagon official
Jul 23, 2019
WASHINGTON: An ex-Pentagon official, Michael Rubin, warned the United States against falling prey to Pakistan's latest bid to revive relations, stating that the South Asian country's Prime Minister Imran Khan did not seek a new partnership, but aimed at continuing a pattern of duplicity, "the cost of which can be counted in billions of dollars of wasted aid, Chinese backslapping, and American body bags."
Rubin elaborated on this observation in an editorial written for an American magazine, The National Interest.
"Pakistani Prime Minister Imran Khan hopes that his visit to the White House today will jumpstart relations with the United States after years of tension. Within the US political context, President Donald Trump is a polarising figure and his political opponents usually blame him exclusively for all ills on the international stage. When it comes to Pakistan, however, they should not. Pakistan's problems are made in Pakistan and Trump should continue the recent bipartisan consensus to hold Islamabad responsible," Rubin stated.
He then charted the course of the US-Pakistan relationship, which saw Islamabad become a US ally shortly after its creation in 1947 "largely because Jawaharlal Nehru rejected US partnership."
"As India drifted closer to the Soviet Union, Pakistan grew in US strategic calculations. Between 1954 and 1965, Pakistan received more than USD one billion in arms sales and defence assistance, a huge amount for the time. Cooperation only increased after the Soviet invasion of Afghanistan. It was not long until Pakistan became the third-largest US aid recipient, after Israel and Egypt," Rubin added.
The American Enterprise Institute's resident scholar, however, highlighted that despite the close cooperation with Washington, Pakistan grew fiercely anti-American. He listed Pakistan's nuclear ambitions as one of the reasons.
"Pakistan has a knack for always labelling India the aggressor even when Pakistan -- or the terrorists it shelters and funds -- start wars. When war between Pakistan and India erupted in 1965 and again in 1971, Pakistan demanded the United States come to its aid. Washington instead chose neutrality and placed an arms embargo on both sides. Pakistani leaders saw this as betrayal since India was larger and had greater resources. The bitterness of that time colours Pakistani anti-Americanism today," Rubin wrote.
"Pakistan's nuclear ambitions contributed to the tension. Pakistan initiated its nuclear program in 1955 and participated in the Eisenhower administration's "Atoms for Peace" program. A decade later Pakistan inaugurated her first nuclear reactor with US assistance. Pakistani leaders long kept their desire to acquire nuclear weapons private but that changed in 1965," he stated.
"That was the year that Pakistani politician Zulfikar Ali Bhutto declared: "If India builds the bomb, we will eat grass and live, can even go hungry. But we will get one for our own. We have no alternative." Still, aside from Bhutto's outburst, the Pakistani government was willing to tell American officials what they wanted to hear: "Pakistan will neither acquire nor produce a nuclear bomb," Zia ul-Haq said. His formula - technology but no bomb - became the mantra for states like North Korea and perhaps also Iran, which sought covert programs. It also became the reason that an entire generation of American officials began to see Pakistani officials as duplicitous," Rubin wrote.
"Pakistan's overt drive toward and later acquisition of nuclear weapons led to the periodic imposition of US sanctions suspended or lifted only when Washington needed something from Islamabad. This reinforced the perception among Pakistani officials and broader society that the United States was a fair-weather friend and a selfish partner," the scholar and former Pentagon official said.
"The coup de grace for anti-Americanism, however, was the decision Pakistani military and intelligence leaders took upon East Pakistan (Bangladesh)'s loss in 1971 to embrace and promote Islamist extremism within Pakistani society as a glue to hold together Pakistan's ethnically-diverse society. The number of madrasas teaching radicalism exploded. It was Pakistan's fear of ethnic (and specifically Pashtun) nationalism that led Pakistan to exclusively support Islamist groups among the anti-Soviet resistance in 1979 when Pakistani authorities monopolised the distribution of aid," he stated.
"After the September 11, 2001, terror attacks, the United States needed Pakistan desperately. On September 22, 2001, Bush waived nuclear sanctions and declared Pakistan "America's closest non-NATO ally." Former president Pervez Musharraf publicly pledged to "unstinted cooperation" to the United States in the fight against terrorism but, privately, Pakistan continued its support for the Taliban," he added.
"Simply put, eliminating the Taliban was not a Pakistani objective and, at best, Islamabad was agnostic on Al Qaeda. Musharraf partnered with the United States for four reasons: security, economic revival, the safety of nuclear and missile assets, and the hope that the United States would support Pakistan on the Kashmir dispute," Rubin stated, noting that Pakistan's double-game on terror spelt deadly for the United States. It also destabilizes South Asia and risks catalyzing Pakistan's descent into state failure. He also outlined Pakistan's sponsorship of terrorism.
"The US Treasury Department's Office of Foreign Asset Control (OFAC) has declared that 143 Pakistan-based individuals or organizations were guilty of engaging in terror activity. State Department terror lists are populated with Pakistan-based or supported groups, even if diplomatic considerations obscure mention of Pakistan in many of their profiles. Almost two thousand American servicemen have died in Afghanistan as a result of Taliban attacks and, by extension, Pakistani actions. In short, this has put Pakistan on the same level as -- or even a level above -- Iran when it comes to responsibility for the deaths of American servicemen. That alone is the reason not to forgive Pakistan or buy into the fiction that Pakistani authorities are not culpable," Rubin warned.
"Nor should Congress or the White House do anything to obscure Pakistan's aggression by proxy toward India and Afghanistan. This year Pakistani-backed terrorists have taken their terrorism to a new level. On January 22, 2019, Taliban terrorists - supported by Pakistan - attacked an Afghan army camp in Wardak and killed more than 120 people," he added.
He also mentioned the ghastly February 14 Pulwama terror attack, which claimed the lives of over 40 CRPF personnel.
"In February 2019, a member of the Pakistan-based Jaish-e-Mohammed (JeM) terrorist group attacked a police convoy in Pulwama, Indian Kashmir, killing forty people. In just the past three years, there have been at least seven major attacks on Indian targets by Pakistan-based terrorists. Certainly, Pakistani groups have repeatedly promised to crack down on terrorism, but the record is clear: they lie," Rubin elaborated.
"Prominent ministers and allies of former Prime Minister Nawaz Sharif, as well as his brother Shehbaz Sharif, openly rallied with banned militants. While Trump may praise Pakistan's recent arrest of the mastermind of the Mumbai terror attacks, he ignores that Pakistani authorities have repeatedly arrested Hafiz Saeed - and always released him once the spotlight moved on," the former Pentagon official pointed out.
"As the United States prepares to cut-and-run from Afghanistan, Trump and his allies may believe that now is the time to reset relations with Pakistan. They are wrong. Under Imran Khan, Pakistan has continued its move to become an instrument of Chinese strategic policies. Successive Pakistani leaders have fallen victim to China's debt trap. Thus, even if Khan wished to chart an independent course, it would have been impossible for him to do so," he noted.
Rubin also outlined Pakistan's silence on the Chinese crackdown on the Uighur Muslims and said, "The simple fact, however, is that Khan willingly casts his lot with Beijing. The Gwadar Port today is solidly among China's "string of pearls." For all his cynical embrace of Islam as a political tool rather than a deep faith, Pakistan has not only remained quiet on China's mass-incarceration of its Uighur population into concentration and "re-education" camps but also endorsed China's strategy at the United Nations."
"Pakistan's recent crackdown on army officials on spurious corruption and other charges have less to do with countering the country and military's endemic corruption and more to do with a People's Liberation Army-directed purge of pro-American elements within Pakistan's army. This undertaking was designed to make the Pakistani military more acceptable for long-term Chinese partnership. Simply put, Pakistan is now China's vassal, and Khan is President Xi Jinping's jester," he said.
He further highlighted how Khan continues to fan an anti-American narrative in Pakistan.
"Perhaps Khan feels he has no choice but to kowtow to China. That simply shows his and Pakistan's weakness. But, Khan had a choice about whether to encourage or discourage anti-Americans, and he chose to fan its flames. He has encouraged a consistent anti-American image in Pakistan, and the Pakistani government and officials continue to suggest the United States is "anti-Islamic" even as Pakistan receives billions of dollars in US aid. Recent attacks by Pakistan's proxies in Afghanistan show that Islamabad is not simply anti-American in rhetoric, but also in action. Khan may relish what a photo-op in the Oval Office might do for foreign investment, but he should recognize that what condemns Pakistan to its current plight is its continued use terrorism as an instrument of foreign policy," Rubin stated.
Rubin then observed that Khan's meeting with the US President should be seen in the same light as those with North Korea, Turkey and Russia.
Full report at:
https://timesofindia.indiatimes.com/world/us/pakistan-chinas-vassal-khan-is-xis-jester-says-ex-pentagon-official/articleshow/70350087.cms
--------
Ilhan Omar Shuts Down Constant Calls For Muslims To Condemn Things
23/07/2019
WASHINGTON — Rep. Ilhan Omar (D-Minn.) and other Muslim politicians are constantly being asked to condemn groups and issues that her non-Muslim colleagues are not asked to answer for, and she's tired of it.
Speaking on the opening panel at the Muslim Collective for Equitable Democracy conference on Tuesday, the congresswoman took a question from Ani Zonneveld, founder of the Los Angeles-based group Muslims for Progressive Values. Zonneveld asked if Omar and Rashida Tlaib (D-Mich.) would come out and condemn female genital mutilation.
Omar, who has previously voted for numerous bills against FGM both on the state and federal levels, immediately called the question "appalling."
"How often should I make a schedule like this? This needs to be on repeat every five minutes. Should I do that?" she asked Zonneveld.
"So today, I forgot to condemn al Qaeda, so here's the al Qaeda one. I forgot to condemn FGM. Here that goes. I forgot to condemn Hamas. Here that goes."
Last week, President Donald Trump falsely accused Omar of praising the terrorist group al Qaeda. Omar responded by saying she would not "dignify" the lie with a response, adding that "it is beyond time to ask Muslims to condemn terrorists. We are no longer going to allow the dignification of such a ridiculous statement."
The room at Tuesday's panel, filled with approximately 100 people attending this historic gathering of American Muslims in politics, applauded Omar's response to Zonneveld.
But Omar, who sported a gray dress and a white hijab, was not finished.
"I am quite disgusted, really, to be honest, that as Muslim legislators we are constantly being asked to waste our time speaking to issues that other people are not asked to speak to," she continued, noting the assumption that Muslims "somehow support" these issues.
"So I want to make sure that the next time someone is in an audience and is looking at me, and Rashida and Abdul and Sam, that they asked us the proper questions that they will probably ask any member of Congress."
Tlaib, who was scheduled to speak, was not present. Abdul El-Sayed, who ran in Michigan's 2018 Democratic gubernatorial primary, and Sam Rasoul, one of two Muslim members of the Virginia General Assembly, sat alongside Omar on the panel. Other panelists included Khizr Khan, the father of a Muslim American war hero killed in Iraq and the man who famously held up the Constitution at the 2016 Democratic National Convention, and Ken Martin, the chairman of the Minnesota Democratic-Farmer-Labor Party.
Omar's comments came just an hour after Trump made his latest Twitter attack against Omar and three other freshmen congresswomen, calling the Minnesota lawmaker "an America hating anti-Semite." Trump is scheduled to speak the same day at the Turning Point USA summit, a nationwide conservative organization of student Republicans riddled with bigotry and white supremacy, just a few miles away in D.C. Earlier Tuesday at the summit, Eric Thomas Bolling, a former Fox News host who was fired after a sexual harassment probe, bashed Omar.
"A Somali refugee coming over here and becoming a member of Congress, to complain about the system, that's just hypocrisy to me," Bolling told the crowd.
Full report at:
https://www.huffingtonpost.in/entry/ilhan-omar-calls-out-hypocrisy-of-the-need-for-muslim-politicians-needed-to-condemn-something_n_5d3720f3e4b0419fd3337778
--------
Trump to decide soon on when to release Mideast peace plan: envoy
23 July 2019
US President Donald Trump hopes to decide soon on when to release a plan for peace between Israel and the Palestinians, his Middle East envoy Jason Greenblatt told the United Nations Security Council on Tuesday.
"President Trump has not yet decided when we will release the political portion of the plan, and we hope to make that decision soon," he said.
Greenblatt also said that the conflict could not be solved on the basis of international consensus or with references to inconclusive international law and United Nations resolutions.
https://english.alarabiya.net/en/News/middle-east/2019/07/23/Trump-to-decide-soon-on-when-to-release-Mideast-peace-plan-envoy.html
--------
Rise in US domestic terror arrests linked to white supremacy: FBI
Jul 24, 2019
White supremacist violence is to blame for a spike in US domestic terror arrests, says Christopher Wray, the director of the Federal Bureau of Investigation.
Speaking at a Senate hearing on Tuesday, Wray said, "A majority of the domestic terrorism cases we've investigated are motivated by some version of what you might call white supremacist violence." However, he added, "it includes other things as well."
According to Wray, the FBI has arrested nearly 100 people for being involved in terrorism-related acts domestically so far this year, a figure which is already higher than that of the entirety of the last year.
A report by the Centre for the Study of Hate & Extremism at California State University showed in March that there had been an increase in white supremacist attacks both in the US and around the world in recent years.
"White nationalism has reflected a coarsening of mainstream politics, where debates on national security and immigration have become rabbit holes for the exploitation of fear and bigotry," according to the report.
"Our most recent police data, found a spike in many large US cities around election time 2018 as well," Brian Levin, director of the centre, wrote in Time Magazine.
"We also found Ideologically motivated murders by white supremacists increased in 2018 to 17, from 13 in 2017," he added.
A violent white supremacist rally in Charlottesville, Virginia in August 2017 turned bloody after a 20-year-old suspected Nazi sympathizer smashed his car into the counter-protesters, killing 32-year-old Heather Heyer and injuring some 20 others.
President Donald Trump, who has a strong following among white nationalists, called the far-right elements partaking in the demonstration as "very fine people."
However, after pressure against him piled up, he declared that "racism is evil," singling out white supremacists, neo-Nazis and Ku Klux Klan for the violent rally.
The Republican president was heavily criticized both in the country and abroad over his initial response to the violence in Charlottesville.
In the US, many lawmakers, including members of his own party as well as business executives distanced themselves from him. Also, officials in Britain, Germany, the UN and elsewhere denounced his remarks.
Full report at:
https://www.presstv.com/Detail/2019/07/24/601722/US-White-Supremacist-Donald-Trump-
--------
Pakistan signals prisoners swap agreement with US
Islamuddin Sajid
23.07.2019
Pakistan Prime Minister Imran Khan has signaled for possible prisoners swap agreement with the United States to exchange detained prisoners in future.
During an interview with U.S. broadcaster Fox News, Khan said that so far no negotiation has taken place, however they could talk on prisoners exchange in future.
Replying to a question on release of Shakil Afridi, a doctor who helped CIA track down slain Al-Qaeda chief Osama bin Laden in northwestern Pakistan in 2011, Khan said they could negotiate some sort of a swap.
"There are some decisions in a democracy which even a prime minister finds difficult because we do have an opposition. But this is something that can be negotiated. As we know the US wants Shakil Afridi and we also have someone in prison in the US, a frail woman called Aafia Siddiqui, so yes we could negotiate some sort of a swap," Khan said.
Afridi, who had been arrested soon after the U.S. operation in Abbotabad and initially sentenced to 33 years in jail in 2012 however the sentence was later reduced to 10 years following his appeal against the judgment. Even though he was accused of running a parallel spy network for the CIA in Pakistan, he was never tried on those charges.
While Aafia Siddiqui, who graduated from MIT and did her PhD from Brandise University in Education, had gone missing in Pakistan in 2004 along with her three minor children before she was discovered in a U.S military base in Bagram, Afghanistan in 2008.
In 2010, Aafia was sentenced to 89 years in prison by a U.S. court for attacking an American soldier in Afghanistan.
"Afridi in Pakistan is considered as U.S. spy," Khan explained.
Lamented on U.S. operation in Abbotabad in 2011 without Pakistan had taken into confidence, Khan said his country suffered 70,000 casualties in this fight while his country always felt that they were an ally of the U.S. and that they had been given the information about Osama bin Laden, they should have taken him out, Khan recalled.
"Pakistanis were embarrassed as they thought we were an ally of the US and the US did not trust us, they actually came in and bombed and killed a man [OBL] in our territory," Khan said.
He revealed that it was the ISI [Pakistan spy agency] which gave the information that led to the location of Osama bin Laden.
Talking about the safety of nuclear arms in South Asia, Khan said his country has one of the most comprehensive command and control system of nuclear weapons.
"There is no need to worry about Pakistan's nuclear weapons as we have one of the most professional armies and one of the best command and control of our nuclear weapons," Khan told the Fox News.
''The U.S. knows about our system as we share intelligence with Washington about the safety system of our nuclear weapons,'' he added.
Full report at:
https://www.aa.com.tr/en/americas/pakistan-signals-prisoners-swap-agreement-with-us/1539655
--------
Europe
Muslim World League chief honored for strengthening ties between Islamic world, Russia
July 24, 2019
MOSCOW: The Institute of Oriental Studies of the Russian Academy of Sciences has awarded the secretary-general of the Muslim World League (MWL), Dr. Mohammad bin Abdul Karim Al-Issa, an honorary doctorate in recognition of his efforts to strengthen the relationship between the Islamic world and Russia.
Prof. Vitaly Naumkin, the director of the institute, who represents one of the most well-known academic institutions in the world over the past 200 years, talked about Al-Issa's career, noting that he has contributed to the promotion of cultural rapprochement among nations through his visits to countries and his connections with different cultures and religions.
Naumkin said that the principles of moderation adopted by the MWL and its secretary-general contributed to the establishment of security in the world, noting that these principles addressed extremism and violence.
The honorary doctorate was given to Al-Issa for his services in the development of Islamic jurisprudence and improving official and popular relations between Russia and the Islamic world, he said.
The MWL secretary-general said that he was proud to receive the honorary doctorate from an institute that is well-known for its dedication and neutrality.
He also praised the Russian Federation's care for Arab and Islamic culture and its keenness to communicate with the Muslim world, learn its language and understand its culture.
Al-Issa considered the award to be motivation to work on promoting cultural communication and exchange between the Islamic world and Russia.
He said that the institute has contributed to changing the stereotype of Orientalism in the Muslim world and has encouraged cultural communication between nations and peoples.
The ceremony was attended by representatives of the Russian presidency, the Duma and the Senate, as well as high-ranking diplomats, senior academics of Orientalism, religious leaders and a group of researchers and students.
http://www.arabnews.com/node/1529951/saudi-arabia
--------
UK appoints expert to tackle Islamophobia
Taylor Heyman
July 23, 2019
In one of her final acts as prime minister, Theresa May has appointed Qari Asim to the post of independent expert in charge of tackling Islamophobia.
Imam Asim is the senior Imam at Makkah Mosque in Leeds, UK and Legal Director at the DLA Piper law firm.
He is deputy chair of the British government's Anti-Muslim Hatred Working Group and was an adviser to the Independent Review into the Application of Sharia Law in England and Wales.
"The government is wholeheartedly committed to ensuring that Muslims are not targeted for hatred, persecution or discrimination," said Communities Secretary James Brokenshire.
"Imam Asim's appointment marks a further step in helping us to achieve that goal and ensures that we develop an effective definition of Islamophobia which commands widespread support."
The Conservative Party promised to work up its own definition of Islamophobia after rejecting a definition set out by the All-Party Parliamentary Group (APPG) on British Muslims after consultations with community groups, which it says "could unintentionally undermine freedom of speech, and prevent legitimate criticism of Islamist extremism, or of unacceptable cultural practices".
The Labour and Liberal Democrat parties both adopted the APPG version.
"It is vitally important that an effective definition of Islamophobia is proposed to tackle the shocking rise in Islamophobia in recent years," Imam Asim said on Tuesday.
"I am honoured to be entrusted with this role, which will have a far reaching impact in protecting British Muslims and tackling anti-Muslim hatred."
Mrs May also appointed John Mann, Chairman of the APPG Against Antisemitism, as an independent adviser on antisemitism.
"John Mann is, without exception, a key voice on this matter," said Mrs May.
"He has frequently campaigned in the House of Commons on this issue and has tirelessly used his role as a politician to speak out on behalf of victims of anti-Jewish racism.
Full report at:
https://www.thenational.ae/world/europe/uk-appoints-expert-to-tackle-islamophobia-1.889928
--------
Russia counters US proposal for Mideast maritime coalition
Jul 23, 2019
Russia expresses unease and confusion over a proposal made by the United States for the establishment of a so-called maritime security coalition to patrol the Middle East region's waterways.
"It is absolutely unclear to me what our American colleagues suggest," Russian Special Presidential Envoy for the Middle East and Africa, Mikhail Bogdanov was quoted by the ITAR-TASS news agency as saying on Tuesday.
The United States has not contacted Russia concerning the initiative, he noted, saying, "They usually contact us and explain what they want, putting forward some ideas."
Russia has its 'own concept'
"We promote our own concept of collective security for the Persian Gulf area. We will publish it again today," Bogdanov said.
The comments came after US Secretary of State Mike Pompeo said Washington was "building out a coalition that will patrol the Strait of Hormuz to keep those shipping lanes, those sea lanes open." "There'll be nations from all around the world that participate in that," he added.
On July 19, the US Central Command issued a statement claiming it was "developing a multinational maritime effort, Operation Sentinel, to increase surveillance of and security in key waterways in the Middle East."
The coalition was to be formed "in light of recent events" in the Persian Gulf, the center said.
On Tuesday, Japan likewise communicated its opposition to the idea, with Chief Cabinet Secretary Yoshihide Suga saying Tokyo was not weighing sending military forces for the proposed coalition.
The United States and some of its Western and regional allies have been trying to blame the Islamic Republic for a series of incidents, which saw multiple explosions targeting a number of vessels in the Persian Gulf and the Sea of Oman.
They claim Tehran has been trying to retaliate against Washington's attempts at blocking Iranian oil sales throughout the world.
The US has been trying to reduce Iran's oil revenues to "zero" after leaving a nuclear accord with the Islamic Republic and others last year and returning the sanctions that the agreement had lifted.
Iran has roundly rejected any part in the incidents, emphasizing the significance of regional maritime security to international trade.
On July 4, British marines mounted an Iranian-operated supertanker in the Strait of Gibraltar under on the accusation that it was carrying Iranian oil to Syria in violation of the European Union (EU) unilateral sanctions on the Arab country. Tehran has denied that the supertanker was bound for Syria.
Later, it became known that the UK had seized the vessel at the US's request.
Iran's Foreign Minister repeated Tehran's condemnation of the confiscation on Tuesday.
Full report at:
https://www.presstv.com/Detail/2019/07/23/601670/Russia-United-States-Persian-Gulf-Strait-of-Hormuz-coalition-Pompeo-Iran
--------
UK adds extreme right-wing terrorism to threat level
Gözde Bayar
23.07.2019
LONDON
The U.K. on Tuesday added extreme right and left-wing terrorism to the public terrorism threat levels, according to a statement.
The U.K. made changes on threat level systems which now reflect the threat posed by all forms of terrorism, irrespective of ideology.
"Until today, the threat level system described the threat from 'international terrorism', which has become largely synonymous with Islamist terrorism," said Sajid Cavid, the home secretary of the U.K.
The statement added that there will now be a single national threat level describing the threat to the U.K.
"This means, for the first time, the threat from extreme right and left-wing terrorism will be reflected in the published threat level," the statement added.
The changes came after an extensive review into the country's approach to counter-terrorism following the attacks in 2017.
Full report at:
https://www.aa.com.tr/en/europe/uk-adds-extreme-right-wing-terrorism-to-threat-level/1539680
--------
UK okays $800M Saudi arms sale 'after Khashoggi murder'
Muhammad Mussa
23.07.2019
LONDON
The British government licensed sale of $800 million worth of military equipment to Saudi Arabia in the six months following the murder of journalist Jamal Khashoggi, said a U.K.-based group.
According to the Campaign Against the Arms Trade (CAAT), the British government approved the licenses of $805 million worth of weapons exports to Saudi Arabia from October 2018 to March 2019, despite condemning the murder of Khashoggi.
Khashoggi was killed and dismembered by a group of Saudi operatives shortly after he entered Turkey's Consulate in Istanbul in October 2018 to acquire a marriage certificate.
Riyadh offered various conflicting narratives to explain the disappearance before acknowledging Khashoggi was killed in the diplomatic building while trying to shift blame for his death on a botched rendition by rogue agents.
"The foreign secretary said that he condemned the murder of Jamal Khashoggi in the strongest terms, but, in the months that followed, it was business as usual for the government and the arms companies," Andrew Smith, director of CAAT, said.
"At the same time as the Saudi regime was covering up his murder ministers were approving hundreds of millions of pounds worth of arms," he added, reminding that British weapons have played a destructive role in the Saudi-led war in Yemen in which tens of thousands of people have been killed.
The $800 million sale included $685 million worth of so-called ML4 licenses which refers to the sale of missiles, rockets, bombs, torpedoes and other explosive devices. Furthermore, another $11 million under the ML10 licenses were approved which include vessels designed for military use as well as naval equipment.
In June, a court of appeal declared that British arms sales to Saudi Arabia were unlawful after having found that U.K weapons could have played a role in the deaths of civilians in the war in Yemen.
Since the court ruling, the government has suspended approvals on any new licenses but will continue exports under past agreements. The government has said it will challenge the court's decision and that the statistics revealed by CAAT represented arms sales made in the first months of 2019, before the court judgement.
Yemen has been beset by violence and chaos since 2014, when the Iran-aligned Houthi rebels overran much of the country, including capital Sanaa.
The crisis escalated in 2015 when Saudi Arabia and several Arab allies launched a devastating air campaign aimed at rolling back Houthi territorial gains.
Full report at:
https://www.aa.com.tr/en/europe/uk-okays-800m-saudi-arms-sale-after-khashoggi-murder/1539138
--------
Arab World
Iraq exhumes bodies thought to be Kurds killed by Saddam
July 23, 2019
BAGHDAD: Iraq on Tuesday began exhuming the remains of dozens of victims, including children, likely killed during ex-dictator Saddam Hussein's campaign against the country's Kurds, a forensics official told AFP.
The mass grave was uncovered in Tal Al-Sheikhiya, about 300 kilometers (200 miles) south of Baghdad, said Zaid Al-Youssef, the head of Baghdad's Medico-Legal Directorate which is tasked with identifying the remains.
"More than 70 bodies including women and children, ranging from newborns to 10 years old" have so far been exhumed, Youssef said.
Those remains were recovered from the surface layer of the site, he said, but "there could be a second deeper layer" with additional bodies.
"The evidence collected indicates they were summarily executed in 1988," said Youssef, which coincides with Saddam's brutal "Anfal" campaign against Iraq's Kurds.
The operation took place between 1987 and 1988 and saw nearly 180,000 Kurds killed and more than 3,000 villages destroyed.
"The female victims were blindfolded and killed by gunshots to the head, but also have traces on various parts of their bodies of bullets that were fired randomly," Youssef said.
The grave lies in the southern province of Mutahanna, also home to the notorious Nigrat Salman prison camp.
Many Kurds and political opponents of the previous regime were held there, and survivors shared tales of humiliation, rape and detention of minors as part of Saddam's 2006 trial.
Iraq has been hit by wave after wave of conflict in recent decades, culminating in the fight against the Daesh group which ended in late 2017.
Those years of conflict left grave sites all across the country where the remains of thousands of victims from Iraq's diverse ethnic and religious communities have been uncovered.
IS alone left behind an estimated 200 mass graves that could hold up to 12,000 bodies, the United Nations has said.
Authorities are testing remains from the most recent conflict as well as wars dating back three decades in an effort to identify the fates of missing Iraqis.
According to Iraqi authorities, Saddam's regime forcefully disappeared more than one million people in the 1980s and 1990s, and many of their families are still trying to find out what happened to them.
http://www.arabnews.com/node/1529761/middle-east
--------
Syrian activists say airstrikes kill 27 in rebel-held town
Jul 22, 2019
Multiple airstrikes hit a busy market in a rebel-controlled town in northwestern Syria on Monday, killing at least 27 people and turning several buildings into piles of rubble, according to opposition activists and a war monitor. Shortly afterward, state media said rebels shelled a government-held village, killing seven.
The high death toll marked a sharp increase in the escalation between the two sides amid intense fighting. Government troops, backed by Russian air cover, have been trying since April to push their way into the enclave in the northwestern corner of Syria, near the Turkish border.
Dominated by al-Qaida-linked militants and other jihadi groups, Idlib province and northern parts of the nearby Hama region is the last major rebel stronghold in the country outside the control of Syrian President Bashar Assad.
The high death toll marked a sharp increase in the escalation between the two sides amid intense fighting. Government troops, backed by Russian air cover, have been trying since April to push their way into the enclave in the northwestern corner of Syria, near the Turkish border.
Dominated by al-Qaida-linked militants and other jihadi groups, Idlib province and northern parts of the nearby Hama region is the last major rebel stronghold in the country outside the control of Syrian President Bashar Assad.
The struggling campaign also underscores the limits of Syria's and Russia's airpower and inability to achieve a definitive victory in the country's long-running civil war, now in its ninth year.
Monday's airstrikes took place in the town of Maaret al-Numan and also wounded more than 30 people, according to the reports from the region, which has witnessed intensive airstrikes and bombardment almost every day for the past three months. The strikes came in several rounds and caused widespread destruction, burying several people under the rubble.
Hours after the airstrikes, paramedics were able to remove a little girl alive, rushing her to a nearby ambulance.
The Britain-based Syrian Observatory for Human Rights, a war monitor, called it the largest single death toll since a Russian-Turkish truce collapsed in late April.
Syrian state news agency SANA said insurgents shelled the village of Jourin in the northern part of Hama province, killing seven civilians when a shell hit a moving car. State TV also reported that insurgents shelled the government-held town of Suqailabiyah, wounding four people, including a child, while a shell hit a university in the coastal city of Latakia, a government stronghold, without causing any casualties.
Syrian opposition activists said Russian warplanes carried out Monday's airstrikes, but Russia's Defense Ministry dismissed the reports as a "hoax," adding that the Russian air force didn't "carry out any missions in that area in Syria." There was no immediate comment from the Syrian government.
The Observatory, which monitors the fighting on the ground in Syria through a network of activists, said 37 people were killed, including two children and three women, in the strike on Maaret al-Numan. It added that the number of casualties from Monday's airstrike was likely to rise due to the large number of wounded. The Thiqa news agency, an activist collective in northern Syria, reported that the strike killed 27 people.
A member of the Syrian Civil Defense, also known as White Helmets, said one of their colleagues was killed in a second airstrike that hit the market.
On Sunday, government bombing in Idlib killed at least 11 civilians according to the Observatory and first responders.
In neighboring Turkey, Foreign Minister Mevlut Cavusoglu said Ankara would launch a new offensive into northern Syria if a so-called "safe zone" is not established and if threats against Turkey continue from the region.
Cavusoglu made the comments on Monday as a delegation led by U.S. Special Representative on Syria, James Jeffrey, was to hold talks in Ankara. The possible safe zone along the border with Turkey was expected to be on the agenda.
Turkey views Kurdish fighters who have fought alongside the United States against the Islamic State group as terrorists and wants the safe zone established to keep the fighters away from the border. It has recently been sending troop reinforcement to its border region.
Full report at:
https://abcnews.go.com/International/wireStory/syrian-activists-airstrike-killed-16-rebel-held-town-64478805
--------
Iraq arrests Islamic State cell, including Baghdadi aide, in Nineveh
by Mohammed Ebraheem
Jul 22, 2019
Nineveh (IraqiNews.com) – A group of Islamic State fighters, including an aide to IS chief Abu Bakr al-Baghdadi, were arrested Monday in the northern Iraqi province of Nineveh.
Code-named as "Baghdadi's Men," the IS sleeper cell confessed to carrying out several terrorist attacks against foreign embassies and churches in Egypt and Syria, Alghad Press quoted the Iraqi Military Intelligence Directorate as saying in a press statement.
The cell members also admitted that they plotted to carry out similar terrorist attacks against Iraqi civilians and institutions in Nineveh province.
Among those arrested is a senior aide to IS fugitive leader Abu Bakr al-Baghdadi, the statement read.
Iraq declared victory over Islamic State in December with the help of a US-led alliance, having retaken all the territory captured by the extremists in 2014 and 2015.
Full report at:
https://www.iraqinews.com/iraq-war/iraq-arrests-islamic-state-cell-including-baghdadi-aide-in-nineveh/
--------
Suspected Hezbollah Agent Arrested In Uganda With Mossad's Help
By Alex Winston
JULY 23, 2019
A Lebanese citizen suspected of being an undercover Hezbollah agent was recently arrested at Entebbe International Airport by Ugandan intelligence agencies with the cooperation of the Mossad.
A report published by The Kampala Post on Tuesday said that Lebanese national Hussein Mahmoud Yassine was arrested on July 7 while boarding a flight to Lebanon via Addis Ababa. He had arrived at Entebbe International Airport from Tanzania earlier that day.
According to the report, the Mossad informed its Ugandan counterparts about Yassine due to the close intelligence relationship between the two countries. An anonymous intelligence source told The Kampala Post that Yassine was recruited to the terrorist group by a senior Hezbollah official called Ali Wahib Hussein, known as Abu Jihad.
Yassine, who is suspected of working for the Hezbollah foreign liaison unit and has lived and worked in Uganda since 2010, was reportedly tracked for months before his arrest.
According to the intelligence source, Hezbollah instructed Yassine to identify potential US and Israeli targets for terrorist attacks in Uganda; to recruit other Lebanese nationals for Hezbollah; and to attempt to recruit Muslim Ugandans to act as Hezbollah intelligence agents.
The source also revealed that Yassine had already identified at least 100 Lebanese citizens living in the country for potential recruitment, including some working with telecommunications provider Africell.
The US and Israeli governments, which alerted the Uganda government to potential terrorist suspects, were notified of Yassine's arrest and demanded his immediate prosecution, the source said.
Full report at:
https://www.jpost.com/Middle-East/Suspected-Hezbollah-agent-arrested-in-Uganda-with-Mossads-help-596537
--------
Qatar says NY Times rejects request to hand over recording of diplomat
23 July 2019
Qatar has said that its request for the New York Times to hand over an audio recording of a phone call involving one of its diplomats discussing Qatari involvement in a recent Somalia attack has been rejected.
Qatar News Agency released a statement from the Qatari government's communication office saying that it requested the recording to support its investigation around the incident.
Khalifa Kayed al-Muhanadi, a businessman linked to the Qatari Emir, was recorded telling Qatar's Ambassador to Somalia Hassan bin Hamza Hashem that an extremist attack in May was carried out to advance Doha's interests in the country against the UAE, the New York Times revealed in a report on Monday.
"The ambassador and al-Muhanadi talked about the bombings in Somalia as citizens and not as officials," a statement from the Qatari government read.
Full report at:
https://english.alarabiya.net/en/News/gulf/2019/07/23/Qatar-says-NY-Times-rejects-request-to-hand-over-recording-of-diplomat.html
--------
Lebanon issues arrest warrants for 10 Libyans over Imam Musa al-Sadr's disappearance
Jul 23, 2019
A Lebanese judge has issued arrest warrants in absentia against 10 Libyan nationals, including the son of the slain dictator Muammar Gaddafi, over the disappearance of Lebanon's prominent Shia leader Imam Musa al-Sadr, who went missing with two companions more than 40 years ago in Libya.
On Tuesday, Investigative Judge Zaher Hamadeh took the measure against Seif al-Islam Gaddafi, Gaddafi's former intelligence chief Abdullah Senussi and Ahmad Ramadan, a top Gaddafi aide and former head of the regime's intelligence office, among the other defendants.
The daughter of Imam Musa al-Sadr says she strongly believes that her father is alive and being kept in prison.
"The documents and evidence show that he is alive and imprisoned as there is no proof to the otherwise," Houra al-Sadr said on February 26, 2018.
She added that concerted efforts are underway to shed light on the fate of the cleric.
"He is still alive and kept incarcerated. Nevertheless, he has not yet been found and reunited with us," she pointed out.
The Lebanese parliament speaker also says he has strongly believes that Sadr is still alive, calling for collective efforts to find out about the fate of the cleric and his companions.
Speaking at a ceremony marking the 39th anniversary of Sadr's disappearance in Beirut, Nabih Berri called on Lebanese media outlets to follow up on the clergyman's fate, stressing that Lebanese judicial officials were also looking into the case.
The fact-finding mission formed to inquire about the case has, however, been unable to visit Libya due to violence and political instability in the North African country, the top Lebanese legislator argued.
Imam Musa al-Sadr was a highly revered Shia cleric of Iranian descent, who founded the Lebanese Amal (Hope) Movement in 1974. He came to Lebanon in 1959 to work for the rights of Shia Muslims in the port city of Tyre, located about 80 kilometers (50 miles) south of Beirut.
The prominent Shia cleric disappeared on August 31, 1978, during an official visit to the Libyan capital Tripoli.
He was accompanied by Sheikh Mohammad Yaqoub and journalist Abbas Badreddine.
Lebanon still holds former Libyan officials responsible for the disappearance of the trio.
Since Gaddafi was deposed and killed in 2011, Lebanon and Iran have repeatedly called on the Libyan government to launch an investigation into Sadr's disappearance.
Hannibal Gaddafi, the son of the Libyan dictator, is currently in custody in Lebanon, facing charges of withholding information regarding Sadr's case.
Full report at:
https://www.presstv.com/Detail/2019/07/23/601685/Lebanon-issues-arrest-warrants-for-10-Libyans-over-Imam-Musa-alSadrs-disappearance
--------
Iraqi troops, Hashd Sha'abi forces purge more areas of Daesh terrorists
Jul 23, 2019
Iraqi army soldiers and members of the pro-government Popular Mobilization Units (PMU), known in Arabic as Hashd al-Sha'abi, have managed to cleanse more than two dozen areas north of the capital, Baghdad, and elsewhere in the country of remnants of the Daesh Takfiri terrorist group.
The media bureau of Hashd al-Sha'abi forces announced in a statement on Tuesday that the volunteer forces, together with Iraqi troops, rapid response teams, units from the Baghdad Operations Command and members of the Iraqi Federal Police had purged 30 villages north of Baghdad, and in the provinces of Anbar, Salahuddin and Diyala.
The 12th Brigade of Hashd al-Sha'abi cleansed the villages of Sabe'ah, Saleh al-Ajaj and Ibrahim Badiwi of Daesh extremists, and destroyed a militant hideout in al-Halabesah village, which lies in al-Nabaei region north of Baghdad.
Bomb disposal units of army forces and voluntary fighters also defused several improvised explosive devices, which Daesh terrorists had planted to slow down their advances west of Tarmiyah town, located about 25 kilometers north of Baghdad.
Separately, fighters from the 8th Brigade of the pro-government forces and the Iraqi Federal Police could cleanse the villages of Ramadan 14 and Hur al-Aba'iji besides Sur region of Daesh presence.
Second-in-Command of the Joint Operations Command (JOC), Lieutenant General Abdul Amir Rasheed Yarallah, said in a statement on Saturday that Iraqi military forces had launched the second phase of a major operation to hunt down the remnants of the Daesh terror group north of Baghdad and areas nearby.
The statement noted that the offensive aims to "to beef up security and stability in areas north of Baghdad and surrounding areas in the provinces of Diyala, Salahuddin and Anbar."
It said that units from the Baghdad Operations Command, command operations from Diyala, Samarra and Anbar, the Federal Police Command, rapid response teams, voluntary Hashd al-Sha'abi fighters and the special forces regiment of the Operations Department of the Chief of Staff of the Army as well as the Special Task Force of the Directorate of Military Intelligence were participating in the offensive.
Iraq's army and the voluntary forces began the first phase of the Will of Victory Operation early on July 7, the military said in a statement, adding that the operation would last several days and was aimed at securing the province of Anbar and the central and northern regions of Salahuddin and Nineveh.
"We press on the hands of our heroic forces that will achieve victory with the will of its heroes against the gangs of Daesh," Iraqi Prime Minister Adel Abdul-Mahdi said.
"May God protect you and make you victorious," he added.
Former Iraqi prime minister Haider al-Abadi declared the end of military operations against Daesh in the country on December 9, 2017.
On July 10 that year, he had formally declared victory over Daesh in Mosul, which served as the terrorists' last main urban stronghold in Iraq.
In the run-up to Mosul's liberation, Iraqi army soldiers and volunteer Hashd al-Sha'abi fighters had made sweeping gains against Daesh.
Full report at:
https://www.presstv.com/Detail/2019/07/23/601667/Iraqi-troops-Hashd-Shaabi-forces-purge-more-areas-of-Daesh-terrorists
--------
Mideast
Iran 'Ready To Strike' In The West Using Sleeper Terror Cells: Report Claims
Jul 22, 2019
With tensions between Iran and Britain escalating over the seizure of the Stena Impero tanker, the U.K.'s Daily Telegraph reported on Monday (July 22) that British intelligence agencies "believe Iran has organized and funded sleeper terror cells across Europe including the U.K. and could greenlight attacks in response to a conflict in the Gulf."
The claims refer to Hezbollah, the Lebanese Shi'a group that has been designated as a terrorist organization—in whole or part—by much of the West. In June, the same newspaper reported that a devastating cache of explosives, linked to Hezbollah, had been discovered in London by security agencies back in 2015. The three tons of ammonium nitrate was "more than was used in the Oklahoma City bombing that killed 168 people." Hezbollah is sponsored by Iran, and back in 2015, the U.K. had just signed on to the Iranian nuclear deal. Nothing was made public at the time.
Iran seizing a British oil tanker was always going to test London's patience and restraint, but thus far the primary response to the incident has been interplay in the media. As I've written before, the media plays a part beyond reporting events. Its anticipated response to events is part of the "enemy's" planning process. The western media cycle is predictable, manageable, the thirst for the drip-drip of ever new headlines. And that also links to population interference through the abuse of social media platforms.
This is the hybrid warfare we now face, cyber and physical, military and civilian, direct and indirect. And on that last point, cue proxies. Iran has already mobilized its sphere of influence in the Middle East—attacks on Saudi targets will come to mind, and now speculation inevitably turns to sponsored terrorist groups operating in the West.
The capture of a British tanker by Iran's military arguably justifies a military response—but conflict is no longer that simple. Iranian quasi-state media carried footage of Iran's flag being raised above the tanker in Bandar Abbas. "Make no mistake," Iran's foreign minister warned the U.K. by Twitter on Sunday (July 21). "Having failed to lure Donald Trump into War of the Century... John Bolton is turning his venom against the U.K. in hopes of dragging it into a quagmire. Only prudence and foresight can thwart such ploys." Also on Sunday, Iranian media reported that Teheran's U.K. ambassador had warned Britain "against provocation over the seized tanker, as reports emerged that the British government is considering freezing Iranian assets and may take other measures as well in a standoff between the two countries."
The Daily Telegraph quoted an unnamed intelligence source saying that "Iran has Hezbollah operatives in position to carry out a terrorist attack in the event of a conflict. That is the nature of the domestic threat Iran poses to the U.K." There is clearly a serious and multifaceted terrorist threat in the U.K., as elsewhere. But, thus far, there has been no spillover from the latest Middle East conflict beyond the region.
In both the physical and cyber domains, Iran can hit non-military targets (directly or through proxies) in retaliation (or preemptively) for U.S. axis action in the more conventional sphere. Physically, Iranian action is more akin to insurgency. And in the cyber domain, as I reported over the weekend, Iran understands that retaliation against the U.S. (or U.K.) might be akin to throwing rocks at a tank, but it can hit the vast and under-protected Western corporate sector at will. An Iranian cyber attack hit high-profile U.K. targets late last year, and two weeks after U.S. Cyber Command hit Iran's command and control structure in the aftermath of the downing of a U.S. surveillance drone, came its warning that an Iranian-led hack was targeting the millions of unpatched Microsoft Outlook systems."
In the physical domain, Iran's proxies in the Middle East have been mobilized for some time now—the mobilization of sleeper terror cells is in effect no different. The escalating conflict is multidimensional—cyber and physical, military and civilian. As we watch and wait to see what happens thousands of miles from home, the conflict is neither that simple nor that contained. The threat of proxy terrorist activity on Western soil is the physical manifestation of the same equation we have already seen in the cybersphere.
Also this week, Britain anoints a new prime minister, likely Boris Johnson, who is expected to be closer to the U.S. administration than his predecessor Theresa May—although Johnson has said that Britain will not support a fullscale conflict with Iran. Over the weekend, the U.S. president signaled his own support for Johnson, telling reporters he anticipated a strong relationship between them. On Iran, though, Johnson has poor form. He badly misstepped as foreign secretary back in 2017, when he haphazardly stated that British-Iranian Nazanin Zaghari-Ratcliffe was in Iran to teach journalism, rather than on vacation. Zaghari-Ratcliffe remains imprisoned in Teheran.
On the other side of British politics sits Jeremy Corbyn, leader of Britain's left-leaning Labour Party. Corbyn has railed against the "demonisation" of Iran and has even presented Teheran-friendly propaganda on the country's Press TV. Back in 2009, Corbyn described Hezbollah as his "friends" and invited the group (along with Hamas) to speak at an event in Parliament.
https://www.forbes.com/sites/zakdoffman/2019/07/22/warning-as-iran-ready-to-strike-in-the-west-using-sleeper-terror-cells-report/#3ed82e2d6038
--------
Iran's vice president: An int'l coalition to protect Gulf will bring insecurity
23 July 2019
An international coalition to protect the Gulf will bring insecurity, Iranian Vice President Eshaq Jahangiri said on Tuesday, according to the IRIB news agency.
Britain called on Monday for a European-led naval mission to ensure safe shipping through the Strait of Hormuz, days after Iran seized a British-flagged tanker in what London described as an act of "state piracy" in the strategic waterway.
"There is no need to form a coalition because these kinds of coalitions and the presence of foreigners in the region by itself creates insecurity," Jahangiri said. "And other than increasing insecurity it will not achieve anything else."
"The solutions that Iran suggests for managing the world are based on logic, because even the most complicated issues can be resolved through dialogue," he added.
Jahangiri also said that for "six powerful countries of the world to negotiate with Iran and reach an understanding means that Iran was able to prove its reasoning, and that they accepted it, but after leaving the negotiating table they felt like they were tricked and were worse off."
"For Americans to then use force and put pressure on a nation is illogical, but the people of Iran are proud that they are people of dialogue," he added.
"What has been happening these days in the [Arabian] Gulf in relation to Iran has given a message to the world that through logic, dialogue, reasoning and manners, it is possible to cooperate with Iran and resolve the issues of the world and the region."
"We would like for our region to be calm and secure. Throughout history, Iran has been the provider of the region and the [Arabian] Gulf's security. There is no need for an [international] coalition and no need for [foreign] powers to come [to the region]. Whenever these powers have come to a region, they have done nothing but create insecurity," Jahangiri said.
He stressed that the region's security can be ensured by Iran with the help of the rest of the countries of the region, according to IRNA, adding that the way to do that is for other countries to put an end to their pressure on Iran and enter talks with Iran, and then they would see what a good region we have.
"The people of Iran are aware that we are in a very difficult situation … Americans have increased their pressure during this period, particularly on the economic sector," he added.
"Iranians in recent years, and particularly in the last year, have endured a lot of pressure."
"We are ashamed and know that the people are enduring difficult conditions," he said.
Full report at:
https://english.alarabiya.net/en/News/middle-east/2019/07/23/Iran-s-vice-president-An-int-l-coalition-to-protect-Gulf-will-bring-insecurity.html
--------
Trump's Mideast envoy under fire at UNSC for attacking intl. law on Palestine issue
Jul 24, 2019
US President Donald Trump's Middle East envoy faces strong criticism from members of the UN Security Council, including Washington's own allies, after he downplayed the world body's resolutions on the Middle East conflict and said the Israeli-Palestinian issue cannot be resolved by relying on "fictions" of global consensus.
Addressing a UNSC meeting in New York on Tuesday, Jason Greenblatt dismissed the notion that international law and UN resolutions must serve as the foundation of any solution to the decades-long Israeli-Palestinian conflict.
Greenblatt said the issue will not be settled by references to international law, which he called "inconclusive."
"A comprehensive and lasting peace will not be created by fiat of international law or by these heavily wordsmithed, unclear resolutions," he said. "The vision for peace that we plan to present will not be ambiguous, unlike many resolutions that have passed in this chamber," referring to the so-called peace plan Washington had been developing without Palestine's consent to end the conflict.
Greenblatt also noted that the upcoming plan — which Trump himself calls the "deal of the century" — would not be based on "fictions of international consensus" as it is often "nothing more than a mask for inaction."
"So let's stop kidding ourselves. If a so-called international consensus had been able to resolve the Israeli-Palestinian conflict, it would have done so decades ago. It didn't," he added.
His controversial comments against international law triggered strong rebuttals from the UNSC's four other permanent members, namely France, Britain, Germany and Russia.
Security Council members, in response, underlined the need for respecting international law and UN resolutions in efforts to resolve the Palestine issue.
Germany's UN Ambassador Christoph Heusgen stressed that UNSC resolutions are binding under international law, saying, "For us, international law is not menu a la carte."
"For us, international law is relevant; international law is not futile," he said. "We believe in the force of international law; we do not believe in the force of the strongest."
British representative Karen Pierce also reminded all countries that they "have a responsibility" to implement UNSC resolutions.
Similarly, Russia's UN envoy challenged Greenblatt's assertions.
"This international consensus is international law, because Security Council resolutions are international law — they merely need to be complied with," Vassily Nebenzia said. "The matter lies not with a lack of international consensus; rather the matter has to do with the fact that there is utter disregard for this internationally-acknowledged consensus by the United States at present."
Moreover, French UN Ambassador Nicolas de Riviere emphasized that Paris would support any peace effort "so long as this aligns with the approach that we have set out together, so long as this adheres to international law, specifically all resolutions of the Security Council."
Greenblatt, has worked with Jared Kushner, Trump's son-in-law and senior adviser, on the US president's highly-contentious "peace" deal, which the Palestinians have already dismissed "the slap of the century."
The economic section of Trump's proposal was released during a Washington-sponsored conference in Manama, Bahrain, on June 25-26 despite a Palestinian boycott of the event.
Full report at:
https://www.presstv.com/Detail/2019/07/24/601711/Jason-Greenblatt-Donald-Trump-Israel-Palestine
--------
Hezbollah takes cash from starving Yemenis
July 22, 2019
Sam FM, a radio station affiliated with the Houthi rebels in Yemen, has announced that it has managed to raise half a million dollars since the launch of its crowdfunding efforts last year. The campaign organisers said that more than half the total amount will be donated to the Lebanese militant group Hezbollah, which is regarded as a terrorist organisation by the US, the UK, and Gulf countries. It is no surprise that Hezbollah and the Houthis would support each other. Both are Iran-backed proxies, which have caused chaos in their home countries and beyond.
This campaign was intended to raise funds for the Houthis' military spending while proving that the group could still count on popular support for their cause. Instead, the fundraising effort has highlighted just how desperate Hezbollah has become. The organisation is starting to feel the pinch of increased sanctions from the US and the UK. In February, the UK ceased to differentiate between Hezbollah's political and armed factions, and classified the entire group as a terrorist organisation. Meanwhile, the US has increased economic sanctions on Hezbollah and last year, the US Department of Justice decided to designate the group as a transnational crime organisation. US Sanctions against Tehran have also choked off the Iranian funds the group relies on to survive. This has forced Hezbollah leader Hassan Nasrallah to launch media fundraising campaigns in Lebanon, in March. Now, the group seems desperate enough to accept donations from on of the region's poorest war-ravaged nations.
Full report at:
https://www.thenational.ae/opinion/editorial/hezbollah-takes-cash-from-starving-yemenis-1.889311
--------
Yemeni Houthi rebels' long-range arsenal grows lethal
By MOHAMAD ALI HARISSI
July 24, 2019
DUBAI, United Arab Emirates (AFP) — From ballistic missiles to unmanned drones, Yemen's Houthi rebels appear to have bolstered their fighting capabilities, posing a serious threat to mighty neighbor Saudi Arabia.
In June alone, the Iran-aligned Shiite Houthis launched at least 20 missile and drone attacks on the oil-rich kingdom, Iran's regional foe, some resulting in casualties and damage.
Saudi advanced air defenses successfully intercepted most of the strikes but failed to deal with some, including a drone attack on the vital airport of Abha, in the south, that killed one person and injured 21 others.
"We have witnessed a massive increase in capability on the side of the Houthis in recent years, particularly relating to ballistic missiles and drone technology," Andreas Kreig, a professor at King's College London, told AFP.
"The current capability is far more advanced than anything the Yemeni armed forces had before the civil war," which began in 2014, said Kreig, an expert on the Middle East.
The rebels showed off some of their advanced weaponry at an exhibition held earlier this month at an undisclosed location to mark the fifth anniversary of their offensive against the Yemeni government.
Footage distributed by the Houthis showed models of at least 15 unmanned drones and various sizes of missiles of different ranges.
The newest of these weapons were long-range cruise missiles, dubbed "Al-Quds", and explosives-laden "Sammad 3" drones that can hit targets as far as 1,500 kilometers (932 miles) away, according to the Houthis.
"Made in Yemen"
On the sides of the Sammad 3, the phrase "Unmanned Aircraft Force" is printed, while the cruise missile is marked "Made in Yemen" on its giant body.
AFP has not established from independent sources if these missiles and drones were manufactured in Yemen.
Since 2014, the Houthis have controlled the capital Sanaa and vast swathes of north, central and western Yemen.
Forces of the internationally-recognized government with the backing of a Saudi-led coalition have been trying to retake these territories.
The conflict has killed or wounded tens of thousands of people and resulted in the world's worst humanitarian crisis, according to the United Nations.
Up until the end of 2018, the Houthis frequently used ballistic missiles they captured from Yemeni army depots to attack targets inside Saudi Arabia.
However, since the start of this year, they have shifted to Qasef 2 drones, a small booby-trapped aircraft that can evade radar detection but whose range is unknown.
The most serious attack took place on May 14 when Houthis used seven drones to target two pumping stations on Saudi Arabia's key east-west pipeline, shutting it down for several days.
"This is the first time the Houthis have demonstrated an apparent capability to hit a target 800 kilometers in Saudi territory with UAVs (drones)," Jane's 360, a defense and security think-tank, said in May.
"The attack on the pumping stations highlights the persisting risk of Houthis targeting of hydrocarbon infrastructure in Jeddah, Yanbu, and potentially cities such as Riyadh," said Jane's 360.
It said Saudi ports, military installations and airports were also at risk of further attacks.
OPEC kingpin Saudi Arabia spent some $65 billion on arms purchases last year, becoming one of the five biggest defense spenders alongside the United States, China, India and France, according to the Stockholm International Peace Research Institute.
"Miracle"
A Yemeni army retired brigadier, Jamil al-Mamari, believes the "Houthis are not capable of manufacturing missiles in Yemen… They are only capable of assembling and modification."
"Houthis keep modifying army missiles by boosting their explosive capability and adding remote control devices," Mamari said.
Experts rule out the possibility that Houthis may have modified these arms on their own.
The rebels have also launched attacks with explosive-laden boats and tanks, heavy artillery and anti-tank missiles.
Hussein Ibish, a senior resident scholar at the Arab Gulf States Institute in Washington, believes Iran has had a hand in developing the Houthis' armaments.
The Houthis "have grown dependent on Iranian and Hezbollah support to maintain their current war posture", Ibish told AFP.
"Their current war posture and their missile technology and capability are mainly the result of direct support from Iran and Hezbollah. So it's very difficult to untangle this knot," he said.
The United States and Saudi Arabia have repeatedly accused Iran of supplying sophisticated weapons to the Houthis, a charge Tehran denies.
Tehran has also denied allegations by Riyadh that it had encouraged the Houthis to attack the kingdom.
Full report at:
https://www.timesofisrael.com/yemeni-houthi-rebels-long-range-arsenal-grows-lethal/
--------
UK sent mediator to Iran to 'plead for their ship to be freed': Khamenei aide
24 July 2019
Britain has sent a mediator to Iran to discuss the freeing of a British-flagged tanker seized by the Islamic Republic last week, the head of the Supreme Leader's office said on Wednesday, according to the semi-official Tasnim news site.
Mohammad Mohammadi-Golpayegani provided no details about the British mediator's trip but made an ironic reference to Britain's involvement during colonial times in Iranian affairs.
"A country that at one time appointed ministers and lawyers in Iran has reached a point where they send a mediator and plead for their ship to be freed," Mohammadi-Golpayegani said, according to Tasnim.
Full report at:
https://english.alarabiya.net/en/News/middle-east/2019/07/24/UK-sent-mediator-to-Iran-to-plead-for-their-ship-to-be-freed-Khamenei-aide.html
--------
Pro-Israeli Saudi blogger jeered by angry Palestinians in Jerusalem al-Quds
Jul 23, 2019
Angry Palestinians have jeered and cursed a Saudi blogger who is known to be a huge fan of establishing formal ties between Israel and Saudi Arabia.
One video clip posted on Twitter showed Mohammed Saud being cursed and jeered as he was visiting the al-Aqsa Mosque compound in the Old City of Jerusalem al-Quds on Monday.
He is part of a six-person media delegation from the Arab world including representatives from Jordan who are in the occupied Palestinian territories at the invitation of the Israeli foreign minister.
Palestinians protesting his visit called him a "traitor", "animal" and "Zionist trash", and also told him to "Go to a synagogue" instead of praying at a mosque.
Another video clip showed plastic chairs and sticks being thrown at him as he walked in the market in the Old City.
Saud's Twitter timeline is reportedly filled with messages of support for the Israeli regime and its prime minister, Benjamin Netanyahu.
In one video, he admits he loves Israel and wants diplomatic relations between Riyadh and Tel Aviv.
The report comes as an Israeli delegation is going to pay an official visit to Saudi Arabia next year, amid the oil-rich kingdom's warming ties with the Tel Aviv regime following years of clandestine contacts.
"For the first time, a Jewish delegation will visit Saudi Arabia in response to the Muslim World League invitation, said the Saudi secretary general of the League, Sheikh Muhammad Bin Abdul Karim Issa, who declared the visit will take place in January 2020," Israel's foreign ministry said in a post published on its Arabic-language Twitter page on May 4.
The report came only a few days after Lebanese daily Arabic-language newspaper al-Akhbar said Saudi Crown Prince Mohammed bin Salman had offered Palestinian Authority chief Mahmoud Abbas 10 billion dollars in return for accepting US President Donald Trump's controversial proposal for peace between the Israelis and Palestinians, dubbed "the deal of the century."
Akhbar noted that Abbas had turned down the offer, saying supporting the deal would be "the end of his political life."
The Palestinian Authority chief said political realities prevented him from accepting the so-called peace plan, emphasizing that he could not make concessions regarding Israeli settlements, the "two-state solution" and Jerusalem al-Quds.
Earlier this year, delegates from Saudi Arabia, the United Arab Emirates (UAE) and Egypt at a meeting of Arab states reportedly opposed bids condemning the normalization of relations with the Israeli regime.
Russia's RT Arabic television news network reported on March 4 that Abdullah ibn Muhammad Al ash-Sheikh, the speaker of Saudi Arabia's Consultative Assembly, together with his Emirati and Egyptian counterparts had opposed a paragraph in the final communiqué of the 29th Conference of the Arab Inter-Parliamentary Union in the Jordanian capital city of Amman, which demanded an end to efforts aimed at normalizing ties with Israel and condemns all forms of rapprochement with the occupying regime.
Lebanese Parliament Speaker Nabih Berri, Speaker of the People's Council of Syria Hammouda Youssef Sabbagh and the Palestinian representative, in return, supported the decision to reject any sort of ties normalization with Israel, and stressed the need to keep the piece in the statement.
Full report at:
https://www.presstv.com/Detail/2019/07/23/601692/ProIsraeli-Saudi-blogger-jeered-by-angry-Palestinians-in-Jerusalem-alQuds
--------
Palestine: World must press ICC to probe Israeli home demolitions
Jul 23, 2019
Secretary General of the Palestine Liberation Organization (PLO), Saeb Erekat, has strongly condemned the recent demolition of a cluster of Palestinian homes in occupied East Jerusalem al-Quds as war crime, calling on the international community to push the International Criminal Court (ICC) into opening an immediate investigation into the incident.
On Tuesday, Erekat called on the High Commissioner for Human Rights, Michelle Bachelet, to implement her mandate under the Human Rights Council resolution 31/36, which demands a database of all business enterprises engaged in Israeli settlement activity in the occupied Palestinian territory, and to strive for international protection of Palestinians living under the Israeli occupation.
He also slammed the measures taken by Israeli authorities to expel Palestinians from Jerusalem al-Quds, including land grab, confiscations of identity paper, revocations of residency status and rejections of family reunification.
"The Israeli occupation forces, with the support of the Israeli Supreme Court, have ordered the demolition of these buildings using a security pretext, but the demolitions in Sur Baher are another example of Israel's illegal policies and practices aimed at eliminating the Palestinian presence in Jerusalem (al-Quds) and defending the existence of the Israeli occupation," Erekat highlighted.
The high-ranking Palestinian official further noted that the Israeli regime continues to "escape punishment time and time again" despite repeated calls for the international community to intervene and stop demolition of Palestinian homes, which result in forced displacement.
"The international community has not only failed to stop demolitions and forced displacement in Sur Baher, but also failed to hold Israel accountable for its continued violations of international law. Israel's actions are not only serious violations of the Fourth Geneva Convention, but are war crimes pursuant to the Rome Statute of the ICC. Therefore, we call for the urgent cessation of crimes being committed in the occupied State of Palestine," Erekat said.
The remarks came a day after hundreds of Israeli troops with bulldozers tore down homes in Sur Baher despite local protests and international criticism.
Meanwhile, Spokesman of the Jordanian Ministry of Foreign Affairs and Expatriates Sufian Qudah has reiterated his country's rejection of the Israeli regime's settlement expansion policies, its land confiscation policy and forced displacement of Palestinians.
He urged Israel to immediately halt such practices, emphasizing that such moves would increase tensions, deepen despair, and have a fundamental impact on the so-called two-state solution.
Separately, the French Foreign Ministry condemned the Israeli regime's demolition of Palestinian buildings in Sur Baher.
The ministry said in a statement that demolitions in occupied territories run contrary to international law, particularly the international humanitarian law and relevant UN Security Council resolutions.
Full report at:
https://www.presstv.com/Detail/2019/07/23/601681/Israeli-demolition-of-Palestinian-homes-in-East-alQuds-amounts-to-war-crime-Erekat
--------
War in Yemen eminently resolvable: UN
Jul 23, 2019
The United Nations (UN) says the years-long war in Yemen can be stopped and is "eminently resolvable" as the warring sides are committed to a UN-brokered peace agreement reached in Sweden late last year.
In December 2018, representatives of the Houthi Ansarullah movement and those of Yemen's Saudi-backed former government signed a peace deal in the Swedish capital of Stockholm. Under the deal, both sides agreed to withdraw their troops from the ports of Hudaydah, Salif, and Ras Issa, and the city of Hudaydah, and to allow the deployment of UN monitors.
The UN, for its part, also pledged to help in the management of the three key ports, which will be operating under the control of Yemen's Red Sea Port Corporation and local coast guards. The world body also will assist in inspection of ships.
"I believe that this war in Yemen is eminently resolvable," UN Special Envoy for Yemen Martin Griffiths on Tuesday. "Both parties continue to insist that they want a political solution and the military solution is not available, they remain committed to the Stockholm agreement in all its different aspects."
The UN envoy's comments came as the Houthi movement, which plays a significant role in assisting the Yemeni army against a Saudi-led military collation, has unilaterally withdrawn its fighters from the ports, but the forces of the former regime, backed by the invading coalition, have refused to do the same.
More than 70 percent of Yemen's imports used to pass through the docks of Hudaydah, a lifeline for the war-ravaged country's crippled economy. Salif was used for unloading all main types of grain, and Ras Issa, a vital oil terminal, was used for exporting Ma'rib's light crude oil.
The three ports held by Houthis have been under tight siege by the former regime forces for months, pushing tens of thousands of people in Yemen to the verge of starvation and crippling the country's economy.
The Stockholm deal was sealed in an effort to prevent the humanitarian situation from further deteriorating and to avert a larger assault by the Saudi-led coalition on the ports.
An unnamed senior Emirati official told reporters on July 8 that the United Arab Emirates (UAE) — Saudi Arabia's main ally in the coalition — was planning a troop drawdown in Yemen in what was claimed to be a shift from a military strategy to a "peace" plan instead.
However, earlier on Tuesday, Emirati Minister of State for Foreign Affairs Anwar Mohammed Gargash claimed the UAE was "not leaving Yemen."
Leading a coalition of its allies, Saudi Arabia invaded Yemen in March 2015 in an attempt to reinstall the former regime, which had been friendly to Riyadh, but whose officials fled the country.
The coalition has also imposed a naval blockade of Yemen.
The aggression is estimated to have left 56,000 Yemenis dead.
Full report at:
https://www.presstv.com/Detail/2019/07/23/601675/Yemen-UN-eminently-resolvable
--------
Africa
With Guns, Cash and Terrorism, Gulf States Vie for Power in Somalia
By Ronen Bergman and David D. Kirkpatrick
Jul 22, 2019
When a small car bomb exploded outside a courthouse in the bustling port city of Bosaso in northern Somalia, local news reports chalked it up to Islamist militants retaliating for American airstrikes. At least eight people were wounded, and a local affiliate of the Islamic State claimed responsibility.
The attack, however, may have also been part of a very different conflict: one among wealthy Persian Gulf monarchies competing for power and profits across the Horn of Africa.
Over the last two years, war-torn Somalia has emerged as a central battleground, with the United Arab Emirates and Qatar each providing weapons or military training to favored factions, exchanging allegations about bribing local officials, and competing for contracts to manage ports or exploit natural resources.
In an audio recording obtained by The New York Times of a cellphone call with the Qatari ambassador to Somalia, a businessman close to the emir of Qatar said that the militants had carried out the bombing in Bosaso to advance Qatar's interests by driving out its rival, the United Arab Emirates.
"The bombings and killings, we know who are behind them," the businessman, Khalifa Kayed al-Muhanadi, said in the call on May 18, about a week after the bombing.
The violence was "intended to make Dubai people run away from there," he said, referring to the Emirates' financial capital. "Let them kick out the Emiratis, so they don't renew the contracts with them and I will bring the contract here to Doha," the capital of Qatar.
If accurate, his claims are striking new evidence of the potential for the competition among Persian Gulf states to inflame strife across the Horn of Africa.
"Somalia is the most vivid example of the potential destabilization brought by the Gulf rivalry," said Zach Vertin, a scholar at the Brookings Institution and a former American diplomat in the region. "The Gulf sees these states as clients. It is all about controlling the space: plant a flag in the ground and lock down territory and relationships before your rival can."
The scramble for power in Somalia and the Horn of Africa is in some ways an extension of the cold war that has flared across the region since the beginning of the Arab Spring uprisings more than eight years ago. Qatar and Turkey backed the uprisings and the Islamist political parties that rose with them. The United Arab Emirates and Saudi Arabia opposed the uprisings and the Islamist parties, and accused Qatar of backing militants.
Two years ago, the United Arab Emirates, Saudi Arabia, Egypt and other allied states cut off commercial and diplomatic ties with Qatar in an effort to pressure it to alter its policies.
Somalia is an impoverished country, but its long coastline offers access to the region's fast-growing markets and influence over vital shipping lanes from the Persian Gulf. An Emirati company manages the port in Bosaso.
Asked about the cellphone conversation, neither Mr. al-Muhanadi nor the government of Qatar disputed the authenticity of the recording, but both said that he was speaking as a private citizen and was not a government official.
"The state of Qatar's foreign policy has always been one of creating stability and prosperity — we do not meddle in the internal affairs of sovereign countries," the Qatar communications office said in a statement to The Times. "Anybody doing so is not acting on behalf of our government."
However in the recording of the phone call, which was made by a foreign intelligence agency opposed to Qatar's foreign policies, the ambassador expressed no protest or displeasure at the idea that Qataris had played a role in the bombings.
"So that's why they are having attacks there, to make them run away," the ambassador, Hassan bin Hamza Hashem, replied.
"Our friends were behind the last bombings," Mr. al-Muhanadi, the businessman, assured the ambassador.
Mr. al-Muhanadi is known to be close to the emir, Qatar's ruler, Sheikh Tamim bin Hamad al-Thani. There are photographs of the two of them together and, according to news reports and text messages provided by the intelligence agency, Mr. al-Muhanadi frequently travels with the emir.
In a brief telephone interview with The New York Times, the ambassador denied knowing Mr. al-Muhanadi and quickly hung up.
In a separate telephone interview, Mr. al-Muhanadi said that he was only a "school friend" of the ambassador's. "I am a retired man and a trader," he said. "I do not represent any government."
Asked why he had described the Bosaso attackers as "friends," Mr. al-Muhanadi said, "All Somalis are my friends."
If the Bosaso bombing was intended to drive away the Emiratis, it was not the first attack there directed at them.
In February, two assailants disguised as fishermen shot and killed the manager for an Emirati company involved in running the port. The company, P&O Ports, said that three other employees were wounded.
The militant group Al Shabab claimed responsibility, saying that it had assassinated the manager because the Emirati company "occupies" the port of Bosaso. "We had warned him but he turned a deaf ear," a Shabab spokesman said of the port manager, Reuters reported. "He was illegally in Somalia."
In the cellphone recording, Mr. al-Muhanadi refers to the government's contracts with DP World, the main Dubai company hired to manage ports in Bosaso and a city in Somaliland province. He says that a relative of the president "is with me" and will transfer the DP World contracts to Qatar.
The Shabab, an affiliate of Al Qaeda, and the Islamic State in Somalia, a smaller group, consider the Somali government their main enemy. The United Arab Emirates have carried out military operations against both groups, but it is unclear why those groups would side with Qatar, which has also supported the Somali government.
Qatar has denied supporting the Shabab or other militant groups. President Trump once accused Qatar of financing terrorist groups, but when Sheikh al-Thani visited the White House this month, Mr. Trump called him a friend and Treasury Secretary Steven Mnuchin praised him for helping combat terrorist financing.
American officials say that the charges against Qatar are selective at best, noting that many Persian Gulf monarchies have struck tactical alliances with hard-line militants or struggled to clamp down on donations to extremists by wealthy individuals.
Many Gulf states are close military partners of the United States, and Qatar is the home of a major American air base.
Of the Gulf states, the United Arab Emirates have moved most aggressively to spread influence in the Horn of Africa. The Emiratis sent teams of mercenaries and commandos to Somalia as early as 2012 to combat piracy off the coast, and they extended military operations to fight the Shabab and other militant groups.
Over time, the Emiratis established a ring of more than half a dozen commercial ports or military bases around the Gulf of Aden and the Horn of Africa, including a major military base at Assab, Eritrea, that was used to launch operations into Yemen.
During a severe famine in 2011, Turkey, an ally of Qatar, donated significant humanitarian aid, and then followed with extensive commercial investment. Turkey opened a major military base and training program in Mogadishu, the Somali capital, in 2017.
The Somali government initially sought to stay neutral in the regional cold war.
But in April 2018, the Somali authorities seized $9.6 million in cash from an Emirati jet at the Mogadishu airport. Emirati officials said the money was intended to pay the salaries of Somali soldiers and police officers under Emirati training. Somalia accused the Emiratis of planning to use the money to buy influence or otherwise destabilize the country.
Demanding an apology, the United Arab Emirates retaliated by cutting off cooperation with the Somali government, suspecting it of siding with Turkey and Qatar. The Emiratis shifted their support and operations to two northern provinces antagonistic to the central government — the breakaway province of Somaliland and the semiautonomous province of Puntland, which includes Bosaso.
The Emirati company DP World said in 2017 that it had agreed to invest $336 million under a 30-year contract to expand and run the port in Bosaso. The company pledged $440 million the previous year to develop a port in Somaliland.
Qatar moved quickly to capitalize on the Somali government's rupture with the United Arab Emirates by fortifying its own ties. The month after the cash seizure, Qatari officials told Reuters that they were providing $385 million in infrastructure, education and humanitarian assistance to Somalia. In January, Qatar said it was also providing 68 armored vehicles to help the government fight the Shabab and other extremists.
The Shabab have fought against both sides in the inter-Arab cold war. The group has attacked Turkey for backing Somalia and its military. In May, the Shabab claimed responsibility for a car bomb that killed a Turkish construction engineer said to be working at the Turkish military training facility in Mogadishu.
In 2013, the Shabab attacked the Turkish Embassy, killing three people and wounding nine others.
If confirmed, the claim of the Qatari businessman, Mr. al-Muhanadi, would suggest that Qatar had at least tacitly condoned the attacks by extremists in Bosaso even as it helped the government fight extremists in Mogadishu. A former Defense Department official said he would not be surprised if Qatar was trying to play both sides to its own advantage.
Tricia Bacon, a Somalia specialist at American University in Washington and a former counterterrorism analyst for the State Department, suggested that Qatar did not need a deep relationship with the Shabab in order to hire local extremists for a more limited task, as "a proxy to conduct some attacks and disrupt the Emirates' plans."
The government of Qatar said it would investigate Mr. al-Muhanadi's call to the ambassador. "He will be held responsible for his comments, which we reiterated do not represent our principles," it said in a statement. "Somalia is an important partner for the state of Qatar, but we do not interfere in their internal affairs."
In the telephone interview, Mr. al-Muhanadi blamed the Emiratis for the trouble in Somalia.
"Just talk to our friends from the simple people of Somalia," he said. "They know that the Emiratis are responsible for destruction."
Mona El-Naggar and Eric Schmitt contributed reporting.
https://www.nytimes.com/2019/07/22/world/africa/somalia-qatar-uae.html
--------
Sudan is heading in the right direction but much work remains, says US envoy
RAY HANANIA
July 24, 2019
CHICAGO: US Special Envoy for Sudan Donald E. Booth on Tuesday said that leaders of the military government and the opposition in the African nation are moving toward a reconciliation, but added "there is a lot" that still needs to be done.
Booth, who was appointed by President Donald Trump in June, is charged with leading the US efforts to support a political solution to the current crisis that reflects the will of the Sudanese people.
Both sides in Sudan agreed a political power-sharing deal on July 17 that set out a 39-month period of transition, led by Sudan's new "Sovereign Council," before constitutional changes can be made. Under the agreement, a military general will lead the council for the first 21 months, a civilian for the following 18 months, and then elections will be held.
"That political declaration really addresses the structure of a transitional government and not the entire structure," Booth said. "(The July 17 agreement) has put off the question of the legislative council. It is a document that is the beginning of a process. We welcome the agreement on that but there are still a lot of negotiations to be conducted on what the Sudanese call their constitutional declaration."
The envoy said he expects the Sovereign Council "will have to address what the functions of the different parts of the transitional government will be," such as the roles and powers of "the sovereign council, the prime minister, the cabinet and, ultimately, the legislative cabinet. Who will lead that transitional government is still undecided."
The crisis in Sudan came to a head in December 2018 when President Omar Al-Bashir imposed emergency austerity measures that prompted widespread public protests.
He was overthrown by the Sudanese military in April 2018 as a result of the unrest but the protests continued. Demonstrations in Khartoum turned violent on June 3 when 150 civilians were killed, sparking nationwide protests in which nearly a million people took part.
Booth said these protests had changed the dynamics in Sudan, forcing the military to negotiate with the people.
"The 3rd of June was a signal of the limits of people power," he said. "But then there was the 30th of June, in which close to a million people took to the streets outside of Sudan and I think that demonstrated the limits of the military power over the people."
Some have asked whether individuals might face prosecution for past human-rights violations, including Lt. Gen. Mohamed Hamdan Dagalo, better known as Gen. Hemeti, who was appointed head of the ruling transitional military council in April after Al-Bashir was removed from power. Booth said this would be a decision for the new transitional government.
"One has to recognize that General Hemeti is a powerful figure currently in Sudan," he said. "He has considerable forces loyal to him. He has significant economic assets as well. So, he has been a prominent member of this transitional military council. But he has been one of the chief negotiators for the forces of Freedom and Change.
"We will have to wait and see what type of agreement they will come up with…we don't want to prejudge where the Sudanese will come out on that. It is their country and their decision on how they move forward. Our goal is to support the desire for a truly civilian-led transition."
Booth noted that although sanctions on Sudan have been lifted, the designation of the nation as a state sponsor of terrorism remains in force. He also said he expects the pressures and restrictions on journalists covering Sudan's transition to ease as progress continues toward redefining Sudan's government.
"As you can see, there is still a lot that the Sudanese need to do," said Booth. "But we fully support the desire of the Sudanese people to have a civilian-led transitional government that will tackle the issues of constitutional revision and organizing elections, free and fair democratic elections, at the end of the transitional period."
He added that the US is working with other governments in the region to build support for the transitional process, including expanded religious freedoms, an end to the recruitment of children for military service, and improving Sudan's economy.
Full report at:
http://www.arabnews.com/node/1529941/middle-east
--------
Army hands over 151 repentant Boko Haram insurgents to Borno govt
July 22, 2019
The Nigerian Army on Monday handed over 151 repentant Boko Haram insurgents to Borno Government for rehabilitation and reintegration into the society.
Bamidele Shafa, the Coordinator, Operation Safe Corridor, made the disclosure during the handing over of the repentant insurgents at the Bulunkutu Rehabilitation Center, Maiduguri.
Mr Shafa disclosed that the 151 male repentant insurgents comprised 132 adults and 19 minors, who completed 52 weeks of de-radicalization process at its centre in Gombe.
He said that the clients were exposed to formal literacy classes, skills acquisition and Islamic Religious Knowledge (IRK) as well as drug and psycho-therapists during their training.
Mr Shafa explained that the Operation Safe Corridor was designed to encourage Boko Haram insurgents to surrender, provide de-radicalization and rehabilitation programme, to enable them to rejoin the society.
"The clients confessed their past misdeeds; denounced membership of Boko Haram group, asked for forgiveness and took an oath of allegiance to Nigeria. I believe they are now good citizens to rejoin the society," he said.
Mr Shafa lauded the state government for its support and efforts to assist the repentant insurgents to reintegrate into the society.
Also, Umar Kadafur, the state deputy governor commended the federal government over implementation of Operation Safe Corridor to rehabilitate and reintegrate repentant insurgents into the society.
Mr Kadafur said that the state government had adopted effective measures to accept the insurgents willing to voluntarily surrender and to create an enabling environment for them to rejoin the society.
He said that the state government had also directed community leaders to sensitize their people on the need to accept the rehabilitated insurgents, and warned against infringement on their rights.
The deputy governor added that the state government would support rehabilitated insurgents to set up their business, to enable them to engage in productive activities and contribute to the development of the society.
Tela Dandija and Kyari Buguma, some of the repentant insurgents, thanked the federal government for the amnesty granted to them and called on the insurgents still in the bush to surrender.
Full report at:
https://www.premiumtimesng.com/regional/nnorth-east/342318-army-hands-over-151-repentant-boko-haram-insurgents-to-borno-govt.html
--------
At Least 17 Killed in Bomb Attack in Somalia Capital
Jul 22, 2019
MOGADISHU — At least 17 people were killed and 28 others wounded when a bomb went off outside a hotel near the international airport in Somalia's capital Mogadishu on Monday, medical officials said.
The Al Qaeda-linked Islamist group al Shabaab, which is trying to topple Somalia's weak U.N.-backed government, claimed responsibility for the attack.
The city's Madina hospital received 17 bodies and 28 people with injuries, 12 of them in a critical condition, said Mohammed Yusuf, the hospital's director.
The blast went off at the first checkpoint on the road that leads to Mogadishu airport, said Farah Hussein, a shopkeeper who witnessed the attack.
Full report at:
https://www.nytimes.com/reuters/2019/07/22/world/africa/22reuters-somalia-security.html
--------
British troops to join force countering Mali militants
22 Jul 2019
British troops will be deployed in Mali next year to join in the world's deadliest peacekeeping operation, the Ministry of Defence has announced.
The 250-strong force will provide a long-range reconnaissance capability for the United Nations deployment in the troubled African country which has struggled to decisively counter Islamic militants, armed separatists and traffickers.
The deployment is likely to place British troops in combat situations, facing risks of ambushes and roadside bombs in remote and hostile environments.
The UN is operating alongside a French-led force that has been fighting Islamic militants in Mali for six years. The mission is known as one of the most dangerous undertaken by the organisation anywhere in the world. More than 170 people deployed by the UN have been killed there between 2013 and February.
Penny Mordaunt, the defence minister, said it was right that "in one of the world's poorest and most fragile regions we support some of world's most vulnerable people … UK service personnel will work with our partners in the region to help promote peace by combating the threat of violent extremism and protecting human rights in Mali".
Mali, which occupies a key location in the centre of the restive Sahel, was plunged into chaos in 2012 when Tuareg separatists and Islamic extremists joined forces to take control of much of the north of the country. French forces intervened the following year to halt their advance and 4,000 French troops remain there.
The UN security council later deployed peacekeepers, which have been targets of a fierce insurgent campaign. A 2015 peace deal signed by Mali's government and separatist groups failed to end the violence and instability has since spread across the region. More than 200,000 people have been displaced in Mali since the start of 2019 and about 600 killed in a series of militia attacks. Islamic extremists have staged assaults on high-profile targets in the capital, Bamako, and in neighbouring Burkina Faso and Ivory Coast. There is also violence in neighbouring Niger, where four US servicemen were killed in an ambush by Islamic militants in 2017.
Full report at:
https://www.theguardian.com/world/2019/jul/22/british-troops-to-join-force-countering-mali-militants
--------
Why Shiite Muslim protesters and Nigeria's security forces keep clashing
By Danielle Paquette
July 23, 2019
DAKAR, Senegal — A high-ranking police officer, a journalist and protesters are among the dead after a rally to free a minority religious leader from detention turned violent this week in the Nigerian capital, Abuja, marking another dark chapter in a series of murky confrontations.
The death toll remained uncertain Tuesday following the latest clashes between state security forces and supporters of the Islamic Movement in Nigeria (IMN), a Shiite Muslim group that wants the government to release Ibrahim el-Zakzaky.
Authorities said 3,000 of his followers gathered in the capital Monday with weapons. Demonstrators said they came to advocate for their leader, who has been a voice for religious dissent since the 1980s and was arrested in 2015 on a murder charge that his supporters view as fabricated.
Each side accused the other of sparking violence.
"The heavily armed protesters defying all sense of decency violently attacked innocent citizens and Police personnel on duty," police spokesman Frank Mba said in a statement.
Mohammed Ibrahim Gamawa, a Shiite protester, denied that, saying police opened fire on demonstrators without provocation.
"We deposited 15 corpses at the mortuary," he said in an interview.
The bloodshed raises questions about the government's use of force at a time when religious protests in the country are expected to intensify. Demonstrators say they won't stop taking to the streets — no matter the consequences — until Zakzaky is free.
Ni­ger­ian troops patrol the streets of Abuja during clashes between members of the Islamic Movement in Nigeria and police. (Kola Sulaimon/AFP/Getty Images)
Who was killed in Monday's protest?
Deputy Police Commissioner Usman Umar was fatally shot, and two other officers were injured, Mba said.
Television reporter Precious Owolabi also died in the gunfire, his channel confirmed late Monday, setting off an outpouring of grief on social media. One local anchor who reported the story cried on the air.
It is unclear how many protesters died in the demonstration.
Nigerian President Muhammadu Buhari expressed condolences Tuesday on Twitter to the families of Umar and Owolabi. He called the IMN's protest "violent."
"I want to reassure residents of Abuja in particular and the country in general to go about their lawful activities without fear," he wrote. "The leadership of our security and law enforcement agencies are taking action to safeguard the nation against such mindless attacks."
What is the Islamic Movement in Nigeria?
Nigeria is practically half Christian and half Muslim. Most of the country's Muslims, who largely live in the north, are Sunni, including Buhari.
Some in the Shiite minority oppose the secular government altogether, and the IMN is the movement behind that sentiment. It claims to have 2 million members, but analysts say that figure is unverified.
Unlike Boko Haram — the extremist group concentrated in Nigeria's northeast that is trying to build an Islamist state through violence — IMN supporters say they have tried to pursue peaceful dissent. They say they do not want to hurt civilians or soldiers.
Who is Ibrahim el-Zakzaky?
IMN supporters have lately focused their distress on the detention of Zakzaky, who was arrested in 2015 after the government said he led a mob that attempted to kill an army official while blocking a military convoy in northern Nigeria's Kaduna state. (The murder charge against Zakzaky is related to the death of another soldier in the chaos.)
Nearly 350 IMN members were killed in a crackdown in the days that followed, according to Amnesty International.
Human Rights groups say Zakzaky, who is being held with his wife, deserves a speedier trial.
"The increasing spate of protests by the group is a cry for justice that authorities would do well to heed," Anietie Ewang, Nigeria researcher at Human Rights Watch, said in a statement last year.
Garba Shehu, a spokesman for Buhari, said Kaduna state must decide Zakzaky's fate in court. The government will enforce what the regional power decides — "whatever its outcome," he said.
"Our constitution does not give power to the president to stop investigations or ongoing trials by the courts," Shehu added. "He, however, has the power of pardon upon conviction."
People raise their hands after police dispersed members of the Islamic Movement in Nigeria from a street in Abuja on Tuesday. (Afolabi Sotunde/Reuters)
Why have the IMN's protests turned violent?
Regular Shiite protests followed Zakzaky's arrest, and tensions between the IMN and the government have been building for years. It's hard to know exactly what happens when the two forces tangle, said John Campbell, a former U.S. ambassador to Nigeria.
"Statements by the security services are often inaccurate, sometimes intentionally so," Campbell said. "Sometimes because they themselves do not know the real story."
"We make statements on the basis of fact," Mba, the police spokesman, said in a text message. "We only speak on matters that are empirically verifiable."
In November, the IMN said 42 of its members were killed by military forces in Abuja clashes. The Nigerian army seemed to defend its response on Twitter that week with a quote from President Trump.
"Please Watch and Make your Deductions," read the tweet, which featured a video clip of Trump saying: "Anybody throwing stones, rocks . . . we will consider that a firearm because there is not much difference."
"They want to throw rocks at our military, our military fights back," Trump said in his Nov. 1 comments.
The Nigerian army later deleted the tweet.
Gamawa, the Shiite protester at Monday's demonstration, said he expects relations between the IMN and the government to worsen.
Full report at:
https://www.washingtonpost.com/world/africa/journalist-police-officer-protesters-die-as-shiite-muslim-group-clashes-with-police-in-nigerias-capital/2019/07/23/e0b2e08e-ad4b-11e9-9411-a608f9d0c2d3_story.html?utm_term=.4b103d61599a
--------
Iran raps Nigeria's fatal crackdown on pro-Zakzaky rally, urges cleric's release
Jul 23, 2019
Iran has condemned Nigeria's deadly crackdown on supporters of senior Muslim figure Sheikh Ibrahim Zakzaky, who has been jailed for over four years, renewing the call for the cleric's release and his "immediate" access to medical services.
Speaking on Tuesday, Iran's Foreign Ministry spokesman Abbas Mousavi expressed grave concerns about Monday's deadly clashes between Nigerian forces and supporters of Zakzaky in the capital, Abuja.
He also censured the use of force during the demonstration, which left six people dead.
Mousavi further referred to the deteriorating health condition of Sheikh Zakzaky, who has been imprisoned since 2015, and a medical report saying that the clergyman and his wife are in urgent need of medical care abroad.
"The Nigerian officials are expected to transfer Zakzaky out of the detention center as soon as possible and take action for his access to decent and immediate medical services," he said.
The Iranian spokesman also underlined the importance of preserving security and stability in Nigeria and resolving problems through dialog in the African country.
At a session of the Parliament (Majlis) on Tuesday, 198 Iranian lawmakers also issued a statement, calling for Sheikh Zakzakhi's swift release.
The statement called on all Islamic states and international bodies as well as the Nigerian government and parliament to help facilitate the freedom of Sheikh Zakzaky and his wife and give them access to medical care.
Witnesses said Monday's protest started peacefully with participants chanting "Free Zakzaky, but the demonstration turned violent after police fired live ammunition and tear gas canisters at protesters.
Sheikh Zakzaky, who is in his mid-sixties, lost his left eyesight in a 2015 raid by security forces, that left more than 300 of his followers and three of his sons dead. His wife also sustained serious wounds.
He has been kept in custody along with his wife and a large number of his followers ever since.
Full report at:
https://www.presstv.com/Detail/2019/07/23/601644/Iran-Nigeria-Sheikh-Ibrahim-Zakzaky
--------
'Malign state' Qatar condemned for collusion in Somalia terrorism
July 23, 2019
JEDDAH: Qatar was accused on Tuesday of being a "malign state" after evidence emerged that Doha colluded in Islamist militant attacks in Somalia targeting the assets of other Gulf states.
A phone conversation between Khalifa Kayed Al-Muhanadi, a Qatari businessman close to Qatar's emir Sheikh Tamim bin Hamad Al-Thani, and Hassan bin Hamza Hashem, the Qatari ambassador to Somalia, show's Doha's involvement in Al-Shabab terrorism in the Somali port of Bosaso, which is operated by the Dubai company DP World.
"The bombings and killings, we know who is behind them," Al-Muhanadi says in a recording of the conversation leaked to The New York Times. "Our friends were behind the last bombings." The attacks were "intended to make Dubai people run away from there," he said. "Let them kick out the Emiratis, so they don't renew the contracts with them and I will bring the contract here to Doha."
The ambassador replies: "So that's why they are having attacks there, to make them run away."
US President Donald Trump has accused Qatar in the past of financing terror. However, on a visit by Sheikh Tamim to the White House this month, Trump said the emir was a friend, and Treasury Secretary Steven Mnuchin thanked Qatar for combating terrorist financing.
The world may be surprised by Doha's sponsorship of terrorist attacks but Qatar's neighbors are not, Salman Al-Ansari, founder of the Saudi American Public Relation Affairs Committee, told Arab News.
It is why the Anti-Terror Quartet of Saudi Arabia, the UAE, Bahrain and Egypt have operated a diplomatic, trade and travel boycott of Qatar since June 2017, he said.
"Qatar will do whatever it can do to unleash and support the terror ideology of the Muslim Brotherhood and all the other groups that stem from it," he said. "It exploits any instability in any country to support terrorist militias to advance its evil interests.
"This intelligence leak surely shows that the world is fed up with the two-faced Qatari policies. I expect more leaks against Qatar in the coming days.
"The world has the right to see the full picture and to name things by their names. Qatar is a malign state and needs to be confronted with nothing but decisiveness and strength.
"Doha has been trying its best to control the Horn of Africa through terrorist groups and to allow Iran to destabilize shipping lanes in the Red Sea."
The official Qatari response to the leaked phone conversation indicated fear, Al-Ansari said, and the "Qatari businessman" was obviously a Qatari government intelligence officer.
"If it's true that he doesn't represent the government, then why did the Qatari ambassador hear the news about the success of a terror operation without objecting to it?
Full report at:
http://www.arabnews.com/node/1529896/middle-east
--------
Australia
Australia to bar return of citizens who fought for ISIS
23 July 2019
Australia is poised to bar its citizens who have fought for the ISIS militant group from returning home for up to two years, under new laws discussed in parliament Tuesday.
The controversial legislation would give hardline Home Affairs Minister Peter Dutton the ability to invoke "exclusion orders" to prevent suspected terrorists from returning to the country.
It is based on similar legislation introduced in the United Kingdom, where a judge is tasked with deciding whether to impose an exclusion order.
Dutton told parliament in early July the bill targets 230 Australians who travelled to Syria and Iraq to fight for ISIS, 80 of whom he said were still in active conflict zones.
Concerns have been raised that the Australian proposal could be unconstitutional and places too much power in the minister's hands, with the opposition Labor Party calling for it to be referred back to a parliamentary intelligence and security committee for further consideration.
However, shadow home affairs minister Kristina Keneally said in a statement the opposition would support the bill but wanted a scheme that was "constitutional, keeps Australians safe and that withstands High Court challenges".
It is one of several controversial measures being considered by parliament in the first legislative sitting week since Australia's conservative government was re-elected in May.
Other proposals include repealing the so-called "Medevac" law that allows sick asylum seekers and refugees held in Pacific camps to be brought to Australia for medical treatment.
The opposition has to date appeared reluctant to back a repeal of the law, with Labor leader Anthony Albanese telling Sky News on Tuesday he did not believe the government had made a case for change.
"There are some 90 people (who) have been brought to Australia under the Medevac legislation," he said.
"There's 900 (who) have been brought to Australia by the government itself prior to the Medevac legislation being there."
The United Nations and human rights groups have roundly condemned Canberra's hardline approach to the nearly 900 refugees who remain on Nauru and Papua New Guinea's Manus Island.
But Australia has defended its policies as humanitarian in nature, saying hundreds of people have drowned at sea trying to reach the country and that it is deterring people from making such journeys.
https://english.alarabiya.net/en/News/world/2019/07/23/Australia-to-bar-return-of-citizens-who-fought-for-ISIS.html
--------
URL: https://www.newageislam.com/islamic-world-news/china-claims-uighurs-were-forced/d/119285
New Age Islam, Islam Online, Islamic Website, African Muslim News, Arab World News, South Asia News, Indian Muslim News, World Muslim News, Women in Islam, Islamic Feminism, Arab Women, Women In Arab, Islamophobia in America, Muslim Women in West, Islam Women and Feminism