New Age Islam News Bureau
31 May 2022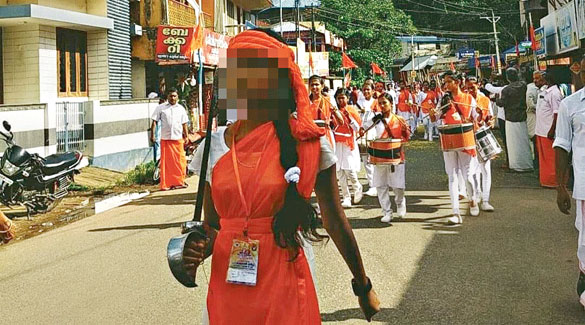 A person carrying a sword leads the Durga Vahini march near Thiruvananthapuram city on May 22. Many of those following her are carrying long sticks. (Face masked by this newspaper as it is not clear whether she is an adult or a minor)
The Telegraph
-----
• Taliban Orders Kandahar City Transportation to Not Transport Women without a Male Chaperone
• Supporters of Kurdistan Workers' Party Terror Group Hold 'Ideological Training Camp' In France
• 'Kurdistan Workers' Party Terrorists Target Only Civilians': Father of Injured Child in Northern Iraq
• Zionist Attacks on Al-Aqsa Mosque Are Provocative, Message to Muslims: Al-Houthi
India
• Do Not Instigate Muslims, Desist From Creating Communal Disharmony: VHP to Jamiat
• Delhi: Jama Masjid finial, minaret stones fall off; Shahi Imam to approach PM Narendra Modi
• 4 Years On, Decks Cleared For First Muslim J&K High Court HC Judge From Jammu
• Legal Expert Faizan Mustafa Calls For Flexibility In Shariah Law; Maulana Rahmani Ticks Him Off
• BJP May Have No Muslim Face in Parliament after Rajya Sabha List
• Gyanvapi Mosque Panel, Anjuman Intezamia Masajid, Urges Varanasi Court to Reject Suit, Next Hearing In July
• J&K: Migrant Kashmiri Pandit teacher shot dead by terrorists in Kulgam district
• Two terrorists killed in encounter in Jammu and Kashmir's Awantipora
--------
South Asia
• Taliban crackdown on journalists continues, another Afghan scribe disappears in Kabul
• UNICEF: 1.1 Million Afghan Children Expected To Suffer Severe Acute Malnutrition
• Qatar Warns Western Countries: Taliban Sanctions Increase Extremism
• The Taliban Bans Coal-laden vehicles from Passing through the Torkham Border Crossing
• Thomas West Meets with the Representatives of Afghan Political Parties in Turkey
--------
Europe
• As Islamophobia rise in France, many Muslims leaving the country
• Mount Gambier Mosque in South Australia Welcomed People Of All Faiths
• Head of Iranian Islamic seminaries meets with Pope Francis at Vatican
• Despite direct economic consequences, study finds majority of Arabs do not care about Ukraine-Russia war
--------
Arab World
• Turkiye 'Neutralizes' 5 YPG/PKK Terrorists in Northern Syria
• Kuwait deplores Al-Aqsa Mosque storming by extremists
• Egypt condemns allowing Israeli extremists to storm Aqsa Mosque premises
• Bahrain condemns Israeli settlers' storming of Al-Aqsa Mosque
• Iraq court sentences ISIS plotter of 2021 Baghdad market bombing to death
• Court jails Egyptian former presidential candidate for 15 years
--------
Mideast
• Israel's FM Says Normalization with Saudi Arabia 'Long, Cautious Process'
• Turkey's Erdoğan Not Ready to Give Up on Muslim Brotherhood
• Turkey calls on Israel to preserve status quo of Al-Aqsa Mosque
• Israel should consider 'terror' tag for Jewish extremists
• Israeli PM defends march marked by violence, racism
• Protests over deadly building collapse in Iran's southwest intensify
--------
Southeast Asia
• The Somad Affair and Singapore's Battle against Religious Extremism
• Malaysia strongly condemns Israeli incursion at Al-Aqsa mosque
• 25 missing after cargo boat sinks in Indonesia
• PM moots shariah compliance commission to regulate halal economy
--------
Pakistan
• Pakistani Senate Condemns Israel's Atrocities in Al-Aqsa Mosque
• Conference on Imam Khomeini's political thought held in Lahore
• Proceedings of conference on Islamic financing: Call for replacing interest-based banking with Shariah-compliant system
• Pakistan, Turkey support each other on all core issues, says PM ahead of visit
• Islamabad, TTP agree on indefinite ceasefire
• Punjab govt plans unprecedented security if PTI holds another march
• PM Shehbaz seeks 10-year roadmap for deepening Pak, UK ties
• Pakistan needs investments from its Chinese friends, not handouts: PM Shehbaz Sharif
--------
Africa
• Islamic Cleric, Jangebe Begs FG To Negotiate With ASUU
• Somalia warns it is facing famine-like conditions
• Bomb blast in southwestern Somalia kills 3, wounds 4
• Tunisian president slams Venice Commission over report on constitutional referendum
--------
North America
• US President Abandoned Plan to Open Consulate for Palestinians in Al-Quds
• Blinken says US strongly condemns Iran seizure of Greek-flagged vessels
• US Secretary of State thanks Saudi Arabia's FM for efforts to extend Yemen truce
Compiled by New Age Islam News Bureau
URL: https://newageislam.com/islamic-world-news/children-durga-muslim-fundamentalism/d/127142
--------
Children, Volunteers of Durga Vahini, Carrying Swords and a Muslim Child Shouting Incendiary Slogans against Hindus and Christians Are Faces of Rot Fundamentalism and Polarisation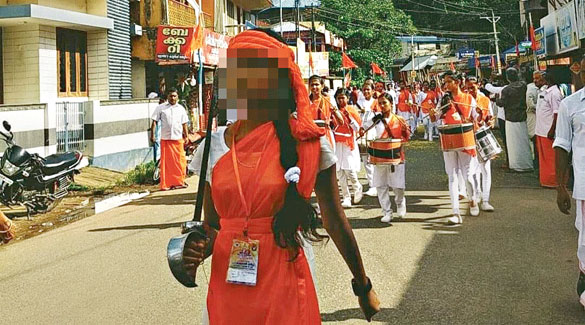 A person carrying a sword leads the Durga Vahini march near Thiruvananthapuram city on May 22. Many of those following her are carrying long sticks. (Face masked by this newspaper as it is not clear whether she is an adult or a minor)
The Telegraph
-----
K.M. Rakesh
31.05.22
Place books, not swords, in the hands of your children.
The unlikely advice to Kerala underscores the depth of the rot fundamentalism and polarisation can inflict even on a state that is considered among the most progressive in the country.
Harish Shivaramakrishnan, singer and front man of the popular band Agam, issued the appeal after the emergence of video clips that showed children carrying swords at a recent march near the capital, Thiruvananthapuram.
The marchers are said to be volunteers of the Durga Vahini, women's wing of the Vishwa Hindu Parishad.
The visuals have surfaced close on the heels of another clip that shows a child shouting incendiary slogans against Hindus and Christians at a rally in southern Kerala.
Several people have been arrested so far in connection with the offensive sloganeering, led by the child and chorused by others, at the "Save the Republic" rally held by the Popular Front of India (PFI) on May 21 in Alappuzha. The PFI, whose leaders are mostly Muslim, says it champions justice, freedom and security for all but critics describe it as an extremist outfit.
The Durga Vahini event took place a day later. The images show a march by women and young girls wearing white churidar-kameez and saffron sashes and bandannas. At least three girls at the head of the march can be seen carrying swords while the rest appear to be carrying long sticks.
Some of the marchers, including those carrying swords, seem to be minors. The video clips appear to show the girls marching to beats from an accompanying band and chanting slogans such as "Bharat Mata ki jai".
Known leaders of the Durga Vahini and the VHP did not answer calls from this newspaper.
A portal quoted a VHP leader as saying on Monday that the swords were "dummies". The leader seemed oblivious to the message such a march is spreading, regardless of the material with which the swords were purportedly made.
Kerala police have now filed a case against the Durga Vahini. Officers said the organisers had informed the local police station about their route but did not say the marchers would be carrying swords.
A source at the Aryancode police station where the FIR was registered on Monday said the march organisers and the about 200 participants had been booked under the Arms Act and several sections of the penal code.
The march was held at Keezharoor in Neyyatinkara, Thiruvananthapuram district, as the concluding part of the Durga Vahini's Shaurya Prashikshan Varg — a seven-day "valour training camp" — at the Sree Saraswathy Vidyalayam. Schools in Kerala are now closed for summer vacation.
The event became widely known after several video clips and images were circulated on social media over the weekend, prompting the police to register the FIR on their own.
The FIR invokes penal provisions under Sections 143 (unlawful assembly), 144 (unlawful assembly armed with a deadly weapon), 147 (rioting), 153 (wantonly giving provocation with intent to cause riot) and 149 (common object in unlawful assembly) apart from Section 4 of the Arms Act read with Section 25(1b)(b), which relates to possessing a deadly weapon.
Similar events are regularly held in neighbouring Karnataka where the Bajrang Dal allegedly imparted training in airgun shooting to boys at a camp in Kodagu district earlier this month.
The young volunteers also participated in a "trident initiation" where each of them was given a small trident, one of the emblems of the Sangh parivar.
Shivaramakrishnan, the singer, wrote a Facebook post saying: "Place books, not swords, in the hands of these children. Teach them about brotherhood and peace, and not revenge and hatred. Teach them to live as human beings."
Congress Lok Sabha member T.N. Prathapan blamed the CPM-led state government.
"It's clear that such dangerous demonstrations continue to take place in Kerala because of the home ministry's failure," he wrote on Facebook, directly targeting chief minister Pinarayi Vijayan who handles the portfolio.
Source: Telegraph India
Please click the following URL to read the text of the original story:
https://www.telegraphindia.com/india/swords-in-childrens-hands-that-need-books-in-kerala/cid/1867626
--------
Taliban Orders Kandahar City Transportation to Not Transport Women Without a Male Chaperone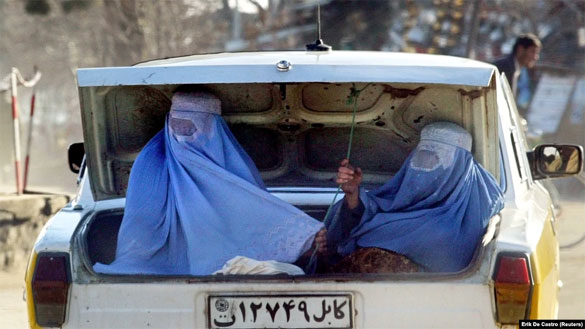 A new Taliban advisory says that women should not be offered transport for long trips unless they are accompanied by a close male relative. (file photo)
-----
By Saqalain Eqbal
30 May 2022
The Kandahar Provincial Directorate for Propagation of Virtue and Prohibition of Vice has issued a directive prohibiting single women (without male Mahrams) from being transported by the province's urban transportation.
The Kandahar provincial Director for the Ministry of Propagation of Virtue and Prohibition of Vice, Mawlawi Abdul Rahman, stated in a video released yesterday, Sunday 29th May, that women travelling alone promotes moral corruption.
He ordered Taliban fighters to stop taxis and other vehicles that disobeyed the order, adding that they would be punished and held accountable.
The Ministry of Propagation of Virtue and Prohibition of Vice's restrictive policies have prompted outrage and has taken a different approach, lately separating men's and women's dining halls in Herat.
All of this Ministry's measures are restrictive on girls' and women. If women do not wear the hijab, their male parents will be punished, according to one of the ministry's measures.
The Taliban have also ordered the female TV anchors to wear a face mask while performing on air, in addition to observing the mandatory hijab, which considers "no exception".
Source: Khaama Press
Please click the following URL to read the text of the original story:
https://www.khaama.com/taliban-orders-kandahar-city-transportation-to-not-transport-women-without-a-male-chaperone474384/
--------
Supporters of Kurdistan Workers' Party Terror Group Hold 'Ideological Training Camp' In France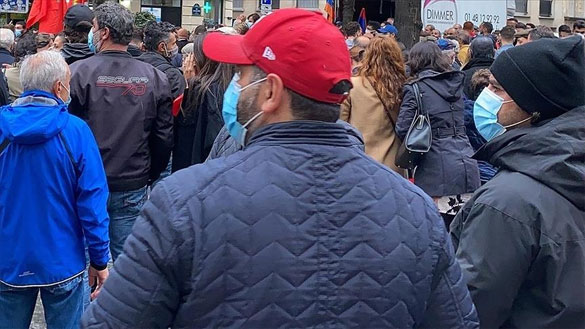 Photo: aa.com
----
Esra Taskin
30.05.2022
Supporters of the terrorist group PKK were allowed to organize an "ideological training camp" in southern France.
Images of PKK supporters holding an "ideological training camp" under the guise of a "festival/cultural event" in a green area near the city of Marseille appeared on social media.
The PKK is listed as a terrorist group by Turkiye, the US, and EU, and also by France.
In the footage, dozens of PKK sympathizers dressed in clothes representing the terrorist group march in pairs, chanting slogans with symbols of the group and posters of terrorist PKK leader Abdullah Ocalan.
Reached by Anadolu Agency, Marseille officials and police declined comment, and no official statement has been made yet regarding the images.
Turkiye's Ambassador to Paris Ali Onaner told Anadolu Agency that they contacted French authorities about the images to confirm that they were shot in France and also asked what measures were or will be taken regarding this activity by terrorist group sympathizers.
Onaner said they once again stressed that Ankara expects French authorities to put an end to PKK attacks on Turkish missions and pro-PKK activities that contain terrorist propaganda.
In its more than 35-year terror campaign against Turkiye, the PKK has been responsible for the deaths of over 40,000 people, including women, children, and infants.
Source: Anadolu Agency
Please click the following URL to read the text of the original story:
https://www.aa.com.tr/en/europe/supporters-of-pkk-terror-group-hold-ideological-training-camp-in-france/2601544
--------
'Kurdistan Workers' Party Terrorists Target Only Civilians': Father of Injured Child in Northern Iraq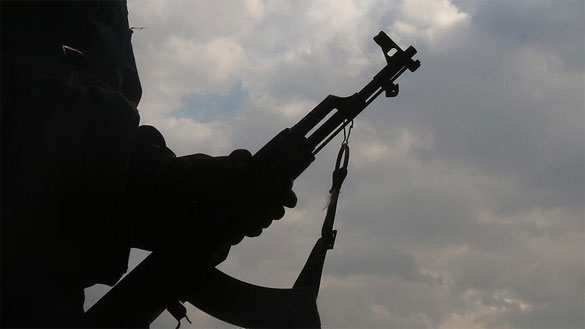 Photo: aa.com
----
30.05.2022
DUHOK, Iraq
A father of a child who was wounded in a terror attack last week in northern Iraq told Anadolu Agency that the PKK terrorist organization targets only civilians.
The PKK attack on Amedi town's Bamarni district in the Duhok province killed at least two civilians, according to local authorities.
"My child was injured in the attack organized by the PKK. ... The PKK targets only civilians," Farhad Narvayi said, adding that he expects Iraq's Kurdish Regional Government to put an end to PKK attacks in Amedi.
Narvayi said they were in their village in Bamarni at around 4.30 p.m. local time (1330GMT) when three mortar shells fired by the PKK terrorists dropped nearby.
"Two children died in the attack and my child was injured," he said.
"Everyone knows very well that the PKK is behind this. Security forces arrived on the scene and it was known that the PKK made the attack.
"The Kurdish Regional Government (in Iraq) must act seriously to stop the PKK's attacks. This is not the first time, nor will it be the last," he stressed.
Narvayi also underlined that the PKK is constantly targeting the people of the Amedi town and the stability of the region.
In its more than 35-year terror campaign against Turkiye, the PKK – listed as a terrorist organization by Turkiye, the US, and EU – has been responsible for the deaths of over 40,000 people, including women, children, and infants.
Source: Anadolu Agency
Please click the following URL to read the text of the original story:
https://www.aa.com.tr/en/middle-east/pkk-terrorists-target-only-civilians-father-of-injured-child-in-northern-iraq/2600974
--------
Zionist Attacks On Al-Aqsa Mosque Are Provocative, Message To Muslims: Al-Houthi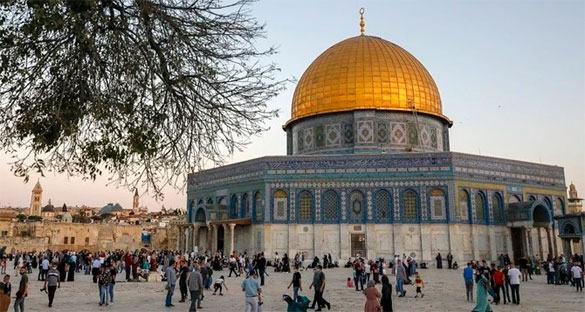 Al-Aqsa Mosque
----
May 31, 2022
Sayyed Abdul-Malik Al-Houthi affirmed on Monday that the Jewish-Zionist attacks on Al-Aqsa Mosque are provocative and sent a message to all Muslims.
Sayyed Abdul-Malik Al-Houthi said, in his speech during an extended meeting with the Dhamar tribes and sheikhs, that incursions and attacks are all preliminary steps with the goal of reaching their declared goal of demolishing Al-Aqsa Mosque.
"If the nation neglects Palestine and Al-Aqsa Mosque, that means enabling the enemy to set out with its humanity and its conspiracies for all the sons of the nation," he stressed.
Sayyed al-Houthi pointed out that the Jews have a policy of taming and preparing for any dangerous step in terms of its importance and provocation to the Islamic nation they prepare the atmosphere for that.
He stated that the Emirati and Saudi appeared carrying the banner of hypocrisy and moved in the region under the title of normalization with the Zionist enemy, stressing that the aggression coalition against Yemen came in the context of empowering the Israeli enemy and removing everything that represents an obstacle and a problem in front of it.
The leader of Ansarullah said that the Israeli enemy pushed the stupid hypocrites to attack Yemen under other headings, and they spend the high costs.
"We have announced with all sincerity that we are part of the equation announced by Sayyed Hassan Nasrallah and will be among those present to have a position of fighting for the sake of Allah," He added.
Source: ABNA24
Please click the following URL to read the text of the original story:
https://en.abna24.com/news//zionist-attacks-on-al-aqsa-mosque-are-provocative-message-to-muslims-al-houthi_1262421.html
--------
India
Do not instigate Muslims, desist from creating communal disharmony: VHP to Jamiat
30th May 2022
NEW DELHI: Slamming the Jamiat Ulema-e-Hind that has raised concerns over the alleged spread of communalism, the Vishva Hindu Parishad on Monday said Muslim leaders should not instigate their community and desist from creating communal disharmony by spreading "false stories" of atrocities on Muslims.
The VHP's attack came after the Jamiat accused the BJP government of protecting people engaged in poisoning the majority community's mind in the country.
It also expressed concern over the alleged spread of communalism.
Hitting out at Jamiat leaders Maulana Mahmood Madani and Badruddin Ajmal, senior Vishva Hindu Parishad (VHP) leader Surendra Jain alleged that radical leaders like them had tried to instigate the Muslim society once again by raising the slogan that "Muslims are suffering in India" at a conference in Deoband.
The Muslim Personal Law Board and radical leaders from Kashmir to Kerala have come together to challenge the Constitution, the judiciary and the Hindu society to implement their "separatist agenda", he said.
"It is India's misfortune that till a few years back, Muslim appeasement was the focus of India's politics. Radical leaders have been blackmailing Indian politicians to get their illegitimate demands accepted," Jain said.
The consent of the Congress leaders for the partition of India was the result of this blackmail politics, he claimed.
"But for some years the centre of Indian politics is not the Muslim vote bank or the Shariat, but the Constitution of India. That's why they are creating communal disharmony in the country by spreading false stories of atrocities on Muslims," Jain said in a video statement.
Jamiat chief Mahmood Madani Sunday said those who ask Muslims to leave the country should leave themselves.
According to a statement issued by the organisation, Madani objected to the plans of some states to implement a Uniform Civil Code.
The former Rajya Sabha member was addressing the annual two-day session of the Jamiat's management committee in Uttar Pradesh's Deoband.
He urged people to take along those who care for nation-building.
"We have to defeat the merchants of hate with wisdom, courage and a long-term strategy," he said.
"We will not leave this country, those who want to send us out should themselves leave."
According to the statement, Jamiat Ulema-e-Hind's Assam unit president and Lok Sabha member Maulana Badruddin Ajmal criticised the government over various issues and said the "silence of Muslims should not be taken as weakness".
The organisation also passed resolutions on the Gyanvapi Masjid case of Varanasi, the Shahi Idgah mosque dispute of Mathura and Uniform Civil Code, urging all Muslims to shun fear and despair, and work for the betterment of their future.
Source: New Indian Express
Please click the following URL to read the full text of the original story:
https://www.newindianexpress.com/nation/2022/may/30/do-not-instigate-muslims-desist-from-creating-communal-disharmony-vhp-to-jamiat-2459760.html
--------
Delhi: Jama Masjid finial, minaret stones fall off; Shahi Imam to approach PM Narendra Modi
May 31, 2022
NEW DELHI: High-intensity wind and lashing rain on Monday damaged the finial of the main dome of Jama Masjid and several stones came off minarets and other parts of the historic mosque, injuring at least two persons.
The Shahi Imam of Jama Masjid, Syed Ahmed Bukhari said, "The kalas (finial) of the main dome fell off. It needs urgent repair to prevent further damages. Some stones of the mosque structure also loosened and fell off."
Bukhari said he would write to Prime Minister Narendra Modi and the director general of Archaeological Survey of India for immediate repair of the mosque. The finial, said officials, weighed around 300kg.
Officials of Delhi Waqf Board, which looks after the mosque, said they had deputed a team to inspect the mosque and assess the damages. "It is difficult to repair and fix the finial back. We will take a decision after the damage is fully assessed," said an official.
Source: Times Of India
Please click the following URL to read the full text of the original story:
https://timesofindia.indiatimes.com/city/delhi/jama-masjid-finial-minaret-stones-fall-off-shahi-imam-to-approach-pm/articleshow/91900191.cms
--------
4 Years On, Decks Cleared For First Muslim J&K High Court HC Judge From Jammu
By Utkarsh Anand
May 31, 2022
The Union government has approved the oldest pending recommendation of the Supreme Court collegium, clearing the decks for the appointment of Wasim Sadiq Nargal as the first Muslim judge from Jammu in the J&K high court, people familiar with the matter said on condition of anonymity.
Following a nod from the Union law ministry, senior advocate Nargal, whose name was first cleared by the Jammu & Kashmir high court collegium in August 2017 and who was later recommended by the Supreme Court collegium in April 2018, is finally set to be appointed as a judge, the people added.
President Ram Nath Kovind is expected to put his seal of approval on Nargal's appointment soon, and the official notification for his appointment could be out as early as this week, the people said.
With the approval of Nargal's name, the Centre has cleared the longest pending name recommended and reiterated by the Supreme Court collegium for appointment as a judge. The only other recommendation that comes close to it relates to pendency of five names for appointment in the Calcutta high court that were recommended by the collegium in July 2019. Despite reiteration by the collegium in September 2021, they are yet to be approved.
The memorandum of procedure (MoP), which guides the appointment of judges in the higher judiciary lays down that the government is bound by the decision of the collegium after the names are reiterated. MoP, however, does not prescribe a deadline for the government to notify appointments.
Nargal was one of five names recommended for elevation by the Jammu and Kashmir high court collegium on August 24, 2017. The Supreme Court collegium also ratified the high court's recommendation regarding Nargal on April 6, 2018, and forwarded the name to the Union law ministry. But the Centre returned Nargal's name after sitting on it for a few months. It urged the collegium to reconsider Nargal's name for the judgeship but did not provide reasons for its request.
In January 2019, the collegium asked the government to furnish specific information on the basis of which the reconsideration was being sought.
At its meeting on January 16, 2019, the collegium headed by then Chief Justice of India Ranjan Gogoi said: "As regards Shri Wasim Sadiq Nargal, Advocate, consideration of the proposal for his elevation is deferred for the present. Meanwhile, Department of Justice be requested to furnish specific information in detail on the basis of which the proposal for elevation of Shri Nargal has been referred back for reconsideration by the collegium."
In July 2019 justice Gogoi further wrote to the government on 10 recommendations, including that of Nargal, with respect of which pertinent information was still awaited from the government.
Finally, the apex court collegium reiterated Nargal's name in February 2020. But the government, for the third time, asked the collegium to reconsider. Rejecting all objections, the collegium sent back Nargal's name again in March 2021.
After sitting over Nargal's name since March 2021, the government has finally cleared his appointment as a judge in the J&K high court, the people cited in the first instance said. With Nargal's appointment, the strength of the judges in the high court of Jammu & Kashmir and Ladakh will go up to 16, against its sanctioned strength of 17 judges.
Nargal, who has around three decades of experience as a lawyer, was appointed senior additional advocate general of Jammu and Kashmir in February 2017 and handled cases related to the Home Department, including the Information Department under the BJP-PDP government. Earlier, from September 2015 until November 2016, he served as an additional advocate general in the state.
Nargal was 49 when his name was recommended by the Supreme Court for elevation. A timely elevation would have brought Nargal in the zone of a potential chief justice of a high court by virtue of seniority.
Source: Hindustan Times
Please click the following URL to read the full text of the original story:
https://www.hindustantimes.com/india-news/4-years-on-decks-cleared-for-first-muslim-hc-judge-from-jammu-101653936720220.html
--------
Legal Expert Faizan Mustafa Calls For Flexibility In Shariah Law; Maulana Rahmani Ticks Him Off
JS Ifthekhar
30th May 2022
Hyderabad: What happens when a legal expert and a specialist of theology come together? Sparks are bound to fly. And that's what exactly happened the other day with Prof. Faizan Mustafa, Vice Chancellor, NALSAR Law University and Maulana Khalid Saifullah Rahmani, Secretary, Muslim Personal Law Board, sharing the dais at a book launch programme. No, they did not spar. But each held on to his position on what is modern law and what is Shariah and Fiqh (Islamic jurisprudence).
Soon after Mustafa completed his address, the Maulana intervened to what he believed setting the record straight. Without mincing words he explained the Shariah position and mildly ticked off the VC for his interpretation of Hadith and Fiqh. "He might have said these things with sincerity but one can commit a mistake even being sincere," Maulana Rahmani remarked.
Then he put the question to the audience and wanted to know, being Muslims, whether they considered the law of Parliament supreme or the command of Allah and His Messenger? Everyone said in one voice that they would abide by the divine command.
The occasion was the launch of the book – Answers By Prophet Mohammad, A Ready Reckoner compiled by Mohammad Abdul Rahim, a retired Doordarshan engineer. Dr. Rashid Naseem Nadvi, Professor of Arabic, EFLU, was also present.
Earlier in his speech, Mustafa said in the compilation of Hadith (the sayings of Prophet) lot of focus was given on the narrators and not on the content. Not much critical evaluation was done. Many things had crept in the Hadith literature which a court of law sees differently. Religious books and scriptures–be they of Hindu religion, Christianity or Jainism–should not be read like Articles of modern law. It would be wrong to read a verse of the Quran like Article 14 of Constitution or Section 10 of the Contract Act. Hadith is not a book of law. It is a comprehensive book containing many things — stories, principles, morals. But it is definitely not enacted by any Parliament — Indian, British or American. "Hadiths are the source of law and not law themselves. Law is extracted from it," Mustafa explained.
There is a methodology of reading law and it is different from that of the study of Hadith. As such there is a lot of confusion when they are quoted in the court of law. Translations of Quran and Hadith presented to court are not of good standard and this had a bearing on the verdict. In this connection he cited the recent court verdicts in respect of triple talaq, hijab and age of marriage.
There is some confusion over the authenticity of Hadith. The kind of research required is not done. The language used to translate them is not modern. "We can't win cases on the basis of theology but law," the NALSAR University VC said. He cautioned against taking Hadith or a verse of Quran as a modern enacted statutory law since they are two different things. "You can't play football with the rules of cricket," he said.
He cited some incidents of the Prophet's life and said how the marriage of a couple was dissolved on the evidence of a woman who said she had breastfed both the man and women when they were children. "On the basis of single uncorroborated evidence the marriage was dissolved," he remarked. In the same vein he wondered whether the Hadith literature quoted by Hazrath Ayesha, the Prophet's wife, would be given half value since a woman's evidence is considered half to that of man's.
Stating that sin and crime were two different things, he said sin was concerned with theology and not law. Today adultery has been decriminalised by the court. But nevertheless it remained a sin. Not just sin it will have legal consequences too. If a husband or wife is involved in adultery it would become the ground for divorce.
Mustafa wanted Ulema to understand the principles of modern law and change the language of fiqh. Till then the confusion would prevail. For this he wanted the Ulema and law experts to sit together and sort out the matter. He further referred to the inbuilt flexibility in the Shariat Application Act and wanted Muslims to end rigidity to solve issues.
Maulana Rahmani said Shariah laws drawn from Quran and Hadith were supreme and they couldn't be subordinate to any other law. There is no scope for change in them as they are 'up-to-date' till eternity. But ijtehad (independent reasoning) is different and there could be a change in it, if needed. He agreed with the suggestion that Ulema needed to know about the Indian Constitution and modern laws and judges and lawyers about Shariah laws.
Referring to the recent court judgments, Maulana Rahmani said they were devoid of justice most of the time since the opinion of Ulema was not being taken. The judiciary was familiar with the law of the land but it had no knowledge of Shariah. Therefore, it is necessary that the views of Ulema are taken when the issue involves the community. In this connection he recalled how the Muslim Personal Law Board was not in agreement with the Shah Banu judgement which was in conflict with Shariah.
Referring to the just released Hadith book, he said the Prophet of Islam encouraged questioning as it was a source of learning. Everybody questioned and a special session was earmarked for women to ask questions and seek clarification. No other religion encouraged its followers to question.
Source: Siasat Daily
Please click the following URL to read the full text of the original story:
https://www.siasat.com/legal-expert-faizan-mustafa-calls-for-flexibility-in-shariah-law-maulana-rahmani-ticks-him-off-2337856/
--------
BJP May Have No Muslim Face In Parliament After Rajya Sabha List
May 31, 2022
New Delhi: The BJP will soon have no Muslim MPs in either house of the parliament. The ruling party has three parliamentarians in the Rajya Sabha and none in the lower house. However, with the tenure of the three upper house representatives coming to an end and the party not having nominated any Muslim candidate for the upcoming elections, BJP may not have any Muslim MPs.
The three BJP MPs in the Rajya Sabha -- Mukhtar Abbas Naqvi, Syed Zafar Islam, and MJ Akbar -- are completing their tenures soon but haven't been renominated. The party has announced 22 candidates for the upper house elections to be held on June 10, and none of them is a Muslim.
Mr Naqvi, who is the Minority Affairs Minister, will lose his cabinet seat if he doesn't get elected as an MP in the six months after his tenure gets over on July 7. Sources say he might be BJP's candidate in the byelections for the Rampur Lok Sabha constituency in Uttar Pradesh.
The Rampur Lok Sabha seat was vacated by Samajwadi Party leader Azam Khan who has been elected to the legislative assembly. The by-poll on Azamgarh and Rampur Lok Sabha seats will be held on June 23.
Mr Islam completes his term on July 4 and Mr Akbar on June 29.
The President has the authority to nominate 12 MPs to Rajya Sabha and currently, there are seven vacancies in the nominated category. The BJP might try to get a prominent Muslim leader nominated to the upper house through this route.
Source: ND TV
Please click the following URL to read the full text of the original story:
https://www.ndtv.com/india-news/bjp-might-not-have-any-muslim-mps-as-3-set-to-end-term-not-renominated-3024482
--------
Gyanvapi Mosque Panel, Anjuman Intezamia Masajid, Urges Varanasi Court To Reject Suit, Next Hearing In July
Lalmani Verma | Varanasi
May 31, 2022
The Anjuman Intezamia Masajid, the committee that manages the Gyanvapi mosque, urged the Varanasi district court on Monday to dismiss the petition of women seeking the right to worship Maa Shringar Gauri on the outer wall of the mosque complex, saying the women's suit filed in "individual capacity" could not apply to their "prayer for all Hindus and Hindu religion followers".
The matter will be heard next on July 4 when the mosque committee, which has challenged the maintainability of the suit, resumes its argument. While flagging what it called the "wrong rule" under which the suit had been filed, it also claimed that the petitioners did not provide details of a 1936 ruling on the Muslim right to offer namaz at the mosque.
Contesting the maintainability of the suit filed by five Hindu women, Abhay Nath Yadav, counsel for Anjuman Intezamia Masajid, said the petitioners have filed the suit in their individual capacity. "But after reading their entire suit, it is clear that they have made a prayer for all Hindus and Hindu religion followers. Such a suit cannot be filed in individual capacity. Such a matter is filed as a public suit. Also, before filing any public suit, one needs permission from the court. Hence, I argued that the suit of the five women should be dismissed," he said.
In their petition, the women, he said, had referred to Deen Mohammad's civil suit of 1936 and stated that 12 witnesses in that case had proved that Shringar Gauri and other deities were being worshipped there, that it was a temple.
"They have mentioned the statement of witnesses to strengthen their case, but they have not mentioned the order passed by the court in the case of Deen Mohammad… In the Deen Mohammad case, the judgment was that the mosque, its courtyard and its land were Wakf properties of Hanafi Muslims. Also, Muslims have the right to practice Urs and perform religious activities like offering namaz there… But they (petitioners) hide that important fact. I argued that in the court," Yadav said.
He made his submissions over two hours in the court of District Judge Ajaya Krishna Vishvesha who is hearing the matter following directions from the Supreme Court.
"Our arguments have not been completed. The next date of hearing is July 4, and our arguments will continue on that date," Yadav said.
District Government Counsel (Civil) Mahendra Prasad Pandey too said that the mosque committee counsel will continue arguments on July 4, the next date of hearing.
The counsel for the five women petitioners will then make their submission in support of the maintainability of their suit.
Meanwhile, a fast track court Monday listed for July 8 a petition seeking permission to worship a Shivling claimed to have been found in the Gyanvapi complex during a videography survey, and prevent the entry of Muslims there.
In the suit, the petitioner has also sought that the entire complex be turned over to Hindus.
Advocate Shivam Gaur filed the suit on behalf of Kiran Singh, international general secretary of the Vishwa Vedic Sanatan Sangh.
Gaur said the court directed the mosque committee and other respondents to file their objections to the application. He said the hearing in the matter will take place on July 8.
Source: Indian Express
Please click the following URL to read the full text of the original story:
https://indianexpress.com/article/cities/lucknow/gyanvapi-mosque-panel-urges-varanasi-court-to-reject-suit-next-hearing-in-july-7944521/
--------
J&K: Migrant Kashmiri Pandit teacher shot dead by terrorists in Kulgam district
May 31, 2022
NEW DELHI: A migrant Kashmiri Pandit high school teacher was shot dead by the terrorists in the Kulgam district of Jammu and Kashmir on Tuesday.
Rajni Bala (36), a Hindu and resident of Samba (Jammu division), sustained injuries when terrorists fired at her in Gopalpora area of Kulgam where she was posted as a teacher, police said.
An injured Bala was rushed to a nearby hospital, where doctors declared her dead on arrival, the officials said.
"The terrorists involved in this gruesome terror crime will be soon identified and neutralised," the police said. Meanwhile, the entire area attack has been cordoned off to nab the assassins.
Meanwhile, former Jammu and Kashmir chief minister and National Conference leader Omar Abdullah took to Twitter and condoled the teacher's death saying, "Rajni was from Samba District of Jammu province. A government teacher working in Kulgam area of South Kashmir, she lost her life in a despicable targeted attack. My heart goes out to her husband Raj Kumar & the rest of her family. Another home irreparably damaged by violence.
Very sad. This is yet another targeted killing in a long list of recent attacks directed at unarmed civilians. Word… https://t.co/tUPHb9Uutp
— Omar Abdullah (@OmarAbdullah) 1653974910000
This is the second killing of a Kashmiri Pandit in the month of May. Earlier this month, two civilians – including Kashmiri Pandit employee Rahul Bhat -- and three off-duty policemen were killed in Kashmir by the terrorists.
Source: Times Of India
Please click the following URL to read the full text of the original story:
https://timesofindia.indiatimes.com/india/terror-attack-in-jk-teacher-shot-at-in-kulgam-district/articleshow/91907479.cms
--------
Two terrorists killed in encounter in Jammu and Kashmir's Awantipora
May 31, 2022
SRINAGAR: Two local terrorists were killed in an encounter with security forces on Tuesday in the Pulwama district of Jammu and Kashmir, police said.
The encounter broke out at Rajpora in the Awantipora area of Pulwama district late on Monday night after security forces launched an anti-militancy operation, a police official said.
Two local terrorists were killed in the gun battle. Two AK rifles and incriminating material were seized from the scene of the encounter, he said.
Inspector General of Police, Kashmir zone, Vijay Kumar said the slain duo were involved in killing civilians, including a government employee.
Source: Times Of India
Please click the following URL to read the full text of the original story:
https://timesofindia.indiatimes.com/india/two-terrorists-killed-in-encounter-in-jammu-and-kashmirs-awantipora/articleshow/91905545.cms
--------
South Asia
Taliban crackdown on journalists continues, another Afghan scribe disappears in Kabul
31 May, 2022
Washington DC [US], May 31 (ANI): Raising concerns about the increasing human rights issues in Afghanistan, the Committee to Protect Journalists (CPJ) has said the Taliban must investigate the disappearance of journalist Ali Akbar Khairkhah and ensure that local officials allow female journalists to do their jobs without interference.
On Tuesday, Khairkhah, a photojournalist and reporter with the local Subhe Kabul newspaper, disappeared from the Kote Sangi area of District 5 in the capital of Kabul, according to his nephew Mohammad Abbasi, who spoke to CPJ in a phone interview, and media reports.
Khairkhah told his family that he was going to the area to report and would attend his evening university classes, his nephew said, adding that his uncle did not attend the classes and they could not find any information about him in the hospitals, police districts, or the Kabul police command.
In a separate incident, on May 19, Naimulhaq Haqqani, the Taliban's director of information and culture in western Herat province, told his personal assistant to expel Marjan Wafa, a reporter with the independent local Radio Killid station, from his press conference, according to CPJ.
Wafa, the only female journalist at the press conference, reportedly was complying with the Taliban's dress code by wearing a face covering that exposed only her eyes. Haqqani's personal assistant did not give her any reason for the order to leave.
Wafa's expulsion came amid a broader crackdown on women reporters, with Taliban ministries ordering female TV journalists to wear masks while on air.
"The disappearance of journalist Ali Abar Kharikhah in Kabul and the expulsion of female reporter Marjan Wafa from a press conference in Herat add to growing concerns about the dangers and abuse journalists face in Afghanistan under Taliban rule," said CPJ Asia Program Coordinator Steven Butler.
Source: The Print
Please click the following URL to read the full text of the original story:
https://theprint.in/world/taliban-crackdown-on-journalists-continues-another-afghan-scribe-disappears-in-kabul/977149/
--------
UNICEF: 1.1 million Afghan children expected to suffer severe acute malnutrition
May 31, 2022
In Afghanistan, 1.1 million children under the age of 5 will likely face the most severe form of malnutrition this year, according to the U.N., as increasing numbers of hungry, wasting-away children are brought into hospital wards.
U.N. and other aid agencies were able to stave off outright famine after the Taliban takeover of Afghanistan last year, rolling out a massive emergency aid program that fed millions.
But they are struggling to keep pace with relentlessly worsening conditions. Poverty is spiraling and making more Afghans in need of aid, global food prices are mounting from the war in Ukraine and promises of international funding so far are not coming through, according to an assessment report issued this month.
As a result, the vulnerable are falling victim, including children but also mothers struggling to feed themselves along with their families.
Nazia said she had lost four children to malnutrition — two daughters and two sons under 2 years old. "All four died due to financial problems and poverty," the 30-year-old Nazia said. When her children fell ill, she didn't have the money to treat them.
Nazia spoke to The Associated Press at Charakar Hospital in the northern province of Parwan, where she and her 7-month-old daughter were both being treated for malnutrition. Her husband is a day laborer but is also a drug addict and rarely brings in an income, she said. Like many Afghans, she uses only one name.
UNICEF, the U.N. children's agency, said 1.1 million children this year are expected to suffer from severe acute malnutrition, also known as severe wasting, nearly double the number in 2018 and up from just under 1 million last year.
Severe wasting is the most lethal type of malnutrition, in which food is so lacking that a child's immune system is compromised, according to UNICEF. They become vulnerable to multiple bouts of disease and eventually they become so weak they can't absorb nutrients.
The numbers of children under 5 being admitted into health facilities with severe acute malnutrition have steadily mounted, from 16,000 in March 2020 to 18,000 in March 2021, then leaping to 28,000 in March 2022, the UNICEF representative in Afghanistan, Mohamed Ag Ayoya, wrote in a tweet last week.
Hit by one of its worst droughts in decades and torn by years of war, Afghanistan was already facing a hunger emergency; but the Taliban takeover in August threw the country into crisis. Many development agencies pulled out and international sanctions cut off billions in finances for the government, collapsing the economy.
Millions were plunged into poverty, struggling to afford food for their families. By the end of last year, half the population of around 38 million lived under the poverty line, according to U.N. figures. As the economy continues to crumble and prices mount, that could rise this year to as high as 97% of the population by mid-2022, according to the U.N. Development Program.
Because of poverty, "mothers do not have proper nutrition during pregnancy, and are not able to eat properly after birth, said Mohammad Sharif, a doctor at Charakar hospital.
At the Mirwais Hospital in southern Kandahar province, 1,100 children with malnutrition have been admitted in the past six months, 30 of whom died, said Dr. Mohammad Sediq, head of the children's ward.
One mother, Kobra, said she had been unable to breastfeed her 6-month-old child. "He is constantly losing weight and cries a lot, I know it is all because of hunger, but I can't do anything" she said.
At her home in an impoverished district of Kandahar city, Jamila said her 8-month-old son died last month after being diagnosed with severe malnutrition. If she doesn't get help, she fears for her other four children, she said.
"The government hasn't helped us at all, no one has asked us if we are hungry or have something to eat or not," she said.
U.N. agencies launched a massive, accelerated aid program after the Taliban takeover, ramping up to a point that they now deliver food assistance to 38% of the population.
The number of people facing acute food insecurity fell slightly from 22.8 million late last year to 19.7 million currently, according to a May report by IPC, a partnership among U.N. and other agencies that assesses food security. From June to November this year, that number is expected to fall a little further, to 18.9 million, IPC said.
But those small reductions "are far from indicating a positive trend," it warned.
The decrease was low compared to the scale of the aid, it said. Moreover, deteriorating conditions threaten to overwhelm the effort. It pointed to the continued crumbling of the economy, higher food and fuel prices and supply disruptions caused by the Ukraine war, and "unprecedented inflation" in Afghanistan.
Meanwhile, lack of funding threatens aid's reach. The proportion of the population receiving food aid could plummet to only 8% over the next six months because so far only $601 million of the $4.4 billion needed has been received from the world community, the IPC said. Just over $2 billion has been pledged.
Melanie Galvin, chief of UNICEF's nutrition program in Afghanistan, said the 1.1 million children figure came from the agency's annual assessment, conducted last fall and based on expected conditions.
"Every year, all the factors connected to malnutrition keep going up," she told the AP. It just keeps going up and up in terms of a deteriorating situation.
Drought has been the main driver of food insecurity, she said, compounded by growing poverty, lack of access to clean water and to medical care, need for greater vaccination for diseases like measles that hit malnourished children.
Source: ABNA24
Please click the following URL to read the full text of the original story:
https://en.abna24.com/news//unicef-1-1-million-afghan-children-expected-to-suffer-severe-acute-malnutrition_1262439.html
--------
Qatar Warns Western Countries: Taliban Sanctions Increase Extremism
By Saqalain Eqbal
30 May 2022
Qatar has pressed the West to strengthen its engagement with the Taliban, stressing that if it does not, Afghanistan will descend into instability and extremism.
Sheikh Mohammed bin Abdulrahman al-Thani, Qatar's foreign minister, has said that keeping the status quo "where the west boycotts Afghanistan and just focuses on part of the humanitarian activities through international agencies" would not keep "Afghanistan intact."
He told the Financial Times, "We will see maybe a rise of extremism." "We will start to see an economic crisis, which has already started, and this will just drive the people to more radicalisation and conflict," he added.
Qatar is one of the few countries that deals with the Taliban, and Al-Thani justified Qatar's approach to the Taliban by claiming that isolating the Taliban exacerbates extremism, which is "what [Qatar is] trying to avoid."
He also condemned the Taliban's attitude and actions toward women, claiming that such extremist behavior would not have occurred if the international community had dealt harshly with the Taliban following the withdrawal of US soldiers from Afghanistan.
Qatar is a key country in the relationship between the Taliban and Western communities, and the United States and the Taliban signed a peace pact in Doha, Qatar's capital.
According to Al-Thani, the Taliban maintains a relationship with Western communities through Qatar, but Western policy toward the Taliban remains uncertain.
He urged Western governments to collaborate with the Taliban, particularly in the economic sector, to increase employment in Afghanistan following capacity building.
The Taliban are in total political, cultural, economic, and diplomatic isolation, as they were in the past decades.
Source: Khaama Press
Please click the following URL to read the full text of the original story:
https://www.khaama.com/qatar-warns-western-countries-taliban-sanctions-increase-extremism67483/
--------
The Taliban Bans Coal-laden vehicles from Passing Through the Torkham Border Crossing
By Saqalain Eqbal
30 May 2022
The Taliban's Ministry of Finance has announced that coal trucks are being stopped at the Torkham border in Nangarhar province.
According to a statement released Monday, 30th May, the decision was made to prevent fresh fruit from spoiling at the Torkham crossing.
According to the ministry, the transportation of coal trucks during this season, when fresh fruits are exported to Pakistan via the Torkham border crossing, causes congestion and causes the fruits to rot.
Coal trucks will pass through Paktika, Paktia, and Khost provinces, according to the Taliban Ministry of Finance.
The Taliban have relatively good relations with Pakistan, Afghanistan's southern neighbor, which has resulted in the export of Afghan goods abroad, even as the country's most catastrophic humanitarian crisis has cast a pall over the people's lives.
According to the United Nations, one in every two Afghans does not know where their next meal would come from.
Source: Khaama Press
Please click the following URL to read the full text of the original story:
https://www.khaama.com/the-taliban-bans-coal-laden-vehicles-from-passing-through-the-torkham-border-crossing57494/
--------
Thomas West Meets with the Representatives of Afghan Political Parties in Turkey
By Saqalain Eqbal
30 May 2022
Thomas West, the US Special Representative for Afghanistan, met with representatives of a number of Afghan political parties in Turkey, including members of the Supreme Council of National Resistance for the Salvation of Afghanistan, Afghan women, and civil society.
Representative West met with representatives of the parties to discuss Afghanistan issues, according to Mohammad Mohaqqeq, the leader of the People's Islamic Unity Party of Afghanistan and a member of the Resistance Council, who stated on his Facebook page on Sunday, May 29.
He further wrote that the meeting's focus was on reaching a comprehensive administration through dialogue and political agreement on the Afghan people's achievements and rights.
A meeting in Turkey was recently convened by a number of politicians establishing the Supreme Council of National Resistance for the Salvation of Afghanistan.
The meeting concluded with a declaration stating that the Taliban should not continue to destroy Afghanistan and should instead negotiate a solution.
According to political figures, no group has been able to establish long-term rule in Afghanistan through force or pressure. They continued by stating that they were attempting to form an inclusive administration in Afghanistan through dialogue, and that if that failed, they would consider the military option.
The Taliban, on the other hand, have recently established a commission to return political figures and have stated that a Loya Jirga will be held soon. The Supreme Council of National Resistance for the Salvation of Afghanistan, on the other hand, referred to the Taliban's actions as a "ploy".
Source: Khaama Press
Please click the following URL to read the full text of the original story:
https://www.khaama.com/thomas-west-meets-with-the-representatives-of-afghan-political-parties-in-turkey68374/
--------
Europe
As Islamophobia rise in France, many Muslims leaving the country
May 31, 2022
With Islamophobia on the rise in politics and on the street, many Muslims are leaving France. Muslim women are very often the driving force behind the departure of an entire family because many cannot find work in France that matches their skills and training.
"I didn't feel at home there anymore," said Bilal, 27, without a moment's hesitation, when asked why he and his wife, Rahma, left France two years ago.
Since then, the couple, of Algerian and Tunisian descent, have settled in Istanbul, Turkey.
"I was born in France, I had only been to Algeria a couple of times on holiday. I don't even speak Arabic! I'm French historically and culturally, but I felt I was seen as less than a fully fledged citizen," Bilal told Middle East Eye.
When he thinks back to his day-to-day life in France, Bilal recalls his constant fear of being viewed as an outsider.
One time in particular that sticks in his memory was the day when his line manager told him his employment had been a source of debate among the staff.
The reason? He was an Arab with a beard.
"I was tired of being obliged to work twice as hard to prove myself," he said. "And honestly, it didn't always work out."
More and more departures
Fateh Kimouche is the founder of the website Al Kanz, a platform for French Muslim consumers.
"You see, it's like when you love a woman but you can't live with her anymore," said Kimouche, in reference to the growing numbers of his fellow Muslims leaving France.
In his community, Kimouche is now seeing entire families leaving the country.
"It's a silent exodus. These people all say the same thing: I love France but I'm leaving. Their primary motivation is escaping the climate of Islamophobia. It's a stressful way to live," he said.
In 2021, the French interior ministry recorded 171 Islamophobic attacks, an increase of 32 percent in just one year.
In parallel, attacks against other religions have fallen, with, for example, antisemitic attacks down by 15 percent.
As collecting ethnic data remains banned in France, it is impossible to measure with any degree of accuracy the number of Muslims leaving the country.
But Michel Pham, creator of Muslim Expat, a website supporting French-speaking Muslims living overseas, sees a clear trend emerging. "Right now, our websites are getting about 7,000 visits per month," he said. "And enquiries are increasing in number."
On the website discussion board, the most common questions asked concern the living conditions in countries such as the UK, Canada, Turkey, and the United Arab Emirates.
"You may be surprised to know that, despite it being the heart of Islam, very few people want to go and live in Saudi Arabia," said Pham.
"They don't really have the infrastructure to attract families, there are no parks for the children… Plus, Muslims leaving France are looking to go somewhere that at least gives everyone their basic rights."
Women particularly targeted
Muslim women are very often the driving force behind the departure of an entire family because many cannot find work in France that matches their skills and training.
In an interview with Lallab, a feminist association, sociologist Fatiha Ajbli said that Muslim women face a dilemma of "choosing between the freedom of working as a French woman and the freedom of wearing the hijab as a Muslim woman".
These two freedoms sit uneasily together in French society, where the secularism principle is often interpreted restrictively.
In constitutionally secular France, public sector employees are not allowed to wear religious symbols, including the hijab.
Although this does not apply to workers with private companies, these can still legally prohibit the wearing of the hijab as long as it is for hygiene or safety reasons and, in practice, very few companies at present will agree to employ women wearing the hijab.
"When I lived in France, I applied for a job in a public hospital. The first question I was asked during the interview was 'are you going to take off your hijab?'" Diaba, a 39-year-old nurse, told MEE.
"There was me thinking they were short-staffed," she said, scornfully, from her home in Quebec, where she immigrated eight years ago, an easy choice, especially financially, since she earns twice the salary of her French counterparts.
"Of course, I miss my family and my friends. But when I watch the French news channels, I tell myself I did the right thing by leaving."
Brain drain
In Istanbul, Bilal and Rahma are now running several businesses, including a training company providing online English courses.
Rahma has also launched a YouTube channel, with nearly 35,000 subscribers, which she uses to talk about her day-to-day life in Turkey. Their one-and-a-half-year-old daughter was born there.
"It's extremely important to me that she doesn't have to deal with being eyed with suspicion because of her religion. That kind of thing leaves its mark on you," said the 25-year-old French woman.
"If one day she decides to wear the headscarf, I don't want her getting reproving looks. People don't realise how humiliating it is to have to, for example, remove your headscarf to go into a school or a college. If she takes it off, I want it always to be her choice."
Since Article L-141-5-1 was introduced into the French Education Code on 15 March 2004, children at public schools and colleges have been prohibited from wearing "conspicuous" religious symbols.
The young couple have left France, but this does not mean they have entirely escaped anti-Muslim racism. On social media, where they are highly active, they still receive very regular hate mail.
"Yesterday, someone posted a comment on one of my videos. A single word: 'cockroach'. I asked them to explain. His answer was, 'you, cockroaches, you don't know how to integrate!'" Rahma said.
Medhi, 42, has been living in London for 11 years and has no intention of returning to France.
"From the moment I stepped off the Eurostar in 2011, it became obvious to me that religious symbols are not synonymous with tension. In the street, I walked past policewomen wearing the hijab," the football agent said.
"Things in France are going from bad to worse. The language used during the presidential campaign reached an intolerable level of violence. I wouldn't go back for a million euros."
It seems that many of the Muslims leaving their home country are highly qualified. But for these young people, expatriation is first and foremost a way of breathing new life into their careers.
Source: ABNA24
Please click the following URL to read the full text of the original story:
https://en.abna24.com/news//as-islamophobia-rise-in-france-many-muslims-leaving-the-country_1262499.html
--------
Mount Gambier Mosque in South Australia Welcomed People Of All Faiths
May 31, 2022
The Mount Gambier Mosque in South Australia welcomed people of all faiths through their doors earlier this month.
The mosque held an open day recently to give locals a chance to see the building, and learn more about Islam.
They were invited to look through the mosque, enjoy some good food and observe the afternoon prayer.
Secretary of the Islamic Council of SA Adnan Abu-Ajemieh said they had been trying to hold the event for several years, ever since the the mosque opened two years ago, but they were unable to due to Covid.
"We opened it up for the wider community so they can come and see what is happening inside the mosque, observe the prayer and share the ideas and explain the beliefs of Muslims and share some food and culture as well," he said.
"It's a good initiative to build bridges with the wider community; sometimes there are some misconceptions about Islam and the community and sometimes we feel that our communities are isolated from each other, so we are trying to build these bridges with the wider community."
Prior to the opening of the mosque, the community shared facilities with the Anglican Church.
The event was well supported, with Mount Gambier City Council Mayor Lynette Martin and other well-known faces in attendance, along with neighbours and locals.
Source: ABNA24
Please click the following URL to read the full text of the original story:
https://en.abna24.com/news//mount-gambier-mosque-in-south-australia-welcomed-people-of-all-faiths_1262483.html
--------
Head of Iranian Islamic seminaries meets with Pope Francis at Vatican
May 31, 2022
On Monday, head of the Iranian Islamic seminaries Ayatollah Alireza Arafi held meetings with the head of the Catholic Church Pope Francis and high-ranking prelates at the Vatican.
The prominent Iranian cleric presented the pontiff with refined artifacts from his hometown of Meybod, in Yazd province, and the holy city of Qom. After that, the two religious personalities held private talks.
Iran and the Vatican established full diplomatic ties in 1954 and the bond has remained uninterrupted ever since. Not many reflect on the fact that the Vatican and Iran both represent spiritual traditions that have much more in common than might initially come to mind.
Ayatollah Arafi's visit to the Holy See coincided with the commemorations of the 33rd anniversary of the demise of Imam Khomeini, the late founder of the Islamic Republic of Iran.
On Sunday evening, Arafi paid a visit to the Imam Mahdi Islamic Center where he met with members of Rome's Shia community. Here, the cleric attended a commemoration of the late leader of Iran's 1979 revolution.
The commemoration held at the Imam Mahdi Islamic Center was also attended by Iran's diplomats and representatives of Rome's Palestinian community. There was much anticipation at the center for Ayatollah Arafi's visit.
In November 2020 Ayatollah Arafi sent a letter to the Holy See in which he expressed his concerns regarding insults made against Prophet Mohammad (Peace upon Him) and the hatred expressed by some magazines, journalists, and political figures in different societies.
Source: ABNA24
Please click the following URL to read the full text of the original story:
https://en.abna24.com/news//head-of-iranian-islamic-seminaries-meets-with-pope-francis-at-vatican_1262424.html
--------
Despite direct economic consequences, study finds majority of Arabs do not care about Ukraine-Russia war
May 30, 2022
LONDON: According to an exclusive Arab News-YouGov poll, the majority of people across the Middle East and North Africa do not seem to care very much about the war in Ukraine.
Experts, however, say there are plenty of reasons why they should.
"It does seem like it is taking place so far away," said Abeer Etefa, the Cairo-based senior spokeswoman for the UN World Food Programme in the Middle East and North Africa.
Kyiv, Ukraine's capital, is more than 3,000 kilometers from Riyadh.
"But also, the politics and dynamics of the conflict in Ukraine are far too complicated for a lot of the audiences in this region."
The survey was carried out among 7,835 people across 14 countries in the MENA region between April 26 and May 4.
Asked where they stand in the Russia-Ukraine conflict, 18 percent sided with Ukraine, and 16 percent with Russia.
But an overwhelming 66 percent of respondents answered with a collective shrug, opting to take "no stance" on the crisis — indifference that peaked in Jordan and Algeria (74 percent) and Saudi Arabia (71 percent).
The complexities of European history and politics aside, Richard Gowan, UN director of the Brussels-based International Crisis Group, sees another reason for the apparent indifference of many Arabs to events in Ukraine.
"We are seeing a very big gap between how Americans and Europeans see this conflict, and how it's viewed in other parts of the world," he said.
"One key issue is that many people in the Arab world see this as NATO pitched against Russia, and the reality is that you're not going to be able to turn around suspicions of NATO and the US in the Middle East and North Africa any time soon."
Although the fighting in Ukraine and the reasons behind the conflict do indeed have nothing to do with the Arab world, shockwaves from the conflict are already affecting millions of Arabs, who are faced with rising costs of basic foodstuffs, said Etefa.
She added that even if the fighting stopped tomorrow, "the world will need between six months to two years to recover, from a food security perspective."
Even before the conflict, she said, "by February food prices in many countries across the region had already reached an all-time high.
"Last year the cost of a basic food basket, the minimum food needs per family per month, increased by 351 percent in Lebanon, the highest increase in the region, followed by 97 percent in Syria and 81 percent in Yemen.
"And now the Ukraine crisis is driving up prices even higher."
Experts had expected wheat from India to make up some of the shortfall from Ukraine, but last week the Indian government banned exports after crops in the country was hit by a heatwave, driving up the prices of some foods to a record high.
Even before the conflict, the WFP was providing assistance to millions across the region, in Yemen, Lebanon and Syria. Now, even as demands on its resources grow rapidly as a result of events in Ukraine, the rise in food and oil prices means the WFP's own costs have escalated alarmingly.
"This is happening at a very difficult time for the World Food Programme," said Etefa.
"Because of the war in Ukraine our global operating costs have been pushed up by $71 million a month, reducing our ability to help those in need in the region at a time when the world is facing a year of unprecedented hunger.
"That means that each day, globally, there are four million people fewer we can assist with a daily ration of food."
Many countries in the region are heavily dependent on food exports from Russia and Ukraine which, thanks to a combination of disruption to farming, port blockages and sanctions, have slowed to a trickle.
Both Russia and Ukraine are among the most important producers of agricultural commodities in the world — in 2021, either Russia or Ukraine, or both, ranked among the top three global exporters of wheat, maize, rapeseed, sunflower seeds and sunflower oil.
Russia is also the world's top exporter of nitrogen and other fertilizers, indispensable make-or-break ingredients for countries with significant agricultural sectors of their own.
In a recent report, the UN's Food and Agriculture Organization warned that disruption of harvests and exports in Ukraine, combined with the impact of sanctions on Russian exports, threatened to create a "global supply gap that could raise international food and feed prices by 8 to 22 percent above their already elevated baseline levels."
Economically vulnerable countries would be the first to feel the effects of a prolonged reduction in exports from Russia and Ukraine — and countries across MENA are directly in the line of fire.
The FAO predicts that "the global number of undernourished people could increase by 8 to 13 million people in 2022/23," with the worst effects felt in the Asia-Pacific, followed by sub-Saharan Africa, the Middle East and North Africa.
"The region collectively imports 42 percent of its wheat, and 23 percent of the vegetable oil from Russia and Ukraine," explained Etefa.
"In the month following the outbreak of the conflict in Ukraine, the price of wheat flour, a staple in the diet of most families across the region, had already gone up by 47 percent in Lebanon, 11 percent in Yemen, 15 percent in Libya and 14 percent in the Palestinian territories."
One of the countries most exposed to food shortages and price hikes triggered by the Ukraine crisis is Egypt, which has been struck a double blow. Egypt sources 85 percent of its wheat from Russia and Ukraine, and a large part of the country's tourism sector is dependent on visitors from the two countries.
Back at the beginning of February, just before the Russian invasion, Egypt was already suffering from high global wheat prices and the government was considering controversial reforms to the expensive national bread subsidy scheme.
Under the scheme, which at 2022 prices cost the government $5.5 billion, more than 60 million Egyptians receive five loaves of bread a day for just $0.5 a month.
Regional governments are also keenly aware that in various countries spiralling food prices were linked to the uprisings of the Arab Spring — and in March this year protests erupted in Iraq against a big hike in the cost of flour, triggered by the war in Ukraine.
Indeed, warned Dr Bamo Nouri, a lecturer in international relations and honorary research fellow in the Department of International Politics at City University of London, "Iraqis may be the first in a global movement of protests over price rises as the Russia-Ukraine conflict continues."
There had, he highlighted, "indeed been a trend in various Middle East countries where there has been little interest, with no particular stance on the Russia-Ukraine conflict."
One reason was that in many Middle Eastern states, "the responsibility to resolve any given crisis is placed on the government, and unless and until it reaches ordinary the reaction or debate around it will be minimal."
He added: "In the stable oil rich Gulf states, such as Saudi Arabia, the UAE and Kuwait, this may be justified, because the government has the means and the infrastructure in place to keep the domestic impact of any external crisis to a minimum."
Source: Arab News
Please click the following URL to read the full text of the original story:
https://www.arabnews.com/node/2092891/middle-east
--------
Arab World
Turkiye 'neutralizes' 5 YPG/PKK terrorists in northern Syria
Beyza Binnur Dönmez
30.05.2022
Turkish forces "neutralized" five YPG/PKK terrorists in northern Syria, the National Defense Ministry said on Monday.
The terrorists were targeted with fire support vehicles in the Euphrates Shield and Peace Spring operations zone, the ministry said on Twitter. "Our operations will continue without slowing down!" it added.
Turkish authorities use the term "neutralize" to imply the terrorists in question surrendered or were killed or captured.
Since 2016, Turkiye has launched a trio of successful anti-terror operations across its border in northern Syria to prevent the formation of a terror corridor and enable the peaceful settlement of residents: Euphrates Shield (2016), Olive Branch (2018), and Peace Spring (2019).
Source: Anadolu Agency
Please click the following URL to read the full text of the original story:
https://www.aa.com.tr/en/middle-east/turkiye-neutralizes-5-ypg-pkk-terrorists-in-northern-syria/2601407
--------
Kuwait deplores Al-Aqsa Mosque storming by extremists
May 31, 2022
KUWAIT: The Foreign Ministry voiced Sunday Kuwait's condemnation and denunciation of Al-Aqsa Mosque's storming by extremists under the protection of the Zionist entity's forces. In a statement, the Ministry said these flagrant violations, which provoke Muslims' feelings and run counter to international law, portend repercussions on international and regional stability and security, and increase the opportunities of religious-based confrontations.
The Ministry called on the UN Security Council to assume its responsibilities against these violations and compel the Zionist occupation forces to respect international law and international legitimacy's resolutions, and to provide required protection to the brotherly Palestinian people. It further stressed Kuwait's principled and firm stance supporting the legitimate rights of the Palestinian people to establish an independent state with East Jerusalem as its capital, according to the statement.
Meanwhile, Secretary-General of the Gulf Cooperation Council (GCC) strongly denounced the Zionist entity's authorities for allowing the extremist settlers to break into Al-Aqsa Mosque in the Old City of East Jerusalem in the occupied Palestinian West Bank under police protection. The permission for extremists waving the Zionist entity's flag to organize a provocative march in the occupied Jerusalem constitutes a flagrant and abhorrent violation of the international laws, and a serious escalation of the already tense situation, Dr Nayef Al-Hajraf said in a press release.
Source: Kuwait Times
Please click the following URL to read the full text of the original story:
https://kuwaittimes.com/kuwait-deplores-al-aqsa-mosque-storming-by-extremists/
--------
Egypt condemns allowing Israeli extremists to storm Aqsa Mosque premises
May 30, 2022
The Foreign Ministry on Sunday condemned a move by the Israeli authorities to allow scores of extremist settlers to storm Al-Aqsa Mosque premises under the protection of the Israeli police.
In a statement, the ministry warned of the consequences of these developments, which predict more tension and escalation in the Palestinian territories.
Al-Aqsa is "purely for Muslims", spokesperson for the Foreign Ministry Ahmed Hafez said.
He called for stopping any violations targeting the Arab, Islamic and Christian identity of the holy city and all its sanctities, as well as changing the existing historical and legal status quo.
Source: Egypt Independent
Please click the following URL to read the full text of the original story:
https://www.egyptindependent.com/egypt-condemns-allowing-israeli-extremists-to-storm-aqsa-mosque-premises/
--------
Bahrain condemns Israeli settlers' storming of Al-Aqsa Mosque
30 May 2022
Manama, May 30 (BNA): The Kingdom of Bahrain has strongly condemned the Israeli extremist settlers' storming of Al-Aqsa Mosque under Israeli police protection in a provocation to the feelings of Muslims.
In a statement, the Ministry of Foreign Affairs stressed the need to respect the historical and legal situation in Jerusalem, without prejudice to the role of the Hashemite Kingdom of Jordan in the management and protection of holy places under international law, and the need for the Israeli authorities to prevent any actions or practices aimed at targeting the Arab Islamic and Christian identity of Jerusalem and its holy sites, and to prevent any acts of provocation that would induce tension, violence and hatred.
Source: BNA
Please click the following URL to read the full text of the original story:
https://www.bna.bh/en/news?cms=q8FmFJgiscL2fwIzON1%2bDgVPCyv8aM6jE9fgsoYQ5aE%3d
--------
Iraq court sentences ISIS plotter of 2021 Baghdad market bombing to death
30 May, 2022
An Iraqi court on Monday sentenced to death an ISIS group member convicted of plotting a 2021 bomb attack that killed 32 people in a crowded Baghdad market.
It was the city's first major suicide bombing in three years that ended a period of relative calm after Iraq declared the defeat of the extremist group in late 2017.
The man, who was not named, was found guilty of planning the January 2021 twin suicide bombing that hit the market at Baghdad's Tayaran Square and also wounded 110 people.
A Baghdad court has sentenced the attack's "primary perpetrator," the Supreme Judicial Council said in a statement.
He had confessed to being part of ISIS since 2012 and to having equipped the two suicide attackers.
In the attack, one man drew a crowd by claiming to feel sick before he detonated his explosives belt, the interior ministry said at the time.
As more people flocked to the scene to help the victims, the second suicide bomber set off his explosives.
Iraq frequently hands down death sentences, usually for terrorism or murder convictions.
Amnesty International's 2021 death penalty report ranks Iraq near the top worldwide in terms of death sentences and executions.
The London-based rights group recorded at least 17 executions in Iraq in 2021, down from 50 the previous year, but said death sentences "rose more than threefold from 2020."
In April, eight people were sentenced to death in two trials, four over a car bombing and four for murder.
The last major ISIS attack in the capital came in July 2021, when a bomb ripped through the crowded al-Woheilat Market in the Sadr City suburb, killing more than 30 people.
The ISIS group has "maintained the ability to launch attacks at a steady rate in Iraq, including hit-and-run operations, ambushes and roadside bombs," a UN report said in January.
Source: Al Arabiya
Please click the following URL to read the full text of the original story:
https://english.alarabiya.net/News/middle-east/2022/05/30/Iraq-court-sentences-ISIS-plotter-of-2021-Baghdad-market-bombing-to-death
--------
Court jails Egyptian former presidential candidate for 15 years
30 May, 2022
An Egyptian court sentenced former presidential candidate Abdel Moneim Aboul Fotouh and several prominent figures from the banned Muslim Brotherhood to lengthy jail terms on Sunday on accusations including plotting to overthrow the state.
Aboul Fotouh, who is in his early 70s and according to his family suffers from several medical conditions, was sentenced to 15 years in prison, subject to appeal, the court ruling said.
Aboul Fotouh quit the Muslim Brotherhood in 2011 after disagreements over the role of religion in politics and founded the more centrist Strong Egypt party, launching an independent bid for the presidency in 2012.
The interior ministry later accused him of meeting Brotherhood leaders to stir unrest, which he denied.
He was arrested in February 2018 after giving interviews that were sharply critical of President Abdel Fattah al-Sisi, a month before Sisi was re-elected.
Others sentenced on Sunday include Mohamed al-Qassas, Aboul Fotouh's deputy, who received a 10-year sentence, Mahmoud Ezzat, the former acting Brotherhood leader detained in Cairo in 2020, who received 15 years, and Ibrahim Mounir, a Brotherhood leader living in exile, who was handed a life sentence.
Egypt banned the Brotherhood after Sisi, then army chief, led the overthrow of democratically elected Brotherhood President Mohamed Mursi following mass protests in 2013.
Authorities accuse the Brotherhood of promoting militancy and subversion, accusations it strongly denies.
Source: Al Arabiya
Please click the following URL to read the full text of the original story:
https://english.alarabiya.net/News/middle-east/2022/05/30/Court-jails-Egyptian-former-presidential-candidate-for-15-years
--------
Mideast
Israel's FM says normalization with Saudi Arabia 'long, cautious process'
30 May, 2022
Israel's Foreign Minister Yair Lapid said that reaching an agreement to normalize ties with Saudi Arabia will be a "long and cautious" process, but Israel believes in the possibility, the Times of Israel reported on Monday.
"We believe that it is possible to have a normalization process with Saudi Arabia. It's in our interest… We've already said that this is the next step after the Abraham Accords, to talk about a long and careful process," he said.
Lapid added that should an agreement be signed, it would not come as a surprise announcement like it happened with previous deals signed with the UAE and Bahrain.
"This won't happen the same way it did last time… We won't wake up one morning suddenly and it will be a surprise," Lapid said referring to the US-brokered Abraham Accords signed in 2020.
He added that Israel is working with the US and Gulf countries towards the goal of normalizing ties with the Kingdom.
Saudi Arabia and Israel share no diplomatic ties.
The Kingdom's Crown Prince Mohammed bin Salman had said in March that Saudi Arabia views Israel as a "potential ally," noting however that several issues need to be resolved first.
Source: Al Arabiya
Please click the following URL to read the full text of the original story:
https://english.alarabiya.net/News/middle-east/2022/05/30/Israel-s-FM-says-normalization-with-Saudi-Arabia-long-cautious-process-
--------
Turkey's Erdoğan Not Ready to Give Up on Muslim Brotherhood
by Abdullah Bozkurt
Nordic Monitor
May 30, 2022
The VIP treatment recently accorded to visiting Muslim Brotherhood figure Ousama Jammal and his entourage in Turkey signals that President Recep Tayyip Erdoğan is not ready to give up on the Muslim Brotherhood as his government tries to normalize ties with the United Arab Emirates, Saudi Arabia, Egypt and Israel amid diplomatic isolation and domestic economic woes.
Jammal, secretary-general of the United States Council of Muslim Organizations (USCMO), led a delegation of Muslims from the US and Canada to Turkey, meeting with President Erdoğan and a number of government officials. On May 25, 2022 the delegation was hosted in the lavish palace Erdoğan had built in one of the rare open spaces left in Ankara amid a huge outcry and criticism.
Photographs from the closed-door meeting show that Jammal was seated on Erdoğan's right, across from Vice President Fuat Oktay, another Islamist. Efkan Ala, who runs foreign operations on behalf of the ruling Justice and Development Party (AKP) and a former interior minister, as well as Presidential Special Envoy to Libya Emrullah İşler, who harbors sympathetic views of the Islamic State in Iraq and Syria (ISIS), were also present at the meeting.
Jammal and his delegation were later received by Ali Erbaş, head of Turkey's Religious Affairs Directorate (Diyanet), and traveled to Konya, where they were greeted by local officials.
In his reported remarks, Erbaş asked the delegation to hold their meetings in the religious compound built by Turkey in Lanham, Maryland, in 2016 at a cost of $110 million. The center is run by the Diyanet and functions as the Erdoğan government's proselytizing arm in exporting political Islam abroad. He asked them to be more vocal and effective in the US and Canada, saying they need to fight hostility towards Islam.
The venue, officially called the Diyanet Center, frequently hosts members of the Muslim Brotherhood.
Jammal concurred with Erbaş on how to use the Diyanet Center, saying they had already held a number of events there. "The Diyanet Center has become a place for us to conduct our activities and meet with our leadership," Jammal said, adding that the help provided them reflects the approach of Turkish leadership.
Erdoğan met with Jammal several times during a visit to the US, and the Muslim Brotherhood figure is on the VIP list for invitations to events organized by the Turkish Embassy and consulates in the US.
The visit of Jammal and his delegation comes at a time when Erdoğan is taking steps to normalize relations with Saudi Arabia, the United Arab Emirates, Egypt and Israel. The reports that his government has been clamping down on Muslim Brotherhood activities in Turkey appears to be more tactical than a strategic realignment in order to curry favor in Cairo, Riyadh and Abu Dhabi.
While he was president of the Mosque Foundation in Bridgeview, Chicago, in 2004 Jammal ran a fundraising campaign for Palestinian activist Sami Al-Arian, who was charged with terrorism and accused of being the US leader of the Palestinian Islamic Jihad. After a long legal battle, a plea bargain and house arrest, Al-Arian was deported to Turkey in February 2015.
Source: meforum
Please click the following URL to read the full text of the original story:
https://www.meforum.org/63265/turkey-erdogan-not-ready-to-give-up-on-muslim
--------
Turkey calls on Israel to preserve status quo of Al-Aqsa Mosque
May 30 2022
The raids on the Al-Aqsa Mosque by Israeli parliament member Itamar Ben-Gvir and radical Jewish groups under the protection of the Israeli police, as well as the attempts of these groups to worship in this area, are a "clear violation" of the status quo of Al-Haram Al-Sharif and the Al-Aqsa Mosque, the Foreign Ministry said on May 29.
"We call on the Israeli government to take the necessary measures to preserve the status quo of these holy places. Reiterating our call not to allow provocative actions that will escalate the tension in the region,"
the ministry said in a statement.
Thousands of Israeli nationalists, some of them chanting "Death to Arabs," paraded through the heart of the main Palestinian thoroughfare in Jerusalem's Old City on May 29, in a show of force that risked setting off a new wave of violence in the tense city.
The crowds, who were overwhelmingly young Orthodox Jewish men, were celebrating Jerusalem Day - an Israeli holiday that marks the capture of the Old City in the 1967 Mideast war. Palestinians see the event, which passes through the heart of the Muslim Quarter, as a provocation. Last year, the parade helped trigger an 11-day war with Gaza militants, and this year's march drew condemnations from the Palestinians and neighboring Jordan.
Israel said it deployed thousands of police and security forces for the event, and violent scuffles between Jewish and Palestinian groups erupted inside the Old City before the parade even began.
Source: Hurriyet Daily News
Please click the following URL to read the full text of the original story:
https://www.hurriyetdailynews.com/turkey-calls-on-israel-to-preserve-status-quo-of-al-aqsa-mosque-174173
--------
Israel should consider 'terror' tag for Jewish extremists
May 31, 2022
JERUSALEM: Israel should consider placing on its terrorism list two right wing extremist groups accused of violence towards Palestinians and who called for the death of Arabs, defence minister Benny Gantz said Monday.
"I believe it is time to examine defining groups like La Familia and Lehava as terror groups, and I know the issue is being presented to security forces," Gantz said during a faction meeting of his Blue and White party.
Thousands of flag waving Israelis on Sunday marched through Jerusalem's Old City during a nationalist procession marking Israel's 1967 capture of east Jerusalem.
Some marchers chanted "death to Arabs", as a number of Palestinians hurled projectiles from the rooftops.
Prime minister Naftali Bennett ordered police to show "zero tolerance" towards Jewish extremists who planned to "incite" tensions, singling out La Familia.
Foreign minister Yair Lapid described Lehava and La Familia as a "disgrace" who weren't "worthy of holding the Israeli flag".
La Familia is a group of fans of the Beitar Jerusalem football club, notorious for their anti Arab racism and violence.
Lehava is an extremist right wing group that fights against fraternisation between Jews and non-Jews which could lead to intermarriage. It is affiliated with the teachings of the late Rabbi Meir Kahana, whose Kach group is outlawed in Israel.
Not the first time
To designate an organisation as a terrorist group, one of Israel's security organisations – the Shin Bet internal security agency, police, army or Mossad – must issue a request to the defence ministry and receive the consent of the attorney general.
Following the defence minister's approval, the group will receive a three-month temporary designation, during which it can appeal the decision to the ministry as well as a special judiciary panel.
If no appeal overturns the decision, the group will then be formally declared a terrorist organisation.
Israeli officials have from time to time previously raised the issue of designating La Familia and Lehava as terrorist groups, but have never gone through with the process.
La Familia brushed aside the latest wave of condemnation and attention as an attempt to garner political support.
"Time and again political groups or members of Knesset try to ride on the organisation's back to try get votes and take down the group with incidents that never happened," they wrote on their official Facebook page.
"La Familia is a football organisation only, and as regular civilians we have the right to march in Jerusalem," they said.
Source: Free Malaysia Today
Please click the following URL to read the full text of the original story:
https://www.freemalaysiatoday.com/category/world/2022/05/31/israel-should-consider-terror-tag-for-jewish-extremists/
--------
Israeli PM defends march marked by violence, racism
30 May, 2022
Prime Minister Naftali Bennett on Monday defended the decision to hold an annual march that celebrates Israel's takeover of east Jerusalem and was marked by violence and anti-Palestinian racism.
Authorities called up thousands of police, forcibly cleared out Palestinians and risked another war with the militant group Hamas to ensure that tens of thousands of mostly right-wing Israelis could parade through a dense Palestinian neighborhood and hundreds could visit an intensely contested holy site.
Israel had changed the route at the last minute in 2021, at a time of soaring tensions over violence at the holy site and attempts by settlers to remove dozens of Palestinian families from their homes in east Jerusalem. Hamas still fired rockets, and an 11-day Gaza war ensued.
Israel avoided that scenario this year and allowed the parade to take its traditional route through the heart of the Muslim Quarter of the Old City.
But the march saw Israeli nationalists chant racist slogans, including "Death to Arabs," and attack Palestinians and journalists. Fights broke out along the route, as police mainly intervened to protect Jews and disperse Palestinians.
The Palestinian Red Crescent rescue service said 62 Palestinians were wounded, including 23 who needed hospitalization. Israeli police said they arrested over 60 suspects and that five officers were wounded. The vast majority of those arrested appear to have been Palestinians, though police refused to provide a breakdown.
Bennett praised the police's handling of the event and said Israel was obliged to hold the march in the face of threats by Hamas.
"If we hadn't done it along the regular route, we would – in effect – never go back to it," he said. "This could have been a retreat on sovereignty."
Bennett praised the marchers, saying that "except for an extremist group, whom we will deal with to the fullest extent of the law, those who celebrated yesterday did so in a very special, heart-lifting way."
Israel captured east Jerusalem, including the Old City with its holy sites sacred to Jews, Christians and Muslims, in the 1967 war, and annexed it in a move not recognized internationally. The Palestinians want east Jerusalem to be the capital of their future state.
Also on Sunday, Israel allowed hundreds of mostly nationalist and religious Jews to visit the holy site that Jews refer to as the Temple Mount and Muslims know as the Al-Aqsa mosque compound. The site, which is the holiest for Jews and the third holiest in Islam, has frequently been the epicenter of Israeli-Palestinian violence.
The Palestinians fear Israel plans to take over the site or partition it. Israel says it is committed to a decades-old set of arrangements known as the status quo, under which Jews can visit the site but not pray there — but that rule has steadily eroded in recent years. Some of Sunday's visitors were seen praying with little interference from police.
Source: Al Arabiya
Please click the following URL to read the full text of the original story:
https://english.alarabiya.net/News/middle-east/2022/05/30/Israeli-PM-defends-march-marked-by-violence-racism
--------
Protests over deadly building collapse in Iran's southwest intensify
30 May, 2022
Thousands of protesters took to the streets on Sunday in Iran's southwestern city of Abadan where anger with the regime over a deadly building collapse is high.
A 10-storey residential and commercial building collapsed on May 23 in Abadan, killing dozens. The death toll rose to 31 on Monday, according to official figures.
Protests have been taking place in the city on a daily basis over the incident which protesters and activists blame on regime corruption.
Protesters interrupted a state-sponsored mourning ceremony where a senior cleric was speaking on Sunday, forcing state TV to cut out sound. "Dishonourable! Dishonourable!" protesters chanted just as Mohsen Heydari, a member of the Assembly of Experts – a clerical body in charge of selecting Iran's supreme leader – began speaking.
Videos shared on Twitter showed large crowds gathered in Abadan, located in the oil-rich southwestern province of Khuzestan – an ethnically diverse region.
One video showed protesters chanting, in Arabic, "We sacrifice our soul and blood for you, Abadan." Khuzestan is home to a large Arab population.
"I will kill whoever killed my brother," protesters could be heard chanting, in Persian, in another video.
Source: Al Arabiya
Please click the following URL to read the full text of the original story:
https://english.alarabiya.net/News/middle-east/2022/05/30/Protests-over-deadly-building-collapse-in-Iran-s-southwest-intensify
--------
Southeast Asia
The Somad Affair and Singapore's Battle Against Religious Extremism
By Bilveer Singh
May 31, 2022
Singapore's racial and religious fault lines are sharp, reflecting its status as an ethnic Chinese majority state located in what is perceived as a Malay Southeast Asian world. In this context, the deportation this month of Abdul Somad Batubara, a radical Indonesian Muslim preacher, once again demonstrates the nation's intolerance for any kind of extremism, regardless of its origin.
Who is Abdul Somad Batubara?
A North Sumatran from Asahan, and Batak by ethnicity, Somad, 45, is a well-known preacher who also teaches at the Sultan Syarif Kasim Islamic University in Riau. The internet and social media made him a celebrity, a leading digital preacher, through his literalist interpretations of how Islam should be practiced in Indonesia and abroad. Extremely charismatic with strong oratory skills, his ability to gain traction with his followers stem from his simplistic, yet extreme views on day-to-day aspects of Muslim lives, especially in the context of the rising Islamization of Indonesia. He is also very political, as seen in his endorsement of Prabowo as Indonesia's president in the 2019 presidential elections. Somad's Islamist credentials have been enhanced by his higher education in Egypt and Morocco as well as his fluency in Arabic, bolstering his standing against other preachers in the competitive market place of Islam in Indonesia.
Somad's extreme views include demands that Muslims not patronize non-Muslim retail outlets such as Starbucks. He holds strong anti-LGBT views and has even sanctioned suicide bombings as a means of achieving certain political ends. Somad has also tried to dissuade Muslims from visiting hospitals that display crucifixes, implying a boycott of Christian hospitals and any building or outlet featuring non-Islamic signs and symbols.
Due to his radical views on Islam and other subjects, Somad has been banned from a number of countries, including the United Kingdom, Germany, Hong Kong, the Netherlands, Switzerland and Timor-Leste. This is largely due to his ultra-conservative interpretations of Islam, which are largely aligned with the outlook of Hizbut Tahrir (HT).
Somad's HT-inspired Islamist worldview aims for the establishment of an Islamic Caliphate, for governance to be based on Sharia law, and for all Muslims to be united into a single ummah (community). Somad believes that Muslims are being persecuted worldwide, including in Muslim majority states, and is opposed Western democracy and governance, which he perceives as disadvantaging and undermining Muslims' interests. While HT ideologues tend to oppose the use of violence, Somad supports violence as a means to an end, especially with regard to the Israel-Palestine conflict.
Singapore and the 'Somad Affair'
On May 16, Somad and six others entered Singapore by ferry from Batam, an Indonesian island off the southern coast of Singapore, ostensibly for a holiday, including to celebrate Somad's birthday which falls on May 18. On reaching Singapore, Somad and the others were questioned by the immigration authorities and deported to Batam for their past extremist views on Islam and the radical actions that Somad had called for, including in the Middle East.
Singapore has banned other radical preachers in the past, both Muslims and non-Muslims, for their radical views. Following his deportation, Somad and his followers criticized Singapore on a number of counts, including that the city-state was an illegal creation as it was founded by the Western colonial power on land that belonged to the Malays, that most of Singaporeans were migrants and not natives, and that the Malays would reconquer Singapore and reclaim what was theirs. He added that Singapore should be made to feel the pain that it has inflicted on others, especially the native Malay-Muslims, and that Singapore could be easily sunk by the 270 million Indonesian Muslims urinating on it. Somad's supporters also talked of Singapore deserving a 9/11-style attack for its impudence and anti-Malay-Muslim policies.
In protest against Somad's deportation, the preacher's supporters took to the social media to condemn the Singaporean authorities, including writing to various government office holders, including President Halimah Yacob, herself a Muslim. Somad's supporters also demonstrated outside Singapore's consulate in Medan, Sumatra and outside the country's embassy in Jakarta. Singapore was condemned for allegedly pursuing Islamophobia policies, including against preachers such as Somad.
What Was Behind Singapore's Deportation of Somad?
While Singapore has in the past deported Christians and other Muslim preachers, the Somad affair stood out on a number of counts. First, it stemmed from Somad's ultra-orthodox interpretations of Islam, largely HT in orientation, which denies the legitimacy of the worldwide nation-state system, does not believe in the practice of democracy, which he has called on his supporters in Indonesia and abroad to boycott.
Second, Somad has championed the creation of an Islamic state, even if it was established through violence, and approved of suicide bombings as part of the political struggle, especially by the Palestinians against the Israelis.
Third, Somad has advanced the irredentist notion that the region's Malay-Muslims were the genuine owners of Singapore and that non-Malays and non-Muslims should be expelled, including through the use of force. As Singapore was part of "Tanah-Air Melayu," non-Malays and non-Muslims did not belong there other than being temporary guests. In short, Somad argued for the idea of a Malay-Muslim ethnocratic state in total opposition to Singapore's successful multi-racial and multi-religious society.
Fourth, as a charismatic preacher with immense oratorical skills, Somad has been highly effective in winning followers to his radical causes, not just in Indonesia but also abroad. According to the Singapore authorities, a 17-year old Singaporean was detained in January 2020 for being radicalized by Somad's lectures on the YouTube, clearly demonstrating the danger of Somad's radical appeal among the uninitiated, especially the young, on social media. Somad is believed to have some 9.6 million followers on Instagram, 2.7 million subscribers to his YouTube channel, and more than 700,000 followers on Facebook.
The Implications of the 'Somad Affair'
First, Somad's deportation reaffirmed Singapore's strong and principled stance that it will not tolerate extremism and radicalism, violent or non-violent, from any quarter, including from Singapore's largest and most important neighbor.
Second, even though there was the expectation that there would be some degree of backlash from Indonesia and Indonesians, what eventually happened was extremely heartening. While Jakarta argued that it was Singapore's right to deny anyone entry into the state, the level of support for Somad in Indonesia was almost non-existent, especially for someone believed to have a few million followers on social media; in the end, this did not translate into real-world clout.
Third, as a democracy, Indonesia's hands may be tied in taking action against a radical preacher that openly advocates violence, all the more with the Indonesian authorities not wanting to be seen to be accused of persecuting Muslims or Islamic preachers. From this perspective, Singapore seems to have done Indonesia a favor by acting against Somad for his radical and extremist views, which are largely unacceptable in Singapore and probably by most states and peoples. The signals it sent were clear: while Somad's activities may be tolerated in the fast-democratizing Indonesian setting, it does not mean that Somad and his beliefs would be allowed to germinate beyond the Indonesian borders.
Fourth, what Somad and some of his followers expressed were ideas and beliefs that are anathema to Singapore, namely, that Singapore as an ethnic Chinese majority state has no right to exist in the "Malay world" of maritime Southeast Asia. This has been something that Singapore has tried to debunk since its independence in 1965 and the Somad affair was another opportunity not just to signal to champions of irredentism in the region but also to remind the Singapore public of its precarious existence and the need for enhanced nation-building and national defense policies that can safeguard its existence over the long-term.
Source: The Diplomat
Please click the following URL to read the full text of the original story:
https://thediplomat.com/2022/05/the-somad-affair-and-singapores-battle-against-religious-extremism/
--------
Malaysia strongly condemns Israeli incursion at Al-Aqsa mosque
31 May 2022
KUALA LUMPUR, May 31 ― Malaysia unreservedly condemns the assault and incursion by the Israeli extremists and officials in and around Al-Aqsa Mosque on Sunday.
Foreign Ministry (Wisma Putra) in a statement today said the premeditated incursion on the Holy Site of the Muslims and the rallies of the flag march in the Old City was clearly a provocation and a flagrant violation against the revered Holy Site and its sanctities.
"This latest raid on the Al-Aqsa Mosque was undoubtedly an act of aggression by the Israeli occupation regime and Israeli extremists, unduly fanning the flames of tensions among the region and beyond," the statement read.
Malaysia calls upon the international community to immediately demand the Israel regime to cease any provocative acts in the interest of peace and stability, said Wisma Putra.
"Malaysia stands strong in solidarity with the people of Palestine, and reiterates the status of AlQuds Al-Sharif as the Holy site of the Muslim Ummah," it said.
Malaysia also reaffirms its unwavering support and solidarity with the Palestinians and their cause to achieve freedom from the Israeli illegal occupation and realise their aspirations for an independent State of Palestine based on the pre-1967 borders, with East Jerusalem as their Capital.
According to media reports, thousands of Israeli settlers staged a flag march on Sunday to mark what they call the day of unifying Jerusalem, about Israel's occupation of the city in 1967.
Israel occupied East Jerusalem, where the flashpoint Al-Aqsa Mosque complex is located, during the 1967 Arab-Israeli war. It annexed the entire city in 1980, in a move never recognised by the international community.
Source: Malay Mail
Please click the following URL to read the full text of the original story:
https://www.malaymail.com/news/malaysia/2022/05/31/malaysia-strongly-condemns-israeli-incursion-at-al-aqsa-mosque/9782
--------
25 missing after cargo boat sinks in Indonesia
May 29, 2022
MAKASSAR, Indonesia: Rescuers in Indonesia were searching for 25 people who were missing after a cargo boat sank in the Makassar Strait in South Sulawesi province, officials said Sunday.
A total of 42 people were on the boat when it sank in bad weather on Thursday morning while traveling from a seaport in Makassar to Kalmas Island in Pangkep Regency, said Djunaidi, the head of the provincial search and rescue agency. Like many Indonesians, Djunaidi goes by only one name.
Seventeen people were later rescued, including some by two tugboats that were at sea at the time of the incident.
Djunaidi said the search and rescue agency received new information about the location of the sunken boat on Saturday and dispatched crews to the area. Two motor boats and a search and rescue boat, along with local fishing boats and Indonesia air force helicopters, are involved in the search for the missing passengers.
The sunken vessel was initially said to be a passenger ferry, but Djunaidi later clarified that it was a cargo boat carrying construction materials. Thirty-six passengers had asked for a ride on the boat and there were six crew members.
Ferry tragedies are common in Indonesia, an archipelago of more than 17,000 islands, where ferries are often used as transport and safety regulations can lapse.
In 2018, an overcrowded ferry with about 200 people on board sank in a deep volcanic crater lake in North Sumatra province, killing 167 people.
Source: Arab News
Please click the following URL to read the full text of the original story:
https://www.arabnews.com/node/2091706/world
--------
PM moots shariah compliance commission to regulate halal economy
May 30, 2022
PUTRAJAYA: The regulation of the halal economy in the country can be consolidated with the establishment of a shariah compliance commission, Prime Minister Ismail Sabri Yaakob said today.
In his keynote address at the Tun Abdullah Ahmad Badawi Lecture here, Ismail said the existing regulatory proposal is limited with the Islamic financial sector coming under Bank Negara Malaysia (BNM) and the Securities Commission (SC), while the Islamic Development Department (Jakim) regulates the halal industry.
"As such, more comprehensive regulations can be consolidated with the establishment of a shariah compliance commission.
"I urge that this recommendation be given due attention so that the aspiration to make Malaysia the main reference model in the field of halal economy can be realised," he said.
Also present were public service department director-general Shafiq Abdullah, Tun Abdullah Ahmad Badawi Legacy Association chairman Jefridin Atan, and Universiti Kebangsaan Malaysia (UKM) vice-chancellor Ekhwan Toriman.
Ismail said the role and contribution of the local halal economy to the national economy could be improved further to be more significant.
"Based on the Global Islamic Economy Report (2016/2017 to 2020/2021), Malaysia ranks first in terms of the global Islamic economic indicator score. In fact, Malaysia was top in the Islamic financial sector.
"However, there is still room for improvement in six other sectors, namely halal food, tourism, fashion, cosmetics and pharmaceuticals, media, and recreation," he said.
According to Ismail, the halal economy was seen to be mainly covering and developing around the financial and food sectors, and so this justifies the need to focus and redress other aspects of the halal economy.
Ismail said, as such, a Halal Economy Master Plan should be pursued and undertaken by stakeholders to empower the halal economy, and that this could be accomplished by enhancing its role in the various halal economy sectors.
He added that the halal economy combines elements of religious needs in business by emphasising human relations based on brotherhood and equality, while all the resources on the earth are fully controlled and owned by Allah.
"That is why I believe the halal economy must be promoted as one of the competitive systems and contributors to the national economy.
"In addition, the halal product market should also be expanded to non-Muslim countries," he said.
At the event, Ismail also launched the Halal Economy Endowment Fund established by the Legacy and Hadahri Global Foundation in collaboration with UKM's economics and management faculty, with an initial fund of RM1 million.
"The main objective of the endowment fund is to develop leadership in research and education in halal economics. This covers the fields of science and technology, and the humanities.
Source: Free Malaysia Today
Please click the following URL to read the full text of the original story:
https://www.freemalaysiatoday.com/category/nation/2022/05/30/pm-moots-shariah-compliant-commission-to-regulate-halal-economy/
--------
Pakistan
Pakistani Senate condemns Israel's atrocities in Al-Aqsa Mosque
May 31, 2022
The Senate of Pakistan on Monday unanimously passed a resolution on longstanding Israeli illegal occupation of Palestinian territories and atrocities against the innocent Palestinian people.
The Senate of Pakistan in strong terms condemned the recent atrocities and violence of Israeli forces over the innocent pilgrims and worshipers in Al-Aqsa Mosque and the decades-old blockade of Gaza by the Israeli forces.
The house called upon the government to utilize all diplomatic and publicity resources for highlighting the Palestinian dispute on all international and regional fora in coordination with all Muslim States and prepare a roadmap for the liberation of Palestinian territories.
The house called upon the government to explore the opportunity of appointing a joint representative of all Muslim States for highlighting the Palestinian dispute at the international level.
Source: ABNA24
Please click the following URL to read the full text of the original story:
https://en.abna24.com/news//pakistani-senate-condemns-israels-atrocities-in-al-aqsa-mosque_1262484.html
--------
Conference on Imam Khomeini's political thought held in Lahore
May 31, 2022
A conference featuring discussions on Imam Khomeini's (RA) political thoughts and the Islamic Revolution of Iran was held in Lahore, Pakistan.
The city's Mohammadi Mosque hosted the event, whose title was "Imam Khomeini's Political Thought, Islamic Revolution and Its Effects on Other Nations".
The Iranian Culture House in Lahore and the Quran and Etrat Academy for Women in Pakistan's Punjab Province co-organized the conference ahead of the demise anniversary of Imam Khomeini.
Speakers included Iranian Consul General in Lahore Mohammad Reza Nazeri, head of the Iranian Culture House Jafar Ronas, former Pakistani ambassador to Iran Shimshad Ahmad Khan, President of Ummah Wahida Pakistan Hojat-ol-Islam Muhammad Amin Shahidi , Punjab representative in Pakistani parliament Seemin Bukhari, and head of the academy Dr Mahdavi.
They discussed, among other topics, the roots of the Islamic Revolution of Iran, the role and status of women, the US and the world arrogance's confrontation with the Islamic Revolution, and the Islamic Revolution's connection to the global revolution of Imam Mahdi (may God hasten his glad advent).
Grand Ayatollah Seyed Rouhollah Mousavi Khomeini, better known as Imam Khomeini, passed away on June 3, 1989 at the age of 87.
As an anti-imperialist icon, he devoted his life to standing up to Iran's former Pahlavi monarchy, a key ally of the United States, and eventually paved the way for the regime's downfall in the 1979 Islamic Revolution.
He spent many years in exile in Iraq, Turkey and France, from where he led a swelling grassroots movement, which ultimately put an end to millennia of monarchical rule in Iran.
Source: ABNA24
Please click the following URL to read the full text of the original story:
https://en.abna24.com/news//conference-on-imam-khomeini%e2%80%99s-political-thought-held-in-lahore_1262428.html
--------
Proceedings of conference on Islamic financing: Call for replacing interest-based banking with Shariah-compliant system
Muhammad Shifa
31 May, 2022
KARACHI: Known Islamic scholar and former judge of the Federal Shariat Court (FSC) Mufti Muhammad Taqi Usmani on Monday urged the Islamic banking professionals and other stakeholders of financial institutions to replace interest-based banking with a Shariah-compliant system, saying the dream of serving the humanity at large and a fair distribution of wealth will remain unfulfilled without adopting a Riba-free financial system.
Addressing the opening session of the Third World Islamic Finance Forum-2022 as a chief guest via Zoom, Mr Usmani said that the abolition of Riba from the financial system is not just the need of an Islamic system, rather it is the need of the humanity and the world at large.
Themed 'Development of Islamic finance ecosystem for global prosperity' the two-day mega event has been organised by the Institute of Business Administration's Centre for Excellence in Islamic Finance (IBA, CEIF) here at a hotel.
The former judge of FSC said: "Without going into the depth of this topic, I will discuss only some points that need our consideration. The financial system developed today has not succeeded in catering to the needs of the global society and humanity, and many scholars of economy and financial experts have accepted and admitted to this very fact.
"Because of this [interest-based financial] system... the economies of the world very frequently have had shocks, and due to these shocks the whole economy gets shattered, as happened in the crisis of 2008."
He went on to say that scholars at times suggested solutions, made their efforts to bring reforms through mere patchworks within the existing system, without eradicating the biggest evil, the Riba, from it.
Riba, or interest, has been prohibited in all divine books like the Bible and finally the holy Quran. Jews, Christians and Muslims all agree that usury was prohibited by Allah. But, unfortunately, this has been the most evil practice in commercial transactions.
"Allah has given clear-cut instructions about the prohibition of Riba, and the Holy Quran has conveyed these directives about its prohibition. Hazrat Muhammad [Peace be Upon Him] also announced the total prohibition of Riba at the time of Hujjatul Wida," said Mr Usmani.
He said he had explained this concept in a number of writings, and it was confirmed and ratified by many scholars of the day that Riba is the biggest evil that has spoilt the whole system of finance in the society.
"I request the participants of the forum... to discuss and study this aspect of our financial system, if we really want Islamic finance (to) serve humanity for global prosperity," he added.
"It is very fortunate [that] this august conference is being held at a time when the Federal Shariat Court of Pakistan has given a historic judgment about the ban on Riba-based transactions.
Some 35 years ago, a similar judgment was given by the FSC. However, later on the decision was challenged before the Supreme Court's Shariat Appellate Bench which gave a detailed judgment consisting of around 1100 pages (that) discussed different aspects of Riba and interest.
This judgment was reviewed by another Shariat Appellate Bench of the apex court, and the case was sent back to FSC for fresh thinking on the issues involved.
The case had been pending in the FSC for the last 20 years, until a verdict was announced on April 27, 2022. Now the FSC has declared that prohibition of Riba is absolute in all its forms and manifestations according to the injunctions of Islam and in accordance with the Holy Quran and Sunnah. Therefore, it should be eliminated in five years.
Mr Usmani said it is high time to ponder over the matter and develop a roadmap to achieve this goal, as ordered by the FSC. "It is imperative for all of us, and persons involved in Islamic finance, that we make the roadmap to ensure an interest-free financial system," said Mr Usmani.
He requested the participants of the conference to come up with workable recommendations to achieve total elimination of Riba, and make Pakistan an example for the rest of world to follow.
On the occasion Sima Kamil, the deputy governor of State Bank of Pakistan (SBP), highlighted six strategic pillars of the Islamic Banking Industry under the Third Strategic Plan 2021-25.
She said the plan included strengthening the local landscape, enhancing conduciveness of regulatory framework, reinforcing comprehensive Shariah governance framework, improving liquidity management framework, expanding outreach and market development, and bolstering human capital.
She said the banking regulator has taken some key steps for promotion of Islamic banking in the country, including establishment of three centres of excellence, regular issuance of five-year strategic plans to guide the industry, and Shariah-compliant standing ceiling facility and open market operations.
In her detailed presentation, she informed the participants about issues and challenges faced by the Islamic Banking Industry. She said that perception and capacity-building issues, lack of regular supply of sovereign sukuk, lower penetration in strategic sectors like SMEs and agriculture, lack of research and development of innovative products and services and adoption of technology and digital transformations are some challenges that need to be addressed.
Irfan Siddiqui, the president and CEO of Meezan Bank, said some 22 players are operating in the Islamic Banking Industry. Its market share is increasing with each passing year.
In March 2018, the Islamic Banking Market share of deposits was around 14.5 percent, which grew to 19.4 percent by December 2021. He said the SBP's vision for Islamic Banking is to achieve some 30 percent market share of deposits by 2025.
As of December 2021, the deposits of conventional banks were around 80 percent, deposits of fully fledged Islamic Banks were 11 percent, and Islamic Windows 9 percent or Rs 1.86 trillion.
He said if a minimum of 5 percent incremental growth is achieved then the Islamic Windows's deposits will go up to 30 percent or Rs 10 trillion by 2025.
Aamir Khan, the chairman of Securities and Exchange Commission of Pakistan (SECP), said the commission is promoting Islamic finance under its principles of protection, circulation, justice and fairness, promoting real economic activity, and enhancing the wellbeing of society.
In line with these goals, he said SECP has been facilitating sustainable growth of Islamic Finance in different sectors.
Chairman of IBA-CEIF Dr Ishrat Husain, its Director Ahmed Ali Siddiqui, and Executive Director of IBA Dr S. Akbar Zaidi also spoke on the occasion.
Source: Brecorder
Please click the following URL to read the full text of the original story:
https://www.brecorder.com/news/40176709/proceedings-of-conference-on-islamic-financing-call-for-replacing-interest-based-banking-with-shariah-compliant-system
--------
Pakistan, Turkey support each other on all core issues, says PM ahead of visit
May 31, 2022
Prime Minister Shehbaz Sharif has hailed "exemplary" relations between Pakistan and Turkey, saying the countries support each other on all issues of core interest including the disputes related to occupied Kashmir and Northern Cyprus.
He made the remarks in an interview with Turkish media outlet Anadolu Agency ahead of his three-day visit to the country.
The prime minister will leave for Turkey today. During his trip, he will meet Turkish businessmen and traders, visit the mausoleum of Mustafa Kemal Ataturk, the founder of the Republic of Turkey, and issue a commemorative plaque alongside Turkish President Recep Tayyip Erdogan to mark 75 years since the establishment of diplomatic relations between the two countries.
Foreign Minister Bilawal Bhutto Zardari reached Ankara yesterday, and was received by Ankara Governor Vasip Sahin.
In the interview, PM Shehbaz said Pakistan and Turkey had always stood by each other for the last 75 years. "These historical relations are grounded firmly in common religious, cultural and linguistic links and transcend political changes on either side."
Both countries had similar views on regional and international issues and collaborated closely on bilateral, regional and multilateral forums, he said.
He also thanked Turkey's leadership for its principled support on the Kashmir issue.
The prime minister said that while cultural and people-to-people relations between the two countries were on an upward trajectory, Pakistan was now focusing on increasing economic cooperation.
"The current level of bilateral trade is still not a true reflection of the excellent state of our relationship. This is also an area where immense opportunities exist for both countries. During my visit here, I am meeting leading Turkish business companies to encourage them to utilise the immense opportunities existing in Pakistan in various fields, including energy, infrastructure, e-commerce, municipal agro-based industry and IT sectors, etc."
Trade with India
In response to a question about trade with India, Prime Minister Shehbaz said Pakistan and India had a "lot to gain from mutually beneficial trade".
However, Pakistan had taken the decision to downgrade relations with India after Aug 5, 2019, when it revoked occupied Kashmir's special autonomy, he recalled.
"We are cognisant of the economic dividends that can be accrued from a healthy trade activity with India. However, in the wake of continued brutalisation of the Kashmiri people, attempts to change the demographic structure of the occupied territory, and continued denial by India of the Kashmiris' rights, it is hard to imagine that progress can be made on the trade front."
He further said that India would have to take the onus for normalisation of relations by revisiting its decision of Aug 2019 and creating a conducive environment for dialogue.
Pak-US ties
When the premier was questioned about Pakistan's place in the United States' policy on the Asia-Pacific region, he said the two countries had a "longstanding and broad-based relationship".
Pakistan wanted to deepen and widen its engagement with the US, he said, pointing out that the country was the biggest export market and a major source of investment and revenue.
There is a lot of potential to expand the trade, commercial and investment aspects of this relationship even further, he added.
The prime minister also urged US companies to invest in Pakistan, especially in the information technology sector.
PTI invited to discuss charter of economy
Prime Minister Shehbaz stressed that the PML-N-led coalition government did not believe in "any kind of polarisation". The incumbent government was formed of "almost all" political forces from the provinces, except the PTI, he added.
"I believe in political accommodation and dialogue. For this reason, I have invited all political forces, including the PTI, to sit together and agree on the charter of the economy. For Pakistan to break the boom and bust cycle and gain economic stability, it is important that all political forces work out the minimum rules of the game that ensure continuity of economic policies and provide enabling environment for this purpose.
"While we are aware of the menace of political polarisation, we are working to promote political dialogue and engagement."
The PML-N government's priority since coming into power in April has been to stabilise the economy, he said and noted that Pakistan was facing several challenges, including external fiscal pressures, inflation and rising food prices.
"We are paying the price for the indecisiveness of the previous government, for example, the failure to purchase fuel in a timely manner and the absence of strategic reserves of essential commodities, which was subsequently followed by purchases at a higher price. This impacted the poor people."
However, the incumbent government was focused on improving socioeconomic indicators, particularly for the vulnerable segment of society, he added. He further said the government was working on a tight monetary policy, reduction of fiscal deficit, relief package for the poor, and building strategic reserves of essential commodities.
"We are hopeful that the IMF (International Monetary Fund) will release the next tranche, which will build the confidence of the international market for investment in Pakistan, thereby alleviating the pressure on foreign exchange reserves."
CPEC
Prime Minister Shehbaz said Pakistan fully supported the five-pronged approach of China's Belt and Road Initiative (BRI) with the emphasis on physical connectivity, financial cooperation, trade facilitation, policy consultation, and people-to-people linkages.
"With the CPEC (China-Pakistan Economic Corridor), we have successfully realised our countries' shared vision and the BRI's ideals. With CPEC entering a new phase of high-quality development, our Belt and Road cooperation will accelerate Pakistan's industrial and economic modernisation.
"Pakistan is committed to the high-quality development of CPEC, including improvements in Pakistan's railways' infrastructure and full realisation of Gwadar Port's potential," he added.
'Necessary to engage with Afghan govt'
The premier also said that it was a necessity and not a matter of choice to engage with the interim government in Afghanistan.
"The world cannot abandon the Afghan people. It must shoulder the responsibility to immediately address the country's humanitarian crisis and fragile economy," he said and warned that a "total collapse" of its economy would be disastrous for Afghans, Pakistanis and the international community.
"The outflow of refugees and transnational terrorism from a destabilised Afghanistan does not serve the interests of anyone," he cautioned.
Source: Dawn
Please click the following URL to read the full text of the original story:
https://www.dawn.com/news/1692422/pakistan-turkey-support-each-other-on-all-core-issues-says-pm-ahead-of-visit
--------
Islamabad, TTP agree on indefinite ceasefire
Ismail Khan
May 31, 2022
PESHAWAR: The government of Pakistan and the outlawed Tehreek-i-Taliban Pakistan (TTP) have agreed to extend the ceasefire, this time, indefinitely and continue negotiations to find an end to the nearly two decades of militancy in the tribal border region, it has been reliably learnt.
The extension in ceasefire, which was to come to an end last night, indicates significant progress in talks between the two sides in the Afghan capital Kabul, sources familiar with the development said.
Sources told Dawn that the two sides had agreed to extend the ceasefire and continue peace talks following separate meetings with Mullah Muhammad Hassan Akhund, Acting Prime Minister of the 'Islamic Emerate of Afghanistan (IEA)' at his office the other day.
These sources said that in his meetings with the two sides, the soft-spoken septuagenarian leader expressed his desire that the talks and ceasefire should be allowed to continue without any cut-off date.
Afghan Taliban's acting PM Mullah Akhund helping with 'peace talks'
In a subsequent joint meeting, the two sides agreed to extend the ceasefire indefinitely and pursue negotiations to end the conflict that has seen mass dislocation and killings of thousands of people in Pakistan's tribal region and the country at large.
IEA spokesman Zabihullah Mujahid and TTP spokesman Muhammad Khurasani had issued statements early this month, announcing extension in the ceasefire till May 30.
No official statement has been issued so far regarding the indefinite extension in ceasefire but Dawn has been able to get confirmation of this significant development.
The development follows days of "intense and extensive negotiations" in the Afghan capital attended by senior level delegations from the two sides that at one point seemed close to breakdown.
IEA's Acting Minister for Interior Sirajuddin Haqqani, who is the central mediator, helped bring the talks back on track, sources said.
The GoP, sources said, had demonstrated its seriousness by acceding to some of the TTP's demands and after the IEA suggested it would be important for confidence-building to move from preliminaries to formal and structured negotiations.
The release of prisoners and presidential pardon to two key militant commanders, including TTP Swat spokesman Muslim Khan, was one such demand.
Compensation for the dead and wounded, enforcement of Shariah regulation in Malakand, withdrawal of military from the borders and reversal of Fata merger into Khyber Pakhtunkhwa were key demands from the TTP side, these sources said.
The Shariah Nizam-i-Adl Regulation, 2009 is still operational in Malakand division. The law was enacted following marathon negotiations with the late Maulana Sufi Muhammad.
The GoP, these sources said, had no issue with some of the TTP's demand, but two major issues remained challenging: the reversal of Fata merger and the disbandment of the TTP as an armed militant group.
The GoP delegates made it clear that the merger brought about through a constitutional amendment was not up for discussion and that tribal people were the main, important stakeholders.
The TTP on its part had brought documents containing the commitment made by Quaid-i-Azam Mohammad Ali Jinnah with the tribal people guaranteeing their autonomy in an independent Pakistan.
They were told that the reversal of the merger would mean return to the Frontier Crimes Regulation which was a relic of the British Empire and did not contain anything that could be considered 'Islamic.' They were asked to identify laws that had been enacted post-merger which they deemed to be in contravention of their customs or the 'riwaj.'
Besides, the 25th Constitutional Amendment that brought about Fata's merger into KP is pending before a larger bench of the Supreme Court of Pakistan since March, 2022 on a petition filed by some tribal elders opposed to it.
The disbandment of the TTP is another make-or-break issue, these sources said. The government delegation has made it plain that no armed group would be allowed to enter Pakistan territory or operate as such. Options are being discussed and the IEA is fully on-board in this regard.
Source: Dawn
Please click the following URL to read the full text of the original story:
https://www.dawn.com/news/1692383/islamabad-ttp-agree-on-indefinite-ceasefire
--------
Punjab govt plans unprecedented security if PTI holds another march
Mohammad Asghar
May 31, 2022
RAWALPINDI: The Punjab government has decided to put in place unprecedented security measures - double to those made during Pakistan Tehreek-i-Insaf (PTI)'s 'Haqiqi Azadi March' on May 25.
The move came about after former prime minister Imran Khan and Khyber Pakhtunkhawa (KP) Chief Minister Mehmood Khan approached the Supreme Court seeking permission for a fresh march to Islamabad.
Although it has been decided to put in place "double layer" of heavy freight shipping containers filled with sand and concrete to block the roads leading to Islamabad, the police have been asked to submit their demands for required containers and other tools.
The sources said the sand filled containers will be joined with each other with electric welding and razor wire and will be placed in the surrounding areas.
This time, the sources said, loopholes or mistakes made during the previous long march will not be repeated while taking the security arrangements.
Although the PTI has not announced any date for the fresh long march, the district administration has started confiscating heavy shipping containers to block the roads and streets.
Extra police, tear gas shells and other anti-riot tools will also be sought from the provincial authorities to strengthen security measures.
During the May 25 march, the police had sealed roads at seven major points in the garrison city to prevent the participants from heading towards Islamabad.
In Rawalpindi district, 150 freight shipping containers were placed on different points to seal roads.
Soan Bridge's both sides were sealed with heavy shipping containers while the road users were advised to use Bahria Town Phase VII route to proceed to Saddar or Peshawar Road.
The Airport Road from Green Garage to Islamabad Expressway and Gulzar-i-Quaid to Aammar Chowk was sealed with shipping containers.
And roads to and from Haider Road turn to Murree Road were also closed. Alternatively, Peshawar Road and Mall Road were open for traffic.
Murree Road from Mareer Chowk to Faizabad was completely closed on both sides while alternatively Gawalmandi, Kamran Chowk and Kutchery Chowk were open.
Likewise, Rawal Road remained closed for traffic from Shaheen Chowk to Murree Road and Double Road was also closed on both sides and traffic was allowed on IJP Road.
Source: Dawn
Please click the following URL to read the full text of the original story:
https://www.dawn.com/news/1692328/punjab-govt-plans-unprecedented-security-if-pti-holds-another-march
--------
PM Shehbaz seeks 10-year roadmap for deepening Pak, UK ties
May 30, 2022
ISLAMABAD: Prime Minister Shehbaz Sharif on Monday underscored the importance of Pakistan-UK Enhanced Strategic Dialogue (ESD) and suggested to develop 10-years roadmap for taking relations forward in diverse fields.
The Prime Minister expressed these views during a telephone call with his British counterpart, Mr. Boris Johnson.
PM Shehbaz Sharif stressed the ESD should deepen mutual engagement and the bilateral partnership elevated to the next level. The Prime Minister also appreciated the work undertaken by the UK in promoting education, health and other social sectors in Pakistan.
Prime Minister Johnson reiterated his felicitations to Prime Minister Shehbaz Sharif on his election and assumption of office and underlined UK's desire to further enhance its bilateral relationship with Pakistan.
Prime Minister Shehbaz Sharif extended felicitations to UK on platinum jubilee celebrations of Her Majesty The Queen's coronation. Both leaders emphasized the importance of celebrating the 75th anniversary of establishment of Pakistan-UK diplomatic relations in a befitting manner.
The Prime Minister stated that Pakistan highly valued its relations with the UK, which were based on historical linkages and convergent interests on a broad range of issues. The Prime Minister reiterated Pakistan's desire to bolster its ties with the UK across diverse fields, with a special emphasis on an enhanced trade and investment partnership.
Highlighting the long-standing Pakistan-UK ties, the Prime Minister appreciated the positive role played by 1.6 million Pakistani diaspora in forging closer links and building bridges between the two countries. He further emphasized the need to strengthen cooperation in the field of legal migration to fully realise the potential.
In the regional context, Prime Minister Shehbaz Sharif underscored the importance of peace and stability in Afghanistan and the need to scale up efforts to avert the humanitarian crisis. He added that the international community's constructive diplomatic and political engagement with the Interim Afghan government was vital for sustainable peace and stability.
He also underscored the importance of release of Afghanistan's frozen assets to bring stability to the fledgling Afghan economy. Prime Minister Boris Johnson conveyed his government's deep appreciation for Pakistan's cooperation with UK, particularly with regard to evacuations in the aftermath of developments in Afghanistan post-15 August 2021.
The Prime Minister highlighted the grave violations of human rights in the Indian Illegally Occupied Jammu and Kashmir (IIOJK). While reiterating Pakistan's commitment towards promotion of peace in the region, he stressed the importance of peaceful resolution of the Jammu and Kashmir dispute. He also underscored the need for maintaining strategic balance in the South Asian region.
Source: Pakistan Today
Please click the following URL to read the full text of the original story:
https://www.pakistantoday.com.pk/2022/05/30/pm-shehbaz-seeks-10-year-roadmap-for-deepening-pak-uk-ties/
--------
Pakistan needs investments from its Chinese friends, not handouts: PM Shehbaz Sharif
May 30, 2022
ISLAMABAD: Prime Minister Shehbaz Sharif on Monday said Pakistan doesn't want handouts, but investments from its Chinese friends.
During a meeting with the representatives of Chinese companies investing in Pakistan here, the premier said that Pakistan and China's unwavering friendship has weathered storms and strengthened overtime.
He praised China for progressing in various sectors and lifting numerous above the poverty level during the last three decades.
Pakistan has China as a model to emulate and replicate its development reforms, PM Shehbaz Sharif said.
The premier said that Pakistan looks forward to seek support from China in every walk of life and it will benefit from China's experience in the fields of industries and agriculture.
Pakistan has resolved that we will meet all the challenges however difficult they are and take Pakistan towards progress, the premier said.
"For this, Pakistan needs real support from our Chinese friends, not in terms of money, aid or handouts, but in terms of investment, trade and expertise."
PM Shehbaz Sharif said that China is the most reliable friend of Pakistan.
He thanked the Chinese leadership, and his Chinese counterpart, Xi Jinping, for their unstinting support towards Pakistan in the shape of the China-Pakistan Economic Corridor.
He said that CPEC has helped Pakistan move forward a huge way. Recalling the start of the last decade, when electricity load-shedding was at its peak, PM Shehbaz Sharif said that the Chinese president and then prime minister of Pakistan Nawaz Sharif made various deals to set up power plants to overcome the issue by 2017.
Source: Pakistan Today
Please click the following URL to read the full text of the original story:
https://www.pakistantoday.com.pk/2022/05/30/need-investments-from-our-chinese-friends-pm-shehbaz-sharif/
--------
Africa
Islamic cleric, Jangebe begs FG to negotiate with ASUU
May 30, 2022
By Ifeanyi Nwannah
The Zamfara State commissioner of Religious Affairs and Chief Imam of Muslims Foundation Jumu'at Mosque in Gusau, the State capital, Dr. Muhammad Tukur Sani Jangebe, has urged the Federal Government to as a matter of fact address the demands of the Academic Staff Union of Universities (ASUU).
Sheikh Jangebe stated this in Gusau while answering questions from newsmen.
According to him, the strike was seriously affecting the entire teaching and learning system among students and their lecturers across the country.
"The Federal Government should look into negotiating with ASUU and bringing back our children to their respective universities for them to continue with their studies.
"Everyone knows that the contribution teachers are giving to nation building can never be overemphasised and we are calling on the government to provide a mechanism to boost their morale," he said.
He also called on parents and teachers of various institutions of learning to intensify prayers.
Source: Daily Post Nigeria
Please click the following URL to read the full text of the original story:
https://dailypost.ng/2022/05/30/islamic-cleric-jangebe-begs-fg-to-negotiate-with-asuu/
--------
Somalia warns it is facing famine-like conditions
Mohammed Dhaysane
31.05.2022
MOGADISHU, Somalia
Somalia is experiencing its worst drought in decades, approaching famine-like conditions amid a worsening hunger and nutrition crisis, the special presidential envoy for drought response said Monday.
Abdirahman Abdishakur Warsame said 6.1 million Somalis are facing an extreme level of food insecurity while 330,000 children are facing severe acute malnutrition due to the prolonged drought.
"The Special Envoy for Drought calls on all stakeholders to increase efforts to support communities affected by drought," the Office of the Special Envoy for Drought Response said in a statement.
The statement underscored the need for an urgent and well-coordinated response and for all Somalis to stand to save lives.
"The contentious political environment which led to the prolonged electoral process, global political crisis, and the emergence of humanitarian crisis fronts elsewhere in the world have contributed to the inadequate response to the drought in the face of the impending famine in the country," the envoy said.
Source: Anadolu Agency
Please click the following URL to read the full text of the original story:
https://www.aa.com.tr/en/africa/somalia-warns-it-is-facing-famine-like-conditions/2601612
--------
Bomb blast in southwestern Somalia kills 3, wounds 4
Mohammed Dhaysane
30.05.2022
MOGADISHU, Somalia
At least three people were killed and four others wounded in a bomb blast in Somalia's Lower Shabelle region on Monday.
The target of the blast in Afgoye, located some 30 kilometers (18 miles) southwest of the capital Mogadishu, was Hussein Jibril, the town's former deputy mayor, a police officer told Anadolu Agency.
"It was a remote-controlled explosive device. Three people have been killed and four, including Jibril, are injured," said the officer, who requested anonymity due to safety concerns.
Earlier in the day, the al-Shabaab terror group attacked a bridge running across a river in Afgoye, according to Somali military officials.
Security forces successfully repulsed the attack, the officials said, without sharing any details on casualties or damage.
Source: Anadolu Agency
Please click the following URL to read the full text of the original story:
https://www.aa.com.tr/en/africa/bomb-blast-in-southwestern-somalia-kills-3-wounds-4/2601433
--------
Tunisian president slams Venice Commission over report on constitutional referendum
May 31, 2022
TUNIS: Tunisian President Kais Saied threatened on Monday to suspend the country's membership of the Venice Commission and expel its representatives, after it published a report criticizing his plan to hold a referendum on a new constitution.
Said pledged earlier this month to move forward with a proposal for a referendum on July 25 to replace the country's democratic 2014 constitution, ignoring opposition calls to reverse the controversial decision.
The move has added to growing internal and external criticism that he has entrenched one-man rule since he seized control of executive power last summer, dissolved parliament, and began ruling by decree.
The report issued this month by the Venice Commission, a panel of experts of the human rights body Council of Europe, said it was unrealistic to hold a credible referendum in the absence of clear and pre-established rules.
It added that changing the electoral law should be preceded by a "broad consultation of political forces and civil society" in order to reach a consensus.
Saied this month named a law professor to head an advisory committee including law and political science deans, to draft a new constitution for a "new republic," excluding political parties from the restructure of the political system.
Tunisia's main political parties said they will boycott the unilateral restructuring of politics. University deans have also refused to join the panel.
The powerful UGTT union refused to take part in a limited dialogue proposed by Saied as part of the process. It said it would hold a national strike at state firms and public services. "If necessary, we must end our membership in the Venice Commission, they are persona non grata in Tunisia," Saied said on Monday.
"Blatant interference is unacceptable," he added.
The Venice Commission said in its report that elections for a new parliament should be held before any referendum.
Source: Arab News
Please click the following URL to read the full text of the original story:
https://www.arabnews.com/node/2093181/middle-east
--------
North America
US President abandoned plan to open consulate for Palestinians in al-Quds
May 31, 2022
A new report has revealed that US President Joe Biden's administration has abandoned its plan to reopen a consulate specifically designated for Palestinian affairs in the occupied city of al-Quds.
In a report published on Monday, the al-Quds-based Hebrew newspaper Israel Today said the Biden administration has given up on the establishment of a US consulate in the holy city, the Palestinian Information Center reported.
The report further noted that the United States intends to upgrade the post of Deputy Assistant Secretary of State for Israel and Palestinian Affairs Hady Amr to the Special Envoy for Palestinians.
He would work directly with the Palestinian Affairs Unit (PAU) of the US Embassy in the Occupied Palestine and indeed would be a separate representative for Palestinians in every sense, it added.
The latest development comes as the Israeli regime has already expressed its opposition to the US plan to reopen a consulate for Palestinians in occupied al-Quds, saying the move would challenge its "sovereignty" over the contested city.
Back in November, Israeli Prime Minister Naftali Bennett rejected the US-promised reopening of its consulate for Palestinians in East al-Quds.
He said at the time there was "no room" in al-Quds for the American diplomatic mission.
The administration of former US President Donald Trump signaled support for Israel's claim on al-Quds as its "capital" by moving the American embassy there from Tel Aviv.
It also shuttered the US consulate in al-Quds, which had served as a de facto embassy for the Palestinians, saying it was no longer needed because the new embassy had taken over its functions.
Moving the US embassy to al-Quds was among several US acts against Palestinians, who want East al-Quds as the capital of their future state.
Source: ABNA24
Please click the following URL to read the full text of the original story:
https://en.abna24.com/news//us-president-abandoned-plan-to-open-consulate-for-palestinians-in-al-quds_1262489.html
--------
Blinken says US strongly condemns Iran seizure of Greek-flagged vessels
30 May, 2022
US Secretary of State Antony Blinken on Monday condemned the "unjustified seizure" of two Greek-flagged vessels by Iran's Islamic Revolutionary Guard last week, the State Department said.
Iranian forces seized two Greek tankers in the Gulf on Friday, shortly after Tehran warned it would take punitive action against Athens over the confiscation of Iranian oil by the US from a tanker held off the Greek coast.
"Iran's continued harassment of vessels and interference with navigational rights and freedoms are a threat to maritime security and the global economy," Blinken said in the statement.
Blinken made the comments in a telephone call with Greek Foreign Minister Nikos Dendias, the department said.
The US and Greek diplomats called on Iran to immediately release the seized vessels, their cargoes, and their crews. Blinken said the United States stands with its NATO ally "in the face of this unjustified seizure."
Iran's state maritime body said on Saturday the crew of the two Greek tankers not been detained, and were in good health and being cared for onboard their vessels.
Greek authorities last month impounded the Iranian-flagged Pegas off Greece due to European Union sanctions. The United States later confiscated the Iranian oil cargo held onboard, Reuters reported on Thursday.
Source: Al Arabiya
Please click the following URL to read the full text of the original story:
https://english.alarabiya.net/News/world/2022/05/30/Blinken-says-US-strongly-condemns-Iran-seizure-of-Greek-flagged-vessels
--------
US Secretary of State thanks Saudi Arabia's FM for efforts to extend Yemen truce
31 May, 2022
The US Secretary of State Antony Blinken thanked Saudi Arabia's Foreign Minister Prince Faisal bin Farhan for the Kingdom's efforts to extend the truce in Yemen in a phone call on Monday, the State Department said.
Both sides in the warring Gulf state agreed on a two-month ceasefire beginning in early April and coinciding with the holy month of Ramadan.
Talks to extend the truce past the end of May have been ongoing for several weeks, according to the UN Special Envoy for Yemen Hans Grundberg.
It was the first respite in violence since civil war broke out in 2014, with Saudi Arabia and the United Arab Emirates intervening on the side of the internationally-recognized government in 2015.
The truce has largely held up despite some reports of violence, Grundberg said on May 17.
Humanitarian aid had been able to reach previously inaccessible frontlines, and the first commercial flights out of the capital Sanaa in almost six years were able to take off.
Yemen's government also gave clearance to ships delivering fuel to the port of Hodeida, easing the fuel crisis in Sanaa and surrounding areas.
Blinken and Prince Farhan discussed a range of other issues in their call on Monday, including efforts to avert the economic, environmental, and humanitarian threats posed by the Safer oil tanker in the Red Sea.
The aging tanker holds more than a million barrels of oil and has been anchored off Yemen's coast for more than 30 years.
Maintenance and offloading were halted when the war started, and it is considered a major ecological threat due to the risk of a significant oil spill that could devastate fishing communities, according to the UN.
An action plan to transfer the oil from the decaying vessel to a newer ship has been outlined by the UN and is awaiting the funding needed to carry it out.
Blinken also outlined in the call the importance of international support for Ukraine and the need for a global response to respond to the food security crisis resulting from the violence.
Source: Al Arabiya
Please click the following URL to read the full text of the original story:
https://english.alarabiya.net/News/gulf/2022/05/31/US-Secretary-of-State-thanks-Saudi-Arabia-s-FM-for-efforts-to-extend-Yemen-truce
--------
URL: https://newageislam.com/islamic-world-news/children-durga-muslim-fundamentalism/d/127142
New Age Islam Islam Online, Islamic Website, African Muslim News, Arab World News, South Asia News, Indian Muslim News, World Muslim News, Women in Islam, Islamic Feminism, Arab Women, Women In Arab, Islamophobia in America, Muslim Women in West, Islam Women and Feminism