New Age Islam News Bureau
22 Feb 2014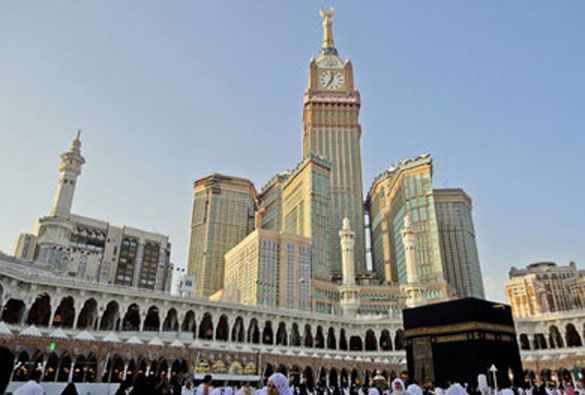 The birthplace of the Prophet Muhammad (peace be upon him) is at risk of being bulldozed to make way for a modern complex in the holy city of Mecca
-----------
Arab World
• Childhood Home of Prophet Muhammad Could Be Demolished For a Modern Complex
• Militants kill at least 9 troops in eastern Iraq
• Mass Grave Found in Mallah, Aleppo after ISIL Retreats
• New Execution of Kneeling Captives by ISIL
• Syrian Turkmen fear 'slaughter' by ISIL forces
• Fears of Syria militancy expand influence of Saudi prince, Mohammad Bin Nayef
• Saudi Internet Monitors Turn Focus on Syria-Fuelled Radicalism
• Syria Says Ready to Help Lebanon Fight Terrorism
• Bahrain: Almost 300,000 Citizens Participate in Protests Demanding Democracy
Pakistan
• Taliban Are Criminals; Dialogue Senseless: Opposition Leader
• Pakistan helicopters kill 9 militants: Officials
• Constitution of Pakistan is not un-Islamic: - Member Taliban committee
• Proposals presented to govt for success of talks: Jamiat Ulema-e-Islam-Fazl
• Govt responsible for deadlock in talks: Taliban committee
• TTP threat panics Kalash people
• Security forces do not have TTP's women and children in custody: ISPR
• PM still ready to deal with 'good' Taliban
• Nothing Islamic in TTP: Bilawal
• Najam Sethi sends notice to Imran over poll fraud allegation
Mideast
• Turkey TV series shooting banned over controversial scene depicting the Prophet Muhammad
• Israel's Bar-Ilan University to Establish Prayer Room for Muslim Students
• Israeli military one of the world's most LGBT friendly, says new report
• Abbas: US 'Peace' Bid for PA, Israel Failed
• 49 Palestinians injured in clashes with Israeli forces
India
• India Slams Pakistan as Parliament Attack Mastermind Resurfaces, Calls For 'Jihad'
• Sufi singer Hans Raj Hans converts to Islam – his new name is Mohammad Yousaf
• HRD ministry makes criteria easier for appointment of Urdu teachers in schools
Africa
• C. Africa clerics call for weapons-free churches, mosques
• Tunisia to tighten Niqab controls
• Morocco to train Tunisia, Libya imams
• Somali President Unharmed in Palace Attack, Killing 17
• Tunisia: Libyan Diplomat Denies Presence of Al-Qaida Members On Board Crashed Plane
• Boko Haram's arms supply from Sudan, CAR stopped in Cameroon
• Imam of Al-Nour mosque spreads message of moderation
South Asia
• Criminals vandalised and torched two family temples of Hindus In Bangladesh
• Pakistan releases senior Afghan Taliban leader Mansoor Dadullah
• Zero tolerance on terrorism: Bangladesh reiterates
• Jamaat-e-Islami candidate also a polls official, violating the electoral codes
Europe
• 10 Dutch youngsters refused passports over Syria jihad fears
• Independent inquiry into alleged Muslim massacre needed in Myanmar – U.N. envoy
• UN cites evidence of rebel abuses in S. Sudan
• London Jews Host Islam Awareness Week
• Shamrock Crescent: Islam Is Ireland's Fastest Growing Religion
• Catholic Church trying to privatize Cordoba Mosque
• French hatred of Jews goes far beyond Muslim anti-Semitism, says U.K. author
• Germany to assist Israelis in states where they have no embassy
• UN: Up to 95 executions already in Iran this year
• Muslim groups accuse the Daily Mail of inciting hatred
Southeast Asia
• Allah affair and the attack on the religious freedom do not bring votes
• South Sumatra, hundreds of Islamists block the construction of a Protestant church
• When Malaysians came up and spoke up on need for racial integration
• Sabahans slam Christian leaders in Cabinet for keeping silent on religious issues
North America
• CAIR Seeks Withdrawal of Va. State Accreditation for Anti-Muslim Training
• US marine heroism tale of Iraq war veteran a blatant lie – comrades
• Afghan election "a new chapter" for Afghanistan – UN Special Envoy
• Gen. McChrystal warns over complete US withdrawal from Afghanistan
• Students at prominent NY Jewish high school outraged over ban of Palestinian academic
• The Trials of Islamic Converts in The United State
Compiled by New Age Islam News Bureau
URL: https://www.newageislam.com/islamic-world-news/new-age-islam-news-bureau/childhood-home-of-prophet-muhammad-could-be-demolished-for-a-modern-complex/d/35891
-----------
Arab World
Childhood Home of Prophet Muhammad Could Be Demolished For a Modern Complex
World Bulletin / News Desk
February 22nd, 2014
The birthplace of the Prophet Muhammad (peace be upon him) is at risk of being bulldozed to make way for a modern complex in the holy city of Mecca.
The Saudi Arabian authorities are currently in the process of modernizing the city, which attracts millions of pilgrims from all over the world every year for the Hajj pilgrimage. However, their disregard for historical sites in the city has angered many Muslims.
On Thursday the Independent newspaper revealed that if the Saudi government approves plans that have been proposed, a small library that sits on top of the remains of the Prophet Muhammad's (peace be upon him) childhood home will likely be demolished.
Dr Irfan al-Alawi, a historian and executive director of the UK-based Islamic Heritage Research Foundation, told the newspaper "The last remaining historical site in the kingdom is the birthplace of the Prophet Mohamed," adding "Most people are not even aware there are plans now to destroy it."
http://www.worldbulletin.net/news/129413/childhood-home-of-prophet-muhammad-could-be-demolished
------------
Militants kill at least 9 troops in eastern Iraq
By SINAN SALAHEDDIN / Associated Press / February 22, 2014
BAGHDAD (AP) — Officials in Iraq say militants have attacked an army patrol in the country's east, killing at least nine troops.
A police officer says two bombs targeted a four-vehicle patrol Saturday in the town of al-Saadiyah, 140 kilometers (90 miles) northeast of Baghdad. He says militants opened fire on the troops after the bombing.
The police officer says four military officers and five soldiers were killed, while four soldiers were wounded.
Also Saturday, another police officer says three car bombs exploded in the city of Tikrit, some 130 kilometers (80 miles) north of Baghdad. The officer says the blasts near the homes of local security and civilian officials killed five people and wounded 18.
Two medical officials confirmed figures. All officials spoke on condition of anonymity as they were not authorized to release information to journalists.
http://www.boston.com/news/world/middle-east/2014/02/22/iraqi-authorities-distribute-cards-for-elections/pckCnJTNoFK5FGM1m2qsAL/story.html
-----------
Mass Grave Found in Mallah, Aleppo After ISIL Retreats
February 22nd, 2014
TEHRAN (FNA)- The Saudi-backed Islamic State of Iraq and the Levant (ISIL) terrorist group has killed at least a dozen people in Mallah and dumped them in a mass grave. The victims are thought to be some captured members of the FSA rebel group. Mallah is near Heritan North of Aleppo city.
http://english.farsnews.com/player.aspx?nn=13921202000617
-----------
New Execution of Kneeling Captives by ISIL
February 22nd, 2014
TEHRAN (FNA)- The Islamic State of Iraq and the Levant, or ISIL (also known as ISIS), have taken advantage of a power vacuum in rebel-held areas to assert its authority. They killed 5 kneeling captives in cold blood
http://english.farsnews.com/player.aspx?nn=13921202000250
-----------
Syrian Turkmen fear 'slaughter' by ISIL forces
World Bulletin / News Desk
February 22nd, 2014
Up to 800,000 Turkmen living between the Syrian city of Aleppo and the Turkish border are vulnerable to attack from Islamic State of Iraq and the Levant (ISIL) fighters, said a prominent Syrian Turkmen leader speaking to the Anadolu Agency (AA) on Friday.
Tarik Sulo Cevizci, deputy president of the Syrian Democratic Turkmen Movement, said that because the ISIL is occupying some regions along the Turkey-Syria border, access for humanitarian aid for Turkmens from Turkey is restricted.
Cevizci said the ISIL have to date invaded five Turkmen towns and more than 240 villages, where ISIL members are said to be terrorizing the civilians.
Full report at:
http://www.worldbulletin.net/headlines/129385/syrian-turkmen-fear-slaughter-by-isil-forces
------------
Fears of Syria militancy expand influence of Saudi prince, Mohammad Bin Nayef
February 22nd, 2014
Riyadh: Saudi Interior Minister Mohammad Bin Nayef, perhaps the most powerful younger prince in the ruling Al Saud family, is shaping Riyadh's new emphasis on protecting the kingdom from a fresh wave of Islamist militancy inspired by the war in Syria.
The United States pulled out the stops for him when he visited Washington last week to prepare for President Barack Obama's fence-mending trip to Riyadh next month.
Secretary of State John Kerry, National Security Adviser Susan Rice, Central Intelligence Agency chief John Brennan, Homeland Security Secretary Jeh Johnson, Federal Bureau of Investigation director James Comey and National Security Agency director Keith Alexander all sat down with the 54-year-old, a veteran of Saudi Arabia's fight against Al Qaida.
Full report at:
http://gulfnews.com/news/gulf/saudi-arabia/fears-of-syria-militancy-expand-influence-of-saudi-prince-1.1293974
-----------
Saudi Internet Monitors Turn Focus On Syria-Fuelled Radicalism
By Reuters
February 22nd, 2014
Syria's civil war has led to a new, greater threat of Islamist radicalism in Saudi Arabia that requires a more aggressive "war of ideology" on the Internet, says the man responsible for online monitoring in the kingdom.
Remarks by the head of the Saudi Ideological Security Directorate (ISD) suggest that the unit, known for keeping tabs on liberal activists and women drivers as well as Islamist extremists, is turning its focus increasingly towards those using the Internet to recruit fighters for jihad abroad.
This month King Abdullah decreed that any Saudi who goes overseas to fight faces jail terms of 3-20 years. Authorities believe 1,000-2,000 of the kingdom's citizens have gone to Syria to join the war there.
Full report at:
http://gulfbusiness.com/2014/02/saudi-internet-monitors-turn-focus-syria-fuelled-radicalism/#.UwkKo2JdUqM
-----------
Syria Says Ready to Help Lebanon Fight Terrorism
February 22nd, 2014
Syria is ready to work with Lebanon to fight terrorism, a statement from the Syrian Interior Ministry said, citing recent bombings in Lebanon.
"The ministry is prepared to cooperate with the Lebanese Interior Ministry on counter-terrorism measures, pursuing terrorists and intercepting criminal tools aimed at targeting the stability of Lebanon and Syria," said a statement published late Thursday by Syria's state news agency SANA.
"The ministry is also ready to offer anything within its means to thwart the terrorist attacks that target the security and safety of the brotherly Syrian and Lebanese people."
The statement follows Wednesday's twin suicide bombings near the Iranian Cultural Center in Beirut's Bir Hassan, killing eleven people.
http://english.farsnews.com/newstext.aspx?nn=13921203000579
-----------
Bahrain: Massive Crowds Reaching Almost 300,000 Citizens Participate in Protests Demanding Democracy
February 22nd, 2014
The protest organizer committee said that the mass protest which took place Friday after the calls of the national opposition forces have reached to almost 300 thousand citizens, demanding a democratic system to replace the dictatorship rule in Bahrain.
The peaceful demonstrators who carried Bahraini flags and banners written on them "democracy is the solution", affirmed their commitment to build a democratic country where the people are the source of power, and demanded that Bahrain is ruled by equal citizenship, Alwefaq.net reported.
Full report at:
http://english.farsnews.com/newstext.aspx?nn=13921203000480
-----------
Pakistan
Taliban Are Criminals; Dialogue Senseless: Opposition Leader
February 22, 2014
SUKKUR: Opposition Leader in the National Assembly Syed Khurshid Shah said that Taliban are criminals and anti-state elements and enemies need to be told that writ of the government is intact in the country.
Talking to reporters at the Sukkur airport, Khurshid Shah said that "our soldiers are brutally martyred in broad day light and steps need to be taken to control such incidents".
"Enemies and anti-state elements need to be told that writ of the government is intact in the country and it cannot be challenged so easily."
Full report at:
http://www.dailytimes.com.pk/national/22-Feb-2014/taliban-are-criminals-dialogue-senseless
-----------
Pakistan helicopters kill 9 militants: Officials
February 22nd, 2014
Security officials say Pakistani helicopter gunships have carried out strikes against a militant training facility in the country's northwest, killing nine insurgents.
The officials say the military launched the attack Saturday after confirming reports about the presence of militants at a compound in the village of Thal in the Hangu district of Khyber Pakhtunkhwa provice.
Full report at:
http://english.ahram.org.eg/NewsContent/2/9/94906/World/International/-Pakistan-helicopters-kill--militants-Officials-.aspx
-----------
Constitution of Pakistan is not un-Islamic: - Member Taliban committee
February 22, 2014
ISLAMABAD- Member of the Taliban nominated committee, Professor Ibrahim said that the constitution of Pakistan was not un-Islamic and religious scholars had endorsed and signed it.
Talking to journalists, Professor Ibrahim said that Islamic scholars had drafted, developed and signed the constitution.
He said that the implementation of the real constitution was the only way to resolve lingering issue of the country, and that Taliban would also accept this constitution once it is implemented.
Full report at:
http://www.nation.com.pk/national/21-Feb-2014/constitution-of-pakistan-is-not-un-islamic-professor-ibrahim
-----------
Proposals presented to govt for success of talks: Jamiat Ulema-e-Islam-Fazl
February 22, 2014
DI KHAN: Jamiat Ulema-e-Islam-Fazl (JUI-F) chief and chairman of NA Committee on Kashmir Affairs Maulana Fazlur Rehman said on Friday that he had conveyed his proposals for success of the peace process "which are based on good intentions and in larger national interest".Addressing a reception hosted by traders, he said he would keep on presenting such proposals which were in interests of the country and the nation. He recalled that the party had raised voice in parliament against the enactment of anti-Islamic laws to undo the agenda of a particular lobby. He said that the role of JUI-F in the national politics was very clear and bold. It did struggle for the development of DI Khan region, he added.
Full report at:
http://www.dailytimes.com.pk/national/22-Feb-2014/proposals-presented-to-govt-for-success-of-talks
-----------
Govt responsible for deadlock in talks: Taliban committee
February 22, 2014
PESHAWAR: Taliban committee member Maulana Yousaf Shah on Friday held the government responsible for the deadlock in peace talks.
Talking to reporters, Maulana Yousaf Shah said that the government has not yet contacted them for a meeting. He held the government responsible for the deadlock in negotiations, and said that the committee wanted to solve the issue through peaceful means. He added that the committee was in contact with the Tehreek-e-Taliban Pakistan leadership. Another member of the Taliban committee, Professor Ibrahim Khan, said that the constitution of Pakistan is not un-Islamic and religious scholars had endorsed and signed it. Talking to reporters, Professor Ibrahim said that their religious elders had drafted, developed and signed the constitution, adding that they all had taken oath under the same.
Full report at:
http://www.dailytimes.com.pk/national/22-Feb-2014/govt-responsible-for-deadlock-in-talks-taliban-committee
----------
TTP threat panics Kalash people
2014-02-22
CHITRAL: The Tehreek-i-Taliban threat of attacks has frightened the Kalash tribe living in three segregated valleys of southern Chitral.
Luke Rahmat, a Kalash tribesman holding a master's degree, told Dawn here that the Taliban threat had filled more than 3,500 members of his community with terror.
He said though the TTP threat's authenticity had yet to be established, it had terrified the Kalash people, who had confined themselves to homes after sunset fearing attacks by the banned outfit.
Full report at:
https://www.dawn.com/news/1088660/ttp-threat-panics-kalash-people
-----------
Security forces do not have TTP's women and children in custody: ISPR
February 22, 2014
ISLAMABAD: Security forces do not have the women and children of Tehreek-e-Taliban Pakistan (TTP) members in custody, according to the Inter Services Public relations, Express News reported on Saturday.
Rejecting the allegations levelled by the TTP, ISPR spokesperson said that these allegations against security forces are unsubstantiated and false, further stating that it was a baseless propaganda by the TTP.
Full report at:
http://tribune.com.pk/story/674879/security-forces-do-not-have-ttps-women-and-children-in-custody-ispr/
-----------
PM still ready to deal with 'good' Taliban
February 22, 2014
LAHORE - It appears the government is not yet out of its 'good'-and-'bad'-Taliban approach to deal with the issue of terrorism. This is evident from Friday's statement by Prime Minister Nawaz Sharif who expressed his willingness to play ball with the good Taliban who adhere to the Constitution.
"For the sake of peace and the country's solidarity, the government is ready for talks with those who adhere to the country's Constitution and respect its solidarity," he said while talking to party workers at his Jaati Umra residence.
But he also made it clear that there would be no talks with those who disregarded the Constitution and were killing innocent civilians, including children.
Full report at:
http://www.nation.com.pk/national/22-Feb-2014/pm-still-ready-to-deal-with-good-taliban
-----------
Nothing Islamic in TTP: Bilawal
February 22, 2014
KARACHI - PPP Chief Patron Bilawal Bhutto Zardari on Friday said nothing was Islamic in Tehreek-e-Taliban Pakistan (TTP).
His statement on social networking site came after TTP Spokesman Shahidullah Shahid said earlier in the day that there was not a single Islamic clause in Pakistan's constitution.
Bilawal Bhutto Zardari tweeted his response to Tehreek-e-Taliban Pakistan: "Shahidullah Shahid has said there is nothing Islamic in Pakistan's constitution. He can't read clearly. The truth is that there is nothing Islamic in TTP." The TTP spokesman had given the statement during a news conference held in North Waziristan. Shahidullah had said the government wanted the Taliban to accept the constitution of Pakistan through dialogue.
http://www.nation.com.pk/karachi/22-Feb-2014/nothing-islamic-in-ttp-bilawal
-----------
Najam Sethi sends notice to Imran over poll fraud allegation
2014-02-22
ISLAMABAD: Former caretaker chief minister of Punjab Najam Sethi has decided to take Pakistan Tehreek-i-Insaf (PTI) chief Imran Khan to court over the allegation that the former had committed election fraud in favour of the ruling PML-N.
Talking to Dawn on Friday, the head of PTI's central media cell, Chaudhry Rizwan, confirmed that the party had received the defamation notice delivered on behalf of Mr Sethi. He said the party's legal team was going through the notice and a formal response would be given after the expected return of Mr Khan from London on Sunday.
Full report at:
https://www.dawn.com/news/1088665/sethi-sends-notice-to-imran-over-poll-fraud-allegation
-----------
Mideast
Turkey TV series shooting banned over controversial scene depicting the Prophet Muhammad
February 22nd, 2014
Controversy over a scene depicting the Prophet Muhammad in a TV series has prompted the Konya Governor's Office to cancel permission to shoot in the Central Anatolian province.
The series, titled "Şefkat Tepe" (literally translated as Affection Hill), had depicted the Prophet with a beam of light. "Şefkat Tepe" is aired on private broadcaster Samanyolu, known as one of the main media outlets connected to the movement of U.S.-based Islamic scholar Fethullah Gülen.
Producers of the series have been denounced for attempting to represent the Prophet, but the broadcaster defended it, blasting criticism as "black propaganda" and an attempt to smear the Gülen Movement.
Full report at:
http://www.hurriyetdailynews.com/tv-series-shooting-banned-over-controversial-scene-depicting-the-prophet-muhammad.aspx?pageID=238&nID=62790&NewsCatID=341
-----------
Israel's Bar-Ilan University to Establish Prayer Room for Muslim Students
February 22nd, 2014
Israel's Bar-Ilan University, long associated with the ideals of religious Zionism, will soon establish a dedicated prayer room on campus for the center of higher learning's 500 Muslim students, it announced Thursday, Israel's Channel 10 reported.
Until now, Muslim students who wanted to worship throughout the school day had to find an empty classroom or unused patch of grass somewhere on the university grounds.
The university's announcement comes as the result of one particular student's diligence and dedication, according to the report.
Full report at:
http://www.algemeiner.com/2014/02/21/bar-ilan-university-to-establish-prayer-room-for-muslim-students/
-----------
Israeli military one of the world's most LGBT friendly, says new report
February 22nd, 2014
In the first international index to rank countries based on the inclusion of lesbian, gay, bisexual and transgender service members in the armed forces, Israel finds itself perched close to the top. The LGBT Military Index, which surveys the inclusion practices of over 100 countries, was published Thursday by The Hague Center for Strategic Studies, an independent think tank in the Netherlands that conducts research on international security and defense.
On a 100-point scale based on a number of policies and practices, the Israeli Defense Forces earned 92 points, coming in at number eight on the list. New Zealand took the top spot with a perfect score, followed by the Netherlands, the United Kingdom, Sweden, Australia, Denmark, Belgium and then Israel. France and Spain rounded out the Top 10. The United States ranked 40th with a score of 72.8, coming in behind such countries as Cuba and Estonia.
Full report at:
http://www.haaretz.com/news/national/.premium-1.575696
-----------
Abbas: US 'Peace' Bid for PA, Israel Failed
February 22nd, 2014
Acting President of Palestinian Authority Mahmud Abbas said that US attempts to forge an agreement for "peace" negotiations between his government and the Israeli regime have so far failed.
Speaking in Paris after talks this week with US Secretary of State John Kerry, Abbas told journalists on Friday, "So far the Americans have not been able to put these ideas into a framework, even if the efforts are extremely serious," Al-Alam reported.
After meeting with Abbas, French President Francois Hollande said he had underlined the need "to reach an agreed framework for negotiations in a timely manner".
Abbas met with Kerry twice in Paris this week in what a US official described as "constructive" talks.
Full report at:
http://english.farsnews.com/newstext.aspx?nn=13921203000738
---------
49 Palestinians injured in clashes with Israeli forces
World Bulletin / News Desk
February 22nd, 2014
Two separate incidents in the West Bank and Gaza left up to 49 Palestinians injured after Israeli forces fired on them with both rubber bullets and live ammunition.
At least 35 Palestinian were injured by Israeli gunfire during clashes between Palestinian youths and Israeli troops in the Old City of Al-Khalil (Hebron) in the southern West Bank, eyewitnesses said Friday.
Full report at:
http://www.worldbulletin.net/world/129390/49-palestinians-injured-in-clashes-with-israeli-forces
-----------
India
India slams Pakistan as Parliament attack mastermind resurfaces, calls for 'jihad'
February 22nd, 2014
New Delhi: India has slammed Pakistan for allowing terrorist Masood Azhar, accused of planning the brazen attack on the Indian Parliament in December 2001, to address an anti-India rally in late January.
Soon after Pakistan's foreign office sought to play down as a "one time event" reports that Azhar had called for "jihad" or holy war against India at the rally, New Delhi said, "Once is once too many times...We have zero tolerance for terrorists."
The Ministry of External Affairs said it was "concerned that a terrorist who is banned is able to spew venom on India," pointing out that Azhar's Jaish e Mohammad is "a terrorist organisation banned by India, the US and more importantly by Pakistan."
Masood Azhar, 45, was one of three terrorists released by India in 1999 in exchange for the hostages of the hijacked Air India flight IC-814. He went on to form the Jaish e Mohammad or Army of Mohammad and was soon banned by Pakistan and the US.
He was named as the prime suspect in a 2001 Parliament attack. Tension spiralled and up to a million troops were mobilised on both sides of the volatile border. Pakistan refused to hand over Azhar to India.
Full report at:
http://www.ndtv.com/article/india/india-slams-pakistan-as-parliament-attack-mastermind-resurfaces-calls-for-jihad-486422
-----------
Sufi singer Hans Raj Hans converts to Islam – his new name is Mohammad Yousaf
February 22nd, 2014
Internationally famed Sufi singer Hans Raj Hans has confirmed that he had converted to Islam (as per the online media reports). He is in Lahore (Pakistan) these days. Talking to media persons at Lahore Museum, Hans Raj Hans confirmed that he had converted to Islam and he was much proud of being a Muslim now. He also declared that his new Islamic name is Mohammad Yousaf. Mohammad Yousaf (Hans Raj Hans) showed his desire of going and visiting Madina Munawwarah (a Holy place of Muslims in Saudi Arabia).
Full report at:
http://muslimmirror.com/eng/hans-raj-hans-converts-to-islam-his-is-now-mohammad-yousaf/
-----------
HRD ministry makes criteria easier for appointment of Urdu teachers in schools
February 22nd, 2014
New Delhi: The criteria for the appointment of Urdu teachers in schools have been modified to make it more flexible for the expansion of Urdu language.
Ministry of Human Resource Development. had launched a Centrally sponsored Scheme for the expansion and propagation of Urdu language in Elementary and Secondary schools of India . But due to a mandatory condition of having 25% Urdu speaking people criteria the scheme was not being implemented by Assam like states where the requisite number of Urdu speaking people are not available.
Full report at:
http://muslimmirror.com/eng/hrd-ministry-makes-criteria-easier-for-appointment-of-urdu-teachers-in-schools/
-----------
Africa
C. Africa clerics call for weapons-free churches, mosques
February 22nd, 2014
The Central African Republic's top Catholic and Muslim leaders said Friday that militiamen from both sides using churches and mosques as shelters should disarm or be disarmed.
The fresh cross-faith appeal to stop the looting and sectarian violence that has displaced close to a quarter of the total population in a year came after the UN called for more contributions to an overstretched peacekeeping force.
Dieudonne Nzapalainga and Oumar Kobine Layama, respectively the archbishop and imam of Bangui, held a joint press conference urging rival groups to lay down their arms.
"Let all our brothers who are carrying weapons hand them over. The soldiers should disarm everyone, in churches and in mosques," Nzapalainga said.
Full report at:
http://english.ahram.org.eg/NewsContent/2/9/94888/World/International/CAfrica-clerics-call-for-weaponsfree-churches,-mos.aspx
---------
Tunisia to tighten niqab controls
February 22nd, 2014
The Tunisian interior ministry on February 14th announced stricter controls on people wearing the niqab.
"The measure is being taken because of the threat the country faces and because of terrorist suspects using the niqab... to disguise themselves and escape justice," the interior ministry said.
The ministry urged citizens to be understanding and help security units do their work.
Security forces have recently arrested a number of terrorists and criminals wearing niqabs. Authorities also pointed out that the terrorists who were hunted down in Raoued as well as those arrested in Ariana moved from Jebel Chaambi to the capital wearing niqabs.
That has led several people to call for a ban on wearing niqabs in light of the threat to the country's security and stability.
Full report at:
http://magharebia.com/en_GB/articles/awi/features/2014/02/21/feature-02
-----------
Morocco to train Tunisia, Libya imams
February 22nd, 2014
Imams from Libya, Tunisia and Guinea-Conakry will soon follow their peers from Mali and receive training in Morocco.
While in Bamako last September for the inauguration of President Ibrahim Boubacar Keïta, King Mohammed VI of Morocco offered to train 500 Malian imams.
The fledgling programme "aims at combating religious extremism", Malian Religious Affairs Minister Thierno Amadou Omar Hass Diallo said Tuesday (February 18th) during the Moroccan monarch's latest visit to the country.
Full report at:
http://magharebia.com/en_GB/articles/awi/features/2014/02/20/feature-03
-----------
Somali President Unharmed in Palace Attack, Killing 17
February 22nd, 2014
NAIROBI — Al-Qaida-linked militants in Somalia launched a major attack Friday on the presidential palace in Mogadishu, killing at least 17, including a senior official. But the country's president escaped unharmed.
Witnesses say the attackers stormed the gates of the presidential palace, known as Villa Somalia, around the time of Friday prayers and tried to force their way inside the compound.
Security officials say the assailants wore military uniforms to gain access. The chief of staff to Somalia's prime minister was among those killed.
Full report at:
http://www.voanews.com/content/al-shabab-attacks-somali-presidential-palace/1856221.html
-----------
Tunisia: Libyan Diplomat Denies Presence of Al-Qaida Members On Board Crashed Plane
February 22nd, 2014
Nabeul — The chargé d'affaires of Libya's Embassy in Tunis Mokhtar Salem Drira denied news that members of Al-Qaida were among the victims of the Libyan military rescue plane that crashed in the early hours of Friday in the province of Grombalia (governorate of Nabeul).
In a statement to the press, the Libyan diplomat who went to the site of the crash , said that "two injured civilians were on board the aircraft on their way to Tunis for medical treatment".
The plane crew includes 5 people , in addition to a doctor and three patients' companions , he added.
Full report at:
http://allafrica.com/stories/201402211002.html?aa_source=sptlgt-grid
-----------
Boko Haram's arms supply from Sudan, CAR stopped in Cameroon
February 22nd, 2014
RECENT arms seizures and arrests of traffickers in Cameroon's Far North Region have highlighted the escalating insecurity caused by Boko Haram in Nigeria and the impact of the unrest in the Central African Republic (CAR) and Sudan.
A United Nations agency, the Integrated Regional Information Network (IRIN), said in a report on Friday that Cameroon's security forces arrested a man a few days ago attempting to transport 655 guns to Nigeria. In September 2013, 5,400 AK-47 rifles were seized on a pick-up truck in Maroua, the capital of Far North Region, according to officials and local media.
"Many firearms have been seized from traffickers in the region in recent days, coming from crisis countries like Sudan and CAR. The number could be higher due to the disarmament taking place in CAR. This region remains a zone for traffickers because it is closer to Nigeria," a Maroua police officer told IRIN.
Full report at:
http://www.tribune.com.ng/news2013/index.php/en/news/lead-stories/item/34003-boko-haram%E2%80%99s-arms-supply-from-sudan,-car-stopped-in-cameroon.html
-----------
Imam of Al-Nour mosque spreads message of moderation
February 22nd, 2014
Hassen Chalghoumi, the imam of Al-Nour mosque north of Paris, is fighting a declared war on fundamentalist Islam.
Dressed in plain white cap, and showing a shaved face except for a light beard on the chin, the renowned, Tunisia-born sheikh travels the world to defend his convictions and call for a dialogue between religions, especially between Islam and Judaism.
Magharebia met with the imam in Morocco to learn more about his moderate views and his effort to stem extremist ideology.
Magharebia: What brings you to Marrakech?
Hassen Chalghoumi: Marrakech has special religious standing, since it is considered one of the oldest cities to which Islam arrived. Anyone interested in Islamic affairs has to learn from its glorious history in terms of civilisation. This was the motivation that brought me to this blessed place and I had the honour of meeting King Mohammed VI, the emir of the faithful.
Full report at:
http://magharebia.com/en_GB/articles/awi/reportage/2014/02/21/reportage-01
-----------
South Asia
Criminals vandalised and torched two family temples of Hindus In Bangladesh
February 22nd, 2014
Criminals vandalised and torched two family temples of Hindus in Bagerhat district and set on fire an arch of a religious programme of the community in Chandpur district early yesterday.
In Bagerhat, a gang vandalised several idols at the family temples of Noni Gopal Sarker and his neighbour Tapan Kumar Kabiraj at Dhopakhali village in Kachua upazila, reports our correspondent.
On information, police visited the spot yesterday afternoon.
Officer in-charge (OC) Rafiqul Islam of Kachua police station said, the criminals set the temple of Harichand Thakur belonging to Noni Gopal on fire after pouring kerosene.
They also damaged the idols of Goddess Manasha at the temple of Tapan Kumar Kabiraj the same night.
Full report at:
http://www.thedailystar.net/country/temples-set-on-fire-idols-damaged-in-bagerhat-12348
----------
Pakistan releases senior Afghan Taliban leader Mansoor Dadullah
February 22nd, 2014
According to reports, Pakistan has allowed a senior Afghan Taliban commander, Mansoor Dadullah to reunite with his family, months after he was released from the jail.
Mansoor Dadullah is the brother of Taliban leader Mullah Dadullah, who was killed during an operation by Afghan and coalition security forces in southern Afghanistan in 2007.
Dadullah was arrested by Pakistani security forces in Blaochistan in February 2008. He was among the seven Taliban leaders who was released by Pakistan in September last year; however he was not allowed to meet his family.
Full report at:
http://www.khaama.com/pakistan-releases-senior-afghan-taliban-leader-mansoor-dadullah-2820
-----------
Zero tolerance on terrorism: Bangladesh reiterates
February 22nd, 2014
Bangladesh would continue its zero tolerance policy on terrorism, extremism and militancy, said the foreign secretary at a meeting in Washington DC on Thursday.
"Bangladesh would continue to proactively engage with all international efforts to counter terrorism and extremism nationally and globally … ," Foreign Secretary Shahidul Haque said while addressing the Second Steering Group Meeting of the Global Community Engagement and Resilience Fund.
Full report at:
http://www.thedailystar.net/zero-tolerance-on-terrorism-12487
-----------
Jamaat-e-Islami candidate also a polls official, violating the electoral codes
February 22nd, 2014
A Jamaat-e-Islami leader, who is vying for the vice-chairman post in Pekua upazila in the February 27 Upazila election, has been appointed as presiding officer there, violating the electoral codes.
Md Nuruzzaman, ameer of Pekua sadar union Jamaat, has already taken training on election duties, said sources in Pekua upazila office.
Nuruzzaman is a teacher at Besaratul Ulm Fazil Madrasa in Rajakhali union of Pekua, said Imtiaz Uddin, secretary general of the upazila Jamaat unit. Imtiaz himself has been appointed an assistant presiding officer.
Full report at:
http://www.thedailystar.net/jamaat-candidate-also-a-polls-official-12431
----------
Europe
10 Dutch youngsters refused passports over Syria jihad fears
February 22nd, 2014
Ten Dutch youngsters have so far been refused a passport because the security services suspect they may be planning to go to Syria, the Dutch counter-terrorism unit NCTV told the Telegraaf.
The 10 include an 18-year-old girl from Maastricht who has converted to Islam and wants to travel to Syria with her husband, the Telegraaf says. The girl had expressed her support for terrorism on social media and was on an official watch list.
NCTV spokesman Edmond Messchaert told broadcaster Nos the passport applications were blocked because of fears the youngsters would return 'radicalised and traumatised'. Those who disagree with the refusal to give them a passport can apply to the courts, he said.
Rebels
Full report at:
http://www.dutchnews.nl/news/archives/2014/02/10_dutch_youngsters_refused_pa.php#sthash.wi9oFksa.dpuf
-----------
Independent inquiry into alleged Muslim massacre needed in Myanmar – U.N. envoy
February 22nd, 2014
BANGKOK (Thomson Reuters Foundation) - A credible, independent investigation led by national and international experts into the alleged January massacre of Rohingya Muslims in Myanmar's Rakhine state is needed to break the cycle of impunity that has plagued the country for decades, a United Nations human rights envoy said.
Lack of accountability in the Southeast Asian nation is a "historical problem", Tomas Ojea Quintana, U.N. special rapporteur on human rights in Myanmar, said after his last official mission to the country as his six-year mandate draws to a close.
"If you look all over the country - the number of human rights violations that took place in the past or recently - you don't see any process of accountability. That is absolutely needed," he told Thomson Reuters Foundation in an interview on Thursday.
Full report at:
http://www.trust.org/item/20140221105413-ldm7n/
-----------
UN cites evidence of rebel abuses in S. Sudan
February 22nd, 2014
The UN Mission in South Sudan said Friday it had evidence that rebel forces had murdered civilians, including children, in the key oil hub of Malakal.
South Sudan's army and rebels have traded accusations over new atrocities reported to have been committed during heavy fighting in Malakal, in defiance of a ceasefire signed in neighboring Ethiopia on 23 January.
A UNMISS patrol that visited Malakal on Thursday spoke with eyewitnesses who indicated that "armed opposition forces targeted and killed 10 unarmed civilians at the Malakal Teaching Hospital on the basis of their ethnic background" Wednesday, a UN statement said.
The unrest in South Sudan, the world's newest nation, has left thousands dead and displaced close to 900,000 people, including tens of thousands who have crammed into UN bases in fear of ethnic attacks by either President Salva Kiir's Dinka tribe or his former vice president Riek Machar's Nuer tribe.
Full report at:
http://english.ahram.org.eg/NewsContent/2/8/94900/World/Region/UN-cites-evidence-of-rebel-abuses-in-S-Sudan.aspx
-----------
Shamrock Crescent: Islam Is Ireland's Fastest Growing Religion
By Palash Ghosh
February 22nd, 2014
The Republic of Ireland may be intimately associated with the Roman Catholic Church, but the fastest-growing faith on the emerald isle is Islam -- at such a rapid rate that Muslims are projected to replace Protestantism as the second-most popular religion by the year 2043.
Ireland's Central Statistics Office reported that between 1991 and 2011, the percentage of Irish residents who were Muslim jumped from 0.1 percent to 1 percent (equating to about 49,000 people). By 2020, Ireland's Islamic population will more than double to at least 100,000. The increase is attributed to both immigration and population growth. The second fastest-growing faith in Ireland is Orthodox Christianity, largely due to immigration from Eastern Europe -- doubling in just five years between 2006 and 2011 to more than 45,000 people.
Full report at:
http://www.ibtimes.com/shamrock-crescent-islam-irelands-fastest-growing-religion-1557033
-----------
London Jews Host Islam Awareness Week
February 22nd, 2014
LONDON – Joining hands to help poor and needy, a London Jewish group announced plans to host Islam awareness week to showcase some of the social action projects taking place across the country.
"It seemed appropriate to use JW3 as a venue to launch Islam Awareness Week this year," Julie Siddiqui, executive director of Islamic Society of Britain, told Jewish News on Wednesday, February 19.
"The Jewish community have done a brilliant job at putting faith into real action with projects that really help others who need it."
Culminating on years of positive cooperation between the two faiths, this year's Islam Awareness week will revisit the most important achievements in offering help to the community.
Full report at:
http://www.onislam.net/english/news/europe/469423-london-jews-host-islam-awareness-week.html
------------
Catholic Church trying to privatize Cordoba Mosque
World Bulletin / News Desk
February 22nd, 2014
A leading Spanish professor at the University of Cordoba has accused the Catholic church of seeking to privatize the Grand Mosque of Cordoba.
Originally built as a mosque in the year 784 by Spain's Muslim rulers, it was later converted into a cathredral after tje city fell in 1236 during the Spanish Inquisition, which saw millions of native Muslims slaughtered, banished and forced to convert to Catholicism.
Since then, Muslims have been banned from offering prayers in the mosque. Nonetheless it remains as public property today, welcoming visitors of all creeds from all over the world.
Civil law professor Antonio Manuel Rodríguez, however, accused the Córdoba archbishop Demetrio Fernandez of attempting to privatize the building by claiming ownership of it in order to completely rid it of its Islamic identity.
Full report at:
http://www.worldbulletin.net/headlines/129409/catholic-church-trying-to-privatize-cordoba-mosque
------------
French hatred of Jews goes far beyond Muslim anti-Semitism, says U.K. author
February 22nd, 2014
Author of 'French Intifada' tells Haaretz there is hope for integrating disenfranchised youths who make Jews their scapegoat.
In 2008, British cultural historian, biographer and broadcaster Andrew Hussey traveled to a Paris suburb while researching an article on Ilan Halimi, the 23-year-old French Jew who had been murdered there two years previously.
What Prof. Hussey found, he says today, shocked him profoundly. It wasn't just the gruesome circumstances surrounding the mobile-phone salesman's death – he was kidnapped and tortured for three weeks – but rather what Hussey describes as the attitude of residents of the neighborhood where it occurred.
Full report at:
http://www.haaretz.com/jewish-world/jewish-world-features/.premium-1.574909
-----------
Germany to assist Israelis in states where they have no embassy
February 22nd, 2014
Germany is to offer Israeli citizens consular assistance in states such as Indonesia or Malaysia where Israel has no official diplomatic representation, under a new deal to be signed by Angela Merkel when she visits Jerusalem next week.
Israel's ambassador to Germany, Yakov Hadas-Handelsman, said the offer was "a special message" from Germany and underscored the importance of relations between the two countries.
Full report at:
http://www.haaretz.com/news/diplomacy-defense/1.575641
-----------
UN: Up to 95 executions already in Iran this year
By The Associated Press
February 22nd, 2014
The UN's human rights office says it is "deeply concerned" about the high number of executions in Iran this year.
The Geneva-based office of the UN High Commissioner for Human Rights says at least 80 people have been executed in the past seven weeks, seven of them publicly.
It cites "reliable sources" that the number of executions could be as high as 95.
Spokeswoman Ravina Shamdasani said Friday that most of the executions were for drug-related offences that aren't among the "most serious crimes" for which international law allows the death penalty.
Full report at:
http://www.haaretz.com/news/middle-east/1.575652
-----------
Muslim groups accuse the Daily Mail of inciting hatred
February 22nd, 2014
A column by Daily Mail writer Richard Littlejohn titled 'Jolly Jihadi's Outing to Legoland' has prompted Muslim groups to pen an open letter to editor Paul Dacre accusing Littlejohn of inciting hatred.
In his Tuesday column, Littlejohn told how "radical Muslim cleric" Haitham al-Haddad had hired Legoland out for a "Family Fun Day" and went on to write up a mock itinerary of the day.
"Rear coach packed with explosives stops in Parliament Square," Littlejohn wrote. "As Big Ben strikes ten, driver will blow himself up, en route to Paradise, where 72 virgins await."
He added: "Practical demonstration on how to make an execution block out of Lego, for use when making internet videos showing beheading of infidels and apostates. Younger children will be taught how to build an Osama bin Laden doll out of Lego."
Full report at:
http://www.thedrum.com/news/2014/02/21/muslim-groups-accuse-daily-mail-inciting-hatred-after-richard-littlejohn-jolly
-----------
Southeast Asia
Allah affair and the attack on the religious freedom do not bring votes
February 22nd, 2014
Kuala Lumpur (AsiaNews/Agencies) - The dispute between the Malaysian government and the Herald, a Malaysian Catholic weekly, over the use of Allah's name by non-Muslims, will not result in an increase in votes for the ruling Barisan Nasional (BN) coalition, this according to a survey carried out by the Universiti Malaya Centre for Elections and Democracy (UMCEDEL).
The findings are based on representative sample of voters in Kajang, a constituency in the State of Selangor, not far from the capital Kuala Lumpur, which next month is called to the polls in a by-election.
Well over half of the respondents (around 55 per cent) are convinced that the issue will not bring more support to Prime Minister Najib Razak and his United Malays National Organisation (UMNO) party.
Full report at:
http://www.asianews.it/news-en/Allah-affair-and-the-attack-on-the-religious-freedom-do-not-bring-votes-to-Malaysian-government-30369.html
-----------
South Sumatra, hundreds of Islamists block the construction of a Protestant church
February 22nd, 2014
Jakarta (AsiaNews) - Late yesterday afternoon, hundreds of armed men, led by local Muslim leaders, stormed and forcibly occupied a plot of land owned by the Indonesian Christian community Huria Kristen Batak Protestan (HKBP). The incident occurred in the village of Talang Kelapa , located in the sub-district of Alang -alang Lebar in the regency of Palembang, South Sumatra province. The raid was motivated by an attempt to build a place of worship. In fact, on February 17 the ceremony of laying the first stone was held, amid protests from local residents. A decision that has created discontent among Muslims, who organized a task force to occupy the land - two acres in all - and to send a strong message to HKBP leaders: churches are not allowed in the area.
Full report at:
http://www.asianews.it/news-en/South-Sumatra,-hundreds-of-Islamists-block-the-construction-of-a-Protestant-church-30367.html
-----------
When Malaysians came up and spoke up on need for racial integration
February 22nd, 2014
The National Unity Consultative Council's (NUCC) first-ever dialogue titled "Voice of the Grassroots", which kicked off today, reverberated with calls to put a stop to race-based politics and the importance of education in national integration.
More than 150 people, including members of NGOs, community leaders and ordinary Malaysians, gathered at Dewan Bahasa dan Pustaka to air their views on national unity as well as offer suggestions to the council on what can be done to restore unity.
The feedback from the public will then be collected and factored into the making of the National Unity Blueprint, which the council has been tasked to do.
Moderator Tan Sri Lee Lam Thye, who is also NUCC deputy chairman, noted that more than 30 people gave their opinions and views today.
Full report at:
http://www.themalaysianinsider.com/malaysia/article/when-malaysians-came-up-and-spoke-up-on-need-for-racial-integration
-----------
Sabahans slam Christian leaders in Cabinet for keeping silent on religious issues
February 22nd, 2014
Sabah Christians launched a scathing attack on their elected leaders who are of the same faith for remaining silent in the face of "extremist elements of political Islam who are targeting the hardcore poor districts of Sabah and carrying out dubious conversions".
Catholic Bishop Datuk Cornelius Piong in his address at the latest mamangkis gathering in Nabawan in the southern part of the state today, said the silence of the leaders who are Christians was similar to that when the then chief minister Tun Mustapha Harun had announced his unity policy of "one language, one culture, one religion" on August 1, 1972.
"Our elected political leaders, even though 'anak negeri' and Christians themselves, have so far been silent as if nothing is amiss," Piong said in this largely ethnic Murut town of slightly over 24,000.
Full report at:
http://www.themalaysianinsider.com/malaysia/article/sabahans-slam-their-christian-leaders-in-cabinet-for-remaining-silent-on-re
-----------
North America
CAIR Seeks Withdrawal of Va. State Accreditation for Anti-Muslim Training
Muslim civil rights group, community leaders meet with Culpeper County sheriff
Feb. 21, 2014
WASHINGTON, Feb. 21, 2014 -- /PRNewswire-USNewswire/ -- The Council on American-Islamic Relations (CAIR) today called on Virginia's Department of Criminal Justice Services (DCJS) to withdraw its accreditation for a three-day training program on "Jihadi Networks in America" that will be offered next week by John Guandolo, a notorious anti-Muslim conspiracy theorist.
CAIR said an article in a local newspaper noted that "the training will count toward credits for the Department of Criminal Justice Services and that deputies need to attend 40 hours a year of training."
In a letter sent today to DCJS Director Garth Wheeler, CAIR outlined concerns about Guandolo's history of anti-Muslim bigotry, including his bizarre claim that the current CIA director is a secret Muslim, and stated: "We respectfully request that the Department of Criminal Justice Services withdraw its accreditation for this hate-filled training program." Wheeler responded by saying that he would look into the matter.
Full report at:
http://www.sacbee.com/2014/02/21/6178981/cair-seeks-withdrawal-of-va-state.html#storylink=cpy
-----------
US marine heroism tale of Iraq war veteran a blatant lie - comrades
22 February 2014
After his death in 2004 in Fallujah, Sgt. Rafael Peralta became perhaps the most lionized Marine of the Iraq war. Shot in the head during an intense firefight, the story went, the infantryman scooped a grenade underneath his body seconds before it exploded, a stunning act of courage that saved the lives of his fellow Marines. The tale of heroism has become emblematic of Marine valor in wartime. But new accounts from comrades who fought alongside Peralta that day suggest it may not be true.
The Navy posthumously awarded Peralta the Navy Cross, the service's second-highest decoration for valor; named a destroyer after him; and made plans to display his battered rifle in the Marine Corps museum in Quantico, Va.
Full report at:
http://voiceofrussia.com/news/2014_02_22/US-marine-heroism-tale-of-Iraq-war-veteran-a-blatant-lie-comrades-7393/
-----------
Afghan election "a new chapter" for Afghanistan – UN Special Envoy
February 22nd, 2014
The top United Nations official in Afghanistan described the upcoming Presidential and Provincial Council elections, slated for 5 April 2014, as "a new chapter in the life of the country," involving not only a political transition but also a major step in developing the democratic system and bringing more stability and predictability to the nation.
"With all the challenges, all the risks that are there, I see this as a very positive development," said the UN Secretary-General's Special Representative and the head of the UN Assistance Mission in Afghanistan (UNAMA), Ján Kubiš in an exclusive hour-long interview with a private television channel, Tolo TV, broadcast on Friday evening.
Full report at:
http://www.khaama.com/afghan-election-a-new-chapter-for-afghanistan-un-special-envoy-3455
-----------
Gen. McChrystal warns over complete US withdrawal from Afghanistan
Feb 22 2014
The former top US commander in Afghanistan, Gen. Stanley McChrystal said Friday that the resurgence of al Qaeda in Iraq should be considered a "warning" if the United States pulls all troops out of Afghanistan later this year.
While speaking during an interview on "CBS This Morning," McChrystal said, "I think it should be a warning. No two situations are exactly the same, but I think we should take a clear lesson from what has happened in Iraq."
McChrystal retired in 2010 after he criticized Vice President Joe Biden and other administration officials in an interview in Rolling Stone magazine.
Full report at:
http://www.khaama.com/gen-mcchrystal-warns-over-complete-us-withdrawal-from-afghanistan-2821
-----------
Students at prominent NY Jewish high school outraged over ban of Palestinian academic
February 22nd, 2014
Students of a Jewish modern orthodox upscale high school in New York City are demanding that the administration permit its political society to host the noted Palestinian-American academic Professor Rashid Khalidi after the head of the school barred his appearance.
The controversy erupted earlier this week when the anti-Zionist blogger Mondoweiss reported that the Ramaz day school had nixed an appearance by Khalidi, who was invited to the Manhattan campus by the student-run political society.
Full report at:
http://www.jpost.com/Jewish-World/Jewish-News/Students-at-prominent-NY-Jewish-high-school-outraged-over-ban-of-Palestinian-academic-342191
-----------
The Trials of Islamic Converts in The United State
February 22nd, 2014
Though Will Caldwell was born, raised and college educated in Georgia, he is uncomfortable praying there.
He has felt that way since a clear summer evening in 2007 at a nondescript gas station off a nondescript interstate somewhere between Savannah and Macon. He was on his way home to Saint Simons Island from Emory University, where he had just finished his junior year. Caldwell had pulled his red Mini Cooper into the rest stop because the sun was starting to set and, since he had converted to Islam one year earlier, this meant that it was time to pray.
Full report at:
http://www.huffingtonpost.com/michele-moses/islamerica-the-trials-of-islamic-converts-in-the-united-states_b_4823354.html
-----------
URL: https://www.newageislam.com/islamic-world-news/new-age-islam-news-bureau/childhood-home-of-prophet-muhammad-could-be-demolished-for-a-modern-complex/d/35891