New Age Islam News Bureau
17 January 2022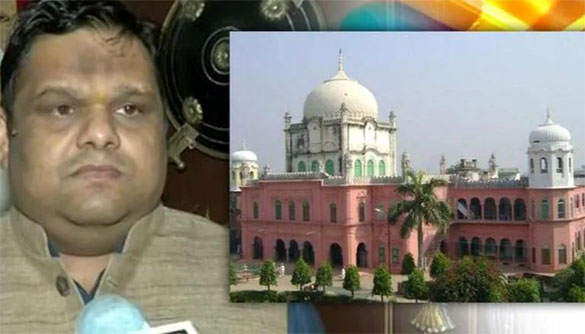 Image: ANI/Twitter
-----
• Over 200 Sadhus Began An Indefinite Dharna In Haridwar To Protest The Cases Registered Against Some Of The Speakers At Dharma Sansad
• Pakistan Under Terror Scrutiny Again After Hostage Drama In US To Free Prisoner, Aafia Siddiqui
• 'I Was Attacked During The 2016 Campaign Simply Because I Was Muslim,' Says Former Hillary Clinton Staffer Huma Abedin
• New Chief of Indonesia's Largest Islamic Group Seeks to Reform Orthodox Doctrines
India
• Karnataka Colleges Creating Controversy Over Hijab, Violating Religious Freedom Of Muslims, Alleges Popular Front Of India
• No SP-RLD Ticket For Muslim, Hint Of Discontent In Muzaffarnagar
--------
Pakistan
• Jamat-e-Islami Chief Sirajul-Haq Calls Imran Khan 'International Beggar' Amid Pak's Mounting Financial Woes
• Faisalabad Youtuber, Nasir Dhillon Reuniting Families Divided Between Pakistan, India
• Pak NSA to visit Kabul this week: Report
• US fails to understand Pakistan motive two decades since 9/11
--------
North America
• First Shia Muslim Mayor Of Dearborn To Serves As Democratic Model For The World
• 'We Muslims In America Undeniably Have An Increasing Anti-Semitism Problem': Duke
• US Muslim groups condemn hostage-taking at Texas synagogue
• Texas Muslims express support for hostages in synagogue assault
--------
Southeast Asia
• Apologise For 'Washing' Teen Like Corpse, For Theft To Issue A Public Apology To The Community Judge Advises Mosque Committee
• Removal From PAS Committee Due To Differences On Umno Ties, Hints Khairuddin
• Malaysia Hands Over 3 Rebel Suspects to Thailand
• PM gives commitment to assist Rohana Abdullah with her citizenship woes
--------
Arab World
• Arab Coalition Strikes Kill Over 300 Iran-Backed Houthi Militia In Yemen: Statement
• Iran resumes Muslim Shia pilgrim tours to shrines of Sayyida Zainab, Ruqayya in Syria
• Iraq says almost 4,000 repatriated from Belarus borders
• Fears grow over Iran influence in Lebanon after Hezbollah, Amal Cabinet decision
--------
Europe
• Fire Breaks Out At Turkish Mosque In Germany In Suspected Arson Attack
• Brussels imam who prayed to burn Zionists is kicked out of Belgium
• Putin to host Iranian president next week for talks
--------
South Asia
• Lack Of Access To Information May Lead To Closure Of Media In Afghanistan: Survey
• US Revenging Afghans By Imposing Economic Sanctions: Chinese Envoy To Kabul
• Detained Islamic Emirate Commander Brought to Kabul
• Two children killed in blast near Afghanistan's Kabul
• Bangladesh arrests brother of Rohingya insurgency leader
• 95% Afghan journalists cannot cover stories independently: polling
• Nepal sends humanitarian assistance to Afghanistan
--------
Mideast
• Radical Israelis Raid East Jerusalem's Al-Aqsa Mosque Compound With Israeli Forces Protection
• Iranian FM Stresses Need For Ending US Presence In Syria
• Commander Warns Enemies against Violation of Iran's Airspace
• FM: Iran, China to Benefit from 25-Year Deal
• Iran Urges Removal of Sanctions against Syria, Repatriation of Refugees
• Iran jails anew French academic for 'violating' house arrest: Judiciary
--------
Africa
• Price of Sudanese pound slips on parallel market amid political uncertainty
• Jordan GDP grows over 2 percent in 2021: Report
• Jordan army officer killed in shooting along border with Syria: Statement
• Iran needs to stop interfering in Arab affairs: Jordan's FM
• US and France discuss ways to promote Libya's democratic process
• Burkina attack kills around 10 civilians: security source
Compiled by New Age Islam News Bureau
URL: https://www.newageislam.com/islamic-world-news/child-rights-islamic-seminary-darul-uloom-fatwa/d/126177
--------
Child Rights Body Asks UP To Probe Islamic Seminary Darul Uloom Deoband For "Unlawful" Fatwas on Website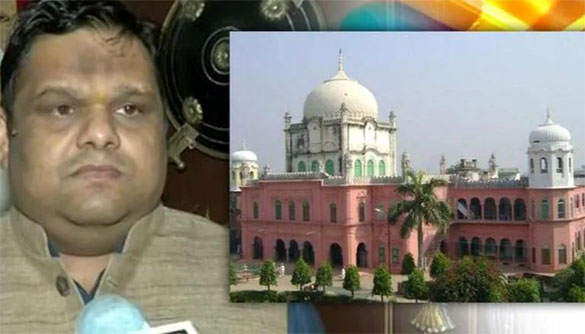 Image: ANI/Twitter
-----
January 16, 2022
New Delhi: The National Commission for Protection of Child Rights (NCPCR) has asked the Uttar Pradesh government to probe Islamic seminary Darul Uloom Deoband's website for allegedly publishing "unlawful and misleading" fatwas.
The apex child rights body on Saturday also asked the state's chief secretary to block access to the website until such content is removed.
The NCPCR said it is acting on a complaint which alleged that the website carries a list of fatwas that are against the provisions provided under the country's law.
"Taking cognizance of the complaint u/s 13 (1) (j) of the Commissions for Protection of Child Rights Act, after pursuing the complaint and examining the website, it was observed that the explanation and answers provided in response to issues raised by the individuals do not align with the Laws and Acts in the country," the NCPCR stated in the letter to the state's chief secretary.
It said such statements were contrary to the rights of children and open access to the website was harmful for them.
"Therefore, it is requested that the website of this organization may be thoroughly examined, investigated and any such content should be immediately removed," the letter stated.
"Further, access to such website may be prevented until the removal of such content for avoiding spread and recurrence of unlawful statements and consequently preventing incidents of violence, abuse, neglect, harassment, discrimination against children," the letter read.
It also asked the state government to take necessary action against the school for allegedly violating provisions of the Constitution of India, Indian Penal Code, Juvenile Justice Act, 2015 and Right to Education Act, 2009.
The NCPCR has directed the Uttar Pradesh government to submit its report on the action taken within 10 days.
Source: ND TV
Please click the following URL to read the text of the original story:
https://www.ndtv.com/india-news/child-rights-body-asks-up-to-probe-islamic-seminary-for-unlawful-fatwas-2711038
--------
Over 200 Sadhus Began An Indefinite Dharna In Haridwar To Protest The Cases Registered Against Some Of The Speakers At Dharma Sansad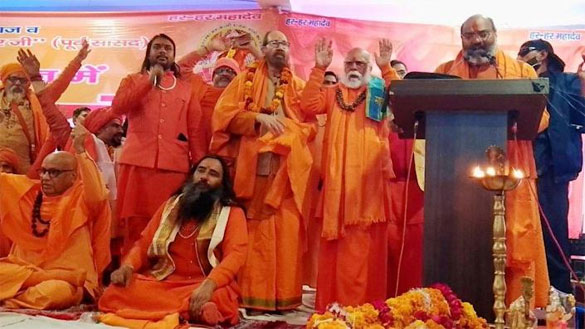 Sadhus at the hate conclave/File Picture
----
Piyush Srivastava
17.01.22
Over 200 sadhus began an indefinite dharna in Haridwar on Sunday to protest the cases registered against some of the speakers at the December 17-19 Dharma Sansad where calls were sounded for a genocide of Muslims.
The protest started hours after Yati Narasinghanand Saraswati, chief organiser of the Dharma Sansad, was arrested on Saturday evening for delivering a hate speech at the conclave but in a separate case that invokes lesser charges.
Waseem Rizvi aka Jitendra Narayan Tyagi was arrested on Thursday in the main
case registered in the matter on December 24. This had prompted a hunger strike by Narasinghanand from Thursday evening.
Narasinghanand was himself arrested two days later in a case registered on a woman's complaint that he had insulted women of a particular community in a speech at the Dharma Sansad. A court sent him to 14 days' judicial custody on Sunday.
Five people — Narasinghanand, Rizvi, Sadhvi Annapurna Bharati aka Pooja Shakun Pandey, Sagar Sindhu Maharaj and Mahant Dharmdas — have been booked in the main case, with Rizvi alone being arrested.
The main case invokes penal code sections 153A (promoting enmity between groups on the ground of religion) and 295 (defiling a place of worship with intent to insult the religion of any class), with conviction entailing a maximum jail term of five years.
The case in which Narasinghanand has been arrested involves sections 295A (outraging religious feelings) and 509 (intending to insult the modesty of any woman), with a maximum sentence of three years.
"We want the government to withdraw the cases against those who were at the Dharma Sansad," said Mahant Kripa Das, one of the sadhus on dharna at the Sarvanand Ghat in Har Ki Paudi.
"Whatever they said was the need of the times. The government should act on the sadhus' suggestions. Else, we shall organise a bigger meeting in Prayagraj (Allahabad) and urge people to defeat the BJP."
Both Uttarakhand and Uttar Pradesh, where Haridwar and Allahabad are located, are BJP-ruled states and go to the polls in a few weeks.
A third case was registered against Narasinghanand on Sunday, for an alleged attack on Wednesday on a journalist who had come from Delhi to interview him in Haridwar.
Narasinghanand is mahant of the Dasna Devi temple in Ghaziabad, Uttar Pradesh, but has been camping in Haridwar for weeks.
Source: Telegraph India
Please click the following URL to read the text of the original story:
https://www.telegraphindia.com/india/hate-cases-make-sadhus-squat/cid/1847895
--------
Pakistan Under Terror Scrutiny Again After Hostage Drama In US To Free Prisoner, Aafia Siddiqui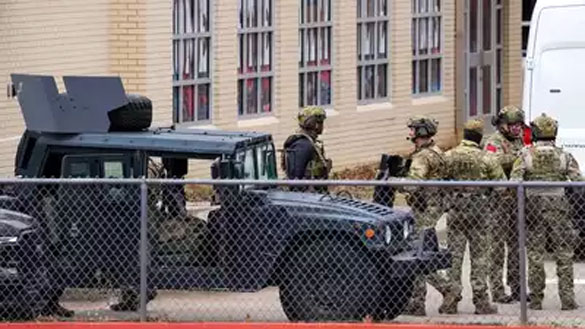 Mohammed Siddiqui took four Jewish hostages in a synagogue in Colleyville in the Dallas-Forth Worth area. All hostages were later rescued.
-----
Chidanand Rajghatta
Jan 17, 2022
WASHINGTON: Pakistan is again under scrutiny for its global terrorism footprint after an FBI team shot dead a man who took hostages in a Texas synagogue on Saturday demanding the release of Aafia Siddiqui, a Pakistani-American neuroscientist serving a 86-year sentence on terrorism-related charges.
Islamabad has repeatedly demanded Washington free Siddiqui, a cause celebre in Pakistan and its extremist circles. The latest episode in US-Pakistan terrorism wrangles began on Saturday morning when a man took four Jewish hostages in a synagogue in Colleyville in the Dallas-Forth Worth area, demanding authorities free his "sister" Aafia Siddiqui, who is incarcerated at the Federal Medical Center 22 miles away in Carswell.
During a 12-hour stand-off, a lawyer for Aafia Siddiqui's family told the media that the perpetrator was not Siddiqui's brother and "she does not want any violence perpetrated against any human being, especially in her name".
The hostage taker claimed to be armed with bombs. Late in the evening, an FBI hostage rescue team that had flown in from the Bureau's headquarters in Quantico stormed the synagogue after two of the hostages broke free and fled.
Grainy video footage on social media showed two hostages bolting from the synagogue door, chased by the perpetrator, who quickly withdraws inside after spotting armed SWAT teams outside. Local media said an explosion and gun shots were heard, and shortly thereafter authorities announced all hostages were free and safe and the hostage taker was dead.
Authorities on Sunday identified the hostage taker as a 44-year-old British national named Malik Faisal Akram. He was shot and killed after the last of the hostages got out at around 9pm (local time) on Saturday.
In a statement, the FBI said there was no indication that anyone else was involved, but it didn't provide a possible motive. President Joe Biden called the attack "an act of terror". He also said the suspect was able to purchase weapons on the street and may have only been in the country a few weeks.
London's Metropolitan Police said in a statement that its counter-terrorism police were liaising with US authorities about the incident. Akram's brother Gulbar posted on Facebook that the suspect, from the town of Blackburn in England, suffered from mental illness and said the family had spent all night at the Blackburn police station "liaising with Faisal, the negotiators, FBI etc."
Islamabad has long sought the release of Aafia Siddiqui, whose initiation into extremist circles while she pursued a masters and PhD in Boston, her peregrinations to and from Pakistan, her ties to al-Qaida, and her subsequent capture and conviction, constitutes one of the more murky chapters in the US war on terror.
She is regarded as a "daughter of the nation" by sections of the Pakistan establishment who have campaigned for her release from jail. PakistanPM Imran Khan was reported to have deputed his parliamentary affairs adviser Babar Awan to oversee efforts to secure Siddiqui's release, an effort that involved petitioning US President Joe Biden after meeting with the convict's family.
While the effort has met with stony silence from Washington, the Pakistani establishment in the past floated the idea of a prisoner-swap, including at one time offering to exchange CIA contractor Raymond Davis for Siddiqui, a proposal the Obama administration rejected.
Source: Times Of India
Please click the following URL to read the text of the original story:
https://timesofindia.indiatimes.com/india/pak-under-terror-scrutiny-again-after-hostage-drama-in-texas-to-release-jailed-scientist/articleshow/88934174.cms
--------
'I Was Attacked During The 2016 Campaign Simply Because I Was Muslim,' Says Former Hillary Clinton Staffer Huma Abedin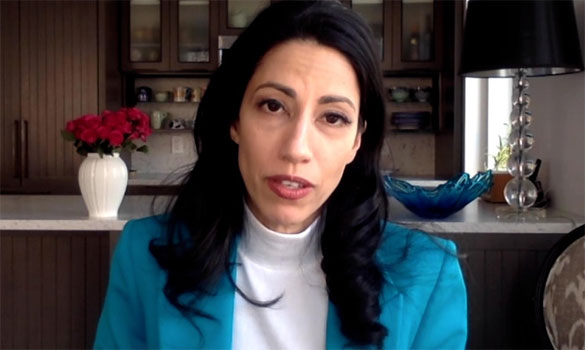 Human Abedin is shown on screen being interviewed on Frankly Speaking.
-----
January 16, 2022
DUBAI: Muslims were made the "bogeyman" by some politicians in the US at the time of the 2016 election won by former President Donald Trump, a leading American Muslim has told Arab News.
Huma Abedin, chief of staff of the defeated Democratic Party candidate Hillary Clinton, said she endured calls for her investigation by a Republican congressman in 2012 on the flimsy evidence that she and her family were practicing Muslims, with the prejudice intensifying during the 2016 campaign.
"I just want to take a step back and remind people this was 2012 and I believe the experience those of us had was really an appetizer for what was to come — this idea that you could label somebody 'the other' and make them the bogeyman. I believe my faith was made a bogeyman in that 2016 election," she said.
Abedin, who recently published a book about her experiences in US politics and her time growing up in Saudi Arabia, shared her forthright views on "Frankly Speaking," the series of video interviews with leading global policymakers.
In a wide-ranging conversation, she also spoke of the growing divisions within US politics and society, the empowerment of women in the American system, and her ill-starred marriage to former New York Congressman Anthony Weiner, which ended in scandal and divorce.
Accusations of anti-Muslim prejudice in the US political system are a striking part of her memoir, "Both/And: A Life in Many Worlds," published last year.
"One of the reasons I wrote this book is because I wanted to share with Americans and with people what it is to be a Muslim American in this country, and it is why I wrote in detail about the accusations that my family faced in 2012, when I was working at the State Department," Abedin said.
"I was attacked simply because I was Muslim and had two Muslim parents."
The accusations were quickly discredited by a State Department review, but Abedin believes they were symptomatic of a wider deterioration in the standards of political life in the US.
"Do I see a divide in this country? Absolutely, we all do. And unless we are willing to step forward to continue to engage in public service, we have a choice in the kind of country we're going to live in," she said.
"It is very scary to see some of the language that's out there in the world. Very scary."
Abedin, who began her political career as a White House intern in 1996, said that while there were always differences between Republican and Democratic politicians, before 2016 these could be debated and resolved.
"The way I was raised in politics and public service was forcing differing opinions to the table, being able to leave the office and go down the street and have dinner together and hash out your differences. That has changed," she said.
"It's not the same Washington. It's not. The parties have become so much more divided in terms of basic human common decency. That seems to have been really allowed to just disappear, and I'm very sad about that."
Abedin was vice chair of the campaign to elect Clinton in 2016, when the candidate endured baseless calls from Trump for her prosecution and imprisonment on unspecified charges. A late-breaking investigation into Clinton's emails by the FBI — subsequently discredited — hit her campaign hard, by some accounts costing her the election.
"I would argue that my boss actually did quite well (considering) the external forces. I write about this in detail in my book, everything from the misogyny (to) the attacks — when you have somebody every single day suggesting that you might go to jail without explaining why, as had been the case for her," she said.
"The attacks (Clinton) had to endure multiple times a day, those things had an effect. (Plus) the FBI investigation — which had a late-breaking role in changing, altering the course of the election, in an election so tight that every little thing mattered — that was a big thing," Abedin said.
"The forces against our party and our candidate really were quite overwhelming at that moment. So, I still get up every single day and I think about how our country would have been different today if (Clinton) had been elected in 2016."
Another reason for Clinton's defeat, she said, was "because she is a powerful, smart, ambitious woman and we are, in this country in my opinion, still afraid of powerful women."
Born in the US, Abedin's family moved to Saudi Arabia when she was a child, and she grew up in the Kingdom before she left for higher education in America. She returns frequently to Saudi Arabia with her son Jordan, and is impressed by the changes that have taken place since she lived there.
"First of all, you didn't see women in stores (in the 1980s), you didn't see the cultural events on the beach. When I was there a couple of years ago with my son, we went for face painting and on the beach and Ferris wheels. A lot of young Saudi men and women are working in small businesses, entrepreneurships."
She added: "I will always have a very tender place in my heart for the place that was home for me for so long, that I associated with my father. My father is buried there, in Makkah. So, for me to see the progress is amazing, it's really amazing."
Before she embarked on her career in Washington political circles, Abedin was briefly a journalist for Arab News.
"I had applied for a White House internship and then left to go home for the summer, and it was Khaled Al-Maeena, who was then the editor-in-chief, who offered me a position with a summer job."
She said: "Arab News is what we read in our home every single day. It was our New York Times. So, if you had asked me in 1995 would I be doing an interview like this in 25 years, I would say absolutely no way, no how. But it's a thrill."
In her memoir Abedin talks candidly about her marriage, and the misgivings she had when she first met Weiner, a New York congressman of Jewish background and then a rising star in Democrat circles in the city.
"I think any Muslim who's watching will understand our faith, our belief. Men, Muslim men, are allowed to marry outside the religion, (but) it's much more difficult for Muslim women to marry outside the faith. That really in the end has to do with paternity: If there are children born of that marriage, generally the child takes the father's religion and so it was a huge crisis of conscience for me," she said.
The marriage ended when Weiner was jailed for sexual crimes propagated via social media, but in the process affected the 2016 election campaign. "I felt an entire responsibility for that defeat," Abedin said.
She was a victim of intense media scrutiny during the Weiner scandal, but eventually accepted that the press was just doing its job in covering a major news story. "I understood. It wasn't easy, but I understood," she said.
Abedin said that the Democrats under President Joe Biden face an uphill struggle in the upcoming mid-term elections, which traditionally go badly for the incumbent's party.
"I think the COVID-19 pandemic has presented all kinds of unanticipated challenges, and I think our party has its work cut out for it in November. We have a lot of work to do and we've got to keep the enthusiasm, get people out (to vote). It's going to be hard," she said.
Abedin, who combines insider knowledge of the US political system with an understanding of Saudi Arabia and the Arab world, does not rule out an ambassadorial role in the future.
"I am open to all kinds of opportunities and exploring different things. What that is I don't know yet, but ambassador sounds really good. I just have to figure out — ambassador to what and for what and how? But I like that actually," she said.
Source: Arab News
Please click the following URL to read the text of the original story:
https://www.arabnews.com/node/2005566/world
--------
New Chief of Indonesia's Largest Islamic Group Seeks to Reform Orthodox Doctrines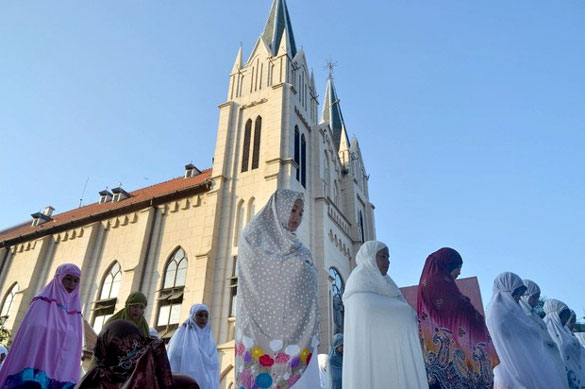 Indonesian Muslim women perform prayers during the Eid al-Fitr holiday marking the end of Ramadan, in Malang, East Java, July 6, 2016.
-----
2022-01-14
The new leader of Indonesia's largest Muslim organization is calling for the reform of orthodox Islamic doctrines which, he says, are incompatible with modern realities in the 21st century.
A tradition of tolerance that Muslims across the Indonesian archipelago have practiced for centuries could be an antidote for religious extremism and contribute to global peace, according to Yahya Cholil Staquf, the chairman of Nahdlatul Ulama.
"We will continue our efforts to strengthen Islamic civilization, which has grown and developed in Indonesia for a long time and has been proven up to now to be able to maintain a harmonious socio-cultural order, despite diversity," Yahya told BenarNews during an interview after being elected as the new chief of NU in late December.
"This is a model that will certainly be very valuable to be offered to the world as the contribution of Indonesian Islam, to seek a way out of various kinds of turmoil that are currently raging in the Islamic world."
He refers to this unique brand of Indonesian Islam that has evolved over many generations as Islam Nusantara (Archipelagic Islam).
The influential group that Yahya heads claims to have 90 million members scattered across Indonesia, a religiously and culturally diverse archipelago, and the world's most populous Muslim-majority nation.
NU is seeking to help create a just and harmonious world order based on respect for human rights and dignity by addressing the problem of religious radicalism, he said.
As an example of problematic doctrines, Yahya cited the "kafir" (infidel) label that Muslims use when speaking about non-Muslims, and the belief that the caliphate is a God-ordained form of government.
"It is clear that in classical Islamic discourse, there are those who are viewed that way. This doctrine is vulnerable [to abuse], and is something that we can't follow any more today because the world has become one village and we have to live side by side with each other," he said during the 45-minute phone interview.
"The caliphate was part of the dominant discourse of orthodoxy, and became a practice that shaped the past civilization. Now, we can no longer impose a universal caliphate in the context of the current reality."
A 2019 national conference of NU scholars proposed the elimination of the term kafir to refer to non-Muslims, and replace it with "muwatinun," an Arabic word for "fellow citizens."
The scholars argues that kafir had negative connotations and was divisive.
But conservative Muslims who opposed the proposal argued that the term was neutral, and not meant to be hateful.
Another concept in orthodox Islam that Yahya identified as vulnerable to misinterpretation in the modern context has do to with conflict.
"When there is a conflict between Muslims and non-Muslims, what are the obligations of Muslims? According to orthodox teachings, we should help fellow Muslims to fight non-Muslims," Yahya, 55, said.
"This has to be straightened out. We can't just involve ourselves in a conflict between Muslims and non-Muslims because it will only worsen the conflict and [lead to] no way out."
Since the turn of the century, Indonesia has been grappling with Islamic militancy and violent extremism.
Several major terror attacks carried out by Islamic militants rocked the country in the 2000s, notably the 2002 Bali bombings in which 202 people were killed. Indonesian authorities blamed that and other attacks during the first decade of the new century on Jemaah Islamiyah, the Southeast Asian affiliate of al-Qaeda.
In recent years, hardline Sunni Muslims in the country have persecuted members of the tiny Shi'ite and Ahmadiyya minorities, accusing them of trying to spread heretical interpretation of Islam.
Yahya said the Islam Nusantara concept is not a new ideology, but a unique brand of Islam practiced here since the 1300s.
Indonesian Muslims believe that Wali Songo (Nine Saints) helped propagate Islam in the archipelago between the 14th and 16th centuries. They blended Islamic practices with pre-existing traditions from Hinduism, Buddhism and other faiths, and thereby created a more tolerant brand of the faith.
Consolidation
Under his leadership for the next five years, NU will undergo a consolidation, Yahya said.
This week, he appointed several women to NU's leadership board, the first such appointments since the organization's founding in 1926.
Robi Sugara, executive director of the Indonesian Muslim Crisis Center, a local NGO, described Yahya's ascension as NU's leader as a breath of fresh air.
"NU will not be interested in establishing an Islamic state, a caliphate or formalization of Islamic law, things that radical groups aspire to," Robi told BenarNews.
The promotion of moderate Nusantara Islam is timely.
"Puritan Islamic groups consider polytheism something that is not permissible and when they see it they should not remain silent. However, Nusantara Islam, although it doesn't allow it, tries to see it from a different perspective," Robi said.
Source: Benar News
Please click the following URL to read the text of the original story:
https://www.benarnews.org/english/news/indonesian/leader-interview-01142022150834.html?87CA41D6-FEBC-0542-99F2-0915463ACC00_kav_cup_C6FA3ED5_6D17_47D1_B6E2_F4B02CC905E0_
--------
India
Karnataka colleges creating controversy over hijab, violating religious freedom of Muslims, alleges Popular Front of India
17 January 2022
Karnataka state general secretary of Popular Front of India, Nasir Pasha on Sunday alleged that colleges here were creating unnecessary controversy over the hijab (headscarf) issue, violating the religious freedom of Muslims.
The Karnataka state general secretary of Popular Front of India, Nasir Pasha issued statements regarding the Hijab controversies prevalent in various colleges in the state and said, "Some colleges are creating unwarranted controversies around the topic of headscarves and violating the fundamental, religious freedom of Muslims."
In Udupi's Government PU College, the leader alleged, 6 students from the Muslim community have been denied entry into classrooms and made to sit outside because they were wearing headscarves.
"Following this, a few students of Pompei College at Aikala, Mangaluru, came to college donning saffron shawls and demanded the prohibition of headscarves," he alleged.
The leader said, "A similar controversy was concocted at the Government First Class College at Koppa, Chikmagalur. Factually, dress codes are mandatorily implemented only up to SSLC.
When there is no such mandatory dress code enforced in PU or Degree colleges, to say that headscarf is not allowed is an unrefined argument."
Pasha said, "It is also an extremely unreasonable move for the Principal of the college to deny the students wearing headscarves entry into the classrooms. Notably, college students from the Muslim community have been attending classes adhering to the existing policy on clothing on a college level."
Source: Catch News
Please click the following URL to read the full text of the original story:
https://www.catchnews.com/politics-news/karnataka-colleges-creating-controversy-over-hijab-violating-religious-freedom-of-muslims-alleges-popular-front-of-india-229062.html
--------
No SP-RLD ticket for Muslim, hint of discontent in Muzaffarnagar
Mohd Dilshad
Jan 17, 2022
MUZAFFARNAGAR: There are murmurs of discontent regarding the SP-RLD's ticket distribution within sections of the Muslim community in Uttar Pradesh's Muzaffarnagar. While the region has about 38% Muslim voters spread across six constituencies in the district, surprisingly the alliance has not fielded a single Muslim so far.
It has declared candidates on five seats - all Hindus. Now all eyes are fixed on the lone city seat, and sources claim that this too might see a Hindu candidate "to avoid polarization". This does not seem to have gone down well with some members of the community, who said "this is happening despite the fact that, in the last two years, RLD leaders have been promoting 'bhaichara ' committees, and speeches during anti-farm law agitation appealed for Jat-Muslim unity".
Prominent Muslim leaders - Qadir Rana, Mursaleen Rana, Liyakat Ali, among others - who wanted to contest the elections now feel "neglected and disowned". A former SP leader Amir Alam, said: "It is not about whether Muslim politicians will get to fight the election in Muzaffarnagar or not, what matters most is how to defeat communal forces."
Source: Times Of India
Please click the following URL to read the full text of the original story:
https://timesofindia.indiatimes.com/india/no-sp-rld-ticket-for-muslim-hint-of-discontent-in-muzaffarnagar/articleshow/88940019.cms
--------
Pakistan
Jamat-e-Islami Chief Sirajul-Haq Calls Imran Khan 'International Beggar' Amid Pak's Mounting Financial Woes
Jan 17, 2022
LAHORE: Dubbing Imran Khan as an "international beggar", Jamat-e-Islami (JI) chief Sirajul-Haq on Sunday stated that Pakistan Prime Minister's departure is 'the only solution' to all the problems of the country marred with financial woes.
Speaking at a gathering ahead of local body polls in Lahore, Haq called for a fresh election in the country. Slamming Khan's government for increasing petroleum prices, JI chief said, "Imran Khan and Pakistan cannot function together."
"There is no space left for pluses or minuses from politics in this country, as Imran Khan's departure is the only solution to all the problems," Haq was quoted as saying by Geo News.
Over Pakistan's contentious deal with the International Monetary Fund (IMF), Sirajul Haq said that the Pak PM has become "an international beggar". He also said that the incumbent government, led by PTI is unable to rule the country.
This stinging criticism comes amid massive financial problems that the country is facing.
Meanwhile, the opposition has rejected the passing of the Finance (Supplementary) Bill 2021 and the State Bank of Pakistan (Amendment) Bill 2021, to meet conditions set by the International Monetary Fund (IMF).
The approval of the supplementary finance bill was necessary to ensure Pakistan's sixth review of the USD 6 billion Extended Fund Facility (EFF).
The JI chief went on to say that the ruling government used to claim that it was the "champion of the economy" but nothing has changed as "it is merely using old parts in new machinery."
Source: Times Of India
Please click the following URL to read the full text of the original story:
https://timesofindia.indiatimes.com/world/pakistan/jamat-e-islami-chief-calls-imran-khan-international-beggar-amid-paks-mounting-financial-woes/articleshow/88943386.cms
--------
Faisalabad Youtuber, Nasir Dhillon Reuniting Families Divided Between Pakistan, India
January 16, 2022
LAHORE: At a time when relations between Pakistan and India are marred due to hostilities, a Pakistan-based YouTube channel is reuniting families separated during the partition of the subcontinent in 1947.
In the latest such reunion, Nasir Dhillon, 37, who runs a YouTube channel named Punjabi Lehar, has successfully reunited two brothers living in Pakistan and India after a 75-year gap.
A video of the reunion of two brothers, Muhammad Siddique, who lives in Faisalabad, and Sikka Khan, a resident of the northern state of Punjab in India, has gone viral on social media.
The video shows an emotional union after they met for the first time earlier this week at the Gurdwara Darbar Sahib Kartarpur in Narowal.
Dhillon, who is based in Faisalabad and runs the channel along with his Sikh friend, told Anadolu Agency that he has already reunited more than 200 families.
"We run this web channel as a hobby. Our main focus is on the stories related to the partition," he said.
Dhillon said that in November, he reunited two childhood friends who got separated during the partition.
"Sardar Singh is now settled in America and his friend Raju's family is living in Pakistan. We also facilitated the visit of Indian Punjabi singer Gippy Grewal to his native village Chak 47 Mansooran in Faisalabad," he said.
Dhillon said they came across many cases in the past where parents were left in Pakistan and children migrated to India or vice versa, and the Kartarpur corridor has facilitated the meeting of divided families.
Despite a chill in bilateral ties over disputed Kashmir, Islamabad and New Delhi signed a landmark agreement in November 2019 to open the Kartarpur corridor to allow Indian pilgrims to visit the holy Sikh shrine in Pakistan.
STORY OF TWO BROTHERS
The emotional story of the two brothers, Siddique and Khan, has become the talk of the town across the borders.
A few days after the first brief meeting at Kartarpur, they are now waiting for visas and want to spend some time together.
In Faisalabad, Siddique, now in his late 80s, says he remembers the incident vividly when he got separated from Habib, who later on got the name of Sikka Khan.
During the partition, Siddique was staying at his home in the village of Jugaraun in India with his younger sister and father, while his mother, along with Habib, left to meet her family in the Phulewal village.
When Siddique's village came under attack at the time of the partition, his father fled towards Faisalabad, taking along him and his younger sister. On their way, the father was killed and the sister also later died due to severe illness.
On the other hand, the mother was not able to bear the trauma and took her life and left behind child Habib.
"I knew that my brother was alive," Siddique told Anadolu Agency. "I am thankful to the family who took care of him. The moment I saw him, I ran towards him and hugged him. We cried for almost half an hour and inquired about each other's journey."
Still emotional, Siddique said he is now waiting for both countries to give visas, so they can frequently meet.
"I want to request the prime ministers of both countries to grant us special visas so we can meet each other for the rest of our lives," he said.
PROMPT RESPONSE
Dhillon said when he uploaded the video about Siddique looking for his brother in 2019, he was contacted by Dr. Jasgir Singh, a medical practitioner from the Phulewal village in Indian Punjab, where Khan lives.
Singh told Anadolu Agency that when he saw the video on social media, he contacted Dhillon, and subsequently a video call was arranged.
"This story has touched everyone's heart. Everyone is happy that they have finally met," he said, adding their reunion was delayed since 2019 due to the Covid-19 pandemic.
In Phulewal, the villagers are jubilant, and for many, the reunion is no less than a movie story.
Source: Pakistan Today
Please click the following URL to read the full text of the original story:
https://www.pakistantoday.com.pk/2022/01/16/faisalabad-youtuber-reuniting-families-divided-between-pakistan-india/
--------
Pak NSA to visit Kabul this week: Report
Jan 17, 2022
ISLAMABAD: Pakistan's National Security Adviser (NSA) Moeed Yufuf will lead a high-level inter-ministerial delegation to Kabul on Tuesday for a two-day trip for talks on bilateral matters and a focus on Islamabad efforts to avert a humanitarian crisis in the war-torn nation, a media report said citing officials as saying.
"Yusuf is steering the Afghanistan Inter-Ministerial Coordination Cell (AICC) to channel Pakistan's humanitarian and economic assistance to Afghanistan in a manner that helps the Afghan interim authorities in combatting their key challenges while adhering to the requirements of the UN and international sanctions," the Dawn news report said late Sunday.
The informed officials said that the purpose of the visit is to ascertain Afghanistan's "humanitarian, economic and development needs".
The Dawn news report said the "main sectors of Pakistan's cooperation with Afghanistan include health, higher education, provision of humanitarian assistance, and enhancement of trade/business contacts".
Meanwhile, the Taliban-led government in Kabul is yet to confirm the visit which comes as tensions are simmering between the two countries over the Durand Line, the de-facto border between Afghanistan and Pakistan.
Pakistan maintains that the fencing of the 2,670 km long international border is pivotal to the country's border security and national interest as it would help curb the gateway of terrorists, who enter into the country from Afghanistan and carry out attacks in the country.
Source: Times Of India
Please click the following URL to read the full text of the original story:
https://timesofindia.indiatimes.com/world/pakistan/pak-nsa-to-visit-kabul-this-week-report/articleshow/88943346.cms
--------
US fails to understand Pakistan motive two decades since 9/11
January 17, 2022
Pakistan's real motive in sponsoring terrorism and revival of Taliban dominated (Udaipur based Foreign & Defence policy related think tan) Usanas Foundation organized international conference, "Maharana Pratap Annual Security Dialogue," from Jan 10-13. The conference's theme was "Transnational Terrorism in the 21st century and Global Counterterrorism Response."
The dialogue was organized in partnership with the Indian Council of World Affairs, MEA. This global conference hosted 25 prominent international experts from over nine countries, including the US, Israel, Australia, Sri Lanka, UAE,Egypt, Afghanistan, Singapore and Europe.
The Day 1 of the conference was inaugurated by Amb. Naor Gilon, the Israeli Ambassador to India, highlighting how counterterrorism plays a huge role in India-Israel cooperation on strategic and security issues. Both countries celebrate 30 years of diplomatic relations between India and Israel this year, however, the civilizational ties are 2000 years old. Praising India's rich cultural legacy of secularism and tolerance, he said that the Jewish community never faced any persecution and oppression in India. The two nations share similar ideas and plan to cooperate in the future as well regarding terrorism.
The first session of the day was dedicated to "Assessing 20 Years of Global War on Terror: Successes and Failures." Some of the speakers included Amb. Anil Trigunayat, former Indian ambassador to Libya and Malta, Dr. Michael Ruben, a former Pentagon official, also gave his remarks on American counterterrorism operations.
In the second session, experts such as Lt. Gen. Ata Hasnain and Dr. Yoram Schweitzer, an Israeli intelligence official, former advisor to the Israeli PM, deliberated on the U.S. withdrawal from Afghanistan and the future of terrorism. Dr. Javid Ahmad, former Afghan ambassador to UAE, also contributed to this session by critiquing Pakistan's support of the Taliban and the latter group's religious fundamentalism.
During the evening session on the issue of terror financing, Dr. Dalbir Ahlawat of Macquarie University in Australia, and Dr. Tal Pavel, of the Israeli firm CyBureau, elucidated different terror financing channels such as proxy charities andcryptocurrencies. Dr. Abhinav Pandya, the founder and CEO of Usanas Foundation, talked about the terror financing scenario in Kashmir. He detailed how Pakistan-supported terror organizations siphon funds from development projects and use traveling students to transfer funds.
Renowned terrorism expert, Dr. Rohan Gunaratna, gave the keynote address on the second day. He said that it is important to look at developments in Afghanistan to understand the threat landscape globally. About developments in Afghanistan, he said "it is not just the revival of Taliban, rather it is the revival of Taliban and Al Qaeda." He also stressed the need to address Muslim exclusivism promoted by Salafi Wahabism. According to Gunaratna, the key is to promote "local and tolerant Islam" that will not support extremist ideologies at the root of Islamic extremist terrorism.
The first session on Day 2 focused on radicalization in South Asia. Dr. Tara Kartha and Michael Kugelman presented talks on the spread of divisive ideologies in the region and the need to ensure such ideologies do not hijack religions. Other speakers, such as Pratap Heblikar, Marian Duris and Dr. Arabinda Acharya, spoke on different aspects of radicalization.
The second session of the day focused on counter-radicalization and de-radicalization. Dr. Malkanthi Hettiarachchi spoke on her work on de-radicalizing terrorists. Dr. Malkanthi stresses the return of radicals to values of moderation and inclusivity. Dr. Jolene Jerard similarly talked about her work in community engagement that aims to nip terrorism in the bud by addressing its underlying drivers and attitudes.
The third day began with a session on "The Role of Think Tanks and Research in Counterterrorism." Dr. Tricia Bacon, a researcher from Washington D.C, and Dr. Ely Karmon, from ICT-Herzliya in Israel, spoke about their experiences working in think tanks in the U.S. and Israel, respectively. They also commented on the contributions of researchers to policy-making and the challenges involved.
The following session was dedicated to India's counterterrorism cooperation with the U.S. and Israel. Dr. Ely Karmon spoke about India-Israel cooperation in counterterrorism and what India can gain from Israel's advances in defense technology and its knowledge of counterterrorism techniques. Dr. L. Venkatswaran also spoke on the Indo-US convergences in counterterrorism.
The final session focused on "Challenges and The Way Forward." VIF chairman & former Deputy NSA Arvind Gupta stressed the need to focus on the strategic aspects of terrorism. This includes an international legal consensus on what defines a terrorist and a U.N. Convention on combatting terrorism. Moreover, he called for more attention to be given to state-sponsored terrorism.
The Valedictory ceremony for the dialogue took place in Udaipur on January 13, which was attended by Tejendra Khanna, the former L.G. of Delhi, as the Chief Guest. Khanna said that the proponents of terrorism spread wrong notions about religion and there should be efforts to harmonize religions, especially by religious leaders and young people. He urged the UN to build a legal charter against radicalization, which eventually all countries should sign and India must take lead in this.
Source: Economic Times
Please click the following URL to read the full text of the original story:
https://economictimes.indiatimes.com/news/international/world-news/us-fails-to-understand-pakistan-motive-two-decades-since-9/11/articleshow/88921453.cms
--------
North America
First Shia Muslim mayor of Dearborn to serves as democratic model for the world
January 17, 2022
Placing his left hand on a Quran, Dearborn Mayor Abdullah Hammoud was sworn in Saturday in a historic moment for the city.
Addressing the audience afterward, Hammoud spoke of Dearborn's diversity, saying it serves as a democratic model for the world. And he called for a dynamic government that is accessible to all while solving the city's challenges, such as infrastructure.
"All four corners of our city bring something special that makes Dearborn the rich and vibrant place we all love and call home," Hammoud said onstage at the Ford Community & Performing Arts Center. "Together, we're on a mission to prove that we can solve the biggest problems we face while being transparent, responsive and accessible to all. Our new team brings not only vast experience, but historic diversity that includes several broken barriers. ... By including more of us, we widen our perspectives, we improve our decision-making, and multiply our impact. No matter your background, ZIP code, or native tongue, the city of Dearborn will always treat you equitably and strive to earn your trust each and every day."
Hammoud is Dearborn's first Arab American mayor of a city of 110,000 residents that was once led for decades by one of the region's most notorious racists, Orville Hubbard, a former mayor who used disparaging language against minorities, including Black and Arab American people.
Hammoud is also the city's first Muslim mayor, using some Arabic words to thank God during his speech. Dearborn, the headquarters for Ford Motor Co. and whose logo is "Home Town of Henry Ford," is now 47% Arab American and whites of European descent are now a minority, according to 2019 census data.
"Over the decades, we have served as the birthplace of innovation, and the gateway to opportunity for tens of thousands of families," Hammoud said, referring to Dearborn and how Ford plants drew workers from around the nation and world. "We've modeled for the world what a multiethnic democracy can look like when we approach our differences with kind curiosity rather than suspicion. But in assuming this office, we won't just inherit a shared past. We also inherit responsibility for the future. Dearborn is bigger than all of us, and as we prepare to tackle hundred-year challenges such as catastrophic flooding, we will think not just about our residents today, but also the residents of tomorrow."
Three religious leaders - a Shia Muslim, Sunni Muslim and Christian - gave invocations, appearing on stage together in a show of unity.
One of the leaders who spoke was Shaikh Ahmad Hammoud, an imam at the Islamic Center of America in Dearborn who is an uncle to Hammoud. The other Muslim leader was Imam Suleiman Hani of the AlMaghrib Institute. The Rev. Terri Pilarski of Christ Episcopal Church in Dearborn prayed for the city to be a light for others to follow.
The seven members of Dearborn's City Council, nine members of the Dearborn Charter Commission, and Dearborn City Clerk George Darany were also sworn in. The seven council members and Darany all spoke after being sworn in by Wayne County Circuit Judge Helal Farhat. All of the elected officials, including Hammoud, officially took office on Jan. 1.
City Council President Michael Sareini said he will work to be "an active leader ... seeking solutions."
Sareini said residents have been frustrated with inefficient city services.
The "quality of life must improve" in Dearborn, he said.
Councilman Ken Paris called upon residents to get involved with the city.
"We need a lot more citizen involvement," Paris said. "Get involved."
Darany also urged residents to get active: "If you want to see a change in your world, you might have to be the one to make that change yourself."
Several of the council candidates spoke about the problem of flooding, which has been an ongoing problem, especially last summer.
The crowd of about 100 people inside the auditorium was small because the city closed the event to the general public due to spike in COVID-19 cases this month, but the event was livestreamed online. Most of the guests were family or friends of the elected officials.
Abed Hammoud, a Dearborn attorney and former federal and county prosecutor who ran for mayor 21 years ago, attended the event along with his family. His son, Mustapha Hammoud, was elected to City Council and was sworn in.
Abed Hammoud said he had tears as he watched the inauguration. When Hammoud ran for Dearborn mayor in 2001, primary day fell on Sept. 11, the day of the terrorist attacks; he advanced to the general election in November, losing to Mayor Michael Guido.
"This is the moment we've been looking forward to for so long," Abed Hammoud said after the inauguration.
While Dearborn has been diverse for decades, "we didn't feel that its government represented its diversity," Hammoud said. "And today, you felt it. ... It feels like all the work we've done for many years has come to fruition. The city is going to be very happy to see how much talent this community has."
The city now has 11 elected officials, including in its school district, who are Arab American.
Councilman Hammoud said after being sworn in "I'm excited to work .. as a voice for accountability, ethics, and equal treatment for all residents. For the next four years, I want you, the citizens of this city, to watch my work and tell me how to best serve you.
"I feel incredibly honored to give back to this city who has given me so much," Hammoud said.
Abdullah Hammoud took the stage Saturday along with his wife, Dr. Fatima Beydoun. In his opening remarks, Hammoud thanked his family, including their newborn daughter and his late brother, Ali Hammoud, who died in 2015 from a seizure.
Hammoud said after the ceremony that the red tie he wore was his brother's tie and the Quran he took his oath on was gifted to his family after Ali's death.
"My brother is the greatest person I've ever ... known and will every know," he said. "I carry him wherever I go."
Hammoud started his address by referring to the late U.S. Rep. John Dingell, the longtime ccongressman representing Dearborn.
Source: ABNA24
Please click the following URL to read the full text of the original story:
https://en.abna24.com/news//first-shia-muslim-mayor-of-dearborn-to-serves-as-democratic-model-for-the-world_1219724.html
--------
'We Muslims In America Undeniably Have An Increasing Anti-Semitism Problem': Duke
17 January 2022
A Duke University professor has called on his fellow Muslims to confront the 'increasing anti-Semitism problem' within their community in wake of the Texas synagogue terror attack.
Abdullah T. Antepli, a professor of the Practice of Interfaith Relations at the Duke Divinity School, took to Twitter Sunday saying members of his faith have a 'moral call for action for the soul of Islam and Muslim' to address the hatred towards Jews.
He also took aim at Rep. Ilhan Omar for over past anti-Semitic commentary, including a comment she made in 2019 suggesting that Israel's allies in American politics were 'all about the Benjamins'. That was a reference to cash which was widely interpreted as an anti-Semitic trope, and which Omar later apologized for.
'We North American Muslims need to have the morally required tough conversations about those"…polite Zionists are our enemies…""…The Benjamins!!!..." voices and realities within our communities,' Antepli wrote.
'We MUST! Without ands and buts, without any further denial, dismissal and or trivializing of the issues… we need to honestly discuss the increasing anti-Semitism within various Muslim communities.'
Antepli's comments come just hours after an FBI Hostage Rescue Team on Saturday night stormed Congregation Beth Israel in Colleyville, Texas - near Fort Worth - ending a 10-hour standoff with police by accused gunman Malik Faisal Akram, who disrupted a Sabbath service and took the rabbi and three other people hostage.
Akram, 44, of Blackburn, England - who was reportedly armed with 'backpacks of explosives' - had demanded the release of convicted Pakistani terrorist Aafia Siddiqu - known as Lady Al Qaeda - who police say was referred to as his sister.
The four hostages were all released unharmed. After the incident, the Jewish community and President Joe Biden renewed calls to fight anti-Semitism.
The FBI has sparked fury after claiming that they had yet to find evidence that the attack was anti-Semitic.
'Houston! We have a problem,' Antepli tweeted. 'Not going anywhere….quite the contrary getting worse.'
He argued that North American Muslims need to hold honest discussion about anti-Semitism without any 'further denial, dismissal and or trivializing of the issues'.
The professor alleged the community has failed to address Jew-hatred 'honestly, morally and accurately'.
'I am really sick and tired of the over all defensiveness and tribal nature of our reaction to this alarming internal problem,' he wrote.
'We are better than this! We can no longer pretend the problems of anti-Semitism within us does not exist. There are more urgent moral calls than "Let's not bring shame to our already vulnerable communities.."'
The professor also called out American leaders - specifically Omar - who he suggests further the anti-Semitism problem.
'The Benjamins,' he wrote, quoting a February 2019 tweet from Omar, a Minnesota Democrat, that caused outrage among her party and other leaders.
'Anti-Semitism must be called out, confronted and condemned whenever it is encountered, without exception,' House Speaker Nancy Pelosi and her team wrote at the time.
'We are and will always be strong supporters of Israel in Congress because we understand that our support is based on shared values and strategic interests. Legitimate criticism of Israel's policies is protected by the values of free speech and democratic debate that the United States and Israel share. But Congresswoman Omar's use of anti-Semitic tropes and prejudicial accusations about Israel's supporters is deeply offensive. We condemn these remarks and we call upon Congresswoman Omar to immediately apologize for these hurtful comments.'
Omar apologized for for using old anti-Semitic tropes about Jews and money in her tweets but stuck to her guns in blasting the problems of lobbyists and their financial influence in politics.
'Anti-Semitism is real and I am grateful for Jewish allies and colleagues who are educating me on the painful history of anti-Semitic tropes,' Omar said in a statement in 2019.
'My intention is never to offend my constituents or Jewish Americans as a whole,' she added. 'We have to always be willing to step back and think through criticism, just as I expect people to hear me when others attack me for my identity. This is why I unequivocally apologize.'
'At the same time, I reaffirm the problematic role lobbyists in our politics, whether it be AIPAC, the NRA or the fossil fuel industry. It's gone on too long and we must be willing to address it,' Omar added. She tweeted out her statement with the words: 'Listening and learning, but standing strong.'
Sunday, responding to the Texas hostage situation, Omar tweeted: 'Thank God for the freeing of the hostages. Blessings to the members of Beth-Israel synagogue and the entire community.'
She was just one of several lawmakers issuing their support for the synagogue and members of the Jewish faith.
'Yesterday, an act of terrorism horrified the nation, as worshippers at Congregation Beth Israel in Texas were taken hostage during a Shabbat service. In the wake of this antisemitic attack, we stand with the Jewish communities in Colleyville, across our nation and around the world,' Pelosi echoed.
'Antisemitism and other forms of hateful violence have been on the rise in recent years. This extremism has injected fear into communities and stolen too many lives. Hatred and violence have no place in America — and we must never fail to confront and combat these dark forces.'
She continued: 'Congress remains ironclad in our commitment to fighting the scourge of antisemitism here at home and around the world. We cannot and will not rest until all of our children, regardless of their faith, can reach for their dreams in a world at peace.'
During a visit to a Philadelphia food bank, President Joe Biden Sunday described Akram's actions as an 'act of terror,' adding that there was not yet sufficient information as to why the gunman had specifically targeted a synagogue.
'Allegedly - I don't have all the facts, nor does the attorney general - but allegedly the assertion was he got the weapons on the street,' the president explained.
'He purchased them when he landed and it turns out there apparently were no bombs that we know of. ... Apparently he spent the first night in a homeless shelter. I don't have all the details yet so I'm reluctant to go into much more detail.'
'I don't think there is sufficient information to know about why he targeted that synagogue, why he insisted on the release of someone who's been in prison for over 10 years, why he was engaged, why he was using anti-Semitic and anti-Israel comments,' Biden told reporters.
Akram was shot dead by the FBI's elite Hostage Rescue Team after holding four hostages for more than 10 hours at Congregation Beth Israel synagogue in Colleyville, Texas on Saturday.
Lead FBI special agent Matthew DeSarno confirmed Akram was a British citizen and that 'at this time there is no indication that other individuals are involved' in a statement released to the media on Sunday afternoon.
DeSarno also claimed Akram was focused on an issue not directly connected to the Jewish community and there was no immediate indication that the man had was part of any broader plan, but noted the agency's investigation 'will have global reach.'
'It is very disturbing to hear from the FBI they do not believe the hostage taker's demands had anything to do with the Jewish faith,' wrote South Carolina Sen. Lindsey Graham.
The FBI Shooting Incident Review Team plans to conduct a 'thorough, factual and objective investigation' of the shooting.
Counter Terror police also confirmed to MailOnline they would continue to work with 'US authorities and colleagues in the FBI' over the coming days as the investigation into Akram's actions continues.
The alleged gunman's 'devastated' brother Gulbar Akram shared a message on social media in which he revealed he had been working with the FBI and 'liaising' with his sibling throughout the stand-off. He also apologized and blamed 'mental health issues' for Malik's actions.
Gulbar wrote online: 'It is with great great sadness I will confirm my brother Faisal passed away in Texas, USA this morning. We are absolutely devastated as a family. We can't say much now as their is an ongoing FBI investigation.
'We would like to say that we as a family do not condone any of his actions and would like to sincerely apologize wholeheartedly to all the victims involved in the unfortunate incident.
Source: Daily Mail UK
Please click the following URL to read the full text of the original story:
https://www.dailymail.co.uk/news/article-10408835/Professor-says-Texas-synagogue-terror-attack-inspire-Muslims-confront-growing-Jew-hatred.html
--------
US Muslim groups condemn hostage-taking at Texas synagogue
Servet Gunerigok
16.01.2022
WASHINGTON
US Muslim groups have condemned Saturday's hostage-taking incident at a synagogue in the US state of Texas.
Four people including a rabbi were held by a gunman who entered the Congregation Beth Israel synagogue in Colleyville during a religious service. After hours of standoff with law enforcement, all hostages were freed and the captor was dead, police said.
The Council on American-Islamic Relations (CAIR), the nation's largest Muslim civil rights and advocacy organization, denounced the incident.
"This latest antisemitic attack at a house of worship is an unacceptable act of evil. We stand in solidarity with the Jewish community," CAIR National Deputy Director Edward Ahmed Mitchell said in a statement on Sunday.
Meanwhile, the US Council of Muslim Organizations said it stands in complete solidarity against antisemitism with the Jewish community and "condemns the evil, unjust, and unjustifiable hostage-taking of members of the Congregation Beth Israel synagogue."
"This heinous attack on a synagogue, a sacred and inviolable place of worship – and its congregants in the act of prayer – is utterly unacceptable," said Council Secretary-General Oussama Jammal.
Source: Anadolu Agency
Please click the following URL to read the full text of the original story:
https://www.aa.com.tr/en/americas/us-muslim-groups-condemn-hostage-taking-at-texas-synagogue/2475610
--------
Texas Muslims express support for hostages in synagogue assault
January 16, 2022
CHICAGO: Leaders of the Muslim community in Texas and activists around the US expressed support for members of a synagogue in Colleyville which came under attack on Saturday, sparking a 10-hour hostage crisis.
A SWAT team breached the Congregation Beth Israel synagogue at around 9:30 p.m. in Dallas-Fort Worth, Texas, freeing all the hostages.
No members of the synagogue's congregation were injured, but the gunman was killed, police said without releasing details. The rabbi, Charlie Cytron-Walker, was reported to be among the four held hostage.
The FBI on Sunday identified the gunman who was killed as 44-year-old British national Malik Faisal Akram.
Imams at nearby mosques quickly responded with statements of support and prayers for the safety of the synagogue's congregation and condemnations of the violence.
"We are shocked and horrified at what is transpiring in the Colleyville synagogue," said Imam Jawaid Alam, from the Islamic Center of Southlake, as word spread of the hostage crisis. "They are going through an appalling ordeal and we stand with our Jewish brothers and sisters. Our thoughts and prayers are with them, and we condemn these atrocious actions. We will provide our support and hope that this situation comes to a safe resolution as soon as possible. Ameen."
The Secretary-General of the US Council of Muslim Organizations Oussama Jammal said that Muslims across the US stand in solidarity with "the Colleyville and broader American Jewish community," and are "relieved" at their safe release.
"This heinous attack on a synagogue, a sacred and inviolable place of worship – and its congregants in the act of prayer – is utterly unacceptable. Whoever the attacker is and whatever his claimed motivations, there can be no excuse for this horrific crime. We praise God for their return to their loved ones," Jammal said.
Police issued updates on Twitter as the hostage situation continued throughout Saturday evening and Sunday morning. Colleyville Police Spokesperson Sgt. Dara Nelson said a 911 call came in just before 11 a.m.
"Officers arrived on scene and observed an emergency situation that warranted evacuation of the surrounding areas and an external perimeter was established," Nelson said. "The Colleyville Police Department is on scene along with the FBI's Dallas Field Office, the Texas Department of Public Safety, the North Tarrant Regional SWAT Team and other neighboring agencies."
Nelson said a gunman was holding several hostages inside the synagogue and reported that at 5 p.m. the suspect released one male hostage uninjured. FBI crisis negotiators were in communication with the suspect, Nelson added.
The SWAT team entered the synagogue and freed all of the hostages and the suspect was killed.
US President Joe Biden issued a statement immediately after the hostages were released late Saturday night.
"Thanks to the courageous work of state, local and federal law enforcement, four Americans who were held hostage at a Texas synagogue will soon be home with their families. I am grateful to the tireless work of law enforcement at all levels who acted cooperatively and fearlessly to rescue the hostages. We are sending love and strength to the members of Congregation Beth Israel, Colleyville, and the Jewish community," he said.
"There is more we will learn in the days ahead about the motivations of the hostage taker. But let me be clear to anyone who intends to spread hate—we will stand against antisemitism and against the rise of extremism in this country. That is who we are, and tonight, the men and women of law enforcement made us all proud."
On Sunday, Biden said that the hostage taker had got his weapons off the street.
The hostage incident in Colleyville, Texas, "was an act of terror; it was an act of terror," said Biden, who was in Philadelphia with first lady Jill Biden.
Pro-Palestinian activists also issued statements against the violence, including Jewish Voices for Peace. It said: "We are grateful to G-d that Rabbi Cytron-Walker and the congregants at Beth Israel in Colleyville, Texas are free and safe. We send love to our fellow Jews everywhere who are breathing slightly easier, and recommit to the fight against antisemitism and Islamophobia."
Britain's foreign office confirmed the death of a British man in Texas, when asked to respond to a Sky News report that the gunman was a British national. The foreign office did not explicitly say the dead Briton was the gunman.
British foreign minister Liz Truss on Sunday condemned the actions of the gunman, calling it an act of terrorism and anti-Semitism.
Source: Arab News
Please click the following URL to read the full text of the original story:
https://www.arabnews.com/node/2005536/world
--------
Southeast Asia
Apologise For 'Washing' Teen Like Corpse, For Theft To Issue A Public Apology To The Community Judge Advises Mosque Committee
Mohamad Fadli
January 17, 2022
SHAH ALAM: High Court judge Abd Halim Aman has advised members of a mosque committee involved in washing a teenager like a "corpse" for theft to issue a public apology to the community.
He said this was one of two recommendations made by him so that the case would be a lesson to all parties, adding that it would also clear the air among those involved.
Halim also suggested that those who recorded the video, which went viral, should apologise, too.
"This is not an order but just a recommendation," he said.
Earlier, the court set aside the 10-day jail sentence and RM4,000 fine on Daniel Iskandar, 19, who stole money from the Al Islahiah Kuang Mosque, near Rawang, at about midnight on Jan 8 and hid it in the mortuary.
Halim said the sentence would be replaced with compulsory community service at the mosque for 120 hours over six months.
A video showing Daniel being washed like a "corpse" had gone viral on social media.
The prosecution was represented by deputy public prosecutor Norhana Sahat, while Daniel was represented by lawyers Muhammad Rafique Rashid Ali, Fahmi Abdul Moin, Azman Abdullah and Ilyani Khszairy.
Also present were lawyers Muhammad Hariz Yusoff, Haniff Khatri Abdulla, Nur Fatin Syakinah Kamarudin, Ahmad Khalil Md Rofiee and Muhammad Mustaqim Ahmad Huzaini from the Muslim Lawyers Association of Malaysia (PPMM).
Megat Abdul Munir Megat Abdullah Rafaie held a watching brief for the Al Islahiah Kuang Mosque.
Source: Free Malaysia Today
Please click the following URL to read the full text of the original story:
https://www.freemalaysiatoday.com/category/nation/2022/01/17/apologise-for-washing-teen-like-corpse-judge-advises-mosque-committee/?__cf_chl_jschl_tk__=VCUv6KTEy.Guj5Jh6BPQpiQ4bFkYKxcwUU7sn8yklks-1642404772-0-gaNycGzNDCU
--------
Removal from PAS committee due to differences on Umno ties, hints Khairuddin
Faiz Zainudin
January 15, 2022
PETALING JAYA: Kuala Nerus MP Khairuddin Aman Razali has hinted that he was dropped as a PAS committee member due to his push for the party to continue working with Umno through Muafakat Nasional (MN).
The former plantation industries and commodities minister, however, told FMT to "baca apa yang tersirat" (read between the lines) when asked over the actual reason for his removal.
He also did not elaborate on his recent Facebook post after he was dropped from the committee which reminded leaders of their compulsory duty according to Islamic law to work towards strengthening the unity between PAS and Umno.
"It is the responsibility of leaders to strengthen and nurture this unity (within the MN framework).
"This is because the unity between Muslims from two of the biggest groups, with over four million members, must be prioritised according to syarak (Islamic law).
"Those who are trying to destroy the unity between these two Muslim parties are those with self-serving interests."
PAS president Abdul Hadi Awang, who yesterday announced that Khairuddin had been dropped as a PAS Central Committee member, is against maintaining MN should Umno continue to reject Bersatu as part of the alliance.
Hadi had previously accused some Umno leaders of acting against the spirit of the MN charter because of their opposition to the Muhyiddin Yassin-led party.
In November last year, Khairuddin was among three high-level leaders reappointed as PAS committee members for the 2021-2023 term after losing in the party polls. He was appointed together with Mohd Zuhdi Marzuki and Nik Abduh Nik Abdul Aziz.
Source: Free Malaysia Today
Please click the following URL to read the full text of the original story:
https://www.freemalaysiatoday.com/category/nation/2022/01/15/removal-from-pas-committee-due-to-differences-on-umno-ties-hints-khairuddin/
--------
Malaysia Hands Over 3 Rebel Suspects to Thailand
2022-01-13
Malaysia handed three suspected insurgents to Thailand this week, as Thai and rebel negotiators wrapped up their first in-person peace talks in nearly two years, officials in Thailand's troubled Deep South said Thursday.
The handover was the first official transfer in about 25 years of prisoners associated with the separatist insurgency in Thailand's southern border region, a military source indicated. The Malay-speaking insurgents have long been known to seek haven across the border.
"Authorities took custody of three suspected insurgents handed over from Malaysia on Wednesday," Thailand's Internal Security Operations Command (ISOC) said Thursday.
"The insurgents escaped after committing crimes in the Deep South and went into hiding in Malaysia, but were captured by Malaysia's 6th Infantry Division at illicit routes near Durian Burung, Kedah State, on Dec. 25, 2021," ISOC said in a statement.
The transfer at the Sadao border crossing in southern Songkhla province, on the Thai-Malaysia frontier, took place on day two of Malaysia-brokered talks between representatives of the Thai government and the Barisan Revolusi Nasional (BRN) rebel group at a hotel near Kuala Lumpur.
The three suspects had criminal records, Thai authorities said, describing them as members of RKK (Runda Kumpulan Kecil), a combat unit of BRN. They have been taken to a regional police office for further investigation, officials said.
On Thursday, people on both sides of the border insisted that the handover was not related to the peace talks.
"This issue is not linked to last night's peace talks," said a Malaysian security source who spoke on condition of anonymity.
"We don't have any indication if the handover of the three was linked to the peace talks, or that the trio was opposed to the talks," said Artef Sohko, president of The Patani, a civil society group based in Southern Thailand.
It is rare for Malaysia to extradite Deep South insurgents, said a Thai military source who requested anonymity because he was not authorized to speak to reporters.
The last time Malaysia handed over suspected insurgents – three key leaders of the PULO rebel group – was in 1997, according to the source.
Outcome of talks
During their talks the two negotiating teams agreed to form a "joint working group" to discuss a peaceful and inclusive political solution to the decades-old insurgency, according to the BRN.
"Patani has always supported the peace negotiation process with the hope that peace will return to the land of Patani," Anas Abdulrahman, also known as Hipni Mareh, who led the BRN delegation, told a news conference near Kuala Lumpur on Thursday.
The BRN, a highly secretive organization, is the largest of armed groups waging a decades-old insurgency in the mainly Muslim and Malay-speaking Thai Deep South, and many BRN members and sympathizers are believed to be living on the Malaysian side of the border.
The two parties "agreed to form a Joint Working Group between BRN and the Thai government," Abdulrahman told reporters.
"We have yet to decide on when it will be the set up… Hopefully, we have a working group before our next meeting this year," he said, adding that both parties had agreed to send representatives.
The Thai government's Peace Dialogue Panel said the two sides proposed the establishment of a Joint Working Group, without explicitly saying they agreed to it.
"The two sides proposed the establishment of … joint working groups which would support the peace dialogue process and allow the two sides to have a meaningful and flexible discussion with a tangible outcome," the Thai panel said in a statement Thursday.
Both Abdulrahman and the Thai panel said the two sides discussed reducing violence, public consultations, and political solutions.
'If we are attacked, we will defend ourselves'
The armed separatist movement against Buddhist-majority Thailand began in the 1960s. The movement's primary demand has been independence for the people of Patani, the name given to the southern border region by BRN and other separatist groups.
Since the insurgency reignited in January 2004, more than 7,000 people have been killed and 13,500 injured in violence across the region, according to Deep South Watch, a local think-tank.
Abdulrahman claimed the violence had decreased since the BRN announced a unilateral ceasefire due to the COVID-19 pandemic in April 2020. The global outbreak of the coronavirus disease forced peace talks that began in person in Kuala Lumpur to go online.
Despite Abdulrahman's assertion, Thai security services in the Deep South have blamed BRN for carrying on with attacks in the region, including violent incidents in the weeks leading up to the resumption of in-person peace talks.
"[I]f we are attacked, we will defend ourselves," Abdulrahman said Thursday.
"BRN hopes that this peace talk will continue and will bring eternal and dignified peace to all people of Malay Patani," he said.
The two sides also agreed to discuss governance, education, recognition of the Malay Patani identity, and the economic system in the south, the BRN chief negotiator said.
He added that two international experts monitored this week's meetings, which were facilitated by former police chief Abdul Rahim Noor on behalf of Malaysia's government.
Political experts hailed the Kuala Lumpur meetings as a move in the right direction.
This "is a significant milestone as it sets the stage for the discussion on three main issues: reduction of violence, public consultation, and political solutions," said Rungrawee Chalermsripinyorat, a Deep South researcher and lecturer at the Prince of Songkla University.
Source: Benar News
Please click the following URL to read the full text of the original story:
https://www.benarnews.org/english/news/malaysian/talks-update-01132022151828.html
--------
PM gives commitment to assist Rohana Abdullah with her citizenship woes
16 Jan 2022
KUALA LUMPUR, Jan 16 — Prime Minister Datuk Seri Ismail Sabri Yaakob has given his commitment to assist Rohana Abdullah, who was abandoned as a two-month-old baby at a kindergarten 22 years ago after her Indonesian mother returned to her country.
The matter was stated by Ismail Sabri through a video shared on the social media account of his press secretary, Asyraf Afnan Ahmad Murtadza.
In the posting, the prime minister, who was seen in his vehicle, contacted Rohana to get a true picture of the difficulties faced by the young woman.
Ismail Sabri said he found out about the difficulties experienced by Rohana after reading it in the newspaper.
The Prime Minister said that his officer would contact the National Registration Department to assist with Rohana's documentation.
"If there is any (development) later, my officer will contact you," he said in a video lasting 1 minute and 5 seconds.
Rohana was also heard thanking the prime minister and hoping that he could help her.
Media previously reported that Rohana, 22, was abandoned by her Indonesian mother and has been raised by Chee Hoi Lan, 83, who was a kindergarten teacher where Rohana's mother worked as a cleaner, ever since.
Rohana was reportedly forced to drop out of school because she did not have identification documents, and had experienced anxiety due to the problems.
In the meantime, Ismail Sabri, through a posting on his Facebook page, also thanked Chee for taking care of Rohana with love.
Source: Malay Mail
Please click the following URL to read the full text of the original story:
https://www.malaymail.com/news/malaysia/2022/01/16/pm-gives-commitment-to-assist-rohana-abdullah-with-her-citizenship-woes/2035497
--------
Arab World
Arab Coalition strikes kill over 300 Iran-backed Houthi militia in Yemen: Statement
15 January ,2022
The Arab Coalition conducted 33 military operations in 24 hours targeting Iran-backed Houthi's in the Yemeni province of Marib, killing more than 190 militia members and 21 military vehicles, according to the Saudi Press Agency (SPA).
The Coalition also conducted 27 targeted operations in Yemen's al-Bayda, eliminating 150 Iran-backed Houthi members and 16 military vehicles, according to the same SPA report.
Following the announcement, an official statement warned against the Iran-backed Houthi's continued attempts to attack civilian objects.
They also added that these strikes "thwarted the systemic attempts to target civilians."
The targeted strike comes a little more than an hour after the Arab Coalition released a statement requesting travelers not to use the roads coming from Marib and al-Bayda towards the governorates of Harib, Ain, Bayhan, and Usaylan until further notice.
All "movements on these roads will be targeted," said the original statement.
Yemen's Iran-backed Houthis launched dozens of cross-border attacks on Saudi Arabia throughout 2021.
In September 2021, the Houthis intensified their efforts to take Marib, a provincial capital which is the government's last northern stronghold.
As hostilities escalated, the Houthis on January 3 seized a United Arab Emirates-flagged ship that the coalition said was carrying medical supplies.
On January 15, an Iran-backed Houthi spokesperson rejected the UN request to release the vessel.
Source: Al Arabiya
Please click the following URL to read the full text of the original story:
https://english.alarabiya.net/News/middle-east/2022/01/15/Multiple-Arab-Coalition-strikes-kill-over-300-Iran-backed-Houthi-militia-in-Yemen
--------
Iran resumes Muslim Shia pilgrim tours to shrines of Sayyida Zainab, Ruqayya in Syria
January 17, 2022
Iran resumed religious pilgrim trips to Syria on Sunday, enabling its nationals to visit Muslim Shia shrines in Damascus, according to state-run Fars news agency.
Two weekly flights from Tehran International Airport to Damascus resumed, allowing Iranians to visit the shrines of Sayyida Zainab and Sayyida Ruqayya - the head of Iran's Hajj and Pilgrimage Organisation Ali-Reza Rashidian said.
"The Hajj and Pilgramage Organisation has allocated two weekly flights to Damascus from Tehran International Airport to visit the shrines of Sayyida Zainab and Sayyida Ruqayya," reported.
The first batch of 25 tourists headed from Shia-majority Iran to Syria's historic capital on Sunday as part of an "implementation of agreements previously concluded" with the Syrian government, according to the agency.
Iran and Syria agreed to resume religious pilgrim tours last November when it was agreed that Tehran would send 100,000 Iranian tourists in the first phase of the deal.
Source: ABNA24
Please click the following URL to read the full text of the original story:
https://en.abna24.com/news//iran-resumes-muslim-shia-pilgrim-tours-to-shrines-of-sayyida-zainab-ruqayya-in-syria_1219718.html
--------
Iraq says almost 4,000 repatriated from Belarus borders
16 January ,2022
Baghdad has repatriated almost 4,000 of its citizens stuck on the Belarus borders with European Union members Poland, Lithuania and Latvia in recent weeks, Iraq's foreign minister said Sunday.
Since November 18, the Iraqi government has organised "10 flights from Baghdad to Belarus" to repatriate its citizens, Fuad Hussein told a press conference in Baghdad with his Lithuanian counterpart.
"We have been able to repatriate around 4,000 Iraqis who were stuck on the Belarus borders with Poland, Lithuania and Latvia," he said.
For the latest headlines, follow our Google News channel online or via the app.
Foreign ministry spokesman Ahmed al-Sahaf later told AFP that "3,817 Iraqi migrants have been repatriated from Belarus and 112 from Lithuania".
The flights have generally arrived in Iraq's autonomous Kurdistan region, where many of the would-be migrants are from, before continuing to Baghdad.
Sahaf said some Iraqis were still stuck in Belarus, but that "the difficult weather and complex environment do not allow rescuers to determine their numbers".
Lithuanian Foreign Minister Gabrielius Landsbergis, who also met with Prime Minister Mustafa al-Kadhemi, said he wanted "to bring in new cooperation ideas" with Iraq.
Since last summer, thousands of migrants, many from the Middle East and Iraq in particular, had been camped on the Belarus-EU border, often in bitter conditions, trying to enter the bloc.
Source: Al Arabiya
Please click the following URL to read the full text of the original story:
https://english.alarabiya.net/News/middle-east/2022/01/16/Iraq-says-almost-4-000-repatriated-from-Belarus-borders-
--------
Fears grow over Iran influence in Lebanon after Hezbollah, Amal Cabinet decision
January 16, 2022
BEIRUT: A decision by Hezbollah and the Amal Movement to end a boycott of Lebanon's Cabinet has led to speculation that Iran is making moves to control Lebanon's political system.
Lebanese Forces MP Ziad Hawat said: "The order came from Tehran, so the 'disruption duo' decided to set the Cabinet meetings free. These are the repercussions of external negotiations."
He added: "The 'disruption duo' pawned the country to the outside will. But the parliamentary elections are coming and the hour of reckoning is upon us."
The two parties said on Saturday that they would take part in Cabinet meetings after a three-month boycott.
The decision came as a surprise to many, and positively impacted the currency rate on Sunday.
Reacting to the announcement, Prime Minister Najib Mikati said that he would convene a Cabinet meeting as soon as the Finance Ministry had sent through a draft budget.
He added that the decision "aligns with his personal repeated calls for everyone to participate in assuming the national responsibility in a way that preserves the national pact, especially during these critical times the country is going through."
Mikati's office noted the need "to set a recovery plan to launch the negotiation process with the International Monetary Fund."
Some political observers said that the two parties are facing a political stalemate and popular pressure accusing them of escalating crises.
Parliamentary elections are around the corner and the two parties "want to absorb people's resentment before the date of the said elections next May."
Other observers linked the decision by the two parties to "regional developments regarding the Vienna talks."
They believe that "the decision to disrupt the Cabinet meetings served an external agenda, specifically an Iranian one, and that perhaps they ended their boycott to demonstrate flexibility in the complicated negotiations."
The two parties said in their joint statement on Saturday: "We announce our agreement to participate in Cabinet meetings to approve the national budget and discuss the economic rescue plan, and all that concerns improving the living conditions of the Lebanese."
They claimed that the decision came "following the acceleration of events and the escalation of the internal political and economic crisis to an unprecedented level, with the collapse of the Lebanese pound's exchange rate, the decline of the public sector and the collapse of citizen income and purchasing power."
Hezbollah and Amal also mentioned in their mutual statement that their boycott was due to "the unconstitutional steps undertaken by Judge Tarek Bitar in the Beirut Port blast case — the gross legal infringements, flagrant politicization, lack of justice and lack of respect for standardization."
Instead of Bitar presiding over the case, the two parties have requested that a parliamentary panel should look into the matter.
This requirement, however, has not been executed yet, as the prime minister has refused to "interfere with judicial operations," with his party firmly backing Bitar.
Phalanges Party MP Samy Gemayel said that Hezbollah and Amal "think they owe us a favor by ending the boycott."
He added: "They paralyzed the country for a year to form the government they wanted and they boycotted it to prevent justice from prevailing in the 'crime of the century.'
"The Lebanese people are the ones paying the price. There's no work, no electricity, no heating, no bread and no medicine," said Gemayel.
He added: "Accountability for humiliating people will be achieved through the elections."
In his Sunday sermon, Maronite Patriarch Bechara Al-Rahi commented on the latest development regarding Cabinet sessions.
"In the democratic system, the procedural authority shall operate according to the powers conferred upon it by the constitution, without being subject to any illegal pressure or condition," he said.
He warned against "resorting to the disruption of parliamentary and presidential elections — scheduled for next October — for suspicious personal objectives.
"The Cabinet disruption, the political escalation, the continued provocation, the use of justice to undermine the opponents and the inversion of priorities reassure neither the Lebanese people nor Lebanon's brothers and friends."
Source: Arab News
Please click the following URL to read the full text of the original story:
https://www.arabnews.com/node/2005591/middle-east
--------
Europe
Fire breaks out at Turkish mosque in Germany in suspected arson attack
Jan 17 2022
A fire broke out at a Turkish-owned mosque in the city of Chemnitz in Germany's Saxony region on Sunday and the police are investigating it as a possible arson, the pro-govt Daily Sabah reported.
The fire started on Saturday evening at a time when no one was believed to be present at the Fatih Mosque. According to a statement by Chemnitz's police department, a bypasser alerted emergency services that there was a fire and investigators found it appeared to have started in a bulky waste container nearby. The fire would spread to a nearby residential building before it was extinguished.
Police investigators surveyed the scene on Sunday, looking for evidence to determine whether or not the fire was intentionally set. They will also be looking for any connection to previous fires in the area or whether or not the act had any political motivations behind it.
Enis Sezgi, the mosque's director, said he learned of the fire from the police after it was set. The Turkish Consul-General Olgun Yücekök has also said that he is in contact with authorities and will be closely following their investigation.
Source: Ahval News
Please click the following URL to read the full text of the original story:
https://ahvalnews.com/germany/fire-breaks-out-turkish-mosque-germany-suspected-arson-attack
--------
Brussels imam who prayed to burn Zionists is kicked out of Belgium
January 16, 2022
A Brussels-based imam who in 2009 prayed to Allah to burn Zionists has left Belgium on the order of authorities who flagged him as a security threat.
Imam Mohamed Toujgani, who was born in Morocco and had lived for decades in Brussels, was expelled in October, the VRT broadcaster reported Thursday, according to The Times of Israel.
It was not immediately clear whether the expulsion was directly over his remarks about Zionists, which happened in 2009 and surfaced in 2019.
Belgium's Secretary of State, Sammy Mahdi, said during a parliament session this week that Toujgani had called to "burn Jews." Georges-Henri Beauthier, a lawyer representing Toujgani, called that statement "a falsehood that incites hatred," the RTBF broadcaster reported.
In a YouTube video that the Belgian League Against Anti-Semitism, or LBCA, flagged in 2019, Toujgani is seen saying the following during a sermon at his mosque in Brussels: "Lord, master of worlds, fill with fear the hearts of the Zionist oppressors. Lord, fill their hearts with fear. Lord, make the earth tremble beneath their feet. Lord, make the blood of the martyrs a weapon under the feet of the Zionists oppressors, and may this blood ignite a fire that burns them and start a wind that eviscerates them. […] O Lord, tear them down."
Source: Jewish News
Please click the following URL to read the full text of the original story:
https://www.jewishnews.co.uk/brussels-imam-who-prayed-to-burn-zionists-is-kicked-out-of-belgium/
--------
Putin to host Iranian president next week for talks
16 January ,2022
President Vladimir Putin will host his Iranian counterpart Ebrahim Raisi for talks in Moscow next week as Russia tries to help salvage a nuclear deal between world powers and Tehran, state television channel Rossiya-1 reported on Sunday.
Rossiya-1 did not disclose when precisely the meeting between the two leaders would take place, nor the issues they would discuss.
Russia is taking part in talks to revive a 2015 nuclear agreement between Iran and world powers - the US, Russia, China, France, Britain, Germany and the European Union - that lifted some sanctions against Tehran in exchange for restrictions on its nuclear program.
Donald Trump pulled Washington out of the deal in 2018, a year after he became US president. Iran later breached many of the deal's nuclear restrictions and kept pushing beyond them.
Source: Al Arabiya
Please click the following URL to read the full text of the original story:
https://english.alarabiya.net/News/world/2022/01/16/Putin-to-host-Iranian-president-next-week-for-talks
--------
South Asia
Lack of access to information may lead to closure of media in Afghanistan: survey
17 Jan 2022
National Union of Afghanistan's Journalists said that they do not have a legal document and guideline for media coverage by the Islamic Emirate of Afghanistan that has put media and Afghan journalists in great trouble.
The union said that during the past twenty years there was a legal document for the activities of media in Afghanistan that had facilitated media coverage and access to information.
Members of the union said that lack of the document and guidelines has led to a lack of access to information that will definitely lead to the collapse of the Afghan media outlets.
They said that after the Taliban takeover, the life of Afghan journalists is getting worse day by day and more restrictions are being imposed on access to information.
Head of the union Msroor Lutfi said that the Islamic Emirate of Afghanistan has promised not to cause troubles for male and female journalists and the situation is also getting better in Kabul but provinces still have the problem of access to information.
"Absence of a legal document and guideline is a serious problem that has made people cover stories by themselves and based on their interests. We cannot address incidents happen to journalists until we have a guideline by IEA." Said Masroor.
Source: Khaama Press
Please click the following URL to read the full text of the original story:
https://www.khaama.com/lack-of-access-to-information-may-lead-to-closure-of-media-in-afghanistan-survey-8767r5/
--------
US revenging Afghans by imposing economic sanctions: Chinese envoy to Kabul
16 Jan 2022
Chinese ambassador to Afghanistan Wang Yu in a meeting with acting Minister of Interior Sarajudin Haqqani said that the US has been defeated in Afghanistan and now the country revenges the Afghan people by imposing economic sanctions on them.
The meeting was conducted in the Ministry of Interior Affairs on Saturday, January 15, 2022.1.16
The Chinese ambassador said that the US is using freedom of speech, human and women's rights, inclusive government as a pretext to harshly hit the Afghan people.
Deputy spokesman of the Interior Ministry Engineer Izam in a video clip said that the Chinese ambassador pledged to provide humanitarian assistance to the Afghan people, not interfere in Afghanistan's internal affairs, and support Afghanistan's future government that will be established based on the traditional and Islamic principles of Afghanistan.
Source: Khaama Press
Please click the following URL to read the full text of the original story:
https://www.khaama.com/us-revenging-afghans-by-imposing-economic-sanctions-chinese-envoy-to-kabul-897687566/
--------
Detained Islamic Emirate Commander Brought to Kabul
January 17, 2022
Makhdoom Alam, a local commander of the Islamic Emirate who was detained by the government, has been brought to Kabul, officials said.
Commander Makhdoom Alam, who was based in Faryab province, was arrested last Thursday in Balkh.
The arrest of the commander sparked widespread demonstrations by residents in Maimana, Faryab's provincial capital.
"The person who was arrested ... is still detained by the security forces. The investigation is underway to find out the status of the case," said Bilal Karimi, deputy spokesman for the Islamic Emirate.
A spokesman for the Islamic Emirate told the BBC that the commander was involved in kidnapping.
"Remove this issue from your mind—to do something by way of demonstrations. The demonstrations are not going to change anything. The demonstration was set up by Westerners. This is what you call democracy," said the acting Minister of Agriculture Mawlawi Abdul Rahman Rashid.
Officials in Faryab said that the situation has returned to normal in the province.
"We will not allow anyone to cause such unrest in the city," Faryab Governor Qari Hafizullah said.
Source: Tolo News
Please click the following URL to read the full text of the original story:
https://tolonews.com/afghanistan-176332
--------
Two children killed in blast near Afghanistan's Kabul
Jan 16, 2022
KABUL: Two children were killed and several others were injured in a bomb blast near Afghanistan's capital of Kabul, Sputnik News Agency reported quoting an eyewitness on Sunday.
Citing a source, Sputnik reported that a bomb exploded in a car belonging to the Taliban in the Bagram district in the central part of Kabul Province.
"The bomb exploded ... around 12:00 local time (07:30 GMT), killed two children and injured several civilians," the eyewitness said.
Source: Times Of India
Please click the following URL to read the full text of the original story:
https://timesofindia.indiatimes.com/world/south-asia/two-children-killed-in-blast-near-afghanistans-kabul/articleshow/88931349.cms
--------
Bangladesh arrests brother of Rohingya insurgency leader
JANUARY 16, 2022
The Arakan Rohingya Salvation Army militant group has been accused of assassinating political opponents, running narcotics and instilling a climate of fear in the camps.
Bangladesh police said Sunday they had arrested the brother of a notorious insurgent leader whose organisation has been blamed for murders and drug trafficking in sprawling Rohingya refugee camps.
The country is home to around 8,50,000 members of the stateless Muslim minority, who live in patchwork and overcrowded settlements after fleeing systemic discrimination and violence in neighbouring Myanmar.
The Arakan Rohingya Salvation Army militant group has been accused of assassinating political opponents, running narcotics and instilling a climate of fear in the camps.
Mohammad Shah Ali, arrested late on Saturday by the elite Armed Police Battalion, is the half-brother of ARSA's infamous leader Ataullah Abu Ammar Jununi.
He was caught in a camp near the coastal city of Cox's Bazar with "arms and drugs," the battalion said in a statement.
Commanding officer Naimul Haque said that Ali had admitted his links with ARSA and that "Ataullah was in regular contact with him".
He also said police had rescued one person kidnapped by Ali, without giving further details.
A Rohingya refugee living in Nouakar Mat camp confirmed the arrest.
"Everyone here is terrified by him," said Mohammad Salim. "(He) used to oppress us."
Nearly all of the Rohingya refugees living in the border camp arrived in the wake of a brutal Myanmar military crackdown — now subject to a genocide investigation at The Hague — that began after ARSA attacks on Myanmar police posts in 2017.
Ali's capture was the most high-profile arrest of an ARSA member since the group was accused of murdering influential Rohingya community leader Mohib Ullah in September, and killing seven others at an Islamic seminary soon after.
Bangladesh authorities launched a dragnet in the camps after the murders, arresting hundreds of people.
Source: The Hindu
Please click the following URL to read the full text of the original story:
https://www.thehindu.com/news/international/bangladesh-arrests-brother-of-rohingya-insurgency-leader/article38278784.ece
--------
95% Afghan journalists cannot cover stories independently: polling
16 Jan 2022
National Union of Afghanistan's Journalists said that 95 percent of Afghan journalists have the problem of access to information and they cannot cover stories independently.
The union has cited its polling that was conducted in all 34 provinces of Afghanistan during which 500 Afghan journalists were questioned.
Statistics of the polling were released in Kabul on Sunday, January 16, 2022, in a press conference.
As per the numbers, 90% of the attendants are facing serious problems in collecting information as there is no specific law of access to the information after the Taliban regained power.
"We asked attendants if the media are censored, 90% said yes and only 10% said no, 90% attendants said yes to the question of access to information while the same percentage said they they have been censored by de facto authorities." Said Masroor Lutfi head of the Union.
The polling has also found that 30% of Afghan journalists found it difficult to interview Taliban authorities while 50% said that they have problems in interviewing common people.
Source: Khaama Press
Please click the following URL to read the full text of the original story:
https://www.khaama.com/95-afghan-journalists-cannot-cover-stories-independently-polling-8768566/
--------
Nepal sends humanitarian assistance to Afghanistan
16 Jan 2022
The government of Nepal said that they have sent 14 tonnes of humanitarian assistance to Afghanistan on Sunday, January 16, 2022, comprised of medicine, clothes, and utensils among others.
The foodstuff is not part of the 14 tonnes weight.
A Nepalese delegation led by the joint secretary at the Ministry of Foreign Affairs Sewa Lamsal is also supposed to come to the Afghan capital Kabul.
This is the first time in modern history that Nepal is delivering humanitarian assistance to another country independently.
It is worth mentioning that the United Nations had asked the country to deliver aids to Afghanistan.
Speaking at the press conference on the occasion of sending aids to Afghanistan, the Nepalese Foreign Minister Narayan Khadka said that the move shows that Nepal can provide assistance to other countries in times of need.
The aids are delivered to Afghanistan in a chartered flight of Himalayan Airlines for free.
Source: Khaama Press
Please click the following URL to read the full text of the original story:
https://www.khaama.com/nepal-sends-humanitarian-assistance-to-afghanistan-87665/
--------
Mideast
Radical Israelis raid East Jerusalem's Al-Aqsa Mosque compound with Israeli forces protection
16 January, 2022
Radical Israelis raided occupied East Jerusalem's Al-Aqsa Mosque complex en masse on Sunday, the Islamic Waqf Department said.
The Israelis encroached on Islam's third-most-sacred site with Israeli security looking after their safety, Anadolu Agency reported.
They came in via Al-Mugharbah Gate, the Jordanian-administered religious endowment organisation said.
Starting in 2003, Tel Aviv began permitting its citizens to encroach on the Al-Aqsa complex on a near-daily basis.
The mosque is known as the Temple Mount in Judaism, and is the faith's holiest place.
The complex was raided by over 34,500 Israelis last year, Palestine's Waqf ministry said.
Source: The New Arab
Please click the following URL to read the full text of the original story:
https://english.alaraby.co.uk/news/radical-israelis-raid-al-aqsa-mosque-compound
--------
Iranian FM Stresses Need for Ending US Presence in Syria
2022-January-16
During the meeting, Amir Abdollahian stressed the importance of the issues of sanctions and the displaced and refugees in Syria, and said the crisis in that country will not be resolved without paying attention to these questions.
He also appreciated UN special envoy's help to the national dialogue for peace and stability in Syria.
Amir Abdollahian referred to illegitimate presence of the US forces in Syria and Zionist regime of Israel's attack on the country as interruption to the process of political solution to the crisis in Syria.
The foreign minister further called on the international community and the UN to pay attention to these issues.
Pedersen, for his part, described the Syrian situation as stable, adding that in the current conditions, no sides talk about regime's change in Syria.
Pederson also underlined the need to preserve national sovereignty, political settlement and territorial integrity in Syria.
Syria has been gripped by foreign-backed militancy since 2011, with the US and its western and regional allies fixated on overthrowing the government of Bashar al-Assad.
Meanwhile, Iran has been offering military advisory support to Syria at the request of the Damascus government, enabling its army to speed up its gains on various fronts against terrorist groups. The assistance helped reverse anti-Syria terrorists' advances and enabled the country to defeat the ISIL terrorist group in late 2017.
Senior Assistant to the Iranian Foreign Minister for Special Political Affairs Ali Asqar Khaji in a meeting Pedersen underlined the need for lifting cruel sanctions against the war-stricken Arab state and repatriation of the Syrian refugees.
The Islamic Republic has always supported and will continue to back all efforts by the UN to strengthen Syria's national sovereignty and territorial integrity, encourage intra-Syrian talks and promote peace and stability in the war-ravaged Arab country, Khaji said during the meeting in Tehran on Saturday.
"The Syrian government and nation have stood up to the ISIL and other terrorist groups for more than 10 years and have now achieved relative stability, and the country's relations with regional states are increasing," he added.
The Iranian diplomat called on the UN and other regional and international bodies to "pay attention to the current situation of the Syrian government and people and to step up their efforts to remove sanctions, provide aid to the (Syrian) people, (help) repatriation of the refugees and begin rebuilding the country".
In the meeting, the two sides exchanged views about the latest developments pertaining to the ongoing crisis in the Arab state, discussions about the Constitutional Committee and ways to counter sanctions and dispatch humanitarian aid to the Syrian people.
Khaji and Pedersen also stressed the importance of holding more consultations in the future.
Source: Fars News Agency
Please click the following URL to read the full text of the original story:
https://www.farsnews.ir/en/news/14001026000718/Iranian-FM-Sresses-Need-fr-Ending-US-Presence-in-Syria
--------
Commander Warns Enemies against Violation of Iran's Airspace
2022-January-16
The Armed Forces of the Islamic Republic of Iran never seek conflict and clash with any country, General Elhami said, meantime, adding that the security of the country is the red line of Armed Forces and they don't make any appeasement with any country violating the country's airspace.
"Today, enemies and international organizations are well aware of this issue that slightest invasion of the enemy on the airspace of the country will be harshly and decisively responded," he added.
Today, enemies of the country do not dare to violate the airspace of Iran thanks to the unity, amity and empathy of the Army and IRGC staff, General Elhami added.
The security of the country's sky is indebted to the vigilance and curiosity of Air Defense Forces personnel, and zealous forces of the Armed Forces have been prepared to provide security and tranquility for all dear fellow countrymen throughout the country round-the-clock, he stressed.
In relevant remarks in August, General Elhami assured the nation of security at the country's borders, saying that areas even far from the bordering regions are monitored to confront any possible threats.
"I tell my compatriots that there is no ground for concerns about security of the country's borders, because the powerful Armed Forces of the Islamic Iran, specially the Air Defense Force ... are monitoring areas many kilometers beyond our territorial borders," he added.
The commander emphasized that the Iranian Army's Air Defense Force is focusing its efforts on protecting security of the country's airspace and has used its full scientific deterrent power in this regard.
Source: Fars News Agency
Please click the following URL to read the full text of the original story:
https://www.farsnews.ir/en/news/14001026000328/Cmmander-Warns-Enemies-agains-Vilain-f-Iran%E2%80%99s-Airspace
--------
FM: Iran, China to Benefit from 25-Year Deal
2022-January-16
Ties between Tehran and Beijing are expanding in all areas, Amir Abdollahian said, adding that the 25-year strategic partnership between the two countries will be implemented with a win-win approach.
He made the remarks in an interview with the Chinese CGTN TV channel.
Amir Abdollahian arrived in the Chinese capital of Beijing on Friday to meet and hold talks with his counterpart Wang Yi and other senior officials.
He said that various issues, including implementing the comprehensive strategic partnership deal, regional and international developments, as well as Vienna talks, were discussed in meeting with Chinese foreign minister.
The 25-year strategic partnership and cooperation between the two countries will be implemented with a "win-win" approach, the top diplomat added.
He pointed to the start of the implementation of the Iran-China 25-year cooperation deal during his visit to Beijing, and said that Iran and China will benefit from the interests of the agreement.
Amir Abdollahian also considered China as one of the active parties in the Vienna talks which has played a constructive and supportive role in backing Iran's peaceful nuclear rights and always stressed the need to remove oppressive sanctions against Iran.
On Friday, Amir Abdollahian announced that Tehran and Beijing have started implementation of the 25-year strategic agreement signed in March.
"We agreed to announce today as the date to begin implementing the comprehensive agreement on strategic partnership" between Iran and China, Amir Abdollahian said, after concluding detailed discussions on Sino-Iranian cooperation with the Chinese foreign minister in China on Friday.
During the meeting with his Chinese counterpart on Friday, the diplomat pointed to the significance of the 25-year partnership agreement signed between Tehran and Beijing, and emphasized that the implementation of the document would be an important event and a fundamental change in relations.
He submitted an "important" written message by Iranian President Seyed Ebrahim Rayeesi to President Xi Jinping.
Referring to the plans to commemorate the 50th anniversary of the establishment of political relations between the two countries, the Iranian foreign minister voiced Tehran's readiness to expand all-out relations with Beijing.
He hailed China's constructive cooperation with Iran in providing more than 110 million doses of coronavirus vaccines.
Iran's foreign minister expressed the hope that the opening of China's consulate general in the Southern Iranian port city of Bandar Abbas would facilitate bilateral trade cooperation.
The top Iranian diplomat outlined the latest state of bilateral cooperation in various fields and said Tehran is resolved to implement all infrastructure agreements with Beijing.
He said extensive cooperation with neighbors and friendly countries in the region is among the priorities of Iran's foreign policy, and added that the Islamic Republic would continue to play a constructive role in regional developments, including maintaining and increasing the security of energy transfer.
Amir Abdollahian also pointed to the importance of cultural relations and the common capacities of the ancient civilizations of Iran and China, and said the Iranian artists' keenness to develop bilateral cooperation would be a valuable opportunity to take advantage of such a capacity.
The Iranian and Chinese foreign ministers also discussed a wide range of political, economic, trade, consular and cultural issues as well as regional and international developments. During the second round of talks, they exchanged views about the latest developments pertaining to the sanctions removal talks in Vienna and issues in West Asia and the Persian Gulf region.
AmirAbdollahian arrived in Beijing on Friday at the head of a high-ranking political and economic delegation at the invitation of his Chinese counterpart.
Iran and China signed the landmark 25-year comprehensive strategic partnership agreement in March last year in defiance of the US unilateral sanctions to strengthen the long-standing economic and political alliance.
Source: Fars News Agency
Please click the following URL to read the full text of the original story:
https://www.farsnews.ir/en/news/14001026000477/FM-Iran-China-Benefi-frm-25-Year-Deal
--------
Iran Urges Removal of Sanctions against Syria, Repatriation of Refugees
2022-January-16
The Islamic Republic has always supported and will continue to back all efforts by the UN to strengthen Syria's national sovereignty and territorial integrity, encourage intra-Syrian talks and promote peace and stability in the war-ravaged Arab country, Khaji said during the meeting in Tehran on Saturday.
"The Syrian government and nation have stood up to the ISIL and other terrorist groups for more than 10 years and have now achieved relative stability, and the country's relations with regional states are increasing," he added.
The Iranian diplomat called on the UN and other regional and international bodies to "pay attention to the current situation of the Syrian government and people and to step up their efforts to remove sanctions, provide aid to the (Syrian) people, (help) repatriation of the refugees and begin rebuilding the country".
In the meeting, the two sides exchanged views about the latest developments pertaining to the ongoing crisis in the Arab state, discussions about the Constitutional Committee and ways to counter sanctions and dispatch humanitarian aid to the Syrian people.
Khaji and Pedersen also stressed the importance of holding more consultations in the future.
The UN envoy, who is in Tehran at the head of a delegation, hailed Iran's efforts to promote cooperation with the UN in the Astana format negotiations to resolve the crisis in Syria through diplomatic channels and called for the continuation of such interaction.
Syria has been gripped by foreign-backed militancy since 2011, with the US and its western and regional allies fixated on overthrowing the government of Bashar al-Assad.
Source: Fars News Agency
Please click the following URL to read the full text of the original story:
https://www.farsnews.ir/en/news/14001026000360/Iran-Urges-Remval-f-Sancins-agains-Syria-Repariain-f-Refgees
--------
Africa
Price of Sudanese pound slips on parallel market amid political uncertainty
16 January ,2022
The value of Sudan's currency fell by more than three percent to 465 pounds to the dollar on the black market on Sunday, traders said, as demand for dollars surged amid continuing political uncertainty following a coup in October.
The Sudanese pound had mostly stabilised in recent months after being sharply devalued in February 2021 as part of economic reforms carried out by a transitional government and monitored by the International Monetary Fund.
Military leaders dissolved the government in the coup before bringing back Prime Minister Abdalla Hamdok in an attempt to protect the reforms, but he resigned earlier this month.
"People are buying dollars to protect their assets, fearing a deterioration of the situation in the country and there's big demand," said one trader in the capital Khartoum.
Dollars had been selling for about 450 pounds last week. The gap between the parallel market and official exchange rates had mostly been negligible in the past few months.
Last week the United Nations began consultations to try to break a deadlock between military leaders and pro-democracy civilian groups and avert the risk of further instability.
Source: Al Arabiya
Please click the following URL to read the full text of the original story:
https://english.alarabiya.net/News/middle-east/2022/01/16/Price-of-Sudanese-pound-slips-on-parallel-market-amid-political-uncertainty-
--------
Jordan GDP grows over 2 percent in 2021: Report
16 January ,2022
Jordan's gross domestic product achieved growth of more than 2 percent in 2021, Jordan Television channel reported on Sunday, citing the planning minister.
Source: Al Arabiya
Please click the following URL to read the full text of the original story:
https://english.alarabiya.net/business/economy/2022/01/16/Jordan-GDP-grows-over-2-percent-in-2021-Report
--------
Jordan army officer killed in shooting along border with Syria: Statement
16 January ,2022
A Jordanian army officer was killed and three army personnel injured on Sunday when drug smugglers trying to enter the country from Syria fired at an army outpost along the border, a Jordanian army statement said.
The smugglers fled back to Syria, leaving behind a large cache of drugs, the army statement said. "The army will respond with all strength and resolve (against) any infiltration attempt to protect our borders and prevent anyone who dares to violate our national security."
Jordanian officials have voiced increasing alarm at a spike in attempted drug smuggling from Syria over the past year, including large quantities found hidden in Syrian trucks passing through its main border crossing to the Gulf region.
Last year the Jordanian army said it shot down a drone flying a large quantity of drugs across the border.
Jordanian officials say Lebanon's Iran-backed Hezbollah group and militias who hold sway in southern Syria are behind smuggling of one of the most popular banned drugs, a stimulant known as Captagon, which has a thriving market in the Arab Gulf. Hezbollah denies the accusations, calling them fabricated.
UN drug experts say Syria, shattered by a decade-long civil war, has become the region's main production site for drugs destined for Jordan, Iraq, the Gulf and Europe.
Source: Al Arabiya
Please click the following URL to read the full text of the original story:
https://english.alarabiya.net/News/middle-east/2022/01/16/Jordan-army-officer-killed-in-shooting-along-border-with-Syria-Statement
--------
Iran needs to stop interfering in Arab affairs: Jordan's FM
15 January ,2022
Jordan's top diplomat touched down in Washington last week, where he held meetings with nearly all the top US officials in the Biden administration, making him the first Arab foreign minister to do so this year.
It was also his boss, King Abdullah II, who was the first Arab head of state to visit Washington and meet US President Joe Biden after he was elected.
For the latest headlines, follow our Google News channel online or via the app.
Ties between Washington and Amman were reportedly strained under the Trump administration, but they have been noticeably bolstered over the last 12 months.
Foreign Minister Ayman Safadi met with his US counterpart, Antony Blinken, on Thursday and described the meeting as "excellent."
Safadi also held sit-downs with various members of Congress and Pentagon officials.
"As you know, we have strong bilateral ties. The US is the number one supporter of Jordan, and this aid helps us face challenges, including economic issues we face as a result of the various crises that surround us in the region," Safadi told Al Arabiya during an interview from the Jordanian Embassy in Washington.
"We work towards serving our national interests as well as working towards solving regional issues, which we need to work on collectively, and the Palestinian issue is at the forefront of these issues," he stated shortly before departing Washington.
Apart from discussing ways to work together to find peaceful solutions to the various crises in the Middle East, the main focus of Safadi's meeting with the top US diplomat was on a new bilateral agreement.
The current agreement, which is set to expire later this year, saw the US assist Jordan with some $1.2 billion last year alone.
An agreement is being worked on for a new memorandum of understanding and for US assistance to continue to Jordan.
"Talks were good, and there is mutual interest from both countries to bolster coordination and ties, as well as to increase coordination to solve regional issues and face mutual obstacles," Safadi added.
Iran must stop interfering in Arab affairs
Asked about previous comments made by Jordan's king about a Shia crescent being formed in the Middle East, Safadi said: "The king was speaking from a political point of view, not a sectarian or religious manner, about Iran's role in the region and any policies that harm Arab interests."
But Safadi insisted that all Arab partners want good ties with Iran.
"However, to reach… amicable ties, we must discuss the reasons for the [unstable] Arab-Iranian ties. One of the reasons is Iran's interference in the Arab region, and this interference must stop in order to build Arab-Iranian ties," he said.
Palestine
Being one of the first two Arab countries to normalize ties with Israel, Jordan has been called upon by the White House to help ease tensions that boiled over last year between Palestine and Israel.
According to the UN Palestinian refugee agency, there are more than 2 million registered Palestinian refugees living in Jordan.
The Palestinian-Israeli conflict was one of the main topics discussed during Safadi's meetings with various US officials and lawmakers.
Asked about efforts for peace, which seemingly stalled over the last few years, Safadi clarified that there was no alternative to a two-state solution.
The only other option would be a one-state solution, which is not viable because "it will institutionalize apartheid," he said.
Safadi noted that there were revived diplomatic efforts to find a solution to the Palestinian-Israeli conflict, referencing resumed US aid to Palestine and the UN's Palestinian refugee agency (UNRWA).
The Biden administration has repeatedly stated the need for a two-state solution and insisted it would reopen the Palestinian consulate in Jerusalem, declared by Israel as its capital.
"We must build on this momentum," Safadi said. "It's an effort that we're trying to all work on."
Safadi also referenced the renewed communication with Israel's new government after former Prime Minister Benjamin Netanyahu essentially closed all doors for diplomatic efforts on the matter.
In an interview with CNN on Friday, he admitted the previous Israeli government "did a lot to make sure that nothing really worked…"
Ties with the Gulf
Ties between Jordan and Gulf states, including Saudi Arabia, are strong, and all sides are working to strengthen cooperation and coordination, Safadi said.
"The [Jordanian] King has repeatedly said that the security of the Gulf, and Saudi Arabia, is part of the security of Jordan," the foreign minister said. "And we stand with our Gulf brothers in every step they take to protect their security and stability."
Referencing the Iran-backed Houthi militia in Yemen, Safadi said that Amman continues to condemn the terrorist attacks on Saudi Arabia.
"We stand with [Saudi Arabia] to confront this challenge. And we stand by their efforts to reach a solution to the disastrous Yemen crisis… The Houthis must abide by the agreements they signed, including the Riyadh Agreement and others."
Safadi added: "Our security is one, our stability is one, and we work together to build a better future for our peoples."
Lebanon energy deal and Caesar Act sanctions
Jordan's struggling economy has been battered by the COVID-19 pandemic and the continued presence of refugees from Syria and Palestine.
During King Abdullah's visit to Washington last summer, providing Lebanon with natural gas and electricity was discussed.
This US-backed plan would see Egypt sell natural gas to Lebanon via the Arab Gas Pipeline and Jordan sell electricity to Lebanon via Syria.
This would require transit fees to be paid to Syria, which is under crippling US sanctions to choke off the Assad regime from foreign money.
Since last summer, Beirut, Amman, Cairo and Damascus have reached individual agreements for these plans.
"Agreements have been completed, and there is coordination with the US administration to provide requested guarantees to ensure that there will not be any violation of Caesar Act sanctions," he stated.
Safadi continued by revealing that it was evident during his talks with US officials over the last week that they want to help Lebanon with this project. "The issue now is a technical one, and we hope that Lebanon will be quickly supplied with electricity and gas," he said.
Syria and the Assad regime
Jordan is among several Arab countries that have reached out to Syria's President Bashar al-Assad in recent months.
King Abdullah held his first public phone call with Assad in a decade last year.
Other Arab moves towards Assad included the UAE foreign minister flying to Damascus and meeting the Syrian president. Last month, Bahrain named its first ambassador to Syria in 10 years.
Although the Biden administration has not openly welcomed any of these moves and advised against recognizing the Assad regime, Safadi said there needed to be a realistic approach to ending the years long war.
"We want a solution that ensures the unity, independence and stability of Syria. How we reach a solution, we must be realistic," he said.
As for Syria being readmitted to the Arab League, the Jordanian diplomat admitted it was not his decision.
Source: Al Arabiya
Please click the following URL to read the full text of the original story:
https://english.alarabiya.net/News/middle-east/2022/01/15/Iran-needs-to-stop-interfering-in-Arab-affairs-Jordan-s-FM
--------
US and France discuss ways to promote Libya's democratic process
January 16, 2022
LONDON: US Secretary of State Antony Blinken held talks with his French counterpart Jean-Yves Le Drian to discuss efforts to promote the democratic process in Libya, the State Department said on Sunday.
Efforts to lead Libya into elections at the end of December were thrown into disarray when the country's electoral commission said a vote could not take place, citing what it called inadequacies in the electoral legislation and the judicial appeals process.
Blinken also spoke about the recent informal EU foreign ministers' meeting, that was held in the western French city of Brest on Friday as part of the French presidency of the Council of the EU.
French Foreign Minister Jean-Yves Le Drian had reiterated following the meeting on Friday his view that talks to revive a 2015 Iran nuclear deal are progressing "much too slowly to be able to reach a result."
"We now have to conclude and come to a decision: Either the Iranians want to complete this, in which case we have the impression that there will be flexibility in the Americans' stance.
"Or they don't want to complete this, and in that case we will be faced with a major proliferation crisis," Le Drian said.
"There will be nothing more to negotiate if nothing happens," he warned.
Negotiations to salvage the nuclear deal resumed in late November after they were suspended in June as Iran elected a new, ultraconservative government.
"Secretary Blinken reiterated the United States' firm commitment to Ukraine's sovereignty and territorial integrity in the face of continued Russian aggression and discussed US resolve to respond swiftly and strongly to any further Russian invasion into Ukraine," the State Department also said in a statement.
Meanwhile, Egyptian Foreign Minister Sameh Shoukry met with his Algerian counterpart Ramdane Lamamra in Cairo to discuss developments in Libya, Sudan, Mali, and the Sahel and Sahara regions.
The two ministers stressed the need to intensify coordination within the framework of joint African action in a way that enhances efforts to achieve peace and security on the African continent, especially in light of the various security challenges imposed by the successive developments in the region, the Egyptian foreign ministry spokesman said on Facebook.
Source: Arab News
Please click the following URL to read the full text of the original story:
https://www.arabnews.com/node/2005521/middle-east
--------
Burkina attack kills around 10 civilians: security source
January 17, 2022
OUAGADOUGOU: At least 10 civilians have been killed in an attack blamed on jihadists in northern Burkina Faso, an area in the grip of a six-year insurgency, security sources said Sunday.
"Unidentified armed individuals carried out an attack on the village of Namssiguian in Bam province" on Saturday, a security source told AFP, adding that the provisional death toll was around 10 dead civilians.
A local resident put the provisional death toll at nine and said that significant damage had been caused to shops and businesses in the village, which had been torched.
"The terrorists stayed in the village for several hours, where they looted and destroyed," he said, adding that the assaillants had "sabotaged the telephone antennas beforehand, making all communication impossible."
The security source warned that the toll could still rise as "families are still awaiting news about family members."
Burkina Faso has been struggling with jihadist attacks since 2015, when militants linked to Al-Qaeda and the Daesh group began mounting cross-border raids from Mali.
More than 2,000 people have died, according to a toll compiled by AFP.
The national emergency aid agency says that 1.5 million people, nearly two-thirds of them children, were internally displaced as of November 30.
The country's security forces are poorly equipped to face a ruthless and highly mobile foe, adept at carrying out hit-and-run raids aboard motorbikes and pickup trucks.
On November 14, a force described as numbering several hundred men attacked a police base at Inata near the Malian border, killing 57 people, including 53 gendarmes.
Source: Arab News
Please click the following URL to read the full text of the original story:
https://www.arabnews.com/node/2005746/world
--------
URL: https://www.newageislam.com/islamic-world-news/child-rights-islamic-seminary-darul-uloom-fatwa/d/126177
New Age Islam, Islam Online, Islamic Website, African Muslim News, Arab World News, South Asia News, Indian Muslim News, World Muslim News, Women in Islam, Islamic Feminism, Arab Women, Women In Arab, Islamophobia in America, Muslim Women in West, Islam Women and Feminism