New Age Islam News Bureau
30 Aug 2019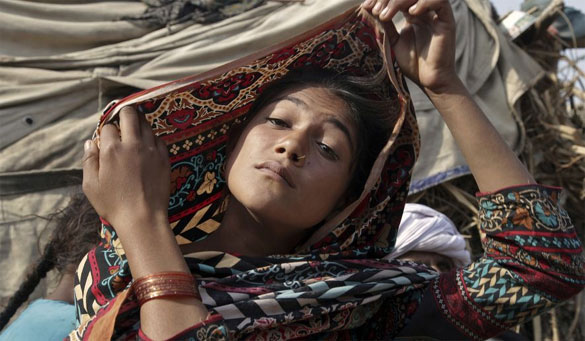 Photo by: K.M. Chaudary
In this Tuesday, Dec. 20, 2016, file photo, Saima, who married an older man in her early teens, fixes her scarf during an interview in Jampur, Pakistan. (AP Photo/K.M. Chaudhry) ** FILE **
-----
• Child Marriage Is One of the Worst Human Rights Violations but Muslim Conservatives Defend Practice of Child Brides In Pakistan As 'Tenets Of Islam'
• Pakistan Observes Kashmir Hour to Express Solidarity with Kashmiris
• Start Behaving Like a Normal Nation, Stop Exporting Terror, India Tells Pakistan
• After 500 Yrs, Examining Babur's Dedication of Mosque 'Little Problematic': SC in Ayodhya Case
• Bangladeshis Speak Up About 'Rampant' Rapes in Madrasas
• Syria Slams Foreign Bid to 'Recycle' Takfiri Terrorists, Defends Right to Target Them
• Zakir Naik: Firebrand Islamic Preacher Faces Allegations of Stirring Trouble in Malaysia
• Six Countries Block UN Sanctions against Somalia's Al-Shabaab
• America Can't Outsource Its Security to Anyone — Especially the Taliban
• Lawsuit: LA Sheriff's Department Denied Muslim Inmates' Religious Needs
Pakistan
• Child Marriage Is One of the Worst Human Rights Violations but Muslim Conservatives Defend Practice of Child Brides In Pakistan As 'Tenets Of Islam'
• Pakistan Observes Kashmir Hour to Express Solidarity with Kashmiris
• Trump 'Deceiving' both India and Pakistan on Kashmir: Pak Minister
• Qureshi, New Zealand deputy premier discuss Occupied Kashmir
• Pakistani premier urges nationwide rallies in solidarity with Kashmiris
• Pak Sikh's daughter forcibly converted, married to Muslim
• Pakistan security services covertly manipulated politics to remove Sharif from power: US report
• Presidential address to parliament put off at last moment
• US Congress report reviews Pakistan's decision-making process
• China will work with Pakistan to safeguard regional stability: Beijing
• Sindh police sets up human rights cell
• Go for War If Inevitable for Kashmir's Freedom, PSP Chairman Kamal Advises PM
• PM Imran calls Abu Dhabi CP to discuss 'regional developments'
--------
India
• Start Behaving Like a Normal Nation, Stop Exporting Terror, India Tells Pakistan
• After 500 Yrs, Examining Babur's Dedication of Mosque 'Little Problematic': SC in Ayodhya Case
• Babri Masjid not built as per Islamic law: Hindu body
• Brothers Held For 'Abducting', Marrying Kashmiri Sisters
• Kashmiri doctor stands up for his poor patients
• In his first after Article 370 revocation, Army chief to visit Srinagar tomorrow
• Pakistan should look into human rights violations in PoK: Rajnath Singh
• India proposes dates to finalise pact on operationalising Kartarpur Corridor
• Terror alert: Security beefed up in Ayodhya
• NIA Apprehends Jamaat-ul-Mujahideen Bangladesh (JMB) Operative from Agartala
• India accuses Pakistan of trying to infiltrate terrorists
--------
South Asia
• Bangladeshis Speak Up About 'Rampant' Rapes in Madrasas
• Bangladesh Says Myanmar Lacks 'Will' To Repatriate Rohingya
• 23 militants including 3 IS fighters give up fighting in E. Afghanistan
• Afghan Forces Still Unable to Counter Violence Alone, Joint Chiefs Chairman Says
• Nato to back Afghan forces after peace deal: Envoy
• Afghan Special Forces kill 4 Taliban militants in Kabul, destroy a weapons cache
• Student among 6 rescued from a Taliban prison in Ghazni province
• Afghan and U.S. forces kill, wound 33 Taliban militants in Ghazni province
• U.S. airstrikes kill, wound 11 Taliban and ISIS militants in Kunar
--------
Arab World
• Syria Slams Foreign Bid to 'Recycle' Takfiri Terrorists, Defends Right to Target Them
• Applying for Saudi entertainment license simplified with new online system
• Saudi Arabia donates $2m for food security among Muslim countries
• Pakistan's ambassador to OIC meets with Secretary General to discuss Kashmir
• Syrian Army Presses On in Idlib Province as Death Toll Rises
• Air strikes hit rebel-held northwest Syria, nine killed
• Baghdad's crackdown on Iran-allied militias faces resistance
• Syrian army, allied forces retake more terrorist-held towns in Idlib
--------
Southeast Asia
• Zakir Naik: Firebrand Islamic Preacher Faces Allegations of Stirring Trouble in Malaysia
• World Bank Says 'No Indication' China Misused Loan for Uighur Schools
• 219 former Philippine Muslim rebel fighters turn peacekeepers
• Isma: Onus on Govt, Muslim Leaders to Reeducate SIS Members On Islam
• Database preserves Indianapolis' Muslim history
• Lawyers split on implications of court ruling against SIS
--------
Africa
• Six Countries Block UN Sanctions against Somalia's Al-Shabaab
• Kenya: Khartoum Welcomes UNSC Decision to Reject Kenya's Bid to Blacklist Al-Shabaab
• Libya's Civil War Could Provide 'Oxygen' To Terrorist Offshoots, Says US Africa Command
• More than 50 abducted in attack on northwest Nigerian village: residents
• We'll force Boko Haram to surrender – Military
• From Yemen to South Sudan, how water contributes to conflict
• Kenya 'disappointed' after UN rejects bid to designate Shabaab terrorists
• Boko Haram: Nigerian Army Moves To Stifle Terrorists' Economy
--------
North America
• America Can't Outsource Its Security to Anyone — Especially the Taliban
• Muslim Congresswoman Ilhan Omar reveals racist death threat
• Pro-ISIS man pleads guilty to lying about seeking out terrorists
• James Carafano: Ignore ISIS at your peril, America – Terrorists say 'I'll be back'
• CAIR to help US Census Bureau incorporate Muslim participation in 2020 census
• US to keep 8,600 troops in Afghanistan after deal with Taliban, says Trump
• US says 'premature' to discuss future Afghan counterterrorism mission
• US sanctions Lebanese bank for alleged Hezbollah ties
• US urges 'calm and restraint' in Jammu and Kashmir row
--------
Europe
• Lawsuit: LA Sheriff's Department Denied Muslim Inmates' Religious Needs
• German Hezbollah Mosque: We're Proud of Terrorism
• UN peacekeeping patrol filmed coming under attack by Hezbollah in Lebanon
• Prevent programme used to spy on Muslims
• Man Guilty of Hate Crime for Posting Anti-Muslim Messages in UK
• Merkel meets Palestinians' Abbas for talks in Berlin
• Germany urges 2-state solution for Israel and Palestine
• Turkey warns US against delays in establishing Syria safe zone
--------
Mideast
• The Israel-Iran Shadow War Escalates and Breaks Into the Open
• Iran: Lifting US Sanctions Will Help Salvage Nuclear Deal
• Gaza in state of alert after blasts kill 3 Hamas policemen
• Yemen blames UAE for strikes that killed 30
• IRGC commander: Khamenei ordered Iran's July seizure of British tanker
• UN Security Council condemns escalating Houthi attacks on Saudi Arabia
• Aid agency takes in 51 wounded in Yemen fighting, 10 dead on arrival
• Iran, India hope to seal key trade deal by end of 2019: Envoy
• Former Yemeni president Hadi has to negotiate with Ansarullah: Analyst
• Over 110 Israeli settlers storm Aqsa Mosque under police protection
• UN renews peacekeeping mission amid Israel-Lebanon tensions
Compiled by New Age Islam News Bureau
URL: https://www.newageislam.com/islamic-world-news/child-marriage-one-worst-human/d/119610
--------
Muslim Conservatives Defend Practice Of Child Brides In Pakistan As 'Tenets Of Islam'
August 29, 2019
LAHORE, Pakistan — Hameeda, 15, was married to Saqib, 30, in a small ceremony in a small village in the Khyber Pakhtunkhwa region of northern Pakistan.
Hameeda, who had only recently stopped playing house with her dolls, is now running a household of her own and is on her way to becoming a mother.
"My husband works as a driver in United Arab Emirates while I stay in the village with my in-laws. He visits during Eid holidays only," she said, referring to annual Muslim holidays that follow the fasting month of Ramadan.
"One day I will also visit him by taking an airplane," she said as her face lit up.
Hameeda is one of more than 1 million child brides in Pakistan despite laws meant to make it illegal for girls to marry before age 16. A bill in Parliament would raise the minimum age to 18, but it faces opposition by religious conservatives. This time, however, child advocates say something has to be done.
"Child marriage is one of the worst human rights violations," said Samar Minallah Khan, an independent anthropologist and child rights advocate based in Islamabad. "It puts an end to a child's right to freedom, education and to play. It takes away their childhood. They cannot be children anymore."
With an estimated 1,909,000 children currently married, Pakistan has the sixth-highest rate of child marriage in the world, according to UNICEF.
The problems are not just cultural. The U.N. World Health Organization notes that the leading causes of death for females ages 15 to 19 are linked to pregnancy and childbirth. Babies born to girls younger than 18 are at higher risks of death and poor development, the WHO report said.
About 650 million girls and women alive today were married before age 18 — roughly 17% of the world's female population, according to UNICEF.
In Pakistan, 21% of girls are married off before their 18th birthday, including 3% before age 15.
Most child brides marry men three to four times older.
"Parents want to get rid of their young girls as soon as they reach puberty. The mindset is that they are considered to be a burden," said Rubina Saigol, a child advocate in Lahore. After the marriage, "the girl is property of another home and belongs there — and therefore has to be taken care of there."
"It is rooted in economic reasons, with this idea is the girl is only an entity, not a human being with any human or property rights," she said. "The son, however, is considered the breadwinner."
Last month, a 7-year-old girl was given in marriage to a 28-year-old man in a village in Punjab in central Pakistan. The police raided the ceremony and arrested the bridegroom. In June, a 60-year-old man was arrested as he was about to marry a 12-year-old girl in Sadiqabad in southern Pakistan. A 45-year-old man married a 10-year-old girl in Sindh in southern Pakistan in May. He was arrested.
Stalemate
Pakistani law sets the minimum marriage age at 16 for girls and 18 for boys. Activists say the age must be raised and the law better enforced. Pakistan is also a signatory to international agreements such as the Convention on the Rights of the Child that require enforcement of laws to prevent child marriage.
In May, the ruling party Pakistan Tehreek-e-Insaf party introduced a bill in the legislature to amend the Child Marriage Restraint Act of 1929 to set the marriageable age for girls at 18. It would impose a fine and possible imprisonment for the groom and those involved in facilitating the marriage, including parents, marriage brokers and the religious authorities who marry the couple.
Pakistan's National Assembly Standing Committee on Law and Justice last week rejected such legislation. Opponents said it violated religious tenets.
"I will never support any legislation that is against the tenets of Islam," said Ali Muhammad Khan, minister of state for parliamentary affairs. "Pakistan is an Islamic country, and no such law can be passed here even if it costs me my ministry or my seat [in Parliament]."
Qibla Ayaz, chairman of Pakistan's Council of Islamic Ideology, said, "In 1961, the minimum age for marriage was set to 16, which was un-Islamic. It will be going again against the Shariah [Islamic law] if the age of marriage is changed to 18."
As it has with all other attempts to amend the marriageable age for girls, the council warned that any legislation to ban child marriage would lead to "complications." It asked instead for an awareness campaign to discourage the practice.
Officials advocating a change expressed disappointment.
"What hopes can one really attribute to a society [where] 50 elected representatives and even ministers actually voted for underage marriage? Should be enough to give sleepless [nights]," said a tweet by Fawad Chaudhry, minister of science and technology. Activists say the issue has never been a priority and that the government of Prime Minister Imran Khan pays only lip service to it.
The Khan government "is an extremely conservative, right-wing one. They have no interest or will to do anything in issues like child marriages," said Ms. Saigol. "They are focused on other things, and this is not a priority for them. Every other day we hear of underage girls being married or Hindu girls' abduction [for marriage], but it doesn't bother the government much."
Hameeda, meanwhile, waits for her child to be born. She said her biggest problem is that she doesn't have that much to do and being in her second trimester is limiting. She said she once hoped to be a schoolteacher for girls in her village. Marriage ended that dream.
"I would have made a difference for my community," she said.
Now, she said, the child will at least reduce her boredom.
"Since my husband is away most of the time, I feel my child will be a good distraction for me," she said.
https://www.washingtontimes.com/news/2019/aug/29/child-brides-pakistan-defended-muslim-conservative/
--------
Pakistan observes Kashmir Hour to express solidarity with Kashmiris
August 30, 2019
The National Anthem was played along with the anthem of Kashmir.
The entire Pakistan came to a standstill on Friday as the people across the country came out of their homes, offices, businesses to stand in solidarity with the people in Kashmir.
President Dr Arif Alvi, Prime Minister Imran Khan, the entire government machinery and the masses joined hands at exactly 12 noon, while the national anthems of Pakistan and Kashmir were played. Large gatherings were held in every city, town and village, and was participated by people from across the social and religious divide.
In the capital Islamabad, thousands gathered on Constitution Avenue in front of the government offices where Prime Minister Imran Khan addressed the nation and vowed to continue fighting for Kashmir until the Himalayan territory was "liberated".
Latest updates:
12:45pm
Azhar
@MashwaniAzhar
#KashmirHour Model Town Lahore
School Education Department @SchoolEduPunjab @DrMuradPTI
View image on TwitterView image on TwitterView image on TwitterView image on Twitter
427
12:53 PM - Aug 30, 2019
Twitter Ads info and privacy
261 people are talking about this
12:30pm
PTI
✔
@PTIofficial
Symbolic gesture all over Pakistan during #KashmirHour
The world should know; Kashmir is not just a territorial issue between Pakistan & India. It is an issue of Human Rights. And that is why the whole world must intervene. Let Kashmiris know, they're not alone!
1,622
1:53 PM - Aug 30, 2019
Twitter Ads info and privacy
887 people are talking about this
12:20pm
PTI
✔
@PTIofficial
Scenes from D-Chowk, outside the Parliament. Pakistanis have gathered together to show Kashmiris that they are not alone in their struggle against Modi's fascism. #KashmirHour
Embedded video
4,356
1:37 PM - Aug 30, 2019
Twitter Ads info and privacy
2,038 people are talking about this
12:18pm
PTI Sindh Official
✔
@PTISindhOffice
A loud and clear message from the people of Pakistan "WE STAND UNITED WITH KASHMIR"#KashmirHour
View image on TwitterView image on TwitterView image on TwitterView image on Twitter
1,072
1:29 PM - Aug 30, 2019
Twitter Ads info and privacy
550 people are talking about this
11:56am
PTI
✔
@PTIofficial
Kids in Karachi utilize Pakistani flag as make-shift umbrella but ensured they came out with their parents despite the rain to show solidarity with the innocent kids deprived of their childhood in Kashmir. #KashmirHour
View image on Twitter
479
1:23 PM - Aug 30, 2019
Twitter Ads info and privacy
215 people are talking about this
11:51am
Imran Ghazali
✔
@ImranGhazaliPK
School children in Islamabad in front of parliament house raise slogans in support of people of #Kashmir and demand freedom for Kashmir #KashmirHour #StandwithKashmir
Embedded video
1,349
1:03 PM - Aug 30, 2019
Twitter Ads info and privacy
698 people are talking about this
11:50am
Imran Ghazali
✔
@ImranGhazaliPK
Large number of students, youth, women, men, elders and people from all walks of life have gathered here in #Islamabad on the call of PM @ImranKhanPTI to show solidarity with people of #Kashmir against Indian govt @narendramodi terrorism #KashmirHour #KashmirProtests
View image on TwitterView image on TwitterView image on TwitterView image on Twitter
534
1:05 PM - Aug 30, 2019
Twitter Ads info and privacy
241 people are talking about this
11:49am
PTI
✔
@PTIofficial
Chitral comes out to show that Indian aggression will not be tolerated in Kashmir anymore. We stand with Kashmiris!#KashmirHour
View image on TwitterView image on TwitterView image on TwitterView image on Twitter
1,191
1:13 PM - Aug 30, 2019
Twitter Ads info and privacy
689 people are talking about this
11:47am
PTI
✔
@PTIofficial
Chitral comes out to show that Indian aggression will not be tolerated in Kashmir anymore. We stand with Kashmiris!#KashmirHour
View image on TwitterView image on TwitterView image on TwitterView image on Twitter
1,191
1:13 PM - Aug 30, 2019
Twitter Ads info and privacy
689 people are talking about this
11:40am
PTI
✔
@PTIofficial
CM KPK @IMMahmoodKhan leads #KashmirHour rally in Peshawar today!
Embedded video
445
1:02 PM - Aug 30, 2019
Twitter Ads info and privacy
240 people are talking about this
11:40am
PTI
✔
@PTIofficial
People of Bannu come out for #KashmirHour to record their support for the Kashmiris struggling for freedom from the cruel regime of Modi Sarkar.
Embedded video
1,862
1:00 PM - Aug 30, 2019
Twitter Ads info and privacy
767 people are talking about this
PTI
✔
@PTIofficial
- @Marriott Islamabad showing solidarity with our Kashmiri brothers and sisters. All Pakistani hearts beat with Kashmir. #KashmirHour being observed all over the country!
View image on TwitterView image on TwitterView image on TwitterView image on Twitter
581
12:57 PM - Aug 30, 2019
Twitter Ads info and privacy
380 people are talking about this
Khan has asked for weekly nationwide rallies until he leaves for New York next month to attend the United Nations General Assembly, where he vowed to raise the issue and to act as an ambassador for all Kashmiris.
Tensions have soared in the wake of Indian Prime Minister Narendra Modi's move to strip Kashmir of its autonomy and bring it under Delhi's direct rule.
Earlier, Director-General of Inter-Services Public Relations (ISPR) Major-General Asif Ghafoor has said the entire nation would participate in the Kashmir Hour by gathering at their nearby open areas or workplaces, ensuring an unwavering and full support to the people of Kashmir for their just cause.
At 12:00 noon on Friday, sirens would sound all across the country to formally mark the start of the Kashmir Hour. After sounding the sirens, the national anthems of Pakistan and Azad Jammu and Kashmir would be played and the entire nation would participate in the Kashmir Hour observance.
Ghafoor urged the youth, especially students, to ensure their participation for expressing unflinching support to their Kashmiri brethren. Celebrities including sport heros and showbiz personalities would also participate in the national programme.
Referring to the programmes chalked out for the National Defence and Martyrs Day being observed on September 6, the ISPR DG said the main theme of all functions would be "Kashmir will become Pakistan".
He said that the initiative to meet family members of martyrs by visiting their respective dwelling places would continue in the current year.
"The last year's response to the initiative was highly appreciable as the contribution of each martyr was recollected during the drive. Therefore, we will visit the house of every martyr this year too and repeat the activity of the last year."
He asked the masses to visit the houses of the martyrs and pay thanks to their kin.
https://www.khaleejtimes.com/international/pakistan/pakistan-pm-imran-khan-calls-for-big-protest-over-kashmir-today
--------
Start behaving like a normal nation, stop exporting terror, India tells Pakistan
Aug 30, 2019
NEW DELHI: The government hit out at Islamabad on Thursday over calls for jihad and hostile statements from Pakistani PM Imran Khan and other top leaders on the Kashmir issue and said these were tantamount to interference in India's domestic affairs. It again called upon Islamabad to stop using terrorism as an instrument of state policy.
"We strongly condemn highly irresponsible statements by Pakistani leadership on matters internal to India," MEA spokesperson Raveesh Kumar said while responding to queries from journalists.
"These statements include references to jihad and to incite violence in India, this is intended to project an alarmist situation which is far from ground reality. Pakistan needs to understand that the world has seen through their provocative rhetoric based on lies and deceit," he added.
The official urged Pakistan to behave like a normal country by not sending terrorists to its neighbours. He also dismissed the letter written by Pakistani minister Shireen Mazari to the UN on alleged human rights violation by India in J&K as "not worth the paper it was written on".
"They should see what is happening in their house before making statements and everybody knows what is happening, their house is on fire," Kumar said.
"We are all aware Pakistan has been using cross-border terrorism as an instrument of its state policy. We have been continuing to highlight our concerns with them. Pakistan has an obligation to take action against terrorists and terror groups operating from its soil," he added.
Asked about intelligence inputs of a possible infiltration by terrorists through the sea route, Kumar confirmed that there were such inputs and said the security forces were prepared to "deal with any eventuality".
Referring to the J&K governor's statement on Wednesday, Kumar listed several steps to be taken by the administration such as filling 50,000 vacancies in government departments, minimum support price for the apple crop and Nafed committing Rs 5,000 crore to procure apples produced by the state.
He also dismissed reports that there was shortage of essential drugs in J&K.
"The local government is handling the situation with maturity and restraint. Not a single life has been lost, not a single live bullet has been fired. The administration is putting all the necessary resources so that normalcy returns to the state as soon as possible," Kumar said.
https://timesofindia.indiatimes.com/india/start-behaving-like-a-normal-nation-stop-exporting-terror-india-tells-pakistan/articleshow/70901606.cms
--------
After 500 yrs, examining Babur's dedication of mosque 'little problematic': SC in Ayodhya case
Aug 29, 2019
NEW DELHI: The Supreme Court Thursday termed as a "little problematic" the demand of a Hindu body that it judicially scrutinise, after almost 500 years, whether Mughal emperor Babur dedicated the disputed structure in Ayodhya to the 'Allah' for it to be a valid mosque under the tenets of Islam.
The counsel for 'Akhil Bhartiya Sri Ram Janam Bhoomi Punarudhar Samiti' told a 5-judge Constitution bench, headed by Chief Justice Ranjan Gogoi, that the Allahabad High Court erred in saying it will not go into the issue as to whether Babur constructed the mosque without following 'Sharia', 'hadith and other Islamic practices.
Senior advocate P N Mishra, appearing for the Hindu body, a defendant in a lawsuit filed by a Muslim party in the case, said that instead of deciding on the allegations that Babur was not the owner of the land and was incapable of validly executing 'wakf' for the mosque, the high court held that since almost 500 years have passed, it would not deal with the issue which may be a matter of "debate for historians".
"In Islam, even an absolute sovereign like Babur could not do everything. He still had to abide by the religion," Mishra told the bench, also comprising Justices S A Bobde, D Y Chandrachud, Ashok Bhushan and S A Nazeer, on the 15th day of the hearing in the politically sensitive case of the Ram Janmbhoomi-Babri Masjid land dispute.
"What high court suggested here that Babur had the absolute power and he had done something...that cannot be reviewed. They (HC) said that now we cannot get into the question as to what Babur did was against 'sharia'," the bench said.
It added that rather than getting into the alleged violations of Islamic law and practices, the high court said it would deal with the aspect of people believing it to be a mosque.
"This will be little problematic, if we asked the judicial validity of the dedication of the land as mosque by Babur," the bench observed.
It then said that Muslims have been claiming that they have been worshipping for more than 400 years and Hindus say that they are offering 'puja' for last two millennia and the argument was that the courts should examine the plea whether the act of the monarch was invalid.
Mishra said there was no religious forum for deciding such disputes and the courts cannot simply refuse to decide such issues and there are judgements which provided that it can be done on the basis of Hindu and Muslim laws.
"What you are saying is that the (High) court should have decided as to what Babur did was right or wrong," Justice Bobde asked.
https://timesofindia.indiatimes.com/india/after-500-yrs-examining-baburs-dedication-of-mosque-little-problematic-sc-in-ayodhya-case/articleshow/70897610.cms
--------
Bangladeshis speak up about 'rampant' rapes in madrasas
August 29, 2019
Dhaka: Former Bangladeshi students are turning to social media to detail allegations of "rampant" sex abuse at the hands of teachers and older pupils in madrasas, breaking their silence on a taboo topic in the conservative country.
Child abuse in madrasas has long gone unreported in Bangladesh, a Muslim-majority nation where hardline Islamist groups draw their support from the tens of thousands of schools across the nation of 169 million people.
But in the wake of a brutal murder of a teenage girl who was burnt to death in April after accusing her headteacher of sexual assault, such incidents have been subject to national scrutiny and debate for the first time.
In July alone, at least five madrasa teachers have been arrested on rape charges against boys and girls under their care.
Several senior students were also held by police over the rape and beheading of an 11-year-old orphan, while a Dhaka cleric and seminary teacher was charged with sexually assaulting a dozen boys aged between 12 and 19.
But in the wake of a brutal murder of a teenage girl who was burnt to death in April after accusing her headteacher of sexual assault, such incidents have been subject to national scrutiny and debate for the first time.
In July alone, at least five madrasa teachers have been arrested on rape charges against boys and girls under their care.
Several senior students were also held by police over the rape and beheading of an 11-year-old orphan, while a Dhaka cleric and seminary teacher was charged with sexually assaulting a dozen boys aged between 12 and 19.
Poorer students victims
The accusations reveal how students from poorer and rural backgrounds, whose parents send them to madrasas as they are more affordable than secular schools, are disproportionately affected by the abuse.
Rights activists said the assaults - which range from violent rapes to forcible kissing - are so pervasive that the cases reported in the media are just the tip of the iceberg.
"For years these crimes eluded spotlight due to sensitivity of the subject," Abdus Shahid, the head of child rights' group Bangladesh Shishu Odhikar Forum, told AFP.
"Devout Muslims send children to madrasas, but they don't speak up about these crimes as they feel it would harm these key religious institutions."
Horrific first-hand accounts
Hojaifa al Mamduh, who studied in three madrasas in the capital Dhaka, published a series of posts on Facebook in July detailing the abuses endured by students including himself.
The assaults were "so widespread in the madrasas, every student who has studied there knows about it", Al Mamduh, now a journalism student at a Dhaka University, told AFP.
"Many madrasa teachers I know consider sex with children a lesser crime than consensual extramarital sex with women. Since they live in the same dormitories, the perpetrators can easily hide their crimes and put pressure on their poor students to keep mum."
The 23-year-old's posts generated heated debate in the country, and he was personally threatened.
He was accused of being "an agent of Jews and Christians" and smearing the "sacred image" of a madrasa by one social media user.
Another reminded him of the fate of Avijit Roy, a top Bangladeshi atheist blogger and writer who was hacked to death by Islamist extremists in 2015.
But his posts encouraged others to share their own experiences of alleged sex crimes.
Mostakimbillah Masum, who published his story on a feminist website, said he was "first raped by an elder student in my madrasa when I was just seven".
The 25-year-old told AFP that another one of his rapists was "a teacher who made me unconscious and raped me. It traumatised me permanently".
"Dozens of madrasa students I know were either raped or witnessed rapes and sexual assaults of their fellow students," he added. "It is so rampant almost every madrasa has a fair share of such stories."
"Negative propoganda"
Madrasa teachers have strongly denied the allegations, calling them "negative propaganda".
Mahfuzul Haq, a principal of a madrasa in Mohammadpur where Al Mamduh studied, told AFP "one or two isolated incidents can happen" as there were 20,000 madrasas in the South Asian nation.
"Those who don't like to study in madrasas are spreading these stories," he added.
A spokesman for hardline Islamist group Hefazat-e-Islami, which represents a coalition of thousands of madrasas, said his organisation told a recent conference of 1,200 principals to take "tough stand against any sex crimes".
However, there has been growing acknowledgment of the alleged offences.
Pro-Islamic website Fateh24.com, viewed as a voice for the madrasas, pointed out in a report that children were at risk in smaller seminaries run by just one or two teachers and that had no oversight from governing bodies.
Editor Iftekhar Jamil, a former madrasa student and teacher, added that the cases were "not isolated" incidents and called for closed-circuit cameras to be installed in students' sleeping quarters.
"Instead of looking for conspiracies, these madrasas must take up responsibility and adopt an action plan to tackle these crimes," he told AFP.
https://gulfnews.com/world/asia/bangladeshis-speak-up-about-rampant-rapes-in-madrasas-1.1567071965248?utm_source=newsletter&utm_medium=email&utm_campaign=GulfNews_NewsLetter_20190829_Evening_PM
--------
Syria slams foreign bid to 'recycle' Takfiri terrorists, defends right to target them
Aug 30, 2019
Syria's permanent representative to the United Nations has blasted foreign attempts to "recycle" Takfiri terrorist groups by calling them as "moderate armed opposition," asserting that Damascus will continue to protect its citizens by fighting the foreign-backed militancy even if some countries falsely accuse the government of targeting civilians.
Bashar al-Ja'afari told the United Nations Security Council that Syrian people would see peace only when some foreign countries stop supporting the terrorists and undermining Syria's fight against them.
"With every victory achieved by the Syrian Arab army on terrorism, some Security Council members launch campaigns of lies to distort this victory and defame the image of Syria," Ja'afari said during a UNSC meeting about the situation in Syria on Thursday. He said some members of the Security Council also fueled anti-Syrian hysteria by falsely claiming that pro-government forces target civilians while in reality the army is attacking strictly terrorist positions.
He emphasized on the need to preserve the three-way efforts by Iran, Turkey and Russia to bring peace back into Syria in the form of the Astana talks, a series of peace negotiations in Kazakhstan's capital that have produced ceasefires and de-escalation zones in Syria over the past few years.
"Syria stresses the need for not targeting Astana track which enjoys a wide support, particularly from the Syrian people who are the owner of the basic authority in self-determination," Ja'afari said.
The envoy went on to blast an agreement between the United States and Turkey to establish a so-called "buffer Zone" in northern Syria, calling it an aggression on the Arab country's sovereignty and territorial integrity.
He also warned that the move by Washington and Ankara as two "aggressors" amounted to a flagrant violation of international law as well as UN conventions.
"The agreement has uncovered the partnership of the two states in aggression on Syria, and it has unveiled the volume of deception that governs policies of these states," Ja'afari said.
"We are in front of a dangerous situation which is represented by an agreement between two hostile countries, that support terrorism in Syria, to frankly negotiate on targeting Syria's territory in a flagrant violation of 20 resolutions issued by UN Security council which stress adherence to Syria's sovereignty and territorial integrity," he asserted.
Ja'afari also brought attention to Israel's involvement in the creation of the terrorist organizations in the region, citing as evidence the regime's latest attacks on Syria, Iraq and Lebanon.
"These attacks were supported by Washington in an expression of the US-Israeli partnership with the aim of destabilizing the situation in the region," Ja'afari argued.
He rejected the UN General Secretariat's claims in a recent report that Syrian armed forces have been targeting civilians in their ongoing offensive to purge terrorists from Idlib, saying what the UN is calling "civilian" are militant groups that are not included in the Astana de-escalation zone agreement.
"Astana agreement on the de-escalation zones doesn't include the terrorist groups enlisted on the UN Security Council list of the terrorist entities, and it asserts the right of the Syrian state to confront the terrorist organizations regardless of their names," Ja'afari stressed.
He restated Syria's willingness to cooperate with the UN envoy for Syria help him succeed in his mission to facilitate dialogue.
He asserted that for that to materialize, foreign countries needed to leave Syria first.
"To have the efforts of the UN envoy succeeded, it is required to end the foreign illegitimate presence in Syria and committing to Syria's sovereignty and territorial integrity and supporting efforts of combating terrorism," Ja'afari added.
He also called for lifting sanctions against Syria, calling them acts of economic terrorism.
Syria, gripped by a foreign-backed militancy since 2011 that has killed hundreds of thousands, has managed to take back control of many territories from the Takfiri Daesh and other terrorist groups. The war has displaced millions of people inside the Arab country.
https://www.presstv.com/Detail/2019/08/30/604833/Syria-UNSC-Turkey-US-Bashar-Jaafari
--------
Zakir Naik: Firebrand Islamic Preacher Faces Allegations of Stirring Trouble in Malaysia
2019-08-29
He supports Osama bin Laden's "terrorizing America." He recommends capital punishment for homosexuals and wants the death penalty for those who abandon Islam as their faith.
Zakir Naik, an Islamic preacher from India, has long courted controversy. He is wanted in his home country for money laundering and spreading hate speech, and he has been accused of fueling the worst terrorist attack ever to hit neighboring Bangladesh.
Now in Malaysia, where he was given sanctuary after being declared persona non grata in Britain, Canada and several other countries, Naik is at the center of a storm after he made disparaging remarks about minority non-Muslims in the multi-racial country. The bearded medical-doctor-turned-TV-preacher is popular among Muslims in Malaysia, where he has been given permanent residence status.
In his latest gathering, where he attracted as many as 100,000 people, according to news reports, the firebrand cleric questioned the loyalty of minority Hindus and likened ethnic Chinese to mere "guests" in Malaysia.
Police have banned Naik for making any speeches and questioned him twice, in one instance for up to 10 hours, on charges of "making an intentional insult aimed at provoking a breach of the peace," after receiving 115 complaints against him.
Several non-Muslim ministers in Prime Minister Mahathir Mohamad's cabinet have called for Naik's expulsion after the preacher compared minority Hindus in Malaysia to minority Muslims in India, saying that the Hindus in Malaysia enjoyed "100 times" more rights than Muslims in India.
Naik then alleged that Hindus in Malaysia were more loyal to Indian Prime Minister Narendra Modi than to Mahathir, whom he praised for stoutly defending Islam.
He also said that if ethnic Chinese in Malaysia wanted him ejected from the country, they should be expelled too because they, like him, were "guests" in the country
Naik has since apologized for his remarks but said his detractors had taken his comments out of context. "It was never my intention to upset any individual or community," he said in a statement last week.
"Even though I have clarified myself, I feel I owe an apology to everyone who feels hurt because of this misunderstanding," he said as he sought to dispel allegations that he was a racist.
"That is against the basic tenets of Islam," he said. "Racism is an evil I am staunchly against."
Mahathir said that police would proceed with its investigations on Naik's case and the government would deal with the matter in accordance with the law. But the prime minister suggested that Malaysia would not send Naik back to India because his safety could be jeopardized, even though the two countries had an extradition treaty.
"The problem that we face is that we cannot send him back. Because he runs the risk of being killed," Mahathir said. "If any country wants to have him, they are welcome to do so."
Banned
Mahathir's government and that of his corruption-tainted predecessor, Najib Razak, have appeared unwilling to take action against Naik despite previous complaints about his divisive rhetoric.
The recent furor had led to a plethora of calls for his expulsion and, according to some reports, threatened to split Malaysia's ruling coalition.
Naik, 53, has faced the wrath of governments before he fled India to Malaysia in 2016, when news reports emerged that one of the suspects in the deadly Dhaka café siege in Bangladesh had posted a Facebook message quoting him.
Bangladeshi investigators said Rohan Imtiaz, 22, had posted Naik's sermons on social-media before he disappeared in January 2016, only to be seen six months later with four other terrorists during the Holey Artisan Bakery attack that killed 29 people.
Following the attack, Bangladeshi human rights activist and writer Taslima Nasreen posted on her Twitter page that Naik's speeches were "dangerous" and that he was promoting "7th century Quranic texts on sex slaves, polygamy and wife-beating in 21st century."
"Many Bangladeshi would-be-terrorists are inspired by Zakir Naik," she said. "He is not having machetes in hands. But his followers are having machetes in hands."
In 2017, the Indian government filed charges against him alleging he was involved in a criminal conspiracy by lauding terrorist organizations, and had laundered money through his NGO and a shell company.
Naik, a trained medical doctor, became a televangelist in 2006 when he founded Peace TV, a nonprofit satellite network based in Dubai.
Bangladesh banned Naik's TV channel just after the Holey Artisan siege. Then-Information Minister Hasanul Haq Inu told reporters that the TV channel's broadcasts "were not consistent with Muslim society, the Quran, Sunnah, Hadith, Bangladesh's Constitution, our culture, customs and rituals."
The 24-hour TV channel, which is broadcast in English, Urdu and Bangla, has also been banned in Sri Lanka and India.
But Naik's official channel is still available on YouTube, with 1.2 million subscribers getting access to his videos.
Naik, who wears spectacles and suits and always gives his religious discourses in English, founded the nonprofit Islamic Research Foundation (IRF) in Mumbai, India in 1991. IRF's website says it promotes "the proper presentation, understanding and appreciation of Islam, as well as removing misconceptions about Islam."
Officials from several countries accuse him of often twisting Islamic teachings to incite hate. Naik, however, has claimed that his comments have often been taken out of context.
Immensely Popular
The Mumbai native once enjoyed immensely popularity in India, and was described in some newspapers as "the rock star of tele-evangelism and a proponent of modern Islam."
The Indian Express included Naik at least twice in its list of the "100 Most Powerful Indians" explaining that a million people attended the preacher's 10-day "peace conference" in November 2010 in Mumbai.
About 200,000 people, including former Malaysian Deputy Prime Minister Anwar Ibrahim, who is now a leader of a key component party in Mahathir's ruling coalition, attended one of Naik's lectures during that event, the newspaper said.
Ahmad Martadha Mohamed, an associate professor at the Universiti Utara Malaysia in the northwestern state of Kedah, explained that religion was the galvanizing factor for Malay Muslims to back Naik, not his personality.
"He is seen more as a symbol of the religion," Ahmad said. "The same goes for other preachers. Malays will rise and back them as well because of the religious sentiment, so it is not exclusively to Zakir."
Book authors, such as anthropologist Thomas Blom Hansen, have said that Naik's missionary activities and his style of memorizing the Quran, the Muslim holy book, may have endeared him to his followers.
"That he is medical doctor and scientist who can recite by memory both the Koran and Hadiths (commentaries and interpretations of the Koran) in Arabic, Urdu and English and travels to America and Europe to debate Islam with theologians has made Naik quite a star in Central Mumbai," Hansen wrote in his book, "Wages of Violence."
But several powerful politicians have slammed Naik, including Indian Prime Minister Narendra Modi, who said in a campaign speech in May that the preacher's words "have triggered blasts in Sri Lanka," referring to the April 21 suicide bombings at three churches and three luxury hotels in Colombo in which 259 people were killed.
"No one is above the law. Certainly not citizens, much less a permanent resident, even one as respected for his knowledge as Zakir," Malaysia's Home Minister Muhyiddin Yassin told reporters this week, underscoring that the preacher's statements had caused "discomfort."
'Unacceptable behavior'
In June 2010, Naik was denied entry into the United Kingdom and Canada, where he was to give a series of lectures.
"Numerous comments made by Dr. Naik are evidence to me of his unacceptable behavior," Theresa May, then the U.K. home secretary, told reporters.
Three years later, Malaysia bestowed him the "Maal Hijrah" award in appreciation of his contribution to the development of Islam and in 2015, Saudi King Salman bin Abdul Aziz presented Naik with the "2015 King Faisal International Prize for Service to Islam."
On July 31, 2008, in one of his most controversial remarks captured on TV, Naik said the Sept. 11 terror attacks in the United States were "done by George Bush himself."
During a televised open forum that followed his sermon, Naik was asked whether he viewed the slain al-Qaeda leader Osama bin Laden as a terrorist.
"If he is fighting enemies of Islam, I am for him. I don't know him personally," Naik replied. "If he is terrorizing America, the biggest terrorist, I am with him. Every Muslim should be a terrorist. The thing is that if he is terrorizing a terrorist, he is following Islam."
Abdul Rahman Othman, an Islamic scholar in Malaysia's Pahang state, told BenarNews that Naik's expulsion could lead to anger among his Muslim followers.
"We have to go back to the law and everyone has to understand the role of a preacher who preaches in an Islamic country," he said. "Muslims have the right to propagate and explain Islamic teaching."
https://www.benarnews.org/english/news/malaysian/preacher-Zakir-Naik-08292019132925.html
--------
Six countries block UN sanctions against Somalia's Al-Shabaab
August 30, 2019
United Nations (United States) (AFP) - Six UN Security Council members on Wednesday blocked a move to include Somali jihadist group Al-Shabaab on a list of organizations such as Al-Qaeda that are under international sanctions, diplomatic sources said.
Several NGOs and the UN Office for the Coordination of Humanitarian Affairs recently stepped in to oppose the classification, which would have effectively kept humanitarian aid away from millions of Somalis living in Al-Shabaab-controlled areas.
Germany, Belgium, Poland, France, Kuwait and the United States were the six countries whose votes blocked the implementation of the new sanctions.
Kenya, on the other hand, has pushed for tightening sanctions against Al-Shabaab since late last year, and especially since an attack by the group at a Nairobi hotel in January left 21 people dead.
The country had wanted an amendment to UN Resolution 1267, which sanctions Al-Qaeda, the Islamic State group and their affiliates.
A large portion of the population in Somalia relies on international aid after three decades of conflict and economic ruin.
Critics of the defeated sanctions have said including Al-Shabaab in the Resolution 1267 designations would have effectively criminalized UN and other assistance to people in Somalia who depend on it.
And Somalia recently told the Security Council that taking actions that could interrupt aid would "play into the Shabaab's narrative and self-image as a de-facto government in areas where state reach is limited."
https://news.yahoo.com/six-countries-block-un-sanctions-against-somalias-al-011712263.html
--------
America Can't Outsource Its Security To Anyone — Especially The Taliban
By Lindsey Graham and Jack Keane
August 28, 2019
Lindsey Graham is a Republican senator from South Carolina. Jack Keane, a retired general, is chairman of the Institute for the Study of War and was vice chief of staff of the U.S. Army.
President Trump's desire to end the war in Afghanistan is understandable. After 18 years of war, the current path is not sustainable.
Nevertheless, we may be in such a rush to remove our forces that we find ourselves on the cusp of a strategic blunder. Any deal that calls for withdrawing our forces completely from Afghanistan is a bad deal for the United States.
We must be clear: The United States should never outsource its national security to anyone, especially the Taliban. That is a possible outcome, however, as the United States and the Taliban continue talks in Doha, Qatar. We cannot rely on the Taliban for security; we have lost too many soldiers at Taliban hands for that. The Afghan war must end on our terms, not the Taliban's.
The United States entered Afghanistan in 2001 for one reason: to run al-Qaeda out of its haven and ensure that it was never able to attack America again. We achieved that objective in 2002 and have sustained it since with the United States, NATO and other partner nations.
U.S. force levels have ebbed and flowed since 2002, but we now have less than 15 percent of the forces we had at our peak in 2011. The tasks that used to be solely the responsibility of U.S. and NATO and partner forces are now in the hands of the Afghan National Defense and Security Forces.
Afghan forces are shouldering the burden of the fighting and have lost tens of thousands of soldiers and police in recent years protecting their country. We will have the ability to reduce our presence further as Afghan forces become more capable. But if U.S. forces leave now, before Afghans are ready to stand by themselves, we will be abandoning them when they still need our support.
Most importantly, American national security interests require that any agreement allow a meaningful U.S. counterterrorism capability, coupled with a robust intelligence apparatus, to remain in Afghanistan to deal with the real threats that will continue from groups such as the Islamic State's Afghan affiliate, ISIS-K. It is equally critical that this force stay until the defense secretary and the secretary of state certify to Congress that withdrawing troops from Afghanistan will not put the United States homeland and our interests at risk of another terrorist attack.
We can never forget that when the Taliban took control of Afghanistan in 1996, they took the country backward, destroying prosperity, oppressing women and operating with a total disregard for basic human rights. They also welcomed Osama bin Laden and al-Qaeda as honored guests. Bin Laden used his newfound freedom in Afghanistan to plan, prepare and direct the attacks against two U.S. Embassies in Africa in 1998, the USS Cole in Yemen in 2000 and the 9/11 attacks that killed nearly 3,000 Americans.
Following 9/11, President George W. Bush demanded that the Taliban hand bin Laden over or face the destruction of their regime. The Taliban refused to give him up and instead decided to stand with al-Qaeda. Today, they have yet to repudiate al-Qaeda. Even if they take that step publicly as part of a deal with the United States, there is no credible evidence that they would mean it.
The United States cannot contract out the American people's security to the Taliban who, in exchange for a U.S. withdrawal, simply "promise" to guarantee that al-Qaeda and ISIS-K are denied haven.
Finally, we fear that a "U.S. withdrawal deal" with the Taliban would not end the war. It is much more likely to start a new, far worse civil war as the Afghan forces would feel betrayed and abandoned, the Afghan government would be severely undermined and weakened, and the Northern Alliance would withdraw its members from the Afghan Army.
The added chaos with all U.S. troops gone would become an open invitation for al-Qaeda and the Islamic State to refocus on Afghanistan, as they both did in Syria. In the midst of such a civil war, Taliban promises to keep al-Qaeda out will mean less than nothing — they would not be able to fulfill them even if they wanted to.
History has taught that how we end a conflict is more important than how we start one. If we don't end this war properly, we won't be ending it at all. Instead, we will be creating a much worse situation for everyone except for groups such as the Taliban, al-Qaeda and the Islamic State.
https://www.washingtonpost.com/opinions/2019/08/28/afghan-war-must-end-our-terms-not-talibans/?noredirect=on
--------
Lawsuit: LA Sheriff's Department denied Muslim inmates' religious needs
August 29, 2019
LOS ANGELES (RNS) — The Los Angeles County Sheriff's Department is being sued by three Muslim inmates who said they were denied access to religious services and meals in keeping with their practices even after having to answer a series of questions to prove their Islamic faith.
The lawsuit, filed Monday (Aug. 26) by the Council on American-Islamic Relations, argues the Sheriff's Department "imposed policies and procedures that either completely deny Muslim inmates access to most, if not all, religious accommodations, services, programming and materials that are available to inmates of other faith, restrict their access, or require them to jump through hoops to obtain them."
The three men said Men's Central Jail staff failed to schedule Friday prayer or Islamic study classes but incorporated religious gatherings for inmates of other faiths, according to the lawsuit. Bible study classes, for example, were offered once a week for Christian inmates.
Staff also restricted access to copies of the Quran and prayer rugs and required the inmates to submit to "intrusive and unlawful inquiry" to prove their knowledge of Islam in order to be added to a halal diet, according to the lawsuit.
Sheriff's Deputy Lillian Peck said the department has "neither received the lawsuit on behalf of CAIR-LA, nor are aware of the nature of its content."
Patricia Shnell, a civil rights attorney with CAIR-LA, told Religion News Service the organization learned about these issues after two of the three inmates contacted CAIR by mail.
Shnell said the men have been denied "basically all religious accommodations while in jail."
The lawsuit also challenges a Sheriff's Department policy requiring special custody inmates to strip to their underwear as a condition of access to the law library. CAIR advocates say this violates the inmates' religious beliefs regarding modesty.
"Taken together, each of these serious infringements on their ability to practice their religion amount to a complete and systemic denial," Shnell said.
According to the lawsuit, Joe Alfred Taylor III submitted a number of requests and grievances for a halal diet between February and September of 2017, a number of which went unnoticed or were rejected. In late July 2018, Taylor went on a hunger strike in protest. Soon after, Taylor said, he was quizzed on his knowledge of Islamic faith. A chaplain asked him questions about the pillars of Islam and the location of Mecca. He briefly received halal meals, but the authorization was later revoked.
Miguel Arciniega and Hugo Cortez experienced similar treatment before their halal diet was approved, according to the lawsuit. Days after converting to Islam in November 2018, Arciniega filed his first request for a halal diet. In December, Arciniega was tested to "determine whether or not he is a Muslim," according to the lawsuit. He said he was asked why he converted to Islam, among other questions.
Cortez's request for a halal diet was approved after he was quizzed, but he was tested again about three months later when a staff member said "Cortez is Mexican and Mexicans are not Muslim." Cortez answered the questions with correct Arabic terminology but was then ordered to provide the answers in English, because, the staffer said, "We're in America and we don't speak Arabic here," according to the lawsuit.
The three men are still in custody, Shnell said.
Arciniega is charged with attempted murder in connection with assaults directed by the Mexican Mafia in Los Angeles County jails, according to the Los Angeles County District Attorney's Office. Shnell said she does not have information on the charges the men are facing, "as they are not relevant" to their civil claims.
The federal Religious Land Use and Institutionalized Persons Act limits the ability of state prisons to impose substantial burdens on the religious exercise of inmates, according to the lawsuit.
However, the issue still persists.
In a July 2019 report, Muslim Advocates, a national civil rights organization, found that many state departments of correction have policies that are "outdated" or "non-accommodating of Muslim prisoners."
As part of the report, Muslim Advocates compiled 163 recent Muslim prisoner lawsuits over a 15-month period and found that the larger share of cases — 12 percent — came from California.
"The prevalence of California cases suggests a lack of accommodating policies, a large absolute number of Muslim prisoners, or both," the report found.
The most common complaint dealt with difficulties obtaining a religious diet, the report found.
Shnell said CAIR wants to ensure Men's Central Jail complies with federal law and the U.S. Constitution.
"Our nation's commitment to religious liberty must extend to the sincere practice of faith by prisoners," Shnell said.
https://religionnews.com/2019/08/29/lawsuit-la-sheriffs-department-denied-muslim-inmates-religious-needs/
--------
Pakistan
Trump 'deceiving' both India and Pakistan on Kashmir: Pak Minister
Aug 29, 2019
ISLAMABAD: Pakistan's railways minister Sheikh Rashid Ahmed claimed on Thursday that US President Donald Trump is "deceiving" both India and Pakistan on the issue of Kashmir.
Talking to reporters in Rawalpindi, Rashid also said that the Kashmir issue would be resolved during the tenures of Prime Minister Imran Khan and Army chief General Qamar Javed Bajwa.
"A group is making propaganda that whatever happened in Kashmir is part of a master plan. Let me tell you Trump plays on both sides. He is deceiving both India and Pakistan," said the minister, who is known for making outlandish remarks.
During his meeting with Pakistan Prime Minister Khan at the White House on July 22, President Trump had offered to be the "mediator" between India and Pakistan on the Kashmir issue.
In an apparent backtracking from his comments after meeting Prime Minister Narendra Modi on the sidelines of the G7 Summit in France, Trump on Monday said he feels that both India and Pakistan can resolve the Kashmir problem on their own.
Rashid said both Samjhauta Express and Thar Express trains have been shut down to express solidarity with the Kashmiri people.
https://timesofindia.indiatimes.com/india/trump-deceiving-both-india-and-pakistan-on-kashmir-pak-minister/articleshow/70897596.cms
--------
Qureshi, New Zealand deputy premier discuss Occupied Kashmir
Aug 30, 2019
ISLAMABAD: Foreign Minister Shah Mahmood Qureshi spoke with New Zealand's Deputy Prime Minister Winston Peters on Thursday regarding the situation in Indian occupied Kashmir.
During the telephonic conversation, Qureshi and Peters discussed the gross human rights violations in the Indian occupied region and worsening regional security situation.
Qureshi informed Peters about India's move to abolish Article 370 which, observers said, was in violation of United Nations Security Council (UNSC) resolutions.
Qureshi pointed out that reports of the international media and human rights organisations had highlighted the humanitarian crisis in the held valley.
Peters said his country was keenly following developments in occupied Kashmir closely and would continue to play a positive role.
The conversation with Peters is part of Pakistan's diplomatic efforts to inform world leaders of the situation in Indian occupied Kashmir where curfew has been imposed since Article 370 was abolished on August 5.
Full report at:
https://www.pakistantoday.com.pk/2019/08/29/qureshi-new-zealand-deputy-premier-discuss-occupied-kashmir/
--------
Pakistani premier urges nationwide rallies in solidarity with Kashmiris
Aug 29, 2019
Pakistani Prime Minister Imran Khan has called on the entire nation to join mass demonstrations against the Indian government's decision to revoke special autonomous status of the disputed Himalayan region of Kashmir.
In a posting on Twitter on Thursday, Khan said, "I want all Pakistanis to come out tomorrow 12 noon-12.30 pm to show solidarity with the Kashmiri people,"
"We must send a strong message to Kashmiris that our nation stands resolutely behind them," the premier added.
Early this week, Khan called on Pakistanis to begin holding weekly nationwide rallies in support of the Kashmiri people.
Khan warned in a speech on Monday that the issue of Kashmir could lead to a nuclear war between Islamabad and New Delhi if the international community failed to intervene.
The Pakistani military announced earlier Thursday the testing of a surface-to-surface ballistic missile, with the army's spokesman saying the weapon was "capable of delivering multiple types of warheads".
Tensions have been soaring between Islamabad and New Delhi for weeks in the wake of Indian Prime Minister Narendra Modi's move to strip India's portion of Kashmir of its autonomy and bring it under direct rule.
After the decision on the special status, New Delhi dispatched thousands of additional troops to the Himalayan region, declared a strict curfew, shut down telecommunications and internet services, and arrested political leaders and pro-independence campaigners.
India's behavior has drawn criticism from the people of Kashmir and Pakistan as well as human rights groups and the UN.
In the wake of the move, Pakistan has expelled the Indian ambassador, halted bilateral trade, and suspended cross-border transport services.
Pakistan recently said it was considering a complete closure of airspace to India and blocking Indian land trade with Afghanistan via Pakistan.
In recent days, India and Pakistan have exchanged heavy fire across the militarized de facto border in the disputed Kashmir valley.
UN Secretary-General Antonio Guterres has urged all parties to exercise restraint.
Relations between the nuclear neighbors nosedived in February, when over 40 Indian paramilitaries were killed in a bomb attack in Kashmir. New Delhi blamed Pakistan-based militants, but Islamabad denied any involvement.
Ties have been rocky since August 1947, when the subcontinent was divided into two independent states - Hindu-majority India and Muslim-majority Pakistan - after the British Raj was dismantled.
Millions were uprooted in one of the largest mass migrations in history, with experts estimating that at least one million died in communal violence unleashed by the partition that continues to haunt the subcontinent to this day.
Kashmir has been split between India and Pakistan since their partition. Both countries claim the territory in its entirety, over which they have fought three wars so far.
Full report at:
https://www.presstv.com/Detail/2019/08/29/604800/Kashmir-Pakistan-Imran-Khan-Indian-PM-Modi
--------
Pak Sikh's daughter forcibly converted, married to Muslim
Aug 29, 2019
AMRITSAR: The kidnapping, forced conversion and marriage of a Sikh granthi's (priest) daughter to a Muslim youth at Nankana Sahib, the birth place of Guru Nanak Dev, just ahead of the 550th birth anniversary of the first Sikh master, has left the minuscule Sikh community of Pakistan shocked and outraged.
The girl, whose father Bhagwan Singh is a granthi at Gurdwara Tambu Sahib, Nankana Sahib, has been forcibly converted to Islam and married to a Muslim boy Mohammad Ehsaan.
Several cases of kidnapping and forced conversion of Hindu and Sikh girls from Sindh and Khyber Pakhtunkhwa provinces of Pakistan have been reported earlier too.
In the nikah (Muslim marriage) video of the girl, which has gone viral, the visibly scared girl sporting a black dupatta and sitting alongside Ehsaan, identifies herself. (TOI has a photograph of the girl but is not naming her as she is a minor.)
She and Ehsan can be heard repeating Quranic verses after a Maulvi followed by the girl declaring that she is marrying Ehsan of her own will.
In the video, the girl claims to be of 19 years of age and says she has not brought any jewellery or property paper along with her from her parents' house. In his complaint to the police, her brother Manmohan Singh has stated that she is between 16 years and 17 years of age.
On August 28, Nankana Sahib police had registered an FIR against Ehasan and six more persons, including a woman Rukiyya, on the complaint of the girl's brother Manmohan Singh under Section 365 B (kidnapping, abducting or inducing women for marriage) of the Pakistan Penal Code.
Sawinder Singh, younger brother of the girl in Nankana Sahib, told TOI over phone that his sister, who was already betrothed to a Sikh boy was kidnapped by Ehsaan and others on the night of August 27.
"My sister had gone to stay with our elder sister whose husband was on a business trip to Faislabad. An armed group attacked the house located near Gurdwara Bad Leela at around 2 am, threatened to kill all of them, locked them in a room and kidnapped the girl at gunpoint," he added.
Full report at:
https://timesofindia.indiatimes.com/world/pakistan/pak-suppress-voice-of-sikhs-after-kidnapping-and-forced-conversion-of-a-minor-girl-in-nankana-sahib/articleshow/70896124.cms
--------
Pakistan security services covertly manipulated politics to remove Sharif from power: US report
Aug 29, 2019
WASHINGTON: Pakistan's security services favoured Imran Khan and covertly manipulated the country's domestic politics before and during the 2018 election with a central motive of removing Nawaz Sharif and his party PML-N from power, a US Congressional report said, citing analysts.
The report prepared for US lawmakers by the bipartisan Congressional Research Service (CRS) said Khan had no governance experience prior to winning his current office and analysts contend that a purported "military-judiciary nexus allegedly came to favour" his Pakistan Tehreek-e-Insaaf party.
"Many analysts contend that Pakistan's security services covertly manipulated the country's domestic politics before and during the election with a central motive of (again) removing Sharif from power and otherwise weakening his incumbent party," the report said.
"Election observers and human rights groups issued statements pointing to sometimes 'severe' abuses of democratic norms, and the unprecedented participation of small parties with links to banned Islamist terrorist groups was seen to embolden militants (Islamist parties won a combined 10 per cent of the national vote in 2018)," it said.
Khan's 'Naya Pakistan' vision - which appeared to animate many younger, urban, middle-class voters - emphasizes anti-corruption and creation of a "welfare state" that provides better education and healthcare, but his effort has foundered due to the country's acute financial crisis, and a need for new foreign borrowing and government austerity, the report said.
"Most analysts see Pakistan's military establishment continuing to retain dominant influence over foreign and security policies," it added.
The powerful army, which has ruled Pakistan for more than half of its 70 plus years of existence, has hitherto wielded considerable power in the matters of security and foreign policy. But now, the military will play a greater role in the economic affairs of Pakistan as the government grapples with serious financial woes.
Full report at:
https://timesofindia.indiatimes.com/world/pakistan/pakistan-security-services-covertly-manipulated-politics-to-remove-sharif-from-power-report/articleshow/70896521.cms
--------
Presidential address to parliament put off at last moment
Amir Wasim
August 30, 2019
ISLAMABAD: The government on Thursday cancelled the joint sitting of parliament convened on Friday (today) for a constitutionally mandatory address of President Arif Alvi, prompting a strong reaction from opposition parties which have been flexing their muscles for lodging a protest and disrupting the proceedings over the issue of appointment of two members of the Election Commission of Pakistan (ECP).
The leaders of two major opposition parties — the Pakistan Muslim League-Nawaz (PML-N) and Pakistan Peoples Party (PPP) — claimed that the government had cancelled the joint sitting without taking them into confidence and due to the fear of a strong reaction from them over the "unconstitutional act" of bypassing parliament on the issue of appointment of the ECP members by President Alvi and Prime Minister Imran Khan.
The government has also cancelled the regular session of the National Assembly scheduled for Sept 2.
"The president has been pleased to revoke the Presidential Order dated 17th August 2019 for summoning both the houses to assemble together for presidential address on 30th August 2019 in the Parliament House," says a notification issued by the National Assembly Secretariat on Thursday evening. Another notification says that the president has also revoked his order of summoning the National Assembly session on Sept 2.
When contacted, Minister for Science and Technology Fawad Chaudhry rebutted the opposition's claim, saying the session had been put off to allow the members of parliament to visit their respective constituencies on Friday to participate in the Kashmir protest on the call of Prime Minister Khan. He said the opposition could hold the protest when the joint sitting would be convened after Ashura (10th of Muharram) falling on Sept 9 or 10.
On the other hand, PML-N information secretary Marriyum Aurangzeb alleged that the government had postponed the joint sitting as it wanted to create a constitutional crisis in the country. Talking to Dawn, Ms Aurangzeb said the government had no courage to face the opposition over the issue of "illegal appointment" of the two ECP members and that was why it was running away from parliament.
Responding to a question about the opposition's plan to disrupt the proceedings of parliament, she said they only wanted to seek a reply from the government over the issue of ECP members' appointment, adding that it was the right of the opposition to raise in parliament the matter of "serious violation of the Constitution" by the president and the prime minister. She said even Chief Election Commissioner (CEC) retired Justice Sardar Mohammad Raza had in his order declared the appointment of two ECP members as "unconstitutional".
PML-N secretary general Ahsan Iqbal in a statement said the government had postponed the sitting so that the opposition could not question the "illegal act" of the president and the prime minister. He said that after "attacking" the judiciary, the rulers had now attacked parliament, adding that the "selected prime minister" had not been coming to parliament to give answers to opposition's questions.
Sources told Dawn that the opposition parties had made a plan to prevent the president from delivering his speech in parliament through a noisy protest. However, they said, the opposition parties had decided to keep its plan secret till the last moment.
The sources said that while discussing the issue of ECP members' appointment, members of the opposition's Rahbar Committee had in their meeting on Aug 26 discussed the option of moving an impeachment resolution against the president.
A PPP office-bearer, who was present in the meeting, had stated that the president could be impeached under Article 47 of the Constitution for "violating the Constitution".
Article 47 of the Constitution states: "Notwithstanding anything contained in the Constitution, the President may, in accordance with the provisions of this Article, be removed from office on the ground of physical or mental incapacity or impeached on a charge of violating the Constitution or gross misconduct."
At a news conference after the meeting, Akram Durrani, the convener of the committee, had said the "unconstitutional appointment" of the ECP members provided a legal and constitutional justification to impeach the president. He said that even the CEC had refused to administer the oath to the newly appointed ECP members, terming their appointment illegal. "Has the president not violated the constitution?" he had asked.
President Alvi was to address the joint session on Friday at the commencement of the new parliamentary year under Article 56(3) of the Constitution, which says: "At the commencement of the first session after each general election to the National Assembly and at the commencement of the first session of each year, the President shall address both Houses assembled together and inform the Majlis-e-Shoora (parliament) of the causes of its summons."
Full report at:
https://www.dawn.com/news/1502514
--------
US Congress report reviews Pakistan's decision-making process
Anwar Iqbal
August 30, 2019
WASHINGTON: The military has retained a dominant influence over foreign and security policies in Pakistan, according to a US congressional report releas­ed on Wednesday. But it also noted that the country's army chief is a non-political professional.
The report, prepared for US lawmakers by the bipartisan Congressional Re­sear­ch Service (CRS), comes amidst growing concern in Washing­ton over the Kashmir dispute. Last week, a US think tank warned that if not checked, the Kashmir crisis could lead to yet another war between the two countries, with dangerous consequences for all, as both nations now have nuclear weapons.
Policymakers in Washing­ton also believe that the army will play a decisive role in determining how Pakistan responds to the Kashmir crisis and apparently that's why the CRS prepared a brief for US lawmakers on the army's role in the decision-making process.
Noting that Chief of Army Staff Gen Qamar Javed Bajwa got a three-year exten­sion earlier this month, the report added: "He is widely described as being professional and non-political."
The report noted that although the army had removed three civilian governments in the past 72 years, it did so "through explicit or implicit presidential orders".
The report pointed out that Prime Minister Imran Khan "animated many younger, urban, middle-class voters by emphasising anti-corruption and creation of a welfare state that provides better education and health care".
But his "effort has foundered due to the country's acute financial crisis, and a need for new foreign borrowing and government austerity".
The PTI government, however, has a comfortable arrangement with the military and "most analysts see Pakistan's military establishment continuing to retain dominant influence over foreign and security policies", the CRS added.
The report noted that the general election last year had led to "a dramatic end to the decades-long domination of Pakistan's national politics by two dynastic parties, as the relatively young Pakistan Tehreek-i-Insaf swept a large plurality of NA seats".
In an earlier report, the CRS quoted US officials as saying that vital US interests … related to terrorism, Afghanis­tan, nuclear proliferation, India, democratisation and human rights, and economic development" were at stake in Pakistan.
The report expressed concern over the deployment of new nuclear weapons in the region, Pakistan's close strategic and economic partnership with China and emphasised the need for counter-terrorism cooperation with Islamabad.
The report also reviewed Pakis­tan's economic and fiscal crisis, pointing out that it remains a poor country with high rates of inflation and unemployment, and sometimes acute food, water, and energy shortages.
Full report at:
https://www.dawn.com/news/1502528/us-congress-report-reviews-pakistans-decision-making-process
--------
China will work with Pakistan to safeguard regional stability: Beijing
August 30, 2019
BEIJING: Terming the recent visit of the Vice Chairman of the Central Military Commission of China, Gen Xu Qiliang, to Pakistan very successful, the Chinese defence ministry on Thursday said that Beijing would work together with Islamabad to strengthen strategic communication, enhance mutual trust and improve defence cooperation to safeguard peace and stability in the region.
Given the complex security situation in the region, the defence ministry spokesman said, China was willing to work with Pakistan to implement the consensus reached between the two heads of state, strengthen strategic communication, enhance mutual trust and improve defence cooperation so as to jointly safeguard regional stability.
At his monthly briefing, spokesman Ren Guoqiang remarked that China and Pakistan were strategic partners and iron brothers that helped each other.
He said Gen Xu's visit to Pakistan was in line with China's 2019 international military cooperation plan and it was agreed upon by the two countries.
"This visit is very successful and we have seen many media coverage on this visit," he added.
Gen Xu led a high-level delegation to Pakistan earlier this week and held separate meetings with President Arif Alvi, Prime Minister Imran Khan, Chief of the Army Staff Gen Qamar Javed Bajwa and Chief of the Naval Staff Admiral Zafar Mahmood Abbassi and discussed with them issues of mutual interest and regional peace and stability.
Full report at:
https://www.dawn.com/news/1502526/china-will-work-with-pakistan-to-safeguard-regional-stability-beijing
--------
Sindh police sets up human rights cell
August 30, 2019
KARACHI: The Sindh police has set up a human rights cell as its first initiative to establish a specialised unit which will operate as a supervisory body responsible for focusing on issues of human rights.
A senior official said on Thursday that the specialised unit would primarily deal with cases pertaining to vulnerable communities that include women, children, minorities and transgender persons.
The new cell, which would work under the command of DIG (headquarters) Abdul Khaliq Shaikh, has created three major sections addressing the issues of minorities, women and children. The cell would take up matters of human rights related to regular policing from all parts of the province, he said.
"Police being an important law enforcement agency plays its role for upholding basic human rights, but due to plethora of crime, important events and law and order situations both energy and attention of the police leadership and force are diverted toward heinous crimes and security of events," said the official citing the objective and reasons behind creation of the new cell.
"Such state of affairs warrants that specialised unit should be created as a supervisory body responsible for focusing and emphasising safeguarding human rights. Among all other responsibilities it was imperative for the Sindh police to establish a human rights cell which is centralised at the Central Police Office for streamlining and dealing [with] matters pertaining to human rights."
Among issues related to overall human rights, he said that the cell would primarily deal with cases pertaining to vulnerable communities.
Elaborating the vision of the new cell, he said that it would provide a platform for better service delivery, implementation of laws and compilation of data pertaining to matters of human rights and human dignity.
When asked about the objective of the new cell, the official said it was expected to provide a centralised and well-organised centre for dealing with the cases of violation of human rights.
"It is aimed at improving the overall response of police units and officers for efficient and just disposal of complaints involving infringement of rights," he said. "It would also enhance coordination with other stakeholders, including civil society organisations, civil administration and other institutions of criminal justice for achieving the common goal of establishing the rule of law."
When it came to mechanism of the cell's operation, he said that the primary function included dissemination of information regarding legislation pertaining to human rights introduced by the parliament to each and every office and ensuring its cognizance by authorities concerned.
"The human rights cell would also aim at creating and then maintaining the record in relation to human rights-related cases," he said.
Full report at:
https://www.dawn.com/news/1502421/sindh-police-sets-up-human-rights-cell
--------
Go For War If Inevitable For Kashmir's Freedom, PSP Chairman Kamal Advises PM
Tariq Naqash
August 30, 2019
MUZAFFARABAD: Pak Sarzameen Party (PSP) chairman Syed Mustafa Kamal on Thursday asked Prime Minister Imran Khan not to shy away from war against India if it's inevitable for freedom of Kashmir.
"For God's sake do not ever say that if we should go for war with India [or not]. Instead say, yes we will go for war; rather we will initiate war, if India does not stop atrocities in occupied Kashmir instantly," he told reporters after paying a visit to a Kashmiri migrants' camp here, on the second day of his visit to the AJK capital.
Accompanied by PSP President Anis Qaimkhani, he conversed with refugee leaders and children and offered Fateha for Kashmiri martyrs.
Full report at:
https://www.dawn.com/news/1502521/go-for-war-if-inevitable-for-kashmirs-freedom-kamal-advises-pm
--------
PM Imran calls Abu Dhabi CP to discuss 'regional developments'
Aug 30, 2019
Prime Minister Imran Khan on Thursday called Abu Dhabi Crown Prince Sheikh Mohammed bin Zayed al-Nahyan to discuss "regional and international developments" amid rising Kashmir tensions.
A tweet from the Abu Dhabi Crown Prince confirmed the development, saying the two dignitaries discussed "ways to enhance bilateral cooperation as well as the latest regional and international developments and issues of mutual interest".
Mohammed bin Zayed — or MBZ — is also the deputy supreme commander of the United Arab Emirates (UAE) Armed Forces.
On Wednesday, the premier had telephoned France and Jordan's leadership to highlight the deteriorating situation in Indian occupied Kashmir.
Full report at:
https://www.pakistantoday.com.pk/2019/08/29/pm-imran-calls-abu-dhabi-cp-to-discuss-regional-developments/
--------
India
Babri Masjid not built as per Islamic law: Hindu body
August 30, 2019
New Delhi: The Supreme Court has said it's 'little problematic' to judicially examine whether Babur dedicated the disputed structure in Ayodhya to the 'Allah' after 500 years.
"This will be little problematic if we asked the judicial validity of the dedication of the land as a mosque by Babur," the Bench said on Wednesday when one of the counsels of a Hindu party said the Allahabad High Court refused to deal with the issue, citing it as 500-year-old matter.
Senior Advocate P.N. Mishra, appearing for the Akhil Bhartiya Sri Ram Janam Bhoomi Punarudhar Samiti, submitted the high court erred in saying it would not go into the issue whether Babur constructed the mosque without following Sharia, Hadith and other Islamic practices. He raised the doubt if the disputed structure was a valid mosque.
Mishra told the Constitution Bench, headed by Chief Justice Ranjan Gogoi, instead of deciding on the allegations that Babur was not the owner of the land and was incapable of validly executing 'wakf' for the mosque, the high court held since almost 500 years had passed it would not deal with the issue, which might be a matter of debate for historians.
Citing the high court judgment, Mishra said majority of it held that Muslims failed to prove that the structure was built by Babur in 1528. He also claimed the inscriptions placed at entrance and pulpit of the structure, which Muslims relied on to prove it as mosque were forged. He said they were first seen by a magistrate after 1934.
When the Bench asked how to deal with aspects that there was a structure in the shape of a mosque, Mishra said the structure couldn't be treated as mosque.
"If the construction is in line with Islamic tenets and Islamic law, then only it will be termed as mosque. If it's taken by force, it will be his property and go to heirs and the waqf board would have no role," Mishra said.
He cited various Islamic texts and testimonies of religious experts who had testified as witnesses in the case and said, "A mosque is not valid if it's built on the land of people of another religion." He also said the disputed structure lacked the features of being treated as a mosque.
https://www.siasat.com/babri-masjid-not-built-islamic-law-hindu-body-1600418/
--------
Brothers held for 'abducting', marrying Kashmiri sisters
Aug 30, 2019
PATNA: Two youths from Bihar's Supaul district were arrested on Wednesday for allegedly abducting two Kashmiri girls and marrying them after abrogation of Article 35A on August 5. The girls, stated to be sisters, were recovered from Rambishunpur village in Supaul after locals informed police.
Article 35A bars a woman belonging to J&K from all property rights if she marries a person from outside the state. So, if their marriages were consummated after abrogation of Article 35A, the girls' rights to property cannot be denied. The parents apparently were against this.
Police said brothers Parvez Alam and Mohammad Wasim - both residents of Rambishunpur village in Supaul district - had allegedly eloped with Sania and Naheeda Yusuf. On August 24, the girls' father lodged a case against the youths. Supaul SP Mritunjay Kumar Choudhary said both of them were arrested and booked for kidnapping.
Full report at:
https://timesofindia.indiatimes.com/india/brothers-held-for-abducting-marrying-kashmiri-sisters/articleshow/70901764.cms
--------
Kashmiri doctor stands up for his poor patients
Aug 30, 2019
SRINAGAR: When Dr Omar Shaad Saleem showed up at Lal Chowk on Monday holding a placard with the message, "This is not a protest, this is a request", he felt it was a small risk to take to give voice to the plight of patients losing out on the benefits of the Centre's flagship healthcare scheme in the absence of internet connectivity.
The 38-year-old Kashmiri urologist, who gave up a rewarding career at Mumbai's Jaslok Hospital to serve as a government doctor in his birthplace, told TOI on Thursday that he was allowed to go soon after the cops whisked him away to Kothi Bagh police station.
"They probably feared my presence there with a placard would create a law-and-order problem," he said. "I, on the other hand, thought it would draw the attention of the authorities to the need to immediately restore internet communication in hospitals so that applications for super-speciality treatment under the Pradhan Mantri Jan Arogya Yojana can be processed."
Omar, posted at Srinagar's Government Medical College, comes from a family of philanthropist doctors. He is also married to one. Like him, his gynaecologist wife quit her job at Jaslok Hospital to work at the Lal Ded Maternity Hospital here.
According to Omar, scores of patients visiting his hospital every day for dialysis or chemotherapy have been directly affected by the communication clampdown. "We are unable to swipe the Ayushman Bharat cards, which defeats the whole purpose of having a welfare scheme like this. On several occasions, my colleagues have picked up the tab for poor patients needing these procedures."
Omar's father is an oncologist while his mother is a radiologist. Both run private clinics at Bhagat Barzulla in Srinagar, where underprivileged patients get free treatment and tests.
Full report at:
https://timesofindia.indiatimes.com/india/kashmiri-doctor-stands-up-for-his-poor-patients/articleshow/70901684.cms
--------
In his first after Article 370 revocation, Army chief to visit Srinagar tomorrow
Aug 29, 2019
SRINAGAR: Army Chief General Bipin Rawat is all set to visit Srinagar for the first time since the revocation of Article 370 in Jammu and Kashmir.
During his visit, Rawat will review the security situation and preparedness of security forces in the Kashmir valley.
It is worth mentioning that the Army Chief's visit comes at a time when Jammu and Kashmir governor Satya Pal Malik and ministry of external affairs were stressing that normalcy is returning to the Valley.
On Wednesday, Malik had said that there have been no civilian casualties in Kashmir after the abrogation of Article 370.
"We managed to keep things under control during Panchayat elections, Lok Sabha elections and even now. Every Kashmiri life is valuable to us, we don't want the loss of even a single life. There has been no civilian casualty, only the few who got violent are injured," he said in a press conference here.
He had announced that the government will open 50 new colleges in the region to enhance educational facilities in the Valley.
Full report at:
https://timesofindia.indiatimes.com/india/in-his-first-after-article-370-revocation-army-chief-to-visit-srinagar-tomorrow/articleshow/70899494.cms
--------
Pakistan should look into human rights violations in PoK: Rajnath Singh
Aug 29, 2019
LEH (LADAKH): Defence minister Rajnath Singh on Thursday said that Pakistan should look into the violation of human rights taking so brazenly in PoK instead of making statements on the internal matters of India.
"I would like to ask Pakistan -- when was Kashmir a part of you? Kashmir was always a part of India. Pakistan has illegally occupied PoK including Gilgit-Baltistan. Instead of speaking on Kashmir, it should look into the human rights violations the people are facing in that region," said Singh.
The defence minister, who was addressing a gathering at 26th Ladakhi Kisan Jawan Vigyan Mela organised by the Defence Institute of High-Altitude Research (DIHAR) here, said: "Pakistan was part of India, but we respect its existence. This, however, doesn't mean the neighbouring country could do loose talks about Kashmir."
Singh said that India's stand on Jammu and Kashmir has always been clear, and "Parliament has unanimously passed a resolution on Jammu and Kashmir in February 1994."
Speaking about the sentiments of Ladakh's people, Singh said: "By making Ladakh a Union Territory, the Centre has not only honoured the public sentiment but has provided a solution to the people's problems as well. Prime Minister Narendra Modi's aim is to bring the localised solution to the country's strategic areas."
The defence minister visited the experimental farm of DIHAR where technologies for the production of quality organic fruits and vegetables are being demonstrated. He also inspected the greenhouse technology, soil-less cultivation technology, potato storage technology, and growing melons under cold climatic conditions.
Inaugurating 'Kisan Jawan Vigyan Mela', he said: "The mela provides a platform for interaction between farmers, soldiers and scientists, perfectly imbibing the concept of 'Jai Jawan, Jai Kisan/Jai Vigyan, Jai Anusandhan."
Appreciating the important role played by DIHAR in connecting the soldiers and the society in Ladakh region, he said: "The mela is a big leap towards strengthening the strategic ecosystem of Ladakh."
Singh called upon the scientists at DIHAR to develop a model on 'high altitude survival' that can help the armed forces personnel to brave the harsh and inhospitable conditions and keep their morale high.
Full report at:
https://timesofindia.indiatimes.com/india/pakistan-should-look-into-human-rights-violations-in-pok-rajnath-singh/articleshow/70898849.cms
--------
India proposes dates to finalise pact on operationalising Kartarpur Corridor
Rezaul H Laskar
Aug 29, 2019
India has proposed dates in the first week of September to finalise the agreement on operationalising the Kartarpur Corridor in time for the 550th birth anniversary of Guru Nanak, people familiar with developments said on Thursday.
The meeting on finalising the agreement on the modalities of the corridor, which will link Dera Baba Nanak in India's Gurdaspur district to Darbar Sahib gurdwara at Kartarpur in Pakistan, will be a follow-up to meetings of technical experts, the people said.
The technical-level meetings have focused on finalising the alignment of the temporary road for the corridor, modalities to exchange information about using the corridor, and modalities to cope with emergencies, including medical cases, they said.
"We have proposed dates in the first week of September for a meeting at Attari to finalise the agreement on modalities for the Kartarpur corridor," said a person who didn't want to be named.
The people further said that work on physical infrastructure for the corridor, including the passenger terminal building and highway, is progressing on time. A senior official of the home ministry is chairing regular meetings of the inter-ministerial empowered group to monitor progress and ensure timely implementation of state-of-the-art facilities on the Indian side, they added.
Pakistan's Foreign Office spokesman Mohammad Faisal told a regular news briefing in Islamabad on Thursday that a meeting of technical experts of the two sides will be held at the zero point on the international border on August 30.
"India concurred to Pakistan's proposal and the technical meeting on Kartarpur Corridor is being held on August 30 at the zero point," he said, referring to the point at which the Indian and Pakistani sides of the corridor will converge.
The corridor will facilitate visa-free movement of Indian pilgrims, who will have to obtain a permit to visit Darbar Sahib, built at the spot where Guru Nanak, the founder of the Sikh religion, spent the last years of his life.
Full report at:
https://www.hindustantimes.com/india-news/india-proposes-dates-to-finalise-pact-on-operationalising-kartarpur-corridor/story-EVe1tQebF9fGeKw7XztthM.html
--------
Terror alert: Security beefed up in Ayodhya
August 30, 2019
Ayodhya (Uttar Pradesh): Security is being further beefed up in Ayodhya following intelligence inputs of a possible terror attack.
According to sources, the office of the Director-General of Police (DGP) has asked the Additional Director Generals (ADG) of Bareilly, Kanpur and Prayagraj zones to identify 100 constables each who are 'competent, incorrupt and have a clean image'.
The DGP office has also asked the ADGs to ensure that the selected police personnel are not residents of Ayodhya. These constables will be deployed in Ayodhya, around prominent temples for the next one year.
Full report at:
https://www.siasat.com/terror-alert-security-beefed-ayodhya-1600478/
--------
NIA Apprehends Jamaat-ul-Mujahideen Bangladesh (JMB) Operative From Agartala
August 29, 2019
NEW DELHI: In a breakthrough in the Jamaat-ul-Mujahideen Bangladesh (JMB) India Bengaluru module case, the National Investigation Agency (NIA) on Wednesday said it has arrested one of its operatives from Agartala.
A senior NIA official said JMB operative Najir Sheikh aka Patla Anas, 25, a resident of Murshidabad in West Bengal was arrested from Agartala on Monday.
The official said he was produced before Chief Judicial Magistrate in Agartala on Tuesday and was brought to Bengaluru on transit warrant.
According to NIA, Najir last year was staying in Bengaluru along with other members of JMB such as Jahidul Islam, Nazrul Islam, Asif Ikbal, Arif and others.
An NIA officer said Najir Sheikh and his associates from JMB were actively involved in raising funds by committing dacoities in Bengaluru. "As part of conspiracy they had set up their hideouts at various places in Bengaluru and made preparations to carry out subversive activities by procuring material and equipment for making IEDs," he said.
The arrest of the JMB operative comes days after the anti-terror probe agency in July this year busted a sleeper module of the proscribed JMB in Karnataka and recovered hand grenades and raw material for making improvised explosive devices (IEDs) among other material.
The crackdown on a cell that operated within the jurisdiction of the Soladevenahalli police station in north Bengaluru comes five years after the group carried out the 2014 blasts in West Bengal's Burdwan district in which two people were injured.
In late June this year, the NIA got the first breakthrough as it arrested Habibur Rehman Sheikh, a key figure in JMB, that revealed key aspects of the group's operations. The probe agency then launched a covert operation against the group in Karnataka.
Full report at:
https://www.sentinelassam.com/north-east-india-news/tripura-news/nia-apprehends-jamaat-ul-mujahideen-bangladesh-jmb-operative-from-agartala/
--------
India accuses Pakistan of trying to infiltrate terrorists
29 August 2019
India on Thursday said it has information that Pakistan is trying to infiltrate terrorists into the country to carry out attacks amid rising tensions over New Delhi's decision to abrogate the autonomy of Indian-administered Kashmir.
External Affairs Ministry spokesman Raveesh Kumar told reporters that Indian security forces were prepared to deal with any eventuality.
He was reacting to Indian media reports that cited unidentified Indian intelligence sources as saying Pakistan-trained commandos have entered Indian waters to attack port facilities in western Gujarat state.
He said Pakistan is trying to infiltrate terrorists to create an alarmist situation after New Delhi imposed a lockdown and ended Indian-controlled Kashmir's autonomy early this month.
In Pakistan, military spokesman Maj. Gen. Asif Ghafoor rejected the Indian claims, saying Pakistan was a responsible state and "we would be insane to allow infiltration" across the Line of Control dividing Kashmir between the two countries.
Kumar said Pakistan "has been using terror and cross-border terrorism as a policy. We have continued to highlight that Pakistan has an obligation to take action against terrorist and terror groups operating from its soil."
India accuses Pakistan of training and arming insurgent groups that have been fighting since 1989 for Kashmir's independence from India or its merger with Pakistan, a charge Islamabad denies.
Pakistan says it only provides moral and diplomatic support to these groups.
Full report at:
https://english.alarabiya.net/en/News/world/2019/08/29/India-accuses-Pakistan-of-trying-to-infiltrate-terrorists.html
--------
South Asia
Bangladesh says Myanmar lacks 'will' to repatriate Rohingya
August 30, 2019
DHAKA: Bangladesh on Thursday accused Myanmar of lacking the "will" to repatriate the Rohingya, as the spat between the countries grew over the recent failed attempt to return the stateless minority to their homes.
Nearly a million Rohingya live in squalid camps in southeast Bangladesh, 740,000 of whom fled a 2017 military offensive against the Muslim minority in Myanmar.
A fresh push to repatriate the refugees to Myanmar fell flat last week, with no-one turning up to return across the border to conflict-scarred Rakhine state.
Briefing foreign diplomats in the capital Dhaka, Bangladesh's foreign minister AK Abdul Momen questioned Naypyidaw's resolve in taking back the Rohingya.
He said that Myanmar had failed to "effectively dismantle" the internally displaced person (IDP) camps in Rakhine and resettle people to their original homes.
The lack of action was a "clear manifestation of lack of will on the part of Myanmar to repatriate and integrate these persecuted people", the foreign ministry said in a statement quoting Momen's briefing to the diplomats.
The region remains riven by religious and ethnic conflict.
Myanmar earlier blamed Dhaka for the failure, saying it had not followed correct procedure when distributing so-called "verification forms" to potential returnees – a controversial form of identification that falls short of granting Rohingya citizenship.
Bangladesh retorted saying Myanmar's claims were baseless.
The two countries signed an agreement in November 2017 to send back all Rohingya who had fled to Bangladesh in the past two years.
The first repatriation offer was rejected by refugee camp leaders in October.
The Rohingya are not recognised as an official minority by the Myanmar government, which considers them Bengali interlopers despite many families having lived in the country for generations.
https://www.freemalaysiatoday.com/category/world/2019/08/30/bangladesh-says-myanmar-lacks-will-to-repatriate-rohingya/
--------
23 militants including 3 IS fighters give up fighting in E. Afghanistan
2019-08-29
JALALABAD, Afghanistan, Aug. 29 (Xinhua) -- A total of 23 anti-government militants including three armed insurgents affiliated with the Islamic State (IS) group and 20 Taliban have given up fighting and handed over their weapons to police in Afghanistan's eastern Nangarhar province, a statement of provincial administration said here on Thursday.
According to the statement, three IS insurgents surrendered to local authorizes and handed in their weapons to police on Wednesday.
Similarly, 20 militants loyal to the Taliban outfit have given up fighting and joined the government-backed peace process in Nangarhar's provincial capital Jalalabad on the same day Wednesday, the statement added.
According to the statement, the former militants were involved in anti-government activities in Khogiani, Chaparhar, Shinwar and Momandara districts over the past couple of years and their decision to give up fighting would pave the way for stabilizing peace and security there in the area.
Neither IS nor Taliban outfit has made comments on the report yet.
Full report at:
http://www.xinhuanet.com/english/2019-08/29/c_138347792.htm
--------
Afghan Forces Still Unable to Counter Violence Alone, Joint Chiefs Chairman Says
By Helene Cooper
Aug. 28, 2019
WASHINGTON — Afghanistan's security forces are not yet able to deal with violence in the country on their own, the top American military officer said Wednesday, laying bare one of the biggest challenges facing administration officials as they try to hammer out a peace agreement with the Taliban that could lead to the withdrawal of American troops.
During a rare news conference at the Pentagon, Gen. Joseph F. Dunford Jr., the chairman of the Joint Chiefs of Staff, said he was not ready to use terms like "withdrawal" when discussing the American troop presence in Afghanistan at this point in the peace negotiations.
"Right now, it's our judgment that the Afghans need support to deal with the level of violence today," General Dunford said. "If an agreement happens, that could change."
But he noted: "I'm not using the 'withdrawal' word right now. I'm using 'We're going to make sure that Afghanistan is not a sanctuary, and we're going to try to have an effort to bring peace and stability to Afghanistan.'"
The general said that he had "long known that what's going to be required is a negotiated peace settlement." But that included a caution, as General Dunford indicated that some wariness existed at the Pentagon that the peace negotiations might lead to a pullout of the 14,000 American troops there before Afghanistan's own security forces could succeed without American help.
In recent months, the American military has been taking a more aggressive role in the Afghan conflict. That has led to a higher death toll among American troops this year — 14 so far in 2019, after 13 last year and 11 in 2017. Last week, two American soldiers from a Special Forces unit were killed carrying out an operation in the restive province of Faryab in the north.
Afghan forces, for their part, are being killed at a rate of around two dozen a day.
Mark T. Esper, President Trump's new secretary of defense, appeared alongside General Dunford at the news conference. It was the first such televised news conference by a defense secretary at the Pentagon in a year; the last one was held in August 2018 by Jim Mattis, who resigned in December.
Building workers were sprucing up the press briefing room on Tuesday, and Mr. Esper began the news conference by promising that he would resume the sessions, which had all but disappeared after the turmoil of Mr. Mattis's resignation and the implosion of the nomination of Patrick M. Shanahan, initially selected to succeed Mr. Mattis.
Mr. Esper and General Dunford addressed a range of matters, including Yemen and Syria. But Afghanistan was the topic that they kept returning to, as reporters sought clarity on how, and how soon, the United States might end the longest war in the country's history.
After eight rounds of talks in Doha, Qatar, the United States and the Taliban have inched closer to a deal that would include a timeline for the withdrawal of American forces, coupled with an agreement by the Taliban to sit down with other Afghans to chart the country's future.
While the United States military has appeared to want to maintain some sort of a residual counterterrorism force in the country that can work to prevent Afghanistan from again becoming a terrorist haven, the Taliban have repeatedly said that they would not accept anything less than a schedule for full withdrawal. At the same time, Afghan government officials have deep concerns that they are being left out of the process, and could be vulnerable once the United States strikes a peace deal with the Taliban.
Full report at:
https://www.nytimes.com/2019/08/28/world/middleeast/dunford-afghanistan-peace-talks.html
--------
Nato to back Afghan forces after peace deal: Envoy
Aug 29, 2019
KABUL: Nato Senior Civilian Representative for Afghanistan, Nicolas Kay, said that international forces will remain in Afghanistan even after a peace agreement in order to support the national defence and security forces.
Addressing the Model United Nations meeting in Kabul on Wednesday, Kay said Nato will also help the Afghan government and the country's election management body in holding the presidential election scheduled for September 28, TOLO News reported. Kay said there is a need for Nato military presence in Afghanistan until all threats are eliminated from the country. "Let me assure you very very clearly, Nato is not leaving, Nato is committed to staying and supporting Afghan national defence and security forces," the envoy said.
While Washington's peace efforts with the Taliban have raised scepticisms on whether the Afghan presidential election will be held in the specific timeline, the Nato envoy said the alliance will fully support Afghans to conduct the polls. "Let me be clear on the Nato position, our Nato task is to support the security for the elections, and we are supporting Afghan national security and defense forces prepare for elections on the 28 of September," he said.
He also said that the alliance will work together with Afghans to protect the gains the country has made in its strides towards democracy such as human rights, civil liberties, women's rights, strengthening of the role of women and the youths in the peace process. Kay's comments come on the same day the Taliban said they were close to reach an agreement with the US as the two sides continued their negotiations in Qatar on peace in Afghanistan.
Full report at:
https://timesofindia.indiatimes.com/world/south-asia/nato-to-back-afghan-forces-after-peace-deal-envoy/articleshow/70888359.cms
--------
Afghan Special Forces kill 4 Taliban militants in Kabul, destroy a weapons cache
29 Aug 2019
The Afghan Special Forces killed 4 Taliban militants during an operation in capital Kabul, the military sources said Thursday.
The sources further added that the Special Forces conducted the operation in Paghman district of Kabul.
Furthermore, the sources said the Special Forces also destroyed a small cache of weapons during the same operation.
Full report at:
https://www.khaama.com/afghan-special-forces-kill-4-taliban-militants-in-kabul-destroy-a-weapons-cache-03893/
--------
Student among 6 rescued from a Taliban prison in Ghazni province
30 Aug 2019
The Afghan Special Forces conducted an operation in south-eastern Ghazni province and released six people from a Taliban prison.
The Special Operations Corps said in a statement that the Special Forces conducted the raid in Geru district on Thursday night.
The statement further added that the Special Forces rescued six people from a Taliban prison.
Furthermore, the Special Operations Corps said a student, an intelligence operative, a policeman and three civilians were among those rescued.
Full report at:
https://www.khaama.com/student-among-6-rescued-from-a-taliban-prison-in-ghazni-province-03898/
--------
Afghan and U.S. forces kill, wound 33 Taliban militants in Ghazni province
29 Aug 2019
The Afghan and U.S. forces conducted separate operations in Ghazni province killing or wounding at least 33 Taliban militants.
The 203rd Thunder Corps said in a statement that the Afghan Air Force conducted an airstrike in Asfandi area of Ghazni city which killed 4 Taliban militants and destroyed an 82mm rocket launcher, a PKM machine gun and two motorcycles.
The statement further added that the security forces conducted separate operations in Khwaja Omari district and killed 6 Taliban militants.
Furthermore, the 203rd Thunder Corps said the security forces also wounded 10 Taliban militants during the same operations.
Meanwhile, the 203rd Thunder Corps said the U.S. forces also conducted an airstrike in Deh Yak district which killed 7 Taliban militants, wounded 6 others and destroyed 2 motorcycles.
Full report at:
https://www.khaama.com/afghan-and-u-s-forces-kill-wound-33-taliban-militants-in-ghazni-province-03896/
--------
U.S. airstrikes kill, wound 11 Taliban and ISIS militants in Kunar
29 Aug 2019
The U.S. forces conducted airstrikes in Kunar province which killed or wounded 11 Taliban and ISIS militants.
The 201st Silab Corps said in a statement that the U.S. forces conducted the airstrikes in Pech Dara, Suki and Noor Gul districts on Wednesday.
The statement further added that the airstrikes killed 5 ISIS militants and wounded 3 others.
Futhermore, the 201st Silab Corps said the U.S. forces conducted another airstrike in Manogi district of Kunar which wounded 3 Taliban militants.
The 201st Silab Corps also added that the airstrikes did not inflict casualties on local residents.
Full report at:
https://www.khaama.com/u-s-airstrikes-kill-wound-11-taliban-and-isis-militants-in-kunar-03895/
--------
Arab World
Applying for Saudi entertainment license simplified with new online system
August 30, 2019
RIYADH: Saudi Arabia's General Entertainment Authority has launched a new online system to simplify the process for applying for entertainment licenses. Investors and other interested parties gathered on Wednesday at a special launch event to find out more about the new application portal and the range of licenses recently introduced.
"The purpose of offering this range of licenses is to encourage investment in the entertainment sector, which is a vital and promising sector," said Sultan Al-Fakeer, the GEA's chief operations officer. He added that the new online platform offers a clear and simple system through which to apply for the licenses.
The permits are part of the efforts the Kingdom is making to stimulate investment in the entertainment sector and enhance economic activity to help achieve the strategic objectives of Vision 2030. The GEA this year introduced entertainment seasons in each city and region and is encouraging local investors and small and medium businesses to participate. The online license-application portal is part of the efforts being made to make this as easy as possible.
Hundreds of investors and others with interests in the entertainment sector, including stakeholders from the government and private sectors, attended the Invest in Entertainment event on Wednesday at the Riyadh International Convention and Exhibition Center. It offered them a chance to network and build contacts, and GEA officials were on hand to explain the new online licensing system and the procedures for obtaining permits. These cover a wide range of entertainment-related activities and venues, including live shows and performances, events, theme parks, entertainment centers, leisure facilities, live entertainment in coffee shops and restaurants, organizing and managing crowds, selling tickets, talent management and operating entertainment facilities.
"With this exhibition, we created a speed networking meeting format to accelerate business contacts and exchange information for future cooperation," said Al-Fakeer. "There are plans to take this exhibition to other cities in the Kingdom during the coming year."
Most of the investors invited to the information and networking event were from Saudi Arabia, he said.
"Another exhibition will be launched soon for both Saudi and foreign investors to attract international and local investments in Saudi Arabia," Al-Fakeer added.
Siham Hassanain, the president and founder of Siham International Trading Company, said she took part in the event to connect with investors, as her goal is to create an international Saudi brand operating to the highest of standards.
"We have been in the market for 11 years," she said. "Our head office is in Jeddah and we specialize in restaurants, catering and branding. We focus on creating local restaurants following international standards."
Hassanain — whose brands include restaurants Zodiac Cuisine and Kooz Karak, and nail spa Milk and Butter — said that she was happy to attend the event because working with the GEA as part of Jeddah Season had been a positive experience for her company.
She added that she will also be participating in Riyadh Season, and her first restaurant in London is due to open next month.
https://www.arabnews.com/node/1547251/saudi-arabia
--------
Saudi Arabia donates $2m for food security among Muslim countries
August 29, 2019
JEDDAH: Saudi Arabia is to pump $2 million (SR7.5 million) into efforts to improve agricultural output and food security among Muslim countries.
The Kingdom's Minister of Environment, Water and Agriculture Abdulrahman Al-Fadhli, who is also chairman of the general assembly of the Islamic Organization for Food Security (IOFS), said the contribution was aimed at enhancing the organization's work and the adoption of food security strategies by all its member countries.
Al-Fadhli's announcement of the funding came during the second session of the IOFS' general assembly in Jeddah. The minister said that Saudi Arabia attached great importance to agricultural development, environment and food security in all its policies relating to national, regional and global food security.
Secretary-General of the Organization of Islamic Cooperation (OIC) Dr. Yousef Al-Othaimeen said that the organization was working to implement a comprehensive policy to develop agricultural products and food security and improve Islamic environmental cooperation in the food and agriculture sectors.
He added that food security was one of the highest priorities of the OIC, particularly as the economies of most of its member states were based on agriculture, with the sector accounting for about 12 percent of their GDP.
Full report at:
https://www.arabnews.com/node/1547011/saudi-arabia
--------
Pakistan's ambassador to OIC meets with Secretary General to discuss Kashmir
August 29, 2019
JEDDAH: Raja Ali Ejaz, ambassador and permanent representative of Pakistan to the OIC called on the Secretary General of Organization of Islamic Cooperation (OIC) on Wednesday at the OIC Headquarters in Jeddah.
The ambassador handed over a letter from the Foreign Minister of Pakistan to the OIC Secretary General.
The ambassador briefed the Secretary General on the latest developments on the ground in Indian Occupied Jammu & Kashmir and the tense situation in the region.
The Secretary General reiterated OIC's principled position on the issue of Jammu and Kashmir and assured of his full support to Pakistan and the Kashmiris.
Full report at:
https://www.arabnews.com/node/1546956/saudi-arabia
--------
Syrian Army Presses On in Idlib Province as Death Toll Rises
Aug. 29, 2019
BEIRUT — Syrian government forces pressed ahead with their military offensive in Idlib, seizing a cluster of villages on the southeastern edges of the province on Thursday as the overall civilian death toll from the campaign rose further.
The government-controlled Syrian Central Military Media said troops captured three small villages in the area, as they continued their assault with the next target appearing to be the rebel-held town of Maaret al-Numan, which lies near the Damascus-Aleppo highway.
Last week, the troops captured the town of Khan Sheikhoun, which also sits on the highway.
Idlib is the Syrian opposition's final stronghold in the country, and President Bashar Assad's forces, backed by Russia, are determined to recapture it. For now, their main aim is to reopen the M5 highway and they have been pounding towns and villages that lie near that route. Opening the highway would cut the trip between the country's two largest cities by two hours.
The opposition Syrian Civil Defense group of first responders said airstrikes on Maaret al-Numan on Wednesday killed 12 people and wounded 34. The group, also known as the White Helmets, released a video showing the rescue operations. In the footage, bodies can be seen trapped in a collapsed building after it was targeted by jets.
The Britain-based Syrian Observatory for Human Rights, a war monitoring group, also reported 12 deaths, including two women and six children, and said 30 people were wounded.
The U.N. says that over 550 civilians have been killed and over 400,000 people displaced from northern Hama and southern Idlib provinces since the offensive on Idlib began in late April. Almost half of those displaced, some of them multiple times, live in camps and reception centers in the open air or under trees.
U.N. spokesman Stephane Dujarric said that "satellite imagery shows entire towns and villages have been razed to the ground, while dozens of communities have been emptied."
He called on the warring parties to ensure the safety of civilians as clashes, shelling and airstrikes escalate.
Full report at:
https://www.nytimes.com/aponline/2019/08/29/world/middleeast/ap-ml-syria.html?searchResultPosition=1
--------
Air strikes hit rebel-held northwest Syria, nine killed
AUGUST 28, 2019
BEIRUT (Reuters) - Jets believed to be Syrian or Russian on Wednesday struck a main rebel-held city in northwest Syria, killing at least nine civilians, in stepped up strikes on the last rebel bastion in that part of the country, residents and rescuers said.
The air strikes hit Maarat al-Numan, from which tens of thousands of people have fled in the last two weeks fearing an imminent assault by advancing Russian-backed Syrian troops.
Residents said heavy air strikes hit other villages and towns in Idlib province. One hit a market in the city of Saraqeb, causing injuries and extensive damage to a main residential area.
Syrian President Bashar al-Assad's forces, backed by Russian air power, have been waging an offensive in the Idlib region, the last remaining rebel-held territory in Syria's war. Much of the region is controlled by jihadists linked to the former Nusra Front, which was linked to al Qaeda.
Russian and Turkish forces in northern Syria - allies of opposing sides in the civil war but partners in a ceasefire agreement - have been brought closer than ever to direct contact on the ground as the Syrian government presses ahead with its months-long campaign.
Turkish President Tayyip Erdogan talked to U.S. President Donald Trump on the phone late on Wednesday and discussed latest developments in Syria. The two leaders decided to continue cooperation to protect civilians in Syria's Idlib region, Turkey's state-owned Anadolu news agency said.
Earlier air strikes hit rebel positions near a Turkish military post in Sher Maghar village at the edge of Hama and Idlib provinces, where the army has attacked rebels, according to activists and a senior Turkish security source.
There were heavy clashes between Syrian government forces and fighters about 500 meters (yards) from the Turkish observation post, the Turkish source told Reuters, adding Turkish soldiers were not affected.
'DEFUSE TENSIONS'
President Vladimir Putin said on Tuesday that Russia and Turkey had agreed steps to tackle militants in northwest Syria and "normalize" the situation there.
Putin and Erdogan held talks in Moscow after Syrian army troops encircled another Turkish military post in the town of Morek earlier this month.
A senior opposition official in touch with the Turkish military said Russian special forces had taken up positions around the Morek outpost to prevent any possible flare-up in the event the Syrian army attacks.
"The Russian presence around Morek is to defuse tensions between the Syrian regime and the Turks," the official, who requested anonymity, told Reuters.
The Russians would protect the Turkish observation post while preventing the Turkish military from responding to any attack, the official said. Turkey has retaliated against previous attacks on some of its 12 posts in Idlib and northern Hama.
Turkey has set up 12 observation posts in northwest Syria since reaching a deal with Moscow and Tehran two years ago. Another deal reached last year creates a buffer zone and a ceasefire in the area.
Another rebel source in the area said a Turkish military team was touring the Aleppo-Latakia highway in a reconnaissance mission as part of preparations for a new observation post.
Full report at:
https://www.reuters.com/article/us-syria-security-turkey/air-strikes-hit-rebel-held-northwest-syria-nine-killed-idUSKCN1VI16B?il=0
--------
Baghdad's crackdown on Iran-allied militias faces resistance
AUGUST 29, 2019
John Davison, Ahmed Rasheed
BAGHDAD (Reuters) - At checkpoints leading into the northern Iraqi city of Mosul, the flags of Brigade 30, a paramilitary force, still fly nearly two months after the Baghdad government ordered all militias to leave.
Prime Minister Adel Abdul Mahdi's decree gave Iran-backed paramilitary groups, which have wielded increasing power in Iraq, a month to fully integrate with the armed forces, leave checkpoints and sever ties with political groups.
Brigade 30's refusal to abandon its positions on the eastern edge of Mosul — instead it cut off roads and whipped up angry protests — underlines Baghdad's struggle to assert its authority and raises the risk of further instability in a region marked by U.S.-Iranian rivalry.
Washington warned this year it would take action against Iran-backed militias if Baghdad failed to control them, and imposed sanctions on groups and their leaders, including Brigade 30's Commander Waad Qaddo. It blamed paramilitaries for attacks on bases hosting U.S. forces in May.
Tension ramped up in the past month when alleged Israeli air strikes hit weapons depots and bases of paramilitary factions in western and central Iraq. Israel has hinted it was involved but has not explicitly said so. The Israeli military declined to comment.
Paramilitaries in turn accuse the United States of helping Israel attack their positions, and have threatened to retaliate.
The Pentagon denies involvement. No evidence has been provided for the mutual allegations.
Rivalry between Iraq's two biggest allies, Tehran and Washington, has put the region on edge this year. Oil tankers in the Gulf have been attacked and Israel has bombed Iranian allies in Syria.
If Iraq cannot rein in its paramilitary groups, which have more than 100,000 members, there could be further violence, Iraqi officials and analysts say.
In parts of Salahuddin province, north of Baghdad, flags of some factions still fly at checkpoints and paramilitaries man roadblocks in neighboring Anbar province.
The armed groups dominate local security in some towns and cities across the country, especially territory formerly occupied by Islamic State (IS) militants. Their allies, meanwhile, occupy parliamentary seats, exercising new political strength that has deepened their influence on the government.
"Abdul Mahdi failed ... to make a small group leave its positions near Mosul. It raises the question, what could he do against more powerful Iran-backed groups?" said Baghdad-based security analyst Jasim al-Bahadli.
The prime minister's office did not respond to a Reuters request for comment. In an interview with local journalists broadcast on Aug. 9, Abdul Mahdi said the integration was complicated and would take more time.
PARAMILITARY POWER
The Popular Mobilisation Forces (PMF) - Iraq's umbrella grouping of mostly Shi'ite Muslim paramilitaries backed by Iran - played a key role defeating IS and formally became part of the armed forces last year, reporting to the prime minister.
In Baghdad, its influence is growing through new senior military appointments, security sources and analysts say.
A commander from one PMF group was appointed inspector-general of the defense ministry this month.
The retirement in May of the military's Mosul commander - a U.S. ally since the fight against IS - has made it easier to resist government efforts to bring paramilitaries in line, sources with knowledge of the appointments said.
Abdul Mahdi set a July 31 deadline for PMF factions to integrate with the armed forces, including handing over roadblocks.
PMF chief Falih al-Fayyadh said last month most factions were already complying. A PMF spokesman declined to comment for this story. The U.S. Department of Defence did not respond to a request for comment.
LEVERAGE
Analysts say Brigade 30, like other groups that took territory in northern Iraq as they fought IS, is reluctant to give up power.
The faction, controlled by Iraq's Shi'ite Shabak minority, is one of a number of paramilitary groups in Iraq's northern Nineveh province believed to control parts of the local economy. The PMF has denied its members are involved in trade..
"Brigade 30 have gained quite a bit of leverage in Mosul ... they feel like they made some good gains during the fight and are now being told to give up major checkpoints," said Renad Mansour, a research fellow at Chatham House.
Commander Waad Qaddo's office declined to comment. Washington placed him on a sanctions list in July over alleged human rights abuses and corruption.
In response to Abdul Mahdi's decree, Qaddo's group bulldozed dirt barriers onto a highway leading into Iraq's second-largest city in early August. Supporters blocked roads and burned tires as the army stood by.
Demonstrating the group's political heft, the PMF's top leadership negotiated joint checkpoint control between Brigade 30, the army and local officials.
Supporters said abandoning checkpoints could leave the Shabak open to the same abuse and killings minorities suffered at the hands of the Sunni extremist IS in Sunni Arab majority Mosul.
"We'll stay in the area to protect our people," pro-PMF lawmaker Qusay al-Shabaki said.
Mosul lawmakers and security sources say the episode showed how easily one faction could oppose the government, even as the PMF says it is obeying the prime minister.
Full report at:
https://www.reuters.com/article/us-iraq-militias-usa/baghdads-crackdown-on-iran-allied-militias-faces-resistance-idUSKCN1VJ0GS?il=0
--------
Syrian army, allied forces retake more terrorist-held towns in Idlib
Aug 30, 2019
The Syrian army and its allied forces have made major gains in the northwestern Idlib province, pushing deeper into the last stronghold of Takfiri terrorists and foreign-backed militants.
Syrian government troops have managed to liberate the towns of Khwain, Zarzoor and al-Tamanah in southern Idlib, opposition sources and residents said on Friday.
Opposition activists claim they have seen probably Russian jet fighters flying at high altitudes, dropping bombs on the outskirts of Idlib, assisting the ground forces in retaking the strategic city.
They also claim the Syrian army has recently been reinforced by hundreds of troops from the elite Syrian Republican Guards, led by President Bashar al-Assad's brother, and fighters from the Lebanese resistance movement, Hezbollah.
The new lineup of Syrian troops facing a coalition of the Takfiri terrorists and mainstream Turkey-backed militants has been credited with the "rapid progress" achieved in the last few weeks, an army defector and two senior opposition sources conceded.
The fresh gains came one week after the army seized control of a pocket of territory in the northwestern province of Hama from militants who had held it since the early years of the war.
Since last Friday, the Syrian troops have pushed deep into a cluster of towns and their environs in the Hama countryside, encircling the militants and a Turkish military post there, shortly establishing control over the strategic town of Khan Shaykhun in Idlib.
Large parts of Idlib Province, occupied by the foreign-backed terrorists since 2014, and parts of Hama constitute the last major militant stronghold in Syria.
Full report at:
https://www.presstv.com/Detail/2019/08/30/604843/Syria-offensive-retake-idlib-militants
--------
Southeast Asia
World Bank says 'no indication' China misused loan for Uighur schools
August 30, 2019
WASHINGTON: The World Bank said Thursday it is again reviewing a loan to China to provide vocational education to the Muslim Uighur minority, but has "no indication" the funds were used for anything other than schooling.
China's treatment of the Uighurs – a mostly Muslim, Turkic-speaking minority concentrated in the country's tightly-controlled northwestern Xinjiang region – has come under growing scrutiny.
Foreign Policy magazine reported Wednesday that the US$50 million World Bank loan to China was used to buy "barbed wire, gas launchers, and body armour."
But the bank said its previous twice-yearly reviews have not shown any evidence of that.
"There is no indication from these missions that World Bank resources made available to the schools were used for any other purposes than those agreed to under the project," the bank said in a statement.
"Nevertheless, based on recent claims, we are conducting an additional review led by a diverse team of experts… If action is warranted, we will take it."
Earlier this month the US Congressional-Executive Commission on China sent a letter to World Bank President David Malpass expressing concern and raising questions about how the funds were used.
"A growing body of convincing and credible evidence indicates mass internment camps are centers for social control and political indoctrination," said the letter signed by US Representative James McGovern of Massachusetts and Florida Senator Marco Rubio.
"In these camps, Chinese authorities mistreat and torture detainees while requiring them to engage in forced labour, and to renounce their religion and culture," adding that the actions "may constitute crimes against humanity."
The loan was approved in 2015 for vocational schools to help improve the lives of ethnic minorities. The congressional letter said the funding was approved "before the advent of widespread mass internment camps."
Rights groups and experts say more than one million mostly Muslim ethnic minorities have been interned in re-education camps in Xinjiang.
China initially denied the existence of the camps before admitting to running what it called "vocational education centers," which it presented as necessary to combat religious extremism and boost employment.
Last month, Beijing said, "most" of those being held had now returned home, without providing details.
https://www.freemalaysiatoday.com/category/world/2019/08/30/world-bank-says-no-indication-china-misused-loan-for-uighur-schools/
--------
219 former Philippine Muslim rebel fighters turn peacekeepers
August 30, 2019
MANILA: Clad in green army uniform, 219 ex-members of the Moro Islamic Liberation Front (MILF) turned peacekeepers after finishing their basic training with the police and military at Camp Lucero in North Cotabato.
After decades fighting government forces in fierce battles, the new recruits will now work alongside their former foes in the country's volatile south.
With the rank of reservists, they will form part of the Joint Peace and Security Team (JPST) tasked with the job of maintaining law and order in MILF communities and camps during the decommissioning of 40,000 members of the Bangsamoro Islamic Armed Forces (BIAF) and their firearms.
The BIAF is the armed wing of the MILF, and the decommissioning program is being carried out under the terms of a 2014 peace accord between the Philippine government and the rebel group. The training of the former combatants to become peacekeepers was part of the agreement.
Their training started on Aug. 1 and culminated in a graduation ceremony held on Tuesday at the headquarters of the 602nd Infantry Brigade, in Camp Lucero.
Addressing the new recruits at the graduation event, Eduard Guerra, minister of finance, budget and management for the Bangsamoro Autonomous Region in Muslim Mindanao (BARMM), said: "This is a historical moment. You are now part of history … You are now officially declared as officers of peace and security, not only for Bangsamoro but the entire country.
"You will be the first batch of the JPST to be deployed where you will be joining your comrades from the PNP (Philippine National Police) and contingents from the army."
He pointed out their important role "in this critical stage of decommissioning," saying they would be "the ones to protect and secure our (MILF) communities."
Congratulating the former BIAF members, Guerra said: "You really persevered in your training. Keep that perseverance in your hearts and minds."
Maj. Gen. Diosdado C. Carreon, commander of the 6th Infantry Division (6ID) based in Maguindanao province, also addressed the ex-guerrillas and said: "When I shook hands with each of you at the start of your training, you were then wearing blue jeans, rubber shoes, and T-shirts. Today the uniform you are wearing is no different from mine. We are no longer different; we are now one.
"That means you are now legitimate members of the Armed Forces of the Philippines. I put emphasis on the values as to how this could help you relearn the basics and assess yourselves both in terms of knowledge, concepts, and application of combat skills," Carreon added.
Bravery medal recipient, Lt. Gen. Cirilito E. Sobejana, commander of the Western Mindanao Command (Wesmincom), hailed the former MILF fighters for turning into ambassadors of peace. "It was a month-long training ... here in this military camp that was once a battlefield but now a haven for all of us.
"You are an important milestone in the history of the BARMM. Your role will be as important as that of every member of the security forces."
As well as their JPST work, the reservists will also help in the country's fight against terrorism and illegal drugs in the region.
Sobejana later told Arab News that he was "very, very happy" to welcome the former MILF fighters into their ranks. The commander said: "I think I'm the happiest person, because I have been fighting this war (the insurgency in Mindanao) for more than three decades and it almost cost my own life.
"I almost died in Basilan (a city in the Philippines) 24 years ago, but despite my wounds I am not angry at all because I turned my wounds into wisdom.
"I really expect that we can put an end to the security challenges not only here in the Bangsamoro region but across Mindanao, because it is here where bombings in different areas start. So, if we can cut the source of hostilities, I think there will finally be peace in this part of the country," Sobejana added.
The military chief revealed that Camp Lucero, where Tuesday's graduation ceremony took place, was named after his classmate, Capt. Lucero, who was killed during clashes with MILF fighters at the Mal-Mar dam in Carmen town in April 1996.
Sobejana stressed the need for trust on all sides and encouraged qualified former BIAF members to enroll on the army candidate training course to become regular troopers. "They are rebels no more. They are now one with us," he said.
Abdulrasid Batunan, the most senior of the military training graduates, wants a lasting peace in his homeland. A MILF fighter from an early age, Batunan said he now wanted to forget the bitter memories of battle and hoped for peace and development in the Bangsamoro region.
Full report at:
https://www.arabnews.com/node/1547196/world
--------
Isma: Onus on govt, Muslim leaders to reeducate SIS members on Islam
29 August 2019
BY JERRY CHOONG
KUALA LUMPUR, Aug 29 — The government should take decisive action against progressive Islamic NGO Sisters in Islam (SIS) and make the effort to bring its members back into the proper fold of the faith, said the Majlis Ulama Isma (MUIS).
The religious division of the right-wing group said SIS' deviant teachings in causing damage to the basics of the faith are already well-known.
"Their stance in supporting lesbians, gays, bisexuals, and transgenders, rejecting the necessity of wearing the tudung, trivialising fatwas, rejecting hudud law, encouraging the use of the Kalimah Allah in the Bible, and other deviancies, is a clear indication of their consistency in dismantling the principles of Islamic Shariah," said MUIS chairman Mohd Soberi Awang in a statement.
He thanked the High Court in Kuala Lumpur for rejecting SIS' challenge of the Selangor Fatwa Committee's decision, where it declared the organisation as deviant.
"Therefore MUIS calls upon both the federal and state governments, as well as Muslim political leaders, to act sternly in accordance to the fatwa.
"Every MP and assemblyman should stay true to the Yang di-Pertuan Agong's recent message to preserve Islam all the time. The stern action towards SIS should include counselling sessions to rectify the understanding of the faith among them," Mohd Soberi said.
It is vital for the ulama and leaders to stand together in preserving Malaysia as an Islamic nation, wherein the leaders place the ulama as a source of guidance in making policies or taking stances, particularly where it concerns the interests of the Muslims.
"So too should the Muslim community in general place issues related to Islam as the basis in which there is harmonious accordance. Differences in politics or other matters should not lead to a compromise of Shariah basics," he said.
On Tuesday, the High Court rejected the challenge against the fatwa, issued in 2014, which declared it as deviant.
Full report at:
https://www.malaymail.com/news/malaysia/2019/08/29/isma-onus-on-govt-muslim-leaders-to-reeducate-sis-members-on-islam/1785549
--------
Database preserves Indianapolis' Muslim history
Aug 30, 2019
The internet is permanent. Future generations will have access to what modern-day people post, making the internet an important resource for studying history. Last month IUPUI took advantage of the internet's permanence by publishing the Indianapolis Imam Warith Deen Muhammad Community Collection, a free database preserving mementos of Indianapolis' Muslim community.
"We are capturing information that otherwise would just go to the dust," Michael Saahir, Imam of Nur-Allah Islamic Center, said.
Dr. Edward Curtis, professor of religious studies at IUPUI, got the idea for the collection from the trend of academic institutions creating online databases that are free and open to everyone. He believed such a collection could preserve the nearly 100-year history of Muslims in Indianapolis, so Curtis successfully pitched the idea to IUPUI. The collection currently has 1,336 entries, including letters, photographs and 3D scans of clothing, with some entries such as banquet books that are 15 to 20 pages long.
"I have a longstanding relationship with this community, and together we sat down, and we talked about making the historical sources of the study of their lives available to the whole world, and they were excited about it," Curtis said.
From May 2018 to June 2019 Curtis and IUPUI University Library collaborated with Saahir and the local Muslim community to collect artifacts. Sometimes community members gave items to Saahir or Curtis, and other times Saahir hosted donation drives at a local mosque. Then library employees scanned the items, entered them into the database and returned them to their owners. Jennifer Johnson, digital scholarship outreach librarian and interim co-director for the center for digital scholarship at the library, said because local members of the Muslim community chose what items to contribute, they were the curators of their own collection
"IUPUI University Library has been working with community and cultural heritage institutions since 2006," Johnson said. "Since IUPUI is a fairly young university, we don't have a lot of stuff, so we coined the term, 'We have the technology, and they have the stuff.'"
Curtis said the collection's coolest item is a 3D scan of a Fruit of Islam jacket, which signified membership in the paramilitary branch of the Nation of Islam, from the 1970s. The scan allows viewers to see every inch of the jacket's inside and outside from the creases to the crescent moon and star patches on the shoulders.
Getting the jacket was initially difficult. Saahir said the jacket's owner was hesitant to lend it because he, like others in the local Muslim community, feel outsiders control the story of Muslims in America more than they do. The owner worried IUPUI would take control of the narrative of Muslims in Indianapolis away from Muslims in Indianapolis.
Saahir changed the man's mind when he showed him how IUPUI ran the database. Not only did staff promptly return donations but they also consulted with the community on how to describe each item. Saahir said this convinced many people, including the jacket's owner, to trust IUPUI.
"For the Muslim community one of the biggest beauties of this project was IUPUI did not dictate to us what could and what could not be included, how it would be described or even the key search words," Saahir said. "So often one of the biggest fears of smaller groups and minority groups is the bigger society depicts and describes them. We had none of that here."
Curtis said the database will be an important historical record both for Muslims in Indianapolis and scholars studying the history of Islam in America, but he's also excited for people who are not Muslim or scholars to use the database. He believes as people see the obituaries, letters and photos of celebrations they will learn that American Muslims are regular people.
Full report at:
http://www.indianapolisrecorder.com/news/article_2f4bc13c-ca5e-11e9-ad78-9b96cc4a968c.html
--------
Lawyers split on implications of court ruling against SIS
Vinodh Pillai
August 30, 2019
PETALING JAYA: Lawyers are divided on a claim that a recent ruling dismissing Sisters in Islam's (SIS) challenge of a fatwa against the Muslim women's rights group will have far-reaching implications as far as the tentacles of Islamic laws are concerned.
The High Court, in throwing out SIS' challenge against a fatwa labelling it as deviating from Islamic teachings, disagreed with the group's argument that state religious authorities have no power over it as it is registered as a company.
"The company and directors of SIS Forum are Muslims, and their activities relate to Islamic laws. The fatwa is applicable," said High Court judge Nordin Hassan.
In response, activist Marina Mahathir criticised the judgment as "backdoor shariah-sation" of Malaysia laws.
She also said the ruling meant that any company that has Muslims in it, including directors, shareholders and staff, can come under shariah jurisdiction.
But lawyer and rights activist Kuthubul Zaman Bukhari said the court decision only affects SIS.
"In my opinion, it doesn't affect Muslim directors in other companies," said the former Bar Council president who also chaired the council's shariah law committee.
However, he said Muslims who carry out similar activities as SIS may be affected by the decision.
Lawyer Lim Wei Jiet said the court ruling appears to give Islamic authorities a say in the regulation of companies, which are subject to non-shariah laws.
"The idea that a corporate entity – a non-person – can be subjected to Islamic laws and declared a 'deviant' could lead to very negative consequences," he told FMT.
"This is contrary to the secular fabric of the country, in which Islam is only supposed to function within the personal domain."
Lim also asked how a company can be determined as "Muslim enough" to be subject to Islamic law.
He asked what would happen if a non-Muslim holds shares on trust for a Muslim shareholder.
"The permutations are endless, and this Pandora's box shouldn't have been opened in the first place."
Kuthubul Zaman agreed that the High Court ruling contravened the constitutional right to freedom of religion.
"A company is governed by the Companies Act. A fatwa cannot override an act of Parliament or the constitution, the supreme law of the land."
Shariah lawyer Nizam Bashir said it is premature to draw conclusions on the ruling.
He said the ruling only means that the judicial review of the fatwa against SIS was not successful.
"Of course, as a matter of law, just as much as companies can't profess the religion of Islam, companies similarly can't profess to hold liberal beliefs or any other belief for that matter," Nizam told FMT.
He said there seems to be little or no legal basis to argue that state religious authorities can act against a company, its officers and its employees if a shareholder or director is Muslim.
But Nizam said the ruling would indirectly affect corporate employment policies where Muslim employees or directors are concerned, and corporate decisions when one party is Muslim and the other is not.
"The corporate vehicle may be required to effectively be shariah-compliant," he noted.
Full report at:
https://www.freemalaysiatoday.com/category/nation/2019/08/30/lawyers-split-on-implications-of-court-ruling-against-sis/
--------
Africa
Kenya: Khartoum Welcomes UNSC Decision to Reject Kenya's Bid to Blacklist Al-Shabaab
29 AUGUST 2019
Somalia's permanent representative to UN Ambassador Abukar Osman celebrated Wednesday's resolution, arguing that declaring Al-Shabaab a terrorist group would have further weakened efforts to disintegrate it.
The UN Security Council has rejected Kenya-backed resolution to list Somali based armed group on 1267 on Wednesday.
United States, France, Belgium, Germany, Kuwait, and Poland rejected the Kenyan government's move at the assembly.
Somalia's ambassador to the United Nations, Abukar Dahir Osman commended council members for rejecting what he termed as unjustified move.
"Commend Council members for rejecting the unjustified listing of AS to 1267." Ambassador Dahir said after the decision.
UN security council has instead urged Kenyan Government to implement existing Security Council resolution 751 targeting al-Shabaab including the ban of illegal charcoal trade in which is the lifeline of the group to finance its operations in the region.
Aid agencies have earlier warned that if approved the move would have "criminalized humanitarian aid" at a time when 18% of Somalis face the risk of severe hunger.
Kenya believed that if the United Nations formally classifies Somali militia group, Al-Shabaab, as a terrorist group, then there would be more action on combating the extremists.
Leading non-governmental organizations and former US top officials wrote to US Secretary of state, Mike Pompeo last week calling for Washington to reject Nairobi move arguing that if approved the decision will have a catastrophic impact on lives of people living in areas controlled by the armed group in Somalia.
https://allafrica.com/stories/201908290503.html
--------
Libya's civil war could provide 'oxygen' to terrorist offshoots, says US Africa Command
Aug 30, 2019
U.S. Africa Command is concerned that Libya's eight-year civil war could bolster terrorist groups harbored in the country and foster a breeding ground for violent extremist organizations.
Preventing that chaos is a key issue for AFRICOM Commander Gen. Stephen Townsend, who traveled to Tunis, Tunisia, with the U.S. Ambassador to Libya, Richard Norland, to meet with Libyan Prime Minister Fayez al Sarraj Aug. 26. There, the leaders discussed threats from existing violent extremist organizations in Libya, along with the need for a solution to end the civil war.
"Close cooperation is important to address the [violent extremist organizations] threat," Townsend said in a media release.
In 2018 alone, the Islamic State's Libya faction claimed it was behind more than a dozen attacks targeting the Libyan government and oil infrastructure, according to AFRICOM. The conflict that has plagued Libya for the past eight years could add fuel to the flame, AFRICOM claims.
"The ongoing fighting and conflict in Libya has the potential to give existing terrorist elements in Libya oxygen," AFRICOM spokesman Air Force Col. Chris Karns said in an email to Military Times. "This is a situation that is being carefully monitored. Intensified and inclusive dialogue is occurring to work toward a political solution."
Karns said the chaos exhibited in Libya "presents an opportunity for terror groups to recruit, conduct some basic training and survive," adding that evidence suggests these efforts are occurring.
In response to threats from these groups, AFRICOM conducted six airstrikes in Libya last year and seven in 2017 as part of counter-terrorism operations. But Karns said no airstrikes have been conducted in 2019 because the terrorist threat was "considerably degraded" prior to tensions escalating in Libya in the spring.
But a military strike still remains an option, Karns said, in the event that terror groups regenerate and present additional threats.
"We won't discuss circumstances or situations that merit an airstrike because we don't want to give terror groups any advantage," Karns said.
The U.S. had a small presence of troops in Libya starting in 2011 after dictator Moammar Gadhafi was overthrown. They were there to help local forces extinguish Islamic State and al-Qaida-linked militants in Libya, who were conducting attacks and working on recruitment efforts.
But in April, U.S. forces were pulled from Libya due to heightened unrest after Field Marshal Khalifa Hifter's Libyan National Army launched an offensive against the U.S. and United Nations-backed government in Tripoli. Hifter, a former CIA asset, was exiled during Gadhafi's leadership, and settled in Langley, Virginia, in the 1990s. He eventually obtained U.S. citizenship before returning to Libya in 2011.
Before Hifter's offensive on Tripoli, both the Libyan National Army and the Government of National Accord recognized by the United Nations were involved in "actively reducing" terror threats from violent extremist groups, a defense official told the Military Times.
There are currently no U.S. troops in Libya, said Karns. AFRICOM is interested in bringing U.S. troops back to Libya, but was tight-lipped about when and how many troops would return.
"When conditions merit a return, we won't look to signal numbers or capabilities to violent extremist organizations wishing to do harm," Karns said.
AFRICOM has also consistently maintained that a political solution is necessary to secure stability in Libya.
"We emphasized to Prime Minister Sarraj the importance of supporting a diplomatic solution to put an end to the current conflict," Townsend said in an AFRICOM news release.
Full report at:
https://www.militarytimes.com/news/your-air-force/2019/08/28/libyas-civil-war-could-provide-oxygen-to-terrorist-offshoots-says-africom/
--------
More than 50 abducted in attack on northwest Nigerian village: residents
AUGUST 29, 2019
BAUCHI, Nigeria (Reuters) - More than 50 people, including pregnant women and children, were abducted in a raid on a village in northwest Nigeria, seven residents told Reuters on Wednesday.
The attack on Wurma village in Katsina, northwest Nigeria, began around 11:30 p.m. on Tuesday night. Police pegged the number of those abducted at 15, but multiple residents told Reuters that many more were taken.
Alhaji Musa, whose two daughters were among those taken, said more than 100 bandits were "shooting from all angles."
"They operated for about three hours with nobody to challenge them," he said.
Seven residents, and one man who was abducted but released by the attackers, said at least 53 people were taken, including pregnant women, babies and children. Some residents had already received ransom requests from the abductors, the sources said.
The attackers also took sheep, goats and food, they added.
In a statement, Katsina police said 15 women were abducted, but that 10 of them were freed unharmed following a gun battle with police.
"Search parties have been dispatched into the surrounding bushes with a view to rescue the others," the police said.
Full report at:
https://www.reuters.com/article/us-nigeria-security/more-than-50-abducted-in-attack-on-northwest-nigerian-village-residents-idUSKCN1VI2HN
--------
We'll force Boko Haram to surrender – Military
August 29, 2019
The acting General Officer Commanding, 7 Division of the Nigerian Army, Brig Gen Abdul Khalifa, has said the military will soon force Boko Haram fighters to surrender.
He said the Super Camps strategy introduced by the military would ensure that the North-East was free of Boko Haram.
He spoke on Wednesday in Maiduguri while on an operational tour of army units within his division.
Khalifa said their strategy was for soldiers to be able to carry out patrols, raids and ambushes.
The army chief said, "We have discovered that Boko Haram elements have some kind of mobility because we are in defence. We are trying to see how this strategy can change, that is why we have this new concept. Although a lot has been achieved, we still have some remnants of the Boko Haram terrorists around.
Our ultimate aim is to force Boko Haram to surrender. We should be able to strangulate them. We should be able to take the fight to them."
In a related development, Yobe State Governor Mai-Mala Buni has started the construction of Buni-Yadi township road.
Buni-Yadi, at the peak of the Boko Haram crisis, was one of the few local government areas captured in Yobe State.
The governor said on Wednesday the road project was a fulfilment of one of the promises that he made during the electioneering.
Full report at:
https://punchng.com/well-force-bharam-to-surrender-military/
--------
From Yemen to South Sudan, how water contributes to conflict
Aug 29, 2019
Social and political tension fuelled by climate change have yet to translate into international military confrontations, but local conflicts are heating up due to pressures such as drought and water scarcity.
In fragile states, such as Yemen and South Sudan, competition for scarce natural resources is increasing, while a growing need for humanitarian aid undermines states' ability to deal with climate risks, Johan Schaar, of the Stockholm International Peace Research Institute, said on Wednesday.
"I don't see big, shooting wars but I think you will have an increasing frequency of very localised conflicts and tensions that could then escalate into much more," Mr Schaar said at World Water Week in Stockholm.
Climate-related disasters often force people from their homes, putting a strain on the communities into which they move and stirring grievances, he said.
In South Sudan, the world's newest country, climate change is shortening and delaying the rainy season, while almost 80 per cent of the rural population is affected by droughts and floods, said Alier Oka, the undersecretary at the Ministry of Water Resources and Irrigation.
"Climate change has impacted resources. Rainfall variability is the key issue," he said at the conference.
That is pushing some herders to consider moving to new areas in search of pasture and water, where they are likely to run into problems with settled farmers.
"This is common in South Sudan and happening now," Mr Oka said.
As a result, looting of cattle and tribal fighting are occurring more frequently, he said.
In Yemen, embroiled in civil war since 2015, water has become "weaponised", said Muna Luqman, chair of Food4Humanity, a local charity.
Half the population has no access to safe drinking water, which was already a scarce commodity in the arid country before the Iran-backed Houthis overran the capital Sanaa, she said.
Lawlessness combined with climate stresses such as drought and extreme heat, has worsened health and social problems with women and children worst-hit, she said.
Yemen is suffering its third major cholera outbreak since 2015.
But using water wisely can foster peace, said Ms Luqman, who has worked on projects to encourage tribes in remote areas to share water stations.
More than half the world's population is likely to live in water-scarce areas by 2050, said the Economist Intelligence Unit, which launched a "Blue Peace" index this month to better manage shared water supplies.
Elisabeth van Duin, a director at the Netherlands Ministry of Infrastructure and Water Management, warned that a lack of safe water, migration and population growth could all "destabilise societies and contribute to regional conflict".
From Syria to Lake Chad, climate change has escalated tensions, Ms van Duin said, with global hotspots in the future likely to include India and China, where millions of people are set to become victims of droughts and floods by 2050.
Full report at:
https://www.thenational.ae/world/from-yemen-to-south-sudan-how-water-contributes-to-conflict-1.904069
--------
Kenya 'disappointed' after UN rejects bid to designate Shabaab terrorists
AUGUST 29 2019
The Kenyan government on Thursday expressed disappointment at the decision by the United Nations Security Council to block its push to toughen sanctions on Somali militant group Al Shabaab.
Foreign Affairs Principal Secretary Macharia Kamau told The EastAfrican that he was dismayed that the countries that have been hit the most by Al Shabaab and other extremist groups did not support Kenya's proposal.
"We are disappointed because it seems unconscionable that any country, least of all a country that is in the UN Security Council and which has lost its citizens in the terror attacks by Al Shabaab, would not wish to see all necessary measures brought to bear on this hideous organisation," said Mr Kamau.
"We would expect that of all the entities of the UN multilateral system, that the UN Security Council would be most sensitive to this issue and would feel most compelled to bring to bear the maximum pressure on organisations such as Al Shabaab, which have killed hundreds of innocent people in both Somalia and Kenya."
"[This is] an organisation that continues to hold tens, if not hundreds, of innocent civilians behind their terrorist lines, and views the holding of those poor innocents as a justification to hijack the international humanitarian system and the proceeds from it."
The Security Council on Wednesday rejected Kenya's request to designate Al Shabaab a terror group under Resolution 1267, which includes groups like Al Qaeda, Taliban and ISIL.
The move came on the backdrop of strong lobbying by US humanitarian agencies and former diplomats who say such designation would "criminalise humanitarian aid."
Kenya, however, argues that the Council failed to address the concerns surrounding Shabaab's continued revenue extraction by abusing aid.
"That the excuse of humanitarian access has been used to justify standing down 1267 is particularly sad. For humanitarian assistance to be used to finance and sustain this terror organisation is hugely disappointing, especially because it conflates something that we Kenyans believe in and are champions of in the world—humanitarian and refugees assistance—with something that is deplorable to us and an anathema to our society, which is terror and terrorism." Mr Kamau said.
"...That we have failed to get one additional sanction regime will not deter us from remaining focused on our goal which is to eliminate terror in our country and in the world at large."
Second bid
Nairobi was fronting the proposal for the second time after the first bid failed in 2014 on a veto from the United Kingdom.
At the time, Somalia, Djibouti and other countries in the region rallied together, expressing outrage at the Shabaab's 2013 attack on Nairobi's Westgate mall, in which 67 people were killed.
This time, though, Mogadishu joined the opposition, arguing that the proposal was "unjustified."
Abukar Dahir Osman, Somalia's Permanent Representative to the UN in New York, argued that Al Shabaab can be tamed through existing UN Security Council resolutions, as long as there was a regional co-operation on it.
"[We] urge [the] Kenyan government to implement existing Security Council resolution 751 targeting AS (al-Shabaab), including the ban of illegal charcoal trade in Somalia, which is the lifeline of AS to finance its operations in the region," Mr Osman tweeted on Wednesday.
He was referring to various UN Monitoring Group on Eritrea and Somalia reports which charged that the Kenya Defence Forces, who are part of the African Union Mission in Somalia, had collaborated with militants to continue exporting charcoal using the Port of Kismayu.
The Kenyan government has denied the allegations.
Al Shabaab are currently administered under a different sanctions regime under UNSC Resolution 751.
Full report at:
https://www.theeastafrican.co.ke/news/ea/Kenya-disappointed-un-rejects-bid-designate-al-shabaab-terrorist/4552908-5253580-deiyeb/index.html
--------
Boko Haram: Nigerian Army Moves To Stifle Terrorists' Economy
AUG 29, 2019
Brig.-Gen. Abdul Ibrahim, the Acting General Officer Commanding (GOC) 7 Division, says the army has initiated new operational measures to stifle Boko Haram insurgents' economy.
Ibrahim made the disclosure on Wednesday when he visited frontline troops at Moloi on Maiduguri-Damboa Road.
He disclosed that the army had initiated new tactics to enhance patrols, denied remnants of the insurgents' freedom of movement and destroyed their sources of money.
Ibrahim said the new campaign strategy would fortify defensive positions and enhance rapid response in the theater of operation.
"We adopted the Super Camp concept where we have stronghold positions and reasonable resources to be able to project power.
"There is also Rapid Response (RP) and Strong Rapid Response (SRP), where we have men on wheels to be able to carry out patrols, raids, and ambushes.
"We discovered that elements of the terrorists have a kind of mobility because we have a defence in an area, they come and attack hence the need for a change in strategy.
"In spite of security improvement and normalcy in the towns; we still have a remnant of the insurgents, with the new concept we shall be able to take the fight to them.
"Our ultimate aim is to force them to surrender and strangulate them because some economy activities are going on," he said.
Commenting on the visit, Ibrahim said he had visited 211 and 251 Battalions of the 7 Division Garrison and interacted with troops.
The commander called on the people to cooperate with the military by providing useful information on suspicious movement and activities in their communities.
Ibrahim had earlier took over command from the outgoing Commander, Maj.-Gen. Bulama Biu, who was redeployed to the Sector 3, Command of Operation Lafiya Dole, Monguno.
Full report at:
http://saharareporters.com/2019/08/29/boko-haram-nigerian-army-moves-stifle-terrorists-economy
--------
North America
Muslim Congresswoman Ilhan Omar reveals racist death threat
Jack Dutton
Aug 29, 2019
Muslim Congresswoman Ilhan Omar has revealed that she received a racist, anonymous threat that "a very capable person with a very big gun" would shoot her at a state fair.
Ms Omar, a representative for Minnesota who came to the US aged 12 as a refugee from Somalia, said it was because of such malicious threats that she now has to hire security guards for her protection.
The message told the Democrat that she might be killed at the Minnesota State Fair, which runs from August 22 to September 2.
"I hate that we live in a world where you have to be protected from fellow humans," Ms Omar tweeted on Wednesday.
The tweet included a photo of the threat message and a picture of herself given a speech with a security guard in the background.
"But until deranged people like this stop threatening my life and the lives of others, I have to accept the reality of having security," Ms Omar said.
Ilhan Omar
✔
@IlhanMN
I hate that we live in a world where you have to be protected from fellow humans. I hated it as a child living through war and I hate it now.
But until deranged people like this stop threatening my life and the lives of others, I have to accept the reality of having security. https://twitter.com/lollardfish/status/1166508960612048896 …
View image on Twitter
David M. Perry
✔
@Lollardfish
Replying to @Lollardfish
I'm not at a good angle. But here's a visual of the congresswoman and her security
Ilhan Omar in orange and a big dude in a dark suit behind (he's security)
16.7K
1:35 AM - Aug 29, 2019
Twitter Ads info and privacy
11.6K people are talking about this
The anonymous letter reads: "You will not be going back to Washington. Your life will end before your 'vacation' ends.
"That being said, you won't die alone, if that matters. Quite likely at the Minnesota State Fair, that's where the 'you won't die alone' comes in. However we have a very capable person with a very big gun.
"They say we can't get the Somali stink out of the clean Minnesota air, but we're going to enjoy the adventure."
Ms Omar and Rashida Tlaib of Michigan were the first two Muslim women elected to Congress. She has received several death threats since taking office at the start of the year.
In response, US Senate candidate Roy Moore tweeted: "President Trump was right, she should go back to Somalia".
Alabama Republicans have also called for Ms Omar to be expelled from Congress.
Conservatives have repeatedly criticised her for her stance on Israel and some have accused her of being anti-Semitic.
Ms Omar is one of the four Democrat congresswomen who US President Donald Trump attacked in July in comments the House of Representatives described as racist.
The president said the four women – who are also known as "the Squad" –were not "capable of loving our country" and he told them to "go back to where they had came from".
The other three House legislators Mr Trump was criticising – Alexandria Ocasio-Cortez of New York, Ayanna Pressley of Massachusetts and Ms Tlaib – were born in the US.
All four are American citizens.
https://www.thenational.ae/world/the-americas/muslim-congresswoman-ilhan-omar-reveals-racist-death-threat-1.904311
--------
Pro-ISIS man pleads guilty to lying about seeking out terrorists
Aug 28, 2019
The 21-year-old New York man arrested in Bozeman this year after an FBI investigation pleaded guilty on Wednesday to lying to agents about seeking out the terrorist organization ISIS.
Fabjan Alameti pleaded guilty to two counts of making false statements to law enforcement regarding terrorism, a charge that carries a maximum eight-year term in federal prison.
Alameti appeared at the Russell Smith Federal Courthouse in Missoula on Wednesday with his federal public defender, John Rhodes.
Assistant U.S. District Attorney Jeff Starnes told U.S. Magistrate Kathleen DeSoto during the hearing that federal authorities came across Alameti during a terrorist investigation in 2018, interviewing Alameti at his Bronx, New York, home.
An undercover FBI agent subsequently maintained contact with Alameti across a pro-ISIS Facebook group, tracking him as he relocated to Bozeman in March. Alameti was an Albanian national who obtained citizenship in the U.S., Starnes said, and had planned to use his Albanian passport to relocate to Syria and fight the U.S. with ISIS.
His internet searches included how to make bombs, and what kinds of blast radii certain devices would create, Starnes said. His targets included gay clubs, federal buildings and a U.S. Army recruiting center.
Charging documents show Alameti came to Montana in March and watched the video of a New Zealand shooter slaughtering people at two mosques there on March 15. He had hoped to avenge the shooting, Starnes said.
"He came to Montana because all they need is a background check or an ID" to purchase a firearm, Starnes said during the hearing.
While staying at a Bozeman hotel, Alameti was hospitalized for alcohol intoxication. A hotel manager unhappy with Alameti smoking marijuana in the hotel room turned over all his belongings to law enforcement. After his release from the hospital, Alameti went to the law and justice center there to collect his things, but was brought into an interrogation room.
During that interview, Alameti told authorities he never talked about traveling overseas to fight for ISIS, and never wanted to hurt any Americans or anyone in the military.
"What did you do that was false?" DeSoto asked him at the Wednesday hearing.
"Lying to them about terrorism," Alameti responded.
He was turned loose after the interview in Bozeman and taken into custody again when he went to a gun range and rented an M1A rifle.
Full report at:
https://missoulian.com/news/state-and-regional/crime-and-courts/pro-isis-man-pleads-guilty-to-lying-about-seeking-out/article_16ff0fd6-c23e-5aed-a8a9-dad6e762b9e5.html
--------
James Carafano: Ignore ISIS at your peril, America – Terrorists say 'I'll be back'
Aug 30, 2019
This is a warning to the civilized world: Don't forget about the supporters of Usama bin Laden and the ISIS caliphate. They have not forgotten about you.
Washington today is largely focused on "great power" competition. What's next in the trade war with China or the tug of war with Russia? What's up with North Korea's missiles and the ayatollah in Iran?
Of course, these struggles do matter. And America must stay on top of what these mighty but misguided nations are up to.
But that doesn't mean that we, our friends and our allies can afford to lower our guard against the terrorists lurking in the shadowlands who still seek to establish an Islamist dictatorship over a third of the Earth.
These terrorists have more than amply demonstrated their willingness to advance their cause, no matter how many innocents they may slaughter or sacrileges they may commit along the way.
Sure, there is no doubt that ISIS has taken a beating. Losing half of its self-proclaimed caliphate was deeply humiliating. Meanwhile, the U.S. and its allies continue to hunt down Al Qaeda's leadership and operatives.
Yet even a scattered and humbled enemy is still an enemy. The fundamental hate driving the Islamists burns fiercely still. Their terrorism isn't rooted in poverty, oppression, religious fervor or social injustice.
Rather, their terrorism is rooted in the rejection of the modern world and its promise of individual liberty and tolerance. As long as there is modernity, these haters will hate – and they won't stop trying to hurt the rest of us.
Committed vigilance is essential, because we don't know where the terrorists will try to strike next.
The Easter church bombings in Sri Lanka this year were a horrifying reminder that no place is out of bounds. ISIS is happy to kill anywhere, in any numbers, to demonstrate it is still a force to be reckoned with.
A recent report by the United Nations concluded that ISIS could have tens of millions of dollars in cash reserves. Or not. Nor do we know where all the foreign fighters who flocked to the "caliphate" are now hiding. Or what their plans are.
Also unclear is where the Islamist insurgency's next base of operations will be established. Syria remains a contender: some rebel forces that control territory in Idlib recently aligned with Al Qaeda.
In addition, both Al Qaeda and ISIS are operating in Yemen. And ISIS recently staged a high-profile, bloody bombing in Kabul in Afghanistan.
Terrorists also still roam throughout Southeast Asia. Then there is the Sahel, where Al Qaeda in the Islamic Maghreb (AQIM) operates. And in West Africa the Islamic State in Greater Sahara (ISGS) has become one of ISIS's most active affiliates.
The terrorists are not just a problem in the top half of Africa. ISIS also recently claimed credit for attacks in Mozambique and the Congo. Meanwhile, the U.S. is bombing Al Shabaab, Al-Qaeda's Somali affiliate.
In short, America can't take its eyes off terrorists.
Washington can't get so wrapped up in competing with other nations that it loses interest or the capacity to manage the problem of non-state enemies. Indeed, we ought to anticipate that some hostile states will try to sponsor – or at least enable – transnational terrorists as another weapon to be used against us.
The global war on terrorism might be over, but the global watch, response, and preventative action campaign has to continue.
The U.S. must also figure out how dealing with domestic terrorism fits in. It is hard not to conclude that the left's obsession with domestic right-wing extremists is more rooted in political opportunism than public safety.
People on the left were always uncomfortable with the war on terror. They fretted that it was an affront to Muslims everywhere and a threat to civil liberties anywhere. They are, on the other hand, ready to unleash all the resources of counterterrorism on anyone associated with the other half of the political spectrum here at home.
It is true that America has recently suffered more from domestic terrorists – on both sides of the political spectrum – than from the transnational Islamist terrorist movement. But that's because the U.S. has done such a remarkable job stifling overseas threats before they get here – not because the government has turned a blind eye to domestic terror threats.
What we need to do is put the politics aside, and show a little maturity and proportionality on how we address terrorist threats.
Full report at:
https://www.foxnews.com/opinion/james-carafano-ignore-isis-at-your-peril-america-terrorists-say-ill-be-back
--------
CAIR to help US Census Bureau incorporate Muslim participation in 2020 census
August 29, 2019
The Council on American Islamic Relations (CAIR) announced on Wednesday that it will formally partner with the U.S. Census Bureau to promote American Muslim participation in the 2020 Census.
"CAIR is proud to partner with the U.S. Census Bureau to ensure American Muslims are fairly and accurately counted in the 2020 Census," said CAIR national executive director Nihad Awad. "Full participation in the census ensures that American Muslims will be better represented in Congress, and that their communities receive an equal share in state and federal programs."
CAIR and its national network of chapters will work with the bureau and local Islamic centers to ensure community-wide awareness of the 2020 Census and gather a more accurate count of the diverse racial, ethnic and ancestry features that make up the American Muslim community.
However, according to The Investigative Project on Terrorism, which first reported on the partnership, CAIR will "promote participation in the census and advise people how to avoid scams."
The U.S. census is conducted once every decade and counts every person inside the United States. It is used for purposes such as determining the number of representatives each state has in the 435-member U.S. House of Representatives, as well as how much federal funding should be allocated to states and localities for infrastructure and other needs.
CAIR, however, is no stranger to controversy, including being an unindicted co-conspirator in the Holy Land Foundation terror case that proved connections to the terrorist group Hamas and other radical Islamic entities.
Full report at:
https://www.jns.org/cair-to-help-us-census-bureau-incorporate-muslim-participation-in-2020-census/
--------
US to keep 8,600 troops in Afghanistan after deal with Taliban, says Trump
August 29, 2019
President Donald Trump on Thursday said that United States troop levels in Afghanistan will drop to 8,600 if a deal is reached with the Afghan Taliban and that a permanent presence will remain.
"We're going down to 8,600 and then we make a determination from there," Trump said in an interview with Fox News radio. "We're always going to have a presence."
Trump also said that if another attack on the US originated from Afghanistan "we would come back with a force like [...] never before."
US troops were first sent to Afghanistan after the September 11, 2001 terrorist attacks on US soil carried out by Al Qaeda, which was sheltered by the former Afghan Taliban regime.
Washington now wants to end its military involvement and has been talking to the Afghan Taliban since at least 2018.
Trump says that troops will only be reduced when the Afghan Taliban give a guarantee that its territory will not be used by Al Qaeda or other international militant groups.
Full report at:
https://www.dawn.com/news/1502400/us-to-keep-8600-troops-in-afghanistan-after-deal-with-taliban-says-trump
--------
US says 'premature' to discuss future Afghan counterterrorism mission
28 August 2019
A top US military officer said on Wednesday it was too early to talk about the future of US counterterrorism forces in Afghanistan, as US and Taliban forces appear close to an agreement to end the 18-year war.
Negotiations over how to end the 18-year war in Afghanistan have been held in Doha, capital of Qatar, since late last year. The ninth round of talks began last week.
"I am not using the withdrawal word right now," Marine General Joseph Dunford, chairman of the Joint Chiefs of Staff, told reporters at the Pentagon.
"I'm using: We're going to make sure that Afghanistan is not a sanctuary and we're going to try to have an effort to bring peace and stability to Afghanistan," he added.
The Taliban said on Wednesday it was close to an agreement with US officials on a deal that would see US forces withdraw from Afghanistan in exchange for a Taliban promise that the country would not become a haven for international militants.
"I honestly think it's premature to talk about what our counterterrorism presence in Afghanistan may or may not be without a better appreciation for what will the conditions (be)," Dunford said.
The United States went to war in Afghanistan in response to Sept. 11, 2001, attacks on New York and the Pentagon, seeking to oust the Taliban militants harboring al-Qaeda leader Osama bin Laden, who led plans to carry out the attacks. About 2,400 US forces have been killed in the conflict.
Some 14,000 US troops remain in Afghanistan, among whom about 5,000 are dedicated to counter-insurgency operations.
Dunford said that in the current security environment, local Afghan security forces needed US support to deal with the violence.
"If an agreement happens in the future, if the security environment changes, then obviously our posture may adjust," Dunford said.
Full report at:
https://english.alarabiya.net/en/News/world/2019/08/28/US-says-premature-to-discuss-future-Afghan-counterterrorism-mission.html
--------
US sanctions Lebanese bank for alleged Hezbollah ties
Michael Hernandez
29.08.2019
WASHINGTON
The U.S. on Thursday labeled a Lebanon-based bank a "Specially Designated Global Terrorist" for its alleged role in providing financial services to Hezbollah as Lebanon continues to reel from a dire financial situation.
The Treasury Department said Jammal Trust Bank and its subsidiaries are being designated because it has "knowingly" facilitated banking activities for the Lebanese group that is subject to U.S. sanctions.
Sigal Mandelker, Treasury's terrorism and financial intelligence official, said the action serves as a "warning" to any party who provides services to Hezbollah.
"Jammal Trust provides support and services to Hizballah's Executive Council and the Martyrs Foundation, which funnels money to the families of suicide bombers," he said in a statement announcing the penalties. "The U.S. will continue to work with the Central Bank of Lebanon to deny Hizballah access to the international financial system."
In addition to the bank, the Treasury Department designated its subsidiaries Trust Insurance, Trust Insurance Services and Trust Life Insurance Company.
A senior U.S. official who spoke to reporters on condition of anonymity said Jammal Trust is Lebanon's 26th largest bank, brushing off concerns that the designation could further hamper Lebanon's already-hobbled economy.
"We believe its role in the Lebanese economy and the financial system is limited," she said. "It's not our expectation that this will have a spillover effect. What I think it will do is send the message loud and clear to that community that the United States is very, very serious about disrupting Hezbollah's financing, and we are going to continue to take action where we believe it's warranted."
In a separate action, the U.S. announced that it is blacklisting four financial facilitators who the Treasury Department said are responsible for moving tens of millions of dollars between Iran's Islamic Revolutionary Guard Corps-Qods Force and Hamas.
Among those designated is Beirut, Lebanon-based Muhammad Sarur who the department said transfers tens of millions of dollars between the two parties annually.
Also blacklisted are Kamal Abdelrahman Aref Awad, an alleged Gaza-based Hamas financier, and Gaza-based Fawaz Muhmud Ali Nasser and Muhammad Kamal al-Ayy.
Full report at:
https://www.aa.com.tr/en/americas/us-sanctions-lebanese-bank-for-alleged-hezbollah-ties/1568749
--------
US urges 'calm and restraint' in Jammu and Kashmir row
Michael Hernandez
29.08.2019
WASHINGTON
The U.S. on Thursday urged all parties to demonstrate "calm and restraint" including words being employed amid tensions surrounding Jammu and Kashmir.
A State Department spokeswoman told Anadolu Agency in an emailed statement that Washington is "closely" monitoring the situation.
"We note the broader implications of the developments in Jammu and Kashmir and the potential for increased instability in the region," said the spokeswoman, who was not authorized to discuss the matter publicly.
She said Washington remains "very concerned" by reported of detentions "and the continued restrictions" being imposed on residents in Jammu and Kashmir.
"We urge respect for human rights, compliance with legal procedures, and an inclusive dialogue with those affected," she said before welcoming "Prime Minister [Narendra] Modi's statement that Jammu and Kashmir will soon return to a normal political status."
"We call on all parties to maintain peace and stability along the Line of Control and to prevent cross-border terrorism. We continue to support direct dialogue between India and Pakistan on Kashmir and other issues of concern," she added.
Jammu and Kashmir, a Muslim-majority Indian region, has faced a severe communications shutdown -- with no Internet, landline, or cell phone service -- and restrictions since Aug. 5 when the Indian government moved to revoke the region's special administrative status.
Its status is guaranteed by the Indian Constitution under Article 370.
While Modi government called the restrictions a "precautionary measure" to tackle the situation, political leaders in the region were detained as rights groups repeatedly called on New Delhi to lift the restrictions and release detainees.
Human Rights Watch, the international rights watchdog, said the disruption of services has exacerbated an information blackout, stopped families from communicating, and prevented people from accessing medical care.
However, Indian authorities have insisted that the clampdown is intended to "prevent the spread of false or incendiary information that could cause violent protests."
Full report at:
https://www.aa.com.tr/en/americas/us-urges-calm-and-restraint-in-jammu-and-kashmir-row/1568697
--------
Europe
German Hezbollah Mosque: We're Proud Of Terrorism
By Benjamin Weinthal
August 30, 2019
The Hezbollah mosque in the German city of Münster posted a shocking video on its Facebook page in December, announcing it was proud of terrorism and its allegiance to the Islamic Republic of Iran's Supreme Leader Ali Khamenei.
The Middle East Media Research Institute (MEMRI), an independent, nonpartisan press-monitoring organization, first revealed the video and wrote on its website, "Poem Recited in a Münster, Germany Shiite Mosque: We Have Pledged Allegiance to Khamenei; We Are Accused of Terrorism and Are Proud of It."
According to a MEMRI transcription of the video from the Imam Mahdi Zentrum Shi'ite mosque in Münster, a man recited a poem with the lyrics, "We have pledged our allegiance to the Jurisprudent Ruler [Khamenei]. We are soldiers willing to sacrifice our lives for Nasrallah ['Victory of Allah']. We belong to the party of Ruhollah [Khomeini]. We have been accused of being terrorists – we are proud of terrorism.
"Listen all nations! Listen, oh Wahhabis! The roaring Arab wave will never retreat. The convoys will not wait long with their march. We will not come to you in small numbers. We will come to you from all over. The brigades will cross [the border] from Yemen, and we will pray in Al-Baqi regardless of the [Sunni] Nasibis [haters]. We are the Shi'ites of Ali Bin Abu Taleb, and will only die free."
In July, The Jerusalem Post reported an increase of Hezbollah members in Germany's most populous state of North Rhine-Westphalia, where Münster is located. According to the intelligence document reviewed by the Post, the number of Hezbollah members climbed from 105 in 2017 to 110 in 2018 in North Rhine-Westphalia.
MEMRI further noted that the transcription revealed the Islamist at the Imam Mahdi Zentrum stating: "[Oh Mahdi], our hearts are with you, and our swords are with you. We place our lives in your hands. Our children, our women, and the men of the Lord – their fate is laid upon your threshold. The soil of Yemen has been watered with their blood in the confrontation with the Zionists and the takfiris [Muslims who accuses other Muslims of apostasy]. We have sacrificed [some of] our most previous offspring. In Syria and Iraq, we have written in blood that victory is coming. We have adhered to our loyalty in spite of the hardship, striving for martyrdom on the day of glory.
"Oh Mahdi, death in your cause is the gate to Heaven. Walking in your path is a great honor. We will not scream: 'If only we were with you.' We will say from today: 'We are with you.' In Syria of Zaynab, we are with you. We are with you in Yemen and in Iraq. We will be with you wherever you go."
The German intelligence report wrote that "for more than 20 years, the Islamic Center (Imam-Mahdi-Zentrum) in Münster has been a platform and meeting place for Hezbollah supporters in North Rhine-Westphalia and western Germany. Other focal points: Essen/Bottrop, Dortmund and Bad Oeynhausen."
The 363-page intelligence report, which covers threats to the security of the North Rhine-Westphalia, referenced the Hezbollah 21 times.
Steve Alter, spokesman for the German Interior Ministry – which is responsible for banning terrorist groups – did not immediately respond to a Post query on Wednesday.
https://www.jpost.com/Middle-East/German-Hezbollah-mosque-declares-it-is-proud-of-terrorism-and-pro-Khamenei-599998
--------
UN peacekeeping patrol filmed coming under attack by Hezbollah in Lebanon
Aug 30, 2019
The United Nations Security Council is expected to renew the yearly mandate of its UNIFIL, its peacekeeping force in Lebanon, this week.
But exclusive video obtained by Fox News shows a peacekeeping patrol under attack by the U.S.-designated terrorist group Hezbollah. An intelligence source confirmed to Fox News the Iranian proxy force was behind the attack.
While the U.N. described the attack in a report, the video and the ensuing chaos following the ambush show how dangerous Hezbollah has made the situation for UNIFIL, or the United Nations Interim Force in Lebanon.
The video shows groups of men block off the convoy with their cars. Once blocked off several men set upon the vehicles, trying to break in through the windows with hammers and stones.
At one stage, gasoline is poured over the second U.N. armored vehicle and then lit on fire. As it burns one peacekeeper leaves the vehicle while being accosted by the men. Another peacekeeper comes running out from behind the lead armored vehicle with his gun drawn, only to retreat. Another peacekeeper leaves the APV, surrendering his weapon to the terrorists. Men carrying automatic weapons can be seen during the melee.
"This is clearly a Hezbollah-coordinated operation," said Tony Badran, a research fellow at the Foundation for the Defense of Democracies.
Badran, who has testified to Congress about the terror group, said: "Hezbollah's freedom of maneuver in the south is absolute… which leaves UNIFIL in a sort of awkward situation where they not only can't do anything but don't want to do anything either for fear of the kind of incidents that we saw in the video."
Hezbollah is believed to have an arsenal of some 150,000 rockets that can reach nearly all of Israel. Iran continues to fund its proxy by giving it hundreds of millions of dollars each year.
The U.N. described the attack as one of the "most serious incidents involving UNIFIL personnel in recent years."
A report filed by the U.N. on the incident in the village of Majdal Zun - just five miles from the Israeli border - said the attack happened because the peacekeepers were taking pictures.
"The United States has considered Hezbollah a terrorist organization for more than two decades," a State Department official told Fox News. "We have made clear our deep concerns about Hezbollah terrorist activities and hostile actions which threaten Lebanon's security, stability and sovereignty. We have reiterated these concerns publically and to the Lebanese government."
Andrea Tenenti, a UNIFIL spokesman, told Fox News that a report by the Lebanese military given to the U.N., "diverged from the findings of UNIFIL which noted that organized civilians, some armed and illegally carrying assault weapons and were responsible for the violent attack on the peacekeepers."
Tenenti said the Lebanese military's investigation failed to attribute responsibility for the attacks or offered a way to bring the perpetrators to justice.
"To date, no criminal proceedings have been launched against any of the attackers," Tenenti said.
Israel's UN ambassador Danny Danon upon seeing the video broadcast on Fox News said, "Hezbollah's blatant attack against UNIFIL is further proof of the need to change the peacekeeping force's mandate. The international community must summon the determination required to empower UNIFIL to combat the terrorist organization."
U.N. peacekeepers were sent to Lebanon in 1978 following the passage of U.N. Security resolutions 425 and 426.
After the 2006 war between Israel and Hezbollah, the U.N. Security Council passed resolution 1701, which in part called on UNIFIL to assist the Lebanese military in establishing an area free of any armed personnel, assets and weapons other than the government and UNIFIL. The budget of UNIFIL for 2018-19 was $481 million. The U.S. is the biggest donor to U.N. peacekeeping, paying around a quarter of its total $6.5 billion budget.
Two former UNIFIL peacekeepers spoke to Fox News about their experiences. Neither gave their name due to the sensitive nature of their jobs. The first, a French national who served two tours of duty with UNIFIL, told Fox News it was not possible to do the job of patrolling properly under the present mandate.
"What can we say about UNIFIL's attitude," he said, "when decisions and orders are taken with the aim of avoiding issues with Hezbollah?"
He said they are prohibited from doing such things as patrolling and taking photos in Hezbollah villages.
Hezbollah can muster up thousands of members in a short time, according to the former peacekeeper. Members could be working in a bar or in a restaurant and can be called to action very quickly. This reduces the capacity of the U.N. peacekeepers, he said, adding, "we have a real army in front of us."
Another former peacekeeper, a major, who served two tours in Lebanon, told Fox News that the level of intimidation of the peacekeepers by Hezbollah is considerable. He mentioned three or four incidents where convoys were blocked from patrolling areas of interest, and where rifles and communications equipment was taken from the patrols.
He said that in his experience the Lebanese Armed Forces are sharing information 100 percent with Hezbollah. He said Hezbollah is the strongest non-governmental army on the planet and they are the ones who call the shots.
"During my stay we were always warned that (the) information you give to the (LFA) is going to Hezbollah," he said.
He stated that whenever UNIFIL has tried to be "too active," Hezbollah sends a clear message to U.N., as was the case when Hezbollah was training men for the Syrian battleground.
"When some of the battalions tried to go (and) observe these activities their movement has been blocked, and they have been given a 'fair warning' not to continue their activity. Areas have been marked as UNIFIL 'no-go-areas.'"
Tenenti told Fox News that "interruptions in UNIFIL's movements are minuscule in relation to the large volume of UNIFIL operational activities, which total more than 450 every day."
He said from January to July of this year only nine out of thousands of its operational activities were "interrupted."
While questions sent to Lebanon's UN mission were not answered, Ambassador Amal Mudallali told the Security Council last week that her country strongly supports UNIFIL and is fully committed to the implementation of resolution 1701.
The FDD's Tony Badran said the administration needed to carefully rethink its strategy for Lebanon, calling the present policy "an abject failure."
"U.S. policy in Lebanon," Badran said, "has relied on the support of the Lebanese armed forces under the assumption, or the hope, that it would somehow assert Lebanese sovereignty against Hezbollah. This is an illusion."
Full report at:
https://www.foxnews.com/world/un-peacekeeping-patrol-filmed-coming-under-attack-by-hezbollah-in-lebanon
--------
Prevent programme used to spy on Muslims
30th Aug 2019
Hamed Chapman
Home Office mentors are gathering information on their clients in supposed "confidential" de-radicalisation meetings and sharing it with police for terrorism investigations into the very people they are counselling, leaked documents have revealed.
The paid mentors, who include Islamic scholars and counter-extremism experts vetted and approved by the Government, routinely file an "intervention session report" after each mentoring session, according to the Sunday Times.
The reports provide a "vulnerability assessment" of a client, their "capability" of carrying out a violent act and "new relevant background information" which details the personal material that was obtained, including their "susceptibility to indoctrination" and state of "mental health", the newspaper said.
The detailed assessments are carried out under the discredited Channel mentoring programme, which is part of the Government's controversial Prevent counter-terrorism agenda and also includes briefings about a client's "attitudes to justify offending", "criminal capability" and "harmful objectives."
The disclosure adds to previous claims and fears that Prevent, which costs taxpayers about £40 million a year, is being used to spy on the Muslim community in Britain. It has long been exposed that the strategy, which targets Muslims from cradle to grave, is both flawed and unscientific when purportedly looking for clues to assess whether the person is at risk of becoming a violent extremist.
The main plank of the Government's counter-terrorism policy has often been suspected as being designed primarily as a mass surveillance and spying programme, involving not only police officers but also imposes a statutory duty on teachers, faith leaders, prisons, the probation services, doctors and local authorities.
It comes as the country's most senior counterterrorism officer warned that homegrown terrorists are being recruited as a result of a lack of social mobility and inclusion.
Assistant Commissioner, Neil Basu, said that better access to the best education and healthcare, as well as improved equality in the criminal justice system, would do more to stop terrorism than "the policing and state security apparatus put together."
Up to 80 per cent of terrorists intent on carrying out attacks against UK targets were born or raised in Britain, he said, adding that policing dealt with the symptoms but not the root of the issue of extremism.
"Policies that go towards more social inclusion, more social mobility and more education are much more likely to drive down violence… than all the policing and state security apparatus put together. It is much more likely to have a positive effect," Basu told The Guardian.
"Nothing I am saying remotely excuses these heinous acts of criminal violence," he said. "But the deeper causes need examining. My teams are world-class at stopping attacks and locking terrorists up. But we need to stop the flow of recruits into terrorism."
The Muslim Council of Britain welcomed his remarks that effectively recognise some of the shortcomings in the Prevent strand of the
Government's counter-terrorism strategy as well as his rejection of Islam being supposedly at odds with British society.
"Neil Basu has made an important intervention in calling out the misguided notion that Muslims must be seen only through the lens of security and that their solemn adherence to their faith renders them incapable of being equal participants of British society," MCB Secretary General Harun Khan said.
"We believe the Government's implementation of the Prevent strand of the counter-terrorism strategy has — in many ways — been a manifestation of this tendency. The Prevent strategy has meant Muslims have been targeted in a discriminatory way," he said.
The coinciding announcement that cross-bench peer Lord Carlile has been appointed to lead an independent review of the Prevent programme has also faced criticism, including from human rights groups accusing the Government of risking a whitewash by doing it behind closed doors.
Being a former Independent Reviewer of Terrorism Legislation, the veteran barrister is seen too much of an establishment figure as well as a reportedly member of a secretive Home Office committee responsible for enforcing the implementation of the contentious counter-extremism programme by public bodies.
Former Tory Chair, Sayeeda Warsi, said it was "another misjudged appointment" by the Government. "Lord Carlile is neither independent of Government thinking on this issue nor does he have the trust of the communities that have been on the receiving end of the excesses and mistakes of the Prevent policy," she tweeted.
A letter to the new Security Minister, Brandon Lewis, from a coalition of 10 human rights and community groups accused the Government of recruiting the peer behind closed doors. The position was not even advertised and instead, the decision was made by the Home Secretary.
With a No Deal Brexit seemingly looming, Basu also warned in his wide-ranging interview that Britain's safety and security would suffer and no amount of planning and preparations could erase the increased terrorism-related risks.
According to an investigation by the Middle East Eye, the popular "This Is Woke" Facebook page and Instagram feed has furthermore been exposed as being run by a shadowy UK Government unit.
Full report at:
http://muslimnews.co.uk/newspaper/home-news/36256-2/
--------
Man Guilty of Hate Crime for Posting Anti-Muslim Messages in UK
August 29, 2019
London: A man who posted violent messages about Muslims alongside photos of himself posing topless with a fake shotgun has been found guilty of hate crime and convicted by a UK court of stirring up racial and religious hatred.
Jay Davison posted the violent messages on his Instagram page having 394 followers in August last year, with screenshots also shared on a WhatsApp group. A member of the WhatsApp group became concerned and called the police.
"This is a warning to people that posting material online can have damaging consequences for them offline," said Jenny Hopkins, Head of the Special Crime and Counter Terrorism Division at the UK's Crown Prosecution Service (CPS).
"The material Jay Davison posted was clearly threatening, abusive and insulting. His intention can only have been to stir up religious and racial hatred. His defence that he regretted his actions and was drunk was rejected by the jury," she said.
When the 38-year-old was arrested a few days after posting the messages last year, he said it was after an evening out drinking and claimed he had no racist views and did not intend to incite racial hatred. He said that the photos were taken at a friend's house with an ornamental gun, but he refused to name the friend.
His incriminating messages urged people to "stand up" and contained phrases associated with Nazism and white supremacy with reference to his hatred of Muslims and Islam.
The prosecution told the court that while Davison now regretted his actions, at the time it was an intentional hate crime to incite anti-Muslim hatred and being drunk was not an excuse for such behaviour.
Davison was found guilty of stirring up racial and religious hatred on Wednesday at Cardiff Crown Court and is due to be sentenced on September 23.
He was found guilty of one count of publishing material with intent to stir up religious hatred contrary to Section 29C Public Order Act 1986 and two counts of publishing material with intent to stir up racial hatred contrary to section 19 Public Order Act 1986.
He was found not guilty of two further counts of stirring up religious hatred.
Full report at:
https://www.news18.com/news/world/man-guilty-of-hate-crime-for-posting-anti-muslim-messages-in-uk-2289343.html
--------
Merkel meets Palestinians' Abbas for talks in Berlin
August 29, 2019
BERLIN: Chancellor Angela Merkel says Germany continues to believe a two-state solution for Israelis and Palestinian is the only way for both peoples "to live in peace and security."
Merkel stressed her support for a two-state solution ahead of talks Thursday with Palestinian President Mahmoud Abbas at the Chancellery in Berlin.
Abbas said, "we appreciate Chancellor Merkel's efforts to create multilateral cooperation aside from unilateral solutions to create stability and peace in the world."
He stressed the importance of Germany's role in the Middle East and thanked the country for its financial support for Palestinians' health services, education and the strengthening of civil society.
Full report at:
https://www.arabnews.com/node/1546926/world
--------
Germany urges 2-state solution for Israel and Palestine
Ayhan Simsek
29.08.2019
BERLIN
Chancellor Angela Merkel on Thursday reaffirmed Germany's support for a negotiated two-state solution to the Israeli-Palestinian conflict.
"A political solution must be achieved," Merkel told reporters at a joint news conference with Palestinian President Mahmoud Abbas.
"In our opinion, this can only be possible through a two-state solution negotiated between the conflict parties which takes into account the internationally agreed parameters," she added.
Merkel underlined that achieving this would be "a long and rocky process" but it would ensure Israelis and Palestinians live side by side in peace and security.
The chancellor also pledged that Germany would continue to support economic development projects in the Palestinian territories.
Abbas praised Germany for its emphasis on international law and its support for a political settlement based on a two-state solution.
"We are ready to return to the negotiating table," he stressed.
Abbas also criticized Israel's approval of new settlements in the occupied West Bank, stressing that they are severely undermining a two-state solution.
International law views both the West Bank and East Jerusalem as "occupied territories" and considers all Jewish settlement-building activity there as illegal.
Full report at:
https://www.aa.com.tr/en/europe/germany-urges-2-state-solution-for-israel-and-palestine/1568266
--------
Turkey warns US against delays in establishing Syria safe zone
Aug 29, 2019
Turkey will not tolerate delays in the implementation of a deal with the United States to set up a "safe zone" along its border with north-eastern Syria, President Recep Tayyip Erdogan said.
Washington and Ankara reached an agreement this month to move US-backed Syrian Kurdish forces away from the border and to jointly administer the area. Turkey considers the Kurdish YPG militia, which led a US-backed Syrian force that defeated ISIS in northern Syria, a terrorist group.
"The agreement which we have reached with the USA is a correct step towards establishing a safe zone and removing the YPG from the east of the Euphrates," Mr Erdogan told reporters on his way back from a meeting with Russian President Vladimir Putin in Moscow.
Ankara this week reported progress on implementing the safe zone agreement with the start of operations by a Turkish-American centre to oversee the area, but accuses the US of failing to fully implement an earlier deal to remove YPG fighters from the northern Syrian city of Manbij.
"We will never tolerate a delay like we saw in Manbij. The process must advance rapidly," Mr Erdogan was quoted as saying by CNN Turk on Thursday.
Kurdish officials in north-east Syria said on Tuesday that the YPG had withdrawn from border positions in Tal Abyad and Ras Al Ain, and that the militia would pull forces and heavy weapons from the entire strip.
Mr Erdogan said this week that Turkey would mount a cross-border offensive on its own to clear the YPG militia from its border if necessary. "All the personnel, the armoured carriers, all are on the border. That is, we are in a position to do everything at any moment," he said.
The safe zone was proposed by US President Donald Trump last year after backtracked on plans to withdraw US special forces from northern Syria amid an outcry over abandoning Washington's Kurdish allies.
US support for the YPG has enraged Turkey, which views the militia as a terrorist organisation linked to Kurdish insurgents inside the country.
Mr Erdogan discussed the situation in Syria with Mr Trump in a phone call on Wednesday night. The Turkish presidency said the two leaders discussed the situation in the Idlib region, another area of concern for Turkey on its border with Syria, but made no mention of the safe zone.
They "agreed to continue co-operation for the protection of civilians in Idlib where regime attacks continue, and prevention of new humanitarian crises", the Turkish presidency said.
The Syrian government's Russia-backed offensive on the rebel-held north-western region was the main focus of Mr Erdogan's visit to Moscow.
Full report at:
https://www.thenational.ae/world/mena/turkey-warns-us-against-delays-in-establishing-syria-safe-zone-1.904101
--------
Mideast
The Israel-Iran Shadow War Escalates and Breaks Into the Open
By David M. Halbfinger, Ben Hubbard and Ronen Bergman
Aug. 28, 2019
JERUSALEM — Israel has carried out a series of attacks across the Middle East in recent weeks to prevent Iran from equipping its Arab allies with precision-guided missiles, drones and other sophisticated weapons that could challenge Israel's defenses.
The attacks represent a new escalation in the shadow war between Iran and Israel, which has broken into the open and threatens to set off a wider confrontation.
In one 18-hour period over the weekend, an Israeli airstrike killed two Iranian-trained militants in Syria, a drone set off a blast near a Hezbollah office in Beirut's southern suburbs and an airstrike in Qaim, Iraq, killed a commander of an Iran-backed Iraqi militia.
Israel accuses Iran of trying to establish an overland arms-supply line through Iraq and northern Syria to Lebanon. The attacks, only one of which Israel has publicly acknowledged, were aimed at stopping Iran and signaling to its proxies that Israel will not tolerate a fleet of smart missiles on its borders, officials and analysts said.
"Iran is building something here in the region," said Sima Shine, a former head of research for Israeli intelligence, now a scholar at the Institute for National Security Studies in Tel Aviv. "What's changed is that the process reached a level in which Israel has to act differently."
Iranian officials said the Israeli attacks would not go unanswered. Maj. Gen. Qassim Suleimani, commander of Iran's Quds Force, who oversees covert military operations outside Iran, said on Twitter that "the Zionist actions are insane and will be their last."
While Iran has not publicly acknowledged the transfer of missile technology, an Iranian with knowledge of Iran's regional efforts said that in the past year Iran had shifted its focus from training its proxy forces for ground battle in Syria and Iraq to equipping them with high-tech weapons and training.
Leaders on all sides say they do not want an all-out war, but the accelerating pace of violent strikes, often with cheap drones and other covert technologies, has raised the possibility that even a minor attack could spiral into a larger conflict. And public taunting, saber-rattling and domestic politics are all contributing to an atmosphere of volatility and brinkmanship.
Israel acknowledged carrying out the airstrike in Syria on Saturday, which it said was to prevent militants from launching an explosives-laden drone into Israel.
The drone blast near Beirut early Sunday destroyed what Israeli officials described as machinery vital to Hezbollah's precision-missile production effort. Israel's responsibility for that strike, the aim of which was first reported by The Times of London, was confirmed by two officials briefed on the operation.
In Iraq, bases belonging to Iranian-backed paramilitary groups have been attacked repeatedly in recent weeks, and their leaders have accused Israel, saying Israeli drones had hit their vehicles in Qaim, killing one commander. Israel carried out at least one of the attacks, on a base north of Baghdad on July 19, and American officials have said that Israel carried out others.
On Wednesday, the Lebanese Army said it had fired on two of three Israeli drones that breached Lebanese airspace before returning to Israel.
The flare-ups highlight how Iran's opportunistic expansion in much of the Middle East is coming up against fierce Israeli pushback.
"The military theater has been broadened by Israel in terms of the targeting of its attacks," said Randa Slim, an analyst at the Middle East Institute in Washington. "It is no longer about Iranian presence in Syria. It is about Iran's network in the region."
For years, as unrest and conflict have weakened Arab states, Iran has moved in, building strong ties with local forces that benefit from its patronage while expanding its influence and amplifying the threat to Israel.
Iran pioneered this approach by building Hezbollah into Lebanon's most formidable military force, with tens of thousands of trained fighters and an arsenal believed to contain more than 100,000 rockets and missiles pointed at Israel.
More recently, Iran has strengthened its regional network by providing arms and expertise to the Houthi rebels in Yemen, militias in Iraq and pro-government forces in Syria. Iran has also strengthened cooperation between its allies: Hezbollah operatives from Lebanon have trained fighters in Iraq and Yemen and sent aid to Palestinian jihadist movements, and Iran has airlifted thousands of militiamen from Iraq and elsewhere into Syria to help President Bashar al-Assad defeat a rebellion there.
The lives of the two militants killed by the Israeli strike in Syria over the weekend illustrate the borderless nature of the Iranian network. The fighters, Hassan Zabeeb and Yasser Daher, grew up in Lebanon, studied aviation engineering in Iran and returned to Lebanon to work with Hezbollah, according to the Lebanese news media.
Iran calls its regional network the "axis of resistance." While its members operate with significant autonomy in their own countries, they share the broader goal of combating American, Israeli and Saudi influence in the Middle East. Having militarized allies across the region also serves as a deterrent against Israeli and American strikes on Iran, since any such attacks could elicit violent responses elsewhere.
Israel's efforts to hinder Iranian expansion in recent years have focused largely on Syria, where Israel has carried out more than 200 airstrikes since early 2017 on suspected weapons convoys, bases and other sites associated with the Iranian war effort.
Israel mostly avoided killing Hezbollah fighters in Syria and attacking inside Lebanon, which could have provoked counterstrikes. This led to an unwritten understanding — often called the rules of the game — about where and how their conflict would and would not play out.
The attacks last weekend appeared to break the rules by killing two Hezbollah fighters in Syria and reaching into the heart of a Hezbollah stronghold in Beirut.
Raising temperatures further are brash public statements on both sides, which seem intended as much for domestic audiences as for each other.
Israel's military has taken to taunting its adversaries on social media: After the airstrike in Syria, it ridiculed General Suleimani.
On Tuesday, it launched a Twitter account in Persian to try to undermine him with the Iranian public.
Addressing his followers over the weekend, Hassan Nasrallah, the leader of Hezbollah, vowed to retaliate, shouting his determination to prevent attacks in Lebanon from becoming frequent.
"We in the Islamic resistance, we will not allow for this type of path, no matter the cost!" he said. He did not say how or when his forces would respond.
"I suggest to Nasrallah to calm down," Prime Minister Benjamin Netanyahu of Israel responded mockingly on Tuesday. "Israel knows how to defend itself and to pay back its enemies. I say the same to Qassim Suleimani: be careful with your words and even more so with your actions."
Some analysts suggested that the approaching Israeli election encouraged Mr. Netanyahu's tough stance, while Mr. Nasrallah also could not appear to be weak at a time when American sanctions have hurt his group's finances.
Talal Atrissi, a sociologist who studies Hezbollah at Lebanese University, said he expected the group to retaliate against Israel to prevent attacks in Lebanon from becoming commonplace.
Alluding to Israel's national elections on Sept. 17, he added: "There are elections, and Netanyahu needs to show that he is protecting Israel, but if there is no response, he'll keep doing it. It won't just be the election. It will become a new strategy." Officials and analysts said the recent uptick in strikes, and their spread into Iraq and Lebanon, came in response to adjustments to Iran's strategy.
One involved General Suleimani's efforts to maintain supply lines for shipments of arms and equipment from Iran. Until about a year ago, according to a senior Middle Eastern intelligence official, Iran used unmarked or Iranian commercial planes flying into the Damascus airport to reach Hezbollah or Quds Force units in Syria.
But repeated Israeli airstrikes drove Iran to reroute supplies through airfields in northern Syria instead.
When Israel struck those fields, too, General Suleimani moved to set up a land route. That route goes from Iran through Iraq, where drivers and vehicles are often changed to elude surveillance, before crossing into northern Syria.
The Israeli attack on July 19 at Amerli base, north of Baghdad, struck a shipment of guided missiles bound for Syria. It was the first time Israel had carried out an airstrike in Iraq since it destroyed a nuclear reactor near Baghdad in 1981, when Saddam Hussein was in power.
Israel has been working to prevent Hezbollah from manufacturing its own precision-guided missiles since early 2017, using a combination of disclosures, warnings and threats, Israeli analysts say.
Prevented from military action by its understanding with Hezbollah and a desire to avoid war, Israel at first tried to weaponize its intelligence gathering, hoping that exposing Hezbollah's missile project as a threat to regional security would create international pressure to quash it.
That approach culminated in a speech by Mr. Netanyahu to the United Nations last September, in which he showed aerial photos of what he said were three factories for precision-guided missiles in downtown Beirut.
Ofek Riemer, a former Israeli military intelligence officer who writes frequently on national security, called the public-relations tactic "coercive disclosure."
But he said that phase appeared to have ended with Sunday's blast in Beirut.
He cautioned that the explosion in Beirut still appeared well short of an all-out Israeli attempt to stop Hezbollah's precision-guided missile project by military means.
"We're still in the signaling business, as I see it," Mr. Riemer said. "We're not really going head-on against this project. But it's also signaling to the international community: Either we take action, and you don't know where that leads, or you come in and try to pull strings and influence the Lebanese government, Hezbollah by proxy, or even Iran."
David M. Halbfinger reported from Jerusalem; Ben Hubbard from Beirut, Lebanon; and Ronen Bergman from New York. Farnaz Fassihi contributed reporting from New York.
https://www.nytimes.com/2019/08/28/world/middleeast/israel-iran-shadow-war.html
--------
Iran: Lifting US Sanctions Will Help Salvage Nuclear Deal
Aug. 29, 2019
KUALA LUMPUR, Malaysia — Iranian Foreign Minister Mohammad Javad Zarif said Iran's supreme leader will not meet President Donald Trump unless Washington halts its "economic terrorism" that has hurt ordinary Iranians.
Zarif said the removal of U.S. sanctions — which he described as a form of extortion, arm twisting and intimidation — could also help salvage the 2015 Iranian nuclear deal, which the U.S. unilaterally withdrew from last year.
He said Tehran has the right to reduce its compliance under the nuclear pact after the U.S. left, but it can return to full implementation if the U.S. fulfils its commitment and returns to the table.
"We are prepared to leave (the pact) because we have nothing to lose," he told a forum in Kuala Lumpur. But Tehran also believes that the only way to avoid a "nuclear holocaust" is to destroy all nuclear weapons, he said.
"We say that if you (the U.S.) come back to your commitments, you fulfil your commitments and the commitments are to normalize economic relations with Iran, we will revert back to full implementation and that is still on the table," he added.
In recent months, Tehran has announced that it would cross limits imposed by the multinational pact on the size and potency of its nuclear stockpile.
Iranian President Hassan Rouhani on Tuesday backed off from possible talks with Trump, just a day after the U.S. president said the two could meet on their nuclear impasse after a surprise intervention by French President Emmanuel Macron during the G-7 summit this week.
His U-turn can be seen as a result of pressure from hard-liners in the Iranian establishment who oppose taking a softer tone toward the West. Iran has increased its uranium enrichment activities after the U.S. pullout from the nuclear deal.
It has also lost billions of dollars in business deals allowed by the accord as the U.S. re-imposed and escalated sanctions largely blocking Tehran from selling crude abroad, a crucial source of hard currency for the Islamic Republic.
"They are engaged in economic terrorism and the basic principle in a civilized world is that you do not negotiate with terrorists. If they want to negotiate, they have to abandon terrorism," Zarif said, in reference to rollback of sanctions.
"It won't be possible for us to engage with the United States unless they stop imposing war, engaging in economic terrorism against the Iranian people," he told reporters later.
Zarif slammed Washington's push for dominance in the region including through a U.S.-led coalition to patrol the Strait of Hormuz, a strategic waterway through which much of the world's oil transits. He said Middle Eastern countries can safeguard security without interference from outsiders.
In past weeks, the Persian Gulf region has seen six attacks on oil tankers that the U.S. has blamed on Iran and the downing of a U.S. surveillance drone by Iranian forces. Iran denied it was behind the tanker attacks.
But in July, Iran seized British-flagged tanker the Stena Impero, after the United Kingdom seized an Iranian tanker thought to be carrying fuel to Syria in violation of international sanctions. The Iranian vessel was released earlier this month, but the British vessel is still being held.
Full report at:
https://www.nytimes.com/aponline/2019/08/29/world/asia/ap-as-malaysia-iran-us.html?searchResultPosition=4
--------
Gaza in state of alert after blasts kill 3 Hamas policemen
28 Aug 2019
The Gaza Strip is in a "state of alert" after explosions killed three policemen in the Palestinian enclave in apparent suicide attacks.
The police officers died in "two explosions targeting police checkpoints" late on Tuesday, the interior ministry in the Hamas-controlled coastal territory said in a statement.
Such attacks on Hamas, which has the most powerful armed apparatus in the enclave, are rare.
An interior ministry spokesman, Eyad al-Bozom, said security forces were making progress in their pursuit of those behind the explosions, but he did not disclose further details.
"The sinful hands that carried out this crime will not escape punishment," said al-Bozom.
The first blast destroyed a motorcycle as it passed a police checkpoint, witnesses said. Two police officers were killed and a third Palestinian was wounded. It was not immediately clear if the riders were among the casualties.
The second explosion, less than an hour later, killed one officer and wounded several people at a police checkpoint elsewhere in the city, the interior ministry said.
Hamas chief Ismail Haniya said Gaza can "absorb" such incidents.
"We are certain, things will be controlled and all sides involved in these bombings will be held accountable," he said in a statement.
Hamas - which took over Gaza in a 2007 civil war with the forces of Palestinian President Mahmoud Abbas - has at times faced internal opposition from more hardline fighters aligned with al-Qaeda or the Islamic State of Iraq and the Levant (ISIL or ISIS) group.
Escalating violence
Israel kills three Palestinians in besieged Gaza Strip (2:08)
A source familiar with the investigation told AFP news agency a group in Gaza that sympathises with ISIL was suspected.
Hamas and Islamic Jihad condemned the attacks.
"These events only serve the Israeli occupation, which tried to stab the Palestinian resistance in the back. What the occupation could not achieve by launching wars on Gaza will not be achieved by such bombings," said Hamas spokesman Fawzi Barhoum.
Meanwhile, the Popular Front for the Liberation of Palestine (PFLP) blamed Israel for the bombings.
The Israeli military said it was unaware of any action in the Gaza Strip.
Earlier on Tuesday, the Israeli military had bombed a Hamas military post after fighters in Gaza fired a mortar round across the separation fence but said it hadn't carried out any air raids at night.
Tuesday's events were the latest in a string of incidents that have raised concerns of further escalation before Israel's September 17 elections.
Israeli Prime Minister Benjamin Netanyahu is fighting for re-election, with political opponents calling for tougher action against Hamas.
On Monday, Israeli warplanes hit what the military said were "terror targets in a Hamas military compound in the northern Gaza Strip, including the office of a Hamas battalion commander".
Israel also announced it was slashing by half the fuel it pipes to Gaza's main power station, meaning a cut to the region's already meagre electricity supply.
Wars on Gaza
Israeli authorities have accused Hamas of being responsible for the latest violence, which undermines a truce brokered by the United Nations and Egypt that provides for an easing of the Israeli blockade of Gaza in return for an end to military operations from the Palestinian enclave.
Specifically, the Israeli army accuses Hamas of not doing enough to contain its ally, Islamic Jihad, which is considered close to Israel's foe, Iran.
Since 2008, Israel has waged three wars on the Gaza Strip, killing thousands of people, mostly Palestinian civilians.
Israel has long held Hamas responsible for violence from Gaza, while Hamas says Israel is responsible for the state of anger and pressure inflicted on Gaza's residents because of the continued siege.
Full report at:
https://www.aljazeera.com/news/2019/08/190828003834855.html
--------
Yemen blames UAE for strikes that killed 30
August 30, 2019
SANAA: Yemen's internationally recognised government accused the Emirati air force of attacking its troops on Thursday as they were heading to the key southern port city of Aden to fight separatists backed by the UAE. The air strikes killed at least 30 government forces, a Yemeni commander said.
The development raises concerns about the future of a Saudi-led coalition that has been fighting Yemen's Houthi rebels since 2015 and adds another complex layer to the civil war that has ravaged the Arab world's most impoverished country.
Col Mohamed al-Oban, a commander of the government's special forces in Abyan province, said the troops were on the road, headed from Abyan toward Aden on Thursday, when the strikes took place, killing at least 30. He didn't say who was behind them, saying only the planes were from the Saudi-led coalition.
The UAE also maintains warplanes as part of the coalition. Officials in the UAE declined to immediately comment.
Full report at:
https://www.dawn.com/news/1502540/yemen-blames-uae-for-strikes-that-killed-30
--------
IRGC commander: Khamenei ordered Iran's July seizure of British tanker
29 August 2019
Iran's Supreme Leader Ali Khamenei ordered the July seizure of the British-flagged oil tanker Stena Impero in the Strait of Hormuz, said a senior Iranian military commander on Thursday, according to the semi-official Tasnim news agency.
Khamenei gave the order, which was "meticulously executed," said the commander of the Islamic Revolutionary Guards Corps (IRGC) Aerospace Force, Amir Ali Hajizadeh.
"When he [Khamenei] said that England's action will not go unanswered, the English ship was seized only 48 hours later. These are orders that the Supreme Leader issued that were meticulously executed," said Hajizadeh, who was one of the eight IRGC commanders sanctioned by the US on June 24.
"Similar orders have also been issued in relation to other sectors," he added.
IRGC forces seized the Stena Impero on July 19 in the Strait of Hormuz, two weeks after British forces seized the Iranian oil tanker Adrian Darya, formerly known as Grace 1, in Gibraltar, on suspicion of breaking EU sanctions on Syria.
Khamenei had described Britain's seizure of Grace 1 as "maritime piracy" and warned on July 16 – three days before the IRGC raided the Stena Impero - that "the Islamic Republic and devout agents of the system will respond to these vicious acts."
Iranian officials have previously claimed that the Stena Impero was seized for violating international maritime law.
"We received reports that the British Stena Impero oil tanker was causing incidents and, therefore, we asked the military to direct it to Bandar Abbas port for the necessary probes," Allahmorad Afifipour, head of Hormozgan's maritime authority, told Iran's semi-official news agency Tasnim on the day of the incident.
Full report at:
https://english.alarabiya.net/en/News/middle-east/2019/08/29/Senior-military-commander-Khamenei-ordered-Iran-s-July-seizure-of-British-tanker.html
--------
UN Security Council condemns escalating Houthi attacks on Saudi Arabia
30 August 2019
The UN Security Council condemned "in the strongest terms" on Thursday the escalation of Houthi attacks on civilian infrastructure in the Kingdom of Saudi Arabia and called on the militias "to cease such attacks immediately and without preconditions."
In a statement approved by all 15 Council members, the Security Council said such attacks, which have killed, injured and endangered civilians, posed a serious national security threat to the Kingdom of Saudi Arabia, as well as a wider threat to regional security, and threaten to undermine the UN-led political process.
The Council underlined its full support for Martin Griffiths, the UN Special Envoy for Yemen, and called on the Government of Yemen, the Houthis and all other parties to engage constructively and continuously with him.
The Council commended the tireless efforts of the Special Envoy to support the parties to implement the Stockholm Agreement and to achieve a political solution to the conflict in Yemen.
The statement expressed particular concern regarding recent developments in South Yemen, citing attempts to seize the State's institutions using violence, calling on all involved parties to observe self-restraint and to preserve Yemen's territorial integrity.
The Security Council welcomed and fully supported the efforts by the Kingdom of Saudi Arabia to convene a dialogue in Jeddah to resolve the situation, and called on all parties "to engage constructively to make those efforts a success."
The Security Council expressed its deep concern at the escalation in violence and the loss of life and injuries in Aden, Saa'da, Sanaa, Shabwa and other parts of Yemen.
It called on all parties to fulfil their obligations under international humanitarian law, including in relation to ensuring the protection of civilians, particularly to children and access for humanitarian organizations, and their obligations under international human rights law, as applicable.
The Security Council underlined the need to ensure accountability for violations in Yemen.
Full report at:
https://english.alarabiya.net/en/News/gulf/2019/08/30/UN-Security-Council-condemns-escalating-Houthi-attacks-on-Saudi-Arabia.html
--------
Aid agency takes in 51 wounded in Yemen fighting, 10 dead on arrival
29 August 2019
The aid charity Medecins Sans Frontieres (MSF) said it took in 51 wounded casualties during heavy fighting in the Yemeni city of Aden on Wednesday, adding that 10 of them died before reaching the hospital.
"It's total chaos here. There was fighting in the city all day yesterday. Things appear to have calmed down a bit this morning, but we expect the hostilities to resume at any point," MSF program manager Caroline Seguin said in the charity's statement, issued on Thursday.
https://english.alarabiya.net/en/News/gulf/2019/08/29/Aid-agency-takes-in-51-wounded-in-Yemen-fighting-10-dead-on-arrival.html
--------
Iran, India hope to seal key trade deal by end of 2019: Envoy
Aug 29, 2019
Iran's ambassador to India says a major trade deal between Tehran and New Delhi is almost there to be concluded by the end of 2019 as the two countries seek to bypass American sanctions imposed on Iran and to increase the size and scope of bilateral trade activities.
Ali Chegeni said on Wednesday that Iran and India hope a Preferential Trade Agreement (PTA) could be sealed by the end of this year to make trade between the two "cheaper and simpler".
Speaking at a meeting with Indian businessmen hosted by PHDCCI, India's top trade body, Chegeni said that a fifth round of talks between the representatives of Iran and India is planned to take place in New Delhi to allow the two sides to complete "very few formalities" ahead of the signing of the PTA deal.
The ambassador, however, said that a proposed Bilateral Investment Protection Agreement (BIPA) between Iran and India would take a little longer to be finalized while a Double Taxation Avoidance Agreement (DTAA) would be ready to be implemented once the Iranian government and parliament approve the agreement.
Chegeni said Iran and India had made huge progress in facilitating trade between the two over the past year despite sanctions imposed by the United States.
"There is scope for bilateral trade to rise to $30 billion soon and then to $50 billion," he said, adding that trade between Iran and India had surged to $17.50 billion in 2018 from $13.5 billion in 2017.
He also said that the two countries had signed a total of 26 deals and memorandums of understanding on trade and economic cooperation over the past few years.
Chegeni said that the two countries had a separate mechanism to encourage barter trade to further offset the impacts of American sanctions on the economic cooperation between the two countries.
"We could do barter trade with India agriculture against agriculture, pharmaceutical against pharmaceutical and so on," he said.
Iran and India have actively sought ways to bypass the American sanctions which started in November and were toughened in May when Washington removed waivers granted to India to continue to buy oil from Iran.
Despite ceasing to receive oil shipments from Iran for the time being, New Delhi is eagerly waiting for a solution to Iran-US disputes so that it could resume crude imports from Iran, a former key supplier.
Full report at:
https://www.presstv.com/Detail/2019/08/29/604786/Iran-India-preferential-trade-deal-sanctions
--------
Former Yemeni president Hadi has to negotiate with Ansarullah: Analyst
Aug 30, 2019
Yemeni journalist and political analyst, Yousef Mawry, believes that with the withdrawal of forces loyal to former Yemeni president, Mansur Hadi, from Aden, he has no choice but to negotiate with the Ansarullah movement.
https://www.presstv.com/Detail/2019/08/30/604844/Yemen-president-Mansur-Hadi-Ansarullah-negotiation
--------
Over 110 Israeli settlers storm Aqsa Mosque under police protection
Aug 29, 2019
Scores of Israeli settlers have stormed the al-Aqsa Mosque compound in the occupied Old City of East Jerusalem al-Quds under the strict protection of the regime's security forces.
The Department of Islamic Endowments in Jerusalem al-Quds said in a statement, carried by Palestine's official WAFA news agency, that 113 Israeli settlers stormed the compound from the Moroccan Gate (Bab al-Magharib) at around 11:00 a.m. on Thursday.
The settlers began their provocative tour of the compound under the full protection of Israeli soldiers. Two intelligent officers of the Israeli regime also entered the compound along with the settlers, the statement further said.
Israeli forces stationed at al-Aqsa gates imposed restrictions on Palestinian worshipers' access to the mosque, demanded their ID cards, frisked them and searched their bags, the statement said.
Hardline Israeli legislators and extremist settlers regularly storm the al-Aqsa Mosque compound in the occupied city, a provocative move that infuriates Palestinians.
The al-Aqsa Mosque compound sits just above the Western Wall plaza and houses both the Dome of the Rock and the al-Aqsa Mosque.
According to an agreement signed between Israel and the Jordanian government after Israel's occupation of East Jerusalem al-Quds in 1967, non-Muslim worship at the compound is prohibited.
The number of Israeli lawmakers who storm the holy compound has increased after the regime's prime minister Benjamin Netanyahu decided in July 2018 to permit such visits once every three months.
Many of the Knesset members are right-wing extremists, who support the demolition of the Islamic site in order to build a Jewish temple instead.
Full report at:
https://www.presstv.com/Detail/2019/08/29/604792/Palestine-Israel-settlers-alQuds-Moroccan-Gate
--------
UN renews peacekeeping mission amid Israel-Lebanon tensions
August 30, 2019
UNITED NATIONS: The UN Security Council on Thursday voted to renew its long-running peacekeeping mission in Lebanon for a year, warning of a "new conflict" with neighboring Israel.
The draft resolution, written by France and approved unanimously, would allow for the approximately 10,000 members of the United Nations Interim Force in Lebanon (UNIFIL) — which was created in March 1978 — to stay in place.
According to the draft text, the Security Council warned that "violations of the cessation of hostilities could lead to a new conflict that none of the parties or the region can afford."
It "condemns all violations of the Blue Line" between Lebanon and Israel, "both by air and ground, and strongly calls upon all parties to respect the cessation of hostilities."
The Lebanese army fired on an Israeli drone in the southern part of the country Wednesday.
That incident came just days after Shiite movement Hezbollah blamed an armed drone attack in its south Beirut stronghold on Israel — an incident that President Michel Aoun said amounted to a "declaration of war."
"Urging all parties to make every effort to ensure that the cessation of hostilities is sustained," the Security Council called on all sides to "exercise maximum calm and restraint."
The resolution includes a requirement — on the insistence of the United States, diplomats said — for the UN secretary general to perform an evaluation on the UNIFIL mission and its staff before June 1, 2020.
Washington was unable, however, to reduce the maximum allowed number of peacekeepers deployed to 9,000.
Also at the US's request, the Security Council resolution calls for UNIFIL to have full access to the Blue Line.
It expresses "concern that UNIFIL still has not been able to access all relevant locations north of the Blue Line related to the discovery of tunnels crossing the Blue Line."
Full report at:
https://www.arabnews.com/node/1547246/middle-east
--------
URL: https://www.newageislam.com/islamic-world-news/child-marriage-one-worst-human/d/119610
New Age Islam, Islam Online, Islamic Website, African Muslim News, Arab World News, South Asia News, Indian Muslim News, World Muslim News, Women in Islam, Islamic Feminism, Arab Women, Women In Arab, Islamophobia in America, Muslim Women in West, Islam Women and Feminism