New Age Islam News Bureau
12 Apr 2014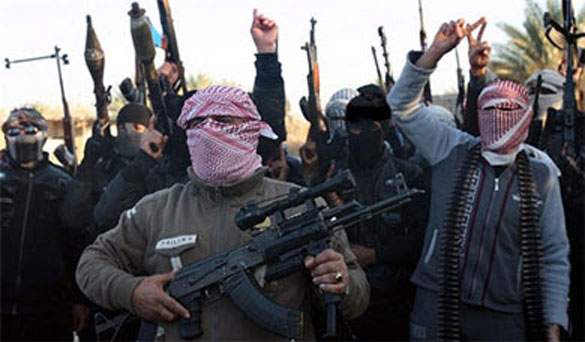 Photo: Clashes between ISIl, Nusra in Albu Kamal Expand, Claim 100 Militants
-------------
South Asia
• Chief of Hefazat-e-Islam: Allah's Bangladesh Not for Non-Believers
• 14 Taliban militants killed, 9 others injured in Afghan operations
• Migrants in Iran forced into 'slavery'
• Persian-Islamic culture in South Asia explored
• Uighur Turks stranded at Istanbul airport for 17 days
• Separate blasts leaves 2 policemen dead, 5 wounded in Khost
• Coordinated suicide attacks foiled in Helmand, 5 suspects arrested
Pakistan
• Taliban Plot with Madrasas to Assault Islamabad: Report
• Resolution in Sindh PA on CII Unconstitutional: Jamaat-e-Islami
• Afghanistan, Pakistan Both Targeted By Terrorists: First VP
• Peace talks with government on track: Pakistani Taliban
• Musharraf's treason trial not linked to army: Ahsan Iqbal
• Karachi raids: 310 suspects arrested
• Altaf Hussain applies for Pakistani passport
• Losing ground: 30,000 Hazaras fled Balochistan in five years
• Pakistan party withdraws support to Sharif government
• Winds of change for Jamaat-e-Islami
Arab World
• Clashes between ISIl, Nusra in Albu Kamal Expand, Claim 100 Militants
• '86 dead' as Syria's Al Qaida, allies repel jihadists
• Hezbollah develops new tactics in Syrian civil war
• Warily, Jordan Assists Rebels in Syrian War
• Syria rebels, government confirm poison gas attack
• Egypt applies harsher terrorism penalties as Brotherhood crackdown continues
• Kurdish independent state to come: Massoud Barzani
• Army Intensifies Campaign against Terrorist Groups across Syria
• 'Pakistan will always be Kingdom's top ally'
• 'Fiercest' fighting since mid-2012 unfolds in Syria's Aleppo
• Egypt gives Hamas and Gaza the cold shoulder
Europe
• Militants raise Russian flag in Ukraine city, risk of 'gas war' looms
• Egypt must 'fundamentally revise flawed anti-terrorism law': Amnesty
• UN criticises Brunei over tough new Islamic law
• Communities Secretary Says Britain Is a 'Christian Nation' and Militant Atheists Should 'Get Over It'
• Former Arsenal star denies he has become a Syrian jihadist
• West might want to arm Syrian opposition ahead of elections - political scientist
• Spanish village called 'kill Jews' considering name change
India
'• We Send Love And Peace For All!' Bareilly Dargahs Urge the Faithful to Vote
• 18 persons from PoK detained at Nepal border
Africa
• Suspected Islamists kill 19 in northern Nigeria: Witnesses
• Christian vigilantes trap 14,000 Muslims in Central Africa town
• Despite a New Constitution, the Fight for Gender Equality in Tunisia Continues
• Tunisian police disperse Islamist protesters
• Libyan language students honoured by British embassy for army training help
Mideast
• East Jerusalem mufti calls for Al-Aqusa Mosque sit-in
• 5 killed in Battles between Huthis and Army Northern Yemen
• Top Turkey court annuls parts of controversial judiciary law
• Israeli officials: 'Zero chance' for peace talks to break impasse before end of April
• 7 Palestinians banned from al-Aqusa
• Iran says will challenge US decision not to issue UN ambassador visa
Southeast Asia
• Extremism not acceptable in Malaysia, PM says
• Shariah court has no say over civil marriages, lawyers say
• Why no action on mass conversion into Islam, ask Sabah Christians
• 2 Philippine soldiers, 5 militants die in clashes
North America
• Sources: US Asks Israel to Attack Syria to Stop Army Advances
• Hillary Clinton Laughs at Supporting Al-Qaeda in Syria, Libya
• Brandeis U. rescinds honorary degree because recipient is anti-Islam
• U.S. Says Iran's Pick for U.N. Envoy Won't Get a Visa
• Right to vote under threat in the United States: Barack Obama
• War on Terror's Trickle down Effect: The FBI's Military Evolution Exposed
Compiled by New Age Islam News Bureau
URL: https://www.newageislam.com/islamic-world-news/new-age-islam-news-bureau/chief-of-hefazat-e-islam--allah's-bangladesh-not-for-non-believers/d/66520
-----------
South Asia
Chief of Hefazat-e-Islam: Allah's Bangladesh Not for Non-Believers
April 12, 2014
Shah Ahmed Shafi, the chief of radical Islamist platform Hefazat-e-Islam Bangladesh, yesterday said the persons who do not believe in Almighty Allah would not be allowed to live in Bangladesh.
"We are Muslims. We have no conflict with anybody. But the persons, who are living in this country of Allah, and taking different facilities from Him, cannot live in His country," Shafi said at a two-day Islamic Conference at Laldighi ground in the port city.
"We have no conflict with [Prime Minister] Sheikh Hasina, Awami League, Bangladesh Chhatra League and others. They are our friends. If we become good human beings then the country will become Sonar Bangla. We have to become good people to live in the country peacefully," he added.
Some 12 of the platform's central leaders out of 24 who are accused in 42 cases filed with different police stations of Dhaka and Chittagong also attended the programme, organised by Hefazat. The leaders include Secretary General Junaid Babunagari and Organising Secretary Azizul Haq Islamabadi.
Police, however, did not arrest them since they were on bail, Inspector (investigation) Nezam Uddin of Kotwali police station told the Dhaka Tribune.
Some 200 police personnel were deployed at Laldighi which is located near the CMP headquarters, Chittagong Court Building and deputy commissioner's office.
Earlier, the Chittagong Metropolitan Police allowed the Qaumi madrasa-based platform to hold the programme on 12 separate conditions. The police had asked the Hefazat leadership not to invite the accused, who are not on bail, on the stage to address the event, and not to give provocative speeches.
However, Babunagari reiterated the demand for formulating a law (anti-blasphemy law) keeping the provision of death penalty against those who demean Prophet Mohammad (SM).
"We will resist them who make derogatory remarks about our prophet," he said adding that no "atheist" could live in the country.
He also said people from other religion had the right to live in the country "as it is a democratic country."
Other leaders of the platform threatened that the government would be destroyed if it had revised the Qaumi madrasa education system.
Hefazat Central Committee Joint Secretary General Mahmudul Hasan, Chittagong city unit Nayeb-e-Ameer ATM Taher, Dhaka city unit Publicity Secretary Altaf Hossain and Mufti Amini's son Mufti Abul Hasnat Amini also spoke at the programme chaired by Chittagong city unit Nayeb-e-Ameer Shamsuddhoha.
http://www.dhakatribune.com/politics/2014/apr/12/ahmed-shafi-allah%E2%80%99s-bangladesh-not-non-believers#sthash.EIKvbAcL.dpuf
-----------
14 Taliban militants killed, 9 others injured in Afghan operations
Apr 12 2014
At least 14 Taliban militants were killed and 9 others were injured during military operations by Afghan national security forces in the past 24 hours.
The operations were jointly conducted by Afghan national police, Afghan national army and Afghan intelligence – National Directorate of Security (NDS) operatives.
Interior ministry following a statement said Saturday that the militants were killed or injured in Paktika, Kandahar, Logar and Ghazni provinces.
The statement further added that 6 Taliban militants were also arrested during the counter-terrorism operations.
Afghan security forces confiscated various types of light and heavy weapons along with explosives during the operations, interior ministry said.
The statement by interior ministry also added that Afghan national police (ANP)forces discovered and seized 5 improvised explosive device (IED) during operations in Kandahar and Farah provinces.
Interior ministry said the improvised explosive device (IEDs) were recently planted by Taliban militants for insurgency attacks.
http://www.khaama.com/14-taliban-militants-killed-9-others-injured-in-afghan-operations-3556
-----------
Migrants in Iran forced into 'slavery'
Rabiul Islam
April 12, 2014
'We hope to bring back 27 Bangladeshi victims home from Iran in mid-April and the number of such victims might be higher,' said CID Additional DIG Md Shah Alam
Believe it or not, many Bangladeshi migrant workers are being forced into "slavery" in Iran and work at factories there without wages.
According to the Criminal Investigation Department dealing with a number of such incidents, several thousand Bangladeshi migrant workers have been compelled to get into a sort of modern slavery in Iran and work there without pay.
"We hope to bring back 27 Bangladeshi victims home from Iran in mid-April and the number of such victims might be higher," CID Additional DIG Md Shah Alam told the Dhaka Tribune at his office on Tuesday.
"We are planning to send a delegation to Iran who will help rescue our people," he said.
Pervez Rana, a victim from Jatrabari in the capital, said he had worked as a housekeeper in Dubai since 2012 and got Tk24,000 as monthly wage.
"One day a colleague named Sumon from Noakhali told me that a man familiar to him would send us to Europe and we would get higher salary," said Rana.
He gave Sumon's acquaintance Tk30,000 and was contracted to pay another Tk40,000 after reaching Turkey. "I was given assurance that I would be able to go to Greece from Turkey," he told the Dhaka Tribune.
In Dubai, Rana and five others were handed over to some Pakistani people who threatened them, brandishing pistols and knives, and took them to Oman by road. "After two weeks, three Afghans armed with pistols and knives forced us to leave the place in a speedboat. As one of us fell sick and started vomiting, an Afghan stabbed him in the stomach and threw him into the Arab Sea," said Rana.
He said later they had been taken to a jungle in Iran where he saw around 200 more Bangladeshis. "The Afghans and Pakistanis handed us over to a person named Kashem, who also goes by the name of Quader Molla, from Sylhet."
They had been confined in a room and their money and mobile phones had been taken away, he said, adding that they had been asked to pay Tk500,000 for their release.
"As my relatives could not pay the money, they beat me for months. I could not even contact my relatives for six months," said Rana.
He said Russell, one of his friends from Comilla, had been brought to Tehran from Port Abbas and sold to a company for Tk250,000. Russell worked there without any wage for a few months. Afterwards, he fled the company and joined another.
In January Russell had phoned Rana from Tehran and said he was trying to return home.
According to a letter of the Bangladesh Embassy in Tehran, a number of Bangladeshi migrants had been forced to work at a factory owned by an Iranian without wage.
"It is a serious crime. If the affected people file complaints, we will take it into account," Expatriates' Welfare Minister Khandker Mosharraf Hossain told the Dhaka Tribune. "We are committed to bringing the perpetrators to book."
Sakiul Millat Morshed, executive director of SHISUK working with migrant workers who fall victims to human trafficking, said the labour market would be affected seriously due to such incidents.
http://www.dhakatribune.com/labour/2014/apr/12/migrants-iran-forced-%E2%80%98slavery%E2%80%99#sthash.g56qGlXs.dpuf
----------
Persian-Islamic culture in South Asia explored
April 12, 2014
KARACHI: The consolidation and strength that Persian language and culture enjoyed in the 18th century in South Asia wavered around the 19th century, with the increasing number of vernacular and indigenous languages being the main challenges.
These views were expressed by British academic Professor Francis Christopher Robinson while exploring the Persian-Islamic culture in South Asia and how through understanding the 18th century realities in their proper context one can address 20th century concerns.
The lecture was organised by the Indus Valley School of Arts and Architecture on its premises on Thursday.
Addressing the packed room full of students, teachers and scholars, Prof Robinson, whose academic research focuses primarily on the Muslim world, with particular emphasis on the Muslims of South Asia, highlighted quite a few obscure facts in his lecture. He said the Persian was spoken in administrative circles and beyond till the 19th century when an increasing number of vernacular and indigenous languages challenged its influence.
"But Urdu was a greater challenge," said Prof Robinson reading from his paper. "It was invented by the Indian Muslims with adjectives and nouns taken from Persian. Eventually, Muslims in Delhi discarded Persian and took up Urdu as a new form of expressing poetic language."
Steeped in Sufism, the Persianate literary culture eventually diluted as both Hindus and Muslims took on Urdu for communicating within communities. Another major reason for the decline was during the 1820s and 30s. During that time, English was the official language of the government. Prof Robinson says British did not have a direct role in the decline, but nonetheless, what they "did from the outside, Hindus and Muslims did it from within."
"By the 18th century, Shah Waliullah attacked the rationalistic tradition of Iran and Central Asia. It was all done by him to bring out the truth so that divisions and power struggles would end. To do that, and bring people closer, the Quran was translated into Persian to be understood in its pure meaning," shared Prof Robinson.
In his earlier writings on the subject, Prof Robinson has written extensively on the fact that historians have taken these developments as the forerunners for the movement that eventually led to a separate state of Pakistan. As a result, he says, "the eighteenth century Islam was presented in a distorted manner that tends to ignore the rationalistic approach towards Islamic teachings prevalent at the time."
Answering a question by a member of the audience, he said Dars-i-Nizami basically focuses on the core of the message rather than relying heavily on a syllabus. To understand key passages, a set of books has to be read, he said.
http://www.dawn.com/news/1099023/persian-islamic-culture-in-south-asia-explored
-----------
Uighur Turks stranded at Istanbul airport for 17 days
World Bulletin / News Desk
April 12, 2014
35 Uighur Turks who fled from persecution in China to Turkey have been waiting desperately at Istanbul Ataturk airport for days to get permission to enter the country.
The group, which contains women and children, arrived on March 25 on various flights and have been waiting ever since.
Having been unable to wash and eat properly for 17 days, a local firm called TAV has offered to feed them while they get the necessary paperwork out the way.
Full report at:
http://www.worldbulletin.net/news/133516/uighur-turks-stranded-at-istanbul-airport-for-17-days
-----------
Separate blasts leaves 2 policemen dead, 5 wounded in Khost
Apr 12 2014
At least two policemen were killed and five others were injured in separate blasts in eastern Khost province of Afghanistan on Saturday.
A local security official said, both the explosions took place in eastern Khost city.
The official further added that two policemen were killed and another one was injured in the first explosion, while four others were injured in the second blast.
He said the first blast targeted a police vehicle in the outskirts of Khost city and the second blast took place in western part of Khost city.
Full report at:
http://www.khaama.com/separate-blasts-leaves-2-policemen-dead-5-wounded-in-khost-3559
-----------
Coordinated suicide attacks foiled in Helmand, 5 suspects arrested
Apr 12 2014
The Afghan intelligence – National Directorate of Security (NDS) foiled coordinated suicide attack plot in southern Helmand province of Afghanistan.
National Directorate of Security (NDS) following a statement said Saturday that the Afghan intelligence operatives arrested a group of 5 militants in connection to the attack plot.
The statement further added that the militants were looking to carry out the attacks in Nahr-e-Saraj, Nad-e-Ali, Dasht-e-Malgir, Khoshk Aba and Lashkargah districts.
NDS also added that the Afghan intelligence operatives seized three vehicle-borne improvised explosive device (VBIED) along with three motorcycles packed with explosives.
Full report at:
http://www.khaama.com/coordinated-suicide-attacks-foiled-in-helmand-5-suspects-arrested-3558
-----------
Pakistan
Taliban Plot with Madrasas to Assault Islamabad: Report
April 12, 2014
ISLAMABAD - The Pakistani Taliban will coordinate with Islamist activists at major seminaries in or near the capital, Islamabad, to launch attacks if peace talks with the government fail, police said in a report obtained by Reuters.
Prime Minister Nawaz Sharif took power last year promising to end insurgency through negotiations. Talks got going in February but have achieved little.
The Pakistani Taliban, allied with but separate from the Afghan Taliban, are fighting to overthrow the government and impose a strict version of Islam on the nuclear-armed nation of 180 million people.
They called a ceasefire beginning on March 1 to facilitate the talks but it officially ended on Thursday. It is unclear if the ceasefire will be extended.
Police said in the report that two well-known seminaries would support attacks in the capital and its twin city of Rawalpindi if the talks break down and the military moves against Taliban bases in areas bordering Afghanistan.
"If talks between the government and the Taliban fail ... like-minded religious seminaries and mosques have been given the target of fully contributing in carrying out attacks," police said in the report, which was prepared last month.
Police identified two well-known seminaries, or madrasas, on the outskirts of Islamabad. They said the two had already helped launch several attacks, including a 2009 assault on the army's headquarters in Rawalpindi.
Full report at:
http://www.nation.com.pk/national/12-Apr-2014/taliban-plot-with-seminaries-to-assault-islamabad-report
-----------
Resolution in Sindh PA on CII Unconstitutional: Jamaat-e-Islami
April 12, 2014
LAHORE: Jamaat-e-Islami Secretary General Liaqat Baloch said Sindh Assembly's resolution and the hue and cry of NGOs against the Council of Islamic Ideology (CII) were unconstitutional and aimed at propagation of secularism to suppress country's Islamic ideology.
Speaking at a ceremony at Mansoora on Monday, he said a handful of westernised secular elements wanted to thrust their views on 180 million Pakistanis who were imbued with faith in Tauheed, the love of noble Prophet (SAW) and wanted Islamic system based on Holy Quran and Sunnah. He said masses would safeguard Pakistani ideology and added that objectives of the creation of Pakistan could not be altered by force.
Full report at:
http://www.thenews.com.pk/Todays-News-2-242893-Resolution-in-Sindh-PA-on-CII-unconstitutional:-JI
-----------
Afghanistan, Pakistan Both Targeted By Terrorists: First VP
April 12, 2014
Kabul- First vice president, Mohammad Younus Qanooni emphasizing on strengthening ties with Pakistan has said that both Afghanistan and Pakistan were targets of terrorism.
He expressed these views during a courtesy meeting with new ambassador of Pakistan Abrar Hussain. Qanooni said that he was desirous, the new ambassador to play an active and positive role in establishment of a new chapter in relations between the two friendly and neighbouring countries.
Full report at:
http://www.nation.com.pk/national/12-Apr-2014/afghanistan-pakistan-both-targeted-by-terrorists-qanooni
-----------
Peace talks with government on track: Pakistani Taliban
Press Trust of India | Islamabad | April 12, 2014
Notwithstanding the intense infighting between its two key factions, the Pakistani Taliban Saturday said peace talks with the government are on the track.
Taliban liaison committee member Maulana Yusuf Shah said fighting between two "minor" groups of the Taliban would have no effect on the talks and the situation would be clear in the next two-three days.
He said contacts have been made with the Taliban 'shura' or council and the infighting would not affect the talks with the government.
His remarks came after a meeting of the outlawed Tehreek-e-Taliban Pakistan (TTP)'s shura at an undisclosed place in North Waziristan yesterday to decide about extending or ending the ceasefire that expired on Thursday.
Full report at:
http://indianexpress.com/article/world/asia/peace-talks-with-government-on-track-pakistani-taliban/
-----------
Musharraf's treason trial not linked to army: Ahsan Iqbal
2014-04-12
LAHORE: Minister for Planning and Development Ahsan Iqbal said Saturday that former military ruler Gen (retd) Pervez Musharraf had remained a politician after relinquishing his position in the army and thus his treason trial had no relation to and nor was it an indictment against the country's armed forces, DawnNews reported.
Speaking to media representatives in Lahore, Iqbal said those trying to link Musharraf's trial with the army wanted to stir a political crisis in the country.
He added that such talk has to be set aside as it was aimed at calling into question the administration of justice upon which no compromise can be made.
Full report at:
https://www.dawn.com/news/1099388/musharrafs-treason-trial-not-linked-to-army-ahsan-iqbal
-----------
Karachi raids: 310 suspects arrested
2014-04-12
KARACHI: At least 310 suspects were arrested by Rangers' personnel and police during separate targeted raids in different parts of Karachi on Saturday, DawnNews reported.
Rangers' personnel conducted the raids in Bhains Colony, Landhi, Quaidabad, Shah Latif Town, Korangi, Clifton, Baldia Town, Saeedabad and other areas.
During the raids, 130 suspects were arrested.
According to a Rangers' spokesman, weapons and drugs were also seized from the suspects' possession.
Further interrogation of the suspects was underway.
Separately, the city's East Zone police carried out raids in various areas of the metropolitan and arrested 180 suspects.
Full report at:
https://www.dawn.com/news/1099385/karachi-raids-310-suspects-arrested
-----------
Altaf Hussain applies for Pakistani passport
April 12, 2014
ISLAMABAD- The MQM chief, Altaf Hussain, has applied for a Pakistani passport, giving hints that he might return to Pakistan.
According to reports, the London-based MQM chief has contacted the Pakistan High Commission in London for the issuance of a Pakistani passport. The self-exiled MQM leader, who presently holds the British passport, had the expired copy of his Pakistani passport that was issued to him some 23 years back in 1991. His Pakistani ID card has also expired.
Altaf Hussain had left Karachi for London one month before the then PML-N government launched the Operation Clean-up in 1992 and sent the military into Karachi to crack down on anti social elements.
Full report at:
http://www.nation.com.pk/national/12-Apr-2014/altaf-hussain-applies-for-pak-passport
-----------
Losing ground: 30,000 Hazaras fled Balochistan in five years
April 12, 2014
QUETTA: With a surge in violence in Balochistan, members of minority groups have increasingly sought shelter in other parts of the country. Nearly 30,000 members of the Hazara community have migrated in the last five years, according to Human Rights Commission of Pakistan (HRCP) Vice Chairperson Tahir Hussain Khan.
Speaking with The Express Tribune, Khan said the flow of migration increased as nearly 1,000 members of the Hazara community have been killed in targeted attacks since 2009.
Khan, who is also president of the HRCP's Balochistan chapter, added that more than 10,000 Hindus have also fled the province as abductions-for-ransom have become routine over the last three years here.
Members of the Hazara community leaving Quetta and other parts of the province comprise businessmen, highly educated workers and senior government officials, amongst others, he said. Discussing sectarian violence in the province, Khan warned, "This conflict can turn into a civil war if it is not addressed properly at this stage."
Full report at:
http://tribune.com.pk/story/694559/losing-ground-30000-hazaras-fled-balochistan-in-five-years/
-----------
Pakistan party withdraws support to Sharif government
April 12, 2014
The Jamiat Ulema e Islam (Fazl) (JUI-F) has withdrawn support to the federal government and its two Ministers in the federal cabinet have submitted their resignations on Friday.
A spokesperson said that ,"We have withdrawn support as we have serious reservations with the government on the question of talks with the Tehreek e Taliban Pakistan(TTP), the Protection of Pakistan Bill and the National Internal Security Policy." The JUI-F had met Punjab chief minister Mr. Shahbaz Sharif to discuss some contentious issues and he had promised to get back. "We didn't get any good vibes from the ruling party and we are finding it difficult to continue to support them," he said.
Full report at:
http://www.thehindu.com/news/international/south-asia/pakistan-party-withdraws-support-to-sharif-government/article5901925.ece
-----------
Winds of change for Jamaat-e-Islami
April 12, 2014
ISLAMABAD: With the election of Sirajul Haq as the new Ameer of Jamaat-e-Islami (JI), the hope to build a consolidated platform for religious parties has once again gained popularity within the politico-religious party.
With the reemergence of an Ameer from Khyber-Pakhtunkhwa under the current geo-political changes, party leaders believe the JI has a greater role to play in the future. However, more changes within the party ranks are also anticipated.
While few within the JI want to talk about why Munawwar Hassan is out, almost everyone is eager to discuss what the politically adroit Haq is capable of doing. There are hopes that his ascension will have multi-layered effects. Expect outcomes of his leadership include the possible revival of street politics, a careful uniting and cultivation of the vote bank of the Muttahida Majlis-e-Amal once again, gaining popular support through the JI's philanthropic wing Al-Khidmat, and a keen eye on developments in Afghanistan.
Full report at:
http://tribune.com.pk/story/694547/analysis-winds-of-change-for-jamaat-e-islami/
----------
Arab World
Clashes between ISIl, Nusra in Albu Kamal Expand, Claim 100 Militants
April 12, 2014
Around 100 militants were killed during the clashes which erupted between the Islamic State in Iraq and the Levant (ISIL) and al-Nusra Front in the city of Albu Kamal in Deir Ezzour, eastern Syria.
The Syrian Observatory clarified that al-Nusra Front regained control over Albu Kamal and that ISIL is massing its militants in an area called Badiat (Desert) Albu Kamal.
http://www.almanar.com.lb/english/adetails.php?eid=145693&cid=23&fromval=1&frid=23&seccatid=20&s1=1
-----------
'86 dead' as Syria's Al Qaida, allies repel jihadists
April 12, 2014
Beirut: Syria's Al Qaida affiliate and its allies have repulsed an assault by jihadist rivals on a town on the Iraqi border in fighting that killed 86 people, a monitoring group said on Friday.
Sixty of the dead were fighters of Al Nusra Front or its Islamist allies killed pushing back their Islamic State of Iraq and the Levant (Isil) rivals from districts of Albu Kamal they had captured early on Thursday, the Syrian Observatory for Human Rights said.
Observatory head Rami Abdul Rahman told AFP the rebels regained full control of Albu Kamal after reinforcements poured in.
Isil withdrew to the T2 oil site, 60-kilometre southwest of the town and where a Syria-Iraq pipeline runs, he said, after executing seven fighters of a rival Islamist brigade. The clashes have prompted soldiers on the Iraqi side of the border to reinforce their positions.
The border crossing itself on Syria's side remains in the hands of the mainstream rebel Free Syrian Army (FSA), said a rebel chief and an AFP reporter on the Iraqi side who saw the FSA flag flying over it.
Full report at:
http://gulfnews.com/in-focus/syria/86-dead-as-syria-s-al-qaida-allies-repel-jihadists-1.1318092
-----------
Hezbollah develops new tactics in Syrian civil war
12 April, 2014
BEIRUT (AP) — The commandos infiltrated Syrian rebel-held territory near the Lebanese border, watching rebel fighters come and go from a two-story villa before slipping inside to plant a powerful bomb. The next morning, they detonated it as three rebel explosive experts and four assistants met inside, turning the villa to rubble in seconds.
The operation late last month in Syria's western Qalamoun region was carried out by fighters from Lebanon's militant Hezbollah group, several Lebanese officials close to the militants have told The Associated Press. The Shiite group has sent hundreds of its fighters into Syria to shore up President Bashar Assad's overstretched troops, helping them gain ground around the capital, Damascus, and near the Lebanese border.
Full report at:
http://news.yahoo.com/hezbollah-develops-tactics-syrian-civil-war-124503300.html
----------
Warily, Jordan Assists Rebels in Syrian War
By BEN HUBBARD
12 April, 2014
IRBID, Jordan — When rebels want to return to Syria to fight, Jordan's intelligence services give them specific times to cross its border. When the rebels need weapons, they make their request at an "operations room" in Amman staffed by agents from Jordan, Saudi Arabia and the United States.
During more than three years of civil war in Syria, this desert nation has come to the world's attention largely because it has struggled to shelter hundreds of thousands of refugees. But, quietly, Jordan has also provided a staging ground for rebels and their foreign backers on Syria's southern front. In the joint Arab-American operations room in Amman, the capital, for example, rebels say they have collected salaries as an incentive not to join better-funded extremist groups.
Full report at:
http://www.nytimes.com/2014/04/11/world/middleeast/syria.html
----------
Syria rebels, government confirm poison gas attack
12 April, 2014
BEIRUT (AP) — The Syrian government and rebel forces say poison gas has been used in a central village, injuring scores of people, while blaming each other for the attack.
The main Western-backed opposition group, the Syrian National Coalition, says dozens of people were hurt in a poison gas attack Friday in the village of Kfar Zeita.
State-run Syrian television on Saturday blamed members of the al-Qaida-linked Nusra Front for using chlorine gas at Kfar Zeita, killing two people and injuring more than 100.
In August, a chemical attack near the capital, Damascus, killed hundreds of people. The U.S. and its allies blamed the Syrian government for that attack, which nearly sparked Western airstrikes against President Bashar Assad's forces. Damascus denied the charges and accused rebels of staging the incident.
http://news.yahoo.com/syria-rebels-government-confirm-poison-gas-attack-133312871.html
----------
Egypt applies harsher terrorism penalties as Brotherhood crackdown continues
April 12, 2014
Cairo, Asharq Al-Awsat—Two members of the outlawed Muslim Brotherhood were reported killed on Friday in a shootout with police in the Nile Delta, a day after the Egyptian government said it will speed up the implementation of new penalties for membership in the proscribed group.
A statement from the office of Egyptian Prime Minister Ibrahim Mehlab on Thursday said that these penalties, which are introduced in a draft amendment to the anti-terror law approved by the Cabinet but not yet ratified by the president, will be implemented even though they are not yet formally part of the law. The new, enhanced penalties apply to anyone who joins the group, continues to be a member of the group, promotes the Brotherhood or its ideology, or finances the group in any way.
Full report at:
http://www.aawsat.net/2014/04/article55331086
-----------
Kurdish independent state to come: Massoud Barzani
April 12, 2014
Massoud Barzani, president of the Kurdistan Regional Government (KRG) announced on April 8 that an independent Kurdish state is to be established, pointing out that they are moving towards a confederation with Iraq.
Barzani's remarks came during an interview with Sky News Arabia TV, briefed by "Shafaq News." Barzani pointed out that the Kurdish state has become a reality and this independence should be achieved in the near future. He stated that the events occurring in Iraq will lead to a confederation system. Iraq cannot "bear more conflicts" and the leaderships should sit together to end the current crises, Barzani added.
Full report at:
http://www.hurriyetdailynews.com/kurdish-independent-state-to-come-barzani.aspx?pageID=238&nID=64921&NewsCatID=352
-----------
Army Intensifies Campaign against Terrorist Groups across Syria
April 12, 2014
The Army and Armed Forces units continued theirSyrian Army intensive campaign against terrorism in all Syrian cities and areas.
Two citizens were martyred and ten others were injured in Hama southern countryside on Friday due to the explosion of a booby-trapped tanker towed to a truck, a source in Hama province said.
The explosion took place near al-Karzely School, leading to the destruction of the school completely as 6 residential houses in the area were destroyed.
The army units carried out several operations against the armed terrorist groups in many areas in Damascus Countryside, killing huge numbers of them and destroying their gatherings and weaponry.
Full report at:
http://www.almanar.com.lb/english/adetails.php?eid=145627&cid=23&fromval=1&frid=23&seccatid=20&s1=1
-----------
'Pakistan will always be Kingdom's top ally'
April 12, 2014
The first Saudi–Pakistan Friendship program was held at the Jeddah Chamber of Commerce and Industry (JCCI) on Thursday. It included recitation of an Arabic poem by Saudi poet Naji Batesh, and presentations based on national songs of both the countries, which were performed by students of Saudi and international schools along with the performance of Firqah Nagam.
Highlighting the aim of the program, Tanweer Zaman of the World Muslim Congress (WMC) said: "Saudi-Pakistan relations are unique in nature and this program manifests that relationship."
Welcoming the guests, Consul General Aftab Ahmad Khokher said: "The ties between the two countries are rooted in deep brotherly and fraternal association."
Dr. Abdullah Omar Naseef, president of the WMC, outlined the role of the congress in promoting ties of friendship between the two nations. "WMC is an organization where the president is always a Saudi and the secretary-general a Pakistani," he said.
Full report at:
http://www.arabnews.com/news/554531
-----------
'Fiercest' fighting since mid-2012 unfolds in Syria's Aleppo
April 12, 2014
BEIRUT - Syrian troops battled rebels around a military intelligence base in Aleppo in what a monitoring group said Saturday was the fiercest fighting in the northern metropolis since mid-2012.
Syrian Observatory for Human Rights director Rami Abdel Rahman said the overnight clashes were "the fiercest since the fighting began in Aleppo and the closest yet to the intelligence base in the Zahra neighbourhood."
In an email, the Syrian Revolution General Commission, an activist network on the ground, said government aircraft "opened fire with heavy machine guns on the Al-Leyramun neighbourhood, and the outskirts of the air force intelligence base."
Full report at:
http://www.middle-east-online.com/english/?id=65354
-----------
Egypt gives Hamas and Gaza the cold shoulder
April 12, 2014
Egypt's crackdown on the Muslim Brotherhood has led to a sharp deterioration in relations with the Islamist group Hamas in neighbouring Gaza, and the people there are paying the price.
As a coach forces its way through the crowds on the Palestinian side of the Rafah terminal, Ramzi Abu Shawarib heaves a sigh of relief.
He refolds a fleecy blanket around his pale-faced, sick, little daughter and they join the passengers surging forward to climb aboard.
In his hand he clutches a hard-won permit that will let him travel across the border from Gaza to a hospital in Egypt.
As their suitcase is hauled onto a trailer, Ramzi tells me how four-year-old Rimass was left with a neurological disorder after local doctors gave her the wrong medication.
"Last year I was told she should see specialists in Egypt but until now we couldn't get there, The border's been closed too often," he says.
Full report at:
http://www.bbc.com/news/world-middle-east-26974463
----------
Europe
Militants raise Russian flag in Ukraine city, risk of 'gas war' looms
12 April, 2014
(Reuters) - Armed pro-Russian militants raised the Russian flag in an eastern Ukrainian city on Saturday, deepening a stand-off with Moscow which, Kiev warned, was dragging Europe closer to a "gas war" that could disrupt supplies across the continent.
At least 20 men armed with pistols and rifles took over the police and security services headquarters in Slaviansk, about 150 km (90 miles) from the border with Russia.
Officials said the men had seized hundreds of pistols from arsenals in the buildings. The militants replaced the Ukrainian flag on one of the buildings with the red, white and blue Russian flag.
Some local residents helped the militants build barricades out of tires in anticipation that police would try to force them out, a Reuters photographer at the scene said. But there was no sign that any police action was imminent.
Full report at:
http://www.reuters.com/article/2014/04/12/us-ukraine-crisis-idUSBREA3A1B520140412
-----------
Egypt must 'fundamentally revise flawed anti-terrorism law': Amnesty
April 12, 2014
Amnesty International issued a statement on Friday denouncing a counter-terrorism law drafted by the Egyptian government, saying that it must be scrapped or fundamentally revised.
According to the statement, the draft law has expanded the existing definition of terrorism to include actions that try to damage national unity, natural resources and monuments, as well as aiming to hinder the work of judicial, regional and international bodies and diplomatic and consular missions in Egypt.
Also included in the terrorism definition is "any behaviour or preparation with the purpose of damaging communications, or information systems, or financial and banking systems, or the national economy" – terms that the Amnesty statement says are too broad.
Full report at:
http://english.ahram.org.eg/NewsContent/1/64/98850/Egypt/Politics-/Egypt-must-fundamentally-revise-flawed-antiterrori.aspx
-----------
UN criticises Brunei over tough new Islamic law
April 12, 2014
The UN human rights office on Friday criticised Brunei's planned introduction of the death penalty for a raft of new offences, as part of a shift to harsh Islamic punishments in the oil-rich sultanate.
"We are deeply concerned about the revised penal code in Brunei Darussalam, due to come into force later this month, which stipulates the death penalty for numerous offences," said Rupert Colville, spokesman for the UN high commissioner for human rights.
He told reporters these offences include rape, adultery, sodomy, extramarital sexual relations for Muslims, but also crimes such as robbery and murder.
The death sentence could also be imposed for defamation of the Prophet Mohammed, insulting any verses of the Koran and Hadith, blasphemy, and declaring oneself a prophet or non-Muslim, he said.
Full report at:
http://www.globalpost.com/dispatch/news/afp/140411/un-criticises-brunei-over-tough-new-islamic-law
-----------
Communities Secretary Says Britain Is A 'Christian Nation' And Militant Atheists Should 'Get Over It'
April 12, 2014
Britain is a "Christian nation" and militant atheists should "get over it", according to Communities Secretary Eric Pickles.
The Conservative MP, who in the past has accused Labour of "diminishing Christianity" by suggesting there was no place for religion in politics, oversaw a change in the law in 2012 that ensured English Parish councils could not be subject to legal challenges for including prayers in public meetings.
Speaking to delegates Conservative Spring Forum in London, Pickles said that atheists should not be able to push an agenda of "politically correct intolerance", adding: "I've stopped an attempt by militant atheists to ban councils having prayers at the start of meetings if they wish."
Full report at:
http://www.huffingtonpost.co.uk/2014/04/06/eric-pickles-says-britain-is-a-christian-nation_n_5100794.html
-----------
Former Arsenal star denies he has become a Syrian jihadist
April 12, 2014
FORMER Arsenal and Chelsea midfielder Lassana Diarra has denied bizarre rumours that he has become an Islamic warrior and is waging jihad in Syria, insisting that his allegiance was to Lokomotiv Moscow rather than Muslim militia groups fighting the regime of Bashar al-Assad.
Rumours that the French international had given up the day job and headed to Syria surfaced on social media at the weekend after a video of a man extolling the virtues of jihad appeared on Russian based website FiSyria.com, explains the Daily Mail.
The man, wearing a balaclava and touting an AK47, is named as Abu Isa al-Andalus by the website, which also claims that he used to play for Arsenal but had "left football, money and the European way of life to make the path of Allah".
The player had tried to dismiss the rumours on Twitter, but when they refused to go away his lawyer, Eric Dupond Moretti, issued a statement this week, stating that the 29-year-old "denies in the most formal, the most categoric, the most absolute fashion that he has gone to Syria".
Full report at:
http://www.theweek.co.uk/football/middle-east/58089/former-arsenal-star-denies-he-has-become-syrian-jihadist#ixzz2ybZCCxIN
-----------
West might want to arm Syrian opposition ahead of elections - political scientist
April 12, 2014
The West has announced a diplomatic boycott to Syria. Countries supporting the Syrian opposition have criticized the presidential elections, organized by Assad government, as being a "parody of democracy". That's according to the "London 11" Core Group of the Friends of Syria statement released on Thursday. Abdelwahab El-Affendi, Political Scientist at the University of Westminster, specializing in Islam, Middle East politics and Democracy, comments.
Friends of the Syrian People Group includes Egypt, France, Germany, Italy, Jordan, Qatar, Saudi Arabia, Turkey, the United Arab Emirates, the United Kingdom, and the United States.
In its statement, the group says it continues to support the efforts of Joint Special Representative Lakhdar Brahimi to mediate a political solution between both sides and calls upon the Syrian regime to cease its obstruction of the Geneva process.
Full report at:
http://voiceofrussia.com/2014_04_12/West-might-want-to-arm-Syrian-opposition-ahead-of-elections-political-scientist-5396/
-----------
Spanish village called 'kill Jews' considering name change
April 12, 2014
A Spanish village is considering removing the phrase "kill Jews" from its name.
The village of Castrillo Matajudios near Leon in northern Spain will convene its 60 resident families at a town hall meeting next week to discuss and vote on the first formal proposal to change the village's name, the regional daily Diario de Burgos reported Friday.
Mayor Lorenzo Rodriguez, who submitted the proposal, suggested changing the village's name to Castrillo Mota de Judios, which means "Castrillo Jews' Hill." He said this was the village's original name, but it was changed during the Spanish Inquisition.
In parts of Spain, and especially in the north, locals use the term "killing Jews" (matar Judios) to describe the traditional drinking of lemonade spiked with alcohol at festivals held in city squares at Easter, or drinking in general.
Full report at:
http://www.jpost.com/Jewish-World/Jewish-Features/Spanish-village-called-kill-Jews-considering-name-change-348287
-----------
India
'We Send Love And Peace For All!' Bareilly Dargahs Urge the Faithful to Vote
April 12, 2014
Caste and religious equations dominate the nine Assembly seats in Bareilly, the city famous for the Dargah of Sufi saint Ala Hazrat that attracts Hindus and Muslims from across the country.
And the two main Dargahs - the Ala Hazrat and the Khanqah-e-Niazia - with their diametrically opposite political stands hold major influence among voters.
The Khanqah-e-Niazia does not believe in political activism per se, but has decided to encourage all followers and visitors to vote.
Influence
"Leaders from all political parties and people from all religions come to our doorstep to seek our blessings. We don't choose one over the other. This Dargah sends out a message of love and peace for all, regardless of their religion.
"We encourage people to go out and cast their votes but we never tell them who to vote for," said Mohd Haider Athhar Mian Niazi of the Khanqah-e-Niazia.
The Ala Hazrat, on the other hand, is a divided house. A school that boasts of millions of followers worldwide, the Ala Hazrat Dargah is managed and controlled by the Raza brothers.
Noted among them is Tauqeer Raza, a man who shot to fame for making hate speeches during communal riots in Bareilly last year.
Full report at:
http://www.dailymail.co.uk/indiahome/indianews/article-2600959/Bareilly-dargahs-urge-faithful-vote-dont-say-for.html#ixzz2ybfAMFMR
-----------
18 persons from PoK detained at Nepal border
April 12, 2014
As many as 18 persons from Pakistan-Occupied Kashmir (PoK) were detained by security forces when they were trying to enter India via Nepal from Sonauli border in Mahrajganj District of Uttar Pradesh, SSB sources said on Saturday.
The group of 18 persons were stopped by the SSB and local police for checking on Friday as they failed to produce valid documents about their identity.
All of the detainees, who hailed from PoK's Muzaffarabad town and had left Jammu and Kashmir in 1989 and 2009, wanted to come back India in view of the new Rehabilitation policy (2010) of the Jammu and Kashmir government, Sashastra Seema Bal Deputy Commandant of Sonouli, Mitul Kumar said.
Full report at:
http://www.thehindu.com/news/national/other-states/18-persons-from-pok-detained-at-nepal-border/article5905492.ece
-----------
Africa
Suspected Islamists kill 19 in northern Nigeria: Witnesses
AFP | Apr 12, 2014
MAIDUGURI: Suspected Boko Haram Islamists have killed 19 people, including six college teachers, in three separate attacks in Nigeria's troubled northeastern Borno state, residents and travellers said.
The killings took place on Thursday and yesterday in Dikwa, Kala-Balge towns and near Dalwa village in the state, the bastion of the Islamist sect, they said.
In Dikwa, one of the ancient towns in Borno State, residents said that insurgents stormed a college in the early hours of Thursday, killed six teachers and two security guards and abducted an unspecified number of women, the residents said.
A witness, Modu Kakarimi, who fled Dikwa to Maiduguri, the state capital, said he and some others ran away to safety when they heard sound of gunshots.
"Our fear was heightened when we saw the boarding school (college) in flames. We later gathered that they have killed eight there. We fled together with our women and children," Kakarimi said.
Full report at:
http://timesofindia.indiatimes.com/world/rest-of-world/Suspected-Islamists-kill-19-in-northern-Nigeria-Witnesses/articleshow/33637648.cms
-----------
Christian vigilantes trap 14,000 Muslims in Central Africa town
April 12, 2014
Boda: Stifled by the heat inside a barn in the Central African Republic town of Boda, dozens of emaciated and often sick displaced people subsist in fear of the vigilantes who surround them.
The group, members of an extended family, fled to Boda from the village of Danga 25 kilometres away, seeking shelter from the anti-balaka - or "anti-machete", mainly-Christian militia groups that have been hunting and killing members of the crisis-torn country's Muslim minority.
But days after the family arrived in Boda, fierce clashes broke out between the anti-balaka and local Muslims, ending with the Christian militia forces encircling the southwestern diamond-mining town.
Full report at:
http://gulfnews.com/news/world/other-world/christian-vigilantes-trap-14-000-muslims-in-central-africa-town-1.1318248
-----------
Despite a New Constitution, the Fight for Gender Equality in Tunisia Continues
April 12, 2014
After more than two years of arguments and concessions between Islamic and secular parties, on January 26, the Tunisian National Constituent Assembly ratified the country's new Constitution.
When it was signed, assembly members spontaneously started to chant the national anthem and congratulated each other for the achievement. Indeed, there was cause for celebration. Tunisians signed one of the most progressive Constitutions in the Arab world, one that includes a commitment to gender equality. Yet, the celebratory media coverage failed to mention that other Arab countries, such as Algeria and Morocco, have also committed to gender equality in their Constitution.
Full report at:
http://inthesetimes.com/ittlist/entry/16548/despite_a_new_constitution_tunisias_fight_for_gender_equality_is_an_ongoing
-----------
Tunisian police disperse Islamist protesters
12 April 2014
Calm has returned to the Rouhia region in Tunisia after police used tear gas to disperse demonstrators protesting against the arrest of a group of Islamic hardliners, the local el-Badil news website reported on Friday.
Around 100 Salafist Islamists gathered in front of a police station in Rouhia in the northern province of Siliana to demand the release of 16 men from the town's mosque who were arrested on Monday, a security source said.
Interior ministry spokesman Mohamed Ali Aroui told AFP the 16 "radicals" arrested included "three self-declared imams, one of whom had come back from Syria."
The calm returned after the clashes continued for three days.
Tunisia has seen a rise in jihadist activity since the ouster of long-time dictator Zine El Abidine Ben Ali in a 2011 popular uprising, and the government recently vowed to take control of mosques run by radical Islamists.
Full report at:
http://english.alarabiya.net/en/News/2014/04/12/Calm-returns-after-Tunisian-Salafist-protest.html
-----------
Libyan language students honoured by British embassy for army training help
12 April, 2014
Libyan language students at Tripoli university were honoured by British ambassador Micheal Arron yesterday for their help with interpretation and form filling in the interview process of training Libyan soldiers.
Twenty seven students were given certificates at a ceremony held at the Tripoli university Language Centre yesterday for their help in processing 400 soldiers applying to go on the first training programme in Britain. Three hundred soldiers successfully made it through into the first group of trainees.
Opening the ceremony, Tripoli University Chancellor Madani Dakheel, said that "security is the bases for Libya's progress and the University of Tripoli is keen to cooperate in playing its role to achieve that. The university is also keen to cooperate with British institutions, including educational establishments", he added.
Full report at:
http://libyaherald.com/2014/04/10/libyan-language-students-honoured-by-british-embassy-for-army-training-help/#ixzz2ydShgKkI
-----------
Mideast
East Jerusalem mufti calls for Al-Aqsa Mosque sit-in
World Bulletin / News Desk
April 12, 2014
The Mufti of Al-Quds (occupied East Jerusalem) Sheikh Mohamed Hussein on Friday called on Palestinians to camp out in the Al-Aqsa Mosque complex next week following calls by extremist Jewish groups to force their way into the holy site.
"I call on Palestinians – and anyone else able to reach Al-Quds – to flock to the Al-Aqsa Mosque and remain on its premises in order to confront these belligerent calls [by Jewish groups]," Hussein said in his weekly Friday sermon at the mosque.
Several extremist Jewish groups have urged followers to mark the upcoming Jewish Passover holiday by storming the mosque complex next Monday.
In recent months, groups of extremist Jewish settlers, often accompanied by Israeli security forces, have repeatedly entered the Al-Aqsa complex. The frequent violations anger Palestinian Muslims and occasionally lead to violent confrontations.
Full report at:
http://www.worldbulletin.net/headlines/133566/east-jerusalem-mufti-calls-for-al-aqsa-mosque-sit-in
-----------
5 killed in Battles between Huthis and Army Northern Yemen
April 12, 2014
The Huthis believed to be seeking to advance on Gunmen Yemen's capital have attacked an army post in a neighbouring city, killing three soldiers and losing two of their own, tribal sources said Thursday.
The Huthis, carried out the attack in Amran, 50 kilometres (31 miles) north of Sanaa, late on Wednesday, tribal sources said.
Military sources have said their objective was to seize Amran and, from there, lay siege to the capital.
The Huthis have fought the government for years, complaining of marginalisation under former president Ali Abdullah Saleh, who was ousted in 2012 following a year of protests.
Full report at:
http://www.almanar.com.lb/english/adetails.php?fromval=1&cid=23&frid=23&eid=145451
-----------
Top Turkey court annuls parts of controversial judiciary law
April 12, 2014
ANKARA: Turkey's constitutional court on Friday overturned sections of a controversial judiciary reform adopted in response to a corruption scandal roiling the government, local media said.
The court said the most controversial clause of the law, giving the justice ministry greater control over the appointment of prosecutors and judges, was unconstitutional, private NTV television reported.
The decision came after an appeal by a lawmaker from the main opposition Republican People's Party (CHP) who said it violated the principles of separation of powers and independence of courts.
The CHP's Deputy Chairman Sezgin Tanrikulu hailed the decision and said: "With its recent decisions, the Constitutional Court has turned into a body championing freedoms, which unsettles the regime."
Full report at:
http://www.arabnews.com/news/554311
-----------
Israeli officials: 'Zero chance' for peace talks to break impasse before end of April
April 12, 2014
There are "zero chances" for Israel and the Palestinians to reach an agreement to overcome the current crisis in talks before their April 29 deadline, unnamed Israeli officials said Friday.
The officials told Channel 10 that the departure of US envoy Martin Indyk, who left the region for Passover break, along with Israel's alleged imposition of new economic sanctions on the Palestinian Authority were signs that the deadlock would not be eased in the coming weeks.
On Thursday, Israeli and Palestinian officials held their fourth session in a week to find a way out of the current impasse in the talks. The sides did not reach an agreement, but sources familiar with their discussions said they did agree to continue meeting in the days ahead.
The sources' comments came amid reports coming from Cairo – where Palestinian Authority President Mahmoud Abbas met with Arab League officials – that there was a breakthrough in the talks that would enable a continuation of the talks past the April 29 deadline.
One Israeli source familiar with the talks denied that there was any breakthrough, saying the sides were "still stuck and not out of the crisis."
Full report at:
http://www.jpost.com/Diplomacy-and-Politics/Israeli-officials-Zero-chances-for-peace-talks-to-break-impasse-before-end-of-April-348304
-----------
7 Palestinians banned from al-Aqsa
April 12, 2014
JERUSALEM (Ma'an) -- Israeli police on Thursday banned seven Palestinians from entering the al-Aqsa mosque for 17 days.
Dar al-Aytam school principle Alaa Abu Shkeidem, Mousa al-Hallaq, Abdullah al-Singalawi, Wisam Hamoudeh, Mohammad Dawuood Tiryaqi, Ziyad Abu Hadwan, and Hamza Mhalles were banned.
They were also briefly detained Thursday morning.
Also Thursday, attorney Ziad al-Hidmi said that an Israeli court released Mohammad Nour Yousef Qneibi, 17, on 2,500-shekel bail and on the condition of house arrest for three days.
Qneibi was arrested three days ago for suspicion of setting a car on fire.
http://www.maannews.net/eng/ViewDetails.aspx?ID=689207
-----------
Iran says will challenge US decision not to issue UN ambassador visa
April 12, 2014
London, Asharq Al-Awsat—Iran's Deputy Foreign Minister Abbas Araghchi said on Saturday that Iran would challenge a US decision to not issue a visa to new Permanent Representative to the United Nations Hamid Aboutalebi through UN channels, according to a report carried by Iran's semi-official Mehr news agency.
The UN had no immediate comment on the Iranian decision.
Aboutalebi, a senior Iranian ambassador who has previously headed its missions to the European Union and Australia, is also thought to have been involved with a student group responsible for the 1979 hostage crisis as the UN embassy in Tehran.
But the ambassador has been quoted describing his role in the student group as only being a "translator" when such services were required. "I was the [French-language] translator at the press conference when they released female and African-American hostages on humanitarian basis," he told Khabar Online.
Full report at:
http://www.aawsat.net/2014/04/article55331113
-----------
Southeast Asia
Extremism not acceptable in Malaysia, PM says
April 12, 2014
KUALA LUMPUR, April 12 — In a multi-racial society like Malaysia, extreme action, words or writings are totally unacceptable as they can result in social instability, says Prime Minister Datuk Seri Najib Razak.
"On the other hand, with a moderate approach, we can understand one another and maintain a life of unity," he said in his message in conjunction with the 2014 Songkran Day, which will be celebrated by the Siamese community tomorrow.
Najib stressed that the concept of moderation must be embraced in efforts to build a nation which was united and harmonious, namely, by using the approach of moderation in tackling any issue.
"I understand the coming of the New Year for the Siamese Community is often feted moderately but is still impactful and cheerful," he commented on the celebration. This, said Najib, showed that the Siamese community stressed moderation in their lives.
In the meantime, the prime minister said as a responsible leader of a country, he gave his assurance that the government would continue to defend the Constitution and fight for social justice for all.
Full report at:
http://www.themalaymailonline.com/malaysia/article/extremism-not-acceptable-in-malaysia-pm-says#sthash.A73bTAVX.dpuf
-----------
Shariah court has no say over civil marriages, lawyers say
APRIL 12, 2014
KUALA LUMPUR, April 12 ― A Muslim convert who lost a custody battle in the Seremban High Court recently must abide by the decision that prevails over an earlier Shariah court ruling in his favour, lawyers said.
The Shariah court lacks jurisdiction over custody cases in a civil marriage even if one party later converts to Islam, they added.
"If the Shariah court pronounces Islamic divorce on an Islamic marriage, then it can make orders on custody. But it has no jurisdiction over a civil marriage," prominent lawyer Malik Imtiaz Sarwar told The Malay Mail Online.
"Under the civil law which is the Law Reform (Marriage and Divorce) Act, the court that has the jurisdiction to make the determination on the civil marriage is the civil high court, that would include any orders pertaining to custody and so on," he added.
Full report at:
http://www.themalaymailonline.com/malaysia/article/shariah-court-has-no-say-over-civil-marriages-lawyers-say#sthash.cnNRaWCh.dpuf
-----------
Why no action on mass conversion into Islam, ask Sabah Christians
April 12, 2014
Sabah religious authorities have been asked to "nullify without further delay" the mass conversion of natives into Islam that had taken place in the state, which Christian leaders said were performed fraudulently.
President of the Protestant Church in Sabah, Reverend Jensey Mojuin, addressing the monthly ethnic Kadazandusun Christians' gathering in Pitas this morning to sound their latest mamangkis, said no action had been taken despite police reports lodged on the matter.
"Three months had passed since the 'shameful' conversion of about 64 people, including children, from three villages – namely Kampung Layung Maliau, Dowokon and Sosop.
"Despite lodging police reports, no concrete action has been taken," Mojuin said.
He said the inaction could only mean that the "extremist group" which performed the conversion "are enjoying the support and protection of some powerful people".
Full report at:
http://www.themalaysianinsider.com/malaysia/article/why-no-action-on-mass-conversion-into-islam-ask-sabah-christians
-----------
2 Philippine soldiers, 5 militants die in clashes
12 April, 2014
The Philippine military says two soldiers and at least five Abu Sayyaf militants have been killed in clashes in a southern island province.
Armed forces spokesman Lt. Col. Ramon Zagala says the running gun battles on Friday on Basilan Island also wounded 28 soldiers following their assault on a group of Abu Sayyaf fighters led by Puruji Indama.
The Abu Sayyaf, notorious for kidnappings and beheadings, was founded in Basilan in 1991 and is on the U.S. list of terror groups.
Indama is a young but ruthless commander allegedly involved in deadly bombings and kidnappings. He is accused of trying to extort money from a key road project in the province.
http://www.thehindu.com/news/international/world/2-philippine-soldiers-5-militants-die-in-clashes/article5905148.ece
-----------
North America
Sources: US Asks Israel to Attack Syria to Stop Army Advances
Apr 12, 2014
Western diplomatic sources revealed US President Barack Obama's Administration has urged Israel to attack the Syrian Army to prevent it from advancing into the positions of terrorist groups trained by Washington in Jordan.
"The US wants Israel to stop the advance of the Syrian army towards areas where gunmen are controlling in Golan, particularly the Jihadists who were trained at the hands of CIA trainers," American World Tribune newspaper quoted a source as telling Middle East News line, SANA reported.
The sources added this is the first time "a request by US for an Israeli intervention in Syria" is revealed.
The newspaper affirmed that the US trains more than one thousand terrorists in the framework of a program run by Washington in Jordan and financed by Al Saud regime.
European and US security officials have lately uncovered the US Congress secretly approved a bill to fund weapon shipments to the terrorist groups in Syria.
http://english.farsnews.com/newstext.aspx?nn=13930123000993
----------
Hillary Clinton Laughs at Supporting Al-Qaeda in Syria, Libya
Apr 12, 2014
TEHRAN (FNA)- The reporter asks Hillary Clinton why she supported Al-Qaeda in Libya and Syria. During her tenure as Secretary of State, the United States was providing financial and military support to Al-Qaeda affiliated groups in Syria and Libya. When she is asked for an explanation, Hillary Clinton doesn't even deny it and laughs as if supporting Al-Qaeda is funny.
http://english.farsnews.com/player.aspx?nn=13930122000317
----------
Brandeis U. rescinds honorary degree because recipient is anti-Islam
April 12, 2014
Brandeis University — an institution named after Supreme Court Associate Justice Louis Brandeis, a famed defender of free speech — has canceled plans to award an honorary degree to scholar Ayaan Hirsi Ali, who is known for her scathing criticisms of Islam and its treatment of women.
Brandeis students and faculty — including many in the Arab American studies department — had balked at the idea of the university bestowing an honorary degree on such a notable critic of Islam. Faculty urged administrators to consider the feelings of the Muslim community, according to The Justice, Brandeis's student newspaper.
"She is one of the worst of the worst of the Islam haters in America, not only in America but worldwide," said Ibrahim Hooper, a spokesperson for the council on American-Islamic Relations, in a statement to The New York Times. "I don't assign any ill will to Brandeis. I think they just kind of got fooled a little bit." (RELATED: Berkeley prof forces students to tweet pro-Islam views)
Full report at:
http://dailycaller.com/2014/04/09/cowards-brandeis-u-rescinds-honorary-degree-because-recipient-is-anti-islam/#ixzz2ybZtuDcc
-----------
U.S. Says Iran's Pick for U.N. Envoy Won't Get a Visa
12 April, 2014
WASHINGTON — The Obama administration on Friday said it would bar an Iranian diplomat nominated as United Nations ambassador from entering the country, in a rebuke to Iran at a time when the United States is engaged in delicate negotiations with Tehran over its nuclear program.
The unusual decision follows a political tempest on Capitol Hill related to the diplomat's involvement in the 1979-81 Iran hostage crisis. But American officials said they did not expect the decision to disrupt the nuclear talks, which involve five other major powers.
The White House and the State Department did not give a specific reason for refusing to issue a visa to the diplomat, Hamid Aboutalebi, who was a translator for the militant student group that stormed the American Embassy in Tehran in 1979 and held Americans hostage for 444 days.
Full report at:
http://www.nytimes.com/2014/04/12/world/middleeast/white-house-says-no-visa-for-irans-un-envoy.html?partner=rss&emc=rss
-----------
Right to vote under threat in the United States: Barack Obama
Associated Press | New York | April 12, 2014
President Barack Obama has said the Republican Party is threatening voting rights in America more than at any point since the passage of a historic 1965 law expanding rights at the ballot box to millions of black Americans and other minorities.
Obama's critique of Republicans came as he seeks to mobilise voters ahead of the November midterm congressional elections, when Democratic control of the Senate is at stake.
Many in Obama's party fear state voting requirements and early balloting restrictions will curb turnout that is critical to Democratic hopes of prevailing.
"The stark, simple truth is this: The right to vote is threatened today in a way that it has not been since the Voting Rights Act became law nearly five decades ago," Obama said in a fiery speech at civil rights activist and television talk host Al Sharpton's National Action Network conference.
Full report at:
http://indianexpress.com/article/world/americas/right-to-vote-under-threat-in-the-united-states-barack-obama/
-----------
War on Terror's Trickle Down Effect: The FBI's Military Evolution Exposed
April 12, 2014
Washington Post report reveals how Bureau brought their 'deadly-force policy' to wars in Afghanistan and Iraq, and the world beyond
Members of the Federal Bureau of Investigation's Hostage Rescue Team (HRT) have participated in hundreds of nighttime raids in Iraq and Afghanistan as forefront in the Bureau's evolution from a domestic crime fighting organization to an international anti-terrorism force, according to a Washington Post article published Thursday.
Reporting on the "little known alliance" between the Bureau and the Joint Special Operations Command (JSOC), the Post details how, since early 2003, the FBI's military role grew from shepherding other FBI officials outside of the Green Zone to fighting side by side with JSOC officers on nightly raids.
Full report at:
http://www.commondreams.org/headline/2014/04/11-4
----------
URL: https://www.newageislam.com/islamic-world-news/new-age-islam-news-bureau/chief-of-hefazat-e-islam--allah's-bangladesh-not-for-non-believers/d/66520