New Age Islam News Bureau
13 Jan 2015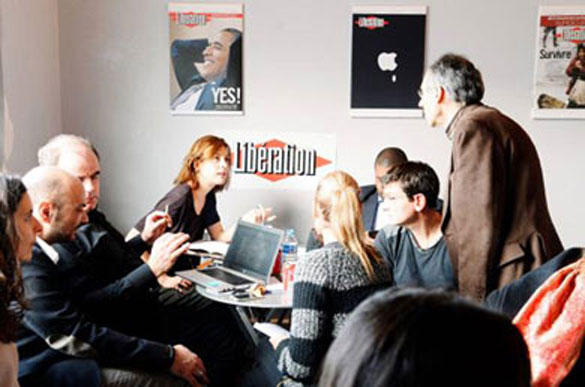 This photo provided on January 10, 2015 shows people at the headquarters of French newspaper Liberation in Paris as editorial staff of French satirical newspaper Charlie Hebdo and Liberation gather. (AP photo)
------------
Europe
• Charlie Hebdo Puts a Crying Prophet Muhammad on First Cover after Attack
• Anti-Islamist Movement Surfaces in Switzerland
• Islam Belongs To Germany: Merkel
• Cyber jihadists hack hundreds of French websites
• UK charity loses government funding over alleged links to Hamas, Brotherhood
• France hunts for terror cell; homage to 3 police killed
• Pope Francis condemns 'fundamentalist terrorism'
Arab World
• Islamic Ideology Driving Terrorists to Kill, Egypt's President Tells Clerics
• ISIS Executes Dozens of People, Including Member Of Provincial Council
• Iraqi Forces Kill 18 ISIL Terrorists in Northern Baghdad
• Shiite political bloc claims US 'cultivated' Islamic State
• Global outrage at Saudi Arabian blogger's public flogging
• Fatwa Declared against Snowmen Made to Look like Camels and Arabs in Saudi as They 'Represent Western Values'
Africa
• Cameroon Army Kills 143 Boko Haram Fighters: Government
• Poisoned Beer Kills 56, Hospitalizes 145 in Suspected Muslim Action in Mozambique
• Journalists, Islamic Scholars Play Vital Role in Nation-Building
• Bulgaria arrests Frenchman with alleged links to Paris attackers
• Libyan ISIS affiliate claims kidnap of 21 Christians
South Asia
• Maldives Islamic Ministry Proposes Compulsory Zakat in New Bill
• Ex-Taliban leader recruit people for ISIS (Daesh) in Helmand
• Religious Leader's Call for All to Work Together to Counter Extremist Ideology
• Do Not Try Our Patience, Hasina Tells Khaleda
Pakistan
• KP Govt Allows Teachers, Staff to Carry Arms into Schools
• Pakistan Asks For US Help, Says Won't Start Talks With India without Kashmir
• Nation's Unity More Powerful than Atom Bomb: Jamat-e-Islami
• India helping terrorists in Pakistan: Pak Defence Minister
• Govt extends scope of military courts to Gilgit-Baltistan, AJK
• Seven convicts hanged in four jails
• Public hanging of condemned prisoners risks security, SHC told
• Pakistan and U.S agree on joint action against terror funding
India
• Muslim Outfits Plan Meet to Discuss Minority Concerns
• Pakistan Making Effort to Obscure Challenge from Safe Havens: India
• SC Asks Kashmir Filmmaker: Is It 'Fashionable' To Make One-Sided Movies?
• Muslim man becomes first male dancer to get PhD in Mohiniyattam
• Defence Minister warns Pak of 'proactive steps'
• NHRC astonished at long delays in granting citizenship to Pakistani Hindus
Southeast Asia
• Malaysia Thwarts IS Plan to Use Country as Transit Point
• Indonesia's Absence in 'Islam vs. West' Issue
• Sarawak cancels Islamic talk after Christians object
Mideast
• Turkey's Interior Minister Chides Murdoch for 'Ignorance of Islam'
• Turkey's Erdogan Accuses West Of Hypocrisy over Paris Attacks
• Abbas Dramatically Challenges Israel after 10 Cautious Years
• Paris Attacks Aimed at Stopping Europeans' Enthusiasm for Islam
• Israel bans Islamist groups urging Temple Mount unrest
• Social media reacts to President Erdoğan's 16 warriors during meeting with Abbas
• Yemen names police chiefs close to Shiite militia, Saleh
North America
• Muslims Seek To Reverse Ruling That Allowed NY Police Spying
• U.S. Military Twitter Account Allegedly Hacked By Islamic State
• More U.S. 'Boots on Ground' Needed To Fight Isis: McCain
• US Urges India-Pakistan Dialogue to Reduce Kashmir Tensions
• Kerry announces $250 million aid to Pakistan
• Target all terror groups equally, Kerry tells Pakistan
• Quran-burning Florida pastor doubles as fry-cook
• Obama assures Netanyahu on Iran nuke deal
Compiled by New Age Islam News Bureau
URL: https://www.newageislam.com/islamic-world-news/new-age-islam-news-bureau/charlie-hebdo-puts-a-crying-prophet-muhammad-on-first-cover-after-attack/d/100994
------------
Europe
Charlie Hebdo Puts a Crying Prophet Muhammad on First Cover after Attack
AFP | Jan 13, 2015
PARIS: French satirical magazine Charlie Hebdo defied the attackers in last week's bloodbath by putting a cartoon of the Prophet Muhammed on its next cover, as the government on Monday announced the deployment of 10,000 soldiers to boost security.
The weekly released the front page of what it called the "survivors' issue", due out Wednesday, featuring a crying Muhammed in a white turban and holding a sign that reads "Je suis Charlie" under the words: "All is forgiven".
The issue will be the first since two Islamist gunmen stormed Charlie Hebdo's Paris office on January 7 and massacred 12 people, saying they were taking revenge for previous publications of Muhammed cartoons — considered deeply offensive to many Muslims.
In a further show of defiance, the magazine announced it would print three million copies — not the usual 60,000 — when it reappears on newsstands this week.
Charlie Hebo has become an international symbol of free speech since the massacre and a second attack two days later at a Jewish supermarket. A total of 17 people were killed in the twin rampages.
Nearly four million people — including 1.5 million in Paris in the biggest rally in French history — demonstrated across France on Sunday to denounce the killings. Many carried signs with the now internationally familiar slogan "Je suis Charlie" (I am Charlie).
Seeking to reassure a jittery nation in the wake of the attacks, French officials announced the unprecedented deployment of thousands of soldiers to boost security, including at Jewish schools.
"We have decided... to mobilise 10,000 men to protect sensitive sites in the whole country from tomorrow (Tuesday) evening," defence minister Jean-Yves Le Drian said after an emergency security meeting.
"This is the first time that our troops have been mobilised to such an extent on our own soil," he added.
Another 5,000 security officers were also part of the reinforcements.
As investigators looked into possible intelligence failures that allowed the attacks to happen, a debate gathered pace over whether France's security bodies need greater powers to combat home-grown terrorism and the flow of jihadists back and forth from Syria.
Prime Minister Manuel Valls said one of the Islamists responsible for last week's attacks that rocked France — Amedy Coulibaly who gunned down a policewoman and four Jewish shoppers at a kosher supermarket — likely received help from others.
"We think there are in fact probably accomplices," Valls told French radio. "The hunt will go on."
But Le Monde newspaper warned against the "temptation" of enacting a French version of the US Patriot Act, rushed in after the September 11 2001 attacks to give security agencies sweeping new surveillance powers over US citizens.
Such was the secrecy around the US law that only the revelations of whistleblowing intelligence agent Edward Snowden 12 years later laid bare the extraordinary scope of government snooping.
Meanwhile, Washington acknowledged it made a diplomatic misstep when it failed to send a high-ranking official to join world leaders attending Sunday's mass march in Paris.
Only the ambassador to Paris was sent, a decision that provoked ire in France. "We should have sent someone with a higher profile to be there," White House press secretary Josh Earnest said.
New details emerged of the scene inside the Jewish supermarket where Coulibaly, who said he was working in concert with the two Charlie Hebdo killers, briefly took hostages on Friday before being killed in a police assault.
A woman who survived the siege told Europe 1 radio that she watched as a fellow hostage tried to snatch the weapon wielded by Coulibaly.
"A young man took the assault rifle and wanted to shoot him," but Coulibaly "was faster and he shot him in the throat. The poor young man just fell," said the woman, who gave her name only as Sophie.
She said Coulibaly dealt ruthlessly with another hostage. "Someone wanted to leave — he shot him in the back," she said. Israeli Prime Minister Benjamin Netanyahu visited the scene of the hostage drama at the kosher supermarket in eastern Paris on Friday.
To cries of "Bibi, Bibi" — his nickname — and under extensive security protection, Netanyahu paid tribute to the four Jewish men who died at the store.
They were to be buried in Israel on Tuesday.
Interior minister Bernard Cazeneuve said he was putting in place a "powerful and durable" system of protection for France's Jewish community, the largest in Europe.
Muslims are also coming under attack, with community leaders reporting more than 50 incidents recorded since the assault on Charlie Hebdo, including apparent arson at a mosque in Poitiers on Sunday.
In German cities on Monday, about 100,000 people demonstrated in support of the country's strongly held multicultural values and against an anti-Islamic movement that is gathering pace across an increasingly immigration-sceptic Europe.
At the same time, a record 25,000 people joined an anti-Islamic PEGIDA march in the eastern city of Dresden, claiming their stance was vindicated by last week's Paris jihadist attacks.
Chancellor Angela Merkel was set to attend a rally backing an "open and tolerant Germany" on Tuesday in Berlin, alongside the foreign minister and other top officials.
"Germany wants peaceful coexistence of Muslims and members of other religions," Merkel said Monday.
As well as Coulibaly, brothers Said and Cherif Kouachi, who carried out the Charlie Hebdo murders, were known to French intelligence for their extremist leanings.
Valls admitted there were "clear failings" after it emerged that the Kouachis had been on a US terror watch list "for years".
He told French radio on Monday he wanted to see an "improved" system of tapping phones.
Valls also said 1,400 people were known to have left to fight in Syria and Iraq, or were planning to do so, up from the 1,200 stated last month. Seventy French citizens have died there.
Said Kouachi, 34, was known to have travelled to Yemen in 2011, where he received weapons training from Al-Qaeda in the Arabian Peninsula. And 32-year-old Cherif was a known jihadist convicted in 2008 for involvement in a network sending fighters from France to Iraq.
Coulibaly was a repeat criminal offender also convicted for extremist activity.
http://timesofindia.indiatimes.com/world/europe/Charlie-Hebdo-puts-Prophet-Muhammad-on-first-cover-after-attack/articleshow/45862567.cms?
------------
Anti-Islamist movement surfaces in Switzerland
Jan 13, 2015
An anti-Islamic movement that is growing in Germany has established a Swiss wing and is planning a demonstration in the wealthy Alpine country next month.
The Swiss wing was launched late last week, taking the name of Germany's "Patriotic Europeans Against the Islamisation of the Occident" (PEGIDA).
It announced on its Facebook page it would organise a demonstration at an undisclosed location in Switzerland on February 16.
A counter demonstration has already been announced for the same day.
Germany's PEGIDA has seen soaring support as it rides a wave of fear and revulsion at last week's killings of 17 people in France by Islamic extremists.
Last week the German PEGIDA wing drew a record 18,000 people and it has said it hopes even more people will turn out for a rally Monday evening in Dresden.
Over the weekend some 35,000 people in Germany turned out for counter protests against the group.
The Swiss wing is headed by around a dozen anonymous committee members, with only their spokesman known by name: Ignaz Bearth.
Bearth is the current head of the Swiss Direct Democracy Party, a small party with links to France's Front National party, and a former member of the far-right Swiss Nationalist Party.
The Swiss Facebook page on Monday afternoon counted only 3,420 'likes', compared to almost 5,000 for the counter #No Pegida Schweiz page.
The new PEGIDA group presented a 14-point programme, including calling for a ban on wearing full-face and body covering burkas in Switzerland and on imam visits to schools.
http://english.alarabiya.net/en/News/world/2015/01/12/Anti-Islamist-movement-surfaces-in-Switzerland-.html
---------
Islam belongs to Germany: Merkel
January 13, 2015
Amid mounting tensions over Islamophobia triggered by terror attacks in Paris, Chancellor Angela Merkel has assured Germany's four million-strong Muslim community that they are an integral part of the society, saying "Islam belongs to Germany".
"Our former President Christian Wulff said that Islam belongs to Germany. This is the case and I too hold the same view," she said at a press conference here yesterday during a visit by Turkey's Prime Minister Ahmet Davutoglu.
Merkel said she is the chancellor of "all Germans" and this applies to all those who have been living permanently in this country.
With over four million people, Germany has the second largest Muslim community in Europe after France and three million of them are of Turkish origin.
However, she stressed the need for further strengthening the dialogue between religions as there is still "lots of ignorance".
Merkel's comments come as leaders tried to stem the rise of an Islamophobia in the country following last week's terror attacks by suspected radical Islamists in Paris, which killed 17 people.
Tensions have also been running high over migration sparked by an influx of refugees fleeing the fighting in Syria and Iraq.
Germany has been experiencing a surge in anti-Islam demonstrations across the country since they began in in the eastern city of Dresden in September-end.
Organised by the right-wing populist Patriotic Europeans Against Islamisation of the West (PEGIDA), the weekly anti- Islam rallies have been protesting against the government's asylum policy and "Islamisation of Germany".
The 12th demonstration in Dresden, that attracted around 25,000 people, was the largest so far, according to police estimates.
Chancellor Merkel and her entire cabinet as well as President Joachim Gauck are scheduled to attend a unity rally here today organised by Germany's Muslim organisations in the wake of the Paris attacks.
"Germany wants peaceful co-existence of Muslims and members of other religions," Merkel told reporters after talks with Davutoglu, adding that today's vigil would send "a very strong message".
At the joint news conference, Davutoglu rejected "unjustified accusations" that his country was doing very little in the fight against Islamic State (IS) militants in Syria and Iraq, saying Turkey is prepared for every intelligence cooperation.
The premier also sharply criticised the tendency in the West to link Islam with terrorism. He said he wished the international community would have condemned the attack in Istanbul last week as strongly as the massacre in Paris.
http://indianexpress.com/article/world/europe/islam-belongs-to-germany-merkel/
------------
Cyber jihadists hack hundreds of French websites
Jan 13 2015
Hackers claiming to be Islamists have hijacked hundreds of French websites since the attacks on the satirical weekly Charlie Hebdo, flooding them with jihadist propoganda.
Homepages of several French websites have been replaced by phrases like "There is no God but Allah", "Death to France" or Death to Charlie" written against a black background, often with the signature #OpFrance. The technique termed "defacement" consists of taking control of an internet site and modifying its content.
Since last week's attacks in Paris that killed 17 people, various sites, mainly those of city halls, schools, universities, churches and businesses, have been hacked by groups claiming to be Islamists from North Africa or Mauritania.
Users were directed to a site broadcasting a fundamentalist speech when they logged onto the official website of the Lot department in south-west France. A Tunisian group calling themselves "Fallaga Team" claimed to be behind this incident.
A website showing a message in Arabic and another in French which said "I confirm that there is only one God and that is Allah. I confirm that Mohammed is the messenger of Allah" replaced the home page of the Caen Memorial, a museum and war memorial in the northern town of Caen.
"We are facing groups of activists who are forming and dissolving very quickly," said Gerome Billois, a cybersecurity expert at Solucom.
"I can't remember having seen such a big hacking campaign in such a short period of time," he said, adding that "several hundreds of sites had been affected."
"We can speak of cyberjihad, and hacking is just the tip of the iceberg and also the least dangerous since the only consequence is the display of an ideology," said Thierry Karsenti, European technical director at cybersecurity firm Checkpoint.
He added that it was technically fairly easy to take control of these sites given that they were either poorly protected or not updated regularly.
The same hacking techniques are being used by the opposing camp. After calls from the hacker group Anonymous to avenge Charlie Hebdo, activists claimed to have attacked jihadist propoganda sites.
"Wait for a huge reaction from us," the group said after launching a Twitter account called @OpCharlieHebdo following the Paris attacks.
The message on the social network said that the group, part of Anonymous, was fighting to "defend the freedom of expression and opinion".
http://www.themalaysianinsider.com/world/article/cyberjhadists-hack-hundreds-of-french-websites#sthash.gPLEXbjJ.dpuf
------------
UK charity loses government funding over alleged links to Hamas, Brotherhood
Jan 13 2015
LONDON – The Muslim Charities Forum has been stripped of £250,000 ($380,000) funding by Britain's Communities Secretary Eric Pickles after its alleged links with extremist organizations were discovered.
The UK charity had been given the funds for running a major faith project, but when Pickles was advised of its alleged involvement with Islamic extremism, including Hamas and the Muslim Brotherhood, initially uncovered by the Daily Telegraph, further government investigations followed. This triggered wider concerns and criticism of its links, including the use of extremist speakers around the UK.
Pickles told the Sunday Telegraph he was determined to cut off funding to any group that is linked to "individuals who fuel hatred, division and violence."
Established in 2007, the Muslim Charities Forum has acted as an umbrella group for Muslim aid organizations that operate in 71 countries, with a combined income of £108 million. It supports member groups by acting as a voice for the sector and by providing training, research and a central point of contact for other Muslim organizations.
Following the terrorist murder of British soldier Lee Rigby, killed in a frenzied stabbing attack in broad daylight in a South London street in May 2013, the MCF was awarded a contract to run a government scheme intended to foster integration among minority faiths, improve the treatment of women and reduce youth crime as part of the government's response to that cold-blooded killing.
Pickles said that a Whitehall review of the MCF found that besides a record of poor performance, it was unable to provide assurances about the activities of its member charities and that it had previously been warned over concerns about its links to unnamed radical speakers.
The Telegraph disclosed last September that several member charities of the MCF were early members of a group called the Union of Good, a fund-raising body with close ties to the Muslim Brotherhood, which was created to raise money for Hamas. The United States has designated the union a sponsor of terrorism, saying it is an "organization created by the Hamas leadership to transfer funds to the terrorist organization."
Last year, Prime Minister David Cameron launched an inquiry into the Muslim Brotherhood, prompted by concerns it was stoking Islamism that had encouraged British jihadists to fight in Syria and Iraq.
The Brotherhood insists it is nonviolent and seeks to impose Islamic rule only through democratic change.
But the Whitehall investigation identified "an incredibly complex web" of up to 60 organizations in Britain, including charities, think tanks and even television channels, with links to the Brotherhood, all of which will now come under intense scrutiny.
The MCF's spokesman rejected the criticism, saying the group was "considering all options available to contest the government's decision and allegations" adding they were also "extremely disappointed."
Mark Gardner, communications director at the Community Security Trust told The Jerusalem Post they welcomed the government's determination to ensure that it only gives funding to the correct groups.
"They have clearly investigated this Muslim Charities Forum and have found it not to meet the required standard.
It is an important statement of intent," he said.
http://www.jpost.com/Middle-East/UK-charity-loses-government-funding-over-alleged-links-to-Hamas-Brotherhood-387548
------------
France hunts for terror cell; homage to 3 police killed
Jan 13, 2015
France is paying homage to three police officers killed in three days of bloodshed and terror.
At Tuesday's ceremony, French President Francois Hollande went first to the family of Ahmed Merabet, the French Muslim policeman killed in the attack on the offices of Charlie Hebdo. The satirical newspaper lampooned religions and had been threatened repeatedly for its caricatures of the Prophet Muhammad.
The cover of Charlie Hebdo on Wednesday will depict Muhammad, weeping and holding a sign with the words "I am Charlie."
Seventeen people were killed in the attacks, along with the three gunmen. The attacks decimated the Charlie Hebdo staff; the other dead included four hostages killed in a kosher supermarket and the three police officers.
http://english.ahram.org.eg/NewsContent/2/9/120195/World/International/France-hunts-for-terror-cell;-homage-to--police-ki.aspx
------------
Pope Francis condemns 'fundamentalist terrorism'
January 13, 2015
Pope Francis condemned "fundamentalist terrorism" and "deviant forms of religion" for last week's terrorist attacks in Paris, amid fresh claims that he himself may be at risk of attack from the Islamic State in Iraq and the Levant (Isil).
The Pope said religion was being perverted by extremists and used to justify evil, including "the tragic slayings" of 17 people that took place in Paris last week after Islamist extremists attacked the office of the satirical magazine Charlie Hebdo and took people hostage in a kosher supermarket.
"Religious fundamentalism, even before it eliminates human beings by perpetrating horrendous killings, eliminates God himself, turning him into a mere ideological pretext," the 78-year-old pontiff said in an annual address to foreign diplomats accredited to the Vatican.
"Losing their freedom, people become enslaved, whether to the latest fads, or to power, money, or even deviant forms of religion," he said in his State of the World speech.
He spoke out against the menace posed by Islamic fundamentalism after an Israeli television channel reported that the Vatican could be Isil's next target.
Full report at:
http://www.telegraph.co.uk/news/worldnews/europe/france/11340863/Charlie-Hebdo-attacks-Pope-Francis-condemns-fundamentalist-terrorism.html
------------
Arab World
Islamic ideology driving terrorists to kill, Egypt's president tells clerics
By Rowan Scarborough - The Washington Times
JAN. 13, 2015
The ruler of Egypt is alone among major world leaders in his willingness to go before an audience of senior Muslim clerics and tell them that parts of Islamic ideology are indeed driving terrorists to kill worldwide.
Just days before al Qaeda-linked terrorists unleashed a wave of murder in Paris, Egyptian President Abdel-Fattah el-Sissi gave a blunt talk that some observers hope will be the beginning of a campaign within Islam to reform its preachings and exile its extremists.
Mr. el-Sissi's message is at odds with President Obama's view that Islam the religion has nothing to do with Muslim extremists.
On Dec. 28, Mr. el-Sissi, a former chief of the armed forces who ousted the elected Islamist president in 2013, went to Cairo's Al-Azhar University, a leading intellectual center of Sunni Muslim thought. He stood before clerics and scholars and asserted that years of Islamic writings and sermons had created an ideology that justifies waves of violence. Now, he said, the imams have a duty to stop it.
Full report at:
http://www.washingtontimes.com/news/2015/jan/11/islamic-ideology-driving-terrorists-to-kill-egypts/
------------
ISIS executes dozens of people, including member of provincial council
January 13, 2015
Salahuddin (IraqiNews.com) A security source in Salahuddin province said, that the ISIS group has executed dozens of civilians, including a member of the provincial council in Sharqat district.
The source informed IraqiNews, "Today the ISIS group elements have executed dozens of civilians by firing squad in central Sharqat, located 120 km northern Tikrit," noting that, "A member of the provincial council in the district of Sharqat was among the executed individuals."
"The group had accused them of supporting the security forces and allegiance to al-Hashed al-Sha'abi," the source added.
http://www.iraqinews.com/iraq-war/isis-executes-dozens-people-including-member-provincial-council-sharqat/
------------
Iraqi Forces Kill 18 ISIL Terrorists in Northern Baghdad
Jan 13, 2015
Baghdad Operations Commander Abdul-Amir al-Shamri said that 18 terrorists of the Islamic State of Iraq and the Levant (ISIL) group were killed and 7 others were wounded in a security operation in al-Nabaeh area.
"Today's operation in al-Nabaeh area, located in Northern Baghdad, resulted in the death of 18 terrorists," al-Shamri said on Monday, adding that 7 terrorists were also wounded in the operation.
"Iraqi forces have also destroyed an armoured vehicle in the operation," he said.
http://english.farsnews.com/newstext.aspx?nn=13931023000252
------------
Shiite political bloc claims US 'cultivated' Islamic State
JAN. 13, 2015
A Shiite bloc in the Iraqi parliament on Monday blamed the US for having "cultivated" the Islamic State (IS) while the country's leader criticised the US-coalition for its 'slow' support of Iraq's army.
The US administration "gave rise to IS, cultivated it and used it as a tool to terrorise the masses," a spokesperson for the al-Ahrar bloc, a group of politicians following the teachings of Shiite preacher Muqtada al-Sadr, told Anadolu Agency.
"The US supported IS (in the beginning). But it rebelled later on and started to expand," said Hussein al-Awadi, al-Ahrar's spokesperson.
"That's when the US resorted to remedying its image as if it had no part in the creation of this group," al-Awadi said, adding that the US established an "environment of chaos" in Iraq through "prolonging the war and leaving Iraq dependent on US troops".
Awadi noted that US warplanes have provided IS militants with weapons and ammunitions on multiple occasions, saying each time that it was a mistake.
Full report at:
http://www.middleeasteye.net/news/shiite-political-bloc-claims-us-cultivated-islamic-state-1683814058#sthash.dksGErsg.dpuf
------------
Global outrage at Saudi Arabian blogger's public flogging
January 13, 2015
Saudi Arabia is remaining silent in the face of global outrage at the public flogging of the jailed blogger Raif Badawi, who received the first 50 of 1,000 lashes on Friday, part of his punishment for running a liberal website devoted to freedom of speech in the conservative kingdom.
Anger at the flogging — carried out as the world watched the bloody denouement of the Charlie Hebdo and Jewish supermarket jihadi killings in Paris — focused on a country that is a strategic ally, oil supplier and lucrative market for the U.S., Britain and other western countries but does not tolerate criticism at home.
Punishment filmed
Mr. Badawi was shown on a YouTube video being beaten in a square outside a mosque in Jeddah, watched by a crowd of several hundred who shouted Allahu Akbar (God is great) and clapped and whistled after the flogging ended. Mr. Badawi made no sound during the flogging and was able to walk back unaided afterwards.
"Raif was escorted from a bus and placed in the middle of the crowd, guarded by eight or nine officers," a witness told Amnesty International. "He was handcuffed and shackled but his face was not covered. A security officer approached him from behind with a huge cane and started beating him.
Full report at:
http://www.thehindu.com/news/international/global-outrage-at-saudi-arabian-bloggers-public-flogging/article6781653.ece
----------
Fatwa Declared against Snowmen Made to Look like Camels and Arabs in Saudi as They 'Represent Western Values'
January 13, 2015
A prominent religious scholar in Saudi Arabia has given the cold shoulder to snowmen – by issuing a fatwa against them.
A recent snowfall in the Middle Eastern country saw Saudis eagerly building snowmen and even snow camels.
However, Mohammed Saleh Al Minjed decreed that building snowmen – or indeed creating any living creature out of snow – was an insult to the Islamic religion.
He declared that inanimate objects such as ships and buildings could be imitated – or food – but not animals, according to Gulf News.
He wrote: 'God has given people space to make whatever they want which does not have a soul, including trees, ships, fruits, buildings and so on.'
The fatwa - or religious ruling - was given a frosty reception on social media sites by some people.
Blogger Mishaal complained that the ruling took the joy out of the unusual weather.
He said: 'We have snow for fleeting days, maybe even hours, and there is always someone who wants to rob us of the joy and the fun. It seems that the only thing left for us is to sit down and drink coffee.'
On Twitter users writing in Arabic and identifying themselves with Arab names joined in the debate.
Full report at:
http://www.dailymail.co.uk/news/article-2906866/They-ve-really-got-hump-Fatwa-declared-against-snowmen-look-like-camels-Arabs-Saudi-represent-Western-values.html#ixzz3OjxfFXVy
------------
Africa
Cameroon Army Kills 143 Boko Haram Fighters: Government
13 January 2015
The Cameroonian army killed 143 Boko Haram militants who attacked a town in northern Kolofata on Monday, the government said, adding that one soldier had also died in the fighting.
The toll was "the heaviest loss yet" suffered by the Nigeria-based Boko Haram group on Cameroonian soil, Communications Minister and government spokesman Issa Tchiroma Bakary said in a statement read out on television and radio.
http://english.alarabiya.net/en/News/africa/2015/01/13/Cameroon-army-kills-143-Boko-Haram-fighters-government-.html
------------
Poisoned Beer Kills 56, Hospitalizes 145 in Suspected Muslim Action in Mozambique
JAN. 13, 2015
At least 56 men and women attending a funeral in the African nation of Mozambique died after they drank a traditional beer specially brewed for the event, according to reports on Sunday. The mourners were drinking the ceremonial beer during the funeral which had hundreds attending the services. According to the preliminary police report, investigators believe the beer was laced with crocodile bile, which is a known poison in that region.
Investigators told local reporters that the mourners had assembled in the cemetery and that the poison was added to the local beer known as Pombe, a mixture of maize and corn flour. Ironically, the woman responsible for brewing the large volume of beer is believed to be one of those who died. Homemade beer is by custom served in villages across Africa and Pombe is reputed to be one of best brews.
Investigators claim that the people who drank Pombe in the morning displayed no symptoms of poisoning. However, those mourners who drank the beer during the afternoon complained of stomach pain and began to die one after another. Police officials said that crocodile bile is a highly potent poison. The investigators have already sent blood samples and samples of the beer the country's ministry of health for testing.
Full report at:
http://www.examiner.com/article/poisoned-beer-kills-56-hospitalizes-145-suspected-muslim-action
------------
Journalists, Islamic Scholars Play Vital Role in Nation-Building
JAN. 13, 2015
The Chairman, Bauchi State Shari'ah Commission, Alhaji Mustafa Illelah, has said that journalists and Islamic scholars have vital role to play toward moulding a viable society.
Illelah made the assertion on Sunday in Bauchi while delivering a lecture at an award ceremony organised by the state chapter of the Izalatul Bidi'a Wa'Ikamatus Sunna for some journalists.
He emphasised that journalists and scholars worldwide has a prominent role in moulding the society towards peaceful co-existence.
Illelah said that the peaceful co-existence of the society could only be achieved if the two bodies would exercise truth and justice in exercising their roles.
He pointed out that the role to be played by the two bodies were crucial especially with the current challenges facing the country and the forthcoming general election.
The chairman called on them to be God fearing as they would account for their deeds in the present world and the hereafter.
Full report at:
http://leadership.ng/news/metro/401146/journalists-islamic-scholars-plays-vital-role-moulding-society
--------
Bulgaria arrests Frenchman with alleged links to Paris attackers
Jan 13 2015
A Frenchman arrested in Bulgaria on January 1 trying to cross into Turkey was in contact with one of the two brothers who carried out the Islamist attacks in Paris last week, prosecutors said today.
Fritz-Joly Joachin, 29, a French citizen of Haitian origin, "was in contact several times with one of the two brothers – Cherif Kouachi," public prosecutor Darina Slavova said.
She said the contact took place before Joachin left France on December 30, a week before Cherif and his brother Said killed 12 people in Paris attacks that shocked the world.
Joachin was initially wanted on a European arrest warrant issued by France following allegations by his wife that he had kidnapped their three-year-old son.
But on Monday, Bulgarian prosecutors received a second European arrest warrant for Joachin issued by a court in Paris.
"The charges are for participation in an organised crime group whose aim was organisation of terrorist acts," said Slavova.
The Kouachi brothers carried out their massacre at the Paris offices of French satirical weekly Charlie Hebdo on January 7. Two days later they were shot dead by French security forces.
http://www.themalaysianinsider.com/world/article/bulgaria-arrests-frenchman-with-alleged-links-to-paris-attackers#sthash.neR69Qsa.dpuf
------------
Libyan ISIS affiliate claims kidnap of 21 Christians
Jan 13, 2015
A Libyan affiliate of the Islamic State of Iraq and Syria (ISIS) has claimed the abduction of 21 Coptic Christians and released pictures of the captives.
The claim and photos were posted Monday on jihadi forums used by ISIS supporters. The Egyptian workers were seized last month in the central Libyan city of Sirte.
"The soldiers of the Islamic State in the province of Tripoli hold captive 21 Christian crusaders," the photo caption read.
Abu Makar, an Egyptian priest from the workers' hometown of Samalout, in southern Egypt, confirmed that the pictures are of the captives. A Coptic activist, Magdi Malak, said that he met with families of the captives and that they confirmed the authenticity of the pictures.
http://english.alarabiya.net/en/News/middle-east/2015/01/12/ISIS-affiliate-claims-abduction-of-21-Christians-in-Libya.html
------------
South Asia
Maldives Islamic Ministry proposes compulsory Zakat in new bill
Jan 13 2015
Islamic minister Dr Mohamed Shaheem Ali Saeed says proposed legislation to collect, distribute, and manage Zakat would facilitate the collection of MVR500 million annually.
Speaking at a workshop involving stakeholders to the Zakat bill, Shaheem said Zakat systems are protected by law in Saudi Arabia, Bahrain, Sudan, Kuwait, and Malaysia.
"In these countries, Zakat systems have been set up and protected by law, while institutions involved in the management of Zakat have been empowered by law. Hence, it is very important that such a system be organised by law in our 100 percent Muslim country," he said.
The Islamic ministry collected MVR52 million as Zakat last year.
The comprehensive bill defines Zakat as part of a property that must be given by a Muslim individual or business entity for charity to entitled recipients – which includes the poor, heavily indebted individuals, and travellers.
Zakat payment in the Maldives has traditionally been voluntary, but the new bill makes the annual payment compulsory and imposes a jail term of five years or a fine of MVR500,000 for non-compliance.
Wealth, assets, and income are zakatable – subject to the levy – under the new law. These include precious metal holdings, cash and other securities, trade and business inventories, and earnings from agriculture, fisheries, service delivery and mining.
Full report at:
http://minivannews.com/politics/islamic-ministry-proposes-compulsory-zakat-in-new-bill-92095
------------
Ex-Taliban leader recruit people for ISIS (Daesh) in Helmand
Jan 13 2015
A senior Afghan National Army (ANA) commander in southern Afghanistan has confirmed that a former Taliban leader is trying to recruit people for the Islamic State of Iraq and Syria (ISIS) in Helmand province.
Gen. Mahmood Khan, the deputy commander of Afghan National Army (ANA) 215 Corps, has said that the representatives of the ex-Taliban leader Mullah Abdul Rauf are fanning out to recruit people within the past week.
"A number of tribal leaders, jihadi commanders and some ulema (religious council members) and other people have contacted me to tell me that Mullah Rauf had contacted them and invited them to join him," Khan told the Associated Press.
According to Khan, the Taliban group warned people not to contact Rauf.
This comes as local residents of Sangin district in Helmand province said a group of insurgents in black uniforms have started movements in the district carrying black flags and vehicles.
The local residents also confirmed that the group is led by a local commander identified as Abdul Rauf are operting in Zamin Dawar area of Sangin and also parts of Kajaki district.
However, the Ministry of Interior (MoI) officials have rejected that ISIS terrorist group is operating in Afghanistan and said there are no signs that the group has infiltrated in the country.
Full report at:
http://www.khaama.com/ex-taliban-leader-recruit-people-for-isis-daesh-in-helmand-8942
------------
Religious Leader's Call for All to Work Together to Counter Extremist Ideology
JAN. 13, 2015
SINGAPORE - A hush fell across Khadijah Mosque in Singapore yesterday as 5,000 congregants observed a minute's silence.
On their minds were the victims of recent events that had punctured peace and stability, such as the AirAsia Flight QZ8501 crash, the Sydney siege, the Pakistan school attack and last week's Paris shootings.
The shootings sparked fears of anti-Islamic sentiment, and were condemned by Muslim religious leaders around the world.
At yesterday's remembrance ceremony, held in conjunction with the celebration of Prophet Muhammad's birthday, religious and community leaders in Singapore called on Muslims and non-Muslims to work together to counter extremist ideology.
Full report at:
http://news.asiaone.com/news/singapore/call-all-work-together-counter-extremist-ideology#sthash.fR8T2cs5.dpuf
------------
Do not try our patience, Hasina tells Khaleda
Jan 13 2015
Prime Minister Sheikh Hasina yesterday warned the BNP that her government would get tough if needed to ensure security for the country's people.
While speaking at a rally in the capital's Suhrawardy Udyan organised to mark the Homecoming Day of Bangabandhu, she also called upon people to come forward and resist any attempt to create sabotage and violence in the name of movement.
"She [BNP chief Khaleda Zia] has made a big mistake by not participating in the January 5 elections [last year]. And now she is inciting anarchy from the refuge of her Gulshan office.
"I want to tell the BNP chief clearly...It was your mistake and your party will have to suffer. The people of the country will not suffer [for your mistake]. Why are you damaging the properties and livelihood of the countrymen through militancy and terrorism?" the PM said.
"Do not try our patience," Hasina said.
Full report at:
http://www.dhakatribune.com/politics/2015/jan/13/do-not-try-our-patience-hasina-tells-khaleda#sthash.IfilD0Va.dpuf
--------
Pakistan
KP Govt allows teachers, staff to carry arms into schools
Jan 13 2015
PESHAWAR: The Khyber Pakhtunkhwa government decided to allow employees of all educational institutions, including teachers, to carry licensed arms on the premises to respond fittingly in case of a terrorist attack.
"The provincial cabinet has decided to allow teachers and other staff members to keep their licensed weapons with them so that in case of any eventuality they could engage attackers for initial five to 10 minutes before personnel of law-enforcement agencies will show up to respond to the attack," provincial information minister Mushtaq Ahmad Ghani told reporters after the cabinet meeting.
Ghani said the cabinet, which met with Chief Minister Pervez Khattak in the chair, took several decisions for ensuring foolproof security at educational institutions in the province.
He said educational institutions had been told not to reopen campuses unless they fully carried out the government's security guidelines.
Full report at:
http://www.dawn.com/news/1156730/govt-allows-teachers-staff-to-carry-arms-into-schools
------------
Pakistan asks for US help, says won't start talks with India without Kashmir
TNN | Jan 13, 2015
ISLAMABAD: Pakistan on Tuesday said that it will not start any dialogue with India if Kashmir issue was not part of the agenda, even as US secretary of state John Kerry advised the two neighbours to resume peace talks.
National security adviser Sartaj Aziz and Kerry addressed a joint press conference here after talks which were part of the bilateral strategic dialogue.
Aziz said that the cancellation of last year's scheduled talks over meeting with Kashmiri leaders shows that India was not interested to talk on this issue.
"Pakistan will not start talks with India without Kashmir," he said.
Kerry said US would continue to encourage the two sides to move forward and hold dialogue to resolve the issue.
He also voiced concern over the border tension between the two neighbours.
"We continue to be deeply concerned by the recent spate of increased violence along the working boundary and the Line of Control," Kerry said.
"It is profoundly in the interests of Pakistan and India to move this relationship forward," he added.
Full report at:
http://timesofindia.indiatimes.com/world/pakistan/Pakistan-asks-for-US-help-says-wont-start-talks-with-India-without-Kashmir/articleshow/45869153.cms
------------
Nation's unity more powerful than atom bomb: Jamat-e-Islami
Jan 13 2015
PESHAWAR – Jamat-e-Islami chief Siraj ul Haq on Tuesday said that Peshawar school tragedy has united the entire nation which was more powerful than the atom bomb.
Talking to journalists after visiting Army Public School in Peshawar, he said that many injured schoolchildren were still under treatment while scores of others attended the school after their recovery. He said that the government was not favouring any one by providing security to educational institutes.
The JI chief also urged the management of schools and colleges to ensure adequate security. "The time has come for government to fulfil its responsibilities," he added. During the visit to Army Public School, Siraj met with teachers and students and appreciated their courage. He shook hands with the students and had a group photograph with them.
http://www.dailytimes.com.pk/national/13-Jan-2015/nation-s-unity-more-powerful-than-atom-bomb-siraj
------
India helping terrorists in Pakistan: Pak Defence Minister
January 13, 2015
Pakistan's Defence Minister Khawaja Asif has alleged that India was helping terror groups in his country after India rejected Pakistan's claim that it was carrying out "attacks" from Afghanistan.
"India has designs on Pakistan and is helping militants to carry out heinous acts inside Pakistan," Asif told Dawn News.
He said that India wants to keep Pakistan busy with "skirmishes on the eastern border so that the country remains distracted from the war on its western borders and the terrorism within."
"The Taliban have links with India. Also, India's involvement in the insurgency in Balochistan cannot be ignored," Asif alleged.
When asked to provide evidence for his accusation, the Minister dodged the question and proceeded to claim that "a low intensity war was underway".
Full report at:
http://indianexpress.com/article/world/neighbours/india-helping-terrorists-in-pakistan-pak-defence-minister/#sthash.ddVATM1M.dpuf
--------
Govt extends scope of military courts to Gilgit-Baltistan, AJK
Jan 13 2015
ISLAMABAD: During a meeting to review implementation of the National Action Plan (NAP) on Tuesday, the government decided to extend the scope of military courts to Gilgit-Baltistan and Azad Jammu and Kashmir.
The high-level meeting at the Prime Minister's House in the federal capital approved that Gilgit-Baltistan and AJK Councils would also adopt the 21st Constitutional Amendment as well as the Amendment in the Army Act 1952 to facilitate formation of military courts in those areas.
The premier was also briefed on legislative and administrative measures as well as the progress on sub-committees regarding implementation of the NAP.
The NAP was drafted in the wake of the Peshawar school attack to chalk out a comprehensive strategy to combat terrorism.
Full report at:
http://www.dawn.com/news/1156747/govt-extends-scope-of-military-courts-to-gilgit-baltistan-ajk
------------
Seven convicts hanged in four jails
Jan 13 2015
KARACHI/SUKKUR/FAISALABAD/RAWALPINDI: Seven condemned prisoners have been executed in Karachi, Sukkur, Faisalabad and Rawalpindi on Tuesday morning.
Behram Khan was condemned to death by an anti-terrorism court in June 2003, which found him guilty of killing Advocate Mohammad Ashraf in a courtroom of the Sindh High Court in April 2003.
Khan was hanged at the Karachi Central Prison. According to the prosecution, Behram and sub-inspector Pir Bux had arrived at the court to kill Advocate Qurban Ali Chauhan, who was the attorney for an accused being tried for the killing of Behram's maternal uncle.
The mercy petition of the convict was also turned down by the President of Pakistan.
Three convicts Shahid Haneef, Muhammad Talha and Khaleel Ahmed have been hanged at Central Jail Sukkur. All the three were found guilty by an anti-terrorism court in Karachi, of killing Mr. Syed Zaffar Ali Shah, who was a director in Defence ministry, when he was killed in July 2001.
Full report at:
http://www.dawn.com/news/1156728/seven-convicts-hanged-in-four-jails
------------
Public hanging of condemned prisoners risks security, SHC told
Jan 13 2015
KARACHI: Provincial prison authorities told the Sindh High Court that public execution of condemned convicts could not be committed due to the security situation in the country.
A division bench, headed by Justice Ahmed Ali M. Shaikh, was seized with a constitutional petition seeking public hanging of the convicts on death row.
A civil rights campaigner, Rana Faizul Hasan, petitioned the SHC seeking execution of condemned convicts publicly under Article 2 of the Constitution and Islamic injunctions.
On Monday, the inspector general of prisons submitted a detailed report stating that as many as eight condemned convicts would be hanged within the next few days in the province.
It stated that there were 454 convicts on death row across the province and the appeals of as many as 369 condemned convicts were pending disposal at the SHC and the Federal Shariat Court, while 55 appeals of condemned men were being heard at the Supreme Court of Pakistan and 21 mercy petitions were pending disposal with the President of Pakistan.
The report said that as many as 151 convicts were on death row in the Karachi central prison. It said the mercy petition of a condemned convict was pending disposal at the General Headquarters (GHQ), while mercy appeals of seven others were pending decisions with the President. As many as 109 appeals of the condemned convicts were pending disposal before the SHC and the Federal Shariat Court, it said, adding that three condemned convicts were expected to be executed shortly.
Full report at:
http://www.dawn.com/news/1156612/public-hanging-of-condemned-prisoners-risks-security-shc-told
------------
Pakistan and US agree on joint action against terror funding
Jan 13 2015
ISLAMABAD: Pakistan and the United States agreed on Monday to work together to combat terrorist financing and disrupt networks that supply components used in the creation of improvised explosive devices (IEDs).
The decision was taken during a meeting of the bilateral law-enforcement and counter-terrorism working group – a part of the Pakistan-US Strategic Dialogue.
This was the fourth time the group met since its inception in March 2010.
The US side was led by Counter-Terrorism Coordinator Tina Kaidanow, while Interior Secretary Shahid Khan and Foreign Secretary Aizaz Ahmad Chaudhry led the Pakistani team in the talks.
US Special Representative for Afghanistan and Pakistan Dan Feldman and National Security Council's Senior Director Jeff Eggers, Ambassador Richard Olson and Coordinator for the National Counter-Terrorism Authority (Nacta) Hamid Ali Khan and other officials from both countries participated in the meeting.
The two sides explored ways to intensify the fight against terrorism and violent extremism. Pakistani officials outlined for the US delegation provisions of the recently formulated National Action Plan against terrorism.
Full report at:
http://www.dawn.com/news/1156665/pakistan-and-us-agree-on-joint-action-against-terror-funding
------------
India
Muslim Outfits Plan Meet to Discuss Minority Concerns
January 13, 2015
A number of Muslim organisations, which have so far preferred to remain quiet about the change of government at the Centre, are organising a daylong colloquium on 'Country and Crossroads' Sunday to discuss "recent developments in the country which are a source of concern to all peace-loving persons" and to discuss implications of the "unchecked activities of some people and organisations."
The organisations hosting the colloquium include Jamiat Ulema- e-Hind, Jamat e Islami Hind, Jamiat Ahle Hadees e Hind, Muslim Personal Law Board, Milli Council and the Delhi-based Institute of Objective Studies. The outfits last came together in 2007 to start a process that resulted in the anti-terror Fatwa adopted at Deoband by Dar ul Uloom in 2008.
Of the sessions held the colloquium on Sunday, one will be on attacks on Muslims' constitutional safeguards. There will be a session on the slogan of 'inclusive growth'— to point out discrepancies like ignoring the Muslim claim to reservations in Maharashtra even after a court nod, but going ahead with the Maratha reservation. There will also be a session on the security of the average Muslim citizen under the new government.
The convenor is Mahmood Madani, former Rajya Sabha MP, and co-convenor is former SP leader Kamal Farooqui.
Full report at:
http://indianexpress.com/article/india/india-others/muslim-outfits-plan-meet-to-discuss-minority-concerns/#sthash.L6lUb5e6.dpuf
--------
Pakistan making effort to obscure challenge from safe havens: India
January 13, 2015
India Monday rejected Pakistan's charge that it was carrying out "attacks" on it from Afghanistan, and said it was well known who was "up streaming terrorism" and Islamabad was making an effort to obscure the challenge the safe havens pose to the region. Syed Akbaruddin, spokesperson of the Ministry of External Affairs, said, "We all know, who is up streaming terrorism and who endeavours to downstream terrorism. It is certainly not India. We all also know that the main threat to peace and security in Afghanistan comes from terrorism. Therefore, don't be mislead by those who intend to obscure the challenge that safe havens pose to peace and security in the region." Akbaruddin was responding to the remarks made by Sartaz Aziz, an adviser to the Pakistan PM, that India was "involved in the attacks on Pakistan from Afghanistan". Aziz had also alleged that India under Prime Minister Narendra Modi was non-cooperative in resolving the Kashmir issue.
http://indianexpress.com/article/india/india-others/pakistan-making-effort-to-obscure-challenge-from-safe-havens-india/#sthash.L8KwC90K.dpuf
----------
SC Asks Kashmir Filmmaker: Is It 'Fashionable' To Make One-Sided Movies?
January 13, 2015
The Supreme Court on Monday asked a filmmaker who shot a documentary on Kashmir whether it had become "fashionable" to depict only one side of the story in movies.
The bench was hearing a petition by filmmaker Pankaj Butalia, who complained about the Censor Board's refusal to clear his documentary, Textures of Loss. The documentary features interviews of people who lost their kin because of the conflict and violence in Kashmir. Some of them condemned the country and the Army, while others spoke about jihad. The Censor Board sought some cuts in the documentary, but Butalia maintained he was merely depicting opinions. He challenged the board's decision before the appellate body but when that did not work, he moved the apex court.
On Monday, a bench of Justices Vikramjit Sen and C Nagappan asked, "Why is it one-sided? Where is the alternate picture? We don't know why it has become fashionable and a question of human rights to talk about one side of a story. Rights are always conferred on two parties and not only on one of them… this is what is happening with activists."
Full report at:
http://indianexpress.com/article/india/india-others/sc-asks-kashmir-documentary-filmmaker-is-it-fashionable-to-make-one-sided-movies/99/#sthash.hoTPOc5I.dpuf
--------
Muslim man becomes first male dancer to get PhD in Mohiniyattam
Ramesh Babu, Hindustan Times
January 13, 2015
Art has no religion, gender or colour. And KM Abu, a dancer to get a doctorate on classical dance form Mohiniyattam from Kerala Kalamandalam, a deemed university dedicated to performing arts, tells it emphatically.
Abu has a double advantage. Besides being the first Muslim academic to get the rare honor, he is also the first male dancer to get a doctorate in Mohiniyattam, usually performed by women. He has been awarded a PhD for his thesis on Mohiniyattam exponent Kalamandalam Kalyanikutty Amma's voyages in art world.
"I started practising Bharatnatyam at a tender age. But later I was attracted to Mohiniyattam. It was my dream to do research in Kalyanikutty Amma's voyage in the art world," he said.
Full report at:
http://www.hindustantimes.com/lifestyle/art/dancer-becomes-first-muslim-to-get-phd-in-mohiniyattam/article1-1306202.aspx
------------
Defence Minister warns Pak of 'proactive steps'
Jan 13, 2015
In a blunt message to Pakistan, Defence Minister Manohar Parrikar on Tuesday warned that India will take "proactive steps" to deal with proxy war by that country.
He also made it clear that for any dialogue to take place, Pakistan should first stop ceasefire violation and intrusion of terrorists.
"On proxy war, the government is very clear about what is happening. We have taken a stand and though I will not like to tell you what is the exact action we are taking...you will be able to see the difference in six months in actual figures," he told a press conference here.
"One difference is already visible because this year the number of terrorists neutralised is about almost 65 per cent, 70 per cent more than that last year," he said.
Mr. Parrikar said, "We want peace with our neighbours, but if there is an attempt for proxy war, we will take some proactive steps. What kind of proactive steps cannot be revealed in a press conference.
Full report at:
http://www.thehindu.com/news/national/parrikar-warns-pak-of-proactive-steps/article6785244.ece
------------
NHRC astonished at long delays in granting citizenship to Pakistani Hindus
I P Singh,TNN | Jan 13, 2015
JALANDHAR: Hundreds of Hindus who migrated from Pakistan to escape persecution and discrimination around two decades back are still awaiting Indian citizenship. National Human Rights Commission has expressed astonishment at the long delay in granting them citizenship even as they came and settled over 18 years back. The Commission has also asked the Ministry of Home Affairs as to how soon will it be able to process requests of the Pakistani Hindus to grant them citizenship.
"The Commission fails to understand as to why some hindus who left Pakistan and came to India in the year 1996 and whose probability of going back to Pakistan is practically non-existent are continuously living in India on a long term visa, while, even after 18 years of arrival in the country, they have not been granted citizenship," NHRC noted in its order in October last year which has now been sent to All India Hindu Shiv Sena President Surinder Kumar Billa for his comments as he had sent a complaint to the Commission in March 2013 about the issue.
Full report at:
http://timesofindia.indiatimes.com/india/NHRC-astonished-at-long-delays-in-granting-citizenship-to-Pakistani-Hindus/articleshow/45866646.cms
------
Southeast Asia
Malaysia thwarts IS plan to use country as transit point
Jan 13, 2015
Malaysian Police crackdown on the activities of Islamic State (IS) militants here has thwarted the terror group's plans to use Malaysia as a transit point for recruits headed to Syria to join its ranks.
A recruiter in Syria for the militant group reportedly posted a warning on the IS website, asking Indonesians not to transit in Malaysia, saying that to do so would be suicidal.
The post on the website said many Indonesians who transited the country in recent months had been arrested before they could reach their destination.
Deputy Inspector-General of Police Datuk Noor Rashid Ibrahim said that Malaysia's counter-terrorism division were keeping an eye on both Malaysians and other nationals trying to join IS.
Full report at:
http://www.thehindu.com/news/international/world/malaysia-thwarts-is-plan-to-use-country-as-transit-point/article6785036.ece
------------
Indonesia's Absence in 'Islam vs. West' Issue
Jan 13 2015
Jakarta. The hypothetical clash between Islam versus the West as forecast by American political scientist Samuel P. Huntington seems to be gaining new life in the wake of last week's killing spree in Paris, and amid growing concerns over extremist group Islamic State's spreading influence.
Unfortunately, Indonesia, once expected to bridge the gap between the two civilizations, is seen backpedaling from the role of mediator.
International relations and security expert Bantarto Bandoro of the Indonesia Defense University expressed his worries over tensions growing between Muslims and Europe's secular society following the recent massacre in Paris, where 17 people, including three suspected Islamic extremist gunmen, died after three days of violence in the French capital.
The attacks came following the publication of a cartoon depicting an IS member beheading the Prophet Muhammad by French satirical weekly Charlie Hebdo.
Full report at:
http://thejakartaglobe.beritasatu.com/news/indonesias-absence-islam-vs-west-issue/
------------
Sarawak cancels Islamic talk after Christians object
Jan 13 2015
An Islamic talk deemed by Christians in Sarawak as highly provocative has been cancelled by the Chief Minister's Office today.
Datuk Daud Abdul Rahman, the minister in charge of Islamic affairs in the state, said he "advised" the organisers to cancel the talk because of objections from the Association of Churches in Sarawak (ACS), certain individuals and politicians.
The talk – organised by the Islamic Information Centre (IIC) and Universiti Malaysia Sarawak (Unimas) – was scheduled for tomorrow and Thursday.
But it was deemed unhelpful in defusing religious tension between Muslims and Christians in the country.
"We have looked into the objections and we find that they have a valid reason," said Daud.
"We do not want to create disharmony among the various religious groups especially the Christians and the Muslims and the various races.
Full report at:
http://www.themalaysianinsider.com/malaysia/article/sarawak-cancels-islamic-talk-after-christians-object#sthash.IM3iPro4.dpuf
------------
Mideast
Turkey's interior minister chides Murdoch for 'ignorance of Islam'
Jan 13 2015
News Corp. CEO Rupert Murdoch's tweet holding all Muslims responsible for the massacre at the French satirical magazine Charlie Hebdo is "great injustice and ignorance," Turkey's interior minister has said.
"If we want to produce a solution for global terror, everybody should be careful when using concepts without having knowledge about them," Interior Minister Efkan Ala said on Jan. 12, in response to reporters who asked for comment on Murdoch's message, which sparked anger for apparently holding a religion of billions of people responsible for the actions of a few extremists.
"Islam is a religion, the name of which is peace. We refuse to even use the words 'Islam' and 'terror' in the same sentence. It is a great injustice and ignorance because Islam is a religion whose teachings reject terrorist methods in every respect," Ala said, stressing that Islam did not discriminate against people on the basis of ethnicity, race or faith.
A tweet posted by Murdoch on Jan. 10 came after the killing of 17 people, including journalists and police officers, in three days of violence that began with the shooting attack on Charlie Hebdo on Jan. 7 and ended with the deaths of four hostages at a kosher supermarket on Jan. 9. The three gunmen in the incidents were also killed.
"Maybe most Moslems [are] peaceful, but until they recognize and destroy their growing jihadist cancer they must be held responsible," Murdoch had tweeted after the attacks.
http://www.hurriyetdailynews.com/turkeys-interior-minister-chides-murdoch-for-ignorance-of-islam.aspx?pageID=238&nID=76833&NewsCatID=338
------------
Turkey's Erdogan accuses West of hypocrisy over Paris attacks
January 13, 2015
(Reuters) - Turkish President Tayyip Erdogan accused the West of hypocrisy for its stance over the attack on satirical journal Charlie Hebdo and hostage-taking at a Jewish supermarket in Paris, while failing to condemn anti-Muslim acts in Europe.
Speaking alongside visiting Palestinian President Mahmoud Abbas, Erdogan also denounced Israeli Prime Minister Benjamin Netanyahu for attending a solidarity rally in France on Sunday with other world leaders after the Paris attacks.
"How can a man who has killed 2,500 people in Gaza with state terrorism wave his hand in Paris, like people are waiting in excitement for him to do so? How dare he go there?" he said.
"You should first give an account for the children and the women you have killed," added Erdogan, who has been an outspoken critic of Israeli offensives against Islamist Hamas in the Gaza Strip, despite close commercial ties between Israel and Turkey.
Under Netanyahu, Israel has waged two wars with Hamas-ruled Gaza - in November 2012 and July-August 2014. According to U.N. figures, 174 Palestinians died in the 2012 war. In last year's war, Palestinian medical officials said that somewhat more than 2,100 Palestinians were killed, most of them civilians. The combined Israeli toll was 79 in the two conflicts.
Erdogan did not attend the Sunday march, though Turkish Prime Minister Ahmet Davutoglu participated.
Full report at:
http://in.reuters.com/article/2015/01/12/france-shooting-erdogan-idINKBN0KL24520150112
------------
Paris Attacks Aimed at Stopping Europeans' Enthusiasm for Islam
Jan 13, 2015
Commander of Iran's Basij (volunteer) Force Brigadier General Mohammad Reza Naqdi blasted the masterminds of the recent terrorist attack in Paris, and said the attack was aimed at stopping the growing tides of Islam-seeking in Europe.
"Europe which is faced with an Islam-seeking wave has no way but committing crimes in Paris under the name of Islam," Naqdi said, addressing a forum in Tehran on Tuesday.
He referred to the reports and analyses released by the western media outlets after the attack which killed 12 people in Paris, and said the reports were written with such a level of bias that the Israeli officials who had massacred thousands of innocent Palestinians last summer came to France to participate in the anti-terrorism protests.
He blasted France for sheltering terrorist groups, reminding that the country is one of the main supporters of Takfiri terrorists in Syria and Iraq.
Full report at:
http://english.farsnews.com/newstext.aspx?nn=13931023000874
------------
Israel bans Islamist groups urging Temple Mount unrest
January 13, 2015
Israeli security forces shut down the offices of three Islamist groups in Nazareth suspected of sending paid activists to cause disturbances at the Temple Mount when Jewish groups arrive to visit the Jerusalem site sacred to Judaism, Islam and Christianity.
The raid came after Defense Minister Moshe Ya'alon announced late last month that the three groups, all founded by the radical northern branch of Israel's Islamic Movement, were being outlawed on the basis of a recommendation by the Shin Bet security service.
The security service said the three institutions were aimed at funding the activities of Palestinians seeking to "undercut the security of visitors to the Temple Mount and cause an escalation of tension and even disturbances, while impinging on Israel's sovereignty in the complex."
Full report at:
http://www.haaretz.com/news/national/1.636731
------------
Social media reacts to President Erdoğan's 16 warriors during meeting with Abbas
Jan 13 2015
Palestinian President Mahmoud Abbas is in Wonderland! Just kidding, it's only Turkey's new presidential palace.
Turkish President Recep Tayyip Erdoğan doesn't spare any trouble when it comes to welcoming his Palestinian counterpart to Ankara. Last time out in July 2014, Abbas was surrounded by a group of popular artists, posing with him as they would do during a photo shooting session.
For their first meeting at the new presidential palace, the flamboyant complex that has become known as the White Palace, or Ak Saray ("ak" meaning white in Turkish), and less charitably among the opposition as the "KaçAk Saray" (illegal palace), in reference to its alleged construction without permits – Turkish officials planned something they meant, or at least believed, to be even more special.
Full report at:
http://www.hurriyetdailynews.com/social-media-reacts-to-president-erdogans-16-warriors-during-meeting-with-abbas.aspx?pageID=238&nID=76868&NewsCatID=338
------------
Abbas dramatically challenges Israel after 10 cautious years
By: Associated Press
January 13, 2015
After a decade in power, Palestinian President Mahmoud Abbas has little to show.
He is no closer to a deal on Palestinian statehood, has failed to reclaim the Gaza Strip from political rival Hamas and is being disparaged by some as a pliant guardian of Israeli security needs in the West Bank.
But the typically cautious 79-year-old dramatically changed course in the days before this week's tenth anniversary in office by signing up to the International Criminal Court. That could allow for war crimes complaints against Israel in what many believe is his strategy of last resort.
The court bid is part of a wider strategy Palestinians hope will bring international pressure to bear on Israel and improve their leverage in future statehood talks. They say the approach stems from frustration with two decades of failed talks overseen by staunch Israeli ally America. Israel accuses Abbas of trying to replace negotiations with a campaign to delegitimize the Jewish state.
Full report at:
http://indianexpress.com/article/world/middle-east-africa/abbas-dramatically-challenges-israel-after-10-cautious-years/99/#sthash.E9pmeudE.dpuf
---------
Yemen names police chiefs close to Shiite militia, Saleh
Jan 13, 2015
Yemeni President Abdrabuh Mansur Hadi has appointed top security officials known for their close ties to Shiite militiamen who have overrun the capital and to former strongman Ali Abdullah Saleh.
The Huthi militia fighters, who now appear in full control of Sanaa, have demanded the government -- formed in November under a UN-brokered peace deal -- recruit thousands of their supporters for the army and security forces.
In a decree issued late on Monday, Hadi appointed General Abdulrazaq al-Merwani as chief of the police special forces.
Merwani is Shiite and known for his close ties to the Huthis, who met no resistance when they seized the Yemeni capital on September 21 before sweeping into several other towns and provinces.
Full report at:
http://english.ahram.org.eg/NewsContent/2/8/120200/World/Region/Yemen-names-police-chiefs-close-to-Shiite-militia,.aspx
---------
North America
Muslims seek to reverse ruling that allowed NY police spying
Jan 13, 2015
Muslim residents of New Jersey will be in court to try to reverse a ruling that gave New York City police the right to monitor their activities.
The plaintiffs Tuesday include a U.S. soldier, a school principal and several Rutgers University students. They believe the ruling from U.S. District Judge William Martini of Newark violates their civil rights.
The case involves the New York Police Department's decision to spy on Muslim groups at mosques, restaurants and schools since 2002. The practice has come to light through a series of Associated Press articles.
Martini said that police could not keep an eye on Muslim terrorist activities "without monitoring the Muslim community itself."
Two civil rights groups are appealing his ruling to the Third U.S. Circuit Court of Appeals in Philadelphia.
http://english.ahram.org.eg/NewsContent/2/9/120174/World/International/Muslims-seek-to-reverse-ruling-that-allowed-NY-pol.aspx
------------
U.S. military Twitter account allegedly hacked by Islamic State
Jan 13, 2015
A group claiming links to Islamic State (IS), the terror outfit that controls parts of Syria and Iraq, has apparently hacked into the Twitter accounts of the U.S. military's Central Command, with the @CENTCOM handle, and subsequently posted a series of tweets including threats against U.S. soldiers and their families.
At approximately 12:30 p.m. EST an unknown group of hackers appeared to post on the @CENTCOM account the contact details of numerous U.S. soldiers including top brass, under the hashtag #CyberCaliphate.
The hack raised eyebrows for its timing, as it came even as U.S. President Barack Obama was said to be preparing a speech on cybersecurity, and the White House is organising a multi-nation conference on countering violent extremism in the wake of the Charlie Hebdo attack in Paris.
Full report at:
http://www.thehindu.com/news/international/world/us-military-twitter-account-apparently-hacked-by-islamic-state/article6783659.ece
---------
More U.S. 'boots on ground' needed to fight ISIS: McCain
Jan 13, 2015
U.S. Republican Senator John McCain warned over the weekend that the Islamic State of Iraq and Syria (ISIS) was making gains and that the United States needed to step up its military offensive against the militant group including sending "boots on the ground."
"ISIS right now is winning. And we need to go after them, and we need to have more boots on the ground," McCain said Sunday in an interview with CNN.
When asked to elaborate on the extent of a U.S. ground role, McCain said: "I mean intelligence. I mean forward air controllers. I mean trainers. I mean more air assets. I mean across the board an increase."
Full report at:
http://english.alarabiya.net/en/News/middle-east/2015/01/12/-Boots-on-ground-needed-to-fight-ISIS-McCain.html
------------
US Urges India-Pakistan Dialogue to Reduce Kashmir Tensions
By THE ASSOCIATED PRESS
JAN. 13, 2015
ISLAMABAD — U.S. Secretary of State John Kerry Tuesday urged India and Pakistan to move their relationship forward through dialogue, saying the U.S. was concerned about recent violence along their disputed border.
Kerry's comments came during a press conference in Islamabad Tuesday with the Pakistani prime minister's foreign policy adviser, Sartaj Aziz.
The disputed Kashmir region has been a source of sharp tension between Pakistan and India since they both became independent in 1947. Two of the three wars they have fought have been about Kashmir, a region they both claim. Tensions spiked in late December and early January with both sides accusing the other of firing across the de-facto border that separates the two sides of Kashmir.
Full report at:
http://www.nytimes.com/aponline/2015/01/13/world/asia/ap-us-pakistan-india-.html?_r=0
------------
Kerry announces $250 million aid to Pakistan
January 13, 2015
U.S. Secretary of State John Kerry on Tuesday praised the Pakistani military's operation against militants in the country's northwest, saying the results are "significant," but cautioned that more work needs to be done.
Pakistan launched a major operation in the North Waziristan region in June. The U.S. had long advocated for such an operation because the region had become a hub for militant groups who attack targets in both Pakistan and neighboring Afghanistan and a source of tension between the U.S., Afghanistan and Pakistan.
The current operations "in the northwest have disrupted militant activities in the tribal areas and resulted in important seizures of weapons," Kerry said, speaking during a press conference in Islamabad with Sartaj Aziz, the Pakistani prime minister's adviser on foreign affairs.
Full report at:
http://www.thehindu.com/news/international/world/will-wait-and-watch-us-on-pakistans-steps-against-terrorism/article6785034.ece
------------
Target all terror groups equally, Kerry tells Pakistan
January 13, 2015
Pakistan must fight militant groups that threaten Afghan, Indian and U.S. interests, U.S. Secretary of State John Kerry said on Tuesday, as he voiced sympathy for the victims of the Dec. 16 attack on a Peshawar military school.
Mr. Kerry, on a visit to Pakistan, said all extremists groups should be targeted equally.
"Terror groups like the Pakistani and Afghan Taliban, the Haqqani network, Lashkar-e-Taiba, and other groups, continue to pose a threat to Pakistan, to its neighbours, and to the United States, and we all of us have a responsibility to ensure that these groups do not gain a foothold but rather are pushed back into the recesses of (Pakistan's) memory," Mr. Kerry said Full report at:
http://www.thehindu.com/news/international/south-asia/kerry-pitches-for-diplomatic-solution-to-loc-violence/article6784079.ece
----------
Quran-burning Florida pastor doubles as fry-cook
Jan 13 2015
A Florida pastor who was at the centre of a Quran-burning controversy in 2010 spoke defiantly when asked on his ranking second on al-Qaida's most wanted list, the Bradenton Herald reported Friday.
"If they (terrorists) come, we're going to try to get them before they get us."
Terry Jones, pastor of the Dove World Outreach Center, had written a book titled Islam is the Devil which promoted the view that the Muslim faith was a dangerous religion, though he himself maintains that not all Muslims are extremists.
"I will continue to speak out against Islam or even if you want to define it as radical Islam," Jones said. "I'm not putting everyone in the same box, but Islam itself is a very oppressive religion."
Jones added that the recent events in Paris have only reinforced his convictions regarding Islam.
Full report at:
http://www.jpost.com/International/Quran-burning-Florida-pastor-doubles-as-fry-cook-387580
------------
Obama assures Netanyahu on Iran nuke deal
13 January 2015
U.S. President Barack Obama told Israeli Prime Minister Benjamin Netanyahu that America was committed to a "comprehensive" nuclear deal with Iran, and said that Palestinian ICC membership was not "constructive," officials said.
"The United States is focused on reaching a comprehensive deal with Iran that prevents Iran from acquiring a nuclear weapon and verifiably assures the international community of the exclusively peaceful nature of its nuclear program," the White House said in a statement.
"The president underscored the United States' enduring commitment to the security of Israel and the importance of continuing close cooperation with Israel on this issue."
The leaders spoke by telephone ahead of a meeting between Secretary of State John Kerry and his Iranian counterpart later this week, in which the U.S. top diplomat hopes to accelerate the so-called P5+1 talks between Iran and Britain, China, France, Russia and the United States plus Germany.
Full report at:
http://english.alarabiya.net/en/News/middle-east/2015/01/13/Obama-assures-Israel-on-Iran-nuke-deal.html
------------
URL: https://www.newageislam.com/islamic-world-news/new-age-islam-news-bureau/charlie-hebdo-puts-a-crying-prophet-muhammad-on-first-cover-after-attack/d/100994