New Age Islam News Bureau
19 May 2018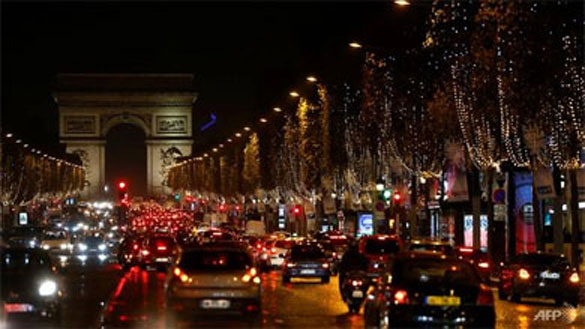 The restaurant accused on discrimination is L'Avenue, located near the famed Champs-Elysees boulevard. (Photo: AFP/Thomas Samson)
-----
• Cemeteries Turn Away Families Who Carried Out Suicide Attacks
• Palestinians to UAE, Saudi, and Bahrain: We Are Not Hungry
• Muslim Leaders Call for International Protection Force for Palestinians
• Kenya Leaders Preach Forgiveness As Muslims Observe Ramadhan
• Nishan-i-Imtiaz Conferred On China's Top Military Official
• Top Paris Restaurant Probed Over 'Anti-Arab Discrimination'
Southeast Asia
• Cemeteries Turn Away Families Who Carried Out Suicide Attacks
• Malaysia and the Improbable Win of an Unlikely Alliance
• Pence Meets Indonesia's Top Muslim Leader after Church Attacks
• A Year after Myanmar Madrassas Shuttered, Street Prayer Organizers Face Ramadan in Jail
--------
Arab World
• Palestinians to UAE, Saudi, and Bahrain: We Are Not Hungry
• Cleric Moqtada Sadr Wins Iraq Election but Forming Government Far Off
• Powerful explosions rock military airbase in central Syria, nearly dozen killed: SOHR
• 11 pro-regime forces dead in Syria airbase blasts: monitor
• Egypt's president announces Rafah crossing open for Ramadan
• France freezes company assets over Syria chemical weapons
--------
Mideast
• Muslim Leaders Call for International Protection Force for Palestinians
• US More Inferior than Ever Among Muslim Countries
• Ties with Israel Sour as Erdogan Seizes Gaza Issue before Election
• Kosovo jails Muslim extremists over Israeli football terror plot
• Erdogan compares Gaza 'brutality' to Nazi persecution of Jews
• Yemeni army cuts off Houthi militia aid supply to Albuqa
• UN Human Rights Council approves int'l probe into Israeli crimes in Gaza
--------
Africa
• Kenya Leaders Preach Forgiveness As Muslims Observe Ramadhan
• Al-Shabaab Faces Leadership Battle as Speculation over Emir's Health Mounts
• Malawi: Muyam to Donate Items to Muslim Inmates at Mulanje Prison
• Senegal's Trial of 31 Alleged Jihadists Nears Verdicts
• Over 200 more child soldiers freed in South Sudan
• Nigeria: Muslim Students Decry Drug Addiction among Youths
• Boko Haram: Troops Kill 2 terrorists, capture 11 in Borno
--------
Pakistan
• Nishan-i-Imtiaz Conferred On China's Top Military Official
• Nawaz, Zardari Ruined Institutions By Appointing Cronies: Imran
• Pakistan Restores Security of Mumbai Attack Mastermind Hafiz Saeed
• Pakistan summons Indian envoy over 'unprovoked' LoC firing
• Christian community puts forth grievances regarding recent 'raids' in meeting with Karachi police
• Nawaz's Mumbai attacks statement 'inflection point' for Pakistan, says US
• MMA, religious parties rally against massacre of Palestinians
• Pakistan Ulema Represented Taliban in Indonesia Meeting
--------
Europe
• Top Paris Restaurant Probed Over 'Anti-Arab Discrimination'
• Blocked From Western Europe, Erdogan Takes His Polarising Rally To Bosnia
• Macron slams Israel's 'heinous' Gaza actions
• Man charged after French police foil Paris ricin terror plot
• Buses with 270 migrants allowed to pass in Bosnia amid chaos
--------
South Asia
• Afghan Taliban Reject Ramazan Truce Offer, Announce Amnesty for Those Who Surrender
• Efforts to Repatriate Rohingya Refugees Stumbles Again
• Islamist parties protest at Israeli attack on Palestinians
• Taliban rejects Nangarhar stadium bombing that left 8 dead, 45 wounded
• ISIS snipers eliminated in US drone strike in Nangarhar
• Afghan armed forces retake control of Tala Barfak in Baghlan
--------
India
• Ramzan Ceasefire An Opportunity To Engage With Youth Who Have Joined Militancy: Lt Gen Satish Dua
• Pakistan's Continuing Ceasefire Violations Shows It Has No Respect For Ramzan: Mehbooba Mufti
• Soon At JNU, Study on 'Islamic Terrorism'
• Aligarh Muslim University students threaten fresh stir if demands not met
• J&K: Ahead of PM Modi's Kashmir visit, encounter breaks out in Kupwara
• How an engineering aspirant from Azamgarh transformed into a terrorist
--------
North America
• Israel Vilified At UN Body for Gaza Killings, But Backed By US
• Worcester Islamic Center introducing new imam as Ramadan gets underway
Compiled by New Age Islam News Bureau
URL: https://www.newageislam.com/islamic-world-news/cemeteries-turn-away-families-carried/d/115299
--------
Cemeteries turn away families who carried out suicide attacks
Richard Lloyd Parry, Asia Editor
May 19 2018
An accelerating motorbike; an explosion; dismembered bodies — the scenes in the Indonesian city of Surabaya this week had a depressingly familiar, almost routine, quality. These suicide attacks, though, were carried out not by conventional attackers but by well-off fathers, mothers and their children, dying together for Islamist ideology.
Days later, 13 bodies remain unclaimed, eight of them children's.
Even the relatives are too appalled to claim them and no cemetery will accept them for burial. Apart from the horror of children in suicide vests, the bombings have huge implications for Indonesia's efforts to overcome and defuse the threat of Islamist violence.
"These kinds of attacks are unprecedented," said Sidney Jones, of the Institute for Policy Analysis of Conflict in Jakarta. "This may be the first time that parents took their children on a family outing to blow themselves up."
No one has been more shocked than their neighbours. The families appear to have given no indication of their terrible plans — except for one clue, which was apparently overlooked by police.
The first to die were the family of Dita Opriyarto, 46, who sold medicinal oils. He lived with his wife, Puji Kuswati, 42, in Tembok Dukuh, a middle- class district in Surabaya. On Sunday neighbours saw Dita and his sons at dawn prayers in the local mosque. His younger boy, Firman, 16, was crying; his father, usually an undemonstrative man, stroked his head and muttered soothingly. By breakfast time, they were all dead.
Firman rode on the back of a motorbike driven by his older brother Yusuf, 18. At about 7.30am, they blew themselves up at the Santa Maria Catholic church, killing six members of the congregation. Five minutes later their father set off a car bomb at a Pentecostal service; soon afterwards, his wife and their daughters, Fadhila Sari, 12, and Famela Rizqita, eight, set off explosives on their waists at a third church.
Later there was a blast in the city of Sidoarjo. An accident with bomb-making materials had killed a mother and two teenagers but spared two younger daughters. The father, Anton Febrianto, 47, was shot dead by police.
The next day Tri Murtiono, 50, an aluminium trader, and his wife drove to the police headquarters with their three children and blew themselves up. Their daughter, Aisyah, eight, survived but was seriously injured.
Those who knew them say that they were pleasant and seemingly as tolerant of diversity as most Indonesians. The children played on the street with friends. One Christian woman, Raith Yunanto, said that the mother who attacked the church had visited her after she gave birth.
According to police, based on statements by their surviving children, the three families used to meet discreetly at weekends and watch jihadist videos. They say that Mr Dita was the local head of Jamaah Ansharut Daulah, a vague association of Indonesian groups supportive of Islamic State. In 2016 the three fathers visited Aman Abdurrahman and Abu Bakar Bashir, two of the country's most notorious radical clerics, in jail, a fact that did not ring alarm bells with security forces.
Since the Bali bombings of 2002, Indonesia has run a programme of anti-radicalisation. But it has focused exclusively on adult men. That, clearly, will have to change. "If three families can be involved in two days' worth of terrorist attacks in Surabaya," Ms Jones said, "surely there are more ready to act."
https://www.thetimes.co.uk/article/parents-who-took-families-on-outing-to-blow-themselves-up-rfncb36fp
--------
Palestinians To UAE, Saudi, And Bahrain: We Are Not Hungry
May 18, 2018
Palestinians have launched a campaign with the hashtag "We are not hungry" on the social media, calling for the boycott of Iftar or the fast-breaking meals offered by the UAE at al-Aqsa mosque in protest at the policies of some Persian Gulf Arab states.
The United Arab Emirates offers Iftar meals to the worshipers at al-Aqsa mosque annually during the Islamic holy month of Ramadan, but this year it was met with Palestinian rejection.
Palestinian activists in Jerusalem al-Quds attributed their rejection to the stance of some Persian Gulf Arab states, including the UAE, Bahrain and Saudi Arabia, towards the Palestinian cause and their complicity with the Israeli regime, citing the participation of Bahraini and Emirati teams in the 101st Giro d'Italia cycling competition which kicked off in Israel.
Earlier this month, the Palestinian Olympic Committee (POC) said the participation of Bahrain and the UAE in the race is a "disgrace".
The competition took place just kilometers away from the besieged Gaza Strip where Israeli forces killed scores of Palestinians during the "Great March of Return" protests, which began on March 30 and climaxed on May 15, coinciding with the 70th anniversary of Nakba Day (Day of Catastrophe), when Israel was created.
Amnesty International UK had also condemned the launch of the race right next to East Jerusalem al-Quds where Palestinians regularly face house demolitions, illegal settlement building and restrictions of movement.
The entire Jerusalem al-Quds is currently under Israel's control, while the regime also claims the city's eastern part, which hosts the third holiest Muslim site.
The city has been designated as "occupied" under international law since the 1967 Arab War, which Palestinians want as the capital of their future state.
Arab states, especially those in the Persian Gulf, have traditionally been depicting themselves as Israel's enemies and supporters of the Palestinian cause against Tel Aviv's occupation of the Palestinian territories.
However, there have been numerous reports and public statements indicating covert ties between the Arab governments and Israel.
The Associated Press recently revealed that Israeli PM Benjamin Netanyahu met with the UAE and Bahraini ambassadors to the US in March, shedding further light on quiet ties between Tel Aviv and certain Arab states.
Netanyahu frequently boasts of growing, discreet cooperation with some Arab countries. Though he doesn't identify them by name, they've long been believed to be Persian Gulf states such as the UAE and Saudi Arabia.
http://www.presstv.com/Detail/2018/05/18/562157/Palestinians-boycott-Iftar-UAE-Saudi-Bahrain
--------
Muslim leaders call for international protection force for Palestinians
MAY 18, 2018
ISTANBUL (Reuters) - Muslim leaders called on Friday for an international force to be deployed to protect Palestinians after dozens of protesters were shot dead by Israeli forces on the Gaza border this week.
At a special summit in Turkey convened by President Tayyip Erdogan, they also pledged to take "appropriate political (and) economic measures" against countries that followed the United States in moving their Israel embassies to contested Jerusalem from Tel Aviv.
Erdogan, who is campaigning for re-election next month, used the summit to verbally attack Israel, comparing the actions of its forces to Nazi Germany's treatment of Jews in World War Two, when millions were killed in concentration camps.
He also castigated the United States, saying its decision to move its embassy had emboldened Israel to put down the protests at the border with Gaza with excessive force. Most countries say the status of Jerusalem - a sacred city to Jews, Muslims and Christians - should be determined in a final peace settlement between Israel and Palestinians and that moving their embassies now would prejudge any such deal.
U.S. President Donald Trump's step to recognise Jerusalem as Israel's capital and move the embassy there reversed decades of U.S. policy, upsetting the Arab world and Western allies.
Guatemala this week became the second country to move its embassy to Jerusalem, and Paraguay said it would follow suit this month.
The final declaration of the meeting of the 57-member Organisation of Islamic Cooperation described the killing of 60 Palestinians, protesting the embassy move on Monday, as "savage crimes committed by the Israeli forces with the backing of the U.S. administration".
It said the violence should be put on the agenda of the U.N. Security Council and General Assembly, and called on the United Nations to investigate the killings.
The summit was attended by Jordan's King Abdullah, a U.S. ally whose Hashemite dynasty is custodian of Muslim sites in Jerusalem.
Abdullah said the U.S. decision five months ago to recognise Jerusalem as Israel's capital had "weakened the pillars of peace ... and deepened the despair that leads to violence."
Iran's President Hassan Rouhani called on Muslim countries "to totally cut their relations with the Zionist regime (Israel) and also to revise their trade and economic ties with America".
A populist with roots in political Islam, Erdogan has described Israel as "terrorist state".
"The children of those being subject to all sorts of torture in concentration camps during World War Two are now attacking Palestinians with methods that would put Nazis to shame," Erdogan said on Friday shortly after addressing a rally of thousands of people in support of Palestinians.
The United Nations must send "an international peace force to the people of Palestine, who are losing their young children to Israeli terror every day," Erdogan said, comparing the proposed deployment to peacekeeping forces sent to Bosnia and Kosovo in the 1990s.
The violence in Gaza led to Turkey and Israel expelling each other's senior diplomats this week. Erdogan has also traded barbs on Twitter with Israeli Prime Minister Benjamin Netanyahu.
Israel, however, was the 10th-largest market for Turkish exports in 2017, buying some $3.4 billion of goods, according to IMF statistics.
"We have excellent economic ties with Turkey. And these relations are very important for both sides," Israeli Finance Minister Moshe Kahlon told Israel Radio on Friday when asked if Israel should break ties with Turkey.
The plight of Palestinians resonates with many Turks, particularly the nationalist and religious voters who form the base of support for Erdogan, who has been in power for 15 years.
https://uk.reuters.com/article/uk-israel-palestinians-un/u-n-sets-up-human-rights-probe-into-gaza-killings-to-israels-fury-idUKKCN1IJ0UY
--------
Kenya Leaders Preach Forgiveness As Muslims Observe Ramadhan
MAY 19 2018
Muslims in Kenya are celebrating the holy month of Ramadhan, one of the pillars of Islam in which strict fasting is observed from dawn to sunset, amid messages of peace and love.
Mombasa leaders led by Governor Hassan Joho and security bosses on Friday assured the faithful that security will be enhanced during the Ramadhan period.
Governor Joho said he will work with security forces to ensure the holy month is not disrupted by security threats.
Speaking during the first Friday prayers, the governor called for forgiveness among Kenyans.
"Let us forgive each other. This is a very crucial and holy month among Muslim faithful. It is a time to reflect, pray, forgive and help the less fortunate.
"I want to remind myself and others about the importance of Ramadhan. Be good to your brother and wish them well," Mr Joho said.
SECURITY
He added: "There is a lot of goodwill and good wishes from our non-Muslim brothers, and we appreciate and thank them. Let us pray for peace, tranquillity and security."
During the holy month, Muslims go to mosques to pray at night.
"Security is important, and we have ensured there will be intensified patrols. We should also improve infrastructure to ensure floods do not affect residents. Those who were affected have been housed, and we are giving them food," Mr Joho said.
Mombasa Police Commander Johnston Ipara said police have been deployed to mosques and other places of worship.
"In Mombasa, we have put in place elaborate measures that will ensure peace exists during and after Ramadhan. In Majengo and Kibokoni, we have two youth groups assisting police in busting crime," Mr Ipara said.
AL-SHABAAB
In Isiolo, Muslim leaders have urged residents to be vigilant and report those radicalising youth to security officers.
They also urged Kenyans to be on the lookout following a security alert over possible attacks by Al-Shabaab during Ramadhan.
Last week, National Police Service Spokesman Charles Owino in a statement said security agencies had obtained credible intelligence suggesting that the terror group was planning to carry out attacks in various parts of the country during Ramadhan.
Isiolo Inter-religious Council Chairman Ahmed Set urged residents to embrace Nyumba Kumi as a way of identifying criminals in the society.
"Isiolo has been on the limelight over violent extremism. Young people have been radicalised and they have crossed to Somalia to join the terror group. They end up causing harm to Kenyans," he added.
RADICALISATION
Isiolo Parent's Association Chair Ismail Galma also urged parents to closely monitor activities of their children, and report missing kin to authorities.
Mr Galma said stakeholders should collaborate and dialogue to fight violent extremism.
"Cases of radicalisation have gone down following concerted efforts of religious leaders, parents and security agencies, but we need to do more," he said.
Muslims in Nakuru joined their colleagues around the world in marking the beginning of Ramadhan.
The hundreds of faithful gathered in various mosques within Nakuru Town to conduct special prayers.
On Wednesday, President Uhuru Kenyatta said the Ramadhan period gives Kenyans an opportunity to reflect on the beauty of their cultural and religious diversity.
He also called for unity. "I also take this opportunity to encourage all Kenyans to cherish unity; and to discard the small issues that divide us while embracing the bonds that unite us.
https://www.nation.co.ke/counties/Leaders-call-for-peace-as-Muslims-observe-Ramadhan/1107872-4569130-7q9ngjz/index.html
--------
Nishan-I-Imtiaz Conferred on China's Top Military Official
May 19, 2018
ISLAMABAD: Acting President Sadiq Sanjrani conferred the Nishan-i-Imtiaz (Military) on the visiting vice chairman of the Chinese Central Military Commission, Gen Zhang Youxia, at an investiture ceremony held at Aiwan-i-Sadr on Friday.
The event was attended by Chief of the Army Staff Gen Qamar Javed Bajwa, Air Chief Marshal Mujahid Anwar Khan, Naval Chief Admiral Zafar Mahmood Abbasi, Chinese Ambassador to Pakistan Yao Jing and other senior officials, according to APP.
Gen Zhang later called on the acting president. Mr Sanjrani congratulated the Chinese general on the conferment of Nishan-i-Imtiaz and said that Pakistan and China were close friends, neighbours and trusted partners because their relations were based on mutual respect and trust.
He said that Pak-China friendship was the cornerstone of Pakistan's foreign policy and their defence relations were guarantee to peace and stability in the region.
Mr Sanjrani said Pakistan deeply valued China's support on issues of national and regional security, including Kashmir.
Gen Zhang thanked the acting president, the government and the people of Pakistan. He said Pakistan and China enjoyed a time-tested friendship which would grow in the coming generations.
https://www.dawn.com/news/1408592/nishan-i-imtiaz-conferred-on-chinas-top-military-official
--------
Top Paris restaurant probed over 'anti-Arab discrimination'
18 May 2018
French authorities launched an investigation Friday into accusations that a top Parisian restaurant, favored by celebrities like Kim Kardashian and Rihanna, systematically sought to decline reservations from Arab, African or veil-wearing customers.
The Buzzfeed website reported on Thursday that L'Avenue, an ultra-chic brasserie near the famed Champs-Elysees boulevard, had "put in place a veritable system of discrimination", notably turning down reservations from diners with Arabic-sounding names.
Middle-Eastern tourists from Saudi Arabia, the United Arab Emirates, Qatar and Bahrain were also told that the restaurant was fully booked, Buzzfeed said in its investigation, based on testimony from four former waitresses.
"If a veiled woman showed up to the restaurant, they had to be told that the restaurant was full, even if it was not," the report said, adding that the former waitresses charged that the system was still in place.
Buzzfeed printed screenshots of text messages between staff that appeared to support the allegations, as well as a list of telephone country codes kept at the front desk, allegedly to help staff decline reservation requests from citizens of the four Gulf countries.
French rights chief Jacques Toubon, announcing an investigation, said in a statement that the restaurant was also accused of "discrimination in terms of physical appearance".
The former serving staff told Buzzfeed they were ordered to sit the "good-looking and presentable" customers on the ground floor and terrace where they would be the most visible.
The restaurant was unreachable for comment on Friday afternoon.
But its manager Alexandre Denis denied the allegations in comments to Buzzfeed, telling the website: "All cultures, all nationalities come here... What is certain is that I never gave instructions to refuse customers."
L'Avenue announced in 2015 that it was set to open a New York branch in mid-2018 in partnership with department store Saks Fifth Avenue.
https://english.alarabiya.net/en/News/world/2018/05/18/Top-Paris-restaurant-probed-over-anti-Arab-discrimination-.html
--------
Southeast Asia
Malaysia and the Improbable Win of an Unlikely Alliance
Krithika Varagur
May 19 2018
The flag of Malaysia's Parti Keadilan Rakyat, or People's Justice Party (PKR), is turquoise-blue with red stripes at both ends. At its center is a stylized white "O." It symbolizes the black eye of Anwar Ibrahim, Malaysia's former deputy prime minister, who was a rising political star in the 1990s until he criticized the ruling National Front, a right-wing coalition led by Dr. Mahathir Mohamad, and was shipped off to jail for alleged sodomy. In September 1998, before a show trial, Anwar was beaten up by a police chief. Thereafter, a photo of Anwar's bruised face became a symbol of opposition to the National Front, which had, in one form or another, been in power since Malaysia achieved full independence in the early 1960s.
Mahathir claimed at the time that Anwar's black eye was "self-inflicted," caused by his "pressing a glass over his eyes." Anwar went to jail for six years, until 2004. Then, incredibly, in 2015 he was jailed again—again for alleged sodomy. Anwar has openly criticized many establishment figures and has long been viewed by those in power as a volatile and threatening figure. He was released from prison, upon receiving a special royal pardon, only this week.
Mahathir had ruled Malaysia with an iron fist, crushing dissenters like Anwar, from 1981 to 2003. In 2018, at the age of ninety-two, he was back, campaigning to become prime minister once more—under the PKR's turquoise-blue flag. His running-mate was Anwar Ibrahim's wife, Wan Azizah Wan Ismail, who founded the PKR after her husband went to jail. Mahathir's campaign promise was to obtain a pardon for Anwar if the coalition won, eventually to step down himself and hand over power to his former deputy. This unlikely-seeming team of former rivals buried their differences in the single-minded hope of ousting the spectacularly corrupt administration of Malaysia's most recent prime minister, Najib Razak—and they did so knowing that they would need all the star power they could get.
Their convoluted alliance was at the heart of Malaysia's historic general election last week. For the first time in the country's post-independence history, an opposition coalition succeeded in unseating the National Front. Mahathir led the Pakatan Harapan, or the "Alliance of Hope," against his own former party. Uniting this alliance was its animus against Najib, a genteel, foreign-educated former protégé of Mahathir's, who has reportedly stolen almost $700 million from a state fund named 1Malaysia Development Berhad. That scandal, generally known by the initials "1MDB," along with Najib's oversight of an unpopular goods and services tax that aimed to simplify tariffs, also angered millions of voters.
Mahathir has referred to his part in supporting Najib's rise as "the biggest mistake that I have made in my life," and in 2016, he quit Najib's party, the United Malays National Organization (UMNO), one of the main components of the National Front coalition. Mahathir's show of remorse, backed by his efforts to make reparation, is something rarely seen in Malaysian public life and high office.
Even so, the opposition's victory surprised everyone. Postmortems were written for Malaysia's fourteenth general election months before it happened. The country was so gerrymandered, people assumed, and the National Front's hold on government so strong, that Najib would easily win re-election, despite his unpopularity and scandals. Instead, turnout was high, reflecting popular discontent: over 12 million Malaysians, or 82 percent of those eligible, cast votes. The Alliance won 121 seats (of 222), giving it a decisive majority in parliament.
*
If Najib had won, the increasingly illiberal trend in Malaysian society toward a strongly conservative form of Islam would undoubtedly have continued. In recent decades, Malaysia has received extensive religious investments such as scholarships, mosques, preachers, universities, schools, and textbooks from Saudi Arabia, which has systematically propagated its brand of puritanical Salafi Islam across the Muslim world, as a matter of basic foreign policy. Under Najib, Salafi preachers and ideas gained mainstream platforms; and many members of the Salafi-identified Association of Malaysian Scholars have joined the UMNO outright.
"Najib needed Islamic legitimacy in order to boost his beleaguered image," Ahmad Farouk Musa, a liberal Islamic scholar based in Kuala Lumpur, told me. "He got this from Malaysia's Salafi network, many of whose figures have joined UMNO, increasingly defining its religious stances." Meanwhile, Saudi leaders have also cultivated close personal ties with Najib; some are implicated in the 1MDB scandal, though they claim that a mysterious $681 million deposit to Najib's personal account last year was a "genuine donation."
Najib's election defeat, however, does not mean that the trend of Islamicization in Malaysian society will be checked, since it predates his time in office. Malaysia has long had, for instance, parallel legal systems, with civil law for all citizens and Islamic law for the Muslims (and sharia courts in every state). Many prominent figures have railed against the Saudi investments and the "Arabization" of Malaysia's religious traditions, including the Sultan of Johor (the constitutional monarch of that state) and Marina Mahathir, Dr. Mahathir's eldest daughter and a prominent social activist, who has called it "Arab colonialism." According to Mohamed Nawab Mohamed Osman, a Singapore-based security scholar, Malaysia may be the "weakest link" in Southeast Asia's resistance to Islamist radicalization "because of the mainstreaming of puritan ideas."
Lily Rahim, an associate professor at the University of Sydney, agrees that the popular uptake of Salafi ideas has "certainly increased" in the last decade, "encouraged by the UMNO-led government, opposition party PAS, conservative Islamic NGOs, state ulama [clerics] and the Islamic bureaucracy." The UMNO may have suffered a heavy setback in this year's election, but the country's main Islamist party, the Malaysian Islamic Party (PAS), increased its share of the popular vote from 15 percent to 17 percent. (The president of the PAS, Haji Hadi Awang, is himself a Saudi university alumnus.) The PAS quit the Alliance of Hope last year because it wanted to impose hudud, or strict Islamic law, in Kelantan, a rural state that today stages public floggings of criminals.
"The natural alliance now is between UMNO and PAS [against the Hope Alliance]," Tom Pepinsky, a political scientist and Southeast Asia specialist at Cornell University, told me. This would unite the most vocally Malay party and the most vocally Muslim one. "That's a large majority, essentially all Malay Muslim… and we know that conversations between their leadership have been happening for a while now." Pepinsky said they would be a force to be reckoned with at the next election, which must take place by May 2023.
*
Malaysia has entered a period of uncertainty. No one seemed able to predict what would happen once Najib's re-election bid was rejected. After all, Malaysia had never before seen a democratic transfer of power.
Thousands gathered outside the State Palace on May 10, a day after the election, waving and wearing PKR flags. Most had had a sleepless night after the polls closed, tracking the results on their screens and watching Mahathir claim victory, but with no official word all night from either Najib's camp or the Election Commission. Najib finally conceded at around noon, enabling Mahathir to be sworn in by King Muhammad V, the country's constitutional monarch. Mahathir was driven through the palace gates around 4:30 PM, in formal Malay traditional dress of a stiff black cap and a gold-threaded sarong, for the swearing-in, which was scheduled for 5 PM.
A cloudless afternoon turned to dusk, and then to night. Mahathir was still yet to be sworn in. Some young Malaysians camped out on a hill overlooking the palace while others stocked up on buttery roti canai flatbreads from a nearby café. No one went home. Mahathir had made Thursday a national holiday, and Friday, too. Marina Mahathir unexpectedly joined the crowd at around 8:30 PM. She had declared on Twitter that she was too exhausted to join her father in person, but when the delay became apparent, she turned around her car from the airport—she was on her way to a speaking engagement in Bangladesh—and came to the palace, after all.
"Well, he doesn't tell us anything," she told me, talking about her father's sudden decision to return to political life. "We had a feeling he would run, because a lot of gears were turning these last few months, but he is very much his own man." She sat on the sidewalk, wearing a loose black vest, slacks, and ballet flats. "Given how long this is going on, I realized I just couldn't leave the country tonight."
A minor celebrity in her own right, she was greeted by well-wishers and people asking for photos with her on the lawn of the palace grounds. "Do you think they are discussing something inside?" asked one elderly man, whom she had greeted warmly.
"Discuss what, lah!?" she said, using the common Malay interjection to signal her distaste. The Malay royals are known to dislike Mahathir, and no one expected him to receive an especially warm welcome. Never had an election victory turned out to be so suspenseful. The entire day, with its endless delays, was a puzzle. No one was quite sure of the result, nor could they go to work, so most people just recharged their smartphones, waiting for word in a daze.
Finally, a few minutes after 9:30 PM, Mahathir's meeting with the king was broadcast.
"It's on Amani!" Marina told the crowd, and everyone tuned in on their phones to the network that was live-streaming the ceremony. We watched her father meet an incredibly bored-looking king, who slouched through the proceedings, a cell phone visibly bulging in his shirt pocket.
So far, though, Mahathir's elaborate election strategy has proceeded according to plan. He is firmly in power, and arranged for Anwar to be pardoned right before Ramadan. He also prevented Najib Razak from leaving the country, purportedly so that he can face trial for his alleged corruption.
This is all promising, but there are still several more steps before Anwar can realize Mahathir's promise of power. To start with, Anwar would need to win a parliamentary seat of his own; the most likely scenario is that his wife will resign from hers, triggering an election in which he will stand in her stead. Mahathir, meanwhile, has given himself a leisurely timeline of two years before he plans to cede his position, by which time he will be ninety-four (he is already the world's oldest state leader).
Less encouraging is that the stunning electoral upset has done little so far to reverse the erosion of civil liberties in Malaysia—a process that began well before Najib's administration. During his last term, Mahathir himself behaved like an autocrat, stamping out challenges from opponents through political maneuvering, sacking judges, crushing freedom of assembly, and jailing critics. He also handed out government contracts to cronies and issued antisemitic diatribes. (Although there are hardly any Jews in Malaysia, Mahathir has made ready use of demagogic conspiracy-theory tropes, claiming that Jews "rule the world by proxy.") This week, in a blow to press freedom, Mahathir announced that he will not repeal Malaysia's widely criticized "anti-fake news law," enacted by Najib ahead of the election.
Mahathir has also always aggressively promoted affirmative action for ethnic Malays, who make up more than 50 percent of the population. Back in 1970, he wrote a controversial book, The Malay Dilemma, arguing that the Malay race was naturally nonconfrontational and lazy, and that it was this that led to their subjugation by British colonists and then Chinese businessmen; this racial disadvantage, he proposed, needed the redress of affirmative action in order to preserve Malays' status as bumiputera, sons of the soil.
Mahathir's pro-Malay policies have been criticized in the past for causing economic stagnation, encouraging discrimination, and spurring the flight of talented ethnic Chinese and Indian Malaysians. Although Mahathir abandoned the UMNO, he transferred his allegiance to the Malaysian United Indigenous Party, which has an almost indistinguishable focus on ethnic Malays. It seems unlikely that he will abandon Malaysia's race-based policies. Anwar, however, has said in an interview since his release that he hopes eventually to reform the race-based affirmative action policies in favor of a "more transparent" system based on merit and socioeconomic class.
Many commentators believe that if civil liberties improve at all under the new administration, it won't be because of Mahathir but thanks to the people around him. "I'm under no illusions that Mahathir is a liberal democrat, but I do think that he allied himself with opposition parties founded on the premise that civil liberties deserve respect under Malaysian law," Pepinsky told me. "If he doesn't uphold at least some of them, he will have a tough time serving his coalition."
The mood in Malaysia remains optimistic, even as the mundane logistics of power transfer and administration-building take the place of initial jubilation. The election result was an extraordinary proof that Malaysian democracy is not simply theoretical.
Outside the State Palace on May 10, I shared my phone screen with Dennis Ignatius, a former ambassador to Chile and Argentina who is now a newspaper columnist. He wears round glasses and speaks in the clipped tone of someone who spent his early years under British colonial rule. "For a long time, it felt like this whole region has gone dark," he said. "Cambodia, Myanmar, the Philippines, Vietnam." Today, Southeast Asia's political establishment is packed with authoritarians. "I still can't believe we managed to change something here."
For years, he has been railing against the National Front, corruption, and Saudi investments—albeit with necessarily delicate phrasing—in his columns. Like most other Alliance voters, he never imagined his vote would actually propel them to victory. "I am sixty-seven years old," he said. "This morning, for the first time ever, I woke up as a man without a mission."
As for Anwar Ibrahim, he was released from a prison hospital to an ecstatic crowd of admirers on May 16, a day before the first fast of the holy month of Ramadan. He emerged in a natty black suit, and spontaneously canceled the expected news conference because of the boisterous throng of supporters that awaited him.
"I have forgiven him," he said later, when asked about Najib. "But the issue of injustice toward the people, crimes committed against the people, endemic corruption that has become a culture in this country, that he has to answer for."
Anwar is seventy years old and has spent the last twenty of them in and out of jail. He has promised to run for parliament within Mahathir's two-year interregnum, but not immediately. First, he said, he would need some "time and space."
http://www.nybooks.com/daily/2018/05/18/malaysia-and-the-improbable-win-of-an-unlikely-alliance/
--------
Pence Meets Indonesia's Top Muslim Leader After Church Attacks
MAY 18, 2018
Less than a week after the first family of suicide bombers killed or injured dozens of worshipers at Sunday services in Indonesia, the country's top Muslim leader met with Vice President Mike Pence to discuss religious freedom in the face of mounting extremism.
"Honored to welcome the @NahdlatulUlama Secretary General to the @WhiteHouse today," Pence tweeted after his meeting Thursday with Yahya Cholil Staquf, who leads Nahdlatul Ulama (NU), the largest Muslim organization in the world.
"Their efforts opposing radical Islam are critical in Indonesia—where we saw despicable attacks on Christians. @POTUS Trump's admin stands with NU in its fight for religious freedom & against jihad."
Last Sunday, a family of six—including four children—believed to be affiliated with the terrorist group Jamaah Ansharut Daulah (JAD) set off explosives at three churches in Surabaya, the second-largest city in Indonesia.
As the holiday of Ramadan began, Staquf sat down with Pence and senior advisers in the West Wing to discuss the attack, which has heightened ongoing concerns from Christians and Muslims alike over radicalization and sectarian violence.
His organization—a Sunni group with as many as 50 million members—has been championed as a model of "moderate Islam" due to its vocal stance against extremism and its efforts to build healthier relationships across faiths. In 2016, CT reported how NU called for majority-Muslim countries to do more to protect freedoms for Christians and other faiths.
One of the victims of Sunday's attacks was a Christian trained by NU as a church guard; he died blocking a suicide bomber on a motorcycle.
"The VP conveyed deeply personal condolences on behalf of the United States for the events of last weekend, reiterated the administration's commitment to helping Indonesia and the NU in its efforts to combat extremism, and offered Ramadan greetings to the NU community," said Johnnie Moore, an evangelical adviser to the Trump administration who also attended.
Thursday's meeting builds on Pence's trip to Indonesia last year, when he met Staquf for the first time and praised the nation's religious tolerance, saying: "As the largest majority Muslim country, Indonesia's tradition of modern Islam, frankly, is the inspiration to the world."
Yet the fringe of radical Muslims in Indonesia is gaining clout, raising the risk of violent attacks and increasing Christian persecution in the political sphere. Last year, religious freedom groups began to question the country's reputation as a religiously tolerant democracy once its top Christian politician, the governor of the capital city of Jakarta, faced protests from hardline Islamists and ended up convicted of blasphemy.
The surprising verdict came as four senior Indonesian political leaders—three Muslims, one Christian—were finishing a US tour seeking partners to promote and preserve the archipelago's pluralism.
"With the news of Ahok's sentencing to two years in prison, a pall fell over our gathering," wrote Paul Marshall, a professor of religious freedom at Baylor University and a scholar with the Leimena Institute, a Christian think tank in Jakarta. "Our very well-informed companions believed this victory for radicalism might be a prelude to the demise of democracy in Indonesia, the world's largest Muslim-majority country." (Though he explained for CT why he still has hope.)
That incident, along with other political discrimination targeting Christians and fellow minorities, earned Indonesia a place among "Tier 2" countries for religious freedom violations, as designated by the US Commission on International Religious Freedom (USCIRF).
(Recently, a few prominent evangelical leaders were appointed to the commission: Moore, who was tapped by the Trump administration for the role, as well as Family Research Council president Tony Perkins and founder Gary Bauer.)
In USCIRF's annual report released last month, the independent agency (which makes policy recommendations to the US State Department) suggested the American government train Indonesian officials in counterterrorism so they might better address violence against places of worship, as well as help fund counter-extremism programs.
As Marshall explained:
If the third-largest democracy on the planet succumbs to Islamic radicalism, then the future of the Muslim world and the rest of us looks dire. The major center of Muslim moderation—and the major counter to ISIS and similar ideologies—will be undercut. This will affect us all.
Staquf has been vocal about what he sees as a necessary responsibility for Muslims to identify elements within their own traditions and communities that make them prone to radicalization and violence.
Full report at:
https://www.christianitytoday.com/news/2018/may/mike-pence-staquf-indonesia-church-attack-nahdlatul-ulama.html
--------
A Year after Myanmar Madrassas Shuttered, Street Prayer Organizers Face Ramadan in Jail
May 18, 2018
Yangon. When Cho Nwe Soe went to a Yangon court last month with her husband, she expected he would be fined for organizing prayers in the street without a permit last year, and that they could go back home to prepare for Ramadan - the Muslim holy month.
Instead, her 41-year-old husband Aung San Lin and six other Myanmar Muslims, who last year organized the Ramadan street prayers after local madrassas were shuttered by Buddhist nationalists, were sent to jail for three months.
"I went insane. I didn't know what to do," said Cho Nwe Soe, wiping away her tears. She was speaking at the teashop the couple have run together for 12 years in Yangon's eastern Thaketa township, home to many of the city's Muslims.
The prison terms have unsettled many Muslims in Buddhist-majority Myanmar, and prompted human rights monitors to urge the government of Nobel Peace Prize laureate Aung San Suu Kyi to guarantee religious freedoms.
Global attention on the position of Muslims in Myanmar has largely focused on the Rohingya minority in the western state of Rakhine, after an army crackdown sent nearly 700,000 fleeing to Bangladesh. Activists say the jailing of the prayer leaders is a reminder that Muslims across the Southeast Asian nation face forms of discrimination and curbs on basic rights.
"Clear religious discrimination, and blatant violation of freedom of religion," said Phil Robertson, deputy Asia director of Human Rights Watch, in a tweet following the sentencing.
Myanmar government spokesman Zaw Htay was not available for comment.
Two Yangon madrassas, which served as both religious schools and places of worship, were closed by local authorities last May under pressure from Buddhist nationalists, on the grounds they were operating without official approval.
Scared to Pray
Now, Cho Nwe Soe, who is also 41 and converted from Buddhism to Islam after getting married some 25 years ago, has to run the teashop and look after her children, including a baby daughter, on her own.
Their shop is a small room with Islamic prayers in Arabic hanging from the walls and more than a dozen dilapidated tables perched on an uneven wooden floor. One of the madrassas shuttered in last year's crackdown was close to the teashop, and since then many customers have been lost.
Muslims in Myanmar began celebrating Ramadan on Thursday (17/05). During the holy month, Muslims fast from dawn to sunset.
"If praying is a crime, we need to imprison the whole human race," said 56-year-old Tin Shwe, a headmaster at one of the two closed madrassas, whose son, Soe Moe Oo, was also sentenced last month. "Now people are even scared to pray together."
Cho Nwe Soe and Aung San Lin have always spent their Ramadan praying and running the business together, but this year she says she will close the teashop. Cho Nwe Soe said she cannot handle the workload - which means waking up before dawn and working until after sunset - alone.
"I also want to focus on prayers for my husband during this holy month, even if my customers want me to keep the place open," said Cho Nwe Soe, as she put on her black hijab with pink and blue patterns.
During Eid al-Fitr, the celebration that marks the end of Ramadan, the couple normally celebrate by cooking snacks and visiting relatives.
This year, however, Cho Nwe Soe has cancelled all the visits - she will only cook samai, a dish of sweet fine vermicelli noodles mixed with warm milk, and take it to Aung San Lin.
Full report at:
http://jakartaglobe.id/international/year-myanmar-madrassas-shuttered-street-prayer-organizers-face-ramadan-jail/
--------
Arab World
Cleric Moqtada Sadr wins Iraq election but forming government far off
MAY 19, 2018
The final results of Iraq's elections confirmed Saturday a breakthrough for nationalist cleric Moqtada Sadr, who was in the lead, ahead of internationally favoured prime minister Haider al-Abadi.
But the possibilities for alliances to form a coalition government remain wide open.
None of the three leading groups won more than 50 seats in Parliament in the May 12 vote, which saw record high abstentions with just 44.52 percent turnout — the lowest since the first multiparty elections in 2005.
In a system calibrated to divide parliament after the fall of dictator Saddam Hussein following the American-led invasion of 2003, Moqtada Sadr's Marching Towards Reform alliance is far from assured of governing Iraq for the next four years.
Sadr, who has ruled himself out of becoming prime minister, is looking to be the kingmaker and to cobble together a technocrat government from a dozen parties.
But despite leading the tally, his alliance falls short of a majority and it will take lengthy wrangling to forge a coalition.
Negotiations to form a coalition government began as soon as the vote ended a week ago, with the involvement of the US and Iran — who both oppose the firebrand Shiite leader.
"Last week was the agreement of principles, and now we enter the phase of forming coalitions," properly speaking, Iraqi political commentator Hicham al-Hachemi told AFP.
The alliance between the populist Shiite preacher and Iraq's communists won 54 seats.
In second place is the Conquest Alliance, made up of ex-fighters from mainly Iran-backed paramilitary units that battled IS, which won 47 seats, ahead of the Victory Alliance, headed by Abadi, which had 42.
The vote was a slap in the face to the widely reviled elite that has dominated Iraq since the 2003 US-led invasion that ousted Saddam Hussein.
Sadr rose to prominence in the wake of the US invasion, when his militia fought a bloody insurgency against American troops.
After years on the sidelines, he has reinvented himself as a champion of the poor and linked up with secularists to battle corruption.
He is one of the few Iraqi politicians opposed to both the presence of American troops and the heavy influence that neighbouring Iran exercises over Iraq.
Sadr declared on Twitter that the results showed "reform has won and corruption is weakened," but he faces a tricky regional context as he begins coalition negotiations.
The protracted horse-trading comes at a time of high tensions after Washington's withdrawal from a landmark nuclear deal with Tehran and fears of a tug-of-war over Iraq.
Even before Sadr's victory was confirmed, Iran had already been convening meetings to try to block him from forming a government.
Iran dispatched the powerful general Qassem Soleimani to Baghdad, who has met with several members of Iraq's old guard including Abadi and his predecessor Nuri al-Maliki.
According to officials, Soleimani has ruled out any alliance with Sadr, who surprised many last year by visiting Iran's regional foe Saudi Arabia as Riyadh seeks increased involvement in Iraq.
Soleimani's shuttle diplomacy is aimed at gathering enough parties opposed to Sadr to deny his alliance a governable majority and a route to the powerful position of prime minister — though Sadr himself is not in the running for the top job.
Sadr has already ruled out governing with either Maliki or the pro-Tehran head of the Conquest Alliance Hadi al-Ameri.
He called instead for a technocratic government that can begin to tackle Iraq's rampant corruption and the mammoth rebuilding task left from the battle against IS.
https://dailytimes.com.pk/242106/cleric-moqtada-sadr-wins-iraq-election-but-forming-government-far-off/
--------
Powerful explosions rock military airbase in central Syria, nearly dozen killed: SOHR
May 18, 2018
Nearly a dozen Syrian government troops and allied fighters from popular defense groups have lost their lives when massive explosions ripped through weapons and fuel depots at a military airbase in Syria's central province of Hama.
Syria's official news agency SANA reported that four consecutive blasts occurred as result of a fire at the site on Friday afternoon.
Pictures posted on social media networks showed a huge plume of grey smoke billowing into the sky.
Firefighters have been deployed to the area and trying to extinguish the blaze.
"The explosions struck several depots of weapons and fuel at Hama military airport," Rami Abdel Rahman, the head of the so-called Syrian Observatory for Human Rights, later said.
"They were probably caused by a technical problem," he added.
Abdel Rahman said eleven Syrian soldiers and allied fighters were killed in the explosions, while dozens more sustained injuries or are still unaccounted for.
The incident took place as Syrian army troops and fighters from popular defense groups have made new territorial gains in Hama, retaking areas in the southern part of the province after the evacuation of foreign-sponsored Takfiri militants towards the militant-held northern province of Idlib.
Syrian army forces find tanks, hidden weapons cache north of Damascus
Meanwhile, Syrian government forces have found a number of battle tanks and uncovered a weapons cache belonging to Takfiri terrorists while combing the Eastern Qalamoun region.
SANA news agency reported that Syrian soldiers discovered tanks, rockets, mortar shells, anti-tank missiles, assault rifles, machine guns, rockets, rocket-propelled grenades, locally-made rocket launchers and a remote detonator, as they were carrying out a clean-up operation in the al-Batra and al-Rhaiba mountains.
The munitions are believed to have been left behind by the so-called Jaysh al-Islam (Army of Islam) and Jabhat Fateh al-Sham, formerly known as al-Nusra Front, militants.
Syria has been gripped by foreign-backed militancy since March 2011. The Syrian government says the Israeli regime and its Western and regional allies are aiding Takfiri terrorist groups that are wreaking havoc in the country.
The Syrian government, backed by Russian warplanes, has managed to liberate swathes of territory it lost following the outbreak of the crisis from the control of the terrorists.
Since February, the Syrian army, backed by Russia, has been engaged in a major push to rid Damascus and the surrounding areas of terrorist groups.
Full report at:
http://www.presstv.com/Detail/2018/05/18/562164/Powerful-explosions-rock-military-airbase-in-central-Syria-nearly-dozen-killed-SOHR
--------
11 pro-regime forces dead in Syria airbase blasts: monitor
18 May 2018
At least 11 pro-government fighters were killed as explosions ripped through weapons and fuel depots Friday at a regime military air base in central Syria, a monitor said.
The Britain-based Syrian Observatory for Human Rights said the blasts in Hama province were likely due to a "technical problem".
"The explosions struck several regime depots of weapons and fuel at Hama military airport," Observatory chief Rami Abdel Rahman. "They were probably caused by a technical problem," he said.
Eleven regime forces were killed, including members of allied militias, and dozens more wounded or still unaccounted for, Abdel Rahman said.
Official Syrian state media also reported massive explosions heard near the Hama airbase but did not provide any details.
Tensions are high in Syria after several Israeli bombing raids in recent weeks on regime positions, as well as on military instillations reportedly used by government ally Iran.
The latest wave came in the early hours of May 10, when Israel carried out dozens of raids against what it said were "Iranian" targets in Syria.
It has repeatedly threatened to act if Iran developed an entrenched military presence in southern Syria, which borders the Israeli-occupied Golan Heights.
Full report at:
https://english.alarabiya.net/en/News/middle-east/2018/05/18/Monitor-Huge-blasts-at-central-Syria-military-airbase.html
--------
Egypt's president announces Rafah crossing open for Ramadan
18 May 2018
Egyptian President Abdel Fattah al-Sisi has made a rare decision to open the Rafah crossing with Gaza for a month, allowing Palestinians to cross during the holy period of Ramadan.
The decision to keep the crossing open was taken "to alleviate the suffering" of residents in the Palestinian enclave, Sisi said on Facebook late Thursday.
The Rafah crossing is Gaza's only gateway to the outside world not controlled by Israel, but Egypt has largely sealed it in recent years, citing security threats.
The last extended opening lasted three weeks in 2013, while usually Palestinians are able to cross for a few dozen days a year.
Previous openings of Rafah have been cut short by violence in the Sinai Peninsula or with authorities giving other reasons.
Sisi's announcement comes after some 60 Palestinians were killed by Israeli fire on Gaza's frontier earlier this week, with the victims described by Egypt's foreign ministry as martyrs.
A total of 114 Gazans have been killed in border protests and clashes since March 30, in the run-up to the controversial opening Monday of the US embassy in Jerusalem.
Egypt has relations with both Israel and Gaza rulers Hamas, giving Cairo an instrumental role in easing tensions between the two sides and alleviating the pressure on the territory's two million residents.
Hamas leader Ismail Haniya paid a brief visit on Sunday to Egypt, where he met with the director of the country's intelligence services Abbas Kamel.
For more than a decade Israel has imposed a crippling blockage on Gaza which it says is necessary to isolate Hamas, with which it has fought three wars since 2008.
But critics argue it amounts to collective punishment of the enclave's residents, with 47 percent suffering from food insecurity according to United Nations figures.
An emergency summit of the world's main pan-Islamic body, the Organization of Islamic Cooperation, will be held in Istanbul on Friday.
Turkish President Recep Tayyip Erdogan has vowed the extraordinary meeting should send a "strong message to the world" over Israel's treatment of the Palestinians.
At an Israeli checkpoint early Friday, Palestinians were crossing from the West Bank town of Bethlehem to the first weekly prayers of Ramadan at Jerusalem's Al-Aqsa mosque compound.
Full report at:
https://english.alarabiya.net/en/News/middle-east/2018/05/18/Egypt-s-president-announces-Rafah-crossing-open-for-Ramadan.html
--------
France freezes company assets over Syria chemical weapons
18 May 2018
France on Friday froze the assets for six months of companies based in Syria, Lebanon and China after they were linked to an alleged chemical weapons program in Syria.
The businesses include Sigmatec and the Al Mahrous Group, both based in Damascus, Technolab in Lebanon, and a trading company in Guangzhou in China, according to a list published in the government's official gazette.
Two Syrian nationals will also face asset freezes, as well as a person born in Lebanon in 1977 whose nationality was not specified. The asset freezes were signed by French Finance minister Bruno Le Maire.
In January, France sanctioned 25 people and companies based in Syria, but also French, Lebanese and Chinese, over suspicions of fuelling the development of chemical weapons in the war-ravaged country. The companies targeted included importers and distributors of metals, electronics, logistics and shipping.
Putting mechanism in place
Some thirty countries meet in Paris on Friday to put in place mechanisms to better identify and punish those responsible for using nerve agents such as Sarin and chlorine in attacks.
After hundreds of people were killed in chemical attacks near Damascus in August 2013, a landmark deal with Russia was struck to rid Syria of its chemical weapons stash, staving off US air strikes.
Despite the deal, a suspected chlorine and sarin attack in the Syrian town of Douma on April 7 triggered a wave of punitive missile strikes against alleged chemical weapons facilities in Syria by the United States, Britain and France.
Full report at:
https://english.alarabiya.net/en/News/middle-east/2018/05/18/France-freezes-company-assets-over-Syria-chemical-weapons.html
--------
Mideast
US more inferior than ever among Muslim countries
18 May 2018
Rouhani made the remarks on Friday morning at Mehrabad Airport, before leaving Tehran for Istanbul to attend the OIC extraordinary summit on the latest serious developments in the State of Palestine.
He stressed that defending Palestine and al-Quds is defending Islamic values and saving the great and civilized Palestinian nation from current regretful conditions.
"The relocation of the American embassy from Tel Aviv to al-Quds is illegal and contrary to international laws and regulations," he noted, adding this move has ndoubtedly provoked the anger and protests of across Muslim world.
Rouhani said his visit to Istanbul is upon the invitation of Turkish President Recep Tayyip Erdoğan to attend the extraordinary summit of OIC. He added that the summit is slated to investigate two incidents; first, "illegal transfer of US embassy to al-Quds" and second, "brutal slaughter of Palestinians by Zionist regime."
He condoled with the great nation of Palestine on behalf of Iranians and added "the Islamic Republic of Iran has always been the advocate of the oppressed; one of the major goals of Islamic Revolution is the freedom of al-Quds and occupied Palestine; our nation will definately pursue this aspiration until it comes true."
Undoubtedly, he noted, the Zionists and the Americans are seeking to distract the attention of the Islamic world from Palestine to other issues, and to this end, they create crises every day in the Muslim world.
Over 60 Palestinians lost their lives and over 2,700 others were injured during the military crackdown on the anti-occupation demonstration, which was held on the eve of Palestinian Nakba (Catastrophe) Day and coincided with the relocation of the US embassy from Tel Aviv to Jerusalem al-Quds.
The summit will be attended by Palestinian Prime Minister Rami Hamdallah, Afghan President Ashraf Gani, Mauritanian President Mohammad Ould Abdulaziz, Emir of Kuwait, the king of Jordan and the Egyptian foreign minister.
The summit is expected to produce a strongly-worded resolution condemning the recent Israeli aggression.
https://en.mehrnews.com/news/134116/US-more-inferior-than-ever-among-Muslim-countries
--------
Ties With Israel Sour as Erdogan Seizes Gaza Issue Before Election
By Carlotta Gall
May 18, 2018
ISTANBUL — The deaths of at least 60 people in Gaza this week have not only inflamed relations between Turkey and Israel. They have added a powerful new element to President Recep Tayyip Erdogan's re-election campaign, as he seizes the issue to further a longstanding ambition to position himself as a leader among Muslim states.
The Israeli-Palestinian conflict may no longer be high on the agenda of world affairs, but it has taken over the campaign before voting on June 24, when Mr. Erdogan hopes to be re-elected to a more powerful presidency.
On Friday, Mr. Erdogan called a large political rally in support of Palestinians and gathered leaders of the 57-member Organization for Islamic Conference in Istanbul for a summit meeting to protest the deaths on Monday, the same day President Trump moved the United States embassy in Israel to Jerusalem, a step many had hoped would come with a peace settlement.
"As Muslims we do not and cannot do anything other than denounce," Mr. Erdogan told the crowd of thousands waving Turkish and Palestinian flags and guests who included the Palestinian prime minister. But he warned, "One day the mistakes of this administration will rebound on America."
Since the deaths in Gaza Turkey's diplomatic feud with Israel has deepened daily. Both countries have recalled ambassadors and consuls in an escalating tit-for-tat, and ministers have joined the fray with saber rattling in interviews with the news media.
Turkey's newspapers, most of which are pro-government, have been filled with the issue, headlining Mr. Erdogan's stern stance against Israel and championing the Palestinian cause.
Throughout the week Mr. Erdogan issued a flurry of statements to Turkey's obedient media outlets, accusing Israel of genocide — "What Israel is doing is genocide" — and railing at the powerlessness of the United Nations to take any stand against Israel.
"Here is the United Nations, finished, drained out, collapsed in the face of all those incidents," he told fallen soldiers' families invited to break the Ramadan fast in the presidential palace in Ankara. "If Israel's bullying is met with more silence, the world will rapidly be dragged into a chaos where thuggery prevails."
He added that Ankara was pressing members of the United Nations Security Council to be more active, but that he had not been able to reach the Secretary General of the United Nations. He said the Turkish chief of staff and foreign ministry were working to evacuate the injured from Gaza.
Turkey and Israel broke off diplomatic relations in 2010, when Israeli commandos stormed a flotilla sent by a Turkish charity to try to break the Israeli blockade of Gaza, killing nine passengers in international waters. Relations were restored in the last two years, and trade and tourism recovered somewhat.
But Turkey was the first country to recall its ambassadors from the United States and Israel for consultations after the Gaza protests. Turkey's foreign ministry then suggested to the Israeli ambassador that he return home for a while.
Israel reacted by recalling its ambassador and asking the Turkish consul to leave. Turkey responded by asking the Israeli consul to leave.
Turkey's Foreign Minister Mevlut Cavusoglu called this week for Israel to be brought before the International Criminal Court for the shootings in an interview with the state broadcaster TRT Haber.
"We are analyzing what kind of legal steps can be taken," he said. "Israel should account for its actions."
Israel's tourism minister countered that with a warning to Israeli tourists not to visit Turkey. "I advise not to visit Turkey, and I would have said the same even before recent events," the minister Yariv Levin told the Ynet news website in remarks published Thursday. "As long as Turkey treats us like it did, there is no reason to fly there."
Ibrahim Kalin, a scholar of Islamic philosophy and an adviser to Mr. Erdogan, recalled the Nakba, or Catastrophe, as Arabs call the Palestinian exodus in the 1948 war that is commemorated on May 15.
"Your occupation is a temporary one," he wrote on Twitter, quoting a letter from Saladin to Richard the Lionheart. "As long as we have the power to fight, you will not be comfortable here."
Yet a toothless statement issued by the Organization of Islamic Conference may prove the limit of Mr. Erdogan's achievements.
In December when the United States first announced its decision to move its embassy to Jerusalem, Mr. Erdogan called a similar gathering of the group's members to Istanbul.
The group made the strongest response to Mr. Trump's decision at the time and issued a statement recognizing East Jerusalem as the Palestinian capital, but failed to deflect the American president's plan to recognize Jerusalem as Israel's capital.
Critics of Mr. Erdogan pointed out that the recently thickening economic ties between the countries, including 2.5 billion dollars in Turkish exports to Israel, according to Turkish news reports, made Mr. Erdogan's chest-thumping a bit hollow.
For all the rhetoric, he has not been able to change the situation for the Palestinians, and perhaps he does not intend to.
When an opposition party proposed tabling a motion to cancel all security, economic and political agreements with Israel this week, Mr. Erdogan's party, with holds a majority of seats, did not even allow a discussion on the issue.
The leading opposition candidate, Muharrem Ince of the Republican People's Party, joined in voicing support for the Palestinians but mocked Mr. Erdogan's stern rhetoric against Israel as hollow.
Full report at:
https://www.nytimes.com/2018/05/18/world/europe/israel-turkey-palestinians-erdogan.html
--------
Kosovo jails Muslim extremists over Israeli football terror plot
May 19, 2018
Eight Muslim extremists who plotted terror attacks against Israeli footballers and fans during a 2016 World Cup qualifier in Albania were jailed for up to 10 years on Friday.
The eight ethnic Albanians were found guilty in a Kosovo court of "planning to carry out an attack against Israeli footballers and fans" in the northwest Albanian town of Shkoder in November 2016, judge Hamdi Ibrahimi said.
The group "decided to place explosives under a bridge at the entrance of Shkoder from the direction of the Rinas Airport," Ibrahimi said.
"So at the time when the buses with the Israelis reached the bridge, the group equipped with the explosives planned to activate it from distance or blow themselves up along with the Israelis and police."
Kosovo police, in coordination with the Albanian authorities, wiretapped the group to prevent the attack, later arresting all its members.
For security reasons, the fixture was eventually moved to Elbasan, about 45 kilometres (28 miles) from the Albanian capital of Tirana, and took place under a heavy police presence.
The extremists — one Macedonian and the rest Kosovan — also planned attacks on Kosovan soil against political leaders and diplomats.
Group leader Visar Ibishi, 38, was sentenced to 10 years in prison while five other members were handed three to six-year jail terms each.
Ibishi and three close associates refused to appear in the courtroom, saying the court was "not interesting" for them.
Two members of the group who pleaded guilty at the beginning of the trial in the mid-2017 were sentenced to 18-month prison term each.
The ninth member, who also pleaded guilty, was fined 2,500 euros ($2950).
Around 90 percent of Kosovo's 1.8 million people are Muslims who practise a moderate Islam.
Full report at:
http://punchng.com/kosovo-jails-muslim-extremists-over-israeli-football-terror-plot/
--------
Erdogan compares Gaza 'brutality' to Nazi persecution of Jews
May 19, 2018
ISTANBUL - Turkish President Recep Tayyip Erdogan on Friday urged the Islamic world to show greater unity in supporting the Palestinians, saying Muslim leaders needed to overcome divisions to combat Israel's "brutality".
Erdogan first addressed thousands in Istanbul at a rally he personally called and barely an hour later chaired an emergency summit of Islamic heads of state he had summoned at a few days notice.
The Turkish strongman has been outspoken over the killing by Israeli forces on Monday of some 60 Palestinians on the Gaza border as well as the move of the US embassy to Israel from Tel Aviv to Jerusalem.
"The time has come to stand against Israel's tyranny," Erdogan told a sea of protesters waving Turkish and Palestinian flags.
"I invite all Muslims and all humanity to take action... against those who drag our region and the world into catastrophe with their religious fanaticism," he added.
In a hard-hitting speech before Erdogan's address, Prime Minister Binali Yildirim said Israel was "imitating Hitler and Mussolini" by occupying Palestinian territory and disregarding international law.
Speaking at the opening of the summit, Erdogan compared Israel's actions against the Palestinians in Gaza to the Nazi persecution of the Jews in the Holocaust during World War II.
"There is no difference between the atrocity faced by the Jewish people in Europe 75 years ago and the brutality that our Gaza brothers are subjected to," he said, accusing Israel of using methods "similar to the Nazis".
Around six million Jews were killed by the Nazis during World War II in the Holocaust.
Erdogan is hoping the extraordinary meeting of the Organisation of Islamic Cooperation (OIC) will be able to bridge divisions in the Islamic world to take a strong stance against Israel.
He told the rally that Muslims had too often given a "shy and cowardly" image to their foes and failed to sort out internal disagreements.
Describing the issue of Jerusalem as a "test", he said: "If we need to speak clearly, the Islamic world failed in the Jerusalem test."
This is the second emergency OIC meeting Erdogan has hosted in the space of half a year after the December 2017 summit, also in Istanbul, that denounced US President Donald Trump's decision to recognise Jerusalem as the capital of Israel.
A draft summit communique called for "international protection for the Palestinian people" and condemns Israel's "criminal" actions against "unarmed civilians".
The text also accused the US administration of "encouraging the crimes of Israel".
However, as in 2017, disputes between the OIC's key players — notably between Sunni kingpin Saudi Arabia and Shiite Iran — may prevent the adoption of any measures going beyond harsh rhetoric.
Riyadh — which appears to have softened its stance on Israel as the influence of powerful Crown Prince Mohammed bin Salman has grown — and its allies fear alienating the United States with tough measures against Tel Aviv.
Saudi Arabia's chief foreign policy preoccupation, shared with Israel, is ensuring US backing to contain Iran which both Riyadh and the Jewish state see as the main threat to regional peace.
Iranian President Hassan Rouhani is a key participant and overcoming the enmity between Tehran and Riyadh will be crucial for the Turkish hosts.
Jordanian King Abdullah II is present although the Palestinians are represented by prime minister Rami Hamdallah and not president Mahmud Abbas who this week had surgery on his ear.
Egyptian Foreign Minister Sameh Shoukry and Saudi counterpart Adel al-Jubeir have come but not their heads of state.
Erdogan has long craved a role as a Muslim leader within the entire Islamic world, rarely holding back with tirades against Israel even though Ankara has diplomatic relations with the Jewish state.
Tensions with Israel and hosting such a meeting also does Erdogan no harm with his core supporters as Turkey heads to presidential and parliamentary polls on June 24.
In a diplomatic crisis threatening a 2016 deal that allowed the resumption of full ties, Turkey has ordered the Israeli ambassador to leave for an unspecified period of time over the killings.
Full report at:
https://nation.com.pk/19-May-2018/erdogan-compares-gaza-brutality-to-nazi-persecution-of-jews
--------
Yemeni army cuts off Houthi militia aid supply to Albuqa
18 May 2018
Yemeni armed forces backed by the Arab coalition liberated Friday the mountain chain and al-Faraa village in Saada governorate from Houthi militia control.
Military field sources said to Al Arabiya.net that the Yemeni army and coalition have gained control over the mountainous chain which overlooks al- Faraa from the west and south-west, and the roads linking Kitaf with al-Buqaa.
In turn, they have blocked the way for any aid flooding in for the Houthi militia from central Kitaf directorate, they added.
Earlier, the Yemeni armed forces backed by the coalition launched a successful military operation, liberating many strategic locations in Hard front in the governorate of Hajja north west of Yemen.
On the first day of the holy month of Ramadan, the leader of the Saada axis Brigadier General Obeid al-Athlea said that the army forces in Kitaf directorate carried out a military operation which enabled them to liberate Tibab Ajaj, Khashm Thayiq and Jabal al Barq al-Ahmer in the area of Atafin in Kitaf.
https://english.alarabiya.net/en/News/gulf/2018/05/18/Yemen-army-and-coalition-cut-off-aid-supply-for-Houthi-.html
--------
UN Human Rights Council approves int'l probe into Israeli crimes in Gaza
May 18, 2018
The UN's top human rights body has voted in favor of a resolution calling for "urgently" sending an independent commission to investigate Israeli deadly attacks on peaceful Palestinian protesters.
The UN Human Rights Council voted Friday to "urgently dispatch an independent, international commission of inquiry" -- the council's highest-level of investigation -- to probe the killing of Gaza protesters by Israeli troops.
The resolution was adopted by 29 votes. Only two of the council's 47 members, the United States and Australia, voting against it, while 14 abstained, including Britain, Switzerland and Germany.
The text said the team of international war crimes investigators should "investigate all alleged violations and abuses... in the context of the military assaults on large scale civilian protests that began on 30 March 2018, ... including those that may amount to war crimes."
The special UN session comes after more than 100 Gazan have been killed by Israeli snipers in six weeks of protests dubbed the "Great March of Return", which began on March 30 and climaxed on May 15, coinciding with the 70th anniversary of Nakba Day (Day of Catastrophe), when Israel was created.
Tens of thousands of people have been protesting along the border between the besieged Gaza Strip and occupied territories, calling for Palestinian refugees and their descendants to be allowed to return to their homes now inside Israel. Israeli forces killed at least 62 Gazans in a single day of protests that coincided with Monday's move of the US embassy from Tel Aviv to the occupied Jerusalem al-Quds.
Earlier on Friday, the UN human rights chief, Zeid Ra'ad al-Hussein, opened the special session of the UN Human Rights Council in Geneva, saying Israel has systematically deprived Palestinians of their human rights, with 1.9 million in Gaza "caged in a toxic slum from birth to death."
The official backed calls for an international probe into Israel's deadly reaction to protests along the Gaza fence which he described "wholly disproportionate."
Palestinian Foreign Minister Riyad al-Maliki welcomed the Friday's resolution.
"The Human Rights Council's formation of an international committee of investigation is a step towards doing justice to the Palestinian people," he said in a statement, calling for speedy implementation "to stop Israeli war crimes".
Meanwhile, Tel Aviv's ambassador to the UN in Geneva, Aviva Raz Shechter, criticized the resolution as a "shameful" and "biased".
US representative Theodore Allegra also echoed Raz Shechter's remarks, condemning the council's "biased focus on Israel".
Protests held worldwide against Israeli crimes in Gaza
Israeli massacre of Gazans sparked outrage across the world, prompting people in several Muslim countries to hold rallies to condemn Israel's recent killing of Palestinians and the relocation of the US embassy to al-Quds.
Iranians took to the streets on Friday to express their solidarity with the Palestinians and to against Israeli crimes, burning the flags of Israel and the US.
In Turkey's city of Istanbul, a huge crowd took part in a rally called by Turkish President Recep Tayyip Erdogan in solidarity with Palestinians.
Jordanians also protested in Amman, chanting slogans against the US and Israel.
Full report at:
http://www.presstv.com/Detail/2018/05/18/562172/UN-international-probe-Israeli-crimes-Gaza
--------
Africa
Al-Shabaab Faces Leadership Battle as Speculation Over Emir's Health Mounts
May 18, 2018
The secretive head of al-Shabaab is reportedly critically ill, giving rise to speculation that the Somali Islamist group is re-organizing itself ahead of his possible demise. Ahmed Umar has been emir of the al-Qaeda affiliate in East Africa for nearly four years, but now reportedly bedridden for more than six months, the installation of a new leader could be imminent (Daily Nation, April 20; Tuko, April 23).
Splits Within the Shura
Details of Umar's ailment are scarce. While it is possible he was badly injured in an attack, a Mogadishu-based source familiar with the militant group's activities told the Terrorism Monitor that Umar is suffering from a serious kidney problem that affected first one and now both kidneys, and has left him fighting for his life.
Umar's current location is unclear, but some reports say he is in the town of Jilib, in southern Somalia, where al-Shabaab maintains a stronghold. Others indicate the ailing leader may have fled to an undisclosed hideout in Gedo region, near the Kenyan border, following intensified bombardment by international forces (Daily Nation, December 14, 2017; Mareeg, December 7, 2017).
Since the advent of Umar's illness, the group has acted to save its leader's life, paying doctors and providing costly treatments that are depleting the group's financial resources. A consequence of this has been a failure to release funds to pay its fighters at battlefronts in parts of southern Somalia (Tuko, April 23).
Umar's condition is allegedly causing concern among the group's top leadership, at a time when al-Shabaab is pinned down by troops with the African Union Mission in Somalia (AMISOM). Sources say the situation is so critical that Umar's deputies in the Shura, al-Shabaab's executive council, have been meeting to discuss his possible succession. That has led to heated exchanges, splitting the council into different factions (Tuko, April 23).
At the moment, the Shura, which has a mandate to make important decisions regarding targets, finances and the group's ideological direction, is composed of eight members, among them Umar's deputies Mahan Karate, who heads the Amniyat, al-Shabaab's intelligence wing, Maalim Osman, the infantry commander, and Ali Dheere, the group's spokesman. It is believed the three do not see eye to eye on the matter of succession.
The deputies are concerned that a leadership vacuum would result in reduced operational capacity and the further loss of territory. Under Umar, the group has lost key areas and strategic towns in southern Somalia, which are crucial to revenue collection, recruitment and arms replenishment. It has also faced a split, with key leaders defecting to the government (The Star, July 1, 2017).
Controversial Rise to Power
A ruthless hardliner, Umar—who is also known as Abu Ubaidah or Ahmed Diriye—took over as al-Shabaab's leader on September 6, 2014, replacing the former supreme leader Ahmed Abdi Godane, who was killed in a U.S. airstrike on September 1, 2014 (Daily Nation, September 5, 2014).
Prior to this, Umar was a little-known cleric, an alleged member of the Amniyat, the secret intelligence group Godane formed to expose and eliminate dissident within the group. He was allegedly a close confidant of the late leader, who attempted to shape al-Shabaab into a regional jihadist group, and is believed to have participated in the bloody purge of dissenters ordered by Godane.
Umar is believed to be in his mid-40s and was known to be a hardliner within the movement (WardheerNews, September 10, 2014). He was born in the Kalafe area of the Ogaden region before moving to southern Somalia, where he helped establish Islamic schools. He also served as al-Shabaab's governor for the Bay and Bakool regions (Somali Current, September 6).
His ascendancy to al-Shabaab leadership was controversial. The Shura's decision to appoint him following Godane's death had not been unanimous, and it was clear that some Shura members disliked him and considered him uneducated (Intelligence Brief, June 20, 2016).
While analysts expected Umar to instigate a fresh wave of violence, an uncomfortable silence followed the weeks and months after his appointment. This sparked speculation that the poorly educated cleric lacked the leadership skills to re-energize al-Shabaab (Sabahi, October 31, 2014).
However, after nearly four years at the helm, his death would leave the militant group in a precarious situation with no obvious successor. Possible candidates include Mahad Karate, who the Shura by-passed when they picked Umar in 2014, Ali Mohammud Rage, alias Ali Dheere, and Hussein Ali Fiidow.
Possible Successors
Karate (a.k.a. Abdirahman Warsame) is al-Shabaab's deputy leader and continues to play a key role within the Amniyat. Like Umar, he is believed to be in his 40s. He hails from the Eyr sub-clan of the Habar Girir, an influential clan that was the backbone of the Islamic Courts Union (ICU), from which al-Shabaab splintered.
The U.S government designated Karate a terrorist in 2015 and put a $5 million bounty on his head. He allegedly played a key role in the 2015 Garissa University attack, in which 148 students were killed (The Standard, November 11, 2015). In 2016, Karate, whose name is spelled variously as Mahad Mohammed Karatey or Mahat Karetey, was erroneously reported to have been killed in a strike by the Kenyan military (New Vision, February 18, 2016).
Sources describe Karate as battle-hardened and a religious hardliner, factors that boost his chances. He also worked as a deputy to Godane and now Umar, and both leaders came to trust him.
The other significant militant in the race is Rage, who is from the Hawiye Mursande clan and, like Karate, is a deputy emir for al-Shabaab. There was speculation that he too had been killed in a Kenyan–Somali commando operation in 2014 (Terror free Somalia, March 6, 2014). Months later, the rumors were disproved.
Hussein Ali Fiidow, a deputy who oversees al-Shabaab's governorates, is another possible successor. Fiidow is thought to be in charge of the group's finance and administration. He is influential and a rival to Umar. With the high number of recent defections to the government, some al-Shabaab members suspect that Fiidow is plotting a coup against Umar (Daily Nation December 14, 2017). He is thought to have recently attempted to eliminate the leader, forcing Umar to flee with his supporters (Mareeg, December 7, 2017).
An Opportunity to Strike
With Umar potentially incapacitated, it appears a leadership change within al-Shabaab is likely. While the group faces significant challenges that constrain its operations, the loss of strategic territory, the death of its commanders through airstrikes, defections and reduced revenue sources, a change of leadership could revitalize what remains one of Africa's deadliest militant groups.
That may mean increased attacks in Somalia as any new leader seeks to prove himself, with attacks potentially spreading to other East African nations—a growing al-Shabaab presence already exists in Kenya's Boni forest.
However, a change in leadership will also open a window of opportunity for international forces, which may be able to capitalize on the period of confusion and division that a leadership change will inevitably bring.
https://jamestown.org/program/al-shabaab-faces-leadership-battle-as-speculation-over-emirs-health-mounts/
--------
Malawi: Muyam to Donate Items to Muslim Inmates At Mulanje Prison
17 MAY 2018
By Ida Nazombe
Blantyre — The Muslim Youth Association of Muloza (MUYAM) will on Friday donate assorted items to Muslim inmates at Mulanje Prison.
Speaking with Malawi News Agency on Wednesday, Acting Secretary for MUYAM, Bashir Mailosi, said that preparations for the occasion are at an advanced stage and that they are just looking forward to the day.
"The main aim of this trip is to help our Muslim brothers who are lacking resources to use in the holy month of Ramadhan in which all Muslims are encouraged to fast as one pillars of Islam," Bashir said.
Bashir further made it clear that by targeting only Muslim inmates, they want to ease the month of Ramadhan to them by providing them with resources to prepare Iftar and Dakwi.
"They will be using the items to prepare Iftar which is evening food to break the fasting and Suhoor (Food taken early in the morning before sunrise) popularly known as Dakwi.
"Charity begins at home. This time will be for Muslim inmates only. However, we also have plans to visit the prison in the future in order to reach out to all inmates with the little Allah will bless us with," he added.
Full report at:
http://allafrica.com/stories/201805180638.html
--------
Senegal's Trial of 31 Alleged Jihadists Nears Verdicts
May 18, 2018
DAKAR —
Over the past month, many people in Senegal have been following the trial of 31 people accused of trying to set up a local jihadist network loyal to the Islamic State militant group. The verdicts in the case are expected as soon as early June.
A Facebook post on July 7, 2015 caught the eye of the Senegalese authorities.The post paid tribute to Senegalese jihadists who died in battle after joining ranks with Islamic State in Libya.
It was traced to Matar Diokhané, a man already known to authorities, who say he attacked a mosque in the town of Diourbel in 2012.
An investigation was opened. Over the next two years, Senegal's intelligence services uncovered a ring of nationals who they believe were trying to set up a local Islamic State network.
Thirty one suspects are now on trial, on charges that include criminal conspiracy, terrorist acts and money laundering, as well as advocating terrorist activity.
Abdou Cissé, a reporter for the popular local news outlet Dakaractu, says Senegal has already tried people over terrorism, but this is the first time so many people all at once are suspected of links to a single terrorist operation.
News from the trial often lands on the front page of local papers. Much of the coverage is focused on the controversial imam Alioune Ndao.
Ndao and Diokhané are accused of recruiting young boys and sending them to train with jihadist groups in Nigeria, Mali and Libya.
Investigators say the 11 of the 31 suspects spent months with Boko Haram in Nigeria before returning to Senegal to set up local terrorist cells in the south and east of the country.
Maitre Mounir Ballal, one of Ndao's attorneys., maintains his client's innocence. He says Ndao never set foot in Nigeria and was only "implicated in this case because Matar Diokhané approached him to gather his views on the interpretation of Qur'anic verses."
The state prosecutor has requested forced labor in perpetuity for Diokhané and 30 years for Ndao. He has also asked for eight of the 31 suspects to be acquitted. Those remaining would face possible penalties ranging from five years in prison to hard labor for life, if convicted.
Security experts like Pierre Lapaque have watched the proceedings closely. He is the regional representative for the United Nations' Office on Drugs and Organized Crime. He says the trial shows that the investigation has been thorough and that the risk of terrorism in Senegal is being taken seriously.
Concerns over criminal code
But rights groups have expressed concern. In 2016, the authorities amended Senegal's criminal code and widened the scope of offenses considered terrorism-related.
"We have concerns about the conditions of their arrest and the conditions of their detention," said François Patuel, the West Africa Researcher for Amnesty International. "So for instance, Imam Ndao was arrested in 2015. He's been held in pre-trial detention for about two years and a half. That's a very long period of time."
Last year, a court in northeast Nigeria began a mass trial of 1,600 Boko Haram suspects. The trial was initially held behind closed doors. As a result of those proceedings, there have been at least 205 convictions and another 526 suspects released so far, mostly for lack of evidence.
When asked about the ongoing case in Dakar, local human rights lawyer Senghane Senghor points to the Nigeria example.
He says at least in Senegal, the trial is taking place in public. Everything is being debated publicly, and there are people allowed into the courtroom every day.
Senegal has so far been free of terror attacks.
Full report at:
https://www.voanews.com/a/senegals-trial-thiryone-alleged-jihadists-nears-verdicts/4399896.html
--------
Over 200 more child soldiers freed in South Sudan
18 May 2018
Over 200 child soldiers were released on Thursday by armed groups in South Sudan, the UN Children's Fund (UNICEF) said on Friday.
In Pibor, South Sudan, a ceremony celebrated the release of 210 children, who were provided with civilian clothing.
The ceremony on Thursday marks the third such event in South Sudan. The formal disarmament of the children will raise the number of released children from armed groups to 806 since the beginning of 2018.
Mahimbo Mdoe, UNICEF's representative in South Sudan said: "Every time a child is released and able to return to their family, it's a source of great hope -- hope for their future and for the future of the country."
Three of the children released are girls. Additional releases are expected in the coming months to elevate the number of freed children to more than 1,000.
"We also hope there will be many more of these events until there are no longer any children in the ranks of armed groups," Mdoe added.
The children and their families will be provided with three months worth of food assistance and will be given vocational training aimed at enabling them to increase household income and food security.
Previous ceremonies of child releases were held in February and April in the town of Yambio in the southern part of the young nation.
There are still around 19,000 children serving in the ranks of armed forces and groups in South Sudan, UNICEF noted.
Full report at:
http://www.worldbulletin.net/africa/202199/over-200-more-child-soldiers-freed-in-south-sudan
--------
Nigeria: Muslim Students Decry Drug Addiction Among Youths
18 MAY 2018
By Sulaimon Salau
Muslim Students' Society of Nigeria (MSSN), B-Zone has decried the spate of drug addiction among youths and urged all students to shun all acts of immorality.
The Amir/Zonal Coordinator, MSSN, B-Zone, Barr. Qaasim Odedeji, in a communique issued at the end of the Zonal Executive Council Meeting held in Ibadan, Oyo State, also enjoined all Muslim students in the 17 states of the B Zone as well as the generality of the Umah to make judicious use of the month engage in rewardable acts of worship and shun all acts of immorality and anti-social behaviors.
The communique reads in part: "We are highly concerned about the rising case of drug addiction among the Nigerian Youth and we call on governments at all level to do everything possible to reverse the trend.
"We also call on parents, teachers as well as religious bodies to rise up to the challenge and partner with the government towards eradication of drug abuse among our teeming youth. In this regards, MSSN B-Zone states that our activities and programs over the years have continued to impact positively on producing youth of good behaviours. We therefore state our readiness to partner with relevant agencies towards solving the problem of drug abuse in the country," it stated.
MSSN called on all universities and other higher institutions to make education affordable to common man, saying: "We condemn the astronomical increment in the school fees of some state universities in the south west of Nigeria in the recent time and state that such move is capable of throwing children of common man out of school.
The group called on the politicians to work together towards free and fair elections.
"As the nation is warming up on the gubenational elections to be held in Ekiti and Osun State as well as the general election slated for next year, we call on our members and other Nigerians who are eligible voters to register and obtain their permanent voters' cards and exercise their civic responsibility of choosing a good leader with the fear of God.
Full report at:
http://allafrica.com/stories/201805180184.html
--------
Boko Haram: Troops Kill 2 terrorists, capture 11 in Borno
May 18, 2018
By Maina Maina
Troops of Operation Lafiya Dole in a Joint Counter Insurgency Operation with Cameroonian Defence Forces and the Civilian Joint Task Force in the northern hinterlands of Borno State yesterday overran a Boko Haram hideout in Bukar Maryam and Abaganaram villages of Borno state in northeast, Nigeria.
A statement from Colonel Onyema Nwachukwu, Deputy Director Public Relations, Theatre Command, Operation Lafiya Dole said, the gallant troops overpowered the insurgents, killing two of them and capturing 11 men after a fierce firefight during an operation to clear the surrounding villages of fleeing Boko Haram terrorists.
"The troops recovered two Multi Purpose Rocket Grenade Launcher ( Police Tear Gas Gun), one Rocket Propelled Gun Charger, two AK 47 rifle magazines with 20 rounds of 7.62 mm ammunition and one magazine vest.
"Other logistics materials, including three motorcycles, one power generating set, a tool box, a pair of camouflage, one military-type belt and one Boko Haram flag were also captured from the routed insurgents by the troops," the statement said.
In a related development, Explosive Ordnance Disposal team (EOD) of Operation Lafiya Dole yesterday successfully uncovered three Improvised Explosive Devices (IED) planted by Boko Haram terrorists in Doro Naira village to wreak havoc on the community.
DON'T MISS: Download DailyPost Android app and earn unlimited free Airtime
Full report at:
http://dailypost.ng/2018/05/18/boko-haram-troops-kill-2-terrorists-capture-11-borno/
--------
Pakistan
Nawaz, Zardari ruined institutions by appointing cronies: Imran
Mansoor Malik
May 19, 2018
LAHORE: Pakistan Tehreek-i-Insaf (PTI) chairman Imran Khan on Friday alleged that the Sharif brothers and Pakistan Peoples Party's Asif Ali Zardari had ruined the country's state institutions by posting their cronies in them, and blocking justice for the masses.
He cautioned that the new government after the 2018 general elections would face a plethora of challenges.
Speaking at the launch of journalist Zia Shahid's book and a fundraising dinner for Shaukat Khanum Cancer Hospital, Mr Khan said that Mr Zardari and the Sharifs had increased the country's debt burden from Rs6 trillion to Rs27tr over the past decade.
Speaking about the Quaid-i-Azam's visionary leadership and his 47-year struggle to carve out a separate homeland for Muslims, Mr Khan regretted that the country's politicians were corrupt people who only looked out for their vested interests. "The assets of politicians start piling up as soon they come into power and that speaks volume of their 'service to the masses'," he said.
The PTI chairman deplored that the country was headed downhill and was losing respect globally because its leaders had abandoned the spirit behind the movement for a separate homeland for Muslims. "Pictures of the Quaid-i-Azam adorn the walls of public offices but his qualities are not being appreciated by the people at the helm of the state's affairs," he said.
The poor people of the country did not have access to justice, while the parliament was full of corrupt politicians, he added, while lamenting that 45pc children in Pakistan had stunted growth, which hindered their potential to grow in life.
Referring to various global movements that had taken years to come to fruition, the PTI leader said there was no timeframe for someone to achieve success in their struggle. "Humans can only struggle, Allah gives success to his people," he said, adding that leaders needed to work with missionary zeal and not prioritise vest interests.
Responding to Awami Muslim League president Sheikh Rasheed's statement that people should give him a chance to govern the country, the PTI chief said Allah would change the hearts of the masses.
At the Shaukat Khanum Hospital fundraiser, he said there was no hospital in Pakistan that could offer treatment to the Sharif family.
He said the former prime minister and former foreign minister Khawaja Asif had criticised the Shaukat Khanum Hospital, yet its coffers continued to grow. Around 75pc of patients brought to the hospital received free treatment, Mr Khan added.
https://www.dawn.com/news/1408598/nawaz-zardari-ruined-institutions-by-appointing-cronies-imran
--------
Pakistan restores security of Mumbai attack mastermind Hafiz Saeed
May 18, 2018
LAHORE: The government of Pakistan's Punjab province has restored the security of Mumbai attack mastermind and Jamaat-ud Dawa chief Hafiz Saeed citing threats to his life, almost a month after it was withdrawn on the order of the Supreme Court.
"The policemen have been deployed again for the security of Hafiz Saeed on the order of (chief minister) Shahbaz Sharif's Punjab government," a senior official of the provincial government told PTI on Friday. He said the decision was taken in the light of threats to the life of Saeed.
As the government restored Saeed's security, he has withdrawn a petition he had filed in the Lahore High Court to challenge the Punjab government's earlier decision to withdraw his security.
The Punjab government last month had withdrawn policemen deployed for the security of Saeed after the Supreme Court directed inspector-generals of Islamabad and all four provinces to take back security escorts from people who are not entitled to it.
The chief justice, however, later directed the top provincial police officials to ensure the provision of security to all those who face genuine security threats.
In the light of the Supreme Court order, the Punjab police have withdrawn as many as 4,610 personnel deployed for the security of influential persons not entitled to official security in the province.
In a petition filed through his counsel Advocate A K Dogar, Saeed said the Punjab government on the pretext of the apex court order has withdrawn his security. He said the Supreme Court had ordered that the security of those facing life threats should not be withdrawn.
"But the government made a wrong interpretation of the Supreme Court order in my case and has withdrawn my security despite threats to my life," Saeed said.
The founder of Lashkar-e-Taiba, who carries a $10 million American bounty for his role in terror activities, accused the government of discrimination in his case.
The JuD usually makes elaborate arrangements for the security of Saeed wherever he goes. Even at home, the JuD special squad has been given the task of his security.
Full report at:
https://timesofindia.indiatimes.com/world/pakistan/punjab-govt-restores-security-of-mumbai-attack-mastermind-hafiz-saeed-pakistan/articleshow/64222996.cms
--------
Pakistan summons Indian envoy over 'unprovoked' LoC firing
May 18, 2018
ISLAMABAD: Pakistan on Friday summoned Indian High Commissioner Ajay Bisaria over "unprovoked ceasefire violations" by Indian forces along the Line of Control.
The Foreign Office (FO) here said in a statement that the acting foreign secretary summoned the Indian envoy and "condemned" the firing incidents today in Pukhlian, Cahprar, Harpal, Charwah and Shakargarh sectors.
Pakistan informed the Indian envoy that the "unprovoked ceasefire violations had killed four members of a family" in village Khanoor while 10 other people were injured.
The FO claimed the firing by the Indian side was still going on.
Indian officials said four civilians and a BSF jawan were killed while 12 others were injured as Pakistan Rangers heavily shelled villages and border outposts (BoPs) in Jammu early today.
This is the third day of shelling and firing by Pakistani troops along the international border (IB) in Jammu frontier and comes ahead of Prime Minister Narendra Modi's visit to Jammu and Kashmir tomorrow.
Pakistan Rangers shelled areas in RS Pura, Bishnah and Arnia sectors of Jammu by resorting to heavy mortar shelling and firing since 1 am in R S Pura and Bishnah sectors, a senior BSF officer said.
Yesterday, a BSF jawan was among two persons injured when Pakistani troops opened fire and lobbed mortars at over 15 border outposts and some civilian areas along the international border in Samba and Kathua districts.
On May 15, a 28-year-old BSF jawan was killed when Pakistani troops violated the ceasefire by opening fire on forward posts to help infiltrators cross the border in Samba sector. Indian troops have also foiled four infiltration bids along the IB since May 12.
Pakistan said the Indian envoy was informed that the "deliberate targeting of civilian populated areas is indeed deplorable and contrary to human dignity, international human rights and humanitarian laws".
"The ceasefire violations by India are a threat to regional peace and security and may lead to a strategic miscalculation," the FO said.
Pakistan also said that Indian forces along the LoC and the IB are continuously targeting civilian populated areas with heavy weapons.
It alleged that in 2018, Indian forces have carried out more than 1,050 ceasefire violations along the LoC and the border resulting in the deaths of 28 civilians, while injuring 117 others.
Pakistan urged India to respect the 2003 ceasefire arrangement, investigate this and other incidents of ceasefire violations, instruct Indian forces to respect the ceasefire in letter and spirit and maintain peace on the LoC and the international border.
It also urged India to permit the UN Military Observer Group in India and Pakistan (UNMOGIP) to play its mandated role as per UN Security Council resolutions.
Full report at:
https://timesofindia.indiatimes.com/world/pakistan/pakistan-summons-indian-envoy-over-unprovoked-loc-firing/articleshow/64220787.cms
--------
Christian community puts forth grievances regarding recent 'raids' in meeting with Karachi police
Mohammad Raza
May 18, 2018
Representatives of the Christian community met with police officers at the Karachi District Inspector General East's office on Friday and informed them about their reservations regarding recent "raids" in the Youhanabad neighbourhood, DawnNewsTV reported. Murtaza Bhutto, the Superintendent of Police in Gulshan, acted as the focal person for the discussions which took place today. Father Saleh Diego, Parish Priest at St Paul Parish, represented the community.
Residents of Youhanabad Christian Colony, located in Gulshan-i-Iqbal Block 13-G, have been protesting against the mysterious disappearances of young Christian men.
The affected families allege that within the span of a few weeks, 24 young Christians were picked up from the neighbourhood by the police.
During the course of the discussion, the community representatives expressed disappointment that the matter has seen no resolution.
According to the residents of the neighbourhood in question, these men who appear to be security officials, show up wearing masks in the dead of the night, riding in cars without licence plates. They break down doors across the neighbourhood and enter homes with reckless abandon.
The families allege that these "raids" started taking place since March 30 when six young men were taken away. On April 15, four youth were arrested and on May 8, 14 youngsters were made to disappear.
The affected families said that the 14 young men who were arrested on the night of May 8 are still missing.
"First they asked my husband's name and demanded to see his identity card. Then they beat him up and dragged him away," a woman complained during the meeting.
She revealed that her husband is a dental technician and holds a Bachelors of Commerce degree. He had recently applied for admission to a Master's programme. The day he was taken away, he had appeared in an interview at a call centre.
Another affected family said that on April 15, these "officers" broke into their home, using cutters on the locks.
"They sent someone pictures of our four sons over Whatsapp and upon "verification" took two of the boys away with them," a member of the family said, adding that they have managed to obtain bail for one of the boys.
The young man released on bail said that he was kept blindfolded and transported to some location at SITE area.
"They beat me and subjected me to electrical torture for three days. They kept asking me to do exactly as they say. They constantly kept asking me about different people, encounters and weapons," he said during the discussion.
He was taken away on April 15 and on April 20 a false case was registered against him.
Another family complained that their son and nephew were also forcibly taken away.
A man from an affected family said his two brothers have also been taken away by "officers". One of the brothers is an electrician while the other is a Matric student.
The day the man's brothers were taken away, the Matric student had an exam which he could not appear in. The boy does not even have an identity card owing to his young age.
The man expressing his vexation over the situation said that it was no better than "the law of the jungle where people were picked up at the officers' whims and there was no telling as to the whereabouts of any of the missing men".
He said that while his brothers were being taken away he questioned one of the "officers".
"Why are you taking my brothers? Where are you taking them?" he had asked.
"You will be given a call," came the reply.
The man said that if someone has committed a criminal act then he deserves punishment but this was no way to treat anyone.
"We live and die every day. Youngsters are afraid and can no longer sleep for fear of being taken away," he lamented.
The Christian community representatives said that the men raiding their homes bring a criminal named Shiraz with them who "identifies" the youngsters subsequently taken away.
The community members asserted that the men who were taken away had no association with any political parties and had no criminal backgrounds.
Some of the missing men were released after four to five days but then falsely accused in new cases.
The six young men who were taken away on March 30, were falsely implicated in crimes. They were subsequently jailed on April 20. Some of them are currently out on bail.
The community members have filed an official complaint with IG Sindh and other notable figures. An FIR was also filed on behalf of the community.
The community members requested that they be informed if the arrest of a criminal is to take place. They assured they will extend the police all possible cooperation and assistance.
Full report at:
https://www.dawn.com/news/1408499/christian-community-puts-forth-grievances-regarding-recent-raids-in-meeting-with-karachi-police
--------
Nawaz's Mumbai attacks statement 'inflection point' for Pakistan, says US
May 19, 2018
WASHINGTON: The United States on Friday said former prime minister Nawaz Sharif's statement on the 2008 Mumbai attacks is an "inflection point" for Pakistan.
The statement was passed by Assistant to the Secretary of Defence for Public Affairs Dana White during the regular briefing held at the Pentagon.
Nawaz, in a recent interview to a leading English Daily, had said, "Militant organisations are active. Call them non-state actors, should we allow them to cross the border and kill 150 people in Mumbai? Explain it to me. Why can't we complete the trial?"
His remarks were played up by the Indian media as an "admission" of Pakistan's involvement in the terrorist attacks.
The statement was criticised and condemned by the top Pakistani civil and military leadership with the National Security Committee (NSC) terming the remarks "completely false and misleading". Prime Minister Shahid Khaqan Abbasi had also held a press conference, saying that Nawaz's statement was "misreported". Shehbaz Sharif, deposed PM's brother and Pakistan Muslim League-Nawaz (PML-N) president, had tried to downplay the statement, saying that former premier's interview was twisted out of context by his political opponents and them "completely false and misleading".
'SPONSORED TERRORISM':
During the briefing, White said Pakistan had been a victim of terrorism but alleged that Pakistan and Afghanistan have also "sponsored terrorism".
The US claim has been refuted multiple times by the country's top military and civil leadership. Pakistan, over the years, has carried out comprehensive counter-insurgency operations in the tribal areas, once a hotbed for militancy, and has been successful in restoring the writ of the state and eliminating terrorist havens on Pakistani soil.
White expressed hope that Pakistan will be a partner in safeguarding the region and would "do more" to uphold regional peace in South Asia.
The Pentagon spokesman further said that Pakistan can do more with respect to the security of Afghanistan. She reiterated that the US expects more from Pakistan and hopes it will play a major role in maintaining peace.
On January 1, US President Donald Trump said that the US 'foolishly' gave aid to Pakistan over the period of 15 years but Islamabad gave "nothing in return but lies and deceit" by providing safe havens to terrorists from Afghanistan.
"The United States has foolishly given Pakistan more than 33 billion dollars in aid over the last 15 years, and they have given us nothing but lies and deceit, thinking of our leaders as fools. They give safe haven to the terrorists we hunt in Afghanistan, with little help. No more!," Trump said in a late-night tweet.
Full report at:
https://www.pakistantoday.com.pk/2018/05/18/nawazs-2008-mumbai-attacks-statement-inflection-point-for-country-us/
--------
MMA, religious parties rally against massacre of Palestinians
May 19, 2018
LAHORE: Thousands of slogan-chanting and banner-waving protestors belonging to Muttahida Majlis-e-Amal (MMA) and other religious parties took to the streets after Juma prayers here on Friday.
They were protesting against massacre of unarmed Palestinians by the Israeli forces over shifting of the US embassy from Tel Aviv to Jerusalem. Led by respective leaders of the MMA component parties, the protestors set ablaze the US flags and demanded immediate reversal of Washington's decision to shift its embassy to the occupied holy city of Jerusalem. They also demanded chalking out a joint strategy by the Muslim states to stop massacre of Palestinian Muslims by the occupant Israeli army. Prayer leaders and scholars in their Friday sermons strongly condemned the Israeli forces over the killing of unarmed Palestinians. The congregations also passed resolutions against Israeli occupation of Palestine and unleashing of terrorism against the native Muslim population.
Besides, countrywide 'Ghaibana Namaz-e-Janza' of Palestinian martyrs were held on the call of Jamaatud Dawa (JuD) Ameer Hafiz Muhammad Saeed, who led the prayers for the martyrs at Markaz Al-Qadsia. Earlier, delivering the Friday sermon, he urged the Muslim rulers to force Israel to end barbarism in Palestine. He said, "Israel is killing Muslims in Gaza. Allah has blessed Pakistan with the defence capabilities. It should play its role for the defence of the Islamic world," he added.
Full report at:
https://www.thenews.com.pk/print/318717-mma-religious-parties-rally-against-massacre-of-palestinians
--------
Pakistan Ulema Represented Taliban In Indonesia Meeting
May 19, 2018
Mawlawi Anwarulhaq Haqqani, head of Darul Uloom Haqqania madrassa in Pakistan, who participated in the religious scholars (Ulema) meeting in Indonesia in May 11 said Pakistani religious scholars represented the Taliban at the conference.
Indonesia meeting was held between Afghanistan, Indonesia and Pakistan religious scholars.
In a video message after the meeting, Anwarulhaq Haqqani, brother of Mawlana Samiul Haq, leader of Jamiat Ulema-e-Islam party in Pakistan, also known as father of the Taliban, said he did not let the religious scholars meeting in Indonesia to mention Taliban in their declaration.
"In the entire meeting, there was no discussion on ceasefire or taking any decision. We did not let them to mention Taliban. Thepeople (participants of the meeting) had added Taliban's name in the declaration, but we removed it. Don't think about it. We were representing you. Everything went well," said Haqqani.
Haqqani's remarks on Indonesia meeting was sharply criticized by political analysts in Afghanistan.
"Pakistan's intelligence agency in collaboration with religious scholars such as Fazulrahman, Samiul Haq and Anwarulhaq has changed Pakistanimadrassas into recruitment centers for killing of Afghanistan's people. Pakistan religious scholars are slaves of ISI (Inter-Services Intelligence) and they do not believe in any religion," Ahmad Saeedi, a former Afghan diplomat in Pakistan and political affairs analyst, said.
Afghan Defense Ministry's spokesman Mohammad Radmanish meanwhile said some groups in Pakistan are supporting the Taliban under the leadership of intelligence agencies in the region.
"We have said from the very beginning that there are activities and groups in Pakistan which support the Taliban, and this is lead by intelligence agencies in the region," Radmanish told TOLOnews on Friday.
Religious scholars from Afghanistan, Indonesia and Pakistan issued a declaration in Indonesia meeting that supported efforts for peace in Afghanistan.
The declaration stated that war and violence have no place in Islam and that Islam is the religion of peace and true believers should put into practice what this religion has said.
The religious scholars said they support any peace offer, efforts and declarations in hope of bringing peace and prosperity in Afghanistan.
Full report at:
https://www.tolonews.com/afghanistan/pakistan-ulema-represented-taliban-indonesia-meeting
--------
Europe
Blocked from western Europe, Erdogan takes his polarising rally to Bosnia
18/05/2018
Supporters of Recep Tayyip Erdogan from across Europe will gather in Sarajevo this weekend, as the Turkish president mobilises potential voters ahead of elections next month.
The capital of Bosnia and Herzegovina is offering a platform that countries like the Netherlands and Germany have denied to Erdogan. But as is so often in the country, the decision has proved divisive.
Bozniak leader Bakir Izetbegovic will meet Erdogan, a fellow Muslim, at the event in the 20,000 seater Olympic Hall in the city. He has acknowledged that, even within his own ethnic group, the meeting has caused controversy among "insecure Bosniaks".
He said of Erdogan opponents at a gathering of the youth association of his Party of Democratic Action (SDA) last week: "Their problem is that he is a powerful Muslim leader like no other has been for quite some time. They don't have a problem with Muslims who are primitive, uneducated, who are no competition to them."
However, Izetbegovic's colleagues in the country's tri-partite presidency, Bosnian Croat Dragan Covic and Bosnian Serb Milorad Dodik, have held off from commenting on the visit, leading to speculation that the event has become a political issue ahead of elections this autumn.
"They (SDA) need Erdogan as an important, but also a symbolic figure in order to represent themselves as strong party as they face different internal problems," Enver Kazaz, a professor on the Faculty of philosophy at the state Universty in Sarajevo, told Euronews.
Bakir's wife Sebija may be a candidate for the Bosniak position in the Bosnian presidency, and could benefit from an association with a powerful foreign leader, Kazaz points out.
Sarajevo-based political analyst Ivana Maric says the rally may bring nothing more than problems to Bosnia.
"Citizens of Bosnia will not benefit from this rally. It sends the wrong message to the EU, and if we consider Bosnia's current image, it is clear that again, they [politicians] are ignoring their citizens here," Maric told Euronews.
The communication, or lack of it, around the decision-making process also points to a failure of collaboration among the members of the presidency, according to Maric.
"We can now only wait for Covic and Dodik and their reactions to this visit, and since it is election year, they will try to capitalise on it and promote deeper division here," she observed.
Salko Sokolovic, an independent MP at the Bosnian parliament, expresses similar views.
"If this is somehow used to provoke Germany it clearly sends the wrong signal, and for sure this might cause more problems for Bosnia in the future, " Sokolovic says.
The Union of European Turkish Democrats, which is organising the rally, would not comment when contacted by Euronews.
However, Sarajevo's interior ministry confirmed in a statement that it has approved a request for the event. It also requested that the derby match between local football clubs Zeljeznicar and Sarajevo be postponed.
Despite the political questions, for many Sarajevans the event is just like any other.
Many of the city hotels are full and in the city's old town, known as Bascarscija, Turkish competes with Bosnian as visitors begin to gather.
"So what if Erdogan is coming? Many presidents visit us, I do not see the problem," said Mirela Hadzibajric, a 23-year-old from Sarajevo.
http://www.euronews.com/2018/05/18/blocked-from-western-europe-erdogan-takes-his-polarising-rally-to-bosnia
--------
Macron slams Israel's 'heinous' Gaza actions
18 May 2018
President Emmanuel Macron on Thursday condemned Israel's "heinous acts" of targeting unarmed Palestinian demonstrators in the Gaza Strip as he denied any French complacency.
"At this point I am very clear: France has condemned these heinous acts -- and these civilian casualties -- that were committed, especially on Monday and continued in the last hours," Macron told a news conference in Sofia after an EU-Western Balkans Summit.
"In the same way, France has called for peaceful demonstrations and has strongly condemned all the statements made by Hamas and all the movements that have endangered the security of Israel," he said.
"It is this balance that we have from the beginning and, therefore, there is no complacency towards anyone but a deep commitment to respect human lives and the security of Israel."
Thousands of Palestinians had gathered on the Gaza Strip's eastern border to take part in protests marking the 70th anniversary of the founding of Israel -- the Nakba ("Catastrophe") -- and protest the relocation of the U.S. Embassy from Tel Aviv to Jerusalem.
On Monday, at least 62 Palestinian demonstrators were martyred and thousands more injured by Israeli armed forces along the Gaza-Israel fence, according to the Palestinian Health Ministry.
Since the Gaza rallies began on March 30, more than 100 Palestinian demonstrators have been martyred by Israeli army gunfire.
Full report at:
http://www.worldbulletin.net/europe/202180/macron-slams-israels-heinous-gaza-actions
--------
Man charged after French police foil Paris ricin terror plot
18 MAY 2018
Police in France have foiled a suspected terror attack and handed preliminary terrorism charges to a man of Egyptian origin.
Earlier, French interior minister, Gerard Collomb said that two men had been arrested for "preparing to commit an attack, with either explosives or ricin, this very powerful poison".
He said police identified the two suspects while tracking extremist activity on social networks.
tutorials that showed how to make ricin-based poisons," Mr Collomb told BFM TV, adding that they had communicated via the Telegram encrypted messaging application.
"We were able to detect them, detect this attack plan and were able to arrest them," he said.
It is unclear how police were able to decipher their Telegram exchanges given its reputedly impenetrable nature.
Later, judicial sources said one of the men was released without charged. The other, a 20-year-old student and illegal immigrant known only as Mohamed M, ran a "particularly active account in the pro-jihadist sphere", said the source.
Police raided his flat and found a stash of gunpowder taken from bangers as well as a computer containing bomb-making tutorials, as well as a video on how to use ricin.
During questioning, the suspect "spontaneously acknowledged having consulted jihadist propaganda and explained that an as yet unidentified individual on the encrypted messaging app Telegram told him to buy the stock of bangers to make a bomb and to take action in France," he said.
He then "sought to play down the seriousness of his acts," said the source. However, he added: "Contrary to his statements, analysis (of his equipment and accounts) revealed that in reality he had accept to undertake this mission and that he was also ready to die a martyr by blowing himself up".
He was "very determined", said the source.
He and the other man had been arrested in the northern 18th arrondissement of Paris on May 11.
The following day, Chechen-born Frenchman Khamzat Azimov, a nursing student, killed one person and wounded five others near the Garnier Opera house. Azimov was killed when he advanced on police. The Islamic State group claimed responsibility for inspiring Azimov's attack.
A close friend of his was arrested and handed preliminary terrorism charges on Thursday night. Two young women were also arrested on Thursday in the Paris region in relation to the attack, the anti-terrorism prosecutor said.
He also lived in the 18th arrondissement, home to Montmartre and the Sacré Coeur but also a string of low-income high-rises with a large proportion of immigrant communities.
Mr Collomb defended the government's handling of the 26,000 people on police watch lists for suspected radicalism. Azimov was on the watch-list but not considered an imminent threat.
Full report at:
https://www.telegraph.co.uk/news/2018/05/18/french-police-foil-ricin-terror-plot-arrest-egyptian-brothers/
--------
Buses with 270 migrants allowed to pass in Bosnia amid chaos
18 May 2018
A convoy of buses with 270 migrants, including children that were stuck in central Bosnia, was allowed to pass after several hours of political bickering on Friday - reflecting the chaotic situation in the war-scarred Balkan country as it struggles to cope with the influx.
Authorities were transporting the migrants from Sarajevo, the capital, toward a center for asylum-seekers near the southwestern town of Mostar, but regional authorities there didn't allow them in. They said they weren't informed about the arrival of the convoy, something that was denied by the country's interior minister.
The buses returned to the Sarajevo district and remained blocked for hours on a mountain road. Local media reported 18 children among the migrants, who appeared frightened and confused.
Bosnia's authorities earlier in the day dismantled a migrant tent settlement in central Sarajevo in preparation for the move to Mostar.
Interior Minister Dragan Mektic told N1 television that the stoppage of the convoy was illegal and that it "jeopardizes the constitutional order" of Bosnia. He said the blockade amounted to a "coup d'etat."
After a bloody war in the 1990s, Bosnia was split among Bosnian Muslim, Croat and Serb entities. Sarajevo is under Bosnian Muslim control, while Mostar is under Croat control.
Consequences
Denis Zvizdic, the acting head of Bosnia's Council of Ministers - or the country's government - said the local Bosnian Croat authorities "will have to face the consequences" for preventing state authorities from carrying out their policies of trying to shelter the migrants "in a humane and dignified manner."
Peter Van Der Auweraert, chief of the International Organization for Migration mission in Bosnia, said the migrants were to be transported to a refugee camp "where there are barracks, there are medical services, where there would be food."
Thousands of migrants fleeing wars and poverty in the Middle East, Asia and Africa have recently turned from Serbia to Bosnia to avoid more heavy guarded routes and borders in other Balkan countries. Hundreds have been camping outdoors in Sarajevo and elsewhere.
Full report at:
https://english.alarabiya.net/en/News/world/2018/05/18/Police-in-Bosnia-turn-back-buses-carrying-270-migrants.html
--------
South Asia
Afghan Taliban reject Ramazan truce offer, announce amnesty for those who surrender
Tahir Khan
MAY 19, 2018
ISLAMABAD: Afghan Taliban on Friday ruled out cessation of fighting in the month of Ramazan, and said that they would step up efforts in the holy month to get more rewards.
Afghan president Ashraf Ghani had urged the Taliban to stop fighting in respect for Ramazan, according to the Afghan media. The UN office in Afghan capital Kabul also launched an appeal to all sides to stop fighting in Ramazan.
Tadamichi Yamamoto, UN Secretary General's special representative for Afghanistan, on the occasion of Ramazan, urged the Taliban and other parties to the conflict to halt fighting.
"I sincerely hope that the observation of Ramadan will provide an opportunity for all communities in Afghanistan to come closer to each other and build bridges peacefully. In the same spirit, I would like to call parties to the conflict to respect this religious obligation and halt the fighting," the UN envoy said in his appeal.
The top American commander, Gen. John Nicholson, delivered a Ramazan message for Afghanistan, encouraging Taliban forces to accept the Afghan government's offer and the Afghan people's demands for peace.
"In this holy month, we encourage all armed Taliban to accept the offer of His Excellency, the President of the Islamic Republic of Afghanistan and join in peace talks, for a better future for their children and the noble people of this great nation," Gen Nicolson, the NATO-led Resolute Support Mission Commander, said.
Unimpressed by the appeals, the Taliban vowed to continue fighting. "Islam's major battles were fought in Ramazan like the Jang-e-Badr and the Conquest of Mecca. So we will step up operations against the invaders and their backers," Taliban spokesman Zabihullah Mujahid said, when asked if the Taliban would stop fighting in the holy month..
On the first day of Ramazan, Taliban resumed fighting with the Afghan forces, backed by US forces, in western Farah city. Taliban had earlier claimed overrunning the city but government forces drove them out. The fighting resumed on Thursday.
Meanwhile, the Taliban on Friday declared general amnesty to all military formations, national army, national police, private militia and all employees of the government to safeguard their lives and wealth if they quit the regime.
"For the sake of your own lives, for the protection of your children and for deliverance in the afterlife, leave the support of the Americans and accept the invitation by the Islamic Emirate of a life of peace and honour for you and your families," said a Taliban letter, addressed to government employees.
Pakistan to host conference of clerics
In another development, a conference of the religious scholars of Pakistan and Afghanistan is planned in Pakistan in the coming months to seek support for peace and reconciliation in the war-ravaged country, Daily Times learnt on Friday.
Kabul has long been pleading for the role of Pakistani religious leaders and clerics to convince the Taliban to end their war and join peace process. Afghan government has also floated a suggestion for a joint "fatwa" by the Pakistani and Afghan 'ulema.'
Afghan government was encouraged by a declaration adopted at a trilateral 'ulema' conference of Afghanistan, Indonesia and Pakistan in Indonesia on May 11, which backed President Ashraf Ghani's dialogue offer to the Taliban. A delegation of 15 top Pakistani scholars who attended the conference also opposed suicide attacks in Afghanistan.
Pakistan has also supported the Indonesian conference declaration and the Foreign Office spokesman Mohammad Faisal said at his weekly briefing on Thursday that Pakistani ulema constructively participated in the meeting.
He recalled that President of Indonesia during his visit to Pakistan in January this year had shared the idea of hosting a trilateral Afghanistan-Indonesia-Pakistan ulema meeting in Jakarta with the Pakistani President and the Prime Minister.
"Our leadership had welcomed and assured Pakistan's support for the Indonesian initiative," Faisal said.
Afghan ambassador in Islamabad Omar Zakhilwal has been actively engaging leaders of religious parties and has held a series of meetings with Maulana Fazal ur Rehman, Sir ul Haq, Maulana Sami ul Haq and Fazal ur Rehman Khalil.
Afghanistan says that Saudi Arabia will also host an international 'ulema' conference about Afghanistan in July.
https://dailytimes.com.pk/242004/afghan-taliban-reject-ramazan-truce-offer-announce-amnesty-for-those-who-surrender/
--------
Efforts to repatriate Rohingya refugees stumbles again
May 18, 2018
The return of Rohingya refugees to Myanmar has again stalled after Bangladesh and Myanmar officials failed to fix a start date for actual repatriation.
A Joint Working Group responsible for overseeing the repatriation of Rohingya refugees held its second meeting in the Bangladeshi capital Dhaka in four months, but were unable to agree on a date to begin any repatriation efforts, reported English daily The Daily Star.
Fifteen officials from Bangladesh and Myanmar attended the May 17 meeting.
"This type of repatriation is always complex and difficult," Shahidul Haque Bangladesh Foreign Secretary told reporters after the meeting. "But there is no difference of opinion that the repatriation should happen," he said. "Both the sides feel that the repatriation should be done quickly."
Bangladesh and Myanmar signed a repatriation deal in November last year. The process was set to begin in January but Bangladesh postponed citing a lack of preparations on its behalf.
The Bangladeshis have given Myanmar a list of more than 8,000 refugees but no Rohingya have yet been repatriated.
State-run Global New Light of Myanmar newspaper reported that Myanmar officials attending the most recent joint working meeting reiterated they are ready to receive verified displaced persons from Bangladesh.
The report added that the third Joint Working Group meeting will be held in Naypyidaw but no date or venue had been fixed.
Lack of progress disappoints Rohingya
Many Rohingya refugees in Bangladesh have reacted angrily at the failure to set a date for repatriation.
"There were two meetings without any result," said Muhammad Rezwan, 23, a Rohingya refugee who fled to Bangladesh with his family in October last year. "This is really disappointing for refugees who don't want to remain here as a burden for Bangladesh," said Rezwan who now lives in the Kutupalong refugee camp.
"We can understand Myanmar is unwilling to take us back, so they are trying to delay the process," he said.
Nur Hashem, 34, from Balukhali refugee camp echoed similar sentiments.
"Rohingya are eager to go back to their ancestral land and start over new life. The uncertainty over repatriation is heartbreaking for them," said Hashem who fled to Bangladesh in August last year.
Mazharul Islam, a Caritas disaster management officer, said refugees want to return to their homes in Rakhine State but remain concerned about safety issues.
"We don't have a clear picture of the situation in Rakhine or whether it is safe enough to send back refugees," said Islam who is based in Cox's Bazar.
"Both Bangladesh and Myanmar need to work with the U.N. to make sure Rakhine has a favorable environment conducive for the safe and dignified repatriation of refugees," he said.
Sprawling refugee camps in Cox's Bazar of Bangladesh shelter up to one million Rohingya Muslims who fled various bouts of brutal persecution in Myanmar's Rakhine State.
Full report at:
https://www.ucanews.com/news/efforts-to-repatriate-rohingya-refugees-stumbles-again/82353
--------
Islamist parties protest at Israeli attack on Palestinians
May 19,2018
Islamist parties on Friday protested against Israeli attack on Gaza strip in Palestine.
Palestinians went on demonstrations after the United States relocated its embassy in Jerusalem from Tel Aviv.
In separate rallies in front of the Baitul Mokarram National Mosque in the city's Palton immediately after the Jumma prayers, the protesters criticised the US government for 'instigating' violence across the world over religious issues.
They also came down heavily on the United Nations, Organisation of Islamic Cooperation and Arab League for their silence against Israeli 'atrocities' against world peace.
In a brief rally by Dhaka city unit of the Bangladesh Islami Andolan, protesters urged Bangladesh government to split diplomatic relation with the US.
Chief guest of the rally professor Ashraf Ali Akhand, also the political adviser to Islami Andolan amir and president of Islami Sramik Andolan, said all peace loving countries should corner the US government due to its role in waging conflict across the world.
He, without mentioning name, lambasted a Saudi Arabia prince for supporting the US government.
Chair of the rally Imitaz Alam, president of Islami Andonlan Dhaka South unit president, said formation of a separate global body was crucial to protect the rights of Muslims as the OIC and Arab League became failed organisations.
The party's leaders Fazlul Haque Mridha, Ahmad Abdul Quaiyum, Islami Chhatra Andolan leaders Md Alamgir and Sirajul Islam, among others addressed the rally.
A procession was brought out after the rally which was concluded with a special prayer led by BIA secretary general Yunus Ahmed.
In another rally held at the same location, Bangladesh Khelafat Andolan leaders and activists demanded withdrawal of the US embassy from Jerusalem as they claimed the historical place sacred for Muslims.
Mawlana Mujibur Rahman Hamidi, nayeb-e-amir and Dhaka city amir of the party, said the US government by relocating its embassy in Jerusalem had proved its involvement in killing of Palestinians.
He said Muslim cleansing in Palestine should be stopped.
Full report at:
http://www.newagebd.net/article/41555/islamist-parties-protest-at-israeli-attack-on-palestinians
--------
Taliban rejects Nangarhar stadium bombing that left 8 dead, 45 wounded
May 19 2018
At least eight people were killed in a coordinated bombing target a cricket stadium in Jalalabad city the provincial capital of Nangarhar province.
The provincial government media office in a statement said the incident took place late on Friday night in the vicinity of the 1st police district of the city.
The statement further added that three explosions took place inside the stadium at around 11:45 pm local time, leaving at least eight dead and forty five others wounded.
At least eight of the wounded individuals were discharged from the hospital after receiving treatment while the remaining 37 others are still receiving treatment.
No individual or group has so far claimed responsibility behind the deadly bombings.
In the meantime, the Taliban group spokesman, Zabiullah Mujahid in a statement said the fighters of the group have no link with the last night's attack in Jalalabad city.
Full report at:
https://www.khaama.com/taliban-rejects-nangarhar-stadium-bombing-that-left-8-dead-45-wounded-05181/
--------
ISIS snipers eliminated in US drone strike in Nangarhar
May 18 2018
At least two militants affiliated with the Islamic State of Iraq and Syria (ISIS) terrorist group were killed in US drone strike in eastern Nangarhar province of Afghanistan.
The provincial government media office in Nangarhar said the two militants were apparently operating as snipers and were killed in Haska Mina district.
The statement further added that the airstrike was carried out in the vicinity of Gagar area late on Wednesday night.
According to the governor's office, two sniper rifles belonging to the militants were also destroyed in the airstrike.
The ISIS terrorist group loyalists have not commented regarding the latest US drone strike in Nangarhar province so far.
This comes as counter-terrorism operations are underway against the ISIS and other militants in different districts of Nangarhar province.
Full report at:
https://www.khaama.com/isis-snipers-eliminated-in-us-drone-strike-in-nangarhar-05180/
--------
Afghan armed forces retake control of Tala Barfak in Baghlan
May 18 2018
The Afghan National Defense and Security Forces (ANDSF) managed to retake the control of Tala Barfak district in northern Baghlan province of Afghanistan.
The Ministry of Defense (MoD) said the control of the district was taken during the operations of the armed forces and as a result the district has been fully cleared of the militants.
The source further added that the Afghan forces have also cleared the landmines and improvised explosive devices planted by the militants.
According to MoD, the situation of the district is normal now and additional armed and defense forces have been deployed in the district.
The ministry did not disclose further information regarding the casualties of the anti-government armed militants.
The Taliban militants group has not commented regarding the report so far.
The district fell into the hands of the Taliban insurgents nearly ten days ago after the group launched a coordinated attack.
Full report at:
https://www.khaama.com/afghan-armed-forces-retake-control-of-tala-barfak-in-baghlan-05178/
--------
India
Ramzan Ceasefire An Opportunity To Engage With Youth Who Have Joined Militancy: Lt Gen Satish Dua
by Sushant Kulkarni
May 18, 2018
'The unilateral ceasefire announced by the Centre in Jammu and Kashmir is an opportunity to engage with the youth who have joined militancy and an attempt to bring them back into mainstream,' said Lt Gen Satish Dua, Chief of Integrated Defence Staff said in Pune on Friday.
Lt Gen Dua, who is known for his expertise in counter terrorism operations and is currently the Chief of Integrated Defense Staff to the Chairman, Chiefs of Staff Committee, was speaking on the sidelines of the valedictory function of academic courses at the Military Institute of Technology (MILIT).
When asked about the youth in Jammu and Kashmir joining militancy and ceasefire announced by the government, he said "It is unfortunate to see youth continuing to join the militancy. The government has now declared a unilateral ceasefire for one month. The whole purpose of this ceasefire is that during this holy month of Ramzan, we will not initiate operations so that the civil society, government organisations and elders of the society can engage with these children. After all they our own children, they are just misguided youth. This one month is an opportunity to engage with these children and an attempt to bring them back into the mainstream. We hope that there are positive results."
When asked about the possibility of aggression from the other side, Lt Gen Dua said, "The ceasefire order has a qualifier. If terrorists attack our forces, we reserve the right to retaliate in self defense."
Speaking about the tri-services integration between Army, Navy and the Air Force, Lt Gen Dua said, "For last couple of years, the Prime Minister has given great thrust on integration between these three services. Many areas have been identified where this integration is already there and where it needs to be enhanced. Training establishments are being combined and Tri-services exercises are also being carried out. While in the emerging fields like Cyber and Space, tri-services agencies like Defense Cyber Agency and Defense Space agency are in the pipeline."
http://indianexpress.com/article/india/ramzan-ceasefire-an-opportunity-to-engage-with-youth-who-have-joined-militancy-lt-gen-satish-dua/
--------
Pakistan's continuing ceasefire violations shows it has no respect for Ramzan: Mehbooba Mufti
May 18, 2018
In a mark of protest against Pakistan's continued provocations across the LoC despite India's peace initiative to respect the ceasefire agreement during the fasting month of Ramzan, Jammu and Kashmir chief minister Mehbooba Mufti on Friday said that the ceasefire violations by India's western neighbour are a manifestation of its lack of respect for the holy month.
"Continued firing on the border in Jammu is cause of pain and worry. Sad that while our country took the lead in starting peace initiatives with cessation of operations during Ramzan, Pakistan has shown no respect whatsoever for this holy month," Mufti tweeted on Friday.
In a show of disregard for the ceasefire, Pakistan Rangers resorted to heavy shelling of Indian villages and border outposts that resulted in the deaths of four civilians and Border Security Force (BSF) jawan. The shelling also left a dozen of civilians injured.
Full report at:
http://indianexpress.com/article/india/pakistan-continuing-ceasefire-violations-shows-it-has-no-respect-for-ramzan-mehooba-mufti-5181705/
--------
Soon at JNU, study on 'Islamic terrorism'
by Aranya Shankar
May 19, 2018
The Jawaharlal Nehru University is learnt to have given in-principle approval to the study of 'Islamic Terrorism' by a new centre on national security, in an Academic Council (AC) meeting held on Friday. Like in the recent past, the meeting was marred by a section of members alleging they were not permitted to speak.
Sources said a proposal to set up the Centre for National Security Studies (CNSS) was given approval, with 'Islamic Terrorism' set to be taught there. While the AC agenda mentions it as one of the "key areas" of study, there is no clarity so far on whether it would be offered as an independent course. Some AC members, including the JNU Students' Union office-bearers, said it had been passed as a course. But professor Ajay Dubey, who chaired the committee to work out modalities of setting up CNSS, said no course on the subject had been proposed. He did not answer further questions.
Taking exception to what it said was a "communal" move, the JNUSU, said, "This grotesque propaganda of Islamophobia in the name of academic courses is problematic."
However, AC member Aswini Mahapatra said the course was necessary but the name should be changed from 'Islamic Terrorism' to 'Islamist Terrorism'. "Islamist Terrorism is a widely accepted term and a globally accepted phenomenon. It is used for those who use Islam for a particular objective. There's nothing called Hindutva terrorism; that was invented by the Congress to pander to the minority vote bank… There's nothing called Christian terrorism also… In India, it's basically Islamist terror, whether it is J&K or Kerala, so in Indian context, the topic needs to be studied," he said.
Full report at:
http://indianexpress.com/article/education/soon-at-jnu-study-on-islamic-terrorism/
--------
Aligarh Muslim University students threaten fresh stir if demands not met
May 18, 2018
With the onset of Ramzan, the agitating students of Aligarh Muslim University (AMU) withdrew their three-day hunger strike and 15-day dharna. But leaders of the AMU students' union (AMUSU) threatened to launch a fresh agitation, if their demand for a judicial inquiry into the violence on the campus over a portrait of Pakistan founder Mohammed Ali Jinnah is not fulfilled.
"This should not be viewed as an end to our agitation but as preparation for a possible second stage of our struggle which would be launched, if needed, at an all-India level in case authorities fail to fulfill their commitment," said AMUSU president Mashkoor Ahmad Usmani.
"We would have our delegations meeting the home minister and President of India besides others concerned and would press for our demand," he added.
The agitation by students ended on Wednesday night after Nafeesa Begum, the mother of missing JNU student Najeeb, persuaded the AMU students to end their indefinite hunger strike. AMU vice- chancellor Professor Tariq Mansoor too expressed solidarity with the agitating students after visiting them.
"The strike has ended but the movement has begun. We would even go for legal recourse, if our demands are not met. The shape and form of the movement will be discussed and announced soon," stated the AMUSU president.
"Our struggle is entirely based on the demand for a judicial inquiry into the police lathicharge on unarmed AMU students and also for stringent punishment to those 'armed goons' belonging to right wing groups who had entered the AMU campus with an objective of fomenting violence on the campus," he added.
Full report at:
https://www.hindustantimes.com/lucknow/aligarh-muslim-university-students-threaten-fresh-stir-if-demands-not-met/story-KF8b8MZ2tdth8AKMVTvJiN.html
--------
J&K: Ahead of PM Modi's Kashmir visit, encounter breaks out in Kupwara
May 18, 2018
Ahead of Prime Minister Narendra Modi's two-day visit to Jammu & Kashmir tomorrow, a gun battle broke out between militants and security forces in Kupwara district of Jammu and Kashmir on Friday. Army said that it is the first counter-militancy operation since the Centre announced a conditional suspension of operations during Ramzan.
On Wednesday, the Centre had announced that security forces will not launch any operations in Jammu and Kashmir during the holy month of Ramzan. However, it also said that the forces reserve the right to retaliate if attacked.
Friday's encounter broke out in Haphruda forests in Handwara area of Kupwara in north Kashmir, an Army official was quoted as saying by PTI. The gun battle was underway when reports last came in and further details were awaited.
Regarding the conditional ceasefire, the Union Home Ministry officials had said that the move was not a concession to the extremists, but an effort to create an environment free of terror and violence during the holy month and there will be no lowering of guard. They had said that the security forces, however, reserve the right to retaliate if attacked or if essential to protect the lives of innocent people.
Meanwhile, security forces in the state were put on high alert on Friday, ahead of PM Modi's visit. All entry and exit points into Srinagar and Jammu have been sealed by police and the Central Reserve Police Force (CRPF) who allowed vehicles to enter the cities only after thorough checking and frisking of the occupants.
Full report at:
http://indianexpress.com/article/india/jk-day-before-pm-modis-visit-encounter-breaks-out-in-kupwara-5182273/
--------
How An Engineering Aspirant From Azamgarh Transformed Into A Terrorist
May 19, 2018
The son of a journalist, he wanted to become an engineer, but his friendship with another Azamgarh man led him on the path of jihad, suspected Indian Mujahideen (IM) operative Ariz Khan alias Junaid has told federal counter-terror investigators.
Ariz's father Zafare Alam Khan worked with a news periodical and his mother was a school teacher. Ariz studied at schools in his native place Azamgarh.
In 2001, Ariz tried for admission in Aligarh Muslim University, but could not clear the entrance exam. "He met Atif Ameen, also from Azamgarh, for the first time in Aligarh where Ameen too had come to take the entrance exam. They came back and took admission in school for 11th standard and started meeting regularly when Atif and he started staying in the same locality," said a home ministry official familiar with the details of Ariz's interrogation by the NIA .
There he came in touch with other associates of Ameen, like Arif Badar and others who later formed the Azamgarh module of the IM, according to NIA officials. "Badar used to speak about demolition of Babri Masjid to others and also told them that India should have Sharia laws. They used to listen to speeches of Maulana Masood Azhar, founder of Jaish-e-Mohammed," said the official cited above.
Officials say after securing a low rank in engineering entrance, Ariz didn't join the course and went to live with his brother in Muzaffarnagar.
Full report at:
https://www.hindustantimes.com/india-news/how-an-engineering-aspirant-from-azamgarh-transformed-into-a-terrorist/story-QG9iFIVK6Z8JGEgX6YX9bO.html
--------
North America
Israel vilified at UN body for Gaza killings, but backed by US
May 18, 2018
Israel was sharply criticised at a UN human rights body on Friday for martyring protesters in Gaza and treatment of the Palestinians, but Washington came to its defense.
The special session of the Human Rights Council was convened after the bloodiest day for Palestinians in years last Monday, when 60 were martyred by Israeli gunfire during demonstrations that Israel said included attempts to breach its frontier fence.
"Nobody has been made safer by the horrific events of the past week," UN human rights chief Zeid Ra'ad al-Hussein told the Council.
He said Israeli forces had martyred 106 Palestinians, including 15 children, since March 30. More than 12,000 were injured, at least 3,500 by live ammunition. Israel was an occupying power under international law, obliged to protect the people of Gaza and ensure their welfare, he said.
"But they are, in essence, caged in a toxic slum from birth to death; deprived of dignity; dehumanised by the Israeli authorities to such a point it appears officials do not even consider that these men and women have a right, as well as every reason, to protest."
Israel says the deaths took place in protests organized by Hamas, the militant group that controls Gaza, which intentionally provoked the violence, an accusation Hamas denies.
Israel and the United States complain that the Human Rights Council, made up of 47 states chosen by the General Assembly, has a permanent anti-Israel bias because of the disproportionate number of countries hostile to Israel with UN seats.
Israel's ambassador Aviva Raz Shechter said the Council had relapsed to its worst form of anti-Israel obsession. The call for an inquiry was "politically motivated and won't improve the situation on the ground by even one iota," she said.
"The loss of life could have been avoided had Hamas refrained from sending terrorists to attack Israel under the cover of the riots, while exploiting its own civilian population as human shields," she said. "It is Israel, certainly not Hamas, which makes a real effort to minimize casualties among Palestinian civilians."
The United States has stood by Israel during the past week's violence, which coincided with the opening of a new U.S. embassy in Jerusalem. U.S. chargé d'affaires Theodore Allegra said the Council was ignoring the real culprit of the violence: Hamas.
"The one-sided action proposed by the Council today only further shows that the Human Rights Council is indeed a broken body," he said.
Two million people live in Gaza, most of them stateless descendants of refugees who fled or were driven from homes in what is now Israel at its founding in 1948.
The territory has been run by Hamas since 2007, during which time Israel has fought three wars against the militant group which denies Israel's right to exist. Israel and Egypt maintain a blockade of Gaza for security reasons, which the United Nations says has plunged Gaza's economy into a collapse.
In Gaza, residents told Reuters that Israel deserved its international criticism.
"Israel must be dismantled as a state and its leaders must stand international trial for their massacres against us since 1948," said Ibrahim Abu Galeb, 65, a refugee living in southern Gaza. "Israel occupied our land, displaced our people, killed our children's dreams to live safely and it is behind our sickness and poverty."
https://nation.com.pk/18-May-2018/israel-vilified-at-un-body-for-gaza-killings-but-backed-by-us
--------
Worcester Islamic Center introducing new imam as Ramadan gets underway
May 18, 2018
WORCESTER — As millions of Muslims around the world observe fasting as Ramadan began this week, Imam Asif Hirani, new spiritual leader at the Worcester Islamic Center, is attracting new young people to the mosque as the youngest imam in the center's history.
Imam Hirani, 30, a former fashion designer, is bringing new energy to the center, say area Islamic leaders.
The Pakistani native began spending his summers in the United States with family when he was 11. At a young age, he told his mother he wanted to pursue Islamic studies, but he said his mother made him promise he would first get a degree he could "fall back on."
Imam Hirani completed his bachelor's of business administration in fashion design, fulfilling his promise to his mom, and landed a job designing jeans in Pakistan before switching gears soon after to pursue Islamic studies.
After attaining his Ph.D. from Al-Madinah International University, he was recruited by the Worcester Islamic Center where he started a few months ago. He also travels internationally as a speaker teaching youth and giving marriage workshops.
During Ramadan, a holy month of prayer and fasting, Dr. Muhammad Ramzan, a neurologist and president of the WIC, said the center is opening its doors to the public and inviting religious leaders, city officials and others to meet the new imam and share in Ramadan. They are encouraging visitors to the center to stay until 8 p.m. and share in a meal when daily fasting breaks, he said.
"Ramadan teaches us not to just refrain from food," Dr. Ramzan said. "This is a time when we try to be at our best behavior with co-workers, family members and the community. The best thing is to really get your body and behavior in that mode to practice it the rest of the 11 months."
The event is a chance to continue with an interfaith dialogue with others in the community, he said.
Muslims throughout the globe observing Ramadan refrain from drinking or eating anything from dawn to sunset, Imam Hirani explained.
"It is a manifestation of gratitude and feeling of hunger for those less fortunate," he said.
Muslims believe that God revealed the Quran during Ramadan, said the imam, who loses about 10 pounds on average during Ramadan.
"For us, the Quran is the final word of God," he said. "It is so important. We celebrate the revelation by reciting the Quran at night the whole month. It is a month of blessing and peace for entire Muslims."
It is also a time to educate non-Muslims about Ramadan and the Islamic faith, he said, and a chance to eradicate misconceptions.
"The biggest is that Islam is associated with terrorists," Imam Hirani said. "It causes fear in people's hearts. I've heard it more since Trump was elected and it is hard to explain that Islam is peaceful and loving."
There is positive coming out of it, he said, with the community coming out to support Muslims more, including during President Trump's Muslim ban at most airports, and people wanting to learn more about Islam.
In a concerted effort to attract younger generations to the mosque, Imam Hirani said he is focusing on outreach and the spiritual, educational and social roles the center plays including using social media to help younger generations find their soulmates in a way that aligns with the teachings of their faith.
"That is a big challenge in America," he said. "Muslims are not only a minority. We are a minority on top of a minority. I'm working online with kids to help them get married easily without problem. It is a mechanism for them to meet their soulmate within the guidelines of sacred Islam."
While many other religions are seeing a decline in membership, WIC is seeing an increase, especially with the younger generations, he said.
"My take is that Islam answers all of their questions in a relevant way for what they are facing today," he said. "It stays away from theological and philosophical discussion that may not be relevant to youth."
Amjad Bhatti, president of the Islamic Society of Greater Worcester, said WIC was without its own imam since 2014.
"It's a blessing that he is here," Mr. Bhatti said. "He is definitely the youngest imam we've had at the center. He also speaks Arabic and can communicate with the Arabic community."
Tahir Ali, WIC's media and public relations director, said Imam Hirani is an inspiration to "young and old" because of his age.
Full report at:
http://www.telegram.com/entertainmentlife/20180518/worcester-islamic-center-introducing-new-imam-as-ramadan-gets-underway
--------
URL: https://www.newageislam.com/islamic-world-news/cemeteries-turn-away-families-carried/d/115299
New Age Islam, Islam Online, Islamic Website, African Muslim News, Arab World News, South Asia News, Indian Muslim News, World Muslim News, Women in Islam, Islamic Feminism, Arab Women, Women In Arab, Islamophobia in America, Muslim Women in West, Islam Women and Feminism