New Age Islam News Bureau
4 Dec 2019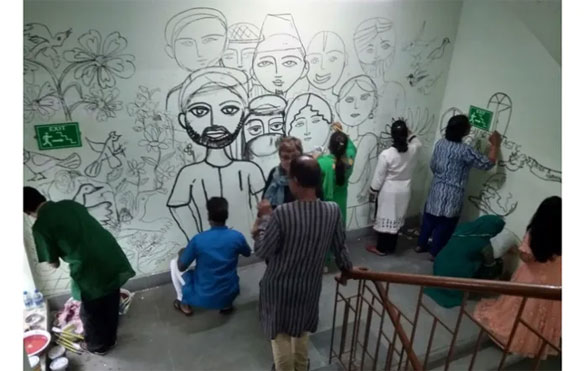 Volunteer Artists from Pavlov Mental Health Hospital create the 'Wall of Unity" during the event
------
• Celebrating Diversity in Kolkata: Time to Break Myths, Stereotypes to Know the 'Other'
• Angry Islamists Besiege Pakistan's Independent Newspaper for Reporting That the London Bridge Attacker was Of "Pakistani Origin"
• In Ethiopia Peaceful Sufi Islam Is "Being Replaced By Fundamentalist Militants"
• 'No Interference Allowed': China Slams US Congress for Passing Bill Envisioning Sanctions over Treatment of Uighur Muslim Minority
• Skipping Prayers Is A Personal Matter, Says Lawyers Group
• Muslim World League Chief Tells Media to Present Islam's True Image
• House Passes Bill to Sanction Chinese Officials for Crackdown on Muslim Minority
• Israel to UN: Jews Forced Out Of Arab, Muslim Lands Should Be Seen As Refugees
• Open and Unashamed Racism of Brexit Party Candidate Said 'Islam Is the Problem' and World Will Never Be Safe 'Until We Destroy Them'
Compiled By New Age Islam News Bureau
URL: https://www.newageislam.com/islamic-world-news/celebrating-diversity-kolkata-time-break/d/120437
------
India
• Amit Shah's Announcement of NRC Keeps Karnataka Muslims on Toes
• Muslim Prof Appointment Row: BHU Students Resume Protest, Lock Staff Building
• Muslim Parties Split On Dhavan, AIMPLB Wants Him for Review
• Ordinary Muslims Ready to Accept Babri Ruling, But Who's Listening?
• Hyderabad: Muslim groups sore as cops refuse them meeting permit
• Inspection visits to Ayodhya site stopped after SC verdict, Muslim litigants complain
------
Pakistan
• Memories of Babri Mosque demolition haunt Pakistani Hindus
• Pakistan supports KL summit aimed at Muslim nations' socio-economic uplift: FM
• US welcomes Moody's upgrade in Pakistan's credit outlook
• Recovery of £190m from Malik Riaz tops cabinet discussion
• Bilawal visits Dawn offices, condemns besieging of staffers
• Justice Isa's counsel urges SC to order probe over judges surveillance
• Musharraf says he's being 'victimised'
------
Africa
• Clipping Islamist wings in Sudan
• Terrorist who used student loan to join Islamic State jailed again
• IMN slams Nigeria government for keeping Zakzaky in detention despite court order
------
South Asia
• Bangladesh denying education to Rohingya children: HRW
• Xinjiang imam affirms Xinjiang's anti-terrorism efforts
• Nicolas Kay: Every party or group should accept the Afghan election results
• Survey: Afghans optimistic about the peace talks
• Trump arrives in London to attend the NATO's 70th year anniversary and the leaders meeting
• IEC remains silent against back to back protests and political uncertainties
------
Southeast Asia
• China: Muslim Concentration Camp Survivor Arrested for 'Inciting Hatred,' Had Syphilis
• Defiant Islamists Rally in Jakarta
• Pakistan backs Malaysian initiative of Muslim-5
• 'Don't test me,' warns Anwar
------
Arab World
• Saudi International Exhibition to Showcase Works Of 27 Gulf Artists
• World Islamic Banking Conference opens in Bahrain
• Japan sheds light on opportunities for Saudi gaming industry
• Major initiative launched to empower young Saudis
• Cabinet hails Saudi-UAE ties after crown prince visit to the Emirates
• Saudi Ministry of Justice Launches second phase of alimony fund
• Saudi minister signs agreements for 2020 Hajj season with Indonesia, Jordan and Turkey
------
North America
• Muslim youth group partners with not-for-profit to launch mobile shelter for Toronto homeless
• Council recommends refusal of Islamic centre plans
• NATO summit: Trump and Macron clash in London
------
Mideast
• Lebanon's Outgoing PM Backs Businessman to Replace Him
• Al-Baghdadi's 'deputy' captured in northern Iraq
• Trump says world 'has to be watching' the violence in Iran
• Israel Plans Additions to Ibrahimi Mosque
• A new generation wants an end to the Islamic Republic of Iran
• Hizballah Operative Sentenced to 40 Years in Prison for Covert Terrorist Activities on Behalf of Hizballah's Islamic Jihad Organization
• Israeli Soldier Bites Palestinian Security Guard At Al-Aqsa Mosque
• Syrian regime bombed a mosque in al Barsa village in Idlib, on December 3
• Commander: Iran, Russia, China to Stage Joint Naval Drills on December 27
• President Rouhani Underlines Iranian Nation's Victory against US Pressures
• Judiciary Spokesman: Many People, Police Officers Killed, Wounded by Rioters
• Top Commander Stresses Iran-China Strategic Ties
• Turkey Sets Up 2 New Military Bases in Northern Syria
• Turkey's NATO membership 'unravelling' as leader meet in London
• Iran bid to name new Iraqi PM
• People with special needs protest in Lebanon
------
Europe
• The Russian Social Network Letting ISIS Back Online
• Old video shared to claim Norway police attacked Imam opposing Quran burning
• MEND says Labour best meets Muslim priorities in General Election
• GARDAÍ granted extra 24 hours to question an alleged Islamic State member
• Macron says time for Turkey to clarify ambiguous stance on Islamic State
• German president visits mosque in Penzberg
• The Latest: Macron wants bigger Europe military role in NATO
------
Australia
• AFP arrest alleged Sydney Islamic State recruiter over radicalisation of teenagers
------
Celebrating Diversity in Kolkata: Time to Break Myths, Stereotypes to Know the 'Other'
Dec 1, 2019
Kolkata: On a busy Friday morning, when the men in every Muslim locality prefer to get ready for the Jumma prayer, things were a little different in 'Calcutta 23′. Things were happening a faster rate than usual, and why not, after all, they had a fixed date with visitors who had travelled from different part of the city to spend a day with them, to meet them, to know them and above all build bridges that perhaps can last for a lifetime.
Pincode 700023 area comprising Khidirpur, Mominpur and Ekbalpur, commonly perceived as the city's biggest Muslim ghetto, is not one, claims the residents of the area, who predominantly are Hindi-speaking Muslims. In an attempt to do away with such myths, prejudices and stereotypes, a unique two-day cultural festival – Calcutta 23 – Celebrating Diversity was organised at Government Girls' General Degree College (GGGDC), Ekbalpur, in association with Know Your Neighbour initiative of association SNAP, on November 29 and 30.
When asked about the reason for the two-day cultural event being called Calcutta 23, Dr Syeda Shariqatul Moula Alquadri, officer-in-charge of GGGDC, said, "Khidirpur, has a rich cultural and religious diversity. To reach this college, you first have to cross a temple, then a church, then an Imam Bara. Doesn't this indicate the cosmopolitan nature of this area? But how many will call it so? Most know it as one of the biggest Muslim ghettoes in Kolkata. We have organised this cultural festival, with the sole intention of breaking myths and building bridges."
Stressing upon the need of such events, author Joya Mitra, said, "At a time when diversity is being used as a tool by politicians to create divisions within the society, such initiatives are a must. This is the perfect way to break the misconceptions that we harbour in mind, which leads to the creation of the 'other' who can't be your friend or be trusted."
Mitra maintained that discussion like the one she had on Kabir, would ease the growing communal tension between different communities. Stressing upon the need of such events being hosted in colleges more frequently, singer Moushumi Bhowmik, said, "There is a tremendous need for the youth hailing from different communities to know each other, to be friends with each other. Such events will iron out prejudices."
The event was flagged off early in the morning with a neighbourhood walk, saw the participants from at least 60 colleges meet the community people, visit the churches, imam baras and temples of Calcutta 23 area. Following which the event was formally inaugurated by the Mayor of Kolkata, Firhad Hakim.
The cultural programme, which was hosted within the college premise, had several food kiosks and art installations with unique messages. Peace poetry flag installation put up by poet-artist Sufia Khatoon, had a unique concept – unite diverse voices through poetry. "We need to learn to live peacefully with each other, without prejudice or stereotype. This precisely made me become part of Calcutta 23 event," said Sufia.
If Sufiya's work spoke of peace, then mixed media artist, Soumyodeep Roy's art installation – Fish that travels through time, philosophically tried bringing the two community (Hindu-Muslim) together by using fish. "Whether it is Jhulelal or Al Khidr (From whom many believe the name of Khidderpore has been derived from) both seem to float on a fish. The fish also takes a socio-political character across regions and time," said Roy.
Another unique aspect of this programme was the Dastangoi performance by Delhi-based professor Nadeem Shah Suhrawardy. He gave two power-packed performances in Urdu. However, the key highlight of his performance was the Hindustani adaptation of Sarat Chandra Chattopadhyay's Mahesh. Interestingly, Calcutta Karavan is all set to give a new twist to this traditional way of storytelling, with Suparna Deb narrating a love story in Bengali. Dastangoi is traditionally performed in Hindustani or Urdu language, globally.
https://enewsroom.in/kolkata-myth-stereotype-diversity-communities/
------
Angry Islamists Besiege Pakistan's Independent Newspaper For Reporting That The London Bridge Attacker Was Of "Pakistani Origin"
4 December 2019
ISLAMABAD (AP) - Dozens of angry Islamists swarmed the building of an independent Pakistani newspaper in the capital, Islamabad, blocking its entrance for several hours, threatening the staff and demanding its editor be hanged.
A simultaneous protest also took place Tuesday evening in the southern port city of Karachi, where the Islamists gathered at the Press Club, demanding Dawn´s editor Zaffar Abbas and publisher Hameed Haroon be hanged.
The demonstrators were angered that the English-language paper had reported that the London Bridge attacker was of "Pakistani origin".
The protest was condemned by Pakistani rights groups and members of civil society advocating for the rights of journalists.
In a statement, the Committee to Protect Journalists urged Pakistan to prevent protests against the newspaper from turning violent and investigate the death threats to its staffers.
https://www.dailymail.co.uk/wires/ap/article-7754091/Angry-Islamists-besiege-Pakistan-s-independent-newspaper.html
------
In Ethiopia peaceful Sufi Islam is "being replaced by fundamentalist militants"
Dec 03, 2019
Following the violent protests that rocked Ethiopia earlier this fall, killing 67 people, Aid to the Church in Need (ACN) spoke with Father Petros Berga, a priest of the Diocese of Addis Ababa, the capital.
How is the situation in Addis Ababa? Do demonstrations continue every day?
The socio-political condition of the country in general is a little bit volatile now. Of course there are some ethnic issues in certain areas. But the serious danger is a threat from the Middle East. A certain ethno-religious activist named Jawar Mohammed, with illicit financing from the Middle East, mostly from Egypt, is leading a movement that has become a serious threat to Christians in Ethiopia.
In several areas churches, priests and Christians have been attacked. Mohammed operates a satellite television network as well as a social media platform with a large number of followers. The activists use the Oromo youth as an instrument to cause conflict. The young people are provided with cell phones donated by the Gulf countries, etc.
What are the claims of demonstrators?
There have been intermittent demonstrations and counter-demonstrations in Addis Ababa and in different cities and towns. Now it is ebbing away. However, the situation is still uncertain. There is a problem of law enforcement.
Radical politicians and self-acclaimed activists are sparking violence. Both the regional and federal governments are not taking any action, even if people are being attacked, displaced, robbed, threatened and molested.
On the outskirts of Addis Ababa there were incidents of regular violence perpetrated by supporters of Mohammed and affecting local residents and those who moved to the outskirts a couple of years ago due to the re-development of the inner city.
The residents, particularly youth, are already disenchanted due to scarcity of work and employment and now they are exposed to violence due to the turmoil. As we are working on pastoral projects, skills development and capacity-building of the youth in the periphery, the situation has made it even more urgent to work on empowering the young people.
Media have spoken in terms of an "inter-ethnic and religious" conflict; do you agree? It seems that both Christians and Muslims are suffering violence…
The violence is currently directed towards Christians, mainly the Orthodox Church. The main protagonists are Mohammed and Dawed Ibsa, the leader of the Oromo Liberation Front. Both are Oromo Muslims. They use ethnicity to mobilize the young people but the violence and attacks have more of a religious than an ethnic dimension.
The traditional Sufi form of Islam, characterized by tolerance and syncretism with indigenous ethnic culture, is being replaced by more militant fundamentalist Muslims.
Do you think situation will improve soon?
Even if it is difficult to predict how the situation will evolve, we are optimistic that things will improve over time. Ethiopians have lived side-by-side for centuries, and we are confident the values they share will keep them united to face these difficult situations.
Above all, Ethiopians are very religious people and the prayers of the faithful will be answered. God will protect Ethiopia from the danger of disintegration.
What is the message and the role of the Catholic Church?
Though representing only a tiny minority, the Catholic Church is playing a big role in promoting peaceful co-existence. Cardinal Berhaneyesus Souraphiel has been appointed by the Prime Minister as head of the National Peace and Reconciliation Commission.
The Church has officially expressed her solidarity with our Orthodox brothers. The Catholic Church is also organizing workshops on peace building and dialogue. Yet there is a great need to work in depth and breadth with local, regional and federal government entities as well as civil society organizations.
As a minority Church serving society without any ethnic or religious distinction, the Catholic Church is in the best position to play a role in mediation work.
This article was published by Aid to the Church in Need and republished here with kind permission. To learn more about Aid to the Church in Need's mission in support of persecuted Christians visit www.churchinneed.org
https://aleteia.org/2019/12/03/in-ethiopia-peaceful-sufi-islam-is-being-replaced-by-fundamentalist-militants/
------
'No interference allowed': China slams US Congress for passing bill envisioning sanctions over treatment of Uighur Muslim minority
4 Dec, 2019
Beijing has voiced harsh disapproval and vowed to retaliate after the US House of Representatives passed a bill threatening new sanctions on China over human rights abuses against religious minorities.
Rushing through the House with near-unanimous backing on Tuesday, the bill declares US support for the Uighurs, a Muslim minority group based in China's Xinjiang province. The bill is a modified version of a similar law introduced in the Senate, but adds provisions calling for sanctions on Chinese officials overseeing policy in Xinjiang and bars exports of surveillance gear that could be used to spy on citizens.
"We must tell the US side that Xinjiang affairs are purely China's internal affairs and that no foreign interference is allowed," the Chinese Foreign Ministry said in a statement, adding that the bill "deliberately smears China's counter-terrorism and de-extremization measures."
While Beijing's policies in Xinjiang have come under fire as excessive by some human rights advocates – namely placing hundreds of thousands of Uighurs in "reeducation camps" in hopes of discouraging radicalism – Chinese officials argue the measures are necessary to combat terrorism in the region. A UN General Assembly meeting in October underscored the international divide on the matter, with two camps issuing competing statements on the situation in Xinjiang, one defending China's policies there, the other condemning them.
The ministry also slammed Washington for what it called "double standards on counter-terrorism" – perhaps referring to the US's on-off policies of arming Islamist militants around the world – and said the Uighur bill would only further expose the government's "hypocrisy and sinister intentions."
According to the Communist Party-affiliated Global Times, Beijing is preparing to publish its "unreliable entity" blacklist in retaliation to the bill, which it has threatened to do since May, after Washington penalized Chinese tech giant Huawei. The blacklist is expected to include large American firms such as Apple, who would be barred from doing business in China. The country is also reportedly mulling visa restrictions for US officials.
https://www.rt.com/news/474961-china-slams-xinjiang-bill/
------
Skipping prayers is a personal matter, says lawyers group
December 4, 2019
PETALING JAYA: Rights group Lawyers for Liberty (LFL) today slammed the jail sentences and fines handed out to six people in Terengganu for skipping Friday prayers, saying it is a personal matter in which the state should not interfere.
"It is high time to reconsider the rationale of imposing a prison sentence and fine for the mere skipping of Friday prayers and similar offences," LFL legal coordinator Zaid Malek said in a statement.
"The alleged failure to attend Friday prayers is a personal matter which the state should neither govern nor interfere in."
The six individuals, including two teenagers, were sentenced to a month in prison and fined over RM2,000 each by the shariah court in Kuala Terengganu.
They were caught bathing at a popular picnic spot at the Sekayu waterfall in August in a case believed to be the first of its kind in Malaysia.
Zaid said while such acts might be considered improper by some in Muslim society, criminal punishment was excessive and not the way to address these issues.
He also contrasted it with a recent statement by Minister in the Prime Minister's Department Mujahid Yusof Rawa who said the government was reviewing the legal system with a view towards making penalties more rehabilitative than punitive.
"Islam is a religion of compassion, justice, mercy and moderation. In the spirit of these Islamic principles, we urge the minister to look into this matter and resolve it as soon as possible."
The Bar Council has also criticised the sentence as "harsh and excessive", with its president Abdul Fareed Abdul Gafoor saying that justice must be tempered with mercy.
https://www.freemalaysiatoday.com/category/nation/2019/12/04/skipping-prayers-is-a-personal-matter-says-lawyers-group/
------
Muslim World League Chief Tells Media To Present Islam's True Image
December 3, 2019
RIYADH — Secretary General of the Muslim World League (MWL) Sheikh Mohammed Al-Essa has emphasized the role of Muslims in general and the media and Islamic organizations in particular in presenting the true image of Islam and Muslims as well as in removing misgivings about Islam and confronting the ways of distorting its image. He also cautioned against some young men being lured into dangerous ideas that have nothing to do with Islam and Muslims.
The MWL chief made the remarks while addressing a session titled "Islamophobia: an intellectual crisis or media crisis" at the Saudi Media Forum, which began in Riyadh on Monday. He underscored the role of media in effectively confronting the phenomenon of Islamophobia, and its role in changing the stereotype image created by the hostile media under the guise of Islamophobia.
Al-Essa lauded the role of the Saudi Media Forum in dealing with various topics of importance in a professional and objective manner. "Islamophobia is a term that must be explored in all its details, starting with the causes, analysis and solutions, and comparing it with the controversies around it from all aspects," he said while pointing out that the negative effects of this term have increased with the presence of extremist and terrorist organizations and falsely linking them with Islam in addition to the lack of positive dialogue of Muslims with others.
"This gap has multiplied the negative effects of Islamophobia," he said. The MWL chief stressed the important and prominent role played by the media in confronting such challenges facing Islam and Muslims.
http://saudigazette.com.sa/article/584024/SAUDI-ARABIA/MWL-chief-tells-media-topresent-Islams-true-image
------
House Passes Bill To Sanction Chinese Officials For Crackdown On Muslim Minority
ByDarryl Coote
Dec. 3 (UPI) -- The U.S. House of Representatives overwhelmingly passed legislation Tuesday that would arm the president with the power to impose sanctions on Chinese government officials responsible for human rights crimes committed against the Asian nation's Muslim minority population.
The Uyghur Act of 2019 passed the House 407 to 1 in condemnation of the ongoing crackdown by China on its Muslim minority population in Xinjiang province where some 1 million Muslims are being held.
China has claimed they are being held in re-education camps designed to stamp out terrorism, separatism and extremism, but the United States says the camps are being used to "erase religious and ethnic identities.
According to a 2018 U.S. government report, the human rights abuses committed by China against its Muslim population include unlawful killings, forced disappearances, torture, arbitrary detention and severe restrictions of religious freedom, among a long list of other crimes.
RELATED Dow falls 280 after Trump says China trade deal may be delayed
The legislation calls on Chinese President Xi Jinping to close the detention camps and lift all restricts on human rights and for targeted sanctions be imposed against senior Chinese government officials responsible for committing the human rights abuses in Xinjiang province.
China said Wednesday it was "strongly indignant at and firmly opposed to" the legislation, accusing the United States of sowing discord to undermine China's growth.
"Xinjiang-related issues are not about human rights, ethnicity or religion, but about fighting violence, terrorism and separatism," Foreign Ministry Spokeswoman Hua Chunying said, adding that the U.S. bill violates international law and basic international relations norms.
"We urge the U.S. to correct its mistakes at once, prevent this bill from becoming law and stop using Xinjiang-related issues to interfere [with] China's internal affairs," she said. "China will take further reactions according to how the situation develops."
Sen. Marco Rubio, R-Fla., who introduced a similar bill in the Senate in January, said he applauds the House for taking "swift action" to pass this bill.
"The Chinese government and Communist Party is working to systematically wipe out cultural identities of Uyghurs and other Muslim minorities in Xinjiang," he said in a statement after the vote. "Today, Congress took another important step to hold Chinese officials accountable for egregious and ongoing human rights abuses committed against the Uyghurs."
The bill will have to be approved by the Senate before heading to President Donald Trump to sign, but it comes amid building tensions between the two countries.
On Monday, China ended all reviews of visits by U.S. military vessels and aircraft to Hong Kong and sanctioned several non-governmental organizations in retaliation for Trump signing into law the Hong Kong Human Rights and Democracy Act, which calls for yearly reviews to see if the embattled region warrants its special status under U.S. trade law and calls for sanctions be imposed against government officials for committing human rights abuses against protesters.
"With this legislation, Congress is taking the necessary and long-overdue steps to hold accountable officials in the Chinese government and Communist Party responsible for gross violations of human rights and possible crimes against humanity," said Sen. Bob Menendez, ranking member of the Senate Foreign Relations Committee. "Uyghurs deserve justice for the barbaric and abhorrent acts they have been forced to endure, and I am committed to working with my colleagues to get a final bill on the president's desk as quickly as we can."
https://www.upi.com/Top_News/US/2019/12/03/House-passes-bill-to-sanction-Chinese-officials-for-crackdown-on-Muslim-minority/5221575426926/?sl=1&ur3=1
------
Israel to UN: Jews forced out of Arab, Muslim lands should be seen as refugees
3 December 2019
UNITED NATIONS — Israel wants the United Nations to recognize as refugees hundreds of thousands of Jews who fled Arab and Muslim countries in the last century, its UN envoy said Tuesday.
Ambassador Danny Danon told the UN General Assembly that he plans to propose a resolution about what he called "the 'forgotten' Jewish refugees" to counter what Israel sees as a one-sided focus on Palestinian refugees.
"We don't hear the international community speak of them when they discuss the refugees of the conflict, perhaps because it doesn't serve the Palestinian narrative," Danon said.
Get The Times of Israel's Daily Edition by email and never miss our top storiesFREE SIGN UP
He didn't detail his planned resolution, except to say that it would "acknowledge the wrong done" to the Jews in question and "make right the injustice that they suffered."
A Yemenite Jewish family travels to a refugee camp set up by the Joint Distribution Committee near Aden. (GPO/Public domain)
There was no immediate response from the Palestinian Authority mission to his remarks. Earlier Tuesday, PA Ambassador Riyad Mansour reiterated appeals for humanitarian aid for Palestinian refugees and their descendants.
Danon's remarks came as the assembly weighed a draft resolution reiterating a roster of longstanding positions on the Israeli-Palestinian issue. The proposed measure includes calls for continued humanitarian and economic aid to the Palestinians and a stop to Israeli settlement of areas it captured in the 1967 Six Day War — a stance given new resonance by the recent US announcement that it no longer believes the settlements violate international law.
Danon said an estimated 850,000 Jews were forced out of Iraq, Egypt, Morocco, Iran, and many other countries during the 20th century after enduring violence and persecution. Many fled to the new State of Israel after the war surrounding its creation in 1948.
Israel's Ambassador Danny Danon speaks in the Security Council, at United Nations headquarters, Monday, April 29, 2019. (AP Photo/Richard Drew)
The uprooted Jews were absorbed in Israel, where their descendants now make up about half the country's Jewish population.
Meanwhile, an estimated 700,000 Palestinians fled or were forced from their homes during the war.
A UN agency still exists to assist them and their descendants — all told, about 5.5 million people — in the West Bank, Gaza Strip, Jordan, Syria and Lebanon.
The Palestinians and the UN see its Relief and Works Agency (UNRWA) as a lifeline for impoverished people with no state of their own. International support for it is "an indispensable source of hope and stability until a just solution for the Palestine refugees is realized," Mansour told the General Assembly on Tuesday.
Israel and the United States, however, have lambasted UNRWA as anti-Israel and badly run, accusing it of perpetuating the conflict by not resettling refugees in other countries and recognizing all descendants of refugees as refugees, causing their number to swell. The US cut its funding for the agency from $360 million in 2017 to $60 million in 2018 and nothing this year, calling the agency "irredeemably flawed."
Recognizing the uprooted Jews as refugees may be largely a symbolic gesture, but it reflects Israel's determination to highlight what it considers to be years of pro-Palestinian bias at the UN.
The Israeli request came as the General Assembly considered a resolution reiterating a roster of longstanding positions on the Israeli-Palestinian issue, including the need for "an immediate halt to all settlement activities."
Hundreds of thousands of Jews live in West Bank settlements and East Jerusalem neighborhoods built since the 1967 war, areas that Israel captured from Jordan in 1967 and that the Palestinians claim for their future state.
The UN and the Palestinians say the settlements are illegal and undermine hopes for the long-discussed two-state solution to the Israeli-Palestinian conflict. In 2016, a UN Security Council resolution called the settlements "a flagrant violation under international law."
Israel, however, maintains that the West Bank is not an occupied territory but rather disputed land that was captured from Jordan in a defensive war in 1967, after 19 years in which Amman did not annex the territory but also didn't hand it to the Palestinians.
The US announcement last month upended a four-decade-old State Department legal opinion and subsequent years of carefully calibrated US opposition to settlement construction.
Israeli leaders welcomed the US decision. Palestinians bitterly protested it.
https://www.timesofisrael.com/israel-to-un-jews-forced-out-of-arab-muslim-lands-should-be-seen-as-refugees/
------
Open and Unashamed Racism of Brexit Party Candidate Said 'Islam Is the Problem' and World Will Never Be Safe 'Until We Destroy Them'
ByJonathan Walker
3 DEC 2019
The Brexit Party candidate for Birmingham Ladywood, Andrew Garcarz, has been accused of spreading Islamophobic and anti-Semitic views on social media.
Screenshots obtained by anti-racist campaigners Hope not Hate and seen by Birmingham Live show he claimed "Islam is the problem here" in a post about terrorism.
Comparing Islamist terrorism to terrorism carried out by the IRA, he said four years ago: "Catholicism whilst a brainwashing cult does not advocate the extermination of non Catholics. Islam is the problem here. And until we destroy them the world will never be a safe place".
In an August 2018 post complaining about white people being accused of racism, he said: "You mug us, carjack us, groom and rape our children. But, when white police officers arrest a black gang member, an Asian drug dealer or an Asian grooming gang that represents a threat to our society, you call them racist."
He also promoted a conspiracy theory known as the Coudenhove-Kalegri plan, which claims there is a secret plot to destroy the white race in Europe through immigration, leading to a Europe that is dominated by Jews.
In a Facebook post from June 2016, Mr Garcarz said: "The residents of the future 'United States of Europe' will not be the People of the Old Continent but a kind of sub-humans, products of miscegenation".
Miscegenation refers to different racial groups mixing and having children. It is a word that is no longer commonly used in the UK.
Mr Garcarz went on to explain that the Coudenhove-Kalegri plan is designed to create people "easily controlled by the ruling elite". Jews had become "the spiritual nobility of Europe", he said.
Count Richard von Coudenhove-Kalergi was a supporter of European integration who wrote a book about the subject in 1923 and created a body called the International Paneuropean Union.
Speaking to Birmingham Live, Mr Garcarz said: "It was an article that I read which was referring to an organisation set up by Coudenhove-Kalegri.
"The only reason I referred to it was because it could be likened to the EU immigration rules that were encouraging people from all over the world to come into the European Union. There was a similarity between what Kalegri was saying in his outline for a pan-European society and an equivalence with the European Union.
"I didn't endorse it, I don't condone it. I think some of the comments Kalegri made that are potentially anti-Semitic I disagree with entirely. I was highlighting the fact that there was a similarity not that I supported it or that I agreed with it.
"It is a non-story, When you put yourself up for election there are people who will trawl back tears and years and look for the most obscure thing and try to make a story about it."
Asked about the comment about Islam and terrorism, he said: "I have no recollection of that at all."
Asked about his comment about racism, he said: "It was probably a response to something on Facebook that - I expressed an opinion that it's okay for Scots to be out proud and patriotic, it's okay for Welsh people. But when we try to be patriotic as English people we are called racist."
Birmingham Live has also invited the Brexit Party's official spokesman to comment.
A Hope not Hate spokesperson said: "Only Nigel Farage would put forward as prejudiced an individual as Andrew Garcarz to be a Brexit Party candidate in one of the most diverse and multicultural cities in the country.
"This is open and unashamed racism. It shows exactly how arrogant they are and how little respect they have for the people of Birmingham, that they would think this is someone fit to represent the city in Parliament.
"There is absolutely no question that Andrew Garcarz must be withdrawn as a candidate immediately and serious questions asked of Nigel Farage. Yet again the dangerous and divisive Brexit Party has shown it doesn't deserve anyone's vote on December 12th."
https://www.birminghammail.co.uk/news/midlands-news/brexit-party-candidate-said-islam-17355454
------
India
Amit Shah's Announcement of NRC Keeps Karnataka Muslims on Toes
Akram Mohammed
DEC 04 2019
Union Home Minister Amit Shah's announcement that the National Register of Citizens (NRC) will be implemented across the country before 2024 has left the 75 lakh-strong Muslim community in the state anxious.
Several Jama'at — communities affiliated to a particular mosque — are on their toes, compiling the list of residents and their legacy documents, a day after Shah said that all infiltrators will be expelled before the next general elections. Read mo...
The Karnataka State Board of Waqfs (KSBW), too, has stepped in by instructing district wakf units to ensure that local mosques compile citizenship documents of its residents. The measure, according to sources, is meant to assist illiterate families i...
The Muslim community has been particularly anxious after Shah made a statement that "Hindu, Sikh, Jain, Buddhist and Christian refugees will not be forced to leave India."
After the NRC exercise in Assam, 19 lakh people — mostly Muslims — were declared as "illegal" settlers.
U Hasanabba, president of Charmady mosque committee in Dakshina Kannada district, said that though none of the residents in the community was from "outside", measures were being taken to compile the documents of everyone affiliated to the jama'at.
"Several mosques in the district have started gathering documents of families. We will hold a meeting after Friday prayers and decide on a similar course of action," he said. Read more at: https://www.deccanherald.com/state/karnataka-politics/amit-...
In Bengaluru, the Hajee Sir Ismail Sait Masjid has started issuing NRC forms to the residents. An announcement to this effect was made on Tuesday. Duly filled forms are to be submitted at the mosque itself (a phone number has been given for FAQs). Vo...
Besides, Citizen Service Centres were opened at Jamia Masjid, KR Market and two other mosques in October. While the stated objective of the exercise was to correct identity and address documents, it came against the backdrop of Shah's earlier asserti...
Maulana Mohammed Maqsood Imran Rashadi, the imam of Jamia Masjid, said they weren't worried about the NRC. "An overwhelming majority of Muslims in South India have been living here for centuries. We just want to ensure that poor and illiterate Muslim...
https://www.deccanherald.com/state/karnataka-politics/amit-shah-keeps-karnataka-muslims-on-toes-782354.html
------
Muslim Prof appointment row: BHU students resume protest, lock staff building
December 4, 2019
Unsatisfied with the BHU administration's reply regarding the objections raised over appointment of Dr Firoze Khan in the Sanskrit Vidya Dharam Vigyan (SVDV) faculty, the students resumed their protest over the issue on Monday and also put a lock outside the faculty building.
Earlier, the students of the faculty had protested outside the residence of BHU Vice-Chancellor (V-C) for 15 days and announced ending the protest on November 22, after the administration assured them to give answers to all their queries. The students, however, continued to boycott classes.
"We have resumed our sit-in protest and have locked the faculty building. The answers given by the administration are far from satisfactory. The answers are not connected to what we asked. We have a simple demand — let the professor (Khan) teach in any faculty of the university other than SVDV. We are not going to let the administration ignore our demand anymore. Some administrative meetings will be held in the university and we are waiting for them to present their side. If our demands are not met, then we will plan something bigger," said Shashikant Mishra, SVDV PhD student and one of those leading the protest.
Other than the SVDV faculty, Khan has also applied in the Faculty of Arts and the Faculty of Ayurveda. While he had recently appeared in an interview for the Samhita and Sanskrit Department of Ayurveda faculty, another interview for the Sanskrit Department of Arts faculty is scheduled on Wednesday.
"As Khan has applied in the Ayurveda as well as the Arts faculty, we are not going to put any pressure. It is better if he teaches in any of these faculties. There is no doubt that he is a learned man and has the right to teach, but being a non-Hindu he cannot teach in the SVDV faculty," said Mishra.
Earlier, the students had given a list of five questions to the administration, which included "if the shortlisting and appointment process in the Samhita Department was similar to other departments, if the process followed the rules of Sanatan Dharam as per the SVDV tradition, and if the rules of UGC and BHU Act of 1904, 1906, 1915, 1951, 1966 and 1969 were followed".
In its reply, the administration has said the shortlisting and appointment in the university were completed as per the present BHU Act and the UGC (Minimum Qualifications for Appointment of Teachers and other Academic Staff in Universities and Colleges and other Measures for the Maintenance of Standards in Higher Education) Regulations, 2018.
In a fresh set of questions, the students have now asked the administration to provide documents to support their answers and give details about when and how a change in SVDV Special Act was made.
University Chief Proctor O P Rai said the administration was talking to the students.
https://indianexpress.com/article/india/muslim-prof-appointment-row-bhu-students-resume-protest-lock-staff-building-6149588/
------
Muslim Parties Split On Dhavan, AIMPLB Wants Him For Review
Dec 4, 2019
NEW DELHI: On a day Rajiv Dhavan went public over his "sacking" as counsel of the Arshad Madani-led faction of Jamiat Ulama-i-Hind, he received support from another Muslim body — All India Muslim Personal Law Board — which said the senior advocate would "lead" them in the their review petition against the Supreme Court verdict on Ayodhya issue.
The development brought out the divide among the Muslim groups over the decision to go for review of the judgement of the apex court. JUH's stand to drop Dhavan as their lawyer and the decision to independently file a review petition on Monday shocked many in AIMPLB which had JUH by its side at the working committee meeting in Lucknow where a decision to go for a review was taken.
Dhavan's dropping is being attributed by some to an attempt by the Arshad Madani-led outfit to scale down defence as it was never keen on a review and only agreed later after a strong nudge from JUH. The senior advocate has been associated with the case since 1993.
One of the main parties in the case, UP Central Sunni Waqf Board, had already made it clear that they would not file any review petition. A prominent member of AIMPLB, Kamal Faruqui said the JUH's decision has shocked him and described the Arshad Madani faction's decision as "unfortunate". In a statement, AIMPLB said, "The contribution of Dr Rajiv Dhavan in Babri Masjid /Ram Janmbhumi title suit is praiseworthy." "The community shall always be indebted to him and shall be there to assist him in the case," it stated. The Board in its statement listed the names of the team of lawyers who are drafting the review petition "which will be settled by advocate Rajiv Dhavan".
"We are thankful to Rajiv Dhavan who represented us in the #BabriMasjidCase with courage honesty and sincerity in spite of threats against him. We are ready to file the review petition and he will lead us," AIMPLB general secretary Maulana Wali Rahmani tweeted.
Sources said Dhavan had earlier met Jamiat members and lawyers twice in Delhi to hammer out the review plea. Elements of the draft, which had Dhavan's sanction, were not incorporated in the final review plea, they said
https://timesofindia.indiatimes.com/india/muslim-parties-split-on-dhavan-aimplb-wants-him-for-review/articleshow/72357838.cms
------
Ordinary Muslims ready to accept Babri ruling, but who's listening?
javed anand
Dec 4, 2019
The high priests of Indian Islam have decided to file a review petition challenging the recent decision of the apex court in the Ayodhya land dispute. In his recent column on these pages ('Ayodhya: Seek compromise, don't stoke fires', Nov. 22) Saeed Naqvi indicated that a pollster is planning an opinion poll among Indian Muslims on where they stand on the mandir-masjid row. That, I think, is a splendid idea. Leaders don't think they ever need to consult the led: the shepherd must herd his flock and that's that. So the outcome of the opinion poll may leave the self-proclaimed custodians of faith unmoved. But it could be an eye-opener for the rest of us. While we await the results of such a poll, for a foretaste of what the opinion seekers might find, here read the responses of three Muslims from three different districts of Maharashtra.
Meet Akbar Shaikh, a small farmer, author, poet and social activist from Ujni village in Madha taluka, Solapur. Asked what he thought of the proposed review petition, pat came the response: "Woh kahte hain masjid bachao, mai kehta hoon Musalman bachao" (They say save the mosque, I say save the Muslims). He proceeded to add: "Hamare jaise naujawan Musalman apne paas ki masjid to jaate nahin; phir hajaar meel door Ayodhya ki masjid ko bachane ki kisko padi hai? Hamare asli sawaalon par koyee kyon nahin jor deta? (Young Muslims like me do not even frequent our neighbourhood mosque; why on earth should we be worrying about a mosque a thousand miles away? Why doesn't anyone focus on what our real issues are?)"
Meet political activist Khalil Deshmukh, a native of Lasgaon village, Pachora taluka, Jalgaon. About 25 per cent of the population in this Hindu-majority village is Muslim. When the first gram panchayat was set up in Lasgaon in the 1950s, Khalil's father, Dada Miyan Deshmukh was elected the sarpanch and he stayed in that post for 12 uninterrupted years. Years later, Khalil was sarpanch for 10 long years. Even today, the Lasgaon village credit society is run by a team that looks up to Khalil for inspiration and direction.
Does Lasgaon not have a Hindu-Muslim, mandir-masjid problem? "It's not just my village, inter-community relations continue to be cordial in our part of the world", says Khalil, "It's all a question of how we deal with issues as they arise."
By way of illustration, he cites an example from the time when he was sarpanch. In Lasangaon the gram panchayat office, an Urdu medium school and a small Maruti temple had stood cheek by jowl. In the late 1980s, Hindus demanded more space for a grander temple. "As sarpanch, I fully supported the demand. The gram panchayat office and the Urdu medium school were relocated and the whole issue was amicably resolved," Khalil recalls.
What does he think of the proposed review petition? Khalil: "Muslims must gracefully accept the verdict of the Supreme Court. Whether we agree with the judgment or not, we should desist from doing anything to vitiate the atmosphere. We should treat this issue as a closed chapter and concentrate on issues of peace and progress, for the community and the country."
Meet Halim Siddiqui, social activist and editor of Bedari, a monthly Urdu magazine published from Malegaon, a Muslim-majority textile town in north Maharashtra. A soft-spoken person, he normally measures his words. But ask him what he thinks about the review petition and he erupts.
"Review se kya nikle ga? Bus itna hi na ki hamare ulema aur digar Muslim leadron ki dukaan kuch aur saal chamkegi? Yeh sab hawayee jahaz se hawa mein udenge, taqreer jhadenge. Inke liye shahar shahar mein shandaar dawatein sajengee. Babri Masjid to wapas banne se rahi, kya mile ga aam Musalman ko is review se? (What will the review achieve? Except that it will keep our ulema and other leaders in the limelight for some more years? They will fly around from city to city, deliver stirring speeches, feast on lavish spreads arranged in their honour. Forget the Babri mosque ever being rebuilt, what will the common Muslim gain from this review?)"
While the Babri mosque in Ayodhya remains among the top priorities of the ulema and leaders such as Asaduddin Owaisi, what continues to agonise Halim is the status of the Muslims of that temple town. Since the mosque's demolition in 1992, he has made three trips there, the last being two years ago. The purpose of his visit each time was the same: to talk to as many as he can, to understand their situation and to enquire if the national leadership which is so concerned with the mosque also ever thinks of the Muslims of Ayodhya. "Except for Zafaryab Jilani who has been there once or twice, no religious or political leader has ever thought it fit to visit Ayodhya and meet those they claim to lead," laments Halim.
Here is how he began an article he wrote in Bedari, following his last trip to Ayodhya in 2017: "In Ayodhya there is no Muslim doctor, no lawyer, no engineer, no teacher. Muslims there do not have a single school or college of their own. There's not even a madarsa, no Muslim organisation, no businessman, no organisation for the welfare of the community worth mention... Such is the fate of Ayodhya's Muslims 25 years after the demolition."
The article notes that survival for a large number of Muslim families depends on the flower garlands the women make daily, for the Hindu pilgrims to offer to the gods at the over one thousand temples in Ayodhya. It also talks of the many mosques in the town which are routinely short of namaazis. And several others where no namaaz is offered post sunset as the local Muslims cannot afford to pay electricity bills.
For the Muslim leadership, the demolished Babri Masjid remains a national concern. As for the Muslims of Ayodhya, who cares?
http://www.asianage.com/opinion/oped/041219/ordinary-muslims-ready-to-accept-babri-ruling-but-whos-listening.html
------
Hyderabad: Muslim groups sore as cops refuse them meeting permit
Dec 4, 2019
Hyderabad: While allowing Majlis-e-Ittehadul Muslimeen to organise a protest meet against Babri Masjid demolition, police refused permission to Tahreek Muslim Shabban for the same on grounds that it could lead to a law and order issue.
As a result, while the MIM meet was held on an open ground on Sunday, the meeting of TMS had to be organised indoors. Still, the TMS meet saw 50 policemen and intelligence officers turning up outside the Tahreek's office in Chaderghat wanting to know what was being discussed.
TMS president Mohammed Mustaq Mallik said, "We had applied for permission for an outdoor meeting. But the police denied it stating permission cannot be granted. I am being told this every time I want to arrange a meeting of religious scholars to debate an issue, whether triple talaq, National Register of Citizens and now Babri Masjid."
Incidentally, police had also denied permission to non-government organisations, small political outfits and religious bodies of Old City to hold meetings.
Earlier too, police had denied permission at the last minute to TMS for a public meeting on October 19-20, though its president approached home minister Mahmood Ali for the purpose. Mallik then approached the High Court, which allowed an indoor meeting comprising about 200 people.
Social activist and YouTuber Wali Rahmani and personality development trainer Munawar Zaman were also not allowed to address an indoor meeting in August on grounds of security, even though it was a personality development programme.
Amjedullah Khan of Majlis Bachao Tehreek said, "Our contention is why only one political party is being allowed to make statements, conduct conferences and talk about issues facing the community.
There are many others who want to express their views. But in the name of law and order, police are not allowing us. If we are not allowed, then others also must not be allowed," the MBT leader remarked.
According to sources, permission for the MIM protest meet was not to be given. But as there were last-minute requests, permission had to be granted.
Others state that they too have approached home minister Mahmood Ali from time to time. Though he assured support, his word had not been kept. "Why is that so," one of them asked.
https://www.deccanchronicle.com/nation/current-affairs/041219/hyderabad-muslim-groups-sore-as-cops-refuse-them-meeting-permit.html
------
Inspection visits to Ayodhya site stopped after SC verdict, Muslim litigants complain
03rd December 2019
AYODHYA: Three Muslim litigants have a complaint about being stopped from carrying out the fortnightly inspections of the Ranjanmabhoomi-Babri Masjid site, a practice followed till the Supreme Court delivered its verdict on the Ayodhya dispute.
Mufti Hizbullah told PTI that he has lodged a complaint with the Supreme Court and local authorities, saying the visits have been stopped without any court order.
Iqbal Ansari and Mohammad Umar were also not allowed to visit the site.
The visits earlier carried out by litigants from both the Hindu and the Muslim sides, Archaeological Survey of India representatives, court-appointed observers and other officials were meant to ensure that no changes were made at the disputed site.
Ayodhya's Additional District Magistrate P D Gupta told PTI that there was no need for the inspection of the status quo, now that the Supreme Court has delivered its verdict.
Under the verdict, the site has to be handed over to a trust, he said.
On November 9, a five-bench of the apex court directed that the site should be handed over to a government-appointed trust to construct a Ram temple and an alternative five-acre plot allotted for building a mosque to replace the one demolished in 1992.
Muslim litigants who visited the Ayodhya site on November 17 and December 1 said they were given access only to Manas Bhawan, the administrative building there.
The fortnightly inspections to confirm status quo were ordered by the High Court, and later by the Supreme Court, after the ASI completed its excavation at the site in 2003.
The court had directed that the inspections should be done under the supervision of two senior judges as observers.
Muslim litigants Mufti Hizbullah and Iqbal Ansari visited the site on November 17 but were denied entry.
On December 1, Hizbullah and Mohammad Umar were similarly stopped.
No Hindu litigant has visited the site for the inspections after the verdict, reports said.
Mufti Hizbullah said he has lodged complaints with the Supreme Court, the observers and the Ayodhya commissioner, claiming there are no court orders to stop their entry.
Iqbal Ansari and Mohammad Umar said they were given access only to administrative building.
The divisional commissioner was the 'receiver' or the 'authorised person' for the site.
When contacted, Ayodhya Commissioner M P Agrawal said, "I have just joined the post of Commissioner, so I have no idea about it."
https://www.newindianexpress.com/nation/2019/dec/03/inspection-visits-to-ayodhya-site-stopped-after-sc-verdict-muslim-litigants-complain-2070949.html
------
Pakistan
Memories of Babri Mosque demolition haunt Pakistani Hindus
03.12.2019
Aamir Latif
KARACHI, Pakistan
Jawaharlal Advani, a Hindu residing in Pakistan's commercial capital Karachi, has vivid memories of Dec. 6, 1992, when a charged Muslim mob, calling for revenge, was marching towards country's famous Shri Swami Narayan temple.
The mob was in a fit of rage after a Hindu mob had demolished the 16th-century Babri Mosque, in nearby India.
Advani together with other staff and worshipers at the temple were not sure about their fate.
"It was a horrific scene. Thousands of charged people were trying to enter the temple premises. But Thanks to the army and local Muslim community that helped and held them off," Advani told Anadolu Agency.
He added: "No damage to life or temple's infrastructure occurred due to the army's swift action."
In Pakistan some 30 temples were attacked, 25 of them across the southern province of Sindh, where 85% of the Hindus in Pakistan live. Since then all these temples have been either rebuilt or repaired.
In India, then Prime Minister P. V. Narasimha Rao had also pledged to rebuild the Babri Mosque, in a televised address to the nation. Hotwani, no longer foresees any violent reaction from Pakistani Muslims on the 28th anniversary of the demolition of Babri Mosque on Dec. 6. But he had feared recurrence of riots on Nov. 19, when Indian Supreme Court handed over the site of Babri Mosque to Hindus.
On Nov 19, Ram Nath Maharaj had arrived at the Shri Panchmukhi Hanuman temple in Karachi to oversee preparations for routine Saturday prayers.
"I was fearing similar riots, imagining angry mobs attacking the temples, and beating us up. I kept praying and making calls to my family members and friends to be careful, and do not come out of homes. But thank God, nothing like that happened," he said.
Before he entered the premises, he noticed the deployment of extraordinary security around the temple.
Maharaj, the caretaker of the 1,500-year-old temple, entered the premises and started to prepare for the prayers.
But shortly afterward, he came to know that the Indian Supreme Court had handed the site of the historic mosque to Hindus for the construction of a temple.
"It came like a bombshell to me as I was away from television for the last few days due to some special prayers. It just reminded me of the grim memories of 1992 when Babri Mosque was demolished triggering violence against Hindus here," Maharaj 45, who with his Muslim and Christian friends took part in relief activities for those affected by the riots, told Anadolu Agency.
Hindu nationalists gathered at the disputed site on Dec. 6, 1992, and destroyed the mosque named after Mughal Emperor Babur. Around 2,000 mostly Muslims were killed in communal riots across India.
"Not even a single temple or Hindu was attacked after the Indian Supreme Court's verdict. Thanks to local (Muslim) community, law enforcing agencies, and on top of all, the religious leadership, that did not exploit the judgment to incite Muslims against Hindus," he added.
Hindus, the largest minority in Pakistan, make up 3% of the country's more than 200 million population.
Pakistan is home to several sites revered by Hindus. The Katas Raj temple in northeastern Chakwal district and Sadhu Bela temple in southern Sukkur district are the two most visited rites by Hindus across the world.
According to local media, the government plans to reclaim and restore 400 temples, which have been illegally occupied by land grabbers, to Hindus across the country.
"If I compare the two situations, there is simply no comparison. In 1992, there were riots, fear and bloodshed but in 2019, there is nothing like that," said Maharaj.
No more violence
Hotwani, said that things have gradually changed in the past 28 years in Pakistan.
"Increasing literacy compounded by the government and media role, have made even many of those who were involved in violence [against Hindus] in 1992, that this [violence] is not in favor of Pakistani society," Hotwani, a former judge, told Anadolu Agency.
"We are carrying out our routine activities without fearing any reaction on Dec 6," he said sitting in his small office adjacent to the temple, which was attacked in 1992.
Contrary to other Hindus, Hotwani did not bother about security on Nov. 9.
"I did not even request security. However, the police beefed up security around the temple at their own to avert any untoward incident."
Advani, a member of the temple's managing committee, said it would be unjust not to mention local Muslims, who thwarted attacks and ensured safety of Hindus.
"They (Muslims) offered us their houses to take shelter. Even, their women came up to save our women," he said.
Babri Mosque dispute
The Babri Mosque is said to have been built by Mughal Emperor Babur in 1528.
In 1885, a Hindu religious body filed a case in Faizabad court asking for permission to construct a temple to honor Ram on the premises of the Babri Mosque. The permission was denied.
In 1949, a group of Hindus entered the premises of the mosque and installed an idol of Ram. Instead of removing the idol, the administration locked the mosque. However, an official and a Hindu priest were given charge to look after the place.
In 1986, the district administration of Faizabad, under which Ayodhya city comes, opened the premises to Hindus, allowing them to carry out rituals.
The situation remained calm until December 1992, when thousands of activists belonging to extremist Hindu groups and political parties along with BJP leaders entered Babri Mosque and demolished it.
The case over the dispute had been languishing in India's legal system for years without a final outcome. The Indian Supreme Court finally delivered a judgment Nov. 9 on the ownership of the site.
https://www.aa.com.tr/en/asia-pacific/memories-of-babri-mosque-demolition-haunt-pakistani-hindus/1662472
------
Pakistan supports KL summit aimed at Muslim nations' socio-economic uplift: FM
December 3, 2019
DOHA, Dec 3 (APP):Foreign Minister Shah Mehmood Qureshi on Tuesday said Pakistan fully supported the Kuala Lumpur Summit, an initiative of Malaysian Prime Minister Dr Mahathir Mohammad, bringing together five Muslim nations to achieve socio-economic development.
Addressing at the second Kuala Lumpur Summit Ministerial Meeting held in Qatar's capital, the Foreign Minister said the challenges of governance, development, climate change, terrorism and rising Islamophobia, warranted an integrated and comprehensive response.
Muslim countries including Pakistan, Indonesia, Turkey and Qatar on the call of host Malaysia are participating in the ministerial meeting in Doha, prior to the main Summit to be held in Kuala Lumpur from December 18 to 21.
The seven areas of focus include development and sovereignty; integrity and good governance; culture and identity; justice and freedom; peace, security and defence, trade and investment and technology and Internet governance.
The Foreign Minister said with juggernaut of globalization causing a civilizational and cultural erosion, it was imperative for the Muslim world to tread a cautious path.
"We must not only make sure that we are not left behind but are able to preserve our unique civilizational identity, cultural personality and national sovereignty," he said.
Qureshi said Indonesia, Malaysia, Pakistan, Qatar, Iran and Turkey collectively accounted for about 50 percent of the total GDP, 37 percent each of natural gas production and population, and 18 percent of the total area of Muslim world.
He said for the nations, situated in close proximity to the strategic maritime points of the world – namely the Straits of Malacca, Gulf of Oman, Strait of Hormuz, and the Bosphorus, there existed an immense potential for collective development and shared prosperity.
"We must have the requisite political and diplomatic space to enhance beneficial cooperation among us for socio-economic development," he said.
The Foreign Minister said Pakistan was working on proposals for cooperation within the KL Summit framework in the fields of trade, tourism, Islamic banking, food security, higher education, science and technology, and women empowerment.
While charting the future course of KL Summit or 'Perdana Dialogue for Civilization', he said there was a need to be mindful of the perceptions and perspectives of the partners inside and outside of the Muslim world.
He endorsed the statement of Malaysian Prime Minister Dr Mahathir that "we are not here to challenge any existing organization or directing our cooperation against any third party."
The 'Perdana Dialogue', he said would not just be a think-tank or a forum for discussions, but would also allow the participating countries to undertake concrete projects for collaboration.
He expressed the confidence that sharing of experiences, knowledge and resources would help the participating counties in achieving the targets of socio-economic and cultural development, driven by innovation and technology in a peaceful and secure environment.
"We have to create a knowledge-seeking culture for our youth, who are going to be the future leaders, at all levels," he added.
https://www.app.com.pk/
------
US welcomes Moody's upgrade in Pakistan's credit outlook
December 04, 2019
Crediting the finance ministry's reform efforts and the International Monetary Fund (IMF) programme, the in-charge of South Asia affairs at the US State Department, Alice Wells, on Wednesday welcomed Moody's revision in Pakistan's credit outlook.
In a tweet shared by the State Department, Acting Assistant Secretary for South and Central Asia Wells added: "With bold economic reforms, Pakistan can boost growth, attract private capital, and expand exports."
New York-based credit rating agency Moody's on Monday raised Pakistan's economic outlook from negative to stable on the back of the country's reforms supported by an IMF programme, but kept its credit rating unchanged at B3.
The ratings firm said improvements in the balance of payments was a primary driver of the rating action, but added that foreign exchange buffers would still take time to rebuild.
The upgrade was welcomed by the Ministry of Finance, which attributed the development to an "improvement in the balance of payments position, supported by policy adjustments and currency flexibility".
Addressing a press conference on Tuesday, Adviser to the Prime Minister on Finance Dr Abdul Hafeez Sheikh said: "This report has shown the world that the reforms brought about by Pakistan in its economy are being appreciated by the world's leading financial institutions."
Moody's had in June last year lowered Pakistan's outlook to negative from stable owing to erosion in foreign exchange buffers due to heightened external pressures.
Its representatives had visited Islamabad on November 27 and noted that Pakistan's economic fundamentals, including its economic strength and susceptibility to event risks, had not materially changed even though institutional strength had increased and financial strength decreased.
https://www.dawn.com/news/1520387/us-welcomes-moodys-upgrade-in-pakistans-credit-outlook
------
Recovery of £190m from Malik Riaz tops cabinet discussion
December 04, 2019
ISLAMABAD: The federal cabinet on Tuesday held a threadbare discussion on recovery of 190 million pounds by the United Kingdom's National Crime Agency (NCA) from real estate tycoon Malik Riaz's family and handing it over to Pakistan.
A source, who attended the meeting, told Dawn on condition of anonymity that the prime minister discussed the matter with some cabinet members when officials of Prime Minister Secretariat and other ministries had left the meeting hall.
According to a press release issued by the PM Office, the Assets Recovery Unit (ARU) facilitated the repatriation of 190 million pounds (approximately $250m) through a settlement.
The UK's National Crime Agency has agreed to an out-of-court settlement in a pending investigation with a Pakistani family that owns large property developments in Pakistan and elsewhere. The NCA also agreed on immediate repatriation of funds to the state of Pakistan, it added.
PM's aide reluctant to share details of case due to some conditions in the 'settlement'
"The 190 million pounds settlement is the result of an investigation by the NCA into Malik Riaz Hussain, a Pakistani national, whose business is one of the biggest private sector employers in Pakistan and the settlement is a civil matter and does not represent a finding of guilt," it said.
The source claimed that in fact the NCA had initiated investigation against Malik Riaz on a complaint of the Pakistan Tehreek-i-Insaf government as the latter believed that the money had been laundered by a Pakistan Muslim League-Nawaz (PML-N) leader in the UK.
When contacted, Special Assistant to the PM on Accountability Shahzad Akbar expressed reluctance to share details of the case due to some conditions in the "settlement".
"We had two options; either to pursue the case, which sometimes lingers on for over five years, or go into the settlement to get the money back," he added. Asked if the money would be given to the Supreme Court as claimed by Malik Riaz, Mr Akbar said "no comments".
"It is not important how the money had been laundered, the important [thing] is that we have managed to get it recovered," he said, adding that it was the first case in the country's history that the national wealth stashed abroad had been recovered.
The government did not share details of the case with the media because such revelation could hamper the trust of international agencies which also desired for some 'confidentialities' in such settlements.
"We have also taken up such recovery cases with some other international agencies and, therefore, we are very careful," Mr Akbar said.
In August, Mr Akbar said that eight account freezing orders were secured at Westminster Magistrates' Court in connection with funds totalling around 120m pounds. These followed an earlier freezing order in December 2018 linked to the same investigation for 20m pounds. All of these account freezing orders relate to the money held in UK bank accounts. The proceedings were against the funds themselves, and not against any individual.
The settlement includes a UK property located at 1 Hyde Park Place in central London which was previously owned by Hassan Nawaz, the son of former prime minister Nawaz Sharif, and was sold to the Malik Riaz family in March 2016. As per the agreement between the parties, further details of the settlement are confidential.
The repatriation of funds is the result of an out-of-court settlement in a civil matter and is a success story of close cooperation between the UK's and Pakistan's law enforcement agencies and efforts made since the creation last year of Justice and Accountability Partnership between the two countries.
The Assets Recovery Unit was constituted in September 2018 following the recommendation by the Task Force on Recovery of Unlawfully Acquired Assets Abroad, which was formed in August 2018.
https://www.dawn.com/news/1520309/recovery-of-190m-from-malik-riaz-tops-cabinet-discussion
------
Bilawal visits Dawn offices, condemns besieging of staffers
December 04, 2019
ISLAMABAD: Pakistan People's Party (PPP) Chairman Bilawal Bhutto-Zardari on Tuesday visited Dawn offices in Islamabad to express solidarity with its staffers who remained "under siege" of a mob on Monday.
A few dozen unidentified people staged a protest outside the Dawn offices over publication of a news report regarding the ethnicity of the London Bridge attacker who stabbed two persons to death last week.
On Tuesday, a similar protest was organised by Tehreek Tahaffuz-i-Pakistan Movement outside Karachi Press Club in which the participants chanted slogans against the newspaper.
Bilawal Bhutto-Zardari, who was accompanied by party leaders Farhatullah Babar, Nayyar Hussain Bukhari and Faisal Karim Kundi, met Dawn's Resident Editor Fahd Husain and DawnNews Bureau Chief Iftikhar Sherazi.
He condemned besieging of the Dawn offices and said it was an attempt to pressuring media.
"Media organisations are being threatened but we will not allow anyone to curb freedom of press," said Mr Zardari, who is also National Assembly Standing Committee on Human Rights chairman.
Expressing solidarity with Dawn and the journalist community, Mr Bhutto-Zardari said media environment was becoming hostile and PPP stood with Dawn at this time and wants to work in tackling this environment.
"There are various journalistic standards all over the world, but it's the responsibility of governments to ensure freedom of press," he said.
"It is a black day in the history of the country that Dawn offices have been attacked in the capital in such a manner," he added.
Meanwhile, Pakistan Federal Union of Journalists-Afzal Butt Group (PFUJ) Secretary General Nasir Zaidi along with other union members visited the offices of the newspaper.
"We will not allow any attempt to sabotage press freedom. We have decided to gather outside Dawn building in Islamabad on Thursday to give a message that the journalist community is united," he said.
In a joint statement, the newly-elected office-bearers of PFUJ, including its president Shehzada Zulfiqar and the secretary general, condemned the "aggression and hooliganism" against Dawn on the second consecutive day.
"We strongly condemn uncalled for pressuring tactics, anti-media behaviour and harassment of Dawn and its employees," it stated.
Council of Pakistan Newspapers Editors (CPNE) President Arif Nizami also expressed concern over the incident.
In a statement, Mr Nizami said under the incumbent government attacks on journalism had increased manifold which pointed to its hostility towards the so-called fourth pillar of the state.
He also condemned statements made by sitting ministers that preceded the besieging of Dawn offices, saying the remarks were a source of concerns for the journalist community.
He questioned the silence of the government officials on the incident, saying the policies employed by the government against media were hurting journalists.
The CPNE chief said journalists must be free to report independently without any fear or pressure.
All-Pakistan Newspapers Employees Confederation (Apnec) Chairman Ikram Bukhari also condemned the besieging of the Dawn offices.
Media Workers Organisation President Kaleem Shamim and Secretary General Raja Javed termed the incident an attempt to curb media freedom.
In Battagram, journalists at a meeting chaired by former president of the local press club Abdur Rehman Khan said besieging of Dawn offices in Islamabad was highly condemnable and an open threat to freedom of expression.
Protest in Karachi
Dozens of people also staged a protest demonstration outside Karachi Press Club against Dawn.
The participants were carrying placards and banners, some of which mentioned Tehreek Tahaffuz-i-Pakistan Movement, as the organiser of the protest.
They also threatened to besiege the offices of the media group if "prompt action was not taken against the management and outlets of the organisation for publishing false news."
https://www.dawn.com/news/1520279/bilawal-visits-dawn-offices-condemns-besieging-of-staffers
------
Justice Isa's counsel urges SC to order probe over judges surveillance
December 04, 2019
ISLAMABAD: The senior counsel representing Justice Qazi Faez Isa pleaded before the Supreme Court on Tuesday to go beyond just passing strictures by ordering an investigation against offenders guilty of conducting covert surveillance of judges.
"The Supreme Court should give a clear and unequivocal message of not condoning such behaviour and any material gathered in such a manner should be thrown out," Muneer A. Malik argued before a 10-judge full court of the Supreme Court hearing a set of challenges to the filing of presidential references against Justice Isa.
"On this corollary, I will say that the reference against Justice Isa must be quashed for violating privacy and dignity of man which were inviolable rights," the counsel argued. He highlighted the need for stopping covert surveillance not only against judges and their families but also against ordinary citizens.
Justice Umar Ata Bandial, who heads the full court, observed that this was certainly an area crying out for legislation.
The counsel contended that he was using the term 'covert surveillance' deliberately since he did not know in what manner and how precisely his client and his family were snooped upon or their emails hacked or their movements shadowed.
Intrusion into the privacy of superior court judges has always had a devastating impact upon independence of the judiciary, the counsel said, adding that it cannot browbeat the judges because like his client they were men of steel.
But this practice shattered the confidence of ordinary people, Muneer Malik contended. It was difficult for a citizen to digest that a judge would be able to work without fear or favour after learning that he was being watched, he said.
"The confidence of a litigant will be damaged irreparably when he appears before the judge concerned."
To establish how serious an offence surveillance was, the counsel cited a 1998 Supreme Court judgement in the Benazir Bhutto versus the federation and the 2010 Iftikhar Muhammad Chaudhry cases.
In the Benazir Bhutto case, the Supreme Court had held that the covert surveillance of judges, including telephone tapping and eavesdropping by intelligence agencies, was a sufficient ground for dissolution of the government of that time.
It transpired during the hearing case that telephones of Supreme Court judges, as well as political leaders, were tapped and that it was in the knowledge of the prime minister as a record was regularly sent to her in sealed envelopes.
Although Benazir Bhutto denied the allegations by countering that she herself had been a victim of telephone tapping and that she had even complained to the President, the counsel recalled the apex court observed that planting of bugging devices violated Islamic principles.
Although the Supreme Court concluded that wiretapping and eavesdropping were sufficient grounds for the dismissal of Benazir Bhutto's government, Muneer Malik recalled, no lessons were learnt and even former chief justice Iftikhar Muhammad Chaudhry was not spared.
The counsel said during the hearing in the Iftikhar Chaudhry case, an application was moved by the federal government that contained confidential information and pictures of family members of the chief justice. "The pictures were intended to scandalise even those judges who were not party to the case."
Since the source of the documents were not known, the court asked the attorney general of the day as well as the late Sharifuddin Pirzada to enlighten it, but both of them said they had no knowledge either.
Justice Syed Mansoor Ali Shah asked the counsel whether there was any law which allowed wiretapping or bugging in the national interest. Mr Malik replied that in the Benazir Bhutto case, a Supreme Court judge had proposed the formation of a commission to determine what was the national interest and what steps could be taken in this regard.
Justice Yahya Afridi wanted to know whether there was any law on the matter in any other country. Muneer Malik replied that in the United States wiretapping was permissible to a certain extent subject to permission from the authorities.
He recalled that the National Accountability Ordinance provided for the surveillance of a suspect, but the NAB chairman had to seek permission from the high court concerned.
Mr Malik emphasised that Abdul Waheed Dogar, who made the complaint against Justice Isa, did not have any idea about the Spanish name of Justice Isa's wife, but still a search was made to find out the offshore properties in her name and those of the children.
https://www.dawn.com/news/1520330/justice-isas-counsel-urges-sc-to-order-probe-over-judges-surveillance
------
Musharraf says he's being 'victimised'
December 04, 2019
KARACHI: A day after he was admitted to hospital following deterioration of his health, former military ruler retired Gen Pervez Musharraf said on Tuesday he was ready to record his statement in the high treason case against him. He, however, showed mistrust in the judicial process, saying "I have not been heard and I'm being victimised".
In a video statement from his hospital bed, he spoke about his health, saying he had fainted and had to be admitted to hospital.
"As far as this [treason] case is concerned, this is absolutely baseless," said a visibly ailing Musharraf.
"I have served my country for 10 years. I have fought for my country. This [treason] is the case in which I have not been heard and I have been victimised."
https://www.dawn.com/news/1520303/musharraf-says-hes-being-victimised
------
Africa
Clipping Islamist wings in Sudan
Mohamed Abul-Fadl,
Tuesday 3 Dec 2019
Sudan's transitional government has made considerable strides in pushing back the influence the Muslim Brotherhood gained under the Omar Al-Bashir regime. But if it has succeeded in closing some avenues that the Muslim Brotherhood and its affiliates had controlled for so long, it is still a matter of debate as to whether it will be possible to take the necessary measures to forestall the infiltration of Muslim Brotherhood members and allies into government institutions.
In addition to shutting down some Muslim Brotherhood outlets, the government has arrested key Muslim Brotherhood members and allies, some of whom are currently standing trail. However, it has yet to take a definitive decision on other influential figures and it has ignored appeals from a number of political sources to ban the National Congress Party (NCP) and the Islamist parties that shared its outlooks and behaviours. This problem has sowed divisions and stirred suspicions regarding the intentions of some of the officials in the transitional government.
Some provocative statements by prominent leaders of some of Islamist parties have fed fears of a possible regression from the lofty goals that drove the revolutionary uprising that succeeded in toppling Al-Bashir's regime. Of particular note are the smug and audacious remarks by the new NCP leader Ibrahim Ghandour who criticised the outlooks of the Forces of Freedom and Change (FFC) and their ministers, and called for a government of technocrats headed by current Prime Minister Abdallah Hamdok.
Ghandour and his colleagues in Sudan act as though the NCP is somehow unrelated to the Islamist movement and bore no responsibility for the disasters that have afflicted Sudan. He wants to secure a place for himself at the table of current political elites so he can be assured a platform to make his views heard and have a say in the decisions that shape Sudan's future. He is remarkably insensitive to the overwhelming popular fury directed against his party and blind to the sins that caused that fury to explode in the face of Al-Bashir and his regime.
Patriotic forces in Sudan are aware of Ghandour's ruses. Undeceived by his smooth talk, they have stepped up their actions against the remnants of the old regime who are now pretending to be part of the new Sudan, as though they are not bound by long and deep affiliations with the Muslim Brotherhood, and who are manoeuvering to shape an environment that will accept them as though they were just an ordinary political party.
The crux of the problem is that the Muslim Brotherhood and its affiliates are counting on the Sudanese people's spirit of tolerance. The majority of Sudanese truly believe in political plurality and they are keen to put the dark past behind them in order to avert potentially explosive divisions that will complicate matters further, especially given the difficulty involved in untangling the Muslim Brotherhood's network of appendages and tentacles. The Sudanese are also looking forward to the urgent measures needed to overcome economic hardships and they desperately yearn for a comprehensive peace.
The Muslim Brotherhood and their allies are taking advantage of this climate in order to insinuate themselves into positions where they can divert the revolution from its main aims, foremost of which is to end the role of those who caused Sudan's collapse, to bring the corrupt to justice, and to rid government of the influence of the deep state.
One of the signs of the intent to obstruct such aims is the escalating mudslinging, partisan squabbling and other such noise, the main purpose of which is to divert energies away from the process of curtailing the Muslim Brotherhood's influence and to gain time to regroup and marshal the power grabbing expertise they had accumulated over the course of three decades.
The Muslim Brotherhood stands a chance of achieving its ends if the government and the Sudan Revolutionary Front, the representative of the armed resistance movements against the Bashir regime, fail to reach an agreement that will establish the foundation of a comprehensive peace. This crucial goal has been jeopardised by the postponement of negotiations between the two sides and the emergence of obstacles that have caused delays in the schedules for talks since the beginning of the transitional phase. It has now been three months since this phase began. Yet, no progress has been made towards the peace agreement even though the Constitutional Declaration states that a peace agreement should be completed within six months of the signing of this declaration.
The ongoing failure to achieve progress on the main tracks of the transitional process works to aggravate the problems the Muslim Brotherhood feeds on and that force the plan to clip that organisation's wings down the scale of national priorities. The FFC, which represents grassroots support for the government, is currently preoccupied by disputes between its constituent members. The armed forces are kept busy putting out the fires of strife that erupt from time to time in the east and in South Kordofan, while resolve to halt hostilities in the provinces is hanging in the balance.
Meanwhile, the US has moved no further on removing Sudan from Washington's list of state sponsors of terror. The Sudanese need to focus efforts on overcoming the complications involved in this process, because delisting is essential in order to free Sudan entirely from economic sanctions and enable it to access funds from international agencies and donors. However, in order to assure itself a clean bill of health in the fight against terrorism, the government needs to take the actions that demonstrate that it has rid itself of the influences of the extremist groups that have proliferated in the country during the past decades and that put Khartoum in such an awkward political position to begin with.
The government has an opportunity to end this nightmare. The starting point is to press forward with the process of penalising the Islamist forces and parties responsible for the spread of this phenomenon in Sudan, and the very least that should be done is to ban them from engaging in politics under any guise. Islamist leaders have already begun to circumvent such actions by recasting themselves under new names, but with the same agendas. Towards this end, they are capitalising on political fluidity in the country and mounting economic and social problems to which the government has been struggling to find urgent remedies.
The general climate favours steps towards eliminating the circles of influence that turned Sudan into a safe zone for extremist forces. However, the slowness with which the government is acting on this may ultimately prove costly. The more time passes, the harder it will become to uproot the extremist parties and their leaderships. With every day that goes by without shedding this political and security burden, Khartoum will face intolerable internal and external pressures and it will pay dearly for the failure to halt the attrition accruing from the panoply of problems this burden causes.
Putting an end to the Muslim Brotherhood role in Sudan is no simple task. It is a multifaceted process that involves many vital issues. Every delay will create obstacles that extend beyond their visible political dimensions. It is precisely this multifaceted interlacement that lends this task such critical importance, all the more so because success in handling it will bolster regional and international confidence in the Sudanese government.
*A version of this article appears in print in the 5 December, 2019 edition of Al-Ahram Weekly.
http://english.ahram.org.eg/NewsContent/50/1204/357079/AlAhram-Weekly/Opinion/Clipping-Islamist-wings-in-Sudan.aspx
------
Terrorist who used student loan to join Islamic State jailed again
3rd December
A convicted terrorist who used his student loan in a bid to join Islamic State has been sent back to jail after breaching notification conditions.
Yahya Rashid, 23, was sentenced to five years' detention in November 2015 after a trial at Woolwich Crown Court.
He was found guilty of engaging in conduct in preparation for committing an act of terrorism, and engaging in conduct with the intention of assisting others to commit acts of terrorism between November 2014 and March 2015.
The court heard that Rashid, of Willesden in north-west London, conned his way into Middlesex University using a forged BTec certificate, despite having an IQ of between 65 and 70.
He used cash he was entitled to claim to take four friends from his mosque to the Turkey/Syria border via Morocco.
The group was stopped and questioned by police at Gatwick Airport but allowed to board a flight to Casablanca, from where they made their way to the Turkish border town of Gaziantep.
Although his friends crossed into Syria - where they are believed to remain - the then 18-year-old had a change of heart and returned to Istanbul and then the UK after pleas from his family.
Rashid was arrested on Sunday after failing to give the police his current phone number and email address, as required under the Counter Terrorism Act.
He pleaded guilty to two charges under sections 48 and 54 of the legislation at Westminster Magistrates' Court on Monday, Scotland Yard said.
Rashid, who had been released on licence, was sentenced to 12 months' imprisonment and recalled to prison to serve the rest of his five-year sentence.
He will begin the new jail term when the original sentence is served.
The Metropolitan Police said the arrest "is not linked in any way to the London Bridge terror attack" and that the inquiry was under way before Friday's atrocity.
Under the Counter Terrorism Act, those convicted of certain offences must agree to notify the police of any change in details or plans to travel abroad.
https://www.times-series.co.uk/news/18076434.terrorist-used-student-loan-join-islamic-state-jailed/
------
IMN slams Nigeria government for keeping Zakzaky in detention despite court order
December 3, 2019
AhlulBayt News Agency (ABNA): The Islamic Movement in Nigeria described the continuous detention of top Shia cleric Sheikh Ibrahim al-Zakzaky and his wife Zeenat as one of the worst violations of the rule of law.
In a statement on Monday, the movement said the Federal High Court had affirmed that the constitutional rights of Sheikh Zakzaky were being violated with his continuous detention and, so ordered for his release within forty-five days.
Zakzaky supporters condemned the failure of the Nigerian government to obey court order saying it is at variance with democratic principles.
They accused the government of having an ulterior motive. The Islamic Movement in Nigeria said despite various protests by its members in Nigeria, and many good spirited people in many countries, the Nigerian government has kept a deaf ear to the demand for the release of sheikh Zakzaky.
Zakzaky supporters denied the Nigerian government's claim that sheikh Zakzaky is a threat to national security. Members of the Islamic movement said they will remain peaceful and resolute in their activities because they believe in the rule of law.
Zakzaky supporters once again reiterated their resolve to continue to demand for the release of Sheikh Zakzaky and his wife Zeenat. They said they will continue irrespective of the government's use of brute force against them.
https://en.abna24.com/news//imn-slams-nigeria-government-for-keeping-zakzaky-in-detention-despite-court-order_991119.html
------
South Asia
Bangladesh denying education to Rohingya children: HRW
December 3, 2019
AhlulBayt News Agency (ABNA): Human Rights Watch (HRW) says the Bangladeshi government has been depriving nearly 400,000 Rohingya Muslim refugee children in the South Asian country of the right to education.
The US-based rights group made the announcement in an 81-page report, titled "'Are We Not Human?': Denial of Education for Rohingya Refugee Children in Bangladesh," released on Tuesday. The report has been compiled based on interviews with teachers, aid workers, government officials, and more than 150 Rohingya refugees in Bangladesh.
Following a military-led crackdown starting in 2016 that the United Nations has said was perpetrated with "genocidal intent," more than 730,000 members of the Rohingya Muslim minority fled Myanmar's northwestern state of Rakhine to neighboring Bangladesh. They were largely camped in the country's southern district of Cox's Bazar in squalid conditions.
Thousands of Rohingya Muslims were killed, injured, arbitrarily arrested, or raped by Myanmarese soldiers and Buddhist mobs mainly between November 2016 and August 2017.
"Bangladesh has made it clear that it doesn't want the Rohingya to remain indefinitely, but depriving children of education just compounds the harm to the children and won't resolve the refugees' plight any faster," said Bill Van Esveld, HRW associate children's rights director.
According to the report, Dhaka has never allowed the Rohingya children access to formal, accredited education, and it has barred aids groups from using even an existing, informal version of the Bangladeshi curriculum in the camps, arguing that these refugees will go back to Buddhist-majority Myanmar "within two years."
It added that the Bangladeshi government's insistence that the refugees return to Myanmar had led it to ban humanitarian groups from building permanent, brick-and-mortar school structures in the refugee camps.
"Persisting with the ban on formal education is harmful to Bangladesh's own interests and devastating for a new generation of Rohingya children and the future of the Rohingya community as a whole," the HRW report further said.
The rights group also called on Dhaka to immediately approve and support the use of its curriculum in the camps, stressing that Bangladesh should let aid groups provide quality education, including through the formal Bangladeshi and Myanmarese curricula, to the refugee children.
Rohingya Muslims, recognized by the UN as the world's most persecuted minority group, are denied Myanmarese citizenship as the country's leadership brands them illegal immigrants from Bangladeshi, which, for its part, says they are from Myanmar.
https://en.abna24.com/news//bangladesh-denying-education-to-rohingya-children-hrw_991137.html
------
Xinjiang imam affirms Xinjiang's anti-terrorism efforts
2019/12/3
A senior imam in Northwest China's Xinjiang Uyghur Autonomous Region called on Western media to stop spreading rumors about Xinjiang, and he invited more people to visit Xinjiang to experience its social stability and harmony.
"In my view, it is very good and necessary to set up vocational training and education centers in accordance with the law to protect people of all ethnic groups from terrorism and extremism to the maximum extent possible," Abuduxiker Rehemudula, vice president of Xinjiang Islamic Association and the imam of the Baima Mosque in Urumqi, said in an article he wrote for Xinjiang-based news site ts.cn on Tuesday.
Violent terrorist and religious extremist forces once carried out destructive activities in Xinjiang, seriously affecting social order, severely trampling on people's rights to life, health and development of all ethnic groups, he said, adding that attacks seriously hindered Xinjiang's economic and social development.
He said the Xinjiang regional government insists on prioritizing preventive counter-terrorism.
Abuduxiker, who was born and raised in Xinjiang, said great changes have taken place in the region's economy, society, culture, education and transportation over the decades. But he also witnessed some around him were infiltrated by religious extremist forces.
Some refused to let their children attend school while some are hostile to society and the people around them, and gradually lose their common sense.
"If religious extremism is allowed to continue without control, will there be a future for Xinjiang?" wrote Abuduxiker.
To strike against terrorism and extremism, vocational training and education centers have been set up to provide those subjected to religious extremist propaganda with trainings in the common language, laws and practical skills.
After training, some returned to their original jobs and some set up businesses with skills they learned in the center.
"I really appreciate the government for getting me back to normal life. Now I have a broader vision, more contact with my family and friends. I said goodbye to those days full of fear and ignorance," said Abuduxiker recalling what one center graduate said to him. Therefore, Abuduxiker supports the training center from the bottom of his heart.
Carrying out vocational skill education and training is an imperative move supported by the general public.
Xinjiang has not seen a single violent terrorist attack in three consecutive years, which further proves the necessity and effectiveness of the training centers, Abuduxiker said.
http://www.globaltimes.cn/content/1172139.shtml
------
Nicolas Kay: Every party or group should accept the Afghan election results
Tuesday, 03 Dec 2019
Nicolas Kay, the NATO senior civilian representative to Afghanistan in speaking with Afghan journalists and media representatives in London said that every party or group should accept the election results.
"Despite the treats many Afghans went out to cast votes on September 28 and now we are two months after the voting day. It is important that we see very soon a decision by the Independent Election Commission of Afghanistan on the preliminary results", said Nicolas Kay a day before the NATO leaders meeting in London.
Nicolas Kay urged that proper communication should be established between the election commission and candidates and the everyone should accept the IEC's decision.
"The commission is following its rules and procedures to check and double check, to count and to recount and to audit the whole process, but that must come to an end quite soon and what I think is necessary is more communication between the candidates and the IEC so that the IEC can explain very carefully to the candidates exactly the basis for the decisions on what they are doing and how they are working and the candidates must listen very carefully and at the end after that when the IEC makes the announcement of the preliminary results candidates should respect those decisions", he said.
This comes as the office of Abdullah Abdullah the main rival of Mohammad Ashraf Ghani claims that there are evidences and documents they have accessed and have been shared those with the IEC, according which the three hundred thousand votes have been verified as suspicious and fraudulent should be invalidated and removed from the counted votes database.
"We have credible evidence and documents that there are three hundred thousand votes verified as fraudulent which must be invalidated and removed from the system as per the agreements with IEC", said Mohammad Natiqi, a key member of 'Stability and Convergence' electoral team.
Over the last 4 years, thousands of Afghans, mainly supporters of Abdullah Abdullah marched on the streets in Kabul, Takhar, Faryab, Jawzjan, Sare-e-Pul, Baghlan and Parwan demanding transparency in the vote recounting process.
Around 2 million Afghans casted votes on September 28, but due to conflicts between the two frontier candidates, the results have not been announced yet.
https://www.khaama.com/nicolas-kay-every-parties-should-accept-the-election-results-7654/
------
Survey: Afghans optimistic about the peace talks
Tuesday, 03 Dec 2019
The Asia Foundation-Afghanistan, with the support of the U.S. Agency for International Development (USAID), launched the 15th annual Survey of the Afghan People (the Survey). First launched in 2004, this year the Survey gathered the opinions of more than 129,800 Afghans across the country on elections, corruption, security, women's rights, service delivery, the economy, migration, and peace and reconciliation. It is the broadest and longest-running nationwide survey of Afghan attitudes and opinions.
By measuring Afghan public opinion on an annual basis, this Survey supports evidence-based policymaking and planning by Afghan leaders and helps international development agencies adapt their investments in Afghanistan to a changing context.
USAID Mission Director, Peter Natiello, said, "This year's survey shows that Afghans want peace and are dedicated to the development of their country. The United States, through USAID, will continue to assist with the challenges that matter most," he added.
The 2019 Survey reveals strong awareness of, and support for peace talks with the Taliban. Seventy-seven percent indicate they are aware of the peace efforts, while 89 percent indicate that they either strongly, or somewhat, support efforts to negotiate with the Taliban. Sixty-four percent of the respondents say that reconciliation between the Afghan government and the Taliban is possible.
Meanwhile, Afghans who say the country is moving in the wrong direction point to insecurity or crime rate (74.7%), the economy (41.5%), and the state of governance (31.1%). Lack of infrastructure or services (7.2%), foreign intervention (6.6%), and injustice and human rights concerns (4.6%) are also reasons given. Clearly, Afghans see significant challenges ahead as the country continues efforts toward peace and sustainable development.
https://www.khaama.com/survey-afghans-optimistic-about-peace-process-0987/
------
Trump arrives in London to attend the NATO's 70th year anniversary and the leaders meeting
Tuesday, 03 Dec 2019
President Donald Trump arrived in London last night to participate the North Atlantic Treaty Organization's 70th year anniversary and attend the NATO leaders meeting which is held on Wednesday, December 4, 2019.
The President of United States, Donald Trump and Jens Stoltenberg, the Secretary General for NATO met at Winfield House in London ahead of the Meeting of NATO Leaders on Tuesday.
They discussed improvements to the readiness of Allied forces, stepping up the fight against terrorism and addressing other strategic challenges. The Secretary General stressed that NATO is the most enduring and successful alliance in history as it continues to adapt to the evolving threats Allies face.
They also discussed the progress made on burden sharing in the Alliance, with European Allies and Canada due to spend $130 billion extra by the end of 2020, a figure that will rise to $ 400 by the end of 2024. The Secretary General stressed that this was unprecedented, and making NATO stronger.
Twenty Nine leaders from the NATO alliance countries gather in London on Wednesday to celebrate the organization's 70th year anniversary and discuss the NATO's role in the fight against terrorism, arms control, relationship with Russia and the rise of China.
The meeting will also touch on Afghanistan discussing the Resolute Support Mission in Afghanistan.
Currently there are 16,000 NATO forces in Afghanistan who assist Afghanistan National Security Defense Forces with technical training support.
https://www.khaama.com/trump-arrives-in-london-to-attend-the-natos-70th-year-anniversary-and-the-leaders-meeting-90876/
------
IEC remains silent against back to back protests and political uncertainties
Tuesday, 03 Dec 2019
The electoral commissions of Afghanistan have not yet provided clear answers to the demands of protestors which has persuaded continuous back to back strikes in most parts of the country amid political uncertainties in Afghanistan.
Thousands of Kabul residents marched on the streets on Friday and farmed a large gathering in Pashtunistan Watt, nearby the Presidential Palace. The protesters demanded transparent election results and clarification on the 300K suspicious and n0n-biometric votes that have been counted by the Independent Election Commission.
The protesters released a declaration wanting that the Independent Election Commission must invalidate the suspicious and non-biometric votes and reinitiate the votes recount process.
The Independent Election Commissions of Afghanistan sent out a press release in response to the Friday's protest.
IEC's statement says that the electoral commissions will protect the votes casted by the people of Afghanistan and doesn't allow any individual, group or institution to interfere.
The Election Commission will proceed in the shadow of laws, policies and procedures, we reassure all the relevant bodies, stakeholders, candidates and the people of Afghanistan to be confident that the IEC only validates the biometric votes after the identification and verification process, IEC has added in the statement.
Mohammad Natiqi, a senior member of the 'Stability and Convergence' electoral team told Khaama Press that the statement IEC has released does not resolve the issue and it is not a clear and satisfactory answer to the demands of the protesters
"We have credible evidence and documents that there are three hundred thousand votes verified as fraudulent which must be invalidated and removed from the system as per the agreements with IEC", said Natiqi.
He further added that Dermalog, a German based identification systems provider which has provided the biometric devices for the Afghanistan presidential election has confirmed in a letter that one hundred and two thousand votes have been casted before or after the election time.
This comes as following the Friday's demonstrations, thousand others of the citizens walked out on the streets in Takhar, Baghlan, Jawjan, Parwan, Faryab and Sar-e-Pul provinces.
The Independent Election Commission has not commented further.
Around 2 million Afghans casted votes on September 28, but due to conflicts between the two frontier candidates, the results have not been announced yet.
https://www.khaama.com/iec-is-quiet-against-back-to-back-protests-and-political-uncertainties-of-afghanistan-90870/
------
Southeast Asia
China: Muslim Concentration Camp Survivor Arrested for 'Inciting Hatred,' Had Syphilis
FRANCES MARTEL
3 Dec 2019
The Chinese state propaganda outlet Global Times published an interview with a communist official in Xinjiang, home to most of the nation's ethnic Uyghur Muslims, on Wednesday asserting that the concentration camps there are "schools" and all escaped prisoners are lying.
The attacks targeted two escapees in particular: Mihrigul Tursun, who fled to the United States and says Chinese government officials used electroshock torture on her, sterilized her, and killed her infant son; and Sayragul Sauytbay, who exposed the fact that China is imprisoning thousands of ethnic Kazakhs along with Uyghurs and uses rape and drugs to torture prisoners.
Tursun, the Xinjiang official claimed, was arrested for "inciting hatred" and was carrying syphilis when arrested. The official did not address Tursun's allegation that concentration camp workers killed the oldest of her infant triplets, instead addressing Tursun's claim that the Chinese government killed her brother by denying it and printing an alleged quote by him.
Sauytbay, the official claimed, was an incompetent teacher and a criminal fraud.
The Global Times did not offer evidence for any of its claims, such as a criminal or medical record for either woman.
China has for years attempted to subjugate the Uyghur, Kazakh, and Kyrgyz ethnic populations of Xinjiang, limiting the open practice of Islam and splitting children from devout families. In early 2018, however, reports began to surface that China had escalated its repression and begun building concentration camps to indoctrinate, torture, and enslave locals. Today, the United States government believes China is holding as many as 3 million people over 1,200 concentration camps across the country's largest and westernmost state.
The Global Times repeated the Communist Party line that the camps are necessary to "train" individuals tempted to join jihadist groups and that they are a revolutionary way of eradicating terrorism.
The official responding to the Global Times' questions is an unnamed "spokesperson" for the regional Xinjiang government, a mouthpiece for the people running the concentration camps.
"I'd like to stress again that the education and training centers in Xinjiang are school in nature, set up according to law. They were never the so-called 'concentration camps' at all," the spokesperson said. "Clinics are available in all the centers and professional doctors are there to provide 24-hour free medical service to trainees. Minor ailments are treated at the clinic. In the case of major and acute illnesses, trainees will be sent to hospital. The alleged nine female deaths are pure fabrications."
In the interview, the official admits, using Orwellian Chinese communist language, that the camps serve two purposes: indoctrinating Muslims into worshipping dictator Xi Jinping and his authoritarian state, and using detainees as slaves. Or, in the language of a Xinjiang government spokesperson: "theoretical studies taught in classrooms and actual skills practiced in workshops."
All those in vocational camps, the official alleges, have some ties to terrorism, ranging from being solicited to engage in terrorist activity to actually executing terrorist attacks.
The spokesperson claimed that no foreign citizens have ever been detained in the camp, despite Sauytbay's testimony that as many as 2,500 ethnic Kazakhs – some, presumably, citizens of Kazakhstan – were in the camp authorities imprisoned her in. The government of Australia has also confirmed that some Australian citizens have landed in the camps, a claim China denies.
The spokesperson accused Tursun of "instigating ethnic hatred and ethnic discrimination" and claimed that she did not face time in prison due to "humanitarian considerations," because she had allegedly contracted "syphilis and other infectious diseases." The spokesperson also offered a quote allegedly from brother Erkbar Tursun, who Mihrigul alleges the Chinese government murdered: "my sister is always telling lies. She not only said I died, but also lied about others' deaths."
The interview does not address Tursun's infant son.
Sauytbay, the spokesperson alleged, was a schoolteacher. The spokesperson claimed she held a grudge against the government because she was caught "seeking performance bonuses through cheating."
The official claimed that neither woman ever set foot in a camp, but provided no evidence of their alleged wrongdoing. The claims against Tursun appeared especially difficult to corroborate given that China significantly represses dissidents and defines "hate speech" as anything that jeopardizes the supremacy of the Communist Party.
Tursun began speaking out a year ago, when she arrived in Washington, DC. Her version of events significantly deviates from the Chinese regime's. She told reporters at the National Press Club last year that authorities imprisoned her because she traveled to Egypt, her husband's native country, once with her family. Once in the camps, she was subject to indoctrination, torture, and later confirmed sterilization.
"The authorities put a helmet-like thing on my head, and each time I was electrocuted, my whole body would shake violently and I would feel the pain in my veins," Tursun described. "I begged them to kill me."
Chinese media has previously claimed that Chinese people "laughed" when they heard her testimony.
Like Tursun, Sauytbay described the prison Chinese authorities locked her in as a "concentration camp," calling it "much more horrifying than prison." She said she saw detainees taken to a "black room" where they were raped and tortured and described the widespread use of drugs to make detainees more docile.
Their testimonies align with those of other survivors. Nearly all survivors are either ethnic Kazakhs who could appeal to the government of Kazakhstan for help or married to foreign citizens who appealed for their freedom.
"Any woman or man under age 35 was raped and sexually abused," Ruqiye Perhat, a student arrested in Xinjiang in 2009 for four years, told the Washington Post in October. Perhat said violent forced abortions were common following the mass rape.
Other survivors have testified to enslavement, force-feeding of pork and alcohol to devout Muslims, and evidence of the harvesting of organs for sale on the black market.
https://www.breitbart.com/asia/2019/12/03/china-muslim-concentration-camp-survivor-arrested-inciting-hatred-had-syphilis/
------
Defiant Islamists Rally in Jakarta
December 3, 2019
Under pressure from a government increasingly determined to stem the rise of violent Islamist rhetoric and action, the alumni of the forces that ended the political career of former Jakarta Governor Basuki Tjahaja Purnama are rallying behind the man who defeated him in 2016 and fighting to bring home a disgraced cleric in exile in Saudi Arabia.
Calling themselves the 212 Alumni Brotherhood (PA 212), for the December 2, 2016 date they first came together, thousands of followers have rallied three years later – yesterday — in the heart of Jakarta, chanting "President, President, President" as Anies Baswedan, the current Jakarta governor and Basuki's nemesis walked to the stage.
In December of 2016, Basuki, an ethnic Chinese Christian known universally as Ahok, was running for reelection against two other candidates including Baswedan, an academic and activist who was supported by the Islamist group generated by the thuggish Islamic Defenders Front and the radical Hizbut Tahrir Indonesia (HTI).
The mass rallies during a tumultuous election campaign ended with Ahok sentenced to two years in prison in a trial for blasphemy against the Quran and losing his bid for another term as governor. Many described the election as Indonesia's most polarizing amid deepening concern that Ahok's loss would encourage the use of religion as a political tool in Indonesian elections.
The reunion committee that organized this year's event claimed it would be free of political elements but reality on the ground proved otherwise. The thousands of participants flocking at the National Monument in the center of Jakarta showed support for Anies's possible presidential run in 2024. Polling by several survey institutions projects Anies as a strong candidate.
The participants at the rally demanded that police investigate alleged blasphemy by Sukmawati Sukarnoputri, sister of the chairman of the Indonesian Democratic Party of Struggle (PDIP) Megawati. In a seminar in November, Sukmawati reportedly asked the audience who was the most credible figure in Indonesian independence between the Prophet Muhammad and former President Sukarno, her father and the country's founding president. Sukmawati's statement was regarded as an insult to the prophet.
"Someone compared the apostle with his father. She thinks his father was better," said Rizieq Shihab, the leader of the Islamic Defenders Front in a teleconference call from Saudi Arabia, where he is in exile after fleeing charges brought against him under the 2006 Anti-Pornography Act, a law he helped pass. "In the case of blasphemy insulting Allah, the Apostle, and the Qur'an, we call on all Muslims to urge the police to prosecute the perpetrator because Indonesia is a state of law."
In 2018, Sukmawati was also reported for a poem entitled 'Indonesian Mother', in which she compared the call to prayer (azan) to the hymn and the niqab to the bun, but the case was stopped.
Megawati at the PDI-P's annual conference in Bali in August served notice that growing Islamic fundamentalism would be curbed in the country The message from the stage was followed up later by cabinet appointments made in October by President Joko Widodo, who pointedly replaced a Muslim cleric in the religious ministry with a former general, Fakhrul Razi. The Ministry of Education and Culture was also taken away from Muhammadiyah, the country's second-largest Islamic organization, which has actively shaped politics and education for decades, and handed to Nadiem Makarim, the western-educated founder of the popular ride-hailing company Go-Jek, one of the country's most popular startups.
The Health Ministry was handed to another former general, Terawan Agus Putranto, a military doctor and radiologist by profession. Former National Police Chief Tito Karnavian, once the chief of police in Papua and known to have extensive knowledge related to terrorism, was named interior minister.
Brought into the fold by Megawati as well was Prabowo Subianto, who lost to Jokowi in the May general election, courting Islamists in his bid for the presidency. But Prabowo, a member of one of Indonesia's oldest aristocratic families, is widely regarded to have taken on Islamic trappings as a marriage of convenience in his election. His appointment as defense minister appears to have put paid to his religious dalliance.
The government has refused to issue an extension letter to the Islamic Defenders Front (FPI). The Coordinating Minister for Political, Legal and Security Affairs Mahfud MD said the permit would not be issued because there was "a problem". Although Mahfud did not elaborate, it is suspected that the government has ruled that basic rules that govern the FPI are not in accordance with state principles. The group advocates making Indonesia a state based on Islamic law, which is in opposition to the concept of Pancasila, enshrined in the Constitution.
Government also officially appointed Ahok last week as President Commissioner of Pertamina's state energy company, which is regarded as a clue to the wider commitment to rein in growing Islamists.
The Conflict Between Rizieq and the Government
The rally was also intended as an effort to pressure the government to allow Rizieq's return from exile in Saudi Arabia. He left Indonesia with his family in April 2017 after being named as a suspect in a pornography chat conversation case. Rizieq reportedly has been fined by the Saudi Arabian government for overstaying. He wants to return to Indonesia but has been banned. He claims to have reported the problem to representatives of the Indonesian government in Saudi but there was no follow up.
In his speech, Rizieq accused the Indonesian government of being behind the ban. "I am still banned by the Government of Saudi Arabia for security reasons, at the request of the Government of Indonesia," Rizieq said, although Mahfud denied Rizieq's accusation that the government had asked the Saudis to ban him.
"No need to do public lies because no matter how hard we try to cover up the carcass, it will still smell," Rizieq said.
Slamet Maarif, the chairman of the 212 group, said it would seek to repatriate Rizieq without expecting help from anyone including Prabowo, whose sought the group's support in the presidential election in April. Prabowo finally joined the government as Minister of Defense, disappointing the group, which has ended its cooperation with his coalition.
PA 212 are now close to the Islamic party Prosperous Justice Party (PKS), which has expressly declared itself to be in opposition along with the Party of Work led by Tommy Suharto. PKS leaders and Tommy recently held a meeting to strengthen their position, although many see this as their preparation for 2020 local elections, and that the PKS brought on Tommy, the enormously wealthy son of the late strongman Suharto, to secure funding for their presidential candidates in 2024.
"We have never hoped for anyone who is affiliated with or supports the present ruler (government). We will work on our own ability," Slamet said, threatening that if the ban on Rizieq isn't revoked they would mobilize the masses as they did in 2016-2017 against Ahok.
Political observer from Al-Azhar Indonesia University Ujang Komarudin argued that Prabowo's joining the government has seriously hampered the 212 group's impact, which wasn't as strong as previous ones. There is no political momentum to move them as in 2016 ahead of the Jakarta governor's election, and in 2018 ahead of the presidential election.
"But later when there are regional, legislative and presidential elections, they will become a calculated political force. These political moments are important for the 212 movement," Ujang said. The 212 alumni, he added, will continue to maintain their existence as a non-parliamentary pressure group, continuing to hold reunions to maintain their existence in the political arena given their potential as a base for political mass.
"When Prabowo joined the Jokowi government, they had to fight alone to repatriate Rizieq," He said. "In my opinion, the 212 struggle is not yet complete, and therefore they will not disperse."
https://www.asiasentinel.com/politics/defiant-islamists-rally-jakarta/
------
Pakistan backs Malaysian initiative of Muslim-5
December 4, 2019
DOHA: Foreign Minister Shah Mehmood Qureshi on Tuesday said that Pakistan fully supported the Kuala Lumpur summit, an initiative of Malaysian Prime Minister Dr Mahathir Mohammad to bring five Muslim nations together to achieve socioeconomic development.
Addressing the second Kuala Lumpur Summit Ministerial Meeting in the Qatari capital, the minister said that the challenges of governance, development, climate change, terrorism and rising Islamophobia, warranted an integrated and comprehensive response.
The ministerial meeting comprising Pakistan, Indonesia, Turkey, Qatar and the host, Malaysia, are participating in Doha, precedes the main summit to be held in Kuala Lumpur from December 18 to 21 on the call of Malaysia.
The seven areas of focus of the summit are development and sovereignty; integrity and good governance; culture and identity; justice and freedom; peace, security and defence, trade and investment and technology and internet governance.
The foreign minister said with juggernaut of globalisation, causing a civilisational and cultural erosion, it was imperative for the Muslim world to tread a cautious path. "We must not only make sure that we are not left behind but are able to preserve our unique civilisational identity, cultural personality and national sovereignty," he said.
Qureshi said Indonesia, Malaysia, Pakistan, Qatar, Iran and Turkey collectively accounted for about 50% of the total GDP, 37% each of natural gas production and population, and 18% of the total area of the Muslim world.
For the nations situated in close proximity to the strategic maritime points of the world – namely the Straits of Malacca, Gulf of Oman, Strait of Hormuz, and the Bosphorus, there existed an immense potential for collective development and shared prosperity, he said.
"We must have the requisite political and diplomatic space to enhance beneficial cooperation among us for socioeconomic development," Qureshi said. He added Pakistan was working on proposals for cooperation within the KL Summit framework in the fields of trade, tourism, Islamic banking, food security, higher education, science and technology, and women empowerment.
While charting the future course of the KL Summit or 'Perdana Dialogue for Civilisation', he stressed the need for being mindful of the perceptions and perspectives of the partners inside and outside of the Muslim world.
Qureshi endorsed the statement of Malaysian Prime Minister Dr Mahathir Mohamad that "we are not here to challenge any existing organisation or directing our cooperation against any third party". The 'Perdana Dialogue', he said would not just be a think-tank or a forum for discussions, but would also allow the participating countries to undertake concrete projects for collaboration.
He expressed the confidence that sharing of experiences, knowledge and resources would help the participating counties in achieving the targets of socio-economic and cultural development, driven by innovation and technology in a peaceful and secure environment.
"We have to create a knowledge-seeking culture for our youth, who are going to be the future leaders, at all levels," the foreign minister added.
https://tribune.com.pk/story/2111263/1-pakistan-backs-malaysian-initiative-muslim-5/
------
'Don't test me,' warns Anwar
Nicholas Chung
December 3, 2019
PETALING JAYA: PKR president Anwar Ibrahim tonight warned that his patience has a limit and that he will not tolerate any action that would further split the party.
"People say, 'Anwar is weak, he's too patient.'
"According to Shamsul Iskandar (PKR information chief), Anwar's patience is at a godly level. 'He's so patient.'
"But don't test me.
"If this patience gives the impression that this party is split and weak, then I will not tolerate it.
"As long as I am president, my responsibility is to build the strength of the party and to respect the voice of the grassroots," Anwar said at the Perak PKR convention.
Anwar defended his approach in managing the internal rift in the party, maintaining that the party is a democracy and that he believed everyone has the right to voice their opinion.
There has been a rift in the party between Anwar and his deputy, Mohamed Azmin Ali, with the conflict spilling over to the party's youth wing, in particular.
The rift has resulted in disputes over who is to open the youth wing's congress and the recent Sarawak PKR convention, which took place despite state chief Baru Bian insisting it should be cancelled.
Azmin has also been skipping PKR meetings but no action has been taken against him.
https://www.freemalaysiatoday.com/category/nation/2019/12/03/dont-test-me-warns-anwar/
------
Saudi international exhibition to showcase works of 27 Gulf artists
December 04, 2019
DIRIYAH: The Saudi Ministry of Culture is to stage an international art exhibition showcasing the works of 27 artists from the Kingdom and Gulf Cooperation Council (GCC) countries.
Titled "From Inside," the expo will be held at the industrial area in Diriyah and opens next Sunday through to Dec. 26.
The Diriyah Season event will form part of the Quality of Life program, a Saudi Vision 2030 initiative aimed at enriching the creative scene and supporting Saudi contemporary artists by exhibiting their work before an international audience in a prestigious platform from inside the Kingdom.
The ministry is also looking to project Saudi artistic talent onto an international stage to help strengthen the position of the Kingdom, and Diriyah, as an international art destination.
"From Inside" will reflect the cultural developments taking place in the Kingdom and is part of the ministry's comprehensive plan to transform Diriyah into a contemporary art area hosting works from all over the world.
The exhibition will include paintings, drawings, sculptures, videos and installation artworks raising questions about the relation between architecture, human behavior and the ways that human experiences and societal nature are shown in the development of civilization.
The event will also explore how feelings and emotions are influenced by architecture, construction methods and art.
https://www.arabnews.com/node/1593761/saudi-arabia
------
World Islamic Banking Conference opens in Bahrain
MANAMA, 0 hours, 48 minutes ago
The 26th anniversary edition of The World Islamic Banking Conference (WIBC), the largest and most prestigious gathering of Islamic banking and finance leaders in the world, kicked off yesterday (December 3) in Bahrain.
The conference is being held under the patronage of HRH Prince Khalifa Bin Salman Al Khalifa, Prime Minister of Bahrain at The Gulf Hotel Bahrain.
Convened by Middle East Global Advisors - a leading financial intelligence platform facilitating the development of knowledge-based economies in the MENASEA markets and in strategic partnership with the Central Bank of Bahrain, the forum is spurring a series of discussions focusing on "Mega Trends in Banking & Finance", a theme that resonates with the conference's steady vision to serve as a definitive check point for the global Islamic finance and banking industry.
Showcasing his support for Islamic finance entities to thrive and grow globally and stressing on the way forward for the industry, Godwin Emefiele, Governor, Central Bank of Nigeria in his address said: "Globally, banking and financial landscapes have evolved radically over the last few years. These changes have been driven by impactful forces including regulatory changes, digitalization and technological innovations.
"While traditional banking institutions will remain relevant in mobilizing deposits, providing credits, and processing transactions, the conduct of financial services will continue to change drastically, reflecting major shifts in consumer expectations. Conventional banking with its rising cost of operations may be replaced by faster and more convenient financial gateways."
All over the world, e-commerce comprising payments for goods and services via internet and mobile applications, is projected to be the dominant factor driving growth as more people embrace digital payment solutions. As at the end of 2017, mobile commerce was estimated to account for 48 percent of digital commerce sales worldwide and is projected to reach $4.6 trillion by 2022."
Dr Sami Al-Suwailem, acting director general, Islamic Research & Training Institute, Islamic Development Bank (IsDB) Group in his keynote address stated, "Many analysts expect the crisis to take place in 2020. The exact timing is not what matters most. What matters is "Why" and "How". Why would there be another major crisis, and how can it be avoided. Experts unanimously agree: It is because of excessive debt. Low interest rates since the onset of the Global Financial Crisis in 2008 made it unusually easy for corporates and sovereigns to pile up debt."
"The main question now is: How can we curb the growth of debt so that we can achieve sustainable stability? It must be clear from the beginning that stability is a public good. This means that, while the economy as a whole is better off in a low leverage environment, each market player has an incentive to deviate and add up leverage. But if everyone does the same, the economy stagnates and becomes susceptible to financial turmoil," he added.
Dr Adnan Chilwan, Group chief executive officer, Dubai Islamic Bank said, "In its 26th year, WIBC continues to bring forth industry leading thought leadership and perspectives towards the progress of the broader financial industry in a time where advancements in technology and regulations are critical for the success of all key stakeholders."
"I feel that traditions should not be treated as shackles. They should not restrict you from moving forward. Rather, they should serve as a platform for the next transformation. Banking stands at a crossroads today. The leaders of financial institutions in this highly dynamic and progressive world have to make the key decision now – to remain relevant to the demands of the customers or disappear.
"We are competing not just with entities within the sector but ambitious institutions from outside the traditional boundaries. So, it's time to continuously be a part of the customers' life – simple as that. Banking 2.0 (or Lifestyle Banking) is the only way forward," he added.
Other key highlights from the day include the Presentation on Global Economic Outlook by Dr Jihad Azour, director – Middle East & Central Asia Department, International Monetary Fund, panel discussions focusing on New Markets & Harmonization of Global Islamic Finance Standard, Digital Transformation: New Trends in Fintech, and Value Creation via M&A.
Leading industry experts analyzed the challenges at hand and focused on coming up with effective suggestions with the ultimate aim of developing a convergence roadmap for the Islamic Finance industry at large.
Key highlights to look forward to tomorrow include: Presentation on Economic Cooperation & Connectivity, Panel discussions on the Objectives of Shari'ah and Islamic Finance, Sustainable Finance & Corporate Social Responsibility, Islamic Economy – Opportunities & Working Models, SMEs & Financial Inclusion, and Sukuk Market.
The World Islamic Banking Conference (WIBC) has established its reputation as the world's largest and most influential gathering of international Islamic banking and finance leaders for over two decades.
With the strategic support of the Central Bank of Bahrain, the next generation WIBC will focus on transforming Islamic finance into a global proposition by facilitating strategic opportunities, addressing systematic challenges and connecting international market players and institutional investors to the industry's catalysts, thought leaders, partners and institutions. – TradeArabia News Service
http://www.tradearabia.com/news/BANK_361502.html
------
Japan sheds light on opportunities for Saudi gaming industry
December 04, 2019
JEDDAH: Entrepreneurs and professionals in Saudi Arabia's gaming sector were introduced on Tuesday to the Japanese side of the business during a special seminar staged in the Kingdom.
The Jeddah Chamber of Commerce and Industry (JCCI) hosted the event titled "Game Development and Business Opportunities in Japan," which was presented by Prof. Koji Mikami, from Tokyo University of Technology's school of
media science.
The professor discussed the development and current status of the industry in Japan and worldwide, and also spoke about game education in his country.
The seminar began with an opening speech by JCCI Assistant Secretary-General Mazin Kutbi followed by an address from
Japan's consul general in Jeddah, Masayuki Miyamoto.
"I think the two countries (Japan and Saudi Arabia) share the same Eastern values," said Miyamoto. "This is a good opportunity to exchange views and engage in fruitful discussions."
During the conference, Mikami highlighted similarities between the gaming culture in Japan and Saudi Arabia, most notably the public willingness and desire to spend on entertainment.
The professor noted that a recent Newzoo report had placed Japan third in the world, after China and the US, for game consumer revenues in 2019. However, he said Japan's population was only one-fifth of China's and one-third of America's, while its revenues of $18.6 billion were 52 percent of those of China and the US (around $35.5 billion).
The figures were based on consumer spending in each country and excluded hardware sales, tax and business-to-business services, etc.
According to Mikami, Saudi Arabia's gaming market has huge potential to become a good source of revenue.
"Saudi Arabia's market is one of the rapidly growing markets in the region and is a high-density market for a small population," he added. "I think Saudi Arabia has the same case as Japan, people pay a lot to play games."
He advised academics to collaborate with the industry and step up research and development to help define and understand the domestic market and grow it in the right way. "Research doesn't make an immediate impact on the market, but it contributes to building its future."
He also suggested that academics should not only follow the current demands of the market but also create its future needs.
"Students can easily learn about the market's current needs online. Professors need to focus on teaching them how to impact the future and create their original market."
Many gaming enthusiasts were among the audience, including business owners, young entrepreneurs and market professionals.
One delegate, Mashael Abul-Naja, an independent game developer, said the seminar, the first of its kind to be held in Jeddah, had been "very informative."
She told Arab News: "I have newly joined the market and have begun working on my own games. I am here to gain ideas on how to start and what to do, and what kind of business model I should follow."
Abul-Naja added that while the Kingdom had a lot of talent in the field of gaming development, it was not given enough exposure to the market and individuals needed support and real opportunities.
Freelance business developer and award-winning apps designer, Eman Nahas, said the event had provided a "golden opportunity" to meet with professionals and take her business to another level.
"I realigned many new ideas that can help me develop my pending game plans. I have been working on a virtual-reality game for the past year, but I needed a little help with a few things, and I think I found what I needed today," she told Arab News.
https://www.arabnews.com/node/1593736/saudi-arabia
------
Major initiative launched to empower young Saudis
December 04, 2019
JEDDAH: The Prince Mohammed bin Salman Foundation's (Misk) Initiatives Center in collaboration with the Qiddiya Investment Co. (QIC) has launched yet another training program to prepare young Saudis for the future and empower them to efficiently contribute to Saudi Vision 2030.
Following the launch of Misk/Amaala and the success of the first Misk/Qiddiya internship program, the center launched the second Misk/Qiddiya program through the "Fellowship and Training" initiative to create a comprehensive learning experience for recent university graduates in hospitality, business, engineering, information technology and entertainment.
The program will run for 28 weeks in Riyadh, and will provide trainees with an opportunity to work alongside senior team members in many fields, preparing them for large-scale develop-ment projects.
The Qiddiya project is one of the major schemes under the umbrella of Saudi Vision 2030. It was launched by Crown Prince Mohammed bin Salman in April 2018. It aims to become a pioneering entertainment destination located around 40 km from the center
of Riyadh.
With a total area of 334 sq. km, Qiddiya is 2.5 times the size of Walt Disney World. The project is expected to have 300 activities from five entertainment sectors, to be one of four large projects owned by the Kingdom's Public Investment Fund. It is also expected to shape Saudi Arabia's new economy, along with the Amaala, Red Sea and Neom projects.
Interns participating in the Misk/Qiddiya program will learn about Qiddiya's concept, values and objectives, and get an opportunity to visit the site to view construction work. Then an intensive induction and orientation phase will begin with interns joining their relevant teams in the following weeks, working alongside the project's experts to complete a number of professional missions.
In the last week of the program, participants will complete an individual project, which will be assessed by a committee from Misk and the QIC. The graduation project is a rare chance for trainees to receive job offers at QIC upon completion.
Registration ends on Dec. 14, 2019, and the 28-week program will be officially launched on Jan. 19, 2020.
https://www.arabnews.com/node/1593741/saudi-arabia
------
Cabinet hails Saudi-UAE ties after crown prince visit to the Emirates
December 03, 2019
RIYADH: King Salman on Tuesday chaired the weekly Cabinet session at Al-Yamamah Palace in Riyadh. At the beginning of the session, the Cabinet members offered the king and Crown Prince Mohammed bin Salman condolences over the death of Prince Miteb bin Abdul Aziz and prayed for the departed soul.
In a statement issued to the Saudi Press Agency, Saudi Media Minister Turki Al-Shabanah said the Cabinet was briefed about the results of the crown prince's official visit to the UAE.
The Cabinet members hailed the Saudi-Emirati Coordination Council's meeting in Abu Dhabi held during the royal visit and stressed that the crown prince's visit underscored the harmony between Saudi Arabia and the UAE's national strategies aimed at the prosperity of their people and promoting progress in the region.
The ministers commended the Kingdom's G20 presidency and highlighted the key role Saudi Arabia could play while at the helm.
The Cabinet reviewed several international issues. They stressed that the Palestinian cause is atop the Kingdom's priorities.
https://www.arabnews.com/node/1593661/saudi-arabia
------
Saudi Ministry of Justice launches second phase of alimony fund
December 04, 2019
JEDDAH: The Saudi Ministry of Justice has launched the second phase of the alimony fund initiative, a stage covering "temporary maintenance" for those with a ruling in their favor but not yet enforced for a reason other than insolvency.
With this phase, the ministry wants to ensure financial coverage for beneficiaries during a transitional period in order to create stability.
The ministry completed the pilot phase of the fund, which covers "permanent maintenance," and plans for a third phase covering "urgent maintenance" in cases still being heard.
"The fund aims at the prompt disbursement of maintenance and the financial stability of families," the ministry said. "In order to fast-track applications, we opened direct communication with clients through an online platform."
The first phase of the alimony fund was launched in April 2019. It covers applicants with alimony rulings in their favor but that were not implemented.
https://www.arabnews.com/node/1593776/saudi-arabia
------
Saudi minister signs agreements for 2020 Hajj season with Indonesia, Jordan and Turkey
December 04, 2019
MAKKAH: The Saudi minister of Hajj and Umrah has signed agreements with Head of Religious Affairs of the Republic of Turkey Dr. Ali Arbash, the Jordanian Minister of Awqaf, Islamic Affairs and Holy Sites Dr. Ahmed Ahmad Al Khalayleh, and Indonesian Minister of Religious Affairs Fakhr Al-Razi.
Minister of Hajj and Umrah Dr. Mohammed Saleh bin Taher Benten also discussed the services and facilities offered to the pilgrims.
The minister signed with the three delegations the agreements for the Hajj season this year dealing with the arrival of pilgrims and providing all requirements for visitors to perform their rituals.
Benten said in a press statement that all Saudis were proud to serve pilgrims and visitors and that their efforts were in line with the directives of King Salman and Crown Prince Mohammed bin Salman.
https://www.arabnews.com/node/1593766/saudi-arabia
------
North America
Muslim youth group partners with not-for-profit to launch mobile shelter for Toronto homeless
BY JESSICA PATTON
December 3, 2019
A national Muslim youth group is launching a "Shelter Bus" campaign to help the homeless in Toronto.
The Ahmadiyya Muslim Youth Association, in collaboration with Humanity First, have re-purposed a coach bus with 20 beds, a kitchenette, lounge space and bathrooms.
The initiative will see the bus go to different neighbourhoods every night for three months to provide both shelter and hot meals for those in need in the city.
Toronto Public Health (TPH) said 101 people experiencing homelessness died in 2017, followed by 92 in 2018.
In 2019, there have been 57 deaths to date — an average of 2.2 every week.
"It's quite visible downtown – the numbers out there on the streets and they don't have any shelter to go to," said president of the youth group Zubair Afzal.
In early November, the Ford government announced it would be putting a former Liberal government program aimed at eliminating homelessness in the province on hold.
The program was launched in 2018 and was a part of a broader strategy to eliminate chronic homelessness in Ontario by 2025.
The current government said the program has been put on hold because it recognized things have changed from the previous year, including the fact that some communities are using real-time data to track homelessness.
"For those reasons, the ministry is pausing the requirement for service managers to conduct local homeless enumeration to give us time to review in more detail enumeration requirements," assistant deputy minister Janet Hope said at the time.
The announcement was met with criticism from Ward 4 Parkdale–High Park city councillor Gord Perks, as well as NDP Leader Andrea Horwath.
Municipal Affairs Minister Steve Clark said the Progressive Conservative government wants to address data gaps and other limitations ahead of any future counts, but noted that communities can continue the work on their own if they wish.
For more information on the Shelter Bus campaign, click here.
— With files from The Canadian Press
zubair afzal president of group
i think it's quite visible once you come downtown. … idea came a few months ago by a member of the organization.
why don't we create the facility
https://globalnews.ca/news/6248397/mobile-shelter-bus-toronto-homeless/
------
Council recommends refusal of Islamic centre plans
By Tommy Greene
TOWN councillors voted unanimously to recommend rejecting proposals to build Cumbria's first dedicated Muslim prayer hall in Furness.
Dalton Town Council has urged Barrow Borough Council to turn down the application to build the hall just off Ulverston Road.
Councillors voted against the proposals at a meeting, which was attended by almost 100 members of the public - the vast majority of whom were opposed to the plans.
South Lakes Islamic Centre's bid to build the religious centre has attracted the attention of far-right group Britain First, which urged its members to oppose the proposals.
Fiona Thomson, town clerk at Dalton Town Council, said it had been flooded with more than 1,000 emails objecting to the proposals since the last council meeting a fortnight ago - many of which were unaddressed and contained objections on cultural and religious grounds, which are irrelevant to any consultation process. She said she suspected the majority had come from Britain First supporters.
At Monday's meeting a number of material concerns were raised by residents, forming the basis of the town council's grounds for objection.
Councillor Des English said: "The room was packed full."
Cllr English said the main factor guiding his decision to vote against the proposals was down to parking problems.
"The applicant has only allowed for 11 parking spaces in the plans," he said. "Parking is already terrible as it is around that part of Dalton."
Attendees raised objections the project would not create jobs as well as on the grounds that badger setts are claimed to have been sighted on the land next to where the construction would take place.
David Taylor spoke against the plans for more than one hour. Mr Taylor and another objector Glenn Higgins said afterwards: "We are pleased that after consideration of the numerous objections put forward that the town council did vote unanimously in favour of rejecting the planning proposal.
"We now look forward to Barrow Council's planning committee coming together to make a final decision, and would urge them to respect the decision made and the wishes of the residents who lodged objections."
https://www.nwemail.co.uk/news/18078294.council-recommends-refusal-islamic-centre-plans/
------
Nato summit: Trump and Macron clash in London
Dec. 3, 2019
By Catherine Lucey and James Marson
US President Donald Trump and French leader Emmanuel Macron have set out opposing views ahead of a Nato summit.
In an occasionally tense press conference, the two politicians sparred over Nato's role, Turkey, and Islamic State group (IS) fighters.
Mr Trump had described Mr Macron's comments about Nato as "nasty", but Mr Macron said he stood by his words.
World leaders are in London to mark the Western military alliance's 70th anniversary.
The summit has already been marked by strained relations between Turkey and other member states.
President Recep Tayyip Erdogan has said he will oppose Nato's plan for the defence of the Baltic region if it does not back Turkey over its fight against Kurdish groups it considers terrorists.
On Tuesday night, Mr Macron and Mr Erdogan met in Downing Street in a four-way meeting that also included German Chancellor Angela Merkel and the host, UK Prime Minister Boris Johnson.
Why is there a row over Nato?
Ties between Mr Trump and Mr Macron were already strained amid a trade dispute, and after the French president described Nato as "brain dead" last month because, he said, the US commitment to the alliance was fading.
Mr Trump hit back on Tuesday by saying the French leader had been "very disrespectful", adding that France had "a very high unemployment rate" and "nobody needs Nato more than France".
At a joint press conference with Mr Macron later, Mr Trump was less combative, stressing that the two countries had "done a lot of good things together". Mr Macron, meanwhile, said he stood by his comments.
The two sides then clashed over foreign IS fighters who were captured in Syria.
Mr Trump jokingly offered them to France, saying: "Would you like some nice [IS] fighters? You can take everyone you want."
Sounding stern, Mr Macron said "Let's be serious" and that IS fighters from Europe were "a tiny minority", and that the "number one priority" was to get rid of the terrorist group.
Mr Trump then retorted: "This is why he is a great politician because that was one of the greater non-answers I have ever heard, and that's OK".
Mr Trump also criticised Nato countries who were paying less than the Nato guidelines of at least 2% of GDP towards the alliance.
He said he did not want countries to be "delinquent" and pay less than their share, adding: "Maybe I'll deal with them from a trade standpoint."
Mr Macron said France - which currently spends 1.84% of its GDP on defence - would reach the minimum, and acknowledged that the US had "overinvested" in Nato for several decades.
However, he added that there were other pressing issues to discuss.
"When I look at Turkey, they now are fighting against those who fought with us shoulder to shoulder against [IS]... if we just have discussions about what we pay and we don't have clear discussions about such a situation, we are not serious."
The two leaders also discussed Turkey's decision to buy a Russian S-400 missile system.
Mr Trump said they were "looking at" whether to impose sanctions, while Mr Macron asked: "How is it possible to be a member of the alliance... and buy things from Russia?"
Why is Turkey an issue?
The Kurdish-led Syrian Democratic Forces (SDF) have been key allies of the US-led coalition against IS in Syria. However, Turkey views a section of the group - the YPG - as terrorists.
Ahead of his departure for London, Mr Erdogan said Turkey would not approve a plan to defend Poland, Lithuania, Latvia and Estonia in the event of a Russian attack unless Nato recognised the Kurdish YPG militia as terrorists.
"If our friends at Nato don't recognise as terrorist organisations those we consider terrorist organisations... we will stand against any step that will be taken there," he said about the plan.
However, Mr Macron told reporters: "We don't have the same definition of terrorism around the [Nato] table".
In October, Turkey launched an operation in Kurdish-controlled areas of northern Syria to create a "security zone" along its border.
That military action deepened fractures between Turkey and other Nato members, and took place after President Trump had controversially pulled US forces out of the region.
The North Atlantic Treaty Organisation is the world's most powerful defence alliance
It was set up in 1949, after World War Two, amid anxiety over Soviet expansion
It was founded on the principle of collective defence between allies
Originally had 12 members, but now has 29
https://www.bbc.com/news/world-europe-50651695
------
Mideast
Lebanon's outgoing PM backs businessman to replace him
December 03, 2019
BEIRUT: Lebanon's outgoing Prime Minister Saad Hariri said Tuesday he supports the nomination of a prominent contractor to become the country's next premier, a move that will likely pave the way for the formation of a new Cabinet amid a severe economic and financial crisis.
Hariri last week withdrew his candidacy for the premiership, saying he hoped to clear the way for a solution to the political impasse amid nearly eight weeks of anti-government protests.
Speaking to reporters Tuesday night, Hariri said he backs Samir Khatib to become the country's next prime minister adding that "there are still some details and God willing something good" will happen. Hariri added that "everyone is trying to pass through this difficult period."
Khatib heads one of Lebanon's largest engineering and contracting companies and did not hold any political roles in the past.
Over the past weeks, politicians failed to agree on the shape and form of a new government. Hariri had insisted on heading a government of technocrats, while his opponents, including the militant group Hezbollah, want a Cabinet made up of both experts and politicians.
Asked if he is going to take part in the new Cabinet, Hariri said: "I will not nominate political personalities but experts."
It was not clear how the protesters who have been demonstrating against widespread corruption and mismanagement in the country would respond to the possible formation of the government. The frustrated protesters have resorted to road closures and other tactics to pressure politicians into responding to their demands for a new government.
They have insisted that a new Cabinet be made up of independent figures that have nothing to do with the ruling elite that have been running the country since the 1975-90 civil war ended.
President Michel Aoun now is expected to call for binding consultations with heads of parliamentary blocs to name the new prime minister. But since Hariri, the most powerful Sunni leader in the country said he will back Khatib, the contractor is widely expected to get the post.
According to Lebanon's power sharing system implemented since independence from France in 1943, the president has to be a Maronite Christian, the prime minister should be a Sunni and the parliament speaker a Shiite. Cabinet and parliament seats are equally split between Christians and Muslims.
Earlier in the day, outgoing Foreign Minister Gebran Bassil hinted that he will not be part of the new government telling reporters that "the success of the Cabinet is more important than our presence in it."
The apparent breakthrough comes as Lebanon is passing through its worst economic and financial crisis in decades with one of the highest debt ratios in the world, high unemployment and an expected contraction in the economy in 2020. Local banks have imposed capital control measures unseen before in the country known for its free market economy.
The possible breakthrough came a day after protesters hurled stones at soldiers while opening a highway south of Beirut, injuring several troops. The Lebanese army said in a statement on Tuesday that one of the protesters in the town of Naameh fired bullets from a pistol the night before adding that the shooting made the troops fire in the air to disperse the protesters.
https://www.arabnews.com/node/1593621/middle-east
------
Al-Baghdadi's 'deputy' captured in northern Iraq
December 03, 2019
LONDON: A senior Daesh militant close to the former leader Abu Bakr Al-Baghdadi has been captured in northern Iraq.
Police in Huwaijah, Kirkuk province, managed to track down the extremist who operated under the name "Abu Khaldoun".
He was caught hiding inside an apartment with a fake identification card, according to government security officials.A statement from the Security Media Cell described Khaldoun as Al-Baghdadi's deputy.
He was previously the military chief of Iraq's Salahuddine province, the statement said.
Al-Baghdadi blew himself up in a tunnel after US special forces entered his heavily-fortified compound in Syria's Idlib province in October.The US said it also killed Abu Hassan al-Muhajir, who they said was Al-Baghdadi's deputy at the time.
Since Al-Baghdadi's death several of the leaders operating under him have been killed or captured, along with some of his family members.Daesh controlled large parts northern Iraq after it rapidly expanded from its Syrian stronghold in 2014.
https://www.arabnews.com/node/1593631/middle-east
------
Trump says world 'has to be watching' the violence in Iran
December 03, 2019
LONDON: President Donald Trump said Tuesday that he supports the demonstrations in Iran and urged the world to watch the Iranian government's violent effort to quash protests that he says have killed "thousands of people."
Speaking in London, where he is attending the NATO leaders summit, Trump said, "Iran is killing thousands and thousands of people right now as we speak."
He added they were killed "for the mere fact that they're protesting," and he called it a "terrible thing."
Trump was mum on what, if anything, the US could do in response to the violence, but he said, "I think the world has to be watching."
Later, during a meeting with Canadian Prime Minister Justin Trudeau, Trump said he misunderstood an earlier question when he said he did not support the Iranian protesters. Trump explained that he thought the question, during an earlier meeting with French President Emmanuel Macron, pertained to financial support for the protesters. "We do support them totally," Trump explained.
The president also sent out a tweet that said: "The United States of America supports the brave people of Iran who are protesting for their FREEDOM. We have under the Trump Administration and always will!"
Amnesty International said on Monday it believes at least 208 people were killed in the protests and the crackdown that followed. Iranian state television on Tuesday acknowledged for the first time that security forces shot and killed what it described as "rioters" in multiple cities amid recent protests over the spike in government-set gasoline prices.
The protests are viewed as a reflection of widespread economic discontent gripping the country since Trump reimposed nuclear sanctions on Iran last year.
Trump encouraged reporters "to get in there and see what's going on," noting that the Iranian government has curtailed Internet access to limit the spread of information about the violence.
https://www.arabnews.com/node/1593601/middle-east
------
Israel Plans Additions to Ibrahimi Mosque
December 3, 2019
The Israeli Channel 7 unveiled an Israeli plan, on Monday, to make additions inside the Ibrahimi Mosque in the center of Hebron, the Palestine News Network reported.
The project, worth approximately 500,000 shekels (NIS), includes designing an elevator among other additions, exclusively for the use of illegal Israeli settlers.
Israel's Coordinator of the Territory Affairs, Kamil Abu Rokon, sent a letter to the Hebron municipality months ago asking them to ratify the work, telling them that the rejection of this project would mean putting the military hand on the area and carry out repair work unilaterally."
The Hebrew channel explained that the responsibility of the area of the Ibrahimi Mosque follows the Islamic endowments in Hebron, based on the Hebron agreement, but that if the municipality rejects the project will be implemented in spite of them.
The occupation authorities are accelerating the pace of annexing large parts of Hebron, especially in the central area where the old city is located.
According to B'Tselem, 700 illegal Israeli settlers live in Israeli controlled H2, among 34,000 Palestinians, while 622,670 settlers live throughout the occupied West Bank.
https://imemc.org/article/israel-plans-additions-to-ibrahimi-mosque/
------
A new generation wants an end to the Islamic Republic of Iran
Amil Imani
04/12/19
For the past forty-years, thousands of dissidents, students, intellectuals, and journalists have been systematically arrested, imprisoned and tortured for the sole crime of speaking up against the oppressive rule of the mullahs. Many are still languishing in prisons, some have died, and some have simply vanished with no trace.
Not only has the regime terrorized its own people, they have also demonstrated a high priority for supporting global terrorism.
Many Iranians are following the events in Iran carefully. Despite an unprecedented internet shutdown by the regime, the Iranian people have succeeded in providing the world with video evidence of the Mullahs' brutality. "We see you, we hear you, & as Secretary of State Michael Pompeo stated, the U.S. is with you."
The legitimacy of the Islamic Republic is now under serious question. The protests that began two weeks ago in Iran are different from most previous protests. These protesters have covered more area, overwhelming small and midsize cities across the country. They also have reportedly drawn more than 16 million participants in over 100 cities, much more than did the 2009 Green Revolution protests in Tehran.
In over 100 cities, the Islamic Republic security forces responded by opening fire on unarmed protesters, largely young men and women between the ages of 14 and 30, according to witness accounts and videos. Unofficial reports say that death toll is close to 5,000 and over 15,000 injured and arrested. The numbers could be much higher.
Photographs of some of those murdered in cold blood have been sent to me and I am sharing them with you. May their memory kindle the fires of freedom.
Are we finally witnessing the end of the Islamic Republic? Yes, but perhaps not immediately. Still, it is only a matter of time -- and not a very long one either.
http://www.israelnationalnews.com/Articles/Article.aspx/24824
------
Hizballah Operative Sentenced to 40 Years in Prison for Covert Terrorist Activities on Behalf of Hizballah's Islamic Jihad Organization
Ali Kourani Was Trained by Hizballah's External Terrorist Operations Component and Gathered Intelligence in New York City in Support of Attack-Planning Efforts
The Department of Justice today announced that Ali Kourani, 35, was sentenced to 40 years in prison based on terrorism, sanctions, and immigration convictions arising from Kourani's illicit work as an operative for the Islamic Jihad Organization, Hizballah's external attack-planning component.
"While living in the United States, Kourani served as an operative of Hizballah in order to help the foreign terrorist organization prepare for potential future attacks against the United States. With today's sentence, he is being held accountable for his crimes," said Assistant Attorney General for National Security John C. Demers. "The evidence at trial showed that Kourani searched for suppliers who could provide weapons for such attacks, identified people who could be recruited or targeted for violence, and gathered information about and conducted surveillance of potential targets within our country. Such covert activities conducted on U.S. soil are a clear threat to our national security and I applaud the agents, analysts, and prosecutors who are responsible for this investigation and prosecution."
"Ali Kourani was recruited, trained, and deployed by Hizballah's Islamic Jihad Organization to plan and execute acts of terrorism around New York City. After spending years conducting surveillance on the City's critical infrastructure, federal buildings, international airports, and even daycare centers, he is now the first Islamic Jihad Organization operative to be convicted and sentenced for his crimes against the United States," said U.S. Attorney Geoffrey S. Berman for the Southern District of New York. "The lengthy prison term imposed today on Kourani sends an important message to Hizballah and the Islamic Jihad Organization: If you are caught planning harm against this City and its residents, you will face justice and be held accountable."
"Ali Kourani's arrest was a reminder to us all that New York City and its surrounding areas remain primary targets for those looking to conduct a violent attack against our way of life," said FBI Assistant Director William F. Sweeney Jr. "His sentencing today, however, is also a reminder of the many successes of our FBI JTTFs nationwide, and their never-ending determination to disrupt the plans of those working to harm us."
"This sentencing is an another example of the dedicated work of the New York Joint Terrorism Task Force and the close partnership with the U.S. Attorney's Office, Southern District, to combat terror and hold accountable those who seek to support and promote terrorist groups," said Police Commissioner Dermot F. Shea. "I thank the NYPD investigators and our law enforcement partners whose hard work brought Mr. Kourani to justice."
As reflected in the criminal Complaint, Indictment, court filings, and evidence presented at trial:
Hizballah is a Lebanon-based Shia Islamic organization with political, social, and terrorist components that was founded in the 1980s with support from Iran. Since Hizballah's formation, the organization has been responsible for numerous terrorist attacks that have killed hundreds, including United States citizens and military personnel. In 1997, the U.S. Department of State designated Hizballah a Foreign Terrorist Organization, pursuant to Section 219 of the Immigration and Nationality Act, and it remains so designated today. In 2010, State Department officials described Hizballah as the most technically capable terrorist group in the world, and a continued security threat to the United States.
The Islamic Jihad Organization (IJO), which is also known as the External Security Organization and "910," is a highly compartmentalized component of Hizballah responsible for the planning, preparation, and execution of intelligence, counterintelligence, and terrorist activities on behalf of Hizballah outside of Lebanon. In July 2012, an IJO operative detonated explosives on a bus transporting Israeli tourists in the vicinity of an airport in Burgas, Bulgaria, killing six people and injuring 32 others. Law enforcement authorities have disrupted several other IJO attack-planning operations around the world, including the arrest of an IJO operative surveilling Israeli targets in Cyprus in 2012, the seizure of bomb-making precursor chemicals in Thailand in 2012, including chemicals manufactured by a medical devices company based in Guangzhou, China (Guangzhou Company-1), and a similar seizure of chemicals manufactured by Guangzhou Company-1 in Cyprus in May 2015 in connection with the arrest of another IJO operative.
Kourani, who was born in Lebanon, attended Hizballah-sponsored weapons training in Lebanon in 2000 when he was approximately 16 years old. After lawfully entering the United States in 2003, Kourani obtained a Bachelor of Science in biomedical engineering in 2009, and a Master of Business Administration in 2013.
Kourani and certain of his relatives were in Lebanon during the summer 2006 conflict between Israel and Hizballah, when a residence belonging to his family was destroyed. At some point by 2008, IJO recruited Kourani to its ranks. In August 2008, Kourani submitted an application for naturalization in the United States in which he falsely claimed, among other things, that he was not affiliated with a terrorist organization. In April 2009, Kourani became a naturalized citizen and was issued a United States passport. Despite claiming in his passport application that he had no travel plans, Kourani traveled to Guangzhou, China – the location of Guangzhou Company-1 – on May 3, 2009. The purpose of the trip was to develop relationships that the IJO could rely on to obtain ammonium nitrate to be used as an explosive precursor chemical.
IJO assigned Kourani an IJO handler, or mentor, responsible for providing him with taskings, debriefings, and arranging training. Kourani sometimes communicated with his handler using coded email communications, including messages sent by the handler that informed Kourani of the need to return to Lebanon. In order to establish contact with his handler when Kourani returned to Lebanon, Kourani called a telephone number associated with a pager (the IJO Pager) and provided a code that he understood was specific to him. After contacting the IJO Pager, the handler would contact Kourani to set up an in-person meeting by calling a phone belonging to one of Kourani's relatives. The IJO also provided Kourani with additional training in tradecraft, weapons, and tactics. In 2011, for example, Kourani attended a weapons training camp in the vicinity of Birkat Jabrur, Lebanon, where he used a rocket-propelled grenade launcher, an AK-47 assault rifle, an MP5 submachine gun, a PKS machine gun (a Russian-made belt-fed weapon) and a Glock pistol.
Based on other taskings from IJO personnel, which IJO personnel conveyed during periodic in-person meetings when Kourani returned to Lebanon, Kourani conducted operations, which he understood to be aimed at preparing for potential future Hizballah attacks. These covert activities included searching for weapons suppliers in the United States who could provide firearms to support IJO operations; identifying individuals affiliated with the Israeli Defense Force whom the IJO could either recruit or target for violence; gathering information regarding operations and security at airports in the United States and elsewhere, including JFK International Airport in New York; and surveilling U.S. military and law enforcement facilities in New York City, including the federal building at 26 Federal Plaza in Manhattan. Kourani transmitted some of the products of his surveillance and intelligence-gathering efforts back to IJO personnel in Lebanon using digital storage media.
In addition to the prison term, Kourani was also sentenced to five years supervised release.
Assistant Attorney General Demers and Mr. Berman praised the outstanding efforts of the FBI's New York Joint Terrorism Task Force, which principally consists of agents from the FBI and detectives from the New York City Police Department.
This prosecution is being handled by the Office's Terrorism and International Narcotics Unit. Assistant U.S. Attorneys Amanda L. Houle and Emil J. Bove III are in charge of the case, with assistance from Trial Attorney Bridget Behling of the Counterterrorism Section.
https://www.justice.gov/opa/pr/hizballah-operative-sentenced-40-years-prison-covert-terrorist-activities-behalf-hizballah-s
------
Israeli soldier bites Palestinian security guard at Al-Aqsa Mosque
3 December, 2019
A guard at Jerusalem's al-Aqsa mosque compound was called in for questioning by Israeli police and banned from the compound, after he complained to authorities about an Israeli soldier who allegedly bit him.
Mohanad Idris has now been blamed for the attack, Haaretz reported Tuesday, with Israeli police saying that he "cursed and threatened" the soldier.
Idris' lawyer strongly denies the allegations and although he was not charged he has been barred from his workplace - Al-Aqsa compound.
"It's clear there was no assault here. A Palestinian suspected of assault is not released and told to come back in a few days. They would have arrested him immediately," Idris' Attorney Eitay Mack told Haaretz.
Police told the Israeli newspaper that an investigation is underway. "Naturally we will not give details of an ongoing investigation. The lawsuit has not yet been received. When it comes, we will study the details and respond in court," it said.
Choking and biting
The incident occurred in August, when Idris spotted the soldier who he alleges attacked him a few weeks earlier.
As he was unable to identify the soldier at the time, he took his picture and reported him to the Israeli justice ministry, Haaretz reported.
"He saw me filming him and came towards me. The minute I lowered the camera he spat at me. I told him that I had lodged a complaint and they would deal with him," Idris said.
A few moments later, while Idris was on the phone with the police misconduct unit, the soldier returned with another officer. "He told me 'hang up and come with me'," he said.
"I went with him without any trouble, and when we got to the place where there were more police, one of them started attacking me," he said.
During the assault, Idris was choked and bitten. He was also hit to the ground and struck twice in the head with handcuffs, Haaretz reported. The assault was caught on camera.
Treated at Mokassed Hospital in East Jerusalem that day for sharp pains to the head, Idris then went to his local clinic for further treatment.
There, he was detained by Israeli police for around an hour, after and was summoned for questioning. He wasn't arrested at the clinic because he had his five-year-old son with him, Idris said.
Idris was informed during his interrogation that he was suspected of assaulting the soldier. A few days later he was served a restraining order banning him from al-Aqsa compound, where he works, for three months.
"There is not the slightest doubt that the policeman lost his temper and tried to frame an innocent citizen to defend himself," said Idris' Attorney Mack.
Restraining orders against Al-Aqsa guards have been commonplace since a dispute broke out over Bab al-Rahma earlier this year, according to Haaretz.
Scuffles between worshippers and police broke out in February over access to Bab al-Rahma (Gate of Mercy), which has been closed by Israel for fifteen years.
Palestinians celebrated as they managed to reenter the building and crowds of worshippers prayed inside despite an Israeli order barring access to the place of worship.
Masjid al-Aqsa is the third-holiest in Islam and a focus of Palestinian aspirations for statehood.
It is also the location of Judaism's most holy spot - Jews refer to it as the Temple Mount - and a frequent scene of conflict between the two sides.
Muslim worshippers' access to al-Aqsa and the adjoining Dome of the Rock is controlled by Israeli security forces.
The religious site is located in east Jerusalem, occupied by Israel in the 1967 Six-Day War and later annexed in a move never recognised by the international community.
https://www.alaraby.co.uk/english/news/2019/12/3/israeli-soldier-bites-palestinian-security-guard-at-al-aqsa-mosque
------
Syrian regime bombed a mosque in al Barsa village in Idlib, on December 3
SNHR: Syrian regime fixed- wing warplanes fired missiles near al Eman Mosque in al Barsa village in the eastern suburbs of Idlib governorate, partially damaging its building and furniture, on December 3, 2019.
http://sn4hr.org/sites/news/2019/12/03/syrian-regime-bombed-mosque-al-barsa-village-idlib-december-3/
------
Commander: Iran, Russia, China to Stage Joint Naval Drills on December 27
Tue Dec 03, 2019
TEHRAN (FNA)- Commander of the Iranian Navy Rear Admiral Hossein Khanzadi announced on Tuesday that his country's naval forces are due to hold joint wargames with their counterparts from China and Russia on December 27.
"The joint drills of Iran, China and Russia codenamed Marine Security Belt will be staged on December 27," Rear Admiral Khanzadi said in a meeting with Chinese Deputy Chief of the Joint Staff Department Lieutenant General Shao Yuanming in Tehran on Tuesday.
He also underlined preparedness to start exchange of information between the two countries, including data and information related to the pirates and technical issues, and called for increased joint naval drills to bolster defense preparedness of both states.
Rear Admiral Khanzadi also emphasized the importance of the joint production of destroyers and submarines by Iran and China, saying that the two states are necessitated to run technical cooperation in a bid to enhance the level of their know-how and experience.
The Chinese official, for his part, said interactions between Iran and China play an effective role in maintaining regional and international security and peace, describing the Islamic Republic of Iran's Navy as "an international and strategic force".
In relevant remarks in September, Chief of Staff of the Iranian Armed Forces Major General Mohammad Baqeri said that Tehran and Beijing were determined to boost their military ties in parallel with the expansion of relations in other areas.
Major General Baqeri, who was on an official visit to China, said that Iran and China were willing to develop long-term defense and military cooperation in parallel with the political and economic ties.
He told reporters that relations between Iran and China has been promoted to a strategic level since 2016 and the comprehensive plan of development has been exchanged between the two states.
General Baqeri said that China is an important country in Asia and in the world as well, adding that cooperation with China in various fields is of prime importance to Iran.
https://en.farsnews.com/newstext.aspx?nn=13980912001131
------
President Rouhani Underlines Iranian Nation's Victory against US Pressures
Tue Dec 03, 2019
TEHRAN (FNA)- Iranian President Hassan Rouhani stressed failure of the US plots to make the people in Iran bow to the pressures and sanctions, saying that despite its tough gestures, Washington is sending private messages to Tehran to request talks.
"These unprecedented sanctions, that as they said were the harshest economic pressure, were exerted, as they imagined, with the aim of making us bow by the end of this year, and not only the US which is a criminal and terrorist country but also other countries thought that this will happen to Iran," President Rouhani said in Tehran on Tuesday.
"Despite all these heavy economic pressures and unfair sanctions, the Iranian people protected their honor, went past the imposed hard conditions through resistance and bearing the difficulties, won and showed by resistance that they will not allow the enemy to attain its goal," he added.
Meantime, President Rouhani revealed that the Americans are sending private messages to Iran for talks contrary to their public and open statements, adding that the Europeans who are mediators are also aware of this fact.
In relevant remarks last month, Rouhani underlined that the enemies had hatched plots to make the people in Iran to bow to their pressures but to no avail.
President Rouhani referred to the enemies' conspiracies against the Iranians, stressing that Iranian people will continue their way and will not bow to pressures.
Also in November, the president said the country was currently at a very critical juncture, adding, "The people of Iran are united against the enemies' pressures, and despite what the United States and the Iranian nation's enemies are doing, this nation is readier than any other time for defending its country."
"Despite all pressures, our non-oil exports are in good conditions and this means that the entire country is working hard, and today, we need to step up our efforts for more development," he added.
https://en.farsnews.com/newstext.aspx?nn=13980912000705
------
Judiciary Spokesman: Many People, Police Officers Killed, Wounded by Rioters
Tue Dec 03, 2019
TEHRAN (FNA)- Iran's Judiciary Spokesman Gholam Hossein Esmayeeli said that armed rioters and outlaws wounded and killed a number of people and policemen during the recent unrests after the protest rallies against the gasoline rationing.
"It is confirmed that a considerable number of people have been killed by the outlaws and many officers who were trying to establish order have also been wounded by the weapons of these outlaws too," Esmayeeli told reporters in a press conference in Tehran on Tuesday.
He, meantime, said that the number of individuals killed in the recent riots is less than what some foreign parties claim, "as they name people who have died in other incidents that are different from the recent riots and many of those people claimed to be killed are alive".
Esmayeeli said arson attacks and plundering the banks and stores and killing of innocent people and police officers were all carried out by the hooligans who were affiliated to the anti-revolutionary and dissident groups and were supported by the foreign spy agencies.
He underlined that the judiciary differentiates between the protestors against the gasoline prices and the outlaws, adding that most of the detained people during the recent unrests have been freed.
"300 people are still in detention in Tehran," Esmayeeli said, adding that the number is still to decrease.
In relevant remarks on Monday, Head of the Islamic Revolution Guards Corps' Public Relations Department and IRGC Spokesman Brigadier General Ramezan Sharif said rioters that destroyed public and private properties in the recent unrests in Iran were utilizing complex tools and instruments.
"The outlaws used the most equipped tools and most professional methods in the recent sedition," General Sharif said, addressing a forum in the Central city of Arak.
He noted that the riots were fomented in Iran after the country succeeded in defeating the ISIL terrorist group, the resistance front gained great victories and the IRGC shot down an intruder US spy plane over the Iranian territories on June 20.
"The enemies are seeking to make up [for their failure] after every success Iran earns," General Sharif said.
On November 15, the government raised Iran's extremely cheap gas price in order to moderate the national consumption rate, which stands at 110 million liters per day, 40 million liters above the maximum domestic requirement.
The government also announced a number of aid and subsidiary programs to protect vulnerable households from the adverse effects of the measure.
The price reform, required by Iranian legislature and essential as US-imposed sanctions seek to deplete Iran's budgetary resources, had been long delayed due to concerns regarding the move's probable backlash.
The measure's adoption prompted initially peaceful protests, but riotous elements, abusing the situation, quickly entered the scene, destroying public property, setting ablaze banks and gas stations among other facilities, and opening fire on people and security forces.
Intelligence reports and eye-witness accounts showed that the rioters who had taken advantage of public protests against gasoline price hikes to stir chaos in the country were armed with different weapons.
The protest rallies of Iranian people against the gasoline rationing turned violent since the first hours of the gatherings after the rioters used weapons.
In Sirjan city in the Southern province of Kerman, for instance, armed hooligans were about to detonate gasoline tanks, and almost made it if it hadn't been for the immediate presence of the police troops on the scene.
Security and police reports said the large number of weapons in the hands of the outlaws and rioters which had turned the scene of protests into a battlefield was one of the main features of the unrests.
Investigations showed that most people shot in riots were targeted from behind or the sides from a short range and from among protestors.
Also, reports by the security bodies and witnesses indicated that many of the bullets were fired from inside the protesting crowd and with weapons not registered at official bodies.
Iranian Government Spokesman Ali Rabiyee announced last Monday that rioters used cold weapons and firearms during unrests in some cities and towns, killing and wounding a number of police forces.
"Based on reports, the rioters have repeatedly used cold weapons and firearms in some cities," Rabiyee told reporters in a press conference in Tehran.
Also, Commander of the Law Enforcement Police in Kurdistan province Brigadier General Ali Azadi announced that his forces had arrested 25 ringleaders of the recent riots, and seized 3 rifles from them.
"25 ringleaders and main culprits behind the riots in the two cities of Marivan and Sanandaj have been detained in coordination with the judicial officials and 3 firearms and some cold weapons have been discovered and seized from them," General Azadi said on Sunday.
Late last month, Secretary of Iran's Supreme National Security Council (SNSC) Ali Shamkhani said that Tehran had successfully thwarted an attempt by a small group of foreign-backed rioters to set oil facilities on fire in the iconic Persian Gulf port city of Assaluyeh, adding that the attack was meant to be in retaliation for Yemenis' bombardment of the Saudi oil sites in September.
He added that during the recent unrests in the country, which came after the government's decision to substantially increase the gas price, some rioters tried to attack the iconic Persian Gulf port city of Assaluyeh in the South of Iran.
"The attack on Assaluyeh had been planned by the enemy," according to Shamkhani.
The top Iranian security official added, "the enemy appeared to be seeking to avenge what Yemen Ansarullah did in attacking Saudi facilities, but it failed".
https://en.farsnews.com/newstext.aspx?nn=13980912000591
------
Top Commander Stresses Iran-China Strategic Ties
Tue Dec 03, 2019
TEHRAN (FNA)- Chief of Staff of the Iranian Armed Forces Major General Mohammad Baqeri underlined the strategic relations between Iran and China, saying that a key document about the two countries' long-term relations has been devised and presented to Beijing.
"Supreme Leader of the Islamic Revolution considers ties between Iran and China as strategic and the Chinese president has the same view about these relations," General Baqeri said in a meeting with Chinese Deputy Chief of the Joint Staff Department Lieutenant General Shao Yuanming in Tehran on Tuesday.
He added that a roadmap has been devised for the expansion of relations between the two countries in the next 25 years, which has been endorsed by Iran's Leader and presented to the Chinese officials, reminding that there are various fields for cooperation between the Iranian and Chinese Armed Forces.
In relevant remarks in September, General Baqeri said that Tehran and Beijing were determined to boost their military ties in parallel with the expansion of relations in other areas.
Major General Baqeri, who was on an official visit to China, said that Iran and China were willing to develop long-term defense and military cooperation in parallel with the political and economic ties.
He told reporters that relations between Iran and China has been promoted to a strategic level since 2016 and the comprehensive plan of development has been exchanged between the two states.
General Baqeri said that China is an important country in Asia and in the world as well, adding that cooperation with China in various fields is of prime importance to Iran.
https://en.farsnews.com/newstext.aspx?nn=13980912001092
------
Turkey Sets Up 2 New Military Bases in Northern Syria
Tue Dec 03, 2019
TEHRAN (FNA)- The Turkish Army has set up two new military headquarters in the surrounding areas of Ras al-Ein in Northeastern Syria, the Arabic-language media outlets reported.
The Arabic-language al-Akhbarieh news network reported that the Turkish Army has built two more military centers in the villages of al-Toulan and al-Kanhir in the countryside of Ras al-Ein in Hasaka province.
Ras al-Ein is located in Northwestern Hasaka province and 85 kilometers from the city of Hasaka and near the border with Turkey.
In a relevant development in late October, clashes erupted between the Syrian Army units deployed in Ras al-Ein and Turkish occupation forces, which attacked the area during army's deployment.
The clashes erupted as the Syrian Army units advanced from the direction of Tal Tamr in the Northern countryside of Hasaka towards the Turkish border, and deployed in the villages of Um Harmlah, Bab al-Kheir, Um Eshbeh, al-Asdiayah in the Southeastern countryside of Ras al-Ein, reducing the distance to the Turkish border to few kilometers.
https://en.farsnews.com/newstext.aspx?nn=13980912000443
------
Turkey's NATO membership 'unraveling' as leader meet in London
December 04, 2019
LONDON: NATO leaders meet on Wednesday in the UK for crunch talks amid concerns that Turkey's membership of the organization is "unraveling."
High on the agenda will be Ankara's aggressive policies in the region, particularly in Syria, and its decision to purchase a Russian missile system both politically and operationally out of sync with the alliance.
Turkey joined NATO, an alliance of countries serving as a bulwark to the Soviet Union, in 1952. As part of its membership, Turkey hosts a US airbase where dozens of American nuclear bombs are stored.
But Ankara's relations with other NATO members and particularly the US have become increasingly strained, leading to some experts suggesting its place in the alliance is under threat.
"What we can see so far is Turkey's relationship with NATO is slowly unraveling, even prior to the Turkish military incursion in northern Syria," Fadi Hakura, manager of the Turkey Project at Chatham House, told Arab News.
Ankara launched an offensive into north-eastern Syria on Oct. 6, which, according to Turkish President Recep Tayyip Erdogan, is meant to expel Kurdish militias.
Also, ties between allies Ankara and Berlin deteriorated sharply in the run-up to Turkey's April 16 referendum that handed Erdogan stronger presidential powers.
One of the first signs that the alliance's relationship with Turkey was in serious trouble came in July 2017, when Germany began to pull its troops out of the Incirlik air base where they had supported international operations against Daesh following a row with Ankara over access.
Turkey prevented German lawmakers to visit roughly 250 troops stationed there, saying that Berlin needs to improve its attitude first.
Germany has expressed concern about the widespread security crackdown that followed a failed coup in Turkey in 2016. "It's quite remarkable that a NATO member, like Germany, had to move its pilots and fighter jets from a NATO partner, namely Turkey, to a non-NATO member, and that is Jordan," Hakura said.
Meanwhile, NATO members, led by the US, are expected to discuss Ankara's purchase of the S-400 missile defense system bought from Russia.
Ankara and Washington have been at loggerheads over Turkey's purchase of the system, which Washington says is not compatible with NATO defenses and poses a threat to its F-35 stealth fighter jets, which Lockheed Martin Corp. is developing.
Infuriating many members of Congress, Turkey shrugged off the threat of US sanctions and began receiving its first S-400 deliveries in July. In response, Washington removed Turkey from the F-35 program.
Tensions escalated when Turkey tested its S-400s up against US-made F-16 jets last week, following months of warnings from allies.
"So far, the Senate Republicans, in particular Senate Majority Leader Mitch McConnell, have followed the wishes of President Trump and avoided any congressional sanctions against Turkey. But I think, should Turkey proceed with the activation of the S-400 Russian anti-missile defense system, which looks extremely likely to happen, the Congress well enact some tough financial and economic sanctions against Turkey," he said.
He added the sanctions are quite "serious and, according to the draft bills, may include financial sanctions against senior members of the Turkish government, sanctions preventing the US financial system, financial institutions or individuals dealing with certain ministries in Turkey, such as the ministry of defense, from purchasing Turkish debt.
Hakura also said Turkey is importing its bilateral and multilateral disputes with Europe and in the Middle East into the NATO summit.
"Turkey has so far vetoed or prevented NATO from approving a military plan to defend the Baltic region against the perceived Russian military threat, because in return, Turkey is demanding NATO endorsement of its military incursion into northern Syria, and that is not going to happen. NATO to will not provide any cover for Turkey's military incursion into northern Syria."
Moreover, Greece's prime minister will meet Erdogan on Wednesday in an attempt to ease frictions over energy exploration and Ankara's deal with Libya's Tripoli-based government on Mediterranean maritime zones, in another issue that Turkey has "imported" into the summit.
Libya and Turkey signed an agreement on boundaries in the Mediterranean last week that could complicate Ankara's disputes over offshore energy exploration with nations including Greece.
Athens says the accord is geographically absurd because it ignores the presence of the Greek island of Crete between the coasts of Turkey and Libya.
"I think that Greece in particular wants NATO to take a stand against Turkey over its maritime agreement withLibya," Hakura added.
*With Reuters
https://www.arabnews.com/node/1593781/middle-east
------
Iran bid to name new Iraqi PM
December 04, 2019
Iran wants to name the next prime minister of Iraq.
Maj. Gen. Qasem Soleimani, head of the Quds Force of the Islamic Revolutionary Guard Corps, and Mohammed Kawtharany, a top official with Hezbollah in Lebanon, have flown to Baghdad for talks on a successor to Adel Abdul Mahdi, who resigned last week.
Soleimani personally directed Iraqi security forces' deadly response to protests that began two months ago against government corruption and the failure of public services. More than 420 have been killed and at least 20,000 injured in the crackdown.
The US said Soleimani's presence at the Baghdad talks showed that Iran was again "interfering in Iraq."
"Soleimani is in Baghdad to push for a particular candidate to succeed Abdul Mahdi," a top political source told the Agence France-Presse news agency on Tuesday. Kawtharany "is also playing a large role in persuading Shiite and Sunni political forces on this."
However, Tehran may find it difficult to get its way in Baghdad. The talks to nominate a new prime minister were "difficult," the source said, because "political blocs want to maintain their positions."
As well as Iran, any successor to Abdul Mahdi would need the approval of divided Shiite factions, Kurdish authorities in the north, and the US.
Abdul Mahdi's nomination as prime minister was the product of an uneasy alliance between Parliament's two main blocs — Sairoon, led by the influential Shiite cleric Muqtada Al-Sadr, and Fatah, which is linked to Iran-backed armed groups led by Hadi Al-Amiri.
Meanwhile, protests continued in the capital and the south. In Najaf, 35 protesters were injured when armed guards in civilian clothes fired shotguns and tear gas on crowds near a Shiite tomb.
https://www.arabnews.com/node/1593696/middle-east
------
People with special needs protest in Lebanon
December 03, 2019
BEIRUT: People with special needs have taken to the streets throughout Lebanon, carrying banners demanding their "right to education, rehabilitation, treatment, integration and interdependence."
Waving Lebanese flags, they shouted "we don't want to be at home, we want to learn," "you and I are like each other," and "no one is better than anyone."Some associations catering for Lebanese children with special needs have closed down due to lack of government funding.
People in wheelchairs, and some with canes, went to the headquarters of Maronite Patriarch Bechara Boutros Al-Rahi.
"We're not the weakest segment of society, as some people like to call us," said protester Michela Gabriel. "We have the right to know why the state hasn't yet provided the necessary support to the associations."
In the town of Hermel, people with special needs gathered around the center that provides them with care. "We don't accept being marginalized," said one of them.
Students with special needs also protested in the city of Tripoli. "If the dues aren't paid, our students will remain in their homes without educational attention, and we don't accept that," said social worker Anita Bator.
Norma Al-Zain, director of the El-Kharrub Complex for Welfare and Development, expressed concern that "social welfare institutions will have to make painful choices because their continuation depends on the donations of good people and the payment of dues by the state."
Richard Kouyoumdjian, social affairs minister in the caretaker government, told protesters that he "won't abandon these institutions, and won't accept the threat of closure, nor touching a hair on the head of a child with special needs."
He said the suffering of people with special needs and the associations that care for them "is part of what Lebanon is experiencing from an economic crisis that affects all institutions." He promised to speed up aid disbursements.
Meanwhile, Parliament Speaker Nabih Berri met on Monday with Progressive Socialist Party (PSP) leader Walid Jumblatt.
The latter also visited Saad Hariri, who resigned as prime minister on Oct. 29.
The meetings were part of efforts to overcome hurdles to the formation of a new government.
There were conflicting reports of a meeting on Monday between President Michel Aoun and Samir Khatib, who has emerged as the favorite candidate to form a government, and a meeting between Khatib and the leader of the Free Patriotic Movement, Gebran Bassil.
Jumblatt said the PSP will not participate in the government, but will nominate competent Druze candidates as ministers.
https://www.arabnews.com/node/1593666/middle-east
------
Europe
The Russian Social Network Letting ISIS Back Online
By David Gilbert
Dec 3 2019
When Europol announced last week that it had effectively dismantled the Islamic State's main online network, a number of experts warned that the group would simply move to another platform.
It only took five days for ISIS to prove them right.
On November 30, an account on the unknown Russian messaging app TamTam claimed credit for the London Bridge attack in which two people were stabbed to death by 28-year-old terrorist Usman Khan. That account is linked to ISIS's Nashir news agency.
TamTam is virtually unknown outside of Russia, but over the space of just a few days, thousands of accounts and channels dedicated to spreading ISIS propaganda appeared, spewing out thousands of messages in the space of a few hours.
"There was extreme activity on TamTam," Pieter Van Ostaeyen, a member of the board of the International Centre for Counter-Terrorism, told VICE News. "You could go to bed being linked to 20 channels and wake up with over 1,000 notifications on TamTam."
By Tuesday, however, TamTam had deleted hundreds of accounts flagged by ISIS watchers who raised concerns about the group's activities on the platform. But just as before, ISIS has numerous other places to go online and as law enforcement continues to play whack-a-mole, experts fear ISIS may revive plans to build their own communications tools, making it much harder for experts to track what they are saying online.
"It is reasonable to assume that the Islamic State will resume its efforts in developing tools that can reduce the group's dependence on social media platforms and chat apps to reach a global audience of prospective supporters," said Michael S. Smith II, a terrorism analyst who helped U.S. government agencies track the group's migration to Telegram in 2015.
Islamic State moved to Telegram after being kicked off other more mainstream apps such as Twitter and Facebook. Over the last four years, they have built up a dedicated network to disseminate their propaganda material and communicate with supporters.
At the same time, because ISIS was largely focused on Telegram, academics and law enforcement were also able to thoroughly infiltrate these channels and keep a close watch on what was being said online to track any potential new threats or attacks.
But last week, the EU's Internet Referral Unit announced a thorough takedown of almost all of the main ISIS channels and accounts on Telegram. So comprehensive was the takedown that Eric van der Sypt, Belgium's federal prosecutor, felt empowered to make the bold claim that "ISIS is not present on the internet anymore."
But the rapid setup on TamTam shows that ISIS was prepared to move swiftly from one platform to another: it used TamTam to claim the London Bridge attack even before it did so on one of its few remaining Telegram channels.
TamTam is owned by Mail.ru, a Russian internet giant whose majority shareholder is Yuri Miller, a close aide to Vladimir Putin who also has links to Jared Kushner.
TamTam told VICE News that it is "strongly against the presence of any sort of content by terrorist organizations on our platform," and called on all users to "clear up the platform from inappropriate content" by reporting channels or accounts.
The company would not say how many accounts or channels it has removed, but Amarnath Amarasingam, a research fellow at the Institute for Strategic Dialogue, a think tank that tracks violent extremism, highlighted the aggressive nature of the account deletion on Tuesday morning:
But there are dozens of more online options available to ISIS, and in the last week, supporters have been testing out new platforms that could provide a long-term home for the group.
"They will definitely try to move their public presence to some more stable platform," Amarasingam told VICE News. "I don't see them ever really giving up and going home. The number of platforms they have experimented with in the last week alone is pretty staggering, and it's actually pretty interesting to watch supporters debate the strengths and weaknesses of certain platforms - in terms of security, ease of use and so on."
But ultimately, Smith says, the Telegram takedown could make ISIS take another look at developing their own technology.
When Twitter and other de-platformed ISIS back in 2014, the group's propagandists spent two years "trying to develop various tools that could reduce their dependence on popular social media and file-sharing platforms," Smith said.
These tools included browser add-ons for FireFox and Google Chrome that would auto-direct users to each new web address for websites managed by Islamic State's Amaq news service, Nashir News, and Halummu, which promotes English-language versions of the group's official propaganda.
The group also developed several versions of an Android app that streamlined distribution of Amaq-branded propaganda directly to Islamic State members' and supporters' smartphones.
In forcing ISIS off Telegram and from mainstream platforms like Facebook and Twitter, law enforcement agencies have dealt a significant blow to the group's ability to coordinate effectively online. But such disruption also comes with problems.
"The negative implications of this are significant," Amarasingam said in a recent Wired article co-written with ISIS expert Charlie Winter. "It could mean that governments will be left in the dark about what the Islamic State is saying and doing online, particularly as it morphs into a new, post-territorial insurgency in the wake of the loss of its physical caliphate and appointment of its new caliph."
https://www.vice.com/en_us/article/d3ane7/islamic-state-cant-find-an-online-home-so-they-might-build-their-own-app
------
Old video shared to claim Norway police attacked Imam opposing Quran burning
3rd December 2019
Pooja Chaudhuri
A copy of the Quran was recently set on fire during a demonstration in Norway. It now being claimed on social media, via a video, that an Imam who opposed the burning of the holy book of Islam was attacked by the Norwegian police. The video shows cops and a police dog dragging a man. Several users from Pakistan have shared the clip.
A keyword search on Google led us to reports from October this year. The incident took place in the Netherlands and is unrelated to the recent Quran burning demonstration in Norway. According to De Telegraaf, the arrested man is a 43-year-old resident from Rotterdam. He was taken by the police after a call was made from the mosque, complaining that the man was being "difficult".
Another Dutch publication Algemeen Dagblad (AD) wrote in an October 5 report that the man's family had called the cops after he was violent with passers-by. An ambulance was also called for him however he was resisting detention. The man tried to grab a policeman's firearm.
The video has been shared with a false claim by users from across the world. The post below was made by an individual from Malaysia.
https://www.altnews.in/old-video-shared-to-claim-norway-police-attacked-imam-opposing-quran-burning/
------
MEND says Labour best meets Muslim priorities in General Election
Advocacy group MEND has concluded that the Labour Party best meets the priorities of the Muslim community ahead of the upcoming General Election.
MEND analysed all the main party manifestos against its own manifesto which was produced after consultation with the Muslim community.
It then produced a league table of each party's performance, which had Jeremy Corbyn's Labour top and Boris Johnson's Tories bottom.
MEND's pledges include commitments on Islamophobia and discrimination, mosque security, media regulation, community engagement and foreign policy.
Here is a graphic of how each party did:
Labour performed well across all criteria and especially when it came to minority rights, political engagement and media and broadcasting. The party scored an impressive 27 out of 32.
The Liberal Democrats scored well in the media and broadcasting category, but did badly in youth and education and security and counter terror. The party scored a "just above average" 19 out of 32.
Next came the Green Party which performed reasonably well in minority rights, security and counter terror, and media and broadcasting, but badly on racial and religious equality and criminal justice. The party scored an average 17 out of 32.
And the worst performing party were the Tories which scored a dismal 5 out of 32. The Conservatives failed across all policy areas and scored zero in media and broadcasting, political engagement and criminal justice.
https://5pillarsuk.com/2019/12/03/mend-says-labour-best-meets-muslim-priorities-in-general-election/
------
GARDAÍ granted extra 24 hours to question an alleged Islamic State member
04 December, 2019
GARDAÍ have been granted another 24 hours to question an alleged member of so-called Islamic State (IS).
Lisa Smith (38), an Irish citizen, was arrested on Sunday at Dublin Airport on suspicion of terrorist offences.
Ms Smith is a former member of the Irish military who became a so-called IS bride in Syria.
Ms Smith travelled to the war-torn country in 2015 after converting to Islam and she married and had a child.
Her husband has since died and the child is now in custody of Ms Smith's family.
She was deported from Turkey and landed in Dublin shortly before 10.30am on Sunday.
She was met by counter-terrorism police who have been investigating her activities.
Ms Smith attended Dublin's Criminal Court of Justice on Tuesday, dressed in a black burka, where police had their time to question Ms Smith extended by a further 24 hours.
She will remain in custody at Dublin's Kevin Street Garda Station for the remainder of her interviews.
She is currently being detained under the provisions of Section 30 of the Offences against the State Act.
The Garda said they would not make any further comment.
The solicitor representing Ms Smith has claimed she was not a member of a terrorist organisation.
Darragh Mackin said the current evidence against her is "inherently weak" and does not point to any terrorist offences.
"Going to a particular location is not the terrorist offence, you must be actively engaged in a terrorist organisation or the terrorist grouping," he said.
"Lisa has categorically denied being involved in any terrorist offence or terrorist group and at this stage there's absolutely no evidence that she's been involved in any organisation or terrorist group."
http://www.irishnews.com/news/republicofirelandnews/2019/12/04/news/gardai-granted-extra-24-hours-to-question-an-alleged-islamic-state-member-1781765/
------
Macron says time for Turkey to clarify ambiguous stance on Islamic State
Michel Rose
LONDON (Reuters) - French President Emmanuel Macron accused Turkey on Tuesday of working with Islamic State proxies and said Ankara's ambiguity towards the group was detrimental to its NATO allies fighting in Syria and Iraq.
Relations between Macron and Turkey's President Tayyip Erdogan have soured ahead of Wednesday's NATO summit in London with the two leaders trading barbs over Ankara's cross-border offensive in northeast Syria targeting Kurdish militias.
Speaking alongside U.S. President Donald Trump, Macron directly linked Turkey to Islamic State fighters, while dismissing Trump's concerns that Paris was not bringing home French Islamic State fighters held by Kurdish groups in Syria.
"The common enemy today is the terrorist groups. I'm sorry to say, we don't have the same definition of terrorism around the table," Macron told reporters.
"When I look at Turkey they are fighting against those who fought with us shoulder to shoulder against ISIS (Islamic State) and sometimes they work with ISIS proxies."
Turkey has threatened to block a plan to defend Baltic states and Poland against Russian attacks unless the alliance backs Ankara in recognising the Kurdish YPG militia as a terrorist group.
The YPG's fighters have long been U.S. and French allies on the ground against Islamic State in Syria. Turkey considers them an enemy because of links to Kurdish insurgents in southeastern Turkey.
"I think any ambiguity with Turkey vis-a-vis these groups is detrimental to everybody for the situation on the ground," Macron said. "The number one (priority) is not to be ambiguous with these groups, which is why we started to discuss our relations with Turkey."
In an at times awkward news conference with Trump, Macron appeared exasperated when the U.S. president said he would pass the question to Macron on whether France should do more to bring French ISIS fighters home.
Paris has about 400 nationals, including around 60 fighters, held in northern Syria. It has refused to bring adults home saying they must face trial where their crimes were committed.
"Would you like some nice ISIS fighters? You can take everyone you want," Trump said in a light-hearted tone.
Visibly irritated, Macron responded, saying "let's be serious" and argued that number of foreign fighters from European countries was small, and that it would be unhelpful to focus on them rather than on the broader problem.
"It is true you have fighters coming from Europe but this is a tiny minority and I think the number one priority, because it's not finished, is to get rid of ISIS and terrorist groups. This is our number one priority and it's not yet done," he said.
Trump suggested Macron had not answered the question.
"This is why he is a great politician because that was one of the greatest non-answers I have ever heard, and that's OK," Trump said.
https://uk.reuters.com/article/uk-nato-summit-macron-turkey/macron-says-time-for-turkey-to-clarify-ambiguous-stance-on-islamic-state-idUKKBN1Y71YO?rpc=401&
------
German president visits mosque in Penzberg
December 3, 2019
AhlulBayt News Agency (ABNA): German President Frank-Walter Steinmeier called for more understanding and respect between religions after visiting a mosque in the southern town of Penzberg on Monday, according to the DPA news agency.
This is true "especially at a time when polarization in our society is increasing again, in which we also experience much hatred," Steinmeier said.
Speaking to the local imam of the mosque, Benjamin Idriz, he said what is taking place in Penzberg and at the mosque is exactly what he wants for his country: "Curiosity for each other and respect for each other" as seen in everyday life.
"In this respect, something is happening here that we really want to have: that the growing together of people of different faiths is as respectful as we experience it here in Penzberg," Steinmeier added.
The German head of state praised the commitment of the Islamic community in the town but also thanked the people of Penzberg for embracing the Islamic community with so much openness and respect.
In this respect, Penzberg could be a model for many communities, especially in urban areas, according to Steinmeier.
Several hundred people demonstrated on the occasion of Steinmeier's visit for more tolerance and cosmopolitanism and far outnumbered the handful of supporters of the far-right populist PEGIDA movement.
Germany has witnessed growing Islamophobia in recent years sparked by hate propaganda of far-right parties.
Police recorded 813 hate crimes against Muslims last year, including verbal insults, threatening letters and physical attacks.
More than 100 mosques and religious institutions were attacked by far-right extremists in 2018.
A country of over 83 million people, Germany is home to the second-largest Muslim population in Western Europe after France.
https://en.abna24.com/news//german-president-visits-mosque-in-penzberg_991141.html
------
The Latest: Macron wants bigger Europe military role in NATO
Dec 3, 2019
LONDON (AP) — The Latest on the NATO summit in London (all times local):
7:05 p.m.
French President Emmanuel Macron said Europeans should play a greater role within the NATO military alliance in order to be less dependent on the United States.
Macron said he wants "more European defense to get ... a less unbalanced NATO." That came after he met with Turkish President Erdogan, German Chancellor Angela Merkel and British Prime Minister Boris Johnson on the sidelines of a NATO summit.
He also said he requested clarifications from Turkey, without elaborating. Macron strongly criticized Turkey's military operation in Syria and its role within the NATO alliance.
Macron reaffirmed he wants to improve relations with Russia. He said while Europe and Russia disagree on some issues, they are also partners in other areas.
The comments come after Macron met with President Donald Trump amid tensions over the French leader's recent comments that NATO is experiencing "brain death."
———
6:50 p.m.
President Donald Trump and the first lady have been mingling with the royal family during their first day in London for NATO meetings.
The couple arrived at Buckingham Palace for a leaders' reception hosted by the queen on Tuesday evening. Protesters could be heard chanting nearby.
The Trumps had earlier joined Prince Charles and his wife, Camilla, for tea after a lengthy drive through London's stop-and-go evening rush hour traffic.
Once inside Clarence House, a British royal residence, the four briefly posed for a photograph before reporters were escorted out.
———
4:25 p.m.
President Donald Trump says he's not worried that the U.S. stock market took a dive over his remarks that a trade deal with China might not materialize until after the 2020 election.
U.S. stocks fell sharply in early trading Tuesday after Trump cast doubt over the prospect of reaching a trade deal with China this year and threatened to impose tariffs on French goods.
Trump told reporters on the sidelines of the NATO summit in London that the stock market has reached record highs recently so it's OK that the market fell.
He says he has to make the right trade deal with China — one that's good for the United States.
Trump said ''If it's an even deal, it's no good."
The S&P 500 index fell 1.3% as of 10 a.m. Eastern time. The Dow Jones Industrial Average fell 393 points, or 1.4%, to 27,388. The Nasdaq fell 1.4%.
———
4 p.m.
President Donald Trump says he would understand if the leaders of Canada and Mexico get tired of waiting on the United States to pass a new trade agreement among the nations.
Trump says the deal is good for all three nations, calling it one of the few transactions in which all three countries benefit "as a unit against the world."
Trump is talking about the trade deal in a bilateral meeting with Canadian Prime Minister Justin Trudeau on the sidelines of a NATO summit in London.
U.S. House Speaker Nancy Pelosi has insisted on changes to the U.S.-Mexico-Canada Agreement to ensure that improved labor and environmental standards are enforced.
The Republican Trump says prospects for the agreement's passage rest with Democrat Pelosi. He says: "If it gets put up for a vote, it passes, but so far, she hasn't decided to do that."
———
3:55 p.m.
President Donald Trump says NATO member countries that he thinks aren't spending enough on defense will be "dealt" with either through curtailed trade with the U.S. or possibly a tax.
Trump has complained for a long time that the U.S. is carrying too much of NATO's financial burden and that members that skimp on defense spending are freeloading off America.
Trump referenced countries that aren't keep their commitments and said "maybe I'll deal with them from a trade standpoint."
He also says he'll work something out, "so they have to pay."
Trump was speaking in London where he is attending at NATO summit.
Before Trump was elected, NATO members agreed to move "toward" a goal of spending 2% of their gross domestic product on their own defense by 2024.
Earlier this year, NATO Secretary-General Jens Stoltenberg said the majority of NATO's 29 member countries have plans to reach that goal.
———
3:40 p.m.
Increasingly tense relations between President Donald Trump and French President Emmanuel Macron were on display when the subject of Islamic State fighters surfaced on the sidelines of the NATO summit in London.
Trump says many of the IS fighters who remain detained in the Middle East are from France, Germany and Britain. Trump asked Macron: "Would you like some nice ISIS fighters? I can give them to you."
Macron wasn't amused.
Macron says he's looking at foreign fighters from France on a case-by-case basis and has taken back some fighters. Several French IS suspects will be returned to France on Dec. 9.
But he says the No. 1 problem is not foreign fighters, but in finishing the war against IS.
Trump told Macron his response was one of the "greatest non answers" he's ever heard.
———
3:25 p.m.
President Donald Trump and French President Emmanuel Macron are criticizing Turkey, which is part of NATO but has taken actions that have angered members of the alliance.
Trump said Tuesday that he had a great relationship with Turkey, although he said that the U.S. was considering imposing sanctions on Ankara for buying a Russian-made missile defense system. He spoke on the sidelines of a NATO summit in London.
Macron says Turkey and France cooperate on security, trade and migration. But he says that it's not possible for Turkey to be a member of the NATO alliance when it buys Russia's S-400 missile system.
The U.S. and other allies say the system is not compatible with NATO forces and could compromise the F-35 fighter jet program and aid Russian intelligence
Macron says NATO needs clarification from Turkey about its commitment to the alliance.
———
2:45 p.m.
President Donald Trump is acknowledging a "minor dispute" over a French digital service tax and U.S. threats to slap new tariffs on French cheese, wine and other products.
Trump says he thinks the two nations will be able to resolve the trade dispute, possibly through some "mutually beneficial tax."
He spoke Tuesday to French President Emmanuel Macron on the sidelines of the NATO summit in London. The rapport between the two was respectful but appeared cooler than it has in the past.
Trump said he was happy to see NATO members increasing their defense spending but says even more needs to be done to share the financial burden of NATO.
Macron said NATO must not only be concerned about money but needs to refocus itself on new threats facing the alliance.
———
2:35 p.m.
Russian President Vladimir Putin says that NATO's expansion poses a threat to his nation's security.
Putin noted that the alliance was created to counter the Soviet Union and has continued to expand despite the Soviet collapse. He was speaking at a Tuesday meeting with military leaders ahead of a NATO summit in London.
He said that stereotypical "bloc thinking" isn't a good way to make decisions in "rapidly changing global conditions."
Putin said the alliance has stonewalled Moscow's offers to cooperate in tackling global challenges, including international terrorism and countering the proliferation of weapons of mass destruction. He alleged that NATO has treated Russia "rudely" and refused to take its interests into account.
Putin says NATO's expansion and beefing up of its military infrastructure near Russia's borders raises a "potential threat."
———
2:25 p.m.
Norwegian Prime Minister Erna Solberg says climate change increasingly poses security risks, particularly in the Arctic region, and that NATO has a role to play in mitigating its impact.
Solberg says "climate change is a big insecurity creator" because it leads to more migration and less sustainable development that fuels extremism.
She says: "It's much less costly to prevent climate change than to adapt to it."
She was speaking in London on Tuesday ahead of a NATO summit.
Singling out China and the United States, Solberg said the challenges posed by global warming cannot be faced "without having the big emitters on board."
She says China continues to open new coal mines to secure its energy needs even as heavy air pollution threatens the health of its people.
———
11:30 a.m.
As NATO leaders trade barbs ahead of a tense summit in London, Kremlin spokesman Dmitry Peskov says that Russia is watching developments at the alliance's birthday meeting "with great attention."
The 29-country trans-Atlantic military alliance was founded in 1949 to provide collective security for Europe against what was then the Soviet Union.
Peskov said Tuesday that NATO is "a product of the era of confrontation, the Cold War era," something he says that Russia does not want to return to.
But he says that "an alliance that was created and shaped by the confrontation ideology, of course, can't bring anything else" but confrontation.
Turkey's increasingly close relations with Moscow — and its purchase of Russian air defense systems that are incompatible with NATO equipment — has added to tensions among the allies.
But Peskov says those ties are not hurting NATO.
France, meanwhile, also wants closer ties with Russia.
———
10:30 a.m.
President Donald Trump is vowing to stay out of U.K. parliamentary elections set for this month but is praising incumbent Prime Minister Boris Johnson's leadership.
Trump says he and Johnson will meet during the two-day NATO leaders' meeting in London, although the White House has not announced a sit-down.
While the British premier and Trump have a friendly relationship, Johnson is trying to keep Trump, who is unpopular in the U.K., at arms-length ahead of the Dec. 12 elections.
"I don't want to complicate it," Trump told reporters at the start of a meeting with NATO Secretary-General Jens Stoltenberg.
Trump added that he's a "fan" of Brexit and said he knows "nothing" of Johnson's Labour Party rival, Jeremy Corbyn.
He described Johnson as "very capable" and said "he will do a good job."
Johnson is set to host Trump and other NATO leaders at a reception in London later Tuesday.
———
9:45 a.m.
U.S. President Donald Trump says French President Emmanuel Macron's recent comments that NATO is experiencing "brain death" is very insulting to the military alliance's other 28 members.
Trump took aim at Macron with NATO Secretary General Jens Stoltenberg by his side and called his comments "very nasty."
Macron said the alliance was experiencing "brain death" in an interview with the Economist published last month, suggesting that the alliance was becoming obsolete.
"Nobody needs NATO more than France," Trump said.
Trump has repeatedly criticized fellow NATO members and complained that too few nations are on track to meet the alliance goal of spending at least 2% of GDP on defense by 2024.
Trump also lashed out at France for a digital service tax that he said unfairly discriminates against U.S. tech companies, including Google, Apple, Facebook and Amazon.
Robert Lighthizer, the chief U.S. trade representative, on Monday recommended the U.S. respond with $2.4 billion in new tariffs on French cheese, wine and other products.
Trump is scheduled to meet Macron later Tuesday on the sidelines of the NATO summit.
———
8 a.m.
Turkish President Recep Tayyip Erdogan says he still will not agree to a NATO defense proposal for Poland and the Baltic nations until the alliance supports Ankara's concerns related to Syrian Kurdish fighters.
Before departing to attend a NATO leaders' summit in London, Erdogan said he would discuss the issue with the leaders of Poland and the Baltics during the gathering that marks the alliance's 70th birthday.
A plan to defend the Baltic nations in case of a Russian attack requires all member states' backing.
Turkey has accused NATO allies of backing Baltic countries' security concerns but dismissing threats to Turkey from the Kurdish fighters.
Turkey considers the Kurdish fighters to be terrorists and invaded parts of northeast Syria to drive them away from its border.
https://www.aspendailynews.com/associated_press/the-latest-trump-macron-clash-over-islamic-state-fighters/article_1504f0e2-f8dd-5d8a-bbe1-d2b60e818e43.html
------
Australia
AFP arrest alleged Sydney Islamic State recruiter over radicalisation of teenagers
By Kevin Nguyen
The Australian Federal Police (AFP) said the Riverwood man is expected to be charged with several terrorism offences, which carried a potential life sentence if he was to be found guilty.
AFP Assistant Commissioner Ian McCartney said the Australian-born man was connected to other individuals who have been charged with terrorism offences, but would not disclose who they were.
He said the man "created and posted increasingly extremist material on social media, including supporting martyrdom".
The AFP said the man also downloaded a "document on basic weapons and tactics", which included how to use knives and other blunt instruments during a terrorist attack.
"It will be further alleged he actively attempted to influence teenagers to adopt and act upon his extremist views," Assistant Commissioner McCartney said.
"It was fair to say there was a continuum of radicalisation … to the point of encouraging politically-motivated violence."
Police said the man was using several different social media platforms to indoctrinate young people between 17 and 18 years old.
While police have warrants to search two properties in Sydney's south-west, the Assistant Commissioner said there was no attack, imminent threat or further arrests planned.
The arrest of the Sydney man comes days after two people were killed during a knife attack on London Bridge.
While the terror incident in the UK was concerning to AFP investigators, particularly around how intense media coverage could influence other extremists, the arrest was not connected.
"We decided to act early because we needed to, we were concerned … our number one priority was the safety of the people in NSW," the Assistant Commissioner said.
The AFP admitted it had taken advantage of digital surveillance powers granted to it by the Federal Government in this case.
"We were able to use this legislation in terms of getting behind the veil of encryption and that was a key aspect leading to this action today," Assistant Commissioner McCartney said.
He did not elaborate on this point further.
https://www.abc.net.au/news/2019-12-04/sydney-islamic-state-recruiter-arrested-over-terrorism-offences/11765520
------
URL: https://www.newageislam.com/islamic-world-news/celebrating-diversity-kolkata-time-break/d/120437
New Age Islam, Islam Online, Islamic Website, African Muslim News, Arab World News, South Asia News, Indian Muslim News, World Muslim News, Women in Islam, Islamic Feminism, Arab Women, Women In Arab, Islamophobia in America, Muslim Women in West, Islam Women and Feminism