New Age Islam News Bureau
3 Sept 2018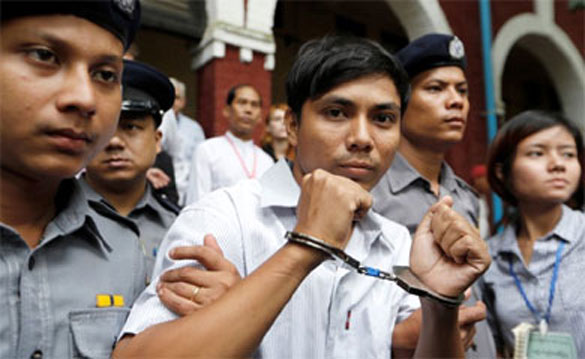 Myanmar judge convicts two Reuters reporters in landmark secrets case
------
• Catholic Priest Gives Sermon in Kerala Mosque, Thanks Muslims for Help during Floods
• Interest-Free Economy Need of the Hour: Jamaat-e-Islami
• Selangor Sultan Agrees To Raise Muslim Marrying Age To 18
• Myanmar Judge Convicts Two Reuters Reporters in Landmark Secrets Case
• Turkey Calls US 'Wild Wolves', Vows To Abandon Dollar in Trade
India
• Catholic Priest Gives Sermon in Kerala Mosque, Thanks Muslims for Help during Floods
• India, Bangladesh border forces to hold high-level talks from tomorrow in Delhi
• Islamic Institution, LDA Trade Barbs over Madrasa, Ownership of Land
• Navjot Singh Sidhu says optimistic about Indo-Pak ties after Islamabad visit
--------
Pakistan
• Interest-Free Economy Need of the Hour: Jamaat-e-Islami
• Bangladesh May Extend Cooperation to New Pakistan Government: Sheikh Hasina
• Pakistan: 'Extremism Can Be Defeated By Promoting Punjabi Culture'
• Terror bid foiled, three terrorists of banned outfit held
• FC personnel martyred in cross border firing near Pak-Afghan border
• US spells out terms of engagement with Pakistan
--------
Southeast Asia
• Selangor Sultan Agrees To Raise Muslim Marrying Age To 18
• Indonesian Catholics Shed Fears of Islam through Dialogue
• Philippines bombing kills one, wounds over a dozen
• Malaysia's former police chief, who beat Anwar in jail, raises hackles with new appointment
• Terengganu duo publicly caned six times over lesbian sex attempt
--------
South Asia
• Myanmar Judge Convicts Two Reuters Reporters in Landmark Secrets Case
• Local Taliban Commander 7 Killed In Separate Clashes in Kandahar Province
• Hasina calls Myanmar military's disinformation regarding Rohingyas 'disgusting'
• Salahuddin Rabbani met with the Ambassador of Pakistan in Kabul
• 4 wounded in magnetic bomb explosion in Kabul city
• Gen. Miller takes over NATO, U.S. forces command in Afghanistan
--------
Mideast
• Turkey Calls US 'Wild Wolves', Vows To Abandon Dollar in Trade
• Human Rights Watch Demands That Iran Investigate Killing of 30 Protestors
• Over 140 Houthi militiamen killed while Yemeni army advances in Saada
• Abbas 'completely rejects' Jordanian-Palestinian confederation: Report
• Houthi missile expert killed in coalition airstrike on Yemen's Hodeidah
• Video shows Israelis stoning Palestinian village as troops look on
• Yemeni forces fire missile at Saudi military forces in Jizan border region
--------
North America
• Teen Boy in 'Extremist Muslim' New Mexico Compound Says He Was Being Trained For 'Jihad': Report
• Top US Official Denied Job over Anti-Muslim Posts On Facebook: Report
• Houston protesters clash outside Islamic convention
• US commando takes helm of forces in Afghanistan
• US views Afghan war as 'cash cow,' will never leave Afghanistan: Analyst
--------
Europe
• Arab Lawmakers in Israel Support Corbyn's Fight against Racism
• 'Afghan' Faces German Murder Verdict amid Tensions in Chemnitz
• Germany suspends two policemen over Nazi salute
• Afghan teen to appear in court for Amsterdam station attack
--------
Arab World
• Iraqi Amputees Take the Plunge to Forget Horrors of ISIS
• Iraqi Police Fires Teargas at Anti-Corruption Protest In Basra
• Two More Terrorist Commanders Killed in Northwestern Syria
• Syrian Army's Heavy Artillery Fire Inflicts Major Losses on Terrorists in Hama
• US Army Sends More Military Equipment to Bases in Syria
• Turkey Working on Diversion Plan to Trouble Syrian Army Attack on Terrorists in Idlib
• Syrian Army Seizes More Strategic Positions of ISIL in Eastern Deserts of Sweida
• Iraqi parties announce formation of largest bloc in parliament
• Unidentified Muslims attack Christian homes in Egypt
--------
Africa
• Al-Shabaab Car Bomb Kills At Least Six In Central Mogadishu
• UN Chief Condemns Escalating Violence In Libya
• Hundreds escape Ain Zara prison near Libya's Tripoli
• Libyan government announces a state of emergency in Tripoli
• Trial of Boko Haram suspects, good progress for Nigeria's justice sector – AI
Compiled by New Age Islam News Bureau
URL: https://www.newageislam.com/islamic-world-news/catholic-priest-gives-sermon-inkerala/d/116272
--------
Catholic priest gives sermon in Kerala mosque, thanks Muslims for help during floods
Sep 02, 2018
In a sermon of a different kind, a Catholic priest addressed members of Muslim community inside a mosque, thanking them for selflessly feeding the flood victims who had taken shelter at his church.
Father Sanu Puthussery, belonging to the Syro-Malabar Church, had visited the Juma Masjid at Vechoor in Kottayam district during jum'ah (Friday prayers) on August 31 and delivered a thanksgiving speech at the prayer hall.
As the deadliest floods had lashed the state two weeks ago, over 580 people had sought refuge at St Antony's Church at Achinakom where Father Puthussery was serving as the priest.
However, a day after, the Church authorities faced some shortage of food and water.
"I straightaway went to the Masjid, apprised the maulvi about our difficulty and requested his help. After the day's prayers, Muslim brothers came to the church with a large quantity of food and water," Father Puthussery said.
"I cannot express my gratitude to them in words. That much help and support they had extended during the time of difficulties," he said.
They continued bringing essential items to the relief camp at the church.
Besides food and water, the youth attached to the mosque also arranged for medicines, he said.
"I went to the Masjid to meet the maulvi and other authorities and thank them personally. But they invited me to their prayer hall and offered me their platform to speak...," the priest said.
It was a different experience for over 250 believers, who were present at the mosque to offer Friday prayers.
In his about 10-minute speech, the Catholic priest said, though the floods had snatched away many valuables from people, it also washed away the walls of
differences among them.
"Pope Francis had said build bridges, not walls. The devastating floods has now given us an opportunity to destroy the walls and build the bridges of togetherness," the priest added.
https://www.hindustantimes.com/india-news/catholic-priest-gives-sermon-in-kerala-mosque-thanks-muslims-for-help-during-floods/story-4DiYZrdlwHf5bSKJODVXiK.html
--------
Interest-Free Economy Need of the Hour: Jamaat-e-Islami
SEPTEMBER 3, 2018
Talking to the media after addressing the participants of the Jamaat-e-Islami (JI) Ijtema at Sanghota in Swat on Sunday, Ameer, Jamaat-e-Islami Pakistan, Senator Siraj ul Haq, has said that it is the constitutional responsibility of the government to establish an interest-free economy in the country.
Sirajul Haq said that in order to make Pakistan an Islamic welfare state, the government would have to give special attention to education, health, employment and collective justice. "The government announcement to create ten million jobs had given a new hope to the nation" said the JI leader.
Talking on the forthcoming presidential elections, he said that the JI wants a stable democracy in the country and it also desires that the presidential elections would be held in a democratic manner.
He further said that reliable elections were a basic requirement of a democratic society. "The 25th July elections were the elections only of the millionaires and billionaires and the Election Commission of Pakistan (ECP) had failed to hold fair, free and transparent elections", added the JI leader.
Siraj ul Haq said that Pakistan has lived under both, dictatorship and democracy, but none of the ruling systems has paid attention to the problems of the general public and only the interests of small elite have been given preference.
The JI leader said that new government should not frame its policies keeping in view the interest of the feudal lords and capitalists, but serious heed should also be paid to watch the interest of the poor masses and to ensure that the children of the poor could also get education and health facilities.
The JI chief further said that the biggest task before the government at present is to start accountability of the remaining 436 people named in the Panama leaks. "All the corrupt people, howsoever powerful they were, must be brought to justice", he added.
Talking on the ongoing situation of load shedding, Siraj ul Haq said that the issue of load shedding is getting total out of control in Khyber Pakhtunkhwa (KP). He said that the issue is not the power generation but it is in the distribution and transmission of power.
https://dailytimes.com.pk/292081/interest-free-economy-need-of-the-hour-siraj/
--------
Selangor Sultan Agrees To Raise Muslim Marrying Age To 18
03 September 2018
By Jamny Rosli
PETALING JAYA, Sept 3 — The legal marrying age for Muslims in Selangor will be revised from 16 to 18 year old, Sultan Sharafuddin Idris Shah said today.
The Star reported the Sultan as saying he had instructed the Selangor Islamic Religious Council (Mais) and the Selangor Islamic Religious Department (Jais) to review the existing Islamic laws in the state and propose the necessary changes.
"Following this, Mais and Jais have presented to me information on the proposal to amend the existing laws.
"I am in agreement with the suggestion to streamline the minimum age of marriage for Muslim males and females in Selangor from 16 to 18," said Sultan Sharafuddin in his royal address opening the Selangor Legislative Assembly sitting.
Sultan Sharafuddin said earlier in his speech that he viewed underage marriage as a serious issue, such as the recent case involving the marriage of young Muslim girl in Kelantan.
He said such cases could impact negatively on the couple's future as well as its implication on society.
https://www.malaymail.com/s/1668781/selangor-sultan-agrees-to-raising-muslim-marrying-age-to-18
--------
Myanmar judge convicts two Reuters reporters in landmark secrets case
September 03, 2018
A Myanmar judge on Monday found two Reuters journalists guilty of breaching a law on state secrets and sentenced them to seven years in prison, in a landmark case seen as a test of progress towards democracy in the Southeast Asian country.
Yangon northern district judge Ye Lwin said Wa Lone, 32, and Kyaw Soe Oo, 28, breached the colonial-era Official Secrets Act when they collected and obtained confidential documents.
"The defendants... have breached Official Secrets Act section 3.1.c, and are sentenced to seven years. The time already served by the defendants from December 12 will be taken into consideration," the judge said.
Press freedom advocates, the United Nations, the European Union and countries including the United States, Canada and Australia had called for the Reuters journalists' acquittal.
"Today is a sad day for Myanmar, Reuters journalists Wa Lone and Kyaw Soe Oo, and the press everywhere," Reuters editor in chief Stephen J Adler said in a statement.
"We will not wait while Wa Lone and Kyaw Soe Oo suffer this injustice and will evaluate how to proceed in the coming days, including whether to seek relief in an international forum."
The reporters had told the court two police officials handed them papers at a north Yangon restaurant moments before other officers arrested them.
One police witness testified the restaurant meeting was a set-up to entrap the journalists to block or punish them for their reporting of a mass killing of Rohingya Muslims.
"I have no fear," Wa Lone said after the verdict.
"I have not done anything wrong... I believe in justice, democracy and freedom."
The verdict means Wa Lone and Kyaw Soe Oo - who both have young daughters and have not seen their families outside of prison visits and court hearings for nearly nine months - remain behind bars.
Kyaw Soe Oo has a three-year-old daughter and Wa Lone's wife, Pan Ei Mon, gave birth to their first child last month.
Myanmar government spokesman Zaw Htay has mostly declined to comment throughout the proceedings, saying Myanmar's courts were independent and the case would be conducted according to the law.
The verdict had been postponed for a week because Judge Ye Lwin was sick. It comes amid mounting pressure on the government of Nobel laureate Aung San Suu Kyi over a security crackdown sparked by attacks by insurgents from the Rohingya Muslim minority on the security forces in August 2017.
More than 700,000 stateless Rohingya Muslims fled across western Myanmar's border with Bangladesh, according to U.N. agencies.
Dozens of reporters from domestic and international media organizations and diplomats were at the court for the verdict.
'HAMMER BLOW'
US ambassador Scot Marciel said he was sad for the two reporters and also for Myanmar.
"It's deeply troubling for everybody who has struggled so hard here for media freedom. I think one has to ask will this process increase or decrease the confidence the people of Myanmar have in their justice system," Marciel told reporters.
"We are disappointed by today's court decision," the UN Resident and Humanitarian Coordinator in Myanmar, Knut Ostby, said in a statement. "The United Nations has consistently called for the release of the Reuters journalists and urged the authorities to respect their right to pursue freedom of expression and information."
British ambassador Dan Chugg, speaking on behalf of his government and EU members, said he was "extremely disappointed" by the verdict in a case that had "passed a long shadow" over freedom of expression and the rule of law.
"This has dealt a hammer blow for the rule of law," Chugg said.
The Reuters reporters were arrested on December 12 while investigating the killing of 10 Rohingya men and boys and other abuses involving soldiers and police in Inn Din, a village in Rakhine State.
Myanmar has denied allegations of atrocities made by refugees against its security forces, saying it conducted a legitimate counterinsurgency operation against Muslim militants.
But the military acknowledged the killing of the 10 Rohingya men and boys at Inn Din after arresting the Reuters reporters.
A UN mandated fact-finding mission said last week Myanmar's military carried out mass killings and gang rapes of Muslim Rohingya with "genocidal intent" and called for top generals to be prosecuted. Myanmar rejected the findings.
The International Criminal Court is considering whether it has jurisdiction over events in Rakhine, while the United States, the European Union and Canada have sanctioned Myanmar military and police officers over the crackdown.
https://www.thedailystar.net/news/rohingya-crisis/secrets-act-2-reuters-journalists-get-7-yr-jail-myanmar-mass-killing-refugee-crisis-1628398
--------
Turkey calls US 'wild wolves', vows to abandon dollar in trade
September 02, 2018
BISHKEK: Turkish President Recep Tayyip Erdogan on Sunday vowed Ankara would pursue non-dollar transactions in trade with Russia and other countries, accusing the US of behaving like "wild wolves."
Both Turkey and Russia are reeling from punitive economic measures imposed by Washington.
"America behaves like wild wolves. Don't believe them," Erdogan told a business forum during a visit to Kyrgyzstan, in comments translated into Kyrgyz.
He said his country was in negotiations with Russia over non-dollar trade.
"Using the dollar only damages us. We will not give up. We will be victorious," Erdogan told the meeting, attended by Kyrgyz and Turkish businessmen as well as government officials.
Ties between NATO members Washington and Ankara hit a new low last month as US President Donald Trump announced steep new tariffs on Turkish steel and aluminum in response to the detention of an American pastor in Turkey.
The Turkish lira shed a quarter of its value last month as the trade war with the US ratcheted up.
Russia meanwhile saw its ruble tumble to two-year lows in August after the US announced fresh sanctions in connection with a nerve agent poisoning incident in the British city of Salisbury.
Erdogan has also used the visit to ex-Soviet Kyrgyzstan to demand the Central Asian country of six million people relinquish all ties to Fethullah Gulen, a US-based cleric and educator Ankara accuses of fomenting a coup in 2016.
Speaking Sunday, Erdogan said Turkish businesses should invest in Kyrgyzstan but "may face barriers from FETO," the term Ankara uses to describe the network of people and institutions linked to Gulen.
The refusal of the United States to extradite 77-year-old Gulen to face trial in Turkey is one of several sore points that have plagued a once-strong bilateral relationship.
Gulen, whose Hizmet movement has led to the creation of schools in dozens of countries including Kyrgyzstan has always denied any links to the 2016 coup attempt.
Since July 2016, over 55,000 people have been arrested over coup links in Turkey, while more than 140,000 public sector employees have been sacked or suspended.
http://www.arabnews.com/node/1365771/middle-east
--------
India
India, Bangladesh Border Forces to Hold High-Level Talks from Tomorrow in Delhi
Sep 2, 2018
NEW DELHI: India will take up issues like BSF personnel being attacked by Bangladeshi criminals and those related to crossborder smuggling during a high-level meeting of the border guarding forces of the two countries beginning here tomorrow, a senior official said on Sunday.
As per an official, India and Bangladesh will share updates about movement of Rohingyas in the meeting.
A delegation of the Border Guards Bangladesh (BGB), led by its Director General (DG) Maj Gen Md Shafeenul Islam, has arrived in India to hold bi-annual talks with their counterparts - BSF - as part of their six-day tour.
The Border Security Force (BSF) side will be led by DG K K Sharma.
"Relations between India and Bangladesh are at an all-time high," a BSF spokesperson said.
"Issues like prevention against attacks on BSF personnel by Bangladeshi criminals, joint efforts to prevent trans-border crimes, action against Indian insurgent groups (operating from the other side) among others are part of the agenda for the DG-level talks that begins tomorrow here," he said.
Issues related to border infrastructure, simultaneous coordinated patrol in vulnerable areas of the border and mutual sharing of information are also part of the BSF subjects, the spokesperson said.
A senior official told PTI that the two sides will also share updates with regard to the movement of the Rohingyas along the 4,096-km frontier they share.
The Dhaka headquartered BGB is expected to take up issues like smuggling of various types of drugs/narcotics from India to Bangladesh and arrest or apprehension of Bangladeshi nationals by the BSF among others, the spokesperson said.
A joint record of discussion will also be signed between the two forces on September 7, he added.
This is the 47th DG-level conference between the two sides since it began in 1975.
The last time the two forces met for such a meeting was in April this year in Dhaka.
https://timesofindia.indiatimes.com/india/india-bangladesh-border-forces-to-hold-high-level-talks-from-tomorrow-in-delhi/articleshow/65645958.cms
--------
Islamic Institution, LDA Trade Barbs over Madrasa, Ownership of Land
September 3, 2018
Darul Uloom Nadwatul Ulama, an Islamic institution, and the Lucknow Development Authority (LDA) are locked in a dispute over ownership of a land under Chowk police station area. Besides, the Islamic institution has also accused the LDA of trying to demolish a madrasa built there, an allegation the civic body has denied.
"LDA officials came here on August 29 to demolish the madrasa Mazharul Islam as, according to them, it is situated on a government land. We received a notice in this regard on August 14. However, they couldn't raze the structure as people from the locality assembled at the spot to prevent them from doing it," said Dr Shoaib Qureshi, a member of both the working committee and the executive panel of the Ulama. He claimed that the land was purchased by the Ulama through six registries between 1982 and 1991. The madrasa was built in 2005 after the map for the same was passed by the LDA, Qureshi said.
"The land was originally owned by four brothers, one of whom went to Pakistan in 1965. In 1982, we first purchased one-fourth of the land and subsequently the rest by 1991. The next year, a primary school was constructed on the land and then a small madrasa was established. In 2005, after the map was passed by the LDA, the madrasa Mazharul Islam was built. At present, we have two buildings with hostel and library facilities spread over 20,000 sq ft. The rest of the land houses an abandoned factory and makeshift houses where people live," Qureshi said.
When contacted, LDA secretary Mangala Prasad Singh denied the allegations. "It is confirmed that the land belongs to the government. However, we are not going to demolish the madrasa or any other pucca structure on the land. We only have to construct a boundary wall in the empty space for some government work. Only those living in makeshift houses will be removed. In fact, many of them have already shifted," Singh said.
Full report at:
https://indianexpress.com/article/cities/lucknow/islamic-institution-lda-trade-barbs-over-madrasa-ownership-of-land-5336612/
--------
Navjot Singh Sidhu says optimistic about Indo-Pak ties after Islamabad visit
Sep 2, 2018
JAIPUR: Congress leader Navjot Singh Sidhu said Sunday his belief that India-Pakistan ties were set to improve has strengthened after his return from Islamabad, as his "friend" Imran Khan has sent a message that he wants peace.
Unlike before, when an Indian prime minister's visit to Pakistan was responded with terrorist strikes, Sidhu said his trip resulted in a message of peace.
After his return from Pakistan last month, Sidhu said, there was controversy in India, but the new Pakistan prime minister said "they want peace".
Sidhu visited Pakistan to attend the oath-taking ceremony of Khan, a cricketer turned politician, on August 18.
During the visit, Sidhu had hugged Pakistan Army chief Gen Qamar Javed Bajwa, triggering a torrent of criticism from the BJP and also from within his Congress party, including Punjab Chief Minister Amarinder Singh.
Today, Sidhu said, "I will tell you why my hope about the improvement in relations of both the countries got strengthen."
"Kargil War happened after former PM Atal Bihari Vajpayee returned from Pakistan. Pathankot attack happened after PM Narendra Modi returned from Pakistan, but when Sidhu returned from Pakistan and some 'nok-jhonk' (bickering) took place, the message from my friend came that 'we want peace... You take one step and we will take two'," Sidhu said, referring to Khan.
Responding to a question at 'Soch Se Soch Ki Ladai' event organised by Youth Congress in Ajmer city of Rajasthan, Sidhu said sportsmen and artists break barrier and bring people closer.
The Punjab tourism minister said dialogue is the only way to improve ties with Pakistan.
"Hope is the biggest top (cannon), which conquers the impossible. My hope has strengthened after my personal friend became the prime minister of Pakistan after a struggle of years... I can say with full confidence that relations between both the nations would be enhanced," he said.
Referring to Modi's impromptu visit to Lahore in December 2015 to meet his then Pakistan counterpart Nawaz Sharif, Sidhu said Modi visited there without any invitation, and that was because he understands "talks are the only way (forward)".
"Nothing except negativity was gained by blood shedding. Thousands of people lost their lives. So I would say positive - anything is better than nothing.
Full report at:
https://timesofindia.indiatimes.com/india/navjot-singh-sidhu-says-optimistic-about-indo-pak-ties-after-islamabad-visit/articleshow/65648469.cms
--------
Pakistan
Bangladesh may extend cooperation to new Pakistan government: Sheikh Hasina
Sep 2, 2018
DHAKA: Bangladesh Prime Minister Sheikh Hasina on Sunday said Dhaka could extend its cooperation to Pakistan's new government under Premier Imran Khan's leadership for their mutual welfare.
"Imran Khan came to power after making massive struggle. We will extend cooperation to him if he seeks it from us," she said.
Hasina added, "We will do it considering the welfare of the people of Pakistan, not the conspirators (there). . . We've no objection to share experiences with them for the welfare of the common people".
She said Khan "hit many sixes" on the field but now "it is the time to see whether he could hit those sixes by remaining in power...we'll be happy if he can do it".
Hasina, however, said there were still some "Pakistan lovers" in Bangladesh who are still conspiring against their own country, in an oblique reference to fundamentalist Jamaat-e-Islami and its crucial ally BNP of now imprisoned ex-premier Khaleda Zia.
Dhaka-Islamabad relations plunged to their lowest ebb since Bangladesh initiated the war crimes trial in 2010 exposing Bengali war criminals who carried out atrocities while siding with Pakistani troops in the 1971 war.
To a question on the Myanmar military's use of "fake pictures" as part of their anti-Rohingya propaganda, Hasina blasted the regime there accusing them of spreading disinformation over their minority Rohingya population.
"This is a magical trick...What they are doing is disgusting," she said as foreign media investigations found that the Myanmarese army used fake photos in their bid to show so-called Rohingya atrocities on Burmese Buddhists decades ago.
Hasina said Myanmar committed a heinous act attacking and driving out tens of thousands of Rohingyas of their homeland but "the biggest matter is that they tarnished their own image".
The premier said Myanmar pledged to take back their displaced people from Bangladesh, but the reality is that they did not act accordingly.
"Myanmar is Bangladesh's next-door neigbour, so we never wanted any conflicting position (with them)...the international community gave support to Bangladesh on the issue and I extend my thanks to them for it," she said.
The prime minister said Bangladesh has given shelter to 1.1 million Rohingyas and made all kinds of arrangements for them while Dhaka was continuing talks with Myanmar for their repatriation and signed an agreement to this end.
"When talks are held with Myanmar they don't make any objection on the repatriation of the Rohingyas. But the reality is different," she said.
https://timesofindia.indiatimes.com/world/pakistan/bangladesh-may-extend-cooperation-to-new-pakistan-government-sheikh-hasina/articleshow/65648322.cms
--------
Pakistan: 'Extremism Can Be Defeated By Promoting Punjabi Culture'
September 2, 2018
Lahore: The Muslim Sufis have spread the message of peace, love and humanity but, unfortunately, the younger generation and the political elite in Pakistan are not aware of their messages.
Some powerful corridors destroyed the culture of land of Sufis, said Ammar Shah Kazmi in a seminar on "Importance of Punjabi Language and Culture" held at Punjab Institute of Languages and Culture here on Saturday.
He said religion is totally different from culture. "Saudi Arabia has its own culture and our Punjabi culture is different from rest of the world. Unfortunately, our political elite seemed reluctant to promote Punjabi culture and language", he said.
He shared that according to the Article 3 of the constitution of Pakistan, government was bound to promote regional languages.
Unfortunately, the government of Punjab did not pay heed. He said the government of Sindh promoted Sindhi language and made it compulsory in schools.
He demanded government of Punjab that Punjabi be included in syllabus so that the children could get familiar with Punjabi culture.
Kazmi said extremism could be defeated by promoting the Punjabi culture and languages. Dance, folk songs, folklore, etc, are the beauty of Punjabi culture. Mela at shrines, Kabbadi, cinemas, kite flying, etc, are the essential part of Punjabi culture.
He said the sound of drum beat attracted the people of all religions, creed, colour and caste, and love was promoted in social gatherings.
Unfortunately, alienation promoted hatred, he lamented.
Punjab Institute of Language, Art and Culture (PILAC) Director Dr Sughra Sadaf said love conquers all. Sufis promoted love and worked for the interfaith harmony in the region.
Unluckily, the culture of Punjab has lost somewhere, she said. She said, "Our culture is different than that of Saudi Arabian culture."
Punjab is a land of Sufism which promotes love only. Hatred could not grow in fertile land of Punjab, she said.
Natural expression of language have been stopped in the country, she lamented. No language could compete with Punjabi language, she said.
Full report at:
https://www.thenews.com.pk/print/362748-extremism-can-be-defeated-by-promoting-punjabi-culture
--------
Terror bid foiled, three terrorists of banned outfit held
Sep 03, 2018
MULTAN: The Counter Terrorism Department (CTD) foiled major terror bid and arrested three terrorists of a banned outfit on Sunday.
A CTD spokesperson said that on an intelligence tip-off, the CTD team conducted an operation in Basti Shorkot of Multan.
During operation, three terrorists of a banned outfit identified as Iqbal, Usman and Husnain Muhavia were arrested.
The detainees were planning to conduct a terrorist attack on Defence Day (September 06) but in time action foiled the bid.
Full report at:
https://www.pakistantoday.com.pk/2018/09/02/terror-bid-foiled-three-terrorists-of-banned-outfit-held/
--------
FC personnel martyred in cross border firing near Pak-Afghan border
Sep 03, 2018
An FC personnel was martyred and another injured on Sunday in a cross-border firing at a check post located in Kurram near the Pak-Afghan border.
The incident took place when militants in Afghanistan opened fire at the security personnel.
The FC personnel, identified as Lance Naik Rehmanullah lost his life during the attack, while the wounded security forces personnel had been shifted to a nearby hospital for treatment.
It was reported that cross-border firing originated from Afghanistan's Khost province, which took place early on Saturday at around 6:45 am and was targeting a picketing party of the Khataka Post.
Full report at:
https://www.pakistantoday.com.pk/2018/09/02/fc-personnel-martyred-in-cross-border-firing-near-pak-afghan-border/
--------
US spells out terms of engagement with Pakistan
Anwar Iqbal
September 03, 2018
WASHINGTON: As the United States and the new Pakistani government prepare for their first face-to-face talks in Islamabad on Wednesday, the Trump administration has made it clear that Pakistan will have to back the US strategy in Afghanistan if it wants good relations with Washington.
The strategy — as defined by both the State Department and the Pentagon this week — is to use a combination of military and diplomatic pressures to force the Taliban to work with Kabul for restoring peace in Afghanistan.
Washington believes that a working relationship between the Taliban and Kabul can lead to an honourable withdrawal of US troops from Afghanistan.
Washington sent its first clear message to Islamabad last week when US Secretary of State Michael Pompeo telephoned Prime Minister Imran Khan and asked the latter to take "decisive action against all terrorists operating in Pakistan".
Initially, Islamabad disputed the US version of this conversation, but later withdrew its objection.
The second message came earlier last week when US Defence Secretary James Mattis said at a news briefing in Washington that Secretary Pompeo and the US military chief were going to Islamabad to urge Pakistan to play its role in fighting terrorists.
Then on Saturday, the Pentagon announced that it was seeking to reallocate $300 million in aid to Pakistan due to Islamabad's lack of "decisive actions" in support of America's Afghan strategy.
But so far, the most detailed explanation of the US terms of engagement came from a senior Pentagon official — Assistant Secretary of Defence for Asian and Pacific Security Affairs Randall G. Schriver.
In his talk at the Carnegie Endowment for International Peace, Washington, Mr Schriver emphasised several key points: no restoration of US security assistance to Pakistan before the war in Afghanistan ends, more restrictions may be imposed and Washington has serious concerns about Pakistan's growing economic ties with China.
But he also said that the Trump administration was willing to give Imran Khan and his team some "space" to make their policies.
"In terms of separating what was said during a campaign and what he said since the election, we want to give him (Mr Khan) space to find the opportunities to improve things with India," he said.
Mr Schriver also dispelled the perception that Washington was trying to destabilise Pakistan.
"We are not interested in a failed Pakistan by any stretch of the imagination. So, we want them to be successful," said the top US official while indicating that Washington could also work with international financial institutions to help boost the ailing Pakistani economy because "economy is going to be the key" to Pakistan's success.
In earlier statements, US officials had indicated that they might not support Pakistan's bid to seek an estimated $12 billion from the International Monetary Fund until what they said Islamabad stopped supporting certain Taliban groups in Afghanistan.
Mr Schriver not only offered conditional support to Pakistan's efforts to seek international or bilateral loans, but also acknowledged the key role that Islamabad has to play in bringing the Taliban to the negotiating table.
"There is no question we need Pakistan's help in encouraging, persuading, pressuring Taliban to come to the negotiating table, deal with the national unity government under President Ghani and talk about a future where they are included, not through force, but through a political process," he said.
He defended the Trump administration's decision to suspend security and certain economic assistance to Pakistan, saying: "We have made decisions on curbing assistance and putting constraints on our relationship with Pakistan as a means to try to persuade them to adopt that course and use their influence on the Taliban."
But such decisions were regularly evaluated, he added.
"We are still evaluating as to the impact of that. It's certainly not where we want it to be. But it's something that, I think, we will stick with and certainly the end stage should be one that we can all agree on," he said.
Mr Schriver also said that the US was not yet ready to resume its assistance to Pakistan.
"I think our approach of cutting assistance and pressuring Pakistan on their relationship with the Taliban — persuading them to come to the table, dealing with terrorist networks — will be sustained," he said. "It is a matter of dealing with suspicions and distrust and the mix of all this."
Explaining why the Trump administration wanted to end the Afghan war now, Mr Schriver said: "Seventeen years is long enough to be involved in a war. We need this to end. We want this to end."
Responding to a question about the Pakistani economy, Mr Schriver said: "I don't have a good answer on the economic difficulties and challenges that Pakistan finds itself in. What I can say is, if you look at other examples where countries went all-in or largely-in with China, the results have not been particularly good. There has been an erosion of sovereignty and an erosion of control. There are many examples of that."
The US, he said, was willing to help Pakistan.
Full report at:
https://www.dawn.com/news/1430630/us-spells-out-terms-of-engagement-with-pakistan
--------
Southeast Asia
Indonesian Catholics shed fears of Islam through dialogue
August 31, 2018
Amanda Setiadi says she often used to feel nervous when interacting with her Muslim colleagues due to fears of religious extremism and violence.
"I always thought they would do something bad to me or behind my back," the 29-year-old Chinese-Indonesian Christian from Kelapa Gading in northern Jakarta told ucanews.com recently. Jakarta has declared 2018 as the "Year of Unity."
With her admittedly limited knowledge of Islam, she tried to convince herself that not all Muslims were closet jihadists, or had in some way been radicalized, by trying to keep an open mind.
Yet her fears would not subside.
She didn't give up, however, and decided to learn more about Islam by reading up on it and watching YouTube videos covering Islamic teachings.
In July she heard of a class being hosted by a group of young Catholic writers and journalists called Agenda 18 that was formed in 2003 to discuss issues like religious plurality. It has held a short program of classes for six of the last 15 years, with the previous one taking place in 2012.
But while the focus in previous years was on writing and literature, it has since expanded to make Islam the main topic. This was in response to the changing situation in Indonesia with extremists now looming so large on the radar.
Setiadi is a catechumen, or a Christian convert who has not yet been baptized. She decided to register for this year's program as classes had been scheduled every Saturday throughout August at a venue in Jakarta Archdiocese.
And Setiadi wasn't alone. About a dozen Catholic laypeople joined her. Each class lasted for four hours.
Understanding Islam
Stela Anjani, the group's spokeswoman, said the point was to deepen local Catholics' understanding of Islam in a bid to ease misunderstandings and friction due to religion while fostering greater tolerance.
"Cases of violence committed by Muslim groups can create a negative perception about Muslims in general. This ruins inter-religious relations," she said.
For instance, feelings of hatred against Muslims blanketed the hearts of many Christians following a series of suicide bombings that targeted three churches in Surabaya, the capital of East Java province, in May.
One family — a husband, wife and their four children — committed the suicide bombings in the country's second-largest city. Dozens of people were killed and injured.
"We don't want Catholics to be trapped [by thinking all Muslims support this behavior]. We want to create space for mutual understanding," Anjani said.
A message of greeting entitled "Christians and Muslims: From Competition to Collaboration" that was delivered by the Vatican's Pontifical Council for Interreligious Dialogue in June for the feast of Eid al-Fitr, has also strengthened the group's goals.
The message highlights the negative impact of harboring a spirit of competition between Christians and Muslims, and the need for both communities to recall their religious and moral values.
To that end, the August classes that Setiadi attended invited Muslim scholars from organizations that promote religious tolerance and dialogue including the Inklusif Foundation, and covered topics such as Islam and peace.
One of the speakers was Subhi Azhari from the foundation who taught about the caliphate.
"An opportunity like this is very important. These classes really do help us to avoid misunderstandings," he said.
Father Antonius Benny Susetyo, an activist priest, called the program an "oasis of calm."
"Friction between religious groups emerges because the faithful don't know each other well," said the priest, a former executive secretary of the bishops' Commission for Ecumenical and Interreligious Affairs.
Friends with benefits
Thanks to the program, Matheus Kemal Rousdy from St. Laurent Parish in Tangerang, Banten province, says he now has a much clearer picture of what Islam is all about.
"It's convinced me not all Muslims sympathize with those who commit violent acts," said Rousdy, who studies at Multimedia Nusantara University about 35km west of Jakarta.
Setiadi echoed similar sentiments, adding she has finally been able to break free of her misconceptions and fears.
"Classes like this should become regular programs at all parishes and include the values of other religions so we can all get along and understand one another better," she said.
https://www.ucanews.com/news/indonesian-catholics-shed-fears-of-islam-through-dialogue/83198
--------
Philippines bombing kills one, wounds over a dozen
September 03, 2018
COTABATO - A bomb ripped through an internet cafe in the southern Philippines on Sunday, killing one person and wounding 15 in the second deadly blast to strike the same city in days, authorities said.
The explosion in Isulan was a short distance from where an improvised bomb under a motorcycle blew up on August 28, killing three and wounding dozens. These attacks are the latest violence in the south of the majority Catholic archipelago, where Islamist militants have been fighting a decades-long insurgency.
There was no immediate claim of responsibility for Sunday's bombing, but authorities' suspicion immediately fell on the Islamic State-linked Bangsamoro Islamic Freedom Fighters (BIFF). "It is the BIFF who is responsible," Army General Cirilito Sobejana told AFP. "This group is out to sow chaos."
The mayor's office of Isulan and the military said one person was killed in the bombing and 15 were wounded, four of whom were in critical condition. The recent blasts follow President Rodrigo Duterte's government enacting a law to create greater autonomy for the Muslim minority in the south which is hoped to help end the conflict.
Authorities have expressed worry the law could encourage some militant factions to attack in an effort to derail the peace efforts. Several armed groups are active against government forces in the south of the Southeast Asian country, where a decades-long rebellion has claimed more than 100,000 lives according to a government count.
Full report at:
https://nation.com.pk/03-Sep-2018/philippines-bombing-kills-one-wounds-over-a-dozen
--------
Malaysia's former police chief, who beat Anwar in jail, raises hackles with new appointment
SEP 2, 2018
BUTTERWORTH (BERNAMA) - Former Malaysian police chief Abdul Rahim Noor, who gave politician Anwar Ibrahim the infamous black eye by assaulting him in 1998, has been appointed a special government envoy, causing dismay to members of Datuk Seri Anwar's Parti Keadilan Rakyat (PKR).
Tan Sri Rahim, 75, was last week appointed by the Mahathir Mohamad administration as facilitator for peace talks between southern Thailand's Muslim rebels and the Thai government.
But Mr Anwar, commenting on the issue for the first time on Sunday (Sept 2), said Prime Minister Mahathir should be given leeway in determining the best decision on the appointment of the former inspector-general of police (IGP).
Mr Anwar, PKR's president-elect, did not deny that the appointment has caused unhappiness among various groups, especially those who could not forget what Mr Rahim did when he was the IGP in 1998.
Mr Anwar was sacked as deputy prime minister on September 2 that year, a decision that led to the Reformasi street protests.
Mr Anwar was arrested by police on Sept 20, 1998, and Mr Rahim assaulted him while he was in a prison cell that evening.
Mr Rahim was found guilty of the assault in 2000 and received a two-month jail sentence. He apologised in 2005 to Mr Anwar and his family for what happened.
PKR was formed in 1999, using as its flag a symbol of Mr Anwar's black eye.
Mr Anwar told reporters after an event on Sunday: "I know some consider this as a personal issue but we need to remember because we are now talking about a former IGP and criminal behaviour (involving him).
"We also need to know that space should be given to Tun Mahathir as Prime Minister to determine what is best.
"In this regard, it is not just about Anwar's case. On the other hand, lessons can be learnt by others."
Mr Anwar's daughter, Penang MP Nurul Izzah Anwar, has strongly opposed Mr Rahim's appointment.
"I unequivocally oppose this appointment of a brutal assaulter of an innocent man, as he lay there blindfolded and handcuffed - left without medical attention for days," Ms Nurul Izzah wrote on Twitter last week,
A PKR Selangor MP, Abdullah Sani Abdul Hamid, told Malay Mail online news: "I do not see Rahim Noor's contribution to this post, and why appoint this person, given what he has done to Anwar, and the fact that Anwar is going to be the next prime minister?" Former IGP Rahim replaced the former facilitator in the Thai talks, Datuk Seri Ahmad Zamzamin Hashim.
Full report at:
https://www.straitstimes.com/asia/se-asia/malaysias-former-police-chief-who-beat-anwar-in-jail-raises-heckles-with-new
--------
Terengganu duo publicly caned six times over lesbian sex attempt
03 September 2018
KUALA LUMPUR, Sept 3 — The two women who was found guilty for attempting to have lesbian sex was caned six times in public at the Terengganu Syariah Court today, as around 100 people watched the punishment.
Two caning officers, one from Kajang Women's Prison and another from the Pengkalan Chepa Women's Prison were deployed to court, but the whipping was carried out by the former.
They two were caned individually, in front of the judge.
The whipping started at 10am and ended approximately 20 minutes later, Muslim Lawyers Association deputy president Abdul Rahim Sinwan said when contacted.
Abdul Rahim along with four others from the association held a watching brief over the case today.
He said that the two women were also given private access in and out of court to protect their identities, in what he said was deemed necessary under Islam.
"Humiliation is out of the question, to hurt the person is out of the question. They were brought through different doors, they were taken out through different doors, as the purpose is not to humiliate the person," he told Malay Mail.
"Now, basically when you talk about caning in Shariah courts, the fallacy among people outside is that the caning is meant to hurt the person. That's the fallacy.
"In Shariah caning, it is not meant to hurt the person. It is to educate the person. Therefore it's not painful, it's not harsh. It's not meant to hurt the person" he claimed, insisting that Shariah caning if different to civil ones.
His comrade and fellow Shariah lawyer Marlina Amir Hamzah told Malay Mail that the women were caned in full view of about 100 people in the court, made up of public onlookers, government agency representatives as well as NGO members.
The two women were punished by six strokes of the cane, under Sections 30 and 59(1) of the Syariah Criminal Offences Enactment (Takzir) (Terengganu) 2001, after they pleaded guilty to lesbian sexual relations.
On August 28, Terengganu Syariah High Court registrar Nurulhuda Abd Rahman announced that the sentencing, initially set to take place that day, had been postponed to today, due to technical reasons.
Full report at:
https://www.malaymail.com/s/1668766/terengganu-duo-publicly-caned-six-times-over-lesbian-sex-attempt
--------
South Asia
Local Taliban commander 7 killed in separate clashes in Kandahar province
Sep 02 2018
At least seven Taliban militants including a local commander of the group were killed during separate clashes in southern Kandahar province of Afghanistan.
The Ministry of Interior (MoI) in a statement said the clashes took place in Nish and Khakrez districts of the province.
"Yesterday, a senior local commander of armed Taliban was killed in a clash with Afghan National Police and Afghan National Army," the Ministry of Interior (MoI) said in a statement.
The statement further added that the clash took place in Shin Kian region, Nish district, southern Kandahar province.
"In a separate report, six armed Taliban were killed and three other armed Taliban were wounded in a clash with Afghan National Police," the statement by MoI added.
"The incident took place in Mandigak region, Khakriz district, southern Kandahar province," MoI said, adding that "No ANP and civilian was harmed during the incident."
The anti-government armed militant groups including Taliban militants have not commented regarding the report so far.
This comes as the security situation in southern Kandahar province had improved comparatively during the recent years where fewer security related incidents have been reported as compared to the other southern provinces.
https://www.khaama.com/local-taliban-commander-7-killed-in-separate-clashes-in-kandahar-province-05880/
--------
Hasina calls Myanmar military's disinformation regarding Rohingyas 'disgusting'
2018-09-02
Prime Minister Sheikh Hasina has described the Myanmar military's use of false pictures as propaganda against Rohingyas which she finds 'disgusting'.
"What Myanmar is doing is disgusting," she said. "They are ruining their own reputation. They are diminishing their position on the world stage."
The prime minister made the remarks in response to a question regarding the Rohingya crisis during a news conference on the BIMSTEC summit at the Ganabhaban on Sunday.
The Myanmar military had distributed a book on the 'True News' of the Rohingya crisis in July. A media investigation of the book found that three photographs in it had been falsely represented as being from the Rohingya crisis.
Two of the photos were originally taken in Bangladesh and Tanzania. A third was falsely labelled as Rohingyas entering Myanmar from Bangladesh, when in reality it showed migrants leaving the country.
One of the photographs was of a man recovering the body of Bengalis after a 1971 massacre in Dhaka. The book said the picture showed the brutal killing of Myanmar's ethnic population by Bengalis.
Over 700,000 Rohingyas fled to Bangladesh from across the border in Myanmar in the wake of a military crackdown in Rakhine State last August. Nearly 400,000 other Rohingyas had also fled to Bangladesh at various times in the past few decades.
Last December, in the wake of international pressure, Bangladesh and Myanmar signed an agreement on the repatriation of the Rohingyas to Myanmar. But the process has yet to begin. Myanmar leader Aung San Suu Kyi has suggested that Bangladesh is responsible for the delay.
Suu Kyi skipped this year's summit of the BIMSTEC regional group, which consists of seven nations with connections to the Bay of Bengal. Myanmar President Win Myint attended the summit instead.
Hasina was asked whether the regional forum had discussed the Rohingya crisis and she said bilateral issues are usually not discussed at the event. The prime minister did, however, speak to President Myint on the matter briefly.
"He acknowledged the agreement that we have signed. They say they are ready to take them back. We discussed that much. I also spoke to the Thai prime minister."
Bangladesh has never wanted conflict with Myanmar, she said.
"We are always continuing discussions regarding the return of Rohingyas. Myanmar never objects. They say they will take them. But the reality is that they say it, but don't do it."
Limited EVM use
The prime minister said she was in favour of testing the electronic voting machines or EVMs during the impending parliamentary elections.
Hasina made the statement amidst the BNP and most other parties' opposition to the use of EVMs.
"We cannot suppress it," she said at news briefing on Sunday. "It is a matter of practice. We must test them out."
The EVMs first came into use in Bangladesh in 2010, but they have only been used during local government elections.
The Election Commission has recently proposed a change to election laws to use them for the general elections in December. A proposal was put forward to use EVMs for one-third of the parliamentary seats, but has yet to be finalised, said Chief Election Commissioner KM Nurul Huda.
The EC's sudden decision has led to a backlash from political circles. The BNP has vocally opposed the move, saying that the government was planning 'digitally rig' the polls with the EVMs.
"We want to begin using them in some places to test them," said Hasina during Sunday's briefing. "We need to see if there is any system loss in the technology. If we see any indication of problems we will remove them. But this is not the final word on the matter. Let's start using the technology on a limited scale."
'No talks with BNP'
Hasina once again ruled out the possibility of having dialogue with the BNP or taking measures to make sure the party contest in the next general elections.
The BNP says it will not join the next parliamentary polls if the Awami League government does not step down and release BNP Chairperson Khaleda Zia from jail.
"It's up to the parties whether they will contest in elections. What do we have to do here?" Hasina asked.
"We can neither obstruct them from contesting in the election nor can we invite them to the polls," she added.
On being asked if she was considering any response to the BNP's call for talks, she referred to the refusal of Khaleda to meet her after the former prime minister's son Arafat Rahman Coco died in 2015.
"No way! No matter what you say. It doesn't matter whether I am in power or not," she said.
The prime minister said Khaleda's lawyers failed to prove her innocence in Zia Orphanage Trust graft case and the government has nothing to do with the case.
"They can free Khaleda through the court. And if they want it quick, they must seek the president's pardon," Hasina suggested.
Bangladesh praised at Nepal summit
The prime minister said Bangladesh was praised at different levels of the Fourth BIMSTEC Summit in Kathmandu.
She went to Nepal on Thursday to attend the summit. After addressing the opening session, she joined the retreat.
She also met India Prime Minister Narendra Modi, Nepal Prime Minister KP Sharma Oli and Bhutan's advisor to interim government Tshering Wangchuk on the sidelines of the summit.
"The BIMSTEC Summit and the other related meetings were important for Bangladesh on the whole. All the quarters praised my participation in the summit and Bangladesh's role in the other meetings," Hasina said.
Full report at:
https://bdnews24.com/bangladesh/2018/09/02/hasina-calls-myanmar-militarys-disinformation-regarding-rohingyas-disgusting
--------
Salahuddin Rabbani met with the Ambassador of Pakistan in Kabul
Sep 03 2018
The Afghan foreign minister Salahuddin Rabbani met with the Ambassador of Pakistan in Kabul to discuss the issues of bilateral interest, including the recent developments in Jalalabad city which resulted into the closure of the Pakistani consulate.
The Ministry of Foreign Affairs said Mr. Rabbani congratulated the Pakistani Ambassador Zahid Nasrullah Khan for the successful conclusion of the parliamentary elections in Pakistan.
Rabbani further added that Islamabad's support from an Afghan-led peace process could have positive impact on the bilateral relations between the two countries.
In his turn, the Pakistani Ambassador Zahid Nasrullah Khan said the government of Pakistan supports the Afghan government's stance regarding the Moscow summit.
According to the Ministry of Foreign Affairs, Mr. Rabbani also discussed the issues surrounding the closure of the Pakistani consulate in Jalalabad city and emphasized on immediate steps to resolve the issue.
The Ministry of Foreign Affairs also added that the two sides also discussed bilateral political and economic relations, Afghan peace process, regional cooperation and the issues of Afghan refugees.
Full report at:
https://www.khaama.com/salahuddin-rabbani-met-with-the-ambassador-of-pakistan-in-kabul-05883/
--------
4 wounded in magnetic bomb explosion in Kabul city
Sep 03 2018
At least four people were wounded in a magnetic bomb explosion in Kabul city late Sunday, the security officials said.
The incident took place in the vicinity of 10th police district of the city in Sherpur area.
Kabul police spokesman Hashmat Stanikzai said a magnetic bomb planted in a vehicle went off at around 7pm local time local time.
Stanikzai further added that four people were slightly wounded in the explosion.
No individual or group has so far claimed responsibility behind the incident.
The anti-government armed militants are attepting to carry out similar attacks in Kabul city and other key provinces and cities of the country during the recent months.
This comes as at least two Air Force personnel lost their lives in an attack by unknown gunmen in Kabul city last week.
Full report at:
https://www.khaama.com/4-wounded-in-magnetic-bomb-explosion-in-kabul-city-05882/
--------
Gen. Miller takes over NATO, U.S. forces command in Afghanistan
Sep 02 2018
The U.S. Military General Austin Scott Miller took over the command of the NATO-led Resolute Support Mission and the U.S. Forces in Afghanistan.
The former NATO and U.S. forces Commander Gen. John Nicholson handed over the command to Gen. Miller during a ceremony organized in Kabul today.
Speaking during the change of command ceremony in Resolute Support headquarters, Gen. Miller hailed the NATO and Afghan partners for their sacrifices in the past 17 years.
Gen. Miller emphasized on the need for a sustainable solution to end the ongoing violence in Afghanistan.
The Afghan Interior Minister Wais Ahmad Barmak, National Security Adviser Dr. Hamdullah Mohib, and some other senior Afghan officials had also participated in the change of command ceremony.
Other high level dignitaries included the UNAMA Chief, Ambassadors, and the commander of the US Central Command Gen. Joseph Votel.
Full report at:
https://www.khaama.com/gen-miller-takes-over-nato-u-s-forces-command-in-afghanistan-05875/
--------
Mideast
Human Rights Watch demands that Iran investigate killing of 30 protestors
2 September 2018
Human Rights Watch has called on Iran to open impartial investigations into the killing of 30 protesters since January.
The human rights organization said in a statement published on Saturday that the Iranian authorities did not show any sign of conducting impartial investigations, either into those deaths, or into law enforcement officials' use of excessive force to repress protests.
It called the Iranian regime to drop all charges brought against protesters for peaceful assembly and release those detained on that basis.
Since August 2, 2018, authorities have detained more than 50 people during protests in Tehran.
Sarah Leah Whitson, Middle East director at Human Rights Watch said: "The Iranian government is using the authoritarian playbook to respond to protests, criminalize peaceful dissent, and protect security forces from scrutiny."
She added: "Rather than blaming 'foreign elements' for protests, Iranian authorities should allow citizens to critique the government through their right to peaceful dissent."
On July 31, a new wave of protests against the deteriorating economic conditions and perceptions of government corruption began in the city of Esfahan and quickly spread to other cities, including Karaj in Alborz province and Tehran, the capital.
HRW said that since December, 2017, protests swept over many Iranian cities, during which the authority arrested around four thousands protesters, while the Intelligence ministry detained 150 students, with 17 given prison terms.
https://english.alarabiya.net/en/News/middle-east/2018/09/02/HRW-demands-Iran-to-investigate-the-killing-of-30-protesters.html
--------
Over 140 Houthi militiamen killed while Yemeni army advances in Saada
2 September 2018
Yemen's legitimate army continues to advance in several areas west of Saada, a military source said.
The source confirmed that the army carried out a wide-scale operation during which several key areas were liberated including the Hbeish and al-Safiah mountains that look over Miran.
Army forces also continue to advance in the Hajjah governorate, where they have taken control of several villages and valleys, while intense battles continue in areas adjacent to the Haidan directorate in Saada.
A military commander stated that over 140 Houthi militiamen were killed during battles in the Zaher directorate, while hundreds more were wounded and Houthi weapons and equipment were destroyed by Arab Coalition air raids.
Full report at:
https://english.alarabiya.net/en/News/gulf/2018/09/02/Over-140-Houthi-militiamen-killed-while-Yemeni-army-advances-in-Saada.html
--------
Abbas 'completely rejects' Jordanian-Palestinian confederation: Report
Sep 2, 2018
The Palestinian Authority (PA) reportedly "completely rejects" an offer by the United States for formation of a Jordanian-Palestinian confederation as an apparent substitute for an independent Palestinian state.
PA chief Mahmoud Abbas, who was speaking to Israeli movement Peace Now and Israeli lawmakers in Ramallah on Sunday, said he had been offered a "political plan" by the United States negotiating team that was based on formation of the federation, Ha'aretz reported.
He told the team, which includes US President Donald Trump's advisor and son-in-law Jared Kushner, and the US Middle East envoy Jason Greenblatt, that "he would agree to such an offer only if Israel is a part of the confederation," the paper added.
"I was asked if I believe in a federation with Jordan," Abbas said, adding, "I answered: Yes, I want a confederation with Jordan and Israel. I have asked the Israelis if they would agree to such an offer."
The US is to unveil a proposal targeting the Palestinian-Israeli conflict, which Trump has hailed as the "deal of the century."
Back in May, Israeli intelligence website DEBKAfile reported that the plan gave the Palestinians limited sovereignty over about half of Tel Aviv-occupied West Bank and set Abu Dis, east of the occupied holy city of Jerusalem al-Quds, as their capital. Palestinians have historically sought east al-Quds as the capital of their future state.
Last year, Trump recognized al-Quds as Israel's "capital," and moved the US embassy to the city in May.
The PA stopped recognizing the US negotiation role afterwards, saying it could no longer trust Washington.
Abbas likewise said the US was "hostile towards the Palestinians."
The US plan would also reportedly give Palestinians' sovereignty over the Gaza Strip on the condition that the Palestinian resistance movement Hamas gave up its arms.
According to the US Ambassador to Israel David Friedman, Washington did not have an exact deadline for unveiling of its plan, and would not present it at the upcoming United Nations General Assembly session.
Adding to the air of secrecy surrounding the plan, Greenblatt, meanwhile, said, "We will not discuss any specific ideas or private conversations that may or may not have been had with leaders in the region." He was referring to the US team's talks about the plan with regional states.
'US targeting entire UNRWA'
Separately, the PA chief remarked on Washington's cutting all its aid to the UN agency for Palestinian refugees, UNRWA.
Full report at:
https://www.presstv.com/Detail/2018/09/02/573019/Palestine-United-States-Abbas-federation-Jordan-Israel
--------
Houthi missile expert killed in coalition airstrike on Yemen's Hodeidah
2 September 2018
A Houthi missile expert was killed on Sunday when Arab Coalition fighter jets struck an area in the Duraihami district, southwest of Hodeidah province.
Taha Aly Ahmad Al-Hamli is considered one of the militia group's main field commanders, who has contributed in developing certain types of ballistic missiles, according to security sources.
He was also the colleague of the militia group's security leader, Taha Al-Madani, the younger brother of Yusuf al-Madani who was killed in 2015 in the province of Dalea.
Another Houthi leader, Abdel Khalek Al-Houthi, was killed on Friday, news reports have said, along with several militants in an airstrike on a farm in the Bajil district in Hodeidah.
https://english.alarabiya.net/en/News/gulf/2018/09/02/Houthi-missile-expert-killed-in-coalition-airstrike-on-Yemen-s-Hodeidah.html
--------
Video shows Israelis stoning Palestinian village as troops look on
Sep 3, 2018
A new video taken by a human rights group shows Israelis hurling stones at a Palestinian village in the occupied West Bank in the presence of troops.
Israeli rights organization Yesh Din filmed a group of 15 settlers attacking a house on the outskirts of Burin south of Nablus on Saturday while soldiers stood nearby and looked on.
Palestinian reports said the attackers originated from Givat Ronen outpost, which is located near the settlement of Yitzhar. Local residents said some 18 olive trees had also been cut down in the village.
The attack is not the first of its kind, with Israel's Haaretz newspaper reporting that the past year had witnessed several such incidents during which settlers attacked Palestinians or activists under the protection of troops.
Last month, at least ten Israeli settlers physically assaulted four activists from the anti-occupation Ta'ayush organization in the South Hebron Hills and threw them to the ground while they were documenting illegal construction at Mitzpe Yair outpost.
A video released last month also showed an Israeli soldier attacking an activist from Ta'ayush in the occupied West Bank.
Israeli rights group B'Tselem released the video showing the soldier taking pictures of the activists who had gathered near the settlement of Pnei Hever to help Palestinians tend to their orchards and plow their land.
The soldier suddenly hit one of the activists who was filming him with his camera. In another footage, the Israeli soldier was seen hitting the activist in the shoulder.
In recent months, several videos have gone viral online in which Israeli troops have been caught on camera killing Palestinians in cold blood and sparking condemnations.
Back in June, a controversial Israeli bill, which criminalizes any photographing, recording or filming of the regime's soldiers while on duty, passed its first reading in the Israeli parliament.
Under the measure, those found photographing, recording or filming Israeli troops "with the intention of undermining the spirit" of the army "shall be liable to five years of imprisonment" and those "intending to harm Israel's security" could be given 10 years in jail.
It also prohibits the publication of photos or video content in the media or social networks.
Full report at:
https://www.presstv.com/Detail/2018/09/03/573036/Israelis-stones-Palestinian-village-army
--------
Yemeni forces fire missile at Saudi military forces in Jizan border region
Sep 2, 2018
Yemeni army forces, supported by allied fighters from Popular Committees, have launched a domestically-designed and –manufactured ballistic missile at a military base in Saudi Arabia's southwestern border region of Jizan in retaliation for the Riyadh regime's devastating military aggression against their country.
A Yemeni military source, speaking on condition of anonymity, told Arabic-language al-Masirah television network that the short-range Zelzal-1 (Earthquake-1) missiles hit Mashal base with great precision on Sunday.
There were no immediate reports about possible casualties or the extent of damage caused.
Later in the day, Yemeni army forces, supported by allied fighters from Popular Committees, fired a barrage of mortar shells at Saudi-backed Yemeni militiamen loyal to former president Abd Rabbuh Mansur Hadi, who had gathered in a military camp on Jabal al-Qais mountainous area in Jizan region. No reports of fatalities were quickly available.
Moreover, Saudi fighter jets carried out a string of airstrikes against residential buildings and properties in the Shada'a district of the northwestern Yemeni province of Sa'ada, leaving substantial damage behind. There were no immediate reports about possible casualties.
Saudi Arabia and a number of its regional allies launched a devastating military campaign against Yemen in March 2015, with the aim of bringing the government of Hadi back to power and crushing the country's Houthi Ansarullah movement.
Some 15,000 Yemenis have been killed and thousands more injured since the onset of the Saudi-led aggression.
Full report at:
https://www.presstv.com/Detail/2018/09/02/572987/Yemeni-forces-fire-missile-at-Saudi-military-forces-in-Jizan-border-region
--------
North America
Teen boy in 'extremist Muslim' New Mexico compound says he was being trained for 'jihad': report
Sep 03, 2018
A 13-year-old boy on what investigators have described as an extremist Muslim compound in New Mexico said he was being trained to commit "jihad" against people with different beliefs, according to a report Saturday.
The teen told investigators that Siraj Ibn Wahhaj, 40, wanted to "get an army together" and train the group of 11 children for jihad, Reuters reported citing federal court documents.
Wahhaj was the father of Abdul-Ghani Wahhaj, the 3-year-old boy whose body turned up in an underground tunnel at the compound and whose disappearance led investigators to the group.
The teen said his mother was dating Wahhaj, and that the man trained him and another teenager on the compound "in firearms and military techniques, including rapid reloads and hand-to-hand combat," according to an affidavit.
Wahhaj — whose father reportedly was linked to the 1993 bombing of the World Trade Center as an unindicted co-conspirator and is an imam at a mosque in New York City — allegedly told the teens that jihad meant they were to kill those who did not believe in Allah.
The teen's mother believed that God had sent her messages, according to the teen, who also said he watched her and Wahhaj perform "exorcism" rituals over the 3-year-old boy. In one of the rituals, the boy reportedly choked and his heart stopped.
The adults at the compound, including the boy's mother, Jany Leveille, 35, told everyone not to talk about Abdul-Ghani Wahhaj ever being at the compound because they would "all go to jail," the 13-year-old boy also said.
A raid of the compound on Aug. 3 — in search of the 3-year-old's body — showed that 11 children and five adults were living on the premises.
A judge on Wednesday dropped child neglect charges against three of the adults because of a missed deadline on behalf of local prosecutors.
The FBI then on Friday arrested all five of the adults on firearms and conspiracy charges, and the Taos County District Attorney said his office would seek grand jury indictments involving the 3-year-old boy's death.
The five defendants are scheduled to appear in court in Albuquerque on Tuesday.
http://www.foxnews.com/us/2018/09/02/teen-boy-in-extremist-muslim-new-mexico-compound-says-was-being-trained-for-jihad-report.html
--------
Top US official denied job over anti-Muslim posts on Facebook: report
September 3, 2018
WASHINGTON: A US Army director who was recently offered a top position with US Citizenship and Immigration Services (USCIS) will reportedly no longer take the post after BuzzFeed unearthed his previous anti-Muslim Facebook posts.
According to details, Guy Sands-Pingot, a brigadier general, was reportedly slated to start as a new USCIS deputy director in September. But the news outlet unearthed some of his old anti-Muslim Facebook posts in which he compared Islam to the Nazi party. When media outlet asked USCIS about the posts, a spokesman said the candidate would no longer be hired.
As per report, in his Anti-Islam articles, that are no longer available publicly, Sands-Pingot allegedly bashed Muslim intellectuals and the "political axis" for describing terrorists attacks as solitary acts of violence, and not the teachings of Islamic beliefs.
"It would undermine their fantasy of their not being an Islamic threat to the non-islamic world and peoples," Sands-Pingot wrote two years ago, according to BuzzFeed.
"This is similar to saying crimes committed by nazi storm troopers had nothing to do with the Nazi Party even though every propoganda point of the Nazi Party political and social platform clearly spelled out what they would do and why they would do it, and to whom they would do it to." Sands-Pingot also commented on or shared several anti-Muslim Facebook posts, BuzzFeed reported.
When the outlet asked the USCIS about Sands-Pingot's anti-Muslim posts, spokesman Michael Bars said the new hire would not be coming to the agency after all.
Full report at:
https://www.thenews.com.pk/latest/363366-top-us-official-denied-job-over-anti-muslim-posts-on-facebook-report
--------
Houston protesters clash outside Islamic convention
September 2, 2018
Tempers flared Saturday when more than 100 protesters and counterprotesters squared off outside a large Islamic convention at the George R. Brown Convention Center.
A Texas Patriot Network member ran across barriers erected by police around noon and began punching a counterprotester outside the 55th annual Islamic Society of North America convention. Three people were handcuffed, briefly detained and released under the condition they leave the protests for the day, said L.J. Satterwhite, assistant chief of homeland security for the Houston Police Department.
"We want to make sure that whatever happens, it happens peacefully and no one gets harmed," Satterwhite said. "We have been very blessed to avoid a lot of the problems that other cities have seen. We want to keep that track record going."
The convention, which runs through Monday, will draw thousands of Muslims to downtown for talks, prayers, workshops, arts, entertainment and festivities.
Doc Greene, a local radio talk-show personality, helped organize the protest that drew roughly two dozen members from the Texas Patriot Network and white supremacist groups. "We're clearly outnumbered," he said. "But we're never outpowered."
Across the police barriers, a group of roughly 80 counterprotesters held signs and chanted phrases, including "Nazis, go home."
Counterprotesters included members of the Houston Socialist Movement, International Socialist Organization, National Domestic Workers Alliance, Refuse Fascism, Socialist Alternative, Young Communist League, Huey P. Newton Gun Club and New Black Panther Party.
"We wanted to let them know that Houston is a majority black and brown city and they are not welcome here. They are not wanted here. We will be here as long as they are here," said Brother Maitreya, chairman of the Houston chapter of the Huey P. Newton Gun Club. "We are going to be here until we run them out of our city."
Krystal Mohammad, member of the New Black Panther Party, criticized Greene and his group.
"They were ridiculous. They looked weak," Mohammad said. "They are anti-American. They are going against the First Amendment that guarantees people freedom of religion. They are going against basic human rights and are trying to deny someone's religion, and that's why we were here."
Javier Olguin said he attended the counterprotest to speak out against the anti-Islamic sentiments.
"If you read the history books, you see the Jim Crow era, you see Japanese detainment camps, you see all these atrocities that happen," he said. "A lot of people say to themselves, 'If I were there, I would have done the right thing.' It's happening right now, and that's why everybody is out here. We're seeing the oppression of a lot of people. When people are not doing anything and they stay silent, they are complicit in that."
Syed Ridhwaan, who came from San Antonio to attend the conference, said he didn't feel intimidated by the anti-Islamic protestors.
"They are vastly outnumbered, so that feels pretty good," Ridhwaan said. "There are always going to be people who don't like Muslims, and I'm OK with that,"
Greene defended the views of the Texas Patriot Network, which he said was wrongly being identified as Nazis and racists.
Full report at:
https://www.chron.com/news/houston-texas/houston/article/Houston-protestors-clash-outside-Islamic-13199567.php
--------
US commando takes helm of forces in Afghanistan
September 02, 2018
General Scott Miller took command of US and NATO forces in Afghanistan on Sunday, as worsening violence erodes hopes for peace in the war-torn country.
Miller, who has commanded special operations units in Afghanistan since 2013, succeeds General John Nicholson, who is rotating out of the post after more than two years.
The handover comes at a sensitive time in the 17-year war that has seen little progress by Afghan or US forces against the Taliban, Afghanistan's largest militant group.
Afghan and international players have been ratcheting up efforts to hold peace talks with the Taliban, which was toppled from power by US-led forces in 2001.
An unprecedented ceasefire in June followed by talks between US officials and Taliban representatives in Qatar in July fuelled hopes for negotiations to end the war.
But a recent spate of attacks by Taliban and the smaller but potent Islamic State group that left hundreds of security forces and civilians dead has almost extinguished that optimism.
"This is a tough fight," Miller acknowledged during an outdoor change of command ceremony in Kabul attended by top Afghan officials and foreign diplomats.
"There's no room for status quo, we cannot afford to be complacent. We must be aware of bias and easy conclusions — they don't exist here."
For the past two years Miller has headed up the secretive Joint Special Operations Command (JSOC) and has lengthy experience working with some of America's most elite fighters.
Nicholson, who will return to the Pentagon, is the longest-serving US commander of NATO and American Forces in Afghanistan.
There had been concerns that militants would shower Kabul with mortar or rocket fire to spoil Sunday's handover, as they did during Afghan President Ashraf Ghani's speech on the first day of the Eid al-Adha holiday last month.
But the ceremony passed off uninterrupted.
Miller takes up his new role more than a year after US President Donald Trump unveiled his Afghanistan strategy, which increased the US troop presence and now includes a renewed push to bring the Taliban to the negotiating table.
But there are fears that Trump is growing frustrated with the pace of progress in the country.
The Taliban have long insisted on direct talks with Washington and refused to negotiate with the Afghan government, which they see as illegitimate.
There is speculation that another meeting between US and Taliban representatives could be held this month. "We known the military component is only one part of this conditions-based strategy," Miller said.
He added that it was necessary to "create space for the political process" to end the war.
Full report at:
https://nation.com.pk/02-Sep-2018/us-commando-takes-helm-of-forces-in-afghanistan
--------
US views Afghan war as 'cash cow,' will never leave Afghanistan: Analyst
Sep 2, 2018
The US government has no plans to pull US troops from Afghanistan because the years-long war in the country provides the Pentagon with an "endless" source of money, an American analyst says.
Brian Becker, the national coordinator of the A.N.S.W.E.R. Coalition made the remarks in an interview on Sunday, after US Army General Scott Miller replaced General John William Nicholson as the new commander of more than 16,000 US-led NATO forces in Afghanistan.
Upon taking the post, Miller said at the headquarters of the NATO-led Resolute Support mission that Washington and its allies needed to "adapt to the enemy" in order to defeat it.
Becker said the remarks by Miller shows "the thinking of the dominant faction in the Pentagon that is committed to continue the war in Afghanistan endlessly."
"Since 2001 the US has occupied Afghanistan, bombed Afghan villages, killed Afghan soldiers and civilians, continued to abuse and violate the basic rights of self-determination of the people of Afghanistan," the analyst said.
The US invasion of Afghanistan and the subsequent occupation of the country has dragged on for 16 years, costing the US economy more than $714 billion dollars, according to the Pentagon's Special Inspector General for Afghanistan Reconstruction (SIGAR).
The second longest war in the US history has also killed over 2,000 American soldiers and injured 20,000 more.
Becker described as "illusion" remarks by US commanders that Washington knew how to achieve victory in Afghanistan.
"There is no idea within the Pentagon establishment that military victory is either at hand or can be achieved anytime in the coming years or even decades," he argued.
"The fact of the matter is the Pentagon wants to keep the war in Afghanistan going endlessly because it is a cash cow for the Pentagon and it is a source of endless financing from American taxpayers and gives the Pentagon a pretext to maintain military bases in most strategic parts of the world," he explained.
Full report at:
https://www.presstv.com/Detail/2018/09/02/573010/US-military-Miller-Trump-Afghanistan-Pentagon
--------
Europe
Arab lawmakers in Israel support Corbyn's fight against racism
Sep 2, 2018
Over a dozen Arab members of Israel's parliament (Knesset) have announced their support for UK Labour Party leader Jeremy Corbyn amid an anti-Semitism row affecting the British politician and his party.
The 13 Arab Knesset lawmakers wrote a letter to the British newspaper the Guardian, in which they praised Corbyn for his fight against all forms of racism, including anti-Semitism.
"We stand in solidarity with Jeremy Corbyn and we recognize him as a principled leftist leader who aspires for peace and justice and is opposed to all forms of racism, whether directed at Jews, Palestinians, or any other group," read the letter from the Joint List coalition, which is Knesset's third largest faction.
The Israeli lawmakers also hailed Corbyn for "his long-standing solidarity with all oppressed peoples around the world, including his unflinching support for the Palestinian people".
The letter comes amid a continued row within the Labour Party over a new code of conduct on anti-Semitism which rejects certain pro-Israeli statements existing in a multi-national pact.
Corbyn and several senior Labour leaders have been targeted for their refusal to adopt a broader definition of anti-Semitism. However, they insist adopting a full definition would restrict the rights of those Jews who are critical of Israel and its actions.
The Israeli lawmakers reiterated in their letter that they endorse Corbyn's view that being anti-Israeli and anti-Zionist would not necessarily mean an affront to the Jews. They said that the definition of anti-Semitism "goes far beyond anti-Jewish animus to include anti-Zionism".
The lawmakers' declaration of support for Corbyn comes despite repeated attempts by Israeli Prime Minister Benjamin Netanyahu to draw international condemnation against Labour leader's policies.
The Joint List condemned in its letter Netanyahu's racist policies towards the Arabs living in the occupied Palestinian territories, saying such policies had in fact helped weaken sympathy for "the Palestinian historical plight" among members of the British political class.
https://www.presstv.com/Detail/2018/09/02/572994/Israel-Arab-MPs-Knesset-support-Corbyn
--------
'Afghan' faces German murder verdict amid tensions in Chemnitz
September 03, 2018
LANDAU IN DER PFALZ, Germany: A failed asylum seeker accused of stabbing his 15-year-old ex-girlfriend to death faces a court verdict on Monday, in a case that Germany's far-right has seized upon in its campaign against migrants.
The verdict in the western German town is due at a time when anti-migrant protests have erupted in the eastern city of Chemnitz over the fatal stabbing of a man, allegedly by a Syrian and an Iraqi.
Identified as Abdul D., the accused in the teen killing has admitted to the court to stabbing the girl at a drugstore in the town of Kandel on December 27.
Prosecutors believe that he acted out of jealousy after the girl broke up with him.
If convicted, Abdul D., who claims he is from Afghanistan, faces up to 15 years in prison.
Besides his nationality, doubts have been raised about his age, which he said was 15 at the time of the crime.
An expert had estimated his age as between 17 and a half and 20, nevertheless, the court hearing took place behind closed doors and under juvenile penal rules.
Abdul D. arrived in Germany in April 2016 and his request for asylum was rejected in February 2017 although he was not immediately deported.
The case is one in a string of high profile crimes allegedly committed by asylum seekers that has stoked popular anger against the new arrivals and put pressure on Chancellor Angela Merkel over her liberal refugee policy.
Far-right party AfD has been mobilizing regular demonstrations over the killing in the small town with a population of just 9,000, as it sought to bolster its anti-migrant campaign.
At the peak of the protests, thousands marched in Kandel. But they appear to have since lost momentum.
On Saturday, a demonstration in the town attracted 350 people, local police said.
Residents of the small town frustrated by the far-right rallies also lined the demonstration route, carrying banners like "Stop hate and incitement" or "Kandel is colorful, not brown" — in reference to the Nazi's khaki uniforms, according to national news agency DPA.
Rhineland-Palatinate state premier Malu Dreyer accused the far-right of exploiting the teenager's death for political gains, saying it was "intolerable."
"It is the hope of all of us that once the trial is over, peace will return to Kandel," she said.
Across the country in Chemnitz, tensions were also running high over another stabbing case.
Rival rallies in the eastern city on Saturday drew 11,000, with far-right demonstrators outnumbering counter-protesters by 8,000 to 3,000, police said.
Eighteen people were reported injured, police said, with a Social Democrat MP also saying that his team was "attacked by Nazis" as they were heading toward their bus.
Resentment against the arrival of more than a million asylum seekers since 2015 is particularly strong in Saxony state, where Chemnitz is located.
Railing against asylum seekers, the AfD has won strong support in the state, and surveys suggest that it is poised to become Saxony's second biggest party in next year's regional elections.
On Sunday, Foreign Minister Heiko Maas urged Germans to "get off our sofas and open our mouths" against xenophobia.
Full report at:
http://www.arabnews.com/node/1365881/world
--------
Germany suspends two policemen over Nazi salute
Sep 2, 2018
BERLIN: Police in Germany's southern state of Bavaria are investigating two officers suspected of performing the illegal Hitler salute.
The German constitution makes it a crime to exhibit Nazi symbols and the incident is likely to feed into a heated debate about racism and the rise of the far right after a record influx of mainly Muslim migrants three years ago.
Police said in a statement on Saturday the two policemen had shouted anti-immigrant remarks and made the salute in a pub in the city of Rosenheim on Thursday. It based its information on a witness who was in the same beer garden as the two officers.
A third man, described as a security guard in the police statement, had also taken part and made the salute. The policemen have been suspended.
German politicians have been urging action to combat a rise in hostility toward foreigners after skinheads last Sunday clashed with police in an eastern city where a man was fatally stabbed and two migrants were identified as the main suspects.
Skinheads raised their arms in Nazi salutes, chased people who appeared to be outsiders and wrestled with police in Chemnitz after police identified the suspects as a Syrian and an Iraqi.
The leaking of the arrest warrant for one of the two stabbing suspects to the anti-Islam group PEGIDA raised concerns that some justice officials in the state of Saxony, where Chemnitz is located, were sympathetic to the far right.
"We will not allow the extreme right to infiltrate our society," Justice Minister Katarina Barley told the Bild am Sonntag newspaper on Sunday, urging authorities in Saxony to investigate far-right groups.
Chancellor Angela Merkel's liberal immigration policy remains deeply divisive in a country that has taken in more than 1.6 million people over the last four years.
The influx contributed to the rise of the Alternative for Germany (AfD) party, which entered parliament for the first time in an election last year with a campaign that proclaimed Islam to be incompatible with the German constitution.
Some 8,000 people took part in a demonstration organised by the AfD and the anti-Islam group PEGIDA in Chemnitz on Saturday. About 3,000 people attended a rival protest by leftist groups.
Police said on Sunday that the demonstrations were largely peaceful.
Full report at:
https://timesofindia.indiatimes.com/world/europe/germany-suspends-two-policemen-over-nazi-salute/articleshow/65647787.cms
--------
Afghan teen to appear in court for Amsterdam station attack
September 02, 2018
A 19-year-old Afghan man who was shot and wounded by Dutch police after allegedly attacking bystanders at Amsterdam's Central Station will briefly appear in court on Monday, police said.
The suspect, identified by authorities as "Jawed S", "will appear before a judge and until then no further details will be released," the Amsterdam police said in a statement on Sunday.
Two American citizens — both believed to be male — were seriously injured when a knife-wielding man attacked bystanders around noon on Friday at the busy station next to the Dutch capital's historic city centre.
Police quickly reacted and shot the man in the lower body. He and the two injured bystanders were taken to hospital.
The US State Department on Sunday condemned what it called an "unprovoked, horrifying attack" and offered full support to Dutch authorities both in their investigation and "in our common fight against terrorism in all forms".
Both of the wounded Americans were in a satisfactory condition, officials said on Saturday.
There was no update on the victims' condition, which police on Saturday described as "satisfactory".
"Following an initial statement by the suspect it has emerged that the man had a terrorist motive," Amsterdam City Hall announced after police questioned the suspect.
Jawed S has a German residency permit and German police on Saturday raided his apartment. The police did not release details about its exact location.
The suspect will make a brief first appearance behind closed doors and according to Dutch criminal legal procedures will not be asked to plead.
"It is likely that the judge will remand him in custody for two more weeks, in order for detectives to continue their investigation," a Dutch prosecution service official told AFP.
This process could take up to three months, the official added.
Thousands of commuters and tourists were evacuated from the rail terminus after the attack.
One witness said he saw a young man "stumble" into his flower shop at the station with a bleeding wound to his hand, before hearing shots ring out.
The Netherlands has so far been largely spared the terror attacks which have rocked its closest European neighbours in the past few years.
Full report at:
https://nation.com.pk/02-Sep-2018/afghan-teen-to-appear-in-court-for-amsterdam-station-attack
--------
Arab World
Iraqi amputees take the plunge to forget horrors of ISIS
2 September 2018
With artificial limbs in the place of legs they lost to extremists, a group of Iraqis plunged into a swimming pool for a special race aimed at helping them overcome the horrors of war.
Abdel Zahra Kazem, a soldier from southern Iraq who was wounded in an attack in Baghdad, said getting back in the pool had helped him to rediscover one of his passions in life.
"I've swum since I was a child and today I can start again," he said by the poolside at a hotel in Erbil, capital of the autonomous Kurdistan region of northern Iraq.
Rabie Abdellatif lost a leg in an attack by ISIS in Iraq's second city Mosul, which was left in ruins by the government's battle against the extremist group.
Thanks to his artificial limb, he said he has recovered "80 percent of my capabilities from life before".
"I can drive my car. I can work," he told AFP, his swimsuit and cap still dripping wet.
By the side of the pool, half a dozen men with artificial legs waited in the shade for their turn splashing in the water.
They were watched by officials from Kurdistan and Kuwait, which has provided funding for the rehabilitation of civilians and fighters from Iraqi Kurdish and federal forces.
The aim, said Erbil governor Nawzad Hadi, is to "give life and hope" to victims of ISIS.
Tens of thousands of Iraqi security personnel were wounded in the three-year battle against ISIS, which at its peak controlled nearly a third of the country as well as swathes of neighboring Syria.
Hundreds of thousands of civilians have also been wounded in attacks perpetrated for years by extremist groups across Iraq, which declared victory over ISIS in December.
https://english.alarabiya.net/en/features/2018/09/02/Iraqi-amputees-take-the-plunge-to-forget-horrors-of-ISIS.html
--------
Iraqi police fires teargas at anti-corruption protest in Basra
Sep 2, 2018
Police used teargas to disperse around 3,000 protesters who gathered on Sunday outside the provincial government headquarters in the southern oil hub of Basra, amid growing unrest in southern cities over poor public services and corruption.
Some protesters also set fire to tires outside the building and there were minor clashes with riot police who fired tear gas to try to quell the protest. No serious injuries were reported.
Earlier on Sunday, police used tear gas to disperse around 150 protesters at the main entrance to Iraq's giant Nahr Bin Omar oilfield, police sources said.
Protests have swept cities in the long neglected south, Iraq's Shia Muslim heartland, over widespread electricity outages during the blistering hot Iraqi summer, a lack of jobs and proper government services, and entrenched graft.
https://www.presstv.com/Detail/2018/09/02/573013/Iraq-police-tear-gas-anticorruption-protest--Basra
--------
Two More Terrorist Commanders Killed in Northwestern Syria
Sep 02, 2018
The sources said that Abu Wasef and Abu Maria, two field commanders of the National Liberation Front, were killed by unknown attackers in the Southern part of Idlib city.
They further said that the bodies of the two commanders were discovered along a road connecting al-Mastouteh to Araiha.
A fresh wave of tension and insecurity has covered Idlib as the Syrian Army is preparing to kick off a large-scale operation in Northwestern Syria.
Local sources reported earlier today that at least five senior commanders of Tahrir al-Sham Hay'at (the Levant Liberation Board or the Al-Nusra Front) were killed in a chain of blasts in the Northwestern province of Idlib.
Ahmad Fo'ad Dayb, a commander of Tahrir al-Sham, was killed after a bomb, planted in his vehicle, went off in the town of Saraqib in Idlib.
In the meantime, local sources reported that four blasts in the towns of Samin, Salqin, Qah and al-Dana near the border with Turkey killed at least five commanders of Tahrir al-Sham.
Full report at:
http://en.farsnews.com/newstext.aspx?nn=13970611000693
--------
Syrian Army's Heavy Artillery Fire Inflicts Major Losses on Terrorists in Hama
Sep 02, 2018
The artillery and missile units pounded the strongholds of Tahrir al-Sham and its allies near the small towns of al-Sarminiyeh and al-Qarqour between Hama and Idlib provinces, destroying several positions equipped with missile platforms and rocket launchers.
Other artillery and missile units shelled heavily the positions of al-Turkistani Islamic Party in the village of al-Mashik in the Eastern strip of al-Ghaab Plain, damaging terrorists' rocket launchers and killing a number of militants.
Also, a number of Tahrir al-Sham's vehicles were damaged in the army's artillery fire North of Khirbet al-Naqous and also a position of Kata'eb al-Izzah was detonated in the artillery attack West of the town of al-Latamina.
On Thursday, the army units launched heavy attacks on the bases of Tahrir al-Sham and other affiliated terrorist groups West of the town of al-Latamina and the villages of al-Jisat, al-Janaberah, Hasraya and Kafr Zita in Northern Hama.
The army's artillery and missile attacks also targeted the moves of the Turkistani group in the two towns of al-Ziyarah and al-Mashik in Eastern Sahl al-Iqab.
Also, field sources reported that during the attacks, tens of terrorists were killed and wounded and several of their vehicles and military equipment were smashed.
Full report at:
http://en.farsnews.com/newstext.aspx?nn=13970611000930
--------
US Army Sends More Military Equipment to Bases in Syria
Sep 02, 2018
The SOHR said that the US-led coalition forwarded a sum of 150 vehicles carrying military-logistic equipment to the SDF-held regions on the Eastern bank of the Euphrates River via Simalka passageway at Iraq-Syria border.
It further said that the convoy has been sent to the coalition bases in Raqqa, Aleppo, Hasaka and Deir Ezzur provinces, adding that more convoys will be sent to the US bases in Syria in coming days.
The Arabic-language al-Watan daily quoted opposition sources as reporting earlier today that the US-led coalition has reinvigorated its military presence on the Eastern bank of the Euphrates River in the second half of the current year via setting up 18 bases in the Northeastern and Eastern provinces of Syria.
The US-run bases are in Ein al-Arab (Kobani), Kharab Ashak, Manbij, Ein Issa, Raqqa and Tabaqa in Raqqa province, al-Shadadi, al-Houl, Tal Tamar, Tal Bidar and Romeilan in Hasaka province and al-Amr oilfield and al-Bahrah region in Deir Ezzur province, al-Watan went on to say, adding that some of the bases have runways for the take-off and landing of military aircraft.
Full report at:
http://en.farsnews.com/newstext.aspx?nn=13970611000954
--------
Turkey Working on Diversion Plan to Trouble Syrian Army Attack on Terrorists in Idlib
Sep 02, 2018
The Kurdish-language Hawar news reported that the Ankara-backed terrorists are reinvigorating their combat capabilities via fortifying positions and concentrating militants in Aleppo to kick off a surprise attack against the army.
It further said that the terrorists' upcoming attack has been directed by the Turkish army command, adding that the terrorists are to start the offensive by suicide attacks and artillery fire on Aleppo city.
The report comes as the Syrian Army is preparing for a major operation in Southern and Western Aleppo to open the Lattakia-Aleppo road as a prelude to the major offensive on terrorists in Idlib.
On Saturday, Hawar News quoted field sources in Aleppo province as reporting that the Turkish army dispatched a sum of 500 Ankara-backed militants to the Bab al-Hawa border-crossing between the town of Reihanly in Hatay province and al-Artab region in Aleppo.
It further said that a fresh wave of tensions and defections covered the terrorist front over participation in the upcoming final battle with the Syrian army as a part of the Ankara-backed militants intend to surrender and some others are fleeing the region.
Full report at:
http://en.farsnews.com/newstext.aspx?nn=13970611000799
--------
Syrian Army Seizes More Strategic Positions of ISIL in Eastern Deserts of Sweida
Sep 02, 2018
The army units stormed ISIL's strongholds in the Eastern deserts of Sweida and captured several positions that were used by the terrorist group to monitor and launch ambush operation against government forces.
In the meantime, other units of the army seized control of a large depot of arms, ammunition and logistical equipment of ISIL in their operation in Qasr Samsam in Toloul al-Safa.
Also, the army's artillery and missile units pounded ISIL's positions and movements in Toloul al-Safa, inflicting major casualties on the terrorists.
Earlier today, the army men engaged in fierce clashes with ISIL in Toloul al-Safa in the Eastern deserts of Sweida, and imposed control over several key points in the rocks.
In the meantime, the army's artillery and aircraft pounded ISIL's positions and movements in Toloul al-Safa, and destroyed several strongholds after inflicting heavy casualties on the terrorists.
Other units of the army managed to repelled ISIL's heavy offensive aimed at lifting the government forces' siege in the newly-freed Hatil Dam in Toloul al-Safa.
Full report at:
http://en.farsnews.com/newstext.aspx?nn=13970611000724
--------
Iraqi parties announce formation of largest bloc in parliament
3 September 2018
Eleven Iraqi political groups, including those led by cleric Moqtada al-Sadr and Prime Minister Haider al-Abadi, announced an alliance on Sunday that would be the majority bloc in the newly elected parliament.
The alliance includes 177 lawmakers from 16 electoral lists, a document published by the state news agency showed. It is now in pole position to form the country's next government.
Iraq's parliament contains a total of 329 seats and is set to convene for the first time on Monday, when it will elect a new speaker and launch the process of forming a government.
The new alliance includes the blocs of Vice President Ayad Allawi and Shiite Muslim cleric Ammar al-Hakim, as well as several Sunni Muslim lawmakers and ones representing Turkmen, Yazidi, Mandaean and Christian minorities.
It does not include Kurdish groups. Since Saddam Hussein was toppled in a 2003 US invasion, power has been shared between Iraq's three largest ethnic-sectarian components. The prime minister is a Shiite Arab, the speaker of parliament a Sunni Arab, and the president a Kurd.
Iraqis voted in May in their first parliamentary election since the defeat of ISIS, but a contentious recount process delayed the announcement of final results until last month.
Uncertainty over the make-up of the new government has raised tensions at a time when public impatience is growing over poor basic services, high unemployment and the slow pace of rebuilding after the war with Islamic State.
Full report at:
https://english.alarabiya.net/en/News/middle-east/2018/09/03/Iraqi-political-groups-announce-formation-of-largest-bloc-in-parliament.html
--------
Unidentified muslims attack Christian homes in Egypt
Sep 03, 2018
A group of Muslims attacked several Christian homes in a village in Upper Egypt, injuring three people, officials with a Coptic Christian diocese have disclosed.
The assailants objected to the presence of a church in the area, the Minya Coptic Orthodox Diocese said in a statement.
Plans to attack Copts in the village had circulated days before the incident and were reported to authorities but security only arrived after the attacks, it said.
The wounded, including two Copts and a firefighter, were all hospitalized.
A similar assault for the same reason had taken place in a neighboring village weeks earlier, the diocese said, blaming authorities for a lack of deterrence for Friday's attacks and calling on them to take punitive measures against the assailants.
Christians constitute 10 percent of Egypt's mostly Muslim population and sectarian violence occasionally erupts, mainly in rural communities in the south. Minya province has the highest Coptic Christian population in the country.
The Minya diocese said Copts there usually opt to use "a house, hall or simple room" to hold services as a temporary solution to avoid attacks on worshippers en route to churches in neighboring villages.
Local authorities often refuse to issue building permits for new churches, fearing protests by hard-line Muslims. Christians sometimes build churches illegally or set up churches in other buildings.
Egypt's Orthodox Coptic Christians strongly supported general-turned-president Abdel-Fattah el-Sissi's ouster of his Islamist predecessor Mohammed Morsi, who hails from the now-outlawed Muslim Brotherhood group.
Full report at:
http://www.africanews.com/2018/09/02/unidentified-muslims-attack-christian-homes-in-egypt/
--------
Africa
Al-Shabaab car bomb kills at least six in central Mogadishu
2 September 2018
At least six people were killed when a suicide car bomb struck a local government office in central Mogadishu on Sunday, destroying the building and a Quranic school opposite.
Extremist militant group Al Shabaab said it was behind the attack on Hawlwadag district office, which also blew off the roof of a mosque and damaged houses nearby.
At least six people had been killed, including soldiers, civilians and the suicide bomber, and a dozen injured, according to police officer Mohamed Hussein.
The school was open but at the time of the blast most children were away from the building on a break.
Earlier the director of the Amin ambulance service told Reuters that at least 14 people had been injured, including 6 children.
A Reuters journalist on the scene saw a human hand and blood stains in the rubble as people searched for survivors.
Abdiasis Abu Musab, Al Shabaab's military operations spokesman, said the group had carried out the attack.
"We are behind the suicide attack. We targeted the district office in which there was a meeting. We killed 10 people so far, we shall give details later."
Somalia has been wracked by lawlessness and violence since 1991. Extremist group al Shabaab is fighting to dislodge a Western-backed government protected by African Union-mandated peacekeepers.
https://english.alarabiya.net/en/News/world/2018/09/02/Suicide-car-bomber-kills-three-in-Somali-capital.html
--------
UN chief condemns escalating violence in Libya
September 03, 2018
UNITED NATIONS - United Nations chief Antonio Guterres on Saturday called for an end to violence in Libya in accordance with a UN-brokered ceasefire agreement. According to a health ministry toll at least 39 people have been killed and some 100 injured in five days of clashes among rival militias, which broke out Monday in suburbs south of Tripoli. "The Secretary-General condemns the continued escalation of violence in and around Libya's capital and, in particular, the use by armed groups of indiscriminate shelling leading to the death and injury of civilians, including children," a statement from Guterres' office said. "The Secretary-General calls on all parties to immediately cease hostilities and abide by the ceasefire agreement brokered by the United Nations and the Reconciliation Committees." In a joint statement Britain, France, Italy and the United States have said they "warn those who tamper with security in Tripoli or elsewhere in Libya that they will be held accountable for any such actions."
Full report at:
https://nation.com.pk/03-Sep-2018/un-chief-condemns-escalating-violence-in-libya
--------
Hundreds escape Ain Zara prison near Libya's Tripoli
3 September 2018
Some 400 detainees escaped after a riot on Sunday at a prison in the southern suburbs of the Libyan capital Tripoli, theatre of a week of deadly battles, the police said.
"The detainees were able to force open the doors and leave" as fighting between rival militias raged near the prison of Ain Zara, the police said in a statement, without specifying what crimes the escapees had committed.
Guards were unable to prevent the prisoners escaping as they feared for their own lives, the statement said.
A police official contacted by AFP was unable to provide further details.
Most detainees at the prison have been convicted of common crimes or were supporters of former dictator Muammar Qaddafi, found guilty of killings during the uprising that toppled his regime in 2011.
According to a health ministry toll, at least 39 people have been killed and some 100 injured since clashes, including rocket fire, broke out among rival militias Monday in suburbs south of Tripoli.
Full report at:
https://english.alarabiya.net/en/News/north-africa/2018/09/03/Hundreds-escape-Ain-Zara-prison-near-Libya-s-Tripoli.html
--------
Libyan government announces a state of emergency in Tripoli
2 September 2018
The internationally-recognized Government of National Accord (GNA) in Libya has announced a state of emergency in Tripoli where violence has led to at least 39 deaths.
United Nations chief Antonio Guterres on Saturday called for an end to violence in Libya in accordance with a UN-brokered ceasefire agreement.
According to a health ministry toll at least 39 people have been killed and some 100 injured in five days of clashes among rival militias, which broke out Monday in suburbs south of Tripoli.
"The Secretary-General condemns the continued escalation of violence in and around Libya's capital and, in particular, the use by armed groups of indiscriminate shelling leading to the death and injury of civilians, including children," a statement from Guterres' office said.
"The Secretary-General calls on all parties to immediately cease hostilities and abide by the ceasefire agreement brokered by the United Nations and the Reconciliation Committees."
In a joint statement Britain, France, Italy and the United States have said they "warn those who tamper with security in Tripoli or elsewhere in Libya that they will be held accountable for any such actions."
Full report at:
https://english.alarabiya.net/en/News/north-africa/2018/09/02/Libyan-government-announces-a-state-of-emergency-in-Tripoli.html
--------
Trial of Boko Haram suspects, good progress for Nigeria's justice sector – AI
September 2nd 2018
Amnesty International has commended the Federal Government over the trial of suspected Boko Haram terrorists, describing the ongoing trial as "good progress for the justice sector".
The commendation was contained in a letter addressed to the Minister of Justice and Attorney-General of the Federation, Mr Abubakar Malami , by Osai Ojigho, Country Director, Amnesty International Nigeria.
The Minister of Information and Culture, Alhaji Lai Mohammed in a statement on Sunday in Abuja said that a copy of the letter was made available to his office by the AGF.
The minister said the Amnesty International Nigeria said its delegates, who were invited to observe the proceedings at the third phase of the trial at Wawa Military Cantonment, Kainji, New Bussa, Niger State from July 8 to July 11, "were treated with respect and decorum".
"Amnesty International has repeatedly and unequivocally condemned the
attacks by members of Boko Haram.
"We have repeatedly urged the Nigerian government to conduct thorough and independent investigations into the alleged human rights violations and abuses.
"This is with a view to bringing suspected perpetrators to justice in a fair trial without recourse to the death penalty and this indeed is a good progress for the justice sector," the minister quoted the global rights campaigner's letter.
He said Amnesty International Nigeria expressed the hope that it would also be
invited to observe future trials.
Full report at:
https://punchng.com/trial-of-boko-haram-suspects-good-progress-for-nigerias-justice-sector-ai/
--------
URL: https://www.newageislam.com/islamic-world-news/catholic-priest-gives-sermon-inkerala/d/116272
New Age Islam, Islam Online, Islamic Website, African Muslim News, Arab World News, South Asia News, Indian Muslim News, World Muslim News, Women in Islam, Islamic Feminism, Arab Women, Women In Arab, Islamophobia in America, Muslim Women in West, Islam Women and Feminism