New Age Islam News Bureau
13 Dec 2015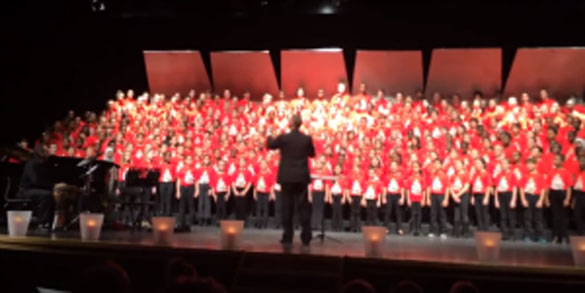 Photo: A video of a choir singing one of the oldest songs in the Islamic culture, Tala' al Badru 'Alayna, for Syrian refugees surfaced on YouTube.
---------
Inside Page:
North America
• Canadian Chorus Welcomes Syrian Refugees with Song Honouring Prophet Muhammad
• Obama Warns Americans against Blaming Islam for Terrorism
• Washington Could 'Cut a Deal With ISIL in Afghanistan to Counter Russia'
• Muslim Americans struggle with fallout from California shooting
-----------
India
• NIA seeks details of internet, travel history of arrested IS recruit from 5 countries
-----------
Pakistan
• At least 15 dead in Parachinar clothes market blast
• Pakistan army says it killed 3,400 militants since June 2014
• Shawal almost cleared of terrorists, says ISPR
• New NSA to keep Sharif in check on India
-----------
Arab World
• Syria in 2016 will be like the Balkans in 1914 as explosive violence breaks out on an international scale
• Gov't Forces Win Back New Town Southwest of Syria's Aleppo
• Senior Terrorist Commanders Killed in Syria
• Army Kills Top Terrorist Commanders in Aleppo
• ISIL Pinned Down Southeast of Homs under Bombardments of Syrian Jets
• Syrian Forces March on Terrorists' Positions in Homs
• Syrian Jets Continue Bombing Militants' Gathering Centers South of Idlib
• Army Thwarts ISIL Attacks around Palmyra
• First VP Complains about Turkish Officials' Negative Words about Iran
-----------
South Asia
• Security Force Rebuff Daesh Attack On Security Posts In Nangarhar
• President Ghani: Some Neighbours Export Terrorism
• Thousands of Iraqis in Baghdad, Basra protest Turkish deployment in north
• Spanish policeman killed in Kabul attack
-----------
Mideast
• Baghdad protest against Turkey reveals Iraqi divisions
• Damaged Turkish-Russian relations may negatively affect Ankara's ties beyond Moscow
• Armed assailants attack Hürriyet daily's Ankara office, reports say
-----------
Africa
• Nigerian Army Raids Islamic Movement Leader's House, Kills Several Followers
• Foreign ministers set to endorse Libyan national unity plan
• Libya crisis: Rome talks hope to produce unity
-----------
Europe
• Russian Warships Equipped With Kalibr Missiles Join Black Sea Fleet
• Switzerland arrests two Syrians on suspicion of terror links
• US, Russian Experts Praise 'Incredibly Capable' S-400 Air Defense System
Compiled by New Age Islam News Bureau
URL: https://www.newageislam.com/islamic-world-news/new-age-islam-news-bureau/canadian-chorus-welcomes-syrian-refugees-with-song-honouring-prophet-muhammad/d/105590
-------
North America
Canadian chorus welcomes Syrian refugees with song honoring Prophet Muhammad
December 12, 2015
A video posted on YouTube shows a choir of dozens of Canadian students singing a song in Arabic that was sung to Prophet Muhammad when he sought refugee from Mecca to in Medina.
The first Canadian government planeload of Syrian refugees landed in Toronto late on Thursday, aboard a military aircraft met by Prime Minister Justin Trudeau.
The plane carrying 163 Syrian refugees touched down in Toronto just before midnight on Thursday and will be followed by a second military airlift to Montreal on Saturday. Trudeau has said 10,000 will be resettled by the end of the year and a further 15,000 by the end of February.
The day after the refugees' arrival, a video of a choir singing one of the oldest songs in the Islamic culture, Tala' al Badru 'Alayna, for Syrian refugees surfaced on YouTube, promoting warm messages from social media and YouTube users.
"Best thing i saw in YouTube today. To see a country, a government, a children who are human than all the other countries combined… The idea to sing a classic Islamic Song to say welcome is genuinely amazing," one YouTube user said.
"I am an Arab, this video made me cry. I haven't cried like that in really long. Thank you Canada. Beautiful people," posted another user. I hate our Arab governments even more now. But Thank you.
The lyrics of the song in English is as follows:
The full moon rose over us
From the valley of Wada''
And it is incumbent upon us to show gratitude
For as long as anyone in existence calls out to God
Oh our Messenger (Emissary) amongst us
Who comes with the exhortations (good advices/commandments) to be heeded
You have brought to this city nobility
Welcome you who call us to a good way
http://www.todayszaman.com/anasayfa_canadian-chorus-welcomes-syrian-refugees-with-song-honoring-prophet-muhammad_406820.html
----------
Obama warns Americans against blaming Islam for terrorism
ANI | Dec 13, 2015
WASHINGTON DC: US President Barack Obama has warned Americans to refrain from blaming Islam for terrorism and said that ISIS and other terror groups were depicting the fight against terrorism as a war between Islam and the West.
According to the Dawn, it was Obama's third address to his nation since last week's terrorist attack in San Bernardino, California, in which 14 Americans were killed.
Terrorist attacks in San Bernardino and in Paris, last month, have increased anti-Muslim feelings in the West.
Obama claimed that from Democrats to Republicans, liberals and conservatives, Americans are standing up, forcefully, to religious bigotry across the political spectrum.
http://timesofindia.indiatimes.com/world/us/Obama-warns-Americans-against-blaming-Islam-for-terrorism/articleshow/50159875.cms
--------
Muslim Americans struggle with fallout from California shooting
Reuters — Dec 13, 2015
CORONA: With tears in her eyes, Mohammad Halisi's young daughter asked her father "Why are we bad?" after seeing reports that a Muslim couple killed 14 people in California last week, and wanted to know whether she should hide the fact she is Muslim from others at her school.
Recalling the conversation while choking back his own tears, the 61-year-old father said he felt frustrated that he and his family were being held responsible for the actions of people he branded "a couple of idiot terrorists".
"It's getting to a point where you have to hide who you are," Halisi said on Friday night at the Islamic Society of Corona-Norco mosque where leaders and law enforcement met to address negative perceptions of the Muslim community. "Seven-year-old kids cannot say they're Muslims because of the bad atmosphere we have."
The mosque is just 40 km from San Bernardino, where United States (US)-born Syed Rizwan Farook, 28, and his Pakistani-born wife Tashfeen Malik, 29, opened fire on his co-workers last week in what the US Federal Bureau of Investigation (FBI) is treating as an act of terror.
Malik had pledged allegiance to the militant Islamic State group on Facebook around the time of the attack and the FBI believes the two had been radicalised for some time.
Muslim Americans across the country have said they are worried about a backlash, as happened in the aftermath of the Sept 11, 2001 attacks.
A handful of incidents at mosques and a rash of anti-Muslim political rhetoric over the last week appear to be compounding their fears of growing Islamophobia.
On Friday, a fire burned the entrance to a mosque in Southern California's Coachella Valley, some 120km from San Bernardino.
A 23-year-old man was arrested on suspicion of arson and for committing a hate crime, the Los Angeles Times reported.
A pig's head was thrown at a mosque in Philadelphia on Monday and a mosque in Jersey City, New Jersey received a letter calling Muslims "evil" and telling them to "go back to the desert".
Several US mosques this year have been subjected to protests by armed groups.
On Saturday, a group of fewer than 10 people, some wearing camouflage and rifles slung over their shoulders, stood outside a mosque in the Dallas suburb of Richardson and held signs and American flags, according to images and reports from local media.
'We feel it more'
US President Barack Obama asked Americans on Sunday to not turn against Muslims after the Paris and California attacks, but rather work with the Muslim-American community in fighting homegrown extremism.
But then Republican presidential candidate Donald Trump ratcheted up the rhetoric on Monday by calling for a ban on Muslim immigrants, students and other travellers entering the country, provoking sharp rebukes across the US political spectrum and from abroad.
Close to San Bernardino, at the Islamic Center of Riverside, where Farook once prayed regularly, members said mosque attendance continued to be low because people did not feel safe.
"Because this happened next door and because our mosque was mentioned, we feel it more," said a 50-year-old Palestinian immigrant who knew Farook but declined to be identified by name.
It is not just Muslims that fear the attacks on Muslims.
Around the corner from the Islamic Society of the Coachella Valley, where Friday's fire occurred, neighbour Israel Orantes said he was concerned about safety, given that it was the second time in about a year the mosque was targeted.
"We are exposed over here," said Orantes, who has lived on what he described as a peaceful, neighbourly street for 14 years. It did not help, he added, that Trump was stirring up animosity with his comments.
"We know we have crazy Muslims, crazy Christians around. They think attacking the mosque is the solution, but we're over here, exposed," he said in front of his home.
http://www.dawn.com/news/1226105/muslim-americans-struggle-with-fallout-from-california-shooting
-----------
India
Vice-President Hamid Ansari breaks ground with other leaders for TAPI pipeline
PTI | Dec 13, 2015
MARY (TURKMENISTAN): Vice-President Hamid Ansari, Pakistan Prime Minister Nawaz Sharif and leaders from Turkmenistan and Afghanistan on Sunday, broke the ground here for the ambitious USD 7.6 billion TAPI pipeline project which will provide energy-hungry India gas to run its power plants.
Ansari flew to the ancient city of Mary, 311 km from the capital Asghabat, which was part of the old Silk Route, to attend the ground-breaking ceremony of the 1800-kilometre-long TAPI gas pipeline in the presence of Afghan President Ashraf Ghani and Turkmenistan President Gurbanguly Berdimuhamedow.
They pushed a button which started the welding process of pipes. They later signed the pipe and also signed a document which was put in a capsule and placed under the ground.
At the ceremony, Berdimuhamedow hoped that the project would get operationalised by December 2019. He said the project proves that Turkmenistan can carry such huge amount of gas to places where it is required.
The TAPI pipeline will have a capacity to carry 90 million standard cubic metres a day (mmscmd) gas for a 30-year period. India and Pakistan would get 38 mmscmd each, while the remaining 14 mmscmd will be supplied to Afghanistan.
Ansari while terming the project as a "reflection of desire" to the old age legacy warned that all stakeholders have to work together with resolve to ensure that "negative forces inimical to the success of the project are addressed in an appropriate manner.
"In doing so, we must recognise that the forces of violence and disruption can no longer be allowed to threaten the quest for economic development and security of our people. I am confident that with the active engagement of all four governments, and the support of our international partners, we can overcome such challenges."
He also appreciated the role of ministers and officials who worked hard to achieve the goals and said Petroleum Minister Dharmendra Pradhan is an example of new generation of politicians who work hard to make India prosperous.
Ansari said the four nations also need to work together to ensure the technical and commercial viability of the project in its broadest sense.
The international marketplace for energy works on complex principles. Often these are difficult to fathom. However, given the widespread poverty that exists in our countries, it is essential to ensure that we can make energy available at the least possible cost to the largest sections of our people, he said.
http://timesofindia.indiatimes.com/india/Vice-President-Hamid-Ansari-breaks-ground-with-other-leaders-for-TAPI-pipeline/articleshow/50160176.cms
--------
NIA seeks details of internet, travel history of arrested IS recruit from 5 countries
Neeraj Chauhan | TNN | Dec 13, 2015
NEW DELHI: The National Investigation Agency has sent judicial requests (Letters Rogatory) to five countries - Afghanistan, Iraq, Turkey, Saudi Arabia and Luxemburg --seeking details of chats, travel routes and possible financial transactions of Islamic State recruit Areeb Majeed, who was arrested last year for Jehadi activities.
Sources said the LR requests have been sent to get details of login history, IP addresses, search history and contents of the messages exchanged on Majeed's email account which includes inbox, outbox, sent, draft and spam baskets and attachments and also his finances related to travel and stay in any of these countries.
The source said that the requests were despatched through the ministry of external affairs last week.
NIA expects to get replies from these countries so that complete conspiracy of Majeed and his accomplices' activities in Iraq and Syria could be unraveled and IS recruiters, trainers and logistics provider identified. "These LRs are very important for India's point of view. If evidence is shared with us by these countries, it may establish the whole chain of conspiracy by Majeed and others who joined the terror outfit with him," said an official.
Earlier, NIA had sent Mutual Legal Assistance Treaty (MLAT) requests to United States, Australia, Canada, Iraq and Turkey seeking technical evidence.
According to government sources, Australia and Canada had invoked the death penalty clause while sharing evidence with India saying information can only be shared if Majeed is not given death penalty since Australian law doesn't provide for it. Australia had raised Section 34-C of the Extradition Act which states that in case "the laws of a foreign state do not provide for death penalty for an offence, a fugitive criminal shall be liable only for life imprisonment for that offence".
Sources say that NIA, through ministry of home affairs, has sent a written reply to Australia as well in which India's stand has been cleared that it is a case of evidence and not extradition.
Australia's Attorney General George Brandis had also met home minister Rajnath Singh in October and assured assistance in sharing evidence.
The IS operative had used his email id majeedareeb@yahoo.com and social networking platforms like Facebook, Skype, WhatsApp and Tango for his activities. He had claimed that he fought for IS in the war zone of Iraq and Syria between August and October 2014 and was injured thrice, twice with bullet injuries and once in an air strike by US.
The anti-terror probe agency had filed a 8500-page chargesheet against him under Unlawful Activities Prevention Act (UAPA), first against IS in India, in which his accomplices Saleem Tanki, Fahad Sheikh and Aman Tandel were also named.
http://timesofindia.indiatimes.com/india/NIA-seeks-details-of-internet-travel-history-of-arrested-IS-recruit-from-5-countries/articleshow/50156613.cms
-----------
Pakistan
At least 15 dead in Parachinar clothes market blast
Ali Akbar —Dec 13, 2015
PARACHINAR: At least 15 people were killed and dozens others wounded on Sunday in a blast at a used clothes market in Kurram Agency's Parachinar area.
Hospital sources told DawnNews that 47 people were injured as a result of the blast out of which more than 15 victims are in critical condition.
DawnNews screengrab of the Parachinar blast victims receiving treatment at the District Headquarters Hospital (DHQ) Parachinar
The market was bustling with people who were out shopping for clothes. As winter season arrives locals throng lunda (used clothes markets) bazaars to buy used and second-hand clothes.
It is currently unclear whether the blast was a suicide attack or a remote-controlled blast. Security forces have cordoned off the area and are investigating the nature of the blast.
No individual or group has claimed responsibility for the attack yet,
Security sources said that the explosion was carried out through a planted device and that two suspects have been taken into custody from the blast site.
Earlier, rescue and emergency teams rushed to the blast site and shifted the dead and wounded to District Headquarters Hospital (DHQ) Parachinar.
Blast victims were shifted to District Headquarters Hospital (DHQ) Parachinar for treatment. — DawnNews screengrab
An emergency has been imposed at DHQ Parachinar.
Prime Minister Nawaz Sharif, Speaker National Assembly Sardar Ayaz Sadiq, Federal Interior Minister Chaudhry Nisar Ali Khan, Pakistan Tehreek-i-Insaf chairman Imran Khan and Punjab Chief Minister Shahbaz Sharif issued condemnation messages against the blast.
Kurram is one of the most sensitive tribal areas as it borders three Afghan provinces and at one point was one of the key routes for militant movement across the border. It has witnessed scores of such attacks and kidnappings for ransom incidents in the past several years.
The agency is adjacent to North Waziristan where Operation Zarb-i-Azb is in progress against the Tehreek-i-Taliban and other insurgent groups. The military had also launched an offensives against militants in 2011.
Parachinar is the administrative headquarters of the agency near the Afghan border.
It is small garrison town developed by the British Army in the foothill of Spin Ghar (White Mountain) in mid-1895. The town total population is about 40,000 comprising people of different tribes, races and faiths.
http://www.dawn.com/news/1226103/at-least-15-dead-in-parachinar-clothes-market-blast
--------
Pakistan army says it killed 3,400 militants since June 2014
AP | Dec 13, 2015
ISLAMABAD: Pakistan's military says it has achieved ``phenomenal successes'' in the war against terrorism by killing 3,400 ``terrorists'' since 2014, when it launched a major operation in a tribal region near Afghanistan.
Army spokesman Lt. Gen. Asim Saleem Bajwa said in a statement Saturday that security forces are currently clearing out the ``last pockets'' of insurgents in the former militant stronghold of North Waziristan. Bajwa said the army lost 488 security personnel since June 2014 when it launched the operation there.
The military has stepped up its fight against terrorism since the December 16, 2014 attack on a school in Peshawar killed nearly 150 people, mostly children.
North Waziristan was once considered to be the headquarters of the Pakistani Taliban, who have been fighting to overthrow the government in Islamabad.
http://timesofindia.indiatimes.com/world/pakistan/Pakistan-army-says-it-killed-3400-militants-since-June-2014/articleshow/50152452.cms
--------
Shawal almost cleared of terrorists, says ISPR
Baqir Sajjad Syed — Updated about 8 hours ago
ISLAMABAD: Indicating that Zarb-i-Azb could be nearing completion, the military on Saturday said that it had cleared Shawal Valley of terrorists except for a pocket to its north-west.
"Shawal itself has been cleared. Action is, however, continuing in a pocket that is north-west of the valley," military spokesman Lt Gen Asim Bajwa told Dawn after releasing statistics about the actions the armed forces had taken against terrorism over the past 18 months. He highlighted the progress achieved in the tasks assigned to the military since the National Action Plan (NAP) was launched.
The statistics were released in the run-up to the first anniversary of the Army Public School tragedy next week. The ISPR described the figures as an 'update on Zarb-i-Azb', but also included elements like military courts formed after introduction of NAP in the aftermath of the Dec 16 APS attack in which 147 people, including 122 schoolchildren, were killed.
"Support of the entire nation and resolve expressed against terrorism after APS attack has been the bedrock of the operation," Gen Bajwa said.
Zarb-i-Azb was launched in June last year and entered its final phase in later part of August, when army launched the ground offensive in Shawal Valley that was considered to be one of the last strongholds of militants in the region.
Shawal Valley, which borders South Waziristan on one side and Afghanistan on the other, has the toughest terrain in the tribal agency, with treacherous mountains as well as forests.
Gen Bajwa did not give any timeframe for the completion of the operation, but said the army would like to do that as soon as possible.
According to ISPR's statistics about 3,400 terrorists belonging to different terrorist groups have been killed in the Operation Zarb-i-Azb so far, while 837 of their hideouts from which they carried out attacks have been eliminated.
"All terrorist organisations including Tehreek-i-Taliban Pakistan, ETIM, IMU, Haqqani Network and Daesh and their affiliates have been weakened. Their logistic bases, and command and control nodes have been destroyed and they are being rigorously pursued," another officer, who did not want to be named, said.
Gen Bajwa attributed that overall improvement in security to Operation Zarb-i-Azb and said stability was being achieved. The operation, he said, has been a "phenomenal success".
The army and paramilitary forces, meanwhile, during Operation Zarb-i-Azb and related counter-terrorism operations lost 488 men. These included officers and troops of Army, Frontier Corps, and Rangers.
The Army had alongside ZeA in North Waziristan launched what it calls 'Intelligence Based Operations' (IBOs) in other parts of the country to target the individuals and groups linked with entities based in the tribal agency.
ISPR says about 13200 IBOs have been carried out in which 183 hardcore terrorists killed, and another 21,193 arrested.
These IBOs, Gen Bajwa said, helped break the linkages of terrorist organisations with their sleeper cells in rest of the country.
MILITARY COURTS: ISPR figures said 142 cases of terrorism were tried by 11 military courts, which have decided 55 of them, while 87 others were in process.
The military courts have convicted 31 terrorists, of which 27 got death penalty, while other four were given life sentences.
Four of those convicted terrorists were executed on Dec 2. Army Chief Gen Raheel Sharif signed death warrants of another four on Dec 8.
Some of the convictions have been challenged in superior courts.
http://www.dawn.com/news/1226083/shawal-almost-cleared-of-terrorists-says-ispr
--------
New NSA to keep Sharif in check on India
Sameer Arshad | TNN | Dec 13, 2015
When Lt Gen Nasir Khan Janjua was appointed as national security adviser (NSA) in October, it signalled tightening of Pakistani military establishment's control over the country's security and foreign affairs.
The appointment had been in the works for months and was effected in particular to ensure the establishment had its man in the thick of engagements with India that restarted with Janjua's meeting with his Indian counterpart, Ajit Doval, in Bangkok on December 6. The need for someone like Janjua was felt after Sharif was seen to have given in again following his meeting with Indian PM Narendra Modi in Ufa, Russia,in July.
The establishment was aghast to see its key concerns like Kashmir missing from the joint statement issued after the meeting and forced it to prevail upon Sharif to have Janjua replace his loyalist, Sartaj Aziz.
Aziz has been the odd one out as the only non-military NSA Pakistan has had so far.
Janjua fits the bill also because he retired as the chief of Pakistan army's Quetta-based Southern Command, where he led anti-insurgency operations in Baluchistan.
His expertise is believed to be crucial as Islamabad seeks to counter allegations of fostering terror in India with accusations of India's backing of Baluch insurgents.
Janjua was involved in Azm Nau (new resolve) war games as well. Azm Nau is a response to India's Cold Start Doctrine that seeks to launch conventional strikes against Pakistan before the world comes to know about it without provoking a nuclear attack.
Janjua is seen to be the ideal person to keep Sharif on a tight leash vis-a-vis his India policy and deal effectively with his assertive Indian counterpart.
The establishment has long been suspicious of Sharif over his unilateral goodwill in defiance of its desire for parity with Delhi.
Janjua's appointment is the latest compromise Sharif has made with the establishment since he faced third unceremonious removal from power when opposition leader Imran Khan led a campaign against him over "poll fraud" last year. Sharif has had a series of runins with the establishment over his three tenures that have led to removal from power twice.
He appeared to be once bitten twice shy when the army appeared to be the force behind the campaign to remove him in 2014. The army had booted Sharif first out of power in 1993 before he had his way briefly during his second stint.
Sharif forced army chief Jehangir Karamat to quit before the bid to sack his successor, Pervez Musharraf, boomeranged, leading to his exile.
He has acknowledged his India policy was partly responsible for his downfall in 1999 and his attempts to pick up the threads from where he had left then made things difficult for him in his current term. He backed good ties with India with calls for unilateral visa-free travel for Indians and Siachen demilitarization when he returned to Pakistan in 2007.
Sharif fought the 2013 election promising peace with India and declared his victory was a mandate for building bridges. He described peaceful relations with India as "the cardinal principle'' of his foreign policy in his 2014 Independence Day speech.
Sharif earlier visited India to attend Modi's inauguration defying hawks, whom he enraged further by defying the norm and not meeting Kashmiri separatists.
He instead chose a meet a steel tycoon, who later reportedly arranged his secret meeting with Modi in Kathmandu.
The alleged meeting gave grist to the rumour mill in Pakistan that Sharif 's steel business interests force him to bend over backwards to please India.
http://timesofindia.indiatimes.com/world/pakistan/New-NSA-to-keep-Sharif-in-check-on-India/articleshow/50157007.cms
-----------
Arab World
Syria in 2016 will be like the Balkans in 1914 as explosive violence breaks out on an international scale
Patrick Cockburn | The Independent | Dec 13, 2015
Protestors in London take part in a demonstration against bombing Syria on December 12, 2015. (Reuters, representative image)Protestors in London take part in a demonstration against bombing Syria on December 12, 2015. (Reuters, representative image)
The CIA analyst is confident about what is likely to happen in Syria. He says that "Assad is playing his last major card to keep his regime in power". He believes that the Assad government will step up its efforts to prove that its enemies "are being manipulated by outsiders". The probable outcome is a split within Syria's ruling elite leading to Assad being ousted, though he admits that there is no obvious replacement for him.
The reasoning in the CIA special analysis, entitled "Syria: Assad's Prospects", is sensible and convincing, though overconfident that Assad's days are numbered. The extent of this overconfidence is highlighted by a glance at the date of the document, which is 17 March 1980, or 35 years ago, and the President Assad, whose imminent political demise is predicted as likely, is not Bashar al-Assad but his father, Hafez al-Assad, who died in 2000. The analysis was released by the CIA under the Freedom of Information Act in 2013.
The CIA paper is an interesting read, not least because it shows how many ingredients of the present crisis in Syria have been present for decades, but had not yet come together in the explosive mix which produced the present horrific war. In 1980, the writer assumed that Syrian politics revolved largely around the sectarian differences between the Alawites, the Muslim sect to which the Assads and Syria's rulers generally belong, and the Sunni Arab majority. The analysis is written in an upbeat tone as it forecasts that splits between the two communities may bring Assad down.
The CIA certainly wanted Assad gone and had some ideas about how this might be achieved. "Army discipline may well collapse in the face of widespread riots," it says. "This could lead to bloody war between Sunni Muslim and Alawite units. The Alawites, however, may choose to topple Assad before such turmoil develops in order to keep their position secure."
This last sentence could have been written at any time since 2011 as a summary of what the US would have liked to happen in Syria: it has always wanted to get rid of Assad, but it does not intend to destroy or even weaken the Syrian state and thereby open the door to Isis and al-Qaeda. Even super-powers sometimes learn from history, so the US and its Western allies today hope to avoid a repeat of the disastrous disintegration of Iraq state institutions in 2003 after the overthrow of Saddam Hussein. Tragically, the unnamed CIA analyst eventually got the sectarian civil war he had half-hoped for, but Assad is still there and Syrian people have got the worst of all possible worlds.
US intelligence chiefs are far more outspoken these days than their counterparts in Britain about the calamitous consequences of US-led foreign interventions over the past 12 years. None more so than General Michael Flynn, recently retired head of the Defense Intelligence Agency, the Pentagon's intelligence arm, who says bluntly in an interview with the German magazine Der Spiegel that the Iraq war "was a huge error. As brutal as Saddam Hussein was, it was a mistake to just eliminate him. The same is true for Muammar Gaddafi and for Libya, which is now a failed state. The historic lesson is that it was a strategic failure to get into Iraq. History will not be and should not be kind to that decision."
Big players such as the US can more easily afford to admit mistakes than those, like Britain, which are smaller and lacking in confidence about their great-power status. But there is a price to be paid for remaining mute or in denial about past political, military and diplomatic errors. If it is admitted that anything went wrong for Britain in the Iraq, Afghan, Libyan and Syrian wars then it is only in the most general terms. A former diplomat at the Foreign Office says that it was striking how in the years following the Iraq invasion of 2003, he heard "almost nobody in the Foreign Office talk about the decision to go to war or what went wrong". This may have been because most officials privately opposed the war from the beginning as a bad idea, but did not want to say this publicly, or even within the office.
It is a natural British personal and institutional instinct to hush things up, but after four wars marked by British government blunders and misjudgements, it is curious that information from the intelligence services is not treated with greater scepticism. A recent sign of this was David Cameron justifying his unlikely claim that there are 70,000 moderate anti-Assad fighters in Syria by saying that this figure came from the Joint Intelligence Committee, as if this sourcing put its accuracy beyond doubt. It may be that endless harping on British success in breaking German codes in both world wars has combined with a diet of James Bond movies to exaggerate the reputation of British intelligence.
Foreign political leaders are often more dubious about what their intelligence services really know. Before the start of the Iraq war in 2003, President Jacques Chirac told a visitor that he did not believe that Saddam had any weapons of mass destruction. The visitor said: "Mr President, your own intelligence people think so." Chirac replied: "They intoxicate each other." In other words, intelligence services often become echo chambers for obsessive beliefs that are detached from reality.
The very secrecy with which they shroud themselves is useful when denying responsibility for failure. It also makes them vulnerable when governments or their own senior officers want to suppress or doctor politically inconvenient advice.
Early last year, President Barack Obama dismissed Isis, which was beginning to make spectacular advances, as being like a junior basketball team wanting to play in the big leagues. Soon after, it captured most of northern Iraq and eastern Syria. One of the reasons this may have happened was exposed this year when 50 intelligence analysts working for the Pentagon signed a joint letter of protest. They said that their intelligence findings that Isis was getting stronger and not weaker as the White House claimed, were being suppressed or doctored by their chiefs.
This was par for the course. The personal or institutional interests of the heads of intelligence agencies or any other government department are seldom served by bringing bad or contradictory news to those who decide on buRudgets and promotions. Most of the time this does not matter but today it does, because the stakes are rising in the war in Syria and Iraq. Knowledge of what is happening on the ground should be at a premium.
Serious powers such as Russia and Turkey are being sucked in and have invested too much of their prestige and credibility to pull back or suffer a defeat. Their vital interests become plugged into obscure but violent local antagonisms, such as those between Russian-backed Kurds and Turkish-backed Turkomans, through whose lands run the roads supplying Aleppo. The Syrian-Iraqi conflict has become to the 21st century what the Balkan wars were to the 20th. In terms of explosive violence on an international scale, 2016 could be our 1914.
http://timesofindia.indiatimes.com/world/middle-east/Syria-in-2016-will-be-like-the-Balkans-in-1914-as-explosive-violence-breaks-out-on-an-international-scale/articleshow/50159197.cms
--------
Nigerian Army Raids Islamic Movement Leader's House, Kills Several Followers
Dec 13, 2015
TEHRAN (FNA)- The Nigerian troops raided the house of the Leader of the Islamic Movement of Nigeria Sheikh Ibraheem Zakzaky and killed a number of his followers.
"The Army forces opened fire at those present in Zakzaky's house killing and wounding a large number of people," a member of the UK-based Islamic Human Rights Commission (IHRC) told FNA on Sunday.
According to him, the soldiers opened fire on local residents who were trying to protect the Shiite cleric.
The army's incursion followed the eruption of clashes between troops and Shiite Muslims in the country's city of Zaria, Kaduna State, in which at least 15 people were killed and many more injured.
"At noon today (yesterday) armed soldiers were seen in the precincts of Hussainiyyah Baqiyyatullah, Zaria, where members of the Islamic Movement were to hoist flag to usher in the new month of Maulud, the birth of the Holy Prophet of Islam," Islamic Movement Spokesman Ibrahim Usman said in a statement.
"Similar occasion was previously carried out on the same spot with free traffic flow under the supervision of the Movement's traffic warders," he added.
"When some brothers met the soldiers to ask for their mission, they took position and opened fire indiscriminately, killed many and took away seven of the casualties to an unknown location," Usman said.
"Based on the foregoing, we believe that the military had pre-planned this and had acted according to their mischievous script. They came with their cameramen, videotaping the whole incidence while it lasted."
"We are however surprised that, spokesman of the military Colonel Kuka Sheka shamelessly came out in the media and issued a press statement to say, that it was an assassination attempt on the Chief of Army Staff at the order of the movement's leader."
"Why was it that there were no casualties on the side of the military, if it were to be an assassination attempt? What happened was never a clash, but a continuation of act of terrorism by the Nigerian military on the Movement, as was the case in the past."
"We are not surprised by this action, as there were reports spread by the same military the night before that the Shiites were to avenge their dead by hired thugs on Friday in Gabari, a village in Zaria."
"The same military also spread rumors that the Shiites had killed soldiers, all in attempt to justify today's (yesterday's) dastardly act."
"Kuka Sheka should know that once bitten twice shy. The 2014 massacre of 34 members of the Islamic Movement, including three of Sheikh Zakzaky's children by the military; the attempt on Sheikh Zakzaky's convoy by the same military are still in our minds."
"No government can flourish successfully with disoriented military, full of trigger-itchy personnel and security operatives trained by CIA and Mossad."
"Until the present government fishes out this cabal in the military and brings the culprits to book, we will believe the government is condoning violence and terrorism on innocent citizens."
Also, Yusuf Abubakar, an eye witness said that "I saw two soldiers asking the Shiite members to remove the barricade but they refused only for the soldiers to open fire on them".
"Suddenly, there was confusion everywhere. I saw more than 30 corpses on the ground before soldiers took them away."
Another eye witness who pleaded anonymity said that "the soldiers were armed to the teeth as they came in about three Hilux vans and armored personnel carriers".
"They were pleading with the Shiite members to clear the way for the Army Chief who was being expected."
Yesterday's incident is the latest in the series of clashes between security agents and members of the Islamic Movement.
In one of such encounters in July last year, three sons of El-Zakzaky were killed by soldiers.
The IHRC issued a report at the time, blaming soldiers for what it called shooting and killing of defenseless members of the Islamic Movement of Nigeria between July 25 and 26.
It said that shortly after the Friday prayers on July 25, the Shiite members embarked on the traditional Al-Quds procession done in support of the Palestinian Cause following the same route it has followed in the last 33 years.
The report said 34 defenseless members of the group were murdered in cold blood as they marched through the streets of Zaria, in Kaduna State.
About 100 others were injured, it said citing interviews with victims, their families and witnesses.
The IHRC also obtained a video footage of soldiers firing at unarmed civilians at the end of the procession.
Besides, it said that it had proof that many of those arrested died in military custody, unable to withstand the brutality they were subjected to by the soldiers.
Last month, about 20 members of the Islamic Movement were blown up in a bomb attack during a procession from Kano to Zaria.
A suspected suicide bomber who pretended to be part of the procession set off a bomb at Dakasonye village in Garun Mallam Local Government of Kano State.
Boko Haram claimed responsibility for the attack but El-Zakzaky said his group knew those behind the attack.
"We know the names of the contractors and those contracted to commit the massacre, their identity is not hidden from us. Therefore we cannot be cowed by an imaginary Boko Haram tale, let them tell it to the fools and the ignorant. They should know that they are dealing with those with foresight, wisdom and intelligence, and above all with the real religion," he said.
"There is nothing like a suicide bomber. They tortured and drugged unsuspecting captives and made them carriers of the explosives which they detonated amidst people."
http://en.farsnews.com/newstext.aspx?nn=13940922000546
--------
Gov't Forces Win Back New Town Southwest of Syria's Aleppo
Dec 13, 2015
TEHRAN (FNA)- The Syrian Army alongside the Lebanese Hezbollah fighters pushed back the militant groups form more lands in the Southwestern part of Aleppo, ending in the recapturing of Banes town on Sunday, army announced.
The army said that after hours of fierce clashes with the militant groups the Syrian government forces took full control over Banes a town in the Sothern part of al-Eis.
"The militants suffered a heavy death toll in the clashes and retreated from the battlefront after leaving behind their military vehicles and equipment," the army added.
Earlier reports said that the Syrian army and the National Defense Forces (NDF) killed at least 10 ISIL terrorists and wounded many more after hours of fierce clashes with the militant group in the Eastern part of Aleppo province.
The army said that the clashes occurred near the villages of Rasm al-Kabir, Jarrouf and Beijan.
"The ISIL terrorists suffered a heavy death toll, and their military hardware was also destroyed in the Syrian government forces' attacks," the source said.
"The Syria army and its allies have gained upper hand against the militant groups, mainly against the Takfiri terrorists, wherever they have been backed up by the Russian and Syrian air forces," the army further added.
Not only the ISIL, but other notorious militant groups, including Ahrar al-Sham have failed in the battles against the Syrian government forces.
http://en.farsnews.com/newstext.aspx?nn=13940922000664
--------
Senior Terrorist Commanders Killed in Syria
Dec 13, 2015
TEHRAN (FNA)- The Syrian army resumed its military operations against Takfiri terrorists in the province of Lattakia, killing senior terrorist commanders.
A military source said on Sunday that the terrorist leader of the so-called "Liwaa al-Nasr" group, Aqil Jumaa, and four of his fellows were killed in a special army operation in the vicinity of al-Kouz Mountain in the Northern countryside of ‪Lattakia.
Earlier reports said Mustafa Khadijeh, the deputy commander of Liwaa al-Nasr group, was killed by Syrian forces in Lattakia countryside.
On Saturday, military sources said the Syrian Army and its allies are now in a good supplying position in the coastal province of Lattakia after they brought the strategic Lattakia-Kassab highway under their control.
The sources said that after 3 years of closure the Syrian government forces reopened Lattakia-Kassab highway.
"The recapture of Turkmen mountain (Jabal al-Turkmen) by the Syrian forces played a significant role in reopening the highway," the military source further added.
Earlier reports said that the militant groups withdrew from one of the tops of al-Koz mountain and Height 713 in the Northern side of al-Khdra village after the Russian fighter jets bombed their positions and the government forces broke through their defense lines.
The militant groups left behind scores of dead and wounded members and fled the battlefields.
http://en.farsnews.com/newstext.aspx?nn=13940922000657
--------
Army Kills Top Terrorist Commanders in Aleppo
Dec 13, 2015
TEHRAN (FNA)- Senior terrorist commanders were killed in Syrian army's attacks in the Northern Province of Aleppo as the government forces continue to inflict heavy losses on the foreign-backed Takfiri militants.
Ma'an Zeqzaq, the field commander of Faylaq al-Sham, was killed in clashes with the Syrian army in the Southern countryside of Aleppo.
The Syrian troops also killed Abu Aqeel, a senior commander of al-Nusra Front, in Aleppo countryside on Saturday.
Abu Aqeel was identified as an Egyptian terrorist.
Reports said on Saturday that the terrorists of Al-Sham Movement, Al-Nusra Front (Syrian Al-Qaeda group), Liwaa Suqour Al-Sham, and Nouriddeen Al-Zinki Movement are getting more and more desperate in the Southern parts of Aleppo province, as they have launched multiple failed attacks on the Syrian Army's defense positions over the last 48 hours.
On Friday morning, terrorists conducted a large-scale assault near the strategic town of Tal Al-Eis in order to recapture the villages of Zeitan and Tal Barakah from Hezbollah and the Syrian Army's 4th Mechanized Division; however, things did not go according to plan for the combatants form Liwaa Suqour Al-Sham, Nouriddeen Al-Zinki Movement, Al-Nusra Front and Ahrar Al-Sham Movement.
Following a series of intense firefights that lasted for most of the day, the Syrian Army's 4th Mechanized Division – backed by Hezbollah, the National Defense Forces (NDF) of Aleppo City, and Harakat Al-Nujaba (Iraqi paramilitary) – was able to push back the encroaching enemy militants after killing a confirmed 21 militants at Zeitan.
All-in-all, the counter-assault by the terrorist groups at Zeitan and Tal Barakat has proven costly for them as they have lost over 60 fighters and 2 field commanders over the last 48 hours in Southern Aleppo.
http://en.farsnews.com/newstext.aspx?nn=13940922000674
--------
ISIL Pinned Down Southeast of Homs Under Bombardments of Syrian Jets
Dec 13, 2015
TEHRAN (FNA)- The Syrian fighter jets conducted several combat sorties over the ISIL strongholds in at least four key battlefronts in the Central Homs province, and bombed them heavier than ever, sources said Sunday.
The sources said that the Syrian warplanes targeted the ISIL defense liens around Quaryatayn, Hawareen, al-Hadath and Mahasa and inflicted heavy casualties on the terrorists.
"Nearly 20 Takfiri terrorists were killed in the massive airstrikes of the Syrian air force in the Southeastern territories of Homs province," the sources said.
"The air attacks have paved the way for the country's ground forces to recapture the mentioned towns and villages and advance towards the ancient city of Palmyra (Tadmur)," the sources pointed out.
On Friday, the Syrian Army alongside the country's popular forces and Hezbollah, backed up by the Russian warplanes, have launched a fresh round of large-scale operations to recapture Maheen and Hawareen regions in Central Syria from the ISIL, sources announced.
The sources said that the pro-government forces, who had tactically retreated from parts of the strategic Maheen region on Thursday, have launched a new battle against the ISIL.
"The Syrian army, the National Defense Forces (NDF) and the Lebanese Hezbollah have reportedly broken through the ISIL's first defense lines around Hawareen, after fierce clashes with the militants," the sources in Sadad said.
"Parts of Hawareen have been recaptured in the Syrian forces' operations," the sources said at the time.
"The Russian fighter jets also have conducted combat sorties over the ISIL positions to cover the ground forces. The ISIL concentration centers in Quaryatayn and Maheen have been targeted heavily by the Russian warplane," the sources added.
"The pro-government forces are resolved to push back the ISIL from Maheen region, Hawareen and Quaryatayn to pave the way for the liberation of Palmyra," the sources underlined.
http://en.farsnews.com/newstext.aspx?nn=13940922000602
--------
Syrian Forces March on Terrorists' Positions in Homs
Dec 13, 2015
TEHRAN (FNA)- The Syrian government forces struck heavy blows at Takfiri militants in the Central Province of Homs, leaving a group of them dead.
The Syrian army on Saturday destroyed a terrorists' position with all arms and ammunition inside it in al-Msheirfeh al-Shamalieyeh village in the Eastern countryside of Homs.
More than 8 Takfiri terrorists were killed in the army's attacks.
On Tuesday, pro-government forces, including the Russian and Syrian Air Forces, hit more ISIL targets near the ancient city of Palmyra (Tadmur), informed sources said, adding that the Syrian army has sped up plans to end militancy in the Central province as fast as possible.
The sources said that the Syrian warplanes carried out at least eight combat sorties over ISIL strongholds near Palmyra in heavy air raids.
"The ISIL terrorist suffered a heavy death toll in the air attacks and their military hardware also sustained large damage," the sources further added.
"The Syrian army is resolved to push back the ISIL from Homs province, specially from Palmyra which is a treasure of historic monuments," the sources said.
http://en.farsnews.com/newstext.aspx?nn=13940922000603
--------
Syrian Jets Continue Bombing Militants' Gathering Centers South of Idlib
Dec 13, 2015
TEHRAN (FNA)- Concentration centers of Ahrar al-Sham militant group in the Southern parts of Idlib province were heavily targeted by the Syrian bombers, provincial sources said Sunday, adding the terrorist group's military grid was mainly damaged in the air attacks.
At least three militants of Ahrar al-Sham were killed and five more were wounded in the Syrian airstrikes on their positions near Khan Sheikhoun in the Northwestern province of Idlib, the sources said.
"The Syrian and Russian air attack on the militants' positions in Idlib have weakened their defense abilities against ground operations," the sources further added.
The Syrian army and its allies plan to mop up militants in Aleppo and Lattakia first, and then stage large-scale operations to liberate the militant-held Idlib and restore security to this chunk of Syria's border with Turkey.
On Saturday, militant groups confirmed that many of their injured members were transferred to medical centers in Turkey after their vehicles were destroyed in roadside bomb explosions in the Northwestern province of Idlib.
Scores of the militants of Jabhat al-Ansarulddin were killed after their convoy of vehicles was hit by roadside bombs on Maarrat al-Numan-Saraqib road in Idlib province, the sources said.
The militant groups also confirmed that a group of injured terrorists were transferred to the Turkish territories to be treated there.
Almost all the roadside mines and Improvised Explosive Devices (IED) have been planted by the terrorist groups themselves, who believe in blind terror.
Many intelligence sources have confirmed that the militant groups in Idlib have been using direct and indirect support of Turkey in their fight against the government forces.
http://en.farsnews.com/newstext.aspx?nn=13940922000477
--------
Army Thwarts ISIL Attacks around Palmyra
Dec 13, 2015
TEHRAN (FNA)- The Syrian army engaged in clashes with ISIL terrorists who infiltrated into areas around the ancient city of Palmyra in Homs province, killing and wounding scores of them.
On Saturday, the Syrian army clashed with ISIL terrorists who infiltrated from al-Zakara valley towards al-Maqaleh and from al-Tbeij and al-Rawaq Mountains to Fteir al-Qteir and al-Teefour- al-Baiyarat road in Palmyra countryside.
At least 22 militants were killed and injured in the clashes.
Militants' vehicles and weapons were also destroyed.
On Tuesday, pro-government forces, including the Russian and Syrian Air Forces, hit more ISIL targets near the ancient city of Palmyra (Tadmur), informed sources said, adding that the Syrian army has sped up plans to end militancy in the Central province as fast as possible.
The sources said that the Syrian warplanes carried out at least eight combat sorties over ISIL strongholds near Palmyra in heavy air raids.
"The ISIL terrorist suffered a heavy death toll in the air attacks and their military hardware also sustained large damage," the sources further added.
"The Syrian army is resolved to push back the ISIL from Homs province, specially from Palmyra which is a treasure of historic monuments," the sources said.
http://en.farsnews.com/newstext.aspx?nn=13940922000493
--------
First VP Complains about Turkish Officials' Negative Words about Iran
Dec 13, 2015
TEHRAN (FNA)- Iran's First Vice-President Eshaq Jahangiri in response to Turkish President Recep Tayyip Erdogan's complaint about the Iranian media's criticism of his family underlined that the government has no control over the media.
"The media in Iran are not controlled by the government and they even criticize the government, but you haven't heard anything against the Turkish government from the Iranian government officials, while your officials have made many negative and incorrect remarks against the Islamic Republic of Iran's government and the Iranian nation's sanctities," Jahangiri said in a meeting with Erdogan on the sidelines of a conference in Turkmenistan on Saturday evening.
He, meantime, referred to the age-old relations between Tehran and Ankara and the necessity for increasing consultations and exchange of views to settle the regional problems, and said, "Despite the differences on Syria, we should cooperate with each other in the fight against extremism and terrorism."
Pointing to the crisis in relations between Turkey and Iraq, Jahangiri said, "Interaction, respect for countries' national sovereignty and territorial integrity and efforts to obviate the grounds of differences can establish peace, tranquility and stability in the region."
He also voiced concern about tensions between Turkey and Russia, and said, "Such tensions does not serve regional interests and we are ready to obviate these tensions."
Erdogan's remarks against the Iranian media came as accusations against his family members have mainly been leveled by Turkish and Russian politicians and then echoed by the Iranian media.
Earlier this month, Senior Member of Turkish Republican People's Party (CHP) Aran Erdam disclosed that Erdogan and his relatives had purchased oil from the ISIL terrorist group.
"The evidence shows that the trucks that were bombed by the Russian planes last month were carrying oil cargos destined for Turkey via Iraq from Northern Syria," Erdam said.
He noted that over 120 oil tankers that were destroyed in the Russian airstrikes belonged to the Turkish Bayrak Company owned by Erdogan's son-in-law who is also Turkey's energy minister, Berat Al-Bayrak.
He noted that Bayrak Company has 500 oil tankers.
Turkish Energy Expert Necdet Pamir said that Turkey's official oil import has decreased by $1 million which itself is a proof to Erdogan government's clandestine deal with the ISIL.
Pamir said that the deal between Turkey and the ISIL dates back to summer 2012 when the Takfiri terrorists took control of the city of Raqqa.
A former Turkish deputy foreign minister also confirmed Erdogan government's purchase of oil from Turkey.
"Turkish borders are open to the ISIL and other terrorists to commute between Syria and Turkey," Farouq Loqoqlou said.
President Erdogan has dramatically vowed to leave office if any proof is provided that Ankara has been buying oil from the terrorist group Daesh (ISIL).
His son, Bilal Erdogan, also has extensive ties and runs transactions with ISIL barbars. Bilal owns several maritime companies. He has allegedly signed contracts with European operating companies to carry Iraqi stolen oil to different Asian countries. The Turkish government buys Iraqi plundered oil which is being produced from the Iraqi seized oil wells. Bilal Erdogan's maritime companies own special wharfs in Beirut and Ceyhan ports that are transporting ISIL' smuggled crude oil in Japan-bound oil tankers.
Earlier this month, the Russian defense ministry announced that Erdogan and his family members are directly involved in illegal oil deliveries from ISIL oil fields in Syria.
Turkey's leadership, including President Erdogan and his family, is involved in illegal oil trade with ISIL militants, the Russian Defense Ministry said, stressing that Turkey is the final destination for oil smuggled from Syria and Iraq.
"Today, we are presenting only some of the facts that confirm that a whole team of bandits and Turkish elites stealing oil from their neighbors is operating in the region," Antonov said, adding that this oil "in large quantities" enters the territory of Turkey via "live oil pipelines," consisting of thousands of oil trucks.
Antonov added that Turkey is the main buyer of smuggled oil coming from Iraq and Syria.
"According to our data, the top political leadership of the country - President Erdogan and his family – is involved in this criminal business."
However, since the start of Russia's anti-terrorist operation in Syria on September 30, the income of the ISIL militants from illegal oil smuggling has been significantly reduced, the ministry said.
"The income of this terrorist organization was about $3 million per day. After two months of Russian airstrikes their income was about $1.5 million a day," Lieutenant-General Sergey Rudskoy said.
The Russian Defense Ministry held a major briefing on new findings concerning ISIL funding in Moscow earlier this month.
The US-led coalition is not bombing ISIL oil trucks, Rudskoy said.
At the briefing the ministry presented photos of oil trucks, videos of airstrikes on ISIL oil storage facilities and maps detailing the movement of smuggled oil. More evidence is to be published on the ministry's website in the coming says, Rudskoy said.
http://en.farsnews.com/newstext.aspx?nn=13940922000277
--------
Washington Could 'Cut a Deal With ISIL in Afghanistan to Counter Russia'
Dec 13, 2015
TEHRAN (FNA)- Should ISIL strengthen its presence in Afghanistan, the United States could find common ground with the terrorist group, also known as ISIL, to counter Moscow, Beijing and Tehran, Iranian political scientist Pir Mohammad Mollazehi said.
If ISIL loses control over its caliphate in Iraq and Syria, it could well try to expand into what is known as the Greater Khorasan region. "They will use Afghanistan as a launching pad" to take this area under control, the analyst told Sputnik.
Apparently, this process has already started.
"Daesh (ISIL) is already present in Afghanistan. Militants have been strengthening their presence in the provinces of Badakhshan and Helmand. They have recruited new fighters from locals, who have been disenchanted with the Taliban's policies. Those are mostly people, who did not accept Mullah Akhtar Mansour as the group's new leader following the death of Mullah Omar," the expert explained.
​The subsequent infighting resulted in several groups leaving the Taliban and significantly weakening the movement. ISIL is trying to appeal to the groups disappointed in their former allies.
Pir Mohammad Mollazehi believes that there is a possibility of the US reaching some sort of an accommodation with ISIL to counter Russia.
"There is a possibility that ISIL could move to a region, where they will not receive assistance from the West but the US will also not pose a threat to them. US warplanes could launch attacks against ISIL targets in Iraq and Syria but Washington will not conduct a similar campaign in Afghanistan or Central Asian countries. There is even a possibility that the US will strike a deal with ISIL in Afghanistan to counter Russia, China and Iran," the analyst warned.
Pir Mohammad Mollazehi maintains that ISIL will find new sources of income once it settles in Afghanistan. The obvious choice will be to take over the lucrative opium trade since they will receive access to poppy fields. ISIL could also tap into Afghanistan's natural resources and sell them via the same routes they use to sell oil smuggled from Iraq and Syria.
An Afghan farmer works on a poppy field collecting the green bulbs swollen with raw opium, the main ingredient in heroin.
"Approximately 90 percent of world opium is located in the Helmand province, the same region where ISIL is becoming more active. The group's goal is to take opium poppy cultivation territories under control. It will also receive access to key drug trafficking channels," the expert detailed.
ISIL is widely considered to be the wealthiest terrorist organization in the world. The group makes money on all types of illegal activities, including oil smuggling, extortion and human trafficking. Expanidng to Afghansitan will not be an issue of money.
"Afghans, Uzbeks, Tajiks, Uyghurs and Chechen fighters, who join ISIL, have established armed gangs with a financial base. ISIL, therefore, does not have to pay its new recruits in Afghanistan," the expert explained.
http://en.farsnews.com/newstext.aspx?nn=13940921000522
--------
Russian Warships Equipped With Kalibr Missiles Join Black Sea Fleet
Dec 13, 2015
TEHRAN (FNA)- The 'Zelyoniy Dol' and 'Serpukhov' warships, equipped with the versatile 'Kalibr-NK' missile system, have joined the Russian Black Sea Fleet, based in Sevastopol, commander of the Black Sea Fleet Alexander Vitko said.
On Saturday, St. Andrew's flag, a sign of the Russian Federation's Navy, were sanctified and raised on the new ships. The solemn ceremony was attended by commanders of the Black Sea Fleet led by Admiral Vitko, as well as the head of the Republic of Crimea Sergey Aksenov, Sputnik reported.
"The ships were put on combat duty today. Previously, the ships were only tactical, but now they will include operational tasks. Their combat capabilities were seen by the whole world in the Caspian Sea and now they have appeared in the Black Sea Fleet," Vitko said.
Vitko thanked the creators of the ships, the labor collective of the Zelenodolsk plant, noting that the fleet is expected to supply a few more combat units.
The 'Green Dol' and 'Serpukhov' small-missile carriers are the fourth and fifth ships of the modernized series of 'Buyan-M', built as part of the Navy's shipbuilding program at the Zelenodolsk plant named after AM Gorky.
They have increased displacement and are equipped with the latest 'Kalibr-NK' long-range missile system.
http://en.farsnews.com/newstext.aspx?nn=13940921000520
--------
US, Russian Experts Praise 'Incredibly Capable' S-400 Air Defense System
Dec 13, 2015
TEHRAN (FNA)- Russia's formidable S-400 air defense system is so good that it could not be destroyed by the Boeing EA-18G Growler, the US electronic warfare aircraft, or any other single weapon – particularly when the S-400 missile complex is part of an integrated air defense system (IADS).
Defense expert Tyler Rogoway described it the S-400 Triumf as an "incredibly capable and critical weapon system," adding that tackling it is "far from simple" but is not entirely impossible. The key to beating a complex defense system is to unleash a complex of measures against it, including jamming, surveillance and attack capabilities, Sputnik reported.
"America's unique electronic warfare and radar suppression abilities includes the Growler, but also many other platforms and ancillary capabilities as well. This complex ecosystem of weaponry and sensors includes various surveillance aircraft, hacking and cyber warfare abilities, active suppression of enemy air defenses tactics and weaponry, along with low-observable aircraft and long-range 'standoff' munitions. The last two are especially potent when combined together and electronic warfare support is added," he wrote for Foxtrot Alpha.
The United States is a true expert when it comes to radio electronic warfare (EW), defense expert Mikhail Khodorenko asserted, echoing Rogoway's sentiment. Americans have the best equipment for EW activities.
Jamming, according to Khodorenko, is an air defense system's worst enemy but it is not a deal-breaker when it comes to the S-400, especially when it is a part of a larger network.
"Advanced IADS are increasingly using some level of sensor fusion to meld many different sensor's data together into a single common 'picture' that is capable of providing engagement-quality tracks of enemy targets," Rogoway explained, adding that this makes "tactics like stealth and jamming less effective."
The S-400, however, is not omnipotent in itself, Khodorenko warned.
"If the Boeing EA-18G Growler [takes part in an operation], fighter aircraft will be tasked with destroying it. If electronic warfare is waged from the ground, attack warplanes or long-range artillery will have to bomb the land-based station. Special conditions have to be created for the S-400 to be able to fulfill its tasks," Khodorenko explained.
The S-400 Triumf (NATO codename SA-21 Growler) is an anti-aircraft and anti-missile system, which is capable of intercepting all types of modern air weaponry, including fifth-generation warplanes, as well as ballistic and cruise missiles at a maximum range of nearly 250 miles.
http://en.farsnews.com/newstext.aspx?nn=13940921000544
-----------
South Asia
Thousands of Iraqis in Baghdad, Basra protest Turkish deployment in north
December 12, 2015
Thousands of Iraqis protested on Saturday against Ankara's deployment of troops to a base near the northern city of Mosul, with some burning Turkish flags and threatening violence against the soldiers for what they see as a violation of sovereignty.
News of the deployment of 150 Turkish soldiers earlier this month triggered a crisis between Ankara and Baghdad, which has appealed to the united Nations Security Council to demand their immediate and unconditional withdrawal.
Ankara has refused, saying the troops were part of an international mission to train and equip Iraqi forces to fight Islamic State, which still controls a large part of the country. Baghdad denies inviting such a force.
As tensions smoulder between Moscow and Ankara over Turkey's downing of a Russian warplane last month, Russia labelled the Turkish deployment an "unlawful incursion".
At least 4,000 demonstrators gathered in Tahrir Square in central Baghdad on Saturday, and several thousand more in the oil city of Basra in the south, including Shi'ite militia members who held up banners reading "Death to Turkey. Death to Erdoğan".
"We consider any military presence on Iraqi land as foreign aggression which we should stand against using all possible means," Hadi al-Amiri, a Shi'ite lawmaker who heads the powerful armed Badr Organisation, told protesters in Baghdad.
The rallies were organized and led by Shi'ite militia groups, which have threatened to use force against Turkey unless it withdraws.
Pointing his pistol towards an image of Erdoğan, Amjad Salim, a local commander in the Badr Organisation in Basra, said: "We are on high alert now awaiting orders from our commanders to set fire to the ground beneath the feet of Turkish soldiers."
In Baghdad, Reuters reporters saw angry protesters trample on the Turkish flag and hit a caricature of Erdoğan with slippers in a mark of disrespect.
Russia calls Turkish troop deployment in Iraq "unlawful incursion"
"If Turkey thinks Iraq is busy with fighting Daesh and it can seize the opportunity to deploy troops then it should think twice before making such a mistake," said Abu Muntathar al-Moussawi, a local commander in Iranian-backed Asaib Ahl al-Haq paramilitary group.
"We can target Turkish soldiers and coming days will prove it."
Russian Foreign Minister Sergei Lavrov has spoken by phone with his Iraqi counterpart Ibrahim al-Jaafari to discuss the "unlawful incursion" of Turkish troops in northern Iraq, the Russian Foreign Ministry said on Saturday.
"The Russian side expressed its firm position in support of the sovereignty and territorial integrity of Iraq," the ministry said in a statement.
Iraq appealed to the United Nations Security Council on Friday to demand an immediate and unconditional withdrawal of all Turkish troops from the north of the country. Baghdad said their presence was a "flagrant violation" of international law.
http://www.todayszaman.com/diplomacy_thousands-of-iraqis-in-baghdad-basra-protest-turkish-deployment-in-north_406808.html
--------
Spanish policeman killed in Kabul attack
Reuters | Dec 12, 2015
MADRID: A Spanish policeman was killed in an attack near the country's embassy in Kabul on Friday, prime minister Mariano Rajoy said in a statement on his party's Twitter account.
Rajoy had said earlier the policeman had been wounded in the attack and had been transferred to a nearby hospital.
The attack, which the Taliban said was targeted at a guest house attached to the embassy near a heavily protected area of the capital close to many foreign embassies and government buildings, wounded at least seven people.
The car bomb was not directed against Spain and no other embassy staff were hurt, Rajoy said in the earlier statement to reporters.
http://timesofindia.indiatimes.com/world/south-asia/Spanish-policeman-killed-in-Kabul-attack/articleshow/50144800.cms
--------
Security force rebuff Daesh attack on security posts in Nangarhar
By Khaama Press - Sun Dec 13 2015
Afghan national security forces have rebuffed a coordinated attack by the affiliates of the Islamic State in Iraq and Syria (ISIS), which also goes by its Arabic name Daesh, on security posts in eastern Nangarhar province.
Nangarhar police spokesperson says a group of armed militants attacked security posts in Pandola and Girdi areas of Achin District yesterday.
Colonel Hazrat Hussain Mashriqiwal writes in a statement released to media this morning that police gave befitting response to the militants and they were pushed back.
"One armed opponent was killed and two others wounded in the retaliatory attack," Col. Mashriqiwal has said in the press release.
There were no casualties to police and civilians, the statement adds.
Although, Col. Mashriqiwal has not specified what group the militants belonged to but Achin District is a stronghold Daesh in Nangarhar.
http://www.khaama.com/security-force-rebuff-isis-attack-on-security-posts-in-nangarhar-4389
--------
President Ghani: Some neighbors export terrorism
By Zabihullah Moosakhail - Sun Dec 13 2015
President Mohammad Ashraf Ghani once again has criticized some regional countries for not wanting peace and stability in the region.
While talking to the International Neutrality Conference in Ashgabat, Turkmenistan, President Ghani said that instead of cooperation, some regional countries export terrorism.
During his speech on Saturday, President Ghani hailed the role of Turkmenistan for staying neutral and said that the country has proved to be a good neighbor of Afghanistan.
He said that some neighbors have been exporting terrorism instead of increasing their assistance but Turkmenistan has extended hand of cooperation.
"Policy of Turkmenistan is a good example for regional countries to strengthen relations with neighbors and neutrally focus on cooperation and economic growth," he said.
President Ghani added that the neutral policy of Turkmenistan has opened doors of opportunities for peace and stability in the region, and as well this policy has been the cause of several achievements of the country.
"Today, instead of asking for assistance, Turkmenistan helps others," he said.
President Ghani said that Afghanistan has historical ties with Turkmenistan. we want to further strengthen this relationship, added.
http://www.khaama.com/president-ghani-some-neighbors-export-terrorism-4387
-----------
Mideast
Baghdad protest against Turkey reveals Iraqi divisions
AP | Dec 13, 2015
BAGHDAD: Thousands of Shiite militiamen and supporters rallied on Saturday and demanded that Turkish troops immediately withdraw from Iraqi territory, a show of strength by the country's powerful militia groups and the Shiite political rivals of Prime Minister Haider al-Abadi.
Militiamen in fatigues, supporters and onlookers gathered in Baghdad's Tahrir Square, chanting, "No to occupation, no to Turkey." Some young men burned Turkish flags. Former Prime Minister Nouri al-Maliki, who is the current Prime Minister's fiercest rival, walked through the square and was mobbed by supporters who snapped photos and video on their phones.
Turkey has had troops near the Islamic State-held city of Mosul in northern Iraq since last year but the arrival of additional troops last week has sparked an uproar in the country. Ankara subsequently halted new deployments.
Hadi al-Amiri, the leader of the powerful Badr Brigade, a Shiite militia, called for the troops to leave, drawing cheers and chants.
"This is a clear message that the Iraqi politicians and the people of Iraq are against this intrusion into the sovereignty of Iraq," said Saad al-Muttalibi, an Iraqi lawmaker and close Maliki ally.
He said, however, the demonstration was not meant to be a challenge to Abadi's handling of the crisis. "We support the processes, but we think the people will be heard in such important events," he said.
Hussein Ali, a 40-year-old Baghdad businessman, said troops can't enter another country without the agreement of its government.
"Even if they had the agreement of the Kurdish (regional government), that doesn't count. It's a violation," he said.
The Kurdish Regional Government denies brokering a deal with Turkish troops to increase their presence at the base near Mosul, insisting that Baghdad approved the training mission months ago.
Harith al-Qarawee, an Iraq researcher at Brandeis University, said the protest Saturday was as much about Baghdad politics as it was about tensions with Turkey.
"For Maliki and his allies in the Shia paramilitary groups, this was an opportunity to consolidate their Shia constituency," he said. It was also a chance to show that Abadi and his allies "cannot match their powerful reaction to the Turkish intervention."
"Iraq is the `sick man' of the region," Qarawee said. The country's internal divisions are not only hampering the country's fight against the Islamic State group, they're also encouraging other powers to bypass the central government, he said.
Turkish President Recep Tayyip Erdogan repeated Friday that Turkey would not pull out troops already in Iraq and that the training process "in agreement" with Iraq would continue.
Ali said he came to Tahrir Square to protest government corruption over the summer, but stopped attending when it became clear nothing was changing. This was the first time he's felt compelled to return.
"This is more important than the other protests," Ali said. "This (crisis) honestly will divide Iraq into three parts."
http://timesofindia.indiatimes.com/world/middle-east/Baghdad-protest-against-Turkey-reveals-Iraqi-divisions/articleshow/50156184.cms
--------
Damaged Turkish-Russian relations may negatively affect Ankara's ties beyond Moscow
December 12, 2015
Turkey's downing of a Russian jet last month at the Syrian border without a warning shot over airspace violation may not only affect Turkish-Russian relations negatively, but it may damage Ankara's interests in international platforms as well as hurt relations with countries that have close ties with Russia.
The current crisis between Ankara and Moscow is not expected to escalate into a military conflict, despite Russian President Vladimir Putin calling the incident a "stab in the back." Apart from the economic sanctions Moscow has announced, it appears Turkey may stumble upon problems at international organizations that may push it on its foreign policy issues, such as finding a solution to the Cyprus problem. Judging by the actions of Russia and the statements from countries aligned with Russia, it seems Turkey may also experience problems beyond Moscow in its bilateral relations, including most of the former Soviet republics, which have traditionally had good ties with Ankara. Even some Central Asian countries, with their ethnic ties to Turkey, may have to readjust their relations out of fear of Russia's wrath.
"Moscow would be playing with fire if it urged its Armenian ally to restart the Nagorno-Karabakh war with Turkey's ally Azerbaijan," a report by the US-based Washington Institute for Near East Policy issued on Dec. 9 said. The report, titled "How will the Turkey-Russia Crisis Affect Ankara's NATO Ties?" written by former US Ambassador to Turkey James Jeffrey and the institute's Turkish research program director Soner Çağaptay. Russia's recent beefing up of its Armenian base, with attack and transport helicopters, indicates otherwise. According to the Russian RIA news agency, a total of seven MI-24 and Mi-8 helicopters have been deployed at the base near Yerevan, and one more batch would be delivered before the end of 2015, the Russian Defense Ministry was quoted as saying. Russia also has a military base in Gyumri, in northwestern Armenia close to the Armenian-Turkish border.
Nagorno-Karabakh is mostly populated by ethnic Armenians. Diplomatic efforts to find a lasting solution to the conflict have failed over the past 20 years, after Armenia occupied 20 percent of Azerbaijani territory in the early 1990s, including Nagorno-Karabakh. Turkey closed its border with Armenia in 1993 in solidarity with Azerbaijan.
In the meantime, the Azerbaijani Defense Ministry said last week an Azerbaijani soldier was shot dead in a military clash with Armenian soldiers. Following a shelling by mortar fire from Armenia, the ministry also said Azerbaijan had to respond with mortar fire as well.
Zaman daily columnist Mehmet Çetingüleç posed a question in a column this week, saying "What are we going to do, if Russia pressures Azerbaijan?" Çetingüleç pointed out that Azerbaijan's Şahdeniz natural gas reserves will be an alternative to Russian natural gas if Russia cuts Turkish supply lines as part of new measures, but it will be not easy for Azerbaijan to get out of Moscow's influence area. Getting gas from Iran, Israel and Egypt will be problematic as well, Çetingüleç said. "The number of countries that we are fighting with is increasing. What a foreign policy to pursue." he added.
After the downing of the Russian jet, another Central Asian country, the former Soviet republic Kyrgyzstan, started to discuss canceling their visa-free agreement with Turkey. According to a story from the private Cihan news agency, Kyrgyzstan Tourism Agency Vice President Mikhael Kim said last week his country would review the visa-free regime with Turkey due to a large number of people who are members of radical terrorist groups who live in Turkey. "For us, our citizens' safety and security is a priority," Kim said. There are more that 600 Kyrgyz citizens fighting in Syria along with the terrorist Islamic State in Iraq and the Levant (ISIL), according to the Kyrgyzstan National Security Committee, Cihan reported.
Despite having diametrically opposing views on a number of foreign policy issues, particularly Syria, Turkey and Russia managed to maintain a reasonable relationship until the recent incident. The downing of the jet may have resulted in the beginning of a significant, comprehensive Russian policy shift toward Turkey, and it is likely that the estrangement between the two countries will continue even if the tension over the jet is eased.
This was the first incident of a NATO ally shooting down a Russian jet since the 1950s. Although NATO expressed solidarity with Turkey, NATO countries called on Turkey and Russia to find ways to reduce the tension. A recent poll by the Pew Research Center indicates Turkey was unique among NATO members because a majority of Turks don't have a positive view of NATO. According to the Jeffrey-Çağaptay report, "The confrontation with Russia will help change this fact."
The Jerusalem Post reported a story on Dec. 10, saying "Turkish-Russian tension is not paving a road to Israeli reconciliation with Ankara," according to Israeli diplomats.
"Israeli diplomatic officials on Wednesday downplayed speculation that Jerusalem intended to use the current tension in Russian-Turkish ties to move forward some kind of reconciliation with Ankara," the daily said.
Israeli diplomatic officials say the Israeli administration is not proposing a reconciliation with Turkey, especially at a time when a "strategic relationship" is blossoming between Israel and the two of "Turkey's historic foes: Greece and Cyprus," The Jerusalem Post reported. The daily was referring to the southern side of the island by using "Cyprus," which is recognized by the international community but not by Turkey. Turkey recognizes the Turkish Republic of Northern Cyprus (KKTC) where Turkish Cypriots live in the north.
Greece, Egypt and Greek Cyprus -- all three at odds with Turkey, agreed on Wednesday to speed up talks to demarcate sea boundaries in the eastern Mediterranean as part of efforts to turn the region into an offshore natural gas hub. In a third meeting this year, Egyptian President Abdel Fattah al-Sisi, Greek Prime Minister Alexis Tsipras and Greek Cypriot leader Nikos Anastasiades met in Athens to discuss how they could take advantage of gas reserves, especially after Egypt this year discovered the largest known gas field in the Mediterranean. The leaders set up a joint committee to work on tourism, investment and energy projects. They will explore the potential for new pipelines in the region depending on the level of gas reserves found in the eastern Mediterranean, Tsipras said.
Israeli Prime Minister Benjamin Netanyahu is expected to meet with the leaders of Greece and Greek Cyprus next month, The Jerusalem Post reported. Diplomatic ties between Turkey and Israel took a downward turn in May 2010, after Israeli commandos killed eight Turkish citizens and an American of Turkish origin aboard the Mavi Marmara in international waters. Officials from the Turkish and Israeli foreign ministries had a secret meeting in Rome this summer for reaching a reconciliation agreement between the two countries.
In the meantime, Greek Cyprus and Russia are finalizing a deal that would allow Russian military jets to use Greek Cypriot airports in case of emergency, according to a statement made by Greek Cypriot Foreign Minister Ioannis Kasoulides on Tuesday, the Neweurope.eu news portal reported. Greek Cyprus will allow Russia to use its airports to evacuate Russian nationals from neighboring countries if necessary.
http://www.todayszaman.com/diplomacy_damaged-turkish-russian-relations-may-negatively-affect-ankaras-ties-beyond-moscow_406659.html
--------
Armed assailants attack Hürriyet daily's Ankara office, reports say
December 12, 2015
Hürriyet daily's Ankara office located along the Eskişehir road was reportedly attacked by unidentified assailants on Saturday night.
Five to six shots were reportedly fired at the building and the windows of the building were broken in the attack. Police stepped up security measures around the building after the attack.
Reports say the attack was carried out by unidentified assailants from a car.
However, Hürriyet said in its report on the attack that the windows of the buildings were damaged but it was still unclear whether it was an armed attack or not.
Hürriyet daily Editor-in-Chief Sedat Ergin said it is still unclear what caused the windows get broken and that police are still investigating the incident.
This was not the first time the daily was attacked. Angry mobs of nearly 100 people, led by former Justice and Development Party (AK Party) deputy Abdurrahim Boynukalın, attacked the Hürriyet daily headquarters on the evening of Sept. 6 and Sept. 8.
Following the attacks on the Hürriyet headquarters, lawyers representing the daily filed a criminal complaint against Boynukalın and other attackers at the Bakırköy Public Prosecutor's Office, and prosecutors launched an investigation into the incident.
Twenty-five suspects have so far been detained as part of that investigation. However, the investigation ground to a halt as the suspects were later released due to a lack of evidence. Among the suspects who were detained were people who had previously faced charges of "attempted murder," "possession of an unregistered firearm," "illegal trafficking of narcotics," "robbery" and several other crimes.
http://www.todayszaman.com/national_armed-assailants-attack-hurriyet-dailys-ankara-office-reports-say_406815.html
--------
Eleven killed after minibus carrying students collides with pickup truck in Van
December 12, 2015
Eleven people, mostly students, were killed in a traffic accident after their minibus collided with a pickup truck in the eastern province of Van on Saturday.
The tragic accident took place in the early hours of Saturday along the Van-Erciş Highway. Six others were injured in the accident, as the minibus was traveling from Çaldıranto Van for the Open Education Faculty (AÖF) exams.
Those injured in the accident were immediately taken to Van Yüzüncü Yıl University for treatment.
http://www.todayszaman.com/national_eleven-killed-after-minibus-carrying-students-collides-with-pickup-truck-in-van_406812.html
-----------
Africa
Nigerian soldiers kill 12, besiege Islamic movement
AP | Dec 13, 2015
LAGOS, Nigeria: Soldiers besieging the home of the leader of a Shiite movement accused of trying to assassinate Nigeria's army chief have shot and killed at least 12 people, the Islamic group said early Sunday.
About 30 people have been wounded in the ongoing attack that began late Saturday in the city of Zaria in northern Nigeria and continued into early Sunday, Zeenah Ibrahim, the wife of the group's leader, told The Associated Press in a phone call interrupted by the sounds of gunfire.
Army spokesman Col. Sani Usman said the Shiites on Saturday afternoon attacked the convoy of Gen. Tukur Buratai.
"The sect numbering hundreds, carrying dangerous weapons, barricaded the roads with bonfires, heavy stones and tires," Usman said in a statement. "They refused all entreaties to disperse and then started firing and pelting the convoy with dangerous objects ... in a deliberate attempt to assassinate" the army chief.
A witness said at least three people were killed and three wounded when soldiers opened fire there. He spoke on condition of anonymity for fear of retaliation by the army.
Ibrahim said soldiers late Saturday surrounded her home in a "pre-planned attack to assassinate the sheikh," Ibraheem Zakzaky.
His movement two weeks ago suffered a suicide bombing, claimed by Boko Haram extremists, in the middle of a procession that killed 22 people.
Boko Haram often attacks Muslims who preach against its radical vision of Islam. The group emerged as a violent Islamic uprising after Nigerian armed forces in 2009 attacked its headquarters in the northeastern city of Maiduguri, killed about 700 people and arrested and then killed its leader.
Six years later, the Boko Haram insurgency has killed some 20,000 people and forced 2.3 million from their homes.
Ibrahim emphasized that her husband's Shiite movement is peaceful and opposed to Boko Haram.
http://timesofindia.indiatimes.com/world/rest-of-world/Nigerian-soldiers-kill-12-besiege-Islamic-movement/articleshow/50157016.cms
--------
Foreign ministers set to endorse Libyan national unity plan
AP | Dec 13, 2015
PARIS: US secretary of state John Kerry is helping lead a foreign ministers' conference in Rome that's expected to endorse a UN-brokered national unity plan for Libya.
Kerry is heading to the Italian capital on Sunday to host the meeting with Italian foreign minister Paolo Gentiloni.
US officials say the meeting will give backing to the UN deal that Libya's bickering factions intend to sign in Morocco on Wednesday. That plan calls for creating a national unity government that would seek outside security assistance.
Libya slid into chaos following the 2011 toppling and killing of dictator Moammar Gadhafi (MOO'-ah-mar gah-DAH'-fee). The country has been torn between an internationally recognized government in eastern Tobruk and an Islamist-backed government in the capital, Tripoli - and now faces threats from Islamic State extremists.
http://timesofindia.indiatimes.com/world/europe/Foreign-ministers-set-to-endorse-Libyan-national-unity-plan/articleshow/50158551.cms
-----------
Europe
Libya crisis: Rome talks hope to produce unity
Image caption Italian Foreign Minister Paolo Gentiloni (l) is co-chairing the talks with US Secretary of State John Kerry
Talks are under way in Italy in the hope of getting Libya's rival factions to establish a unity government and bring a halt to months of chaos.
The country has two rival governments - one in Tripoli, another in the east.
But there is growing concern that the Islamic State group (IS), with a stronghold in the city of Sirte, is profiting from the instability.
US Secretary of State John Kerry is among those at the talks pushing the rival groups to implement a UN plan.
Delegates from the two opposing administrations, which are backed by militia groups, agreed after months of talks at a meeting in Tunis on Friday on a date - 16 December - to sign an accord on the unity government.
However, it is unclear how much support in Libya they will have for doing so.
Neither of the opposing parliaments in Tripoli and the east has voted to adopt the plan, but it is believed it could be signed in Rome without a formal vote in Libya.
Tough task of leading Libya peace talks
Who wants what in Libya?
Libya is home to a wide range of rival militia groups, many of them Islamist, who have not taken part in negotiations.
The UN proposal envisages the establishment of a nine-member presidential council within 30 days alongside a parliament.
Mr Kerry is co-chairing the Rome talks with Italian Foreign Minister Paolo Gentiloni.
They are joined by other Western representatives and officials from North Africa and the Middle East as well as the UN Libya envoy, Martin Kobler.
The threat from IS has galvanised support outside Libya for a solution.
"Mobilising international support to assist Libyan authorities to take decisive measures to combat, contain and eliminate this imminent danger is a must," Mr Kobler said on Friday.
Libya has been unstable since long-time ruler Colonel Muammar Gaddafi was overthrown and killed in 2011.
An Islamist militia took over much of Tripoli last year and the internationally recognised government was forced to flee to the east.
http://www.bbc.com/news/world-africa-35086587
--------
Switzerland arrests two Syrians on suspicion of terror links
12 December 2015
Two people of Syrian origin have been arrested in Geneva on suspicion of making, concealing and transporting explosives, the Swiss attorney general says.
The two are also suspected of violating a law prohibiting groups such as al-Qaeda and the so-called Islamic State (IS), the statement added.
Geneva's prosecutor said traces of explosive had been found in their car.
Geneva has been on high alert this week amid fears an IS cell was in the area.
Swiss President Simonetta Sommaruga said on Friday that a "foreign authority" had provided the information about "a potential IS cell in the Geneva area" but there was no indication that "a concrete attack" was planned.
Geneva's Prosecutor Olivier Jornot told a news conference that the two Syrians had just arrived in the Swiss city and could not speak French when they were arrested on Friday.
They "were stopped by Geneva police... because of the increased vigilance required from the police force," he said. "These people, because of their behaviour and nationality, were subject to more careful checks, and these checks revealed traces of explosives in the car they were using."
He confirmed no evidence of toxic gas was found.
An earlier statement from the prosecutor's office said criminal proceedings had been opened against them under Switzerland's law against the manufacture and transport of explosives and toxic gases.
The tip-off about a terror cell in Geneva had originally come from the United States, Swiss media reported on Friday.
Daily newspaper Le Temps, quoting a source close to the investigation, said US intelligence had identified three jihadist cells in Chicago, Toronto and Geneva.
On Thursday, security was stepped up outside synagogues, the UN building and the French ambassador's home, as well as train stations, the airport and similar places.
The number of police on Geneva's streets has been increased.
UN spokesman Michele Zaccheo said there was "no specific threat to the UN in Geneva or its personnel".
The border with France runs through the outskirts of Geneva.
IS said it carried out the attacks in Paris on 13 November which killed 130 people.
Two men linked to the attacks - Salah Abdeslam and Mohammed Abrini - are still on the run and investigations have been launched in several European countries.
http://www.bbc.com/news/world-europe-35083819
URL: https://www.newageislam.com/islamic-world-news/new-age-islam-news-bureau/canadian-chorus-welcomes-syrian-refugees-with-song-honouring-prophet-muhammad/d/105590
New Age Islam, Middle East, ISIL, ISIS, Syria, Iraq, Islamic World News, African Muslim News, Arab World News, South Asia News, Indian Muslim News, World Muslim News,Islamic Website, Online Islam