New Age Islam News Bureau
17 Jun 2020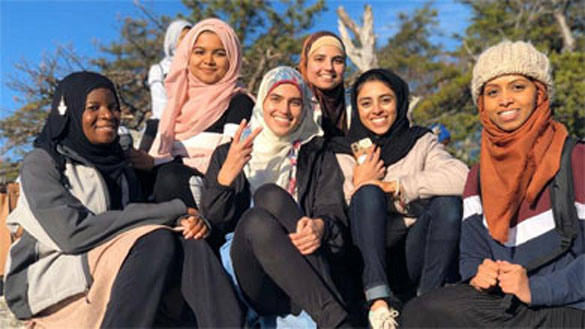 Muslim students say they are getting involved in interfaith activities to make campuses more hospitable [Photo credit: Mahvish Zakaib]
-----
• How Elite US Newspapers Ignore Muslim Victims of Terrorism
• UK-Muslim Leaders Dismayed by Far-Right March
• Saudi Arabia Calls for Global Action Against Israeli Violations
• 93% Muslims View Hindus Favourably, But Only 65% Hindus View Muslims Positively: Pew Survey
• Muslim Man Continues to Serve Gurdwara Dera Sahib of Pakistan For Over Two Decades
• Plight of Rohingyas Under COVID-19 Spotlights ASEAN's Failure
• Muslims Protest Over Plans to Approve the Legal Basis of The Pancasila Agency
• Iranian Coronavirus-Related Products Exported Abroad despite Sanctions
North America
• Can Muslim College Students Heal Divisions in the US?
• How Elite US Newspapers Ignore Muslim Victims of Terrorism
• US Jewish rabbis praise Muslim World League head Al-Issa's remarks on anti-Semitism
• US Aims to Guarantee Israel's Security through Caesar Act
• US Rep. Ilhan Omar's father dies from COVID-19
--------
Europe
• UK-Muslim Leaders Dismayed by Far-Right March
• Britain, France, Germany call on Iran to cooperate with IAEA on nuclear activities
• France says working with partners to pressure Iran at IAEA on inspector access
• Greek PM in Israel says Turkey a 'threat to regional peace'
• EU calls for probe into mass graves in Libya's Tarhuna
--------
Arab World
• Saudi Arabia Calls for Global Action Against Israeli Violations
• Caesar Act Sends Syria's Bashar Assad a Stark Reality Check
• Lebanese Central Bank Plans to Bring Dollar Price Down Progressively: Governor
• UAE 'Clearly Against' Israeli Annexation: Minister Gargash To American Jewish Group
• Hezbollah Claims China Ready to Help Lebanon, Calls For Breaking Free From US Rule
• Dubai on way to recovery, coronavirus infections rate in past 3 weeks down: Official
• Turkey sends special forces into Iraq 'against PKK militants' despite Baghdad's outrage
• New US sanctions aim to 'starve' Syria, Lebanon: Hezbollah
--------
India
• 93% Muslims View Hindus Favourably, But Only 65% Hindus View Muslims Positively: Pew Survey
• Pakistan Should Stop Systematic Persecution Of Its Religious Minorities: India At UNHRC
• Madras High Court Grants Bail To 31 Tablighi Members From Abroad
• After VHP Campaign On 'Atrocities' in Muslim-Majority Nuh, Khattar Promises New Conversion Law
• Survey of Muslim Dense Population Areas of Hyderabad Is Necessaryto Contain the Spread of The Deadly Virus
• Karnataka: Muslim Farmer Donates Land ForChennamma Memorial
• Pakistan violates ceasefire along LoC in J&K's Naugam sector
• Top Hizb commander among three terrorists killed in J&K encounter
• Pakistan envoy summoned over 'torture' of Indian officials
--------
Pakistan
• Muslim Man Continues to Serve Gurdwara Dera Sahib of Pakistan For Over Two Decades
• Khawaja Asif for placing names of PM's adviser, SBP governor on ECL
• PM, other PTI leaders have properties in UK: Justice Isa
• Senators inquire into customised benefits for two companies in Finance Bill
• Services chiefs attend rare briefing at ISI headquarters
• AJK PM asks Qureshi to clarify his UNSC remarks
• Premier and first lady's regard should be foremost priority, Zulfi tells PTI workers
--------
South Asia
• Plight of Rohingyas Under COVID-19 Spotlights ASEAN's Failure
• Myanmar sounds virus alarm after spike in 'imported cases'
• MSF ends activities in Kabul Hospital where many mothers, new-born children were killed
• Key Taliban Red Unit group member killed in Wardak clash
• Rights body concerned over alleged abuse of Afghan refugees in Iran
--------
Southeast Asia
• Muslims Protest Over Plans to Approve the Legal Basis of The Pancasila Agency
• Indonesia Increases COVID-19 Budget Again Amid Soaring Deficit
• Defence ministry: Malaysia, Indonesia committed to deepen defence relations
• Report: Annuar Musa admits possibility of snap polls discussed during last night's Umno supreme council meeting
• Indonesian court issues guilty verdicts in West Papua trial
• Govt opts to postpone deliberation of controversial bill on Pancasila amid backlash against House
--------
Mideast
• Iranian Coronavirus-Related Products Exported Abroad despite Sanctions
• Top Commander: Captains, Crew of Iranian Tankers to Venezuela Threatened by US
• FM: Iran Not to Allow Instrumental Use of IAEA
• Israel's plan to annex part of occupied West Bank will create 'apartheid': UN experts
• Palestinian security services shredding files, fearing Israeli incursion
• Russia's Lavrov vows to stand firm by Iran on nuclear deal
• Iran slams 'appalling' removal of Saudi-led coalition from UN blacklist
• Israeli military forces raid Ramallah in West Bank, open fire on young Palestinians
• UN experts dismayed by Israel annexation plan, US support
--------
Africa
• Tunisian Party Leader Says Ennahda Party Linked to Terrorism, Calls for Investigation
• HRW Calls on Libya's Rebel Commander to Probe War Crimes by Militias
• UN calls for investigation in Libya into fate of Egyptian detainees
• Nigeria: Lagos decides against reopening worship places
• Turkey condemns terror attack in Mali
• Libya: Haftar mines kill 39 civilians south of Tripoli
• US airstrikes killing, injuring civilians in Mogadishu
Compiled by New Age Islam News Bureau
URL: https://www.newageislam.com/islamic-world-news/muslim-college-students-heal-divisions/d/122147
--------
Can Muslim college students heal divisions in the US?
by Saba Aziz
Jun 17, 2020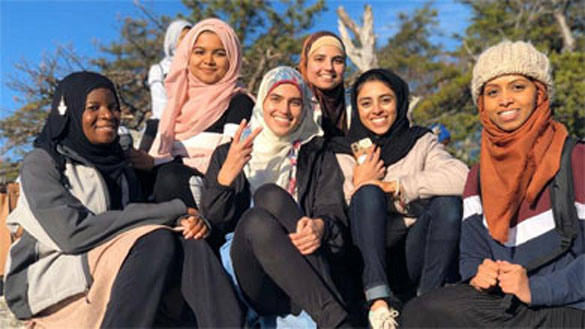 Muslim students say they are getting involved in interfaith activities to make campuses more hospitable [Photo credit: Mahvish Zakaib]
-----
Musbah Shaheen left war-torn Syria in 2013 to attend college in the United States.
As the then-19-year-old from Homs settled into student life at Vanderbilt University in Nashville, Tennessee, he was often asked about the conflict and life in Syria.
The conversations in hallways, classrooms and cafeteria with professors and fellow classmates also turned into more personal questions about his faith, he said.
"The biggest challenge for me in college was navigating the assumptions that people made about my religion," Shaheen told Al Jazeera.
Some were surprised that he did not have a beard, others that his sister did not wear a veil or that he ate meat. He felt like an outsider - misunderstood and stereotyped.
"I don't want anyone to feel this way, so I engaged in interfaith dialogue as a student leader, and that shaped my entire work life after college," the now-26-year-old said.
As a member of the Vanderbilt Interfaith Council, and later its president, Shaheen said weekly discussions and events on campus allowed him to connect with students of different faiths who were interested in expanding their world view while dispelling some of those misguided assumptions about Islam and Muslims.
Islamophobia is on the rise in the US, according to the annual Islamophobia index by the Institute for Social Policy and Understanding's (ISPU), a think-tank based in Washington, DC.
Amid the heightened religious discrimination, Muslim students, like Shaheen, are using their four-year college experience to try to bridge divisions and encourage openness towards different faiths, opinions and backgrounds.
Pluralism orientation
According to a national study by the Interfaith Diversity Experiences and Attitudes Longitudinal Survey (IDEALS), which tracked thousands of students from 122 institutions from their first semester of 2015 to their final year in 2019, Muslim students made the greatest progress pluralistically in college. About 1.5 percent of first-year (freshmen) students were Muslim in 2018.
IDEALS found that Muslim students began their college journey with strong pluralism scores - which capture goodwill towards people of other religious and non-religious perspectives, and preparedness to work across significant differences to solve common problems. And they also made the greatest gains throughout college relative to other groups - Buddhists, Hindus, Evangelical Christians, atheists - on this measure, the survey shared with Al Jazeera suggested.
"These findings demonstrate that Muslim students are poised to be among some of the most productive citizens in America over the next few decades because they're demonstrating such an attraction to pluralistic values and the kinds of values that are needed to heal divisions in our society, to create partnerships across religious lines that are needed to solve problems in society," Kevin Singer, research associate at IDEALS, told Al Jazeera.
Commenting on the survey, IDEALS co-founder Matthew J Mayhew lauded the "resiliency" of Muslim students in the "face of an upward battle" and a "hostile" climate.
Bengali American Sinthia Shabnam got involved in interfaith activities at North Carolina State University at a time when President Donald Trump signed an executive order in 2017 that banned travel for most nationals from several Muslim-majority countries, sparking outrage and confusion across the US.
"We held a large rally at NC State University called the United Not Divided Rally, showcasing many students to speak on the impact of the global issue that was happening, and who it was impacting, and what we can do moving forward," Shabnam, who recently graduated from NCSU, recalled.
"It was incredibly empowering just to see that people cared about a 'Muslim issue' as a humanitarian one," she said.
Currently serving as the education director of NCSU's Muslim Student Association, Shabnam says her top priority is to demonstrate approachability of Muslims on a predominantly white Christian campus. But as a hijab-wearing woman, she feels there is discrimination.
"The experience varies from person to person, and it can be implicit or explicit. However, I like to use those moments, when applicable, as teaching moments," the 22-year-old said.
The number of anti-Muslim hate crimes and bias incidents surged after Trump took office in 2017, according to a report by the Council on American-Islamic Relations (CAIR).
CAIR attributed the rise to Trump's travel ban, his frequent anti-Muslim comments and other policies targeting Muslims.
At the middle and high school levels in Texas, nearly half of the Muslim students aged between 11 and 18 who were surveyed by CAIR said they experienced some type of bullying, including online abuse for being Muslim.
Other key findings, revealed by CAIR's Dallas Fort-Worth (CAIR-DFW) chapter earlier this year suggested that 15 percent of students surveyed reported having their hijab tugged, pulled or offensively touched, while 41 percent of Muslim students were not comfortable engaging in class discussions about Islam and Muslims.
'Major political shift'
Egyptian American Lela Ali is all too familiar with being discriminated against and called a "terrorist" from a young age.
"There has never been a moment where I didn't feel like someone was trying to guess where I'm from, whether or not I spoke English, or if I was American," said the 25-year-old graduate student at Duke University.
In 2016, Ali, along with two other African immigrant women, launched Muslim Women For, a Raleigh-based grassroots organisation advocating social justice, colour empowerment and political development.
In an effort to get more Muslims to vote in the presidential elections this year, the non-profit group, launched the Prayers to the Polls campaign, providing free bus rides after Friday prayers from each mosque to a nearby early voting site for the primary election in Raleigh and Greensboro, North Carolina.
A 2018 ISPU report showed that growing Islamophobia pushed Muslim Americans to become more politically engaged.
According to Ali, a "major political shift" among Muslim Americans in the last decade has been led by young Muslims and Muslim students.
"Despite rising anti-Muslim bigotry and an administration that has directly attacked this community, young Muslims are not just organising around identity politics, but constructing power through cross-community building and reclaiming what it really means to be Muslim American," she said.
https://www.aljazeera.com/indepth/features/muslim-college-students-heal-divisions-200615064538251.html
--------
How elite US newspapers ignore Muslim victims of terrorism
Mohamad Elmasry
16 June 2020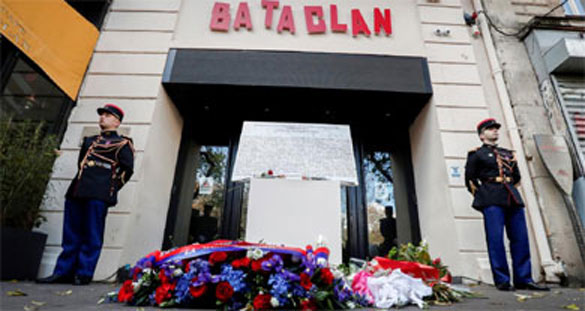 Guards stand outside the Bataclan concert hall in Paris during a ceremony for the victims of the 2015 attacks (AFP)
------
For years, my research collaborator, Mohammed el-Nawawy, and I have closely followed the intense debate over alleged double standards in US news coverage of terrorism.
We have been specifically interested in public discussions on alleged contradictions in US newspaper reportage of Muslim and non-Muslim terrorism victims. Surprisingly, prior to a study we recently published in the high impact, peer-reviewed Sage Journal Journalism, there had been almost no empirical research into this phenomenon.
We like to think that our recently published research will fill important gaps in the literature and answer many questions for media scholars and laypersons alike. Our major finding is that some of the largest US newspapers are more likely to humanise and pay prominent attention to non-Muslim victims of terrorism than to Muslim victims.
We weren't necessarily surprised to have found evidence of a double standard - indeed, these were our expectations - but we were taken aback by the degree of disparity.
Our study systematically examined coverage of five prominent Muslim-perpetrated terrorist attacks. Three were carried out in Muslim-majority societies in Ankara and Maiduguri, Nigeria, while the other two were carried out in major cities in the non-Muslim majority West, in Paris and Brussels. All took place within a six-month span late in 2015 or early in 2016.
The three attacks perpetrated in non-Western, Muslim-majority societies produced far fewer articles in elite US newspapers, despite having produced a greater number of casualties. Articles covering non-Muslim terrorism victims in Paris and Brussels generated about nine times as much coverage as articles covering Muslim terrorism victims in Ankara and Maiduguri.
Specifically, the attacks in Ankara and Maiduguri, with 222 casualties, produced only 72 articles in total over five days of US newspaper coverage. The two attacks in Paris and Brussels, with 165 casualties, generated 641 articles over five days of coverage.
Making the front page
Articles covering non-Muslim victims were also larger (on average), generated more photographs, and were more likely to make the newspapers' front pages.
What's more, US newspapers talked differently about the attacks and Muslim/non-Muslim victims. Attacks against non-Muslim societies were framed almost exclusively as acts of terrorism, while attacks against Muslim-majority societies were framed largely as "internal conflicts".
Perhaps most importantly, results showed that non-Muslim victims of terrorism were more likely to be humanised and personalised than Muslim victims.
All five studied attacks easily met the textbook definition of terrorism and were perpetrated by Muslims,
two realities which help to control for potential confounding variables. The inclusion of attacks in Ankara, a European society, helped control for geographic proximity to the US.
None of this is to suggest any sort of organised conspiracy against Muslims. On the contrary, there are a range of easy-to-understand reasons for the disparities we identified in our study, which help to explain why US news media are more likely to pay attention to and humanise white, Christian, Western victims of tragedy and disaster.
Structural constraints
Noam Chomsky, Edward Herman and other scholars have shown convincingly that US systems, including the US news system, have long seen Americans and their closest Western allies as more "worthy" than others.
Edward Said's programme of research, and in particular his work on Orientalism, elucidated how Islam and Muslims have been stereotypically constructed within Western discourse.
A long line of research in world-systems theory suggests that North America and Western Europe are situated as part of the world's "core", with most other countries situated on the "periphery" or "semi-periphery".
In addition, scholarly work on the sociology of news points to structural constraints upon US journalism. Time limits and deadlines, editorial boundaries, news routines, knowledge limitations, and narrow journalistic ideologies, among other things, exert themselves on news production processes, often dictating which stories are covered and how they are reported.
Any way you slice it, the situation is problematic, to say the least. News readers following the 10 papers we studied - including the New York Times, the Washington Post, the Los Angeles Times and the Chicago Tribune - may come away with the impression that non-Muslims are more likely to be victims of terrorism or are more worthy of attention and humanisation, or that Muslim-majority societies are merely mired in internal conflicts.
Recognising the problem
Our study also addressed anti-Black racism, an issue of importance given the ongoing global Black Lives Matter protests. The attack in the lone Black society under study, Maiduguri, generated by far the smallest number of news articles (10), despite a comparatively high level of casualties (90).
While the fact that the Maiduguri victims were Muslim likely played a role in the lack of coverage, the fact that they were Black and African almost certainly played a role.
US journalists have sometimes been defensive about accusations of a double standard, offering up a range of justifications for coverage patterns. The defensiveness is, perhaps, understandable, particularly given constraints on news production and other issues that extend beyond the profession.
At a minimum, though, US news organisations should recognise that a problem exists. From there, progress can be made.
https://www.middleeasteye.net/opinion/how-elite-us-newspapers-ignore-muslim-victims-terrorism
--------
UK-Muslim leaders dismayed by far-right march
June 17, 2020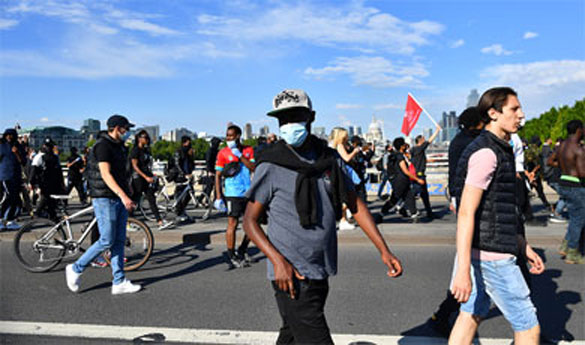 Protesters walk across Waterloo Bridge during a Black Lives Matter protest following the death of George Floyd in Minneapolis police custody, in London, Britain, June 13, 2020. (Reuters)
-----
LONDON: Leaders from the UK's Muslim community have expressed their dismay at a far-right march that took place in London on Sunday.
Following more than a week of largely peaceful Black Lives Matter (BLM) marches in central London, Sunday saw a protest of a very different nature.
Organized by a coalition of far-right groups — including the English Defence League and the Football Lads Alliance — and ostensibly to protect historically significant statues, the protest quickly descended into rampant racism and violence against police and BLM demonstrators.
Khalid Anis, chairman of the Islamic Society of Britain, told Arab News that he was "disappointed" that the far-right march even took place.
"It didn't surprise me that it descended into an alcohol-fueled brawl. The attacks on police, the Nazi salutes and the spitting on people in parks — it was just appalling," he said.
"I hope the full weight of the law is brought upon them. The Britain that I recognize and love, home to me and my family, is the antithesis to what we saw on the street."
Muddassar Ahmed, a board member to the Faiths Forum for London, told Arab News that it was "upsetting to see so many people leave their homes during a pandemic to essentially march against the presence of people like me — Muslims — in the country."
To him, the BLM movement represents the Britain he knows. The far-right protestors "were demonstrating against the progressive, open-minded Britain that already exists," he said.
"They're a relic of a racist past. Britishness is about being open with other cultures and being open-minded. In a way, they were very anti-British."
Police say 23 officers were injured in Sunday's protest, and they have so far made 113 arrests.
Those arrested included a man who has now been jailed for urinating on a memorial to a police officer who died confronting a terrorist in 2017.
Prime Minister Boris Johnson tweeted: "Racist thuggery has no place on our streets … Racism has no part in the UK and we must work together to make that a reality."
https://www.arabnews.com/node/1690916/world
--------
Saudi Arabia calls for global action against Israeli violations
June 16, 2020
RIYADH: Saudi Arabia's Cabinet on Tuesday called on the international community to prevent Israel from its aggressive behavior, which threatened regional stability.
In a statement issued to the Saudi Press Agency, acting Media Minister Dr. Majid Al-Qasabi said the Cabinet reaffirmed Kingdom's rejection of Israeli plans to annex Palestinian territories and called for a unified Islamic position against the blatant violation of international resolutions.
The Cabinet also condemned the Iran-backed Houthi militias for firing ballistic missiles and using drones to target civilians in the Kingdom.
The ministers also reviewed the Kingdom's participation in a virtual meeting of the G5 Sahel members hosted by France, and reiterated Saudi Arabia's stance to support all countries in the war against terrorism and extremism.
The establishment of a center to provide different services to real estate developers has been approved as well as an aviation agreement between the Kingdom and Vietnam.
The Cabinet also adopted a unified classification of occupations.
The implications of the coronavirus disease (COVID-19) pandemic at the local and international levels were also reviewed, as well as measures to fight it in the Kingdom and ensure the safety of Saudis and expats.
https://www.arabnews.com/node/1690781/saudi-arabia
--------
93% Muslims View Hindus Favourably, But Only 65% Hindus View Muslims Positively: Pew Survey
FATIMA KHAN
16 June, 2020
New Delhi: While 93 per cent Muslims viewed Hindus favourably, only 65 per cent Hindus viewed Muslims in a positive light, reveals a new study.
The report, released by US think tank Pew Research Center Tuesday, is based on a survey of 3,505 Indians that was conducted between September and October 2018.
The report also revealed that "people who are members of a particular religious, racial or ethnic group had significantly more favourable views of their own group than they did of groups to which they do not adhere or belong".
For instance, 96 per cent Hindus and 98 per cent Muslims viewed their own communities positively.
The survey titled 'Attitudes Toward Diversity in 11 Emerging Economies' was conducted in Colombia, Jordan, Kenya, Lebanon, Mexico, South Africa, Tunisia, Venezuela, Vietnam, and India.
Due to the different cultural contexts of the 11 countries surveyed, the researchers focused on different sets of groups in each country.
The groups surveyed in India were Hindus and Muslims, Muslims and Christians were surveyed in the Philippines, while Blacks, Whites and Coloured people were surveyed in South Africa.
56% Hindus interacted with Muslims in India
According to the survey 70 per cent of Muslims frequently or occasionally interact with Hindus in India, while only 56 per cent Hindus interact with their Muslims counterparts.
It also noted that people who "interact more with other religious groups also tend to have more favorable opinions of them".
Of the Hindus who said they interacted with people outside their own faith — 71 per cent had a favourable view of Muslims.
As opposed to this, just 56 per cent of Hindus, who reported infrequent contact with people of other religions, said they viewed Muslims favourably, indicating a 15 per cent difference.
Survey was conducted prior to anti-CAA protests
The report revealed that 68 per cent of the Indians surveyed said the country is "bettered" with people from different backgrounds.
Only 16 per cent said the diversity made the country a "worse" place to live, while 10 per cent said it made "no difference".
However, in a footnote, the think tank specified that the survey was conducted in late 2018 and preceded "the new citizenship law enacted by Prime Minister Narendra Modi in early 2020, as well as the ensuing sectarian violence".
The controversial Citizenship Amendment Act or the CAA was passed in December 2019, triggering a series of protests across India in December 2019 and early January. The law was seen as being discriminatory against Muslims in the country.
https://theprint.in/india/93-muslims-view-hindus-favourably-but-only-65-hindus-view-muslims-positively-pew-survey/442472/
--------
Muslim Man Continues to Serve Gurdwara Dera Sahib of Pakistan For Over Two Decades
By Asif Mehmood
June 17, 2020
LAHORE: At a time when religious intolerance is at its peak in India, one man continues to serve Sikh and Hindu pilgrims in Pakistan.
For Syed Azhar Abbas, who has served Gurdwara Dera Sahib, one of the holiest sites in Sikhism, for over two decades, there is no stopping.
Each day he arrives at the Gurdwara with the same love and compassion that brought him to its doorstep 21 years ago. "I'm here to serve the community," claimed Abbas.
Providing services at a non-Muslim place of worship, he said, is not an easy task. As a Muslim, Abbas said, he needs to be mindful of the ritual and respect the traditions of the community. "I have to make sure my head is always covered when I enter the Gurdwara," said Abbas. "There are no candles, incense, or bells, or any other ritualistic devices inside the Gurdwara," he pointed out. The only object of reverence in the main hall, Abbas said, is the book of Sikh scripture, which the community treats with the respect reserved for a Guru. "I've always ensured that their rituals are respected at all times," claimed Abbas, who is also known as Shah ji.
The 45-year-old who hails from Multan has been working for the Evacuee Trust Property Board since 1992 and was formally appointed as an employee at Gurdwara Dawa Dera Sahib seven years later. He has not looked back since then.
As part of his job, Abbas receives Sikh and Hindu pilgrims at the Wagah border, the only legal crossing between India and Pakistan. "I need to make sure all pilgrims have a place to stay while they are in Pakistan," said Abbas.
In his long selfless journey, Abbas has had some very challenging tasks. He was responsible for the repatriation of deceased pilgrims. "I've made sure that the bodies of 64 pilgrims, who passed away during their religious journey in Pakistan, were returned with full honor," said Abbas with a quiver in his voice.
Abbas has prepared the documentation for each of these deceased pilgrims, with absolute dedication. "I'm responsible for preparing the paperwork after a pilgrim passes away in Pakistan," he said. He also prepares their remains for the final journey back home. "I make sure the body is bathed and dressed in clean clothing before being repatriated," said Abbas.
His dedication and compassion have earned him praise at home and abroad. One pilgrim who was visiting the UK said: "I've never seen someone so committed and dedicated to interfaith harmony."
Another said, Abbas, was a rare example of how people from different communities and backgrounds can stand by each other without hating each other.
https://tribune.com.pk/story/2244151/1-muslim-man-continues-serve-gurdwara-dera-sahib/
--------
Plight of Rohingyas Under COVID-19 Spotlights ASEAN's Failure
By Nor Arlene Tan
June 16, 2020
This year has been dystopian for many people in the world, with the coronavirus pandemic virtually grinding the global economy to a halt. While the looming recession has given rise to social disruptions such as massive unemployment and the Black Lives Matter protests in the United States have had worldwide impact, the ongoing Rohingya refugee crisis in Southeast Asia has quietly been swept under a rug by much of the global media.
The United Nations estimates that there are a million Rohingya refugees worldwide; most of them fled Myanmar in the last decade as persecution against the vulnerable minority intensified. Last year, Myanmar Foreign Minister and de facto leader Aung San Suu Kyi, once a democracy darling and now disgraced, refuted a recent UN investigation into the alleged genocide by the military junta.
Many of the Rohingyas who fled Myanmar live in cramped refugee camps in Bangladesh and some are trafficked around Southeast Asia. With a severe lack of basic health care and protections, many of them are at a significantly higher risk of contracting the coronavirus.
The virus has also opened doors for human traffickers to resume operations loading Rohingya refugees onto rickety boats sent into the rough sea, with the hope that they may hit landfall in Malaysia, Thailand, or other neighboring Southeast Asian nations. Each Rohingya must pay at least 15,000 Malaysian ringgit ($3,507) to be trafficked on these floating death traps.
Malaysia, Thailand, and Bangladesh's recent pushback policy against these boats has heightened the plights of Rohingyas in Southeast Asia. Malaysia turned back 22 boats last week alone, while hundreds that made it ashore were detained as "illegal immigrants."
It was not too long ago, in 2015, when the world was in angst over seeing the tormented, chilling faces of Rohingya men, women, and children crying for help as they tried to survive choppy waters while countries in Southeast Asia were playing ping-pong games over their collective fates.
Malaysian Defense Minister Ismail Sabri Yaakob warned that boats carrying Rohingya refugees are not welcomed to Malaysia. "They should not think that when they come, we will accept them. We will send them back," he told a press conference on Tuesday last week.
The Association of Southeast Asian Nations (ASEAN) has been keeping an eerie silence over the ongoing ill-treatment and trafficking of Rohingya refugees. In fact, Myanmar has kept such a strong grip over its own domestic affairs that no amount of ASEAN diplomacy has been able to properly address the burgeoning refugee crisis faced in the Southeast Asia region – hamstrung by ASEAN's own charter of no interference.
Human Rights Watch blasted the Southeast Asia-based intergovernmental organization for having put "blinders" over the crisis, and further calls for actions by various rights groups have continued to fall on deaf ears.
The Rohingyas continue to be oppressed in their own country and conversations about sending them back to Myanmar have been met with harsh criticism by human rights groups that deem what they face back in Myanmar as a form of genocide. The pandemic has not just brought out the worst instincts in Myanmar, but also among fellow Southeast Asian brethren.
In Malaysia, the previous welcoming tone toward refugees has now shifted, with heightened hate speech and xenophobic treatment. The recent placement of an anti-Rohingya banner in front of a mosque in the Malaysian state of Johor summed up the local sentiments against refugees.
There has been no voice of reason and leadership from the new Malaysia government led by Prime Minister Muhyiddin Yassin, with the administration more concerned about an internal game of political musical chairs. Muhyiddin's ascension to power since March was the result of political mudslinging between him and the former Prime Minister Mahathir Mohamad.
Last month, a letter signed by a collective group of activists and human rights organizations was sent to Muhyiddin, urging the government to combat online hate speech and xenophobia in Malaysia. The letter seems to have been conveniently left in the trash bin.
Malaysia once positioned and prided itself as a leader in the Muslim world by being especially vocal and at the forefront of issues such as the Israel-Palestinian conflict and the American-led wars in the Middle East. However, the Muslim refugee crisis in its own backyard has not been treated with the same fervor and language of justice and human rights.
As a result, many Rohingya refugees are currently living in fear of deportation. Online witch-hunts frame them as scapegoats for the many unhappy citizens anxious about the uncertainty in the economy and their way of life. Many refugees are facing deep mental health trauma and food insecurity as they navigate inconsistent realities of shifting government policies and public sentiments.
Malaysia can play a key role in ASEAN and setting up a paradigm for leadership in addressing the ongoing refugee crisis. The failure of ASEAN to respond to the influx of refugees and provide a basic framework of human rights has now showcased the failure of each and individual ASEAN government at its unifying vision of "One ASEAN Community."
https://thediplomat.com/2020/06/plight-of-rohingyas-under-covid-19-spotlights-aseans-failure/
--------
Muslims protest over plans to approve the legal basis of the Pancasila Agency
06/16/2020
by Mathias Hariyadi
Jakarta (AsiaNews) – Some Muslim groups have come out against a bill before the House of Representatives (Dewan Perwakilan Rakyat) that would legally institute the Pancasila Agency.
The bill, the Pancasila Ideology Direction Act (RUU Haluan Ideologi Pancasila), is still before the House. Dozens of Muslim groups object to it, including the powerful Indonesian Ulema Council (Majelis Ulama Indonesia, MUI).
According to the latter, the process as inappropriate as it is "carried out secretly" amid the "great silence" due to COVID-19, without any public debate.
"This bill will only trigger public protests from Muslims who have fought to protect Pancasila" in the past, said the head of the MUI legal department.
A crucial matter
For several Muslim groups, one of the main issues is the absence of a final decision by the People's Consultative Assembly (Majelis Permusyawaratan Rakyat, MPR).
The 30 September Movement-Communist Party of Indonesia (Gerakan 30 September/PKI) of 30 September 1965 represents a turning point in modern Indonesian history, involving several high-ranking army generals.
The violence caused outrage in the House and the MPR. It marked the end of President Sukarno's rule and brought to power General Suharto.
Under the new Suharto regime, the House officially banned the Indonesian Communist Party of Indonesia (PKI) and all forms of Communism and Marxism.[*]
The absence of a resolution (TAP) by the MPR on the bill has sparked bitter criticism from the Nahdlatul Ulama (NU), the largest moderate Islamic organisation in the country.
The UN's governing body (PBNU) has criticised the House's move, saying it could trigger a long debate about the country's politics.
For Rumadi, a member of the UN's governing body, "The bill is not in line with the situation". His view reflects the heated debate in 1945 between "nationalist" and "secular" Muslims over the Jakarta Charter, which was drafted by members of the Investigating Committee for Preparatory Work for Independence on 22 June 1945.
The latter subsequently formed the basis of the preamble to the Constitution of Indonesia and included the obligation for Muslims to abide by Sharia.
Since then, Indonesian Muslims, who constitute 90 per cent of the country's population, have been divided over the issue.
Secular nationalists believe in a radical separation between state and religion, whilst Islamic nationalists, whilst not demanding a fully Islamic state, argue that the Constitution should include recognition of the special place of Islam.
In 1959, conflict broke out when a radical Islamic group tried to assert Islam as the foundation of the nation. The same thing happened again in 2000, during the process of amendment of the Indonesian Constitution, when the seven words in the Jakarta Charter that give Islam a special place were reiterated.
The issue of "Pancasila is concluded and final, both legally and politically, as required by the 1945 Constitution," said Rumadi.
The House's response
According to the House, the bill under discussion simply aims to "legalise" the presence of the Pancasila Ideology Development Board (BPIP)[†].
The BPIP is currently based on Presidential regulation (Perpres) No. 7/Year 2018 and not on Act of Parliament. Therefore, the main goal is to give BPIP greater legal status.
But for most Indonesian citizens and Muslims, the bill also includes something very unpopular like the Three Principles (Trisila) and the One Principle (Ekasila) in Chapter 7 of the bill.
http://www.asianews.it/news-en/Muslims-protest-over-plans-to-approve-the-legal-basis-of-the-Pancasila-Agency-50359.html
--------
Iranian Coronavirus-Related Products Exported Abroad despite Sanctions
Jun 16, 2020
"Iran is one of the exporters of N95 masks, serological kits, coverall clothes, protective gowns, protective shields, monitors, ventilators and disinfectants to the European, Southeast Asian and neighboring states," Seyed Asef Mahdavi said on Tuesday.
He added that the anti-coronavirus equipment is exported to foreign states in such conditions that Iran is under the harshest sanctions by the US.
Moreover, Iranian First Vice-President Eshaq Jahangiri declared that the country's technology and manufacturing sectors managed to increase the ventilator's production capacity to meet domestic demand and also to export half of the products.
"The production capacity of ventilators has increased to the extent that 50 percent of the production is exported and different countries are applying for these products," Jahangiri said in a meeting with a group of officials of the Ministry of Science, Research, and Technology on Monday.
He lauded Iran's universities and scientific centers for making great achievements and work to solve the problems ahead.
Iran started exporting of coronavirus-related hygiene products and medical equipment just a few days after the outbreak of the virus in late February, and the number of countries requesting Iran-made products keeps increasing.
Iranian knowledge-based firms export indigenous coronavirus test kits, face masks, serology test kits and ventilators, the main globally demanded apparatus for fighting coronavirus.
The Iranian health ministry announced on Tuesday that 2,563 new cases of infection to COVID-19 virus have been diagnosed in the country in the past 24 hours, noting that a total number of 152,675 coronavirus patients have recovered and been dismissed from hospitals.
"2,563 more patients infected with COVID-19 virus have been identified in the country in the past 24 hours based on confirmed diagnosis tests and 939 of them have been hospitalized," Iranian Health Ministry Spokeswoman Sima Sadat Lari said on Tuesday.
She noted that the total number of coronavirus patients in the country has increased to 192,439 people.
Sadat Lari expressed pleasure that 152,675 patients have recovered and been discharged from hospitals.
She said that 9,065 people have lost their lives due to infection to the virus, including 115 in the past 24 hours.
Sadat Lari said that 2,815 coronavirus patients are unfortunately in critical conditions.
The ministry's spokeswoman, meantime, expressed concern over the situation of the Iranian provinces of Khuzestan, Hormozgan, Kurdistan, Khorassan Razavi, East Azarbaijan and West Azarbaijan, Lorestan, Golestan, Kermanshah, Kurdistan and Sistan and Balouchestan, considering their increasing number of coronavirus patients.
She added that 1,293,609 tests have been conducted in the country to diagnose patients suspected of infection to the COVID-19 virus.
Iranian President Hassan Rouhani said earlier this month that over 1,000 medical centers in the country have received necessary equipment to conduct tests on people suspected of infection to coronavirus, and added that Iran ranks first in the Muslim world in scientific achievements.
"Based on a report [by the health ministry], 1,200 centers across the country are ready to take samples and tests from people and 17,500 nursing and health homes are also prepared to provide hygiene and treatment services to people," Rouhani said, addressing a meeting of the national coronavirus campaign headquarters in Tehran.
The coronavirus COVID-19 is affecting approximately all countries and territories around the world. The virus was first reported in the central Chinese city of Wuhan late last year. It has so far killed more than 439,500 people and infected over 8.1 million others globally.
The Iranian foreign ministry declared that despite Washington's claims of cooperation to transfer drugs to Iran via the new Swiss-launched payment mechanism, the US is troubling the process amid the coronavirus outbreak in the country.
Although US claims that medicines and medical equipment are not under sanctions, they have practically blocked the transfer of Iran's financial resources in other countries into the Swiss Humanitarian Trade Arrangement (SHTA), Iranian Foreign Ministry Spokesman Seyed Abbas Mousavi said.
As the death toll from the virus surges, Iran intensifies its preventive safety measures. Closures of schools and most universities have been extended until further notice.
https://en.farsnews.ir/newstext.aspx?nn=13990327000977
--------
North America
US Jewish rabbis praise Muslim World League head Al-Issa's remarks on anti-Semitism
16 June 2020
American Jewish leaders praised on Tuesday the head of the Muslim World League (MWL) for his recent remarks condemning anti-Semitism and pledge to advance Muslim-Jewish relations.
Secretary-General of MWL Dr. Mohammed Al-Issa expressed his commitment to rebuilding relations between Muslim and Jewish people during the American Jewish Committee (AJC)'s virtual conference on Sunday.
"I have made it my mission to work with my brothers and sisters of the Jewish faith to re-sew the threads of a relationship that dates back centuries," said Al-Issa in a video address.
The MWL has "made a concerted effort to expand our outreach to the Jewish community. Throughout history our differences have been political, they had nothing to do with religion," added Al-Issa.
Al-Issa's remarks are "not a singular event" but part of his ongoing interfaith efforts, according to American Jewish Rabbi Marc Schneier.
"This message is something that Dr. Al-Issa continues to emphasize and reiterate," said Rabbi Schneier, president of the US Foundation for Ethnic Understanding (FFEU) and a Special Advisor to King Hamad bin Isa Al Khalifa of Bahrain, in an interview with Al Arabiya English.
"Dr. Al-Issa has been working with several Jewish based organizations for 18 months in terms of advancing and strengthening Muslim-Jewish relations," he added, referencing the MWL joining forces with FFEU for the Season of Twinning Program, which recently brought together rabbis and imams in over 50 events in 35 countries to focus on interreligious dialogue.
Commitment to Holocaust education
Al-Issa, a former Saudi Arabian minister of justice, led a high-level interfaith delegation to Auschwitz in January on the 75th anniversary of the liberation of the Nazi German death camp in Poland. He became the most senior Islamic leader in history to visit Auschwitz and recalled the visit during his remarks to the AJC.
"On that memorable day I stood alongside my Muslim and Jewish brothers, united in resolve and said: never again … The horrors of the Holocaust must never be repeated or forgotten," he said.
Al-Issa is dedicated to Holocaust education, according to Schneier, and is unequivocal in his condemnation of anti-Semitism.
World War II and the Holocaust provided many lessons for humanity, according to Al-Issa, who said those lessons should be applied today.
"Muslims and Jews know only too well the danger posed by extremists of all types who seek to exploit instability to promote hatred and violence and particularly neo-Nazism," said Al-Issa.
"We now must unite against those who promote hatred and intolerance," he added.
The Muslim World League is an international non-governmental Islamic organization based in Mecca, Saudi Arabia. Founded in 1962 by Crown Prince Faisal Bin Abdul-Aziz, MWL represents the fifty states of the Islamic world.
The Kingdom of Saudi Arabia is the leading contributor member of the Muslim countries funding MWL.
https://english.alarabiya.net/en/features/2020/06/16/US-Jewish-rabbis-praise-Muslim-World-League-head-Al-Issa-s-remarks-on-anti-Semitism.html
--------
US Aims to Guarantee Israel's Security through Caesar Act
Jun 16, 2020
"The US government started implementation of a law called Caesar Act in a bid to further pressure Syria by sanctions after 10 years of devastating war but it pursues more important goals," the Arabic-language al-Akhbar wrote on Tuesday.
"The US government considers Caesar Act as an advanced stage of a long-term war of attrition against the Syrian government to confine the government's rule to Damascus and certain coastal areas and disintegration of the country," it added.
Creating another Somalia in Syria is a gift to Israel to increase its security and facilitate occupation of the West Bank which is the final goal of the Caesar Act, al-Akhbar said.
Passed by US Congress in December last year, the Caesar Syria Civilian Protection Act is seen as the heaviest sanctions to date, as the measures additionally target any person or business making transactions with the regime or military contractors.
Full report at:
https://en.farsnews.ir/newstext.aspx?nn=13990327000963
--------
US Rep. Ilhan Omar's father dies from COVID-19
Beyza Binnur Donmez
16.06.2020
US Democratic Congresswoman Ilhan Omar has announced that his father passed away at the age of 67, reportedly due to novel coronavirus complications.
"It is with tremendous sadness and pain to say goodbye to my father, Nur Omar Mohamed," Omar shared her loss in a Twitter message late Monday. "No words can describe what he meant to me and all who knew and loved him."
The US is the country hardest-hit by the pandemic with more than 2.11 million cases and over 116,100 fatalities, according to a running tally of Johns Hopkins University. In all, over 576,300 recoveries recorded.
After emerging last December in the Chinese city of Wuhan, the virus has spread to at least 188 countries and regions.
Full report at:
https://www.aa.com.tr/en/americas/us-rep-ilhan-omars-father-dies-from-covid-19/1878642
--------
Europe
Britain, France, Germany call on Iran to cooperate with IAEA on nuclear activities
16 June 2020
Major European powers want to admonish Iran at the UN nuclear watchdog over its ongoing refusal to give access to inspectors at sites suspected of activities that may have been part of a nuclear weapons program, a draft resolution showed.
The International Atomic Energy Agency (IAEA) has issued two reports this year rebuking Iran for failing to answer questions about nuclear activities almost two decades ago before its 2015 nuclear deal at three sites and for denying it access to two of them.
For all the latest headlines follow our Google News channel online or via the app.
A draft resolution, seen by Reuters and dated June 10, put forward by Britain, France and Germany calls on Iran to cooperate fully and promptly with the IAEA.
It asks Tehran to provide access to the locations specified and implement obligations under the Additional Protocol, referring to texts governing the IAEA's mission and activities.
"The Europeans couldn't sit back and not do anything," a Western diplomat said.
US intelligence agencies and the IAEA believe Iran had a secret, coordinated nuclear weapons program that it halted in 2003. Israel's obtaining of what it calls an "archive" of past Iranian nuclear work has, however, given the IAEA extra information on Iran's previous activities.
"If the three countries take such steps, Iran will have no other choice but to react accordingly," Iran's IAEA
representative Kazem Gharibabadi was quoted as saying by the semi-official Fars news agency.
The IAEA has also reported that Iran remains in breach of many of the restrictions imposed by its nuclear deal.
Iran began breaching the accord after the United States withdrew in May 2018 and reimposed economic sanctions on Tehran.
Britain, France and Germany, which remain in the deal, have accused Iran of violating the terms of its 2015 agreement, but hope to persuade Tehran to reverse course rather than join a U.S. maximum pressure campaign it imposed since withdrawing from the accord in 2018.
Russia and China, the other participants in the deal, are likely to oppose the resolution. It would be put forward this week at the IAEA board of governors meeting for approval either by consensus or a vote.
The COVID-19 outbreak has complicated the process with the 35 countries meeting virtually. Some member states, including Russia, have said decisions should be made when a physical meeting can take place.
https://english.alarabiya.net/en/News/world/2020/06/16/Britain-France-Germany-call-on-Iran-to-cooperate-with-IAEA-on-nuclear-activities-.html
--------
France says working with partners to pressure Iran at IAEA on inspector access
June 16, 2020
PARIS: France said it was working with Britain and Germany to see the UN's nuclear watchdog board of governors push Iran this week to cooperate fully and immediately to grant its inspectors access to sites Tehran has so far refused them to visit.
Iran, like any state to which the IAEA sends a request for access, must respond to it without delay and without conditions, to allow IAEA inspectors to establish the absence of undeclared nuclear material and activities on its territory," Foreign ministry spokeswoman Agnes von der Muhll said in a daily online briefing.
"This is essential for preserving the authority of the IAEA and the strength of its verification regime."
https://www.arabnews.com/node/1690761/world
--------
Greek PM in Israel says Turkey a 'threat to regional peace'
June 16, 2020
JERUSALEM: Greek Prime Minister Kyriakos Mitsotakis on Tuesday accused Turkey of being a "threat to regional peace," following wide-ranging talks in Jerusalem with his Israeli counterpart.
In his first foreign trip since the start of the coronavirus pandemic, Mitsotakis condemned "Turkey's aggressive behavior in the eastern Mediterranean."
"We consider this activity to be a threat to regional peace and stability," Mitsotakis told journalists after meeting Israeli Prime Minister Benjamin Netanyahu.
Along with Cyprus, Israel and Greece signed an agreement in January on building an undersea pipeline to carry gas from the eastern Mediterranean to Europe.
Ankara stands opposed to the deal and has sent ships to search for energy reserves off Cyprus, while last week the Turkish military conducted an air and naval exercise in the eastern Mediterranean.
"I have raised with the prime minister the recent incidents of illegal and provocative Turkish behavior at our sea and land borders," the Greek premier said, standing alongside Netanyahu.
Mitsotakis also criticized the "destabilising effects that Turkey has played vis-a-vis its relationship with Libya."
Ankara backs the UN-recognized Government of National Accord (GNA), based in the capital Tripoli, which for more than a year has battled an offensive by military strongman Khalifa Haftar.
Turkey has sent air defense systems and drones and Syrian rebel fighters in support of the GNA, reversing earlier defeats to Haftar's forces.
The Turkish government additionally signed a controversial deal last year with the GNA that claimed gas-rich areas of the Mediterranean for Ankara, an agreement deemed "completely null and void" on Tuesday by Mitsotakis.
Focusing on two-way ties, Netanyahu held off from criticizing Turkey and was instead upbeat about Israel's partnership with Athens.
"We have common interests, we face common challenges, we have extraordinary common opportunities," he said.
The Greek delegation is the largest to visit Jerusalem in months, with Mitsotakis bringing six ministers including the defense, energy and tourism ministers.
Netanyahu said his government aims to allow Israelis to travel to Greece and Cyprus from August 1, if coronavirus infection rates remain low.
Greece started welcoming tourists from around 30 countries on Monday, following closures due to the pandemic, while Israel is yet to lift its ban on visitors imposed in March.
According to Israeli officials, the government is counting on Greece and other "friendly" countries to support it at the EU level.
The European Union is currently weighing retaliatory measures as Israel plans to annex parts of the occupied West Bank, a step included in a US peace initiative.
The Greek delegation will not travel to the West Bank city of Ramallah to meet with Palestinian Authority officials, who have categorically rejected Washington's plan.
But in an interview published by Israeli daily Yediot Aharonot, Mitsotakis said he would speak to Palestinian president Mahmoud Abbas "once I return to Athens."
"We want to see the Israelis and the Palestinians living alongside one another in peace and security," he said.
More than 450,000 Israelis live in West Bank settlements, deemed illegal under international law, alongside 2.7 million Palestinians.
Full report at:
https://www.arabnews.com/node/1690756/world
--------
EU calls for probe into mass graves in Libya's Tarhuna
Agnes Szucs
16.06.2020
BRUSSELS
The EU on Tuesday called for an immediate and independent investigation into the mass graves discovered near Tarhuna, northwestern Libya.
In total, eight mass graves were discovered last week around Tarhuna, which was recently liberated from the militia loyal to warlord Khalifa Haftar.
More than 150 bodies, including women and children, were exhumed from the graves close to Haftar's last stronghold.
"An immediate independent investigation should be undertaken to verify these findings and bring those responsible to justice," Peter Stano, chief spokesperson of the EU External Action Service, said in a statement on Tuesday.
The EU warned all parties involved in the Libyan conflict to respect international humanitarian law and protect civilians.
The bloc also called for an immediate stop to fighting and return to the negotiation table to pursue a UN-led peace process.
Following the ouster of late ruler Muammar Gaddafi in 2011, Libya's new government was founded in 2015 under a political deal led by the UN.
The government and the Western parts of the country have been under attack by Haftar's forces since April 2019.
Full report at:
https://www.aa.com.tr/en/africa/eu-calls-for-probe-into-mass-graves-in-libya-s-tarhuna/1878528
--------
Arab World
Caesar Act sends Syria's Bashar Assad a stark reality check
June 16, 2020
NEW YORK CITY: It all began in 2014, when a Syrian military police photographer, codenamed "Caesar," testified in disguise before the US Congress. He provided the back stories for some of the 55,000 images of torture victims that he had helped to smuggle out of Syria.
The trove of photographs testified to a campaign of human rights violations, torture and murder by the government of President Bashar Assad.
The stage was thus set for the drawing up of the Caesar Syria Civilian Protection Act, which did not pass until late last year as part of a Defense Spending bill.
The legislation warns Washington's friends and foes alike, worldwide institutions, businesses and officials that engagement in any business with the government of Assad could lead to travel bans, denial of access to capital, and arrest.
"Any country or individual, if you're supporting Assad, stop now! If you're thinking of supporting Assad in the future, cancel your plans! Because the Caesar bill is an open-ended warning to everyone (who deals with Assad)," said Mouaz Moustafa, the executive director of Syrian Emergency Task Force, dubbed "Caesar's Godfather." He brought Caesar to testify in Congress, and then coordinated efforts to help in the drafting, passing and now implementation of the bill.
The legislation received rare bipartisan support. Top Republicans and Democrats from the congressional foreign affairs committees urged all nations to shun Assad, who "remains a pariah," and called on the Trump administration to vigorously enforce the new measures.
"The regime and its sponsors must stop the slaughter of innocent people and provide the Syrian people a path toward reconciliation, stability and freedom," said Representatives Eliot Engel and Mike McCaul and Senators Jim Risch and Bob Menendez.
"(Assad) will never regain standing as a legitimate leader," added the joint statement.
While Assad appeared to be emerging victorious from the civil war and talk had turned to reconstruction, a spiraling economy is now threatening his grip on power.
"The Assad regime understands what most of the world doesn't about the reality on the ground (where it) can detain and torture to death, displace or murder by airstrikes or chemical weapons," said Moustafa.
"The world will just watch and make statements of condemnation. And the only solution that we have seen actually progressing over the last nine years is the military solution: that of the Assad regime and the Russian air force and Iran and Hezbollah and other terrorists.
"The Assad regime is counting that they'll just kill, displace, and detain until he occupies all of Syria. And he thinks when he does that, he can claim victory, and then the world somehow is going to welcome him back.
"The Caesar Act pulls away that military victory from the Assad regime. It says that no matter what, any place that the Assad regime rules and governs cannot be worked with or dealt with or ever integrated into the international community, because Assad belongs in the International Criminal Court, not in the United Nations."
Sanctions from the era of President Barack Obama already target the oil sector, and powerful Syrian individuals. The Caesar Act closes loopholes in these sanctions by adding secondary sanctions that target entities operating for the Assad regime's benefit in four sectors: Oil/natural gas, military aircraft, construction and engineering.
This includes indirect support to the regime, such as support to Iranian- and Russian-backed militias operating in Syria.
"This revision alone in the bill is worth the whole legislation, because (it) ensures that (individuals) who have been sanctioned in the past and have found creative ways, loopholes, to be able to (get around) the sanctions will now see secondary sanctions placed on them, meaning any company or individual that wants to have any relationship with these sanctioned individuals, will also have sanctions applied to them," said Moustafa.
The bill's backers want to stymie reconstruction because Assad is offering lucrative investment contracts to countries to re-establish diplomatic relationships with them.
"The regime is hijacking the private sector. They say they want reconstruction but what they really mean is they want to do another round of stealing the resources of Syria," said Nizar Zakka, a Lebanese citizen who is a member of the Caesar Act team.
Zakka, now global ambassador for peace and director for Program Development Peacetech Lab at the US Institute of Peace, endured torture in Iranian prisons for four years, and was asked to join the team as a voice for the victims of torture.
Moustafa says reconstruction deals also serve another purpose: Demographic change and what amounts to ethnic cleansing that the regime, Iran, Russia and Hezbollah have conducted inside Syria.
"When a regime levels whole towns, destroys infrastructure, targets hospitals and displaces well over 10 million people, and then is asking for investments so people can pay for him to rebuild what he destroyed, land that he's expropriated from millions of refugees that will never be allowed to return — the Caesar Act puts an end to that," he said.
Syria's economy has collapsed after a decade of war. Hyperinflation and a currency nosedive have raised the cost of food and medicine beyond the reach of most citizens and resulted in mass business closures and widespread food shortages.
The economic downslide is made worse by the financial crisis in neighboring Lebanon, where banks have served as a conduit to the world for Syria's business community.
The Syrian government called the sanctions "economic terrorism," and said the US will "bear main responsibility for the suffering of the Syrian people."
Critics of the legislation claim it is being used for US strategy, which aims to crush two of the regime's main backers, Iran and Hezbollah, and could push Syria and the region to the brink of a dangerous new stage of the conflict.
Moustafa dismisses those accusations as mere conspiracy theories.
"First of all, the United States and the international community (should) be ashamed of themselves for allowing that never-again moment in Syria to go on for so many years with the worst sadistic types of crimes happening.
"The Caesar act is the reaction of Republicans and Democrats in the US Congress. It's the reaction of regular American people that saw photographs they have (only seen the likes of) in history books about the Holocaust or the Rwandan (genocide.)
The bill "is meant to do exactly what the letter of the law says: Protect civilians and punish the criminals.
"It's the very least the US can do, but it is a very positive step meant to fix the many mistakes of the previous administration and this administration and anyone that hasn't done enough to help Syria," Moustafa said.
The Caesar Act establishes criteria that Assad and his allies must meet before sanctions can be lifted.
They include halting the Syrian-Russia air campaign and its targeting of civilians; allowing unfettered humanitarian access to areas under regime, Russian or Iranian control; releasing thousands of political prisoners, facilitating the return of refugees; a genuine political process leading to some form of power sharing; constitutional reform; and ensuring that war criminals are held accountable.
The first group of sanctions will be revealed on Wednesday. More will be gradually unveiled over the summer.
"This is to give those who are dealing or thinking of dealing with Assad the time and option to stop. It is a delicate process. If you immediately put sanctions on people, you are going to lose them to the other side. That is in no one's interest right now," said Zakka.
https://www.arabnews.com/node/1690791/middle-east
--------
Lebanese Central Bank Plans To Bring Dollar Price Down Progressively: Governor
17 June 2020
The Lebanese central bank aims to bring down the price of the US dollar progressively with the agreement of licensed foreign currency dealers to help stabilize prices as much as it can, governor Riad Salameh told Reuters on Tuesday.
President Michel Aoun said on Friday the central bank would supply the currency market with dollars from Monday as part of an effort to prop up the Lebanese pound, which has shed more than 60 percent of its value since October.
Responding to a written question from Reuters, Salameh did not say if the central bank had started supplying the market with dollars.
"Our aim is with the agreement of the licensed exchangers to bring the price of the dollar progressively lower, contributing as much as we can to stabilize the prices," he wrote.
"This approach is necessary in a cash economy," he said. "We hope that reforms will be enacted ... to bring confidence."
Lebanon is grappling with an acute financial crisis seen as the biggest threat to its stability since the 1975-90 civil war. Its currency has fallen amid a hard currency liquidity crunch, which led the state to default on its sovereign debt in March.
Dollars continue to trade on a parallel market despite official efforts to regulate dealing.
Licensed foreign currency dealers agreed with the government earlier this month to work to gradually reduce the exchange rate to 3,200 pounds per dollar.
On the parallel market on Wednesday, one dealer said he bought dollars at a rate of 4,700 and another at 4,800. The official rates on offer at licensed dealers were 3,860/3,910.
Queues formed outside some licensed dealers, where several customers said they had bought a maximum of $200 at the 3,910 rate.
Lebanon still applies an official peg of 1,507.5 pounds to the dollar for imports of fuel, medicine and wheat.
A new electronic exchange trading platform will open on June 23 as part of the effort to unify the rates. The platform was intended to act as a market maker, Salameh said.
"The daily volume is $4 million on average. These amounts are purchased from the market and sold to the market. Thus the reserves of the central bank are not at stake," he wrote.
Full report at:
https://english.alarabiya.net/en/News/middle-east/2020/06/17/Lebanon-c-bank-plans-to-bring-dollar-price-down-progressively-Salameh.html
--------
UAE 'clearly against' Israeli annexation: Minister Gargash to American Jewish group
16 June 2020
The United Arab Emirates is "clearly against any annexation as being proposed by the current Israeli government," UAE Minister of State for Foreign Affairs Dr. Anwar Gargash told the leading US Jewish organization on Tuesday.
"The UAE today is part-and-parcel of the Arab consensus that basically looks at the solution [to the Israeli-Palestinian conflict] as a two-state solution," Gargash said during the American Jewish Committee's virtual conference.
"The UAE also wants to see continued Palestinian-Israeli negotiations," he added.
Gargash's remarks reiterate his tweet two weeks ago that called for Israel to stop its plans to annex Palestinian land.
د. أنورقرقاش
✔
@AnwarGargash
Continued Israeli talk of annexing Palestinian lands must stop. Any unilateral Israeli move will be a serious setback for the peace process, undermine Palestinian self determination & constitute a rejection of the international & Arab consensus towards stability & peace.
1,046
12:35 PM - Jun 1, 2020
Twitter Ads info and privacy
625 people are talking about this
"Any unilateral Israeli move will be a serious setback for the peace process, undermine Palestinian self-determination & constitute a rejection of the international & Arab consensus towards stability & peace," Gargash tweeted on June 1.
Gargash said on Friday that an op-ed by a United Arab Emirates diplomat in Israel's top newspaper warning against annexing land in the occupied West Bank has been well received by the international community.
UAE ambassador to Washington Youssef Al Otaiba said Israel cannot expect to normalize relations with the Arab world if it pushes ahead with its annexation plans, in an op-ed for Israel's best-selling daily, Yedioth Ahronoth, published in Hebrew.
Otaiba called the potential move an "illegal takeover" of land Palestinians seek for a state.
Israeli Prime Minister Benjamin Netanyahu has pledged to annex parts of the occupied West Bank and Israeli Defense Minister Benny Gantz has urged the military to hasten preparations for the planned annexation, which is rumored to begin in July.
Gargash also addressed the UAE's recent aid sent to the Palestinians via Israel. Abu Dhabi's Etihad Airways operated two flights carrying medical aid to the Palestinians on May 19 and June 9.
Full report at:
https://english.alarabiya.net/en/features/2020/06/17/UAE-clearly-against-Israeli-annexation-Minister-Gargash-to-American-Jewish-group.html
--------
Hezbollah claims China ready to help Lebanon, calls for breaking free from US rule
16 June 2020
Hezbollah and its Shia allies will send men to the streets of Lebanon if they feel that it will prevent clashes and chaos, the group's leader said Tuesday.
Hassan Nasrallah, Hezbollah's secretary-general, told people to "take note right now … that we will do it," in a televised speech where he touched on mostly domestic developments.
Lebanon witnessed violent protests with banks and public and private property torched and vandalized last week after local residents took to the streets frustrated with the deteriorating socio-economic situation.
Some reports circulated placing the blame of violence of supporters of Hezbollah and their allies, the Amal Movement.
Nasrallah rejected these claims and called on the government and security forces to analyze CCTV footage and bring the perpetrators to justice.
He also blamed the US Embassy in Beirut for trying to mix the popular protests for an end to corruption with demonstrations that call for Hezbollah to disarm.
Protests broke out last Thursday after reports surfaced of the dramatic depreciation of the local currency.
This led to speculation over the fate of the government, which is made up of Hezbollah and its allies.
Nasrallah played down reports that it was frustrated with the Diab's government and said the government needs to continue.
"The American Embassy counted on the protests [last week]," Nasrallah said, adding that Hezbollah would not give up its weapons and accept to live under Israeli threats.
For all the latest headlines follow our Google News channel online or via the app.
Calling on Lebanese groups and political parties opposed to the Iranian-backed party, he said they must "present an alternative" to those who support Hezbollah. "It's much bigger and more important than to be solved with curse words … and protests here and there."
ECONOMY, CAESAR ACT
Lebanon is facing a dire economic situation with unemployment quickly rising, businesses being forced to close and little foreign investment. Its relationship with the Arab world and the West has deteriorated since Hezbollah publicly joined the Syrian war and the refusal of Lebanese governments to designate Hezbollah as a terrorist organization.
Nasrallah also blamed Washington for not allowing US dollars to be pumped into the Lebanese market, claiming that this was why there is now a shortage of the greenback in the country.
"They claim that these US dollars will be picked up Hezbollah and sent to Syria and Iran," Nasrallah said. He alleged that the upcoming Caesar Syria Civilian Protection Act by Washington aims to starve the people of Syria and Lebanon.
The Caesar Act, which comes into effect Wednesday, places sanctions on the Assad regime in Syria as well as anyone who collaborates with it.
CHINA
Calling for Lebanon to break free from American rule, Nasrallah said that Beijing was prepared to invest money into Lebanon.
The leader of Hezbollah, which is designated a terrorist organization by the United States, claimed that China was prepared to build a railway system from Lebanon's second-biggest city, Tripoli, all the way to the southern border town of Naqqoura.
Full report at:
https://english.alarabiya.net/en/News/middle-east/2020/06/16/Hezbollah-claims-China-ready-to-help-Lebanon-calls-for-breaking-free-from-US-rule.html
--------
Dubai on way to recovery, coronavirus infections rate in past 3 weeks down: Official
17 June 2020
Dubai is progressing on the road to recovery from the coronavirus pandemic, with the rate of infections in the last three weeks having fallen "considerably," said Dr. Amer Ahmad Sharif, Head of Dubai's COVID-19 Command and Control Centre, on Tuesday.
"An analysis of indicators in the last three months shows a significant decline in cases. The rate of infections in the last three weeks has fallen considerably while the rate of recoveries has increased. The number of cases requiring hospitalization also saw a decline," Sharif added, according to the Dubai Media Office.
Visit our dedicated coronavirus site here for all the latest updates.
The Dubai official also highlighted the fact that there has been a decline in the number of people visiting hospitals with COVID-19 symptoms in the last few weeks.
He stressed that most government and private hospitals in the emirate have resumed their diagnostic and treatment services and their capacity is not under pressure due to COVID-19 cases.
Starting from May 27, when Dubai Crown Prince Sheikh Hamdan bin Mohammed shortened curfew, eased some restrictions on activities and allowed the resumption of businesses, the emirate has been increasingly re-opening.
Since then, the emirate continued re-opening including: allowing shopping malls and private sector businesses to operate at fully capacity, reopening of pools and resumption of water sports activities, and allowing 100 percent of public sector employees to return to work in their offices.
Dr. Sharif said that residents showed a high level of adherence to health guidelines and precautionary measures, which he said contributed significantly to Dubai's progress.
Full report at:
https://english.alarabiya.net/en/coronavirus/2020/06/17/Dubai-on-way-to-recovery-coronavirus-infections-rate-in-past-3-weeks-down-Official.html
--------
Turkey sends special forces into Iraq 'against PKK militants' despite Baghdad's outrage
17 June 2020
Turkey says it has deployed special forces — backed by aerial and artillery support — to a northern Iraqi region in what it calls an operation against the Kurdistan Workers' Party (PKK) militant group, despite Baghdad's outrage over Ankara's increased military activities on Iraqi soil.
"Operation Claw-Tiger has begun. Our special forces heroes are in Haftanin," some 15 kilometers into neighboring Iraq, the Turkish Defense Ministry said in a statement on its Twitter page on Wednesday.
The ministry said the commando force was backed up by the Air Force, ATAK helicopters, unmanned aerial vehicles (UAVs) and unmanned combat aerial vehicles (UCAVs).
The deployment, it added, had been preceded by an intense artillery bombardment.
Attempting to justify the move, the ministry said the incursion was a response to a recent rise in "harassment and attacks on our police station and base areas."
"#Operation Claw-Tiger is being carried out as part of our legitimate defense rights arising from international law oriented against the PKK and other terrorist elements," it claimed.
The Turkish Air Force had begun pounding alleged PKK hideouts in northern Iraq as part of the operation a day earlier.
Ankara's latest military offensive is likely to intensify tensions with Iraq, whose Foreign Ministry summoned Turkish Ambassador Fatih Yildiz on Monday and served him with a memorandum communicating Baghdad's outrage over the air raids earlier in the day..
The note condemned violations of the Arab country's sovereignty and airspace by the Turkish forces. The airstrikes, it added, contravened the international law and ran counter to the principle of good-neighborliness.
Baghdad then urged Turkey to stop the attacks and expressed readiness for joint cooperation in controlling border security in a manner that served the interests of both sides.
Arab lawmakers slam Turkey
Separately, the Arab Parliament — the legislative arm of the Arab League — denounced Turkey's raids in Iraq on Tuesday, calling on Ankara to respect the sovereignty of its neighbor and put an end to its unilateral military operations there.
Arab Parliament Speaker Meshaal bin Fahim al-Salami said in a statement that "these actions are an infringement on the sovereignty of Iraq, a flagrant violation of the Charter of the United Nations, international law and international norms, and in violation of Security Council resolutions."
The statement also voiced support for Iraq's stance against Turkey's moves.
Iraqi lawmakers also reacted to the latest developments, condemning Ankara's operations in a statement and calling on the Baghdad government to take action to protect civilians and stop Turkish violations of the country's sovereignty.
Ankara has been embroiled in a decades-long war on the homegrown Kurdish militant group, which has been after carving out an independent state in southeastern Turkey. The conflict has claimed tens of thousands of lives.
Since 2016, the Turkish government has been arbitrarily extending the mandate of its forces in targeting not only alleged PKK strongholds, but also other Kurdish militants, whom it associates with the PKK.
Full report at:
https://www.presstv.com/Detail/2020/06/17/627625/Iraqi-Turkey-special-forces-commandos-PKK
--------
New US sanctions aim to 'starve' Syria, Lebanon: Hezbollah
June 16, 2020
BEIRUT: New US sanctions against the Syrian government aim to "starve" the country and its neighbor Lebanon, the head of the Lebanese movement Hezbollah said Tuesday.
"The Caesar Act aims to starve Lebanon just as it aims to starve Syria," Hassan Nasrallah said in a televised speech.
"Syria has won the war... militarily, in security terms and politically," he added, describing the law which comes into force Wednesday as Washington's "last weapon" against Damascus.
The US law targets companies that deal with President Bashar Assad's regime, which Hezbollah, Tehran and Moscow support in Syria's conflict.
It imposes financial restrictions on the Damascus government to compel it to halt "attacks on the Syrian people," and it is expected for the first time to target Russian and Iranian entities active in Syria.
The Syrian government and loyalist businessmen are already targeted by US and European economic sanctions.
After nine years of war, Syria is mired in an economic crisis compounded by a coronavirus lockdown and a dollar liquidity crisis in Lebanon, a major conduit for regime-held regions.
A large chunk of Syria's population is living in poverty, prices have soared and the value of the Syrian pound has hit record lows against the dollar on the black market.
Nasrallah also accused the United States of engineering the collapse of the Syrian currency, but vowed that Assad's allies would stand by the regime.
"The allies of Syria, which stood by its side during the war... will not abandon Syria in the face of economic warfare and will not allow its fall, even if they are themselves going through difficult circumstances," he said.
Lebanon too is experiencing the worst financial meltdown since the end of its own 1975-1990 civil war, as well as being rocked by months of anti-government protests.
Nasrallah called on the Lebanese government "not to submit" to the Caesar Act.
The United States on Tuesday warned Assad that he would never secure a full victory and must reach a political compromise.
Kelly Craft, the US ambassador to the United Nations, urged him to accept a Security Council resolution calling for a cease-fire, elections and political transition along with UN-led talks.
Full report at:
https://www.arabnews.com/node/1690966/middle-east
--------
India
Pakistan should stop systematic persecution of its religious minorities: India at UNHRC
Jun 16, 2020
GENEVA: India on Tuesday described Pakistan as "epicentre of global terrorism" and asked Islamabad to exercise "good neighbourliness" and stop systematic persecution of its religious minorities. In India's Right to Reply at the 43rd Session of UN Human Rights Council here, First Secretary at the Ministry of External Affairs, Vimarsh Aryan, said the pathetic situation of minorities in Pakistan is well known where the systematic misuse of blasphemy laws has condemned their lives utterly miserable.
"A country that categorizes its minority communities into second or third tiers of citizenship is evoked with sudden sympathy for minorities in other countries," Aryan said as he rejected all the untenable and unsolicited remarks made by Pakistan against India.
Noting that Pakistan set up a minority commission after more than 60 years of its existence, he said that no minorities can represent themselves in the so-called minority commission.
Pakistan "should practise tolerance towards their minorities and good neighbourliness towards us so that the South-Asian region sees eternal peace the absence of which can mostly be attributed to Pakistani deep state," he said.
Referring to the death sentences meted out regularly under the blasphemy laws in Pakistan, he said the country has the distinction of having more cases under the controversial law than the rest of the world combined together in the last decade.
"Systematic socio-economic discrimination, onslaught against religious and ethnic minorities with the full state support are manifested in organized attacks on Churches in Punjab, denial of last rites for Hindu community in Sindh, religious apartheid against Ahmadis, burning of houses belonging to Hindu Bheel community in Sindh, abduction of minor Hindu girls for sexual exploitation in Sindh, abduction of a Christian girl in Lahore...," he said.
"One can only advise this country to stop looking others but rather rectify its ongoing structural discrimination and policies against its minorities," the Indian diplomat said.
"This epicentre of global terrorism very irresponsibly harps on self-determination of the already democratic Jammu and Kashmir," he said.
Aryan said India's decision in Jammu and Kashmir is "within our sovereign right and is an internal matter of India. Jammu and Kashmir is an integral and inalienable part of India."
Pakistan has been unsuccessfully trying to drum up international support against India for withdrawing Jammu and Kashmir's special status on August 5 and bifurcating it into two Union territories.
India has categorically told the international community that the scrapping of Article 370 was its internal matter. It also advised Pakistan to accept the reality and stop all anti-India propaganda.
"Jammu and Kashmir has been, is and will continue to be an integral part of India, and Pakistan should cease to covet it," he added.
https://timesofindia.indiatimes.com/india/pakistan-should-stop-systematic-persecution-of-its-religious-minorities-india-at-unhrc/articleshow/76411935.cms
--------
Madras High Court grants bail to 31 Tablighi members from abroad
by Arun Janardhanan
June 17, 2020
The Madras High Court has given bail to 31 foreigners who were arrested for taking part in the Tablighi Jamaat activities in alleged violations of their visa norms and asked the government to facilitate their return.
The Tamil Nadu Police arrested them, including nationals from Indonesia and Ethiopia, in April for engaging in religious preaching in several mosques and villages in the state as part of a nationwide crackdown.
Granting them bail, the Madurai bench of the High Court, however, refrained from addressing them as Tablighis, observing that such "categorisation can have serious pitfalls."
"Justicing has to be an individualised exercise. There are scores of foreign Tablighis who are presently in detention. They hail from different countries. Some of them are women. Quite a few are senior citizens. They are normal human beings. They are now stuck in alien surroundings. The petitioners came here propelled by a sense of religious idealism. But their mission went awry. They are now eager to go back to their families. They are willing to file individual affidavits admitting that they had violated the visa conditions. They undertake that they will not enter India for the next ten years. They will make their own arrangements for return by coordinating with their respective Embassies and Consulates," said the court.
Justice G R Swaminathan, who granted them bail, said: "Tablighi Jamaat has come under severe and harsh criticism for its reckless and irresponsible conduct and rightly so.
"There are accusations that its puritanical and revivalist project prepares the ground for Islamic radicalisation. Of course, this narrative has been contested by quite a few public intellectuals," he said, citing a recent essay by Upendra Baxi titled Exodus Constitutionalism.
About granting them bail, the court said offences which the petitioners alleged to have committed were not similar to those offences for which there are limitations in granting bail.
"The continued incarceration of the petitioners is not going to serve any purpose. Since the petitioners are foreigners, it would obviously be difficult for them to arrange local sureties. Therefore, I direct that they shall be released on their own bond. The bonds can be submitted to the jurisdictional magistrates through emails and the jurisdictional magistrates are directed to accept the same and also issue appropriate release orders," said Justice Swaminathan.
Further, elaborating the significance of granting them bail, he said the right to leave any country can be invoked during times of armed conflict or emergency. "The current pandemic times are no different. The petitioners fortunately have not tested positive so far. The position may be different tomorrow. The lives of the petitioners may be in danger. Times may be uncertain but rights have to be certain," said the order.
Full report at:
https://indianexpress.com/article/india/madras-high-court-grants-bail-to-31-tablighi-members-from-abroad-6462436/
--------
After VHP campaign on 'atrocities' in Muslim-majority Nuh, Khattar promises new conversion law
CHITLEEN K SETHI
17 June, 2020
Chandigarh: The Vishwa Hindu Parishad's attempt to get a foothold in Muslim-dominated Mewat got a big boost Tuesday, with Haryana Chief Minister Manohar Lal Khattar accepting most of its demands. He visited the district to declare that his government would bring a law to ban forced conversions and set up a Dharmada Board to protect Hindu common properties.
The VHP has, over the last few days, been highlighting the issue of alleged atrocities committed against Hindus and Dalits by the dominant Muslim community in Haryana's Nuh district, earlier and more commonly known as Mewat.
Throwing its weight behind two "public probe reports" on the alleged atrocities — one that it had commissioned on the condition of Hindus, and the other commissioned by the Haryana Valmiki Sabha on the condition of Dalits — the VHP had taken it upon itself to "set things right" in its new "karmabhoomi". It had also put pressure on the BJP-led Haryana government headed by Manohar Lal Khattar to act on the alleged atrocities.
Tuesday brought with it a boost for the Right-wing Hindu organisation, with CM Khattar accepting most of the demands it had put forth.
Khattar's visit
Mewat/Nuh is the only Muslim-dominated district in Haryana, and CM Khattar made a visit to the district Tuesday to hold meetings with various Hindu and Muslim organisations, as well as government officials.
He then announced that the government will bring in a 'freedom of religion' act to curb forced conversions, and set up a Dharmada Board to protect Hindu common properties. He added that a unit of the Indian Reserve Battalion (IRB) would be deployed in the district to supplement the police in maintaining law and order.
Though the CM made light of the specific cases of alleged atrocities listed by the VHP, saying those were "minor incidents", he accepted most of the solutions suggested by the Right-wing Hindu organisation.
Addressing a press conference, Khattar said there was no need to form a joint committee of Hindu and Muslim leaders of the area to further probe these incidents. "These are borne out of general feeling of mutual distrust and over-highlighting by the media," he said.
He added that there were genuine concerns regarding cow slaughter, for which the government would ensure fast-tracking of the punitive process.
'Mewat a graveyard for Dalits'
An inquiry into the alleged atrocities committed against Dalits in Mewat/Nuh was conducted by a retired district and sessions judge from Haryana, Pawan Kumar, along with three other members. The probe was completed early this month, and a brief summary was released to the press on 1 June.
The former judge said in the press statement that Mewat has become a "graveyard" for Dalits, and there is "no difference between Pakistan and Mewat".
Kumar listed several instances of atrocities and crimes committed against Dalit women, including an alleged gangrape and murder "passed off as suicide", as well as the kidnapping and gangrape of a Dalit girl at the house of a policeman, in which no action was taken.
The statement added that demolishing and looting Dalits' marriage pavilions was also common, as was forced conversion of women. The judge's statement also mentioned a case where a Dalit man was allegedly beaten up, his stomach cut open, filled with cotton, and set alight, among other instances of atrocities.
Kumar said such atrocities are not possible without the collusion of the police, and recommended action against them, apart from a further probe by the national commissions for SC and STs.
Mewat/Nuh is the only Muslim-dominated district in Haryana, and the BJP had lost all three assembly seats in the district to the Congress in last year's assembly elections.
Report on atrocities against Hindus
On 14 May, the VHP set up a three-member investigation team led by Maj. Gen. G.D. Bakshi (retd) to report on the condition of Hindus in Mewat, which was submitted in one day and released by the VHP.
The report stated that three police station areas of Mewat (Punhana, Bichhor and Nagina) were the focal points of atrocities against Hindus families, who were being "brutally tortured by Muslims and no action was being taken by the police".
The report said the entry of Hindus into their temples had become difficult, and mosques were being constructed through "illegal occupation" by Muslims. "The cattle wealth of Hindus is also not safe. In particular, cow progeny is grabbed hold of, slaughtered and eaten up. In government offices where there are lots of Muslim officers, a hateful attitude towards Hindus is adopted," it said.
"It also came to light that children are being pushed towards jihad and illegal mosques (are) being constructed," the report alleged.
The report recommended that the entire police apparatus in the affected areas should be replaced by a new set of "upright, hard-working" police personnel who are able to transcend pressure.
Situation worsened because it was ignored: VHP
Speaking to ThePrint, VHP's central joint general secretary Dr Surendra Jain said the reason the VHP was focusing on Mewat was because things had "gone too far".
"Over the years, the condition of the Hindus and Dalits worsened because they were ignored. It happened due to the gross negligence and inaction by the government," Jain said. "But it is not that we are focusing only on Mewat. We have been talking about issues in Bengal and Bihar as well. Wherever Hindus are under attack, we take it up."
Jain said, "When the report on the Hindus was submitted by G.D. Bakshi ji, I along with many organisations of Haryana met the Prime Minister about it. We were assured that action will be taken on it. However, after the shocking report on the atrocities on Dalits in Mewat, we have not met the PM. But the state government is committed to take action and ensure the situation changes."
He added, "We have asked the government that based on the facts and evidence given by us (through these reports) should be probed by a retired judge of a high court, and strict action be taken against those responsible."
Jain said, "The government could not find out for years what our inquiry officers found out in just two days? The main reason is that the bureaucracy in Mewat is not giving correct information to the government and has misguided it. The government has lost its connect with Mewat; it should jump over the heads of the bureaucrats and connect directly to the people."
'Reports aimed at causing disharmony'
Dr Subhan Khan, a retired government official and patron of the Mewat Development Society, an NGO working for the uplift of the area, said it was unfortunate that such reports were generated to spread propaganda.
"I set up this society in1988 and have worked closely on the ground. Muslims and Hindus in Mewat have been living in complete harmony and such reports are generally aimed at causing disharmony and giving everything a communal colour," Khan told ThePrint.
"In fact, Muslims living in Mewat are not aggressive people. Culturally and traditionally, they are mild because they were among the last to be converted," he said.
The Congress, meanwhile, has termed the entire exercise a "farce" to defame a particular community.
"These homemade reports commissioned by agenda-driven organisations have no validity. If the condition of Dalits and Hindus was so bad in Mewat, wouldn't central bodies like the national commissions for Scheduled Castes and Scheduled Tribes or the National Human Rights Commission have taken cognisance and sought independent reports?" asked Nuh MLA Aftaab Ahmed.
Full report at:
https://theprint.in/india/after-vhp-campaign-on-atrocities-in-muslim-majority-mewat-khattar-promises-new-conversion-law/442961/
--------
Survey Of Muslim Dense Population Areas Of Hyderabad Is Necessary To Contain The Spread Of The Deadly Virus
JUNE 16, 2020
Hyderabad: The state government should look after the dense population of Muslims in the city to contain the spread of the deadly virus.
The dense population of Muslims in Hyderabad resembles like Mumbai's Dharavi slum.
The Maharashtra government and BMC with the city's civic body are on the warpath to contain the virus through tough measures.
The health workers were conducting a daily survey in the area to check for symptoms in residents to facilitate the anti-virus measures. If any suspected case was found they will be shifted to the Rajiv Gandhi Sports Complex which has been converted into a quarantine centre.
According to the data of Maharashtra health officials, the medical team had tested 7 lakh people so far and there are nearly 45,700 houses in the area.
According to the officials, they have monitored all the houses in the area, they check for the cleanliness in the houses.
The officials also claimed that the persons who recovered from the coronavirus are more from the Dharavi area as compared to other areas.
The state also recorded 2,786 new patients, taking the total of 110,744, but a stupendous recovery rate of 50.61 per cent.
This means over half of the patients who are infected are recovering fully and returning home, said an official.
The Health Department said of the total number of cases declared till date, 50,554 were active cases.
Despite the gloomy data on the perpetually growing number of Covid-19 deaths and cases, the state continues to record an impressive recovery rate, standing today at 50.61 per cent and a mortality rate of 3.70 per cent.
If the government and the GHMC staff took charge of the area where there is a dense population of Muslims in the city and take a survey of that area can control the spread of the virus in the city.
Full report at:
https://www.siasat.com/survey-muslim-dense-population-areas-necessary-1902680/
--------
Karnataka: Muslim farmer donates land for Chennamma memorial
Jun 17, 2020
HUBBALLI: Thanks to Shoukat Ali Sumbad's generous gift, Sindagi town in Vijayapura will get a Chennamma memorial, modelled on the Kittur fort, to celebrate the town's connect with the valorous Lingayat queen who fought the British in 1824.
Basava Jaya Mrutyunjaya Swamiji of Lingayat Panchamasali Peetha Kudala Sangam said Sumbad, a farmer, came forward to donate his land adjacent to the state highway when local authorities failed to provide land for the memorial. "The committee led by Basava Jaya Mrutyunjaya Swamiji sought a 15x10 plot but when I went through their plan of constructing a model of Kittur fort, I decided to donate 425 sq ft," said the 61-year-old farmer. "Rani Chennamma is the pride of every Indian, irrespective of caste and creed, and my contribution is nothing compared to her sacrifice for the nation."
Sumbad, who lives in the neighbouring town of Almel, said he is a man of modest means but proud to make the contribution. "I own nine acres of land in Almel. I have six sons and two daughters. Two of my sons run small businesses in Mumbai. Ten of us live in a small house in Almel," he said.
Kin happy to donate land for memorial, says farmer
I also work as a broker to sell or buy sites. I had bought 15 guntas of land in Sindagi for my children some 15 years ago. When our MLA MC Managuli and Swamiji sought land for the memorial, my entire family agreed wholeheartedly" Sumbad said.
"As Chennamma's history is linked to Sindagi, there has been a demand for a memorial here since 2008, but the town municipal council failed to provide land due to political and technical reasons," said Swamiji. "There were plans to observe a Sindagi bandh in the first week of June to protest the indifference of authorities. But then Sumbad gave us his land. We have formed a committee to construct a model of Kittur fort and a bronze statue of Chennamma at a cost of Rs 28 lakh."
Full report at:
https://timesofindia.indiatimes.com/city/hubballi/muslim-farmer-donates-land-for-chennamma-memorial/articleshow/76415968.cms
--------
Pakistan violates ceasefire along LoC in J&K's Naugam sector
Jun 17, 2020
SRINAGAR: Pakistani troops violated ceasefire along the Line of Control in Naugam sector of Jammu and Kashmir by firing mortar shells towards Indian positions, a defence spokesman said on Wednesday.
"On 16 June 2020, in the late evening hours, Pakistan initiated unprovoked ceasefire violation (CFV) along the LoC in Naugam Sector by firing mortars and other weapons," the spokesman said.
He said Indian Army gave a befitting response to the ceasefire violation.
There were no casualties reported in the incident, the spokesman added.
https://timesofindia.indiatimes.com/india/pakistan-violates-ceasefire-along-loc-in-jks-naugam-sector/articleshow/76417585.cms
--------
Top Hizb commander among three terrorists killed in J&K encounter
Jun 16, 2020
SRINAGAR: A top Hizb-ul-Mujahideen commander along with his two accomplices, one of them the nephew of a former PDP MLC, were killed in a gunfight on Tuesday at Turkwangam in South Kashmir's Shopian district.
A joint team of Army's 44RR regiment, the CRPF and J&K police launched a cordon-and-search operation in Turkwangam early in the morning. As the team approached the suspected hideout, the terrorists started firing upon the security personnel. Retaliatory gunfire by the team triggered an encounter in which the three militants were killed, reports said.
While police said the identities of the slain terrorists were yet to be ascertained, official sources identified them as Hizbul 'district commander' Zubair Wani of Turkawangam, Kamran Manhas, nephew of former PDP MLC Zaffar Iqbal Manhas, a resident of Shadab Karewa, and Muneeb-ul-Haq of Sugan Zainapora in Shopian.
IGP-Kashmir, Vijay Kumar said, "It was a clean operation. No collateral damage has taken place."
With this, 19 Hizb-ul-Mujahideen militants have been killed in Shopian and Kulgam districts this month alone. Kumar claimed militancy in South Kashmir has "almost come to an end" and the focus will now be shifted to North Kashmir from next month. "We have recovered almost 25 AK-47 weapons this year so far. The active militants in Kashmir are now running very low of ammunition," he said.
Internet services have been suspended in Shopian district to prevent protests, reports said.
In January 2019, Kamran Manhas had announced joining the Hizb ranks and a picture showing him holding an AK-47 went viral on social media. He, sources said, was the first youth from Shadab Karewa village to join militancy in more than 20 years.
About the Sarpanch who was recently killed in South Kashmir, the IGP said Hizb terrorists — one of them identified as Umar — were involved in the act.
Kumar also said that a woman sarpanch in Bomai was kidnapped by a terrorist identified as Waleed with the help of a local. "We have safely evacuated the woman and her husband, who is panch, to a safer place. They will be given protection," he said.
On the narco-module that was recently busted in Kupwara, the IGP said "it is big" and more arrests are expected. "The module has already distributed Rs 3.5 crores among militants. Investigation is ongoing and many arrests are expected soon," he said.
Full report at:
https://timesofindia.indiatimes.com/india/top-hizb-commander-among-three-terrorists-killed-in-jk-encounter/articleshow/76413047.cms
--------
Pakistan envoy summoned over 'torture' of Indian officials
June 17, 2020
A day after two staffers of the Indian High Commission in Pakistan, who went "missing" for most of Monday and "returned" after India summoned Pakistan's Acting High Commissioner Syed Haider Shah and issued a demarche, the government on Tuesday again summoned Shah and lodged "a strong protest" on the two officials' "abduction and torture" by Pakistan's security agencies for 10 hours.
In a statement, the Ministry of External Affairs (MEA) said that the two Indian officials were subjected to "interrogation, torture and physical assault resulting in grievous injuries to them".
It stated: "They were video-graphed and coerced to accept a litany of fictitious allegations and concocted charges. The vehicle of the High Commission, in which they were travelling, was extensively damaged. The Government of India strongly condemns and deplores the action of the Pakistani authorities in this regard.
"This premeditated, grave and provocative action on the part of the Pakistani authorities, preceded by intensified surveillance, harassment and intimidation of High Commission personnel over the past several days, was designed to obstruct and disrupt the normal functioning of the Indian High Commission in Islamabad. The attempt by Pakistani authorities to levy false accusations and concocted charges on the officials of the High Commission is rejected in entirety."
The MEA said that these actions by Pakistan not only constitute an "egregious violation" of the Vienna Convention on Diplomatic Relations of 1961 but also the 'Code of Conduct for treatment of Diplomatic/Consular personnel in India and Pakistan', signed in 1992 and reaffirmed by both sides in March 2018. It is also "against all established norms and practices of diplomatic conduct", the MEA stated.
"Our grave concerns at the fact that the Pakistan agencies threatened to physically harm more officials of the Indian Mission have been shared. It has been highlighted that Pakistan is responsible for the safety and security of the Indian High Commission, its officials, staff members, their families and properties," the MEA said.
It said that such continued unilateral actions by Pakistan, aimed at escalating tensions, will not succeed in diverting attention from the core issue of Pakistan's continued hostile activities and sponsorship of cross-border terrorism against India.
The Pakistan Foreign ministry, meanwhile, said it "categorically rejects the irresponsible statement and baseless allegations" made by MEA in the case of "hit-and-run" by the Indian High Commission officials, and alleged possession of fake currency. "The MEA's statement is a reprehensible attempt to distort facts and deny culpability of these officials in criminal offences," it said in a statement.
According to the Pakistan Foreign ministry, the two officials were speeding and crashed their car into a pedestrian, who was seriously injured in the mishap and was taken to hospital for treatment. "The officials attempted to flee…some passersby stopped them and informed the police…. During investigation, fake currency was recovered from aforementioned officials. The senior Indian diplomat was reminded that possession of fake currency and 'hit-and-run'after an incident are serious offences…"
The latest incident comes 10 days after reports emerged of Pakistan's ISI personnel chasing a vehicle in which India's Acting High Commissioner Gaurav Ahluwalia was travelling in Islamabad.
On May 31, India had expelled two officials of the Pakistan High Commission in New Delhi on charges of spying — the first such move since 2016.
India and Pakistan downgraded their diplomatic ties in August last year after revocation of special status to Jammu and Kashmir under Article 370 — both countries recalled their High Commissioners. Their High Commissions are currently led by Deputy High Commissioners.
Full report at:
https://indianexpress.com/article/india/pakistan-envoy-summoned-over-torture-of-indian-officials-6462536/
--------
Pakistan
Khawaja Asif for placing names of PM's adviser, SBP governor on ECL
Amir Wasim
June 16, 2020
ISLAMABAD: Accusing the government of hiding behind the Covid-19 pandemic over its "failed and directionless" economic policy, parliamentary leader of the opposition Pakistan Muslim League-Nawaz (PML-N) Khawaja Asif on Monday called for placing Adviser to the Prime Minister Dr Abdul Hafeez Shaikh and State Bank of Pakistan (SBP) Governor Reza Baqir on the exit control list (ECL). He alleged these two people might run away from Pakistan after completely destroying the country's economy.
"Put their names on the ECL so that they cannot flee the country before [attending] the last rites of the country's economy," the firebrand PML-N leader from Sialkot said while opening the general debate on the federal budget in the National Assembly in the absence of party president and Opposition Leader Shahbaz Sharif.
The National Assembly which met after a two-day recess on the opening day of the budget debate witnessed traditional speeches from both sides of the aisle with opposition finding nothing good in the budget and the treasury justifying it and terming it the "best budget" under the prevailing unprecedented circumstances.
Federal Minister for Planning and Development Asad Umer opened the debate from the treasury side and responded to the points raised by Kh Asif in his speech.
Attacking the present economic team of the government, PML-N's Kh Asif said Hafeez Shaikh had been given this responsibility for the third time as he had previously served in the cabinet of the military dictator retired General Pervez Musharraf as well.
"These people will run away from the country to report back to their masters who had sent them here. These people are IMF liquidators and now they have become caretakers," he alleged, adding they had put the "murder weapon" in the hands of Industries Minister Hammad Azhar, who had delivered the budget speech in the assembly on June 12.
Kh Asif alleged that Hafeez Shaikh had conflict of interest as he owned companies with Indian partners.
"Why do you bring these mercenaries instead of the elected people?" he asked, stating that giving such important positions to the non-elected people was negation to the parliamentary democracy as these people were not answerable to the people.
"Don't make a mess with this country," he said, adding that both the adviser and the SBP governor should be given targets and they should be asked to sign bonds.
Commenting on the budget, he said it was a "massive reprieve on the economic front" and "a total recipe for disaster."
Kh Asif also launched a political attack on the ruling Pakistan Tehreek-i-Insaf (PTI) alleging that in the 2018 general elections, the PTI was provided a "favourable wicket, umpires of its own choice and a tampered ball and after including players of other teams in it".
He claimed that after two years in the government, even the die-hard supporters of the PTI were unable to defend it.
He gave a comparison of economic indicators during the PML-N government and the present time, claiming all the indicators were declining. He predicted more mini-budgets with more taxes in the coming days.
Insurance for health workers
In the beginning, Kh Asif paid tributes to doctors, nurses and paramedics for serving the nation putting their and family members' lives in danger in the wake of pandemic and "despite facing opposition from the government".
He said the government should at least announce insurance cover for the doctors and paramedics. He also blamed the government responsible for the spread of coronavirus in the country due to a confused policy about imposition of lockdown.
"Economy had already sunk when corona arrived in March. There was not a single indicator which showed that the government was heading in the right direction," he said.
Taking the floor as the second speaker of the day, federal Minister for Planning and Development Asad Umer, who also heads the National Command and Operation Centre on Covid-19, justified the strategy of not imposing a strict lockdown in the country.
He gave the example of India, saying that strict lockdown was imposed there on March 25 which affected livelihood of millions of people. He said the lockdown could not check the spread of coronavirus, however, on the contrary, it badly affected economy of the country.
He said the opposition parties remained obsessed with Imran Khan, saying it was ironic that they blame the government for coronavirus at a time when the whole world was engulfed by the pandemic.
Rejecting Kh Asif's criticism on the budget and challenging his figures, the minister claimed the country's economy was growing well before the outbreak of coronavirus as mentioned by economic indicators.
The foreign exchange reserves, he said, were growing whereas other economic indicators were showing positive growth before the coronavirus hit the country.
The minister said it was because of the ill-thought policies of the previous PML-N government that the people rejected it in the 2018 elections.
Responding to the demand for putting the names of the PM's adviser and the SBP governor on the ECL, Mr Umer said that he had no trust in the ECL after seeing former prime minister Nawaz Sharif leaving the country on fake medical reports.
The minister also provided details of the projects under Public Sector Development Programme (PSDP), saying special focus was being given to education and health sectors.
Speaker Asad Qaiser informed the house that a total of 40 hours had been allocated for the general debate. Out of this allocated time, the treasury members would get 21 hours and 35 minutes whereas the opposition would get 18 hours and 25 minutes.
https://www.dawn.com/news/1563847
--------
PM, other PTI leaders have properties in UK: Justice Isa
June 17, 2020
ISLAMABAD: Justice Qazi Faez Isa on Tuesday dropped a bombshell by alleging that his search discovered a number of properties in London in the name of Assets Recovery Unit's (ARU) chairman Mirza Shahzad Akbar as well as other leaders of the Pakistan Tehreek-i-Insaf (PTI), including Prime Minister Imran Khan, and former president retired Gen Pervez Musharraf.
In an application submitted to the Supreme Court, the petitioner judge told it that he took a cue from the ARU chairman's claim that properties in the United Kingdom could be searched by anyone by using the search engine 192.com. The application said the search engine was used to find out the properties of a few known public figures. The search result suggested that Shahzad Akbar owned five properties in the UK, former special assistant to the prime minister Dr Firdous Ashiq Awan owned one, Zulfikar Bukhari seven, Mohammad Usman Dar three, Imran Khan Niazi six, Jehangir Khan Tareen one and Pervez Musharraf two properties in the UK.
The petitioner judge alleged that these people, all well-known public figures, had illegally acq­uired these properties in the UK in violation of the income tax, foreign exchange or money laundering laws, the application stated.
It stated that before an allegation of non-compliance with the income tax law was made, the Federal Board of Revenue (FBR) must check its records and consider how much taxable income was declared and income tax paid by these individuals.
The FBR should also consider whether these individuals had taxable income such as from the agricultural land, which was exempted from the payment of income tax.
Before making an allegation with regard to the illegal transfer of money abroad, the State Bank of Pakistan must check to determine whether these individuals had foreign exchange accounts and whether through their accounts money was remitted abroad to exclude the possibility of being sent to the UK through Hawala, Hundi or by any other illegal means, the application pleaded.
Assuming that these individuals had failed in respect of these questions, they would still be entitled to be given opportunity to provide an explanation and without first seeking an explanation, and without a shred of evidence, an allegation must not be made that the spouses of these individuals were the real owners of the properties, the application said.
What surely should not be done is to call upon these individuals to do the impossible — disprove that the allegations is not true.
The application pleaded before the Supreme Court to consider and declare that the ARU was illegal and working without any legal effect and any of the actions taken by the unit with regard to the reference against the petitioner judge and his family was illegal and of no legal effect.
Full report at:
https://www.dawn.com/news/1564014/pm-other-pti-leaders-have-properties-in-uk-justice-isa
--------
Senators inquire into customised benefits for two companies in Finance Bill
Khaleeq Kiani
June 17, 2020
ISLAMABAD: A Senate panel on Tuesday opposed certain tax benefits by name to two companies operating in Gwadar through the Finance Bill 2020-21, with some members calling the move ­"vulgar", "ridiculous" and "shocking".
"Who are the people behind these companies?" they repeatedly asked. "How can a company's name be included in the law?"
The Senate Standing Committee on Finance & Revenue led by Senator Farooq Hamid Naek also set the principle under Article 73 of the Constitution that it would not approve any clause to be included in the Finance Bill if it did not pertain to imposition, abolition, remission, alteration of regulation of any tax.
Senator Naek advised the members that the committee should also not allow something to be included in the money bill if it provided for the imposition or alteration of any fine or other pecuniary penalty, or for the demand or payment of a licence fee or a fee or charge for any service rendered or those taxes that fall under the domain of any local government.
The committee members took strong exception to a proposed amendment in the Customs Law (Clause 3-19/i-a) for exemption from custom duties on 'equipments and materials including plant, machinery, appliances and accessories imported by the concession holders, its operating companies "including Gwadar International Terminals Limited and Gwadar Marine Services and their" contractors and sub-contractors exclusively for construction and operation of terminals and Free Zone area for a period of 40 years.
Under the existing Customs law, the exemption was there but the names of these two companies are specifically proposed for insertion.
Senator Attique Shaikh of MQM and Senator Mohsin Aziz of PTI recalled that a similar clause — without naming these companies — had been brought before the Senate panel and was rejected because it could not allow such an open ended facility to any company. "It is vulgar to allow a tax facility by name to a company in the law and leave it so open," said Senator Dr Musadik Malik of PML-N. "This is shocking," said Senator Sherry Rehman of PPP.
The senators said it was impossible to restrict the use of such equipment and machinery for specific use at Gwadar. What mechanism is there to ensure a truck imported for Gwadar with duty exemption would not be used in Sahiwal or Hyderabad, questioned Malik. He said the companies and their sub-contractors appeared to be more important than General Ziaul Haq whose name was written in the constitution.
Senator Rehman wanted to know who owned the company or its sub-contractors. She said it was shocking that an exemption had already been given in the law but it was being made company specific. Senator Shaikh said the contractors and sub-contractors were 'nears and dears' of a family who wanted business protection for over two decades. "This is ridiculous," he exclaimed.
Member Customs explained that the amendment had been proposed by the Ministry of Maritime Affairs on the basis of government to government agreement on Gwadar Port. He said a summary for the cabinet was moved by the ministry recommending changes relating to law pertaining to Gwadar. Accordingly, the Tax Laws Amendment Ordinance 2019 was promulgated on October 6, 2019 but the law was not approved by the Parliament. Therefore, the change happened through the money bill.
Senator Mohsin Aziz said the panel could not allow such a facility without first going through the government to government agreement.
The committee members also opposed another amendment that sought tax exemptions for 23 years from July 2016 for businesses like packaging, distribution, stuffing, destuffing, CFS, container yard, warehousing, including cool and cold rooms, transshipment, labeling, export and import value addition others for Free Zone area.
Senator Naek said the tax exemption pertained to "retrospectivity" since 2016. He advised the senators to examine the original agreement before formally rejecting the proposals. The members, however, proposed that the committee should register in writing serious reservations over such open end tax benefits.
Secretary Finance Naveed Kamran Baloch agreed to the observations that strange things had been proposed in the money bill.
The committee also objected to powers being sought under the Finance Bill for "advance ruling" by a board or officer or committee of the Federal Board of Revenue for 'determination or classification, origin or applicability of a particular relief on goods prior to their import or export for a certain period.
The senators said the imports and exports were dealt under HS Codes while the proposed change appeared to be in violation of the Article 73 of the Constitution and provided an element of discretion to the tax machinery which could not be allowed.
Member Customs explained that there were only 5,300 HS Codes in Pakistan while internationally more than 195,000 HS Codes were applicable. He said the 'advance ruling' regime was required to be introduced by September 2020 to comply with commitments given under the World Trade Organisation (WTO) and Trade Facilitation Agreement.
Full report at:
https://www.dawn.com/news/1564030/senators-inquire-into-customised-benefits-for-two-companies-in-finance-bill
--------
Services chiefs attend rare briefing at ISI headquarters
Baqir Sajjad Syed
June 17, 2020
ISLAMABAD: Services chiefs on Tuesday expressed satisfaction over preparedness of the Inter-Services Intelligence (ISI) to counter India's sinister designs after receiving a rare combined briefing on occupied Kashmir and other regional issues at the headquarters of the premier intelligence agency.
"A comprehensive briefing was given to military leadership on the regional security issues with special focus on situation of LoC and IOJ&K," the ISPR said in a statement after the meeting, which was attended by Chairman Joint Chiefs of Staff Committee Gen Nadeem Raza, Chief of Army Staff Gen Qamar Javed Bajwa, Chief of Naval Staff Adm Zafar Mehmood Abbasi and Chief of Air Staff Air Chief Marshal Mujahid Anwar Khan. Chief of General Staff Lt Gen Sahir Shamshad Mirza also attended the meeting.
"CJCSC and services chiefs appreciated the tireless efforts of ISI for national security and expressed satisfaction over professional preparedness," the Inter-Services Public Relations said.
It is rare for all services chiefs to visit the ISI headquarters together for a briefing on national security. The services chiefs normally meet at the forum of the joint chiefs of staff committee, the principal tri-services coordination forum. The joint chiefs' forum has not met since July 2018. Such meetings are necessary for ensuring inter-services complementarity, particularly at the time of a crisis.
The ISI has, meanwhile, been giving briefings to the political and military leadership. Prime Minister Imran Khan has twice been to the ISI headquarters — on April 23 and June 3 — for intelligence briefings on the security threats.
These briefings have assumed special significance because they have taken place amid escalating tensions with arch-rival India.
India is entangled in multiple crises including border disputes with neighbours, weakening economy and worsening coronavirus pandemic situation. Ongoing India-China stand-off on Monday saw first military casualties since 1975, which has put Modi government in a tight spot domestically.
At the same time Delhi is undertaking a menacing military build-up, believed to be targeted against Pakistan, building a narrative of Line of Control infiltration and publicising its casualties in virtually daily clashes with freedom fighters in occupied Kashmir.
Some fear that the Indian government is preparing environment for a military confrontation with Pakistan.
Defence analysts, however, see these sessions like the one at the ISI headquarters on Tuesday as part of the military's strategic signalling to India.
A diplomatic source said Foreign Minister Shah Mahmood Qureshi was likely to hold consultation with his Chinese counterpart Wang Yi over the next few days.
Among other concerns, Pakistani officials worry that any conflict with India could undo the progress made towards peace in Afghanistan after protracted efforts.
Full report at:
https://www.dawn.com/news/1564041/services-chiefs-attend-rare-briefing-at-isi-headquarters
--------
AJK PM asks Qureshi to clarify his UNSC remarks
Tariq Naqash
June 17, 2020
MUZAFFARABAD: Azad Jammu and Kashmir (AJK) Prime Minister Raja Farooq Haider on Tuesday took strong exception to Foreign Minister Shah Mehmood Qureshi's statement whereby he had shrugged off India's bid to become non-permanent member of the United Nations Security Council (UNSC).
In a televised statement on Monday, Mr Qureshi said that India becoming the non-permanent member of the UNSC was not a moment of rejoice but concern as the country had been blatantly rejecting UN resolutions on Kashmir. However, he added, heavens would not fall if India became a UNSC member as Pakistan had also served at the same position previously for seven times.
The AJK prime minister said: "The statement attributed to Foreign Minister Shah Mehmood Qureshi that heavens will not fall if India becomes Security Council member is highly incautious."
In a brief statement in Urdu, released by the AJK press information department on Tuesday evening, PM Haider said: "Kashmiris do not want to see India even as a non-permanent member of a world body resolutions of which it has blatantly violated and disregarded over the past seven decades, let alone as permanent member [of the UNSC]."
Mr Haider was of the opinion that India becoming UNSC member meant accepting its hegemony in the region and increasing a vote against Pakistan's time-tested friend China.
"Friends must be kept in mind and taken care of while formulating the foreign policy," he said in a clear reference to China.
Full report at:
https://www.dawn.com/news/1564054/ajk-pm-asks-qureshi-to-clarify-his-unsc-remarks
--------
Premier and first lady's regard should be foremost priority, Zulfi tells PTI workers
Jun 17, 2020
ISLAMABAD: Special Assistant to the Prime Minister on Overseas Pakistanis and Human Resource Development Sayed Zulfikar Abbas Bukhari on Tuesday said that Prime Minister Imran Khan and First Lady Bushra Bibi's regard should be the foremost priority of the workers of Pakistan Tehreek-e-Insaf (PTI).
In a tweet, he referred to the alleged 'inappropriate' remarks of PTI's Member of Punjab Assembly Uzma Kardar about the first lady. Criticising the party member for her remarks, the SAPM said that "one can't expect her to understand the caliber of the first lady but it is extremely shameful of Uzma Kardar to be talking behind her back".
"PM & First Lady's respect comes foremost for all of us. Embarrassing behaviour from anyone who claims to be associated with the party," he added.
Meanwhile, in a video message released on social media, Uzma reiterated her loyalty to the prime minister. "I will stand with the prime minister till my death," she said. "I do not want a post. I just want to serve the people."
She said that the premier taught all party workers to work for the people and nobody could question her loyalty towards him. "The prime minister had struggled for 22 years and he taught us to stand our ground as well," she added.
On Monday, Punjab Information Minister Fayyazul Hassan Chohan removed Uzma from his ministry's media strategy committee and the slot of the Punjab government's spokesperson allegedly over an audio leak of hers that could harm the prime minister politically.
The audio recording, apparently of a phone call, went viral on social media where the woman identified as Uzma was heard saying that the establishment had increased its role in the government and managed to change (matters in relation to the) the whole media.
The woman in the audio also remarks how an individual close to PM Imran was influential in deciding important matters such as postings of senior officials.
"The establishment, the government and Prime Minister Imran Khan are going hand-in-hand," the recording said.
The voice in the audio was also found acknowledging that no government in Pakistan could be run without the support of the establishment.
It also spoke about how an individual very close to the premier favoured friends and prevented others from approaching him.
Though the motive behind the outburst is not clear, the lady identified as Uzma also chided the Punjab information department for not allowing her to appear at different news channel shows and added that the media coordinators were ensuring that she would not participate in talk shows as they were recommending some other spokespersons to the media.
Full report at:
https://www.pakistantoday.com.pk/2020/06/16/premier-and-first-ladys-regard-should-be-foremost-priority-zulfi-tells-pti-workers/
--------
South Asia

Myanmar sounds virus alarm after spike in 'imported cases'
June 16, 2020
YANGON: Myanmar's health authorities say they are increasing efforts to tackle the COVID-19 pandemic after several Rohingya tested positive for the disease.
As of Tuesday there were 262 infections in Myanmar, with six reported deaths.
Residents in Muangdaw, the westernmost town near the Bangladeshi border, said non-compliance with preventive measures and a failure to report infections had caused the problem.
"With lax enforcement of COVID-19 rules, things were normal here until the first patient was found in Maungdaw," said Abdullah, a Rohingya pharmacy owner in Maungdaw.
He added that he and other residents in the area would "hardly wear a mask or take precautions."
On June 4 the Ministry of Health and Sports reported an infection in Maungdaw, bringing the number of imported cases to six as of Tuesday.
Out of the six, four cases were detected in Maungdaw, with the remaining two in Buthidaung town.
According to Wai Tun, an administrator of the Maungdaw township, the four patients had illegally returned from neighboring Bangladesh.
"The first patient was a 38-year-old Muslim man from a five-person family who returned to Maungdaw from the Thangkhali camp in Cox's Bazar on May 30," he told Arab News.
He added that the second man was a 25-year-old Hindu, who had been working in Bangladesh and had returned to his family in the Kyein Chaung village of Maungdaw on June 3 through an illegal route.
The third and fourth patients were a Rohingya woman, 46, and a Rohingya man, 32, who both crossed the border illegally on May 26 to visit relatives taking shelter in a refugee camp in Cox's Bazar.
"They re-entered Muangdaw on June 3," Wai Tun said.
According to officials in the township's administrative office, another group of eight Rohingya Muslims were taken to a quarantine center in Maungdaw on June 5 after they returned to Buthidaung from Bangladesh via an illegal route.
Tun Aung Thein, a Buthidaung lawmaker, said illegal crossings were frequent despite a border guard presence.
"We are afraid illegal crossings lead to the spread of COVID-19 in the area," he told Arab News.
He added that more than 30 people who came into contact with the infected patients had been transferred to a quarantine center.
Thein said the illegal movements occurred because of a lack of enforcement by authorities, despite a ban on border crossings imposed by Myanmar in March.
Myint Shwe, a Rohingya community leader in Buthidaung, agrees.
"If legal action was taken against those who illegally crossed the border, no one would dare to use illegal routes," he said, adding that authorities in Myanmar welcomed the return of refugees through illegal routes so that they could "blame Bangladesh," after a repeated failure of repatriation efforts.
A leading human rights group said Myanmar had taken harsh actions against Rohingya illegally crossing into the Rakhine state, including arrests, torture, and transferring them to camps for displaced persons.
"So if they are not arresting these informal returnees now, then this is a new policy," said Phil Robertson, deputy Asia director of Human Rights Watch.
Robertson questioned the motives of the Myanmar government.
"I suspect local officials may be getting big bribes to go along with the scheme, with higher-ups also getting a piece of the action," he told Arab News.
Not a single refugee returned to the Rakhine state despite a bilateral deal signed between Myanmar and Bangladesh in November 2017 to repatriate more than 700,000 Rohingya Muslims. The refugees fled to Bangladesh to escape Myanmar's brutal crackdown in 2017.
Myanmar has blamed Bangladesh for the failure to repatriate the Rohingya.
In November last year, Zaw Htay, spokesperson for the Myanmar president office, said that the repatriation plan would fail to succeed without cooperation from the Bangladeshi government.
"As long as Bangladesh fails to cooperate, this problem will continue to exist," he told a press conference in the political capital, Nay Pyi Taw.
In April this year, Myanmar said that more than 600 Rohingya had voluntarily returned from Bangladesh.
Robertson said the refugees remain in a precarious position.
"Rohingya who returned informally are likely not in a position to claim their rights such as full citizenship, freedom of movement and access to health and education. What the Myanmar government doesn't want is Rohingya returning home with any rights guaranteed to them," he said.
https://www.arabnews.com/node/1690801/world
--------
MSF ends activities in Kabul Hospital where many mothers, newborn children were killed
16 Jun 2020
The Doctors Without Borders (Médecins sans frontières) ceased activities in a hospital in West of Kabul city where an attack left many mothers and newborn babdies dead last month.
"Médecins Sans Frontières (MSF) has announced our decision to end activities and withdraw from Dasht-e-Barchi in Kabul, Afghanistan, following the brutal attack on our maternity wing on 12 May, in which 16 mothers were systematically shot dead. An MSF midwife, two children aged 7 and 8, and six other people present at the time of the attack were also killed," MSF said in a statement.
The statement further added that "The decision comes with the understanding that while no information has emerged about the perpetrators or motive of the assault, mothers, babies and health staff were the deliberate targets of the attack, and that similar attacks may occur in the future."
"A month after the horrifying event, we know very little; the attack remains unclaimed," the statement said, adding that "Afghan authorities blamed the Taliban – or Islamic Emirate of Afghanistan – who refuted and condemned the accusation, while representatives of foreign governments publicly pointed their finger at radical groups as perpetrators, namely Islamic State Khorasan province."
Thierry Allafort-Duverger, MSF Director General said "We were aware that our presence in Dasht-e-Barchi carried risks, but we just couldn't believe that someone would take advantage of the absolute vulnerability of women about to give birth to murder them and their babies. But it did happen."
Full report at:
https://www.khaama.com/msf-ends-activities-in-kabul-hospital-where-many-mothers-newborn-children-were-killed-08903/
--------
Key Taliban Red Unit group member killed in Wardak clash
16 Jun 2020
The Afghan National Defense and Security Forces killed a key Taliban group member who was one of the prominent members of the Red Unit of the group in Wardak province.
The 203rd Thunder Corps in a statement said the Taliban militants attacked the security posts in Jalriz district of Wardak province.
The statement further added that the security forces effectively responded to the attack, killing one Taliban militant and wounding two others.
The Taliban militants lost one of their key group members, Qari Zalmai alias Ansar, who was in charge of manufacturing roadside bombs besides being one of the key members of the Red Unit of the group.
The Taliban group has not commented in this regard so far.
https://www.khaama.com/key-taliban-red-unit-group-member-killed-in-wardak-clash-08902/
--------
Rights body concerned over alleged abuse of Afghan refugees in Iran
SAYED SALAHUDDIN
June 16, 2020
KABUL: Afghanistan's Independent Human Rights Commission (AIHRC) on Tuesday expressed concerns about Afghan migrants living in Iran.
Afghans have been killed in two separate incidents in Iran recently, sparking protests in Kabul and elsewhere.
The first incident took place on May 1 when 13 drowned after they were allegedly coerced by Iranian border guards to cross a river at gunpoint, according to a report from the AIHRC and a probe by Kabul. The second took place in the Iranian city of Yazd on June 5, when three died in a moving car after police opened fire on the vehicle and set it ablaze.
"We are seriously asking Afghanistan's government and the Foreign Ministry to take seriously the issue of rights of Afghan nationals abroad, and have shared our concerns with them about the abuses that have happened in Iran against them," Mohammad Alim Azizi, a senior AIHRC official, told Arab News.
He added that, due to a mandate which confines its operations to Afghanistan, the AIHRC could not probe the car incident. Iran has confirmed that the car was shot at, saying that the driver refused to stop despite being instructed to do so. It has promised to share its findings about both incidents with Afghanistan.
But the delay in taking the perpetrators to task has led to a public outcry and Afghans have carried out anti-Iran protests in recent days in Afghanistan, the US and Europe.
The demonstrations of anger led Iran to summon the Afghan envoy on June 14, after a group of protesters threw red ink on the entrance of its Kabul embassy.
Afghanistan pledged to send a high-ranking government delegation in the coming days to Iran to discuss bilateral issues and the fate of refugees there.
Iran is home to nearly 3 million Afghans, both legal refugees and illegal immigrants, and Afghans often use illegal smuggling routes along the 900 km border to travel to Iran in search of work.
Iran and Afghanistan have had an uneasy relationship in recent years, with Kabul accusing Tehran of using Afghan Shiite migrants to fight proxy wars in the Middle East, as well as providing cash and arms to Taliban insurgents fighting the Afghan government and US-led troops in Afghanistan.
Iran has been wary of the presence of US troops in Afghanistan and considers them a threat to the Islamic Republic.
The incidents were described as a wake-up call for Kabul.
Abdul Sattar Husseini, a lawmaker from western Afghanistan near the border with Iran, described the treatment of Afghan refugees by Iran as "utter oppression, terror and injustice."
Toreq Farhadi, who served as an adviser during the former Afghan government, said Iran had used the presence of Afghan refugees in Iran as a "pyramid of pressure against Kabul" and was part of its policy of "unannounced confrontation" with Afghanistan.
"The new government in Kabul, which is weak and has uneasy ties with its other major neighbor Pakistan, fears to alienate Tehran," he told Arab News, adding that trade ties were another factor.
Full report at:
https://www.arabnews.com/node/1690831/world
--------
Southeast Asia
Indonesia increases COVID-19 budget again amid soaring deficit
Adrian Wail Akhlas
Wed, June 17, 2020
The government has again increased its planned spending on Indonesia's battle against the COVID-19 pandemic amid plunging tax revenue and a widening state budget deficit.
It is now setting aside Rp 695.2 trillion (US$49.63 billion) in funds for healthcare and economic stimulus spending to cushion the impact of the outbreak. This is the latest increase from the previous allocation of Rp 677.2 trillion, as the government ups its budget allocation for labor-intensive industries and regional administrations.
The speed at which assumptions have been revised underscores the ferocity with which the virus is ravaging the economy.
"The situation is developing rapidly, so the stimulus program may change again," Finance Minister Sri Mulyani Indrawati said during a livestreamed press briefing on Tuesday. She added that the government would remain flexible in making budget changes.
The pandemic has forced many businesses to shut down amid efforts to contain the spread of the coronavirus, which has infected more than 40,000 people in Indonesia as of Tuesday afternoon. The slowdown in economic activity has taken a toll on the country's gross domestic product (GDP) growth, which plunged to a 19-year low of 2.97 percent in the first quarter.
Rp 87.55 trillion of the COVID-19 budget will be allocated to healthcare, Rp 203.9 trillion to strengthening social safety nets and Rp 123.46 trillion to incentives for micro, small and medium businesses.
As much as Rp 120.61 trillion will be allocated for business incentives, which include tax incentives, and Rp 106.11 trillion to support ministries and regional administrations, an increase from Rp 97.11 trillion previously allocated. Meanwhile, Rp 53.37 trillion is allocated to stimulus measures for state-owned enterprises (SOEs) and labor-intensive businesses, up from the Rp 44.57 trillion set aside previously for that purpose.
The bigger budget of Rp 9 trillion for corporations will be allocated as working capital loans for labor-intensive businesses, with details on the schemes being finalized, said Finance Ministry Fiscal Policy Agency head Febrio Kacaribu during the same briefing.
Meanwhile, the increased spending for ministries and regional administrations will be allocated to regional loans as well as additional buffer for special allocation funds (DAK), which will be disbursed in the form of labor-intensive programs that can be finished in four to five months, according to Finance Ministry Fiscal Balance Director General Astera Primanto Bhakti.
"We hope this additional DAK buffer can help regional economies improve people's welfare," he said.
The government now expects the state budget deficit to reach 6.34 percent of GDP this year as spending is soaring while revenue collection is falling.
Indonesia recorded a widening budget deficit in May as the coronavirus pandemic hit all the economic sectors in the second quarter of the year, the Finance Ministry announced Tuesday.
The deficit reached Rp 179.6 trillion or 1.1 percent of GDP, as of May, a sharp increase of 42.8 percent compared to the same month last year.
State income nosedived 9 percent year-on-year (yoy) to Rp 664.2 trillion during the same period, while expenditure shrank by 1.4 percent yoy to Rp 843.9 trillion despite the government's move to step up its social assistance disbursement.
Social spending was recorded at Rp 78.9 trillion in May, up 30.7 percent from the same month last year.
Indonesia has sold Rp 369 trillion worth of government bonds as of May, a huge increase of 98.3 percent compared to the same period of last year, to patch up the deficit.
"The decline in state income is in line with our expectation, as the coronavirus pandemic put heavy pressure on businesses, individuals and regional administrations," Sri Mulyani Indrawati said during the briefing.
Tax collection dropped 10.8 percent yoy to Rp 444.6 trillion as of May as revenue from almost all the economic sectors, such as manufacturing, trade, financial services, mining and transportation, fell.
Sri Mulyani projected the economy would shrink by 3.1 percent in the second quarter and grow at zero percent to 1 percent this year, adding that the government vowed to continue to disburse funds to cushion the virus-battered economy.
Bank Central Asia (BCA) chief economist David Sumual called on the government to expedite its stimulus spending in the second quarter this year, adding that the spending's economic effect would be much lower if the government were to spend the budget later this year.
"We think the economy has hit the bottom in the second quarter, but the government has yet to disburse all of the stimulus spending," David said on Monday. "It must speed up the spending for it to be more effective."
https://www.thejakartapost.com/news/2020/06/16/indonesia-increases-covid-19-budget-again-amid-soaring-deficit.html
--------
Defence ministry: Malaysia, Indonesia committed to deepen defence relations
16 Jun 2020
KUALA LUMPUR, June 16 — Malaysia and Indonesia will further deepen bilateral defence relations and underscore the importance of expanding the cooperation based on shared interests of both countries despite facing the Covid-19 pandemic challenge.
The Defence Ministry in a statement said its Minister, Datuk Seri Ismail Sabri Yaakob and his Indonesian counterpart Prabowo Subianto held a video conference at 4.30pm today, where both ministers acknowledged the longstanding ties between Malaysia and Indonesia.
"They had an open and wide-ranging discussion that reflected the strength of the relationship. The defence ties between Malaysia and Indonesia have seen excellent progress under the ambit of the General Border Committee (GBC) which was established in 1972.
"The defence relations have also strengthened through sub-regional initiatives, namely the Malacca Straits Patrol (MSP) and the Trilateral Cooperative Arrangement (TCA) together with the Philippines," it said.
The statement added Prabowo also congratulated Ismail Sabri on his appointment as the Senior Minister (Security Cluster) and Defence Minister.
Prior to the video conference, Ismail Sabri also received a courtesy call from Bangladesh High Commissioner to Malaysia Md Shahidul Islam.
Full report at:
https://www.malaymail.com/news/malaysia/2020/06/16/defence-ministry-malaysia-indonesia-committed-to-deepen-defence-relations/1876055
--------
Report: Annuar Musa admits possibility of snap polls discussed during last night's Umno supreme council meeting
17 Jun 2020
KUALA LUMPUR, June 17 — Discussions surrounding the possibility of snap polls being called were on the agenda of Umno's supreme council meeting that took place last night, said Tan Sri Annuar Musa.
The Umno secretary-general, in a report by The Star, however, did not divulge many details as to what was actually said during the meeting.
"But we discussed it in general terms, nothing specific," Annuar was quoted as saying in the report.
He added that snap polls were being looked at as an option to counter the attempt by Pakatan Harapan (PH) to wrestle back power.
This comes as speculation of snap polls surfaced following the supposed instability of Perikatan Nasional (PN) as a government with PH preparing to pounce and oust the four-month-old coalition.
Additionally, the report also quoted Annuar as saying that other topics discussed during the council meeting included what needs to be done by Umno to strengthen its position and how to set the country's policy direction for the sake of the Malays and Islam.
When asked about rumours of coalition partners Parti Pribumi Bersatu Malaysia's (Bersatu) supposed attempt to contest up to 50 parliamentary seats if snap polls are called, Annuar stressed that topics were discussed on a general level and not in minute detail.
"These are all mere speculation. It is not an issue warranting detailed discussions at this point in time," he was quoted as saying.
Annuar also denied the Umno's supreme council had discussed the possibility of Bersatu joining its Muafakat Nasional (MN) pact together with PAS, saying if such matters did arise, it would be brought up during the MN steering committee meeting tomorrow.
The report also quoted Umno's Youth chief Datuk Asyraf Wajdi Dusuki as also not ruling out snap polls being called.
Full report at:
https://www.malaymail.com/news/malaysia/2020/06/17/report-annuar-musa-admits-possibility-of-snap-polls-discussed-during-last-n/1876244
--------
Indonesian court issues guilty verdicts in West Papua trial
Jun 17, 2020
An Indonesian court issued on Wednesday guilty verdicts against the first three West Papuan defendants accused of treason, in a case that has drawn concern about deteriorating political freedoms in the world's third-largest democracy.
Buchtar Tabuni, one of the leaders of the United Liberation Movement for West Papua, was found guilty of treason and sentenced to 11 months in prison - significantly lower than the 17 years that prosecutors had asked.
Following his sentencing, Tabuni, who was previously imprisoned for three years from 2008 to 2011, told the court, "in my conscience, I am innocent."
Ferry Gombo and Irwanus Uropmabin, both university students, were also found guilty of the same charge and sentenced to 10 months in prison. Prosecutors had earlier demanded 10 years for Gombo, student union president at the University of Cenderawasih in West Papua, and five years for Uropmabin, a student activist at a university in Jayapura.
The three are among the seven men facing treason charge, after they joined anti-racism protests that swept across Indonesia's easternmost provinces last August. The defendants deny the charges.
As of 06:00 GMT on Wendesday, the reading of the verdict was still underway online through the video app, Zoom.
The demonstrations in Papua and West Papua were sparked by alleged racist attacks on several Papuan students on the island of Java, including being called "monkeys".
Aside from Tabuni, Gombo and Uropmabin, also accused of treason are Agus Kossay and Stevanus Itlay from the National Committee for West Papua (KNPB) and several Papuan university students.
They were arrested in West Papua's provincial capital Jayapura last year and moved to Balikpapan on Indonesian Borneo for security reasons.
Many Indonesians have criticised the country's Attorney General for prosecuting the defendants, also known as the "Balikpapan Seven".
More than 150 Papuan politicians, civic and religious leaders, including members of parliament and the senate, have signed a petition asking President Joko Widodo to drop the charges against them.
Human Rights Watch (HRW) has also urged the government to release the accused individuals.
But in an interview with Al Jazeera, Andreas Harsono, the group's representative in Indonesia, said that he was "afraid" the judge would convict the defendants and sentence them to jail.
"It may be not as extreme as the prosecutors have demanded, but still there are going to be prison sentences, because it is very common. Those treason articles have been used against Papuans for more than five decades in Indonesia."
Videos posted on social media on Wednesday showed protesters in Jayapura and Sorong in West Papua demanding for the release of the defendants.
'Papuan Lives Matter'
The resource-rich provinces of Papua and West Papua came under Indonesian rule after a controversial 1969 referendum sanctioned by the United Nations - a process that was viewed as rigged by many native Papuans.
A low-level separatist rebellion has simmered ever since in the former Dutch colony - which shares New Guinea island with the independent nation of Papua New Guinea.
The majority of Papuans are Christian and ethnic Melanesian with few cultural ties to the rest of Muslim-majority Indonesia.
The tensions spilled over in August 2019, with several areas in West Papua erupting into fiery protests that left several dead, prompting the government of President Joko Widodo to deploy thousands of military troops to the area. The final death toll in the months-long unrest remains unknown.
At the height of the protests, thousands of residents were forced to flee the region, the poorest in the archipelago.
During the protests, many demonstrators were seen flying the Morning Star flag, a symbol of Papuan independence, which is banned in Indonesia.
Independence figure Filep Karma was convicted of treason after raising the flag publicly and spent 11 years in jail before his release in 2015.
The Balikpapan trial has drawn unusual levels of support in Indonesia, where it has coincided with the Black Lives Matter movement in the United States.
That has inspired a local adaptation - Papuan Lives Matter - which Indonesians have used on social media and in street demonstrations calling for the Papuans' release.
The global movement has also sparked online forums about perceived racism and discrimination in Indonesia, events that activists say have been subject to obstruction and intimidation.
"Indonesian police have created a revolving door by arresting Papuan activists like Buchtar Tabuni for peaceful protests that needs to stop," said Brad Adams, Asia director of Human Rights Watch.
Full report at:
https://www.aljazeera.com/news/2020/06/indonesian-court-announce-verdict-west-papua-treason-trial-200616234247673.html
--------
Govt opts to postpone deliberation of controversial bill on Pancasila amid backlash against House
Ghina Ghaliya
June 16, 2020
The government has rejected a plan to deliberate a bill initiated by the House of Representatives on Pancasila Ideology Guidelines (HIP) amid outcry from members of the public questioning the urgency and some of its contentious articles.
Coordinating Legal, Political and Security Affairs Minister Mahfud MD announced on his Twitter account @mohmahfudmd that the government had decided to postpone deliberation of the bill, arguing that it would focus more on handling the COVID-19 pandemic.
"We asked the House as the initiator [of the bill] to have more dialogue with the public and take their wishes into account," he tweeted on Tuesday adding that he was assigned to deliver the news.
Mahfud MD
✔
@mohmahfudmd
Terkait RUU HIP, Pemerintah menunda utk membahasnya dan meminta DPR sbg pengusul utk lbh bnyk berdialog dan menyerap aspirasi dulu dgn semua elemen masyarakat. Pemerintah msh lbh fokus dulu utk menghadapi pandemi Covid-19. Menko Polhukam dan Menkum-HAM diminta menyampaikan ini.
4,096
1:19 PM - Jun 16, 2020
Twitter Ads info and privacy
2,588 people are talking about this
The decision came in light of growing criticism from scholars and various organizations lamenting the House for endorsing the HIP bill amid the current pandemic.
The bill, supported by the ruling Indonesian Democratic Party of Struggle (PDI-P), aims to regulate the values of the Pancasila ideology and the functions of the Agency for Pancasila Ideology Education (BPIP). The party's chairwoman and former president Megawati Soekarnoputri serves as the steering committee head.
Indonesian Legal Aid Institute (YLBHI) chairwoman Asfinawati expressed concerns that the bill could harm freedom of expression, alleging that there was an effort to monopolize the interpretation of the Pancasila in Article 45 of the draft bill, which regulates the BPIP's tasks.
She also highlighted Article 48 of the draft bill on BPIP steering committee elements that could be filled by the active TNI and police personnel.
"As if the meaning of the Pancasila is merely a matter of state security as the TNI and police could have the right to interpret it," she told The Jakarta Post on Tuesday.
Constitutional law expert from Jakarta-based Jentera School of Law Bivitri Susanti suggested the House drop the bill, saying the bill could reduce the value of Pancasila in the 1945 Constitution.
"I don't think we need the bill. I can't see its urgency by looking at the contents. The lawmakers should focus on handling COVID-19 and the problems following the pandemic instead," she said.
Discussions of the bill, led by deputy chairwoman of the House Legislative Body (Baleg) Rieke Diah Pitaloka, who is a PDI-P politician, has also sparked an outcry among Islamic organizations, which questioned the draft bill's failure to include the Temporary People's Consultative Assembly Decree (TAP MPR) No. 25/1966 on the banning of communism in Indonesia.
Islamic organizations, ranging from the Indonesian Ulema Council (MUI), Nahdlatul Ulama (NU) and Muhammadiyah to the hard-line Islam Defenders Front (FPI), have called on the House to drop the bill, saying it would open the door for communist ideology to reemerge in the country.
Retired military and police personnel have echoed similar sentiments against the House's plan to endorse the bill.
House deputy speaker Sufmi Dasco Ahmad said that seven out of nine factions at the House had agreed to continue the deliberation of the bill. The House is still waiting for the presidential letter (Surpres) to give the green light for the deliberation.
"We are still waiting for the Surpres. We haven't begun the deliberation process […] We also need to hear the public opinions," the Gerindra Party politician said on Tuesday.
MUI secretary-general Anwar Abbas said the MUI rejected the entire contents of the draft bill, saying the main concern was not only the absence of the 1966 decree, but it was also deemed to be "secular and atheistic" as it degraded the Pancasila ideology itself.
Anwar noted Article 7 of the bill, which stipulates the "trisila" (three principles) concept as the basic characteristic of Pancasila, which consisted of socionationalism, sociodemocracy and cultural divinity. All the values should also be crystallized in "ekasila" (one principle) of gotong royong (mutual cooperation), according to the draft.
"Those concepts have degraded the main 'belief in the Almighty God' in the first principle of Pancasila. The bill stipulates a cultural concept of God instead while the only cultured creature is humankind. In the trisila, we must obey human authority rather than God," he said in a written statement on Monday.
"Degrading Pancasila into trisila and ekasila is a betrayal of the nation. Pancasila consists of five principles that cannot be separated and changed," he added.
Muhammadiyah secretary Abdul Mu'ti also questioned the bill's urgency and significance, noting that especially there were several existing laws as the legal basis of Pancasila, namely MPRS Decree No, XX/MPRS/1966, MPR Decree No. IX/1978 and MPR Decree No. III/2000.
"Pancasila doesn't need a legal basis anymore," he said.
Full report at:
https://www.thejakartapost.com/news/2020/06/16/govt-opts-to-postpone-deliberation-of-controversial-bill-on-pancasila-amid-backlash-against-house.html
--------
Mideast
Top Commander: Captains, Crew of Iranian Tankers to Venezuela Threatened by US
Jun 16, 2020
"General Baqeri said that while the Iranian tankers were being sent to Venezuela, the US first tried to bribe and then threaten the captain and command crew of these ships but did not succeed," member of the Iranian parliament's Presiding Board Alireza Salimi quoted General Baqeri as saying in a closed-door session with the lawmakers in Tehran on Tuesday.
According to the senior MP, Iran's top commander also added that a number of US warships were attempting to stir tensions by threats in the Atlantic Sea but the Iranian vessels thwarted their plot by managing the conditions.
Iran sent five tankers loaded with 1.53 million barrels of gasoline and alkylate to Venezuela last month to help jump start the oil refineries in the Latin American state amid a fuel crisis.
Venezuelan President Nicolas Maduro appreciated Iran, China, Russia and Ciba for their assistance to Caracas, describing them as the real friends of his country.
"Humanitarian aid is coming from China, Russia, Iran and Cuba. They are (Venezuela's) true friends," Maduro said in a speech broadcast by the state TV.
He recalled that the US was offering $20 million worth of help, "but not a single dollar came through".
Secretary of Iran's Supreme National Security Council (SNSC) Rear Admiral Ali Shamkhani noted that the return of his country's fuel tankers from Venezuela, and said the fools who were after besieging Tehran now feel overpowered by Tehran.
"Iranian tankers, having accomplished their mission successfully, are coming back to the country. This means that the strategy of active resistance has been efficient and the idiots who were seeking to lay siege on us, have now been trapped in the siege stemming from Iran's might," Shamkhani wrote in his Twitter account.
"Trump and Hook's begging for negotiation testifies to this very claim," the top security official said.
The five Iranian tankers left Venezuela towards Iran earlier this month.
Iran's fuel supply to Venezuela has sharply irked the US as the oil sectors of both countries are subject to draconian American sanctions.
A US official said last month that President Donald Trump's administration was considering responses, prompting Tehran to warn of retaliatory measures if Washington causes any problem for the tankers.
In response, President Rouhani said his country is always entitled to defend its sovereignty and territorial integrity, and warned that if his country's oil tankers in the Caribbean or anywhere in the world get into trouble by the Americans, Tehran will definitely retaliate.
"Although some of the US measures have created unacceptable conditions in different parts of the world, we will not be the initiator of tension and clash," Rouhani said in a phone call with the Qatari Emir, Sheikh Tamim bin Hamad Al Thani last month.
Referring to the American moves in the Caribbean, he reiterated, "If our oil tankers face problems in the Caribbean Sea or anywhere in the world by the Americans, they will face problems reciprocally."
We see the conditions today more apt for cooperation, especially given the outbreak of this disease; but the US continues its incorrect decisions and inhumane behaviors, the president noted.
He made it clear, "As before, we stress that the security of our region, particularly the marine security, is maintained by the regional countries and we have always announced that we are ready for cooperation with the neighboring countries."
Earlier this month, Caracas announced that the fuel-hungry Latin American country is mulling imports of more gasoline and other oil products from Iran.
The announcement came after Venezuela received five shipments of fuel from Iran in the face of US sanctions.
"Tehran yesterday offered to supply Venezuela with more gasoline and refinery additives. President Maduro very likely will accept the offer because we need the fuel," an official at Maduro's office was quoted by price reporting agency Argus Media.
Other officials said the government will ask Iran for further supplies in coming weeks to give state-run oil company PDVSA more time to revive part of its refining capacity.
Maduro said he would visit Iran once health conditions resulting from the new coronavirus outbreak permit in order to thank the Iranian government and sign a "high-level bilateral agreement strengthening energy, financial and military ties".
"I am obliged to go to personally thank the people," Maduro said in a state television address, without providing a date for the visit.
https://en.farsnews.ir/newstext.aspx?nn=13990327000621
--------
FM: Iran Not to Allow Instrumental Use of IAEA
Jun 16, 2020
"We will not allow an Iran investigations based on documents that rise from espionage claims. We thought that the Agency values its credibility. We still believe in transparency. We welcome the Russian government's initiatives to strengthen Iran-IAEA relations and we will not allow the Agency to turn into an instrument for those who want to annihilate the nuclear deal and all international undertakings," Zarif told reporters in a joint press conference with his Russian counterpart Sergey Lavrov in Moscow on Tuesday.
"We do not allow a country whose policy is withdrawal from international agreements to use international organizations to pressure Iran," he added.
Zarif said that the US is directly annihilating international laws by pressuring the secretariats of international organizations, adding that 15 reports by the IAEA have shown that Iran has fully cooperated with the UN nuclear watchdog.
In relevant remarks on Tuesday, Iranian Ambassador and Permanent Representative to Vienna-Based International Organization Kazzem Qaribabadi said that his country will reject demands of the International Atomic Energy Agency that originate from Iran's enemies.
"It is true that we have extensive and transparent cooperation with the Agency but this does not mean that we accept any demand by the Agency which is based on the baseless claims of our enemies. No other country will do so either," Qaribabadi told reporters.
His comments came after the western media claimed that the three European members of 2015 nuclear deal have prepared a resolution which calls on Iran to increase cooperation with the IAEA.
"As Iran continues constructive and extensive cooperation with the Agency, introduction of a resolution to demand Iran to show cooperation and accept these two Agency demands is a regretful and fully unconstructive measure," he added.
Qaribabadi blasted the three European states for their inaction in implementation of the nuclear deal, advising them not to make the conditions more complicated and difficult.
Full report at:
https://en.farsnews.ir/newstext.aspx?nn=13990327000848
--------
Israel's plan to annex part of occupied West Bank will create 'apartheid': UN experts
16 June 2020
Israel's plan to annex nearly a third of the West Bank is a vision of "21st-century apartheid," a large group of independent United Nations experts warned Tuesday.
The experts said the annexation would be a "serious violation" of the United Nations charter and the Geneva Conventions, and would only intensify human rights violations in the West Bank.
Israeli Prime Minister Benjamin Netanyahu aims to begin a process of annexing West Bank settlements and the Jordan Valley from July 1, as part of a US peace initiative.
The experts said the 53-year Israeli occupation of the West Bank had been the source of "profound human rights violations" against the Palestinians, chiefly the denial of the right of self-determination among a long list of other alleged violations.
For all the latest headlines follow our Google News channel online or via the app.
"These human rights violations would only intensify after annexation," the experts said.
"What would be left of the West Bank would be a Palestinian Bantustan, islands of disconnected land completely surrounded by Israel and with no territorial connection to the outside world."
"Israel has recently promised that it will maintain permanent security control between the Mediterranean and the Jordan River."
"Thus, the morning after annexation would be the crystallization of an already unjust reality: two peoples living in the same space, ruled by the same state, but with profoundly unequal rights. This is a vision of a 21st-century apartheid."
The more than 40 independent special rapporteurs along with a range of UN working groups on various rights issues who signed the statement do not speak for the UN but report their findings to it.
The experts said that Israel's annexation of East Jerusalem in 1980 and the Syrian Golan Heights in 1981 saw condemnation but no meaningful response from the international community.
"This time must be different," they said.
"The lessons from the past are clear: Criticism without consequences will neither forestall annexation nor end the occupation."
Full report at:
https://english.alarabiya.net/en/News/middle-east/2020/06/16/Israel-s-plan-to-annex-part-of-occupied-West-Bank-will-create-apartheid-UN-experts.html
--------
Palestinian security services shredding files, fearing Israeli incursion
16 June 2020
Palestinian security services have been destroying secret documents, fearing possible Israeli raids on their offices as Israel weighs annexing parts of the occupied West Bank, Palestinian security sources say.
"We have been ordered to destroy confidential documents in our possession and we have obeyed this order," a security source told AFP on condition of anonymity, saying that the instructions came from "high up."
During the Palestinian uprising known as the Second Intifada, which erupted in the early 2000s and included waves of suicide bombings, Israeli security forces repeatedly stormed offices of the Palestinian security services and removed confidential documents.
For all the latest headlines follow our Google News channel online or via the app.
Several Palestinian security sources, speaking on condition of anonymity, say the services are concerned that this could happen again if Israel moves ahead with annexation.
Announced at the end of January in Washington, US President Donald Trump's Mideast peace plan envisions the annexation by Israel of its settlements and of the Jordan Valley in the West Bank.
More than 450,000 Israelis live in West Bank settlements deemed illegal under international law, alongside 2.7 million Palestinians.
One Palestinian security source, who did not describe the nature of the documents, said the security services began destroying them a month ago after Palestinian President Mahmud Abbas said he was ending security coordination with Israel.
Two other security sources said some documents were destroyed after they were scanned and transferred to USB drives, which were then placed in "secret places."
According to the 1993 Oslo Accords, the Palestinian Authority controls all Palestinian cities in the West Bank, but the Israeli military can enter them to make arrests, in coordination with local authorities.
But in mid-May, Abbas declared that he no longer felt bound by the treaties, saying that Israel's annexation plans showed that it was no longer honoring the agreements.
Analysts said the end of security cooperation could inflame unrest in the West Bank.
Full report at:
https://english.alarabiya.net/en/News/middle-east/2020/06/16/Palestinian-security-services-shredding-files-fearing-Israeli-incursion.html
--------
Russia's Lavrov vows to stand firm by Iran on nuclear deal
16 June 2020
Russia on Tuesday vowed to stand by its ally Iran and resist any attempts to promote an anti-Iranian agenda amid tensions over Tehran's nuclear program.
Foreign Minister Sergei Lavrov made the comments during a visit to Moscow by his Iranian counterpart Javad Zarif amid a fresh row over access to Iranian sites where past nuclear activity may have occurred.
The standoff comes as a landmark deal between Iran and world powers brokered in 2015 continues to unravel.
"We will be doing everything so that no one can destroy these agreements," Lavrov told reporters after face-to-face talks with Zarif.
"Washington has no right to punish Iran."
For all the latest headlines follow our Google News channel online or via the app.
Moscow's top diplomat said at the start of the talks that Russia would firmly oppose any "attempts to use this situation in order to manipulate the (United Nations) Security Council and to promote an anti-Iranian agenda."
Zarif, for his part, described developments around the Iranian nuclear deal – formally known as the Joint Comprehensive Plan of Action – as "very dangerous."
Iran committed under the deal to curb its nuclear activities for sanctions relief and other benefits.
But the Islamic Republic has slowly abandoned its commitments after US President Donald Trump's decision two years ago to renounce the deal and reimpose sanctions.
Iran's stockpile of enriched uranium is now almost eight times the limit fixed in the accord, according to an IAEA assessment.
However, the level of enrichment is still far below what would be needed for a nuclear weapon.
Full report at:
https://english.alarabiya.net/en/News/middle-east/2020/06/16/Russia-s-Lavrov-vows-to-stand-firm-by-Iran-on-nuclear-deal.html
--------
Iran slams 'appalling' removal of Saudi-led coalition from UN blacklist
17 June 2020
The Iranian Foreign Ministry has denounced as "appalling" a recent United Nations decision to remove the Saudi-led coalition in Yemen from the blacklist of child rights violators.
Abbas Mousavi, the ministry spokesman, made the comment on Tuesday after UN Secretary-General Antonio Guterres dropped the Saudi-led coalition engaged in an atrocious military campaign against Yemen from its blacklist for killing and maiming children in the impoverished country.
"The UN Secretary-General has removed the Saudi-led coalition from the list of child killers at a time when the international organizations have acknowledged that large numbers of Yemeni children and teenagers have lost their lives in such disasters as student bus bombings, airstrikes on homes and schools, and hospitals, the painful news and images of which are undeniable," Mousavi said.
"Regretfully, some in the United Nations are seeking to exonerate Saudi Arabia of its crimes against Yemeni children and women with the kingdom's dollars, while according to the United Nations Office for the Coordination of Humanitarian Affairs, every 10 minutes, one Yemeni child dies as a result of the war and the siege imposed on Yemen by the Saudi-led coalition," he underlined.
The Iranian Foreign Ministry spokesman also said that the UN's move proved its "selective approach" and "double standards" on human rights in Yemen and other parts across the world.
In a post on his Twitter page, Mousavi said the UN Secretariat was giving a "free pass" to the Saudi-led coalition in Yemen despite admitting that Riyadh and its allies have killed hundreds of Yemeni kids.
The Saudi regime and the US are making a mockery of international mechanisms, one using its dollars and the other through bullying, he added.
The exclusion from the UN's blacklist prompted immediate protests from human rights groups worldwide.
Jo Becker, the advocacy director of the children's rights division at Human Rights Watch, argued that Guterres "is adding a new level of shame to his 'list of shame' by removing the Saudi-led coalition and ignoring the UN's own evidence of continued grave violations against children."
Adrianne Lapar, director of Watchlist on Children and Armed Conflict, also said by removing the Saudi-led coalition "the secretary-general sends the message that powerful actors can get away with killing children."
Supported militarily by the United States, Britain, and other Western countries, Saudi Arabia and a number of its regional allies launched a devastating war on Yemen in March 2015 in order to bring former Yemeni President Abd Rabbuh Mansur Hadi back to power and crush the Houthi Ansarullah movement.
The US-based Armed Conflict Location and Event Data Project (ACLED), a nonprofit conflict-research organization, estimates that the war has claimed more than 100,000 lives over the past five years.
Full report at:
https://www.presstv.com/Detail/2020/06/17/627617/Iran-Abbas-Mousavi-appalling-Saudi-led-coalition-blacklist-
--------
Israeli military forces raid Ramallah in West Bank, open fire on young Palestinians
16 June 2020
Israeli forces have raided the city of Ramallah, the seat of the Palestinian Authority (PA), in the occupied West Bank, the first such incursion since the PA cut security coordination with the regime.
A large Israeli military force stormed Ramallah and an archeological site in the north of the occupied West Bank on Tuesday, Palestine's official Wafa news agency reported, citing sources and witnesses.
The Israeli troops raided a number of neighborhoods in the city while young Palestinians hurled stones at them and fired fire crackers at the military vehicles, the report quoted several witnesses as saying.
The Israeli soldiers also opened gun fire and shot teargas canisters at protesters, it further said, adding that there were no immediate reports of injuries.
The invading forces also raided the Amari refugee camp in Ramallah and arrested a 20-year-old youth after ransacking his family home.
"Israeli forces entered Ramallah before dawn," said Interior Ministry Spokesman Ghassan Nimr in an interview with AFP, noting that "three houses were searched" in the city but no arrests were made.
Ramallah is nominally under full Palestinian control, but the Israeli military frequently carries out raids there.
Palestinian President Mahmoud Abbas ended all agreements with Tel Aviv, including the bilateral security coordination, on May 19, after Israeli Prime Minister Benjamin Netanyahu announced that he would commence cabinet-level discussions for annexing more areas in the West Bank on July 1.
The plan is in accordance with US President Donald Trump's so-called peace scheme.
Trump officially unveiled his much-condemned Middle East scheme, the so-called deal of the century, in January at the White House with Netanyahu on his side, while Palestinian representatives were not invited.
The proposal, which has already been categorically rejected and condemned by Palestinians, largely gives in to Israel's demands while creating a Palestinian state with limited control over its own security and borders.
It enshrines the occupied Jerusalem al-Quds as Israel's "capital" and allows the regime to annex settlements in the West Bank and the Jordan Valley.
Separately on Tuesday, Israeli troops raided the archeological town of Sebastia in the north of the West Bank and ordered the site closed to visitors without giving any reason for the action, Wafa reported, citing the mayor of Sebastia.
The mayor also said that the town had repeatedly been raided by both Israeli settlers and soldiers in a clear attempt "to take control of the area."
Full report at:
https://www.presstv.com/Detail/2020/06/16/627583/Palestine-Israel-Ramallah-raid-annexation-West-Bank-Trump-
--------
UN experts dismayed by Israel annexation plan, US support
16 June 2020
Dozens of United Nations human rights experts have expressed dismay at a plan announced by Israel to annex huge swathes of the occupied Palestinian territory of the West Bank and the United States' outright support for the land grab plot.
The roughly-50-strong independent experts released a statement on Tuesday, outlining the sections of the international law that the Israeli regime would be flouting and the human rights violations that it would be exacerbating by going ahead with the plan.
"The annexation of occupied territory is a serious violation of the Charter of the United Nations and the Geneva Conventions, and contrary to the fundamental rule affirmed many times by the United Nations Security Council and General Assembly that the acquisition of territory by war or force is inadmissible," the statement said.
Israel's Prime Minister Benjamin Netanyahu has announced the plan to annex the areas upon which the regime has been building illegal settlements since its occupation of the territory in 1967, alongside the Jordan Valley. Over all, the areas that are subject to the scheme comprise some 30 percent of the West Bank.
Netanyahu has set July 1 as the date to begin advancing his plan.
Israel wheeled out the plan emboldened by a hugely-controversial plot that was detailed by US President Donald Trump on January 28, in which Washington supports Tel Aviv's annexation of the areas.
The UN experts urged countries to actively oppose the Israeli decision, and expressed alarm at Washington's backing for the "unlawful" plan.
The US plot, ironically dubbed the "deal of the century," also re-endorsed Washington's incendiary recognition of al-Quds as Israel's "capital." The recognition that came during Trump's presidency flies in the face of Palestinians' age-old demand that the city's eastern part serve as the capital of their future state.
Palestinians stopped recognizing any intermediary role by the US in the Palestinian-Israeli conflict after Washington unveiled the plot.
The experts said upon potential implementation of the Israeli plan, what would be left of the West Bank would amount to a "Palestinian Bantustan."
Bantustan was a territory that the former South African apartheid regime set aside for black inhabitants of South Africa and South West Africa (now Namibia).
Tragedy awaiting Palestinian rights
"The United Nations has stated on many occasions that the 53-year-old Israeli occupation is the source of profound human rights violations against the Palestinian people," the experts' statement said.
Violations have included land confiscation, settler violence, home demolitions, excessive use of force and torture, and restrictions on the media and freedom of expression, the statement enumerated. As another violation, the statement pointed to Israel's implementation of "a two-tier system of disparate political, legal, social, cultural, and economic rights," referring to the sheer discrimination that the regime exercises in its treatment of Israelis and Palestinians.
Full report at:
https://www.presstv.com/Detail/2020/06/16/627579/Palestine-Israel-United-Nations-human-rights-annexation-plan-United-States
--------
Africa
Tunisian party leader says Ennahda party linked to terrorism, calls for investigation
15 June 2020
A Tunisian party leader has accused the ruling Ennahda party of having links with terrorism and called for an investigation into the party, which is affiliated to the Muslim Brotherhood.
The head of Tunisia's Free Destourian Party (Free Constitutional Party) bloc Abir Moussi, also referred to as Abeer Moussa by some media outlets, said on Monday that Ennahda has been lying to the Tunisian people since it came to power in 2011.
She called on the Ministry of Justice to investigate the Muslim Brotherhood-affiliated Ennahda for its links to terrorism.
On Monday, Moussi submitted a petititon to Tunisia's Parliament calling for the government to officially designate the Muslim Brotherhood as a terrorist organization and consider any Tunisian affiliated with it a terrorist criminal as per the counter-terrorism law.
https://english.alarabiya.net/en/News/north-africa/2020/06/15/Tunisian-MP-says-Ennahda-party-linked-to-terrorism-calls-for-investigation.html
--------
HRW calls on Libya's rebel commander to probe war crimes by militias
16 June 2020
Human Rights Watch (HRW) has called on Libya's renegade general Khalifa Haftar to investigate war crimes perpetrated by the rebel forces under his command after reports emerged of the discovery of several mass graves in the North African country.
The New York-based watchdog made the plea on Tuesday after Libyan government forces had unearthed eight mass graves, most of them in and around the strategic town of Tarhuna in the southeast of the capital, Tripoli.
The town served as the main launchpad for Haftar and his self-styled Libyan National Army (LNA)'s 14-month offensive to seize Tripoli.
The HRW also pointed to a video footage posted on social media last month that showed executions as well as desecration of corpses by militias and rebel forces under Haftar's command in Tarhuna, which was recaptured by Libyan government forces earlier this month.
"Haftar needs to urgently hold his forces accountable for any war crimes they are committing and apparently advertising online," HRW's senior Libya researcher Hanan Salah said.
"Senior LNA leadership has ignored these crimes, but they should be held accountable by domestic and international courts for complicity in abuses," she added.
The revelation of crimes in Tarhuna came after the Libyan government forces made major gains in their defense against Haftar's offensive, driving rebels out of all their remaining positions in the west of the capital.
The United Nations mission to Libya (UNSMIL) also on Thursday expressed its "deep concern" about the mass graves in the strategic town and called for an investigation into the matter.
UNSMIL said it had received "deeply disturbing" reports of deaths, destruction, and looting in the area, adding that authorities "must conduct a prompt, transparent and effective investigation into reports of extrajudicial killings."
It is not the first time that rebel forces loyal to Haftar have faced allegations of war crimes.
In 2017 and 2018, the International Criminal Court issued warrants for the arrest of a rebel commander, Mahmoud al-Werfalli, for his role in a series of extra-judicial executions and desecration of corpses in Libya's second city Benghazi.
Earlier this month, the Libyan government forces announced the full liberation of the capital Tripoli and its suburbs after being besieged for more than a year by Haftar's militias.
Libya has been in chaos since 2011, when a popular uprising and a NATO intervention led to the ouster of long-time dictator Muammar Gaddafi.
Since 2014, two rival seats of power have emerged, namely the internationally-recognized government of Prime Minister Fayez al-Sarraj, and another group based in the eastern city of Tobruk, supported militarily by Haftar's rebels.
The strongman, supported by the United Arab Emirates, Egypt, and Jordan, launched a deadly offensive to capture Tripoli, the seat of the GNA, in April last year. His forces, however, have failed to advance past the city's outskirts.
Full report at:
https://www.presstv.com/Detail/2020/06/16/627591/Human-Rights-Watch-Libya-Khalifa-Haftar-mass-graves-
--------
UN calls for investigation in Libya into fate of Egyptian detainees
June 16, 2020
CAIRO: The United Nations Support Mission in Libya (UNSMIL) said on Tuesday it was concerned about the arrest, detention and ill-treatment of a large number of Egyptian nationals in the city of Tarhouna.
The body said this was "in potential violation to Libya's international human rights law obligations on the prohibition of torture, inhuman and degrading treatment or punishment."
UNSMIL
✔
@UNSMILibya
UNSMIL is concerned about the arrest, detention & ill-treatment of a large number of Egyptian nationals in the city of Tarhouna in potential violation to Libya's international human rights law obligations on the prohibition of torture, inhuman & degrading treatment or punishment.
View image on Twitter
138
5:54 PM - Jun 16, 2020
Twitter Ads info and privacy
129 people are talking about this
Egypt said Monday it will take a firm stand after a video emerged of Egyptian workers being abused by militias loyal to Libya's Government of National Accord (GNA).
UNSMIL welcomed a statement released by the GNA's interior ministry denouncing the video.
"On this issue and called on the local authorities in Tripoli to conduct a prompt investigation, to uncover their fate and whereabouts and to ensure their treatment in accordance with international standards."
The video has sparked anger in Egypt and led to calls for the government to take further action.
Egypt's Parliament Speaker Ali Abdel-Aal and immigration minister Nabila Makram promised to take a stand when the time was right, according to Egyptian media.
On Sunday, a spokesman for the Libyan National Army, which is fighting against the GNA's forces, said the mistreatment of the Egyptians was carried out by Turkey-backed militias.
Ahmed Al-Mesmary said the workers were innocent and not linked to the conflict playing out in the country.
Full report at:
https://www.arabnews.com/node/1690656/middle-east
--------
Nigeria: Lagos decides against reopening worship places
Felix Tih
17.06.2020
Nigeria's Lagos state has rolled back its decision to partially reopen places of worship due to a recent spike in coronavirus cases, a top official confirmed on Tuesday.
Lagos State Governor Babajide Sanwo-Olu said authorities were closely monitoring the situation and "have now concluded that we cannot proceed with any form of reopening for places of worship in until further notice."
"We are now, hereby, suspending, with immediate effect, the plan to reopen religious houses and places of worship in Lagos until further notice," he said at a media briefing.
Earlier this month, Nigerian authorities said they would allow religious activities and reopen places of worship, which were closed across the country in March.
Sanwo-Olu said the decision was taken in view of the evolving virus transmission scenario and safety guidelines issued by experts.
"We will continue to monitor the situation closely, and continue to base our decision-making on data modeling, as well as on the responsibility we have to act in a manner that ensures the protection of all Lagos residents," the governor added.
He urged citizens to continue observing coronavirus safety measures such as wearing masks, avoiding non-essential travel, and staying at home.
Lagos state is a commercial hub of Nigeria, particularly due to its capital city of the same name, which is the most populous city in Nigeria and Sub-Saharan Africa.
Lagos is a major financial center for all of Africa and houses one of the largest and busiest seaports on the continent.
The state has been hit hard in Nigeria's COVID-19 outbreak, accounting for over 40% of the country's total cases.
According to the Nigeria Centre for Disease Control, 7,461 of Nigeria's 17,148 confirmed cases have been reported in Lagos state.
Full report at:
https://www.aa.com.tr/en/africa/nigeria-lagos-decides-against-reopening-worship-places/1879685
--------
Turkey condemns terror attack in Mali
Firdevs Bulut
16.06.2020
Turkey condemned Tuesday a deadly terror attack targeting an army and killing several soldiers in Mali.
"We are saddened to receive the news that several soldiers lost their lives in a terrorist attack targeting an army unit in the village of Bouki-wéré, in the region of Ségou, on 14 June 2020," read a statement from Turkey's Foreign Ministry.
"We condemn this heinous terrorist attack. We wish Allah's mercy upon those who lost their lives and offer our sincere condolences to the brotherly people and Government of Mali," it added.
https://www.aa.com.tr/en/africa/turkey-condemns-terror-attack-in-mali/1879096
--------
Libya: Haftar mines kill 39 civilians south of Tripoli
16.06.2020
TRIPOLI
Landmines planted by warlord Khalifa Haftar's militia have killed 39 civilians south of the Libyan capital Tripoli, according to the country's national mine action authority on Tuesday.
In a statement, the Libyan Center for Mine Clearance and War Remnants said 71 civilians were also injured by Haftar's explosives.
It, however, did not specify a date for the casualties.
The Libyan army recently inflicted heavy blows to Haftar and liberated Tripoli and Tarhuna, in addition to other strategic locations, including Al-Watiya airbase, from his militia.
The internationally recognized government has been under attack by Haftar's forces since April 2019, with more than 1,000 killed in the violence.
https://www.aa.com.tr/en/africa/libya-haftar-mines-kill-39-civilians-south-of-tripoli/1878922
--------
US airstrikes killing, injuring civilians in Mogadishu
Magdalene Mukami
16.06.2020
MOGADISHU, Somalia
Haweeyo Ugbad, a mother of two from the town of Jilib south of Mogadishu in the Middle Juba region close to the Kenya-Somali border, witnessed a neighbor's house being flattened by a US airstrike.
"I was at home feeding my youngest baby, I will never forget the sound of terror that came raining on us killing a young woman known by many as a charming and hardworking person," Ugbad told Anadolu Agency.
"Many journalists have interviewed me on this and I keep on reliving that moment. She was an innocent girl who lost her life due to American bombs targeting al-Shabaab [Somali-based al-Qaeda affiliated group]," she added.
"You, as a hardworking citizen supporting the government and their partners fighting the deadly al-Shabaab … what would you do if your innocent daughter, whom you have brought up and educated to change the country, was killed?"
Ugbad said such attacks on innocent civilians were what al-Shabaab militants would go around and use to recruit families who are in pain after their loved ones "who have never harmed even an animal…not even a fly, are blown up…not by terrorists, but by American bombs, you as a parent, as a brother, neighbor or sister, you will never forget this pain".
In the Janaale region of Somalia, farmer Cabdi Geedi voiced the same sentiments alleging that 11 people he knew were killed in a US airstrike.
He said 10 unarmed farmers and a young child were killed in their sleep by an airstrike in 2019, adding: "They are not from al-Shabaab, because even local authorities told us that the bombs can be examined and identified where they came from".
"We are just farmers, we don't know how to fight, apart from fighting the sand and soil so that we can get food, these airstrikes are leaving innocent blood, pain, and orphans all over Somalia".
Regional offices of the Human Rights Watch (HRW) in the Kenyan capital Nairobi on Tuesday released a report saying that airstrikes in Somalia are killing civilians, with inadequate investigations into the attacks claiming civilian lives.
"US forces have not adequately investigated a Feb. 2 strike killing one woman at her home, and a March 10 attack that killed five men and a child in a minibus," the HRW said, noting that in both cases it found no evidence of a military target involving the Islamist armed group al-Shabaab.
Laetitia Bader, the Horn of Africa director of the HRW said on Tuesday: "The US military has not seriously investigated two recent airstrikes in Somalia in which civilians were killed and wounded in apparent violation of the laws of war".
"Reaching out to civilians seeking redress is not only the right thing to do, it will also help make its civilian casualty assessments more accurate".
The HRW said the US Africa Command's (AFRICOM) previous investigations of airstrikes appear to have been inadequate relying on third parties, including traditional, social media and nongovernmental organizations.
"AFRICOM seems determined not to uncover whether its airstrikes killed civilians or violated the laws of war. The military chain of command should recognize that not only does it have a legal obligation to investigate, but that basic decency toward the families of those harmed means providing financial assistance and an apology, not silence," Bader said.
Somali counterterrorism security experts such as Abdisalam Yusuf Guled warn that the airstrikes killing civilians may hamper efforts to fight terrorist groups, noting that the militants normally use the airstrikes killing civilians as a way to garner a following from the community.
On April 28 in a rare admission, the US admitted killing two civilians during their operations in Somalia, regretting the deaths and injuries caused by an airstrike in 2019, rights groups in the Horn of Africa country say, adding that the number of civilian fatalities could be higher.
Full report at:
https://www.aa.com.tr/en/africa/us-airstrikes-killing-injuring-civilians-in-mogadishu/1878855
--------
URL: https://www.newageislam.com/islamic-world-news/muslim-college-students-heal-divisions/d/122147
New Age Islam, Islam Online, Islamic Website, African Muslim News, Arab World News, South Asia News, Indian Muslim News, World Muslim News, Women in Islam, Islamic Feminism, Arab Women, Women In Arab, Islamophobia in America, Muslim Women in West, Islam Women and Feminism